When you want to decorate your home with texture and gorgeous blue coloring, the best DIY denim home decor ideas should get your creativity and imagination going. Denim is a staple in fashion, one that isn't going away anytime soon. But did you know how fun and versatile denim is when decorating your home? It's true. With denim, you can create some stunning handmade decor that will set your home's style on another level. Plus, this gives you the perfect opportunity to repurpose those old jeans or that worn jean jacket. So, a project like this is both an exciting way to stretch your creativity and a way to upcycle.
25 Unique DIY Denim Room Decor Ideas for Your Next Project

The question remains though: exactly how do you create handmade denim room decor? Well, it's easier than you think, but it all depends on what you want. Are you going small-scale? Then using the pockets of the jeans is a good place to start as there is plenty you can create with them. Jeans are also handy when you want to create a unique patchwork quilt as it gives the quilt a different sort of texture. On that same level, jeans are stunning to use for pillowcases, table mats, and more. You can even create a cool planter out of jeans.
Truth be told, there is not much you can't do when you decide on jeans as a home decor project. This way, you can set up your designs in just about any room in your home from the kitchen to the bedroom. Despite all the possibilities, that may hinder you when coming up with a single design to start with. If this is the case, you can check out our favorite handmade denim room decor ideas to kick off your DIY journey.
1. Coffee Can Denim Flower Vase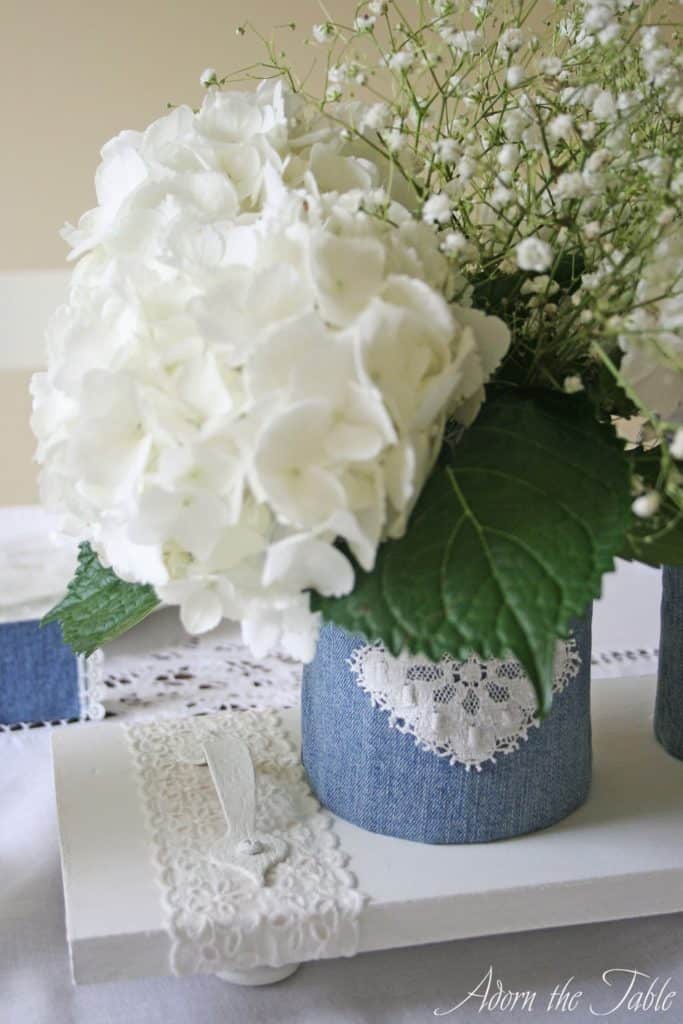 Who wants to rely on traditional vases for their flowers and plants? Well, now you don't have to as long as you have the right DIY project at hand. In this case, you can blend a coffee can with denim, creating an attractive and stylish flower vase. Consider patching on other designs too so that this further blends well with the overall theme in the room.
2. Trick-or-Treat Pumpkin Bucket Denim Decor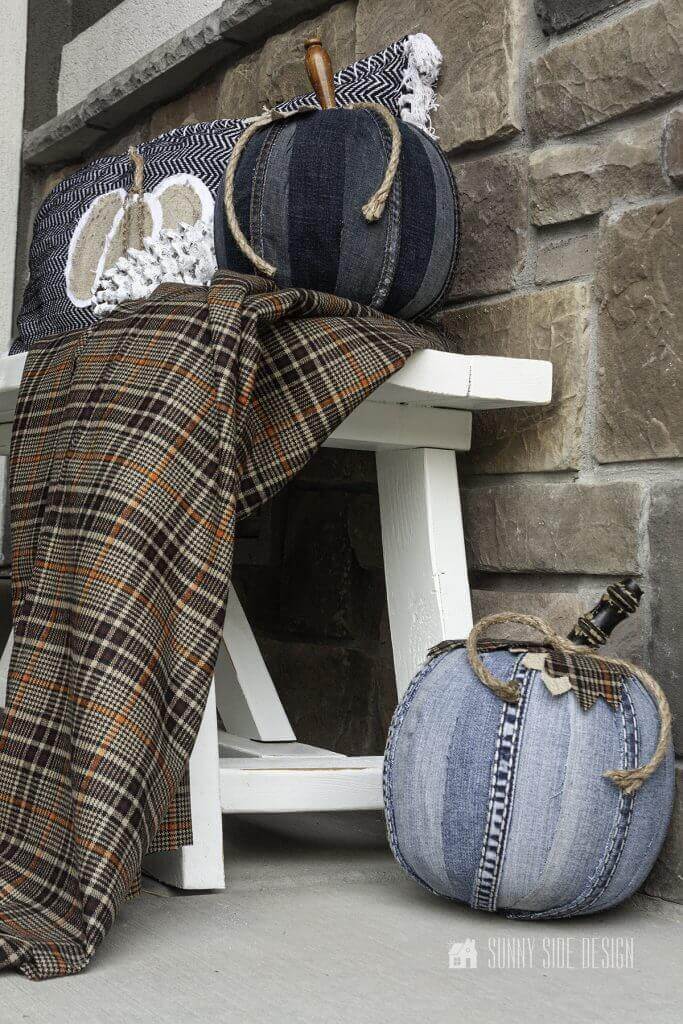 Those cheap, plastic pumpkin-shaped trick-or-treat buckets don't look like much on their own. This makes them the perfect base for your denim project. A pair of old jeans look reinvented and full of life when draped over the pumpkin. As a bonus, you now have some more distinctive decorations right in time for autumn rather than using the typical color theme of the season.
3. Incredible DIY Denim Pouf Pattern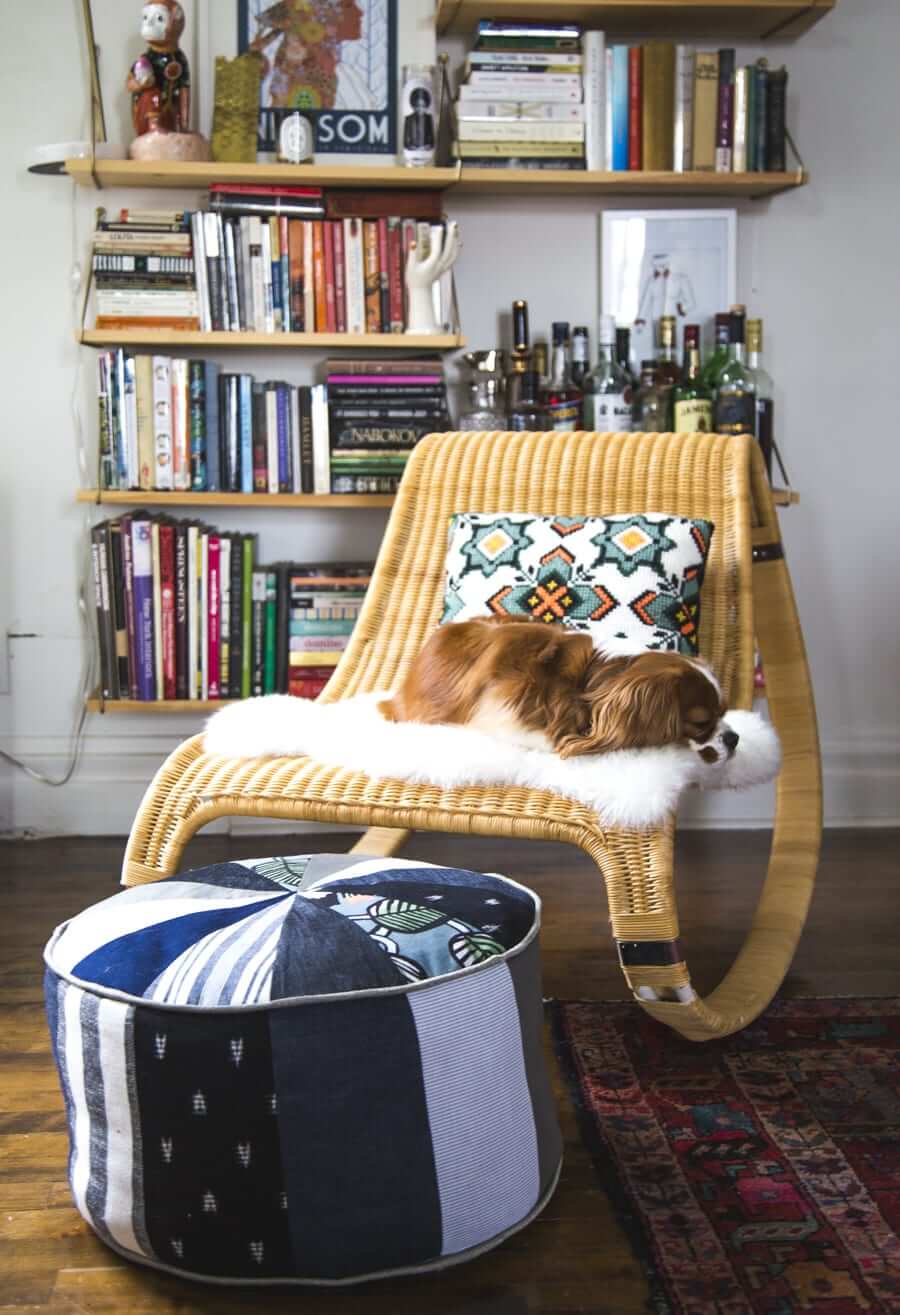 Make a splash with your DIY denim design with this awesome pouf. It makes use of traditional sewing, and you are left with something that is professional-grade and will have anyone asking where you bought it from. The pouf features a mash of different fabric designs too. By doing so, you are able to create contrast, movement, and brighten up the room with a handful of different shades and colors. The texture further helps this stand out too.
4. DIY Circular Denim Jeans Placemats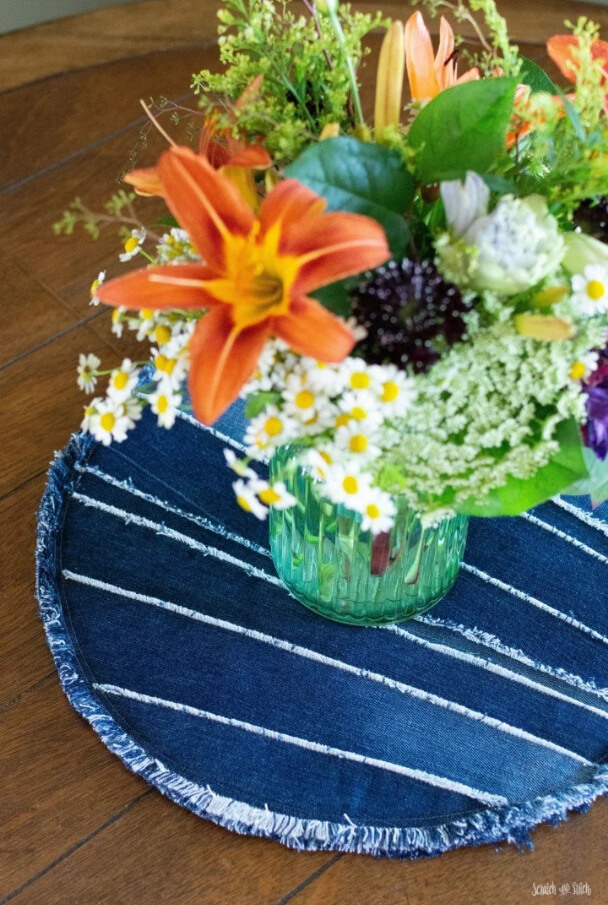 Placemats are the perfect way to add some decor to your dining room without creating anything large or in the way. Consider creating a pattern, simple or intricate, on the placemats too. This helps to build up a contrast in the mats so that they stand out even more. Also, you don't have to just use them for plates. A placemat like this is useful to use underneath a centerpiece too.
5. Repurposed Denim Jeans Placemat Design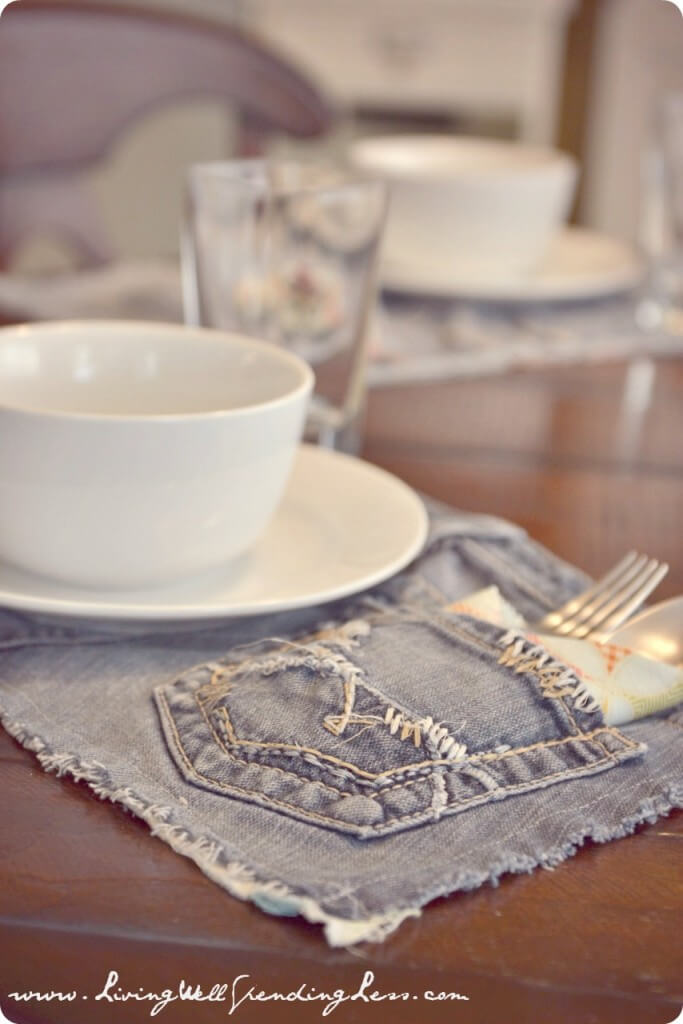 Repurpose those old jeans and keep them in the house as placemats instead. This is a denim design that will easily and quickly capture attention, making them work wonderfully on the dining room table. You should also consider using the back section with the pockets. This way, you can make the placemats even more functional as you can slide silverware into the pockets, further elevating your table setting design into something even trendier.
6. Adorable Denim Pocket Hoop Art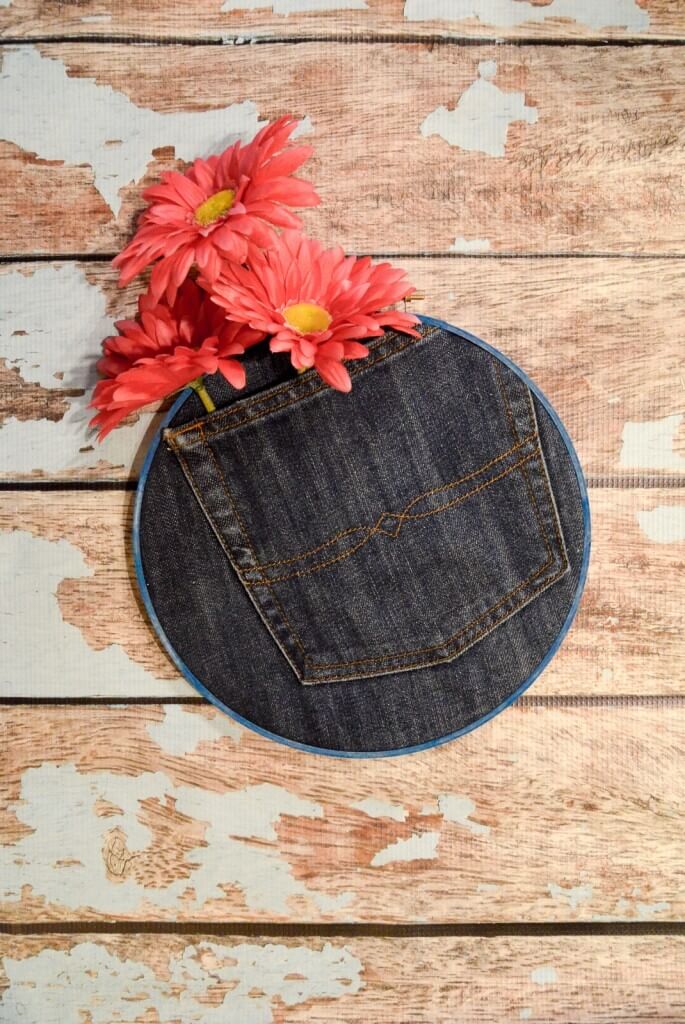 Hoop art is a charming way to add some decor to any room. You can use a cut of your denim jeans to make it stand out even more. The pocket is ideal for slipping in whatever you wish such as flowers. This is also a fun way to add a different pop of color that stands out from the jeans themselves. Additionally, you can use this as a way to quickly change up your decor to fit any season or holiday.
7. DIY Upcycled Jeans Fabric Baskets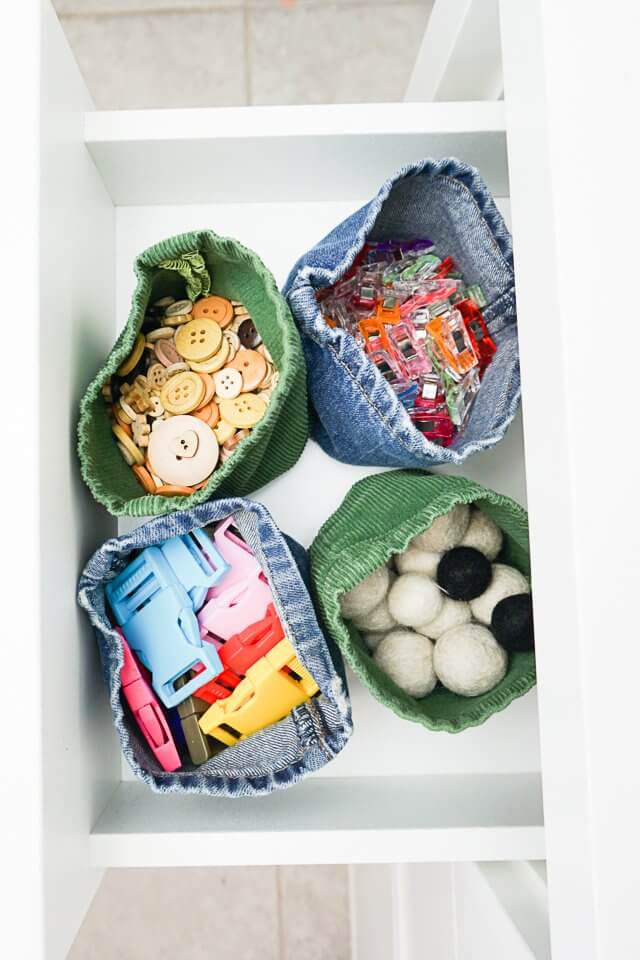 Need some simple little baskets to store your more creative items? Well, you can make some with some pieces of jeans you don't wear. This is a good way to stash your small items in your crafting room, keeping with the overall crafting theme too. Furthermore, this project is wonderful when you don't want to do too much work and instead want to go for simplistic and minimalistic decor.
8. Creative Hanging Toothbrush Denim Pockets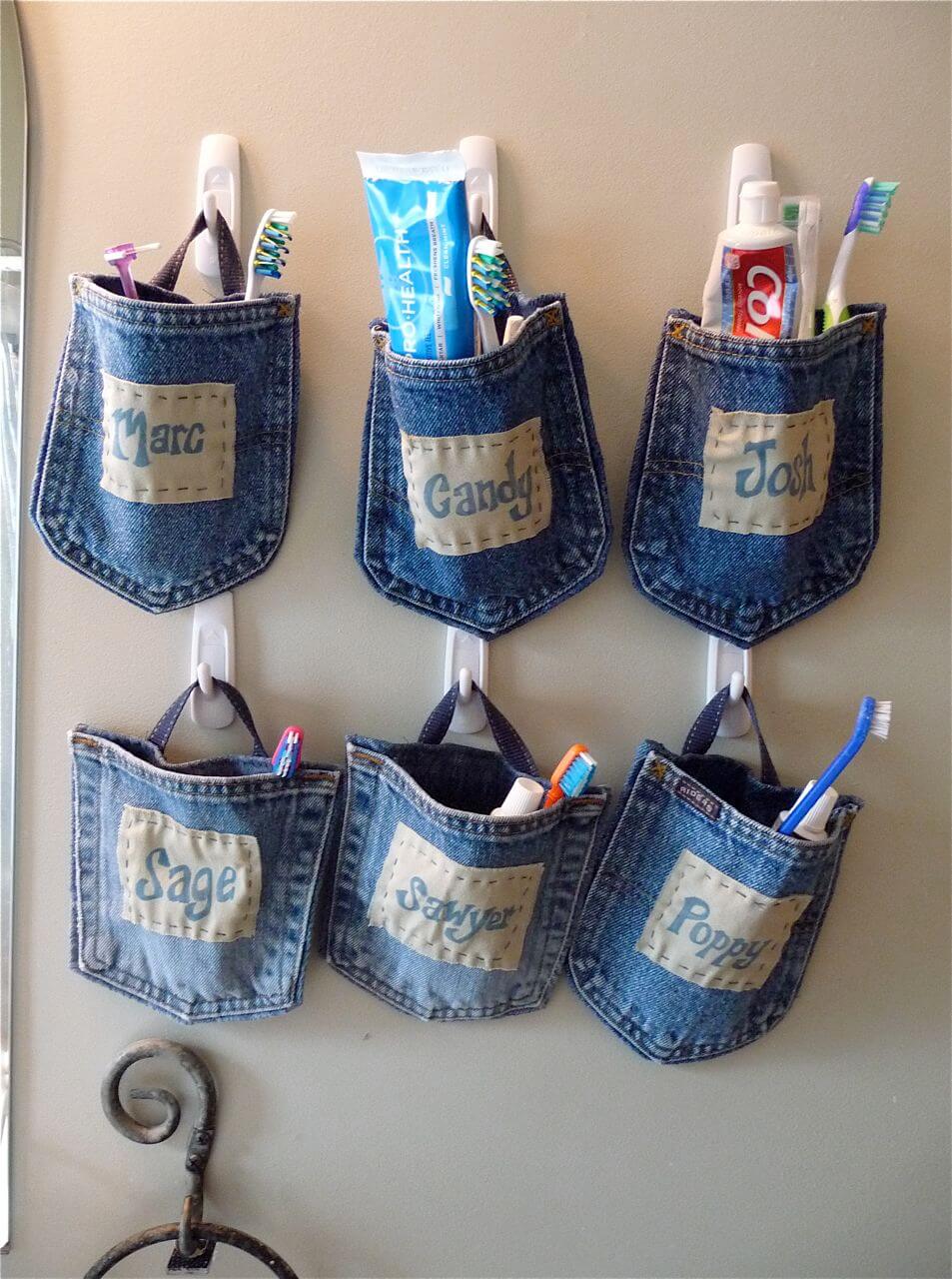 Sometimes, there are far too many toothbrushes than you have room for. When this happens, you don't have to search endlessly for the right toothbrush holder. Give everyone their own personal holder with these cool denim hanging pockets. They are just the right size to support a toothbrush and toothpaste, keeping everything together and organized. This is especially useful for those with a houseful that all share the same bathroom.
9. Stylish Upcycled Denim Rag Rug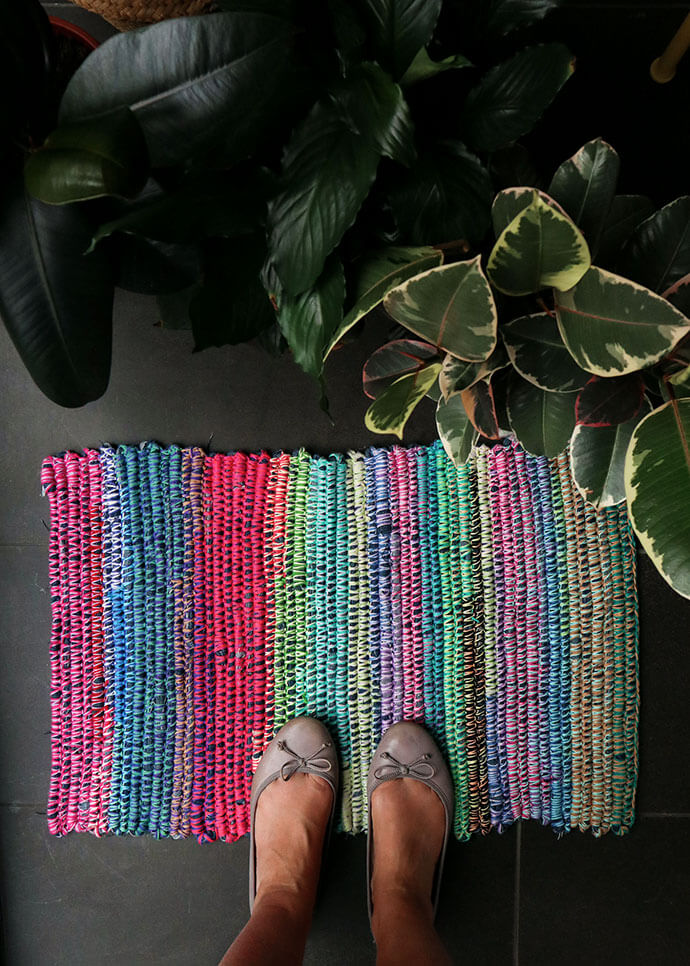 Rag rugs are simply too cute and trendy to ignore, especially seeing as you can create them using some old denim. This gives it some nice texture, and you can opt for different colors to create a rainbow-like rug. Another wonderful aspect of this type of rug is that it is also reliable. The jeans give it some much-needed durability to withstand frequent foot traffic. This ensures that you will keep this homemade denim project in your life for a long while.
10. Cute DIY Indigo Denim Slipcovers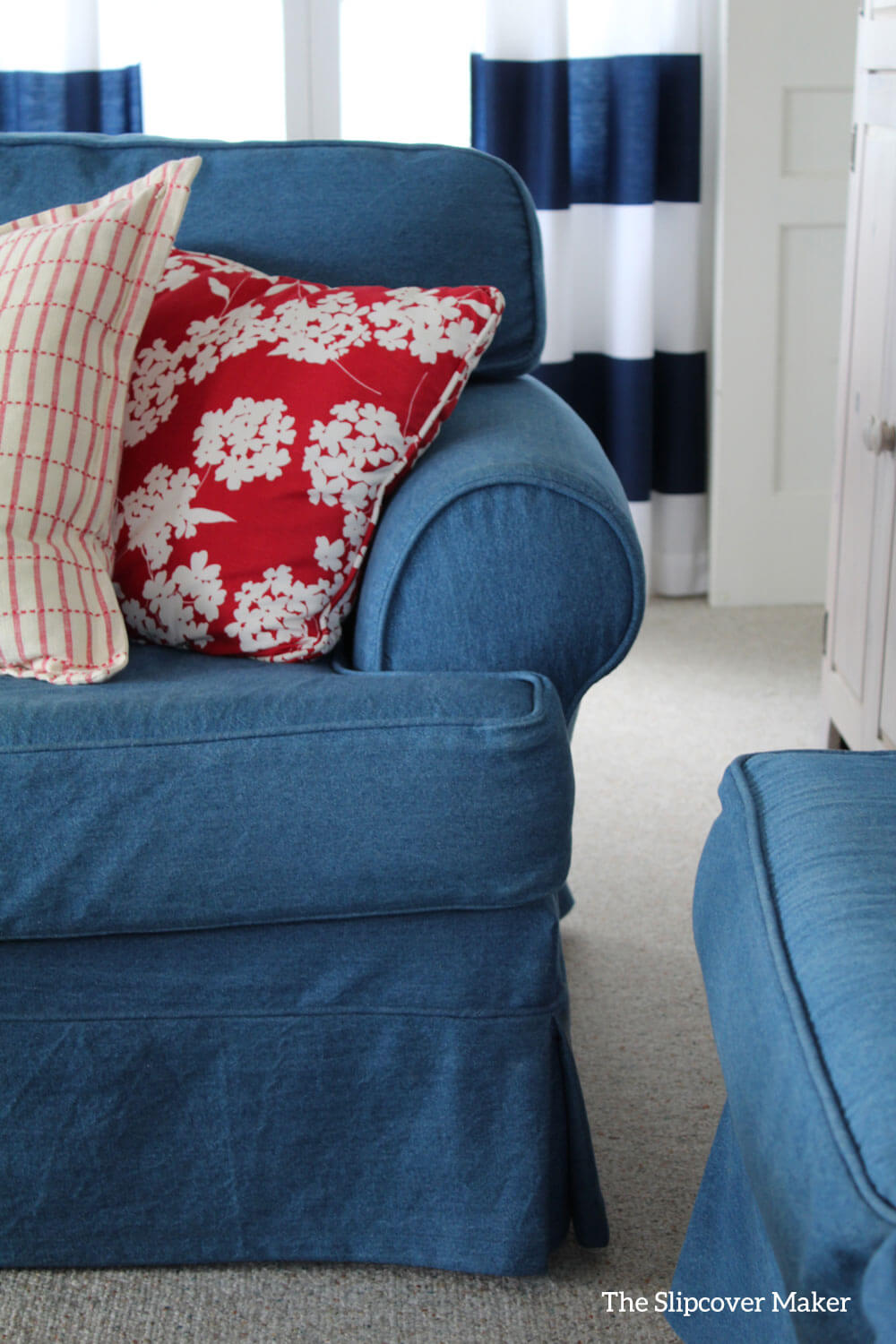 Sometimes, your living room needs a makeover and you don't know where to start. Well, consider creating slipcovers for your couches. These slipcovers are stunning in a simple kind of way. They easily stand out too and provide you with some color when you want to add some more brightness to your living room decorations. Also, denim itself has some great reliability so the slipcovers will last you well.
11. No-Sew Denim Mirror Frame Design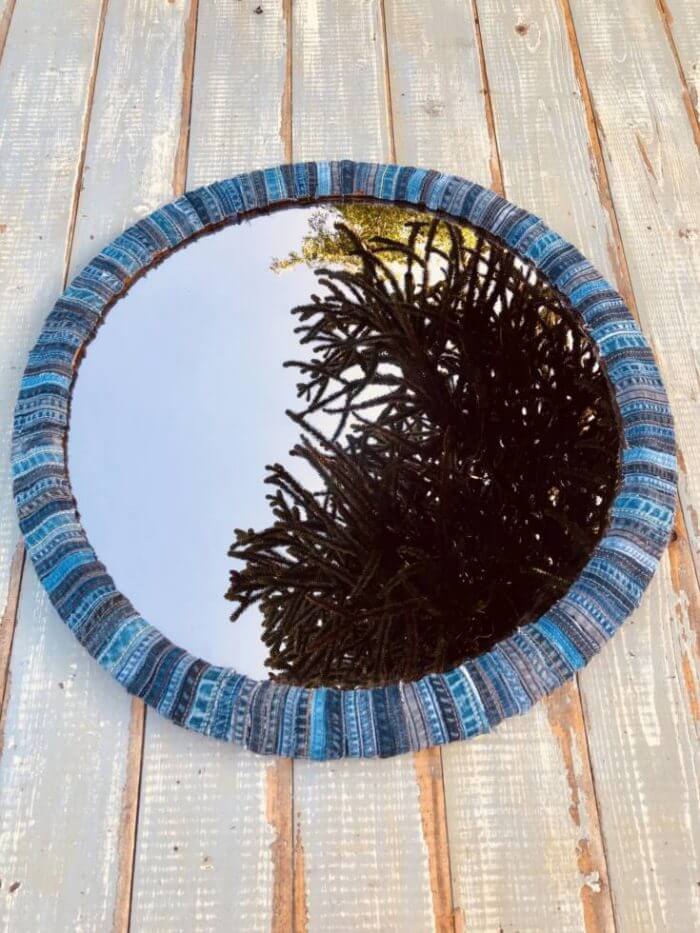 You don't have to sew to create a magnificent and trendy denim-themed mirror frame. What you can do, however, is decide on different cuts of denim to make your creation. This way, there is some awesome contrast throughout the entire frame. You are then left with a mirror that stands out and serves to complement any decor theme in the room.
12. Beautiful Denim Footstool Makeover Design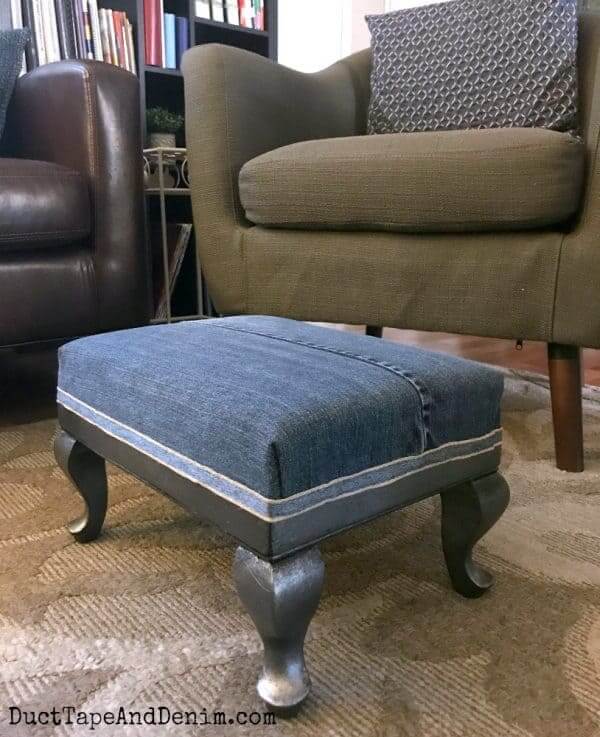 An incredible way you can utilize denim in your home decor projects is by transforming an old footstool. This breathes new life into the footstool, making it resemble something that is equal parts old-fashioned and modern at the same time. This unique blend of characteristics allows this to settle into your decor well enough that you may hesitate to use the footstool and instead sit back and admire your work.
13. DIY Denim Rope Basket Design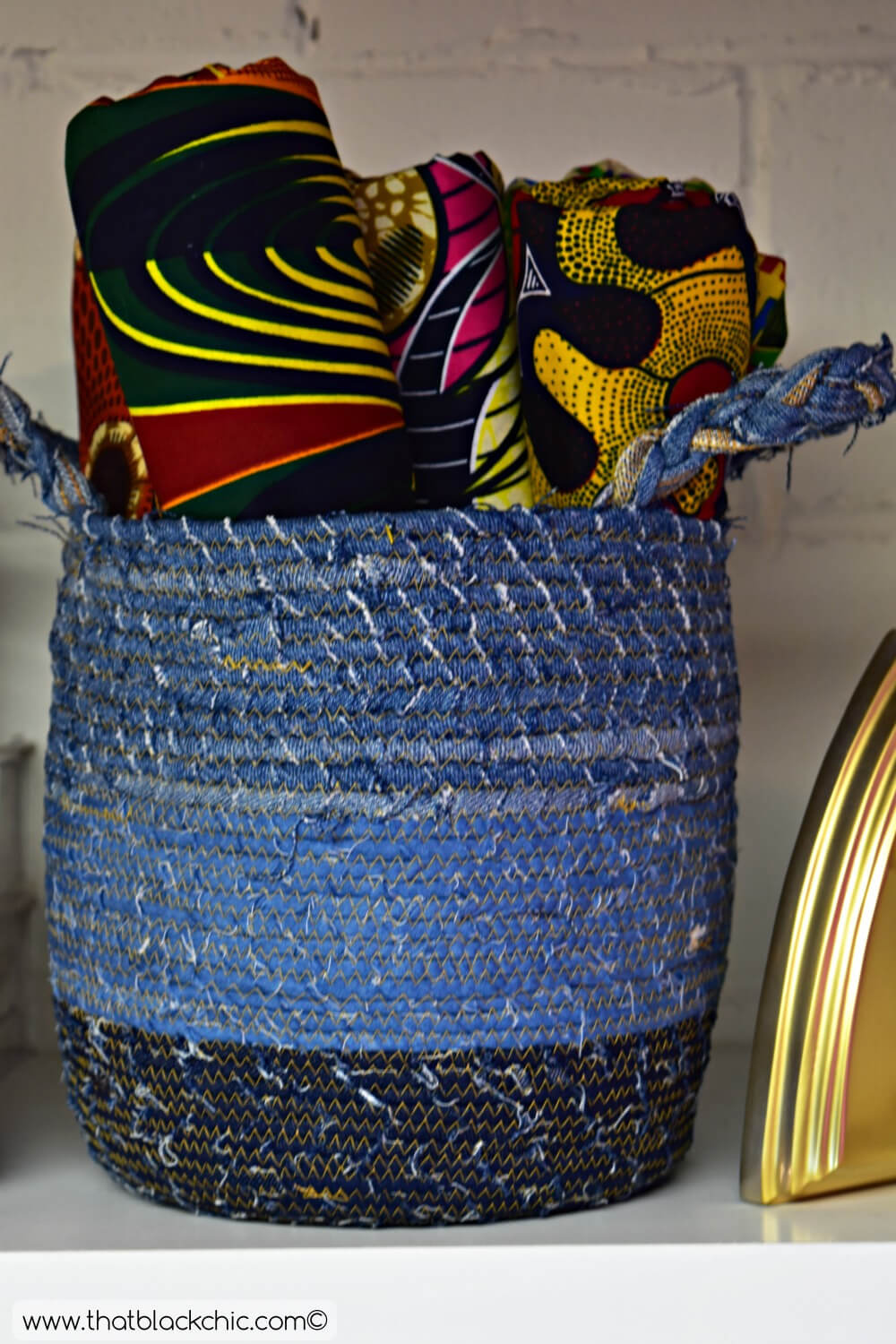 Looking for a reliable and sturdy basket for any occasion? Then try out this denim and rope basket project design. It is a lovely homemade jeans decor item that you can use whenever needed. This is even an awesome design to just use as pure decor too without actually placing anything inside of it. So, you can allow it to stand out in almost any room in the home.
14. Burlap Denim Rose Garland Design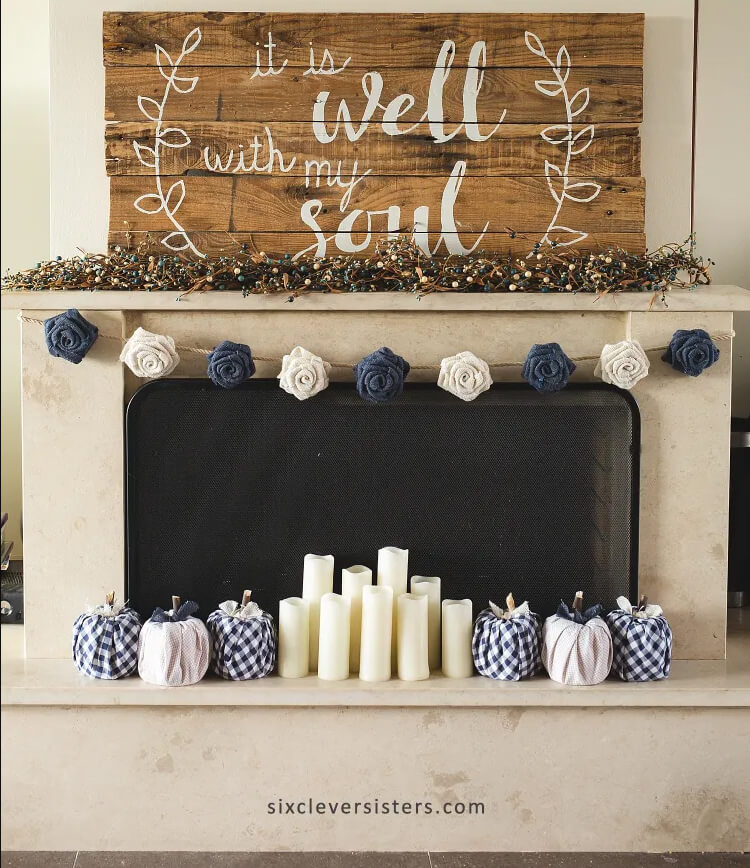 A distinctive way for you to show off your love of denim-based decor is by making a garland. Garland always works out well for a DIY project. You can hang it up almost anywhere, and it comes in handy for use year-round. Beyond that, you can even create some awesome decorative styles out of the denim too as in the case of the rose design.
15. Charming Rural Denim Placemat Design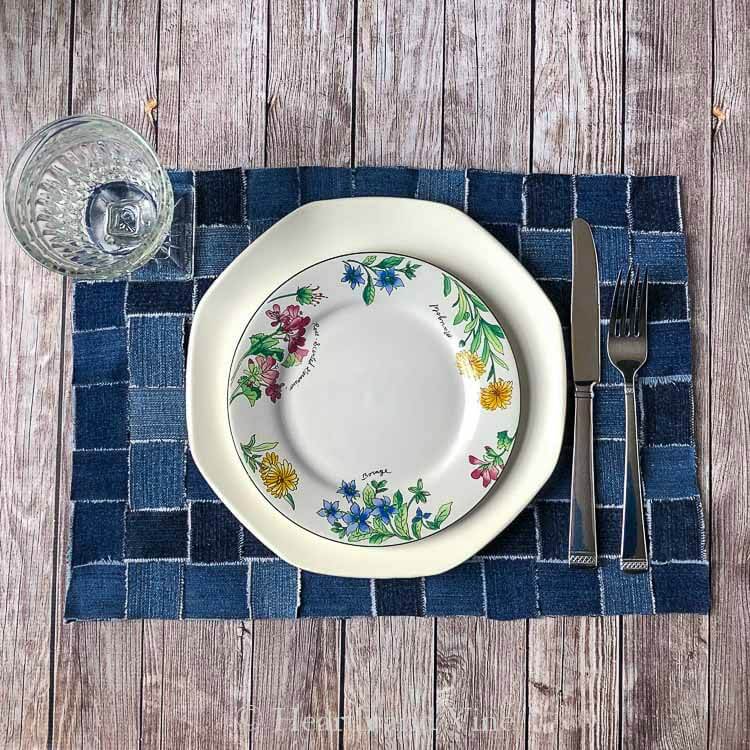 Need some placemats that work well with your rural, country theme? Then try out these DIY denim placemats. The patchwork style gives it far more style and contrast, a factor that is further helped with the various shades of denim used throughout the mat. It is a great way to add a unique rural-like touch to a farmhouse-styled kitchen or dining room.
16. Recycled DIY Denim Basket Project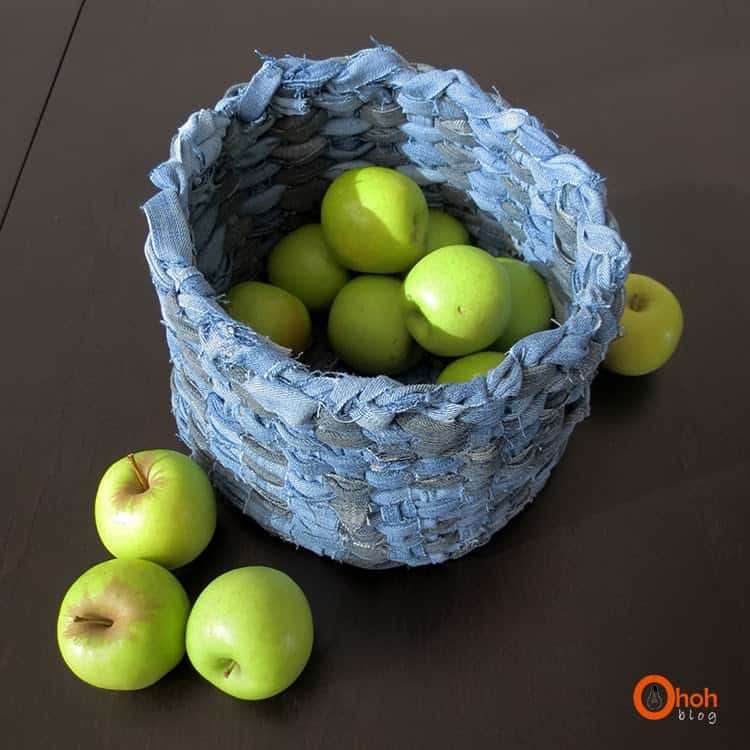 Are you in the mood for a creative fruit basket to use in your kitchen or dining room? Then why not make one out of denim? This way, you not only add some color to the room, but you also add some awesome bit of texture to your decor. The basket is charming in a rural way, and it is sturdy enough to support different types of fruit.
17. Traditional Style DIY Denim Pocket Pillow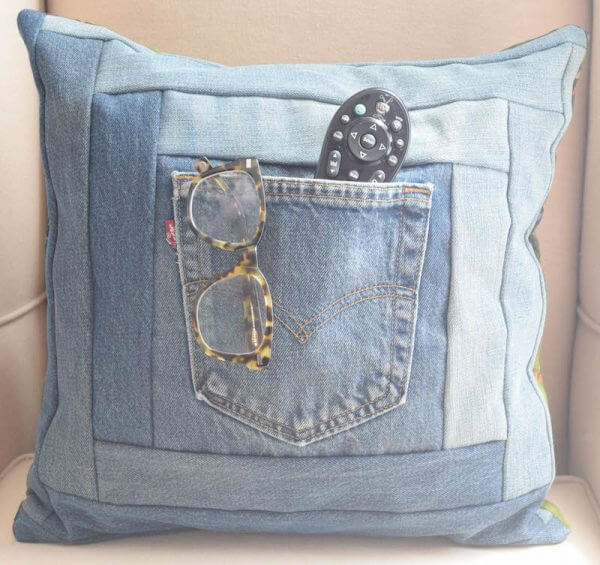 Want to bring that traditional log cabin pillow to your home? Well, you can make it yourself using an old pair of jeans. The design is compelling and resembles something that you may have purchased rather than made. Other than appearing compelling, trendy, and rustic all at once, the pillow also has a handy pocket feature. This allows you to stash much-needed items like the remote so it's always close by.
18. Burlap and Denim Design Wreath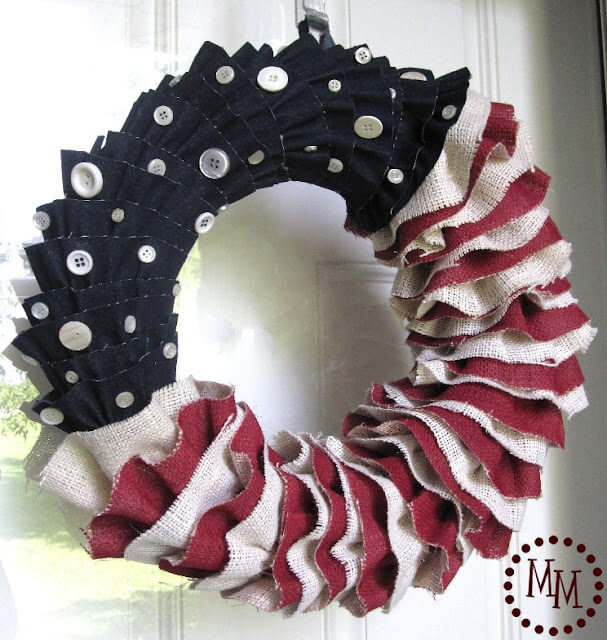 Burlap and denim are two materials that go hand-in-hand once you know how to use them. If you are eager for something to blend in with the holidays or simply to show off your patriotic spirit, consider utilizing denim to make a patriotic-themed wreath. Wreaths are such an incredible DIY base to start with as you can hang them up inside and outside your home for versatile usage.
19. Mini Denim Jean Accessory Bucket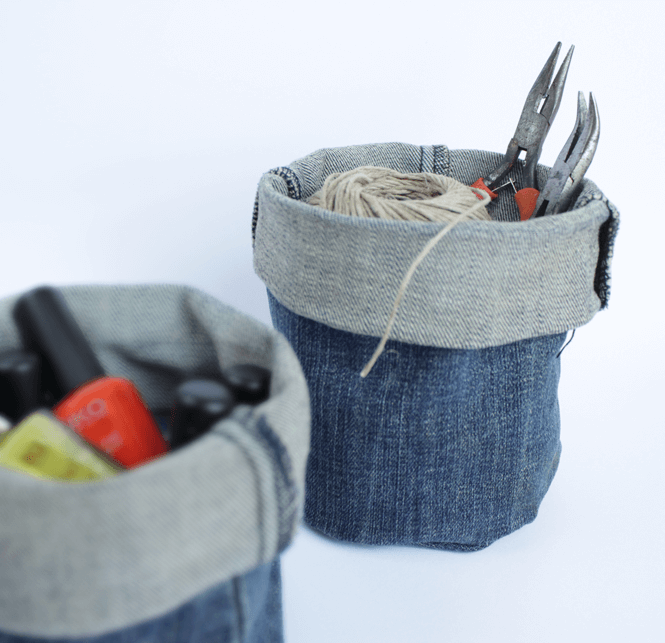 Have a lot of smaller accessories or items lying around? Well, you can stash them all in one place with this cute denim bucket design. This takes homemade jeans decor to a more functional level, blending in your decorations with everyday items. These are small enough to fit well on a desk or console table too so that they can better work alongside the rest of a room's decor. They are reliable too so you can fill them up with numerous accessories.
20. Sewn Patchwork Denim Shopping Bag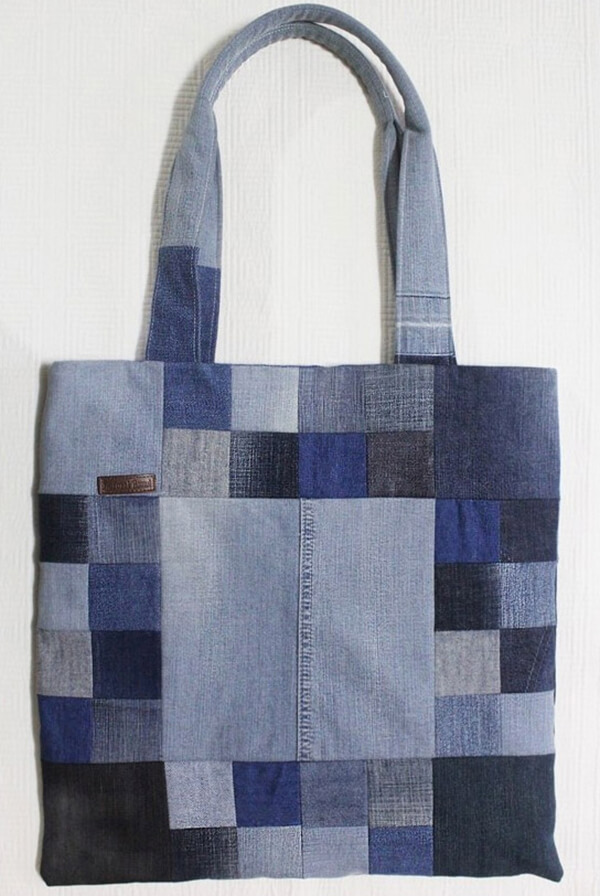 Your homemade denim design does not have to remain at home. Rather, you can show off your creativity while on the go with this cool patchwork-themed shopping bag design. It successfully utilizes various shades of denim, giving it far more depth and movement for an artistic and stylish touch. This is an excellent way to upcycle numerous denim items while still allowing for the bag to remain a part of your wardrobe.
21. DIY Denim Shirt Pillow Cover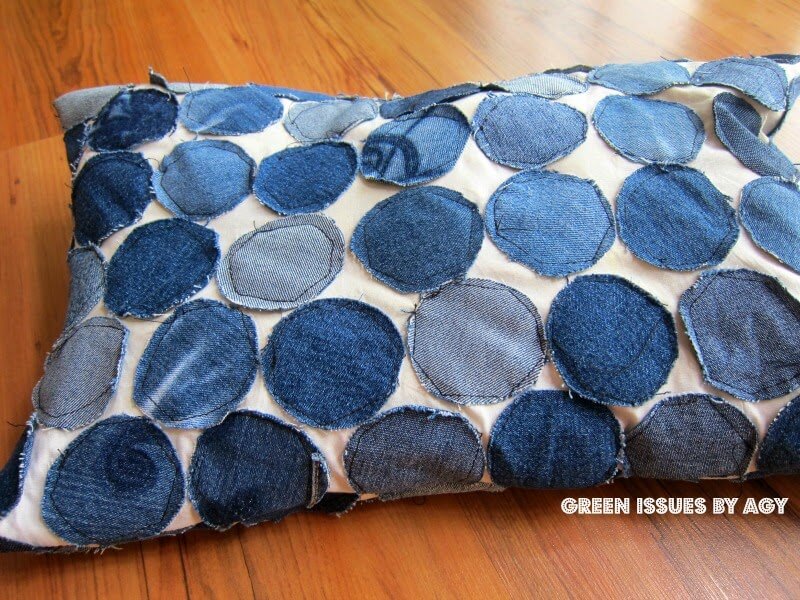 Want to add some style to an otherwise plain pillow? Well, toss on some denim and you can add color and texture. It can serve you well to set up the denim in an interesting patchwork-like pattern too. This way, it does not look standard or basic. Instead, the pillow looks stylish and contemporary while also fitting in with a rural theme if you have one.
22. Cute Bedside Denim Pocket Organizer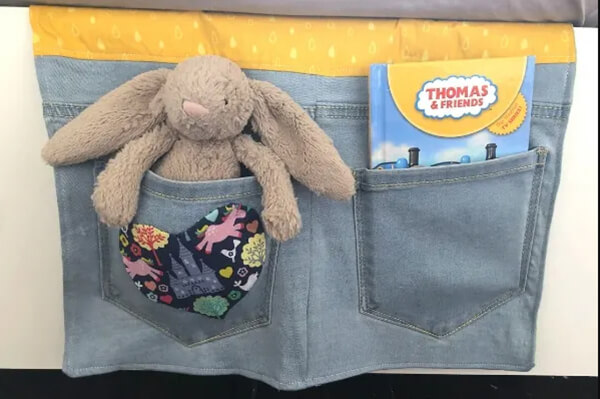 Whether for yourself or for the kids, a bedside organizer is handy to keep some important items close like a favorite plush toy. There are plenty on the market, but you can always make one yourself instead so that it is designed to work with exactly what you want to put inside. It is also a wonderful way to make use of some old jeans that no one wants to wear anymore.
23. DIY Denim Themed Picnic Quilt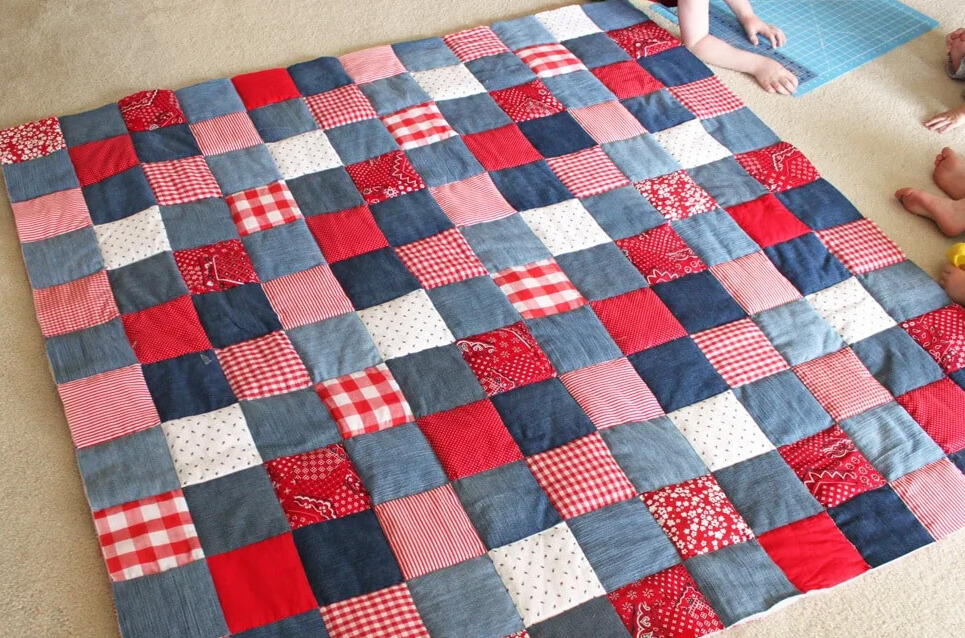 Picnic in style with this awesome denim quilt. The patchwork layout keeps things from looking static, providing some much-appreciated color throughout. Concerning usefulness, the jeans work well at weighing your blanket, allowing it to actually remain in place while you're outside. So, take on this DIY denim project to take your home decor and use it outside for all to see.
24. Toolbox Denim Jean Makeover Design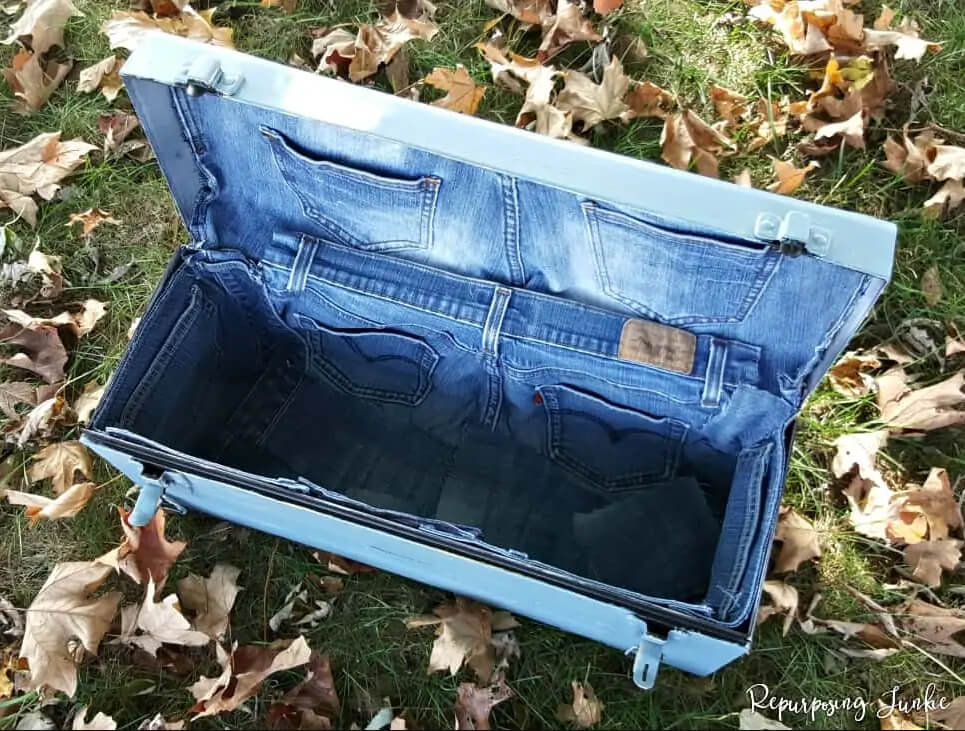 Take that rusted, worn toolbox and give it a much-needed makeover with some paint and some denim jeans. It is a wonderful way to utilize denim without making it so obvious, working well with those of you more interested in the minimalistic approach than anything else. In this case, the denim works as something that is both stylish and functional as you can use the pockets inside for any smaller items you want to be added to the toolbox.
25. Sweet DIY Blue Jean Buckets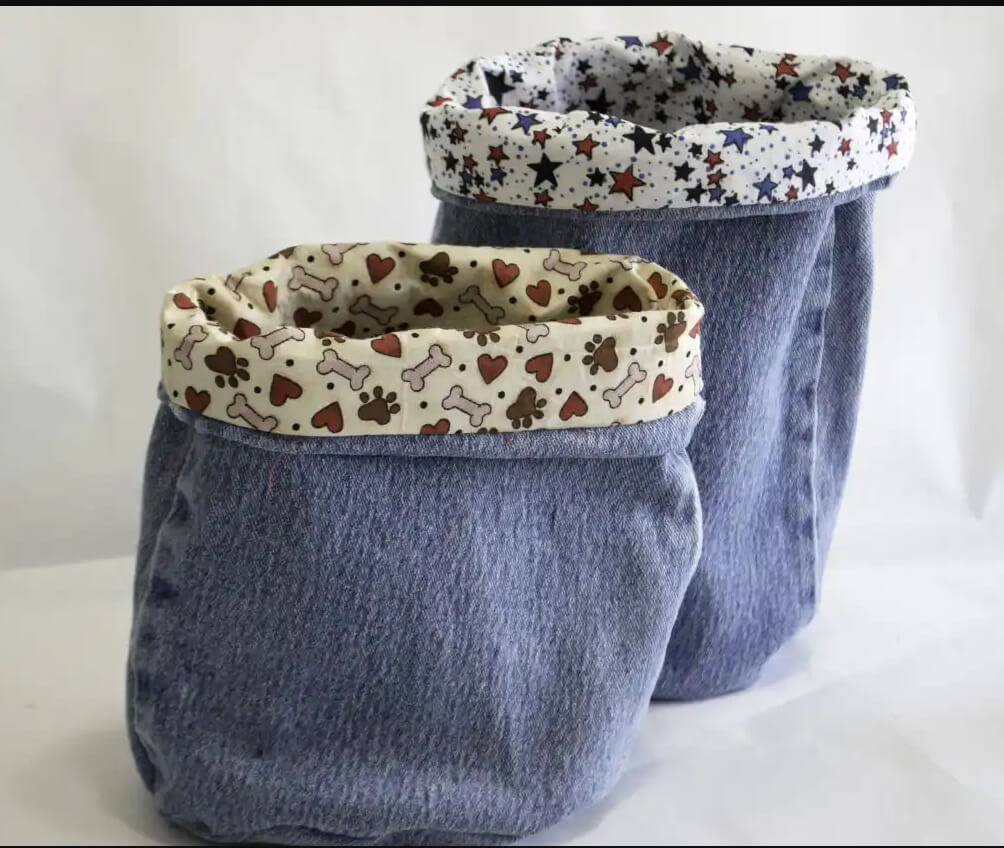 These homemade blue jean buckets are adorable and functional all at once. The buckets have just enough room for you to add some smaller items or accessories inside. They can even make for awesome pencil holders to set up at your desk. Plus, you can add a fun design to them to give them more color and flair that fits more with the rest of the decor in the room.
25 Ways to Get Creative with DIY Denim Decorations
Denim is an incredible material to work with for your home decoration projects. It is reliable and available in several different gorgeous shades of blue. Denim is also a perfect way of weaving in some color to your decor along with providing a room with some beautiful texture so that the decor stands out even more.
Another great thing about using denim to decorate with is that you can build up a country chic theme. This way, you can have some beautiful rustic or rural decorations as well as decor that is more sophisticated or contemporary. You can blend multiple styles using handmade denim room decor, giving you a good deal of variety in terms of theme.
Also, you can use this for just about anything. Create furniture with denim, add on a finish, or just adorn your home with denim accessories. The possibilities are plentiful. If you ever need more ideas, remember to read up on our best DIY denim home decor ideas. These ideas should hopefully keep your spark of creativity going so you can create unique pieces throughout your home.