The best DIY desk organizer ideas strike the perfect balance between stylish design and workflow efficiency. Instead of stopping at decluttering your desktop, an effective organization system resonates with your style to fill your spirit with joy. Because everyone has an individual style and a unique workflow, there is no single perfect organizer for everyone. However, there are many ways to tweak an organization system to fit your needs.
34 DIY Desk Organizer Ideas to Make Your Office a Place You Want to Spend Time In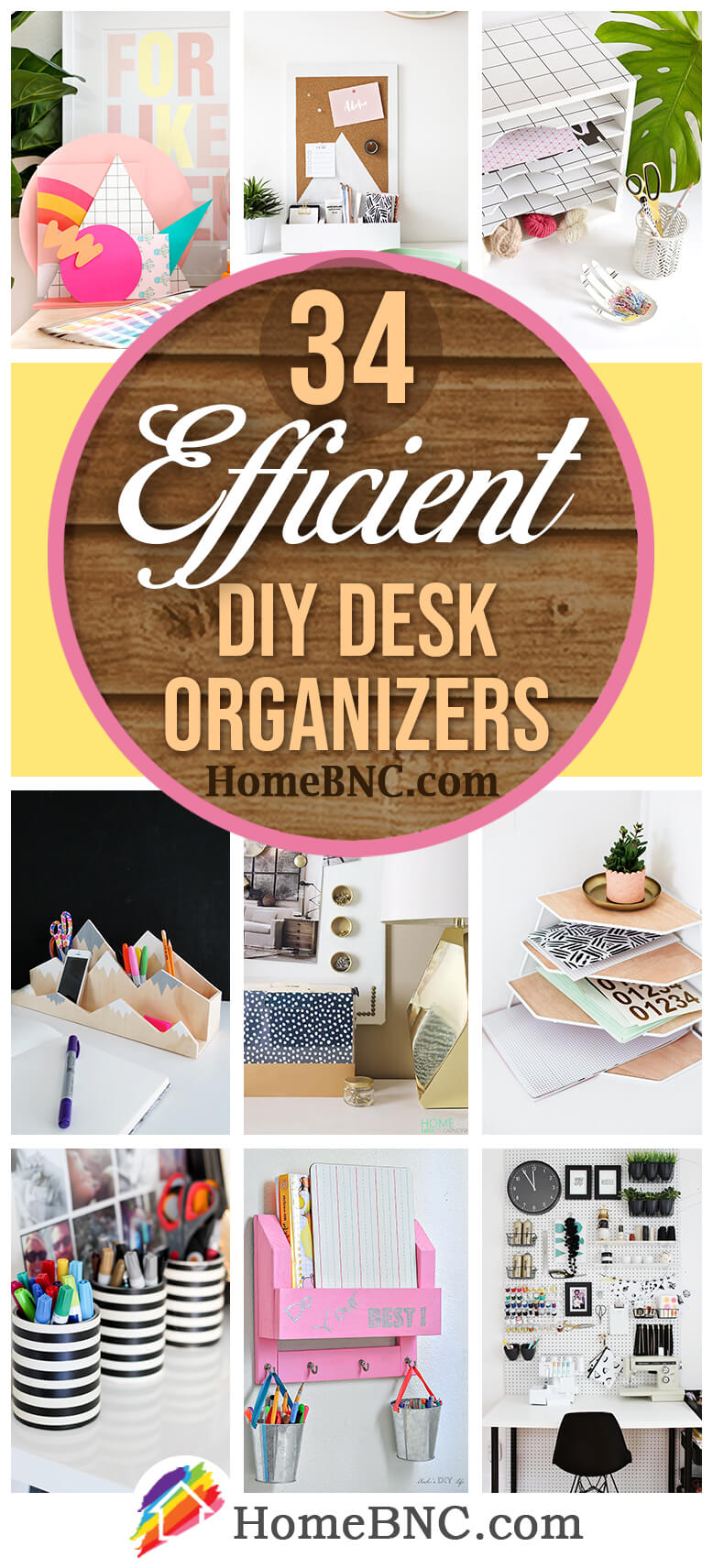 Decorating an organizer to complement your style might be easier than you think. Get ready to break out all your favorite crafting materials like paint, patterned paper, fabric, washi tape, and your trusty paper cutter. While a few of these ideas do require a little carpentry, most are actually possible with items you already have in your home. Do not be afraid to mix and match your style with the ideas below.
Beyond how an organizer looks, its true value lies in how functional it is. Of course, how effective an organizer is depends on your workflow. You know which utensils and materials you are always reaching for and which you need less often. To increase efficiency, find ways to keep those frequently-used tools on your desktop while finding more permanent storage options for the others. What space you have available is another factor in figuring out the best desk organizers for your style. From awkward corners to restricted desktop space, there are ways to make the most of your desk's potential.
Before jumping into these ideas, you might want to take a few moments to survey your desk. Which items are creating the most chaos? This will give you a guide to figure out which organization systems will make the biggest difference in your life. Do not be afraid to explore beyond the examples shown here to configure an organizer custom-built to your workflow.
1. Paper Organizer that Channels the 80's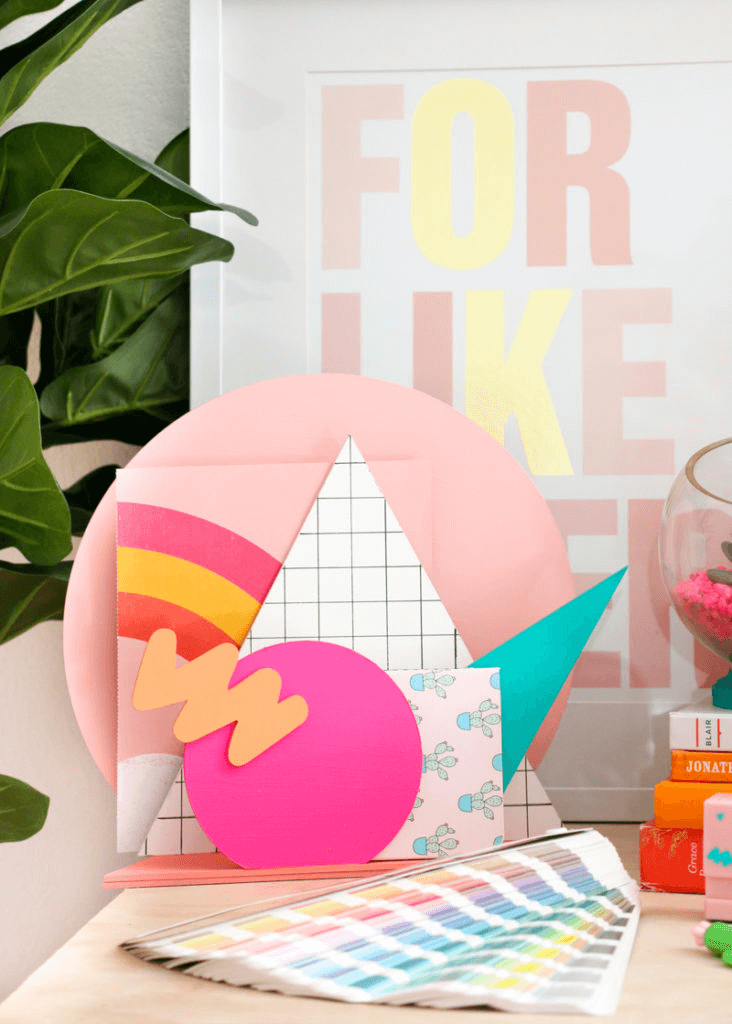 If you love all things from the 1980s, this homemade desk organizer might be the ideal finishing touch for your office. Although this paper divider requires a few woodworking tools and a bit of carpentry know-how, it is a straightforward project that anyone with enough determination can tackle. Do not be afraid to adjust your organizer's color scheme to harness your favorite 1980s vibes. Imagine going bolder than this example by painting an animal-print pattern on one of the shapes. After you have built this DIY desk organization system, you will rock all the paper sorting your office can throw at you.
2. Say Hello to Effortless Desk Organization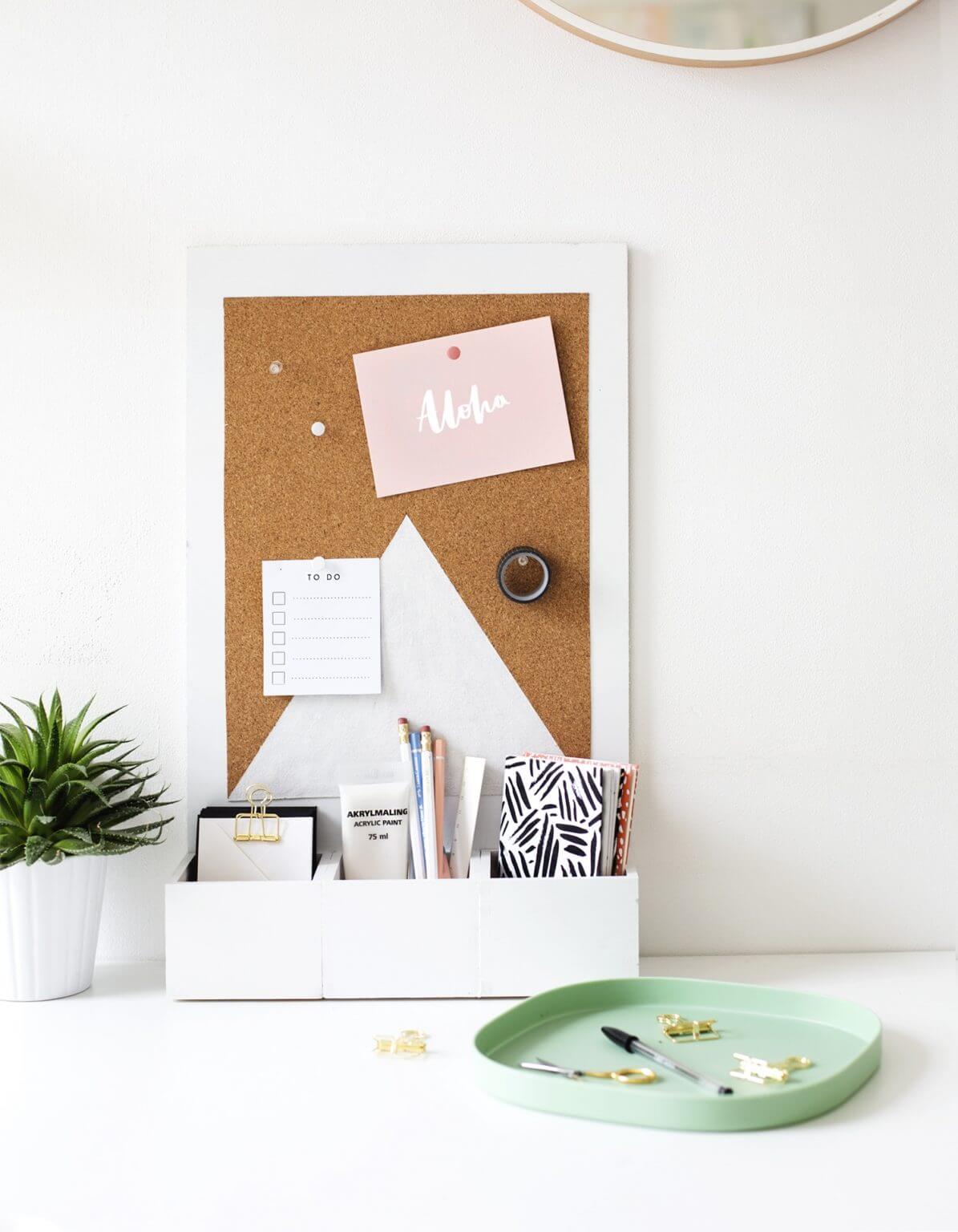 Sometimes, the best DIY desk organizer ideas are ones that showcase simplicity. White wood and a bulletin board cultivate the ideal balance between functionality and clean aesthetics. Inset within the corkboard, a sleek triangle acts as an energizing accent. If you would prefer to soften your workspace, try a circle instead. The white color means that this organizer can blend unobtrusively with any desk, but you could jazz it up to suit your style. Because the only equipment needed to make this organizer are wood glue, tape, a crafting knife, and a ruler, you do not need expensive tools or extensive carpentry experience.
3. Giving Your Storage a Facelift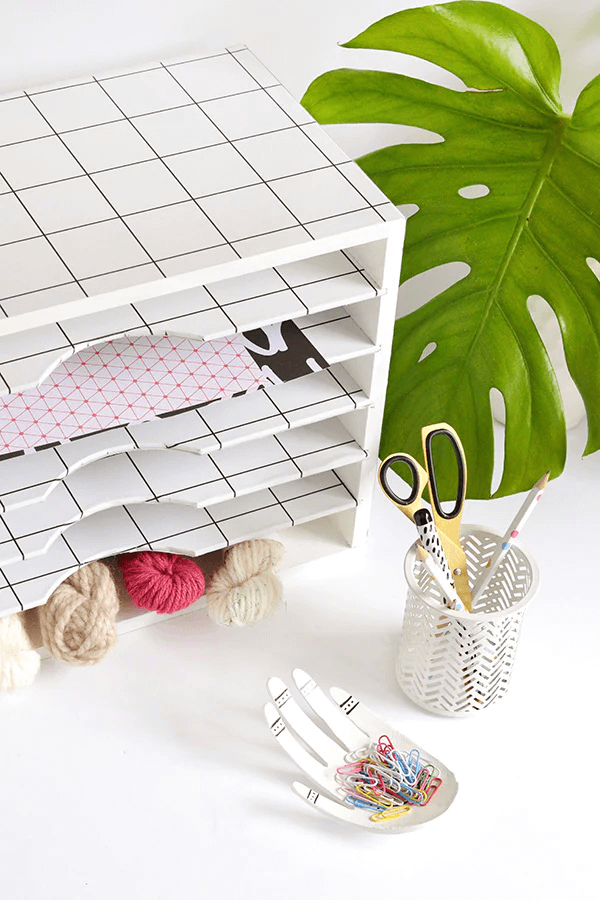 Everyone's style matures and changes as time passes. To keep your desktop décor as chic as you are, draw inspiration from this technique. All you need to do is invest in some removable wallpaper that you love. Instead of purchasing or making new desk organizers every few years, you will be able to give your favorites a refreshing makeover. Once the wallpaper has been applied, you can begin decorating with anything that will help inspire joy in your workspace. If you have an organizer that does not lend itself to removable wallpaper, you can easily paint it in a complementary color.
4. Inspiring Adventure with a Mountain Range Organizer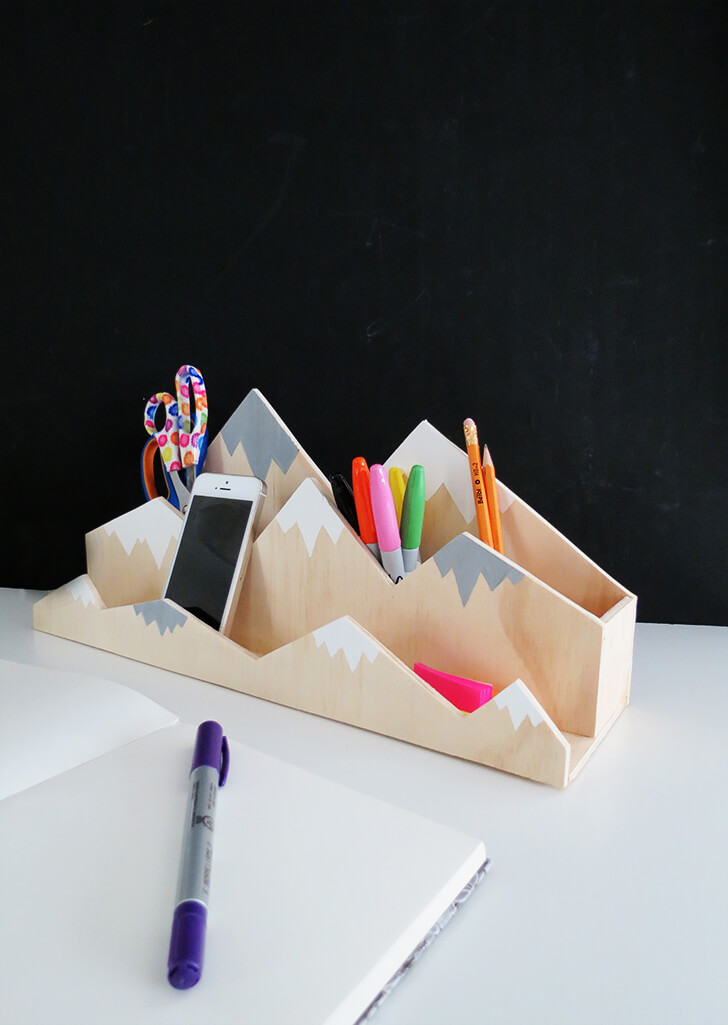 Perfect for rejuvenating a dull desk space, three tiers of mountains provoke a sense of vitality. Each mountain range obscures small partitions ideal for containing anything including phones, power banks, writing utensils, scissors, and anything else you might need in the course of your day. Embellished with cool gray and crisp white snow-capped peaks, the natural wood means this desk organizer can assist in cultivating a Scandinavian or modern ambiance. Of course, you can switch up the colors and finish to fit your space's aesthetic. Make your mountains a shimmering focal point by adding your favorite sparkly embellishments.
5. Corner Shelf Organizer that Exudes Modern Chic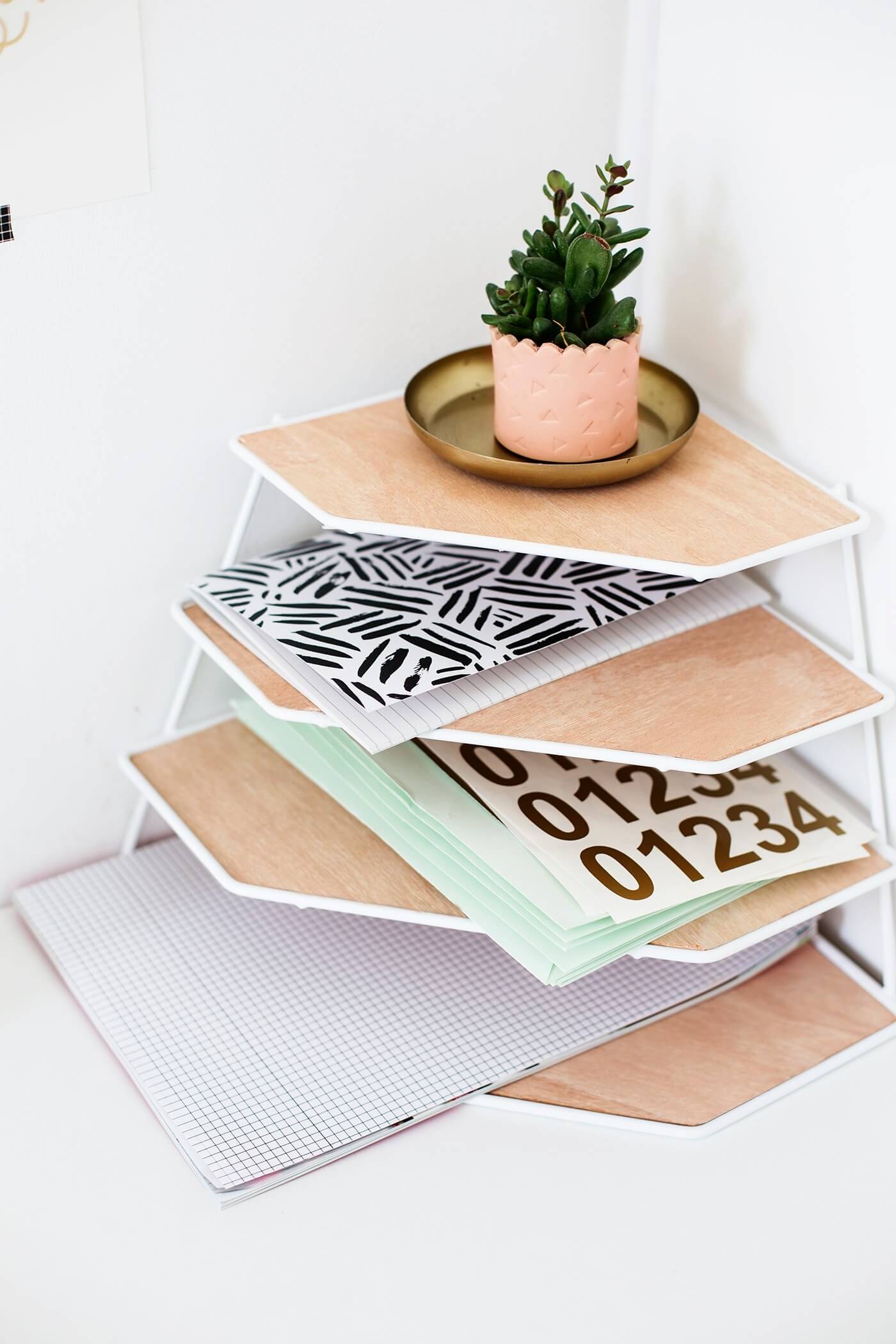 In the organization world, corners offer a unique challenge. To make the most of your limited space, odd shapes sometimes look best. Geometric edges, unfinished wood, and a clean coat of white paint transform an oddly-shaped wire dish rack into a photograph-worthy desk organizer. Because the wire rack was designed for heavy dishes, you should have no problems storing paper, desk accessories, or even plants when you use it as an organizer. Dress the balsa wood up in your favorite distressed finish, and you will have achieved a gorgeous rustic look. If you prefer a little glamor, try using a shimmering shelf liner.
6. Upgrading Your File Storage with Spray Paint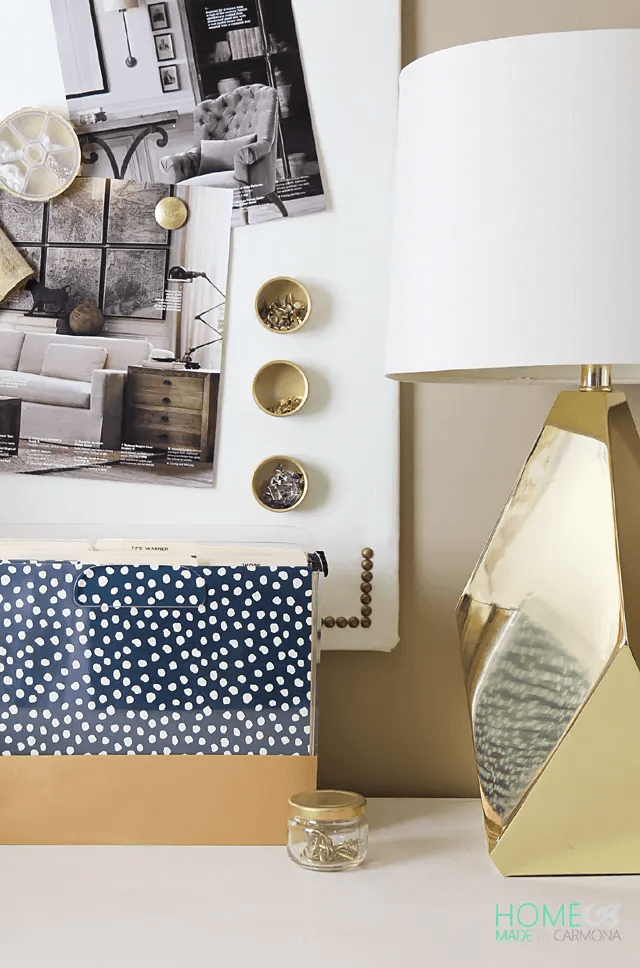 A thick band of gold spray paint transformed a boring clear plastic file bin into something you can be proud to display on your desk. The key to making this look work is to anchor your container by painting only the bottom third. Because the file organizer is clear, it allows the hanging file folders to shine. To change up the look, all you need to do is switch out which hanging file folders you are using. This tutorial showcases shiny gold paint with subtle copper tones paired with dancing polka dot hanging file folders. Where will your creativity take you?
7. Keeping it Simple with White Binders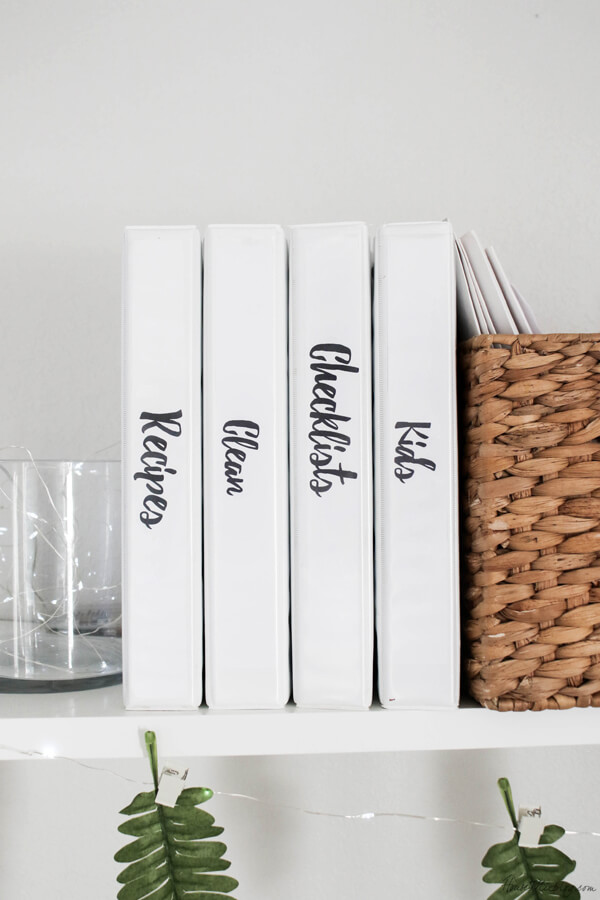 With so many intricate ideas on offer, it can be easy to overlook straightforward solutions like plain white binders. Of course, there is more to this strategy than plopping white binders into your workspace. The first step is to label and customize your organization binders. Pick a font that is both fun and legible for the spine label. Whether you prefer a cutting machine or a printer, achieving the labeled look is an effortless way to pursue methodical organization. White may be the most inexpensive option, but you can always go for a more colorful look should you desire.
8. Chic Handmade Desk Organizer Ideas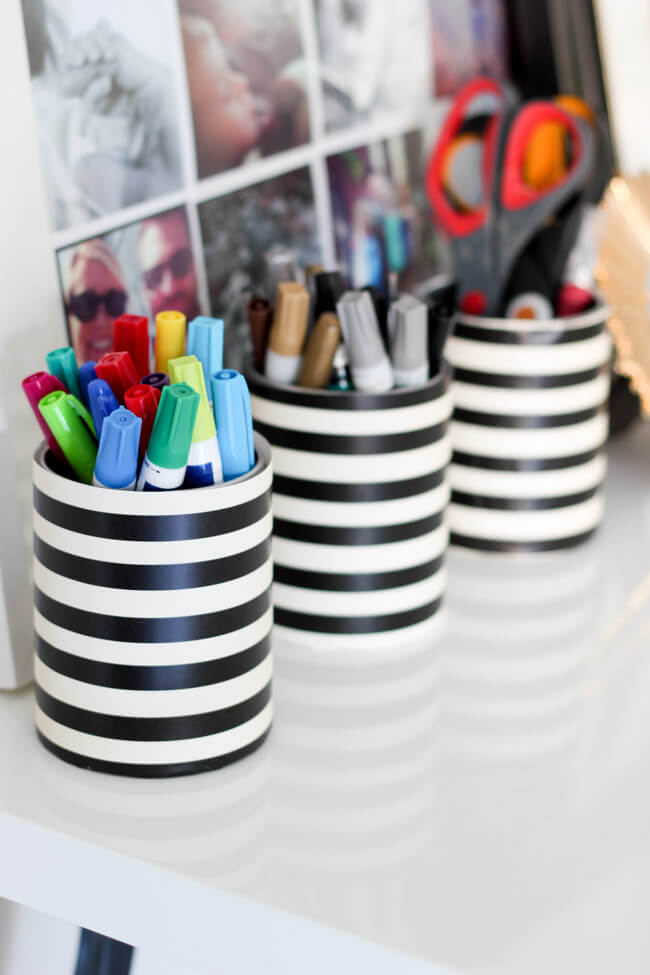 Surprisingly, these sophisticated storage containers are fashioned from tea tins and wrapping paper. A black-and-white color palette means that these organizers will blend seamlessly into any desktop while adding a layer of debonair flair. While this approach lets the writing utensils speak for themselves, you could easily add chalkboard labels to each. Because this technique uses wrapping paper, you can use any additional embellishments that you would usually associate with wrapping gifts such as ribbons, beads, and bows. Wrapping paper also means that it will take very little time to refresh your organizers to coordinate with your seasonal decorations.
9. Back-to-School Handmade Desk Organizer Ideas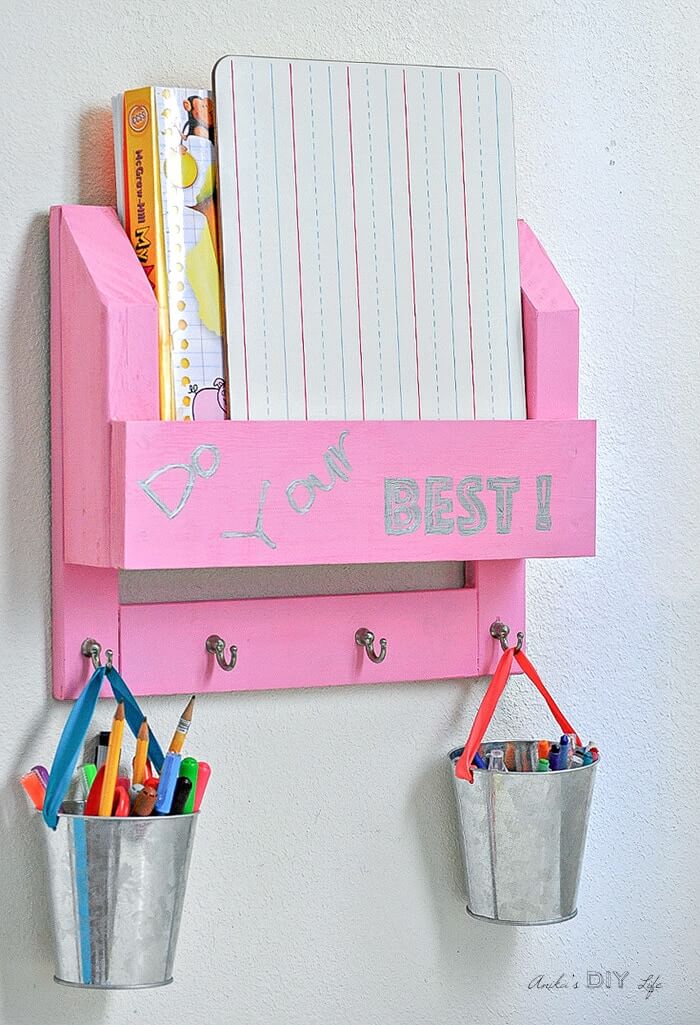 Crafting a wall-mounted organizer is one of the best ways to declutter a desk. Because the items have a new home, you will have more usable workspace square footage. While this strategy can be useful in a home office, it can also help organize homework and school supplies. Small metal buckets serve as creative ways to store all the miscellaneous writing utensils and other materials needed for a successful school year. With labels on the buckets, you could take your organization to the next level. While this organizer showcases an inspiring reminder, you could skip this step for a more mature look.
10. Achieving Vertical Storage with a Pegboard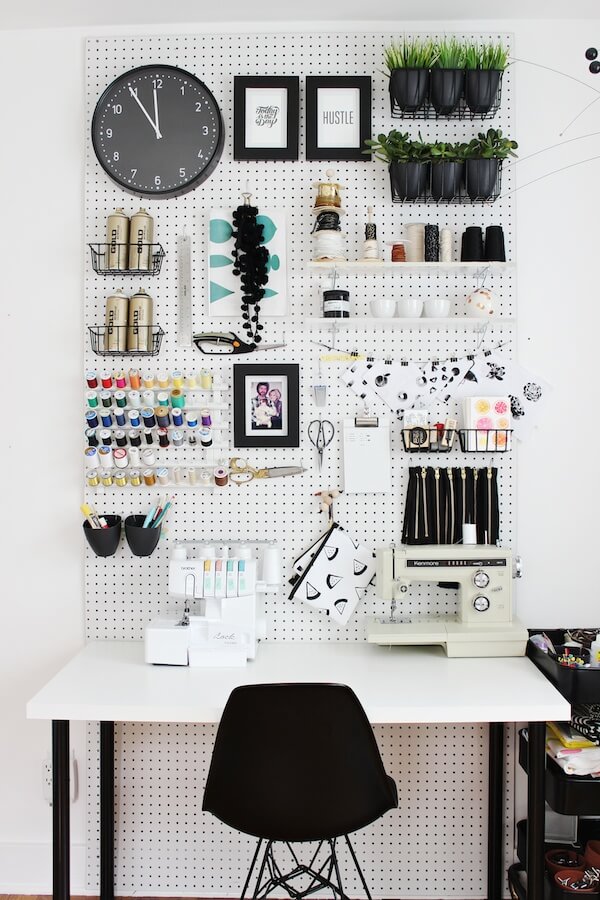 One of the best DIY desk organizer ideas to maximize your potential storage space is to install a pegboard behind your desk. Pegboard gracefully allows for flexibility to hang nearly anything lightweight so you are not locked into a single configuration. On a more practical note, it might be best to hang items you anticipate handling often lower down within easy reach. This frees up the pegboard's upper reaches for decorative elements like clocks, pictures, and houseplants. In between, black organizers and white shelves provide plenty of versatile storage for whatever kinds of supplies live on your desk.
11. Using a Muffin Tin for Small Items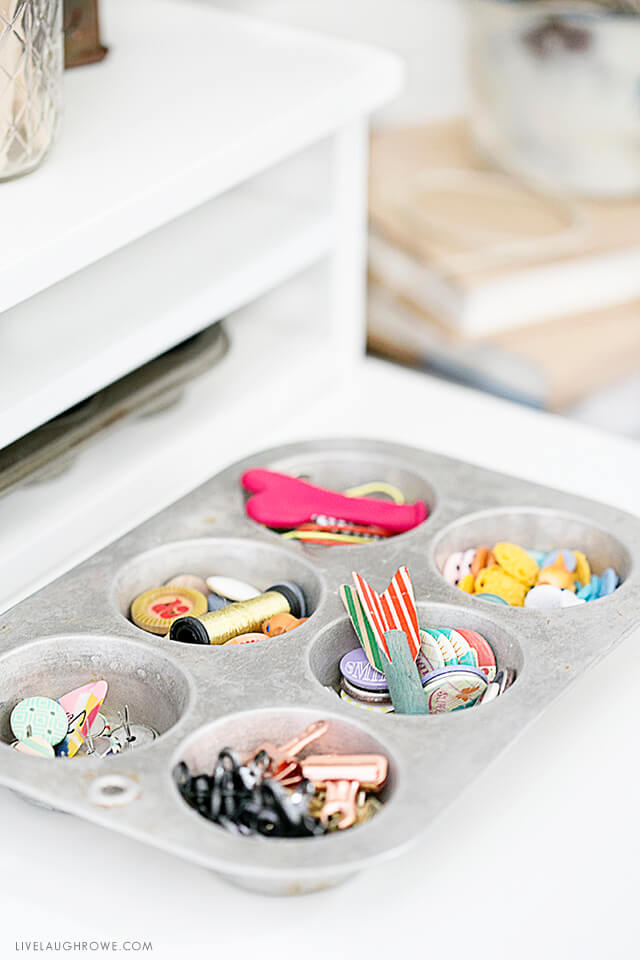 Finding ways to breathe new life into vintage pieces can be absolutely exhilarating. This old muffin tin makes the perfect tray for the sewing supplies shown here but would work well in an office setting as well. Imagine storing paper clips, binder clips, push pins, staples, staple removers, and postage stamps in each of the small muffin cups. To keep all the small metal pieces stationary within the muffin cups, you could even add magnets to the bottom of each cup. While the unfinished metal gives rustic vibes, imagine using spray paint to help your muffin tin complement the rest of your workspace.
12. An Attractive Way to Organize Your Organizers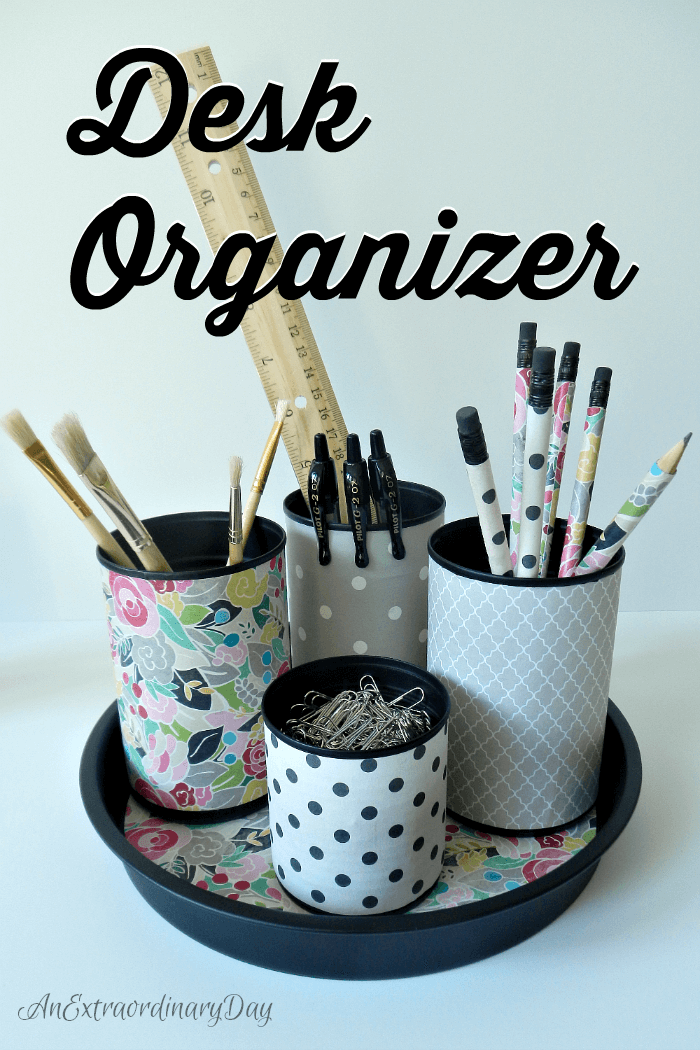 Once you have your pens, paintbrushes, paper clips, and pencils sorted in different containers, it might be tempting to stop organizing there. However, by adding a tray beneath your organizers, you avoid a cluttered work surface while keeping all your sorted writing utensils close to hand. In this example, an inexpensive cake pan serves as the organizer container. Because cake tins often feature a low profile and provide an expanse of flat space, they make a surprisingly great addition to your organization system. To make this strategy work for you, apply a coordinating design to your cake pan.
13. Updating Your Cord Management with Washi Tape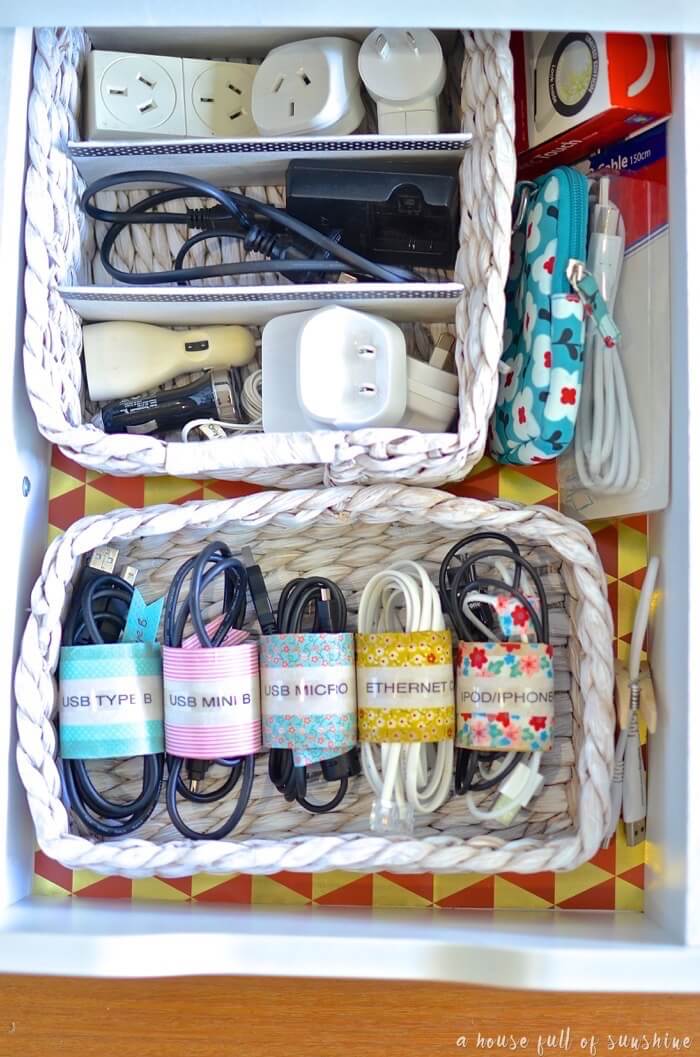 Everyone has spare charger cables, adapters, and miscellaneous electronic cords that just do not seem to have a home anywhere else. Instead of shoving them in a drawer to wrestle through later, why not give them a much-needed storage upgrade? Woven baskets and cardboard dividers are an easy way to keep different kinds of electronics separated. With its colorful and distinctive patterns, washi tape is the perfect way to keep different cords tangle-free until you need them. With a storage system this elegant, you might not even need to stash your extra electronic accessories in a drawer.
14. Easy Fabric-Covered DIY Desk Organization Canisters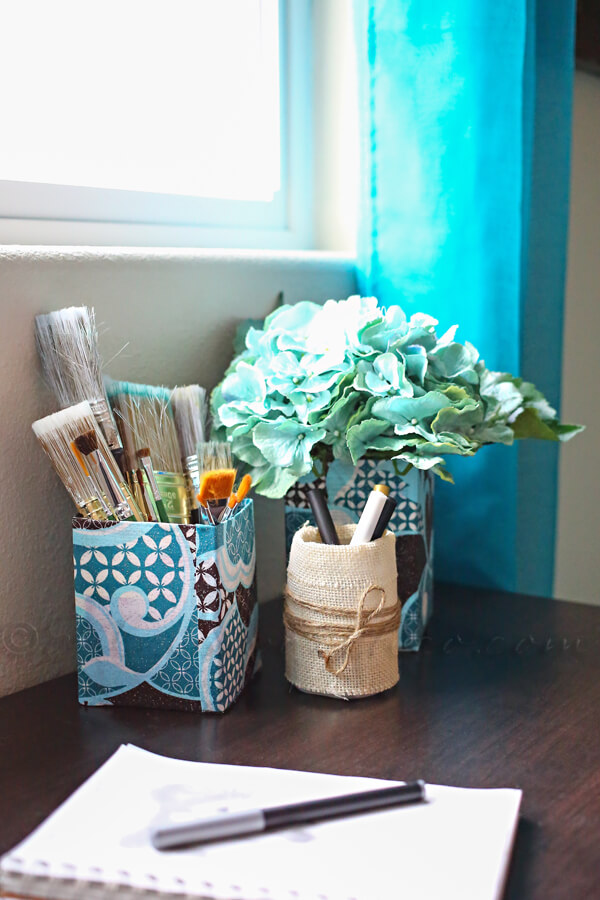 You might be surprised at how much decluttering a few containers can accomplish. Charming fabric choices disguise the fact that these two canisters are actually made from recycled containers. The square container started life as an iced coffee while the round organizer used to hold coffee creamer. Even if coffee is not in your regular routine, you will probably be able to find a container that will work in your recycling bin. Then, all you need to do is pick your favorite fabric and adhere it to your new organizer. Draw inspiration from this example and experiment with different fabric combinations.
15. Budget-Friendly Cardboard Roll Desk Organizer Craft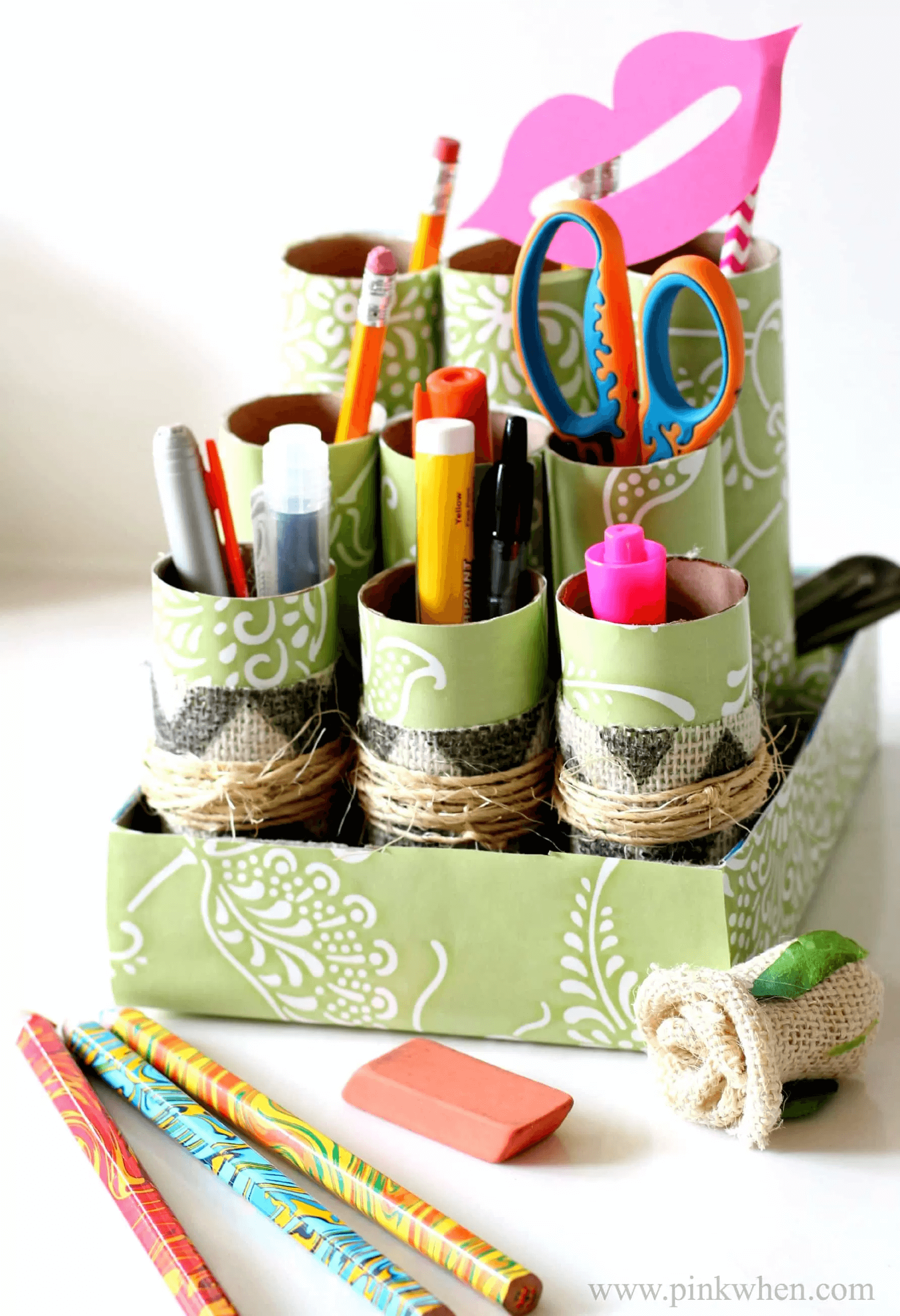 The key to this organizer's appealing success is the vinyl shelf liner. This not only gives these cardboard tubes some color but also a touch of texture. The shelf liner layer also ties the rolls and the tray together. Beyond the attractive color and elegant pattern, this desk organizer offers plenty of visual contrast to enjoy. Patterned burlap and twine on the first tube layer give this project a little energy. Of course, you can use whichever decorations resonate with your style. To have even more decorating fun, try using pairing cardboard tubes with contrasting heights and diameters.
16. 15-Minute Organizer from Recycled Materials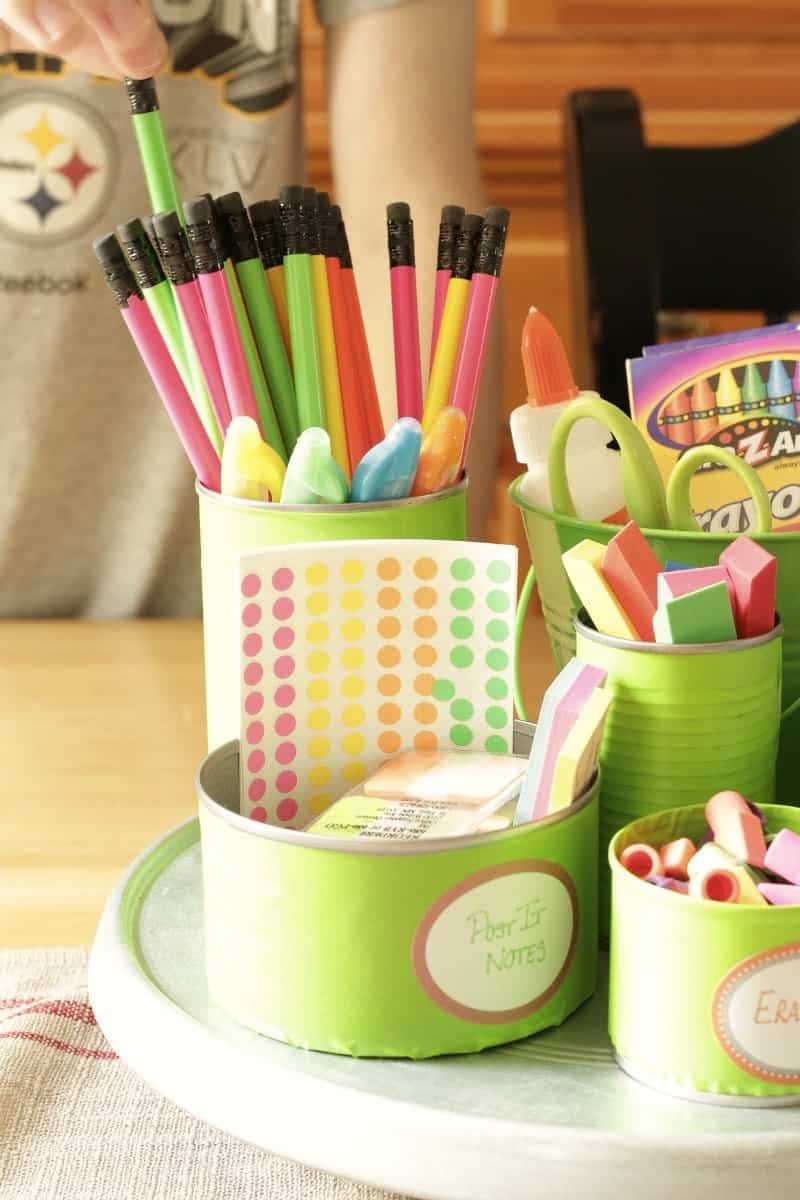 If you are hunting for handmade desk organizer ideas that can be made from materials around your home, this project might be exactly what you are looking for. Best of all, this craft is quick to assemble once you have all the components. Consisting of old cans and a Lazy Susan turntable, this organizer can be configured for a wide variety of office supplies. The turntable even makes everything easily accessible. A lime green makeover gives this organizer a splash of color, but you could take it in any direction you desire. From buttons and bows to burlap and lace, the possibilities are endless.
17. Eco-Friendly Washi Tape Phone Holder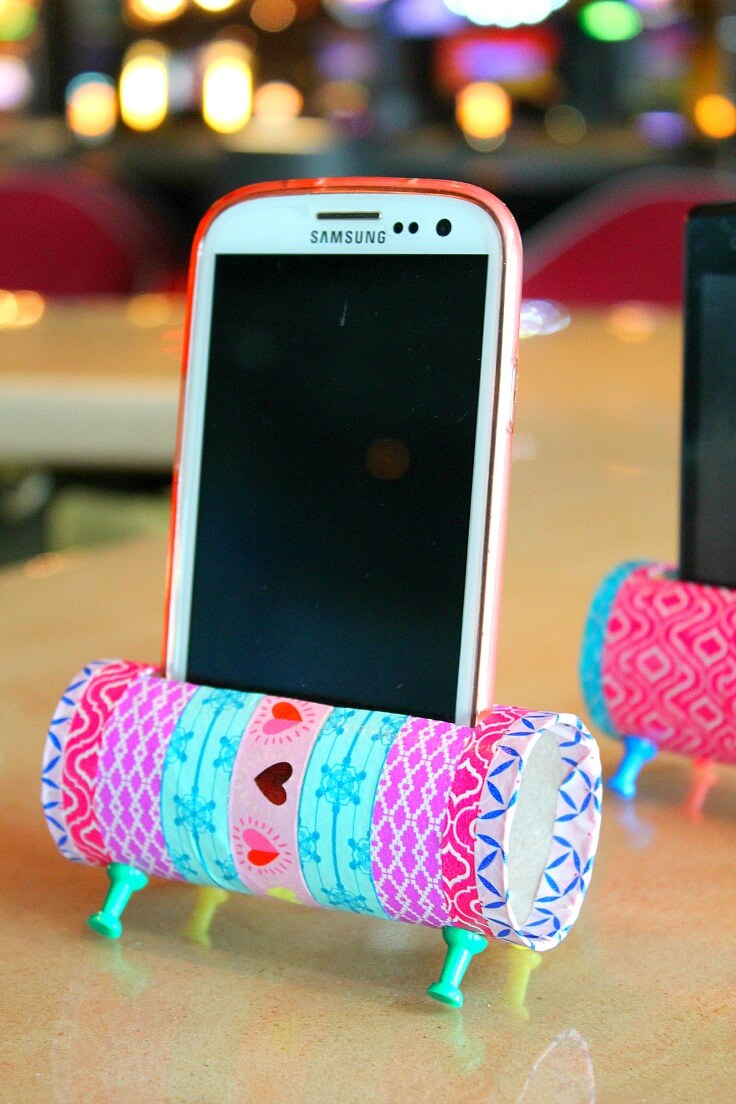 DIY desk organization does not have to end with office supplies. Because this phone holder will live on your desk, you can stop hauling your phone holder around with you. Best of all, this phone holder project is made from an empty toilet paper roll which makes it a no-waste storage solution. If your workflow would benefit more from a tablet holder, switch out the shorter cardboard roll for a larger paper towel roll. If using push pins as legs makes you nervous, try gluing alternative items like dice, wooden pegs, or even small stones onto your cardboard roll instead.
18. Desk Organizer with Chicken Wire Bulletin Board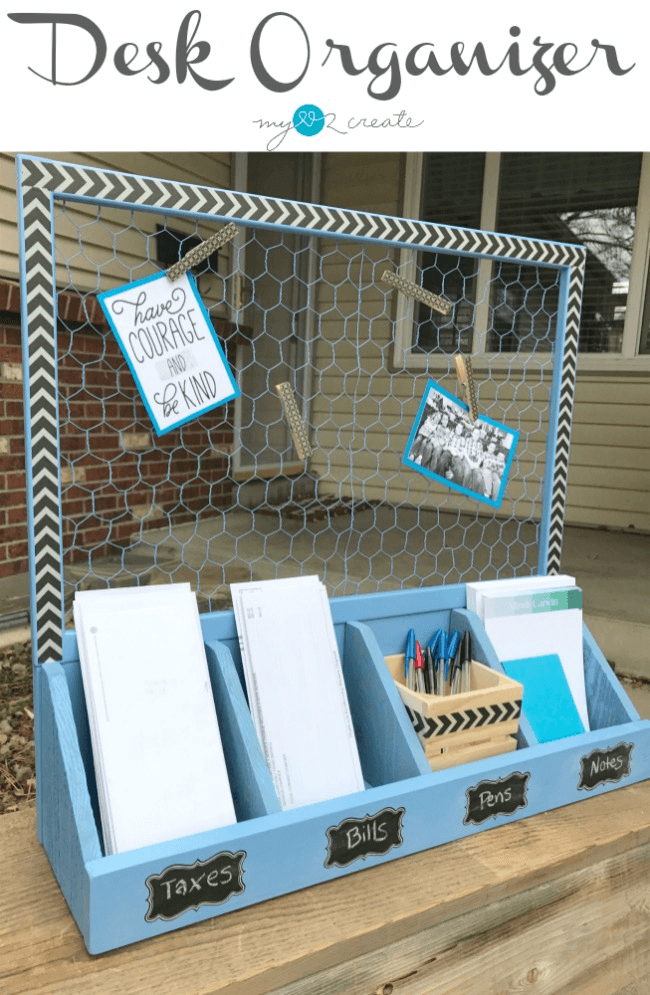 Painted in a healing shade of cool blue, this wooden desk organizer is the ideal way to give your desk a double helping of rustic charm. Chicken wire and clothespins offer an easy way to display sentimental notes, photographs, and lightweight seasonal décor. Chalkboard labels mean that you can reassign each category as necessary. However, if you already know what you want to store on your desk, try painting the labels directly onto the organizer. Decorative tape adds another layer of delightful dimension. If you use removable tape, you can even jazz up your desk organizer with the changing seasons.
19. Wire Mesh Desktop Craft Holder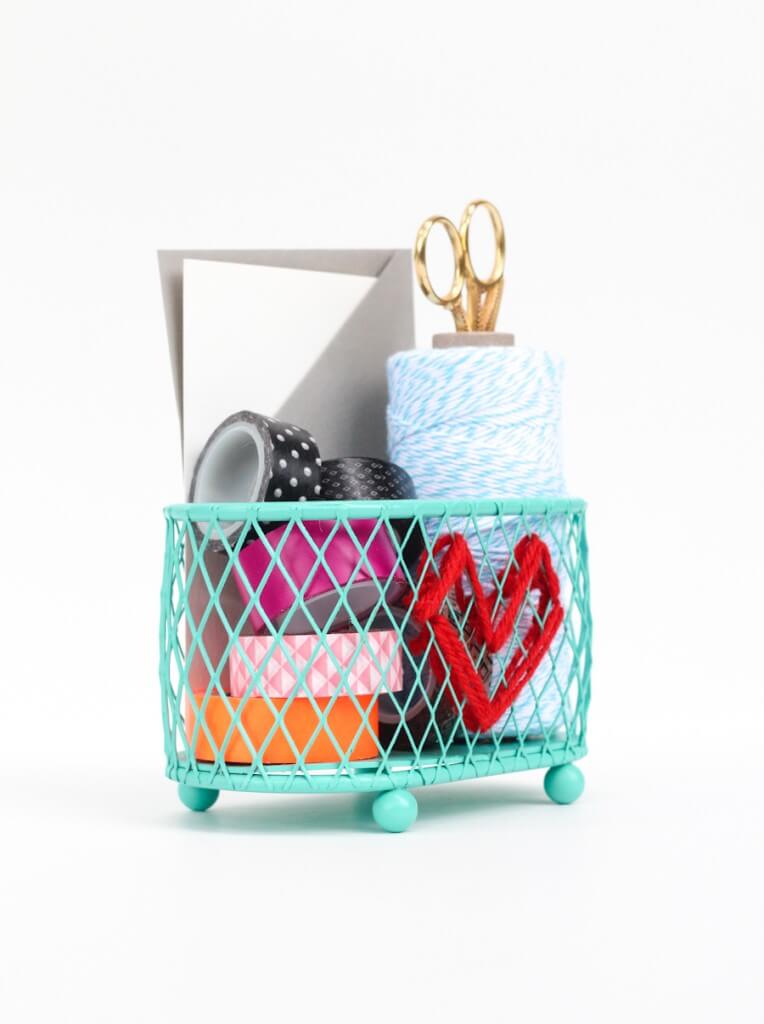 Although the diamond mesh pattern on this wire-framed basket is too large to store writing materials, there are still plenty of ways to display this beauty on your desk. You could follow this tutorial's example and use it to hold miscellaneous craft materials. From stamps to binder clips, there are plenty of ways to make this unique organizer practical. The heart-shaped yarn offers a dash of decoration that can be switched up whenever you feel ready for a change. To personalize your organizer so that it matches your energy, get creative with spray paint, yarn variety, and any other embellishments.
20. Cardboard Box Homemade Desk Organizers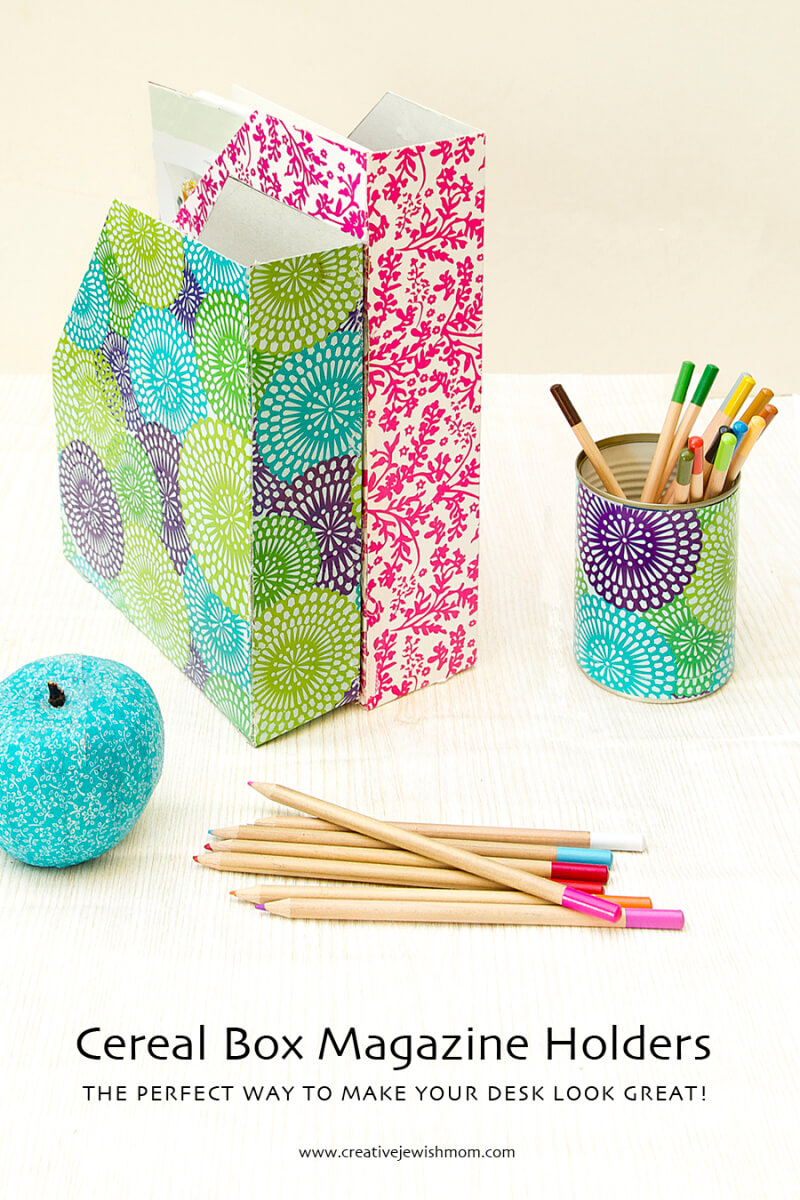 Yes, old cereal boxes can enjoy new life as paper organizers on your desk. If your workflow involves files, mail, magazines, folders, or any type of hardcopy documents, this is a fantastic way to keep your desktop sorted and uncluttered. To achieve the festive pattern shown here, apply wrapping paper, scrapbook paper, or even fabric scraps that you love to the trimmed cereal box. For a matching utensil holder, use the same material to wrap a reclaimed tin can. Because this technique is so easy, you can switch it up whenever you are ready for a change.
21. Customizing Clipboards with Party Napkins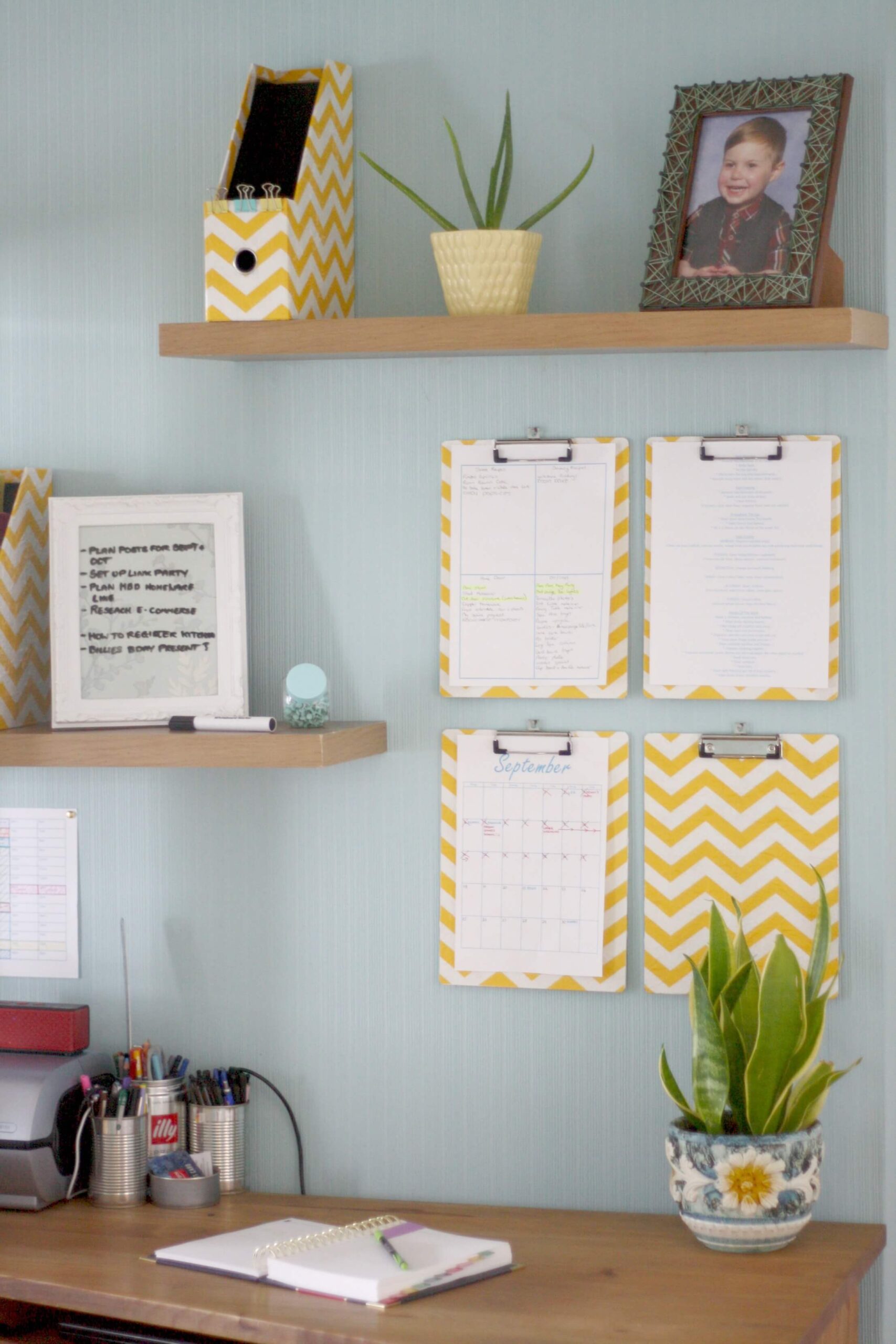 One of the unfortunate facts of life is that plain office supplies are better for your budget than more decorative options. However, with adhesive and party napkins, you can transform boring clipboards into vivacious design elements. You can use this technique to spice up any number of uninspiring office accouterments. Because yellow exudes cheerfulness, it is a great option to bring joy into your workspace. With lots of straight lines, this zig-zag pattern is full of energizing vibes. Of course, if the yellow and white zig-zag pattern does not fit your aesthetic, find napkins that do resonate with your desk.
22. Fabric-Covered Mail Sorter to Uplift Your Space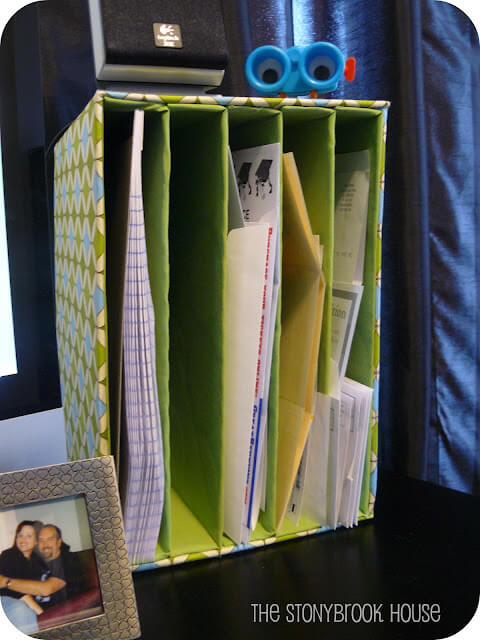 Crafted from leftover boxes, fabric, and spray adhesive, this is one of the most inexpensive homemade desk organizers you can make. The bright cloth imbues the organizer with an upscale feel while the lime green inspires excitement in the space. To avoid being too over-the-top, this example uses solid green on the interior and a vibrant pattern on the outside. Of course, if your style is all about being bold, you can use any lightweight fabric to bring new life to your desk organization. Although this organizer is shown vertically, it would look just as gorgeous if configured horizontally.
23. Two-Toned Miniature File Cabinet Refresh
While most desk organization systems are heavy on open-air displays, some office supplies just fit better in drawers. This miniature file cabinet is an elegant solution to the private storage challenge. Painting the frame a bright color while leaving the drawers a rich dark hue creates tasty contrast and, in combination with the white numbers, exudes a chalkboard feel. Because the numbers were applied via stencil, your file cabinet designs are limitless. This strategy is not limited to miniature desktop organizers either. Experiment with full-size file drawers to cultivate a cohesive and aesthetically pleasing workspace.
24. One-Size-Fits-All Reconfigurable Wooden Desk Organizer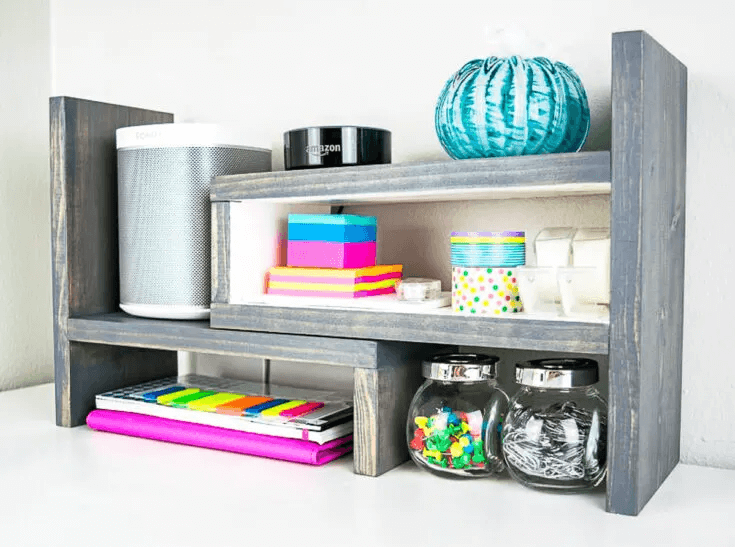 Because of its clever interlocking design, this desk organizer can be arranged to fit a wide range of needs. Each half can be adjusted individually to achieve a long shelf, short organizer, or even fit cozily into a corner. With a distressed gray finish outside and a crisp white interior, this image shows how farmhouse-friendly this shelf can be. For a modern aesthetic, paint the wood a solid color instead of using a gray stain. A natural, Scandinavian effect can be achieved by leaving the wood in its natural state. Alternatively, embellish to the extreme to help this organizer blend in a glamorous office.
25. Adorably Rustic Miniature Pallet Pencil Organizer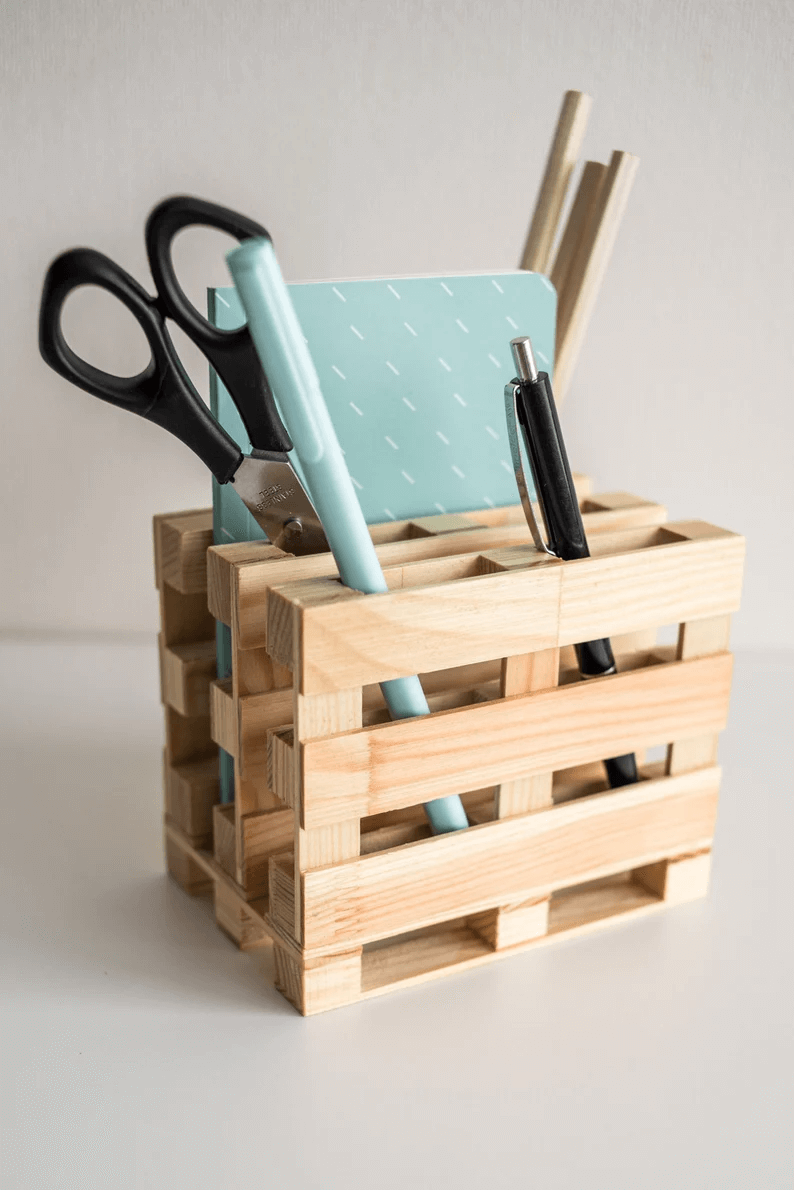 Harness the sweeping romance of a rustic workspace and make a statement with this miniature palette organizer. For an effortlessly cohesive look, fill it with office supplies that coordinate with the rest of your space. In this image, that's a delicate shade of turquoise accented by black. Display it as-is for a minimalist modern farmhouse effect or pair it with your favorite distressed décor to emphasize its rustic appeal. Because each of these organizers is made from unfinished oak wood, they offer the same durability you would expect from a full-size pallet. However, this pencil organizer is far more pleasant to the touch.
26. Decorate Your Own Adorable Desk Organizer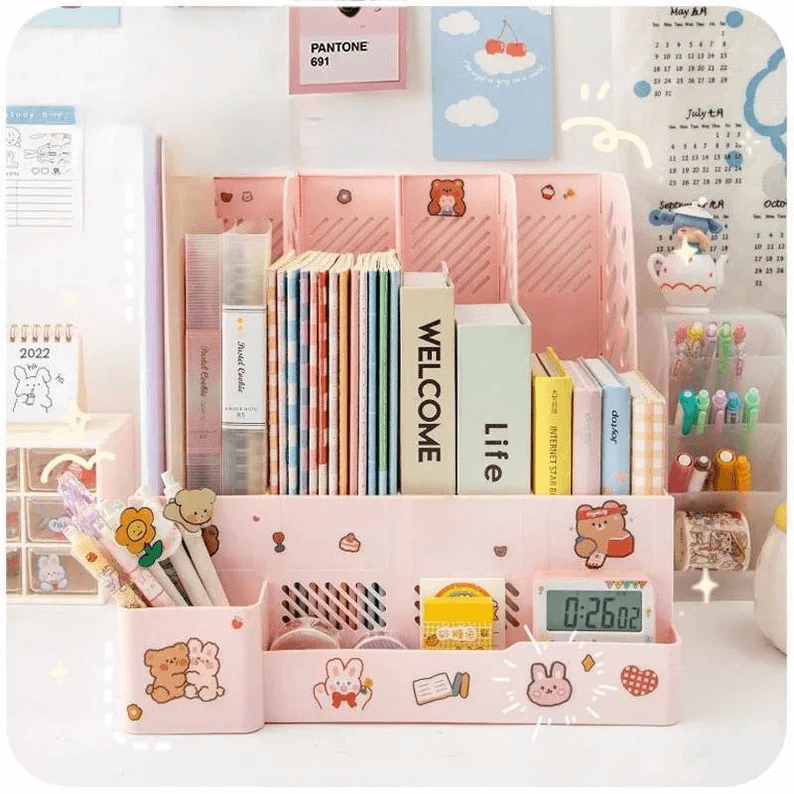 If you would describe your style as "cute and cuddly," this might be the desk organizer for you. Four large plastic partitions are sturdy enough to support books, binders, folders, or whatever you need to store on your desk. A lower tier of organizers offers storage space for smaller items. Each organizer arrives with a pack of stickers bedecked with playful characters giving you the opportunity for customization. If you want to keep the decorating party going, add a few sheets of your favorite stickers. If the pastel pink is too much for you, this organizer is also available in white.
27. Modern Beechwood Desk Organizer Tray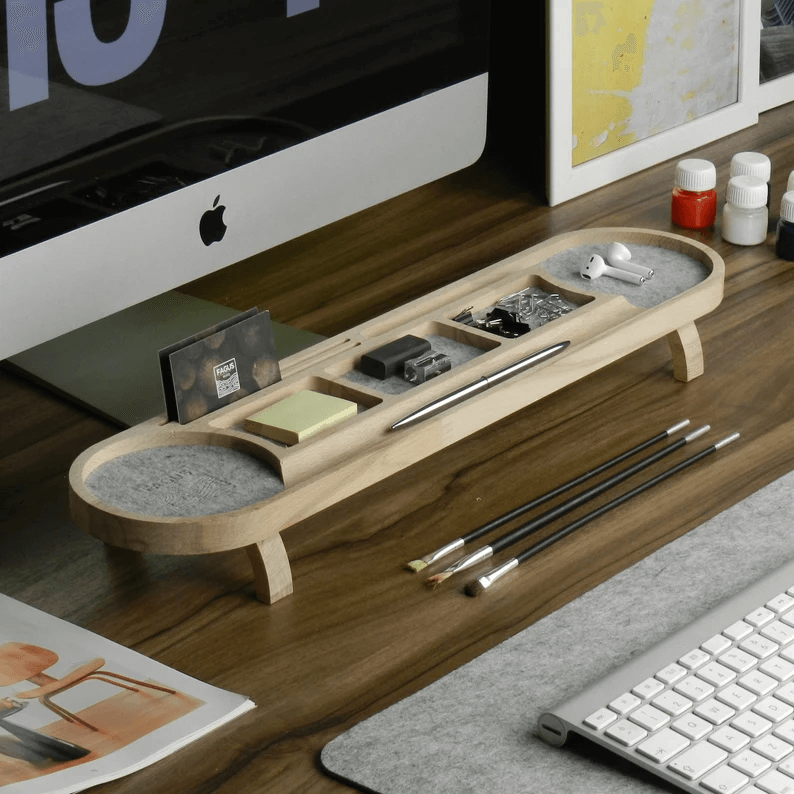 Inlaid with chic gray felt, this natural wood organizer tray offers sleek lines that are well-suited to the modern workspace. The rounded shape and straight lines are the perfect equilibrium between soothing soft circles and energizing straight lines. A low profile keeps this tray comfortably below a monitor but allows for easy access. Depending on your workflow needs, each compartment can be used to hold a variety of items. You can use the slots to hold SD cards, business cards, or your cell phone. The circular cubbies make a great home for small computer speakers, keys, or wireless earbuds.
28. Celebrating Sleek European Design on Your Desk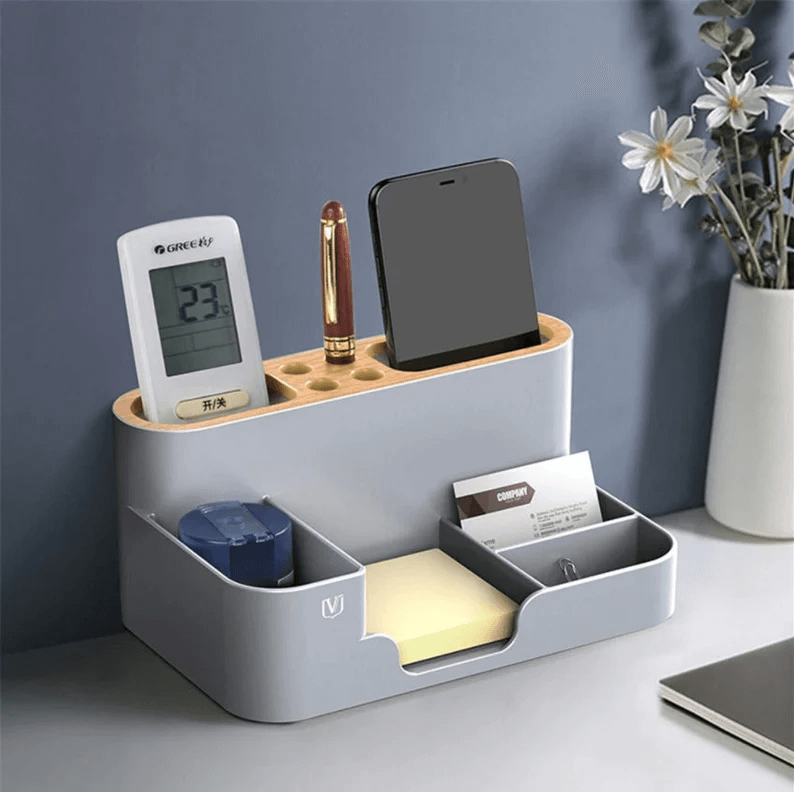 Give your desk the virtue of efficiency with this German organizer. Three all-purpose slots are a great home for miscellaneous office supplies like paper clips, business cards, rubber bands, or anything that you need regularly. A purpose-built sticky note cubby makes accessing these easy. In the higher tier, you can store your phone as well as four writing utensils. The final partition is perfect for a remote, scissors, a ruler, or anything lightweight and long that looks awkward when stored loose on your desk. Available in gray or white, this contemporary organizer will fit seamlessly in any modern office setup.
29. Pencil Vessels Made from Renewable Plant Materials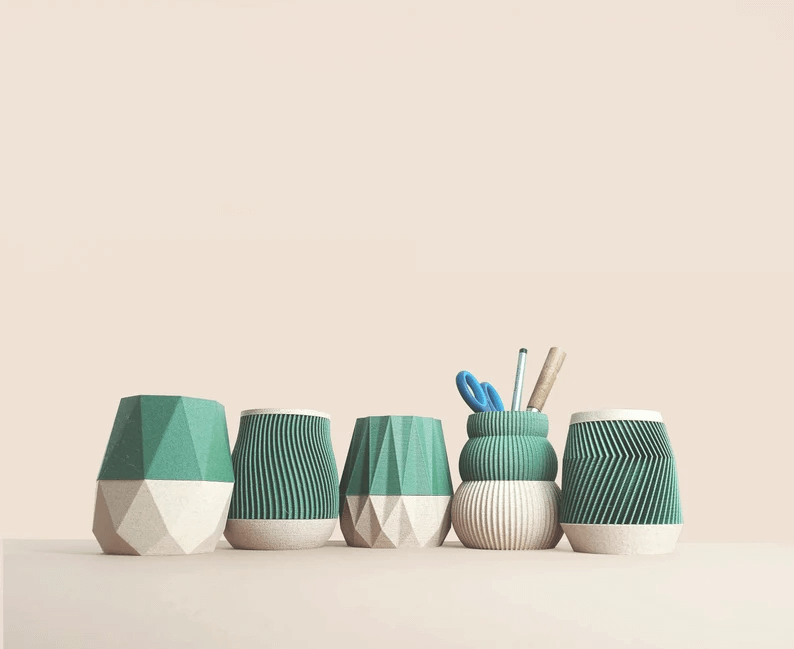 Hailing from France, these pencil pots feature intricate geometric ridging that would resonate with Scandinavian or zen-style desks. While subdued colors fade into the background, the captivating ridges ensure your pencil pot will catch the eye. Although these pots appear to be wood, they are actually 3D printed from renewable plant materials including recycled vegetable starches and bioplastics derived from corn starch. With six unique shape options and five gorgeous colors to choose from, you can pick the perfect writing utensil organizer. From a faceted jewel shape to a softly undulating bubble, there is a look to match your style.
30. Colorful Organizer with Plenty of Storage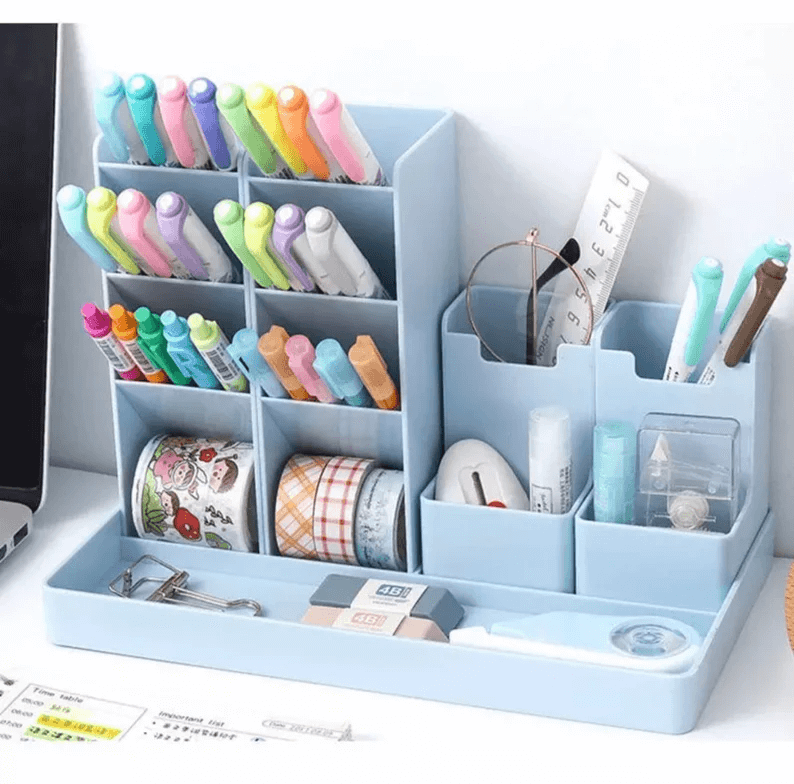 Sometimes, bigger is better. More storage means that you can keep more supplies within line of sight. With four storage towers, this tray puts you in control. Each of the towers can be removed from the tray or arranged in a way that fits your workflow. From a design standpoint, this tray's rounded corners and soft color suffuse the space with a soothing ambiance. If this shade of therapeutic blue does not vibe with your space, try the pastel pink, pale jade, or pearly white color options. Because the entire organizer is plastic, it is easier to sterilize than other desk organizers.
31. Modular Oak Hexagon Organizer Set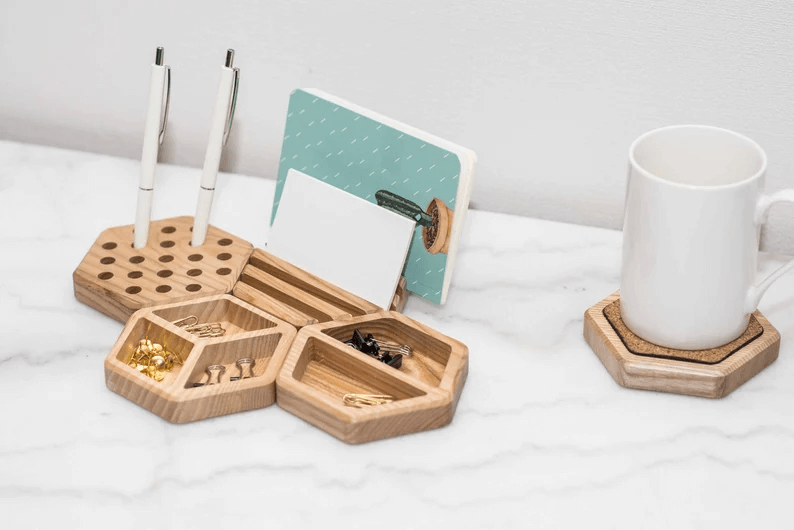 Few desk organizers allow you to customize your workspace to this extent. Because of the modular design, these hexagons look exquisite either when displayed singly or in a group. You also have the flexibility to rearrange them as your workflow changes. This image showcases five different hexagon designs, but there are a total of 10 to choose from. Each compartment can be lined with cork, fabric, or bare wood. As a design element, hexagons are compatible with several aesthetics. Display them as they are in a modern workspace or pair them with bee decorations for a charming farmhouse feel.
32. Handmade Tasmanian Oak Valet Tray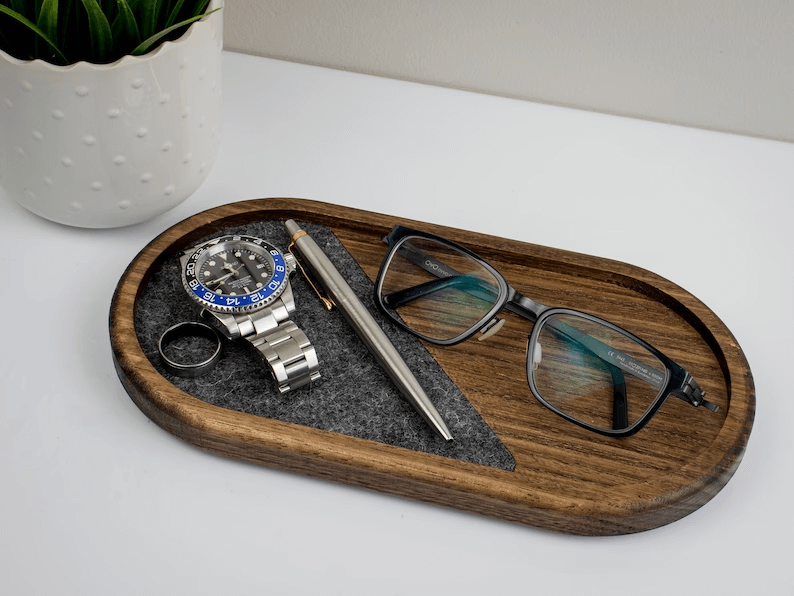 Featuring a minimalist oval design, this tray is one of the most versatile ways to organize your workspace. Each tray is handcrafted in Brisbane, Australia from a unique piece of Tasmanian oak. To provide a soft landing for any scratchable items, half the tray is lined with white-flecked merino wool in an eye-catching diagonal design. A slight lip prevents any items from rolling away. If the dark wood is not right for your aesthetic, this valet tray is also available in a lighter stain option. The coup de grâce that makes this organizer perfect is the ability to personalize it via engraving.
33. Luxury Walnut Desk Organizer Collection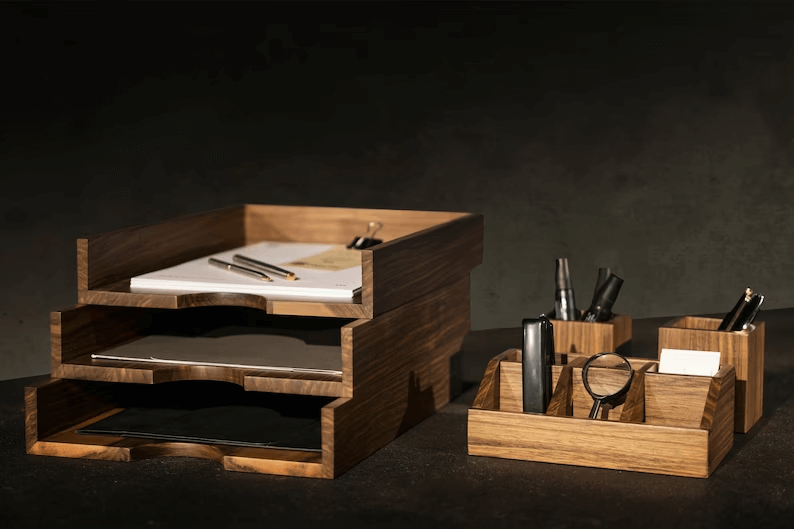 Whether you are starting fresh or overhauling an old look, this opulent walnut organizer set provides timeless charm that will last a lifetime. It includes three stacking paper-sorting trays, two freestanding pencil sorters, and an organizer sub-divided into six compartments. Depending on your preferred setup, you can stack the paper trays or display them side-by-side. Because wood is a classic design element, this set will provide a posh counterpoint for the rest of your desktop décor. If the golden-brown stain shown in this image does not vibe with your vision, this shop will work with you on finding a stain that does.
34. Personalizable On-the-go Desk Dock Organizer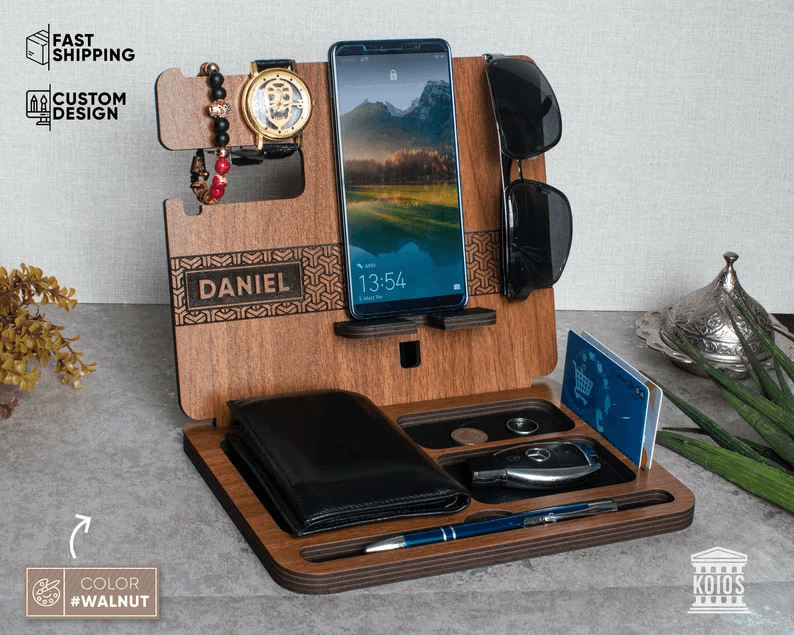 Not everyone enjoys the luxury of a single stationary desk. For those who travel with their workstations, this dock-style organizer is a fantastic way to keep everything organized, close to hand, and looking sharp. No matter what your workspace looks like, the 20 design options and five available colors mean that this organizer will suit your aesthetic. Cut-outs offer convenient storage for charger cords, jewelry, rubber bands, or anything else that might loop in your workflow. To provide a non-slick surface for your possessions, the indented compartments are lined in artificial leather that contrasts elegantly against the wood.
34 Clever and Budget-friendly DIY Desk Organizer Ideas to Bring Order to Your Workplace Chaos
Although efficiency might not be the most aesthetically stimulating subject, it can help you feel better about everything you do at your desk. Prioritize organizer ideas that vibe with your style and keep your frequently-used items within easy reach. If there is an idea that might work well for you, do not be afraid to tweak your organizer's style so that it shines as brightly as your work.
Sitting down at your desk should fill you with a warm glow instead of silent dread. One of the fastest ways to achieve this feeling is to clear away anything cluttering your desktop. An organizer that harmonizes with your style will make this as enjoyable as possible. Even the process of organizing your implements can help give your heart a sense of peace. To amplify the good feelings as you clear away the clutter, pick the organizer ideas that seem most compatible with your preferences, workflow, and available space.
Decorating is a lifelong journey which means that as you grow, your style will change. Workflows also change. Embracing this change means that you can be open to tweaking your desk décor so that it fits your style and processes as they are now.