An update that brings a wow factor into your kitchen or dining space is simple when you choose one of the best DIY dining table makeover ideas found here. Since the dining table is generally the largest furniture item in that room, it's no wonder it becomes the focal point. Adding a few interesting accents or details can quickly bring a new life and a fresh attitude to your dining room atmosphere. It's easy to say the majority of homes include a traditional kitchen table. Whether it's round or rectangular, there's a good chance it boasts wood grain with a brown stain. Although there are a few variations of this, they all fall into the same category- outdated! And this term, outdated, isn't one to lose any sleep over. As a matter of fact, it's one of the easiest fixes in the home.
22 Quick Kitchen Updates Featuring the Best DIY Dining Table Makeover Ideas

First, you'll need to begin with some sanding. How much you need to sand, depends on your vision of the end result. Some people choose to change the finish on the entire table including the top, apron, and legs. However, you can swap out only one or two and still achieve a more modern look. After sanding, you give new life to your old table. This happens with some new stain or paint. Some even opt for a combination of the two along with some antiquing coats for a more aged and vintage appeal. Regardless of your choice, you'll want to allow plenty of drying time for this coating and follow it up with a nice protecting sealant. Some ideas for new looks for that outdated table are contrast.
The apron portion of your table is another feature that can serve as a wonderful accent piece. Some paint this and the table legs in a chalkboard white or green, then add a distressed and weathered-looking stain to the tabletop. Whatever you choose, have fun and enjoy the new memories that are about to unfold within the updated stylings of your home's central gathering space.
1. Modern Farmhouse Table with Sleek Bench Seating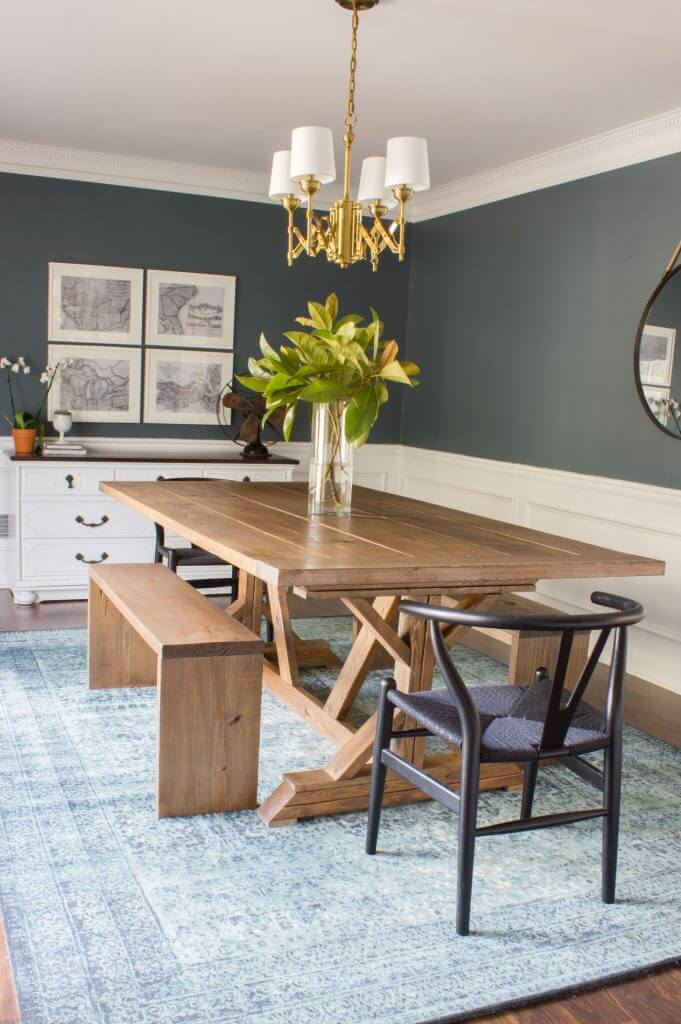 Highlight your home with the love of farmhouse design and modern styling with this unique handmade dining table. For the table, you'll notice a traditional modern farmhouse design that shows off the natural beauty of the wood, while the seating steals the show with its sleek benches featuring waterfall ends. The large planks that form the tabletop emphasize the farmhouse look. Enjoy countless family gatherings around this stunning dining room table that you'll treasure for years to come.
2. Modern Farmhouse Dining Table Makeover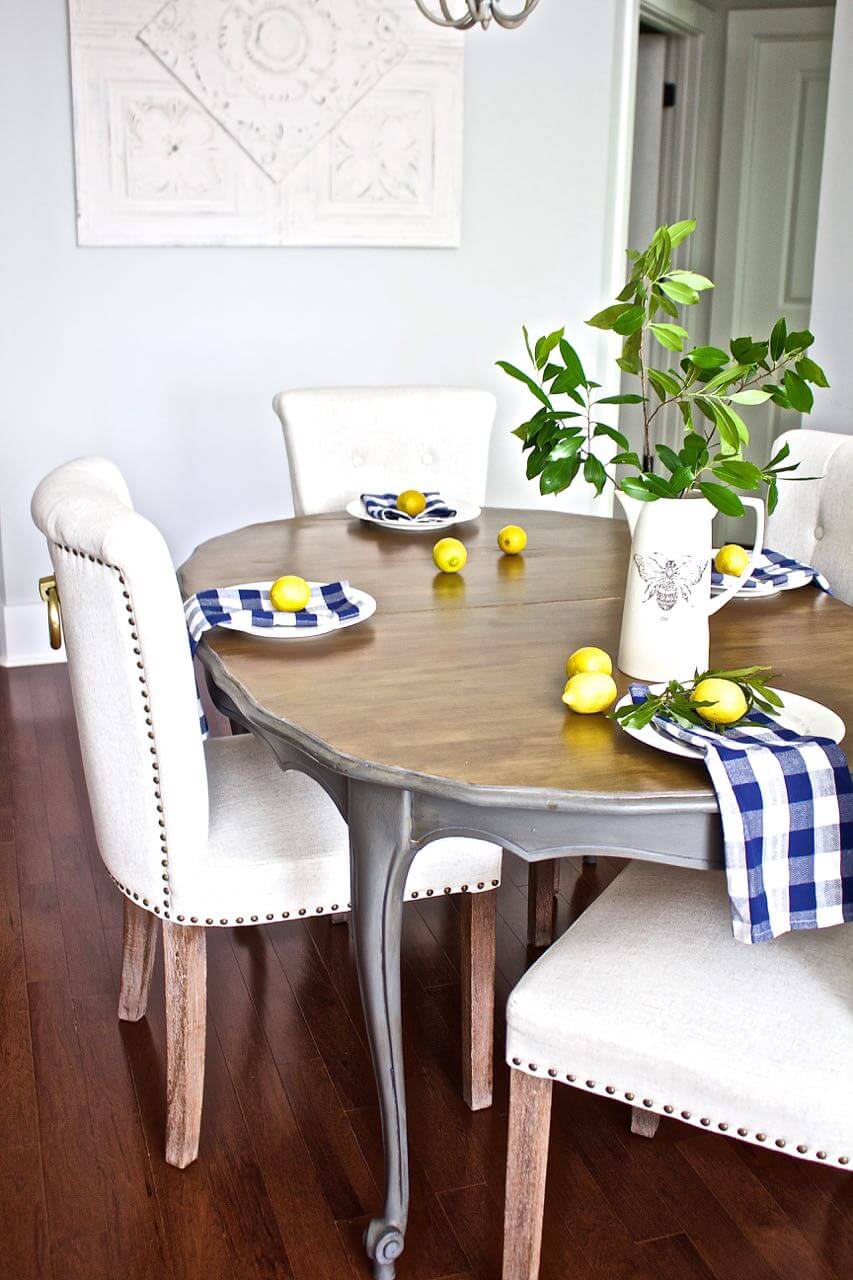 Don't throw away your old faithful dining room table just because it no longer is the style or finish you prefer. Instead, use some elbow grease and a little creativity to give your table a makeover. For a weathered and loved look, use a technique featuring steel wool and vinegar. This achieves an amazing patina that comes to life as the character and charm you've been wanting. Choose an accent color for the legs to provide a good contrast for the overall look of this new furniture piece.
3. Reclaimed Wood Table with Black Metal Legs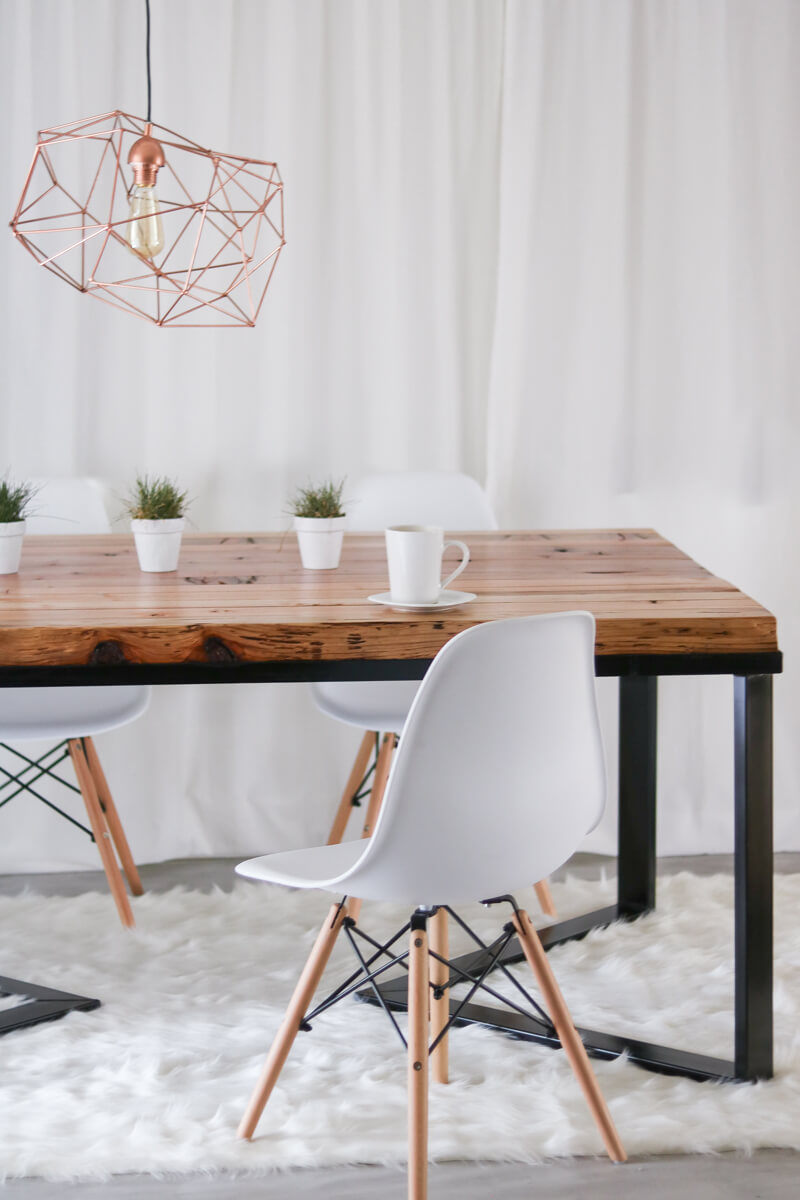 From trash to treasure, this wood and metal table becomes a showstopper in its own right! No longer an eye-sore in the backyard, leftover boards are reimagined into the ideal table top for a fabulous DIY redo kitchen table. To add a contrasting element of design, black metal legs provide the foundation for this pieced-together table creation. This reclaimed renovation will be beautiful in a modern design with its architectural interest in bent metal feet.
4. Geometric Wood Base and Concrete Top Table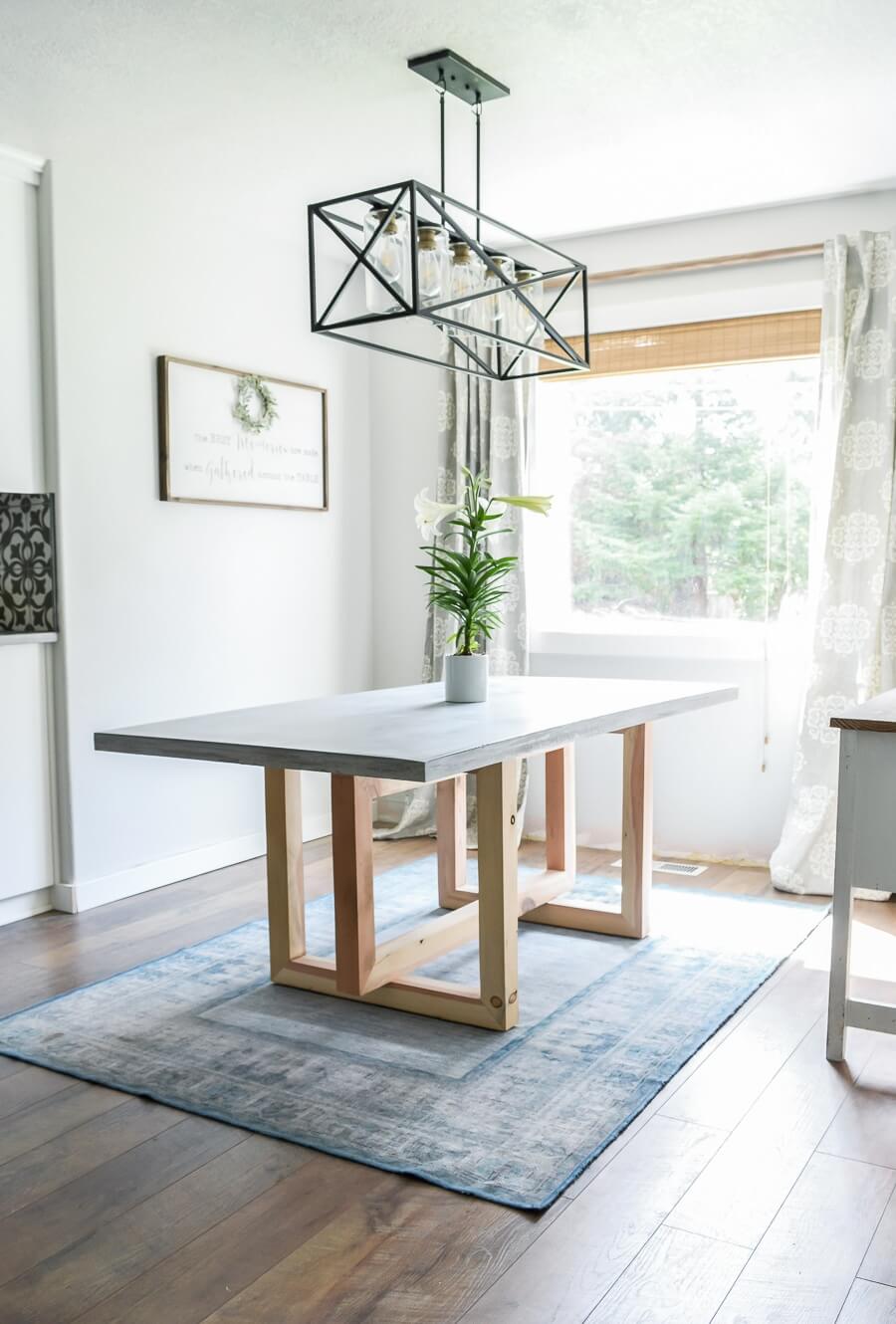 Check out one of the best DIY dining table makeover ideas that combine interesting textures and great modern appeal. The table top is constructed from concrete providing a durable surface for use both inside and out. It offers an edgy, industrial vibe without overpowering the entire room. The focal point may be the interesting design of the geometric wooden base. Two carefully constructed rectangles are positioned perpendicular to bear the weight of this heavy top as well as add interest and beauty to the overall design of the table.
5. Traditional Table in White Base and Chairs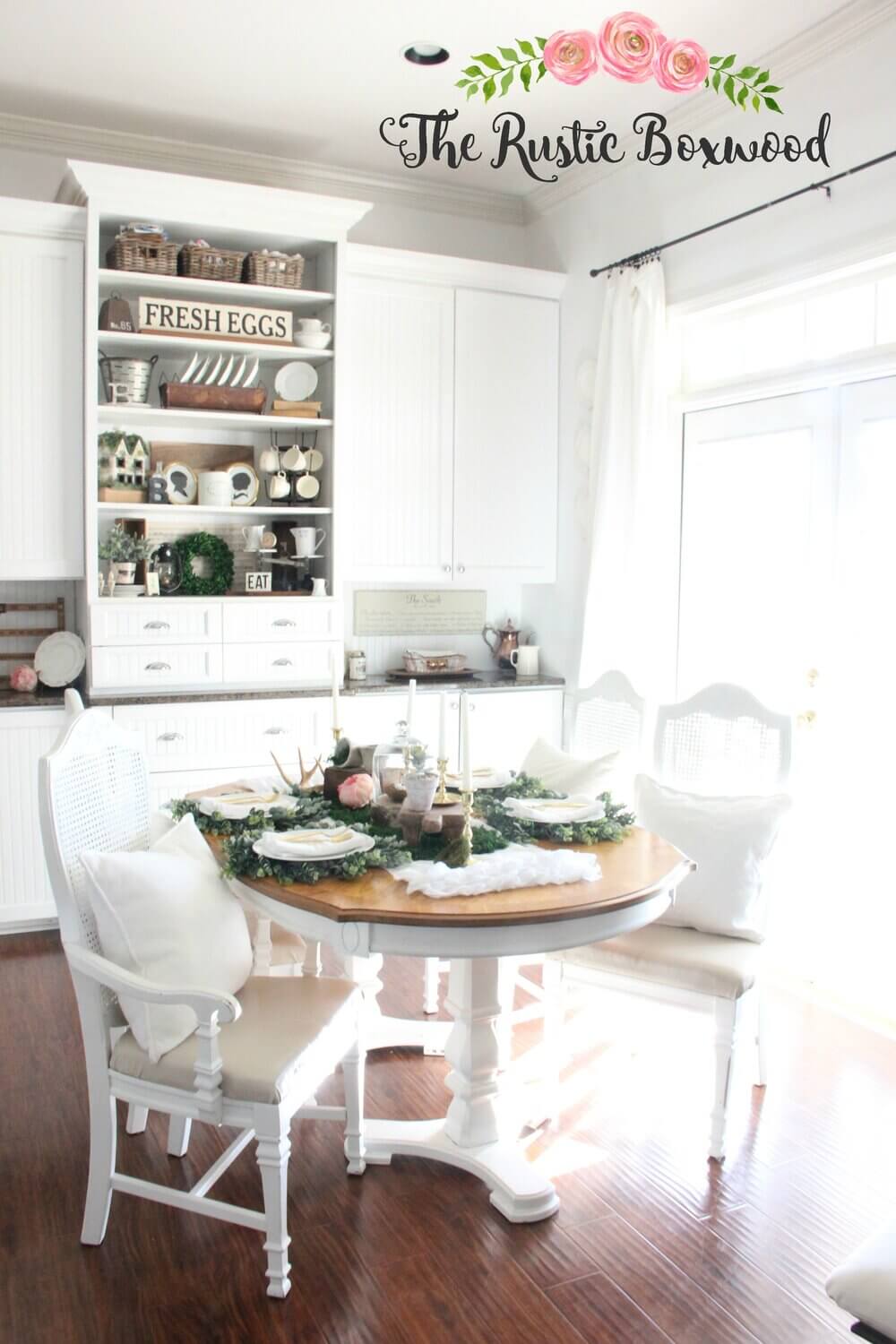 Boost the cottage feel of your dining room with some crisp linens and white paint. There's no need to toss out an outdated-looking table and chairs simply because of their patina. Get busy and update their look with a fresh coat of white paint. Everything about white says fresh! It goes with any color or design palette and is a timeless choice. Don't forget a subtle contrast though and keep in mind it's easy with a natural wood table top. White walls and cabinetry further indulge your white update and help create your cherished breakfast nook to enjoy every day.
6. Extra Large Pine DIY Dining Table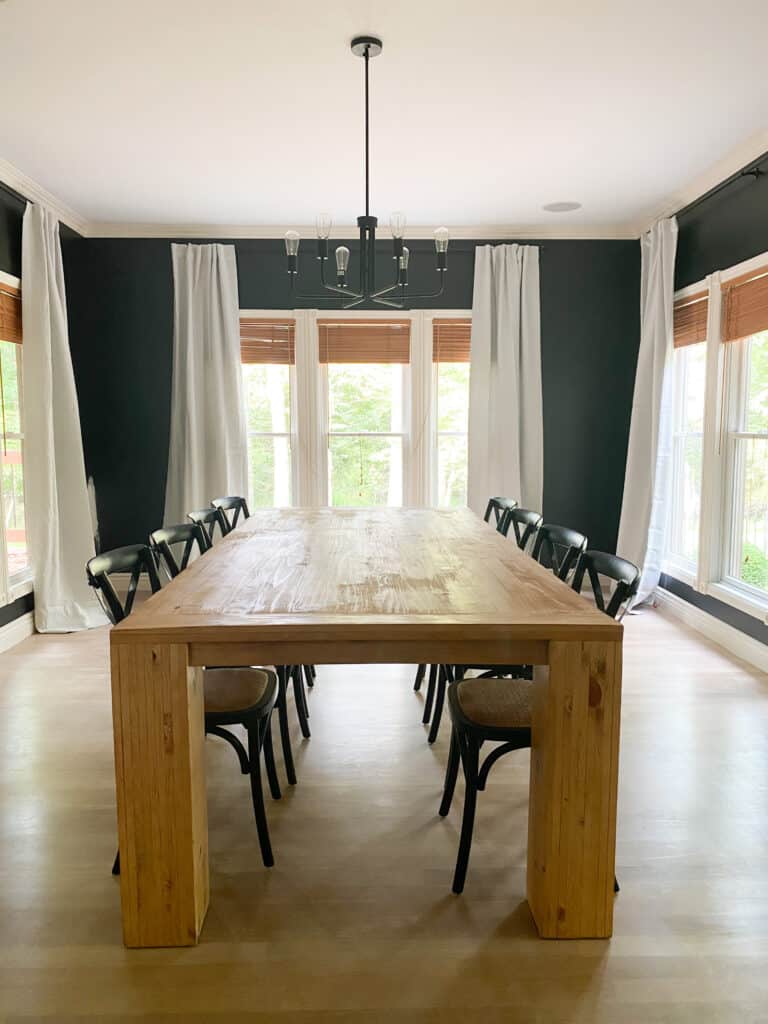 When you have a huge dining space to fill, here's what you do. You simply take on a DIY project, or ask a friend, and create a handmade dining table that's a custom fit for your space. Not only will you have a unique table that features the exact design you love, but you'll also have the perfect size to fill the room. Now you can entertain like never before! Easily seat eight guests with plenty of elbow room so you can enjoy the company of your dinner party guests!
7. DIY Farmhouse Table with Bench Seating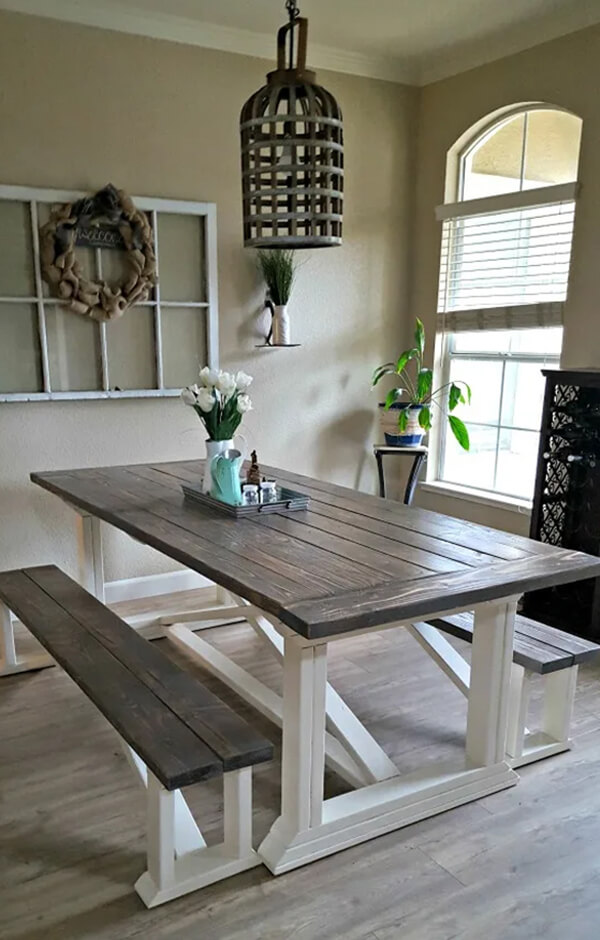 Farmhouse table ideas are taking over homes all across the country! Jump on this bandwagon with a unique version you create yourself. This lovely long farmhouse table is set off with a rich, dark stain on the top followed by a contrasting accent of white painted legs. The long and lean benches follow suit to perfectly match, making this a gorgeous handmade dining table. This farmhouse table would be beautiful in your dining room or if you want to take it outdoors, simply add some protective sealant to keep it looking gorgeous in every season.
8. All White Chairs and Accent Dining Table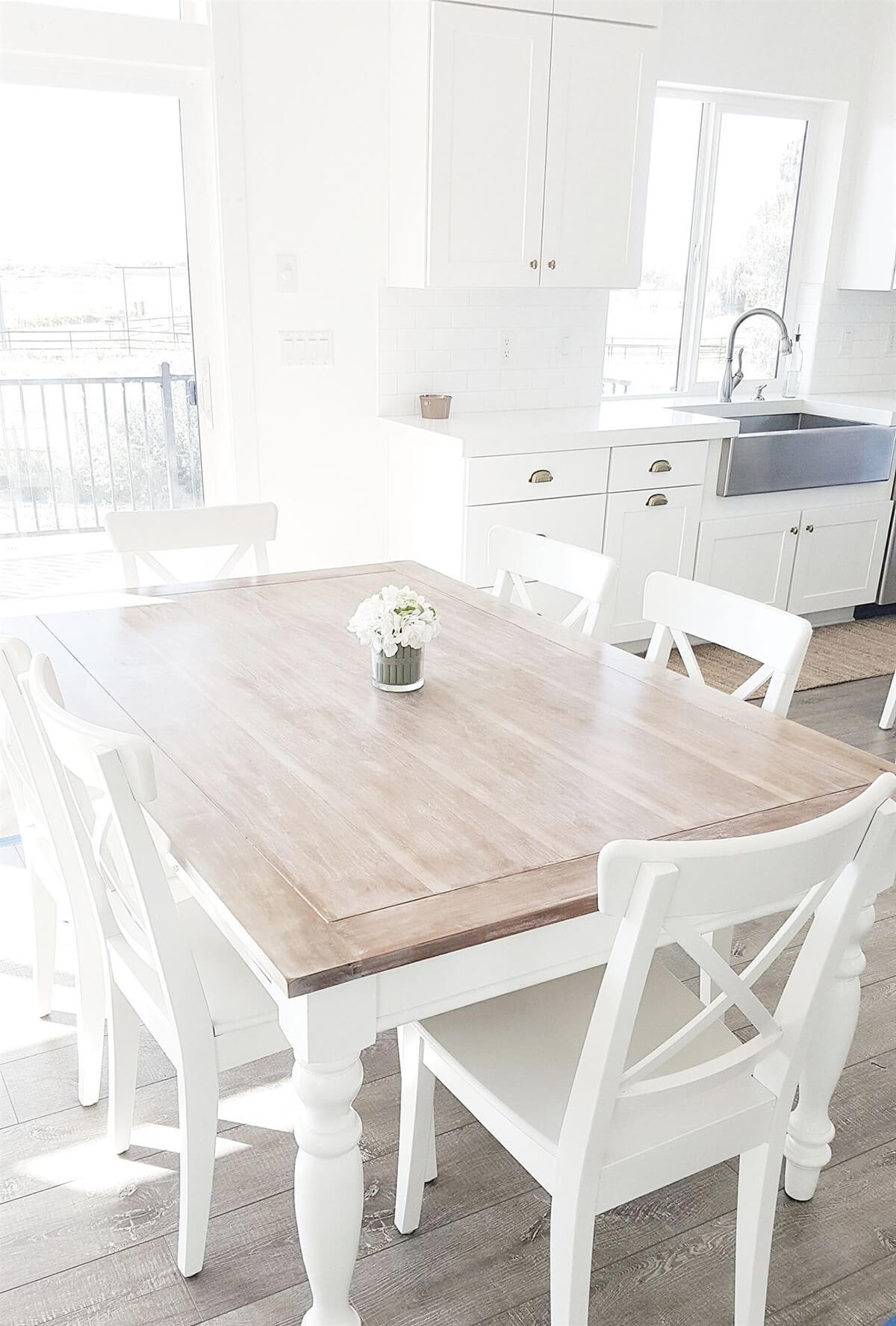 Choosing to finish your dining table with a white accent color looks good but pairing it will all-white chairs makes the entire ensemble pop! Bring some life back into your old dining set with this fresh update. The cross-back chairs are slathered with a hearty coating of fresh white paint that is echoed on the legs and apron of the table. For the tabletop, consider a glaze to add a little more character to your wood's stain with a driftwood or barnwood detail. Line the center with some white accessories for a custom look.
9. Shabby Chic Chalkboard Paint Dining Set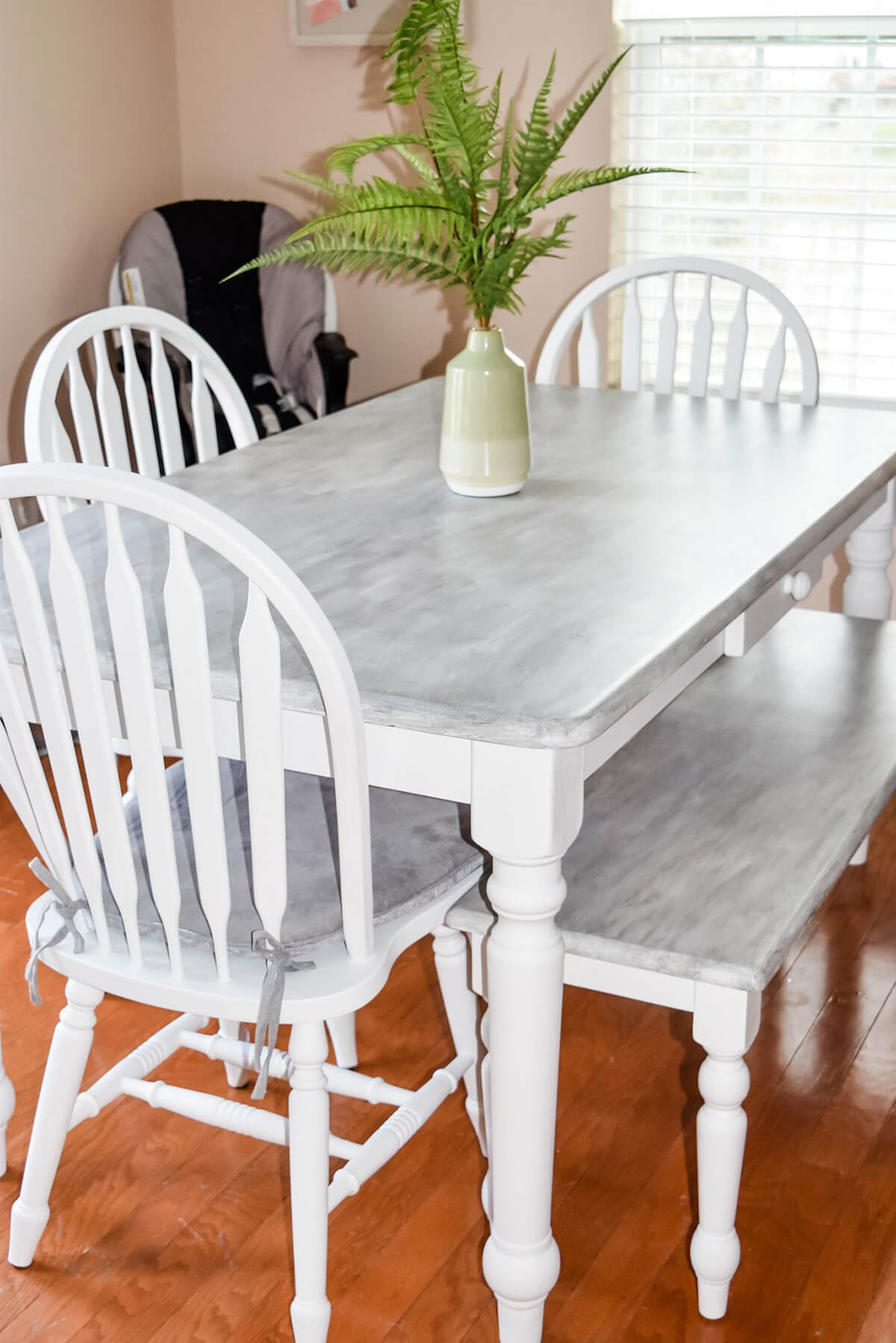 Switch out a chair for a bench on one side and you're well on your way to a new kitchen table makeover. The entire unit gets a saturation of chalkboard paint to give it a character-building finish. Choosing white works for most design schemes and makes the distressed areas easier for the eye to notice. Overall, this white-washed beauty is a simple makeover and adds a fresh focal point to your kitchen. Scour flea markets and yard sales for the ideal kitchen set to refinish with this modern chalkboard look.
10. Large Plank with Black Leg Outdoor Table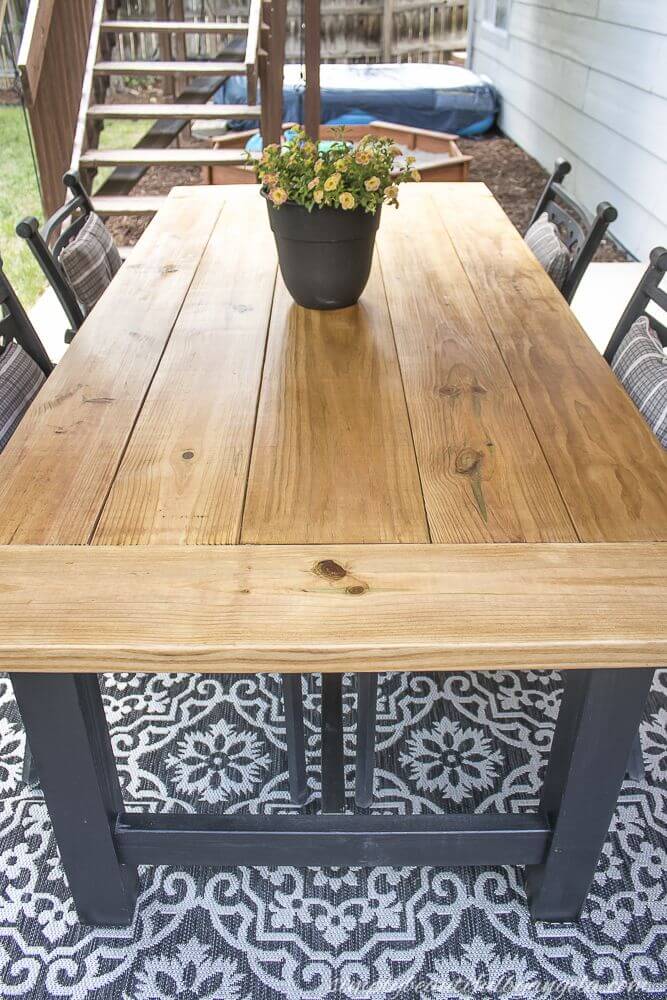 Entertaining moves outdoors when the temperature rises, so be sure to prep your outdoor space before your guests arrive. One of the most important features of your backyard is your dining potential. Are you planning on a small, intimate setting for a handful of friends to enjoy drinks after dark? Or are you more of a large and in-charge type of girl who wants the whole gang together? Either way, you can utilize your outdoor space with a sturdy table to give everyone a place to enjoy their food and beverage as they catch up after a long time away.
11. Mis-Matched Chairs and White Washed Table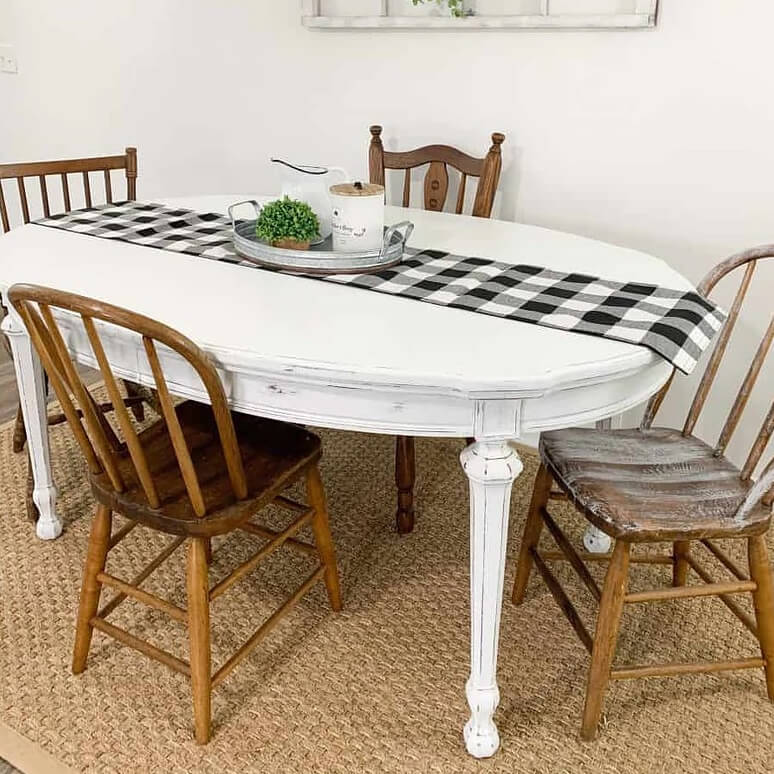 Create a unique kitchen seating arrangement that guests will remember. Chairs don't have to match to work around the table. Choose four with good bones and consider a decorative finish on one. The entire kitchen table boasts an old white paint finish complete with roughed-up legs and apron highlights. Feature this cool set in your breakfast nook or out in the three-season room. Adding some style to your meals makes them a little more fun. The light and airy choice of white paint works in all decor concepts and is an easy task to tackle.
12. Farmhouse Faux Barn Wood Dining Room Table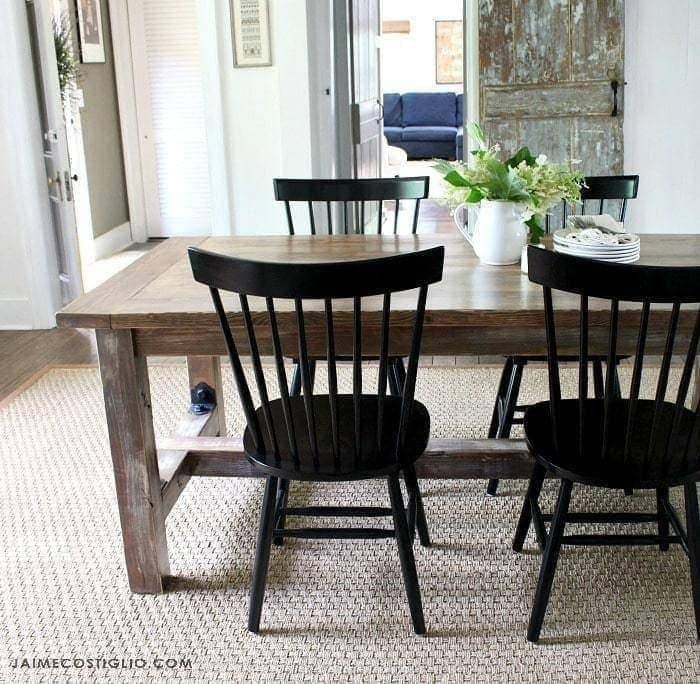 Improvise when the barn wood trend seems out-of-reach and create your own version with some ready-made lumber at your local DIY center. Painting techniques take a fresh new slab and transform it into a weathered beauty. Using this process allows you to have the look and character of barn wood that you love without the hassle of acquiring it and the heavy-duty machinery needed to work with it. Your DIY farmhouse table constructed of faux barn wood is a cool addition to your kitchen and meets the needs of the entire family. Gather around a table you'll be proud of this year and celebrate with family in faux farmhouse style.
13. DIY Blonde Wood Dining Table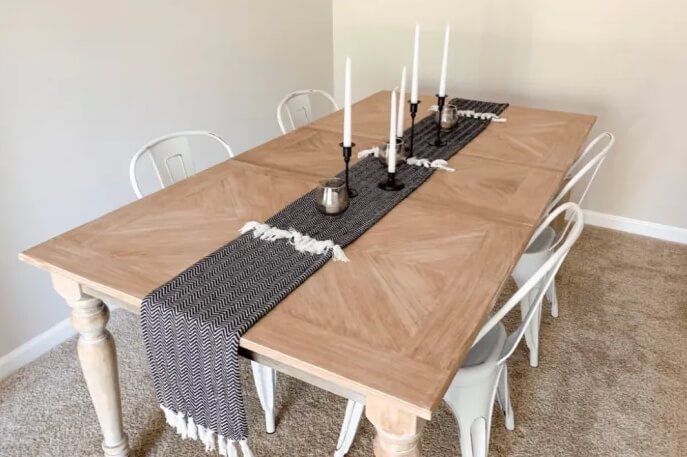 Strip away that 80s throwback stain and give your dining table a modern makeover. Once you get down to the neutral wood grains, you can set your pace at achieving the beige, blonde, or gray hint you need. Keeping both the legs and top the same allows for the chairs to be the focal accent. This rectangular traditional dining table looks much more modern with a new finish. Include some decorative accents around the room to highlight this new and airy blonde wood dining table.
14. Stain and Oil Driftwood Gray Table Renovation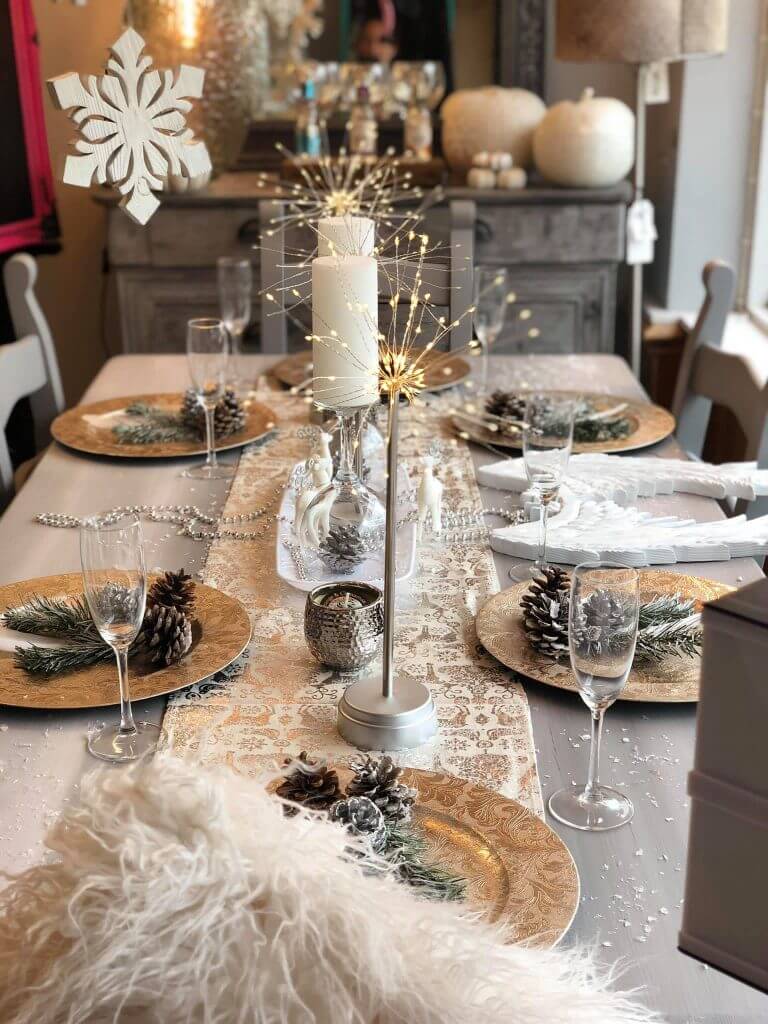 Achieving a vision in your head is sometimes difficult to do, but where there's a will, there is a way! Conquer that daunting task with the resourcefulness of a DIY enthusiast. The long-loved dining table in your home can be transformed into the amazing beauty in your mind. A little sanding of the wood is a great place to begin. You'll love the way combining stain and oil create a unique and ideal color palette to become the patina your heart desires. From beach memories to coastal cottage dreams, this driftwood dining table is a great DIY redo kitchen table idea.
15. Thick Plank DIY Farmhouse Dining Table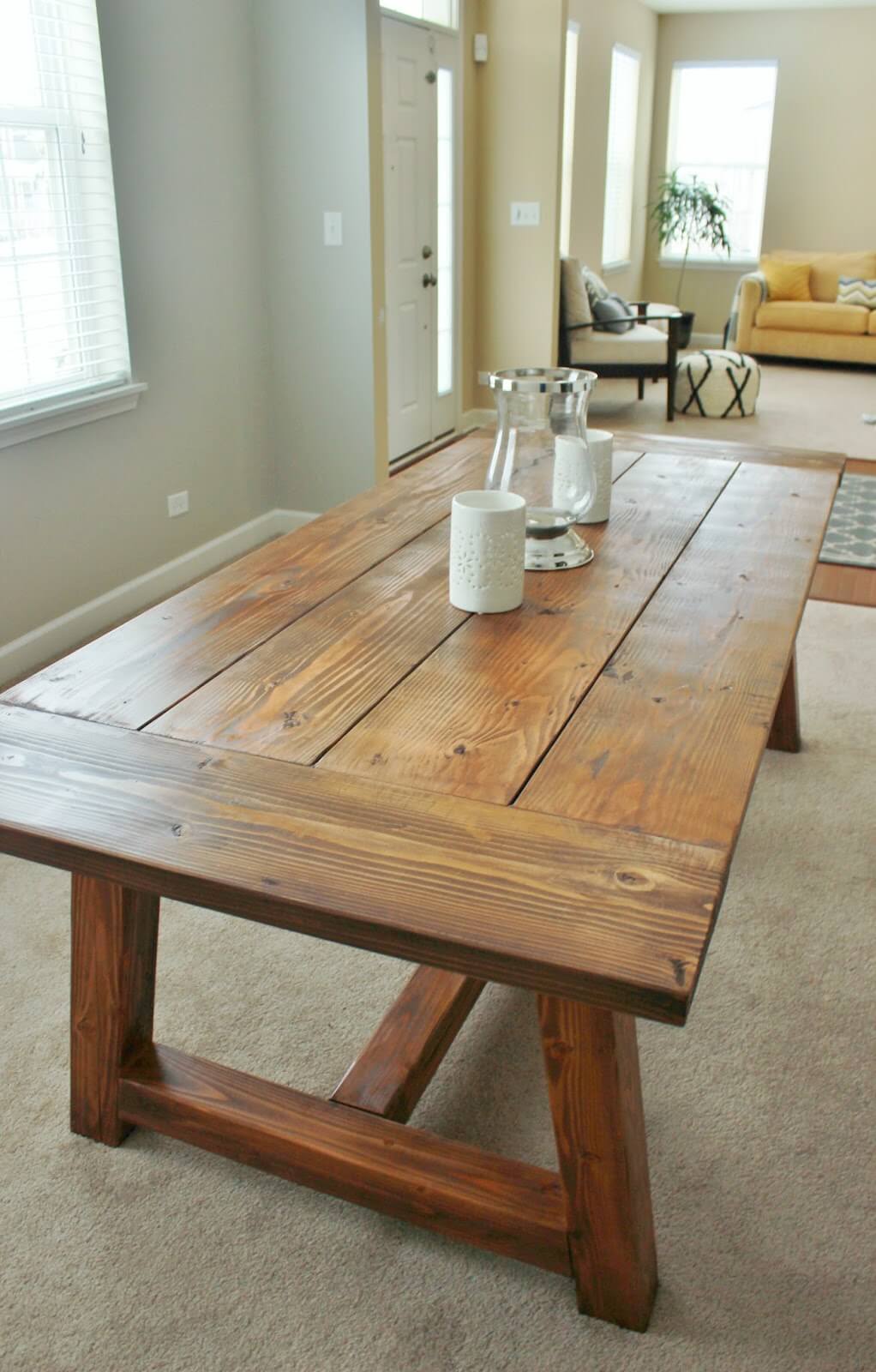 Never allow a small budget to hold you back from a great design! One of the greatest and most powerful weapons you'll ever have are your own two hands. Get started with a DIY project that will quickly transform your dining room. If you've always wanted a large farmhouse table, this is your sign and answer to get started. Large planks add lots of character as they work together forming the top of this handmade dining table. You'll be proud that you saved some money and even more proud that you built it yourself.
16. Five-Person Round Farmhouse Dining Table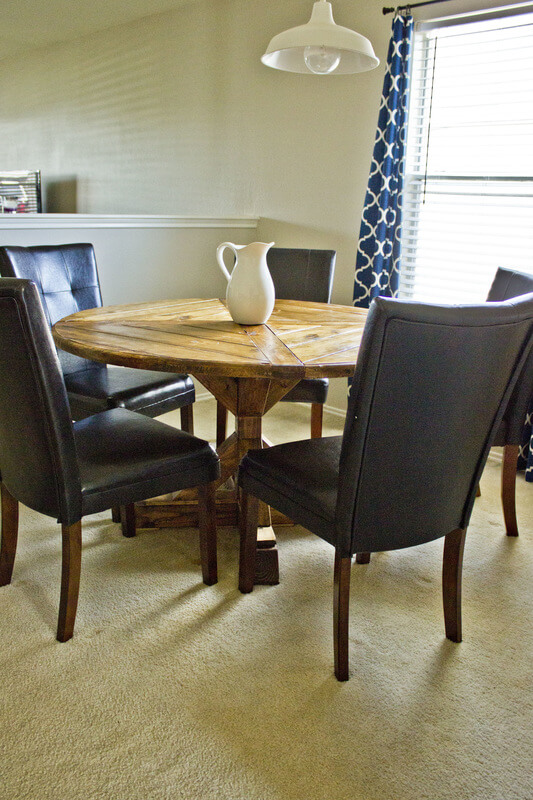 Seat your family of five around this gorgeous handmade farmhouse table. Keeping the natural wood design of a typical farmhouse table, this version has been custom-designed for smaller eating spaces. Going from a rectangular style to a round one allows for the same design while making the table work in the home's space. Five chairs comfortably rest around this farmhouse beauty to make every member of the family feel right at home. If you ever find yourself in need of a farmhouse dining table for a smaller space, don't forget about the round version shown here.
17. Dark Wood Top with White Legs Table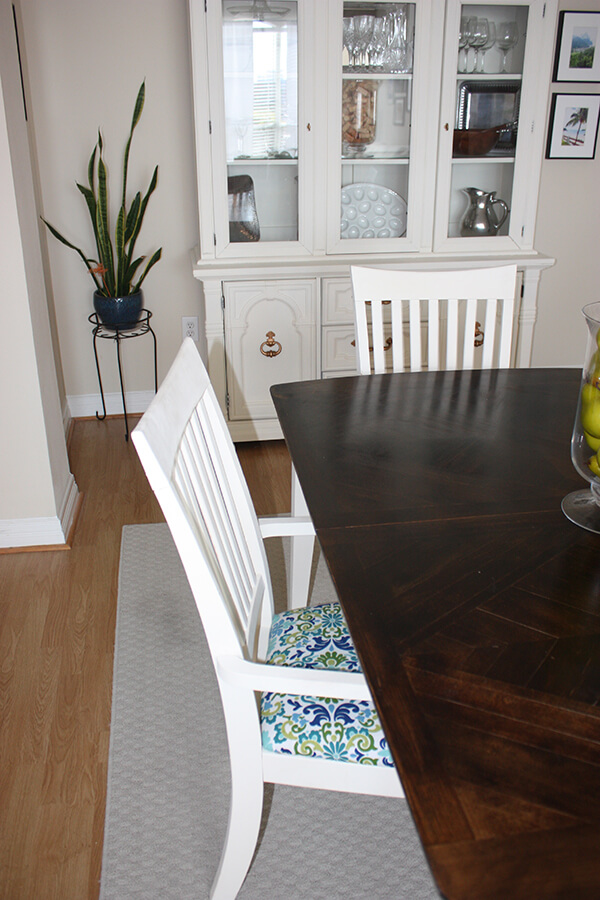 Give your dining room a quick and easy update with a fresh coat of paint. All of your accent pieces can be transformed with a crisp, clean coat of white paint. Then, you can use this bright and airy color as the highlight of your table as you brush some on the legs. With a white china cabinet and set of dining chairs, your traditional table blends in quite well with the addition of its white-painted legs to mimic the new design of the room. Decorate the tablescape with some white accents for a uniform design.
18. Country Green Chalkboard Paint Accent Dining Table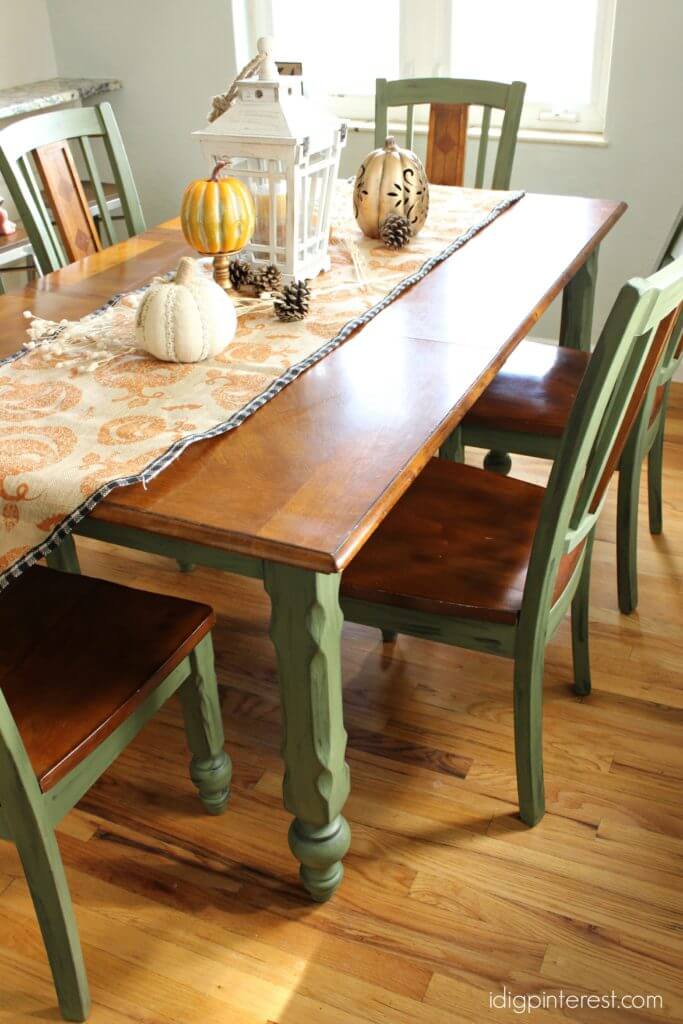 It's remarkable what an accent color adds to your interior design. Incorporating it onto your statement furniture pieces, like the kitchen table, is a fun and easy way to give your room the makeover you're craving. By keeping the main focus of the table the wood look you love, choose a new accent color in chalkboard paint. This accent paint goes on the legs of the table as well as the legs and backs of the chairs. Everything looks like a new set even though it's a DIY redo kitchen table idea that only requires some paint to achieve. Enjoying your next family meal will feel a little more special with this gorgeous table makeover.
19. Distressed Wood Farmhouse Finish Dining Table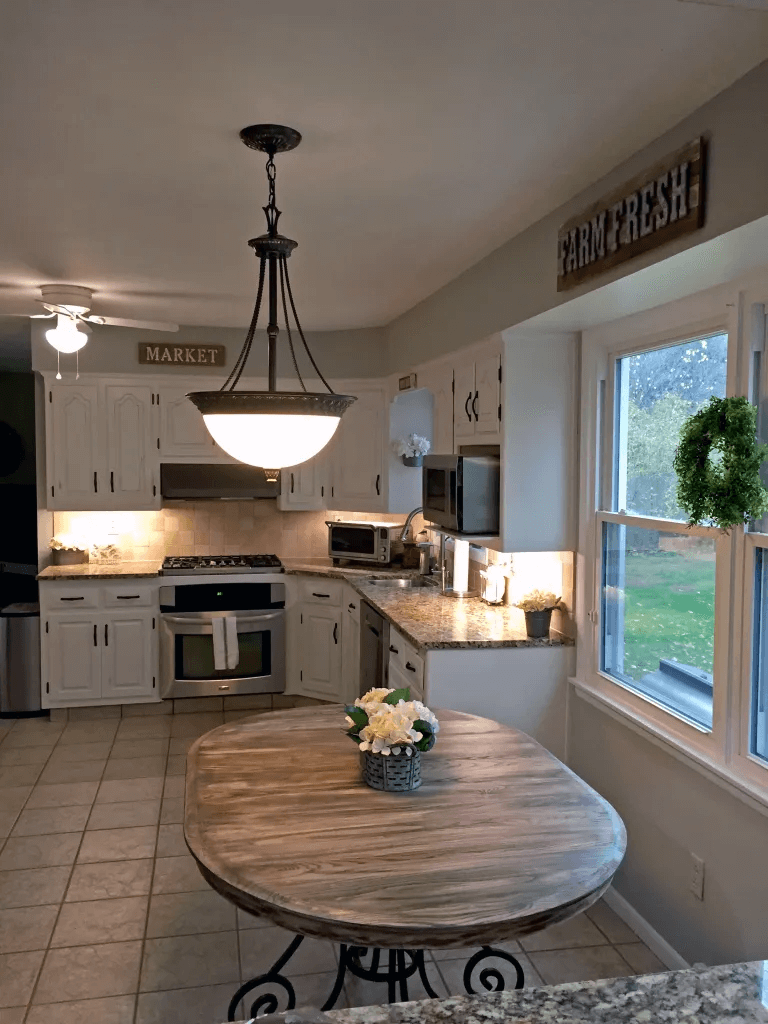 Nothing says farmhouse table quite like a distressed wood finish. Even the most traditional and old-world dining table styles can be given some modern appeal with some distressing of the wood. Removing the outdated caramel-colored stain allows a fresh wood base that's ready to go! Allowing a hint of gray to show brings a barn wood look to the table or you may prefer a little more white for a less-rustic creation. Either option will certainly give you a new and updated look for your current kitchen table. You may wish to continue this finish on other decorative elements in the room to tie everything together.
20. Round Dining Table with White Pedestal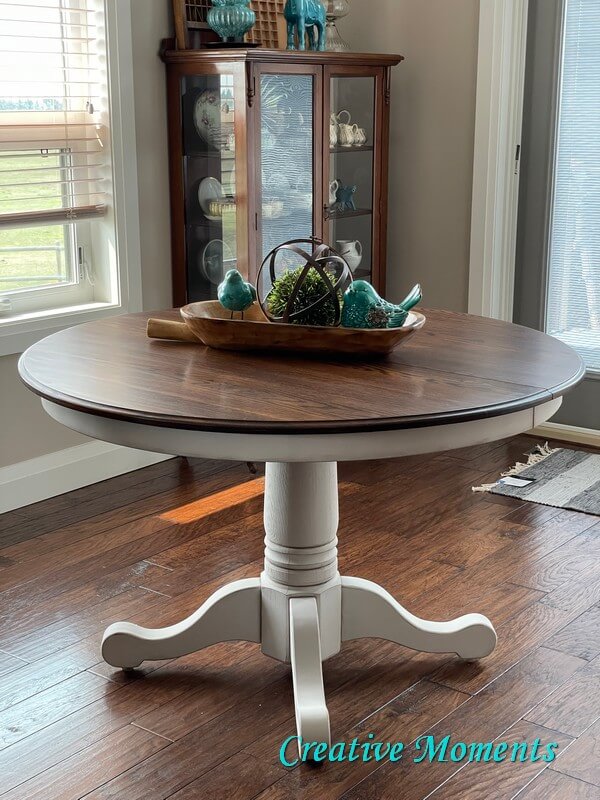 One classic dining table design is the popular round pedestal table. You've probably seen this gorgeous creation in all of its oak and stained glory. Why waste such a wonderful table? Bring it up-to-date with a nice contrasting base. Painting the pedestal base a fresh white magically transforms this table into a new creation. Obviously, it can be used for dining in your kitchen or breakfast nook, but it would also look incredibly awesome as the focal point in your home's entryway.
21. Ten Plank Pallet Project DIY Outdoor Table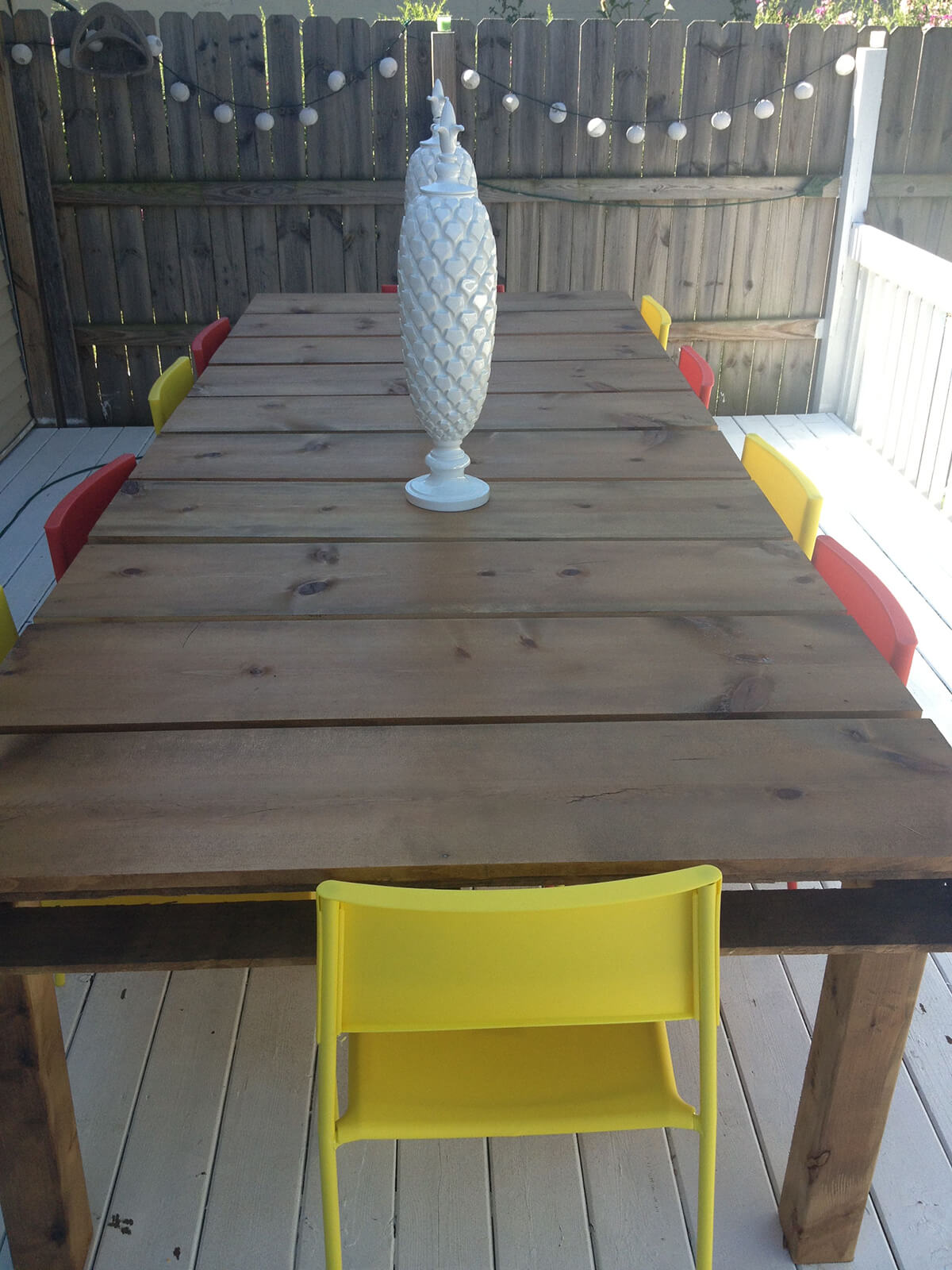 Give your outdoor space the furniture it deserves with this pallet table that features plenty of seating potential. You'll capitalize on your hosting skills at your next family get-together by providing everyone with formal seating. No more holding a plate on your lap, with this large plank table there is room for the whole family. With a ten-plank construction, you'll love how easy it is to comfortably seat ten people around this DIY table. Outdoor entertaining is more fun when you have a solid foundation like this amazing handmade dining table in your arsenal.
22. Vintage White Base DIY Redo Kitchen Table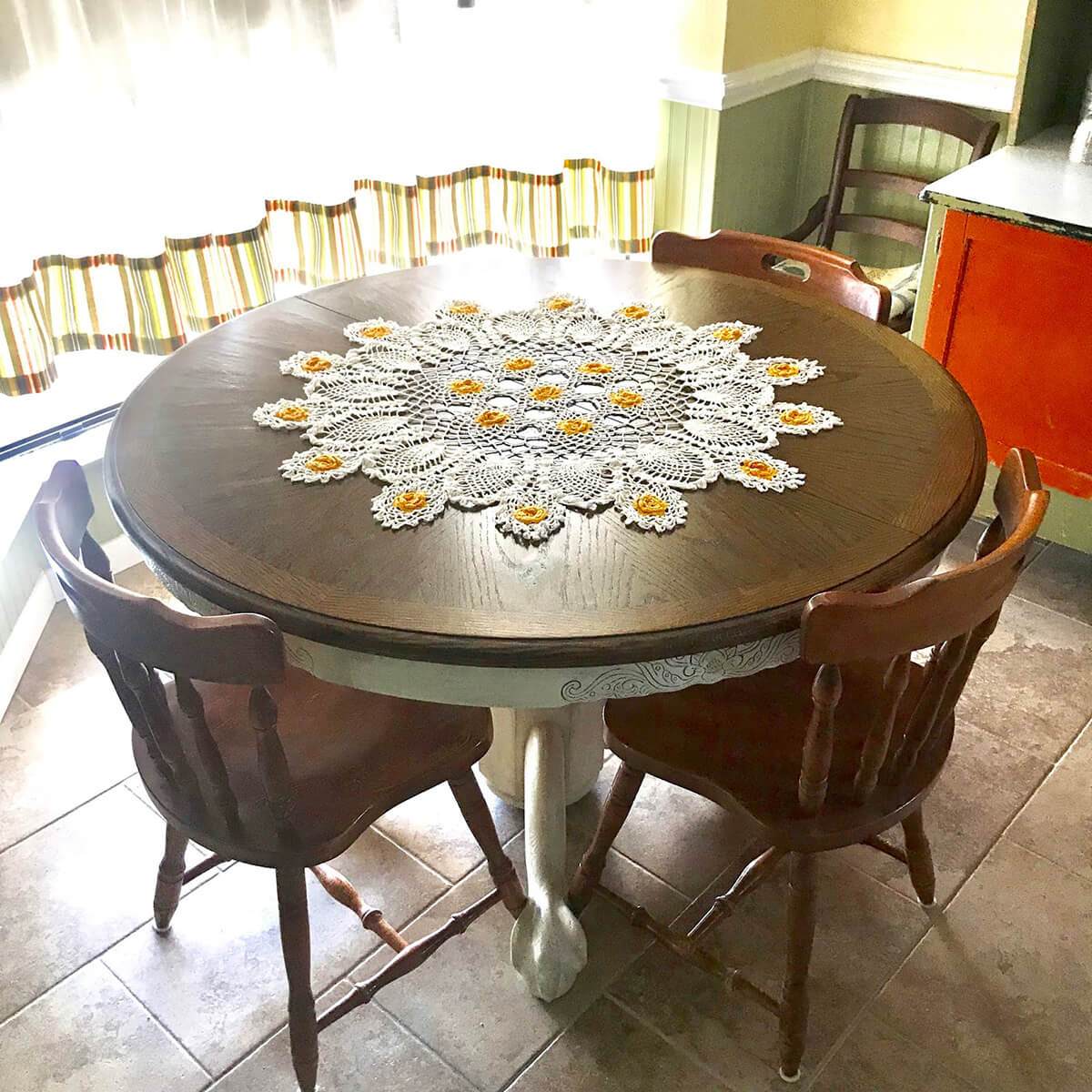 If you already have a solid and sturdy kitchen table, there's no need to toss it in the trash. All it needs is a little TLC! Smother the base with a coat of primer and paint to achieve a modern color palette you'll love. Adding character is simple with some swipes of sandpaper and a little antique finishing on the top. Be sure to seal your hard work with a coat of clear protectors so it will last for years to come!
22 Fantastic Ways to Give Your Dining Table a Makeover
Which one will you choose? With so many options, it may seem difficult but look around your home for inspiration. If you already have started using a featured accent color, incorporate that into your table. Some common and popular choices are chalkboard paints in white, black, or country green.
Some still love the ultra-white kitchen that bestows floor-to-ceiling white in every aspect of the design. From cabinets and counters to floor and everything in between, white is a classic and timeless color choice that can always be used alone or with other colors for a designer look. Outdoor dining has been generating much more noise recently and with a DIY handmade dining table, it's easier than ever before to add one to your backyard. Long and lean farmhouse tables with the option of benches or chairs are perfect choices for both your interior and exterior eating domains.
Another great option is utilizing leftover pieces of wood to create a completely unique and original table. Small or wide, wood planks unite as a one-of-kind DIY tabletop that can be stained or painted to your preference. You can't go wrong with an update to your traditional kitchen table. Look at the variety of table shapes and finishes to find the one that's just right for you!