The best DIY Disney home decor ideas come from adults that love Disney almost as much as kids do. If you are a "Disney adult," you probably have tons of Disney items in your home already. Disney does do an excellent job of "merching" in nearly every area of the market, including home decor. However, there's definitely creative room for Disney fans like yourself to make your own Disney decorative items.
10 DIY Disney-inspired Home Decorations to Make Your Home Happier

Like Disney's merchandise itself, there is no end to the number of homemade Disney craft ideas out there. That's good news for you (and any other adult Disney fan!) because you can craft your own great decorative items with Disney themes when you can't find a specific item shopping online for Disney stuff. The best part is that a lot of these handmade Disney decor items is very easy to do. It does not cost a lot to make if you know when and where to shop for supplies.
The following ideas represent some of the best DIY Disney home decor ideas. The materials can be found at most craft stores. Even if you don't choose to do any of these (or a variation on these), you can admire how well other Disney crafters have done. The cost to make each of these items is budget-friendly too.
1. Cool Mickey Topiaries Are Elegant and Beautiful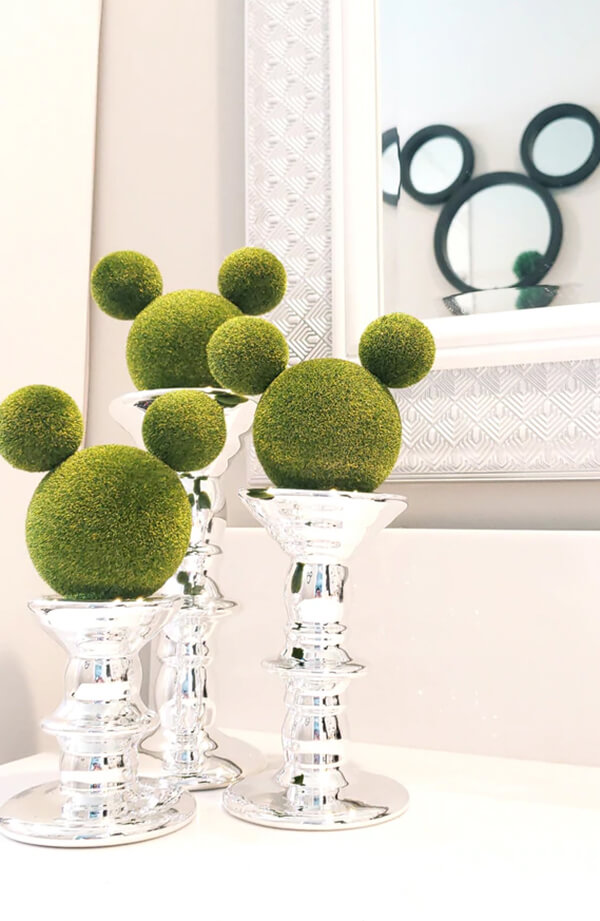 Silk or faux flower arrangement takes a new twist with faux greenery spheres. While non-Disney fans might use these spheres to arrange fake flowers, you can use them to do something definitively Disney. Smaller spheres make up the ears, and larger spheres make Mickey's (or Minnie's!) head. Once the smaller spheres are attached to the larger one, you have an instant iconic mouse head. If you want to turn them into Minnie Mouse heads instead of Mickey heads, just add a little bow between the ears. Staging the "heads" on candlesticks elevates this simple handmade Disney decor item to something really elegant. It's a nice touch for either your bathroom or a centerpiece for your dining room table.
2. Mason Jars Transformed into Perfect Disney Containers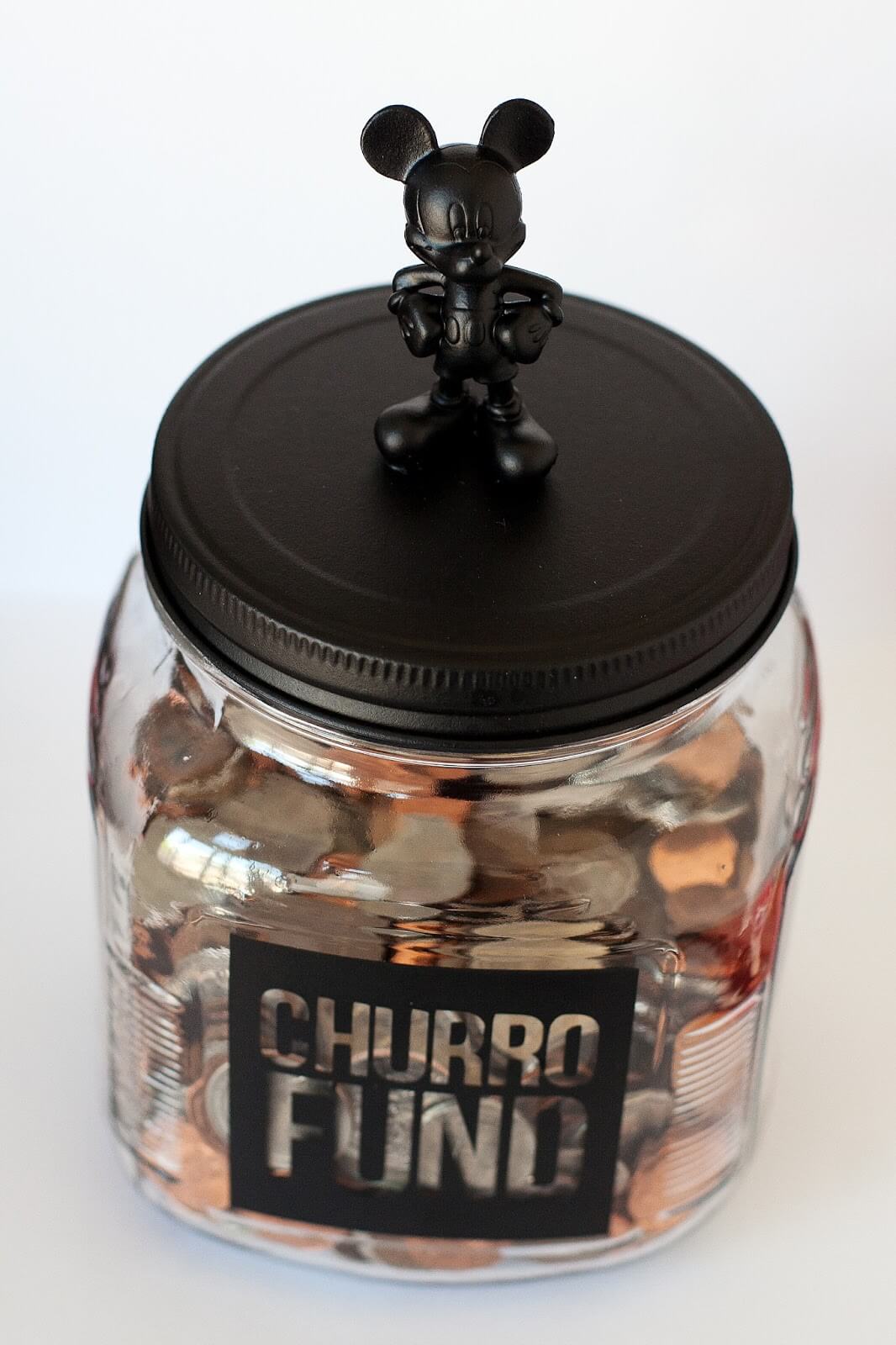 Storing change, pins, screws, bolts, nuts, nails, and dozens of other small objects doesn't have to be boring. Mason jars don't have to be boring either, as this handsome Disney decor item proves. Finding the right little figures to adhere to the tops of mason jars is the real trick. Deciding how to label each jar is another trick. Ultimately, how you decide to use your "Disney-fied" jars is up to you. However, as far as storage ideas go, this one may be one of the best DIY Disney home decor ideas yet. It would be very easy to make dozens of these jars to store almost everything in your home.
3. Cool Mat Is Where "The Mouse" Is At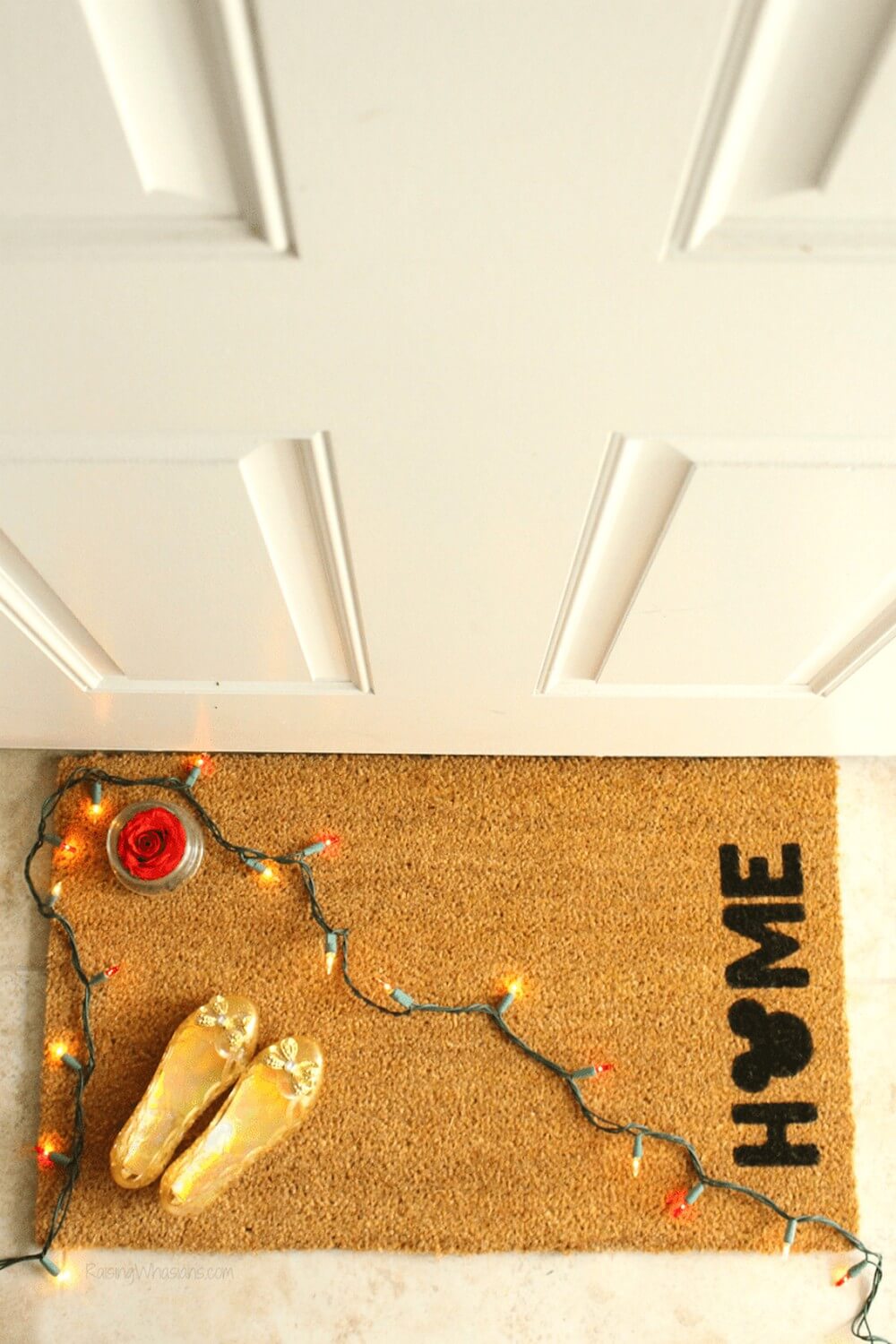 Absolutely nothing gets easier to make than this door mat. Your guests know that they are entering a Disney home the minute they see the Mickey head icon representing the "o" in "home" along the edge of the mat. A little black paint and some stencils is all you really need. A Minnie variation is also possible, in which case you might make one with Mickey for your front or back door and one with Minnie for the other door. You can try different classic Disney characters, but really only Mickey/Minnie icons work the best. Still, for someone that loves Disney as much as you do, that's probably not a drawback at all.
4. Great Mickey Totes Where You Go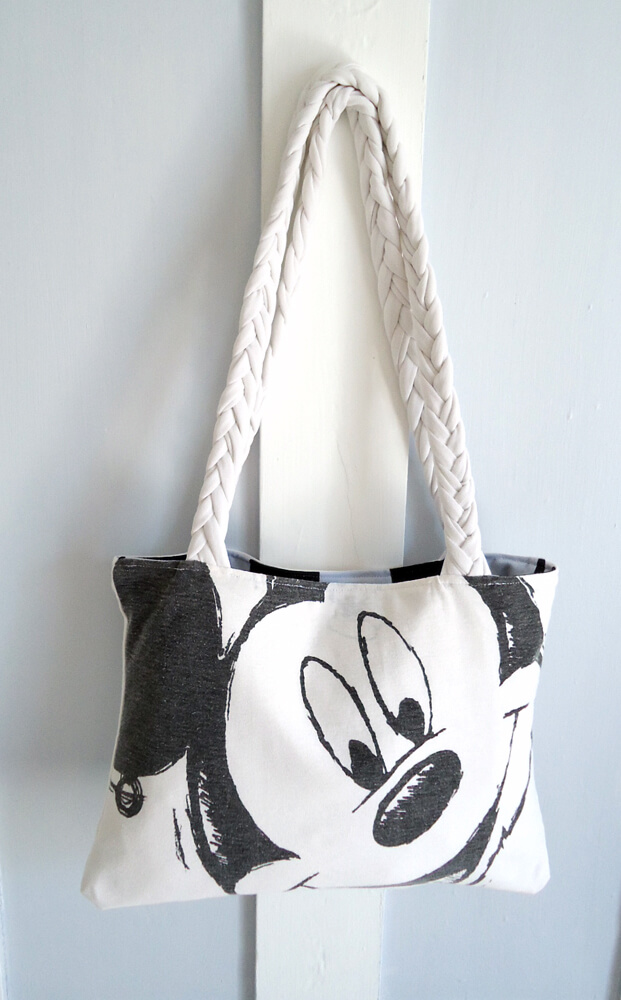 If you can't go to a Disney beach, bring the Disney beach to you! A Mickey Mouse tote bag isn't difficult to make at all. You don't even really need to know how to sew, so long as you have a little painting talent and/or a stencil. A plain white beach bag suddenly becomes a high-end Disney quality tote in less than an hour. This project can be made for any Disney character too, but one can't help but smile when Mickey smiles back from the front and/or back of the bag. In terms of a gift, this is irresistible to Mickey Mouse fans. Changing the character makes it equally irresistible to fans of other Disney characters.
5. Cool Disney Silhouettes Against Any Surface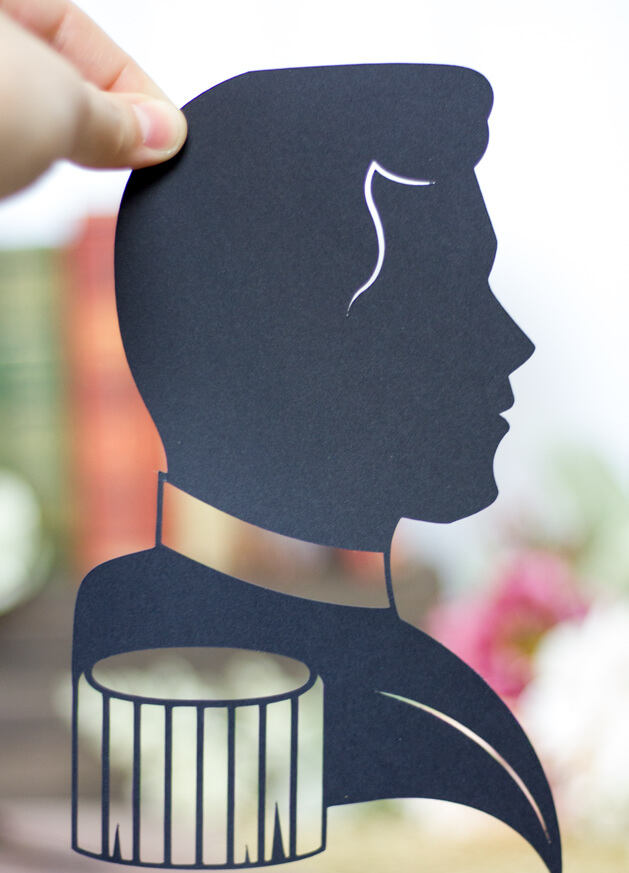 Remember when you were a kid and somebody used a flashlight to trace the outline of your profile on white or black paper? These silhouettes were quite the popular craft idea when Walt Disney World in Florida first opened. In fact, they were so popular that there was a station here and there for your silhouette to be made and placed side by side with a favorite Disney character! Sigh. Good times like that don't have to fade away. While you can't have the actual characters present to do an official silhouette project, you can use paper crafting and cutting machines to create really great silhouettes. You can use the silhouettes to decorate literally anything, as you will see in Disney craft idea below.
6. Perfect Headboard for Royalty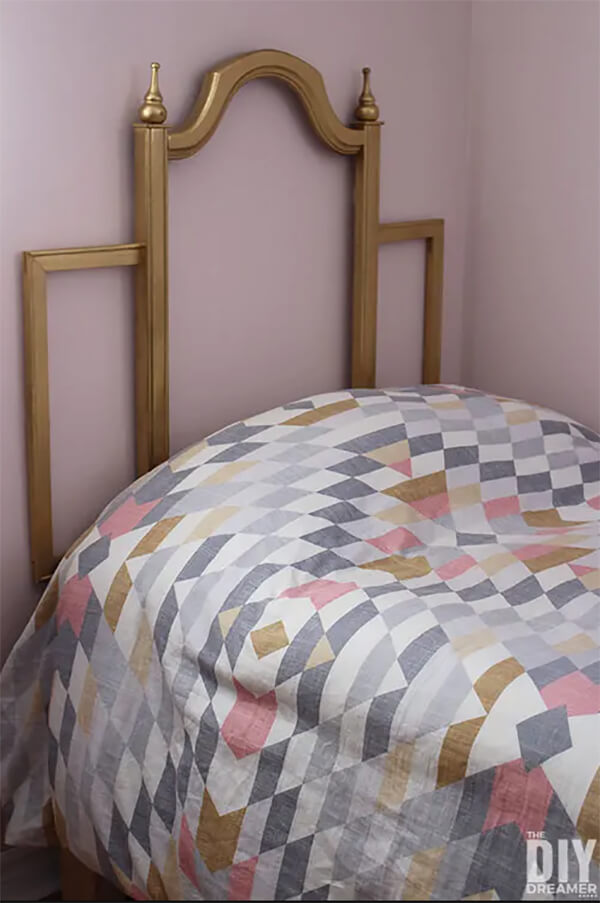 Who would have thought that you can have a golden castle-style bed that even Cinderella herself would love? The ingenious part of this headboard is that it is comprised of wooden frames from pictures and/or mirrors, with the glass removed of course. Accents added at the top of the "posts" makes it look more regal. You would never guess what the headboard really was, once upon a time. After a layer of metallic paint in gold, silver, copper, etc., no one can tell what it was before. Make it for yourself or for your kids.
7. Great Magical Lights Begin with Candle Lanterns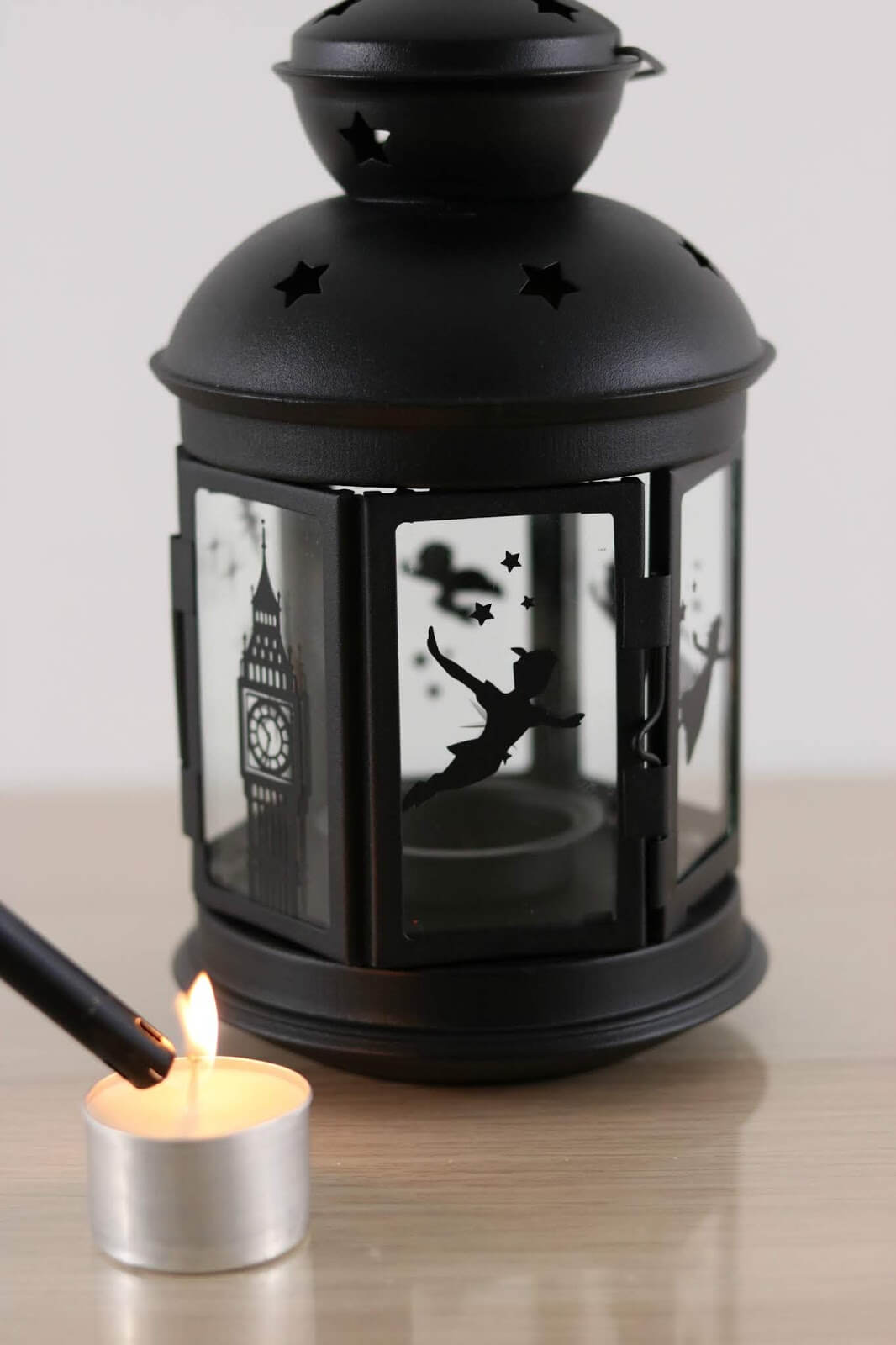 Cutting much smaller silhouette figures involves patience, but as you can see the effort is worth it. Peter Pan, Wendy, and the boys sail past Big Ben in the light of the moon on this decorated candle lantern. The lantern will project the shadow figures onto walls and make them come alive with the flickering of a tea light candle.
Really, it's a very clever and unique way to present mood lighting for the Disney home. If you remember, Peter Pan only met Wendy when his shadow detached and flew into the nursery. What better way to represent the story than by projecting it through a candle lantern in a darkened room? Truly, this is one of the best DIY Disney home decor ideas we have seen so far.
8. Great Disney Memorabilia Gets a New Look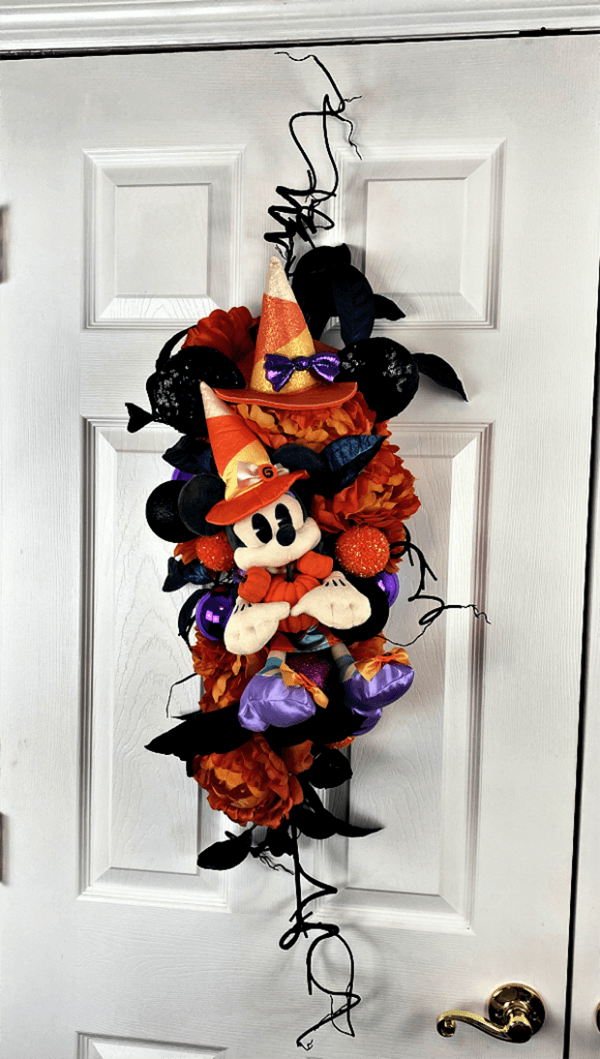 Maybe your favorite Disney plush is a little worn out. Maybe your best pair of Mickey ears needs a new lease on life. When you really can't let go of the Disney memories in objects near and dear to you, you can transform them into holiday decor, like this Halloween door knocker. While it really doesn't make a lot of noise (it is a Minnie Mouse witch plush after all!), it is certainly an eye-catching and unique handmade Disney decor item. If you want to disassemble the door decor after the holiday it represents, there is a way to make these door knockers or wreaths without stitching or gluing Disney memorabilia and collectibles together. Similar door decor for other holidays can be crafted if you have other Disney plushes, ears, etc.
9. Best DIY Disney Home Decor Ideas Start with Letters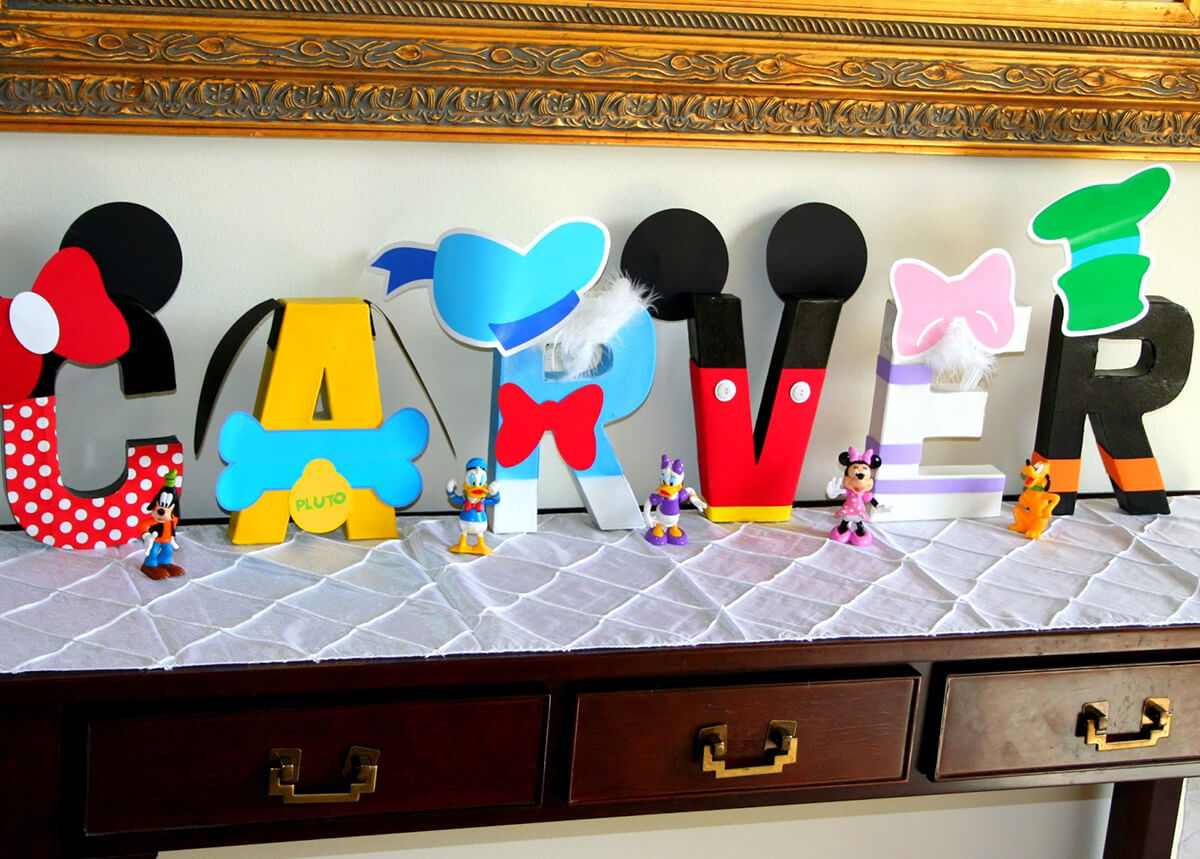 If you have never gone down the woodworking craft aisle in your local arts and crafts store, maybe now you should. These hand-painted Disney-themed letters are actually wooden letters you can buy from the craft store. There's no need to learn woodworking or learn how to cut wooden letters on power tools when these are already cut for you. The fun thing about painting these letters is that they can spell out literally anything you want them to. Spell out names, simple messages, dates that are really important to you, etc. Paint them to look like the original Mickey and friends characters, Disney princesses, or Disney villains. The magic is only as big as your own imagination.
10. "Pin" Your Cool Collection to the Wall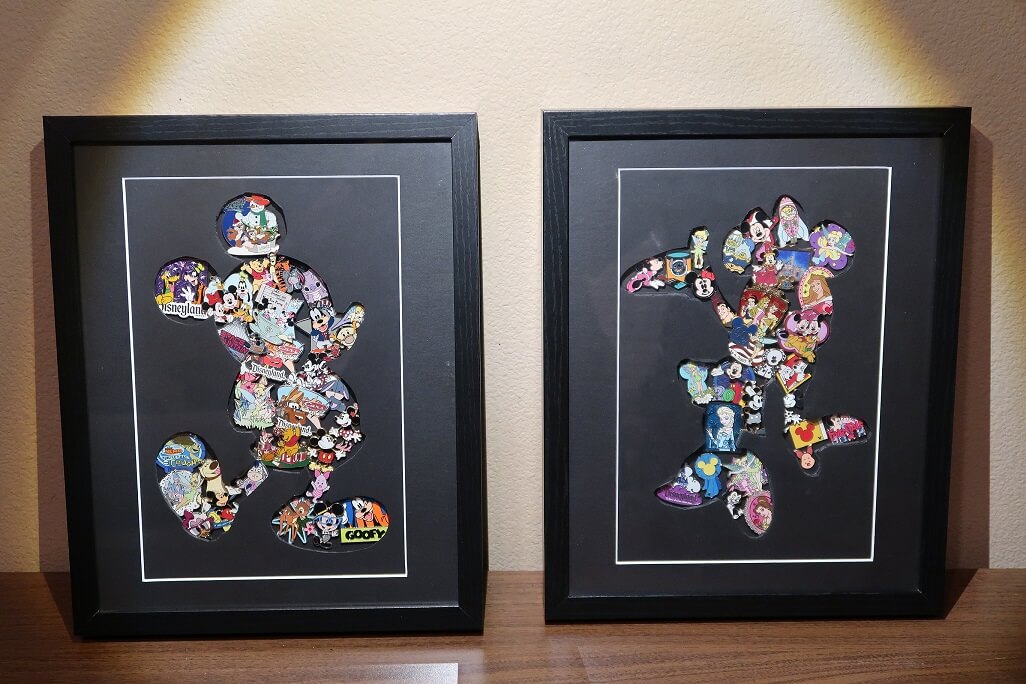 A huge part of Disney fan culture is pin trading. Yet, what can you do with all of your favorite pins besides wear them? If they mean a lot to you, you probably don't want to wear them. Yet, they can't simply sit in a drawer or box. Put your amazing collection on display with this perfect home decor idea. Cutouts of your favorite Disney characters (in this example, Minnie and Mickey Mouse) reveal the pins below. The pins are indeed stuck to a back board and inserted between the character cutout and the back of the picture frame. The pins themselves are stuck to a board that is thick enough to hold onto the pins without needing the pin backs. The best part about these unique pin displays is that they help organize your collection while putting it on display. You and anyone else in your home can easily see which pins you have, and the types of Disney pins you collect.
10 Fun and Creative Disney-inspired Decor Projects for Your Home
While the above ideas are pretty amazing, there's even more to see and do. Depending on what you need in your home, there's a pretty good chance that a Disney-themed decor idea exists. From lighting to wall decor, from table decor to tote bags and pillowcases, you can create it. Try some of your favorite ideas listed here. Switch it up and create your own designs with these ideas. Look for more ideas to try. You can create so much Disney stuff to decorate your home that you would never need to shop for it. Plus, what you create is unique. Disney doesn't sell it because you made it.