If you are struggling to come up with children's room ideas, consider a Disney room design! Whether you don't know the first thing about kids' room decor, want to fix up a boys room, or need a few girls' room decorating ideas, we have you covered with the following 42 Disney room decorating ideas. You may not find exactly what you are looking for in this list, but that's okay; you are sure to at least find a LOT of inspiration! From Alice in Wonderland to Zurg, Disney has something for everyone – it's just a matter of how you will incorporate your favorites into your own home.
Check Out 42 Outstanding Disney rooms for 2018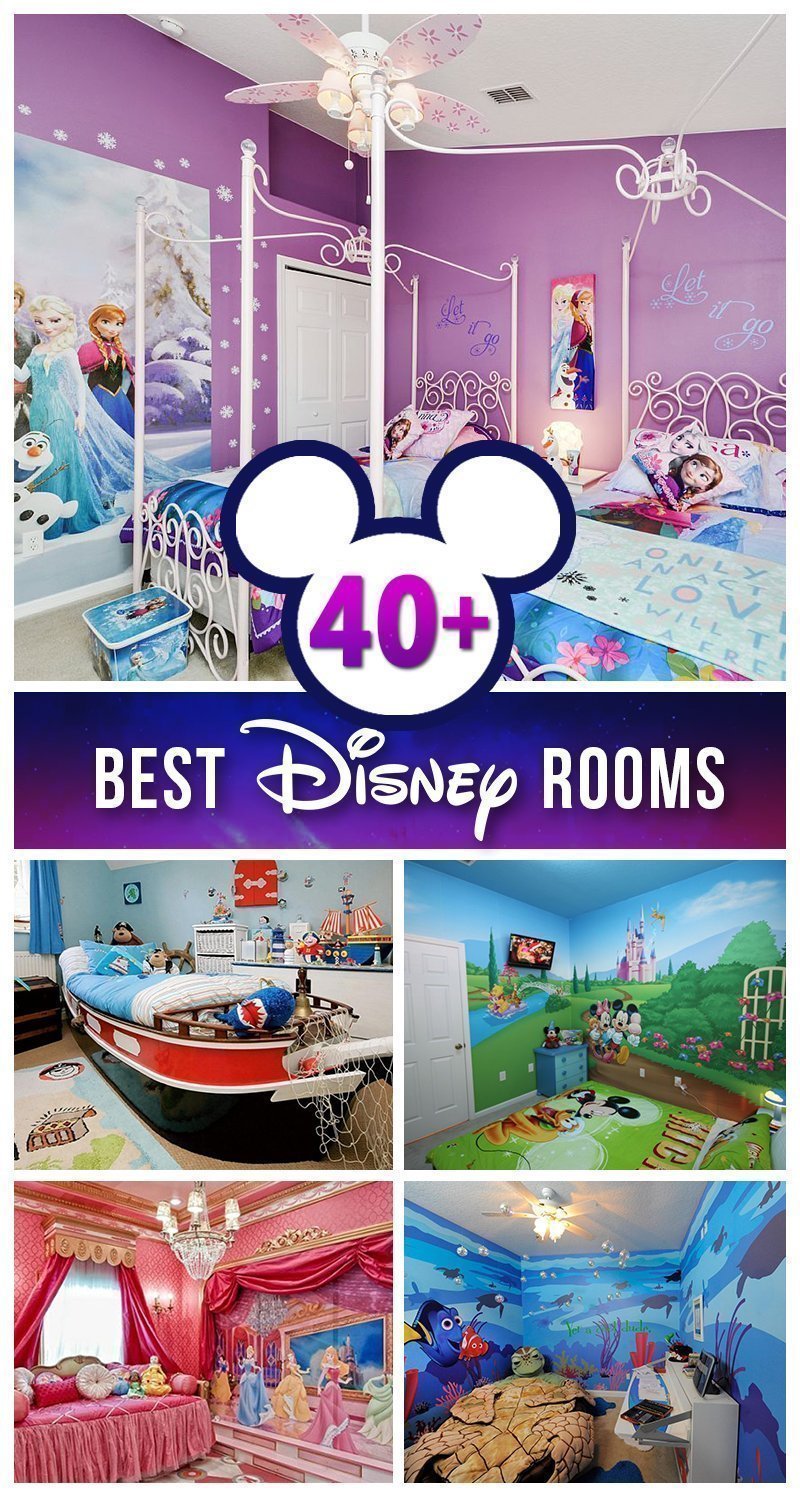 1. Finding Nemo Kids Room Design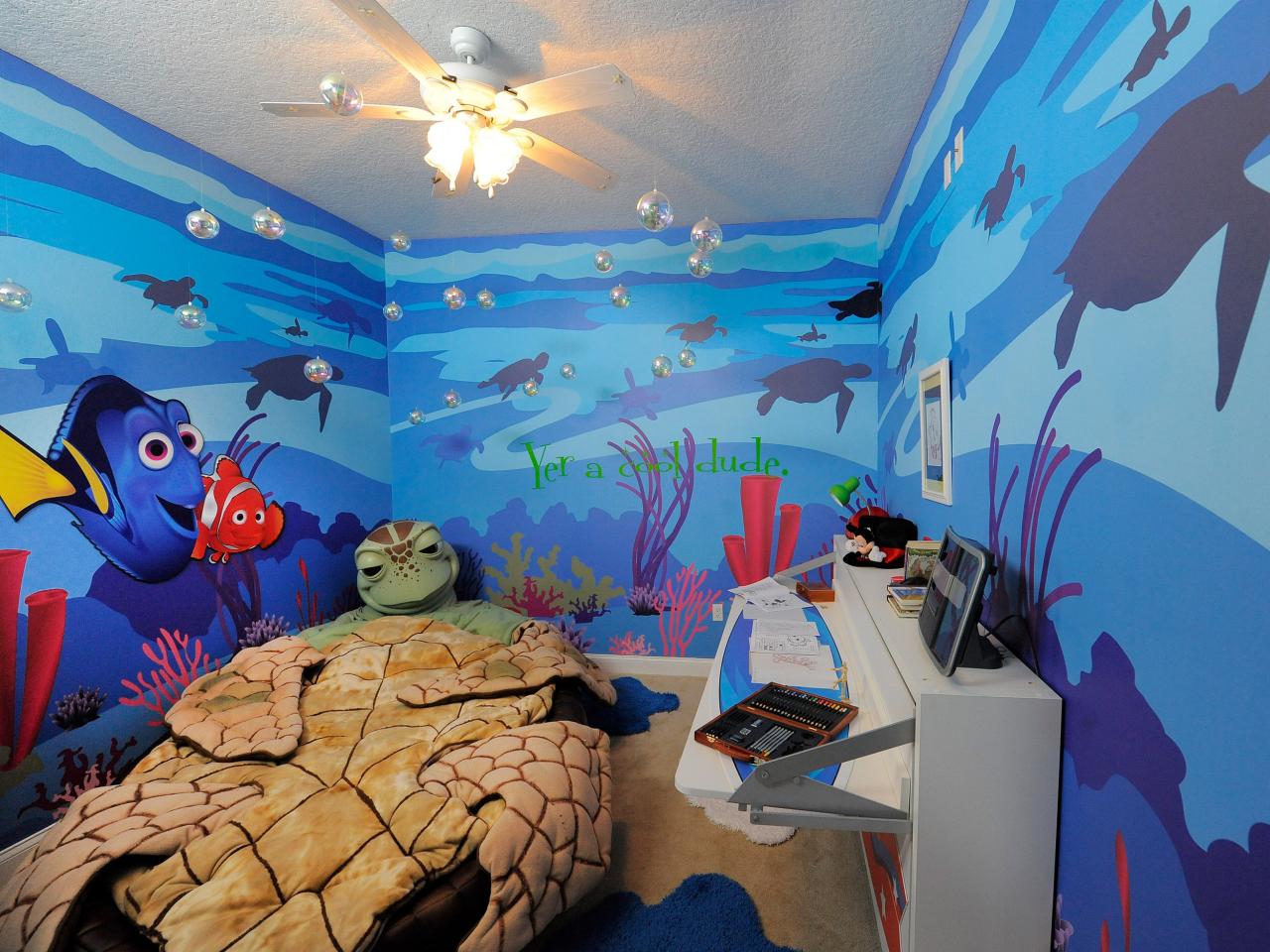 Dory may not always know her way due to chronic forgetfulness, but she will always be there to help your little one find their dreams in this adorable Finding Nemo-themed bedroom. The soft blues of the ocean on the wall produce a calm tranquility complete with seaweed and the bright corals of the ocean floor, which bring a pop of color to the space. Crush is the adorable sea turtle who welcomes your little one to bed every night with open arms. This Disney room design is complete with ornaments resembling the precious pearls of the ocean.
2. Bring the Outside In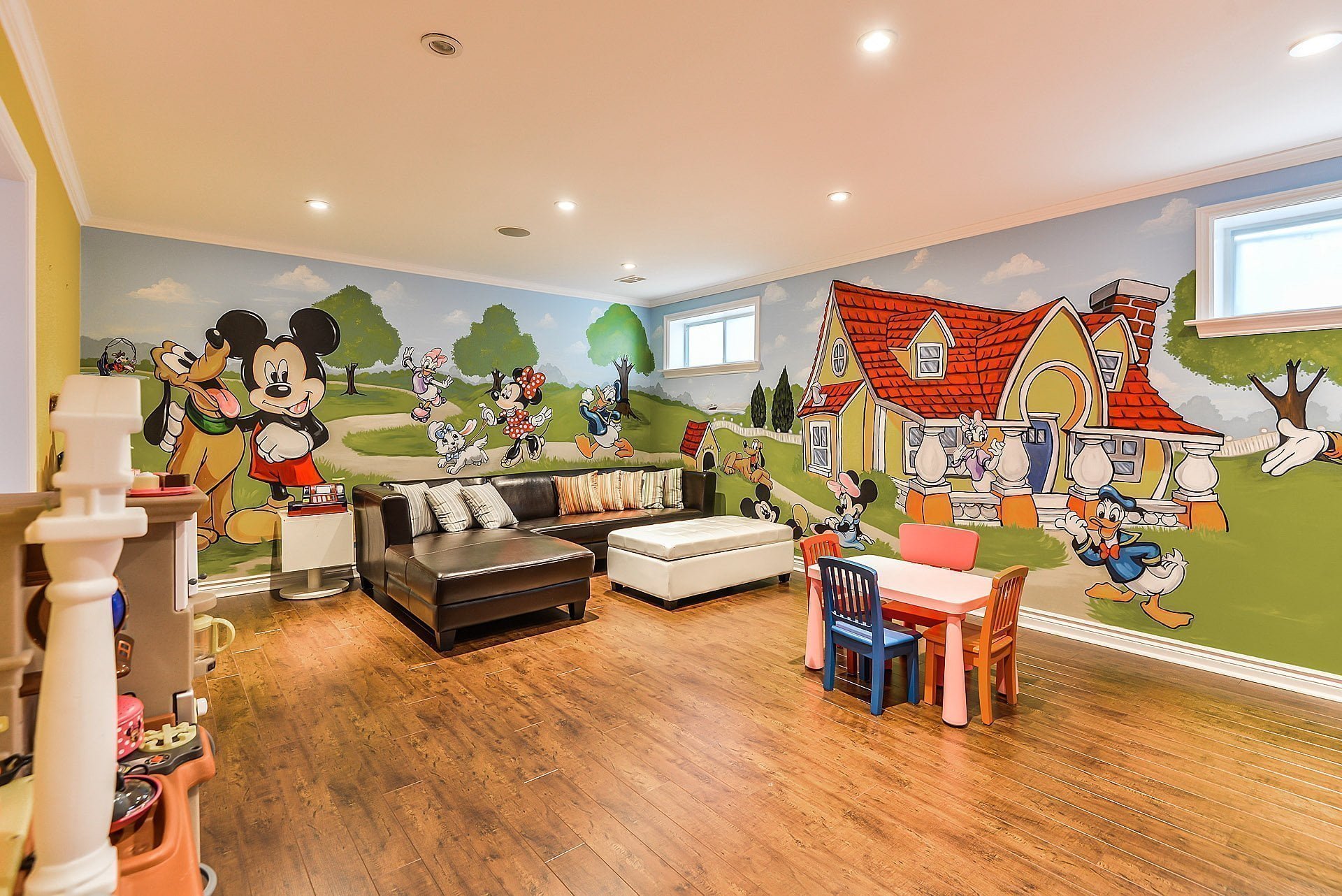 In this Disney kids room, your youngsters will feel as though they are frolicking outside on even the coldest and wettest days! The bright and cheerful mural is sure to spark the imagination, and many adventures will be enjoyed with Mickey, Minnie, Donald and the gang. The minimalistic furniture offers a comfortable spot for adults to watch the fun take place without being a distraction from the wonder of the room. The children will love cooking up fantastical meals to serve at a table sized just right for them while the wood floors provide easy clean-up.
3. Under the Sea Escape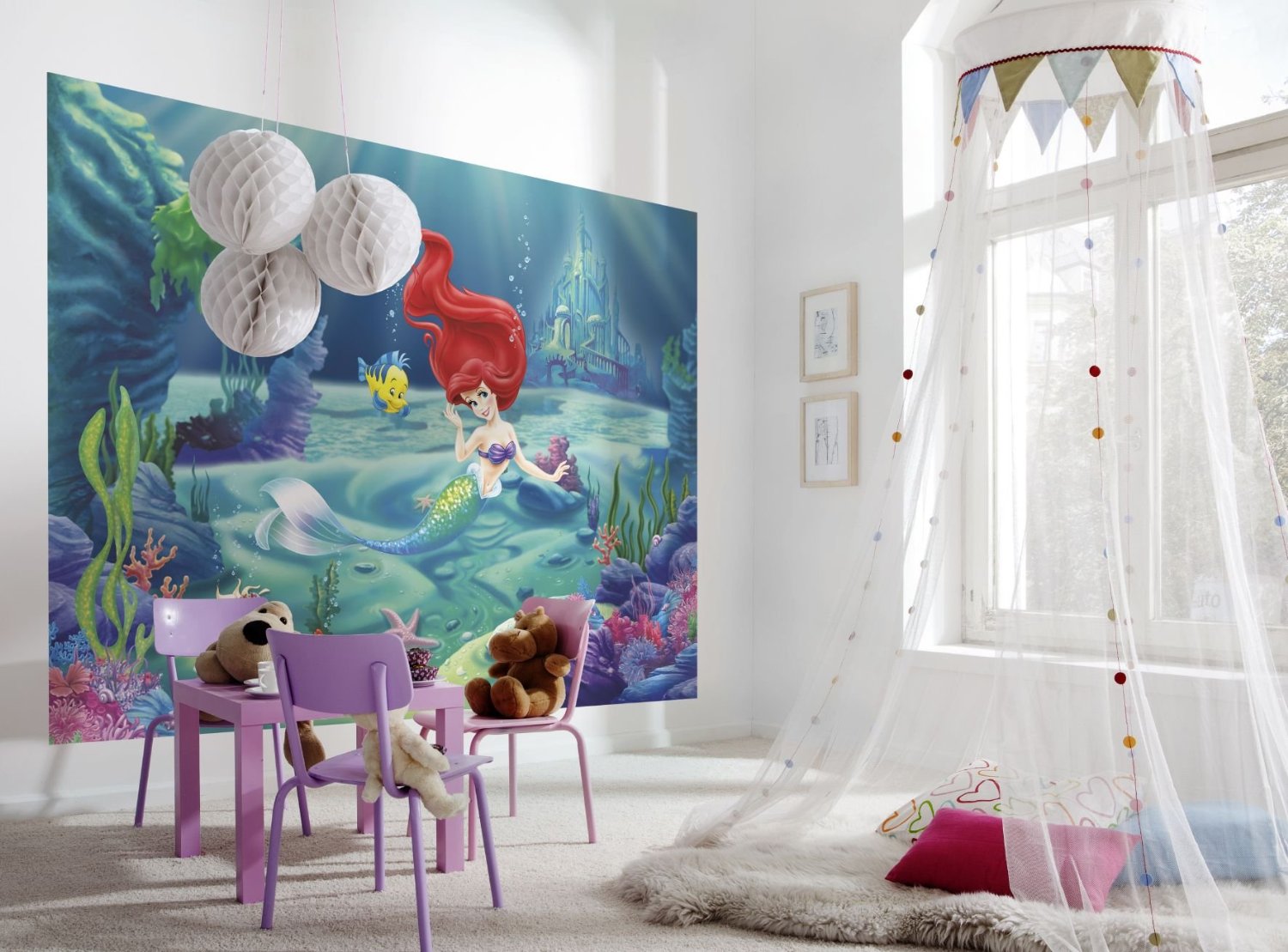 What little girl would not love a place to call her own with Ariel to keep her company? This girls room decor features a wall-size mural of the underwater daughter of King Triton swimming amongst the reefs and welcoming your own daughter with a smile. Playmates will have room to sit at the table to imagine what days would be like in a castle under the sea. The room is complete with a rug throw and pillows surrounded by a sheer curtain hanging from the ceiling that is perfect for reading time or a quiet nap.
4. Cross the Finish Line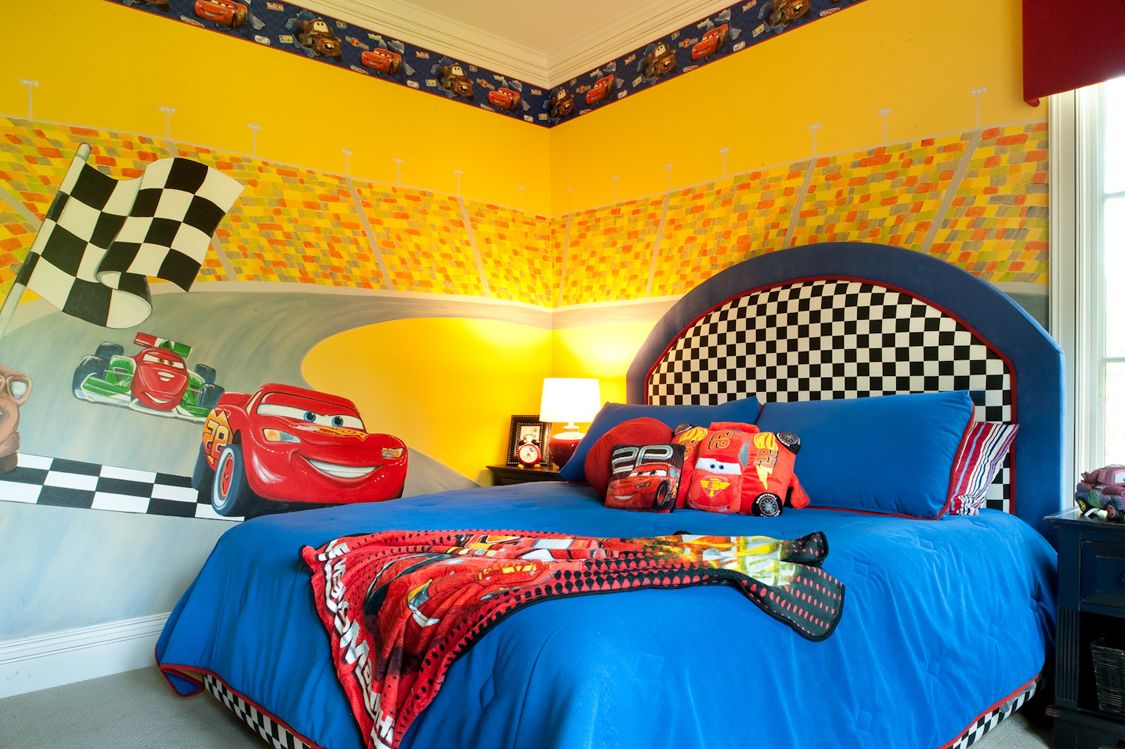 A Cars-inspired bedroom is a classic if you are stuck for boys room decorating ideas. The bright yellow walls are checked with muted colors along the racetrack to simulate the cheering fans and is offset with the darker border by the ceiling. Lightning McQueen is victoriously crossing the finish line with his faithful companion Mater at his side. The plain blue comforter balances the checkered headboard that will have the little man in your life dreaming of winning his own races. Red throw pillows and toy cars from the movie bring the room together.
5. Flight of Fancy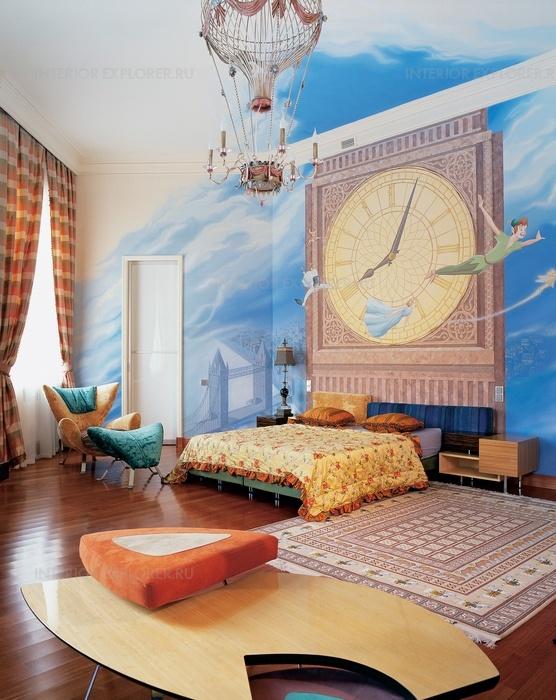 The whimsy and magic of Peter Pan can transform any space into a wonderland. This Disney room features a large mural of the flying boy himself who, along with Wendy, are ready to take your hand and guide you past the clock tower, second star to the right, and straight on till morning (and Neverland)! The eclectic furniture with its curved lines add to the allure of this room, and the spots of green and orange set everything off. Even the light, with a hot air balloon being its design inspiration, makes those who enter believe that they too could fly off into the sunset.
6. Mickey's Clean and Crisp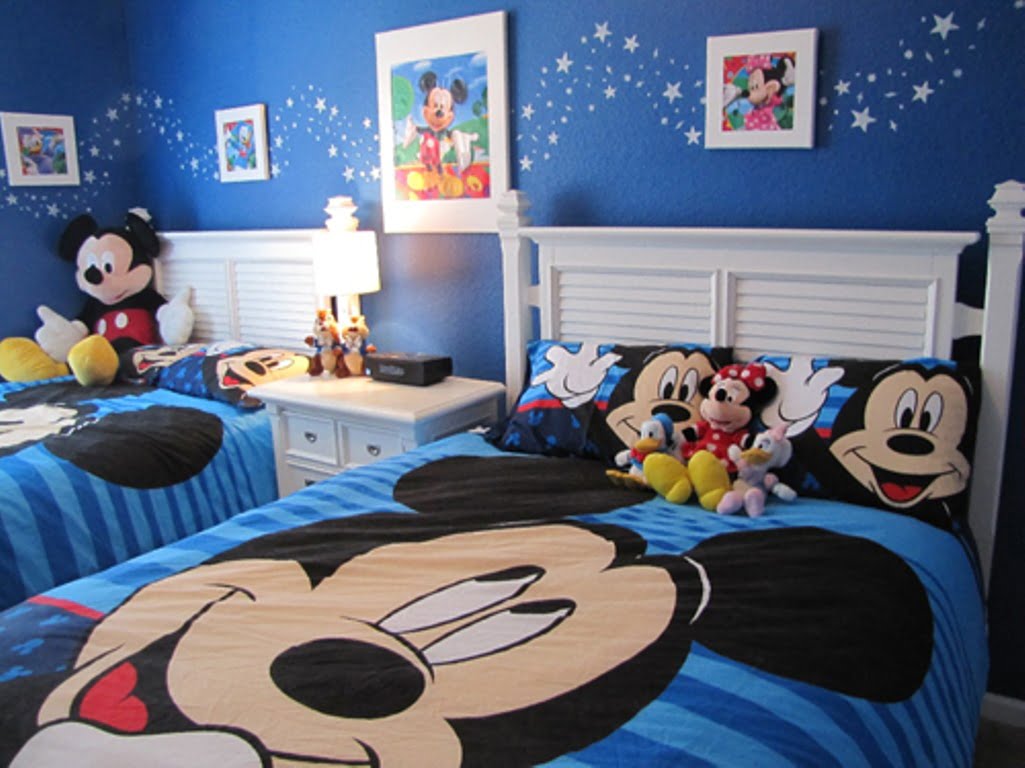 Children's room design does not have to be overly complicated, as this space with distinguishing blue and white colors and clean lines shows. The white furniture is a sharp contrast to the dark blue. To brighten the walls and pull the eyes, the decorator opted to paint a trail of white stars connecting the Disney room decorations that feature Mickey, Minnie and cohort Donald Duck. The simple bedside lamp lends an air of warmth to the cool blue, and Mickey approves from his prominent spot on the bed comforters.
7. It's All About the Honey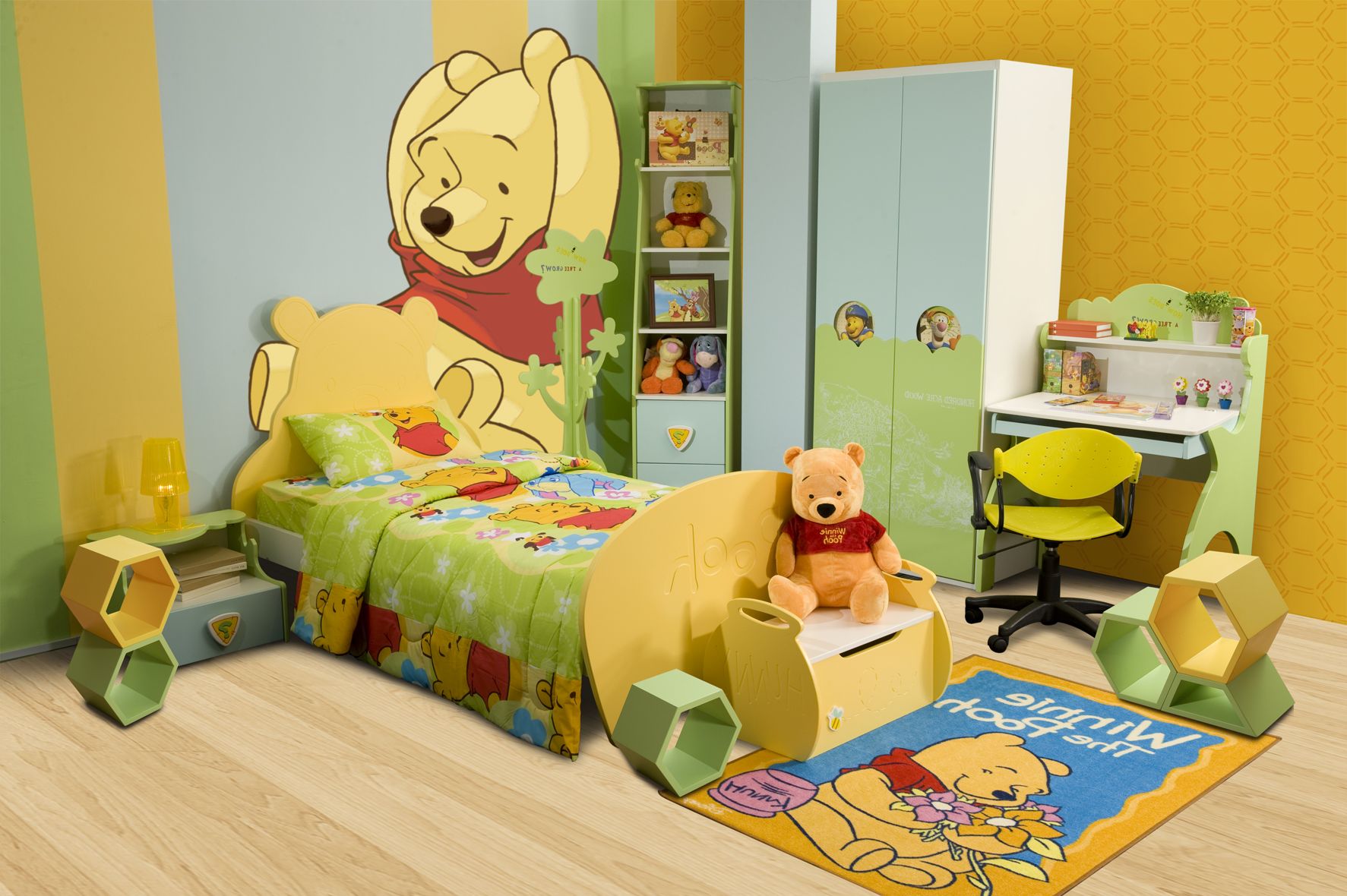 For a bright and airy Disney themed room, you can't go wrong with Winnie the Pooh. His love of honey shines through in the yellow hues of the honeycomb-painted wall and is accented not only on the other walls but in pops of color throughout the space. He is always found frolicking in the forest with friends Eeyore, Tigger and Piglet, so green was another natural choice to add. Your little one will love stashing their treasures in the cute honeycomb-shaped cubbies, and homework will be a breeze at the pint-sized desk.
8. The Frozen Forest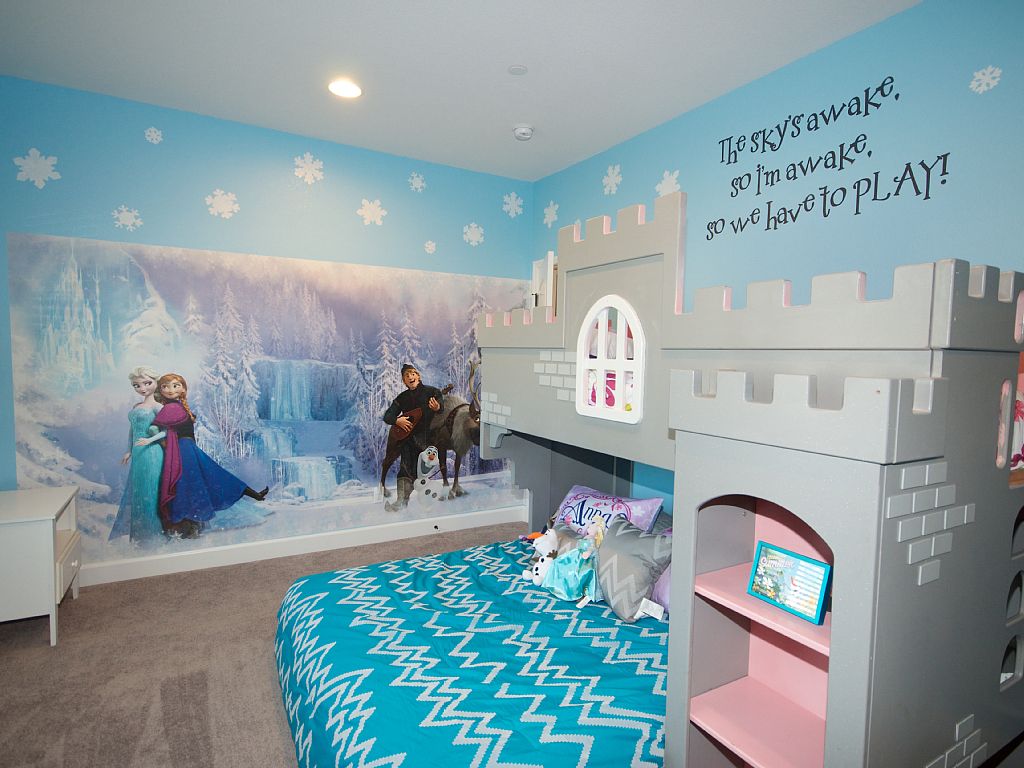 The movie Frozen makes girls room decorating ideas come easy. After all, what girl doesn't like the icy blue hue of Elsa's dress? The comforter matches it perfectly in this room that princesses everywhere would love to call their own. The mural depicts the Snow Queen and Anna in the winter wonderland that surrounds her icy castle. In lieu of a backboard, this room comes alive with a 3D castle that surrounds the bed from wall to wall and features not only shelving but a secret bunk space as well.
9. Twin Hearts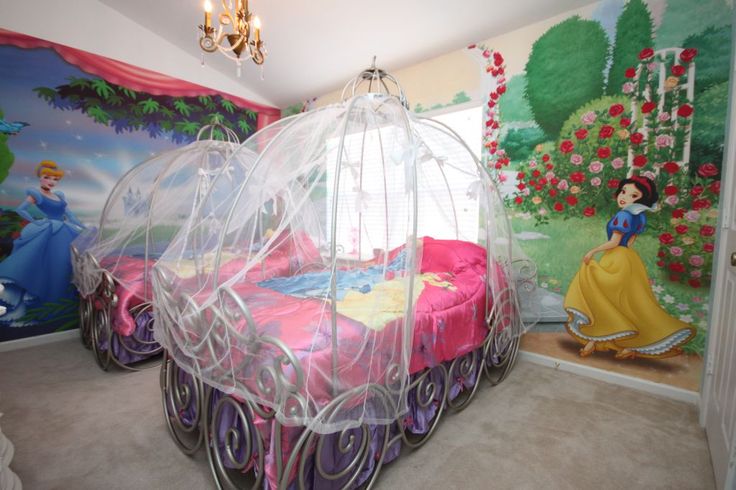 Did you know that Disney room themes can be bundled? Any parent with twins can relate to the struggle of two very separate personalities coming together in one bedroom. It is essential to strike a common chord amongst them in order to have peace reign. That is exactly what was done with this Disney princess room. One loves Cinderella, the other Snow White, and they both love being princesses themselves! The two worlds come together with the matching carriages that whisk the sisters to dreamland and their respective castles.
10. Pixie Dust Delights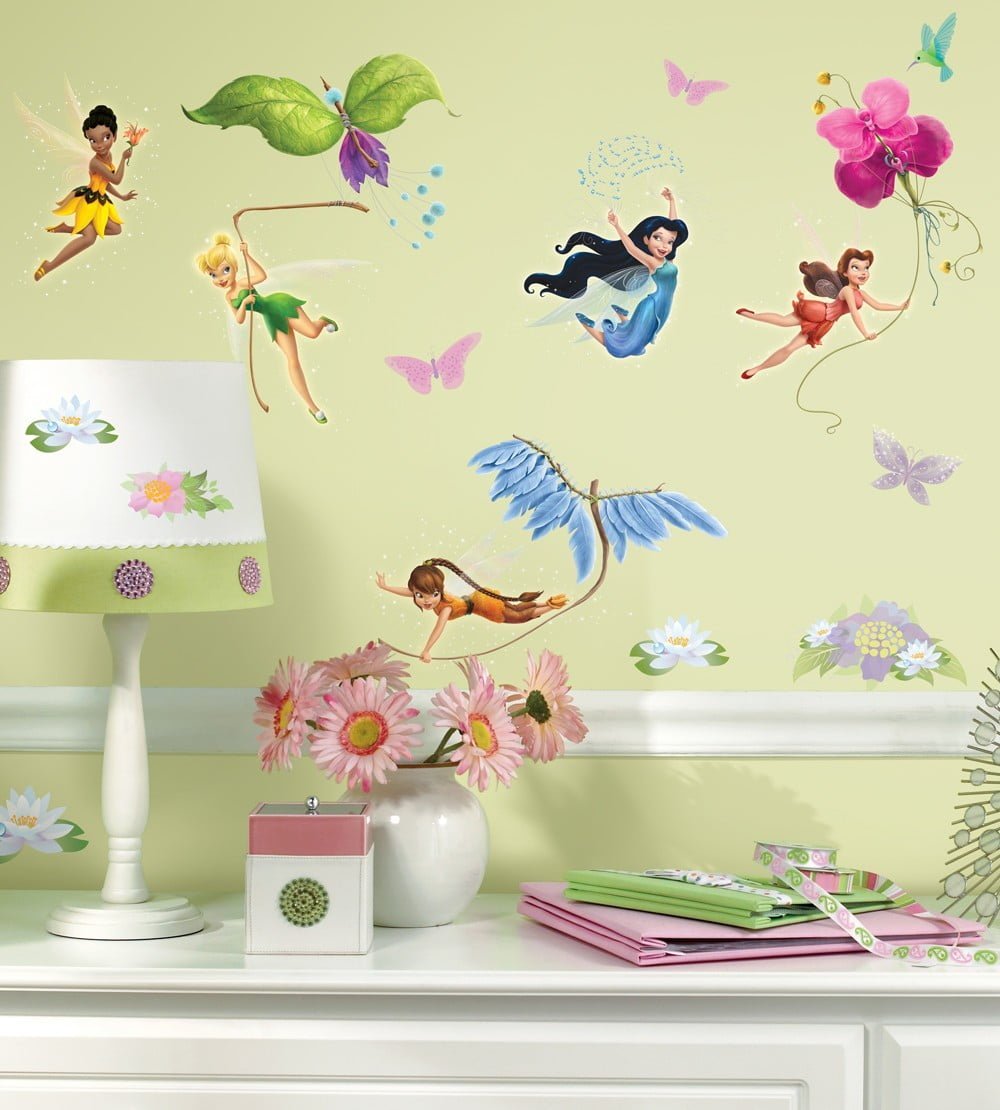 Disney room decor doesn't have to be all or nothing. This room has a light and airy feel with its muted pastel walls featuring flowers and fairies. Look to nature to inspire your own designs; what are your favorite flowers? Do you prefer spring or fall? Bring your favorite style queues from Mother Nature inside your home! Thinking outside the box, as this artist did, can create quite the conversation starters as well. Look at the butterflies; upon closer inspection you'll see they are actually leaves and feathers. What cool ideas like that are begging to be part of your next project?
11. King of the Jungle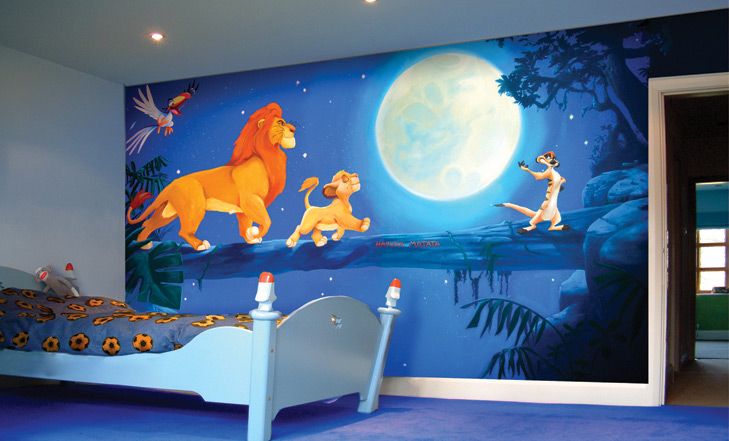 Murals are an excellent way to create a focal point in any room. In this children's room, the designer used the space from the doorway to the wall to create a masterpiece that any child or person young at heart would love. Simba walks as proudly in front of Mufasa as you will be when you introduce your son or daughter to their new bedroom look! The moon seems to illuminate the entire room while the blue carpet completes the night look. Rooms accented with murals can have as many other items as you wish; this one works with a funky bed and little else.
12. Filmstrip Fascination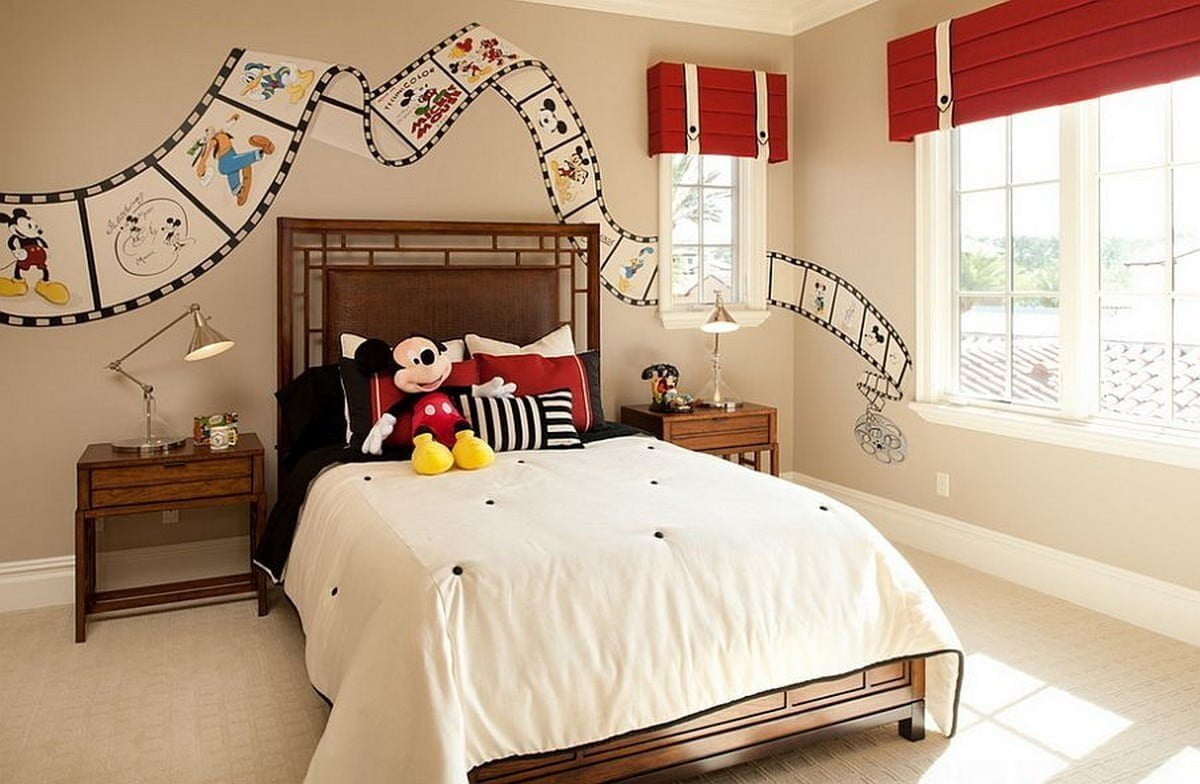 This just proves that Disney rooms can be made to look amazing without a large budget. Incorporating a film strip mural or border along with a few accents can turn the boring and mundane into something remarkable. The red window valances and throw pillows here provide tie-in color to parts of the strip and Mickey's overalls.
If you are working with a low budget, pick out a border of your favorite Disney characters, buy a couple pillows and curtains that match a color in it, and maybe a stuffed animal or two. Voila – your Disney room is complete!
13. The Carriage Room
What is a dream? A dream is a wish your heart makes, of course! You can make your little girl's dream of being a princess come true with an incredible pumpkin carriage bed. An entire room transforms into a castle retreat with murals, a 3D castle leading to either a closet or a closed bookshelf; even the paint on the ceiling lends to the magic of the room. The authentic wooden wheels of the carriage complete the look, but your little one won't have to worry about the stroke of midnight in this Disney room.
14. Into the Pridelands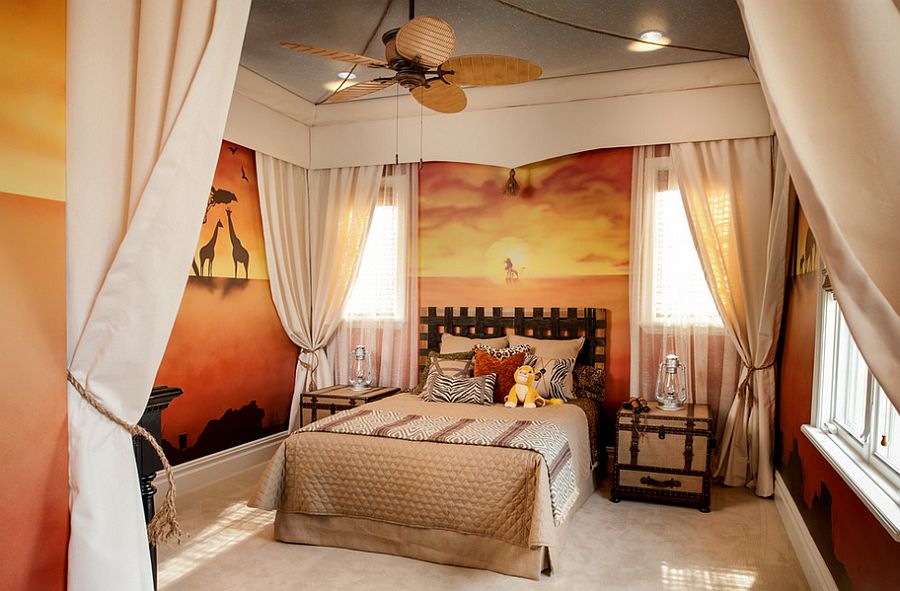 When thinking of Disney room ideas, one often tends to think of nurseries and kids room design that are bright and full of fun. As this beautiful room portrays, any room can be inspired from cartoon classics – even elegant adult bedrooms. The prairie-muraled walls are accented by beige panel curtains and sheers on the windows reminiscent of the mosquito netting found in sleeping quarters across the Sahara. The end tables look ready to carry your personal items as you embark on a journey across the Pridelands in search of Simba himself with the lanterns atop prepared to light the way.
More disney room design ideas on the next page…