With the best DIY dollar store garden decor ideas, you can make your garden look even brighter and more full of life. Our gardens can have so many different looks depending on what we plant and how everything is placed. However, one thing that no one should overlook is the decorative aspect of the garden. It's here where you are free to show off more of your personality and style, perhaps even helping your garden better mesh with the rest of the outdoor theme. You don't have to put much money into buying this stuff either since you can spruce things up with a few DIY projects with materials from the dollar store.
24 DIY Dollar Store Garden Decor Ideas for a Budget-friendly Outdoor Update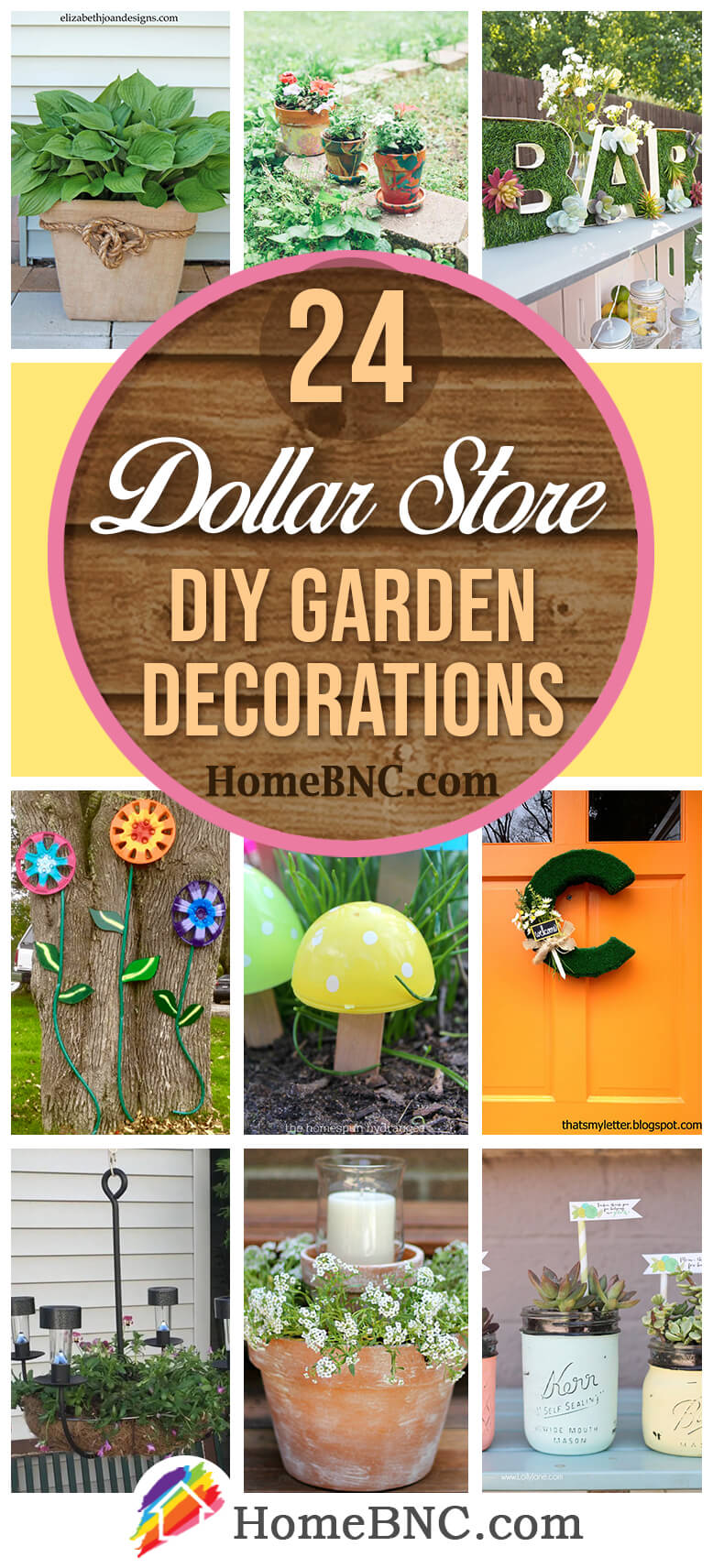 The only place you'll find yourself in a difficult situation is deciding on what you're going to do. You can make something that goes directly into the garden like I.D. tags or some other fun decorative items. Or maybe you want some hanging planters to go along with your garden? Just as there are numerous ways your plants, flowers, fruits, and veggies can make your garden look different, the vast amount of decorative items can give it a total makeover.
Well, if you don't know what to do, we're here to help. Our list of some of our favorite DIY dollar store garden decor ideas should give you a few good starting points.
1. Artificial "BAR" Letter Sign Design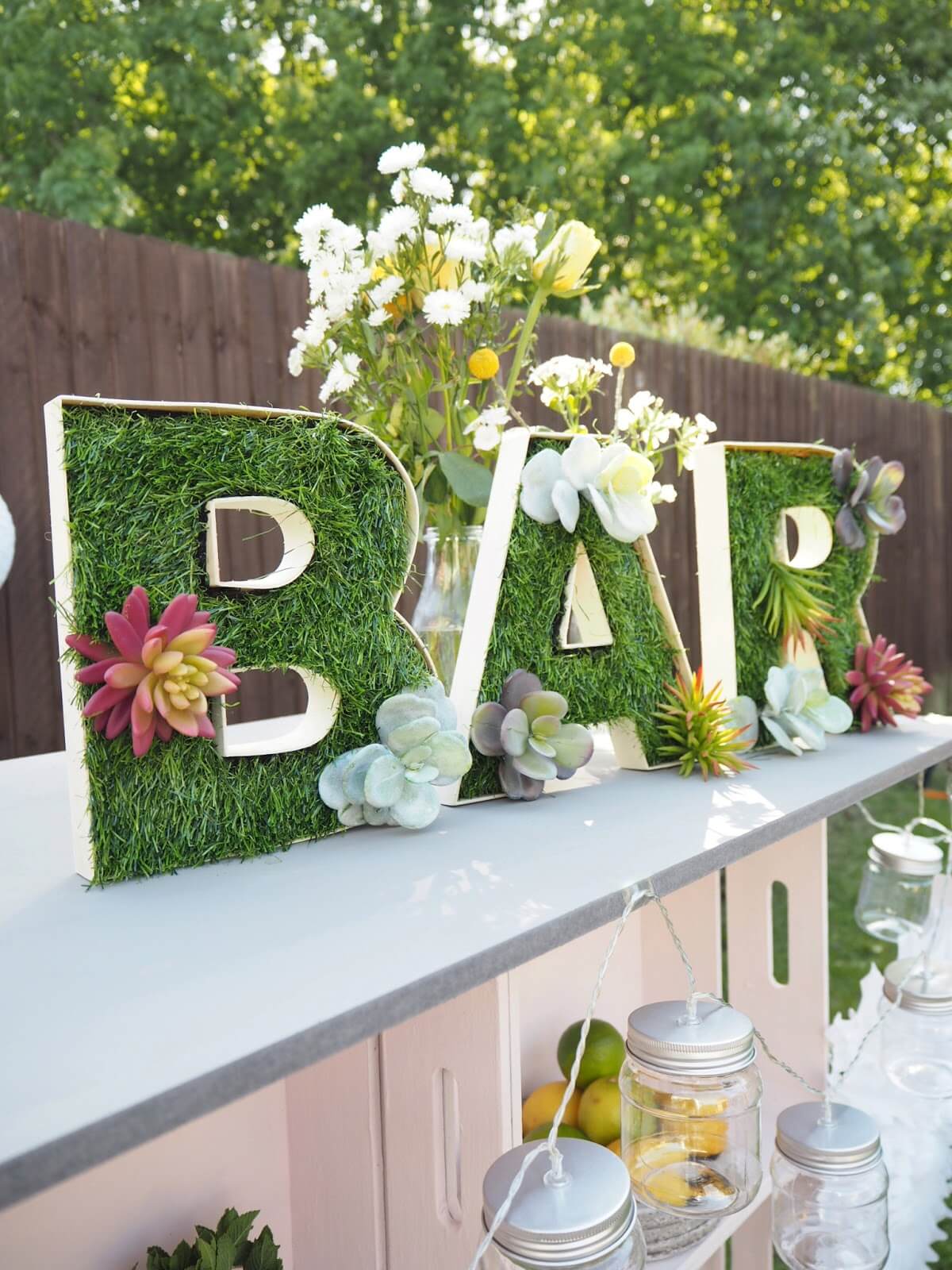 Do you have a nice setup around your garden for hanging out? Well, you can make your company feel even more welcomed and give them a touch of ambiance with this letter sign design. Whether you spell out "bar" or something else, the wooden letters are easy to decorate with some artificial grass and faux succulents. This is a fun and easy way to add more color to your garden decor, and it is also a nice method of moving the garden into other areas of your outdoor setting. Since you aren't using anything real, the design can last season after season without worry.
2. Oversized Flower Turf Letter Wreath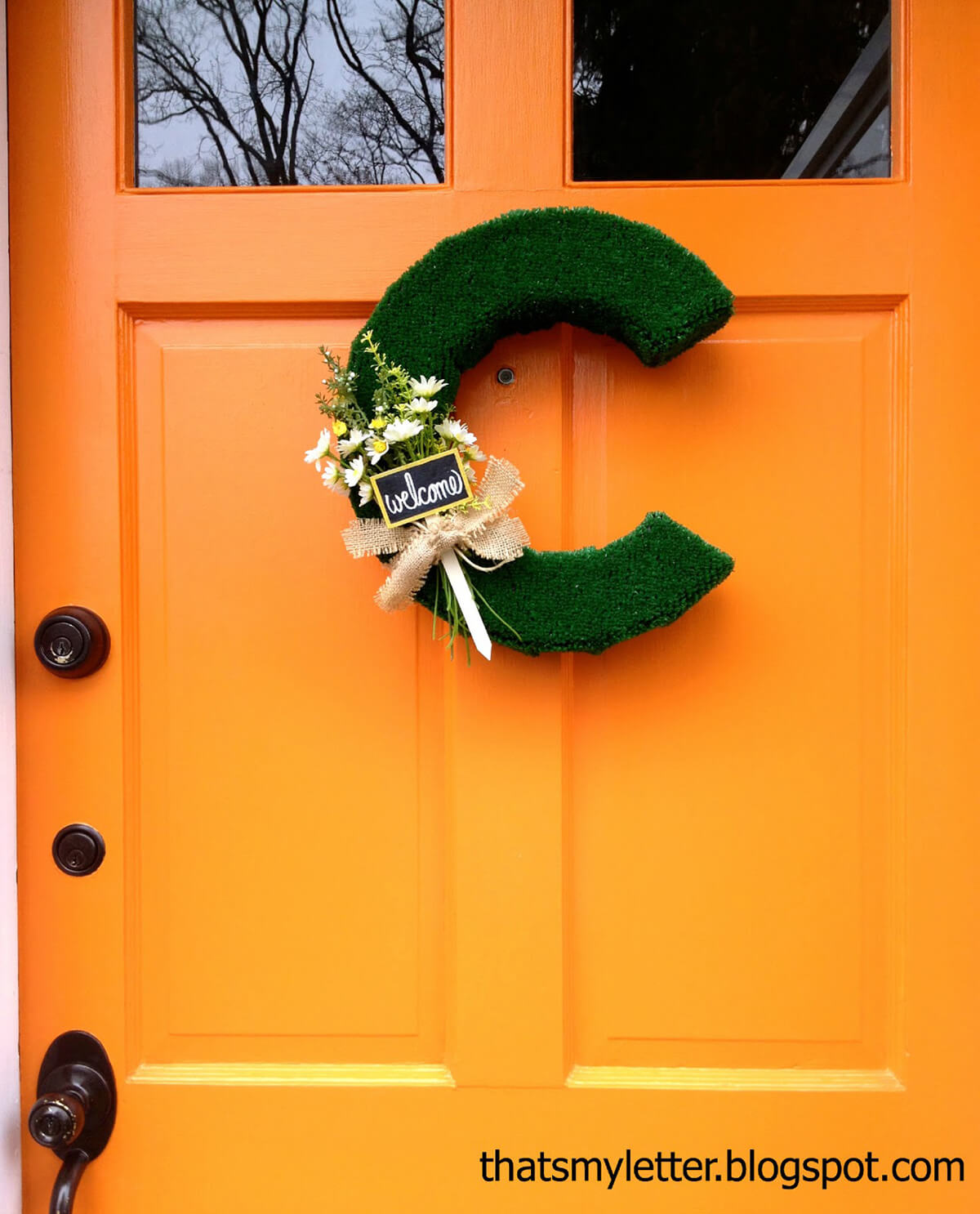 A wreath doesn't have to just remain circular. Instead, you can craft something distinctive using an oversized letter. With the added moss material, the letter better resembles a Wreath while maintaining its own uniqueness. Also, don't shy away from giving this awesome design some more contrasting colors by adding on some faux flowers as well. This also helps it blend better when you hang it up around your garden area.
3. DIY Painted Mason Jar Succulent Pots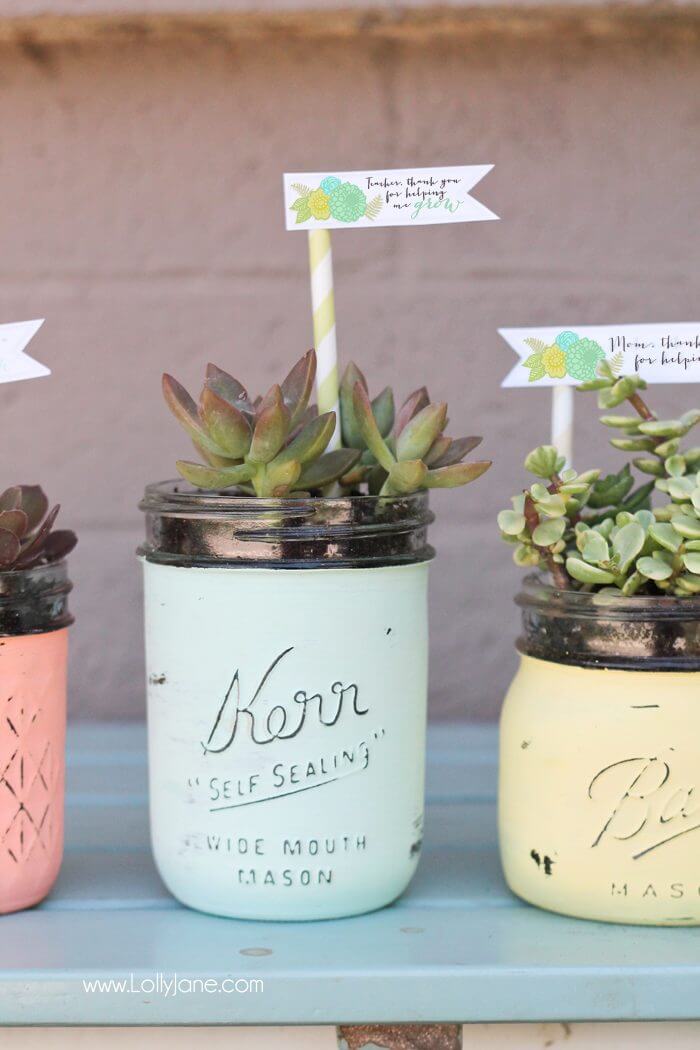 Succulents already have an attractive look about them that they deserve a nice potted area to go in. So, why not use mason jars? When you need some homemade dollar store decor for garden ideas that won't break your wallet, mason jars are always a great way to go. You can find them with ease, and they are a lovely base to use to paint however you'd like. They allow you to go for something more rustic, something modern, or any other theme you have in mind. Even better, they come in a variety of sizes so that you have more room to decorate the way that best serves your style.
4. Gorgeous Decorative Window Flower Box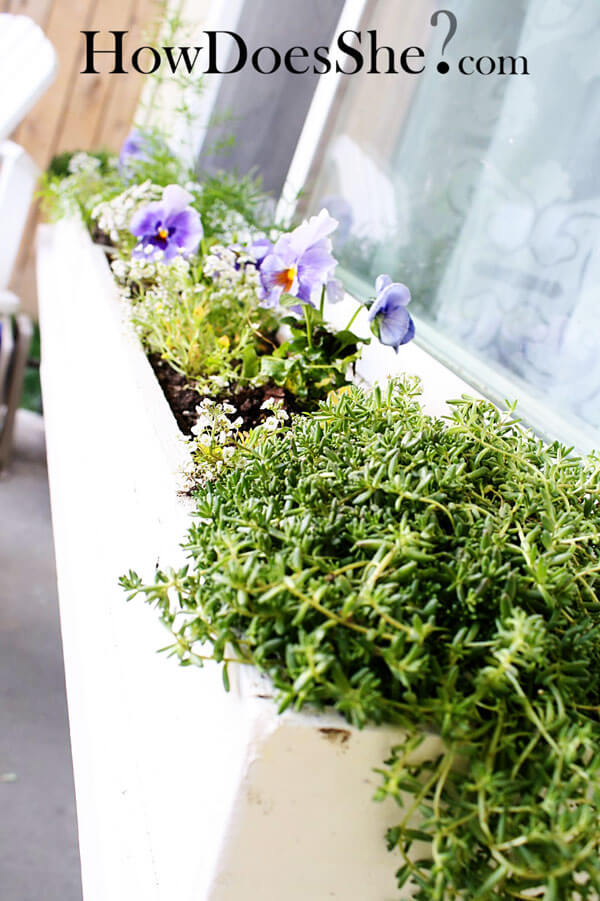 You can never fail to liven up a space with a cool window box. With some patience and the right tools, you can make the box yourself rather than buy one. This way, it will always align with your window and specific style. You can paint it however you like as well as give yourself enough space to hold several flowers or herbs. It is such a wonderful decorative piece to set up if you have a window nearby your garden area. Or perhaps you have a shed outside by your garden that has a window? The box works perfectly there too.
5. Nail Polish Marbled Planter Design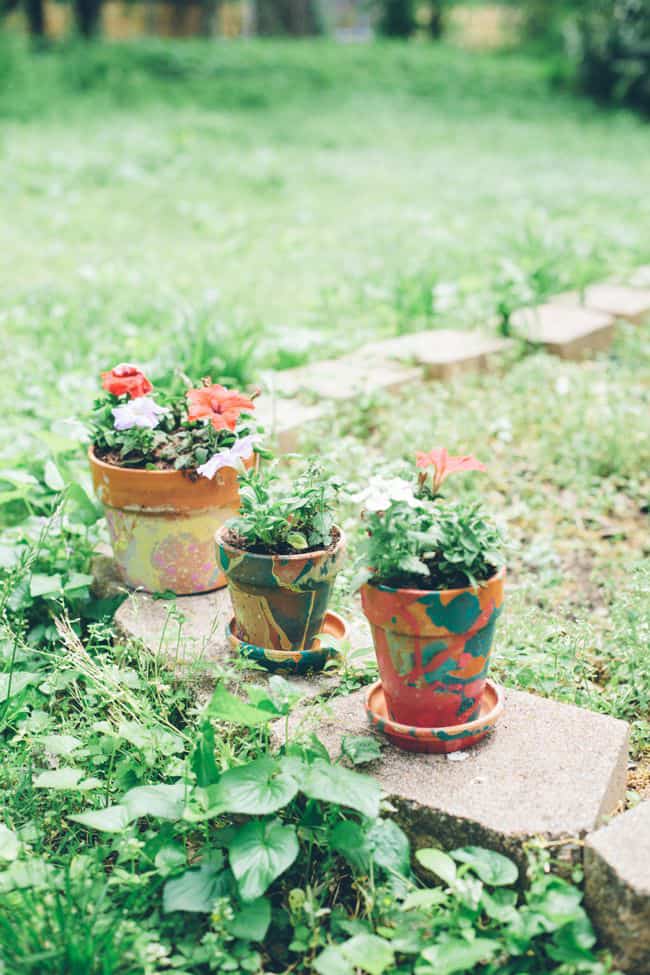 You can transform your planter into something cooler by using a bit of nail polish. With the material in question, this is an easy and fun handmade dollar store garden decor project to take on. Go for any color you'd like as this is a project that gives you total freedom to truly express yourself. As you are aiming for a marbled look, you can play around with how you apply the nail polish, maybe even going for a multi-colored approach if you want something more unique that stands out better. No matter how you take it, you will create something that is pretty and lively for your plants to rest in.
6. Simple Handmade Rustic Moss Wreath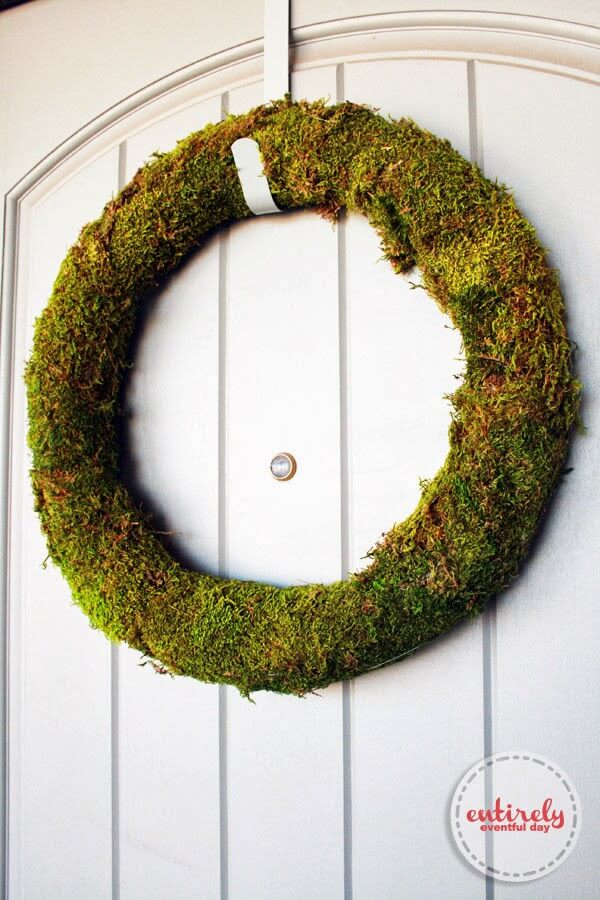 If you have the space available, you can always hang up a wreath to add some more life and style to your garden. This is easily done too thanks to some foam form and crafting moss, both of which are highly affordable. With the moss applied, you would never think it hides such a simple foam background. Instead, your wreath looks professional-quality and perfectly fits a rustic, outdoor decorative set piece. Additionally, it blends effortlessly with your garden thanks to its natural spring-like feel and look. This way, your wreath works to elevate the yard rather than completely steal all of the attention.
7. DIY Urn Bird Bath Decor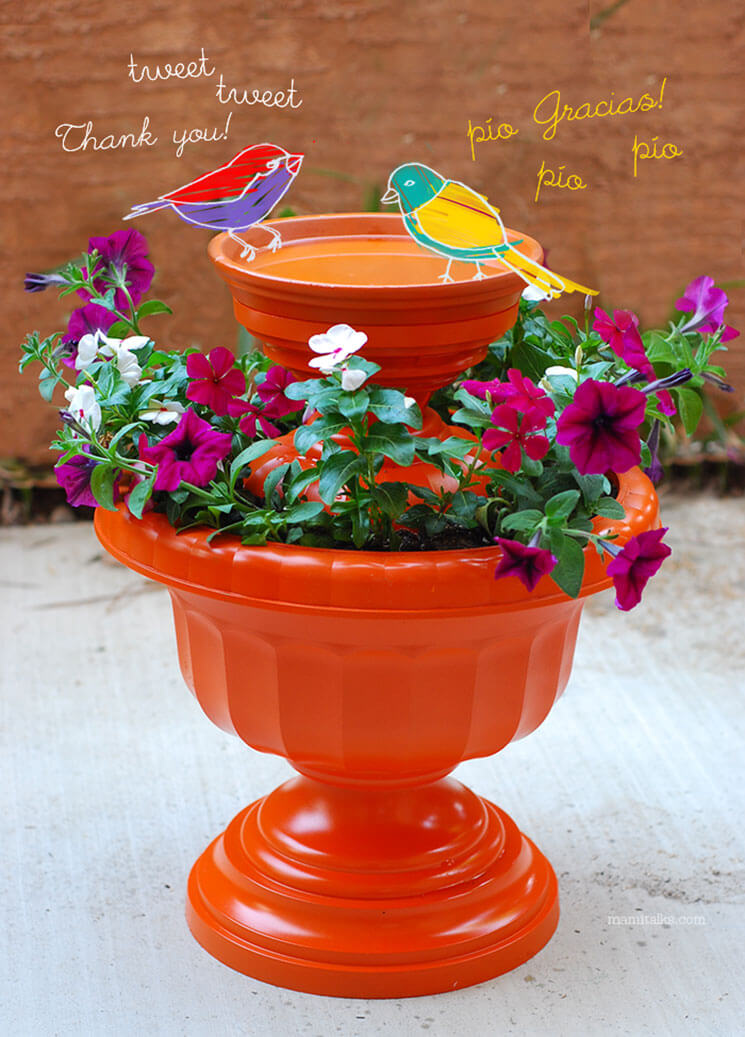 Do you know a great way to spice up your garden decor? Add a birdbath. They are ideal for those of you who love all things nature as you can peek out into your garden to see adorable little birds playing around in it at any time. With a few dollar store purchases, you can make your own that has more of your personality on it than a store-bought one ever would. What is so fun about this DIY birdbath is that there are multiple levels to it. The first holds flowers, giving it some much-needed color that blends with the rest of your garden. Meanwhile, the bath sits on top and out of the way.
8. Forming Flowers from Hubcaps and Hose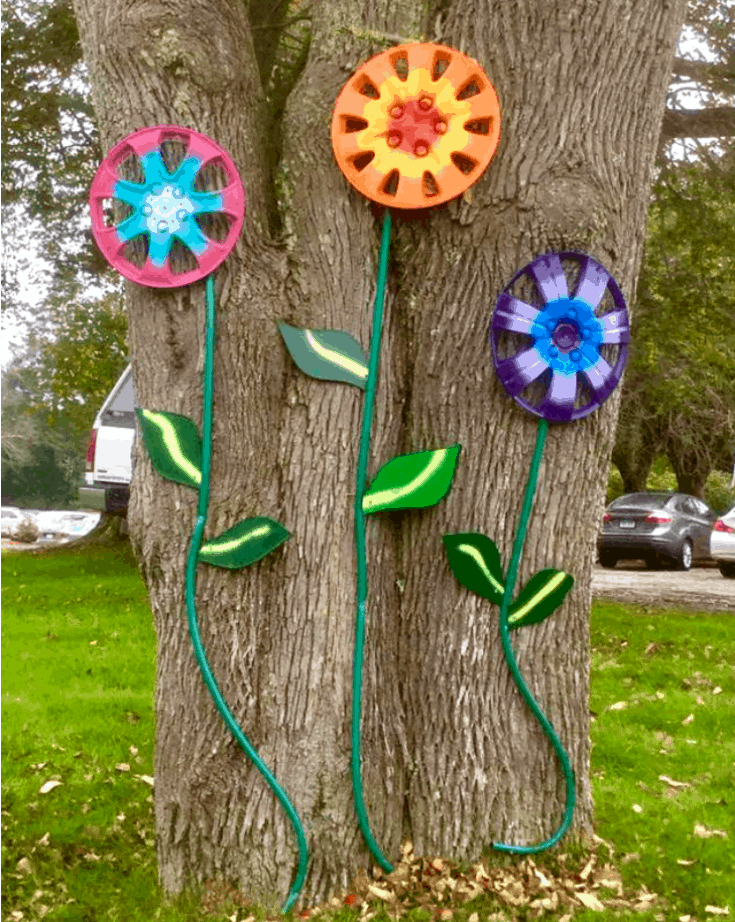 Hubcap flowers are the perfect balance between bright colors and bold geometry. Using hose as the stems means that you can create personalized patterns perfect for your outdoor space. The best part about this technique is how open to embellishment it is. Give your floral forms some sparkle in the sunshine by adhering mosaic marbles. If you are artistically gifted, you can add details like individual petals with a brush and weather-proof paint. Another aspect open to adjustment is the foliage – the leaves can be made from nearly anything you have on hand including plastic bottles, old plastic containers, or plywood.
9. Budget-Friendly Wooden Flag and Twine Garland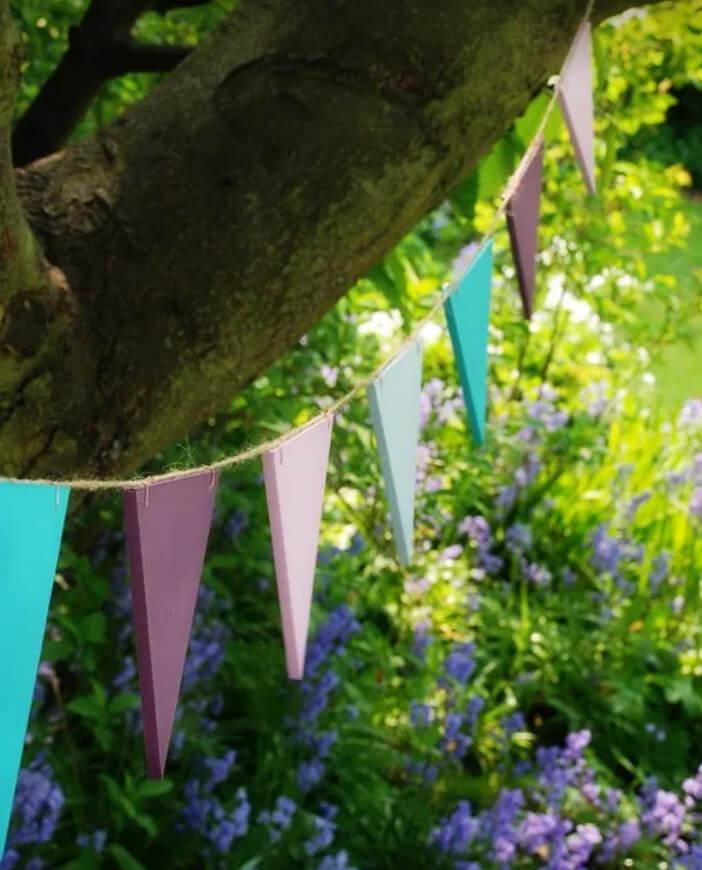 Because wood is durable and offers a longer lifespan than cloth, this wooden bunting might outlast more traditional textile options. It also offers a unique effect and can be quickly repainted to fit different color schemes. As it will live outdoors, choosing glitter paint can give your garland sparkle in the sunshine. If you are artistic or have access to a vinyl cutting machine, you can decorate your wooden flag garland with a wide variety of personalized designs. Imagine the possibilities for celebrations like baby showers, bridal showers, birthdays, weddings, and anniversaries. These make amazing housewarming gifts or year-round decorations.
10. Hand-Painted Wooden Spoon Garden Markers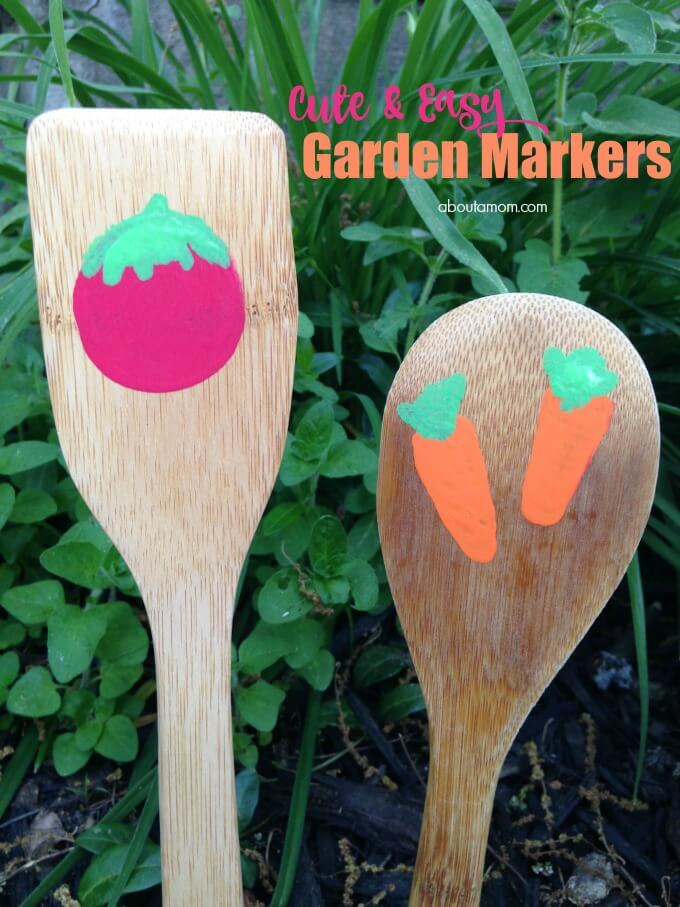 Believe it or not, you do not need to be a famous artist to create these adorable garden markers. Because this tutorial steps you through the simple shapes needed to achieve popular vegetables, anyone can make these dollar store garden markers. If you have kids, this is a great craft to keep everyone entertained on rainy days. Of course, this approach is not limited to vegetables. With a little creativity, you can make wooden spoon markers for flower or herb gardens as well. To achieve a more sophisticated appearance, paint the wooden utensils a solid white before painting the design.
11. Perfect DIY Laundry Basket Planter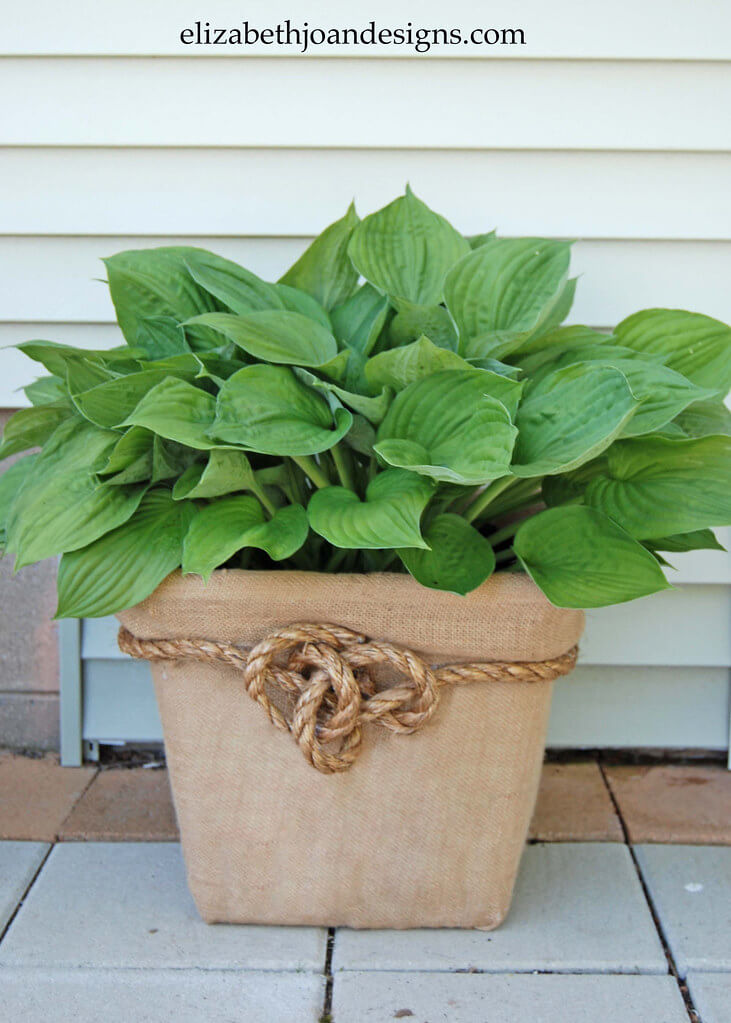 Do you have yourself an old laundry basket that has maybe seen better days? If so, you don't have to throw it out. Gather your supplies from the dollar store and transform this rundown laundry basket into something useful again in the form of a planter. Laundry baskets are the ideal size for your larger plants. With the right tools, you are left with a rural planter that fits effortlessly alongside everything in your garden. You may even forget that the planter was ever a laundry basket to begin with since the result is so seamless and natural.
12. Painted Relish Plate Garden Flowers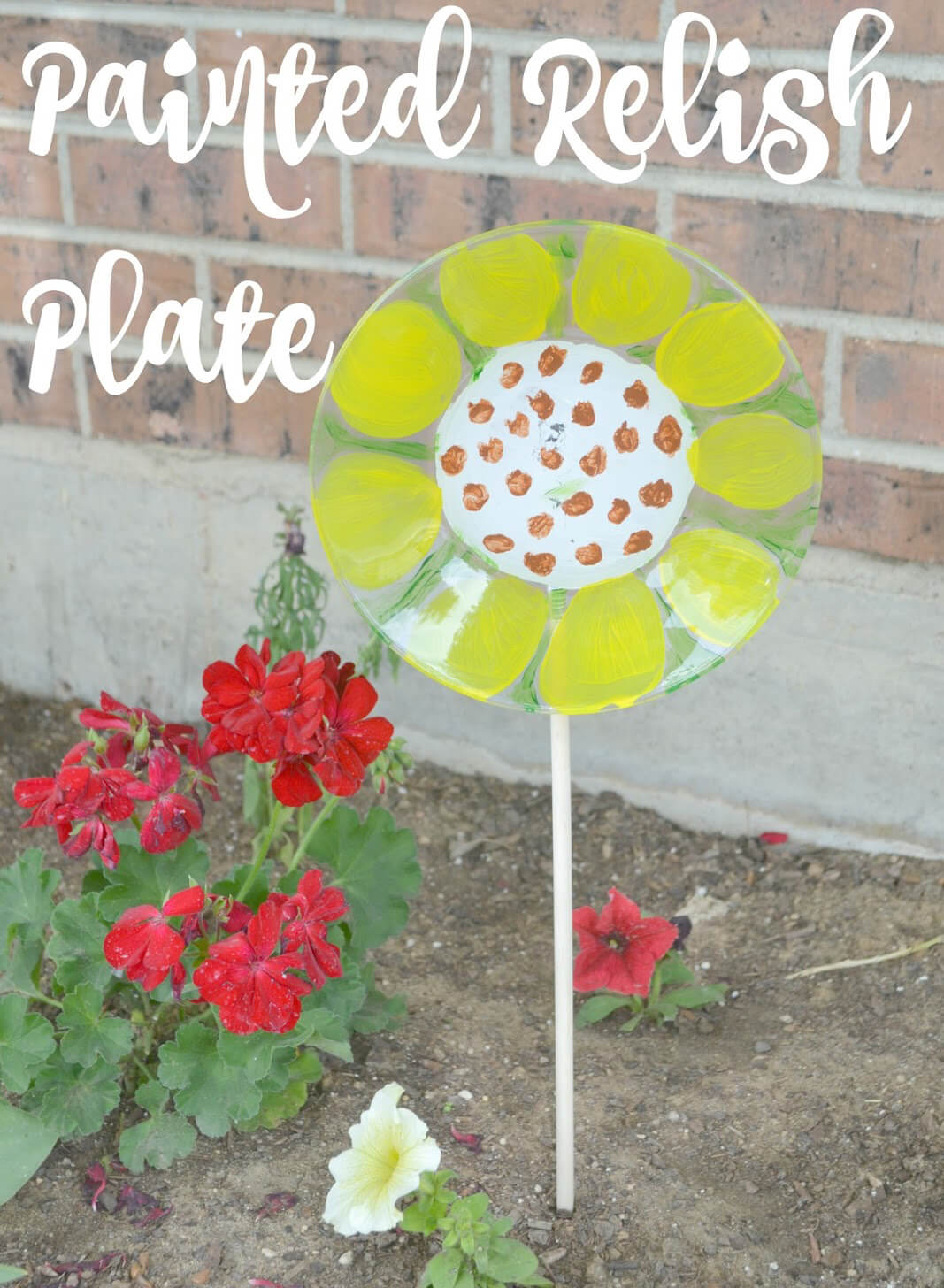 A great way to add some brightness to your garden (besides whatever plants you already have) is to use some faux flowers. These are especially useful if you haven't managed to capture the color scheme you're aiming for. By painting flowers yourself, you can fully show off your personality, even building an entire rainbow if you'd like. These painted garden flower plates are also among the best DIY dollar store garden decor ideas if maybe all you want is the aesthetic of a spring garden over everything else. Add this to your front yard or backyard as these plates look stylish no matter where you set them up at.
13. Cool Handmade Succulent Turtle Topiary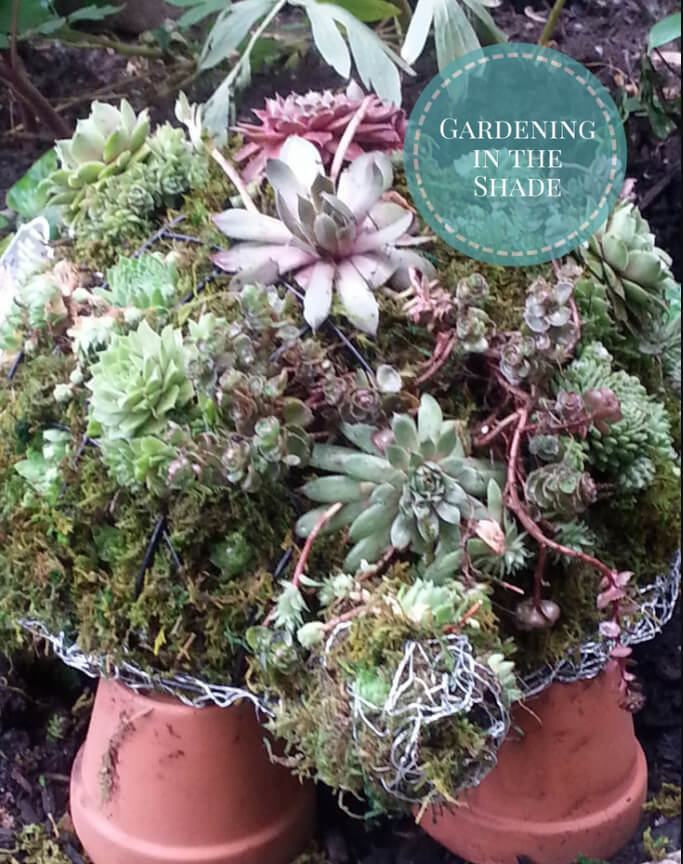 Maybe the one thing missing in your garden is that single, undeniably piece of cool decor that will get everyone talking. In this case, you can put your skills to the test to create a fun succulent turtle topiary. This is a much more exciting way to show off your succulent collection rather than have them in standard pots. Also, the turtle adds a lovely 3D element to your garden, allowing it to look refreshing and innovative with a large splash of your personality. Alongside that, animal decor simply goes hand-in-hand with a garden, giving it a natural appearance as well.
14. Pretty Handmade Garden Lighthouse Design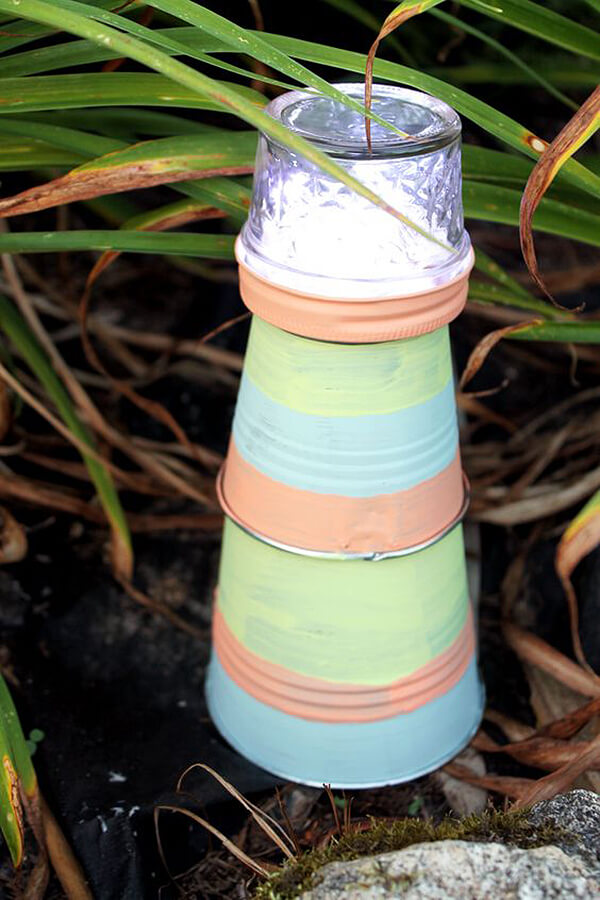 Want to add something more distinctive to your garden? Then maybe you want to try and create these fun little lighthouses. Made from affordable metal, this won't look like a simple dollar store haul once you're done with it. Of course, you can go for any paint scheme that fits best with your garden, allowing the lighthouse to stand out more or blend in better with what you already have set up in the area. A lighthouse certainly isn't the first thing to come to everyone's mind when you think about yard decor, but adding handmade ones to your garden is sure to start the conversation with guests.
15. DIY Hanging Garden Planter Decor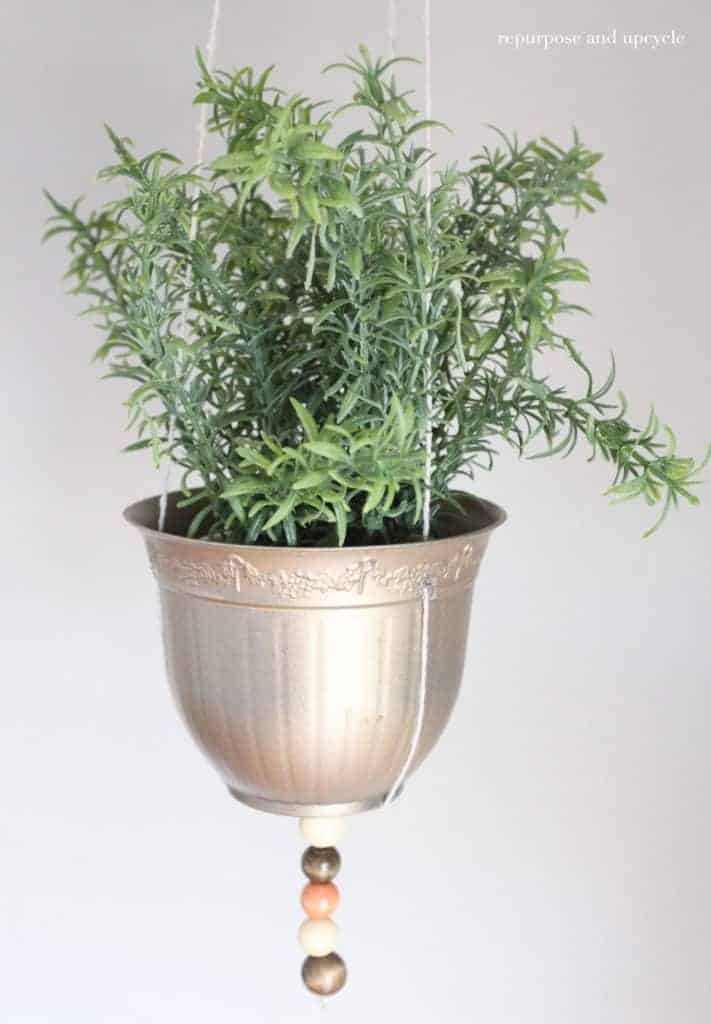 Add a touch of hanging plants to your garden with this planter project. Best of all, it's easy for you to get the supplies you need from the dollar store so that you don't have to spend much to create several of these beauties. In fact, make as many as you can to show off some of your favorite plants or flowers, ensuring that they will always be the first thing anyone sees when they visit your garden.
16. Upcycled Plastic Egg Mushroom Designs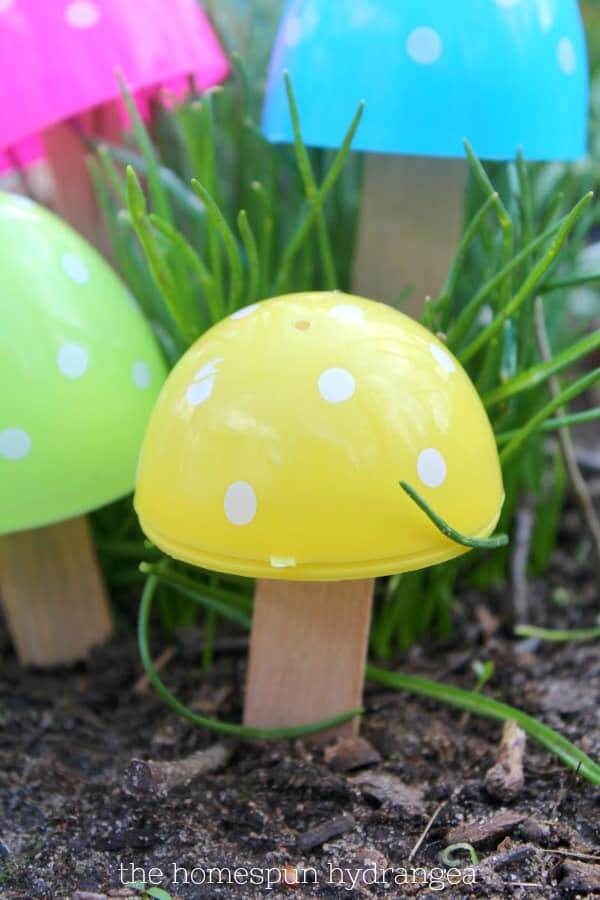 You can add mushrooms to your garden in a cute way by upcycling some of those old Easter eggs. Even if they broke in half (all the better for your project), you can set these up in creative ways throughout your garden. Just give them a brief paint makeover to better resemble mushroom designs, and you have a thoughtful and fantastical setup in your garden. It is also a fun way to push your artistic side as well as your ability to recycle something old into something cooler.
17. Beautiful DIY Flower Pot Centerpiece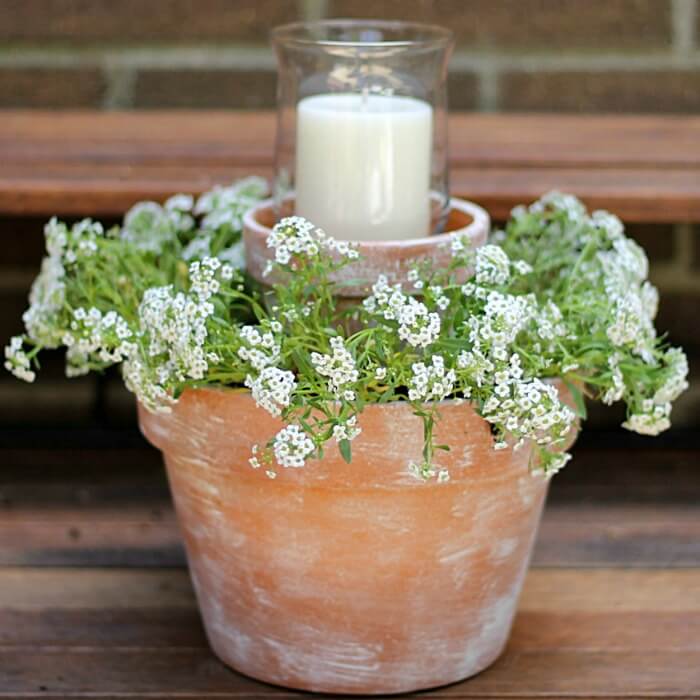 Flower pots don't just have to remain down in the garden. Instead, if you have a dining area set up nearby, you can blend that with your garden thanks to this appealing centerpiece. The pot can still contain flowers, giving the centerpiece design a nice pop of color. At the same time, the included candle is a nice bonus. By adding that into a smaller pot, you can light it to add to the overall atmosphere of the centerpiece. It seems store-bought at the end of the day rather than something that you made with a few dollar store supplies.
18. Transforming Arched Window Plaques into Chandeliers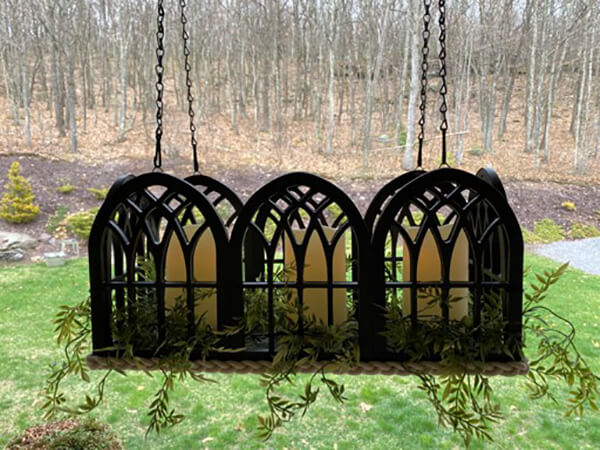 Chandeliers instantly add layers of elegance to your space. Whether you hang your chandelier inside or outside, the simple platform design means that you can style it to fit a wide variety of spaces. For a coastal vibe, give the arched window plaques a coat of aqua paint and use seashells instead of greenery. If you enjoy a maximalist aesthetic, you can get creative with different paint colors and textures. Battery-operated pillar candles are a great fit for some rooms, but the versatile design means that you can use any form of lightweight lighting including fairy lights and taper candles.
19. Fruit Themed DIY Terra Cotta Pots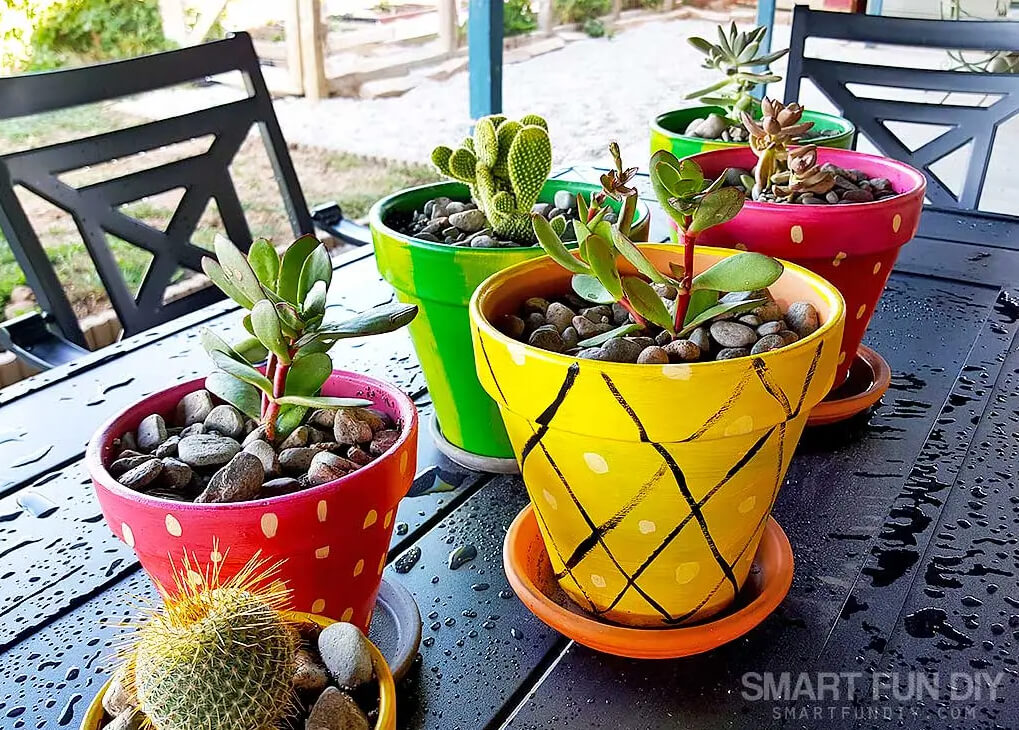 Terra cotta pots are easily accessible and affordable, but they do have a plain look about them. Why not use them as a base for your handmade dollar store garden decor project? With this project, you can overhaul the entire look of the terra cotta pots, elevating them so that they are no longer boring. Instead, the only limitation you have is your imagination. Stretch your creativity to make some adorable fruit-themed designs, brightening up your garden more than ever whether you're using the pots to hold fruits and veggies or various flowers and plants. With these in your yard, your garden will always grab the right attention.
20. Dollar Store Custom House Number Sign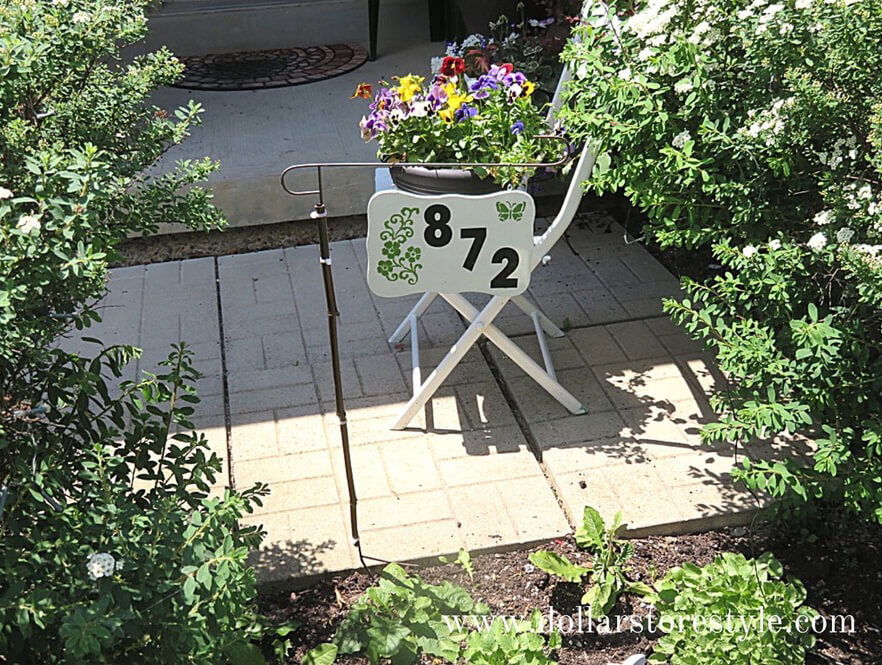 It can sometimes be tough reading the house number your home already has. With this project, you can accomplish two things. For one, you can ensure that anyone driving by can read the house number with ease. Secondly, you can direct more attention to your garden when you have one in front of your home. This sign is an easy and great way to add a little more brightness to your outdoor decorations.
21. Adorable DIY Painted Doormat Design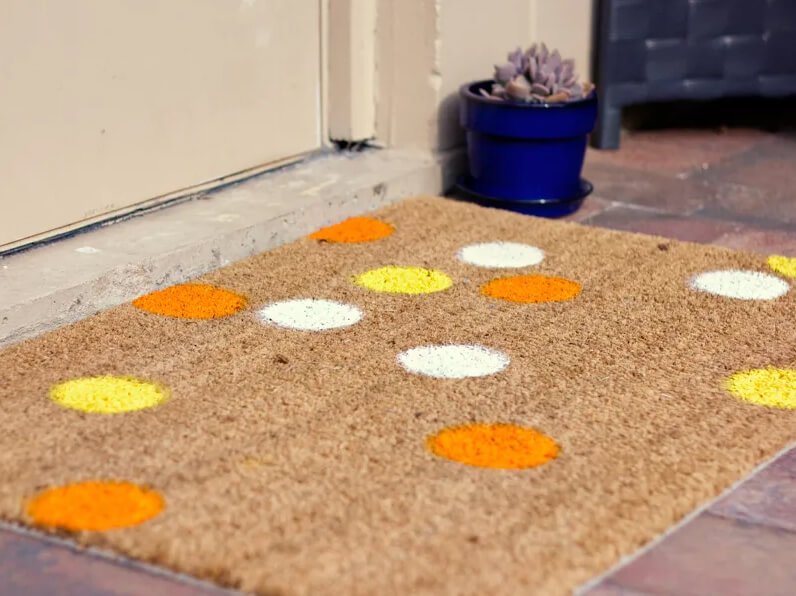 Do you have your garden area closer to the door whether it's in the front or back of the home? Well, you can always focus on that area when deciding on homemade garden decor ideas. Just take an old doormat or find a budget-friendly one at the dollar store to perform your craft magic on. The painted design is as simple as they come, but such a straightforward approach doesn't make this mat any less appealing. It's a fun way to make your garden area feel more carefree.
22. Incredible DIY Chandelier Garden Planter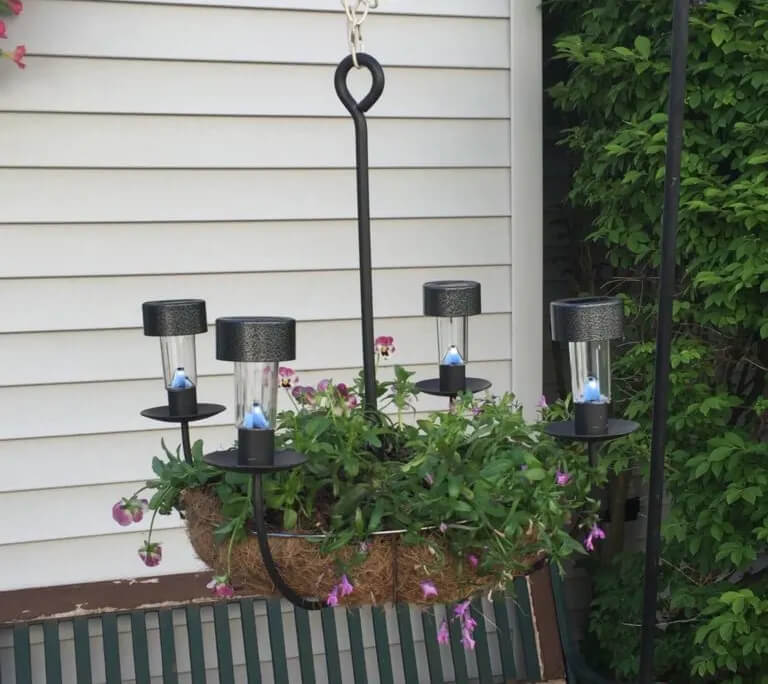 You can take an old or rusty chandelier and make it feel brand new again by transforming it into a garden planter. This is a fun little project that adds more style and finesse to your yard as you add in some hanging decor rather than just decorations that go directly into the garden. Not only do you have your hanging planter, but you can also add some lighting effects to the area with the included solar lights from the dollar store. So now, you can admire your garden in the daylight hours, but you can also appreciate it at night thanks to the new illumination.
23. Elegant Dollar Store Glass Garden Mushrooms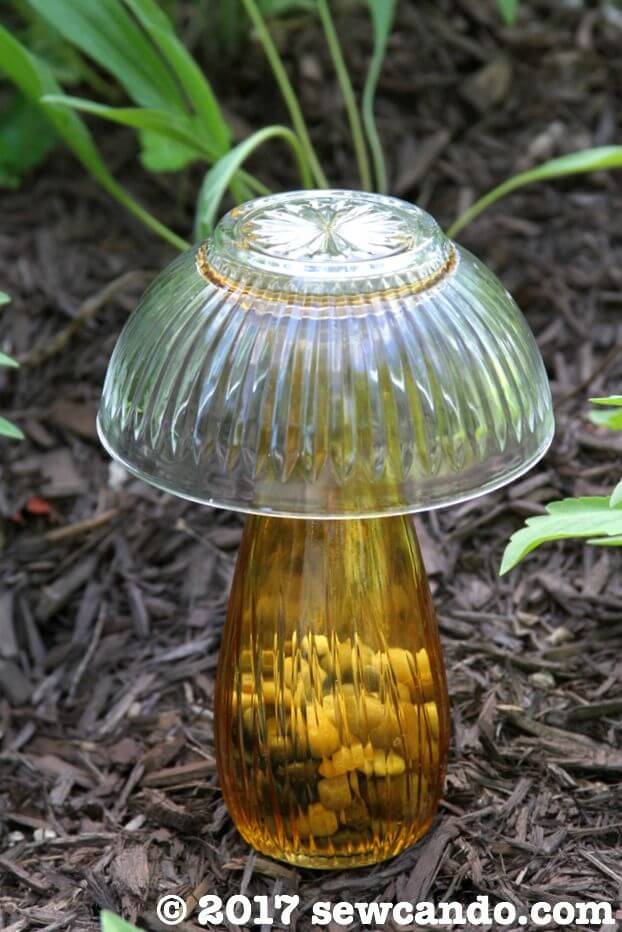 Mushrooms are exotic in their own right in terms of appearances, but instead of growing some in your garden, you can simply make your own unique ones instead. Just a few tools are all you need to get started as well, allowing this craft project to be something that anyone can do. Consider using different colors also so that you can further create a cohesive set piece of faux mushrooms. With some strategic placement around the garden, this is a nice way to throw in some more color if you are ever lacking in that department with your yard.
24. Mason Jar Lid Print Garden Label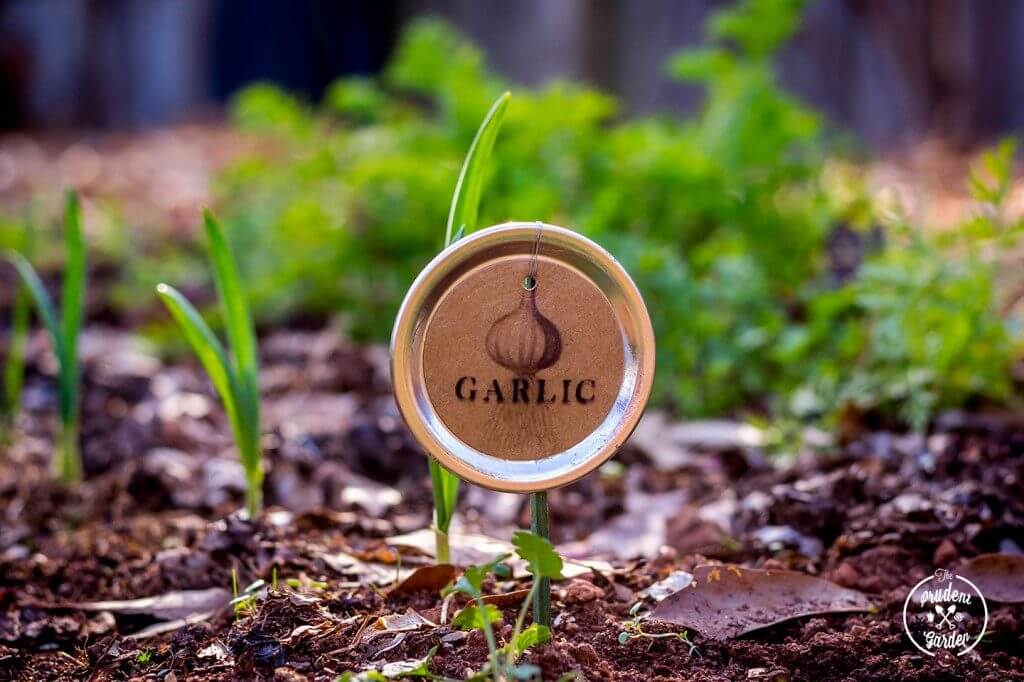 We've all been there. We've planted several fruits, veggies, and flowers, and with a million thoughts racing through our heads, we forgot exactly what we planted. Why resort to using a standard little label when you can have something far more creative instead? This is the perfect homemade dollar store decor for garden identification if you've planted more seeds than you can remember. The label is bold, easy to read, and has an appealing look about it that it won't stand out too much and detract from the garden. Thanks to the use of mason jar lids, they're remarkably simple to come by too with some dollar store shopping.
24 Incredible Handmade Dollar Store Garden Decor in Time for the Season
With the approaching warmer weather, it's time to spruce up that garden with some stunning decor. For those of you crafty or looking to explore a more creative side, you can come up with some beautiful homemade dollar store decor for garden use instead of simply purchasing it. Not only does this allow you to personalize your decorations, but you can do so and save money at the same time.
Another cool thing about decorating your garden with handmade dollar store finds is that there are so many routes you can take. You can opt for elevating your planters, painting them interesting colors with fun designs to stand out more. Or perhaps you wish to add some unique decor to your garden? This can be interesting objects like faux mushrooms, or maybe you have space to hang up a wreath as a good entrance to your beloved yard. Again, there are several ways you can build your garden up to show off your style and personality. We hope our list of the best DIY dollar store garden decor ideas gives you a good place to start your decorative experience.