As spring and summertime approaches, you may want to consider one or two of the best outdoor hanging planter ideas to add a bit of color to your front porch or garden. Hanging planters can add a bit of vibrancy to places where traditional potted flowers may not be ideal and are usually low maintenance. They can also be highly economical if made from inexpensive or recycled materials.
45+ Seasonal Outdoor Hanging Planter Ideas to Try This Season

Creating a hanging planter is simple. All you really need is a container capable of holding potting soil, some plants, and a place to hang the finished product. It's common to hang planters by an entryway or under the eaves of a porch, but you can be creative with your display location. Consider putting a row of hanging planters along your fence line or adding hooks to a masonry wall or to the side of your house. You can also hang planters from freestanding hooks to add a bit of height to your garden beds or dangle flower pots from a large tree in your yard.
The hanging planter ideas listed here should provide you with the inspiration you need to make your garden an enticing and colorful oasis this summer.
1. Wonderful Wood Slat Wall of Plants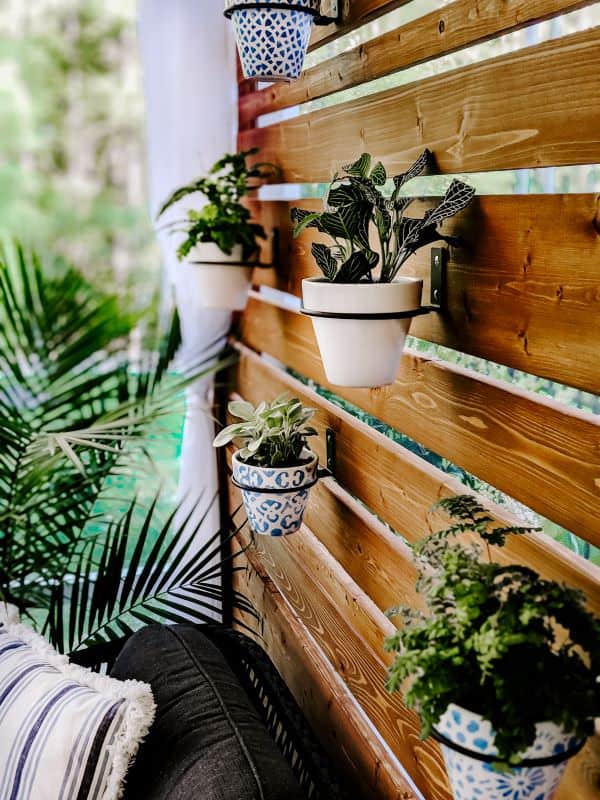 Take your plant game up to the next level with an entire wall dedicated to their grace and beauty! This slatted wooden wall looks amazing as a statement wall behind your sofa, along your entryway hall, or on your back patio space. With metal holders secured to the slats, your planters are easy to switch in and out as needed for achieving a new design or merely for watering.
2. Outdoor Garden Succulent Ladder Plant Idea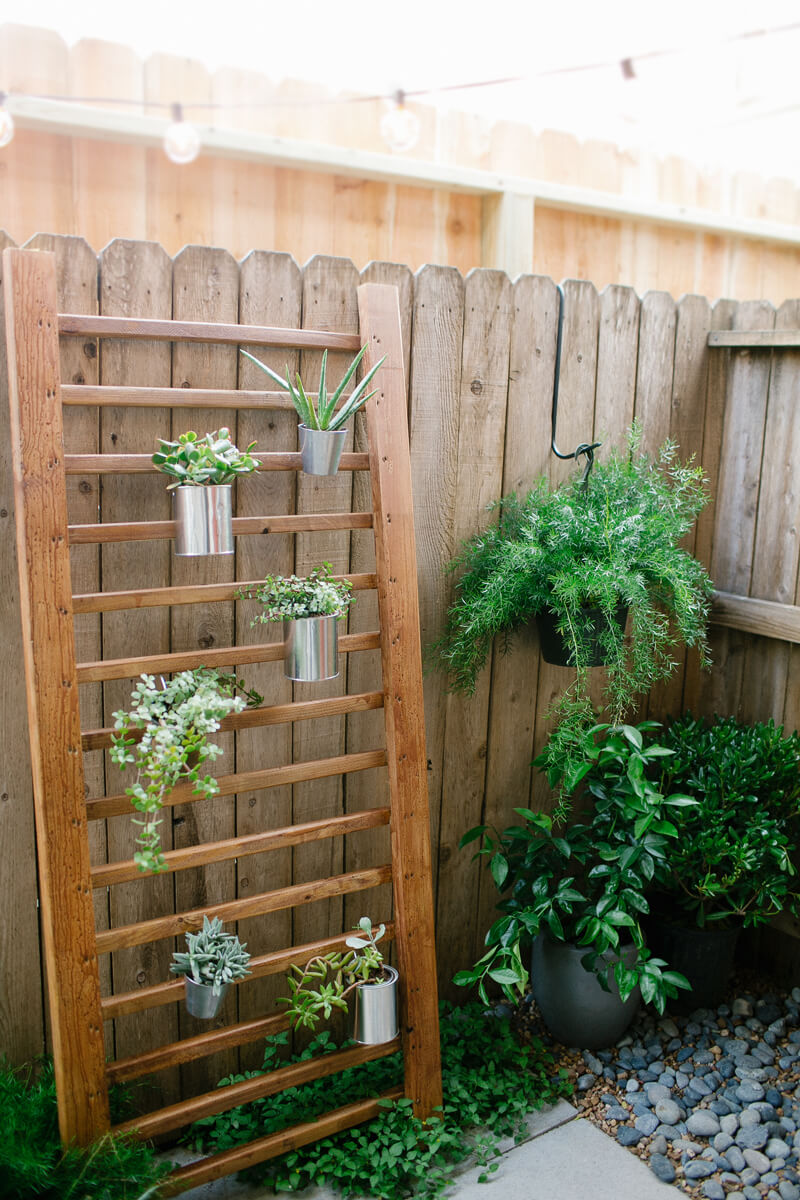 If a small space is creating problems for your growing plant addiction, don't fret! Think outside the box and up-the-wall space to give your budding beauties the room and love they deserve. Just like a blanket ladder works wonders in your interior space, your outdoor succulent ladder is the perfect haven for all of your tin pot-planted green-leaf friends. The more the merrier as you fill-up the rungs with your treasured collection of these various succulent gems.
4. Black Leather Outdoor Hanging Plant Holders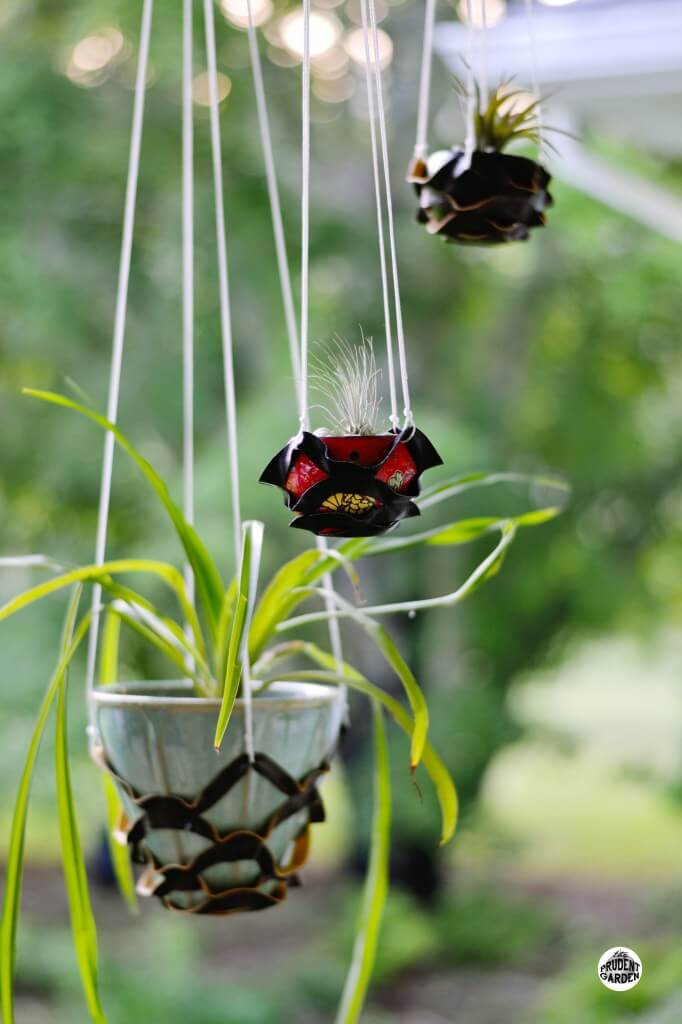 Let the beauty and texture of authentic leather mosey onto the scene as a distinct and decorative plant hanger. This set creates a unique look with their open weave detailing that gently encompasses your small planter. Suspend them across your front porch for a dramatic curb appeal update or spread them around your backyard oasis from your pergola or gazebo.
5. Classic White Simple Pendant Planter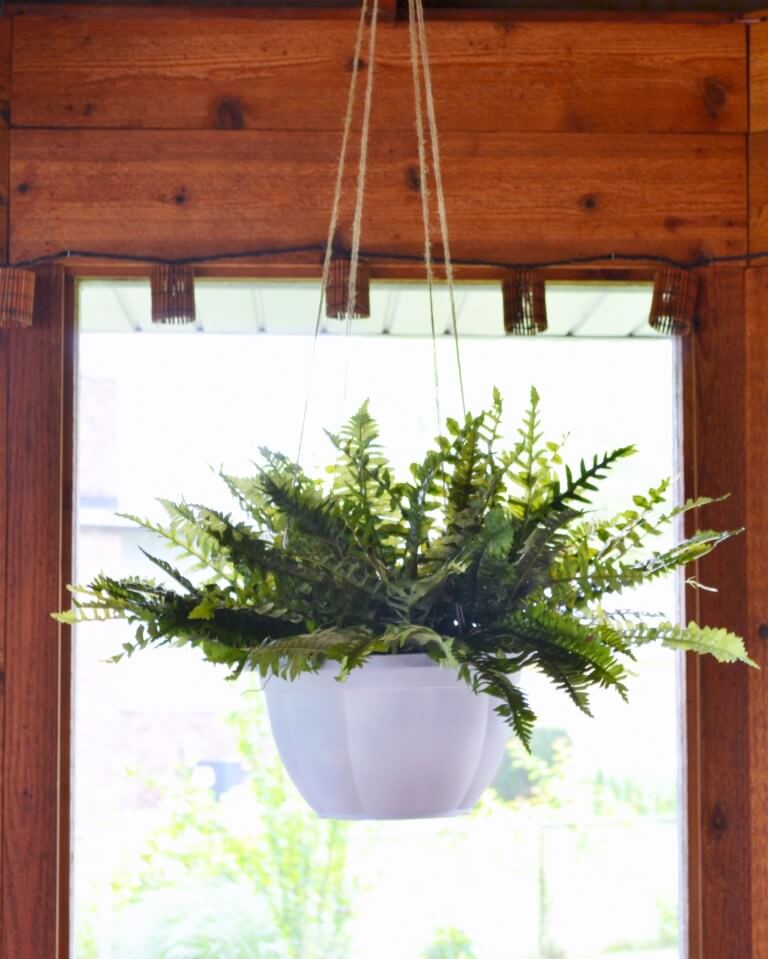 Perfect for indoor or outdoor use, this classic pendant planter holds your frolicking plant near your window or in your outdoor patio space so you can see it wherever you are. Suspended from a simple jute string, this planter lets the green beauty within remain in the spotlight. Use it to house your favorite specimen from ferns to a string of pearls.
6. Metal Chain and Tin Planter Outdoor Gardening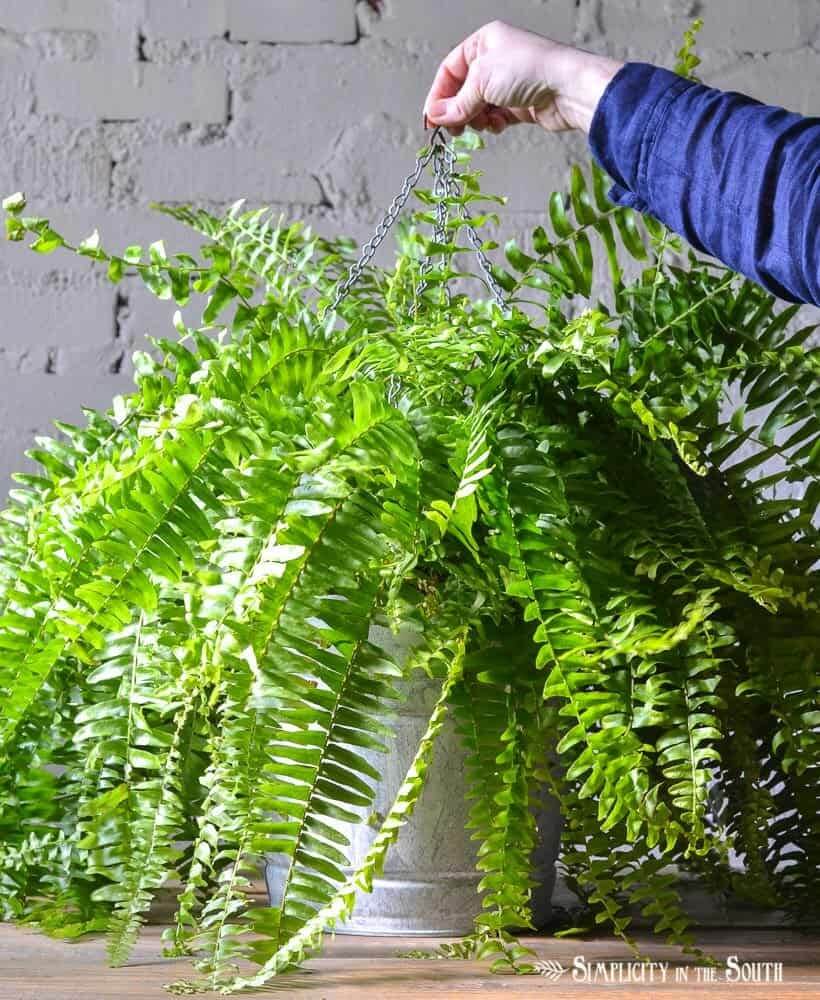 Infuse some industrial chic into your outdoor plant scene with this sleek and stylish silver chain and pot set. The chain allows your abundant fern to deliver its green goodness as it spills over this traditional tin can pot. Sometimes keeping it simple is the way to go because less is more when it comes to showcasing the beauty of your amazing green-thumbed bounty.
7. Quadruplet Group Macrame Style Woven Plant Hangers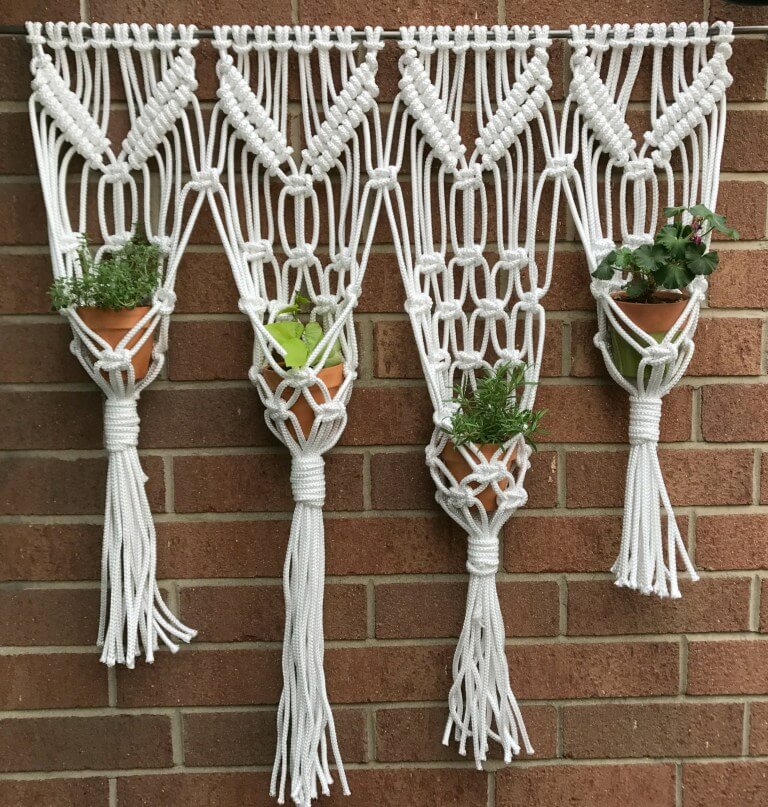 Just look at the gorgeous detailing in this intricately woven large plant hanging display! The four unique macrame-styled plant holders add so much character and charm to create an impeccable and unique bohemian vibe to your outdoor or indoor space. Created in basic white, the plant holders would make a positively original herb garden arrangement in your kitchen.
8. Glass Bottled Repurposed Planter Outdoor Chandelier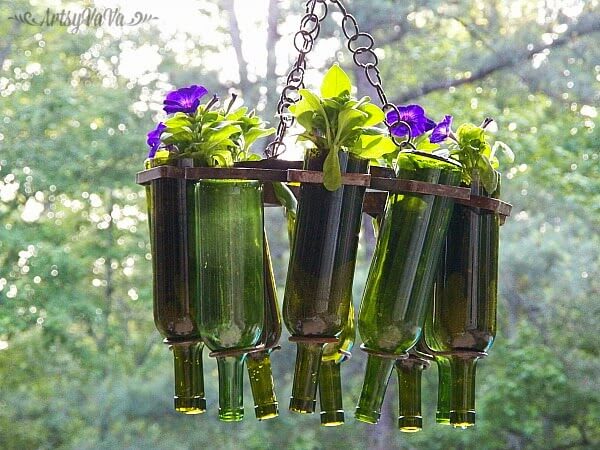 Repurpose your used wine bottles into an amazing and usable outdoor chandelier. The bottles add a sleek contrast to the rugged metal base which works well in complementing the soft beauty of the flowers planted within them. Put some of your own styles into your pergola space by including this repurposed outdoor chandelier in the center of it.
9. Rustic Rectangular Hanging Box Planters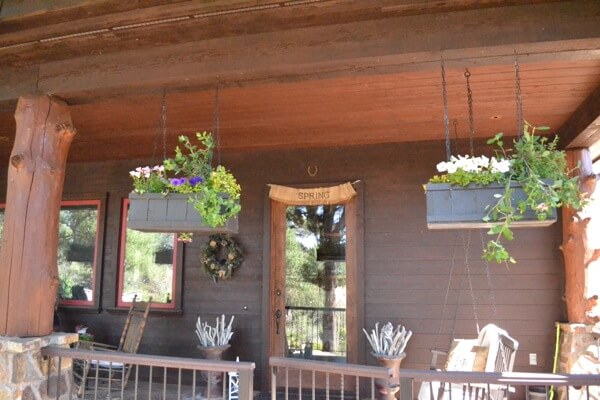 Put some petal power on your porch by hanging these rustic rectangular planter boxes above your railing. Not only do they add a lot of beauty as you fill them with pansies and petunias, but they are also out of your way freeing up more porch space for chairs and conversation. Consider this alternative to window boxes that adds more curb appeal and draws the eye up to take in all of the beauty from floor to ceiling.
10. Porch Welcome Stand with Hanging Basket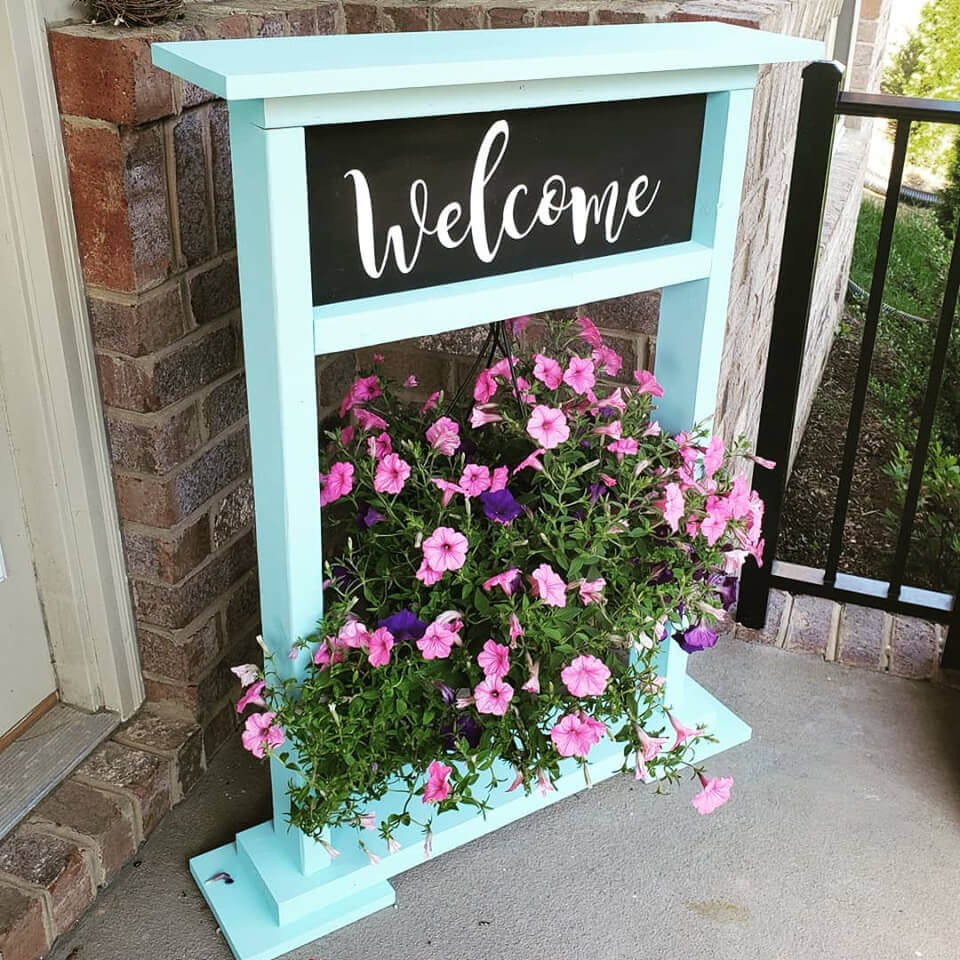 Check two things off your list with this pretty turquoise porch stand that simultaneously holds your beautiful hanging basket and welcomes all of your guests! It's a perfect solution for those who have a nice patio, without any overhead hanging possibilities. Situated next to the door, this is a showstopper that takes up minimal space while making quite the impact. Mothers of all ages would love to receive this as a gift this Mother's Day.
11. Tiered Trio Chain Hanging Baskets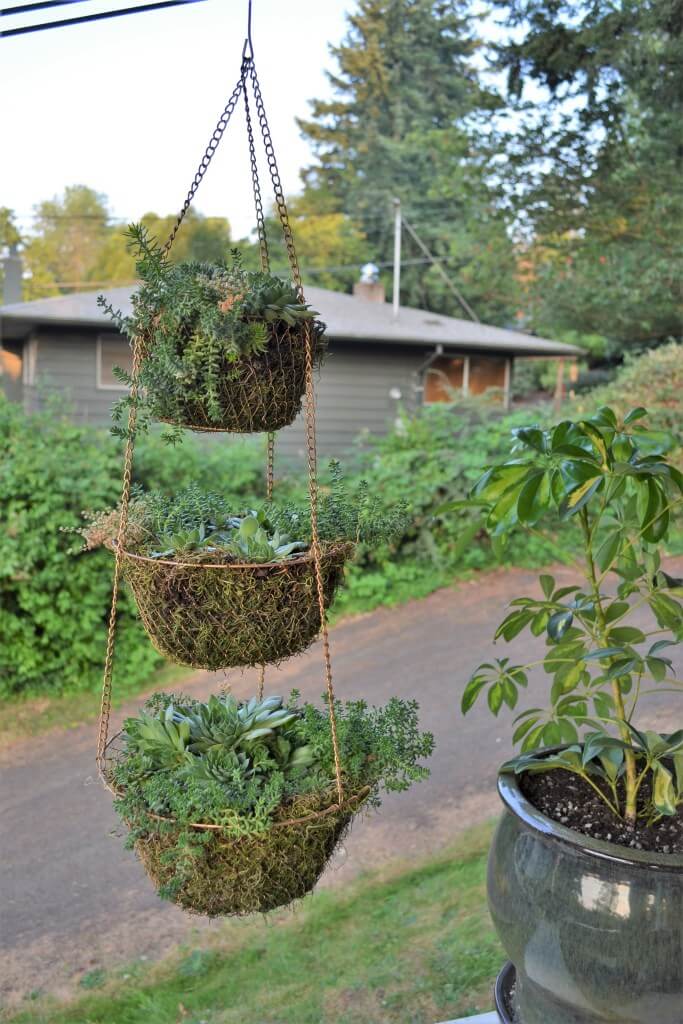 With a throw-back feel of yesterday, these tiered hanging baskets project nostalgia for your outdoor living space. The three levels provide plenty of plant space so you can include all of your favorites in one hang-out. Metal chains add a textural element to contrast with the soft beauty of the plants. Rich and waxy succulents are a great choice for planting in this trio for a bold pop of green.
12. Repurposed Turquoise Colander Turned Hanging Basket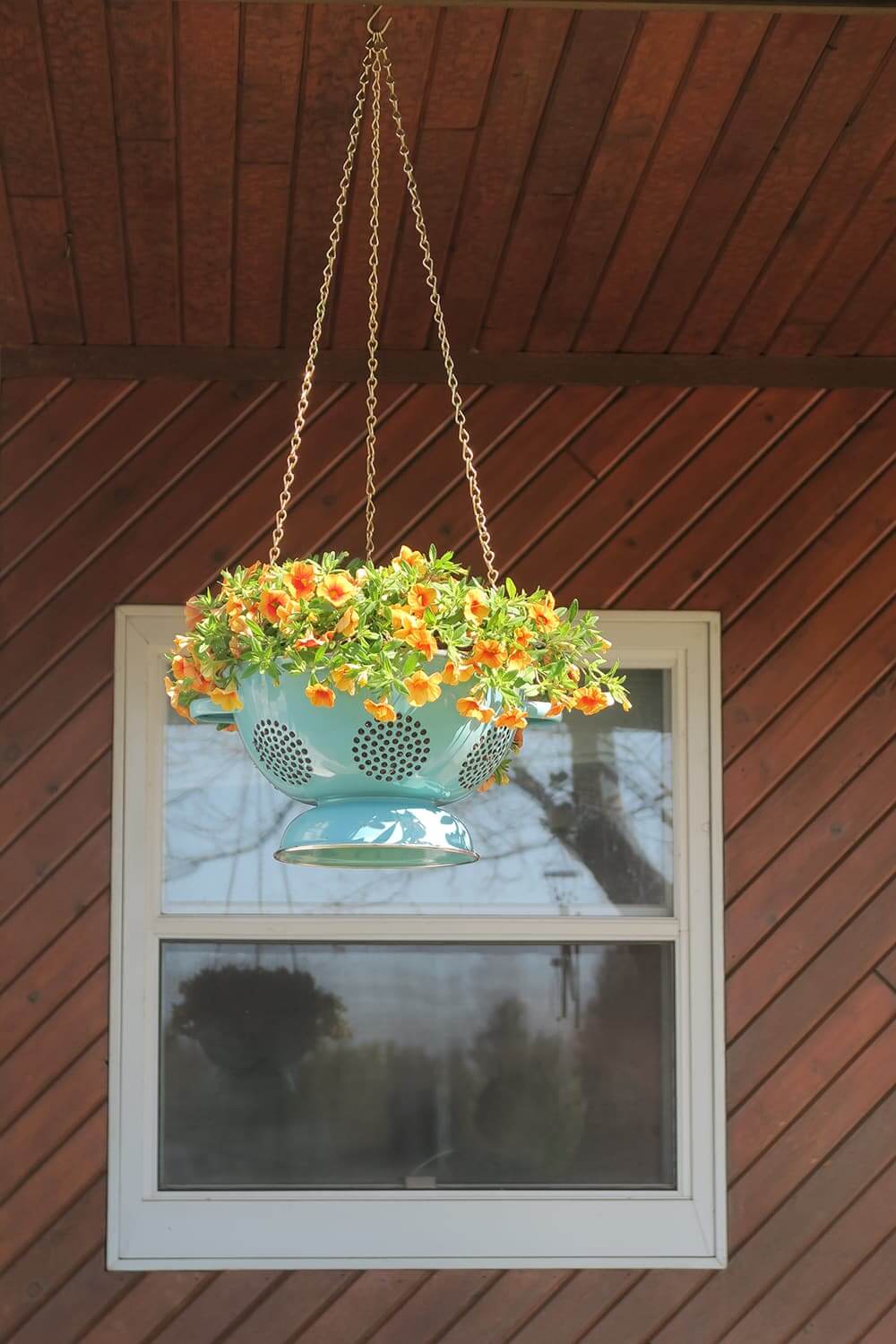 If you aren't much of a chef in the kitchen, you can still utilize some of the pantry supplies. Reimagine your metal turquoise colander as a fun way to display your flowers on a hanging chain for a pop of color on your front porch. When filled with warm yellow or orange petals, the turquoise finish is a fantastic contrast to make the overall look add some extra curb appeal to your home.
13. Hanging Basket Overflowing with Flowers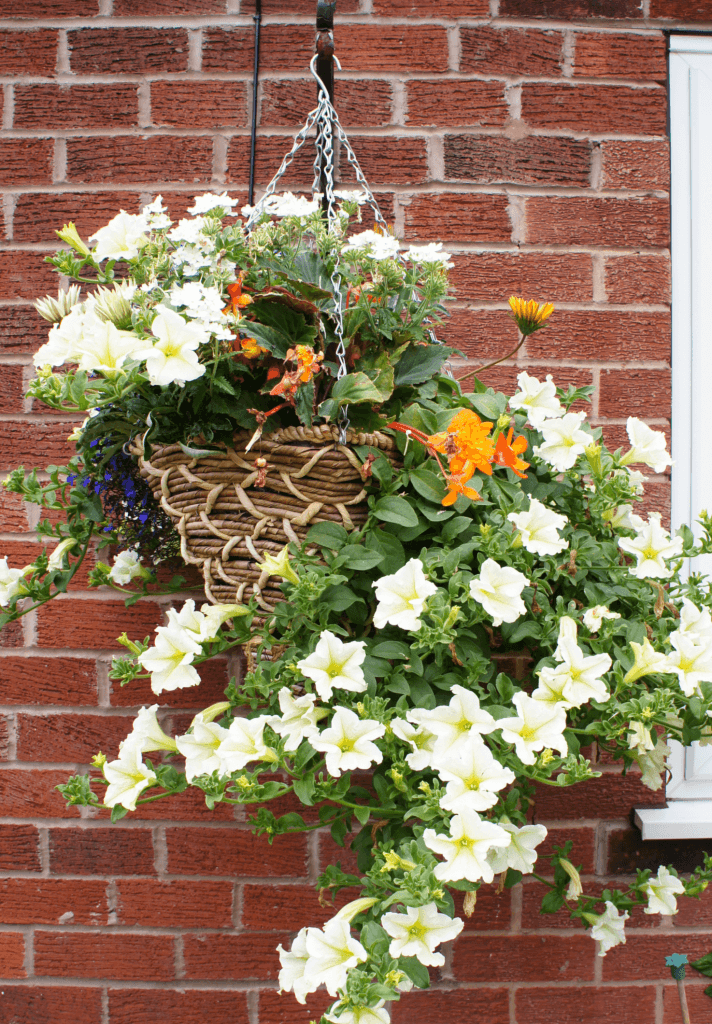 Take the time to arrange your favorite flowers in a pleasing way to ensure your hanging basket looks magnificent all summer long. A woven basket makes a great planter to hold a wide variety of annuals and hanging from a chain allows the room for growth on those cascading petunias. Mixing a plethora of plants creates a more unique and interesting home as they hang from the top of your front porch.
14. Trio of Tin Cylinder Plant Hanger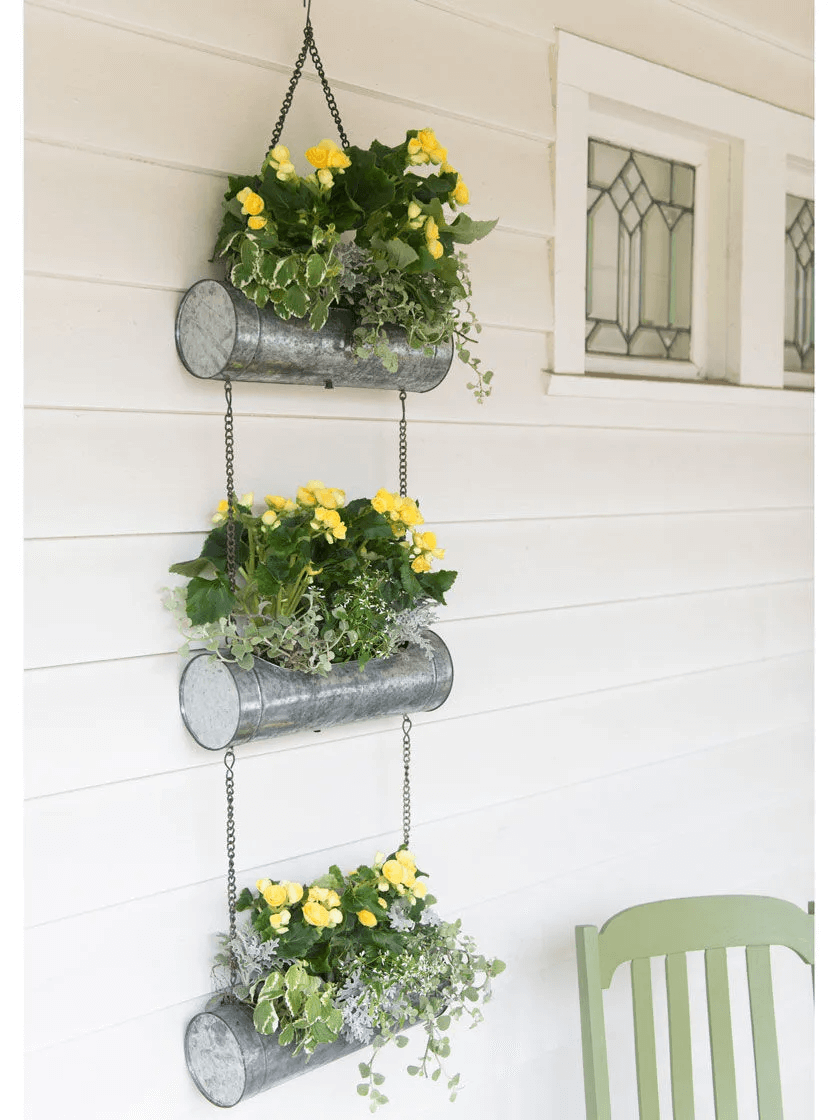 What's not to love about this creative take on a tiered hanging planter? It takes up minimal space, yet makes a maximum impact on your design. The tin cylinder creates an ideal trough base for housing your choice of amazing plants on three-tiered levels. Make a bold statement on your front porch or in the back patio space of your yard to add some fresh beauty and curb appeal to your home.
15. Natural and Rustic Jute Diamond Plant Hanger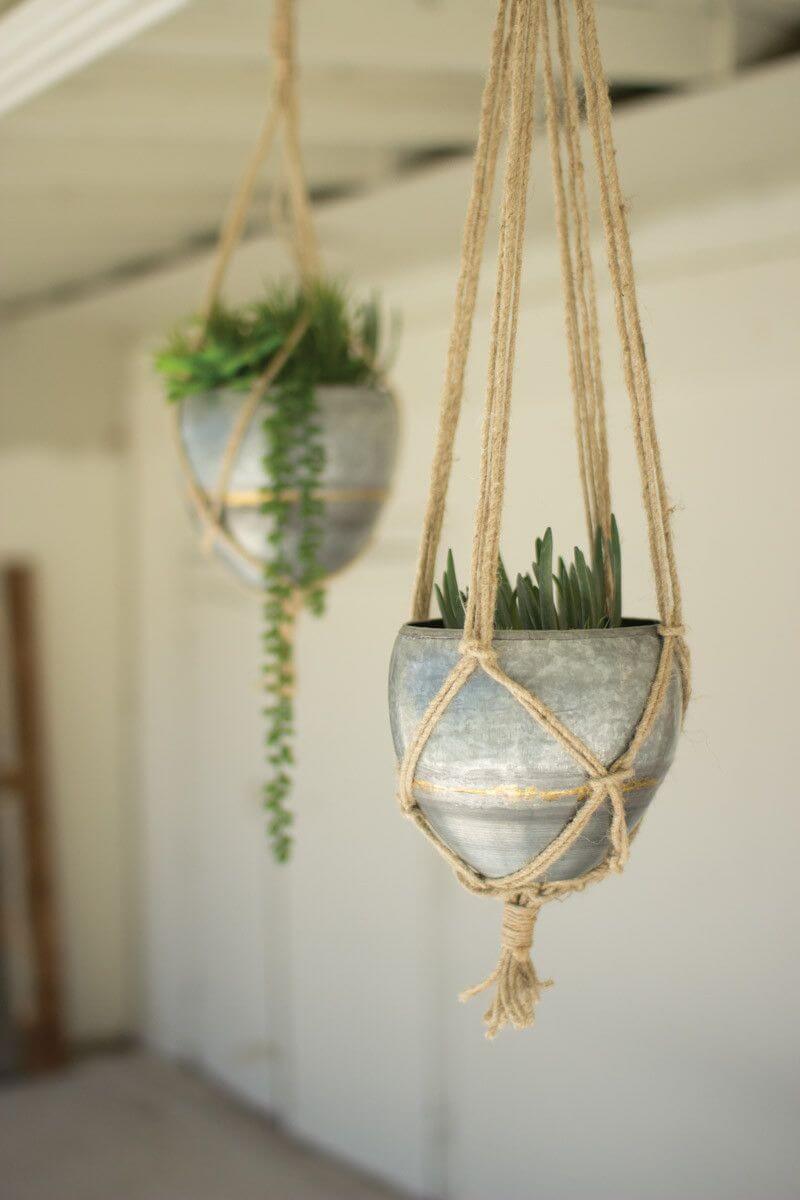 Combining the natural jute material of this plant hanger with the rustic and earthy stone pottery makes for a fabulous outdoor planting idea. Keep the floor space open by suspending your plant friends overhead and away from foot traffic. The gorgeous subtle lines in the stone pottery add much-needed style to your outdoor space this summer. Add your favorite trellising plant to complete the look.
16. Two Pot Wooden Hanging Planter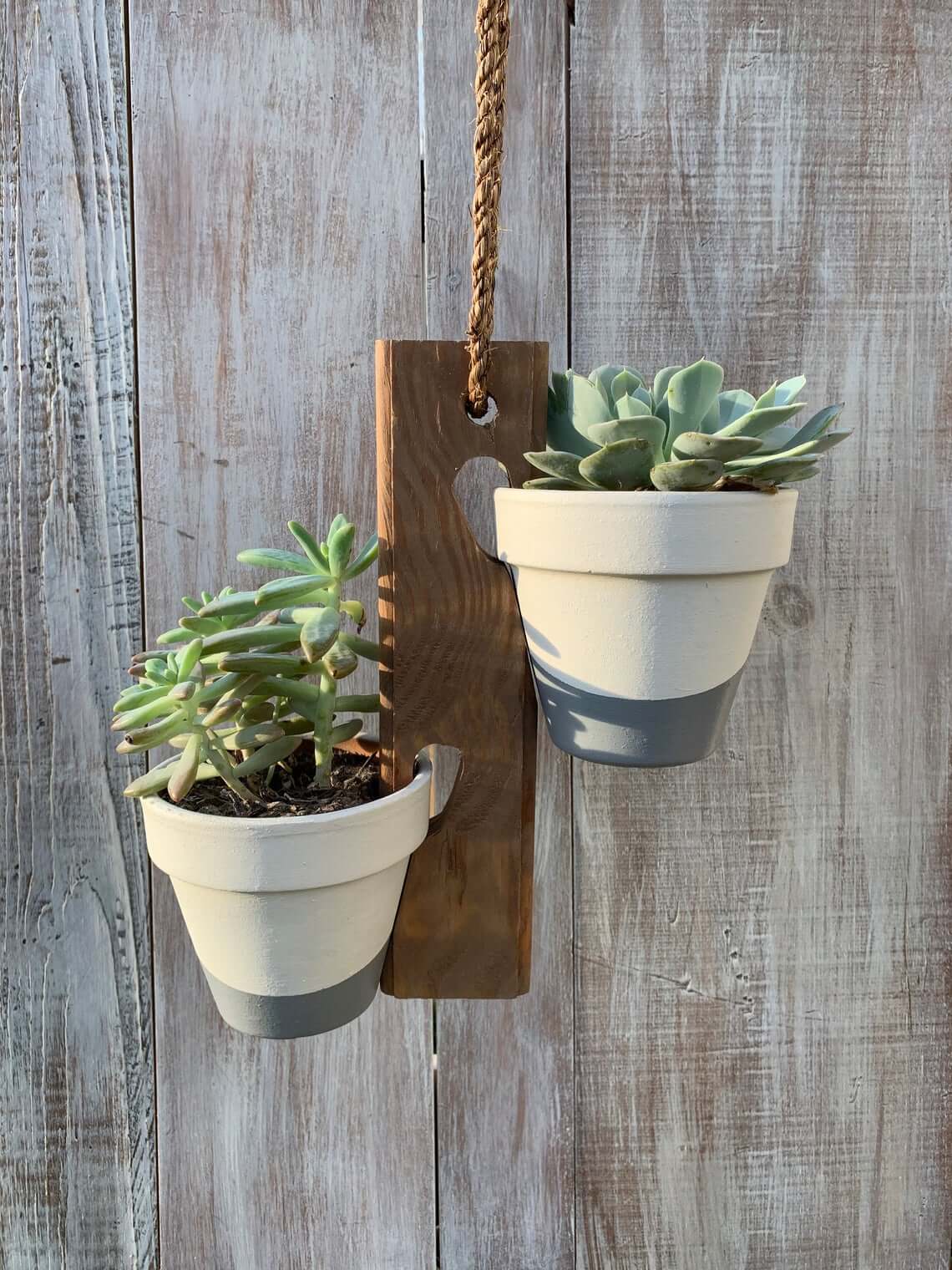 With a hint of nostalgia in the retro design that mimics an old-fashioned pulley system, this two-pot wooden hanging planter exudes character from top to bottom. With a rivet on each side, this wooden piece snuggly holds two small pots that balance out each other. Show off your Jade or cactus plants in this dainty display that contains some character and charm. Suspend this beside your door for everyone to enjoy.
17. Grapevine and Moss Sphere Succulent Holder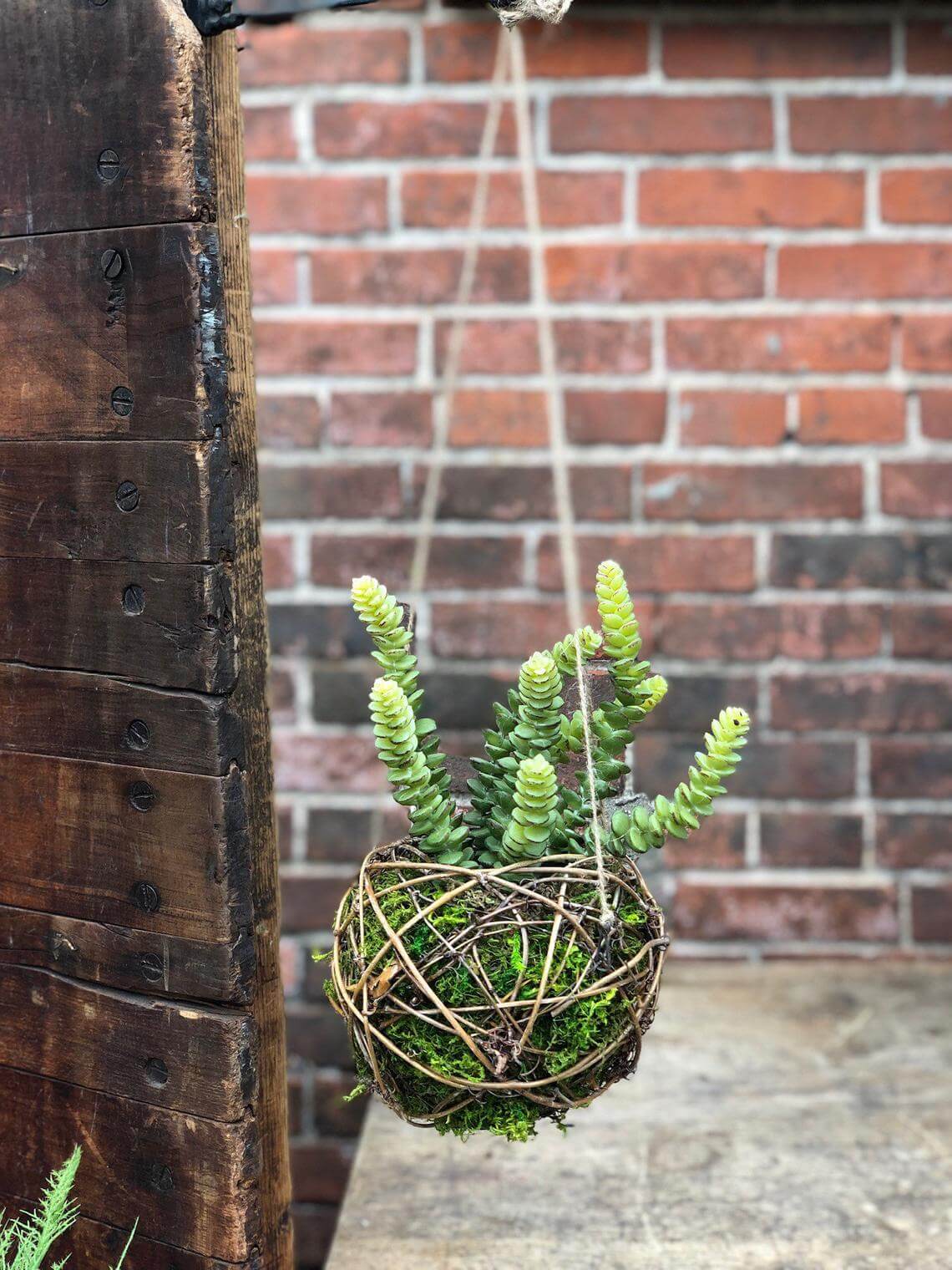 Bring the best of the forest into your backyard deck with this round plump of mother nature. The winding of the grapevine creates a beautiful shape to hold some lush moss that serves as the base for your favorite succulent friend. Suspended from overhead, this hanging planter adds a lot of natural interest to your back porch design. Arrange a group of these balls for a more dramatic effect or place them in single sets around your whole backyard retreat.
18. Cute Turquoise Sloth Mini Succulent Planter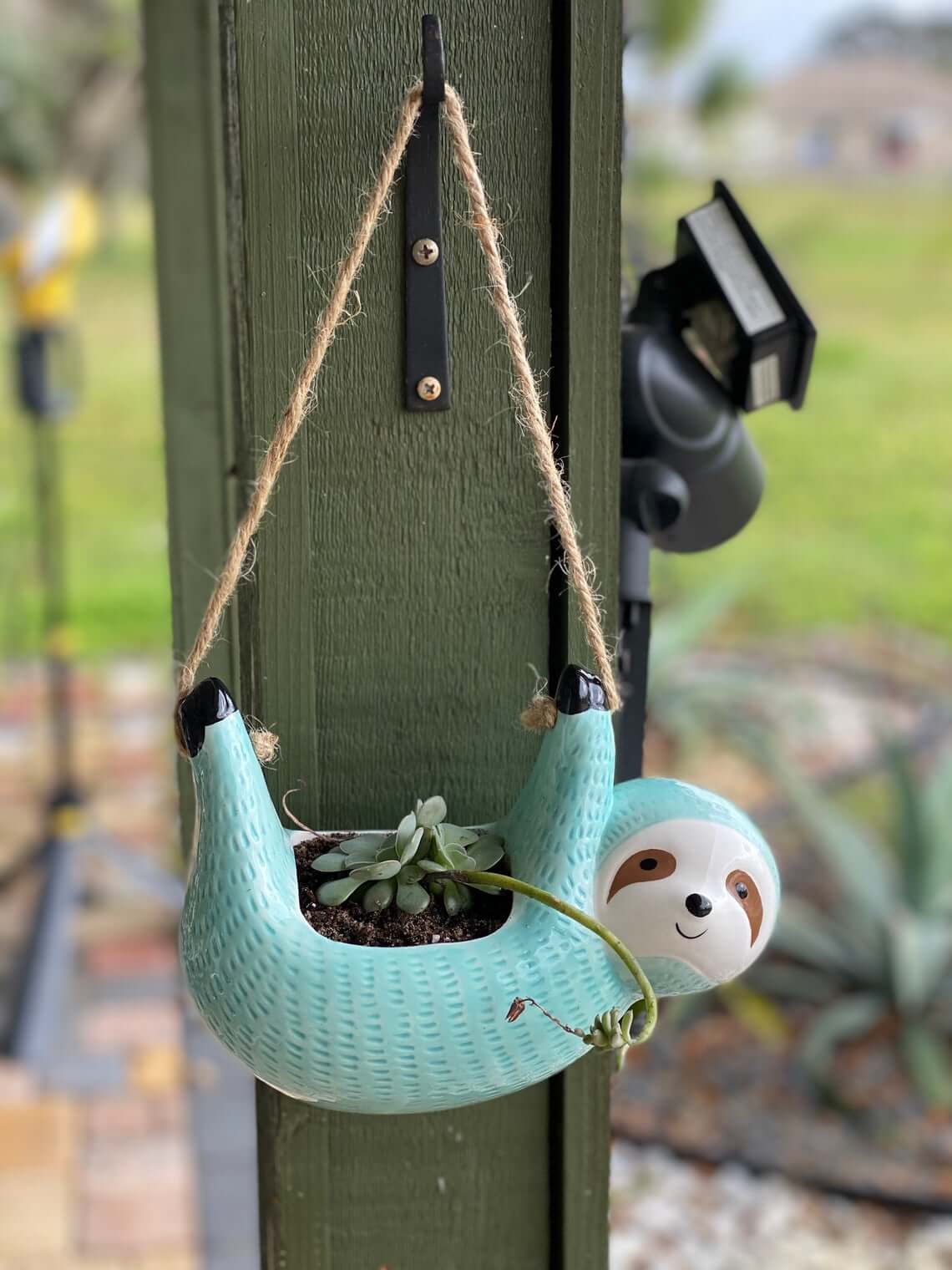 Combine your love of sloths and succulents with this cute and adorable miniature planter. Its small size allows it to fit into any space and its crisp turquoise color infuses some fresh life into your design. Cradle your favorite succulent into the belly of this poky little sloth to add some extra charm to your front porch. It would also be a loving addition to a child's room hanging from a curtain rod.
19. Rustic Tiered Cedar Box Hanging Planter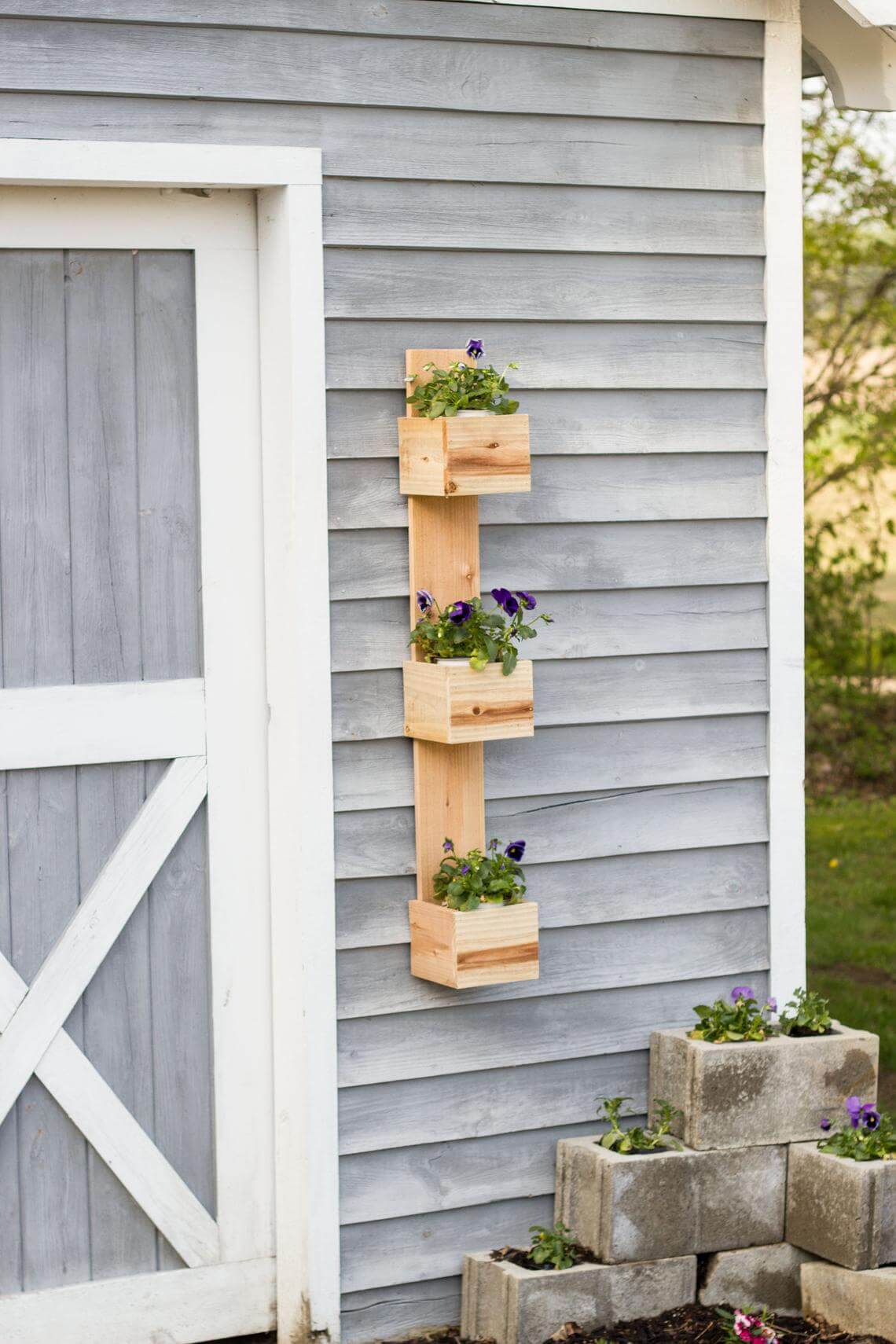 Choose your three most-loved herbs to grow in this tiered cedar box planter. Hanging just outside your backdoor or within your mudroom, this rustic box planter is the perfect way to make your herb garden synonymous with your style. With plenty of room to grow, each herb you choose will delight in the cozy hub dedicated to it. The unfinished wood further adds a rustic feel to your gardening atmosphere.
20. Lean and Mean Long Tassels Macrame Planter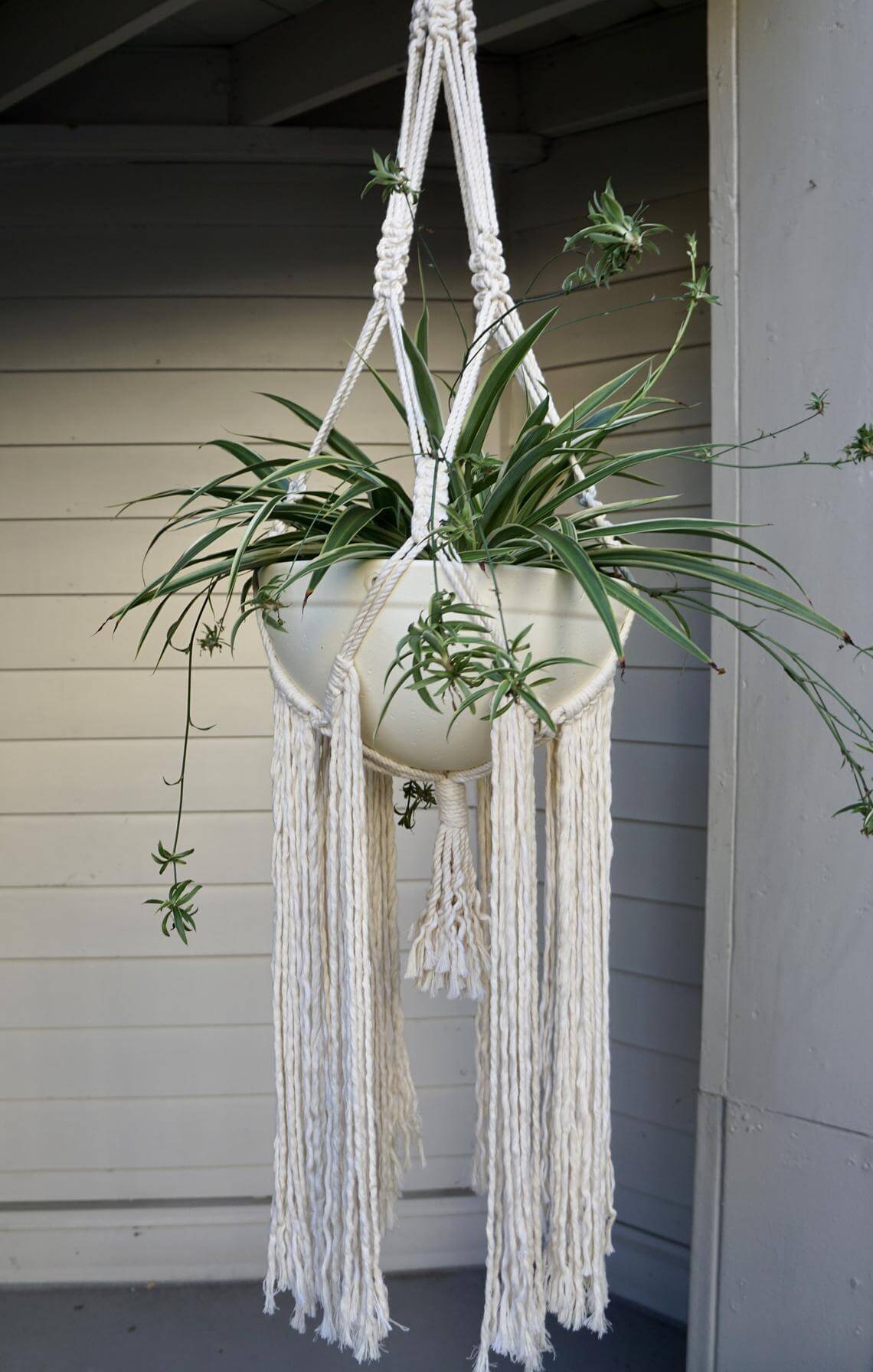 Channeling the bohemian charm of the '70s, this large macrame hanging planter adds a lot of style to your plant collection. Featuring extra-long tassels, the beauty extends nearly two feet below the actual plant. Any spider plant or pothos would relish in winding its tendrils down the path of these macrame strands. Position this in a corner of your home or porch for some extra texture and charm.
21. Bold Black Macrame Bohemian Plant Holder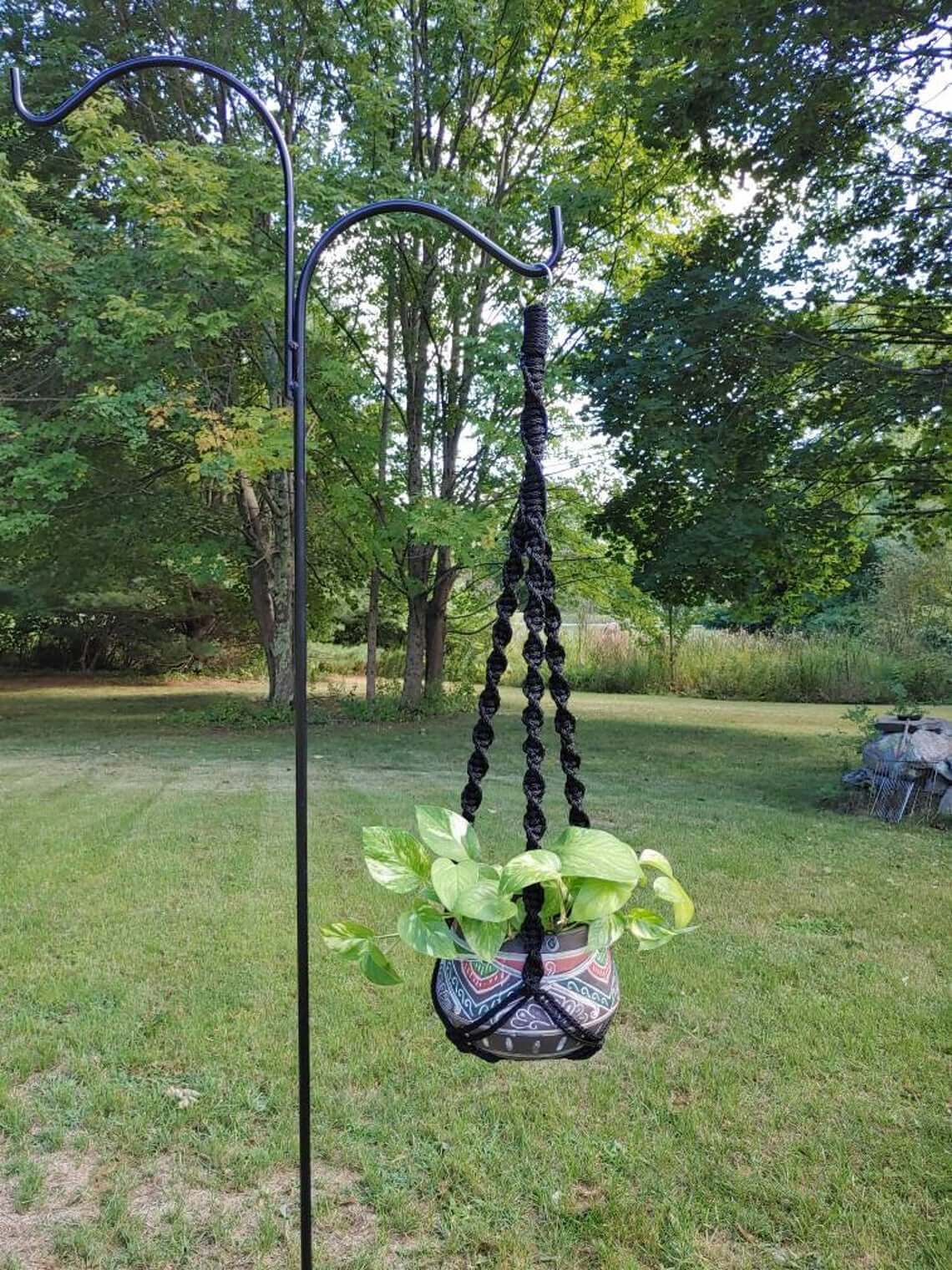 Here's a modern spin on a classic throwback plant holder. This macrame creation is crafted in rich black to give it a contemporary edge over its creamy hippie counterparts. You can use it indoors or outdoors depending upon your needs. It looks fabulous filled with a vining pothos plant or holding a delicate and dainty string of pearls. This would be a particularly thoughtful gift for any plant modern minimalist plant lover too.
22. 4 Piece Bonsai Hanging Wall Planter Pots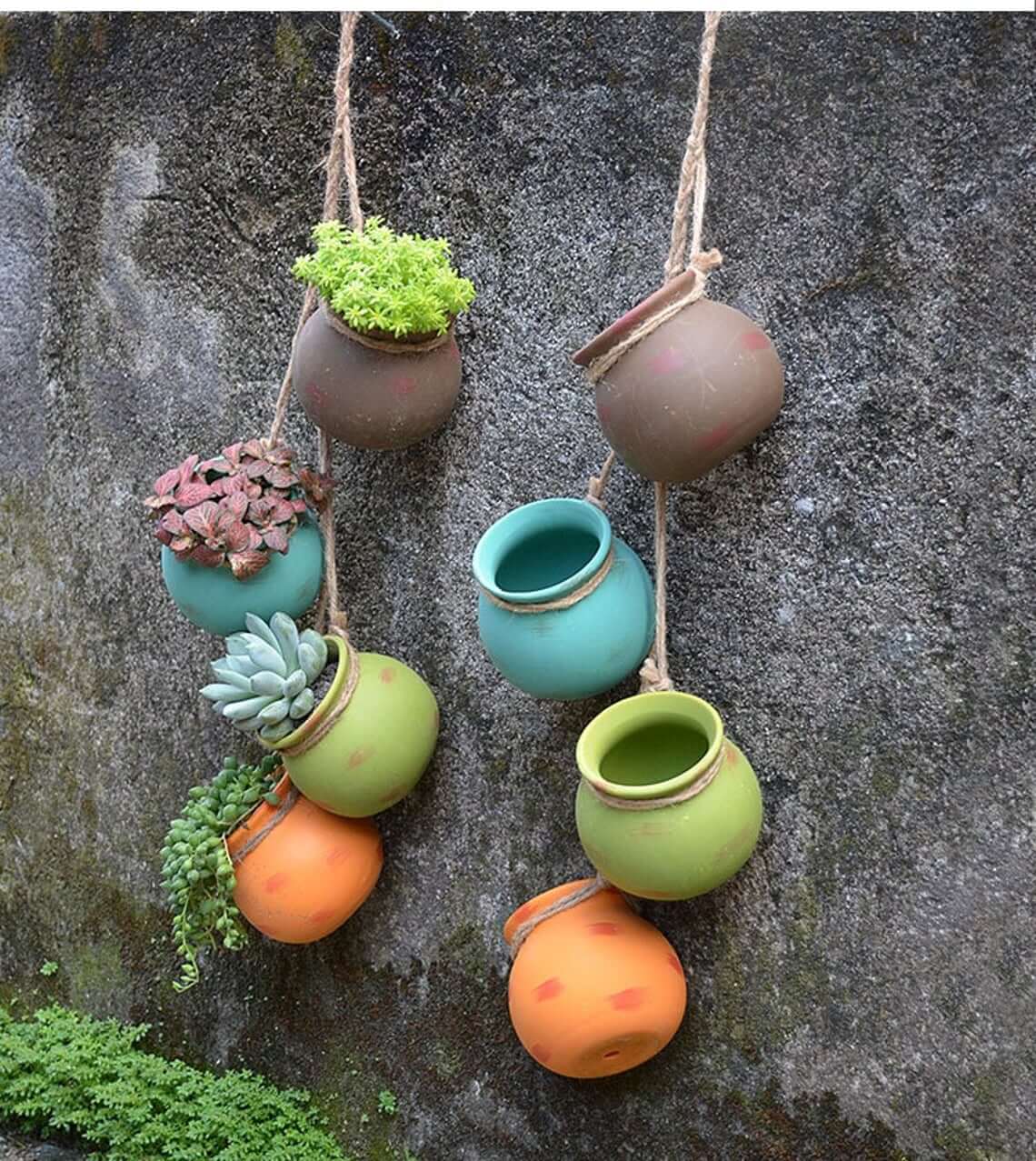 Flowing down the wall, you'll enjoy this four-piece mini pot set that's filled with easy-to-grow succulents. Each planter pot comes in a different earthy hue and helps to showcase your flowing succulent collection. Allow this set to hang beside your kitchen window or seemingly float down the post of your porch. You can't go wrong with this vertical version of a succulent garden for your home.
23. Over the Top Pocket Flower Hanging Basket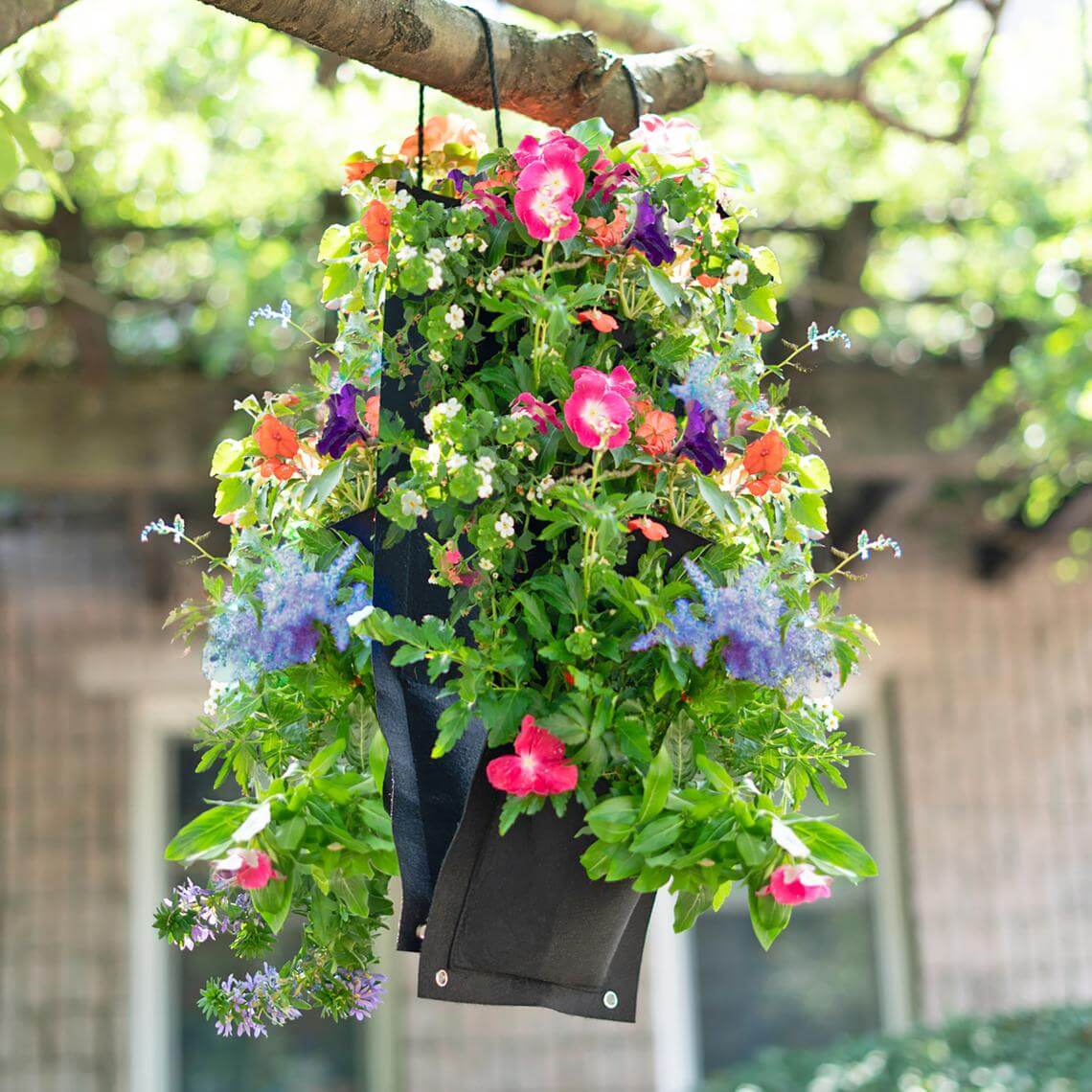 Saddle up for fun with this over-the-top hanging planter. With saddle pockets cascading down both sides, you have plenty of places to stash your pretty petal partners. Drape this over a tree branch or on the ledge of your porch railing where the budding beauties can be seen in all of their glory from a 360-degree view.
24. Brown Leather Chevron Hanging Plant Holder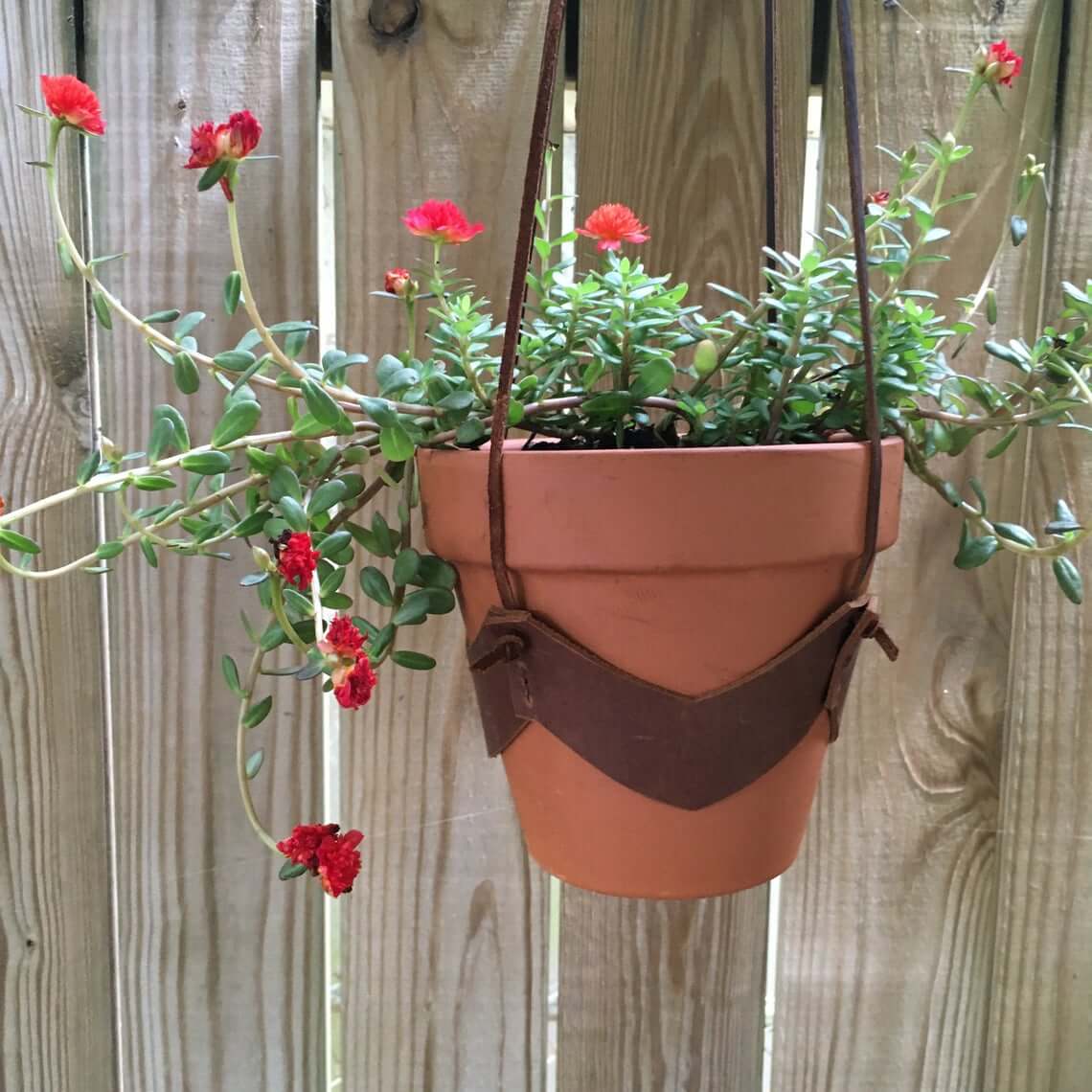 Add the richness of leather to the plant scene at your home with this chevron patterned hanging holder. Your terracotta pot will feel secure as it rests within the comfort of the cuddling chevrons surrounding it. This would be a nice addition to a southwestern or farmhouse design. Adorn your privacy fence with a little leather as you show off your moss rose blooms.
25. Vintage Repurposed License Plate Triangular Hanging Planter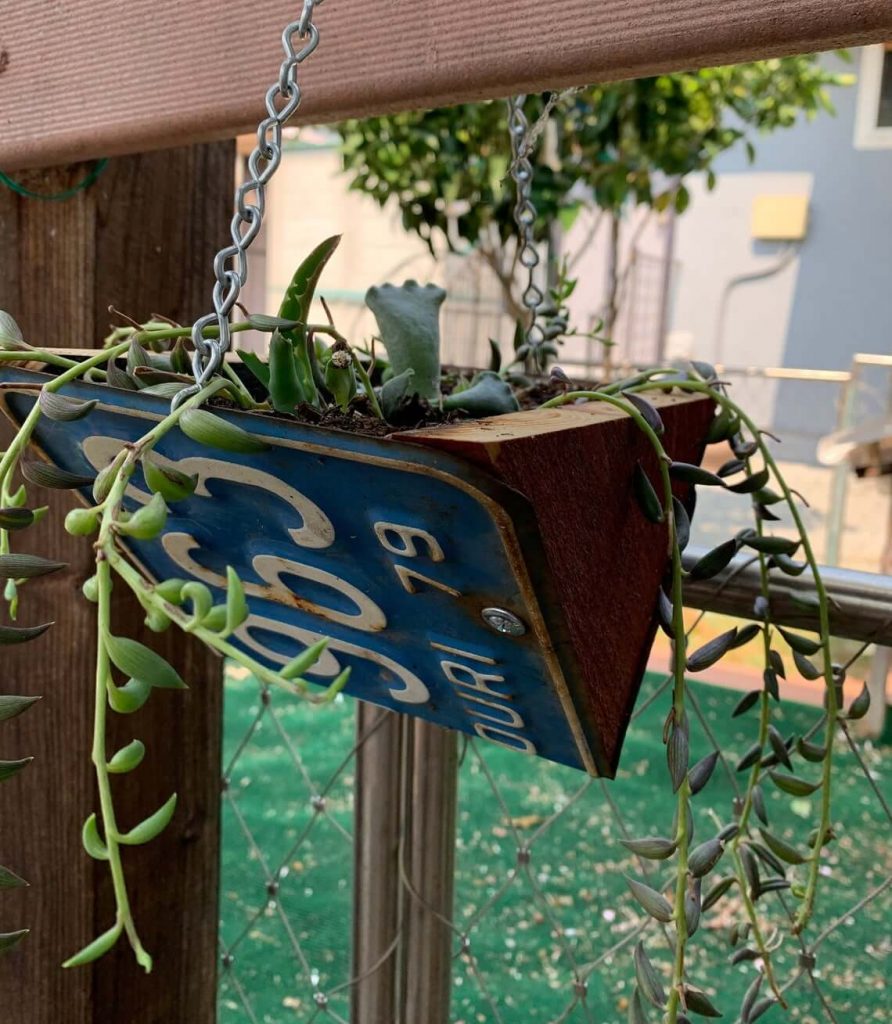 Your agave plant will be thrilled to call this one-of-a-kind hanging planter home. Give a new life to your old license plates by turning them into this triangular work of art. It makes a fun gift to a grandfather who still has his first set of plates. Or you could browse a flea market to find a plate from your favorite vacation destination. You can make this planter as personal as you like with whichever license plate cover you choose.
26. Backyard Fence Coffee Can String of Planters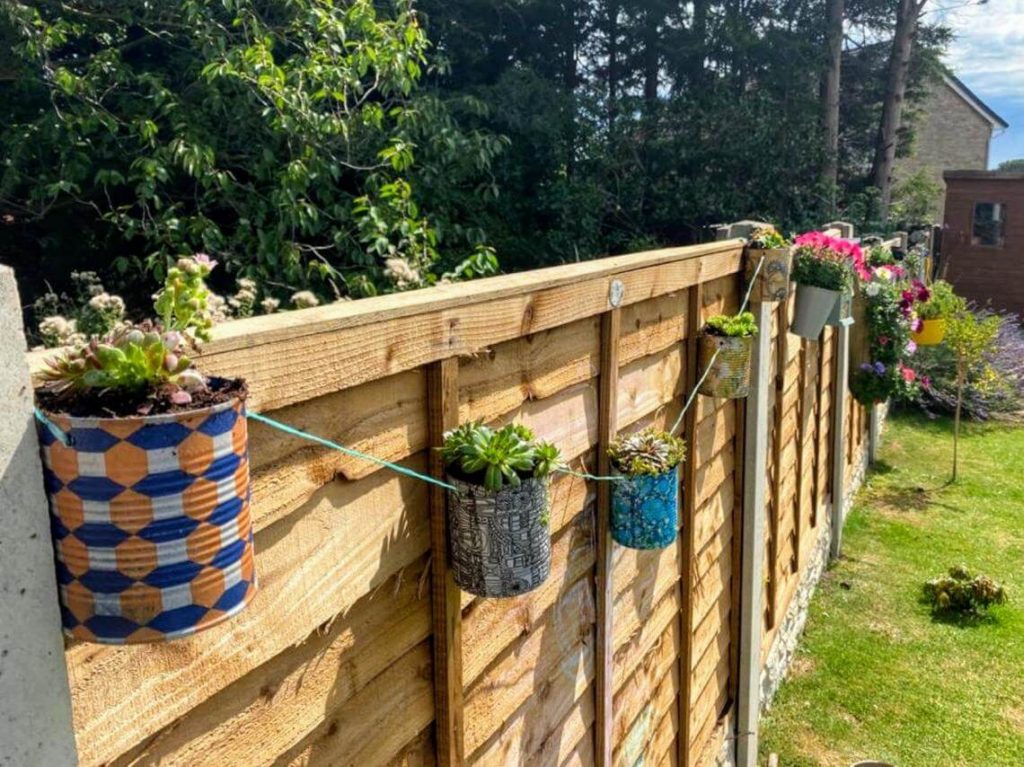 From east to west, your backyard will come alive with a string of coffee can planters! Reimagined in some bright and bold colors and patterns, these coffee cans have been given a second chance at life as some of the most unique hanging planters in the gardening world. A simple string glides a collection of them across your backyard fence to encompass your private oasis in beauty.
27. Colorful Tropical Toucan Hanging Planter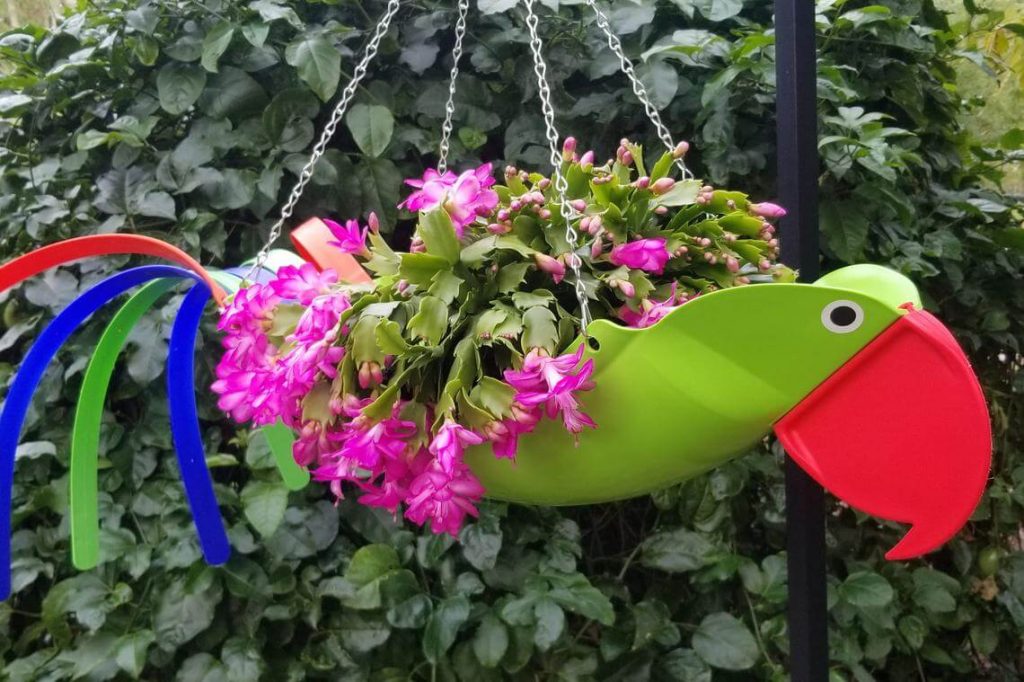 Spruce up your outdoor space for summer with some vibrant tropical fever! This unique, cute, and colorful bird friend takes flight in powering your pretty gardenscape by serving as a one-of-a-kind hanging planter. Fill it with your favorite green ivy or tropical-looking flowers to make your backyard feel like a weekend getaway.
28. Porch Post Metal Plant Hanger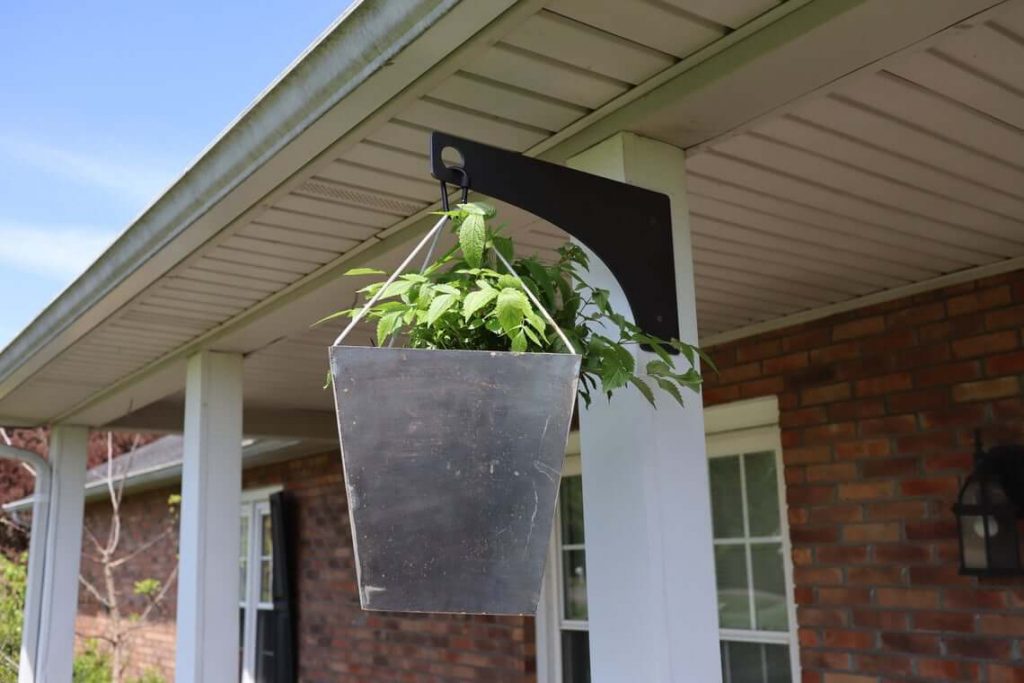 Sturdy enough to get the job done while maintaining a sleek frame, this metal plant hanger is a great addition to your porch this season. It makes hanging any of your flower baskets a breeze since it firmly holds them against your porch post. Place one on each post for a uniform and dramatic look. They would also look nice as an accessory to your arbor as a close companion to your climbing roses.
29. Entryway Chalkboard Sign and Hanging Planter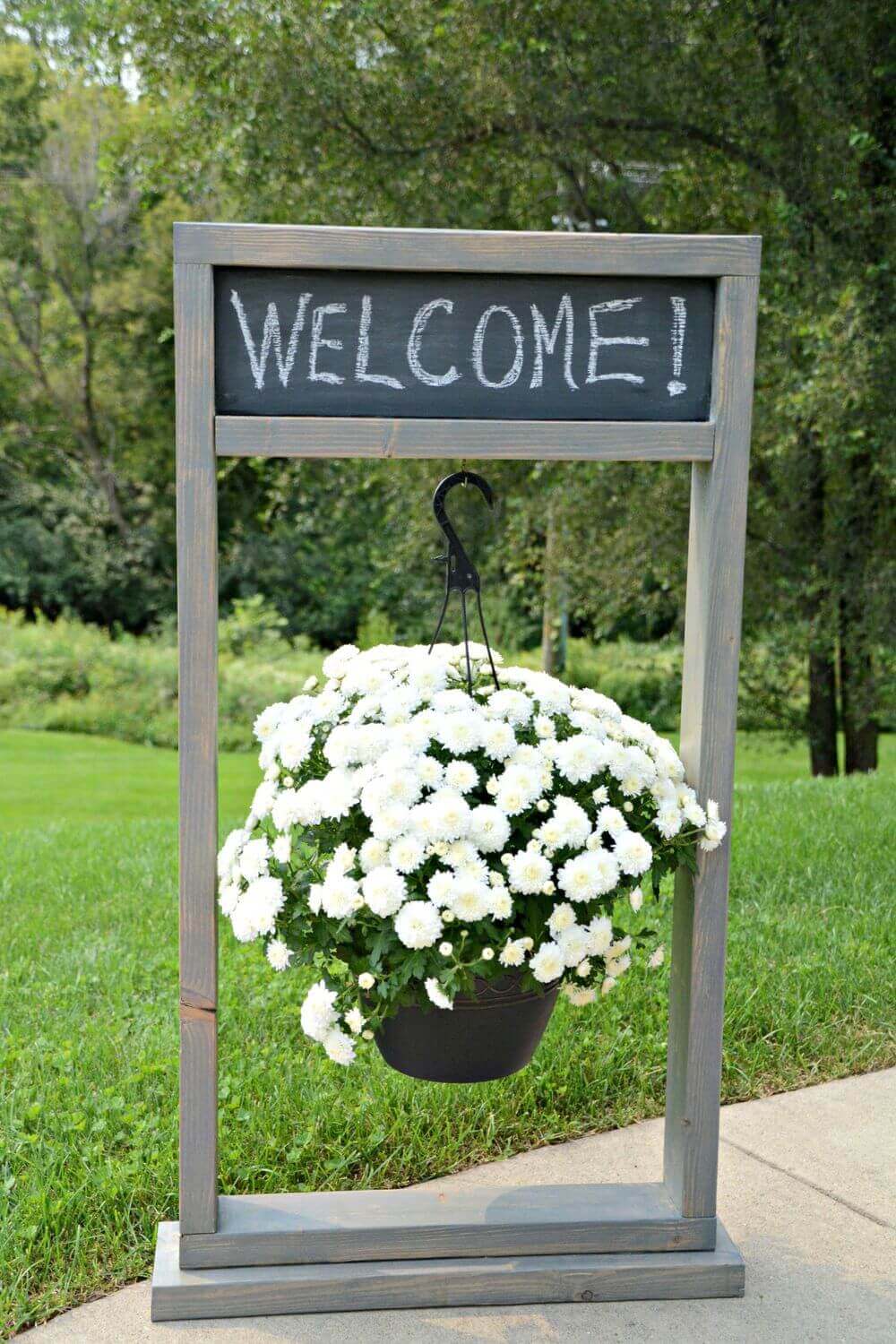 30. Playful DIY Outdoor Hanging Planter Ideas

31. Metal Bird Cage Succulent Planter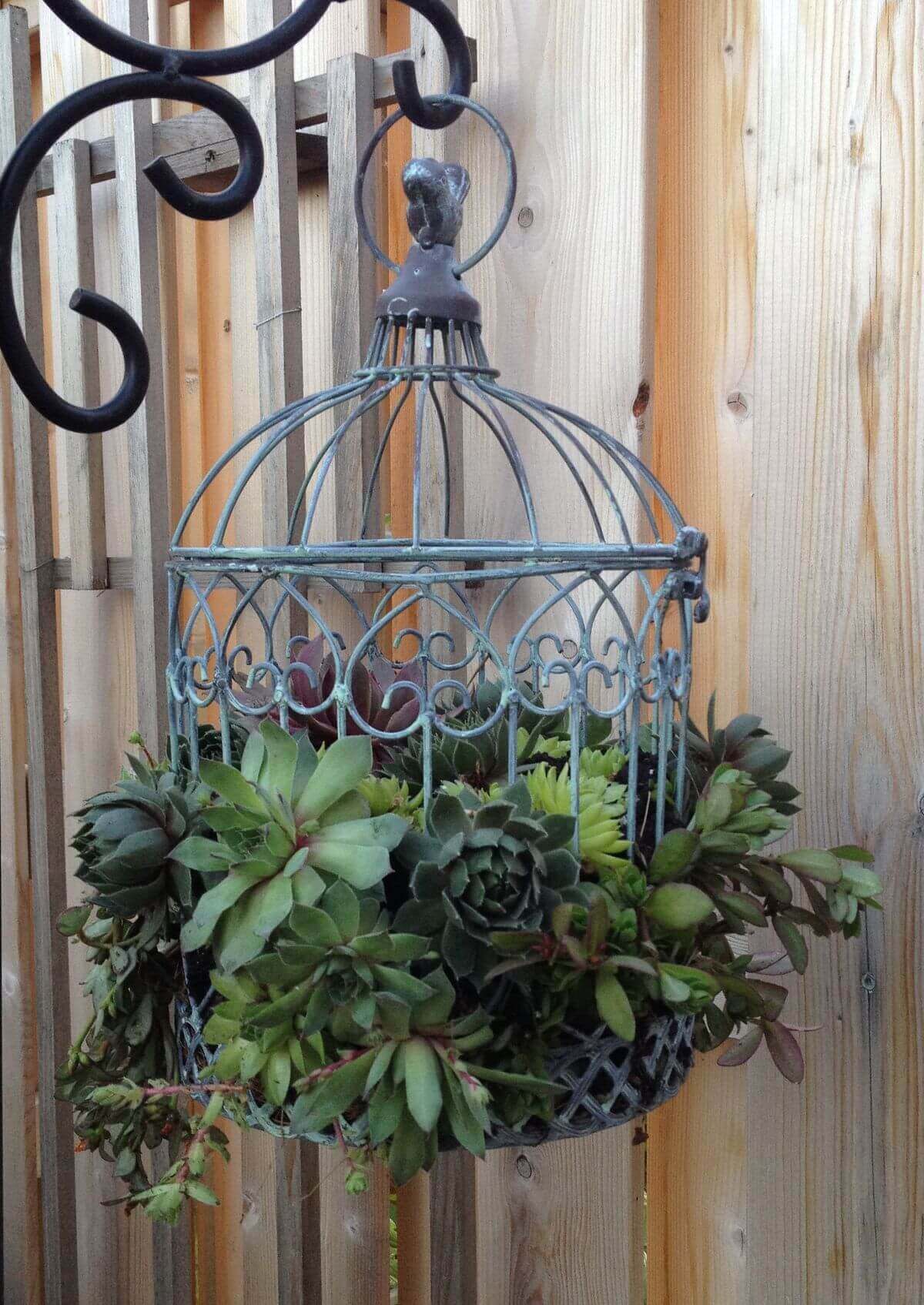 32. Fourth of July Themed Hanging Basket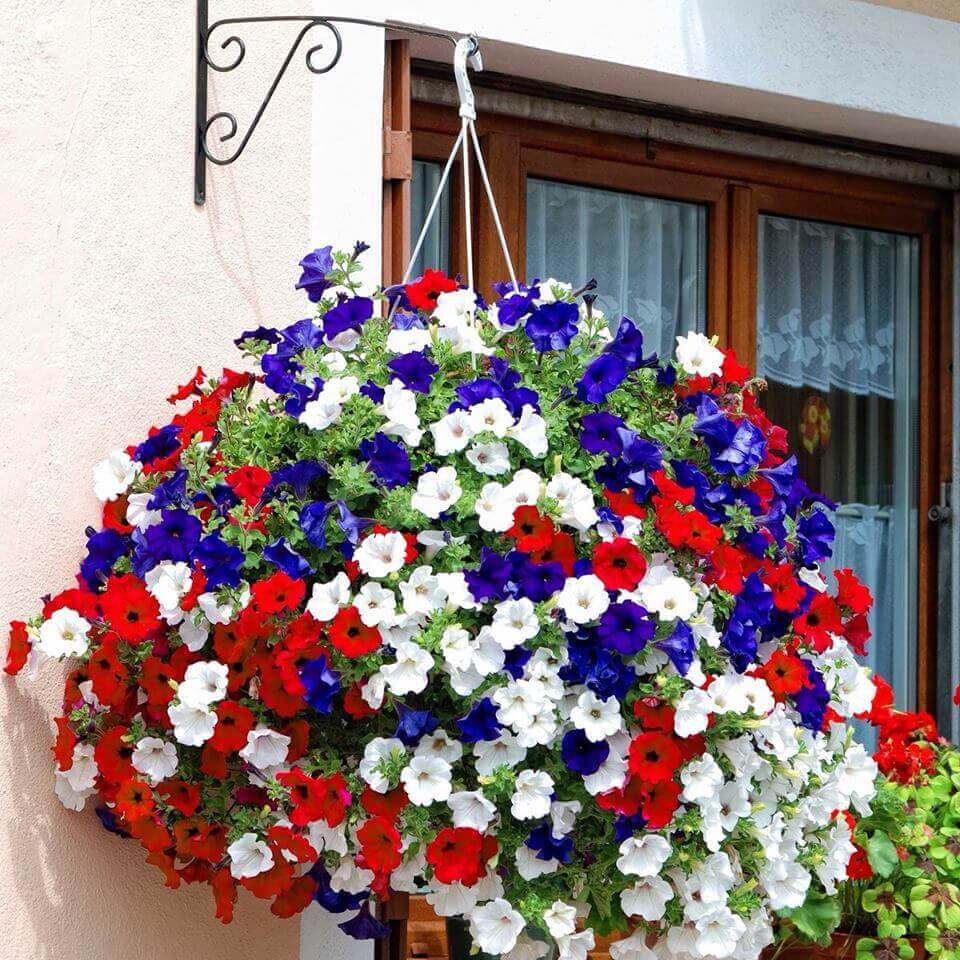 33. DIY Succulent Orb Hanging Planter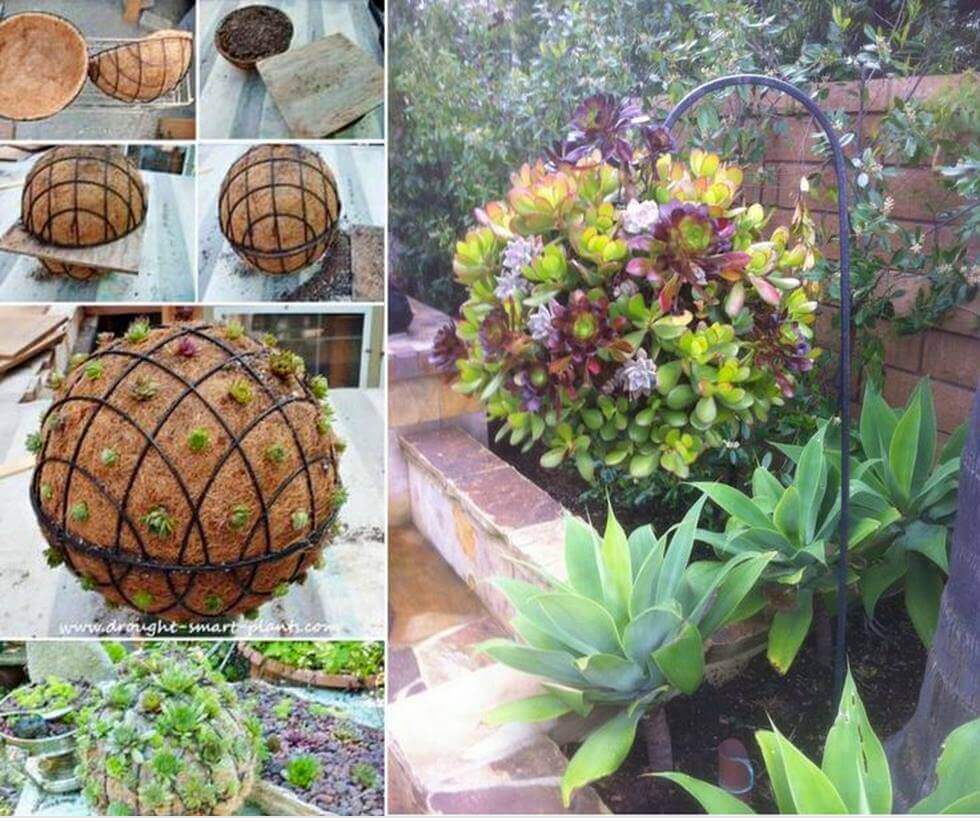 34. Inexpensive PVC Pipe Hanging Vegetable Garden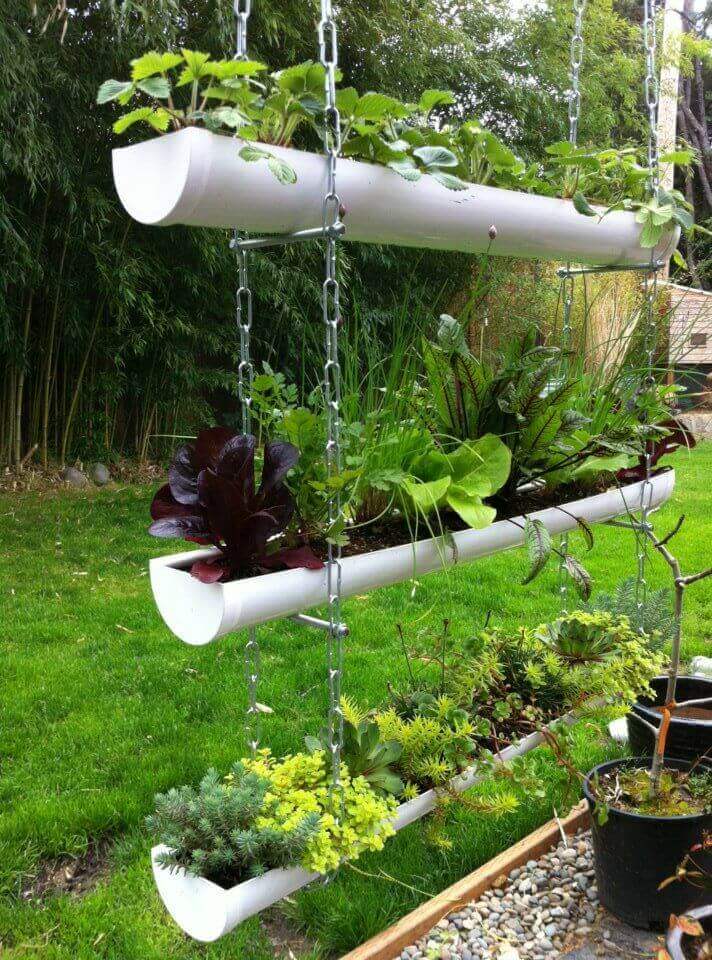 35. Recycled Horse Bridle Hanging Pot Holder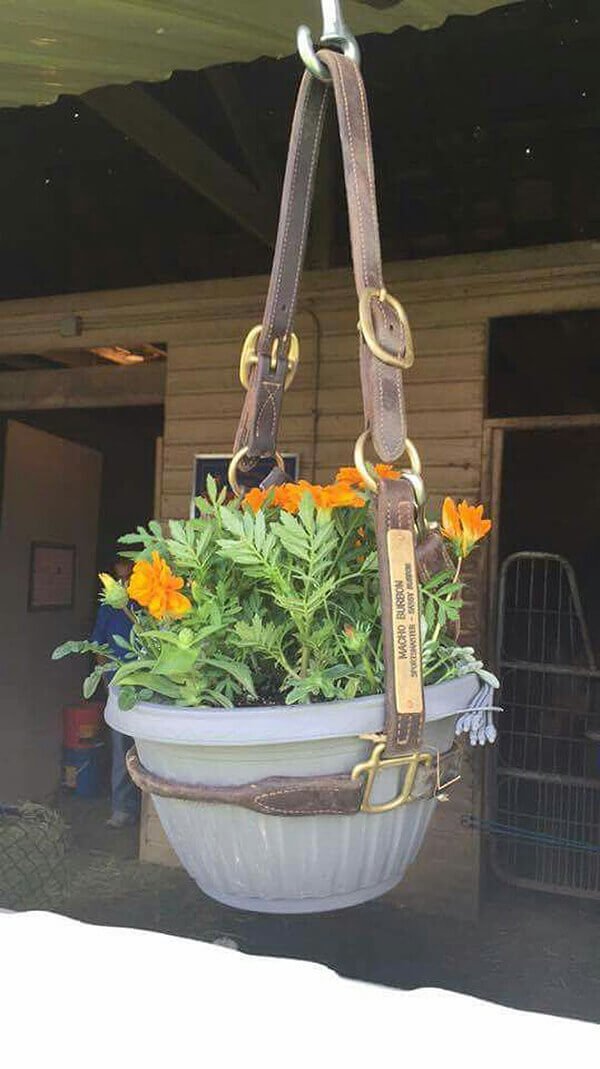 36. Brightly Colored Coleus and Geranium Porch Planters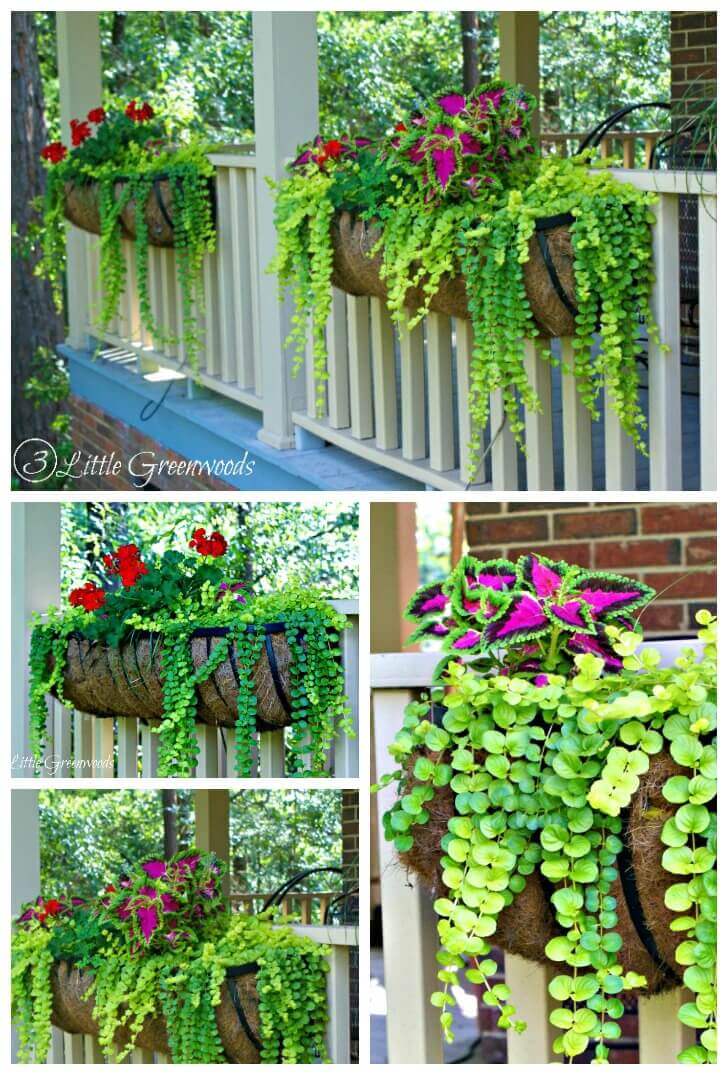 37. Chic Industrial Globe-Shaped Iron Hanging Planters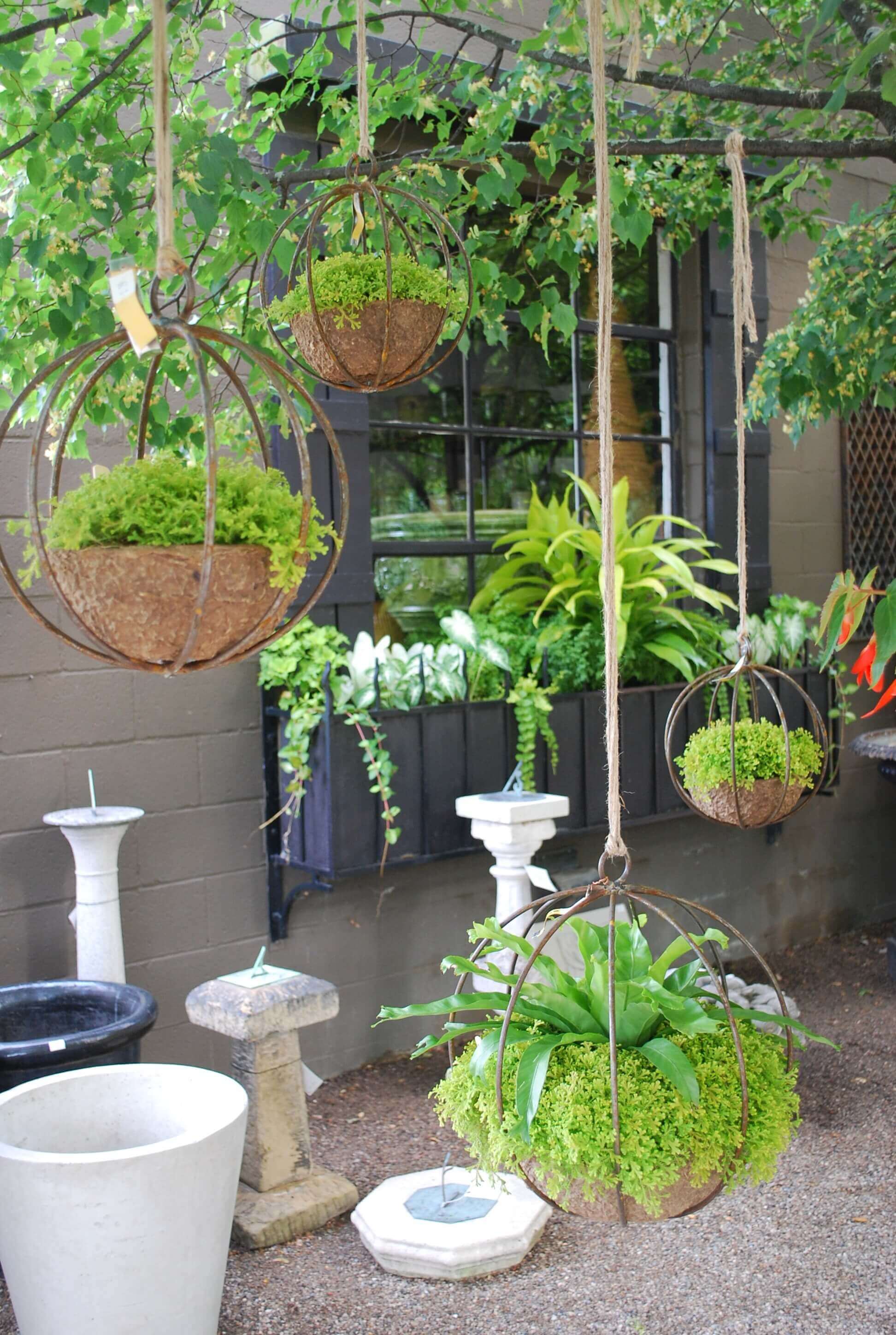 38. Simple Fence Post Planters for Petunias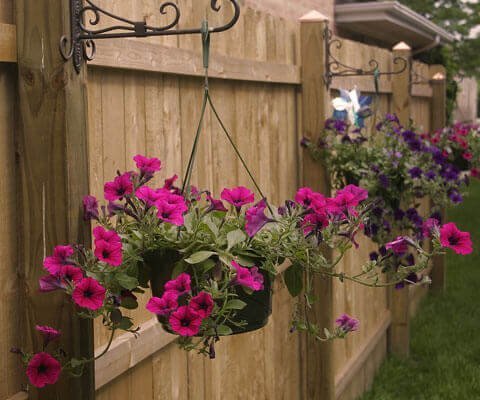 39. Retro Macrame Hanging Flower Pot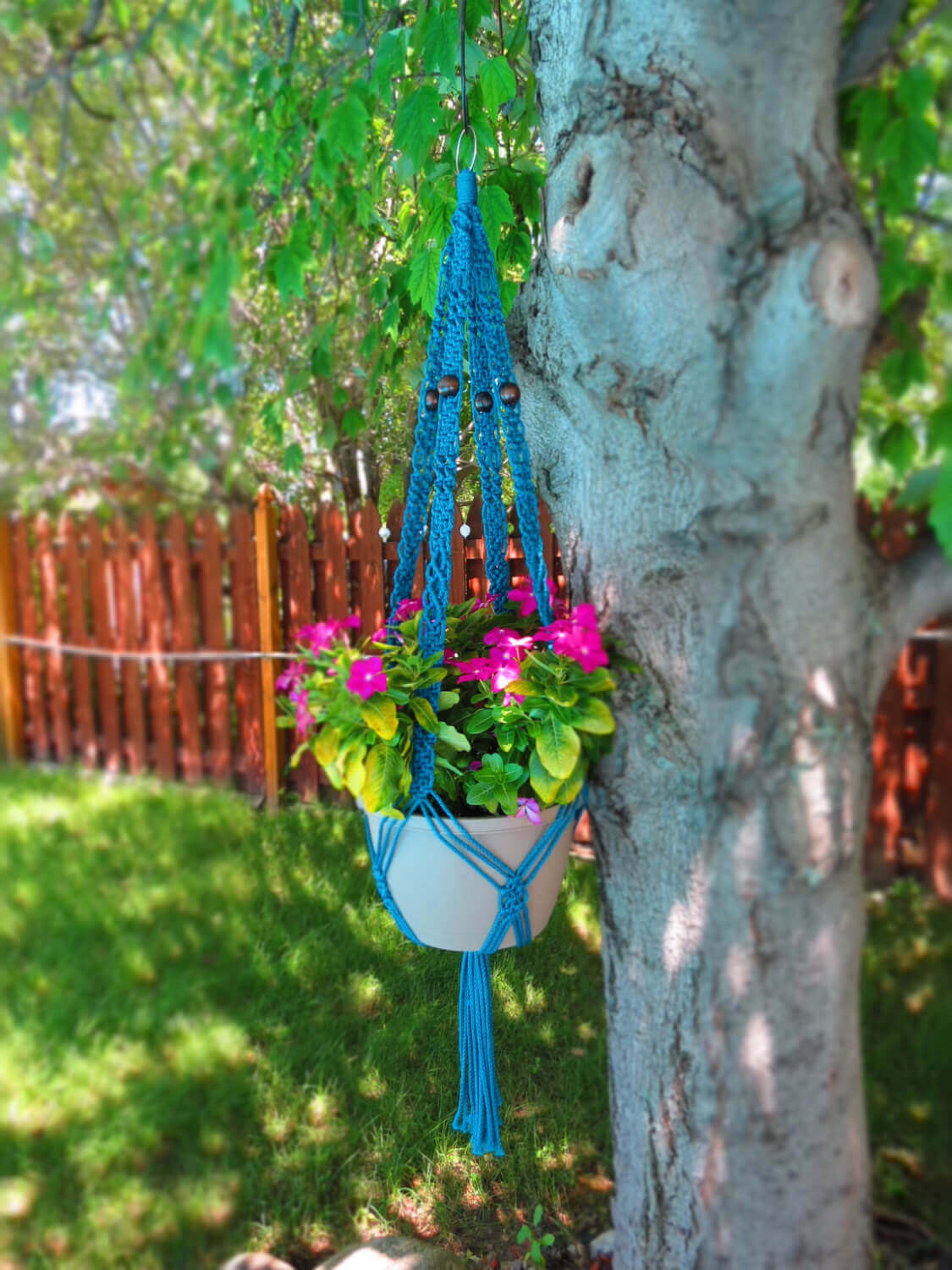 40. Easy to Make Hanging Herb Garden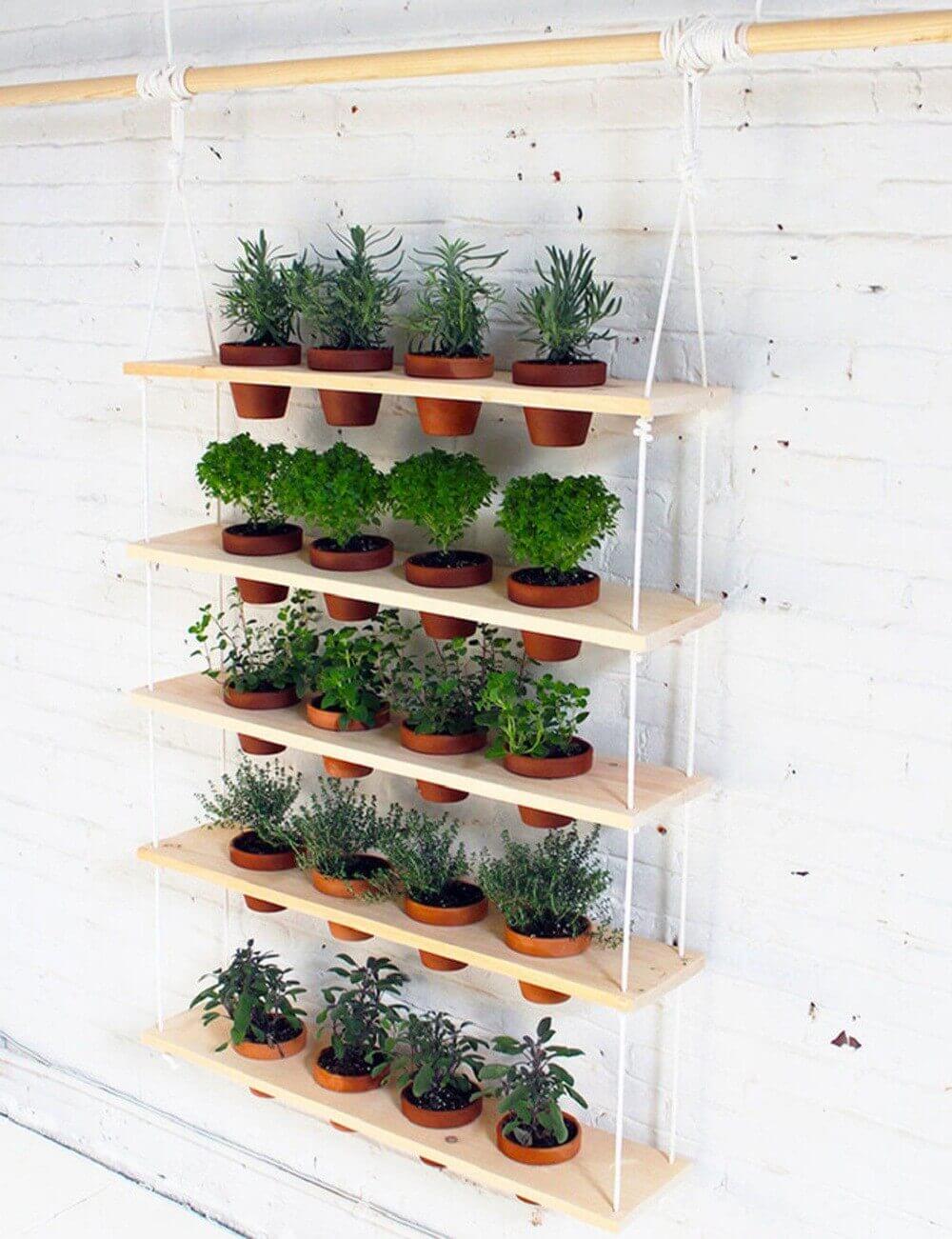 41. Perfectly Framed DIY Lobelia Planter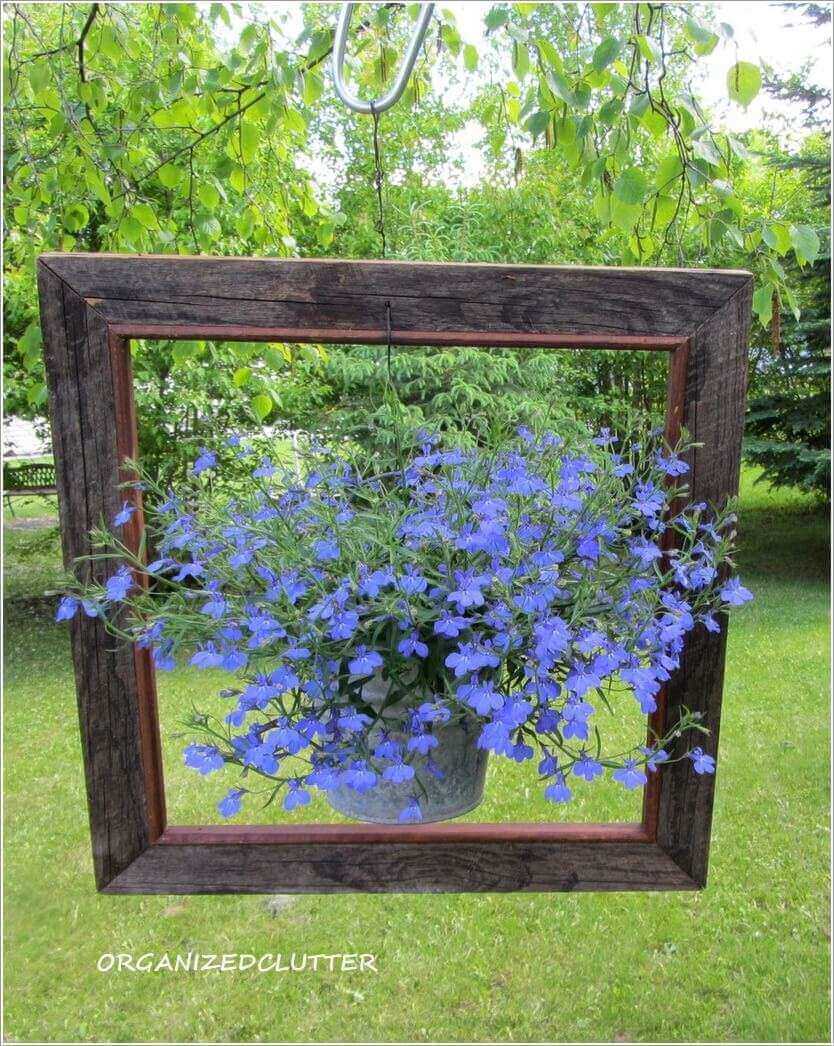 42. Classic Metal Hanging Baskets with Petunias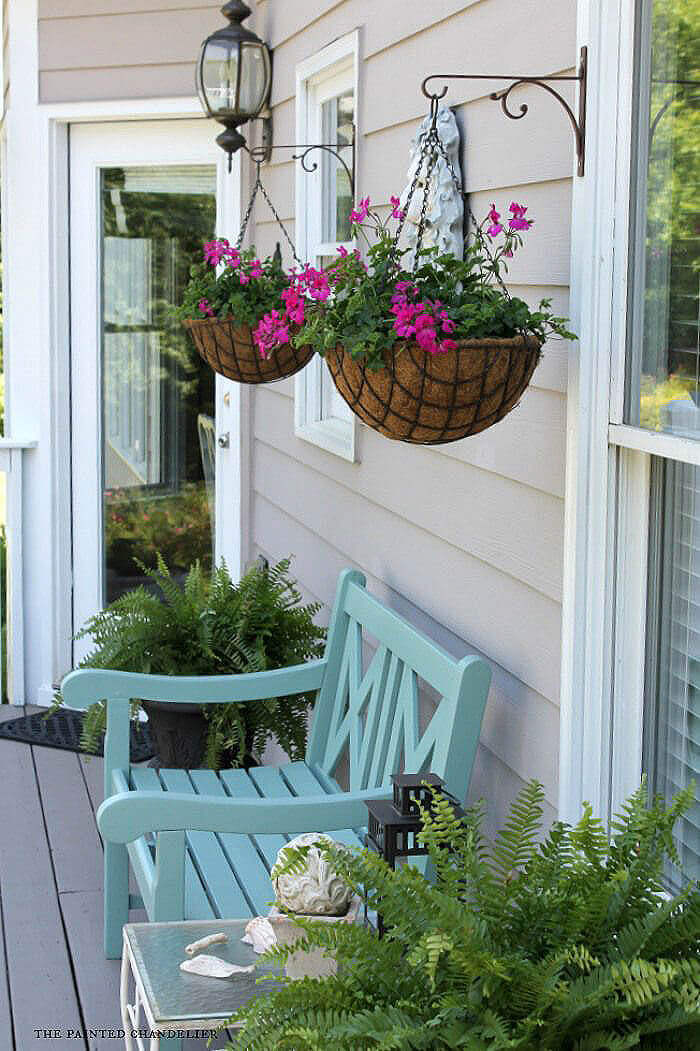 43. Cleverly Repurposed Architectural Pediment Planter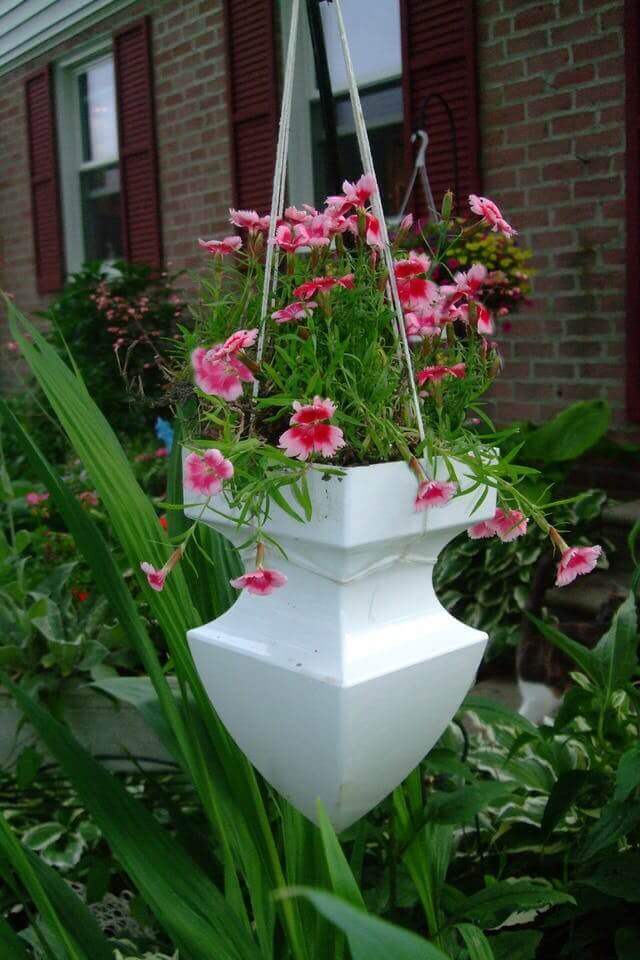 44. Hanging Grapevine Bird's Nest Succulent Planter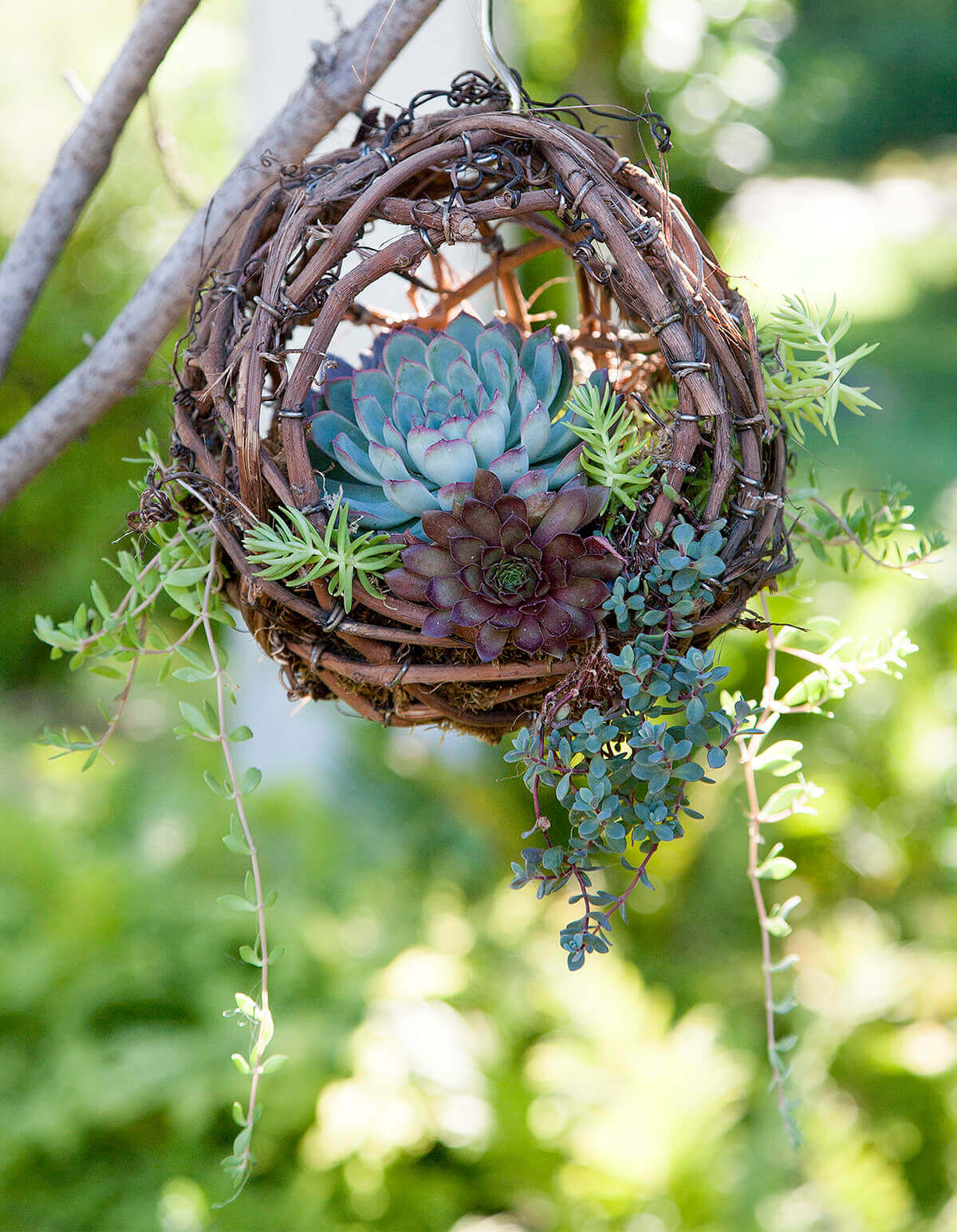 45. Creative "Jellyfish" Succulent Hanging Basket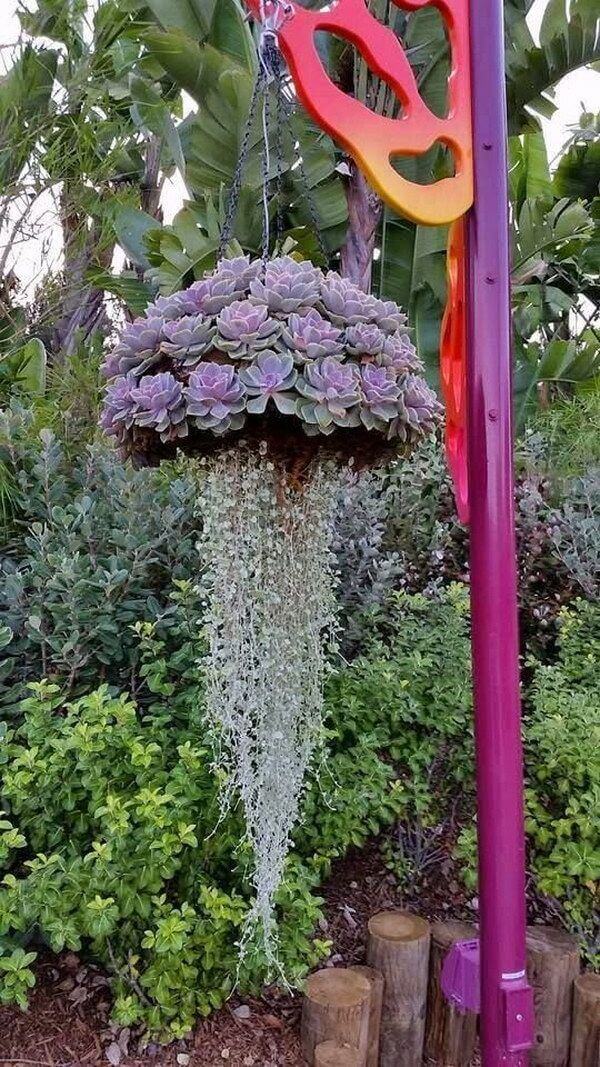 46. DIY Kitchen Utensil Wall Planter for Succulents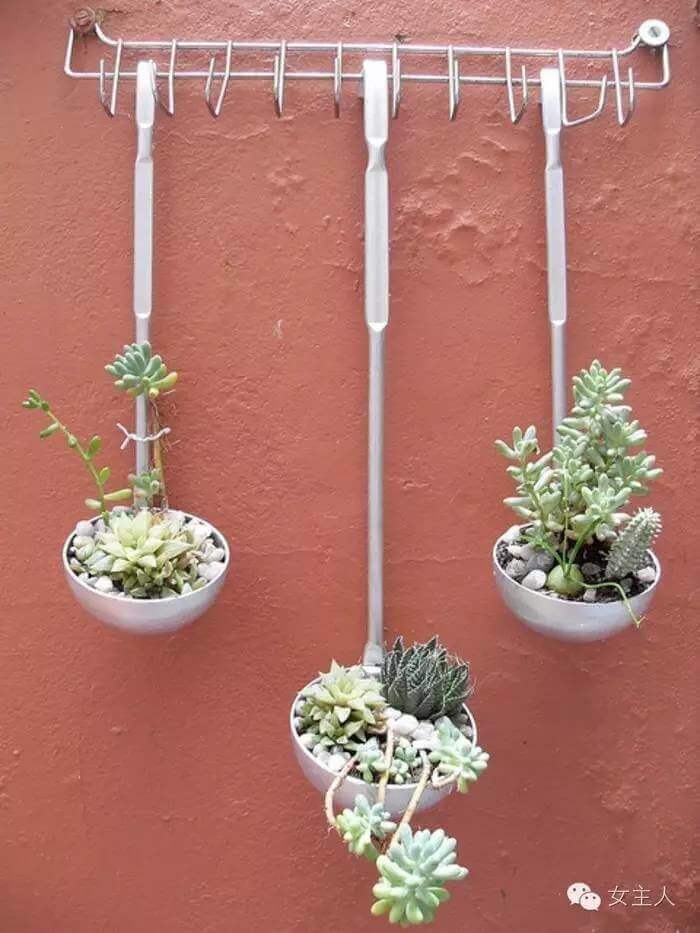 47. Colorful Colander Springtime Hanging Planters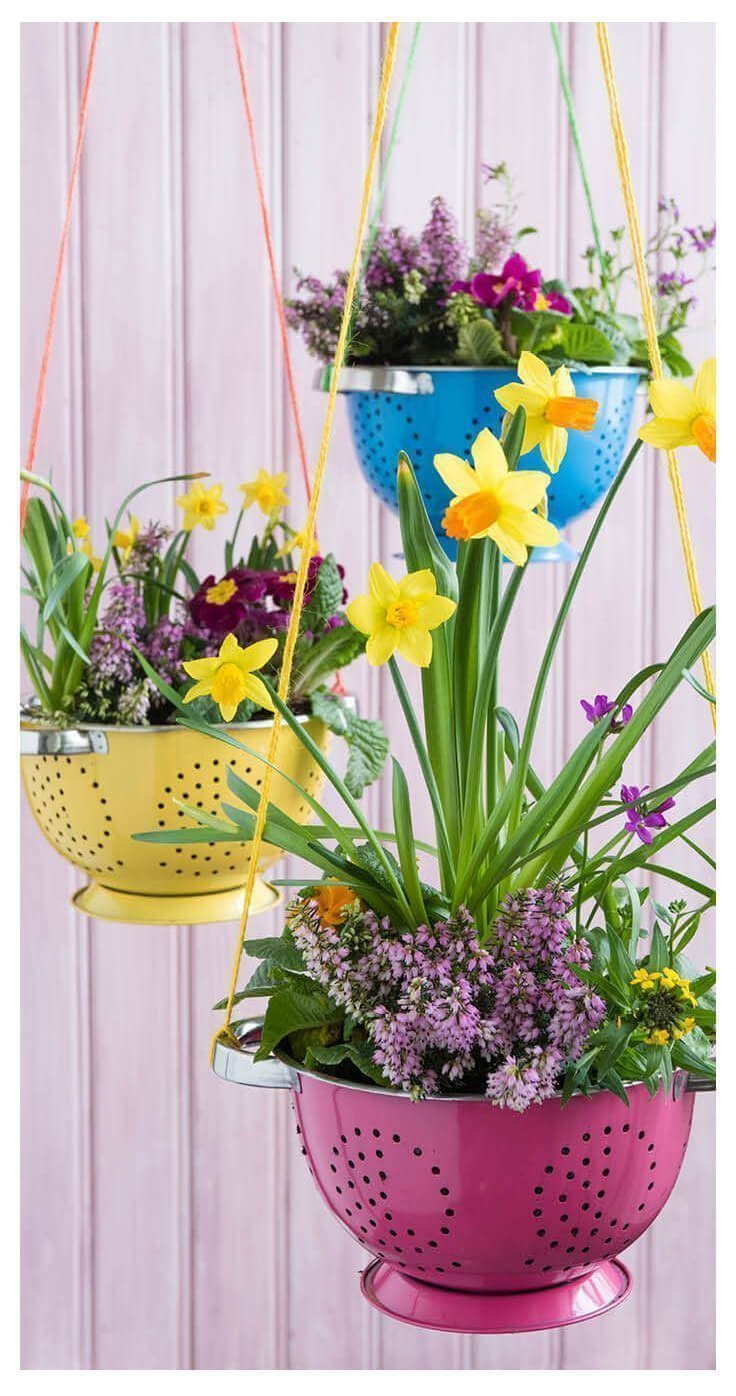 48. Woven Planter Basket with Geraniums and Ivy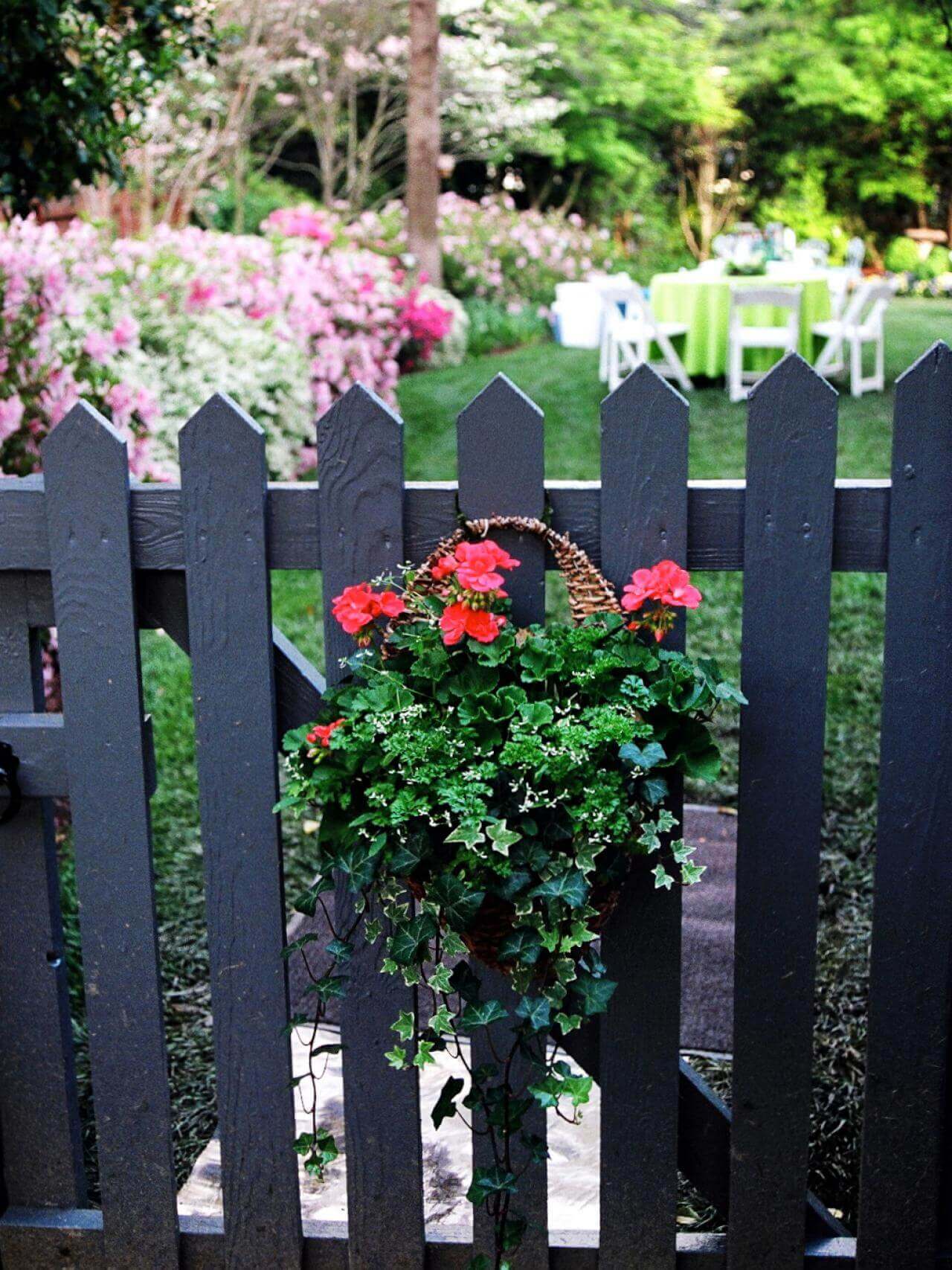 49. Outdoor Hanging Planter Ideas for Small Spaces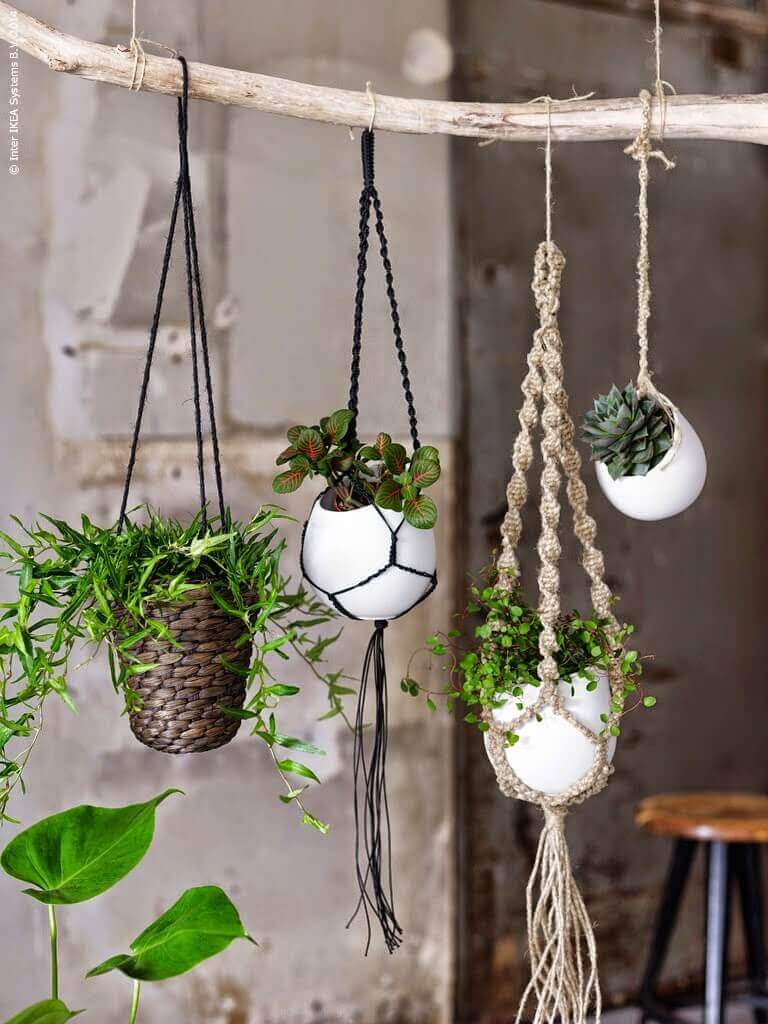 50. Modern Wooden Planting Wall with Metal Pots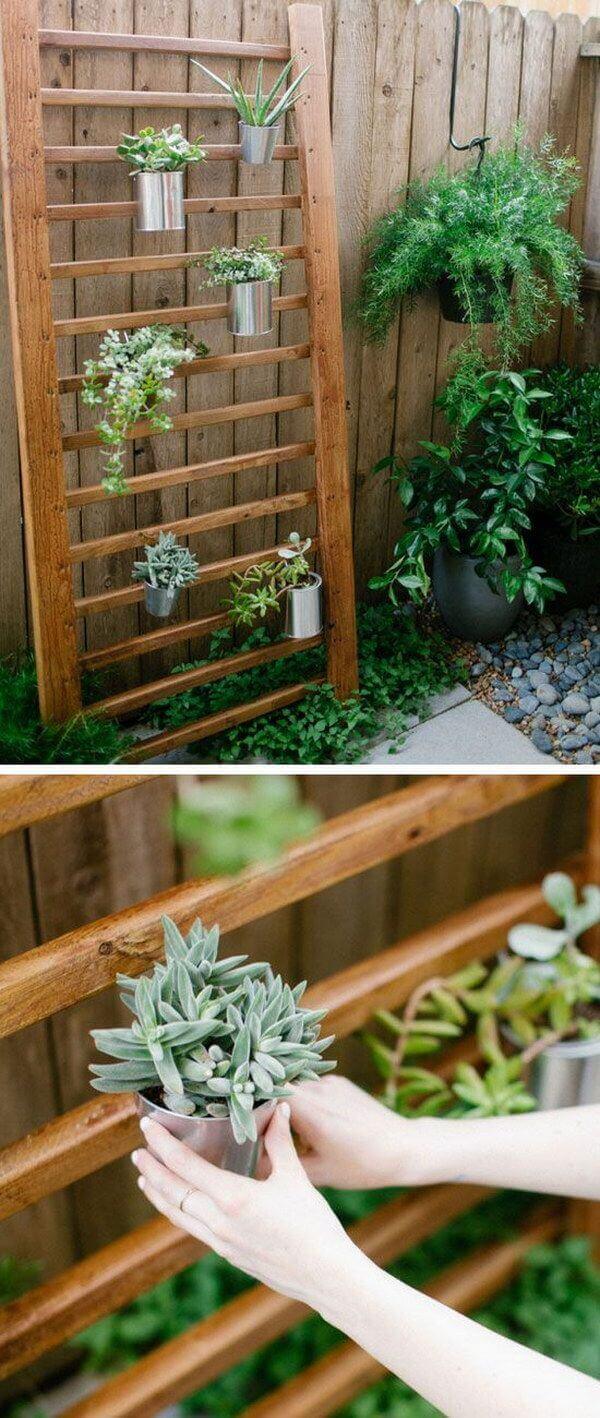 51. Striking Circular Wooden Fern Planter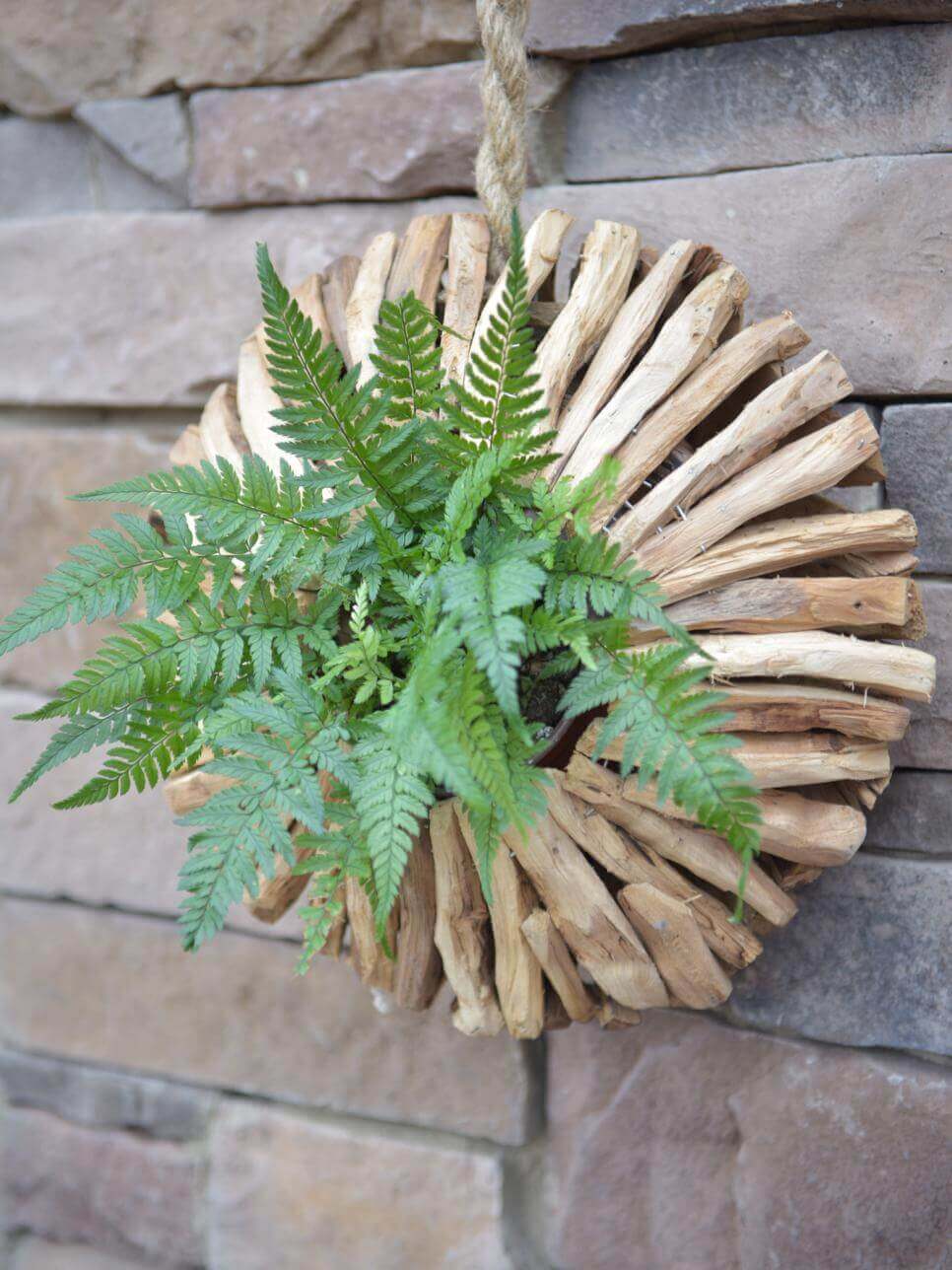 52. Rustic Carved Wooden Hanging Planters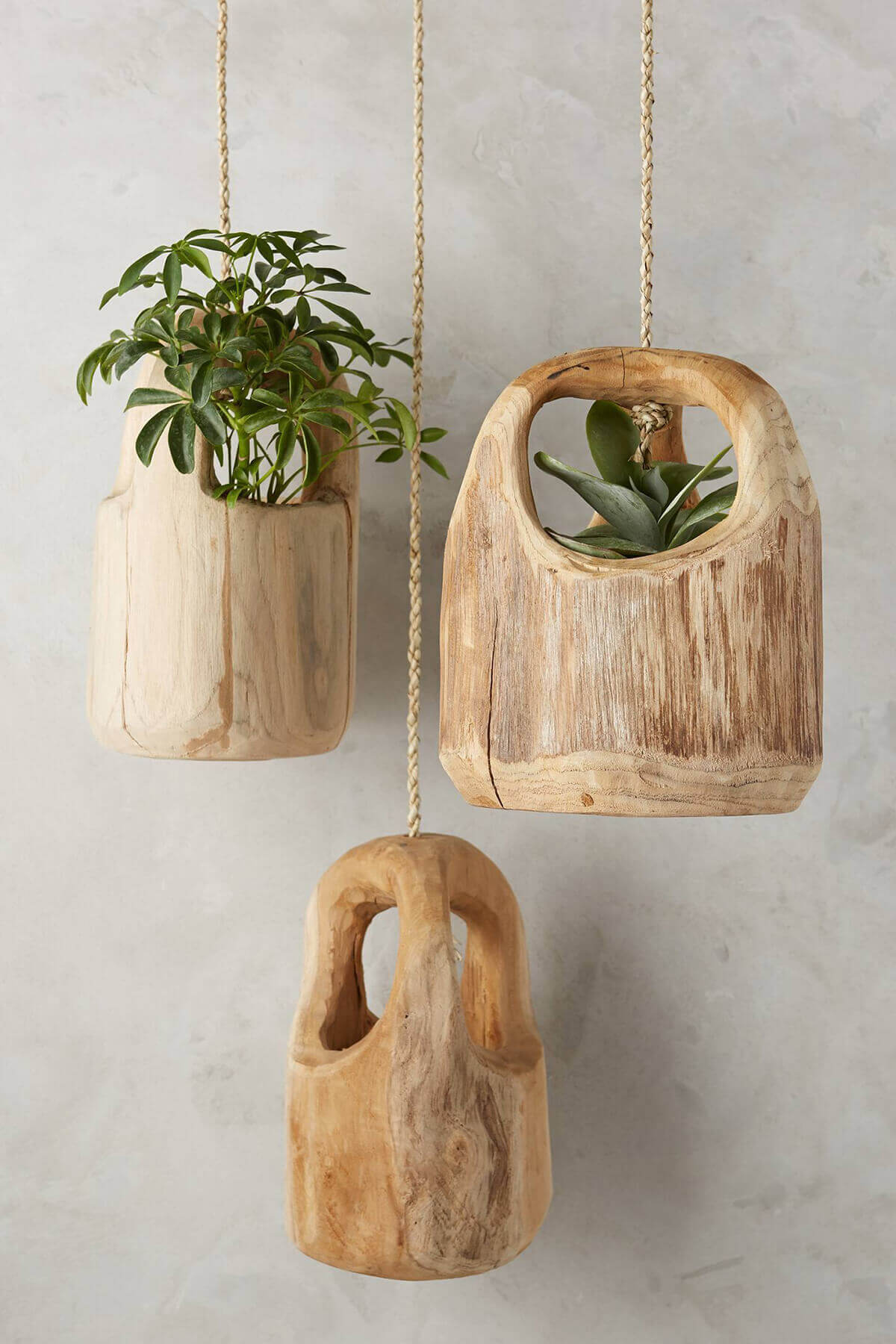 53. Hanging Basket Hooks Made From Spoons

54. Wooden Entryway Sign and Hanging Flower Pot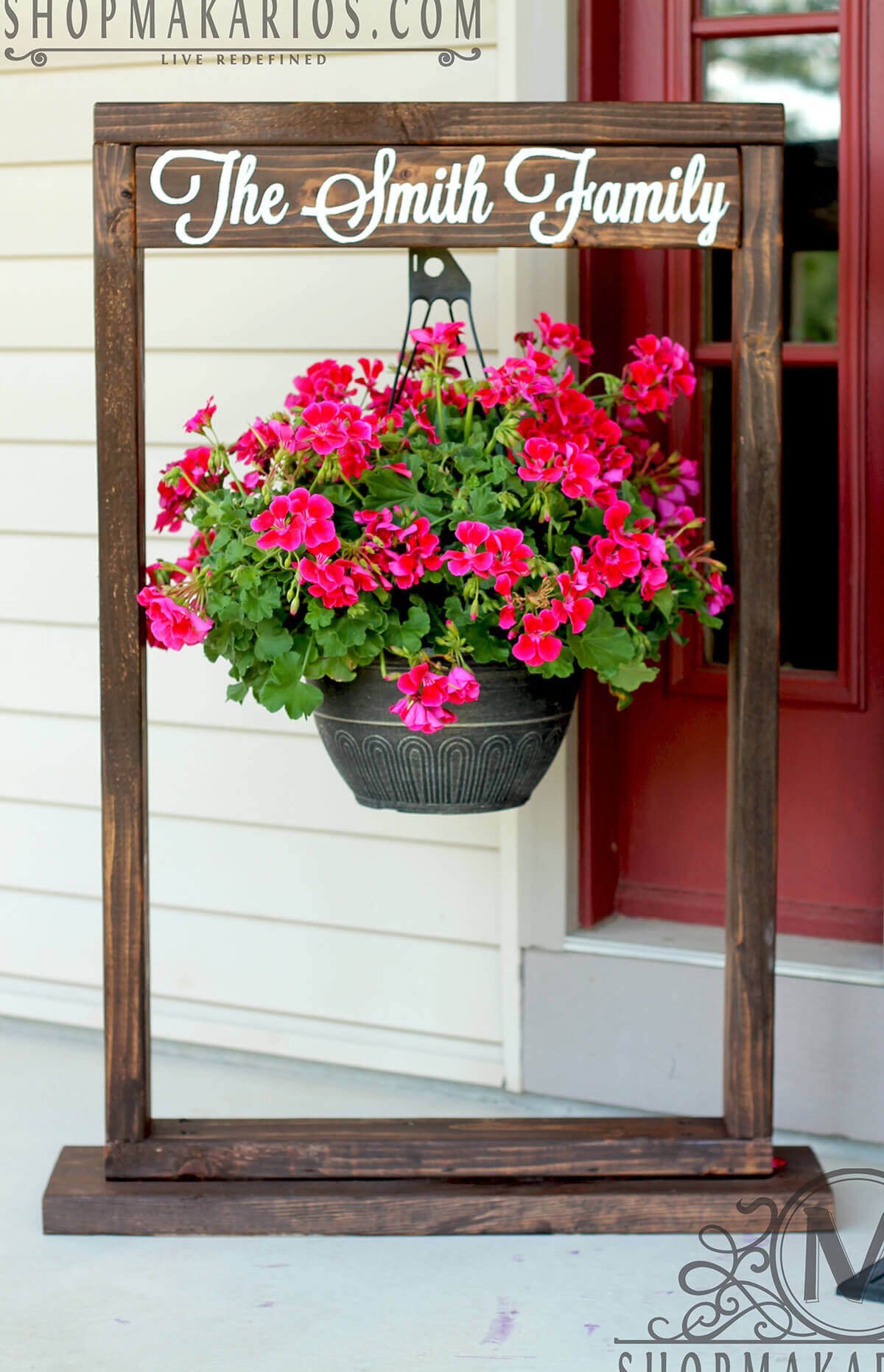 55. Western Wagon Wheel Hanging Planter Stand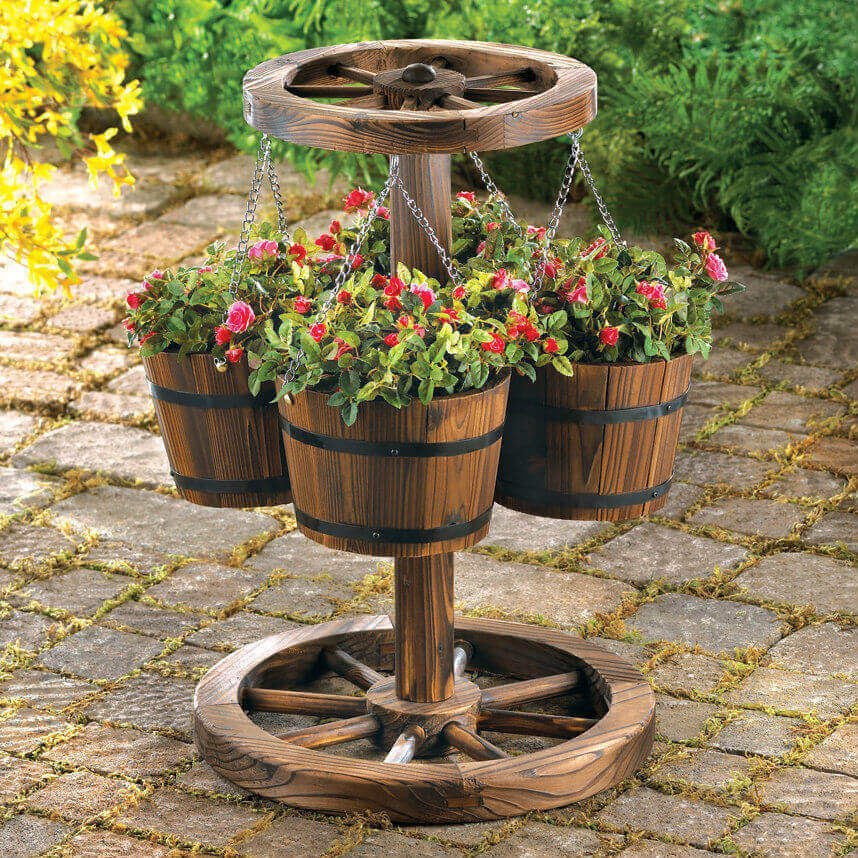 56. Ceramic Daimond Shaped Hanging Planters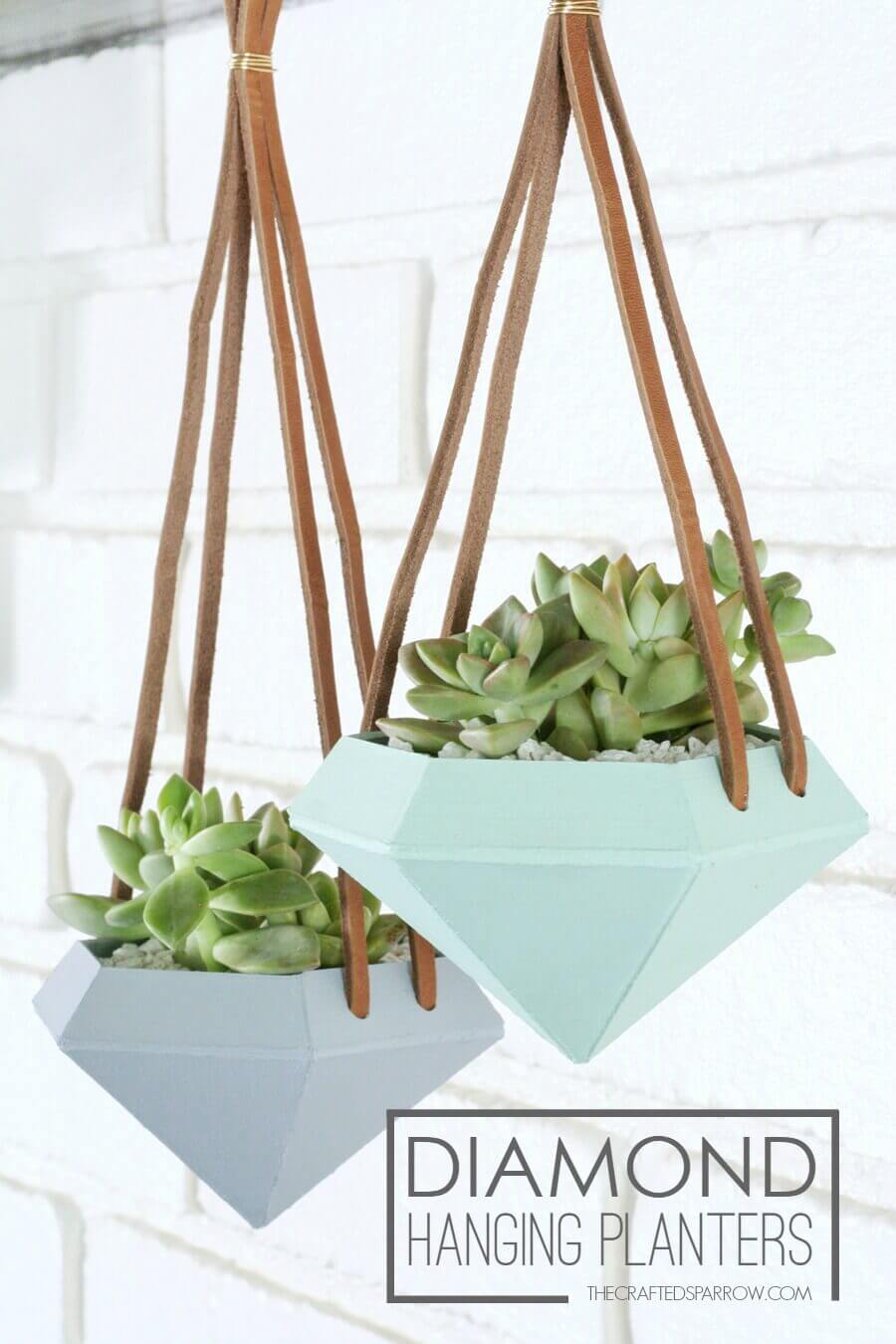 57. Dramatic Urban Outdoor Hanging Garden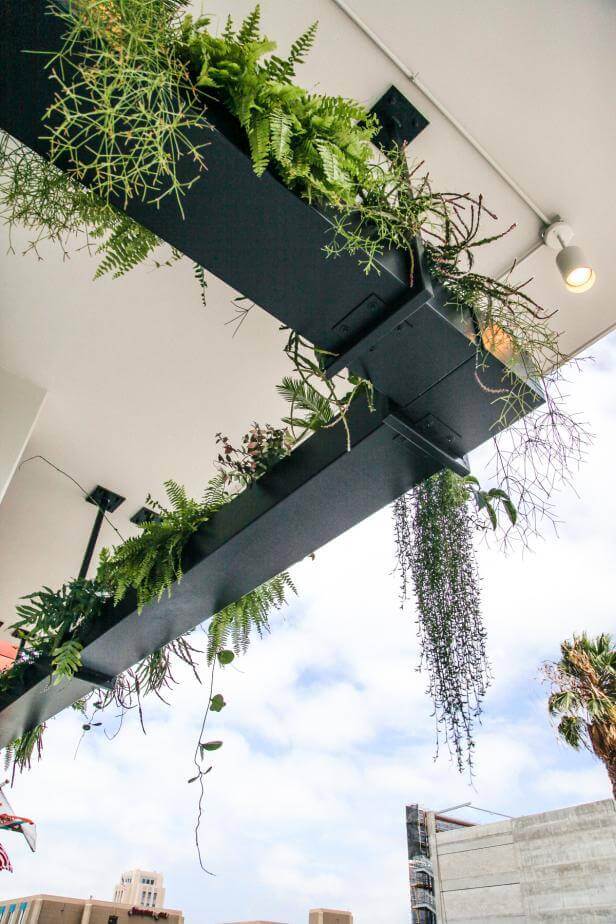 58. Simple Summertime Vertical Trellis Garden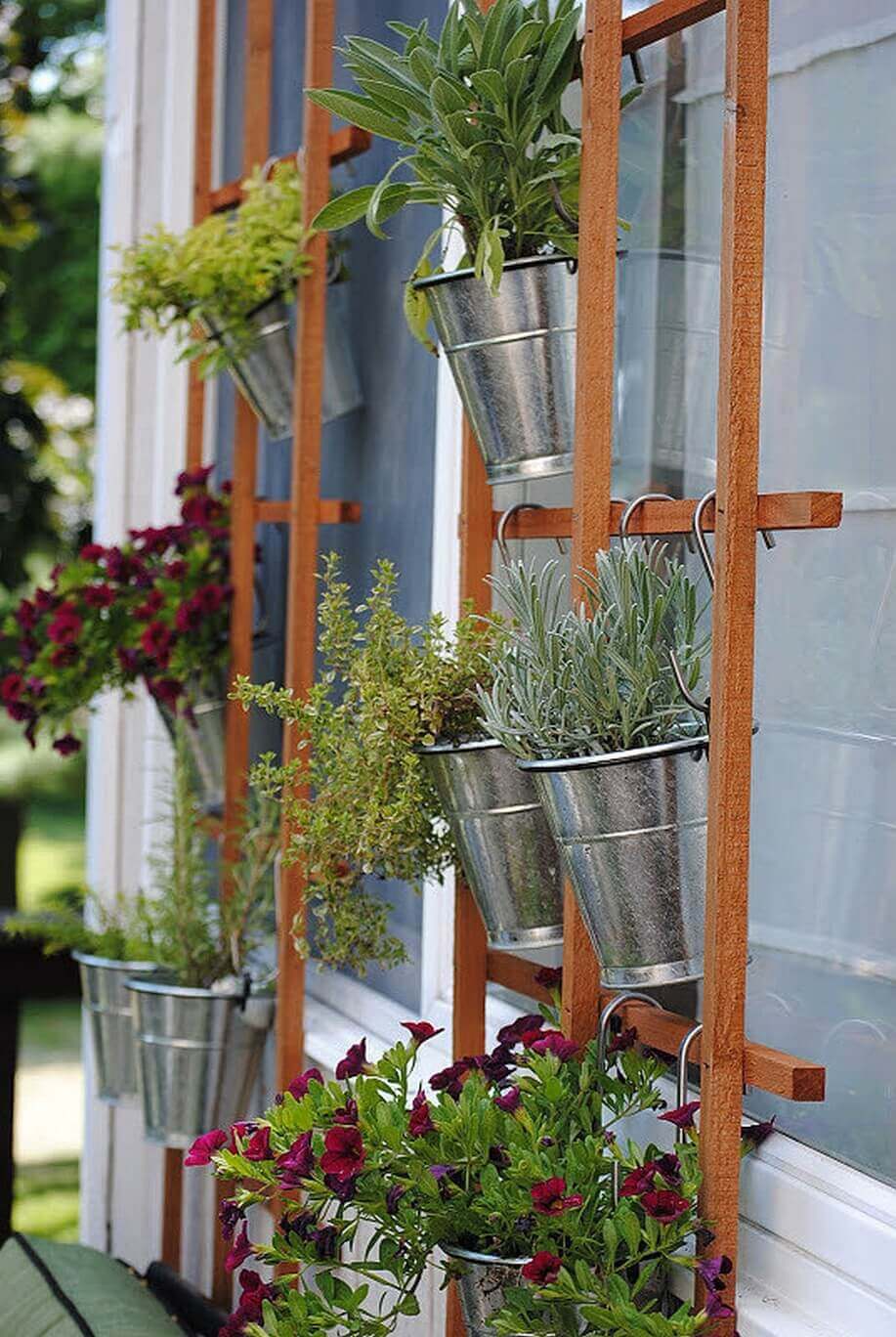 59. Creative Tire Swing Hanging Planter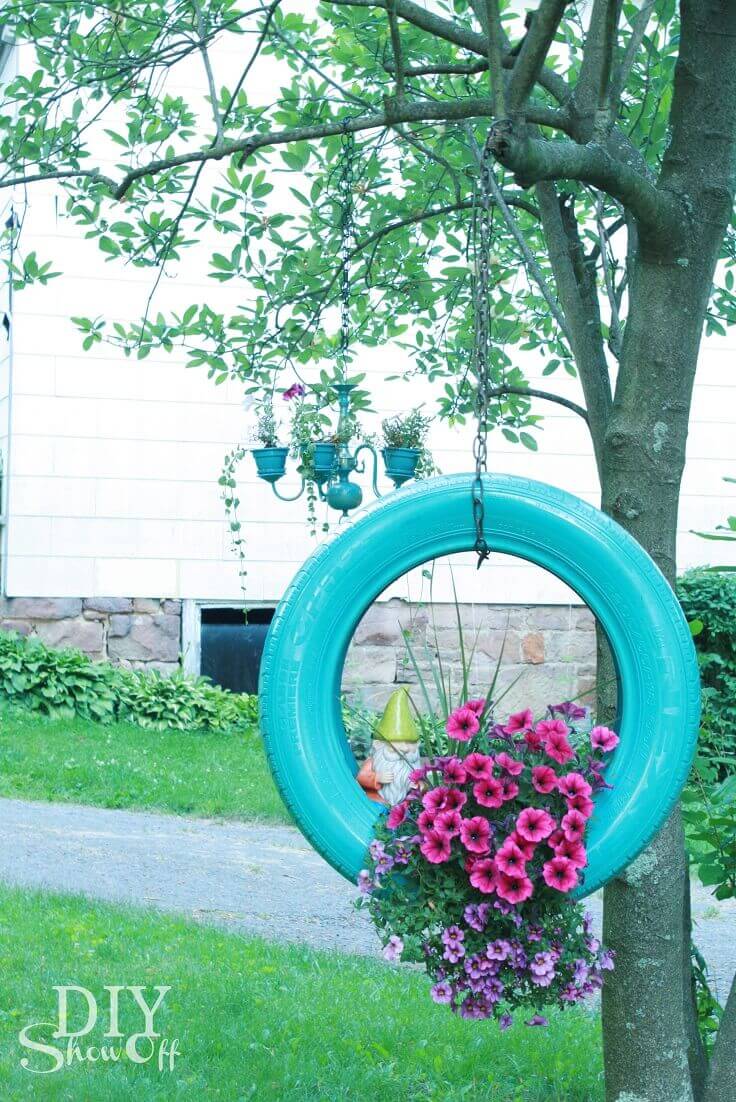 60. DIY Wood and Twine Hanging Succulent Tower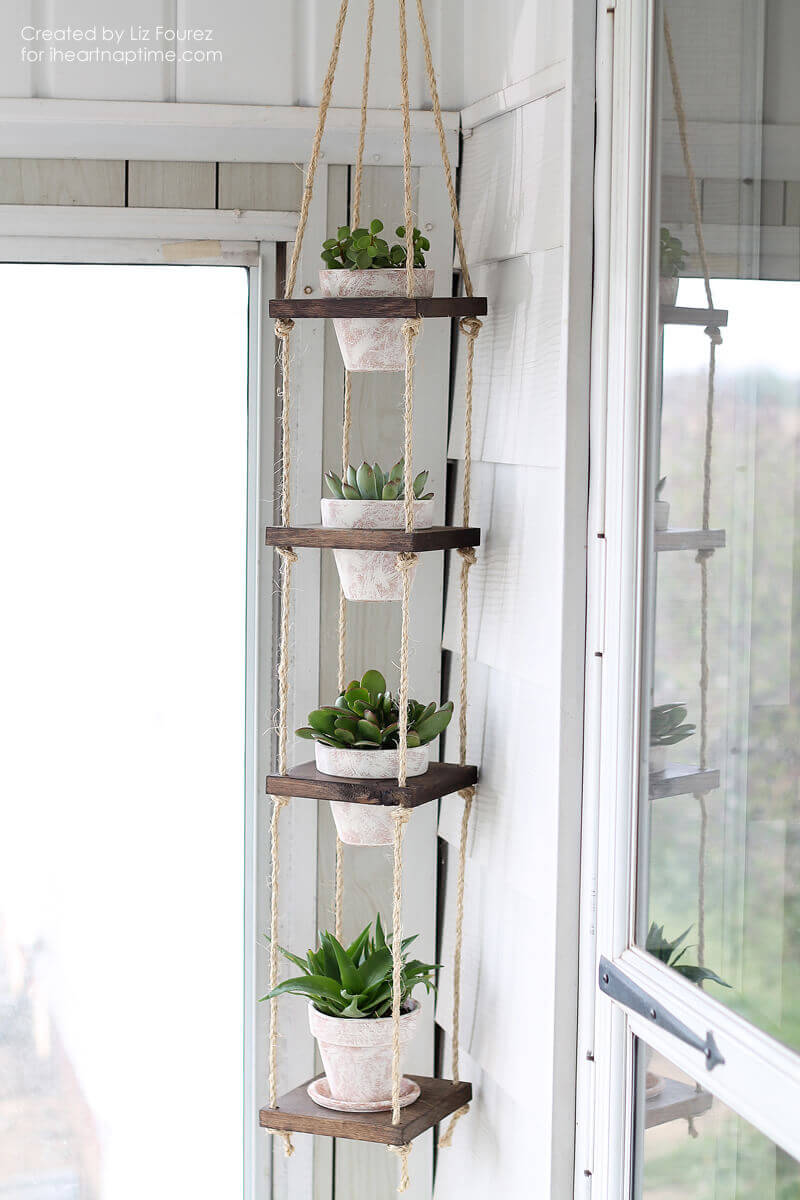 61. Vintage Hanging Orb Flower Planters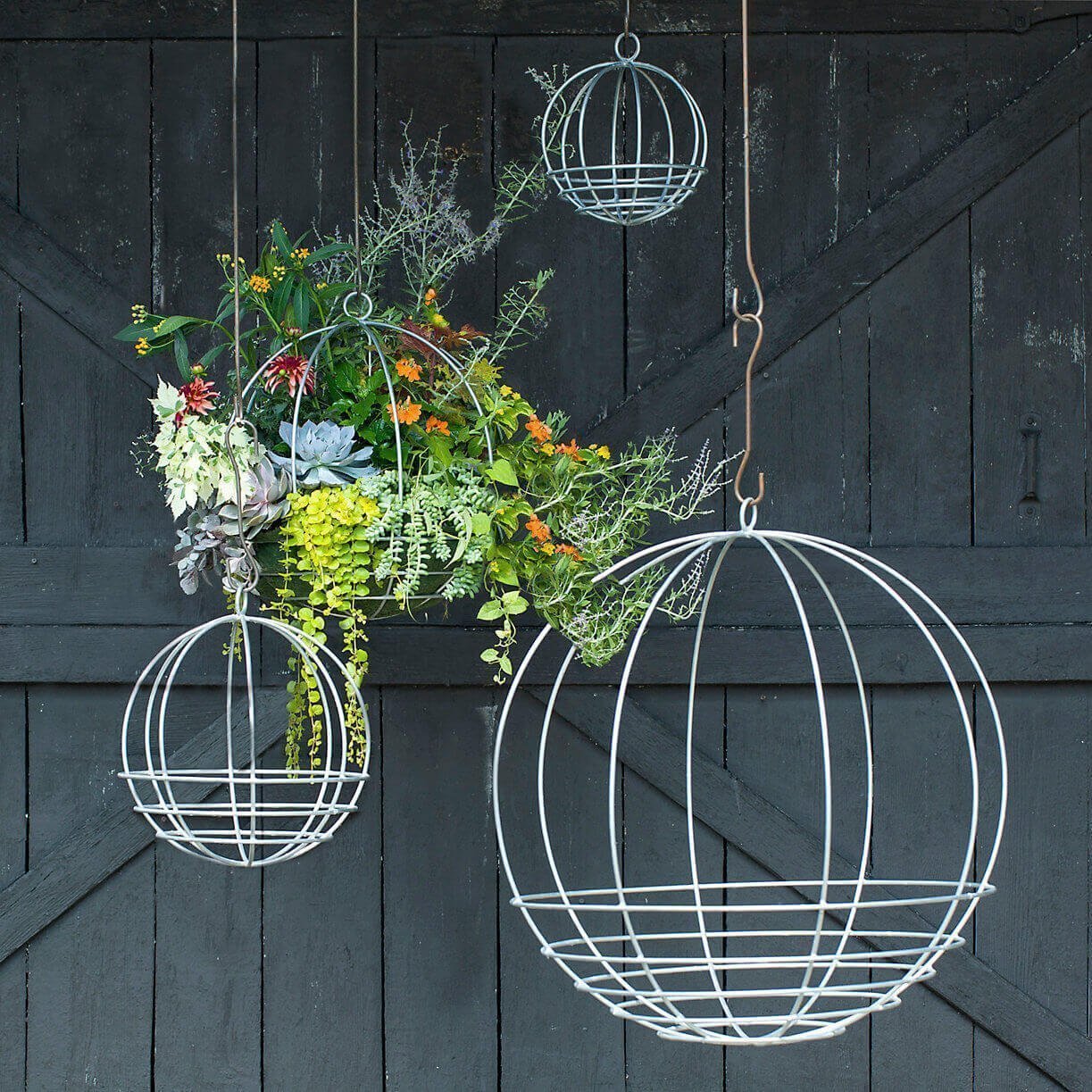 62. Pretty Cone Shaped Petunia Planter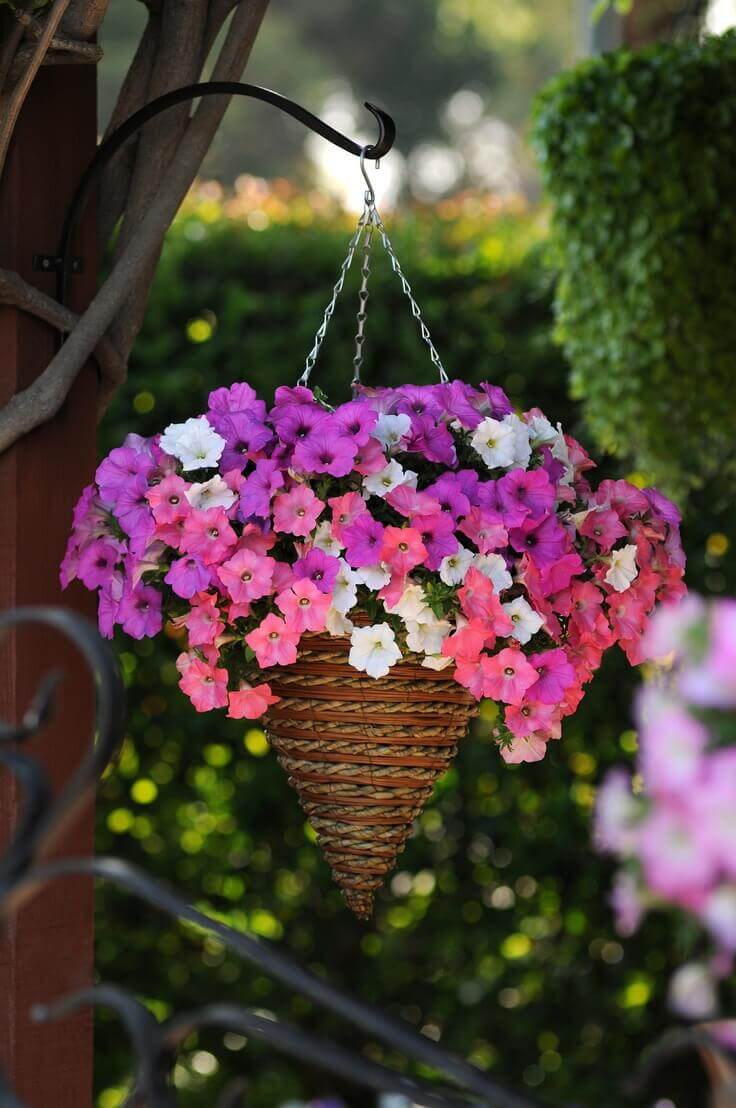 63. Cafe-Style Planters and Window Boxes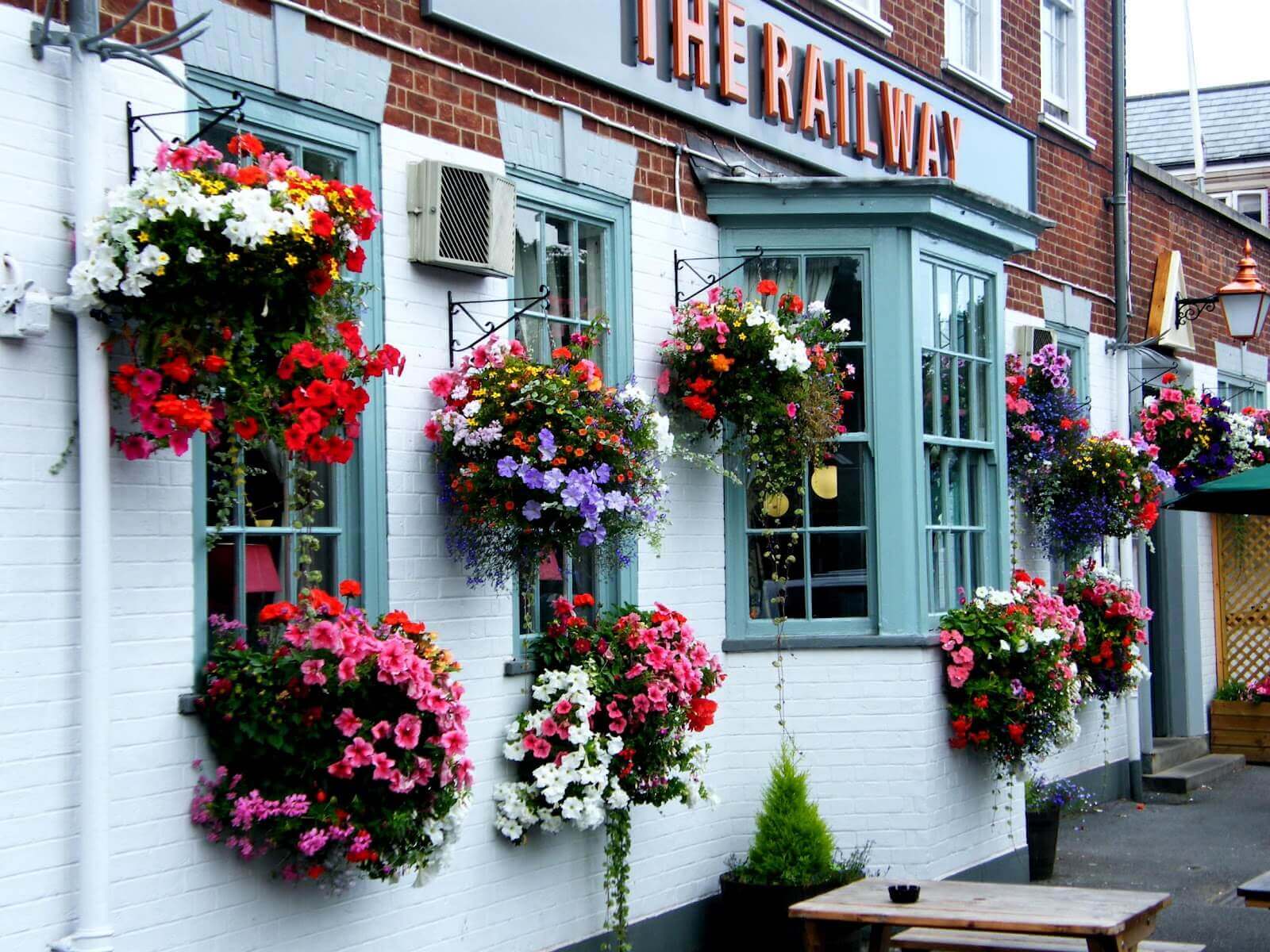 64. Easy DIY Rain Gutter Herb Garden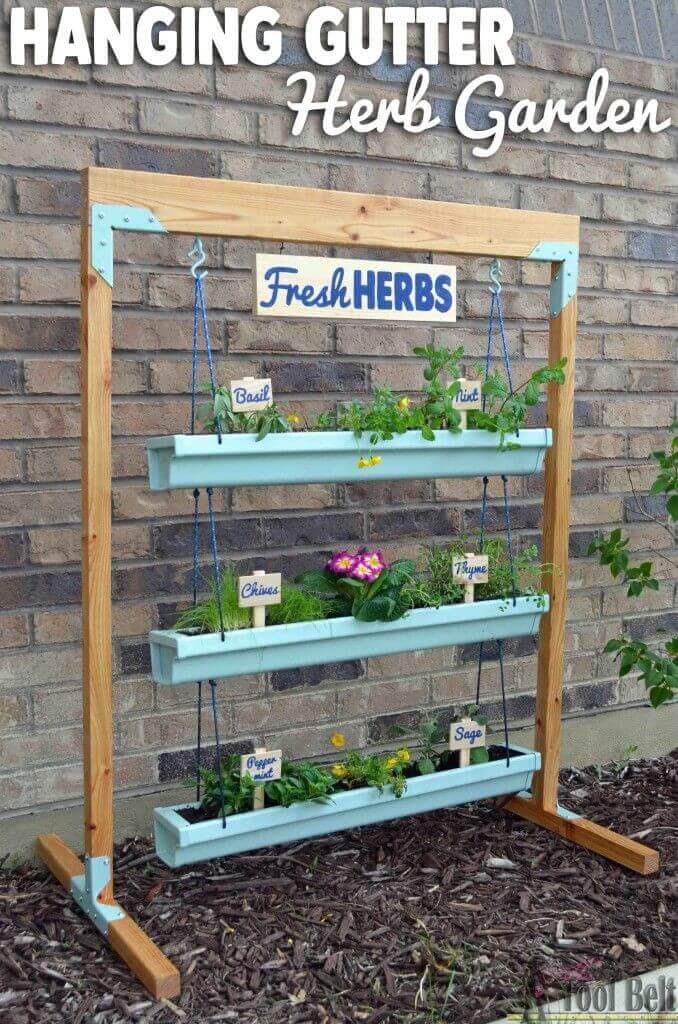 65. Super Simple Hanging Planter Project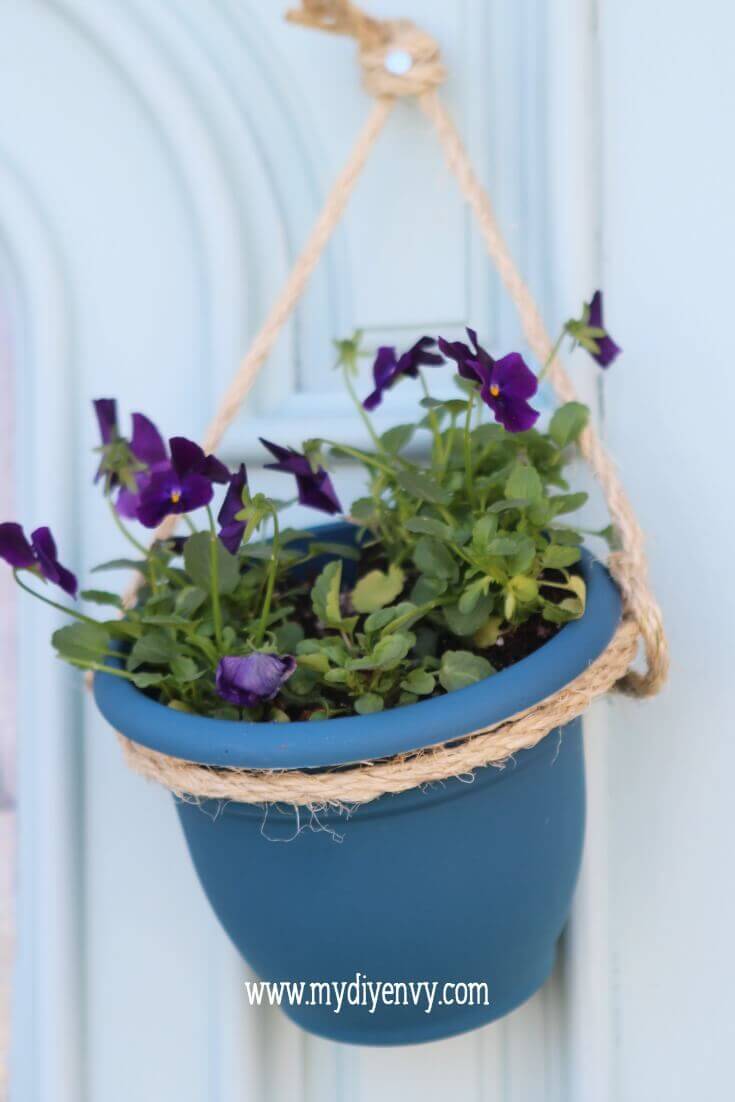 66. Elegant Seasonal Outdoor Hanging Basket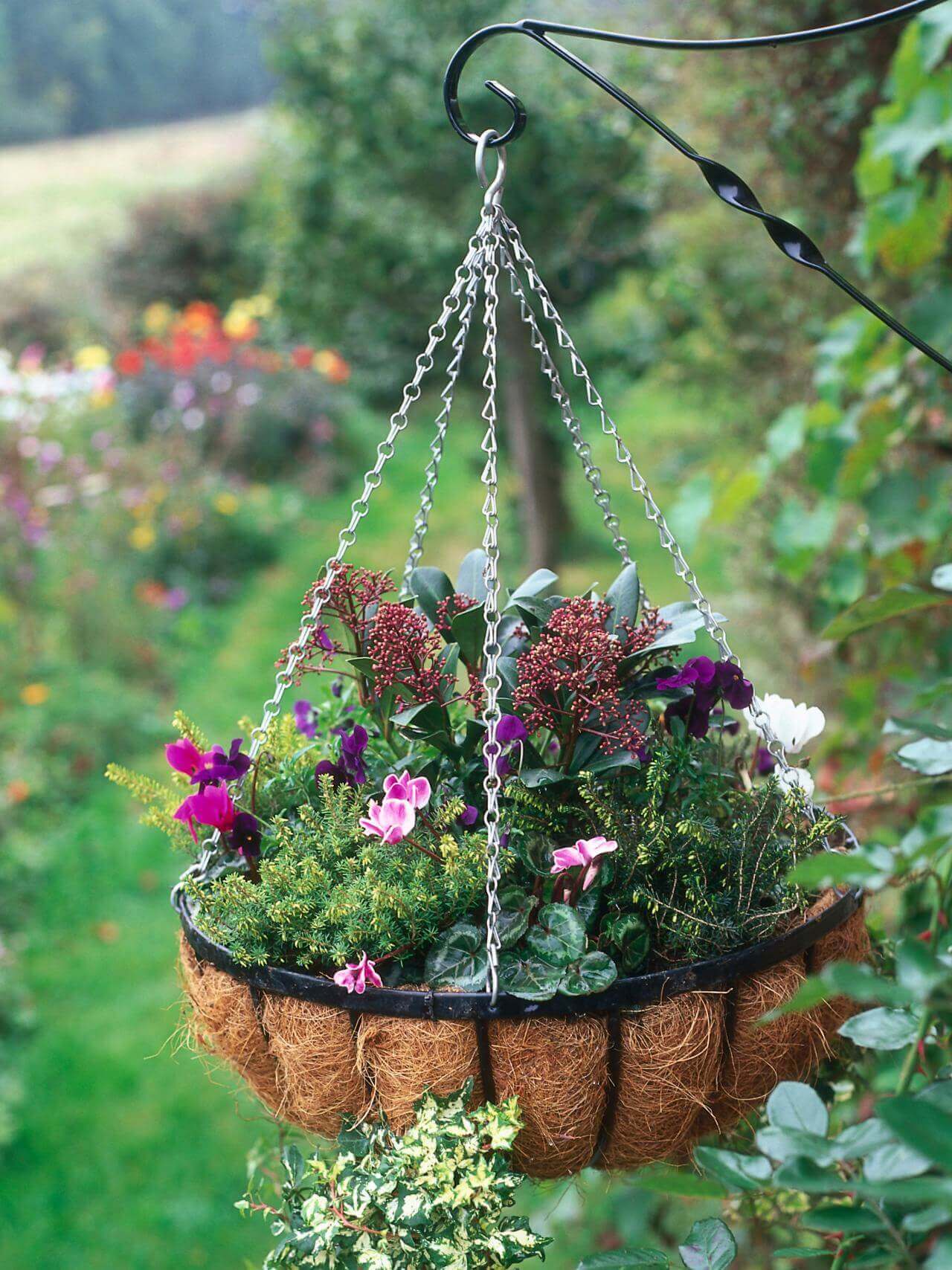 67. Sweetly Simple Woven Flower Basket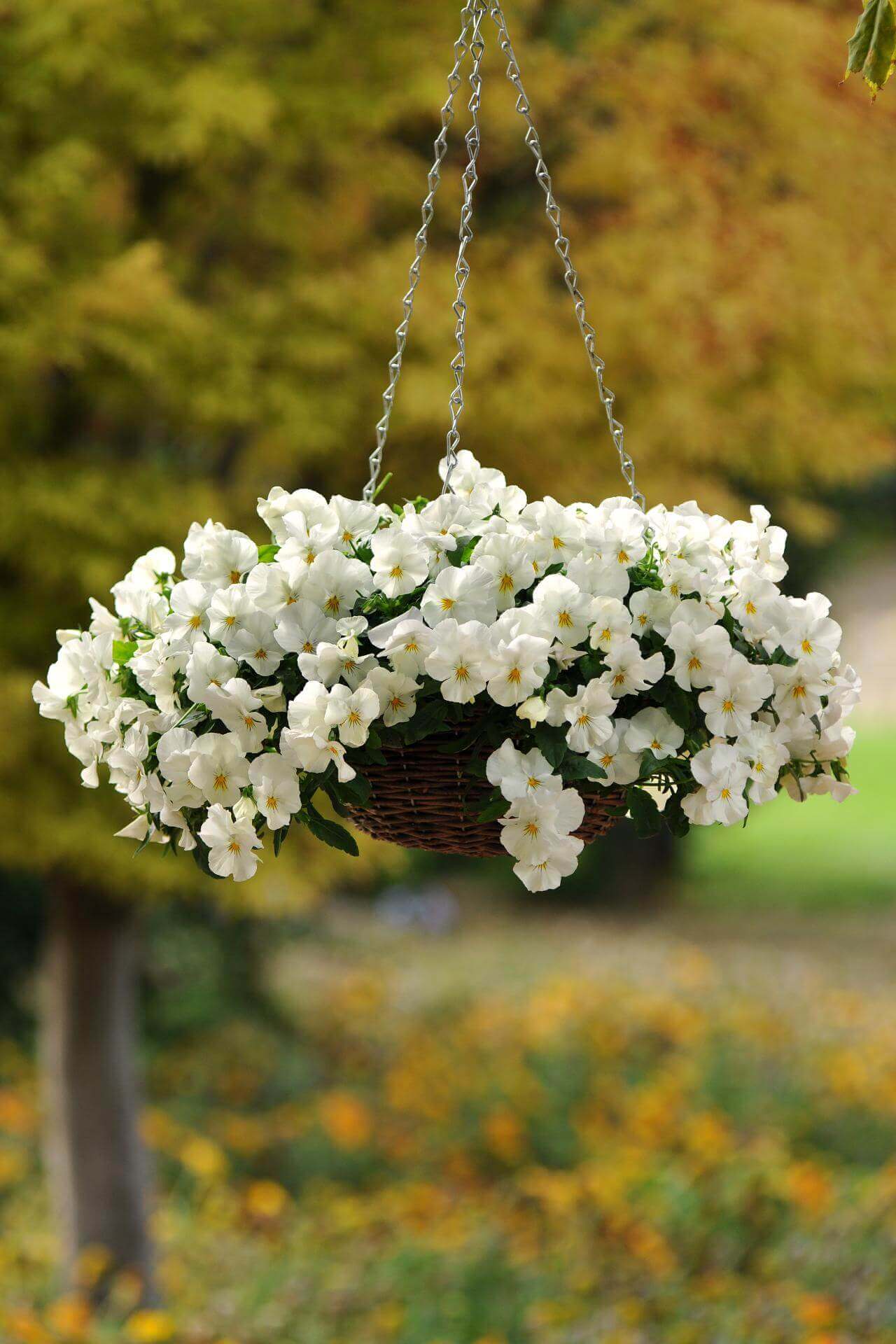 68. Saucer Style Succulent Hanging Planter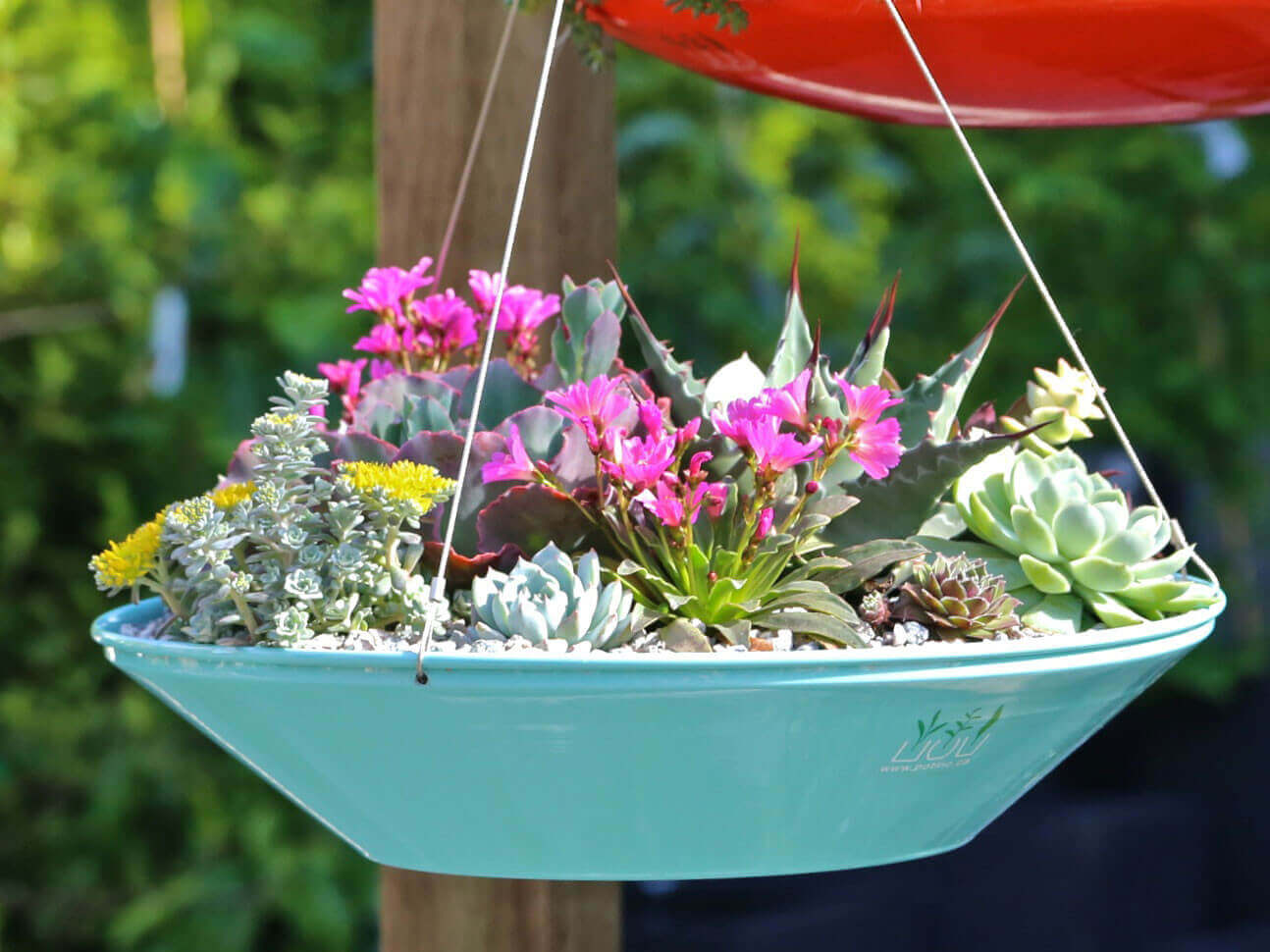 69. Modern Chevron Patterned Metal Planter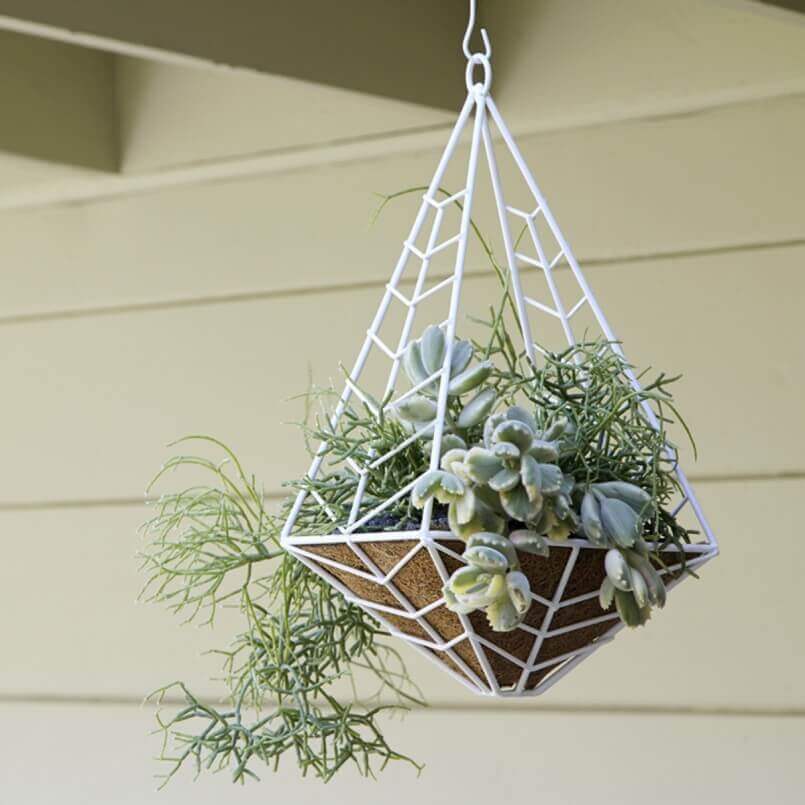 70. Three Tiered Hanging Ivy Baskets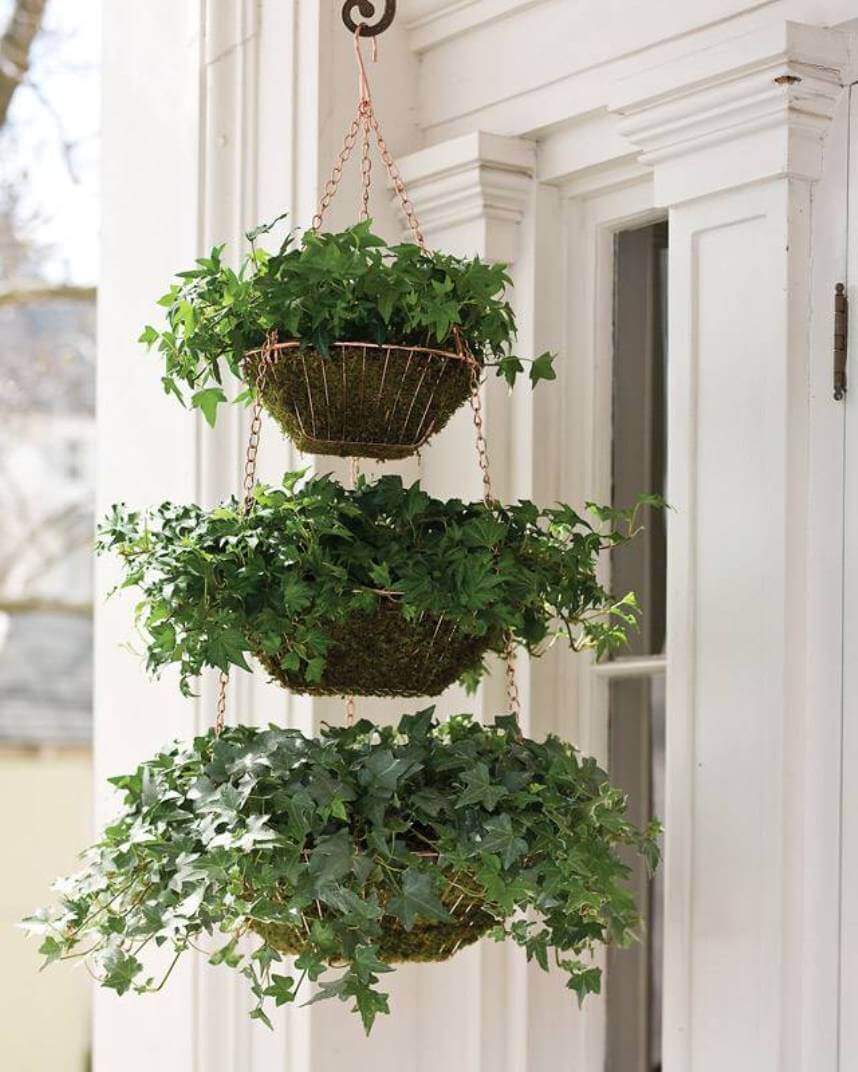 71. Hanging Wire Flower Pot Cage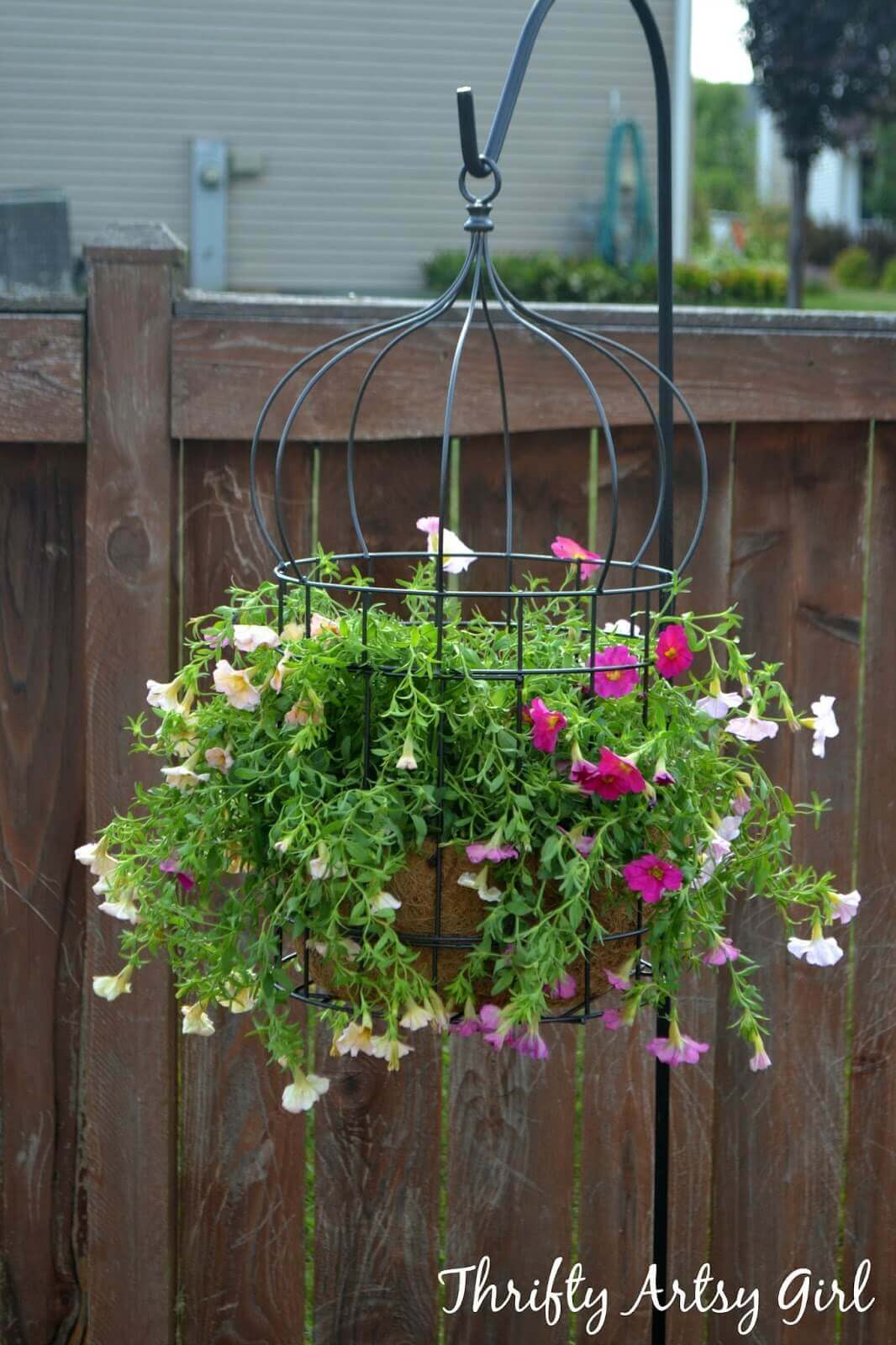 72. Cottage Style Hanging Fence Planters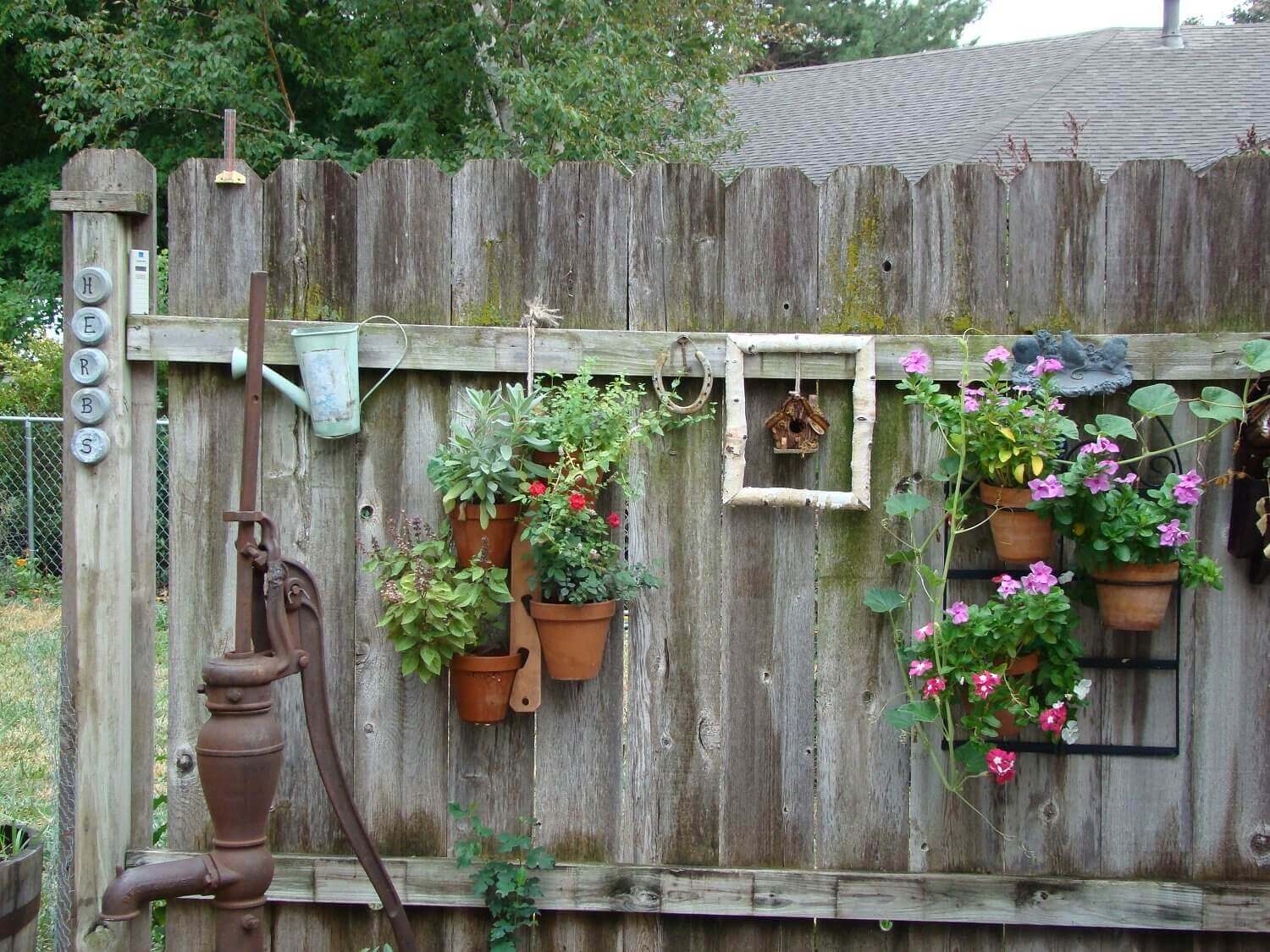 73. Teardrop Shaped Potted Plant Display Shelf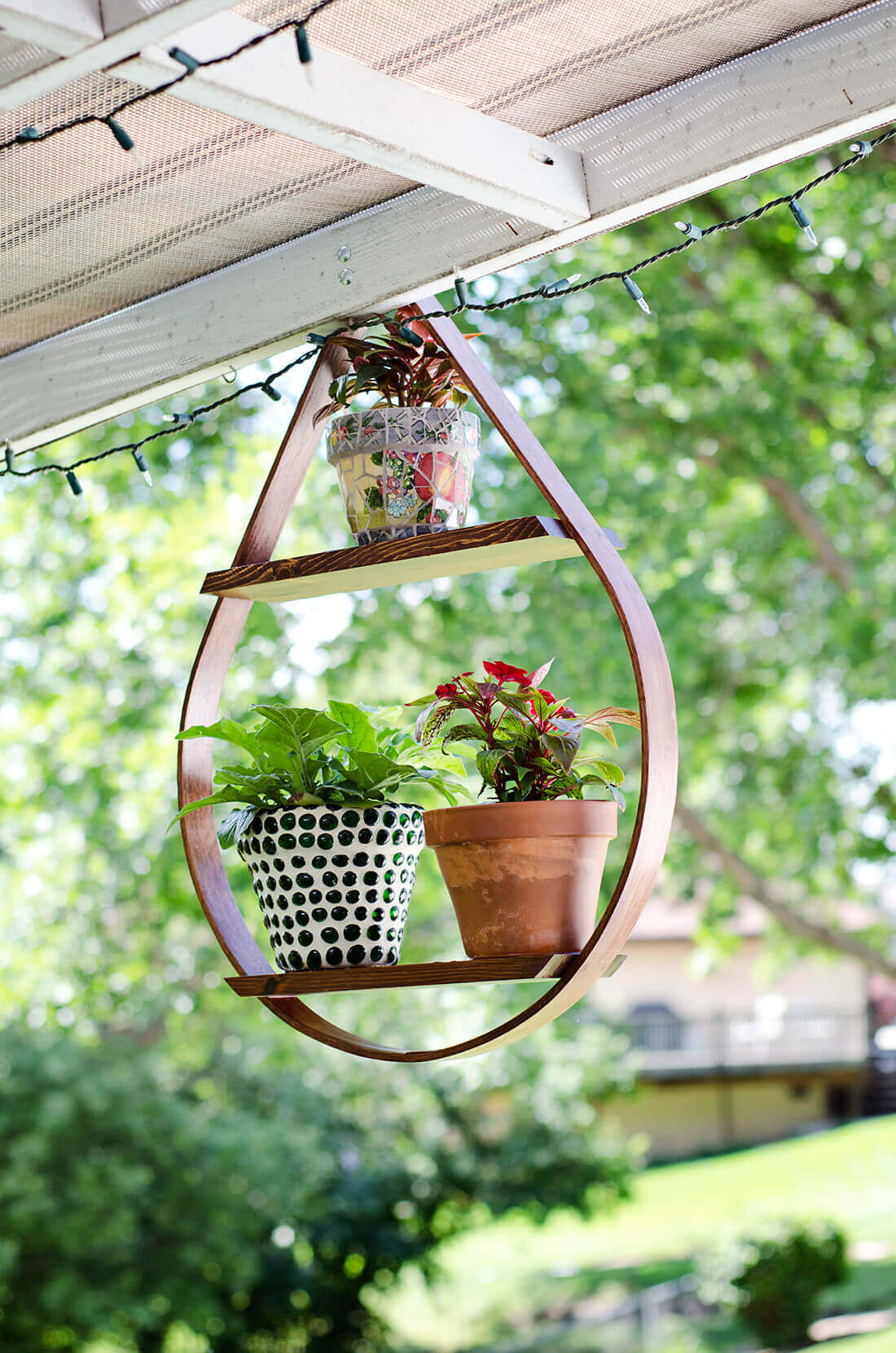 Our Favorite Front Door Flower Pots to buy on Amazon