Choosing a new piece of wall art is easy and fun with the best DIY dreamcatcher ideas found here! Not only do these stunning dreamcatchers look fabulous as decorative wall art, but their presence is also thought to ward off bad dreams. So as you drift off to soft slumber and your dreams begin to flow, your faithful dreamcatcher will collect all of the bad ones allowing you to enjoy a most peaceful and restful night of sleep.
Your Guide to the Best DIY Dreamcatcher Ideas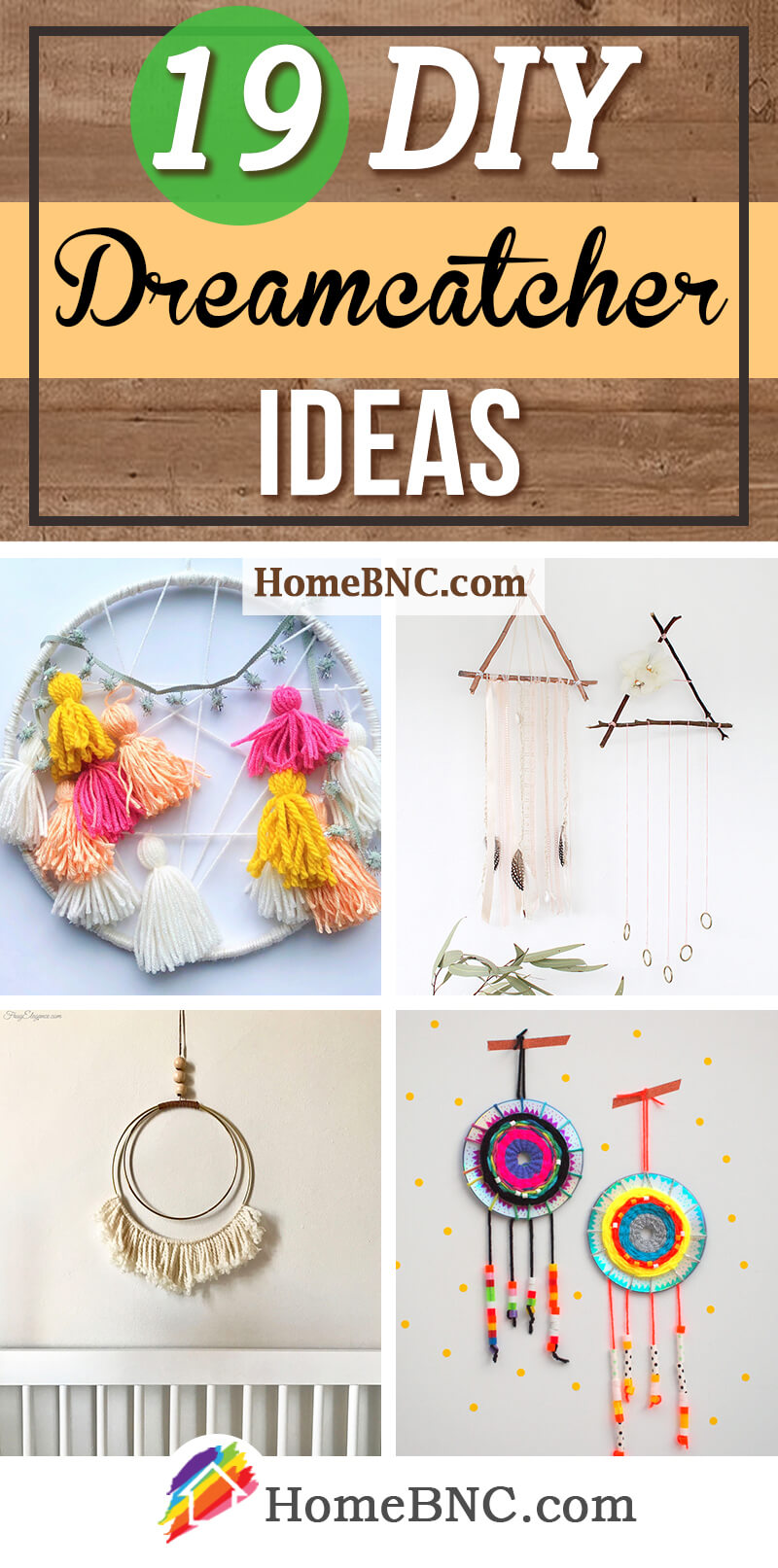 Originally, the Native American culture has been credited for creating these beautiful and practical wall hangings. Over time, their popularity has risen and flourished with the hippie movement of the '70s. Now, people of all backgrounds and walks of life have come to know and love these creative and pretty dreamcatchers.
Obviously, hanging above the bed is the first place to consider using a dreamcatcher, but their beauty doesn't have to be reserved for the bedroom only. With all of the incredible styles and designs now bestowed on today's dreamcatchers, they are truly works of art that can be used in any room of the home.
Welcome guests with an ornate crocheted design featuring wooden beads and feathers for some bohemian beauty in your entryway. Or you can even use them as decorations for a door in lieu of a traditional wreath. For the great outdoors, a decorative dreamcatcher makes a great accessory to your personal garden. As the beacon that overlooks a fairy garden, a lovely dreamcatcher adds so much personal style to this space. They would even be a nice choice for replacing wind chimes on the back porch.
No matter how you choose to use your dreamcatcher, adding one or two to your home is always a good choice. Hosting a quaint event with friends or your favorite kids is even more fun. Check out these incredible and interesting versions of the modern dreamcatcher.
1. Crazy Cool Summer Camp Dreamcatcher Craft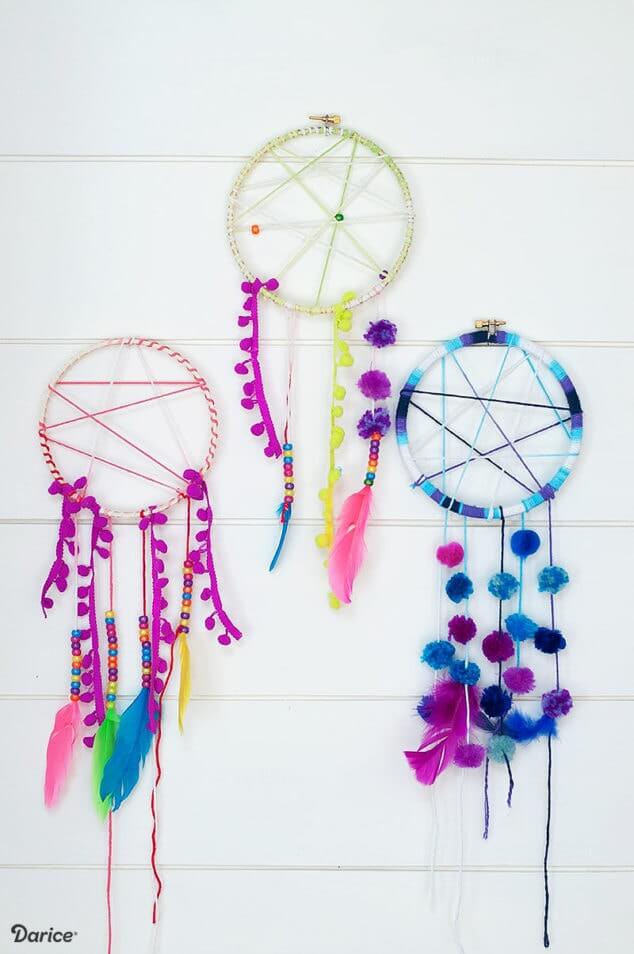 Summer days tend to bring boredom to many young folks, so keep the boredom away with this crazy cool dream catcher craft. Making a bold statement, the dynamic colors will light up even the most boring of bedrooms. Grab the gang and embark on this adventure in creating a personalized piece for your bedroom. The cross yarn work within the circle is a custom design you create just like the combination of embellishments hanging from the bottom. Pom poms, beads, and feathers make incredible fringe to give your eye-catching dreamcatcher all the personality it needs.
2. T-Shirt Yarn Tree of Life Dreamcatcher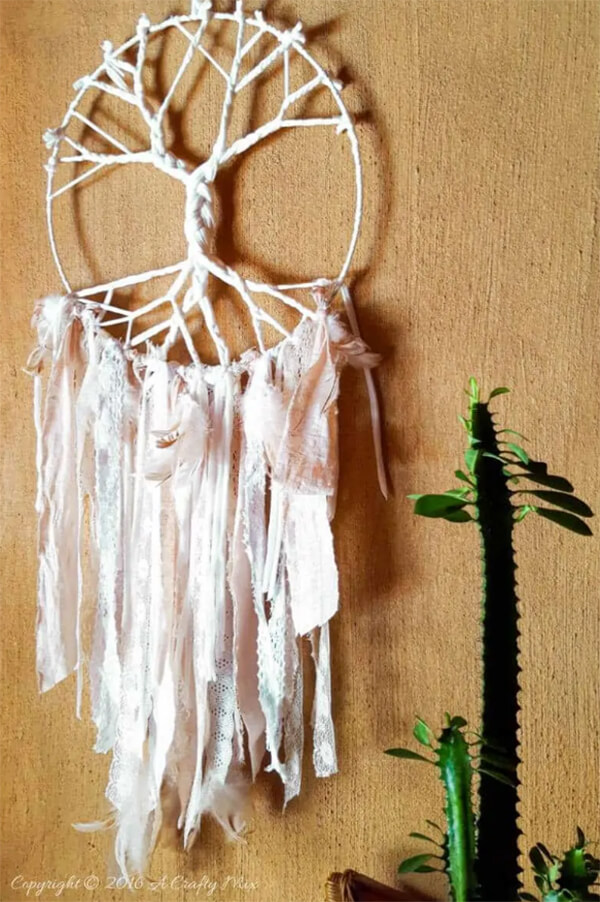 Even if you're not a hippie, what's not to love about this Tree of Life dreamcatcher? It's a simple project that won't take up your entire afternoon but will leave you with an amazing wall decoration for a bedroom in your home. Soft and serene, the tree is secured at the top and bottom of the hoop and is accessorized with the fantastic fringe display attached at the bottom. Place this over your bed to get rid of all your bad dreams so you get the perfect night's sleep.
3. Terrific Triangular Twig DIY Dreamcatcher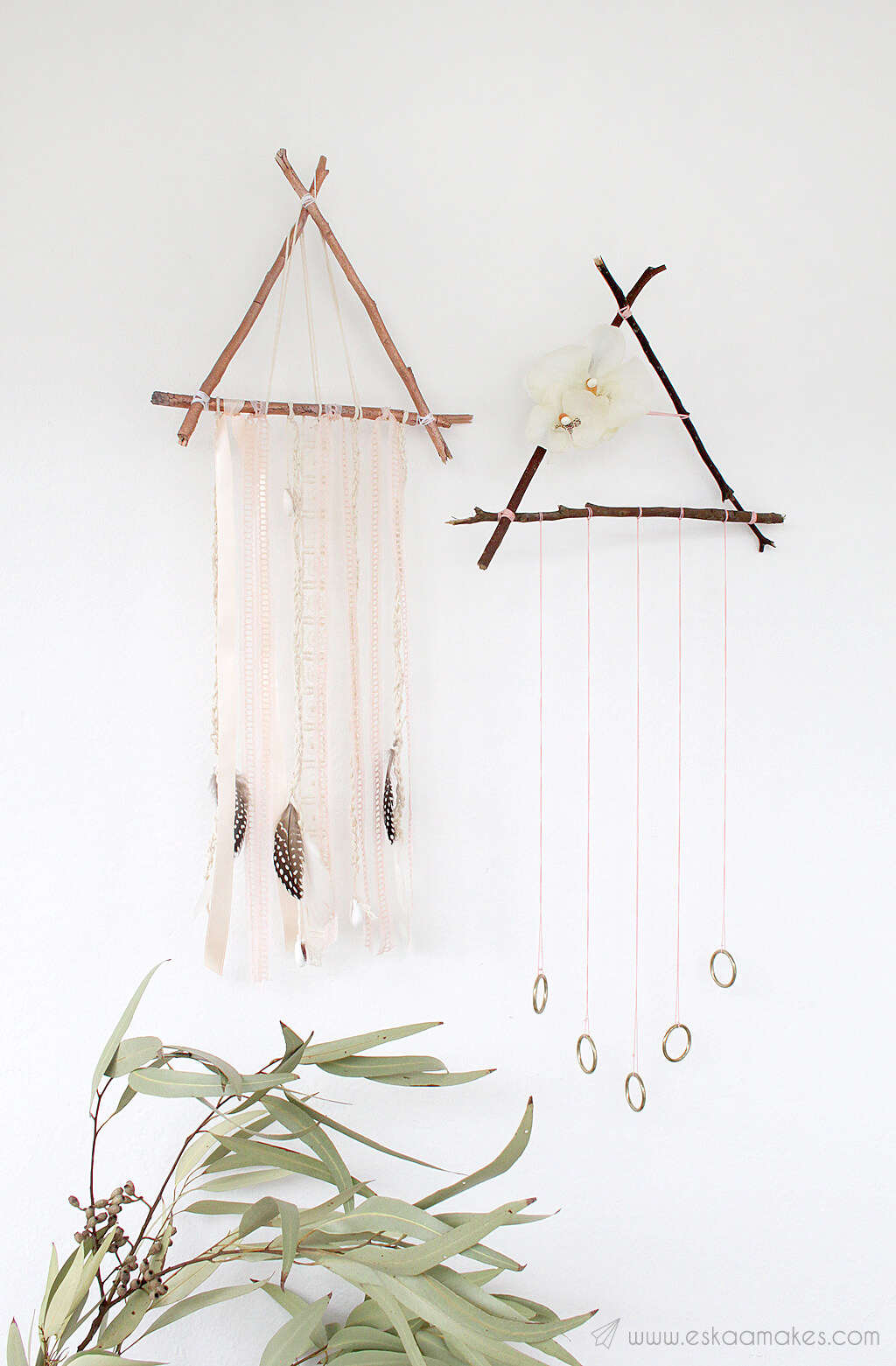 Give your home an update by using some accessories from nature. This is one of the best DIY dreamcatcher ideas for keeping costs low and style high. Each creation is a custom design that features the personality of the artist. Make yours unique by including some of your favorite accents like feathers, beads, flowers, and lace. No two will be the same and that's part of the intrigue in this triangular beauty. Hanging inside your home is a great place to start, but adding some to your back porch or summer garden is the way to go.
4. Creative T-Shirt DIY Dreamcatcher Wall Art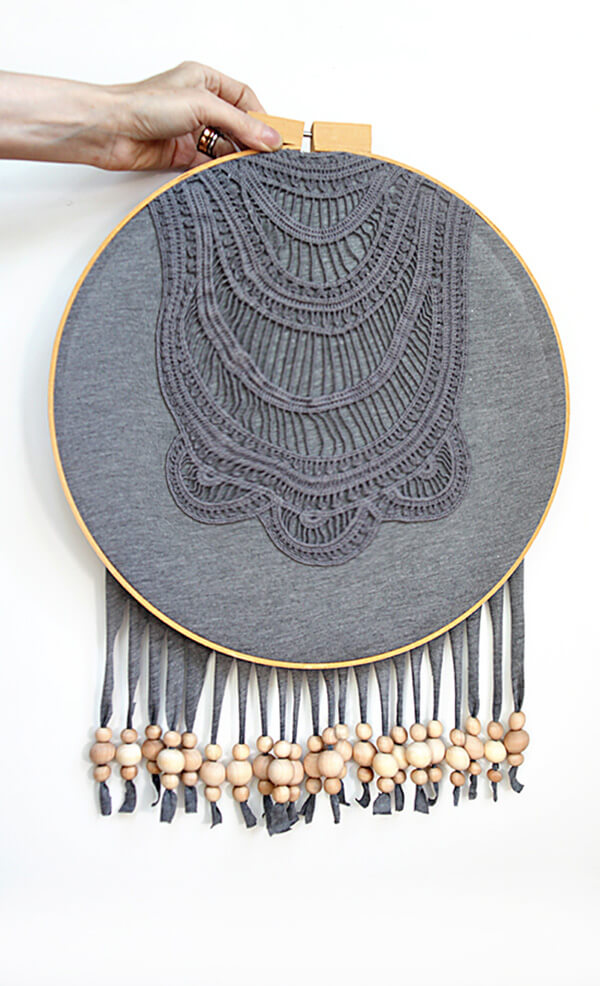 Spread your love of mother nature by making dream catchers out of t-shirts. Whether you have some already lying around or you need to head to your local thrift shop, choosing a t-shirt is super simple! What a fun idea for hosting an Earth Day celebration. Attendees can bring their own shirt, while you provide the hoops and extras, and at the end of the party, everyone has their very own cool and custom dreamcatcher crafted from upcycled material! It's a win-win for sure! With all of the massive clothing surplus, this makes a perfect project and gives some personalized wall art too.
5. Abstract Woven Loop and Weave Wall Art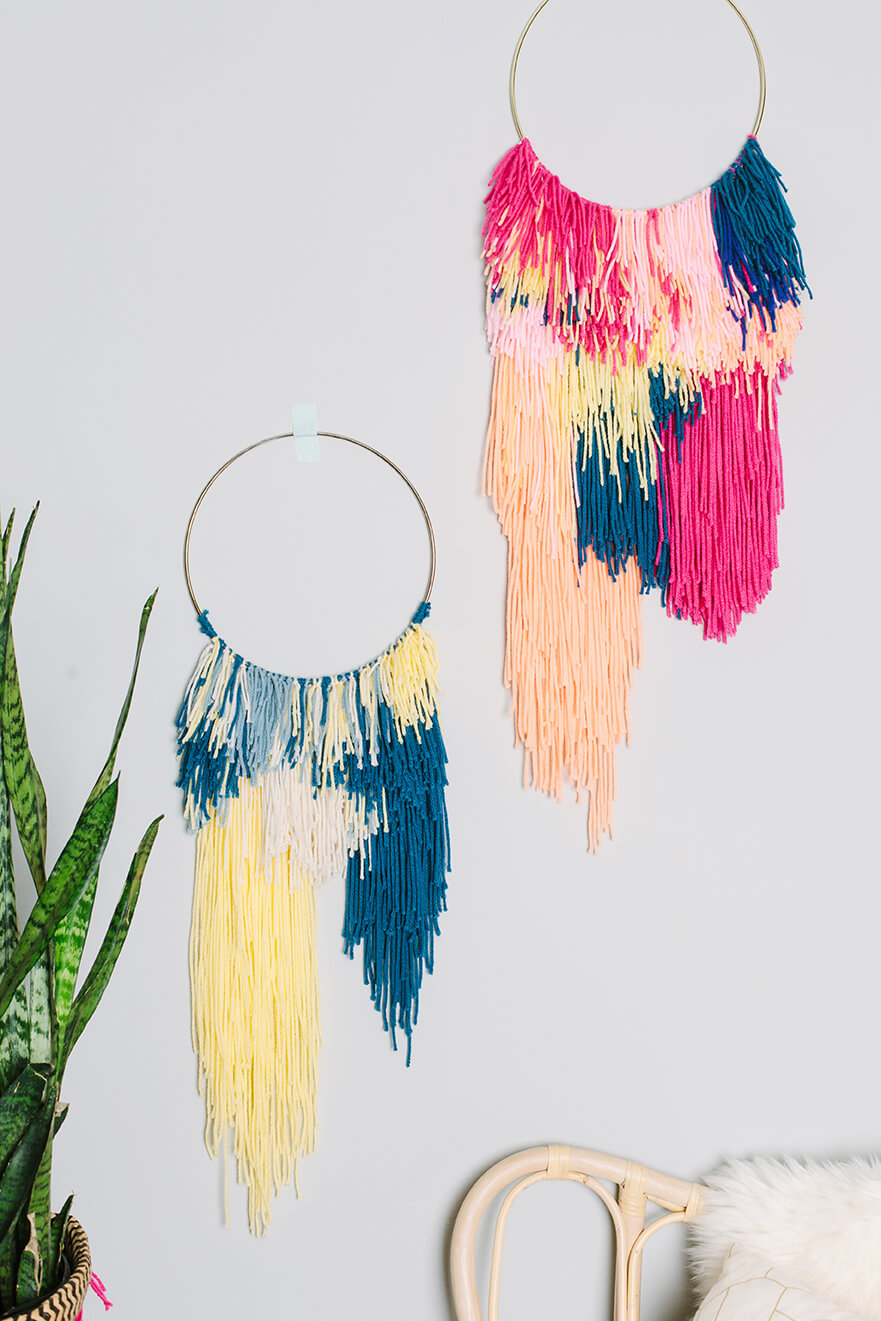 Bring the wall art trend into your home with this abstract handmade dreamcatcher design. It doubles as a fun craft project and an artistic piece of wall art. From tapestries to loop and weave designs, this gorgeous spin on making dream catchers produces an amazing finished product that almost anyone can create. Choose three colors to make a custom color combination that will blend into your home's decor. Hang this cool dreamcatcher by itself or use a pair to create a unique wall decoration for your bedroom. Taking away your bad dreams may be the added bonus of hanging this lovely woven wall art in your personal retreat.
6. Kid-Friendly Bright and Bold DIY Dreamcatcher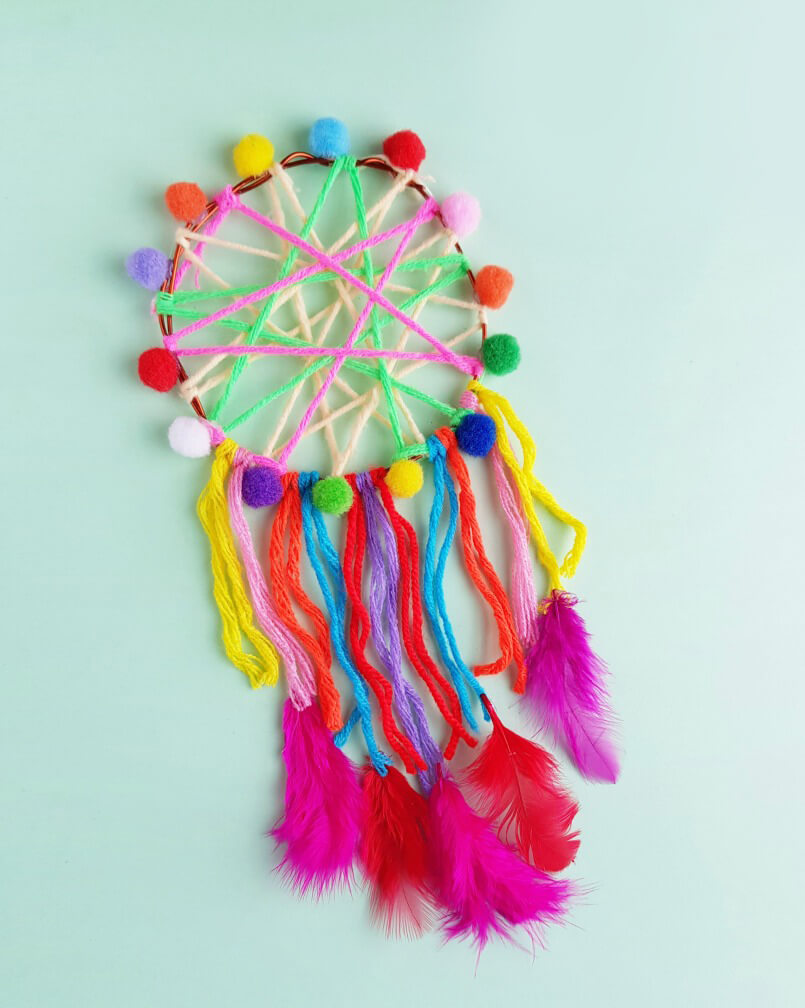 Keeping the kids busy is always a challenge, so planning ahead might keep them from complaining about being bored. One great idea for keeping boredom at bay is with crafts. Nearly every child adores using their hands and keeping their hands busy generally keeps them content. This simple dreamcatcher craft is a cool choice because it allows them to create something they can use in their own bedrooms. The supplies are simple so the cost is kept low. Gather a group of your favorite little ones to host a craft night or save this for a rainy day.
7. Traditional Suede, Amazonite, and Feather DIY Dreamcatcher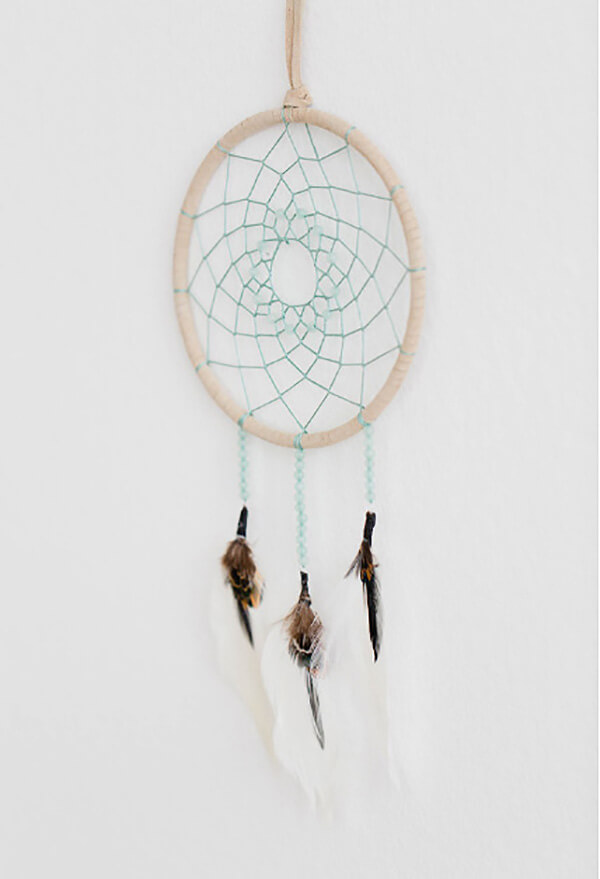 If you're contemplating making dream catchers, you're in the right place! Here you'll find a traditional look and simply crafted version that's perfect for any do-it-yourselfer! Adding some feathers as the bottom fringe speaks volumes to the history of the dreamcatcher's Native American origin. The use of these feathers along with suede, beads, and a metal loop add the perfect assortment of textures too. Keep all of the young ones dear to you safe at night by making sure they have a dreamcatcher of their own. Work together to create this amazing piece of wall art or surprise them with it as a gift.
8. Large Macrame Doily DIY Dreamcatcher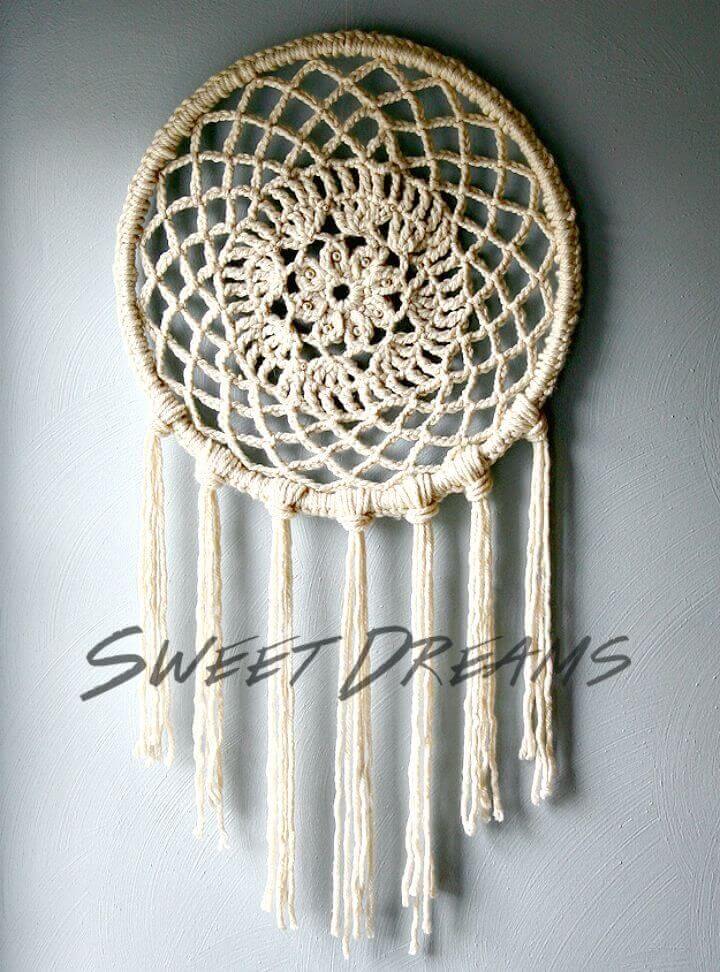 Creamy and cute, this DIY dreamcatcher features a doily-inspired design in the center of the large circle. At the bottom of the circle, seven thick macrame strings provide the perfect tassels for the finishing touch of the dreamcatcher. Featuring a soft neutral tone, this is one of the best DIY dreamcatcher ideas for any room of your home. From the baby's nursery to the main living space, your home will love the look of this dreamy DIY dreamcatcher.
9. Pretty Peacock Feather DIY Dreamcatcher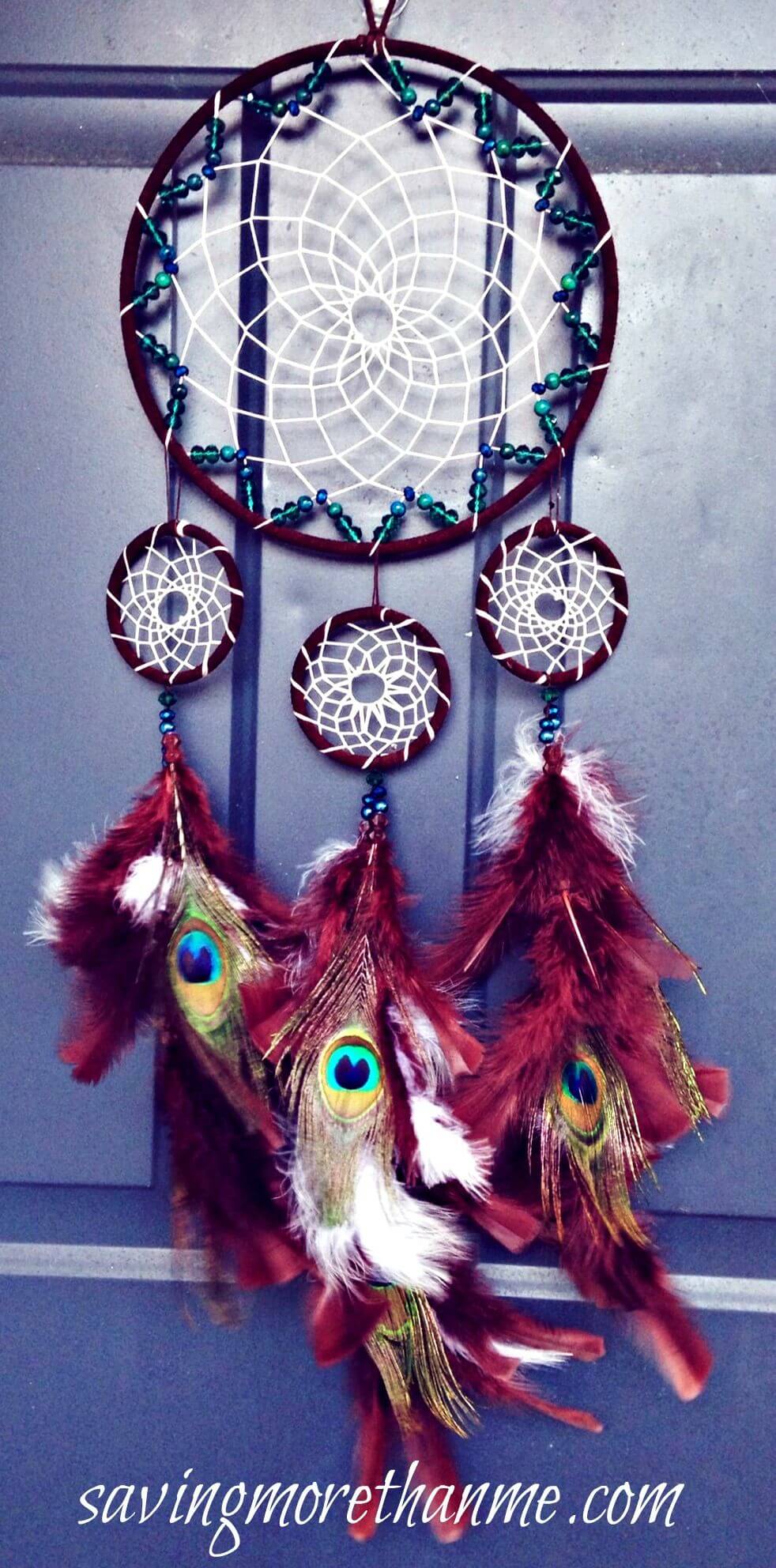 Cranberry red and teal combine for a power color combination in this gorgeous peacock feather dreamcatcher. It's certain to catch your eye and perhaps all of your bad dreams as you hang it over your bed. The rich and vibrant colors look pretty as a piece of wall art in your home. Hang this over the bed for instant art with a hint of bohemian flair. This is a wonderful gift idea for a housewarming gift to celebrate a new home.
10. Modern Macrame Double Hoop Dreamcatcher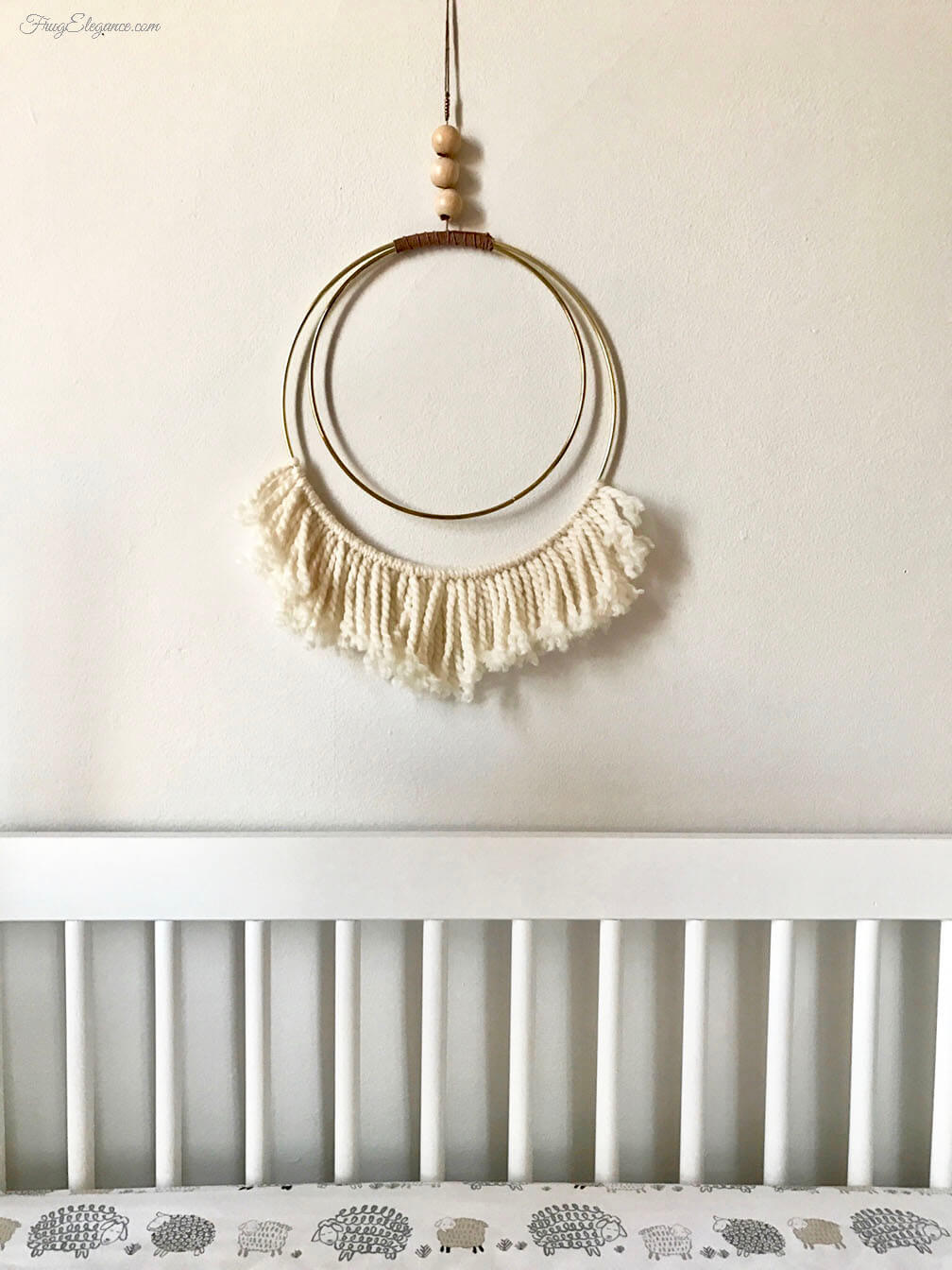 Check out this modern take on a macrame dreamcatcher. Featuring a double gold ring, the short fringe of this handmade dreamcatcher design goes from boho chic to modern in no time! The accent of the trio of wooden beads adds a touch of natural beauty to this amazing creation. Replicating the look of a high-end store, this version is budget-friendly while not sacrificing style. Incorporate this gold and cream dreamcatcher into your neutral nursery to add some modern decor to the baby's home base. It could be used as a wreath for a door as well and would be one that works year-round.
11. Fabulous Fiber Feathers DIY Wall Decorations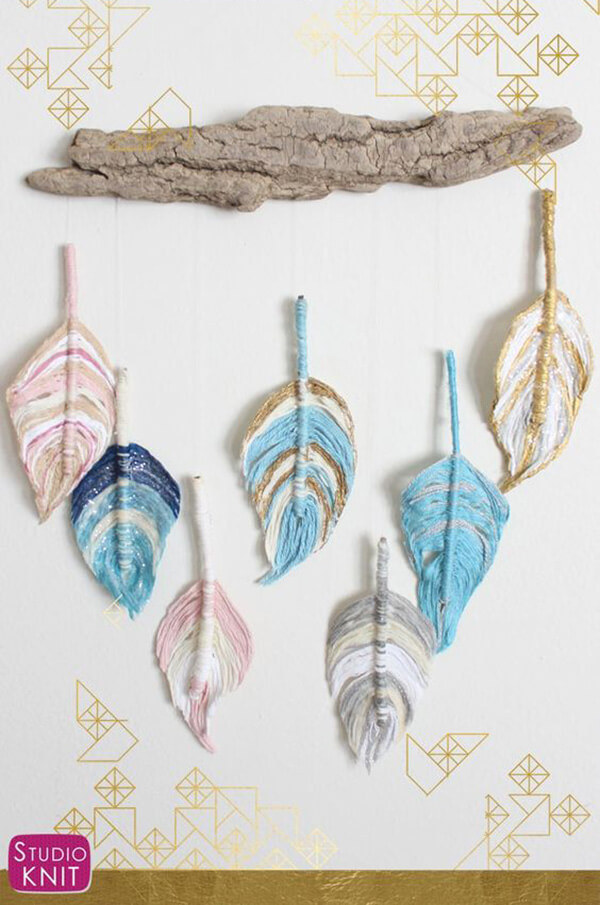 Customize these feathers in any color you choose as you embark on a quest for a unique spin-off of the Native American-inspired dream catcher concept. These fiber feathers add lots of unique texture to your home decorating scene. From whites and blues to whites and pinks, your custom color combination can complete your room's existing color palette without skipping a beat! Such fiber feathers make for fun activities with kids of all ages that double as fantastic favors for taking home after a party. Featuring these fiber feathers in a nursery is another great way to show them off in your home.
12. Multicolored Kid-Friendly Feather and Bead Dream Catcher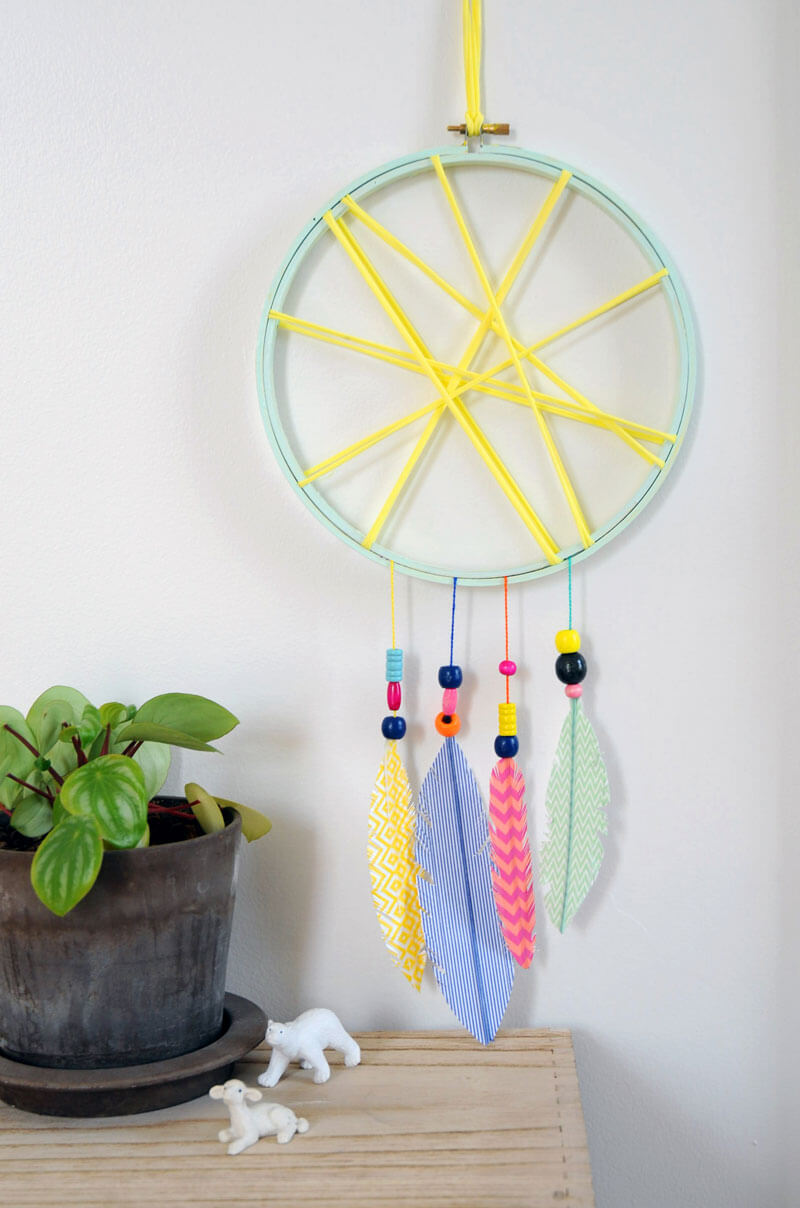 Vivid and vibrant hit the scene when the kids unite to create colorful dream catchers. With yarn, beads, and feathers, these easy dream catchers are perfect activities for all the kids to enjoy. Using lots of bright and youthful hues, all kids will love making a piece of art they can't wait to hang on their bedroom wall! At the bottom of their circle, strands of beads and feathers make the perfect accent to tie all of the colors together.
13. Stick, String, and Feather DIY Dream Catcher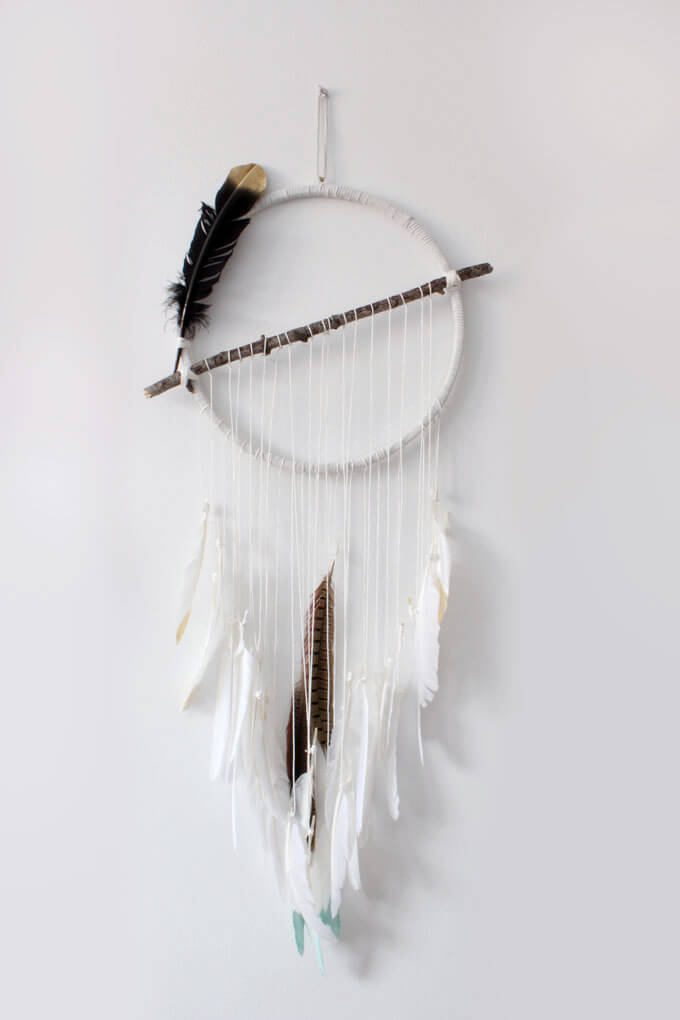 Unleash the dreams filling your bedroom and only invite the good ones to stay. With this stick, string, and feather dream catcher, you'll make the Native American population proud with your use of this treasured sleep accessory they've created while adding some stylish wall art to your home. The diagonal stick creates a unique design element in addition to the feather tassels that flow into a central point. It's such a gorgeous neutral home decoration that can be enjoyed by people of all ages and walks of life. Create one together with a special friend or make one as a gift for the person who has it all.
14. Eclectic Boho Chic Beige and Blush Dreamcatcher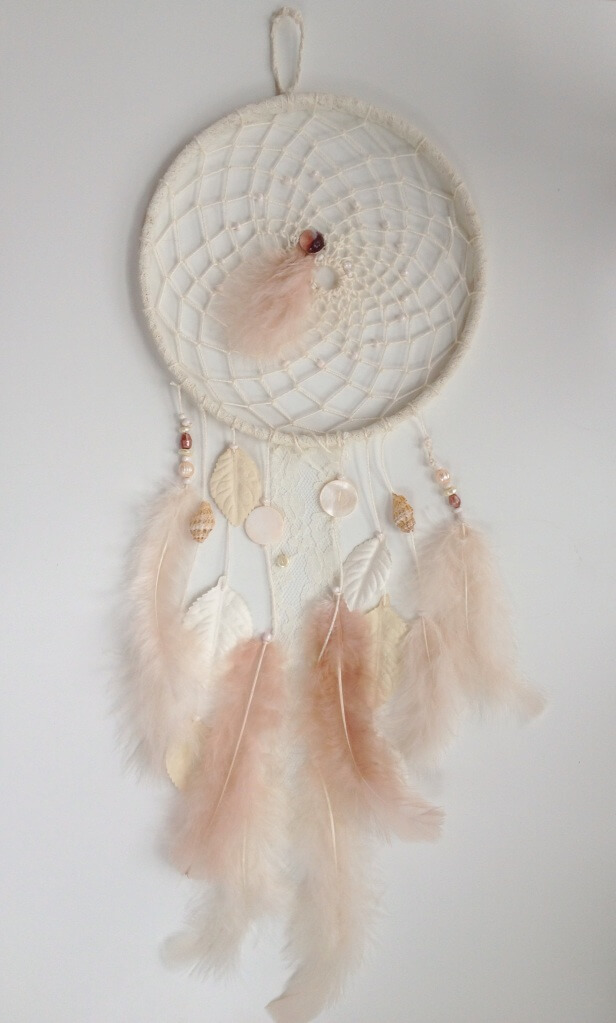 For the love of all things neutral, you'll be delighted with this savvy DIY dream catcher oozing loads of beige and blush love. The delicate hoop has been covered to match the overall look of this eclectic bohemian dream catcher. In the center of the bottom, a wide lace ribbon strip secures the foundation of several streaming pieces. With embellishments from beads to buttons, this one-of-a-kind dream catcher can be yours in just a simple afternoon endeavor. Use this beautiful blush and beige dream catcher as part of your wedding decor for a natural and down-to-earth look.
15. Bohemian Beauty Succulent Lace Ribbon Dream Catcher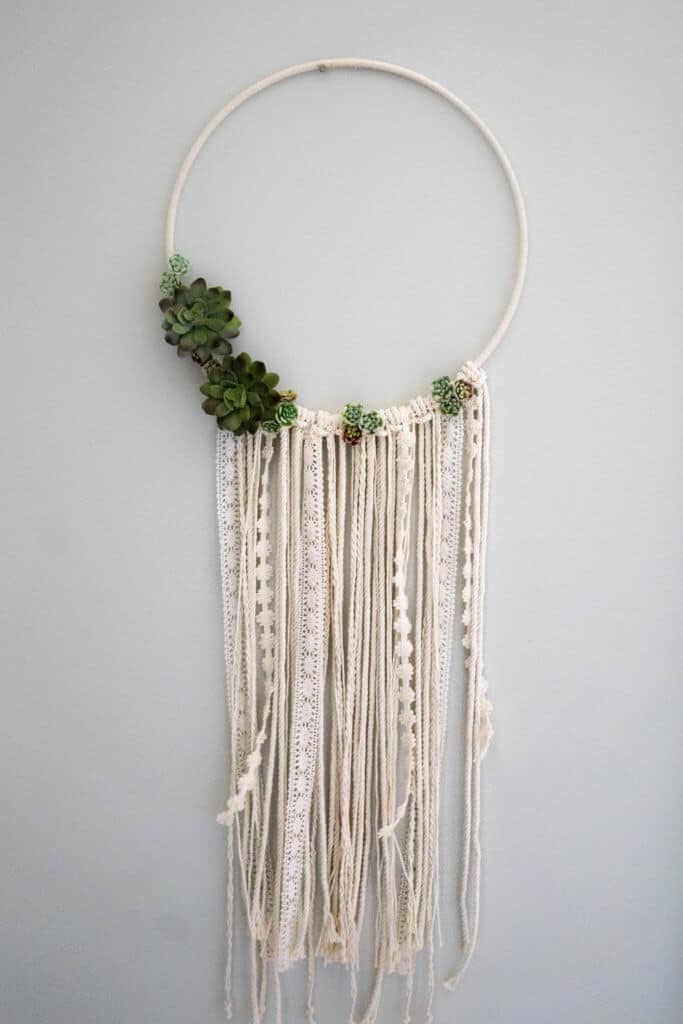 Bring your love of all things bohemian and house plants together with this lace ribbon dream catcher. What's not to love about the beautiful strands of creamy beige lace ribbon cascading down the bottom of the hoop? As a lovely accent, gorgeous green succulents are showcased on the side as they wind their way up showing off their waxy green beauty. This dream catcher is more of a pretty piece of wall art than a nighttime remedy. Hang it anywhere in your home and allow its bohemian beauty to fill the space with love.
16. White and Gold DIY Double Dream Catcher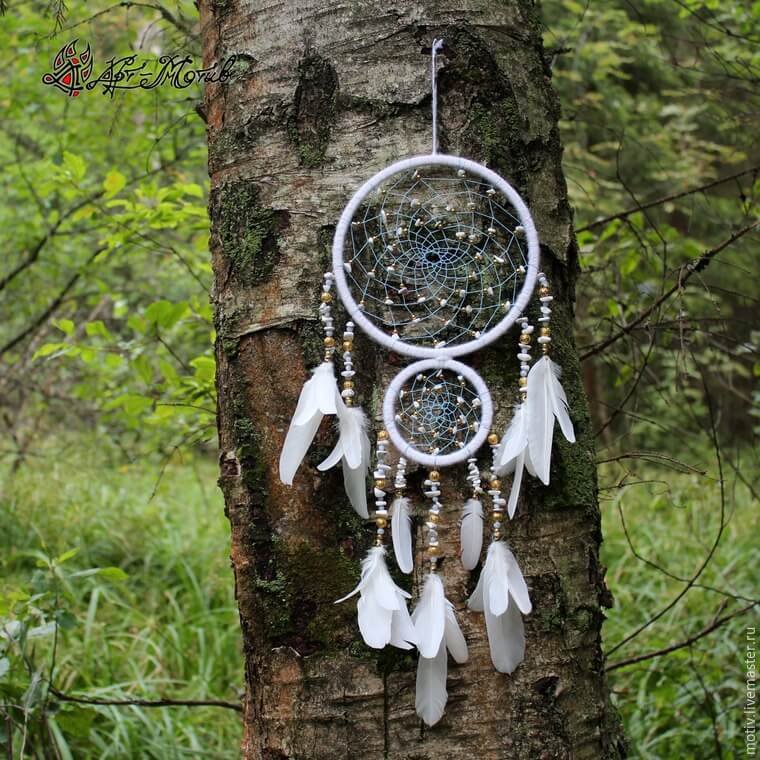 Sometimes two is twice the fun and this seems to be the case with this double dream catcher creation. Across the hoop, white strands web throughout with gorgeous gold accents making for a dramatic effect. These beautiful beads are continued in tassels that hang from the bottom portions of the dream catchers and are finished with a single white feather. Inspired by Native American culture, these lovely DIY creations make great decorations for any style of interior decor. Add some design into your home with these white and gold double dream weavers that are sure to please!
17. Royal Blue Peacock Center Dream Catcher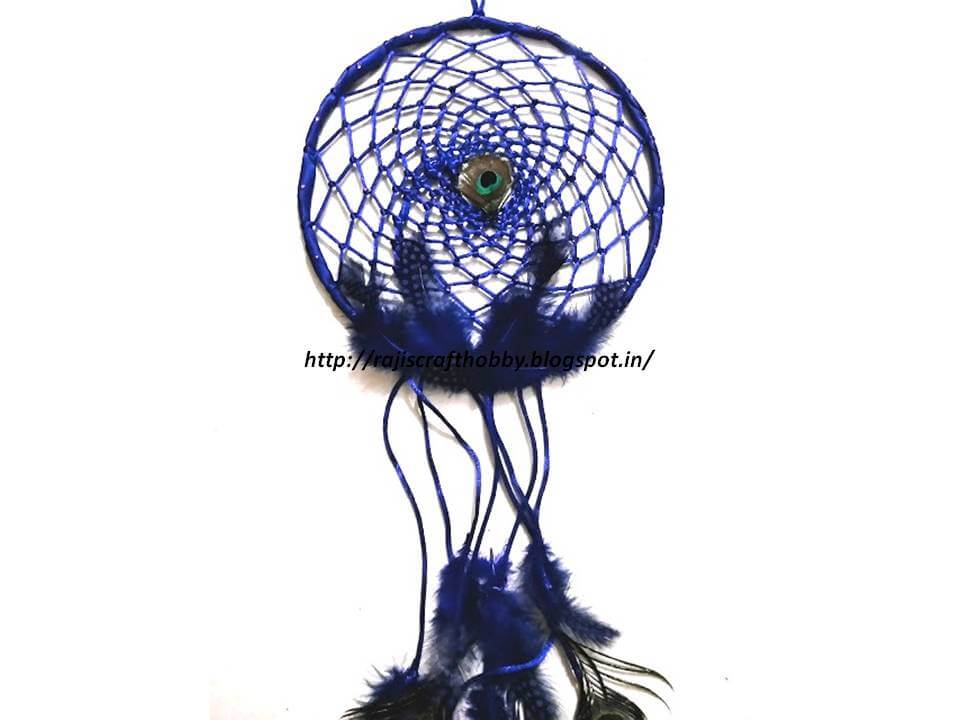 Create a unique decoration for your home with this bold and blue peacock dream catcher. Not only does the royal blue color scheme catch your eye, but the focal point of the central peacock feather keeps you intrigued. Add this to a wall for a bright burst of blue color and fill the room with tranquility and serenity. It's the perfect addition to your bedroom to help you drift off to restful slumber. Over the bed or on the door, all of your dreams will filter through and only the best will be permitted to pass through to you.
18. Groovy Psychedelic Repurposed CD DIY Dreamcatcher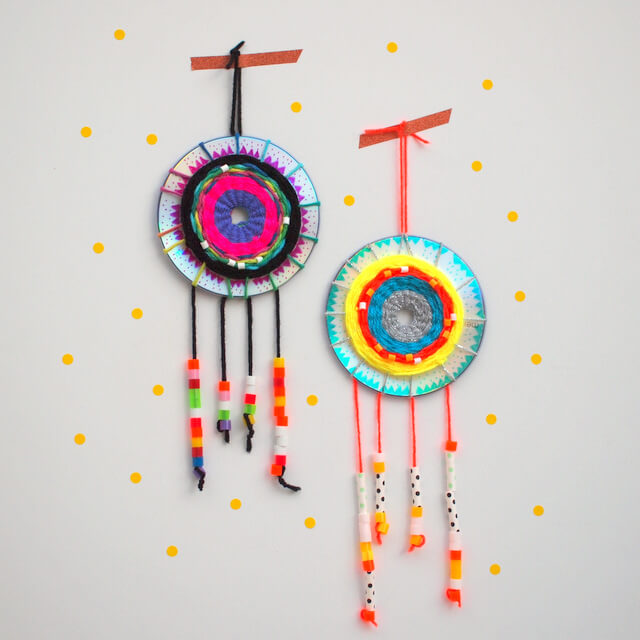 Have you ever contemplated what to do with the vast CD collection you've amassed over the years? Here is a great way to clear out all of that clutter from your music collection. Reimagine these discs as psychedelic dreamcatchers. Kids will love creating their own masterpieces with all of the bright neon colors they choose. From wrapping yarn to stringing beads, the fun will last all night! And in the end, everyone gets to take home a fabulous and groovy dreamcatcher for their own room!
19. Fluffy and Fabulous Tassel DIY Dream Catcher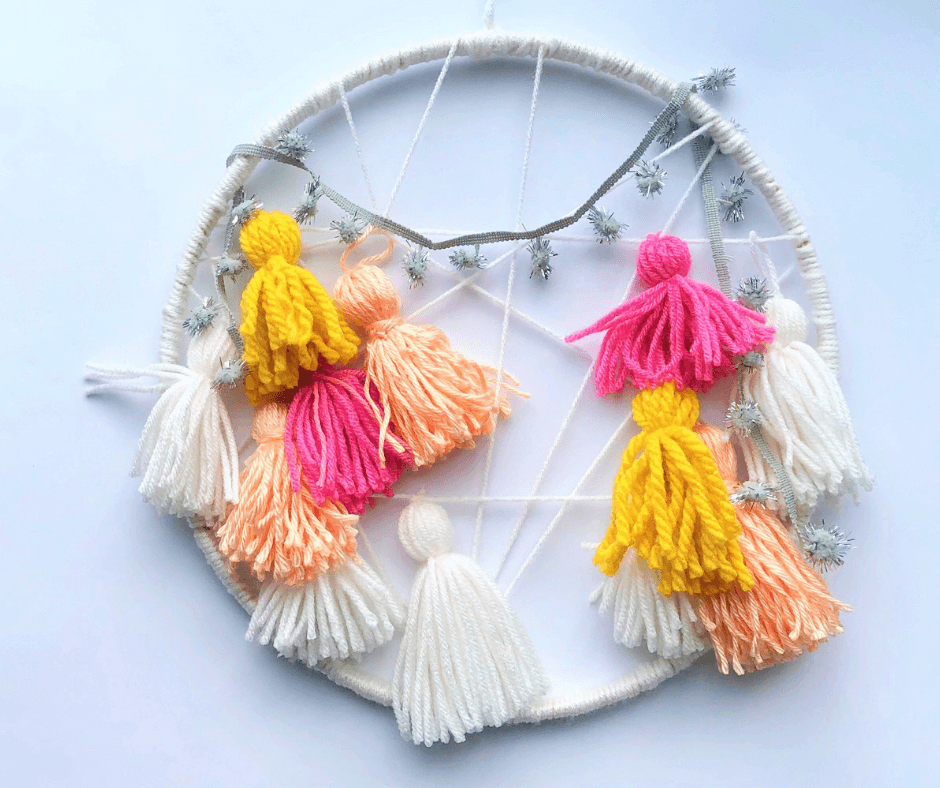 For some frolic and fun, check out this fluffy tassel DIY dreamcatcher. It gives such a soft feel to the room which is a charming addition to any bedroom space as you try to create a relaxing environment. Traditionally speaking, dreamcatchers are placed above the bed; however, they can also be hung on the bedroom door. Using it on your door serves the same purpose, yet it adds a nice decorative touch to your boring bedroom entrance. Choose your favorite colors to create the yarn tassels to put a personal touch on your handmade dreamcatcher design.
Craft Night Craves the 19 Best DIY Dreamcatcher Ideas
From a fun craft night to new home decoration, a dreamcatcher is the way to go! They look amazing and are a lot of fun to create.
For a kid-friendly craft extravaganza, consider some of the versions featuring bright and bold colors. From neon colors to all the accessory options under the sun, every kid will love creating a one-of-a-kind design that's full of their own personality. Stringing beads and wrapping yarn even offers some fine motor skill development for the younger crowd. And the added bonus? In the end, each child has a fantastic creation to take home and hang in his/her room!
For use as a more modern and adult-appealing home decoration, consider the cheap version of some pricey high-end stores. These simplistic versions feature a clean look with a double metal hoop and contained a creamy fringe at the bottom.
Another way to go is with an earth-friendly option where you reuse t-shirts. These unique dreamcatchers provide a place and purpose for the abundance of clothing excess we see today.
Additionally, a more natural approach is the twig triangle design. This look shows a very bohemian and shabby chic style that shows off real, natural beauty with feather accents.
Regardless of how you create your dream catcher or where you choose to hang it, you'll enjoy the beauty it adds to your space. Spend some special time with someone you love and catch up while creating this darling dreamcatcher. Everyone loves a good night's sleep so having a dreamcatcher of your own should be on everyone's wish list.