DIY Easter decorations are always so much cuter and more durable than those you can buy at the store. The list below has 32 of the cutest, prettiest DIY Easter decoration ideas around and they are all relatively easy to do! Whether you want to whip up something to put on your front door, need a unique centerpiece, or want to brighten up your home for spring, these DIY Easter crafts will add a cute touch to your home. This list features all of your Easter favorites: flowers, eggs, grass, the Easter Bunny, candy, carrots, and of course lots of pretty pastel colors.
32 Cute DIY Easter Crafts to Brighten Your Home

Many of these DIY Easter crafts are even easy enough to do with your kids! No matter whether your home décor style is rustic, cute, glamorous, or vintage, there is something on this list for you. Guests at your Easter dinner or party are sure to be impressed with your crafting skills when you have one of these home-made decorations on display. Read on for shopping lists and step by step tutorials on how to make these adorable Easter crafts that will add a touch of spring to your home!
1. Easter Bunny Mason Jar Candy Favors

These adorable silhouette jars will tickle your Easter guests. Cut bunny-shaped stickers with your craft cutter and apply them to the side of a Mason jar. Paint all over with a matte or chalky finish paint and let dry. Remove the stickers carefully. Fill the jar with chocolate eggs, and then add a sweet bow to the jar.
2. Springtime Bunny Grapevine Wreath Decoration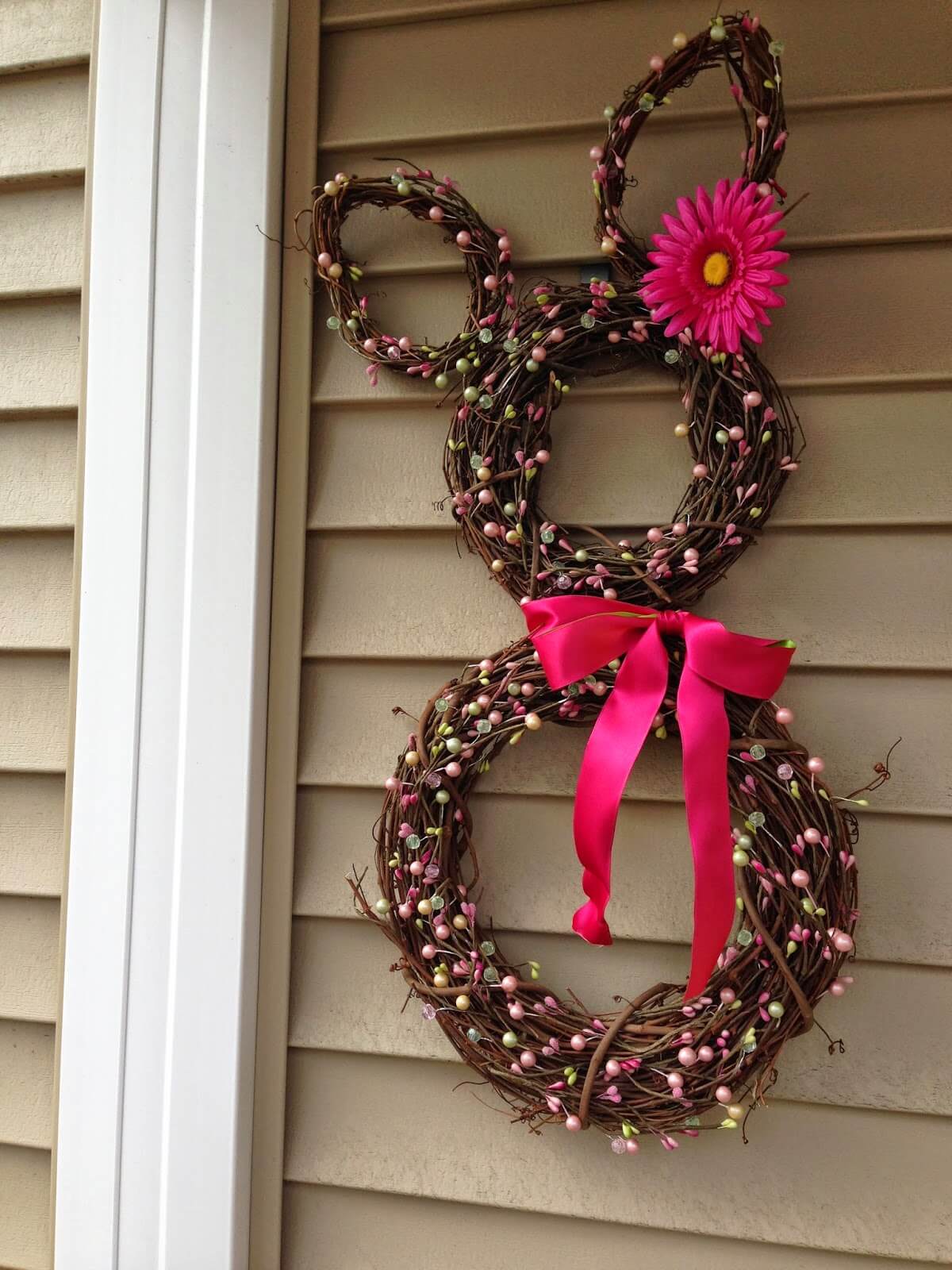 To create this fun bunny-shaped wreath, buy two small grapevine wreaths, one medium and one large. Soak the small wreaths in water and bend them into the shape of bunny ears. Wire the four wreaths together into a bunny outline. Wind a pretty bud or floral garland around the wreath. Finish with a large silk flower and a wired ribbon bow.
3. Easy DIY Glitter Easter Decoration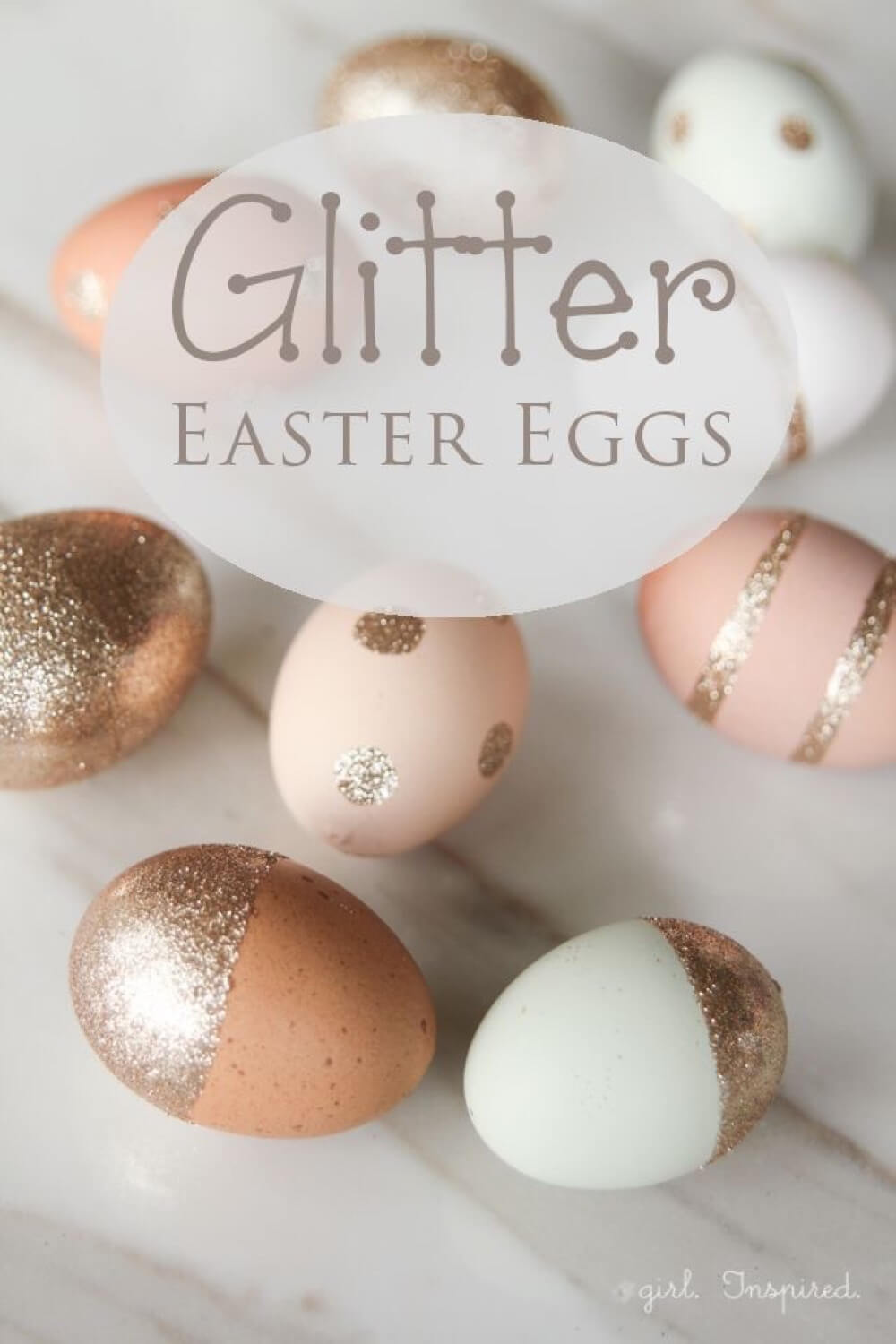 All you need for this dazzling project are eggs, glitter, white glue, washi tape, and toothpicks. Blow out the inside of brown or white eggs and let dry. Dip the eggs in the glue and sprinkle with glitter. For fun stripes and patterns, try masking the eggs with washi tape. You can also make polkadots with your fingertip dipped in white glue.
4. Super Simple DIY Easter Egg Craft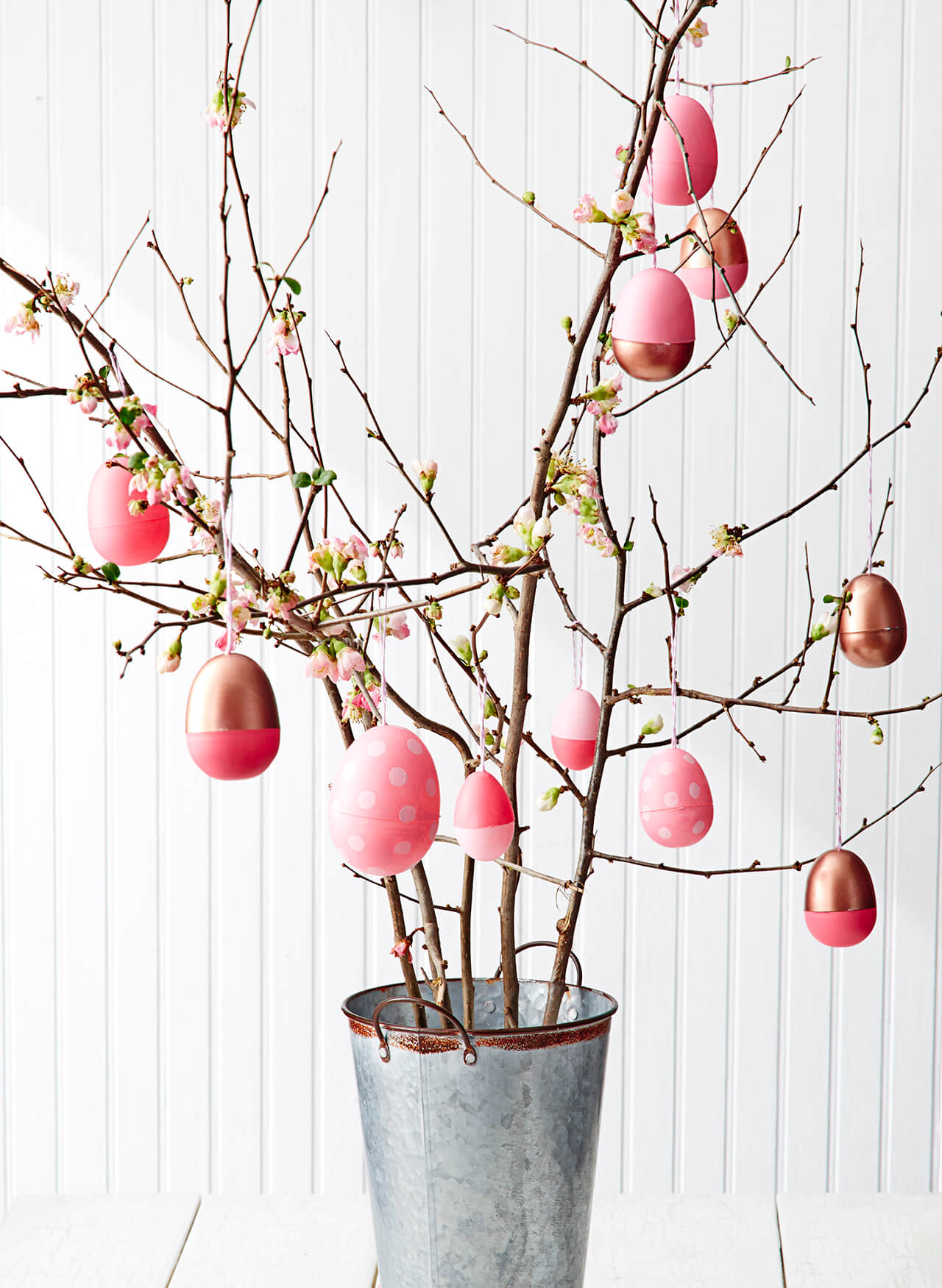 Make an Easter tree to highlight your celebration. Use floral branches from the craft store and stand them in a pail. Use a craft knife to poke a hole in the top of plastic Easter eggs. Simply tie a yarn loop through the egg top and attach it to the bottom. For a coordinated look, match the egg colors to the blossoms on your branches.
5. Pretty Lush Grass-Filled Easter Basket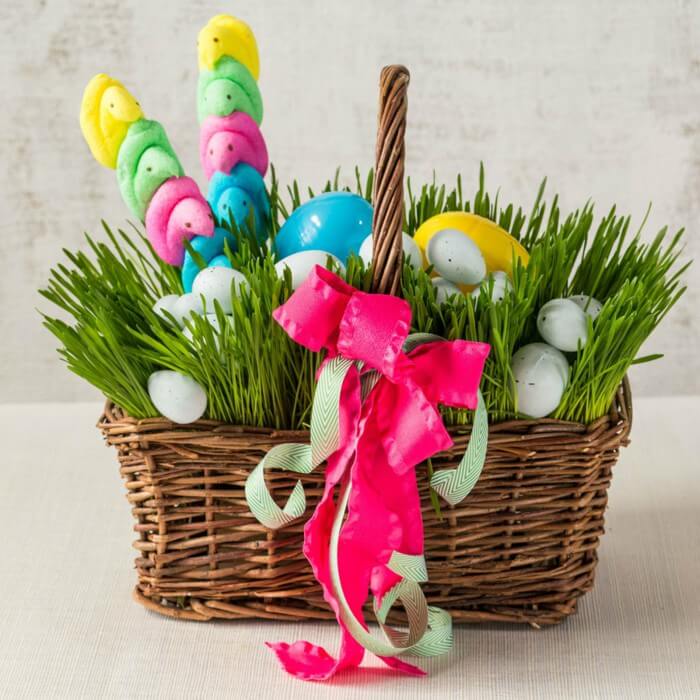 Grow your own wheat or rye grass for this natural basket. Fill a flat container with potting soil and spread seeds on top. Keep it in the sun and water it regularly for 10 days. When the grass has grown, simply place the container in a basket and decorate as you choose. Skewers of marshmallow chicks are a fun idea. Add a brightly colored bow.
6. Reclaimed Wood Easter Bunny Decoration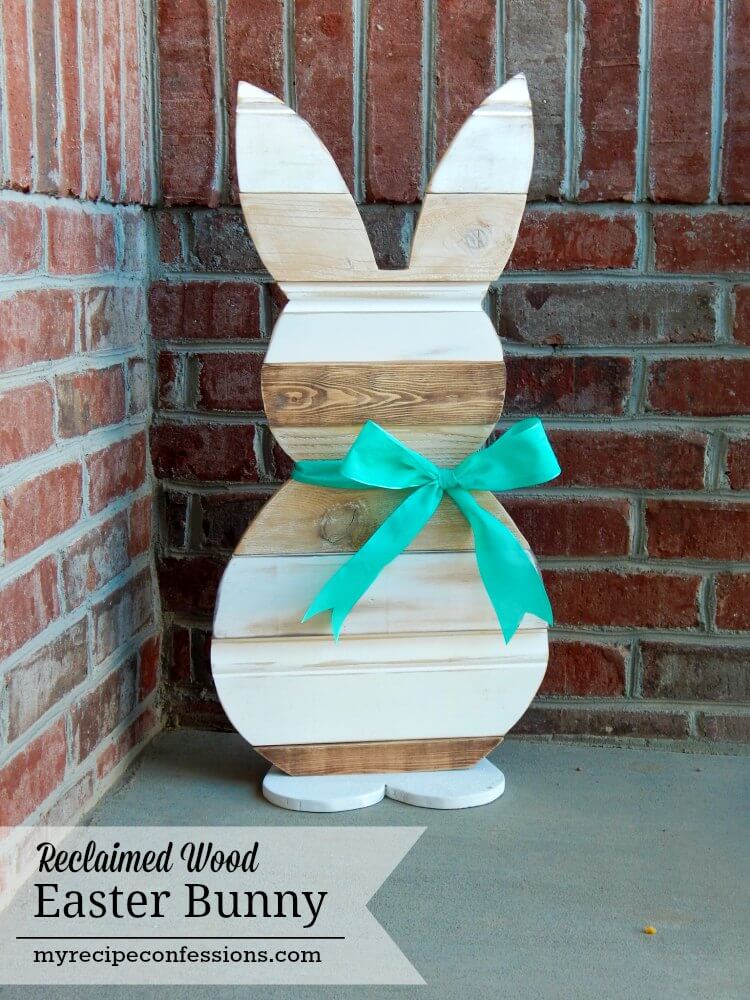 This project is a great way to practice your woodworking skills. Use painted scrap wood and baseboards from a home remodeling project. Make templates for the bunny and the feet and transfer them onto paper using an overhead projector. Trace the bunny onto the wood and cut out with a jigsaw. Carefully glue the boards to a backing board and attach the feet. Decorate with a ribbon.
7. DIY Twine Carrots For Your Easter Table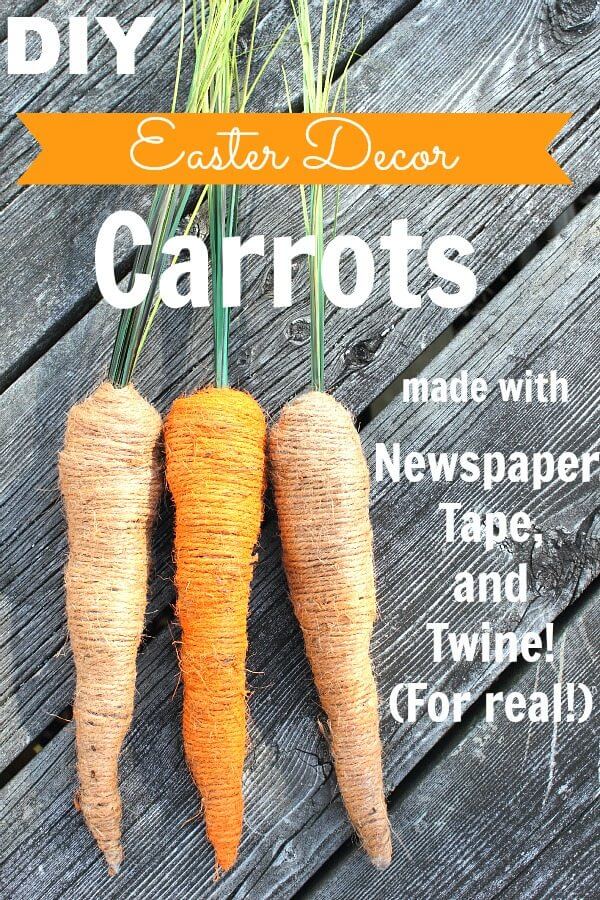 This project couldn't be easier. All you need are newspaper, tape, artificial grass, twine, and a little orange paint. Scrunch newspaper and mold it into a carrot shape with tape. Tape some artificial grass together and add it to the top of the carrot. Wrap twine around the carrot and paint in various shades of orange for a natural look.
8. Candy and Flowers Easter Centerpiece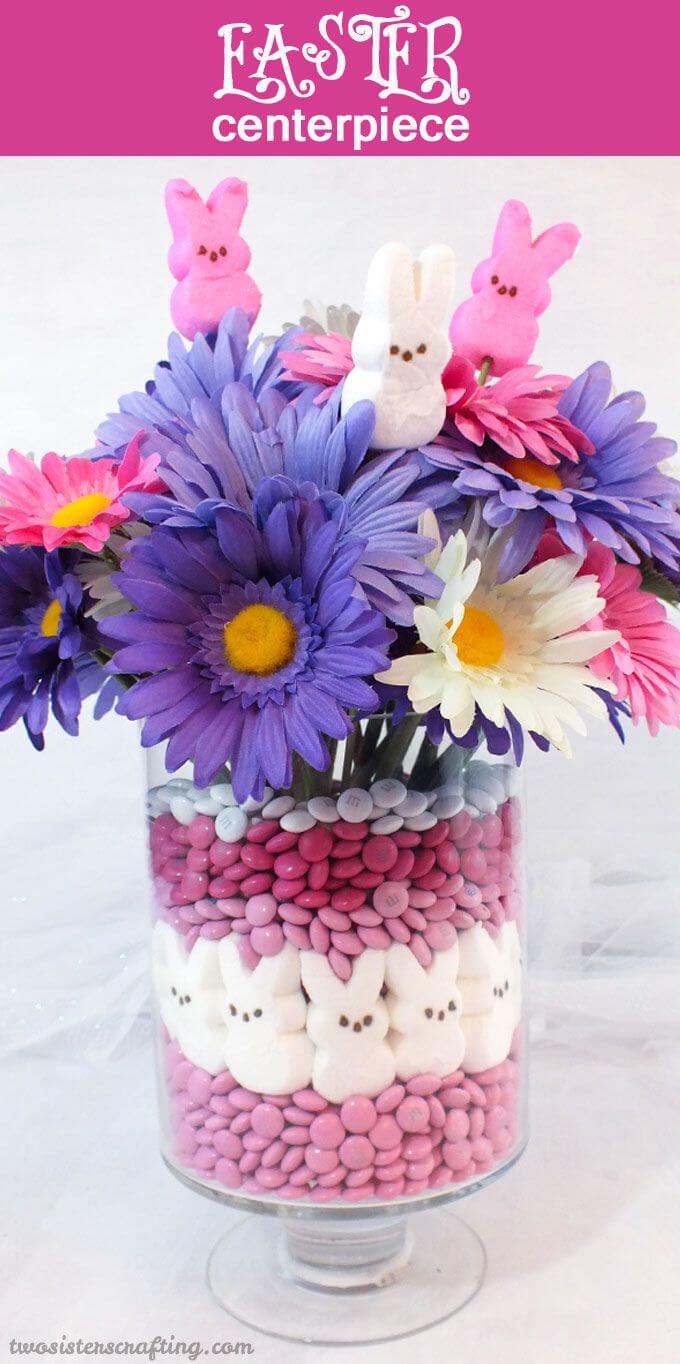 Use a glass trifle dish for this project. Layer chocolate coated candies in the bottom of the trifle dish. Add a layer of marshmallow bunnies. Add more layers of candies in various spring pastels. When the jar is full, simply add silk flowers. Put a few marshmallow bunnies on skewers and add them to the bouquet.
9. Mason Jar Chocolate Bunny Houses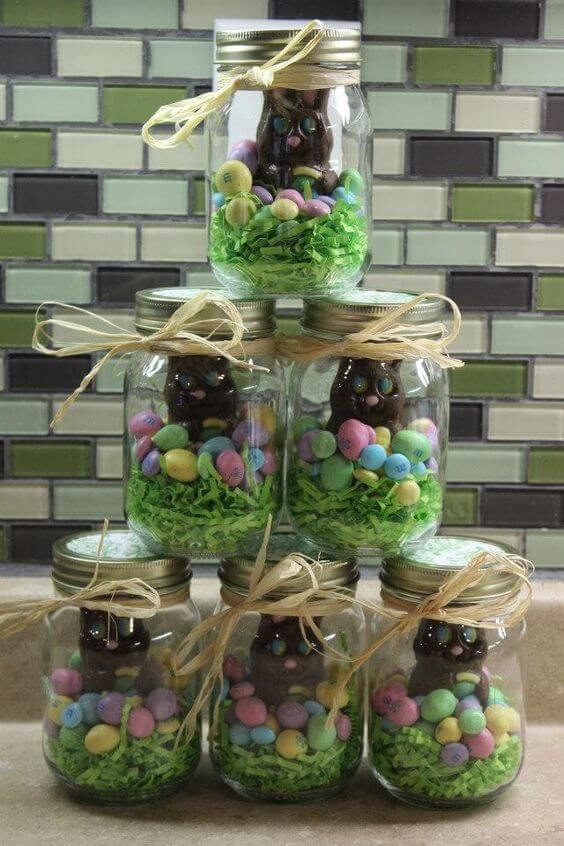 Mini mason jars make cute homes for these little bunnies. Fill the jars partway with paper Easter grass. Place a mini Easter bunny down in the grass, then place a layer of chocolate eggs all around the bunny. Top the jar with a pretty lid and a raffia tie.
10. Easy DIY Paper Easter Wreath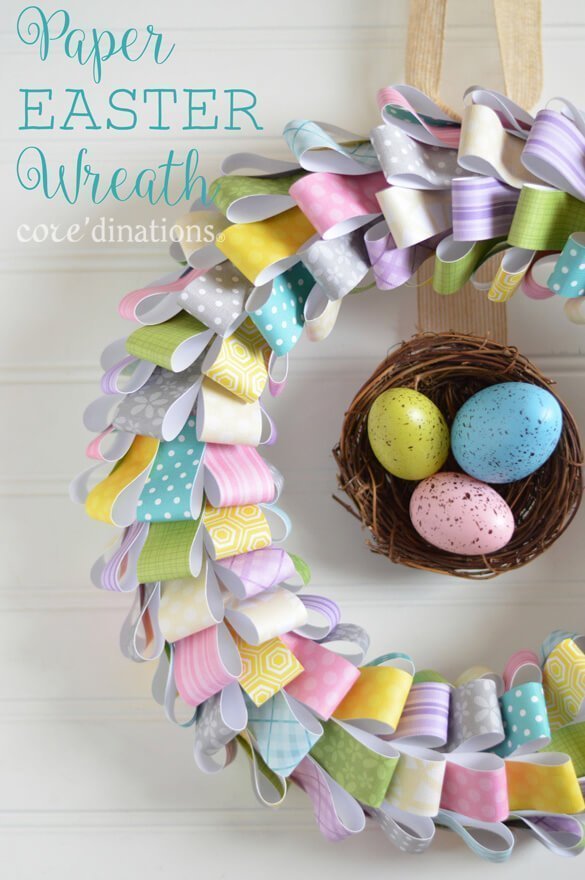 Scrapbook paper makes a bright and pretty wreath. Cut one-inch strips out of the scrapbook paper and cut these into thirds so you have plenty of 1 X 3 inch strips. Glue the ends of each strip together, creating loops. Glue the loops onto a foam wreath, arranging the strips by color. Add a burlap ribbon hanger and a decorative nest with eggs.
11. Easter Egg Hunt Grass Centerpieces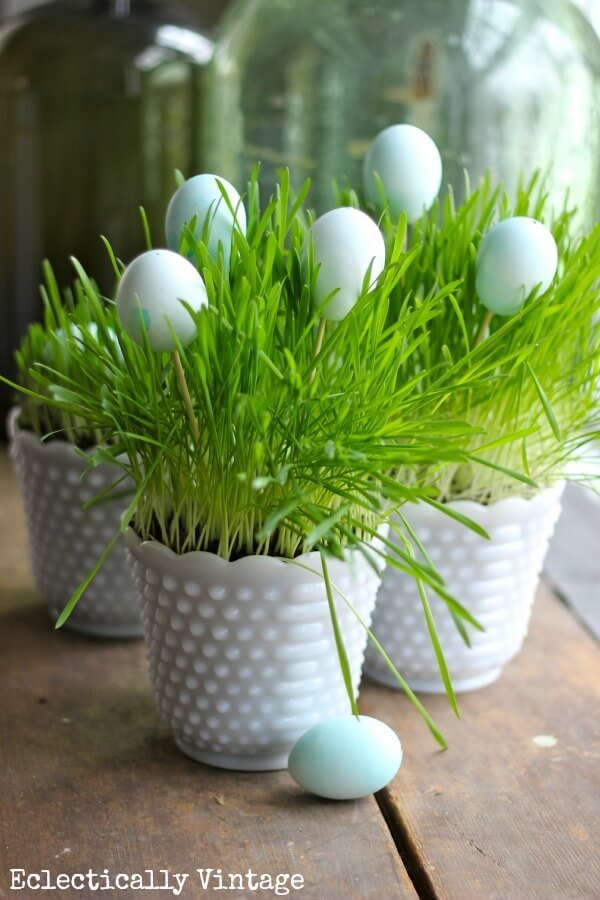 These centerpieces bring the real freshness of spring to your table. Grow cat grass (rye or wheat) in attractive little pots. Blow out and dye an assortment of eggs in whatever color you wish – robin's egg blue gives a lovely, subtle look. Nestle the blown-out eggs in the grass.
12. DIY Yarn Easter Egg Decorations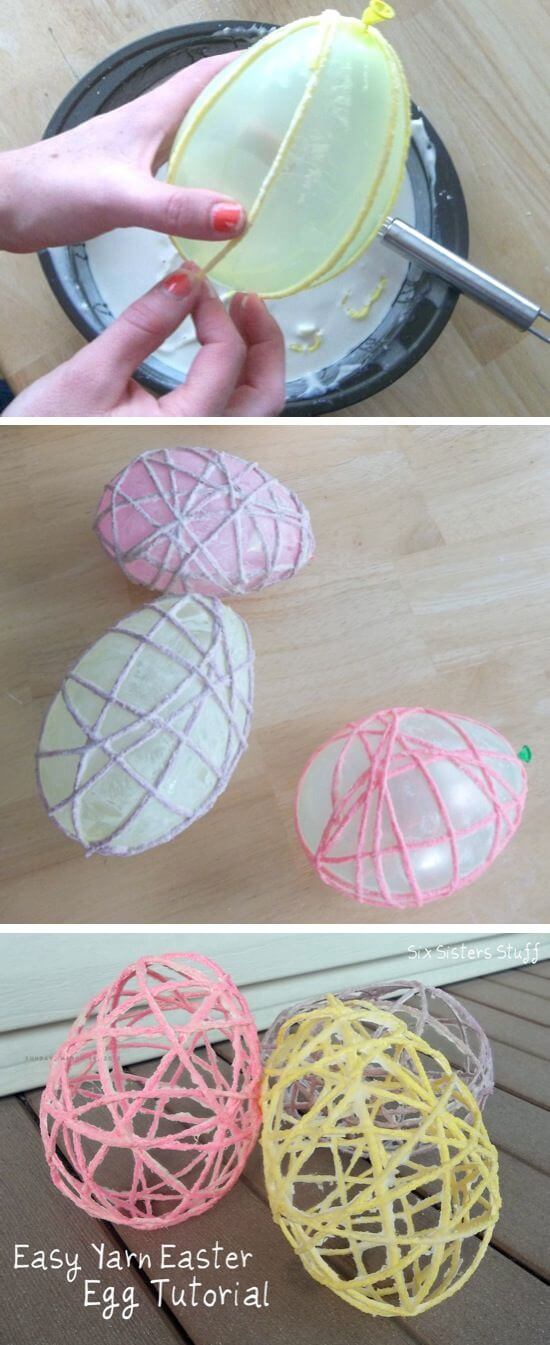 These yarn Easter eggs would be fun to make with kids. All you need are small balloons, pastel yarn, Mod Podge, and a paintbrush. Blow up the balloon and carefully wrap it with yarn. Paint over the yarn with the glue. When the glue is completely dry, pop the balloon.
13. Burlap Easter Bunny Door Decoration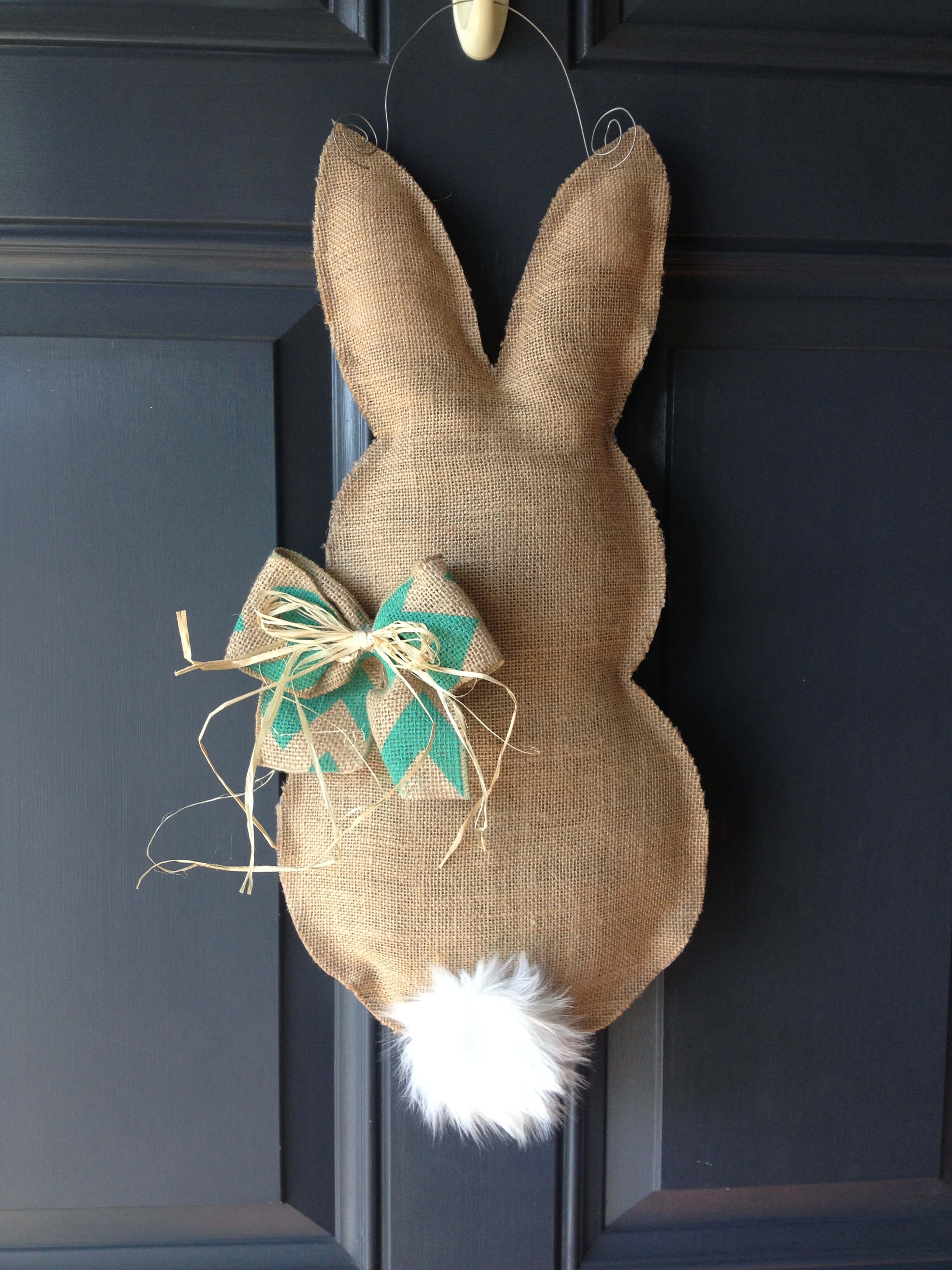 This easy no-sew burlap bunny is a cute alternative to a wreath for your Easter door. Make a large bunny template and cut two pieces of burlap. Hot glue the edges closed, filling with batting. Add an adorable plush tail and a festive burlap bow.
14. Cute 2×4 Wooden Easter Bunny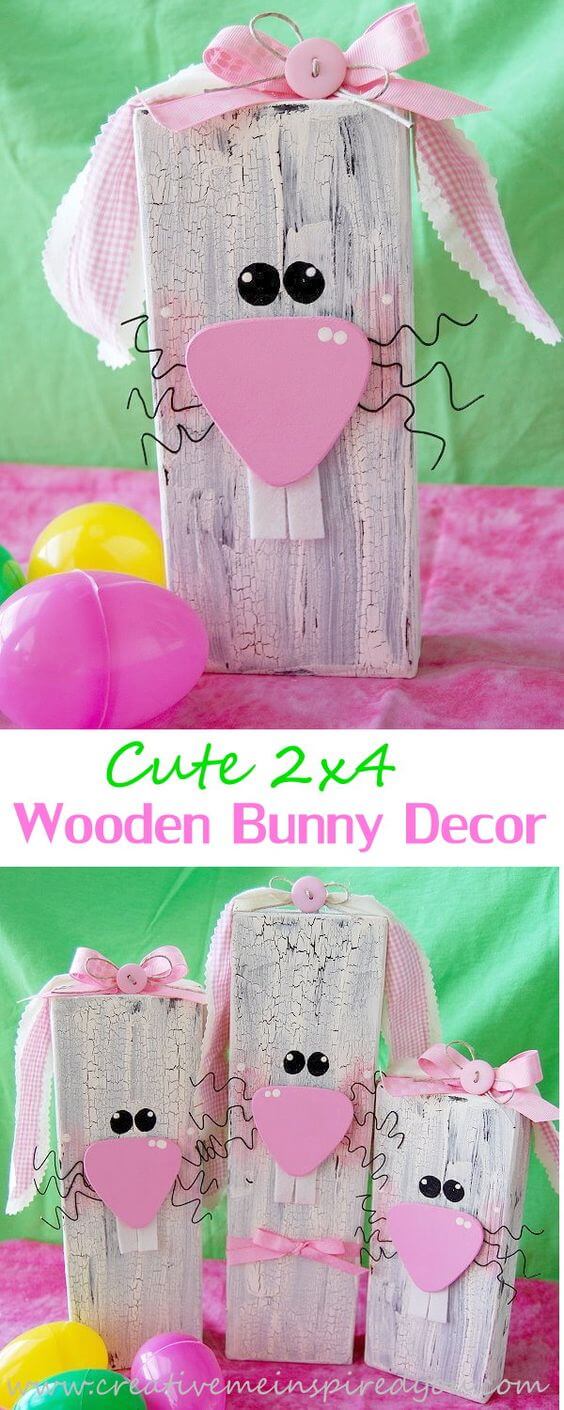 To make these funny bunnies, cut various lengths of 2 X 4" wood. Sand them and paint with crackle paint. Paint the basswood noses pink. Attach white felt teeth. Attach the nose, teeth, and wire whiskers to the bunny with a hot glue gun. Paint on silly eyes and add ears and a bow.
15. DIY Button Easter Egg Wall Art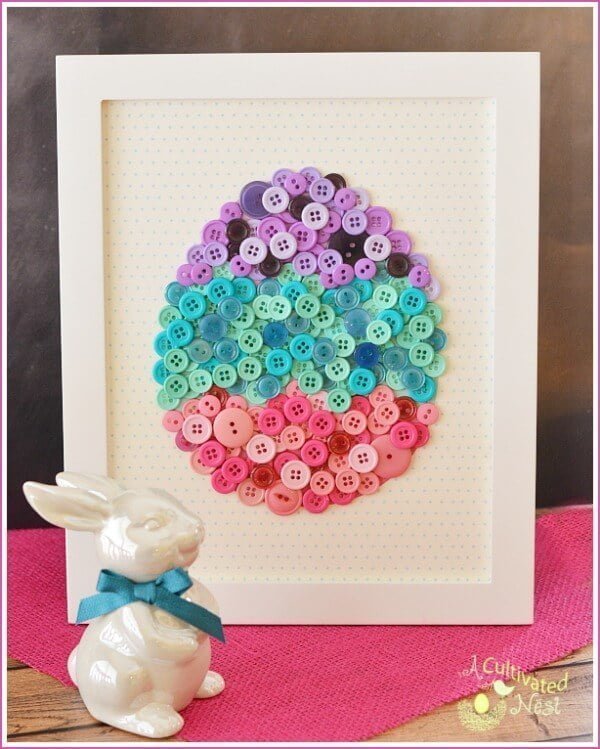 Print an egg pattern on white cardstock to fit the size of your frame. Choose three different colors of buttons in various shades and sizes. Hot glue layers of buttons, and then use an old toothbrush to remove the strings of excess glue. Hang your egg anywhere you like in your Easter home.
16. Framed Boxwood Easter Bunny Wreath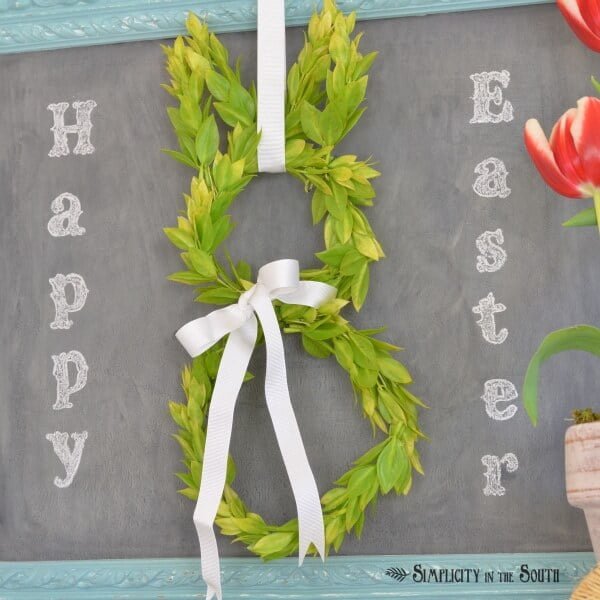 Use wire wreath forms to create the bunny shape. Bend the two small hoops into ear shapes. Attach them to each other with wire. Wrap the bunny form with silk boxwood garland. Add a ribbon hanger and a matching bow and your bunny is ready to bring Easter spirit to your home.
17. Elegant Easter Egg Tree Decorations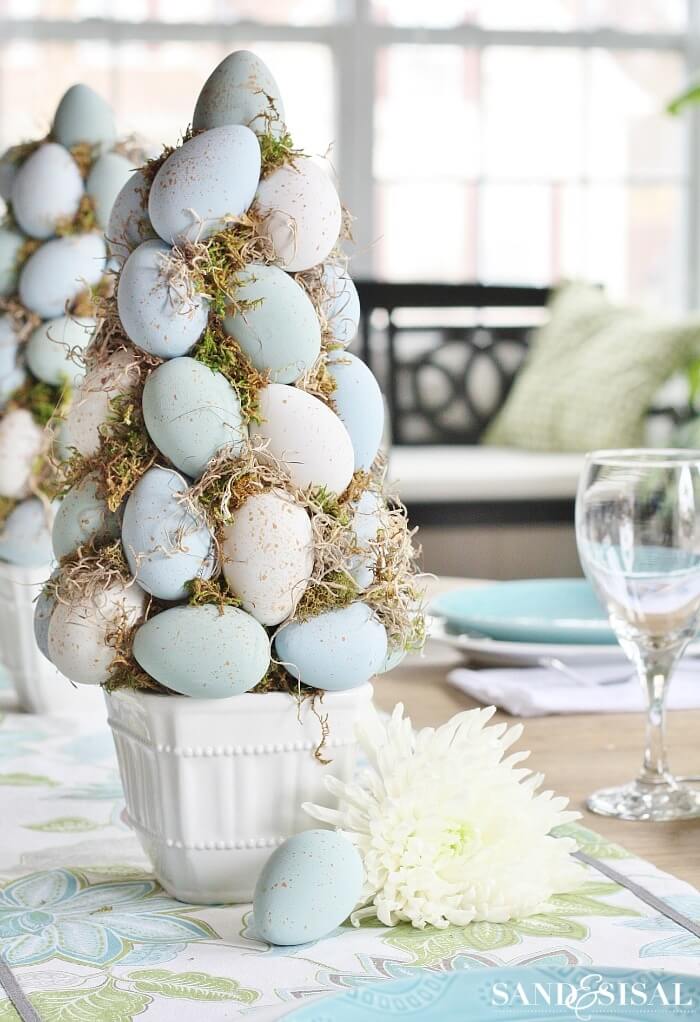 To make this topiary tree, make the form out of a foam cone. Paint plastic craft eggs with chalky paint in various subtle shades and let dry. Glue the eggs on the foam cone and glue strands of moss in and around them for a natural look. Place the cone in an elegant flowerpot.
18. Adorable DIY Easter Bunny Garland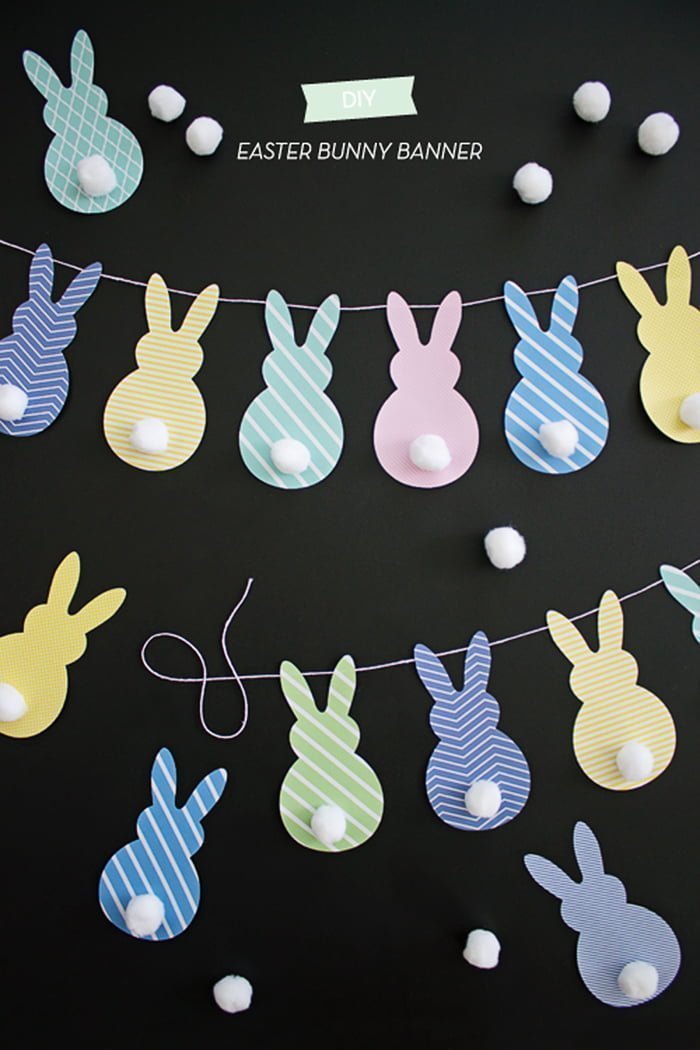 Cut different colored scrapbook paper into bunny shapes with your craft cutter, or use a template and cut the bunnies free-hand. Glue the ears to hanging twine. Glue a cotton ball tail on each bunny.
19. DIY Easter Tulip Decor Project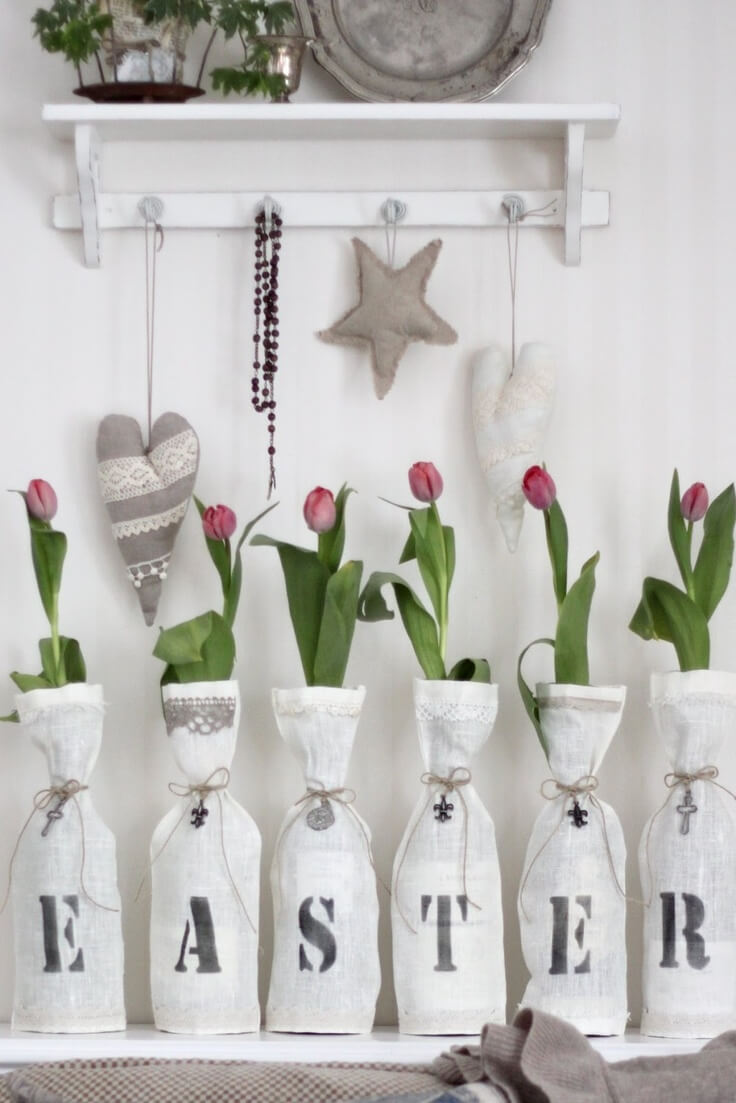 Stencil the letters for "Easter" onto white cloth bags. Wine gift bags will work nicely. Put an empty wine bottle inside. Tie the bag closed around the neck of the bottle with a pretty twine bow. Add a fresh or silk tulip to the top of the bottle.
20. DIY Pom-Pom Easter Bunny Art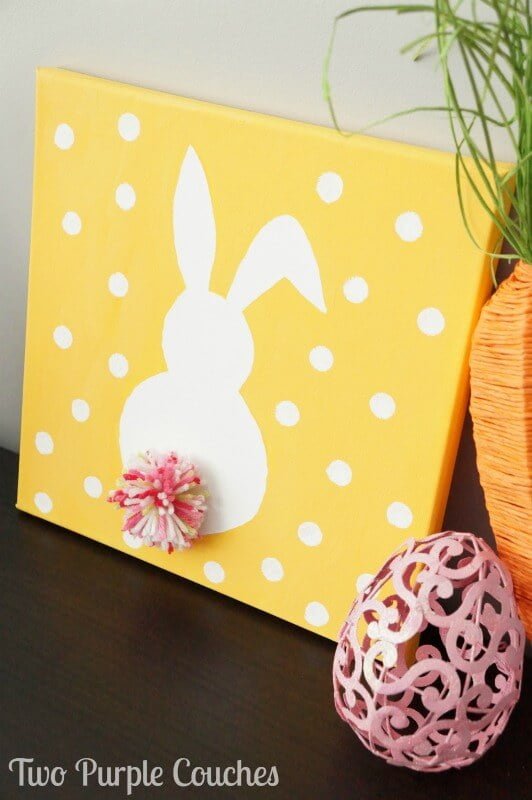 Trace a bunny silhouette on a stretched art canvas. Paint the background in your favorite Easter color. When the background is dry, paint the bunny white and add polka dots. Make a pompom by wrapping yarn around a piece of cardboard. Tie a strip around the center of the yarn and cut the ends of the loops. Fluff the pompom and glue it on your painting.
21. Easy Upcycled Vases for Easter Flowers

This project is much easier than it looks. Use old clear glass bottles to make colorful vases. Make sure the bottles are as dry as possible before painting. Pour a little bit of acrylic craft paint in your bottles and roll them around to ensure the insides are coated completely. Let dry for at least 3 days. Be sure you don't fill these vases with water, or the paint will come off.
22. Pretty Easter Egg Nest Centerpiece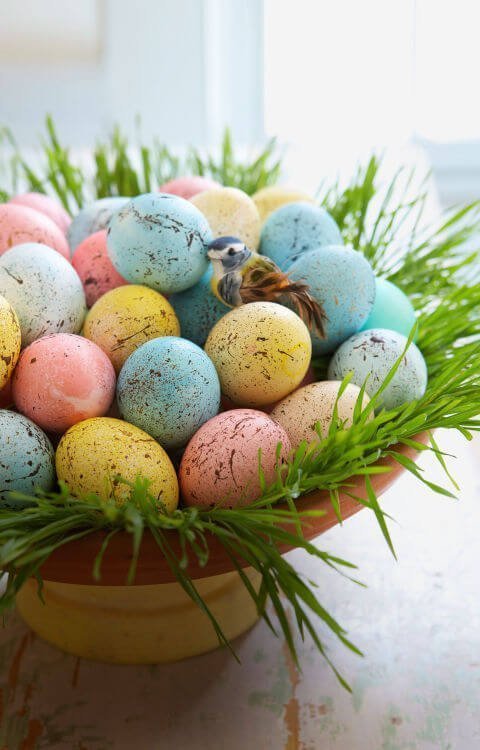 Grow a container of cat grass and place it in a pretty dish. Paint plastic craft eggs with pastel chalky paint and let dry. For a natural effect, use an old toothbrush and gently speckle the eggs with brown paint. Layer the eggs on top of the grass. For a cute touch, add a little feather bird from the craft store.
23. Simple Burlap Easter Bunny Craft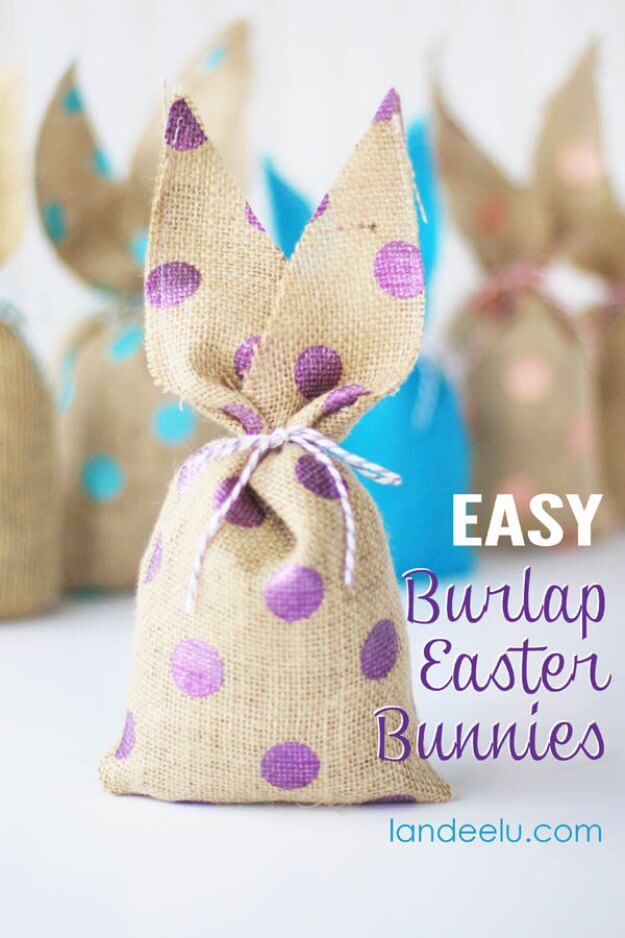 This is an easy project with very little sewing. Lay out two layers of burlap fabric and cut into rectangles. Use scissors to cut a V shape for the ears. Sew the edges together, leaving the top open. Then turn the bunny right side out and sew down the ears. Fill the burlap bunny with something heavy (beans or rice) and tie the top closed.
24. Super Simple Painted Twigs Easter Centerpiece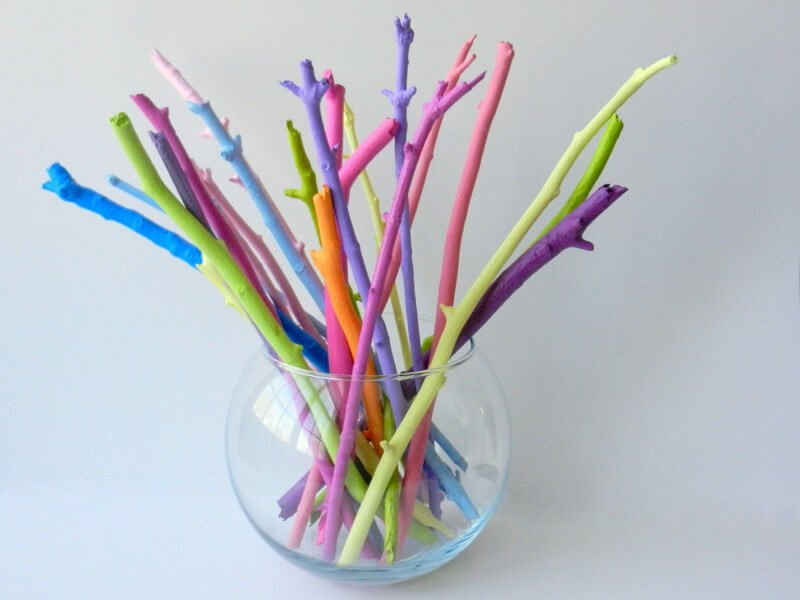 Kids will love this project. Gather small twigs from outside. Paint the twigs in bright Easter colors, whatever would look nice together. Put the twigs in a bowl or vase. Sometimes the very simplest ideas make a big impression.
25. Rustic Grapvine Easter Egg Wreath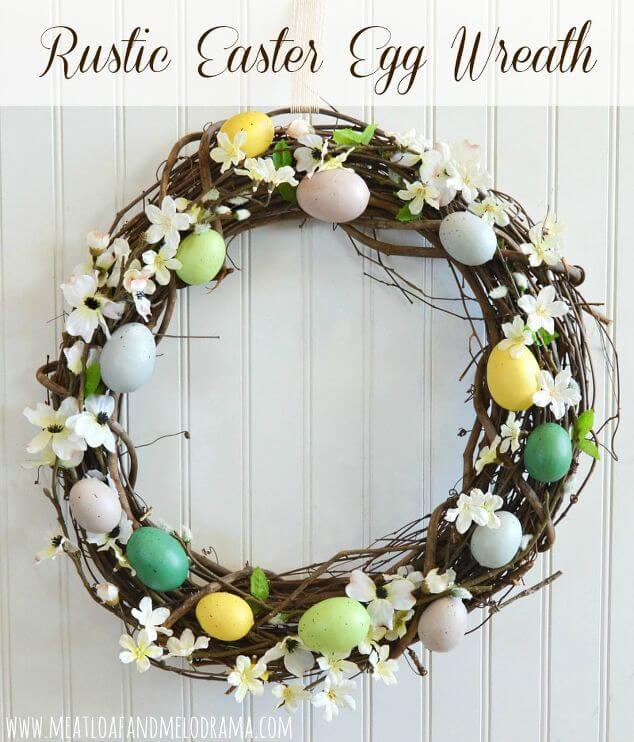 This easy DIY wreath uses materials from the craft store or the dollar store. Paint craft eggs in whatever colors you like, or use fillable eggs. Buy stems of spring silk flowers and cut the blossoms off. Hot glue the eggs and blossoms to the wreath in a pretty arrangement. Add a simple burlap loop for hanging and your project is complete.
26. DIY Glittery Easter Egg Tree Decoration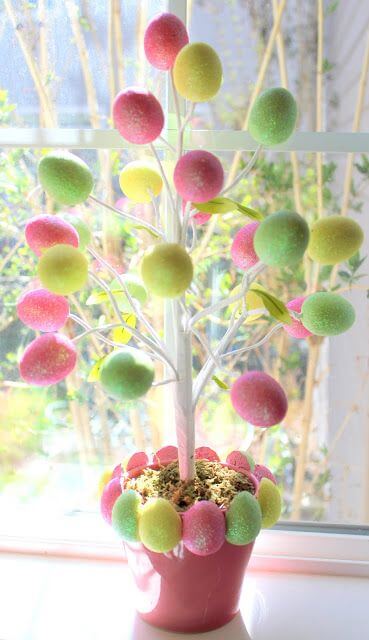 Buy or make a small tree and paint it white. Put the tree in a flowerpot with flower foam in the bottom. Paint Styrofoam eggs with glue and roll them in glitter. For the flowerpot, cut some glittered eggs in half and glue them around the rim. Simply stick the Styrofoam eggs on the ends of the branches. Add a few silk leaves for a natural look.
27. Beaded Easter Egg Candle Holders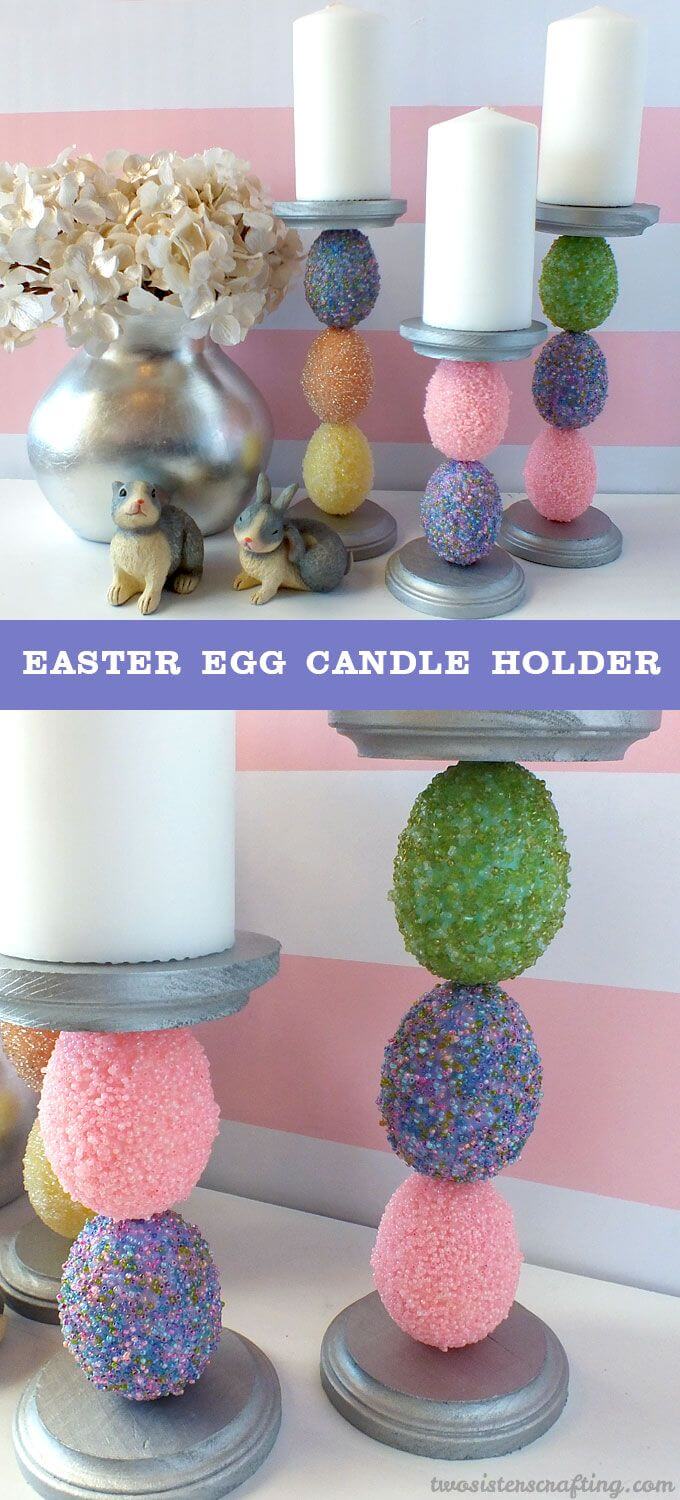 This project seems difficult, but will give you a centerpiece everyone will be talking about. First, drill through plastic eggs and make the hole the same size as the dowels you plan to use. Drill a matching hole in a wooden disc and insert the dowel. Paint the wood. Paint your eggs all over with Mod Podge and roll them in seed beads. When dry, slide the eggs on the dowel and place another wooden disc on top to hold the candle.
28. Cute DIY Carrot Garland for Easter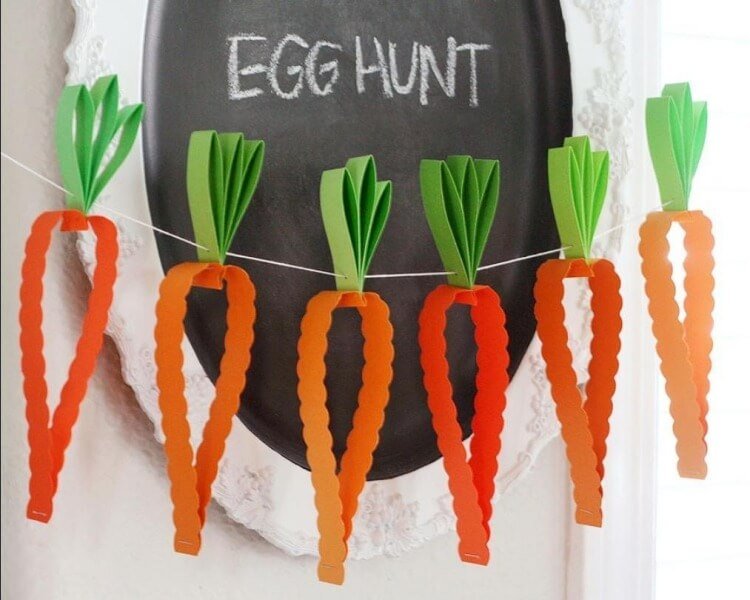 This is a super easy project. Cut orange and green paper into strips. Try scalloping the edges of the orange paper to make it look more like a carrot. Fold the carrots and attach the green tops. Thread a hanging string through the carrot tops and hang anywhere that could use some Easter spirit.
29. Framed "Happy Easter" Egg Banner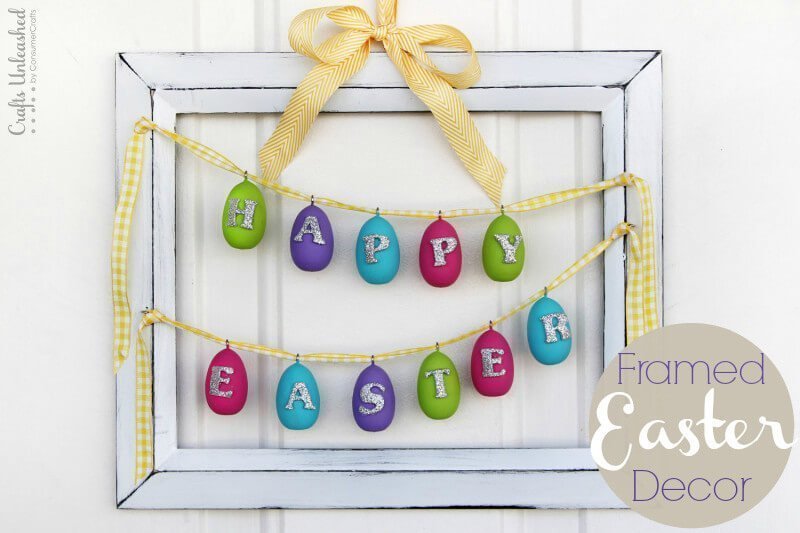 This framed decoration will give your Easter home a dash of sparkle. First paint an inexpensive black frame from the craft store. When the paint is dry, sand it a little for a distressed look. Put a screw hook in the top of each egg. Paint the eggs and add a silver foam alphabet letter to each one. Hang the eggs from a ribbon stretched over the frame. Add a bow for hanging.
30. Giant Paper Flower Easter Egg Decoration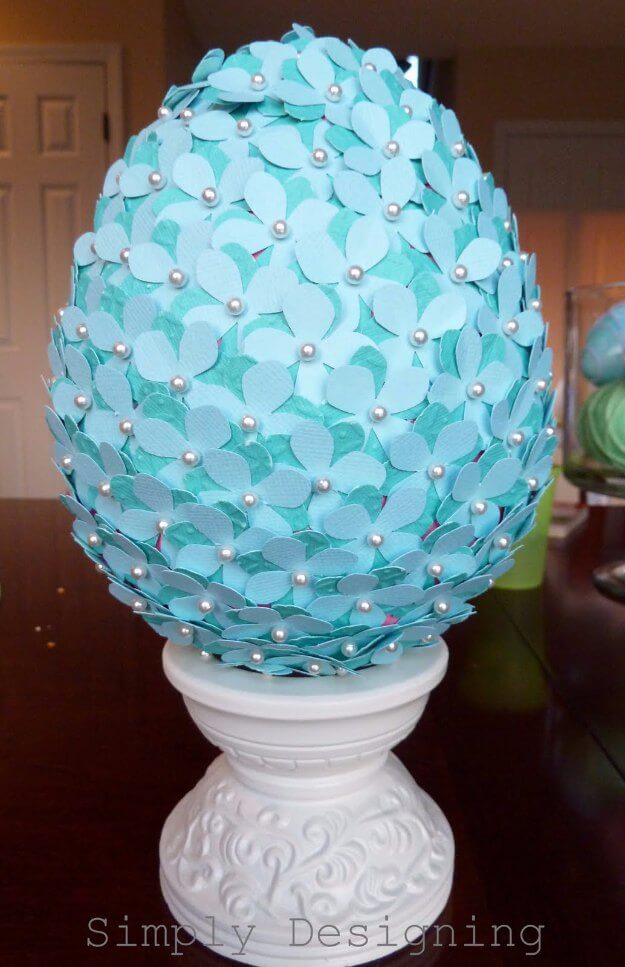 Buy a large foam egg from the craft store: 7" is recommended. Use a hydrangea flower punch to cut out 5 or 6 sheets of scrapbook paper in two different colors. Stack the paper together and use a pearl headed pin to layer the flowers all the way down the egg. Place on a large candle holder.
31. Peeps Bunny Rainbow Easter Wreath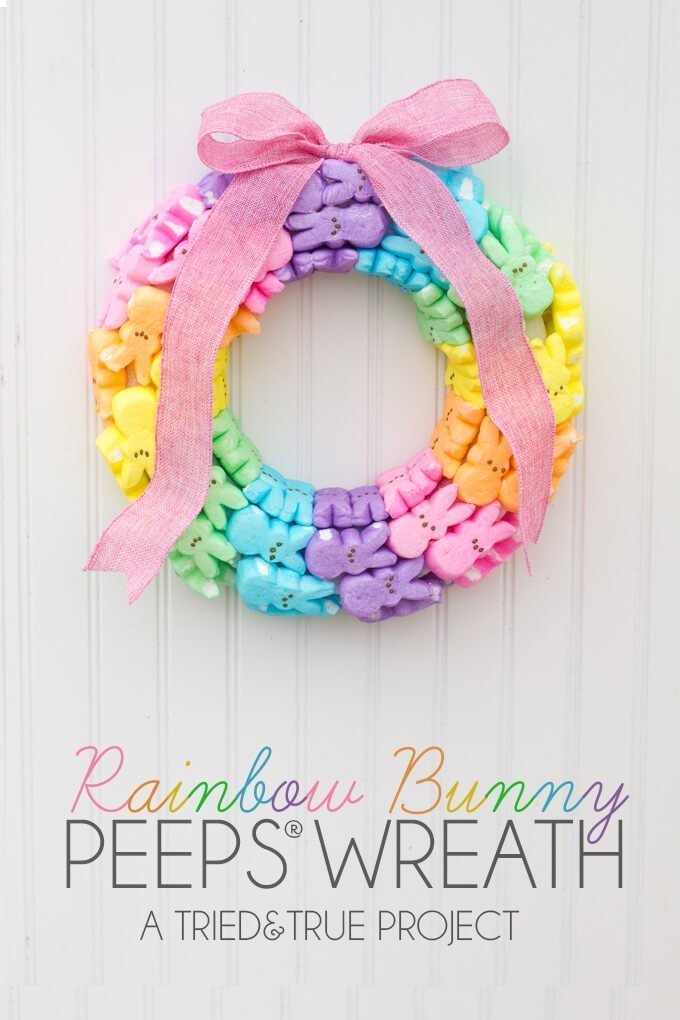 This wreath couldn't be easier. Simply glue a rainbow of marshmallow bunnies on a foam wreath base. Sort the bunnies by color. Add a big pink bow and a hanger and you're ready for the Easter egg hunt.
32. Easy DIY Egg Heads Easter Craft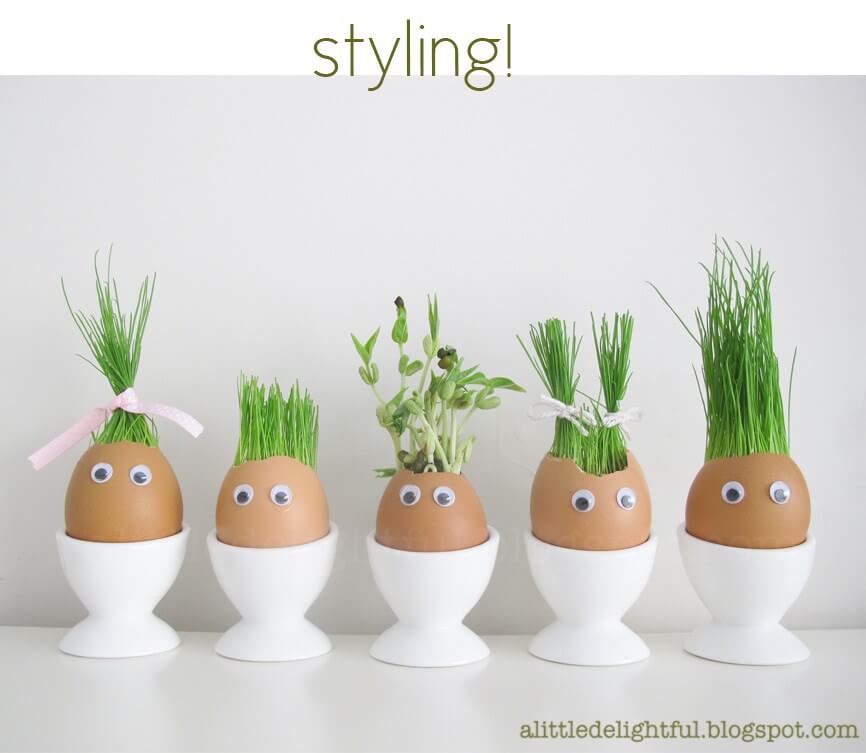 This project takes some growing time before Easter, but is well worth it. Save brown egg shells that have been carefully broken around the top. Plant a variety of seeds in the eggs and keep them well-watered in a sunny place. Cat grass, peas, and herbs are great ideas. When the grass has grown, gently add googly eyes and display in an egg cup.