Do you want something fun to display on your front door but are fed up with the same old Easter wreath designs you find at the store every year? Then try out one of these pretty and unique DIY Easter wreath ideas instead! Whether you want something fun and bright your kids will like or a more elegant decoration, this list of 50+ simple DIY projects has you covered. These Easter wreath ideas feature all your favorite symbols of the holiday: Easter bunnies, eggs, flowers, grass, carrots, baskets, and baby chicks.
50+ Lovely Easter Wreaths you Can Make at Home

If you are looking for a decoration you can keep up for the entire season, this list also has some wreaths that are just floral, no bunnies in sight. Not only are these Easter wreath ideas a cute way to welcome your guests to your home by hanging them on your front door, they would also make fun interior decorations as well. Hang them on a wall or inside door to add a touch of spring whimsy to your home! From rustic grapevine and burlap to cozy yarn and fresh greenery, this list of 50+ DIY Easter wreath designs has something for every home décor style. Read on for shopping lists and step by step tutorials for each of these adorable Easter wreaths!
1. Rainbow Easter Egg Grapevine Wreath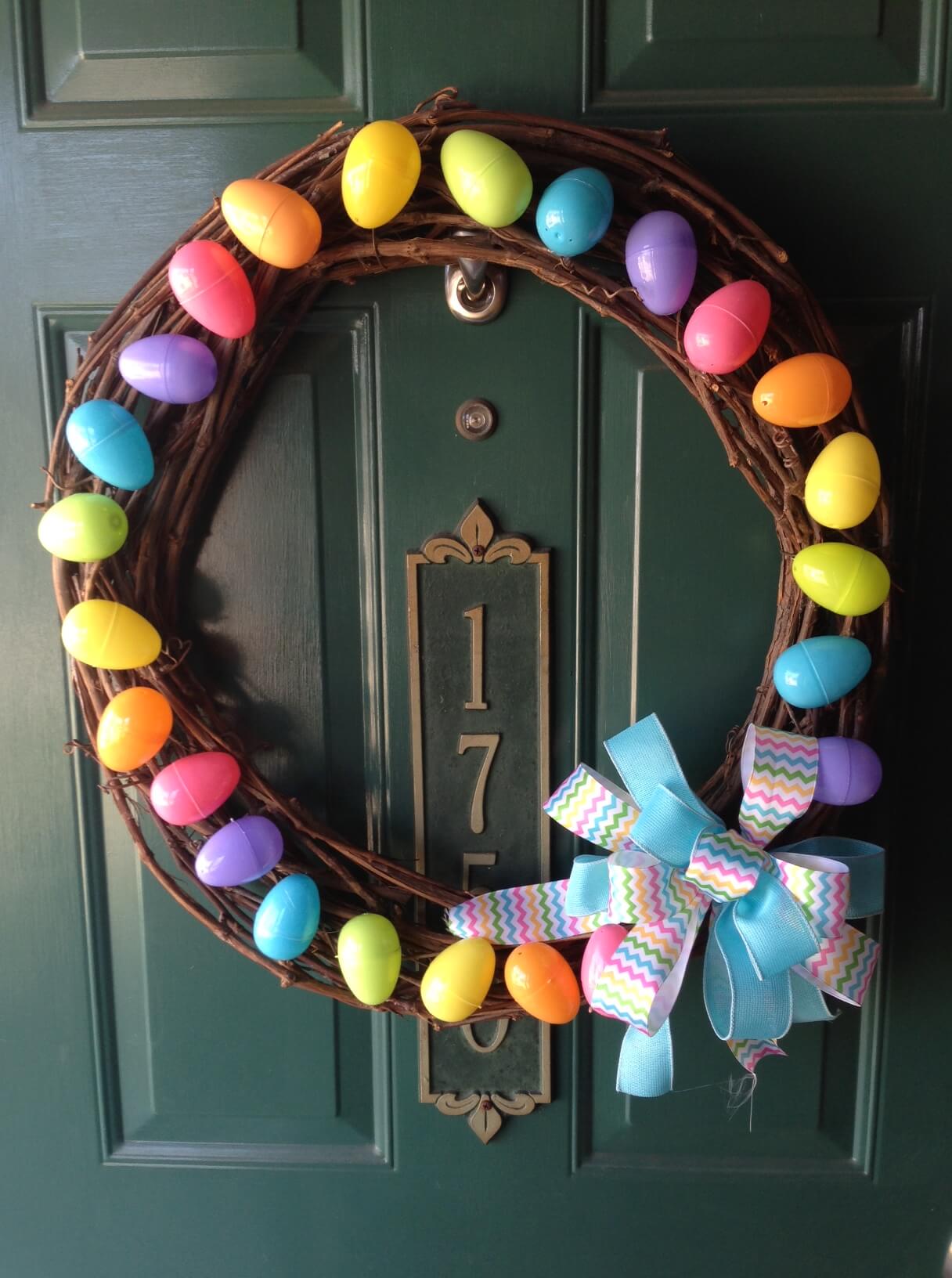 2. Rustic Burlap Wreath for Spring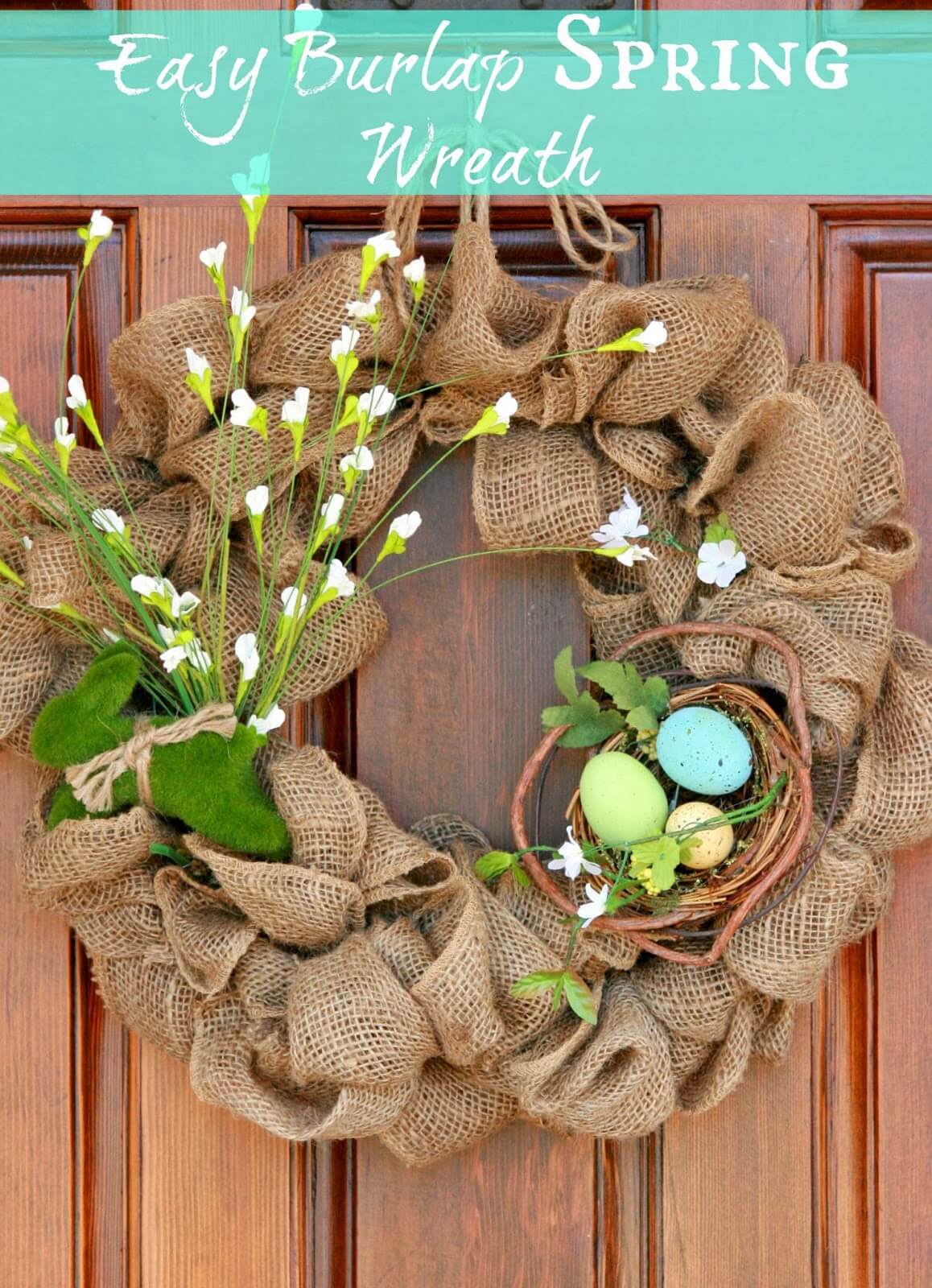 3. Bright and Fun Easter Bunny Grapevine Wreath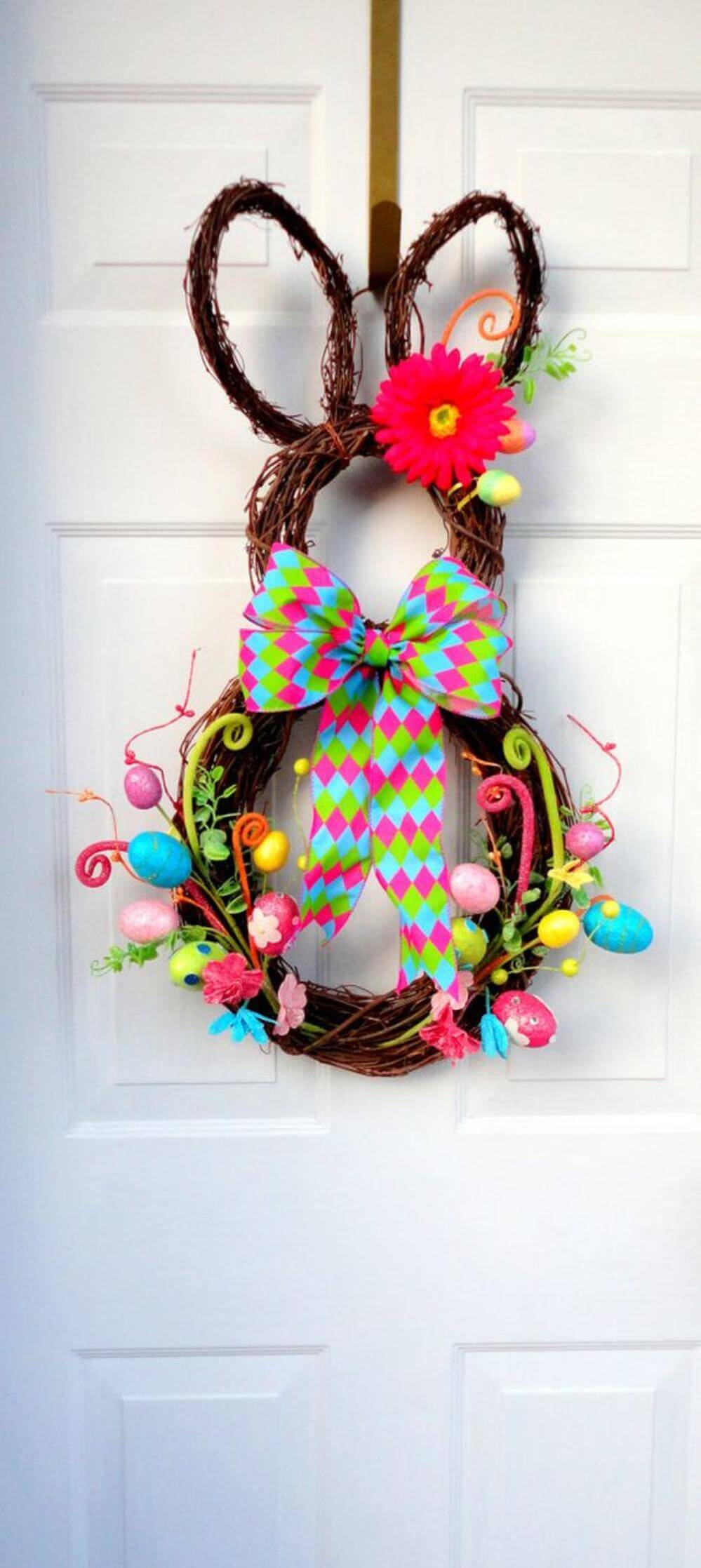 4. Pretty Spring Tulip Door Decoration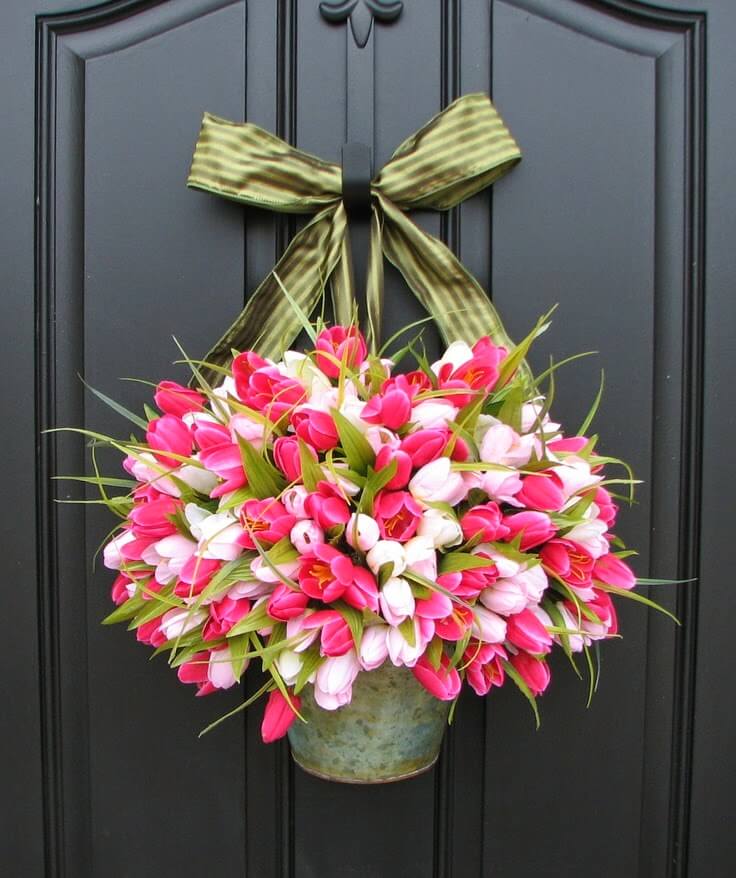 5. Rustic Bunnies and Eggs Easter Wreath Design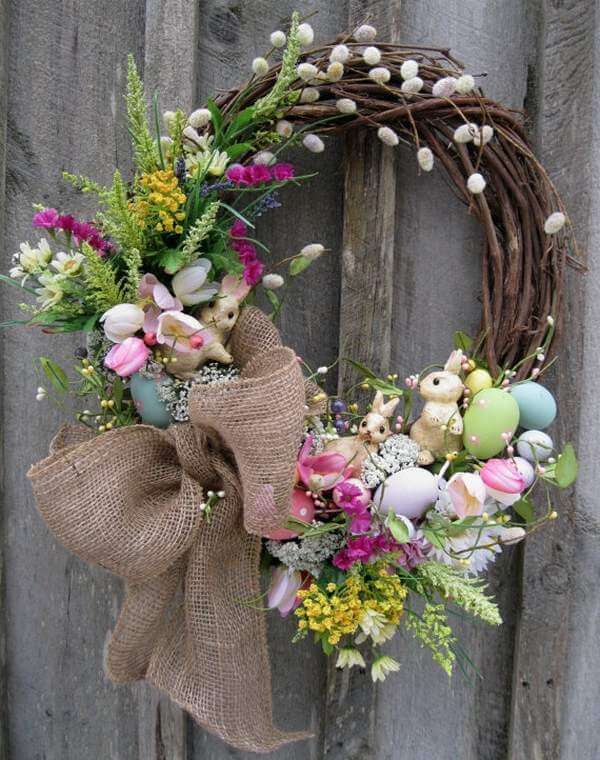 6. DIY Burlap Carrot Easter Door Decoration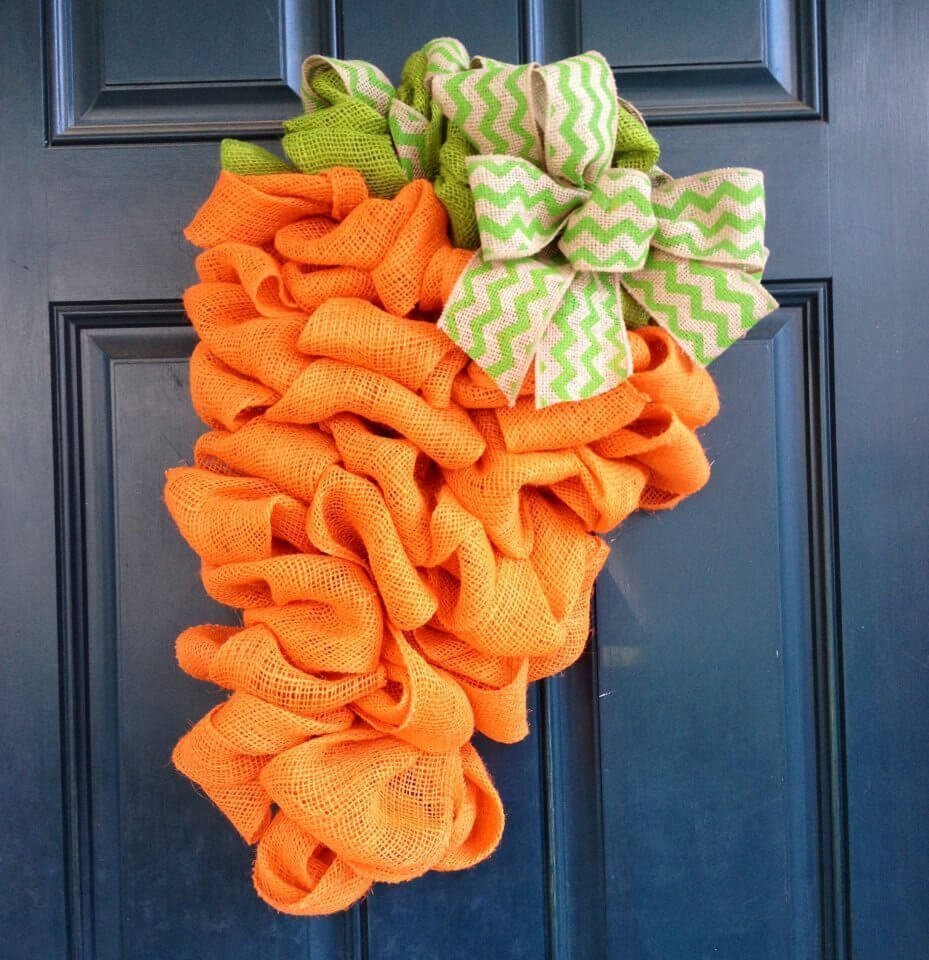 7. Rainbow Easter Egg and Flower Wreath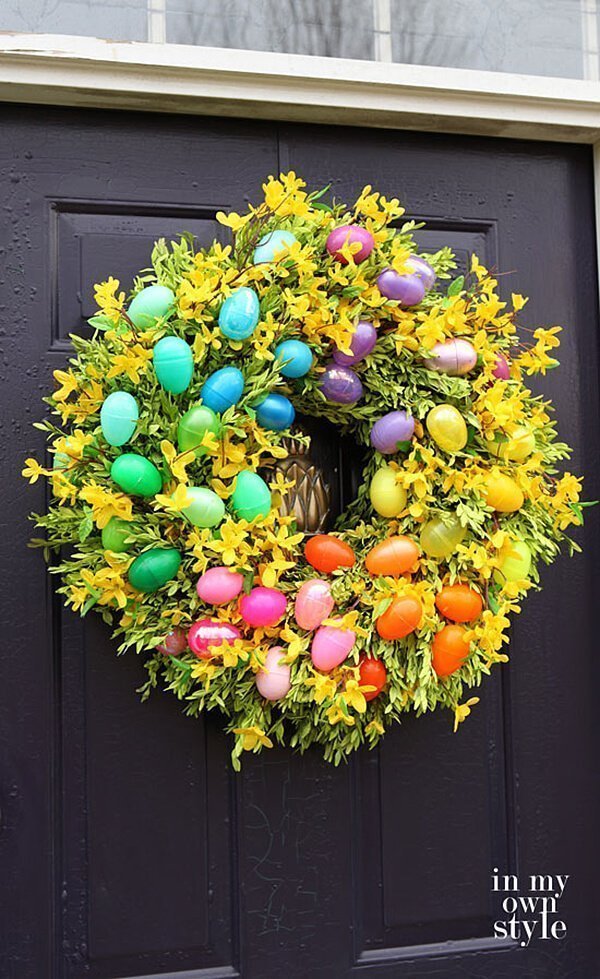 8. Framed Easter Eggs and Grass Door Decoration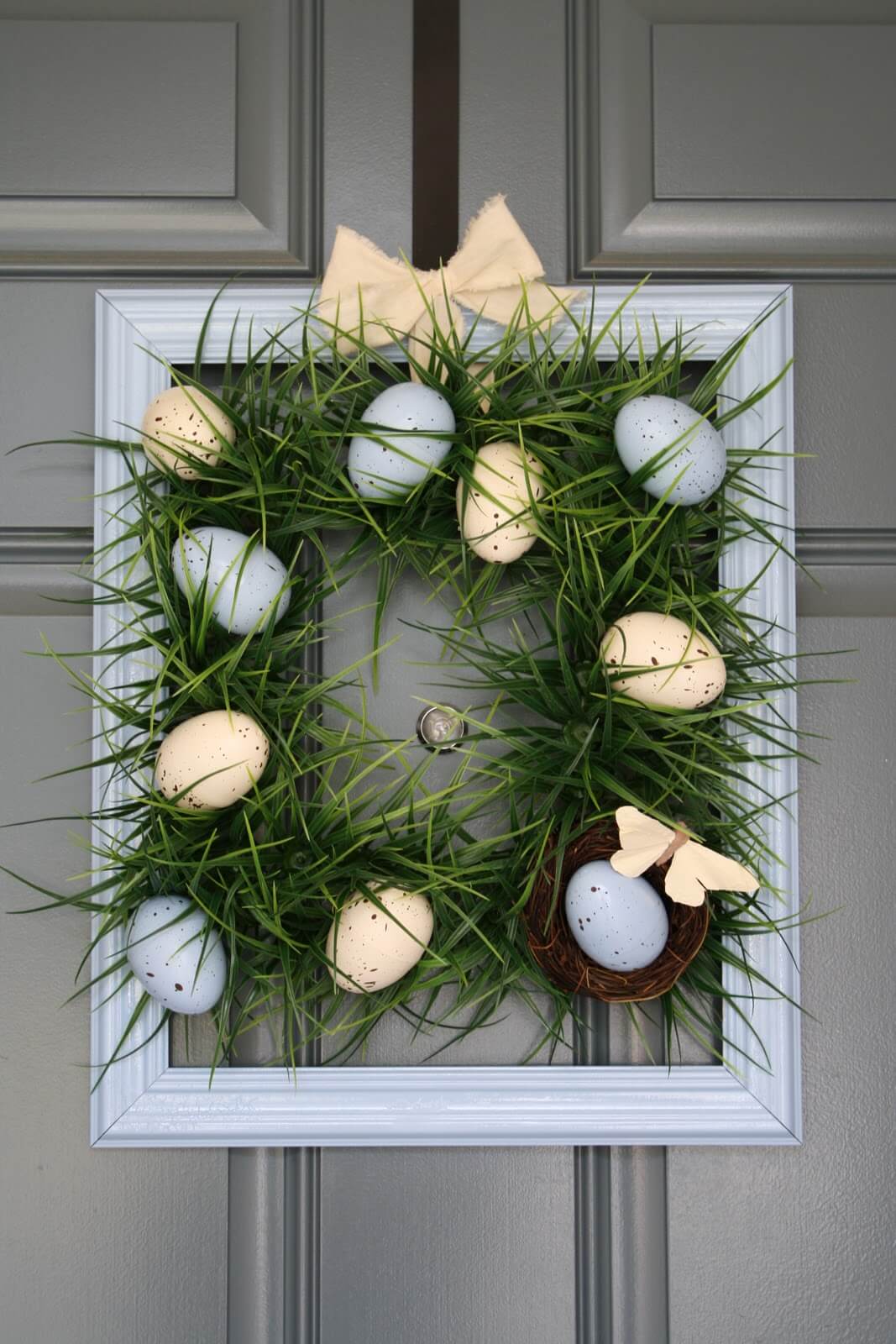 9. Easy Peeps Bunny Easter Wreath Décor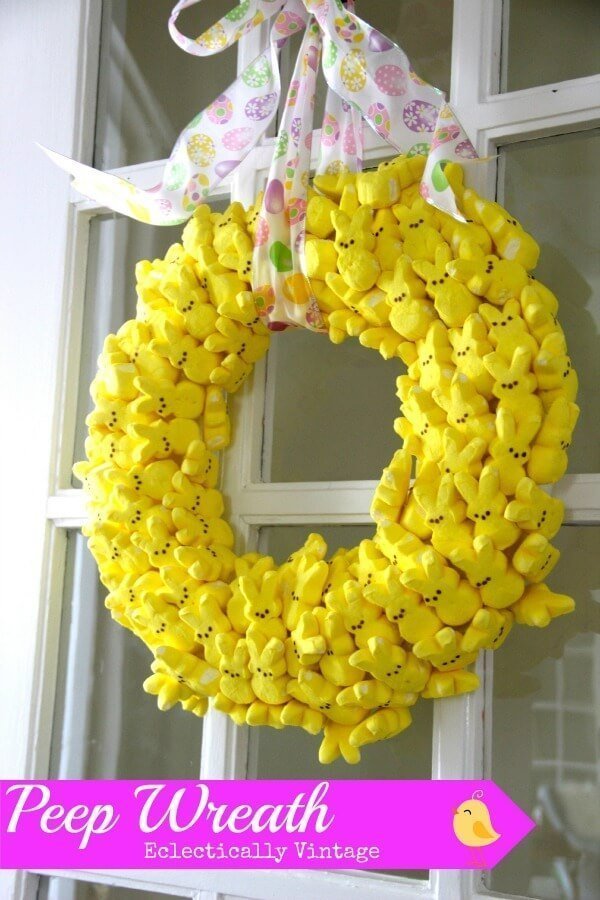 10. Cute Burlap Easter Bunny Door Decoration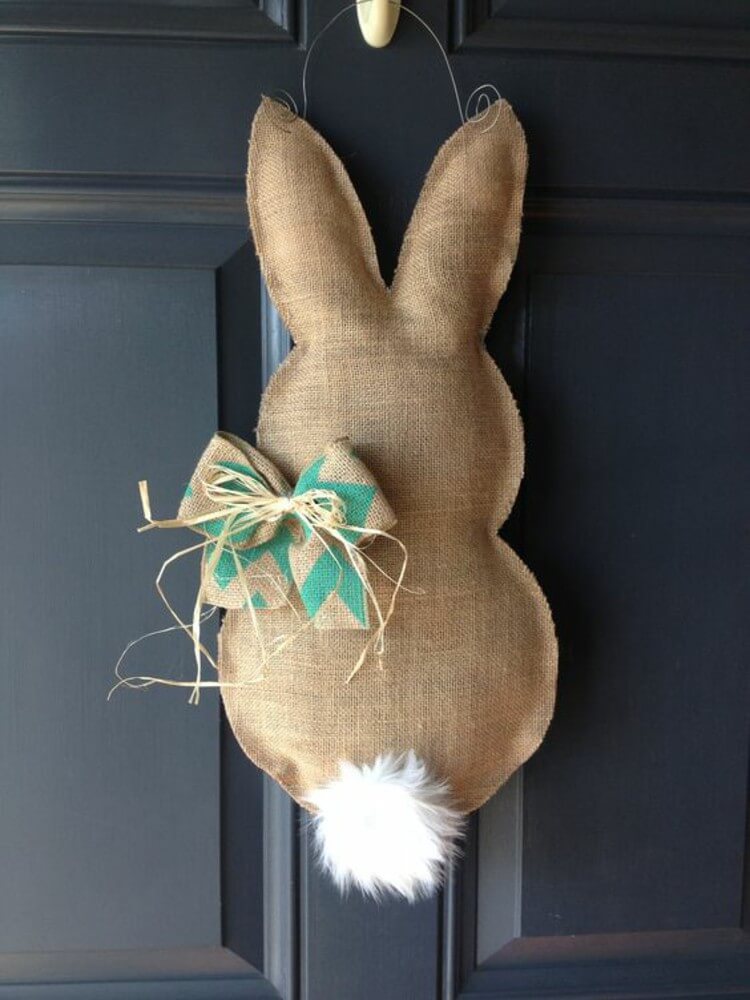 11. Pretty Easter Egg Nest Door Decoration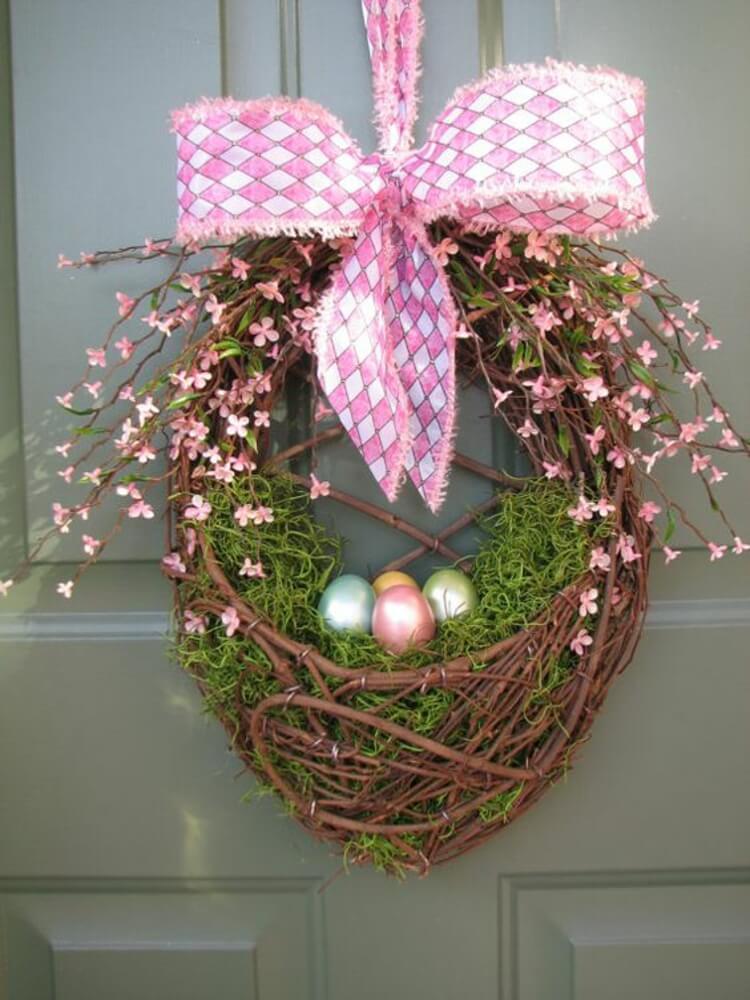 12. Easy DIY Springtime Tulip Wreath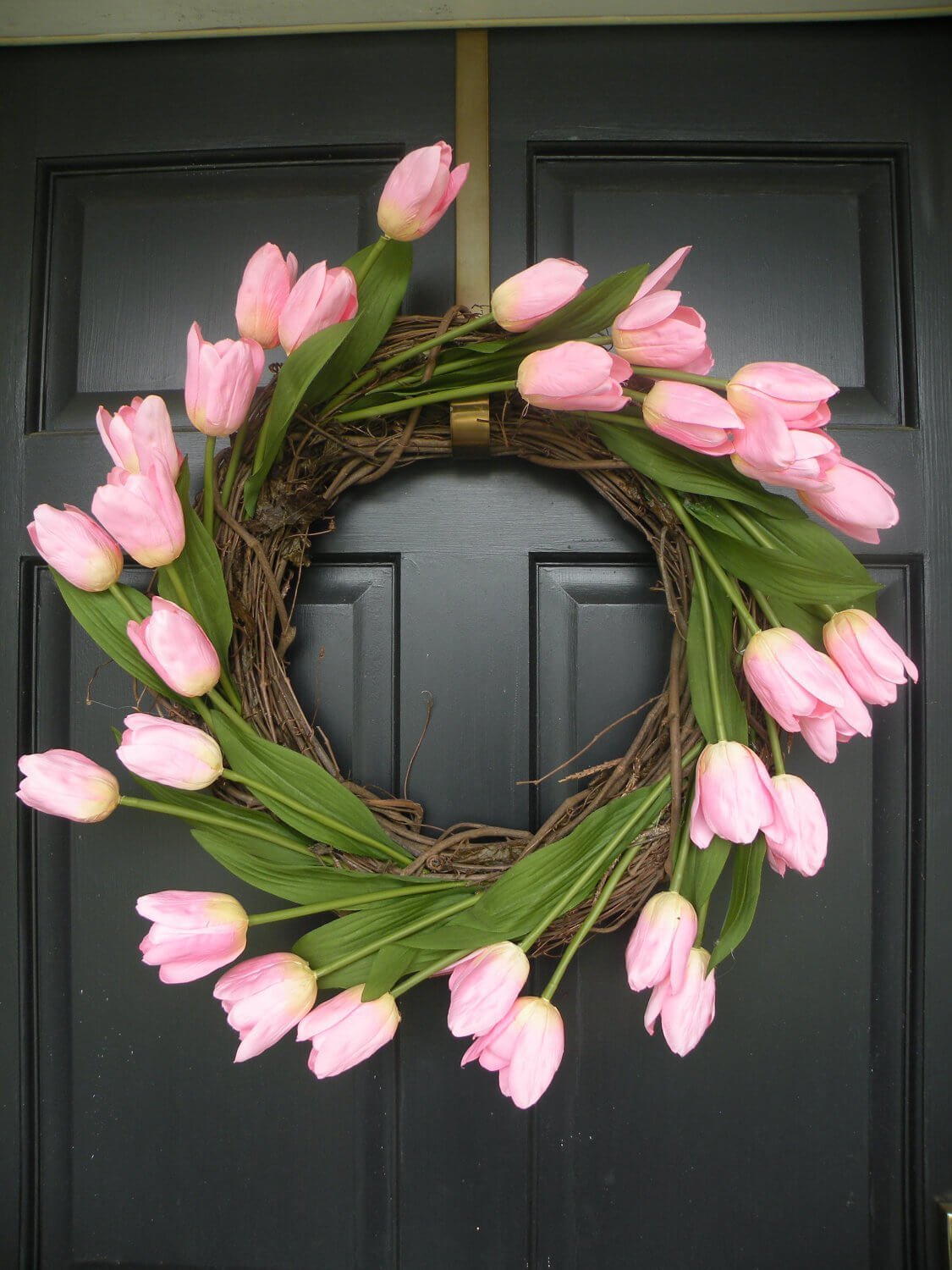 13. Cute Spring Grass and Flowers Wreath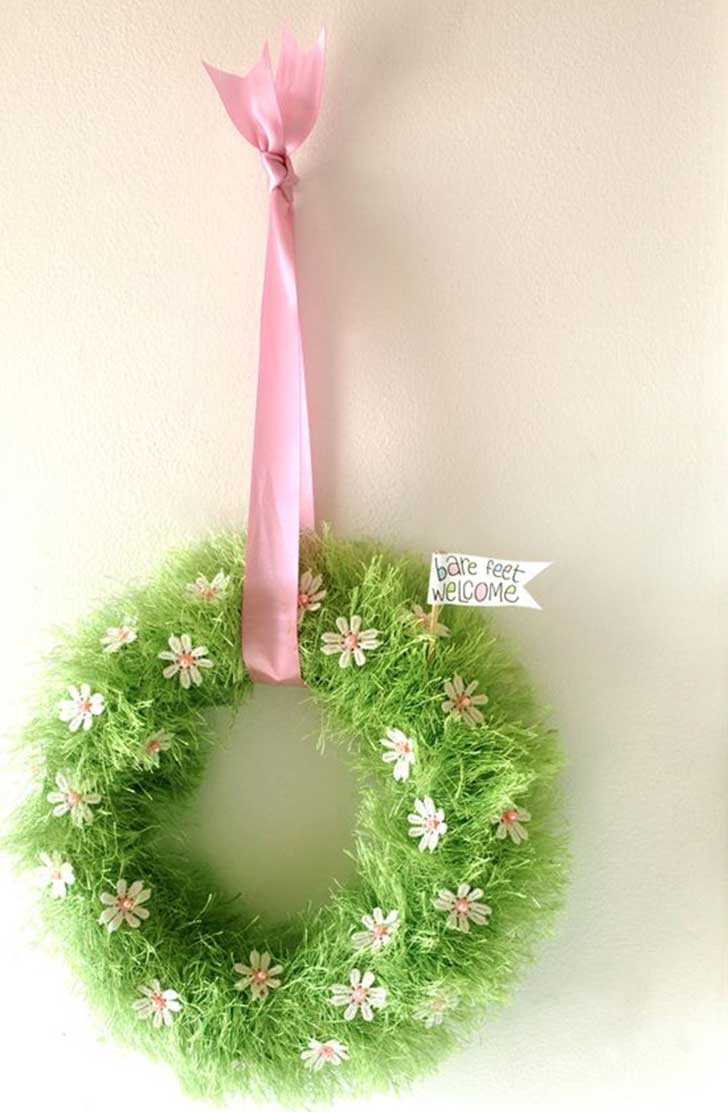 14. Paper Flower Wreath for Spring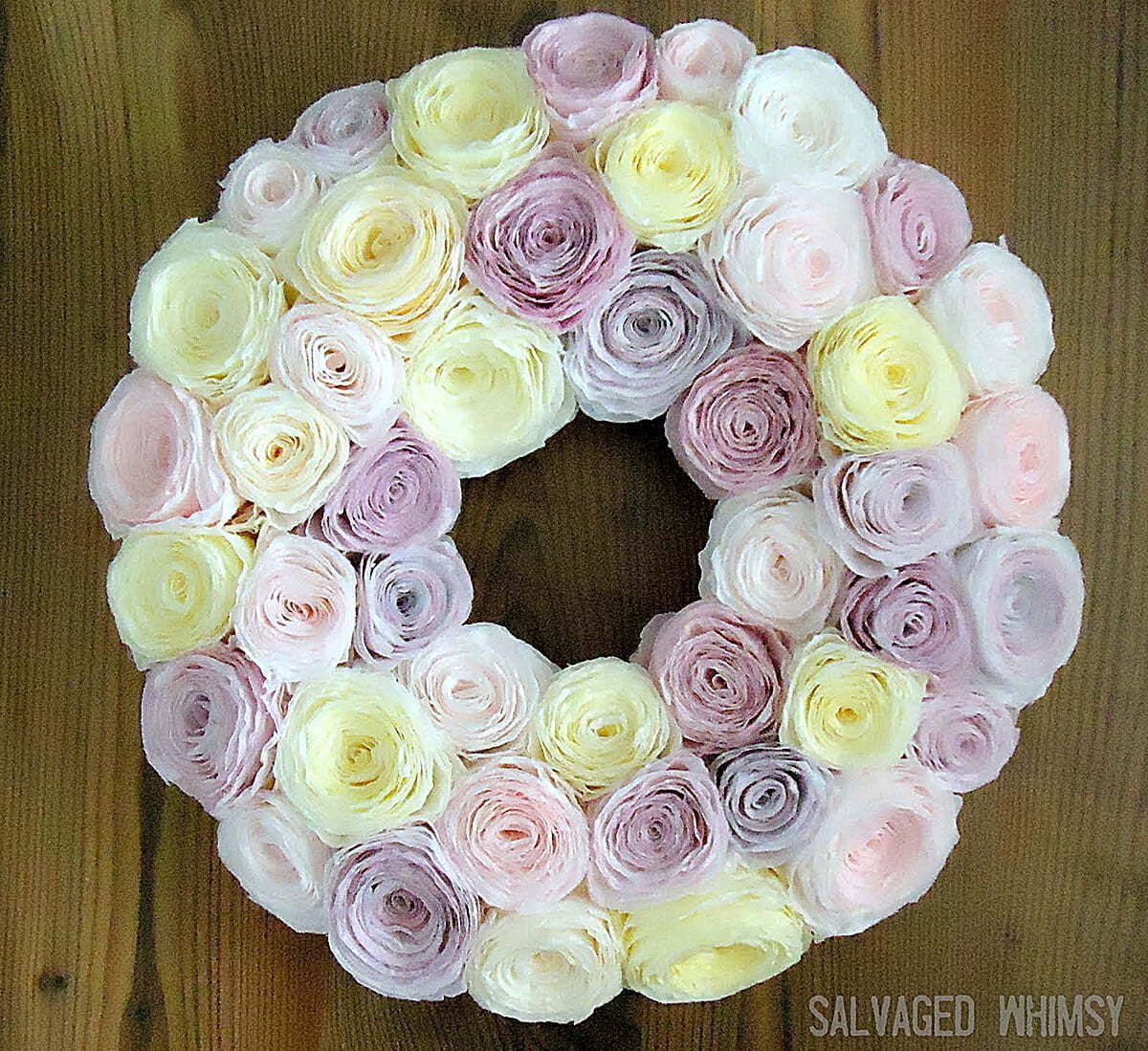 15. DIY Fabric Easter Egg Wreath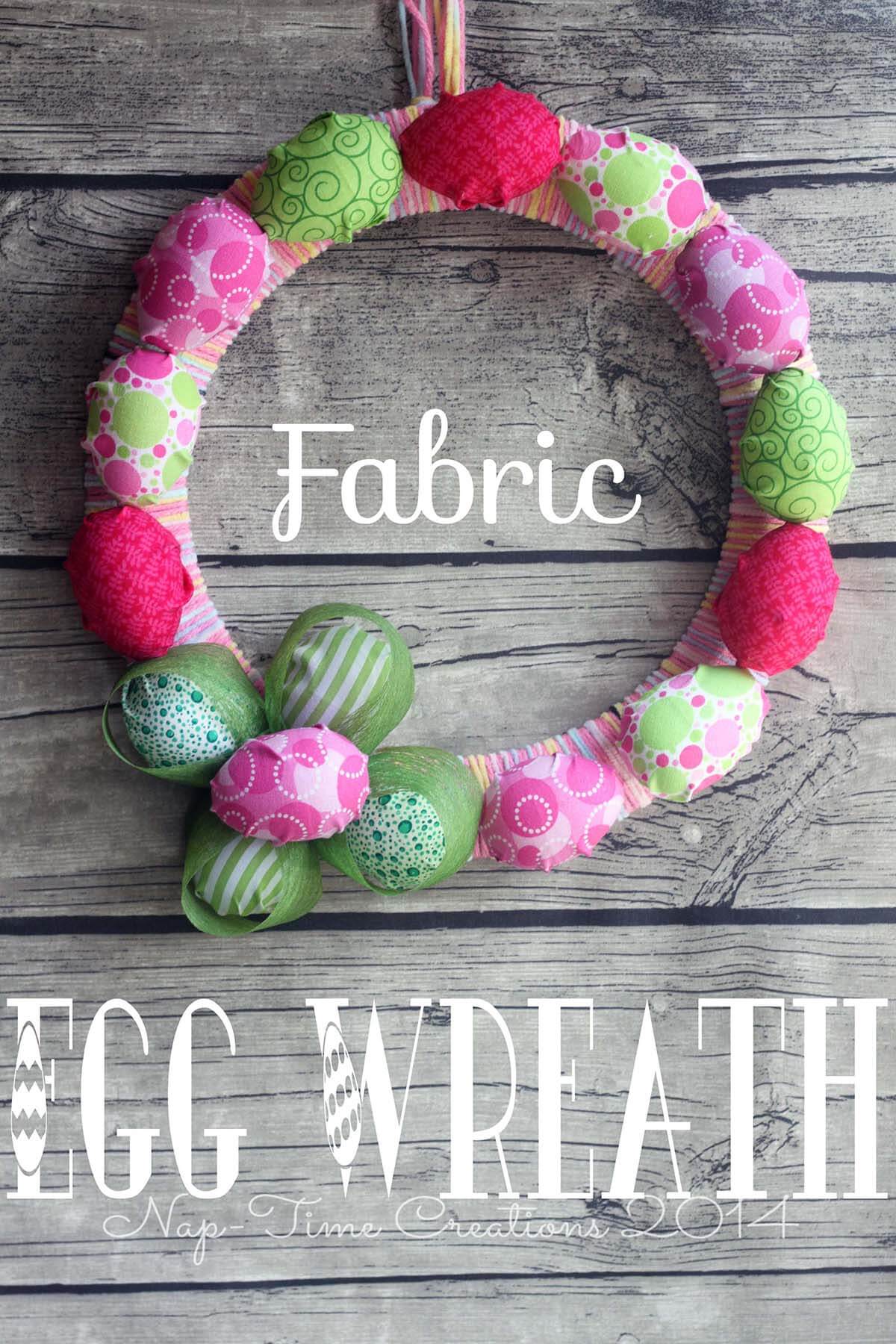 16. Colorful Yarn Easter Egg Wreath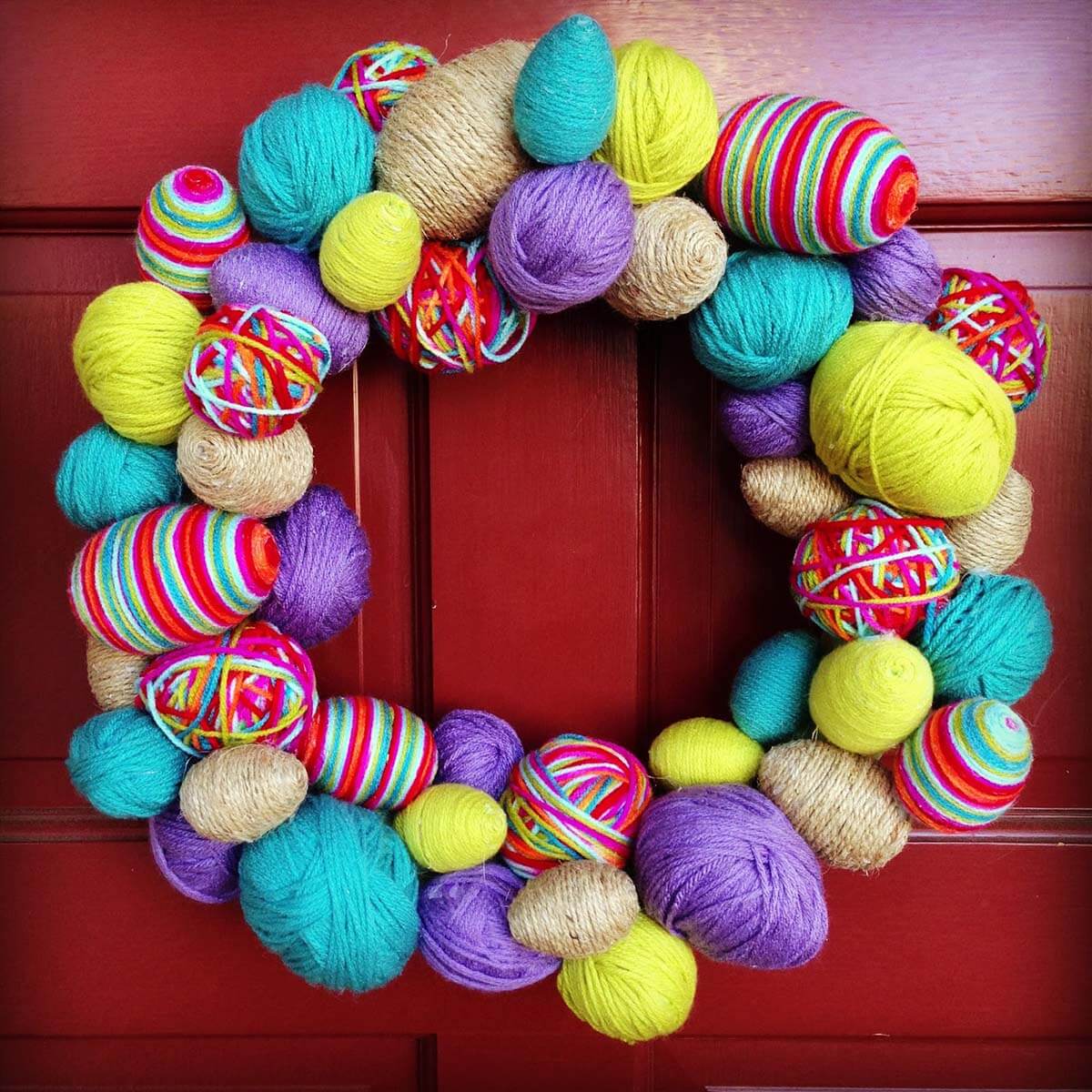 17. Easy Fuzzy Easter Bunny Wreath

18. Burlap and Greenery Easter Bunny Wreath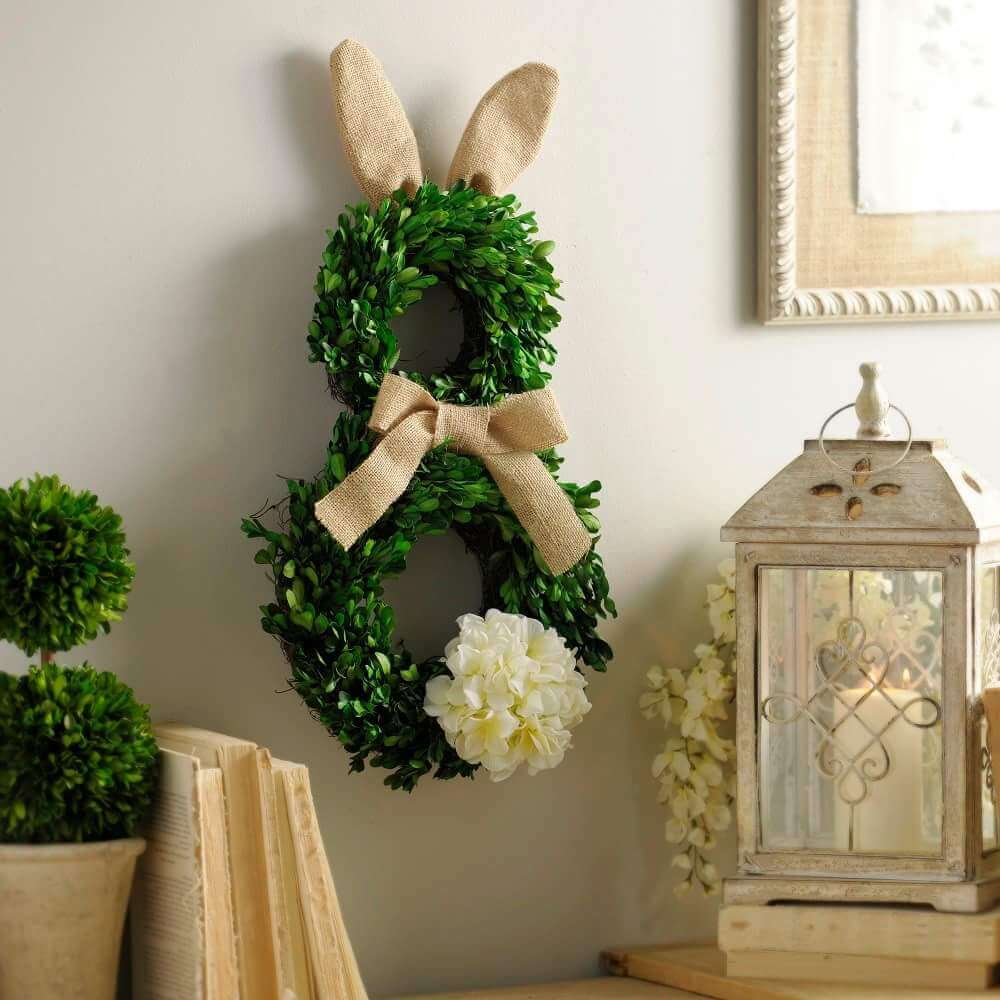 19. Heart-Shaped Grapevine Wreath with Baby Chicks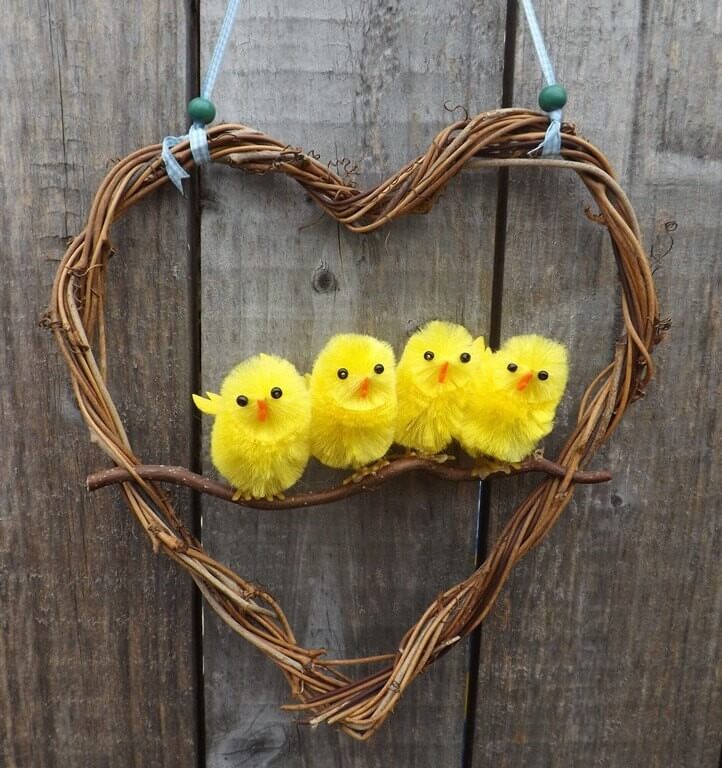 20. Easy Plastic Easter Egg Wreath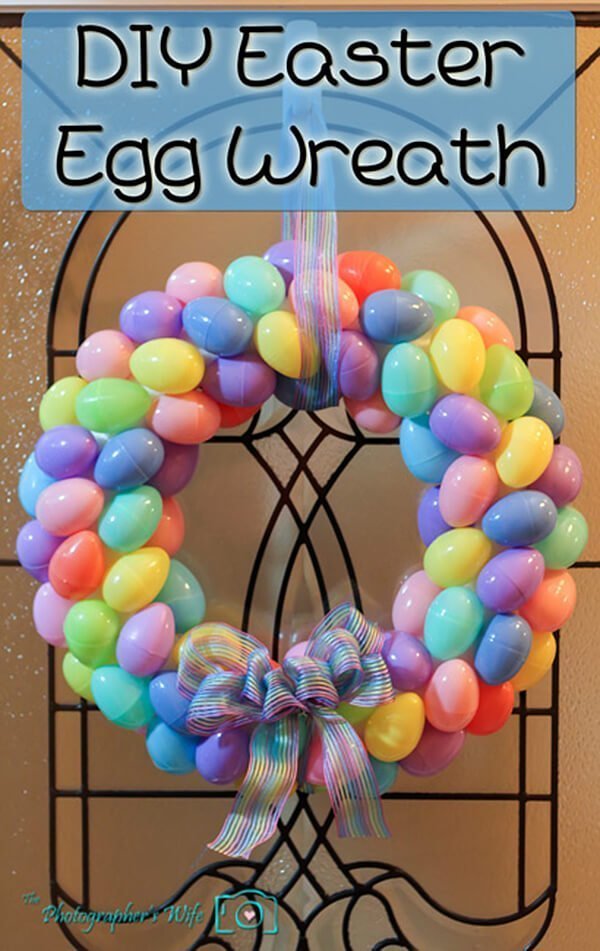 21. Easter Bunny Wreath with Pom-poms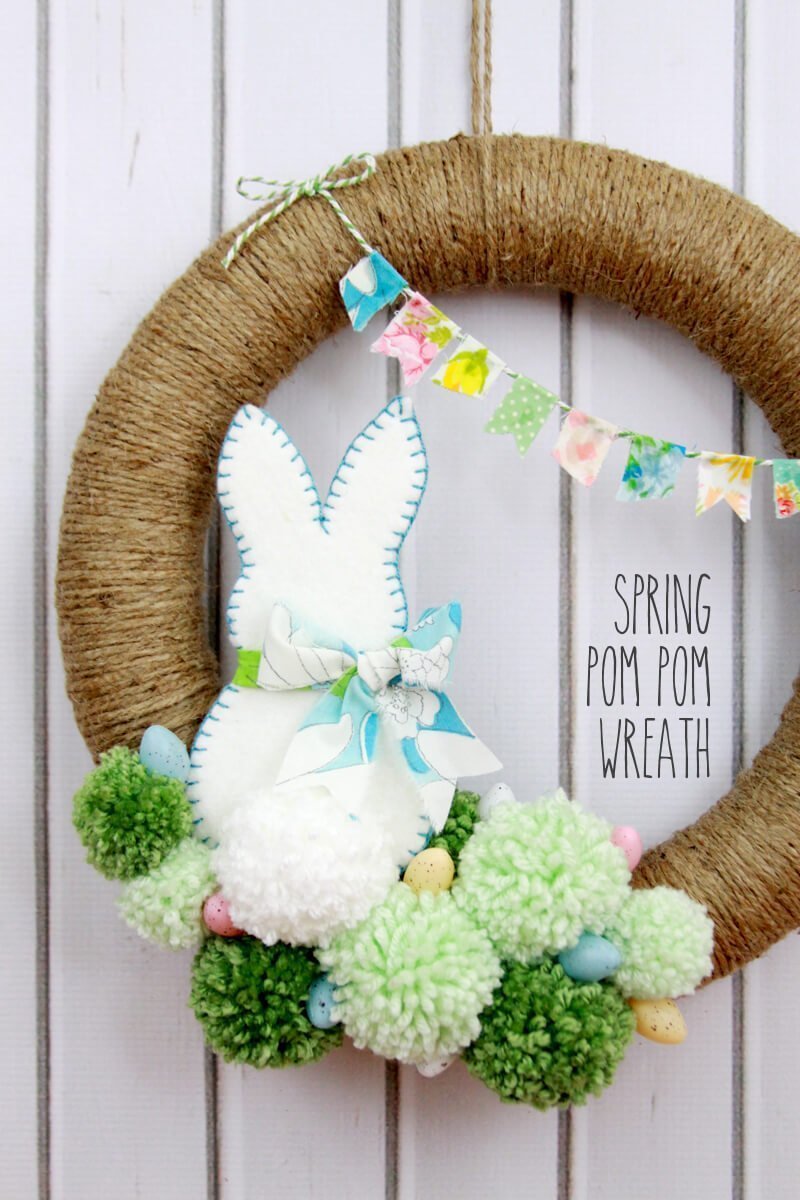 22. Pretty Burlap Easter Bunny and Eggs Wreath
23. Adorable DIY Cardboard Easter Wreath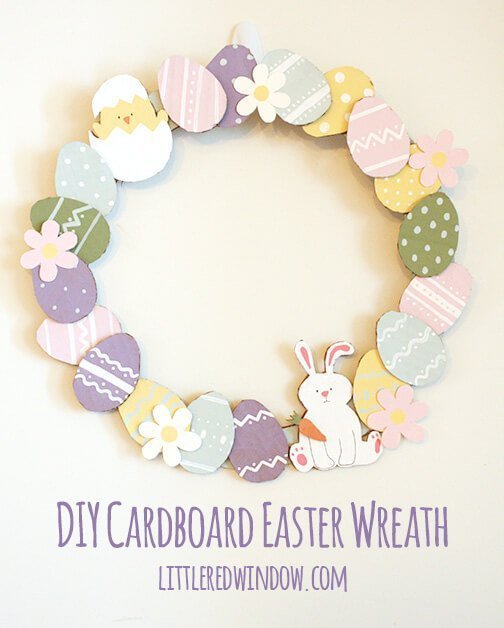 24. Grapevine and Moss Bunny Wreath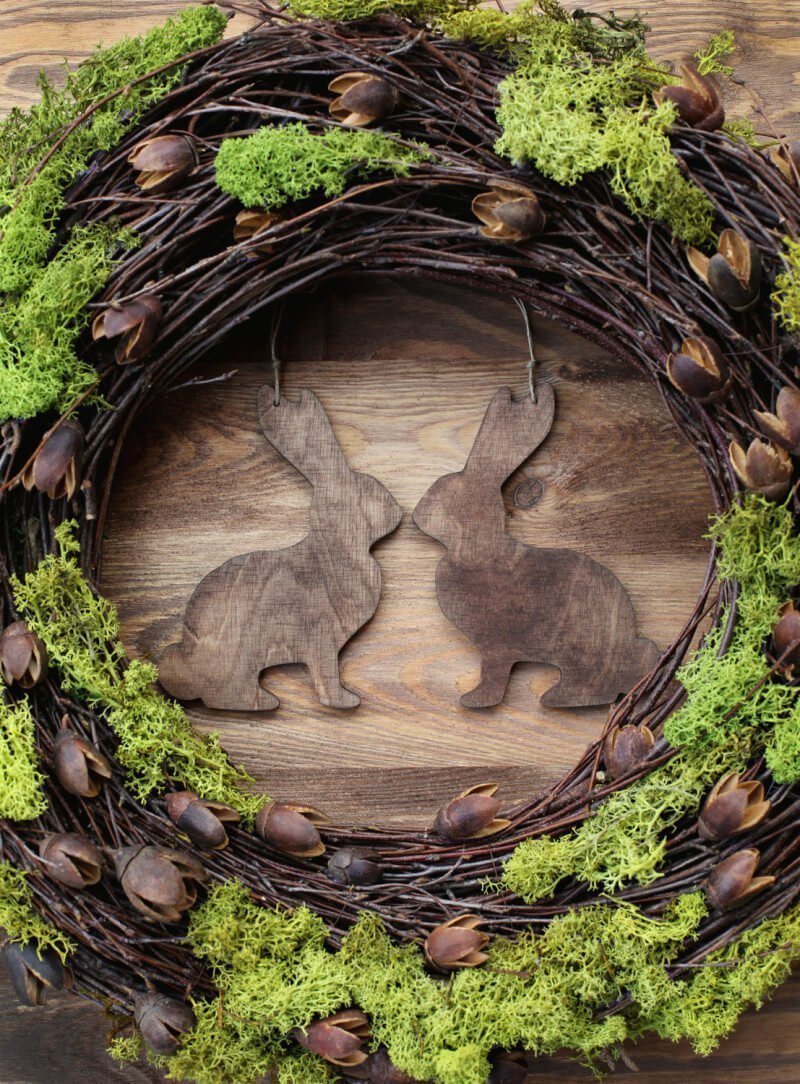 25. Cute Bunny Wreath with Fabric Flowers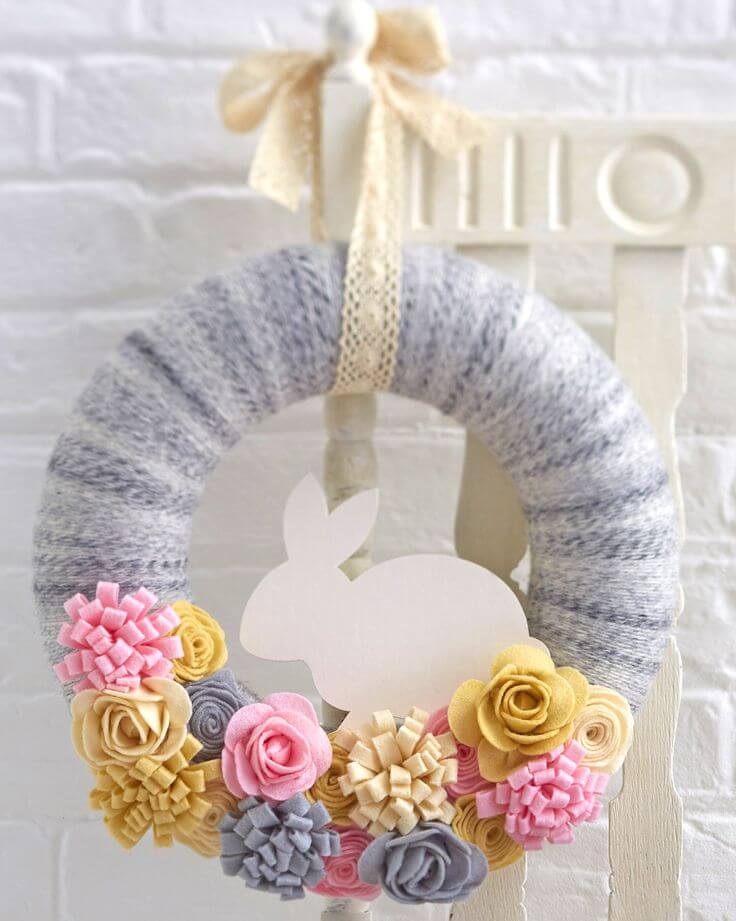 26. Easy DIY Easter Egg Wreath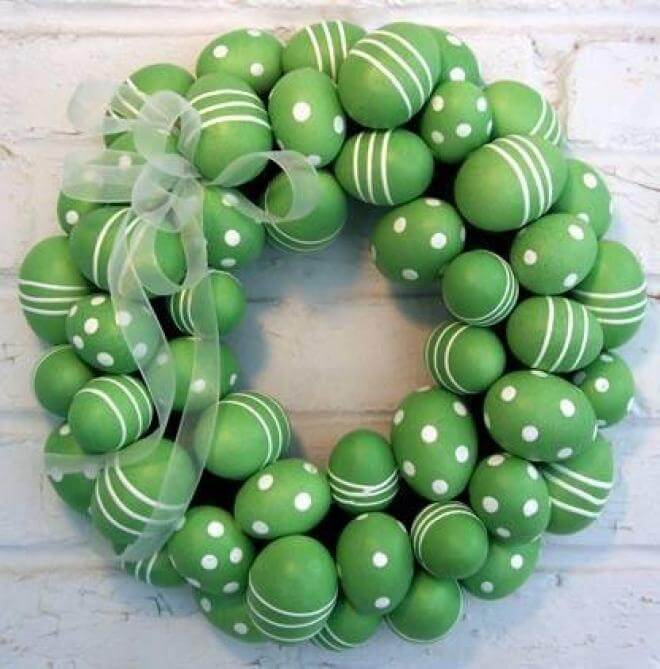 27. Pretty Pastel and Plaid Easter Egg Wreath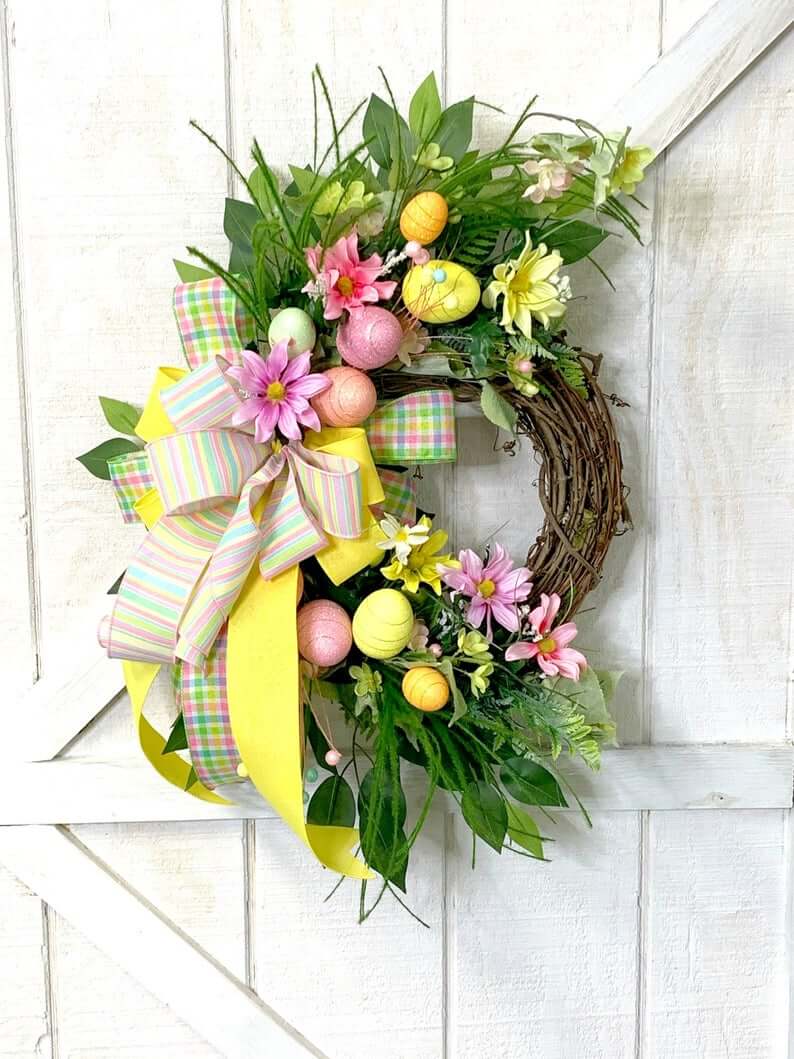 Welcome Easter at your home with this pretty pastel masterpiece. The traditional grapevine wreath is adorned with the seasonal colors in delicate plaid patterns and soft eggs to make this wreath pop! Flower sprigs take a back seat to the bow that steals the show. It's a great way to welcome extended family into your home this spring.
28. Burlap, Eggs, and Bow Easter Wreath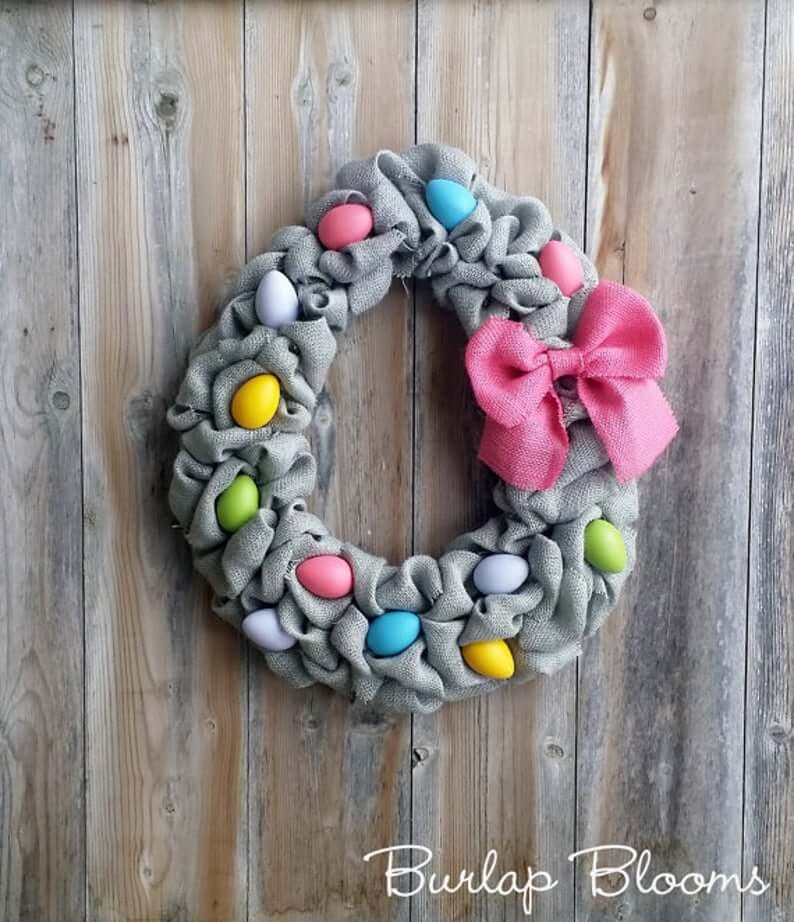 Channel your inner farmhouse lover and hang this beautiful burlap creation on your front door. Your porch will be the perfect place for this Easter wreath to call home. Full of texture, this burlap wreath effortlessly holds a collection of pretty pastel-hued eggs and is finished with a pink burlap bow to tie it all together.
29. Gorgeous Garden Bunny and Carrots Wreath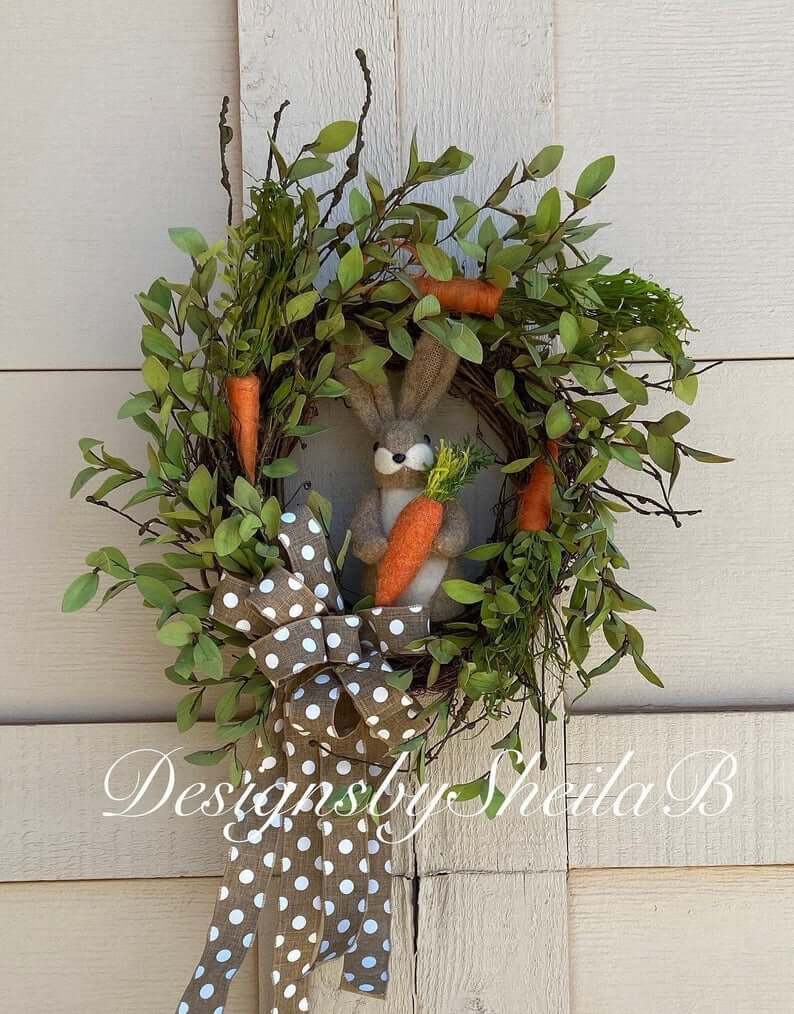 Make a statement with this neutral-toned wreath that features a nice green base and is decorated with lively orange carrots. Nestled within the center of the wreath, a cute and cuddly brown bunny holds a favorite treat. The brown bow with white polka dots adds a nice touch and gives this wreath the design and style you need.
30. Green and Pink Berries and Eggs Wreath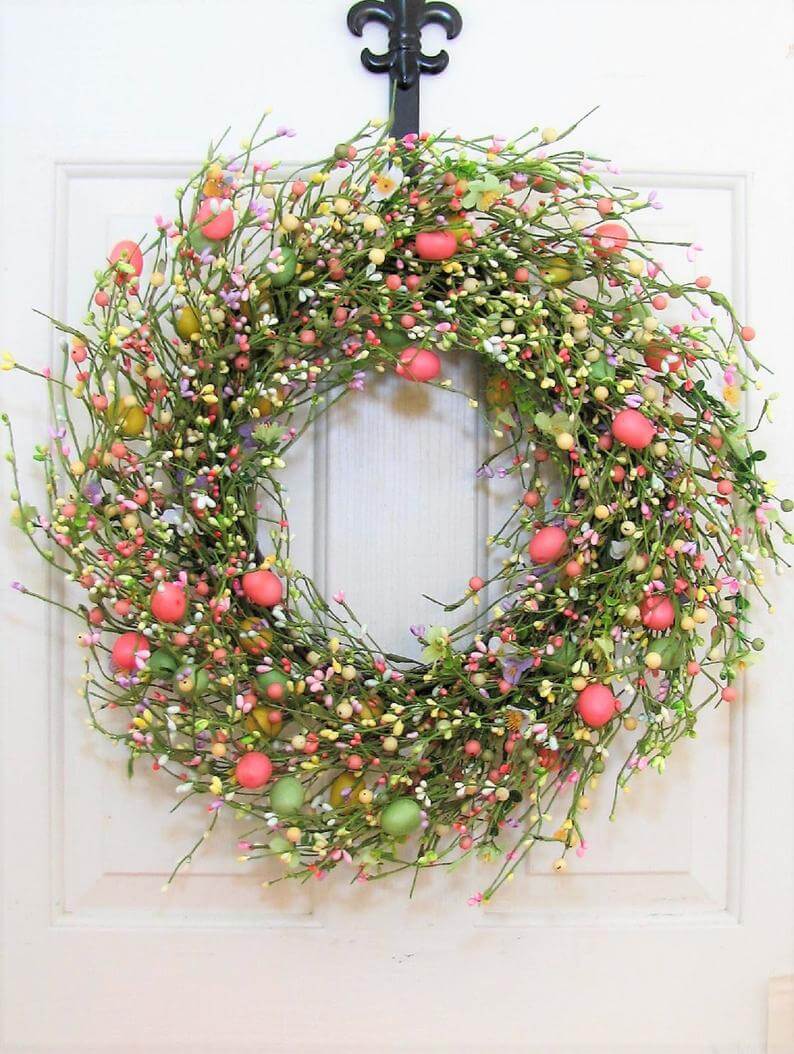 Check out this natural beauty! Full of beaded berries and eggs, this pretty wreath fans out to add lots of charm and character to your Easter decor. This wreath looks great inside your home as well as on your front door. Swap it out for a picture on your kitchen wall to bring some fresh spring colors into your home.
31. Modern and Magnificent Moss & Carrot Wreath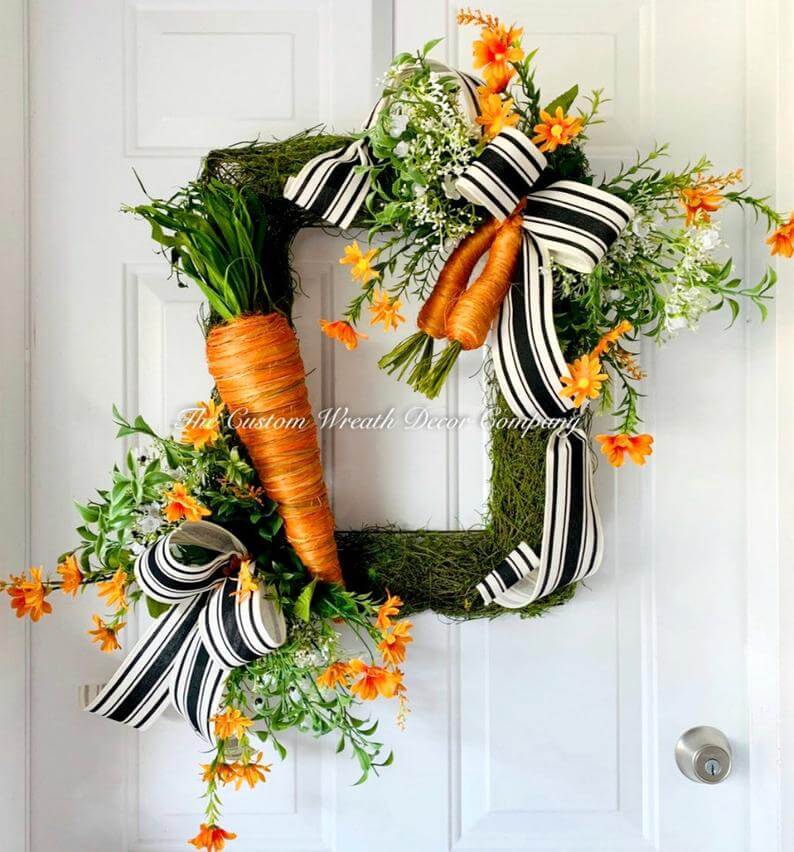 Stay on par with your home's modern design while updating your space for spring. This squared moss wreath is the unique touch your front door needs to graciously greet the warmer temperatures in style. The adorable carrots along with the black and white striped ribbon make this a marvelous modern spin on the old seasonal wreath.
32. Burlap Bunny Bow Easter Wreath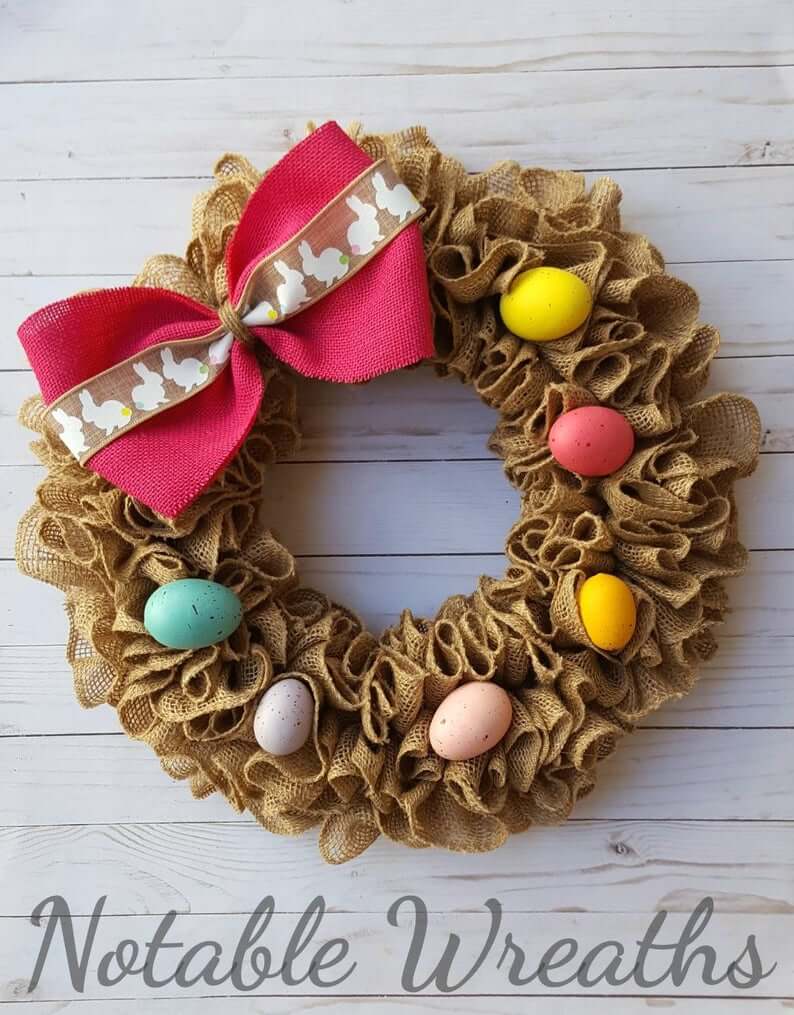 Here's a cute and simple burlap wreath that will look fabulous on your front porch. The burlap bunches add so much depth to your wreath design and it's even more amazing with the gorgeous pink and bunny burlap bow. To finish it off, a few eggs have been placed to give this wreath another ode to the animal of the season.
33. Garden Greens and Plaid Eared Bunny Wreath
Black and white plaid hits the scene in this darling garden greens wreath that features a perfect bunny perched inside holding a carrot. To coordinate with the bunny's plaid ears, a gorgeous plaid bow embellishes the look complete with carrots to mimic the carrot accents around the wreath.
34. Head Over Heels Bunny Easter Wreath Decoration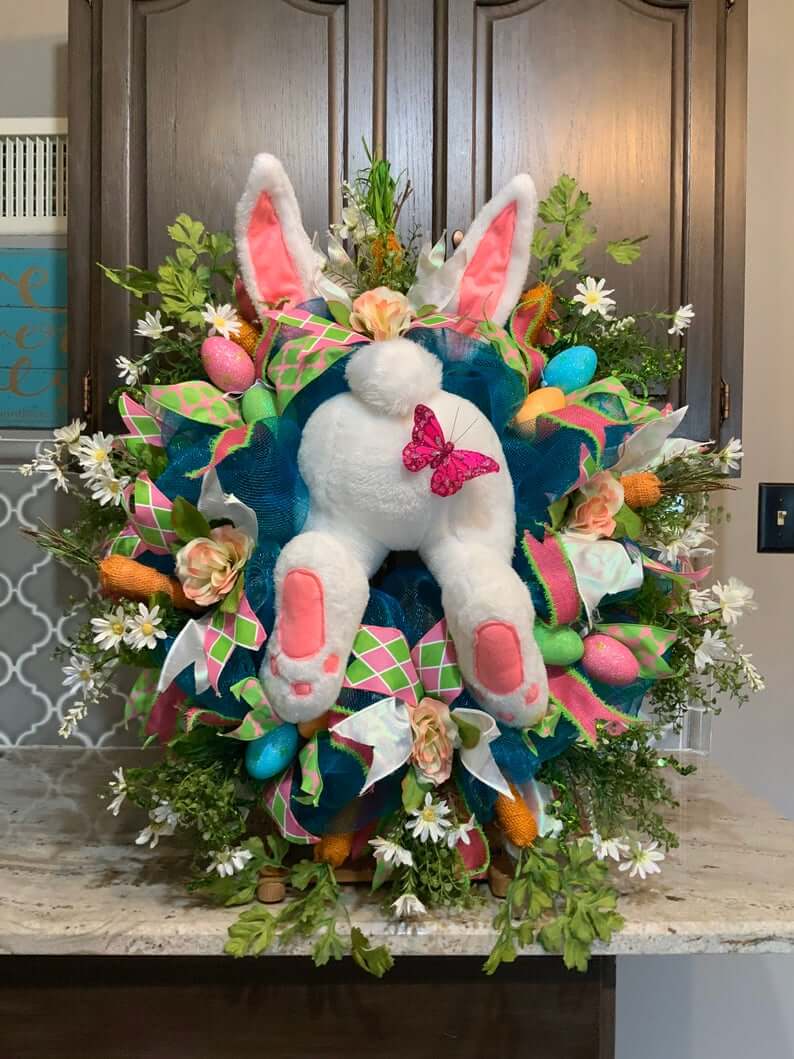 This is a powerful, over-stuffed wreath decoration that features a bunny that has fallen into the festive ribbons, eggs, and greenery. The furry legs and butt stick out where a lovely butterfly has landed near the fuzzy white tail. All of the bright colors are a respite from the pastel overload of spring. Set this on your kitchen island for all guests to enjoy.
35. Delicate and Simple Shades of Green Wreath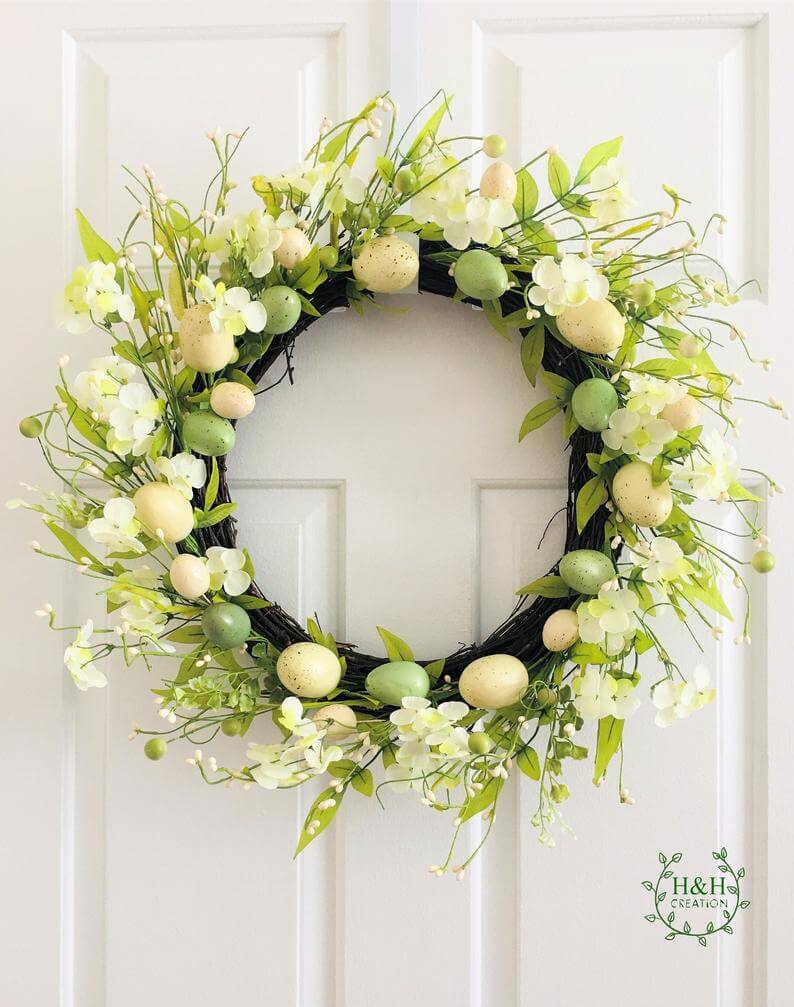 What's not to love about all of the gorgeous green hues in this spring wreath? The pretty flowers and leaves fan out as they wind around to create this wonderful wreath. Alternating white and pale green eggs adds a fun dose of texture to the look. Your guests might be green with envy when they see this gorgeous green goddess.
36. Burlap Bunny Shaped Fuzzy Ear Wreath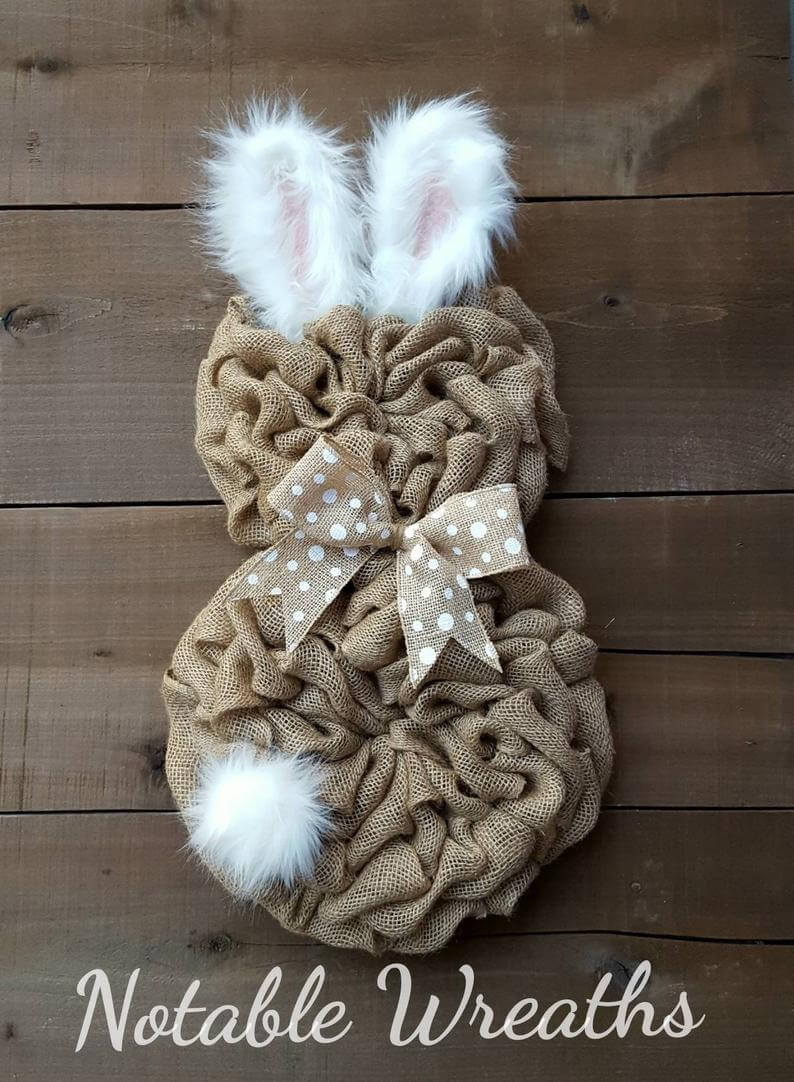 Soft and rough collide in this adorable burlap bunny-shaped wreath. A definite change of pace from your traditional circular counterparts, this shaped wreath adds more charm with fuzzy ears and a tail. The polka dot bow around the neck adds a nice finishing touch as well.
37. Pink and Blue Festive Easter Egg Wreath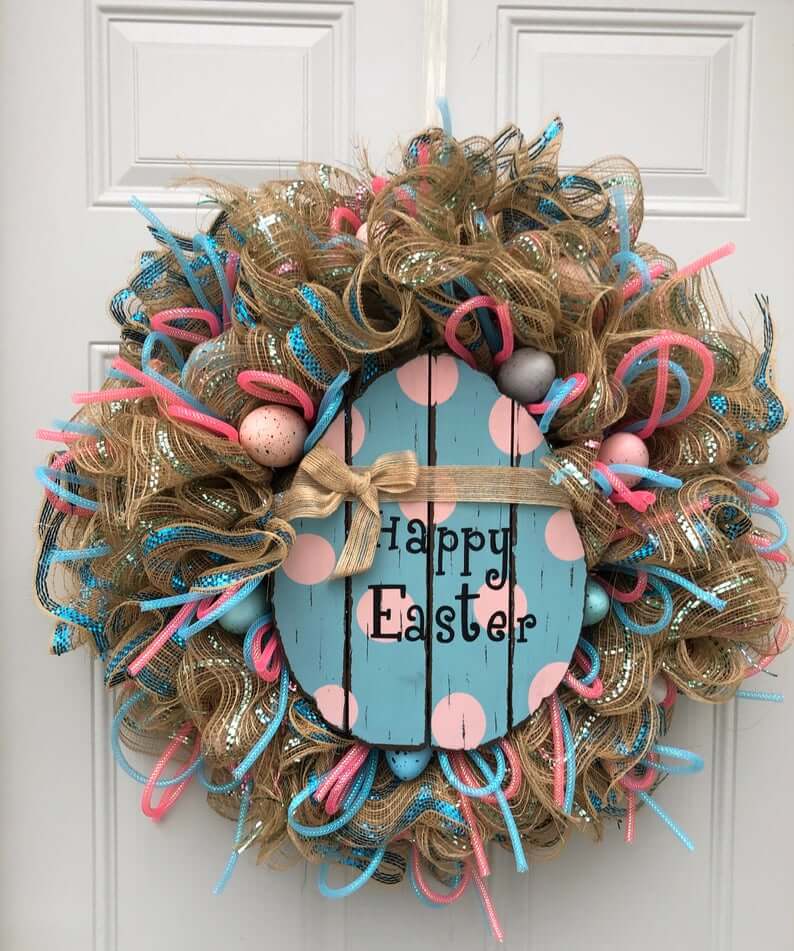 Pink, blue, and a touch of glittery pizazz is what you'll be hanging on your door this spring. The lovely colors coordinate nicely with the golden brown ribbon wreath. Inside the wreath, you'll discover a cute wooden painted egg bestowing a "Happy Easter" to all who enter your home.
38. Pink, Blue, and White Burlap Bunny Wreath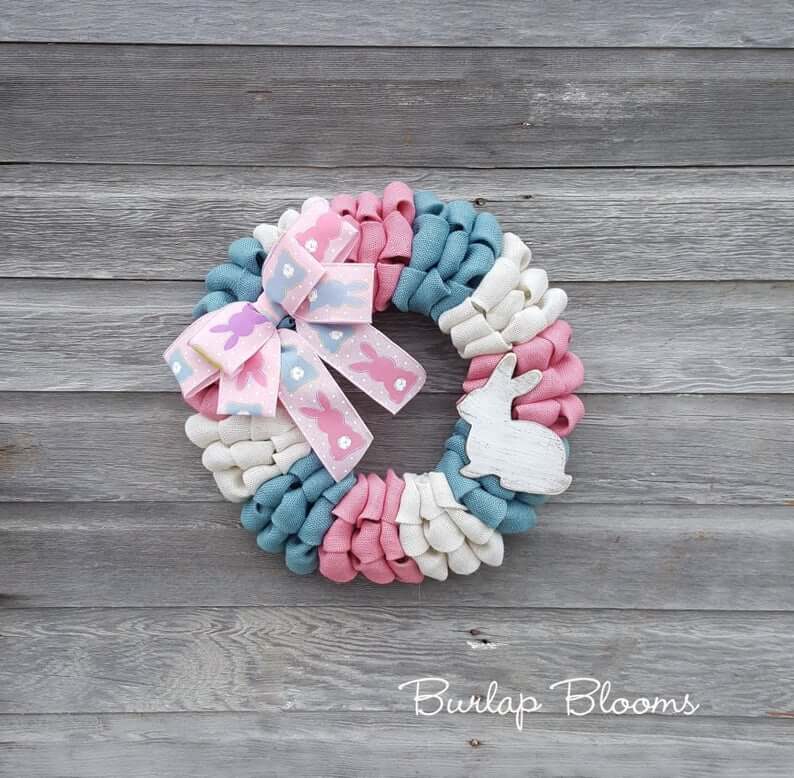 Create a ring of stripes in some gorgeous spring hues with this burlap wreath featuring three colors. Although this burlap beauty would look perfect alone, it has been adorably adorned with a white wooden bunny cutout and a pretty pastel bunny ribbon bow.
39. Grapevine and Chicken Wire Bunny Wreath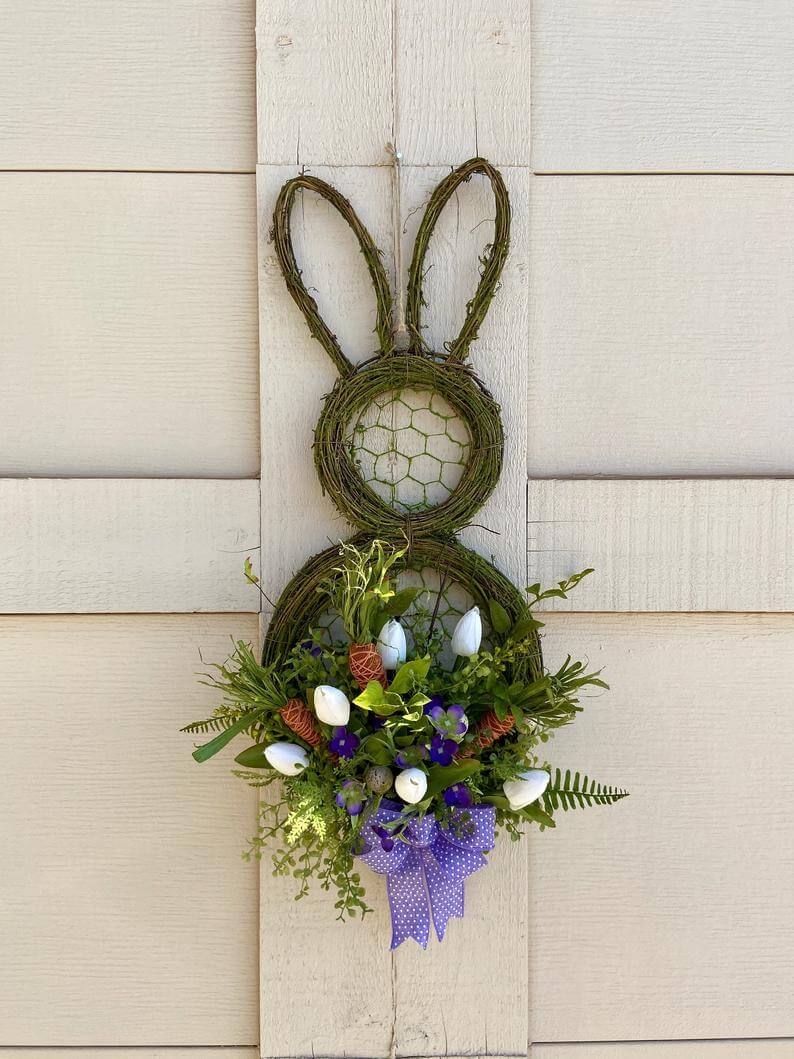 Let the creative juices run wild as you decorate your home with this cute and charming chicken wire and grapevine bunny masterpiece. The bottom comes to life as it's filled with a gorgeous array of flowers and even a few carrots to add a nice spring touch.
40. Bunny Shaped Wreath with Pretty Ribbons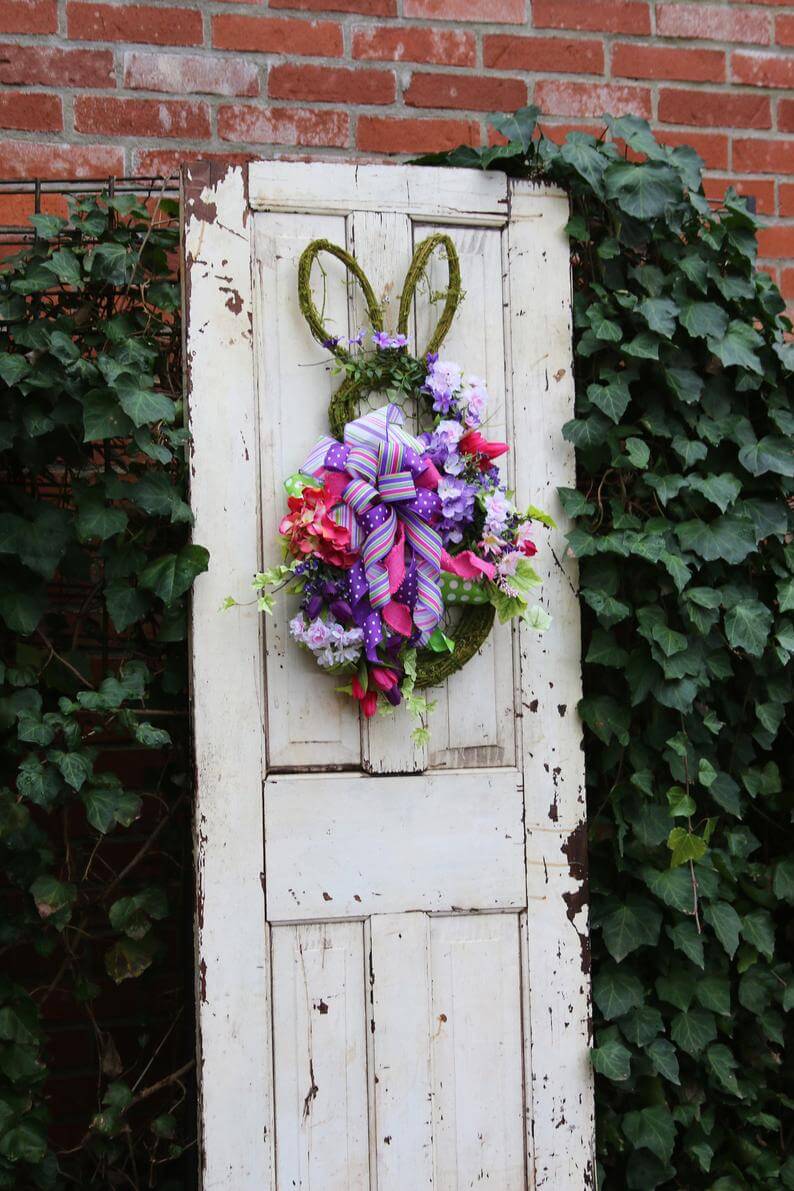 Positively pretty in pink and purple, this darling bunny-shaped wreath is the perfect touch for your home this Easter. The star of the season will hop right into your heart and home with this charming polka dot and striped ribbon.
41. Spring Plaid Laid Back Bunny Wreath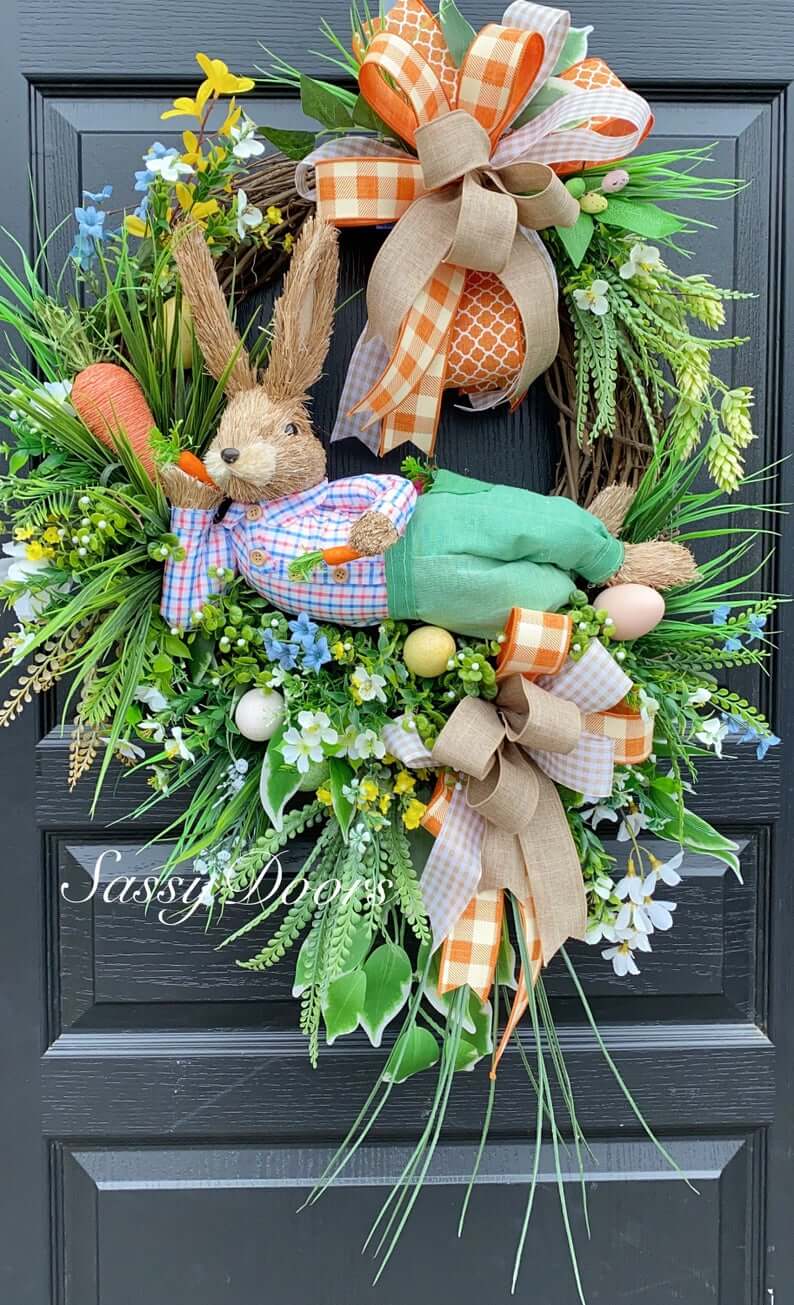 How cute is this quirky little laid back bunny? He's posed to perfection inside this spectacular wreath filled with plaids, ribbons, and sprigs of spring flowers. What a wonderful way to welcome the Easter holiday as you hang this gem above your mantel to give it a much-needed update for spring.
42. This Way to Easter Fun Pastel Wreath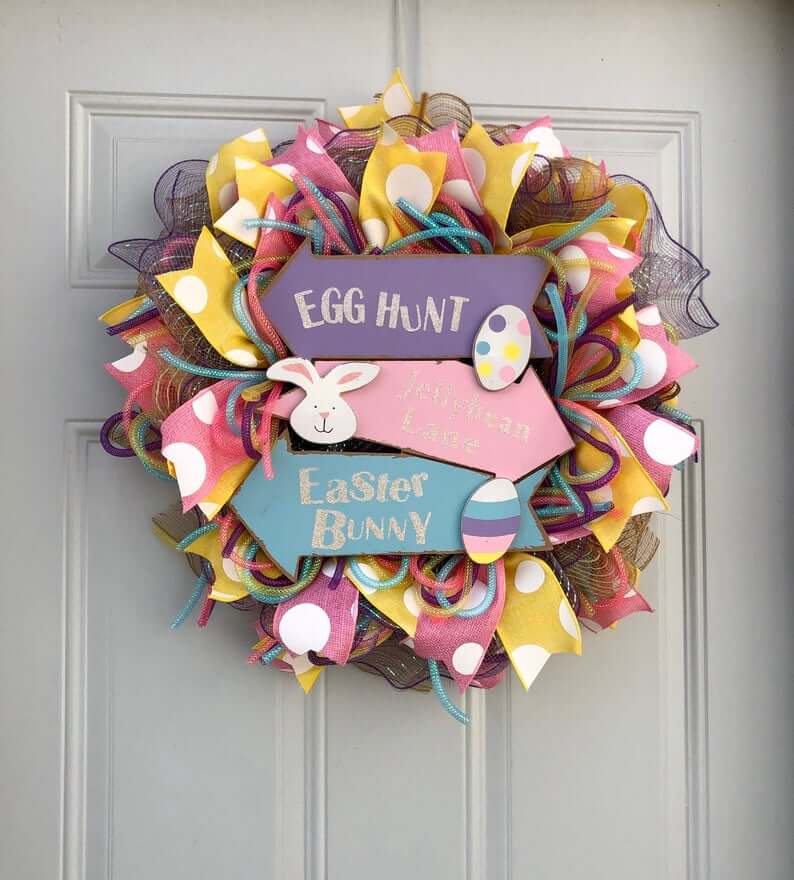 Head this way to Jellybean Lane to find some fun this Easter! The vibrant polka dot pastel ribbons along with some bouncy pieces make this wreath spring to life. Cute painted arrows lead the way to the seasonal must-see destinations. Add some color and fun to your front door as you celebrate Easter!
43. Beautiful Berry Bead Bunny with Pink Bow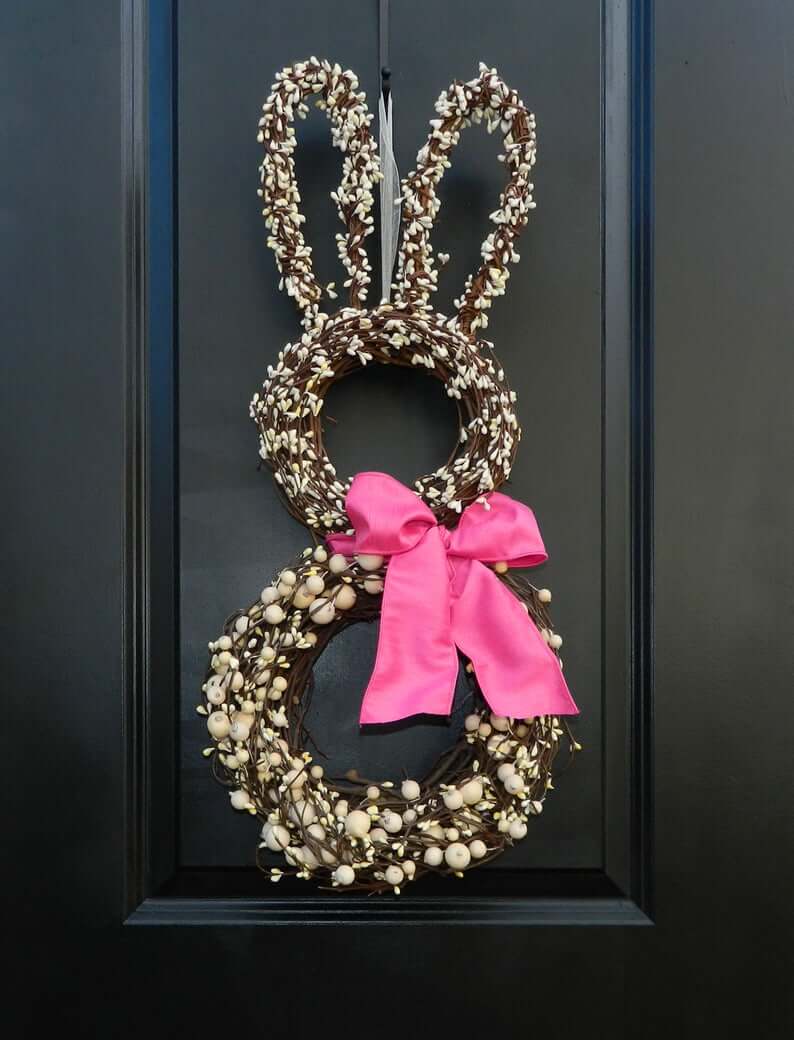 This charming and super cute berry beaded wreath design creates the most adorable white bunny to hang on your front door. An over-sized pink fuchsia bow adds the bold pop of color that makes this such an elegant design.
44. Colorful Burrow with Baby and Mother Bunny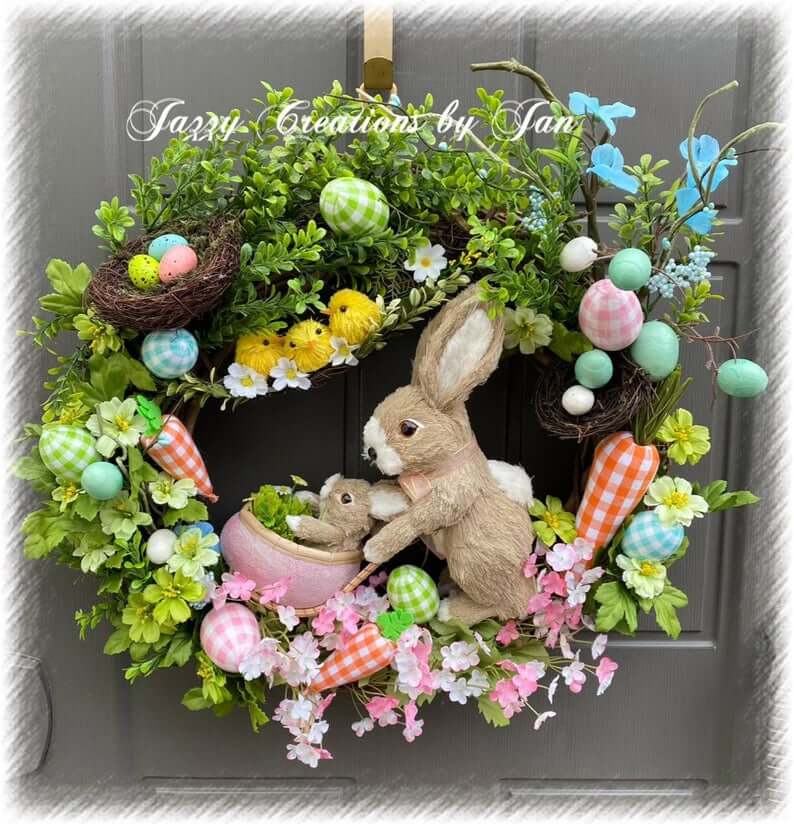 Nestled down in the burrow, this sweet baby and mother bunny are strolling along in your beautiful springtime wreath. Complete with pastel plaid carrots, bird eggs in a nest, and a trio of feathered friends, this wreath packs some springtime love into every nook and cranny.
45. Natural Colors with Bunny Statue Spring Wreath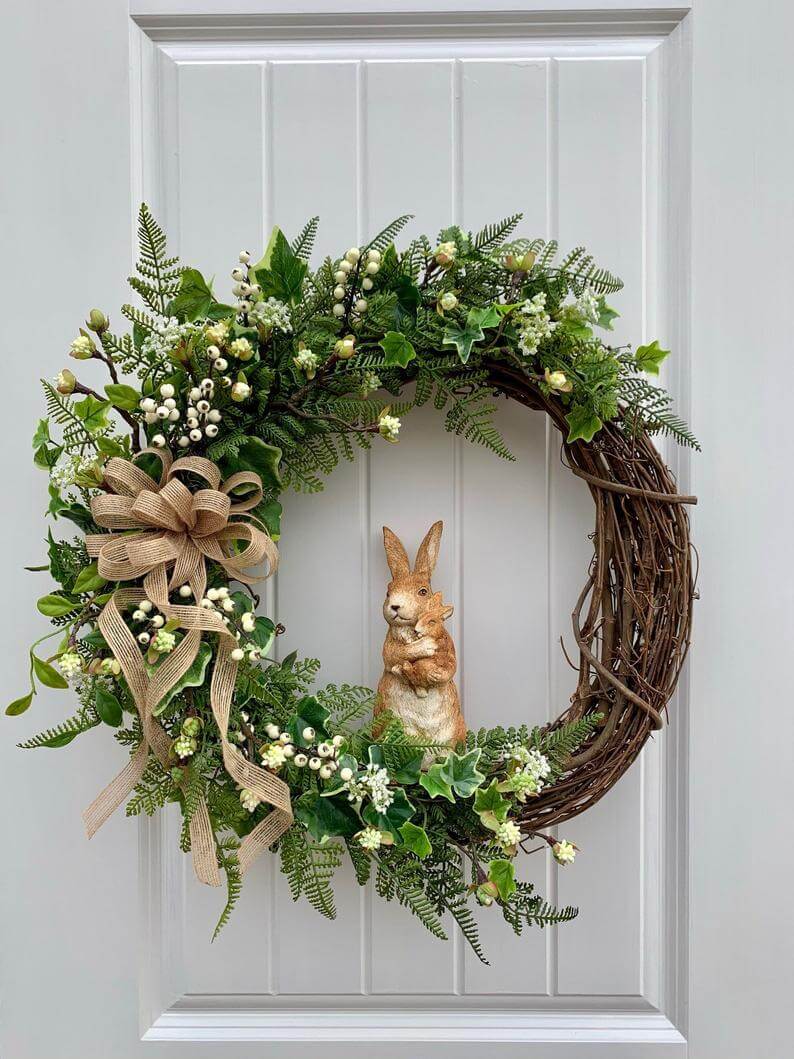 Infused with lush greens, this spring wreath is bursting with fern fronds to create a unique and true-to-nature masterpiece. A thin brown burlap ribbon creates a lovely bow to enhance the beauty of the browns mirrored in the delicate statue of the bunny with babe.
46. Beaded Berry and Easter Egg Wreath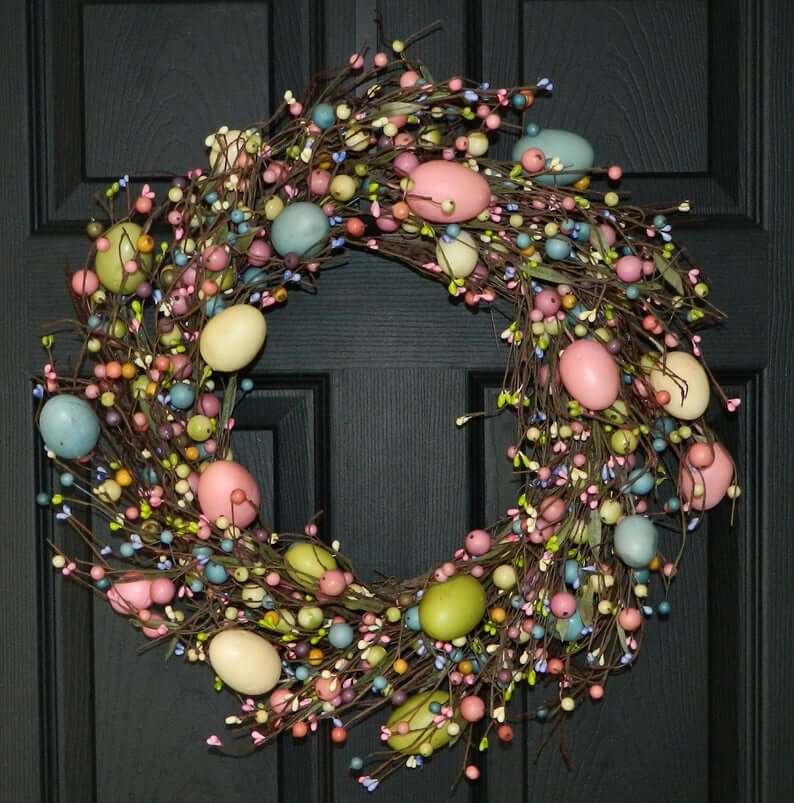 Pops of color and loads of texture create a dazzling display for the eyes in this Easter egg wreath. It looks pretty hanging on your front door or equally exquisite resting on your table cradling a large white candle as a beautiful centerpiece design.
47. Lazy Bunny on Carrot Wreath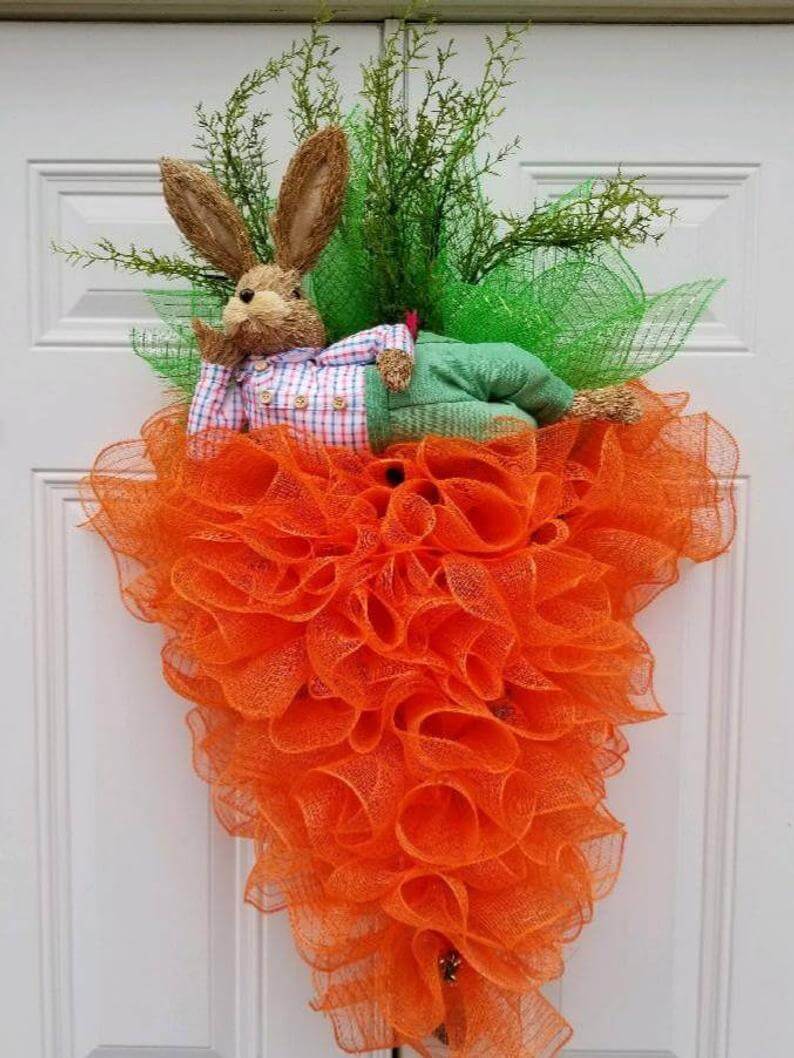 Bright and bold, this vibrant orange carrot is sure to stand out along your street. The intertwining and bunching of the delicate layers of ribbon create a magnificent orange carrot complete with plenty of greenery at the top. And the adorable lazy bunny resting on it adds a lot of personality to your front porch for extra curb appeal.
48. Burlap, Bunnies, and Bunches of Color Wreath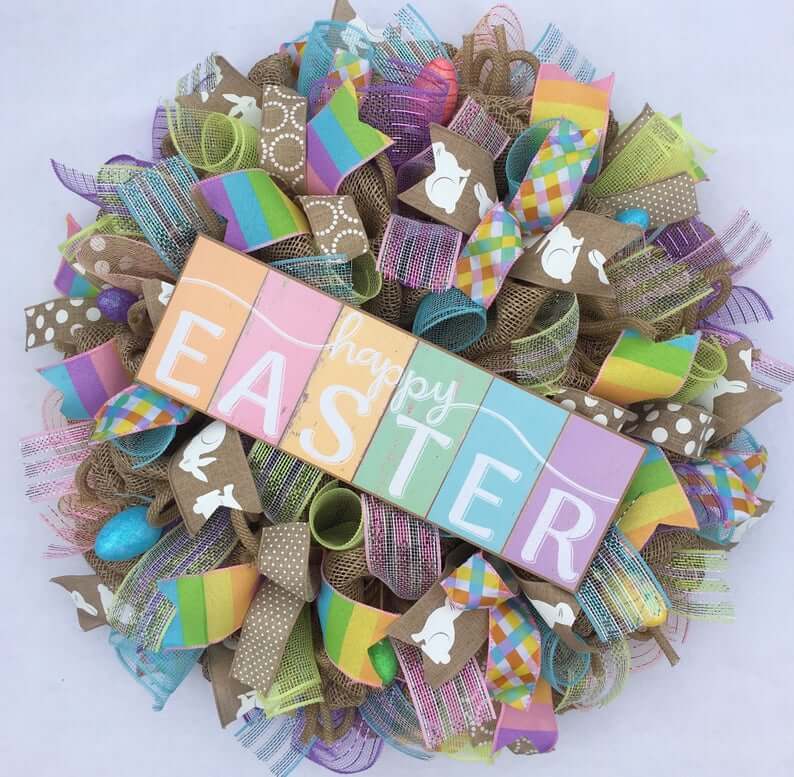 All the colors of the rainbow are decked out in their pastel shades to create this marvelous Easter wreath. Stripes, plaids, and polka dots weave their way through the beauty of this burlap gem. The sign in the center says it all to welcome the season with open arms.
49. Hidden Bunny Floral Easter Swag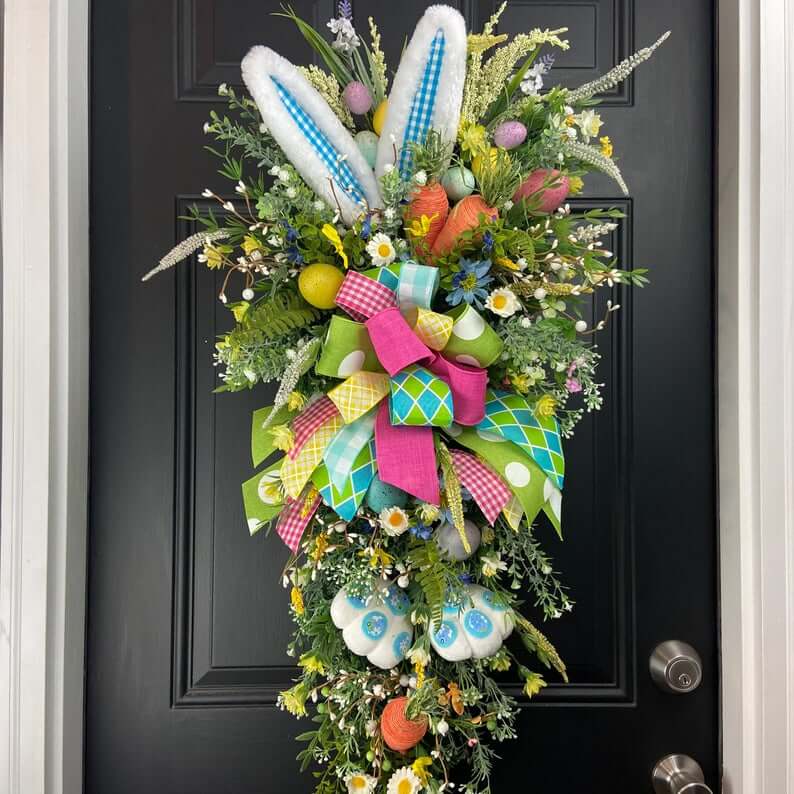 Simply a cousin to a wreath, this swag gets the job done as a lovely decoration for your front door. Filled to the brim with flowers, greenery, carrots, and eggs, this swag also features a hidden bunny. Add this to your front door or on the wall inside your kitchen for some springtime fun.
50. Mixed-Up Ribbon Trio Grapevine Wreath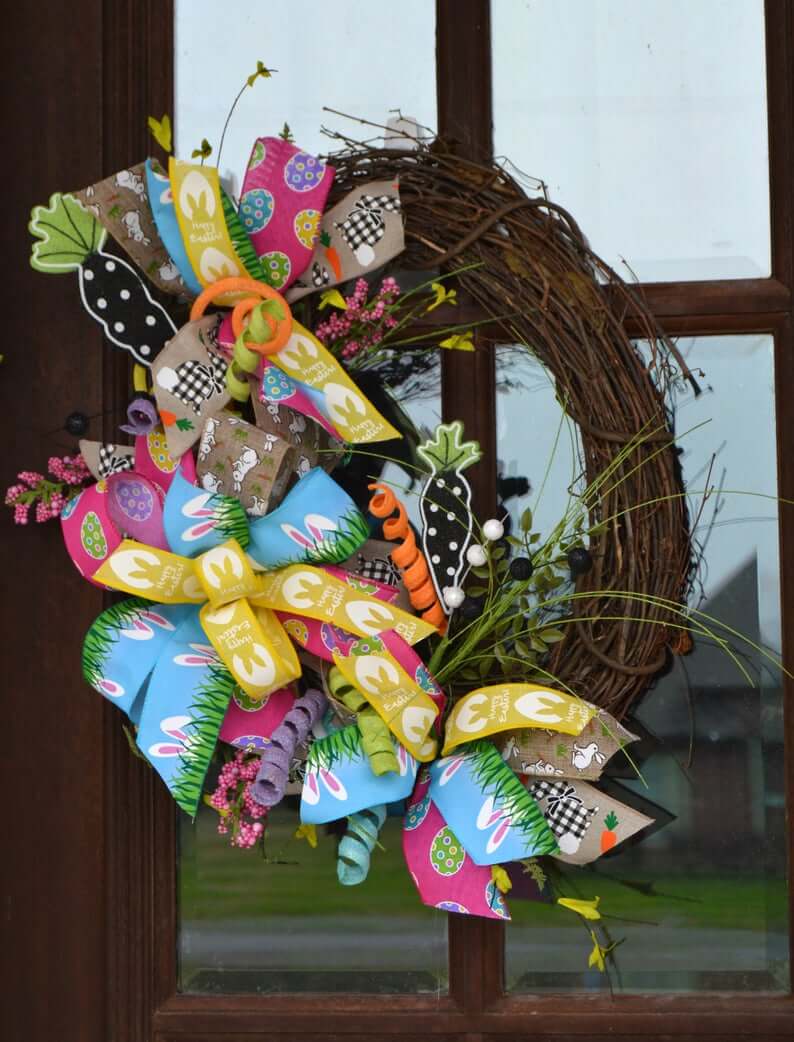 Forget the rules of decorating and you'll love this unique and colorful design. The trio of large ribbon bows is made from a variety of colors and patterns to bring this Easter wreath to life. A few carrots and sprigs of flowers finish the look to add some color and fun to your porch this spring.
51. Darling White Spring Peep Easter Bunny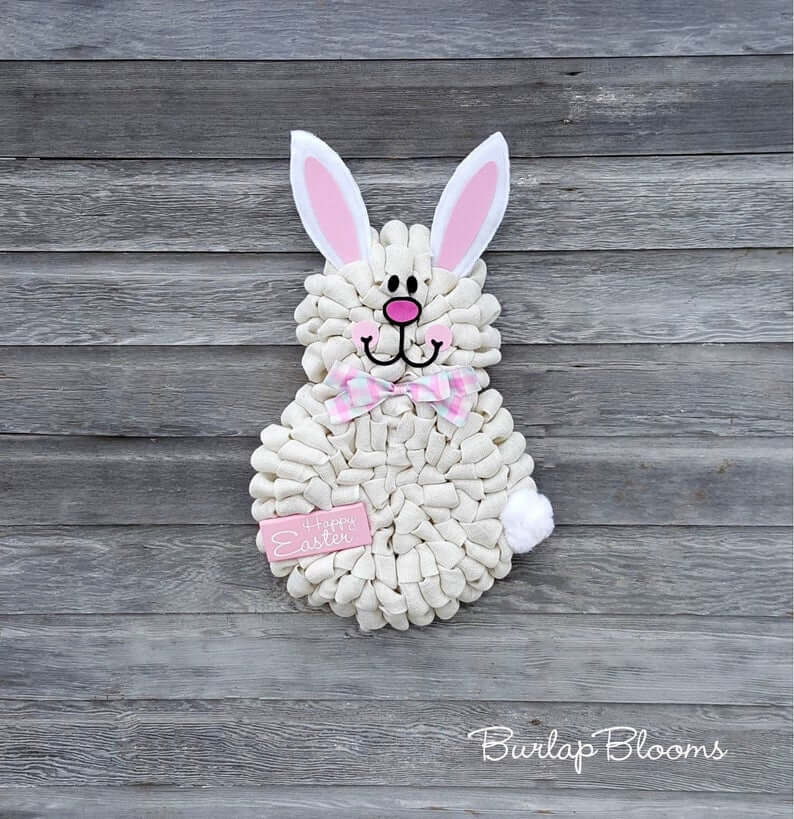 Resembling a collection of white marshmallows, this adorable burlap bunched bunny creates a charming alternative to a traditional round wreath. Complete with a face, fuzzy tail, and pink plaid bow, this cuddly bunny is the perfect contrast to a warm wooden front door.
52. Spring Has Bloomed with Butterflies and Bunnies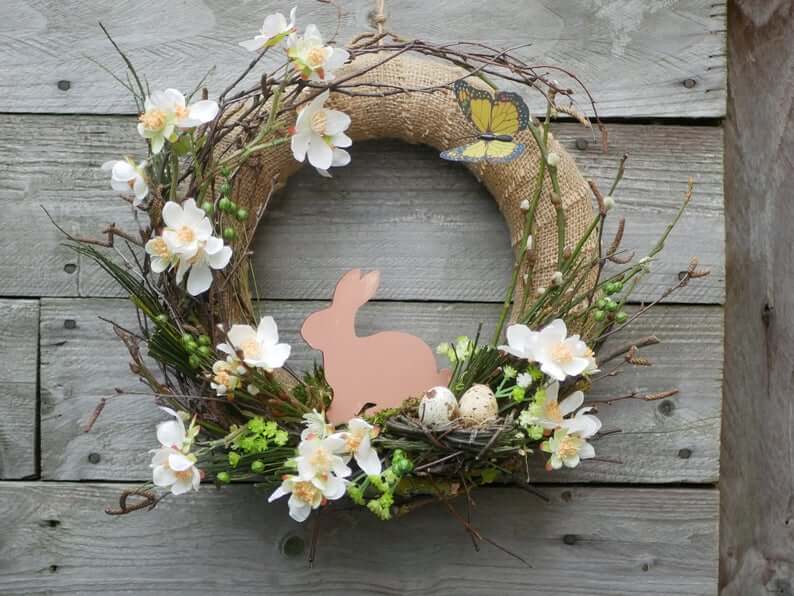 Hang this special spring wreath on your door to greet the warm, gentle breeze of the season! Adorned with a buttery yellow butterfly, a small bunny silhouette, and a nest of faux bird eggs, this simple wreath is the perfect touch for a seasonal update this Easter.
53. Black, White, and Green Grapevine Bunny Wreath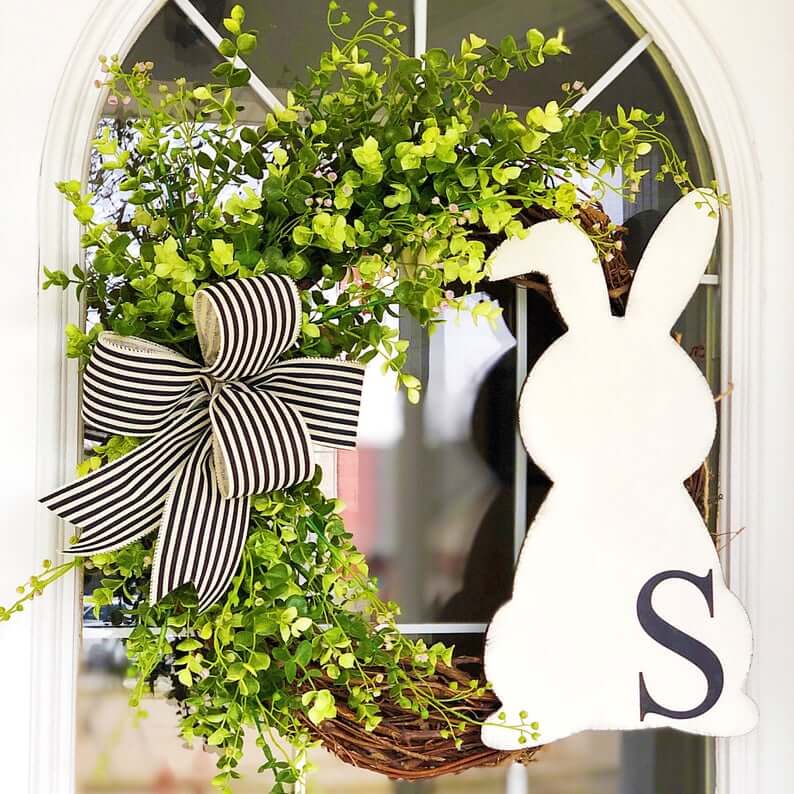 Stay true to your style with this modern black and white twist on a grapevine bunny wreath. The lavish striped bow adds a lot of style set amid the lush greenery. Nestled near the bottom, the cutout bunny is personalized with your initial to further add that special touch to your entryway.
54. Perfectly Peachy Bunny and Egg Easter Wreath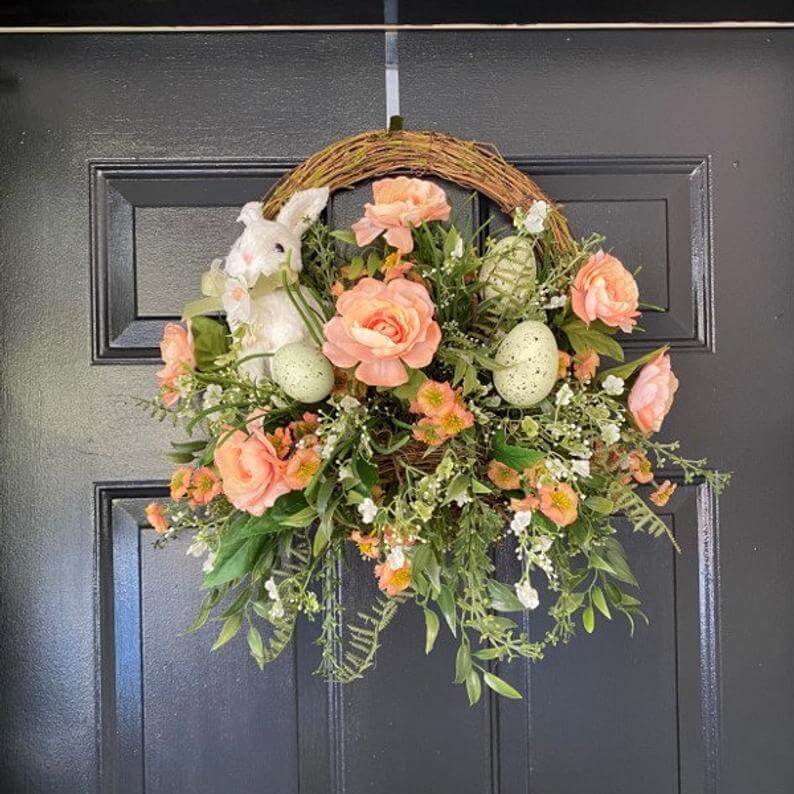 Subtle and sweet, the warm peachy tones of this Easter wreath are a pretty choice for decorating your home for spring. Behind the gorgeous and lively flower arrangement, you'll discover a soft and fuzzy white bunny peeking through. Welcome warmer weather with this wonderful wreath.
55. Teal and Peach Burlap Ribbon Easter Wreath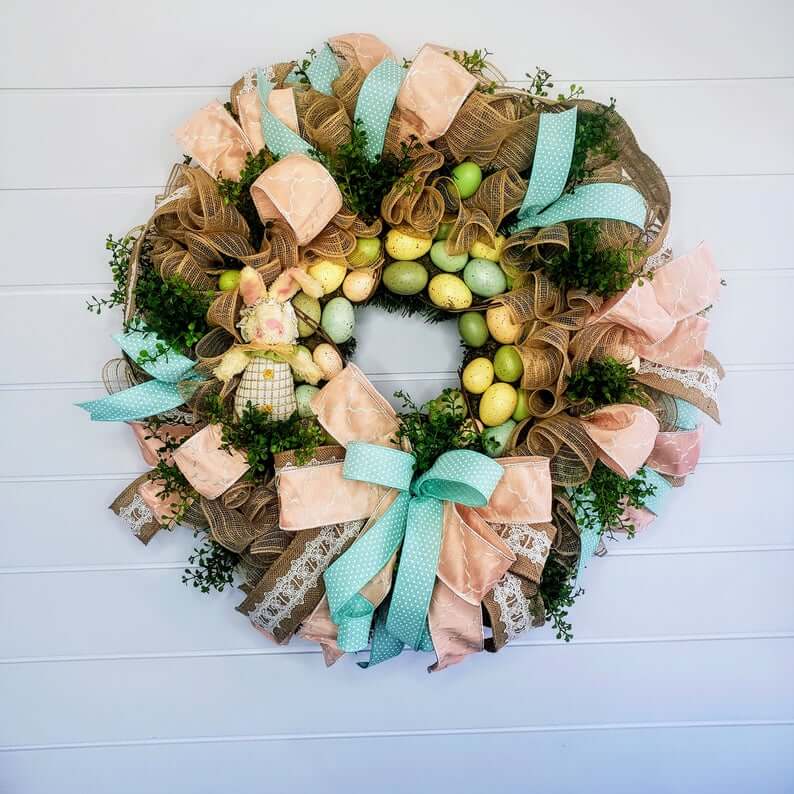 Full of interest and fun, this handmade wreath weaves mixed media ribbons alongside a delicate ring of green-hued eggs to create a splendid Easter wreath for your home. Don't forget the cute bunny that's placed perfectly near the center to pay tribute to the season's mascot. It's a charming choice for your home this spring.