Spring is right around the corner and there's no better time than now to find the best DIY Easter egg decorating ideas to make it feel more welcome than ever! With spring, we look forward to sunnier skies and rebirth from nature to animals. It's a time to freshen up our homes and give them, and sometimes ourselves, a nice spring cleaning from the inside out. As the last snow finally melts and the spring flowers emerge from the ground, be sure to enjoy this season with some fun DIY homemade Easter eggs.
29 of the Best DIY Easter Egg Decorating Ideas for the Season

Perhaps one of the first things that come to mind when decorating for spring is eggs. This shouldn't be alarming as this season boasts eggs everywhere you look. From eggs hatching into baby chicks to brightly colored plastic ones hidden all over your yard, spring is definitely the time to feature the egg as one of the main ingredients in your seasonal decorating scheme.
If plastic eggs aren't your thing, you can jazz them up with some embellishments. They easily can be glued to a styrofoam tree to create a great centerpiece. Or even strung along with a ribbon or string for a festive garland. Wreaths are a simple way to update your home each season and adding some eggs to one is a fantastic way to welcome spring. You can choose hand-painted ones that really show your personal style or you can keep it low-key with some natural-looking speckled ones.
No matter your preference for eggs, bring them onto your decorating scene this Easter by including them in your place settings, centerpieces, and special springtime decorations for your home.
1. Grapevine and Moss Speckled Egg Decoration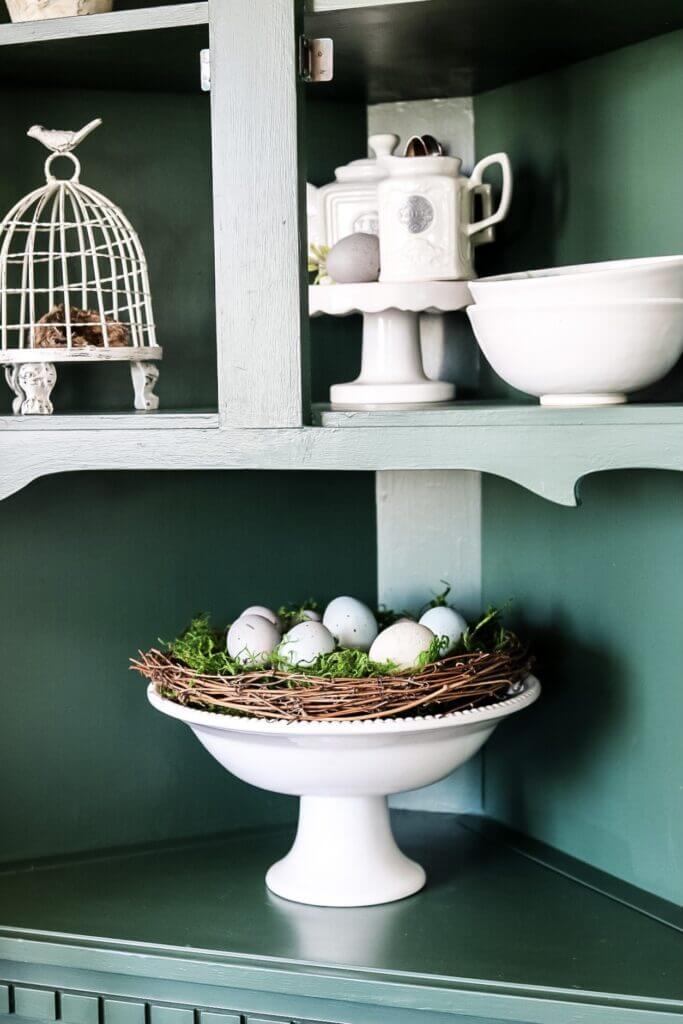 Spring decorations need not be full of color and cheap-looking. Keep them pristine and up-to-date with some designer touches. A plain and versatile grapevine wreath makes the ideal foundation for this speckled egg display. Fill it up with some lush and lively green moss for a pop of spring's most iconic color. After some fun crafting, you'll be able to display your DIY speckled eggs in all of their glory on this gorgeous grapevine and moss bed. Use this as a centerpiece or a decorative accent to another area of your home. It makes a wonderful hostess gift too.
2. Wooden Centerpiece with Mini Speckled Egg Nests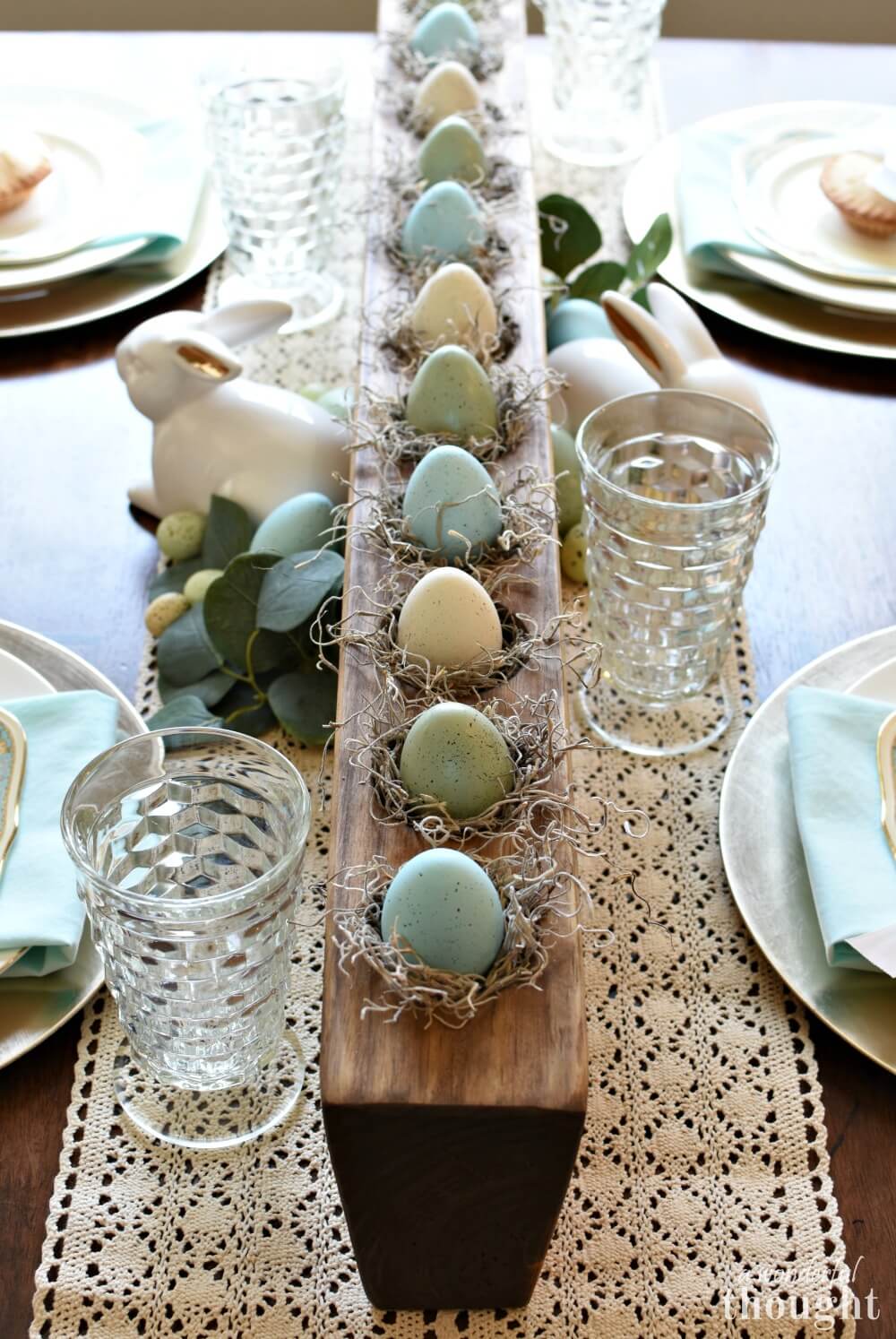 Prepare for your Easter feast with a spectacular tablescape with these handmade Easter egg ideas as your featured centerpiece. Here you'll love the gorgeous grains in this wooden trough-like base that can work for many decorating themes and designs. In this instance, it has captured one of the season's most prominent sightings- the bird's nest. As spring emerges, bird nests begin to take shape and come to life with speckled eggs. Feature your very own creation in this stunning centerpiece that has a shallow hole to house some sprigs for a nest and a small speckled egg. Continue the look with a coordinating color for your fabric napkin to make each place setting feel connected to the main focal point of your table.
3. Marvelous Moss Covered Easter Egg Decorations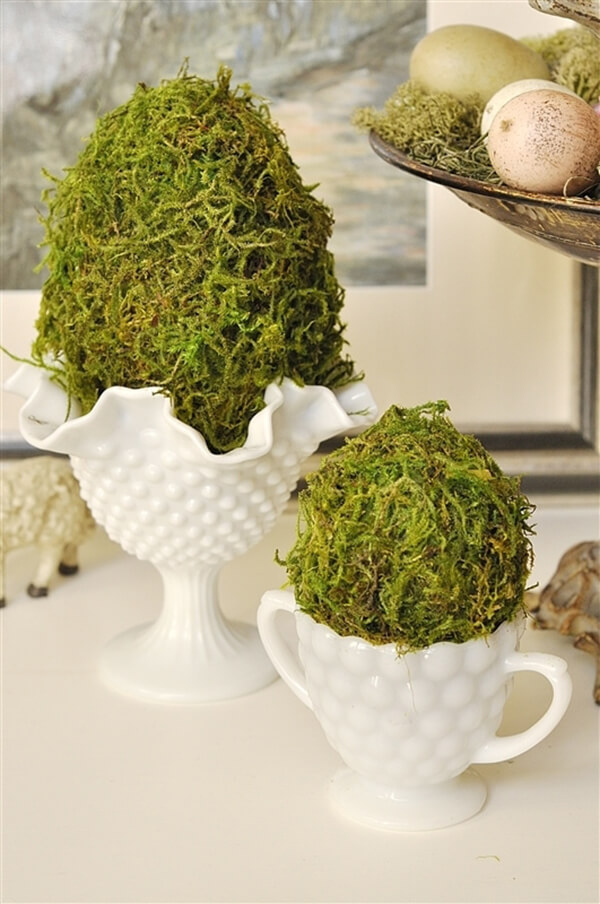 If you're enjoying the moss takeover of the moment, then you'll be delighted to indulge in this crafty moss-covered Easter egg project. Styrofoam eggs are covered with your favorite lush green goodness to create these on-trend and gorgeous Easter eggs that are truly unique. Set them on a pedestal candle holder or group them within a basket for an unexpected Easter decoration this spring. They will blend in beautifully with your modern farmhouse decor and can even be used throughout the year with their natural and versatile look.
4. Easter Egg Tree Spring Table Decoration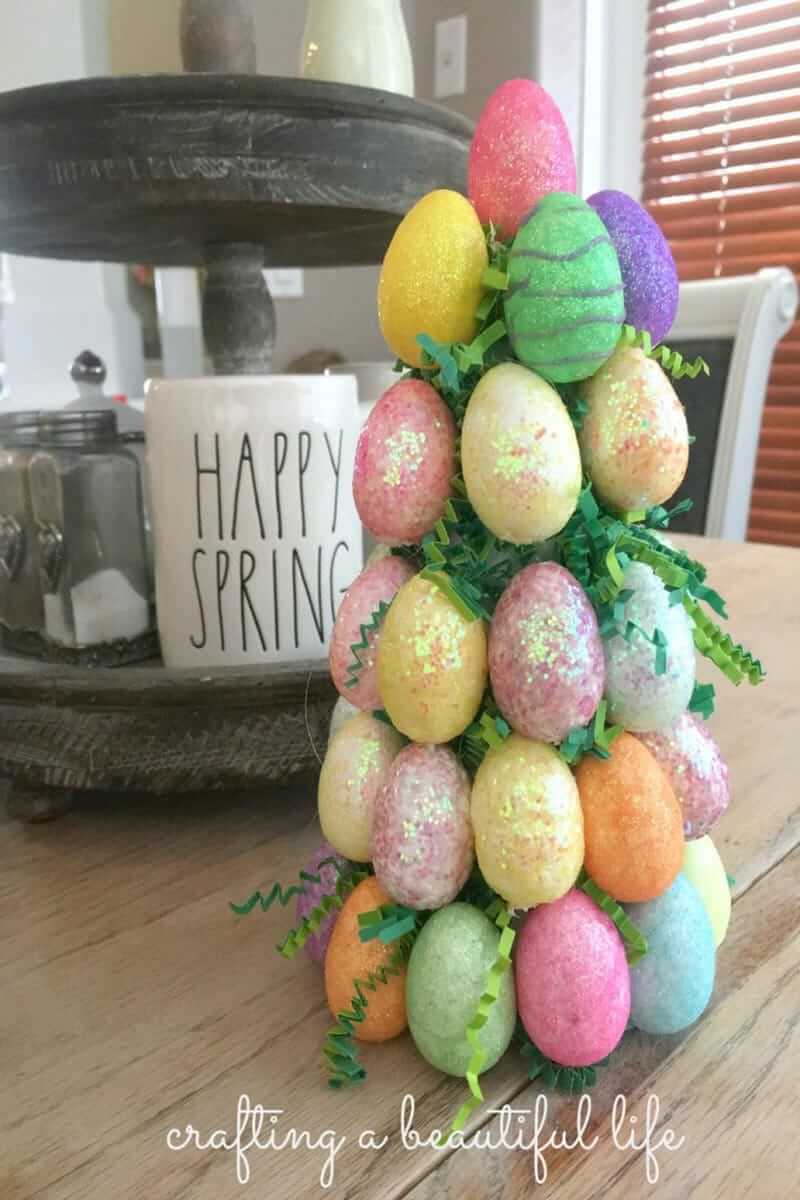 A few simple craft items are all you'll need to bring one of these incredible handmade Easter egg ideas to life. A plain styrofoam cone transforms right before your eyes into a stunning tree decoration for spring. Instead of ornaments, this spring tree is filled with a nice selection of Easter eggs. Choose from patterned, glittered, or plain plastic eggs to suit your fancy. Arranged from top to bottom, these eggs bring a beautiful splash of color onto your seasonal decorating scene and the inserted Easter grass is a nice touch.
5. Speckled Egg and Natural Moss Excelsior Wreath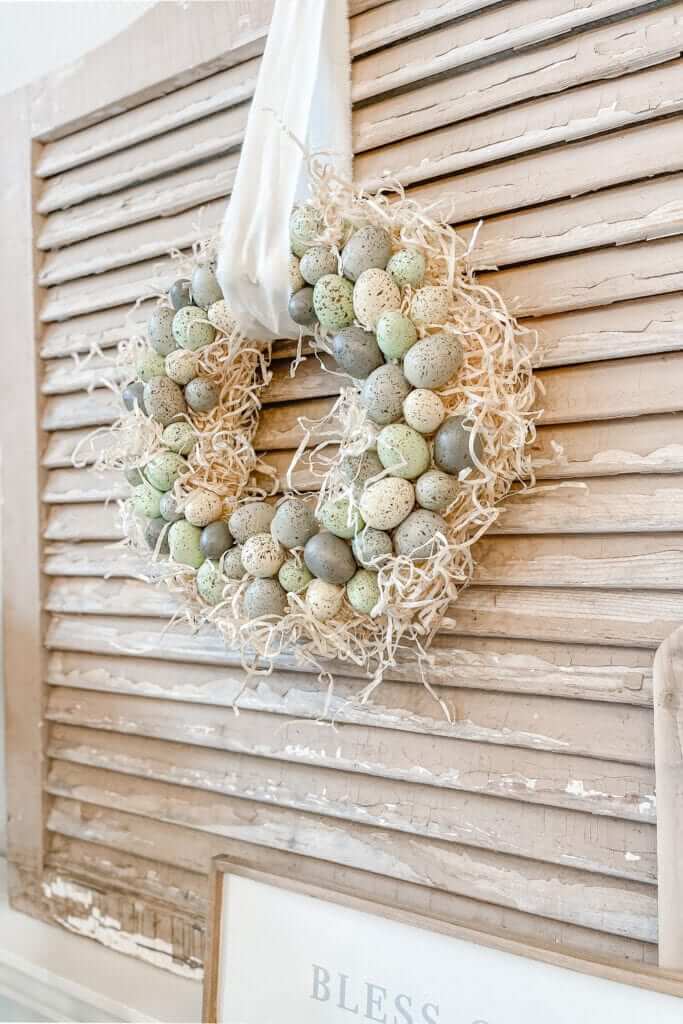 Keep the colors muted and magnificent for spring with this speckled egg and natural moss excelsior wreath. Hang it from a wide ribbon on a window for a stunning springtime decoration. The natural white-washed beige tone of the moss excelsior keeps the look grounded while the speckled eggs steal the show! Using gray tones with green keeps the overall design a neutral creation without being boring. Adding a seasonal wreath to your home gives a fresh look and makes everything feel a little more pulled together and up-to-date.
6. Pretty and Pastel Easter Egg Candle Holders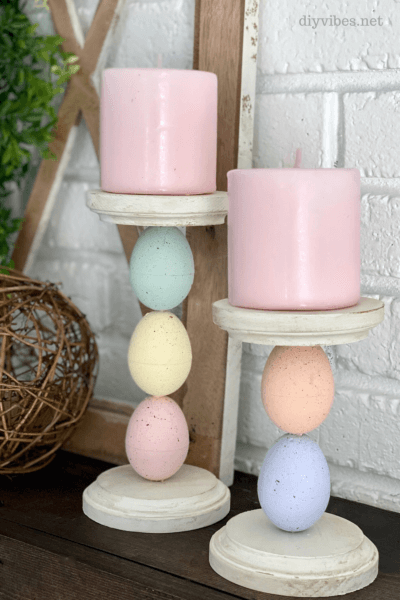 Get your craft on this weekend and treat yourself to some unique and cool candle holders. Featuring two or three eggs stacked neatly on top of one another, this candleholder shows off perfect hues for the spring season. Coordinate the colors of your candles with the soft pastel hues of your selected eggs. Secured with a dowel rod, these holders provide all the function you need while adding a touch of fun. Set them together as a pair for a cute Easter home decoration. They are the perfect size for adorning the mantel, kitchen windowsill, or entryway table display.
7. Old World Victorian Paper Mache Egg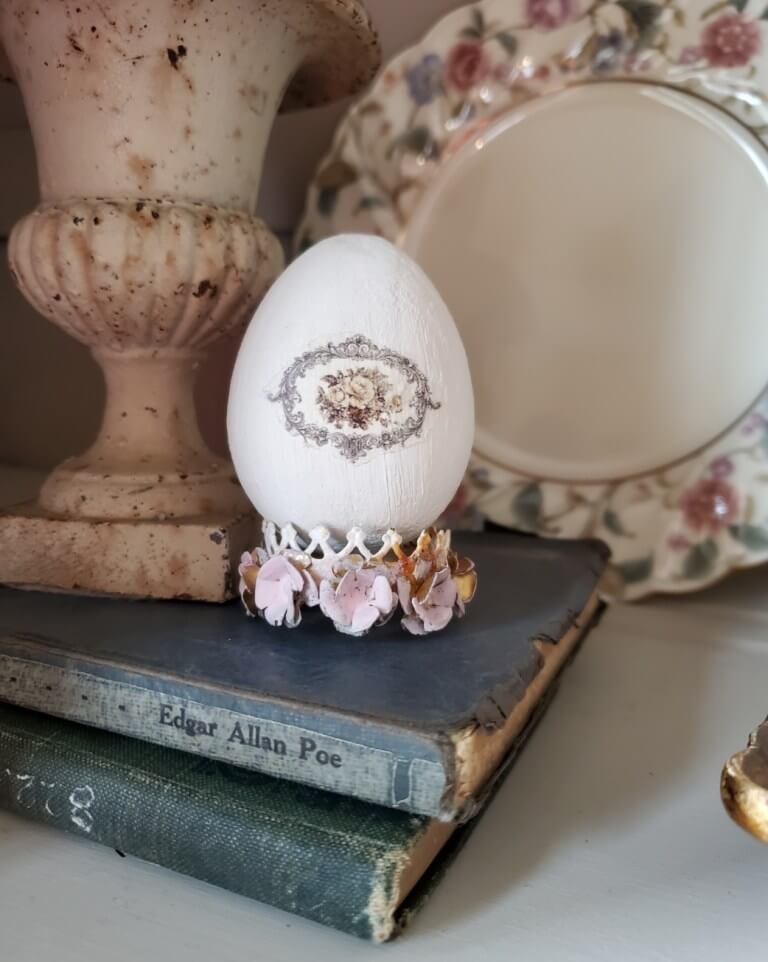 Feature this decorative egg throughout the year. It adds a nice touch to your existing home decor with its unique and vintage style. Carefully select a floral piece or other decorative paper to embellish upon your egg. Atop a display of old books or placed in a small distressed terracotta pot, your vintage Victorian egg is sure to be loved. Your French country design or cottage charm would be the perfect home to this paper mache egg creation.
8. Shabby Chic with Rustic Charm Easter Eggs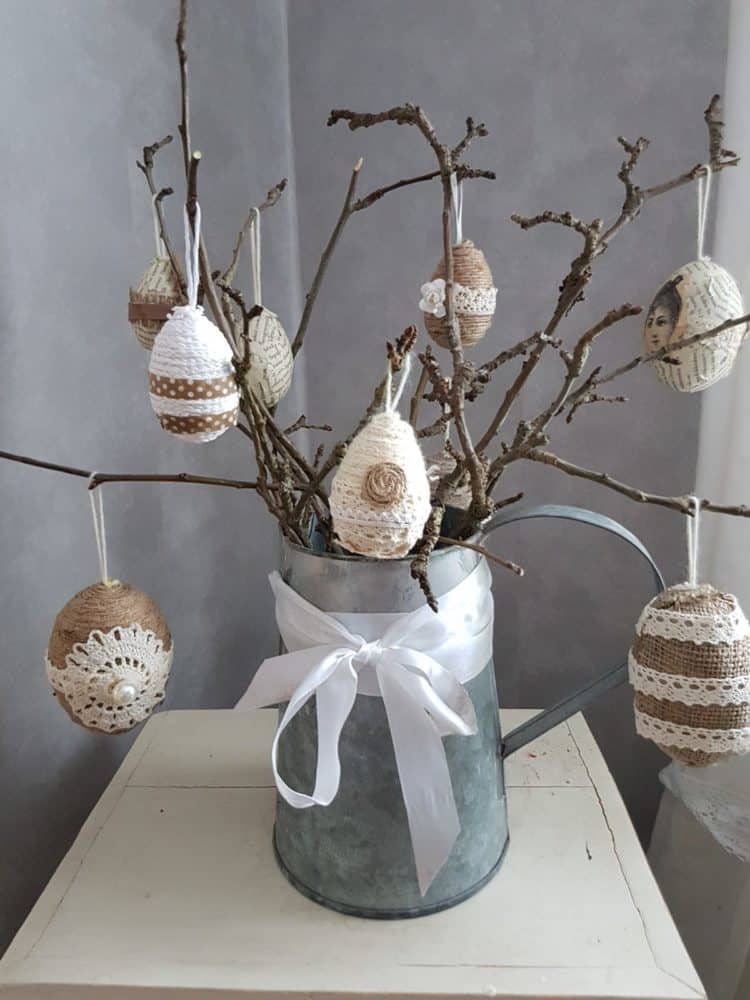 Decorate your home with some charming shabby chic eggs that offer all the rustic love you desire. From burlap to lace, these beautiful eggs come to life as they are wrapped in twine and embellished with pearl accents. Featuring some handy crochet work, these dainty and darling eggs are anything but delicate. Tickle your fancy this Easter by creating a seasonal tree to adorn your home. A tin watering pitcher makes a great vase for an assortment of sticks that collectively become the Easter tree in your vision.
9. DIY Paper Mache and Lace Easter Egg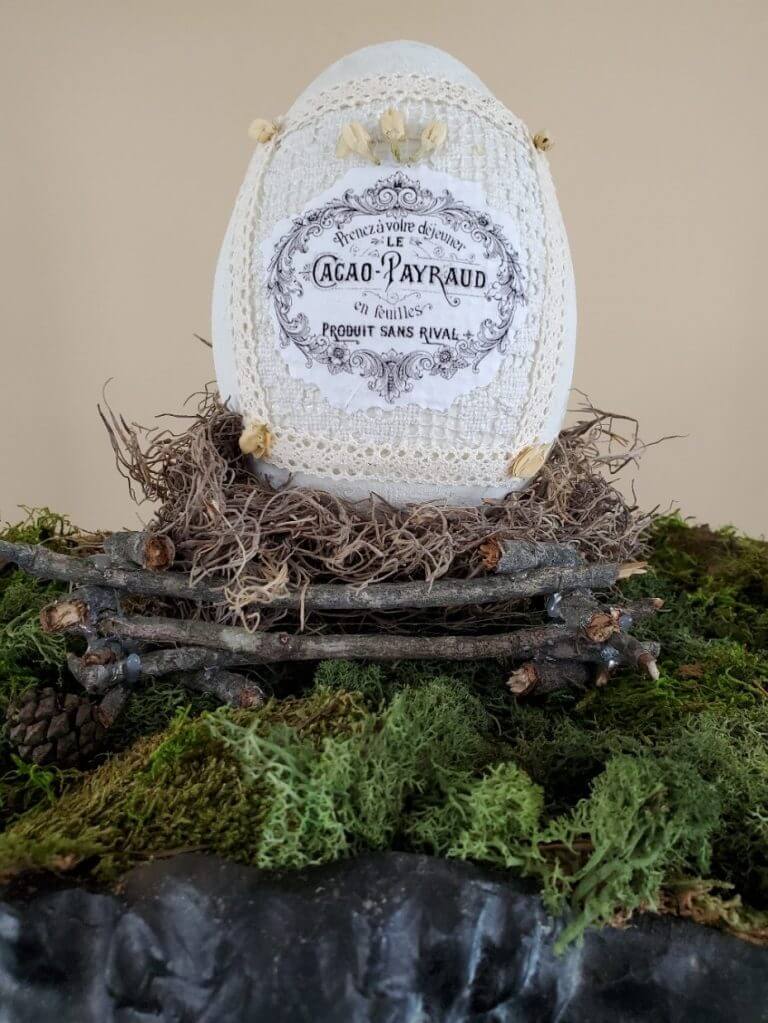 Channel the romance of old-world style as you begin to welcome spring with your seasonal decor. These paper mache Easter eggs fit the bill for adding depth and texture to your side table vignette. Layer them with crocheted goodness and apply some decorative signage for more appeal. Tiny and delicate creamy beige flowers become the ideal accents for all of the corners in the design. Keeping the entire look grounded in hues of neutral tones further adds to the beauty and grace of this DIY creation. Feature one at each place setting for your Easter guests to enjoy and take home as favors.
10. DIY Decorative Decoupage Easter Eggs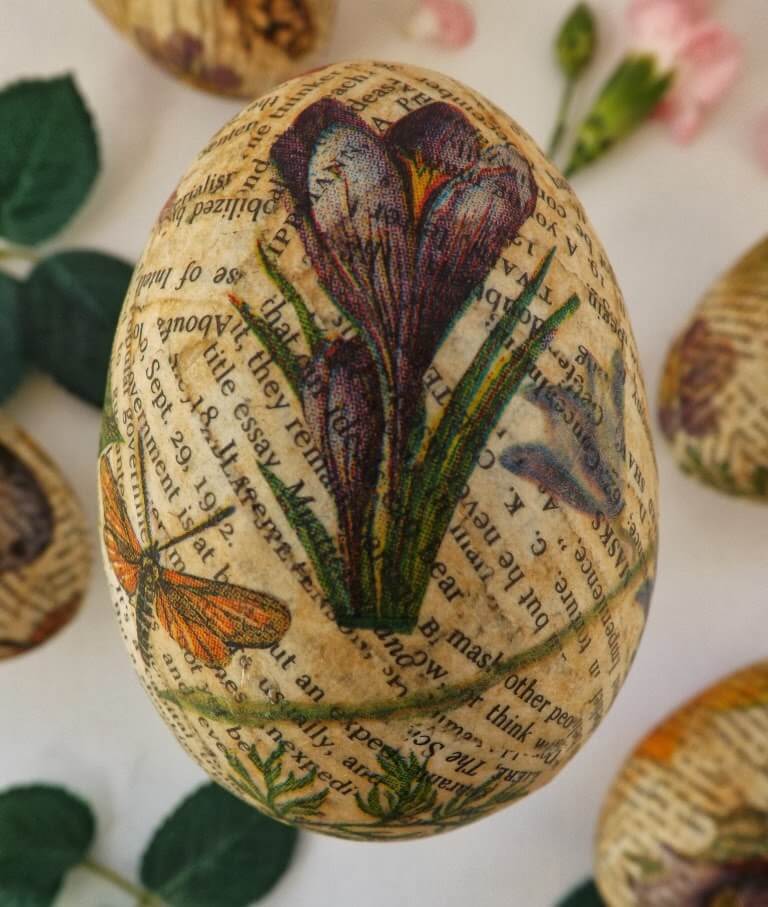 The art of decoupage is one of the greatest tricks in the toolbox of the DIY enthusiast. Crafting with this process creates a finished product that is completely custom to the designer. Find an old book and a pretty paper napkin to begin this process. The completed eggs make awesome accents to your spring decor. Arrange several in a basket for a traditional Easter look or use them to create a unique wreath. Include a couple in a gift basket for your favorite book-loving friend this spring. Decoupage allows you to extend your supply selection as you can utilize nearly any paper product or fabric as part of your decoupage project. Grab a friend and check out your stash of old books, wrapping papers, and fabric swatches to enjoy an evening of decoupage delight!
11. Unique Feather Embellished Easter Egg Decorations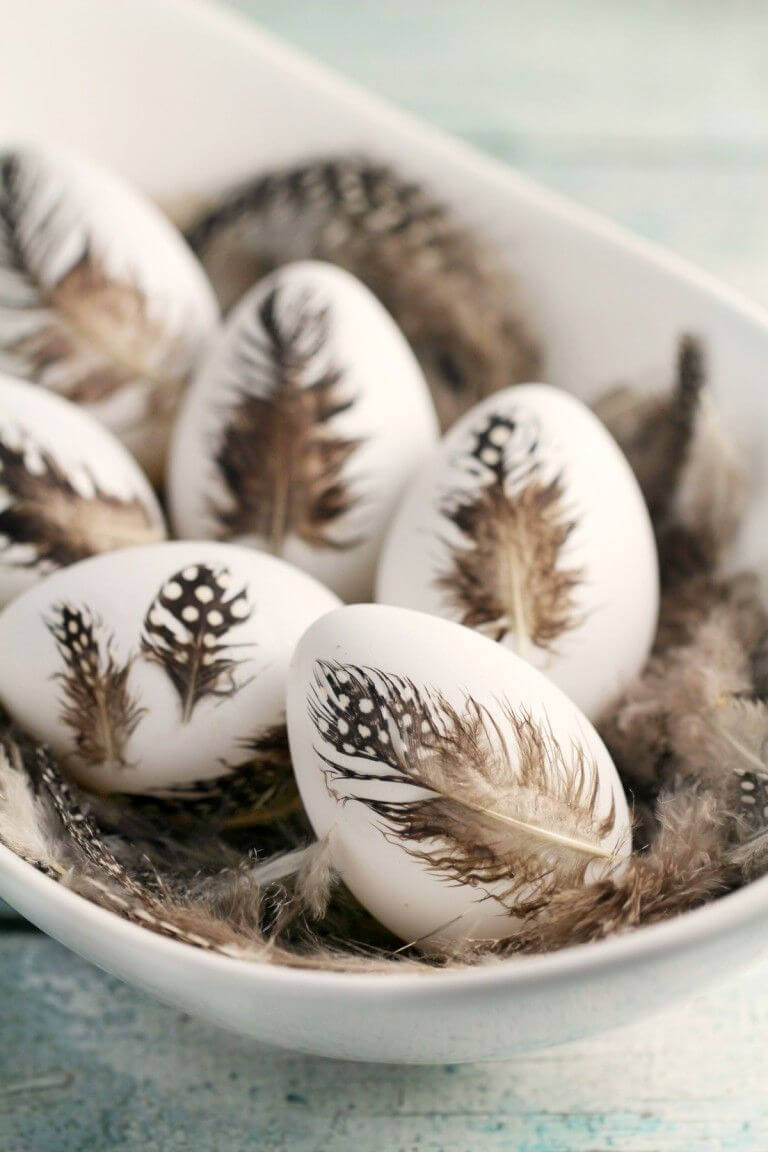 At Easter, everyone generally decorates with eggs. From robin's eggs to brightly-colored plastic ones, there are so many from which to choose. Now there's a new style on the scene. These plain eggs are brought to life with the addition of a feather to accent them. Using feather embellishments provides an interesting and original look for the season of spring. You'll not only have a one-of-a-kind Easter decoration, but your love for Bohemian design will be on display!
12. Rich and Vibrant Indigo Marble Swirled Eggs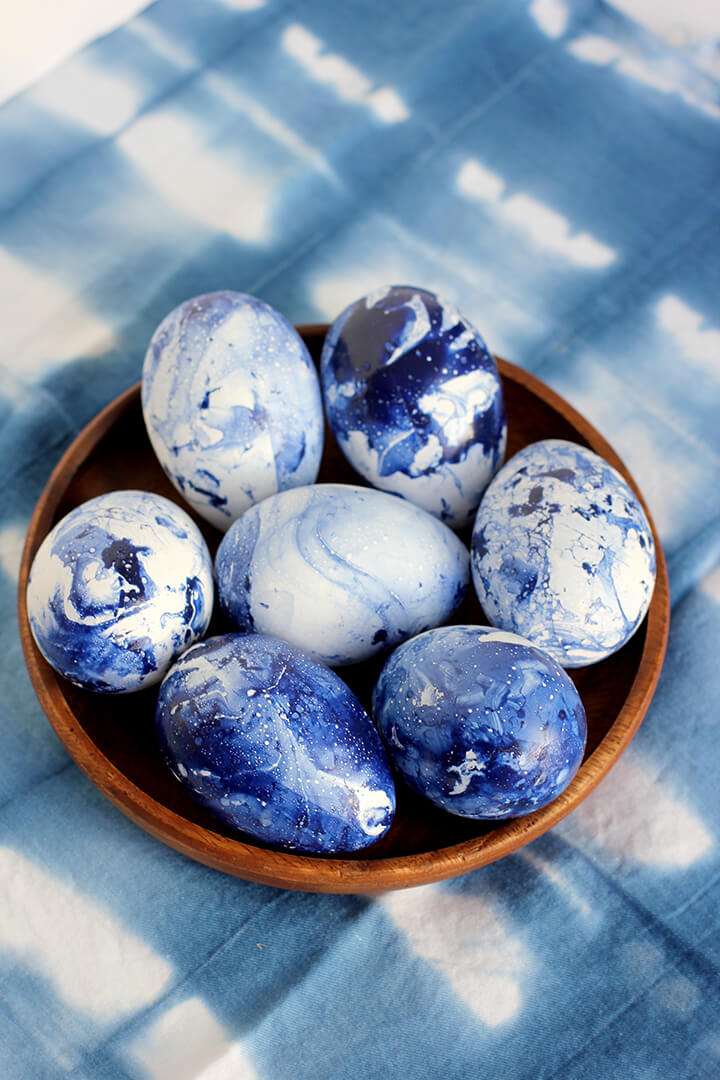 Isn't it amazing what a few drops of nail polish can do? What's not to love about these incredibly modern and elegant Indigo marble eggs? No need to stick with conventional and boring plain pastel eggs when you can create truly original works of art that you can treasure for years to come! Each egg will be unique in its own merit as the marble effect is a little different on each egg submersion. Some will show off a little more white while others offer more color. Regardless, the more originality, the better! These swirled Easter eggs will look gorgeous in your modern contemporary home as you celebrate the spring season.
13. Ombre Dyed Easter Egg Display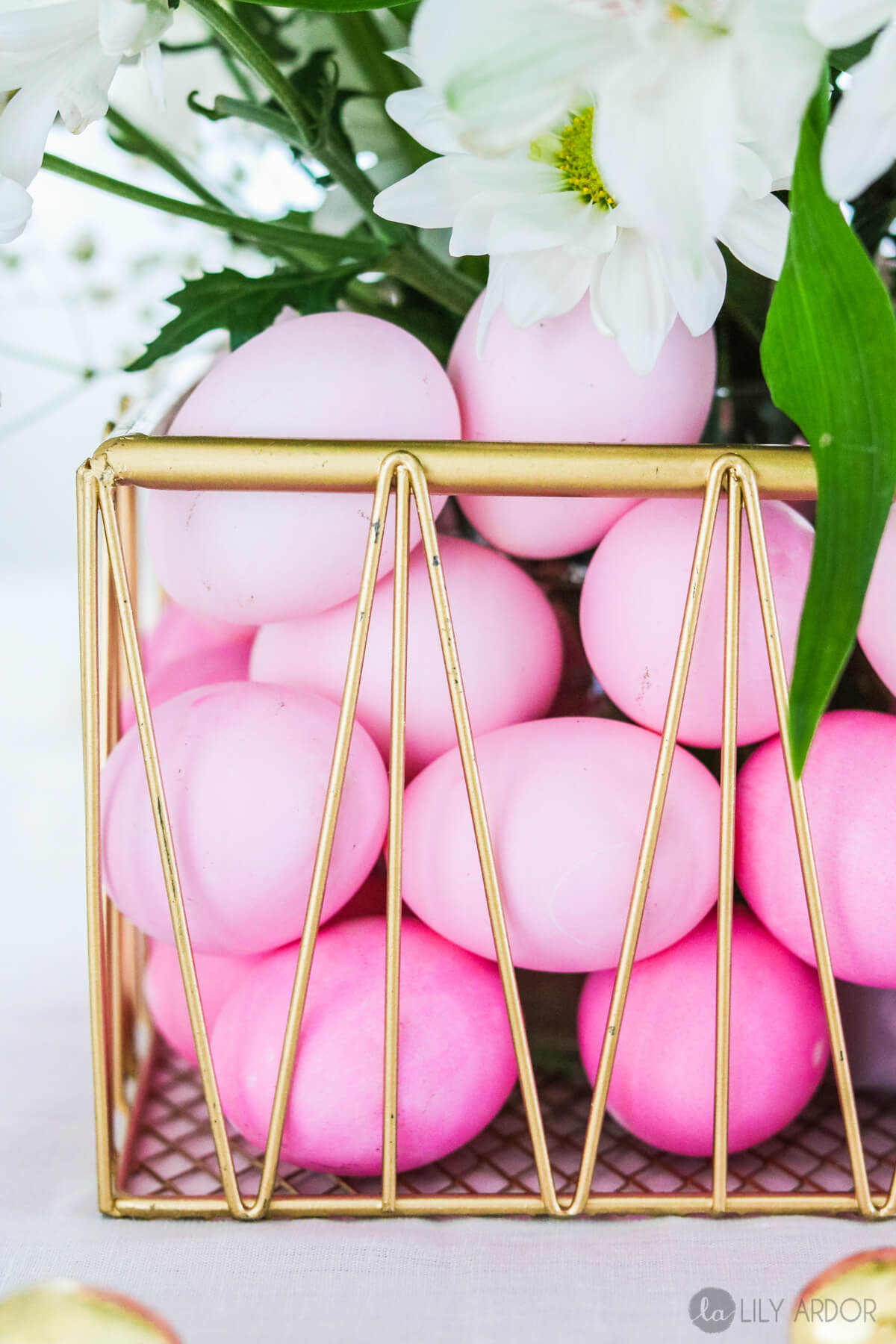 Coloring eggs isn't just for the kids. Take a look at the best DIY Easter egg decorating ideas that capitalize on the old tradition of coloring eggs. First, choose the color you want to feature and get started. To achieve the outstanding ombre effect, you'll need to separate eggs into groups and allow each group to remain in the dye a little longer than the one before them. By the end, you'll have a nice variety of hues of your favorite color. Creating an ombre effect for coloring eggs adds a more grown-up look to your traditional colored eggs. These gorgeous eggs can be arranged in a wire basket as their transitional shades can easily be seen and adored.
14. Kid-Friendly Outdoor Tree Egg Popper Fun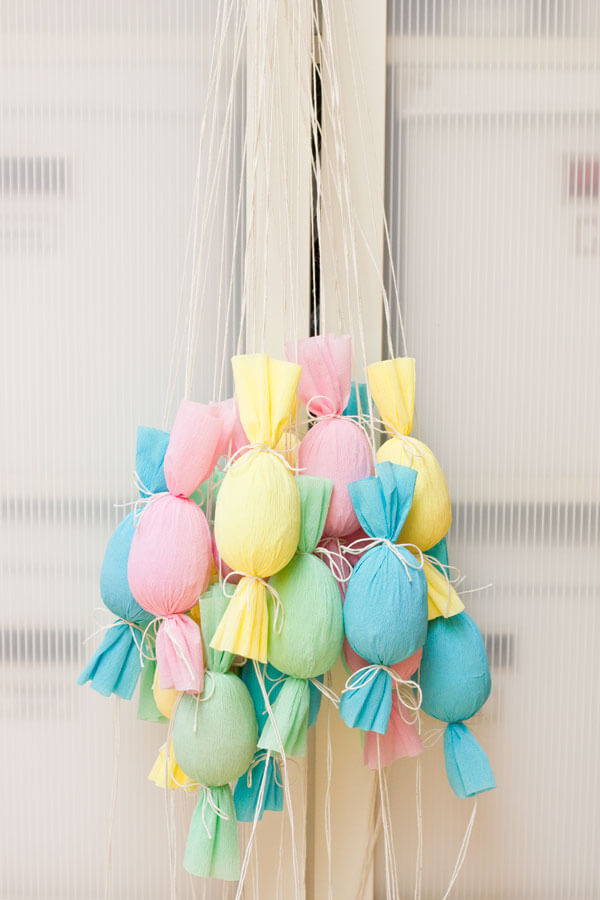 Keep the kids busy with outdoor fun as you finish the final preparations for Easter dinner. Family members of all ages will delight in pulling a string and enjoying the fun of this Easter-inspired party game. Everyone will be pleasantly surprised to find out what's inside these Easter egg creations. Just pull straight down on the loop to pop open each egg. The surprise will be revealed from trinkets or candy or cash! Be as creative as you wish when filling these eggs. You may want to go for a theme with all of the stuffed goodies. Everyone's a winner with this fun Easter egg pull game!
15. Cute Not Cuddly Cactus Easter Egg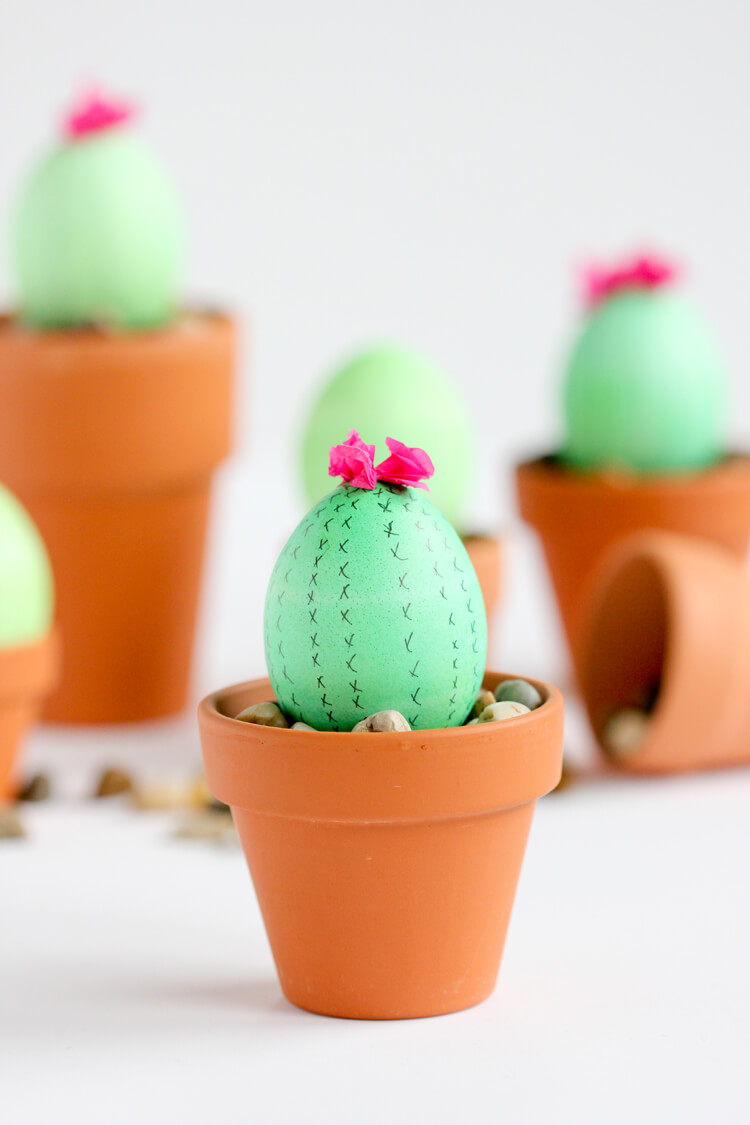 Enjoy the houseplant trend without having a green thumb. These darling miniature potted "plants" are a wonderful gift idea and decorating concept for this spring. Each tiny terracotta pot is complete with a hand-painted "cactus" egg. At the bottom, the egg is surrounded by small pebbles to give it a realistic flair. And you can even include a little tissue paper "flower" at the top to complete your desert-inspired design. These would be adorable at each place setting for your holiday dinner as well as make perfect favors for a springtime celebration! With just a little paint and creativity, these tiny potted pretties easily come to life for a new and cool spring decoration.
16. Hand-Painted Chevron Pastel Egg Wood Sign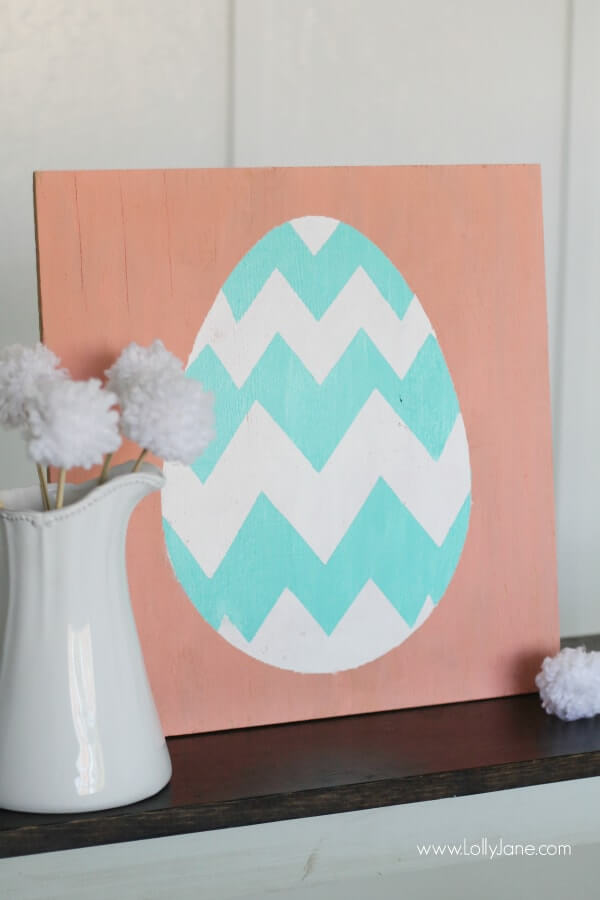 Get a little crafty and creative with this hand-painted wooden sign. It makes a fun painting party project for you and all of your favorite people to enjoy together! Host one each season for a new addition to your decorating arsenal. This chevron Easter egg is a cool custom sign with its flattering pattern and gorgeous pastel color choices. Such a decorative sign can be hung on the wall or positioned within a seasonal display as it gently rests against the wall.
17. Gorgeous Natural Grass Easter Trough Centerpiece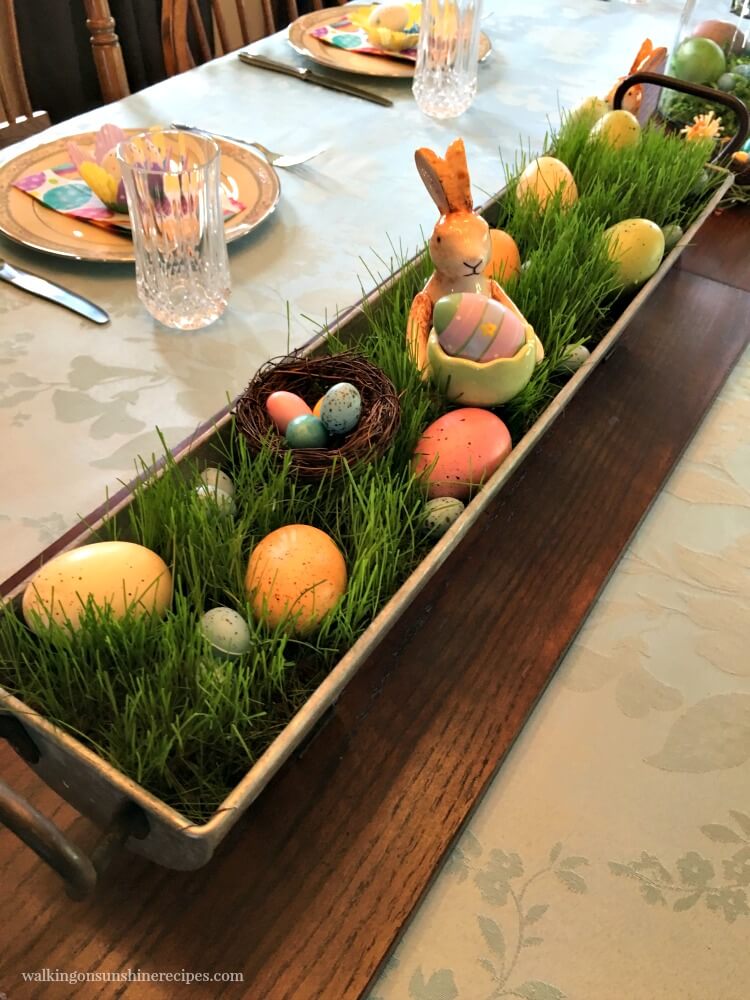 Front and center, this gorgeous natural grass centerpiece will make a bold statement for your Easter dinner this year. Complete with a galvanized trough to hold itself, this collection of grass is an unexpected choice for interior decor. It makes such a rich and colorful centerpiece by including grapevine wreath nests filled with speckled bird eggs as well as larger eggs placed throughout. Don't forget to add the season's quintessential bunny as part of your amazing grass centerpiece arrangement.
18. Glittery Egg and Ribbon Watering Tin Centerpiece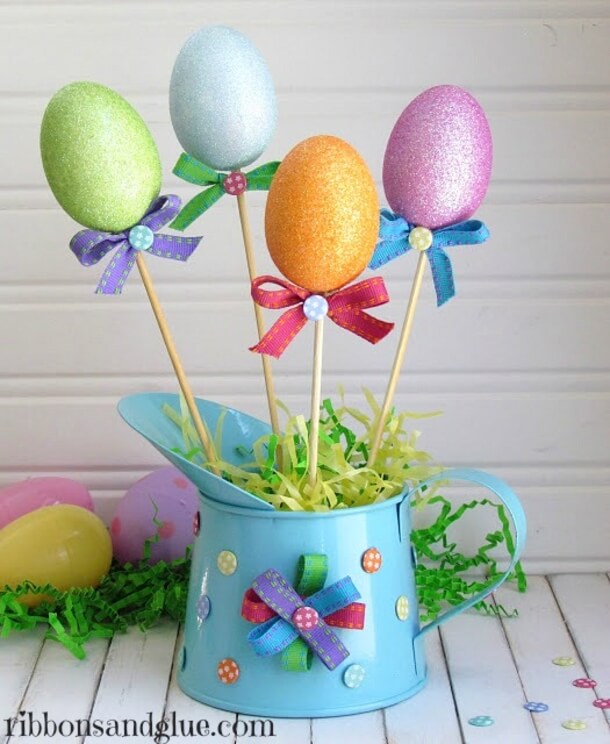 Stick to your budget with this brightly colored and sparkly Easter egg centerpiece. Feature a small watering tin as the base for a lovely way to bring some of spring's garden love into your decorating scene. A set of glittery eggs on sticks make quite the statement standing tall in this tin. Choose some colorful ribbon to add to them and embellish a nice bow on the side of the tin. And that annoying grass that is a mess to clean up actually is perfectly nestled within the watering tin for a complete and fun Easter presentation.
19. Glistening Gold Confetti Dipped Easter Eggs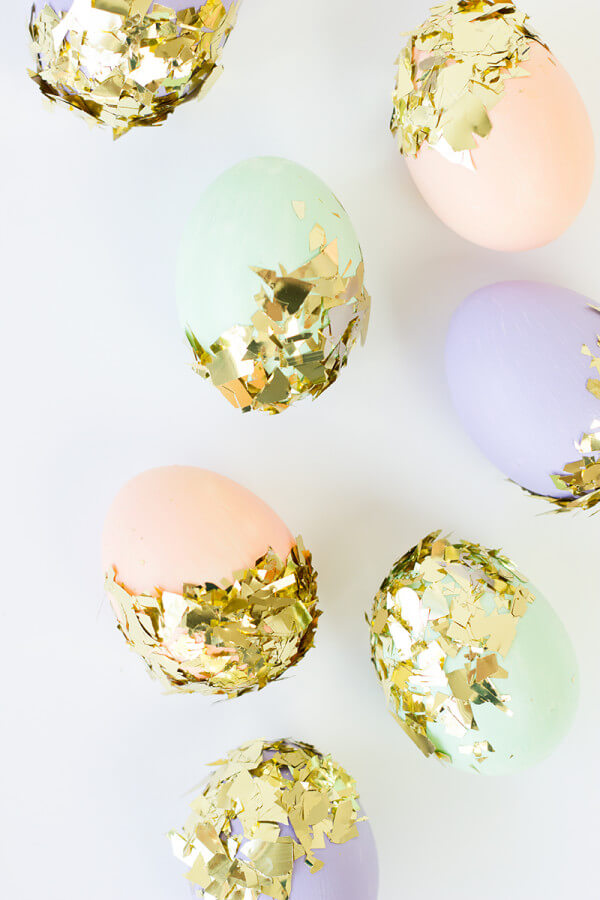 Gold always makes a bold statement from jewelry to decor. And when it's added to an Easter egg, well it is certain to stand out. The combination of light pastel eggs with such a powerful metallic presence makes for a winning product. If unique decorating is one of your goals, then you're going to love the one-of-a-kind look of each egg you create as no two will be the same. Arrange several of these together in a basket for a charming Easter-inspired basket.
20. Beautifully Beaded Easter Egg Candle Holder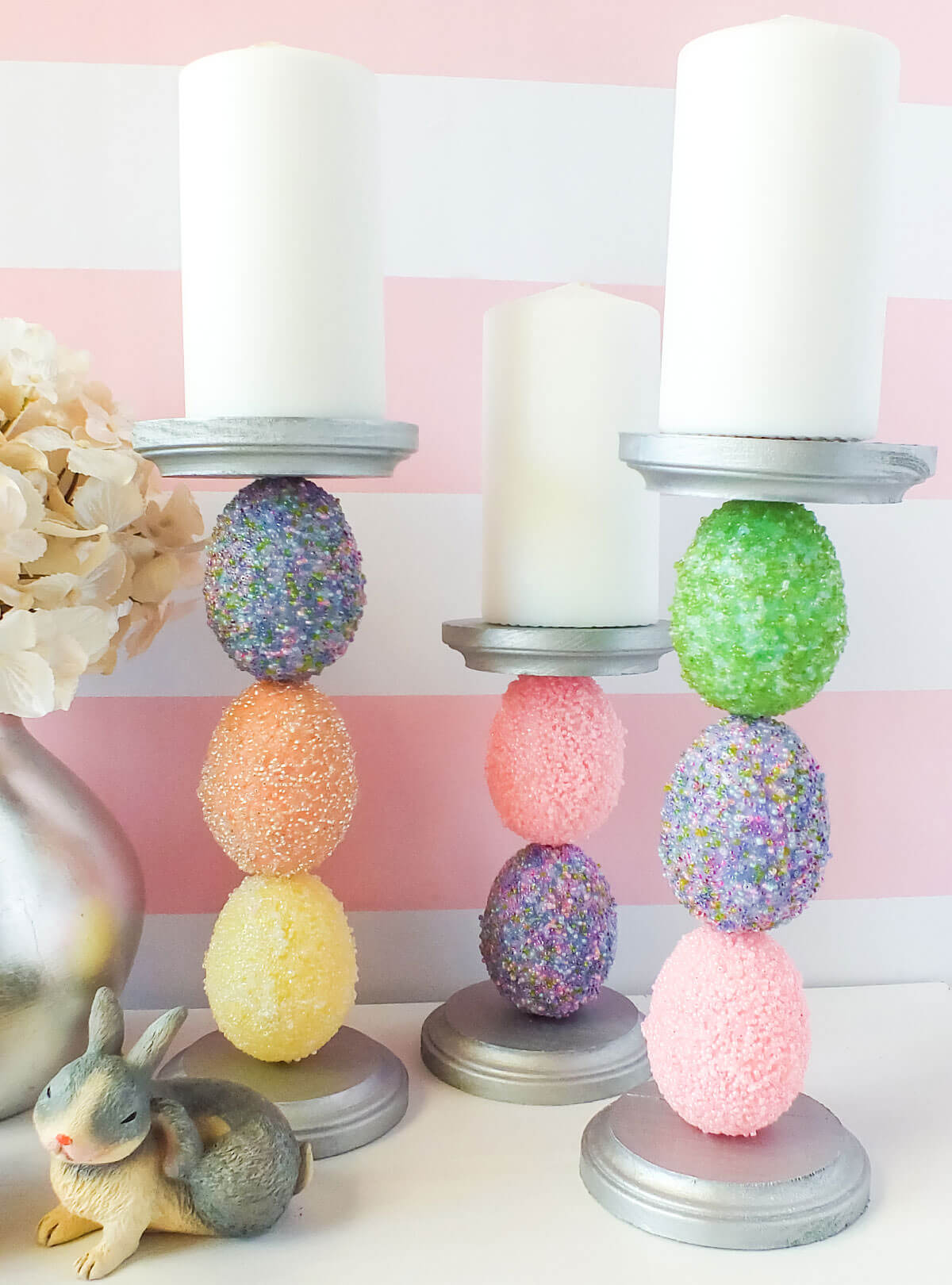 Sometimes it's quite amazing what the element of texture can do for a project. This beautifully beaded Easter egg candle holder is no exception. Each holder features your choice of the number of eggs to be used. After deciding upon the number of eggs, next you'll need to choose a color palette. Here's where the fun comes in. Once the egg colors are selected, the appropriate beads can begin to transform these eggs from drab to fab! Not only do the beads add extra emphasis to the color, but they also bring a new dimension with their innate texture. Stand these front and center on your mantel or place them in an arrangement for a nice springtime centerpiece that's fuss-free.
21. Out-of-this-World Galactic Easter Eggs
Boldly go where no man has gone before with these space-inspired Easter eggs. When it comes to coloring eggs, the sky's the limit! These galaxy eggs appear to be rolled in the arms of the solar system with their dark purple and blue hues and gold-dusted beauty. Continue the love of astronomy with some astrological fun by hosting a themed night. Gather the girls for some playful card reading and feature this galaxy egg painting as the focused activity. The stars will align when you enter into this world beyond the traditional spring decorating experience.
22. Modern and Metallic Stunning Easter Eggs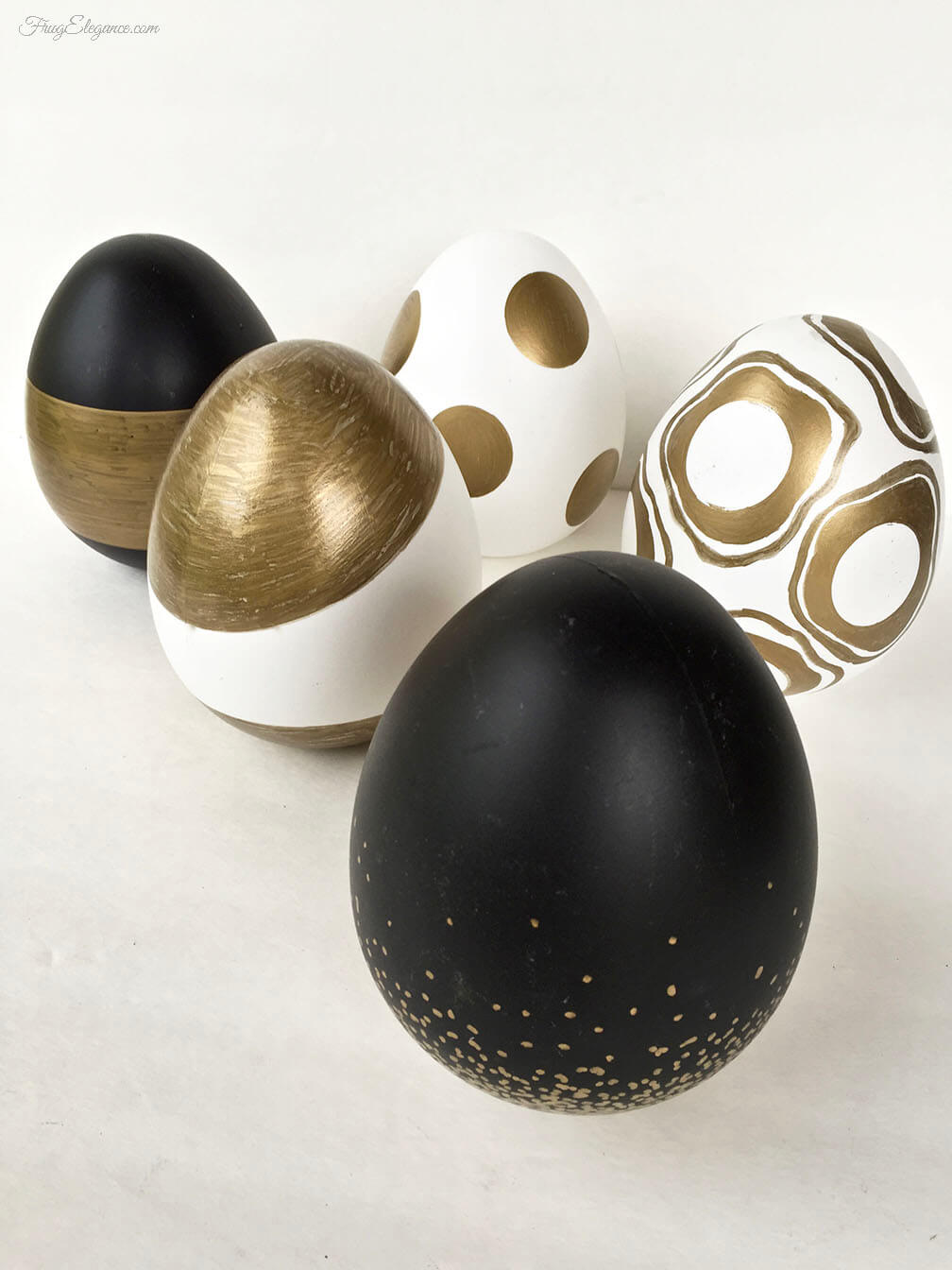 These gorgeous modern and metallic Easter eggs are the ideal DIY decoration if you're short on time and skills! Each egg is already primed and ready to go in its base black or white color. What happens next, is up to you. Grab a bronze, gold, or silver Sharpie and get busy. From geometric patterns to sentimental sayings, what you choose to draw on your eggs is endless. A slanted line makes filling in one corner super simple. And of course, polka dots or chevron stripes are always in style. Adding the element of metallic color makes for a dramatic and modern look for your ultra classic color combination of black and white Easter eggs.
23. Lamb's Ear and Easter Egg Wreath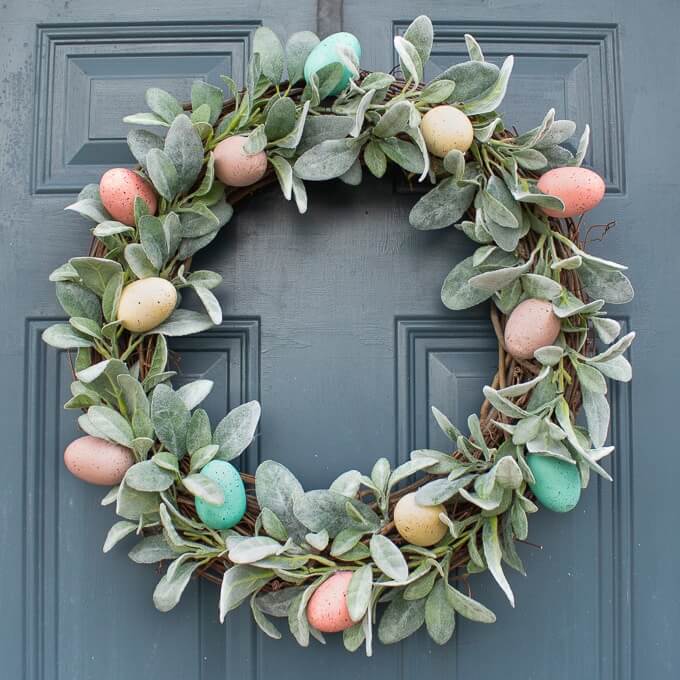 Greet spring with a warm welcome by adding this lamb's ear and egg wreath to your home. There are so many ways to style this handmade wreath. Naturally, it would look incredible hanging on your front door, yet it would look equally amazing on an interior wall of your home. Including a garland layer of lamb's ear adds such a cool seasonal touch. And the interesting speckled egg choice adds a more realistic and perfect embellishment than your average brightly colored plastic eggs. This homemade Easter eggs wreath idea could also be used as an accent for the base of a centerpiece on your dining table.
24. Budget-Friendly Black and White Egg Garland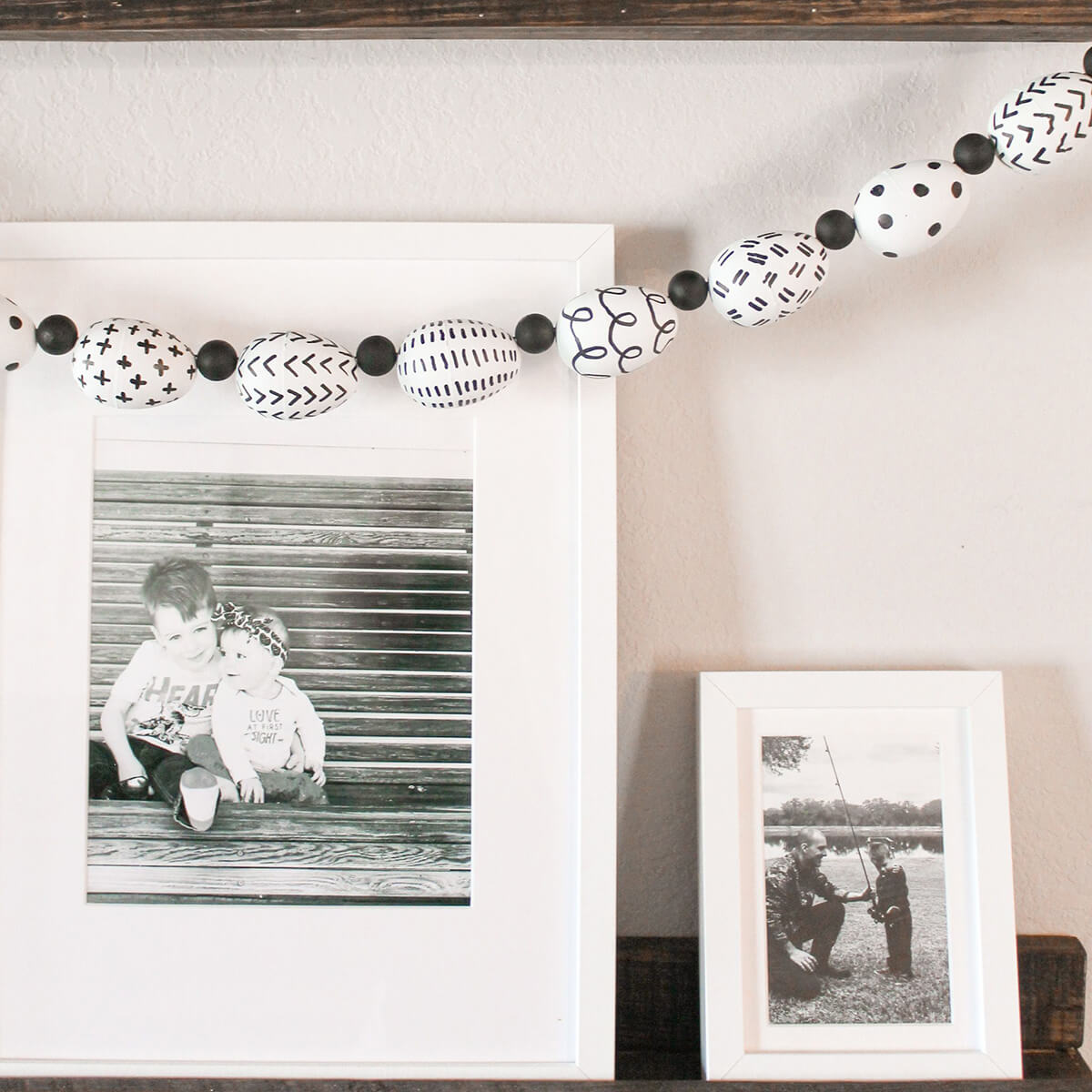 Stay modern and contemporary even when it comes to plastic Easter eggs! For one of these homemade Easter eggs garland creations, you'll need to make a quick trip to your local dollar store. Plastic eggs get a nice coating of white paint to provide you with the perfect canvas for creating some modern decorative eggs for Easter. A black marker is all you need to customize this creation with decorative patterns that string together for a cool springtime decoration. Hang this garland along a row of pictures to add a nice update for the season of spring.
25. DIY Tin Foil Antiqued Silver Eggs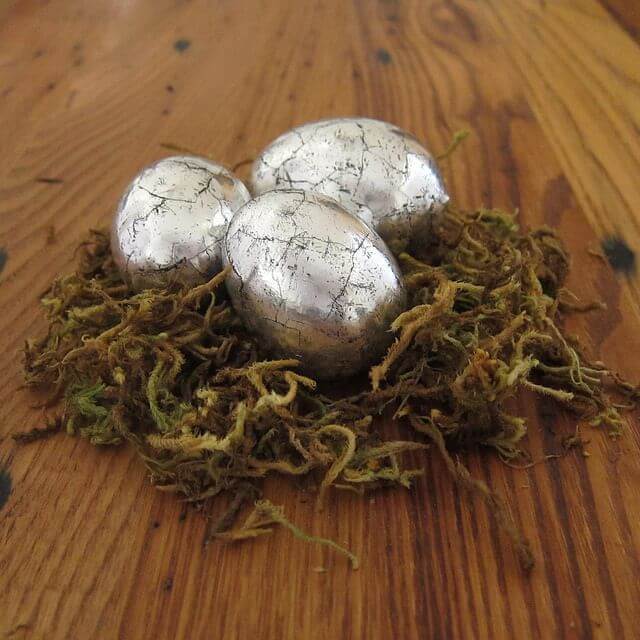 Add some metallic magic to your Easter table this spring with these easy DIY antiqued silver eggs. It's amazing what an everyday item like tin foil can create. Styling your home with silver eggs adds a completely different design than the traditional pastel and brightly colored ones. Feature a group of these eggs within your seasonal vignette on your entryway table, dining room centerpiece decor, or kitchen island. No matter where you place them, they are sure to turn heads and get noticed. With the process of creating the smooth silver coating and cracked effect, each egg will be a unique work of art all of its own.
26. Hard-Boiled Eggs Disguised as Carrots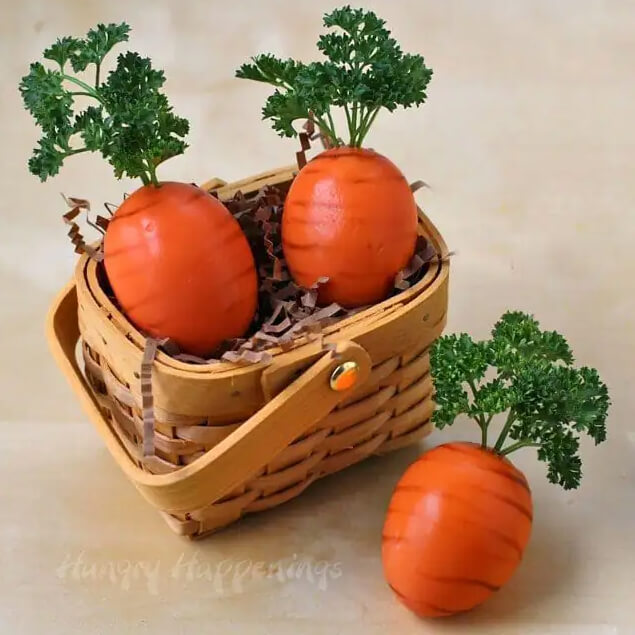 Even your pickiest eater might be enticed to take a bite of this carrot. Hard-boiled eggs are synonymous with the Easter season and instead of the traditional pastel coloring, consider this fun disguise. The peeled eggs easily absorb the orange food color and parsley sprigs make the best carrot toppers too. Display them as edible decorations on your table as you serve up your family's Easter dinner this spring. Nestle them in a basket, like they've been freshly plucked from the garden.
27. Easter Grass and Egg Cheap DIY Wreath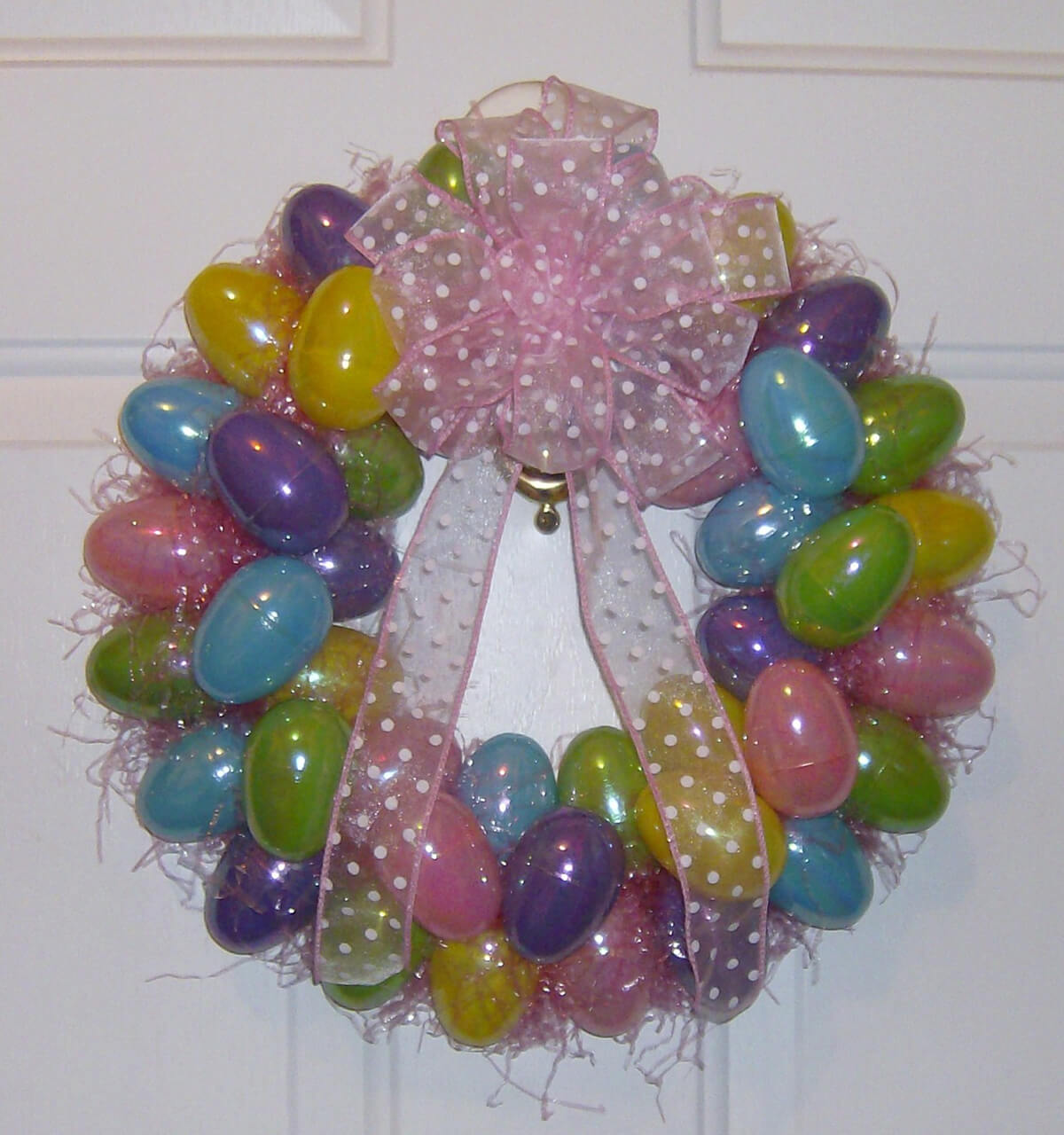 Grab the gang and get to work crafting this cheap and fun Easter grass and egg wreath. Normally Easter grass is a friend of no one, but in this setting, it provides just the necessary filler for a fabulous wreath. Hot glued plastic eggs become the base of this wreath while stuffing the grass in all the nooks and crannies prevents the eye from seeing the cardboard foundation. Attach a ribbon bow at the top and hang this spring-loving beauty on your front door.
28. Terrific Tie-Dye Tissue Paper Easter Eggs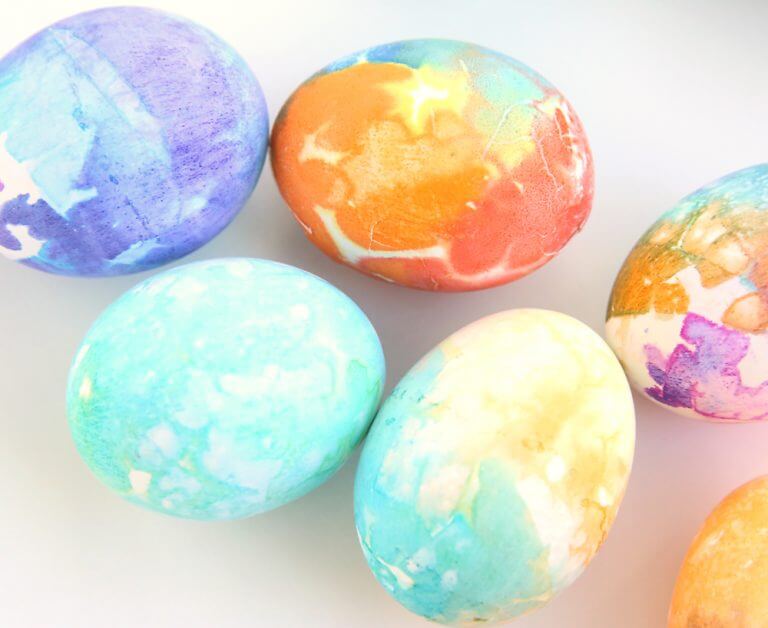 As the cold weather begins to break for spring, everyone begins planning for Easter. One of the traditional activities includes decorating eggs. This generally involves a dye kit purchased from your local grocery store. From this standard version comes an updated one involving tissue paper. This pretty pastel paper-thin medium provides a perfect way to dye your eggs in style! You may layer color combinations until your heart's content! The overlapping of design and colors makes this a beautiful tie-dye creation that's sure to be your favorite egg-coloring creation of all time!
29. String of Eggs Easter Egg Garland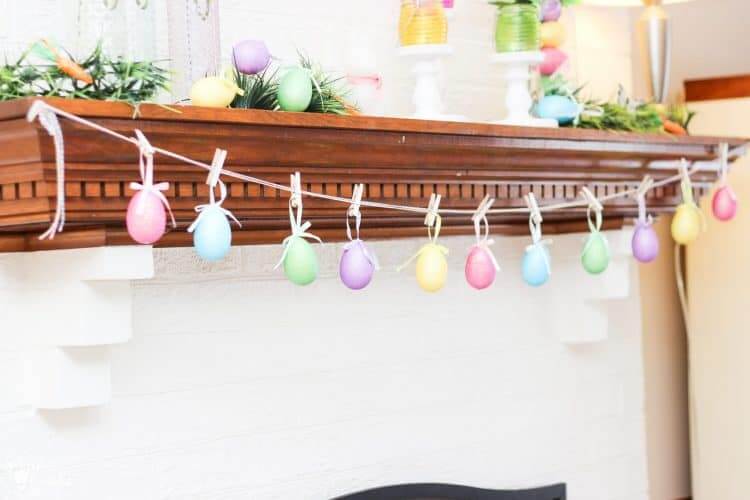 Hanging across your mantel or from your kitchen sink window, this colorful garland of Easter eggs will be the bright pop of color you're seeking this season! Not only does this sweet strand of garland add the vibrant color palette you desire, but you'll also adore the use of eggs since they are the quintessential item for this season. Involve the kids in creating their own garlands and use them all over your home. The ribbon loop at the top of the eggs makes them great for use on decorative seasonal trees too. They could even be used on a wreath for the front door.
29 Charming and Unique DIY Easter Egg Ideas
There are so many great ways to feature Easter eggs in your spring decor! One of the most unique ideas has to be the application of feathers onto plain white eggs. This is an amazing and awesome idea for a homemade egg that features a bohemian flair! Of course, channeling current trends is always fun and decorating Easter eggs is no different. Show off your love for houseplants by creating a cool cactus hard-boiled egg that looks dainty and darling resting in all of its terracotta pot glory.
Candles always need a superb place to hang out, so why not create an interesting candle holder featuring a stem of eggs? This custom piece can show off your favorite style of Easter eggs and by grouping them together, these holders make a dramatic display. At the end of winter, it's always fun to brighten up your home as you prepare to greet the season of spring. Make it even more enjoyable by including some of the best DIY Easter egg decorating ideas listed here.