If you're a fan of fairytales and enchanted forests, then surely you love mystical creatures such as pretty little fairies! Many make glowing DIY fairy lights to satisfy their creativity and express their imagination!
23 Enchanting DIY Fairy Jar Ideas that are Budget-friendly and Easy to Make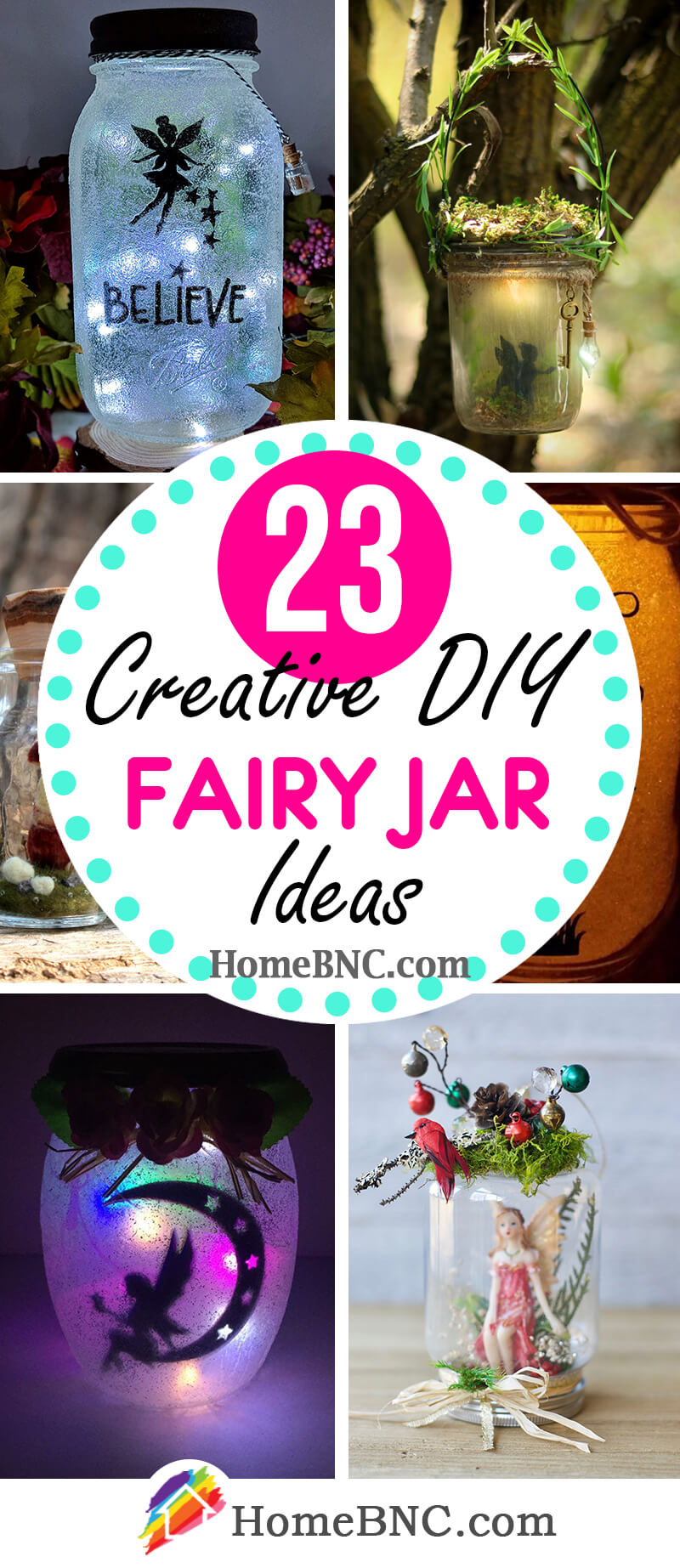 Mason jars can serve lots of purposes, especially if you wish to be decorative! One of the most popular ways to use them is to make DIY fairy glow jars. Now obviously, putting real fairies into jars will only make them cranky and sad, so these DIY fairy jar ideas are a fairy-friendly alternative.
DIY fairy jars or DIY fairy lights are essentially glass containers that look like they have a little fairy inside and can have a candle, glow stick (although they're not recommended), or small bulbs inside to make the silhouette of the cutout fairy stand out. Some tend to use glow in the dark paint as well but candles and bulbs typically give off a better glowing effect at night. DIY mason jar fairy lights can have many varied styles such as a simple Tinkerbell cutout with a candle inside, a tiny fairy garden with a figurine of a fairy for a more realistic approach, or an adorable fairy house with a little wooden door outside of the jar.
Fairy glow jars are very popular for evening parties if you wish to add a little whimsical touch to the décor in your backyard and can even be put in your garden. The best thing about fairy jars is that you can do whatever you like with them, sometimes you can have other mythical creatures aside from fairies inside! As long as you have your imagination, a clear jar, paintbrushes and paint, some glitter, and a candle or bulb, you can easily make these DIY fairy lights to decorate your home with, to gift to a loved one, or to make your little one feel more comfortable at night with their tiny fairy friend.
1. Enchanted Mason Jar Fairy Light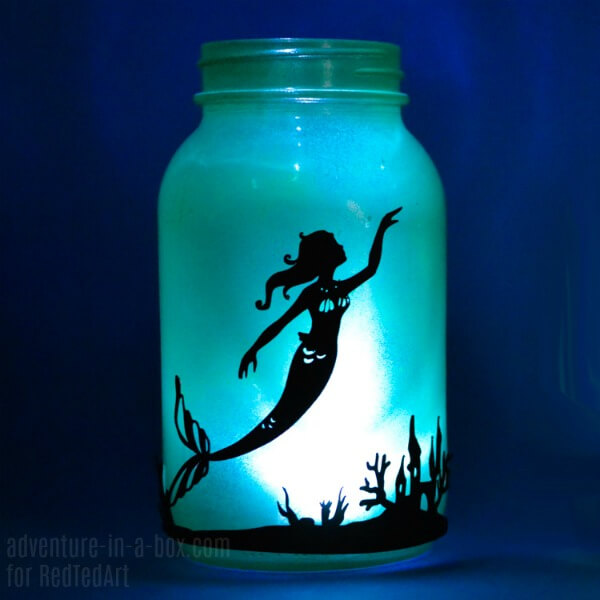 You can add a little magic to your child's room with just a clear mason jar, a little paint, a stencil, and a candle light. This glow mason jar depicts a beautiful long-haired mermaid swimming through the cyan sea filled with colorful fish and coral. It almost seems as if she's daydreaming about one day meeting a handsome prince above the surface of the ocean. The glowing candle light inside makes the mermaid the main focus of the mason jar's design and is perfect for any little dreamer that loves pretty and mesmerizing mermaids singing and swimming freely under the sea.
2. Frosted DIY Mason Jar Fairy Light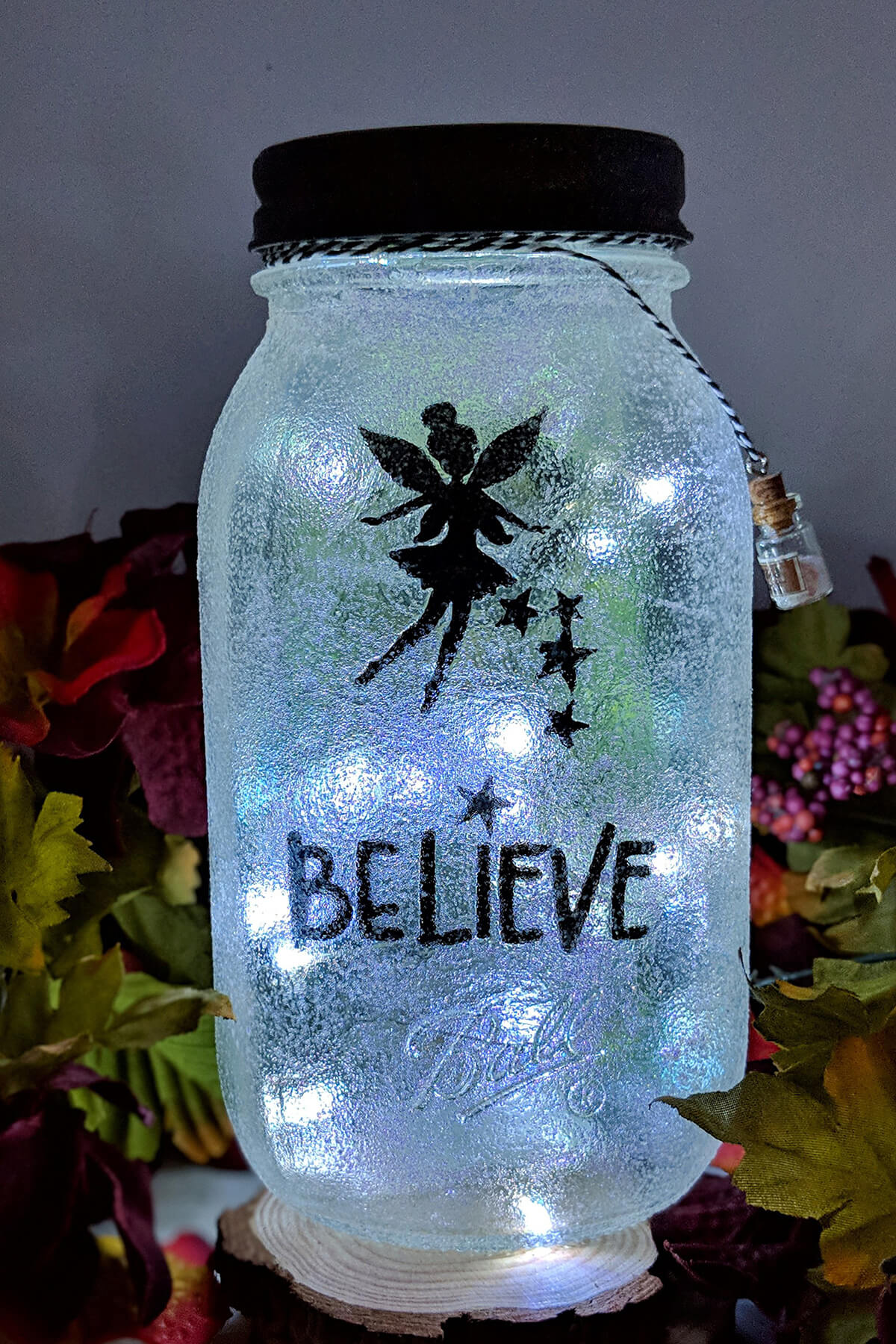 Out of the other DIY fairy jar ideas, this jar has an especially interesting frosted effect to it along with a small Tinkerbell stencil design and the motivational word "Believe" painted in a whimsical font. There's also a tinier jar tied to it with string that hangs off the top and it acts like a jar big enough for a fairy to make their own glow jar. Inside the mason jar are tiny bulb lights that look like little fairies or glow bugs floating around and illuminating the space around it. This gives off a more twinkly effect rather than a single glowing candle light and is an ideal piece to add to any magical collection.
3. Fern and Moss Wrapped Fairy Jar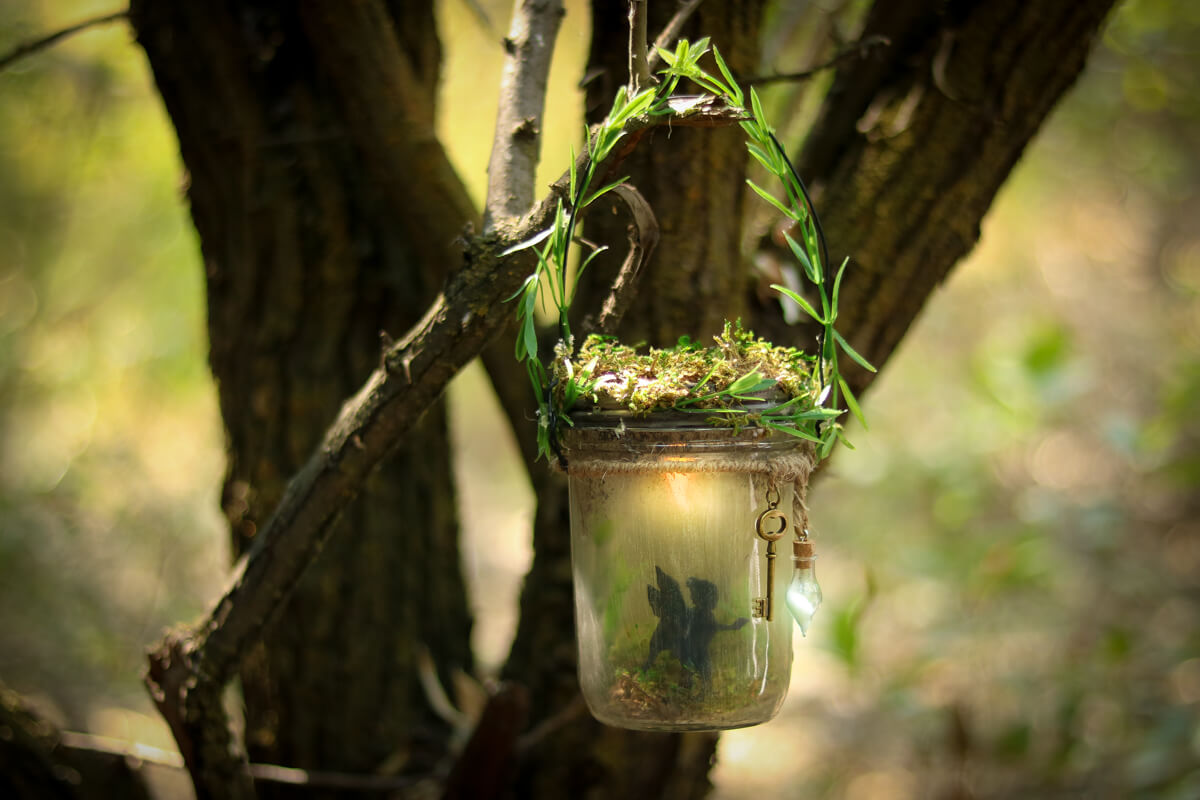 If you like a more nature-based and magical forest feel compared to simpler DIY fairy jar ideas, this fairy jar is topped with bright green ferns and moss and also has a burlap string tied around it. Attached to the string is a small bulb-shaped jar with a cork and a bronze key that implies the jar is for safekeeping. Inside the jar, you can see a fairy surrounded by even more moss and plants with a light attached to the bottom of the cap for a further glowing effect. With all of these elements tied together, this fairy jar makes for a rather natural and forest-friendly way to show off your little fairy friend.
4. Romantic Glow Mason Jar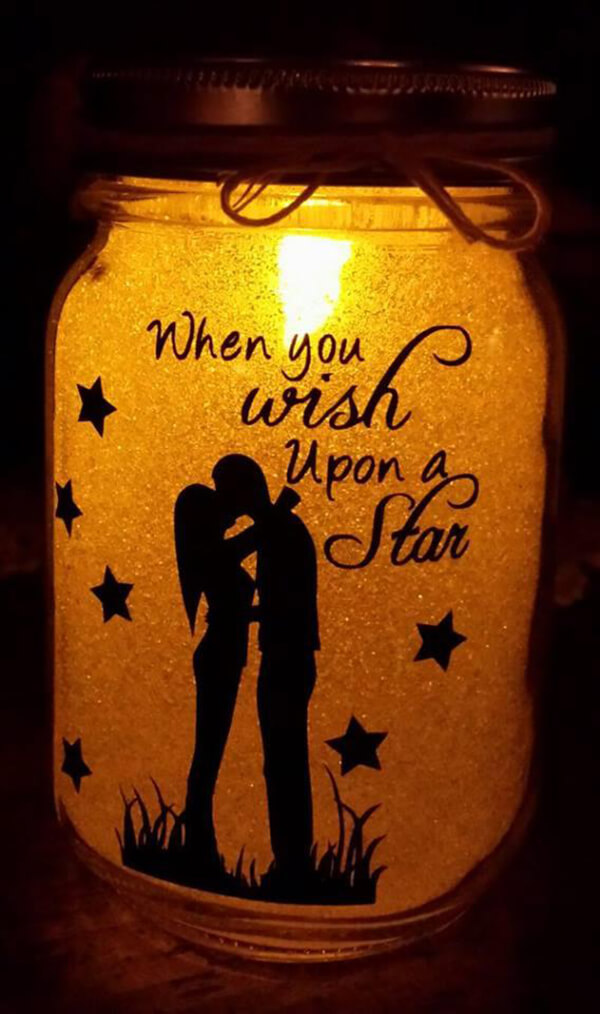 Great for any Disney or fairytale fanatic, this mason glow jar shows the romantic silhouette shape of a couple underneath a starry sky that can easily be seen thanks to the warm glow of the bulb (or candle) inside. The words "When you wish upon a star" are featured in a freehanded font and with a little glitter, it pushes the twinkly look of the starry night sky. The glow jar is finished off with a cute little string tied in a bow and can be placed anywhere in your home to remind you of your significant other and all the magical times you've had together.
5. DIY Glittery Mason Jar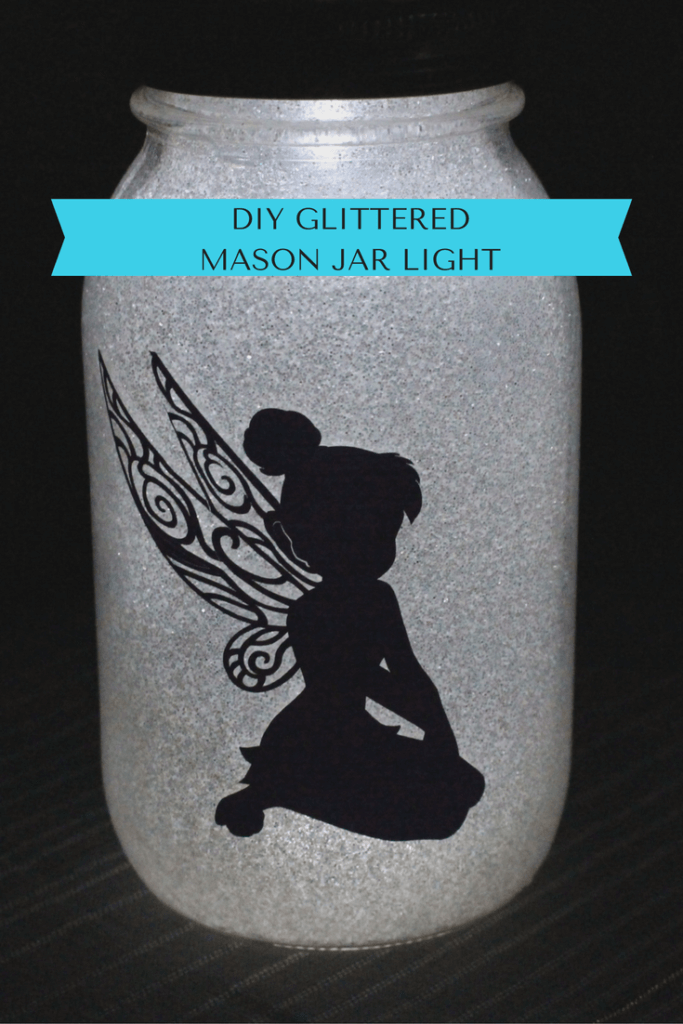 For any huge fan of Tinkerbell or magical fairies in general, this glittered mason jar can be the ideal conversation piece, garden addition or bedroom decoration. The inside is covered with white glitter, although you can probably use any color according to your preference. The silhouette depicts a lounging Tinkerbell where you can clearly see the outline of her wings which have a twirly and carefree layout. With a single candle or small bulbs inside, the stencil will definitely pop out a lot more and it'll look like Tinkerbell is sitting right inside.
6. Sparly Mermaid Mason Jar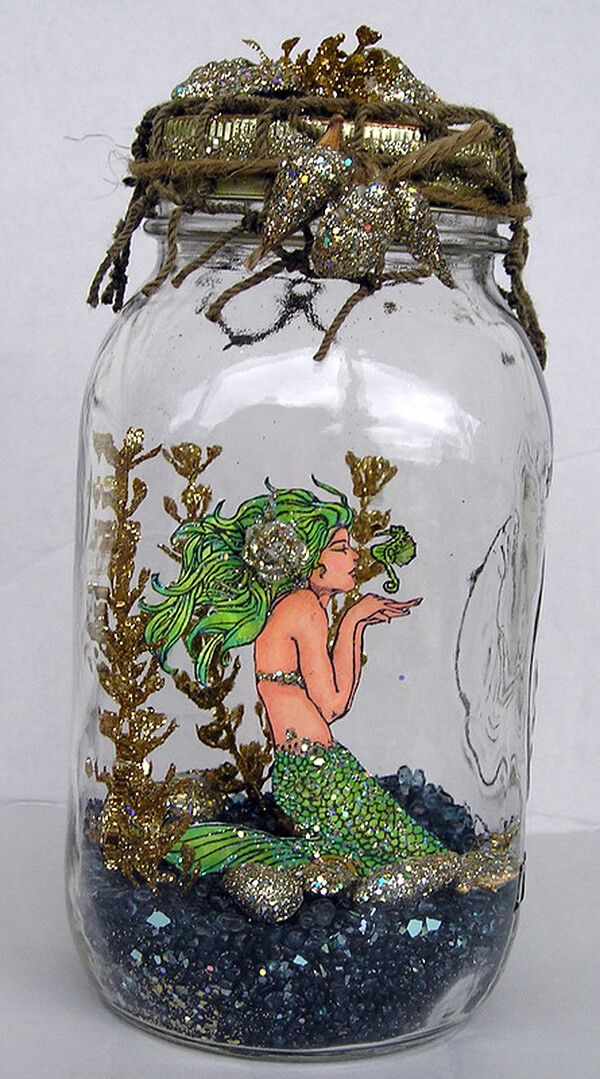 With many twinkly and sparkly elements added to it, this mermaid themed mason jar houses a very pretty and glittery mermaid playing with a small seahorse. In her hair is a rose covered in glitter and she sits on top of shiny blue rocks surrounded by twinkling seagrass. On top of the mason jar is a burlap net with glitter covered shells and seagrass to finish off the magical design of the jar. The mermaid can have different colors according to what you like and you can put a bulb or fake tea light inside for a glowing effect at night.
7. Sleeping Magical Fairy in a Jar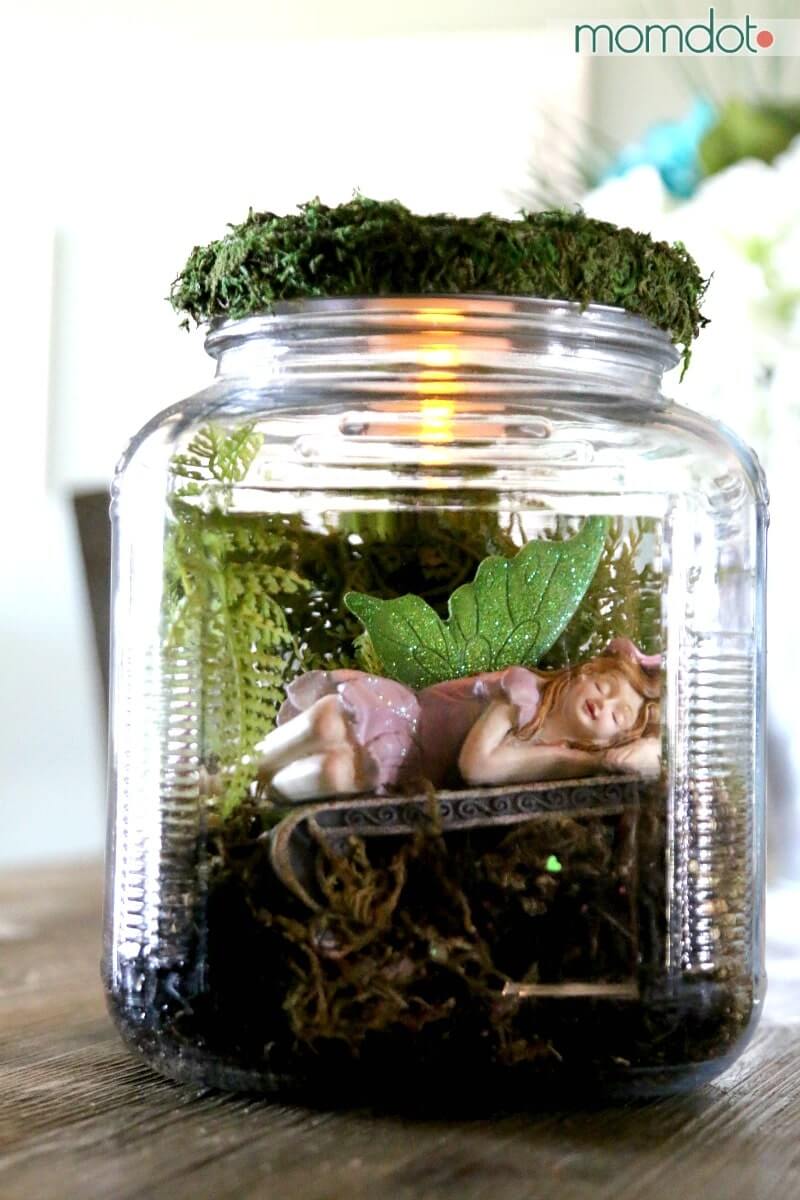 For a cuter look, the shape of this jar is shorter and slightly more rounded along with its cap being covered in moss like you find on the floor in an enchanted forest. Inside the jar you can see a happy sleeping fairy on what looks like a pedestal. Surrounding the fairy is some darker moss and some ferns to make the fairy feel more comfortable in its natural habitat. Underneath the jar's cap is a fake tea light attached so that you can also see the fairy when the lights are off and is an adorable addition to any bedroom, shelf, or window pane.
8. Mini Fairy Needle-Felt Mushroom Jars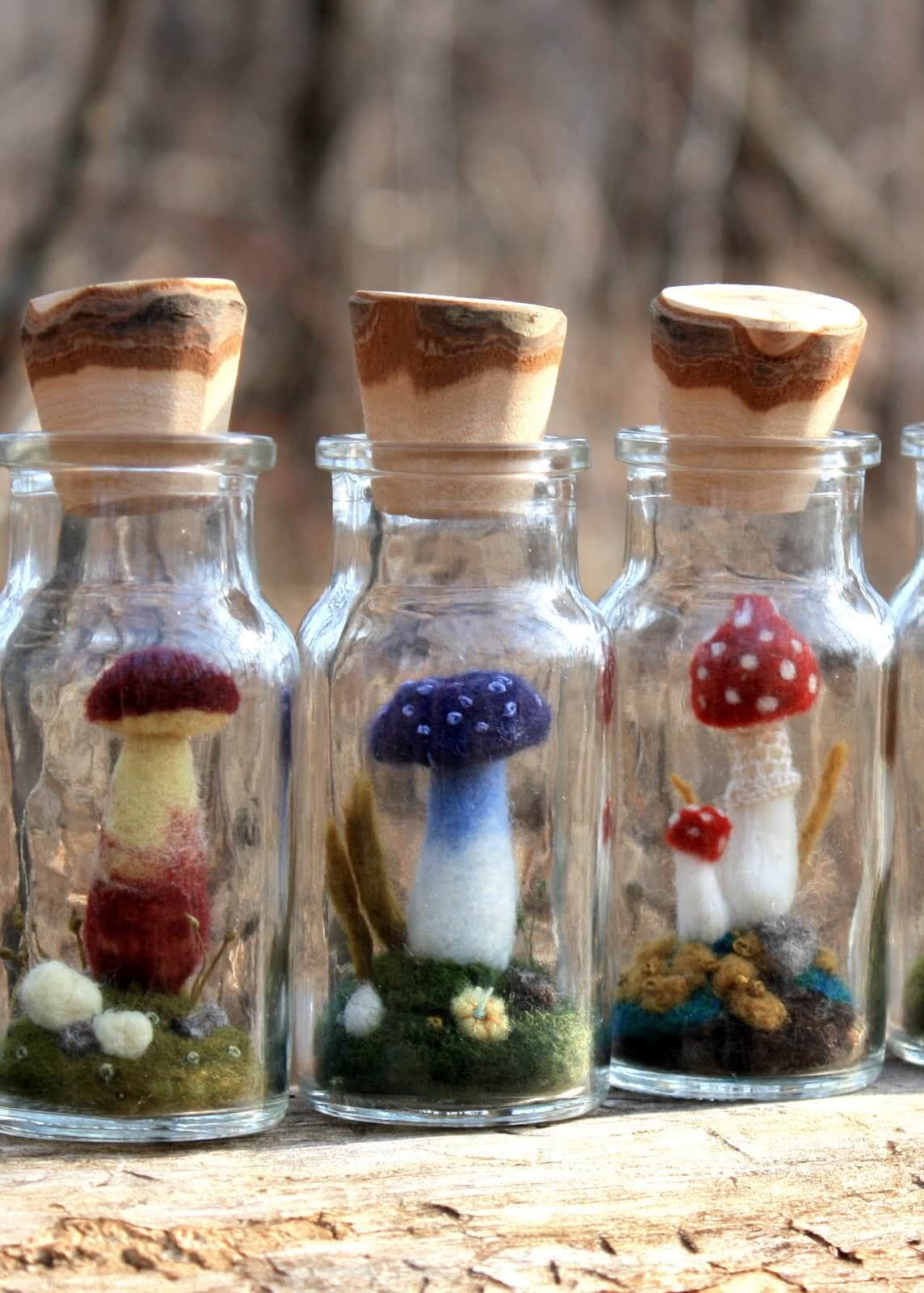 These adorable little needle-felt mushroom jars can be the perfect pop of color you might need on top of your bookshelf, in your garden, or as a centerpiece coupled with bigger mason jars. Inside are cute different colored mushrooms that are created with felt along with even tinier felt flowers, rocks, ferns, and moss. A cork keeps the inside contents safe and if you wanted, you could even tie them with string and cluster them together to make hanging mushroom jars. A lot of handiwork goes into these jars so anyone who sees these will definitely appreciate the gorgeous craftsmanship along with being one of the more creative DIY fairy jar ideas.
9. Tiny Fairy House in a Jar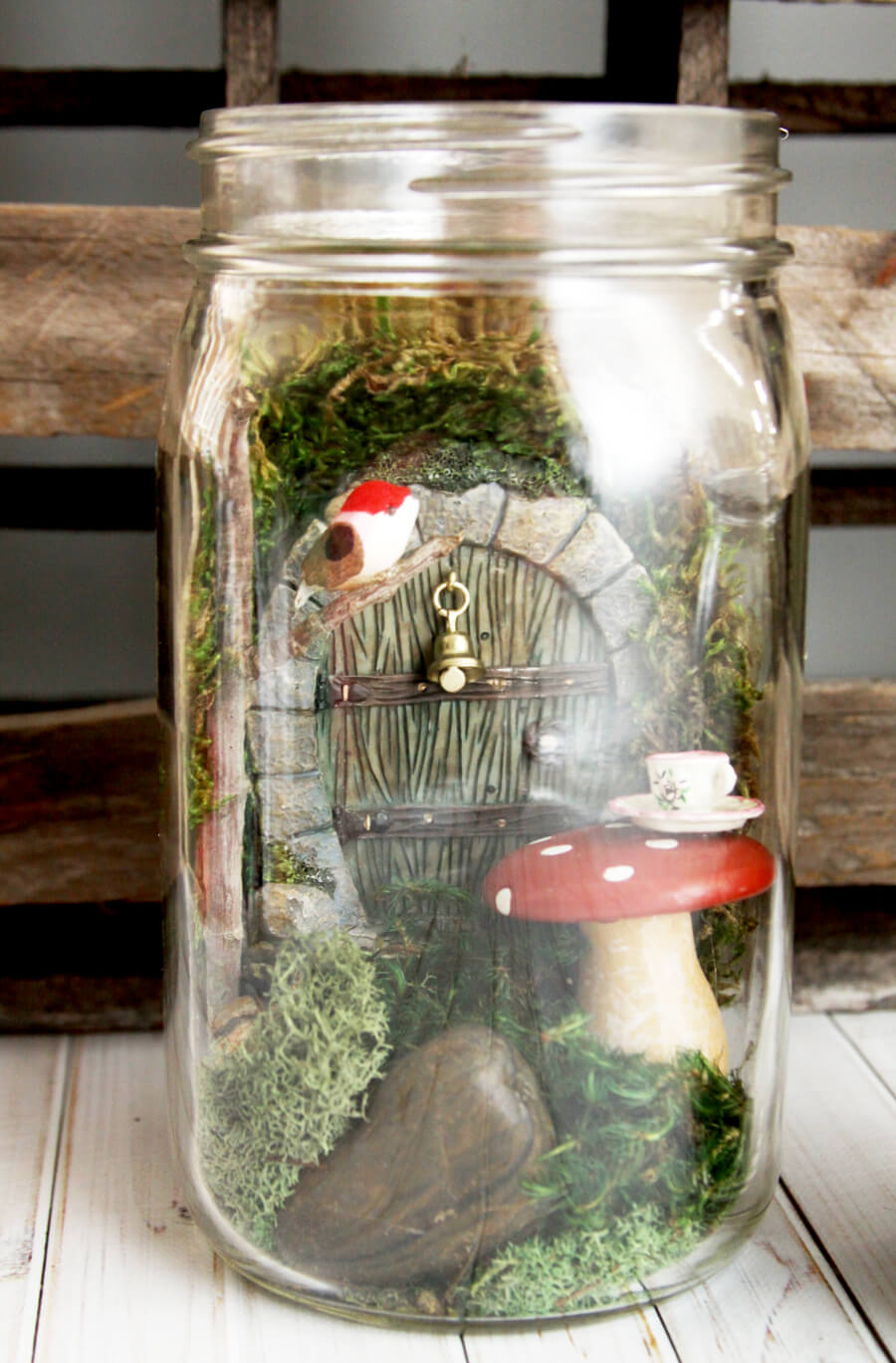 You can get as creative as you'd like with this little mason jar that ironically houses a fairy home! Inside the jar, you can see the small wooden door with a bell above so as not to rudely enter. In front of the door, there's a red spotted mushroom that acts as a table for the fairy's daily cup of tea. As they enjoy their tea, they can sing hello to the birdie perched on top of the branch. For a more forest-inspired look, there's also some green moss on the floor of the jar and around the door to make the fairy feel right at home.
10. DIY Fairy Dream Mason Jar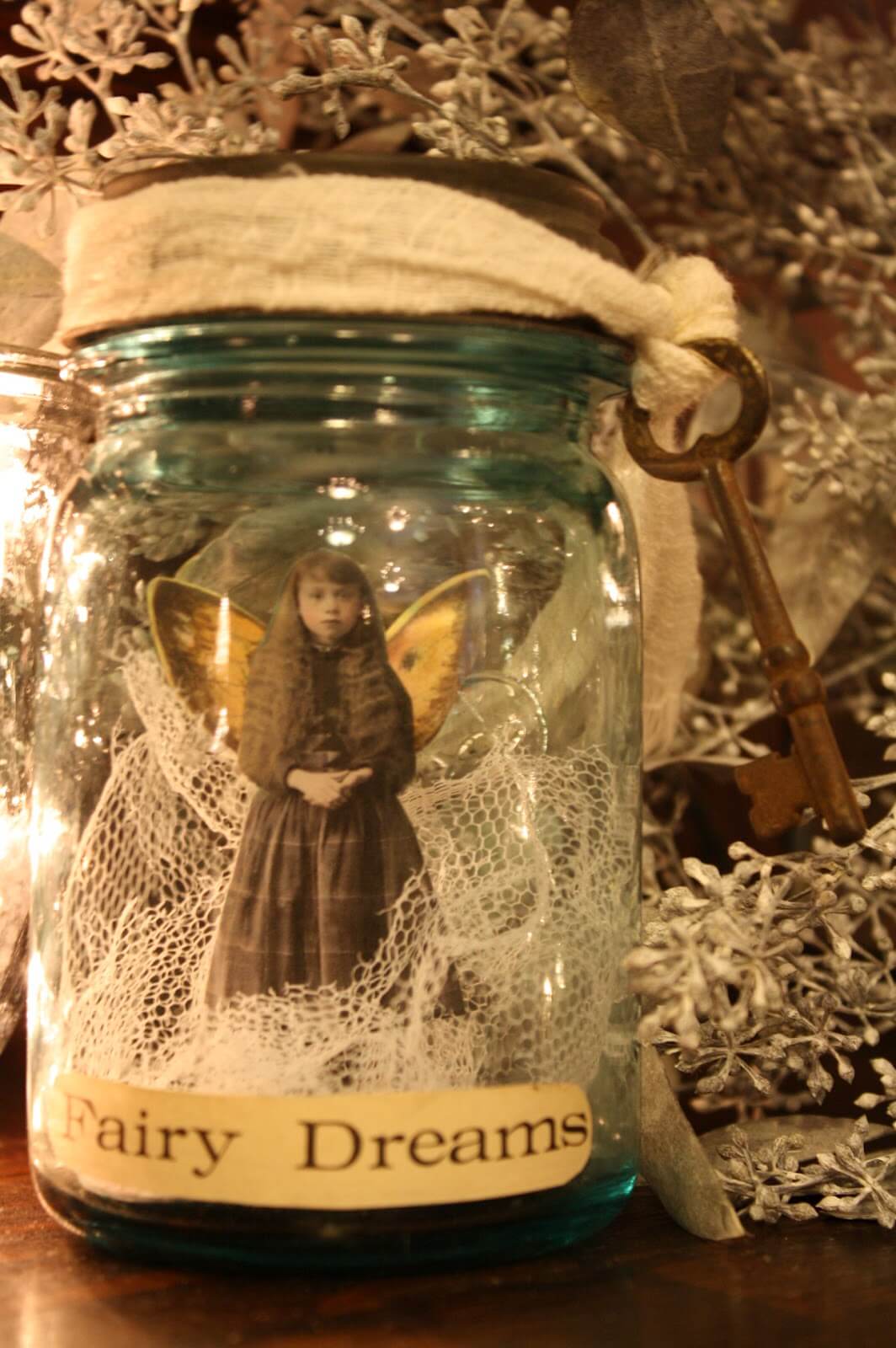 If you or your little one tends to be quite the dreamer, this fairy jar can act as an enchanting reminder to always follow your dreams and ambitions, or alternatively, to have sweet dreams as you sleep. A white burlap cloth wraps around the lid of the jar with a bronze key attached to it for a touch of antiquity and on the outside is a label that says "fairy dreams." Inside the jar is a cute little fairy surrounded by some white netting and you can additionally add a small bulb on the inside underneath the cap to make it glow at night.
11. Cute Fairy Door Mason Jar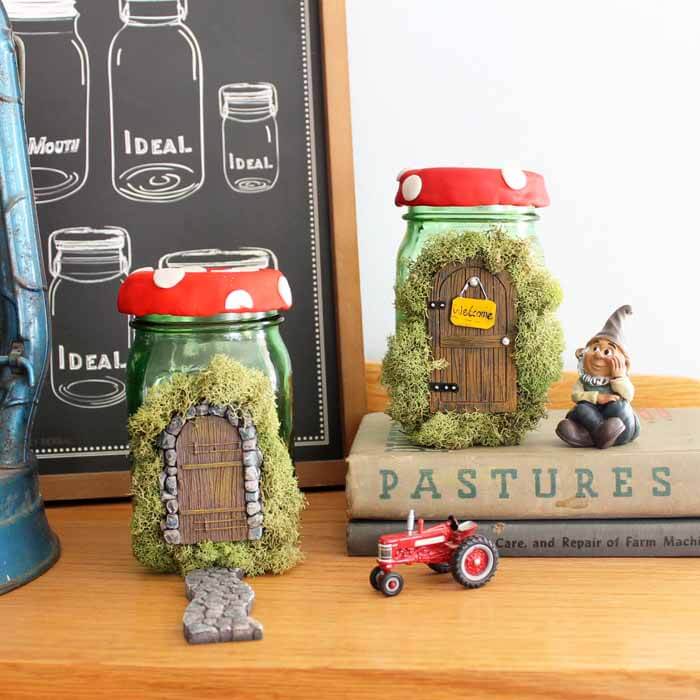 Instead of putting a fairy door inside the jar like one of our previous DIY fairy jar ideas, you can also think outside the jar! On the outside is a tiny wooden door and you can come up with additional props to make the fairy jar more homely. A welcome sign, a door mat, a cobblestone path, or even a small lamp above the door are some extra ideas. Surrounding the door is some moss to give the jar a more familiar feeling for the fairy. You can get a little more creative and add some additional mushrooms, ferns, or burlap wrapping around the jar.
12. Painted Rock Fairy Home in a Jar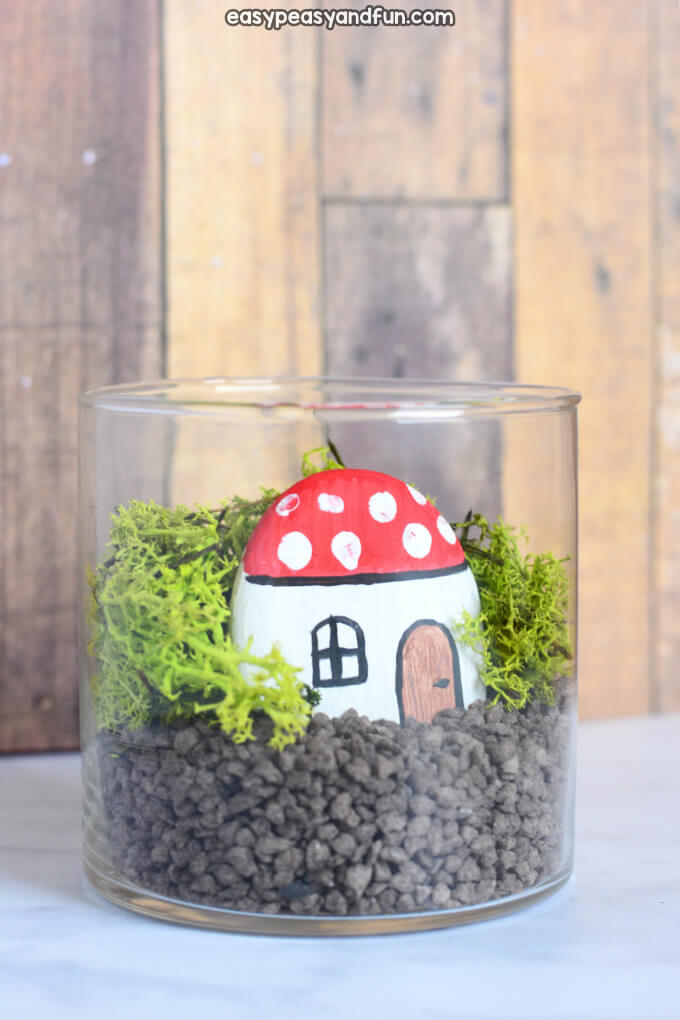 Using any jar of your liking along with a decently big rock and some paint, you can make yourself a fairy home in a jar. The rock is painted to look like a little mushroom home but you can use your imagination and make it look a small shire or other type of fairy home. The painted house is surrounded by moss, the common greenery that all fairies love, and sits on top of a bed of smaller rocks and gravel to imitate the forest floor. If you wanted to put a light, you can have all these materials inside a big mason jar and attach a fake tea light underneath the cap.
13. Glowing Fairy In the Snow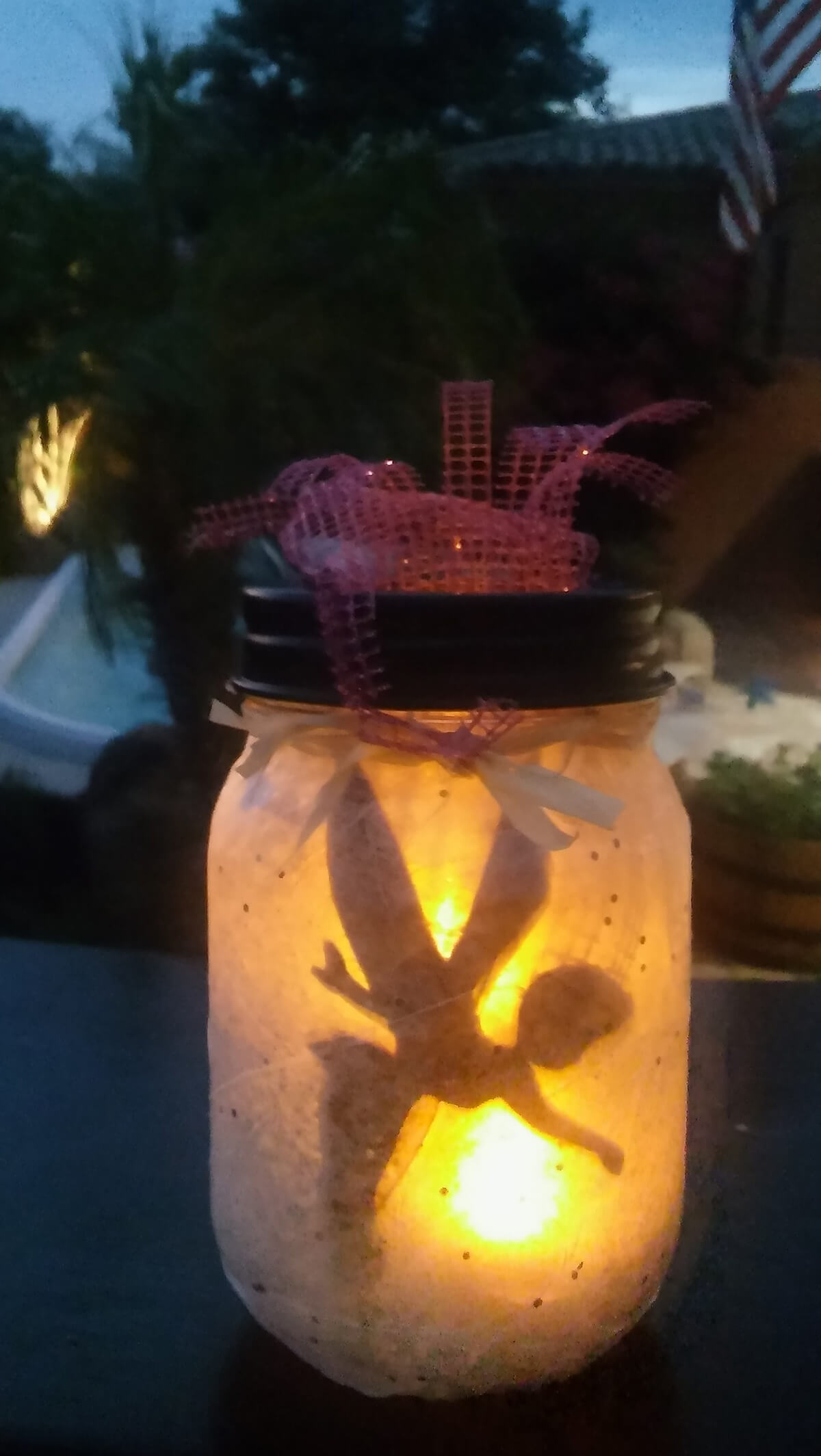 The inside of this mason jar is lined with a thin and almost translucent cloth with painted dots that makes it look like it's a winter wonderland. As the small bulb light illuminates the inside, the silhouette of a curious little fairy can be seen! The top of the cap is decorated with some pink-netted string but can be decorated with different colors and some bows as well. This is one of the more easier DIY fairy jar ideas and can be a nice complimentary décor item in your backyard for evening parties, on your dinner table as a conversation piece, or in your little one's bedroom as a nightlight.
14. Up Themed Whimsical Adventure Jar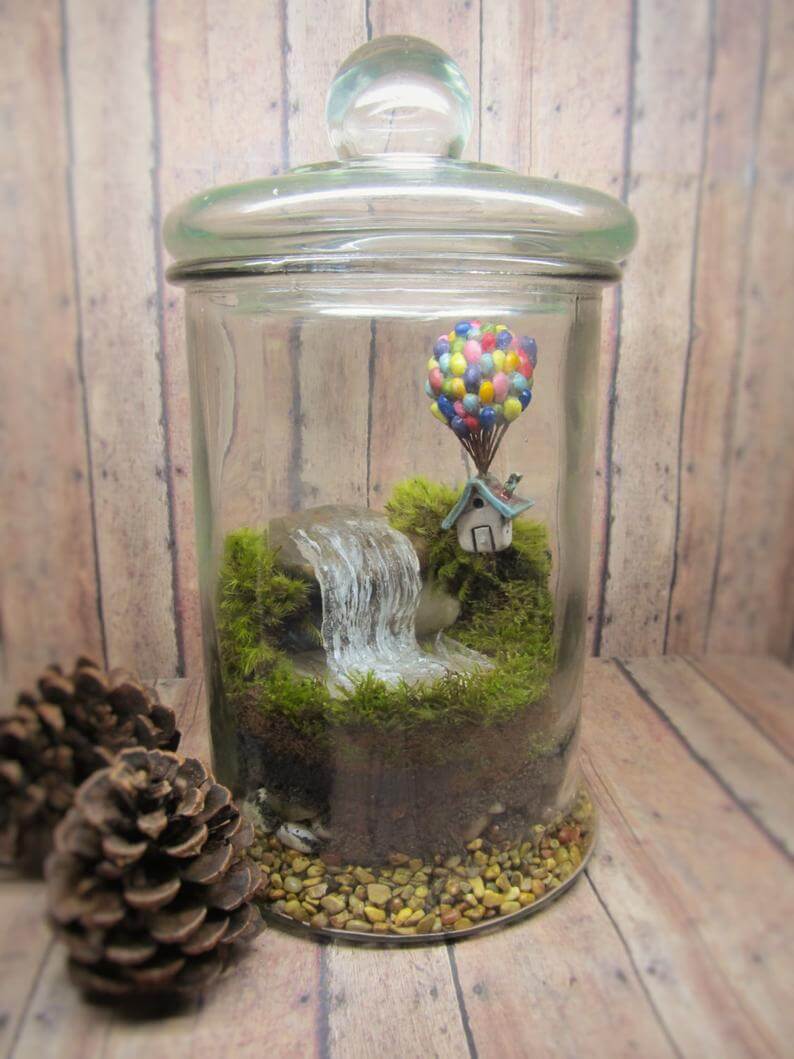 For heartfelt fans of the movie "Up," this little mason jar features a tiny little house suspend by balloons sitting on top of a grass hill. Next to the hill is a waterfall cleverly made of resin as it drops down to the lower hills below. A whole picturesque scene can be viewed inside the jar and can serve to be a reminder to venture out into the world more. To top it all off, some smaller rocks are added to the bottom of the jar and some dirt is included to imitate the beautiful rolling hills that Carl from "Up" always dreamed of.
15. Magical Unicorn Glowing Mason Jar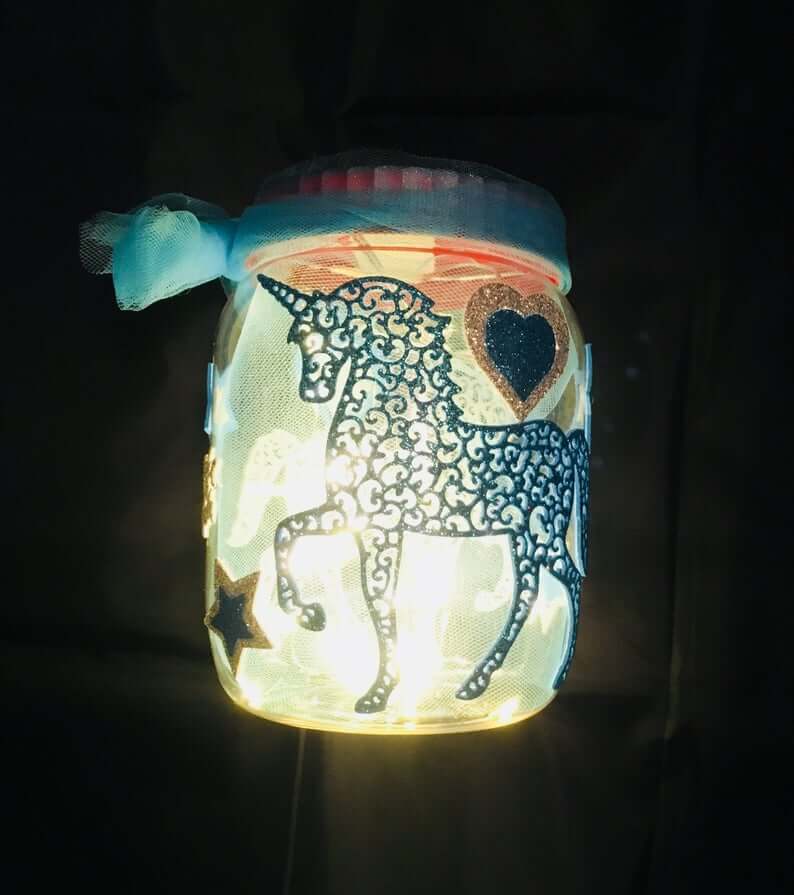 To satisfy yours or your little one's love of unicorns, this pretty star and heart-studded jar has many of the elements needed to make the most sparkly jar in all the land. The glowing light inside shines bright against the silhouettes of the intricately patterned unicorns and the heart and star stickers glued on the outside. For a finishing touch, a blue ribbon is tied to the cap, although you can make this any color you want according to your individual taste. This jar can go in any bedroom and for a more twinkling effect, small bulb lights are recommended.
16. Illuminating Enchanted Fairy Jar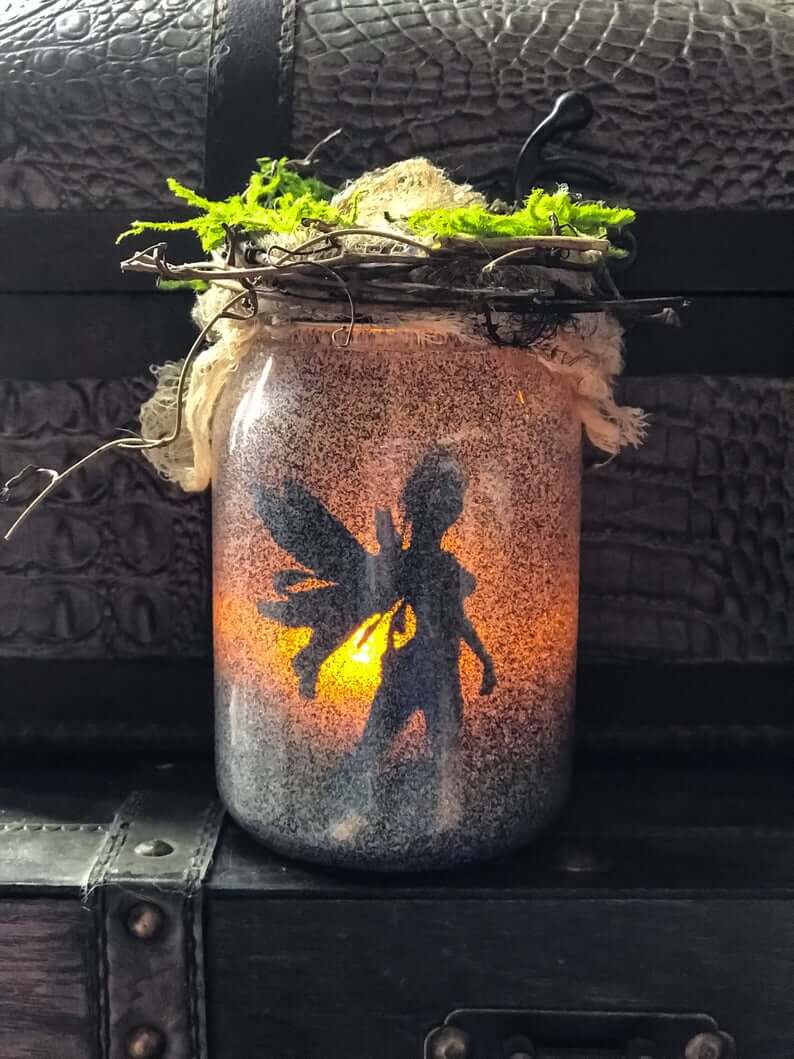 For any fanatic of the mystical and otherworldly, this fairy jar looks to have an amber glowing effect that's a great decorative addition to any room in the house! The top of the jar has many small twigs, moss, leaves, and some burlap attached to it to mimic the many natural elements found in the forest. The jar is home to a little fairy of who you can see the silhouette of as the candle or light bulb inside is glowing. You can paint the inside any color you want and add paint speckles as well for a more enchanting look.
17. Pretty Floral Mason Jar Fairy Light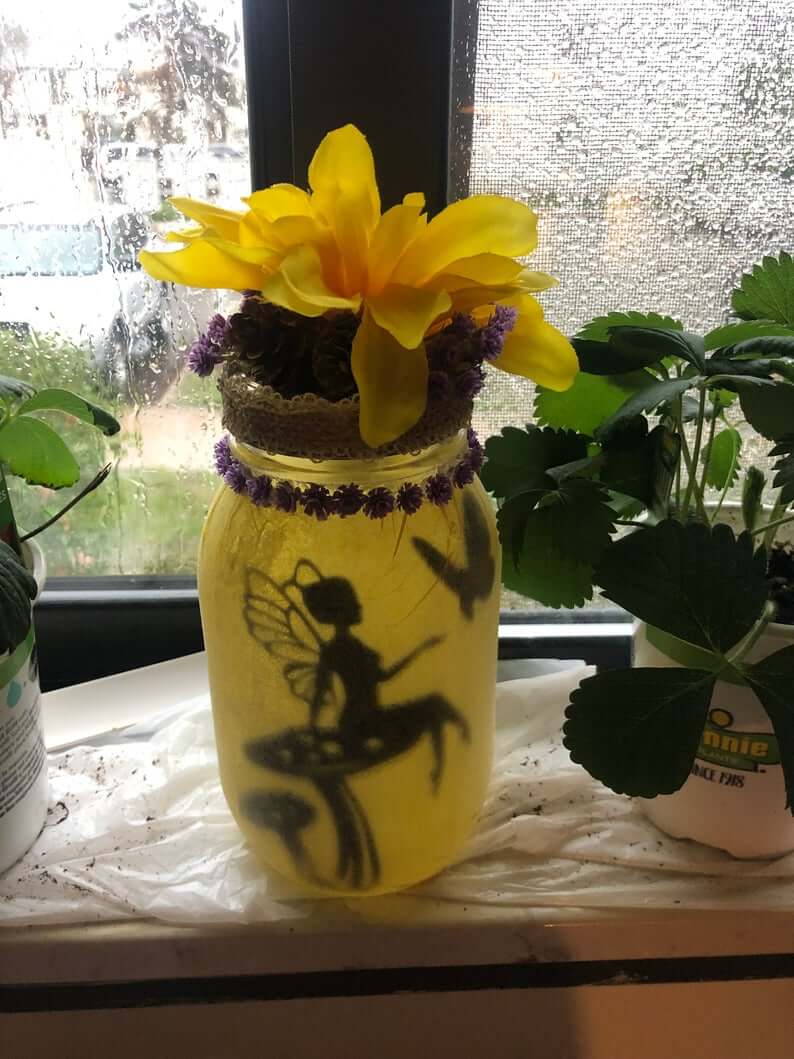 On the cap of this magical fairy jar is a gorgeous flower, but with some creativity, you can choose to put any flower that you like. Underneath the flower, you can see some pinecones or you can alternatively place succulents if you like more greenery and perhaps even some moss. Wrapped around the top is a floral string and lining the inside of the jar is a semi translucent paper to mask the glass. When added with a fake tea light or bulb inside, you can see the stencil design of a fairy sitting on top of a mushroom while greeting a butterfly.
18. Mythical Unicorn Glowing Jar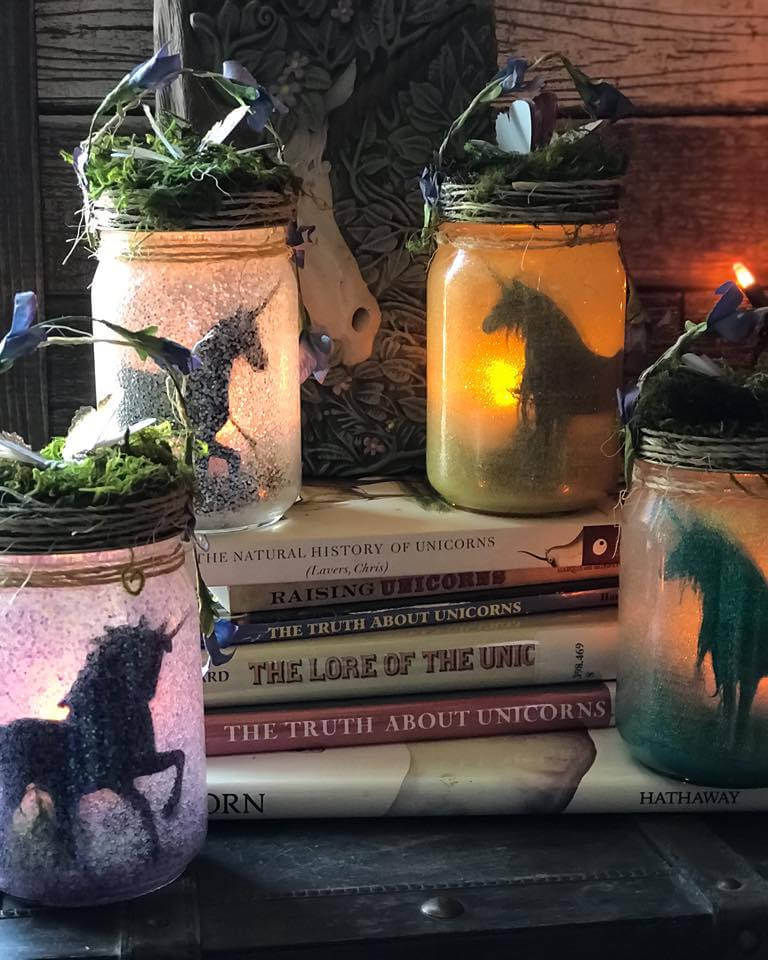 Unlike the other DIY fairy jar ideas, this one has another mystical creature inside. The lore of the mysterious and mythical unicorn is always interesting, and so is this glowing mason jar where you can see the beautiful creature against a glowing background. The top of the jar's cap is covered with moss and wrapped in burlap string, and as an additional quirk, there's also some fake butterflies for a peaceful and nature-inspired aesthetic. The calm and glowing candle or bulb inside puts more focus on the silhouette of the unicorn and you can choose any pose you'd like the unicorn to embrace its enchanting form in. You may also add glitter if you'd like a more sparkly look to your unicorn jar.
19. Lovely Swinging Fairy Mason Jar
This fairly simple to make fairy mason jar depicts a tiny fairy inside enjoying a swing underneath a tree. She's set high above the ground where mushrooms and lush greenery lie somewhere in an enchanted twilight forest. The small bulb lights inside make it look like there's stars in the sky or glow bugs that are joining the fairy in on the fun. Some flowers are added at the top to further embellish the overall look of the fairy jar and the inside of the jar is wrapped in a translucent wax paper with tiny dots to make it look even more magical.
20. Frosted Pink DIY Fairy Jar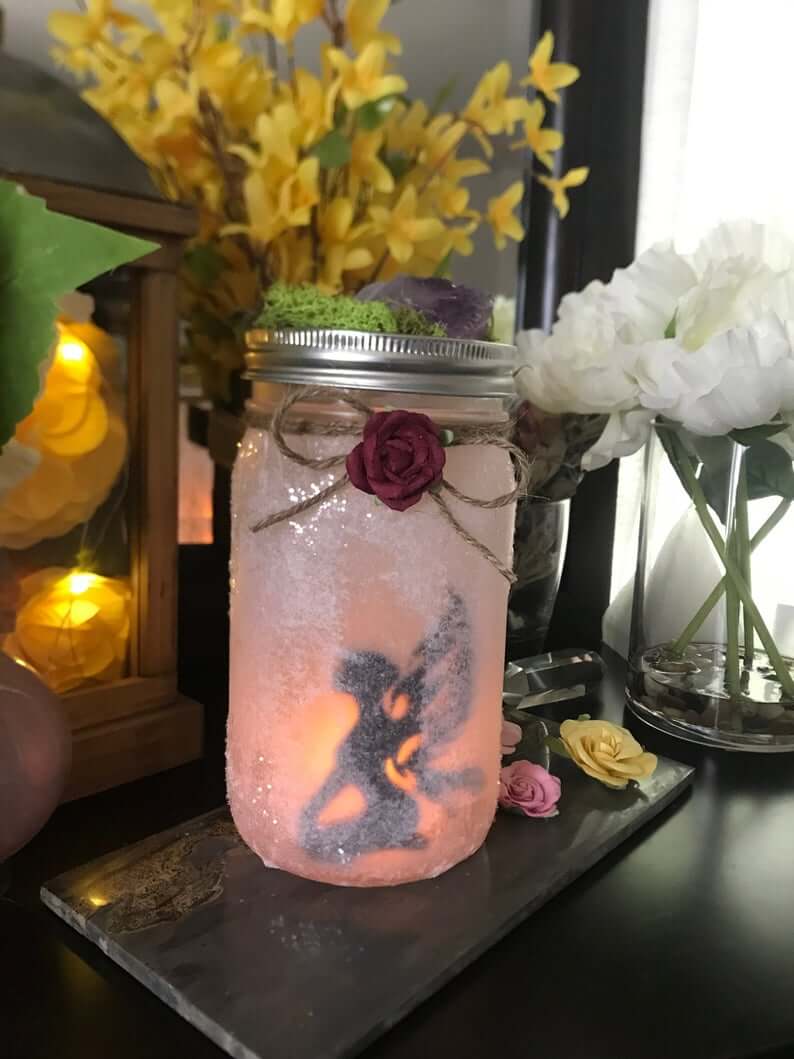 Inside this cute little mason jar is a small fairy sitting down and it almost seems as if she's meditating in front of the glowing candle light that clearly outlines her wings. The jar looks as if its frosted and also looks glittery which adds to the magical feel of the jar! There is some burlap string that is wrapping around the jar along with some moss and leaves glued to the top which always reminds the fairy of their natural habitat. On the burlap string is a small red rose to finish the look of the fairy's glowing home.
21. Multicolored Mystical Fairy Jar Craft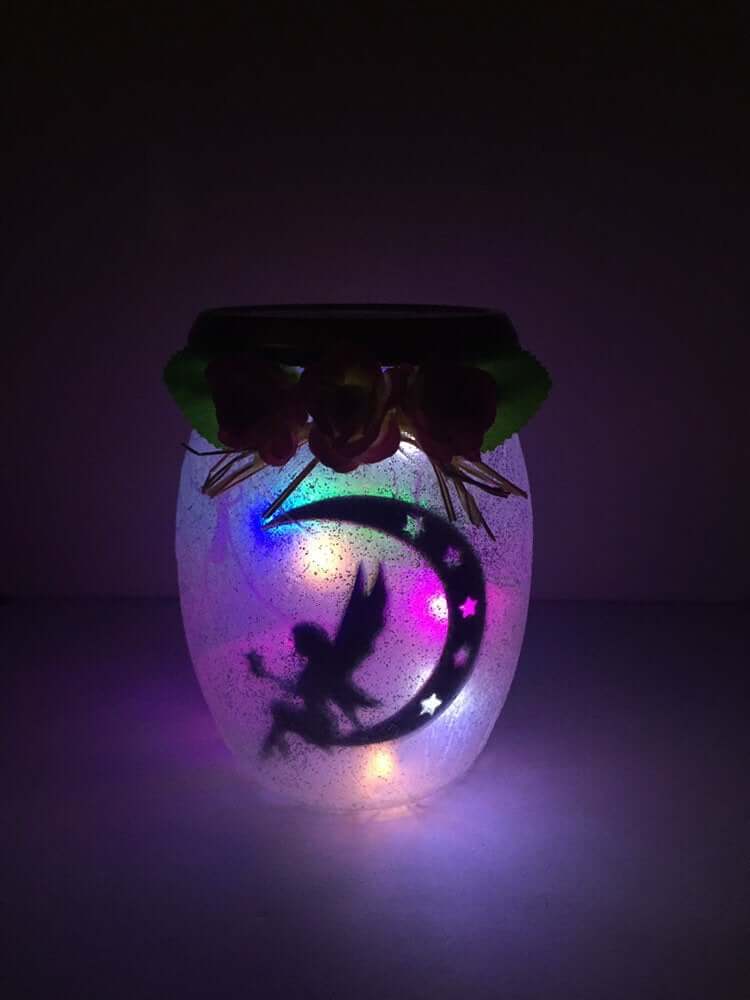 Many use white bulb lights for a twinkling effect on the inside of fairy jars, but this one stands out quite a bit because of its multicolored bulb lights. This gives it a more colorful aesthetic and makes the silhouette of the fairy sitting on the crescent moon a lot more interesting! Clinging to the top of the jar are some pretty roses (although you can choose another type of flower) and if you want more natural elements, some moss, burlap string, or some fake butterflies can further decorate your fairy jar.
22. Jolly and Whimsical DIY Fairy Jar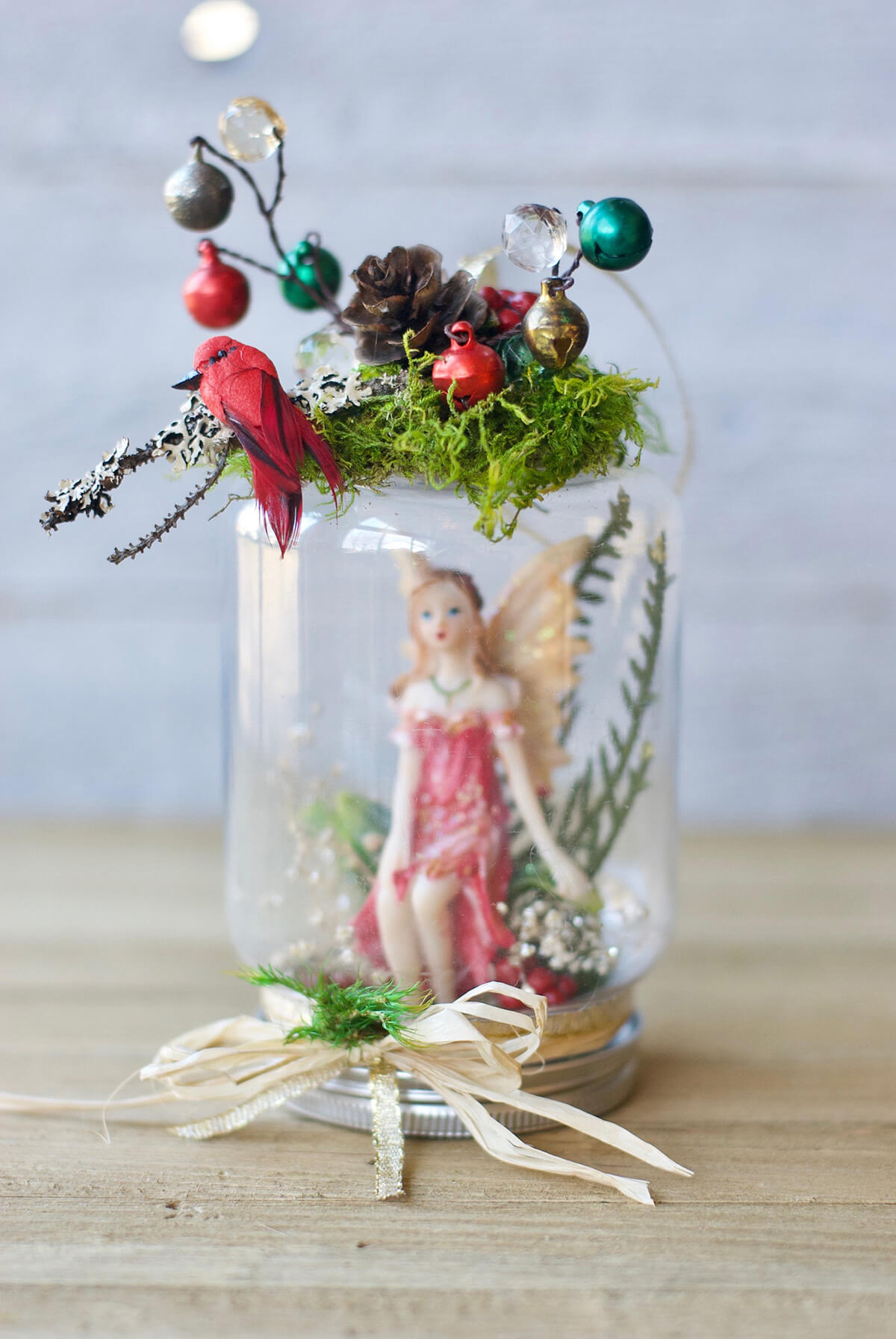 The orientation of the jar is noticeably different from the other DIY mason jar fairy lights for it is placed upside down instead of upright. Sitting on the cap is a beautiful fairy resting some ferns and other plants. Above the fairy is some moss and some colorful red, green, and silver bells to give the jar and almost Christmas themed design. Sticking out of the moss is a cute little red bird to add a bit of nature to the whole magical scene. You may add a little bow on the cap to tie everything together and place the jar on top of any bookshelf or table.
23. Customized Name Fairy Jar Craft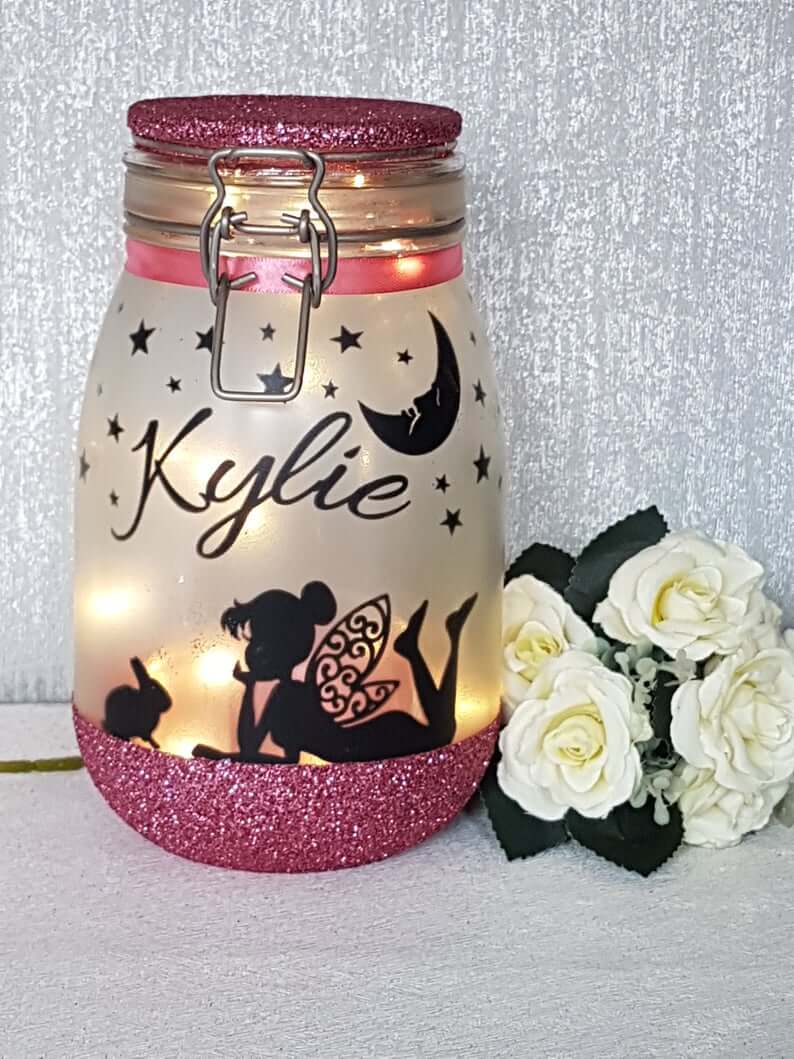 You can gift this fairy jar to a loved one or a friend by stenciling their name on the inside of the jar! Underneath the name, you can see a fairy befriending a cute little bunny while they sit under the starry night sky. The moon has a smiling face to add to the whimsical element of the jar's decorations.The cap and the bottom of the jar are covered in glitter to give it an even more embellished décor and you can use any color glitter that you like. The small bulb lights inside the jar act as twinkling stars and can be a cute nightlight when it hits dark.
23 DIY Fairy Jar Ideas to Brighten Up Your Home with Charm
After showing you all of the above DIY fairy jar ideas, you should have some inspiration on what to do for your very own DIY fairy jar craft! As mentioned before, they're surprisingly easy to make and are relatively budget-friendly.
You can take a simple and clean approach such as a single cutout of a fairy with the inside of the mason jar lined with tissue paper and inserting a candle or bulb inside. Alternatively, you can go all out and make a fairy terrarium and put moss, ferns, small props, and more on the inside and outside of the jar.
To get the most fun out of making these DIY fairy glow jars, feel free to embellish them as much as you want to suit your individual tastes, and if you have an eye for creativity, you can go and make even more advanced versions of the ideas you saw here.
DIY mason jar fairy lights are incredibly useful for any decorative purpose for they can be put in your child's bedroom, on the bookshelf, in the center of a dinner table, outside in the backyard, or to accent your bathroom. The only limits are your own imagination and there are dozens of styles you could go for!