Adding warmth and charm to your home is simple with the best DIY fake fireplace ideas you can check out here! The atmosphere created by sitting around the fire is hard to beat, which makes a fireplace a favorite choice of designers from amateur to professional. For starters, you can add a fake fireplace into nearly any room of your home to instantly add this ambiance you desire. The fireplace you choose can be small or large and as detailed or plain as you desire.
Welcome Winter with 18 of the Most Inviting DIY Fake Fireplace Ideas

In the bedroom, traditionally a more romantic flair is achieved with ornate details and personal items lining the mantel. Whereas in the main living space, you can go much more casual with your design and decorating scheme. Some of the best designs include repurposing items from doors to shiplap and even a mass collection of leftovers from various projects. No matter how you create your fake fireplace, it will instantly become a favorite focal point in your home.
Sit back and enjoy the new cozy atmosphere you've been dreaming of with your very own custom DIY fake fireplace creation.
1. All White DIY Fake Fireplace Idea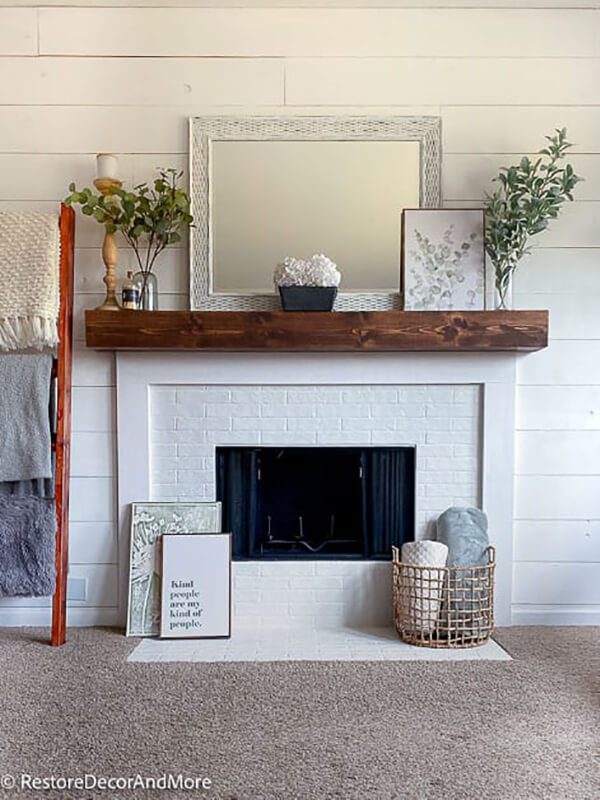 Tie the room together with this all-white fake fireplace! Featuring tiles arranged like bricks, the monochromatic look may seem unappealing until you discover the interesting texture and style of the design. To make this a complete update, a rich wooden mantel has been attached to the top which gives the fireplace its real flavor. Style it with your favorite accessories and leave some space to swap out a few pieces to update each changing season. This faux fireplace makes a great and easy update to your home as it adds warmth and style to any room.
2. Tiny Fake Fireplace for Cozy Bedroom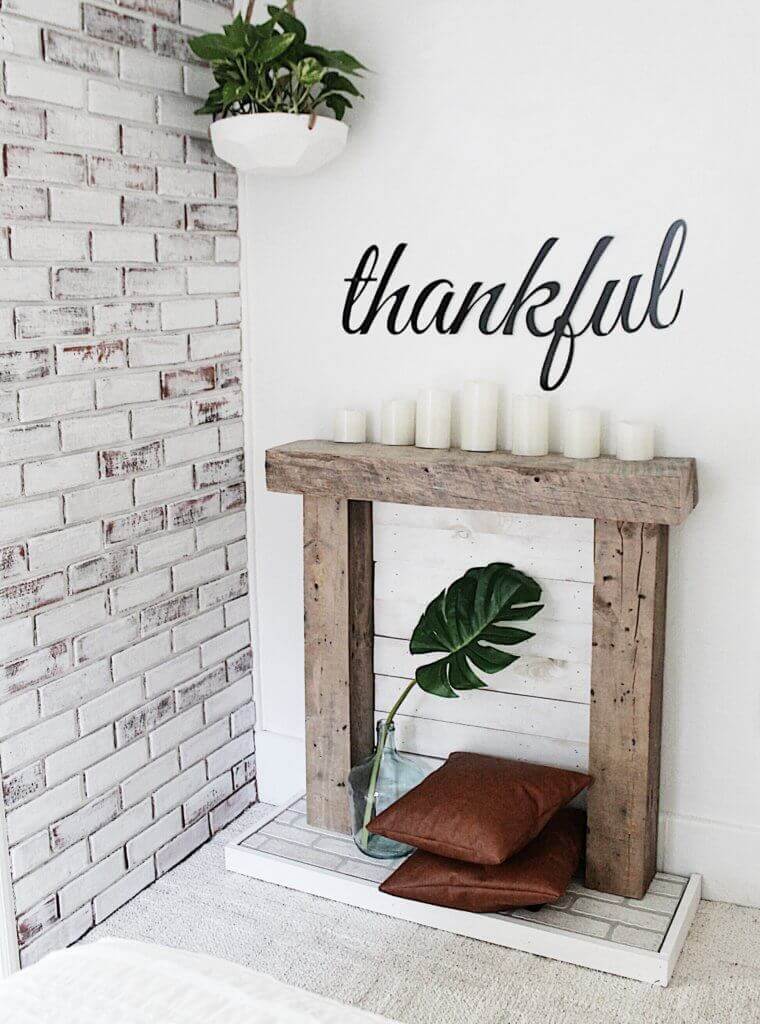 Make your personal space, namely your master retreat, a more cozy cocoon with the addition of a fake fireplace. Adding fake fireplace decorations to the space gives the atmosphere a much more welcoming feeling. This small version fits into nearly any extra wall space you have available. A few comfy accent pillows are placed in the opening. Place a thick and soft rug in front to give these pillows a place to be enjoyed. Unwind for an afternoon nap or sip some wine with your sweetie after a long day at work. Using shiplap as the background inside further adds some charm to this modern farmhouse style.
3. Eclectic Scrap Wood White DIY Fake Fireplace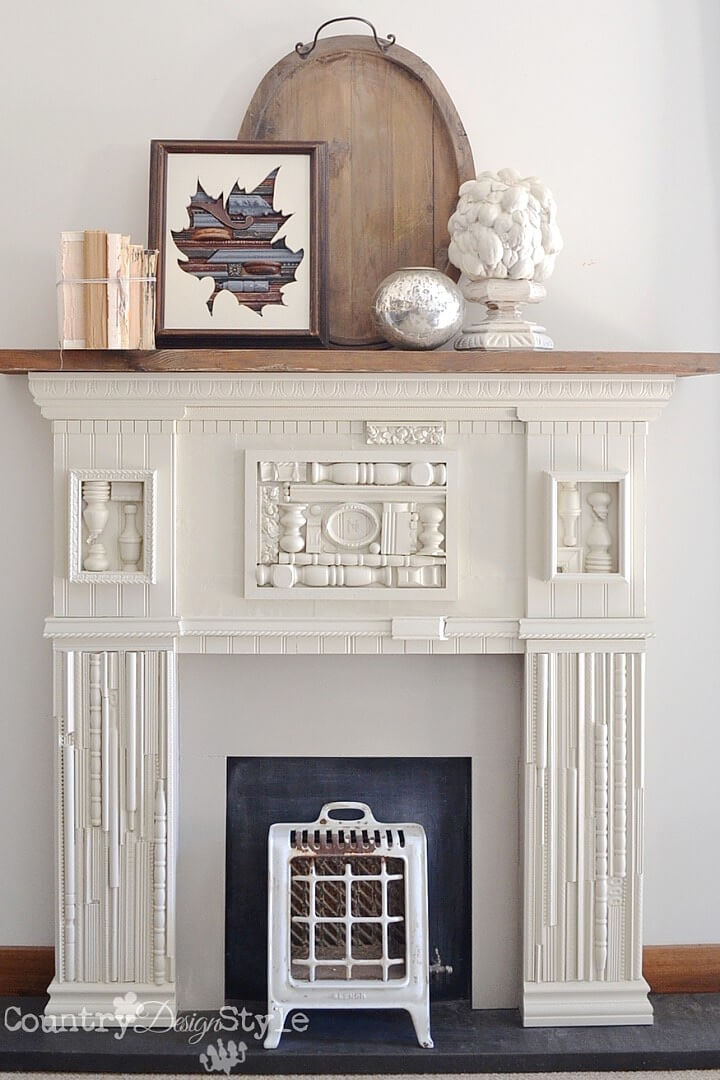 If you are a frequent DIYer, you might have pondered what to do with all of the spare part leftovers from all of your projects. Here is a perfect project for these extra pieces. Together, these leftovers transition into a truly unique, one-of-a-kind faux fireplace that is sure to be the talk of the town! Create your vision by a foundational structure of boxes and arrange your pieces into the desired design you love. Finishing it off with a fresh coat of white paint coherently ties the entire piece together and gives it a neat and tidy appearance. The intricate details of the mismatched variety of pieces of wood add much more character than a traditional fireplace.
4. DIY Decorative Vintage Fake Fireplace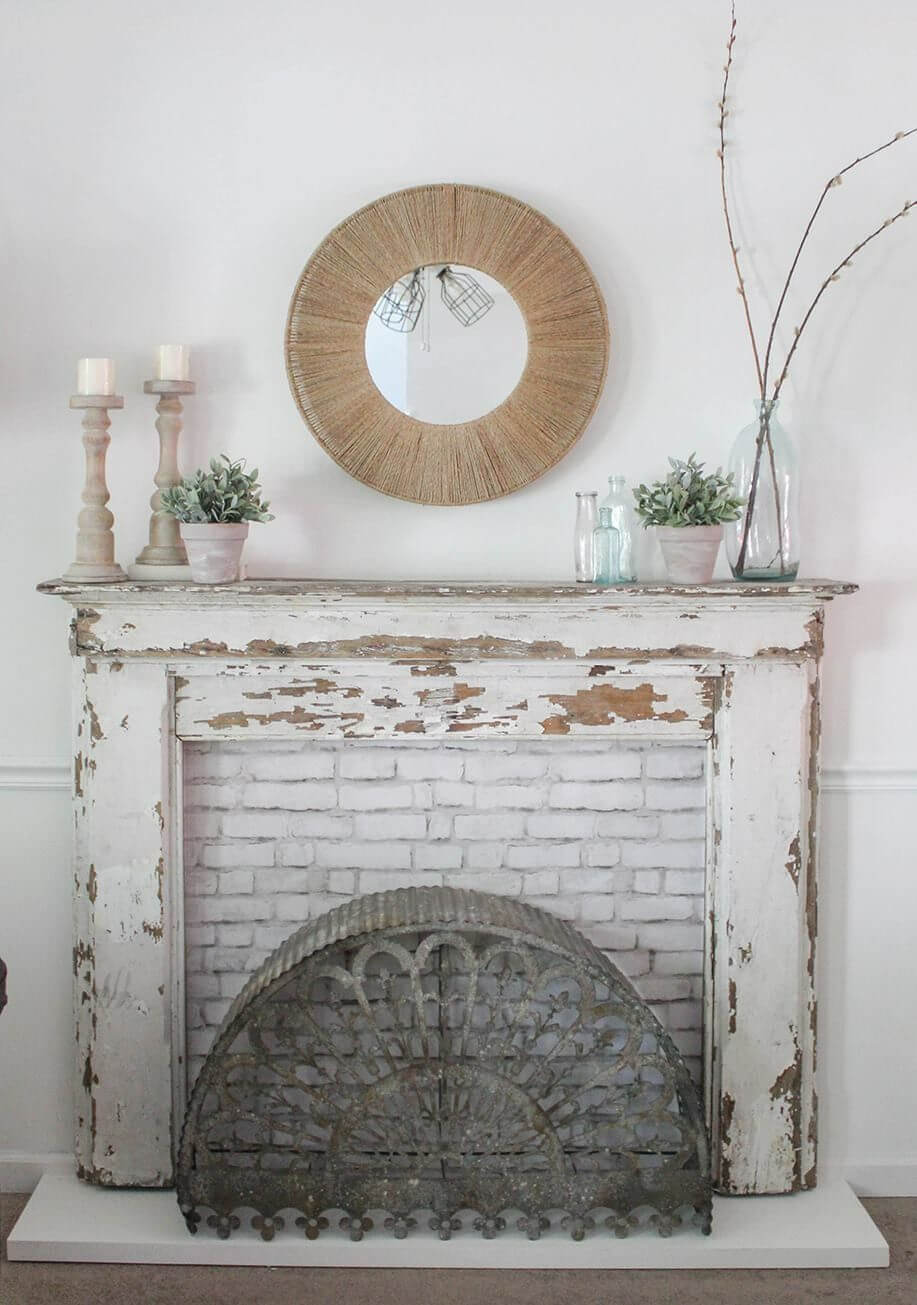 A decorative fake fireplace is one of the best focal points you can add to your home. It gives so much character and charm instantly and is completely customizable. Use some textured wallpaper to attain a brick wall effect in the opening. A roughed-up and distressed white mantel and sides give the look of repurposed wood for a vintage feel. Some fake fireplace decor added includes a rustic metal accent on the hearth and some candle holders on the mantel. Change it up every season for a fresh and inviting look all year long!
5. Faux Fireplace Decorated for Fall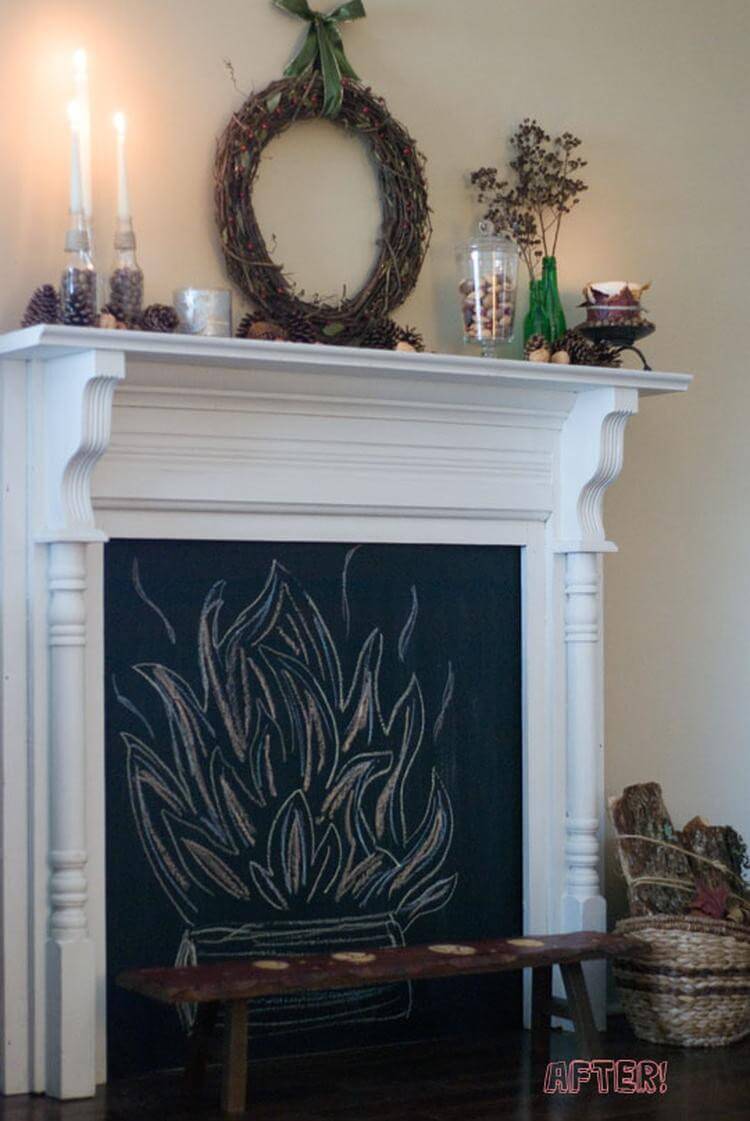 A fake fireplace isn't complete without detail for the insert. Since a faux version eliminates the main heat-producing fixture found in the insert, it's up to you to discover a way to reimagine this space. When all else fails, a nice coat of blackboard paint is the way to go! As you can see in this rendition, the insert allows you to draw your own fire. For this particular case, the theme focuses on fall so seasonal goodies are on display across the mantel. From acorns to pinecones, the look is quite lovely and blends perfectly with the plain grapevine wreath in the center.
6. White Arched Modern Fake Fireplace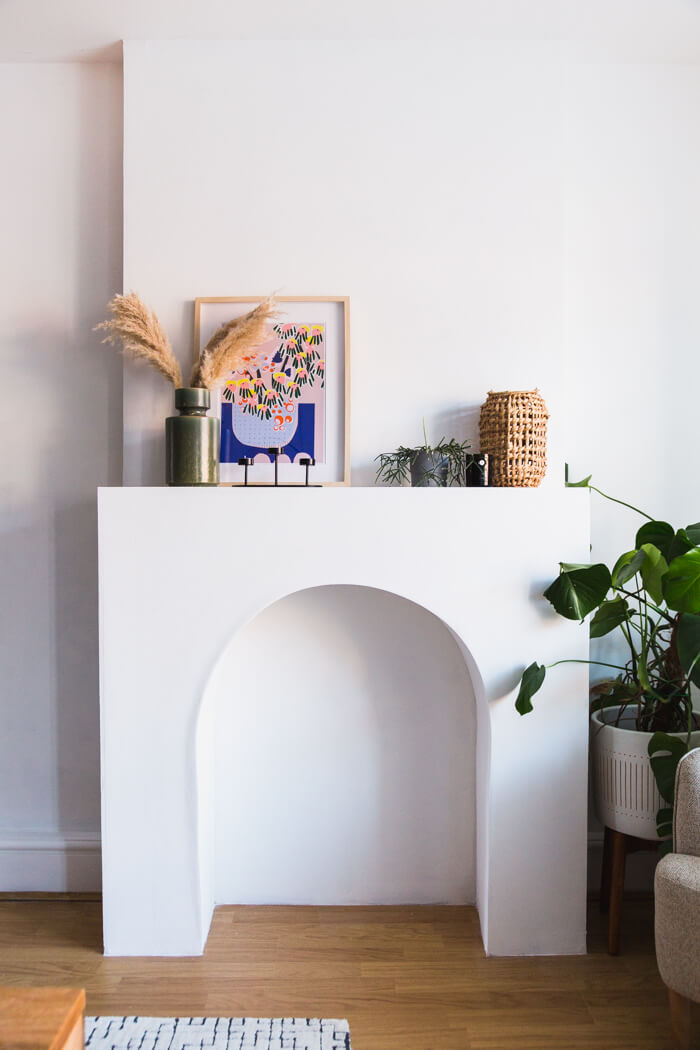 Redefine your space with a faux fireplace! It's amazing how this single addition to your home can change the look and feel of the entire space. As an instant focal point, a fireplace draws you in and coerces you to stay awhile. This particular option is a great choice for a non-permanent structure. It conjures up the illusion of an old covered-up fireplace that's been given a modern facelift. The darling arch in the opening adds a lot of style and character to the design. Another benefit of this focal point is the extra decorating space you can enjoy. Dressing up the mantel each season is a lot of fun!
7. Beautiful Birch Wood Insert Faux Fireplace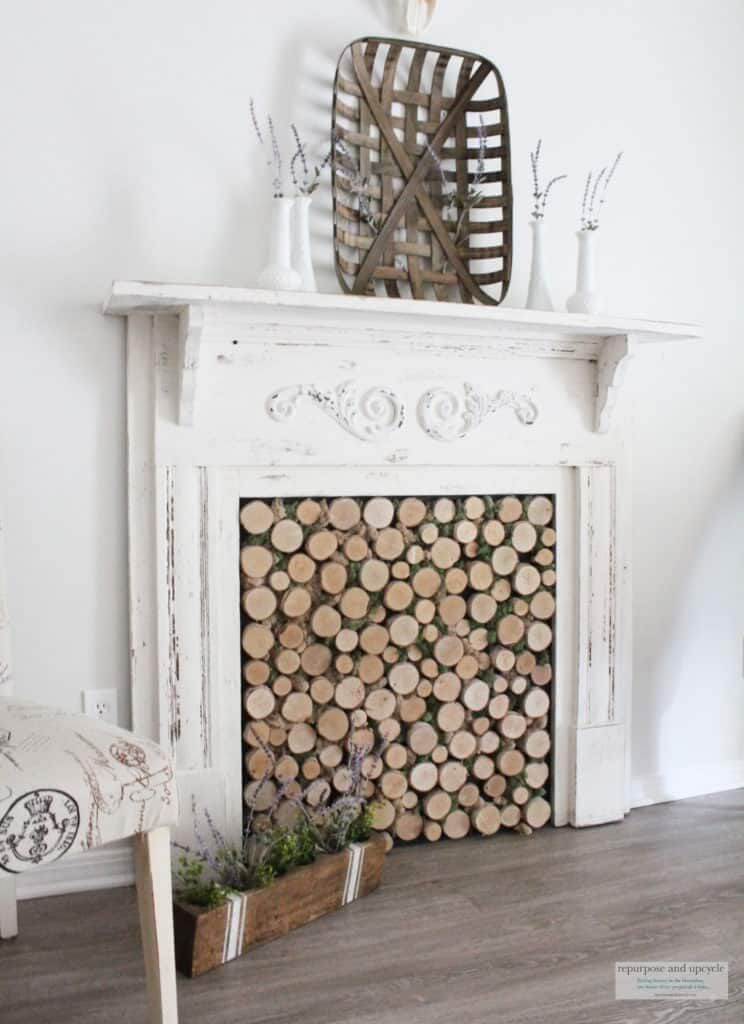 Sometimes the hardest part of decorating a faux fireplace is determining how to fill up the space of the insert. Since you won't be roasting s'mores over the flame of a real fire, there needs to be something placed here that will add plenty of interest to this focal point. Ends of birch wood in various sizes provide the perfect fit! These circles of wood create a visually appealing collection with moss interspersed throughout for a most charming insert creation. Everyone will love the look of this incredible birch wood masterpiece that looks great in any room of your home from living to dining or bedroom!
8. Pretty Faux Fireplace with Space Heater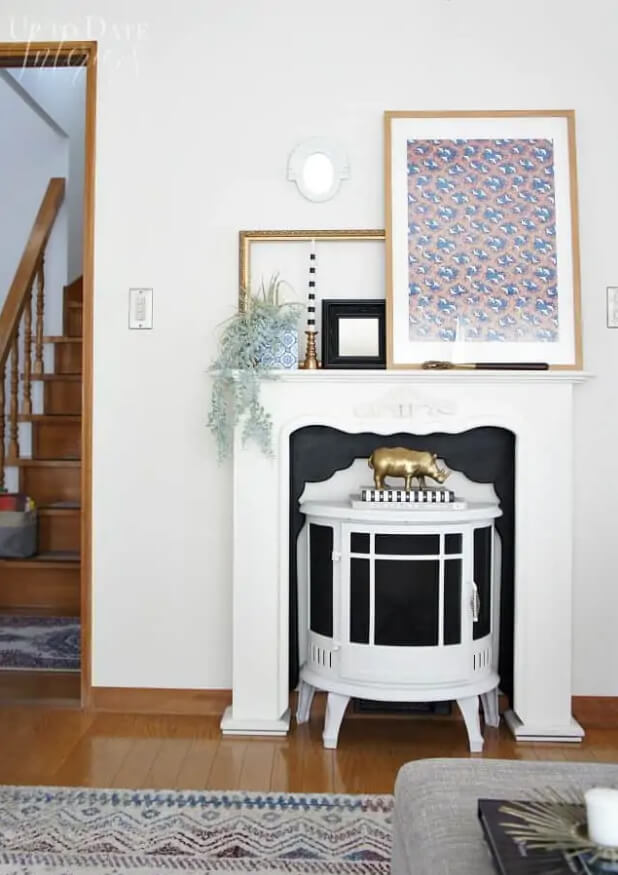 Hide your space heater inside the inviting decor of handmade fireplace decorations to keep the warmth you need without sacrificing the style you love. Some small spaces require personal heaters and they generally become an eyesore. Change this up by surrounding yours with a simple DIY fake fireplace. Add your favorite curated pieces to the mantel to achieve a custom design that appears to be styled by a professional. Layering your pieces further adds to the charm and function of this look. One of the best ways to make a small space feel extra warm and inviting is with a fireplace so consider adding this option to yours and make your space heater feel right at home.
9. Shabby Chic Birdcage Insert Faux Fireplace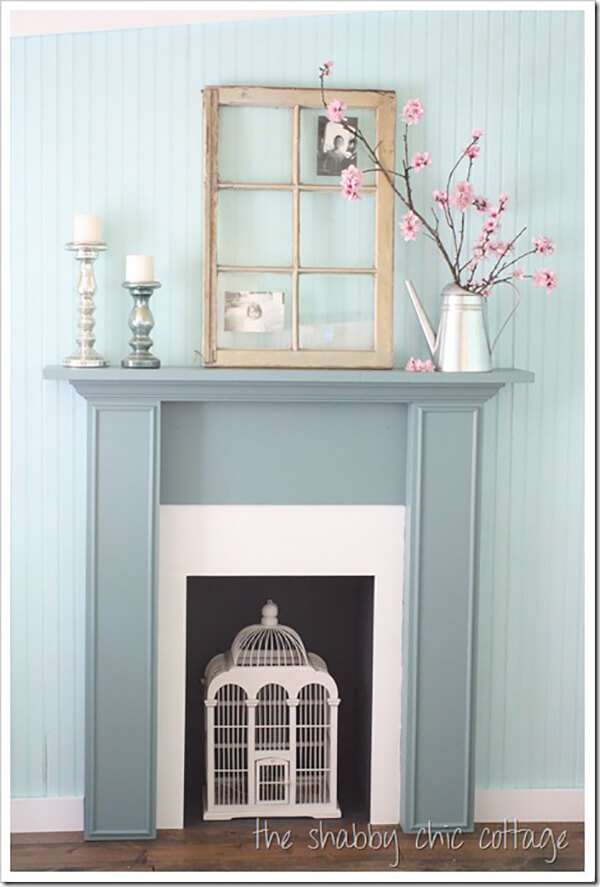 If you find yourself with a non-working fireplace, it's quite simple to convert it into a stylish focal point of your home. No longer an eyesore, your faux fireplace shows off your personality with a little flair of its own. In this DIY project, the non-working insert is removed and replaced by a wooden insert box that provides an amazing space to show off this lovely birdcage decoration. The clean lines of the painted wood create a charming mantel and fireplace form. Further add to the detail of this project with a painted border on the wooden insert. A vintage window, flowers, and candles on the mantel complete the quaint and cozy look.
10. Romantic Bedroom Vintage Faux Fireplace Mantel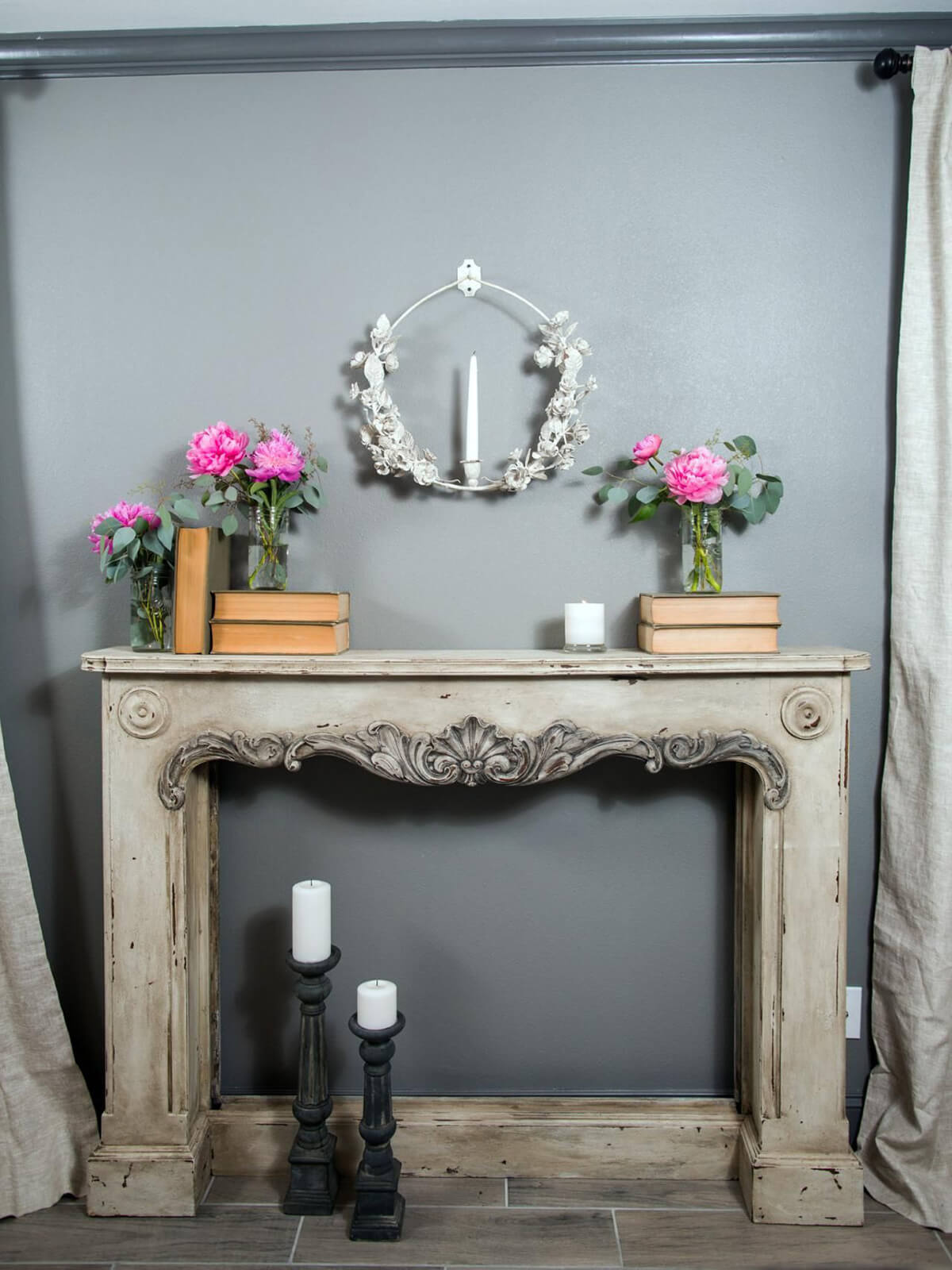 There's always room for more romance in the bedroom and the addition of a fireplace is a wonderful way to do this. Even in a small space, a faux fireplace mantel adds a ton of love as a detailed decorative focal point on your main wall. An intricate and detailed design is highlighted on this vintage, shabby chic piece that shows off an antique white patina. Highlight the mantel with some tokens of the couple's love to give this a personalized romantic look they'll love.
11. Milk Paint Faux Fireplace DIY Project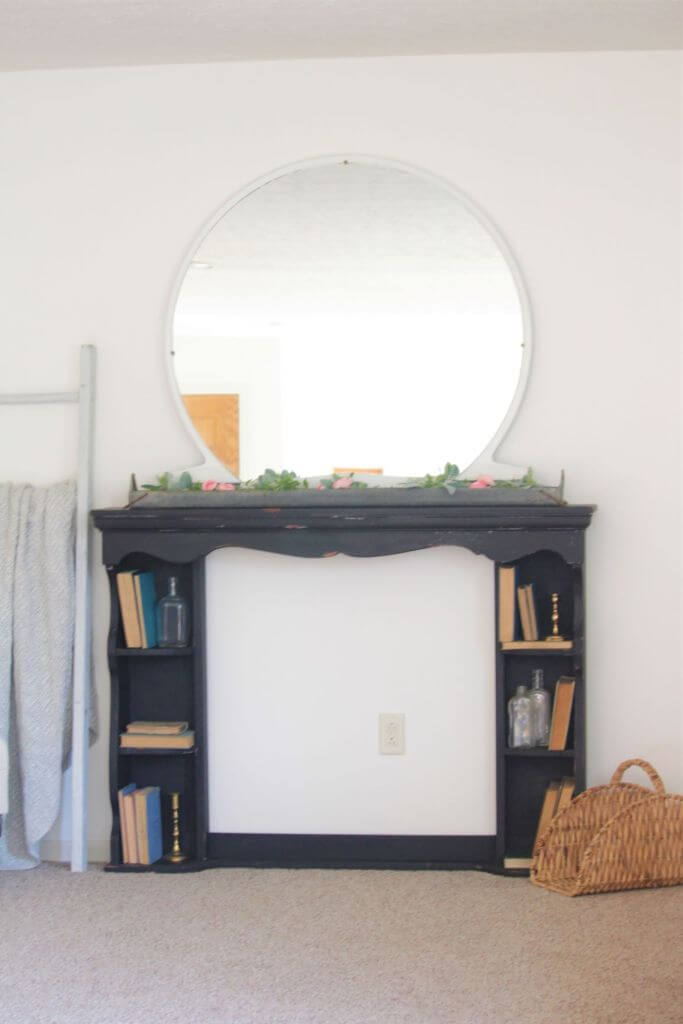 Outdated and old bedroom furniture tends to end up in the dump, but what if it could be transformed into a new and usable piece of interest in the home? Check out the beauty of this old dresser mirror that's been reimagined as a faux fireplace. With the mirror removed, the side spaces provide built-in bookcases that frame the fake fireplace insert. A nice hearty coat of milk paint incorporates more interest and personality into this interesting piece. Transform the look of your room with the addition of this lovely and charming milk-painted fake fireplace design.
12. Farmhouse Shiplap Fake Fireplace and Bookshelves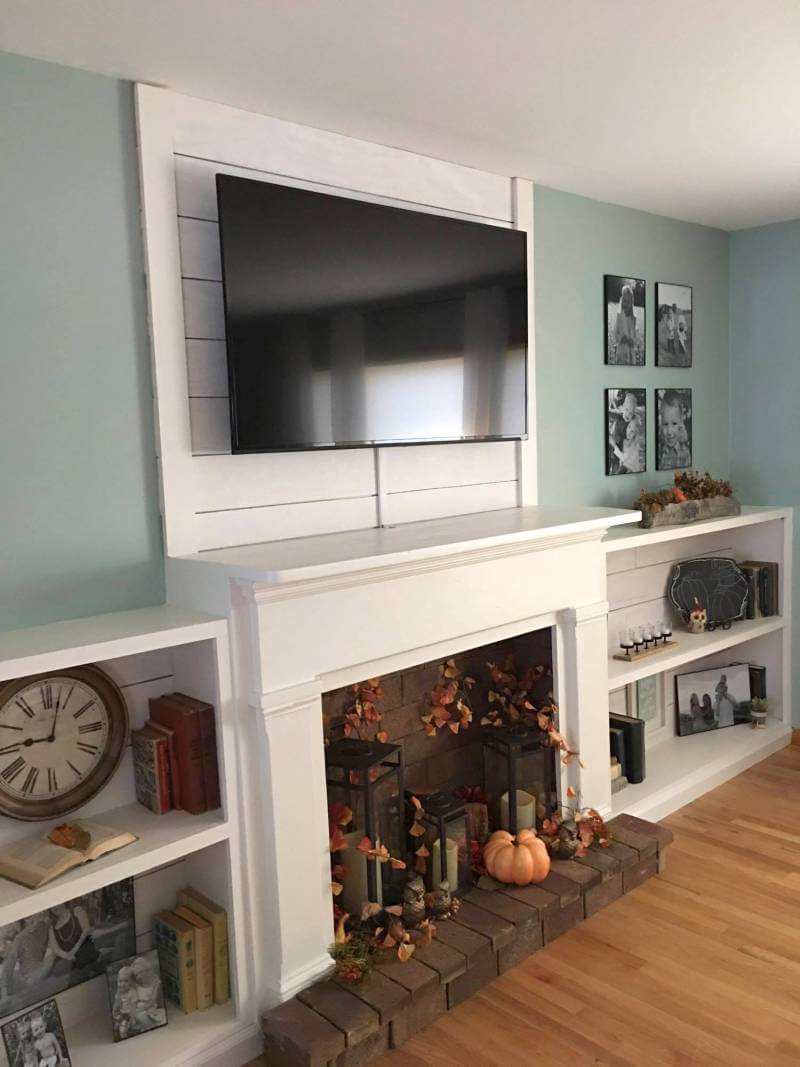 Reinvent the main wall space in your living room with this incredible display of built-in bookcases and a faux fireplace. The design screams modern farmhouse with the detailed use of shiplap present in both fixtures. With a set of built-ins on both sides, there is plenty of storage space for all of your miscellaneous home decor items and books, of course. Position your large television above the fake fireplace decor to have all of your entertainment needs in one place. The bookcases provide a space for cable boxes, DVD players, and such to keep everything you need handy. Everyone will love this amazing makeover that adds extra storage and lots of style in a warm and cozy setting.
13. Shabby Chic Fabulous Faux Fireplace DIY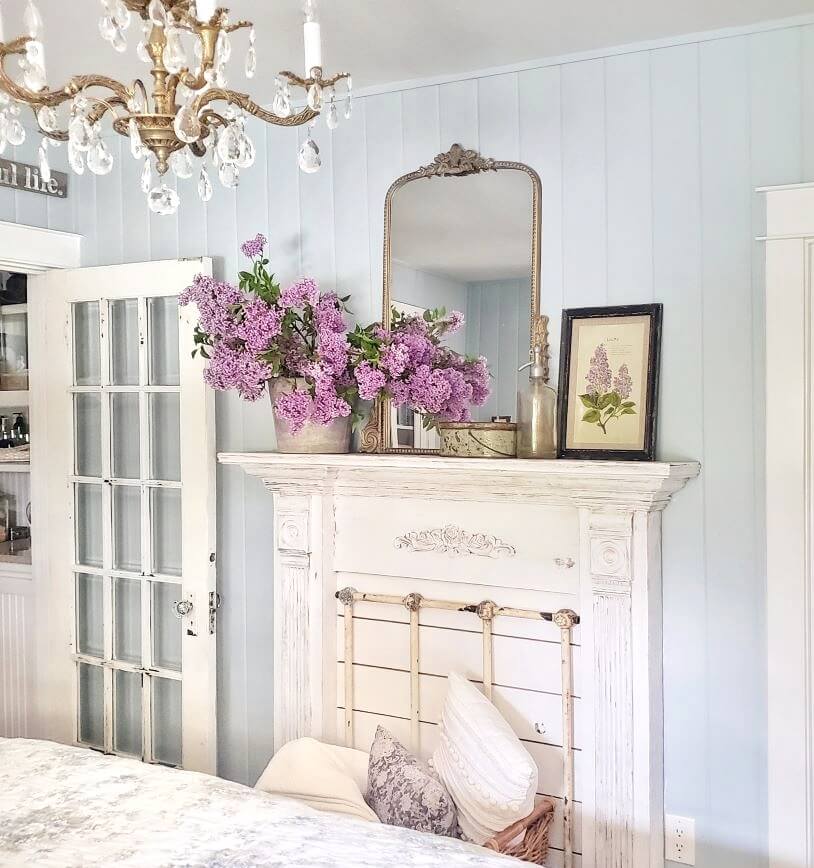 Instantly add beauty and warmth to any room with a DIY faux fireplace. This version includes intricate details and textures that are brought to the surface through the pretty distressed painting techniques used to achieve this gorgeous final product. From the decorative design near the top under the mantel to the groove pieces on both sides, this shabby chic fake fireplace can be added to any room of the home for style and comfort. Welcome everyone to the party and into the conversation as you sit around this distressed fake fireplace in the comfort of your home.
14. White and Chalkboard Paint Corbel Fake Fireplace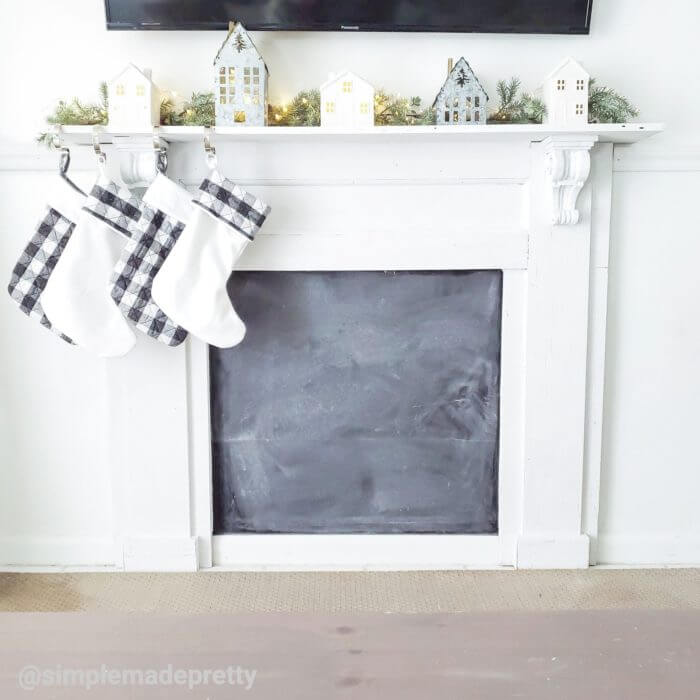 Cut out a couple of hours and treat yourself to this DIY white fake fireplace featuring a set of corbels. The insert is made with chalkboard paint giving it an easy-to-customize feature. Draw a hearty fire or simply script a special phrase to add a personal touch. Monochromatic white makes a bold statement even in a solid neutral tone. All of your holiday and everyday decorations will stand out as they line the mantel of this pretty painted corbel fake fireplace creation.
15. Charming Reclaimed Wood Chevron Insert Faux Fireplace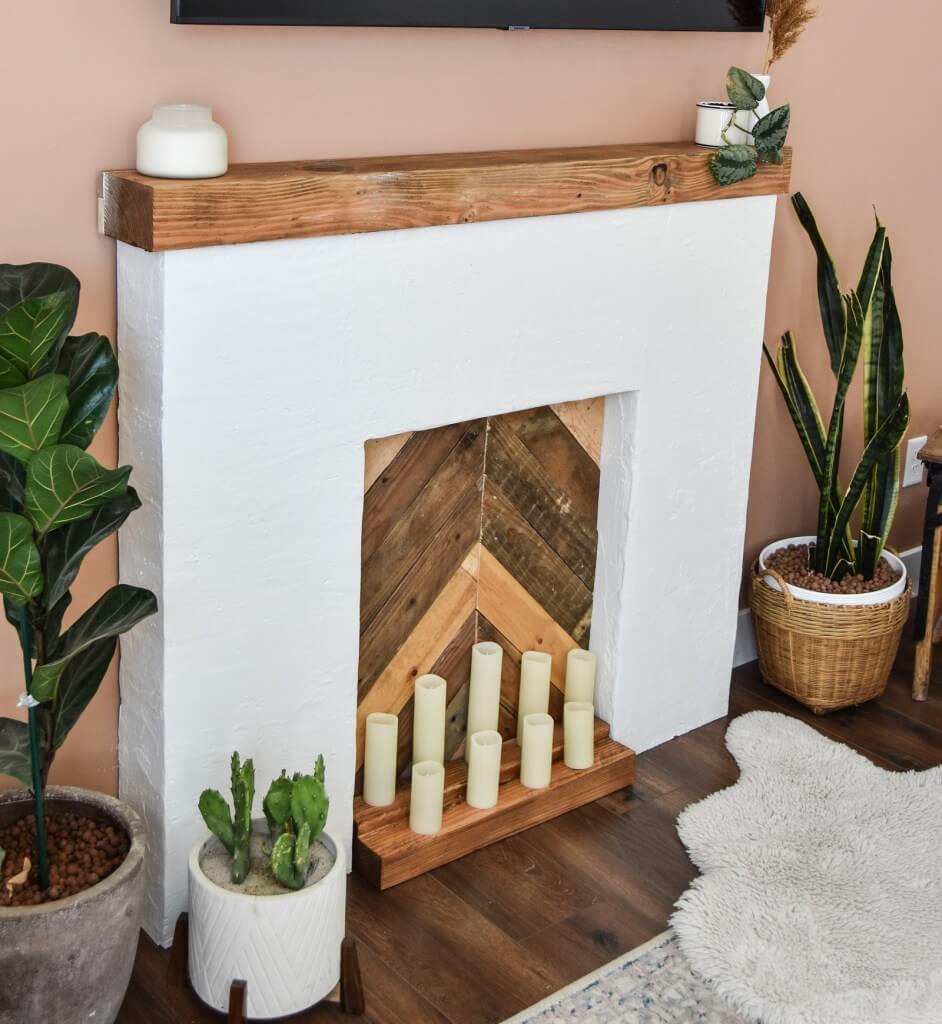 Everyone loves the pattern of chevron and this DIY project shows you just how simple it is to add it into a focal point of your home! Create a fake fireplace that's simple in structure and style while setting it off by featuring this wooden chevron exhibit as the insert. The sleek lines of this white fireplace are brought to life with the natural wood of the mantel and matching insert. These wooden features make this feel like home and ease it into your existing living space. It's a great look for a living room, but also works for use in the bedroom too.
16. Shabby Chic Reclaimed Door Faux Fireplace Insert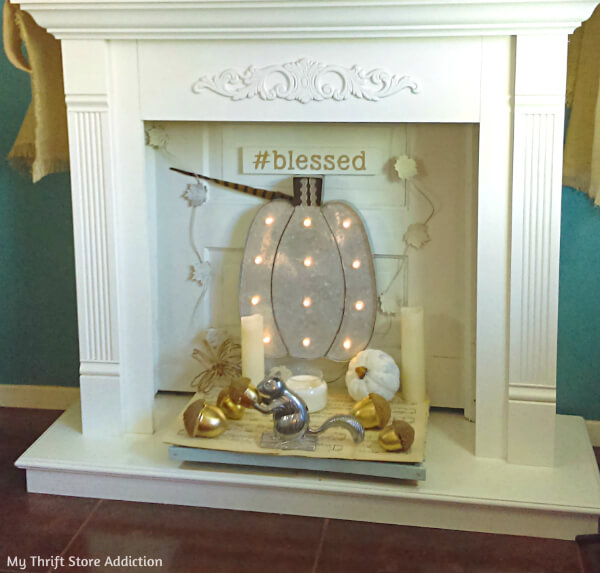 Here is a twist on a faux fireplace. Repurpose an old door as the insert. Not only will you give a new life to this old door, but you'll also add an interesting focal point to your handmade fireplace decorations. Without a wood-burning fire, a faux fireplace demands a textural element in its place. This reclaimed door provides all of the detail in design that you need. Arrange a seasonal display in front of it to keep up with the changing weather. Some twinkle lights and pieces from nature will really add to its charm and appeal.
17. Faux Tile Fireplace with Electric Log Insert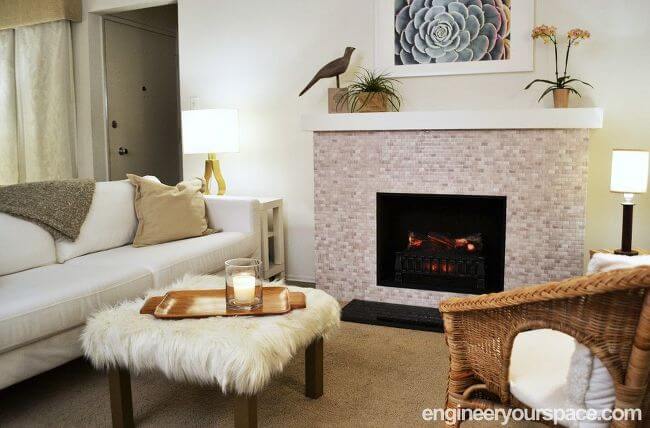 If you find yourself craving a warm and cozy feeling in your own home this winter, but restrictions prevent you from the fireplace of your dreams, there is hope! With a little DIY power, you can easily create a cozy living room or bedroom with some lumber, tools, and smart tile. Since this is not a permanent structure, this project is perfect for apartments, rental homes, or any temporary living space. Create a structural base in the size you desire with some 2x4s, leaving a space for an electrical log insert. Cover the structure with plywood and apply some smart stick tiles. These tiles add to the character of your creation and express some of your personal style. Place a mantel above to complete the fake fireplace decor for your home.
18. Bookcase Headboard DIY Box Fake Fireplace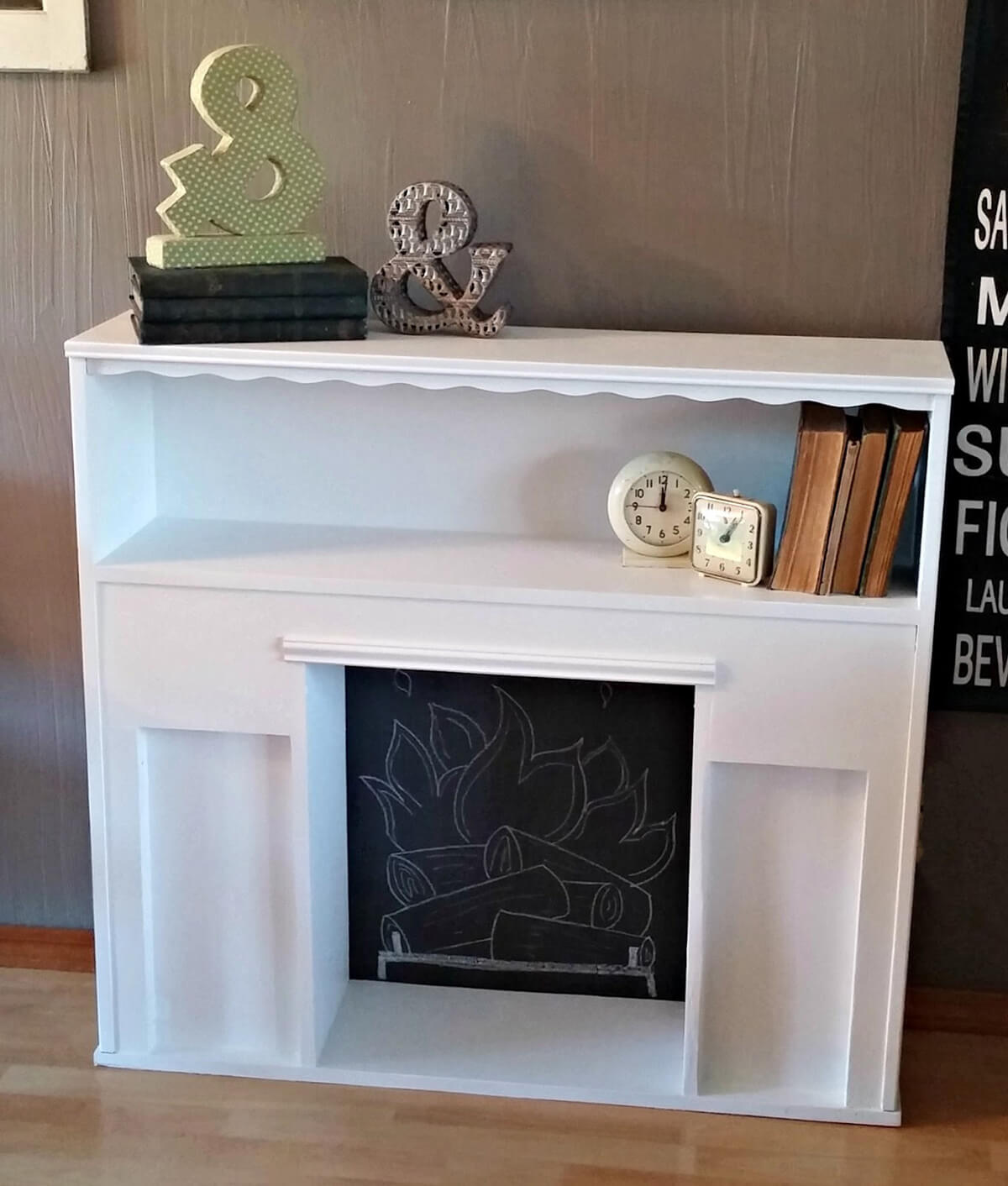 Add some style and storage in one with this handmade fireplace decorations idea. This project is a cool way to give some extra storage in your room along with the cozy feel of a fireplace. The bookcases remain intact to give you plenty of storage solutions for displaying your favorite trinkets, pictures, or book collection. Incorporating a chalkboard piece in the opening allows you to create a personal fire design from chalk each day. This would make a unique addition to a kid's bedroom since it looks cool, yet is a much safer option than a real heat-producing unit. Plus, it gives them a nice hangout for all of their trophies, lego builds, and favorite photos.
Best DIY Fake Fireplace Ideas to Warm Your Home this Winter
Maybe you want something sleek and modern for your home. If that's the case, consider keeping it simple with a white arched fake fireplace. Or you might want to give an outdated existing brick fixture a facelift with some limewash. Whatever the case may be, there has to be a solution with one of these best DIY fake fireplace ideas. Slapping on a coat of paint or giving a new finish with distressing certainly creates a new appearance. Swapping out the insert with a reclaimed wooden chevron design or old door adds lots of style and character on a low budget.
If you feel at a loss for your fake fireplace opening that includes an outlet eyesore, don't sweat it. Add a painted wooden piece or chalkboard coated board. Including a decorative piece like a birdcage or a collection of candles is another great option. Getting creative with some birch wood ends also makes an interesting display for occupying this space. And if you have an exiting space heater that needs to be conspicuously hidden, a faux fireplace is the best solution!
Even if you just want to add some interest to a small corner of your bedroom, some leftover shiplap and a few boards is a good way to cozy up this space. There isn't a wrong way to create your fake fireplace so enjoy creating a look all of your own!