A fireplace is both a functional and decorative part of the home. It keeps you warm during the colder months. It also provides a focal point for the room. The look of a fireplace can make or break the decor of a room. If you are looking for ways to upgrade the look of your fireplace, use these fireplace design ideas to get your imagination started.
50+ Stunning Fireplace Design Ideas to Add Coziness to Your Home

Fireplaces can fit into any space. Wood can create a classic library fireplace, a modern hearth or a transitional focal point. Stone can be smooth, rough, stacked or fitted. It can retain its natural finish or get a coat of paint. Color contrast creates drama.
A monochromatic theme creates a calm peaceful feeling. Tile offers a completely custom look that can blend with the background or create a brilliant focus. Straight lines, curves, carvings and rustic wood, mix and match as you please. You can find something to fit your decor among these fireplace design ideas.
The beauty of these fireplace design ideas is that you can find one or more as inspiration. Then, combine the elements that appeal to create your own look. You can keep the changes to the mantle and below or go as far as the ceiling. The decision is yours.
1. Wood and White Modern Farmhouse Fireplace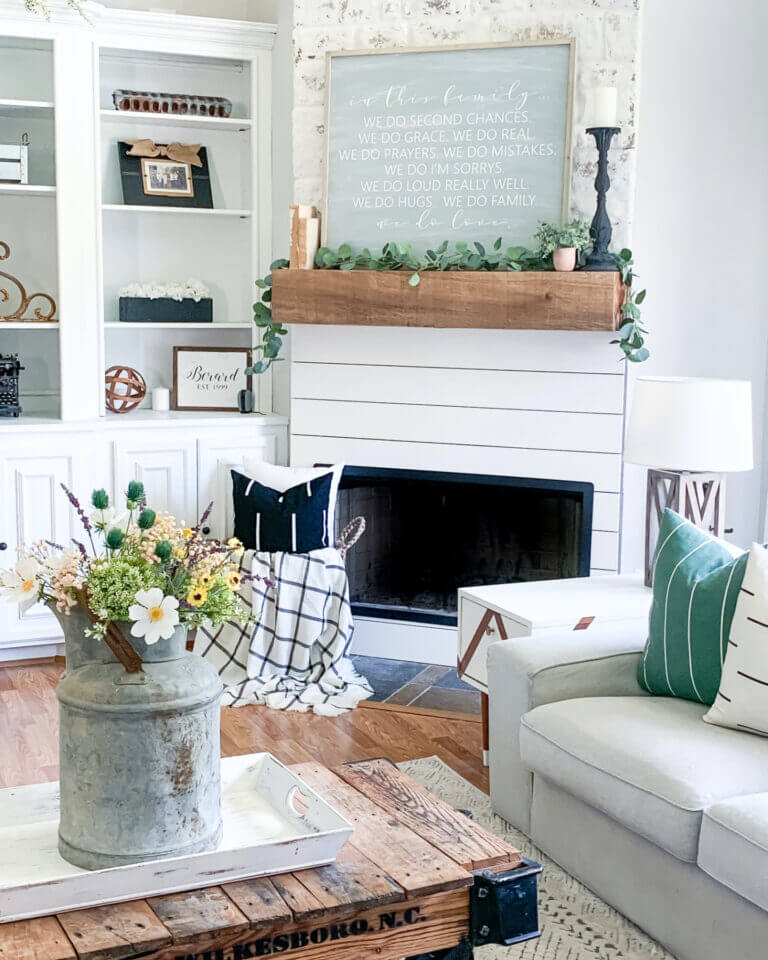 Bring some modern farmhouse appeal onto the family hearth with this gorgeous combination of wood and white fireplace design. White shiplap surrounds the opening and this white is carried onto the top of the unit with the distressed whitewashing on the stone. Sitting pretty in the middle is where you'll find the thick and charming wood mantel. It's the perfect place to display some greenery garland and your favorite home decorations.
2. Paint it Black for a Modern Fireplace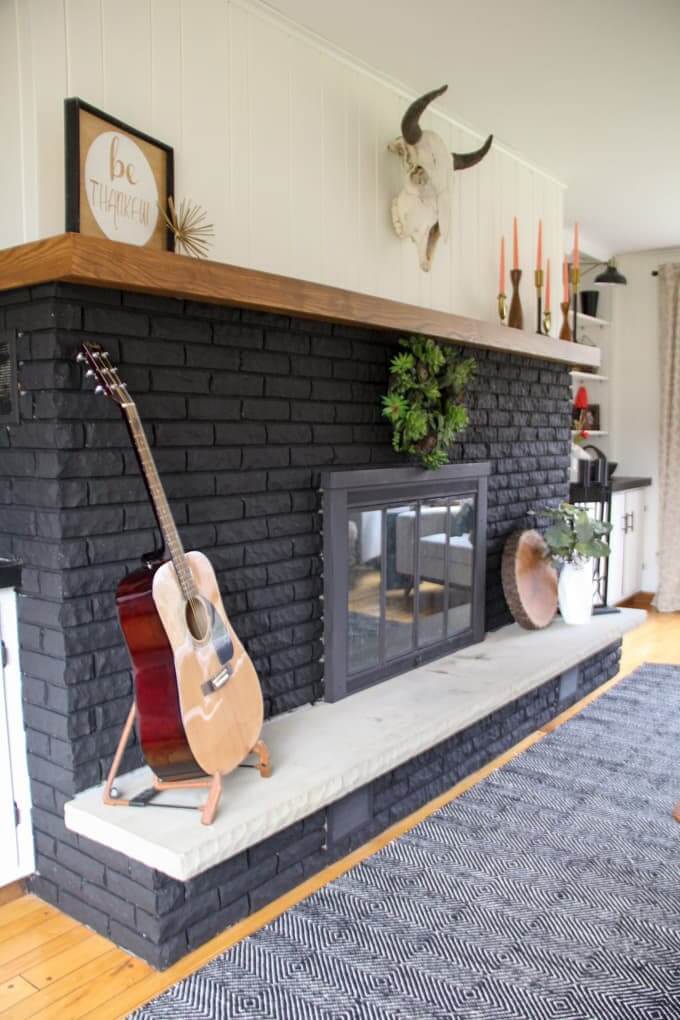 A quick and easy way to update the overall look and feel of your fireplace is with a fresh coat of paint. For today's modern designs, you can't go wrong with classic black. It gives a masculine vibe that grounds the room and makes everyone feel right at home. Incorporating black accent pieces like all of your picture frames, candleholders, and decorative tables will tie the entire room together nicely.
3. Molded Fireplace Frame with Rustic Wood Mantel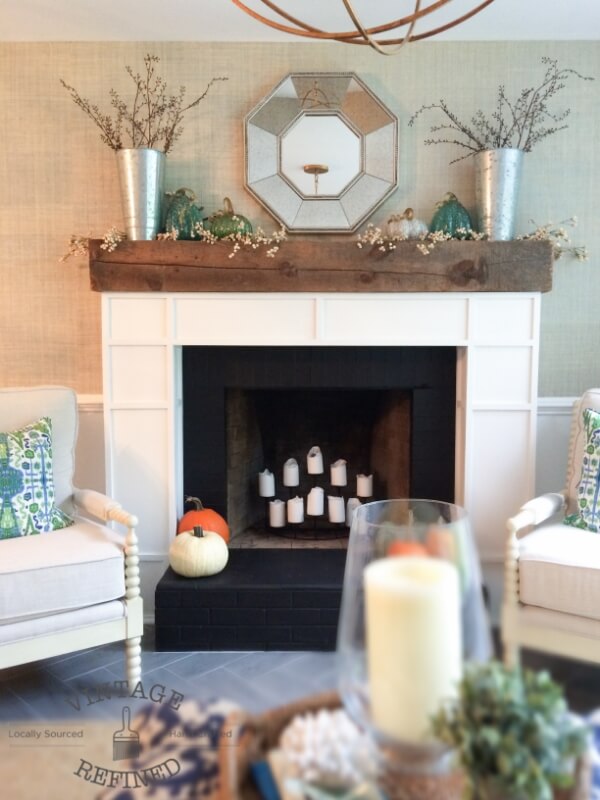 Add some depth to your fireplace design by surrounding it with some molded square pieces to add dimension. Paint it white to keep it looking fresh and new so you'll have a family hearth you're happy to call your own. A thick, rustic wooden beam makes the best sturdy mantel to add a little character and contrast to the clean lines of the white molded wall.
4. White Faux Fireplace with Lots of Logs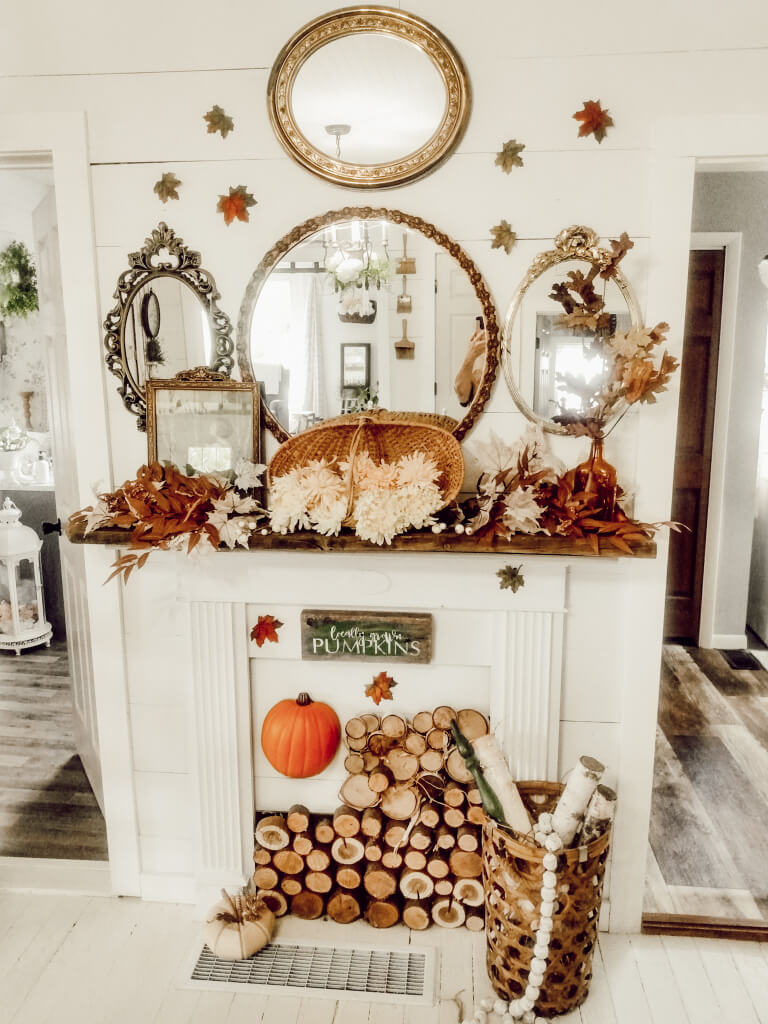 Even if you can't have a real fireplace of your own, you can always achieve the look and feel with a faux creation. Check out the charm of this all-white faux fireplace that is filled with an abundance of birch logs. A bountiful display of seasonal favorites looks amazing setting on top of the thin wooden plank mantel.
5. Charming and Filled with Character Faux Fireplace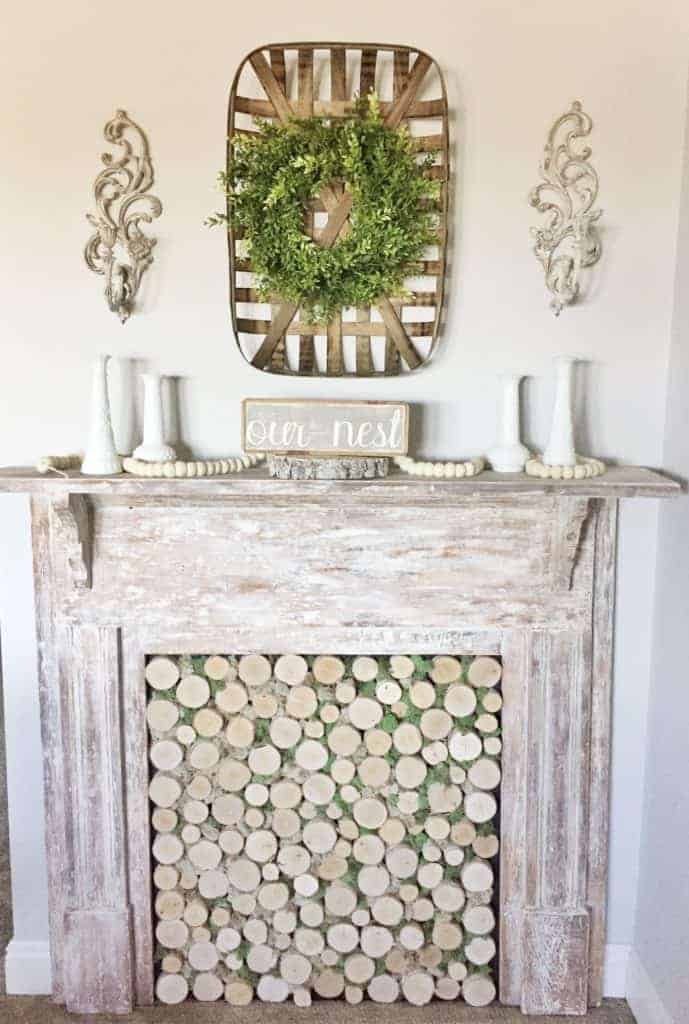 A light coating of whitewash makes this faux fireplace feel old and loved. The concise arrangement of the log ends that fully fill up the opening look amazing and keep your home clean without all of the dirty work associated with burning a real fire. You'll enjoy the element of design this faux fireplace brings to your nest and can change up the mantel with each changing season.
6. Kaleidoscope Gray and White Tiled Fireplace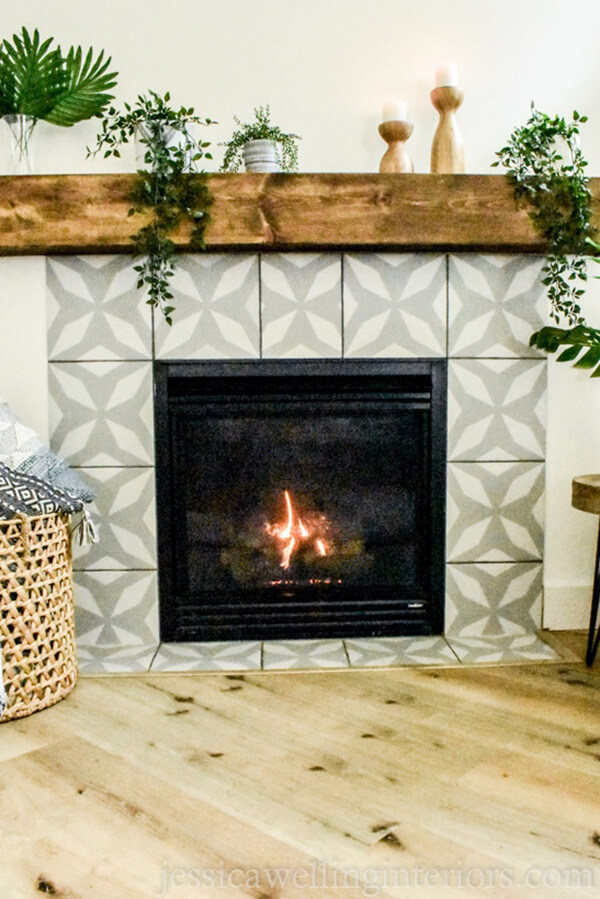 Liven up the room with a unique and quirky kaleidoscope printed tile on your fireplace. The lovely gray and white colors are on-par with today's trends and keep the overall feel of the design modern in nature. A large wooden beam full of character grounds the heart and makes you feel right at home.
7. Black Mantel with Black and White Tile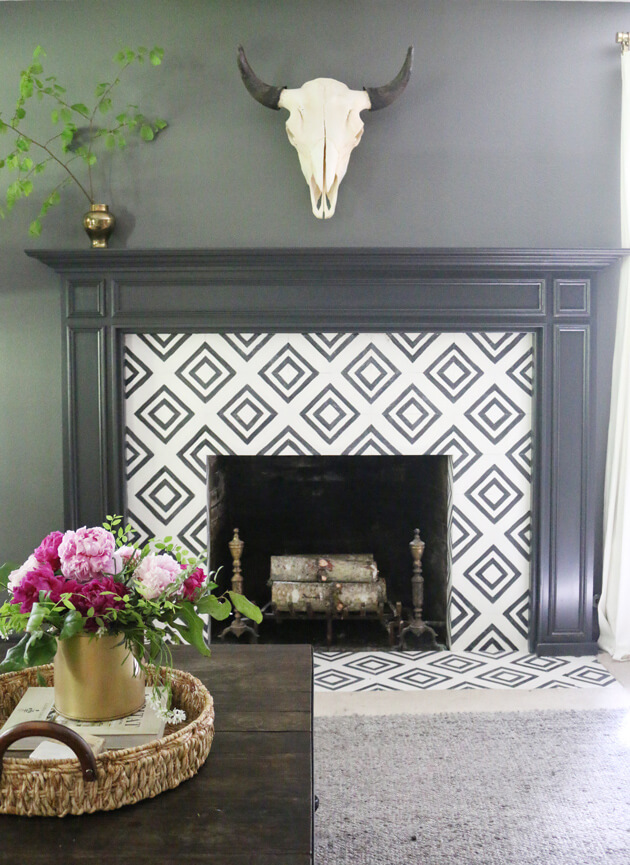 This contemporary and modern fireplace makes a dramatic statement with a bold black mantel as its base. Incorporating the element of tilework into the design adds a lot of personalities too. The diamond design gives a contemporary vibe while the classic black and white color combination is always in style. Enjoy the colder months in style with this modern and updated family fireplace.
8. White Brick Painted Corner Fireplace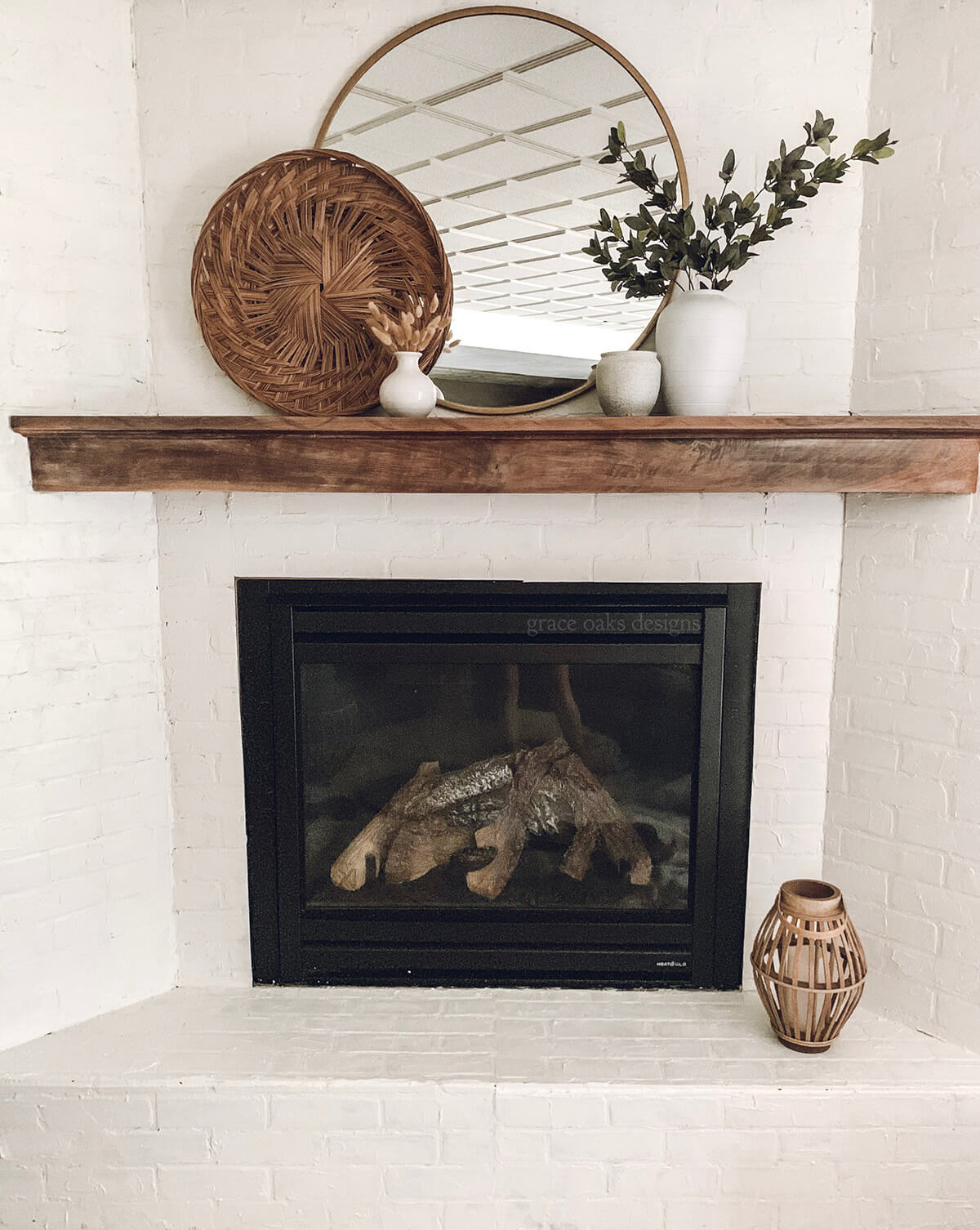 Nestled in the corner of your home, this fireplace might be overlooked if not for its plain and simple beauty. Painted in timeless white, the brick is brought up to the modern year and makes the fireplace look larger than life. The mid-way point features a stunning, thick wood mantel which is the perfect companion to this all-white nook.
9. Abundantly Accessorized Mantel on White Fireplace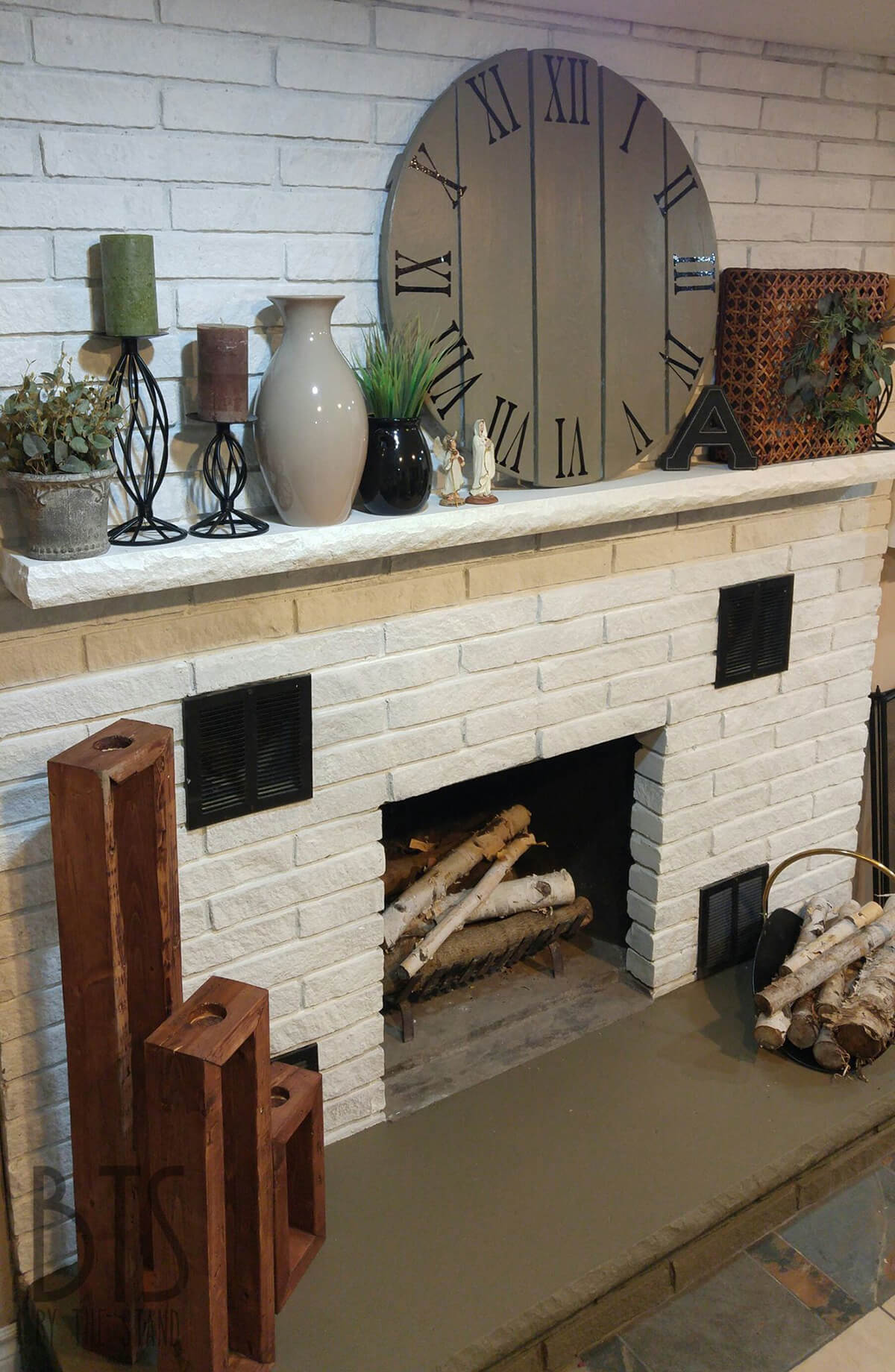 Add a touch of texture and color to your all-white fireplace by accessorizing your mantel to the max! From an over-sized wooden sign to tall candle holders, you can't go wrong with anything you choose to add to this built-in fireplace decorative seat. Keeping a crate of small birch logs on hand adds to the cozy comfort exuded by the family hearth.
10. Seamless Shiplap Covered Modern Farmhouse Fireplace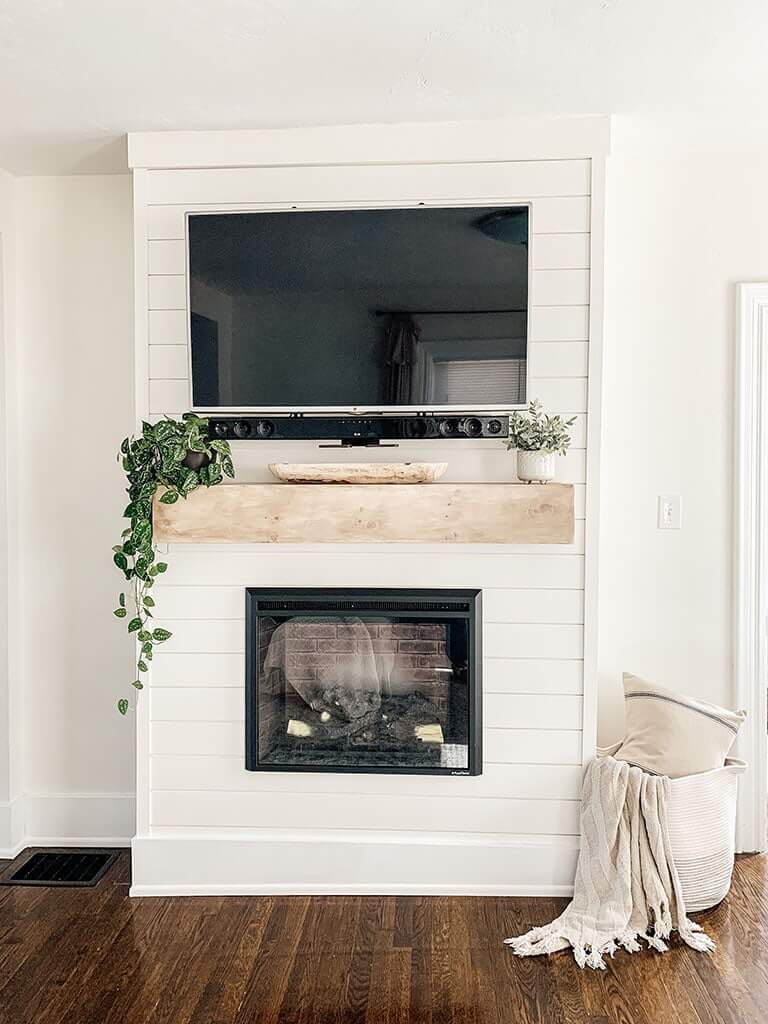 Take your modern farmhouse design to the next level with this fireplace that is completely covered with white shiplap. Your eye will delight in the seamless transition from floor to ceiling of this finishing choice for your fireplace. The continuous white shiplap makes the room appear larger and offers a very inviting comfort to the space. Keep the look understated with the large, but blond colored wooden mantel.
11. Continuous and Classic Dramatic Tall White Fireplace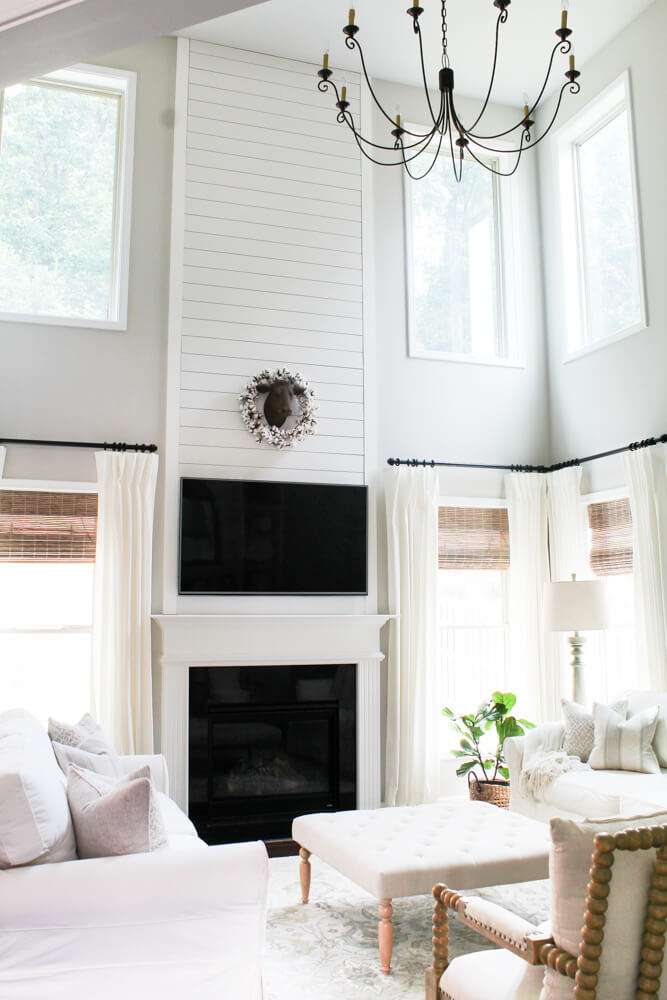 Enjoy the enormous size of this great room ceiling's height with a continuous all-white color palette. Covered in white shiplap to keep the flow going, this classic white fireplace looks clean and stylish with minimal effort. Attach your TV to it and you've got a favorite hangout for the entire family!
12. Vertical Multicolored Tile and White Fireplace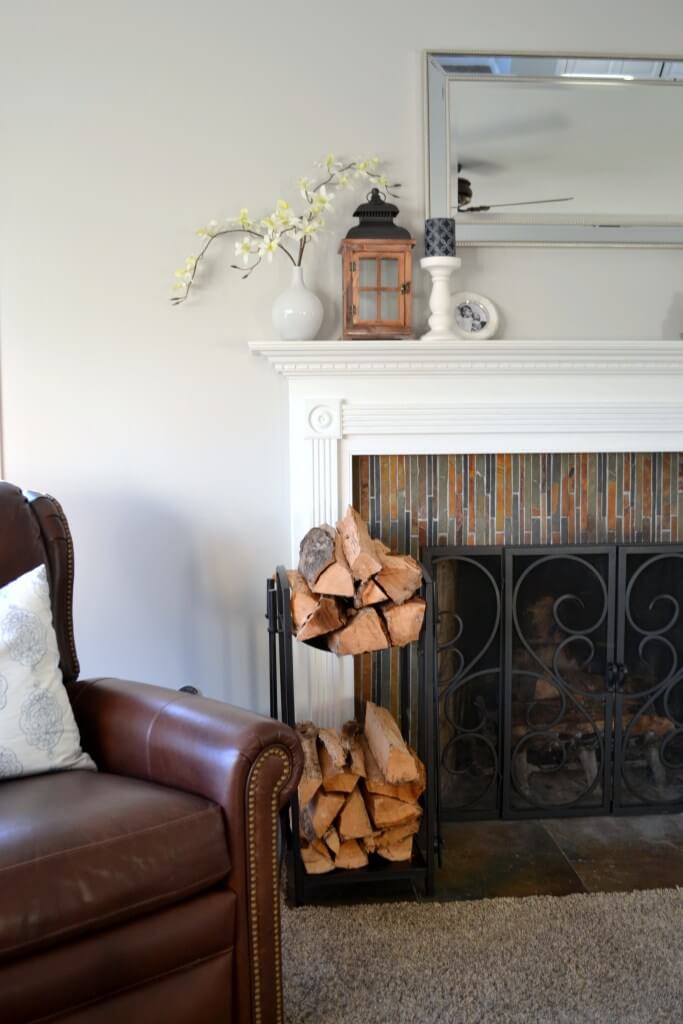 A simple update on the tilework around your fireplace provides an instant facelift and breathes a new life into the room. Framed with white, the mantel trim makes the tilework really pop! The vertical tile colors are echoed on the large slate tile fitted just in front of the fireplace to achieve a gorgeous overall look!
13. Traditional Meets Modern in this White Fireplace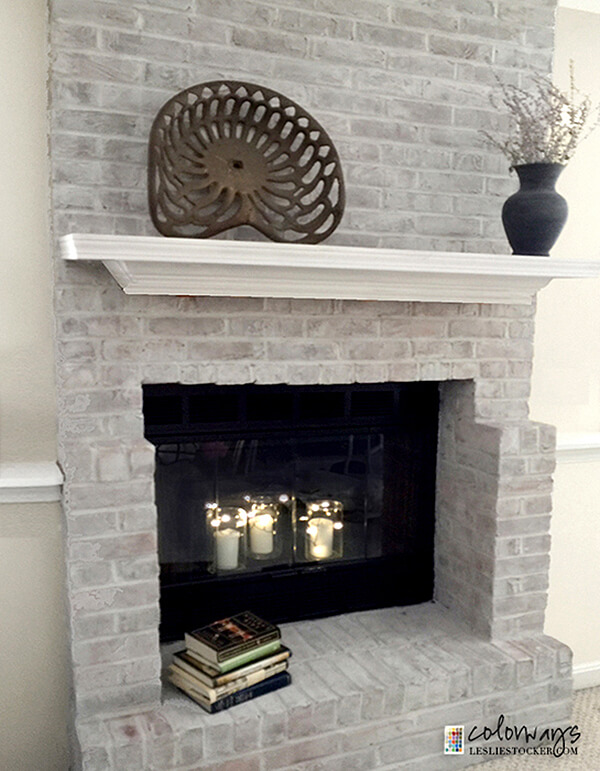 Ever wonder how to update the beautiful traditional fireplaces found in so many existing homes? Well, it's quite simple with a brush and some whitewash. With a few strokes of the paintbrush, you can capitalize on the modern and fresh white look that will instantly take your traditional brick fireplace into the new century. And if you aren't keen on burning a real fire, place some gorgeous glass jars filled with candles to create the ambiance without the mess while you maximize the look and feel of the family fireplace.
14. Tiny White Hexagon Covered Modern Fireplace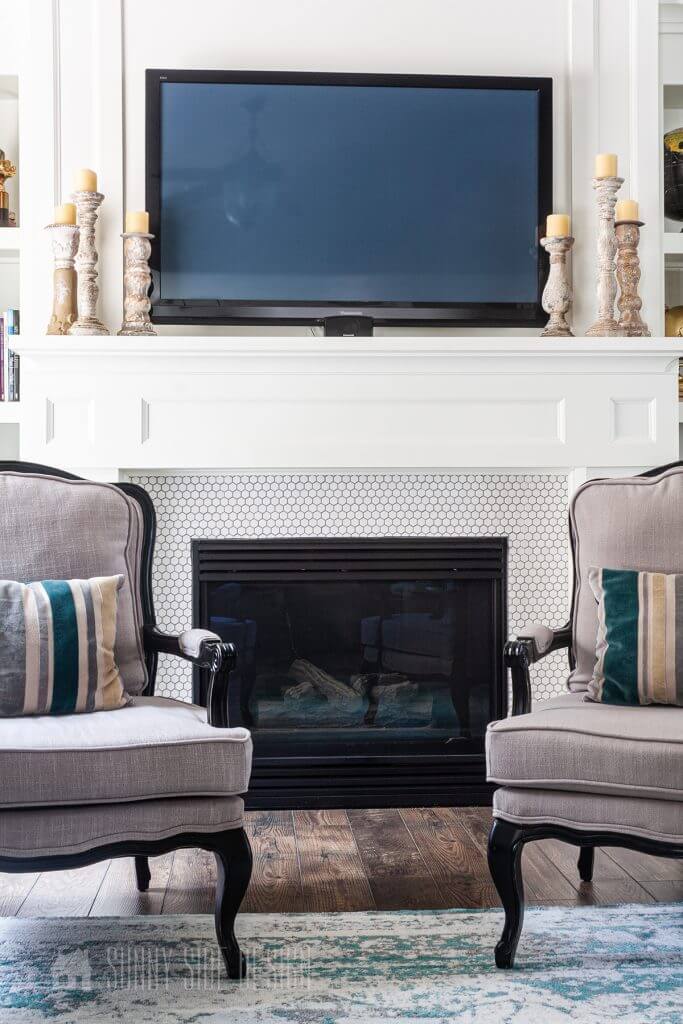 Tile is a simple way to change up the look of your fireplace and can be a fun weekend warrior project for the avid DIYer. With a million styles from which to choose, this simple white hexagon style looks great and adds a touch of style without going overboard. Slap a fresh coat of bright white paint onto the mantel and you will pull the look together quite nicely.
15. Boarded Up and Beautiful Faux Fireplace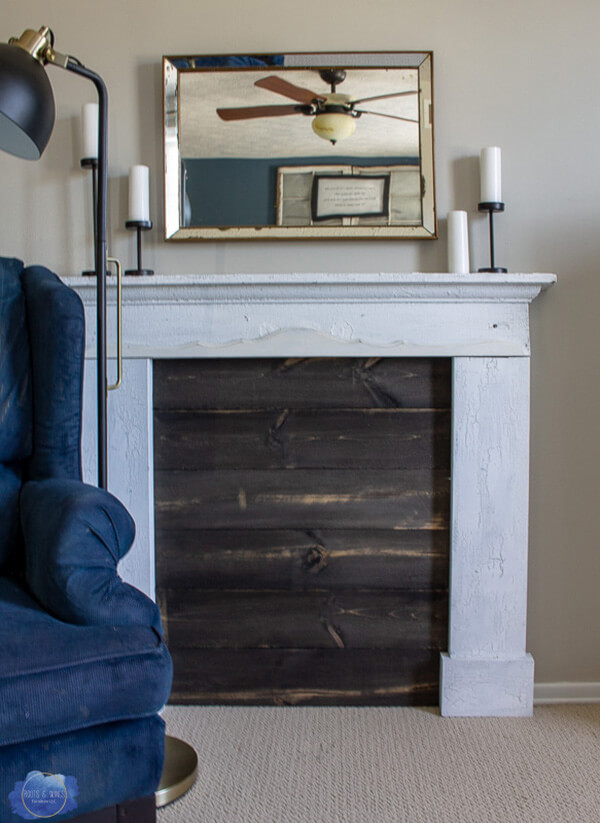 Here's an easy way to get some of the characters, but none of the fuss of a real fireplace. Close up the middle space with some rustic and warm brown boards to take up space generally occupied by the crackle and spark of the fire. To add some contrast, the mantel is painted in a clean white to reflect the simplicity and streamlined design of the look.
16. No More Writer's Block Vintage Fireplace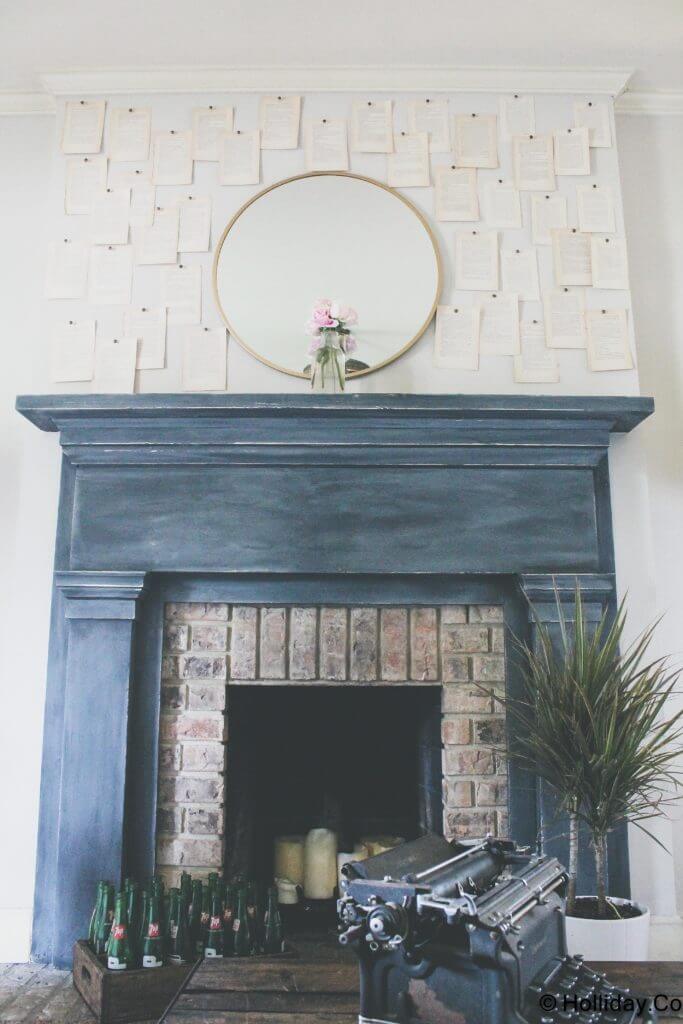 Prepare yourself for a never-ending storyline with this vintage-inspired fireplace. A true writer's delight, the upper crest of the fireplace is adorned with stick-pinned notes. Perhaps a new novel idea or two could be found here. The antique, classic black typewriter, resting below, seals in the look. A quick coat of classic black with some distressing around the edges adds to its appeal.
17. Stately White Columns and White Washed Brick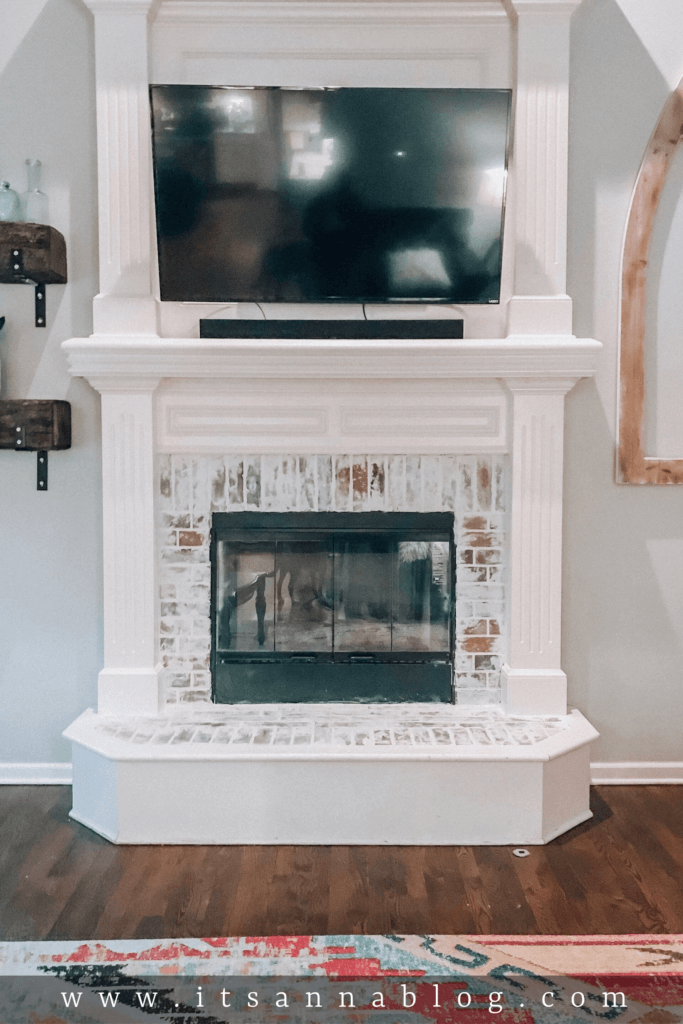 This combination of whitewashed bricks with such stately white columns adds charm and character to your home. The undisputed use of white keeps a continuous look of neutral simplicity throughout your home. Hang your smart TV above the mantel to serve the family without compromising on style.
18. Stunning Stone Facade and Seating Warm Fireplace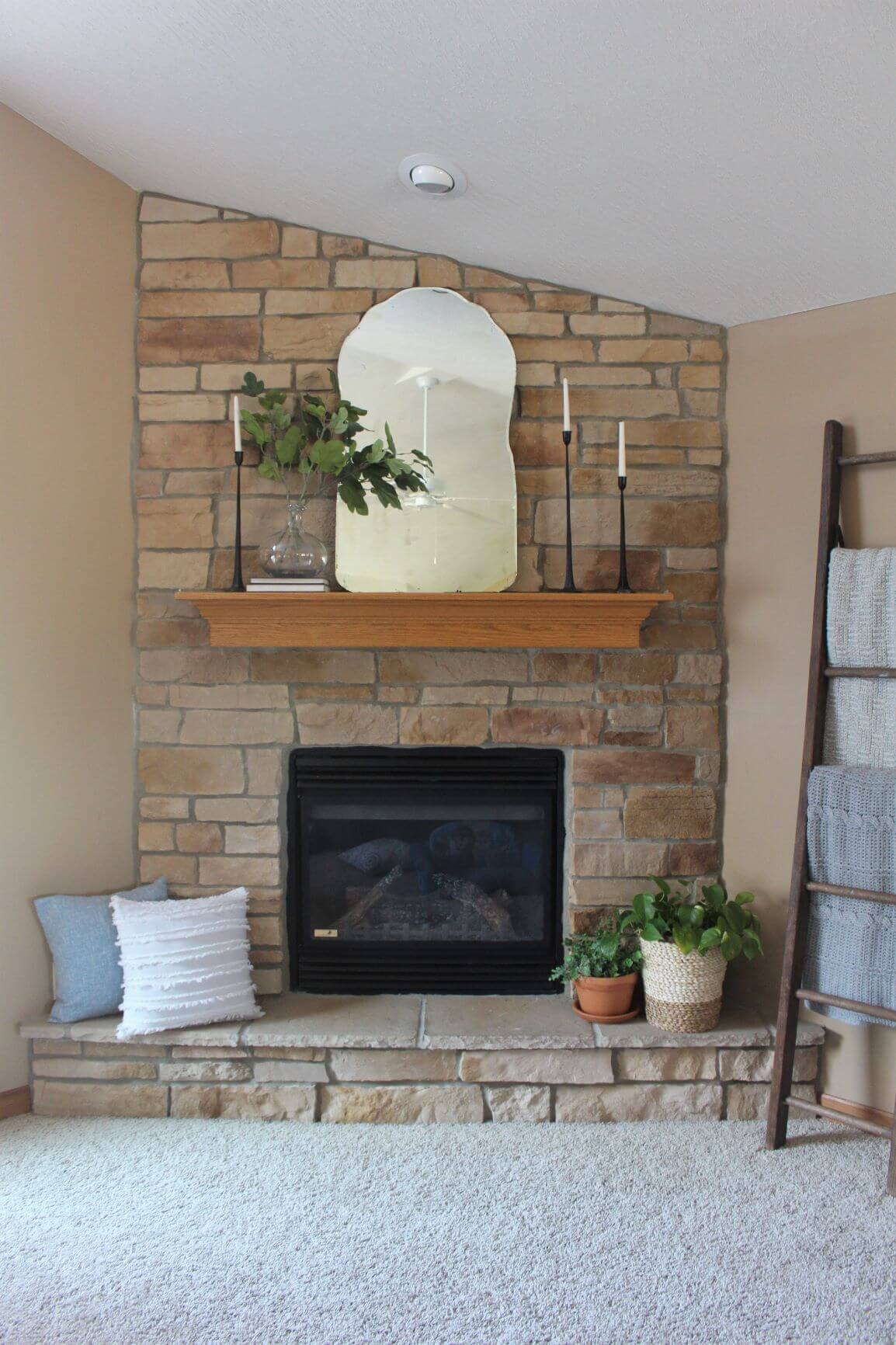 Create a cozy corner in your home with this stunning and understated stone fireplace. Mimicking the lines of the wall and ceiling, this asymmetrical fireplace is simple, yet sophisticated. The warm tan tones of the stone cozy up the atmosphere and there is even a nice sized ledge to make for some additional seating and/or decorating space. The large wooden mantel ties the look into the traditional wood trim in the home.
19. White Washed Brick with Gray Barn Doors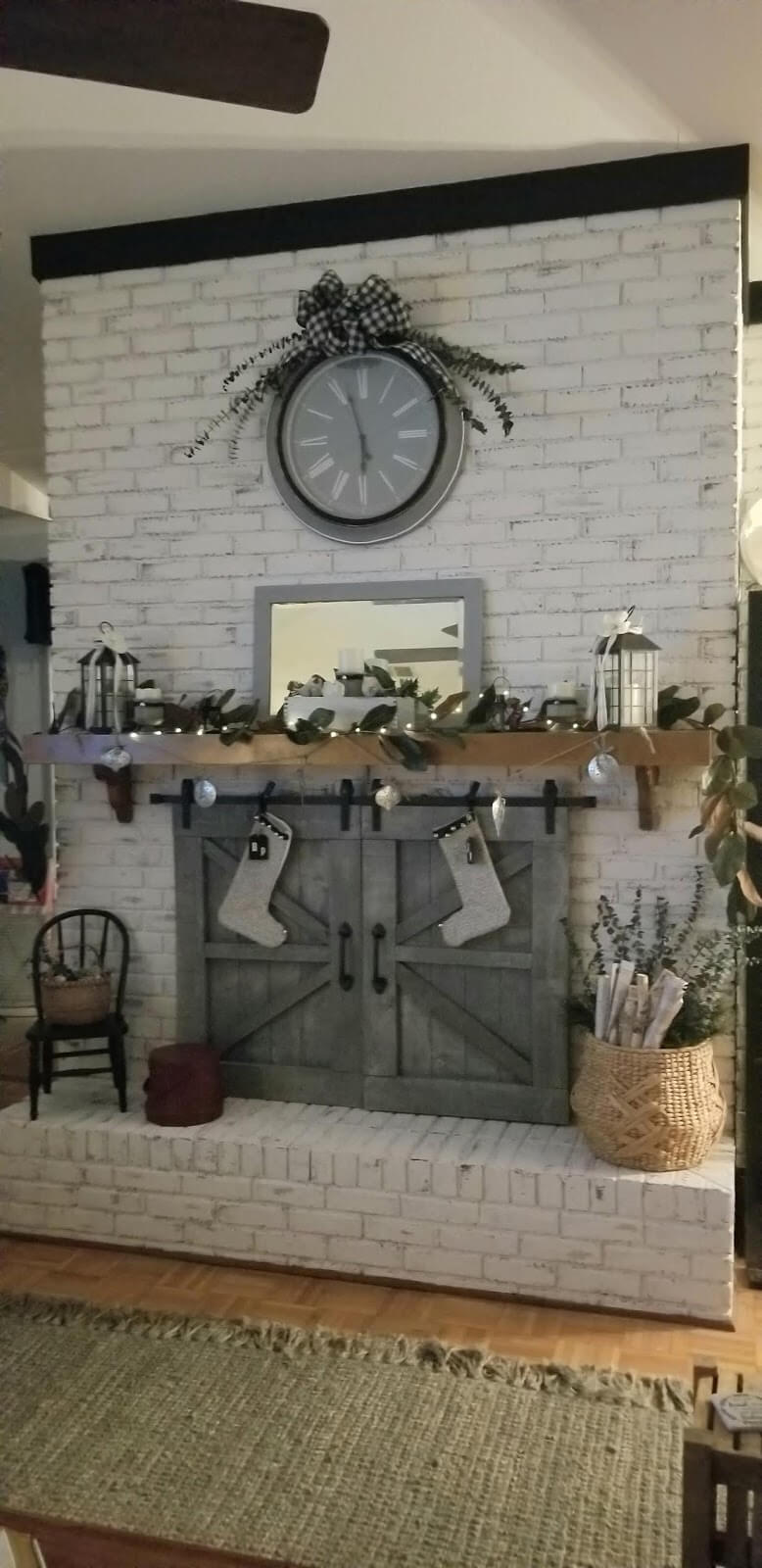 When you don't have a warm glowing fire flickering in your home, keep the fireplace lively with these gorgeous miniature barn doors. Closing off space when it's not in use not only keeps the space tidy and clean but also makes for some amazing decorative additions to your fireplace.
The fireplace was fine with the german schmear process, and the white of the brick along with these gray barn doors certainly screams modern farmhouse into your design.
20. Sweet and Simple Shiplap Rustic Modern Fireplace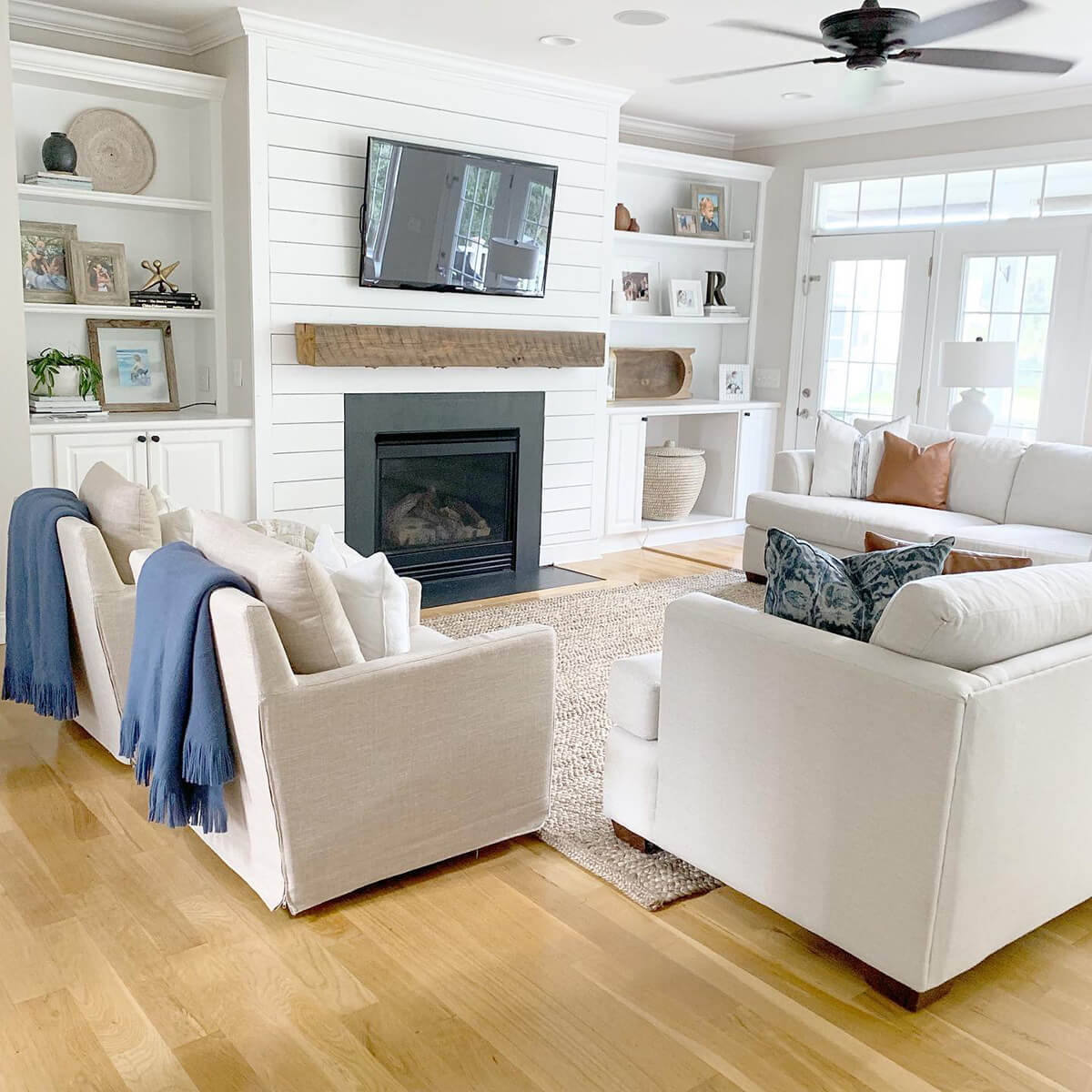 Sometimes less really is more and that's surely the case with this simple shiplap modern and rustic fireplace. From floor to ceiling, this fireplace features a healthy dose of white shiplap that is only broken up by the ornate and rustic hunk of wood thrown into the mix as the mantel. It provides a focal point in the all-white room without being too bold.
21. Rich Gray with Ornate Screen Fireplace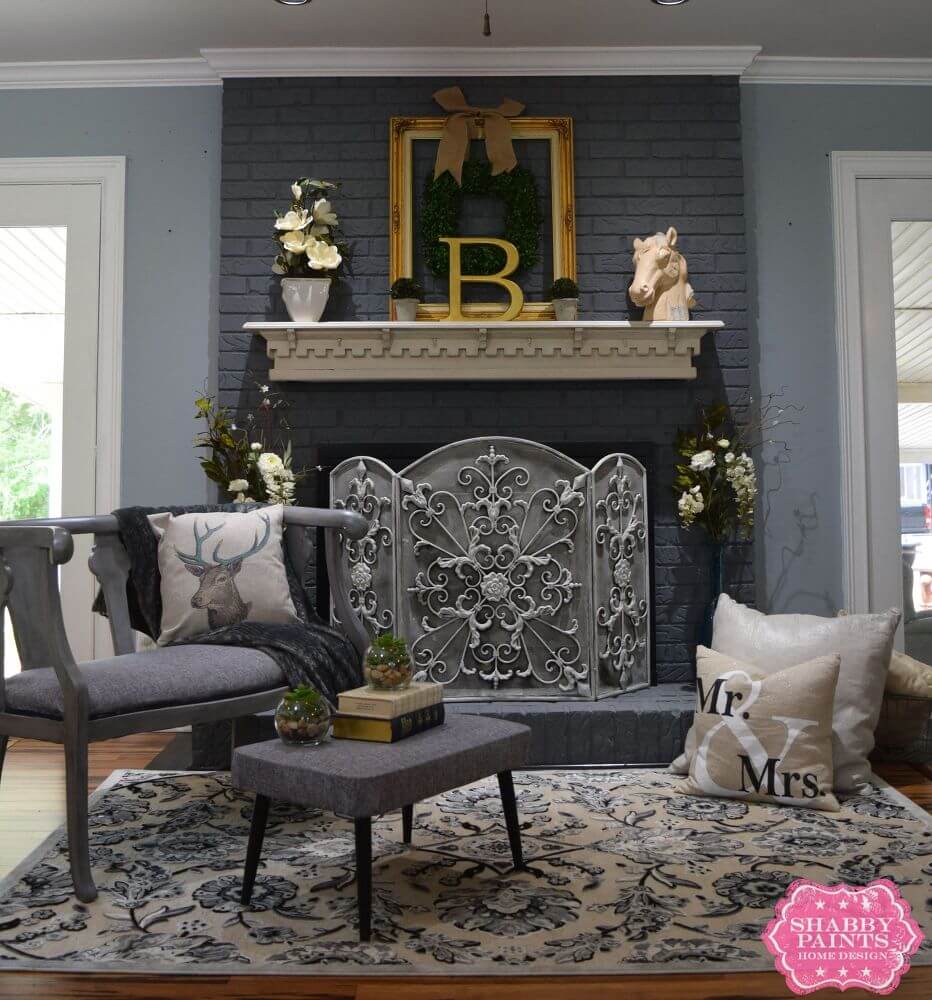 Soft and serene with touches of gray give this fireplace room an elegant, yet homey feel. The dark gray painted brick makes a bold statement as the foundation of this fireplace and pulls the total look together. Both the mantel and screen showcase brilliant and ornate decorative embellishments that add a touch of whimsy while keeping a modern feel.
22. Slate Gray and White Contoured Fireplace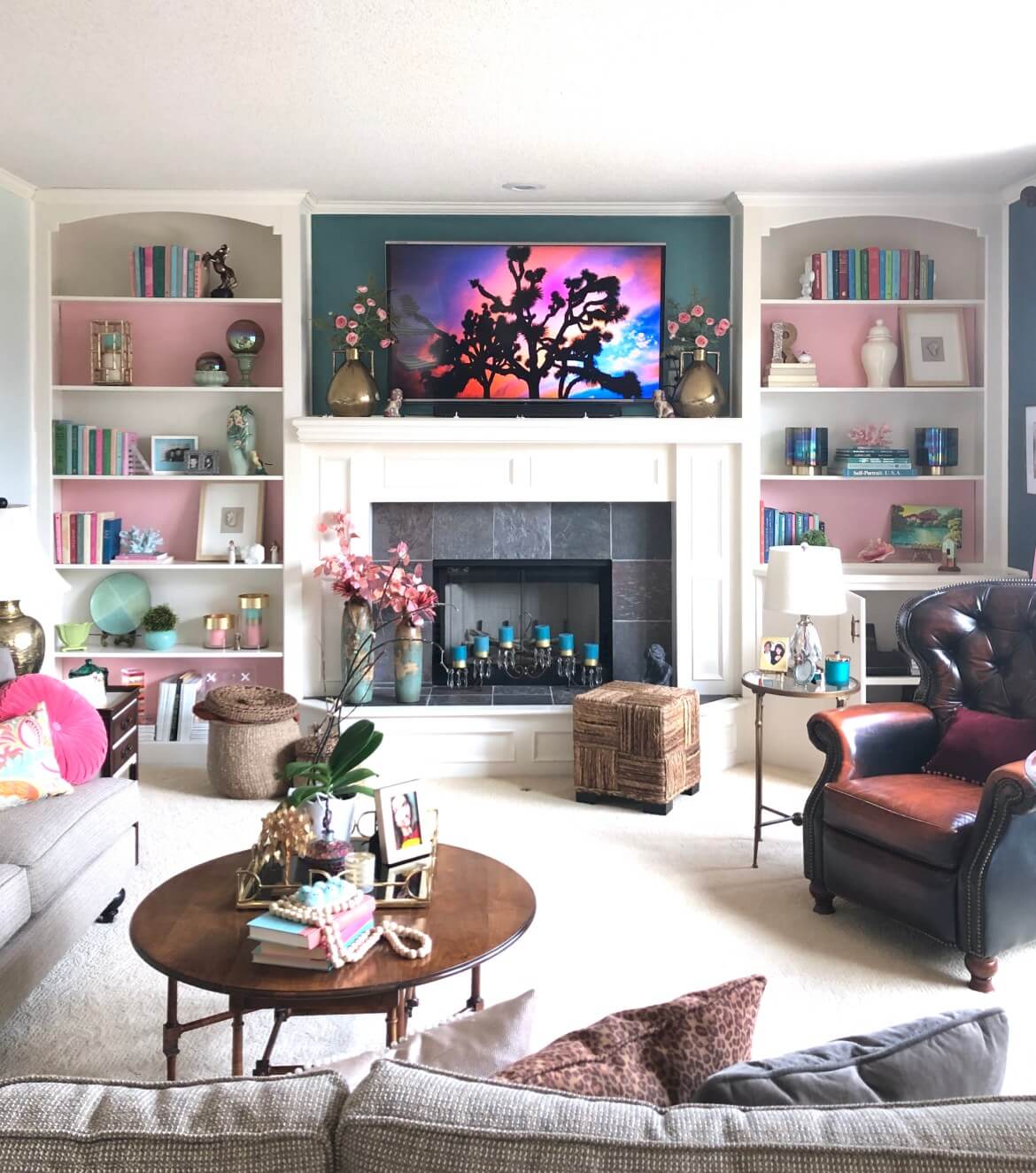 Nestled between two interesting and color-coordinated bookcases, this built-in fireplace incorporates classic white and trendy gray. The coordinating gray wall color connects the entire room in a much pulled together manner. What a great space to entertain a group of your friends and/or your extended family for game night and catching up.
23. Beige and Gray Pebbled Neutral Tiled Fireplace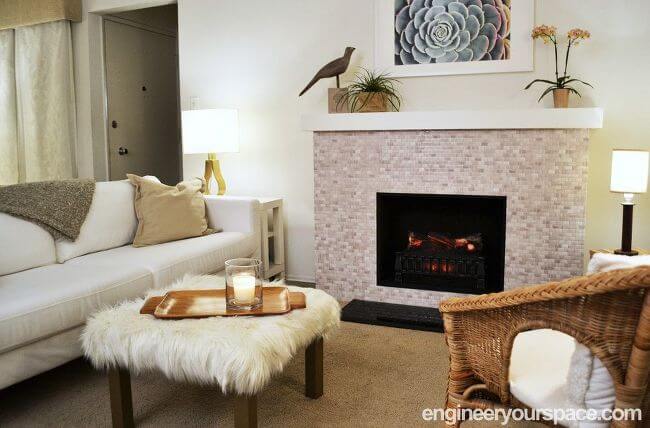 There is so much texture on display in this gorgeous neutral fireplace. The pebbled small tiles create a sophisticated large artwork within the confinements of your family living room. The sandy and rocky tones oozed from this formation tie in the existing furniture of whites and browns quite easily.
24. Wonderful Wall of Wood Fireplace Design
Add a dramatic wall to your fireplace backdrop to create a wow factor in your family's favorite room. This amazing contrast of wood tones from gray to chestnut creates a unique and truly artistic display of one of nature's most precious natural resources. Adhered in a pattern of perfectly placed variety, the many shades of wood are brought to life as they are set amid the family fireplace that's perfectly painted in classic white.
25. Magnificent Monotone Fireplace Wall in Dark Gray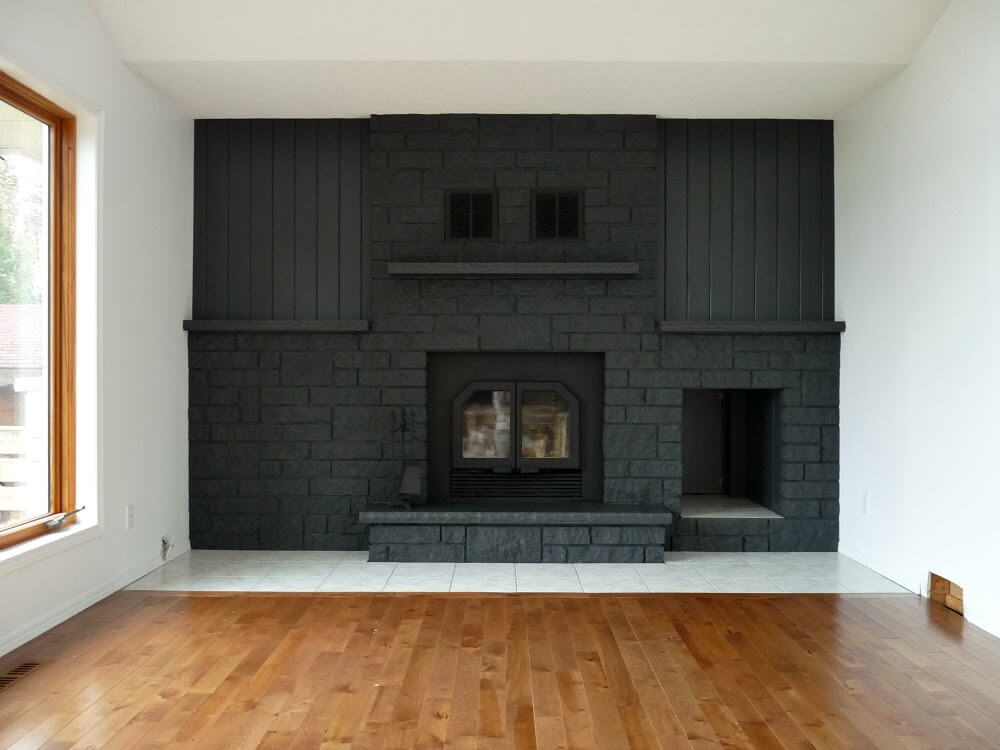 Monotone makes for a bold statement in your home and this featured fireplace wall doesn't disappoint! Painted in a rich and elegant deep dark gray, the wood nook and walls are seamlessly anchored into the fireplace itself. Such a deep color works as it rests within the solitude of the remaining walls in the room which are beaming bright white. Enjoy this easy update that takes your traditional space into the modern era.
26. Recycled Timber Mantle and White Brick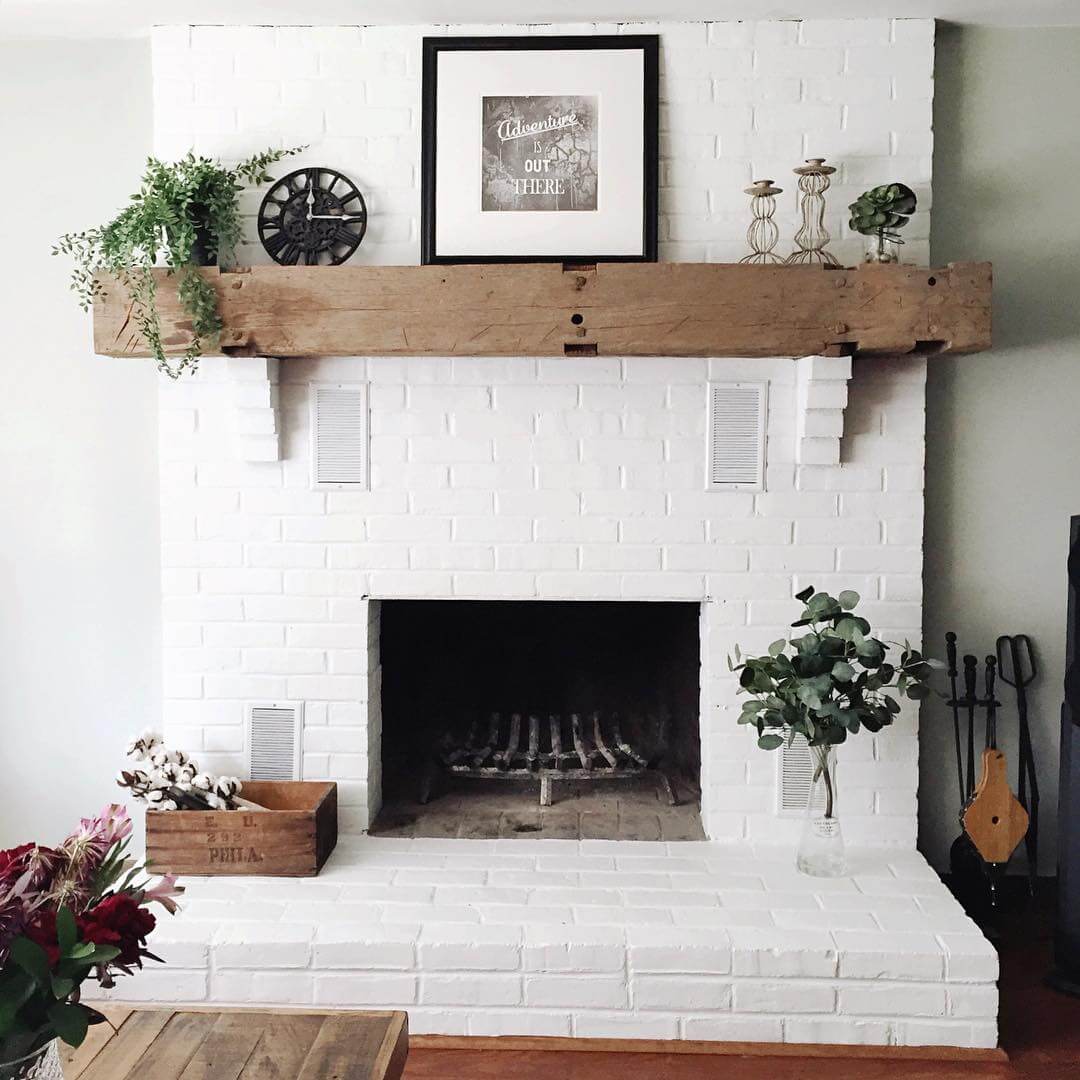 27. Stone Fireplace with Above-Mantle Inset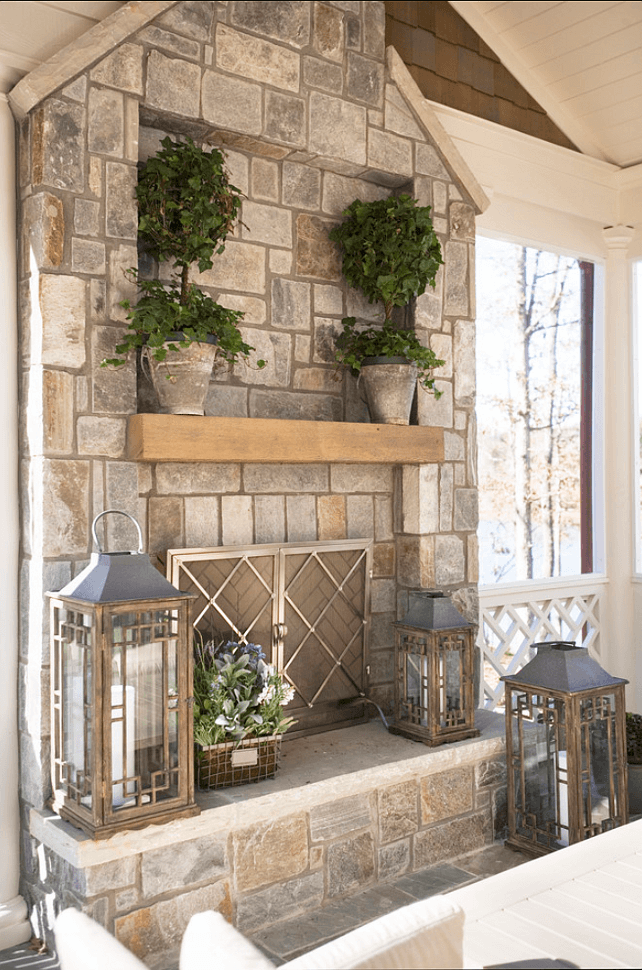 28. Recycled Farmhouse Wood Creates Unique Fireplace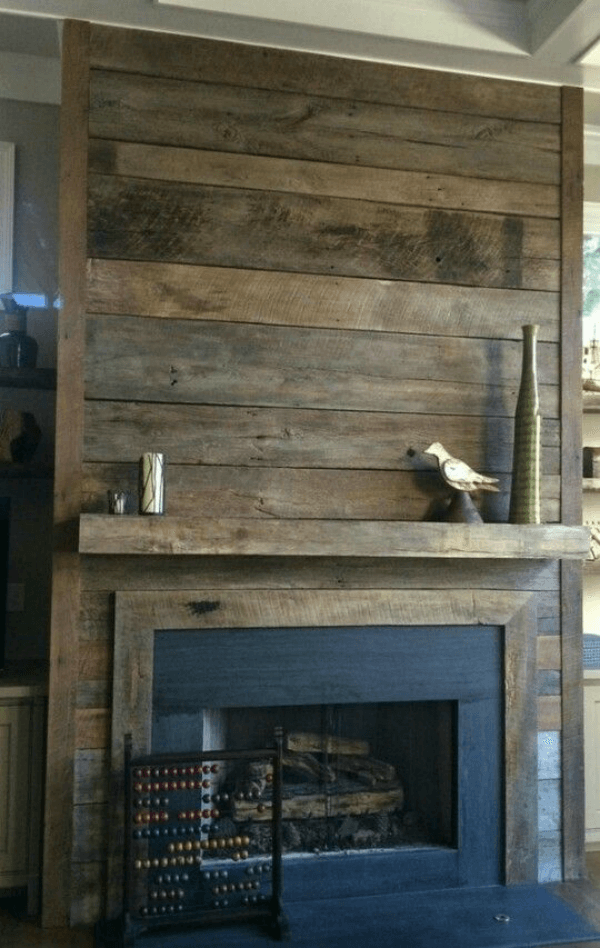 29. Neutral Theme and Dark Mantle Update Ranch Fireplace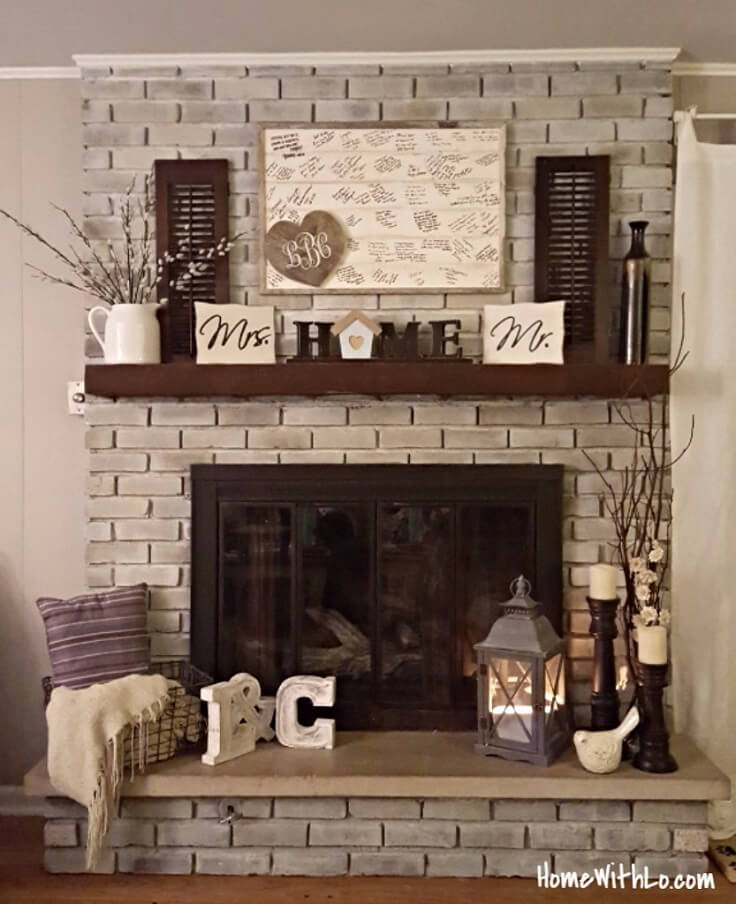 30. Classic White Paneling with Marble Surround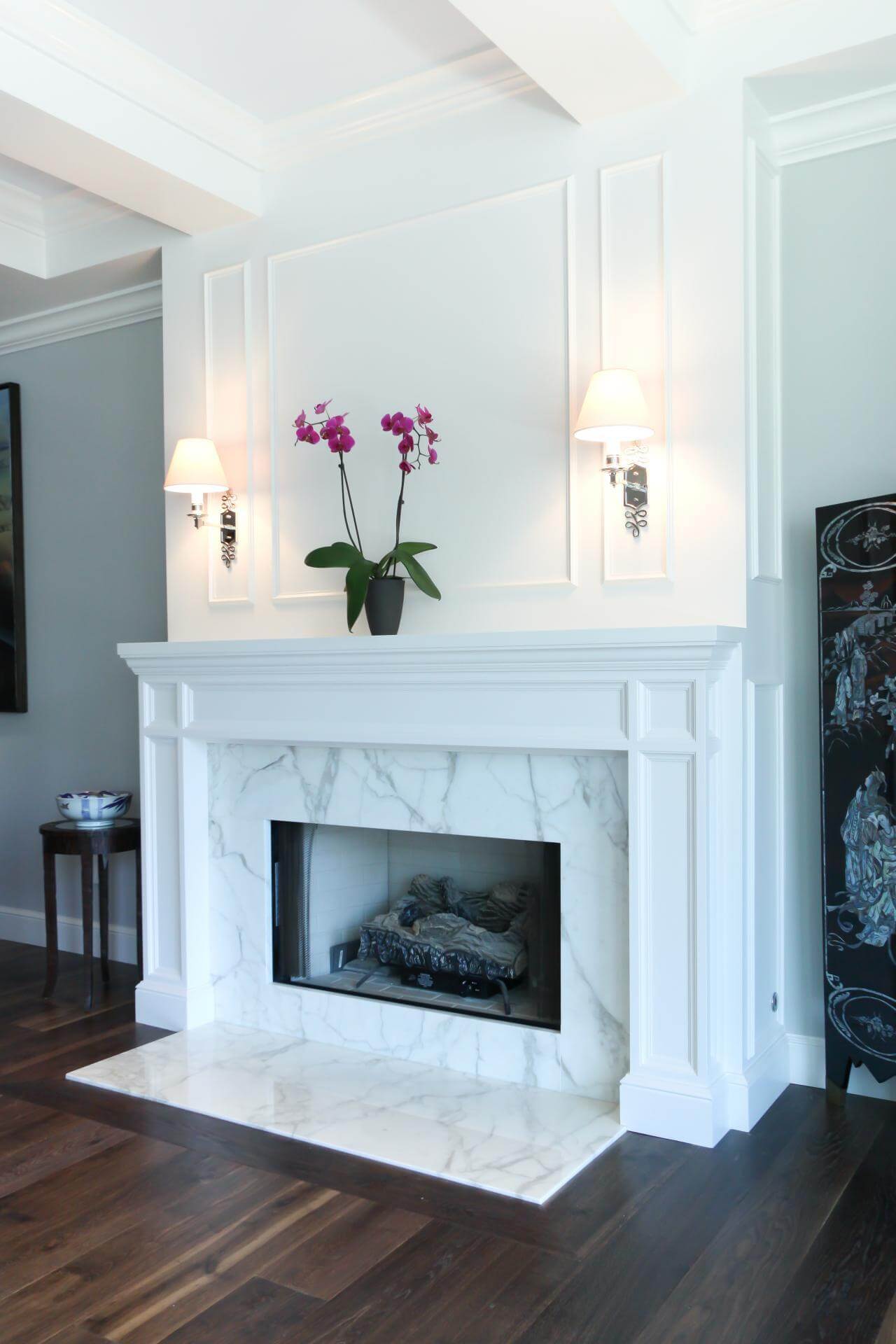 31. Stacked Field Stone and Heavy Timber Mantle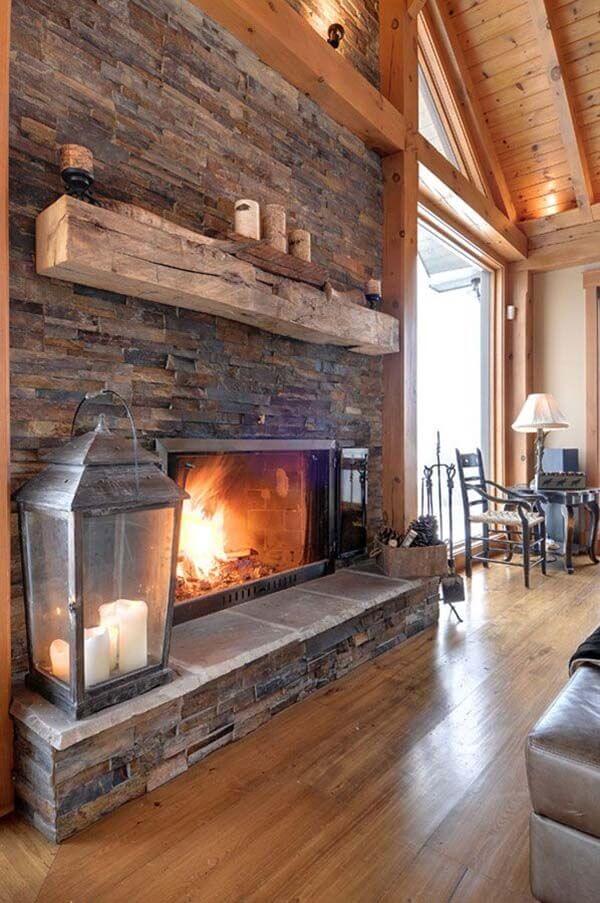 32. Transitional Stone and White Wood Fireplace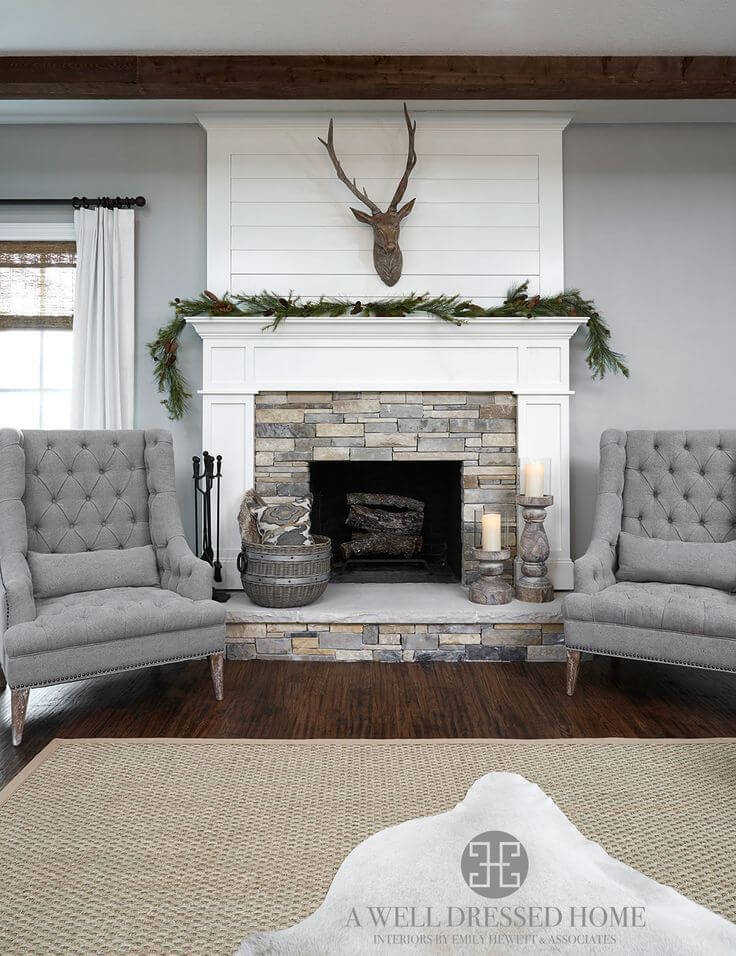 33. Red Brick Texture Makes Fireplace Stand Out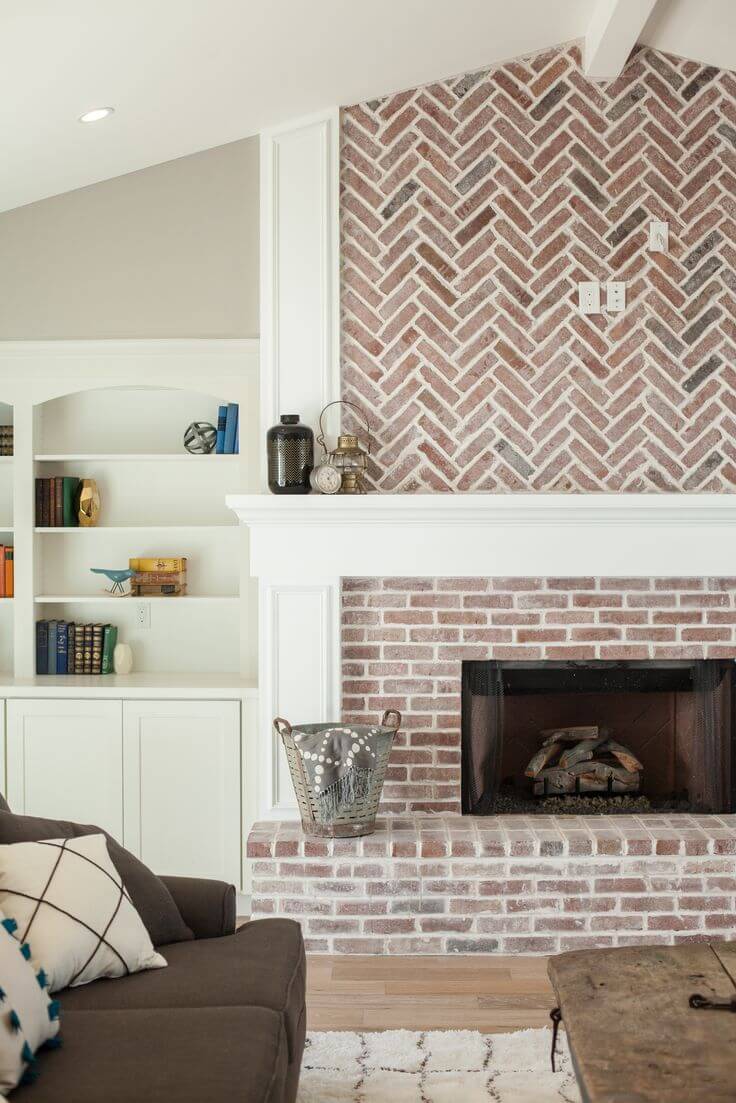 34. Natural Stone and a Corner Fireplace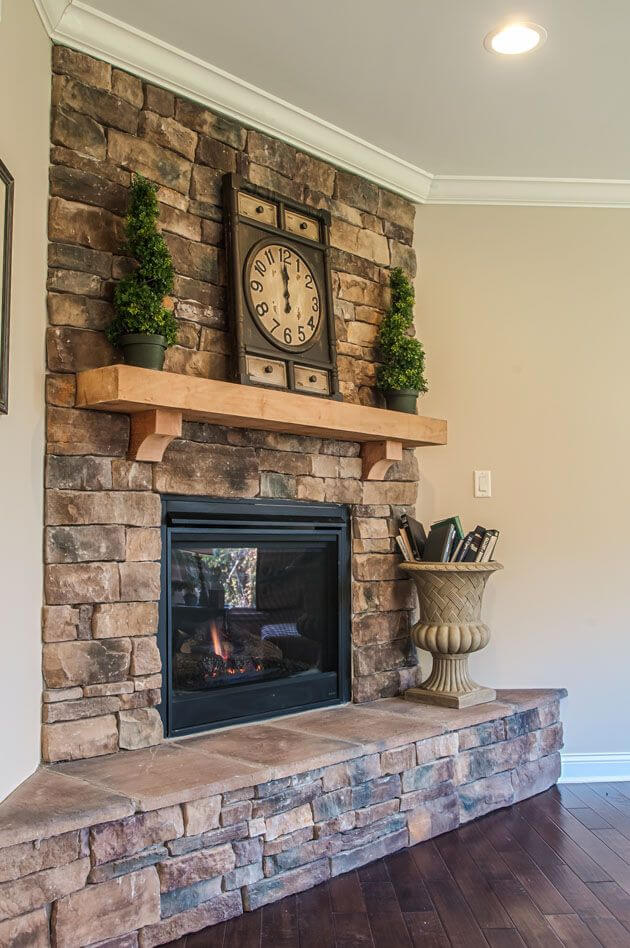 35. Substantial Wood Creates a Strong Statement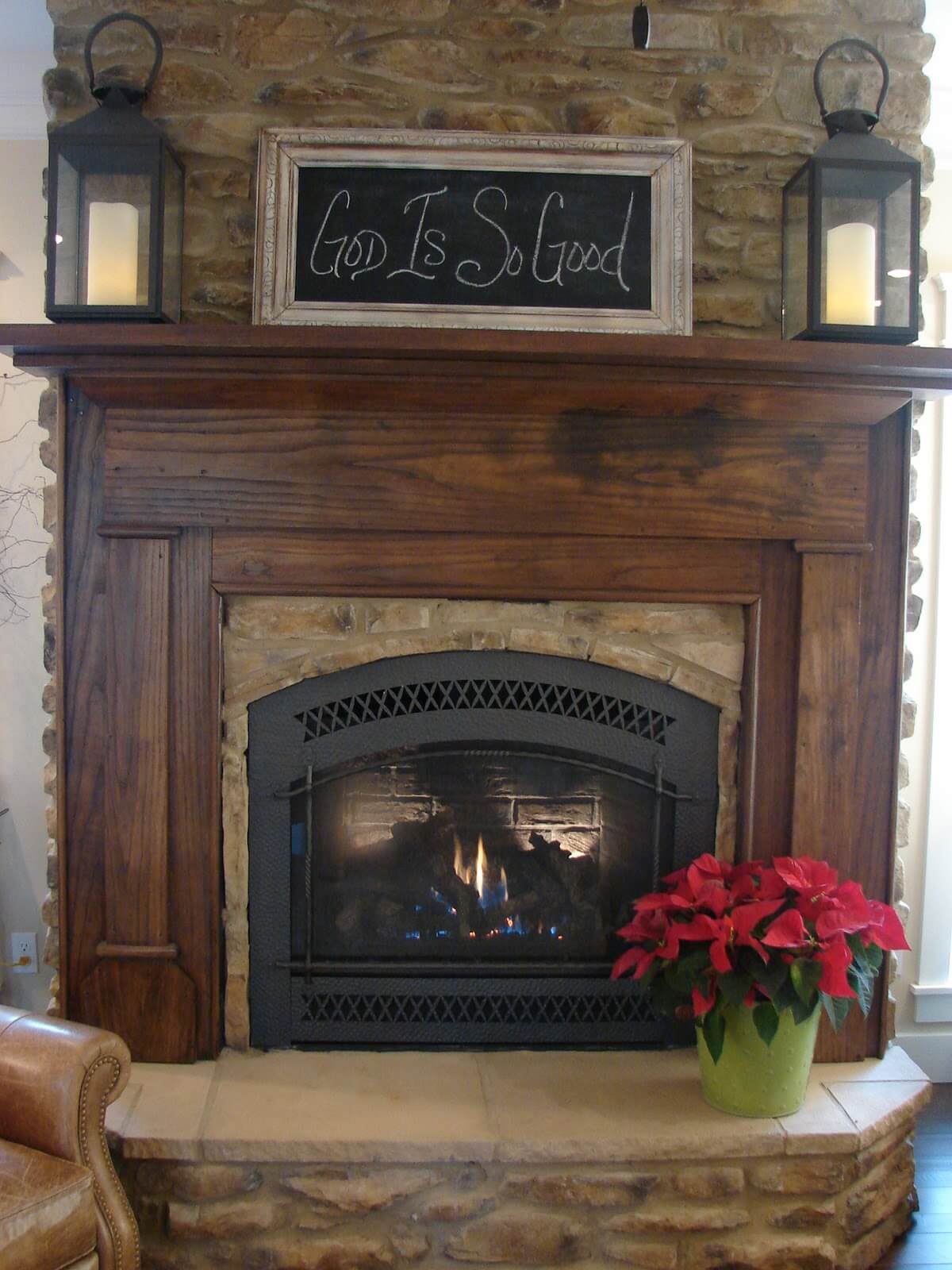 36. Horizontal Lines Top a Stone Surround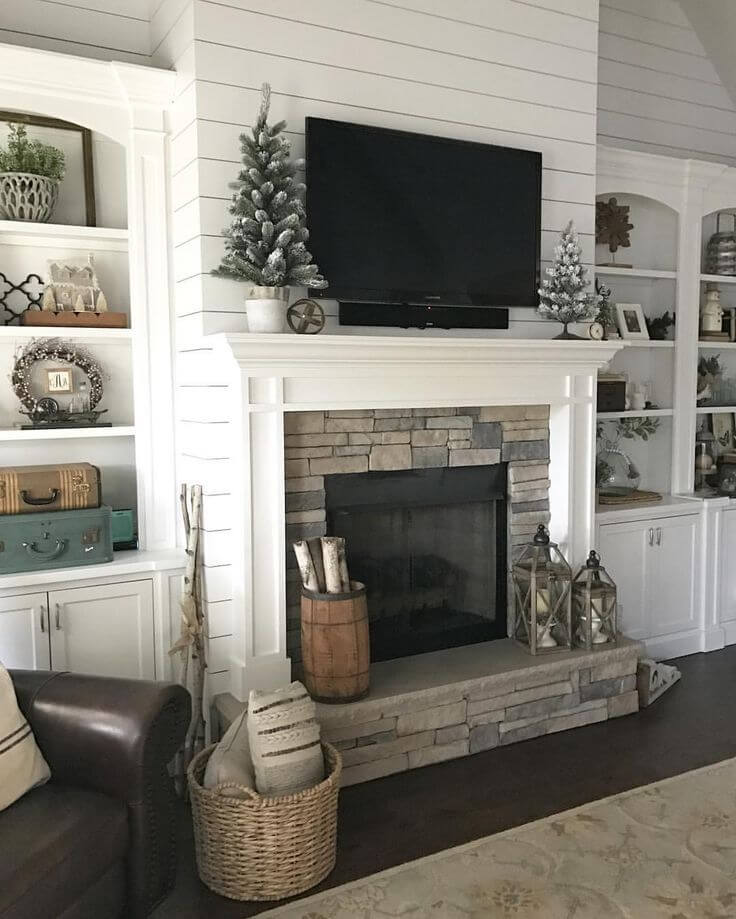 37. Vintage Window Frame Tops Eclectic Fireplace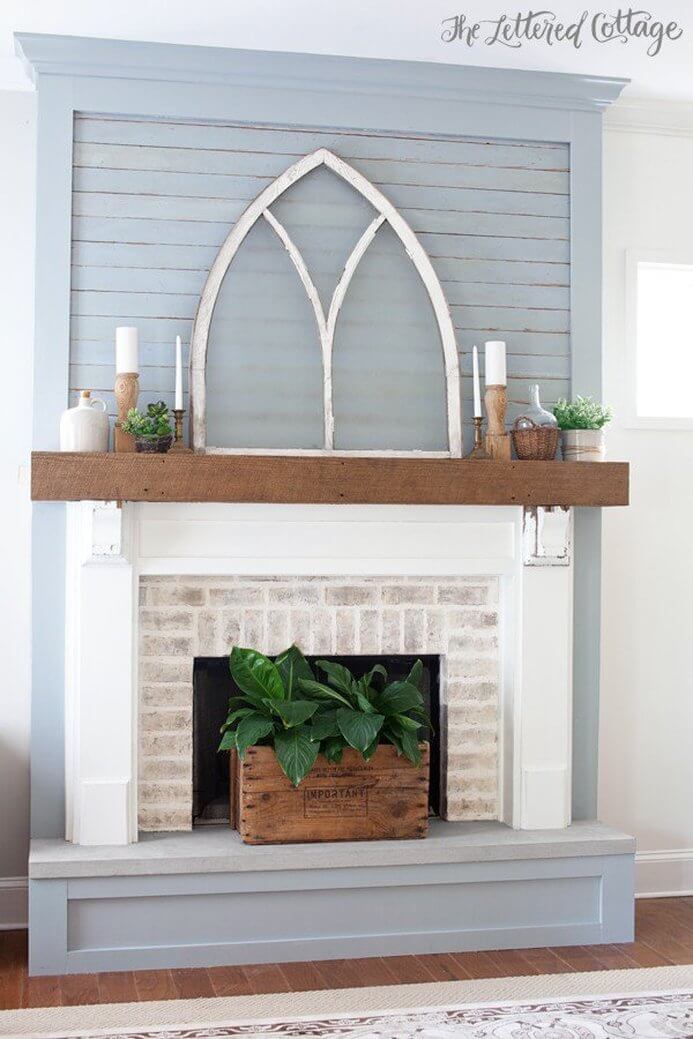 38. Gas Fireplace Blends with Built-In Shelves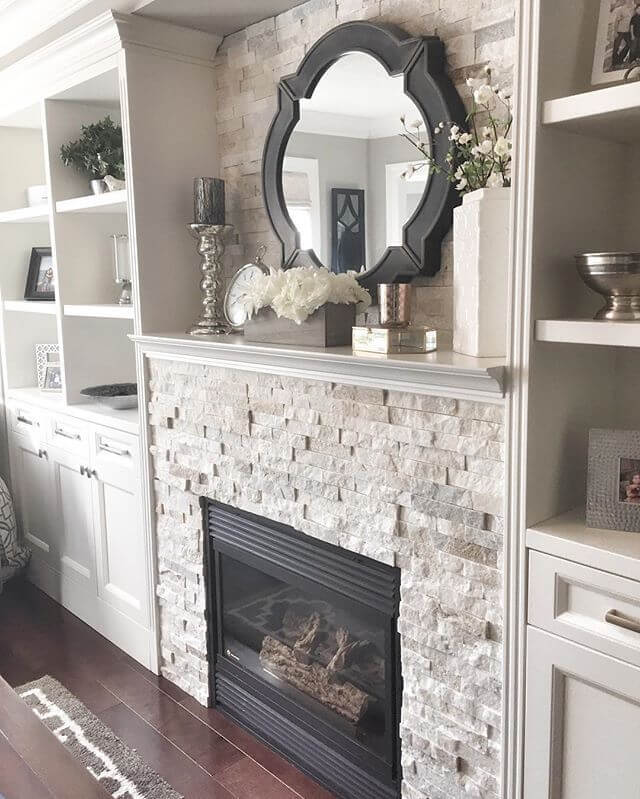 39. Recycled Wood Makes Strong Horizontal Statement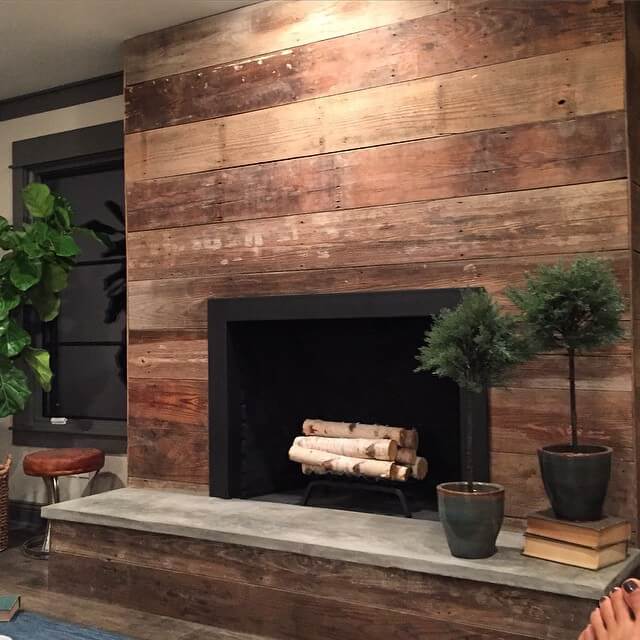 40. Full-Length Mantle Floats Amidst Stone Facade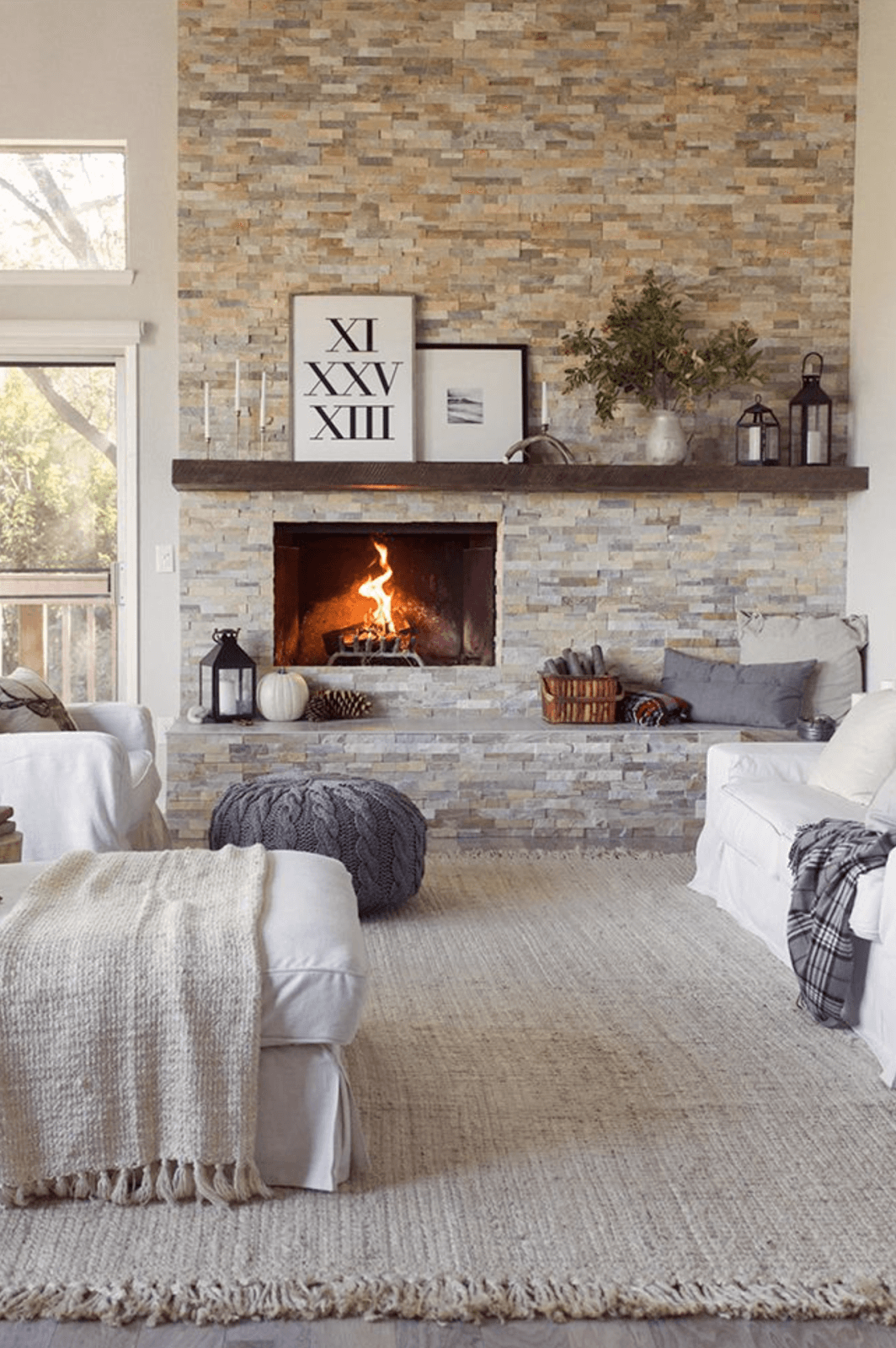 41. Old-World Fireplace Becomes Kitchen Focal Point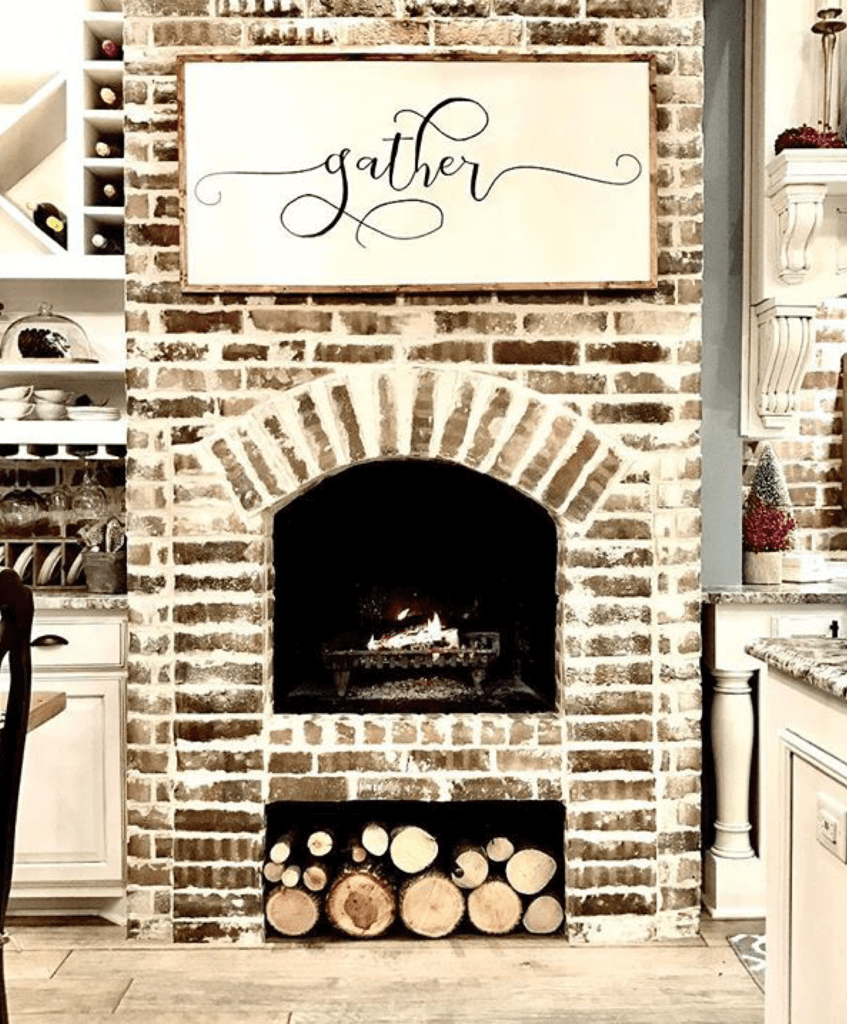 42. Fitted Field Stone Topped with Barn Doors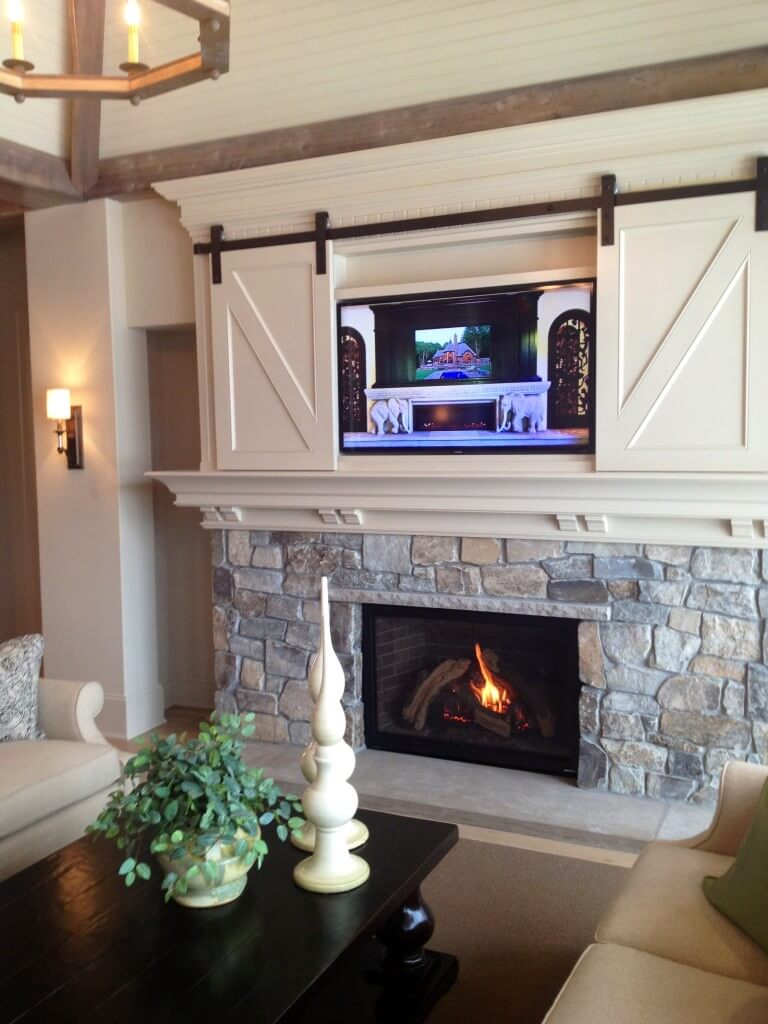 43. A Simple Field Stone Fireplace and Mantle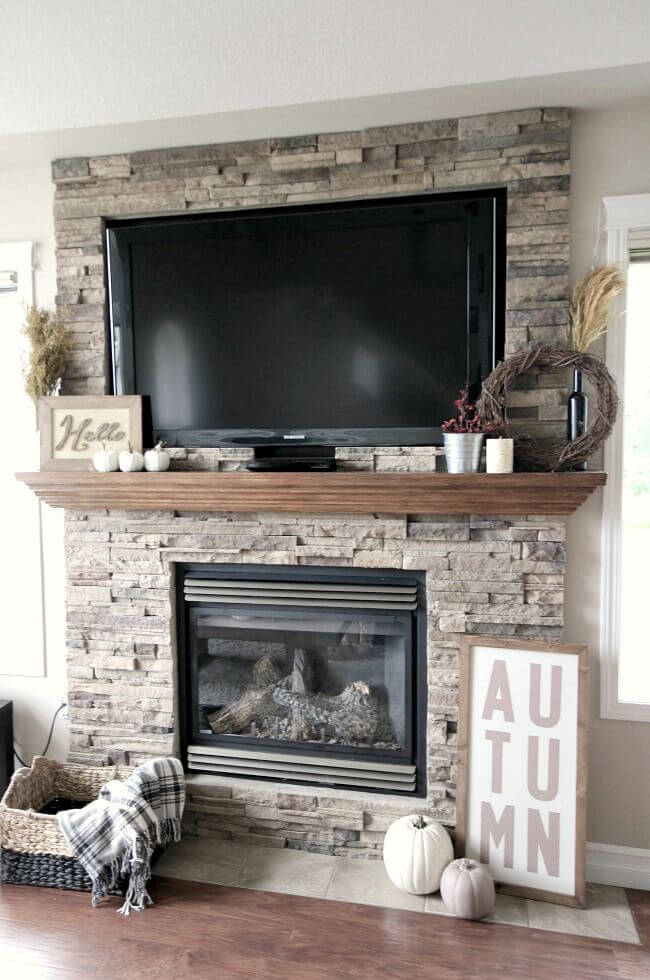 45. White Modern and Elegant Focal Point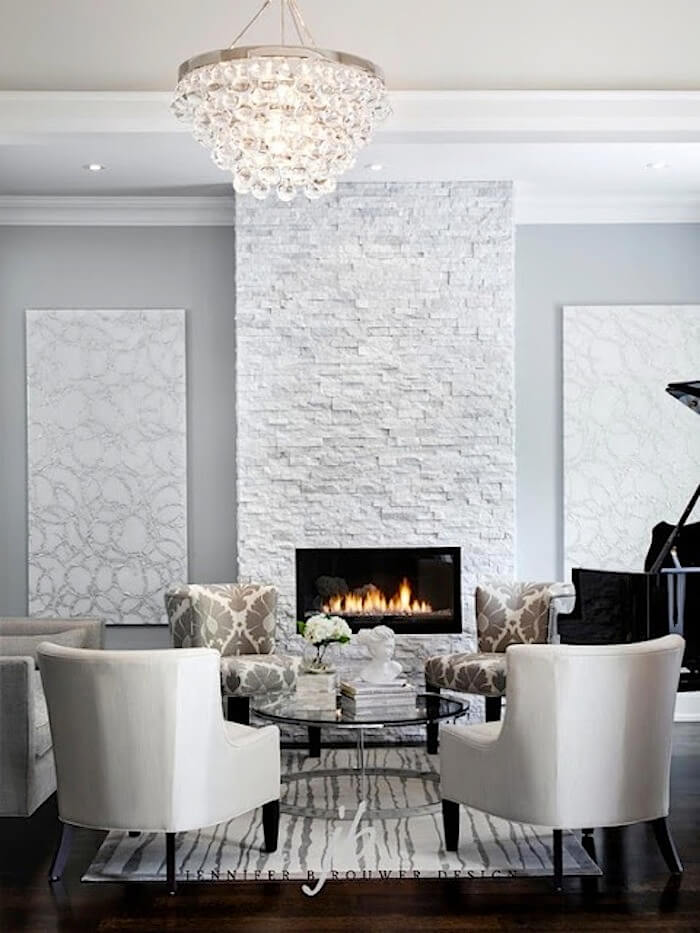 46. White and Grey Modern Farmhouse Fireplace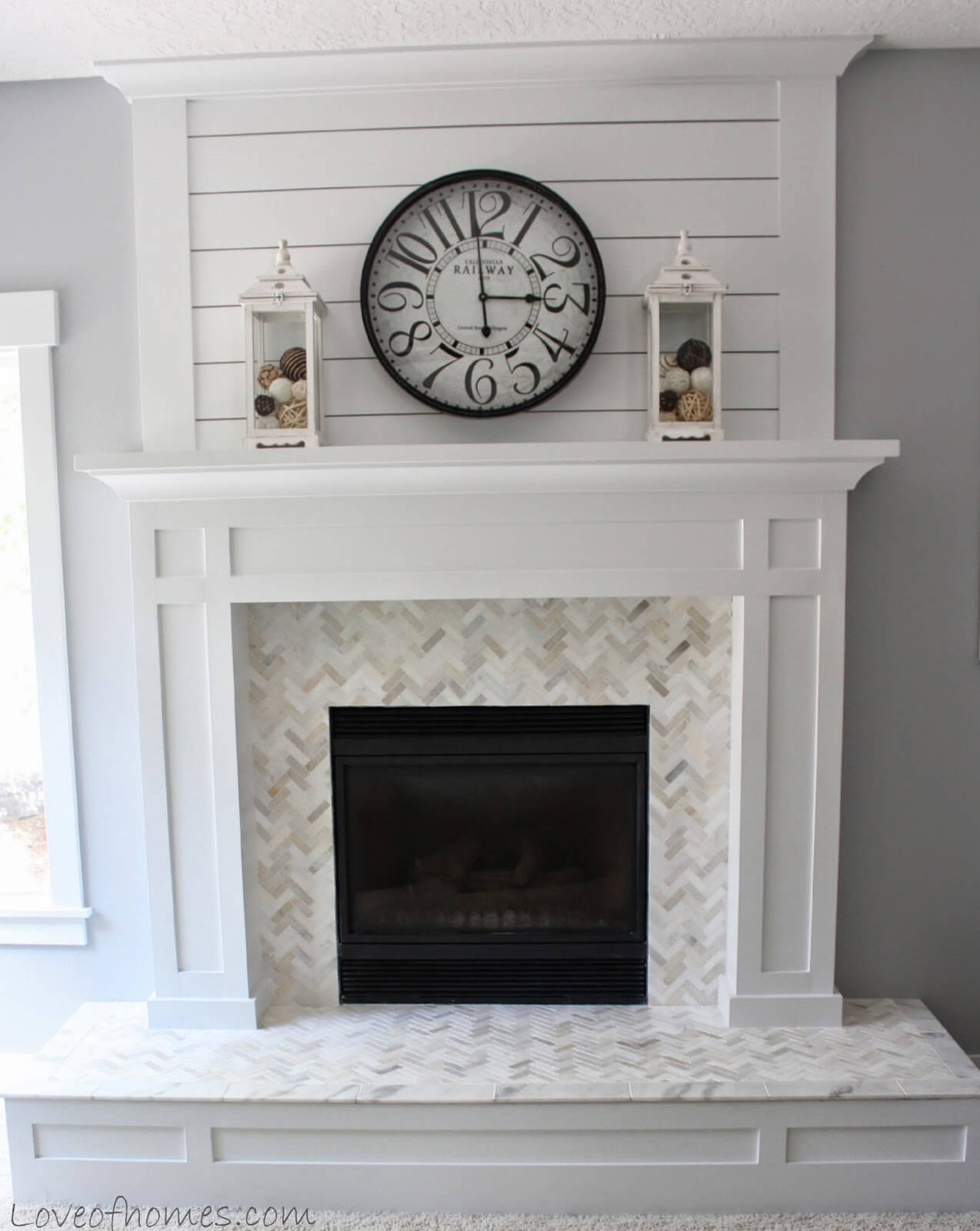 47. Red Brick Anchors a Tall Space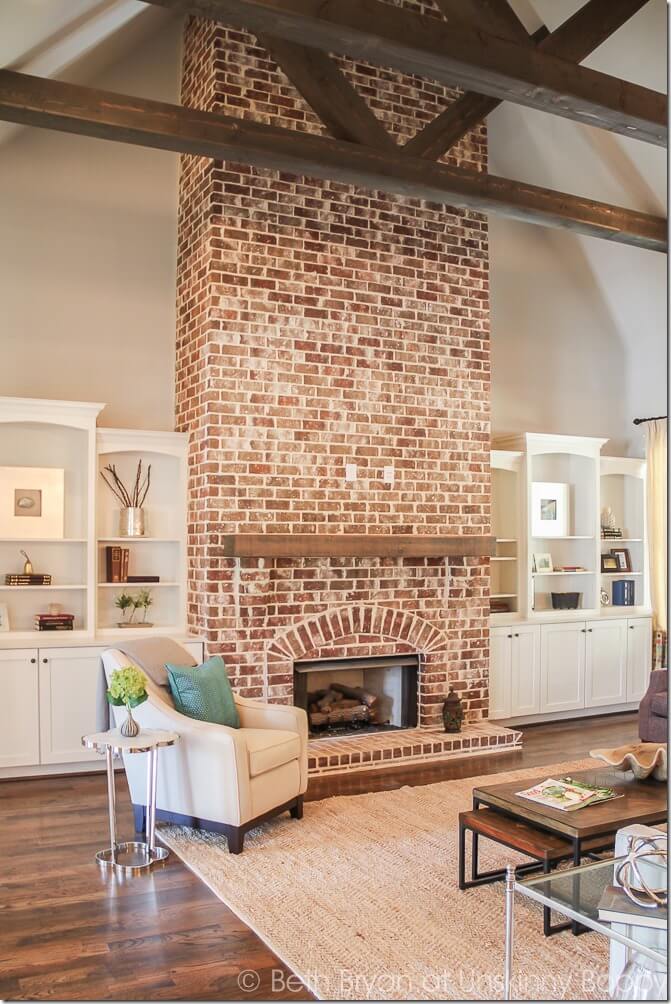 48. Natural Stone Fireplace Warms Outside Space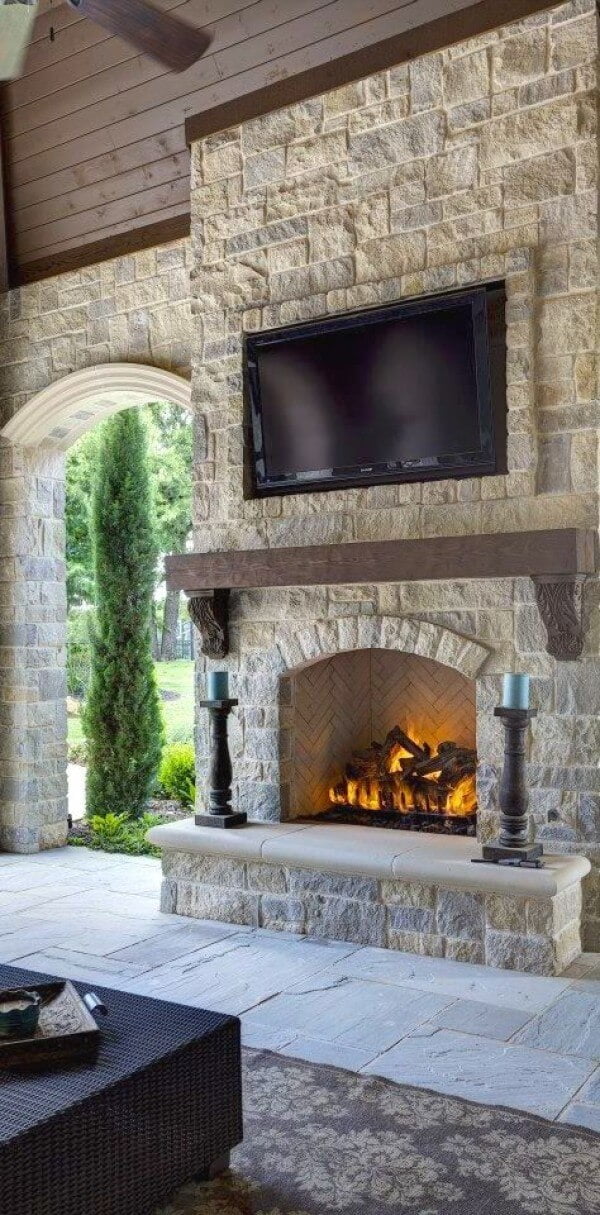 49. Angles and Curves Makes Architectural Sense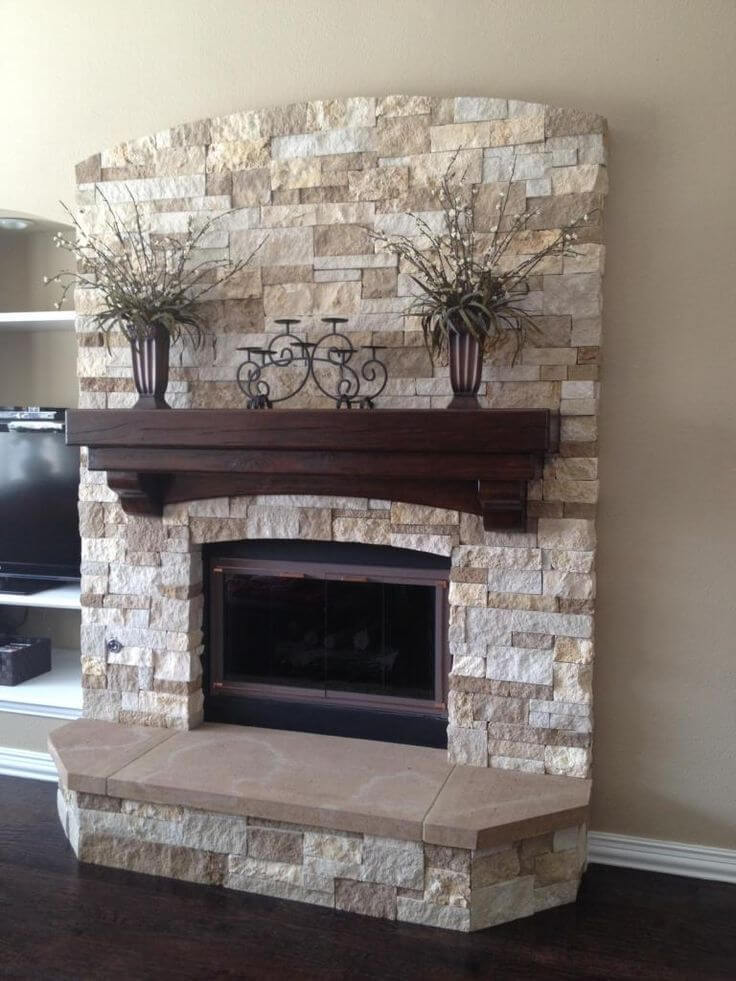 50. Old World Wooden Fireplace Surround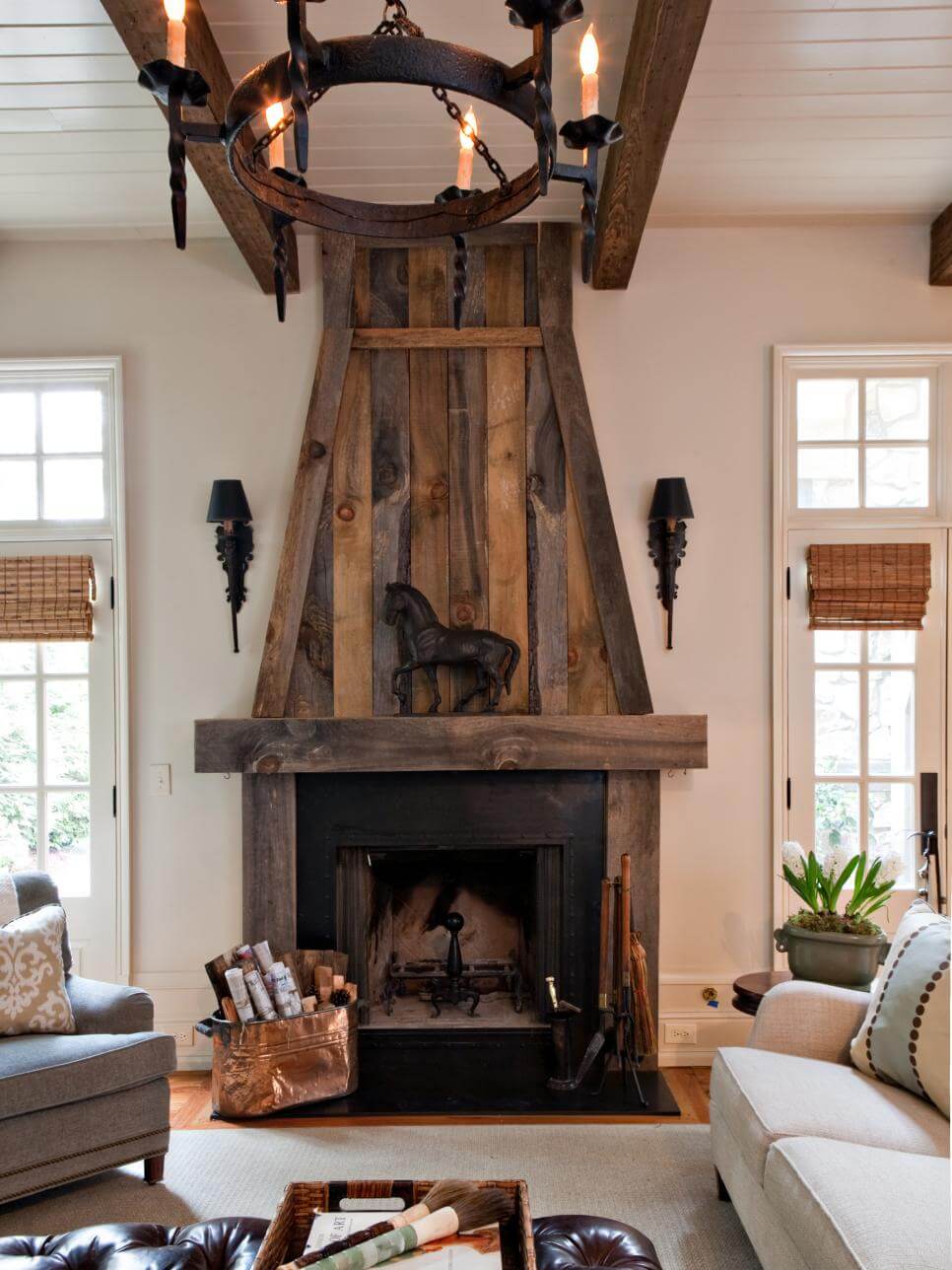 51. Sweeping Curves Create Warm Alcove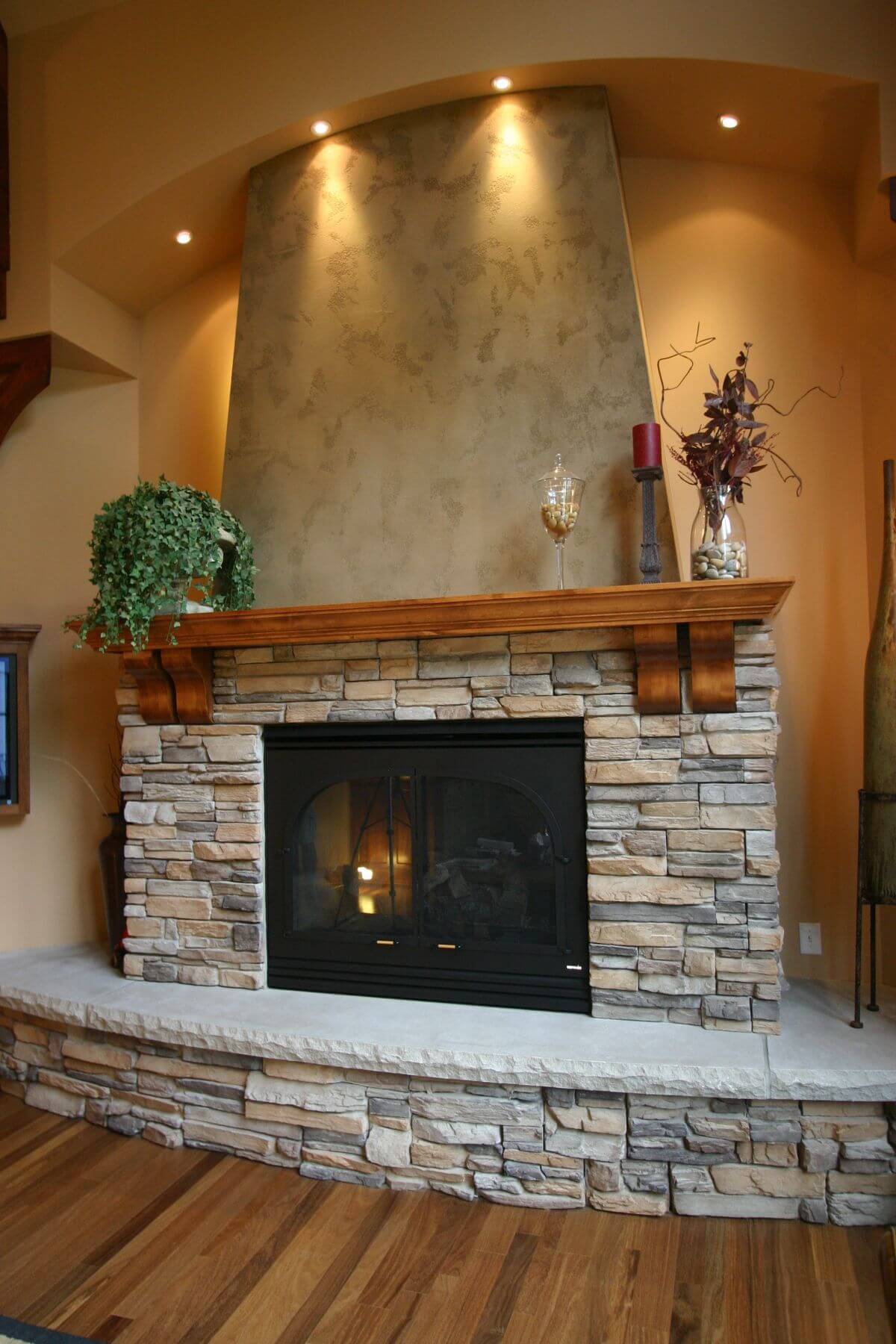 52. Painted Stone Creates Simple White Fireplace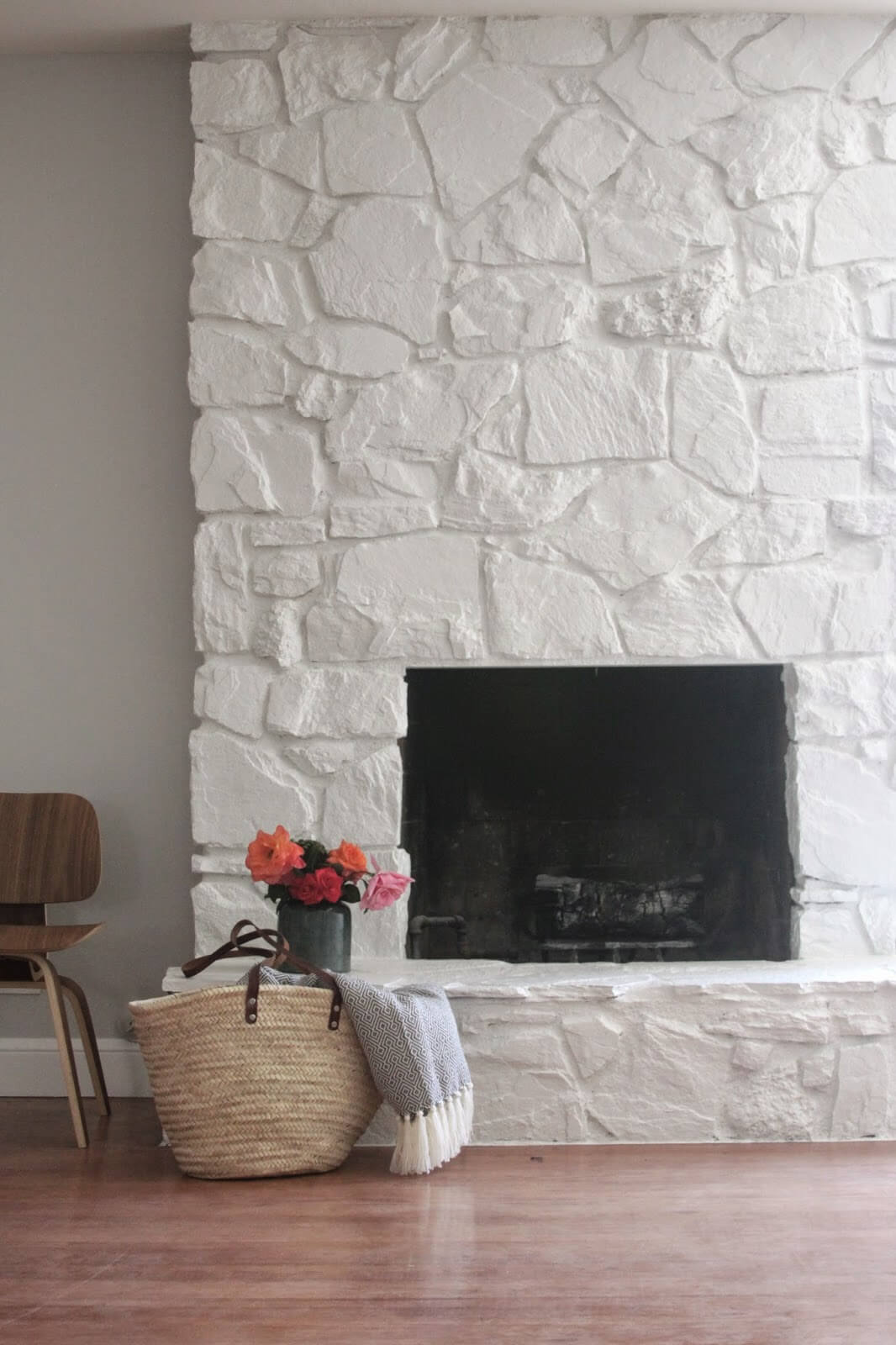 53. Grey, White and Silver Highlights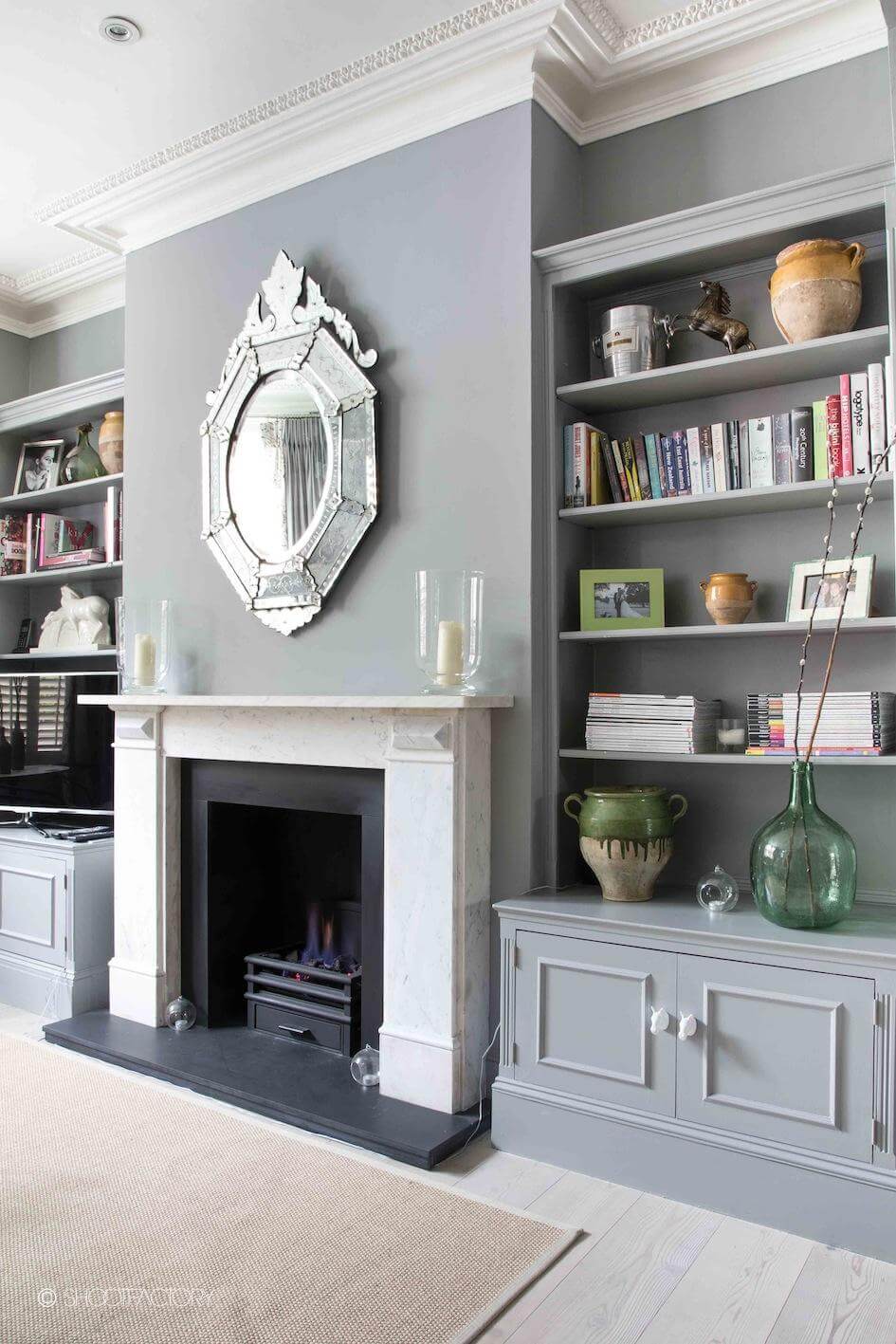 54. Painted Tile Creates Delicate Highlight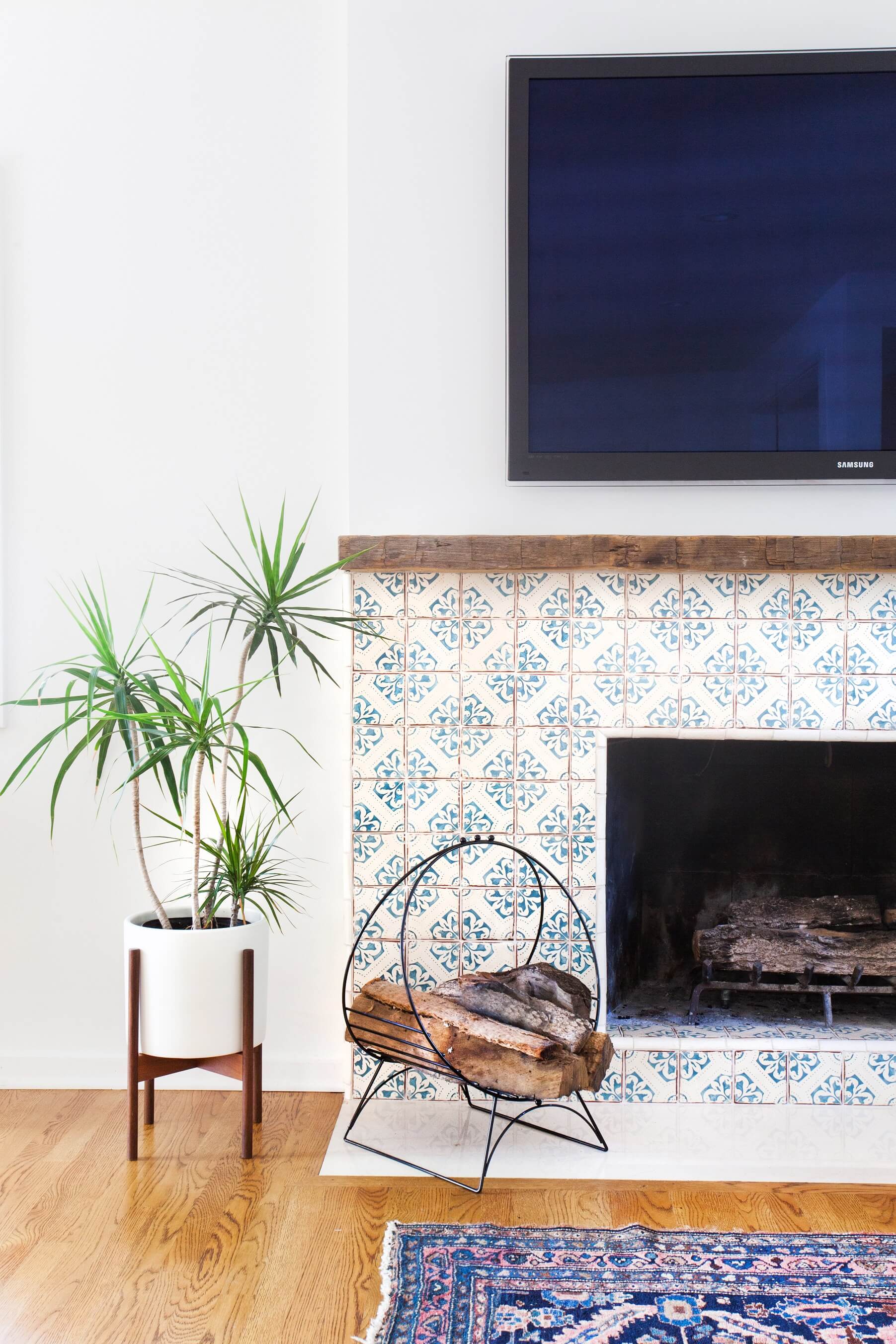 55. Marble Surround and Dark Grey Anchor Space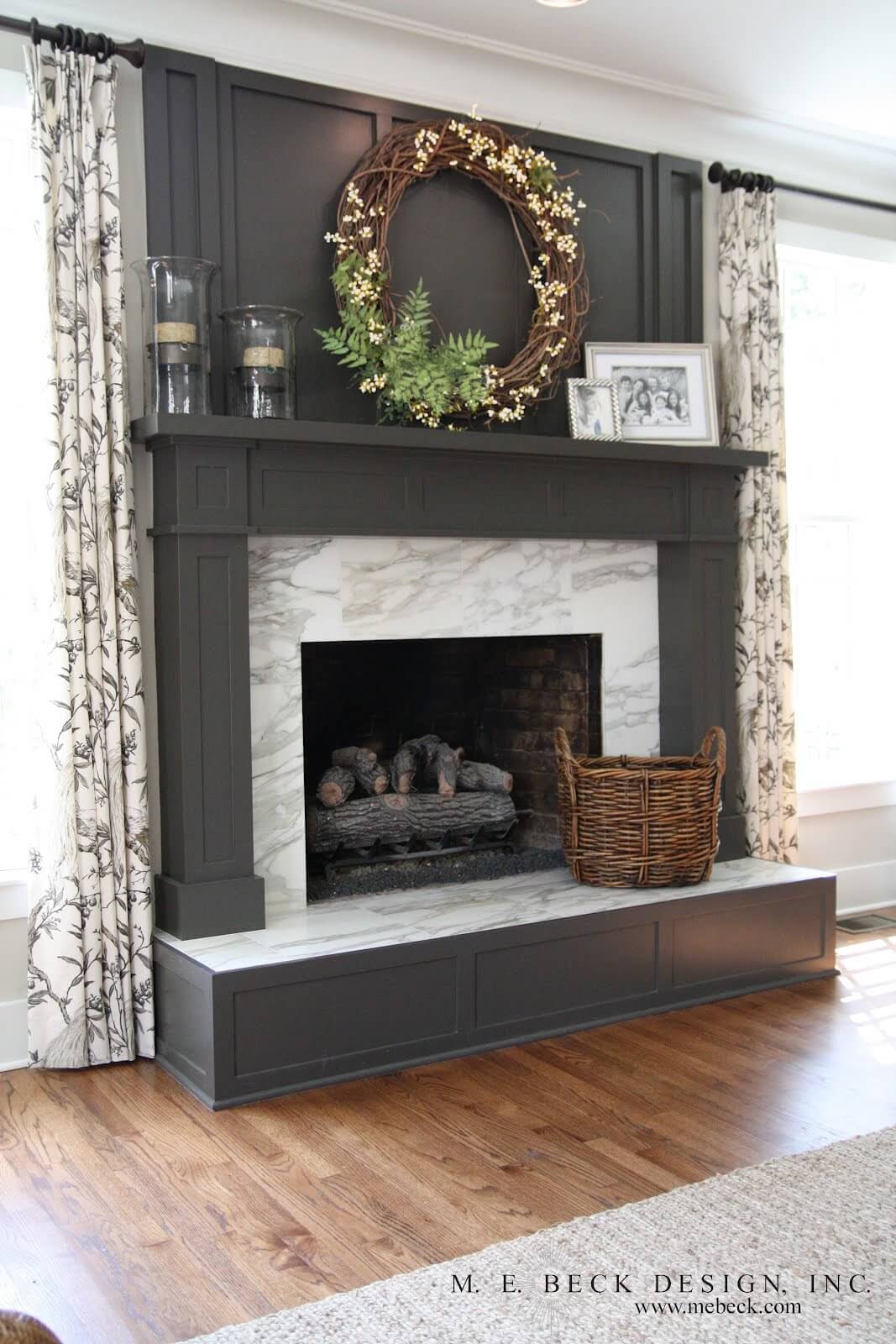 56. Fireplace with Look of Built-In Furniture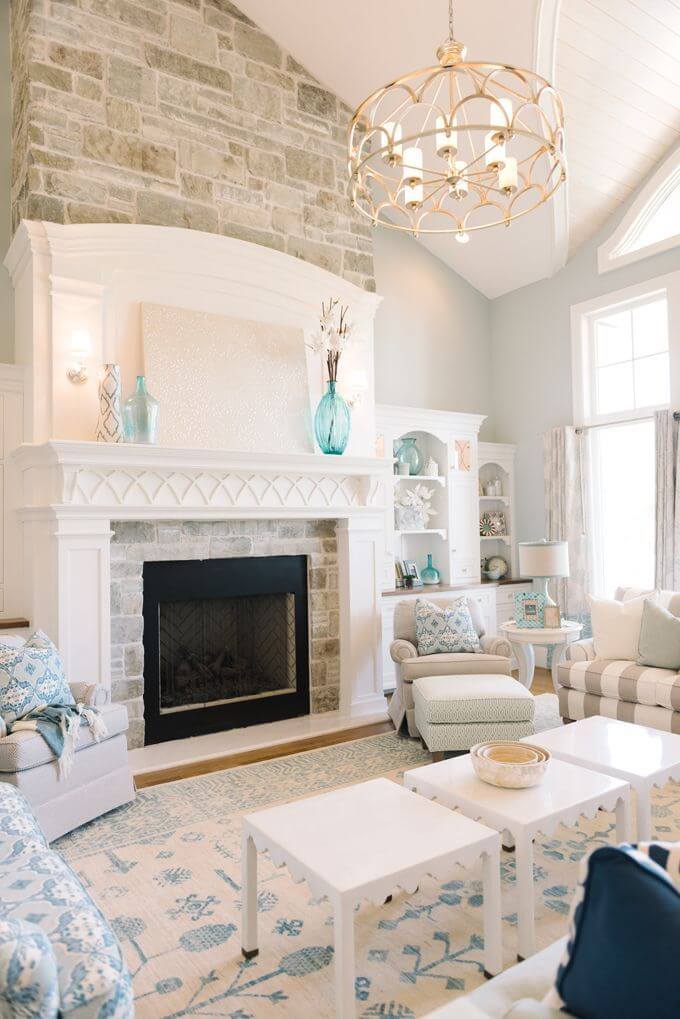 57. Rough Geometric Stone and Carved Wood Mantle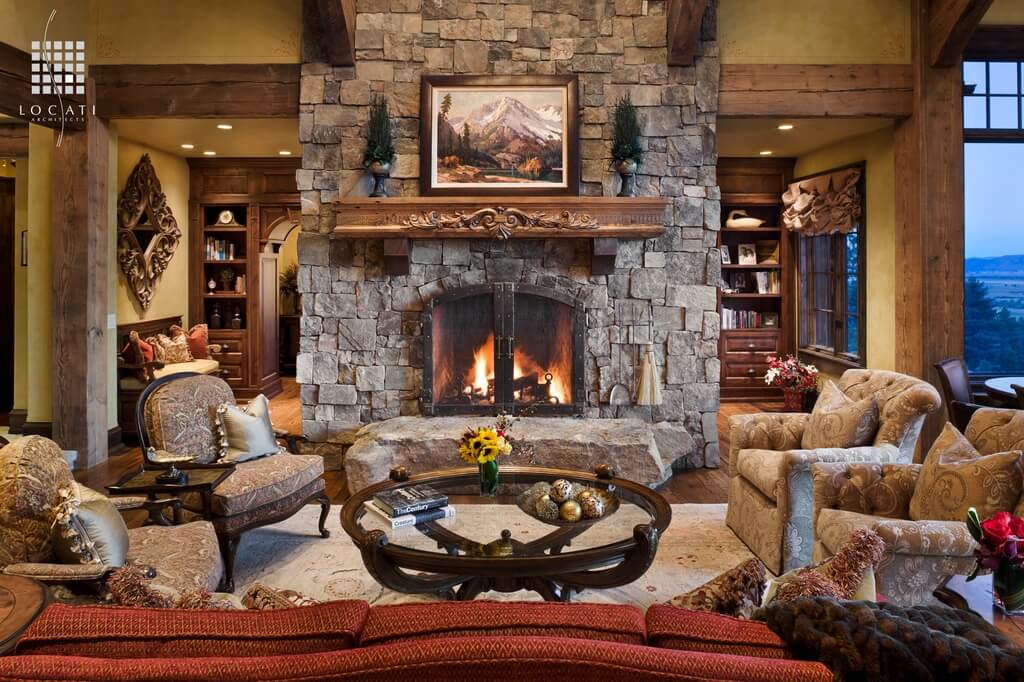 Choose Rustic Wall Decor Ideas to Make Your Home Warm and Inviting