So you have been searching high and low for stone fireplace ideas, like, everywhere. Where are all the timeless, chic, not tacky like your grandma's house ideas? (Sorry, grandma.) Well, you're in luck because we have scraped every Pinterest board and renovation blog out there to bring you 21 of the classiest, most modern and easy stone fireplace design ideas around.
21 Breathtaking Stone Fireplaces that You will Never want to Leave

When renovating a stone fireplace, it is very important that you give it plenty of thought and planning ahead of time. That is because mistakes renovating stone are not as simple to fix as, say, painting over an unfortunate wall color. Think about what you like about your fireplace, what your overall design goals are, and consider any beautiful examples that have wowed you in the past.
You may need some basic tools to achieve a stone fireplace renovation. If you are an experienced do-it-yourselfer then this shouldn't be anything new. If not, then don't worry. Here's a quick cheat sheet…
If you're painting stone, then you'll need paint, paintbrushes, painting trays, buckets, tarps, and painter's tape. Also, if your room doesn't have great ventilation, then it's a good idea to get a face mask that can filter out the fumes.
If you're adding stone using a simpler stone product like Airstone, then some basics you'll need are stones for the interior to cover the dimensions of your fireplace, stones for the sides that have rounded edges, adhesive for the stones, and a saw or stone cutter (you can buy or rent these from a home improvement store).
If you're installing a feature like a mantel over your stone fireplace, then you'll need a power drill, screws deep enough to anchor into stone and the wall, drywall anchors (if applicable), and a level.
As always, an extra pair of hands is always a helpful home renovation accessory! Whether your home decor is modern, farmhouse, or traditional (or you're just doing the best with what you've got) you can create a stone fireplace surrounded by charming art and decor elements to make your hearth more inviting.
1. Sheer Painted Stone Fireplace Design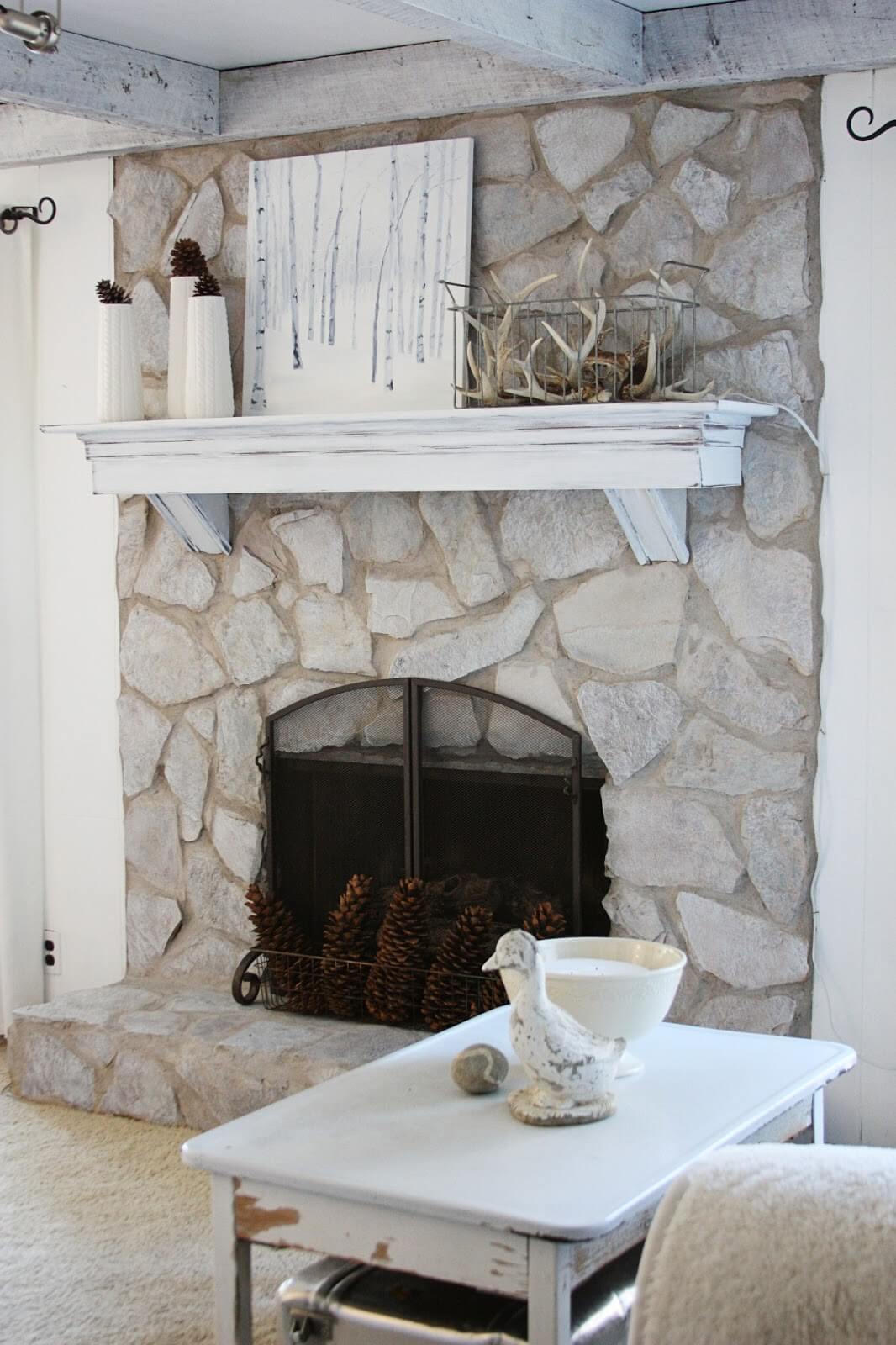 It's amazing what a little paint can do to totally revitalize your living space. This stone fireplace makeover started with darker, natural-colored stones. It's a beautiful texture, but the color looked a little dated, especially next to farmhouse decor. The solution? Paint the stones with sheer chalk paint. Not only does the fireplace now match the rest of the light and breezy farmhouse theme, but it also makes the entire space look bigger! We love any home update that makes a room feel more spacious without having to add square footage. Using a sheer paint formula is key so you can keep a touch of the original color. That keeps the whole fireplace from looking monochromatic. You can also build sheer paint which is good because it's easier to add paint than to take it away!
2. Fresh, Bright and Transformative Fireplace Decor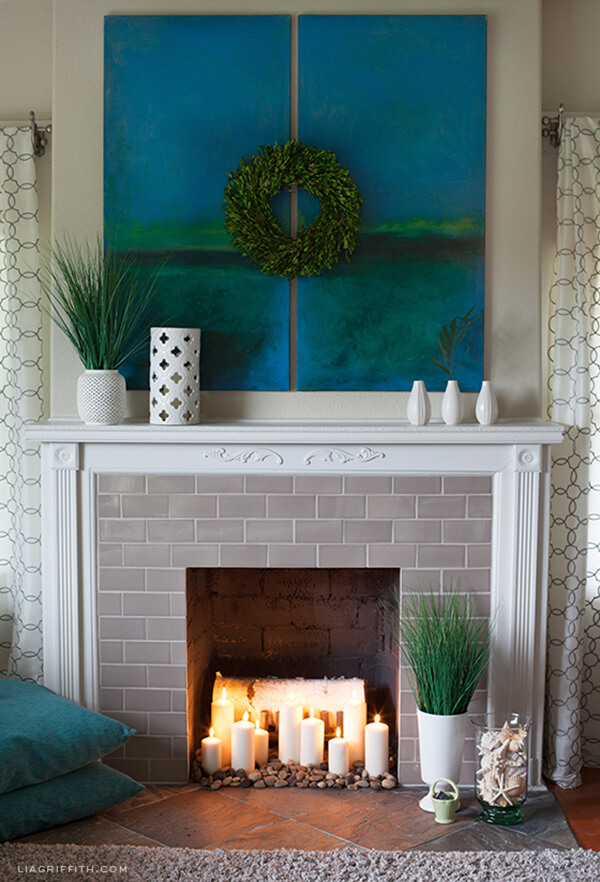 Do you have a stacked stone or exposed brick fireplace that feels a little "meh"? Color to the rescue! A bold piece of art and a couple of pops of textured decor like greenery that pull out the color of the artwork will make your fireplace feel brand new. The great thing about stones and light-colored brick is that they're neutral. That means they go with just about anything – so the sky's the limit! This idea combined glossy the clean lines of glossy white vases with rich blue and green artwork and a sprig of greenery here and there. The result is modern and fresh.
3. Painted Whitewashed Stacked Stone Fireplace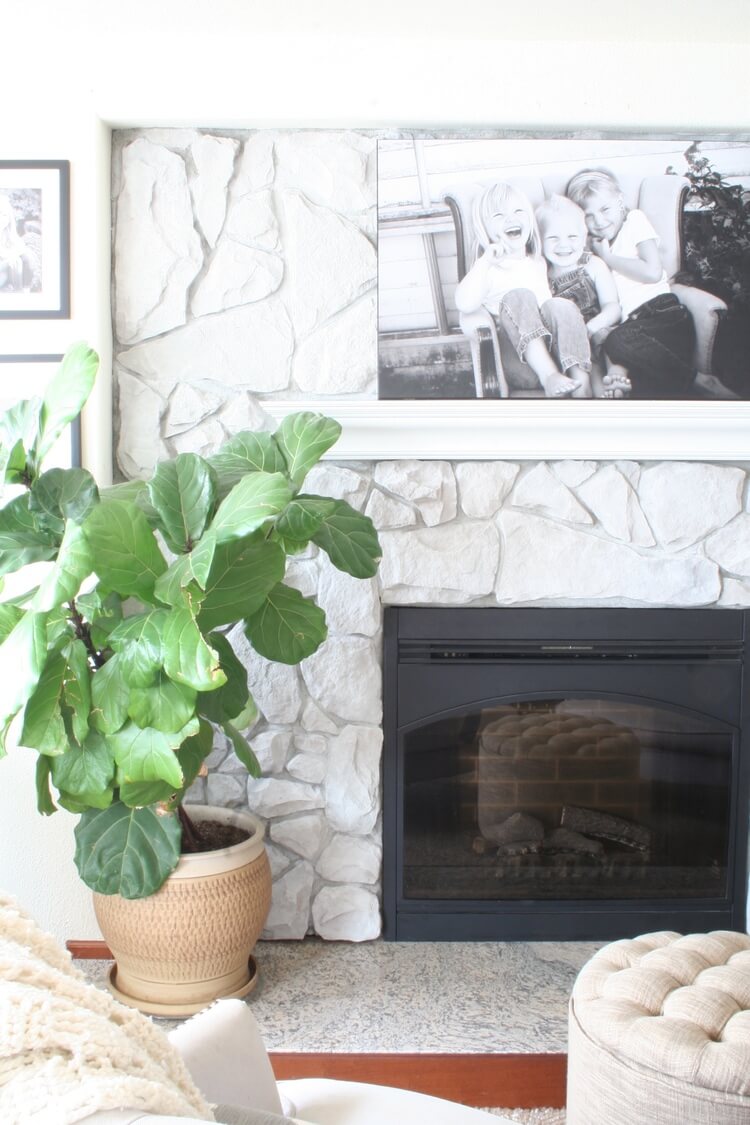 Sometimes a fireplace design can feel dated or cumbersome. When a home is built with a floor-to-ceiling stacked stone design around a fireplace, it can feel like an inescapable design choice that's too expensive to renovate. Fortunately, there's another way you can change the look of a dark, dated stone fireplace. Grab your paintbrushes! Try painting your stonework the same color as your walls. It completely changes the look of dark stone without sacrificing the interesting textural element. This is a quick, affordable solution that has the visual impact of a major renovation.
4. Modern White Stone Fireplace and Hearth Makeover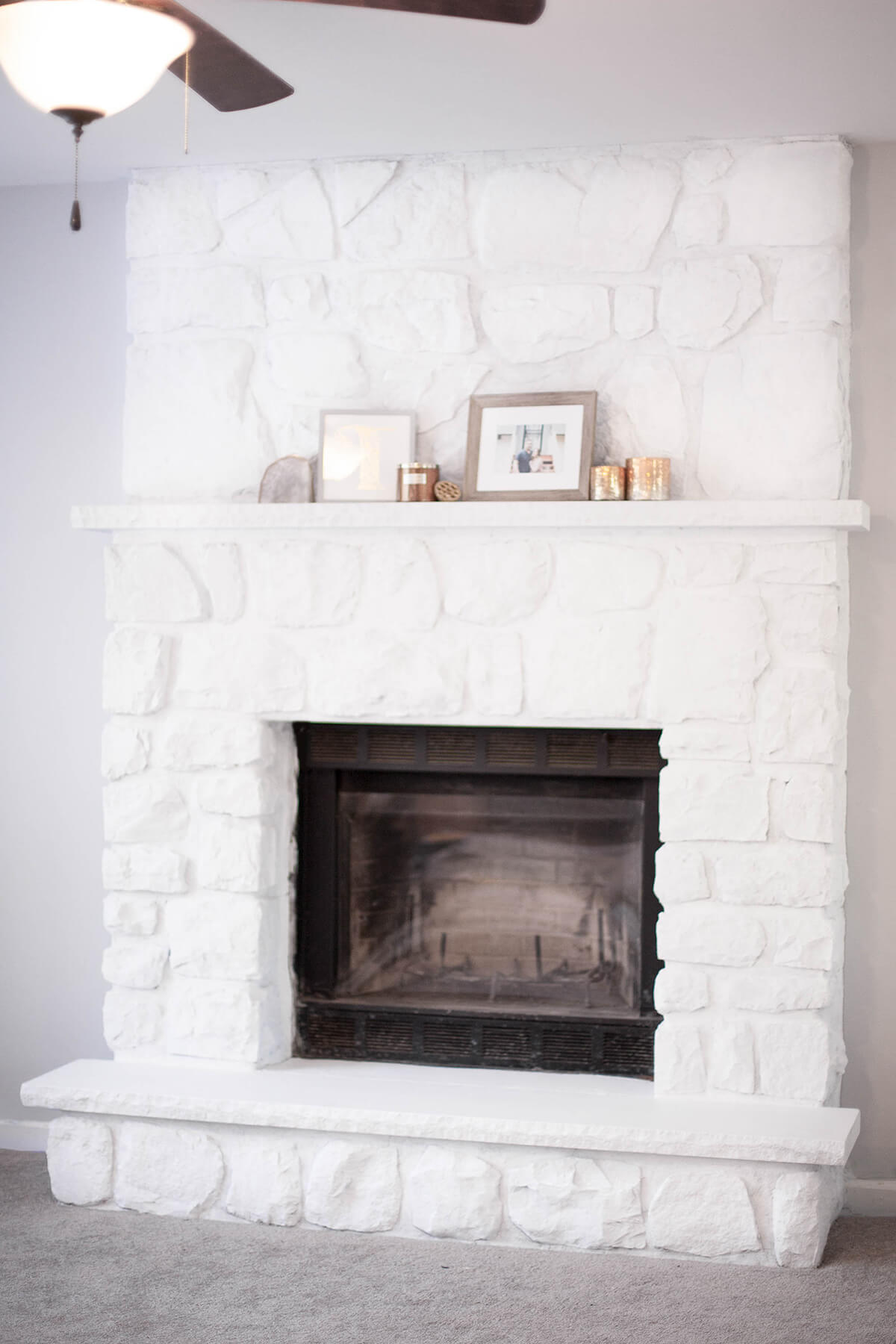 Many fireplaces extend from the wall. That can mean that not only do they break up visual space with a different texture and material, but they come into the physical space of a room as well. If you're not jazzed about how your fireplace looks, that's like salt in the wound! Painting a stacked stone fireplace is a very effective way to solve this problem. By using a simple neutral like white, it takes some of the visual impact out and creates a canvas for the more interesting elements of the fireplace, like the crackling fire and artwork and knick-knacks you might like to place on the mantel.
5. Modern Traditional Fireplace with Glossy Black Painted Mantel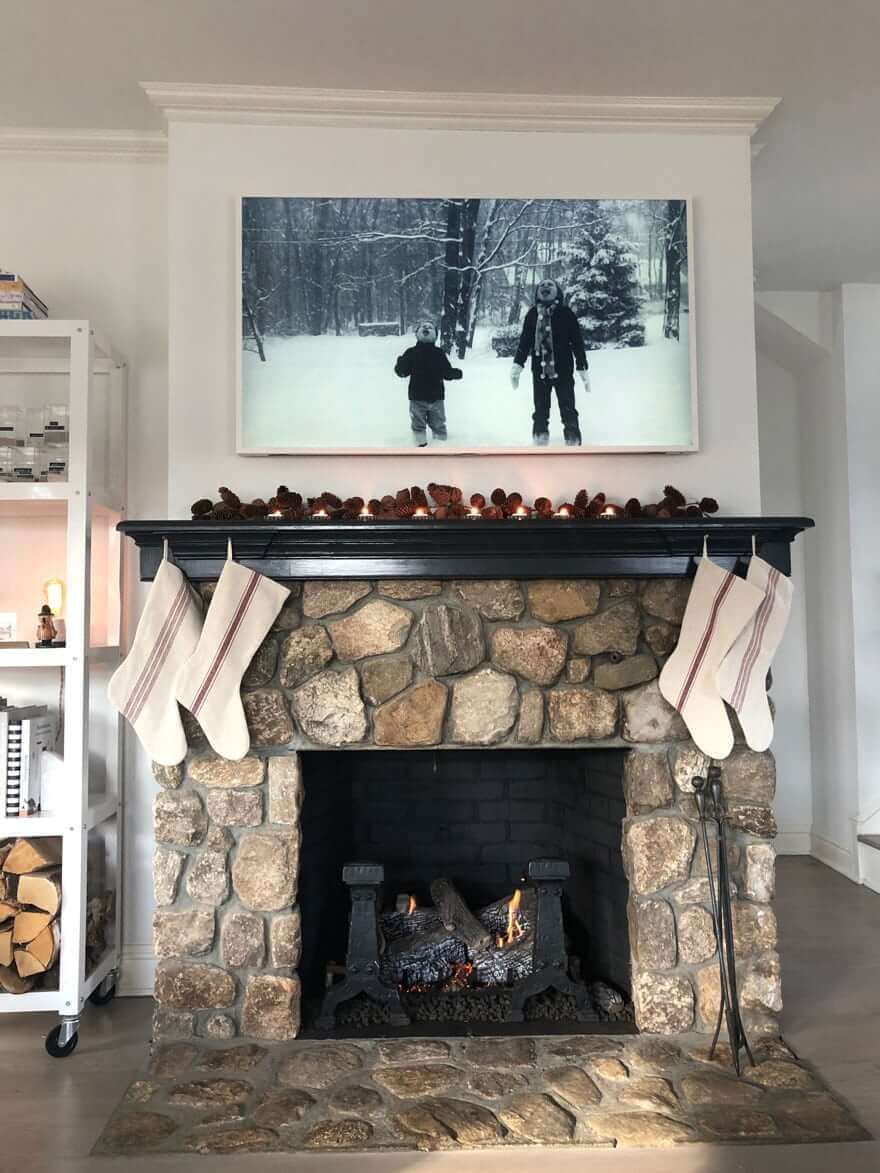 If you ask the average person about using black paint inside their home, they might look at you like you're crazy. Black isn't a color we usually think of when it comes to interior paint, but this chic and easy update has us reconsidering. One simple change – painting the mantel glossy black instead of white – makes the entire fireplace look new. This combination of a large black and white print and simple pine cones and candles on the mantel is effortlessly chic and timeless. It doesn't take away from the home's traditional feel at all, it just makes it feel updated.
6. Impressive Rustic Stacked Stone Floor-to-Ceiling Fireplace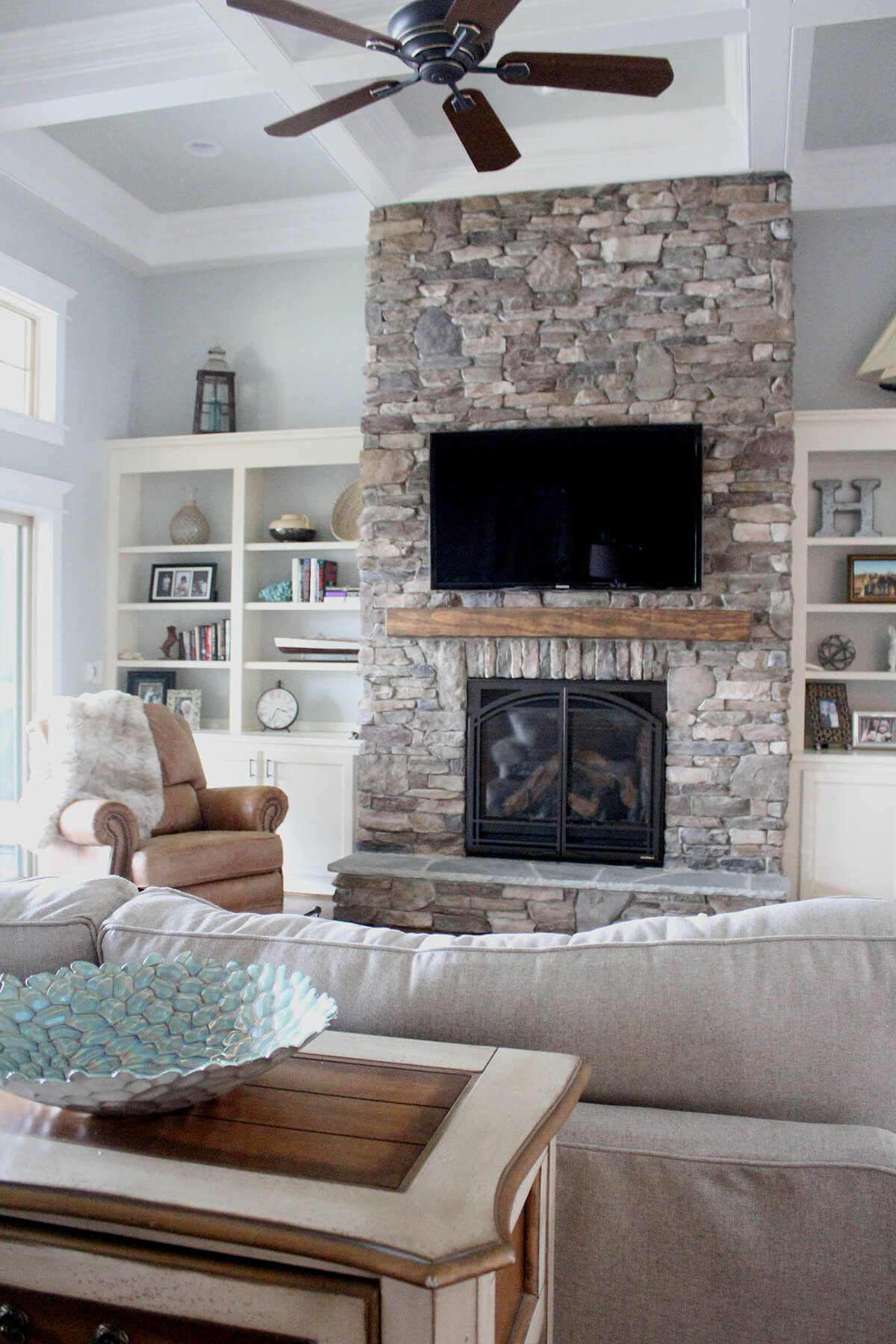 Um, wow! That is one handsome fireplace. If you're lucky enough to be picking and choosing your own stone fireplace design from scratch, there are lots of ideas for you here! The use of uneven stones makes the entire design feel rustic and outdoorsy. The handful of vertical stones right above the fireplace itself also adds some visual interest and breaks up the lines. A rustic stained wood mantel is the perfect complement to the rest of the stones. Is there anything better than a stone fireplace surrounded by two lovely bookcases? This design is proof-positive that you can incorporate heavier elements like stone and unfinished wood into fresh, light color schemes.
7. Lighten Up with Mirrors and Painted Stone
This is a perfect home decor hack for anyone with limited space. Light colors plus reflective surfaces equal larger than life decor! Have you ever been to a restaurant or even a place like a yoga studio where there's a large mirror on the wall? It instantly makes the space look bigger than it actually is. Combine that with a fresh coat of light gray or white paint on your stone fireplace for a little more breathing room in your home. Give this neat visual trick a try and let us know what you think!
8. Dramatic Modern Charcoal Gray Fireplace Wall De-Cluttering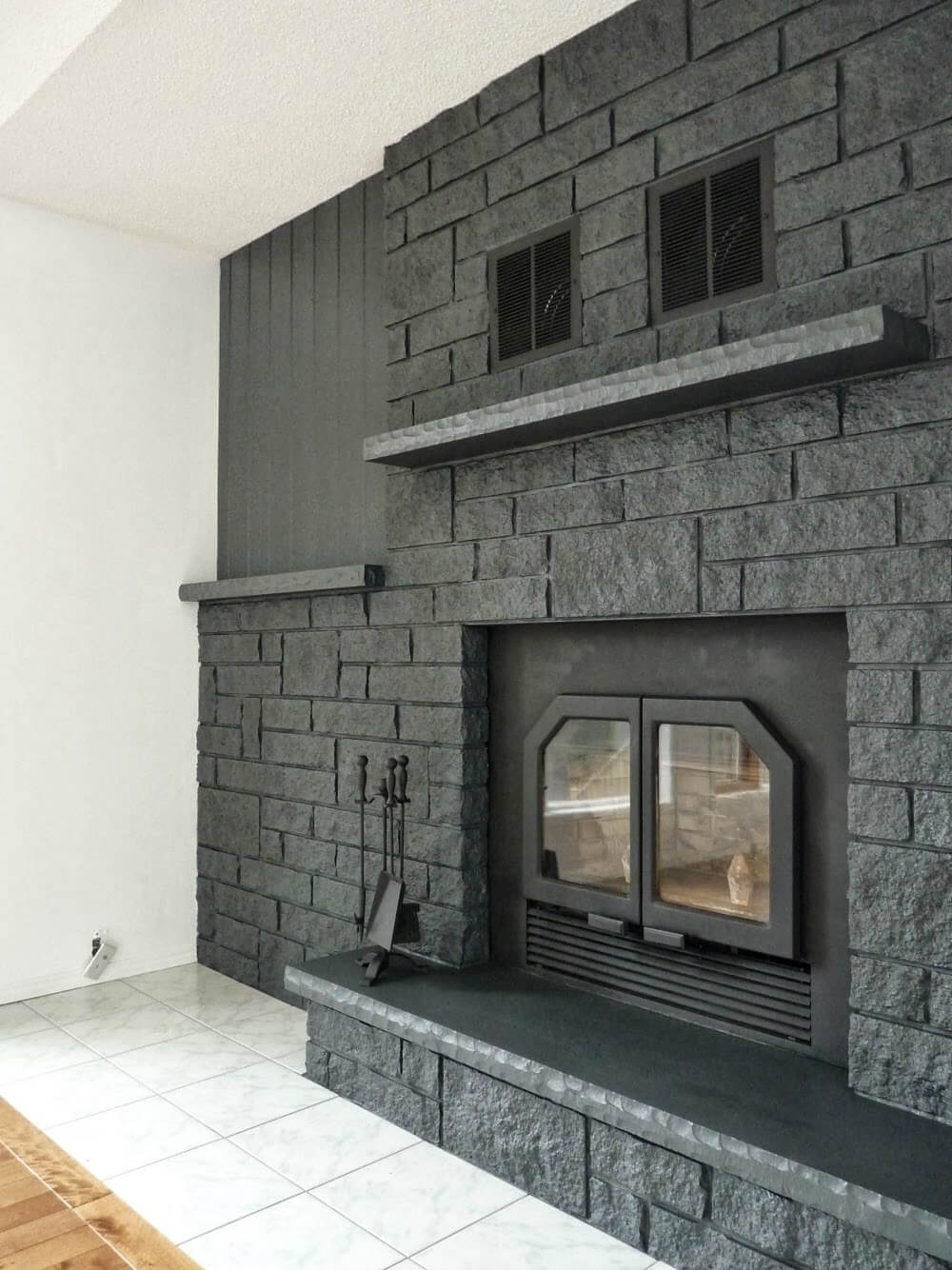 Occasionally you'll come across a fireplace with a lot going on. Stone, wood paneling, metallic fixtures, contrast painted storage space…the whole thing can start to feel cluttered quick. An amazing and stylish solution is to go monochromatic. This genius makeover took a mishmash of multicolored stone, wood paneling, and gold air vents, and turned it into a chic statement wall but painting the whole thing charcoal gray. A dark color like that is a bold choice, but just look at the final result! When the rest of your space is natural neutrals like white and wood, it's perfect!
9. Gorgeous Painted High Contrast Stone Fireplace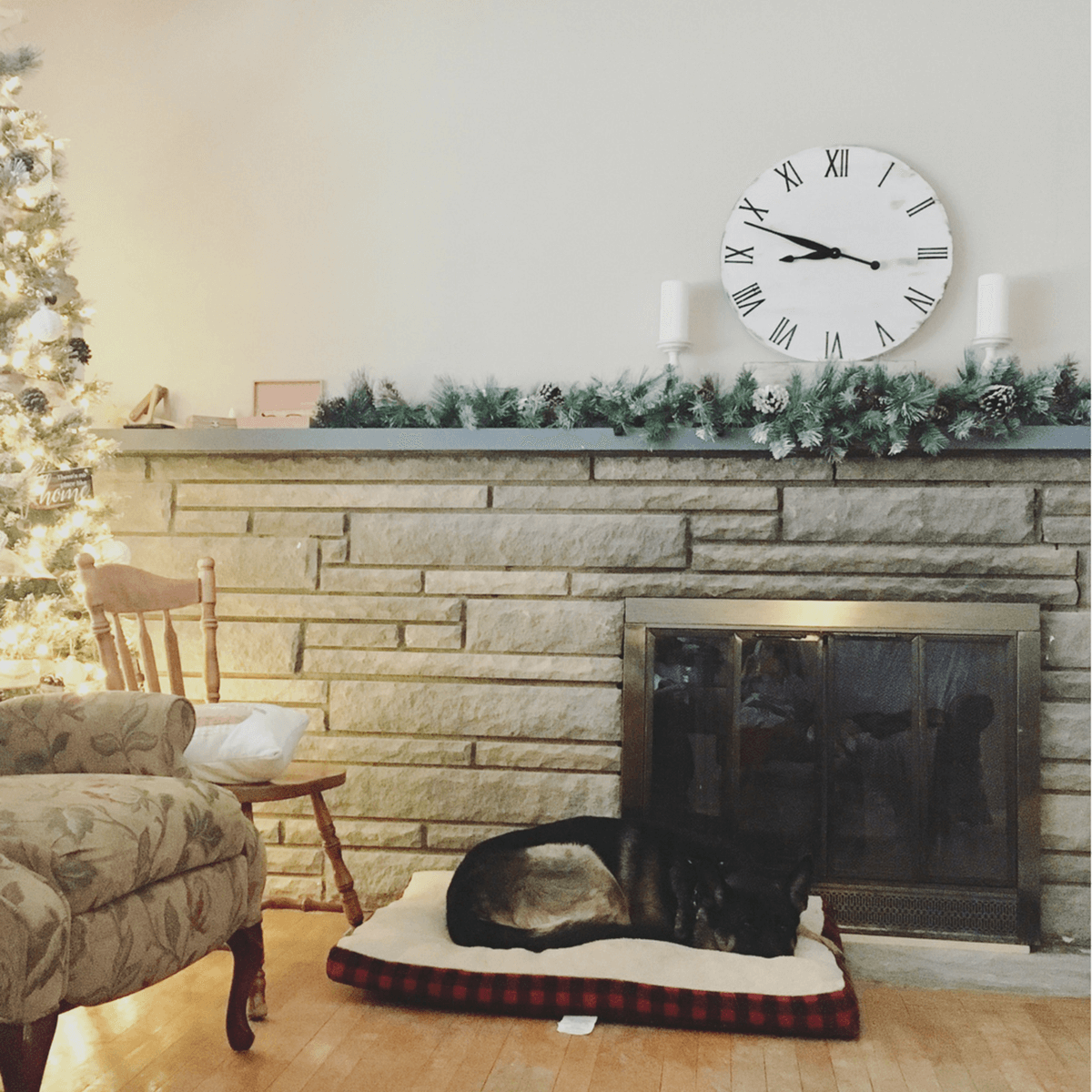 Have you fallen out of love with the color of the stone around your fireplace? Let this fireplace makeover inspire you! Using a diluted paint let a little bit of the color gradations and all of the texture shine through so the stone is just a couple shades darker than the rest of the wall. This is so beautiful in a high-contrast to a dark mantel and slick black fireplace doors. Keep all the visual interest of stone and make it any color you choose! It doesn't have to be neutral, you can try different shades or even bright hues – follow your heart and your eye!
10. Favorite Painted Neutral Stone Fireplace Renovation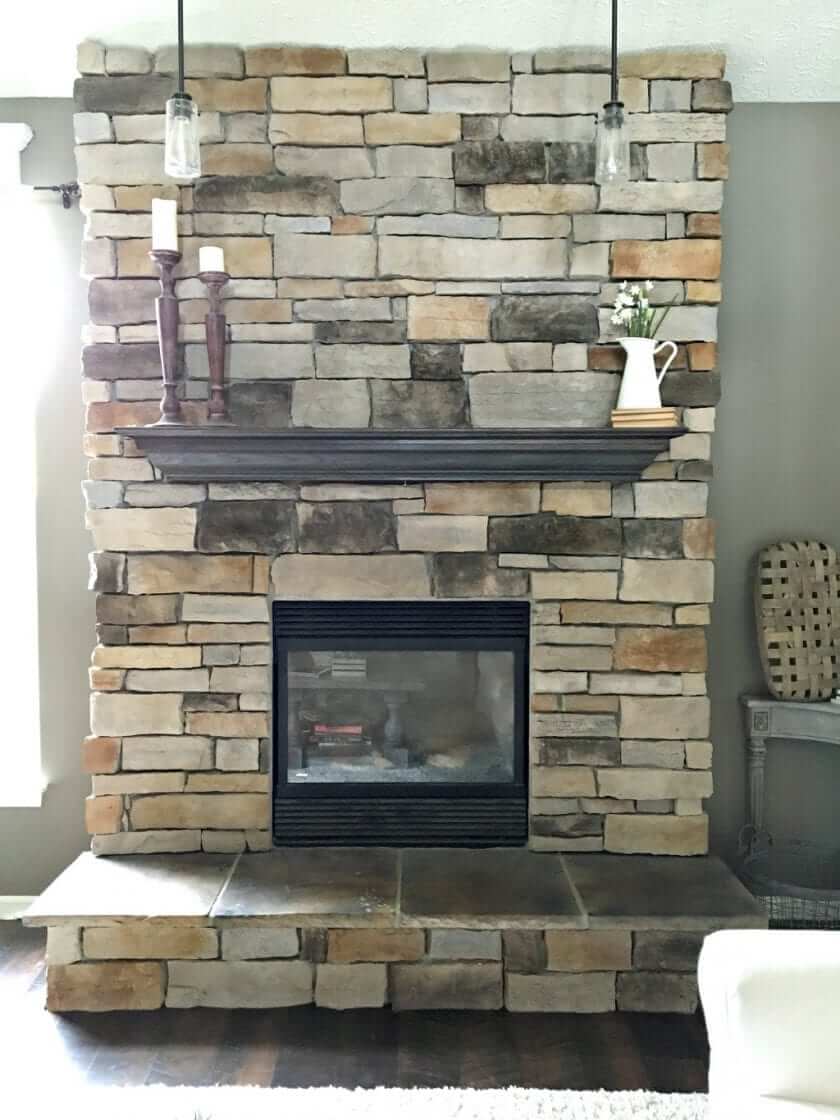 When one color is calling to you more than all the others in your stacked stone fireplace, then it's time to get a paintbrush and make that change! Stone doesn't have to be left alone. You can paint it whatever color tickles your fancy. A multicolored stone wall has a certain look to it that's more rustic and natural. If your style aesthetic is more modern or minimalist, then you may prefer painting all the stones one uniform color. You still get that awesome stone feel, but the visual has more of a sleek simplicity that you'll love.
11. Retro Rescue – Update 70's Style Stone Wall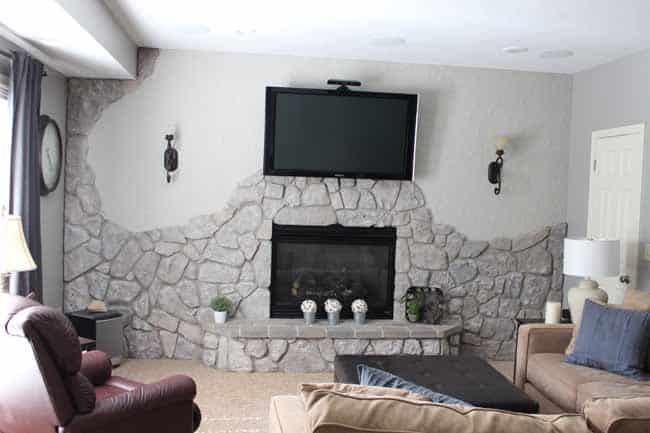 The wrong stone can set your decor back decades. Fortunately, the right paint can fix the problem. Whether you've got a small stacked stone fireplace or a whole wall of the stuff, this is an easy fix that just about anybody can pull off. All you need is the right shade of paint, an open window, and a little patience. For some reason, certain shades of stone can look like they came right out of the Brady Bunch house. Using water-diluted paint with a quick dab of a painters cloth to let the natural color peek through a tiny bit will have you loving your stacked stone again in no time.
12. Amazing Stone Fireplace Mantel Idea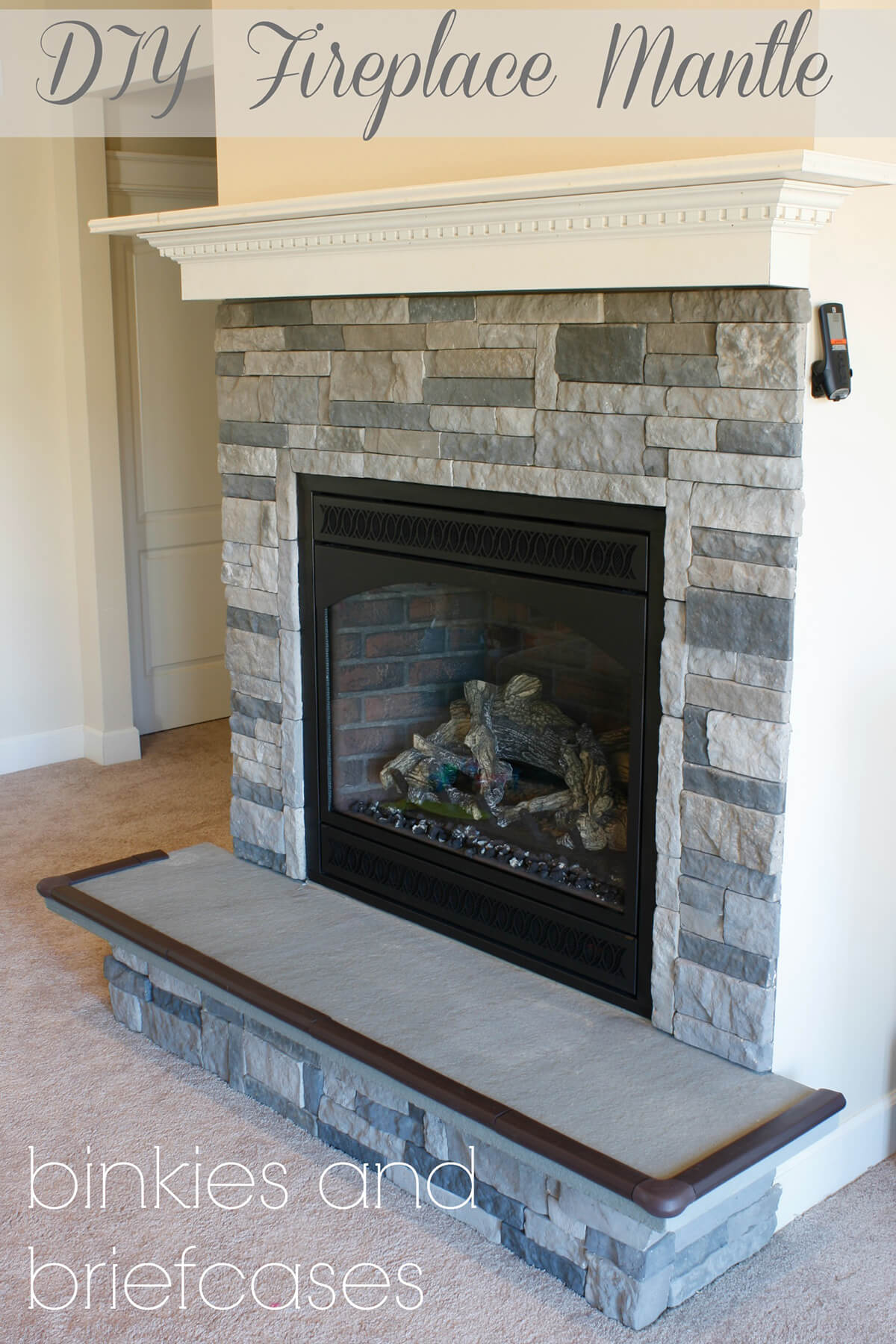 Are you a brave do-it-yourselfer? If so, may we suggest this awesome project to create a stacked stone mantel out of a plain fireplace? Stonework doesn't have to be professionally set into the wall. It can be as easy as tile work – just vertical instead of on the floor! Living rooms with white wall syndrome (an over-abundance of plain white walls) can get a nice focal point with the addition of some simple stone. We love this collection of gray hues for a neutral "goes with everything" color palette that still adds some interest to the mantel. Topping off the highest line with crown molding adds an extra touch of sophistication.
13. Demolition-Free Airstone Fireplace Home Renovation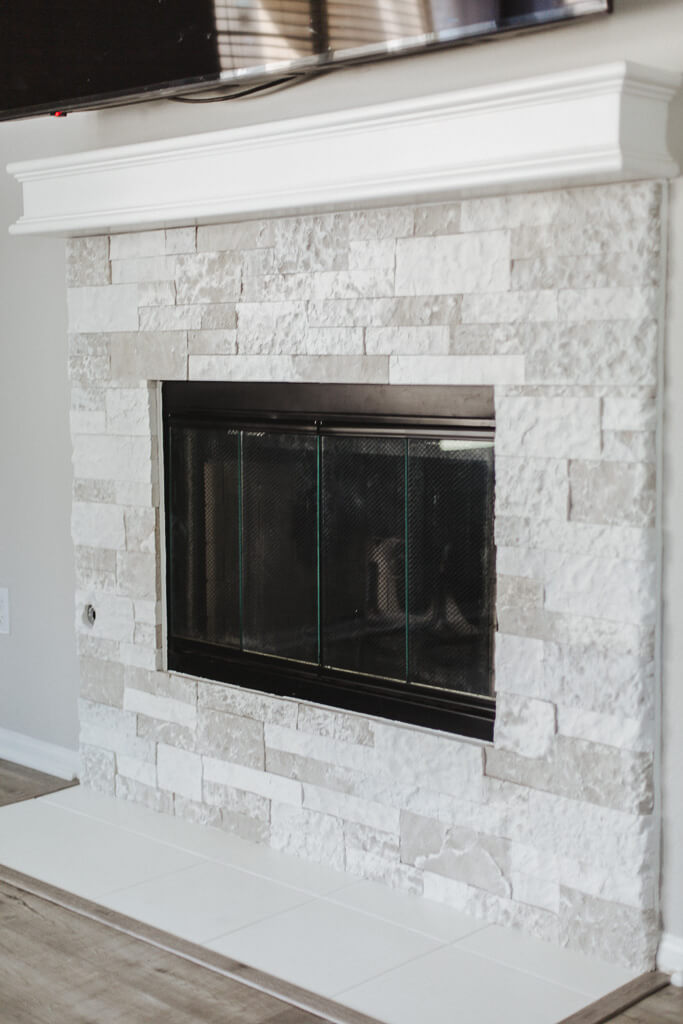 Airstone is a cool easy-to-use product that can be applied over just about any wall surface. It's the perfect solution to add stacked stone to a fireplace without having to do a whole renovation. No walls were harmed in creating this stacked stone fireplace! 🙂 The special adhesive and low-profile stone go right onto the wall. You'll need some tools that you can rent or buy from a hardware store to get the dimensions just right, but the overall process is surprisingly easy.
14. Cozy and Rustic Fireplace Mantel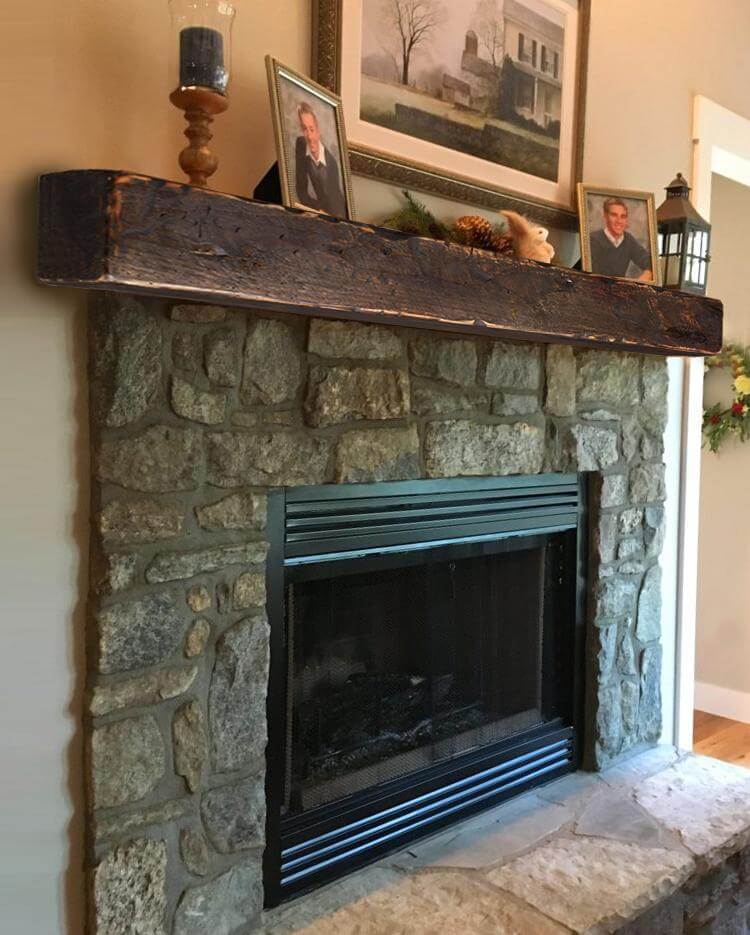 There's something about the combination of stones and deconstructed wood that's timeless makes us feel equally like we're somewhere cozy and familiar and glamping in a chic cabin all at once. If you have a stone fireplace that feels a little unfinished, the simple addition of a rustic wood mantel can make all the difference in the world. It will bring in a new, rich color and give you a place to add a little more of your own personal style a-la photos and small pieces of decor.
15. Modern Farmhouse White Stone Fireplace with Mahogany Accents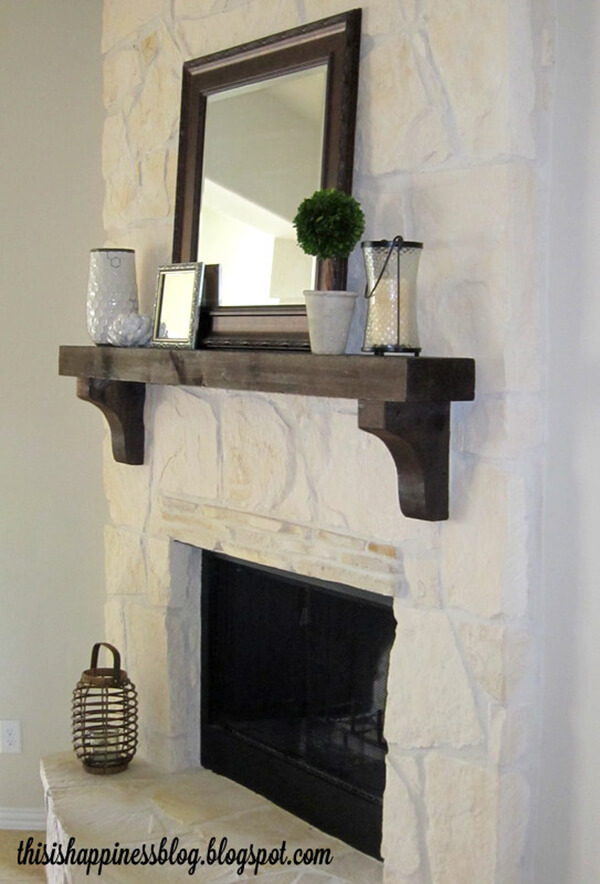 Farmhouse decor is like the gift that keeps on giving. There are so many beautiful ways to achieve that look! You can really make it your own, and this white stone fireplace is no exception. The contrast between the floor-to-ceiling white stone and the rich mahogany finish on the wooden mantel is breathtaking. This is truly farmhouse minimalism at its best. Just a couple of simple accents like a framed mirror and clear and white antique glass pieces are all you need for a stunning living room visual. This stylish fireplace idea will make all the neighbors jealous.
16. Multicolored Floor to Ceiling Airstone Fireplace Renovation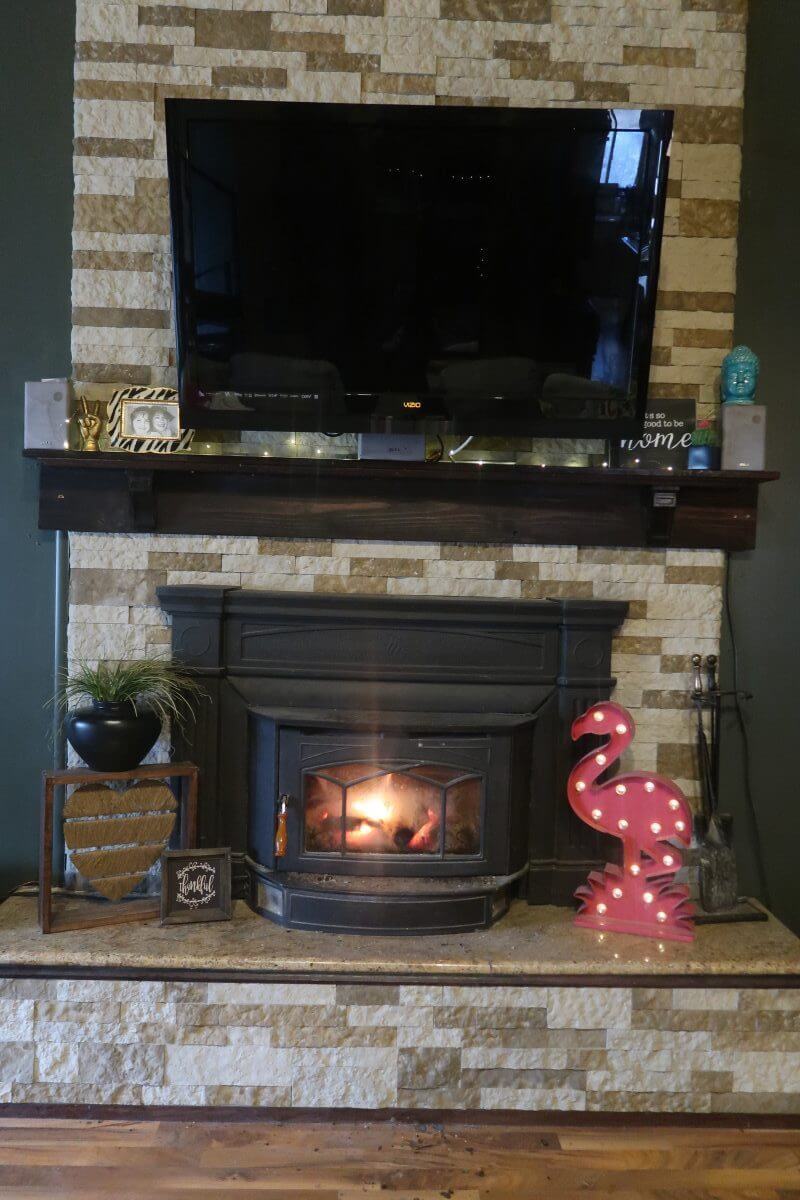 It's back! Airstone to the rescue of another bland fireplace. This time the Airstone has some brown and sand-colored pieces in the mix for a more eclectic look. Trading in tile for Airstone completely changes the look of the wood-burning stove and the hearth! What looks washed out with a tile background has structure and contrast with Airstone and a black floating mantel. This is one of the simplest, most stylish ways to achieve a stacked stone look in your home.
17. Farmhouse Style Mantel Artwork for Your Fireplace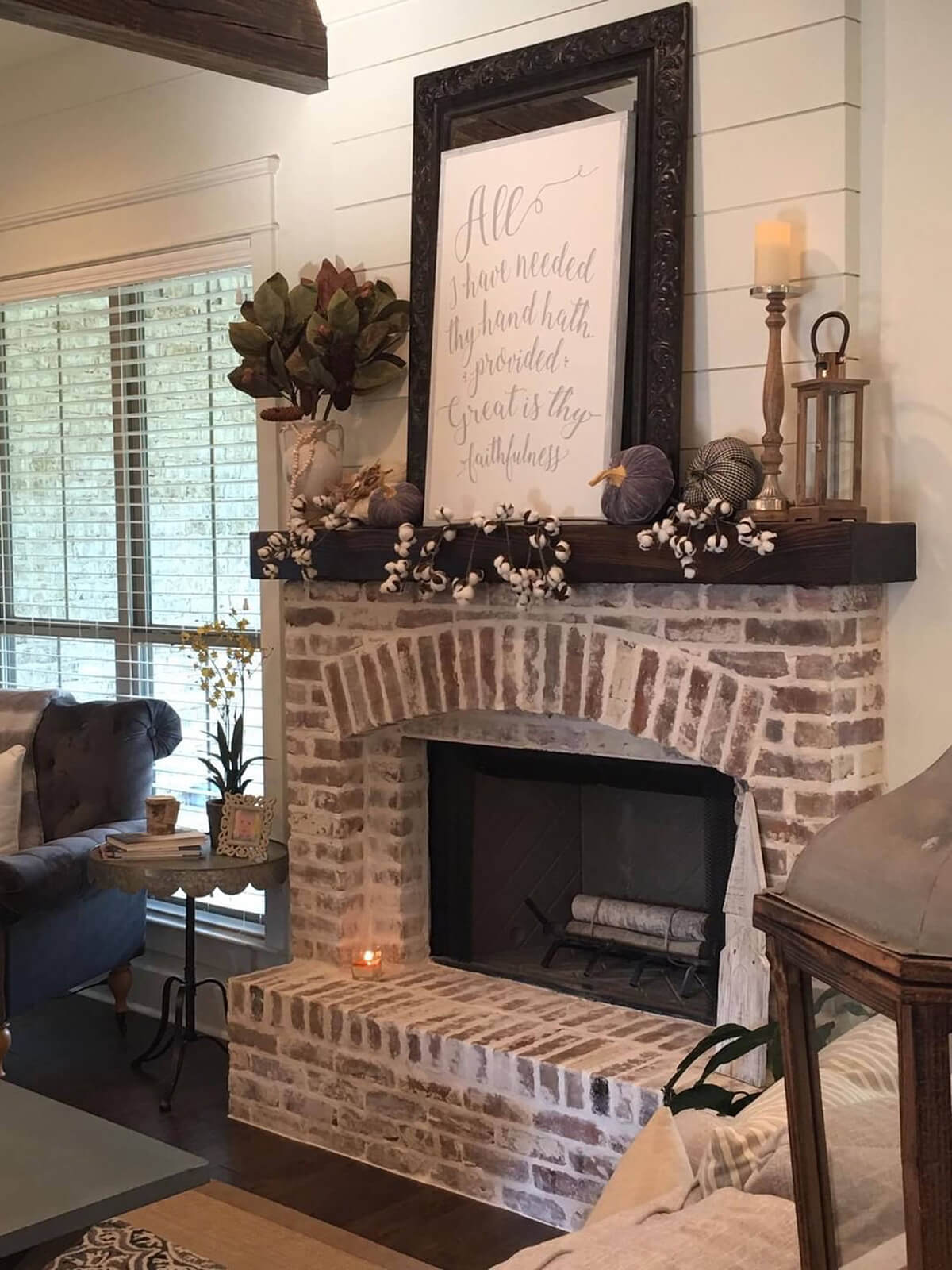 What can make your fireplace even cozier? A hand-painted work of art with an inspirational message. The classic neutral farmhouse style palette and a cute hand-written quote make this hearth feel like home. You can rest it on the mantel and let it lean slightly against the wall, or hang it up like a statement piece a few inches above.
18. Shelves with Perfect Lighting to Frame Your Fireplace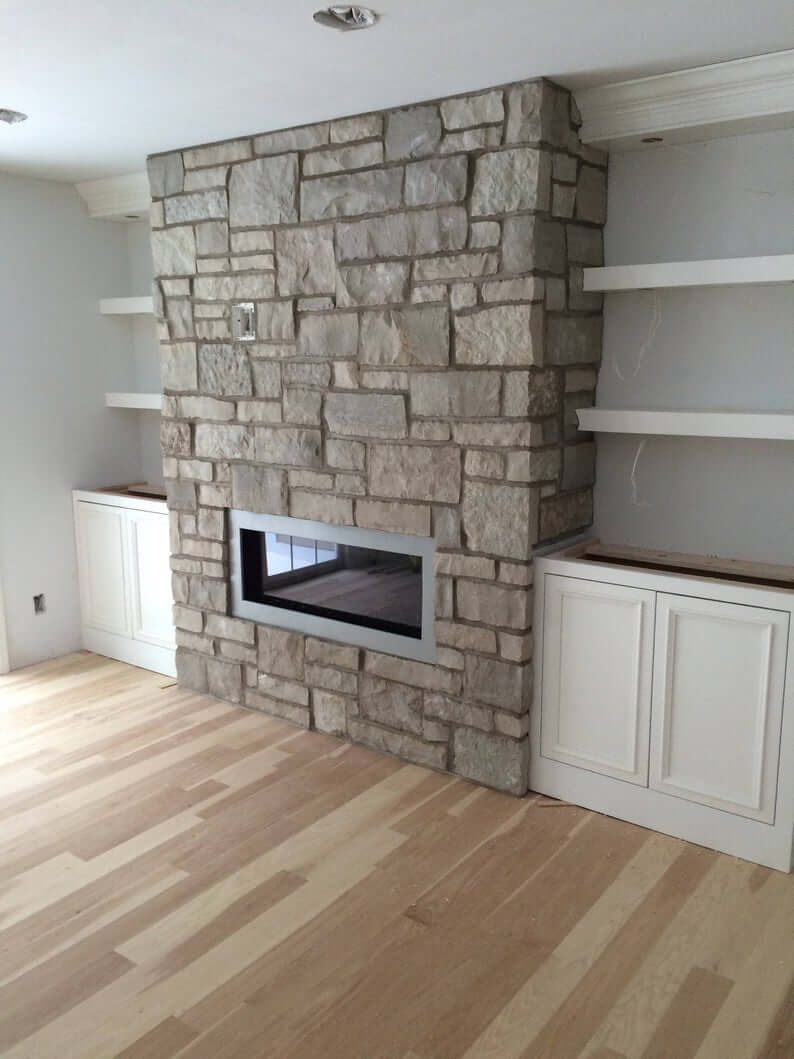 A stone fireplace surrounded by bookshelves is a beautiful thing. It has a symmetry and simplicity that can't be beat! These floating shelves have a contemporary look, plus LED lights. The warm light cast from the shelves illuminates any books and decor you have and compliments the glow of the fireplace. Choose white for a more traditional or farmhouse decor, or a darker color like mahogany or black for a more modern style.
19. Weathered Pine Large Fireplace Mantel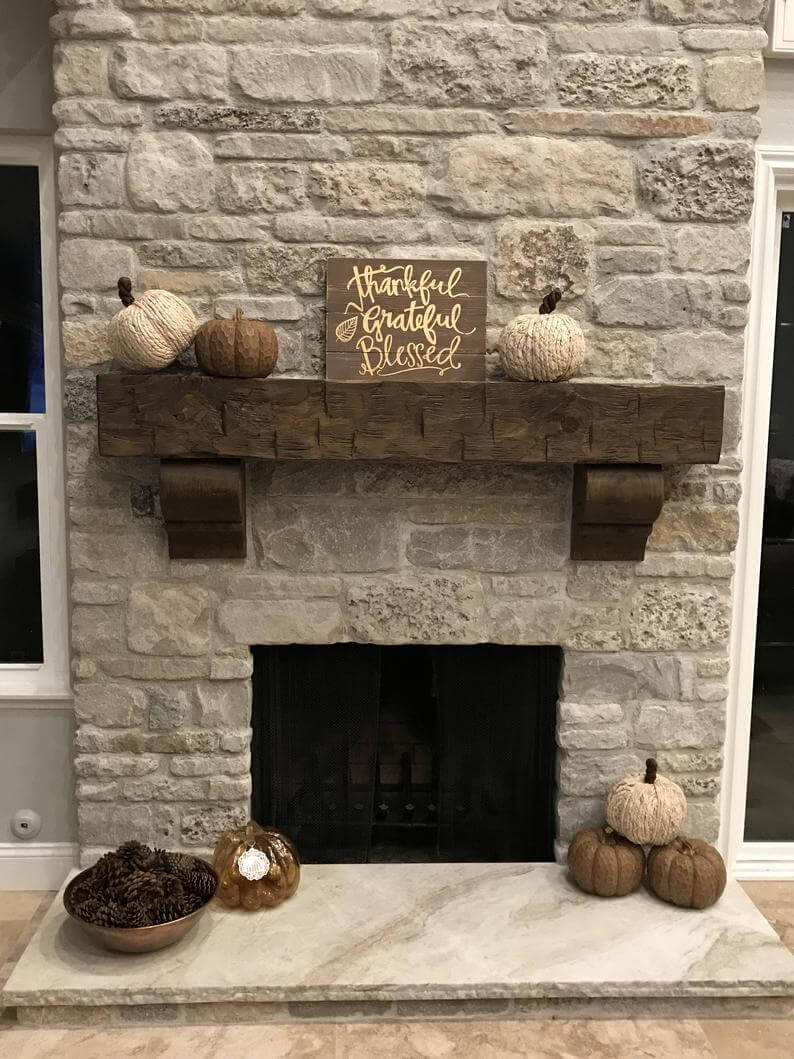 For mantels that are floating within a stacked stone wall instead of framing it at the top, a rough-hewn textured wood is just right. Wood pairs nicely with the texture of stone, so leaving it a little worn and weathered fits right in! We love how big and bold this pine beam mantel is. It really commands the attention of the space and stands out as its own element.
20. Clever Customizable Eye Chart Artwork for Your Mantel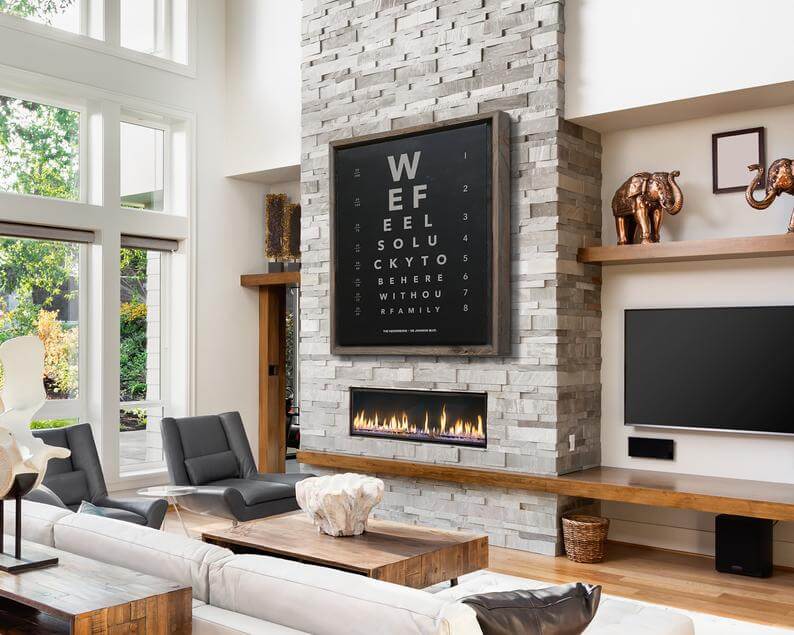 This is one of the coolest ideas we've seen (pun intended). It adds a whole new meaning to the term "focal point" when it comes to your home decor! You can hide a secret message that is only decipherable when you read it like an eye exam chart. The look is really modern and it's a cute way to give a friendly message to all your guests.
21. Adorable Farm-to-Fireplace Seasonal Wooden Mantel Sign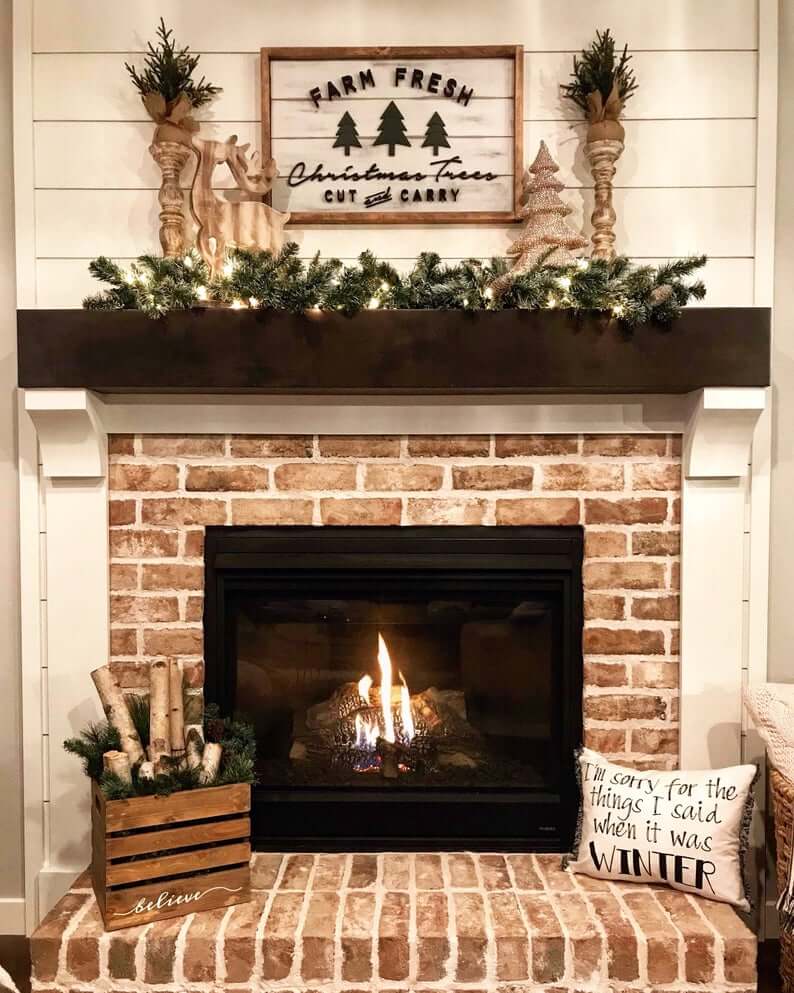 How cute is this sign?! It's classic farmhouse chic Christmas decor. It has the feel of an antique sign but looks modern and fresh, too. We love the natural holiday color palette of white, green, and wood. This is a perfect piece of decor to feature on your fireplace mantel for the holiday season.
21 Stone Fireplace Ideas that will Make Your Space more Inviting
Of all the ideas here, painting your stone fireplace is probably the easiest, fastest, and most affordable update. To take it a step further, add a new mantel or some updated artwork around your fireplace. Go all-out by framing your stone fireplace with floating shelves, or adding stone to your fireplace for the first time! You can print ideas and pick up swatches from your local home improvement store to get the vision for your renovation before diving in.
This is the perfect time of year to update your fireplace in time for holiday entertaining. Changing the look of a stone fireplace with color, a new mantel, or creative artwork is a wonderful way to dramatically impact the look of your living space without a full-out renovation. We hope you find inspiration and motivation in this collection of home design ideas for your stone fireplace.
Our Favorite Rustic Chic Decorations to buy on Amazon