As the weather starts cooling down and the leaves begin to change, it's time to bring out your fall decor. It helps set the mood for the autumn and creates a welcoming presence for family and friends. If your front door is looking a bit bare, adding a wreath is definitely the way to spruce it up. These DIY Fall wreaths will get your imagination going.
20 Fabulous DIY Fall Wreaths to Greet Your Guests in Style

If you like the traditional colors of autumn, there are plenty of ideas. Rich shades of brown, red and orange abound. However, if you want to mix things up, you will find DIY Fall wreaths in shades of purple, grey, green, yellow, and pink. Natural textures find their way in the form of grapevine wreaths, bundles of wheat, and dried pukta pods. You can mix and match ideas to create your own unique autumn front door decor.
Don't think that all front door displays have to be circular. How about a double spray of Pampas grass instead? Or a deer antler with flowers? An oval wreath also works. These ideas will show you inspirational ideas and give you direction on what you display on your front door this fall. Which ideas do you like best?
1. Canning Lids Transform into a Colorful Wreath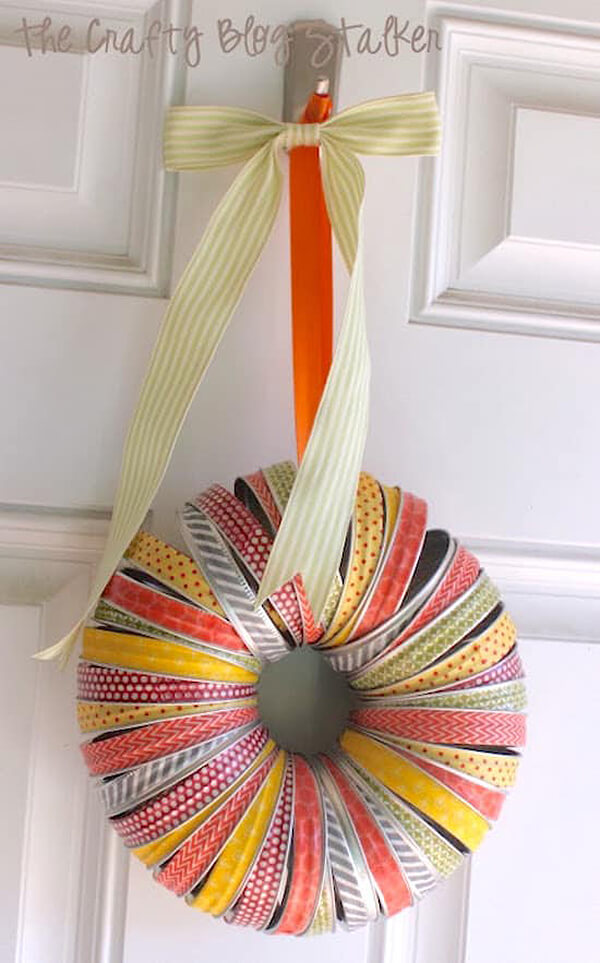 Metal canning lids are the last thing you think of when dreaming of DIY Fall wreaths. However, with a bit of decorative tape and a strand of ribbon, you have an eye-catching wreath that will give your door a unique and colorful display. You can mix and match the decorative tapes to create your own unique wreath.
2. Simple Yet Spectacular Fall Bloom Wreath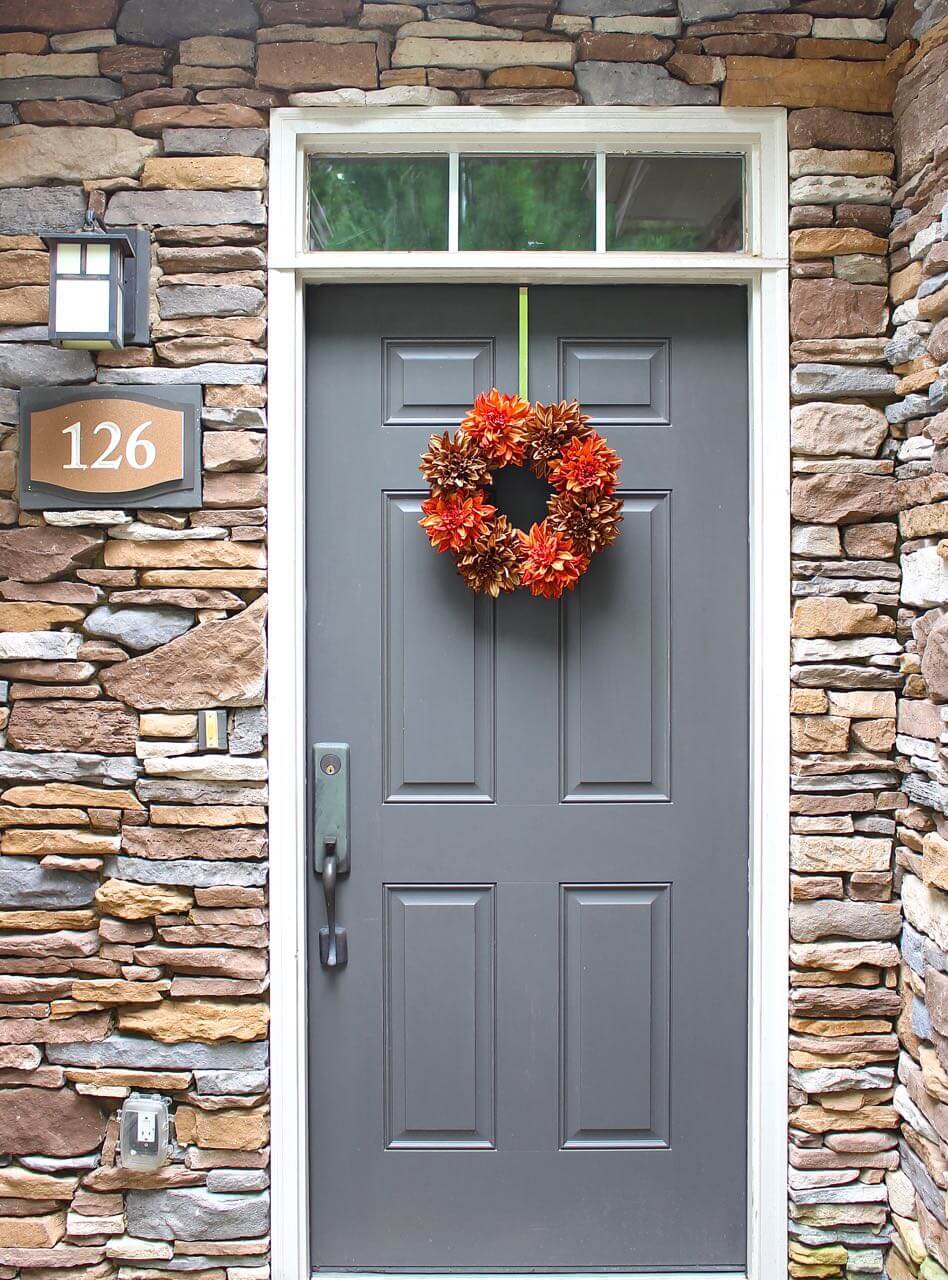 Fall flowers with big blossoms make the perfect materials for this simple wreath. Take a walk around your garden or the flower section in the craft aisle. Autumnal colors of orange and brown abound. Those blossoms, whether live or faux, are ideal for decorating your front door. A few large blooms arranged in a circle creates this simply spectacular garland.
3. Coffee Filters and Cinnamon Scented Pine Cones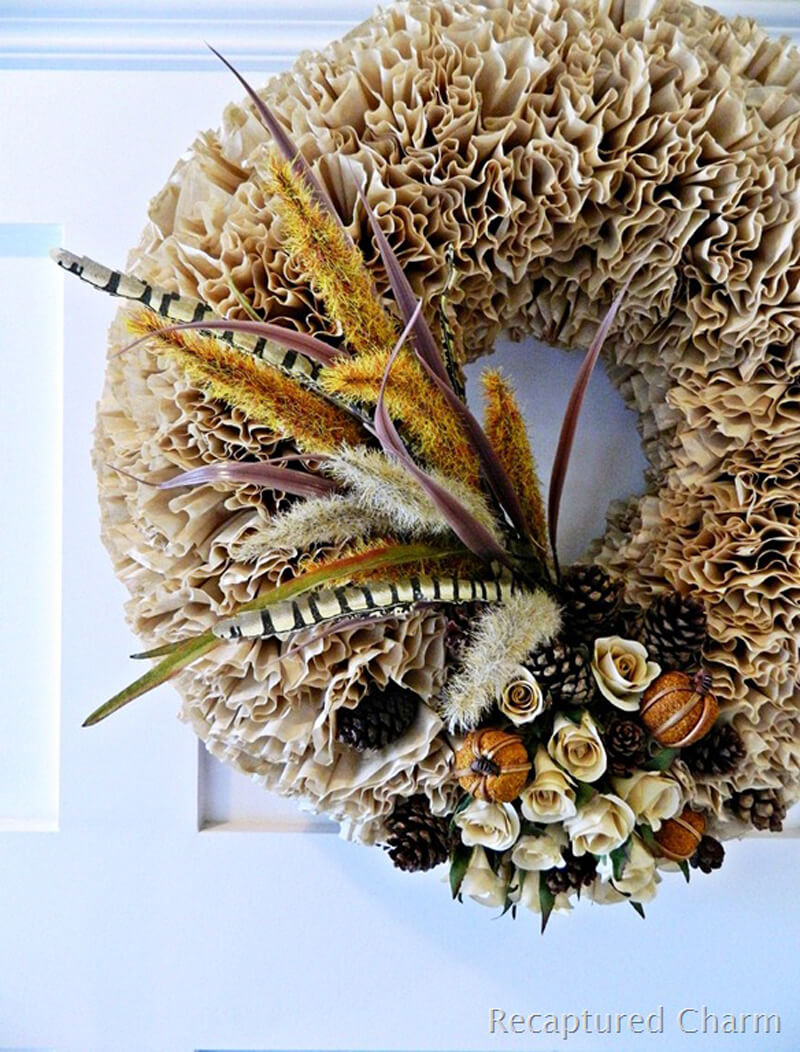 Natural, unbleached coffee filters provide a soft neutral base for this front door decoration. Crumpled to create ruffles, these filters form the body on which the decorative accessories sit. Dried leaves, white roses, and cinnamon scented pine cones make this wreath stand out. Your autumn guests will love this festive wreath and its sweet smell.
4. Grapevine Wreaths with Flowers and Leaves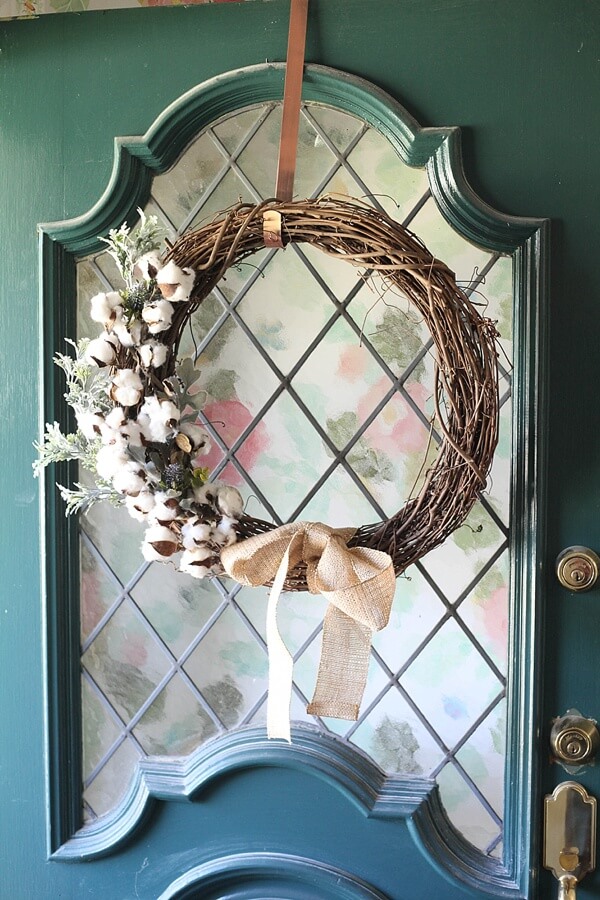 There is no reason your fall wreaths need to be festooned with pumpkins and orange leaves. A grapevine wreath offers an architectural base for leaves and flowers in any color combination. Soft cotton blossoms backed by frosty white leaves gives this wreath a soft look that works perfectly with the cooler weather outside.
5. Twig Wreath and Blowing Felt Leaves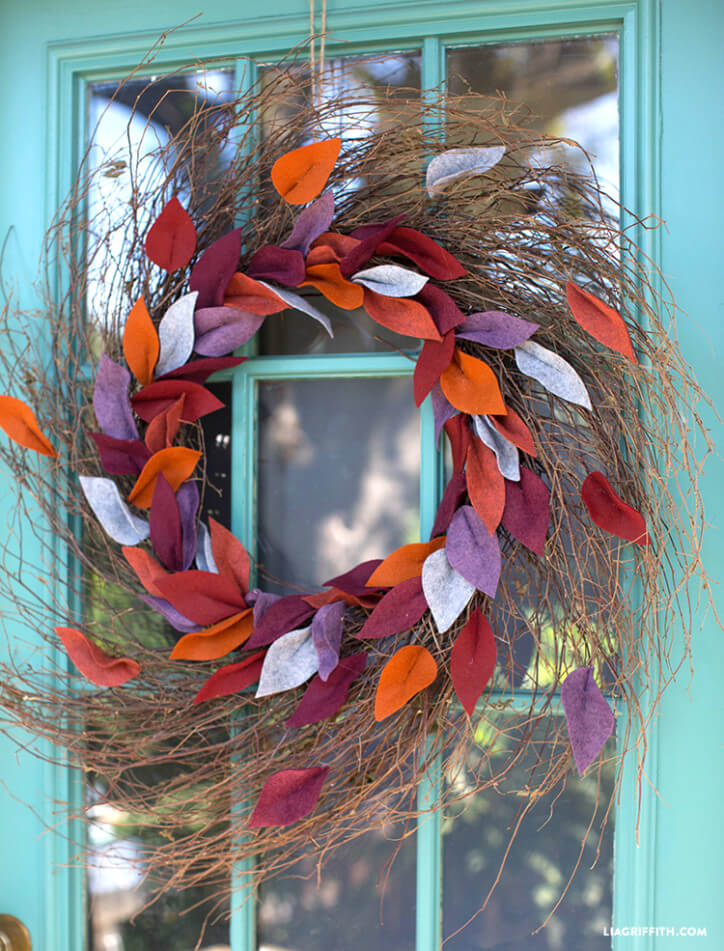 As the leaves fall off the trees, they leave behind the architecture of the twigs and branches. This twig wreath creates a solid foundation for this colorful circlet of felt leaves. Pick your felt colors to match your autumnal theme. Reds and oranges are traditional, but a bit of purple and grey goes a long way.
6. Pumpkins Berries and Plenty of Colorful Leaves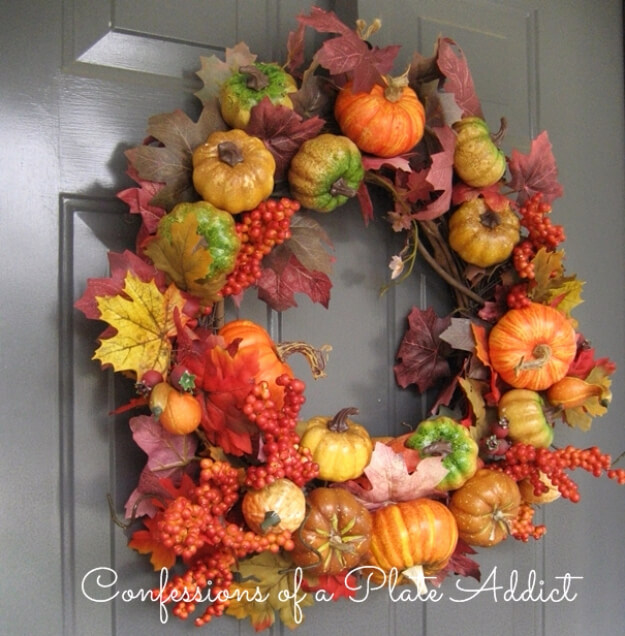 The warm colors of autumn really stand out in this front door display. Made with a grapevine base, this wreath starts with a long strand of leaf garland, which you can see circling the outside. This colorful background creates the perfect frame for the multi-colored pumpkins, gourds, and berries up front. A truly splendid display for autumn.
7. Make Your Fall Wreath Monogram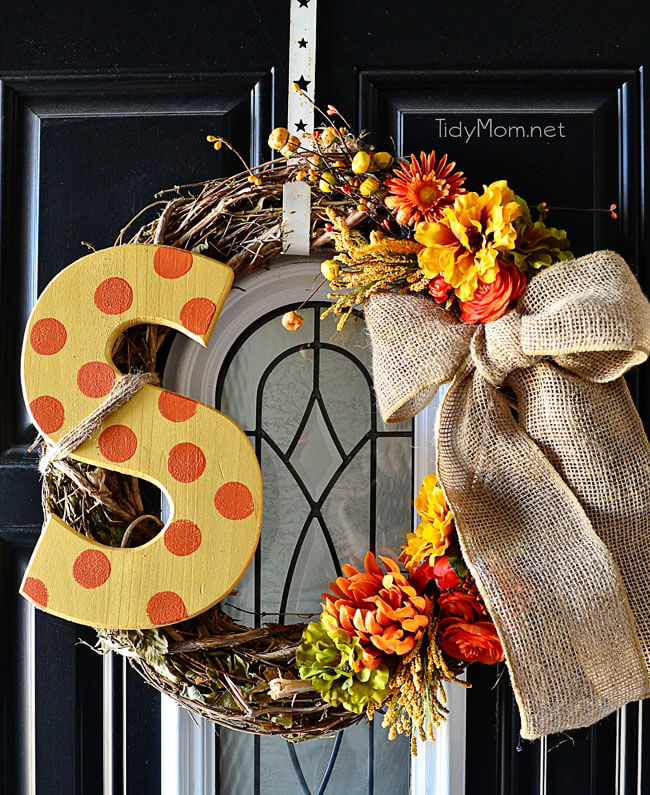 A wreath is one of the first things your guests see as they walk towards your door. Why not make it a little personal? Adding a monogram to your front door decoration offers a unique touch. You can take a simple wooden letter and transform it into a unique statement with just a bit of paint.
8. Rustic Rosettes And Burlap Ribbons Unite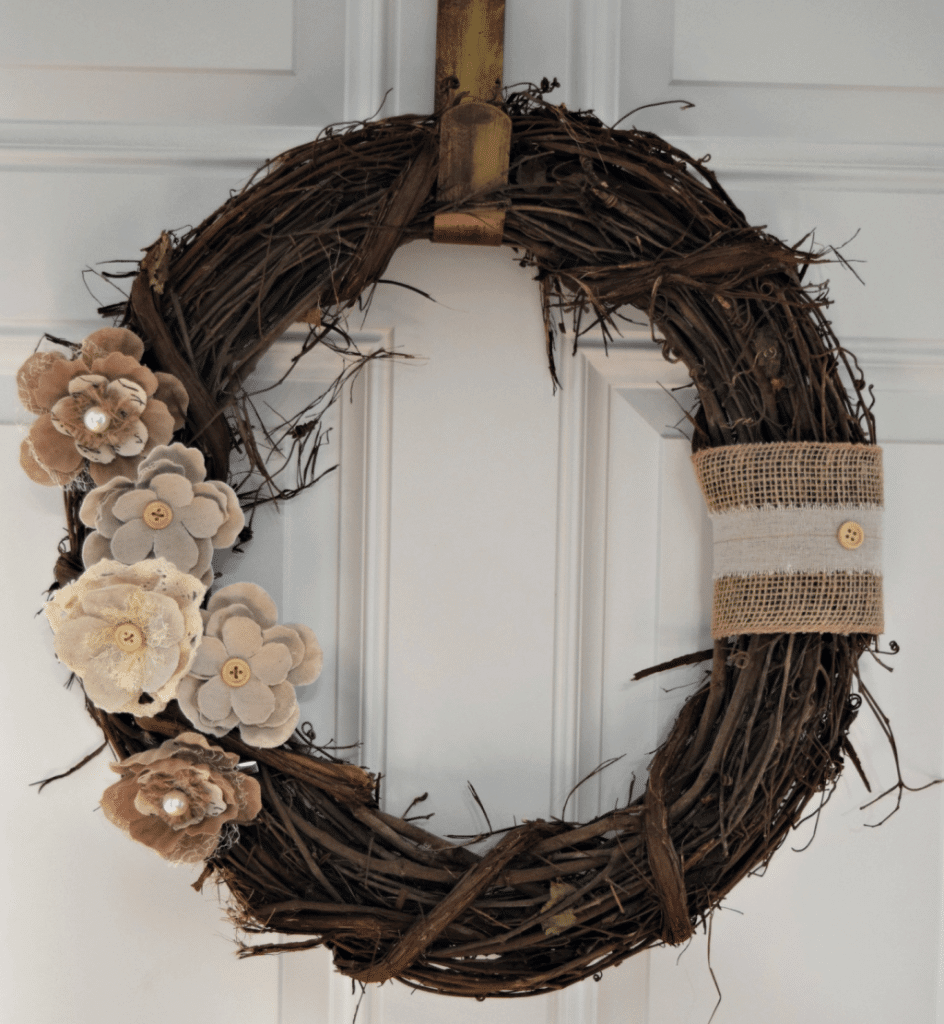 Rustic rosettes are a unique item that brings a bit of personality to your autumn wreath. Made with rugged fabric petals, these wee rosettes come in colors perfect for a fall display. A cascade of rosettes flows down one side, giving it rustic beauty. A double ribbon of burlap embraces the opposite side for the perfect finishing touch. Talk about a magnificent front door decoration.
9. Combine Burlap Sunflowers and Wheat Grass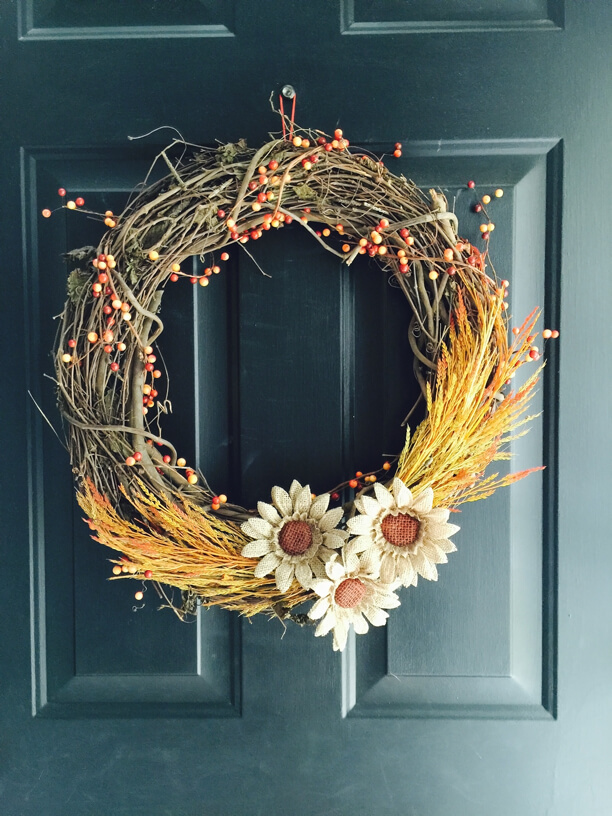 Sunflowers are definitely a flower that stands out the autumn rush. For a more permanent touch, burlap sunflowers work well on this modern wreath. Built on a grapevine base, this wreath starts with berry garland intertwined in the vine. Wheatgrass bursts forth underneath the burlap sunflowers. Though made with muted tones, this wreath will be a hit this fall.
10. Acorns Abound Around this Autumn Wreath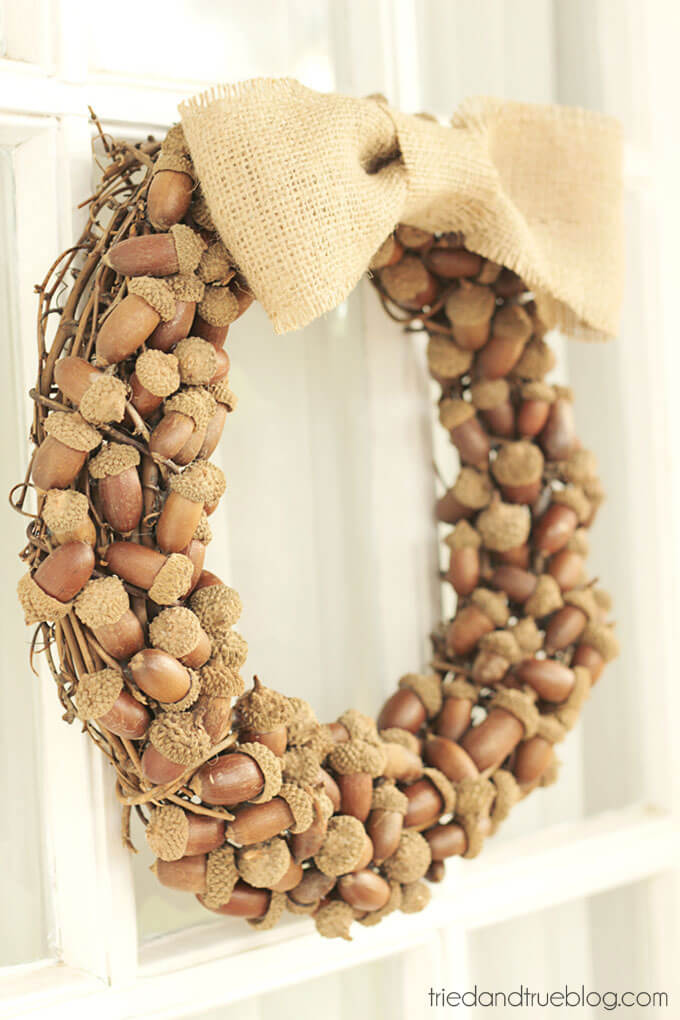 Grand oaks start to shed their acorns as the colors begin to turn in autumn. Covering a wreath base in acorns seems the best way to use these natural wonders. You can arrange them in any way you like, all in the same direction or not. Add a ribbon of burlap for the finishing rustic touch.
11. A Happy Fall Wreath Just for You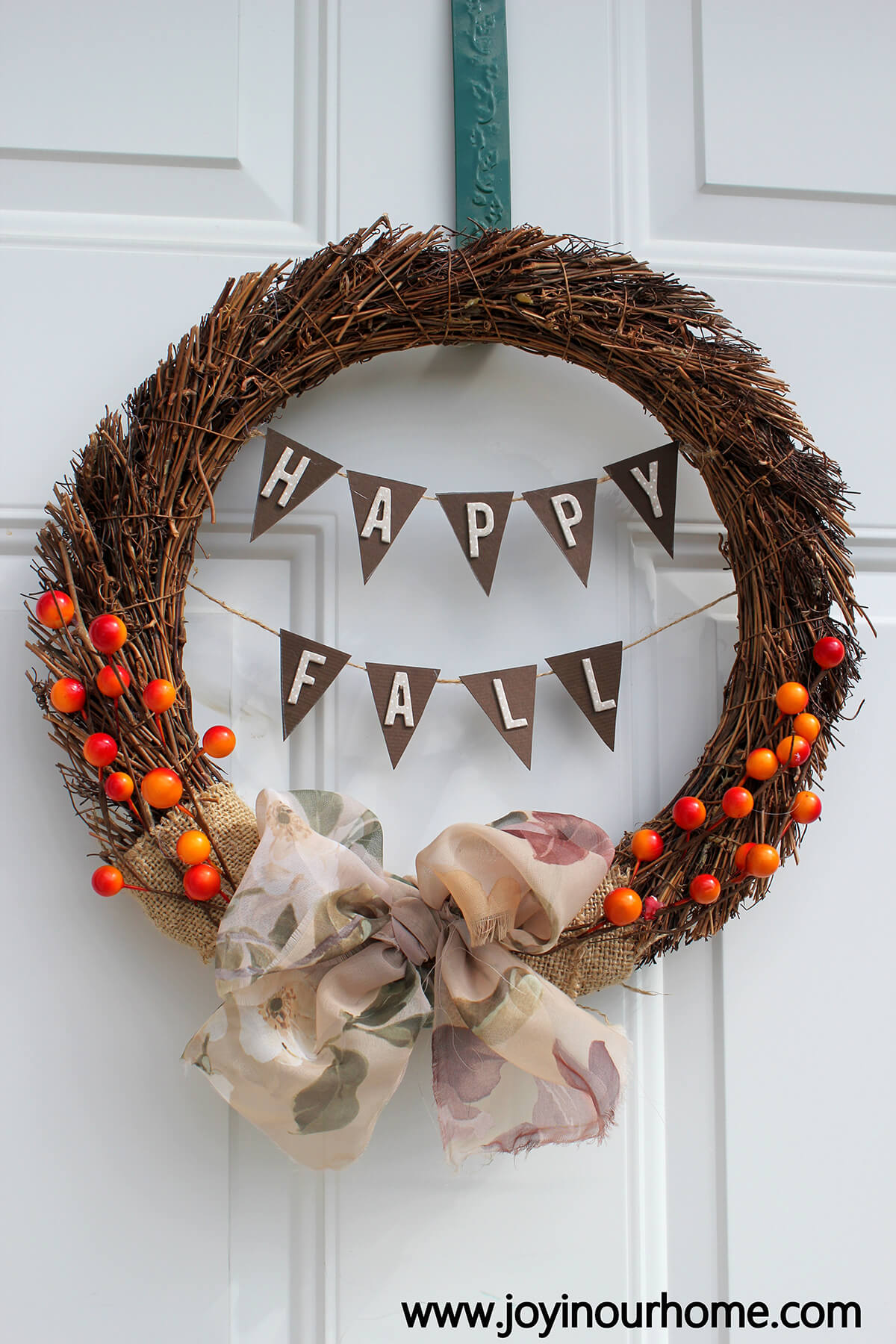 Nothing says Happy Fall like…well, "Happy Fall". This natural wreath brings the message forward with custom lettering on a hanging banner. Large berry branches peak out from behind a bit of burlap at the base of this front door decor. Floral ribbon, tied in a festive bow, completes this happy autumnal display.
12. Putka Pods Look Like Tiny Pumpkins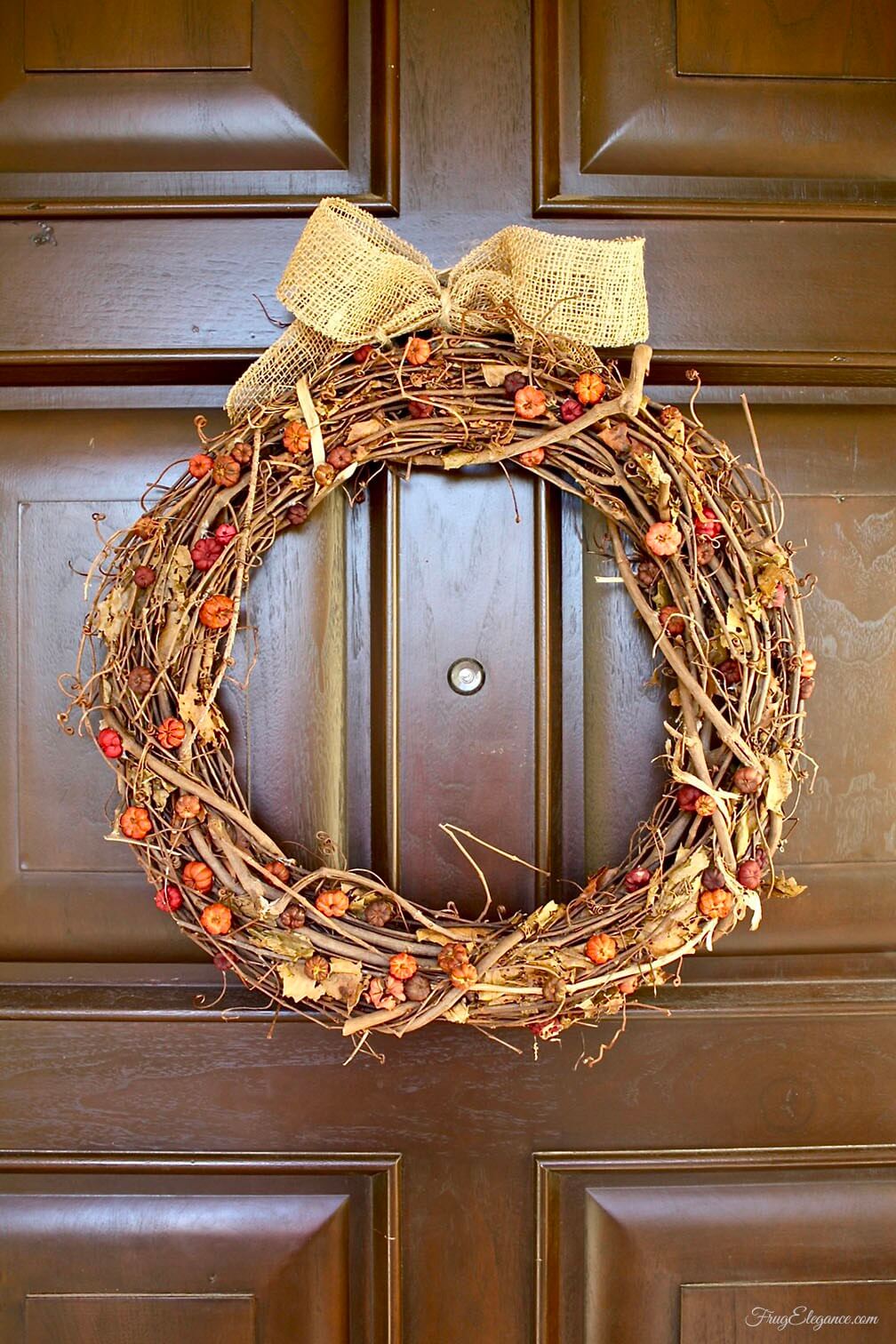 Pumpkins come in many sizes. However, you don't generally find them in the tiny sizes. If you want a truly miniaturized pumpkin for your decorating needs, look no further than putka pods. The putka plant comes from India and these tiny pumpkins are really their seed pods. This front door wreath is festooned with dozens of putka pods and a burlap ribbon for hanging.
13. Pampas Grass, Wheat Bundles, and Other Things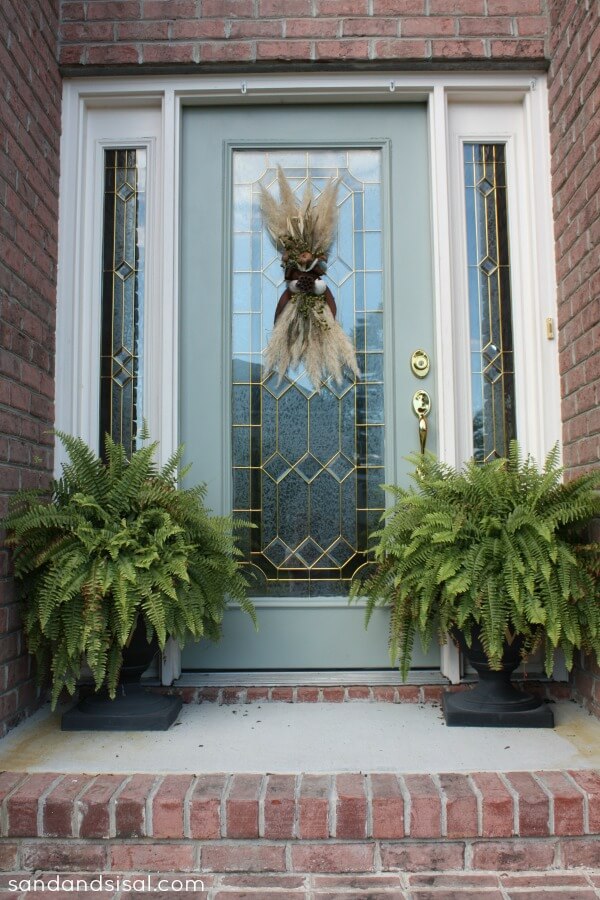 Pampas grass offers big fluffy plumes that create the base of this unique front door wreath. Tied together with twine, these plumes spill forth from both the top and the bottom. Wheat bundles top them adding another texture to the bundle. A few dried mushrooms and a lotus pod give the center texture tied with a pretty bow.
14. Bit of Orange Dye and Coffee Filters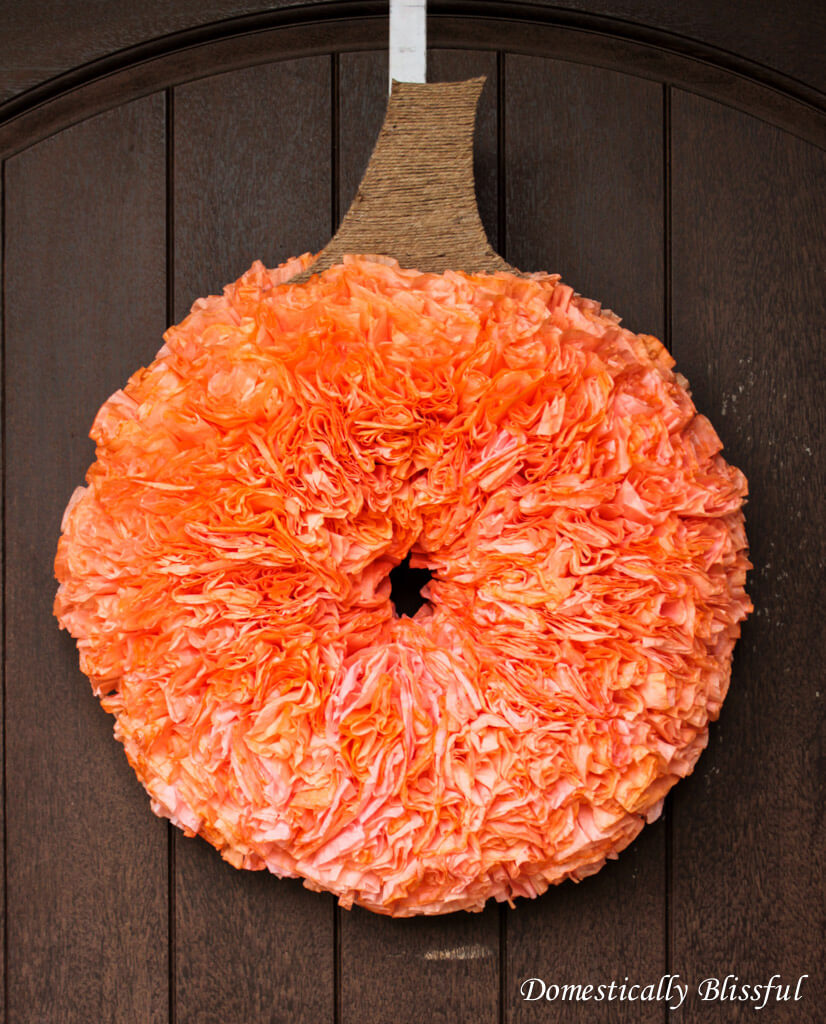 Pumpkins are one of the staples of autumn. Their bright orange color tends to stand out from the duller reds, yellows, and oranges of the fallen leaves. This easy to make pumpkin wreath offers a unique way to brighten your front door. Made with dyed coffee filters glued to a circular base, this front door display is topped with a brown stem.
15. Store-Bought Sign Transformed Into a Wreath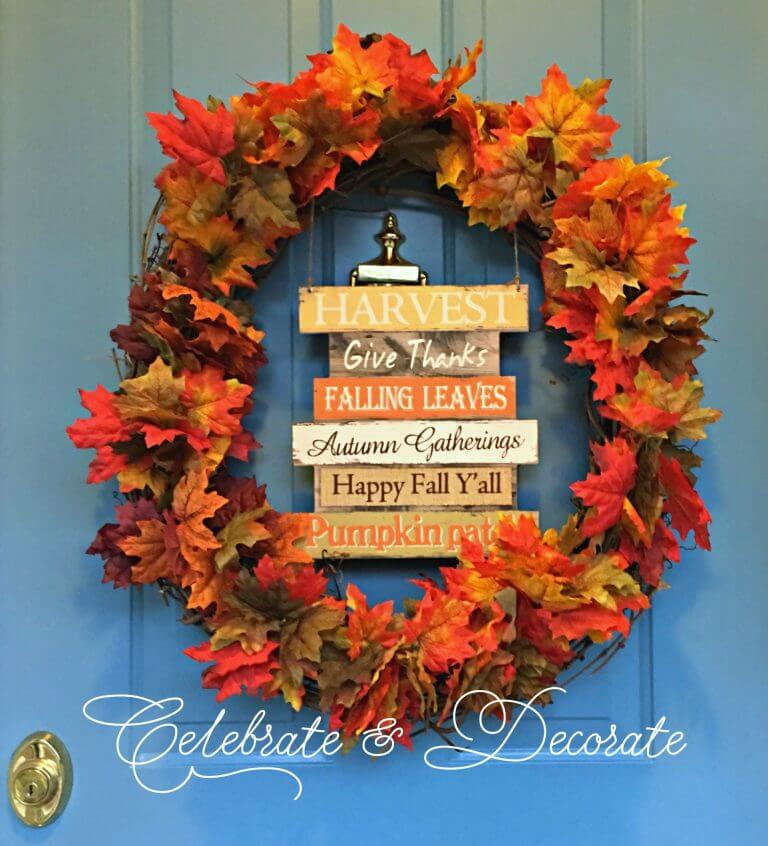 Your local craft or dollar store likely has its display of autumn signs up. Why not take one of those signs and make it part of your DIY fall wreaths? A large grapevine wreath encircles these colorful signs, which hang by hemp twine. Leaf garland festoons the wreath with fall colors, complementing the sign's coloring and design.
16. Eucalyptus Leaves Encircle a Grapevine Wreath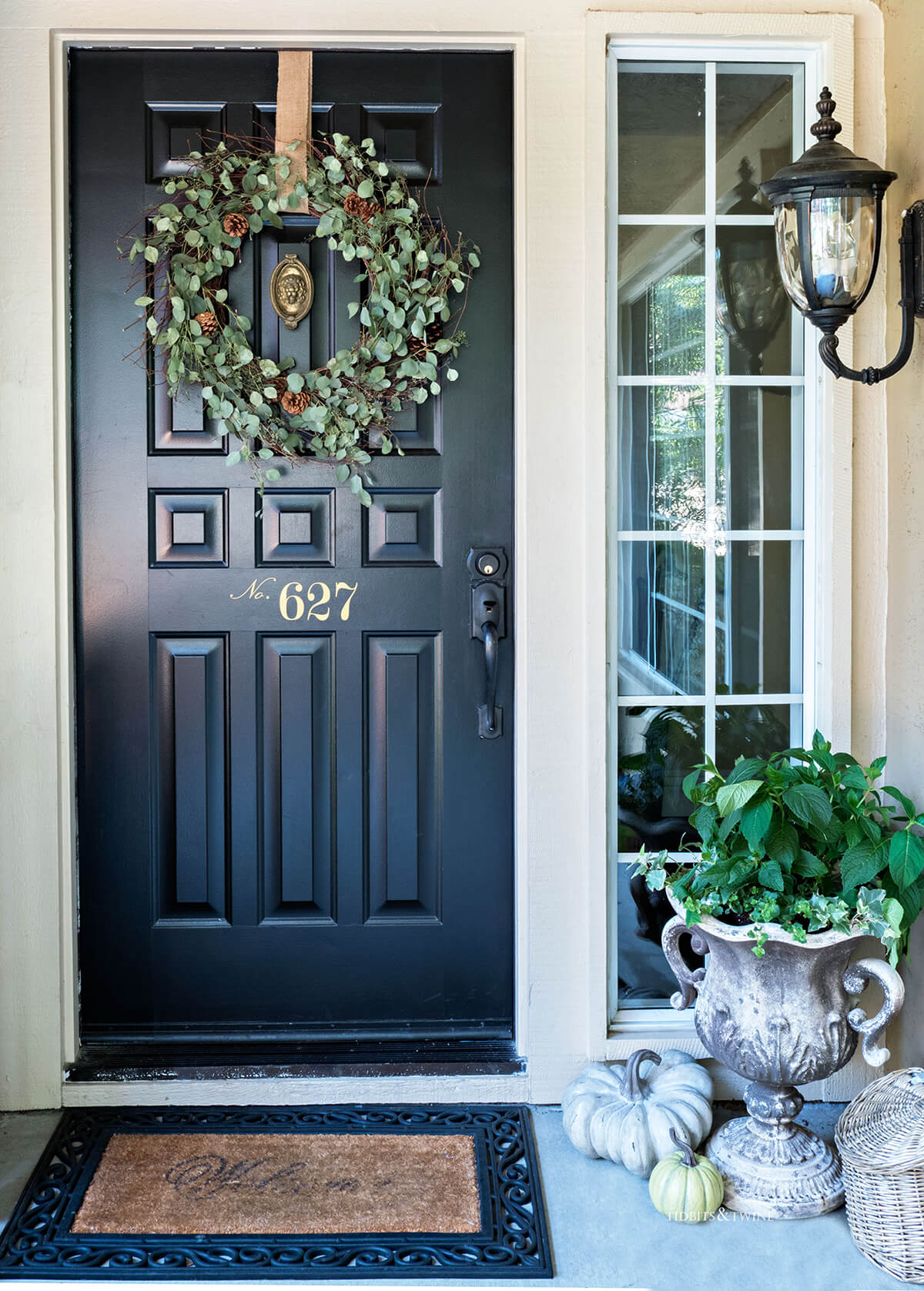 Eucalyptus leaves are small and plentiful, with dozens on one short branch. Their soft green color is the perfect backdrop for the accessories of autumn, pine cones. This front door wreath starts with a grapevine circlet below. Real eucalyptus branches, filled with leaves, intertwine with the grapevine below. Pine codes dotted in and among the leaves give it fall touch.
17. Wheat Bundles and Pheasant Feathers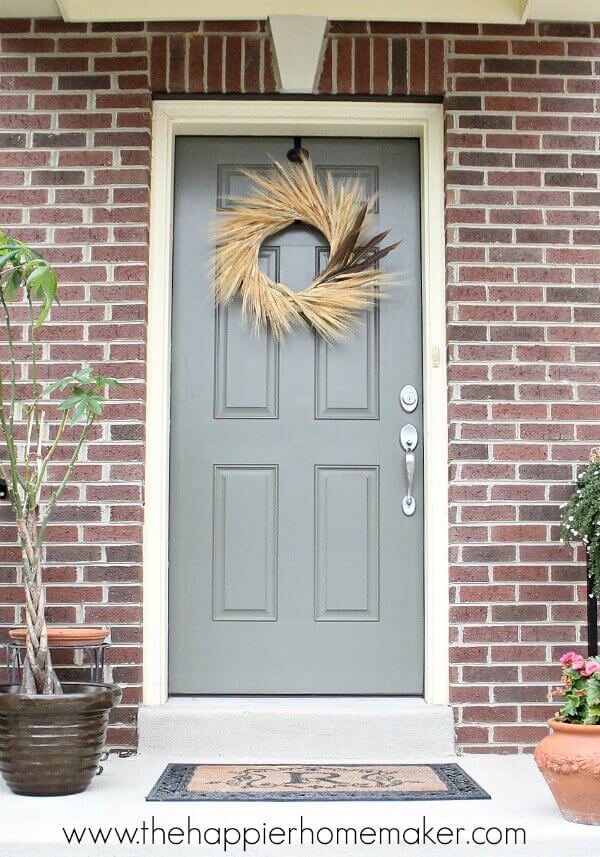 Autumn wreaths don't have to be intricate or overly decorated. The simple beauty of wheat creates a feathery circle of soft color and texture. A few pheasant feathers add contrast and color to this neutral background. Together, they show the simple beauty that natural materials can create when combined with an artistic eye.
18. Dyed Corn Husks a Wreath Does Make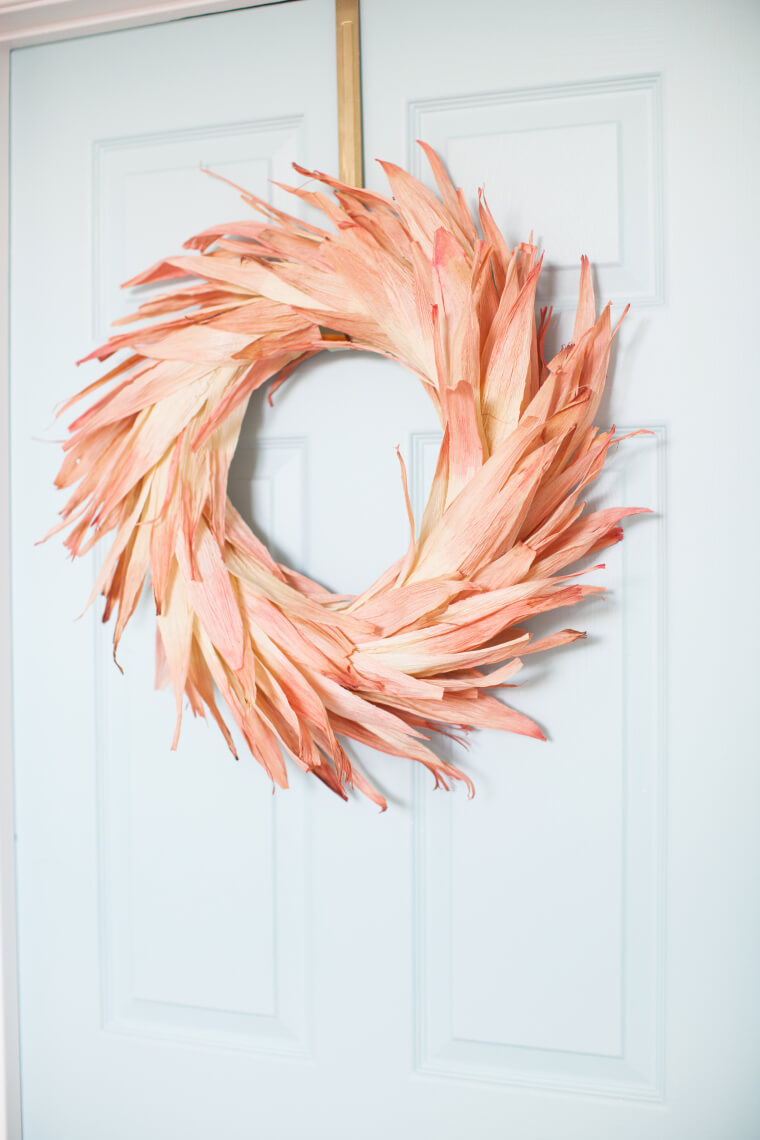 Whoever thought that dried corn husks, used for making tamales, would actually make an eye-catching front door display? Each corn husk in this simple autumn wreath got a touch of dye at the tips for a bit of color. The feathery crown of golden corn husks radiates out into a wheel of shimmering perfection, with just a hint of rose in the middle.
19. A Pink and Yellow Autumnal Wreath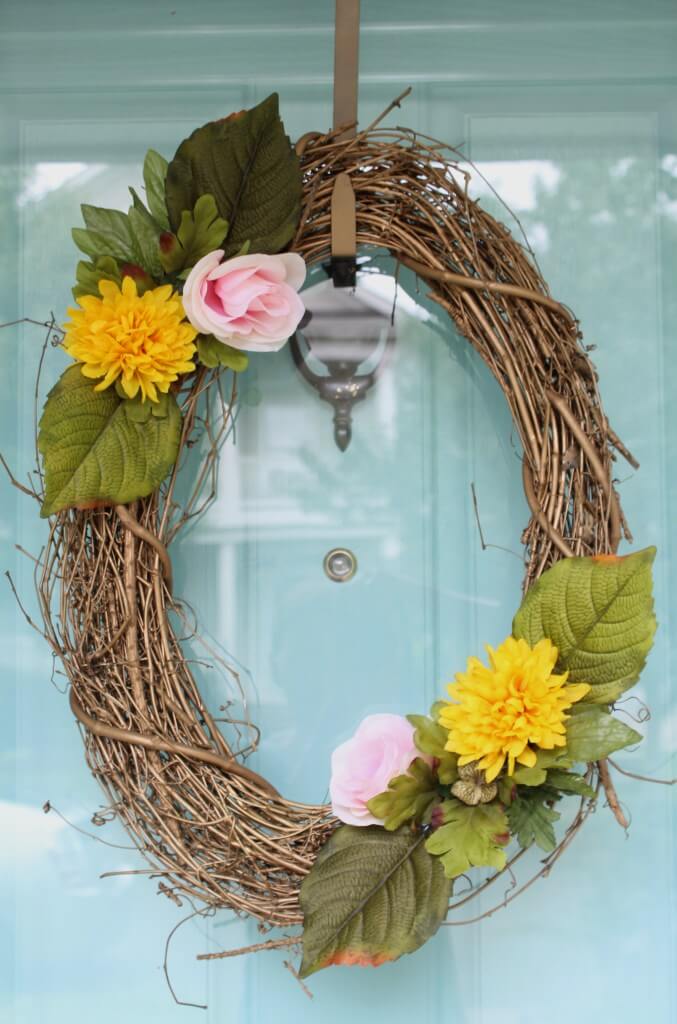 Okay, pink and yellow aren't the typical colors on DIY fall wreaths. But, who says you have to have reds and oranges for a true autumn display? Your decor, your color choices. The grapevine base of this oval wreath gives it the fall vibe you are looking for. The unexpected pink and yellow flowers make this front door decor truly eye-catching and memorable.
20. Orange Berries Bring Autumn Delight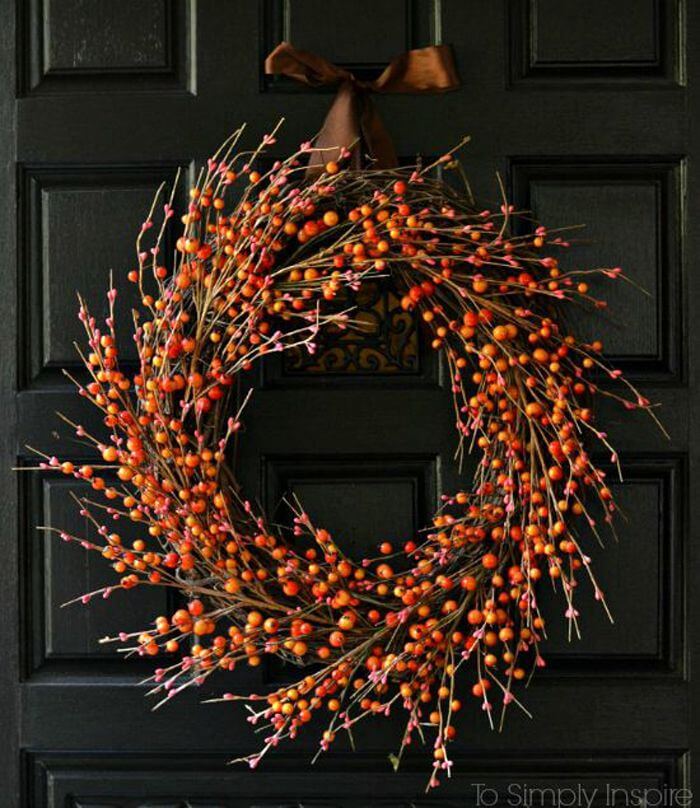 Sweet and simple is the theme of this front door wreath. Branches filled with orange berries spring out in all directions from the grapevine base. The bright orange color stands out against the darker brown base. A simple brown ribbon, tied through the vine, gives this wreath a bit more elegance.