You can feel the fall season coming on the breeze. The stores might be getting ready for the winter holidays, but why not savor autumn while it's here? Decorating for fall can involve every part of your home, inside and out. More time around the fire calls for more decorations by the fireplace. Trick-or-treaters visiting your porch call for a welcoming fall porch display. More blankets in the bedrooms call for cozy decor all around the room.
14 Rustic Fall Decor Ideas to Feel the Fall Season Coming on the Breeze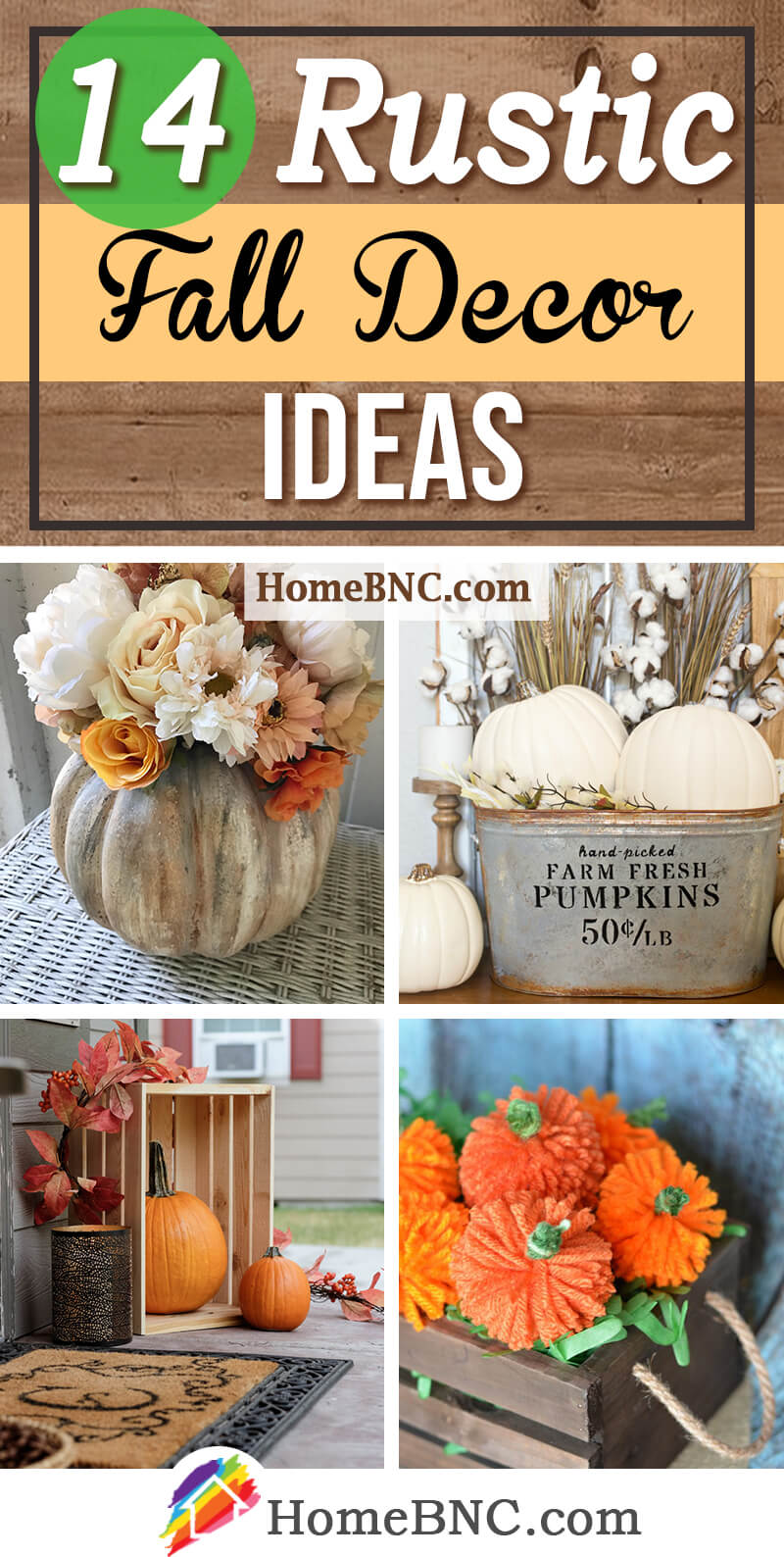 The coming of fall usually means your life gets a whole lot busier after all the summer fun. But decorating for fall doesn't have to add stress to your already busy schedule. While autumn decorating is most definitely a detailed process, it's doesn't amount to a whole lot of work in the long run, since you really don't need to take down the decorations in a hurry. Fall decor can stay relevant from the first day of school, through Halloween and Thanksgiving, right up until you start decorating for Christmas!
With fall comes apple cider, hayrides, harvest–all things rustic. You can make your home reflect the rustic flair of the season with these 14 rustic fall decor ideas!
1. Harvest Bouquets in a Rustic Pail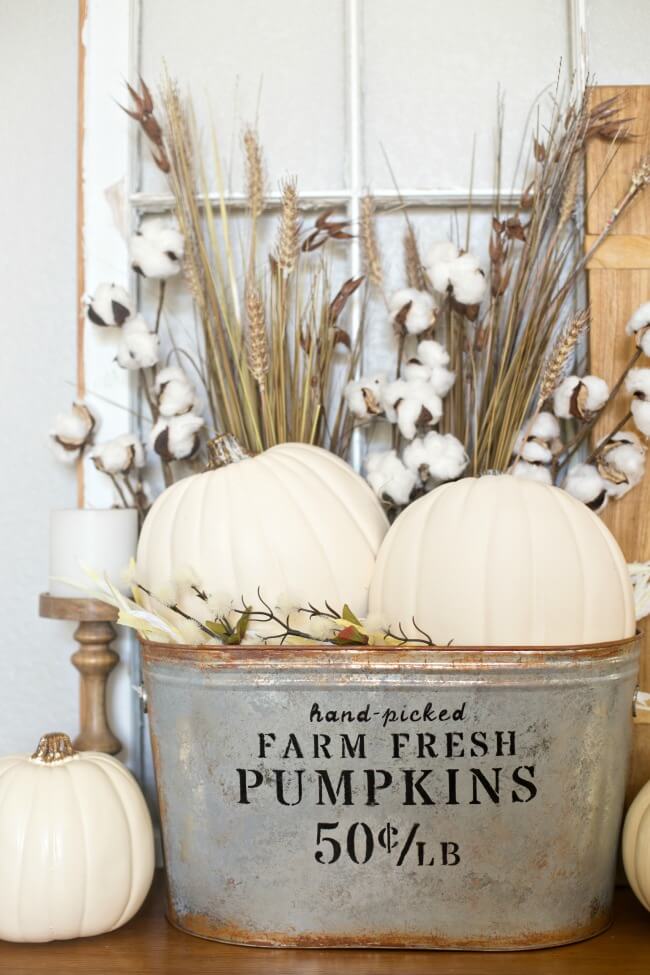 Brown grasses, harvest pumpkins, and cotton plants look good together in a rustic metal pail. The pail may look old and weathered, but there's no need to worry about safety–you can create the pail's rusty and distressed effect yourself with rust-colored paint!
2. Fall Themed Hurricane Candle Holders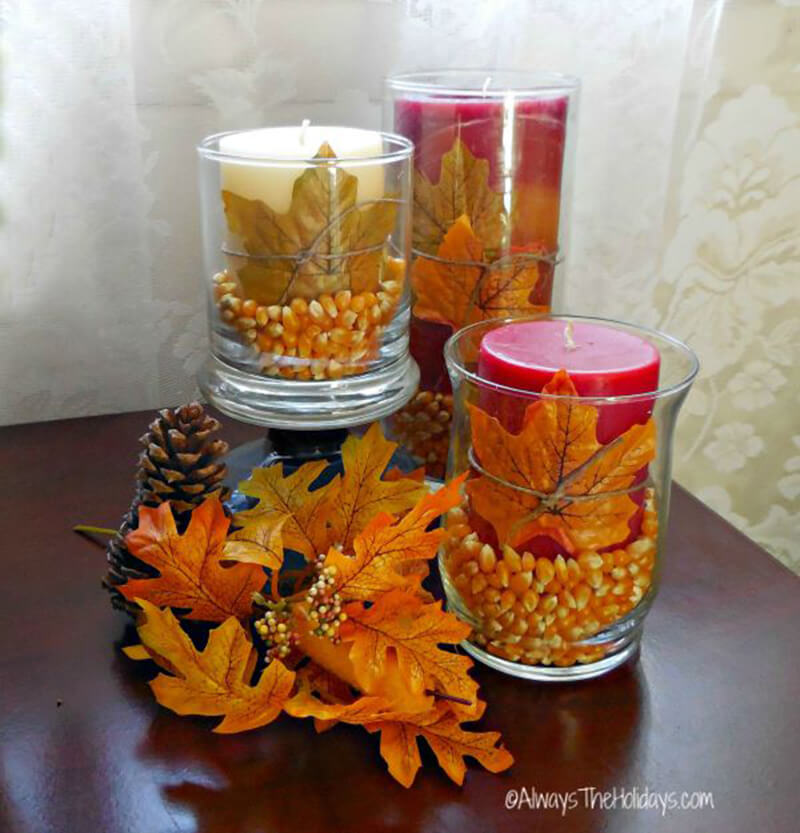 Festive and autumnal, these dressed-up candle holders make decorating your fall table super easy. Popcorn and silk leaves are very inexpensive, and the candles add warmth and light to make your kitchen cozy. Amp up the seasonal flair by picking a fall scent for the candles, like apple or pumpkin spice!
3. Hand-Lettered Paper Fall Banners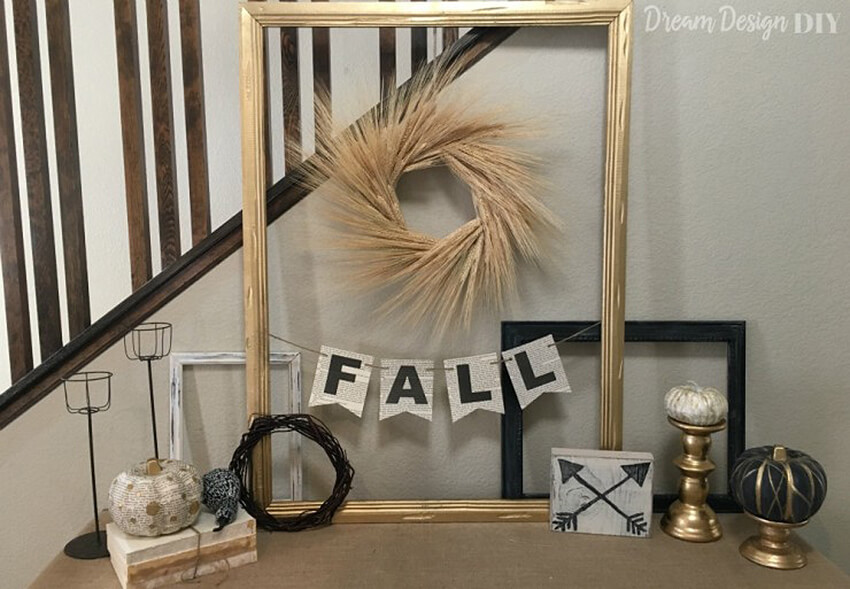 This hand-lettered banner made from old book pages lets everyone know without a doubt that you're excited about fall. You can make a banner like this using any font you would like, or even make more than one banner in order to cover each special occasion you have this season.
4. Neutral Painted Wooden Pallet Pumpkin Porch Decorations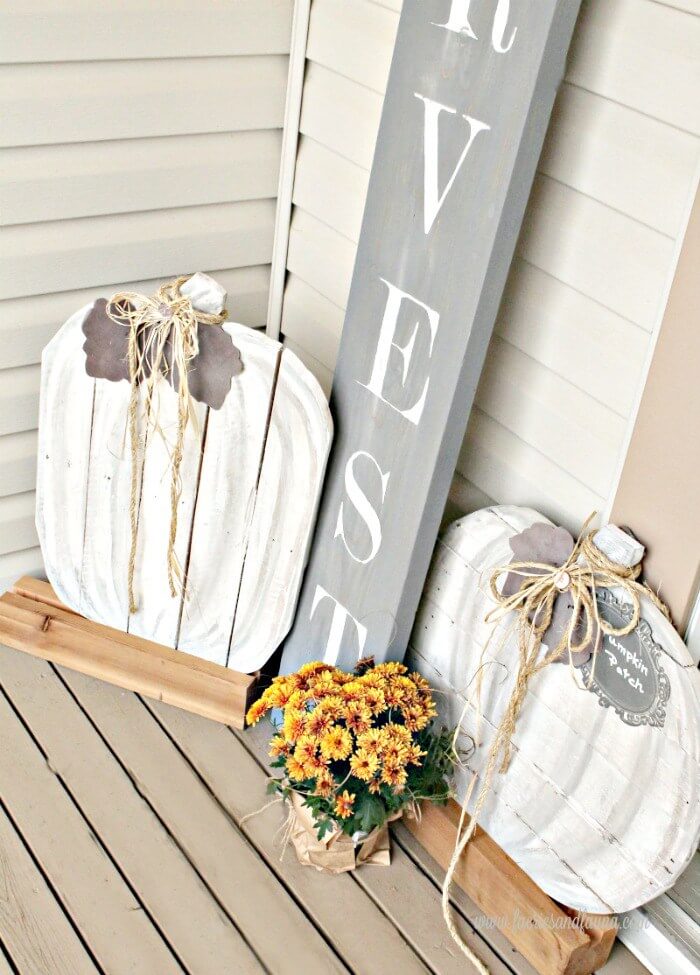 It's not just trick-or-treaters who are going to see your porch this fall. Wood pallets are the base for this version of the classic symbol of the season. The pumpkins' leaves and the raffia tied onto the stems helps give them a three-dimensional look. You could even put a sweet message on the pumpkins, such as "Trick or Treat!" or your family name.
5. Autumn Arrangements in a Box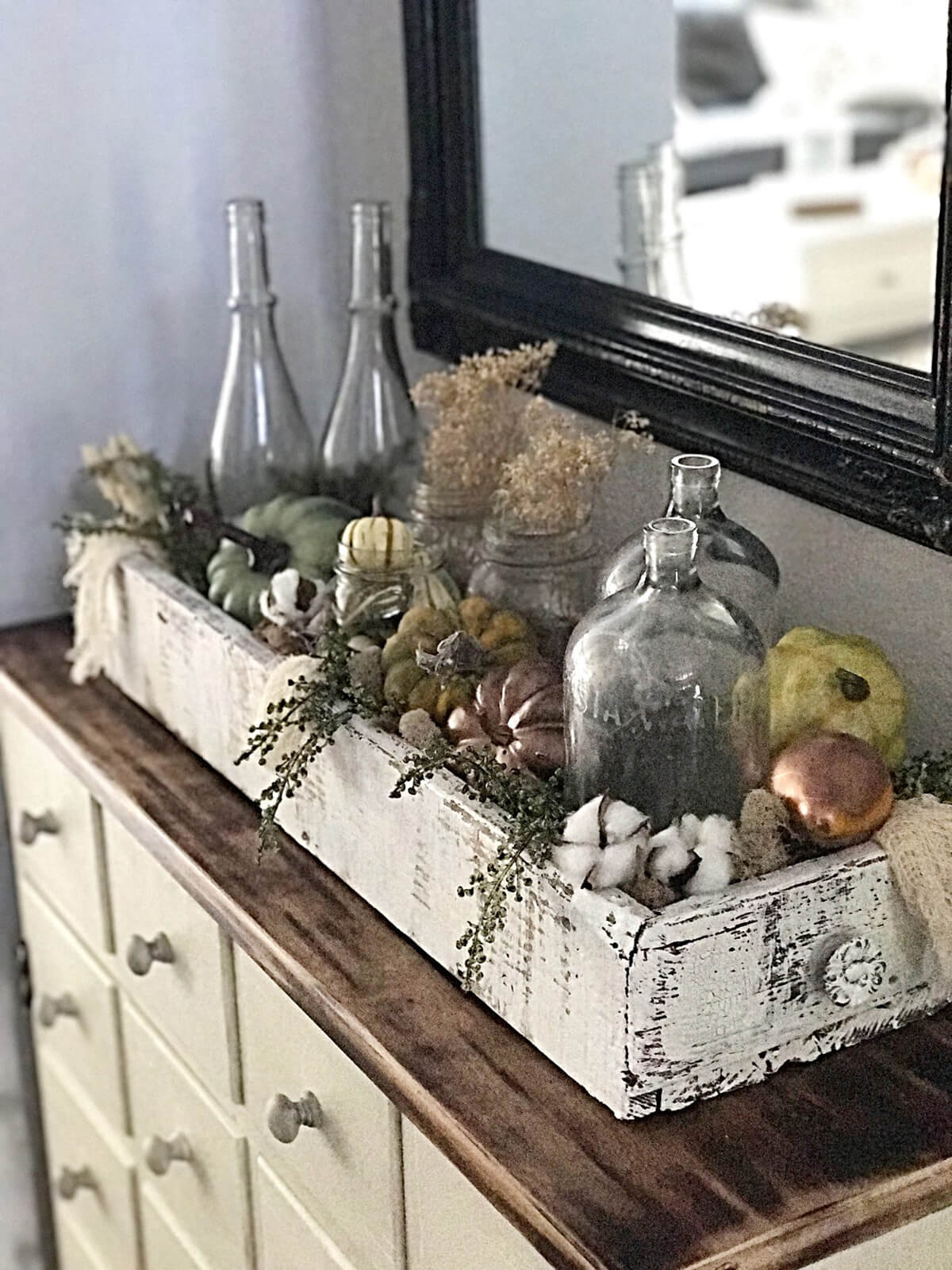 Harvest fruits, vegetables, and other plants are versatile in that they don't need to be displayed in vases, and often look better in a box, crate, or similar display. A distressed drawer from an old dresser like the one pictured is a perfect base for the arrangement, accompanied by glass bottles that bring to mind memories of apple cider. This type of decoration would look especially good on a windowsill or on top of a dresser.
6. Organic Decorations on the Stairs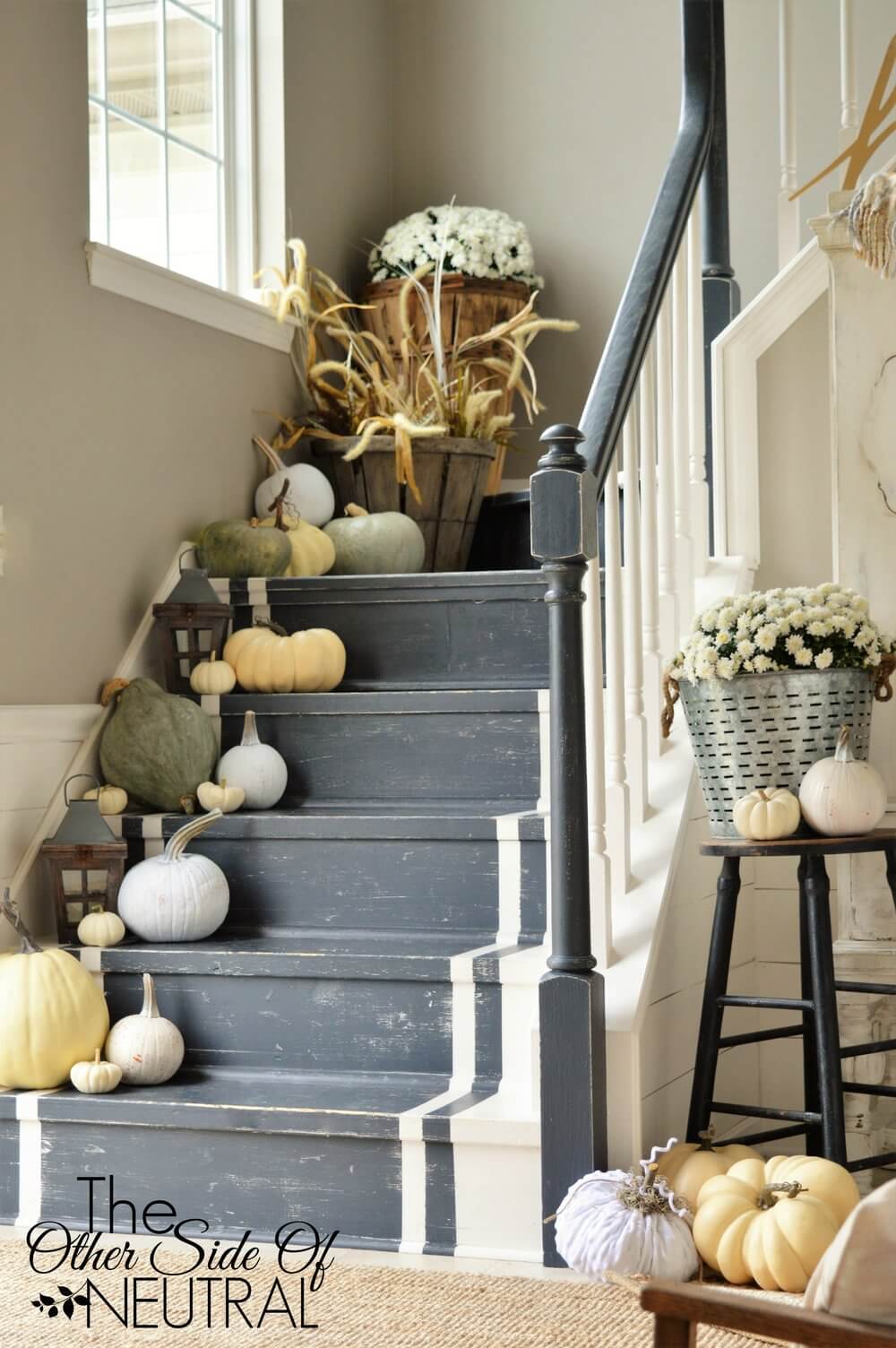 If you really want to make sure every nook and cranny of your home is decorated for fall, don't forget the stairs! Boldly colored fall decor accents neutral stairs nicely and neutral pieces will help your bright-colored stairs pop. If you have more than one type of decoration you'd like to feature, you can even go for a pattern rather than decorating each stair the same.
7. Stylized Reclaimed Wood Four Sided Pumpkin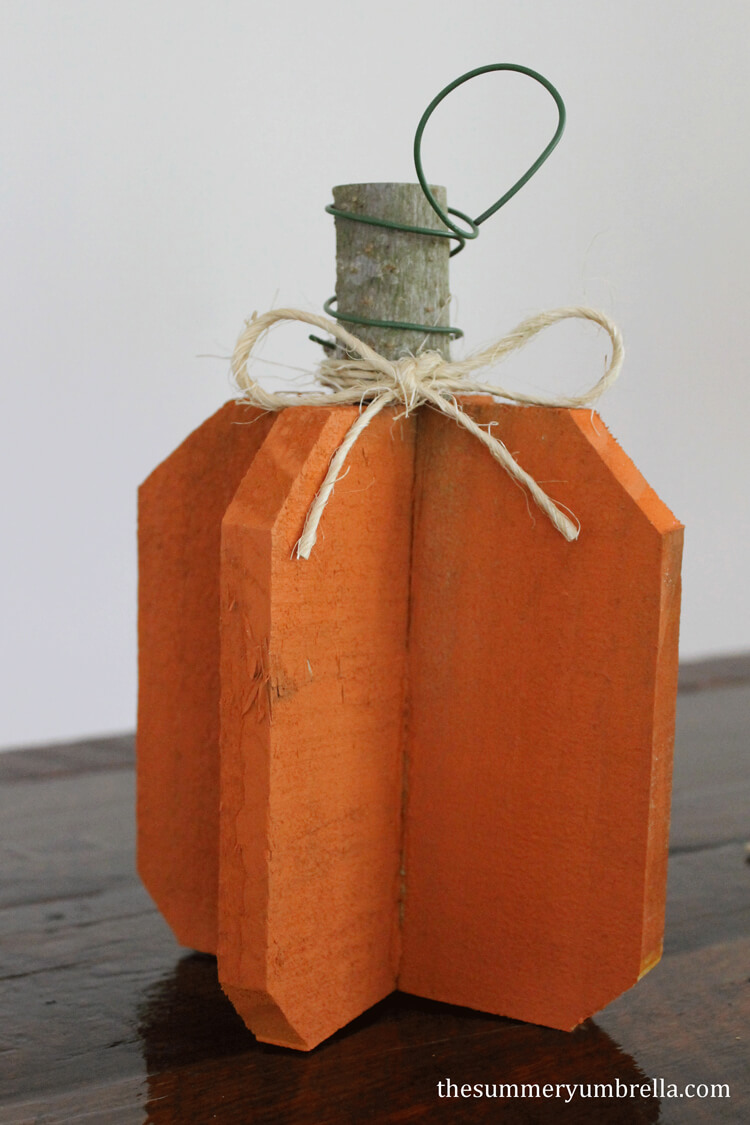 With all the great ideas out there for making decorations out of reclaimed wood, this little pumpkin is one of the more adorable options. This is a whimsical decoration perfect for displaying with fabric scarecrows or ghosts for a cozy, homemade look on your countertop or TV stand.
8. Shabby Chic Buttons on Mantelpiece Letters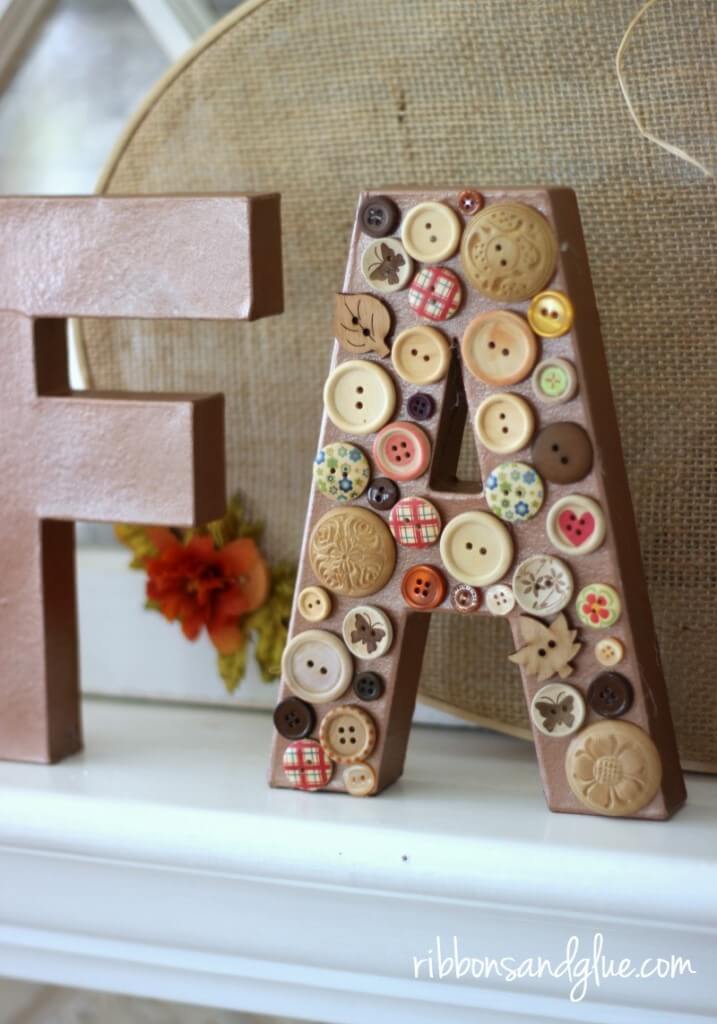 These quirky letters are perfect for sitting on a shelf near the entryway to give your home a whimsical fall feel from the minute you enter. Even if you only embellish one of the letters in your decorative wors, it becomes an accent to the entire piece.
9. Minimalist Fall Table Centerpieces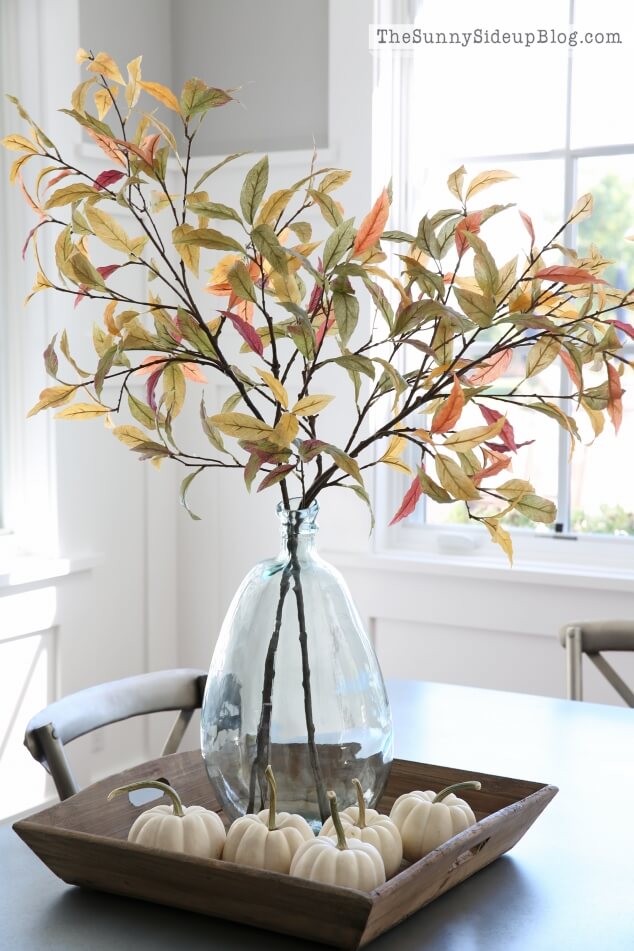 All you need are a few fall branches in a clear vase to achieve this effortless effect. Pairing the vase with some mini white pumpkins makes it into the perfect centerpiece, which can be easily moved for other activities if placed on a tray. This is a great idea for the autumn home that is going to look a bit more modern but still with a rustic tinge.
10. Yarn Pom Pom Pumpkin Garland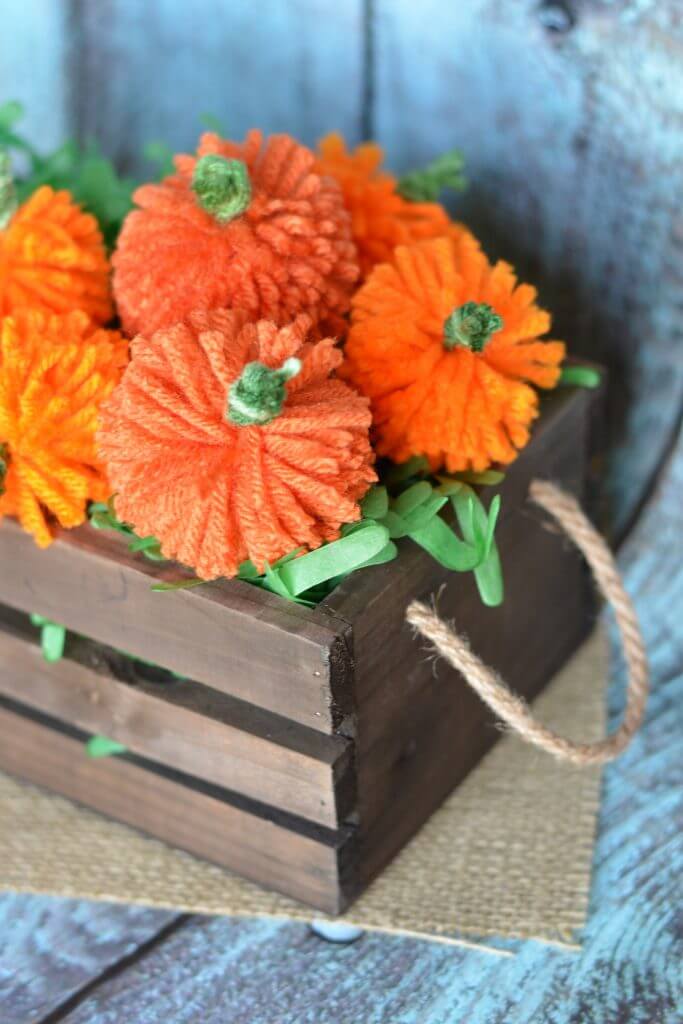 This garland is a cheery burst of color for your home. It looks nice draped across a doorway or on the railing. It's also a good piece of decor for a child's room, and the garland is easy enough to make that the kids can help with it!
11. Big Neutral Blooms in a Pumpkin Vase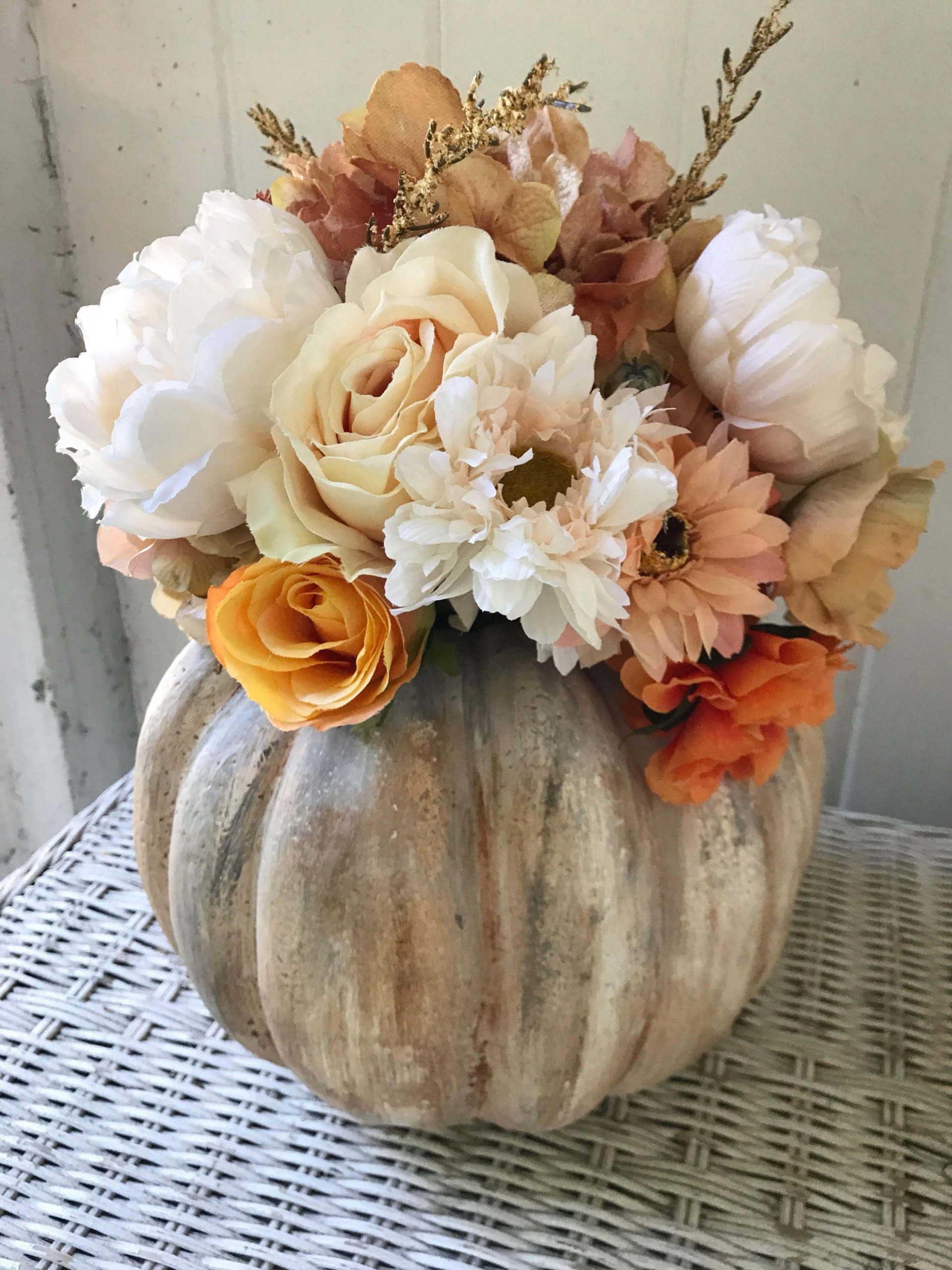 Just because flowers aren't as plentiful doesn't mean you need to stop displaying them. Dried flowers and neutral flowers are both good options for rustic fall decor ideas on the shabby chic side of the spectrum. In this example, the pumpkin is painted a neutral color as well, drawing attention to even the smallest bit of color in the flowers.
12. Fall Mantelpiece Arrangements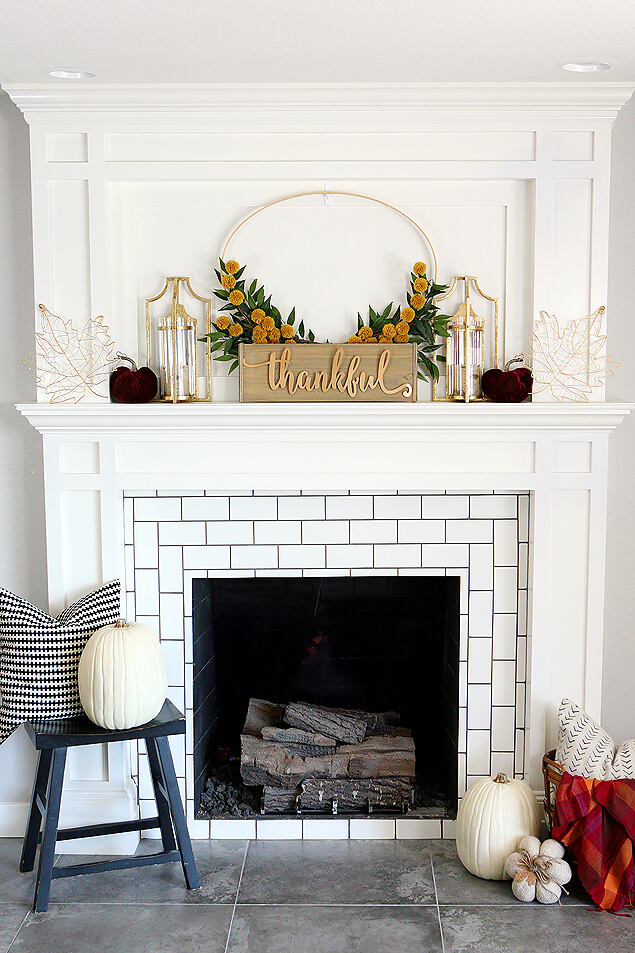 As the weather gets colder, you'll be spending more time by the fire. Why not have something elegant to look at? The centerpiece of this mantel display was created with an embroidery hoop and some yarn floral creations, coupled with a calligraphed sign and layers of symmetrical decorations.
13. Wooden Crates as Fall Porch Decor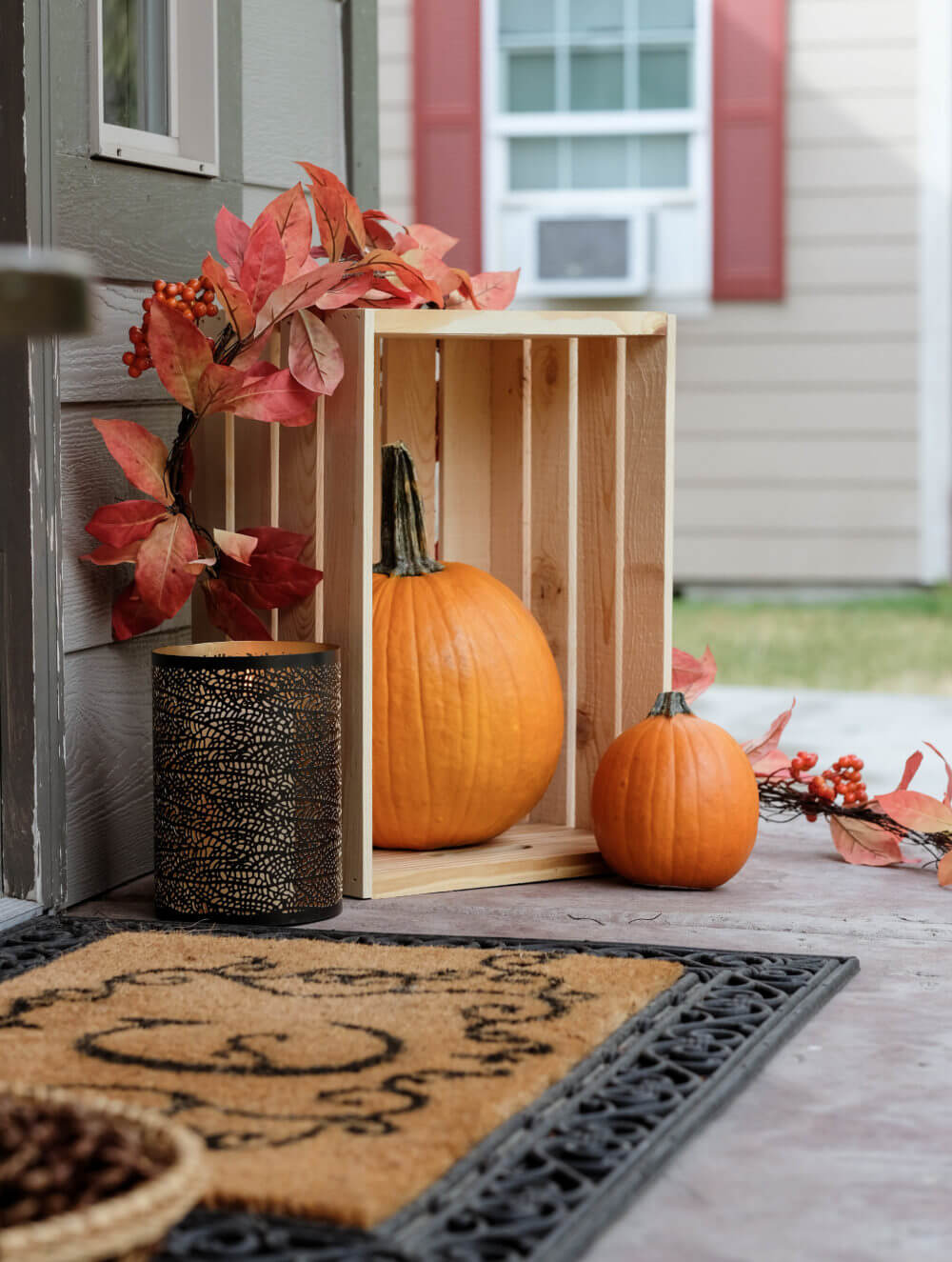 It's true that most of these rustic fall decor ideas include pumpkins, but isn't it fitting since this is supposed to be the season of pumpkin everything? Bountiful harvests mean you don't need to wait for Halloween to display all the pumpkins! Wooden crates and silk leaves also add something that you can use again and again in the coming years, saving you money.
14. Rustic Wooden Calligraphy Door Tags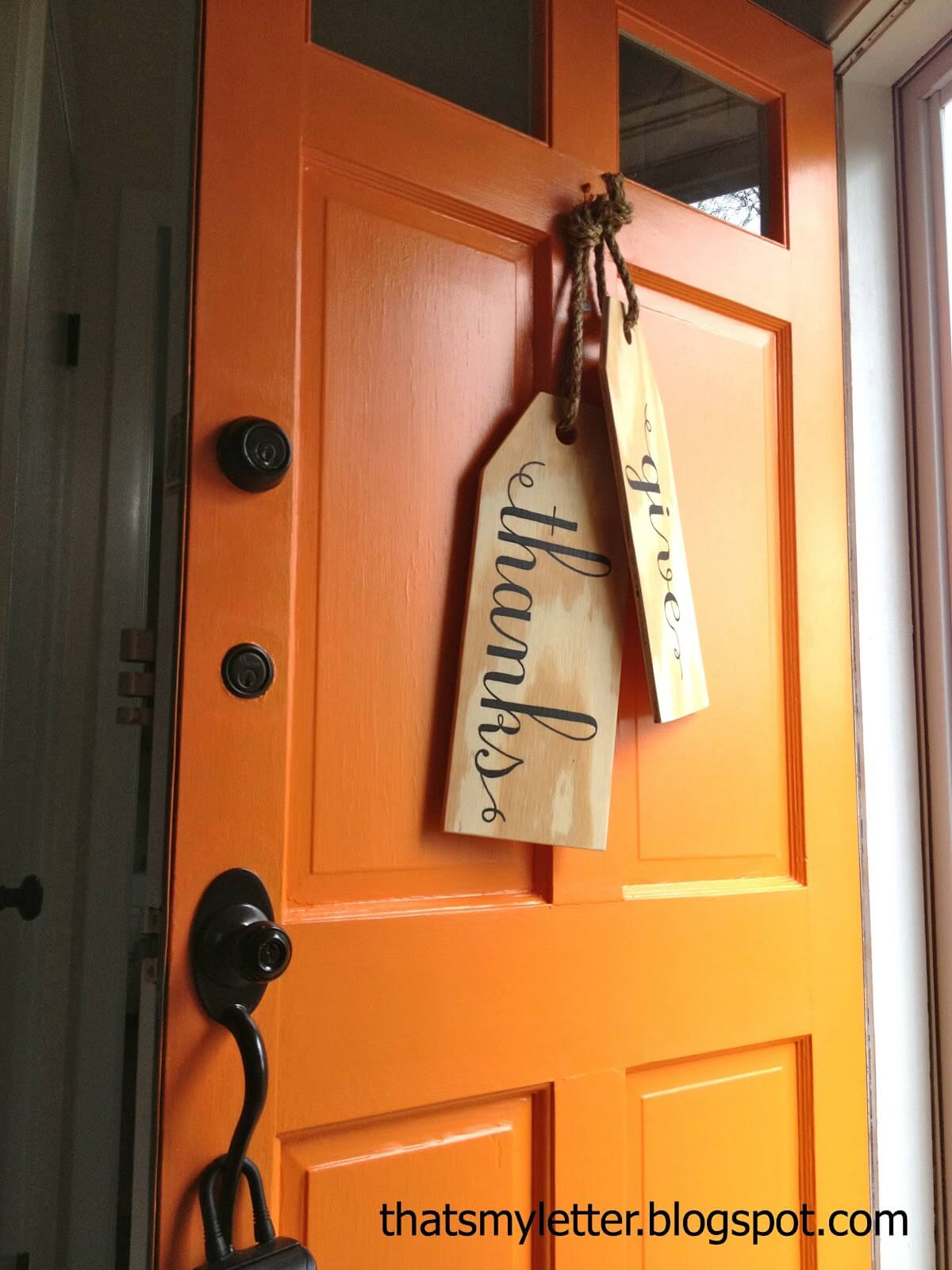 Decorating the door is a way to make guests feel welcome before they even walk in, and these door tags make for a different twist on the traditional fall wreath. These say "Give Thanks" in anticipation of Thanksgiving Day, but yours could say any fall-themed message. The pretty calligraphy is a nice contrast to the rustic flair of the wood.