What a great time of year fall is! The leaves start to change colors. There's a snap in the air. Pumpkin spice everything hits the stores and few ideas sound better than curling up in a favorite comfy chair with a good book. What goes better with that cozy afternoon than a mug of hot tea and the warm glow of a candle on your side table? If you're like us, your love for candles may be approaching a "professional help required" stage. We're always on the lookout for new ways to display our collections.
21 Ways to Decorate with Fall Candles

Whether it's a small hand full of candles on a shelf somewhere, or an impressive array lighting your dining room table for a dinner party, there's always a place for a candle. The soft light makes any room feel inviting and comfortable. The abundance of things you can do with candles makes them a great choice for any decor. It's time to swap out your summer decor with some adorable fall candle decoration ideas, check out these tips to warm up your home!
1. Autumn Light in the Woods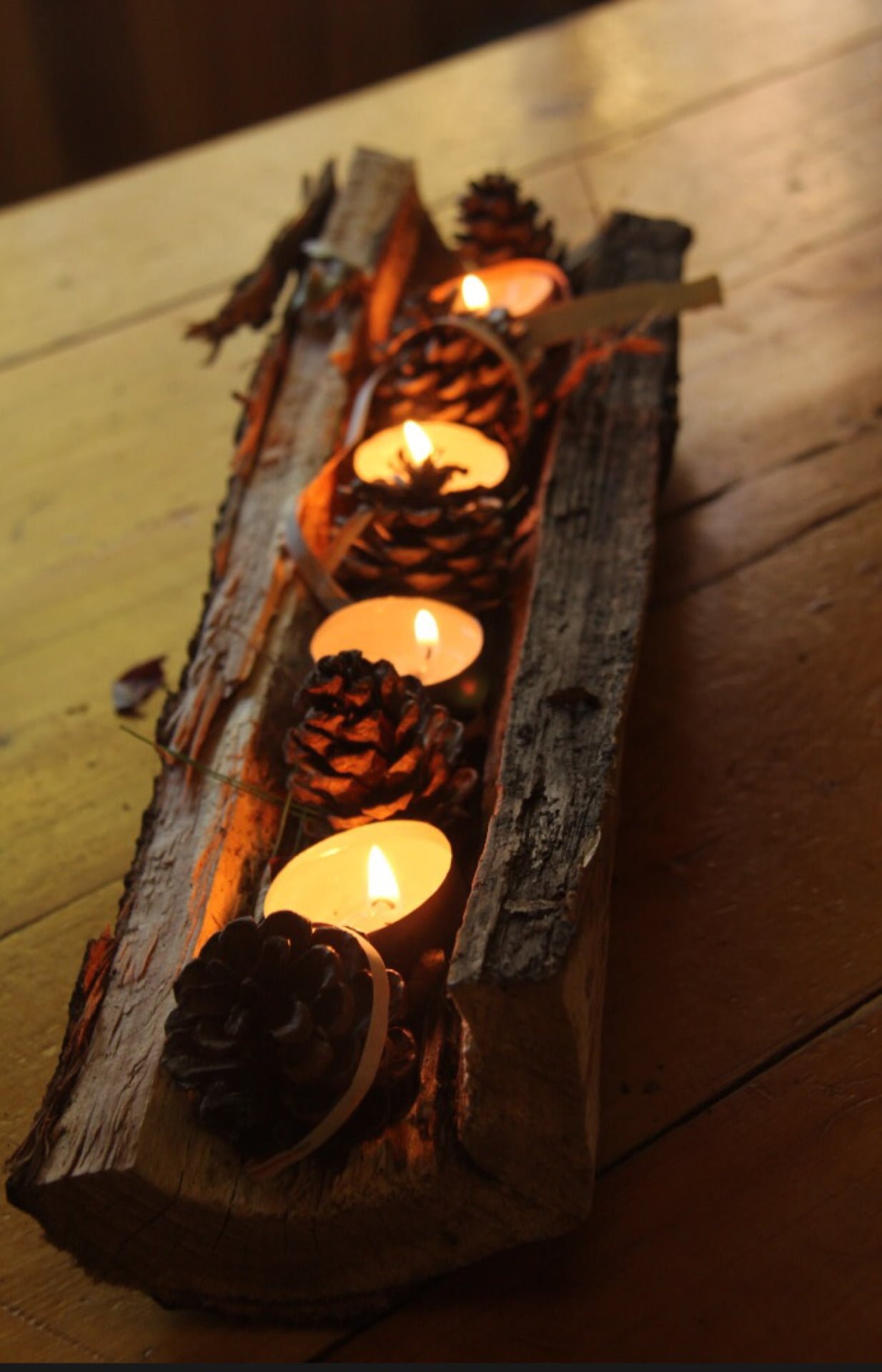 One of the best parts of the fall season is spending time outdoors in the chilly weather. Bring those woodsy vibes into your home with this rustic project! Tucking tea lights in amongst pine cones and logs gives your home a cozy autumnal glow. This DIY looks gorgeous as a centerpiece or mantel decoration!
2. Bright Colors for Fall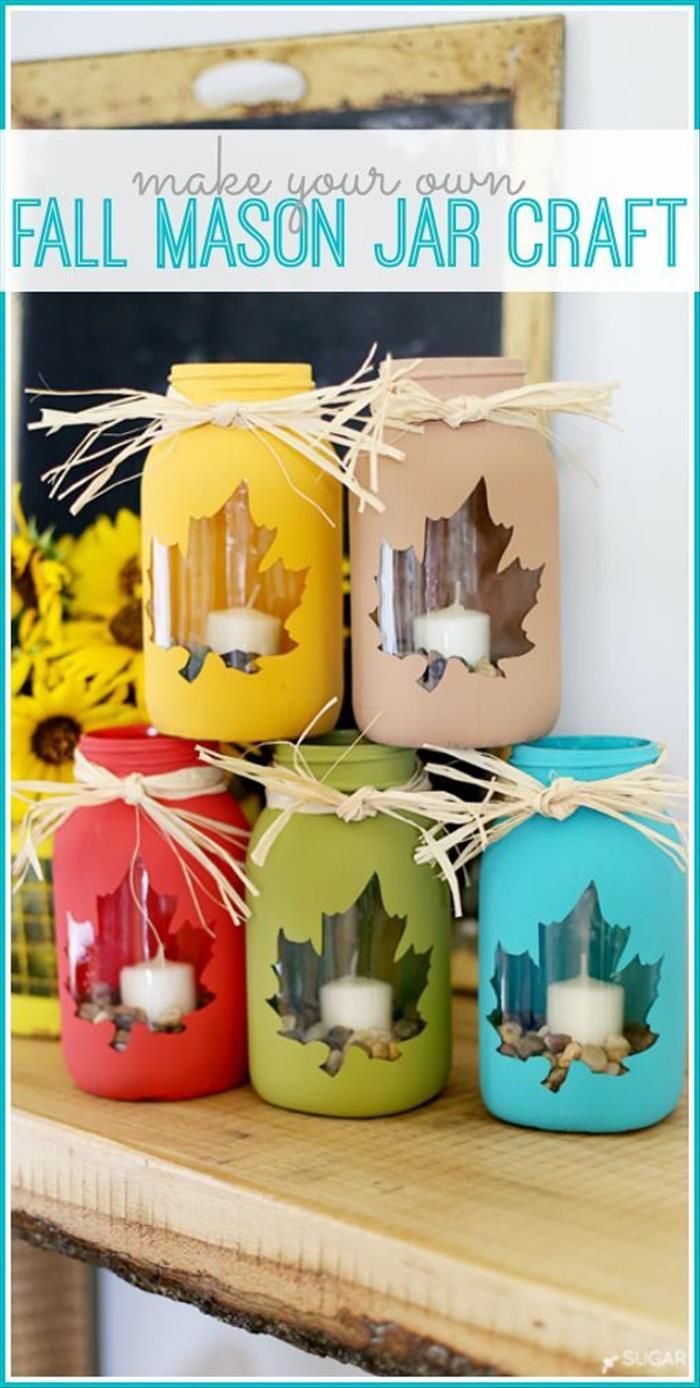 Who doesn't love Mason jars? This fun upcycling project turns old glass jars into pretty fall décor pieces. With just a few simple supplies and one afternoon, you'll have colorful little lanterns that scream "I love fall!" This DIY would be so cute for decorating an autumn party or wedding.
3. A Harvest of Light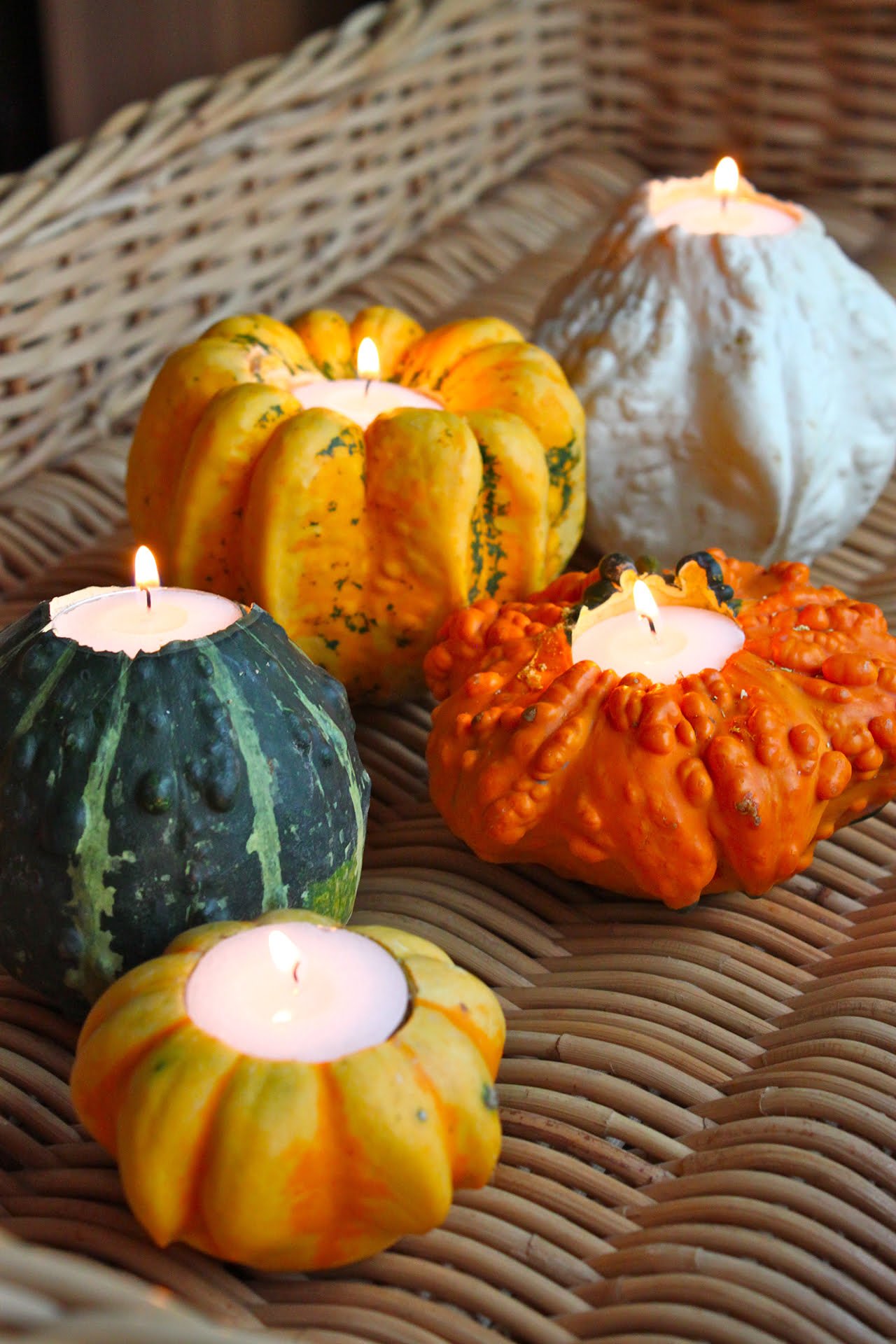 You always see those little gourds in the fall season, but what should you do with them? You could simply display them in your home, but this project has a little more personality. Give your porch or dinner table a warm, inviting feeling by inserting some candles into your decorative gourds!
4. Woodsy and Charming Fall Candle Decorations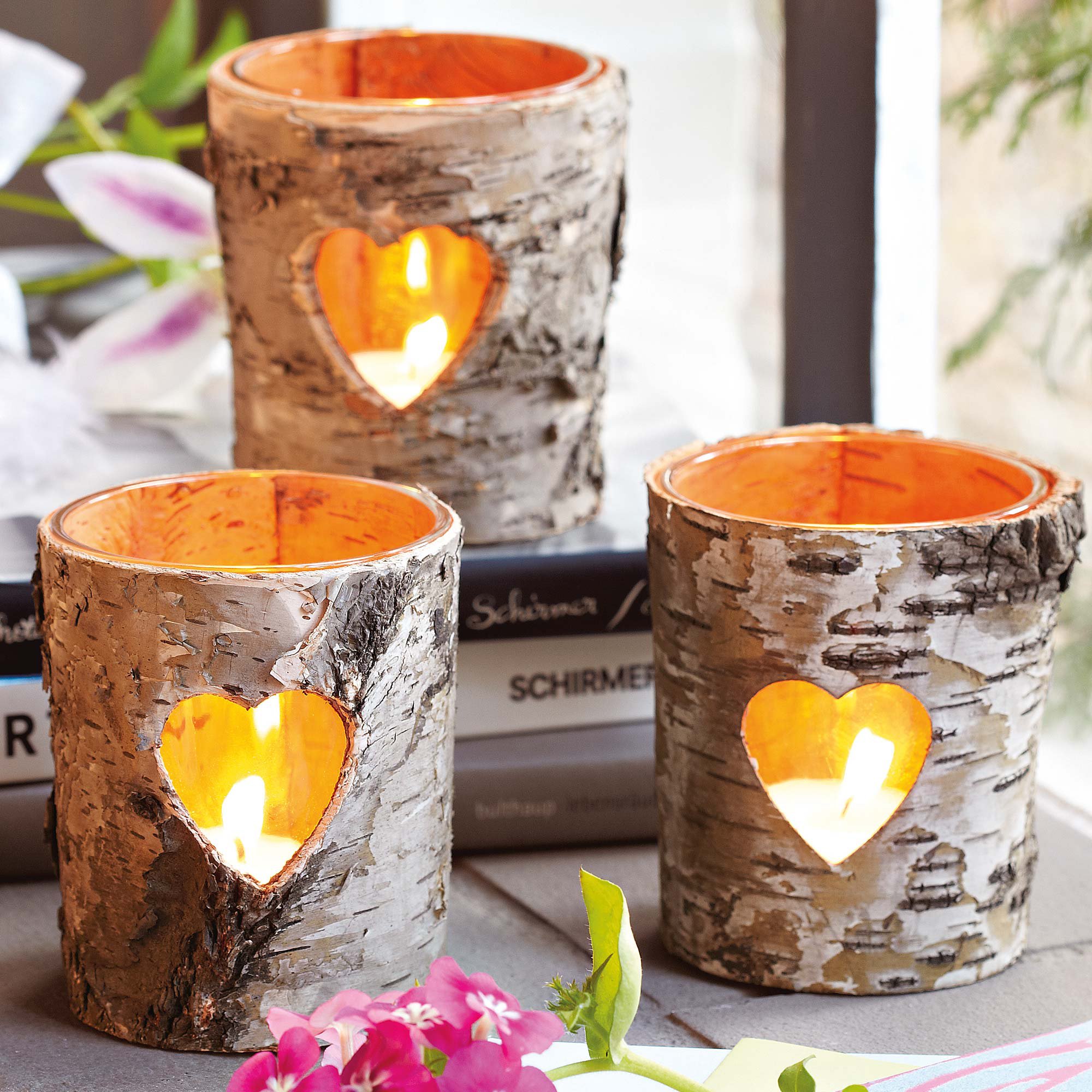 If you love nature, this DIY project is perfect for you! Bring the beauty of the forest right into your home with these birch bark votive holders. When the candle flickers through the heart-shaped opening, you will be reminded of romantic walks in the woods. These make great transition décor between fall and winter.
5. An Earthy Holder for Tapers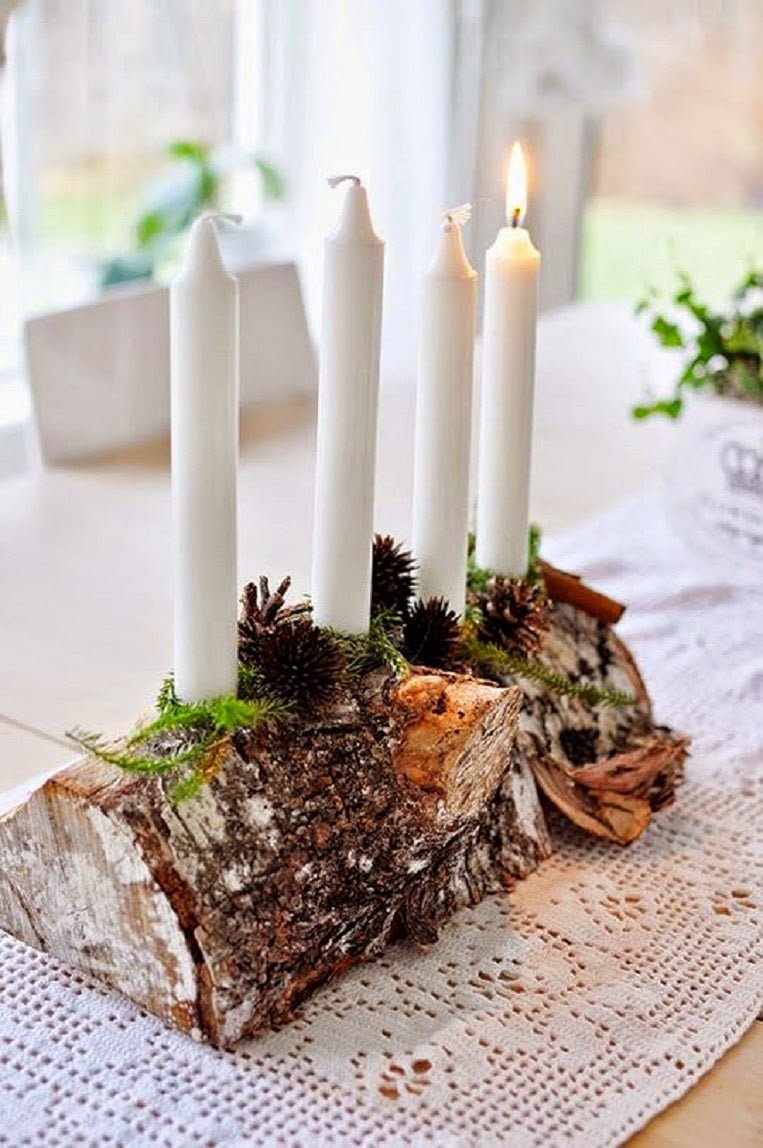 Fall crafts look so pretty but can rack up a big bill. If you're on a budget, try this DIY using natural materials! Simply drill some holes into a log, pop in some taper candles, and hot glue pine cones and greenery to complete the look. Everyone at your Thanksgiving dinner table will "ooo" and "ahh" over this piece!
6. Expressive Country Charm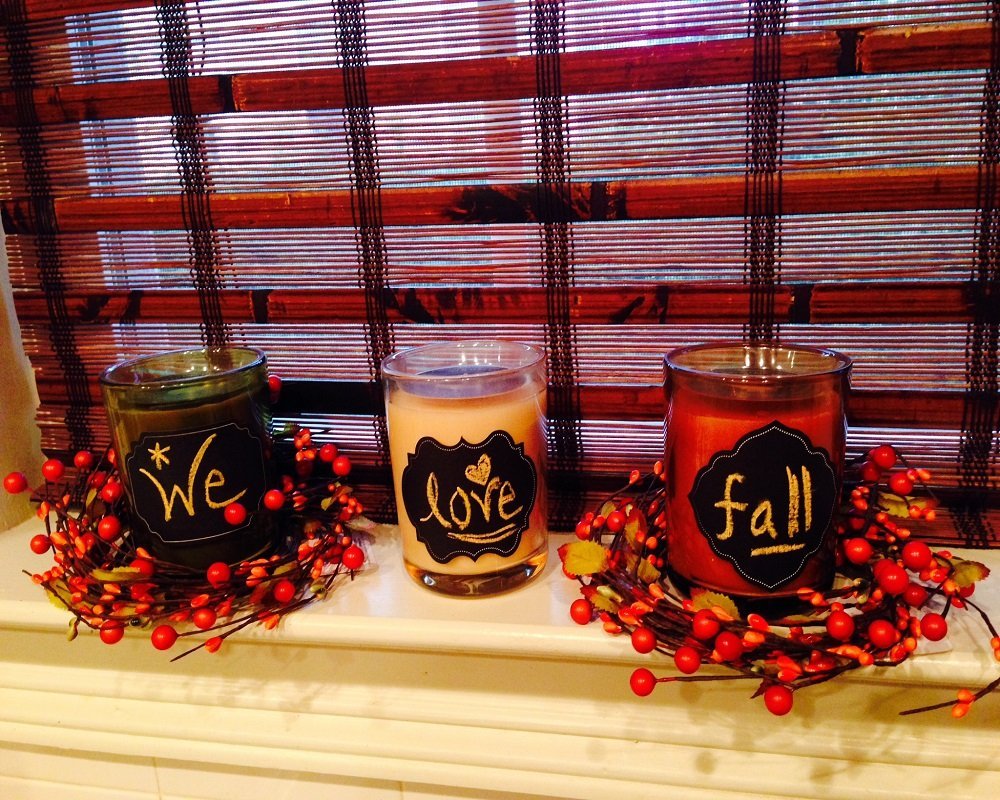 Personalizing your DIYs helps set your home décor apart from the rest. With this super easy project, you can add a touch of personality to your house in a snap! Just apply chalkboard stickers to your favorite fall candles, then write a fun message. Need ideas? Try your monogram, family members' names, or wedding date!
7. Gilded and Glamorous Nature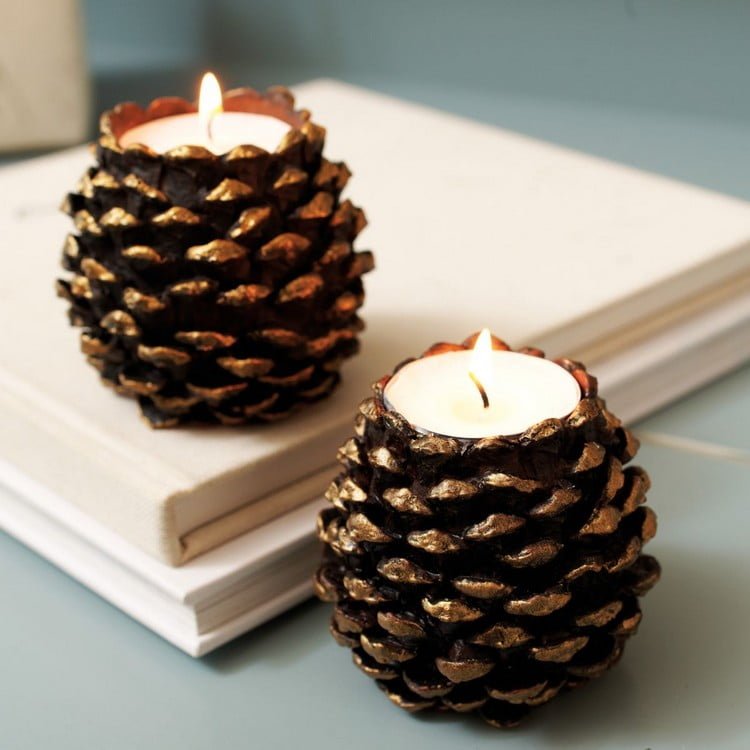 The rustic fall look is nice and all, but what if you want a little more glamour? Give this cute project a go! Adding a hint of gilding to the edges of pine cone gives them a "natural meets chic" vibe. When the candlelight glints off that gold, there is nothing more beautiful.
8. A Cozy Afternoon Project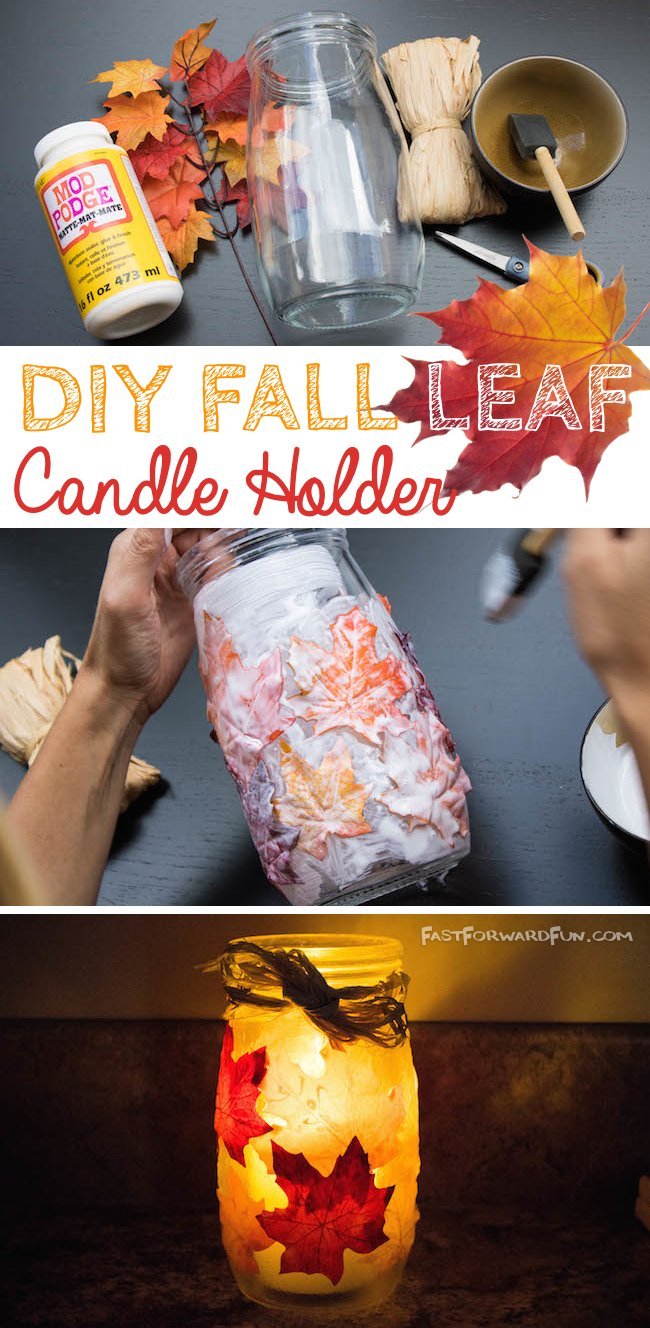 Mod Podge is a crafty queen's staple. All you need to make this DIY is a bottle of it, some fall leaves, and a glass jar. The leaves' warm autumnal colors will filter the candlelight into a super cozy glow. You can even use real leaves you collect from outside to add a unique touch to your project.
9. Fall to Holiday Woodsy Votive Holders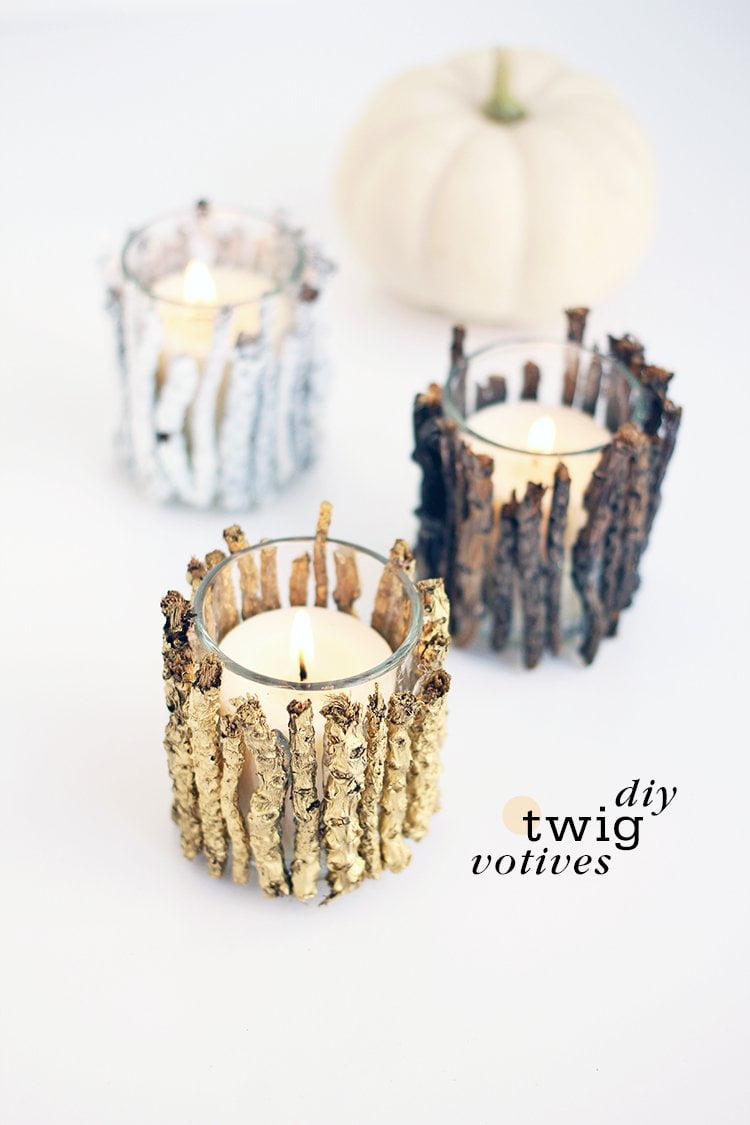 For a fast and easy project that only looks expensive, try this DIY. On your next fall stroll, collect some cute twigs, then simply hot glue them to the outside of a glass votive holder for a pretty and rustic decoration! Adding metallic paint to the twigs gives them a more luxe look.
10. A Wreath of Festive Fall Berries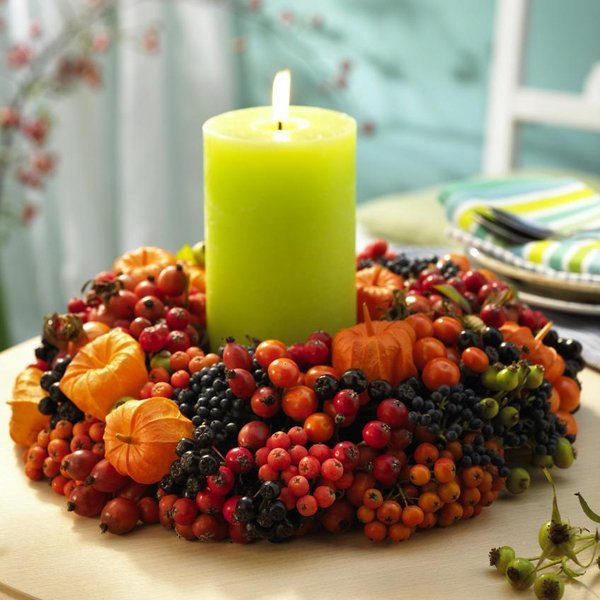 Celebrating nature's bounty is a huge part of fall. Show your love for the harvest by making this beautiful faux fruit wreath. Pop a pillar candle in the middle and you have a gorgeous centerpiece for Thanksgiving or an everyday fall family dinner. This DIY doesn't take up much space, so it's perfect for smaller homes.
11. Indian Corn for Your Thanksgiving Table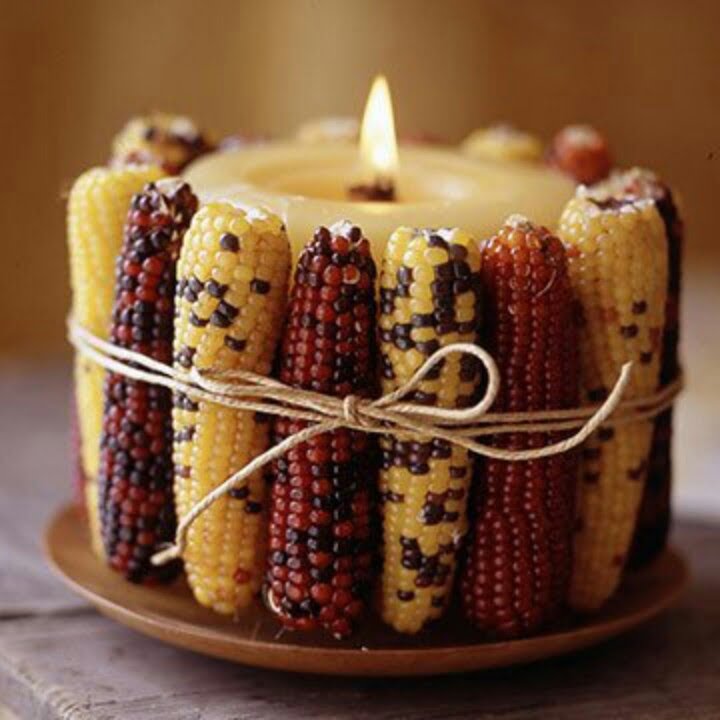 Bunches of colorful Indian corn never fails to remind me of fall. Bring those harvest vibes to your home on a smaller scale by making this adorable DIY. Mini ears of corn and a rustic raffia ribbon hug a warm and cozy candle. Light the candle and pour yourself a mug of cocoa to get into the autumn mood.
12. Chic Floating Candles for a Nature-themed Party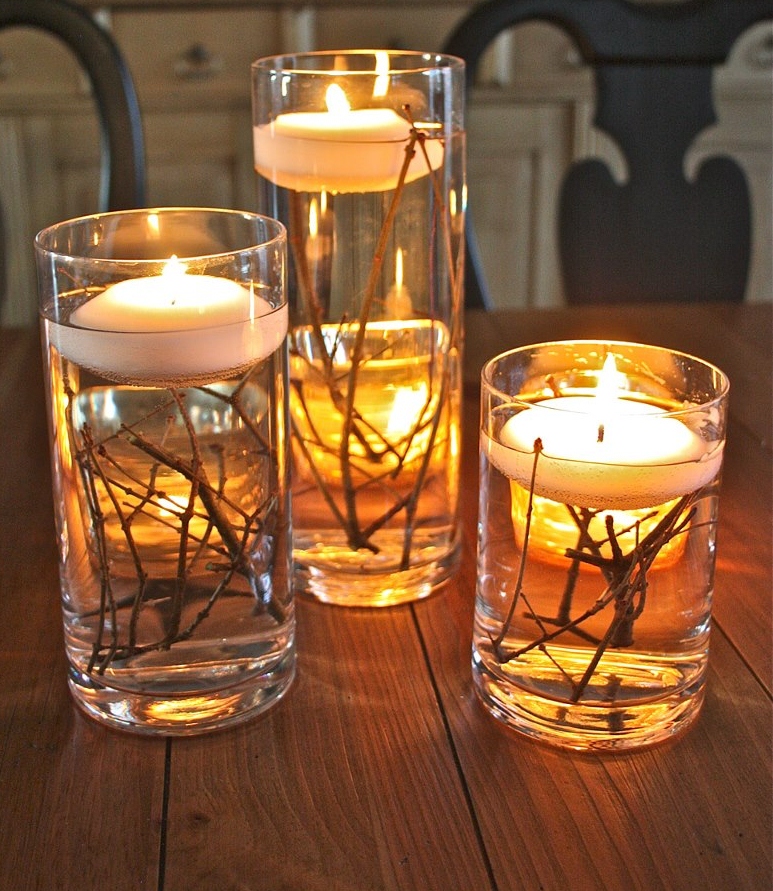 Floating candles always look chic, but how can you make them look special? Add a rustic touch using tiny twigs! It is so easy to do that even the kids can help make this project. This DIY would be perfect for decorating for a nature-themed party in fall or winter.
13. Beach-themed Fall Candle Décor Ideas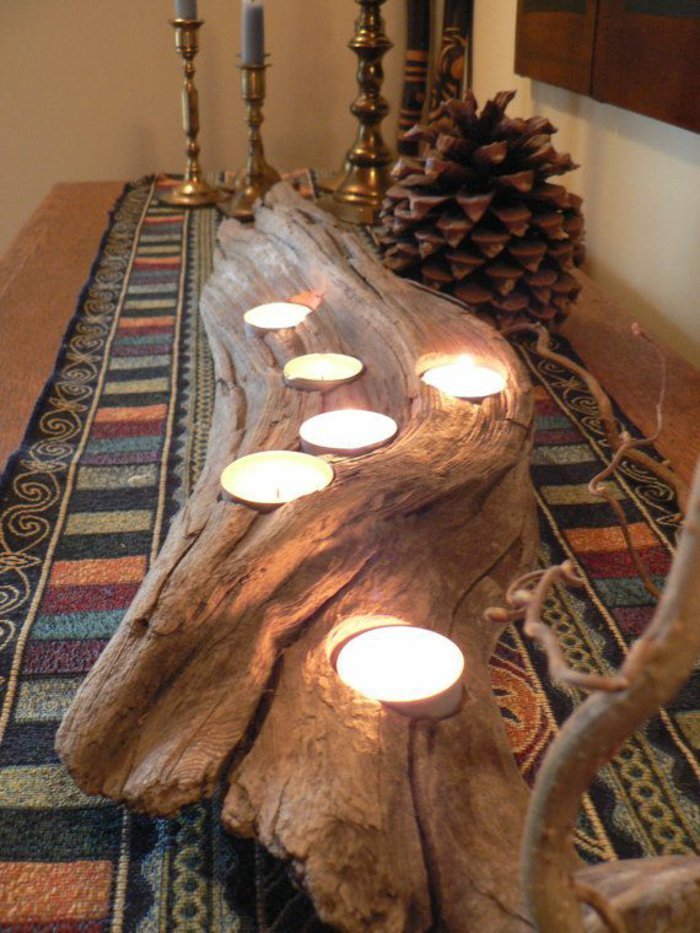 Not all of us live near a forest emblazoned with colorful foliage. But that doesn't mean you can't bring the beauty of nature into your home this fall! If you reside close to a beach, pick up a pretty piece of driftwood. Simply drill holes in the wood and add large tealights for a gorgeous mantel decoration.
14. Magical Fall Lanterns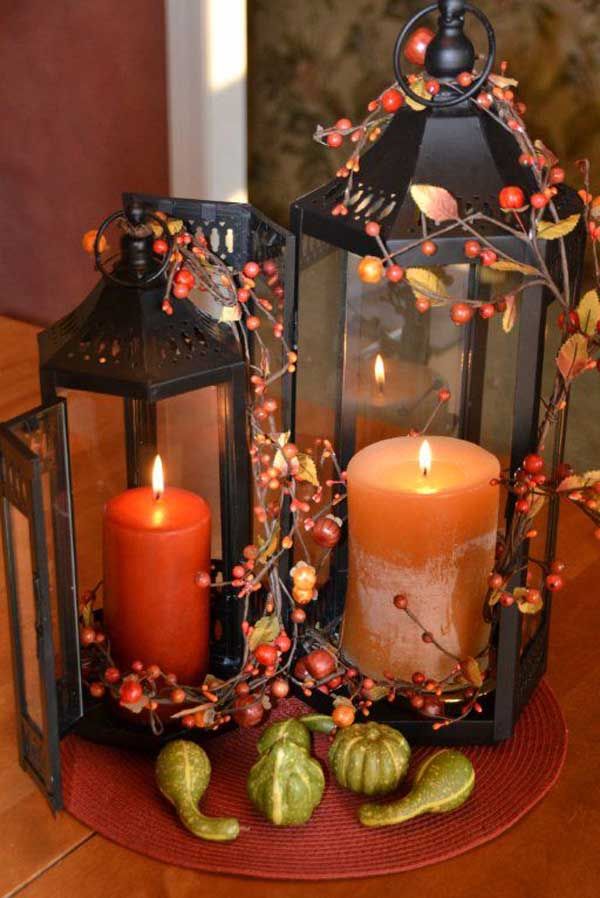 Nothing gives your home a more inviting feeling than lanterns. You are literally lighting your guests' way! Pep up some plain metal lanterns with faux berry vines for a pretty fall makeover. Adding some teensy gourds and a braided mat in a fall color gives you a complete autumn vignette.
15. Simple and Graphic Fall Leaves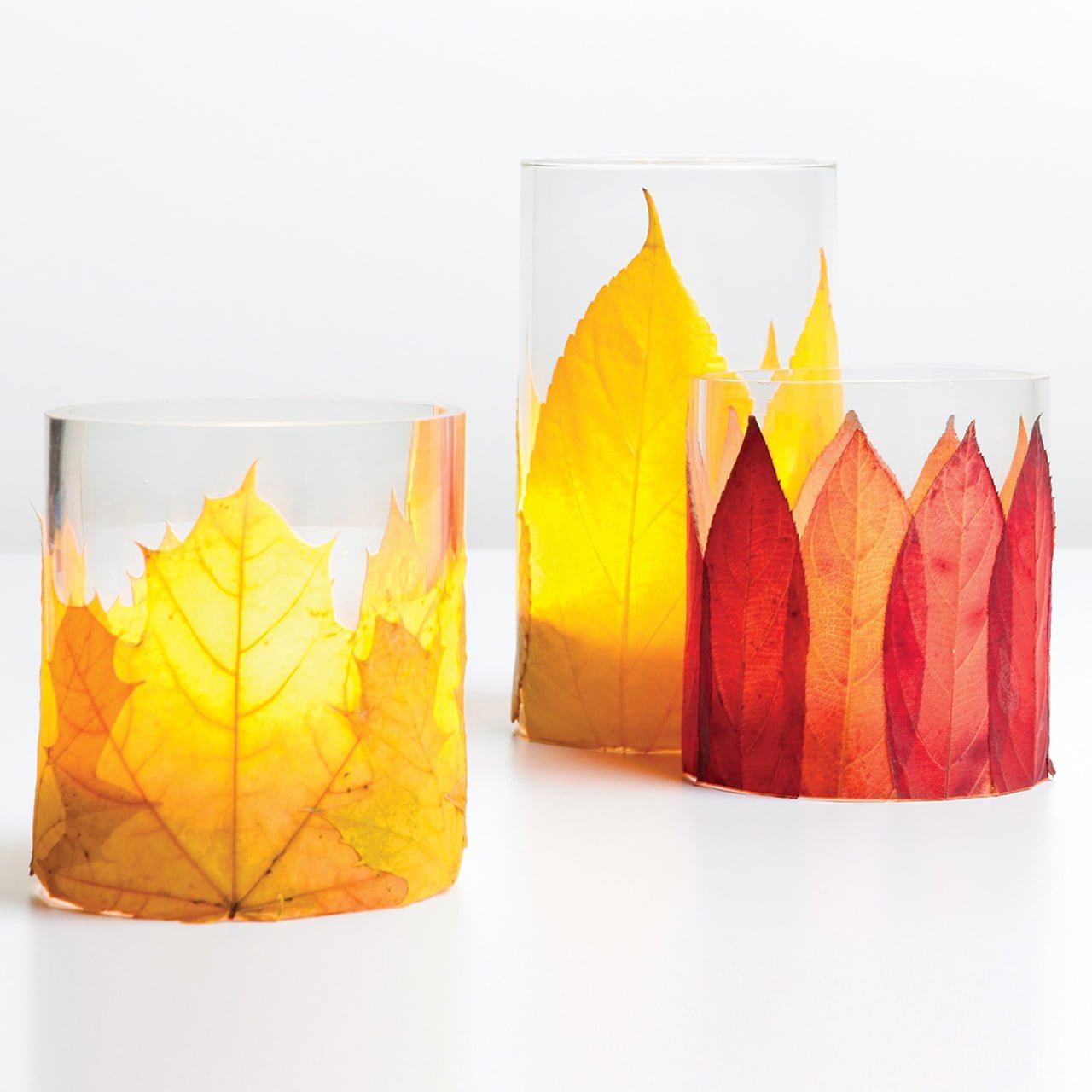 People always say that bright autumn foliage looks like fire. Amp up that metaphor with these gorgeous candle holders! Make a border of dried leaves in the same shape and color for a bold graphic design that brings the beauty of nature indoors. This project is the picture of rustic chic!
16. Elegant Thanksgiving Table Decor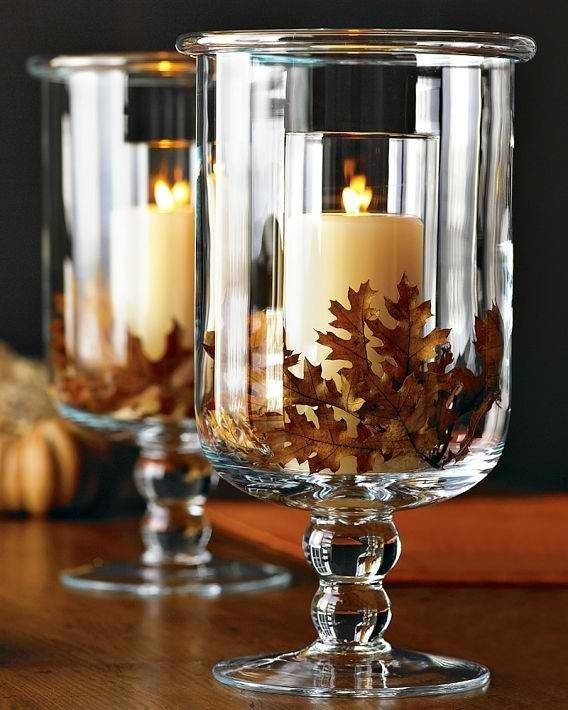 This simple DIY looks straight out of a magazine, but it's so easy to do! Tuck a glass candle holder inside a larger hurricane glass, then hide the bottom edge with a swirl of pretty autumn leaves. When fall ends, switch out the leaves for ornaments or evergreen boughs for the holiday season!
17. Natural Fall Candle Decor with a Scandinavian Flair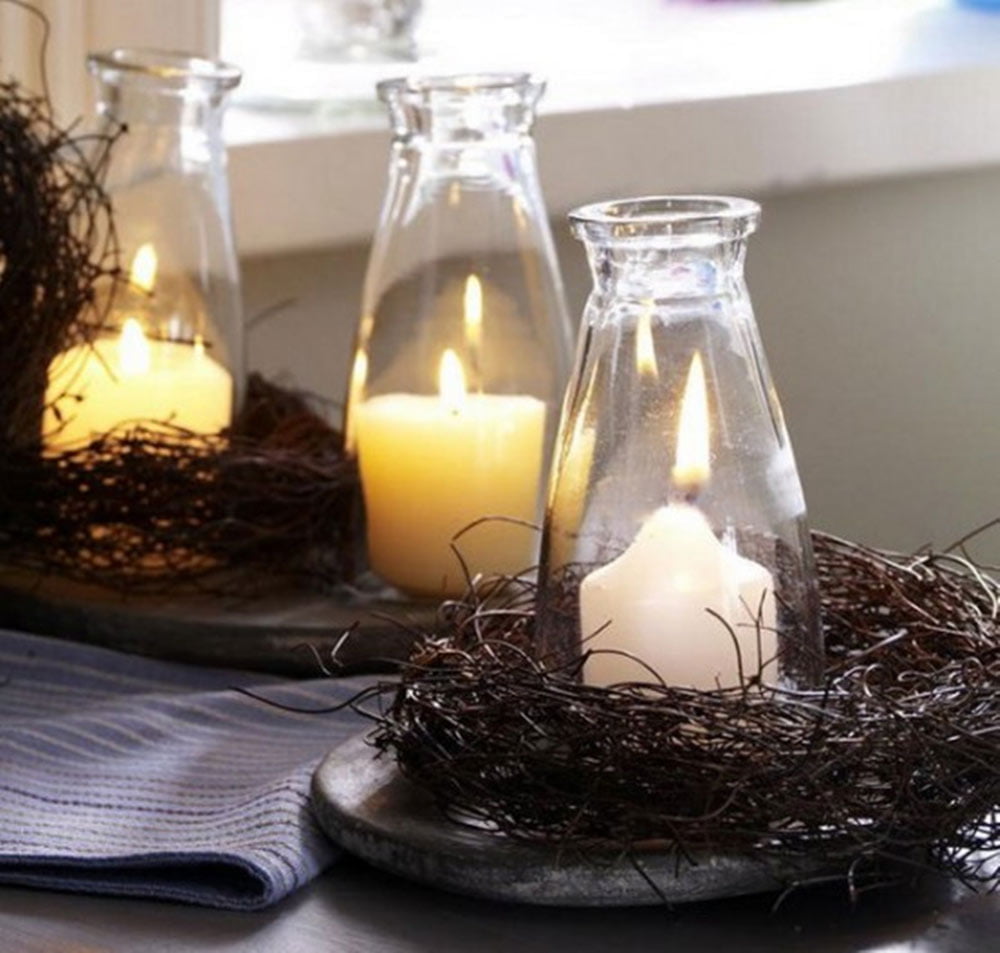 If your decorating style is shabby chic or vintage, this is the DIY for you. Pop some small candles (or candle stubs) into old glass bottles you already have at home. The more eclectic your collection, the better! Add tiny grapevine wreaths around each bottle to complete the autumn look.
18. Naturally Scented Cinnamon Candles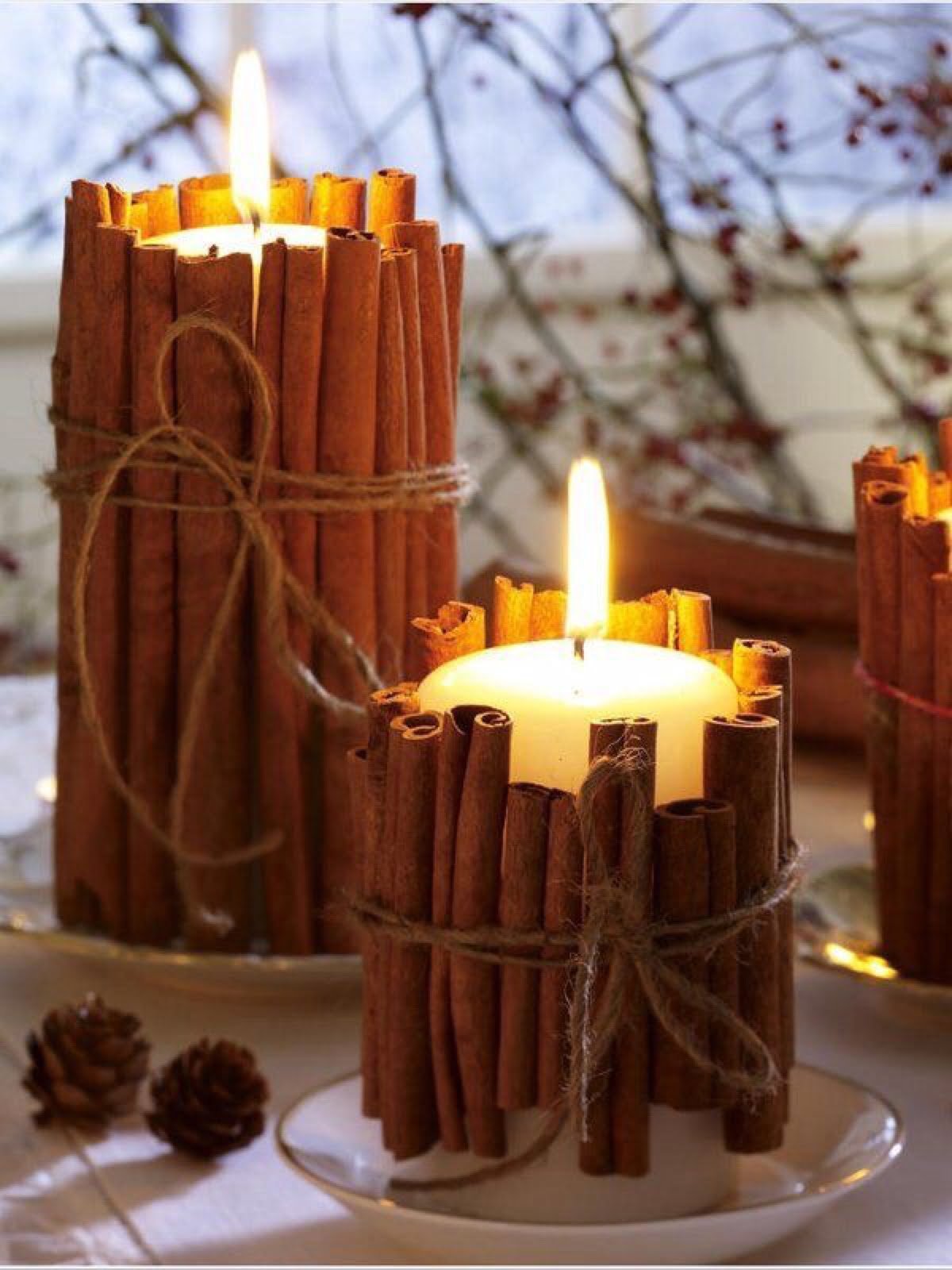 Cinnamon is one of my favorite fall scents. It's so warm and cozy and reminds me of delicious autumn desserts! Bring that scent into your home with this easy DIY. Simply hot glue cinnamon sticks to a pillar candle, then tie on some twine to add a rustic yet pretty touch.
19. Pinecone "Flowers" for Your Side Table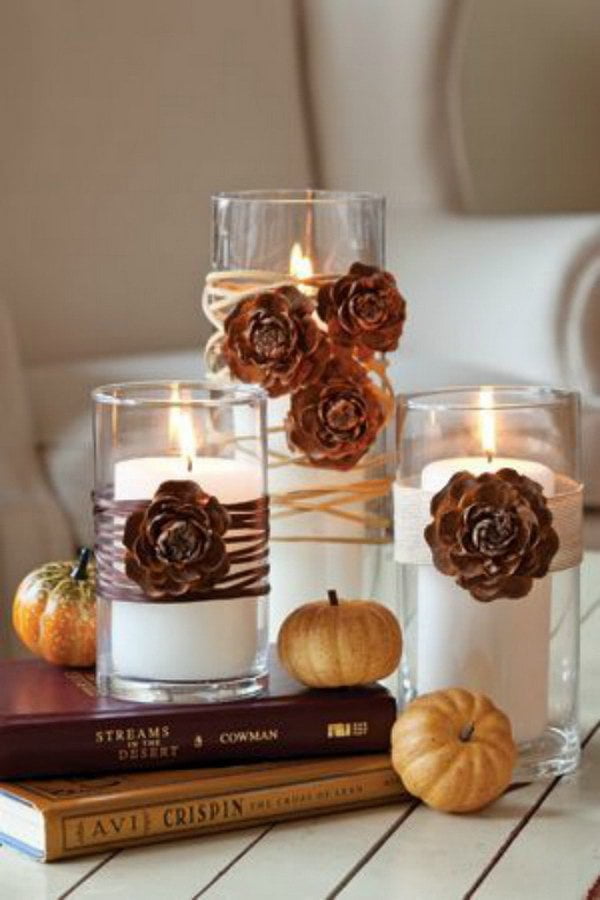 Did you ever notice that pine cones look like flowers from the top? Rethink this natural element with this pretty project. Wrap your favorite ribbon around a glass candle holder, then add a pine cone "flower" for a touch of natural beauty. These would be so cute for a fall bridal shower!
20. Fall Feast Candle Holders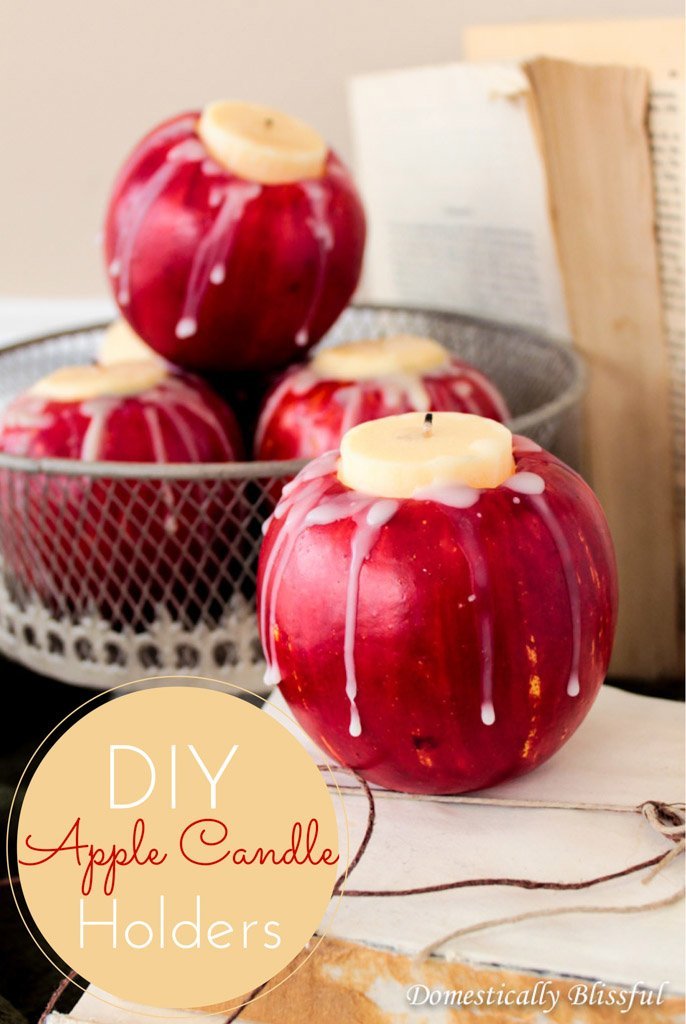 Picking apples straight from the orchard is one of my favorite parts of fall. Bring that joy indoors (without sacrificing any of your yummy fruit) by making these candle holders! Fill a basket with them for a unique décor piece or place lit ones around the house to create a warm ambiance.
21. Colorful Fall Candle Centerpiece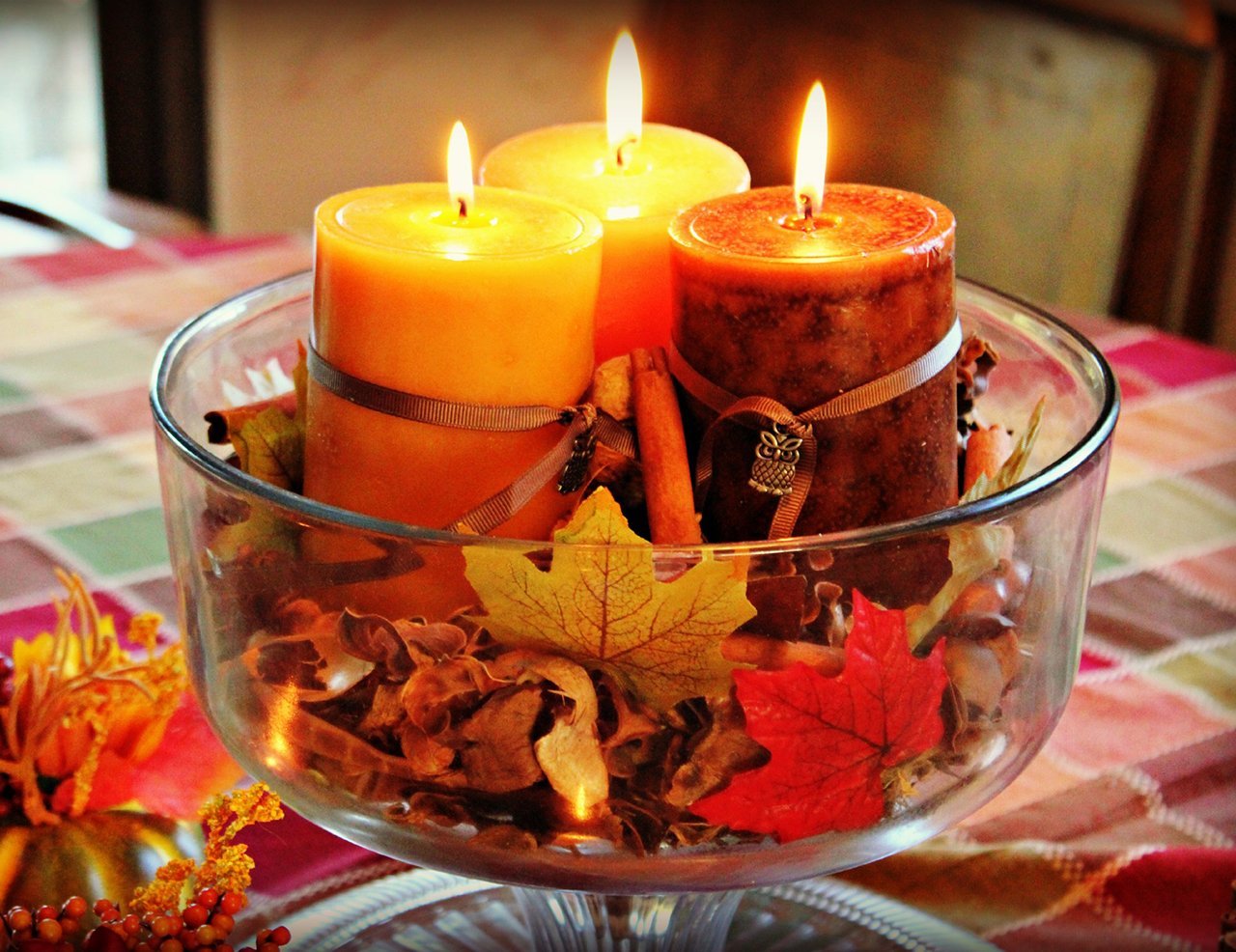 If you don't have much time or are new to crafting, this DIY is ideal for you. This project takes almost no effort to make, yet it looks beautiful! Colorful fall leaves, the warm glow of the candles, and the cute little owls will turn your home into a fall wonderland in an instant.