When you have the best DIY feather home crafts, your living space can transform into a world full of wonder. Decorating with feathers brings a layer of uniqueness to your home that other materials and themes cannot. Feathers have a carefree look about them while also holding such meaningful symbolism. They're connected to transition, being free, and even holding wisdom. Additionally, there are numerous ways you can decorate with them, making them the perfect DIY project base.
23 Charming DIY Feather Home Crafts

Adorn your home with wreaths, wall hangings, garland, and more. If you are ever conflicted about what to make in your home, you can always refer to the list of our favorite handmade home decor with feathers.
1. DIY Fluffy Yarn Feather Wall Hanging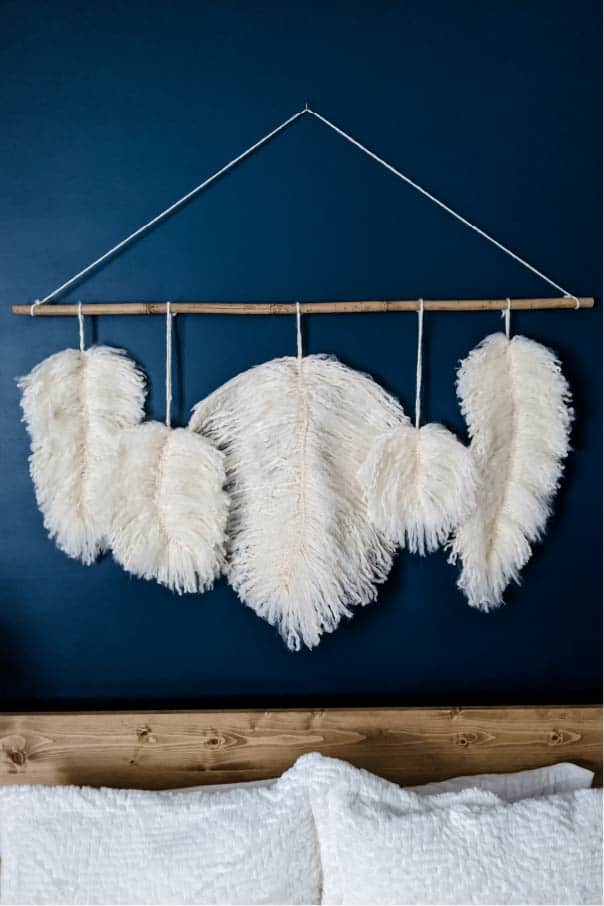 Create the look of feathers using yarn with this DIY project. It's among the best DIY feather home crafts that utilize a common material to create realistic feathers.
2. DIY Corn Husks and Feather Votives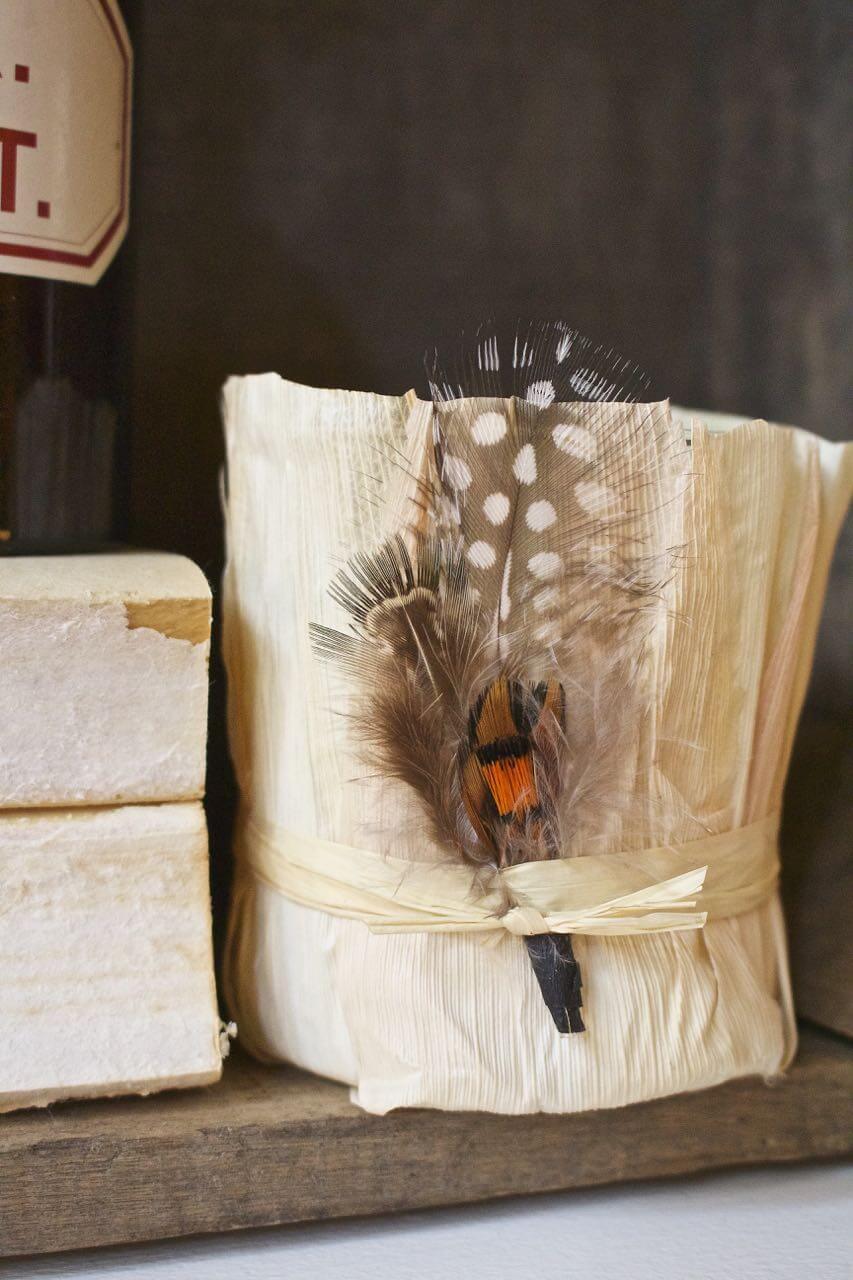 Give your home a rustic, farmhouse-like look with this fun DIY project. The feathers offer up contrast whether tucked into a bottle or placed with the corn husks.
3. Dark and Authentic DIY Feather Wreath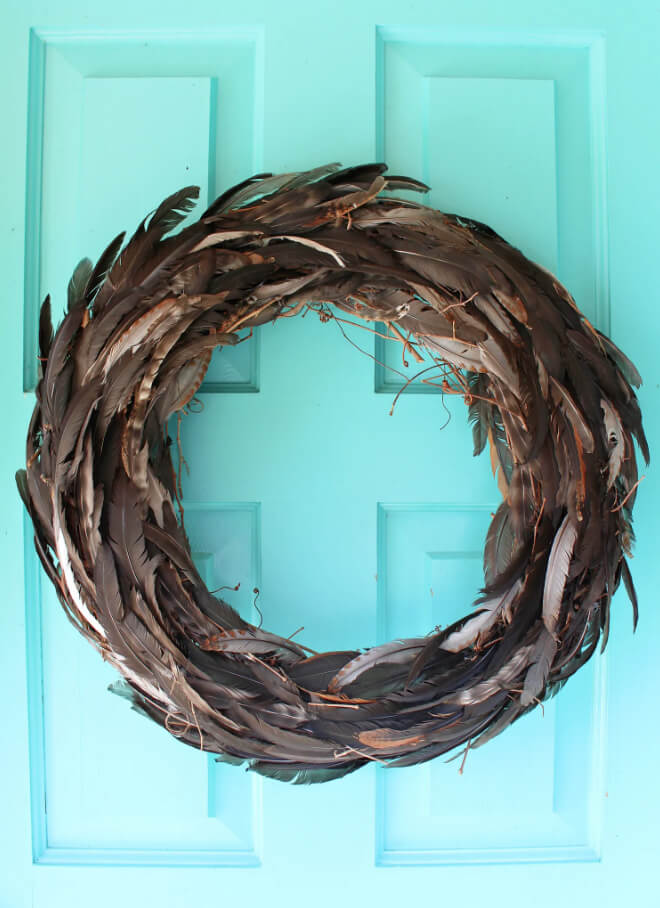 Sometimes, darker feathers work out better than light-colored ones. In this case, the feathers are real, giving the wreath some incredible texture.
4. Multicolored DIY Feather Wall Hanging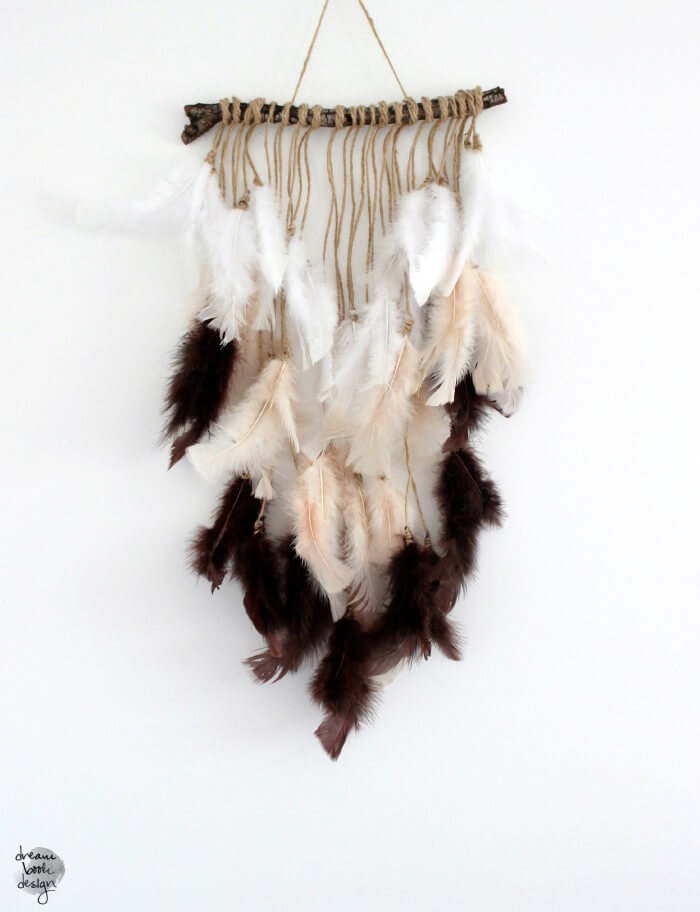 This multicolored feather wall hanging is a great way to add some texture to otherwise bare walls. The difference in color tones from light to dark provides it with some wonderful contrast.
5. Feather Themed String Wall Art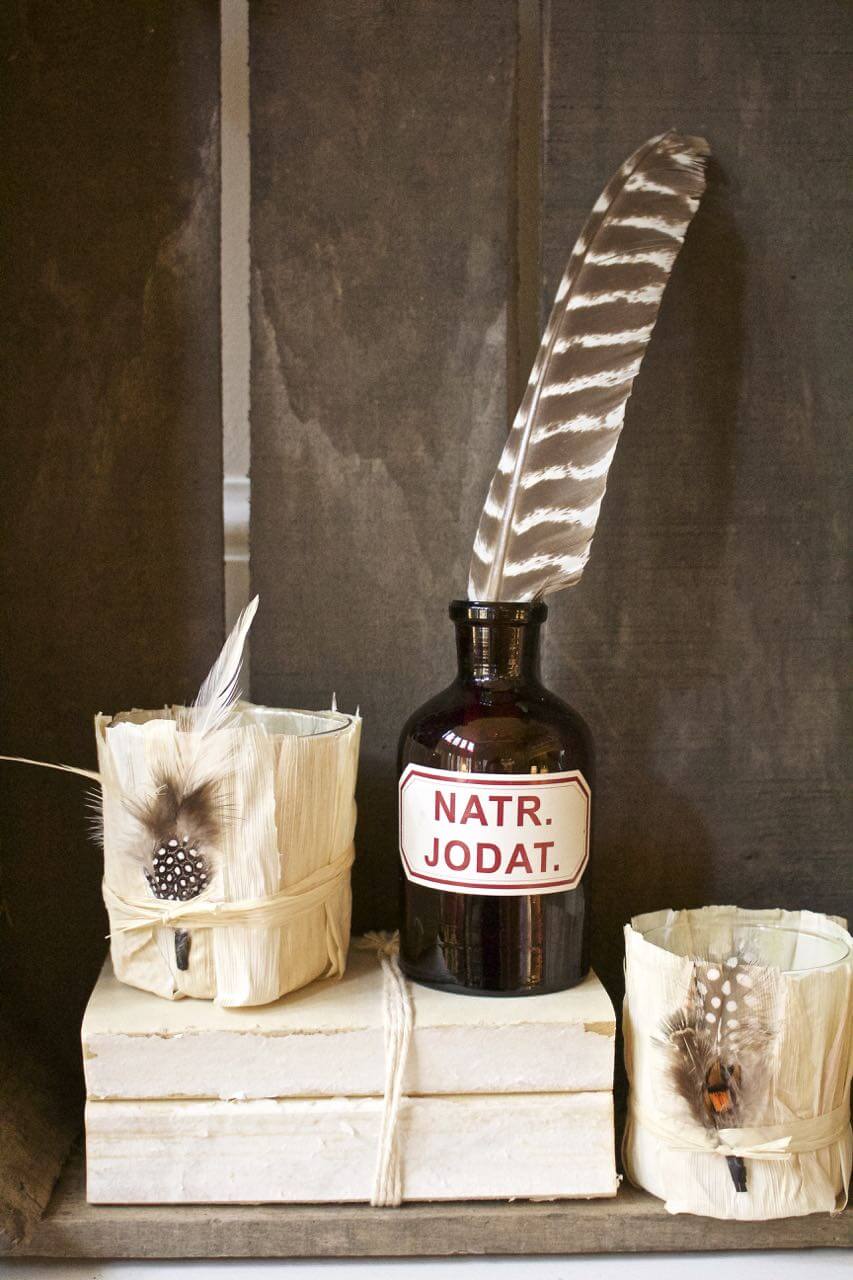 Some homemade feather crafts do well at showing off your more artistic side, as is the case with this contemporary string art.
6. Artistic DIY Feather Wall Art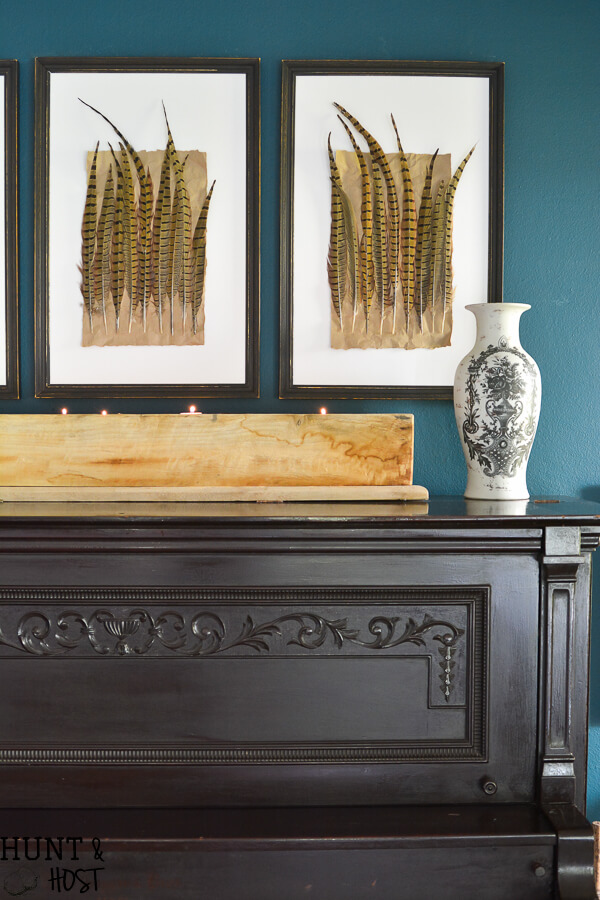 Show off your artistic prowess with these great feather-themed wall art hangings. They are simple and affordable to craft, the minimalistic appearance offering them even more depth.
7. Fluffy DIY Feather Chandelier Design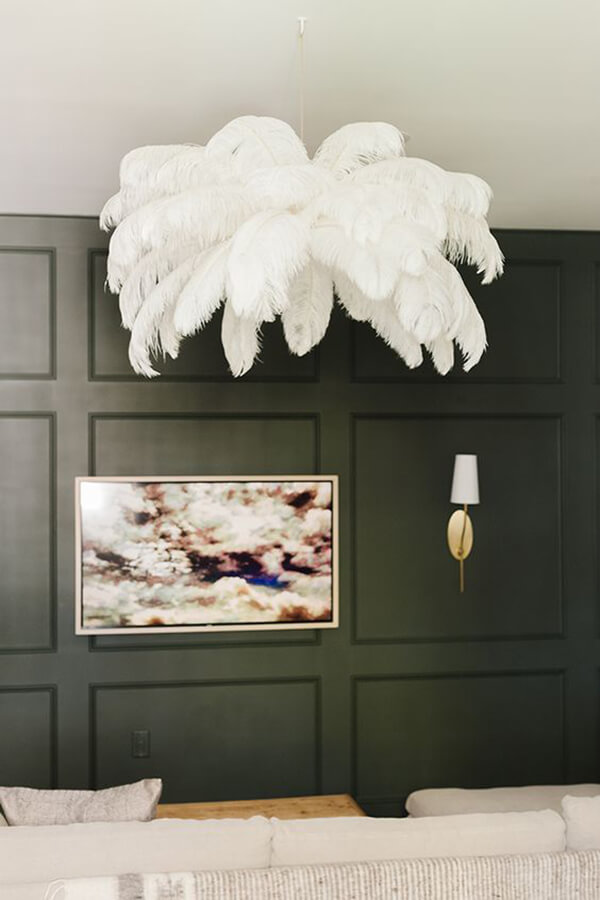 The best DIY feather home crafts can offer you something functional such as a chandelier. This is a setup that everyone will notice and admire the moment they enter your home.
8. Cool Winter Themed Feather Wreath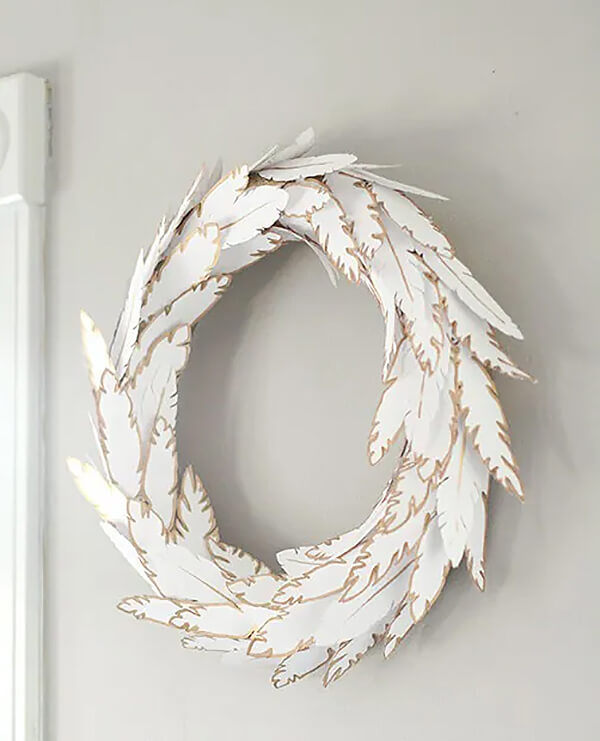 This feather wreath offers a nice twice on traditional seasonal decorations. It is far more unique with a sense of movement to it thanks to how the feathers are laid out.
9. DIY Gold Tipped Feather Garland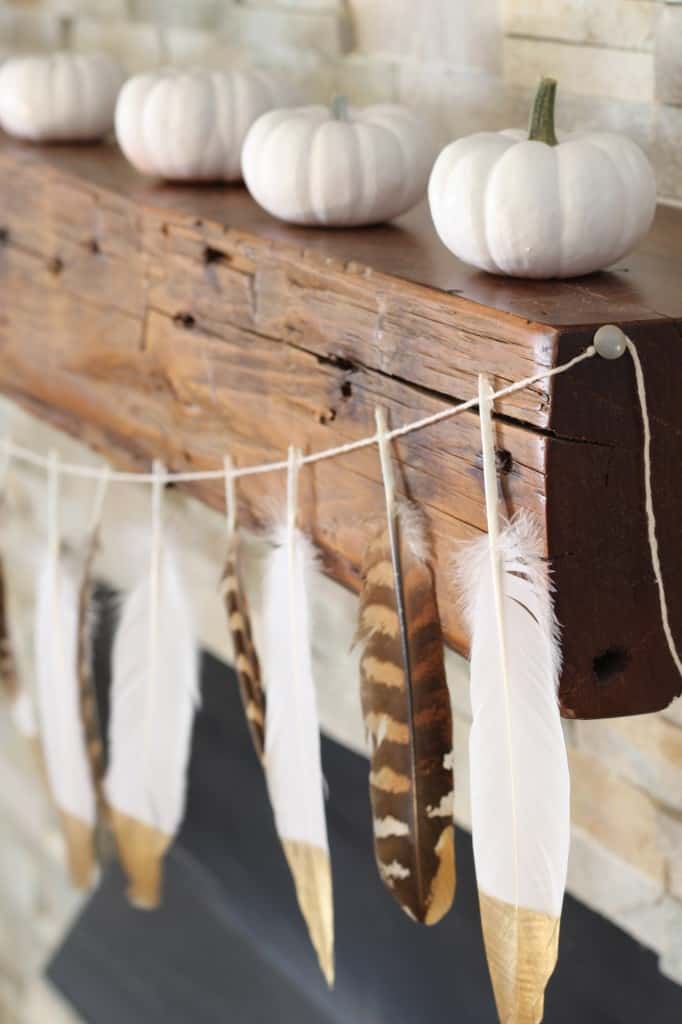 A beautiful to decorate with feathers while pushing a more contemporary design is with these gorgeous gold-tipped feathers. The gold allows them to be an instant attention-grabber.
10. Chic White Feather Wreath Design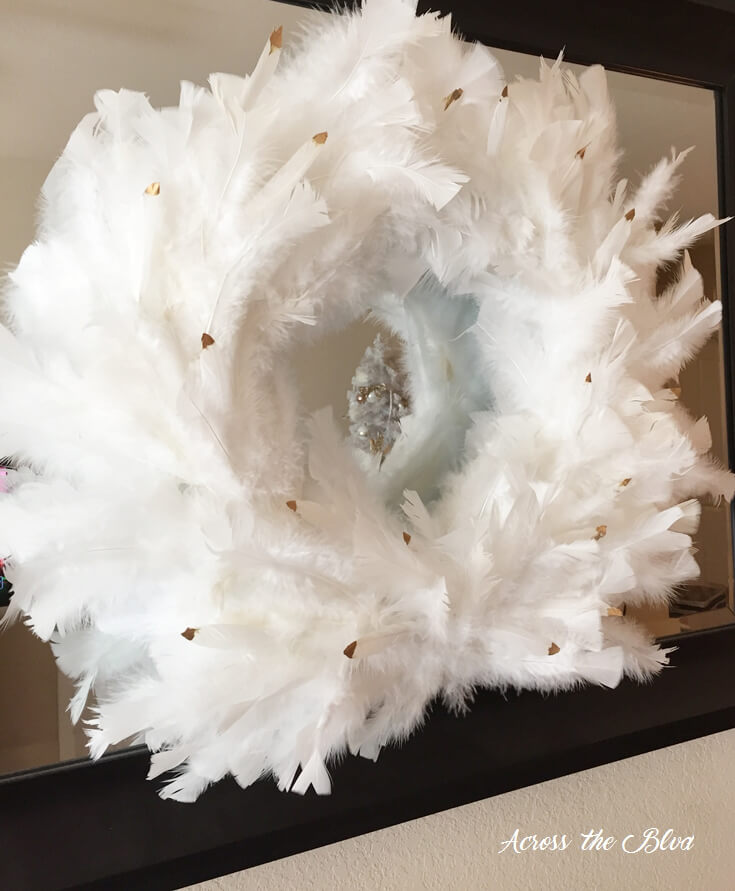 An all-white feather design is perfect for the winter season. This one is large and full of life, giving your walls a glam look that anyone would love.
11. Sweet Paper Feather Jar Display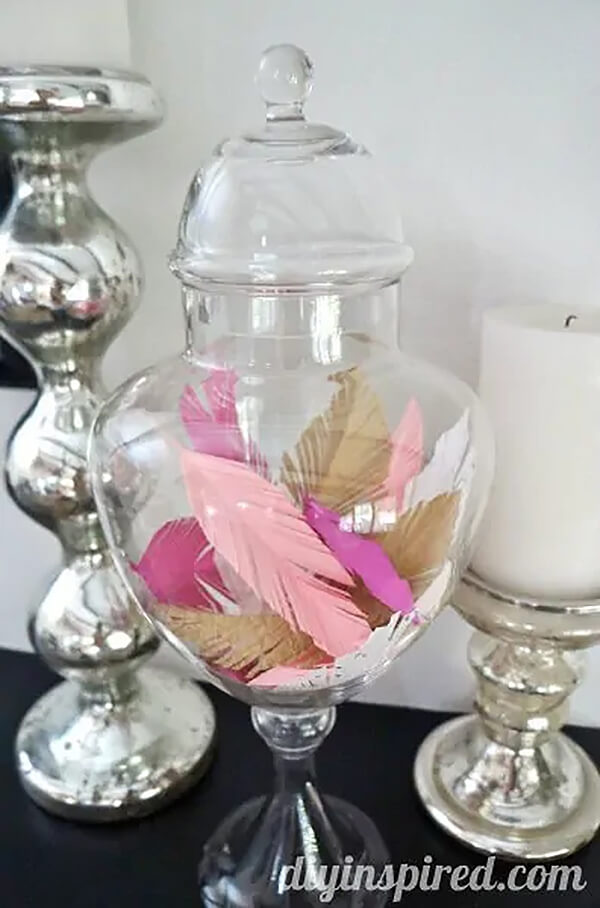 If you are in need of more party decor, consider adding some colorful paper feathers to a jar. These can stand in for centerpieces or simply work as decoration on a console table.
12. Elegant and Enchanting DIY Feather Centerpieces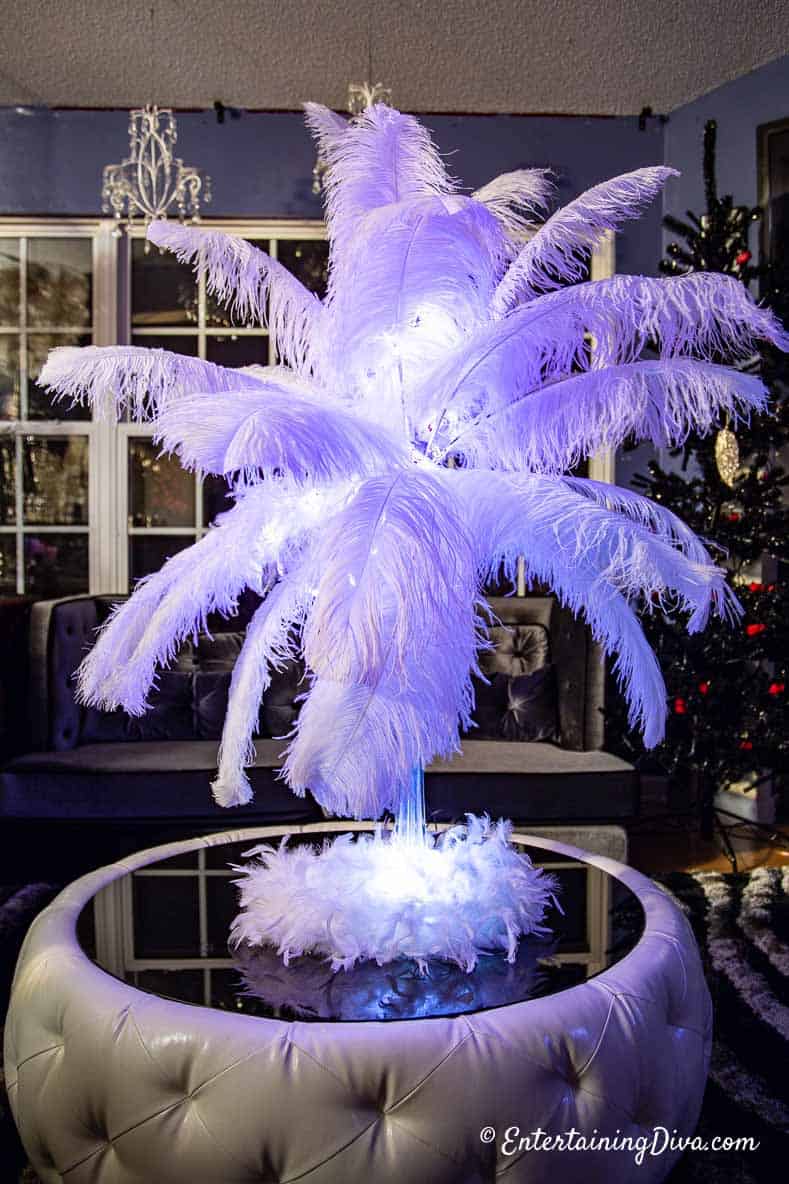 Ready to add a chic style to your home or your next get together? Well, try your hand at crafting these feather centerpieces. They're robust and bold enough to steal the show.
13. DIY African Juju Feather Hat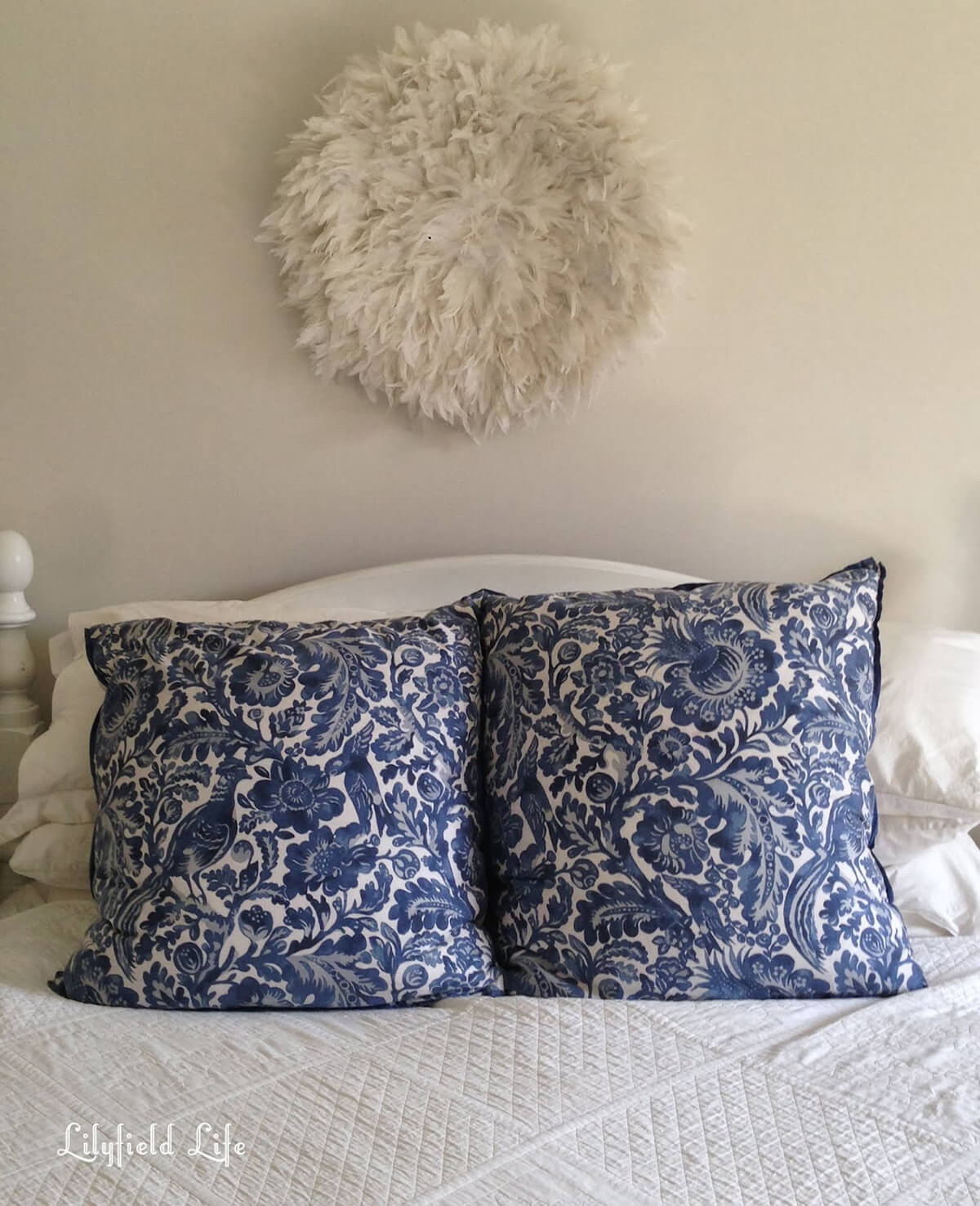 Dive into a vibrant culture with this handmade African Juju hat. The feathers work beautifully along the hat, giving it more of an authentic look.
14. "Love" Feathered Heart Canvas Art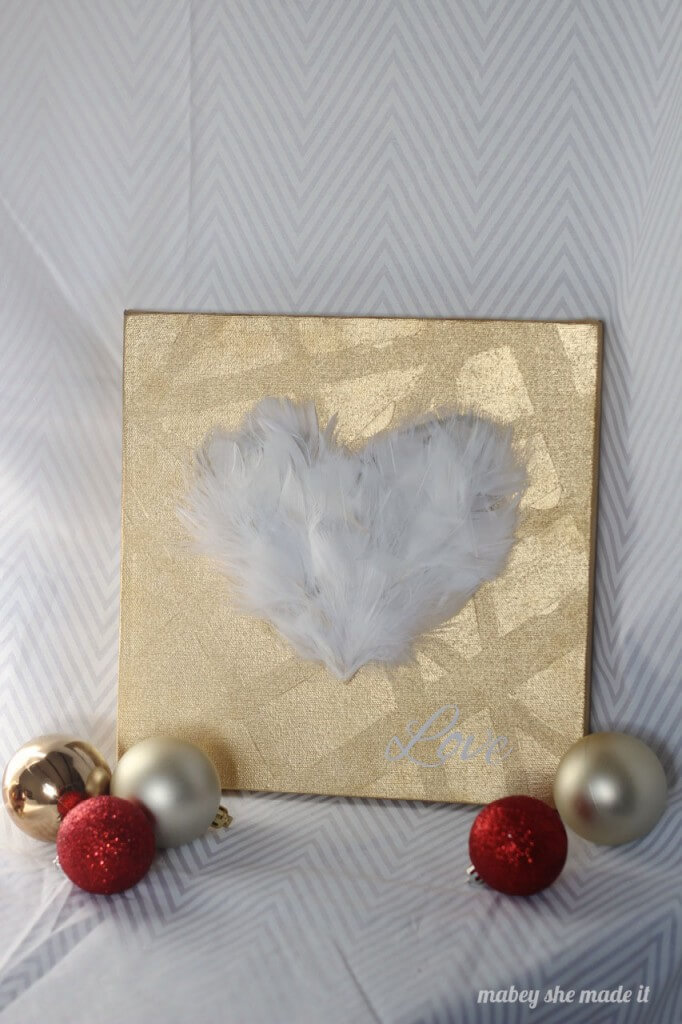 Create heartful wall art with this stunning feathered heart canvas. Against the gold background, the white feathers stand out even more.
15. Sophisticated Handmade Feather Dreamcatcher Design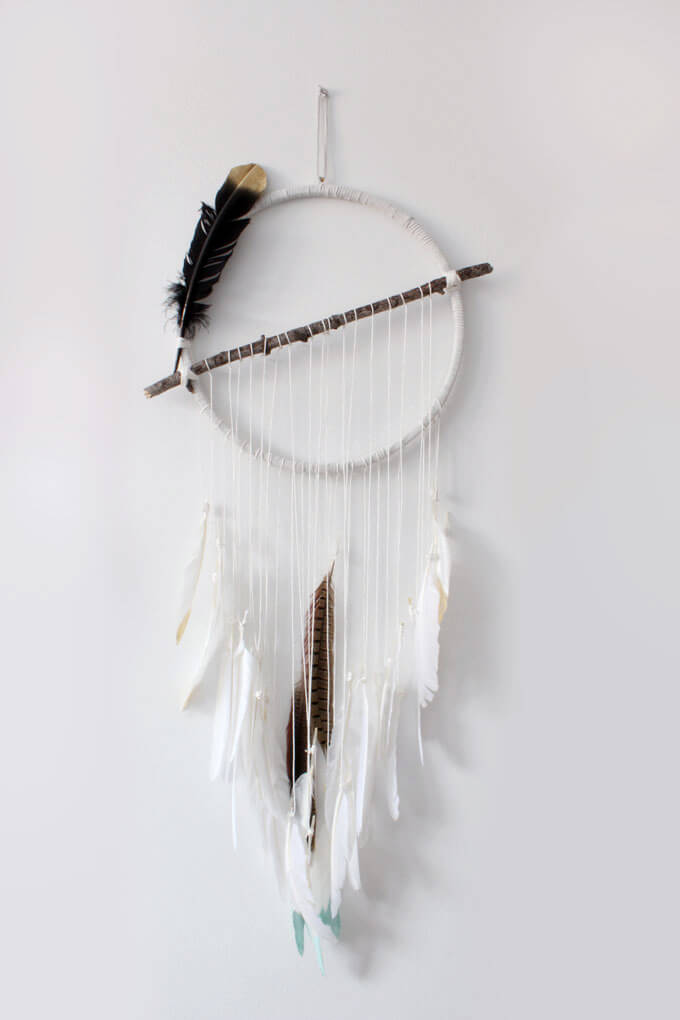 Dreamcatchers always offer a wonderful way for you to design with feathers. There is such power held in these designs that are meant to protect your dreams while you sleep.
16. Rustic Handmade Feather Wreath Design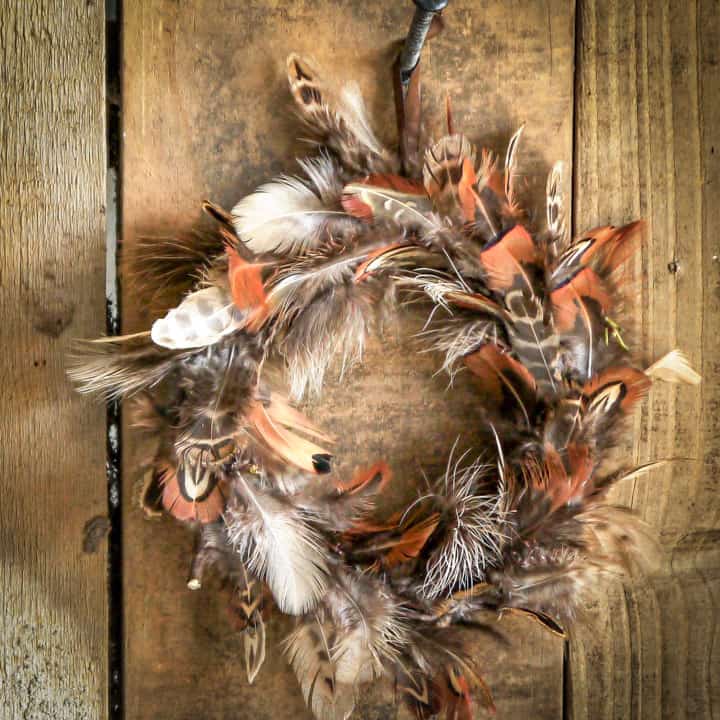 This rustic feather wreath is perfect for a farmhouse-styled home or a home that seeks a more vintage look. There is nice coloring with the wreath as well to add warmth to the style.
17. Cute DIY Cupid's Arrow Feather Craft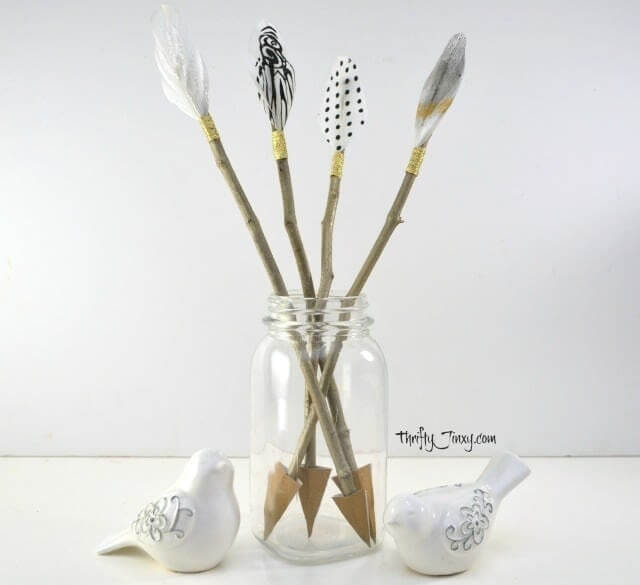 Create something cute for Valentine's Day or any other special day with these handmade Cupid arrows. It's simple as far as handmade home decor with feathers go, but filled with so much charm.
18. Bold Chicken Feather Wreath Design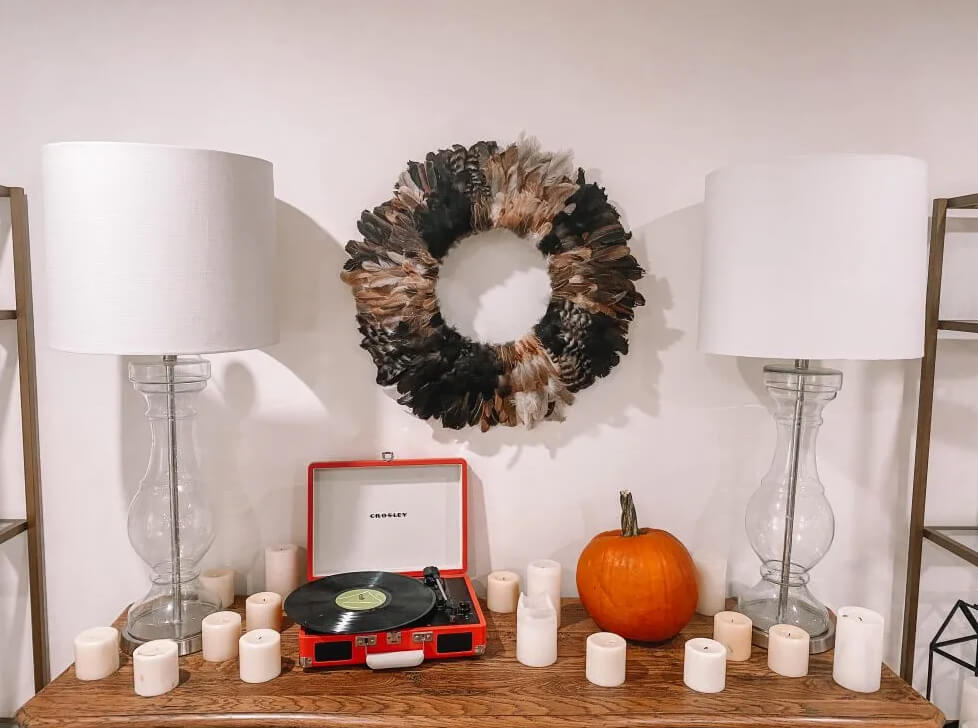 Make a filling and audacious wreath using dozens of chicken feathers. The wreath holds plenty of life and flair in it despite its darker color tones.
19. Cool and Colorful Peacock Feather Wreath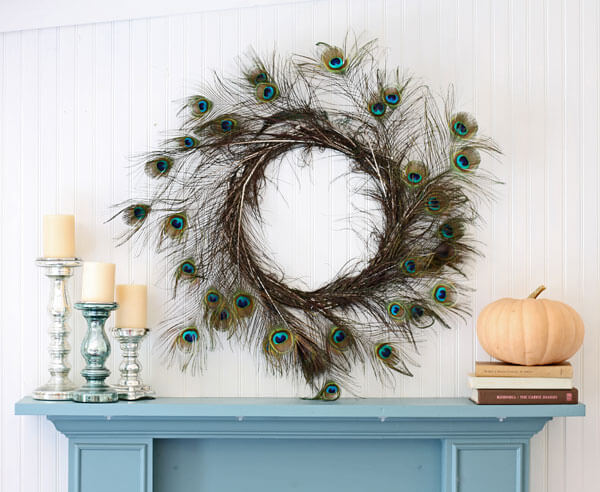 Peacock feathers are wonderful to use when you want a more interesting and unique pop of color. The feathers are gorgeously long too so that you can build a large wreath.
20. Charming Cork and Feather Place Cards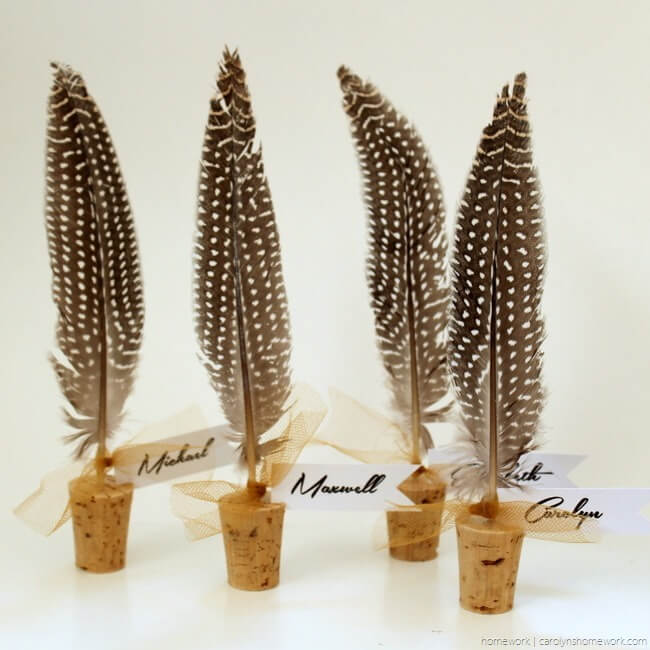 Just in time for a wedding or party, these cork and feather place holders are distinct and welcoming. They are among homemade feather crafts that are more minimalistic but no less impactful.
21. Pretty DIY Fabric Feathers Dishtowel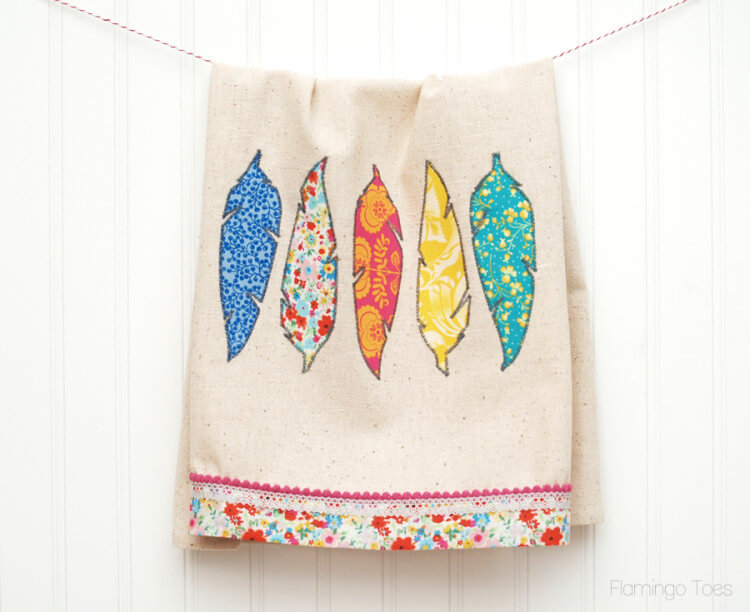 Add some color and style to your kitchen with this handmade fabric feathers dishtowel. It is sweet and gorgeous, able to bring out your personality.
22. Gentle DIY Hanging Feather Mobile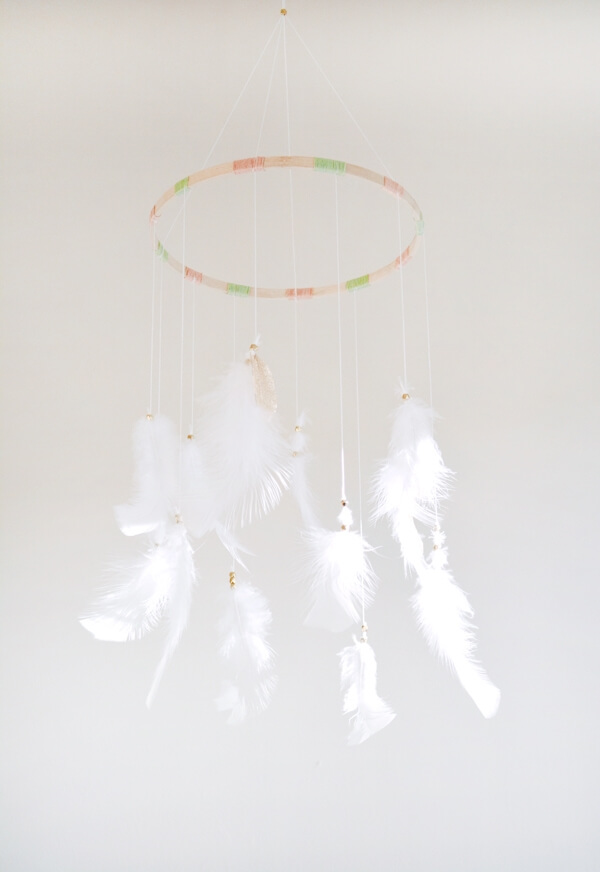 This hanging mobile is the perfect addition to any nursery. It is sweet with a light color as to not overwhelm the style you have going on in the room.
23. Feather Dreamcatcher Baby Hanging Mobile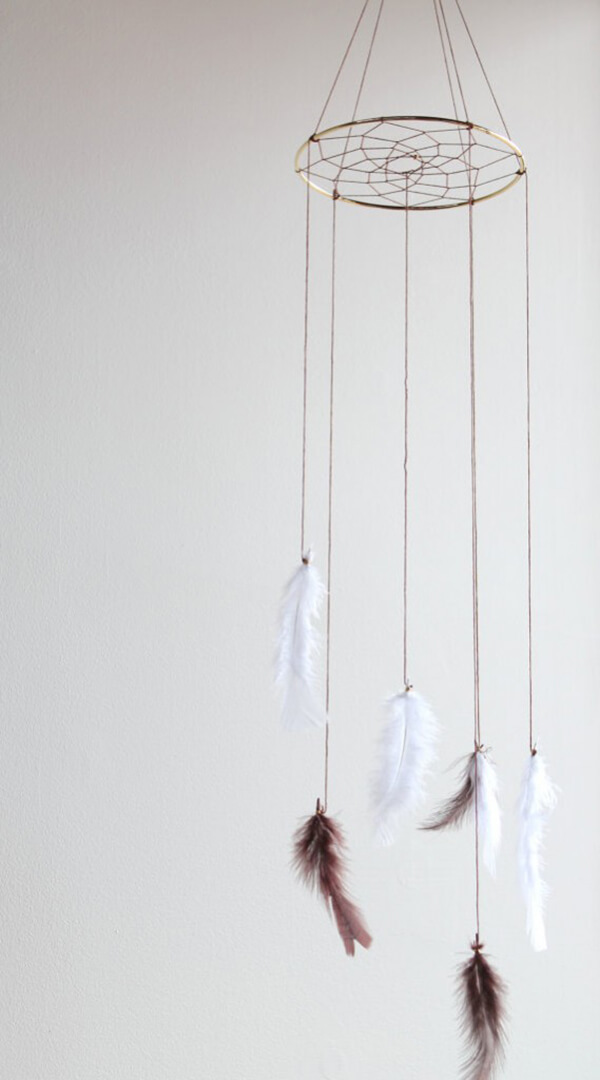 Turn a dreamcatcher on its side with this lovely baby mobile design. It is a cute way to have something unique over your baby's crib while also having something stylish.
23 Charming Homemade Feather Crafts to Explore Your Artistic Side
Feathers are truly a unique and beautiful medium to work with when it comes to homemade decor. They have a relaxing and soft look about them that makes them so appealing. Also, they can represent nature, freedom, and rising above any obstacles in your path. So, consider tapping into your creative side with handmade home decor with feathers to adorn your home with this type of beauty.