When you're ready to add flair to your front door, the best DIY floral wreath ideas will give you a wonderful place to start your creative journey. Decorating your door with a wreath isn't just something to do around the holidays. Instead, you can take your wreath decorating skills with you year-round. Create something fitting for each season, or you can opt to have a wreath that simply always fits in with your home's décor instead. You don't have to purchase one in the store either, struggling with finding that perfect, suitable wreath. Rather, dig into your artistic side and create a wreath all on your own. This way, you can add precisely what you want and how much of it you want to have.
23 Gorgeous DIY Floral Wreath Ideas to Adorn Your Door

But what kind of floral wreath can you make, you may ask? Well, the possibilities are just about endless. There are a host of different flowers to choose from here to find the best one to fit in with your personal theme. Don't just stop there, however. Remember that the base plays a big role too, especially if you are not filling up the entire wreath. You can create a homemade flower mesh wreath against the traditional dark grapevine base. Or you can decide to go a more unique route, using a metal hoop or even a burlap wreath to build on.
With these options and more, you may find yourself stuck where you started, unsure what to do. In this case, we hope that the list of our favorite best DIY flower wreath ideas gives you the encouragement and push you to need to design the right wreath for your home.
1. Dried Flower Wire Wreath Design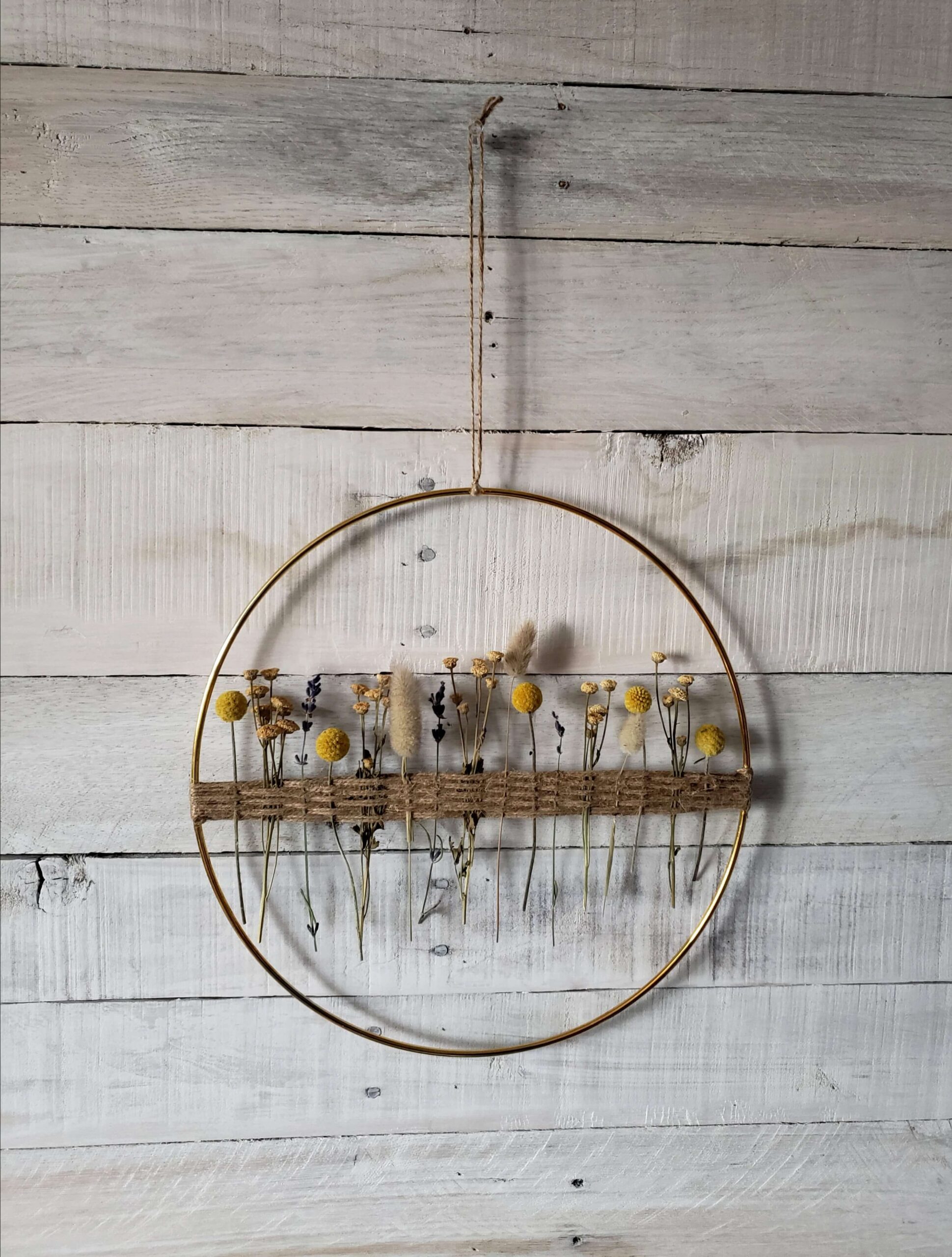 If you want to create a truly distinctive wreath, then you can do so with some dried flowers and a gorgeous wire wreath. It is a simple look that can capture the eye, encouraging anyone to give it a closer look. The gold wire wreath shows throughout, aiding in creating a rustic feel. Meanwhile, the dried flowers look incredible as they adorn the wreath in a creative fashion rather than the traditional way of wrapping around the entire wreath. The twine further gives this wreath a rustic look, cementing the overall theme in a lovely way.
2. Beautiful DIY Rosette Felt Wreath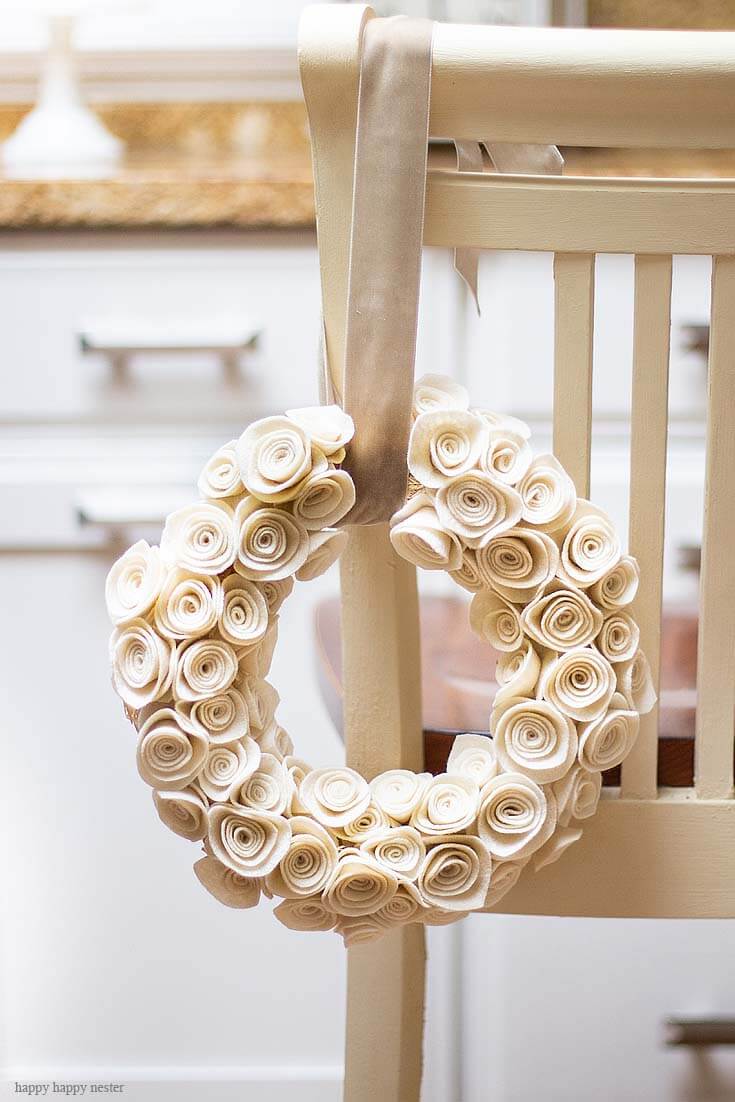 When you are in the mood for a wreath that bleeds elegance and sophistication, this felt floral wreath is an incredible idea to try out. At first glance, it's tough to realize that these faux flowers are made from felt material. There is a good deal of realism within this wreath with the flowers looking sophisticated, gentle, and simply beautiful. This focuses on using more muted color tones rather than anything bright. At the same time, this still manages to stand out with how compelling it is. This wreath also does well at using the darker ribbon to hang it up with as it still blends in well with the natural color tones.
3. Colorful Fall Theme Hydrangea Wreath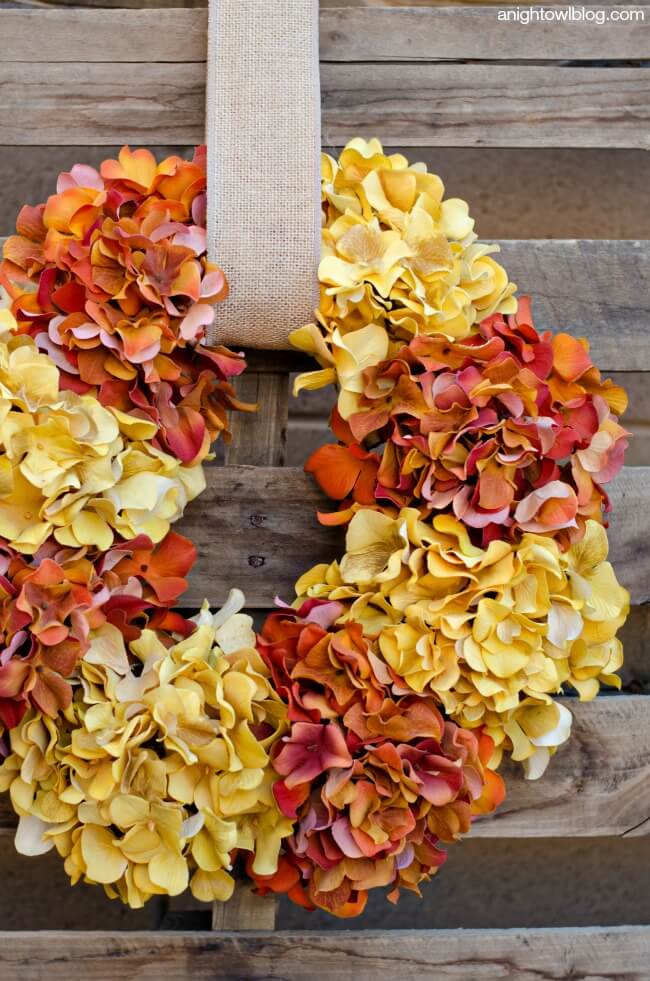 There are numerous ways you can use hydrangeas when looking for the best DIY floral wreath ideas. One way is to opt for these warm colors that resemble the autumn season. They can provide your wreath with a level of richness that is sure to enhance the rest of your fall décor outside and around your home. These hydrangeas are mixed in such a way that they match up with the fall trees or even a pleasant sunset. This can make anyone feel content and at peace when looking at it. All you need is some burlap to hang it up with as the burlap material blends in far better than anything else would so that you don't have to disrupt the theme.
4. DIY Hula Hoop Floral Wreath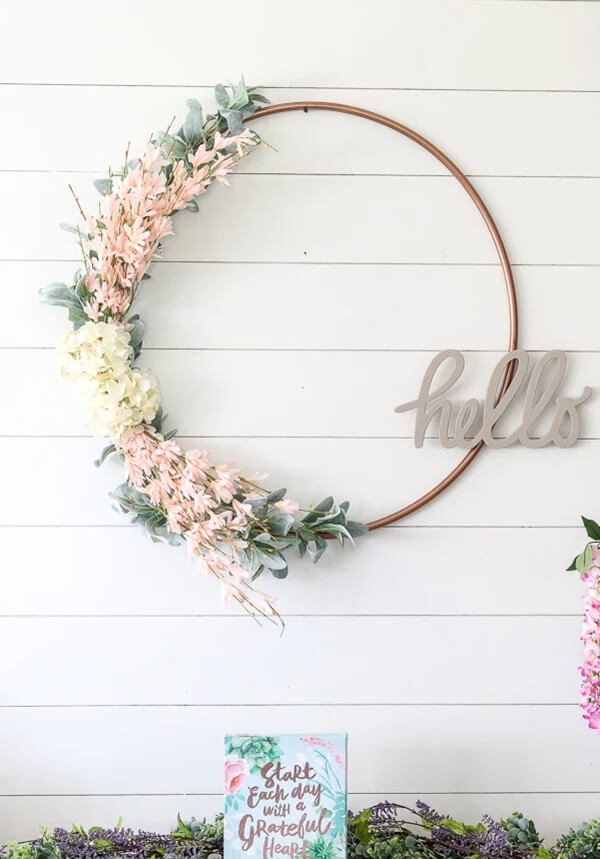 Perhaps you want an oversize wreath for your door or even the wall in your home. In this case, you don't have to use a traditional wreath base when a hula hoop and some paint will do the job. You won't even remember that this is a hula hoop once everything is put together. The rose gold paint does well at giving this a modern look, a style that is further emphasized thanks to the minimalistic approach to how the floral element is all added to a single side of the wreath. Mix and match with your flowers too so that the wreath comes across as even more dynamic.
5. Modern Golden Hoop Floral Wreath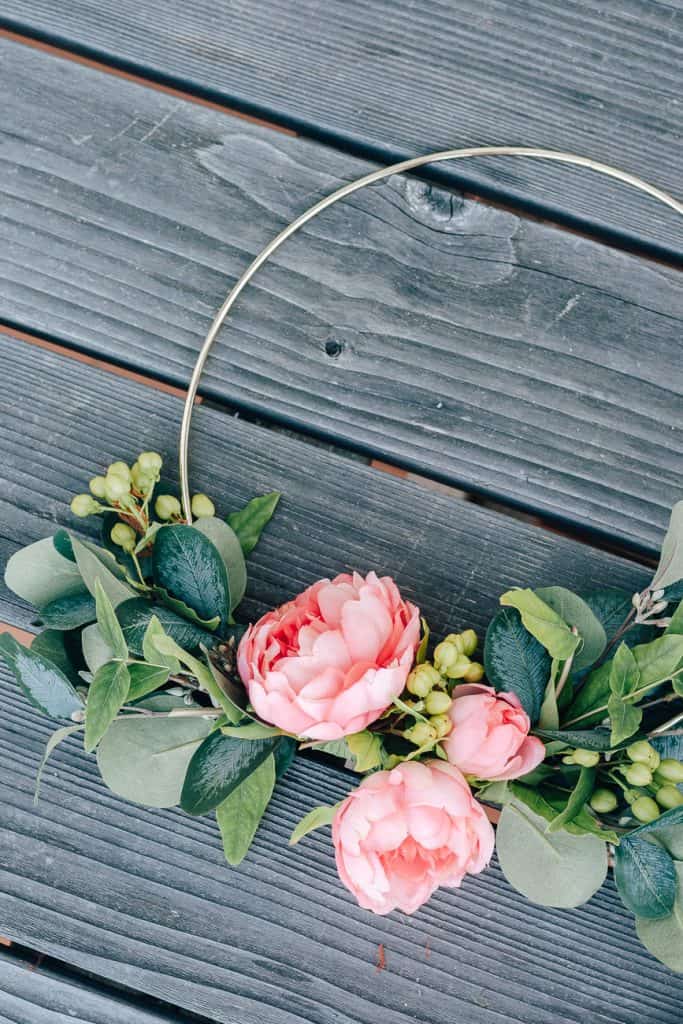 With the right materials, you can create an elegant, contemporary wreath. You don't even need to cover the entire golden hoop either. Rather, you can focus on the theme by taking a minimalistic approach so that this looks and feels as stylish and sleek as possible. Even with this simpler take, there is still plenty going on within the wreath. The bright flowers stand out, of course. At the same time, there is variety within the greenery used that can take attention too, urging people to dissect every inch of this. There are even cute little berries tossed in that give this wreath an extra pop of personality and life.
6. Gorgeous and Easy DIY Hydrangea Wreath
You can't go wrong with hydrangeas when you want to build up your own wreath. They're simple to work with, and they come out incredible, more so if you decide to use multiple colors in a pleasing pattern that helps the wreath look more distinctive and impactful. Sticking with the hydrangea leaves helps too as the wreath overall looks cool and rural in style. Everything is rounded out with the large burlap bow that hangs above the wreath. This allows the wreath to lean more toward that rustic and countryside-like theme.
7. Cute DIY Daffodil Wreath Design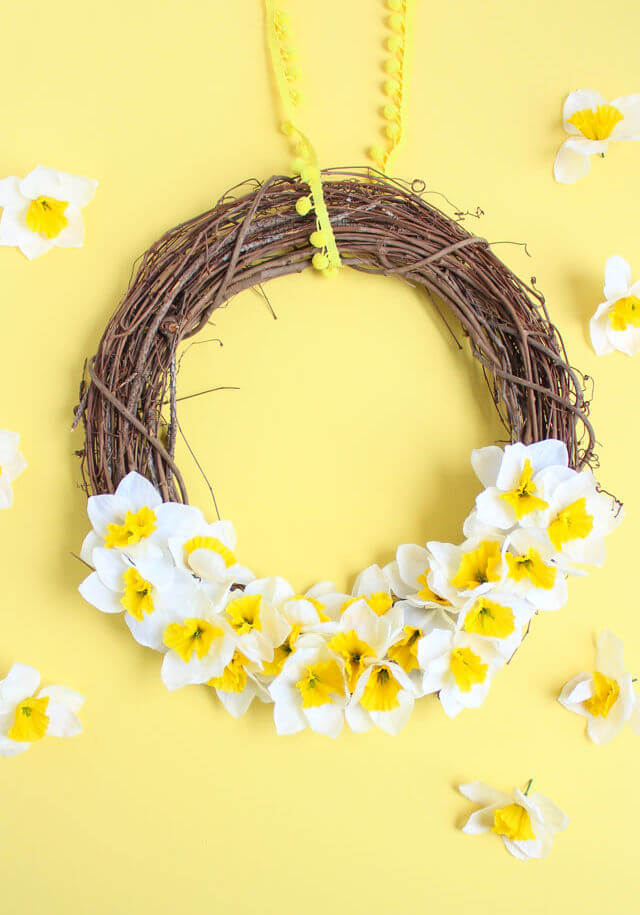 Daffodils are such a cute way to decorate a wreath, especially in the springtime and summertime. However, you can still easily enjoy this wreath year-round if you'd like, more so if it blends in with a lighter, cherry décor you already have around your home. The faux daffodils only adorn the lower half of the grapevine wreath. However, this is done well as they pop well against the darker wreath base. Also, it helps if you find something to match the daffodils to hang this up with since that brings in a bit more color.
8. DIY Felt Flower Wreath Design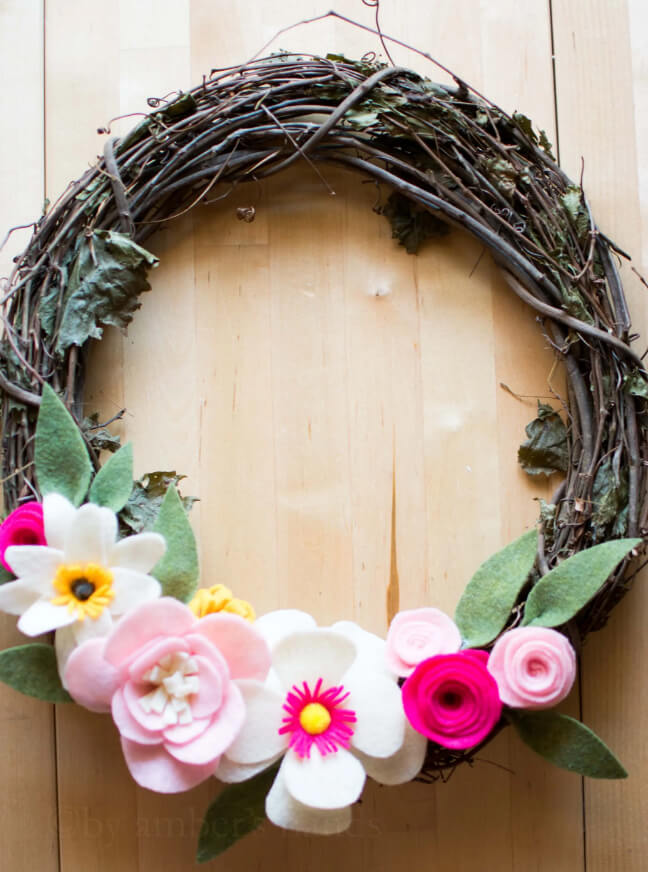 Are you looking to add a simple pop of color to your door? Then consider this wreath layout. It takes a more minimalistic look at wreath decorating while still being able to leave an impact. The colors are bright and full of life, standing in good contrast to the grapevine wreath. Also, going the felt route allows you to lay these flowers out however you like, coming up with your own flower design that may not look exactly like one flower or another. Finally, going for a lovely, brightly toned ribbon to hang it up with really pulls the lighthearted feel of this wreath together.
9. Eucalyptus and Greenery Grapevine Wreath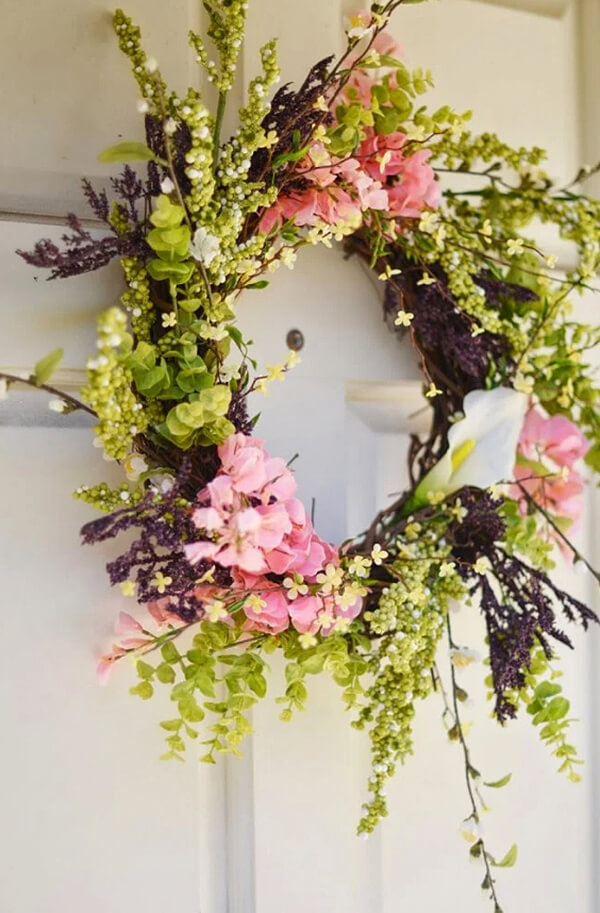 Create a lovely, wild wreath with this cool setup of eucalyptus and greenery. The styling throughout looks like something you just plucked out of a field. It is a helpful approach if your desire is to create a wreath that appears more rural and rooted in nature. Furthermore, it's beneficial that you use a grapevine wreath in this case as it blends effortlessly with that natural theme that the flowers provide. Also, the flower stems stick well into the grapevine wreath so that it all appears even more connected and fluid.
10. Bright "Hello" DIY Spring Wreath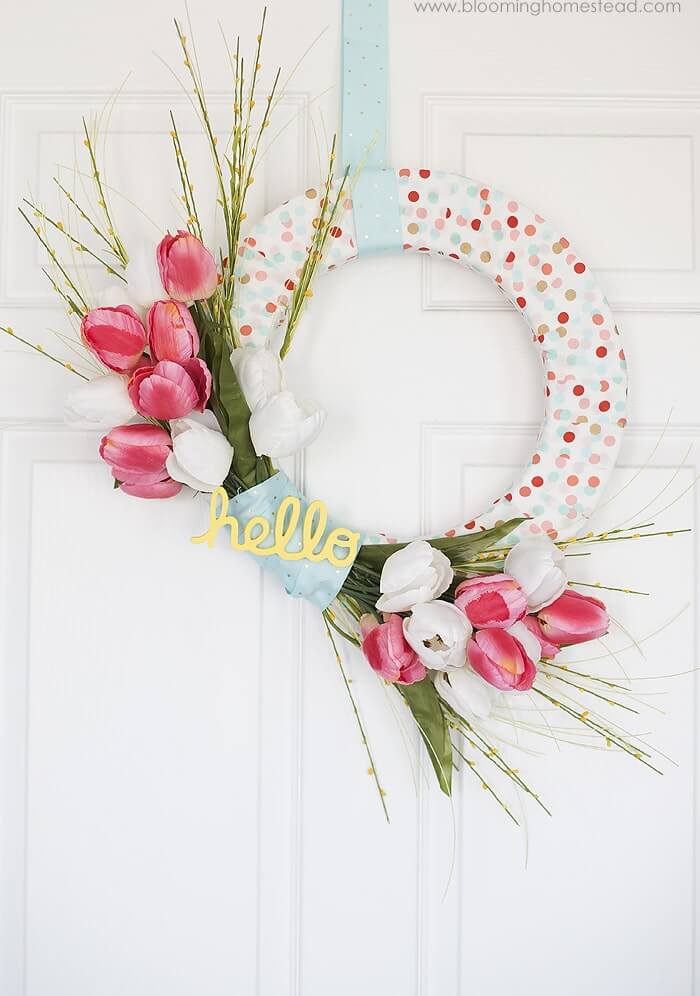 Welcome in the season with this beautiful springtime wreath. Everything about this wreath feels light and breezy from the polka dot wreath cover to the charming blue ribbon. The colors work alongside each other perfectly, especially with the red and white flower designs. On the notion of the flowers, this is among the best DIY floral wreath ideas that set the flowers up in a distinctive manner. Rather than just use the flowers themselves, this relies on the stems too, making them look more like a bouquet that happens to be on a wreath.
11. Burlap Tulip Style Grapevine Wreath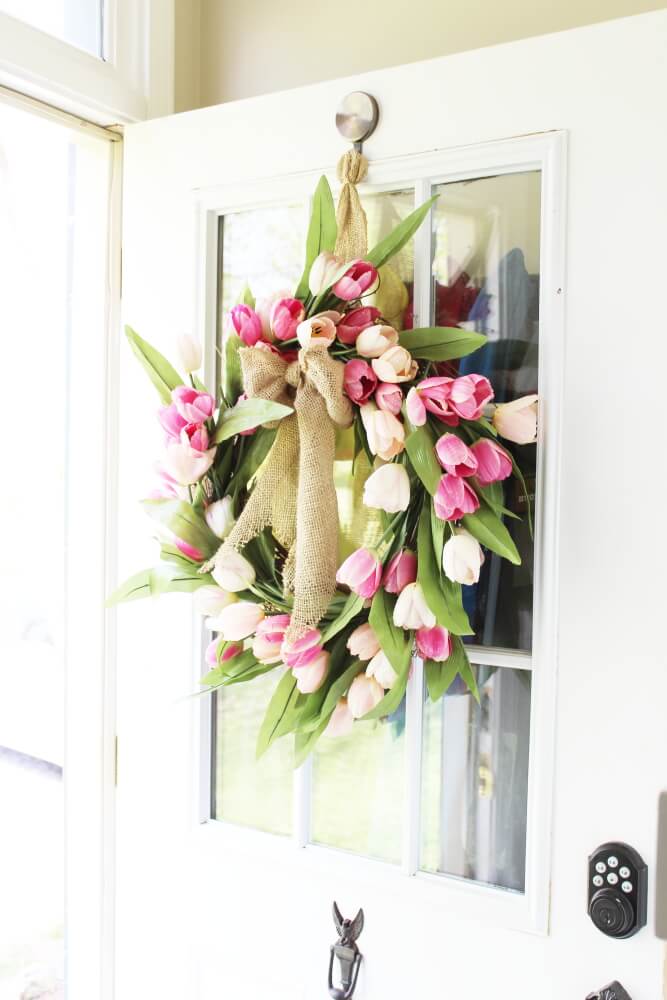 If you find yourself a bundle of tulips, they can make for some of the best DIY floral wreath ideas. This is because tulips look good beyond just in the springtime. Aim for different colors, and you can truly build a versatile and appealing wreath to hang on your front door for all to see. Keeping the tulips whole works out well as the stems further enhance the movement seen within this wreath, more so since the tulips work all the way around the wreath. The green is able to stand out just as much as the tulips themselves, providing this wreath with some cool depth. Using a burlap bow to tie it all together and hang it up merely elevates this to yet another attractive level, leaving you with something that looks store-bought.
12. White Tulip Grapevine Wreath Design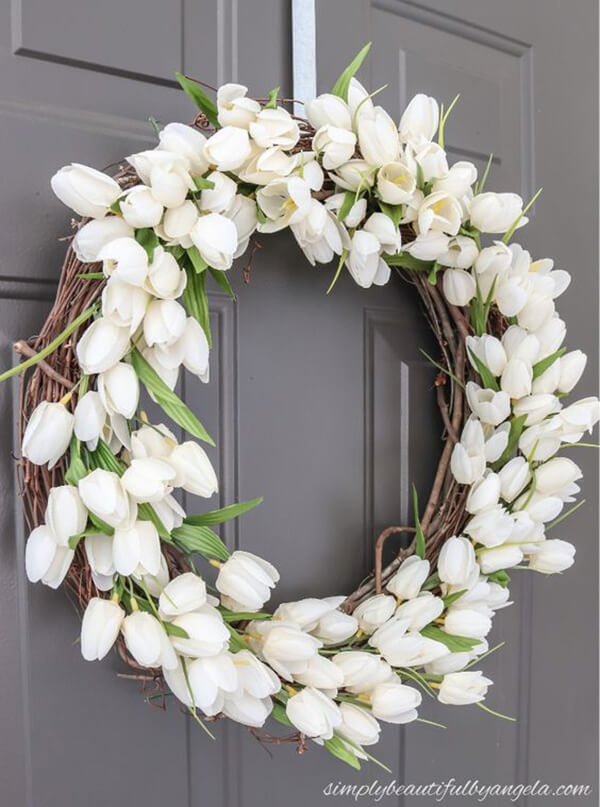 Tulips are stunning in their own right, especially when used for a springtime wreath. These white tulips provide an effortless charming look that feels bright and lively. The white stands out well against the greenery of the stems and the dark brown of the grapevine wreath base. It gives it that outdoor look while still coming across as modern and elevated. Plus, the directional movement of the tulips allows this wreath to look almost as though it is actually in motion. It is a wonderful way to breathe more life into the wreath, leaving you with something bold and louder than life.
13. DIY Tulip and Burlap Grapevine Wreath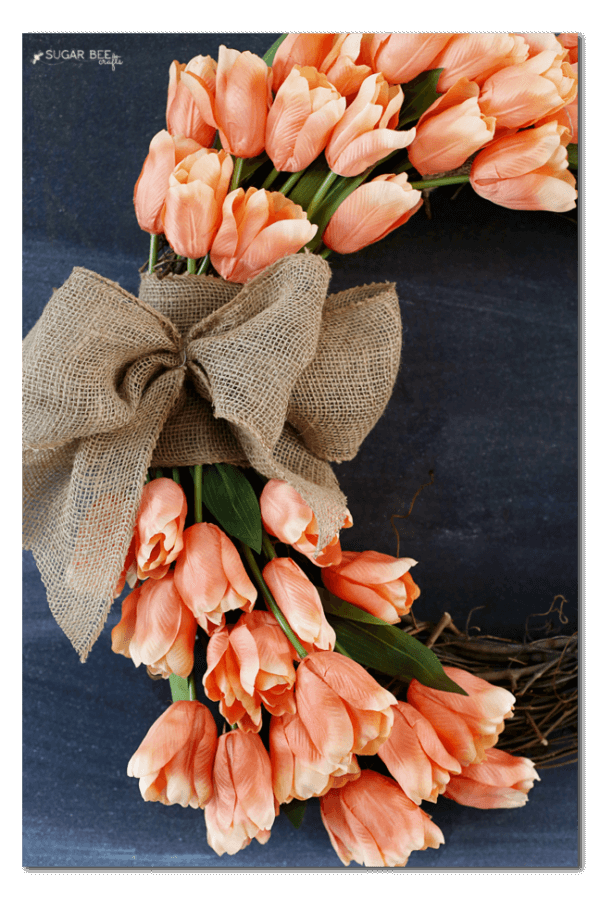 We all know that tulips simply scream springtime. Add in some burlap and you are able to create this great rustic wreath that will breathe more life into your front door decorations. It is an easy way to adapt to the changing seasons with something that provides an excellent amount of color that isn't overly bright yet still vibrant and appealing. This uses a bouquet of tulips too rather than the individual flowers along the grapevine wreath. It is a design choice that gives the wreath some sense of movement, attracting the eye right away. The large burlap bow that ties it all together pairs well with the theme you are aiming for here too. Meanwhile, the addition of the monogram letter provides that extra bit of style.
14. DIY Paper Flower Burlap Wreath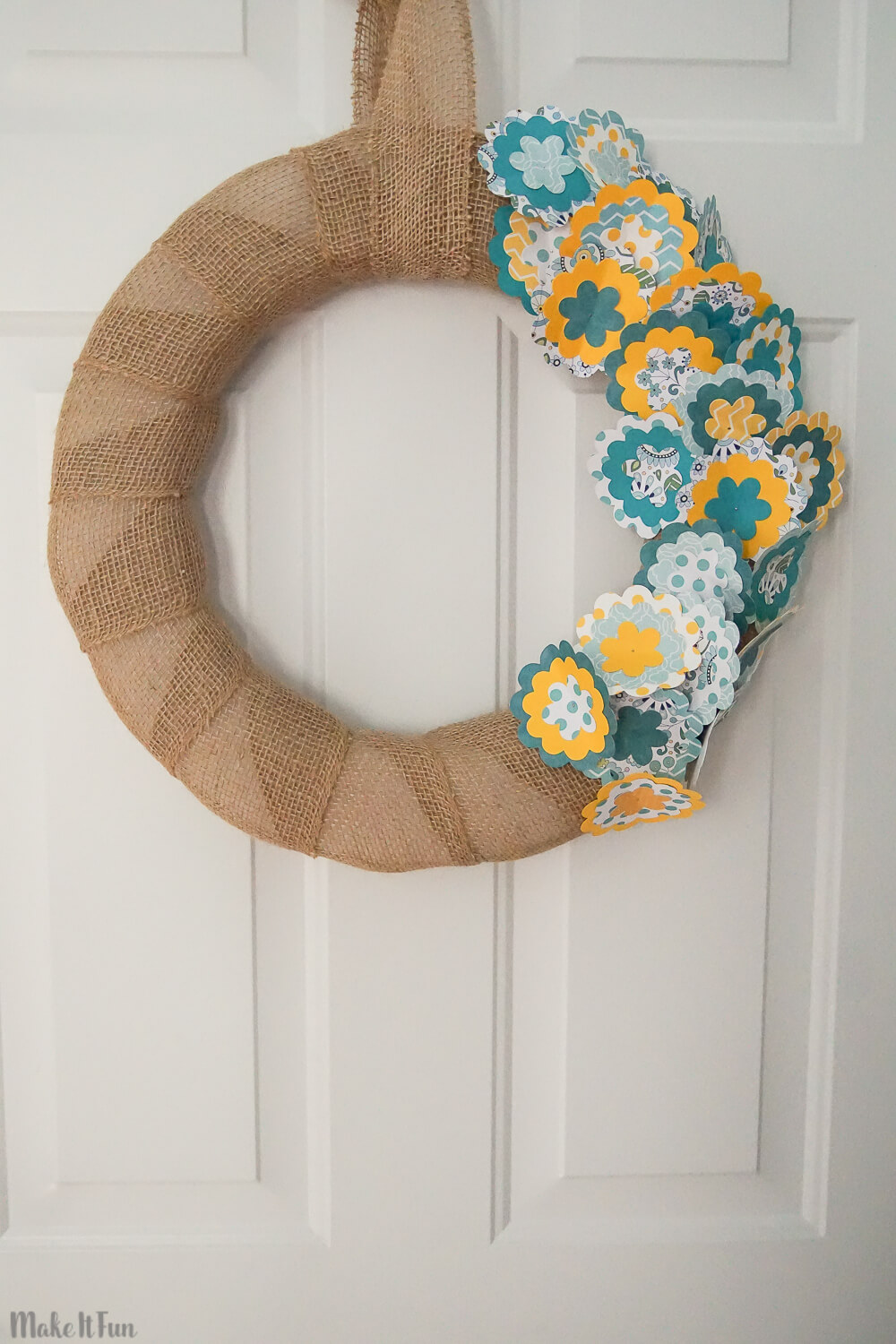 Balancing darker and lighter tones is an excellent way to make a dynamic wreath. This one focuses on paper flowers to create the floral aesthetic, and it does so in an incredible way. The use of paper allows you to build up color combinations you may not find in flowers, faux, or otherwise. Also, keeping them to a single side gives this a sense of movement. Plus, it better shows off the burlap wreath that is wrapped in a way that resembles a homemade flower mesh wreath. This highlights the brightness of spring with the dark vibe of a rustic style.
15. Vibrant Lambs Ear Wreath Design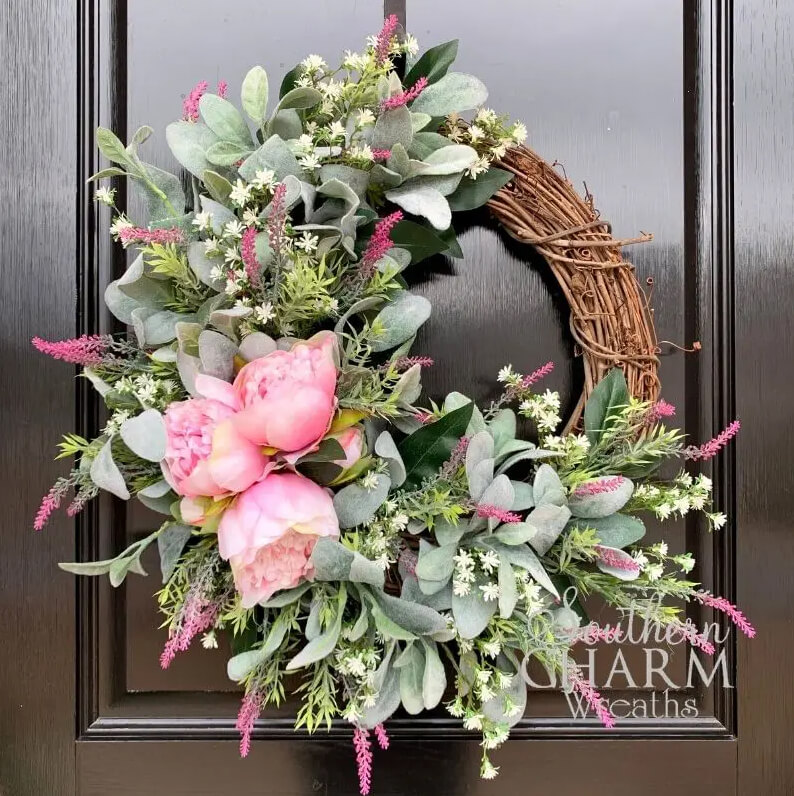 Lambs' ear greenery has such a sweet and carefree look that they make for unique and compelling wreaths. This comes across more like an exotic field of wildflowers with the larger, colorful flowers working well as a centerpiece to pull the design together. It takes over most of the wreath as well while still leaving some of the grapevines out in the open. This little hint of the grapevine base plays into the outdoorsy, rustic and charming feel of the whole wreath. A wonderful thing about this design is that it can blend into just about any décor you have going on with ease, freeing you up to use this wreath all year round.
16. DIY Overlapping Tulip Grapevine Wreath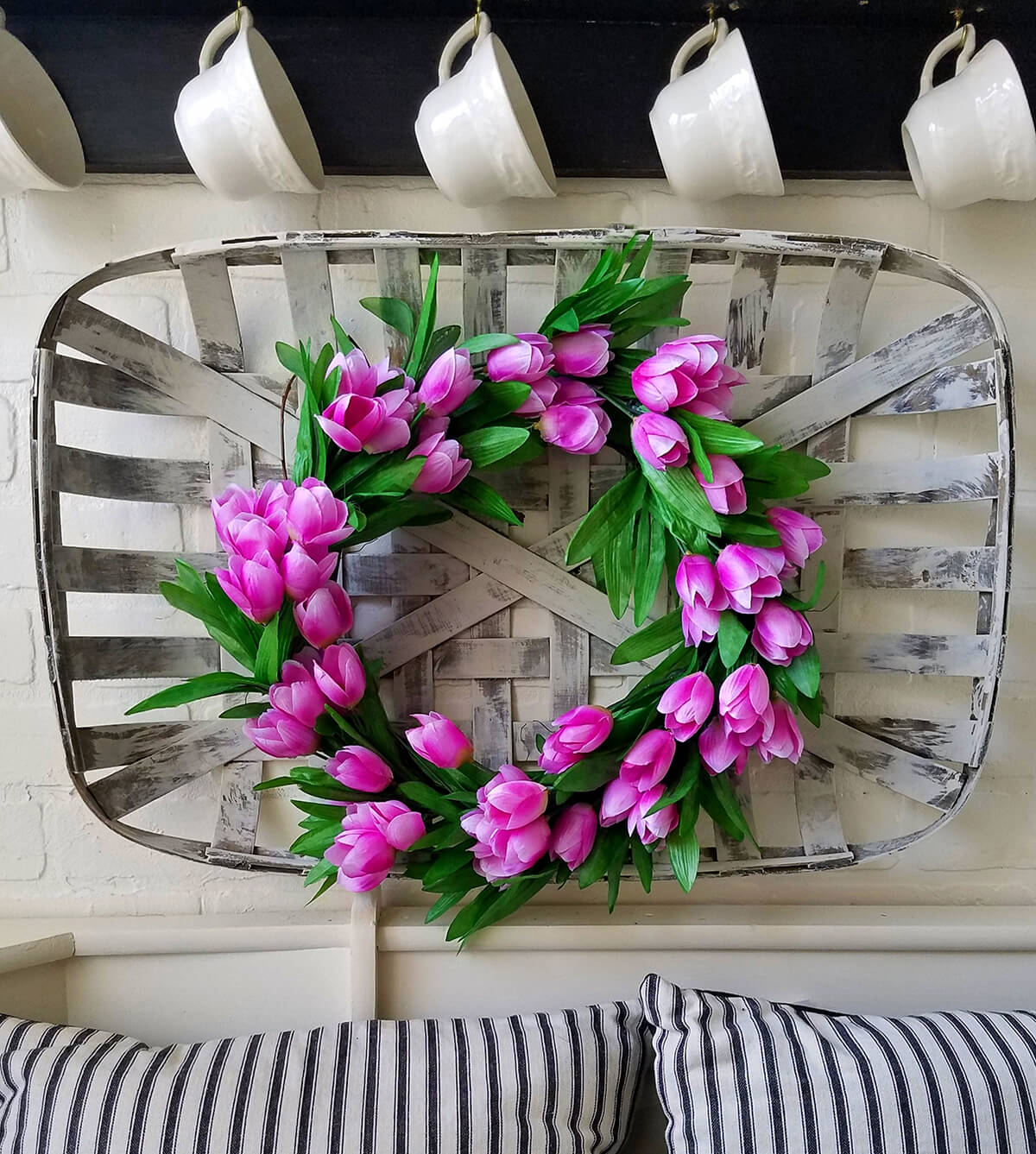 Grab yourself some tulips in your favorite color or any colors that will match your decorative theme and use them to create a simple, yet effective wreath. The grapevine wreath is a wonderful base for this even though it doesn't show thanks to the tulips taking over the entire base. From the bits that peek out, it blends well with the tulips overall. Also, adding the tulips on the wreath in an overlapping manner all moving in the same direction will give this piece that added bit of movement. This makes it even more appealing and professional-looking.
17. Stunning Summer Theme Hydrangea Wreath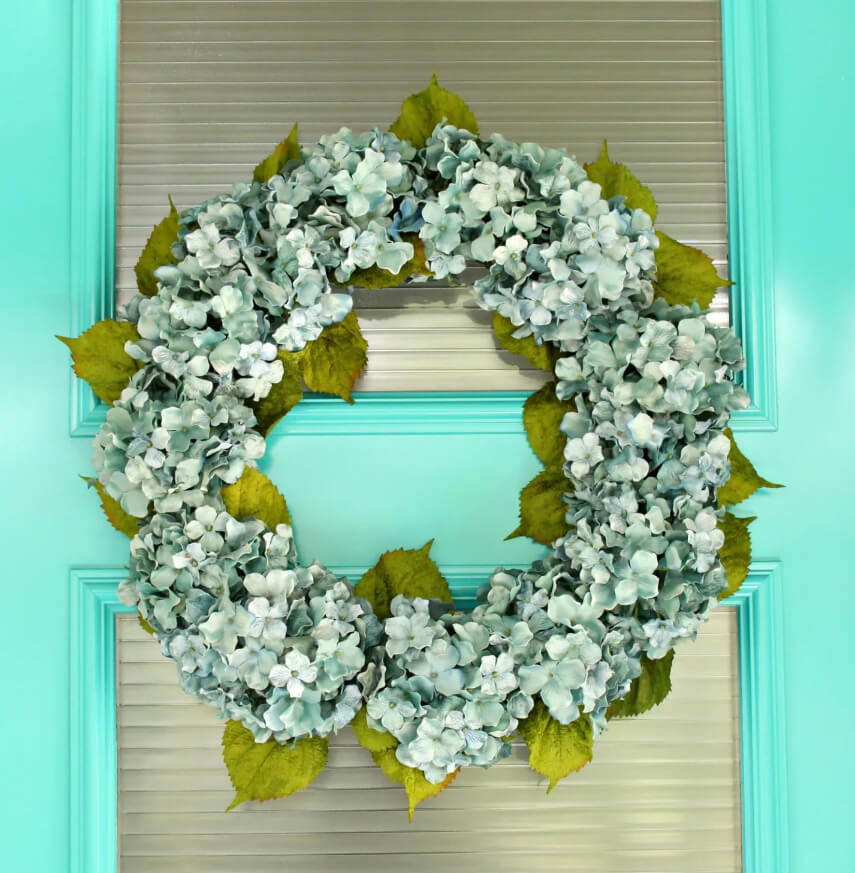 Are you a fan of hydrangeas? Then you can use some faux ones to build up an attractive homemade wreath. These faux hydrangeas have such a powerful and bold look about them that anyone would think they were real at first glance. They're aided by the lively leaves all around them. This is a perfect way for you to create a gorgeous summer wreath that blends in with the rest of your home's décor if you have other hydrangeas, real or otherwise, lying around. Although this is used against a wire wreath, there is an incredible amount of depth still seen on it.
18. Gorgeous DIY Rosebud Springtime Wreath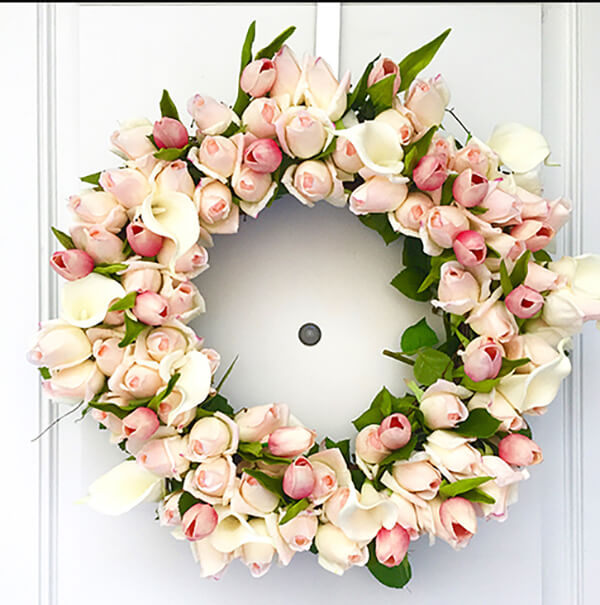 Rosebuds are such a beautiful flower to decorate with. They have this interesting look about them that urges you to pay closer attention. Consider using some that are similar enough in color, yet with just the right amount of differences each one can stand out on its own. These rosebuds take over the entire wreath too in such a great way that makes them even more appealing. It's nice to use some greenery around via the leaves too that breaks up the softer pastel-like coloring from the flowers. The greenery even adds a nice layer of contrast so that the roses don't become lost within each other.
19. Modern and Stylish Monogram Floral Wreath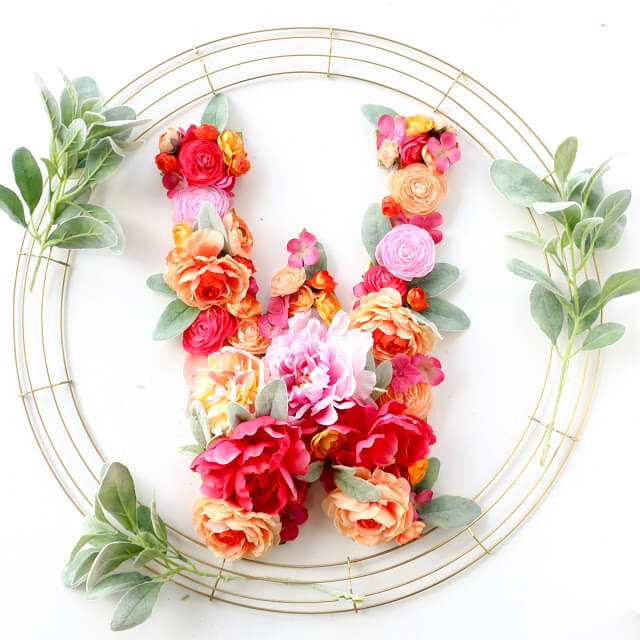 For a more contemporary approach to creating a floral wreath, this monogram design is perfect. Using any letter you wish, you can decorate it with gorgeous flowers, preferably different kinds or various colors so that this doesn't look static. Instead, using a multicolor approach provides this with greater depth and personality. Meanwhile, the monogram itself is centered within the wire wreath with just a hint of greenery throughout. Even the wire wreath itself appears elegant with its golden design and simple pattern. This allows the monogram to stand out the most within this setup.
20. Beautiful Brightly Colored Floral Wreath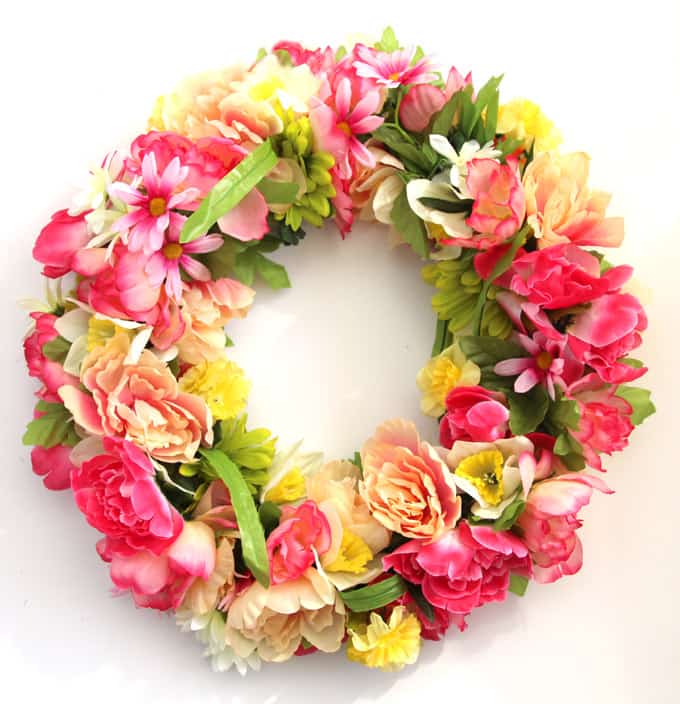 Who needs to spend hundreds of dollars for a full, colorful floral wreath when you can replicate it yourself? With some faux flowers, you can experiment with various combinations, mixing and matching colors and flower types until you have exactly what you're looking for. You can even use a wire wreath frame for this one as it holds all the faux flowers extremely well. This is a fun way to explode your wreath with vibrant colors, enhancing the appearance of your door once you hang this up. Also, the wire wreath can hold plenty of these flowers too.
21. Adorable Paper Flower Printed Wreath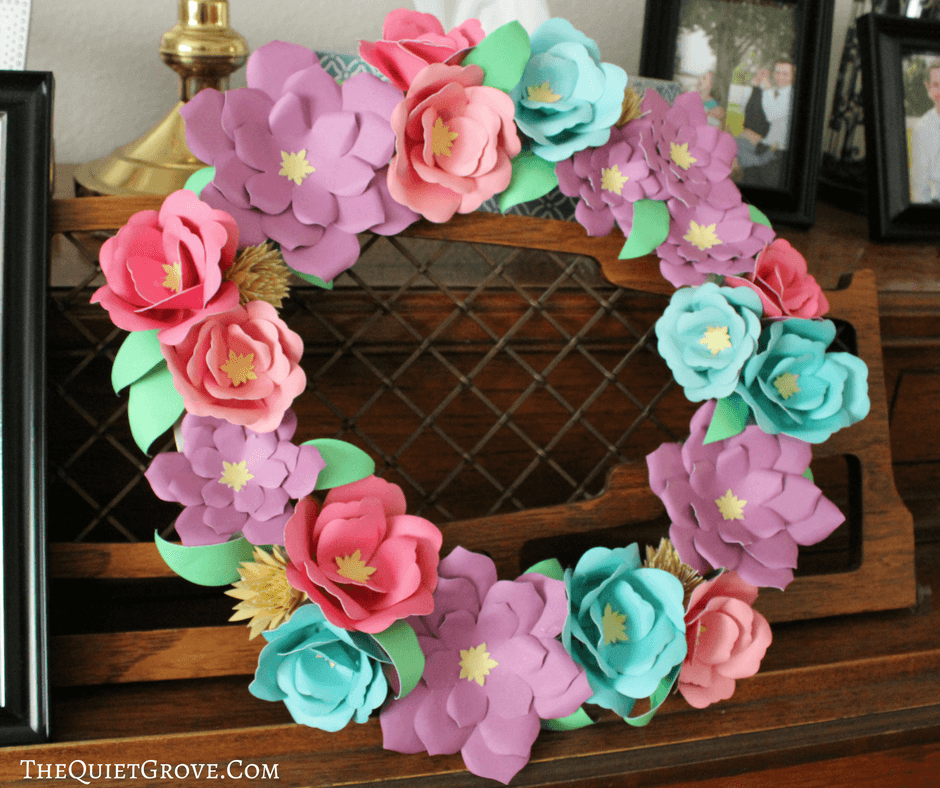 A great way to make your own floral wreath is to simply print out the papers you need to design various flowers. This is a lovely way to use multiple colors too, meshing them all together to create a flowing and mesmerizing wreath. Even with the various colors, they all match and blend well with one another without one overpowering the rest. It goes a long way to use flowers of different sizes too so that there's more diversity seen throughout. Plus, going the paper material route frees you up on using a lighter base like a wooden board to glue them all on.
22. Easy Tulip DIY Grapevine Wreath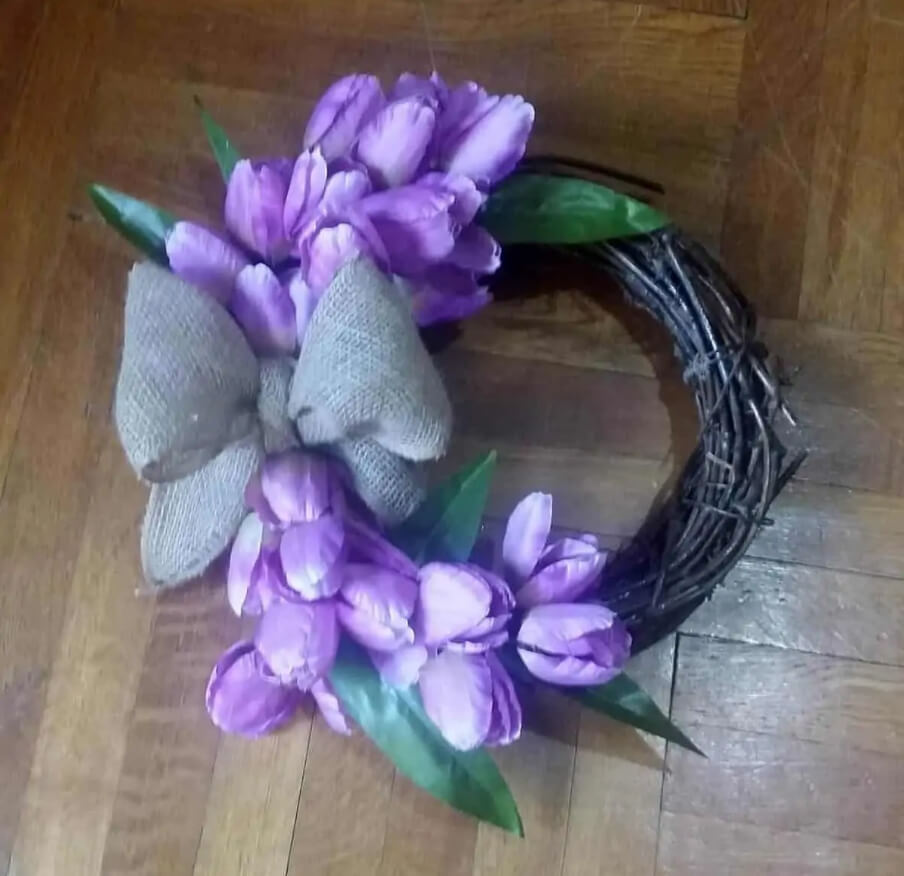 When you want something quick to make and hang, you can't go wrong with some grapevine and tulips. The faux tulips will offer just enough color that they won't have to take over the entire wreath. Rather, stick them to one side and they give off an incredible, attention-snatching appearance. The tulips are a good size too so they stand out even further. Aiming for that, it helps to add in some greenery that is slightly oversized too. Finally, the large burlap bow sticks with the theme and ties the tulips and greenery together.
23. Incredible Dark Tulip Themed Wreath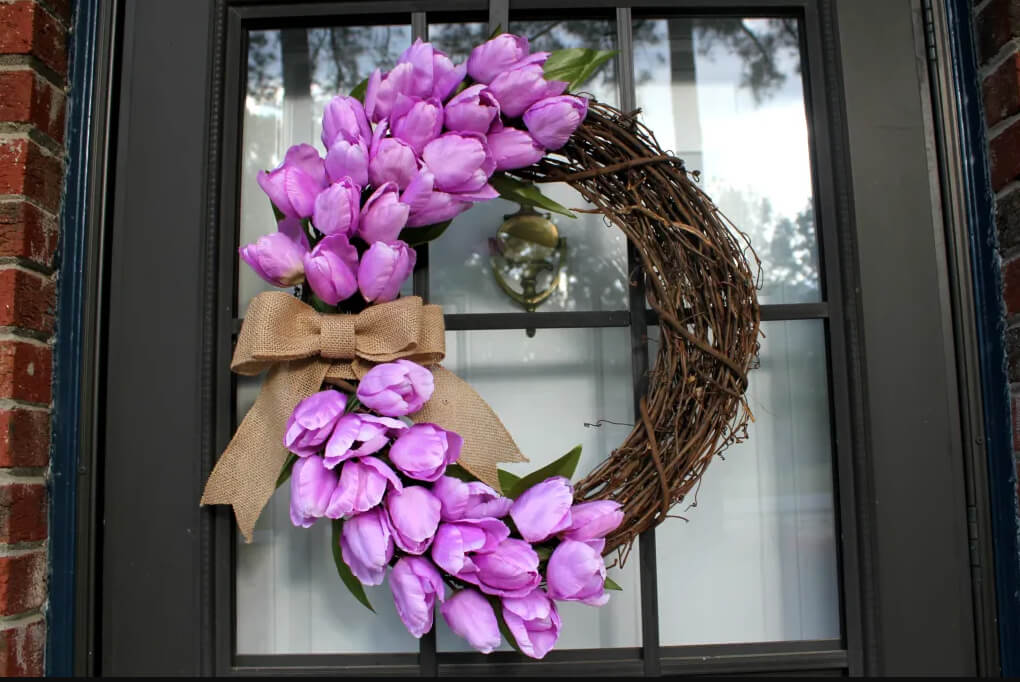 A few bundles of tulips and a grapevine wreath go hand-in-hand with this DIY project. The traditional grapevine wreath is granted an awesome upgrade with the use of these dark-toned tulips. There is still enough brightness in these bold colors that allow the tulips to pop, especially against the dark brown of the grapevine. You still see the hints of the greenery from the stems poking out too that provide more color to appreciate. Lastly, the finishing touch of a burlap bow breaks up the tulips well so that the piece looks more cohesive. You are left with a stunning DIY wreath that will cause anyone to pause and check it out.
Create an Eye-catching Door with these 23 DIY Flower Wreath Designs
With the best DIY floral wreath ideas in hand, you can create a wreath that looks like a professionally made one. Taking matters into your own hands is a great way to stretch your creative skills. This is also a fun way to show off more of your personality. Plus, these wreaths are perfect if you just can't quite find one in the store that best matches your décor or the exact way you want to decorate your front door. Best of all, there are numerous ways you can take this to wind up with something distinctive and attractive.
You can decorate the entire wreath with flowers, creating something that is bold, vibrant, and instantly able to snatch attention. Or you can opt for leaving a part of the wreath bare, making a cool and artistic design. Beyond that, the choice of flowers and the material of the base of the wreath go a long way into helping you build on that personal style from a metal hoop to a homemade flower mesh wreath. No matter what you're looking for, the list of our favorite handmade flower wreath ideas should give you a good place to start.