Bring farmhouse design to your front door or anywhere in your home with these 50+ charming wreath ideas. These wreaths share rustic and pretty design elements from cotton blossoms to burlap. While many of these wreaths use silk flowers and greenery, others use more unique elements like cutout wood circles and antlers. The color palettes are natural and subdued, with mostly white and neutral accents. When flowers are used, they are fresh and old-fashioned country varieties.
50+ Cute Rustic Farmhouse Wreath Ideas to Impress Your Guests

A farmhouse wreath can be as simple as a circle of glossy leaves. Hang these wreaths in a reclaimed frame for extra visual interest. Some of these wreaths have cute accents like cutout letters or written messages. Hung on the front door, these wreaths make guests feel welcome and put a smile on their faces.
A few of these wreaths are truly original, with galvanized metal hoops hung in a circle and tied with a burlap bow. Whatever facet of farmhouse style you want to feature in your home, you'll be able to find just the right wreath to accent your door or an inside wall. Use these wreaths to complement your existing farmhouse décor or start a new style in your home.
1. Looped Burlap and Cotton Blossoms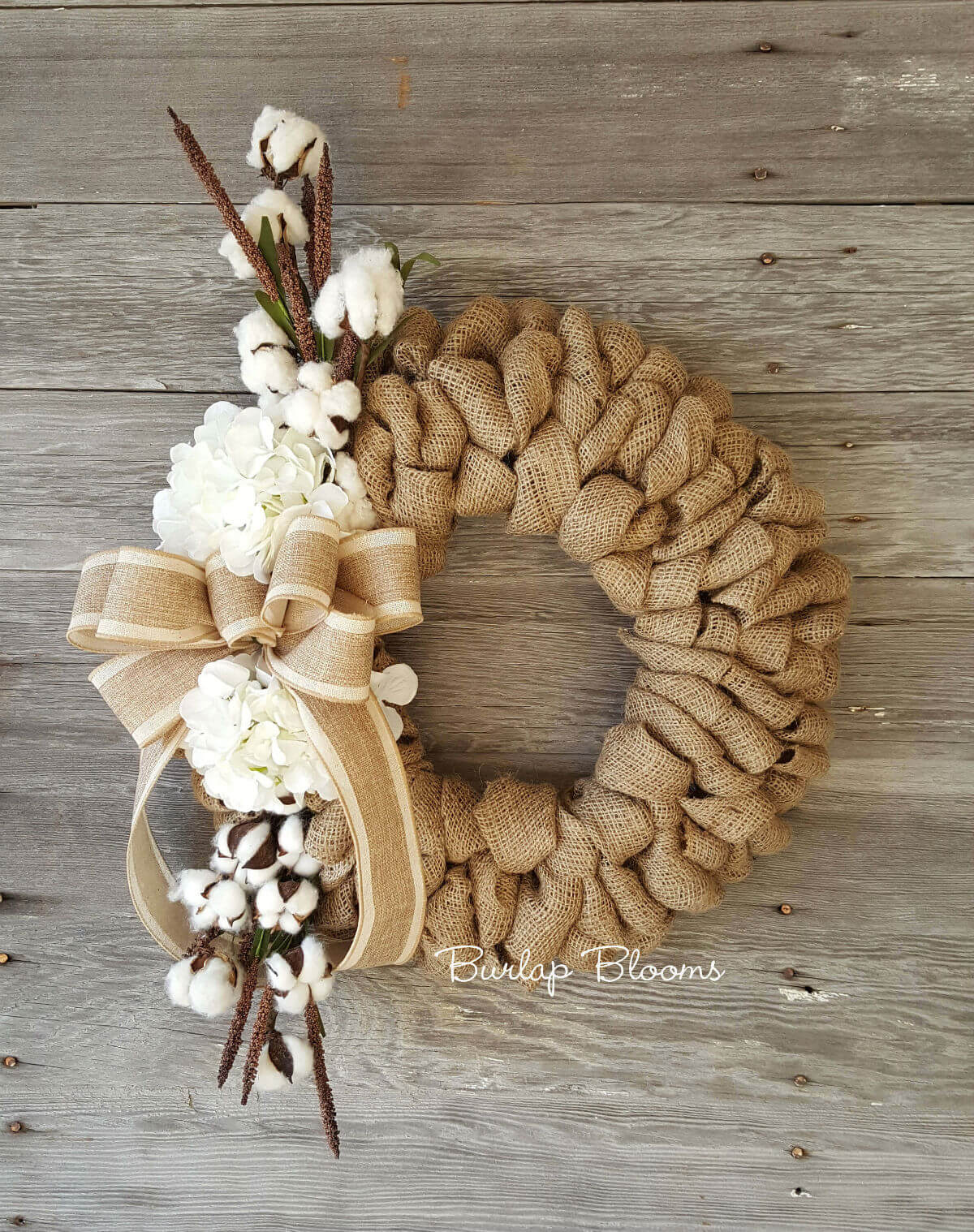 2. Wagon Wheel with Roses and Watering Can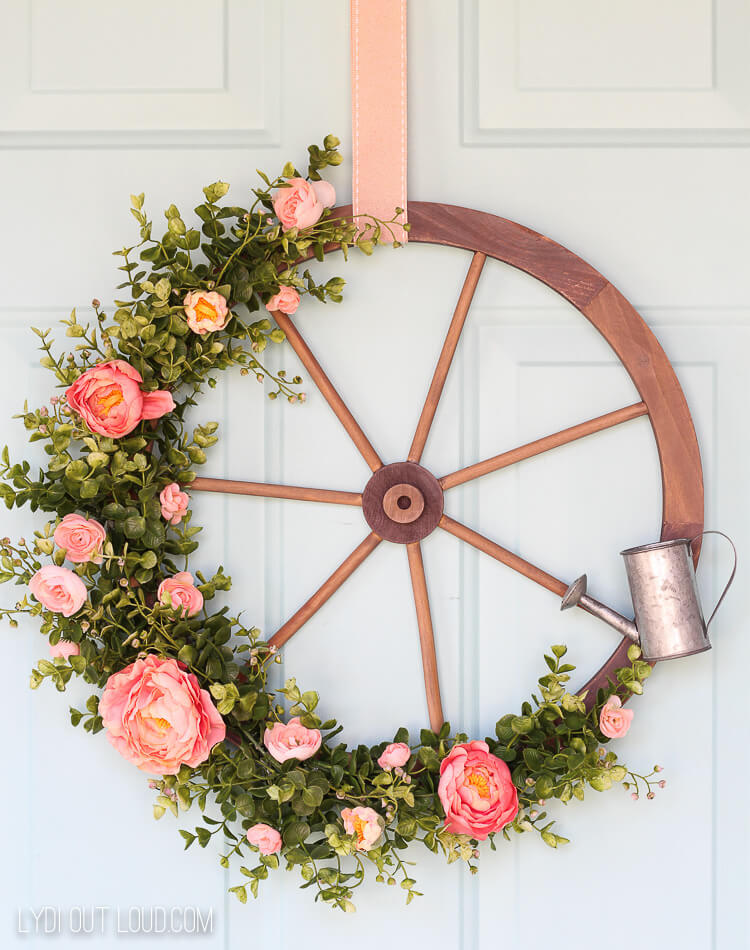 3. Soft Gray Wreath Made of Felt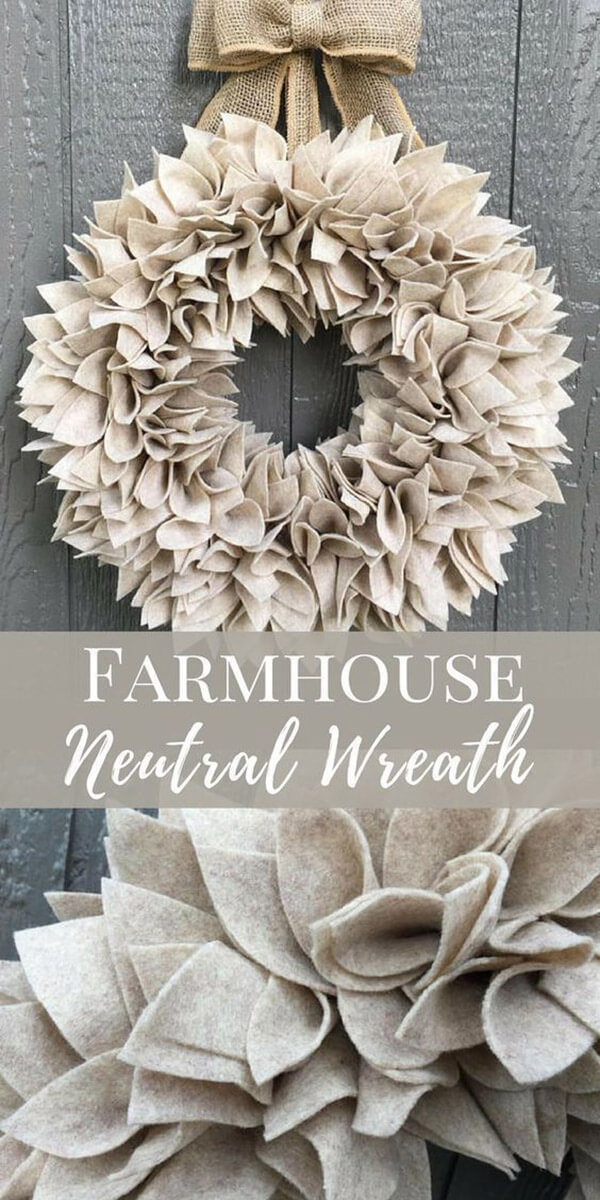 4. Full Round Wreath with White Berries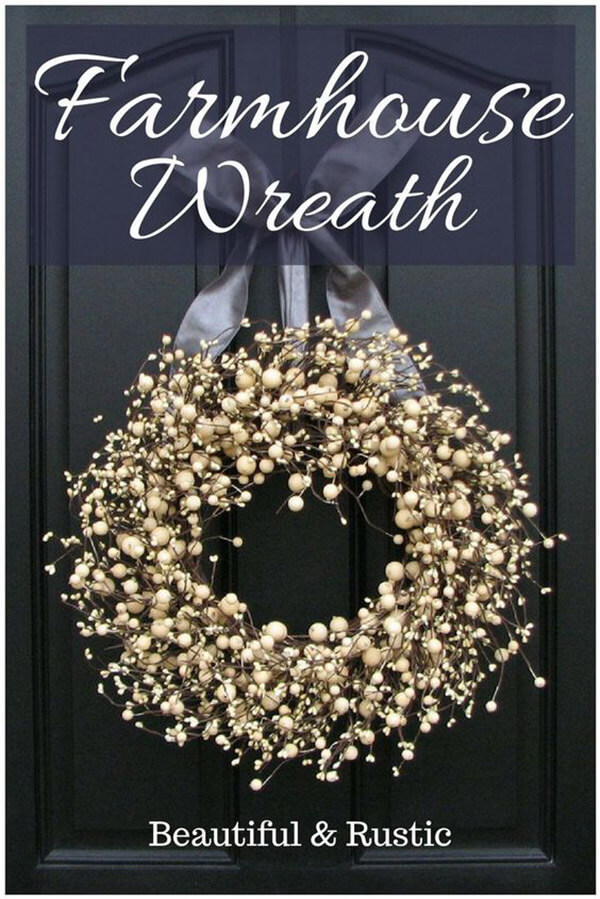 5. Simple Wreath with Green Leaves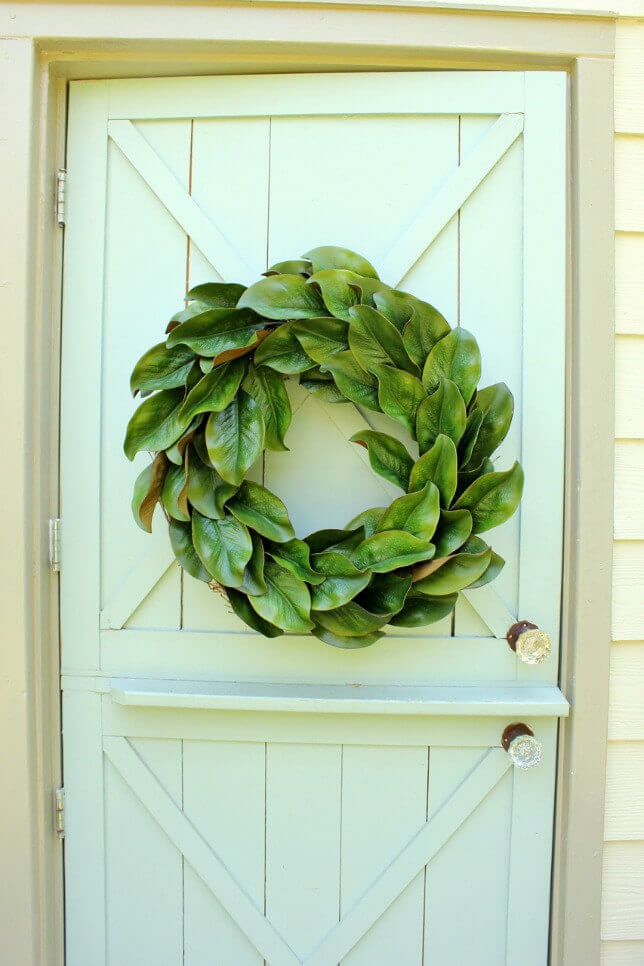 6. Soft Wreath with Cotton Blossoms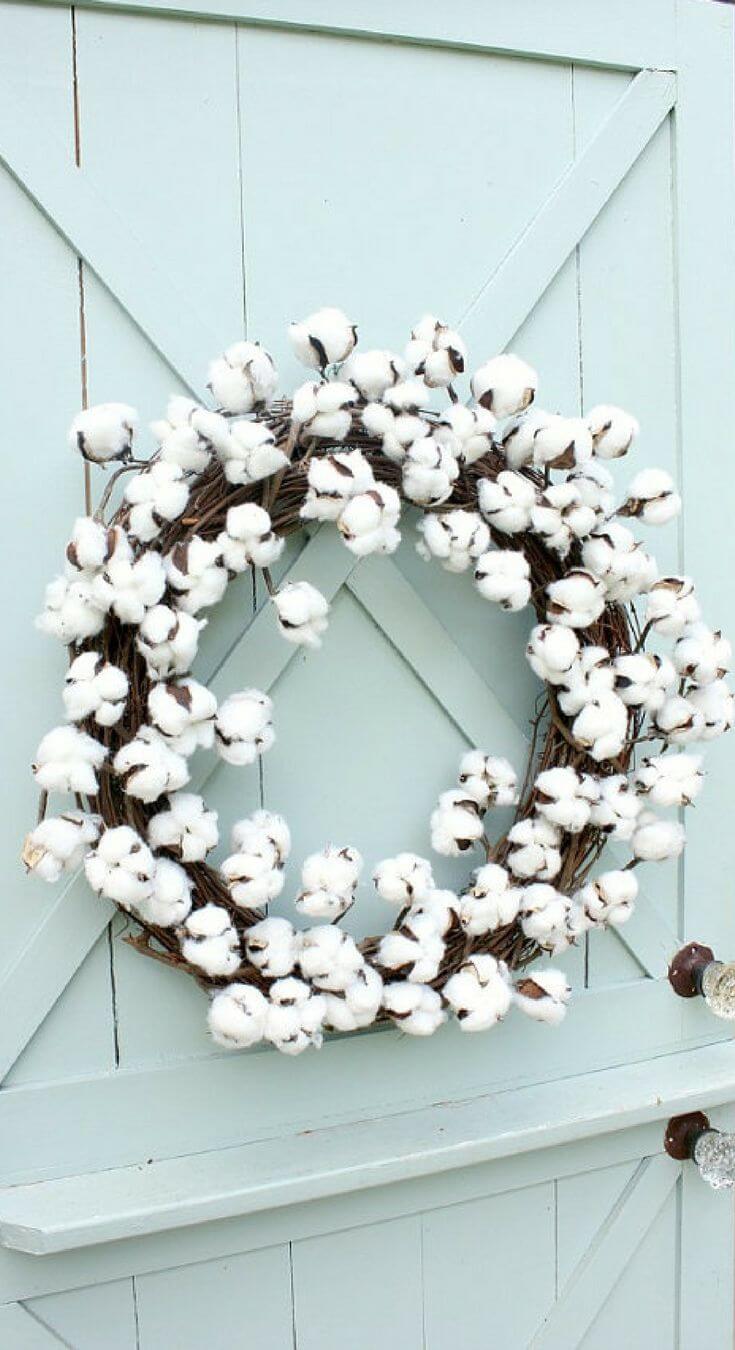 7. Showy Wreath with Burlap and Forsythias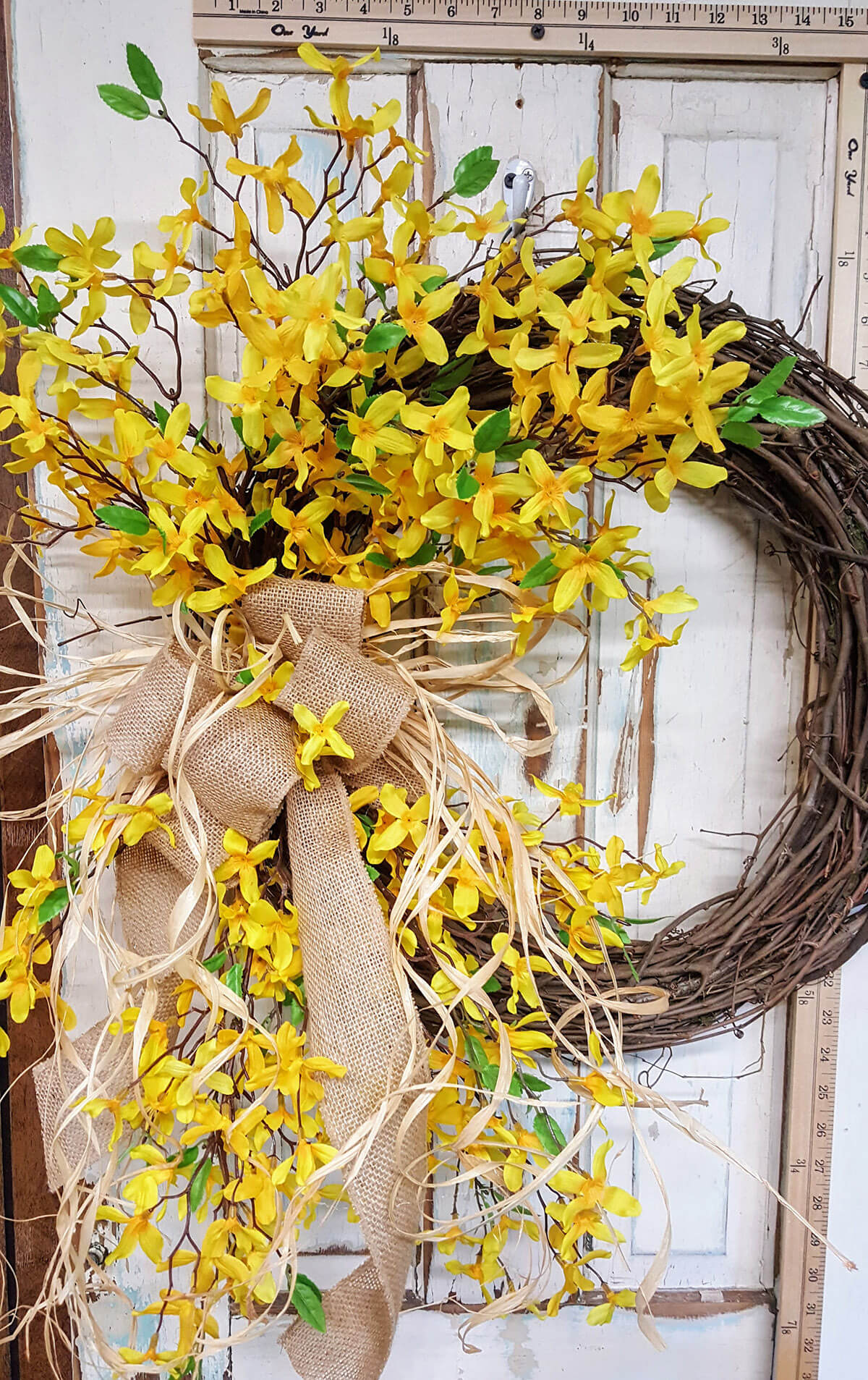 9. Cute Embroidery Hoop Wreath with a Message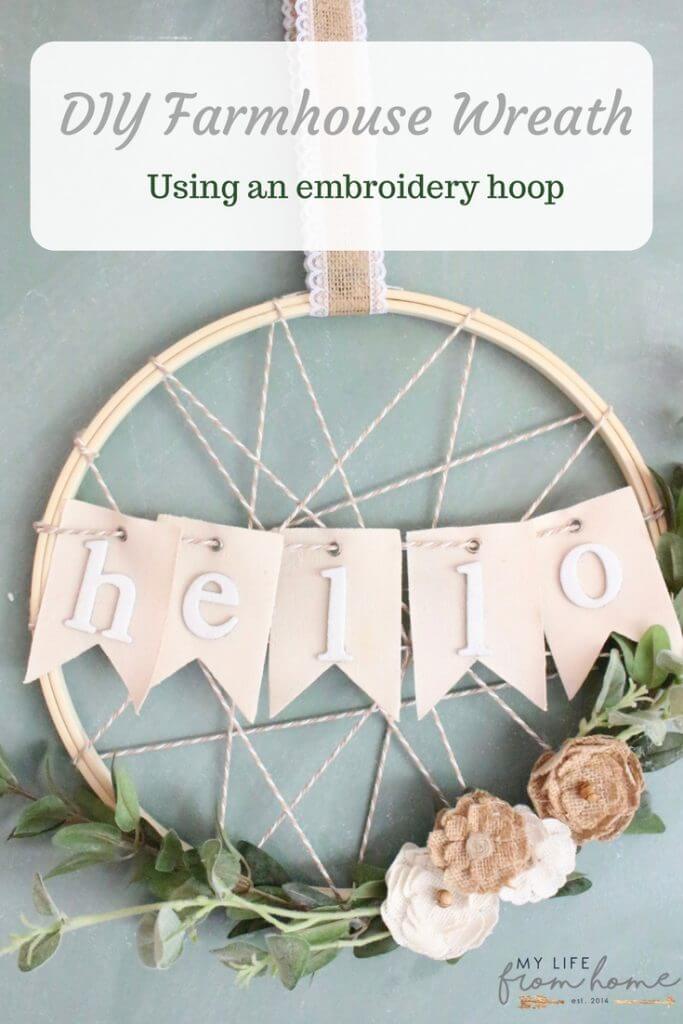 11. Boxwood Wreath Hung in a Basket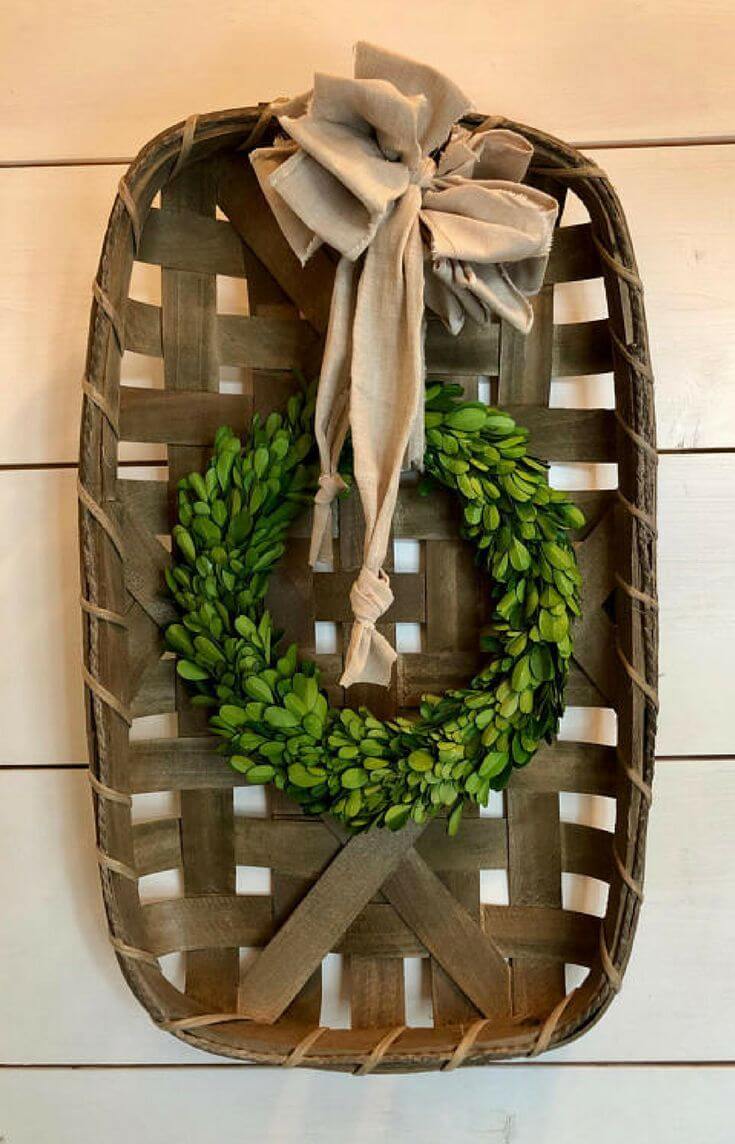 12. Full and Pretty Wreath with Cotton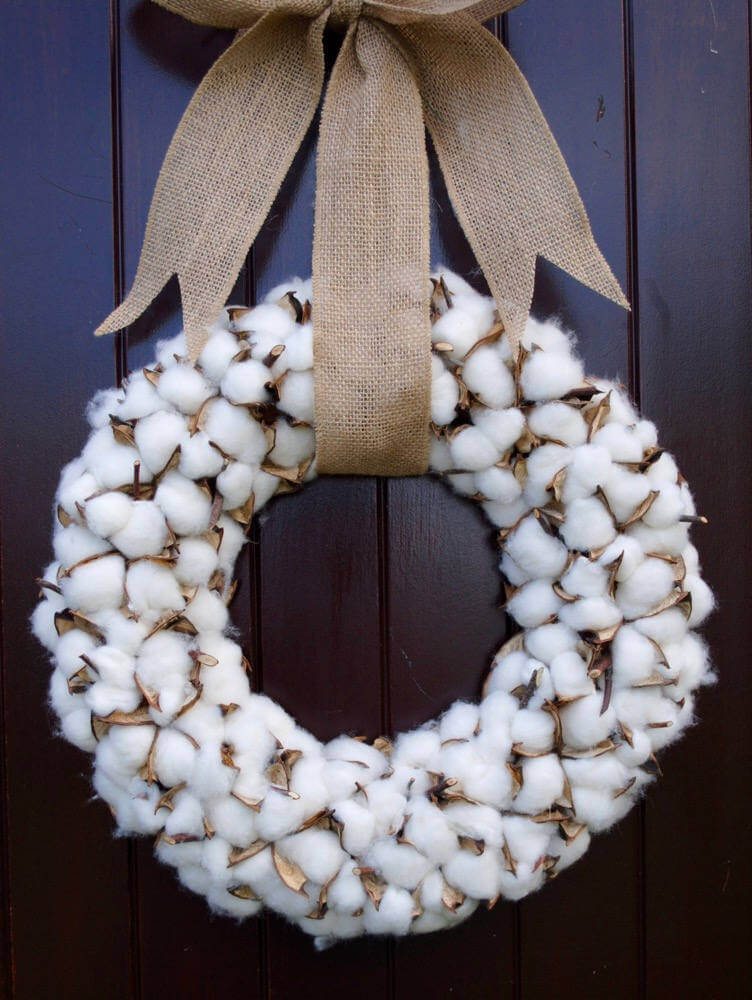 13. Rustic Farmhouse Wreath Idea with Moss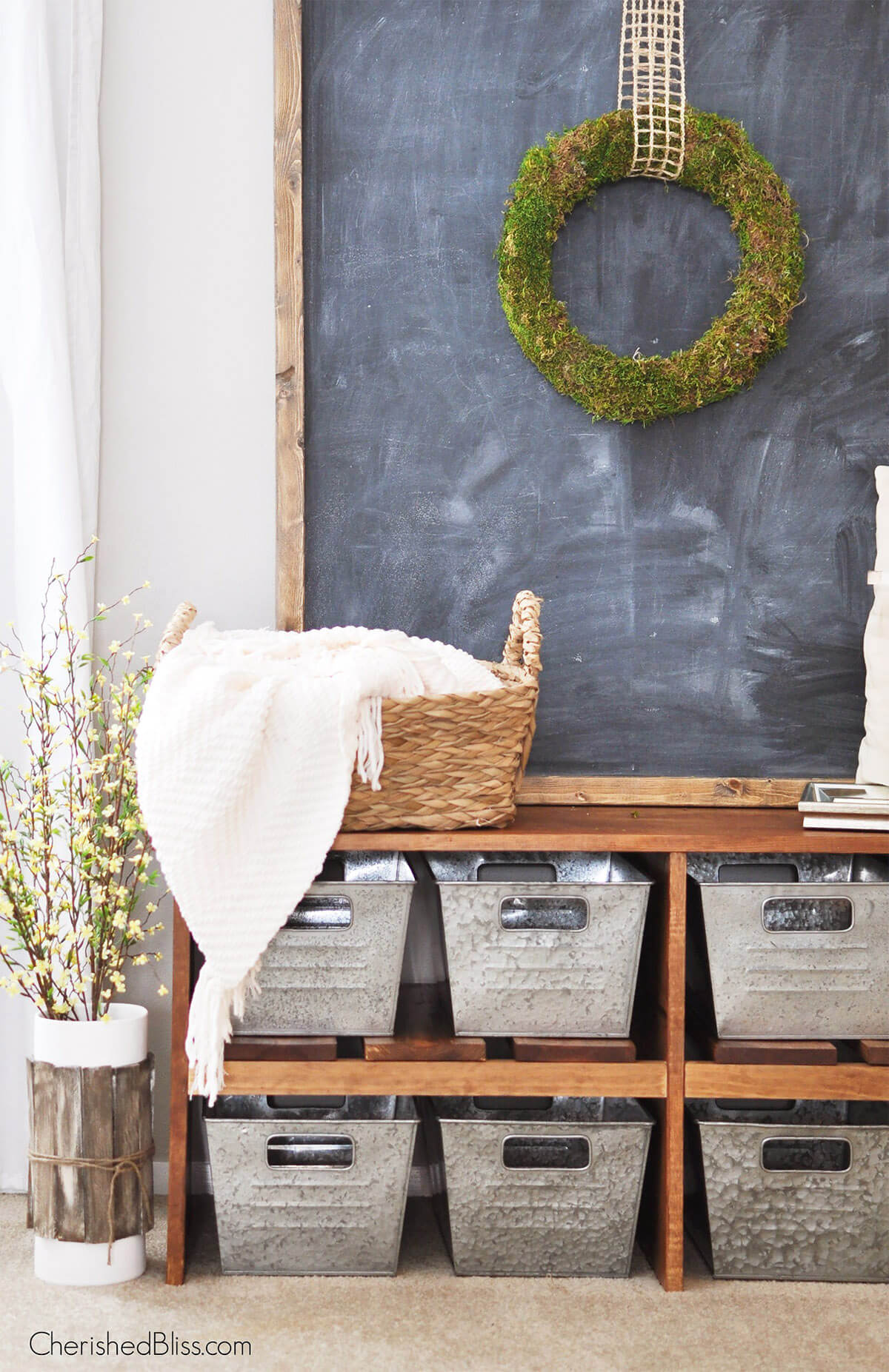 14. Sage Green Leaves with a Chalkboard Backing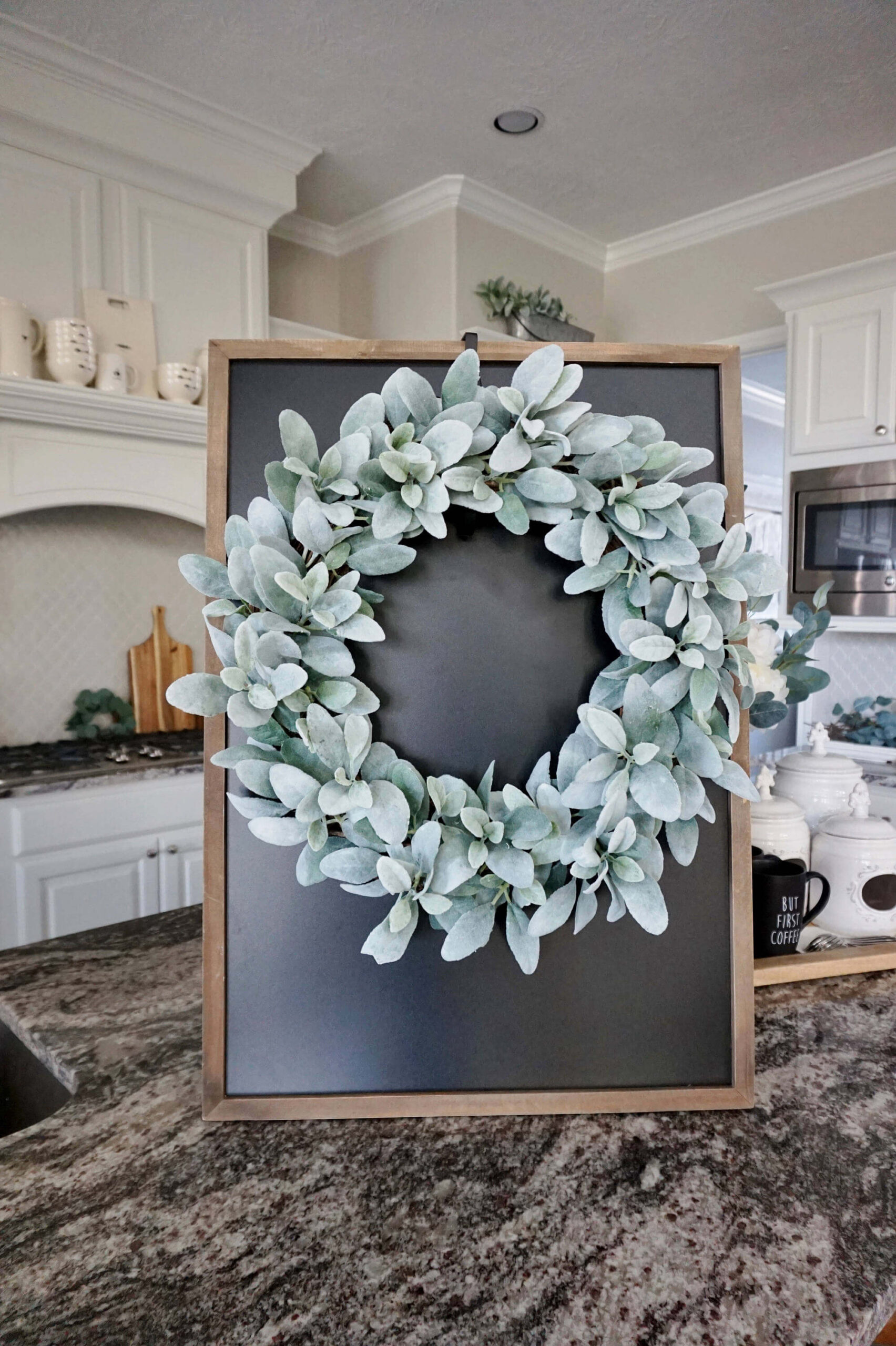 16. Fluffy Wreath with Tied Fabric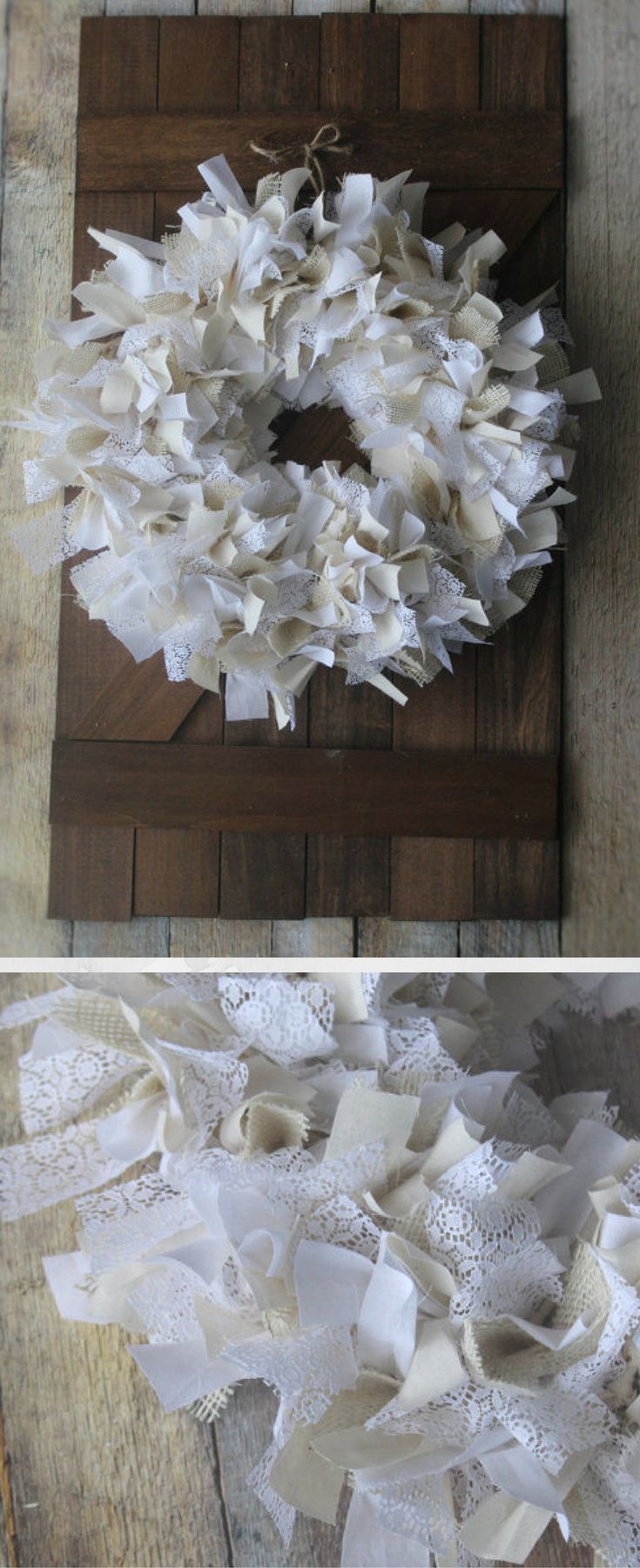 18. Blue and White Striped Fabric Wreath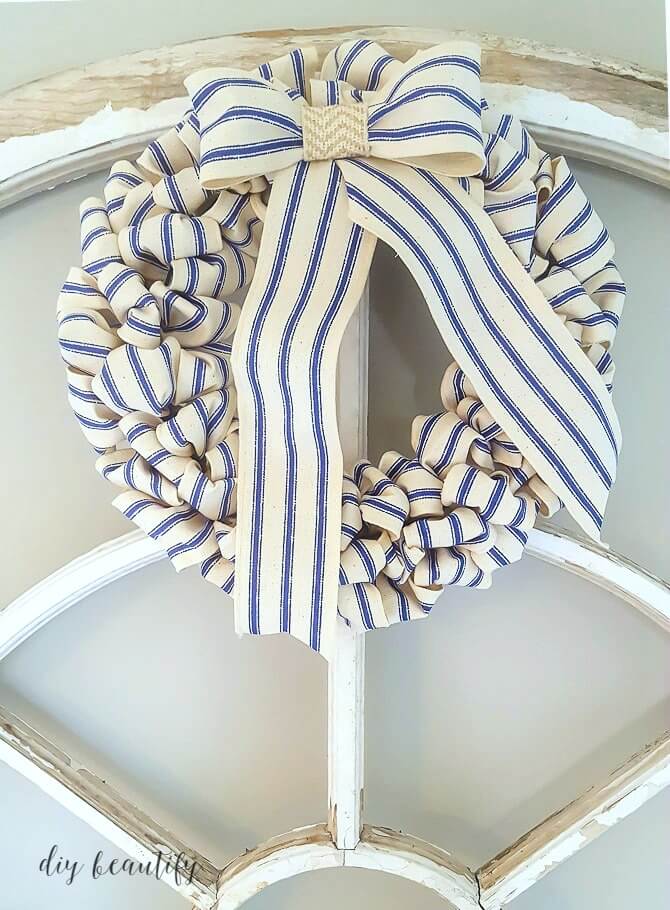 19. Tangled Branch Wreath with Cotton and Pinecones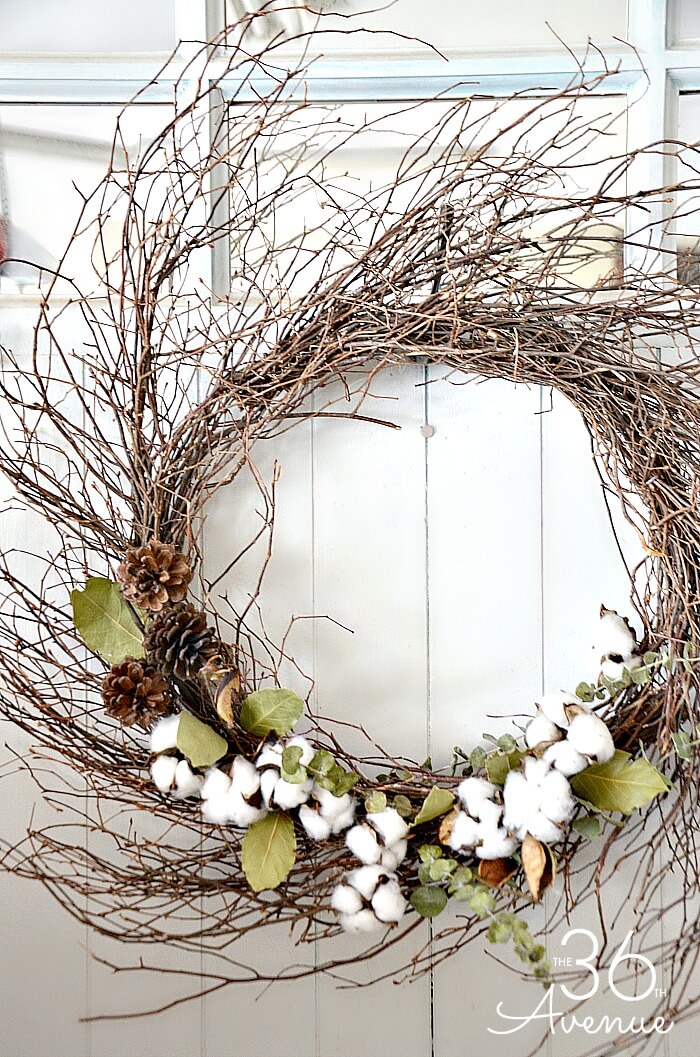 20. Rustic Farmhouse Wreath Idea with Blossoms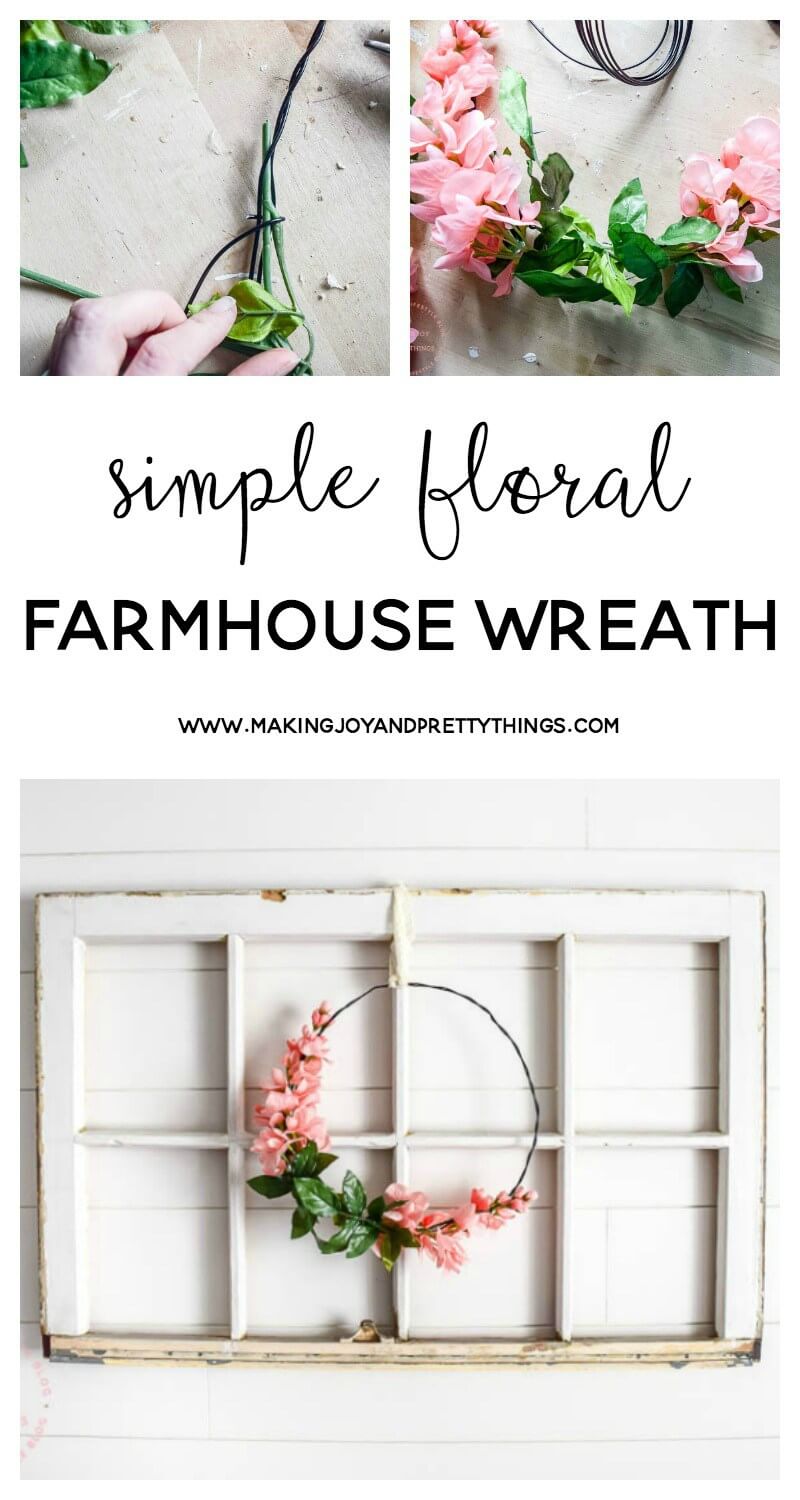 21. Wreath with Green Leaves and a Decorated Envelope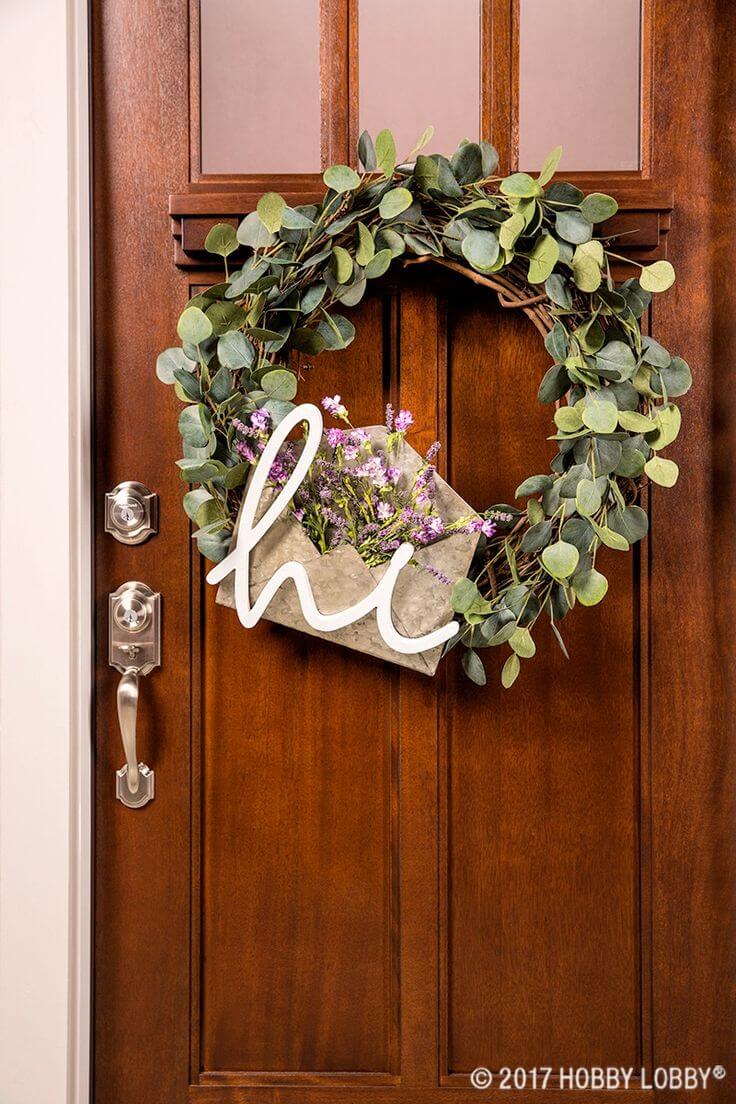 22. Simple Wreath with Pale Green Leaves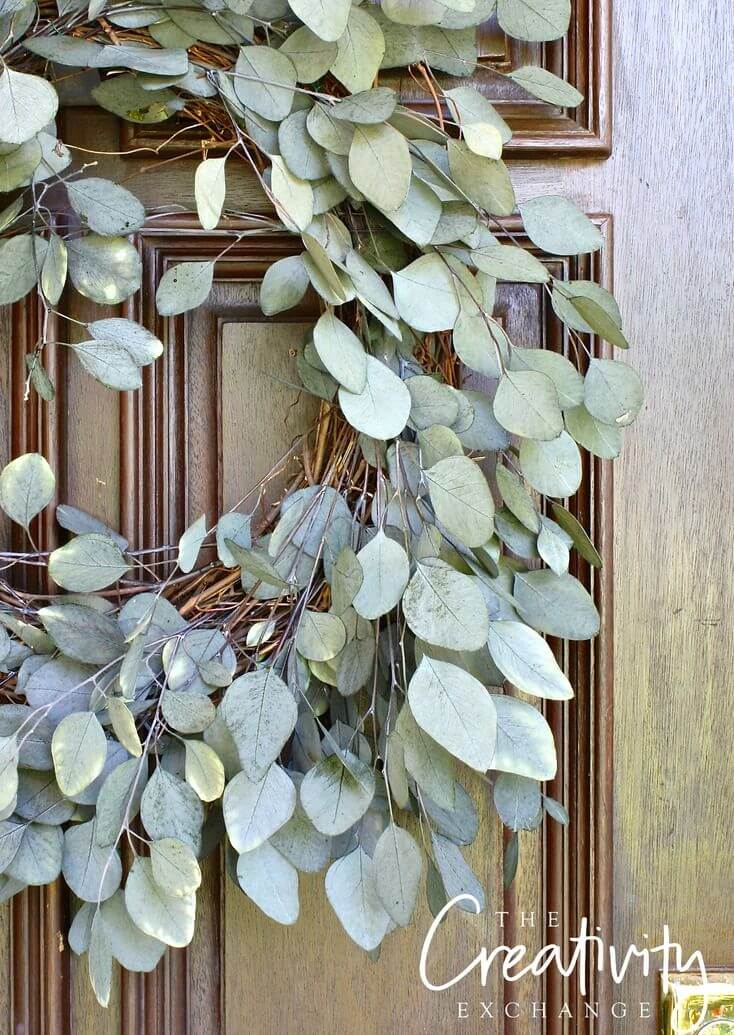 23. Cotton Blossoms and Bare Branches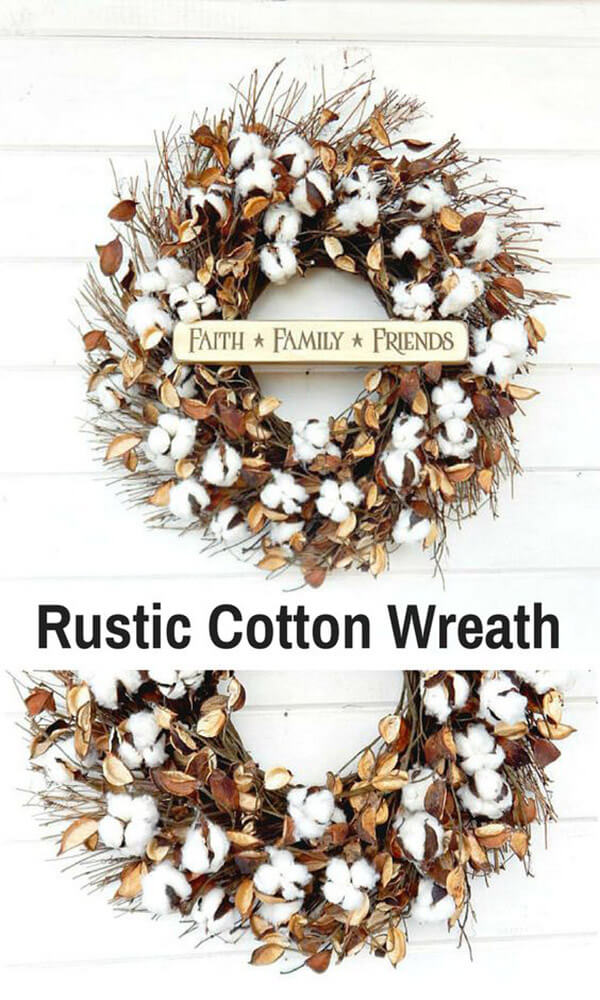 24. Glossy Green Leaves and a Frame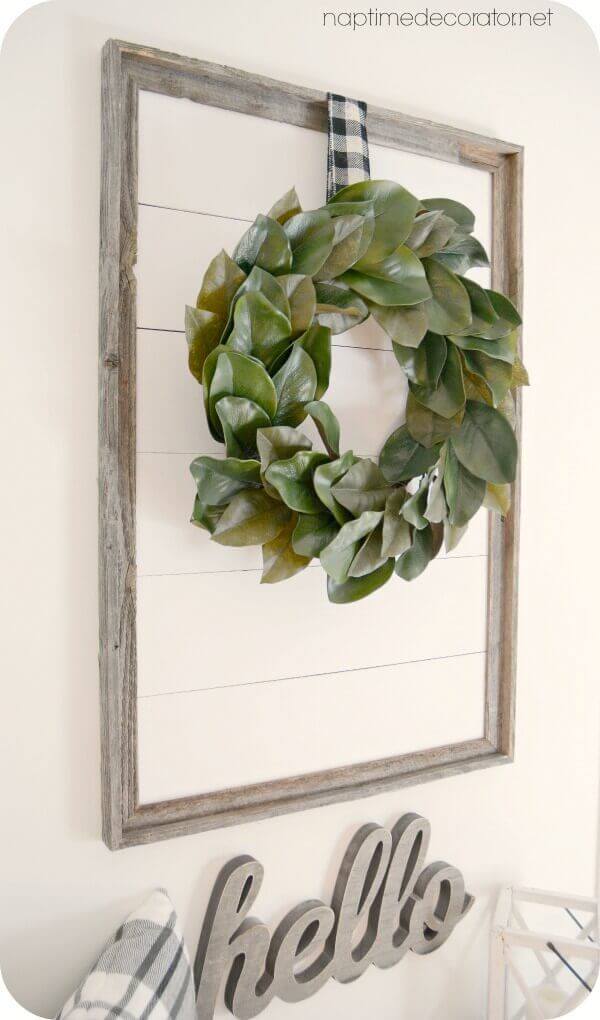 25. Metal Wreath with Hanging Blossoms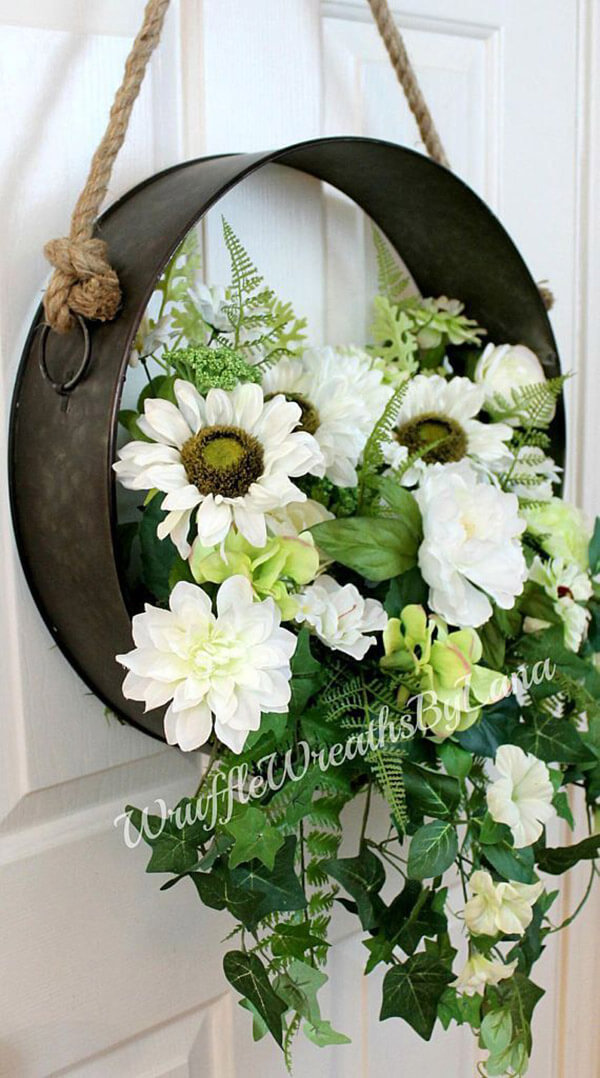 26. Unique Wreath with Antler Branches and Cotton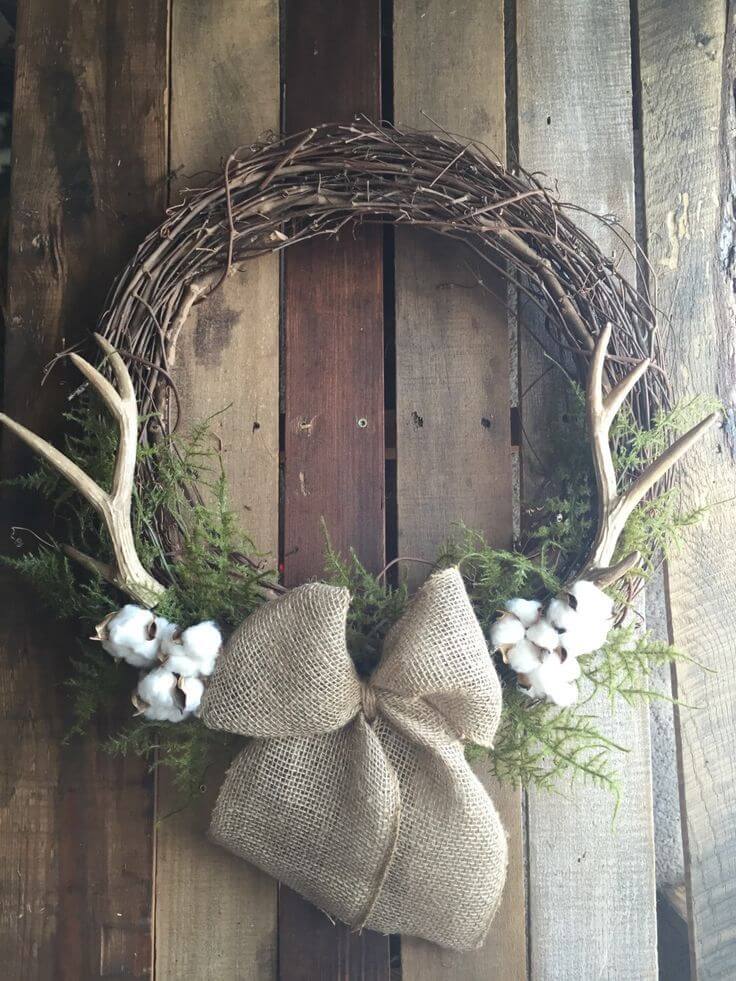 27. Hoop Wreath with Showy Greens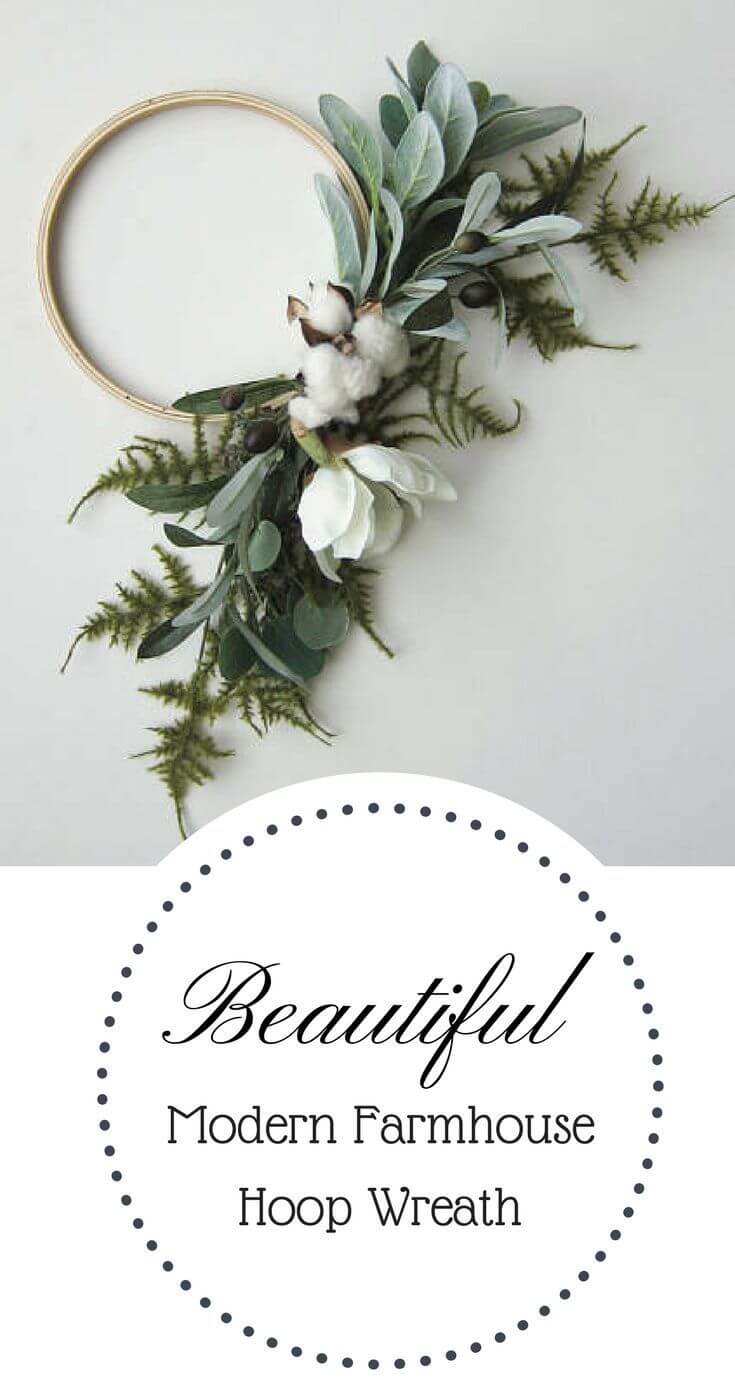 28. Wagon Wheel Wreath with Flowers and a Message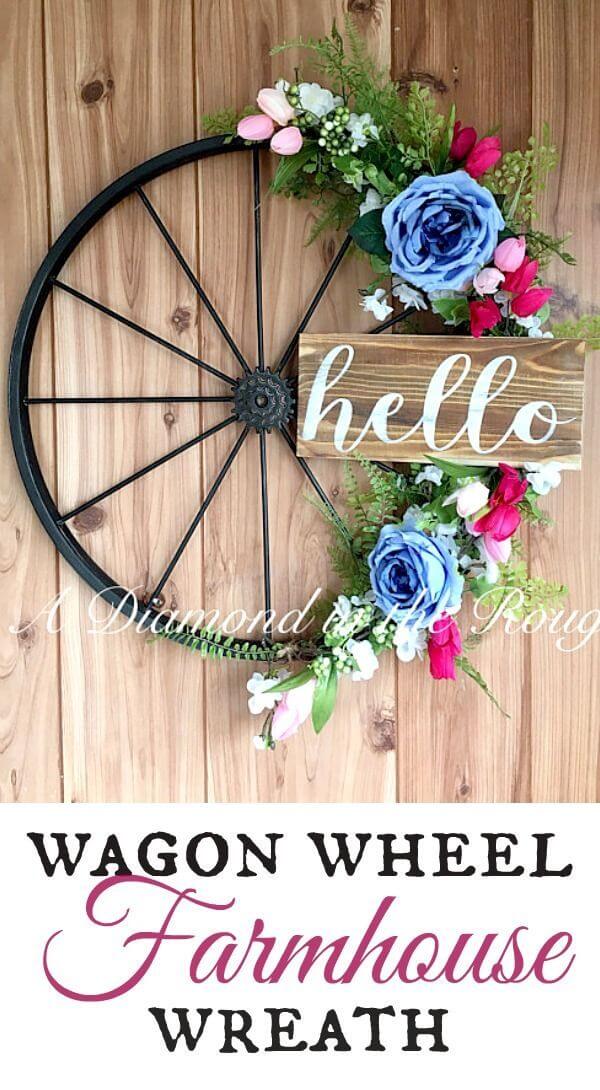 29. Greens, Flowers, and a Cutout Letter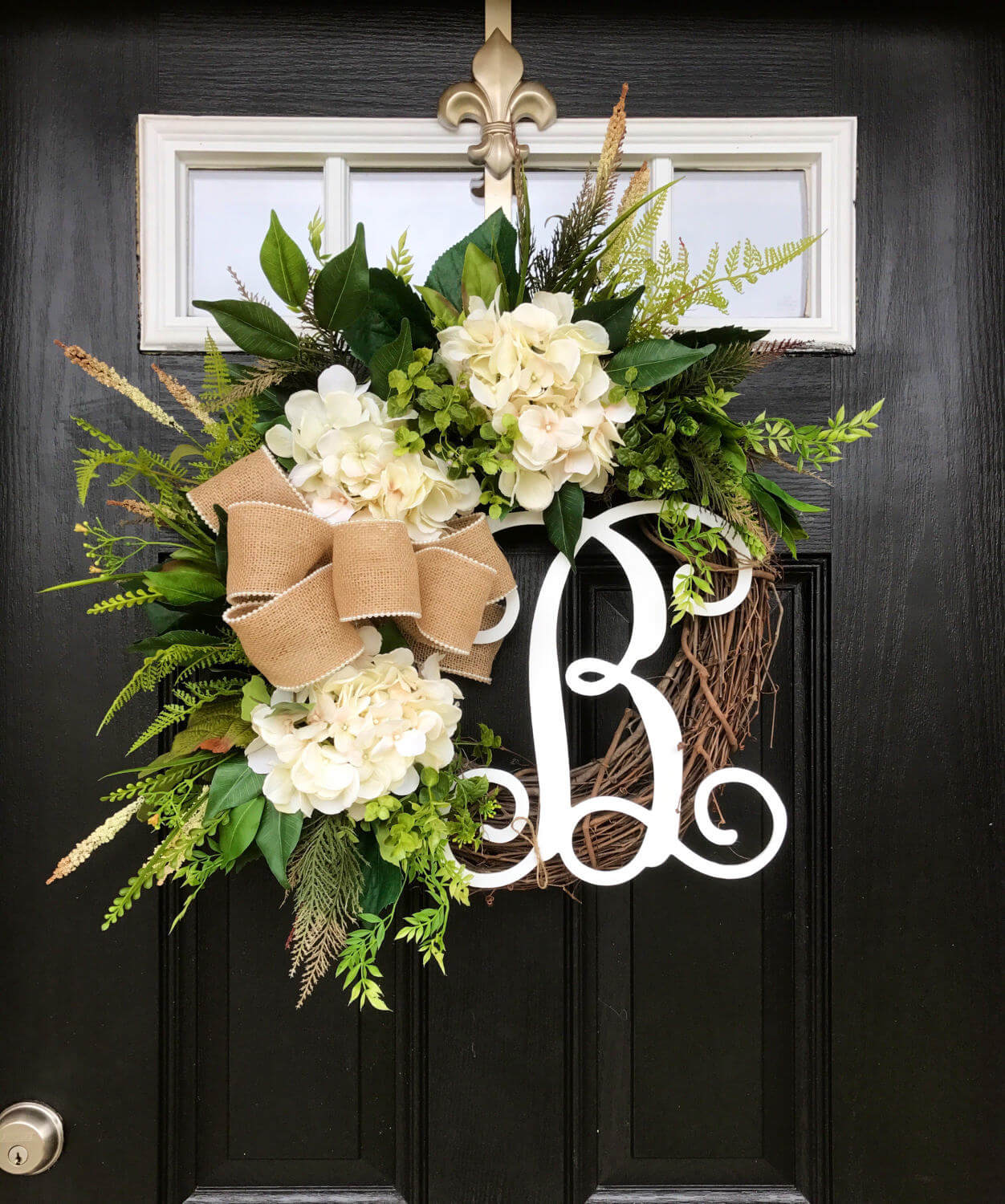 30. Unique Wreath Made with Metal Hoops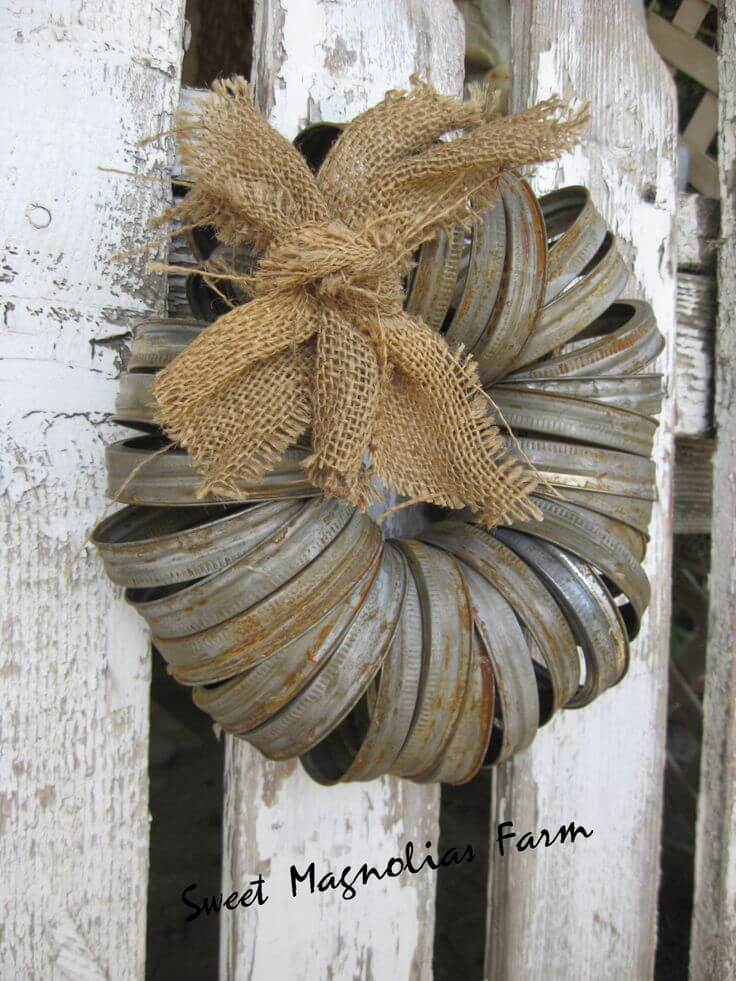 31. Antler Wreath with Pine Cones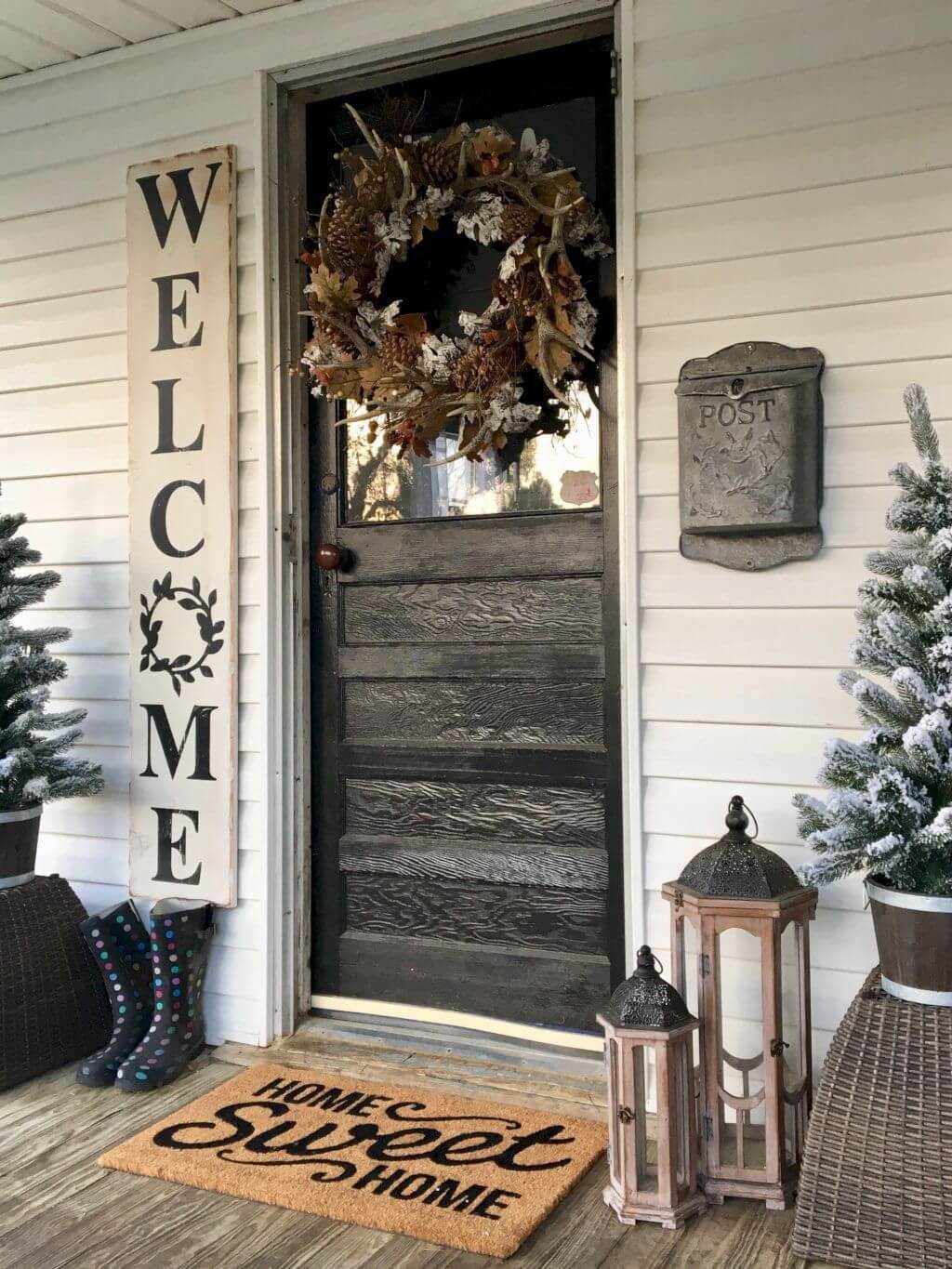 33. Cute Burlap Wreath with a Big Bow
34. Chicken Wire Window Pane and Wreath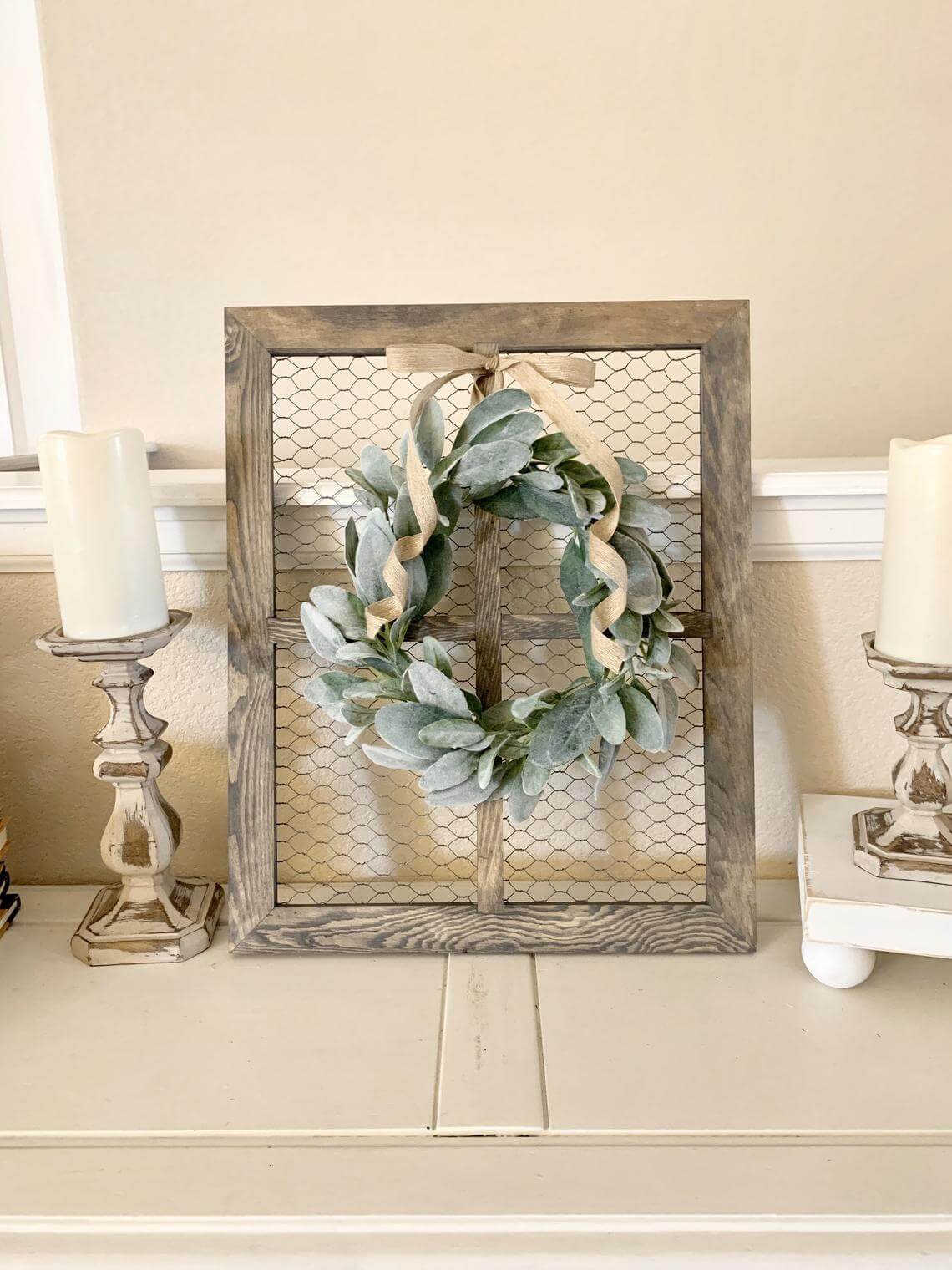 Nothing says farmhouse quite like a piece of chicken wire to give that rustic and country feel to your home. A charming and dainty green wreath is set amid this barn wood window pane frame filled with chicken wire to give your space the rustic farmhouse feel you desire.
35. Yellow Berry Fall Harvest Time Wreath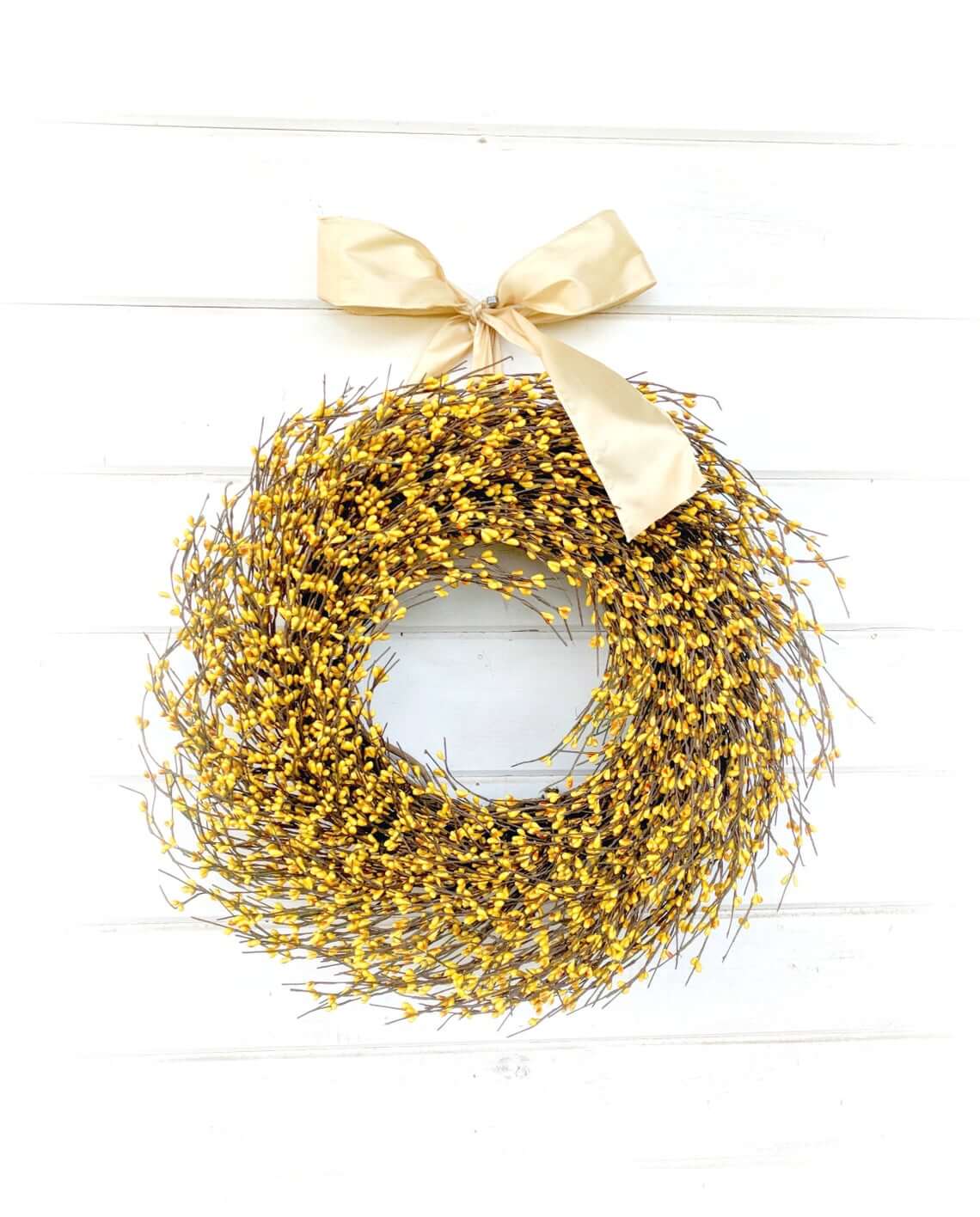 Welcome the hearty harvest season with this yellow berry wreath to hang on your front door. Tie a special ribbon to complete the look. A pretty plaid or a simple solid both look terrific depending on your porch theme. The rich yellow gives buttery warmth to your front porch decor.
36. Burlap and Ribbon Home Sweet Home Wreath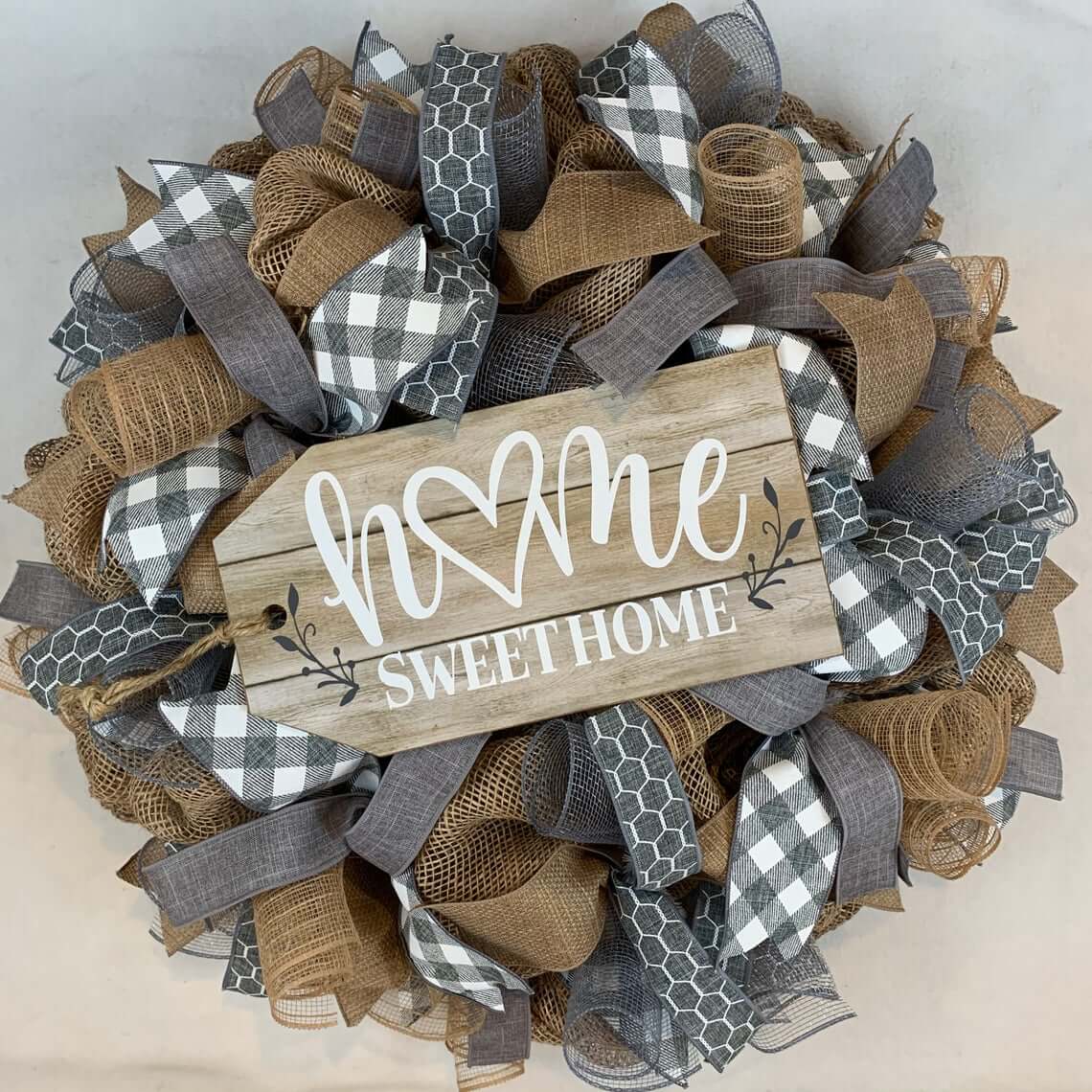 Wow is how to describe this gorgeous wreath that's full of texture and crafted in a winning combination of grays and browns. It's cool and warm at the same time and utilizes the rough burlap and wood texture, yet gives a feminine feel to the piece. The "home sweet home" tag in the center shows what's most important at the heart of it all.
37. Just Rolled in Cotton Swirl Wreath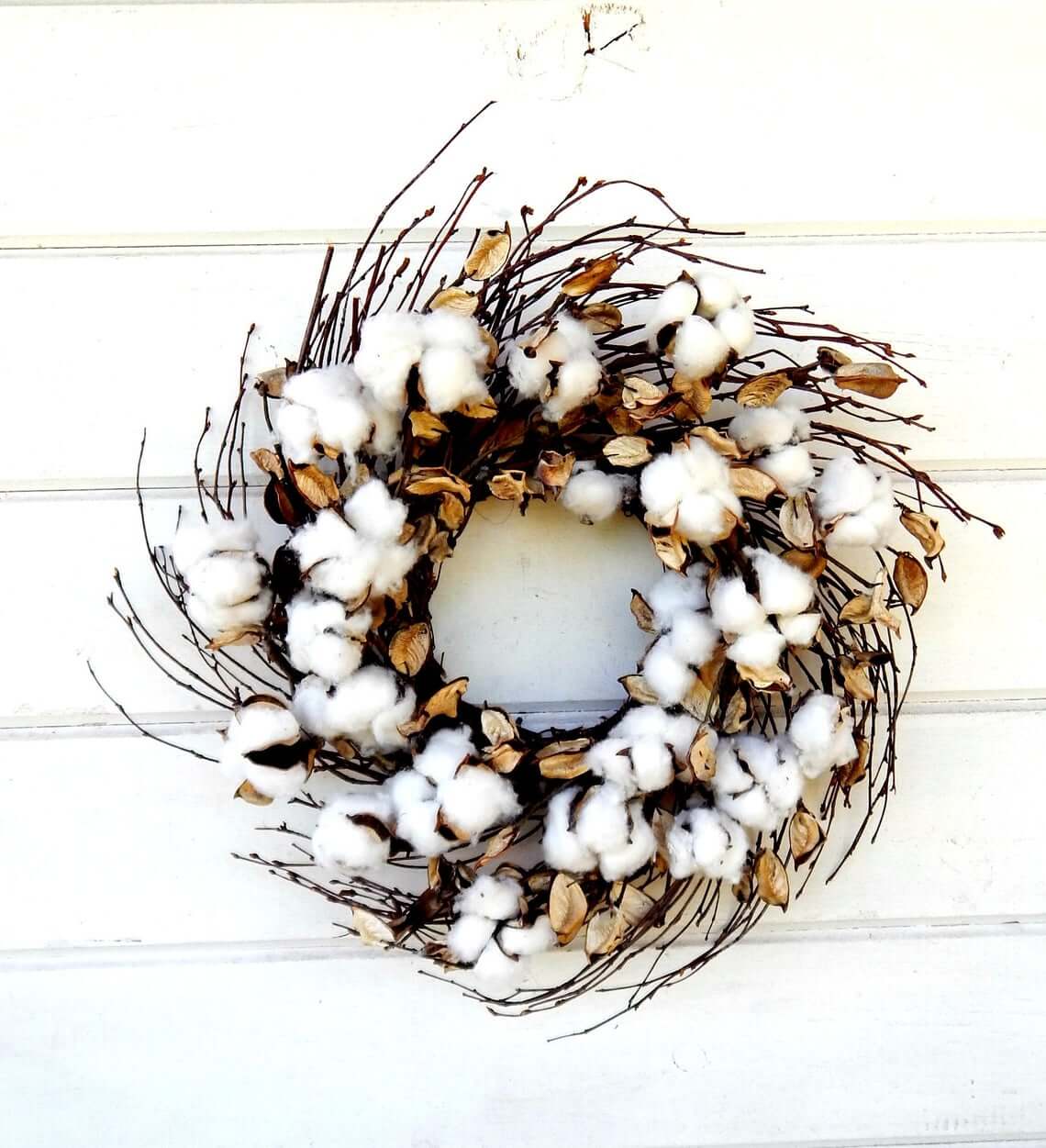 Don't be a tumbleweed rolling aimlessly in the wind. Instead, be a swirl of soft and sweet cotton that makes a great rustic farmhouse wreath. Switch it out for another hanging wall art inside your home to give your space a soft fall update.
38. Soft and Pretty Rustic Peony Wreath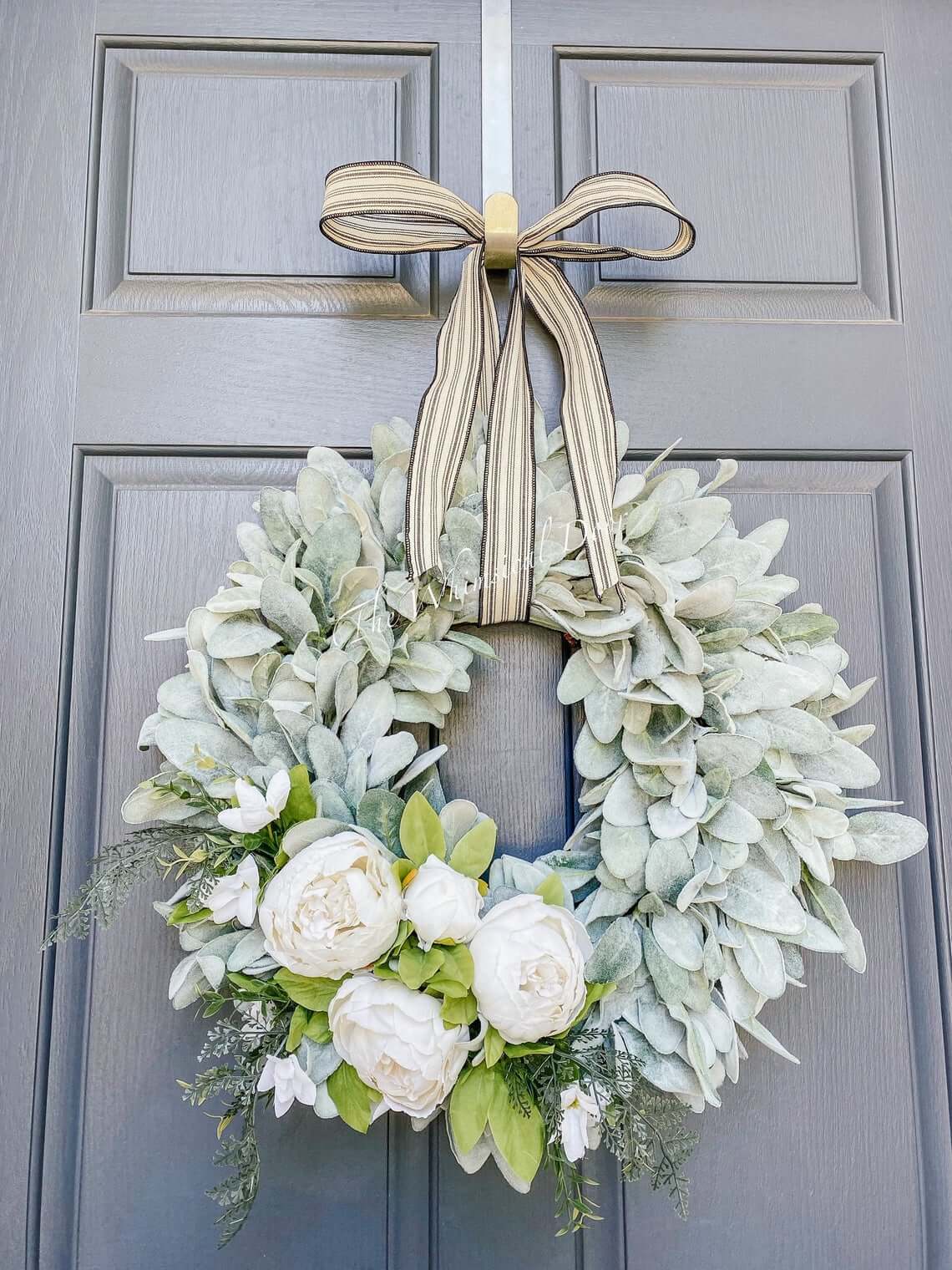 What's not to love about the subtle greens in this soft rustic wreath? Hang it from your front door with a thin striped ribbon to add even more neutral and subtle color and softness. It's a pretty wreath that works in almost any season.
39. Wild Wilderness Fern Wreath on White Window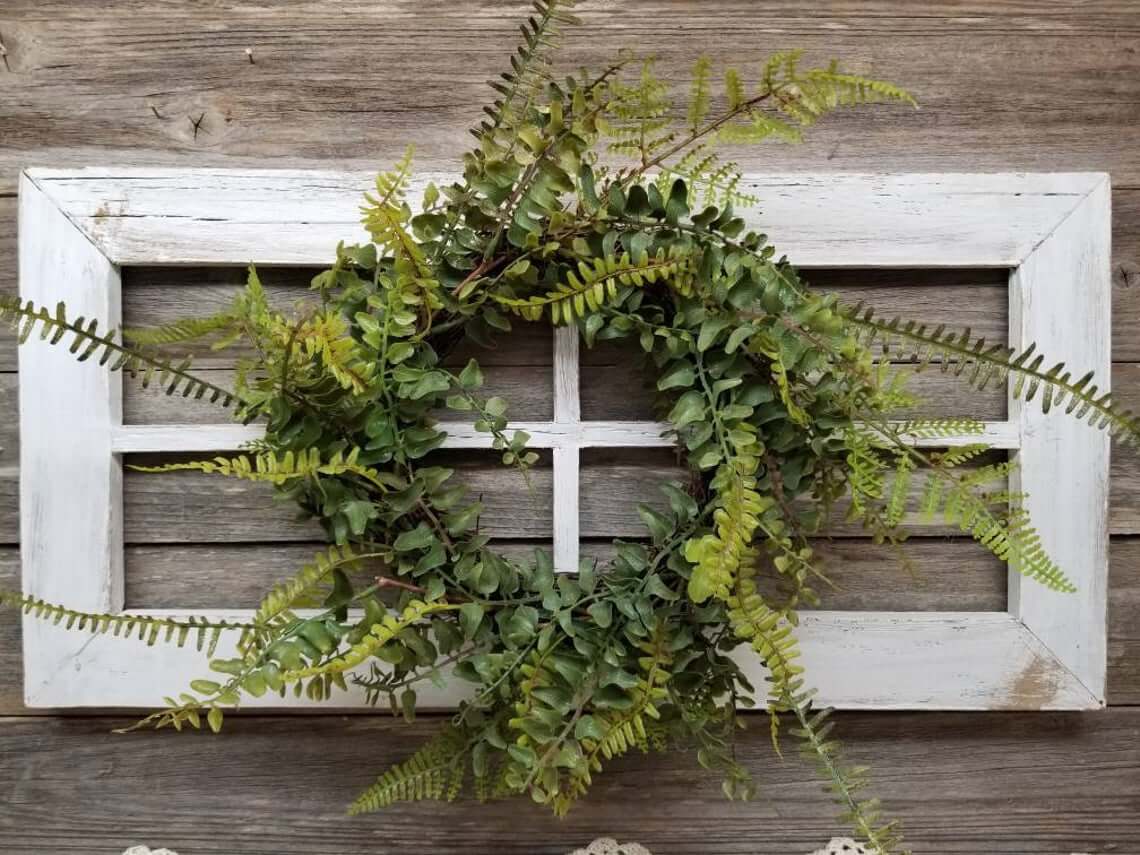 This simple white wooden window frame makes a fun foundation for this amazing wreath. Spinning out-of-control, this wild fern wreath features realistic and natural fern fronds straight from the wilderness. Channel your inner beast with this wild wreath!
40. Soft and Sweet Eucalyptus Wreath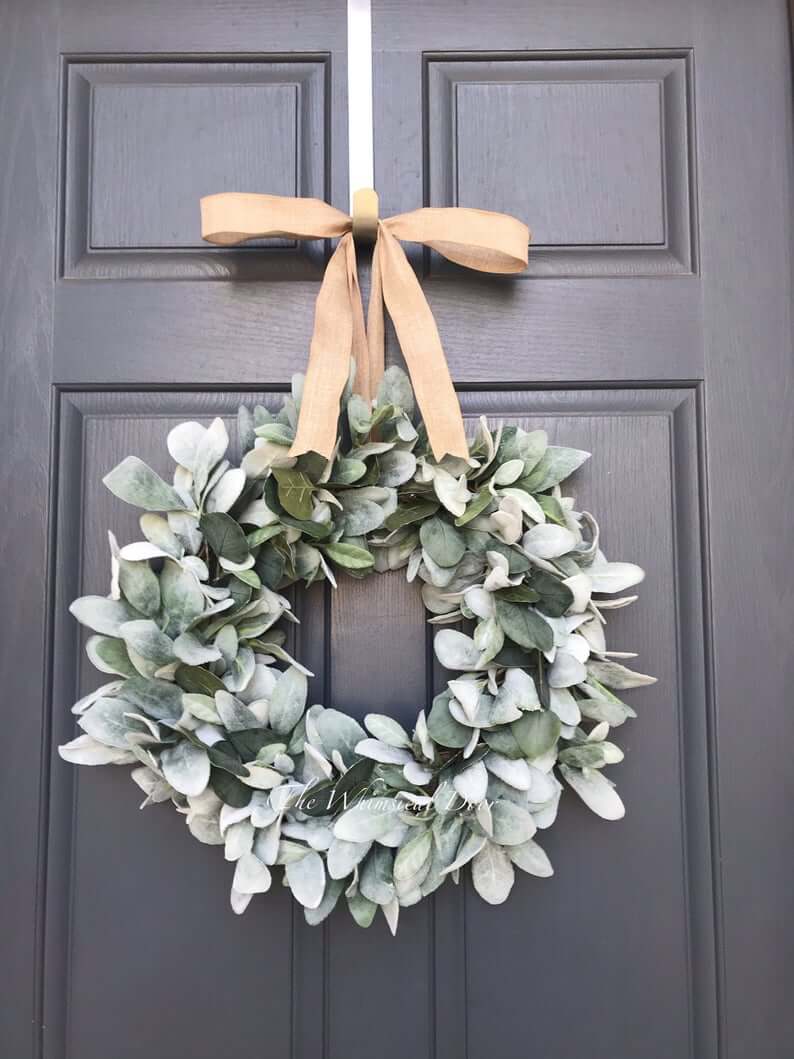 Eucalyptus is a wonderful tool for creating some soft and sweet wreaths. The serene coloring looks great in any decor and on all front doors. Greet your guests with soft simplicity with this amazing wreath.
41. Simple Gray Wooden Berry Wreath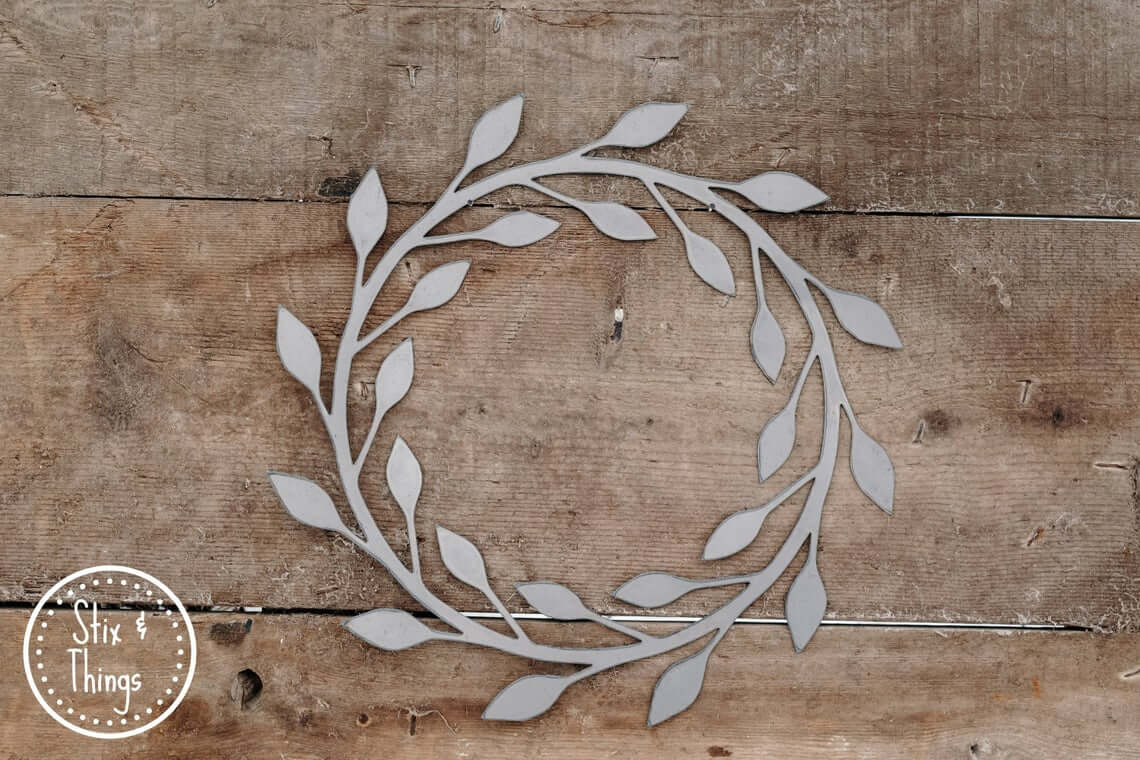 Farmhouse and contemporary collide in this minimalist lover's gray wooden berry wreath. It's just the right touch for adding a wreath to your modern farmhouse or contemporary modern home. This would also work well on a tabletop with a glowing candle setting within.
42. Gorgeous Leaves and Grains Harvest Swirl Wreath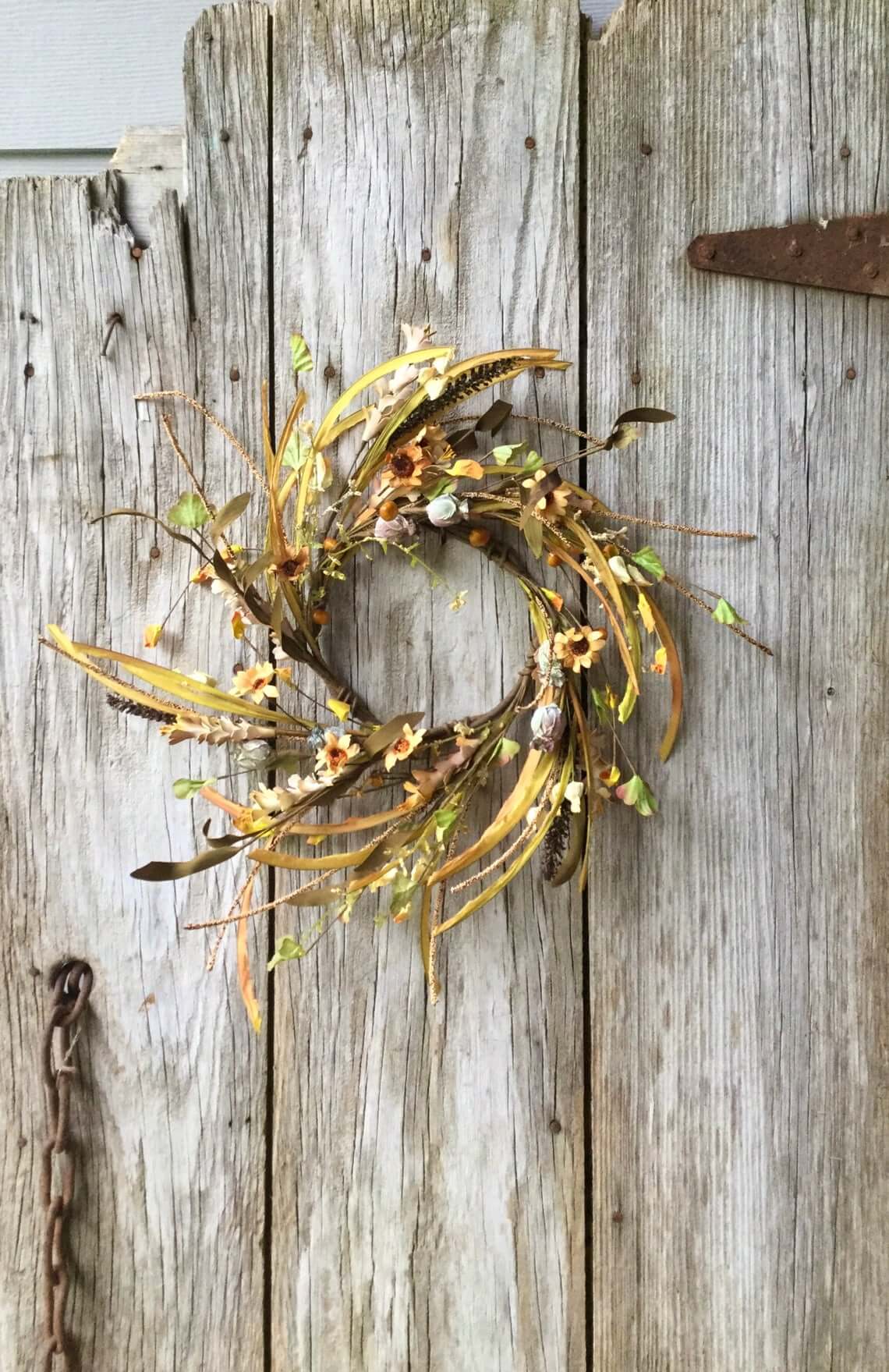 Grab a handful of earthy goodness and you've set the stage for this gorgeous grains and leaves wreath. The swirl of the earth's harvest is plentiful in this rustic farmhouse wreath. It adds style and texture to your decorating space.
43. Beautiful Seafoam and Turquoise Grapevine Wreath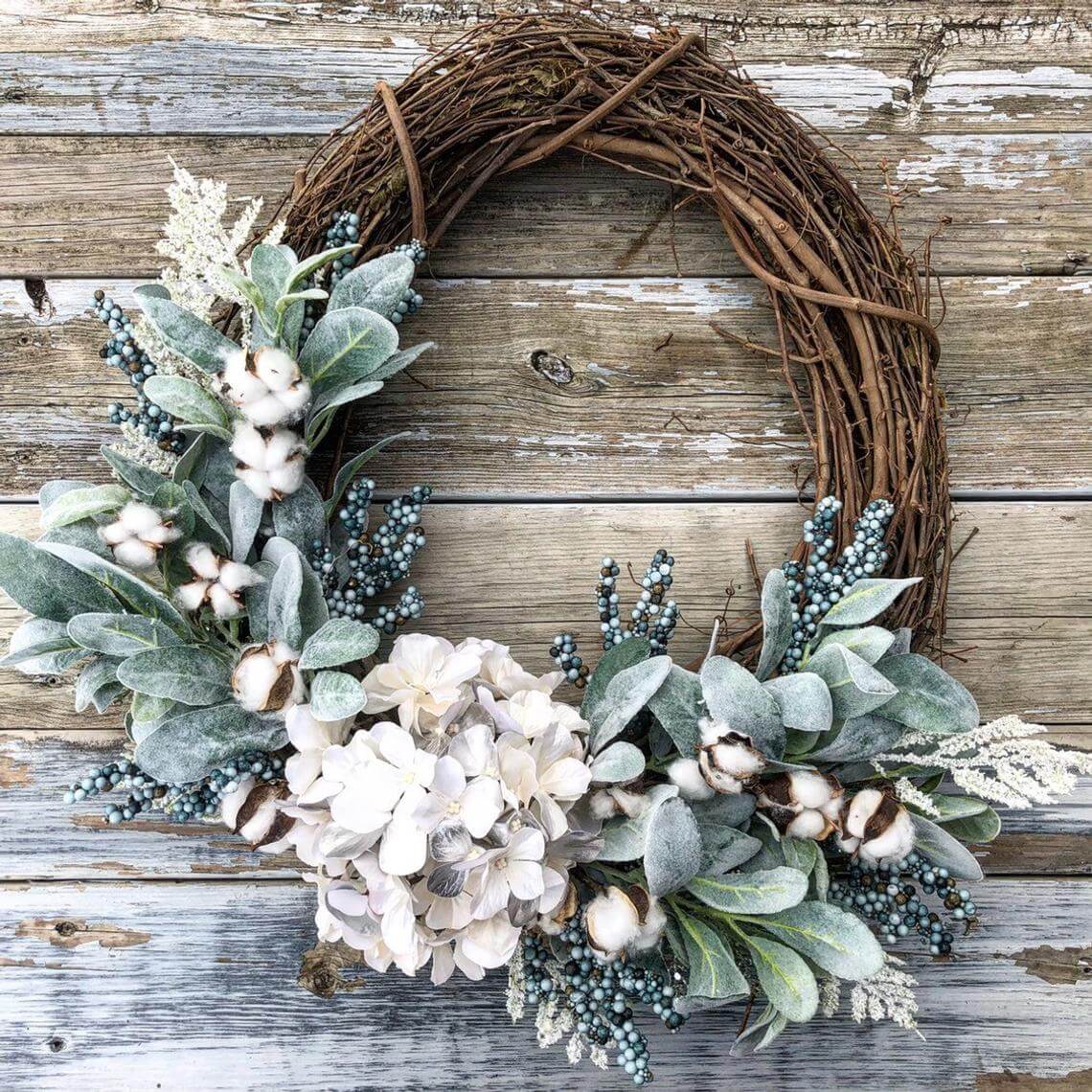 Check out the beautiful shades of blue and green in this grapevine wreath. The sprinkling of cotton blossoms adds some rich and soft texture to this decoration. Hang this beauty on your front door or adorn it on an interior wall to give your wall art some added interest.
44. Round and Striped Welcome Wreath Sign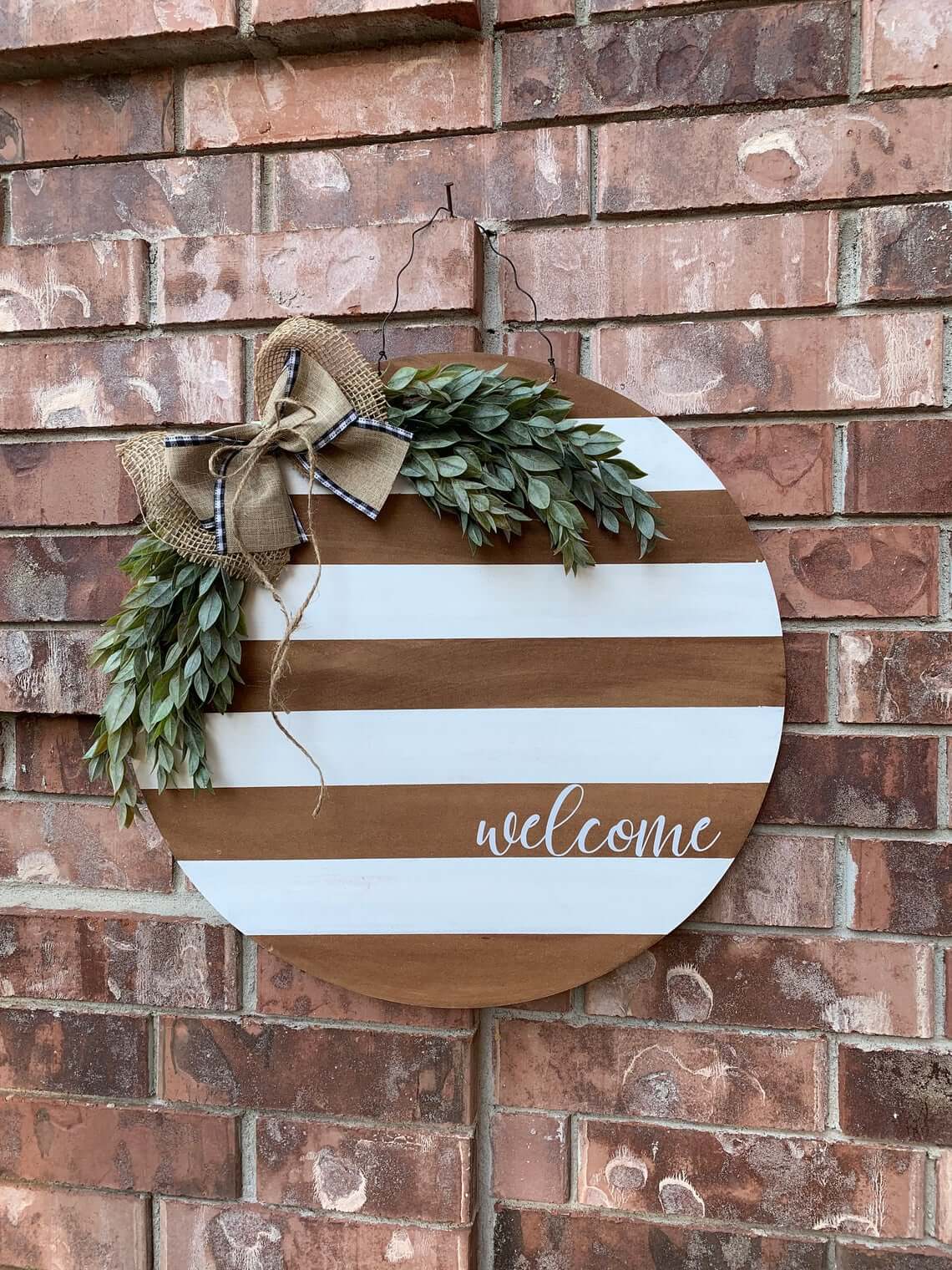 Put a spin on the classic wreath with this round and striped welcome sign. Featuring stripes of white and warm brown wood and accented with a burlap bow and floral spray, this sign is a perfectly welcomed addition to your door.
45. Rustic Farmhouse Elegance Window Wreath and Sign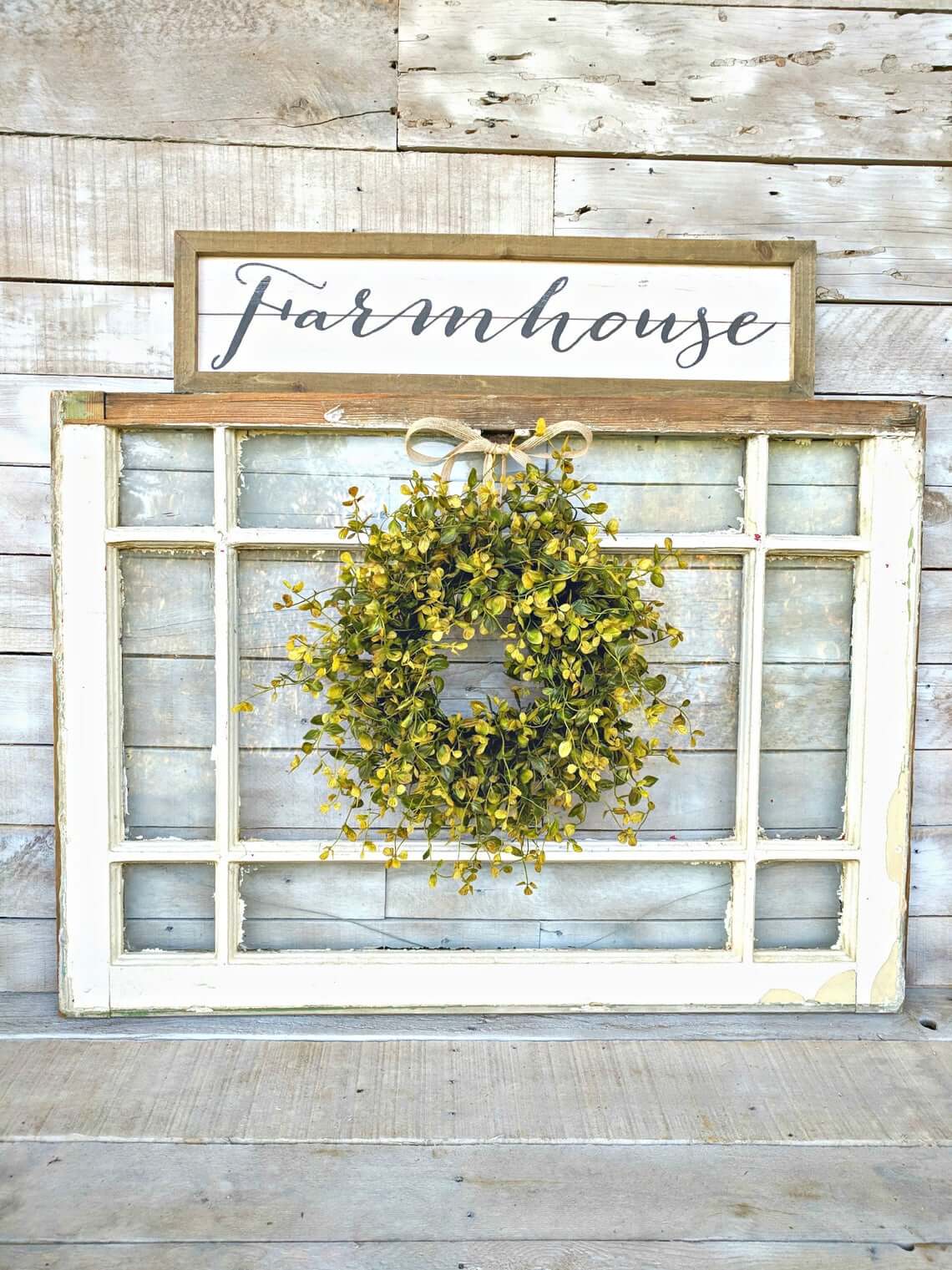 Place this powerful display in a prominent spot of your home so it can add the rustic charm your farmhouse decor deserves. The antique window pane background sets off the simple wreath and the overall look is complete with the wooden farmhouse sign resting on top.
46. Black, White, and Plaid Pretty Wreath Round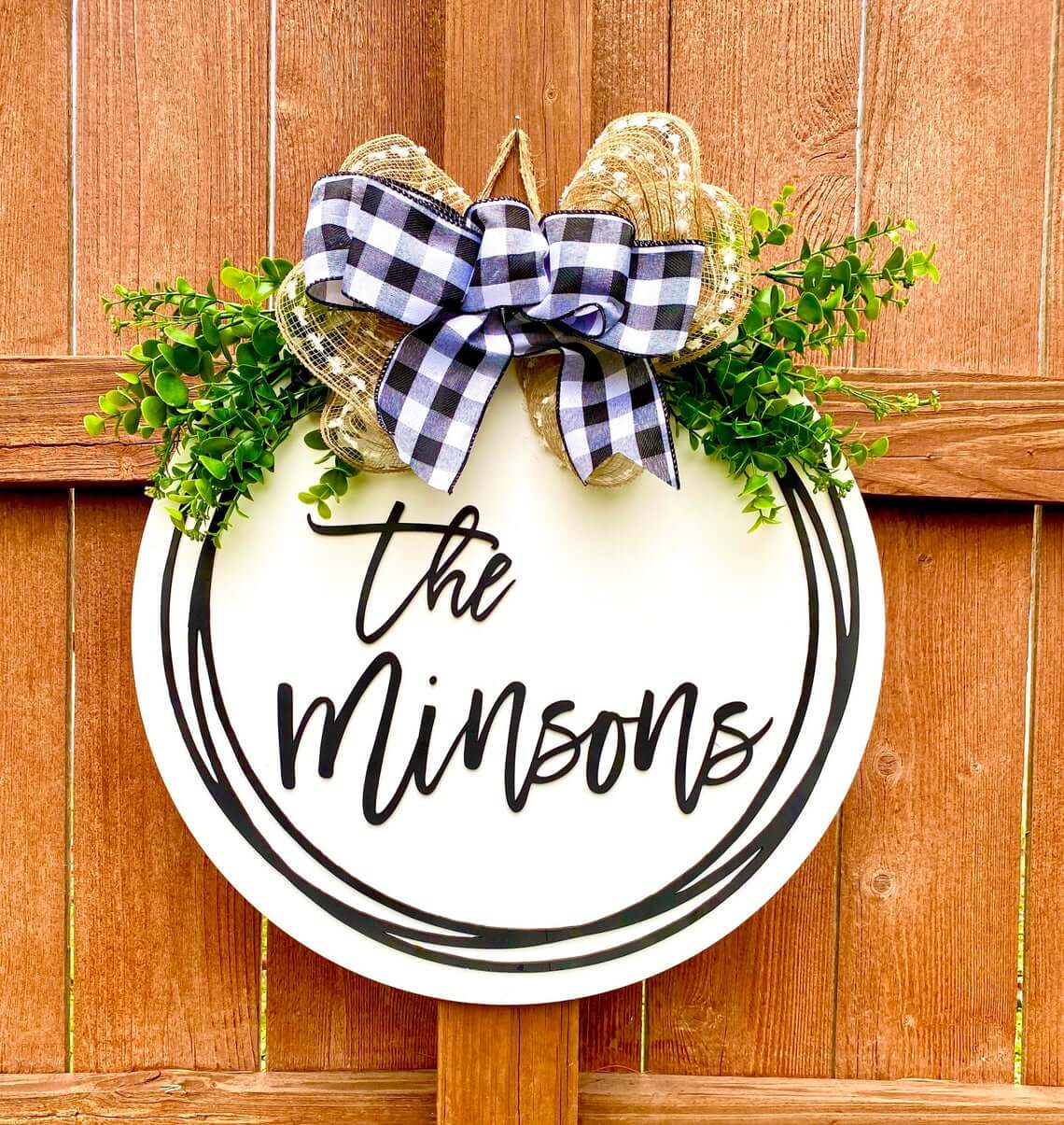 Mix a little modern with a little country and you'll discover this pretty wreath round comprised of black and white writing and a pretty plaid bow. The small sprigs of green really add some heartfelt warmth to this farmhouse design.
47. Bountiful Burlap Blessings Family Prayer Wreath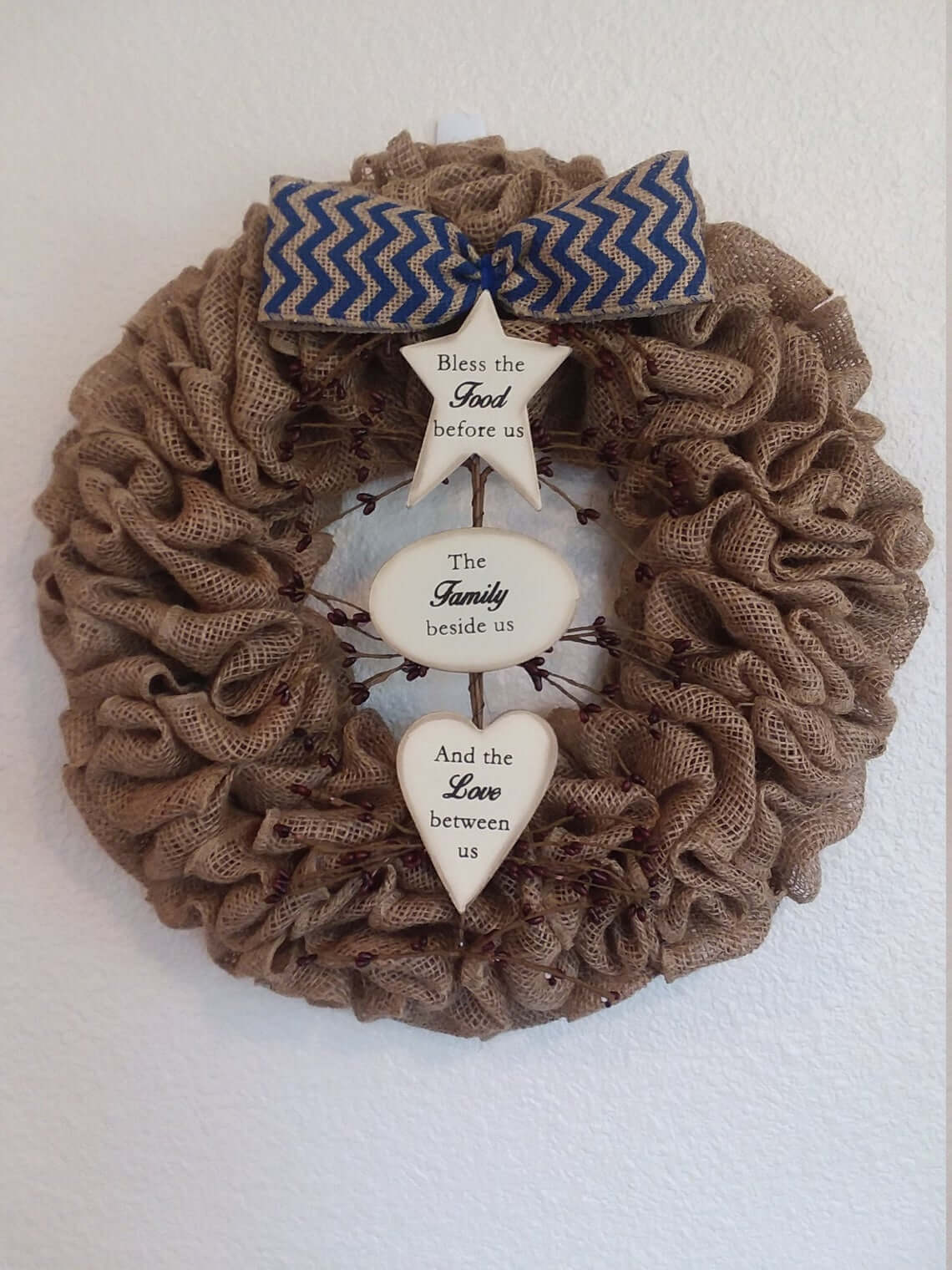 Hang this gathered burlap wreath in your home to showcase a beloved family prayer filled with blessings. Since those who share our table are dearest to our hearts, take time to enjoy the little things and share some love by gifting this burlap wreath to a treasured family member.
48. Mixed Media Greens and Wood Decorative Wreath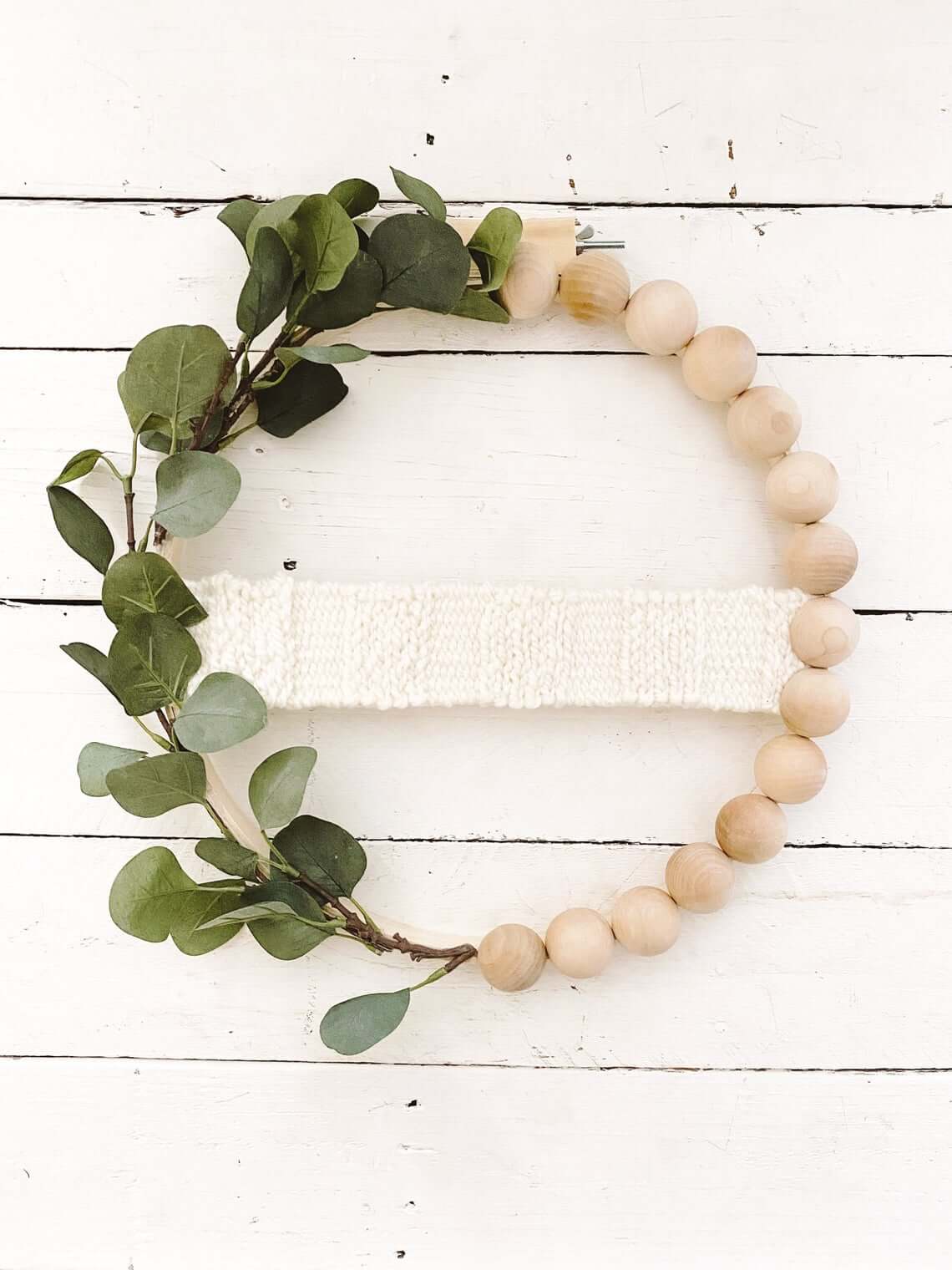 Here's a very simple take on the classic decorative wreath. It works perfectly in a minimalist design and would be an adorable addition to a baby's nursery. Hang it on the wall or the door for some simple charm.
49. Rustic Wooden Wreath with Shabby Chic Bow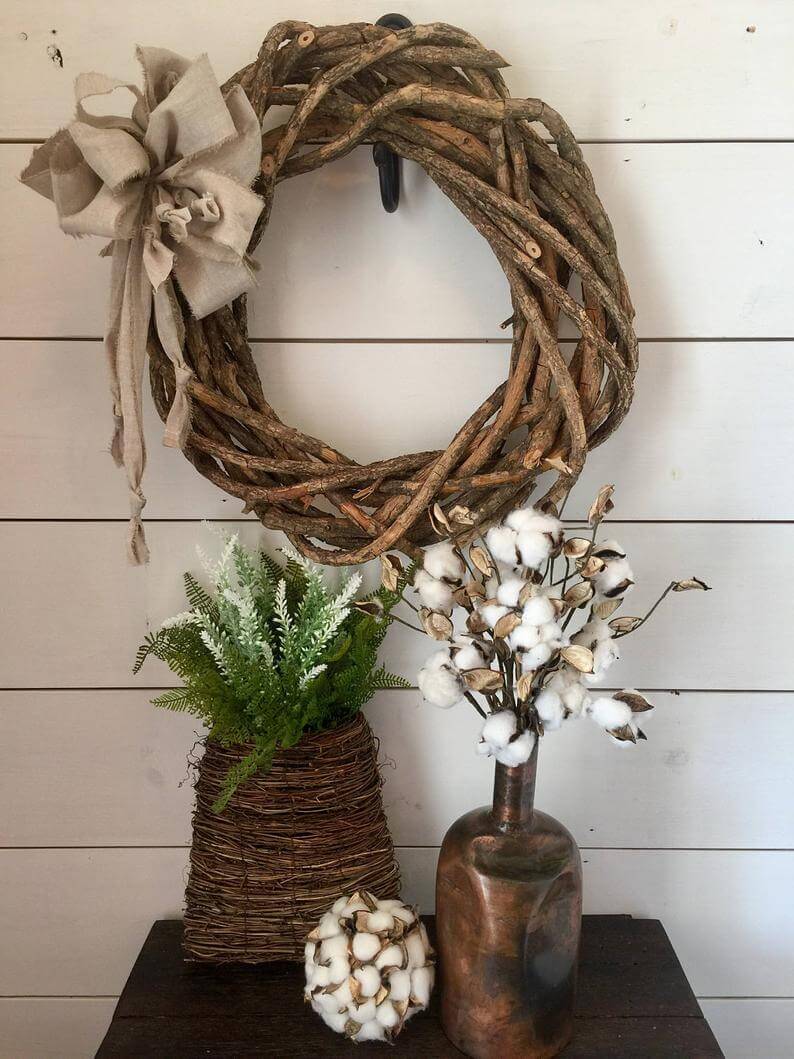 Bring a piece of the woodlands into your home design with this very simple and rustic wooden wreath. It's tied with a bow that has knotted ends to secure your casual home decoration into place.
50. Great Grapevine Wreath with Plaid Bow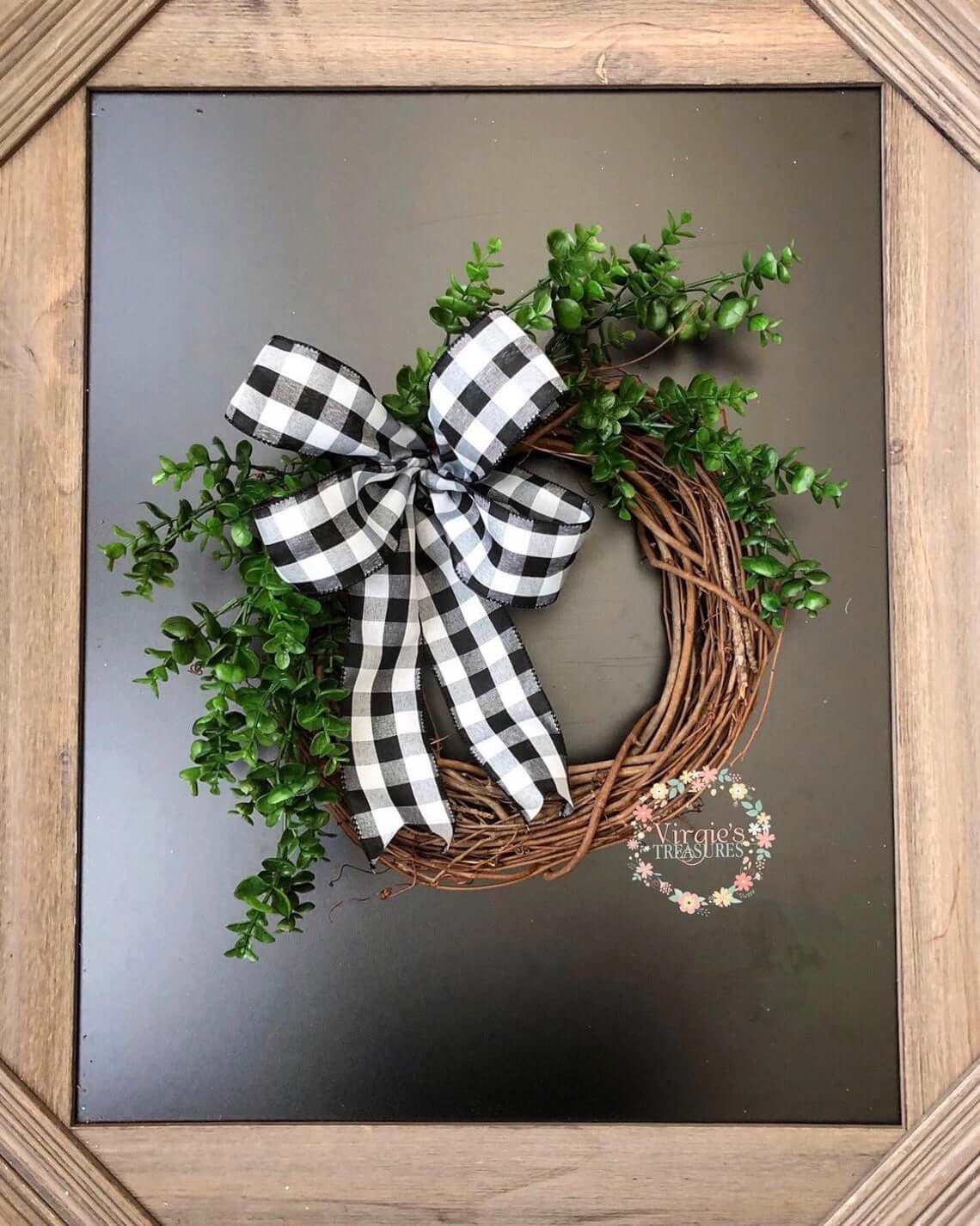 Sweet and to-the-point is how this grapevine wreath has been crafted. The traditional wreath foundation is set off with this big and beautiful black and white plaid bow and further highlighted with some rich and vivid boxwood greens. Place this on your front door for a perfect any time of the year decoration.
51. Grand Greenery and Grapevine Monogrammed Wreath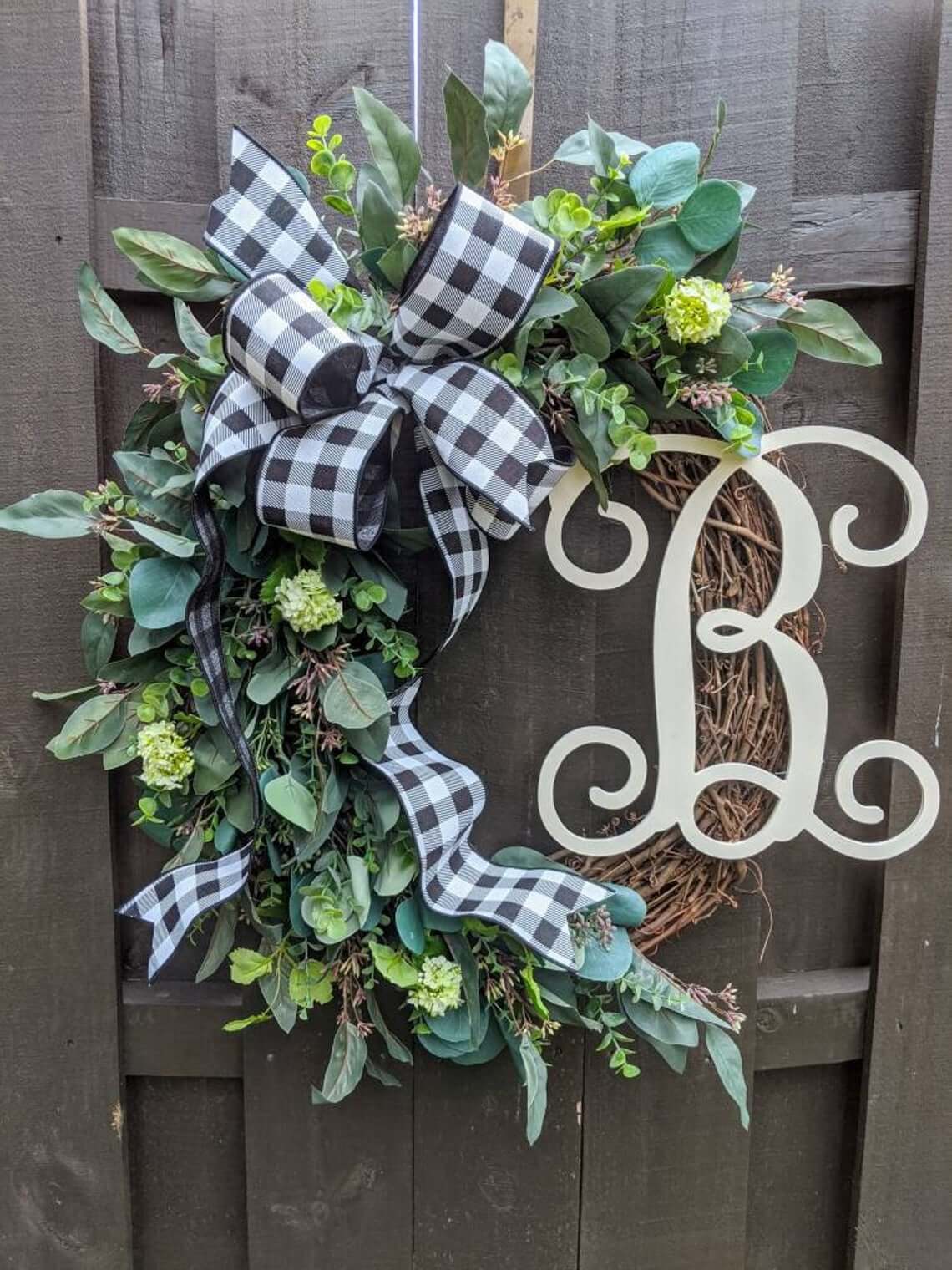 What can take a pretty grapevine wreath with lots of greenery up to the next level? How about a family monogram? With lush and lavish greenery secured with a pretty bow on one side, placing your family surname initial is a fun way to personalize this classic wreath.
52. Bunches of Blooming Cotton Simple Wreath
When texture is what your heart desires, yet you want to keep it simple, there's no better choice than this bunches of hand-picked cotton blossoms wreath. It's a fabulous choice for everyday use in your farmhouse decor.
53. Rustic Rooster and Clothespin Farmhouse Wreath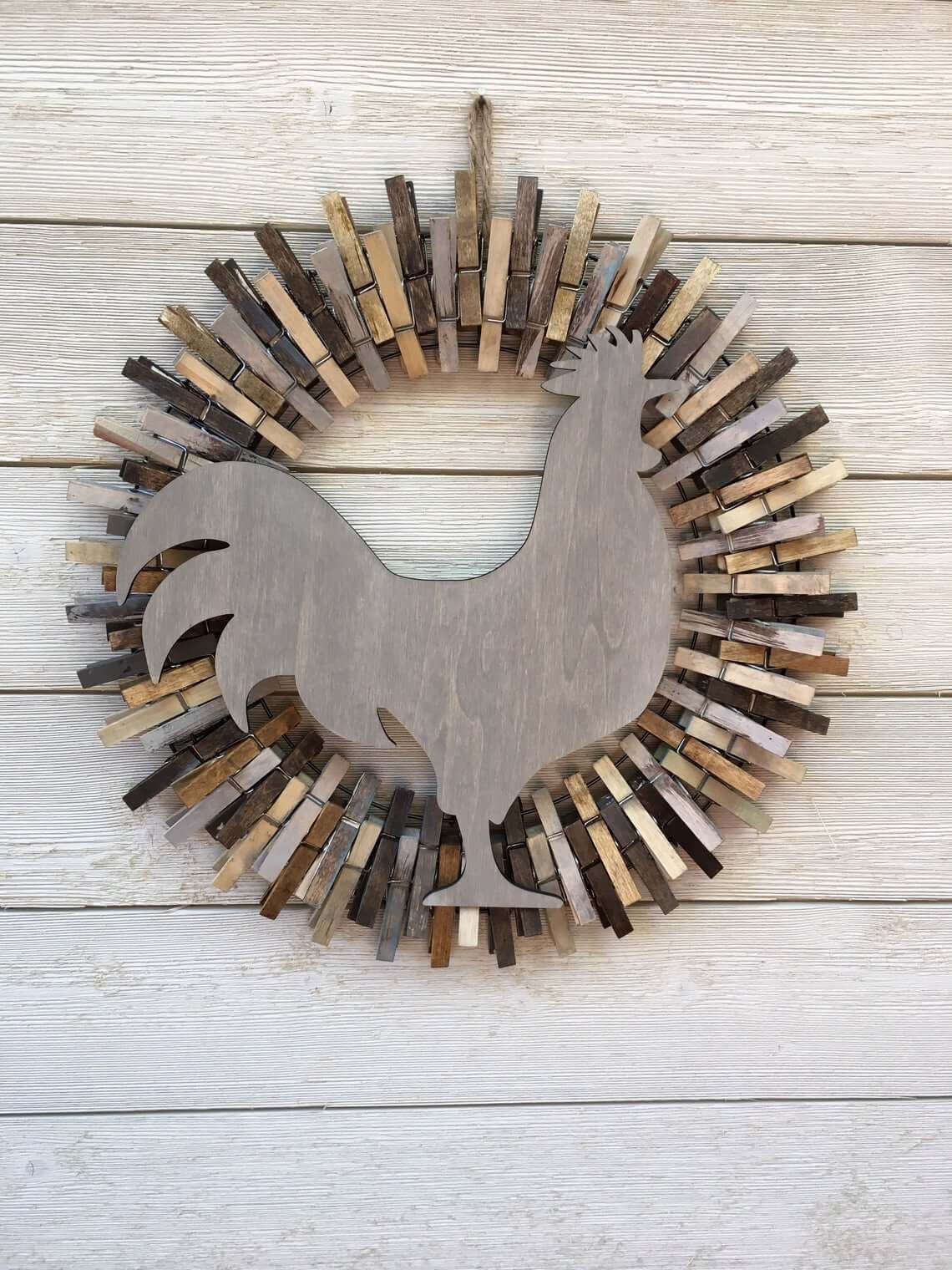 Check out the rich and rustic hues of these weathered clothespins that make up this amazing and awesome wreath! They form a perfect circle giving this wooden rooster profile a nice place to call home. This cute wreath needs to take up residence in your farmhouse kitchen as soon as possible!
54. Gather Basket Wreath with Greenery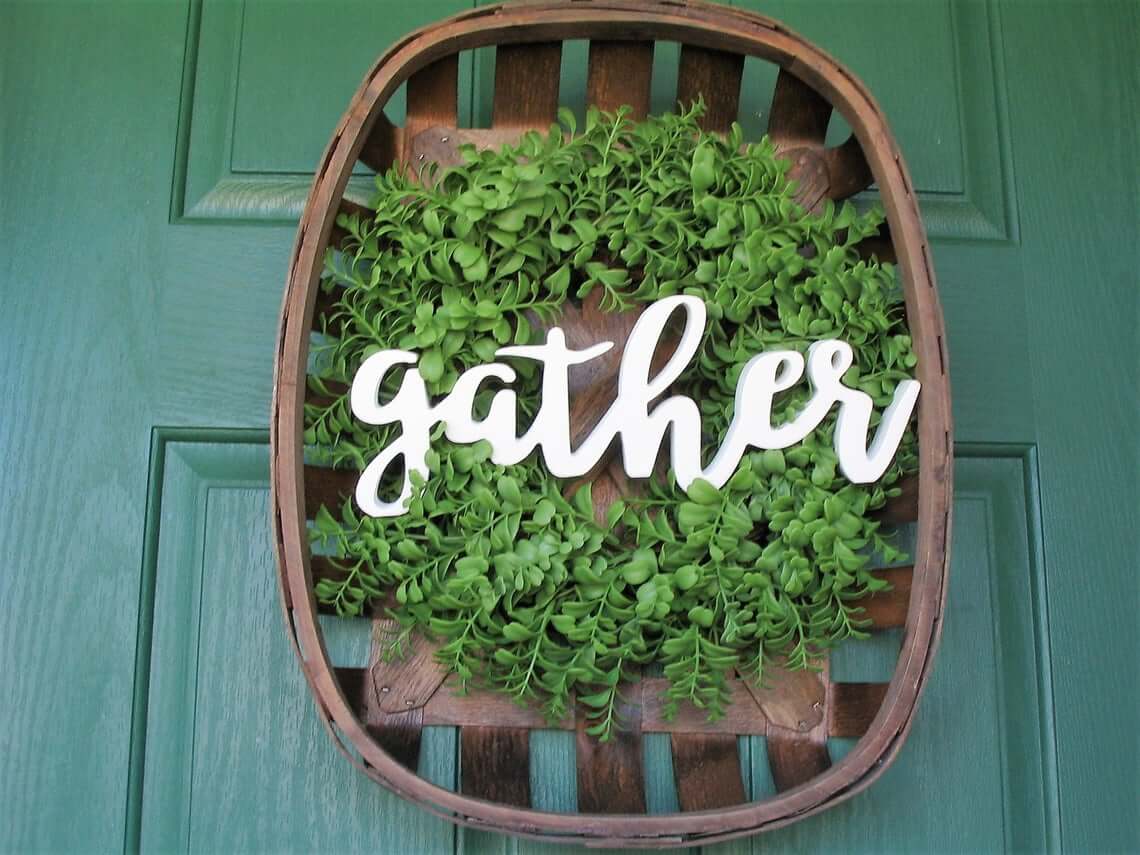 Place this large basket wreath on your door to welcome everyone who enters to gather and stay awhile. Make your home the place everyone wants to be with this vibrant greenery infused wreath that proudly displays the word "gather" nestled within its green circle.
55. Home is Where the Heart is Wreath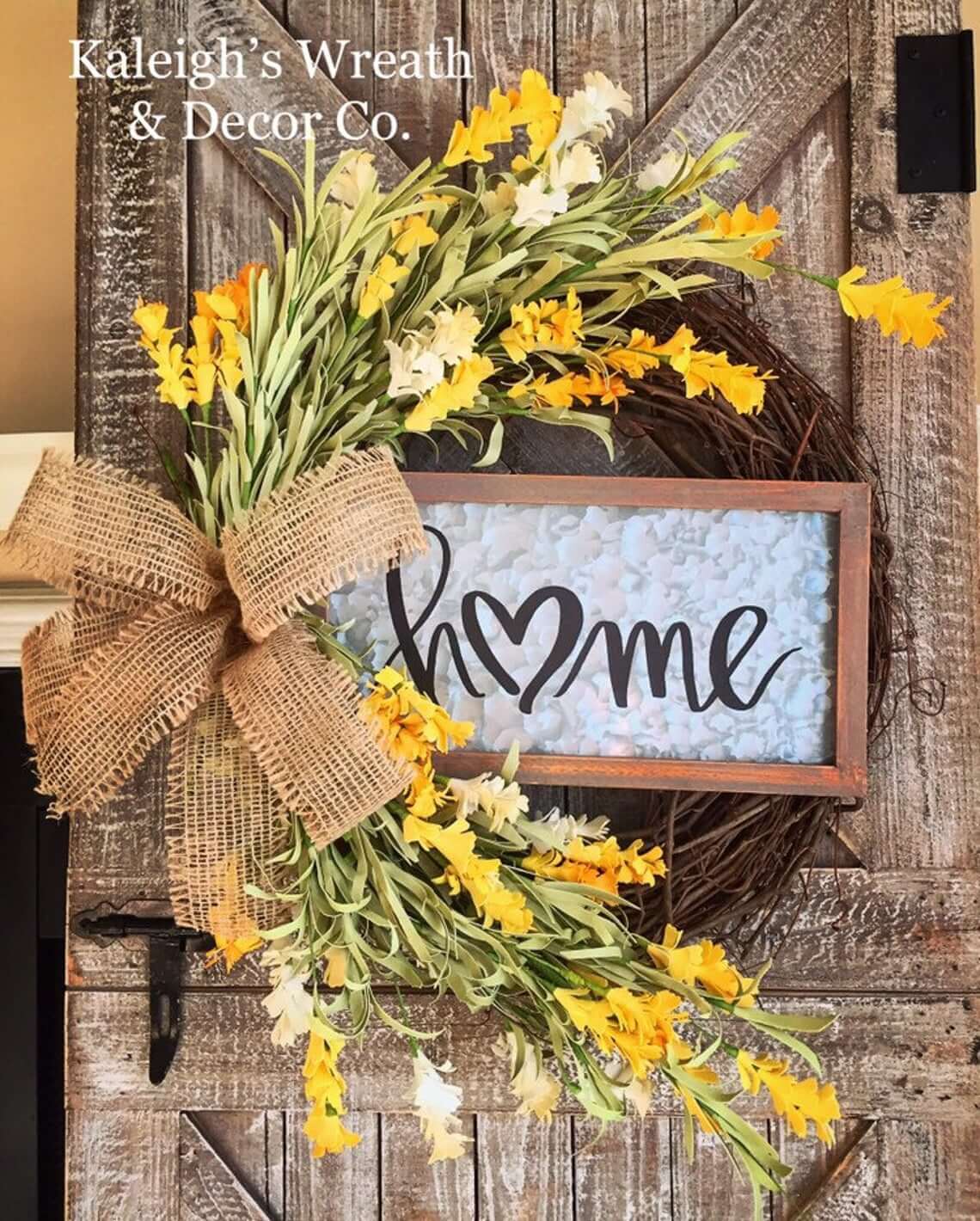 All hearts go home for the holidays, but any day of the year is a great day to be home. This all-occasion wreath features lovely yellow and green flowers surrounding a classic burlap bow. Inside the circle, you'll delight in the metal sign displaying "home" with a heart used for the "o."
56. Big Bow Grapevine and Greenery Wreath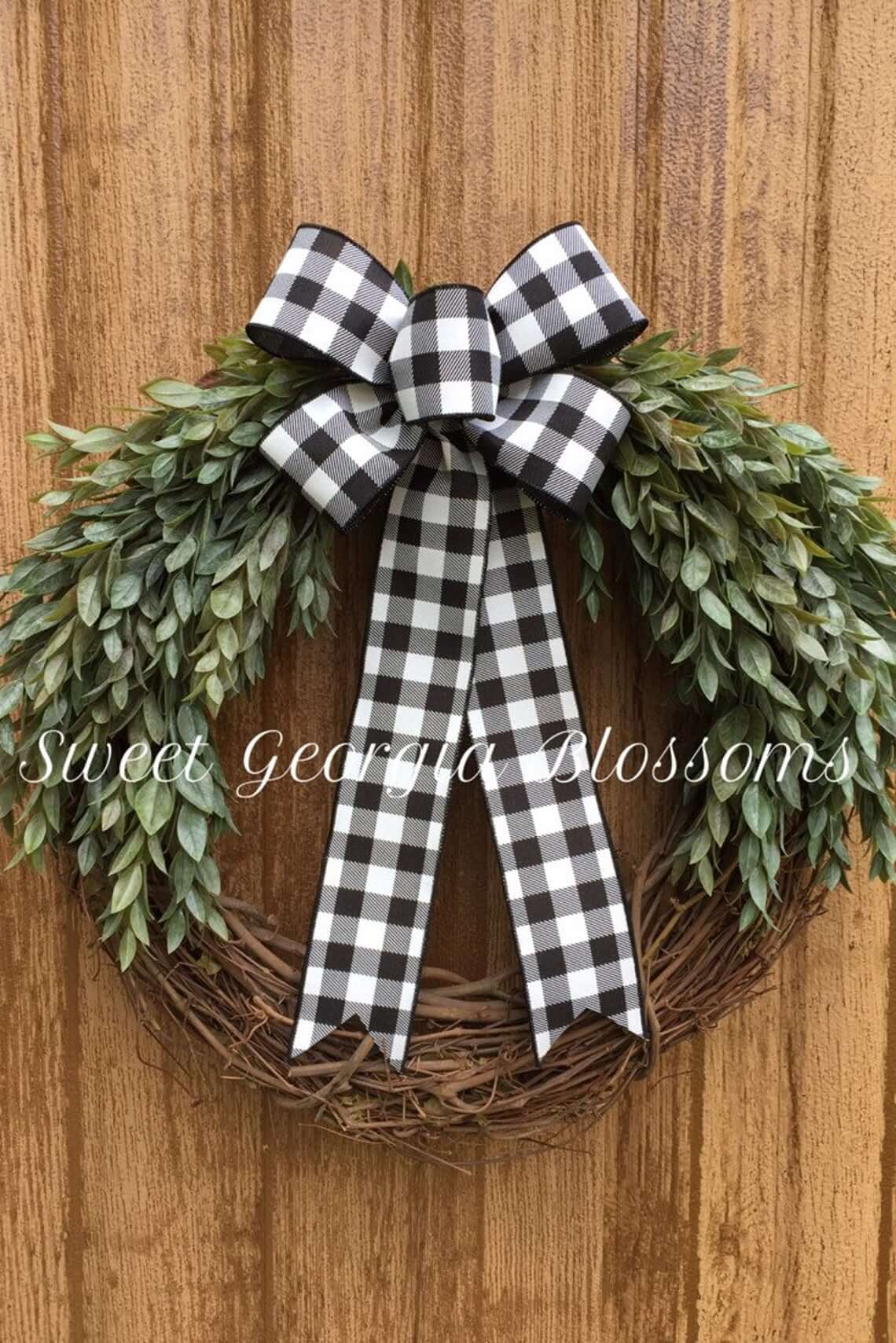 Sometimes less is more and this wreath shows why. Starting with a simple grapevine circle, you only need some everyday greenery and top it off with a big plaid bow to create a pretty wreath that works for all seasons.
57. Rustic Fields Amber Waves of Grain Wreath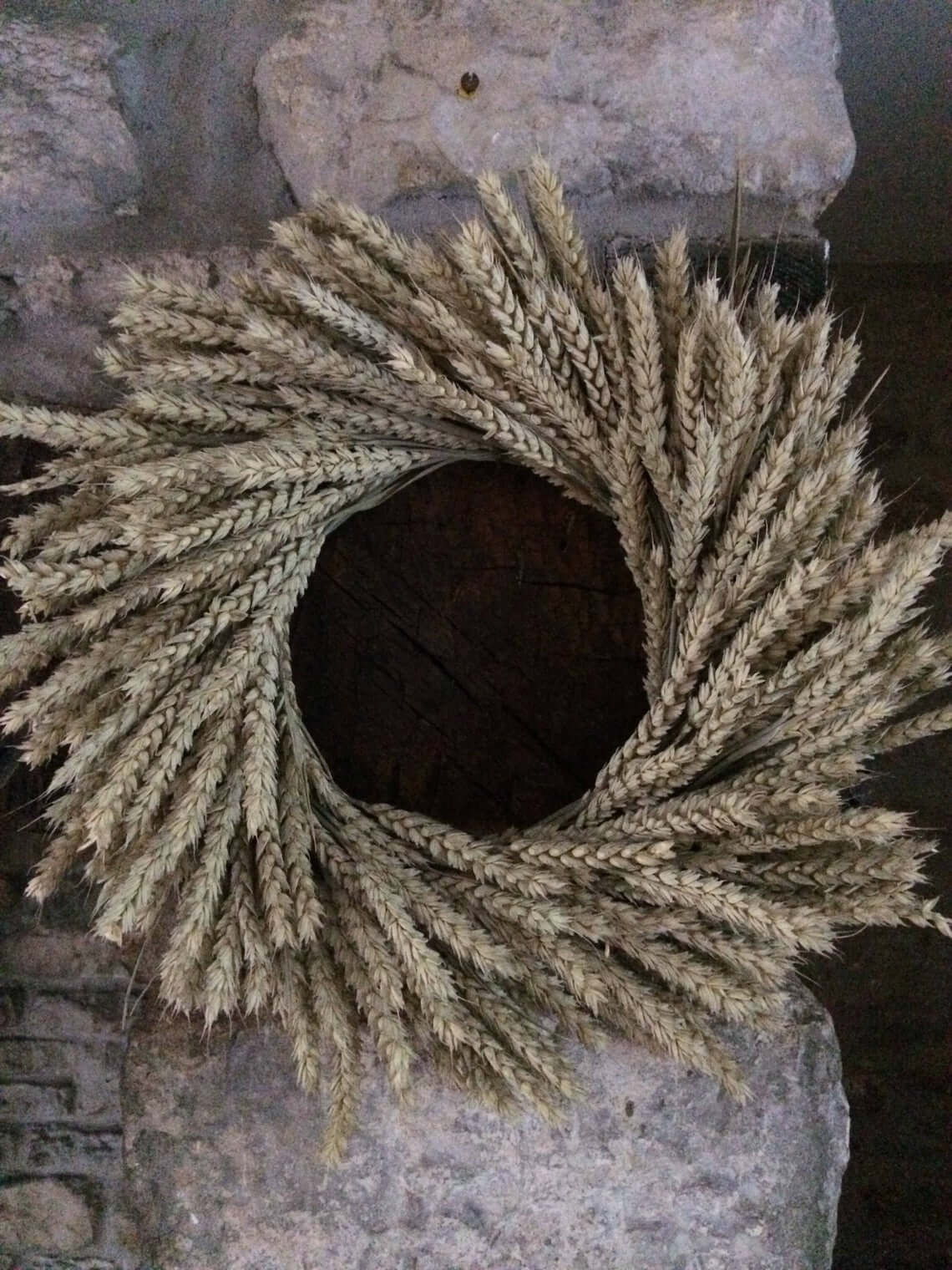 Texture and nature collide in this practical wreath. The neutral color accompanied by the rich grainy stems and plumes makes this wreath a spectacular addition of texture in the presence of your home. It's a must-have piece for fall no matter your decorating preference as it pays homage to the time of harvest.
58. Double Ring Metal Leaf Wreath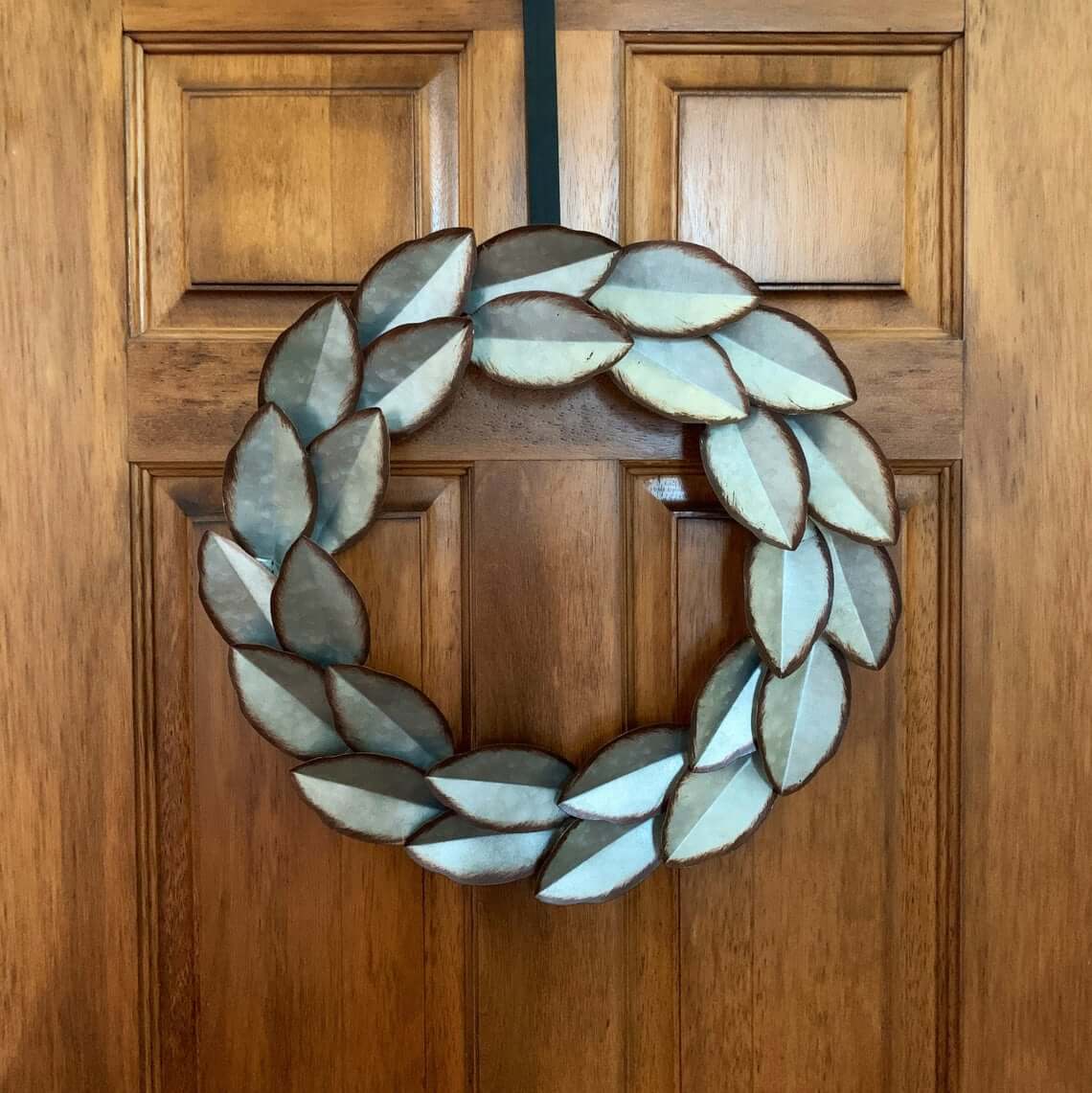 Who said greenery has to be green? This metal leaf wreath showcases a double ring design and is a great choice for a modern space or bachelor pad. It brings a quaint and unexpected element of design into your space. After the holidays come to an end, use it to take up the bare space left on your door.
59. Oodles of Oink Lavish Farm Wreath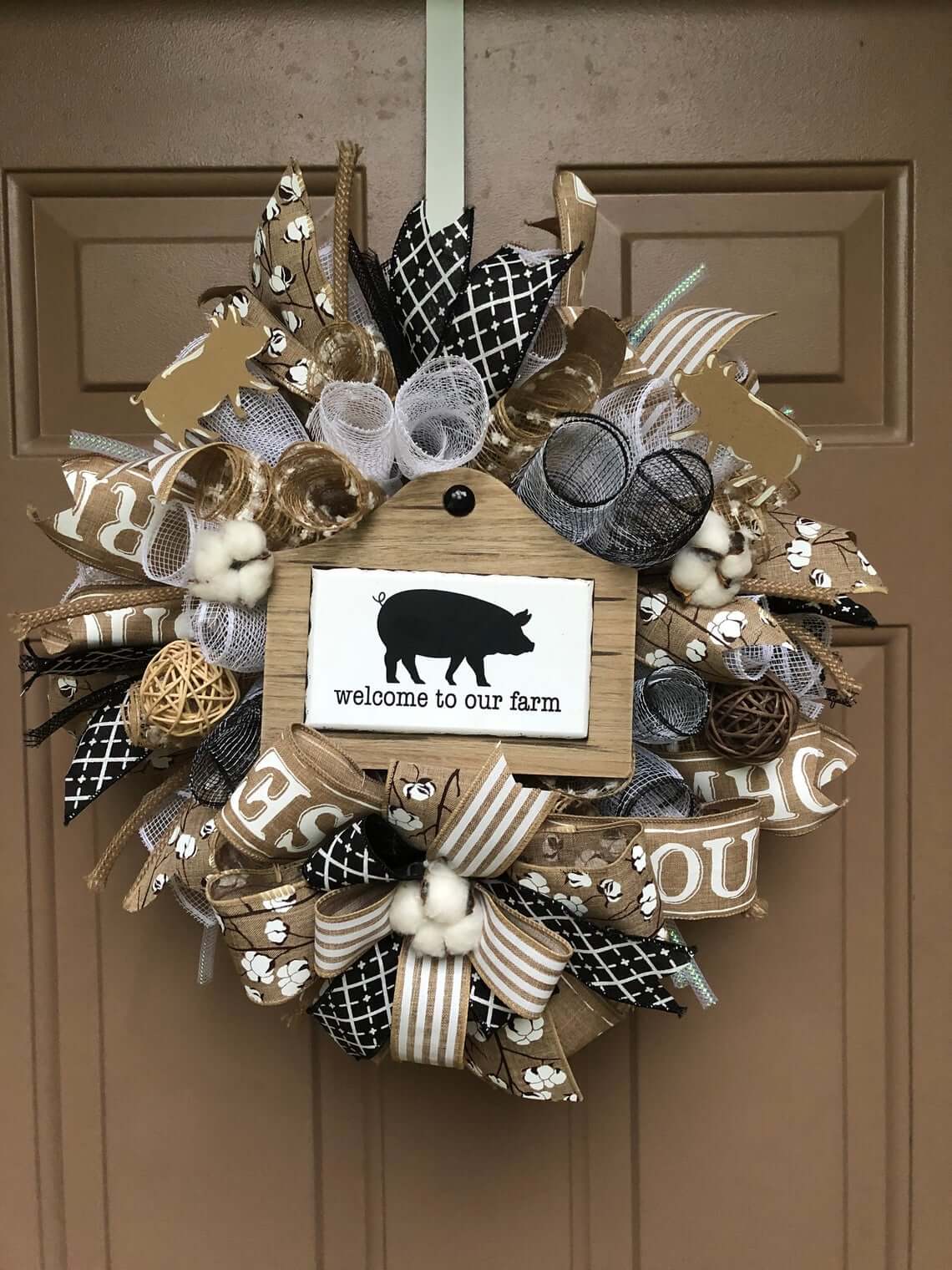 Welcome everyone to your farm with this pig-inspired wreath. This "porker" is bursting at the seams with lavish ribbons of all textures and patterns to create a unique and inviting look. A few pieces of cotton are the perfect complement to this wreath that's an awesome gift for any 4-H advisor or farmer close to your heart.
60. Rustic Victorian Flowers and Apple Wreath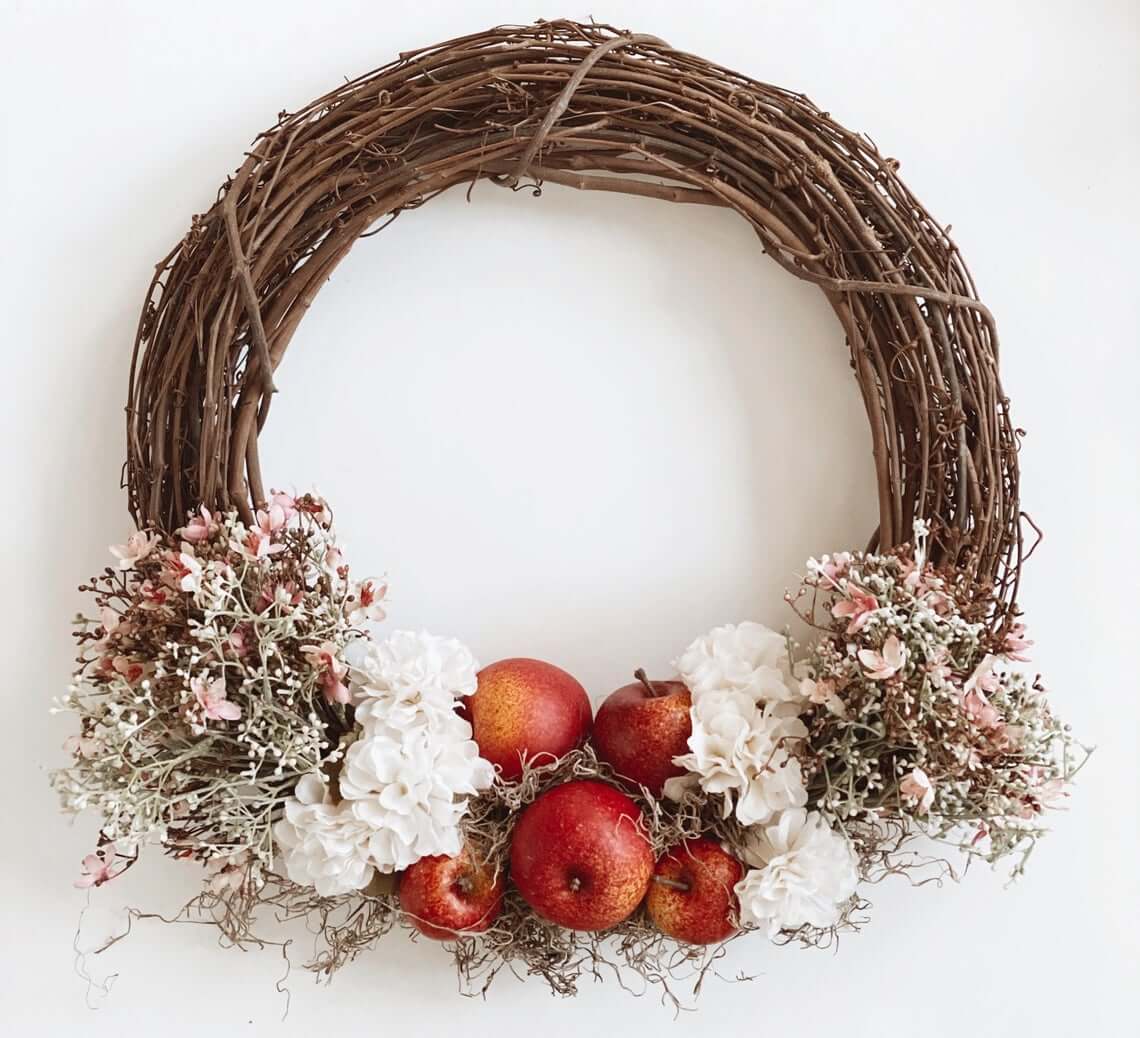 This grapevine wreath holds a handful of apples that are surrounded by some elegant and dainty pink and white flowers. Your farmhouse decor will indulge in the orchard goodness of this design. Another fun way to welcome your favorite teacher back to school is with a wreath like this!
Choose Rustic Wall Decor Ideas to Make Your Home Warm and Inviting