When winter finally gives way to spring, it's time to freshen your front door with a colorful wreath. This slideshow contains a wealth of ideas for the beginning crafter and anyone with an eye for style. These designs range from sweet and old-fashioned to bold and modern. Many have special additions like birds, eggs, and butterflies. The farmhouse trend is represented here, as well as the popular succulent theme.
40+ Gorgeous DIY Spring Wreath Ideas that You Will Never Want to Take Off Again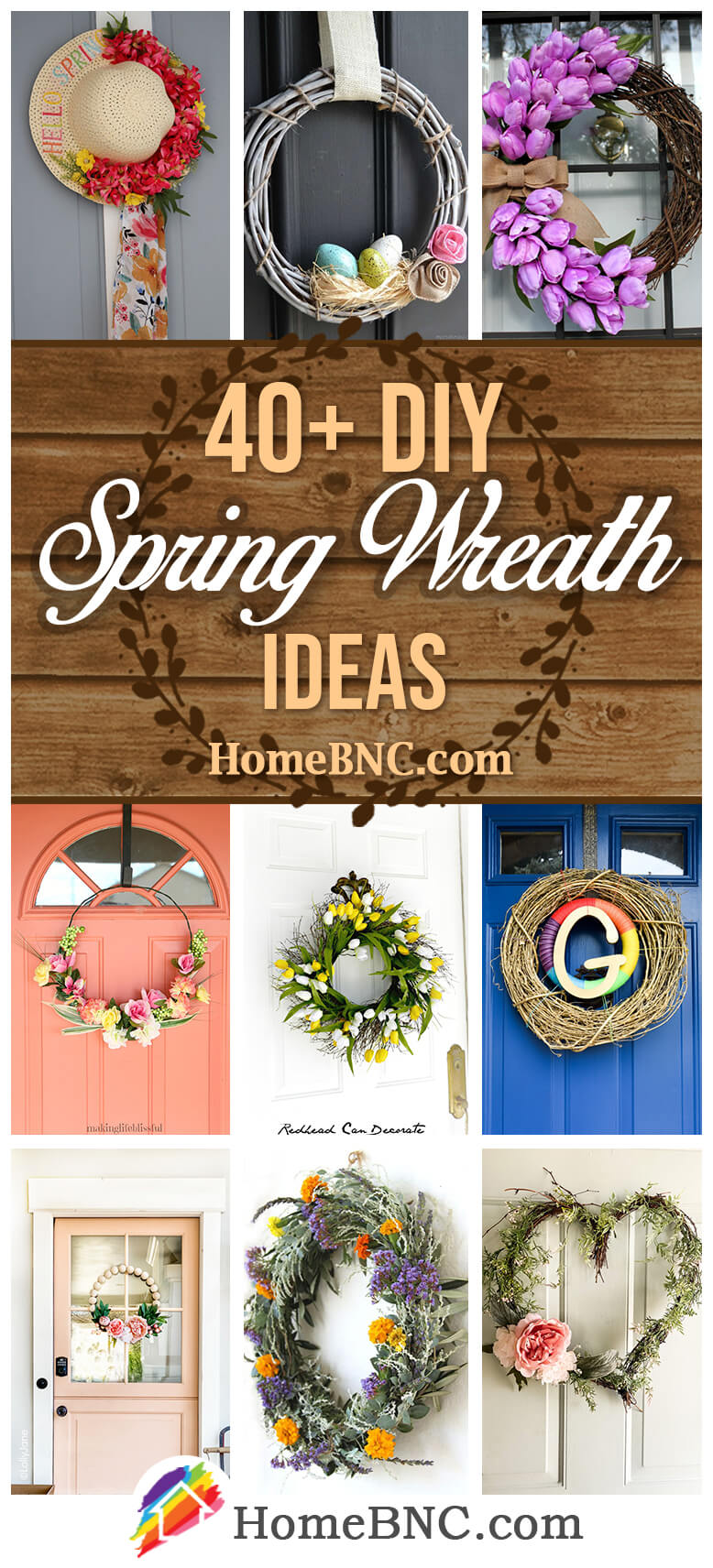 Most of these wreaths use silk flowers available at any craft stores, but there are a few notable exceptions. One wreath features strips of pretty linen tied to a wreath frame. Another wreath is composed of natural green peas glued to a foam wreath. Many of these wreaths are accented by written greetings, whether in wood or written on a cute little chalkboard. Words add to the visual interest of the wreath while making it stand out.
Most of our wreaths won't take too much time to construct, though some require a little more patience and skill. Use our fresh and unique ideas to brighten your door and make a positive impression on your guests.
1. Spring Flowers on Wooden Beaded Wreath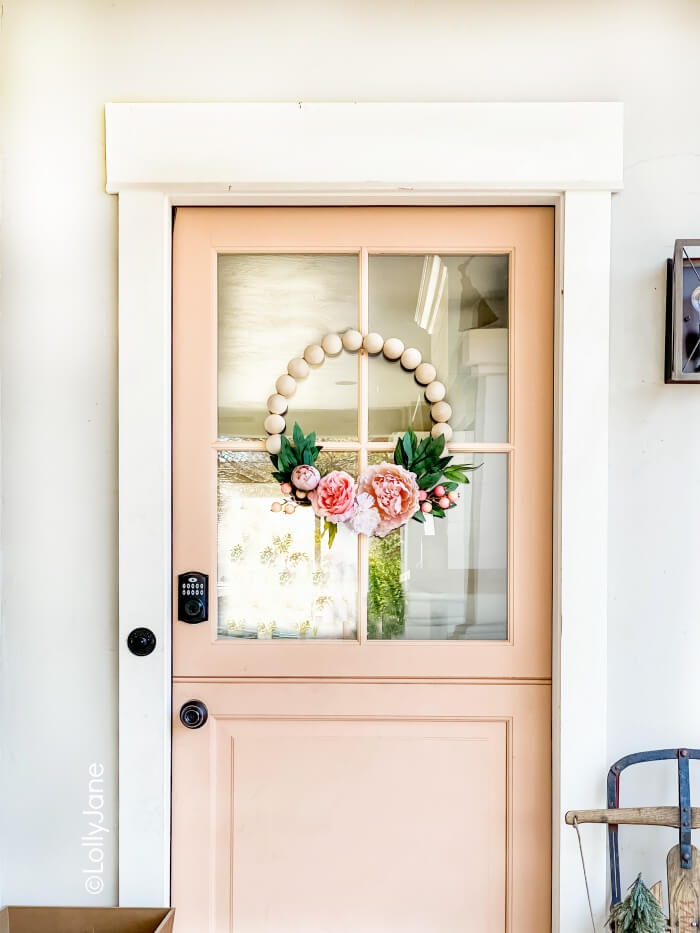 This spring wreath will turn heads with its trendy wooden beads. They look wonderful in their natural color, but they could also be painted a different color to match your decor. Pops of color can also be brought in through the silk flowers. This DIY can be made with inexpensive craft items, but it certainly looks lavish.
2. Stunning Spring Wreath with Dollar Store Finds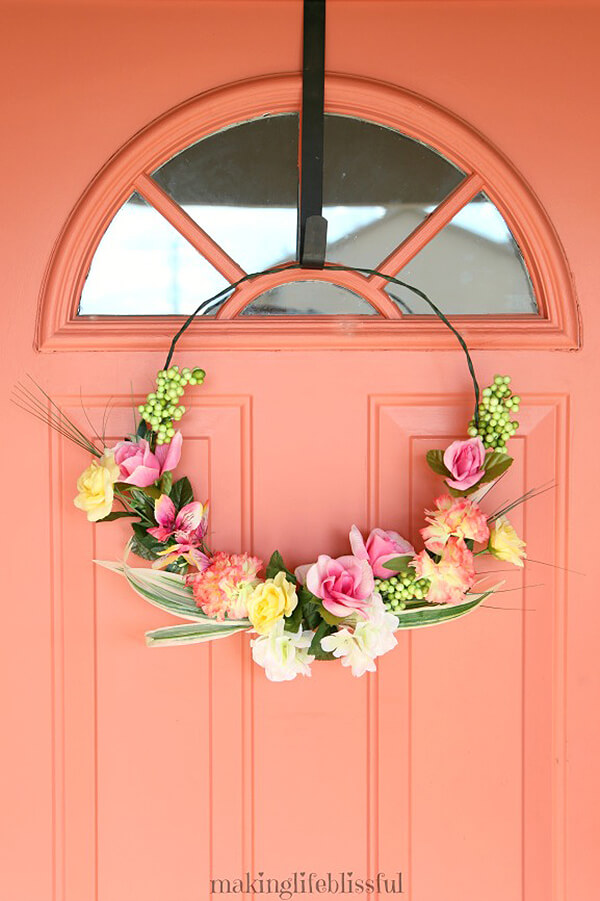 Learn how to create a spectacular spring wreath with items from the dollar store in this user-friendly tutorial. A few bunches of artificial flowers are the focal point of this piece, but all of the supplies can be found at the dollar store. This wreath looks like an expensive item from your favorite craft store.
3. Spring Tulip and Branch Wreath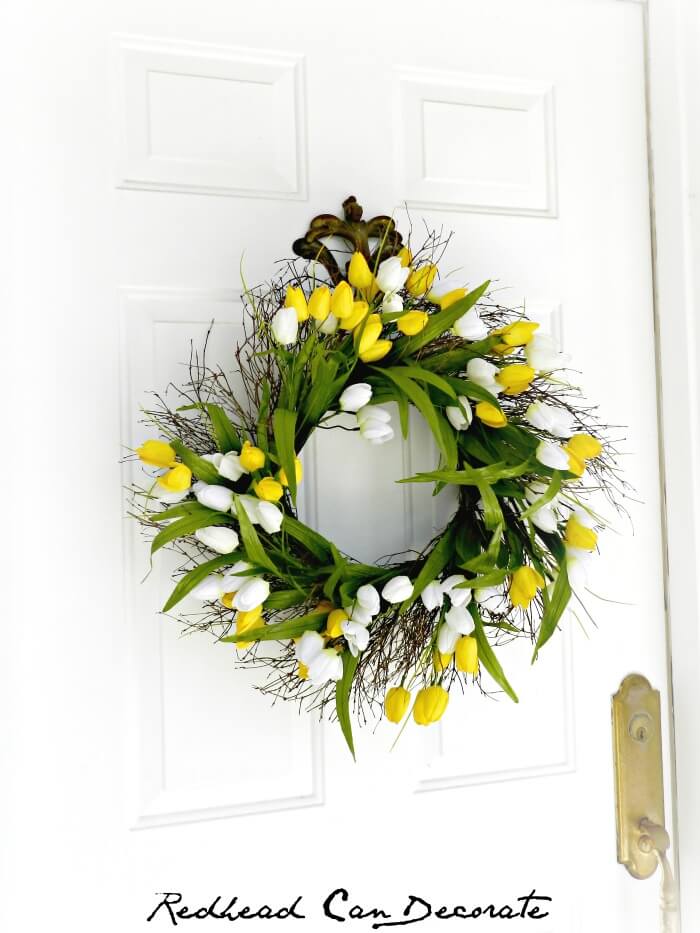 Branch wreaths are fun to work with because the branches all point in one direction around the wreath. This gives you a nice pattern to follow with the flowers. They also lay flat, making them easier to work with. This DIY will show you how to make a gorgeous tulip wreath, and it also has examples of different color combinations.
4. Greenery with Fabric Wrapped Wreath and Flowers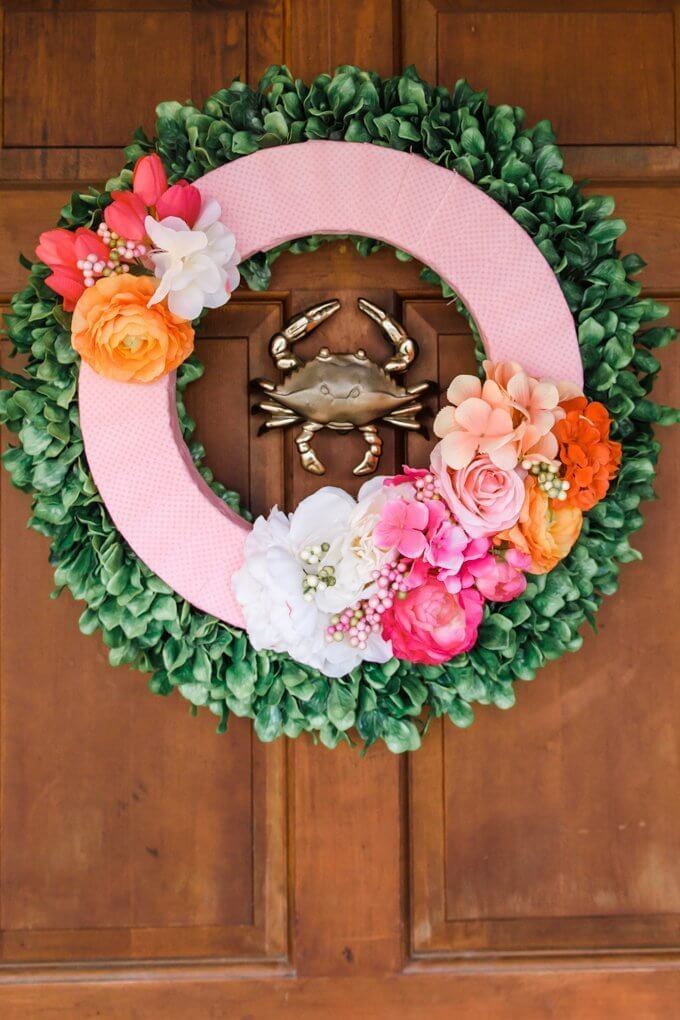 This unique wreath is unlike most you see in stores, which is exactly what makes it so special. A fabric wreath lays on top of a circle of greens, providing a multi-layer backdrop for the gorgeous spring flowers and berries. The best part is that you can choose your fabric and flowers to match your current style.
5. Fresh Berry and Faux Flower Spring Wreath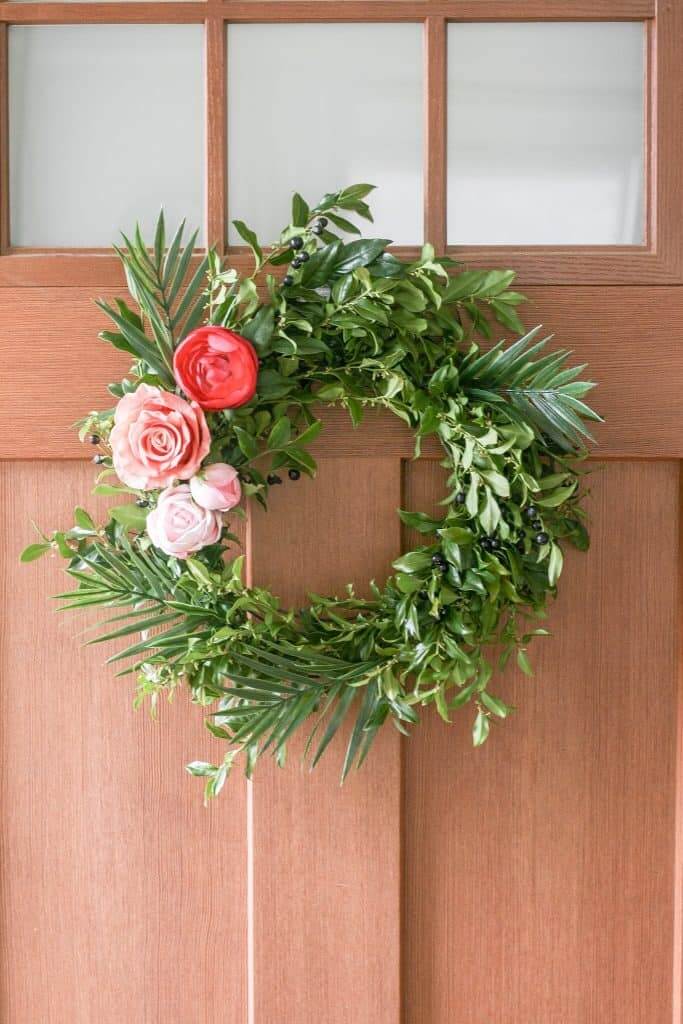 Fresh wreaths are gorgeous, but the flowers do not last long. Some greenery and many berry bushes will last long enough for you to have a nice wreath all season long. This easy DIY will show you how to incorporate real berry branches with faux flowers and greens to make your spring wreath a one-of-a-kind masterpiece.
6. Spring Berry and Burlap Wreath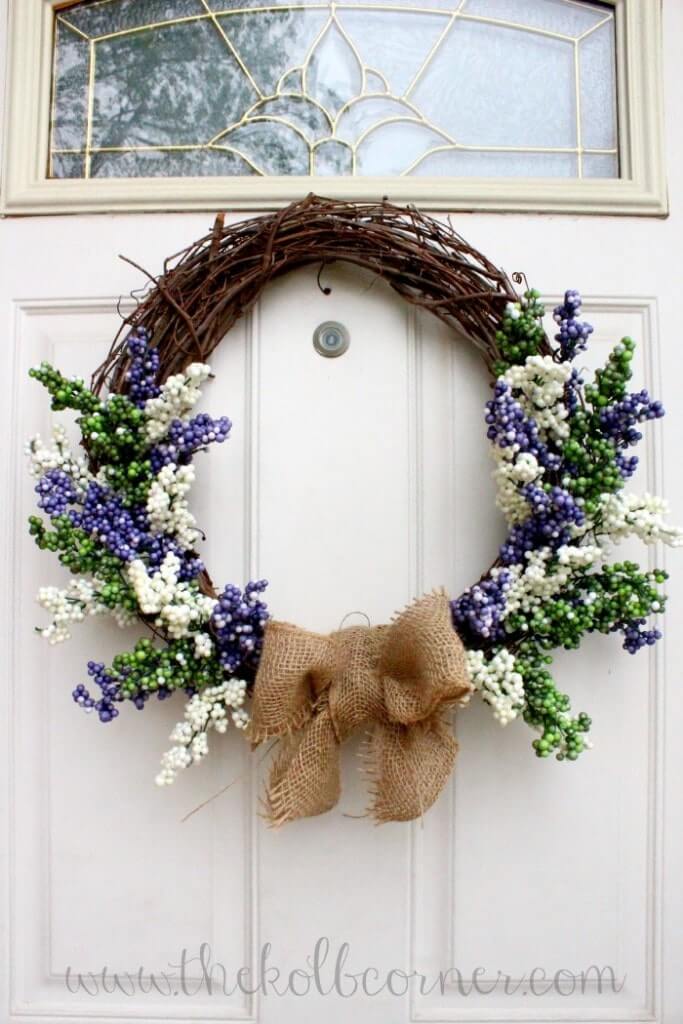 A grapevine wreath serves as a neutral backdrop for the vibrant spring berries on this gorgeous wreath. The burlap bow adds a touch of farmhouse style for that rustic look that is on-trend right now. The berries are available in many different colors at craft stores, so you can be sure to find the perfect match for your decorating needs.
7. DIY Oval-Shaped Dried Wildflower Wreath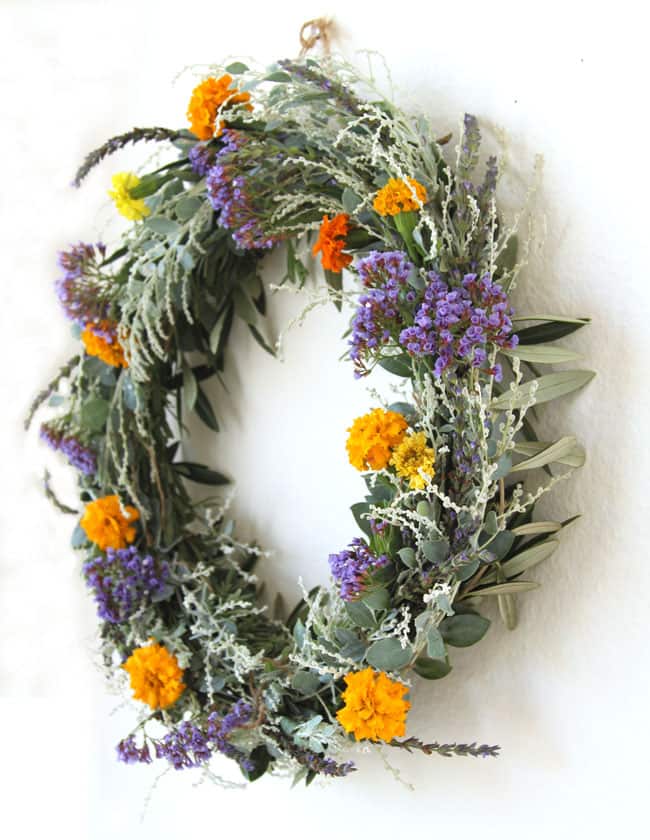 Dried wildflowers bring the perfect touches of color to this trendy oval-shaped wreath. A variety of greens create the perfect base for the dried wildflowers. This wreath is beautiful in hues of orange, yellow and purple with accents of off-white. You could certainly change the colors to match your current decorating needs and to show off your style.
8. DIY Repurposed Frame with Spring Flowers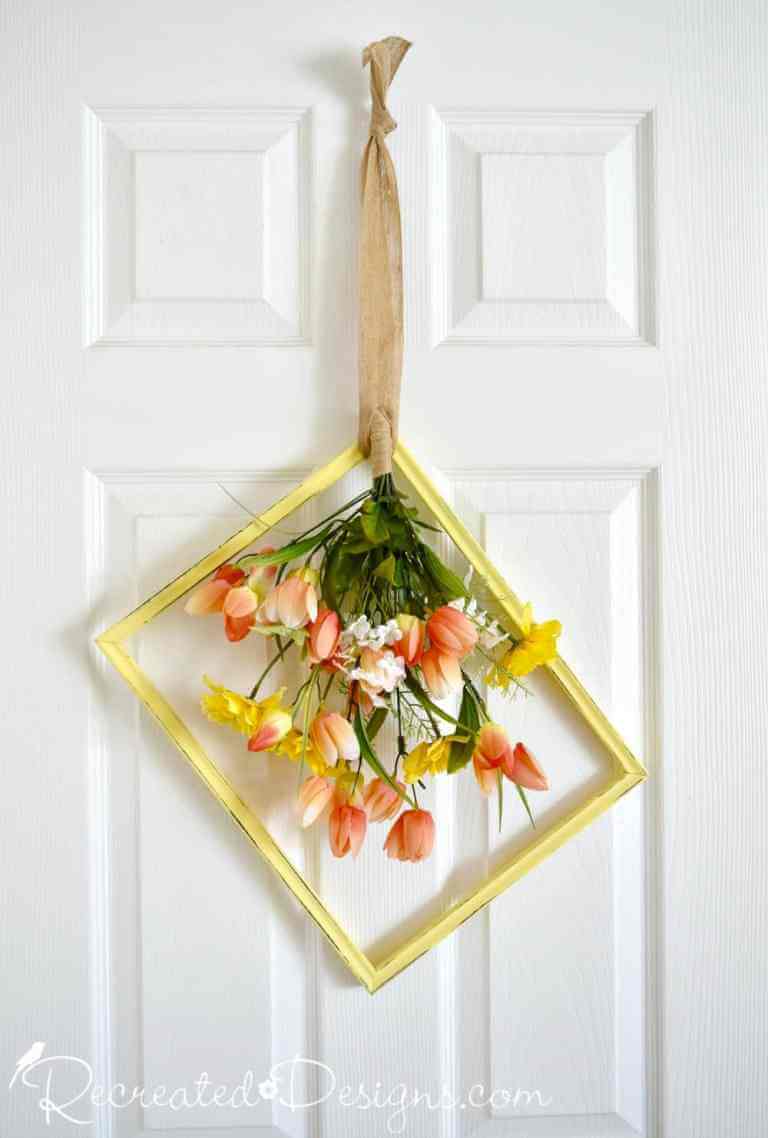 The glass just broke in a favorite frame. What do you do now? Throw away the glass and use the frame to make a beautiful upcycled wreath. Learn how to use an old frame, paint, and flowers to create a unique wreath-like decoration to hang on your front door or as the focal point of a gallery wall.
9. DIY Gerber Daisy Framed Art Wreath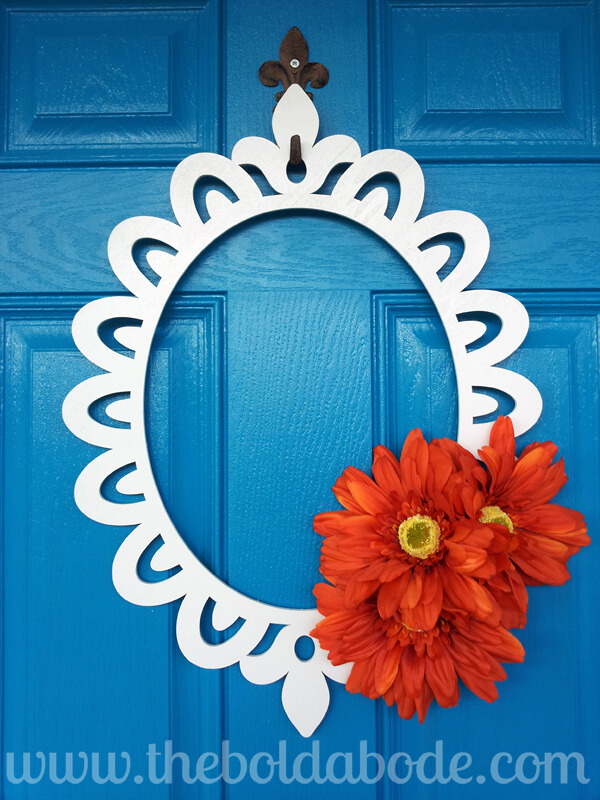 This simplistic, stylish wreath makes a huge statement with its bold Gerber daisies. A small bunch of gorgeous Gerber blooms is situated just to the bottom right of painted frame art. The framed art, found in most craft stores, can be painted in any color. Here we see it in white to set off the orange daisies.
10. Blushing Pink Grapevine and Ribbon Wreath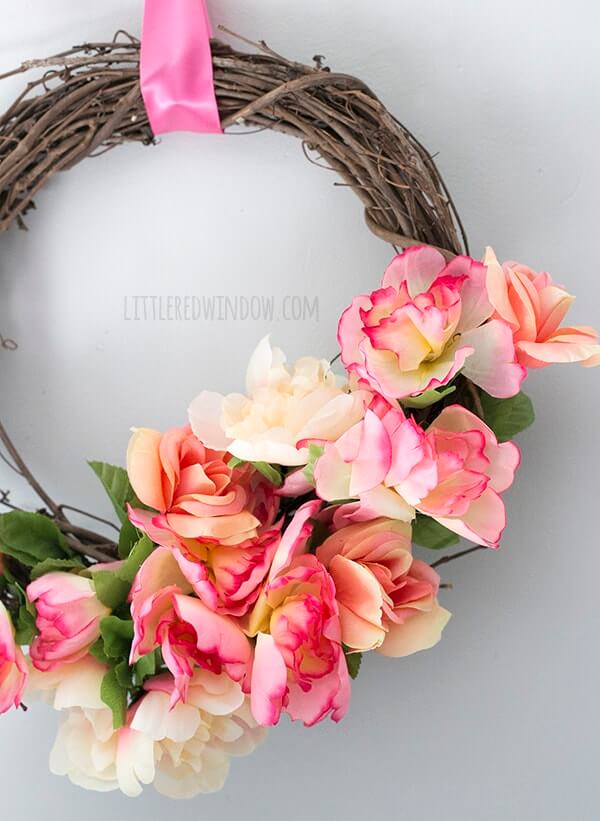 The colors on this easy DIY grapevine wreath bring spring to life with beautiful shades of pink, blush, and cream. A simple pink ribbon adorns the top to add a touch of color and also to serve as a hanger. This wreath will look fantastic on a door or as the focal point of a gallery wall display.
11. Spring Tulips on Homemade Grapevine Wreath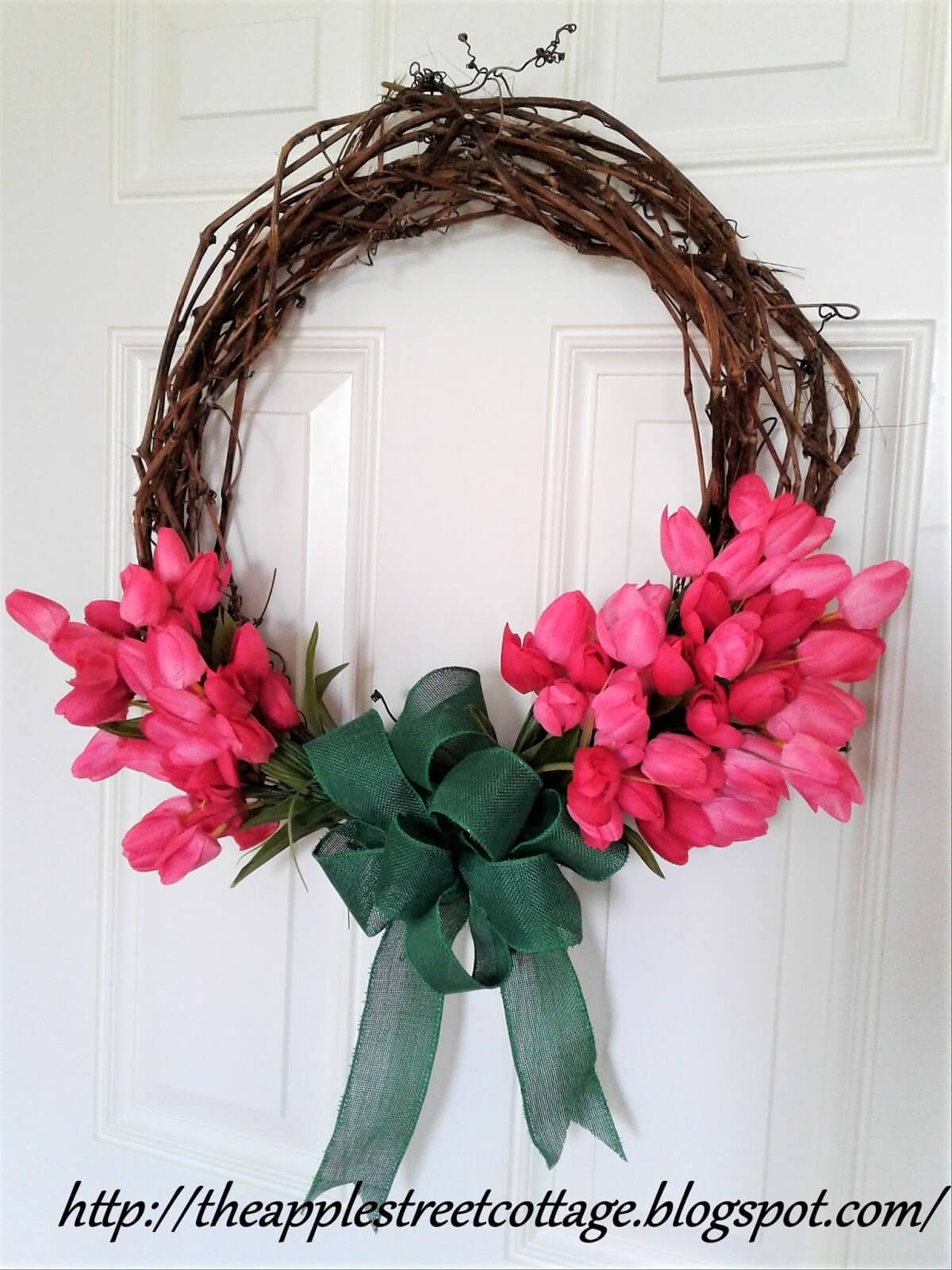 While many tutorials show you how to decorate wreaths that you purchase, this one also includes directions on how to make the actual wreath out of a grapevine. Spring tulips and a burlap-style bow are added to this sample for spring, but you could add any flowers for any season once you know how to make the wreath.
12. Minimalistic DIY Moss Wreath for Spring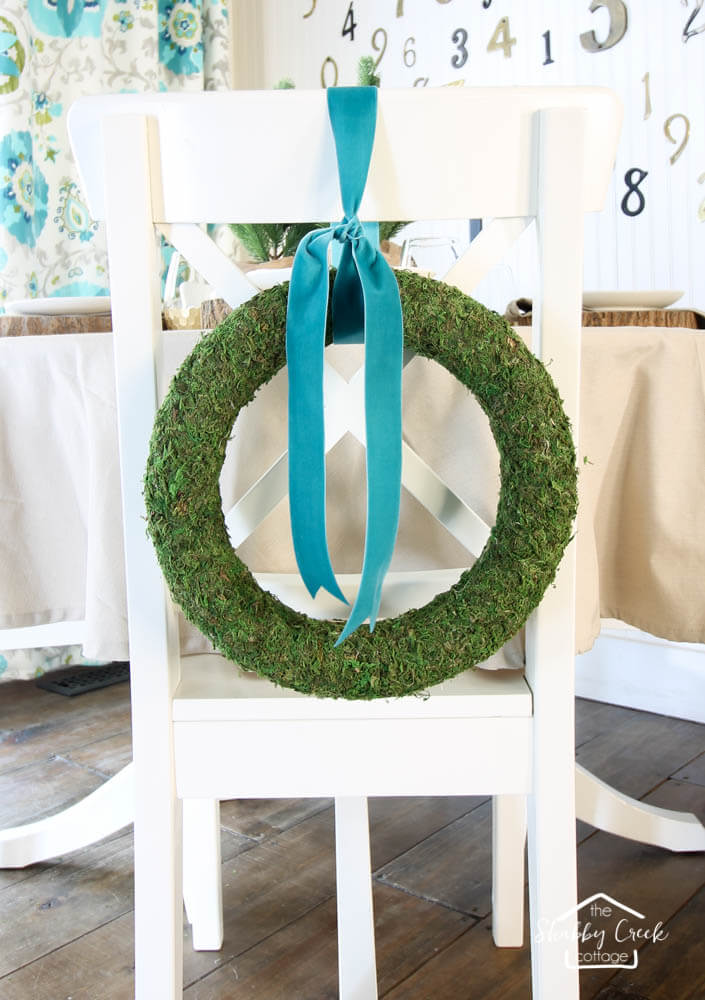 This simply stated wreath is striking without a lot of fuss. The wreath is covered entirely in a beautiful spring green moss. The true star of this wreath is the velvet ribbon that is also used as a wreath hanger. You can choose the ribbon in a spring-theme, or you could choose a color to match your current decor.
13. DIY Monogrammed Nestled Wreath Duo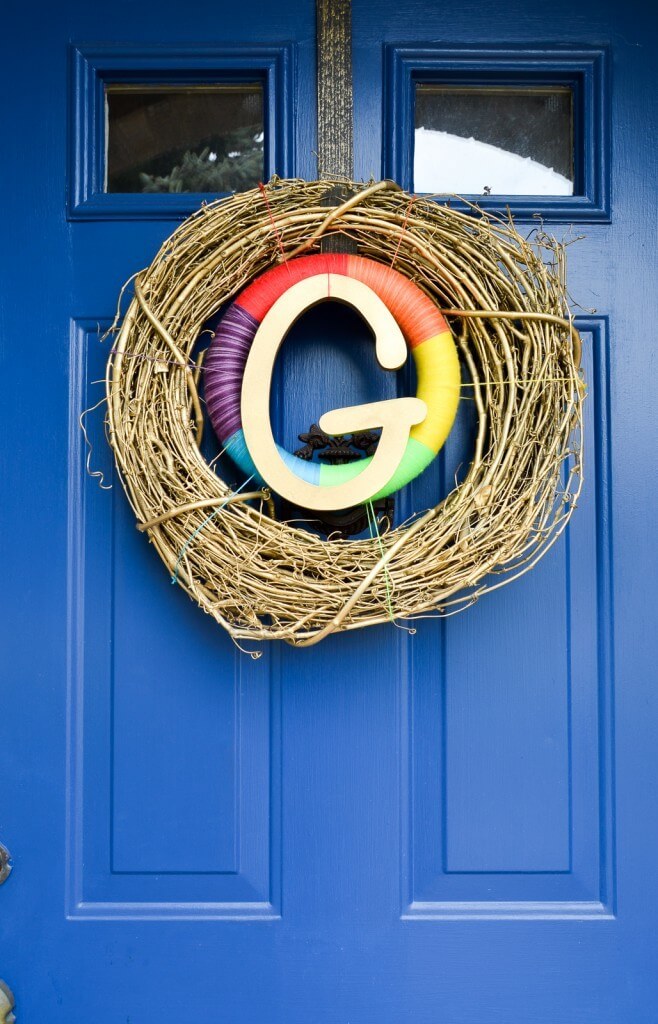 This wreath combines a classic favorite, the grapevine wreath, with a modern yarn-wrapped wreath. Wrapped in an array of rainbow-colored yarn, this wreath lays neatly inside of the grapevine wreath. A large monogrammed letter of your choice is attached to the front for a stunning display. Colors can be chosen to match your current decor.
14. Vibrant Crepe Paper Spring Wreath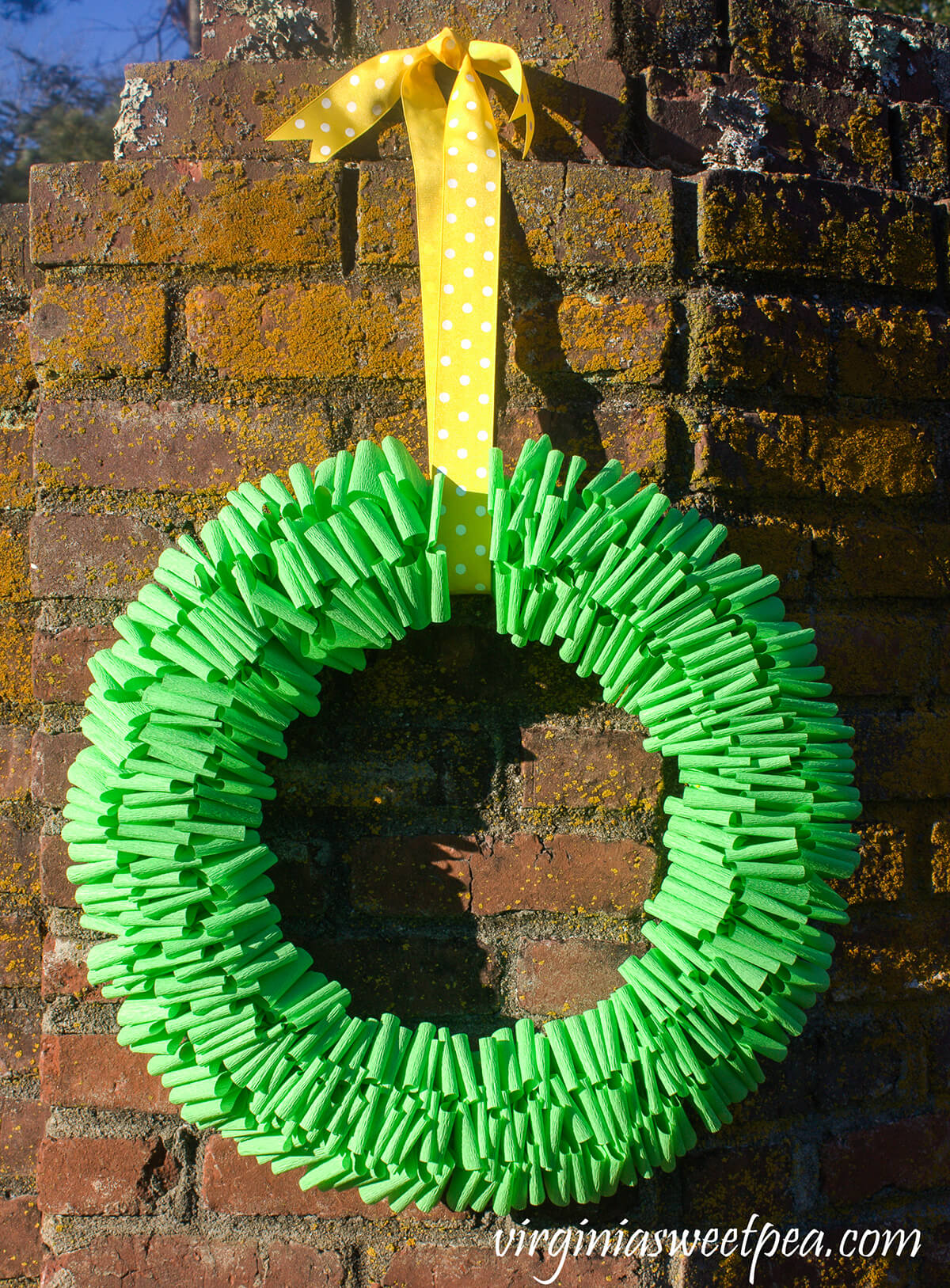 Crepe paper loops make this wreath full with spring vibrance. This simple wreath gets its beauty from the fullness of the crepe paper rather than lots of embellishments. To add some spring zest, a ribbon is added that is also used as the wreath hanger. Be sure to keep this wreath indoors so the crepe paper stays dry and fluffy.
15. Festive and Fun DIY Balloon Wreath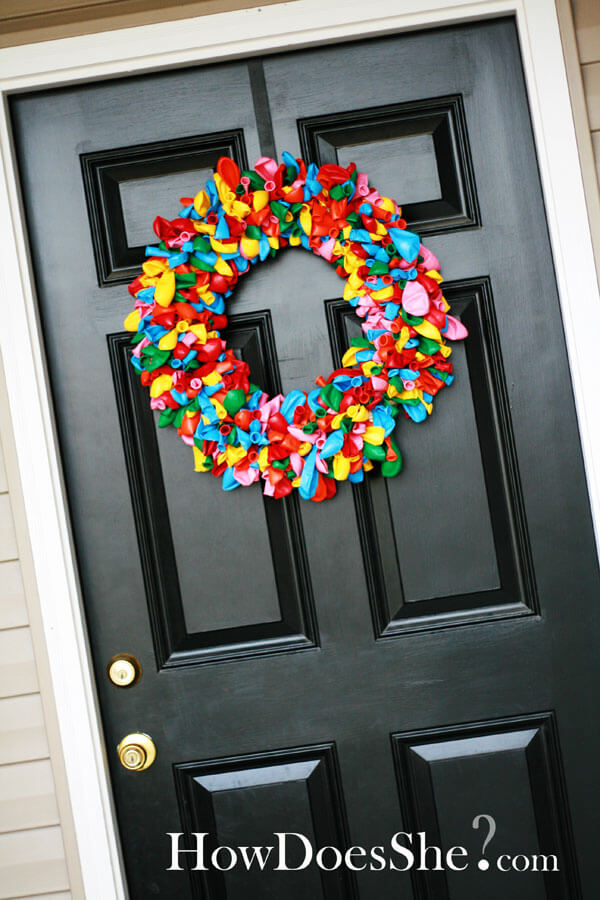 This wreath is super easy and tons of fun to make. Learn how to use ordinary balloons to create an extraordinary wreath with this awesome DIY. For spring, they chose yellow, pink, green, red, and light blue. The effect is truly festive. Visit a party store to see a vast array of color options for this wreath.
16. Monogrammed Burlap Ribbon Spring Wreath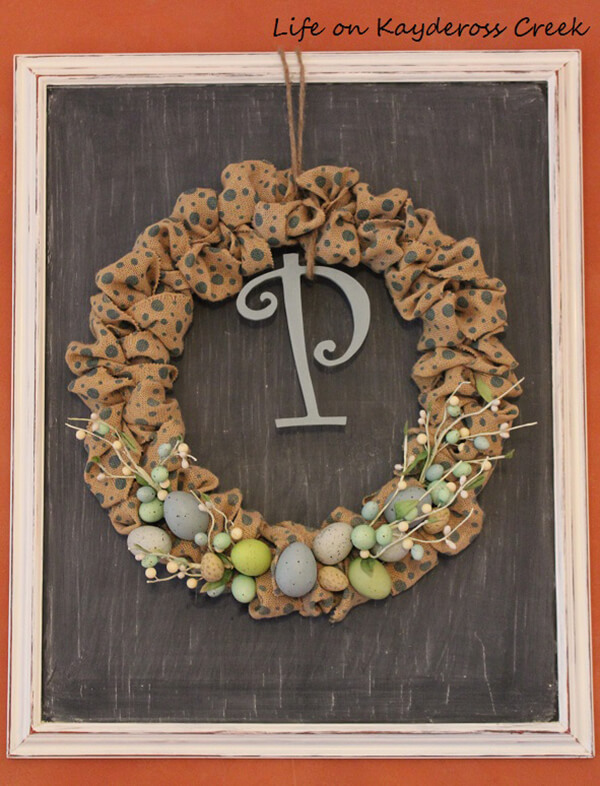 Learn how to create this gorgeous burlap ribbon wreath in this easy DIY. A simple patterned burlap ribbon is used to create the wreath, and a painted letter is added to represent your family name. To give it a burst of spring, add some pastel-colored eggs and some spring picks from the floral section of your favorite craft store.
17. DIY Grapevine Wreath in Shape of Heart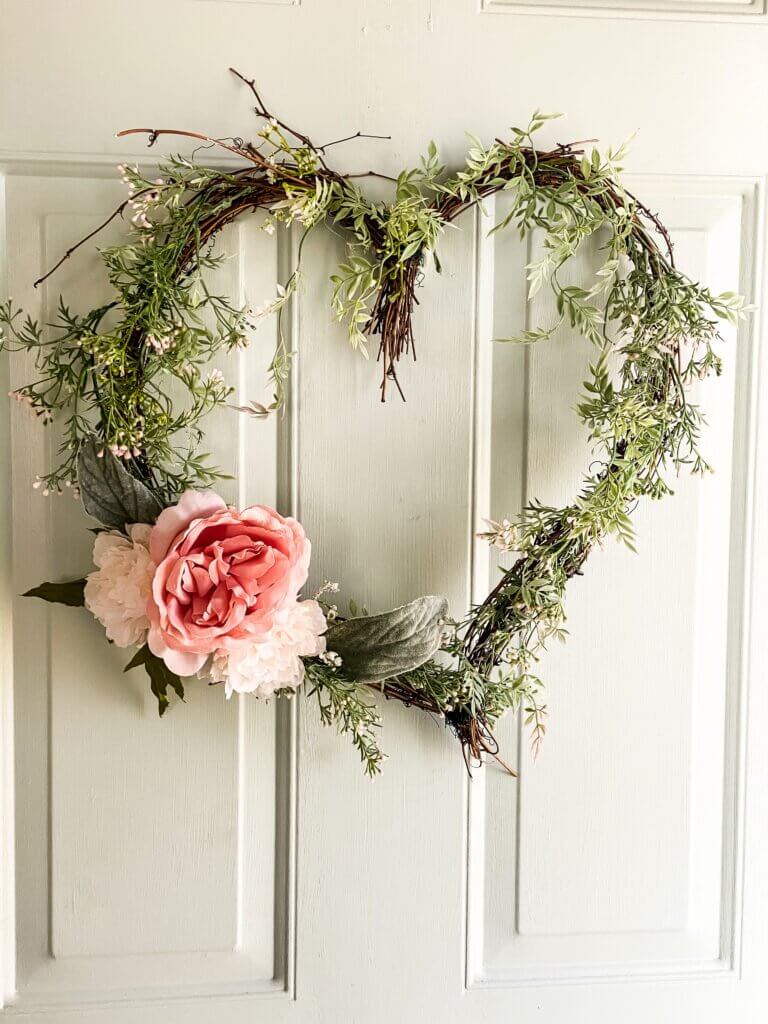 Some stores sell heart-shaped wreaths, but they can be difficult to find. Follow this fun DIY to learn how to make your own at home out of a grapevine garland. It is simply gorgeous with some sprigs of greenery added in along with a stunning large flower bloom. Baby's breath adds the perfect final touch.
18. Speckled Spring Eggs on White Grapevine Wreath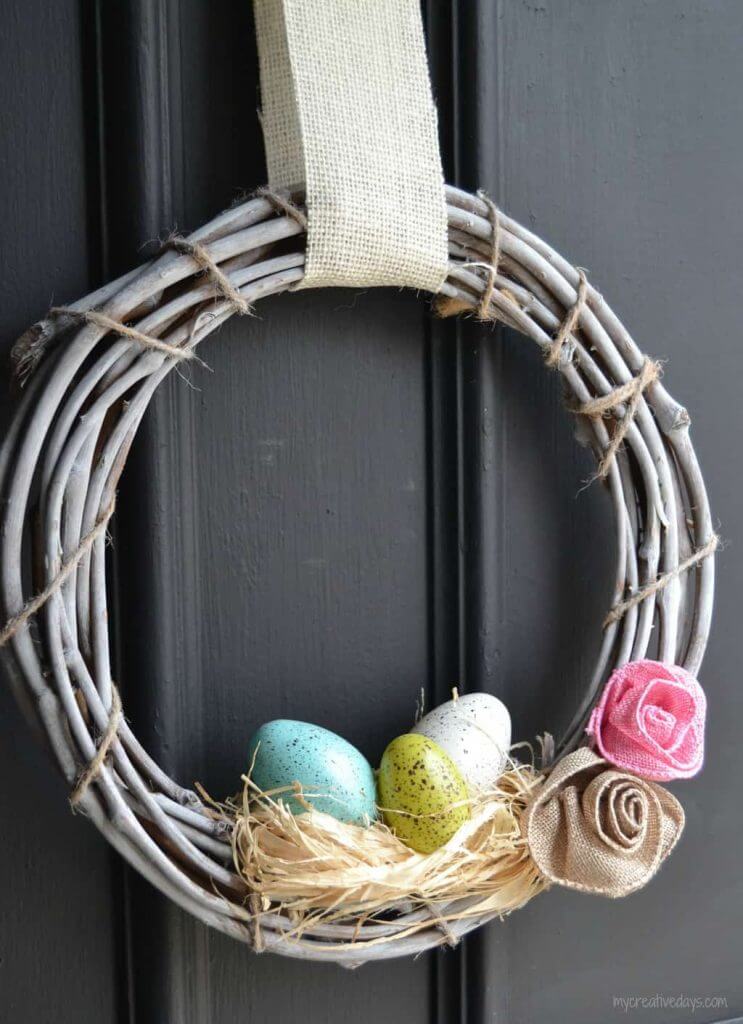 This darling wreath is just perfect for any style of decor. Learn how to create one at home with this easy DIY. The wreath is painted white which allows the eggs and burlap flowers to be showcased in the little nest of raffia. Welcome friends and family by displaying it on your front door or in an entryway.
19. Burlap Loop Wreath with Spring Embellishments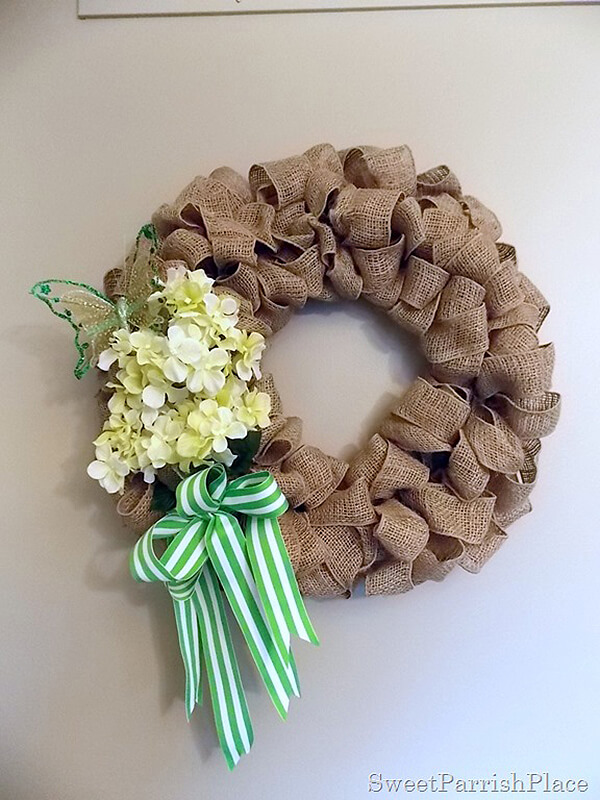 Burlap makes a beautiful backdrop for these spring embellishments. Natural-colored burlap is used here, but it would also be pretty in pastels for springtime. A butterfly, bow, and a sprig of artificial lilacs are added in coordinating colors to complete the spring look. This wreath would make a great addition to a door, an entryway, or over a fireplace.
20. Spring Ribbon Flower with Antique Buttons Wreath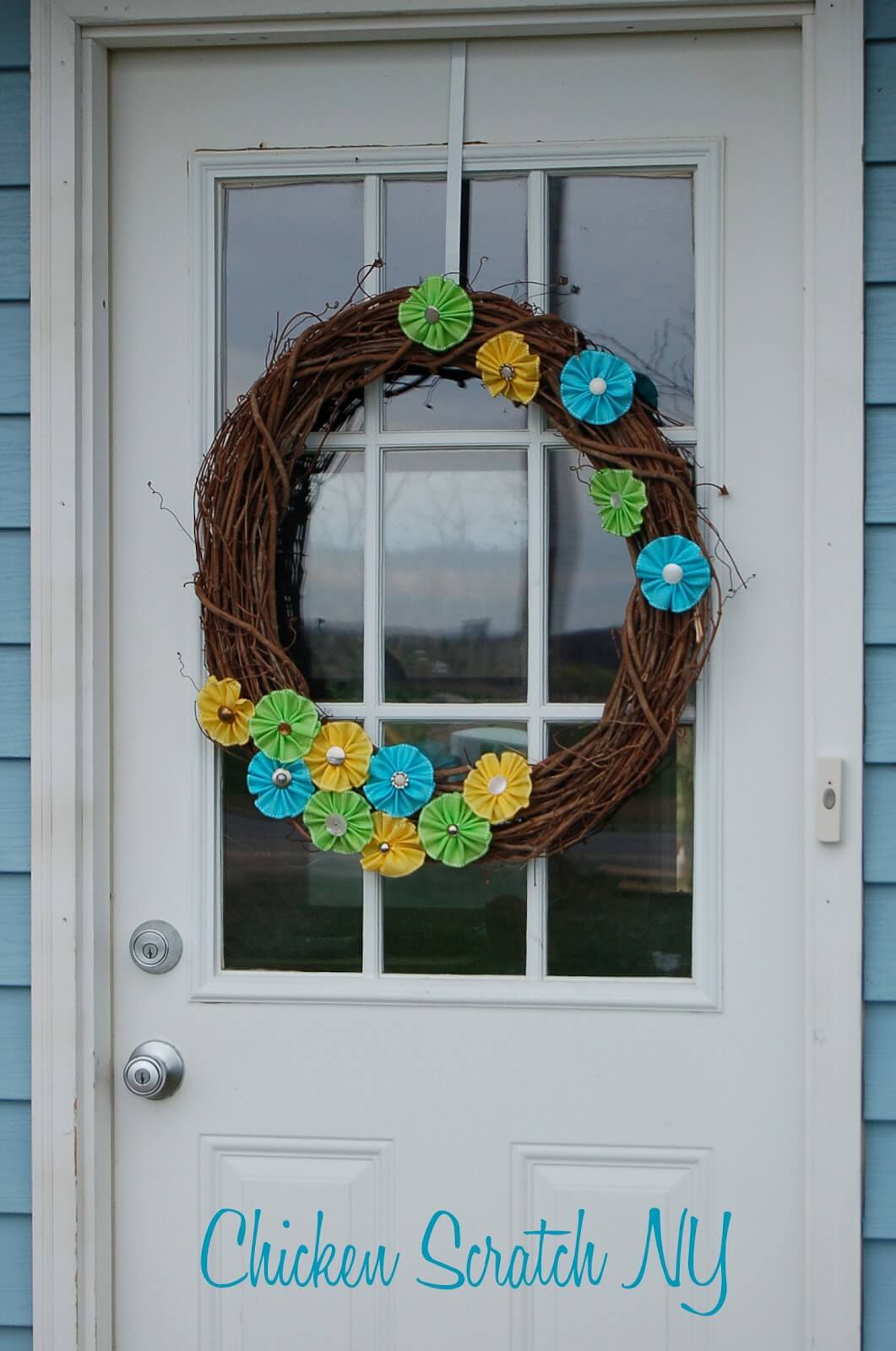 This fun DIY will show you how to make adorable flowers out of ribbon with antique buttons as the center of the flowers. You can make them in different spring colors and add them to a grapevine wreath for a simple, elegant decoration. Perhaps you have some of grandma's old buttons? This would make a great tribute to her.
21. Boho Style Succulent Grapevine Wreath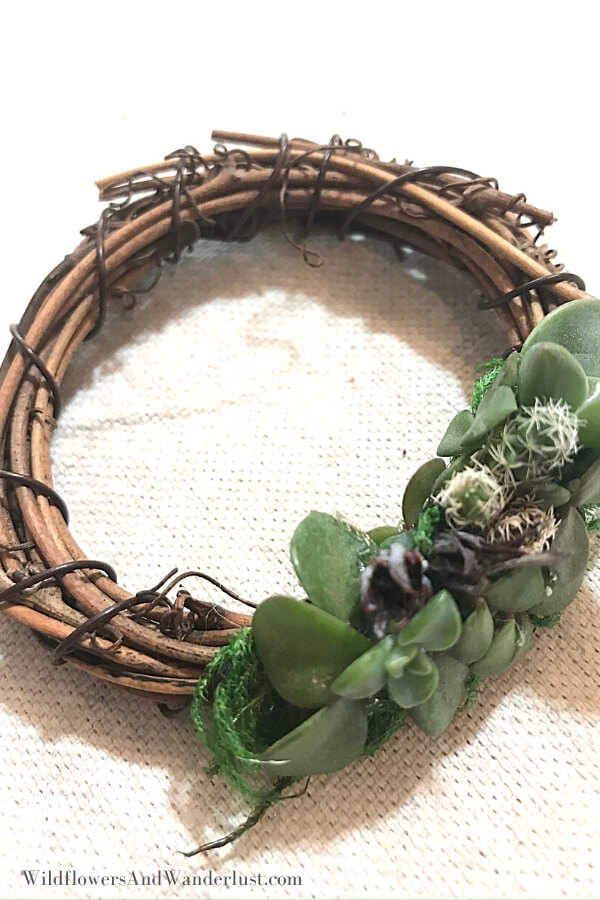 Succulents are trendy, easy to find, and always look great. Learn how to attach them to a grapevine wreath in this easy DIY tutorial. This is perfect for Boho or minimalistic styling, yet its simplicity really will go with any decor style. It will look fantastic on your front door or in any room of your home.
22. Hello Spring Straw Hat with Flowers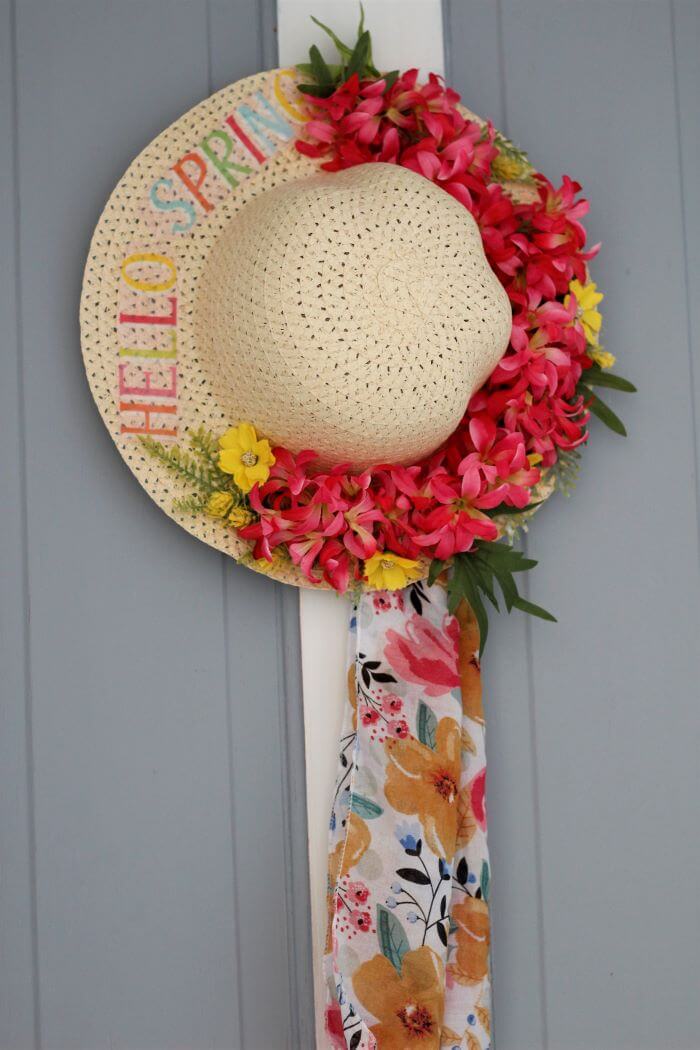 Straw hats are making a comeback, and this one is on-trend with the addition of the words "Hello Spring" in vibrant spring colors along the brim. The rest of the brim is filled with gorgeous spring flowers in pink and yellow. A beautiful flora scarf replaces a traditional bow. Learn how to make it at home with this fun DIY.
23. Burlap Wrapped Wreath with Spring Flowers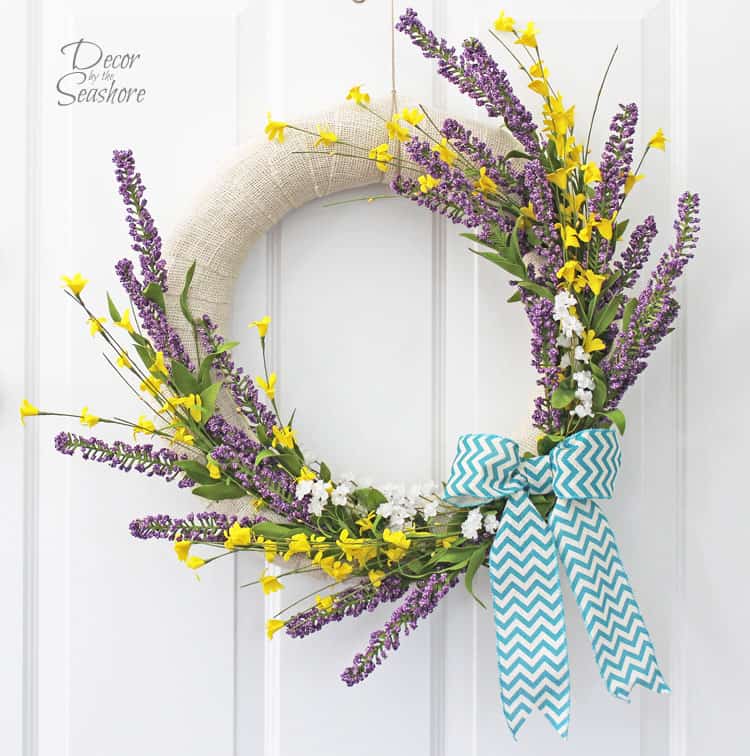 This unique wreath is wrapped in a light-colored burlap ribbon, keeping the background very minimalistic and neutral. Fun sprigs of forsythia and lavender are added to bring in touches of spring. Forsythia is often the first flowering bush we see in the spring and it shines brightly here. The final touch is a complimentary chevron burlap bow.
24. Farmhouse Style Upcycled Cable Spool Spring Wreath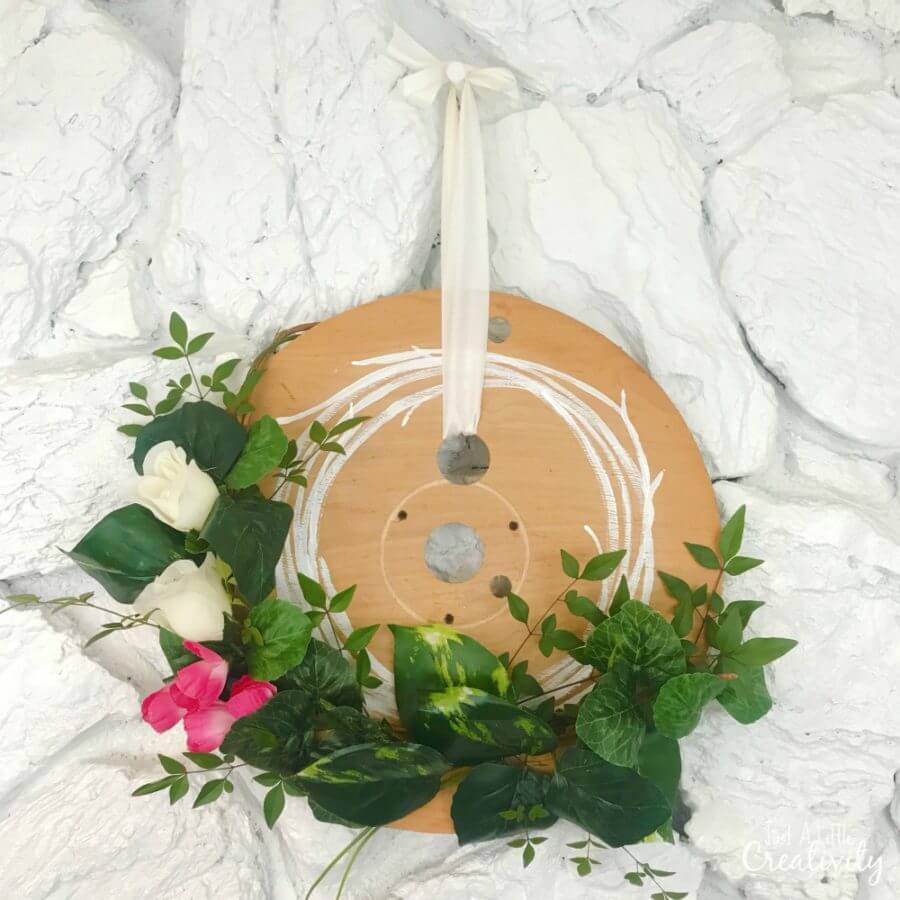 Never let a great piece of wood go to waste. This one-of-a-kind wreath was made with a piece of wood from an old cable spool. Learn how to create your own with a little bit of paint, some artificial flowers, and a piece of ribbon. The welcoming farmhouse look and feel make it a truly unique piece.
25. Cherry Blossom and Dogwood Grapevine Welcome Wreath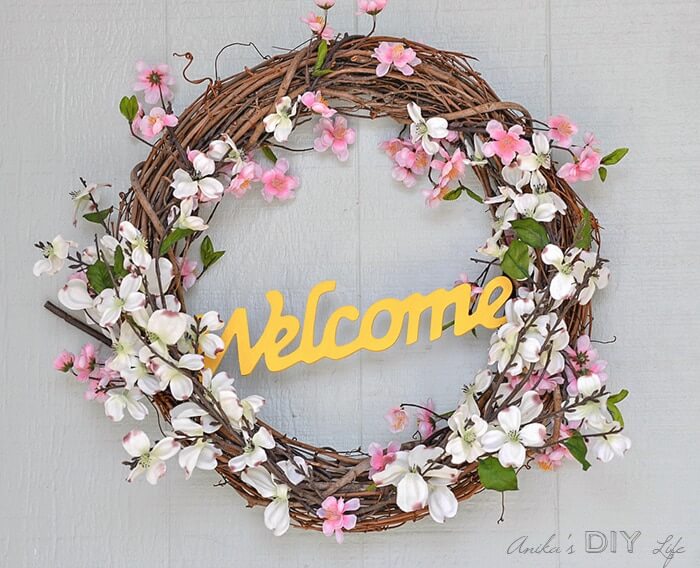 Celebrate spring with some of the most popular flowering trees. This grapevine wreath is adorned with branches of silk dogwood and cherry blossoms for a beautiful blend of white, pink, and green. A gold-painted, wooden cutout of the word "welcome" decorates the center of the wreath. This easy DIY will be a hit among guests in your home.
26. Springtime Fabric and Paint Chip Butterfly Wreath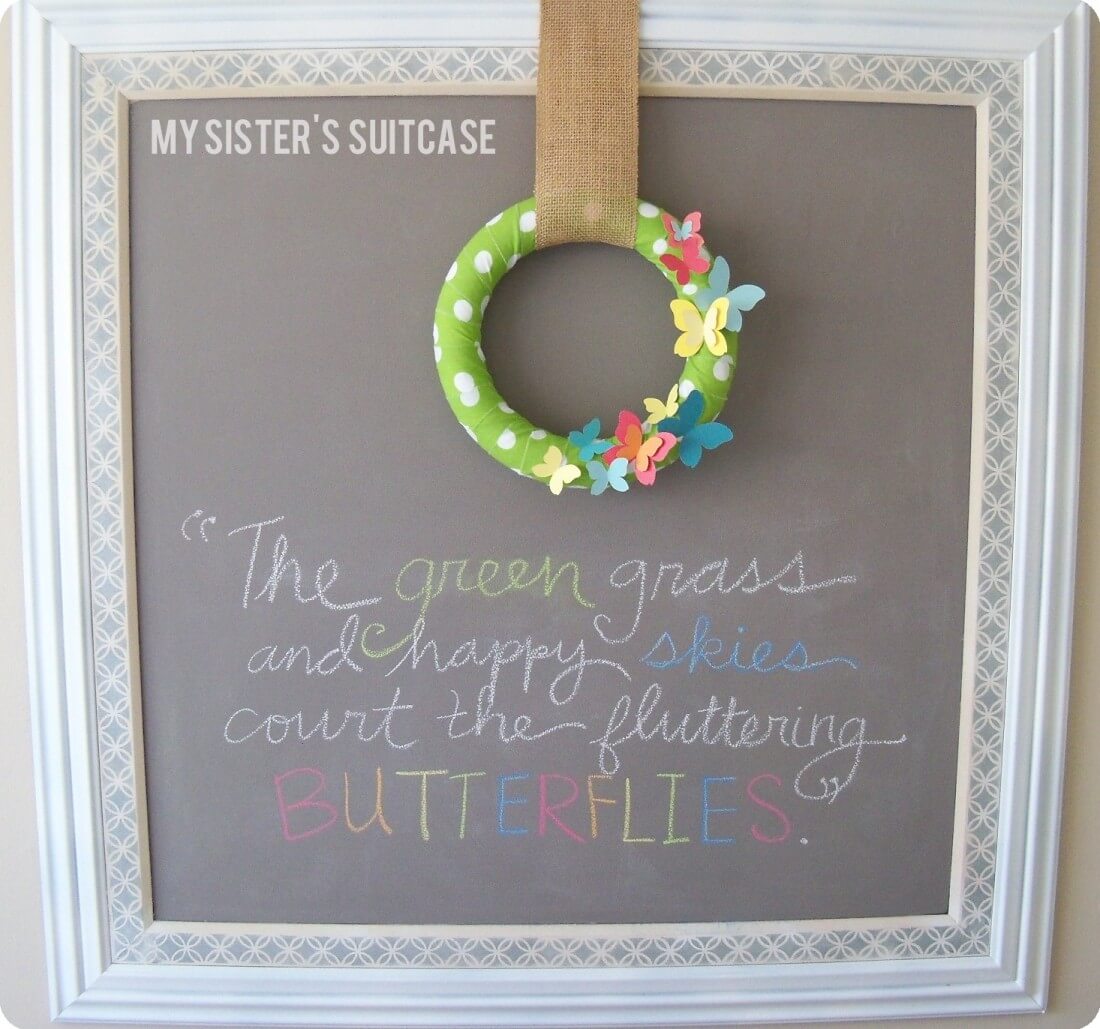 This fun DIY project allows you to show off your creativity by choosing a lovely springtime fabric along with some paint chips to compliment the fabric. You will learn how to transform the paint chips into beautiful butterflies to adorn your fabric-covered wreath. This is an easy, family-friendly project that kids can help you make.
27. Felt Wrapped Wreath with Flowers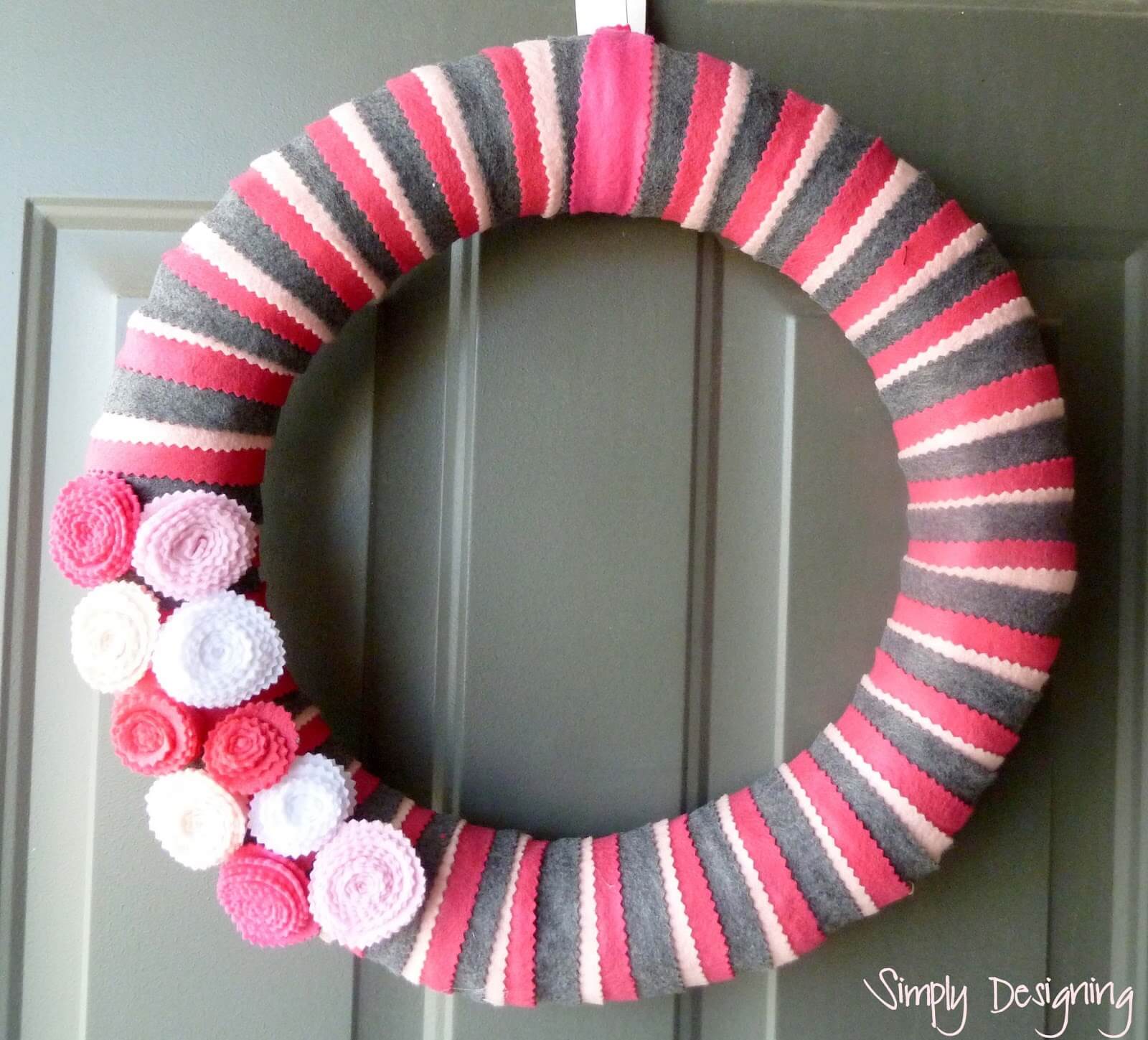 Dust off your pinking shears and purchase some felt in your favorite spring colors. This adorable wreath is easy to make following this tutorial. Strips of felt are used to cover the wreath as well as to make the flowers. It is amazing how much life a little zig-zag edge can bring to a wreath.
28. White Grapevine Wreath with Lavender Blooms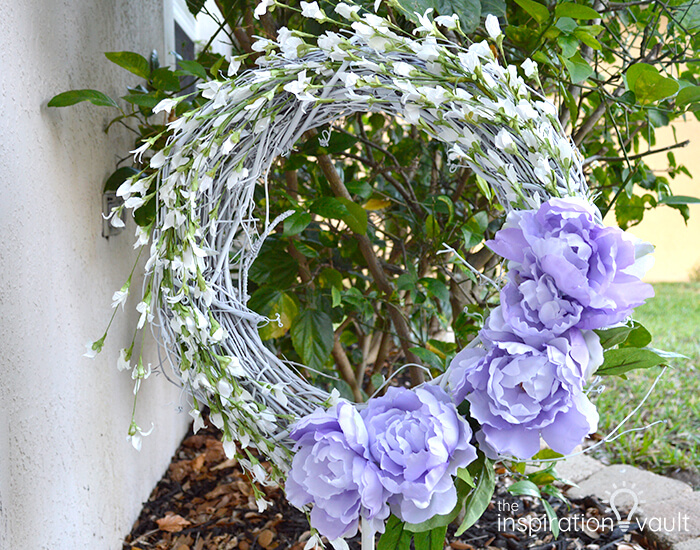 Learn how to use spray paint to change the color of your grapevine wreath with this easy tutorial. They used white here for spring and then covered it in small white flowers. It looks fantastic with the lavender-colored silk flowers. Simple and elegant, this wreath is very easy to make and can be done rather quickly once the paint dries.
29. Grapevine Wreath with Tulips and Burlap Ribbon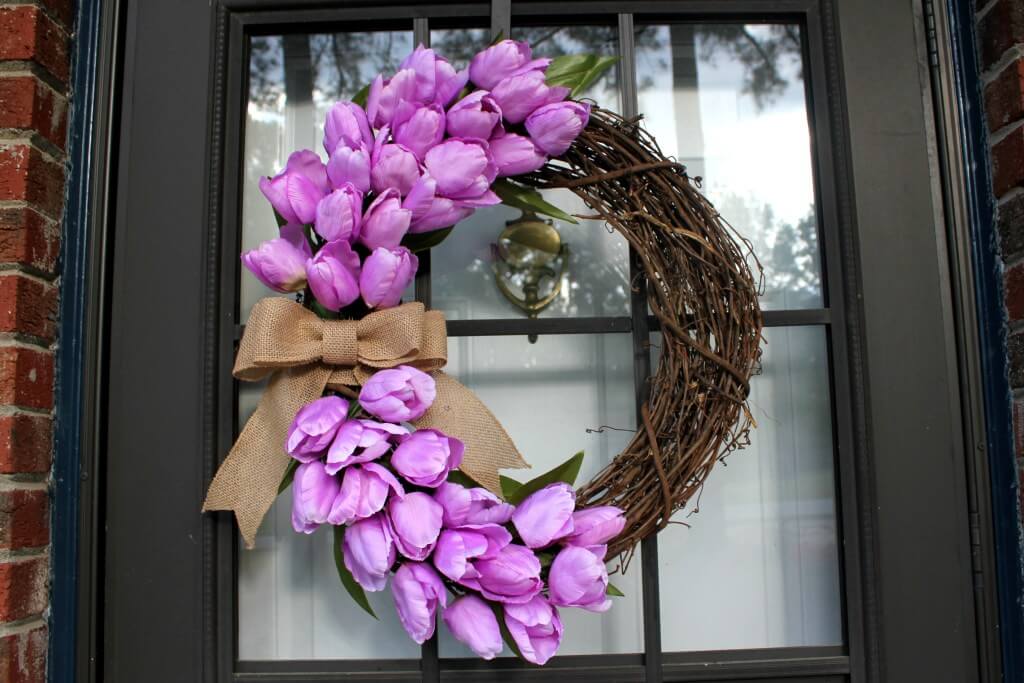 This DIY is so gorgeous that everyone will think you bought it at a boutique. Subtle farmhouse touches are brought in with the grapevine wreath and the bow made of burlap ribbon. The tulips bring a burst of spring to your front door to welcome friends and family. It would also look fabulous over a mantle.
30. Burst of Spring Flowering Wreath with Nest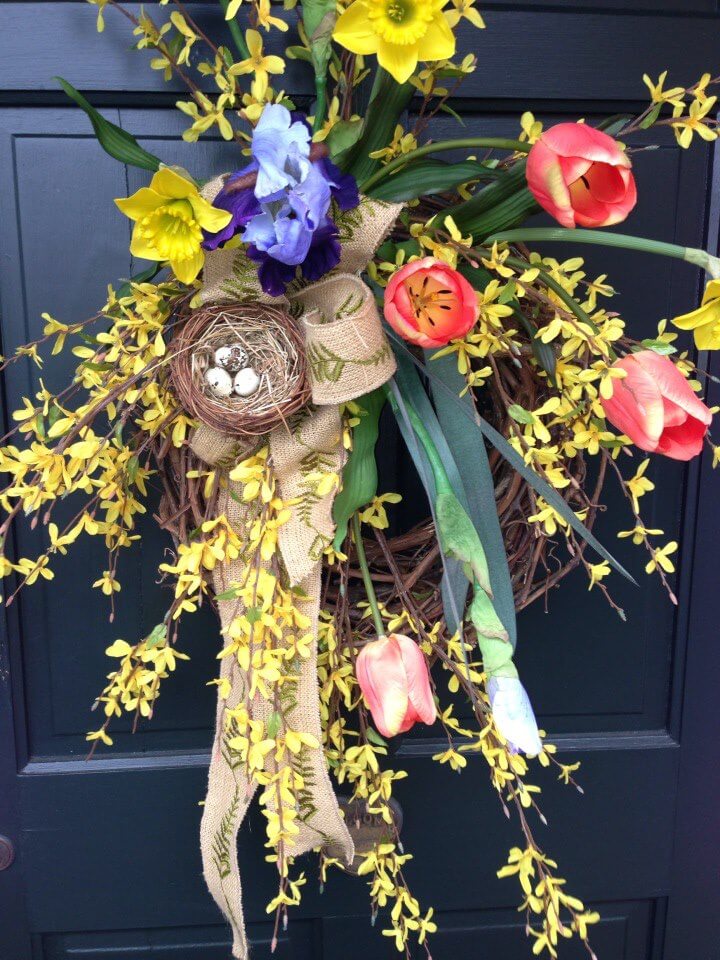 Learn how to use a small wreath as the mere way to hold together a burst of spring flowers. An array of seasonal favorites such as forsythia, tulips, daffodils, and iris overflow the wreath in the best way possible. A burlap bow and small bird's nest sit atop the spray of flowers which burst out, joyfully, in every direction.
31. Blooming Peonies on a Grapevine Wreath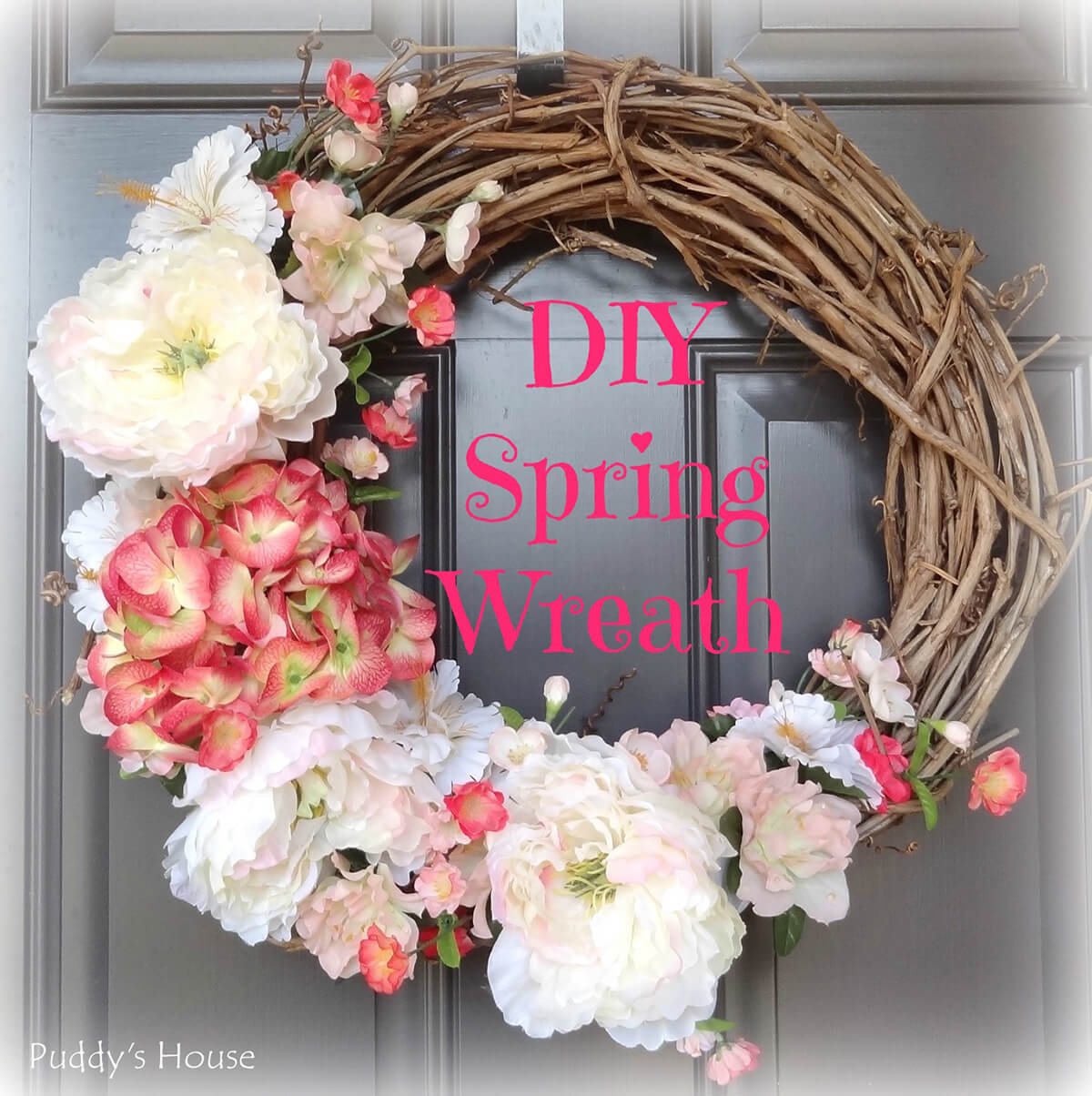 This gorgeous spring wreath combines silk hydrangeas and peonies for a naturally bountiful look. The wreath is done in shades of pink and white. The combination of the exposed rustic grapevine wreath and the blossoming flowers makes a nice contrast. This wreath can be done inexpensively with materials from the dollar store and discount store.
32. Adorable Birdhouse Wreath with Moss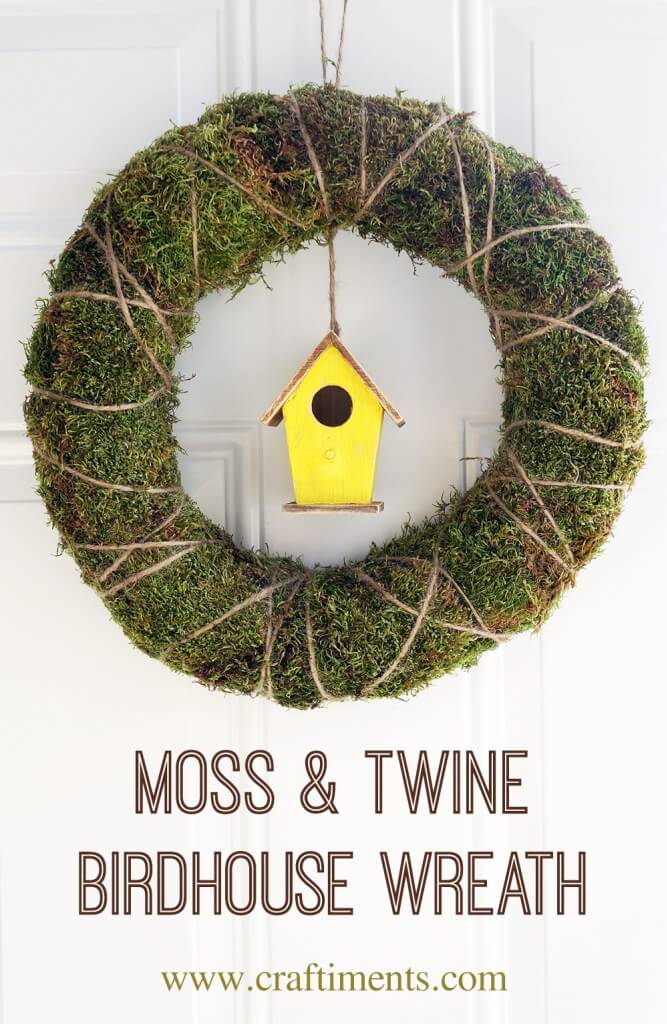 This sweet wreath is made from a straw wreath form wrapped with sheet moss. Using natural moss rather than the dyed variety keeps the wreath looking nice even if it gets wet. The randomly wrapped twine gives the wreath a rustic look. Hang a tiny yellow birdhouse in the center for a cute and fun touch.
33. Window Frame Wreath with Written Greetings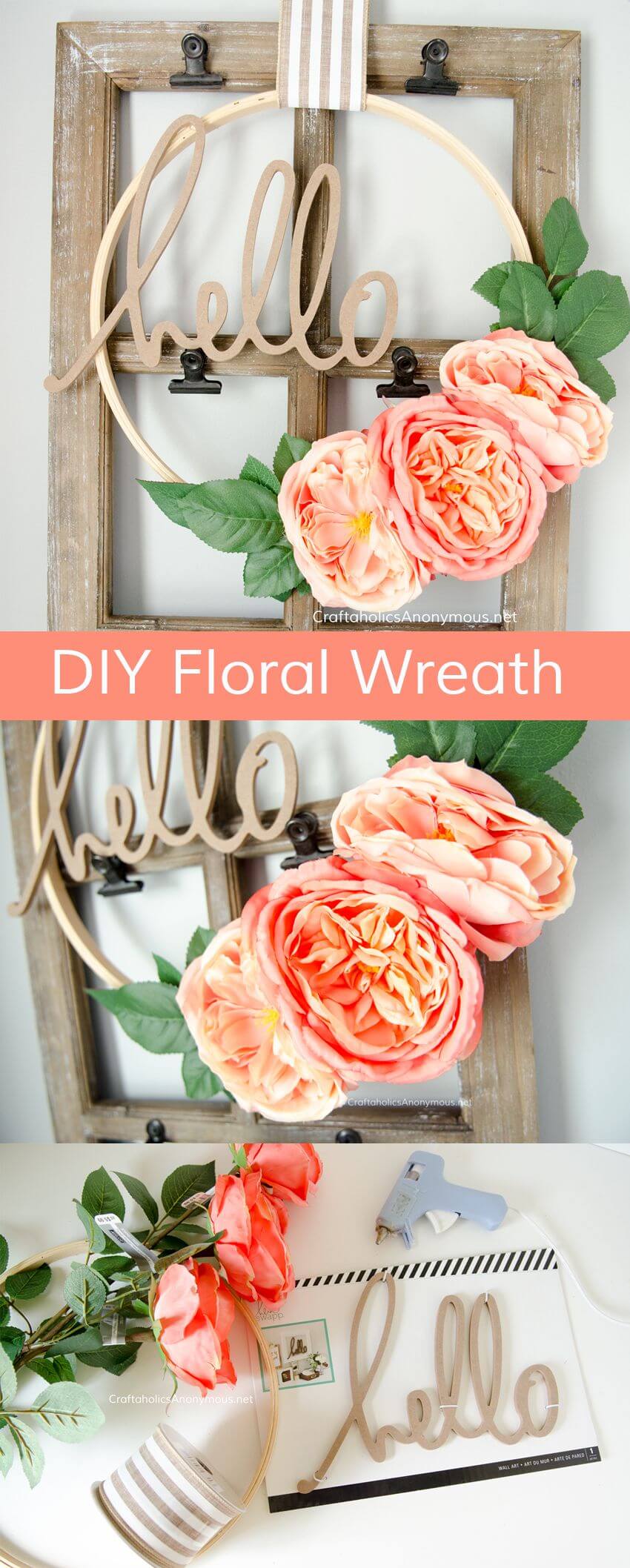 This wreath combines several design elements. The base is an upcycled window frame with handy binder clips. In the front of the window frame hangs a wooden hoop. A scripted "hello" sign is glued to the hoop. Lovely leaves and peonies complete the look. This wreath combines understated style with spring freshness.
34. White Daisy DIY Spring Wreaths

This fun and fresh spring wreath is in the shape of a daisy. The petals and leaves are made from green and white poly burlap, cut and folded into bows. The bows are secured on the wreath form with pipe cleaners. To make the center of the daisy, the burlap is rolled into a tight rosette.
35. Lovely Lavender and Forsythia Wreath

This design can be used year round because the wreath is cleverly designed to be interchangeable. All of the various design elements come off and can be stored separately. The spring version of this wreath has a fantastic spray of lavender and forsythia for a burst of vivid color.
36. Easy Embroidery Hoop Greeting Wreath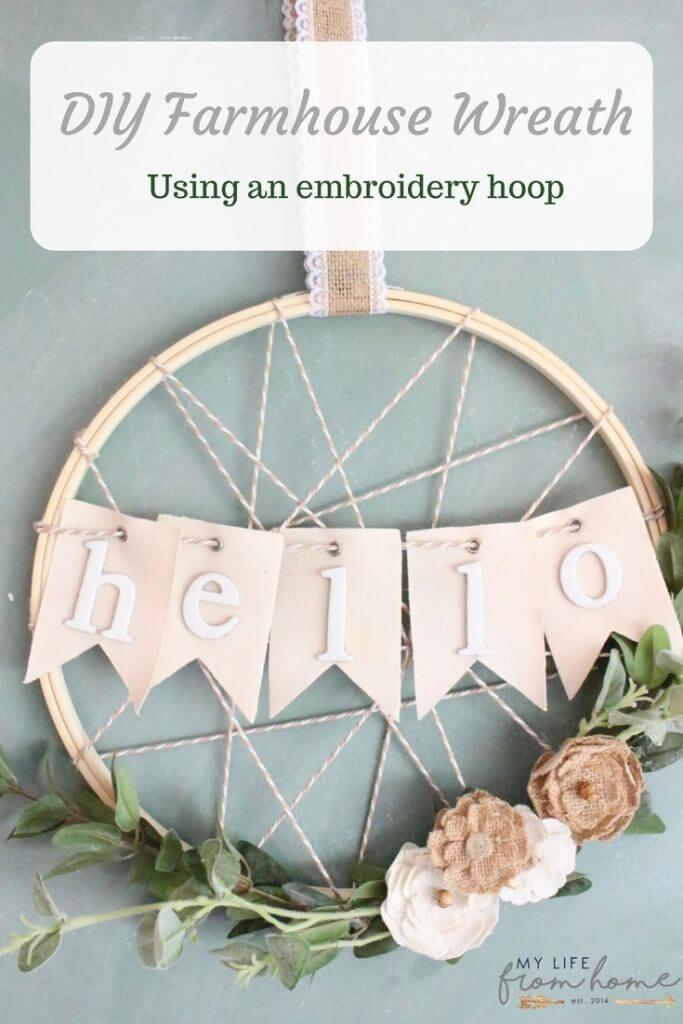 Using an embroidery hoop as the base, this easy DIY spring wreath is a nice alternative to the classic design. Pink and white striped string is stretched across the front of the hoop, and the letter flags are threaded on. The wreath is completed with a few white and burlap rosettes.
37. Understated Wreath with Natural Green Peas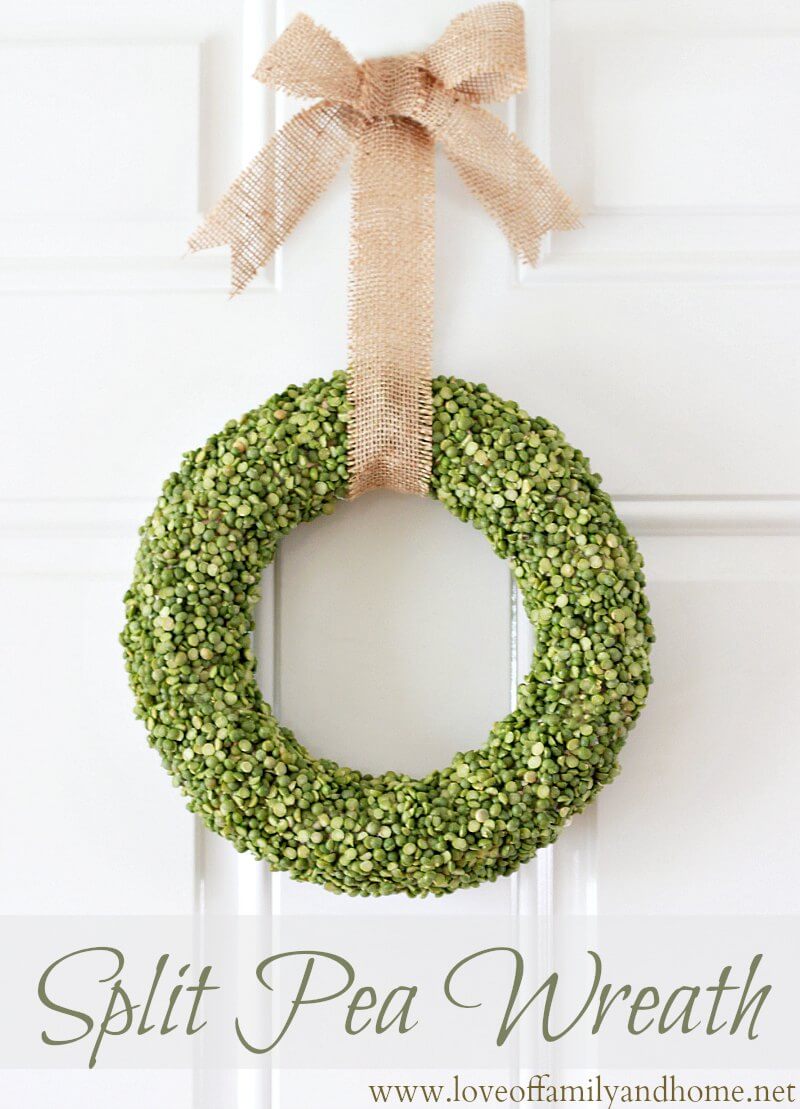 This wreath gets its natural color from split green peas. Easily available at the grocery store, split peas are glued all over the wreath form. It looks like it would take a lot of time and effort to get the peas glued on properly, but the method is simple. Coat the wreath form with glue and dip it in a pan full of peas.
38. DIY Spring Wreaths with Blooming Doilies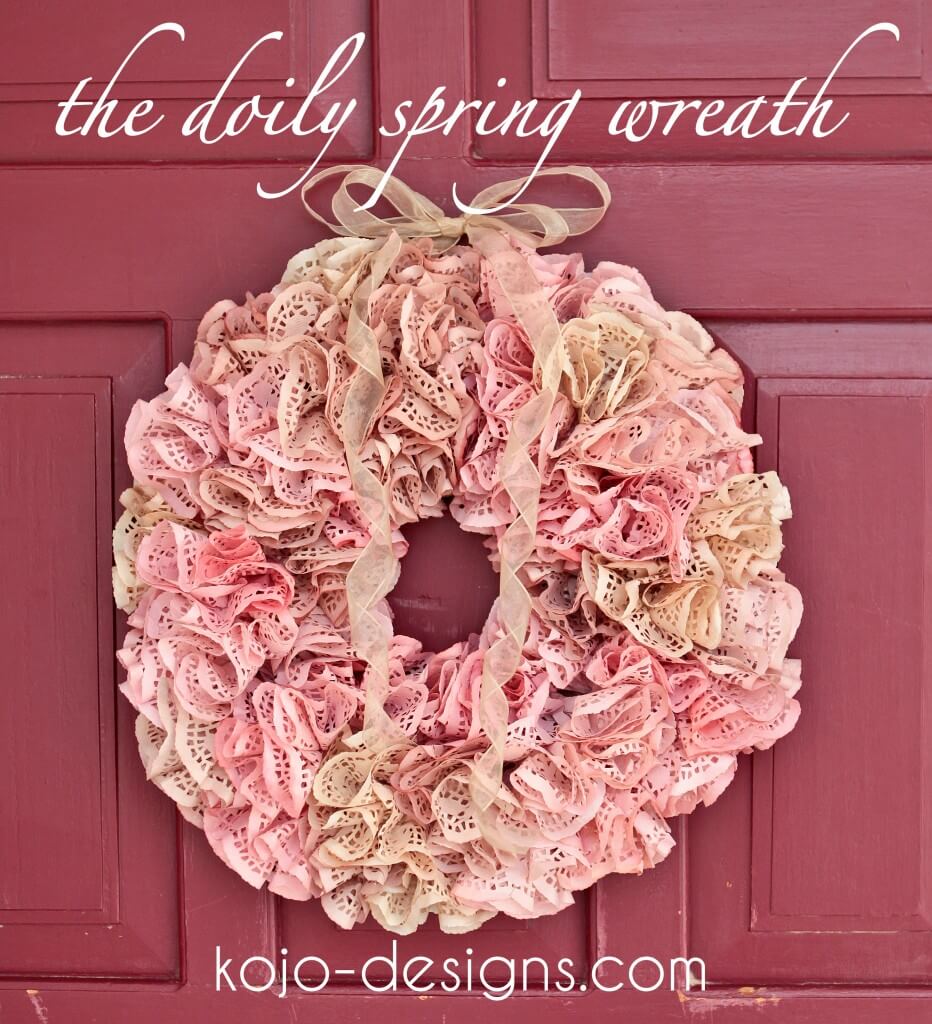 Pink and cream colored doilies make a charming old-fashioned spring wreath. First dye the white doilies in whatever colors you wish. The example wreath was done with pink food coloring and tea. Pinch and fold the dyed doilies into ruffles. Secure them on a cardboard wreath form with hot glue. Add a bow to the top.
39. Welcoming Wreath with Pink and White Forsythia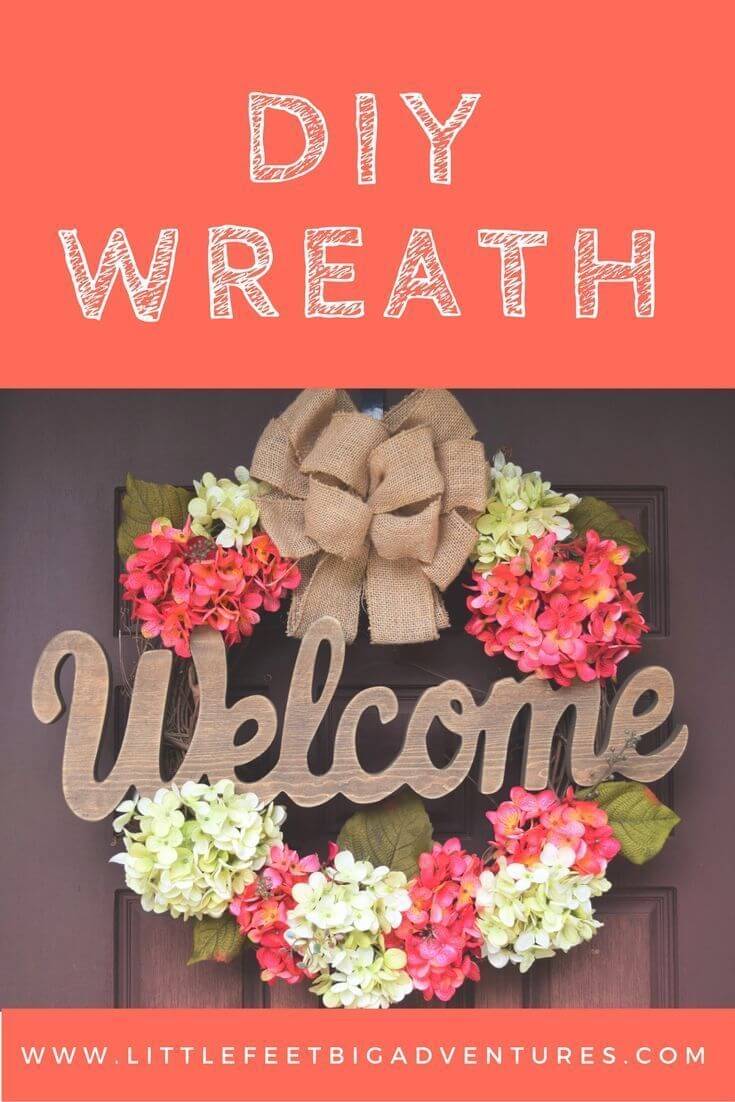 This welcoming wreath makes a bold statement on your front door. With a classic grapevine wreath base, secure the welcome sign with picture hanging wire. Fill in the wreath with blooms of pink and white hydrangeas and leaves. Use the ruffled burlap bow to cover the door hanger.
40. DIY Spring Wreaths with Colorful Butterflies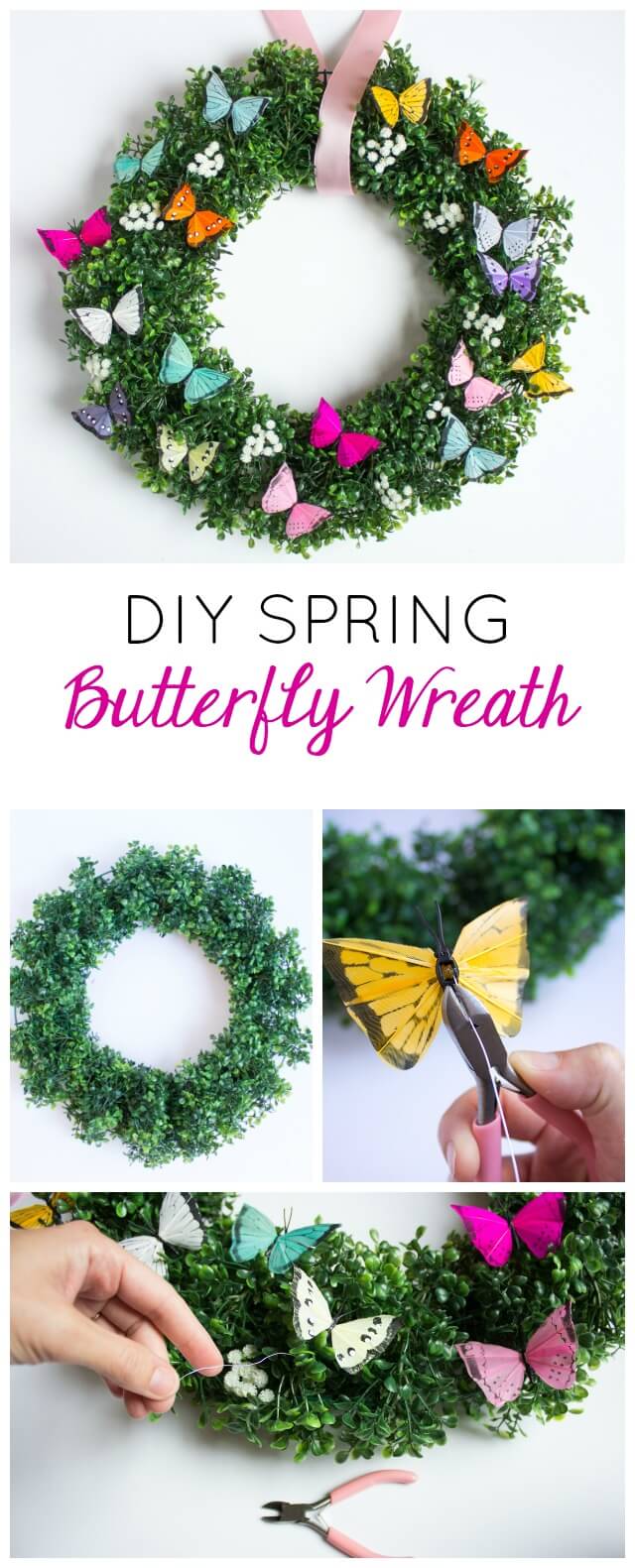 A fresh and original spring wreath is made of a boxwood garland and sweet butterflies. Simply wrap the boxwood garland around the wreath form, keeping it even for a polished look. Secure tiny butterflies and silk baby's breath to the wreath with wire. Add a wide pink ribbon hanger for the finishing touch.
41. Wild Fern Wreath with a White Bouquet

Natural spring colors set this easy DIY wreath apart from the crowd. The grapevine base is covered with muted colors of silk ferns, leaves, and moss. A bouquet of white peonies sets off the bottom of the wreath. This wreath is perfect for people who have a more subdued sense of decorating style.
42. Bold Polka Dot and Tulip Greetings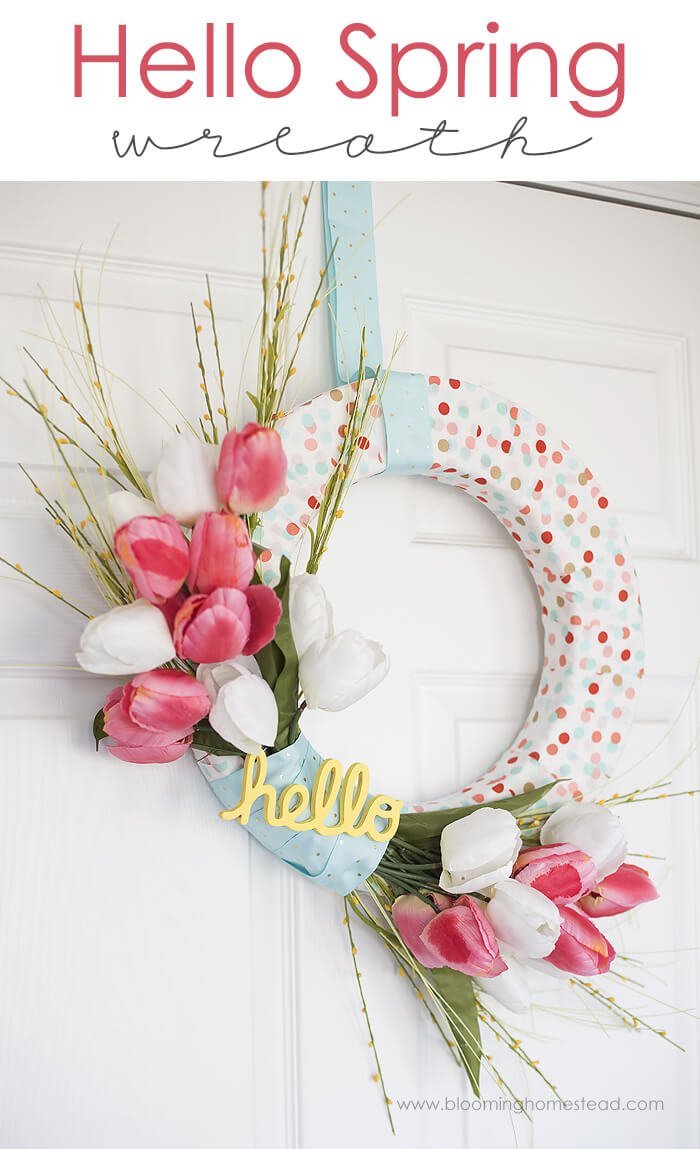 Fresh and fun polka dotted ribbon covers this spring wreath. On top of the polka dotted ribbon, silk tulips, greenery, and grass are secured. The bouquet is tied with a blue ribbon wrap and a "hello" sign. This wreath is simple and quick to put together, and will be an eye catching accent to your spring décor.
43. Unique Metal Wreath with Blooming Flowers

A unique wreath form makes this creation stand out. It is built on a galvanized piece that looks like a tire. The peonies, daisies, hydrangeas, and berries fill the interior of the wreath and spill out over the front. This wreath is incredibly easy if you can find the metal piece. Try the home craft store.
44. Cute DIY Spring Wreaths with Pom-Poms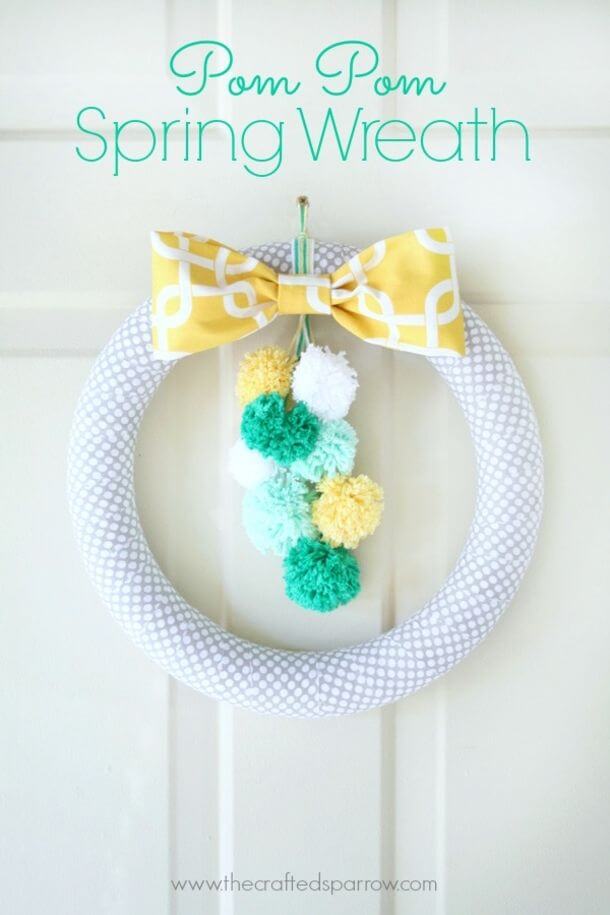 Pom poms make a clever addition to this unique spring wreath. The foam wreath form is wrapped in patterned gray and white ribbon. Turquoise, mint green, yellow, and white pomp oms hang from the top of the wreath. A muted yellow bow completes the look. This wreath makes a nice change from floral designs.
45. Oval Wreath with Easy Felt Flowers

Felt flowers combine to make this oval picture frame wreath stand out. The felt flowers are simple to put together. Cut felt in a spiral and wind it around, hot gluing as you go. You can give the flowers different form and texture by cutting waves into the felt. Glue the flowers on an upcycled photo frame.
46. Trendy Potted Succulents on a Wreath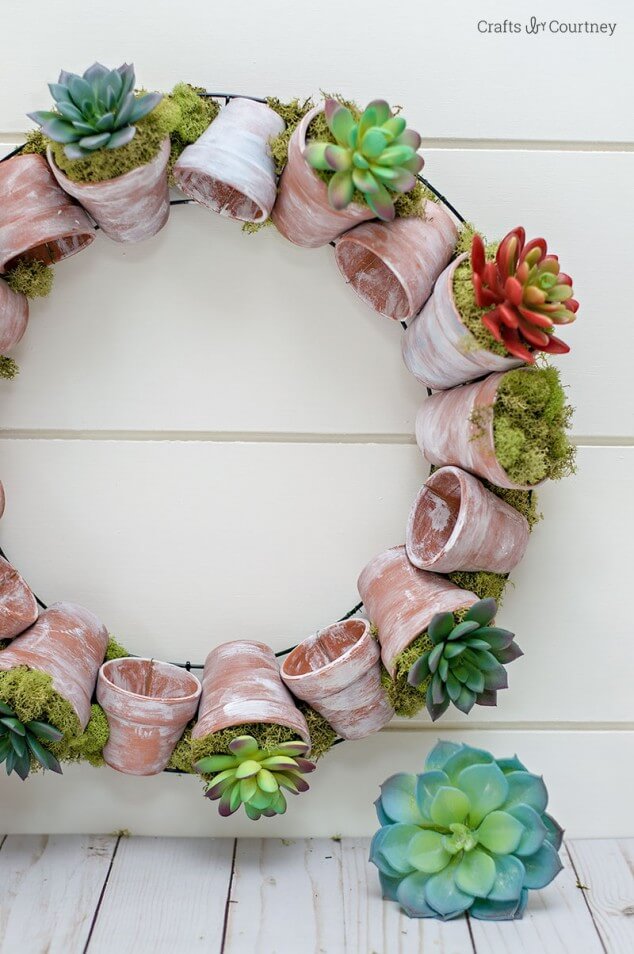 Succulents are a popular design element for 2018. This spring wreath combines faux succulents with tiny flower pots to create a stand out look. The pots can be wired onto the wreath form for a secure connection. Fill the pots with floral foam balls. Cover the foam with moss. Pin the faux succulents into the floral foam and moss.
47. Nest Themed Wreath with Wild Greenery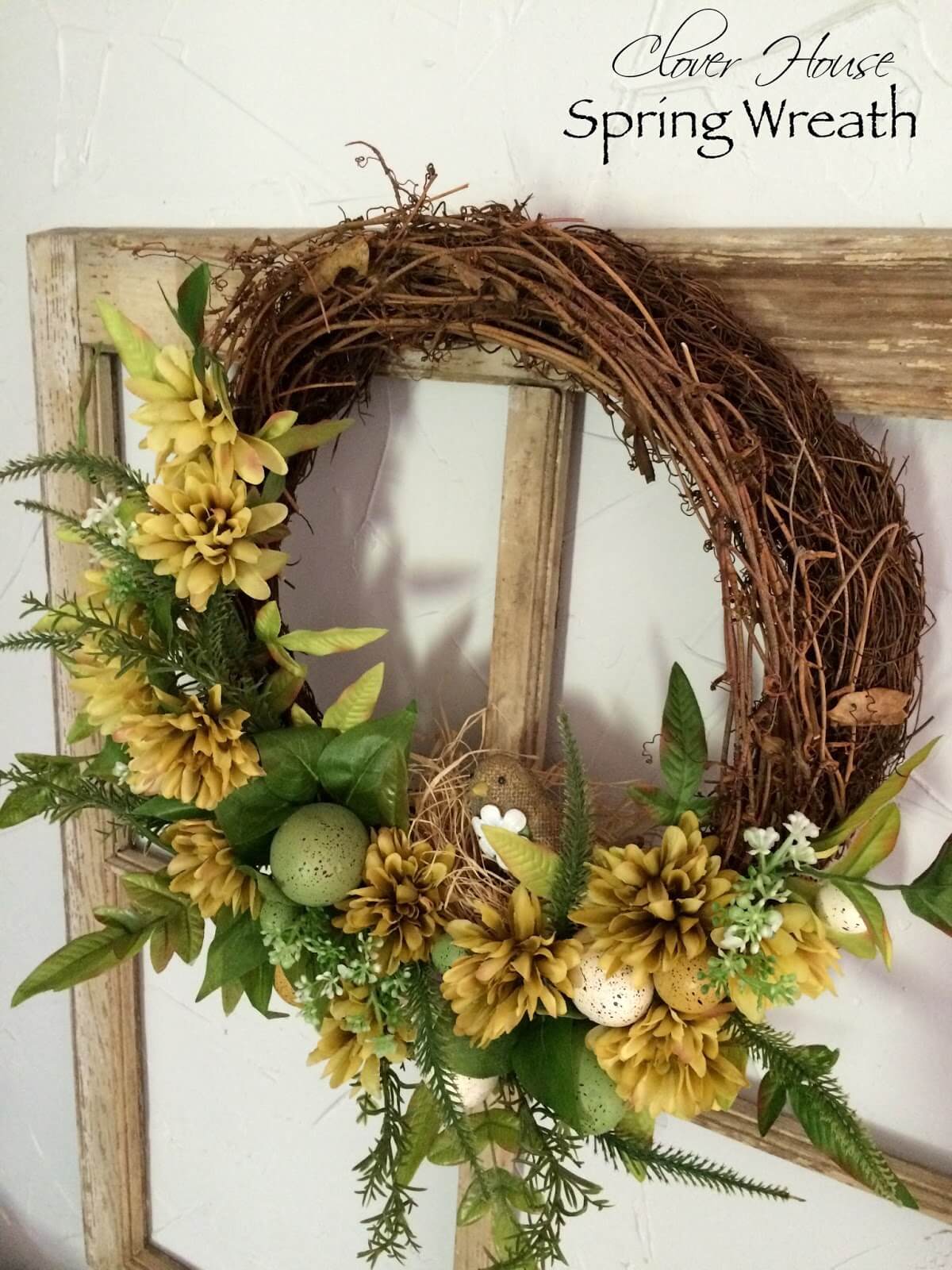 A precious burlap bird sits in the wild grass and flowers of this rustic wreath. Greenery, small white flowers, and eggs fill in the bottom part of the wreath. This is an easy project because it reuses previously bought wreaths and supplies. It would be simple to find the materials to create this wreath from scratch.
48. Eye-catching Striped Wreath with Bold Flowers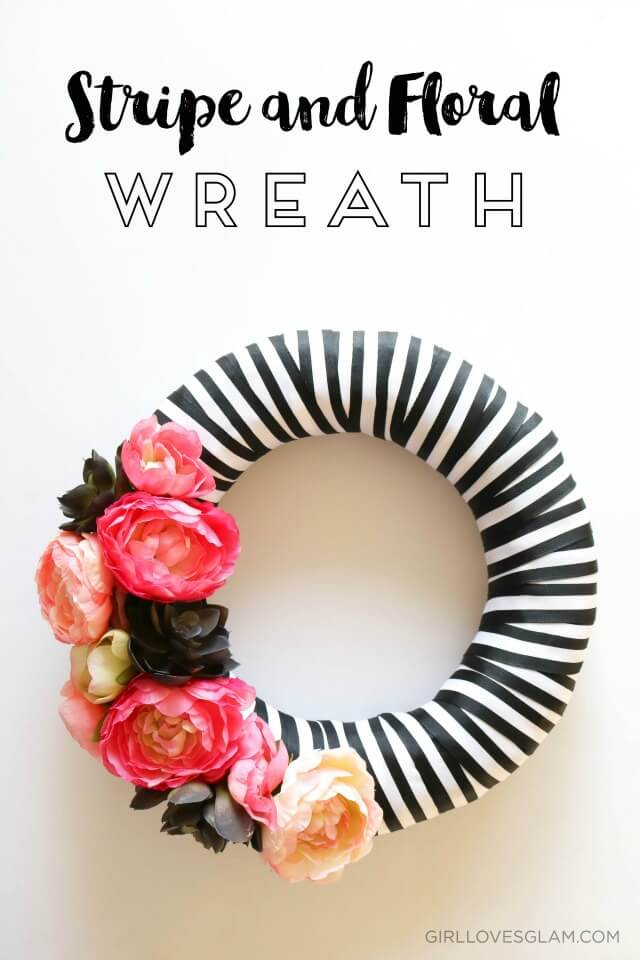 A bold spring wreath starts with a form wrapped in black and white striped ribbon. Pink and white silk blossoms are set off with dark faux succulents. This wreath makes a statement and will surely be noticed by your family and guests. You could use the same method to create any type of look you wished.
49. Dramatic Greens on an Embroidery Hoop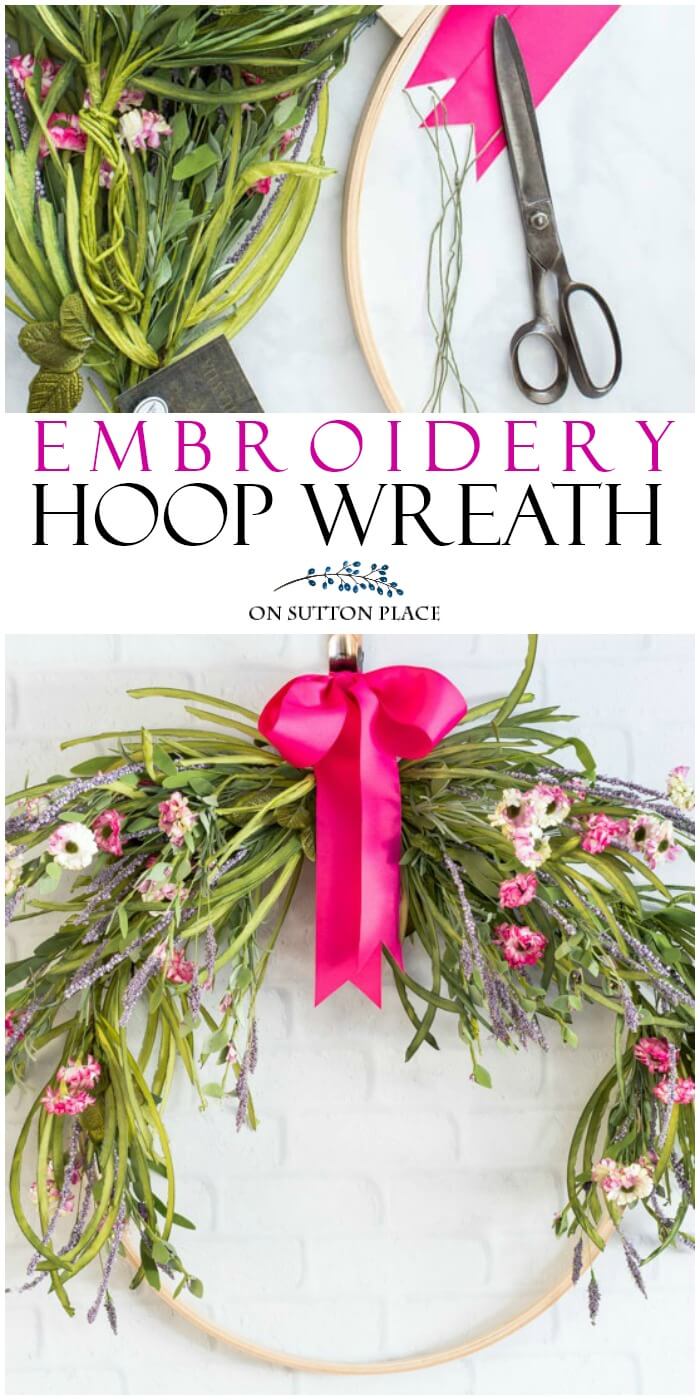 A super easy DIY wreath project begins with a large embroidery hoop. Mixed wildflowers and greens give this wreath a lush and unique look. The flowers are done in shades of pink, lavender, and white. All you need to do is wire the flowers to the hoop and tie on a wide ribbon hanger.
50. Simple Moss and Peony Wreath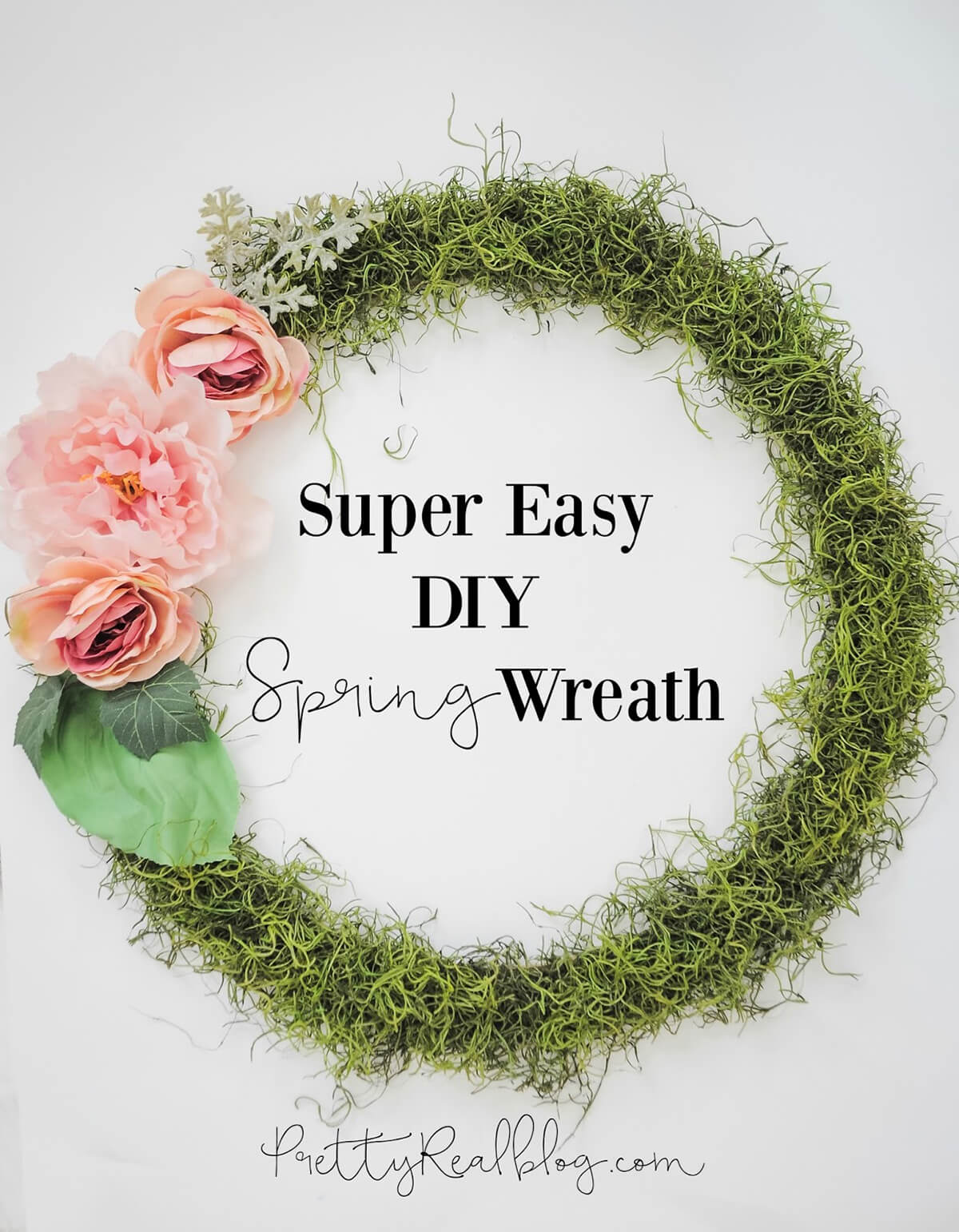 This natural looking spring wreath uses the fresh green of moss and a spray of pink flowers and greens. The moss is easy to work with. Simply separate the moss and use spray adhesive to secure it to the wooden wreath form. This wreath is so easy, anyone can put it together in one afternoon.
51. Bright Cutout Paper Flower Wreath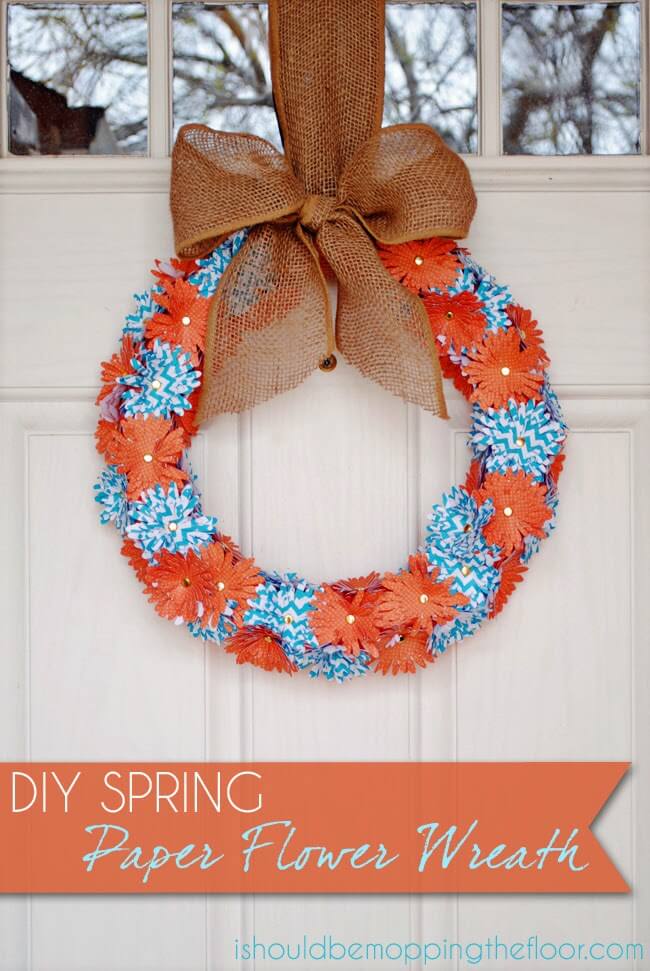 Cutout flowers with stripes and polka dots give this wreath a fun and funky style. For the flowers, use your paper cutting machine or a punch. Put the stacked flowers together with a brad and use the pointed end of the brad to secure the flowers to the wreath form. Add a cute burlap bow for a finishing touch.
52. Standout Succulents on a Burlap Wrapped Wreath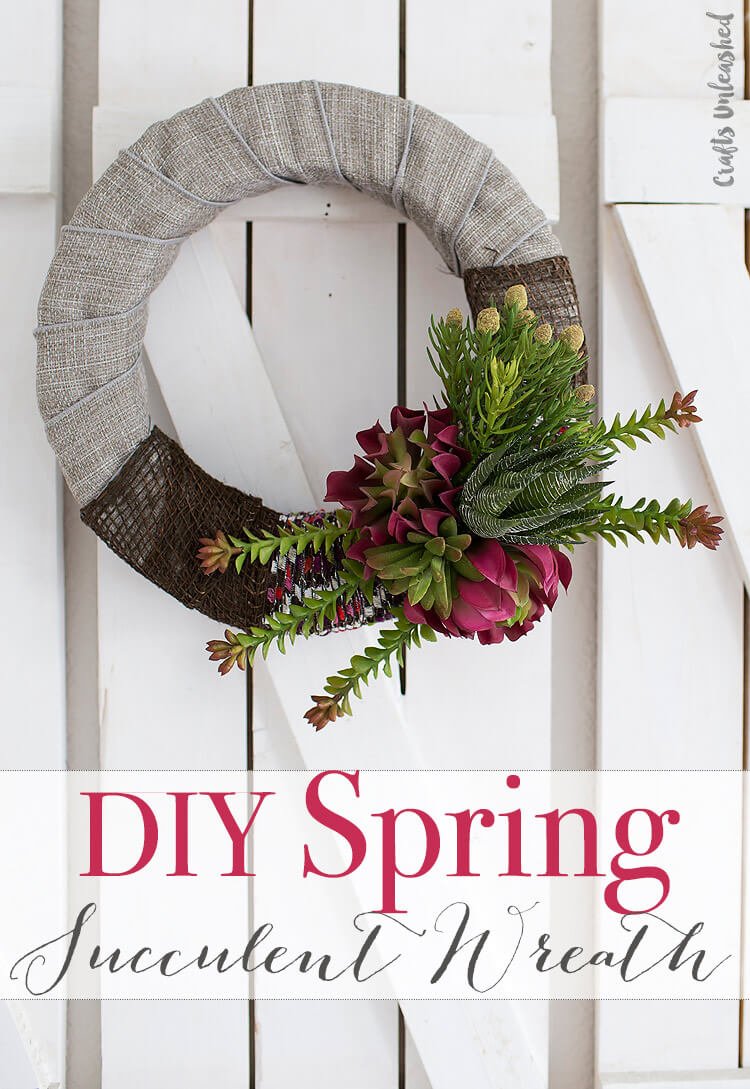 Succulents are on trend right now, and this spring wreath makes good use of the faux variety. First wrap a wreath form with linen or burlap ribbon. Add a darker color burlap ribbon to the lower third. Combine your faux succulents in a pleasing arrangement and secure them to the wreath form with floral pins.
53. Simple Paper Cones Make a DIY Dahlia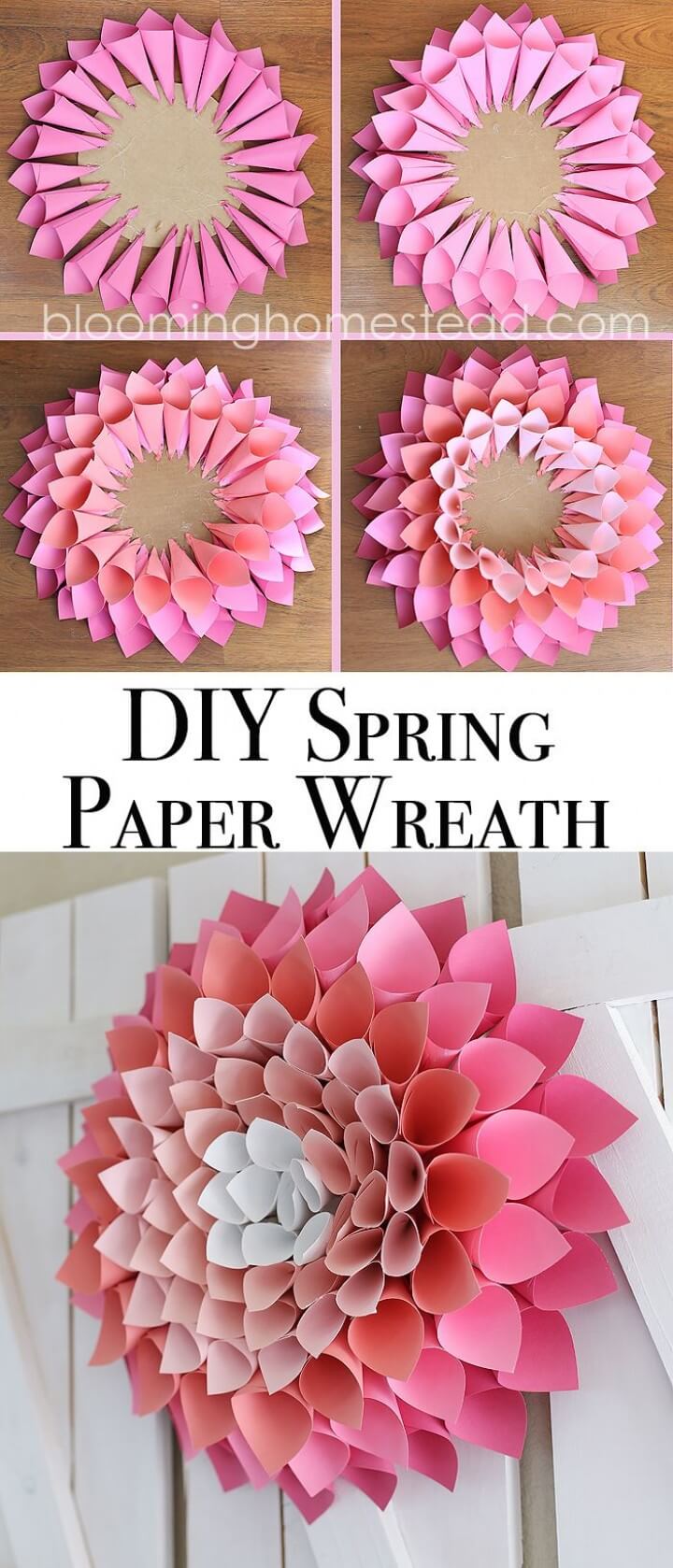 This clever wreath uses cones of card stock that have been rolled and glued. Cut paper into squares and use hot glue to make them into a cone. Use a range of colors to give your wreath a natural look. Place the cones on a cardboard circle and glue them in rounds starting from the inside.
54. Linen Strips for a Unique Texture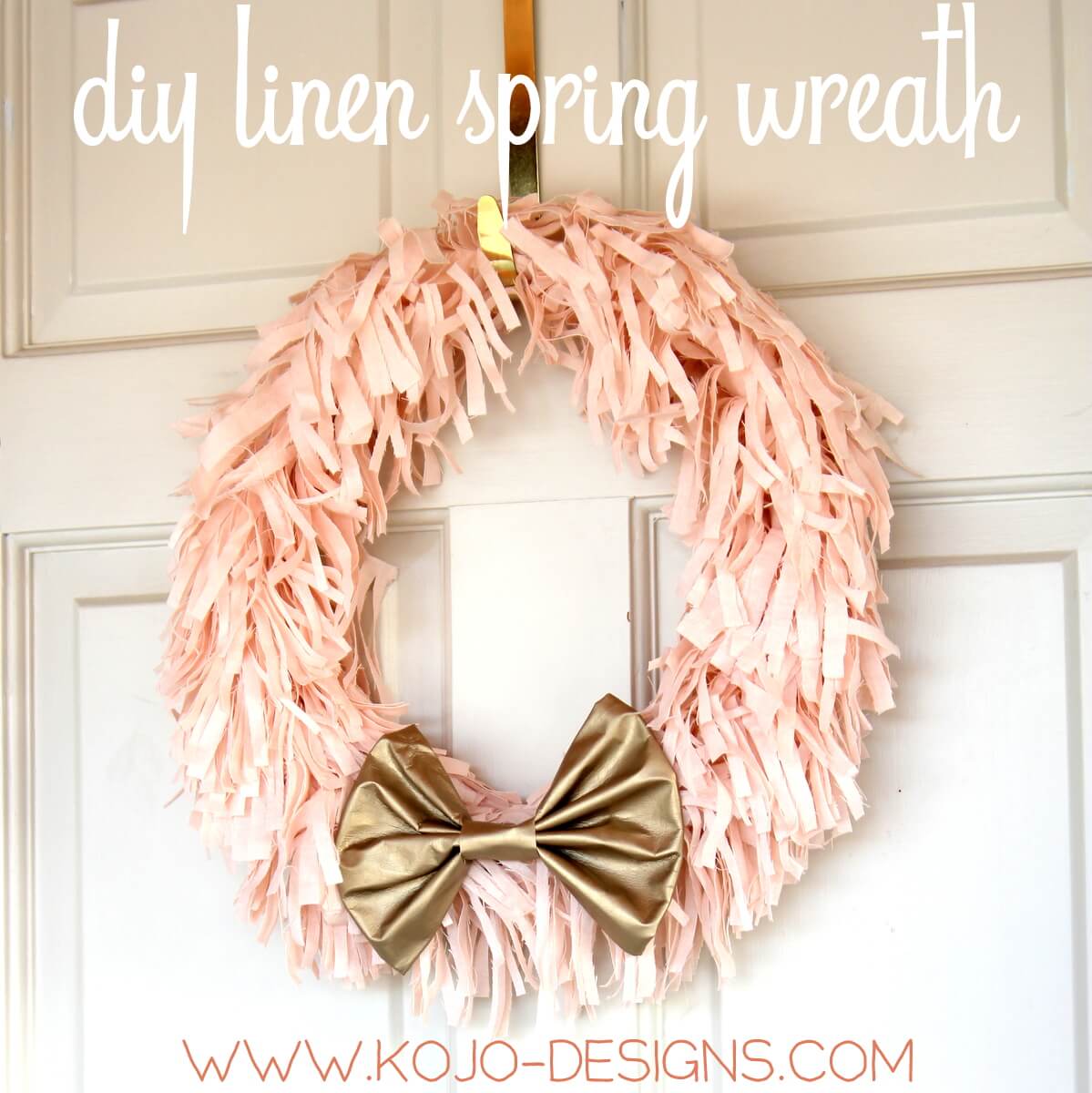 This fun, shaggy spring wreath is made from strips of linen that have been cut into a fringe. Wrap the linen around the wreath form for a unique look. This would be an easy project for anyone to do, especially if you have a rotary cutter to trim the strips of linen. Add a gold bow.
55. Unique Floral Combinations on a Hoop Wreath

Try making a modern style wreath with an embroidery hoop. This wreath is so lovely because the flowers are carefully chosen. Peonies, spider mums, and palm greenery take center stage. You can choose your favorite blooms at the craft store and make a version of this wreath for your own front door.
56. Quick and Simple Monogram Wreath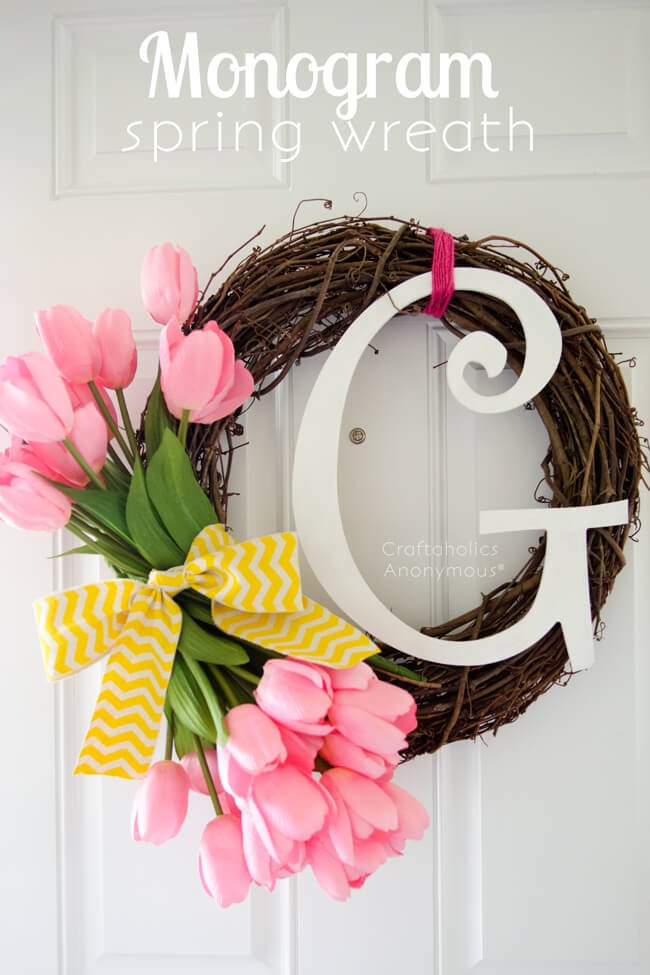 This super easy spring wreath starts with a grapevine wreath form, an oversized initial letter, and a bunch of pink faux tulips. Paint the wooden letter white if necessary. Hang it on the wreath form with yarn, keeping it a little off center. Add a double bouquet of tulips to the other side and tie with a striped yellow bow.
57. Chalkboard Fun with Bold Greenery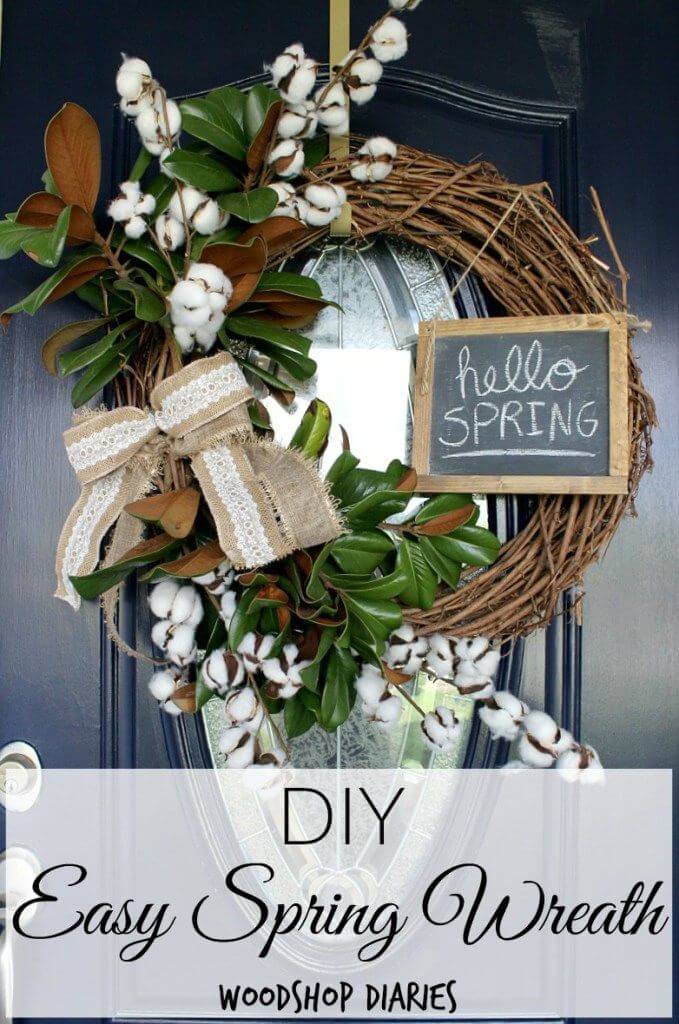 Cotton bolls and shiny rhododendron greenery make this wreath exciting. The wild spray of cotton bolls on one side contrasts with the simplicity of the chalkboard wreath on the other side. On the chalkboard, you could write any spring greeting you wish. Add a burlap and lace bow to finish off your creation.