Create a unique and cool fantasyland in your yard with the best outdoor garden gnome ideas. These whimsical creatures are small in stature but large in personality. Their charming ways have been around for quite some time and add a special touch to any outdoor garden space. You'll discover a plethora of ways to feature these fairyland creatures in your personal outdoor space. There's quite a variety of statues available that show off their iconic beards and conical hats. No matter if you are a traditionalist or like to push the envelope, there is a garden gnome that's an exact match for your personality.
23 Great Garden Gnome Decorations for Your Backyard

Some of these garden gnome statues are the ideal size for blending into an existing flower bed. They even look amazing adorning your porch or patio space. You can even choose a smaller version that nestles right into the dirt of your larger potted plants creating a nice, heartfelt home for these little dwarves. As previously mentioned, these garden gnomes can be your traditional version or they can be positioned in humorous manners. You just might be caught a little off guard when you enter the backyard to find one of them using your yard as a toilet. Several options are available for naughty gnomes caught in the act of peeing.
If your affinity for fantasy leans more along the lines of elves than gnomes, no problem! The gnome cousin is featured on tree-hugging decorations that bring to life a secret fantasyland on the inside of your tree. You might witness a near escape through the window by one of these whimsical fairy creatures. One of the best outdoor garden gnome ideas has to be the use of them within a child's personal fairy garden. This emerges as a custom utopia completely created by the child him/herself. Providing him/her with the tools will help spark that inner artist and unleash some incredible creativity!
Decide how you wish to include garden gnome decorations in your life, then you can begin searching for the ones you'll quickly treasure. Give them as a gift and share them with your closest young friends to add a smile and keep their spark alive.
1. Afternoon Siesta Hammock-Loving Garden Gnome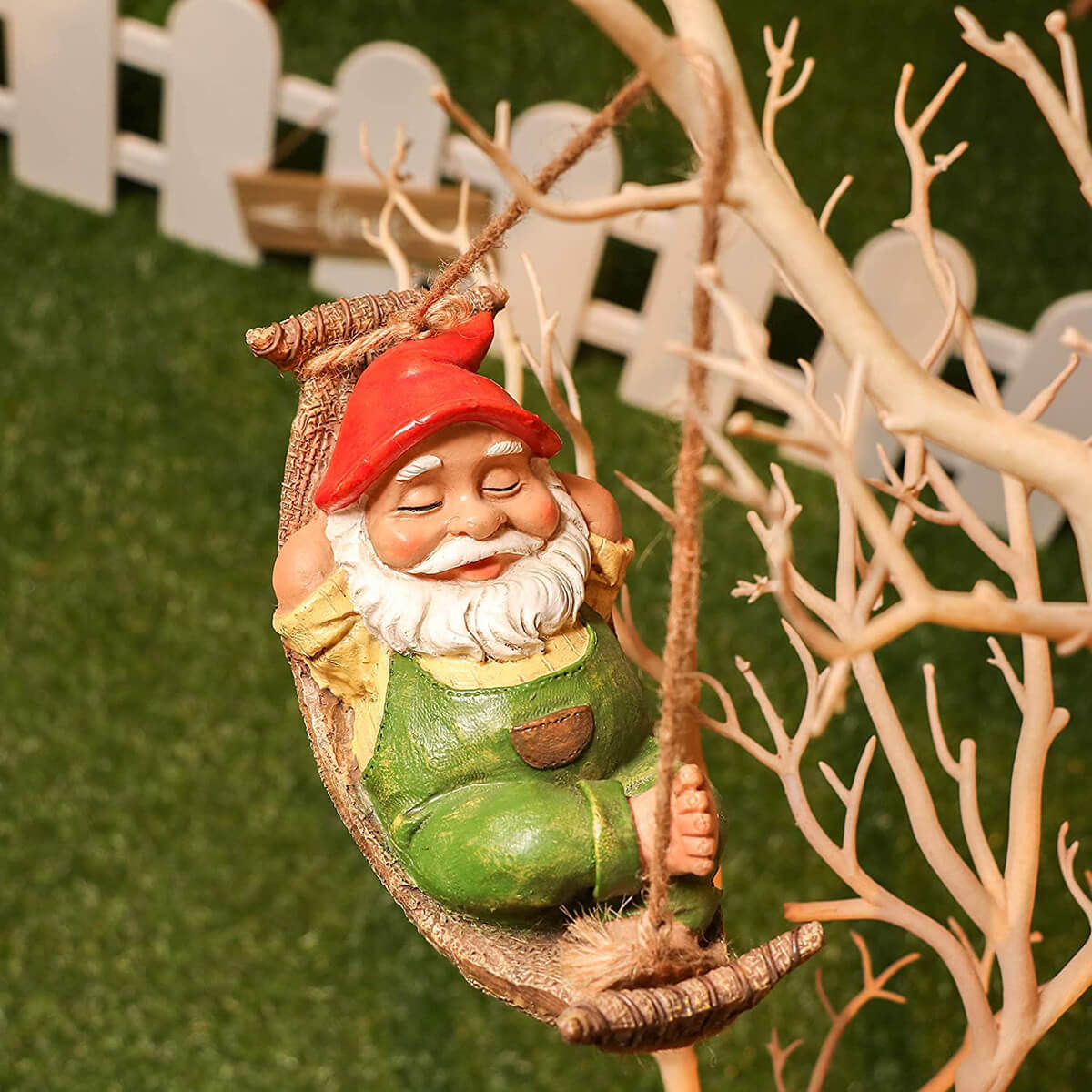 Images of relaxing on a warm Sunday afternoon come to mind when viewing this hammock-resting garden gnome. He's kicked off his shoes and stretched out for a nice afternoon nap in the comfort of your backyard. Enjoy the simplistic beauty of his overalls and red hat as he catches up on some zzz's. He will make anyone smile which makes him a wonderful choice for outdoor garden decorating. Featuring a simple twine rope string, he can hang on a small branch or decorative hook depending upon your choice of a new home for him.
2. Moss Flocked Lantern Holding Gnome Statue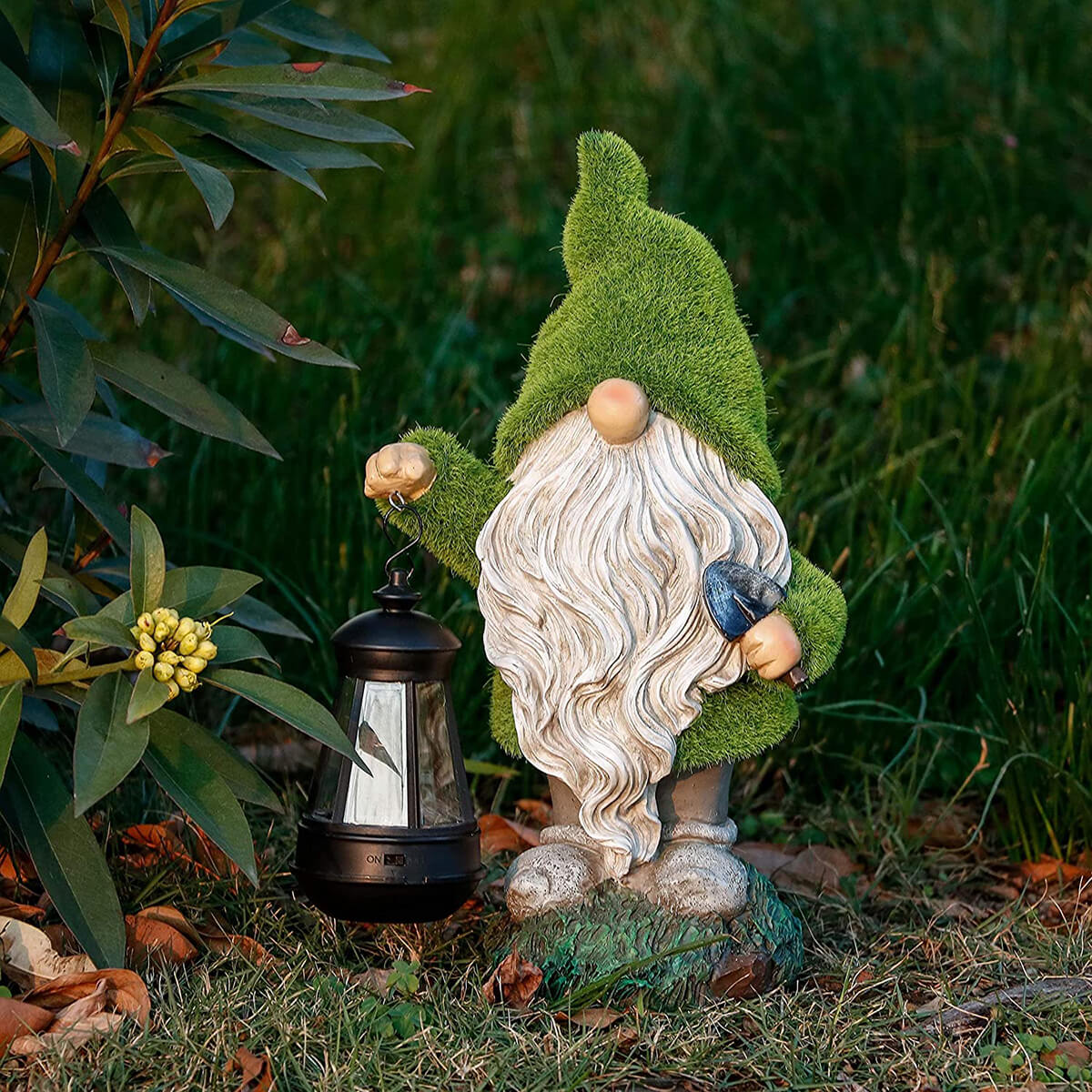 Draped in moss from head to toe, this darling garden gnome makes a great addition to your home's porch, patio, or garden space. Inspire creativity and fun by choosing specific decorating schemes for your outdoor space, just as you already do inside your home. This friendly little guy holds his beacon of light as he guides visitors to your humble abode. With a lot of moss covering his exterior, he blends right into all of the lush greenery already growing in your garden.
3. Solar Light Garden Gnome Welcome Sign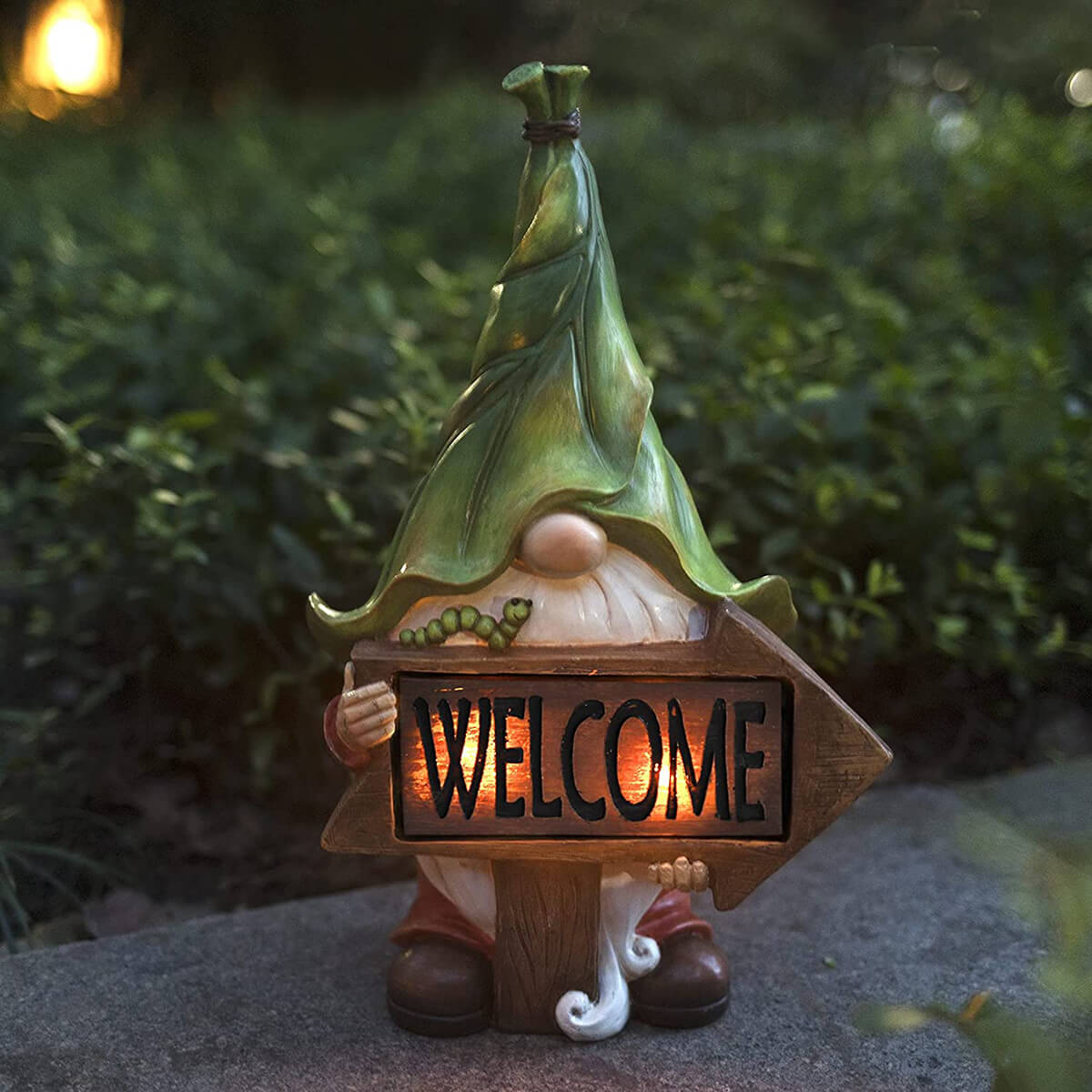 Give a warm and friendly gnome welcome to everyone stopping by your home with this solar light garden figure. His small stature has no bearing on his big style. His iconic beard and hidden eyes only add to his captivating appeal. Notice the quaint detail of the meandering caterpillar on top of the welcome sign. No detail has been overlooked on this crafty solar sign. Using the power of the sun, friends, and family will even experience his welcomed greeting after dark. Position him near the mailbox or driveway for maximum appeal.
4. Laughing Elf Fantasy Tree Decor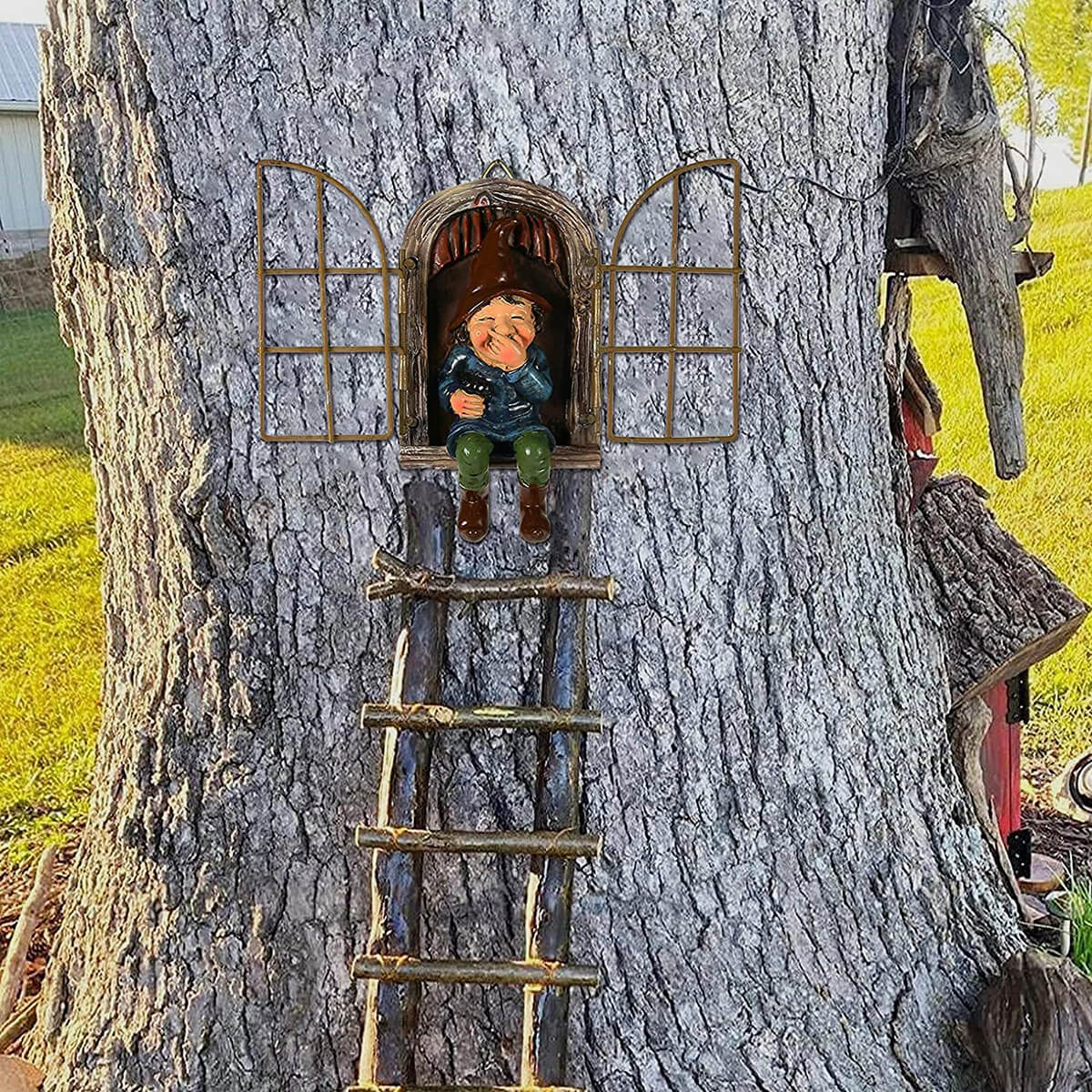 Think beyond the flower bed and onto your largest plants when it comes to decorating your big backyard. Add this crazy laughing elf onto your large tree as it transforms into a piece of living art. As the elf's windows are open, he's perched to let his soft laughter fill the air. Gliding through the breeze, his silly cackling will be a conversation starter at your next outdoor gathering. Position him so everyone entering the backyard will be certain to notice him. Keep his ladder close by to help accessorize his fun and charming fantasy decor for your backyard.
5. Classic Bearded Garden Gnome with Folded Hands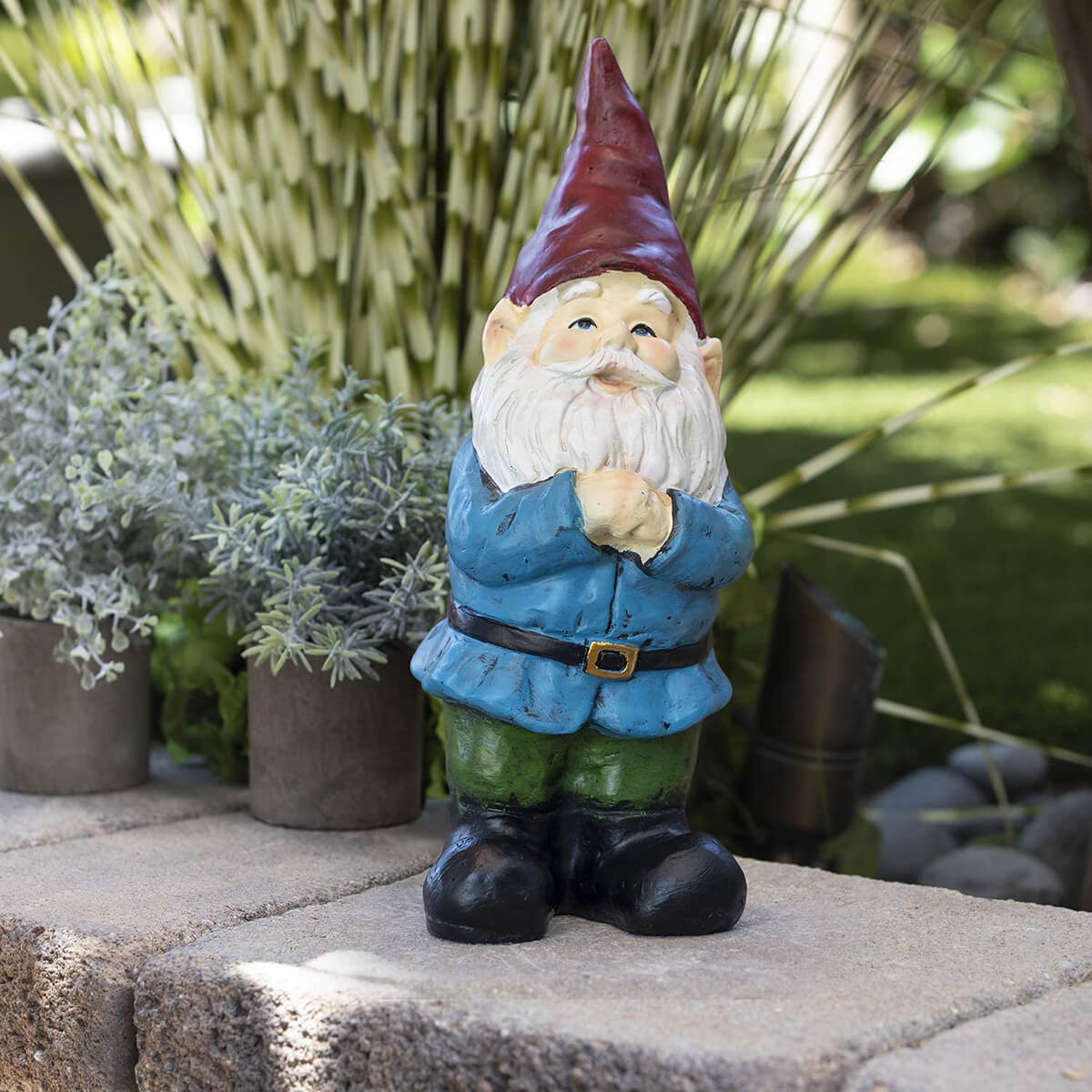 Pondering all of life's big questions, this charming classic garden gnome is eager to take up residence in the confinements of your backyard garden. Clutching his hands in front of him, he's focused and in deep thought. There's no doubt that he will blend right in with any existing gnomes in your collection. He would find comfort positioned at the trunk of a tree or within a hearty potted plant. An arrangement of gnomes would be placed circling a small ornamental tree as well.
6. Elf Emerging through Window Tree Decoration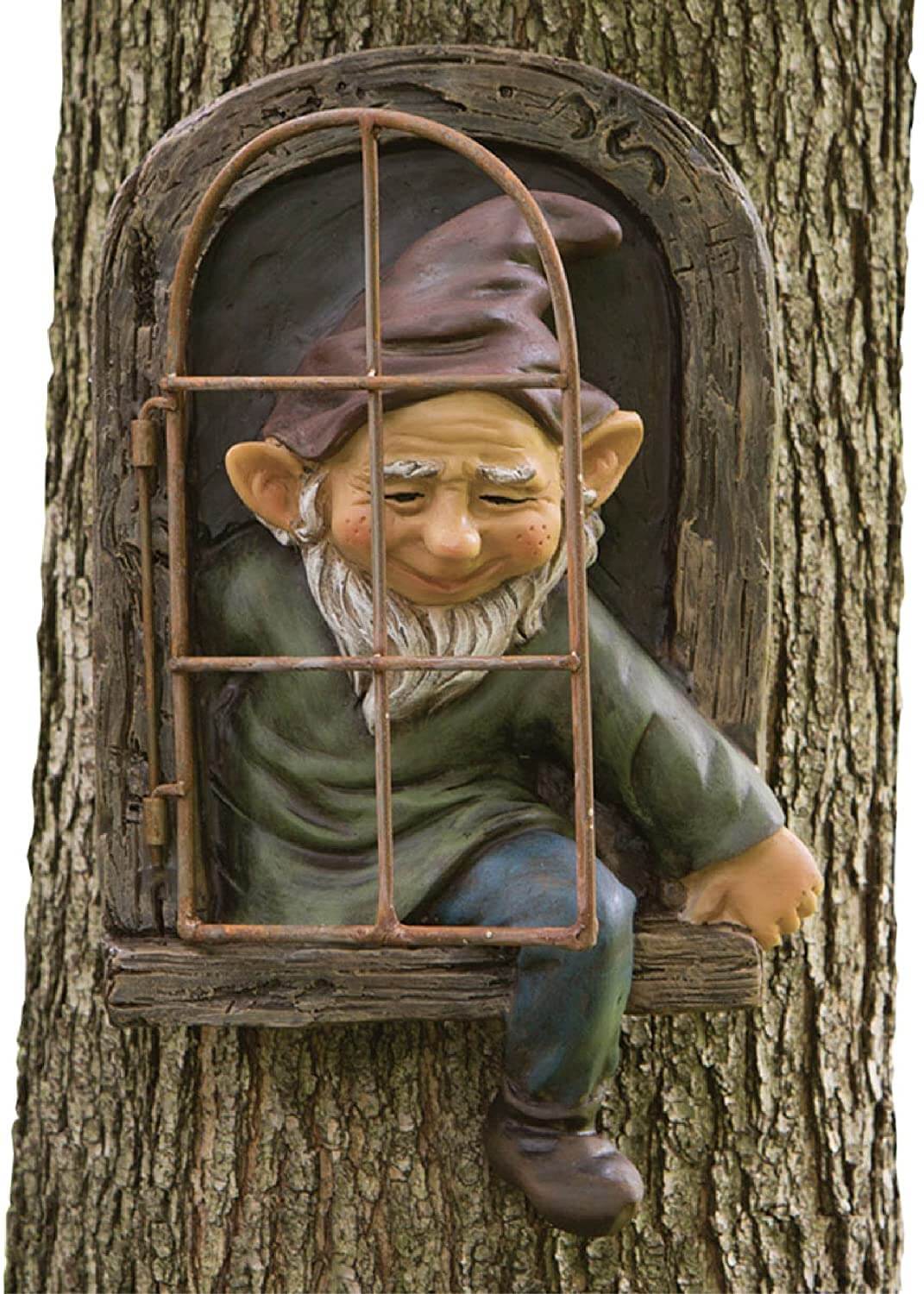 The secret lives of elves and the fantasyland of fairies are intriguing. Add some of this magic into your backyard by using tree decorations. Placed on a tree, these decorations bring this fantasy world to life for all of us humans. In this instance, a chosen elf has been caught escaping from the society within the tree. As he exits the tree window, he's becoming part of the world in your backyard. Welcome him with open arms and be sure to have some other elf, fairy, and/or gnome friends placed around so he'll feel right at home.
7. Small Seven Dwarf Garden Gnome Figurine Set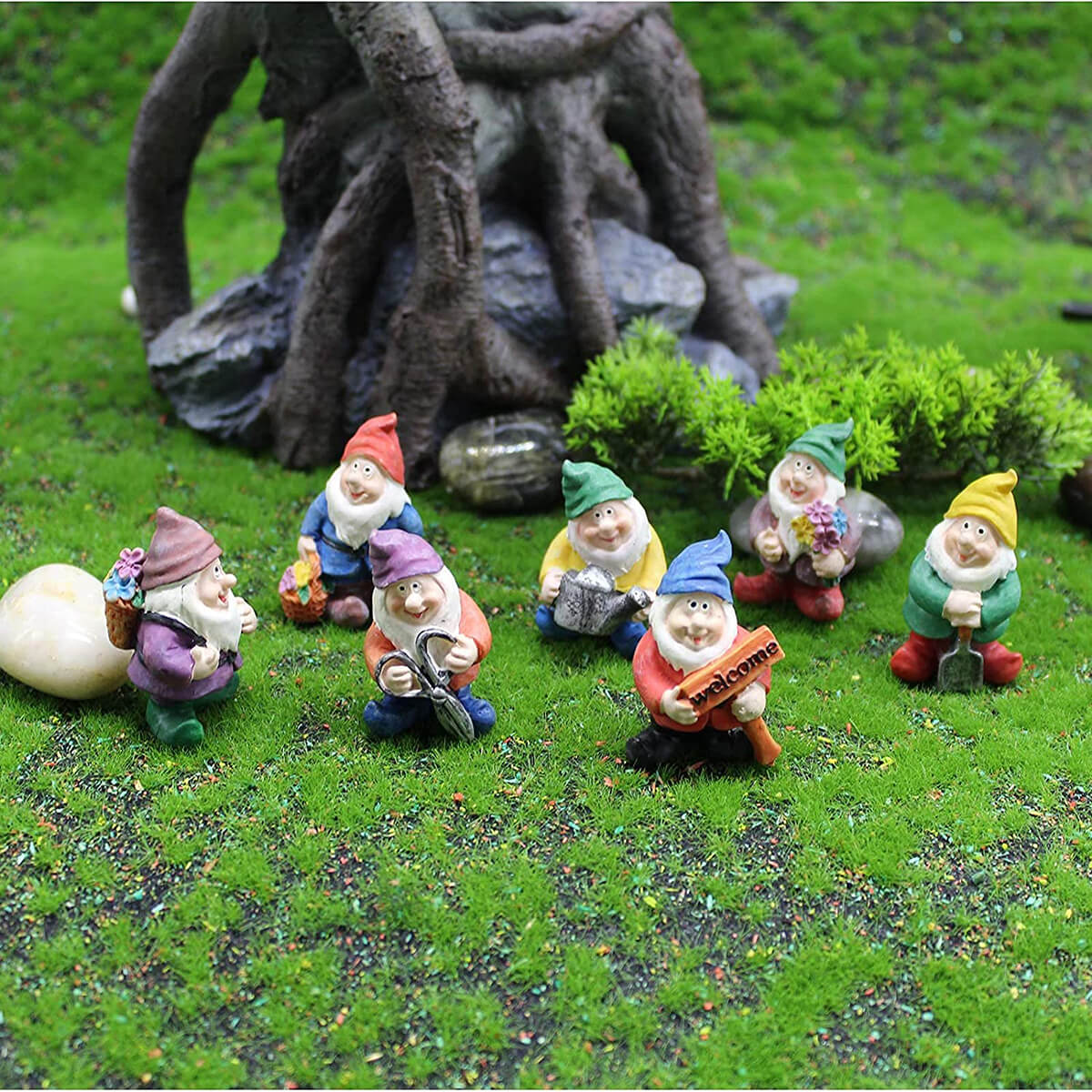 Create a special garden for your favorite child with this set of seven small dwarves. These charming characters can be used for decoration and play, making them a fantastic addition to your kid's outdoor space. Play is one of a child's greatest forms of learning and including it in the great outdoors makes it even better! Spend a day gathering sticks, rocks, and moss that can be used for building a cozy home for these seven friends to share. Find a cozy corner in your backyard and dedicate it as your little one's special place. His or her very own secret garden might just spark enough curiosity to bring out that inner green thumb one day!
8. Grumpy Gnome Bernie Garden Stake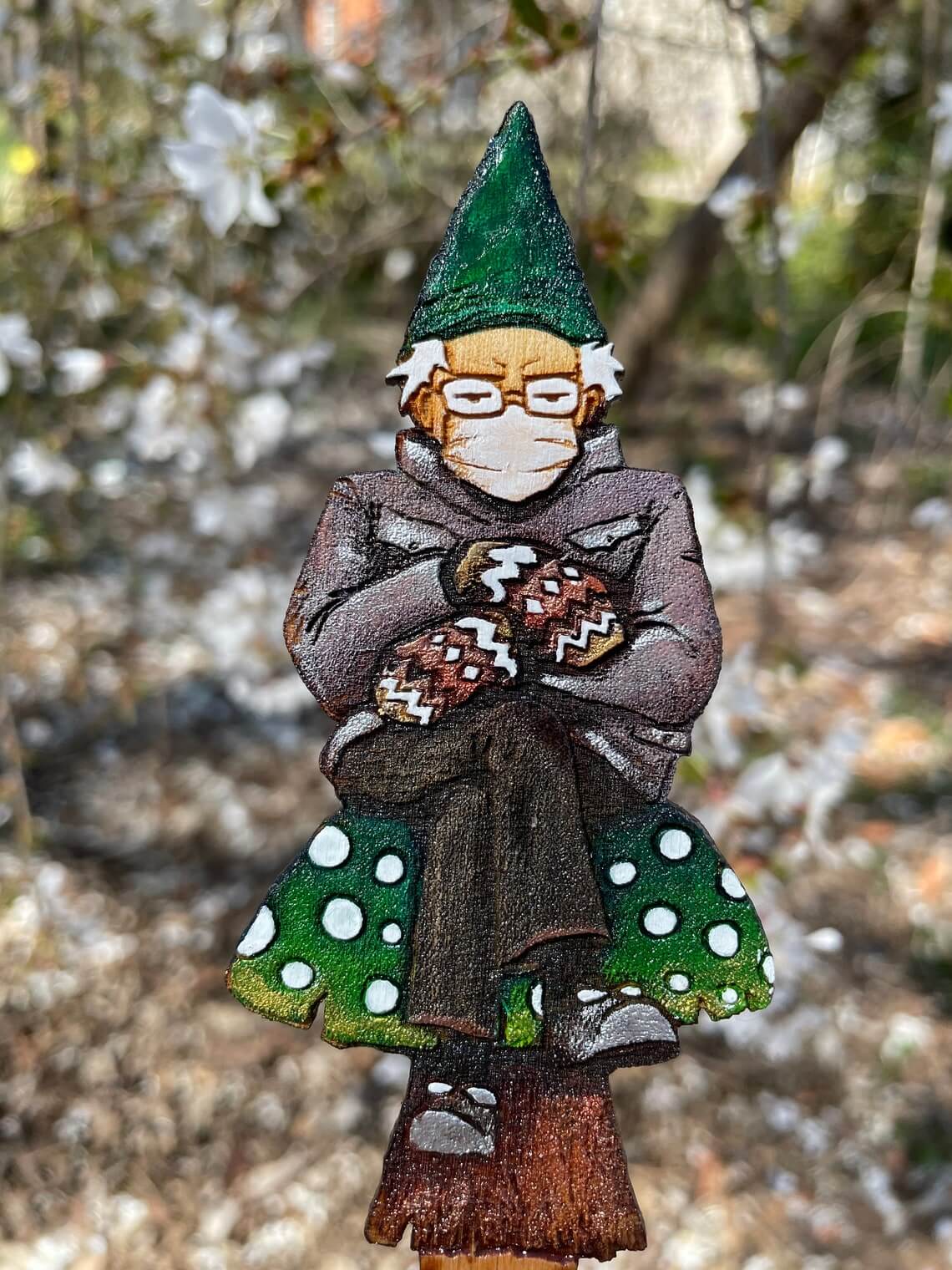 How much fun are these grumpy Bernie garden gnome stakes? They are the perfect addition to your potted plant garden adding lots of fun and humor. You never know where grumpy Bernie might be spotted next, so enjoy the fun with this pop culture icon at home. Formatted as a plant stake, this grumpy Bernie is easy to move around making a fun game of guessing, "Where's Bernie?" It also makes a wonderful gift idea for a friend who enjoys comedy and/or plants alike. Feature this garden gnome grumpy Bernie stake in the next house plant you give as a gift for a little added fun surprise!
9. Concrete Garden Gnome with Bird Statue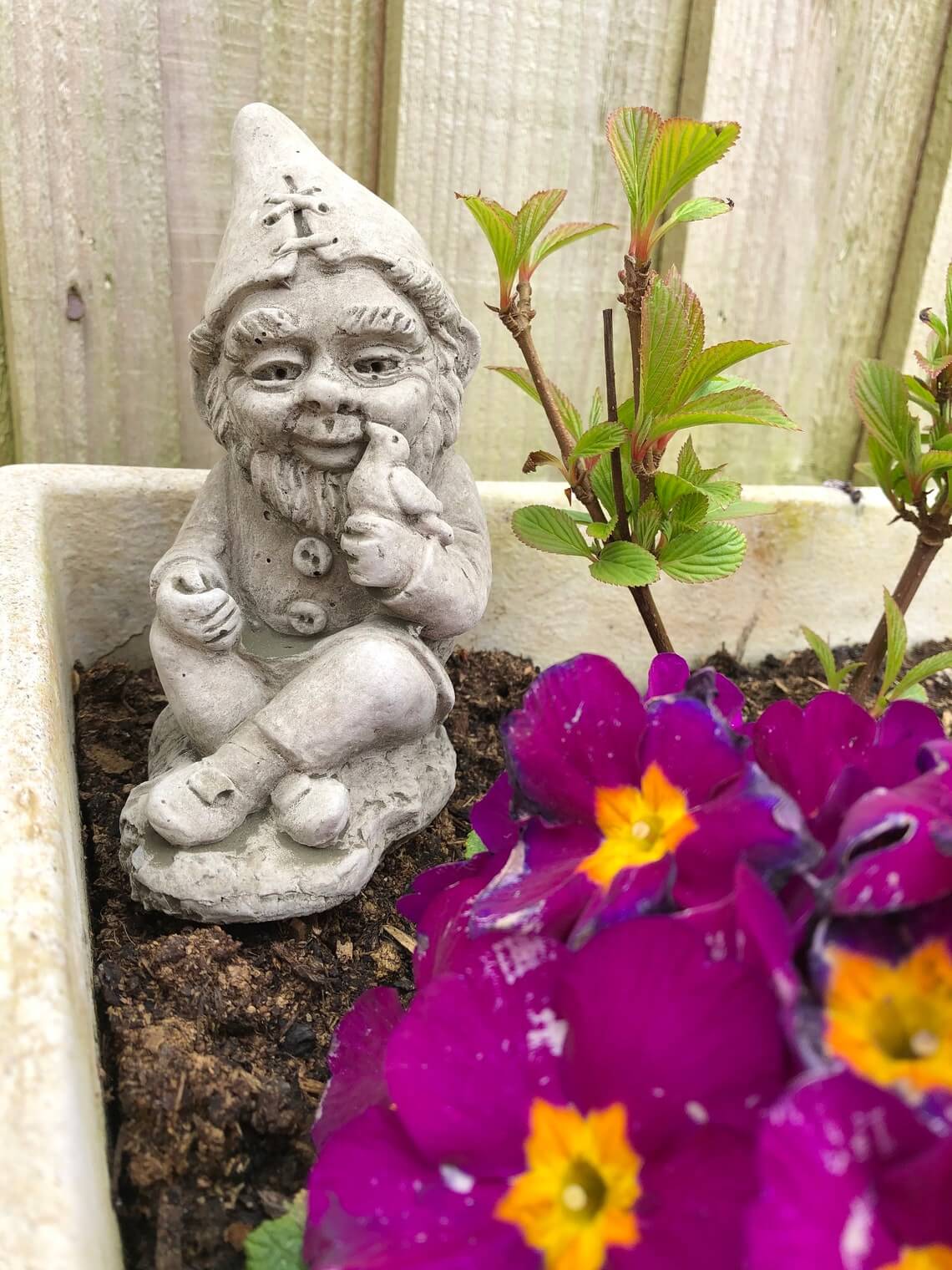 Give this little garden gnome a place to call home in your garden this year. Complete with his feathered friend, this concrete statue adds just the right amount of whimsy to your outdoor gardening space. Rest it right in the mix of the mulch or nestle it within a large flowering plant. Gnomes and fairies create a surreal fantasy world that's ideal for a personal and original secret garden space. Maybe these two are trading secrets or keeping tabs on an inside joke. Whatever the case, together they make a great statue for adding to your outdoor gardening space.
10. Snow White Dwarf Garden Gnome on Swing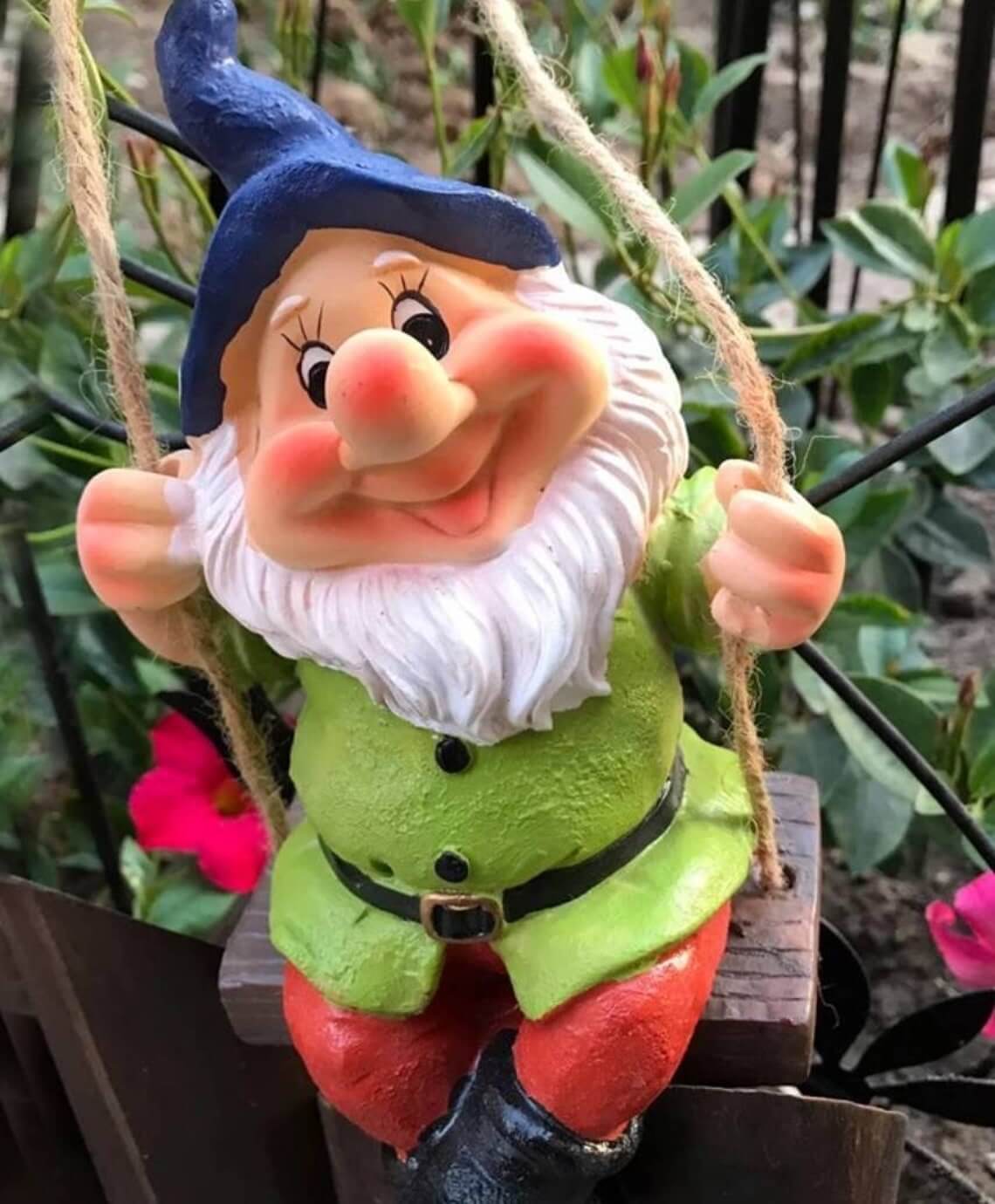 Here's a cheery, little dwarf who will make a swinging addition to your backyard garden space. Showing off his wide grin, this featured Snow White dwarf includes some nostalgia for your outdoor gnome garden idea decorating. There's no need to include the entire gang, this sweet single character provides plenty of personality on his own. Resting on a swing, he adds some backyard childhood memories for your pleasure. Show him off by displaying him on a step or railing to keep him in view. He would be the ideal overseer for a thoughtfully curated fairy garden too.
11. Gnome with Firefly Jar Solar Light Statue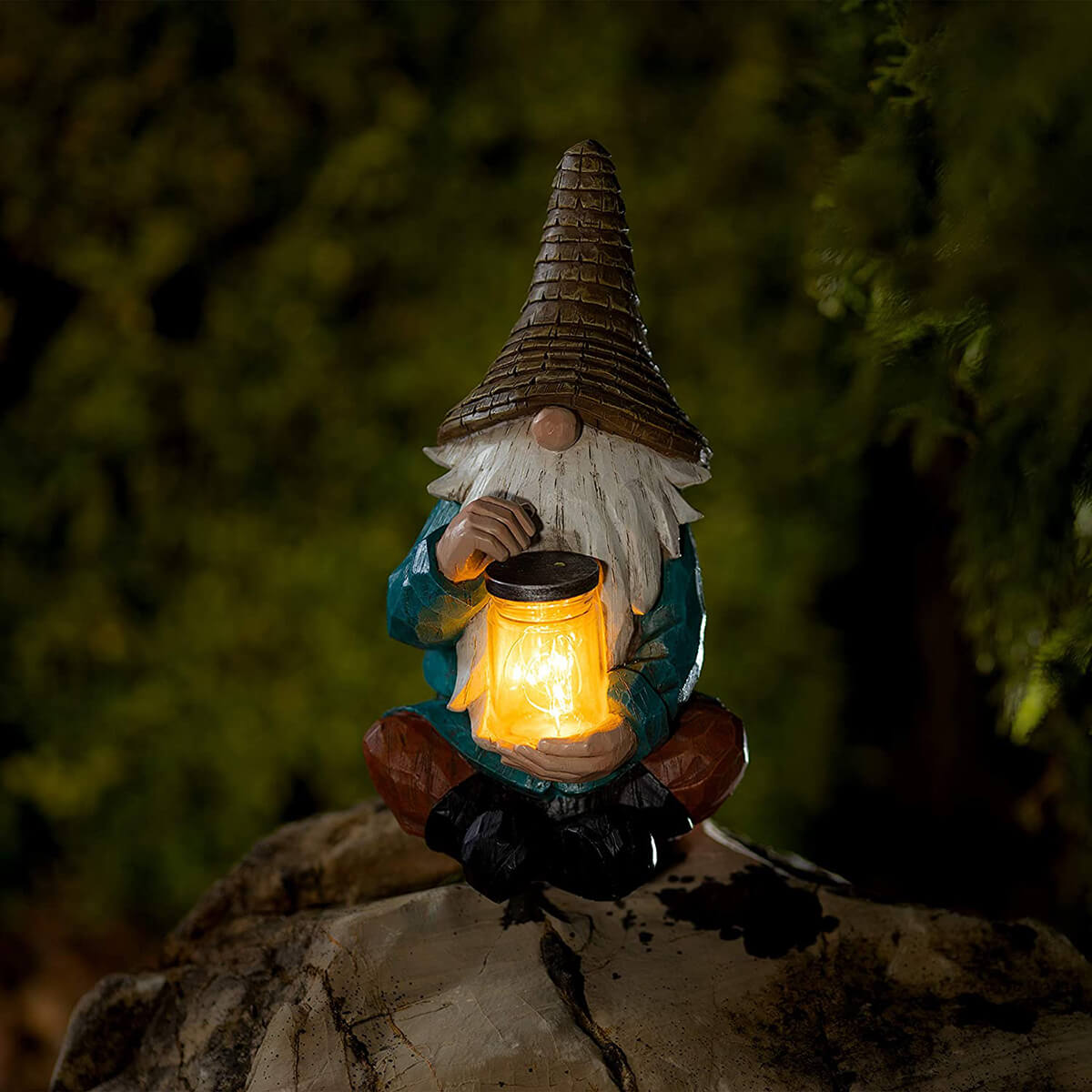 There's something special about summertime. From picnics during the day to catching fireflies at night, the warmer weather ignites something from within. Showcase some of this summer fun with this solar light statue featuring a garden gnome with his very own jar of fireflies. This would be the perfect focal point of your child's very own fairy garden. With this little gnome, you can add a garden decoration and a little light for after-dark fun in your backyard.
12. Fantasy Fairy Garden Gnome Outdoor Decoration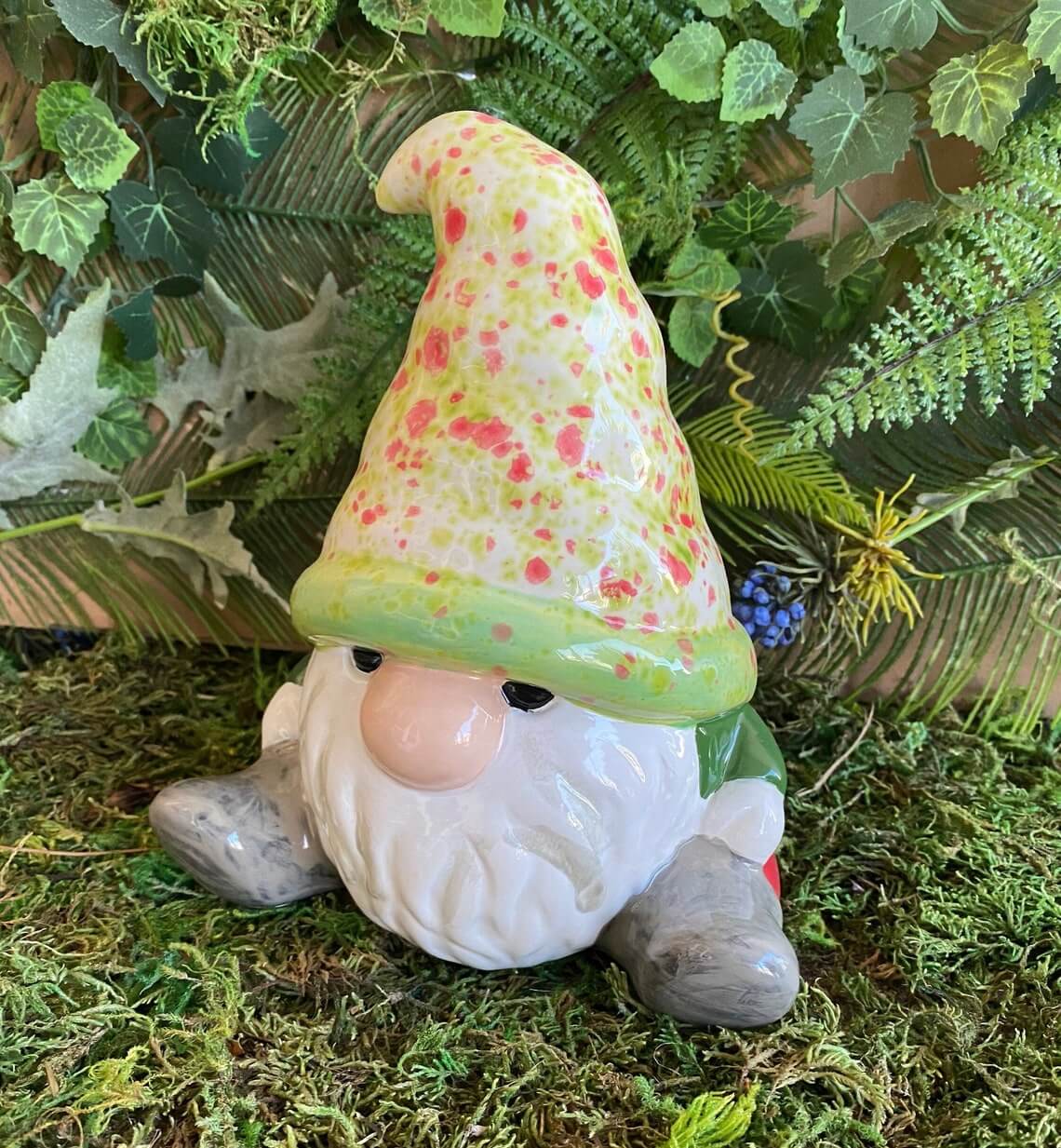 Let this fairy-loving gnome bring joy to your outdoor decorating space. He's just the right size for perching in your favorite spot. And it's darling how his cone hat matches the printed patch on his bum! With this gnome in your outdoor garden, you'll add some fun and whimsy. This stout little fellow will love resting in your favorite flower garden spot or he can be just as cozy overlooking a kid-crafted fairy garden. No matter how you choose to use this friendly garden gnome, he's sure to find a special place in your heart.
13. Flowered Hat Welcome Sign Gnome Statue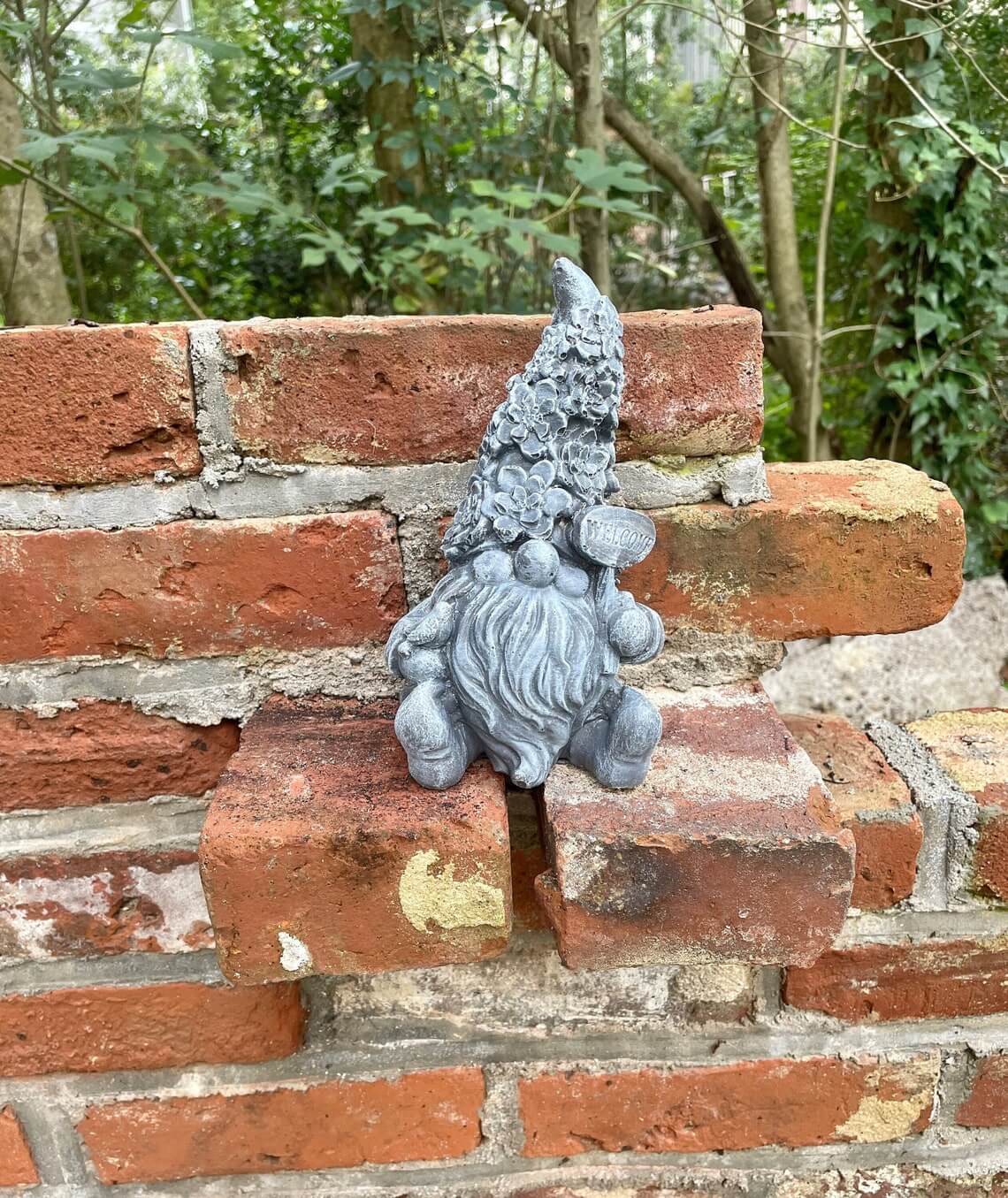 Firmly grasping his welcome sign, this friendly gnome is ready to be added to your garden gnome collection. His conical hat is adorned with flowers adding extra beauty and texture to his overall design. As he quietly rests in your personal garden, he's ready to greet each guest with his welcome sign in hand. Your back patio or front porch will take delight in adding his presence. A statue like this further makes a friendly greeting for meeting a new neighbor as well.
14. Rustic Painted Fairy Garden Gnomes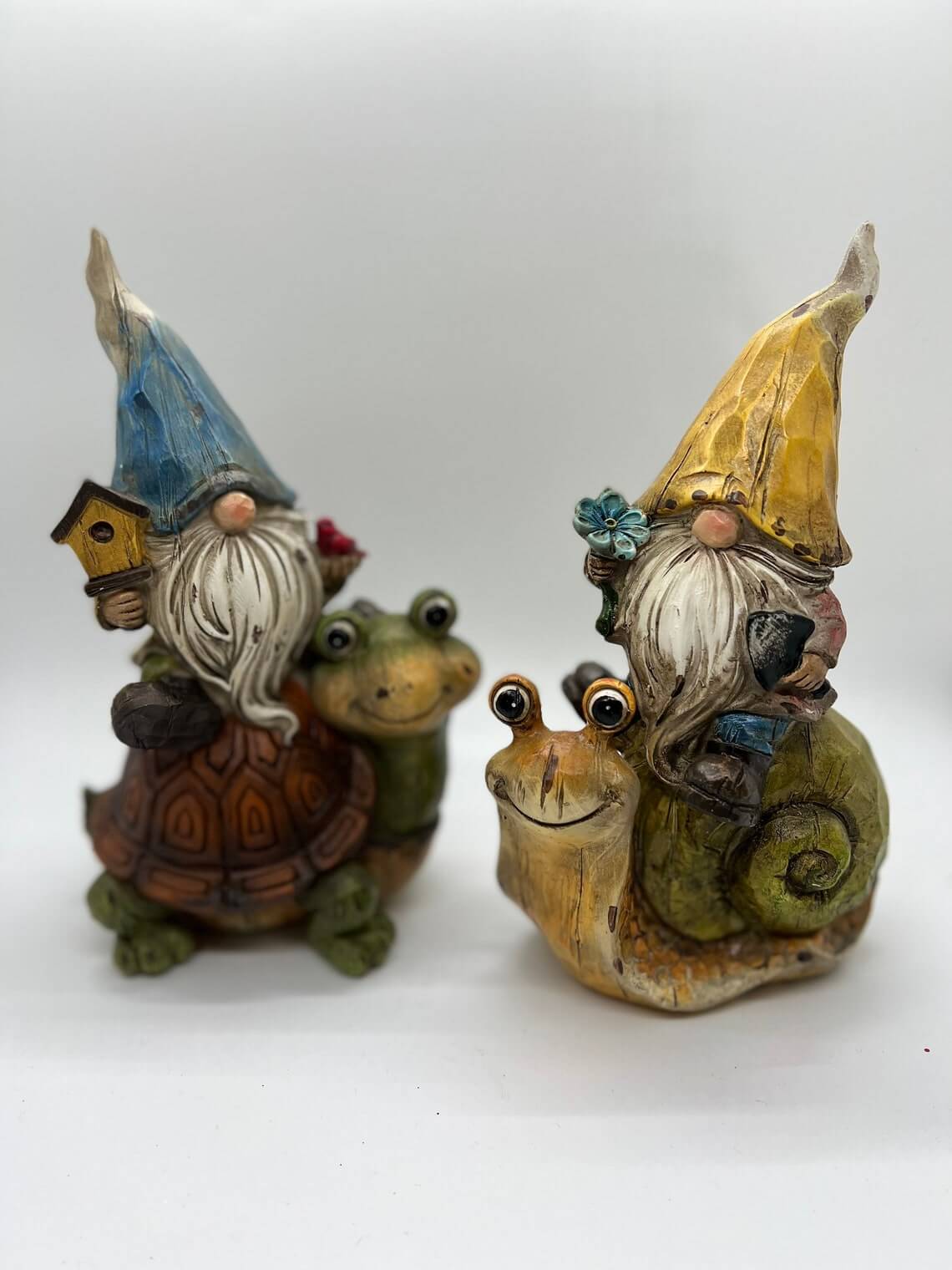 This fun and frivolous fairy garden gnome set finds its way into your outdoor garden as they ride in style on earth-loving creatures. Seated above a slow-paced snail or on top of a careful turtle, your garden will enjoy incorporating these gnomes into their design. Add them to a large potted plant for a small fairy garden-styled decoration. They bring a pop of color as they hold some of their favorite garden tools, eager to get to work! Their charming character will work its way into your heart as you include them in the outdoor gardening space of your laid-back summer dreams.
15. Loves Grows Here Garden Gnome Stone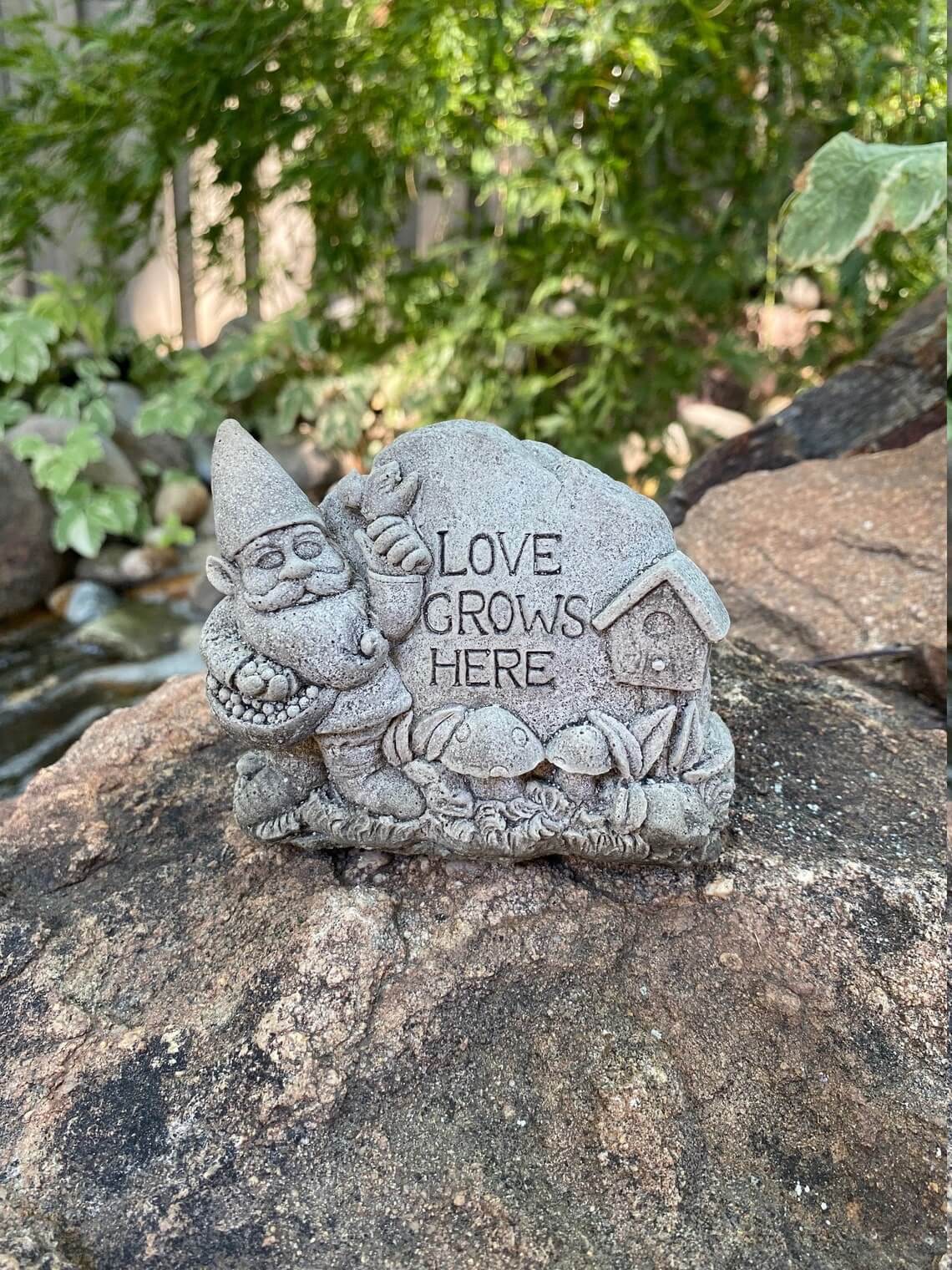 From stepping stones to decorative rocks, every garden needs a few to call its own. Here's a way to add some popular garden gnome love along with a rock feature at the same time. This garden stone displays a welcoming message while adorned with a stout and friendly garden gnome mascot. Complete with a row of mushrooms at the bottom and a birdhouse on the side, what's not to love about this fantasy fairy world creation?
16. Garden Gnome Couple Growing Old Together Statue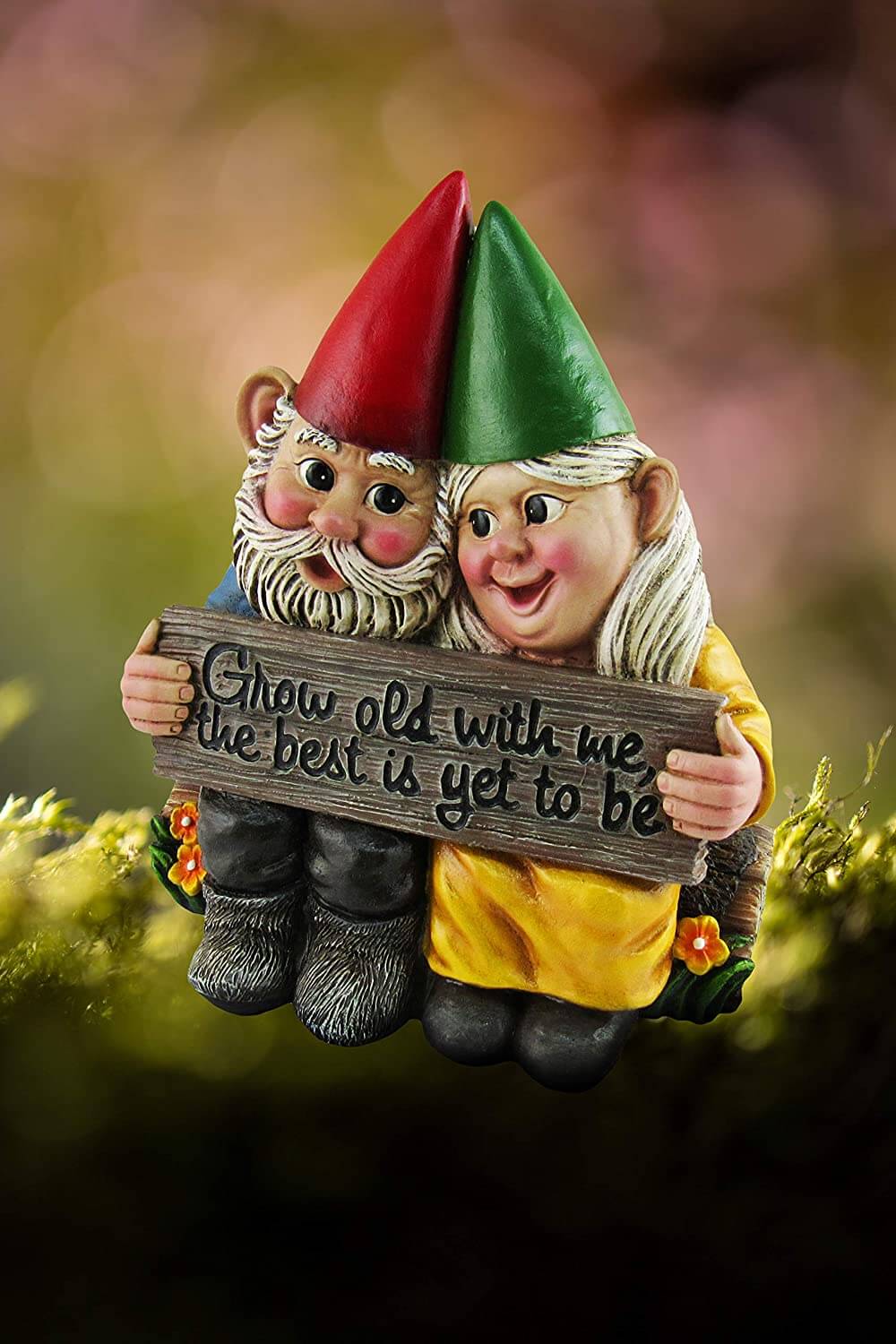 Sitting together on a log, this cute gnome couple exudes love as they grow old together. Some say it's not the destination, but the journey that matters, and the growing love between this gnome couple represents just that. Give this as a gift for a special couple's anniversary to celebrate their lasting love. It would be a wonderful way to show your appreciation for grandparents who have shown the proper way a relationship works. This seated couple statue would look cute on the front porch or placed under a tree. With a bench nearby, it makes a lovely place for love to grow.
17. Textured Garden Gnome with Shovel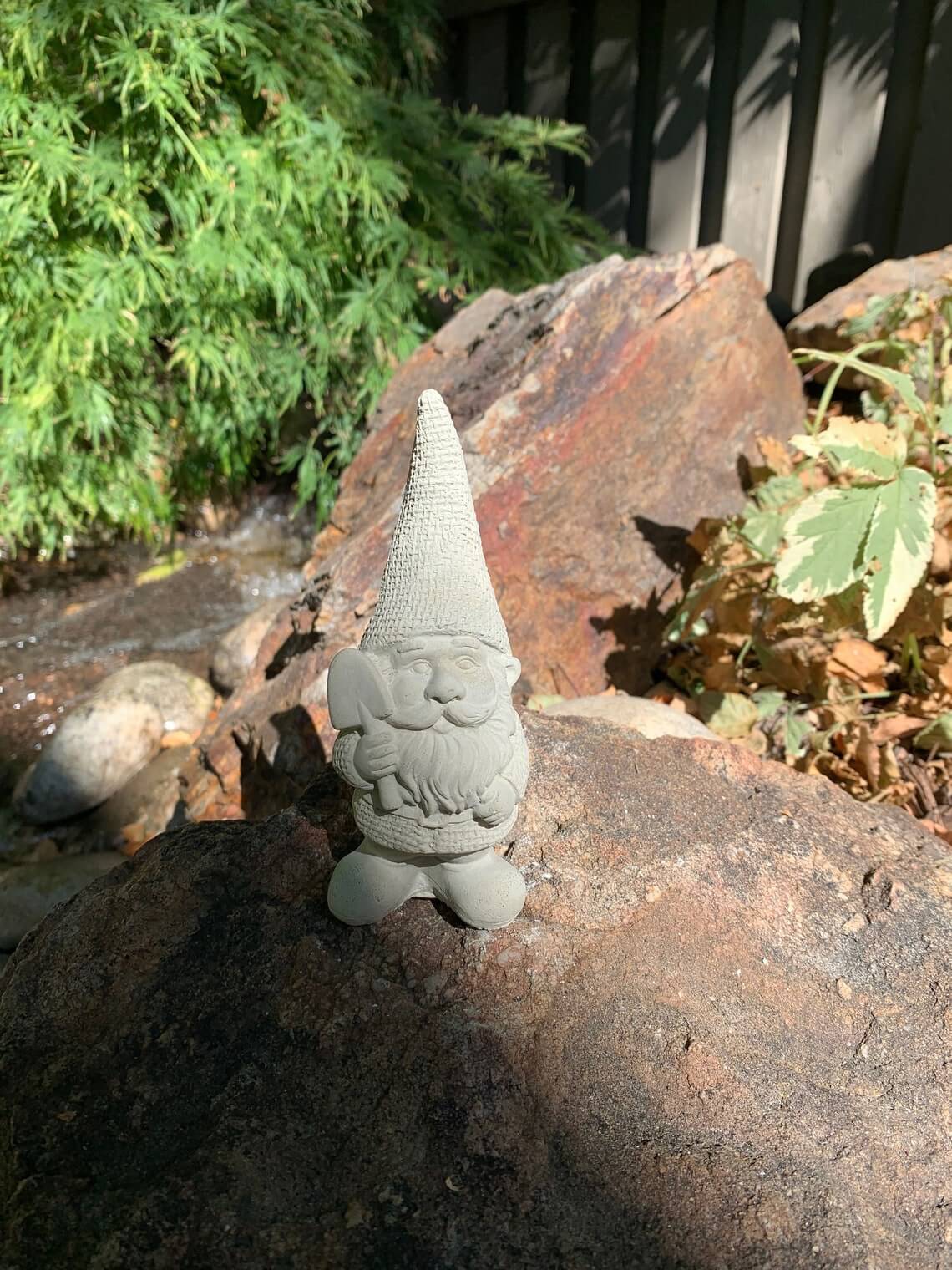 This darling garden gnome comes with his shovel in hand, ready to tackle any gardening task you have. His coordinating hat and tunic are created with an interesting textural element making this decorative garden creation a welcomed work of art. Place this handy helper on top of the counter of your gardening center to add some decorative fun as you prepare for your season of sowing. He makes a welcomed addition to your lush garden flower bed as well.
18. Peaceful Meditating Garden Gnome Statue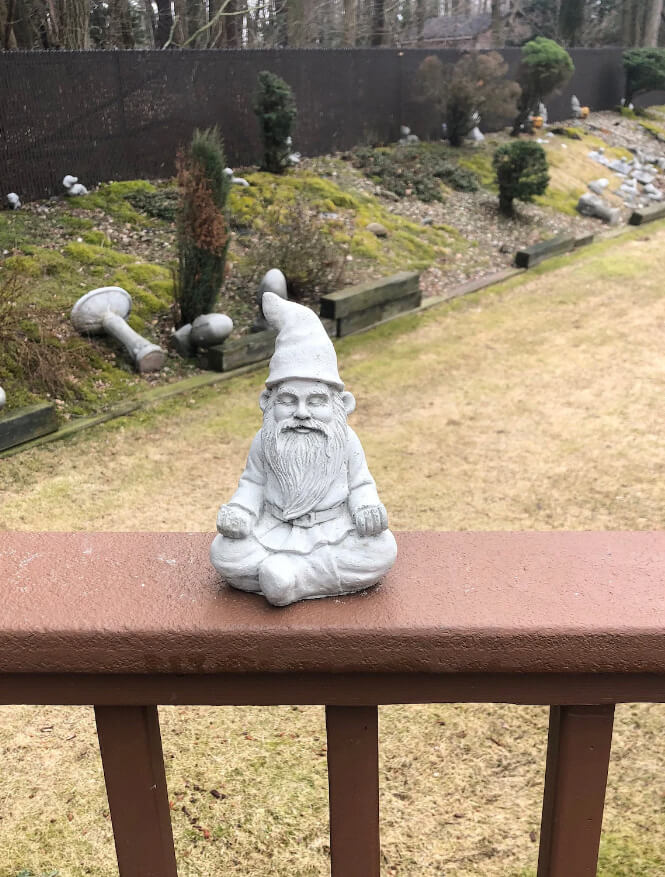 Your personal and peaceful meditation garden doesn't need to be boring and stiff. Give it some life and a little humor by adding an adorable meditating garden gnome that represents the level of zen you wish to achieve. Seated in a practical position on the floor, this zen garden gnome is the epitome of meditation and relaxation. You can almost hear the "oohmm" emerging from his small and stout body. He's an outdoor gnome garden idea that extends your personality into your outdoor space without saying a word. Grab your mat and enjoy some soothing meditation with this garden buddy gnome statue.
19. Trio of Metal Garden Gnome Stake Decorations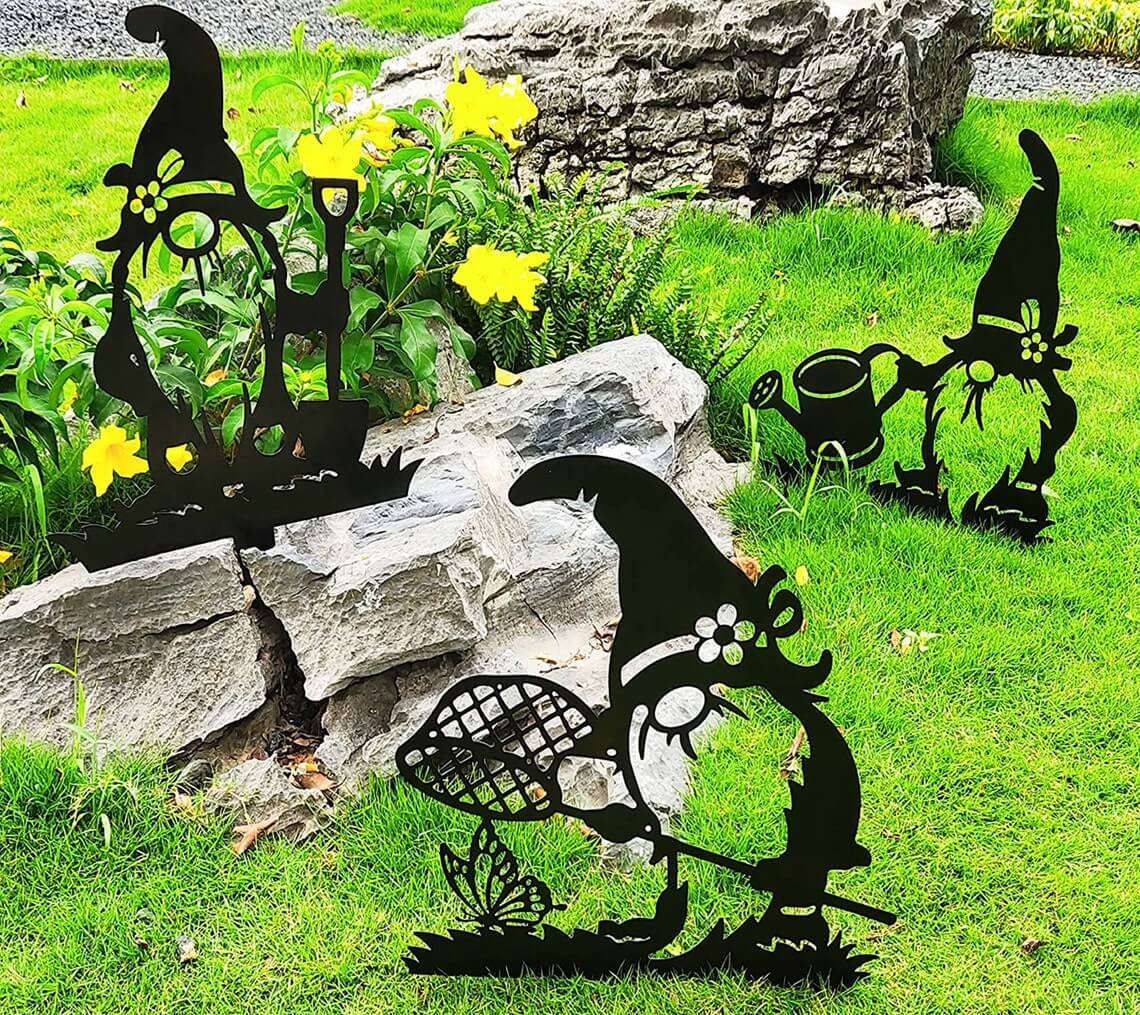 This handy set of three garden gnome outlines is perfect for adding to your outdoor space. Featuring a metal outline of these treasured fantasy friends makes a great outdoor gnome garden idea. You'll be delighted with the shadows cast by this set of charming gnome friends. From using garden tools like watering cans and shovels to nets that catch butterflies, your lively garden gnome decorations will add so much fun to your special outdoor garden space. Arrange them together for a collection of gnome friends enjoying a sunny day or spread them out across your lawn for a larger display.
20. Outdoor Garden Knight with Sword & Shield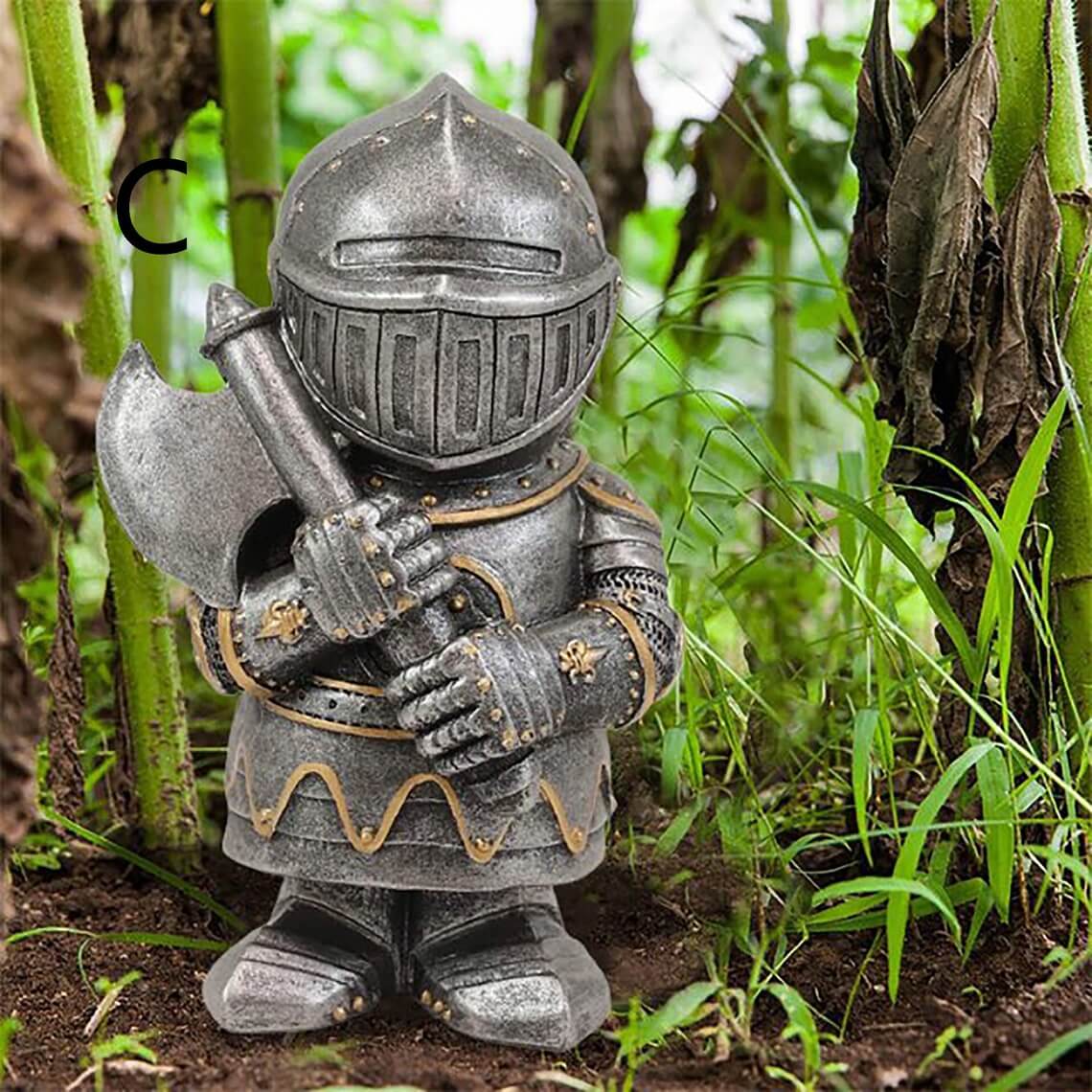 Crafted in resin, this outdoor gnome shows up in full armor to protect your castle. Complete with shield and sword, this garden gnome knight is ready for battle. He provides a nice change-of-pace from whimsical fairy gnomes and gives your garden space the element of metal for added textural appeal. Arrange a line of these gnome soldiers across the flower bed in your yard for a cute garden display. They provide a medieval look for existing gardening spaces. You'll never find a cuter and more fun version of a knight that's perfectly suited for your outdoor garden.
21. Humorous Drunk Passed Out Garden Gnome Decoration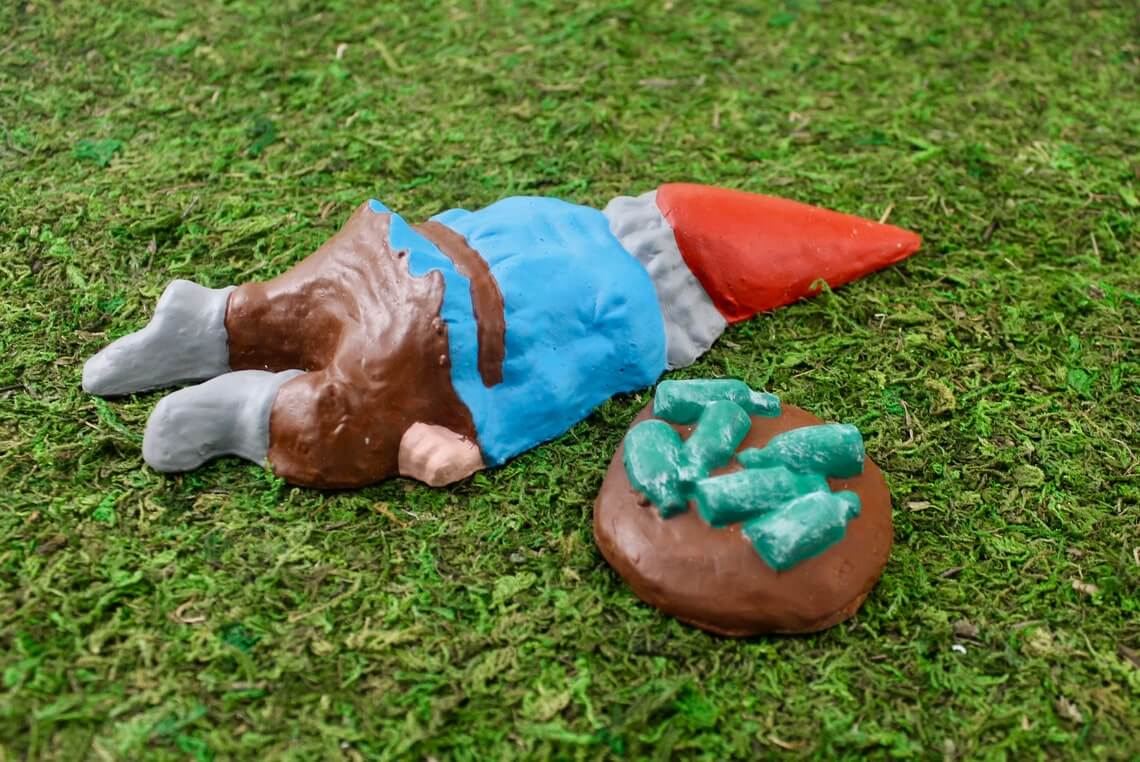 Looks like this garden gnome had a little more fun than he could handle. After a drunken escapade, this garden dweller hit the ground as he lost consciousness. He is face-planted in this position and has a few empty beer bottles nearby. This is a quirky and unique version of gnomes for garden decorating. This would look cool next to your driveway or near your front door seemingly depicting this lad nearly making it home before collapsing into his stupored bliss.
22. Ornery Garden Gnome-Loving Cat Garden Decor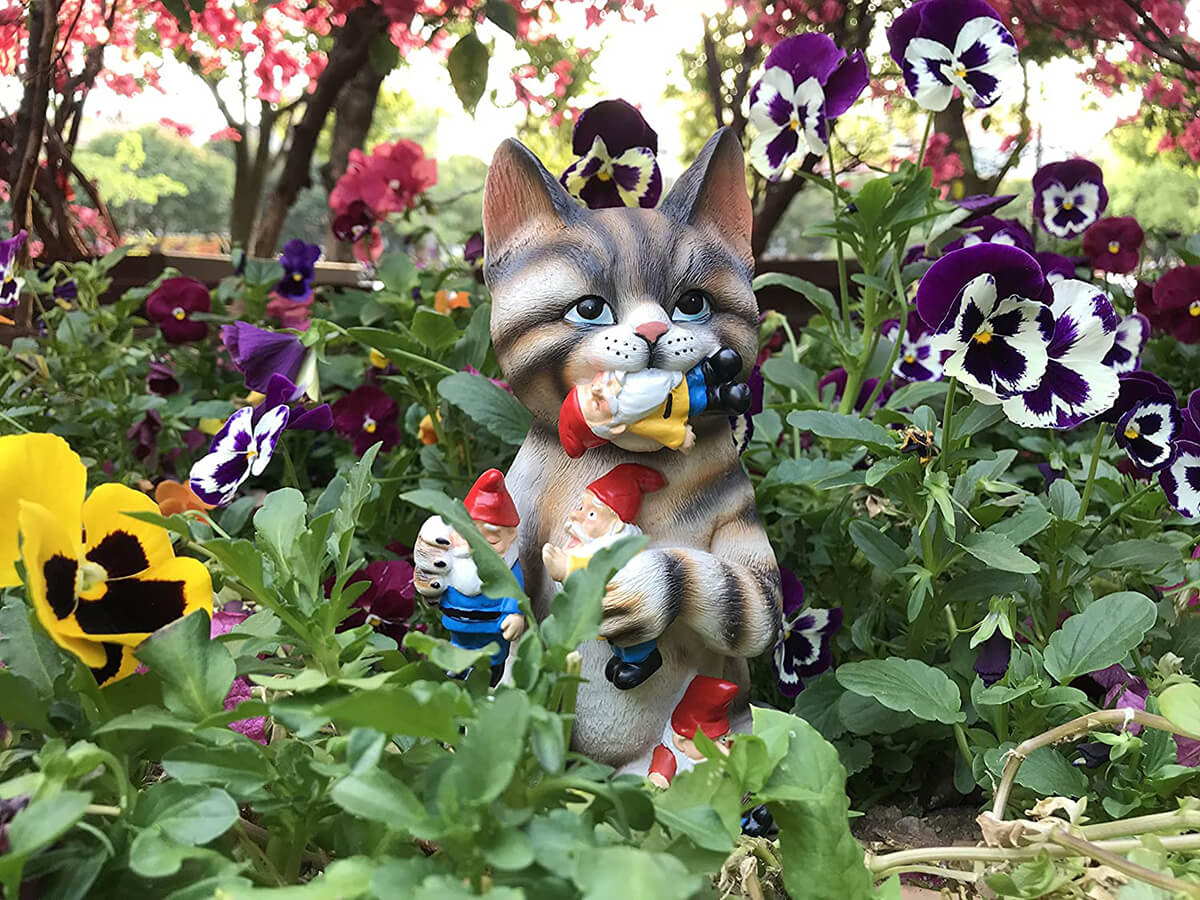 Showing off his mischievous side, this garden cat statue captures his rotten outdoor adventures with a gnome between his teeth. This is a fun addition to your garden that's well off the beaten path. No more boring and bland statues: this cat and gnome creation is plentiful in the area of fun! While walking around your cultivated flowers and plants, friends will enjoy the unexpected sighting of this gnome-munching feline statue. Lurking in the foliage, he's perfectly positioned to pounce. Enjoy a non-traditional statue with lots of personality by adding this feisty feline to your garden.
23. Fairy Garden Imp Concrete Statue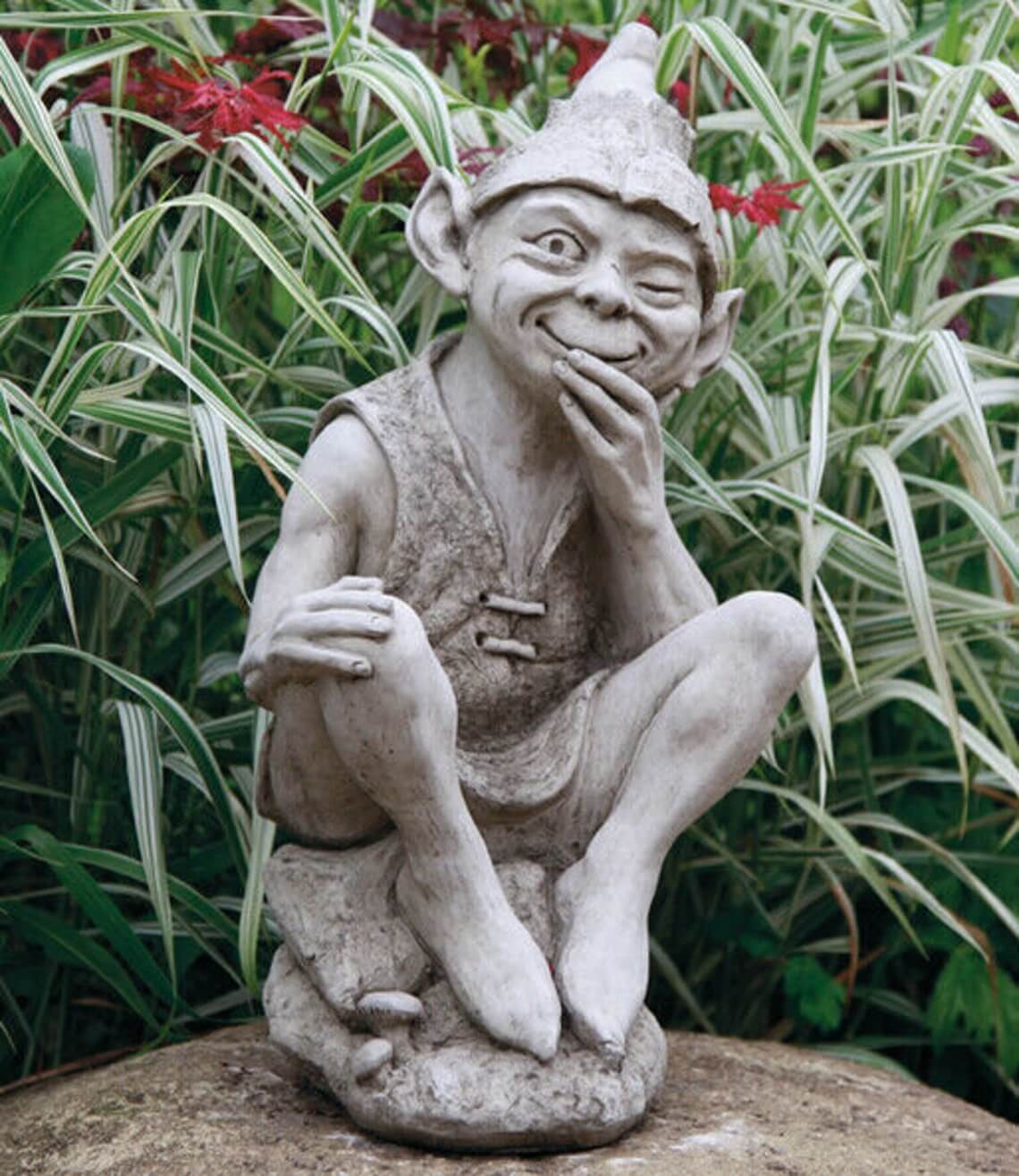 When you find yourself searching for a unique garden statue for your outdoor space and traditional gnomes aren't your thing, consider adding an imp into your display. He's a bit longer and lankier than your short and stout standard gnome; yet, he adds just as much fun and fantasy to your outdoor world. Create a one-of-a-kind private garden space in which you can escape at the end of a long day. Be sure to bring some fantasy friends along to fill the space with character and love.
23 Best Outdoor Garden Gnome Ideas to Enchant Your Garden
So, maybe you have spent most of your life cultivating a dream garden in your backyard or perhaps you dabble in a plant or seasonal decoration for your porch. Whatever the case may be, these adorable gnomes for garden spaces will bring a little extra enjoyment into your life. Choose a naughty gnome caught with his pants down as he sneaks in a quick pee beside a tree in your backyard. Everyone in attendance at your next outdoor event will get a kick out of spotting such ornery gnomes throughout your garden. Solar light gnome statues serve double duty as they are cute statues during the day and illuminate a space at night. Whether holding a lantern or jar of fireflies, friendly and fun garden gnomes are always a good choice.
Liven up the bark on your tree with a decorative fantasy elf escape scene. As the window is opened, these fairyland creatures appear to emerge from within the special secret society in your tree. For a dear couple, give the gift of the pair of gnomes seated on a tree trunk as they embrace growing old together. What an amazing grandparent gift idea! Some fun political humor can be enjoyed with the grumpy Bernie gnome on a stake that easily sits in any plant. For nature lovers, consider a gnome that's embellished with moss. From his hat to his entire ensemble, you can bring some of the goodness of the forest into your woodland-themed gnome decoration.
Some of the best outdoor garden gnome ideas translate into the top ways to cozy up and decorate your backyard garden space. From statues to solar lights, these friendly and fun-loving creatures will bring you and your family smiles for years to come!