Every season needs to be reflected within the walls of your home and creating some of the best DIY garland decor ideas is the first step to achieving this goal. Most often we think of little orange pumpkins or tiny pink hearts to rest on our shelves and mantels to beckon the changing seasons; however, why not think past these little decorative pieces and more along the lines of simple and affordable garland.
27 Pretty DIY Garland Decor Ideas to Make Your Home Look Pretty on a Budget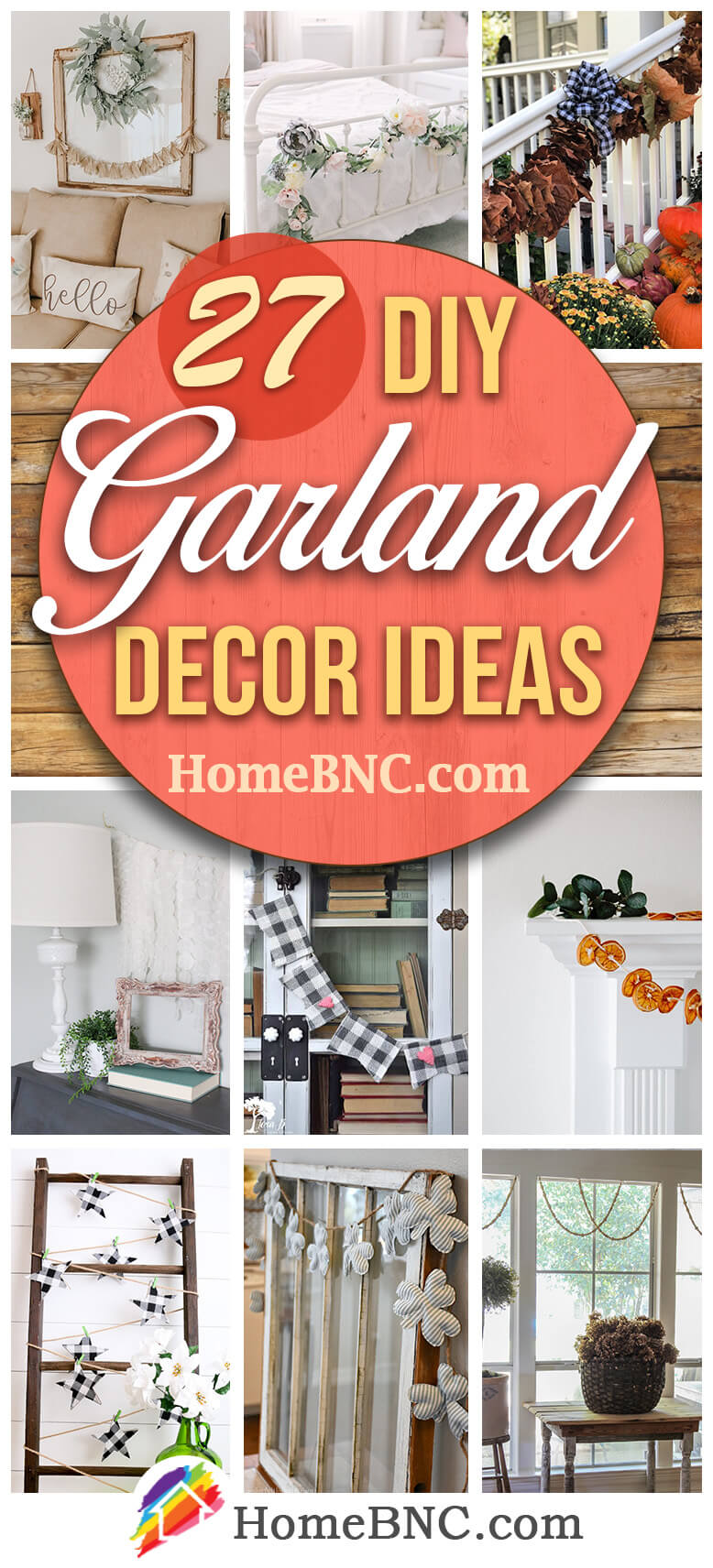 Scour your home and you're likely to find a plethora of garland-making supplies that would otherwise just be collecting dust. From empty spools of thread to leftover scraps of fabric, these pieces can be given another chance at life as they rock their new role as garland goddesses.
Your craft closet is certain to have leftover paint that is sure to work for any season on the calendar. And out in the recycling bin, you'll find more cardboard pieces than you'll care to count. Don't throw these out just yet. Cut some into strips and you'll be surprised by all of the endless possibilities they possess.
Hanging these home decoration goodies is only half the fun because they are some of the most enjoyable and budget-friendly DIY projects you'll find. Not only are they comprised of cheap supplies that you most likely already have lying around your home, but they also provide a wonderful activity for a night with the girls. Layout a smorgasbord of snacks along with some of your favorite adult or kid-friendly beverages and you are on your way to the girls' night everyone looks forward to.
You could even knock out multiple garlands not only to use for yourself and as gifts to friends, but to add a little extra income in these uncertain times. While you find yourself cooped up in the privacy and comfort of your own home, you can put that time to good use by revving up a little side business hustle.
Regardless of how you choose to use your garland, this comprehensive list of some of the best DIY garland projects needs to be on your summer reading list.
1. Shabby Chic Swag Fabric Garland Decor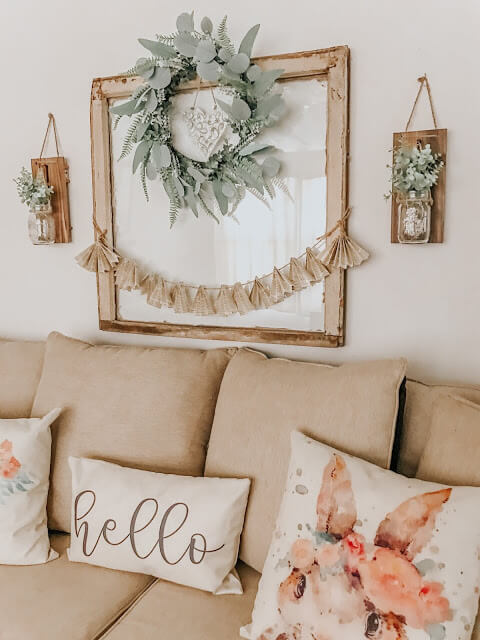 Up your design game by adding some simple DIY garland projects to your to-do list. A fabric garland like the one shown here is both easy to create and cultivate some shabby chic charm into your home. Drape a fabric garland from a vintage window pane for an updated look that makes the perfect home decoration behind your sofa. The neutral fabric is a nice addition to this cozy space of mason jar vases and pretty accent pillows. Created in a fan form, this fabric garland boasts a terrific texture for this soft living space.
2. Green and Gray Bountiful Blooms DIY Garland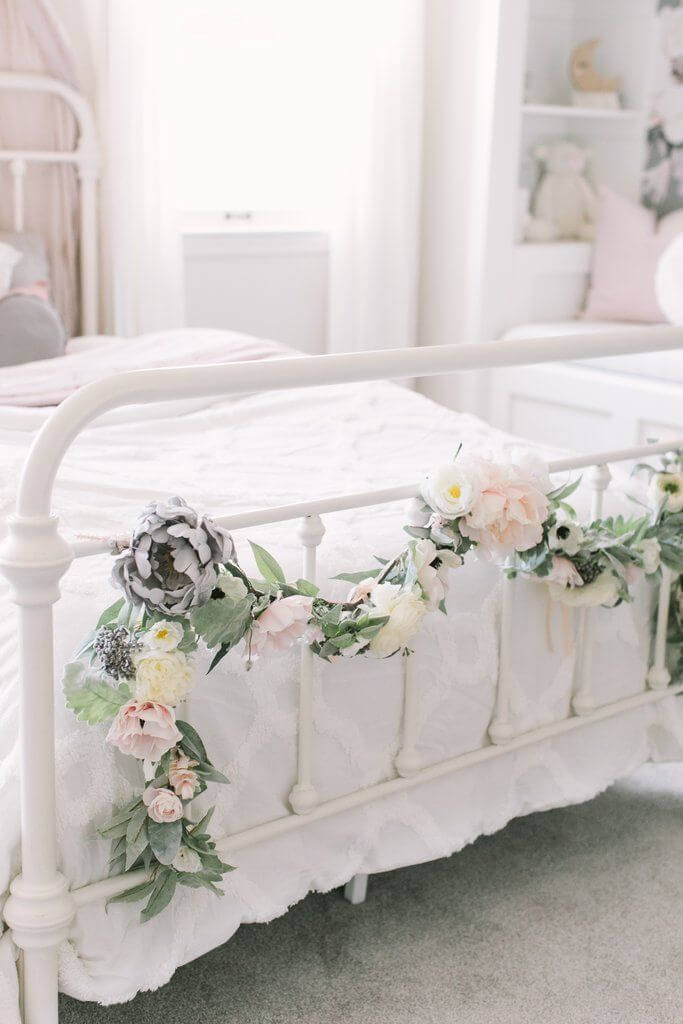 This bundle of bountiful blooms makes the most of these best DIY garland decor ideas. Hanging across the footboard of the bed, this lavish and lush flower garland incorporates a soft, delicate, and feminine touch to your chamber of sleep. Using the color combinations of gray, green, blush, along with whites and yellows provides effortless style and appeal. What a perfect update to your teen daughter's bedroom or a great accessory for the guest bedroom. These budding blossoms intermingle with the eucalyptus green leaves for added depth and dimension.
3. Light and Airy Cascading Circle Garland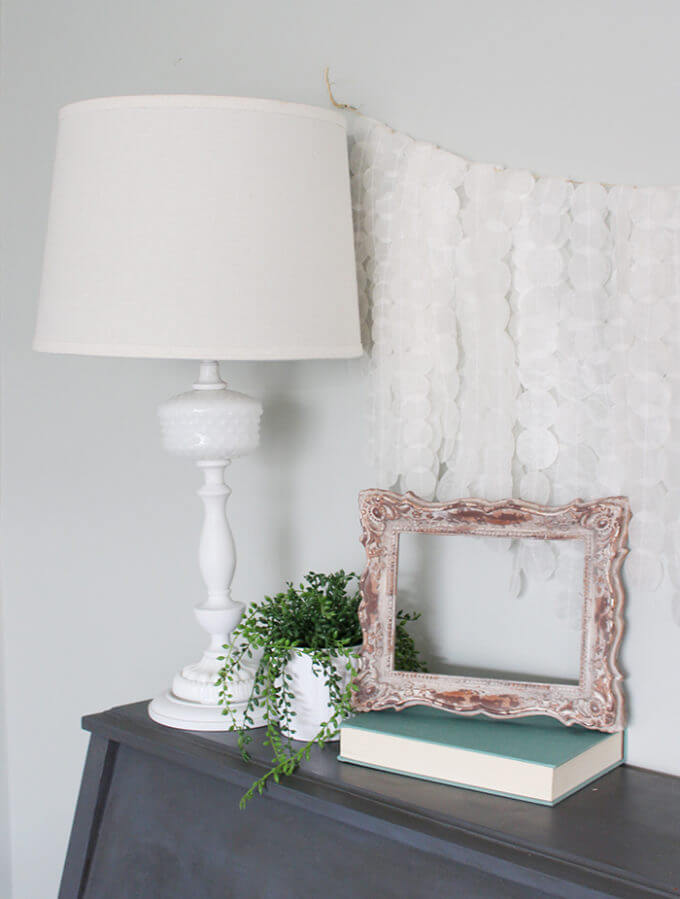 Life beckons some laid back serenity and your home is the perfect place to plant this light and airy circle garland that exudes the peace you need. Hanging on the wall beside your bed, this easy DIY garland idea gives a fresh and soft feeling to the room. It adds delicate detail to a side table display and softens up the wall. Using a circular pattern, the cascades incorporate some added appeal from the typically squared off home decor. Repurpose an old, unused intricately detailed frame by emptying the contents and propping it up as a charming decoration. The combination of old-world charm and shabby chic is ever-present in this arrangement of the garland, frame, book, plant, and white lamp.
4. Harvest Time Leaf Gathering DIY Outdoor Garland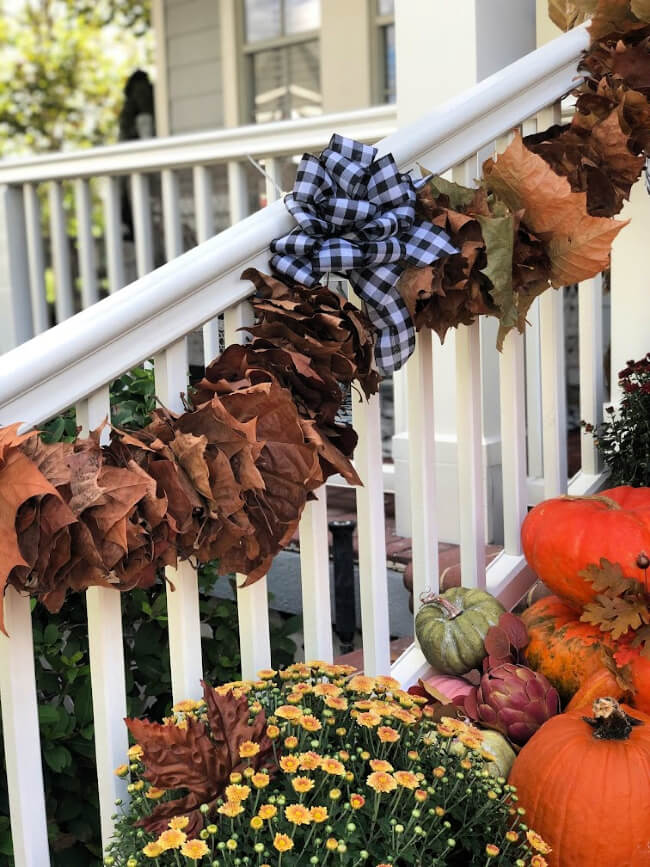 This may be the best idea yet in terms of ridding your yard of all those autumn leaves. Don't let all of that raking go to waste by simply bagging up your piles of leaves; instead, turn them into a gorgeous outdoor garland. Extra-large leaves like you find from a Sycamore tree make a grander scale strand, while varieties of Oak will offer some style in terms of shape and form. You can stick with the same species or mix it up depending on the desired look you wish to achieve. Either way, you are sure to design a beautiful DIY garland piece that makes your porch the perfect place to welcome the season of s'mores!
5. Star Studded Buffalo Check Superstar Garland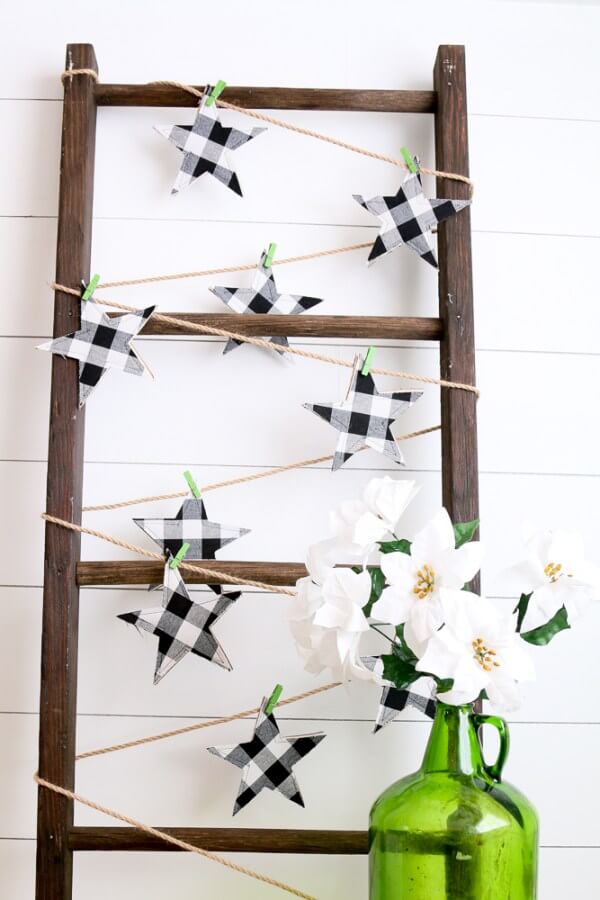 Twinkle, twinkle, little star- how I wonder how to make this cute and fun buffalo checked star garland. A simple string of twine is the ideal foundation for securing these cute stars as they are the ones stealing the show! Wrap them around a blanket ladder for a new twist on this wooden decoration, or let them drape down from the window in your black and white kitchen. The use of clothespins to attach them onto the twine lends a modern farmhouse vibe, while the black and white buffalo check works well in a more modern setting too.
6. Quaint and Smooth Wooden Spheres Tassel Garland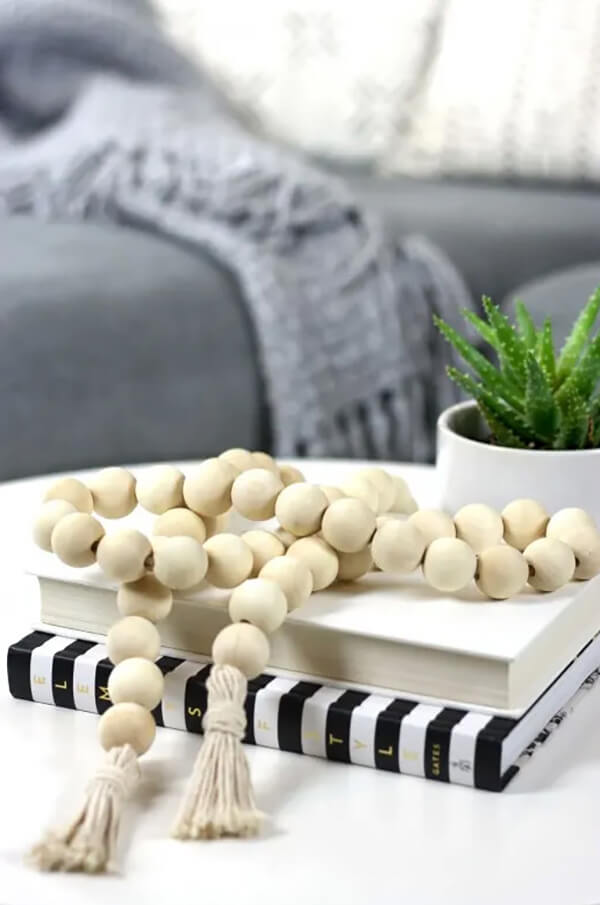 If you're looking for a unique spin on garland ideas for your home, you've found the right place. This truly one-of-a-kind garland features smooth, wooden spheres that are seated tightly side-by-side to create this unique strand. Careful attention to detail is further evidenced in the tassels placed at the ends of strands to give it a finished and fun look. You could throw this onto an existing home decoration display as shown or fill a quirky vase with a strand or two. Wrapping them around a Christmas tree during the holidays would be another great way to display them with some neutral or woodland themed decor.
7. Cute Black and White Chevron Garland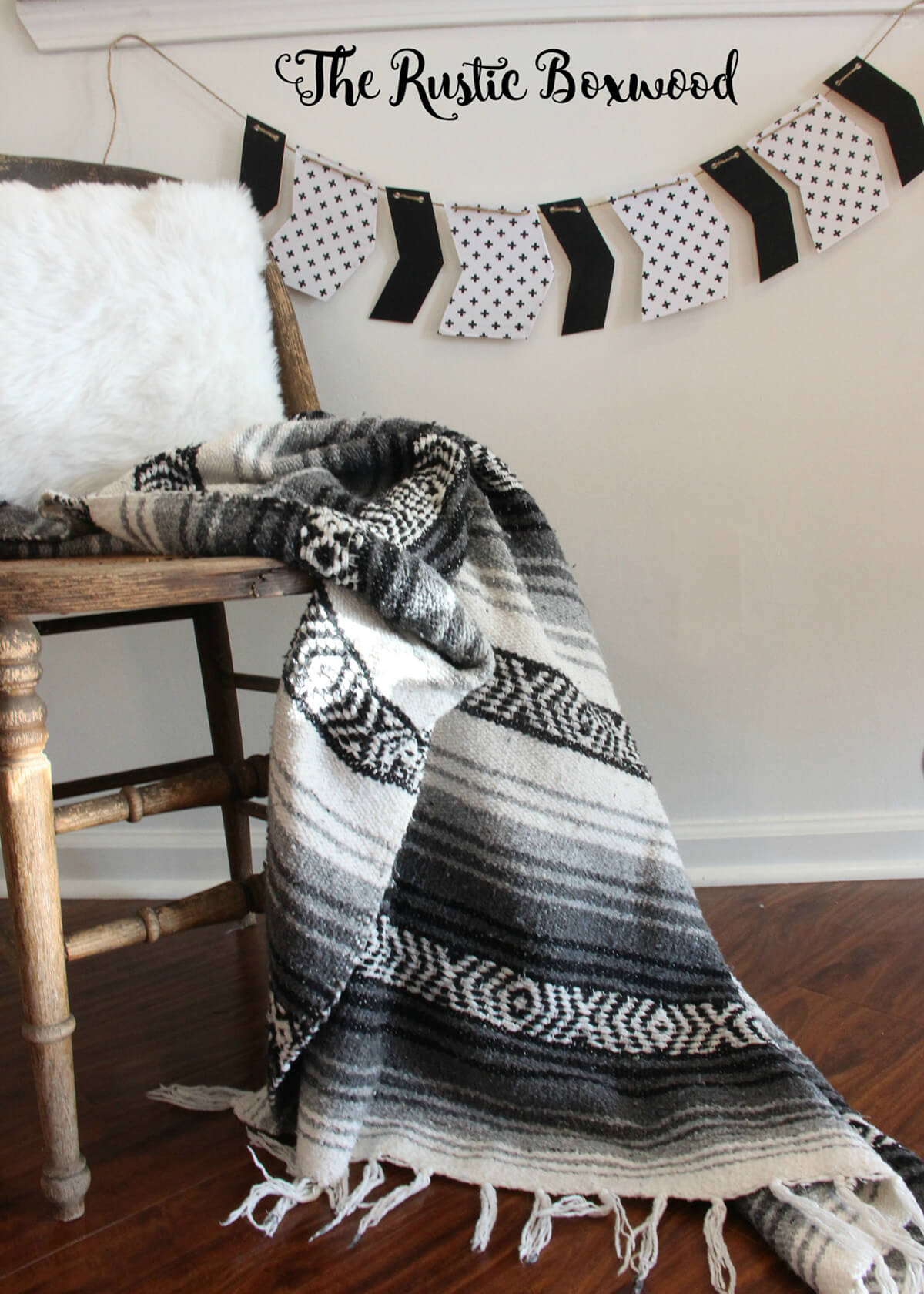 What I love most about this black and white chevron garland is the use of different sizes combined with solid and patterned pieces. This combination adds such visual interest to the already-decorated walls of your home. Spread a strip of this along the bottom of your windows or hang it on your mantle. The dynamic duo of colors adds just the right pop to your all-white space. It would be a great birthday party banner as well when planning a contemporary theme for one of your long time girlfriends too.
8. Love Me Some Crazy Plaid Garland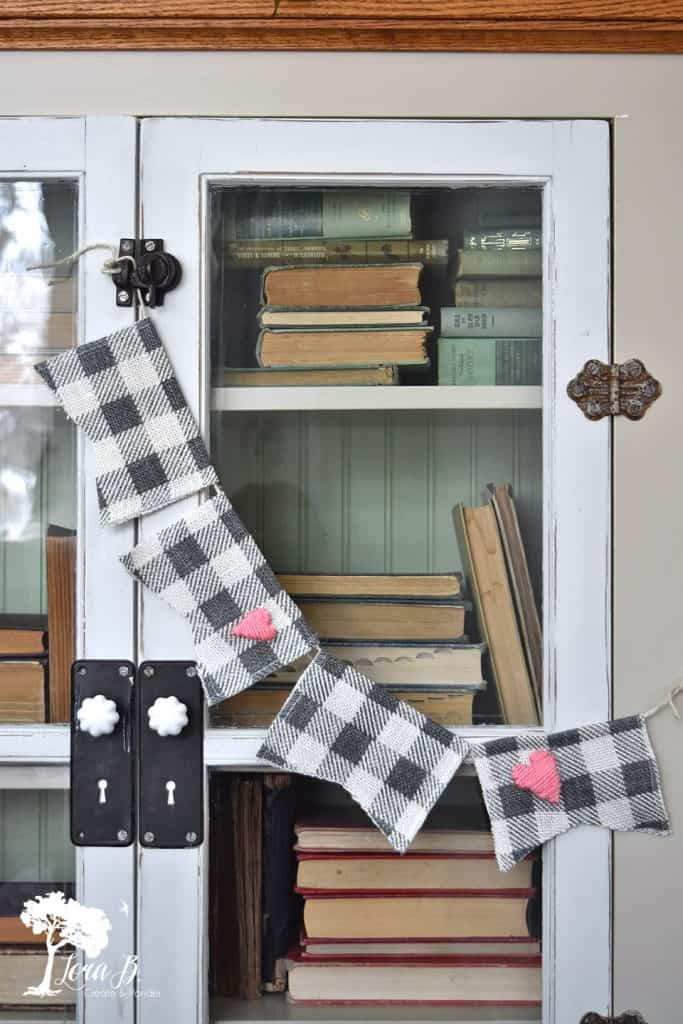 Constructed with black and white plaid, this cute banner garland really livens up your corner cabinet. The addition of the little heart shines some love on the scene and gives it an extra touch that would be a perfect home decoration for Valentine's Day. If you already have a neutral decor throughout your home, you can use this easy DIY garland practically anywhere. Going back to cupid's holiday, this would be a fun girls' night activity and who doesn't love another excuse to get together with all of your favorite gal pals?
9. Wooden Thimble and Spindle Swag Garland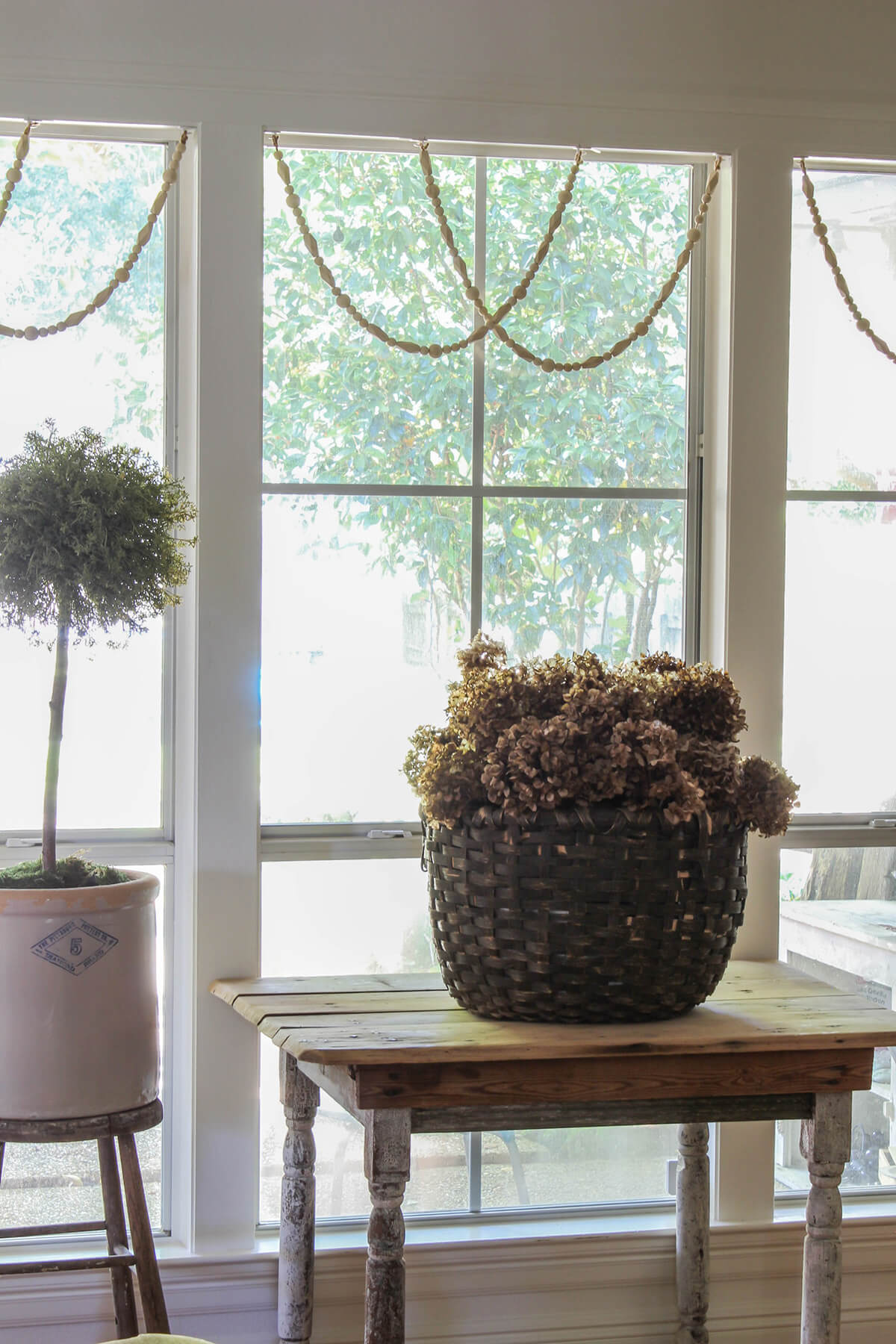 Forget traditional window furnishings and let your creativity soar with one of the best DIY garland ideas in the form of a window swag valance. The small and dainty strands are the perfect partners to give the look you want no matter how many windows you have. Using the plain, natural wooden look transitions into most any decor, but you could always paint the entire strand in a solid or alternating color pattern to create an even more unique style. You could drape this on your shower stall in your bathroom or even place it on your back door window. Layer this thimble and spindle swag garland with a floral or tassel garland strand to create a dramatic effect.
10. Luscious Leaf and Flowered Woodland Garland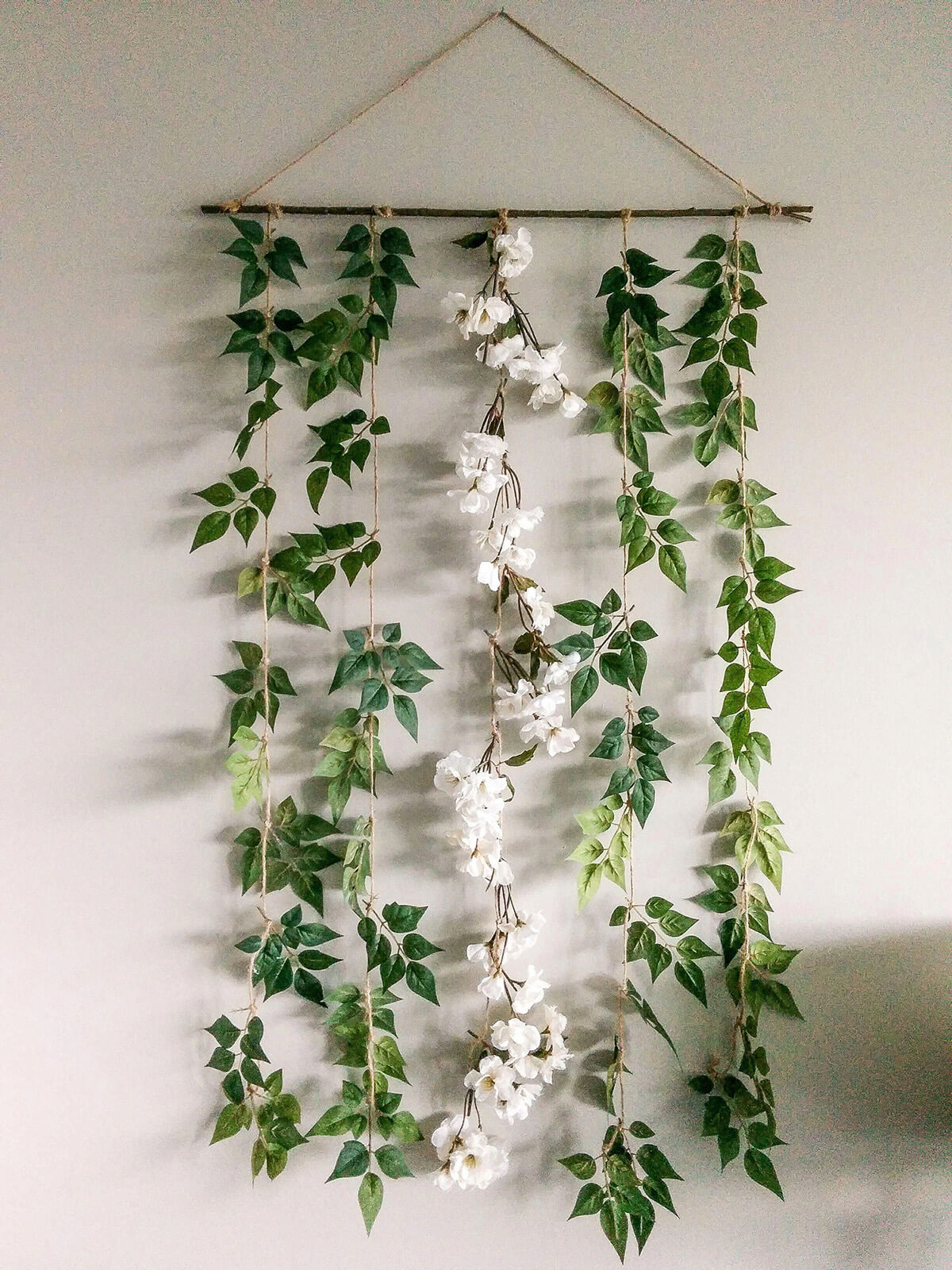 Be one with the great outdoors as you channel your inner woodland spirit into your home with this luscious leaf and floral woodland garland. Take the family on a nature hike and gather all of your supplies to create this pretty piece. Kids of all ages, as well as adults, will delight in searching for these natural beauties. And most of all, they'll all love digging into a fun, craft activity after a picnic lunch. Make the most of your park adventure with this scavenger hunt that becomes the foundation of one of your best DIY garland decor ideas.
11. Orange You Glad to Have This Garland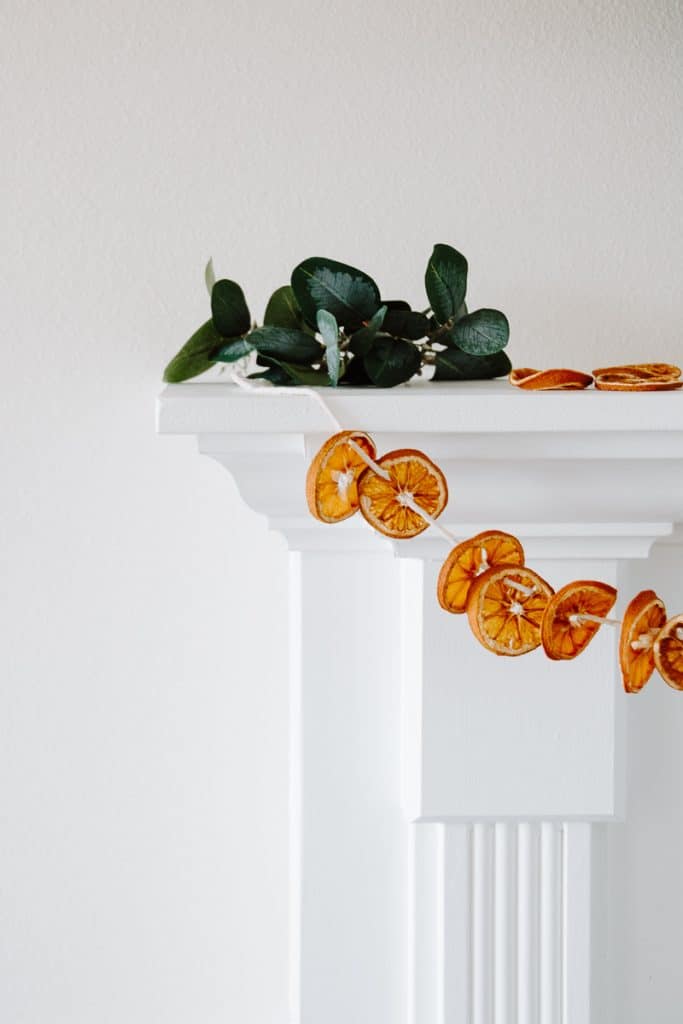 Oranges pack more than just a healthy dose of vitamin C. Slice this citrus fruit and hang it out to dry as you create some garland ideas for your home that look good and smell even better. This orange garland would be gorgeous in your kitchen where all the other fruit call home. Sprinkle some cinnamon or your favorite scent on these fruity slices as they dry so you can have a lovelier aroma to spread throughout your home.
12. Striped and Stuffed Shamrock Garland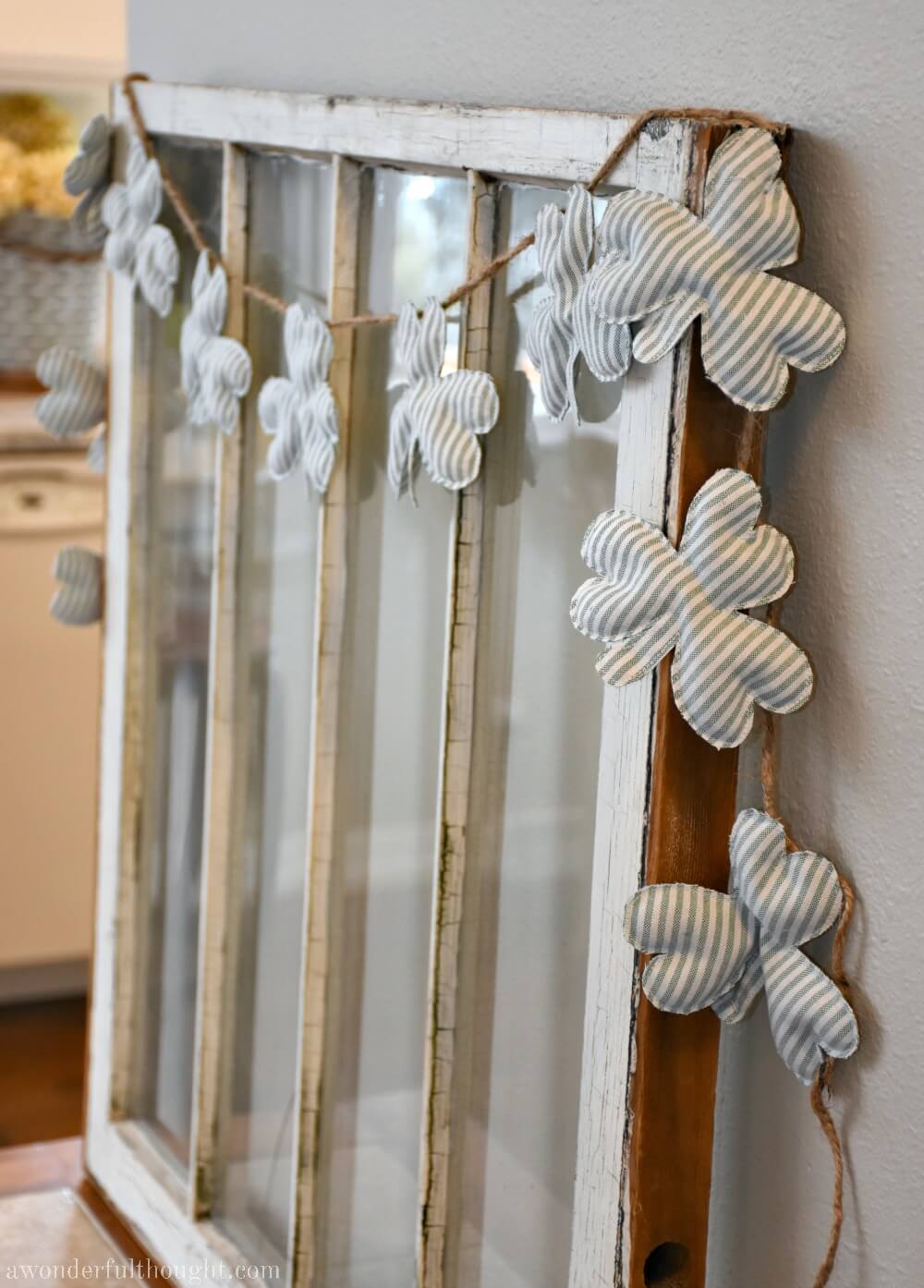 Perfect for a St. Patrick's Day celebration or for the family with Irish roots, this stuffed and striped shamrock garland is a fun twist on your traditional garland designs. This would be a fabulous way to spend some time with your son or daughter as you teach them the essential skill of sewing- specifically, hand sewing. Everyone needs to know how to sew at least a button, so this is a fun way of turning this essential skill into an enjoyable activity.
13. Pretty in Pink Tasseled Girly Garland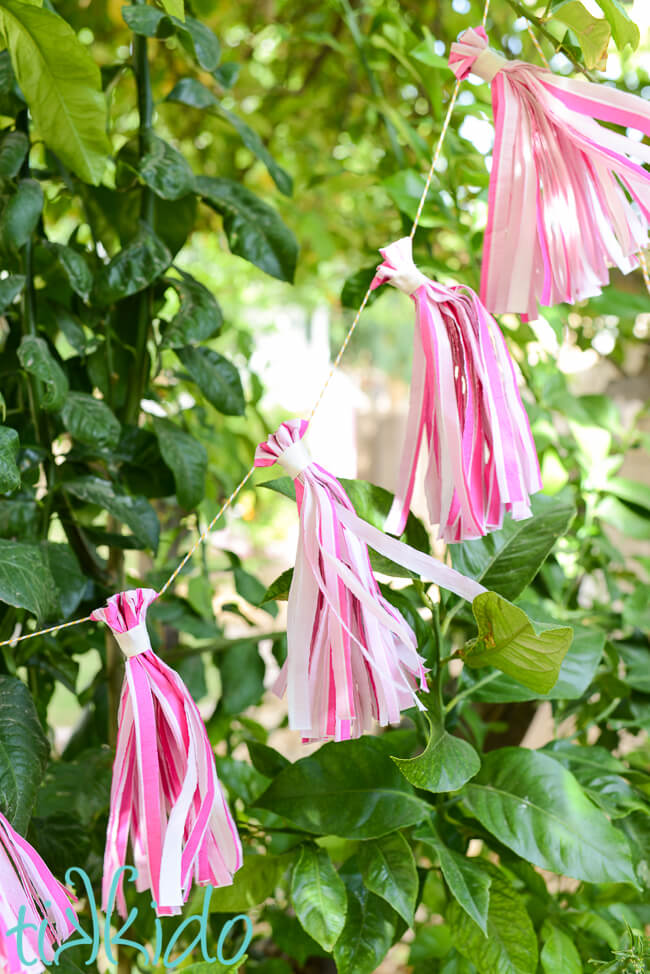 Make that bridal shower, baby shower, or birthday party even more special with a dose of homemade girly garland. You can use strips of paper, ribbon, or fabric to create the exact look your heart desires. One of the best parts is that this handmade creation can be re-used in the lady of honor's personal space. Infuse some extra love in this lucky lady's special day by decorating her party with one of the best DIY garland projects imagined.
14. Colorful Pom Pom Balls Rolling Garland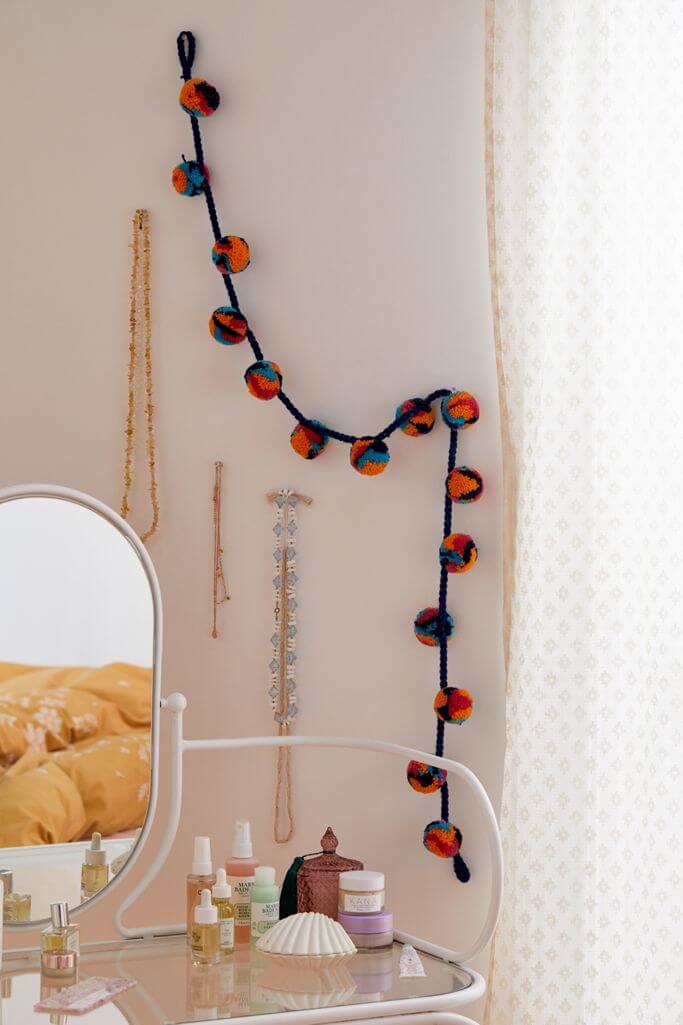 Bring some bold color into your room with this red, orange, blue, and black circular pom-pom garland. The pom-pom balls seem to roll down the wall in a smooth style. Place this crafty garland in your son's bedroom or along the walls of your kid's playroom. It would also work well if you have a lot of color in your living space where it could blend in.
15. Rockin' and Rollin' Rock Neutral Garland Idea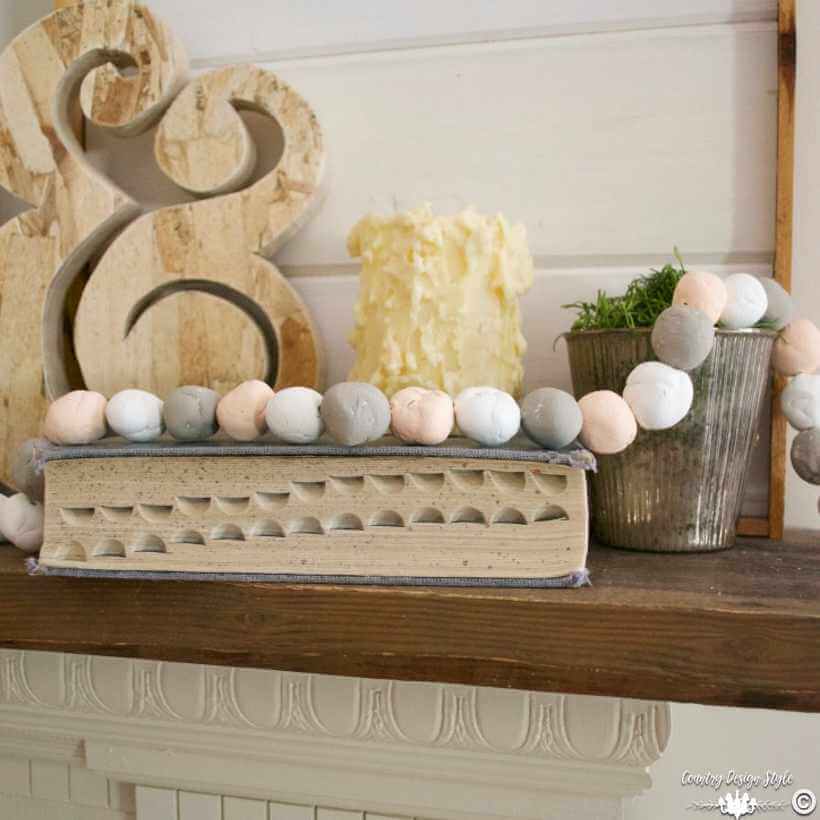 Capitalizing on the spectrum of favorite hues in the family of neutrals, this rock garland goes from gray to beige without skipping a beat. The pattern of the alternating three neutral hues provides the final touch in tying the piece together as the rocks' rugged nature lends to some variations in texture and size. Slick, smooth, and rugged all at once, this rock garland works in both a family home and bachelor pad space. Its earthy edge makes it a power player in home design as it adds the little extra texture your side table arrangement needs.
16. Purple, Pink, and Plenty of Yarn Garland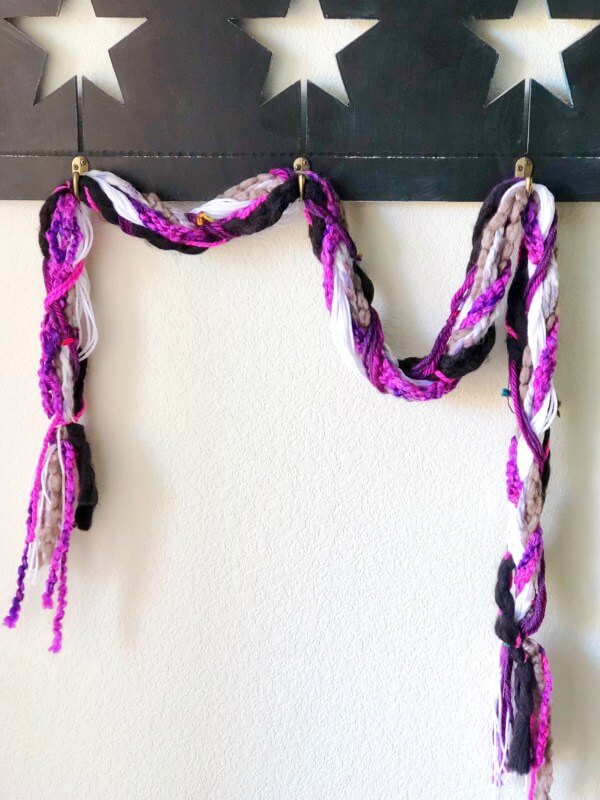 Grab some of your favorite yarn varieties in your favorite colors so you can create this lavish and posh yarn garland. It's such an awesome idea and results in such a cool product. It would be a fantastic activity for a teen girl hangout or birthday party activity. The finished product works as both a decorative garland and a fashionable scarf.
17. Light the Way with Pinecone Garland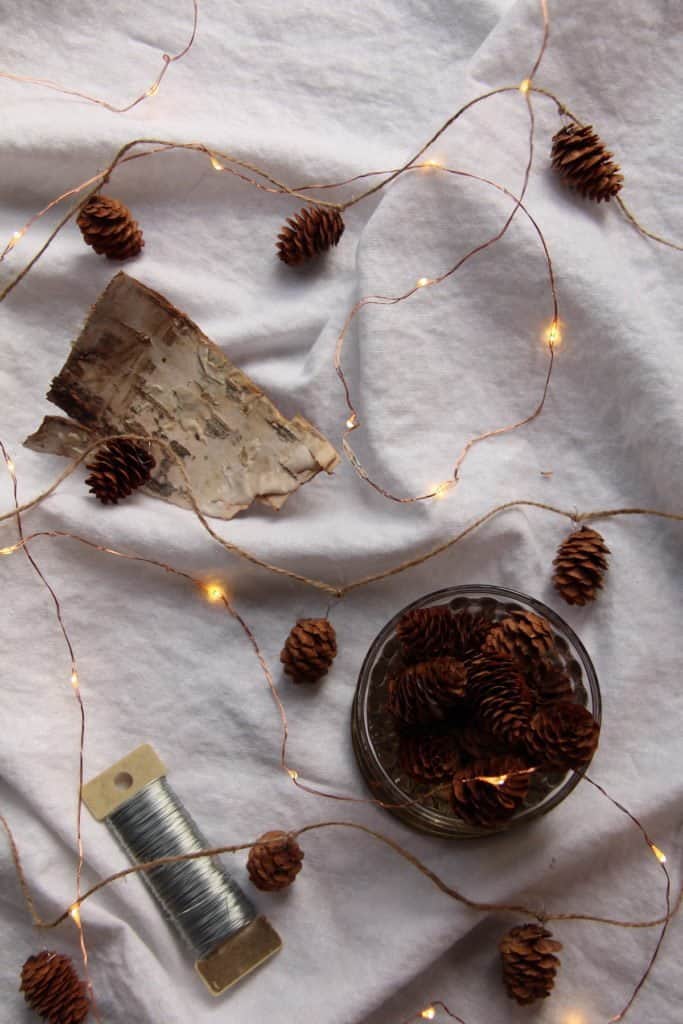 Your cabin deserves a little extra love after this year, so give it a healthy dose with this lighted pinecone garland. The tiny lights illuminate the surrounding space just enough without taking away from the dainty baby pinecones. Spread this along the tops of your cabinets for a warm glow as you enter your kitchen for your morning coffee or midnight snack. It would also look magnificent along the top of your mantle. Another great idea for this woodsy garland would be in a woodland critter themed nursery.
18. Classic Greenery Garland in Felt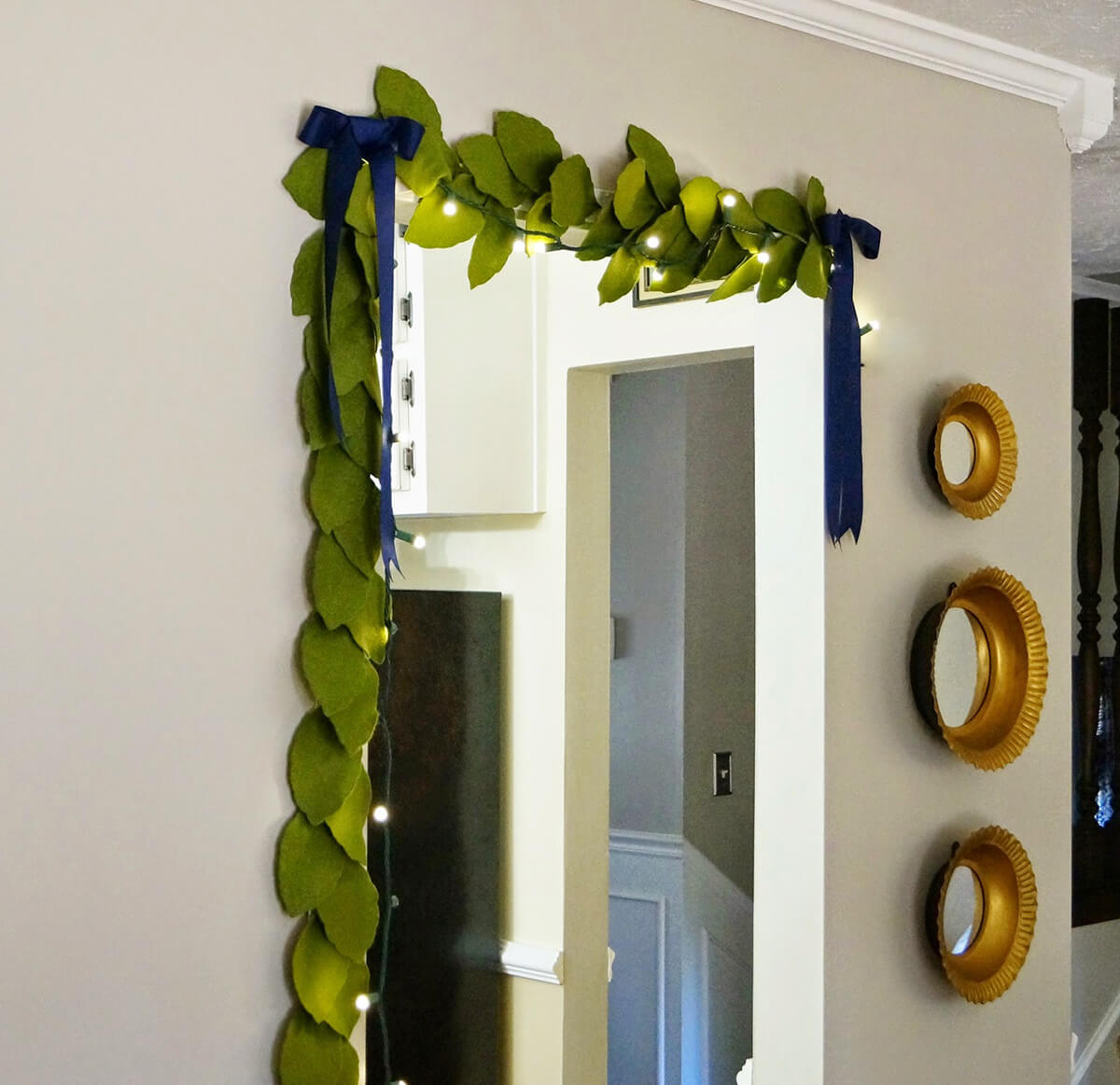 Create a classic garland strand of greenery with some budget-friendly green felt. Arranging these leaves in a close-knit manner gives a rich look and feel to one of the best DIY garland decor ideas to add to your home. Welcome everyone who enters your home as you place this greenery around the mounting of your doorways. Adding a colorful ribbon bow is just the icing on the cake to topping off this classic greenery garland. Weave a strand of white lights throughout to add some extra pizzazz and show off your favorite room in the home.
19. Lucky Clover Patched Burlap Garland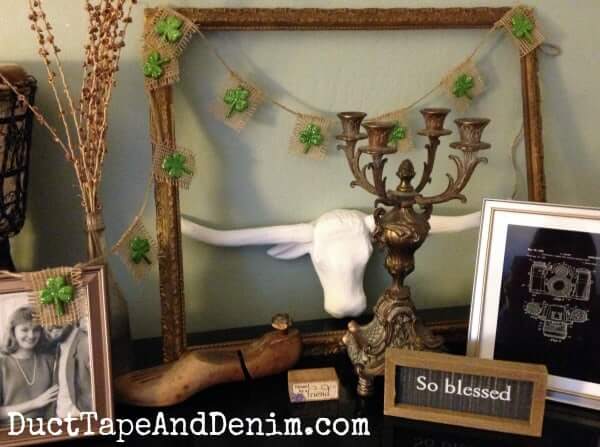 These cute and country burlap patches are a great place for the lucky clovers to call home. Arranged in garland form, this rustic design works in a southwest, modern farmhouse, or shabby chic inspired spaces. Drape them over a vintage frame or around the home decorations on your dining buffet or fireplace mantle. Use these at your annual St. Patty's Day party or when your special Fightin' Irish take the field. This simple lucky clover garland looks great in an everyday setting or for that special occasion.
20. Cookie Cutter Cute Pumpkin DIY Garland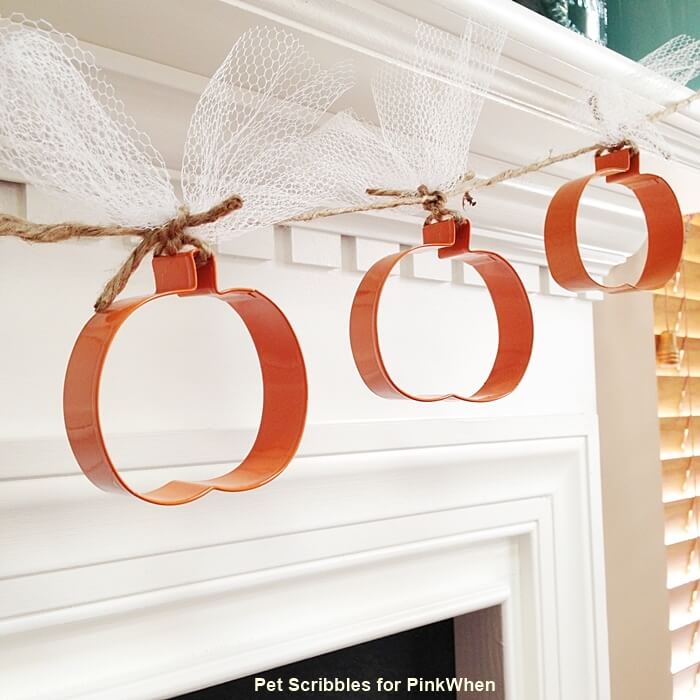 The phrase "cookie-cutter" never embodied such originality as it does in this cute pumpkin cookie cutter garland that's a wonderful addition to any fall decor. The orange pumpkin cookie cutters are the perfect size and color for an abundance of autumn in your home. Spread this along with the hearth and add some other fall favorites, like a dish of candy corn or a picture of the ever-changing leaves, to complete your look. Why not engage the kids at your next Halloween party in this fun DIY garland activity so they can take home a souvenir worth hanging on to.
21. Welcome Guests with Rustic and Country Garland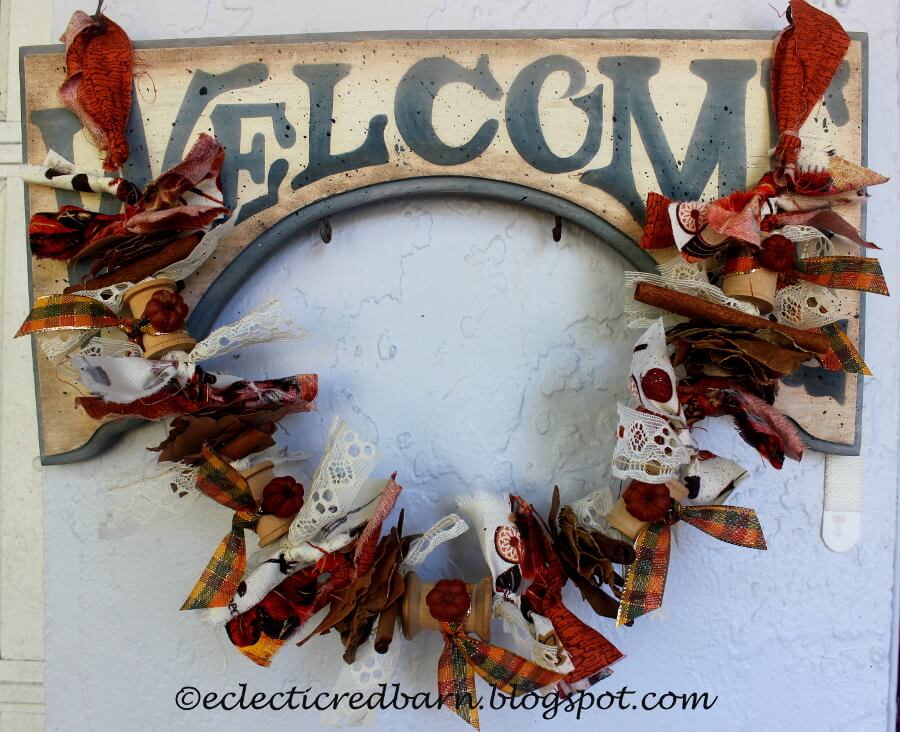 Your porch welcome sign just got upgraded with a darling garland filled with fall inspiration. From end to end, this garland strand showcases the seasonal hues of orange, red, and brown. Wrapping strands of fabric and lace create an autumn masterpiece that utilizes those leftover thread spools too. Adding this to a white valance above your window would be another way to make the most of this fall weather friend. It would even look great as an embellishment on a gift bag for your friend's October birthday.
22. Cute and Cuddly Hugs & Kisses Heart Garland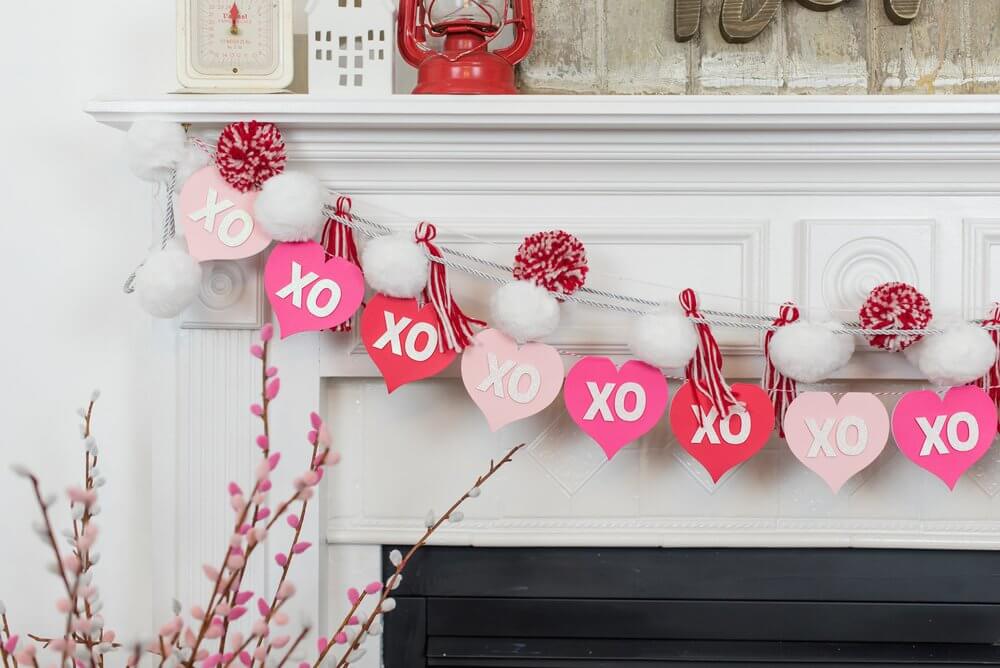 Red, white, and pink are cupid's choice when it comes to colors to decorate V-Day and this cute and cuddly garland is an awesome idea for adding some cool home decorations for the season of love. You may choose to drape it across your mantle or hang it along the wall. It would be a fun and unique backdrop for some picture-taking as you host your own Valentine's Day party for all of your family and friends. This fun and frilly garland would also work well at a bridal shower to celebrate the bride-to-be.
23. Simple and Chic Multi-colored Tassel Garland
Keep it simply stated with this pretty multi-colored tassel garland. It feels right at home in so many decorating schemes. From a modern or circus-inspired nursery to a teen bedroom, this garland likes to hang out with kids of all ages. And it doesn't have to be sent to its room because it can function nicely above a doorway, over the window at the kitchen sink, or as part of a gallery wall-filling your hallway. The use of natural colors gives it a more mature feeling as the texture of the tassels put the "t" in par-Tay!
24. Pretty Paper Heart Cut-Outs and Love Birds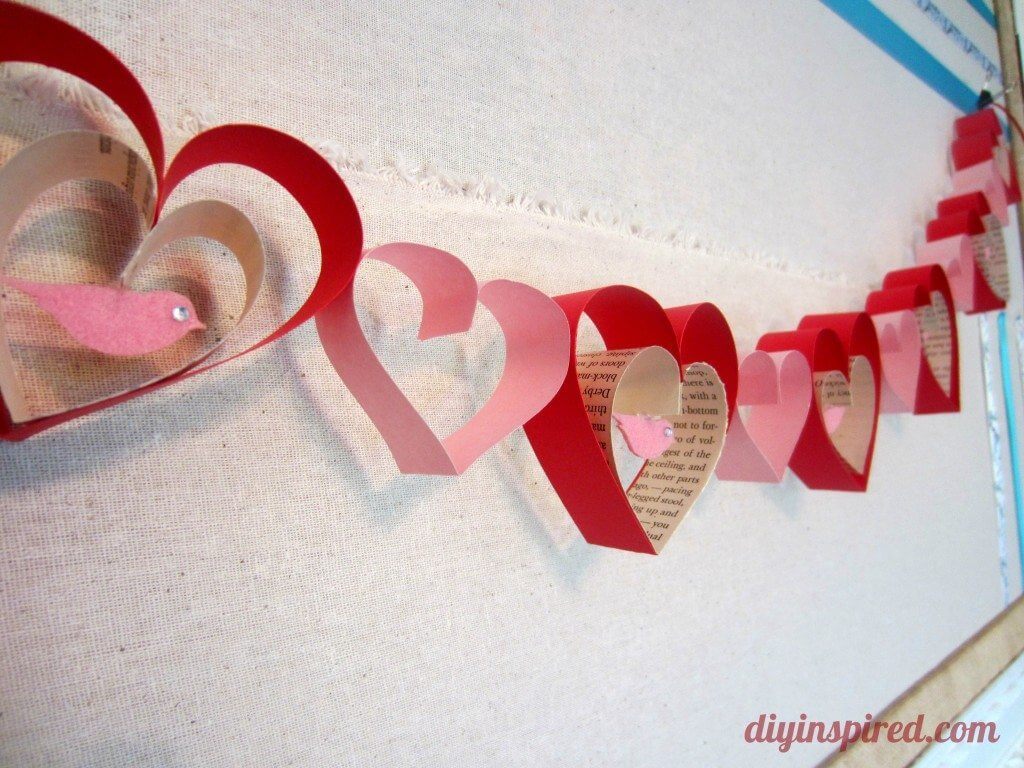 Fancy yourself a new and improved set of Valentine's Day decorations and start with one of the best DIY garland decor ideas in this paper cut-out garland. It's cute, happy, and pink so you can't go wrong. The adorable little love birds add just the right touch of whimsy to make this creation a true homemade delight. It would be an endearing backdrop to your afternoon tea party with your closest girlfriends or for your little girl and her favorite stuffed friends.
25. Rustic and Wooden Charm Be Merry Garland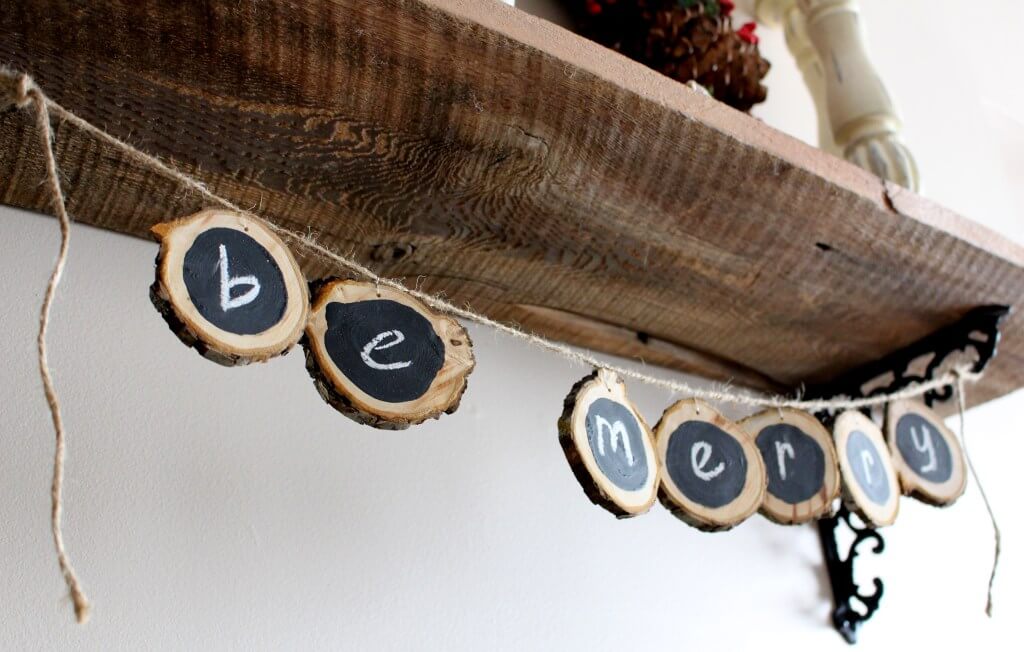 It seems these wooden cut-outs have been all over the Christmas scene as unique, hand-painted ornaments for decorating your tree. Why not take them to the next level by using them in a collection to make a one-of-a-kind garland? You can choose any phrase that tickles your fancy, like the "be merry" shown here. Or, you may want to have each family member's name visible around the pine tree. You could even layer them to create a large display above your hearth as your family surrounds you and enjoys the warm, crackling fire.
26. Cupcake Liners Re-imagined as Pretty Paper Garland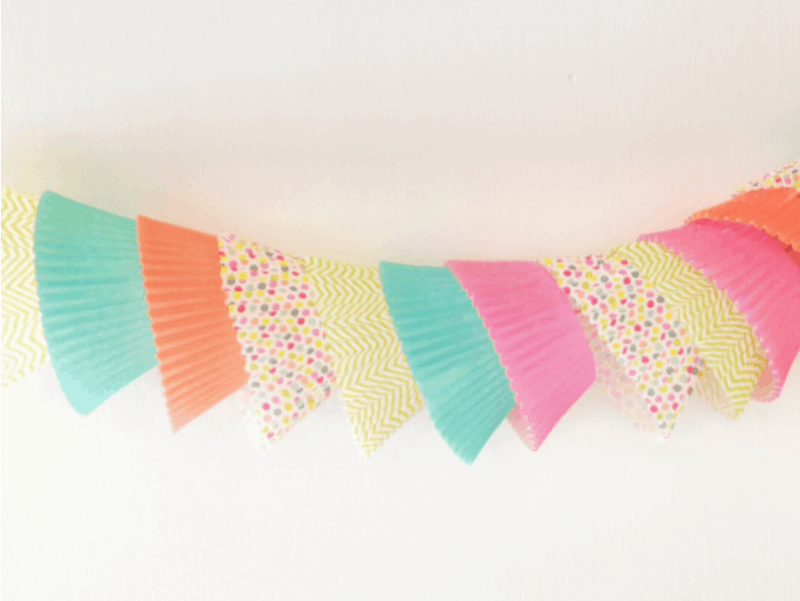 Rethink and repurpose some of your kitchen cabinet staples and you might discover some amazing materials for creating garland ideas for your home. The bright and bold colors and patterns of these cupcake liners are a fun decoration for your next birthday party extravaganza. They also would work for a back-to-school bash too! You might even decide to host an afternoon bake-off where you and all your friends share recipes and secrets on a laid-back Saturday while all the guys watch the game. And using this cute cupcake liner garland is a cheap decoration that really adds the right amount of sweetness for your baking bonanza.
27. Cardboard and Cotton Balls Heart Garland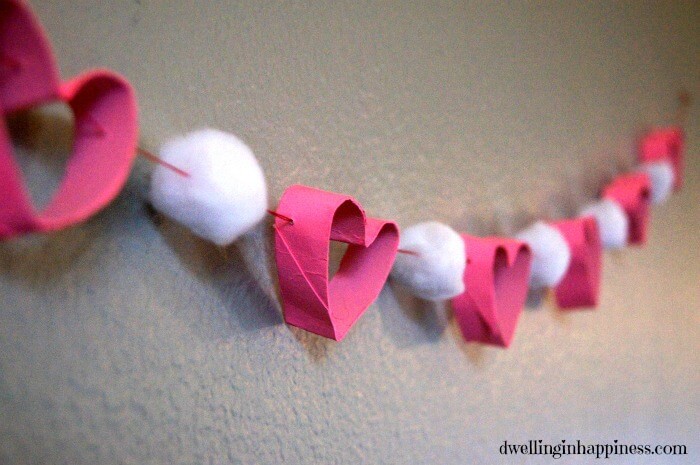 Hit the recycling bin in your garage and repurpose some of that broken-down cardboard. It's easy to turn it into some sweetheart shapes that can power their way across the strand of a simple DIY garland. Spaced out to perfection, these hearts are painted in the girly hue of pink and are set off by the interspersed cotton balls. When love is in the air, this is the best home decoration to pull out and set the mood. From Valentine's Day passing parties at school to sweet embraces in the home, this easy-to-make pink and white garland fits the bill.
27 of the Prettiest DIY Garland Decor Ideas for a Quick and Easy Home Decor Upgrade
Maybe you are contemplating some new holiday decor and realize how amazing a simple strand of garland can update your seasonal scene. Or perhaps you thrive on getting those creative juices flowing with an on-going list of DIY crafting projects to keep busy during your downtime at home. Either way, you have so many terrific choices in this list of 27 gorgeous garlands.
Take a gander at Valentine's Day. You'll be able to add cupid's color palette of red, pink, and white in a newly envisioned way. From paper cut-out hearts and love birds to pom-pom kid-friendly designs, the holiday of love will smile with these cute and lovely hearts and hugs & kisses garland strands.
And it's never too early to think of everyone's favorite time of year- fall! As the pumpkins grow and the leaves change, there is a new crispness in the air that makes you yearn for cider, hot chocolate, or a pumpkin spice latte as you cuddle up with an oversized blanket or around a campfire. With all of the warm feelings of this favorite season, it's no wonder there are so many beautiful autumn-inspired garland ideas.
Re-imagining an orange pumpkin cookie cutter as a patterned piece of your garland is where the metal meets the road. This is a totally cute alternative to their purpose in life and you could probably grab a handful of them at a discounted price at an end-of-the-season sale.
And fall is so much more than just pumpkins. Raking some leaves and stringing them along your porch railing not only looks great but is a win-win as it gets them off your lawn and increases your curb appeal.
For you more creative types who don't wish to focus on specific seasonal decor, you can certainly create pieces that work year-round. Take the multi-colored tassel strand that is bright, cheerful, and fun at any time of the year. Or you may want to try your hand at the cupcake liner spread that's a baker's delight.
Honestly, there is a perfect garland to match every personality. If you're thinking primitive, country, or rustic then the rock garland, or woodland pinecone and light strand might meet your expectations. There are also fun shamrock ones that offer good luck or can help cheer on your favorite team. And don't forget about nature, whether authentic or made from felt. The sky is the limit on the garland of your dreams. So don't hang your head, but hang up some of these gorgeous garlands in your home today!