Personalize your holidays with the best DIY gift box ideas to use for your heartfelt presents. Whether for the holiday season or for other celebrations throughout the year, sometimes you get presents that look better in a gift box than wrapping paper. Sure, it is easy enough to purchase all the gift boxes you need. However, for the creative minded folks out there, wouldn't it be better to make some boxes? Gift box making is a fun endeavor to tackle as it gives you the freedom to stretch your artistic skills. Plus, it is the perfect way for you to personalize your present beyond the gift itself.
21 Inspiring and Handmade Gift Box Ideas to Personalize your Presents

Handing over a present inside of a homemade gift box shows just how much thought you put into everything. It can also allow for your gift to stand out among others that use traditional boxes or wrapping paper. There are numerous ways you can approach this too. This way, you can create something that is unique and eye-catching. Go for a gift box that is colorful or more subdued. Perhaps you want to make something that effortlessly matches the gift itself. Your options are just about limitless. But other than the creativity that gift box making provides, why else should you embark on this journey? Well, like many DIY projects, it is affordable. Sometimes we simply don't have it in us to purchase gift boxes for all of our presents. In this case, you can always create something with affordable items or items you may already have around your home. A bit of love goes a long way toward turning a typical container into an incredible gift box.
Are you ready to start on this incredibly fun DIY project? If so, check out the list of our favorite best DIY gift box ideas. Hopefully, one of these projects will inspire you to get to work on creating your custom gift box.
1. Rosemary Wreath Gift Box Toppers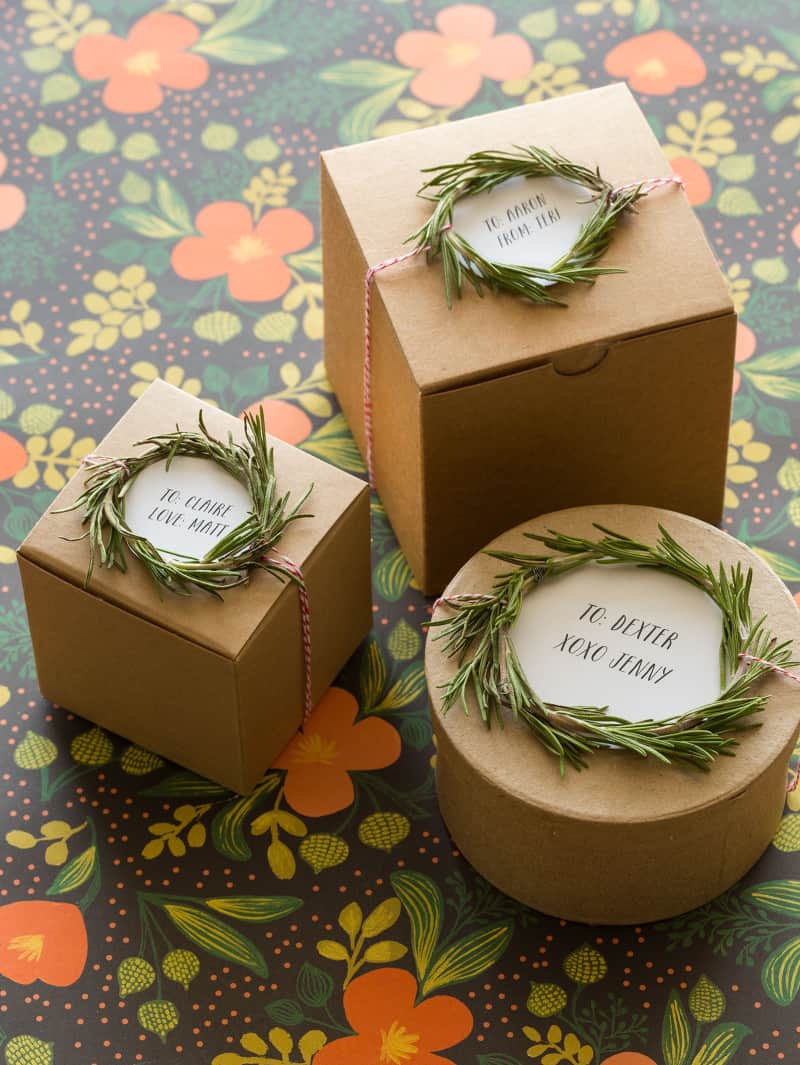 When all you have is a typical brown box to make a DIY gift box, you can still have some fun with it if you like. If the boxes are for the holiday season, then you can use a rosemary wreath on top to add some color and life to the gift boxes. The wreath works out well to circle the gift tag on the boxes. This allows you to switch things up from the traditional square design to instead give something that is a touch more creative. You can round things off with a simple tie colored for the holiday so that you can keep with the theme in question.
2. DIY Homemade Spa Gift Kit
Sometimes, all someone needs is a relaxing spa treatment in the comfort of their home. So, why not give them this present in a beautiful gift box? This features a standard wooden box that wouldn't be out of place inside of a craft store. However, some simple decorative items like a bow and tag can elevate a common wooden box into a shabby chic homemade gift box. The items you add inside can all contribute to the overall style of the box itself too, allowing everything to come across with that rustic, laidback appearance that is fitting for a spa-themed present.
3. Stunning Cookie Gift Box Layout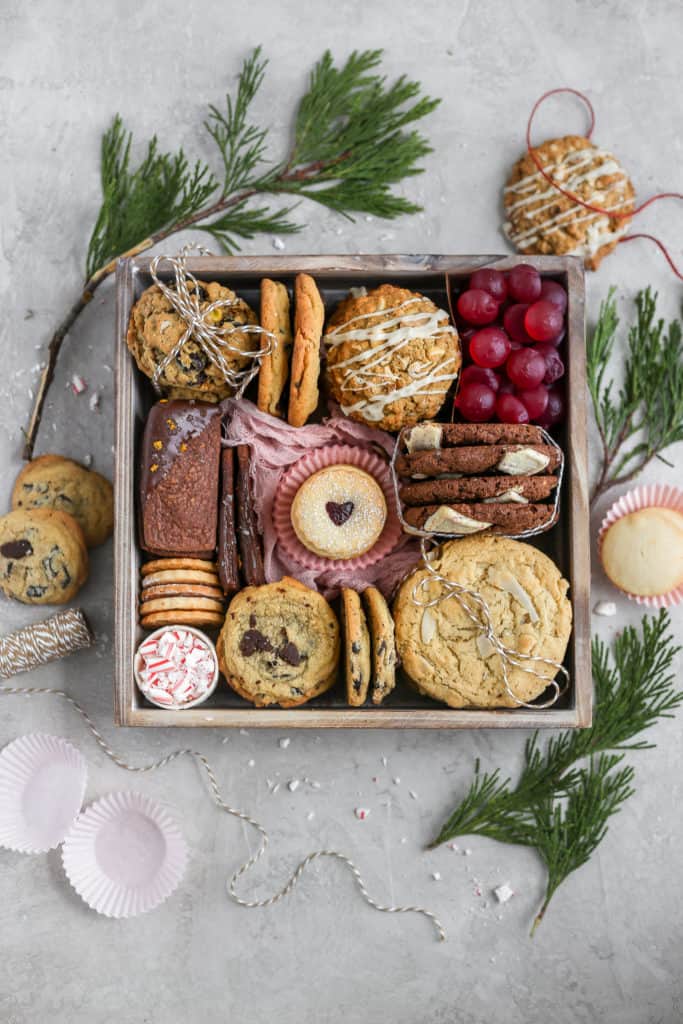 A wooden box goes a long way into providing you everything you need to create a stunning gift box. This DIY design has a nice rustic look about it too. It even has a rural feel to it if you want to leave it around as décor. The wooden box works well at holding all the sweets you'd like to give away to someone who adores desserts. Alongside that, the DIY wooden gift box is sturdy and reliable enough to support any sweets you want to give away.
4. DIY Felt Gift Basket Design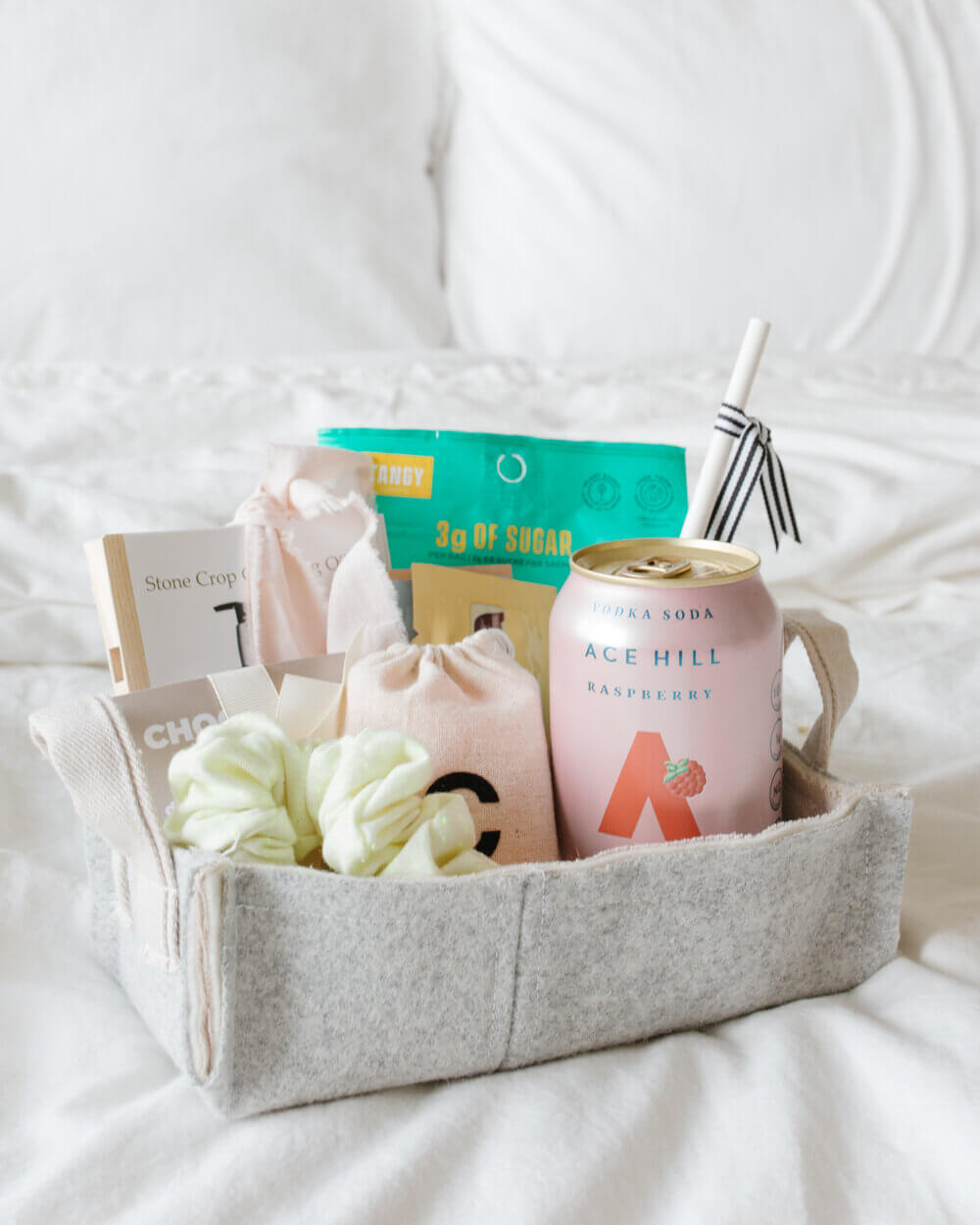 A gift basket is such a pleasing way to send off a host of different presents. Keep things on a theme too with your present by using a gift basket. Want a candy theme to give to someone with a sweet tooth? Or perhaps someone needs to unwind and relax? For that, you can add in different self-care items. No matter what you decide, it all fits well into a customized DIY felt basket. The felt basket is adorable and charming. With the handles, it is easier to carry and can even be used as functional décor afterward.
5. Charming DIY Decorative Gift Bucket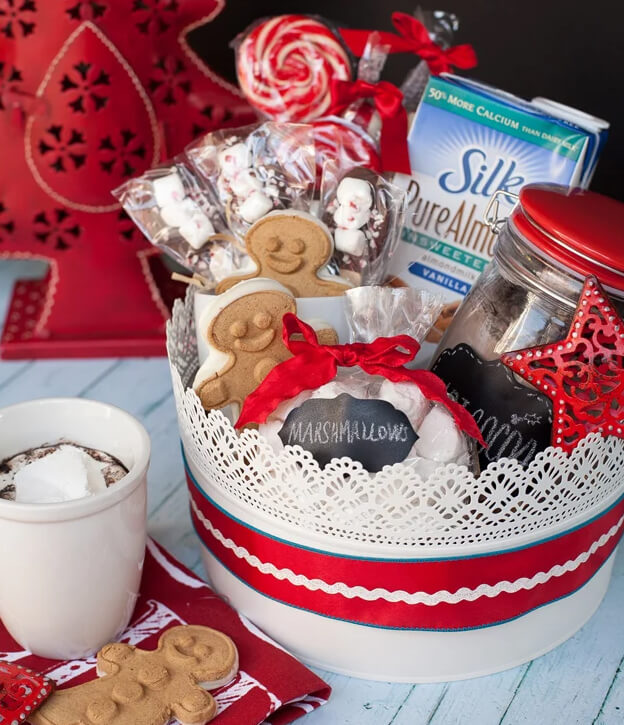 With this gift bucket, you can get anyone thrilled for the holiday season. The element of surprise is not needed here. In fact, this works out well to pass out to a favorite teacher or to give to your favorite neighbors and work friends. The bucket is the perfect size to support a hot chocolate kit. Such a kit is a wonderful way to celebrate the colder weather and the upcoming holiday seasons. It will urge anyone to cozy up to the fire with a warm mug of hot cocoa. This is easy enough that you can create several of them to pass around.
6. Rustic DIY Wooden Gift Box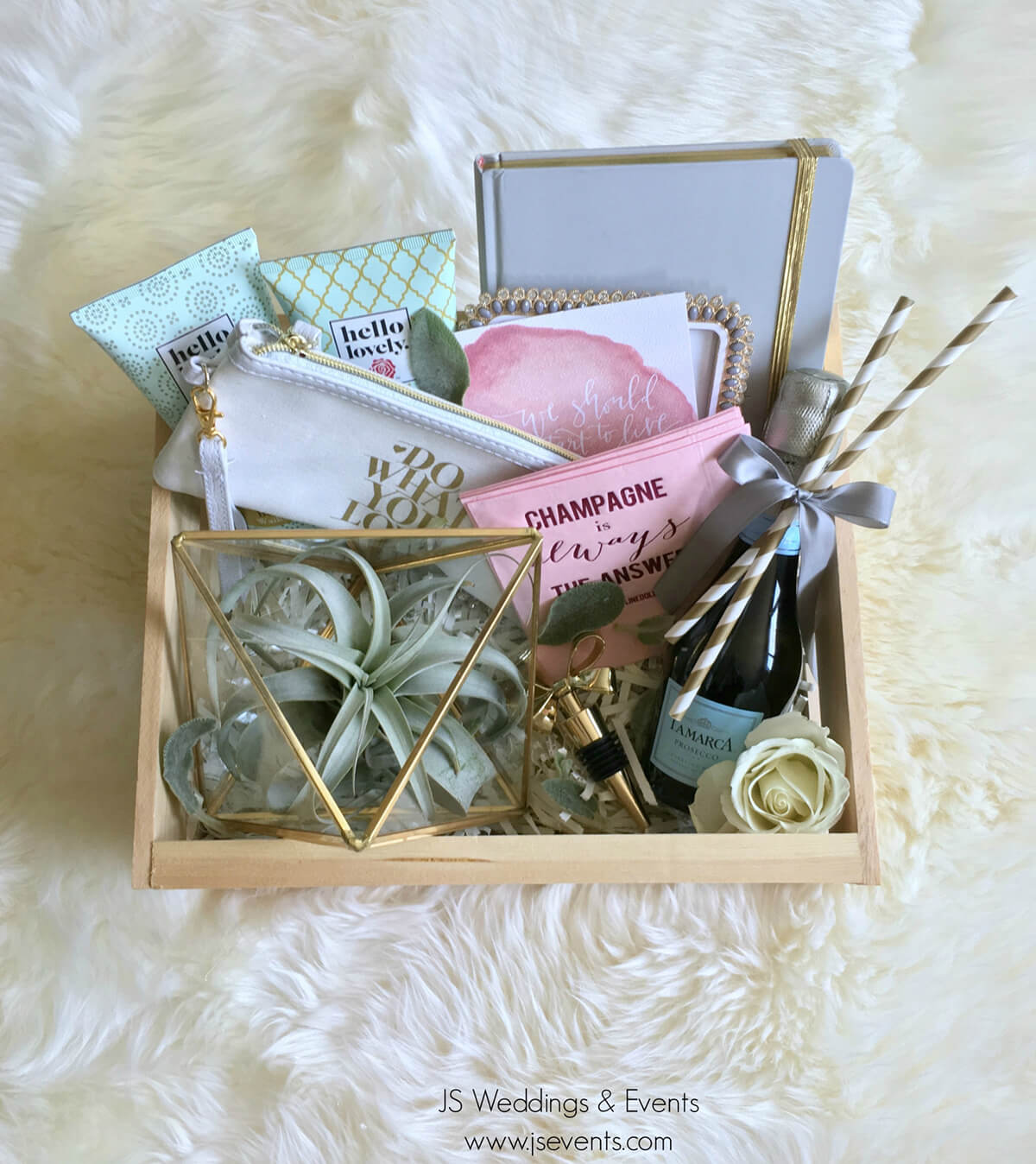 If the presents mean more than anything else, then you don't have to put too much into the gift box design. In some cases, less is indeed more. This wooden box has a smooth look about it that helps it capture attention without being so colorful and vibrant. The box is great for a rustic design. Just add in some crinkly paper to support the gifts you place inside, and you are good to go. The paper gives off the look of traditional paper you'd find in a gift bag for a more authentic appearance.
7. Compact Sweet DIY Gift Box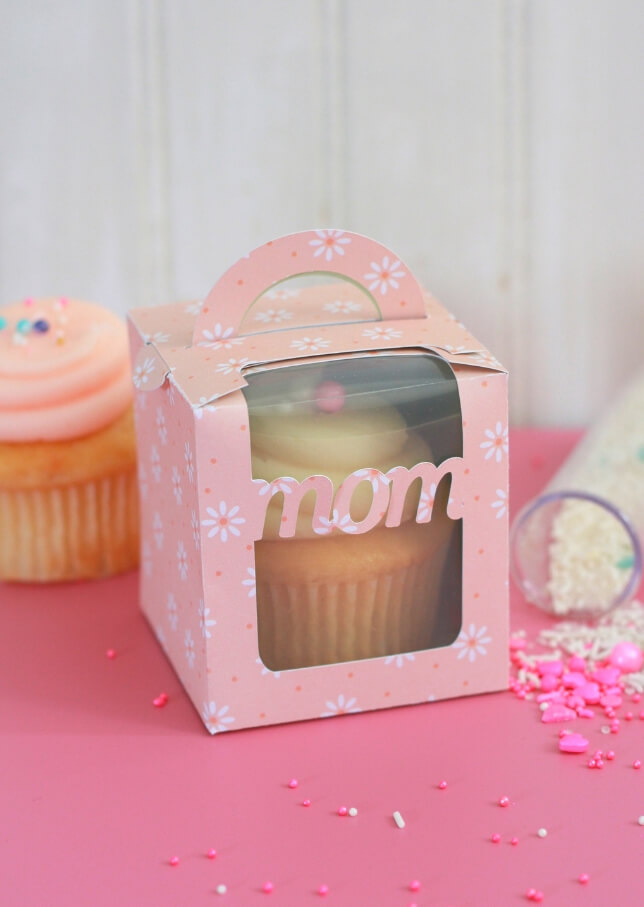 To celebrate a loved one, design them this beautiful, yet simple, box. The gift box is perfectly fitting for a small little treat like a cupcake. Since it is so compact, you can even make dozens of them to pass around to others. Hand these out at school as gifts for various students, take them to work to show how much you appreciate your colleagues, or simply travel around in the neighborhood to hand them out to your favorite neighbors. You can stencil out any name on this too so that you can better personalize the gift for the celebration.
8. Holiday Themed DIY Gift Box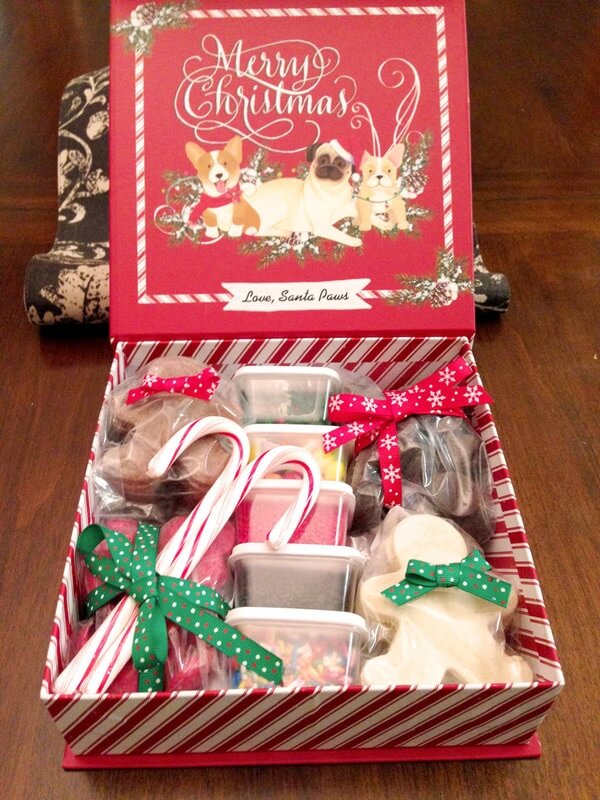 Ready to show you appreciation for the holidays? Then you can effortlessly do so with this stunning holiday-themed gift box design. It is straightforward, yet it can add plenty of joy to whoever you decide to give this to. Inside, you can add a host of items, especially edible ones. Feel free to overload this box up with sweets or even create your own little kit. It can be a hot chocolate kit or a cookie making kit. A gift box design such as this works out well when given to children too or even to have kids make with the whole family to give away to loved ones.
9. DIY Spa in a Box Gift Design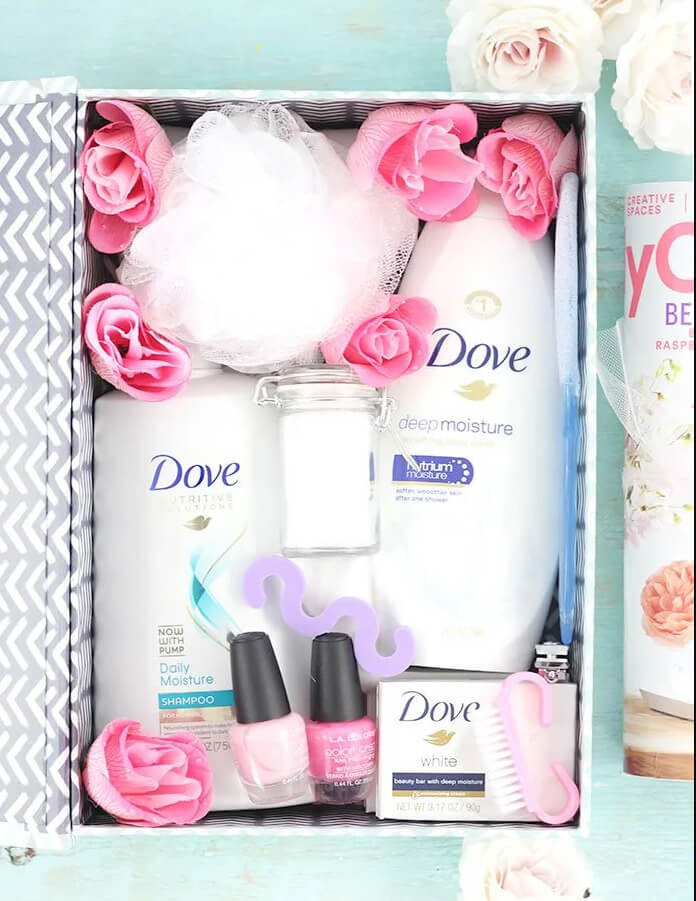 A simple box can turn into a spa-lovers dream with some embellishing and care. This is one of the best DIY gift box ideas you can use to give out to neighbors, friends, or maybe even to hand to your kids for their favorite teachers. It holds just enough items to not be overwhelming. The box itself has a nice design to it as well. Going for the floral approach gives it a nice layer of brightness that will allow it to instantly stand out. It look so sweet that people may even be hesitant to open it up out of fear of ruining the incredible design.
10. Fun Handmade Treat Gift Bags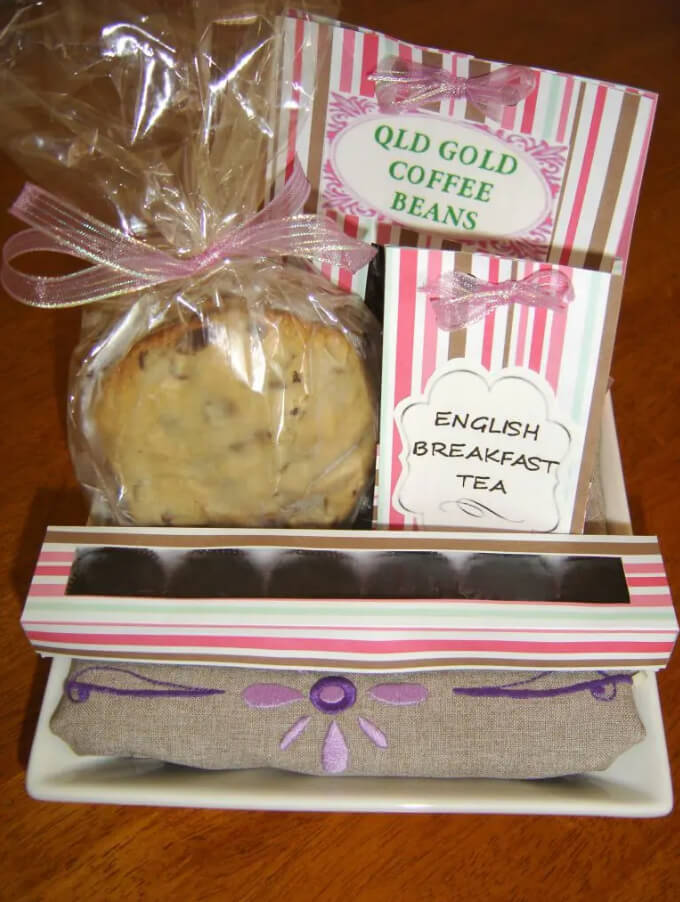 Sometimes, you just want to hand out some delicious treats as presents. In this case, you can opt for creating a handmade gift box that has a see-through front. It is the perfect way for anyone to know that they are receiving something edible. At the same time, you can still delight them with the colorful and careful packaging of it all. If you have the means, try adding on some tags to indicate exactly what treats are inside. This makes these look as though you just pulled them out of a bakery rather than created the packaging from your home.
11. Simple and Sweet Memory Box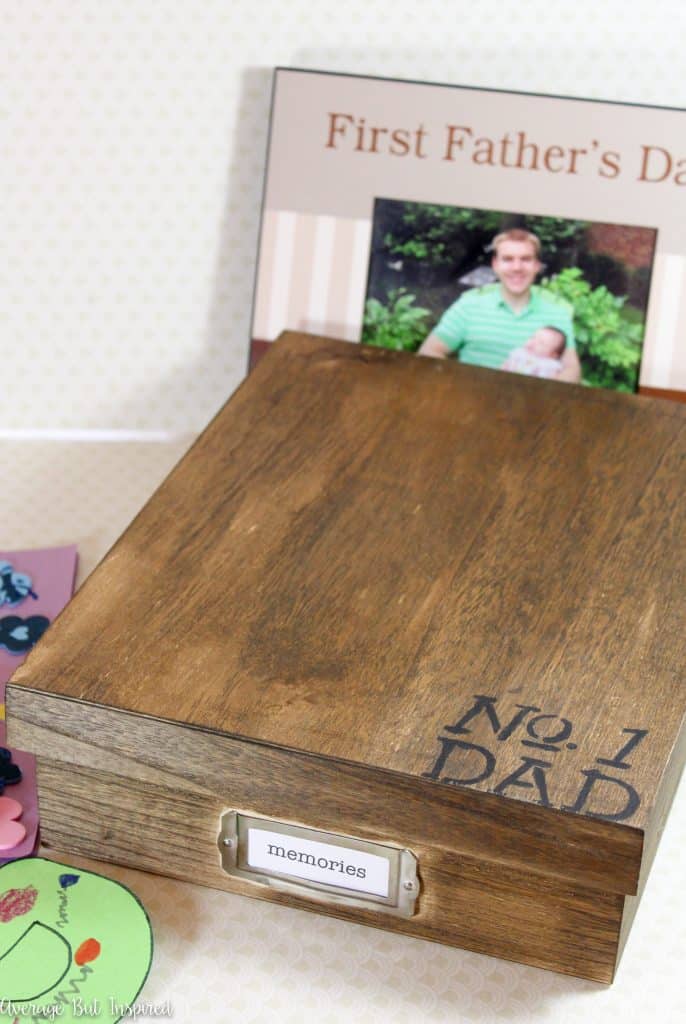 This DIY memory gift box is a cool and sweet gift for a loved one. Although it can work for anyone, it is especially pleasing to help a child make this to give to a parent or grandparent. The box itself is rather simple in design. You can always do more to it if you'd like, but the simplistic layout adds to the overall charm of the handmade gift box. In fact, it is perfectly fitting for those who appreciate a minimalistic design. This is why this type of DIY handmade gift box works so well as a family project with the kids.
12. Elegant Designed DIY Wine Gift Box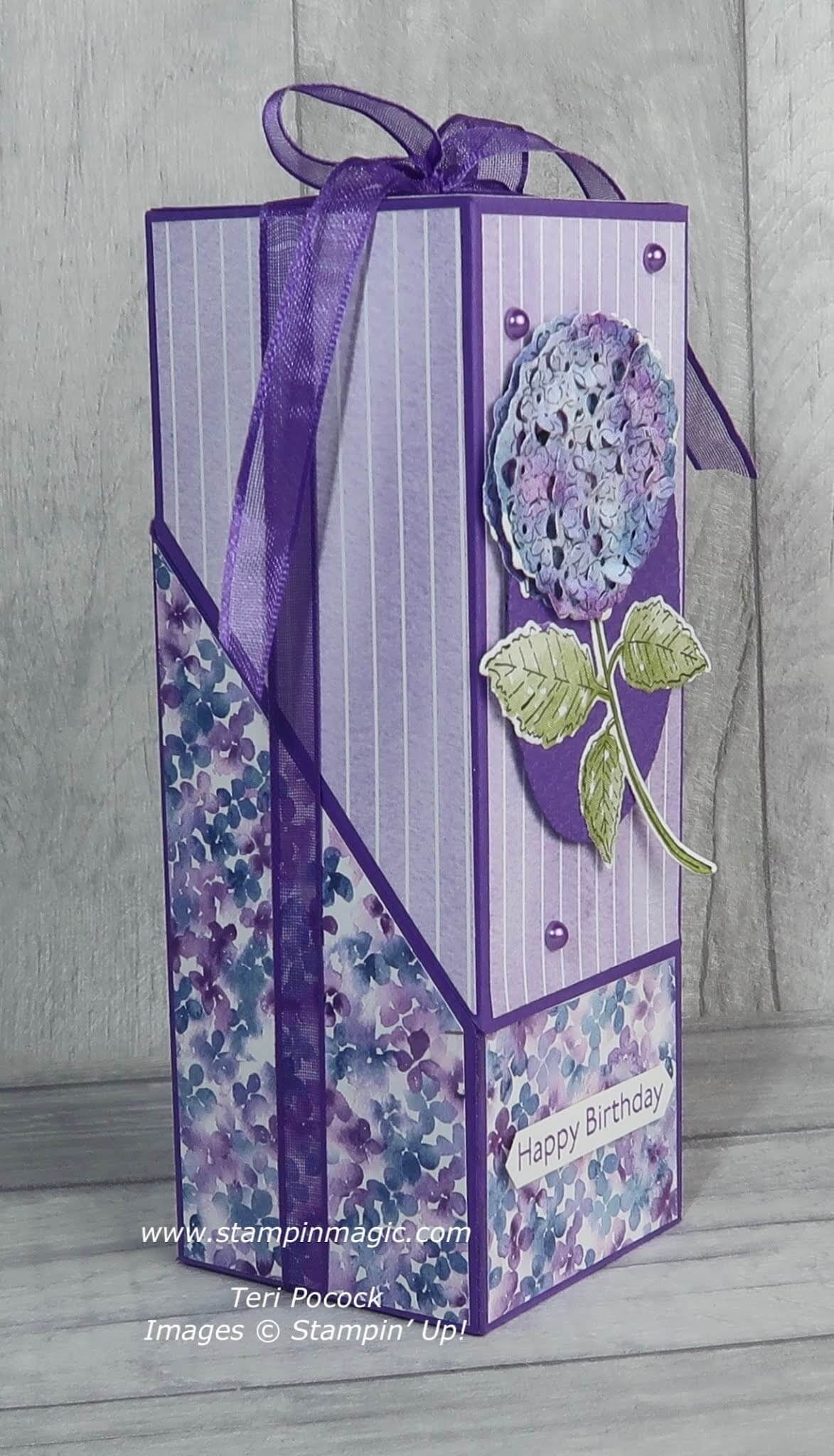 Are you giving away some wine to a loved one whether for an anniversary, birthday party, or even a Christmas gift? Well, you need something proper to hold it all together. If you don't want to just hand them the bottle, then consider designing this easy-to-make handmade wine box. It perfectly fits a bottle of wine, securing it so that there is no risk of anything breaking. You can add any decorations to the box that you see fit. Consider adding on something to suit the theme of the holiday or simply something you know matches the personality of the recipient. No matter which approach you take, they are sure to appreciate the effort that went into such a creation.
13. Sweet "Love" Designed Gift Boxes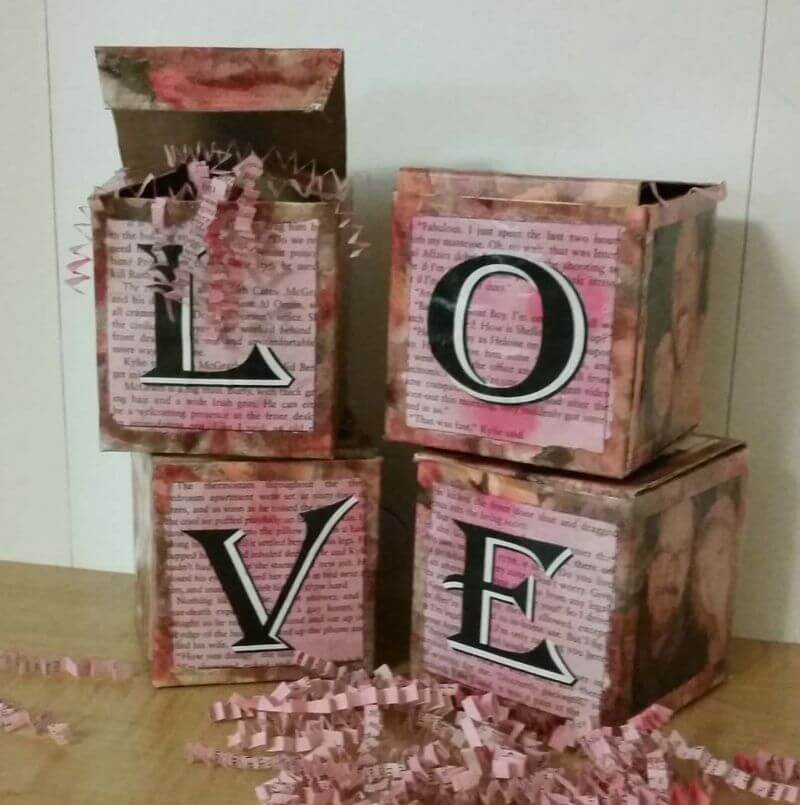 Show just how much you care for someone with this charming array of gift boxes. It is always a cute thing to spell out a word when it comes to décor. In this case, you can incorporate it into your gift boxes. This is a unique way to approach various celebrations and holidays like Valentine's Day or an anniversary. The boxes work well at holding sentimental items inside. As for the outside, the letters stand out even more when used against the likes of book pages. It gives the boxes more of a vintage feel. Also, once your loved one opens them up, you can still use these as décor if you wish.
14. DIY Cookie Tin Gift Box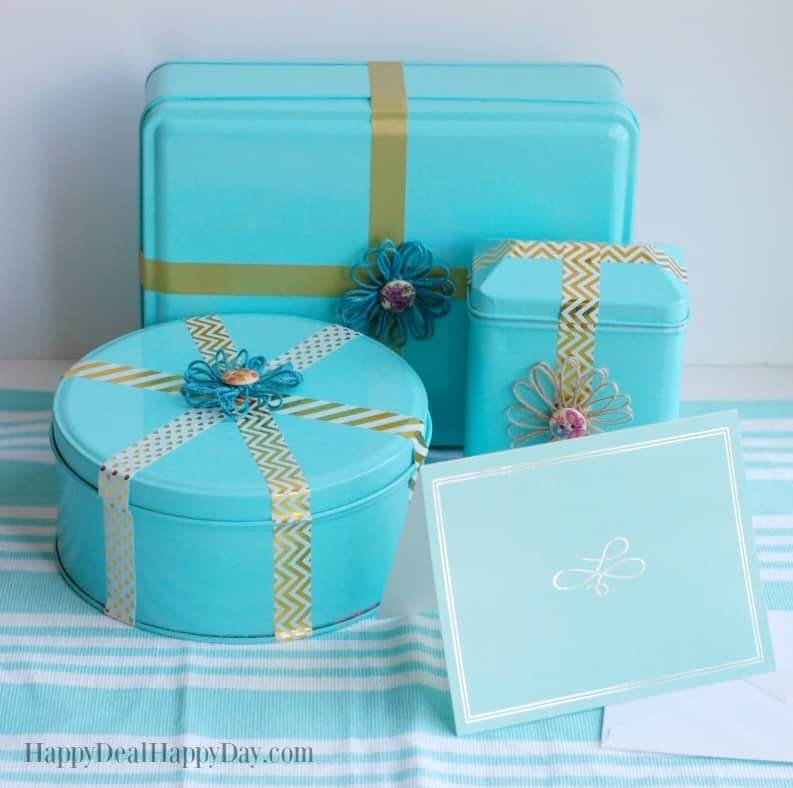 Cookie tins are great items to use for your upcycling project. They are a wonderful size to support various smaller items. If you want, you can always embellish the tins to suit your style or the theme of the celebration. Change it up with a fresh coat of paint even to give the cookie tin a total makeover. Best of all, these tins are a wonderful shape to tie around some bows. This will help drive the point home about it being a gift, and it won't look out of place in the least bit among all of the other presents.
15. Upcycled Phone Gift Box Design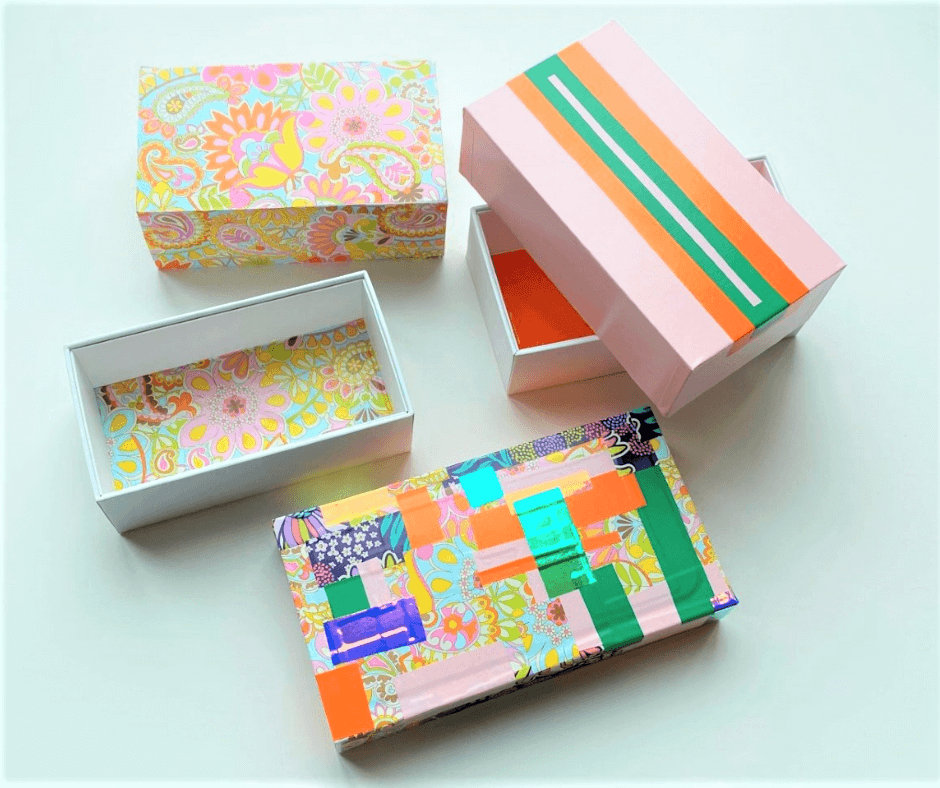 If you are interested in upcycling when making your homemade gift boxes, then consider grabbing up that stray box you got from your latest smartphone. There is not much to do with them, so why not give them a new job? They are such a pleasing size to hold smaller gifts or even gift cards. You can completely hide the fact that they used to be phone boxes too with some attractive wrap. This is a nice project where you can take your creativity to new heights, adorning the boxes with various colors to build a personalized design. Plus, these types of boxes are always sturdy, so you can rest easy knowing your gifts will be safe.
16. Glittering DIY Gift Box Designs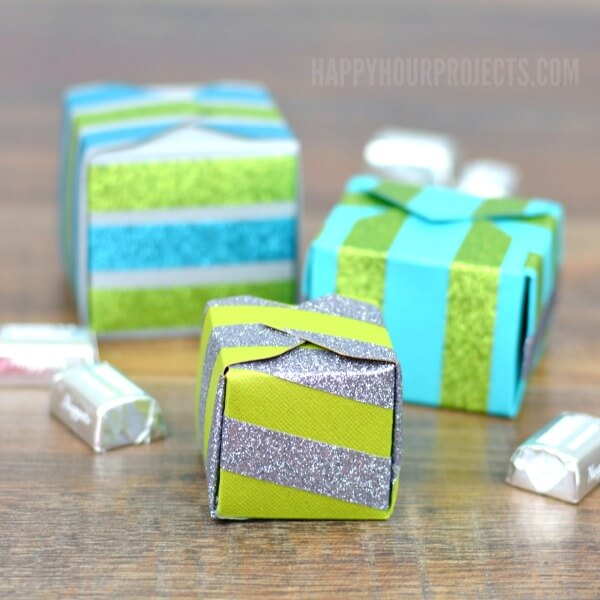 You can take some average-looking cardboard boxes and transform them into eye-catching gift boxes. We all know how compelling glitter can be. Well, you can utilize that in your homemade gift box ideas. Consider using glitter strips of multiple colors too. This way, you can create your own patterns or a theme to better personalize the gift box. The glitter itself will shine so that your presents will always get the most attention at any party or holiday celebration. This type of project works well for both large and smaller presents.
17. Chalkboard Painted Cardboard Gift Box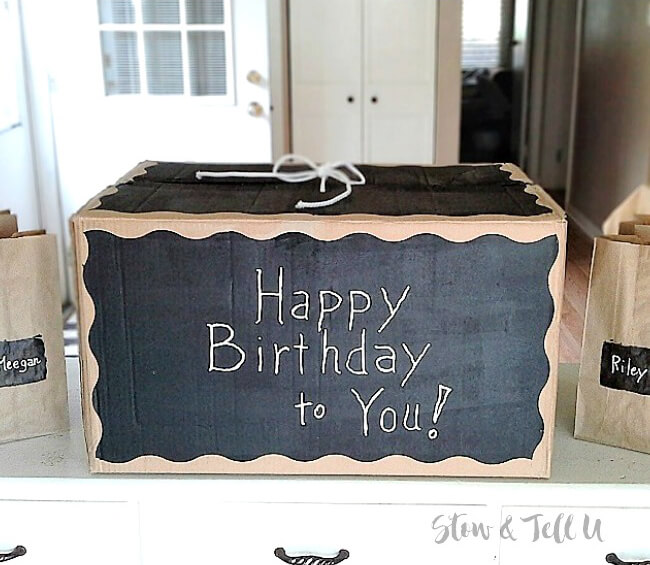 Have you ordered things online recently? If so, then maybe it is time to put those scattered cardboard boxes to better use. You can take those boxes and create unique gift boxes from them, giving them a second life and thus upcycling. Chalkboard paint is a wonderful material to use as it looks appealing and gives you room to paint additional things on the cardboard box. It is something simple that ends up looking stunning and creative. Also, you already know the box is reliable. So, you are free to put in various presents without worry that anything will break.
18. Beautiful Cardboard Gift Box Design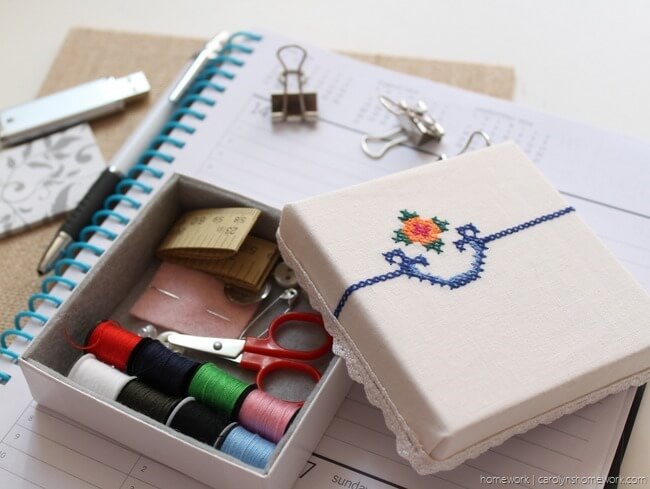 When you need something that is sweet, feel free to work on a gorgeous handmade gift box design like this one. It has a slight vintage feel to it while also coming across as simple and chic. Using a vintage tablecloth can help cement that overall classic feel you may be aiming for. Meanwhile, the felt lining inside can help add some pleasing texture to the box. This is a nice gift box to make for someone who appreciates the smaller things.
19. Easy DIY Cardboard Gift Box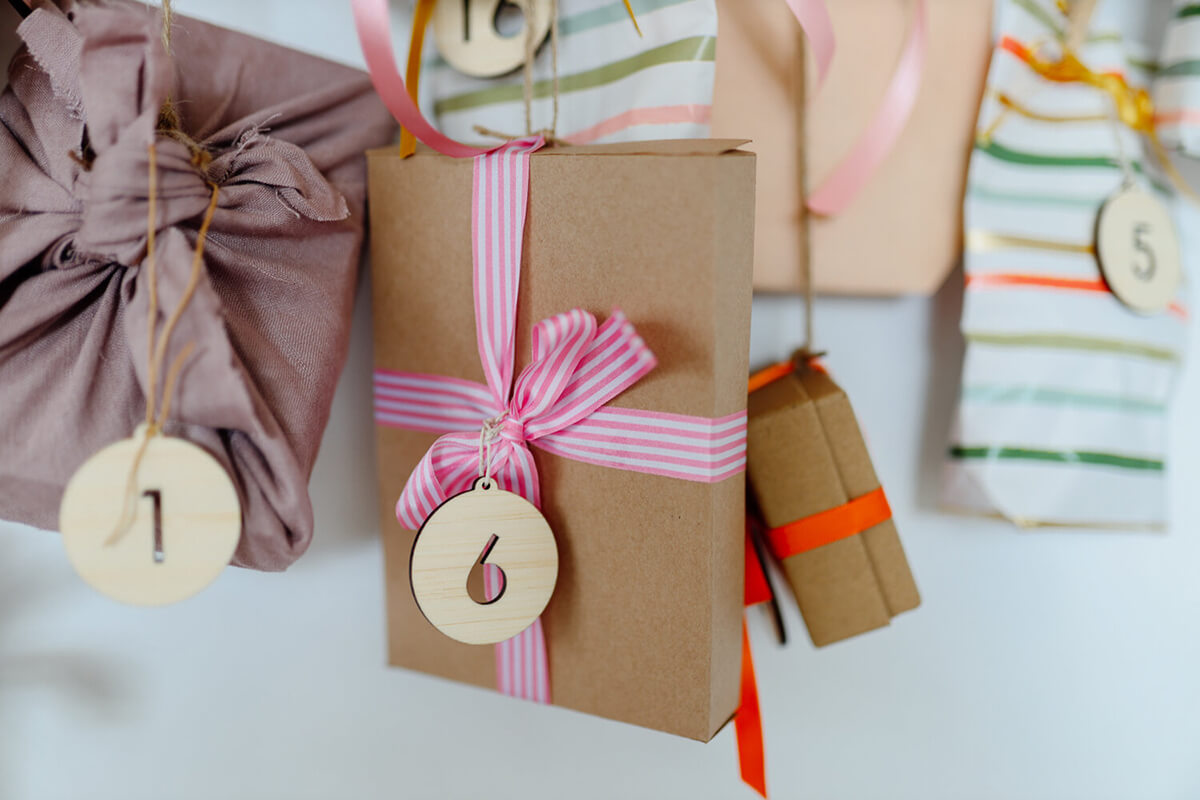 Looking for something simple to create? Then try out this easy cardboard gift box project. With the right tools, you can transform, typically cardboard into a professional-looking gift box with no one being the wiser. Depending on how large or small the cardboard itself is, you can add various types of presents to something like this. If you want to add some flair to it, consider tying it up with a bow that is suitable for the celebration in question. And don't forget the gift tag. That way, everything looks as though you just purchased it all from the store.
20. Lovely Themed Gift Box Design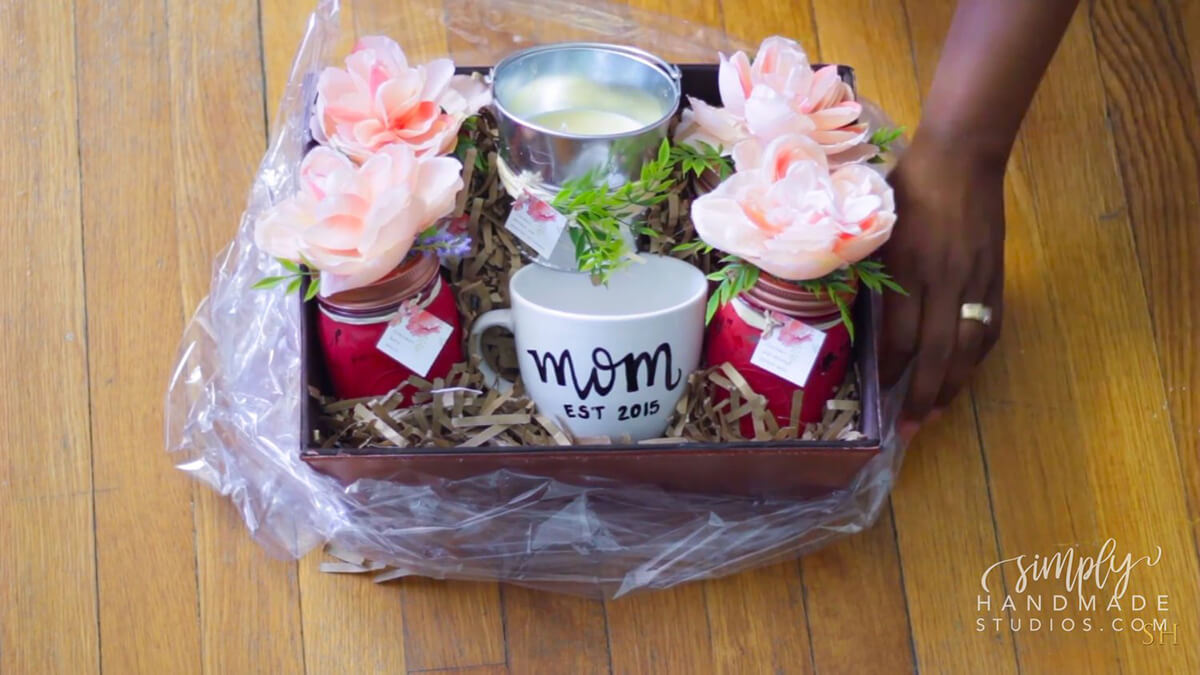 When looking for homemade gift box ideas, consider doing something that fits for the holiday or celebration. This is a nice way to further personalize the gift by having the box match up perfectly. Alongside that, when you use a box like this, you can easily add numerous items to your present. It is fitting for a themed gift set. At the end, you can always wrap it up in plastic and tie it with a lovely bow. The results will give you a present that resembles a traditional gift collection you find in the store.
21. Charming Handmade Vintage Gift Boxes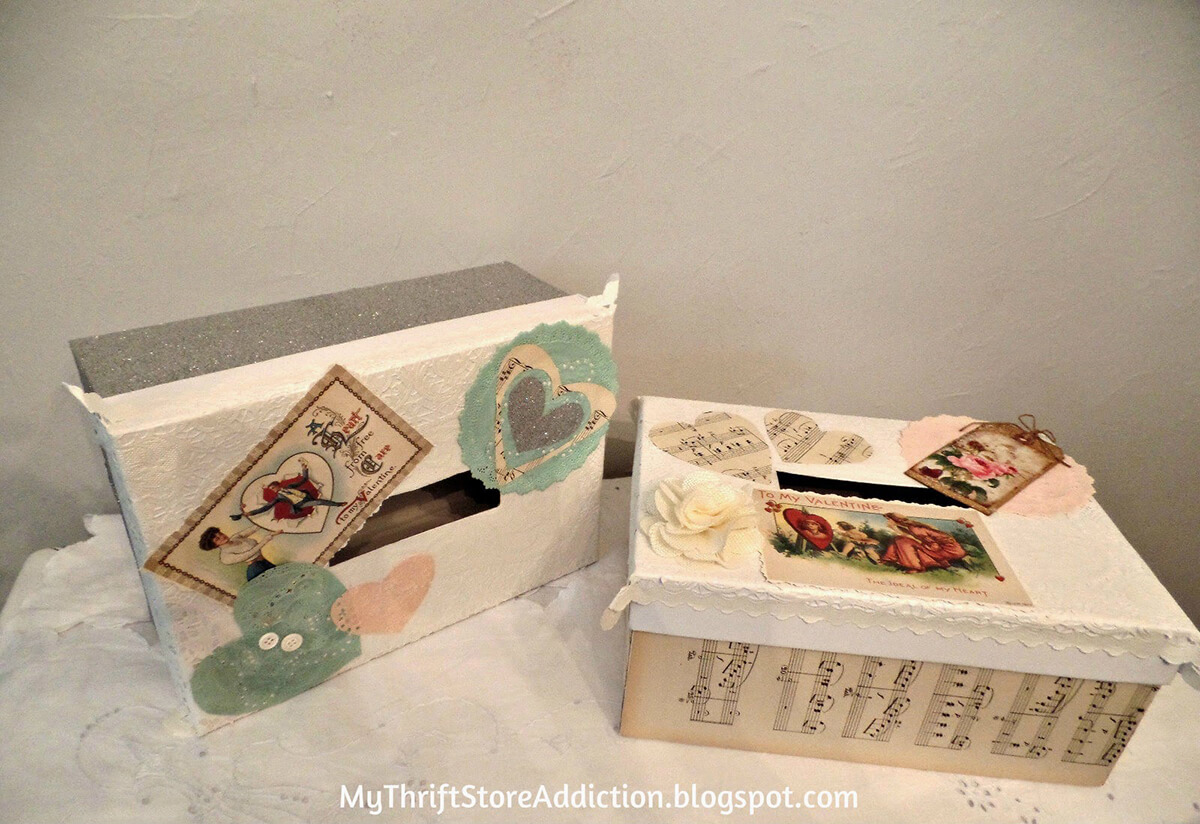 For the vintage-lovers out there, this gift box design boasts a sweet antique theme. There are many ways you can go about this too. Sheet music is always a nice touch to add to any vintage-inspired theme. The sheet music manages to capture that classic and traditional look. At the same time, it has a contemporary flair when used as decoration. Beyond the sheet music, there are other classic imagery you can add onto the box. This type of gift box is a great place to store cards. From traditional greeting cards to gift cards, the box will give that extra bit of love to whoever you gift this to.
Cool Homemade Gift Box Ideas for Creative Presents
Gift box making is an exciting way to express yourself and give your presents more flair and personality. You can craft compelling gift sets using items you already have in your home, in fact. It is a wonderful way for you to upcycle with more affordable, yet personable, gift-giving. Even if you don't have the items, the materials for DIY gift boxes can be found in dollar stores. Putting your own creative spin on the items is what makes them look priceless.
A handmade gift box can also be a great way for you to fit awkward presents without the struggle of wrapping them. Also, these types of gift boxes can be used all year round for various events from birthdays to holidays. Depending on how you create the gifts, you can even bring in the whole family, giving kids a way to spread the holiday love while pushing their creativity.
If you ever find yourself at a loss for what to do, remember to check back at our favorite homemade gift box ideas to help you get that spark of creativity and inspiration needed to create something beautiful.