The best DIY gift wrapping ideas will help you make this holiday one to remember. We all understand how shopping for holiday gifts can be both a joy and a headache at times. However, no matter how you feel about finding that perfect present, the real test comes with wrapping it. Sure, you can always use a professional gift-wrapping service to handle it all for you, but that comes at a high price. You can also just purchase gift wrapping paper and go for it yourself. But where is the fun with that? If you want to mix things up a bit this holiday season, consider opting for DIY gift wrap instead.
Unique Gift Wrapping Ideas to Add Creativity to the Holiday Season

Homemade gift wrap is beneficial for a number of reasons. For one thing, when you make your own gift wrap, you ensure that you have something that is perfect for specific presents. No longer will you have to struggle to get store-bought wrapping paper to fit an awkwardly shaped gift. Secondly, homemade gift wrap is a far more affordable route to take. You may spend quite a bit on the presents themselves, so it is always nice to save on other items for the holiday.
Lastly, using DIY gift wrap is simply fun. It is a nice way for you to personalize the gifts you're giving even more. Homemade wrap adds that custom touch that can make the recipient feel that much more special. Plus, it's nice to do if you enjoy crafts. The only real problem you will ever encounter is coming up with homemade gift wrapping ideas. Thankfully, we have you covered on that end.
We have discovered a host of different gift wrapping ideas that will delight the artist in you. You can come up with some creative designs that fit the holiday theme. Use things like reindeer designs, Christmas trees, and more. Check out our extensive list of our favorite homemade gift wrap ideas to get started.
1. Fun Paper Straw Star Designs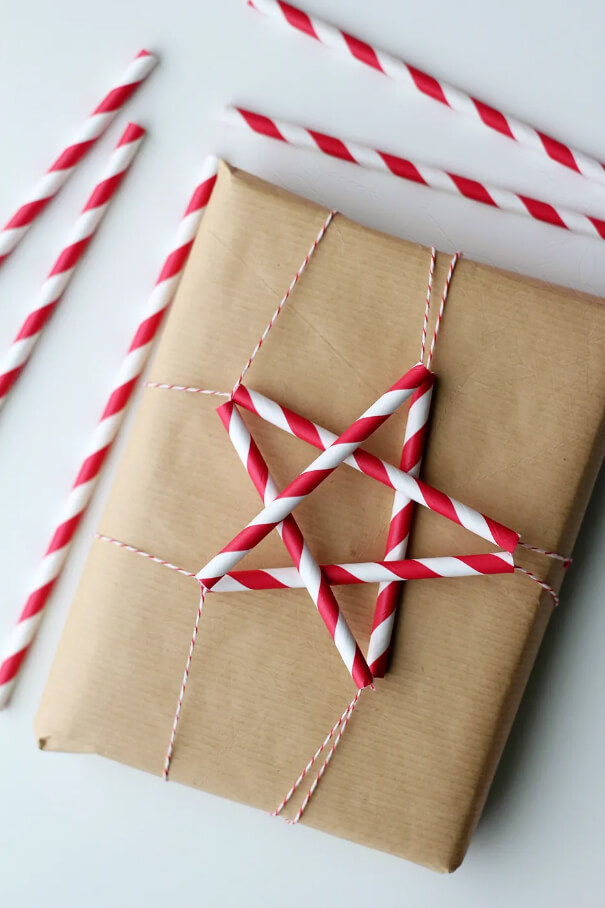 With some paper straws, you can transform otherwise plain kraft paper into something far more stunning and attention-grabbing. Going for red and white paper straws allows your artwork to resemble that of candy canes. This ensures that the handmade gift wrap still sticks to the holiday theme at hand. The baker's string doesn't just hold the star in place, it adds a nice touch of color throughout without overwhelming the gift wrap.
2. Natural Elements Gift Wrapping Decorations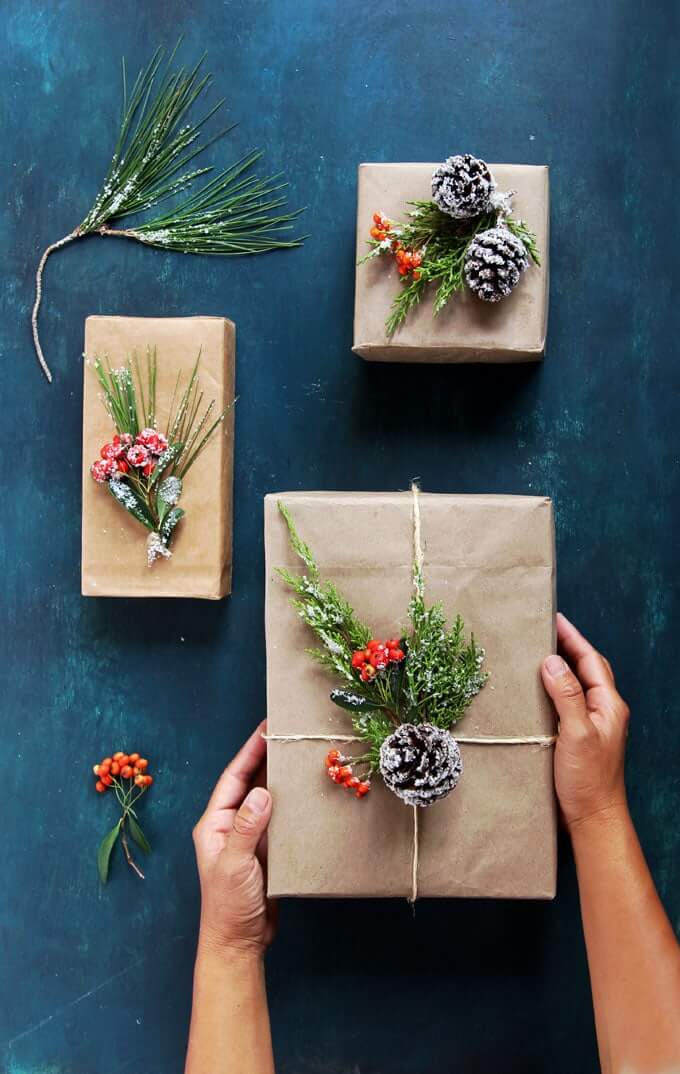 Bows are traditional when it comes to decorating with gift wrap. However, you can turn that on its head by using natural elements in your wrapping decorations. Consider materials commonly found around the season such as pinecones, Holly, rosemary, and more. These are able to add some lovely and appreciated texture to any gift wrap.
3. Rustic Stamped Kraft Paper Wrap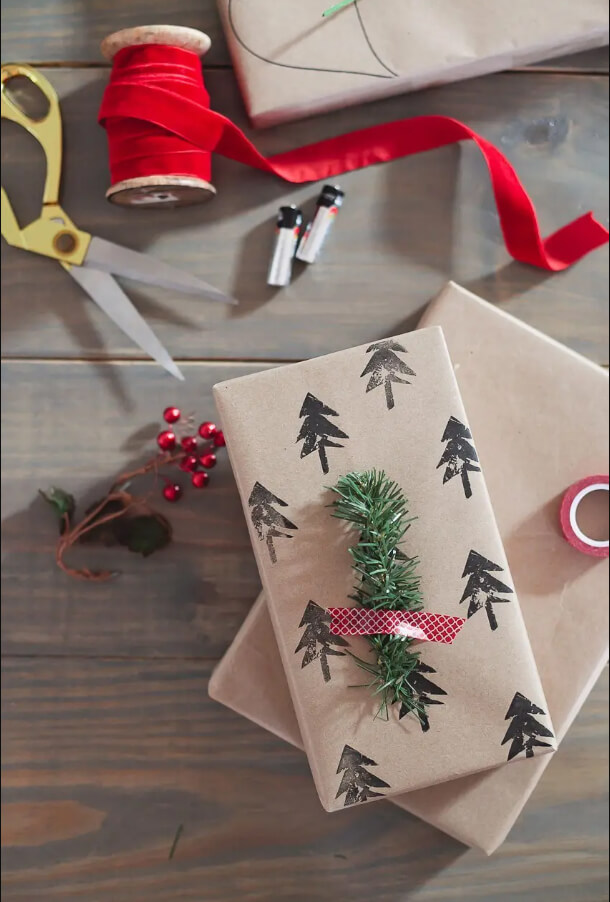 Kraft paper is a nice way to create some homemade gift wrap. However, you don't have to leave it plain. Instead, you can create a homemade stamp device and add some cool patterns along the paper. The kraft paper is the perfect base for this thanks to how much free space you have to work with. So, feel free to add on as many stamps as you please to spice up the wrapping paper.
4. Cute Holly and Berry DIY Gift Wrap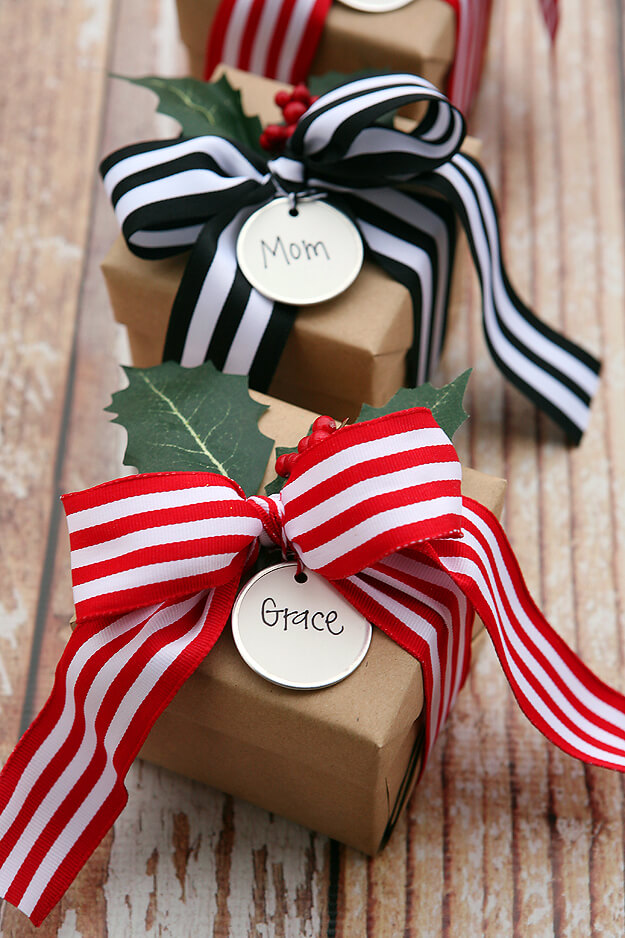 Holly and berry are key seasonal features, and you can easily incorporate them into your custom gift wrap designs. They pair well with plain kraft paper as they add that much-needed color to the piece without anything coming across as overwhelming. Plus, you can top it all off with matching, large bows.
5. Natural Rustic Holiday Gift Wrap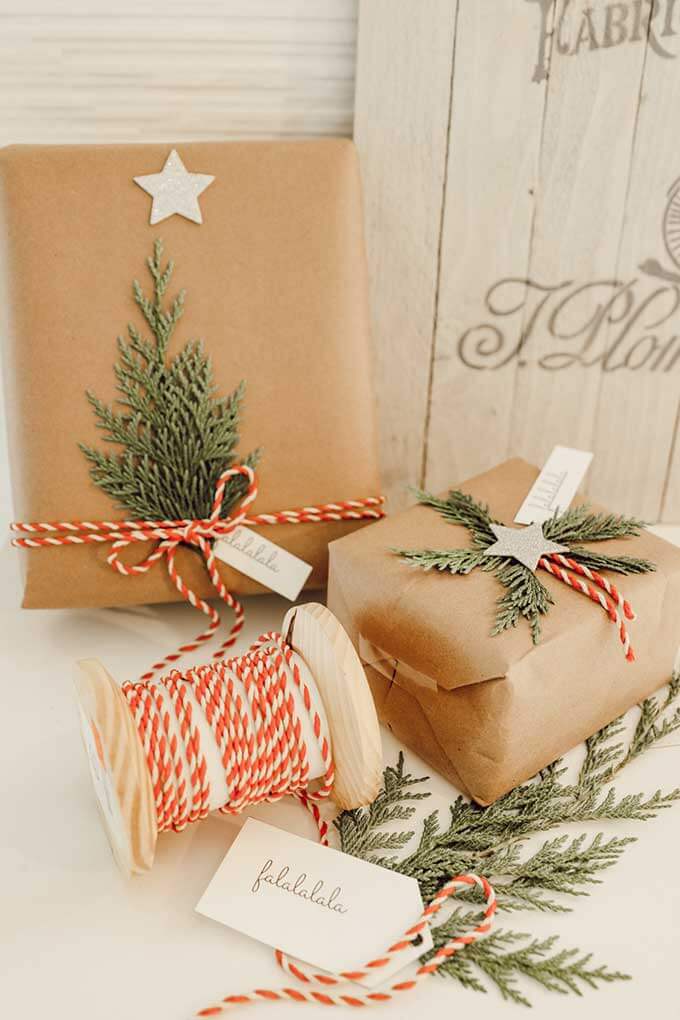 Keep things rustic with this pleasing gift wrap design. Featuring natural elements, the greenery instantly stands out against the dark wrapping paper. This can help give your gifts a nice cozy feel that anyone would enjoy unwrapping on Christmas morning. Plus, it pairs well with the Christmas tree itself to give a more cohesive layout to your setup.
6. Washi Tape Christmas Tree Gift Bag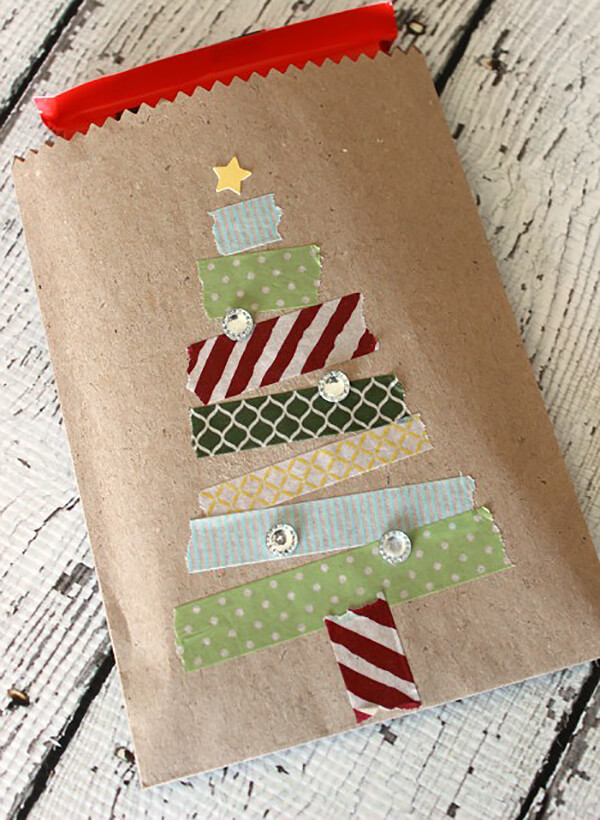 Gift bags are always a nice go-to option when wrapping paper will be too much for a present. If you wish, you can take brown paper and elevate it with some washi tape. With just strips, you can create a gorgeous Christmas tree design along the bag. This gives it a fun look without having to add designs across the entire bag.
7. Kraft Paper Gift Card Envelope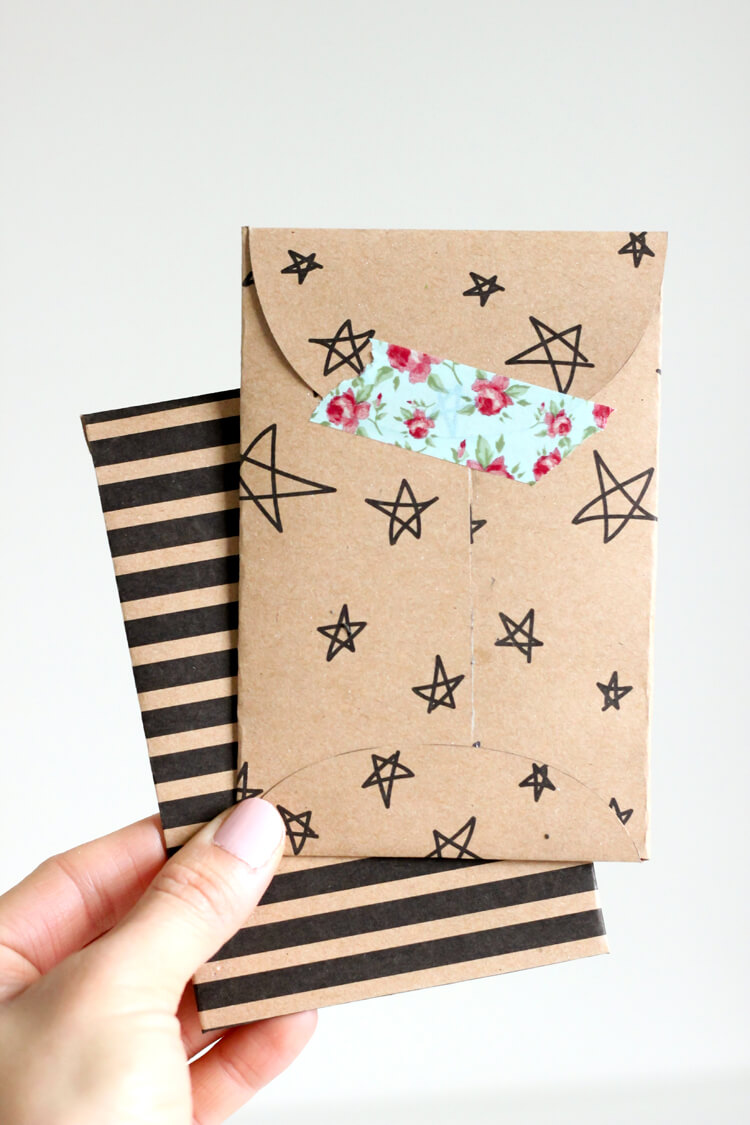 So, giving out a good collection of gift cards this season? It's certainly an easy way to make people happy. But rather than just hand over a gift card or tuck it into a bag that's too large, you can take some kraft paper and create perfectly sized envelopes. With some tape, you can create some cute designs along them too so that they stand out more.
8. Monochrome Gift Wrap Paper and Bow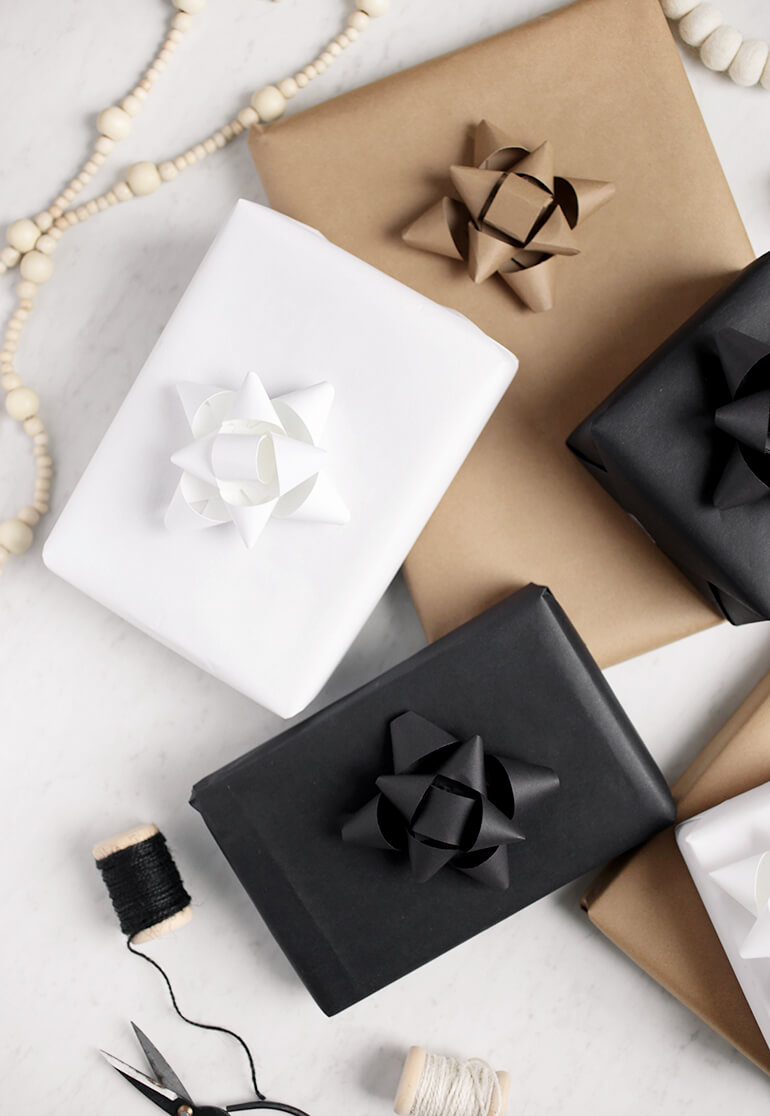 Who said the holidays only had to contain gifts wrapped with bright and colorful paper? Let's help your gift collection stand out with some monochrome kraft paper. Shades of white, black, and brown go a long way into standing out despite them not being traditional holiday colors. This is a great way to add some contrast under the tree.
9. Dress Belt Jingle Bell Wrapping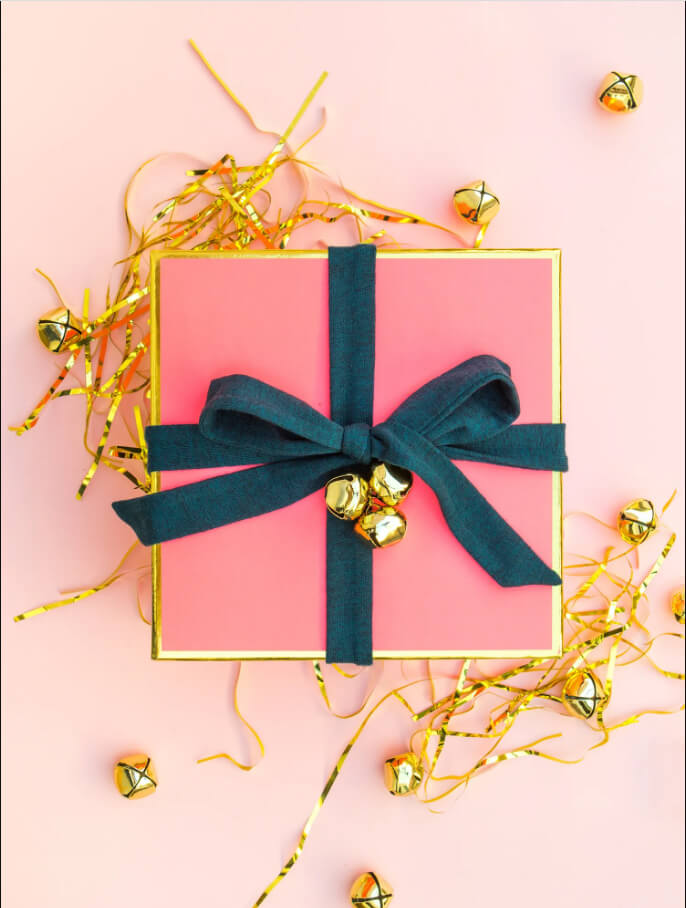 If you have a clothing gift that comes with a cloth belt, consider using that as part of the gift wrapping design. It is an easy and efficient way to create a beautiful bow. Even if your gift doesn't come with one, look around the house for something that can tie around a gift box. Take things one step further by adding some sound to your gift wrap via jingle bells.
10. Creative Cricut Reindeer Gift Wrap Design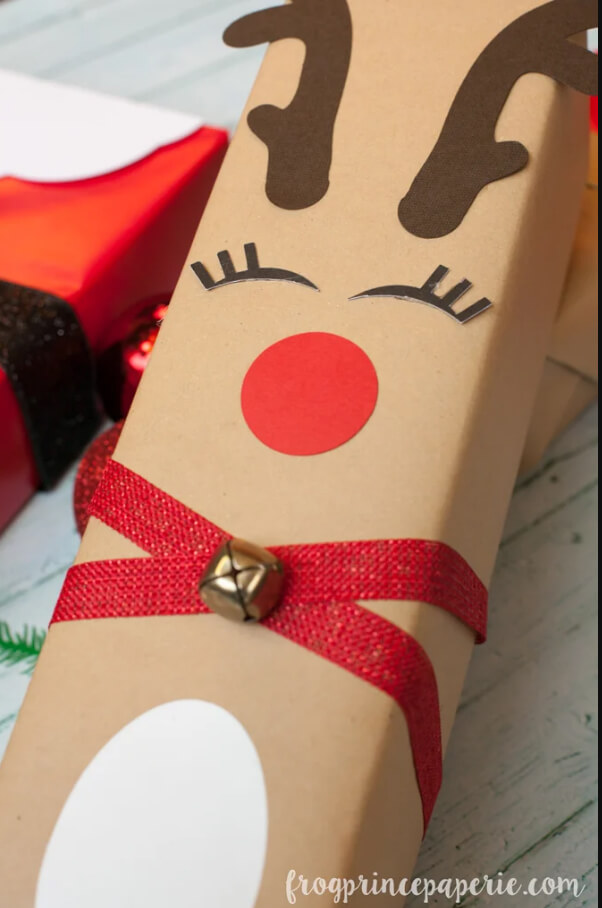 Have a Cricut? Well, you can create some beautiful holiday-themed designs to enhance your DIY gift wrap. In this case, you can print out the right items needed to make a lovable reindeer face. It is a cute way to spruce up traditional gift wrapping paper and make a design that immediately stands out among the other presents.
11. Elegant Gift Wrap with Ornament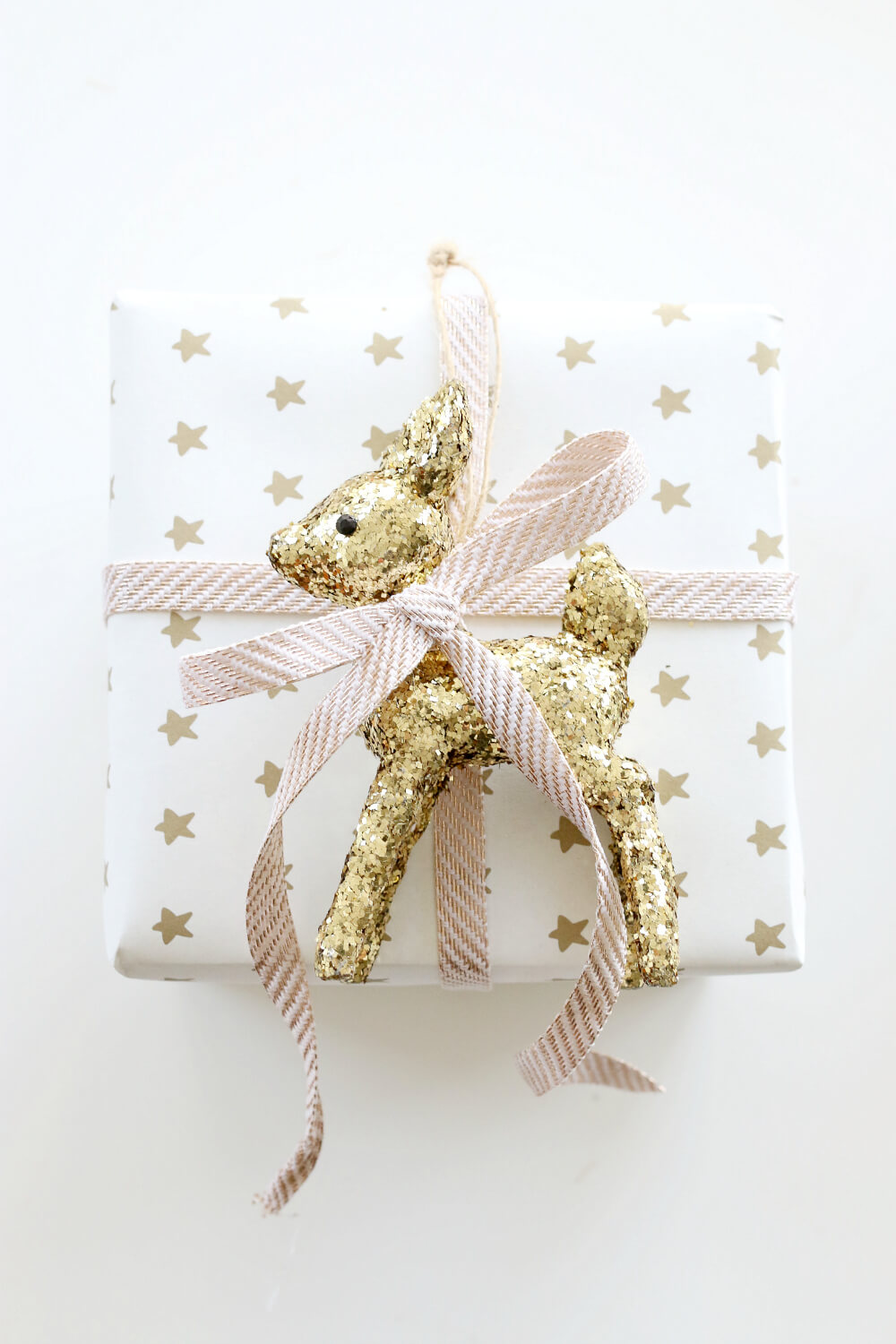 If you want to use regular gift wrapping, you can do so while still adding a personal touch to it. Besides adding a beautiful bow, you can also choose a fitting ornament to tie onto the gift wrap. There are plenty of gorgeous and vibrant ornaments you can add to the gift. Consider using something sentimental between you and whoever you are giving the present to.
12. Gift Bag Wrapping Paper Design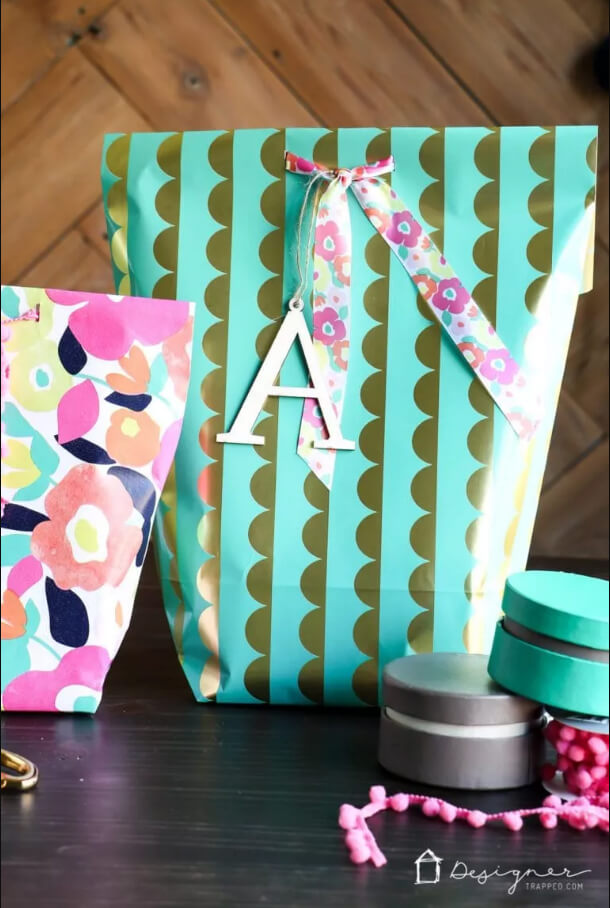 Have some wallpaper lying around? Well, don't get rid of it as it makes for the perfect DIY gift bag. The wallpaper already has a pleasing pattern, so there is no need to add extra embellishments unless you want to. The right layout can ensure that you can slip simple items into the handmade gift bags, leaving your loved ones with something distinctive.
13. Tropical Holiday Print Gift Wrap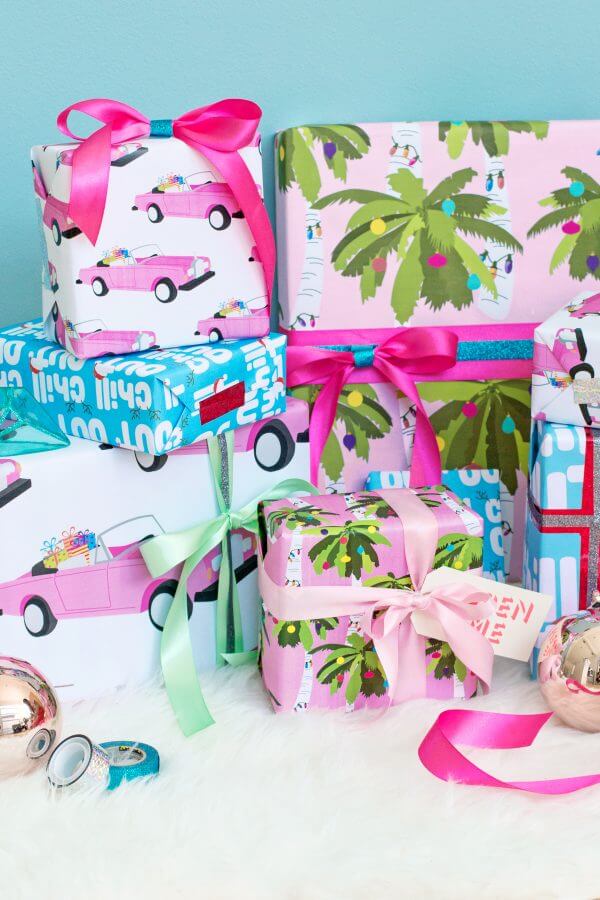 If you don't have the time or resources to create a design at home, you can always download a print instead on the paper of your choice. This way, you are still able to make some DIY gift wrap, but you can take one of the harder steps out of the equation by using a pre-made design. The style in question is a fun approach to the holiday season.
14. Charming Brown Paper Gift Bags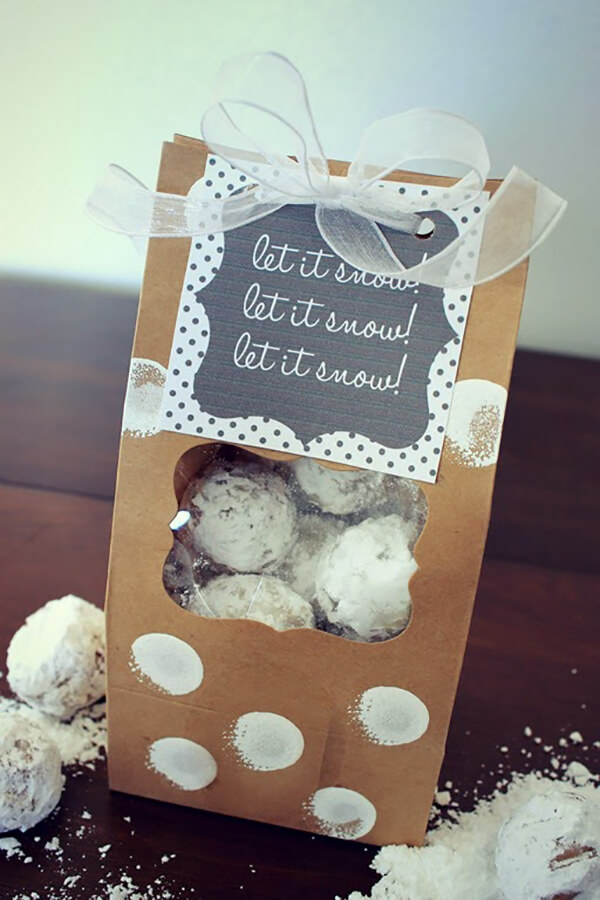 Brown paper bags don't have to be boring. In fact, they make for the perfect homemade gift bags. If you have a few people you'd like to pass out some simple presents too like teachers, friends, and neighbors, then this DIY project is one that can save you on time and money in the long run.
15. DIY Hand Stamped Wrapping Paper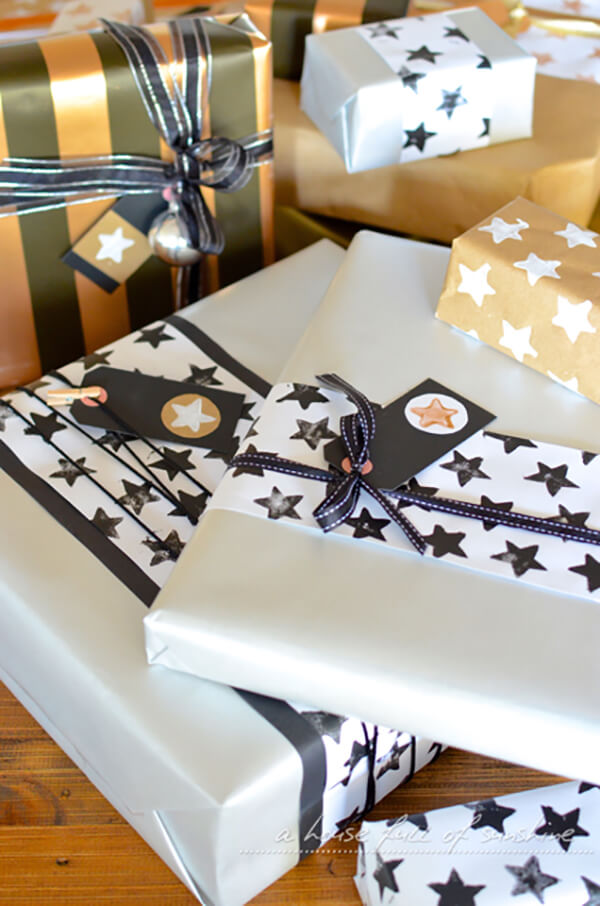 Create a personal theme with all your gifts this holiday season with a DIY stamp. They are not difficult to make, and once you have them, you can apply the stamp to all your wrapping paper, gift tags, gift bags, and more. This is a nice way to personalize your gift even if you use wrapping paper of different colors and designs.
16. DIY Christmas Tree Gift Wrapping Design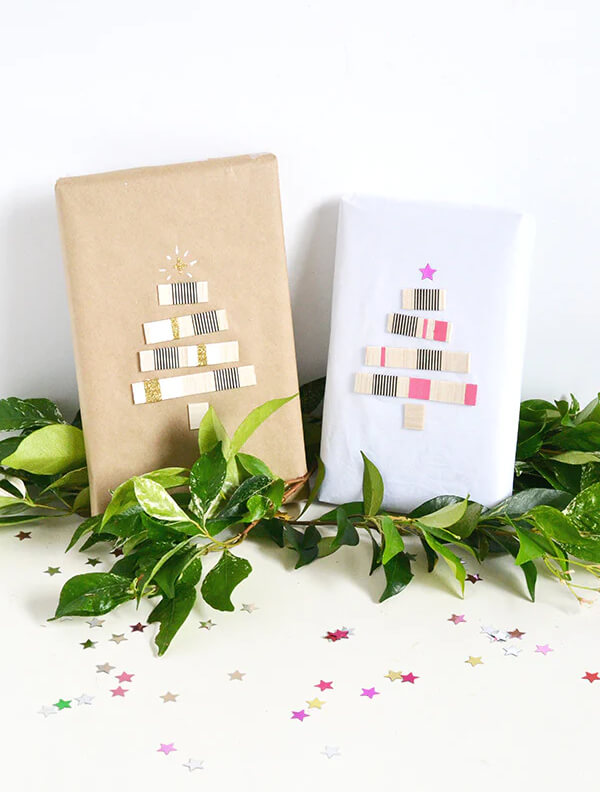 With some balsa wood and kraft paper, you can create some compelling and elegant Christmas tree designs. It is an interesting and artistic approach to homemade gift wraps that will get anyone talking. This type of design works out well with white or brown kraft paper as it adds both texture and contrast to the otherwise simple paper.
17. Upcycled Sweater Wine Bottle Gift Design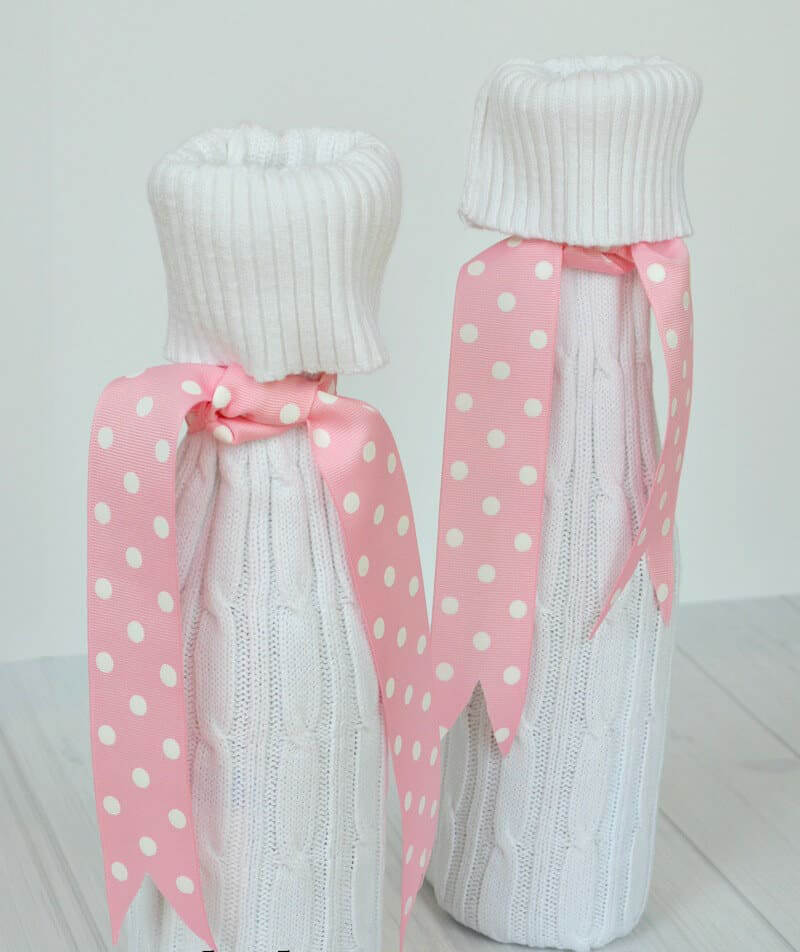 Got some old sweaters that still look good? Well, they are among the best DIY gift wrapping ideas to handle gifts that have a strange shape to wrap. For instance, a wine bottle. Why not wrap it up in style and keep it safe at the same time? An old sweater can do just that. Don't forget the bow to tie it all together.
18. DIY Stamp Gift Wrap Styles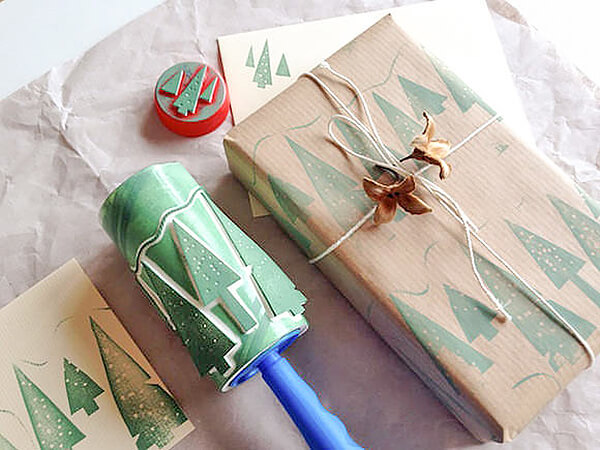 To really dive into the DIY look, you can use homemade stamps to put elegant and creative designs along your gift wrap. This can help you add a greater personal touch to the wrapping paper. In the end, it can come across more as store-bought rather than something that is homemade. This is perhaps the best way to nail down a style you always wanted to see in the store.
19. Simple Homemade Gift Wrap Idea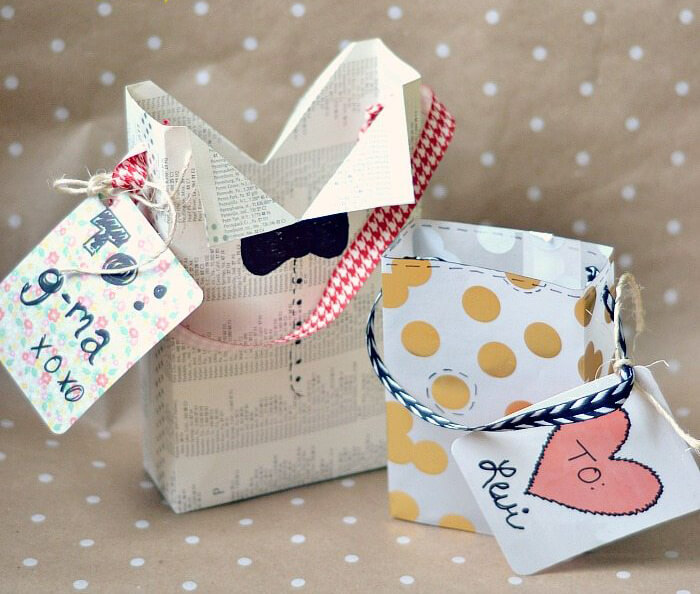 When creating cool gift wraps at home, you can always bring in the kids to make it a family project. This is a nice way for them to give off their presents and further feel like they've put all of themselves in the gifts. Using paper and other items you have hanging around the house is a nice upcycling project for kids too.
20. Fun Chalkboard Painted Wrapping Paper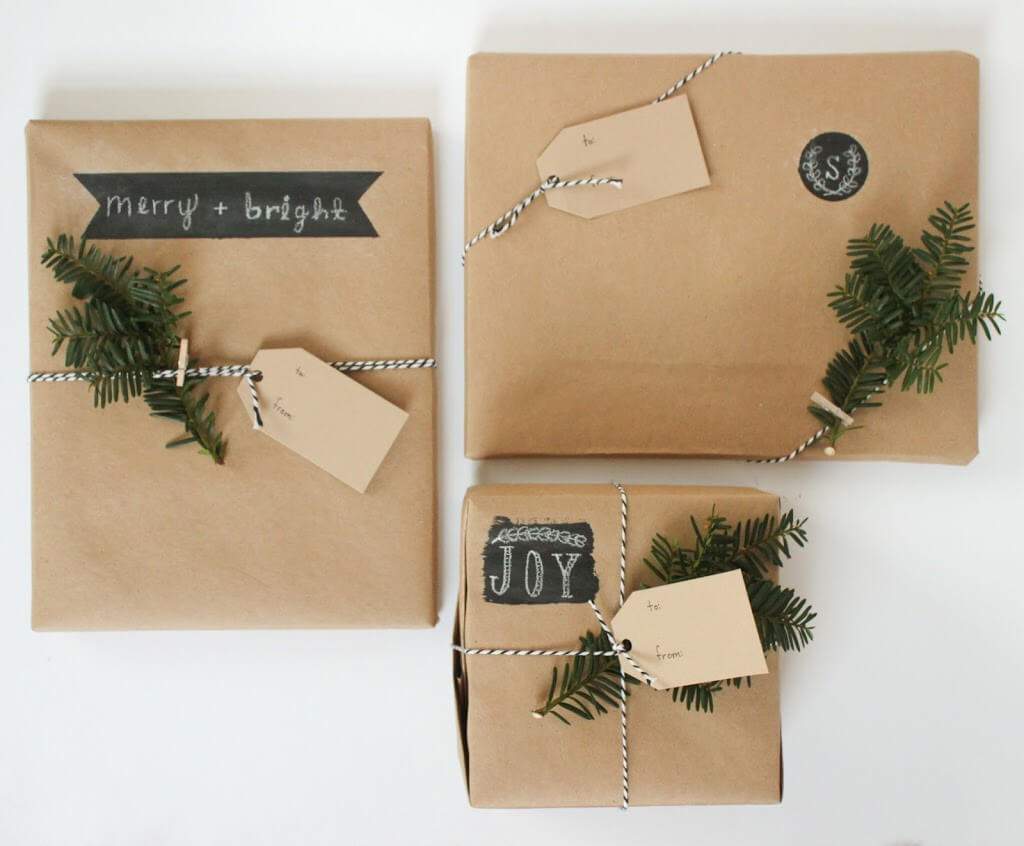 Eager to leave a message on your presents that the gift tag simply won't fit? Well, consider using chalkboard paint. It is exciting to work with as you can leave any message or even change it up if you know you have some curious kids peeking at the presents as they await the day to open them. This is a nice way to add lengthier writings or drawings without taking over a gift tag.
21. Brown Paper Wrap with Tags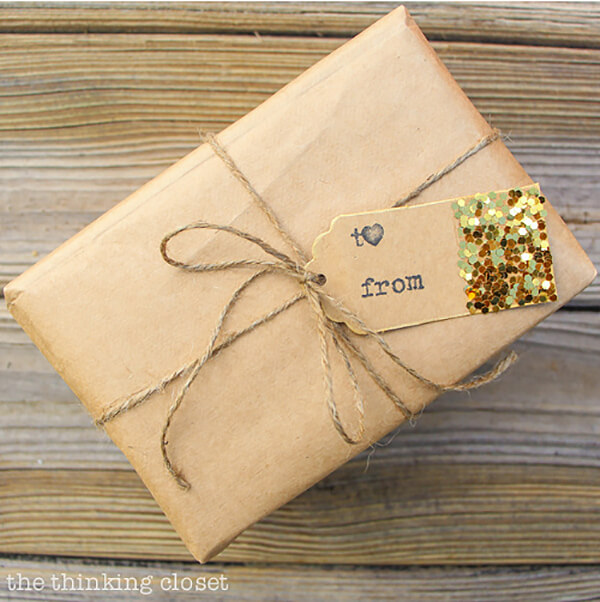 Enhance a standard brown paper gift wrapping with some glitter-dipped gift tags. The brown paper looks well enough on its own. However, a simple dip into some glitter for the gift tags can take things to a completely different and exciting level. It is a straightforward way to add some color to the gift without actually having to decorate the entire wrapping paper.
22. Lino Print Gift Wrap Layout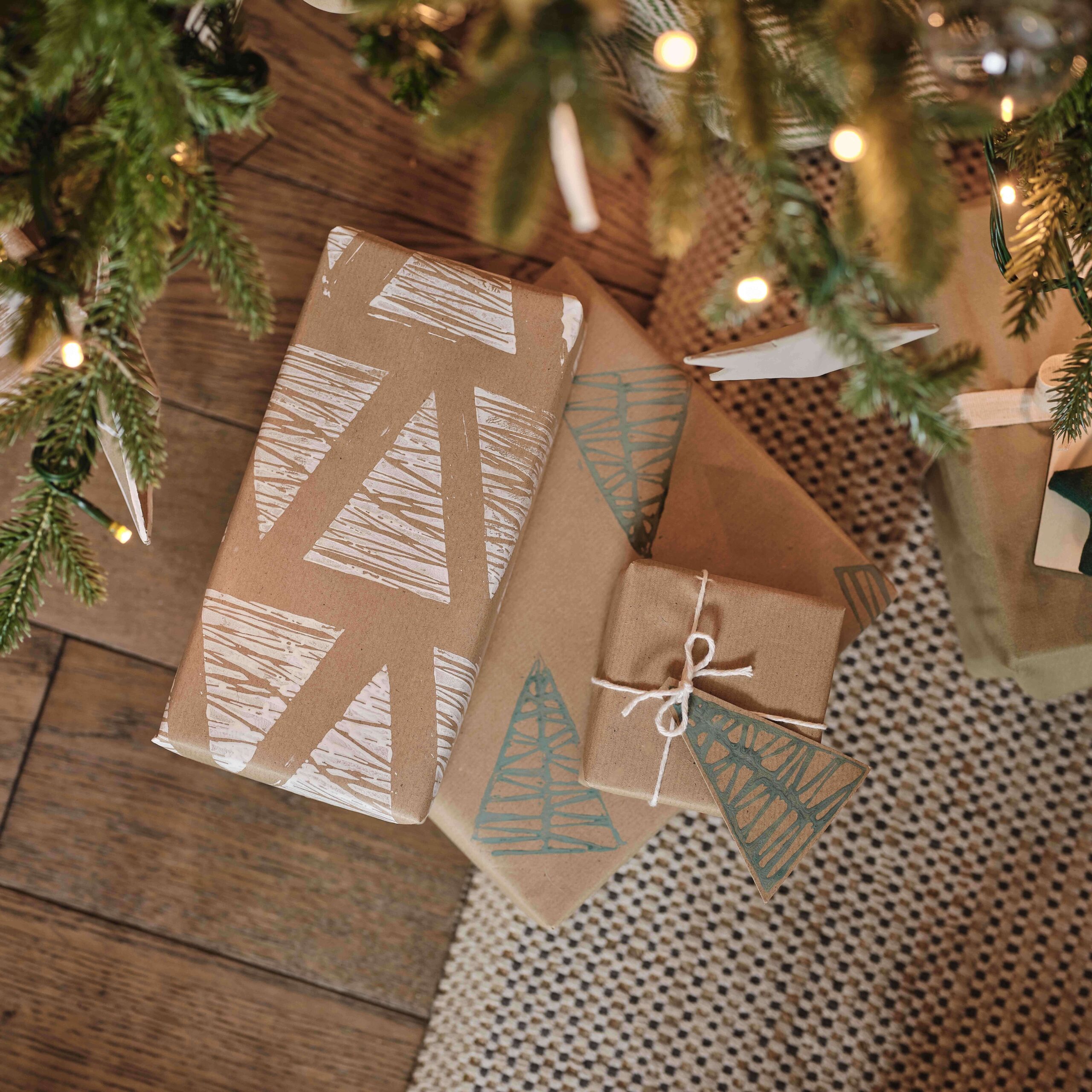 With the right tools, you can elevate standard kraft paper into something that looks professionally made. It is such a simple design that it is fitting for those of you who want to take a more minimalistic approach to decorating. The trees have a more artistic look about them that help them stand out and provide some pleasing contrast against the brown kraft paper.
23. Charming and Elegant DIY Gift Wrap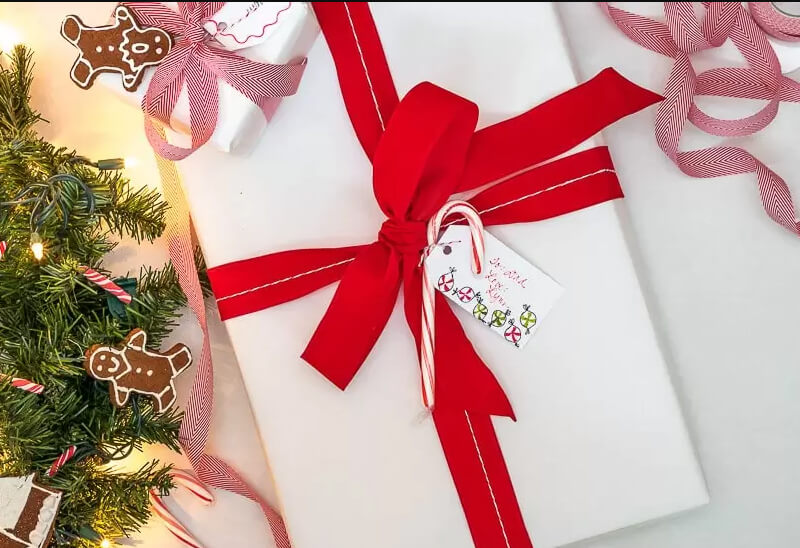 You can keep things simple with your homemade gift wrap while still creating something that is eye-catching. With this wrap, the bold white is wonderfully contrasted with the vivid red bow. The tag and candy cane simply pull it all together as it further complements the minimalistic color style you have going on.
24. Holiday Lights Gift Wrap Design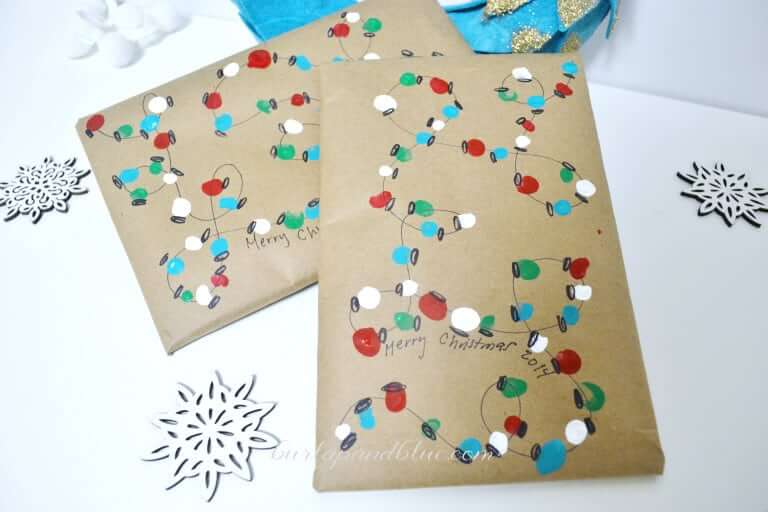 Holiday lights are a great way to add some color to your gift wrap design. Best of all, you can simply draw it on without having to add any extra embellishments. This is a wonderful chance for you to really push your artistic skills as well as go a little wild as you can draw these lights in various patterns. No matter how you draw them, they will add some brightness to your gifts.
Unique DIY Gift Wrapping Ideas to Explore for the Season
This holiday season, try your hand at our favorite homemade gift wrapping ideas to send off your presents in style. Making your own gift wrap is a cool way to push your creative skills and customize the gifts you give away even more. It is also a wonderful way to upcycle some material you have lying around at home if you are interested in that.
Gift wrapping can be made in various materials too. This way, you have some good variety in what you decide to go with. Maybe you have some wallpaper left lying around that you didn't use? Or perhaps you want to make better use of extra craft paper? No matter what base you start with, you should also remember that much of the personalizing comes with what you put on that paper. Adorn your gift with bows and other holiday-themed accessories to help them truly stand out.
If you ever feel creatively stuck, then you can always check back in with our list of the best DIY gift wrapping ideas to get a spark of inspiration.