Nothing says classy like adding the best DIY gold projects and home decor ideas to every room in your home! Many people shy away from a nice splash of gold given this color can be seen as quite bold and a bit unruly if you don't know how to pair it just right. The fall season is officially here so you now have absolutely no time to waste. If you have very neutral colors on the walls in your home, a cool pop of gold will serve you quite well. Even if your home is full of spunky colors, there are certain ways you add homemade projects with gold in a way that will immediately catch the eye of any guests that walk through your front door!
26 Chic DIY Gold Projects to Give Your Home a Desirable Autumn Transformation

The color gold adds a certain flavor to decorations that no other color can. When you think of gold, you think of success and royalty. Now that's the presence you constantly want to deliver within the comfort of your home. From dining room décor to a simple bedroom accessory, there are plenty of golden DIY decor projects that won't be very hard for you to make. What better time to explore your creative side than to spruce up your home with a color that symbolizes luxury.
This is truly the season where throw pillows and cute leaf decorations shine as the centerpieces of home decor. As the weather continues to grow colder, you're going to be spending more time indoors and within the walls of your own home. It's time for you to create a welcoming environment for all those guests you'll be inviting over very soon to fellowship and ring in the holidays. Sit back, relax, and take a nice stroll through these amazing ideas to see which one is the best fit for your home!
1. Touch of Gold Feather Garland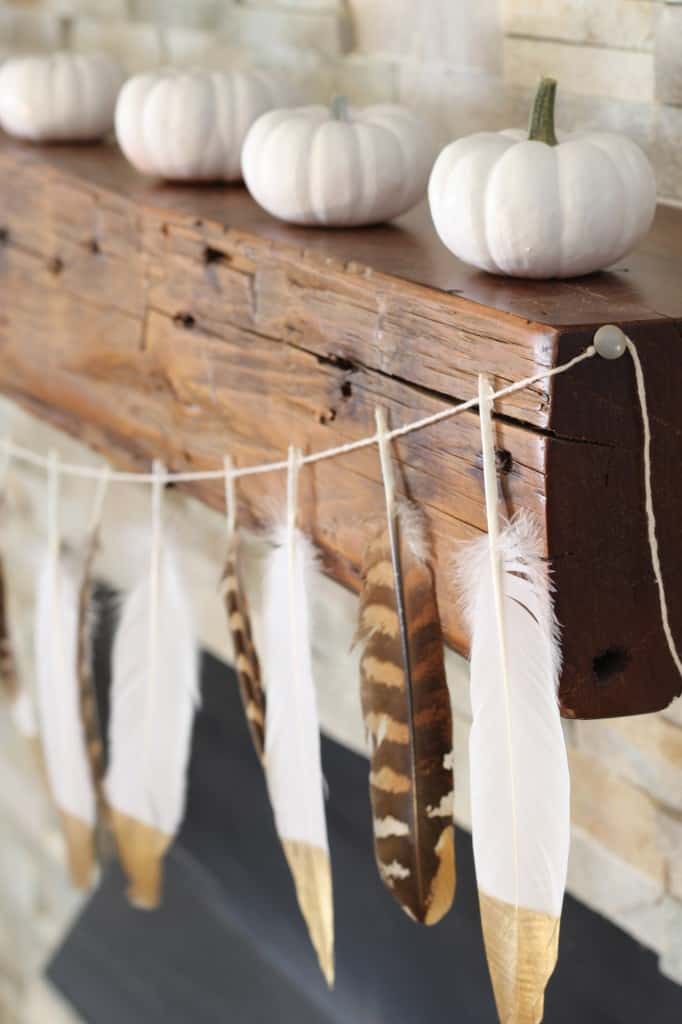 You may be thinking you don't want to get ahead of yourself by placing a garland around your home. It's not winter just yet! Fortunately, this unique garland option will add a perfect gold accent to the mantle above your fireplace. You can never have too much gold! Maybe that's not quite true but you definitely don't have to worry about that issue with this decoration. All you're going to do is pick a neutral feather design and then add a bit of gold spray paint to the tip. You will be surprised how a little gold can go a long way.
2. Creatively Cute Gold String Lights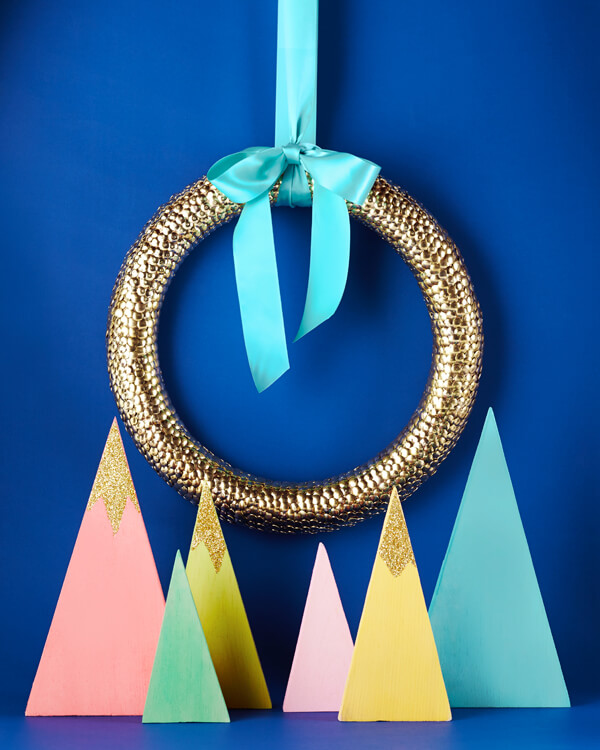 There is never anything wrong with taking advantage of your local hardware store to find some amazing decorations for your home. These gold string lights start out as ordinary, dingy lights you can buy anywhere. After you add a little bit of spray adhesive and some gold leaf, you're going to have living room decor that looks extremely expensive! In reality, you know you only spent a couple of bucks on the resources and let your creative hands do the rest. These lights will add just the slightest touch of gold to any room. Hang them vertically beside your favorite portrait and call yourself creative!
4. Splash of Gold Geometric Spray Painted Mugs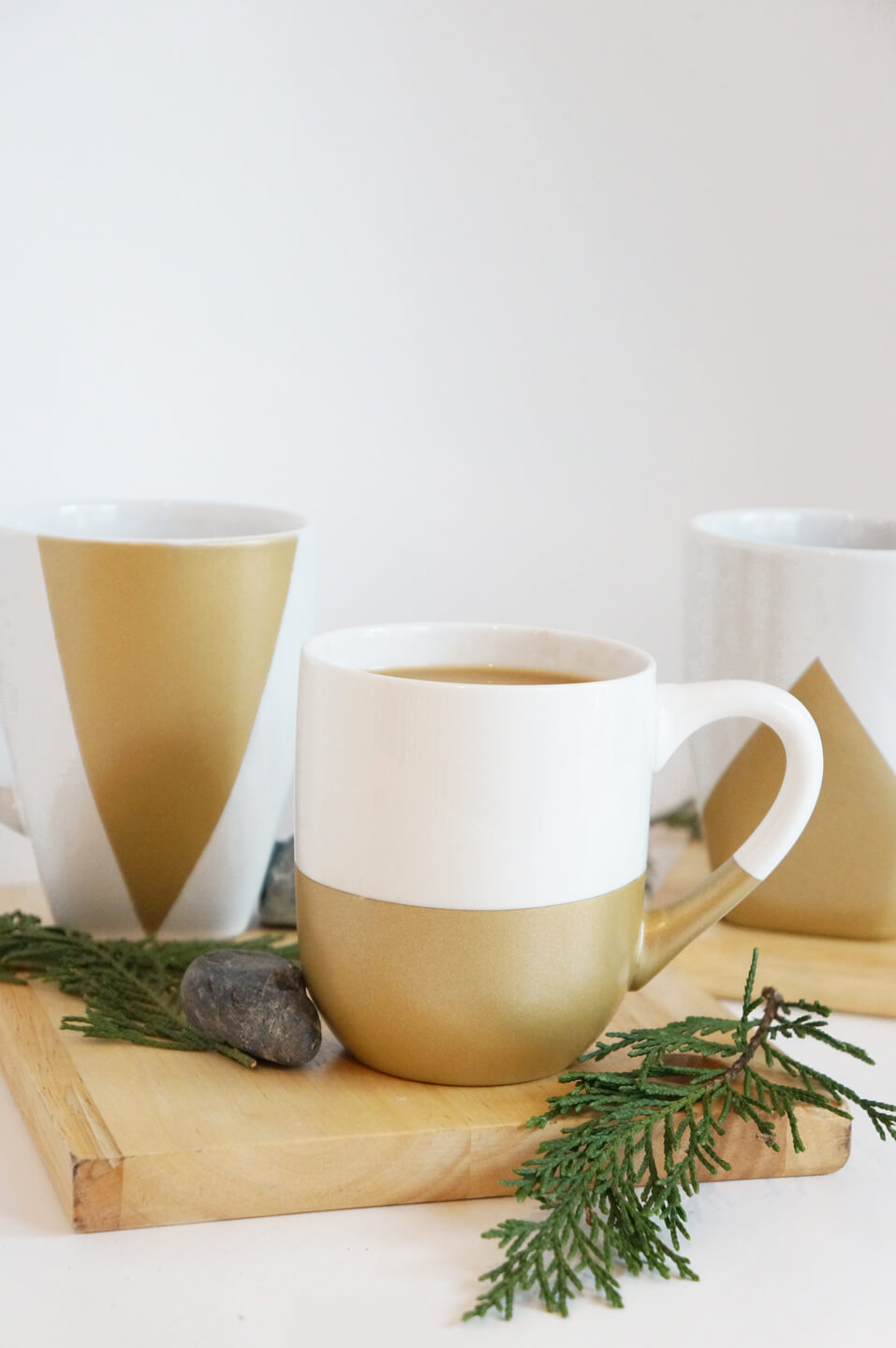 Take your typical kitchen setting to an entirely new level with this simple project! All you really need is some painter's tape and gold spray paint to bring this look together. These cups will add a nice modern flair to your current kitchen decor. Make sure you place your painter's tape on the mugs evenly so you can create a very clean look. Picture yourself sitting at the white table in your breakfast nook sipping a warm cup of coffee from your newly designed mugs. Nothing can beat the gold shimmer on a cool, fall morning.
5. Stunning Gold-Framed Jewelry Organizer Art Piece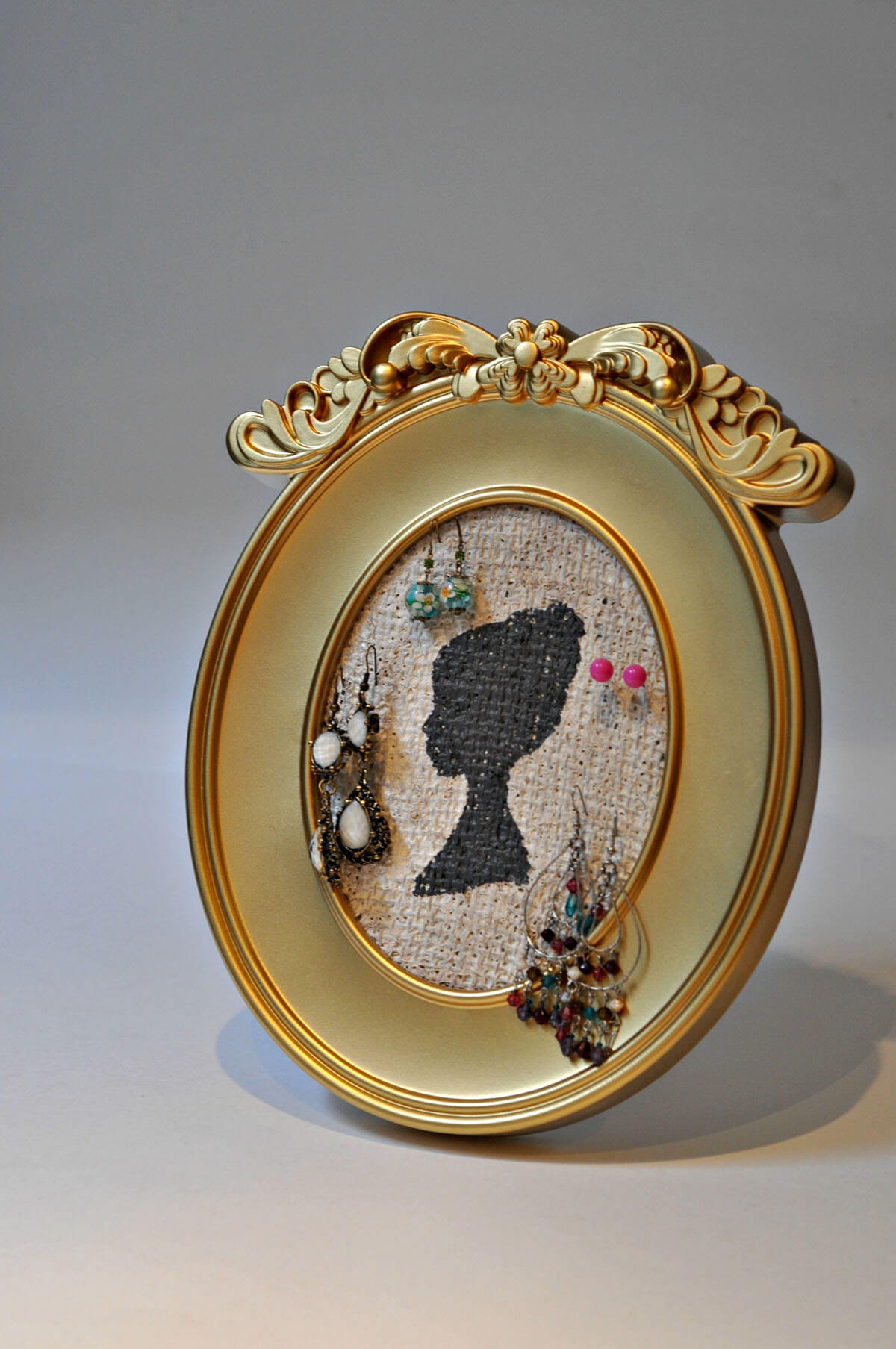 Do you have a large selection of jewelry and nowhere to put it? You're in luck because this gold-framed jewelry organizer doubles as a magnificent piece of artwork. Place this amazing decor on the desk in your office or the beautiful vanity in your room. You are going to fall in love with this look no matter where you place it! Piece together this creative look to give your room the vintage look you've always wanted. With a corkboard and a little extra paint, you can ramp up this neutral look with a historical silhouette of your choice!
6. Elegant Gold Chandelier Center Piece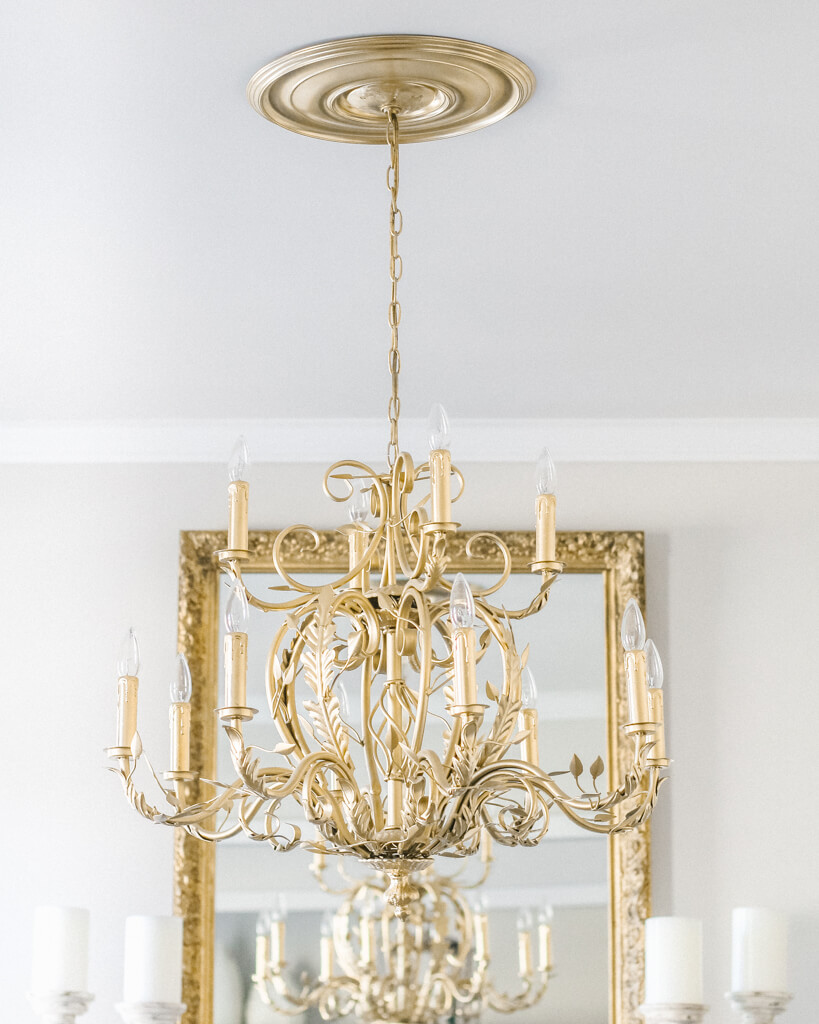 This is an absolutely stunning centerpiece that is going to make all your guests simply stop and stare! Picture this, you have an amazingly gorgeous chandelier hanging right above your dining room table and it's completely covered in gold all over. If you're going to go for a decoration this bold, make sure the other decor you have in close proximity to your elegant chandelier matches perfectly with this new vibe! Allow your family and friends to see the more sophisticated side of you by renovating this incredible piece of art with just the right amount of gold!
7. Giant Gold Rose Mantle Décor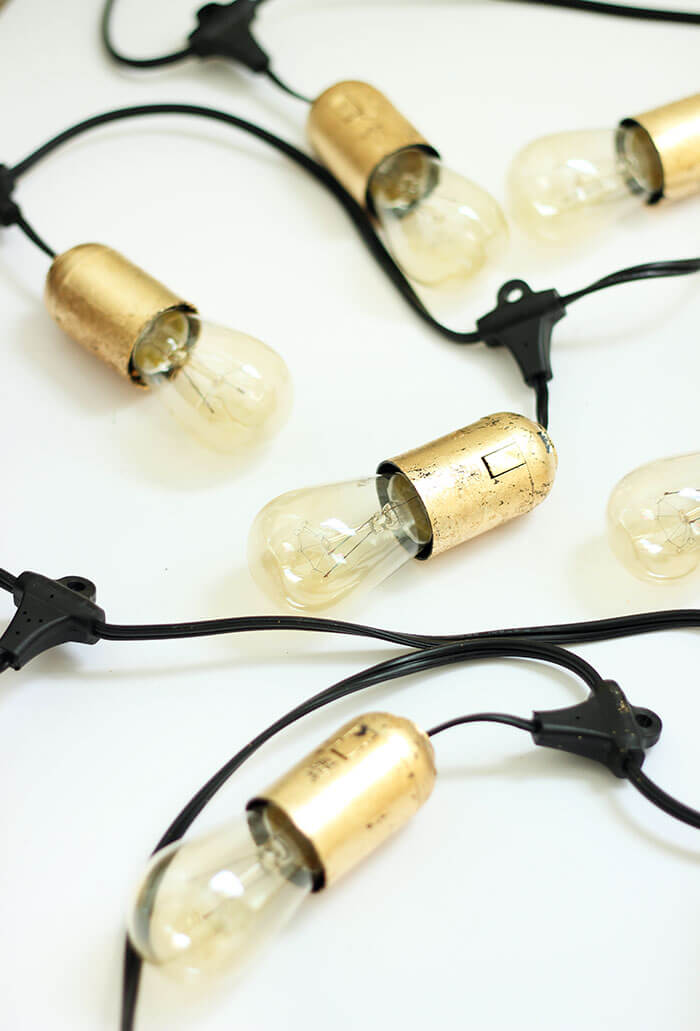 This is a situation where bigger is truly better! The large paper flowers you create will be great for every season. Anyone who steps into your house won't be able to help but to take notice of your fun new creations! The rose is always a classic choice when it comes to beautiful flowers that can easily become the center of attention in any room. Placing this big, gold decor on your fireplace mantle will help you fill the space with something other than extremely expensive vases you feel as though you have to have in order for your living room to glow!
8. Unique State Map with Gold Vintage Frame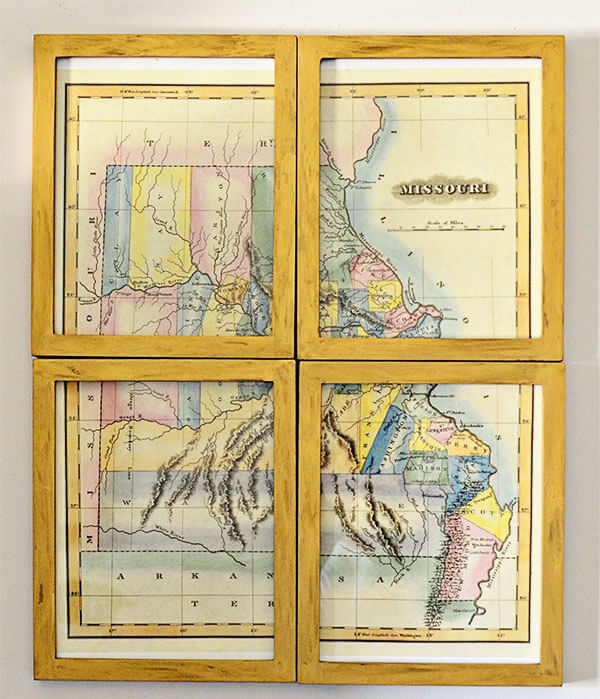 If you're a history buff, this is one of the best DIY gold projects you can create! You're absolutely going to love the way this gold-painted frame compliments your favorite map of choice. Whether it's the world map or just a map of the state you live in, add a frame and some gold paint to let your personality shine! There's no reason why you should ever feel like you have to just crumple your maps into the desk drawer in your office. Grab some old frames, spray them with gold paint, and place your amazing new creation on the wall right above your desk so you can see it every time you finally decide to be productive in your home office!
9. Gold Ombre Lamp with a Glitter Base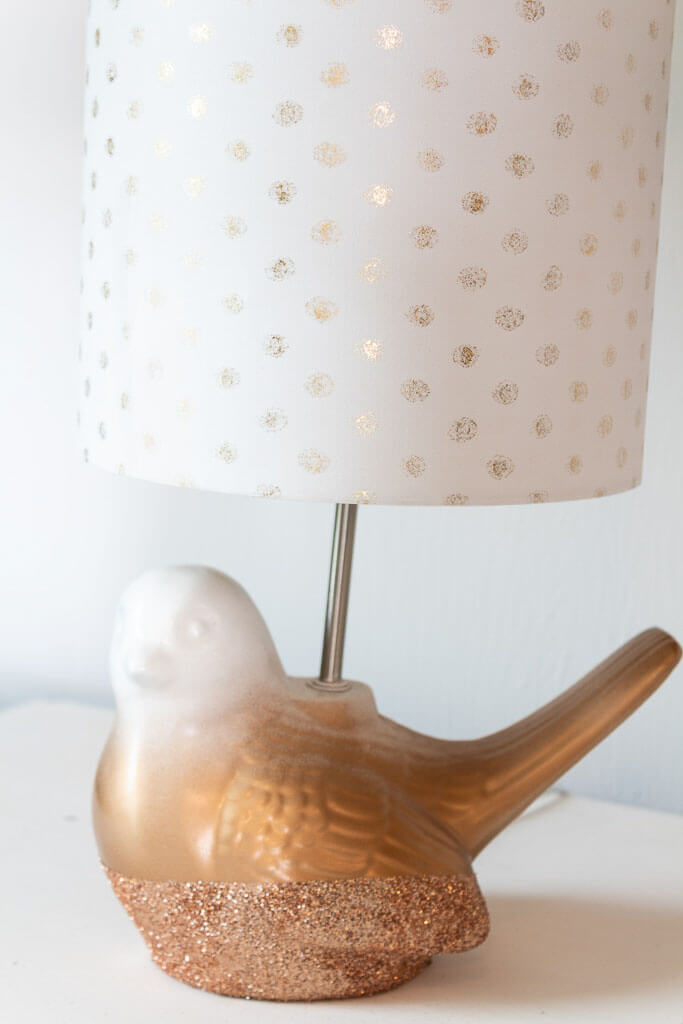 Salvage the oldest lamps in your house with this amazing DIY idea! Depending on the lamp base you decide to use, you can place this modernized version inside any room of your house. All you really need is some metallic gold spray paint as well as your favorite shade of gold glitter to make this DIY project pop! It will take the more creative side of you to get the ombre look just right so this creation is not for the faint of heart. That being said, you can set up a nice girls' night excursion where you all bring your oldest lamp and transform them into living room decor you just can't live without!
10. DIY Gold Autumn Leaf Table Decoration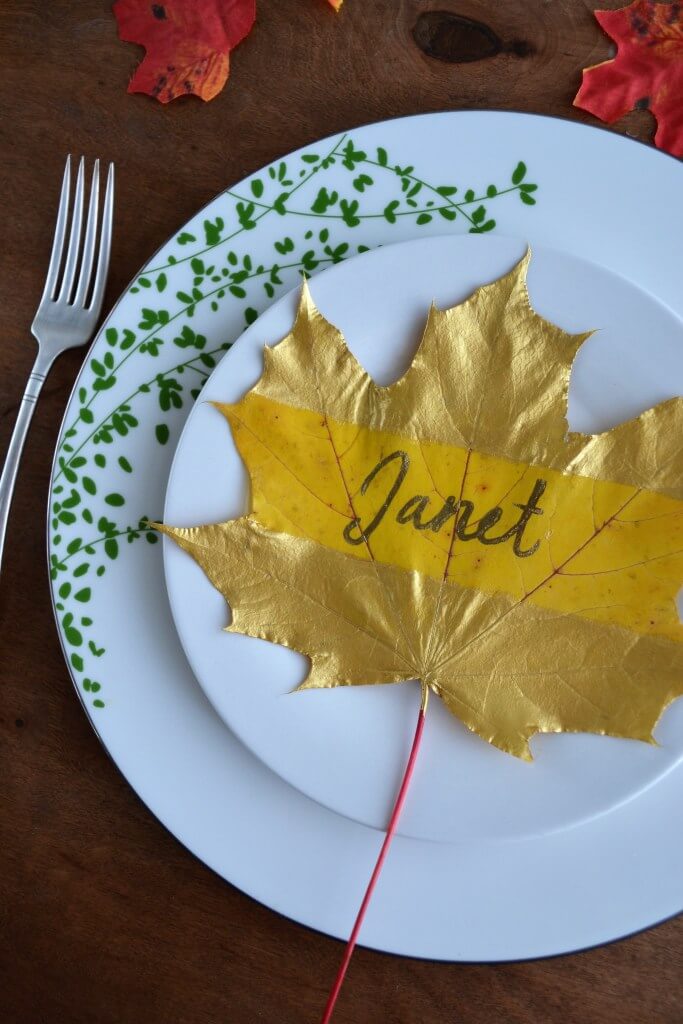 If you're ready to add a splash of unique color to your go-to dining room set, consider these gold autumn leaves. You won't regret taking the extra time to customize them with your name and the name of the guests who come over so much they basically live in your house at this point. When it comes time for the beautiful autumn leaves to start falling off the trees, these homemade projects with gold are going to be so fun to create! If you can't wait that long, buy some faux leaves at your local store and place this customized gold decoration on every dining room plate!
11. White Plush Gold Arrow Pillow Décor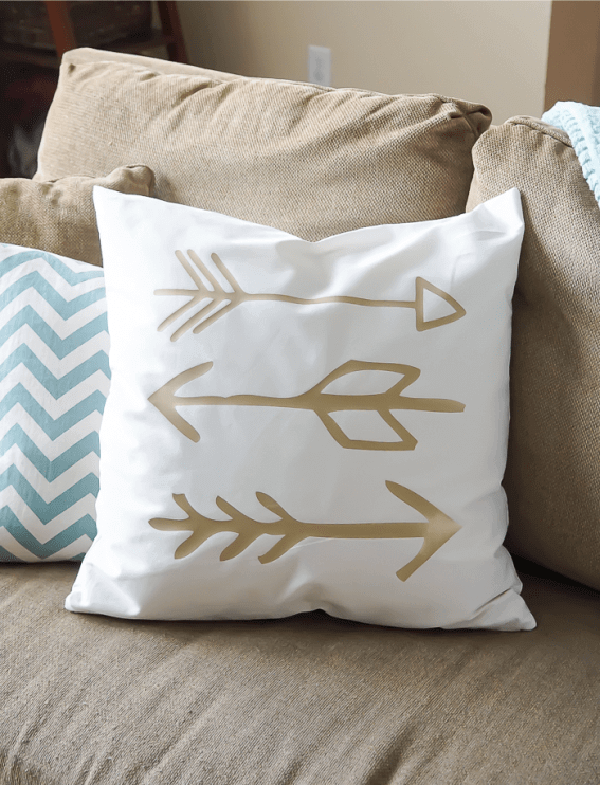 The season has finally arrived where it is socially acceptable to have a ridiculous amount of throw pillows in your house without anyone questioning your motives! Take advantage of this opportunity by taking a trip down to your local store to buy a white twill fabric throw pillow you absolutely love! This will give you the perfect base to add your gold arrows onto once you complete a vinyl heat transfer. That may sound like an extensive process but you won't regret the incredible outcome. Take a chance on your own creative abilities and give this cute throw pillow look a shot!
12. Gold Accent Mason Jar Flower Vase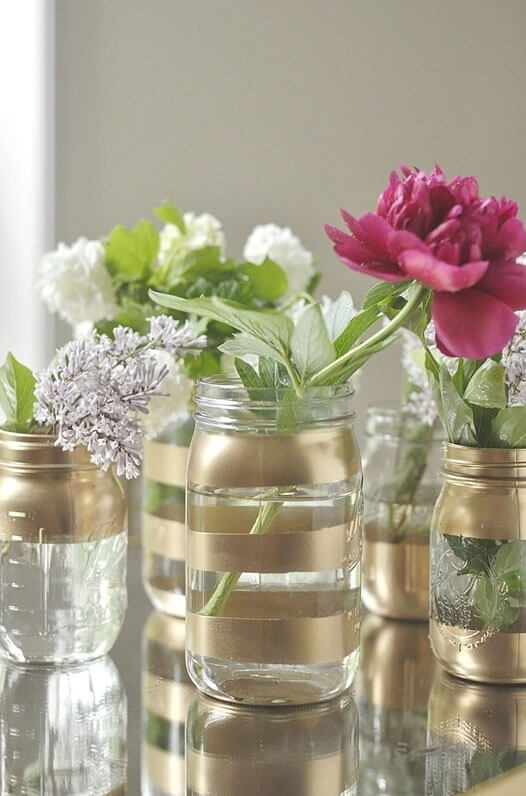 Everyone loves a unique spin on the classic mason jar designs. Whenever it comes to cute ideas that are meant to make all your guests jealous, you should always start by seeing what you can create with a mason jar! With this DIY design, you can truly decide for yourself how you want the gold pattern to look. Maybe you're someone who loves to go for a little half and half action. If not, you can also create a nice striped look that can be cute in any setting! Once the outer portion of this decor is complete, add a flower inside that makes you feel happy every time you see it.
13. Gold Ambiance Lamp Shade Decor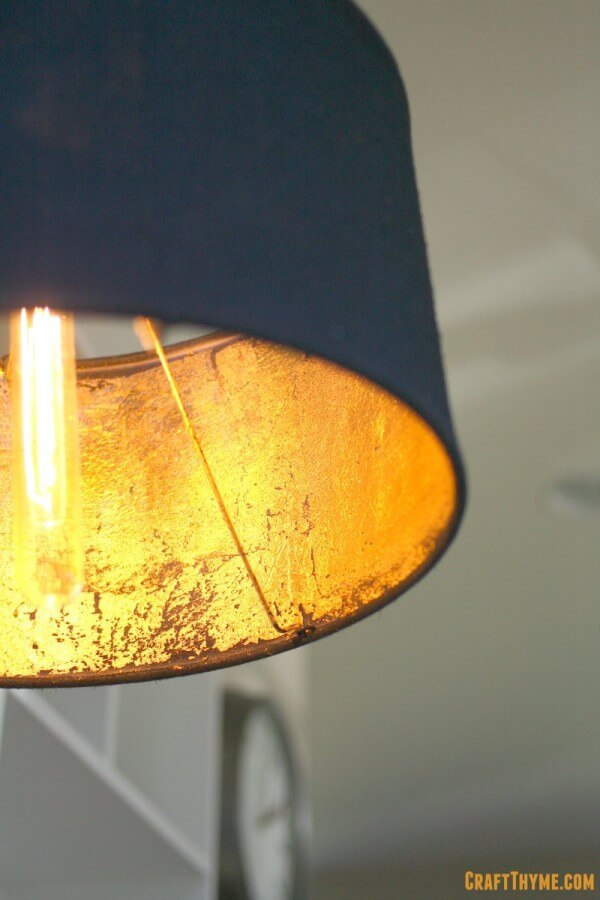 Who doesn't love a nice, gold ambient light? This is especially true as the weather starts to become cooler and the sun begins to fade into the darkness a little sooner than you've gotten used to during the sunny months of summer. The lampshade in your living room probably hasn't been cleaned for quite some time now so you're going to want to give that a good cleaning before you lay the gold leaf on the inside. This is easily one of the best DIY gold projects because it's truly so simple to create at home!
14. Simple DIY Gold Polka Dot Vase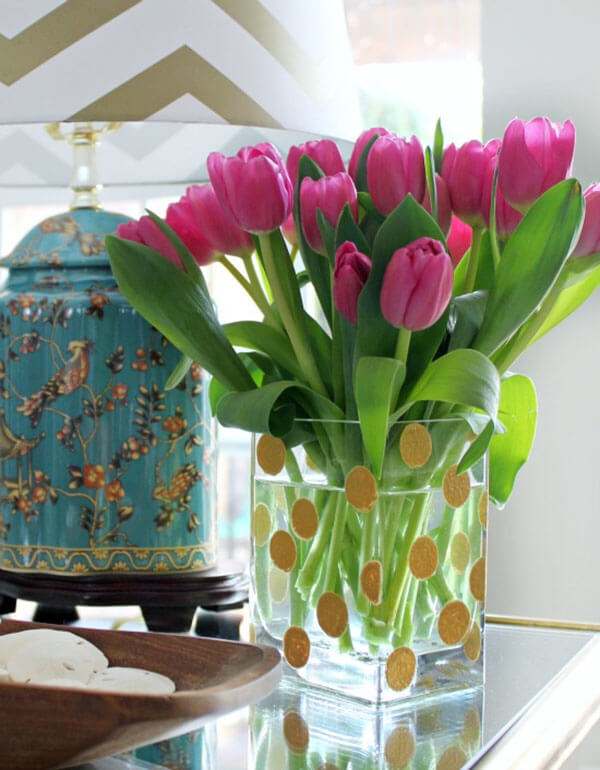 When you are trying to decorate your home for the first time, you might want to keep it simple and stick to the basics. You can truly never go wrong with a simple and modern look to accent the decor of your home. Adding these gold-leaf polka dots to your favorite flower vase is going to give you an incredible centerpiece for your dining room table. Pick out your favorite bundle of flowers and place them right in the middle of the table. If you're trying to make this more of a sideshow rather than a centerpiece, simply give the polka dot vase a home on any small table in your home!
15. Golden Chevron Desk Tray for Organization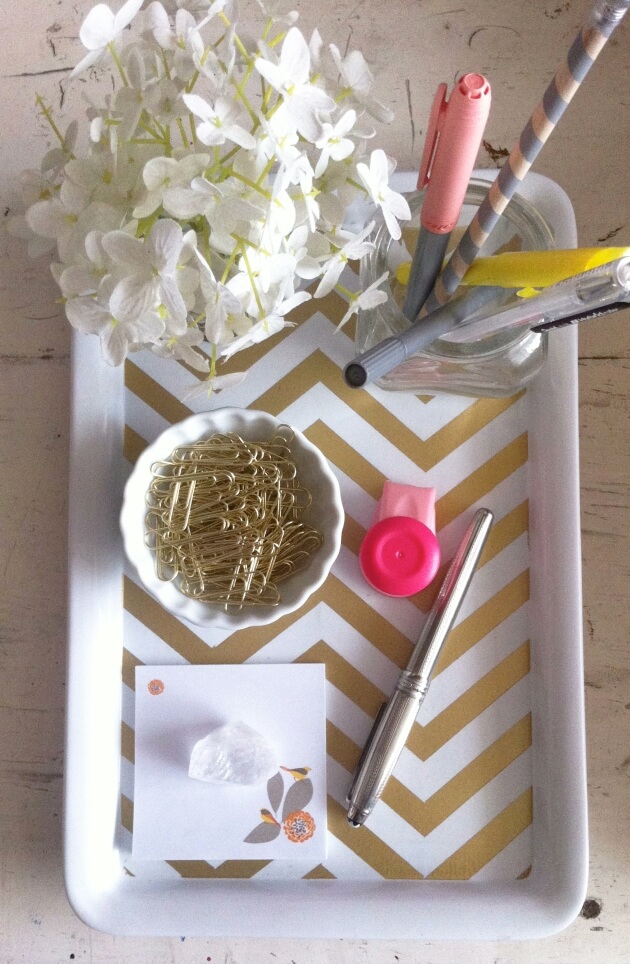 Make organizing fun and fabulous with this pretty and practical desk tray. Put your own spin on it by incorporating a fun chevron stripe pattern to really make your gold paint pop! It's a fantastic solution for adding stylish storage to your desktop and making work a little more fun in your home office. And since all of your small essentials are conveniently placed neatly in this tray, you can quickly move them out of the way if you need a lot of desk space for a project.
16. Adding Height to Your Decor with Books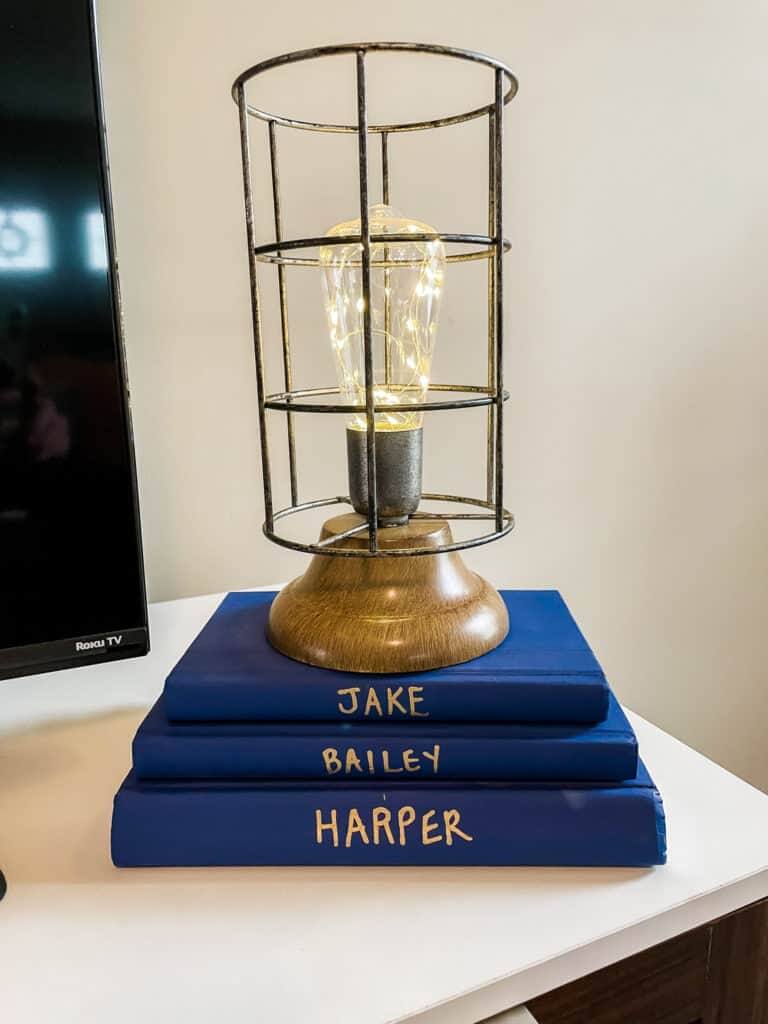 Put a personal touch on a home decorating scene by adding some height and customization. When you need to make an arrangement a little taller or even adjust the height of one item, using books is the way to go. You can choose to stack one or three depending upon the desired look you crave. And to make it even more stylish, add the names of your family to the spine to give this a completely custom look. Paint some old books a favorite color then add your family's names in the gold marker for one easy and amazing homemade project with gold.
17. Gilded and Golden DIY Animal Menagerie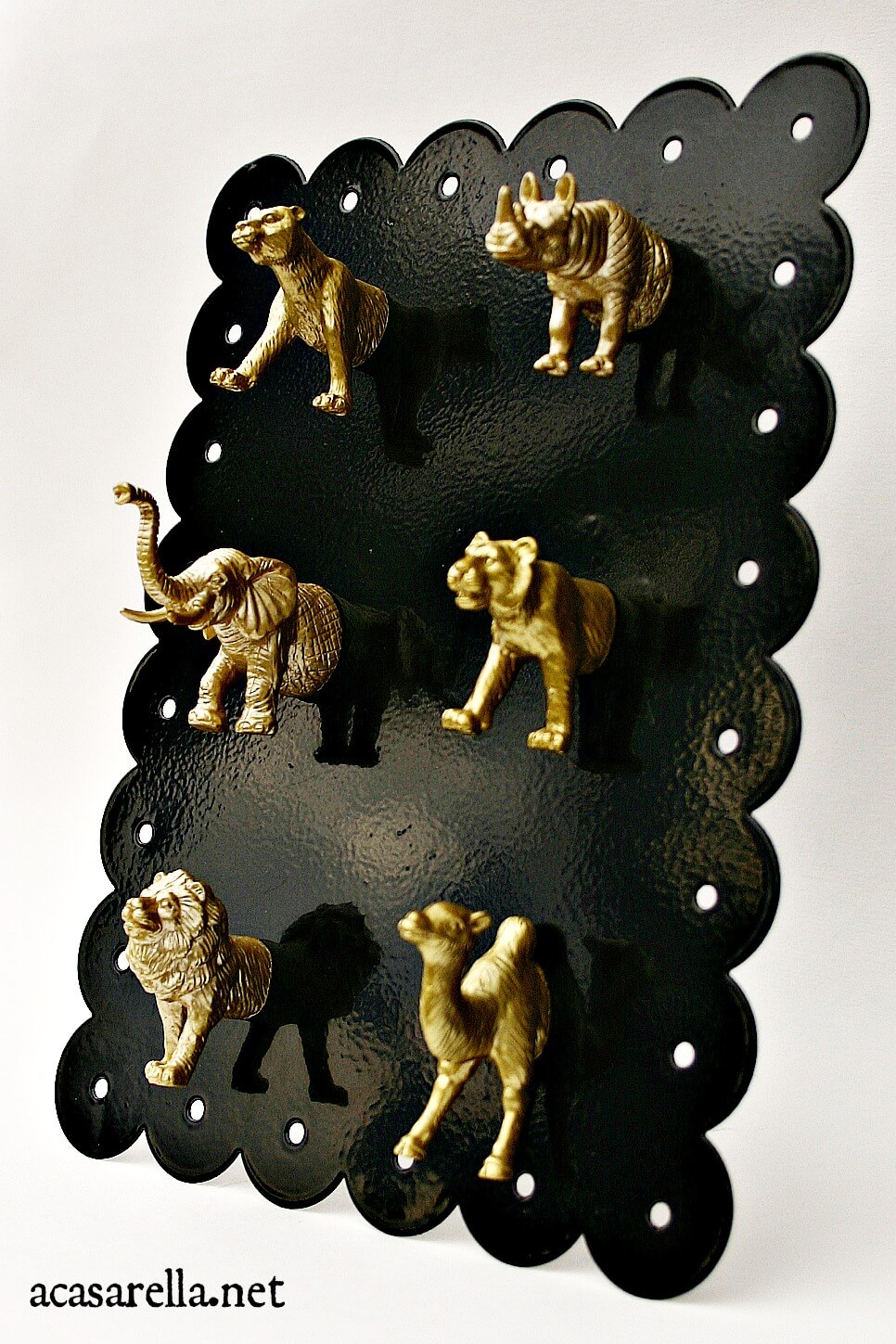 Show off one of the best DIY gold projects with this lineup of golden animals. Each animal is easy to recognize and looks amazing in all its golden splendor. Cut in half and hooked to a magnet, it's easier than ever to create this original and interesting menagerie. The half animals appear to come right through the background of this interesting art piece. Finishing each one with gold simply adds to their beauty and stylish nature. Connect all of your golden accents by adding this terrific piece to your home.
18. Shimmery Shim Sunburst Mirror Gold DIY Decoration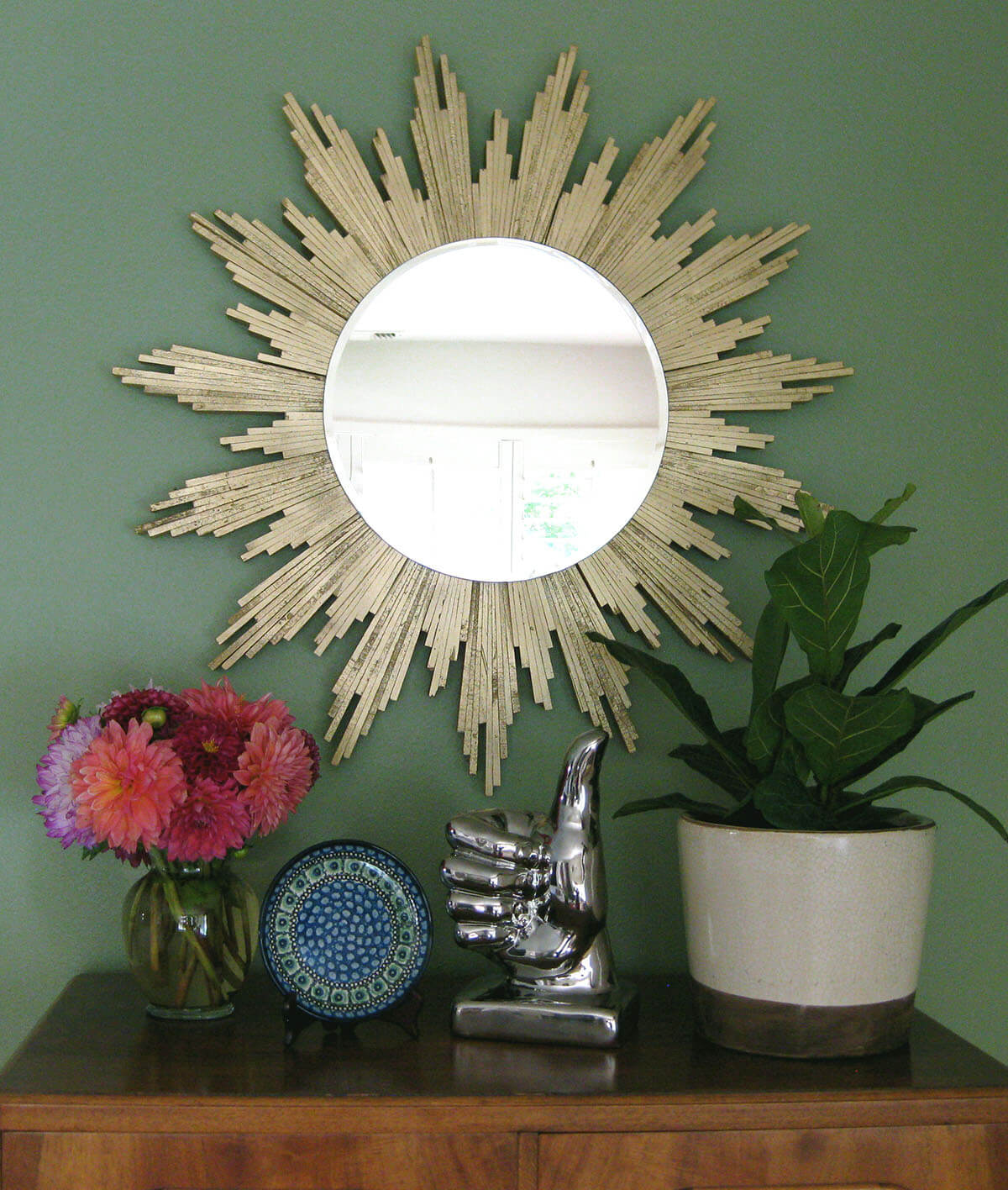 This spectacular sunburst mirror is bursting to life in your home on a low-budget design that doesn't scrimp on style. Wooden shims glued together to create the interesting and incredible rays of the sun that's positioned behind a simple round mirror. With the sheen of the gold paint on the rays, the completed project is a bold statement that's a burst of sunshine for your home.
19. Cheap DIY Golden Mid Century Modern Art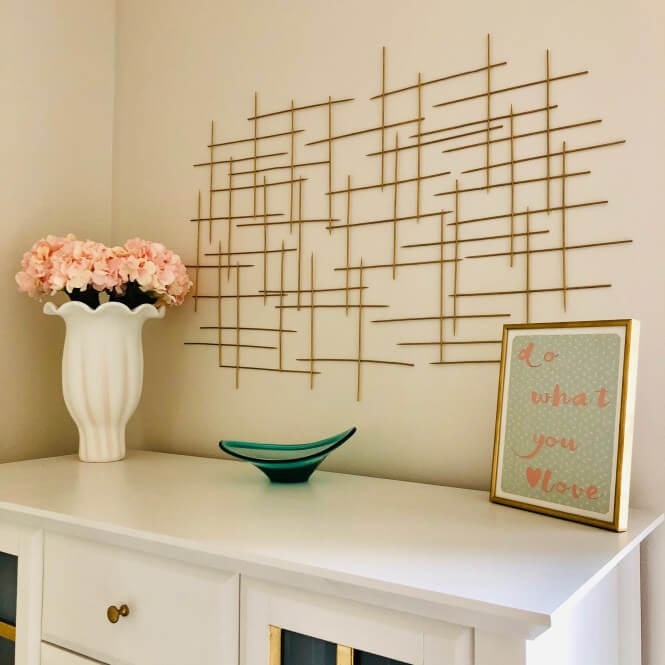 Jumping in on the gold craze doesn't mean you have to be rich. With a little ingenuity and a lot of creativity, you'll be mesmerized by the sparkle you can add to your home on a shoestring budget. Take this mid-century modern abstract golden stick wall art. It carries a hefty price tag when purchased from a retailer, but can be easily crafted at home with a five-dollar bill. Once you've adhered your skewer sticks into the size and shape of your liking, dust them with a fine coat of gold spray paint. Once dry, they easily hang on a few strategically placed screws and are a very welcomed golden addition to your home.
20. Shimmer and Stripes Golden Serving Tray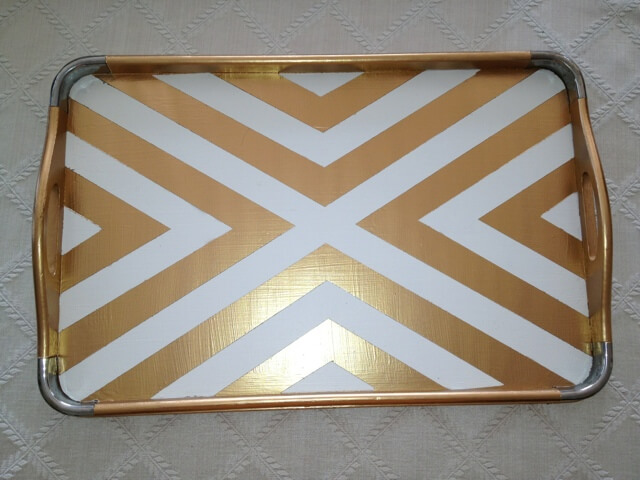 Shimmer and stripes and everything nice are what you'll get with this DIY golden serving tray. Using some savvy painter's tape, create a great pattern for one of your golden DIY decor projects and apply that gold spray paint. Set off by a white background, the unique chevron striped design on this DIY tray looks elegant and bold. It can be set on an ottoman and easily hold an inviting display of flowers and books or it can be hung on the wall as a modern piece of wall art. Use it to serve cookies or snacks at your next coffee break with a friend.
21. Fabulous Faux Gold Glitter Pumpkins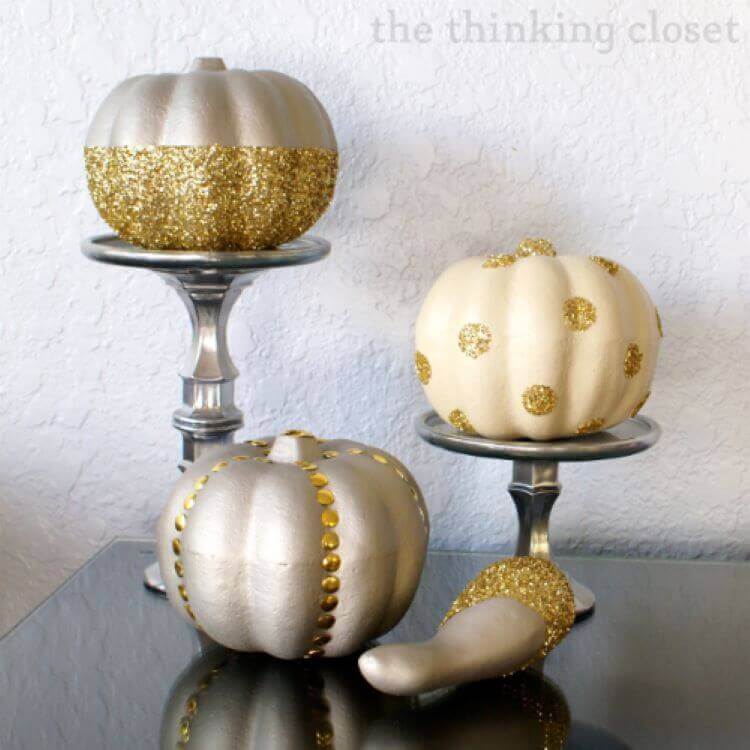 Now is the time to get excited about pumpkins given "spooky season" is just around the corner! During this time of year, you can always find plenty of fake pumpkins just waiting to be purchased by someone who loves to have their home decor change appropriately with the seasons. Instead of setting out the same basic pumpkins everyone else bought from your local store, add the perfect touch of gold glitter! You can cover the entire bottom half of the pumpkin or if that design isn't quite for you, just add a few gold polka dots and call it a day!
22. Homespun Gold Leaf Mid-Century Modern Cabinet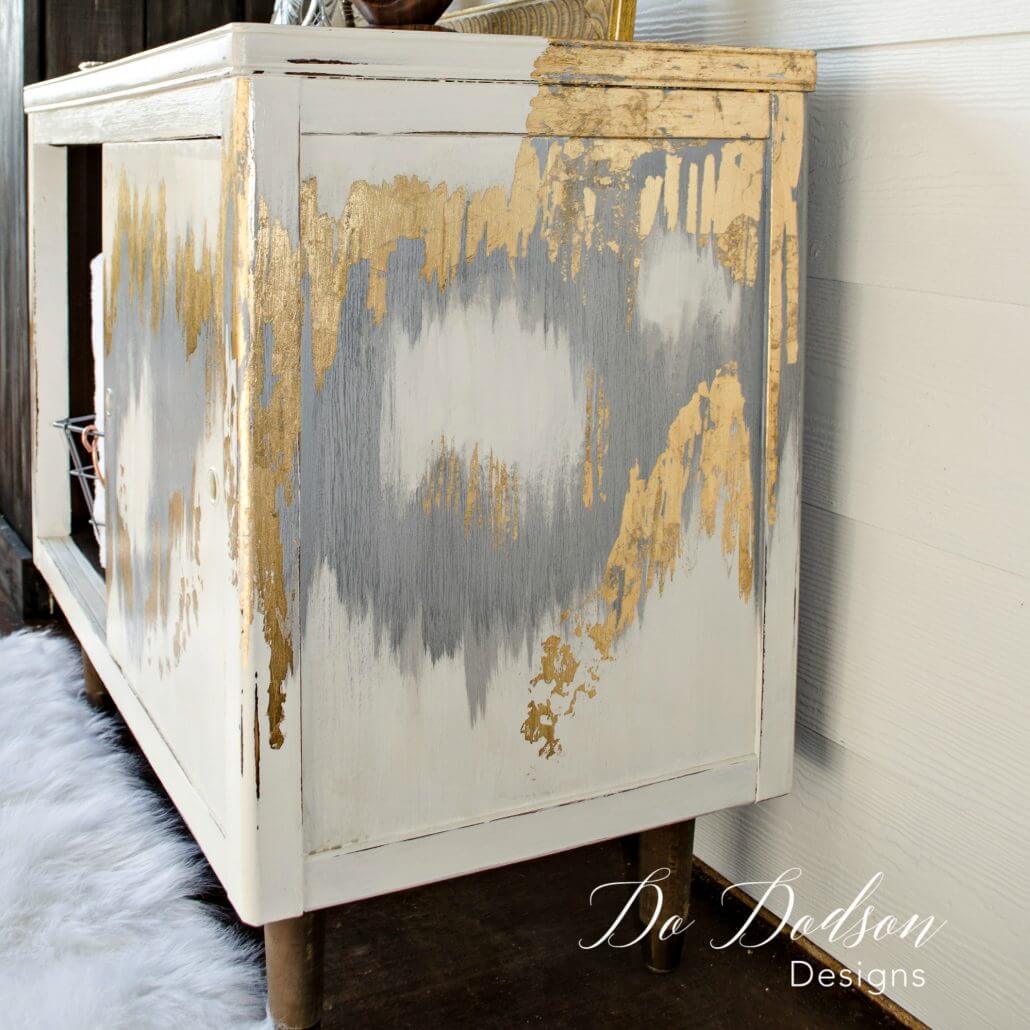 Maybe you love the color gold but hate to bring any furniture in your house that's just too flashy. This rustic mid-century modern cabinet provides you with a perfect combination of rustic and classy. You don't have to live in a farmhouse to be able to appreciate what this amazing style of furniture can offer your living room or even your kitchen area. Your guests will be in awe of your ability to pull off such an offsetting combination. The creation process is simple. All you have to do is get the resources and be willing to put in a little elbow grease to bring your gold DIY project to life!
23. Modern DIY Gold Spray Paint Art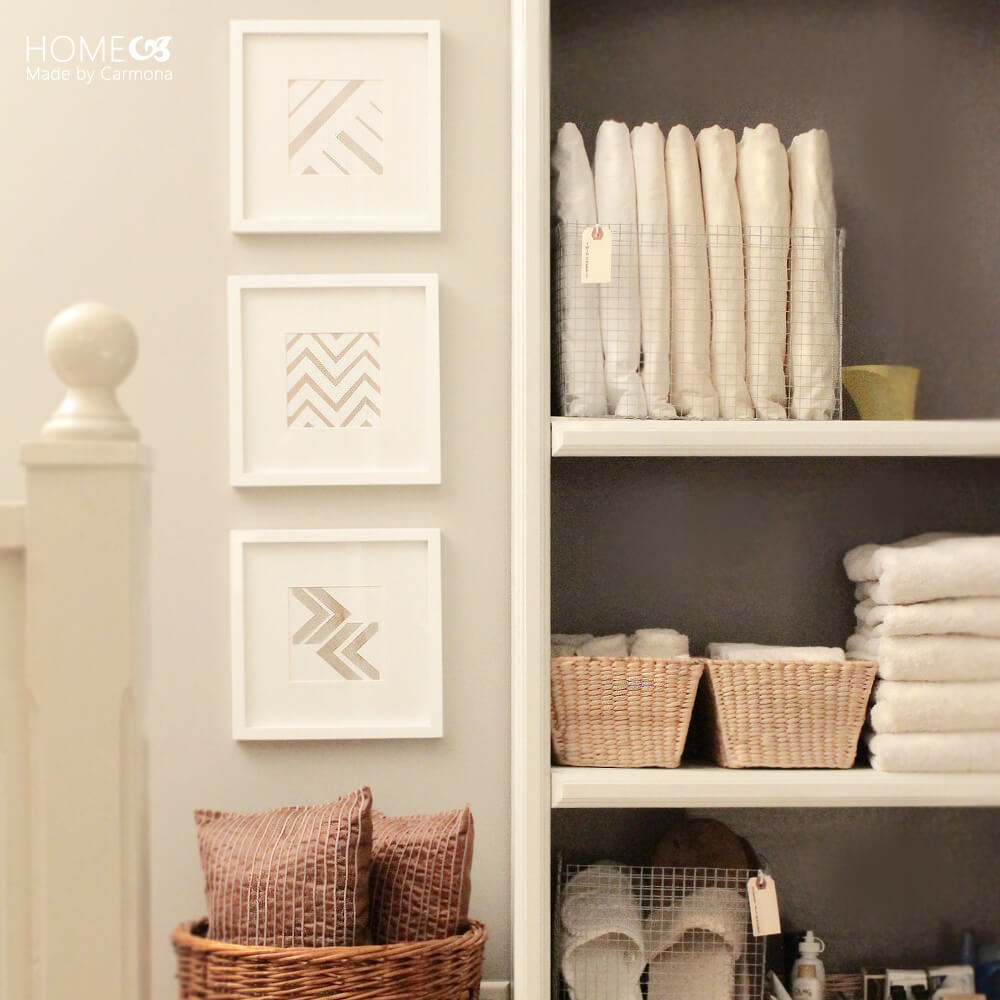 Don't let the walls in your house go undecorated for another second! This modern gold spray paint art is going to provide you with just the slight pop of color you need to add a lively flair to your bedroom walls. Pick your favorite Aztec patterns and frame them as true art pieces on your newly decorated wall. While you're creating a gold explosion in the rest of your house to prepare for the cool weather of the fall season it can be easy to forget your own bedroom. Those walls cannot be neglected! This beautiful arrowhead art will never let you down.
24. Rustic Wooden and Gold Jewelry Dishes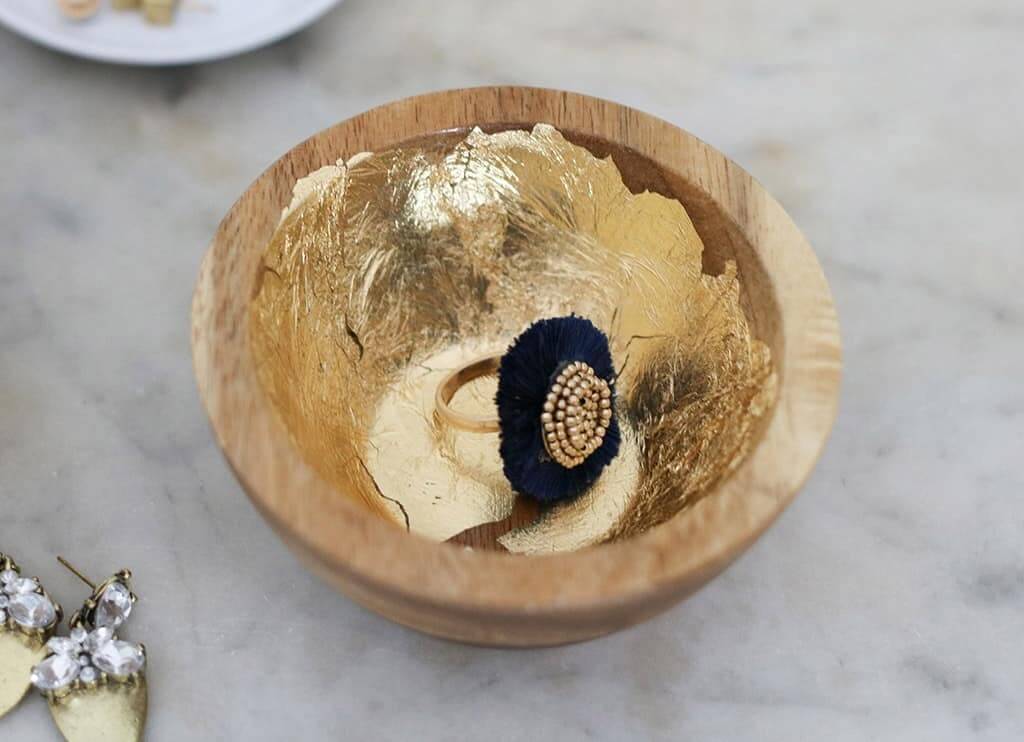 This amazing combination of gold leaf on a wooden bowl brings modern class to a farmhouse feel. To create one of these homemade projects with gold, you can either use gold leaf or metallic gold spray paint. Either option will give you the unique look you're going for. All the great memories from your childhood art classes are going to come rushing back when you pull out your mod podge, acrylic paint, and paintbrushes. This cute design can easily be the centerpiece of any dining room table or a great addition to the coffee table your guests stop at when they first enter your home!
25. Surprisingly Smooth Thumbtack Wreath of Gold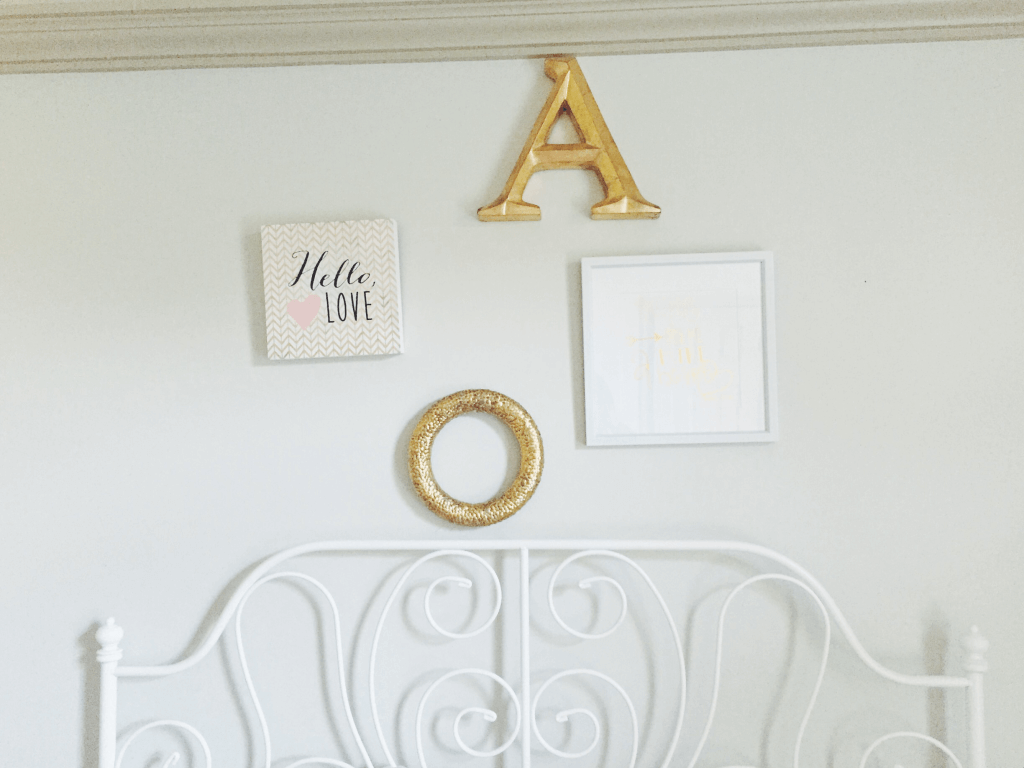 After creating this extremely simple piece of art, you're quickly going to realize this is one of the easiest golden DIY decor projects to create. All you really need is a Styrofoam wreath and a bunch of gold thumbtacks! Don't worry about accidentally poking yourself given the sharp end of the thumbtack goes inside the wreath while the smooth, glossy side is exposed for you to enjoy! If you're struggling to figure out what decorations you're going to place on the wall right above your bed, consider this gold thumbtack wreath. As you step into your room and look at the wall, you will feel as if you're in the presence of royalty!
26. Gold Aztec Designed Terra Cotta Pots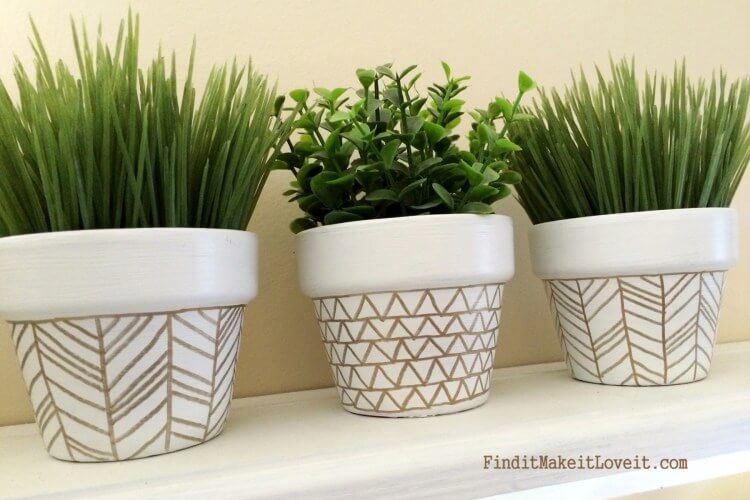 The thought of decorating your home with anything related to flowerpots may scare you if you're afraid the plants may die. Fortunately, there is a great alternative that will help you overcome this fear once and for all! Instead of using real flowers, just grab some unique yet classic faux plants you adore. Then, pick out a trio of white terra cotta pots from your local store and be prepared to let your creative juices flow. Given there are so many possible designs to choose from, pick one that is right for your new pots and is going to perfectly accent your home.
26 Unique DIY Gold Projects That Will Add a Gold Ambiance to Any Room Decor
You've taken a nice look at just a small sampling of the best DIY gold projects you can create in your home! Feel free to bring family and friends in on the fun because that's truly what this season is all about. If you're ahead of the game and completely tapped out on the fall season decor, pass a creation or two off to someone you care about who might not be quite as on top of their decorating game. After all, this is the season of thankfulness and giving!
Some of these decorations are made specifically for Halloween while others can last you through the entirety of fall and maybe even winter if you really know what you're doing! Show off your unique creativity skills by picking a few of these items that you know will look absolutely stunning no matter where you place them in your house. Now that you have the knowledge, don't miss out on this opportunity to transform your home. Just as the seasons continue to change, your knowledge and creative abilities will never cease to expand. Which one is your favorite? After you've taken the time to create some of these for yourself, share your new golden DIY decor projects with your family and friends!