The metallic sheen of silver and gold work well any time of year. However, they are special when added to Holiday displays of all sorts. This collection of silver and gold decor ideas showcases a number of projects that you could use for the Season or break out any time you need a shimmer or a shine.
20 Easy DIY Silver and Gold Decor Ideas that Will Transform Your Space

The warmth of gold pairs well with almost any color, though it really stands out with white and black. White seems to bring out its shiny side, while black seems to bring out the warmth of its gold color. Mixing and matching gold pieces is a sure way to warm up any decorative display.
The lustrous shine of silver stands easily on its own. However, add it to a display of white and it harkens to a crisp winter's morning with snow silently enveloping the world. Silver is a classic highlight that works well in modern and traditional decor.
When you are ready to break out your autumn or winter decorative items, be sure to mix in some gold or silver. The sheen of these metallic pieces will make everything else seem a bit more exquisite.
1. Framed Gold Leaf Shimmers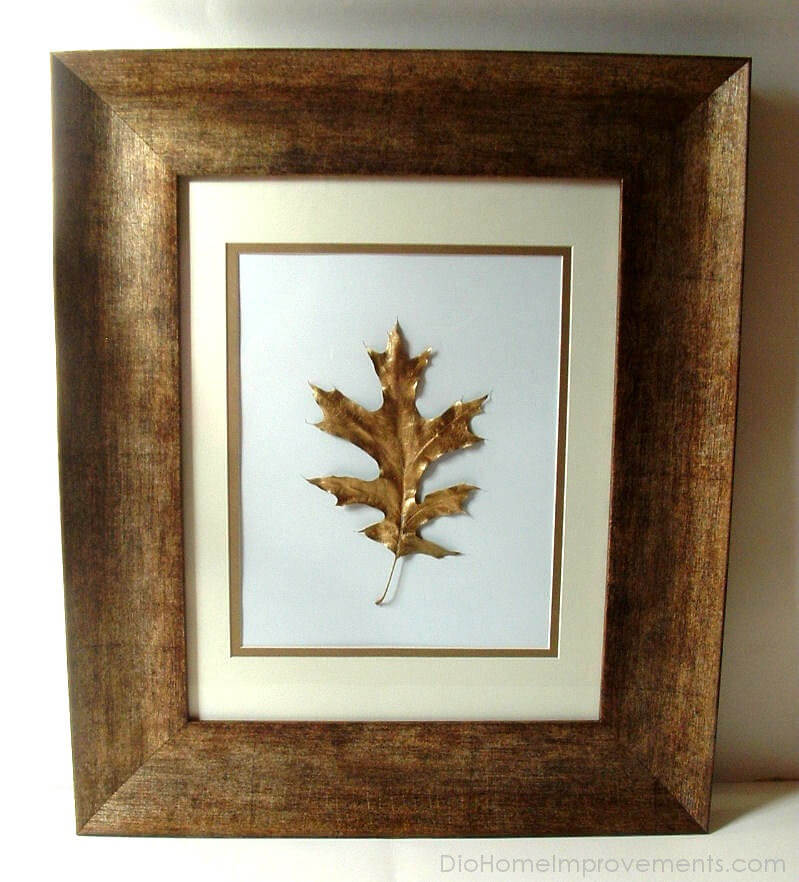 A gold accessory doesn't need to be bright and shiny. A subtle shimmer of gold paint makes this framed leaf an extra special accessory to hang on any wall of your home. The oak leaf's natural edges shine next to the gold edged matte and rich wooden frame. This simple framed piece would work well in a group of similar leaves.
2. Bold Gold Strips Transform a Curtain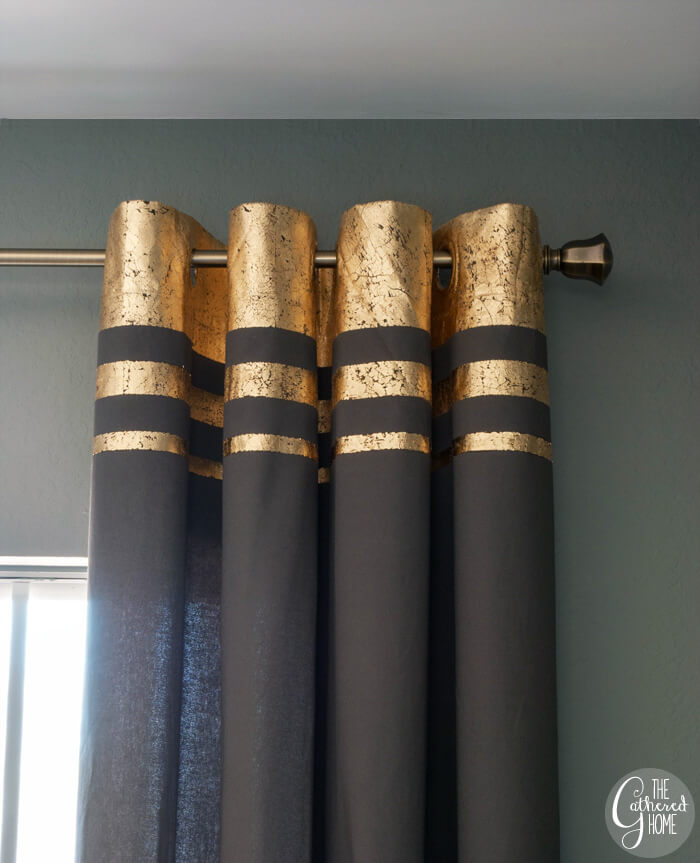 Subdued grey curtains get a total transformation with gold leaf stripes. These bold lines give the tall curtains a brand new look that would work in a traditional or a modern decor. The strips jump off the grey-blue wall behind the curtains, while the different widths of the stripes add movement to this window arrangement.
3. Acrylic Table with Gold Supports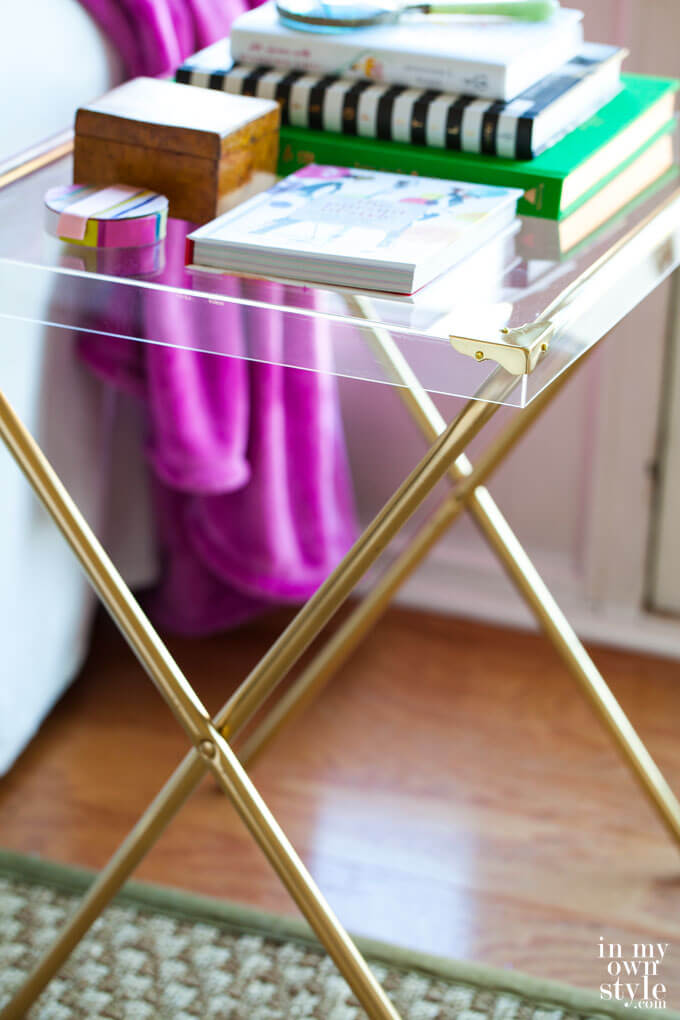 A beautifully clear table top gets some shiny support from a gold-painted base. Clear acrylic offers a practical table top that doesn't take up visual space. The gold supports beneath it bring a subtle hint of shine to the piece. The addition of decorative corners, also in gold, add the perfect finishing touch to this modern side table.
4. Gold Moldings Pop Off a Painted Credenza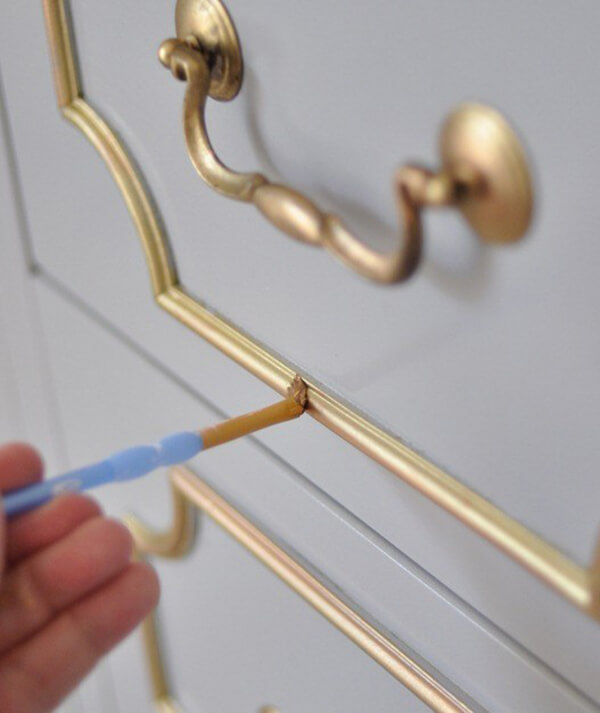 White and gold are a natural pairing as the light base coat brings the simmer out of the details. The detailed molding and ornate handles on the credenza are the perfect places for gold highlights. This classic pairing works perfectly as a sideboard in the dining room as well as a dresser in the guest room.
5. Mason Jars Transformed into Gold Vases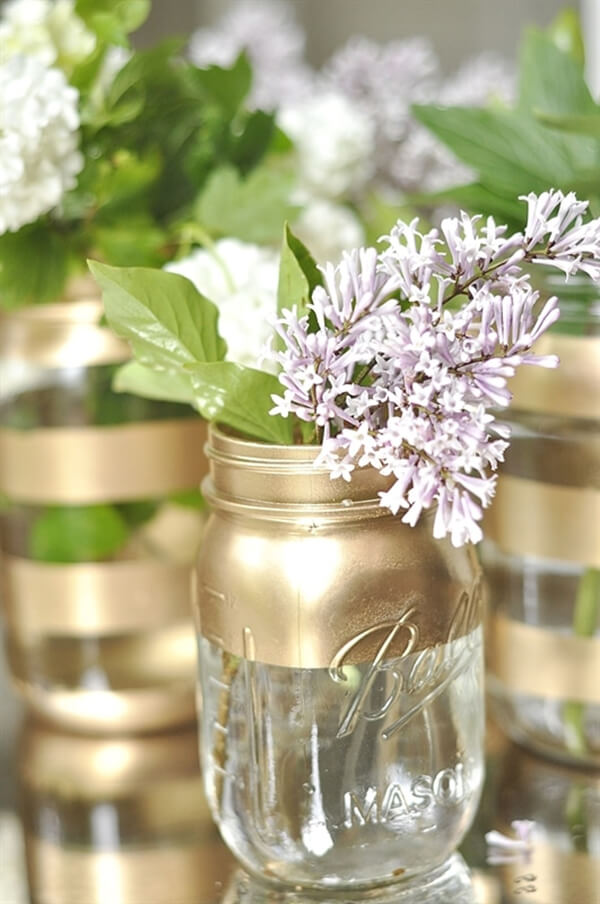 Simple Mason jars sporting gold stripes in various widths makes the perfect place to display seasonal flowers. The clear jars allow the beauty of the stems to peak through, while the gold stripes bring a shimmer perfect for a flower display any time of year. One jar offers a brilliant display while multiple would make the perfect centerpiece.
6. Tissue Paper Tassels in a Festive Garland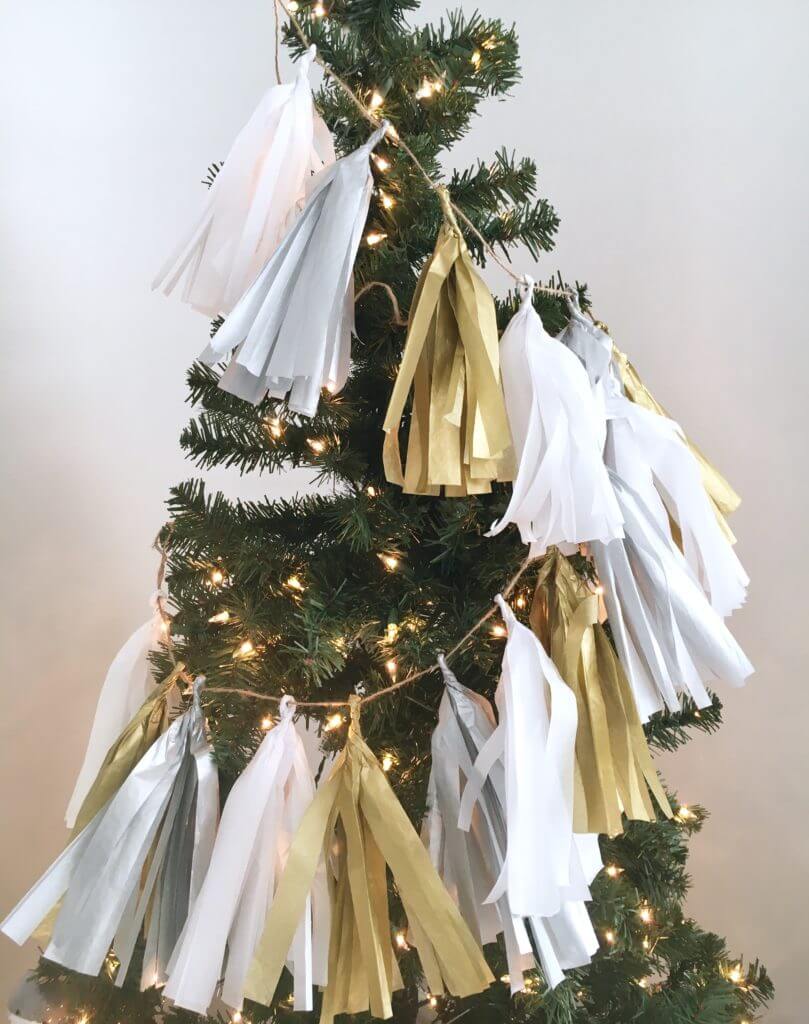 Silver and gold are perfect accents for the Holidays and for any festive occasion throughout the year. Gold and silver tassels, made from tissue paper, hang from a natural twine garland. This arrangement would make a perfect wrap around the Christmas tree or to hang along the stair rail. Among the simplest DIY silver and gold decor ideas, it would also work hanging below a "Happy Anniversary" sign.
7. Silver Acorns in a Simple White Goblet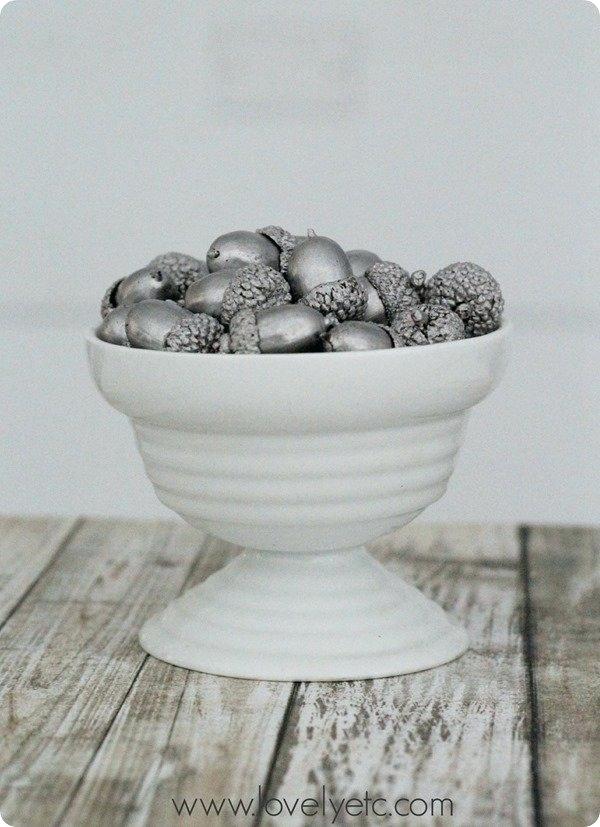 Silver is a color often associated with winter display. However, it is definitely a color that works at other times of the year. Autumn acorns sprayed a lustrous silver bring shimmer and texture in this simple centerpiece. The white goblet's simple curved lines allow the beauty of the silver acorns to stand out.
8. Golden Animal Memo Holder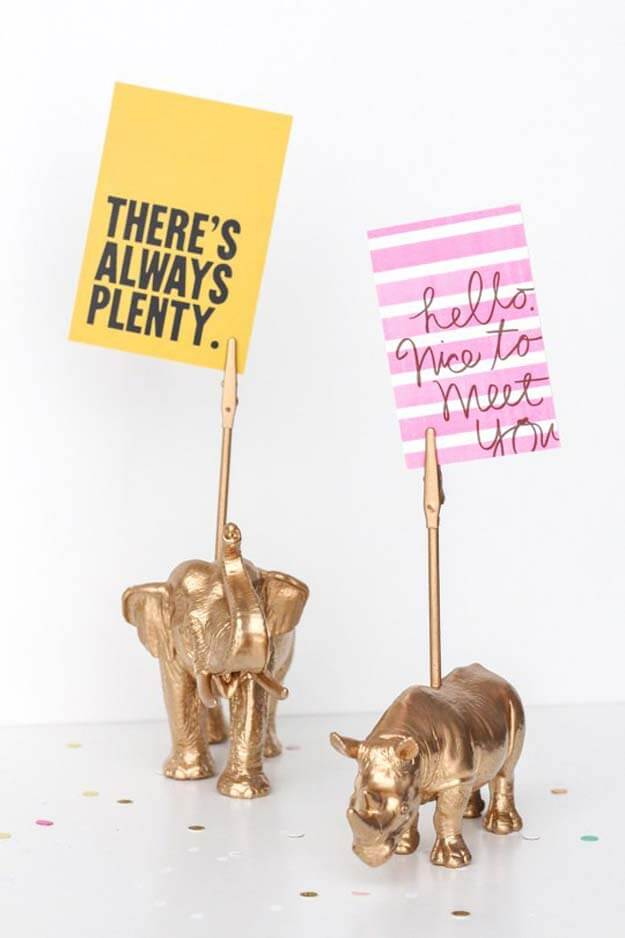 Gold is the perfect accent for your office, whether at home or at work. This beautiful collection of golden animal memo holders is a prime example. A simple toy gets a shimmering transformation to a classic office piece. An alligator clip stands ready for your first memo. These golden critters, among the most versatile DIY silver and gold decor ideas, would also make great place holders for a Holiday dinner.
9. Pumpkins Boasting a Gleaming Gold Coat
One of the hallmarks of autumn decorating is the pumpkin. But, pumpkins don't have to be orange to be a perfect fall display. A garland of golden pumpkins makes the perfect accent for this fireplace. The gold shimmers in the firelight, making it a great accent for a Thanksgiving celebration. It would also work strung along a stair rail, inside or out.
10. Simple Gold Dots Rain Down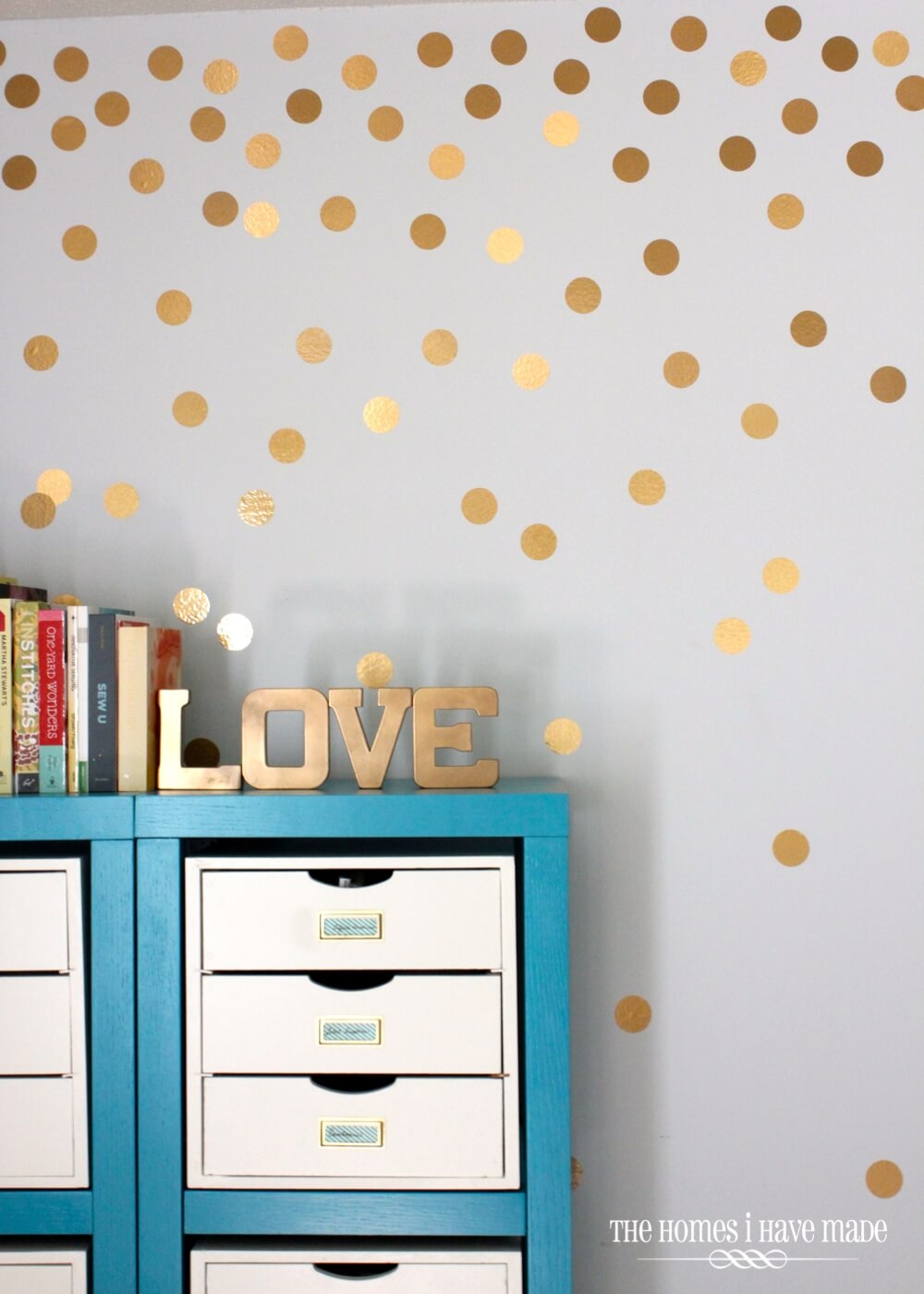 Are you looking for a unique way to decorate a wall? Simple dots made from gold vinyl contact paper will do the job. The dots seem to rain down from the ceiling, bringing texture and a subtle shimmer to the wall. The random placement brings movement to the plain surface.
11. Organize with Gold Dipped Jewelry Trays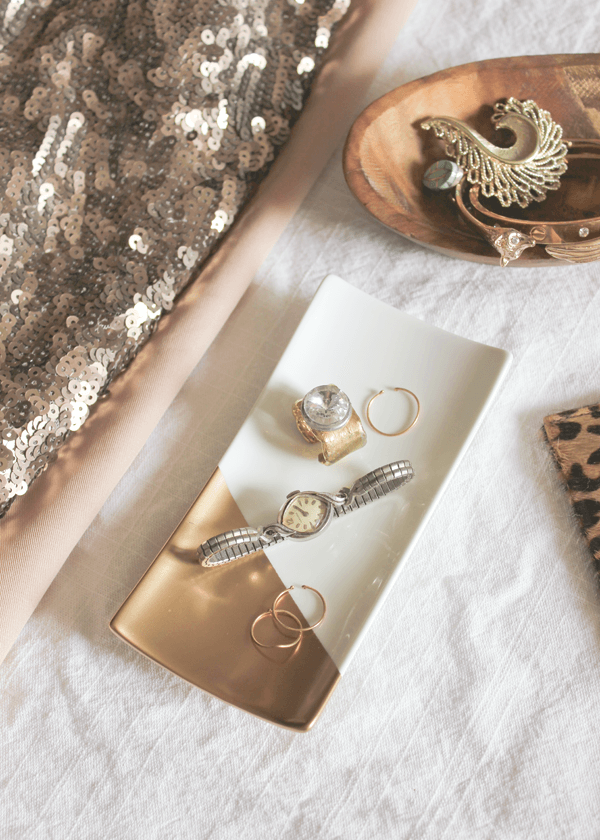 Jewelry organization is easier and prettier with gold-dipped trays. A simple white tray gets a shiny transformation with the help of a bit of gold plate. The brilliant accent highlights the metallic shimmer of the earrings, watch, and jewelry accessories displayed. This stylish tray is the perfect place for keeping your jewelry ready for getting ready in the morning.
12. Stylish Pencil Holder in Marbled Gold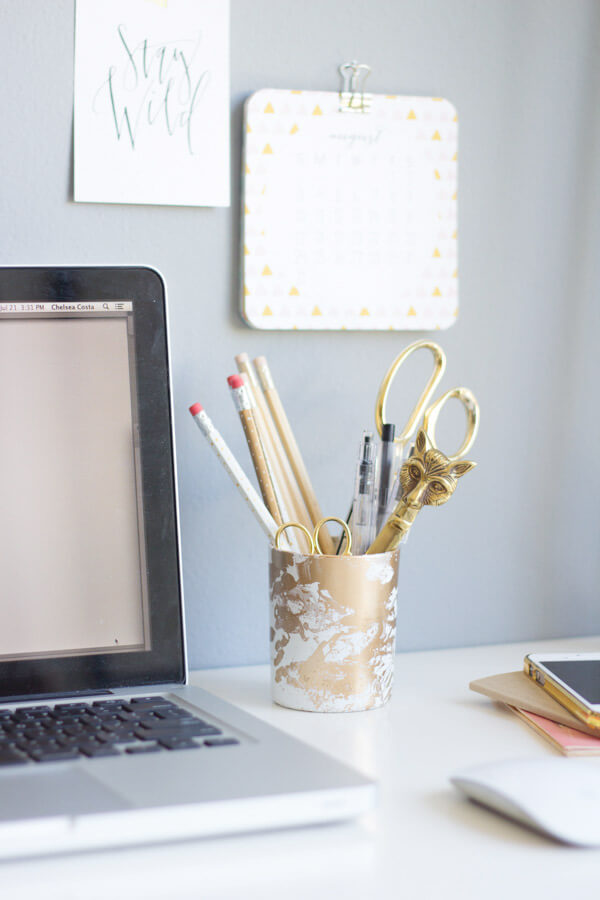 Most pencil holders are a bit on the boring side. This gold marbled version is definitely not. Shimmering gold paint gave this plain white pencil holder a complete transformation. The marble finish looks like it was carved out of a solid piece of stone. This beautiful office accessory would work anywhere you need to organize pens, pencils, paint brushes and more.
13. Simply Gorgeous White and Gold Bowls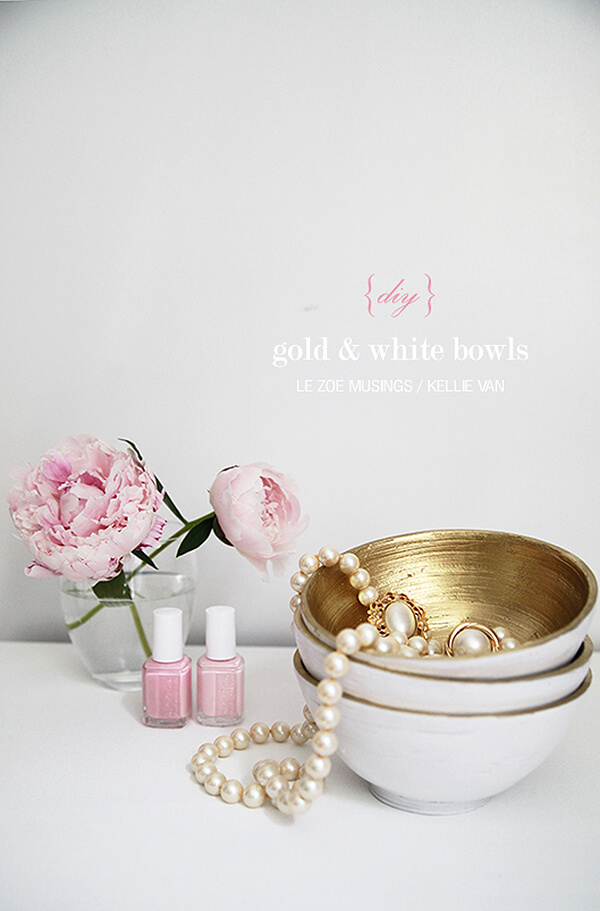 Some of the finest china in the world includes a simple white exterior with a brilliant gold interior. This exquisite pairing of two colors can transform a humble wooden bowl into something special. From the side, the graceful shape of the bowl stands out in snowy white. Look inside and you experience the shimmering beauty of golden light.
14. Pillows in a Golden Marble Finish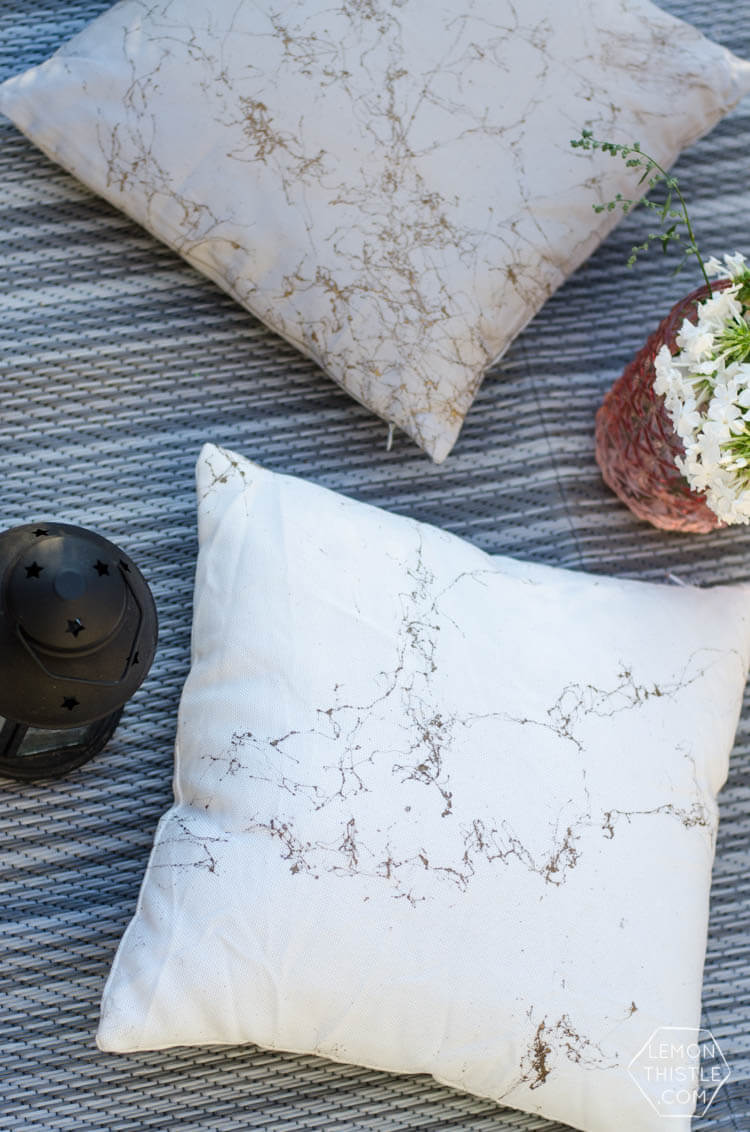 Marble with gold veining has been a staple of classic decor since ancient Greece. Adding it to your decor is quite easy. Finish a plain pillow cover with some gold veining and bring a classic touch to your home. The gold marble finish gives the pillows a fresh new look that would work well inside or outside your home.
15. Saying Hello with a Touch of Gold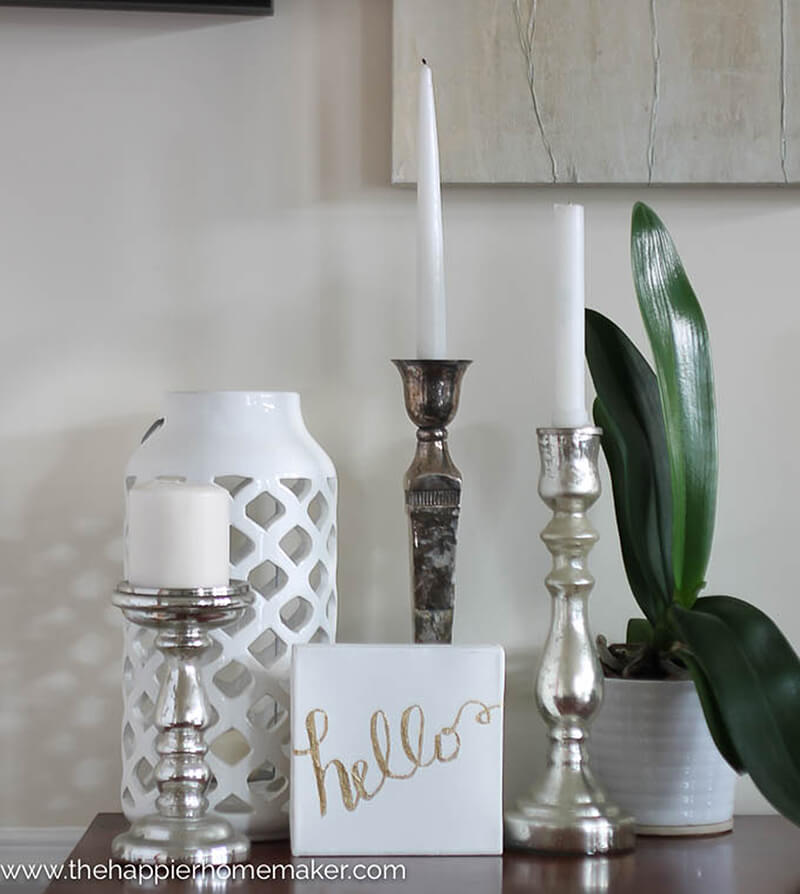 Friend and family warm your home with their mere presence. Why not greet them with a golden hello? This heartfelt greeting stands out in gold lettering. A simple natural canvas provides a subtle backdrop for this exquisite sign. Small enough to sit on a hall table but big enough to convey your feelings to all who visit. One of the easiest DIY silver and gold decor ideas.
16. Mercury Glass Is Perfect for the Holidays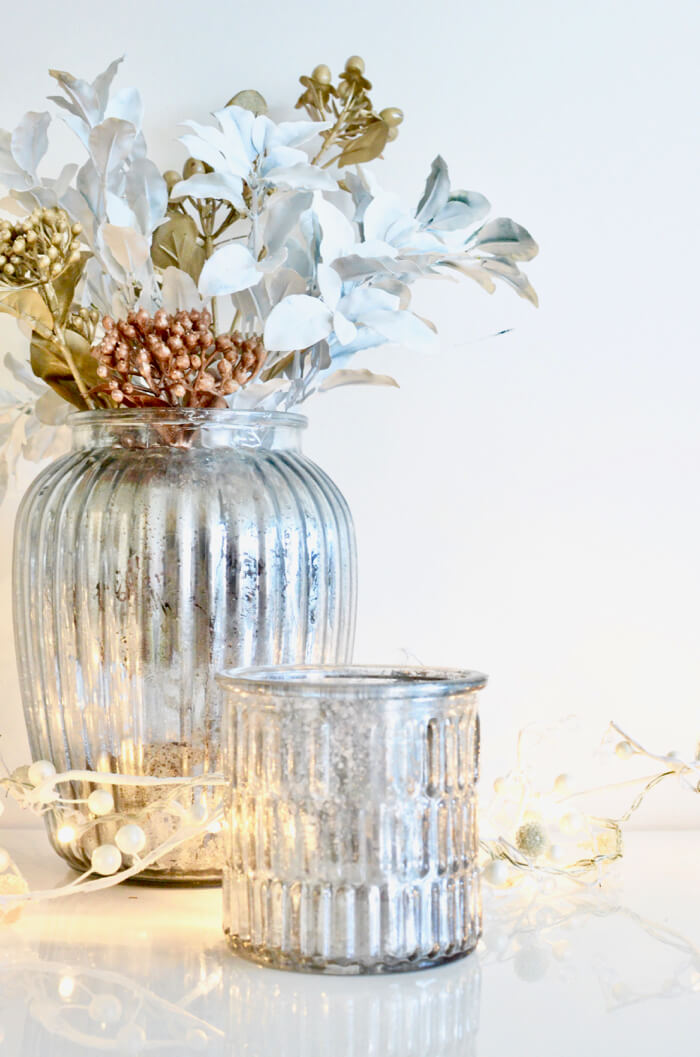 Silver and gold floral pieces pair perfectly with these mercury glass containers in a display fit for the Holiday season. Of course, these vessels don't actually contain poisonous mercury, just a few coats of silvery mirror paint. But, the effect is mesmerizing, making it an exquisite choice for displaying holiday centerpieces on the dinner table or hall stand.
17. Silver Bells Ring a Wreath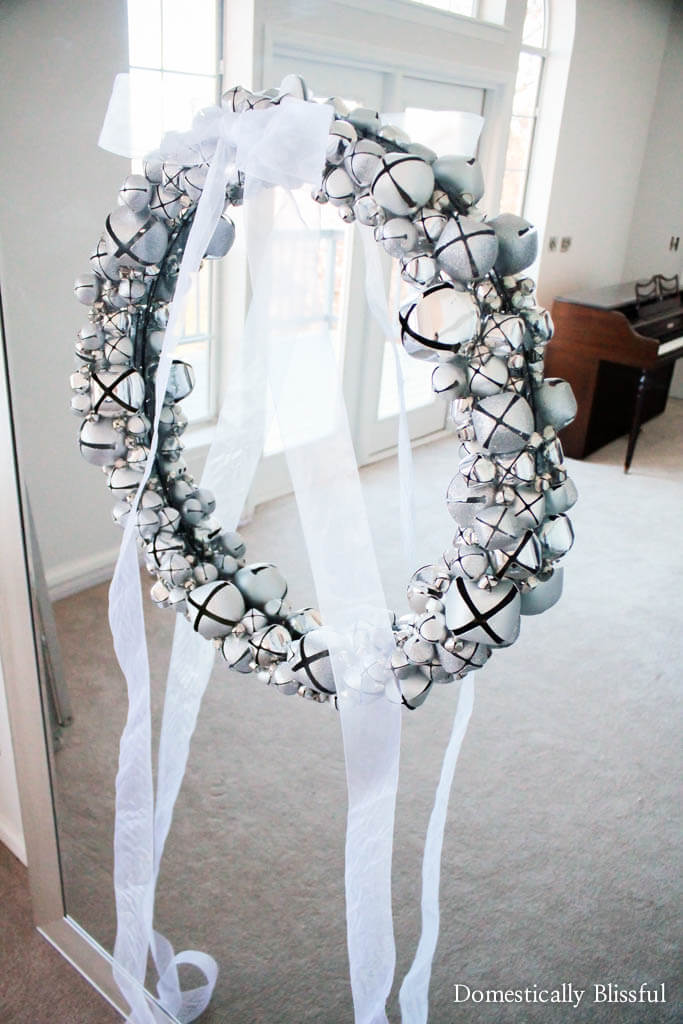 Wreaths are definitely a staple for the Holiday season. However, no one ever said they had to be made from greenery or branches. This spectacular wreath sports dozens of silver bells in a range of sizes and finishes. Large bells give this wreath body, while smaller ones give it texture and shine from every angle. A wispy bow finishes this Christmas display.
18. A Black and Gold World Globe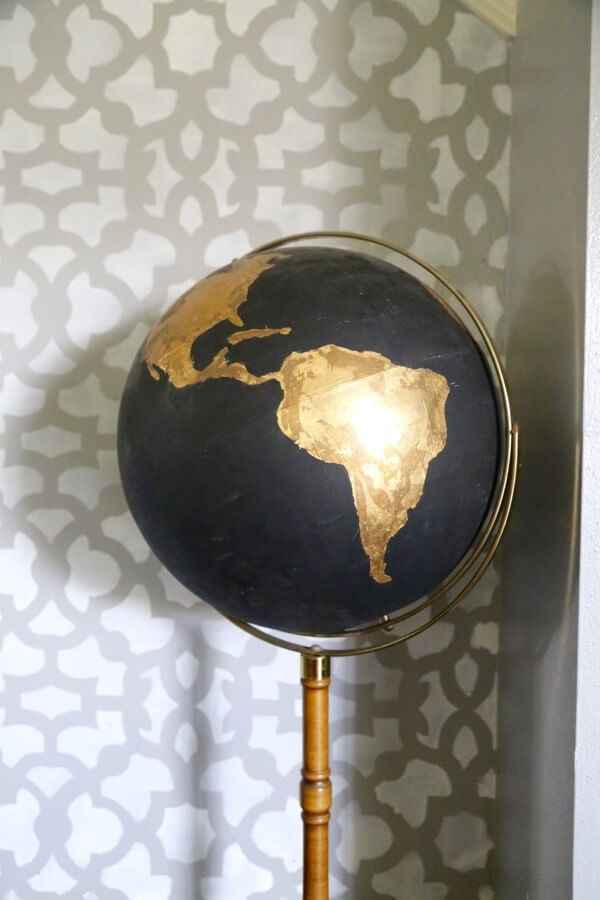 The globe is a staple of many classrooms. However, it is also an accessory that can grace any home or office. Transform a traditional globe with black and gold paint and you have an exquisite piece that fits just about anywhere. The classic pairing of black and gold gives this globe a sophisticated look that would look in an executive office or behind a home desk.
19. White Flowers Blossoming from Silver Candlesticks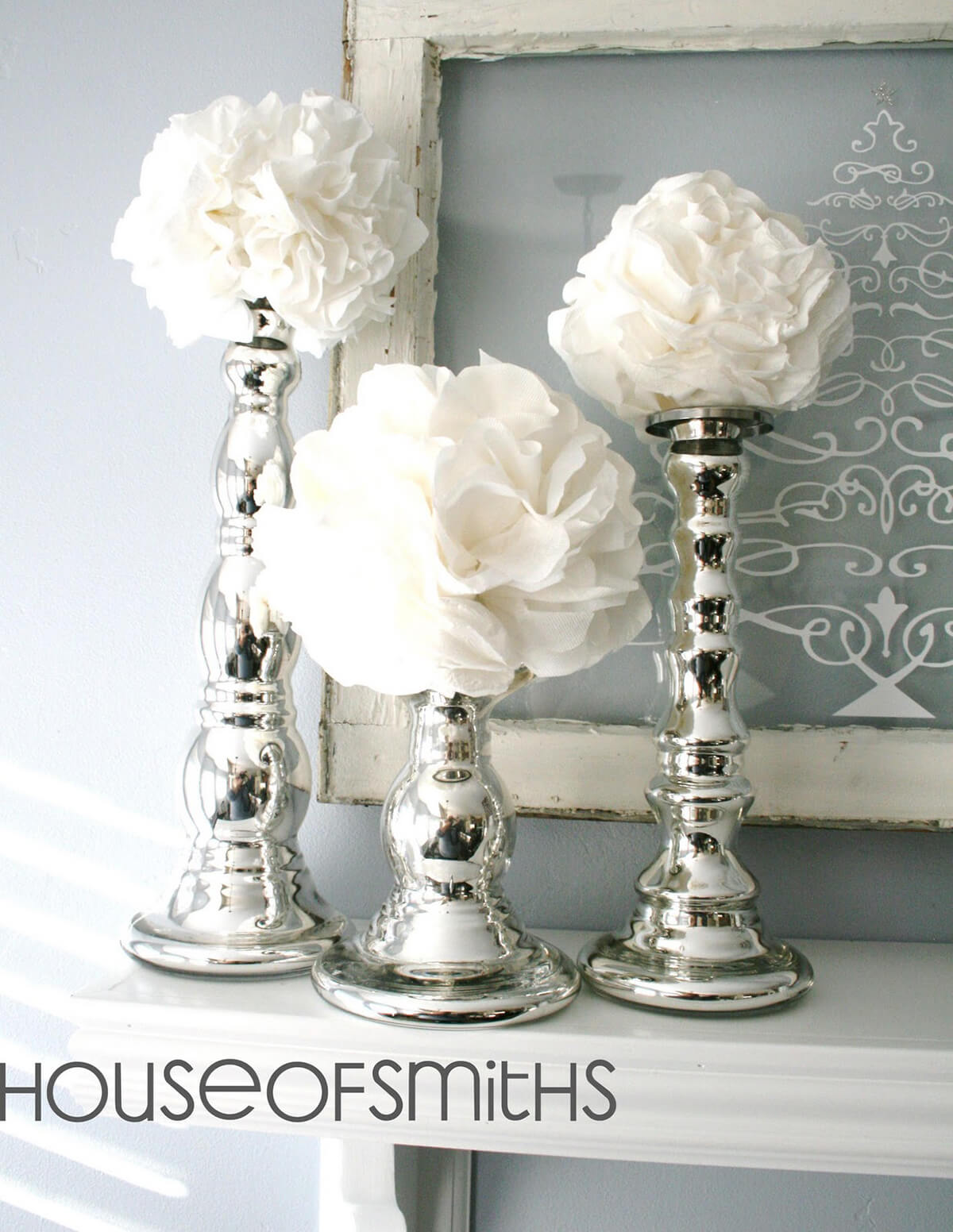 The combination of white and silver is a stylish, almost timeless, look. The arrangement of white flowers sitting atop shiny silver candlesticks is eye-catching and spectacular. These white flowers offset the metallic shine of the candlesticks perfectly. It makes a great mantle piece but would fit into a Holiday centerpiece as well.
20. Silver Ornaments and a Grapevine Wreath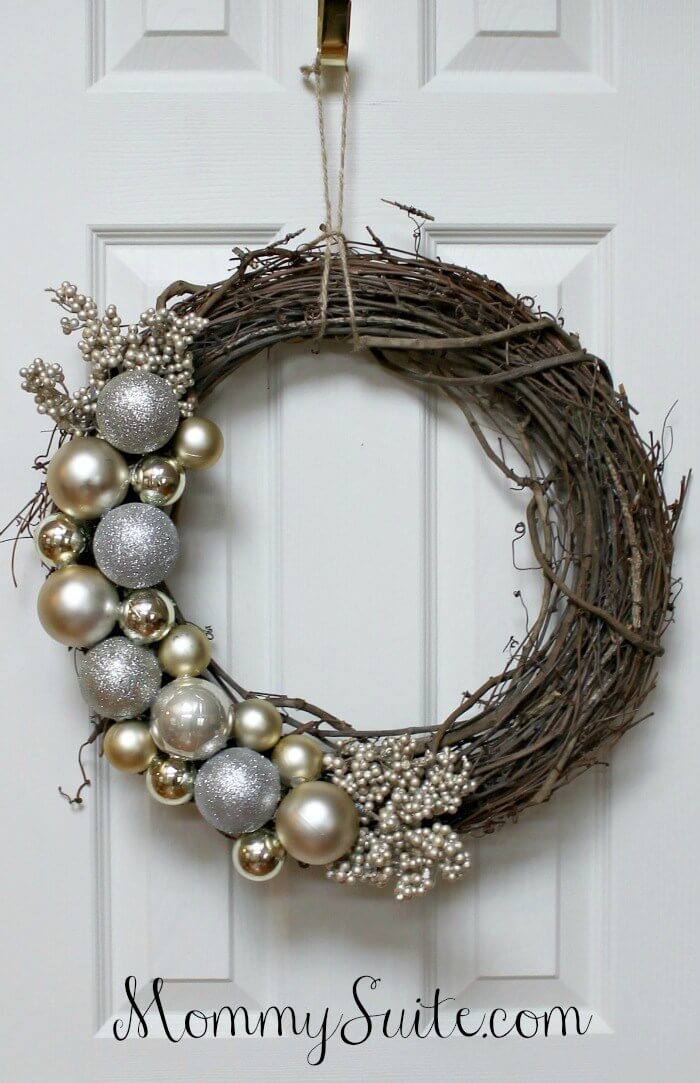 Shimmering silver ornaments cascade down this grapevine wreath. The pearly white ornaments nestle beside those with a glitter sheen. This Holiday vision of silvery shine would work well after New Years as a door wreath for winter. Its classic shape and sophisticated arrangement make this wreath a keeper for years to come.