Are you looking for the best DIY home signs to add vibes and savviness to your home? Yes? Then you are in the right place. A home without any interior décor will always feel unexciting and dull. If you feel like your home could use some more color and personality, then handmade home signs are just what you need. DIY home signs will transform your walls from plain and empty-looking to memorable and sentimental. Additionally, you can customize the color, art, and shape of DIY home signs to serve different occasions and purposes. Whether you need a sign to send a lovely warm welcoming message to your visitors or a sign to motivate and encourage you every day, home signs will do it for you. Here is a look at other benefits of using DIY home signs to decorate your home:
These 23 DIY Home Signs will Instantly Add Character to Your Home

Home signs particularly those made of wood add a timeless touch to your home. Wood has been around for a long time and it is usually associated with class. Also, if you have a traditional taste for décor in your home, wood home signs will match your taste and add a beautiful appeal to your home. Most home signs are made of wood because wood contains unique grains and earthy tones that will convey the right message of excellence, rusticity, and quality in your home.
There is a certain excitement, joy, and fulfillment that comes from personalizing your décor signs to convey a message that is special and meaningful to you. Additionally, home signs are easy to make because all you need to do is engrave, paint, or curve your message creatively on a beautiful surface and hang it up for all to see. You can make homemade signs during your free time because they are more cost friendly compared to hiring an expert interior designer to remodel your home. We have prepared a list of 25 unique home décor sign ideas to spice up your home. Check them out below!
1. Single Wood Circle Hello Sign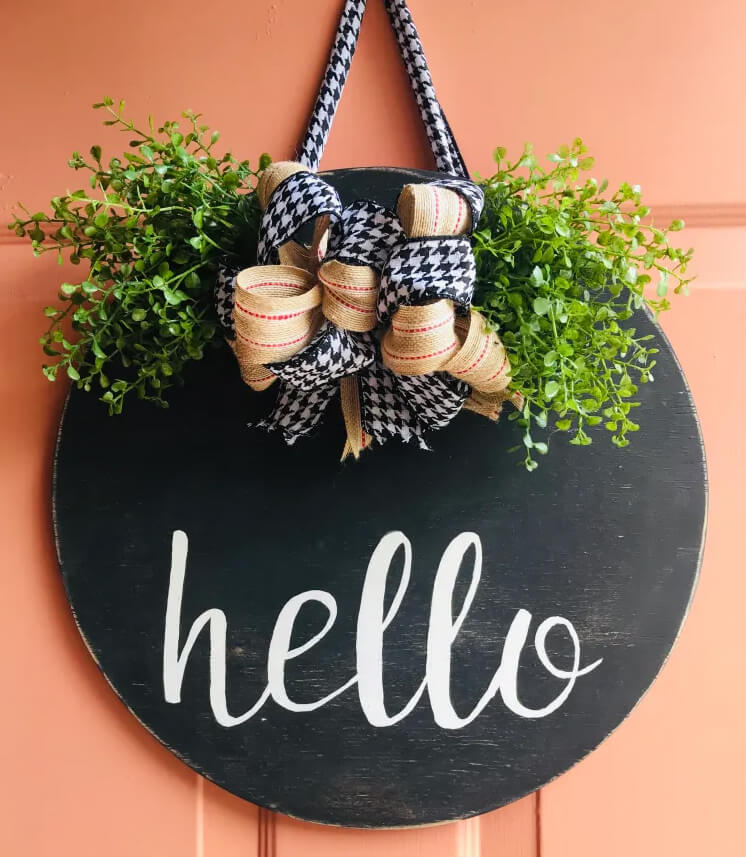 Thinking of adding a colorful hello sign to your front door? A single wood circle will do the trick. Simply find a round piece of wood, paint it with whichever color you desire, and inscribe the words hello artistically on it. The color black usually blends perfectly with almost every color, especially if you have a monochrome door, so you might want to consider painting the wood circle black. The cool thing about this home sign is that your guests will feel welcomed long before you open the door for them. You can attach some green leaves to the ribbon holding the wood circle in place to add a dash of nature to the home sign.
2. Stunning Wreath on Wooden Board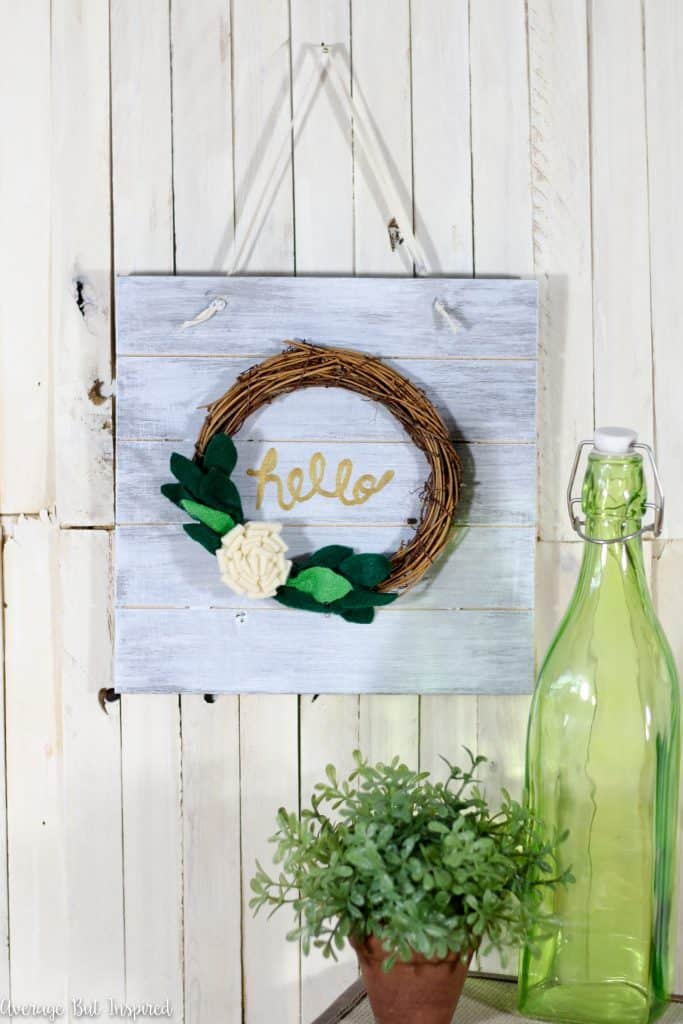 Are you passionate about wreaths? This cool DIY handmade sign allows you to use both wood and a wreath to create a beautiful décor design for your home. All you need is a pallet of wood, paint it with your favorite color, and write the word hello on it, then place the wreath around the word. This type of décor is suitable for the front door so that it can greet your visitors and make them feel welcomed whether you are home or not. You can also hang it in your kitchen or living room to make your home more inviting. The wreath will add a dash of nature to the home sign, to make it more relatable and unique.
3. Wooden Arched Window with Lovely Message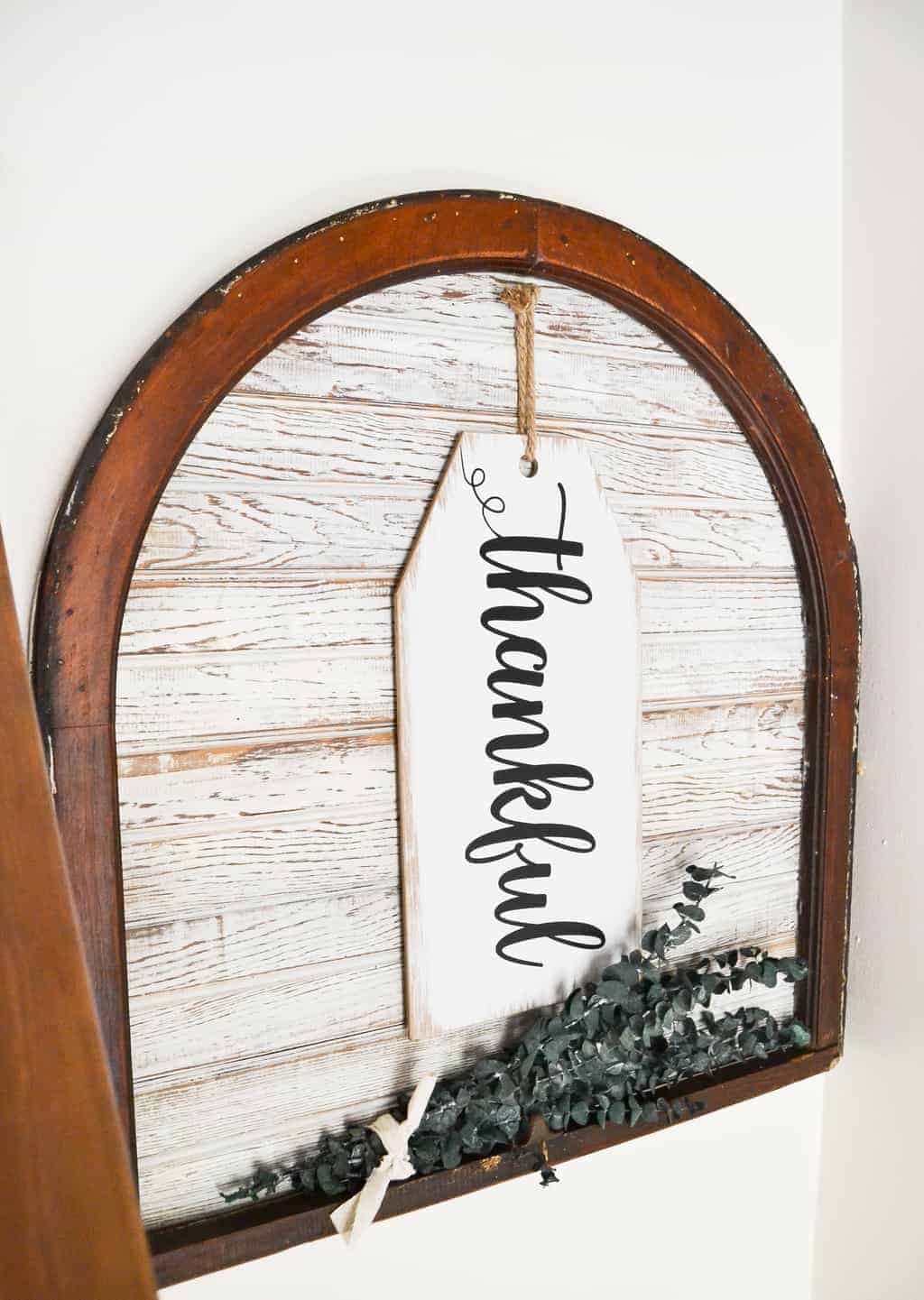 This is one of the most astounding homemade home decor signs that you can make to add more taste to your home. If you are the type of person that loves to put in the work to create something special for your home, then this is the perfect project for you. All you need to find is a curved thin piece of wood and several other straight pieces of wood to create the window frame shape seen in the image above. Also, you will need other rustic pieces of wood to form the background or surface of the art, then attach a nail where you will hang a hand-written single word of value. To add more life to the fine art, you can lay a twig of tiny leaves at the bottom to make it more alluring.
4. Inspiring Quote on Black Board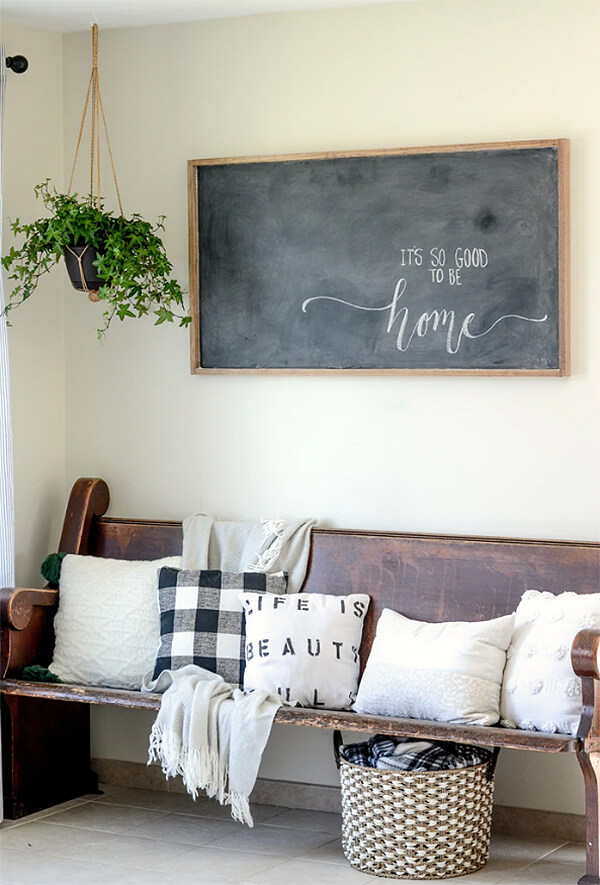 One of the best DIY home signs that can inspire you is a plain blackboard that you can write anything on. If you are a person that needs constant motivation as they go about their day, then this is the perfect DIY home sign for you. You can write your quote of the day on it and spend the rest of your day living up to that quote. This sign is quite refreshing than the rest because, unlike other DIY homemade signs that are permanent, you can add new inspiring quotes to the board regularly. The board has brown wooden edges to make it stand out and draw attention to the wall. You can place the board over your couch so that you can feel inspired whenever you take a rest.
5. Rustic Round Home Sign with strips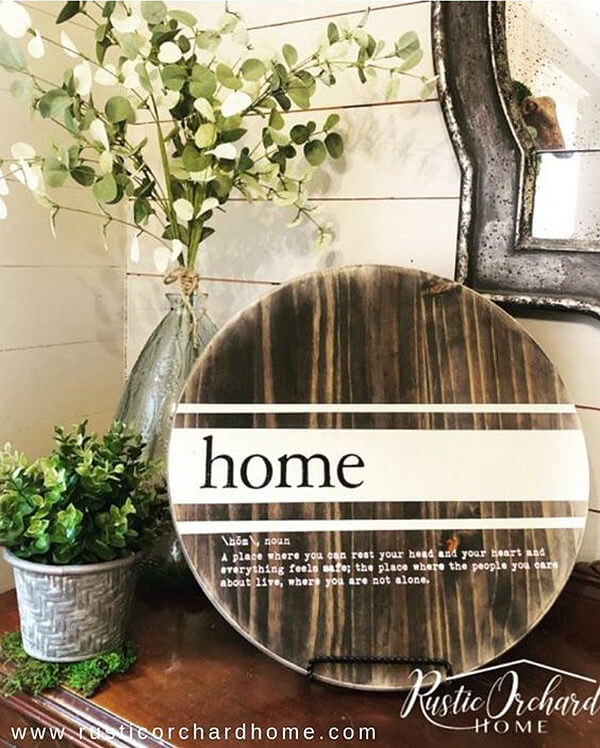 Thinking of adding a cool rustic home sign that will add a notable classic style to your home? This rounded home sign will fit perfectly in any corner of your living room. You can place it next to some green plants to give your visitors something to really admire. This home sign is unique because it has the definition of home engraved on it, which is something you don't spot on many home signs. The white vertical strips contrast perfectly with the rustic brown background, making the words readable and appealing from across the room.
6. Picturesque Farm Style Meaningful Quote Sign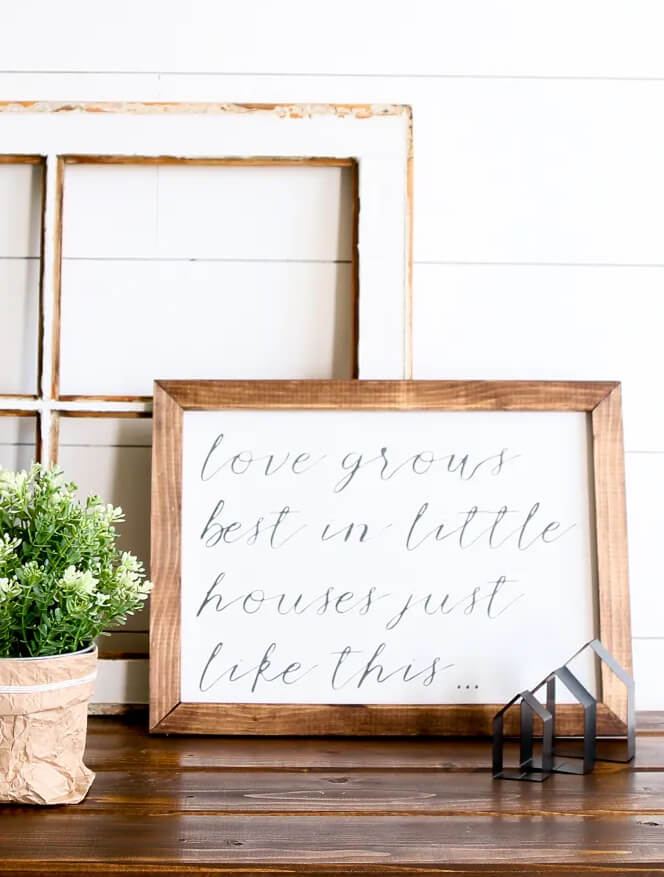 One of the best DIY home signs ideas is to write meaningful words on a piece of plain paper and enclose it in a wooden picture frame. This type of home décor will attract attention because most people are used to photo frames, not word frames, thereby guaranteeing that people will read the whole message in the picture frame. Do you have a message in your heart that you feel most people could use in their lives? Well, this is the perfect way to convey the message into their hearts without actually telling them out loud. You can place this perfect word frame on your patio, kitchen, or living room, where most people can see the message clearly.
7. Vintage Wooden Sign with Wreath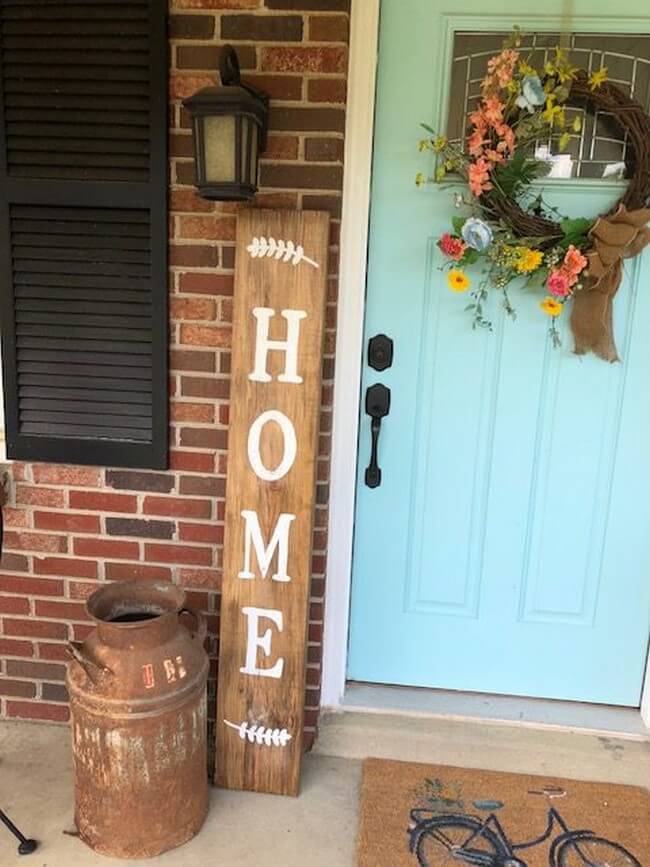 Looking for homemade home decor signs that brighten up your entrance, patio area, or garden? This vintage home sign is excellent. The sign is simple and easy to make because it involves painting the word HOME vertically on a plain narrow long plank of wood. You can also draw some leaves at the top and bottom of the wood to add a decorative touch to the wood. To bring a warm natural effect to the décor, you can place a wreath on your door next to the home sign to make it more unique and attractive to visitors. For a more appealing effect, you can place it next to your door to give your guests something to admire as you open the door.
8. Superb Fabric Front Door Home Decor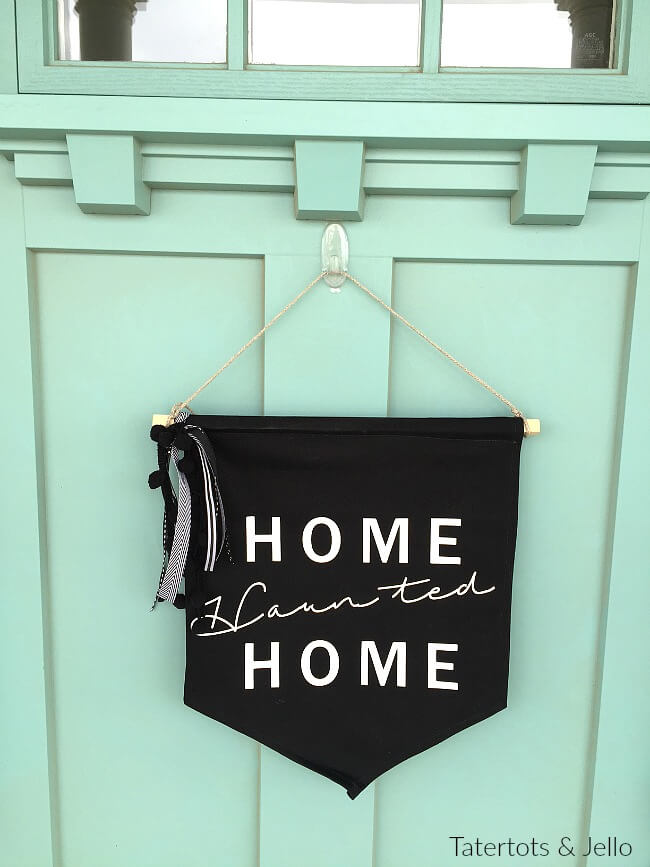 Some of the best DIY home signs are not made of wood or metal. You can create a simple décor item for your front door using a uniquely shaped piece of fabric. This is an incredibly simple DIY project that you can make on your own with very little cost. Also, if you are not a fan of big wooden signs, then simple fabric will add a delicate touch to your home, especially your front door. You can also get creative with the words on the fabric to convey a special message to your visitors. Do you want to scare away idlers or make people think twice before walking into your home? You can engrave the words "haunted home" as seen in the image above. This will add a twisted yet unique appeal to your monochrome door.
9. Charming Coffee Quote Wood Pallet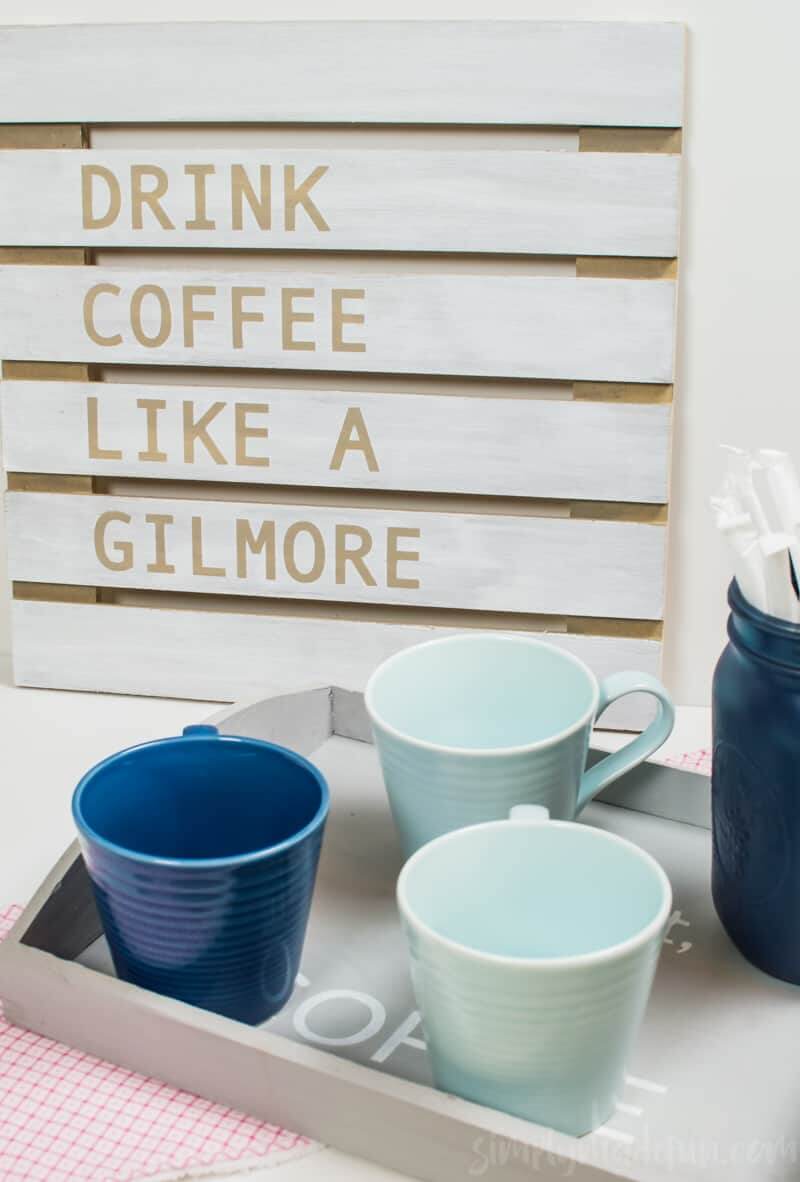 Are you a lover of coffee? Then you probably have a coffee corner in your kitchen or living room. This is a great wood pallet for your coffee corner. Just hang it near where you take your coffee so that you can look at it and smile every morning. Also, DIY home signs are meant to describe your personality using art. So, if you enjoy coffee, this art will help you express your love for the beverage in a classy and tasteful way.
10. Colorful Vertical Love Slat Home Sign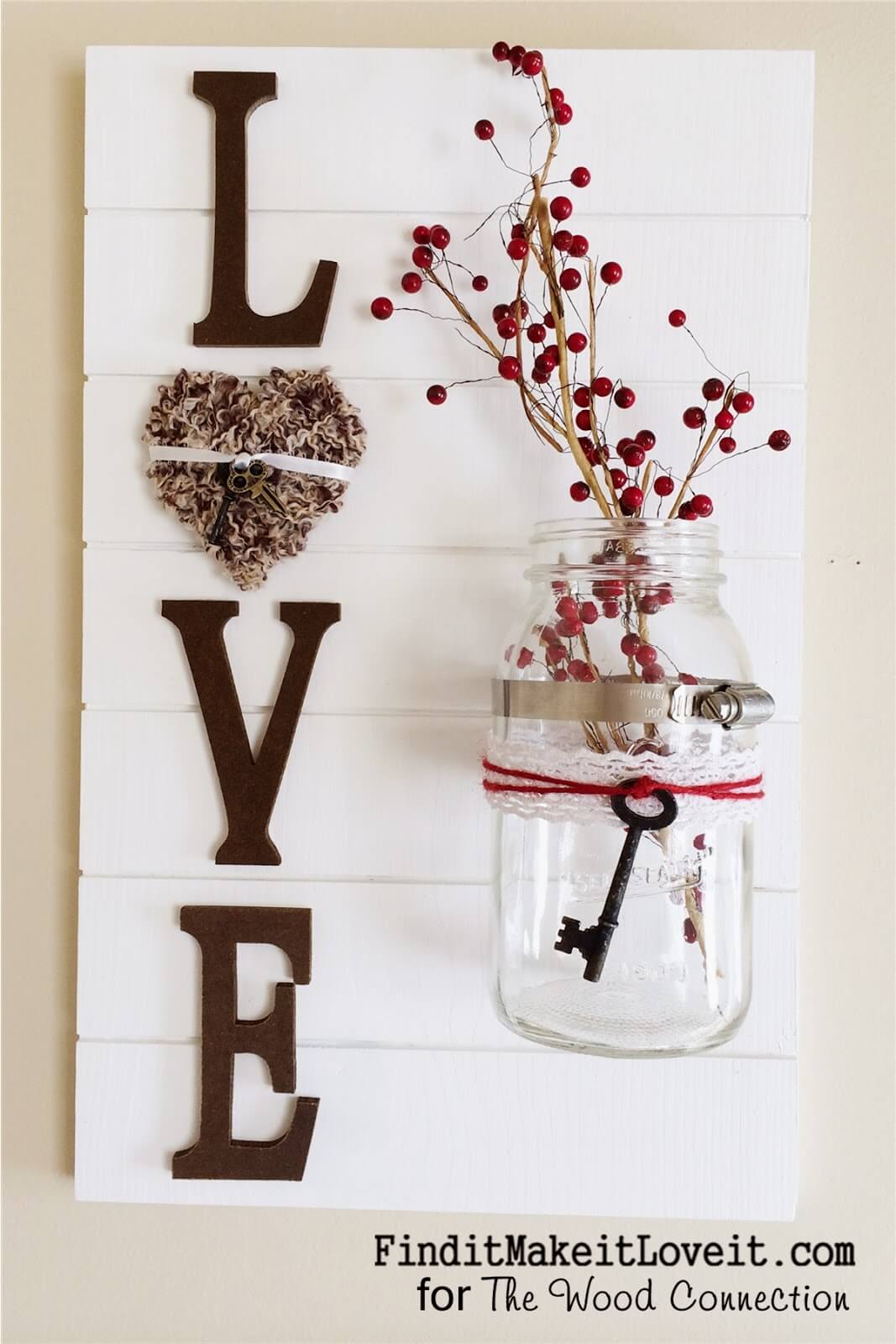 Do you consider yourself an artist? Yes? Then this is one of the most creative handmade home signs that you can make for your home. Instead of plain wood with words, this slat sign takes it up a notch by adding color, jutes, letters, a yarn, a key, and a jar into the picture. This piece of décor would look amazing in your living room because it will show your guests that you have an artistic side. All the materials used to make these pieces can be found within your home. So get up, get creative, and add a colorful appeal to your warm home.
11. Exquisite Thankful Quote DIY Sign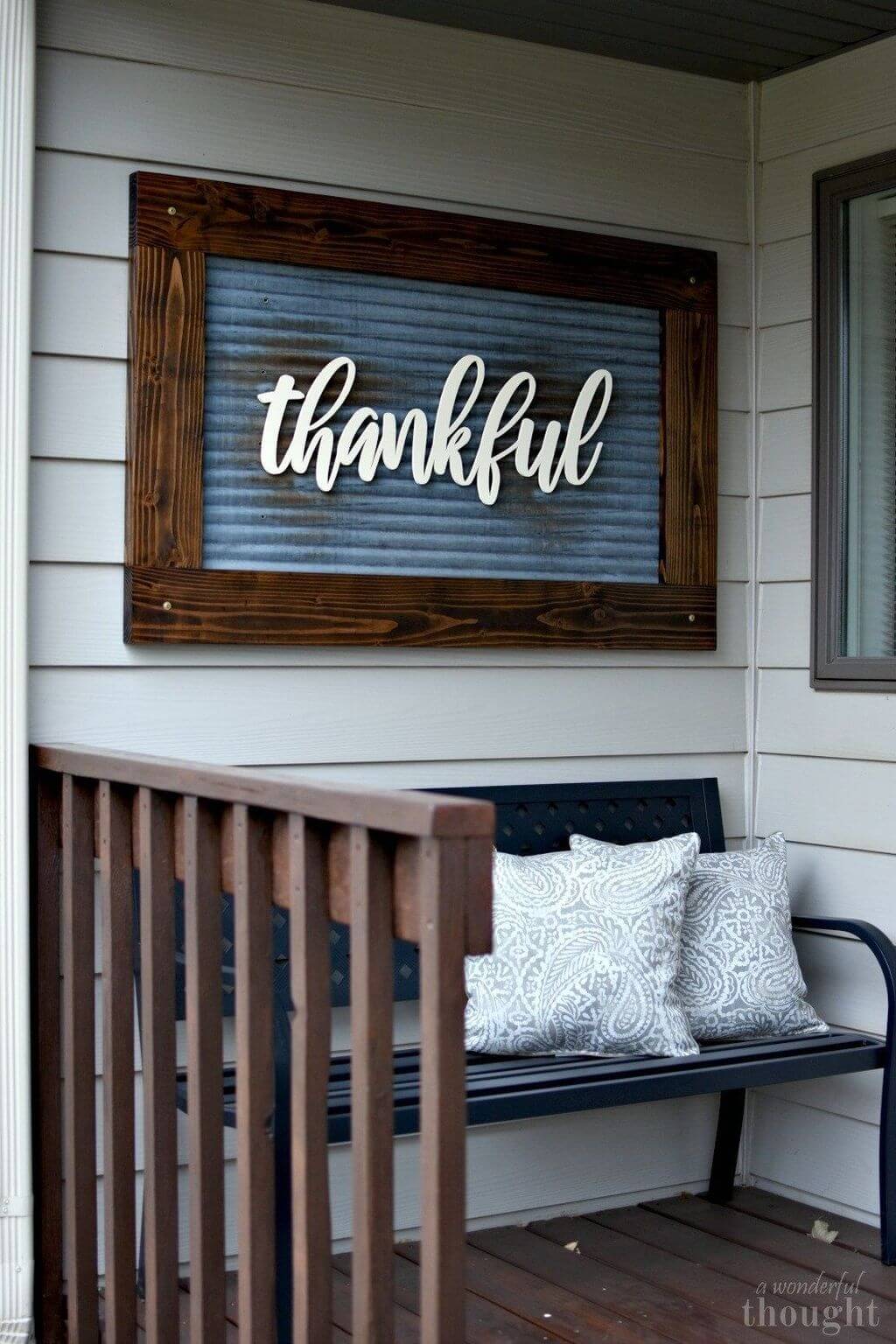 Sometimes all you need to spice up your home is a sign that describes how you truly feel about life right now. This statement piece has the word thankful written on it, which adds an atmosphere of homeliness and gratitude to the home. The art piece is framed with thick brown wooden pieces, which add boldness and firmness to the message conveyed. You can place the home sign in an area within your home that receives the most traffic e.g. the patio or living room. Additionally, the words are engraved in bright colorful font to grab attention from across the room.
12. Wash Dry Fold Repeat Wood Pallet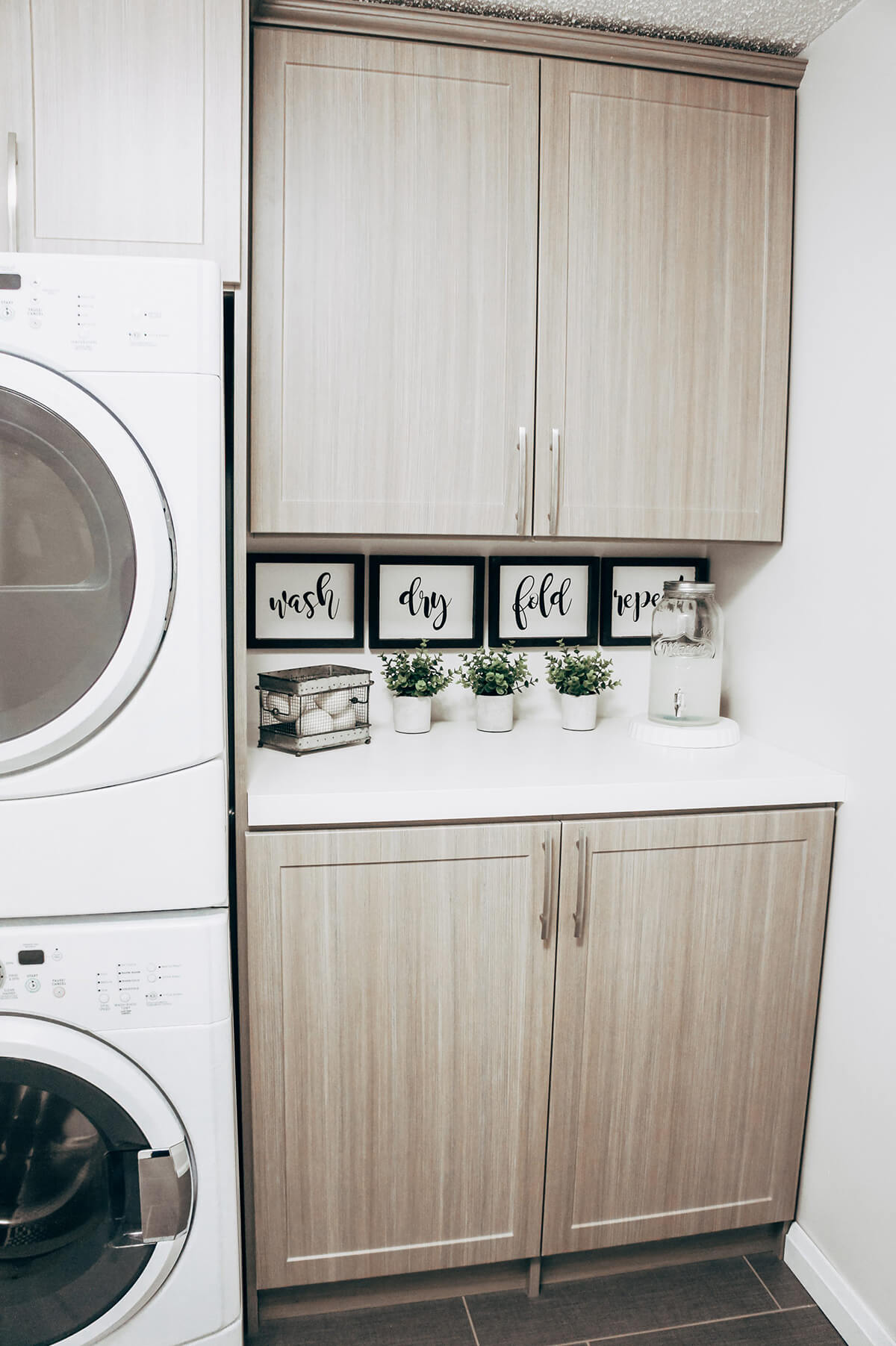 Other cool home décor signs to add to your home are these wash dry fold repeat wood pallets. You can place them anywhere in your laundry room to add an interesting touch to the room. Most home decor signs are meant for the living room, bedroom, or patio, so having a sign for your laundry room will be a unique touch. The words are inscribed on small white boards surrounded by brown frames to draw attention to the words. You can add a natural touch to the pallet by placing small green plants next to or below the signs to make them more attention-grabbing.
13. Favorite Verse Immortalized on Vintage Wood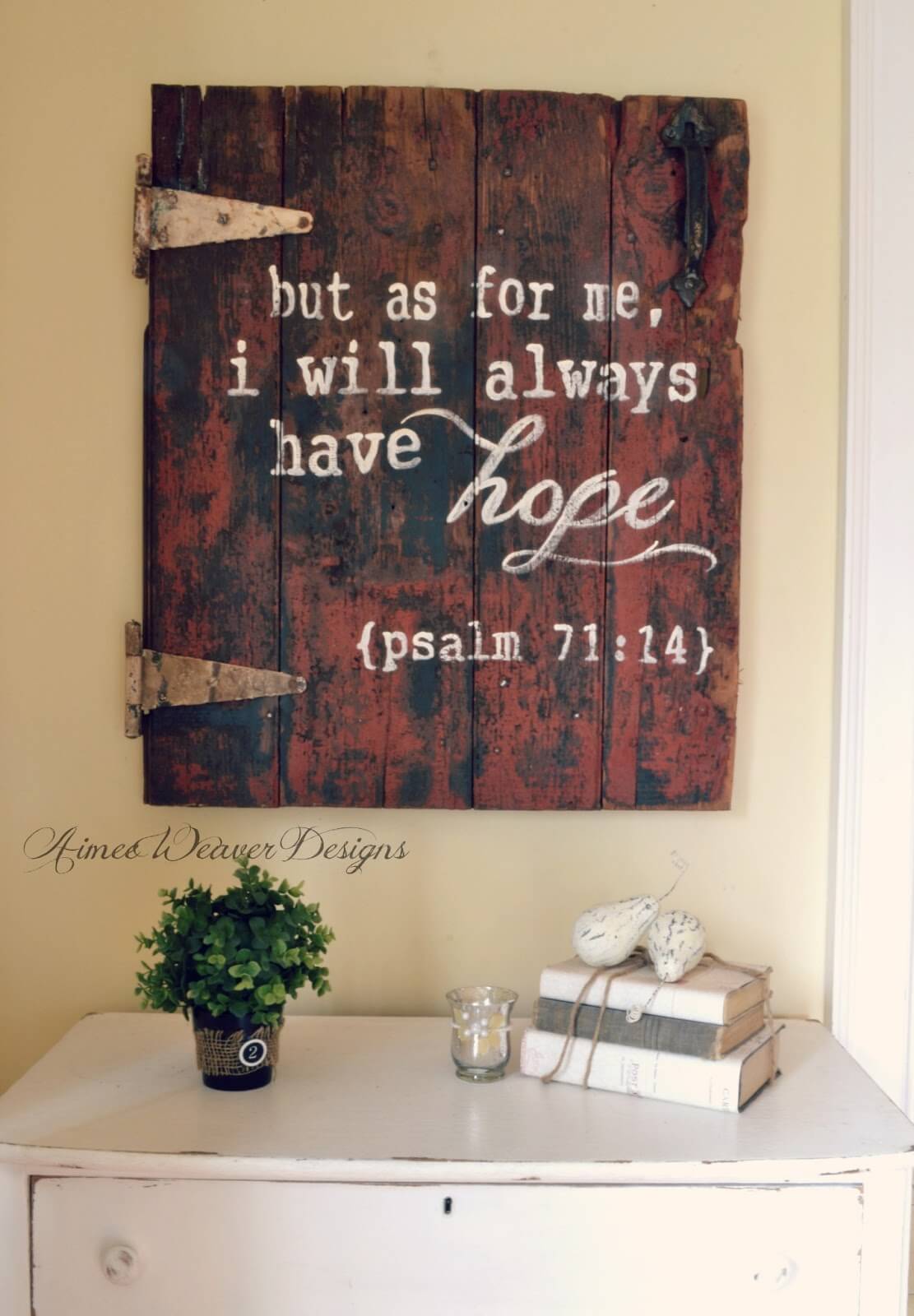 Are you a devoted Christian that finds hope and strength from bible verses? Well, this design allows you to immortalize your favorite verse to make the perfect home sign for your living room or bedroom. If you have a rustic vintage barn window casement or door in your basement, you can use it to create this exceptional piece of art. Just clean up the piece of wood, find some white paint, and write your best bible verse on the surface. You can write the verse using an artistic font to add more aesthetic appeal to the structure. Hang the structure over a bottom cabinet or on top of your dressing table so that you can look at it as frequently as possible and draw inspiration from the art piece.
14. Simple Gather Here Pieces Strung Together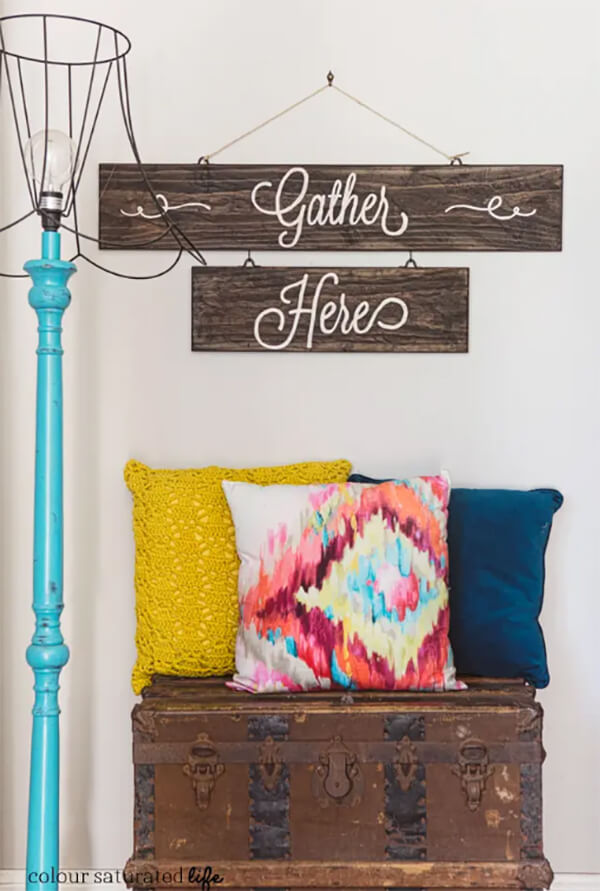 Great homemade signs do not have to be quotations or inspiring sentences. You can create a beautiful piece of art that beckons people and draws their attention to a specific area in your home. Place these pieces on top of a couch or a vintage chest in a corner covered in colorful throw pillows. Are there single words that motivate and drive you to keep pushing forward in life? Think of the words that matter to you and inscribe them on wood then join the wood pieces together with twines or ribbons. Hang them over your favorite spot and let the words add more flair to your home.
15. Twin Home Décor Signs with Wreath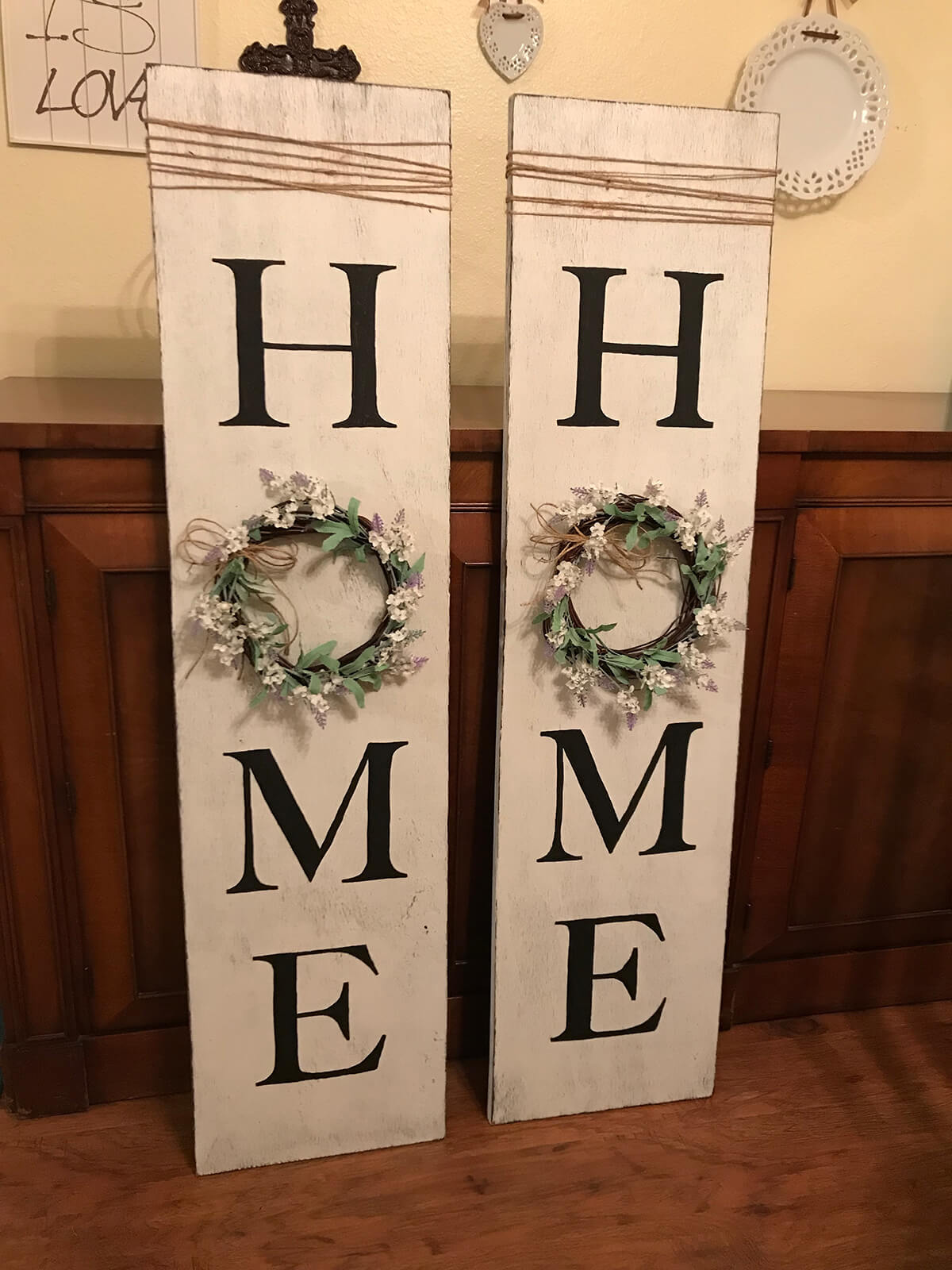 The perfect way to add a touch of nature to your wooden home sign is using a wreath in place of the letter "O" in HOME. Also, to make the art compelling and charming, use two boards instead of one. As you can see, the words in black are engraved on a white wooden board, which makes the word HOME pop out and make the rest of the room feel cozy. You can place the twin signs next to each other against a plain wall or lay them against a low cabinet that feels monotonous and unexciting in the room. These twin décor signs might be just what your home needs.
16. Amazing Home Sweet Home Farm Style Sign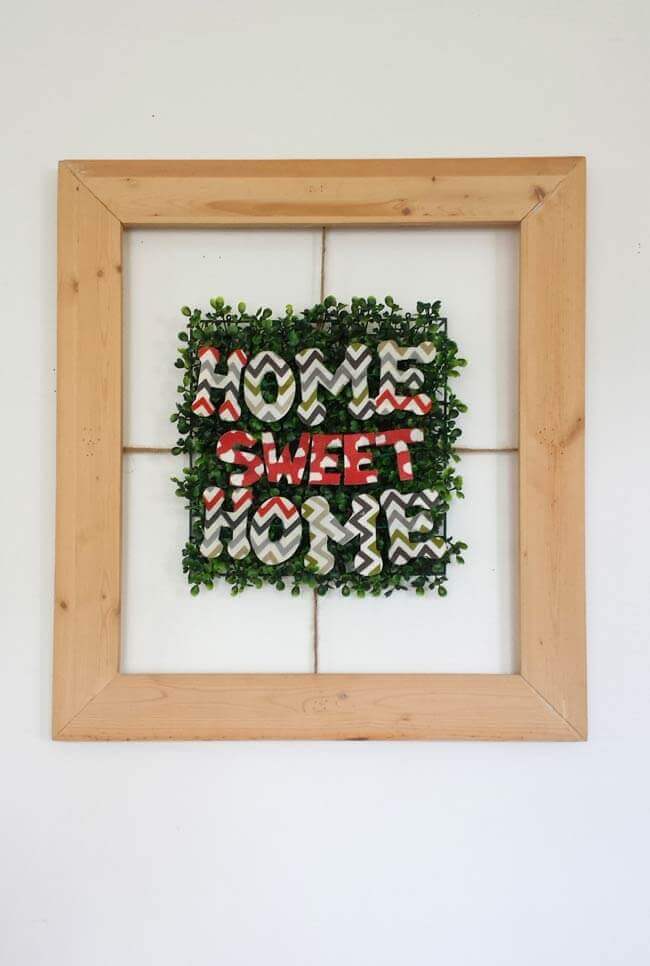 This is another farmhouse-style DIY sign that you can use to add more liveliness and excitement to your home. The thick brown frames will contrast with the scheme of colors in the room to make the piece of art more alluring as it hangs on the wall. The green leaves within the frame add color and depth to the sign, as well as a hint of nature. The "HOME SWEET HOME" words convey the feeling of relief and appreciation that one has the moment they get home from a long day at work. This art will definitely make you feel glad you are home.
17. Brilliant Heart-shaped Wood Scrap Sign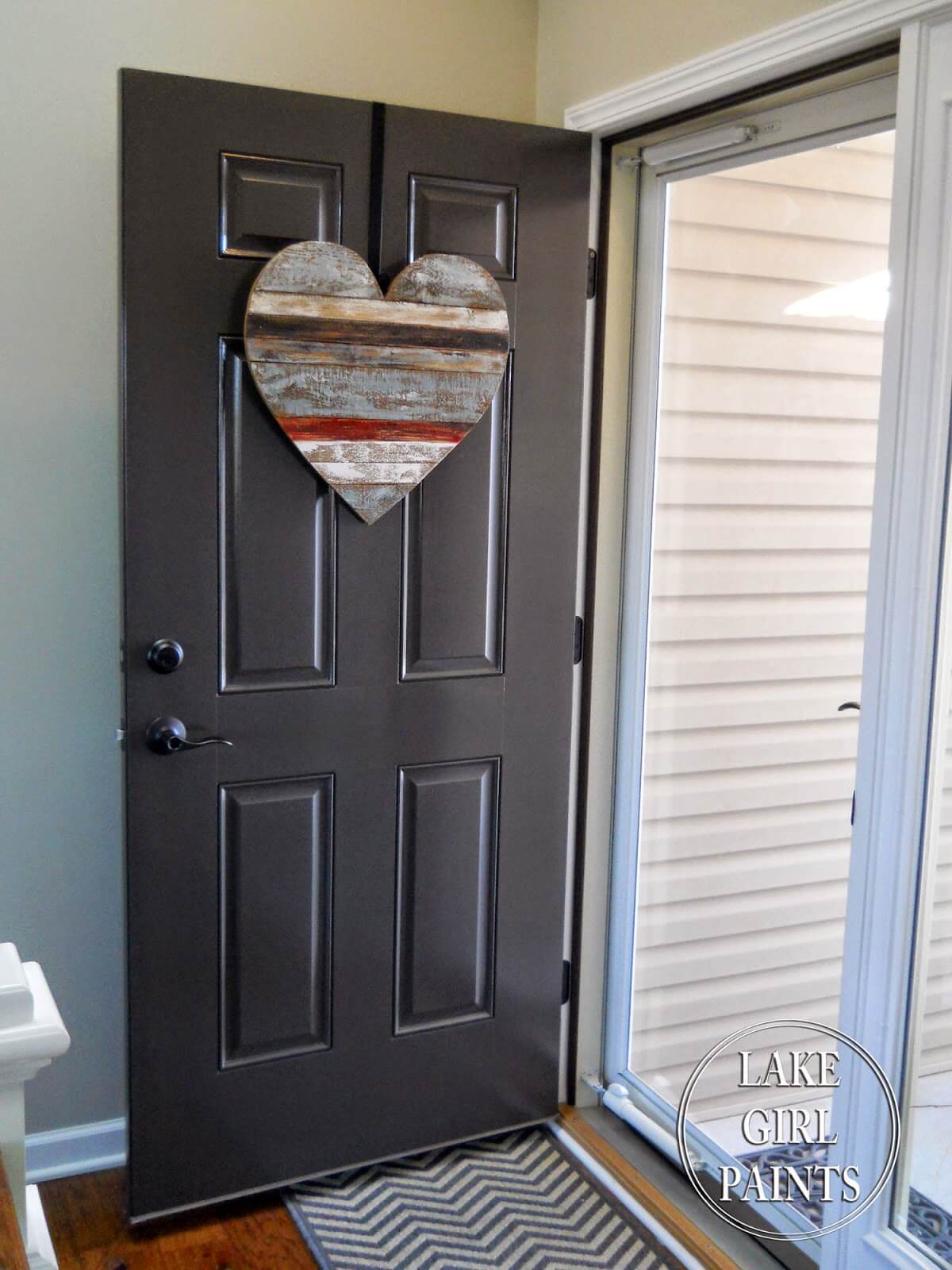 Not all DIY home decor pieces need to have words engraved on them. You can also get creative with shapes and create brilliant designs for your home. Sticking a heart-shaped piece to your door communicates to your visitors that they are welcomed into a warm home full of love. In this piece, the artist has joined wooden scraps in a unique way to form a heart shape. Additionally, they have painted the different planks of wood with natural earthy tone colors to make the piece more alluring to all who come to the door. You can try this DIY project if you have a plain monotone door and brighten it up.
18. Striking Embroidered Wood Art Pallet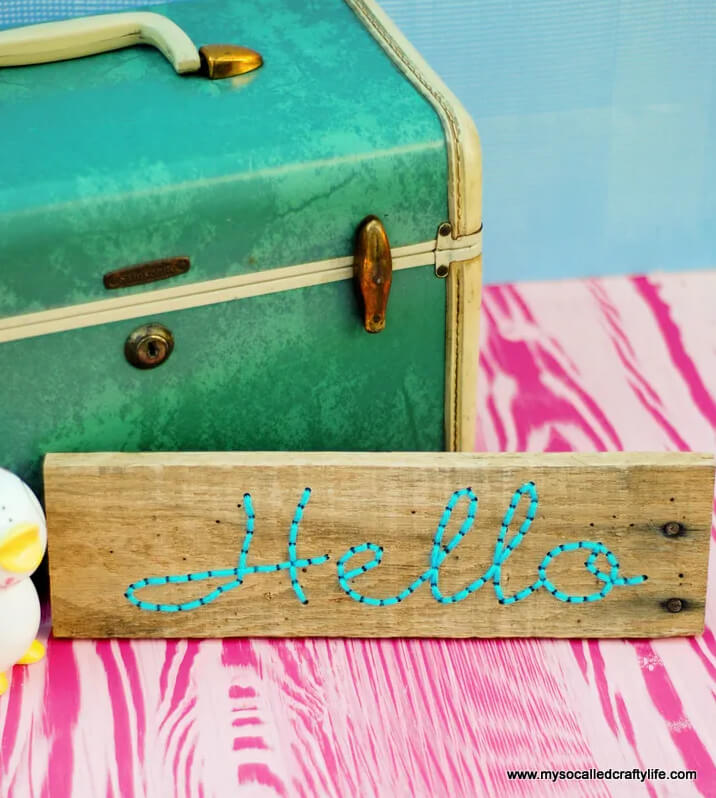 If you are a fan of embroidery, then this great embroidery DIY wood design will excite you. Think of a word that you would like to decorate your home with e.g. Hello, Love, Joy, etc. Find an attractive font and print out the word on paper. Place the paper on a piece of wood and punch holes on it through the wood. Ensure that the holes are deep enough and go through the back side of the wood. Take a yarn that has your favorite color, preferably a bright one, and embroider it through the holes. The thread will form the word on the wood and you can place it somewhere in your living room where it will attract the attention it deserves.
19. Pineapple Wood Art Pallet Welcome Sign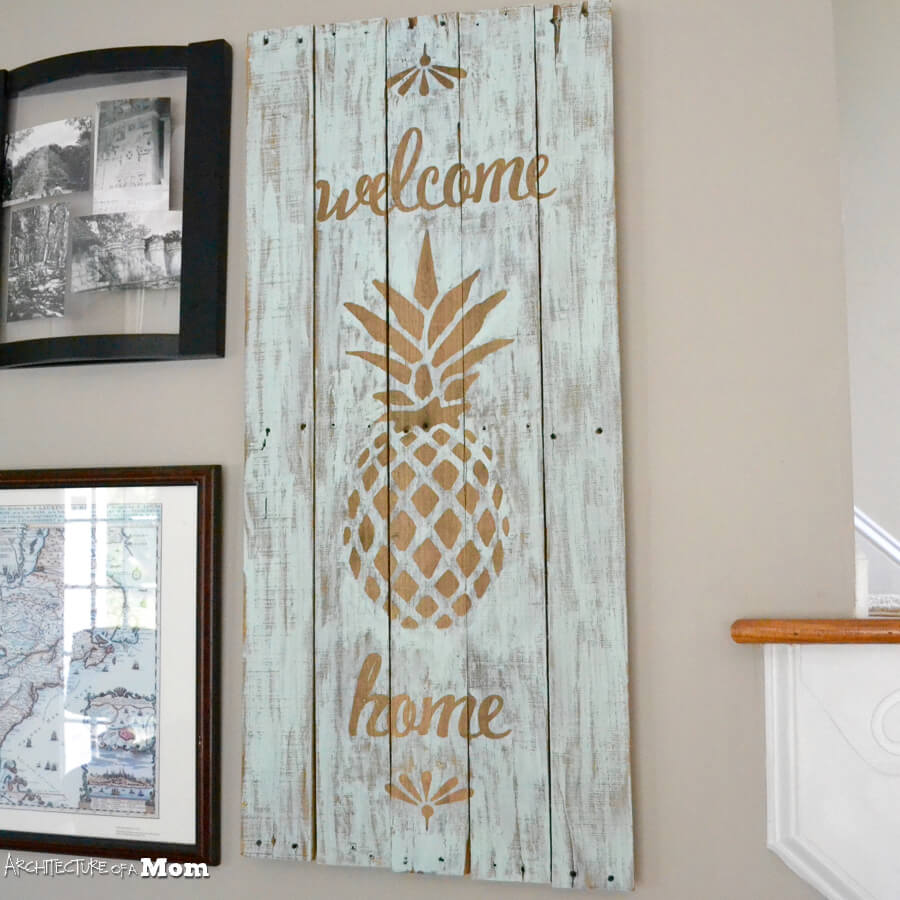 Do you have an empty wall in your living room or kitchen? This DIY pineapple art is the perfect way to spice up your home with a creative sweet touch. The chalky wood surface makes the golden pineapple drawing and words pop out and add a classy charm to the wood pallet. This simple yet striking piece of art will upgrade the décor of your home any day.
20. Beautiful Farm House Love Home Sign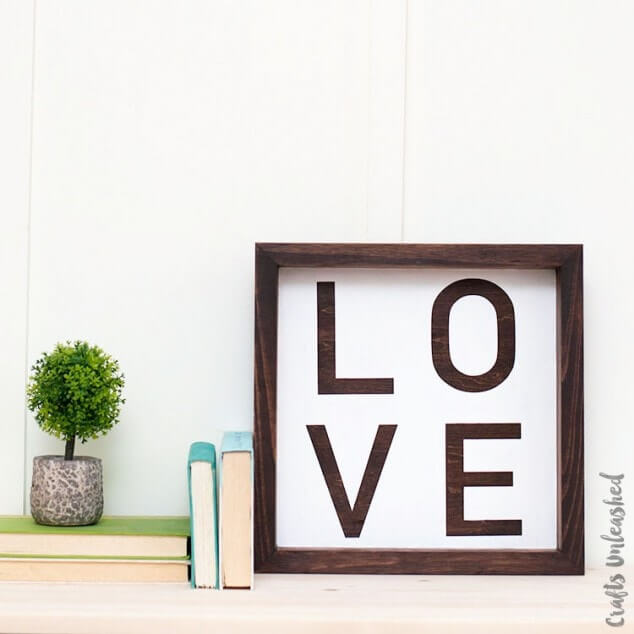 If you prefer farmhouse style for your home, then this cool DIY sign is perfect for your home. In fact, you can get the rustic frame of well-arranged letters on Etsy at an affordable rate. The bold brown frame is meant to make the piece of art stick out distinctly and draw attention to the letters inside the frame. The white background allows the letters to stand uniquely on their own and convey the message from across the room. You can hang the frame on a plain wall to make it more appealing. Additionally, if you enjoy reading books, you can place the frame of letters next to the books to subconsciously convey the message that you love books.
21. Playful Spring Quote on Wood Pallet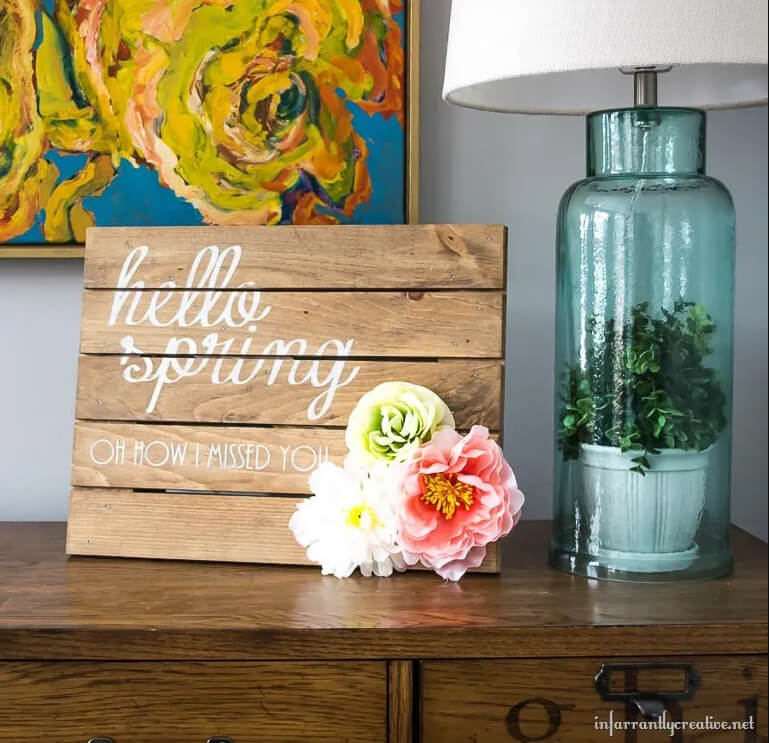 Is Spring your favorite time of the year? This playful wood art quote will definitely add a dash of life and joy to your living room. This is one of the best DIY home signs because it has a personal touch that brightens up your world. Sometimes life gets difficult and having an attractive plaque of wood that reminds you of your favorite time of the year will definitely add a spring in your step. You can add a bunch of fresh flowers next to the wooden art or place it next to your favorite plant to add a hint of nature and life into the décor.
22. Junky Love Letters Home Décor Sign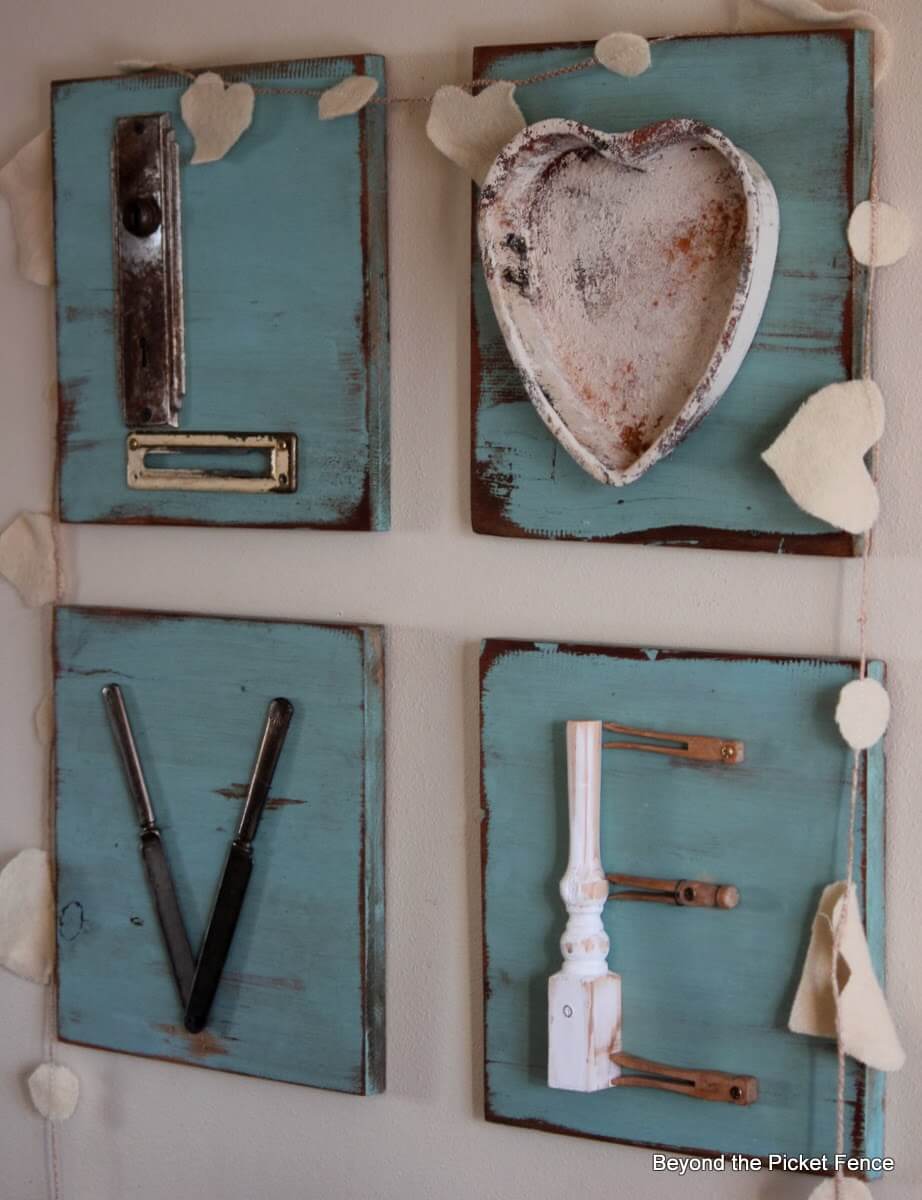 Do you live in a farmhouse with access to a lot of junk? Well, you can use the junk metals to create amazing handmade home signs for your home. You will need 4 wooden boards where you will arrange the junk pieces. To make the piece artsier, you can paint the wood planks a plain color e.g. blue so that as you lay the junk pieces on the wood, they will pop out and attract the right amount of attention. You can use junk pieces like old door locks, a discarded heart-shaped pan, old knives, spindles, cloth spins, or any other metals you can find, and arrange them to form a meaningful word like LOVE. This DIY project will help you turn useless pieces of metal into creative décor junk.
23. Welcoming Horizontal Home Sign with Wreath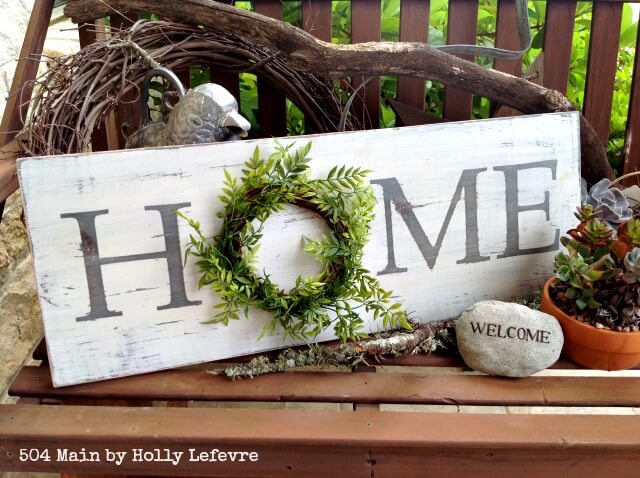 Planning to add some playful beauty to your home sign? Why not use a wreath to do it? This type of home sign is perfect for gardens and patios where guests can spot it as they walk into your home. You can also throw in a smooth rock engraved with the words welcome so that the whole setting can read "welcome home" to your visitors. If you have a wide horizontal plank of wood lying around your compound, you can paint it and write the words "HOME" on it horizontally. Then, attach a wreath to the letter O and lay out your masterpiece for all to admire.
Amazing 23 DIY Home Signs That Will Transform Your Home
Which of the above best DIY home signs are you planning to try out for your home? Home décor has a huge impact on your mood and way of thinking. For instance, if you are having a bad day and you get home to a boring dull atmosphere, you will probably continue to have a terrible day.
However, if you decorate your home in a lively, uplifting, and exciting way using any of the handmade home signs above, then your mood will instantly lighten the moment you get home.
Most of the homemade home decor signs mentioned above are made of wood. This is because wood never goes out of style since it is a timeless piece of nature. Decorating your home with homemade wood signs will add a touch of rustic, vintage, or farm-style appeal to your home, making you feel more in touch with your personality.
Your home is the one place on earth where you are supposed to feel confident, comfortable, and relaxed. These DIY home signs give you the freedom to explore your artistic nature and bring out different aspects of your personality. For example, if you are a thoughtful optimistic person, wood pallet signs engraved with words like "Thankful or Grateful" will feel right for your home. Let us know which homemade décor sign resonates deeply with who you are.