Simple DIY front porch signs are an inexpensive and fun way to add a bit of rustic charm to your entryway. They're also a great project for both dedicated artists and the creatively challenged alike since you can either hand letter your sign or use stencils or pre-cut letters for more uniform lettering. Most of the front porch sign ideas below are easy to create in a few hours with recycled materials and a little paint.
Spruce Up Your Porch with a DIY Sign

The current trend towards rustic porch decor means that the best kind of wood for these signs tends to be pleasantly weathered and a bit rough. Wooden pallets and recycled barn wood are two great options for materials given their naturally rustic look. Best of all, they tend to be inexpensive or even free for the taking. And if you're new to the wooden pallet project trend, a simple porch sign is a great first project!
Whether you plan to create a basic wooden welcome sign, a fun and ever-changing chalkboard display, or a holiday-specific sign that's part of a seasonal arrangement, these signs will make your home a more inviting place for visitors.
1. Simple Rustic Letter Porch Sign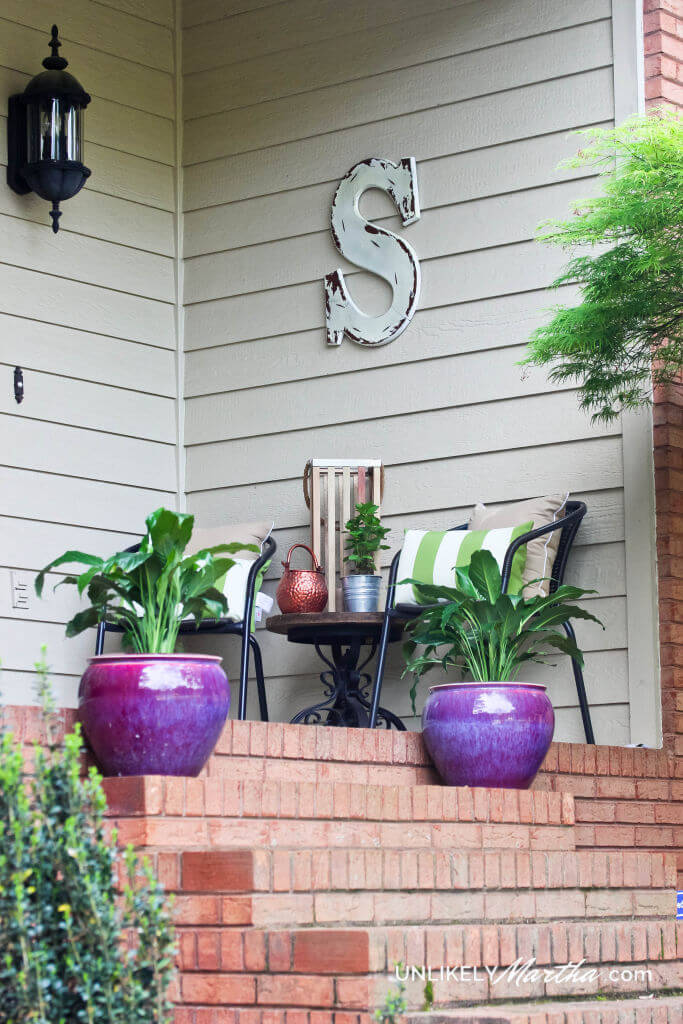 It doesn't take much to completely change the feel of your front porch. Sometimes, all you need is a simple letter sign. Single letters look just as good outdoors as they do inside your home. Consider one that looks weathered to give it a bit more texture that's fitting for outside use.
2. Vibrant and Colorful Seasonal Welcome Sign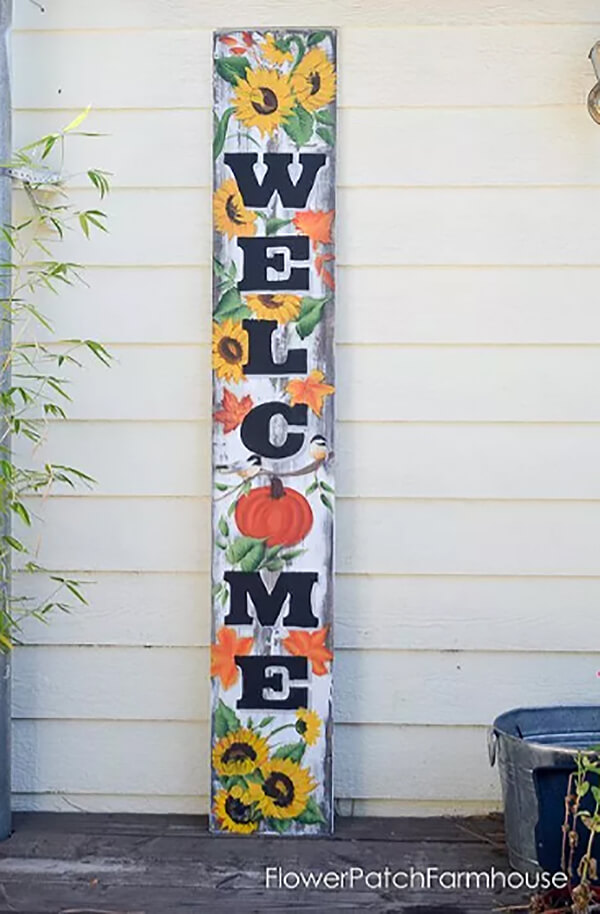 A "welcome" sign is always a good addition to front porch décor, but rather than stick with something so traditional, consider adding a seasonal touch to the sign. Some vibrant colors can help the sign stand out that much more.
3. Elegant and Bold "Home" Sign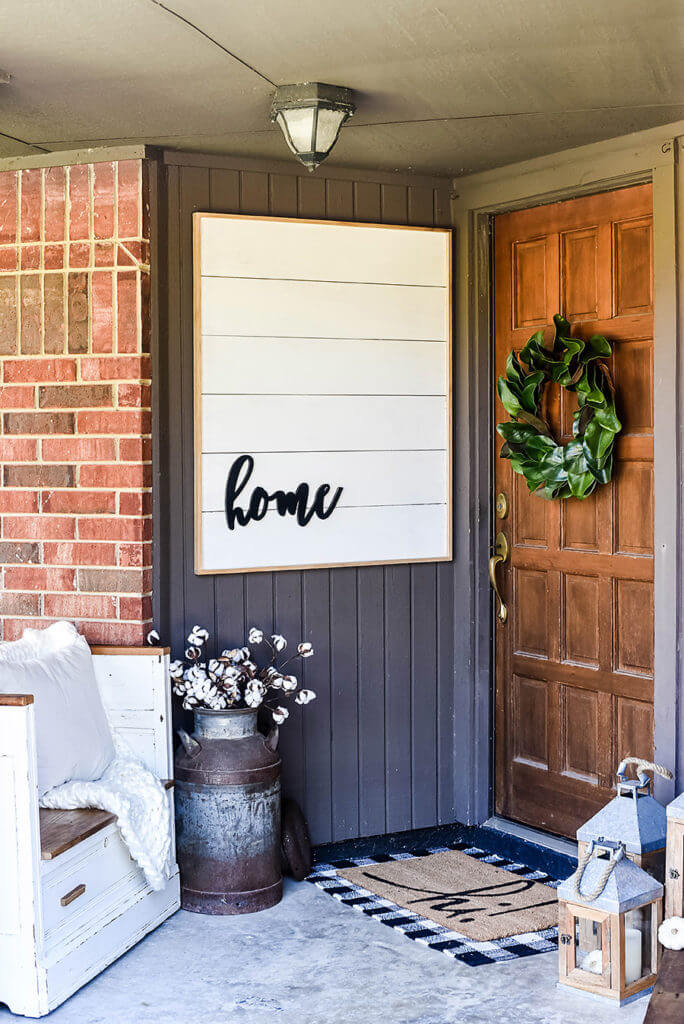 Home is certainly where the heart is, so why not highlight that with this elegant script-based sign? This type of lettering always adds a touch of sophistication to any décor, and it can be of great use on a front porch that may need a bit of updating.
4. Large Vertical Welcome Home Sign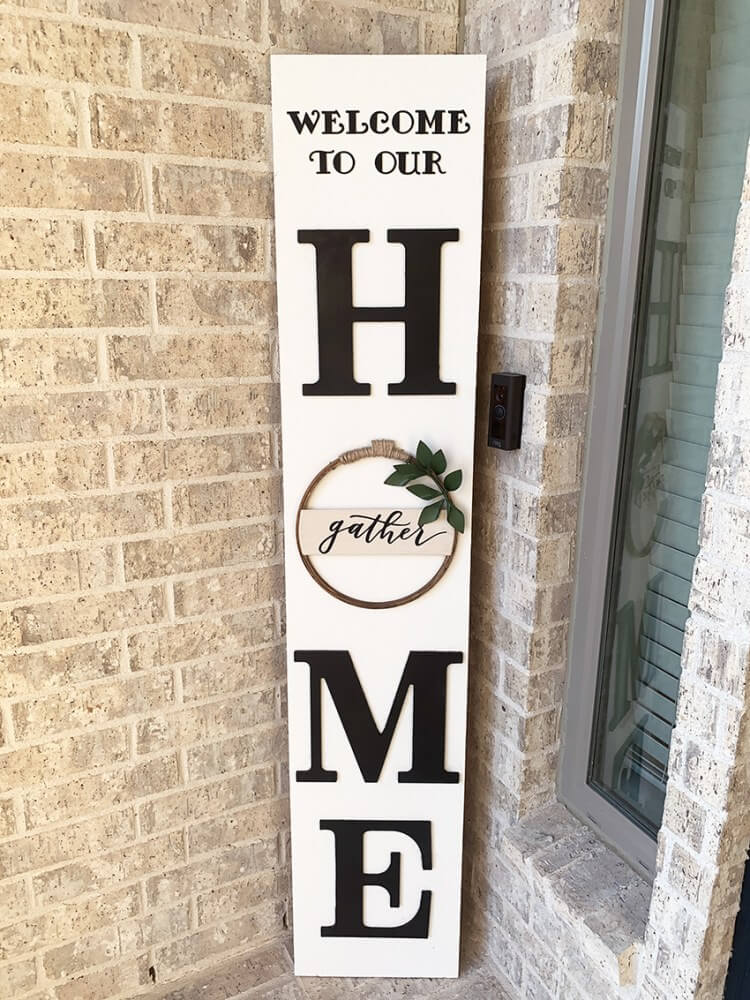 A large vertical sign stands out all on its own, and it can look even more appealing with bold lettering written on it. The "home" section being larger while everything else is smaller is a good way to create a sense of flow from the top down.
5. Modern Custom Framed Address Sign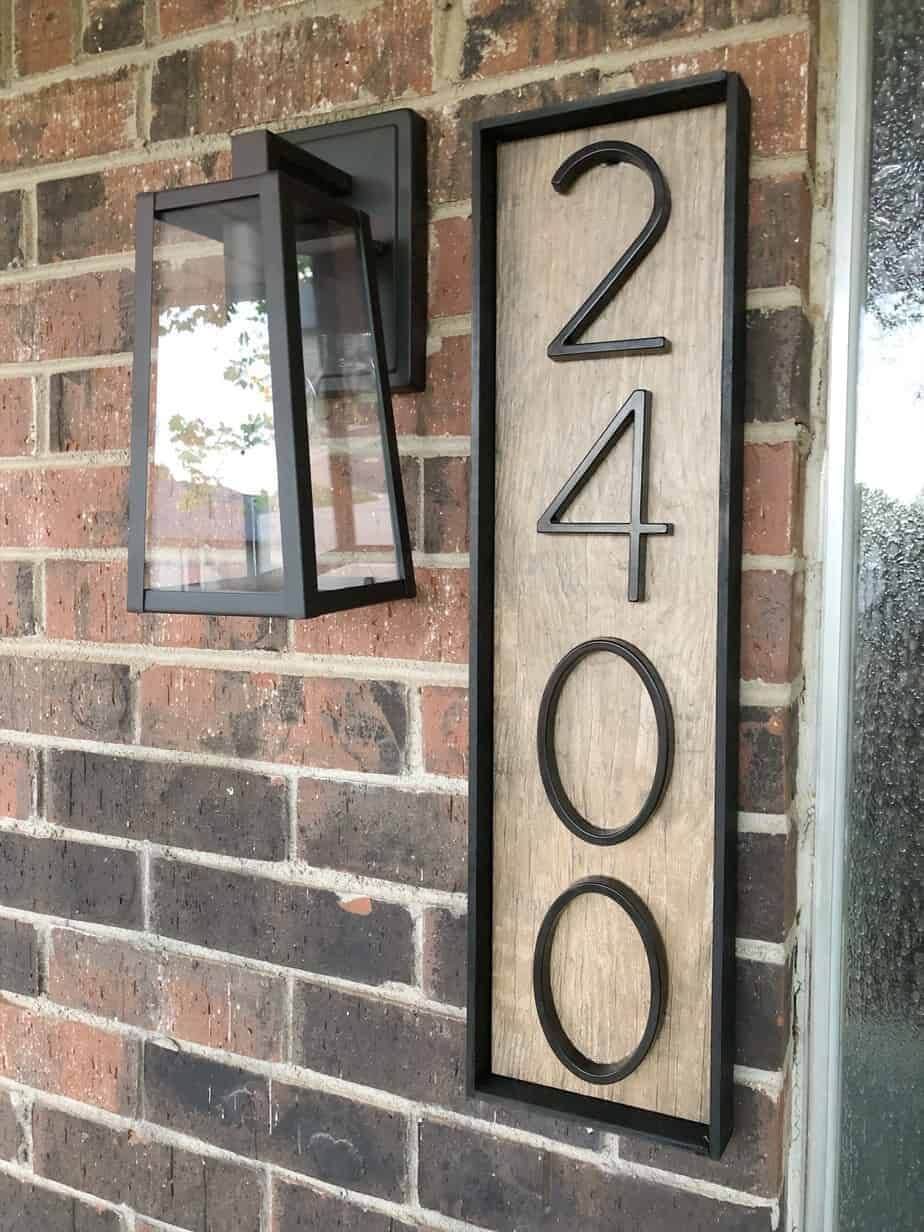 No more does your home have to suffer from plain address numbers that are difficult to read. Instead, opt for a more personalized address sign that allows the numbers to stand out more. Not only is this helpful for anyone looking for your house, but it makes the porch look that much better.
6. Hand-Painted Farmhouse Style Wooden Sign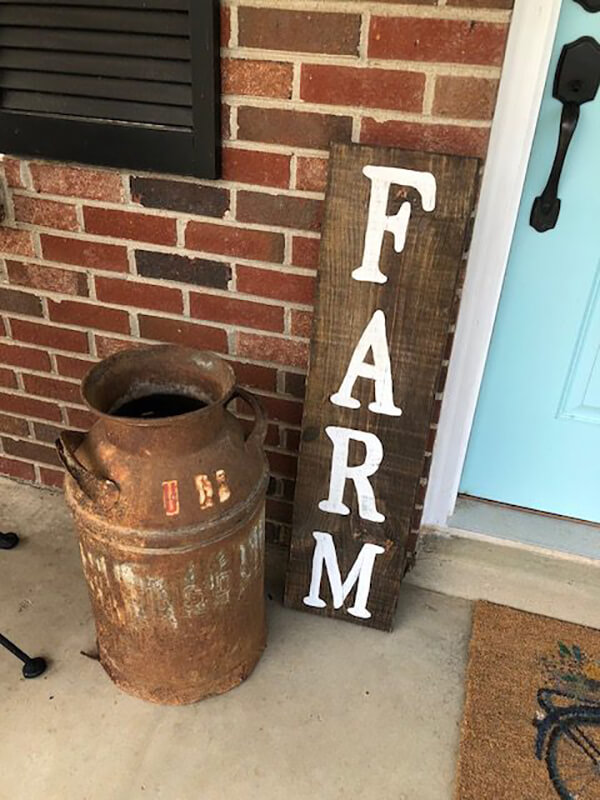 All it takes is a wooden plank and some paint to make a creative sign. It's simplicity at its finest as such a straightforward look works well at bringing some life to your porch décor. You can paint any word befitting your style.
7. Inexpensive Wooden Lettering Welcome Sign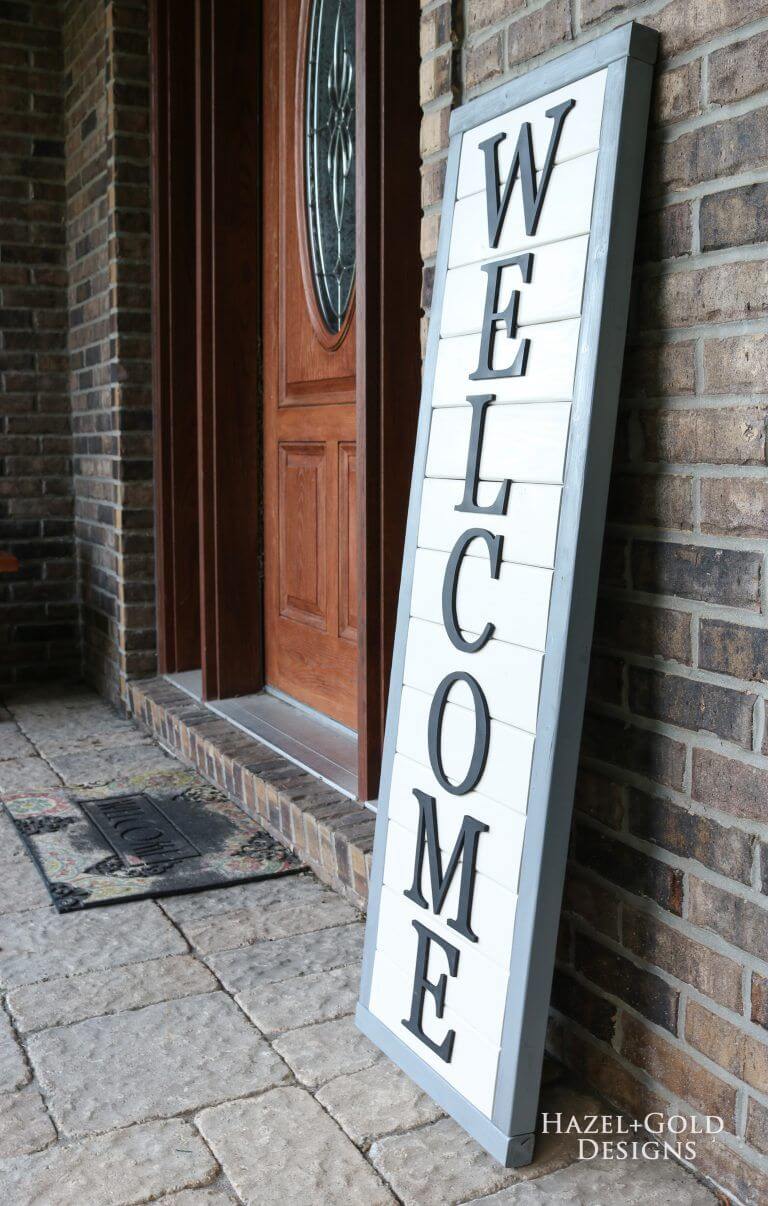 Makeover projects don't have to cost too much, and this wooden sign is a perfect way to elevate your front porch without breaking the bank. Everything is wooden from the base of the sign to the letters themselves, making it a rather creative and fun endeavor.
8. Cool Front Porch Sign Collage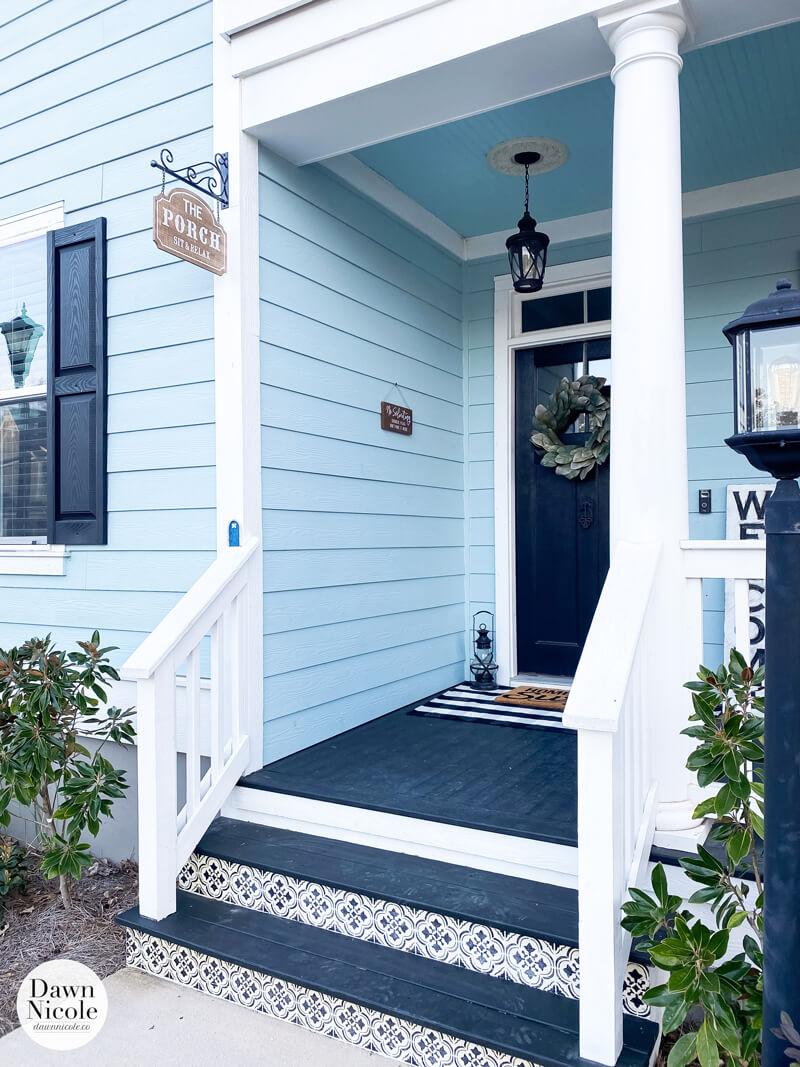 A few signs on the porch are better than nothing. Consider featuring a modern vertical "welcome" sign along with a cool storefront-like sign that welcomes and greets visitors before they even step foot on the porch.
9. Stunning Modern Farmhouse Porch Sign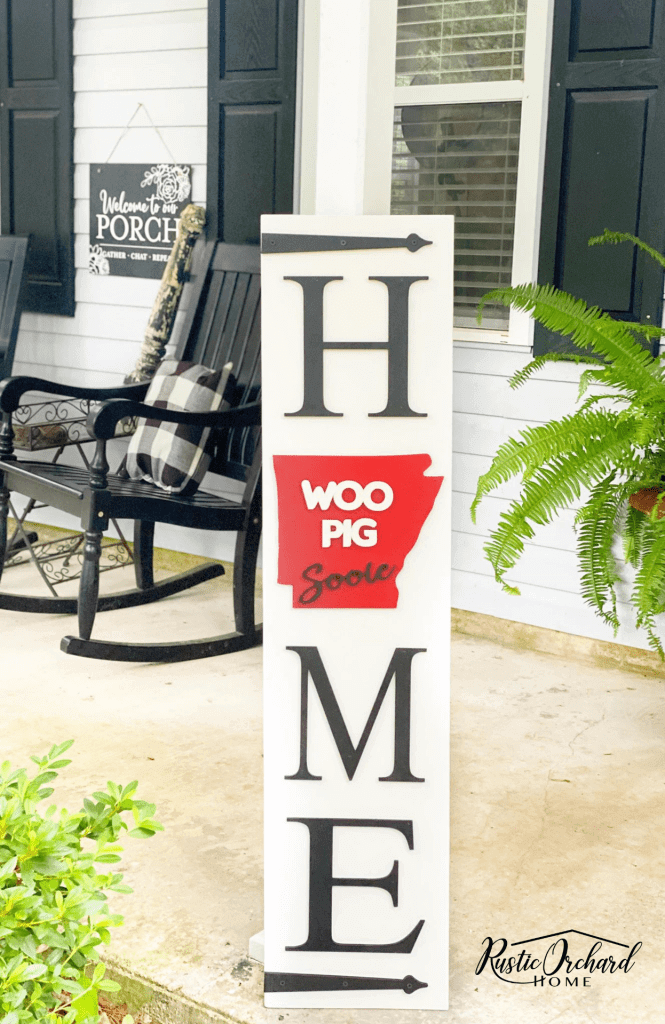 Create your own sign that combines modernism and farmhouse-like décor into a single piece. The sign itself can resemble barn doors in a way, and you can always add something cool to use for the "o" in "home" to bring color to the design.
10. Large Painted Home Address Sign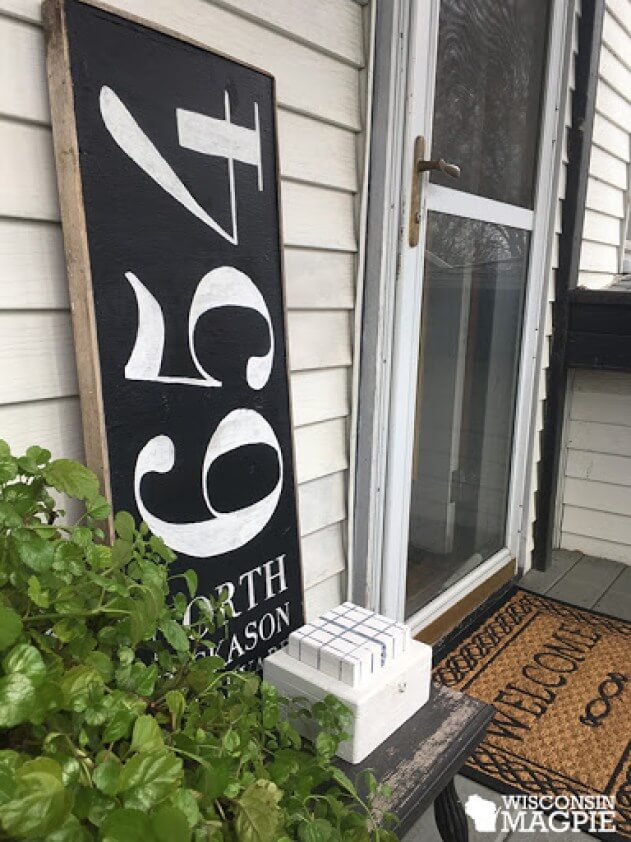 There are many ways you can make your address look a bit cooler, and this sign is just one way to go about it. This project leaves plenty of room not just for the number, but for the rest of the address as well.
11. Awesome Welcome Post Porch Setup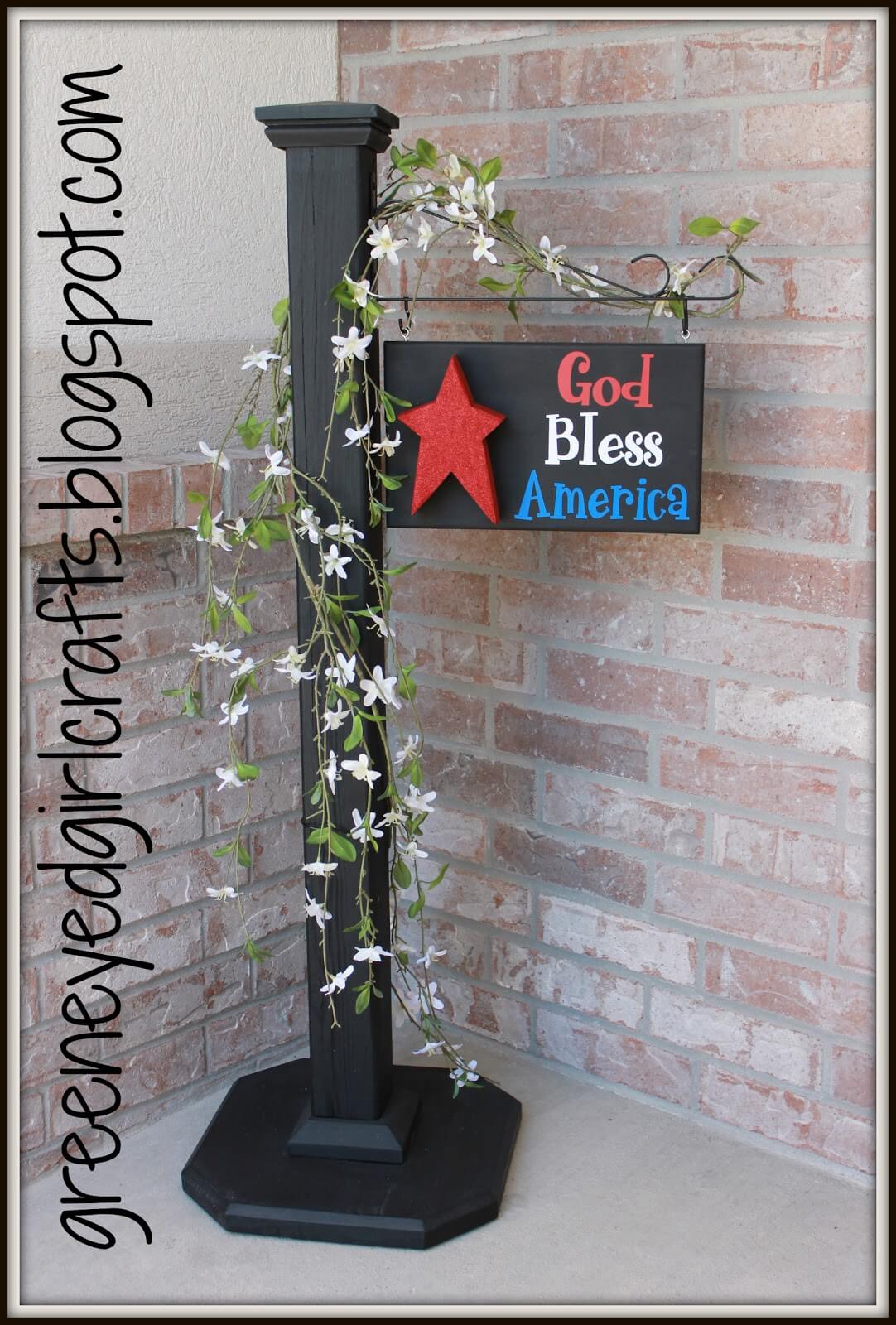 Another amazing way to spice up your porch is with a cool post sign. It's a large piece, so it can work great on porches that have plenty of open space, and anyone visiting will stop to admire it.
12. Oversized Wooden Cut Out Words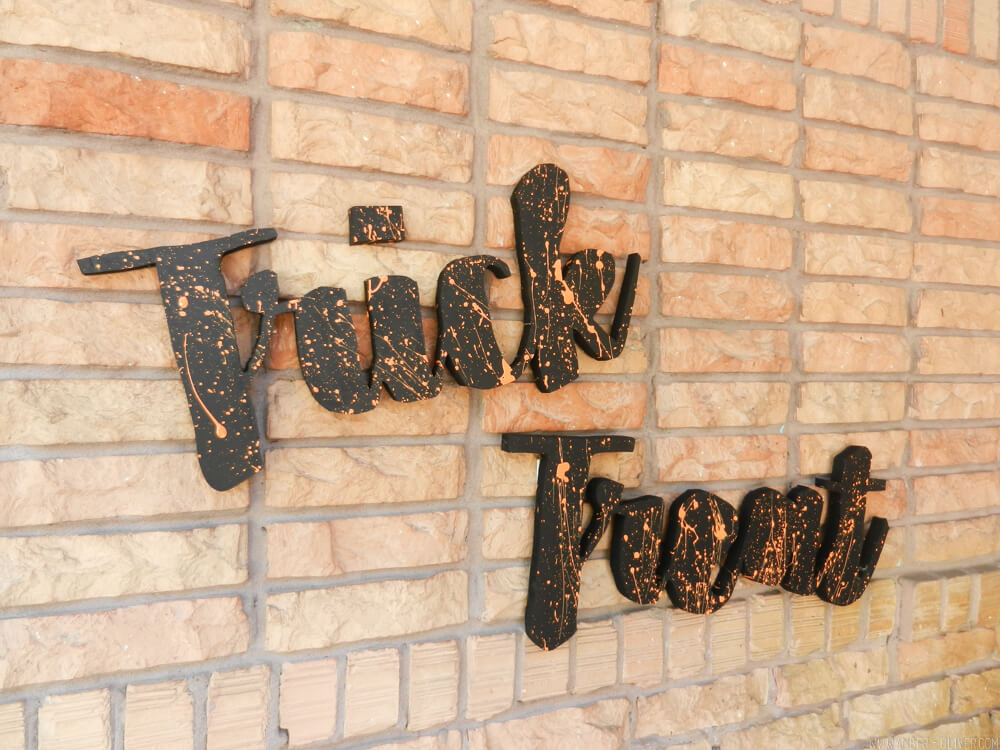 Sayings are a classic way to decorate the walls, outside or indoors, and these wooden cut-outs are perfect. You can create any saying you'd like to personalize the sign more. Opt for something about your family or go for something seasonal.
13. Vertical Distressed Handmade Welcome Sign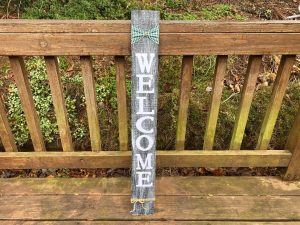 A distressed look always works well when considering rustic décor. Instead of just painting the sign, consider adding some extra touches to it like some rope or fabric. This can further emphasize the farmhouse theme to better suit the rest of the décor on the porch.
14. Framed "Our Nest" Front Porch Décor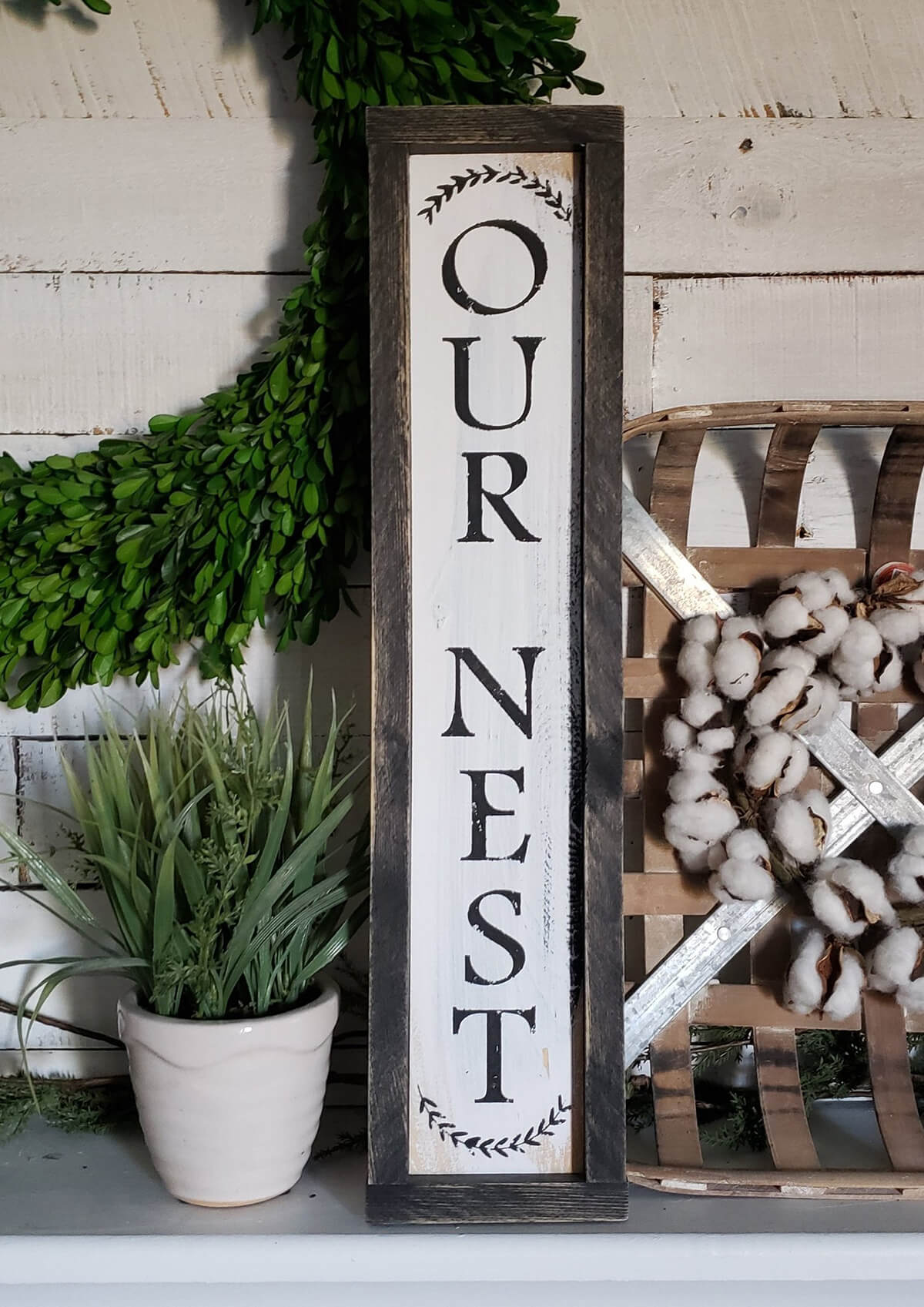 This is a great way to add some rustic flavor to your porch. It's beautifully painted and stained with the words standing out boldly. The elegant artistic touch on the top and bottom sections of the sign gives it even more personality.
15. 4FT Tall "Home" Front Porch Sign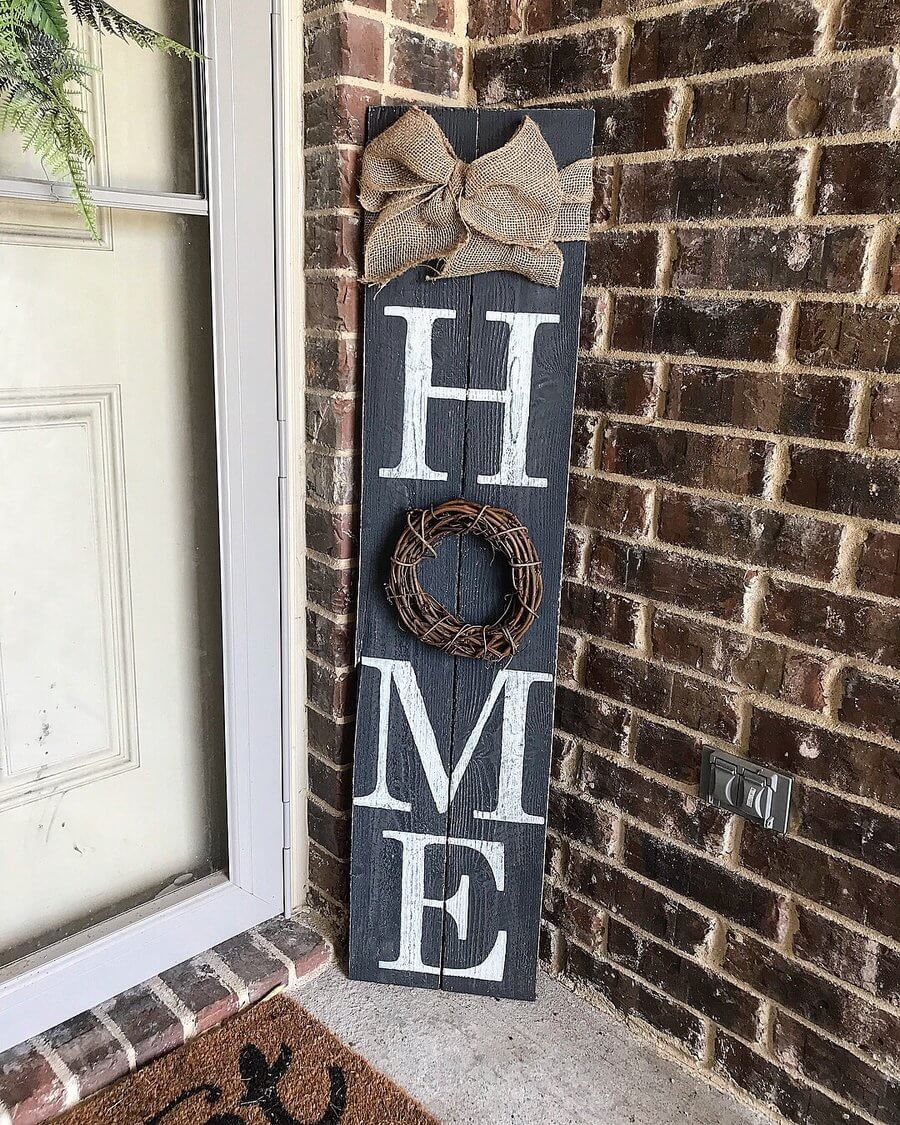 You can give your porch a nice warm touch with this 4ft tall sign. The sign is made from reclaimed wood, so each piece is unique concerning any cracks, weathering, or other marks it may have. Using burlap and a vine wreath work well at elevating the sign further.
16. Chiseled Large House Number Letters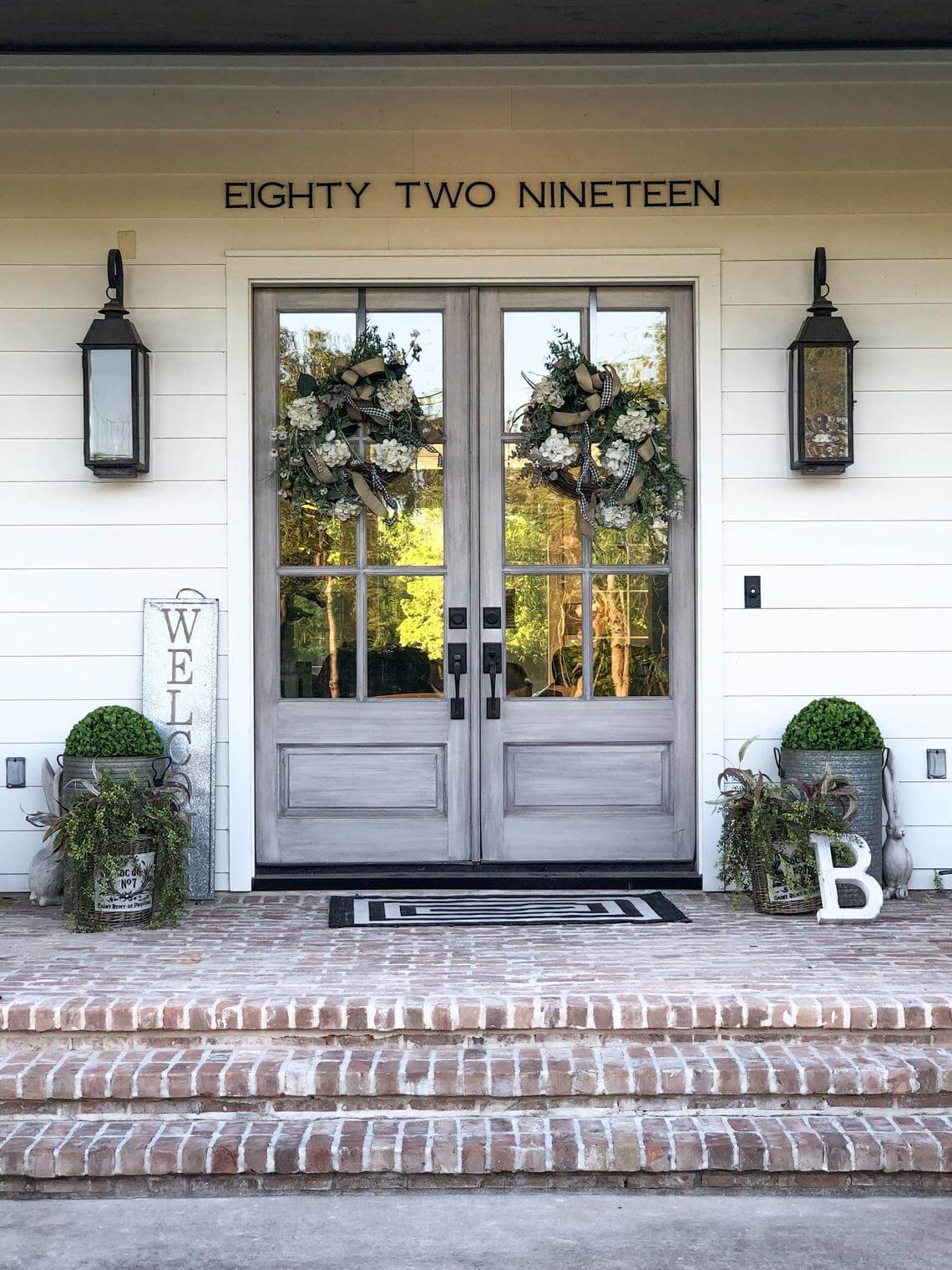 A wonderful way to enhance your porch décor and your address is by using these cool chiseled letters. You can opt for letters, numbers, or a mixture of both. This is even available in multiple colors so you can get something closer to your porch's current décor.
17. "Welcome to Our Porch" Sign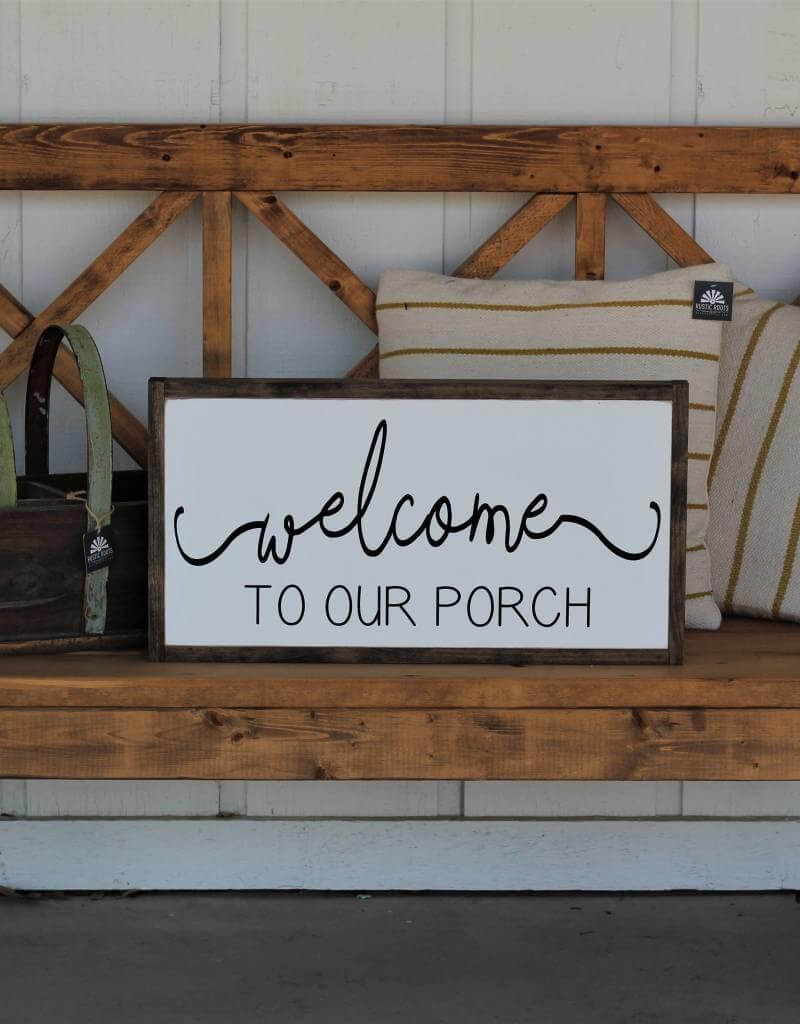 This sign does well at combining a white background with a wooden frame to allow the black lettering to stand out. Also, the font mixture is wonderful too as it perfectly draws your eyes to go from the elegant "welcome" portion to the rest of the sign.
18. Lemon Insert Vertical Welcome Sign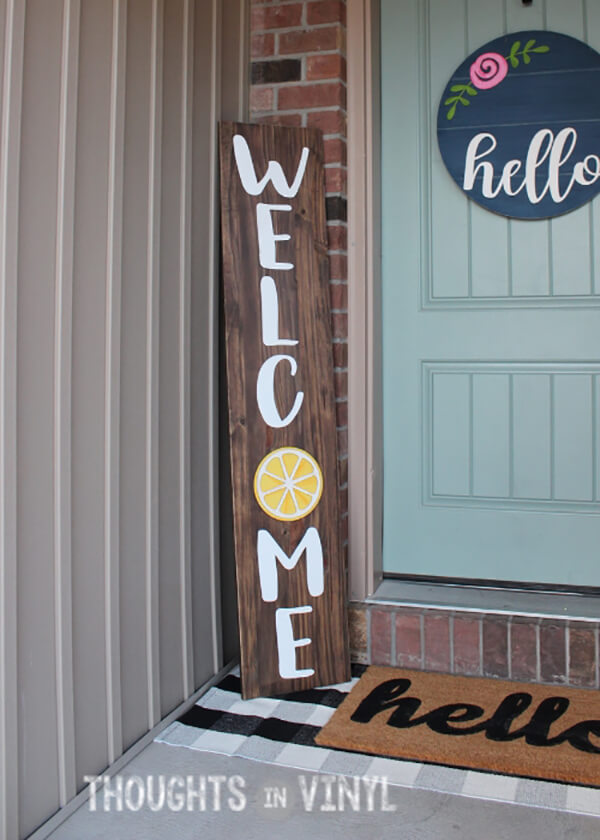 It's always fun to switch up the "o" in a welcome sign. This lemon one is a cute way to do that. It can help add some brightness and fun to your porch. Also, the yellow color stands out well against the rest of the board.
19. 1-Line Metal Wall Address Plaque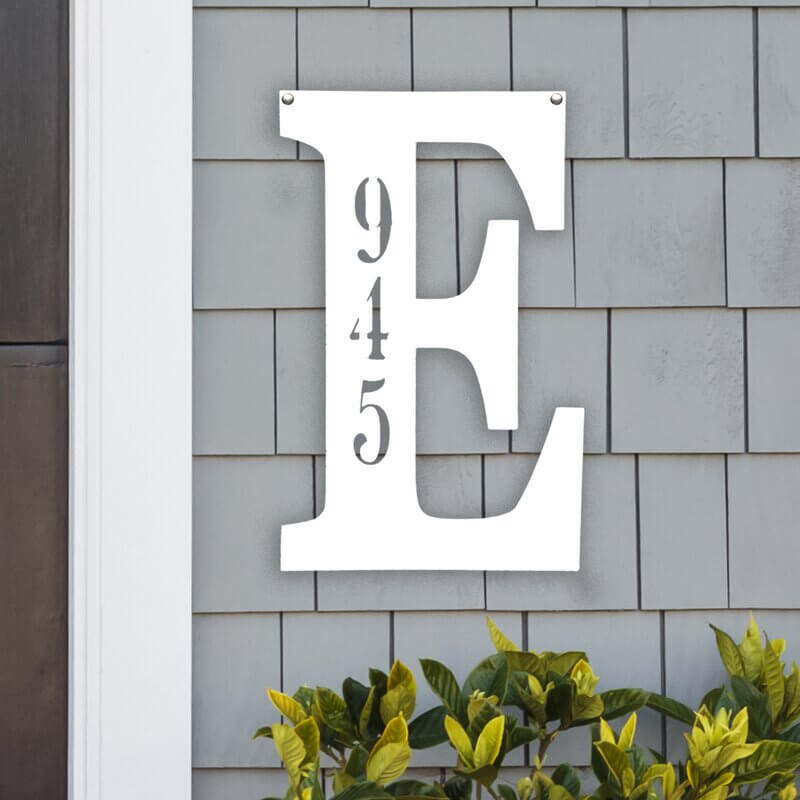 A cool way to get your address to stand out more is by using a larger letter with the address numbers etched into it. It can gain attention right away, and it simply can make the rest of your porch look great.
20. Metal "Welcome to Our Porch" Sign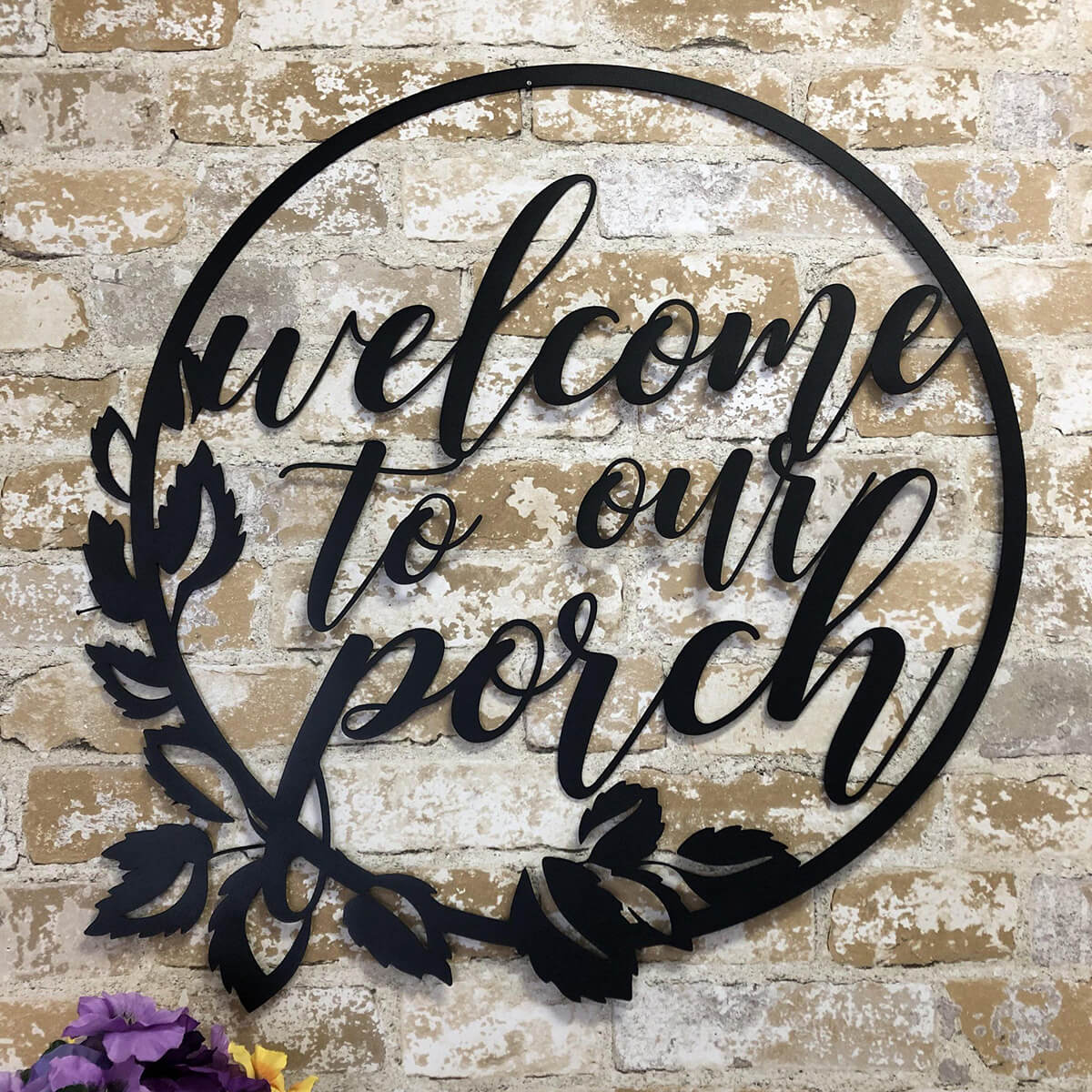 This cool circular sign is a unique way to welcome guests to your home. It perfectly utilizes the saying with an elegant font that is further emphasized with the slight floral design. Although it comes in a single black color, you can choose from multiple sizes.
21. Framed Rustic Sign with Religious Saying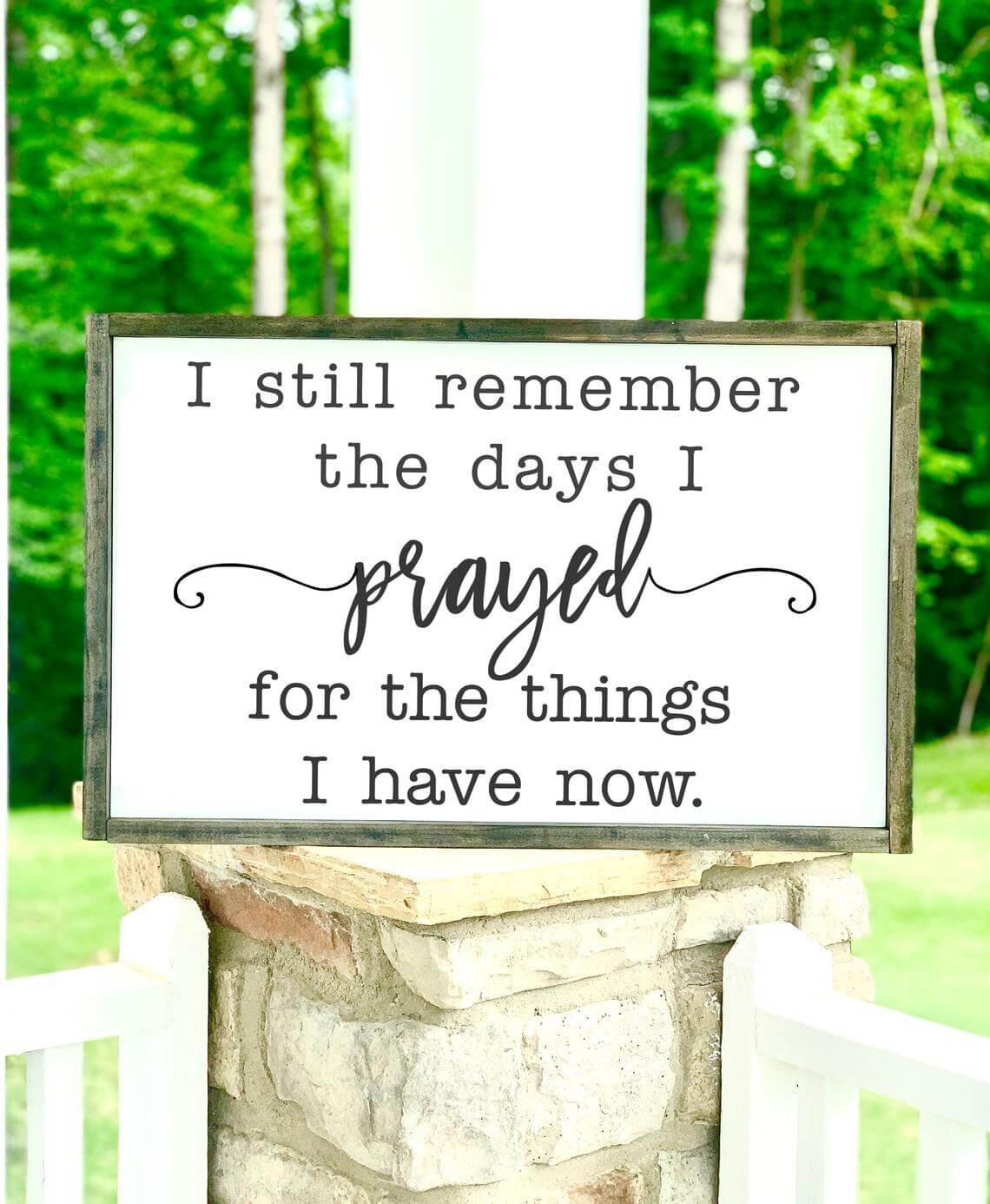 Highlight your home's themes right outside with this gorgeous handmade sign. It is a farmhouse, rustic layout with simple lettering that stands out thanks to the single elegant "prayed" wording right in the center of the sign. You can select different frame staining to best suit your preferences.
22. Customized "Crazy Dogs…" Porch Sign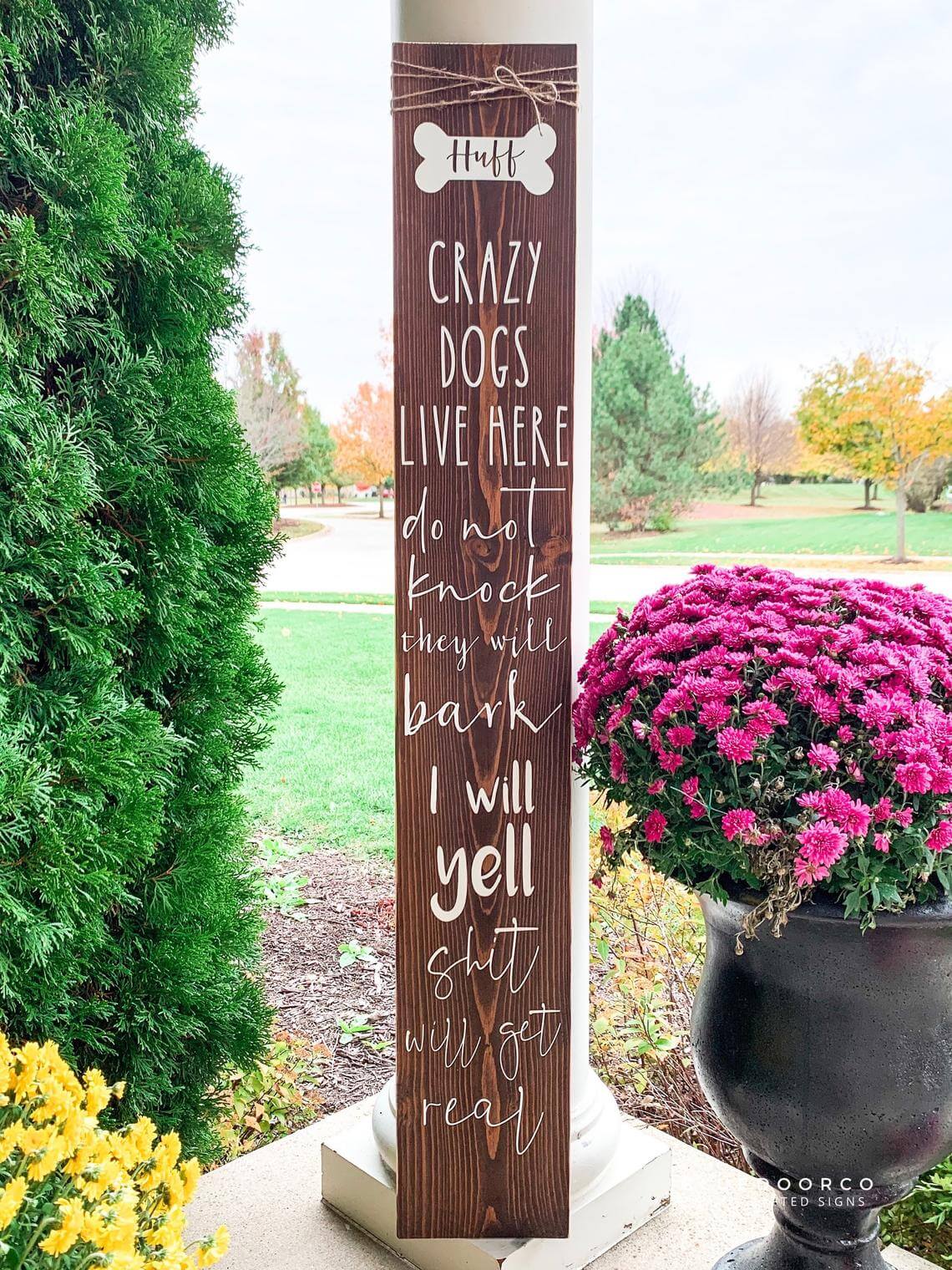 Looking for a better way to show that you have dogs in your home than the typical "beware of dog" sign? Then take a look at this incredible vertical sign. It does well at blending various font styles so that visitors are more willing to read it. Also, you can customize it by adding your family name to the piece.
23. "Blessed" Farmhouse Custom Porch Sign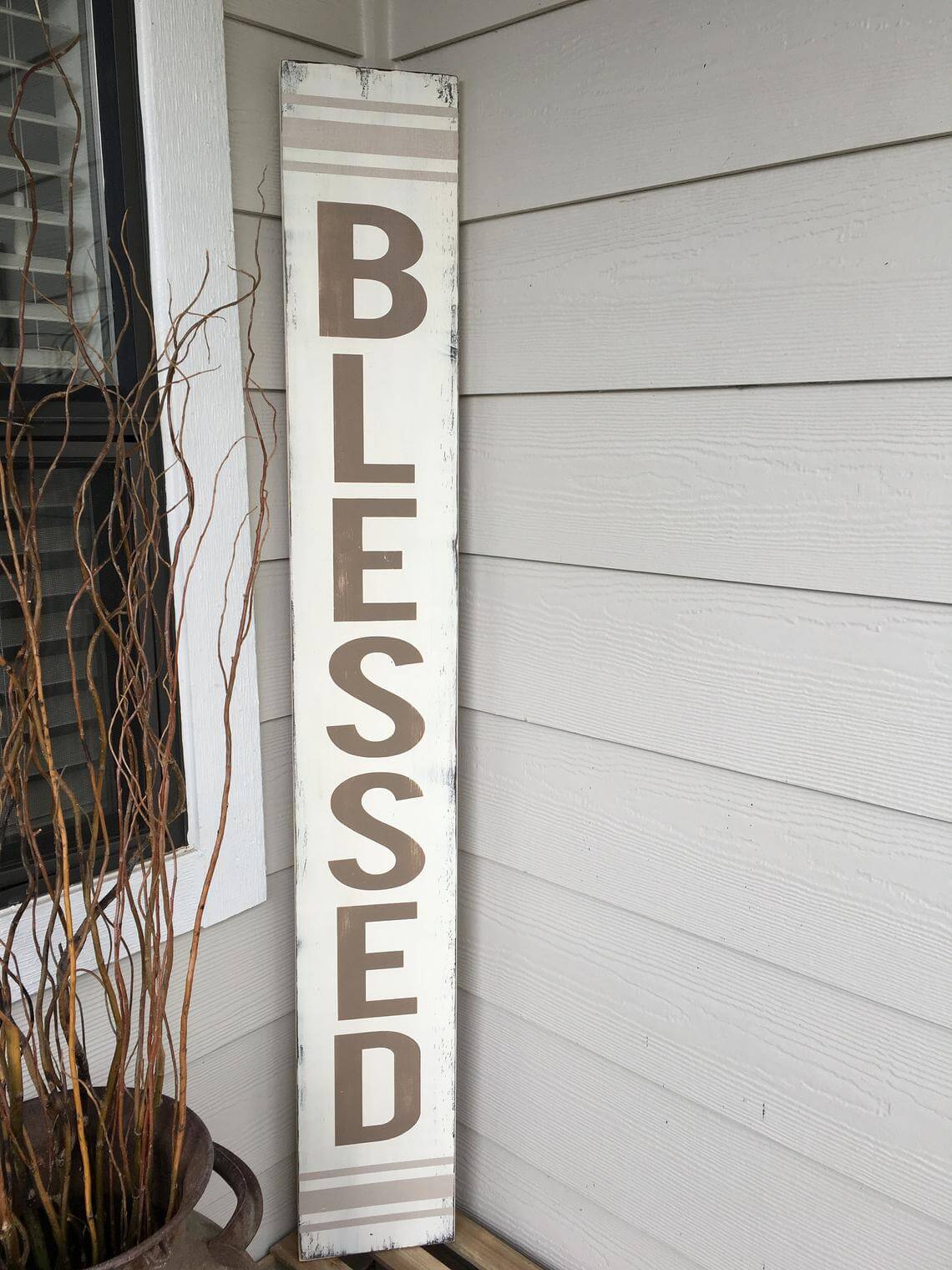 This oversized sign can be made with or without a porch seal as well as with or without a hanger on the back so that you can set it up however you please. It's intentionally distressed well for aesthetic purposes.
24. "Home" Sign with Decorative Wreath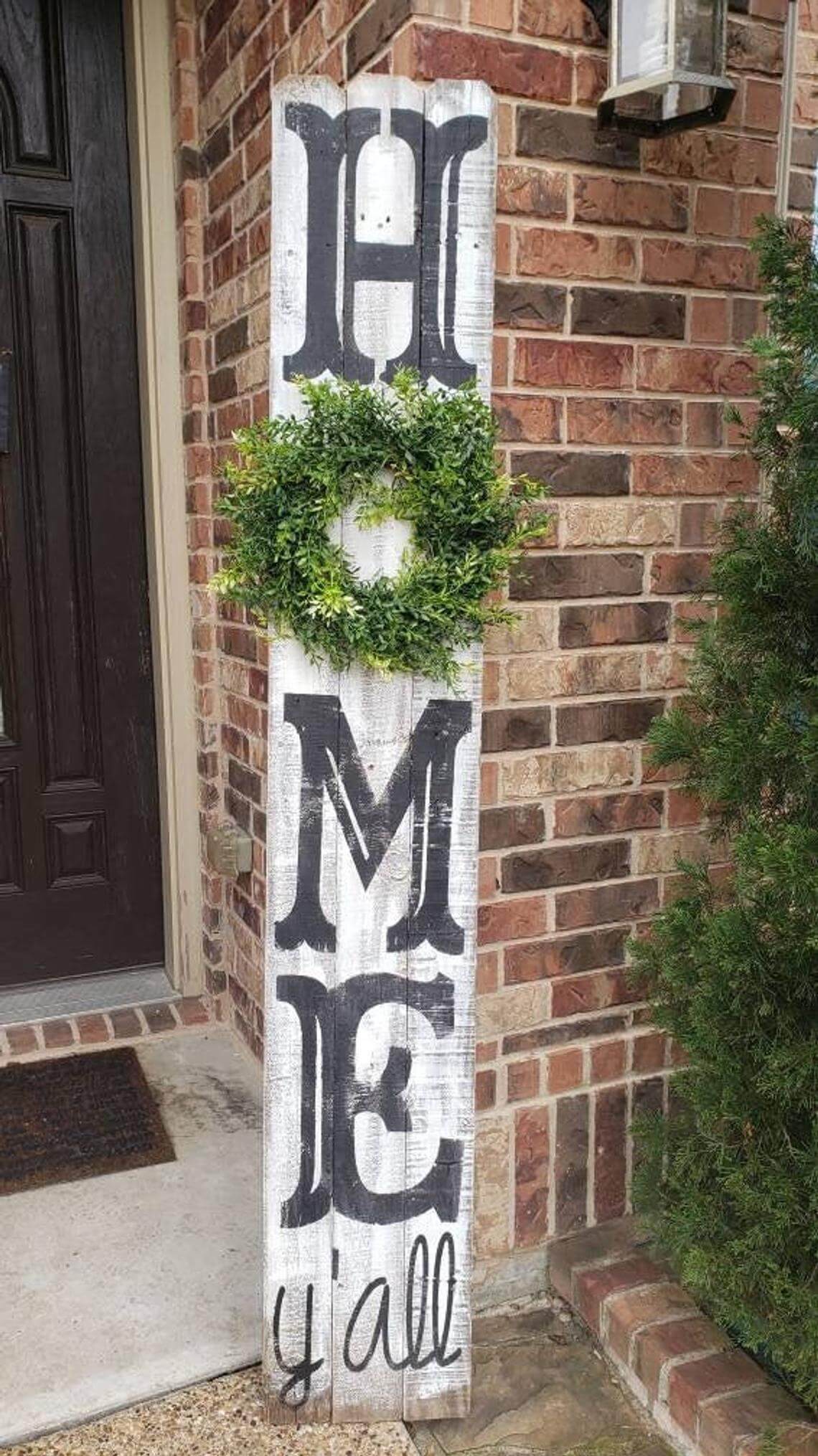 With this "home" sign, your porch décor will never look the same. The handmade sign is a great size, and the lettering and board itself is weathered and works incredibly well with a rustic decorative theme. With the wreath, it adds a much-appreciated touch of color.
25. "hello" Vinyl Decal Sign Lettering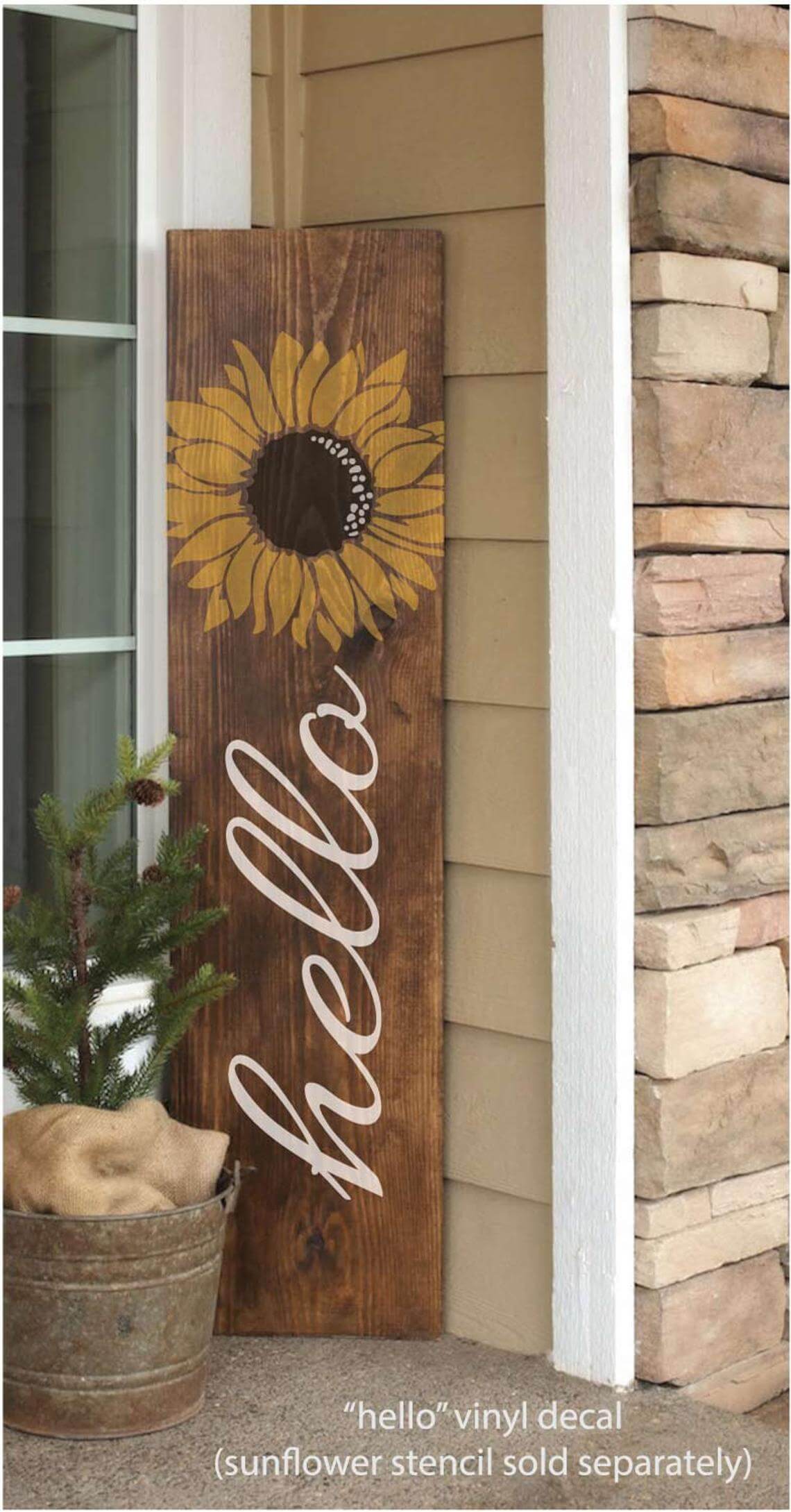 If you need just a hint of modern to your porch, take a look at this cool "hello" vinyl decal. You can add it to any wooden frame or board to create your own sign. The decal comes in several different colors too.
26. Stacked Style Wooden Welcoming Sign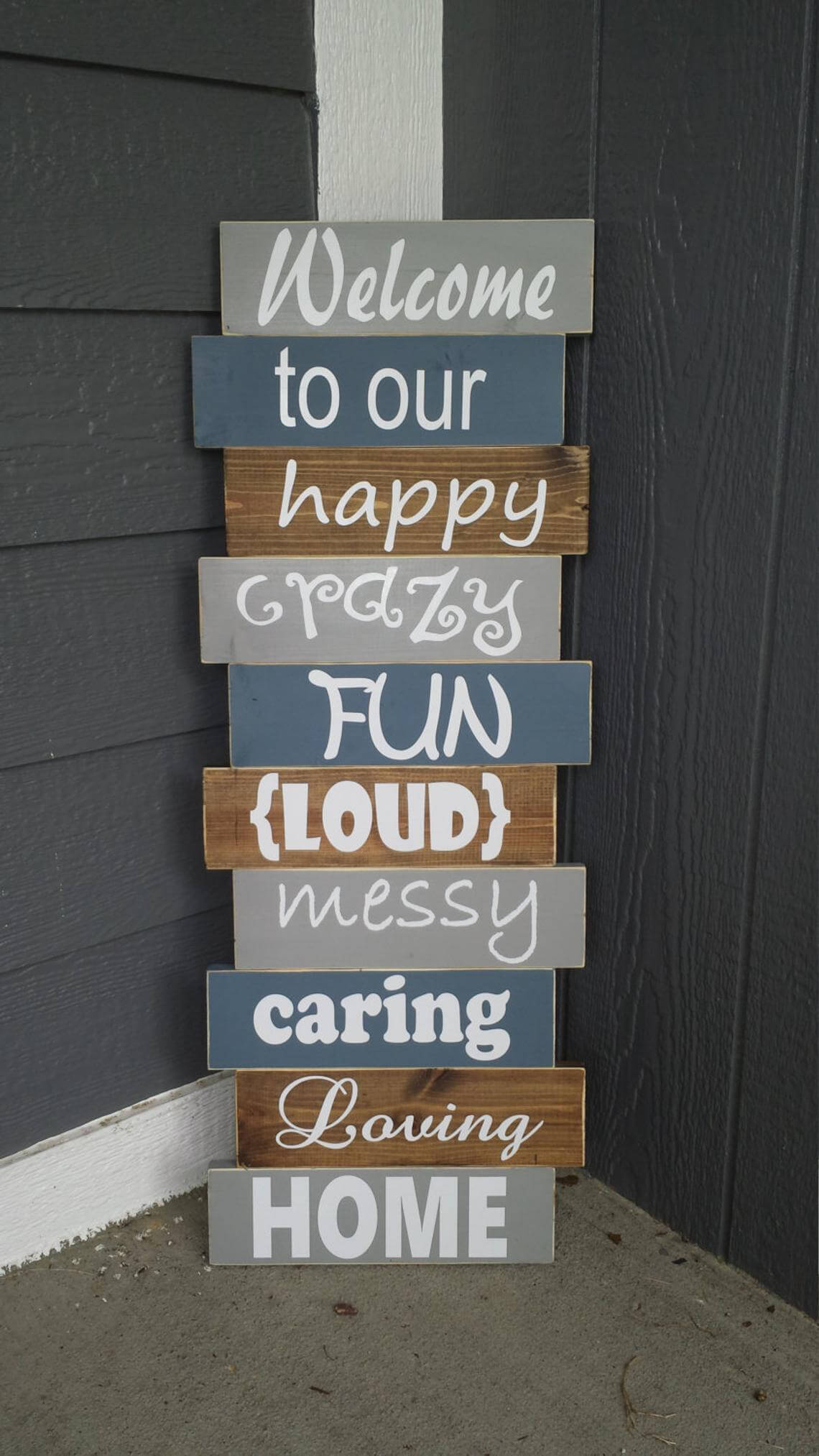 Rather than have one word or a saying written across a sign, this handmade piece uses a stacked-like style to create a flowing, appealing sign. You can choose from a different set of colors to fit your theme as the individual colors help the sign capture more attention.
27. Tall Wooden Entryway Welcome Sign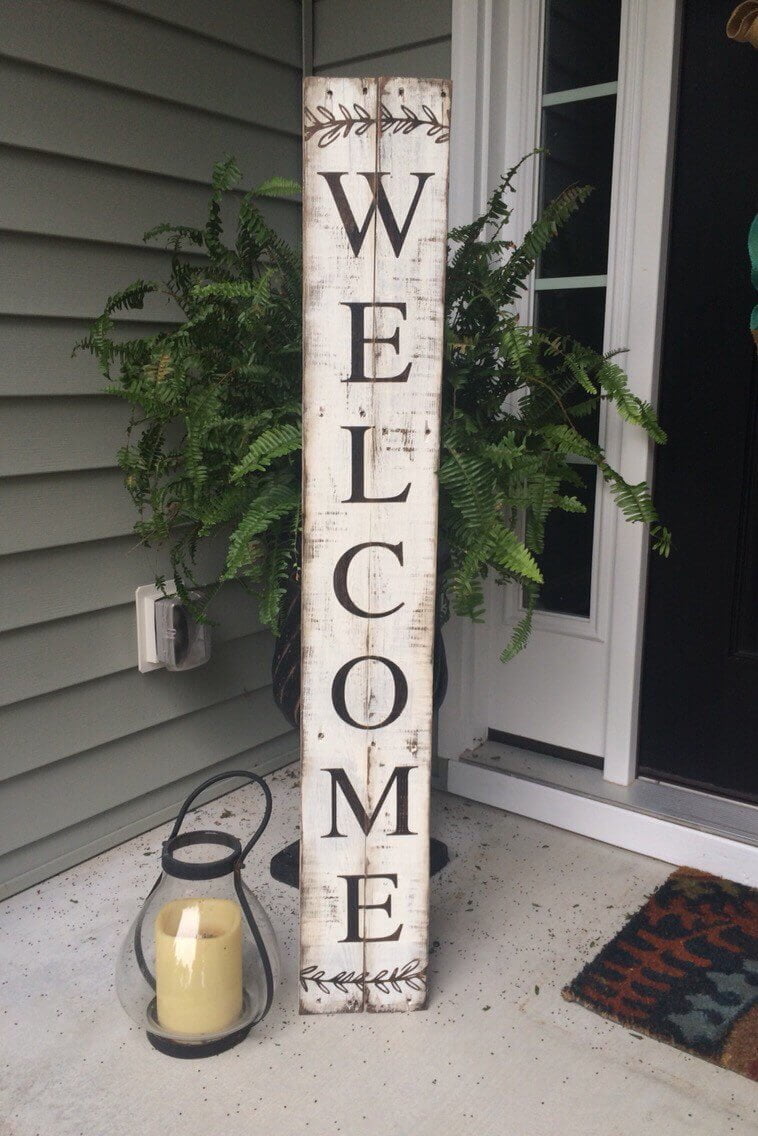 A charming silhouette sign made of flat trim wood, plywood, a little splash of paint, and some handy nails can instantly make a visitor feel at home, whether it's for your abode or in a place where people can enjoy a fresh cup or two.
28. Sweet Porch Seating Area Sign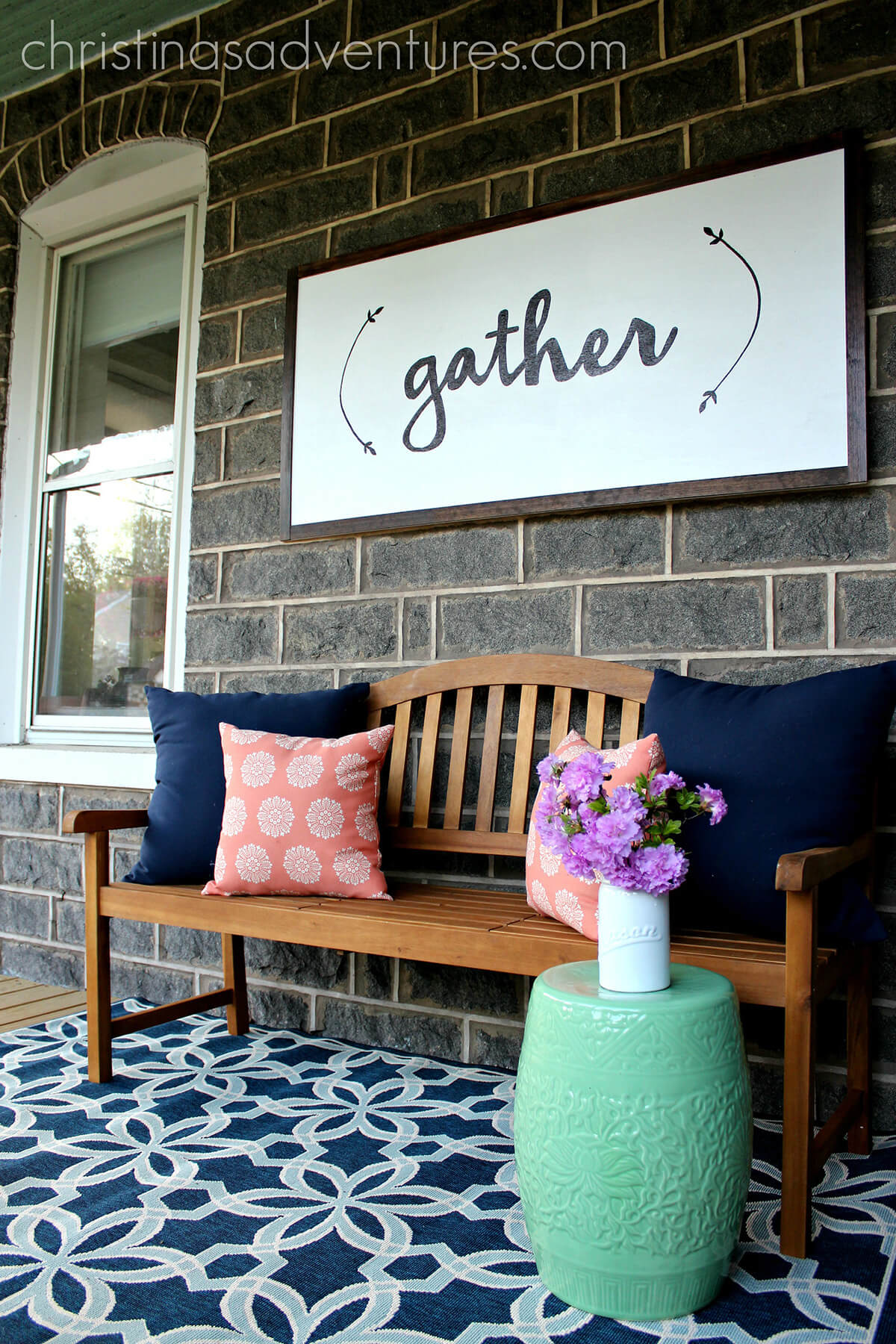 Perfect for minimalists who want a wonderfully profound statement, this simple wooden sign can be perched either on the front porch or back porch. It sets the mood for people to gather and catch up, as its elements boast simplicity at its finest.
29. Chalkboard A-Frame Porch Rules Sign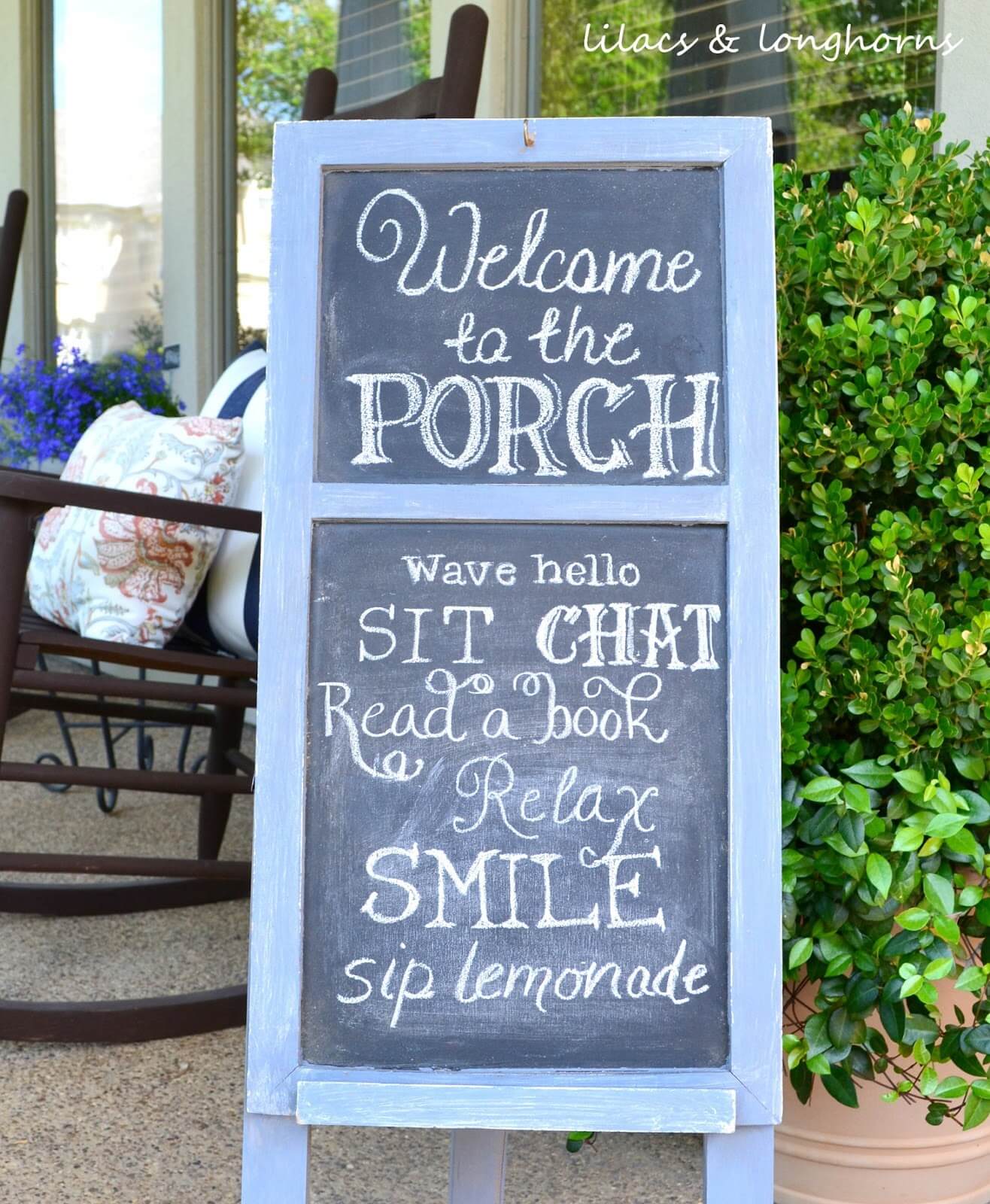 Getting a chalkboard sign promotes practicality and frugality. It's perfect for sending out sweet messages and entice people to gather during spring and summer outings. Creativity in lettering is essential for this sign, which will depend on the message your want to send out.
30. Boxwood Greenery Wreath and Welcome Sign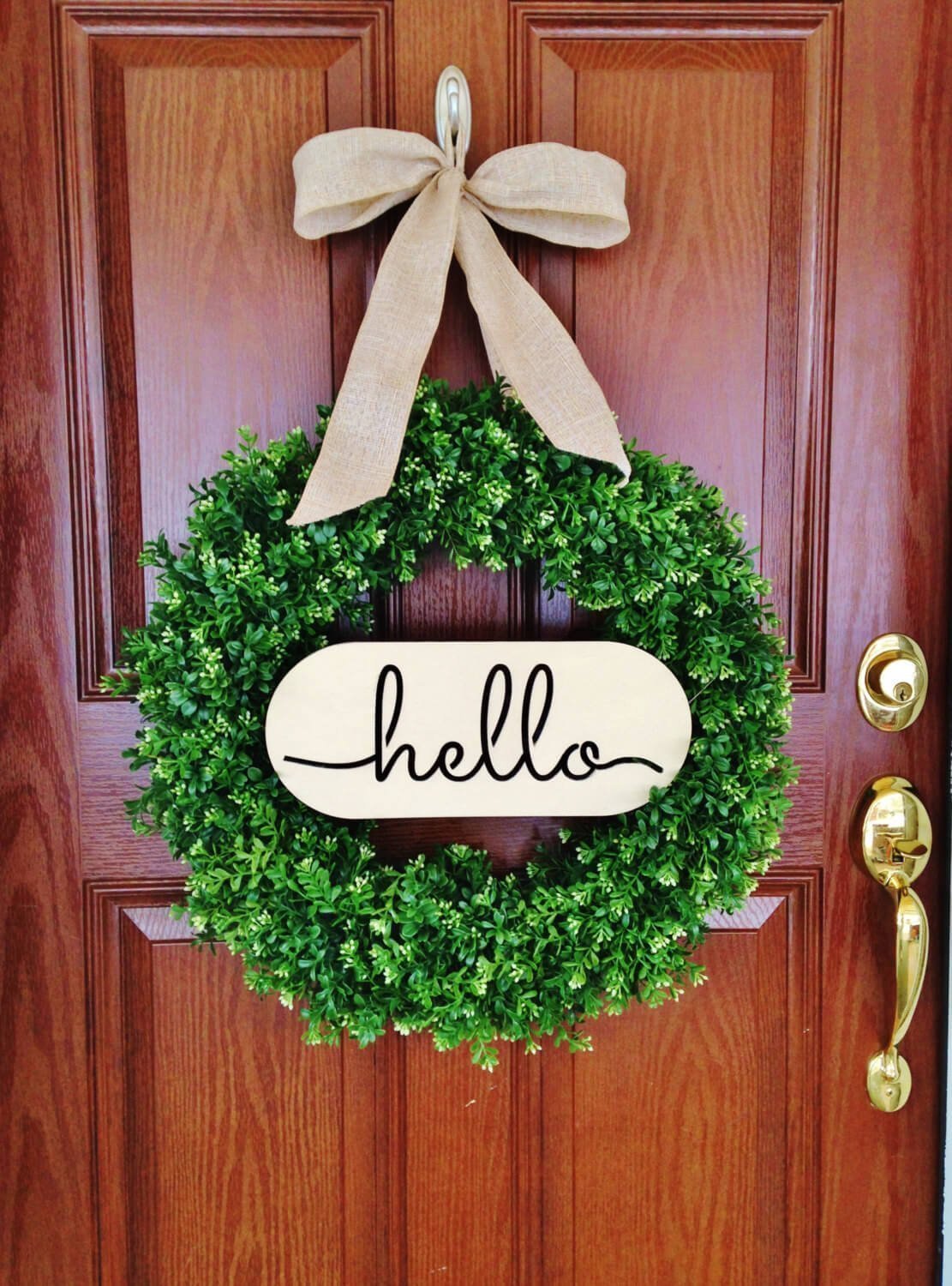 It doesn't have to be Christmas to get a wreath for your front door. A few tweaks here and there, minus the glitter and sparkly holidayish vibe, a wreath will serve its purpose as a warm greeting.
31. DIY Shabby Chic Painted Sign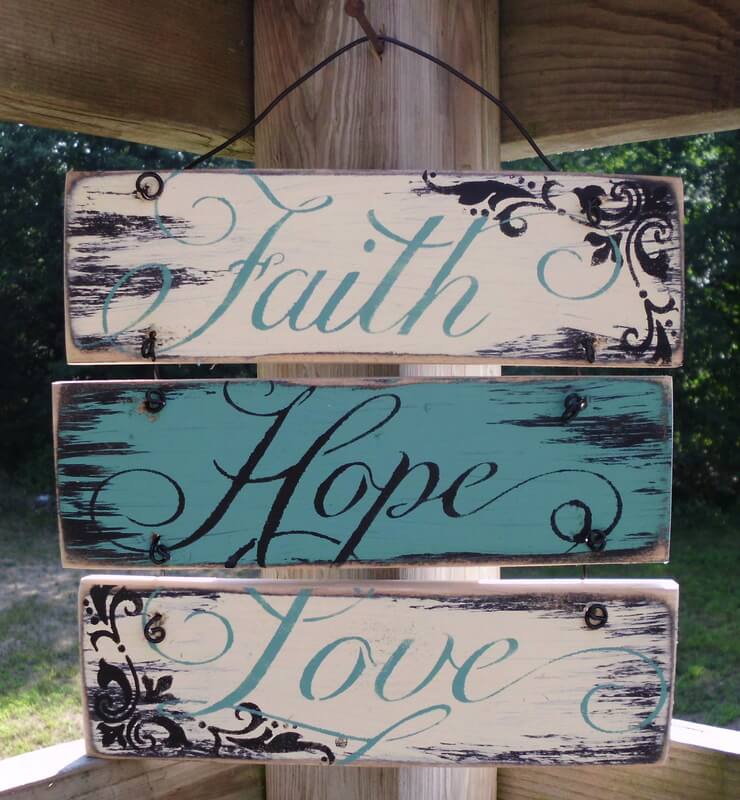 Shabby may have a negative connotation, and distressed kind of does, too. But combine those ideas on a plank, splash it with paint, and hold it together using a sturdy string, it can send out warm vibes to greet a stranger hello!
32. Hanging Chalkboard Sign Entryway Grouping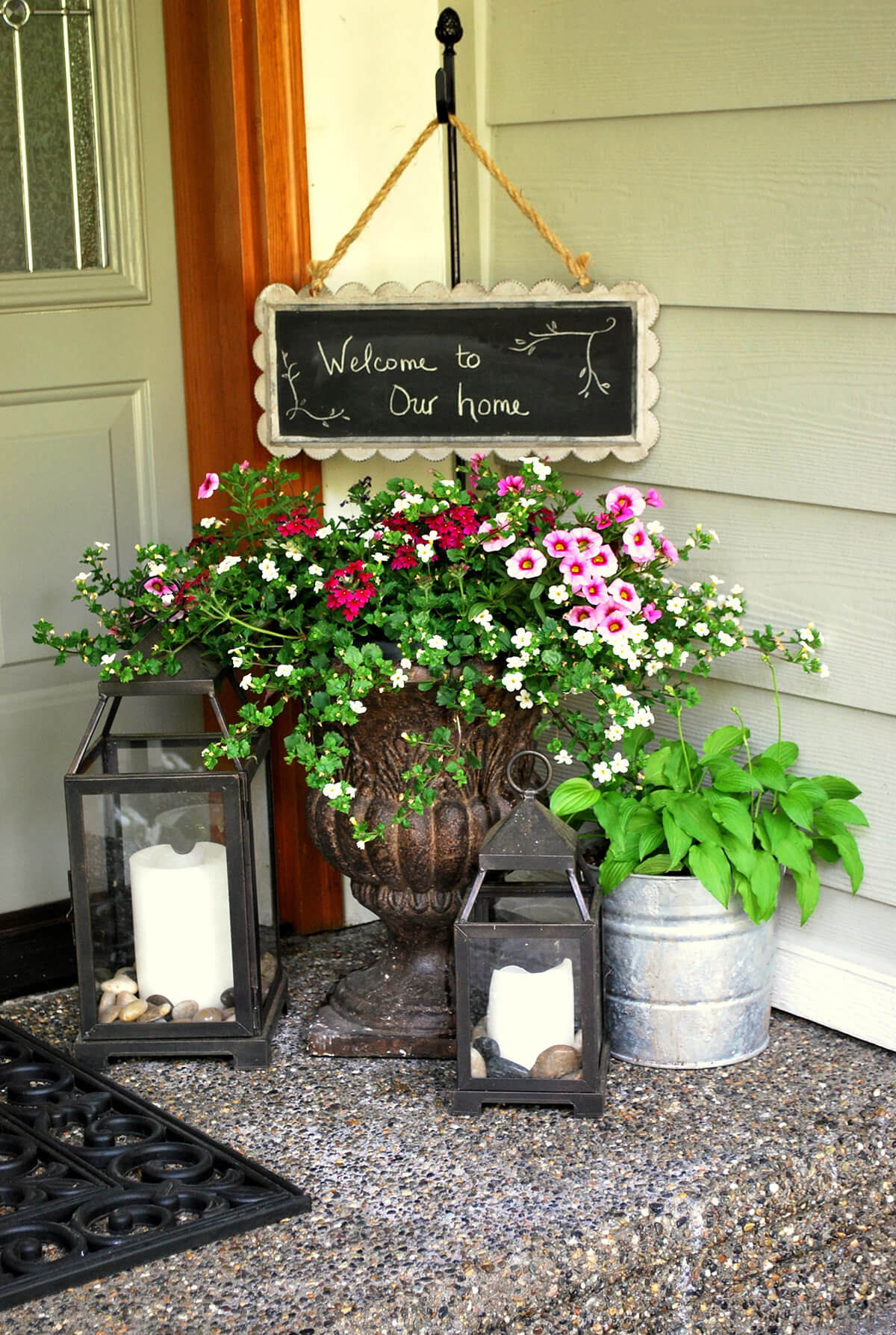 If you want a chalkboard sign but find the usual ones too bulk, its hanging variant can do wonders to your porch. The idea is so simple you won't consider it at first, but hang it right on the corner, and you'll see a big difference.
33. Southern Hospitality DIY Front Porch Signs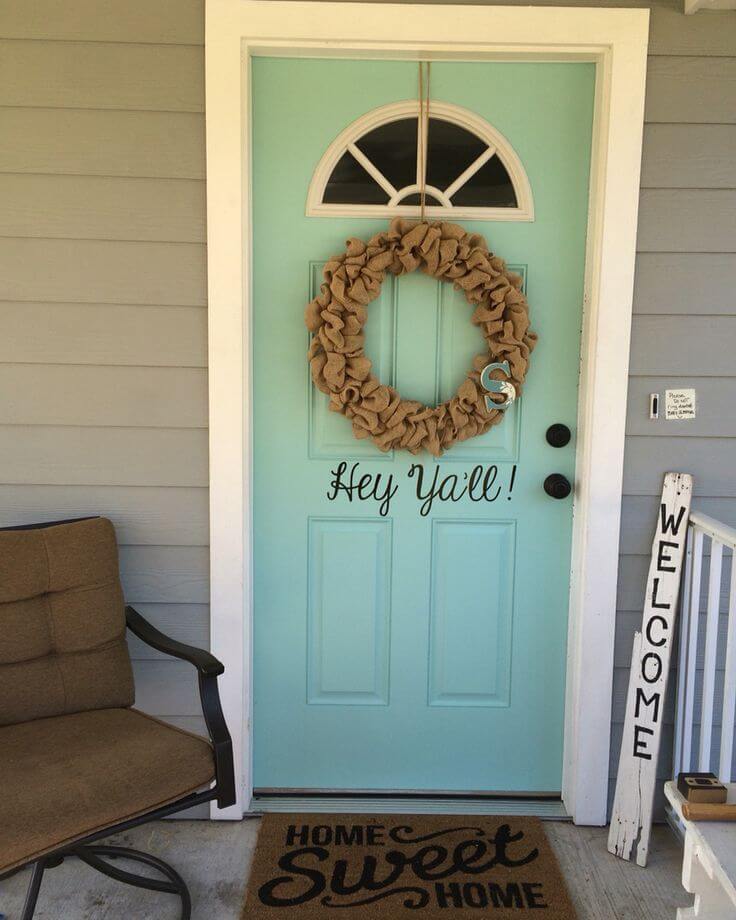 A handmade, earth-colored wreath made out of some pieces of spare cloth against a pastel-colored door would make a striking welcome sign. Top that with a wooden entryway sign on the corner and floormat that matches the wreath — your house is ready for visitors.
34. Rustic Western Turquoise Sign with Metal Letters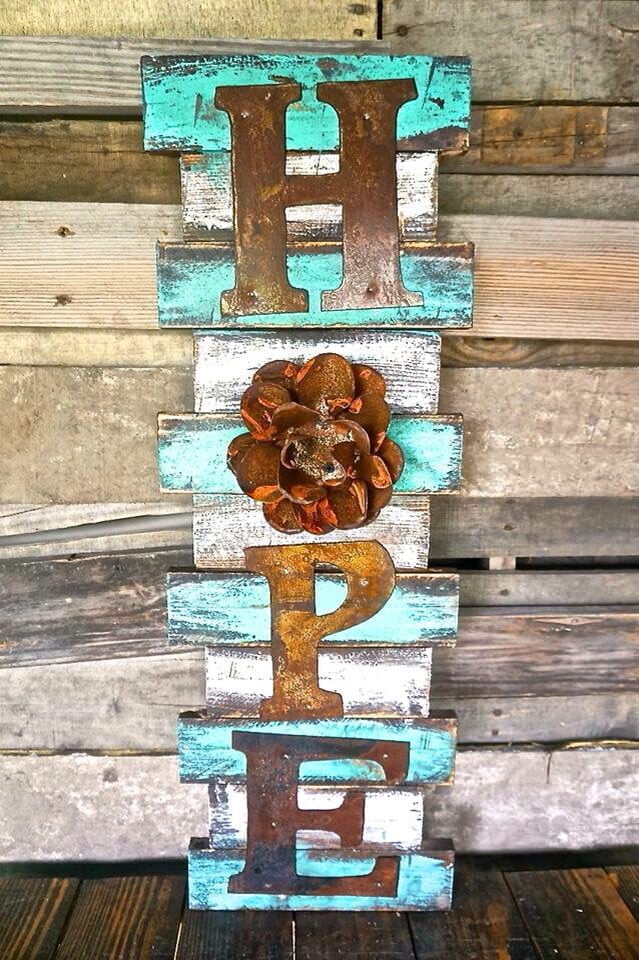 The thing about rustic welcome signs is that it's already a standout. Its presence in any establishment is enough to give that certain Western vibe without adding anything else. It's also a sign that's not limited to your porch alone.
35. Hand Lettered Country Barnwood Sign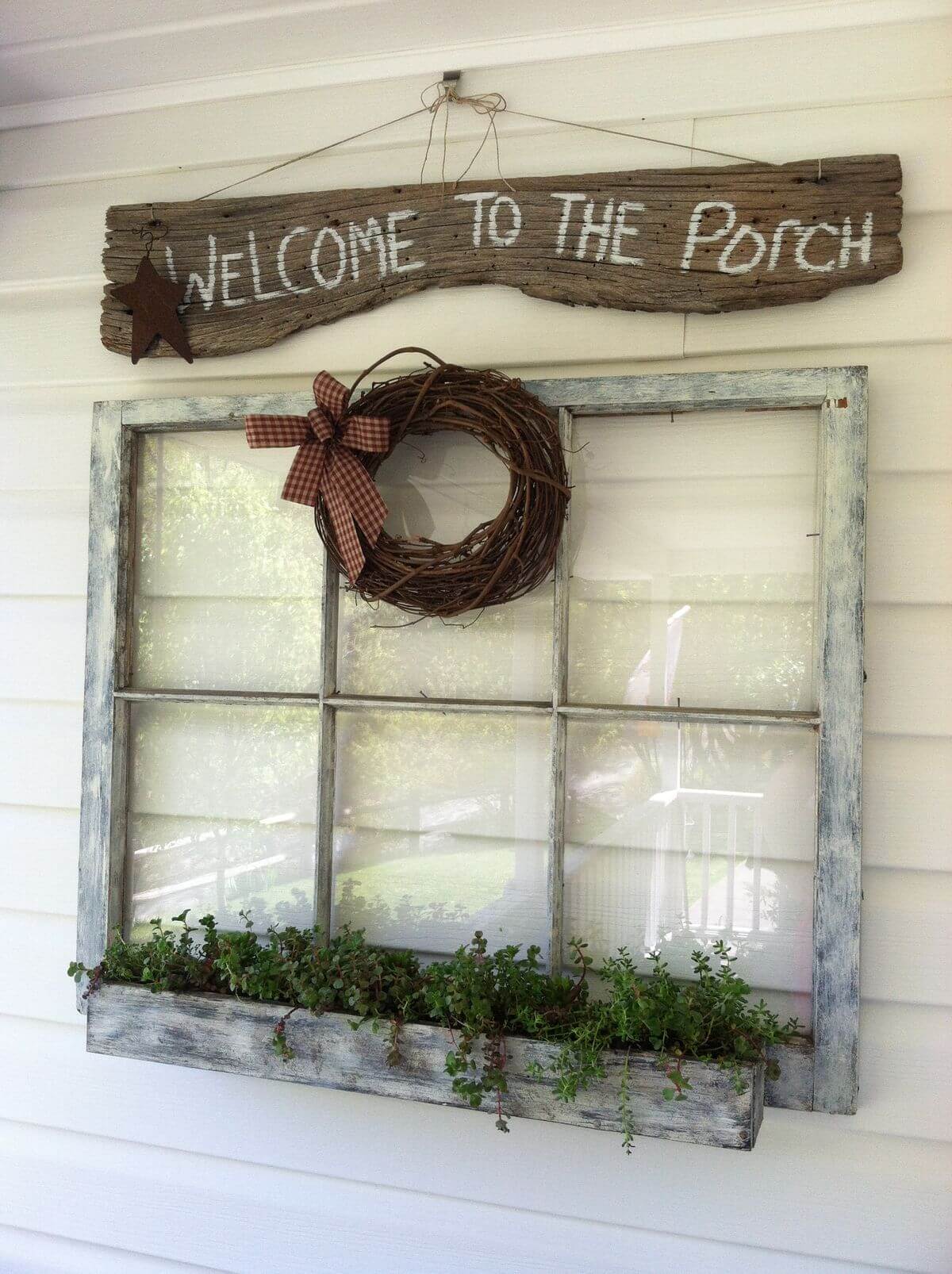 A wooden sign with handwritten letterings is always cozy to look at. Your board doesn't even have to be in perfect dimensions. As long as it's elongated and big enough to put letters on, adding a string and hanging it is enough to make a statement.
36. Playful Porch Sign with Whimsical Lettering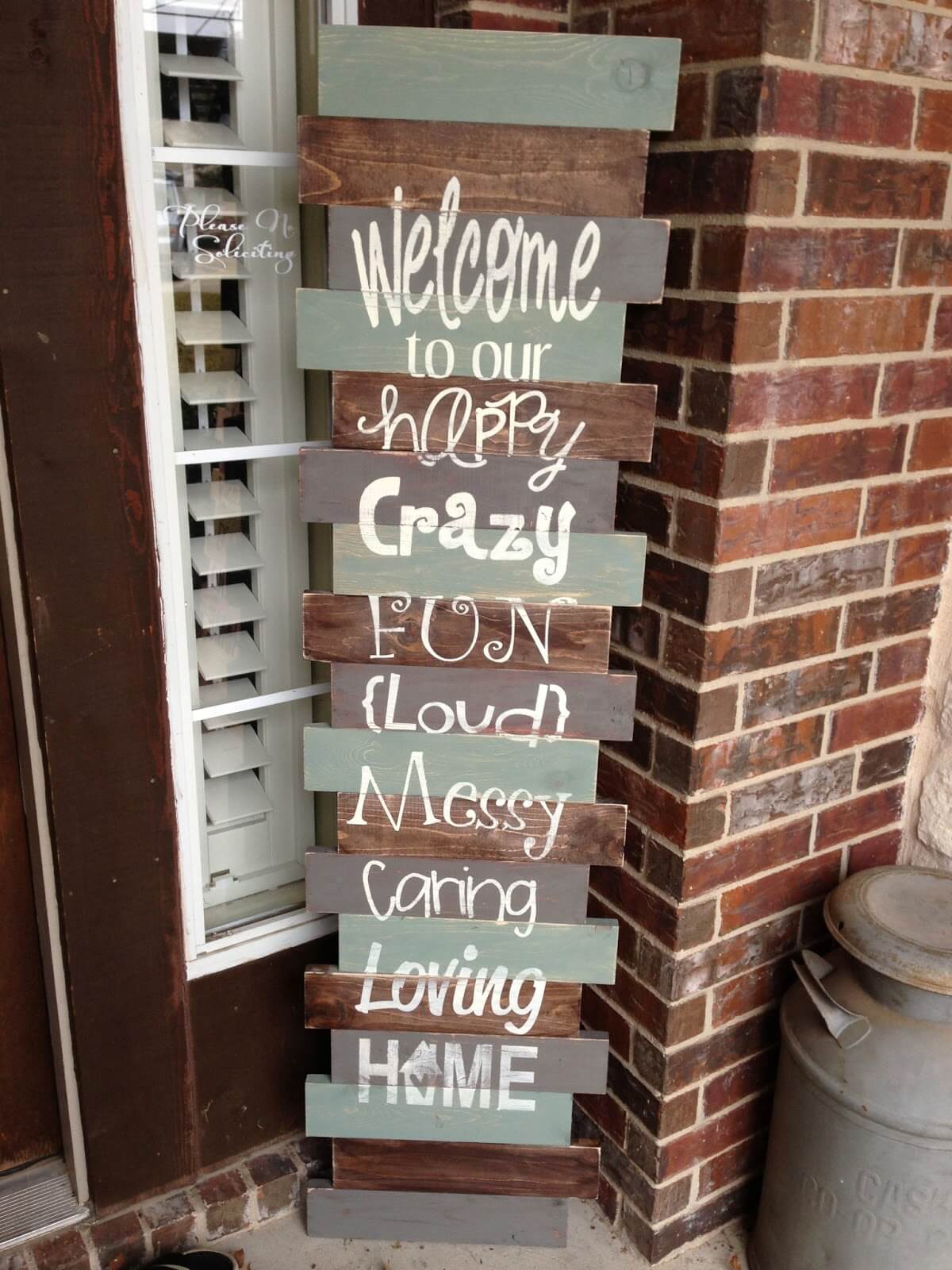 The dimension of this playful porch sign is easy to love. Using scraps of wood, just paint them then ad your message. What's great about this sign is that the sizes don't have to match. The mismatch is what adds character to it.
37. White Picket Fence Porch Sign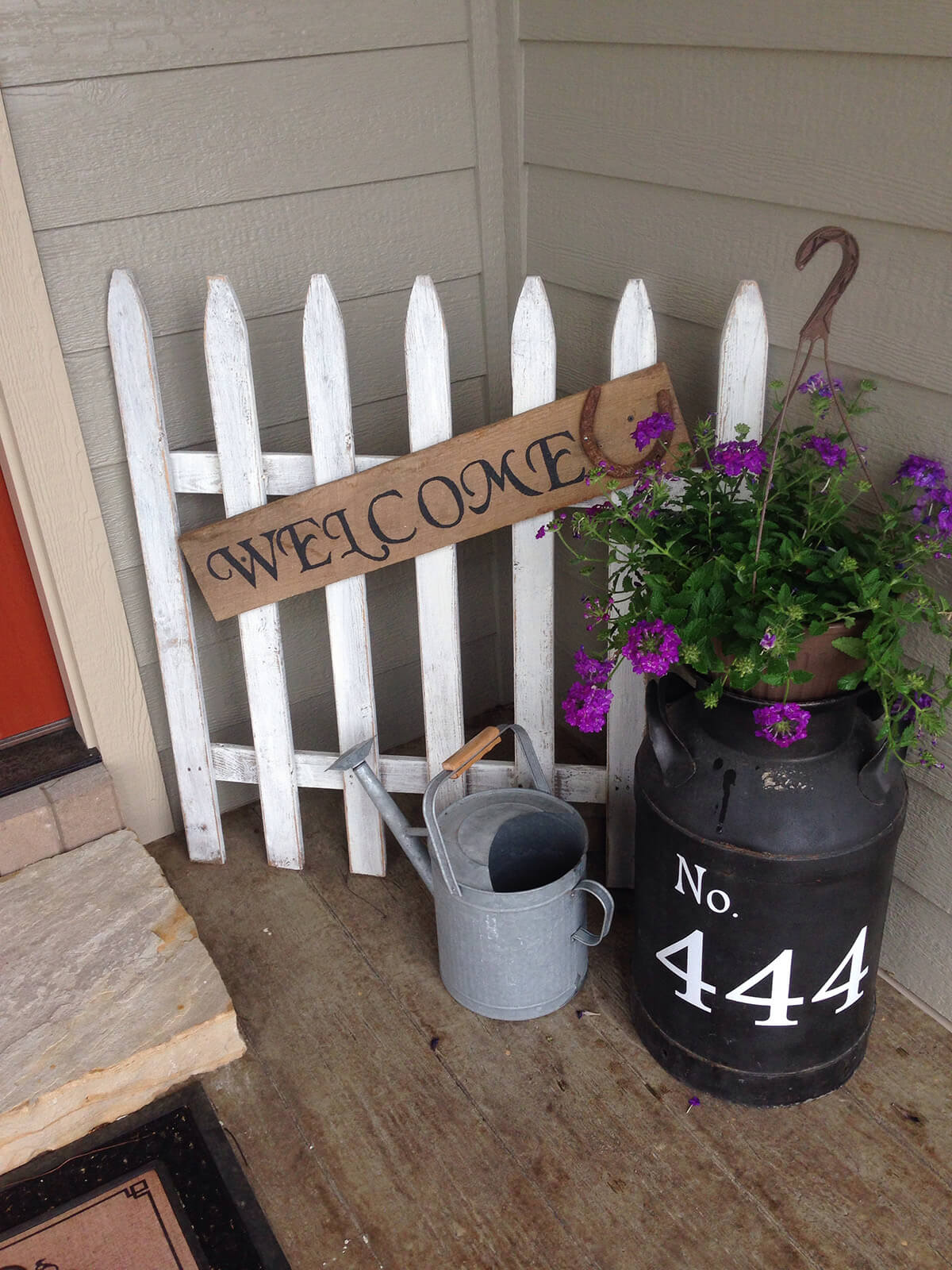 To create a welcoming vibe to any porch, a lovely picket fence will do the trick. It's one of the easiest wood signs you can make yourself, plus you won't have to repaint in now and then since its indoors.
38. Wooden 'Hello' Laser Cut Sign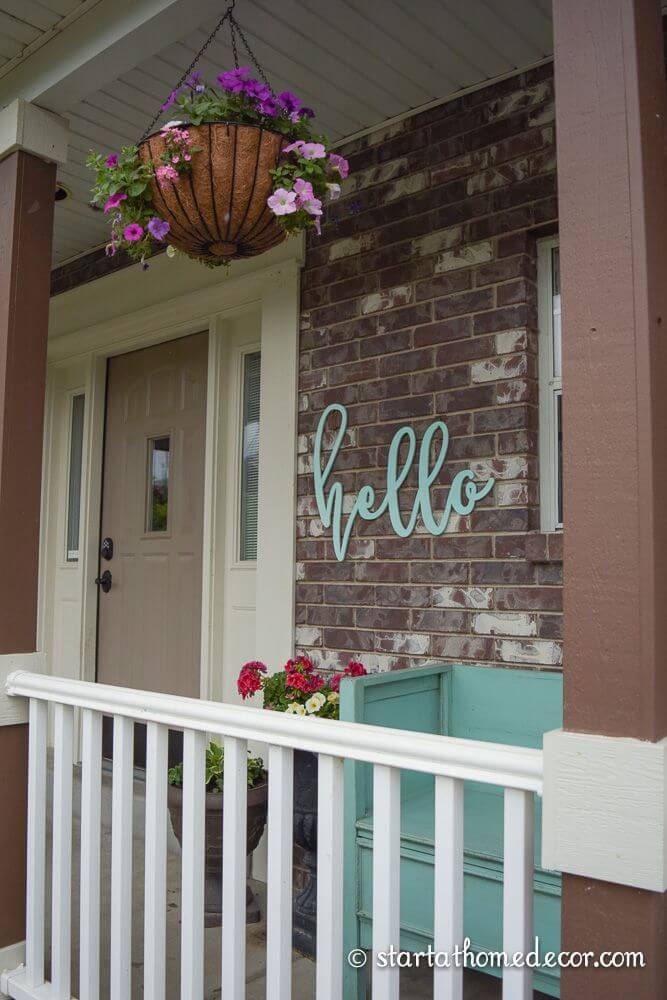 Laser cuts might seem a tad too expensive, but it's easily the clearest way to get your message across. You don't need to create a backdrop whatsoever — just pick out a color and voila, you got yourself a wooden sign that's simple, yet a standout.
39. Monogram Wreath Entryway Welcome Sign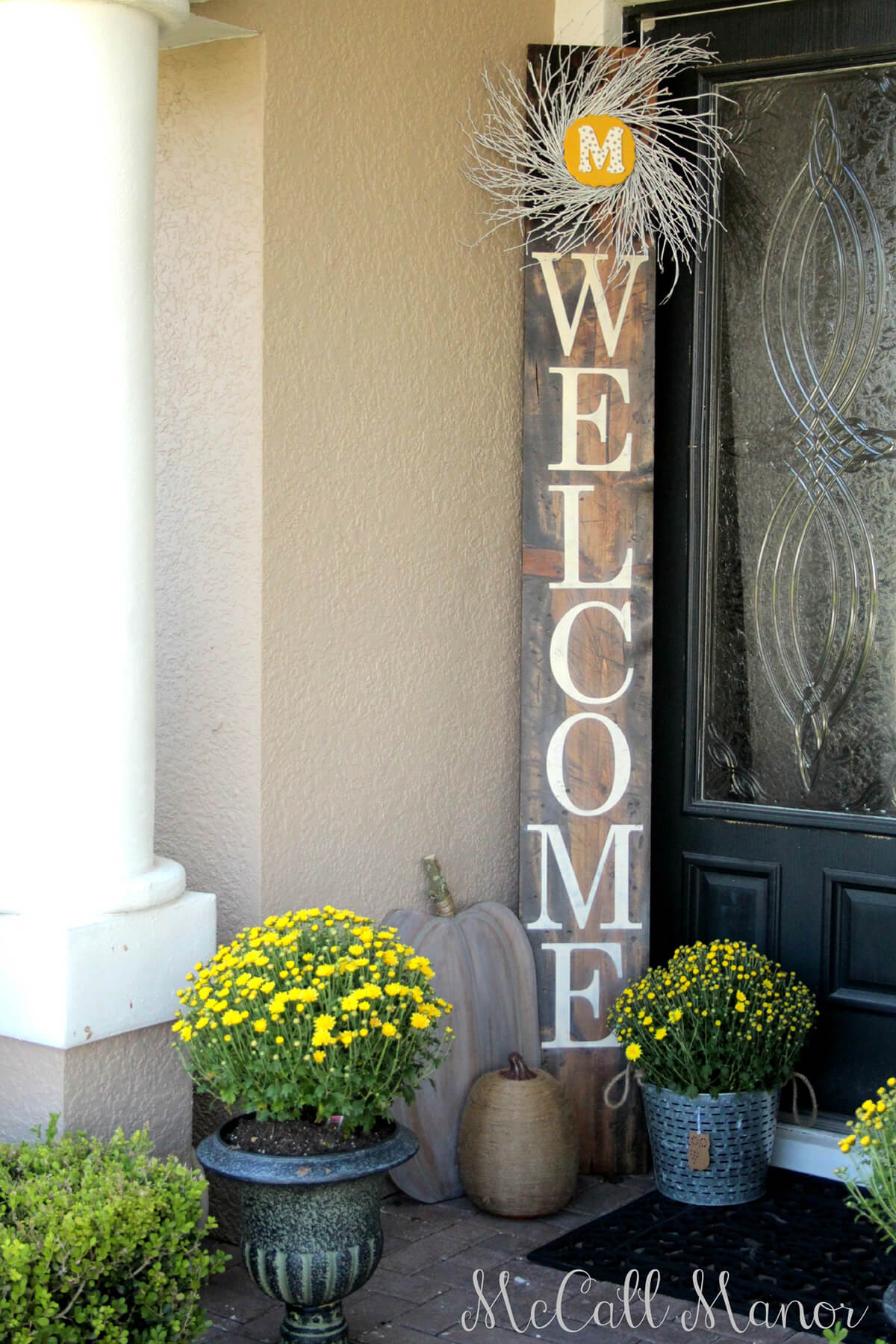 What's great about a wooden sign is that you don't have to hang it. A long piece of wood will do, and with a pretty wreath perched on top, it will make your porch or entryway a whole lot prettier.
40. Rustic Farmhouse Porch Antique Sign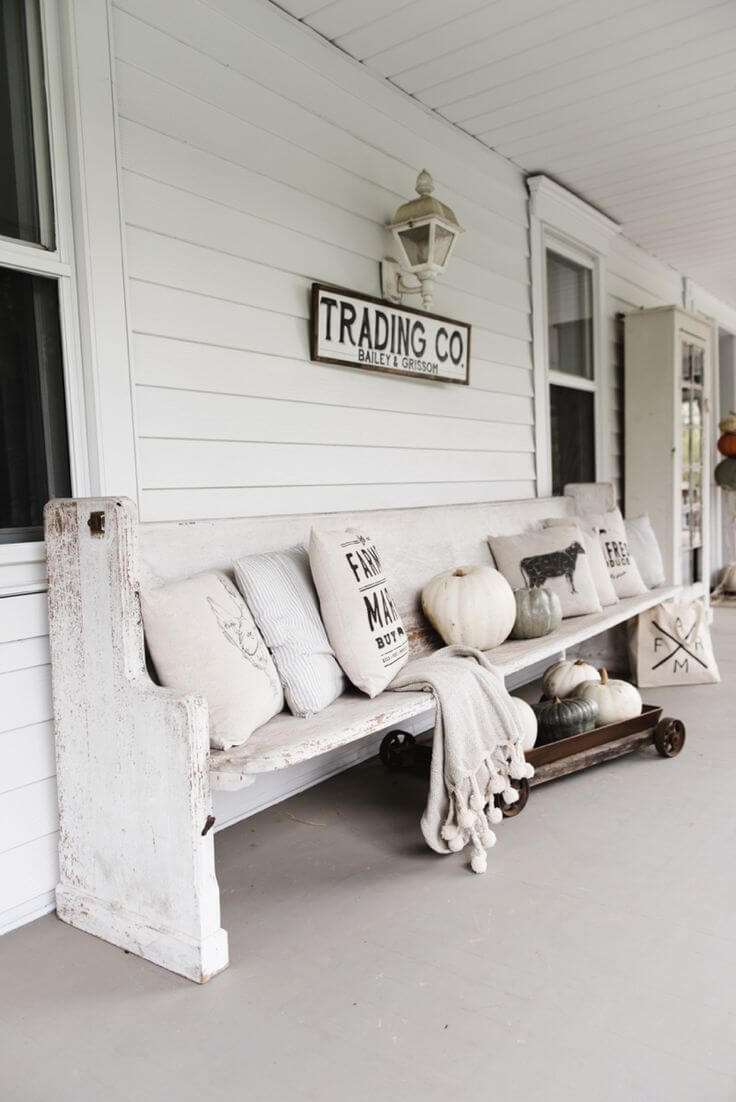 Rustic themes are all the rage these days, and to those who prefer an antique vibe for their place, a rustic sign is essential. The lettering will only take a few minutes to make and can be done freehand to complete its worn out look.
41. DIY Distressed Wooden Porch Sign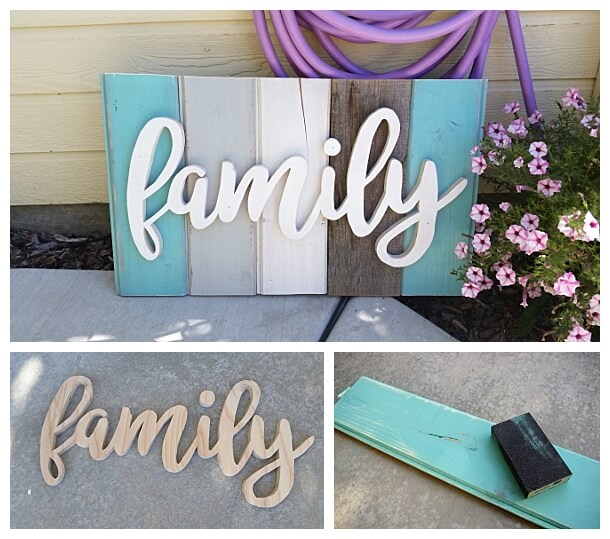 Here's another pallet wood sign that's enhanced so well by using some paint and laser cut letters. If you can't have laser cuts though, you can easily buy wooden letters from a crafts store and glue on the sign for an amazing 3D effect.
42. Recycled Wooden Shutter Sign for Fall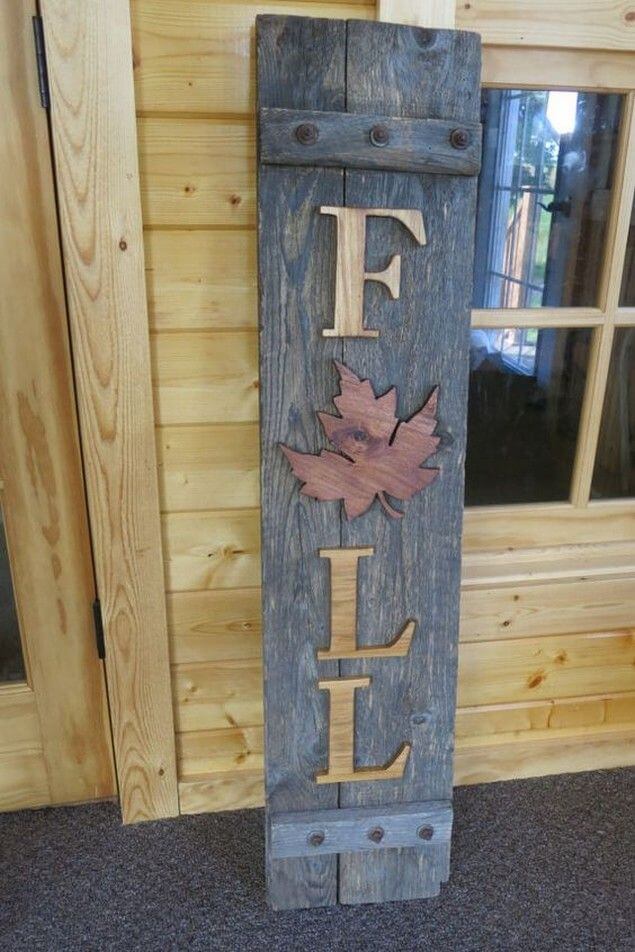 Any piece of wood you have in your house can be recycled and transformed into a fall-inspired sign. The cut out letters make a dramatic effect, and you can paint it with autumn colors. The recycled wood can be left alone in its natural color.
43. Dramatic Shiplap Farmhouse Porch Sign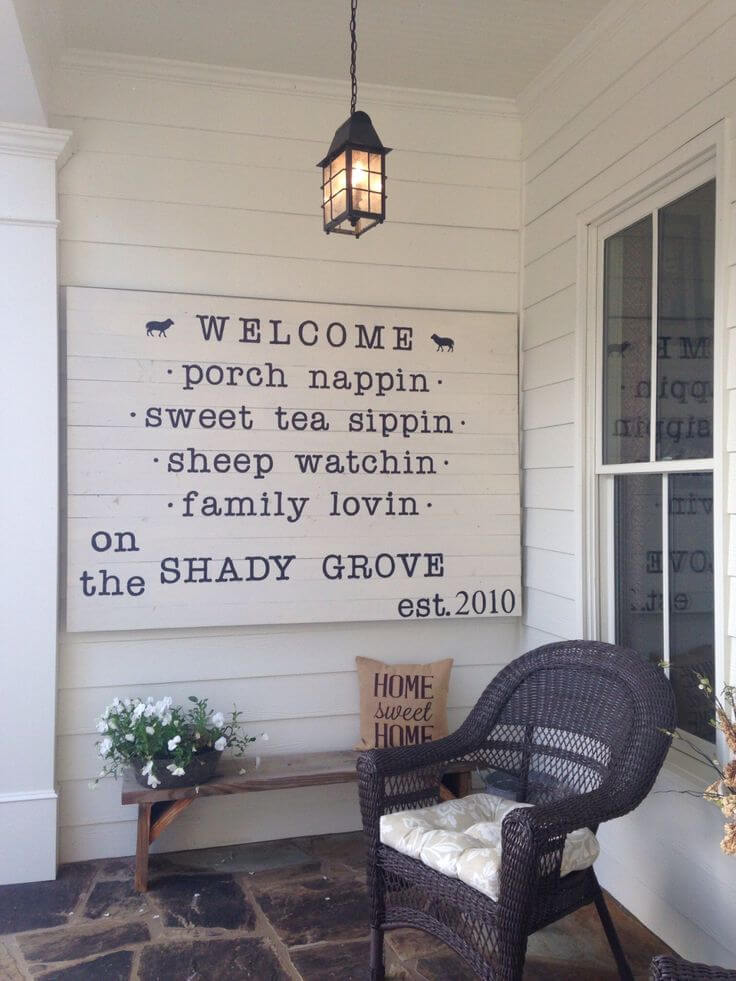 A handmade shiplap sign that's made of solid wood always adds charm to any space. The wood to be used can be plain, but you can add faux distressing to add character and dimension to it.
44. Beautiful Hanging Recycled Window Sign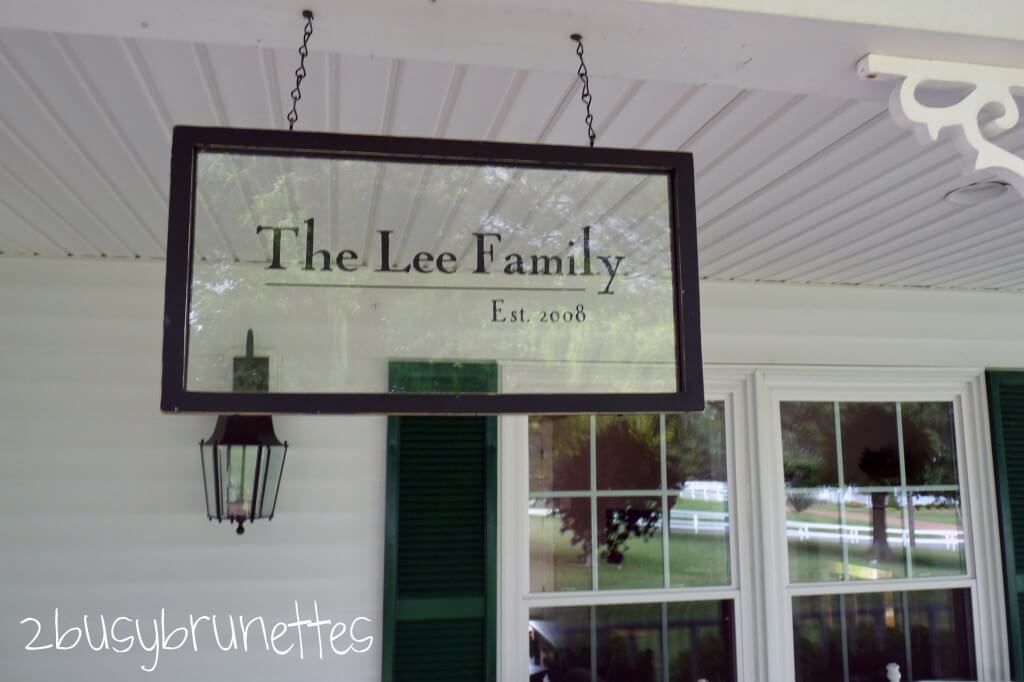 An old window can add aesthetic value to your home or any establishment if transformed into a sign that has vinyl lettering in it. It can be placed outside to bear the name of your place, or inside your home to inspire motivation every day.
45. Christian Quote on a Repurposed Shutter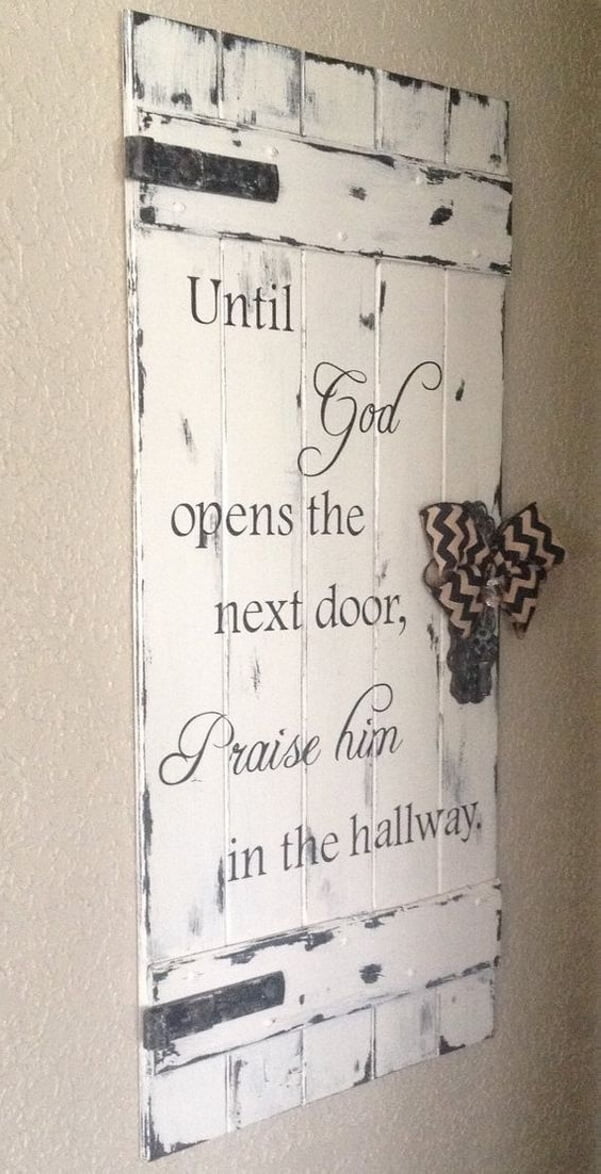 With a little paint and creativity, shutters would make a wonderful addition to your home. Repurposed shutters make good sign boards so don't throw the old ones away. You can recycle them and put inspirational quotes, menu, or the names of each family member.
46. Autumn Welcome Sign Display and Mums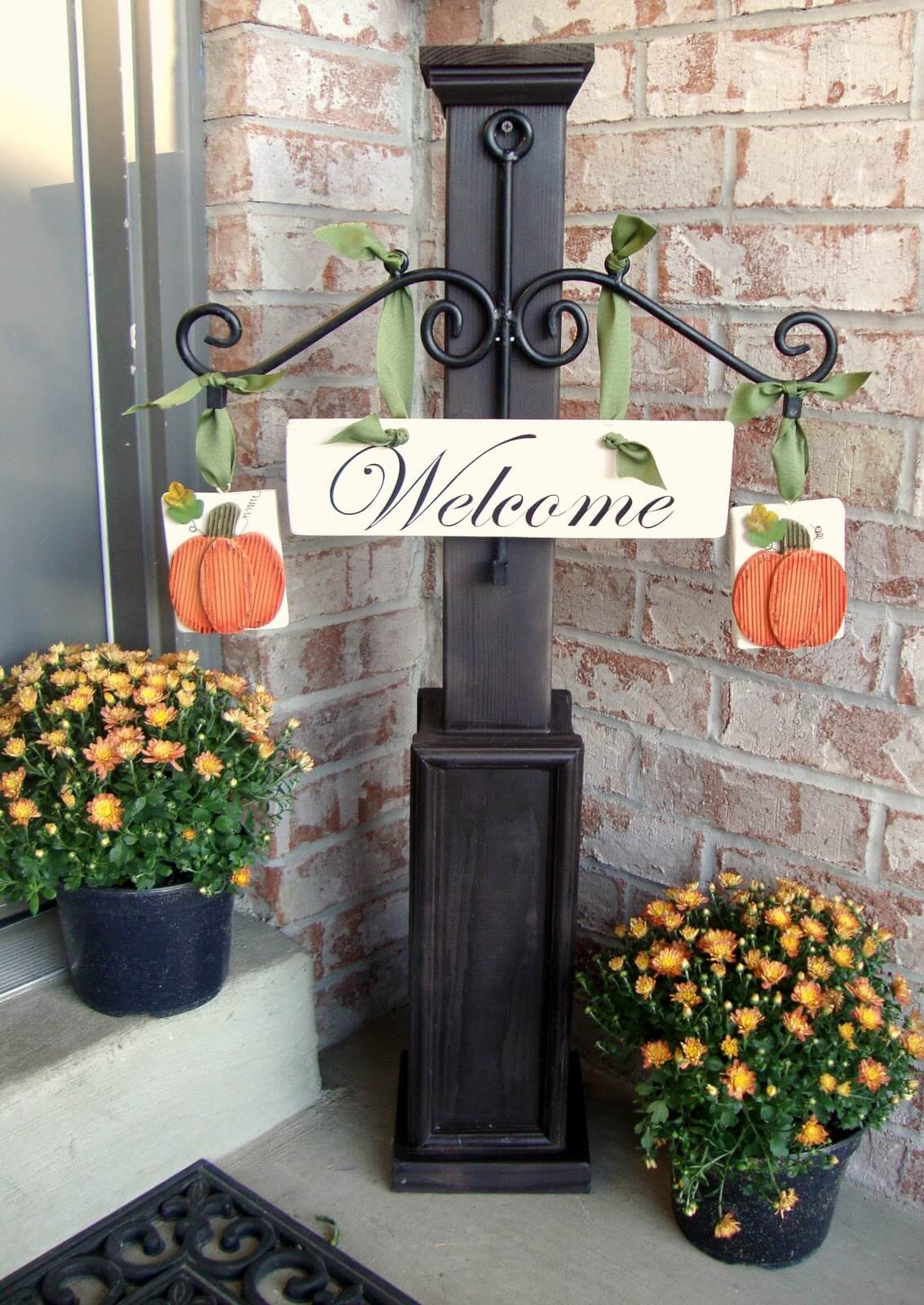 Pumpkins and mums on a porch along with cut out wood and stylized lettering is the perfect way to welcome the fall season. Your wooden sign can go plain, rustic, or distressed — all three work well with autumn colors.
47. Handpainted Sunburst Wooden Welcome Sign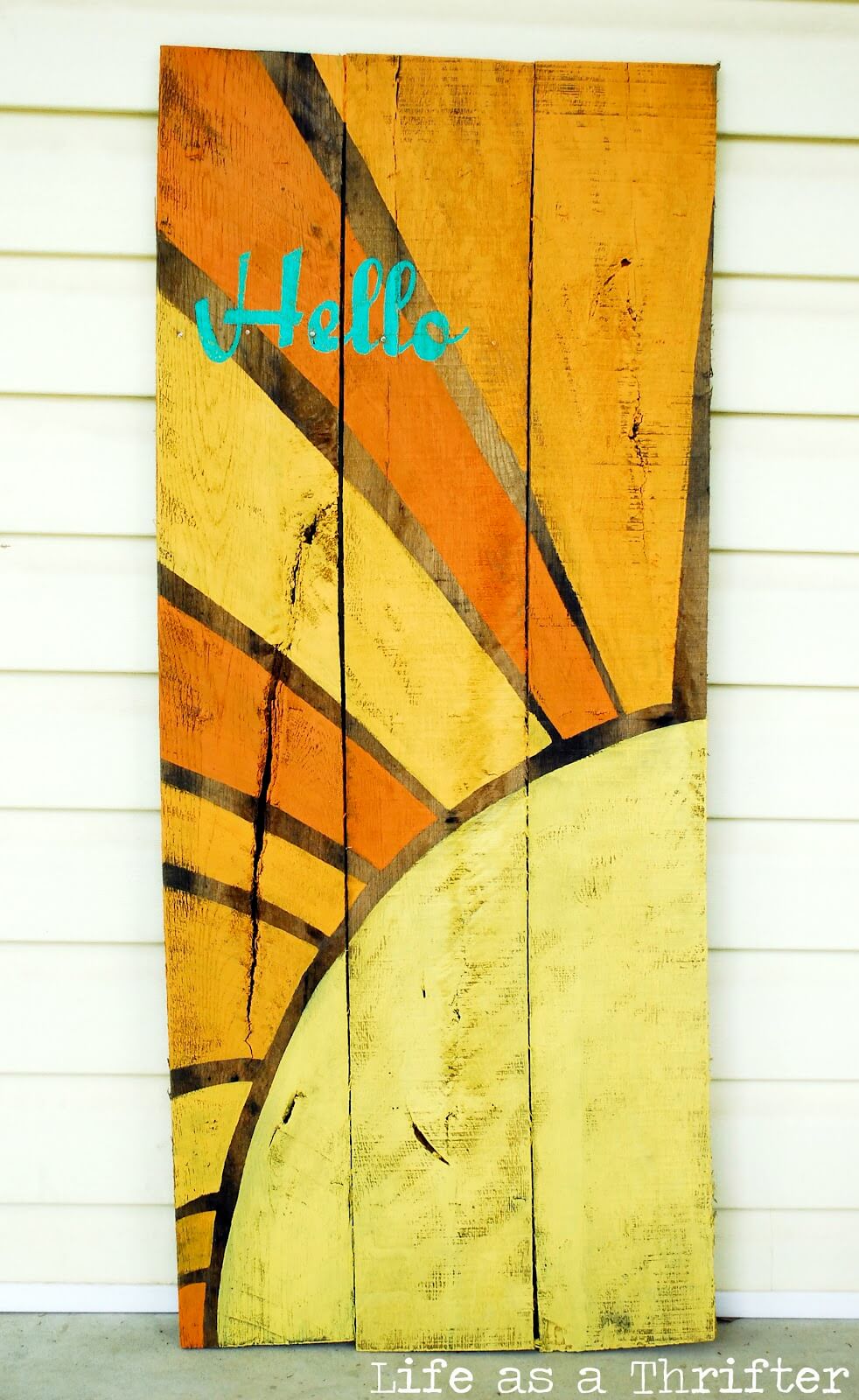 A lot of creativity can turn any plank wood into a sign that can turn heads. If you know how to work your way around paint, you can create a makeshift sign using three pieces of longer wood and just leave it in an area undisturbed but can be seen. It's the perfect sign for those on a budget.
48. Fall Entryway Framed Chalkboard Sign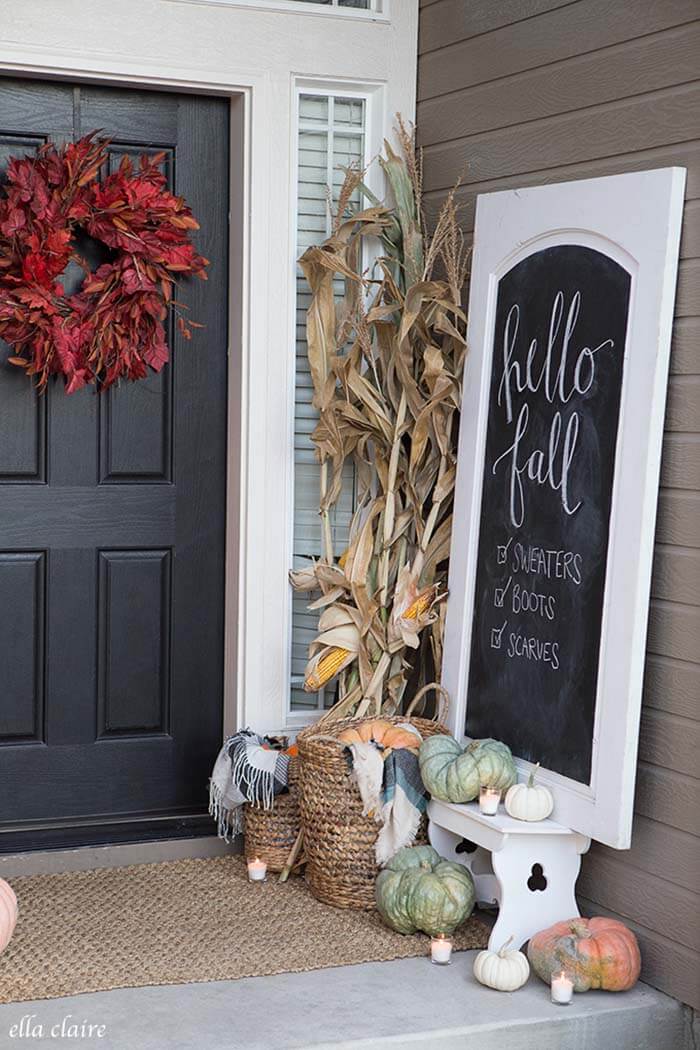 An old chalkboard can be framed and transformed into a fall sign by adding elements of the season in it. It's a cost-effective idea and also easy to maintain. You only need some pumpkins and a skill in lettering.
49. Oversized Rustic Wooden Welcome Sign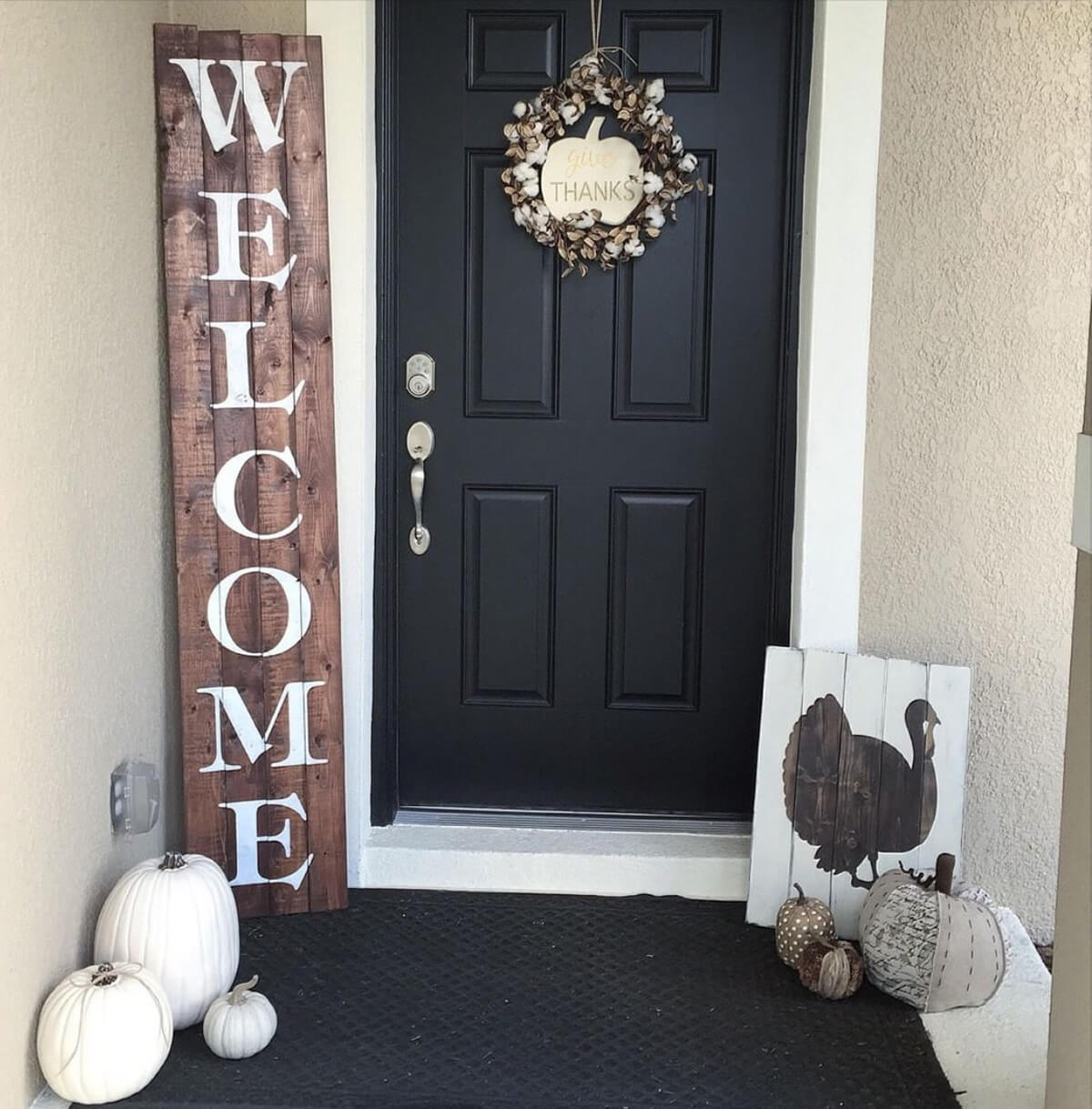 If you want to be bold on your welcome sign, then group a few pieces of rustic wood together to create an oversized one. There's no need to hang the sign too. You can let it stand against the wall for a more laidback look.
50. Elegant Boxwood Wreath and Chalkboard Placard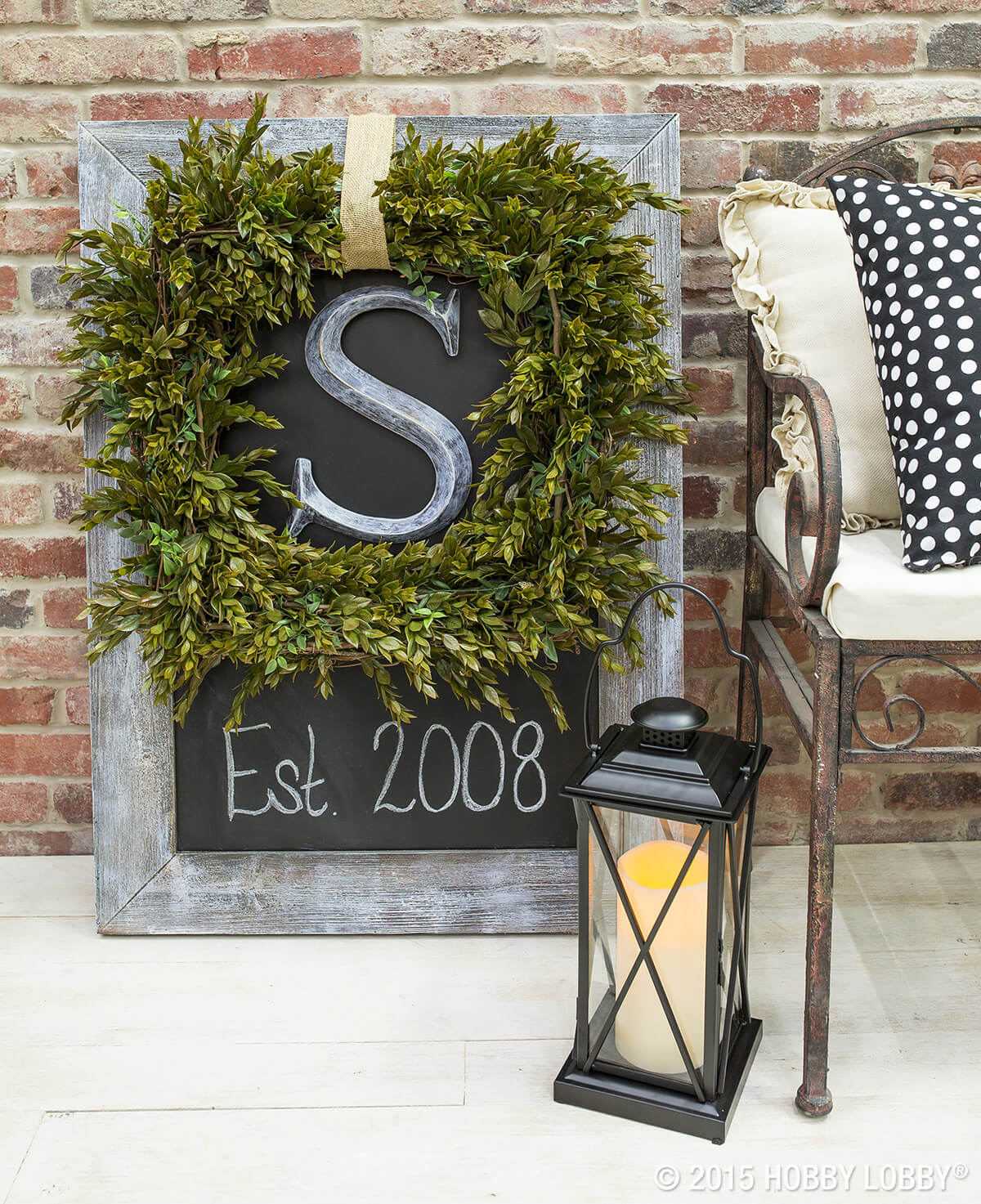 A wreath doesn't have to be all sparkly and shiny. It can be bare, but to add aesthetic value, place it in front of a framed chalkboard, add a bold lettering, and there you have it — a unique sign that you'll probably won't find anywhere else. You can either hang it or leave it steady in an elevated area.
51. DIY Wooden Harvest Time Sign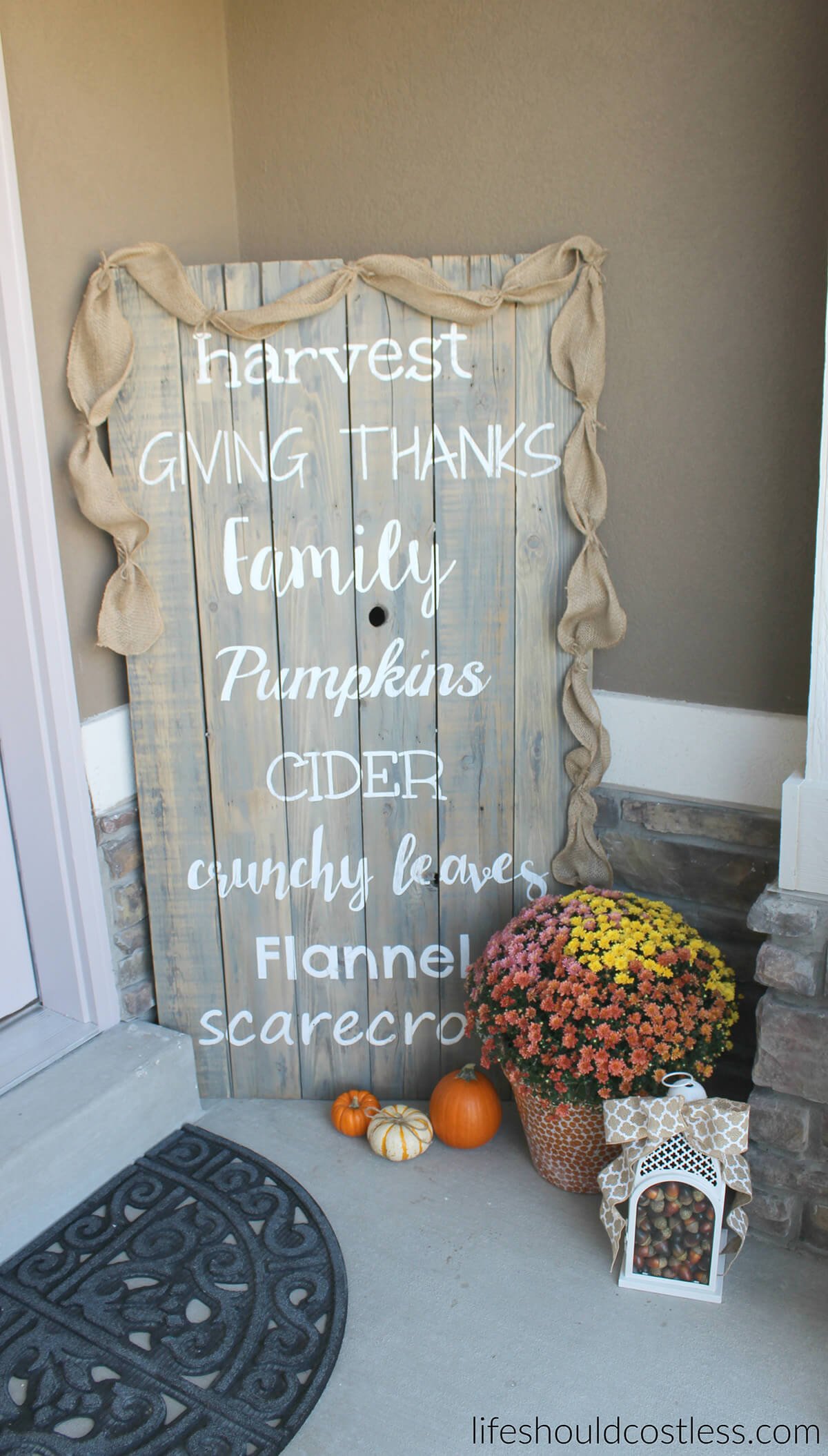 Old planks of reclaimed wood are always a perfect choice for porch signs. It's ability to blend in with any backdrop is one convenience that makes it an ideal choice for those who want something unique, without going beyond the boundaries of weird.
52. Antique Front Porch Sign Ideas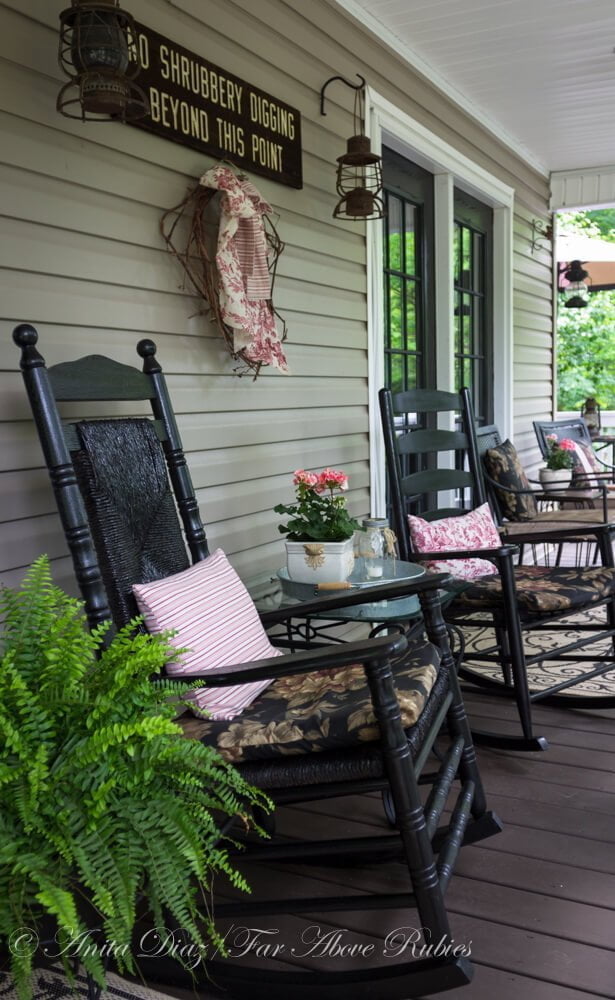 Nothing could go wrong with antique. Vintage never goes out of style, and in signs, the same holds true. Handcrafted vintage wood will make any porch ready for any occasion or season.
53. Simple Hanging Wooden Welcome Sign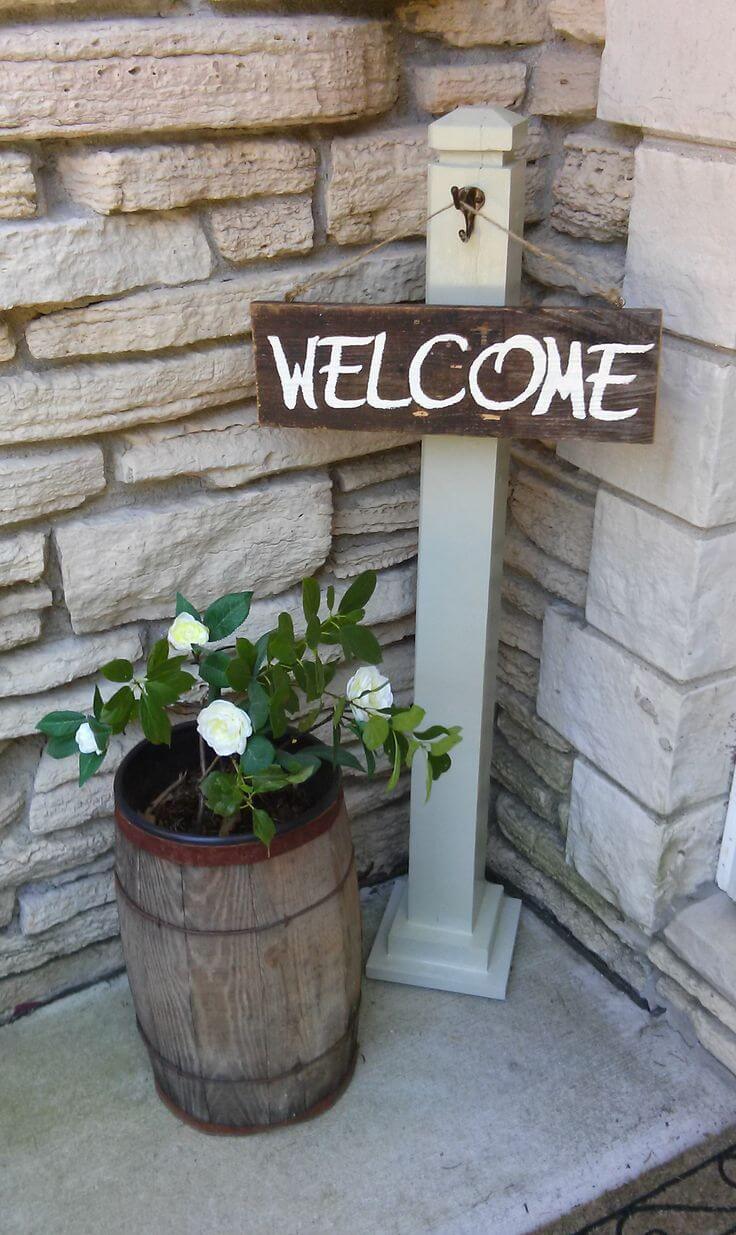 This is one of the simplest, yet easily the one that'll make you smile types of signs. It just screams charm. Nothing beats the old-fashioned way: a piece of wood on a string, and a painted lettering that seems like an invitation you can't resist.
54. Tall Autumn Leaf Welcome Sign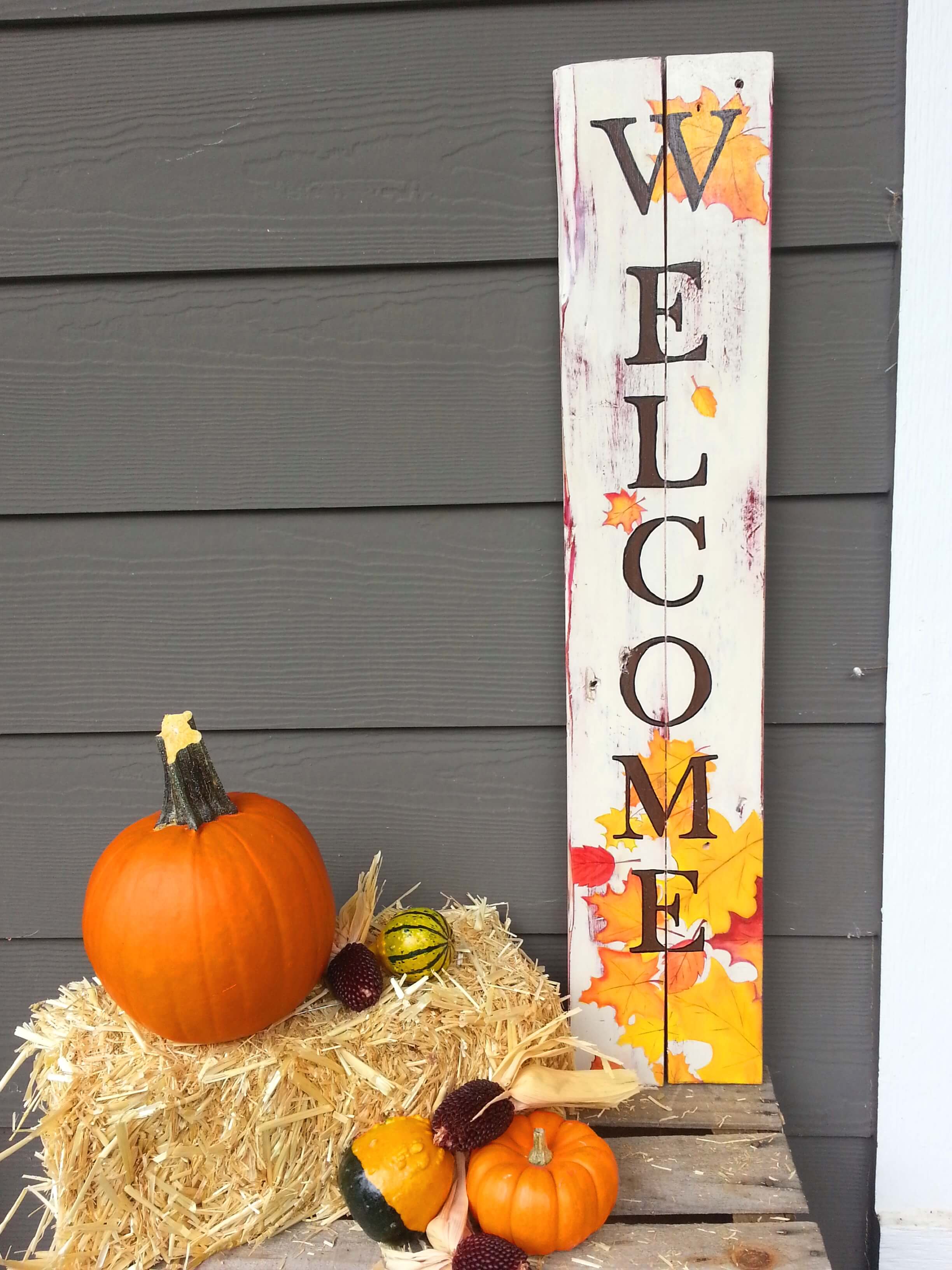 Here's another welcome sign for the fall. This is as simple as it gets: two wooden planks joined together, skill in painting, some pumpkins and hay, and a lot of enthusiasm to create a porch sign that welcomes fall the right way.
Choose Rustic Wall Decor Ideas to Make Your Home Warm and Inviting