The best DIY jewelry box ideas will help you not just clean up all that loose jewelry, but add something personal and stylish to your room décor. It is easy for jewelry to start overwhelming a space. Whether you have a lot of rings, bracelets, necklaces, or earrings, these loose items can find themselves just about anywhere in your home. They clutter your dresser, nightstand, and maybe even the bathroom sink. That's why jewelry boxes are so helpful and important. Although you can buy a variety of jewelry boxes, it's great to learn to create one of your own. This way, you can make something exactly designed for your needs.
Incredible Handmade Jewelry Box Ideas to Store Your Items with Style

Additionally, a homemade box for jewels is a nice way to add to your specific style of décor in whatever room you're going to use it in. This can especially work out well in a child's room or even as a family DIY art project. Designing a jewelry box gives you the freedom to push as far as your creativity and imagination can go. Alongside that, a handmade jewelry box can be a sentimental item, something worth passing down within your family. On that note, they can also make for wonderful and meaningful gifts.
There are several routes you can take when it comes to creating your own jewelry box. We've compiled some of our favorite DIY jewelry boxes to help give you some idea of where to start your creative process.
1. Floral Themed DIY Bracelet Storage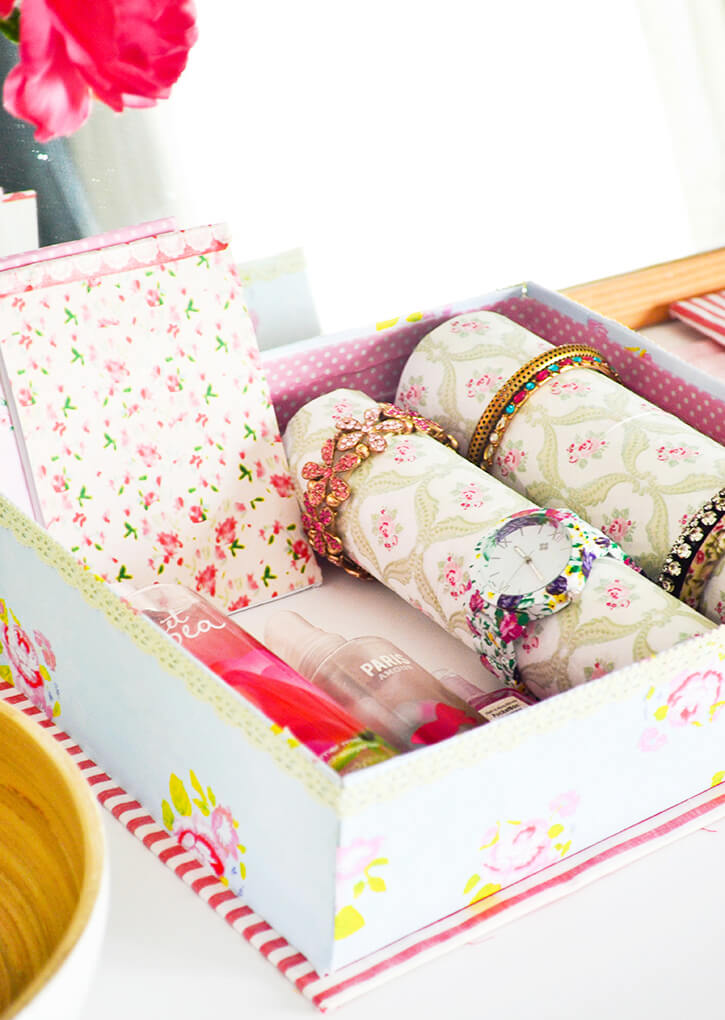 It's far too easy for our bracelets and watches to get tangled up or lost. So, it helps to design a homemade box for jewels just for this particular type. Plus, you can get rid of some extra clutter in your home such as shoe boxes as that's mainly what the jewelry box is made from. In fact, this whole project can utilize items you may already have around the home. Some pretty scrapbook paper can help you nail down that floral theme too. You can fill up the space with just enough room for your bracelets and watches, or you can even save some empty space to lay larger jewelry pieces inside.
2. Quick DIY Jewelry Box Project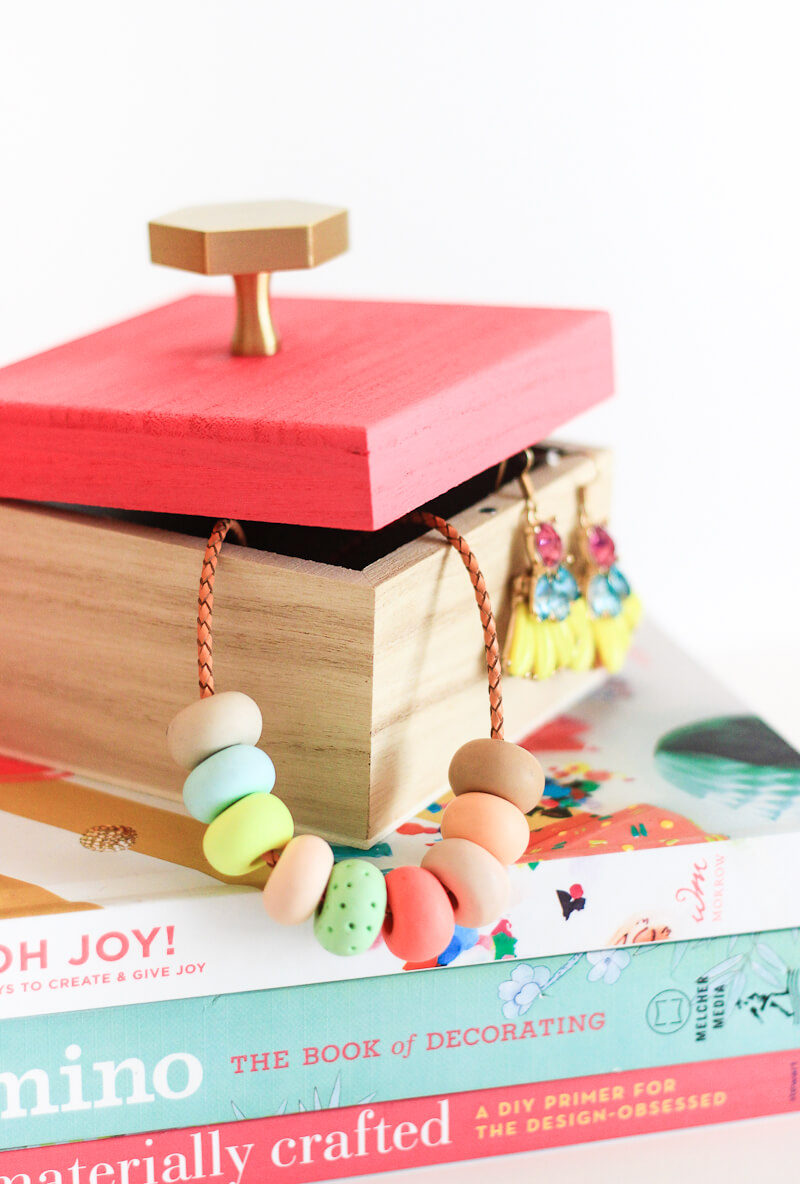 Want to create a jewelry box, but you lack the time for an extensive project? Then you need this quick and easy DIY task. You're just drilling a single hole and using some paint to turn your average small-sized wooden box into a lovely jewelry box. It is a creative project that is straight to the point. Even so, this gives you a gorgeous little jewelry box to tuck some of your treasures away in. Of course, it isn't meant to stash too much. It is instead the ideal box for smaller items or even just a handful of them that you enjoy the most.
3. DIY Crystal Geode Jewelry Box Design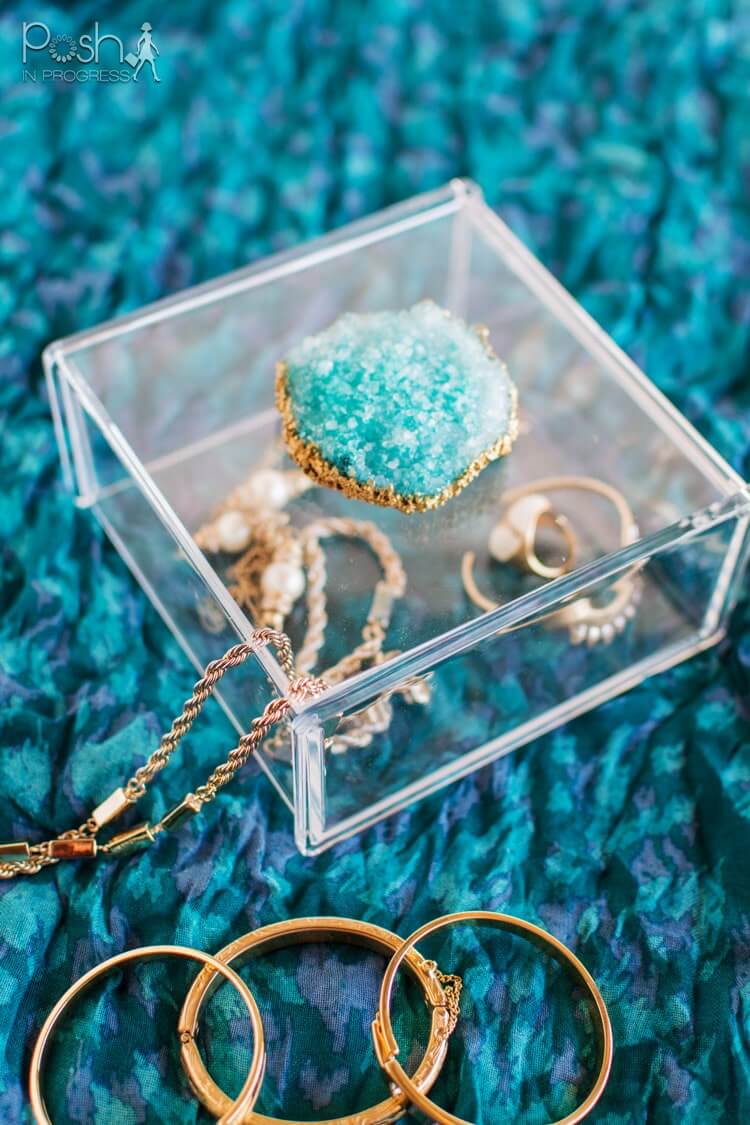 This faux crystal geode is an incredible addition to an otherwise basic jewelry box. There is not much initially with this box. In fact, all it uses is a standard heat-safe glass box. It is small, yet it should work out great to hold a simple collection of jewelry like a few bracelets, earrings, and more. As it is see-through glass, it's easy enough to know what you leave in it so you can find what you're looking for fast. Meanwhile, the crystal geode on the top does an absolutely wonderful job at giving the box just the right amount of décor and class to elevate a simple box into something more.
4. Oversized Magnetic Hanging Jewelry Organizer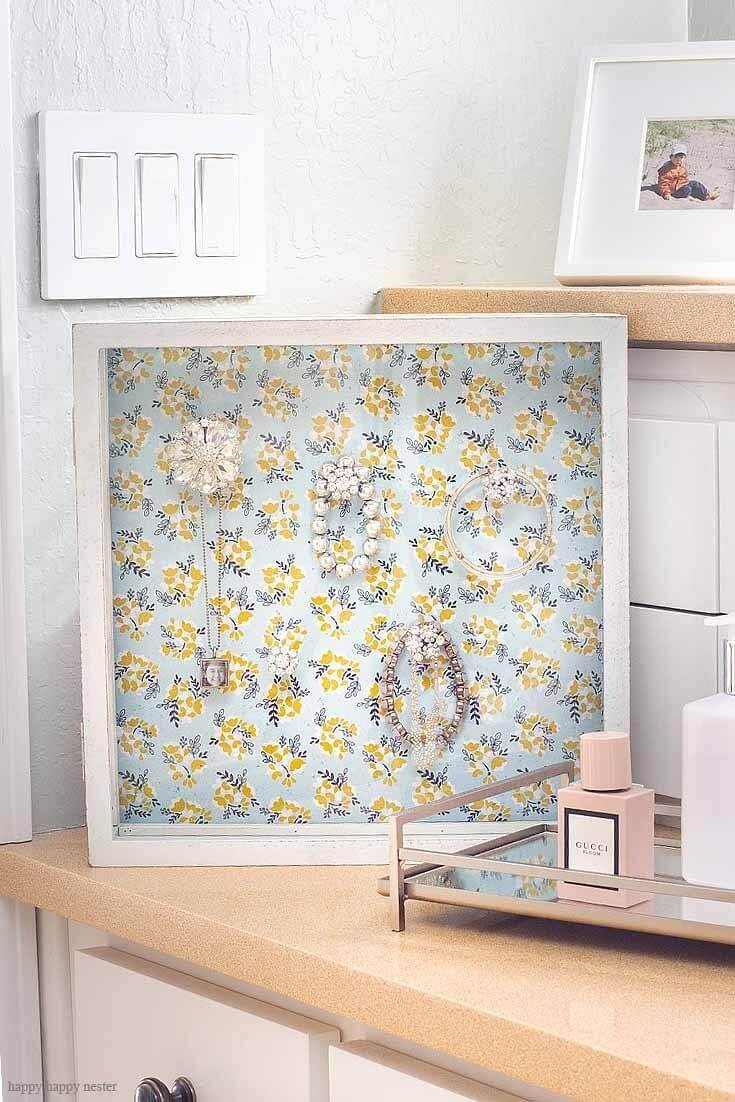 Sometimes, it is easier to have your jewelry seen and accessible all the time. In this case, you should try your hand at creating a wall-hanging jewelry organizer. A shadow box is a wonderful base to use in this case as it lets you create something that is unique and sturdy all at once. Having a cool item to hang everything off of gives the jewelry organizer a more stylish and fashion-forward look too. Since you can close the glass door, you can always view all your favorite pieces. Thanks to whatever background you decide on, this hanging organizer becomes a nice decorative piece of wall art alongside being useful.
5. Cute DIY Wooden Earring Box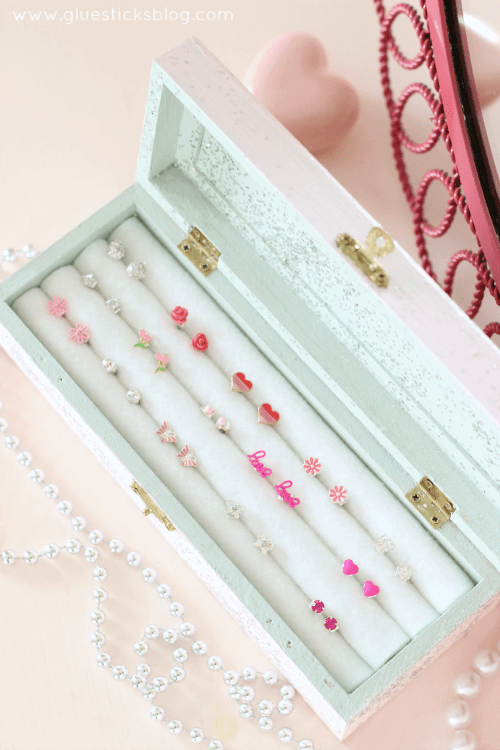 Tiny earrings always need an easy place to rest so that they don't find themselves dropped and lost. When it comes to kids, they can truly benefit from a handmade jewelry box like this one. The wooden box is simple, and because of that, you have the freedom to stretch your creativity in terms of how you want to decorate it. This makes for a fun project with the kids. In the end, they can certainly enjoy setting this wooden box up in their room to store all their cute little earrings. It's also a good way to teach some responsibility while leaving their jewelry safe and tucked away.
6. Repurposed Cigar Box Turned Jewelry Box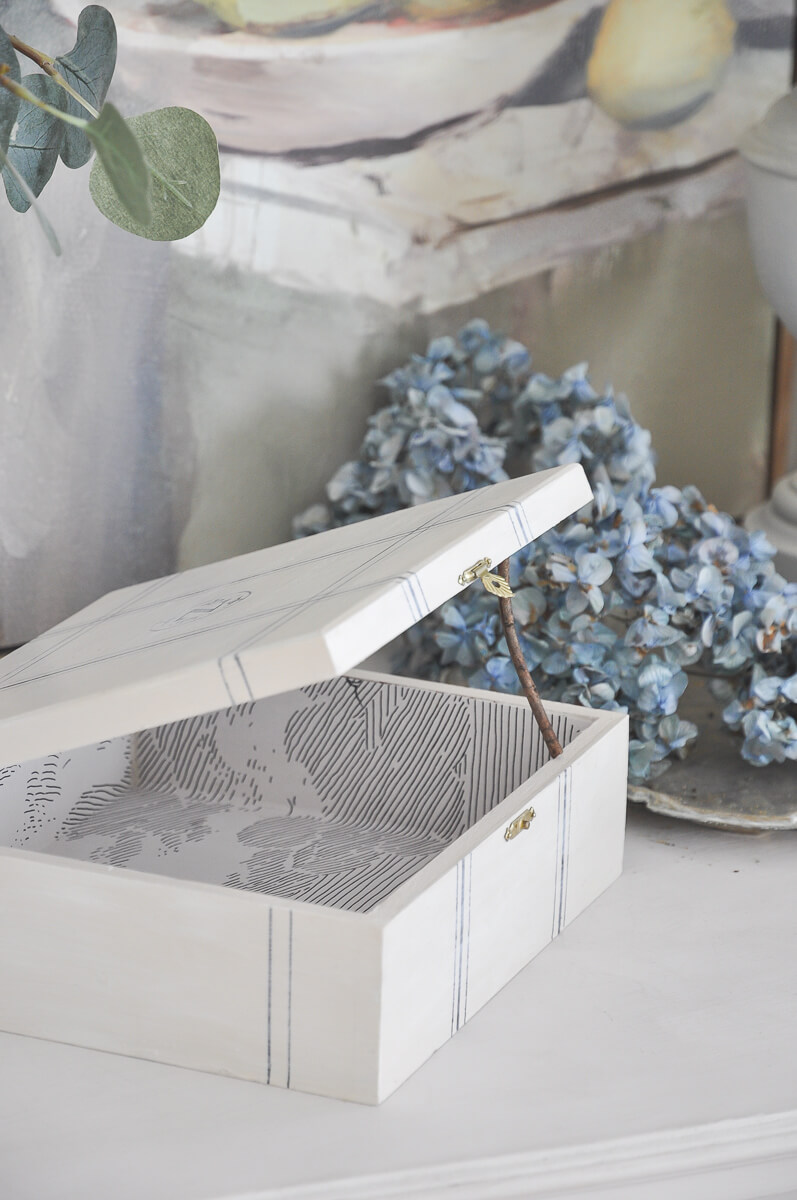 Some of the best DIY jewelry box ideas come from upcycling. In this case, you can repurpose a standard cigar box and transform it into a lovely jewelry box. With how bare the inside of a cigar box is, you have near limitless opportunities here to set up the box for any type of jewelry you wish. Add different sections if you'd like, making room for items as small as rings and as long as necklaces. This is a nice way to elevate what is usually a plain cigar box into something more beautiful and elegant, something that works well for your jewelry storage needs.
7. Cute DIY Stud Earring Holder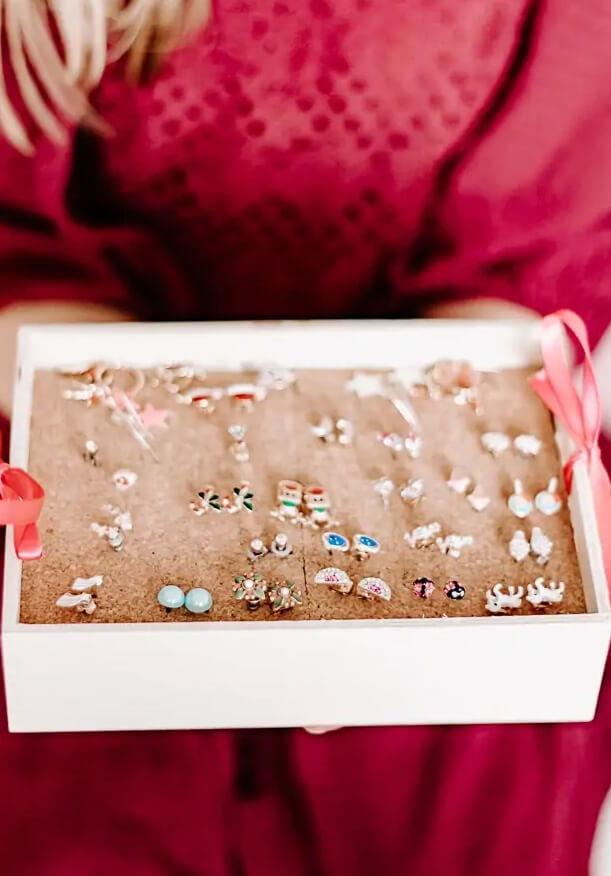 Your typical jewelry box can transform into this cool stud earring holder with relative ease. This DIY jewelry box takes a more minimalistic approach to things, styling in a way that is uncomplicated, yet effective. Even adding something as simple as a graceful bow can make the jewelry box come across as whimsical, sweet, and stylish. Meanwhile, the cork layers work perfectly at supporting all your stud earrings even with the backs attached. That way, any pair you desire is ready to snatch up when needed. Also, this keeps all your nice earrings proudly on display, turning the jewelry box into a decorative piece as well.
8. Faux Stained Glass Jewelry Box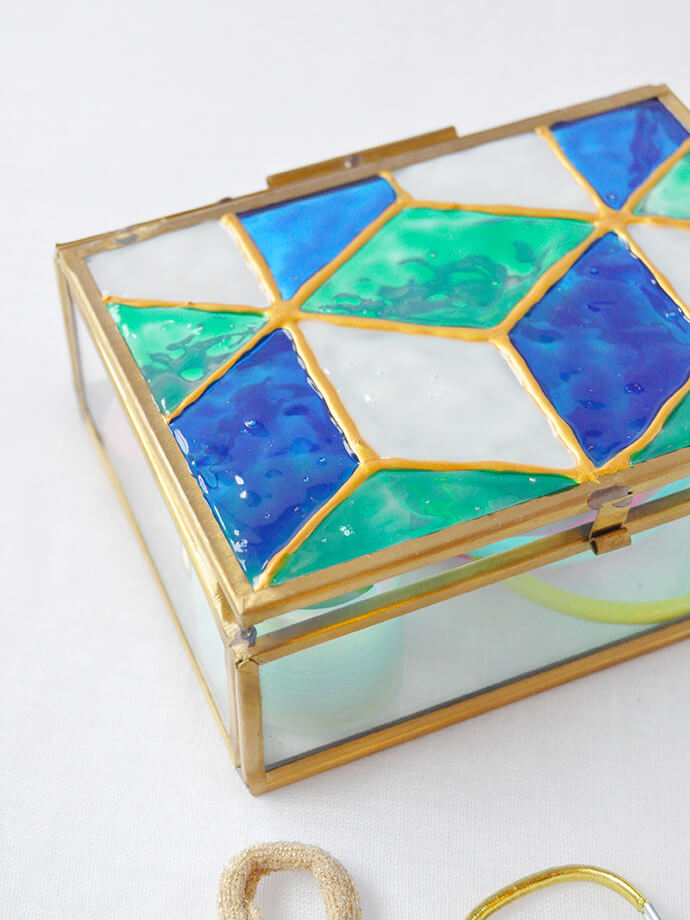 Stained glass has such a classy and timeless look about it that it can be the perfect design choice for your DIY jewelry box. Using a glass jewelry box to start with goes a long way into giving the paint job more authenticity. You can even come up with a distinct design too, sketching it out so that it is as precise as possible. This is such a nice way to create something colorful, vibrant, and full of life. Adding the stained glass effect to the top section while leaving the rest the plain glass color draws your eye to the painting too.
9. Unique DIY Faux Terrazzo Jewelry Box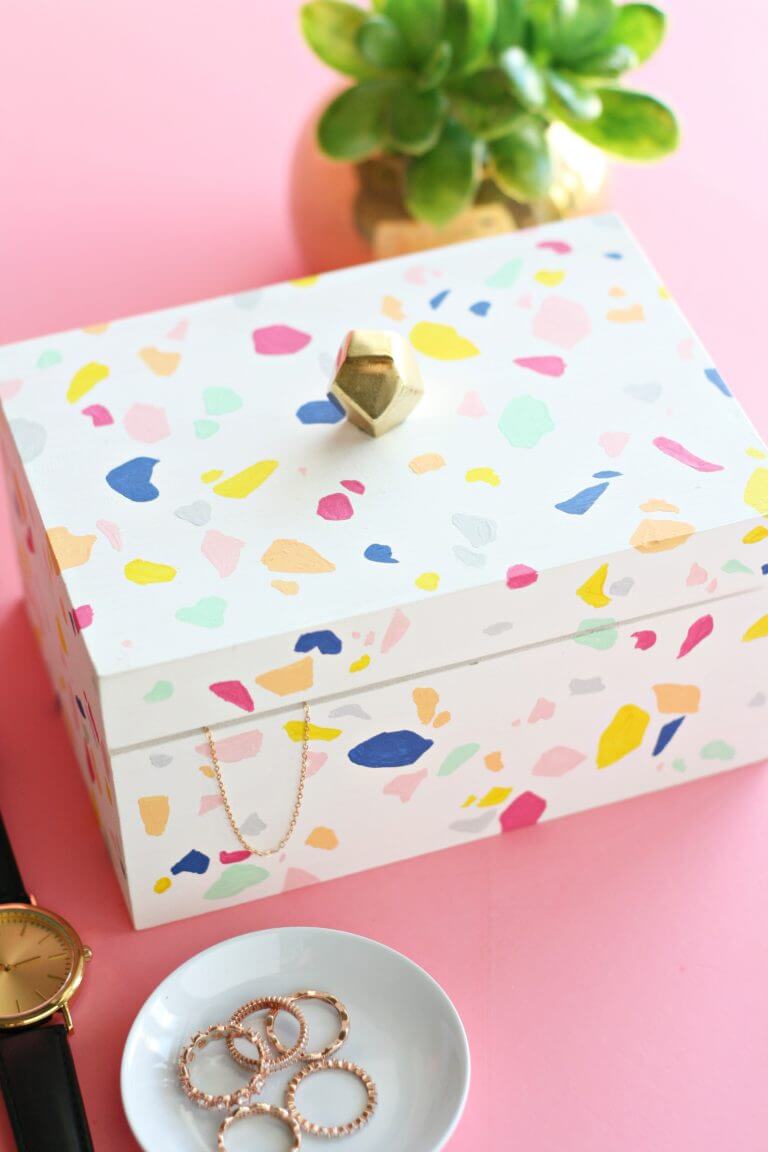 Terrazzo is an eye-catching and creative look, and with the right materials, you can easily recreate it when you make your custom jewelry box. The result is something that is refreshing, bright, and wonderfully colorful. It is the perfect place to stash all your beloved pieces of jewelry. Plus, the knob on top is a nice addition to make the custom jewelry box appear more modern with a contemporary flair. In fact, it looks like something you bought out of the store. Such an artistic creation can serve as an added bit of décor to any room you opt to place it in.
10. Vintage Nature Themed Wooden Jewelry Box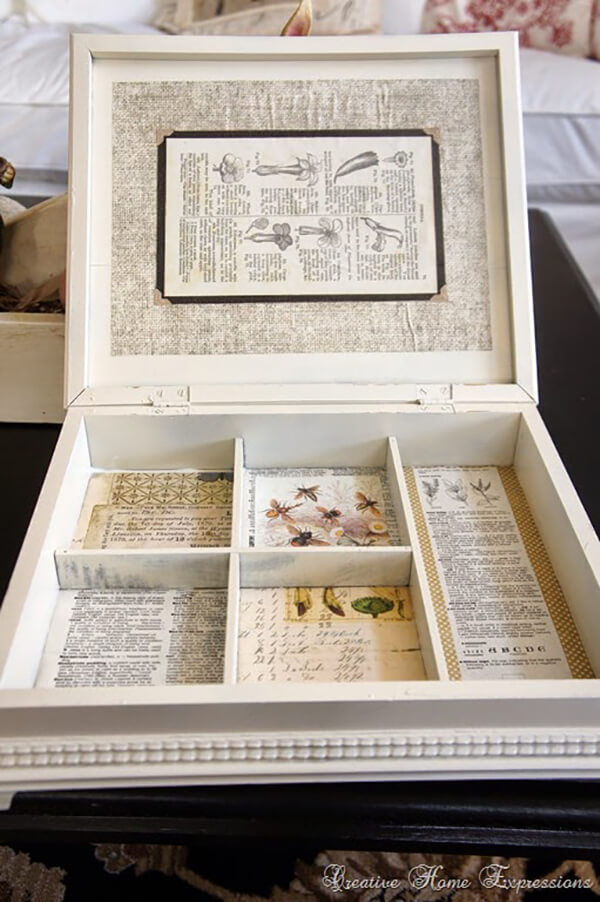 There are some amazing vintage images of nature and animals that any lover of the outdoors will appreciate. All you need is a simple wooden box, and you can form a remarkable jewelry box out of it with that nature theme. The classic appearance further sells the images too. Your jewelry box then is more distinctive and fun to use to store all your jewels. Create as many sections as you please so that it can fit jewelry pieces of different sizes as well.
11. Painted Mod Podge Jewelry Box Makeover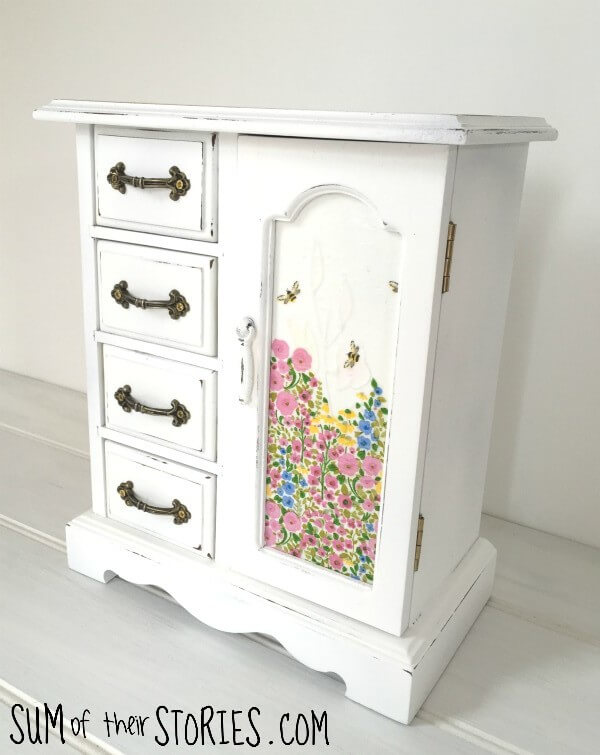 If you want a slightly simple DIY jewelry box project, then you can take a classic jewelry box and make it over with some paint and mod podge. Chalk paint can help give the jewelry box a weathered appearance, making it the perfect touch of vintage for that retro vibe. The mod podge offers a lovely way for you to get a specific design pattern on the box, creating any sort of thing you can think of that best fits your style. Although a simpler means of giving a jewelry box a makeover, this project leaves behind something that is vibrant and almost relaxed in a way.
12. Vintage Jewelry Box Makeover Project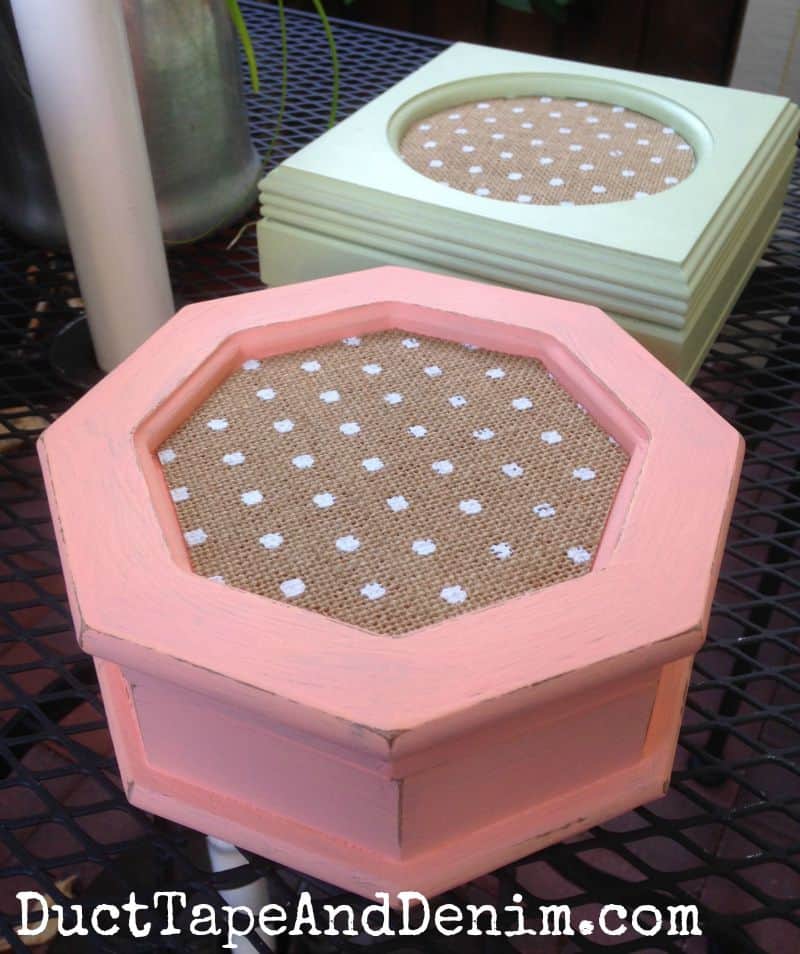 If you already have an old jewelry box, you can use it as the base for your DIY jewelry box creation. Some paint can go a long way into completely transforming the box into something more befitting your style. Additionally, the burlap gives it a slightly rustic appearance while the aged look on the paint offers up that pleasing vintage feel. This allows the jewelry box to come across as both classic and updated at the same time. The project is one that works out well with different shaped jewelry boxes, so feel free to experiment with various colors on these jewelry boxes.
13. DIY Toilet Paper Roll Jewelry Box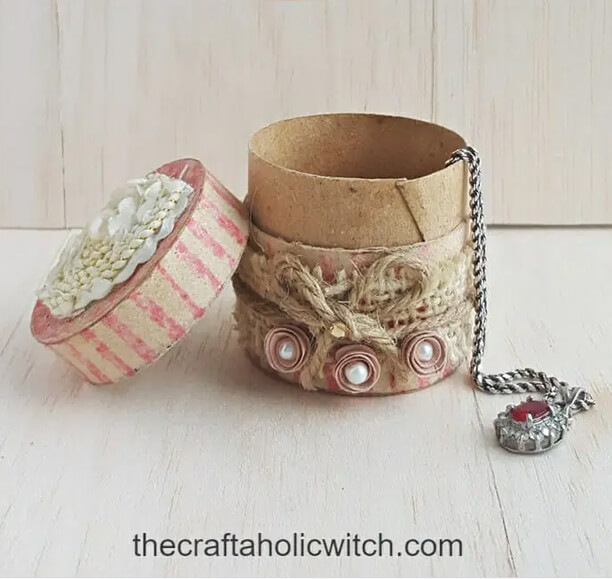 Who knew just how useful that toilet paper roll could be? With it, you can make a unique jewelry box container. It is such an adorable little box too, and of course not meant for any large storage. However, it offers just enough to keep smaller items at bay. Also, thanks to how compact the toilet paper roll naturally is, this can fit easily enough on a nightstand or dresser tucked safely out of the way. You can even make numerous of these to your heart's content, elevating them so that they're filled with style.
14. Sweet Faux Cake Jewelry Box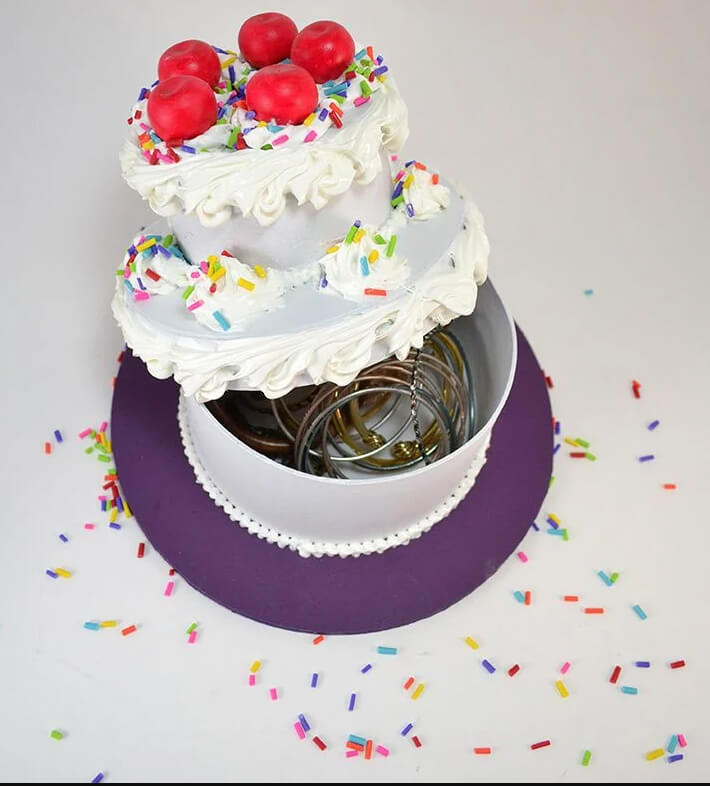 Faux sweet items are all the rage these days, and this jewelry box lives up to the hype. At a glance, it certainly looks like something you would rather eat. However, it serves as a wonderful stash for some jewelry. This is a lovely way to decorate an area with something bright, colorful, and simply fun. These traits are what also make this jewelry box an excellent addition to any child's room. Not only will it help them keep their little trinkets safe, but also in a way they will love to look at.
15. Upcycled DIY Travel Jewelry Box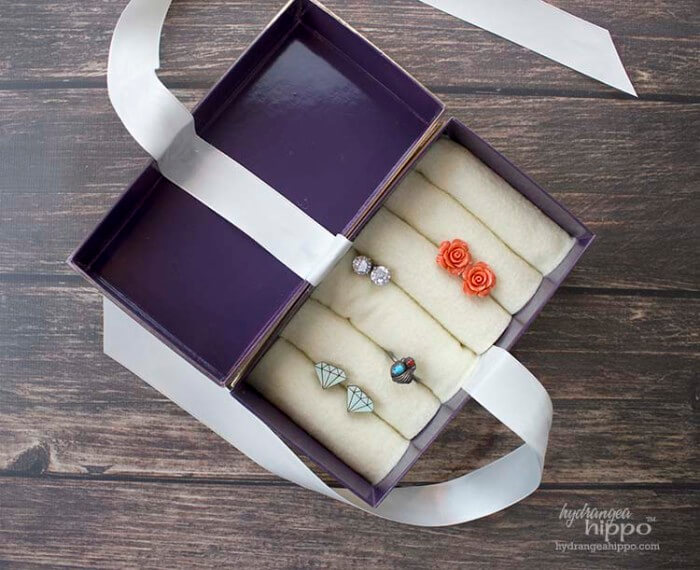 Ever gotten a new phone yet had no idea what to do with that phone box? Well, consider saving it since you can turn it into something remarkable. These smartphone boxes typically have a good thickness to them, making them perfectly suitable for supporting some of your precious jewelry. This is a great way to recycle a box that would otherwise be tossed aside and instead, you can build something that you can use time and time again. Plus, it's always handy to keep your jewelry safe while traveling whether on the road or on a plane.
16. Thrifted Painted Jewelry Box Redesign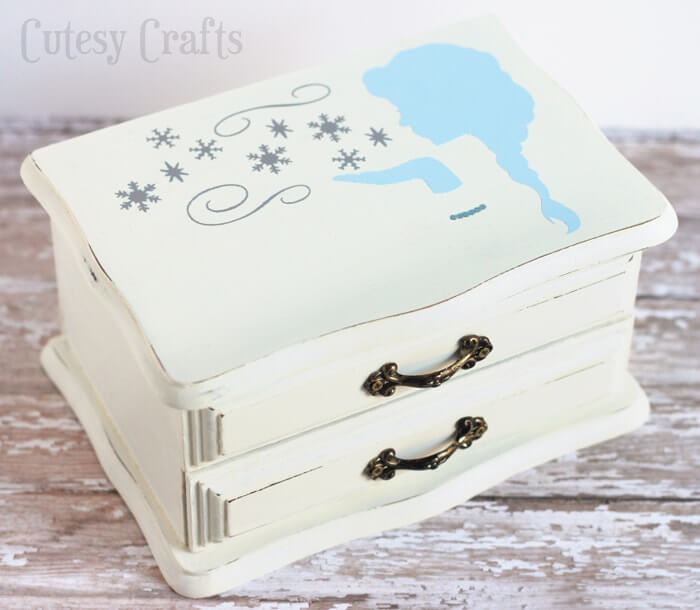 Going thrift shopping is always a fun way to come across something useful if you don't already have an old jewelry box to play around with. This DIY project doesn't take much, but it does help you create something appealing and eye-catching compared to the standard brown-toned box that was before. Opting for a lighter color with the paint is a good way to let the box jump out, easily becoming a stylish fixture in your room rather than just something useful for storage. Plus, this gives you space to add some nice accent coloring to the box. Even the slight weathered appearances add more personality to the piece.
17. Adorable Gold Themed Jewelry Box Set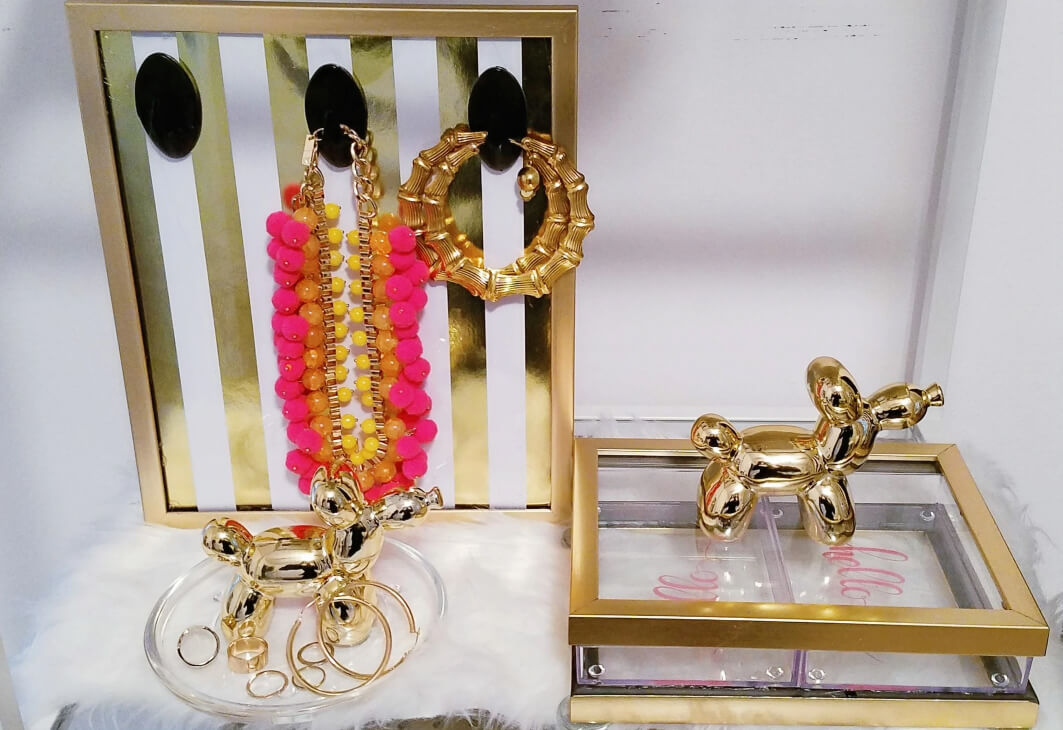 With some items from a dollar store, you can create a bold and fashionable jewelry box collection that looks pricier than it is. This set lets you design individual pieces to support a variety of items. There's a nice tall piece for all your larger items to hang from so that nothing becomes lost or tangled up. With that, you can even build a pleasing smaller piece to house your looser jewelry like rings or smaller earrings. Even the box addition can house your more unique pieces that can't fit elsewhere. It's like you can craft a chic little jewelry corner for your vanity or dresser that you enjoy looking at as much as using everything.
18. Remarkable Refurbished Stenciled Jewelry Box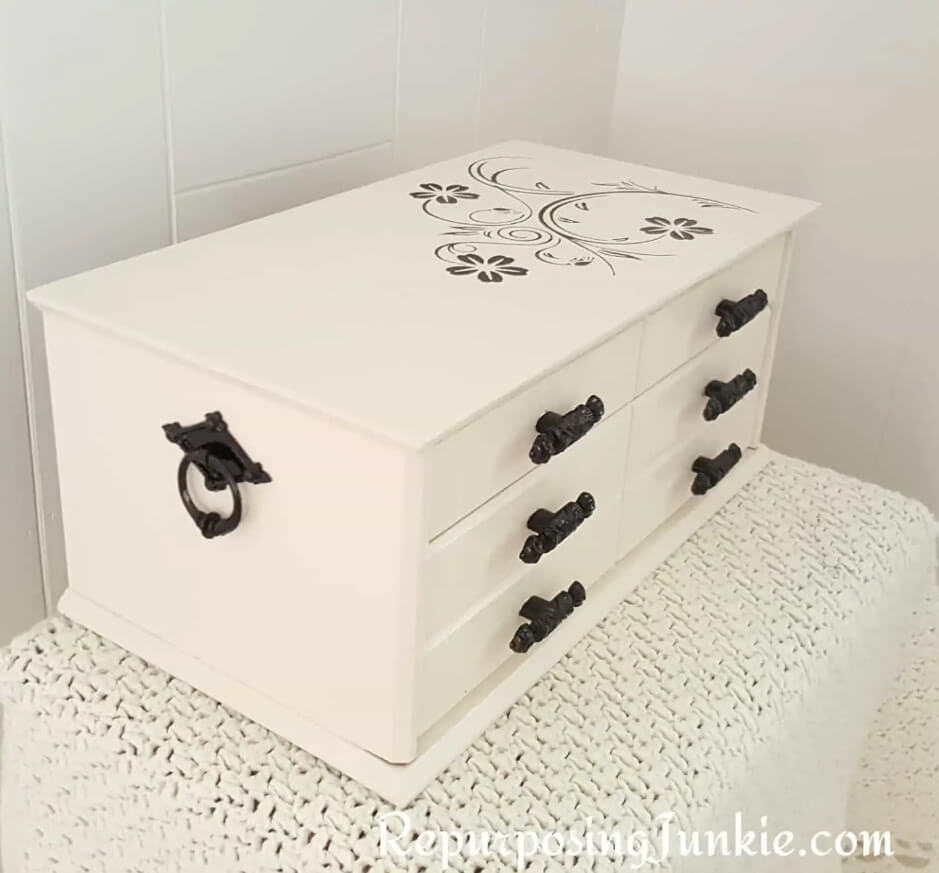 It's no lie that spray paint goes a long way toward changing how a jewelry box looks. From painting over the box as a whole to even giving a new coat of paint to the hardware so even that looks fresh, the right choice in color can elevate your creation. On top of that, you can add in some stencils to really add a creative flair to the jewelry box. There's no shortage of stencils available either so you are bound to find something great enough to work with your style or a particular theme you're aiming for. Best of all, these stencils can work inside and outside the jewelry box. That way, you have an incredible design to admire when the box is opened or closed.
19. Gorgeous Polka Dot Custom Jewelry Box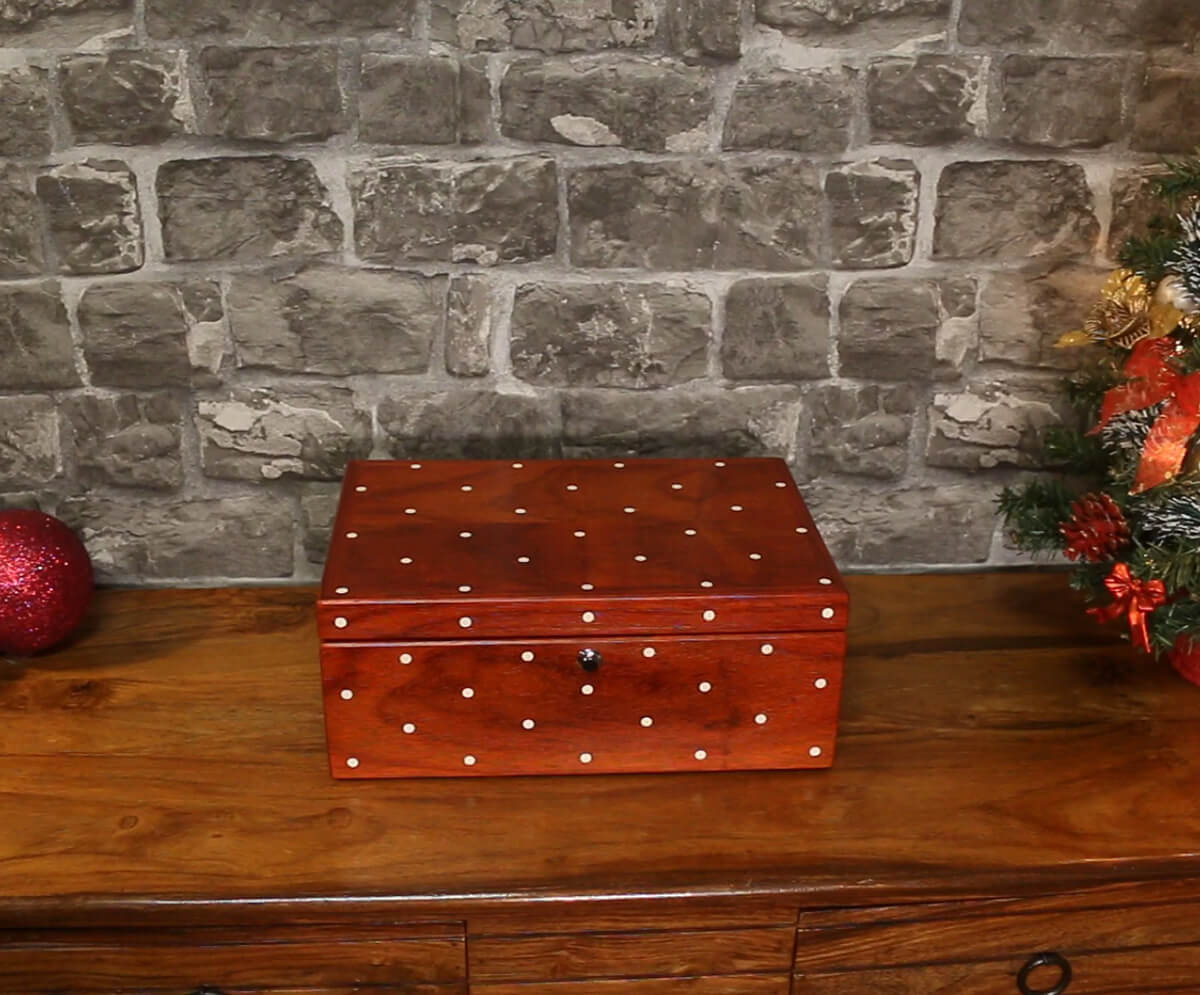 This rather extensive crafting project lets you design a homemade box for jewels from the ground up. It is certainly a hands-on project to tackle, but the result is a compelling and beautiful storage item whether for yourself or to give as a gift. The wood is smooth and truly gleams, giving off that classic jewelry box look. At the same time, the polka dots give it a pop of color as well as a more carefree and charming look. It's such a design that lets the jewelry box have an updated quality to it.
20. Elegant Jewelry Box Makeover Project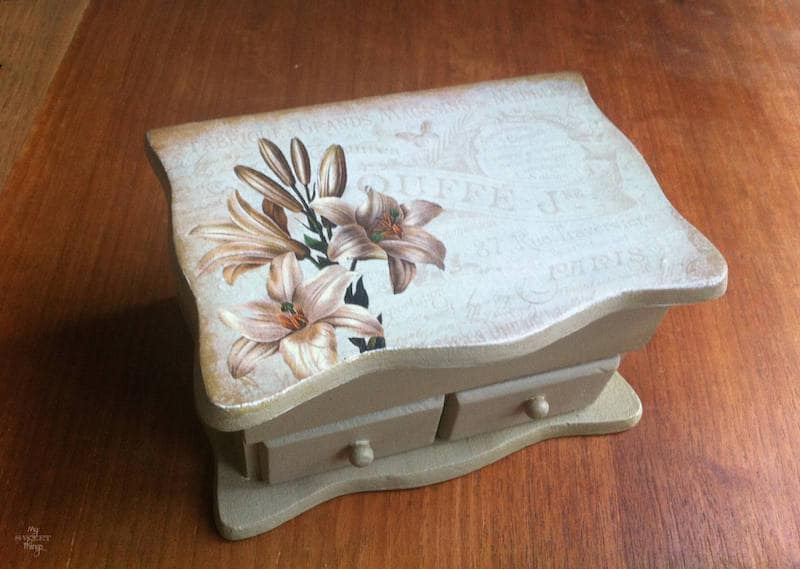 You can take a standard, old-school jewelry box and create something that looks more long-lasting and attractive. It does still have that classic look to it, but it does so in a way that is chic and filled with personality and style. Honestly, what you are left with looks more vintage than it began, but in the best way possible. It looks more like an heirloom to pass down, one that anyone would love to have. With a nice varnish, not only does the piece shine, but it lasts far longer.
21. Celestial Vintage Wooden Jewelry Box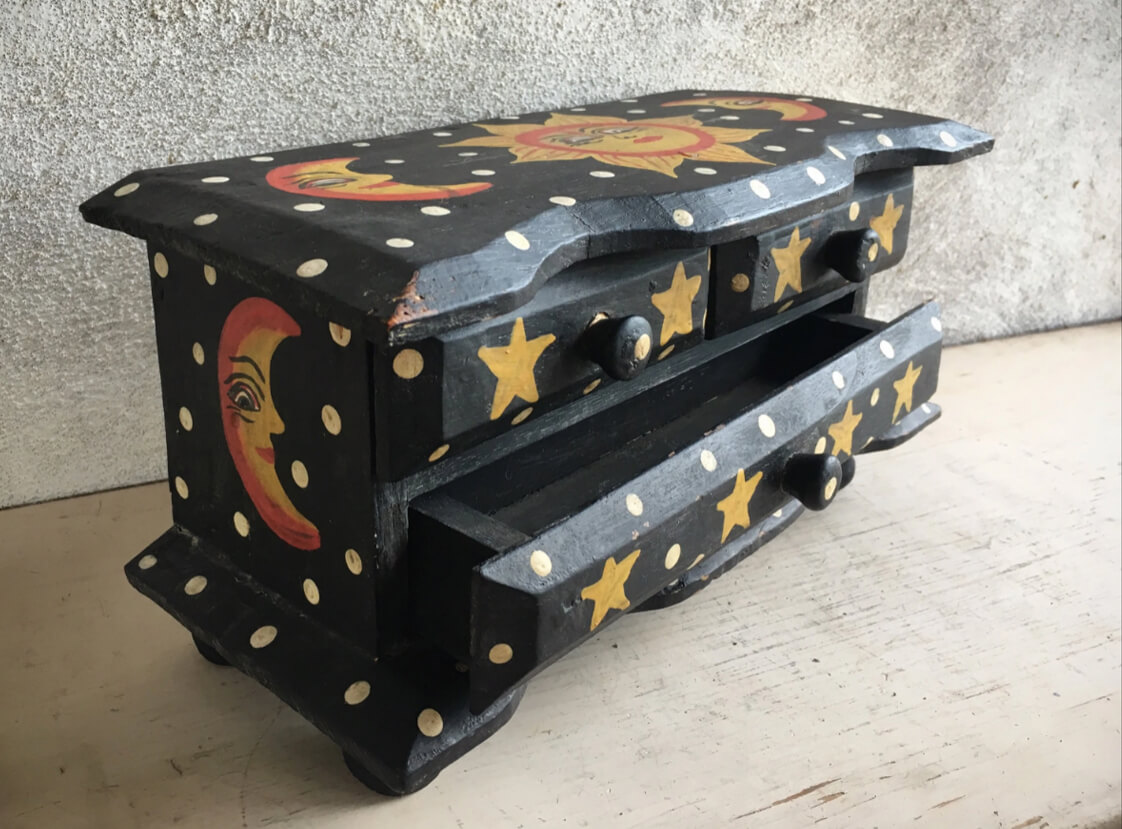 Do you love that celestial look? You can create something compelling and unique using such designs to make a gorgeous jewelry box. There is a vintage look about the paint job itself what with allowing it to look peeled or weathered. Alongside that, the particular art style of the sun and the moon, all with distinctive faces, further cements this jewelry box into that artistic classic look. This will look incredible on its own as a decorative piece in any room, but it can especially look right at home in a room with a similar theme like a child's bedroom.
Cool Handmade Jewelry Box Projects to Show Off Your Creative Side
There are several ways you can create a homemade box for jewels to help keep all your important items in one place. Custom-made jewelry boxes offer the perfect way to store exactly what you want to keep treasured. This way, you no longer have to take time trying to find the right jewelry box in the store to suit your specific needs.
Other than helping you keep things tidy and less cluttered, a DIY jewelry box is simply a nice way to get in touch with your artistic side. You can design a jewelry box in any shape, size, and color that you may not easily buy in a store. Also, homemade jewelry boxes can make for incredible and personal gifts to family and friends. They are a way of representing your personality and style, leaving a lasting impression on anyone. Thanks to the list of our favorite best DIY jewelry box ideas, you should come away with a plan for your next DIY project.