For the kids that would love a space of their own, check out some of the best DIY kids' playhouse ideas to get a head start on building their personal nook.
23 Awesome Backyard Playhouse Ideas to Delight your Kids

A playhouse is an incredible place for a child. It can help them become more expressive, allowing them to participate in pretend-play and gain other useful developmental skills. This includes learning how to play well with others in the case of siblings or even friends when they have playdates. Inside the playhouse, kids have as much freedom as possible. At the same time, it keeps a lot of their toys in one place rather than having parents walk around a maze.
What is so perfect about building a playhouse rather than buying one pre-designed is that there are no limits to what can be constructed. Does your child favor more traditional things? Then a cottage-style playhouse may better suit them as they still have plenty of room to role-play. Or maybe the kids want something to keep them active? Then a playhouse designed like a playground is more beneficial to their needs.
You can even step further out of the box and create something a touch more unique like using a tent to form an open-styled playhouse. This is great for summertime fun to keep kids cool while they play. No matter which route you go, however, you can always add a touch of personalization to the playhouse to make a child even more excited.
If you don't know exactly where to start, you can check out some of our picks for the best DIY playhouse ideas found around the web. There is a comfortable variety too so that you can discover a plan that will best serve your child's interests.
1. Space-Saving DIY Backyard Playhouse Idea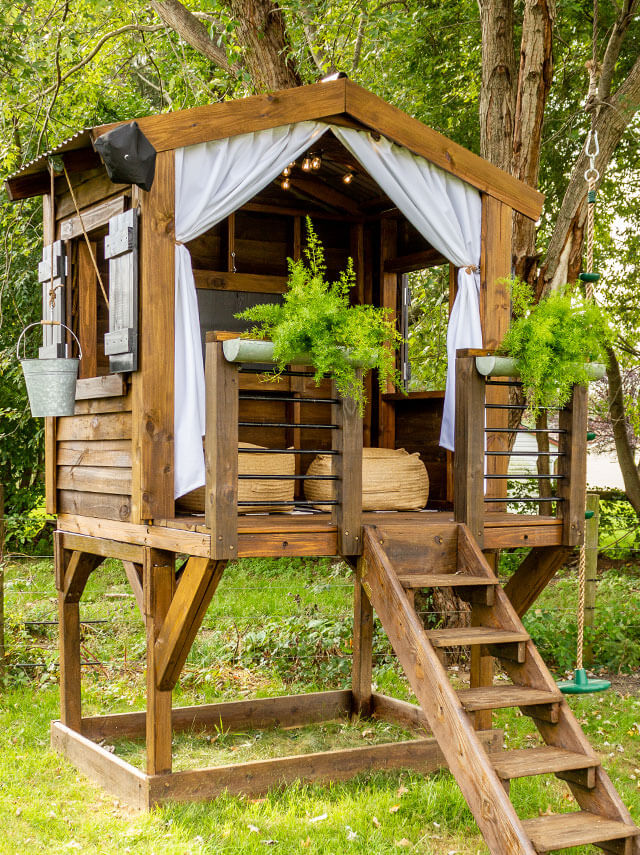 Either there is minimal space, or you simply don't want a playhouse to take over your yard. In this case, building a playhouse with a smaller footprint is ideal. Maximize the room you have by building upwards, using a ladder or stair design for kids to get up into the playhouse. This plan not only makes things look less congested, but it provides children with another layer of room to play around in or add some toys. This style also lets them run straight through the playhouse. By doing so, they can still play outside without anyone needing to move the house.
2. Budget-Friendly DIY Playhouse Makeover Project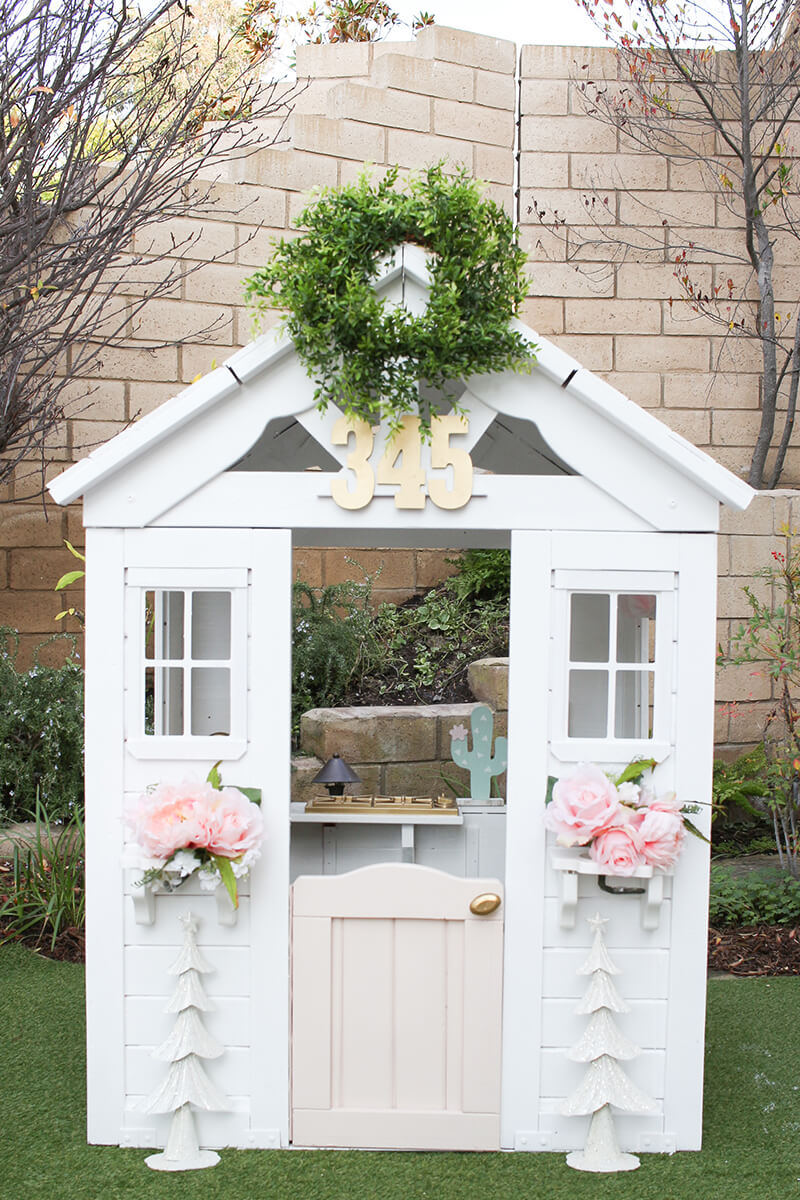 Sometimes, you simply can't afford to build a playhouse from scratch. Not to worry as it's possible to makeover a store-bought playhouse, breathing new life into it so that it looks like it was handmade. This starts with providing the house with a new paint job, and from there, you can add on other decorations. If there are items inside the house like a kitchen, don't be afraid to paint the fixtures too. Depending on the type of house you have, consider even adding a different doorknob to it as this is a small way to help it stand out more.
3. Whimsical Cozy Outdoor Cubby Playhouse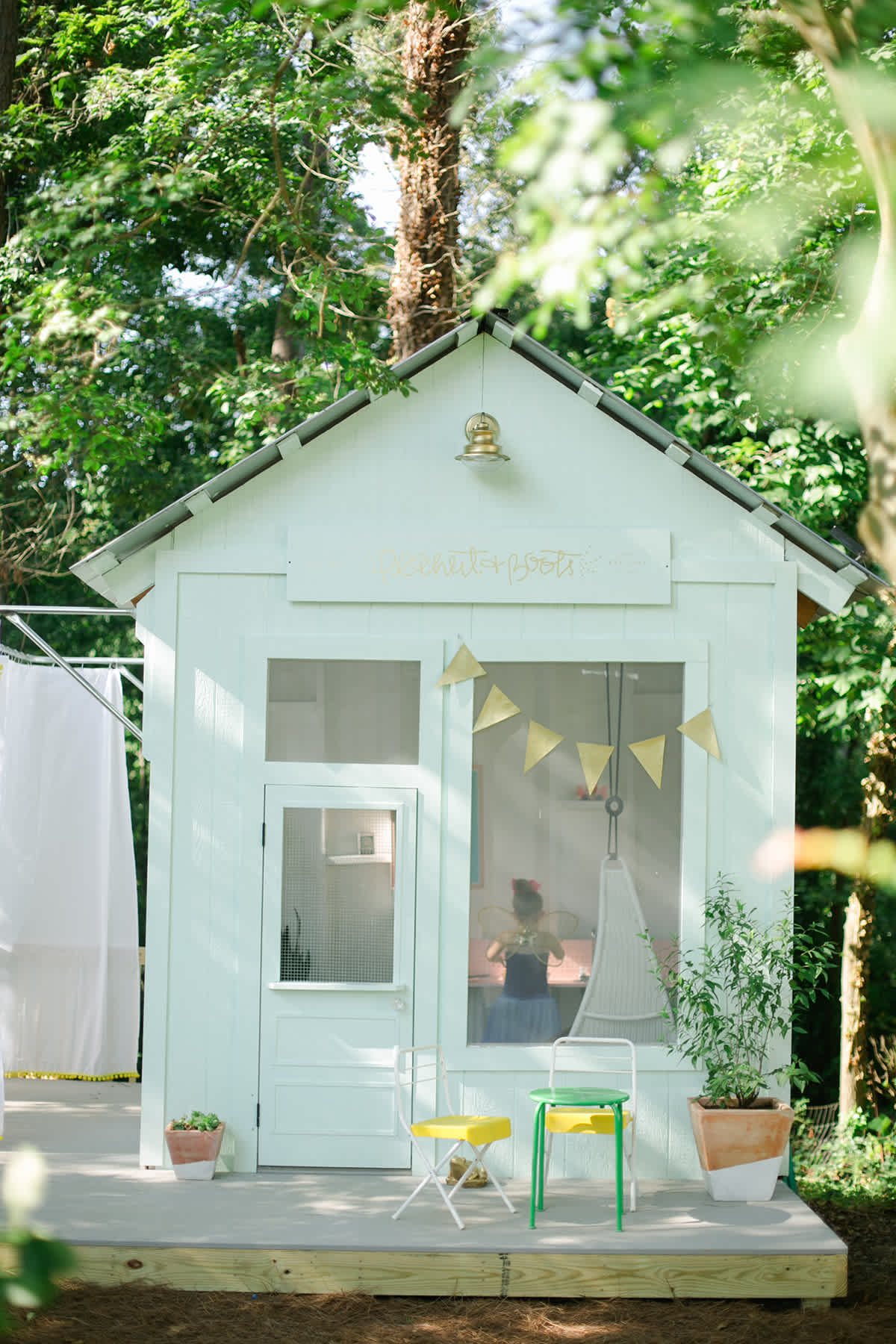 Among the more unique ways to create a playhouse for kids is by updating something you don't use anymore such as an old garden shed. This is typically spacious enough to give kids the freedom to have numerous items inside, creating the playhouse of their dreams. To get more natural lighting into the house as well as greater air circulation, opt for adding screens to the windows and doors. It is also a wonderful way to keep an eye on your little ones as they play. With such a reliable structure, you can freely paint it as your child likes. Perhaps you can consider letting them help out a bit for some family bonding.
4. Sweet DIY Ice Cream Shop Playhouse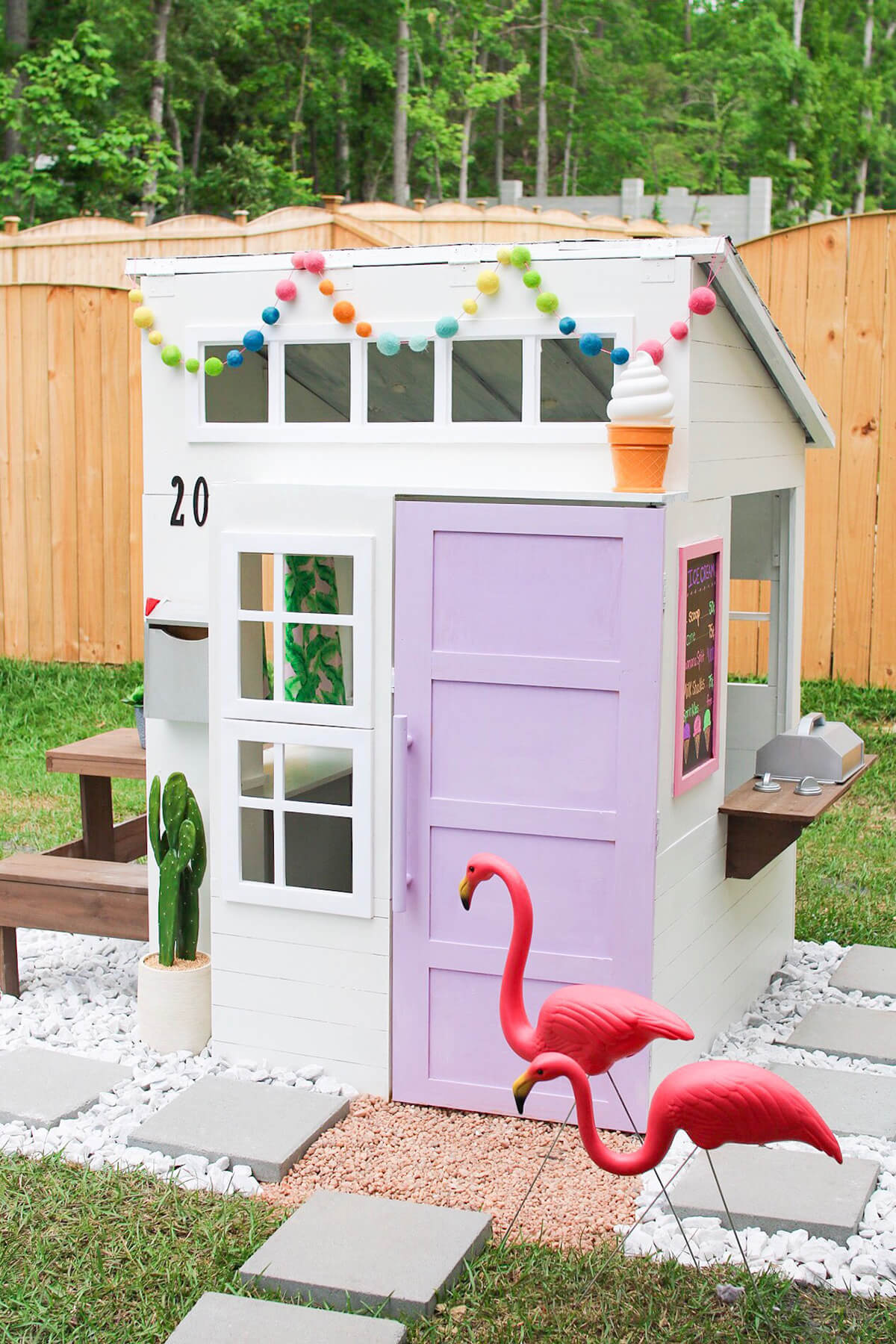 It can help kids when a playhouse has a particular theme attached, giving them ideas on exactly how they wish to play. This is especially useful if kids already have all the toys needed to pretend-play such as ice cream and cones. Also, it is a fun way for kids to play together or with parents, making this playhouse perfect for bonding. Attaching a chalkboard to write the ice cream flavors and price is an exceptional choice too as it can help kids gain reading and math skills, letting them have fun while still learning some important lessons.
5. Spacious and Cool Playhouse Makeover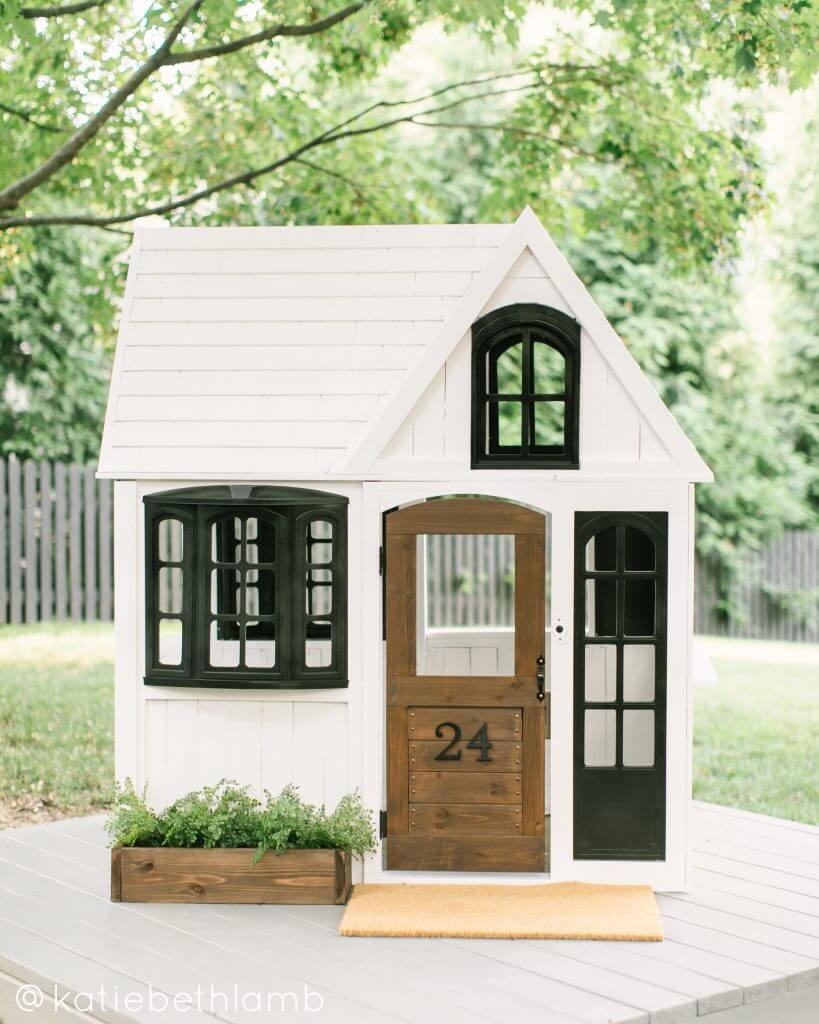 Upcycling always makes for a fun DIY project, especially when it comes to figuring out kids' playhouse ideas. This particular plan allows you the freedom to choose any pre-built playhouse you'd like. Much of it is based on the kids who are going to be playing with it. Something spacious may suit older or taller children best, or even if you want something that's made to last over the years. No matter, you can make that playhouse your own with some paint and some added décor in and around it. To make it feel more warm and cozy, you can add on some finishing touches like a welcome mat or some flowers.
6. Cute DIY Total Playhouse Transformation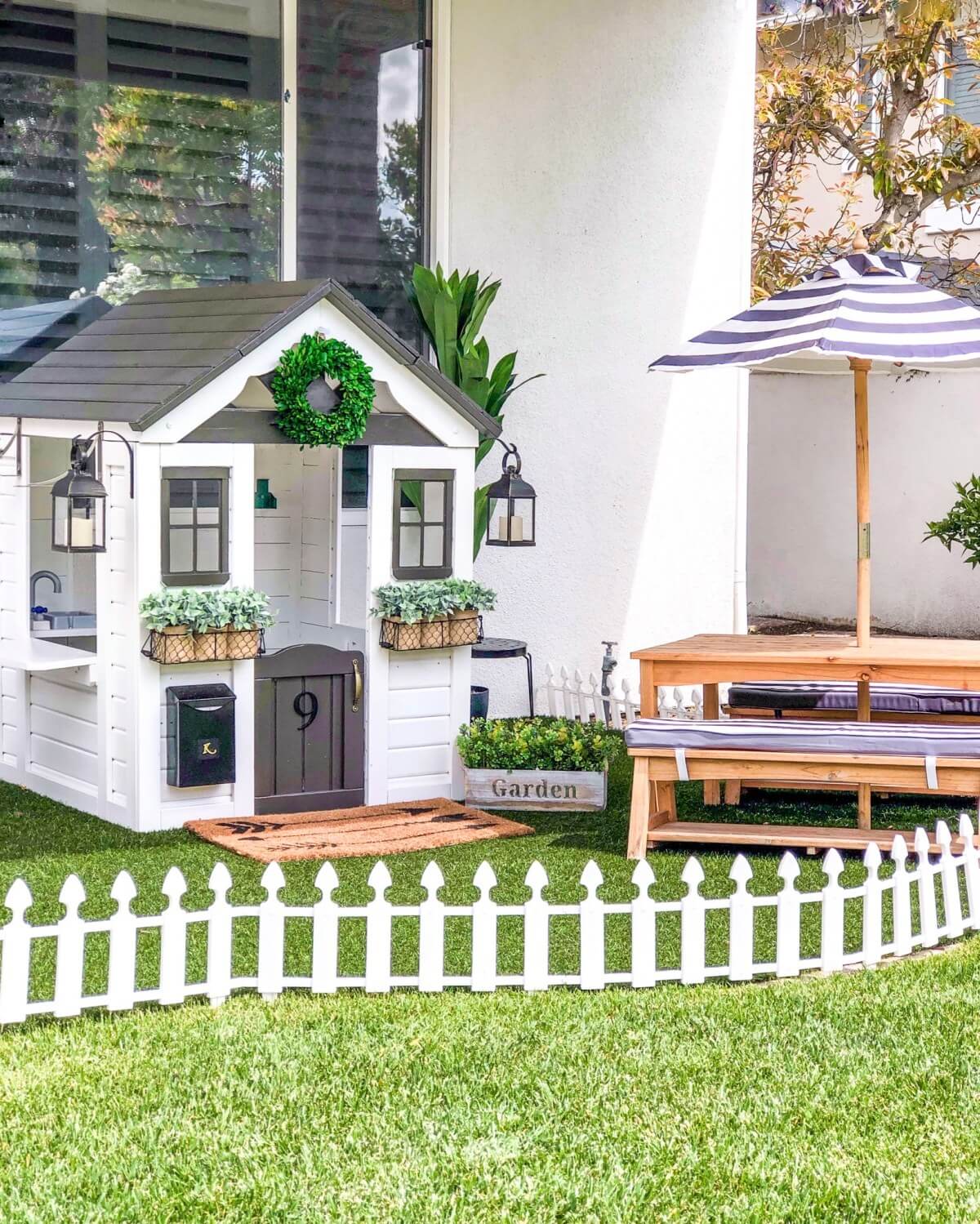 With some handy tools, you can take what looks like a typical playhouse and elevate it into something that is far more exciting to look at and play with. This project isn't too difficult to manage, especially if you are used to doing things like this. The results leave you with something that has a far more pleasant color balance with interesting décor on the outside to make it resemble that of a real house better. You can even add on a wreath or perhaps an address number to perm.
7. Classic Grand Playhouse DIY Makeover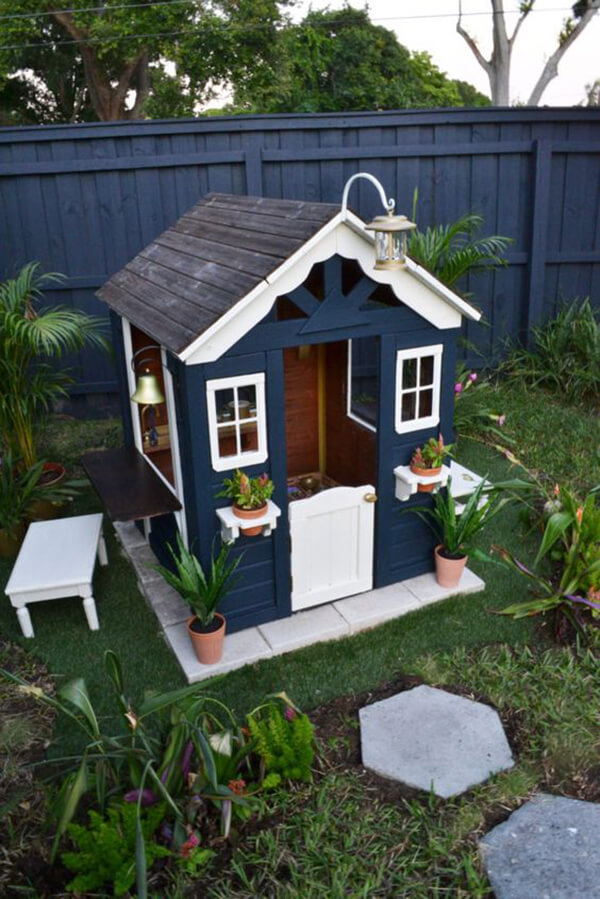 This project allows you to take an old playhouse and make it look like you just bought it from the store. It stands out against other DIY playhouse ideas as it is such a drastic makeover, and most of it has to do with paint. This successfully uses darker color tones, creating a good blend of something that is modern and vintage at the same time. There are so many extra things you can add to this such as an area to set plants or even room to hang up lights.
8. Laidback DIY Kid Kraft Playhouse Makeover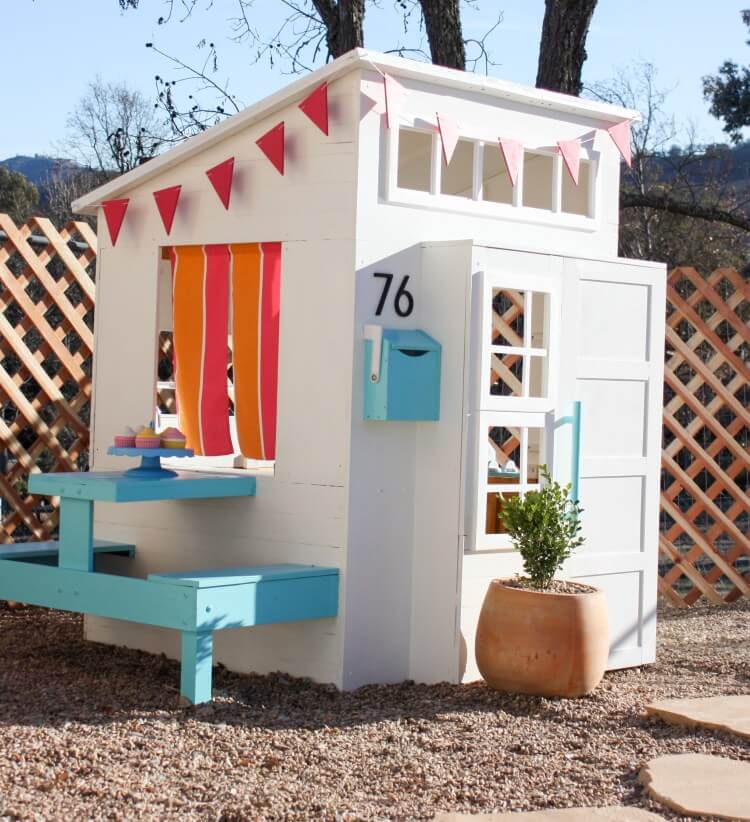 Kid Kraft playhouses provide incredible versatility and reliability, making them the perfect base for DIY makeovers. You can give the house some brighter paint, using colors that blend well. For instance, white works with just about anything, so consider going for your child's favorite here. No matter, stick to a theme all around the house such as painting the benches and other areas of the home with the accent color. It makes this more characteristic. Also, this specific plan does not add too much in terms of décor, which is useful if you want a more laidback, comfortable theme instead.
9. Bright and Gorgeous Backyard Playhouse Idea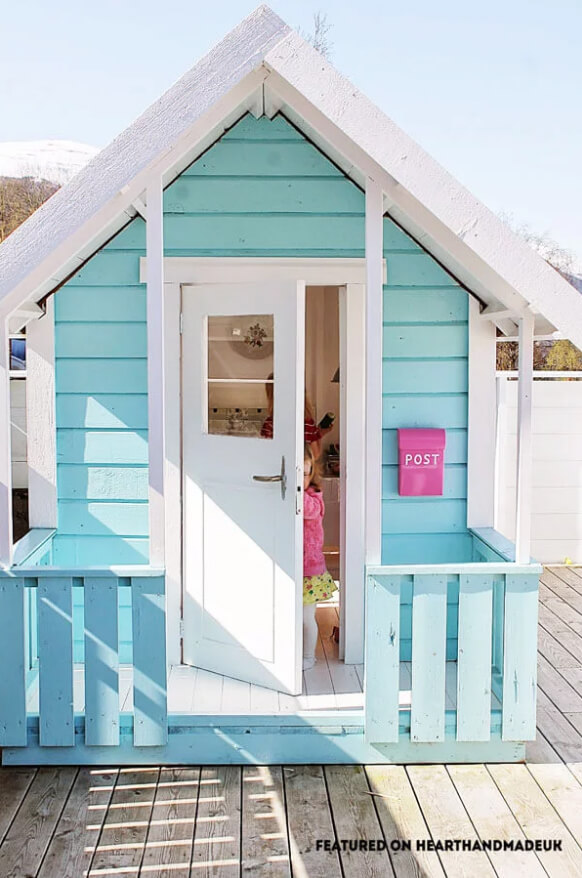 You can take a tiny shed and elevate it into a cute and stunning playhouse. Of course, this plan allows you to go whichever route you wish in terms of painting. Stick to a theme you know your child will appreciate the most. However, you decide to paint it, coordinate the decorations to match to create a more cohesive playhouse. This way, kids have an easier time coming up with various ways to play with it. Since a shed can resemble a mini house, it is the perfect place to use so kids can playhouse, a staple when it comes to aiding their development while having fun.
10. DIY Modern Farmhouse Styled Playhouse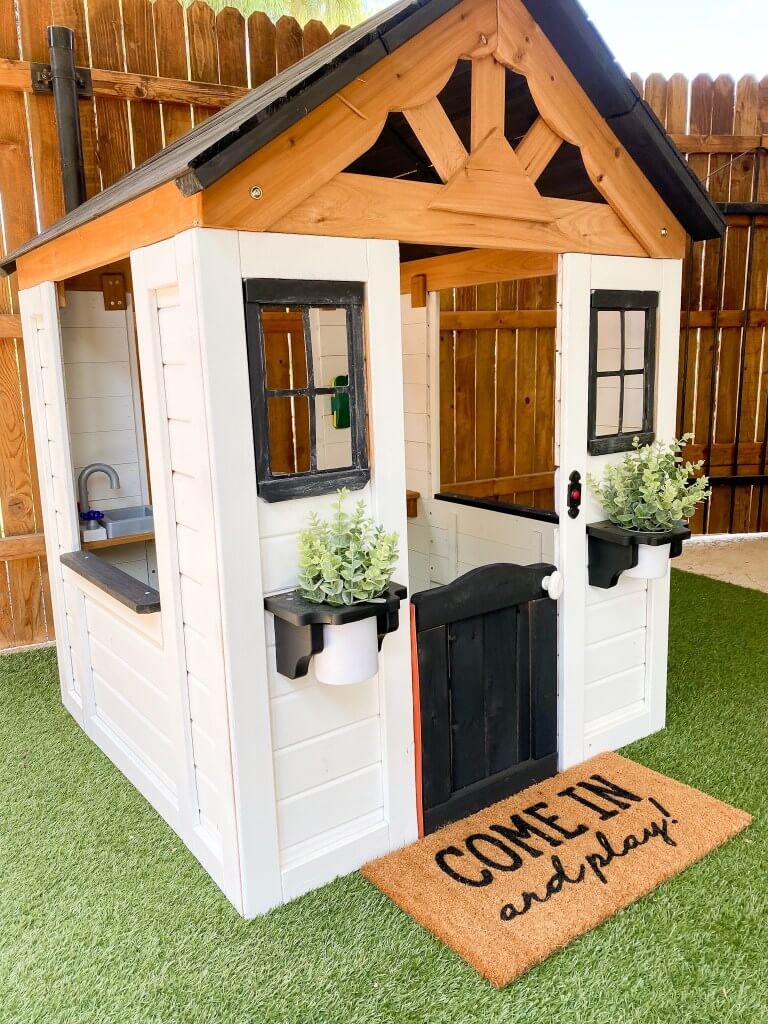 Who's to say that kids can't have a contemporary, farmhouse playhouse? With this detailed building plan, you can give children a taste of having their own homes at a young age. This home is absolutely remarkable, standing out as one of the best kids' playhouse ideas to give children something that is highly realistic to play in. It also has some cool vintage vibes to it to give it an extra unique touch. Consider some potted plants to add more color to the home. A doormat is also a fun addition so kids further feel like their playhouse is the real thing.
11. Awesome Step2 Playhouse Upcycled Makeover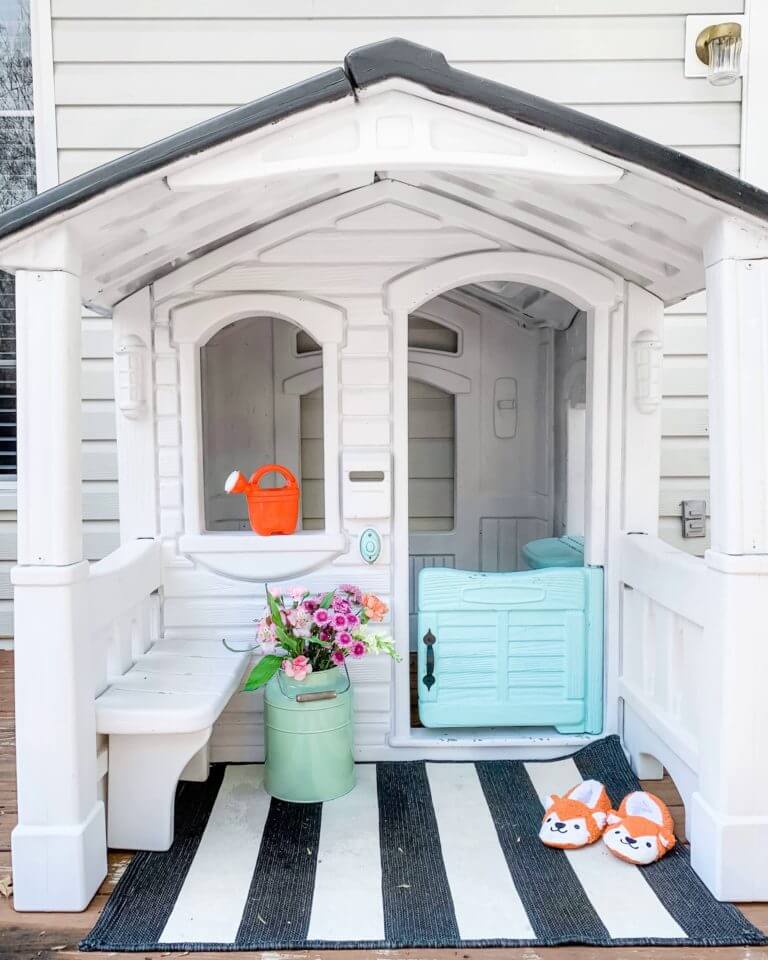 The plastic Step2 Playhouse can be just the right upcycled project you've been looking for. Truth be told, the most that this project needs is a fresh coat of paint. The colors used depend purely on personal preference, but it may help to aim for brighter colors if you want the playhouse to stand out better and keep kids excited about rushing to play with it. Also, you can consider adding a handle onto the door if you want to get more hands-on with the project. Otherwise, some paint is all that's needed to make it look new.
12. Cool Upcycled Kid Kraft Playhouse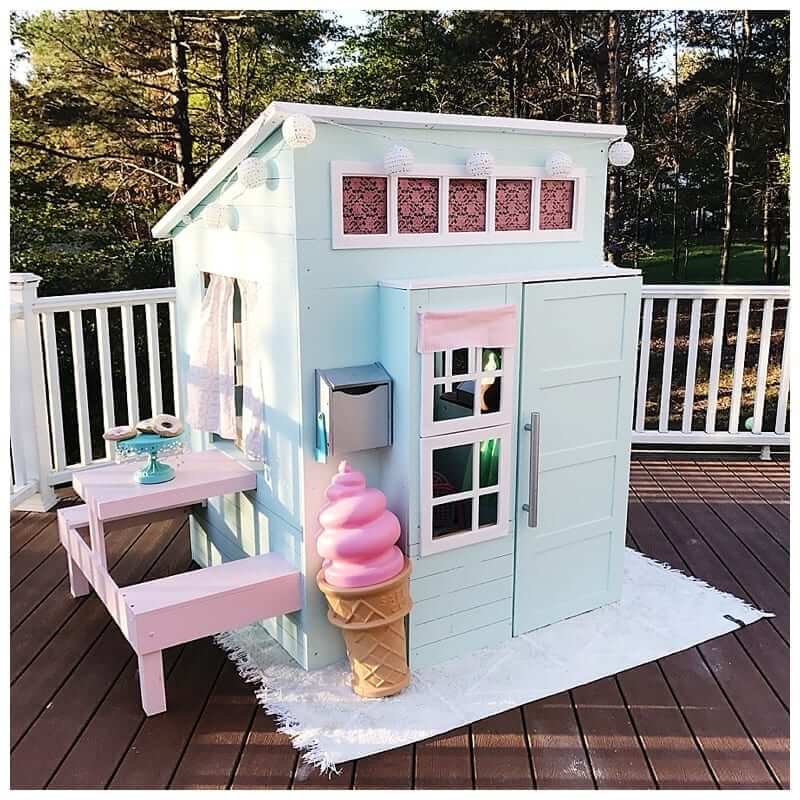 Take something that is already well-built like a Kid Kraft playhouse and use it as a basis for your own DIY project. It is remarkable how far paint can transform something. With this project, maybe you would like to go for a child's favorite colors or a specific theme. Something bright can always help the house stand out. Don't forget to focus on the inside as much as the outside too. As for décor, the options are near limitless. Add some realistic decorations for the house such as curtains for the windows. Hanging up something around the roof like lights can further elevate this piece.
13. Simple Plastic Playhouse Re-Design Project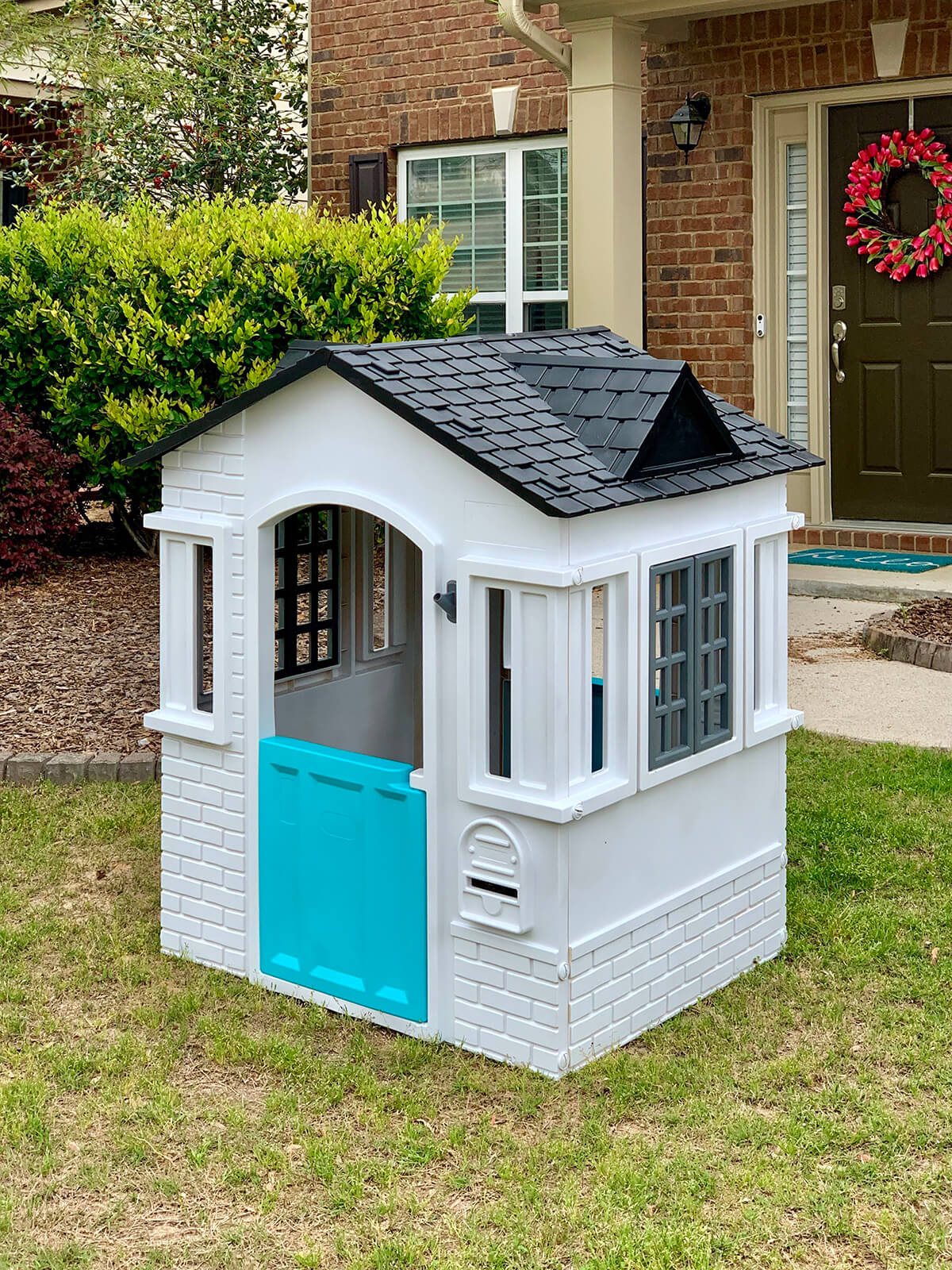 Plastic playhouses have plenty of charm, and you can bring more of it out with the right makeover. It is also a more affordable way to give kids a personalized playhouse that they can enjoy just as well as the more expensive plans. This is such a barebones type of plan that you don't even need to add anything to the playhouse that it didn't already have besides the new paint. It allows children to bring in whatever it is that they want to play with instead, giving them even more freedom at the end of the day.
14. Fun Coastal Themed Playhouse Makeover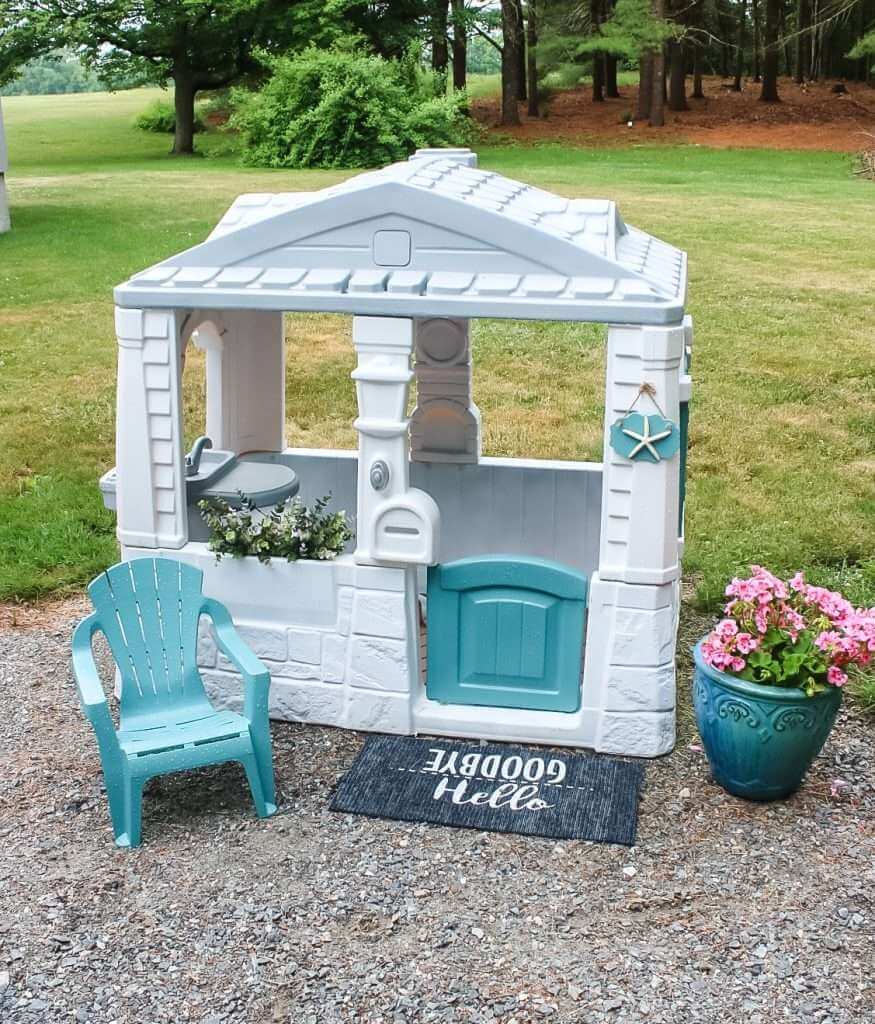 Upcycling a rather plain-looking playhouse is a great way to create an elevated, yet budget-friendly, personal playhouse any child would love. In fact, if you are looking for a backyard playhouse idea that can transport them to the beach, then this coastal-themed plan is perfect. It is bright and full of life, featuring predominantly white for the color scheme. The accent touches of different shades of blue make it more dimensional and help the house better stand out. You can even include some more items to keep it on-theme such as using seashells for décor inside, outside or both.
15. Awesome Swing Set Playhouse Makeover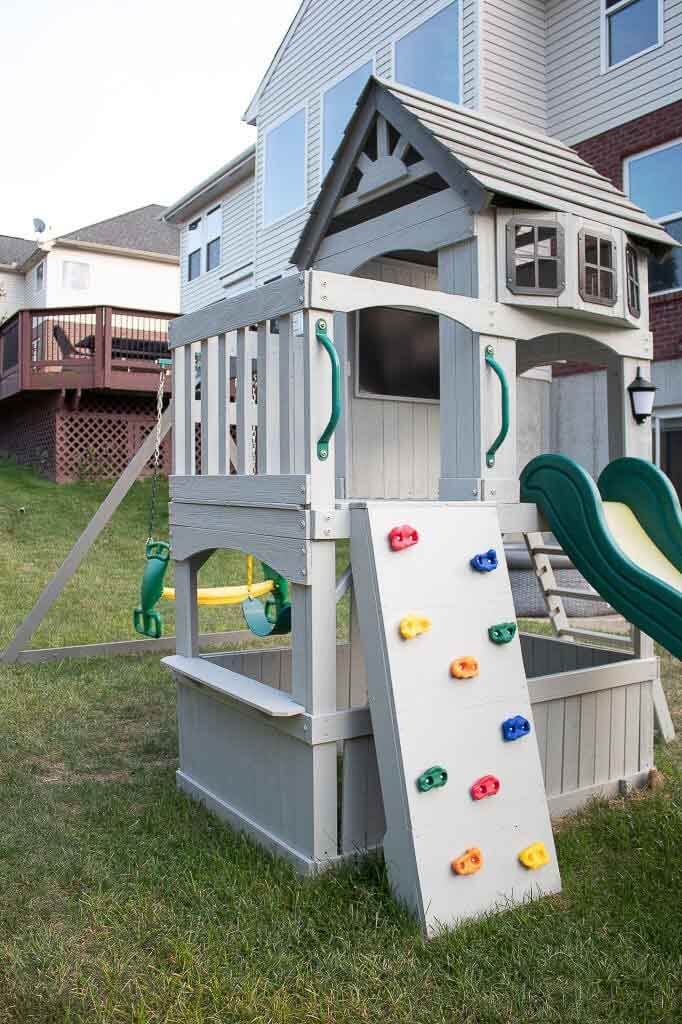 So, maybe you already have a swing set in your backyard that is just aching for some care. If so, you can use that as a great base for a new playhouse for kids. As far as DIY playhouse ideas go, this one ensures that nothing is wasted in your yard since there are various ways for kids to play with this. Of course, they can enjoy the swing set portion, staying active while outdoors. As far as the "house" section goes, this type of swing set does most of the job for you. Some paint and additional décor around the house like flowers are more than enough to make this set look brand new.
16. Painted Pallet Based DIY Playhouse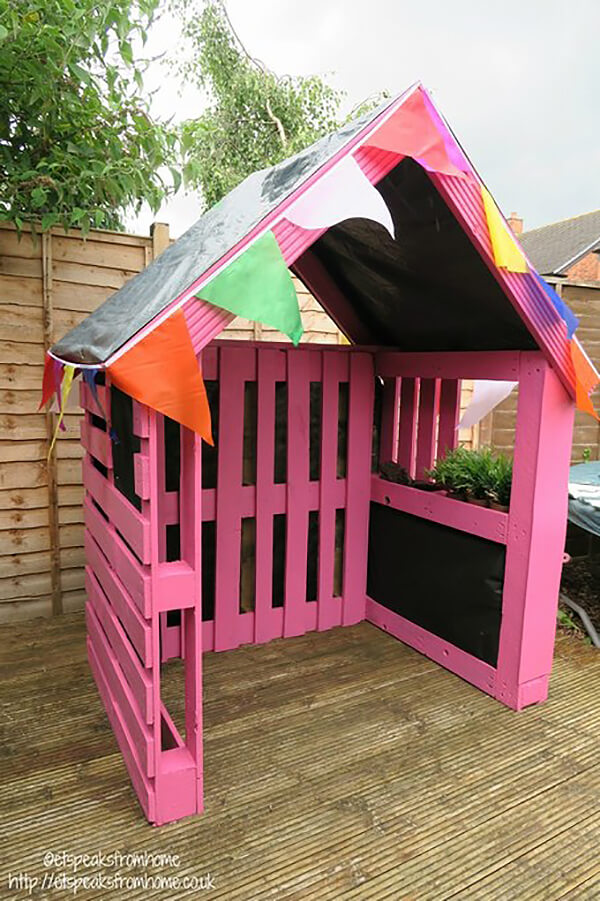 Are you interested in taking on a pallet project, but make it more fun? Then use pallets to build a fantastical outdoor playhouse that will sit perfectly on the yard or even on a deck. The wood from the pallets makes for a firm structure too so that this will hold up well over time, staying with kids as they grow. You can make it as large as needed too, to suit whatever it is kids wish to do inside it. Leaving it without a door gives it a more open layout as well. Feel free to add on some additional details to give the playhouse more style such as hanging up some colorful banners or even some fairy lights.
17. Cool Beach House Playhouse Makeover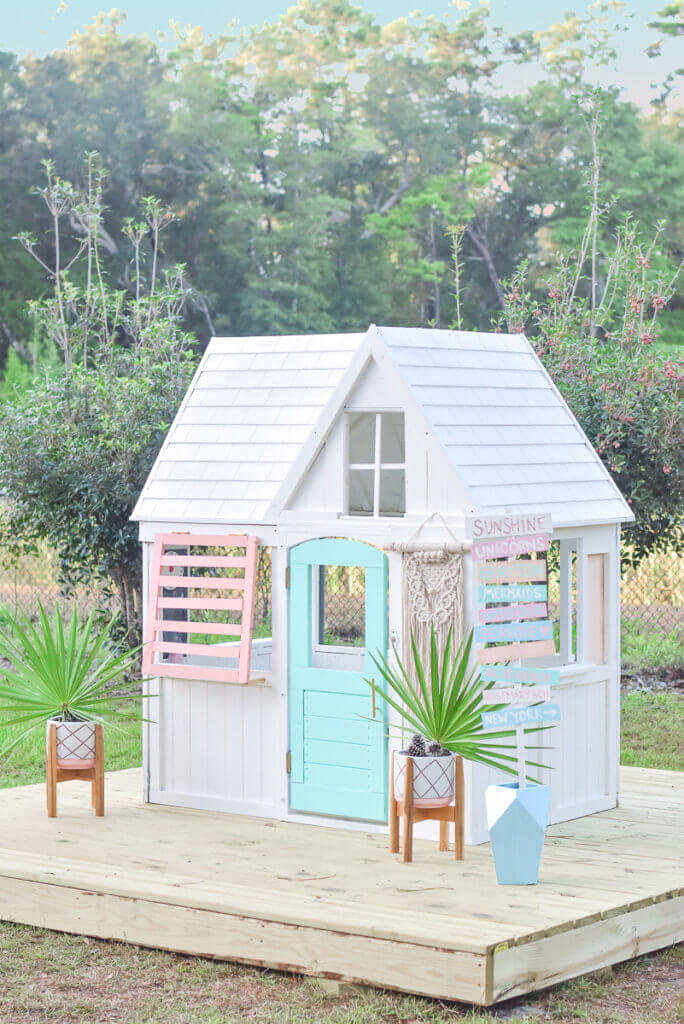 Bring the beach to your backyard or transform a child's playroom with this cool beach house playhouse makeover. The solid white paint for the main portion of the house gives it a much-needed brightness that makes it fitting for the theme at hand. Using light-colored pastel colors like blues and pinks further helps this stick to the coastal style. Don't forget to focus on the details as well via décor. Toss in some boho-like curtains, and perhaps lay out some faux plants that will help add some more pops of color without completely taking over the rest of the house.
18. Cozy Cottage Style Playhouse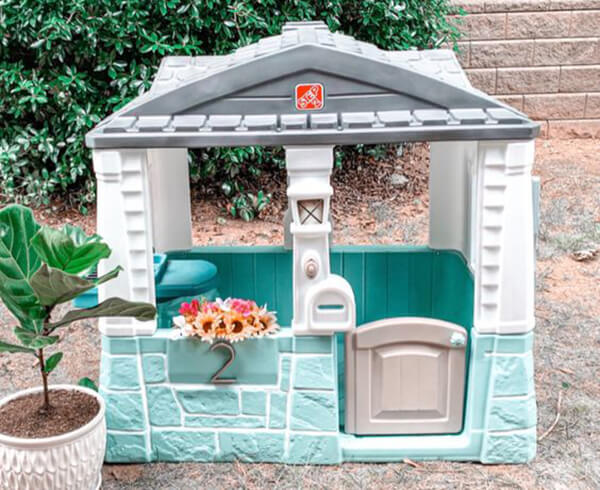 Cottage homes are always a gem to look at, and it is simple to transform a child's playhouse into that cozy decorative style as well. The paint colors truly make this house pop as the light blue fits perfectly with the coastal-like theme. It is even cute to use the color for the doorknob as a way to further accent the house and allow the color scheme to properly flow all the way around. There is no need to add too much extra décor. A couple of faux flowers work as extra bits of color, and ensuring they are different from the house's color helps them stand out.
19. Fun Playhouse with a Slide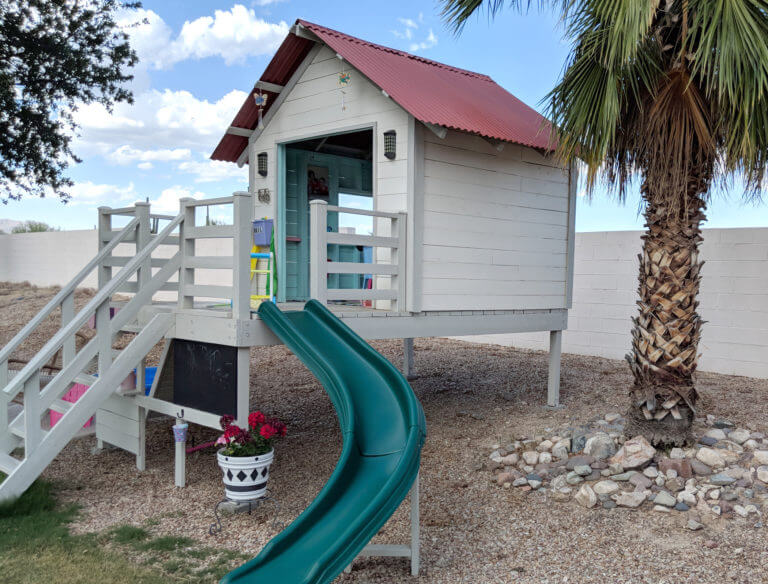 Combine a playhouse, playground, and treehouse in one home with this incredibly cool design. In fact, the result is an impressive beach-like house. It focuses on a lighter color scheme, using shades of white and blue that blend effortlessly with each other, creating a relaxing vibe that's as fun to look at as it is to play in. There's a good openness about this design too since the main entrance doesn't have any doors. It's wide and unrestricted so kids can easily rush in and out. Of course, there is the excitement of being able to exit the house via the cool slide.
20. Cute Hideaway Playhouse Tent Design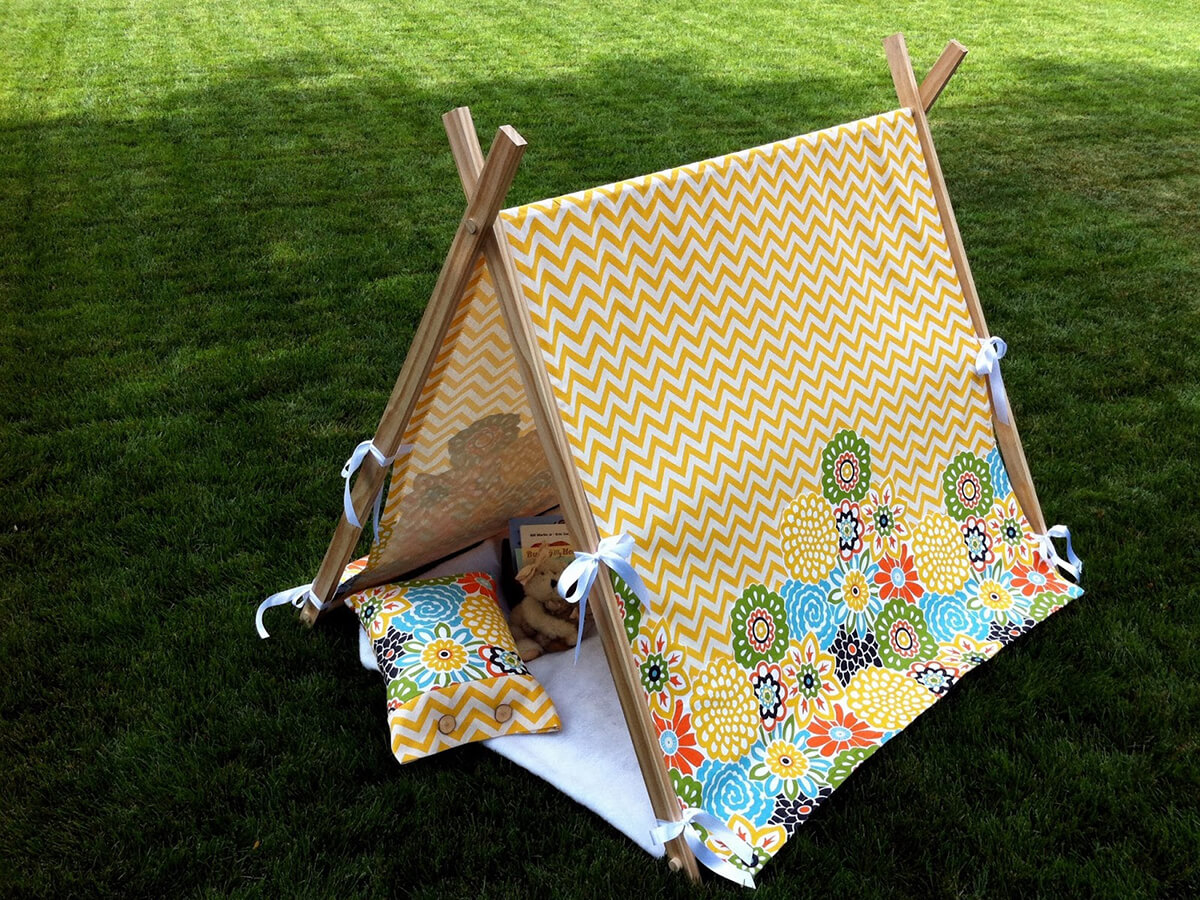 As far as kids' playhouse ideas go, this is one of the easiest designs you can possibly do. Pick out an adorable pattern, or even let your child choose their favorite one, personalizing this little play tent even more so that it highlights their personality. It is as simplistic as things come. Also, with either side of the tent being opened, kids can rush in and out at both angles as they please. Depending on how large you make the tent, they can fit various items like their favorite small toys and a couple of pillows for extra comfort. As a fun part for parents, you can fold this down, making clean-up a breeze.
21. Adorable and Stylish PIPER Cubby House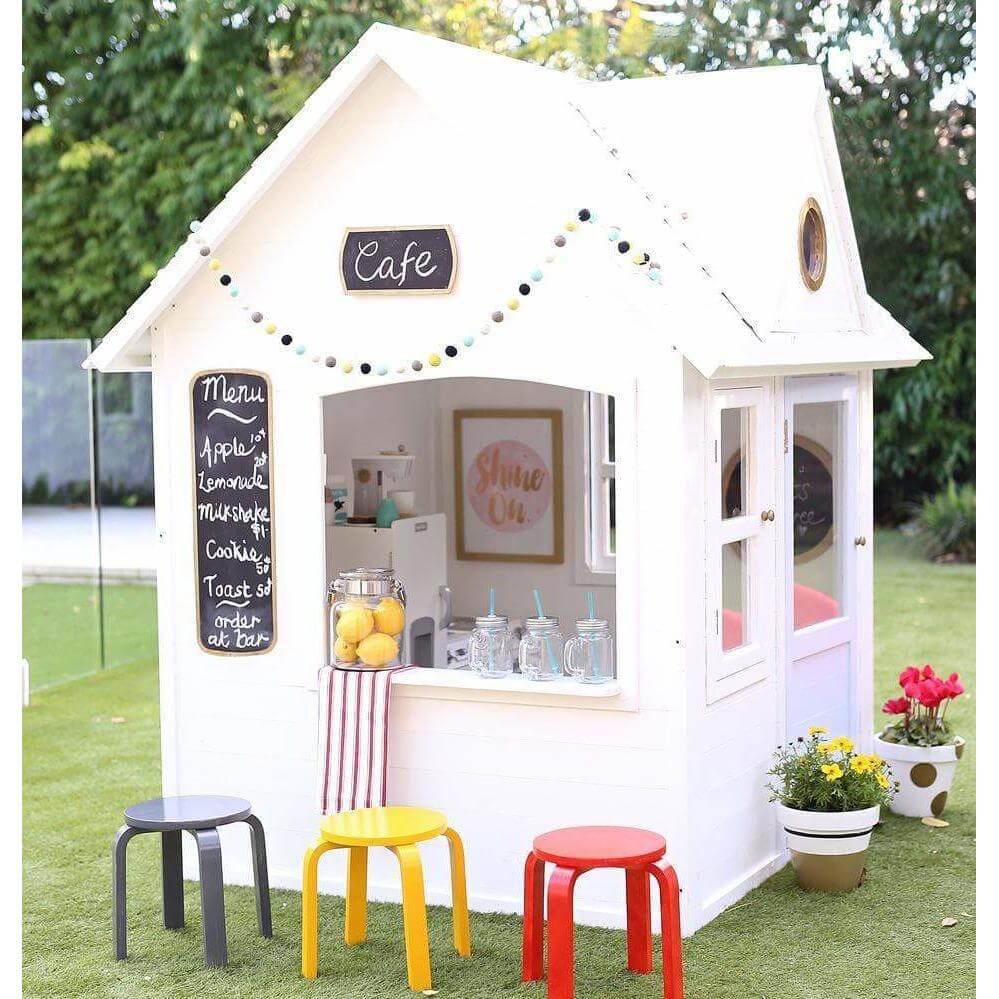 This incredible playhouse is useful for interactive playtime with kids thanks in large part to the wide window built into the side of the home. It's spacious enough that children can easily play inside and outside of the playhouse with ease. This features a removable panel cover too so that parents can hide the window away when kids aren't playing. The house is rather versatile too considering how roomy it is, leaving children with more than enough space to role-play various scenarios. It can also fit more than one kid at a time too, letting them have good social play inside the house.
22. The 'Hutchinson Cubby' Package Playhouse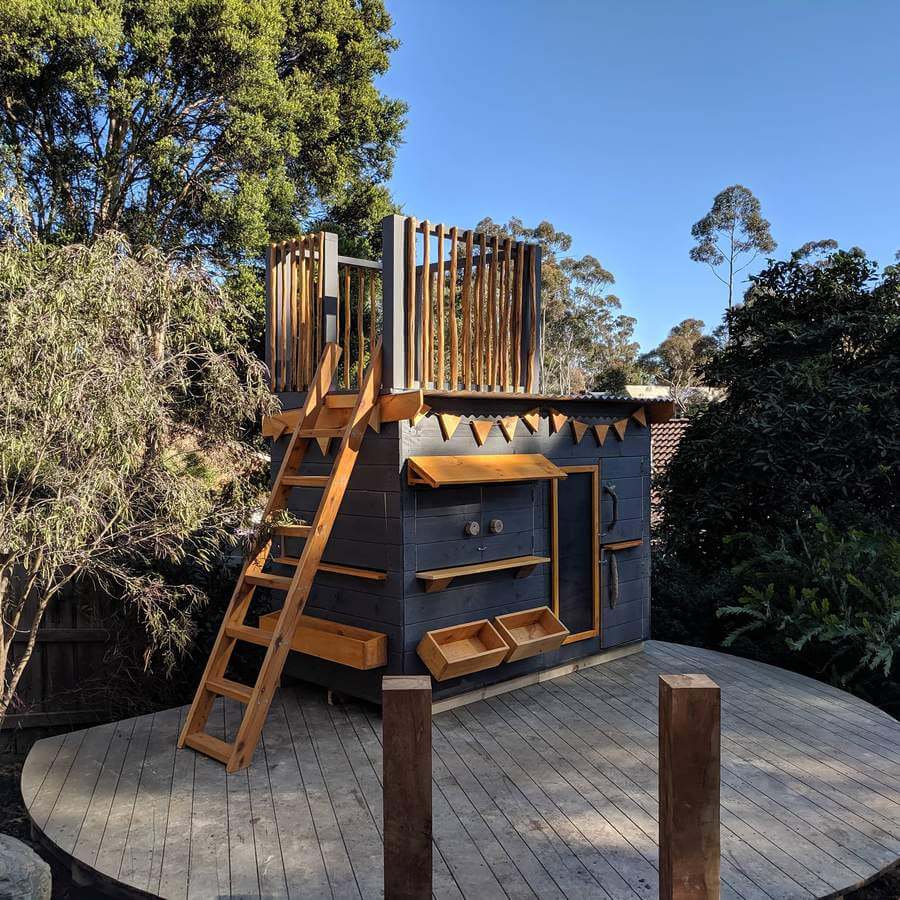 For something that is a bit more high-end, this playhouse package can create an epic space for kids to play and relax. It's among the best DIY kids' playhouse ideas that give them different levels to play on. There are café styled windows, a lovely framed blackboard for them to write on, and even market stall boxes to put pretend food or other toy items inside. Kids can climb up the ladder to reach the cool fort. It is such a fun way for them to play, especially if they are enjoying time with the fort playhouse with friends or family members.
23. 2-Sized Happy Camper Playhouse Plan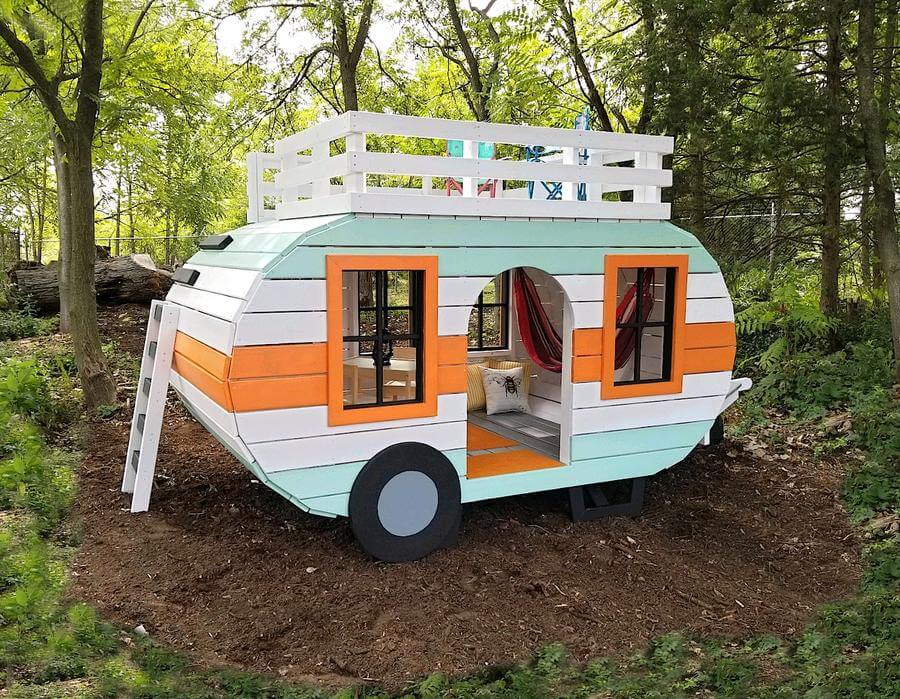 Available in two different sizes, this camper playhouse plan is a distinctive choice when parents want something that is a bit less standard for kids to play in. The design pays homage to the vintage, stainless steel campers seen all over the '50s. It is a wonderful way to bring the thrill of camping to children who adore the outdoors. There are two levels to play on as well so kids can go up and down with their toys or any other items you wish to decorate the playhouse with, creating a space that they are completely comfortable in.
Best DIY Kids' Playhouse Ideas for Your Next Family Project
There's no denying that playtime is important for kids to have both indoors and outdoors. However, kids can quickly run out of room inside to play. Or perhaps parents just seek a little bit of quiet. The best-case scenario here is to give children their own personalized playhouse. It is a great way to provide them with a fun change of environment all in a confined, safe space.
Of course, you can readily find these play items in the stores and set them up. But it can be far more rewarding to turn this into a home project and build playhouse kids will absolutely love. Building it allows you to better personalize it based on your child or children. You can go for specific themes like making something that resembles a home or something that allows them to be more active like having a climbing area.
There is a tremendous amount of freedom that comes from following plans and working from there to give kids a customized play area. If you're handy yet don't know where to start, we hope our extensive list of some of the best DIY kids' playhouse ideas gives you a solid place to begin your journey.