The best DIY light bulb craft ideas will help you come up with many ways to use those non-working bulbs in a new way. We go through light bulbs rather often in life. So, it's no wonder we are probably tossing out a lot of them or simply recycling them. However, you can also upcycle those bulbs with some handmade bulb craft ideas. Did you know just how much you can change a light bulb from its intended purpose? DIYers have long figured it out. Some paint or even just water, yes water, can go a long way into overhauling a typical light bulb. You can make an incredibly gorgeous design on the bulb, having them serve as hanging decorative pieces or even suncatchers. They hang well around windows, adding some more interesting lighting effects to any room.
18 Gorgeous and Handmade Bulb Craft Ideas to Let Your Creativity Shine

Another good approach to light bulb crafts is creating flower vases. You can make them real, designing the bulb so that they hold water well and hang well too near a window such as for single flowers. Going for faux flowers is good too as the craft still looks compelling and eye-catching. You can even go the route of building your very own mini terrarium as light bulbs act as incredibly cool homes for them.
No matter which way you go about it, you can elevate a boring light bulb into something stylish. Are you unsure where to begin this new journey? Well, you can always check out our list of some of our favorite homemade bulb ornament ideas that should help you get started on this fun journey.
1. Charming DIY Light Bulb Flower Vase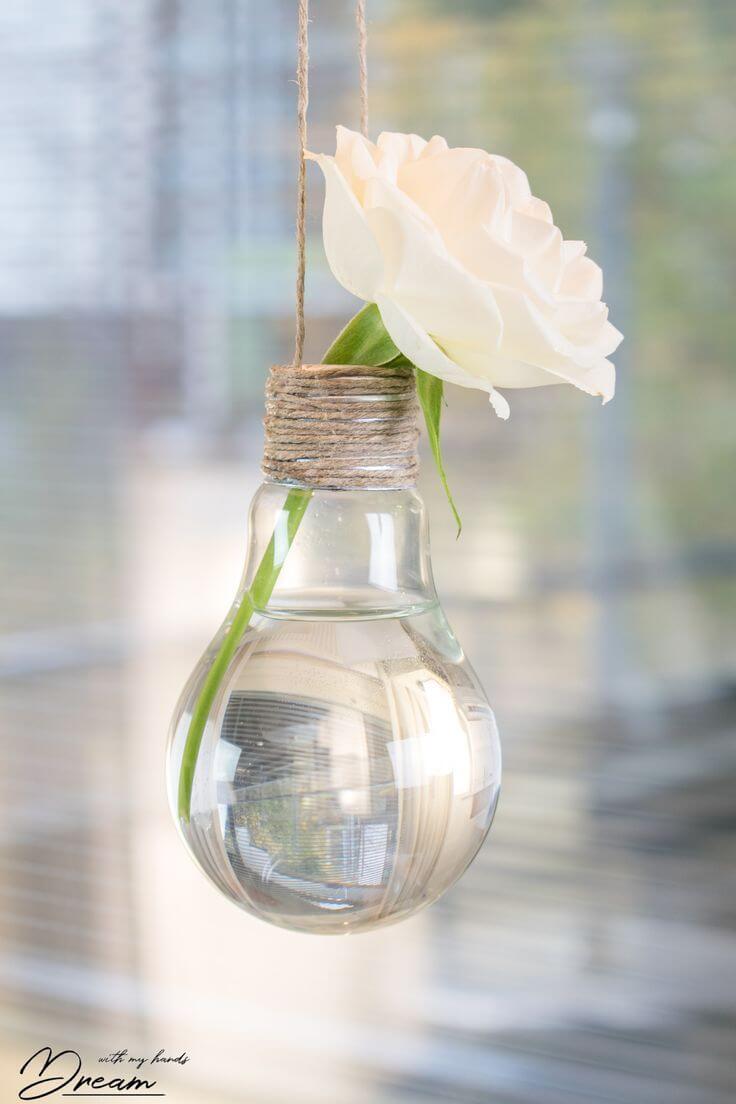 A standard light bulb is the perfect setting for a small-scale flower vase. The clear bulbs seem to work best in this case as you can admire everything while letting some sunlight shine through in a creative way if you hang this up near a window. Also, the bulb holds water well so there is little worry about your precious flower not receiving what it needs to thrive. Thanks to the size, only a single flower is needed or else you can find a few smaller flowers to place inside. Add a little jute or twine to hang it with, and you can transform this simple bulb vase into something that blends well with a farmhouse-styled home.
2. Cool DIY Light Bulb Terrarium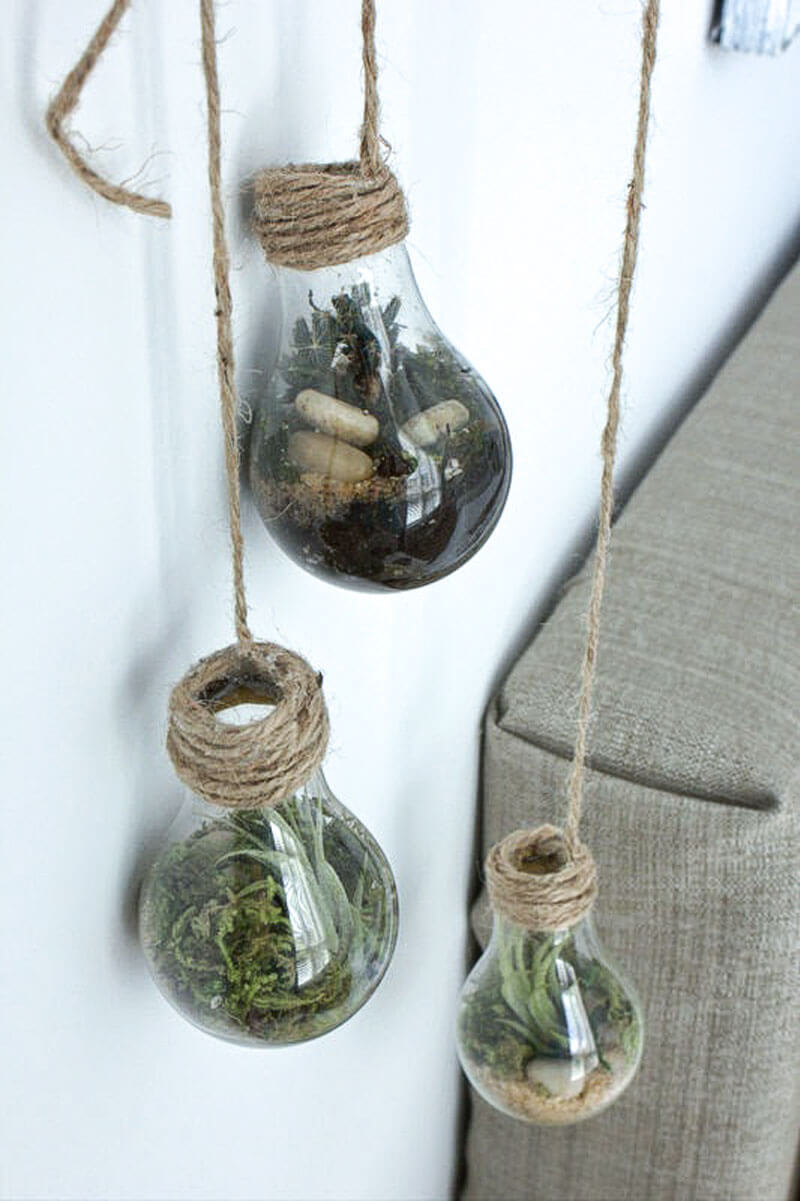 Hop onto the terrarium trend in a much more artistic and fun fashion with this DIY light bulb project. Terrariums are appealing in their own right, and even on such a smaller scale, they still manage to snatch attention. Also, you can hang these up as you see fit. They can elevate the vibe you have going on in whatever room you place them in, freeing up your space to look more attractive with different pops of color. Additionally, the terrarium is an excellent way to bring nature into your home in a distinctive and stylish manner.
3. Rustic Hanging Light Bulb Décor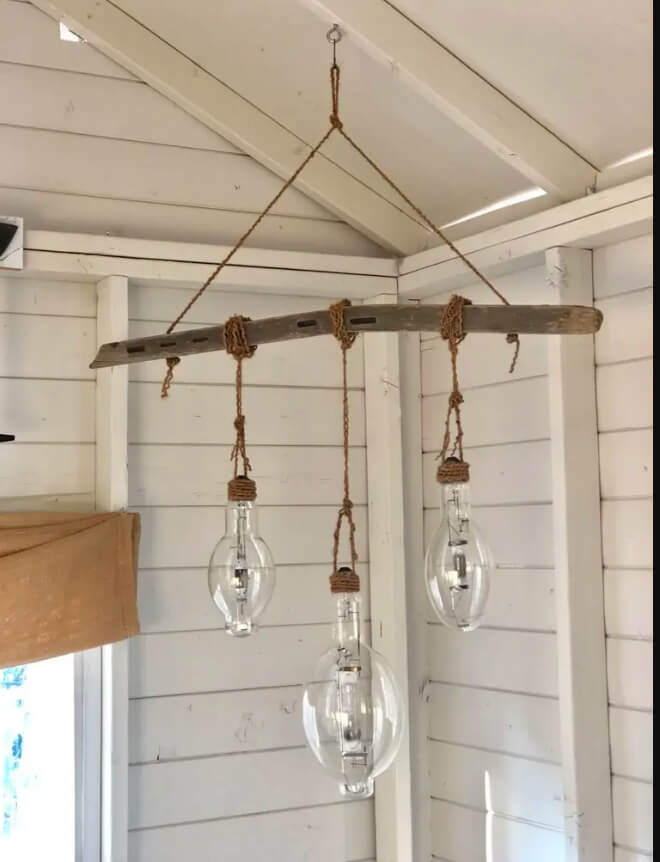 There are many distinctive light bulbs out there, and once they've lost their lighting purpose, you can still keep them around as some interesting décor. These bulbs make for the ideal hanging fixtures, especially in a room that has some incredible natural lighting. The bulbs simply stand out, creating an interesting and eye-catching look that will get any guests talking. Consider opting for a complete rustic and outdoorsy appearance with how you hang up the bulbs. They can create a decorative style that is closer to shabby chic than anything else.
4. DIY Light Bulb Hourglass Design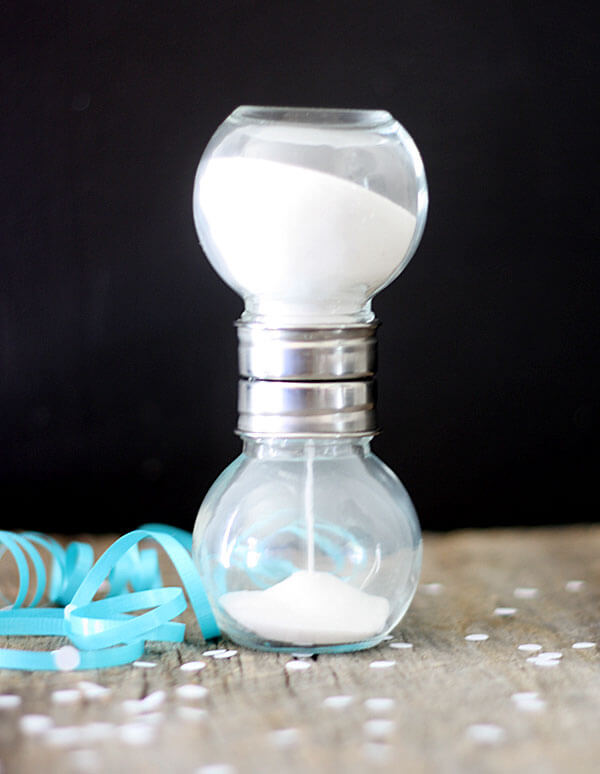 One of the best DIY light bulb craft ideas takes two bulbs and transforms them into an awesome hourglass. Any size can be used in this case whether you want something smaller or larger to set up as décor. Another consideration you can keep in mind is the sand itself. You can go with the standard white or opt for a color of some sort. This is such a versatile little project that you can tackle in any way you'd like so that it better blends in with your particular home style. Feel free to make numerous of these too, setting them up in different rooms or passing them off as gifts.
5. Incredible Light Bulb Glass Sculpture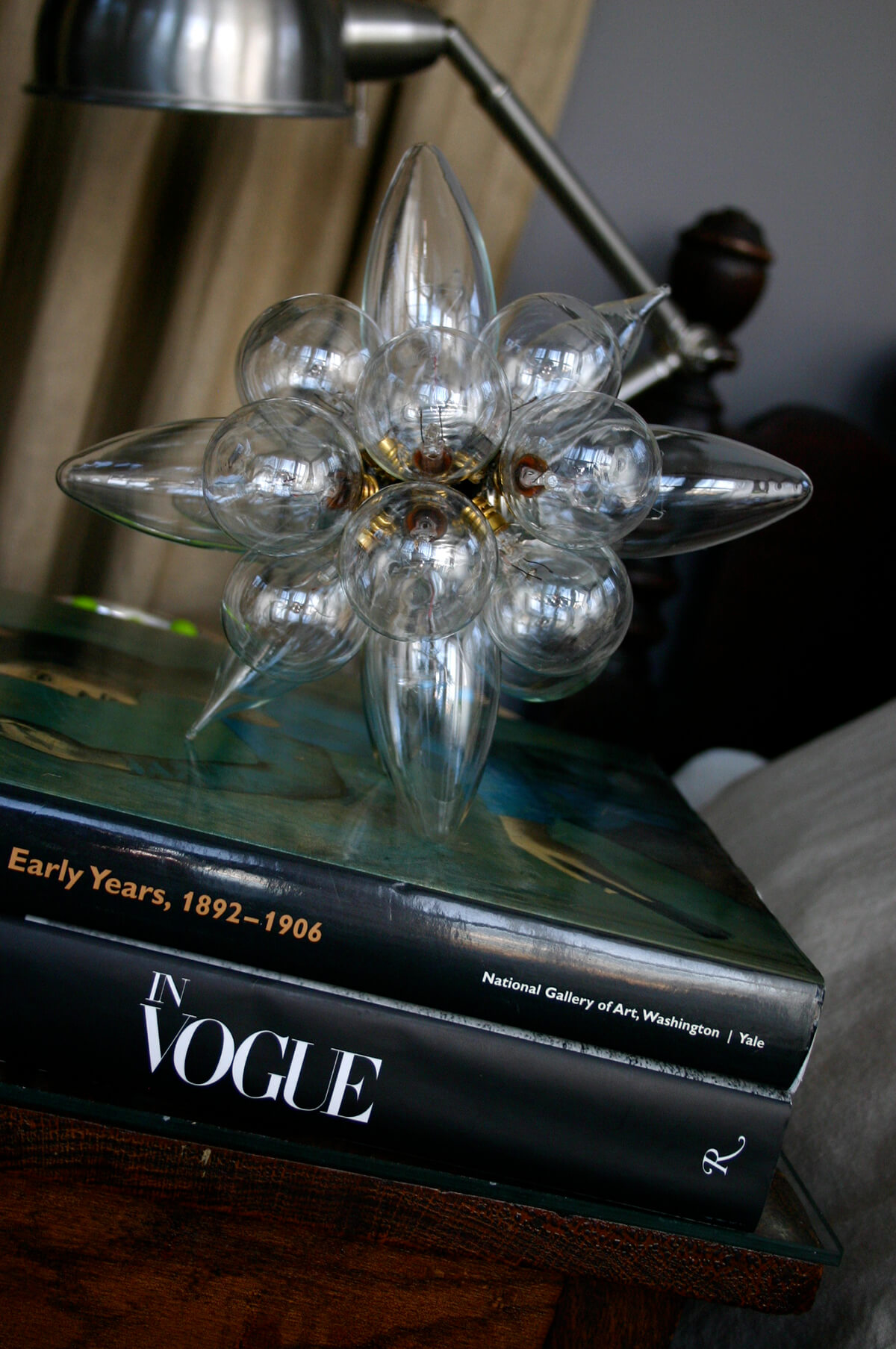 Who knew just how much you can change a light bulb into something more stunning? This glass sculpture shows how versatile light bulbs can be when it comes to decorating. Besides looking amazing, the glass sculpture is a great way to do away with a lot of used-up light bulbs. You can set this up just about anywhere in your home too. It serves as the perfect minimalistic styled décor, allowing this to fit well inside a contemporary home. Highlight in a sitting room so that every guest can better appreciate your artistic and imaginative side.
6. Marimo Moss Ball DIY Bulb Aquarium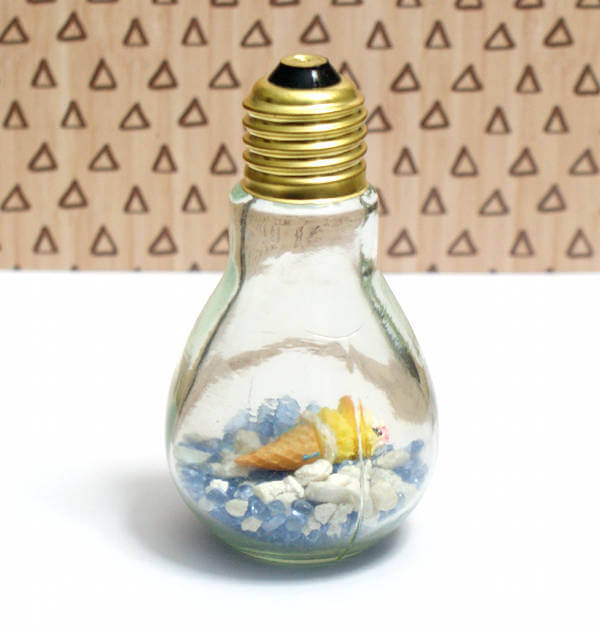 Design your own unique aquarium with light bulbs. The marimo moss ball stands out easily alongside any other décor you decide to add along with it. There are numerous ways you can balance the colors out such as with multicolored rocks or other floral aquarium decorations. These light bulbs are such a cute way to set up mini decorations around the home or even use them as gifts to give out to loved ones. Plus, there's nothing faux about this. This aquarium uses real water so some maintenance is needed, allowing this to feel even more authentic and creative.
7. Creative Hot Air Balloon Bulbs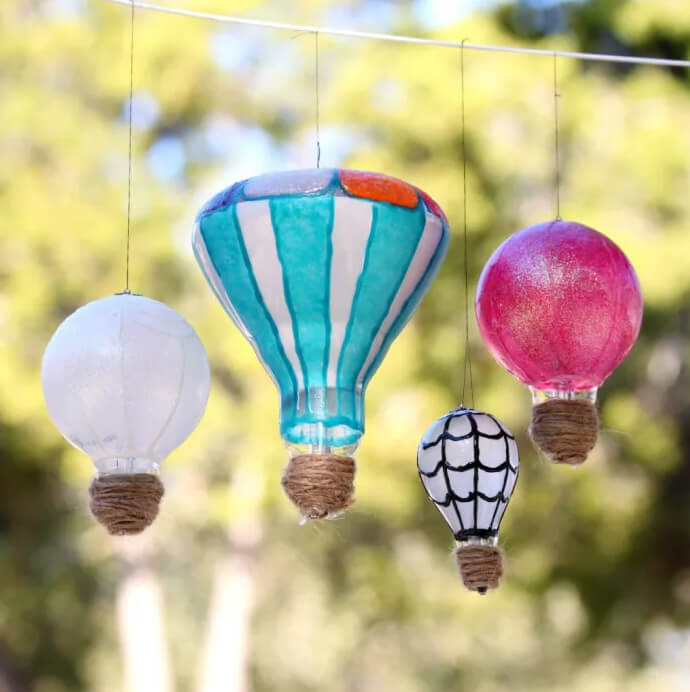 Hot air balloons are the perfect shape to mimic light bulbs. This is even truer if you opt for a variety of types of bulbs as it gives your hot air balloons a more creative and exciting look. You can use this project as a fun art project for kids too. Painting these faux hot air balloons gives kids more freedom to really express themselves. You can hang several of these too. They don't just make for cool house décor, they can also be used for decorating a party, especially a summer or spring-themed party, or a child's party.
8. Faux Hot Air Balloon Suncatchers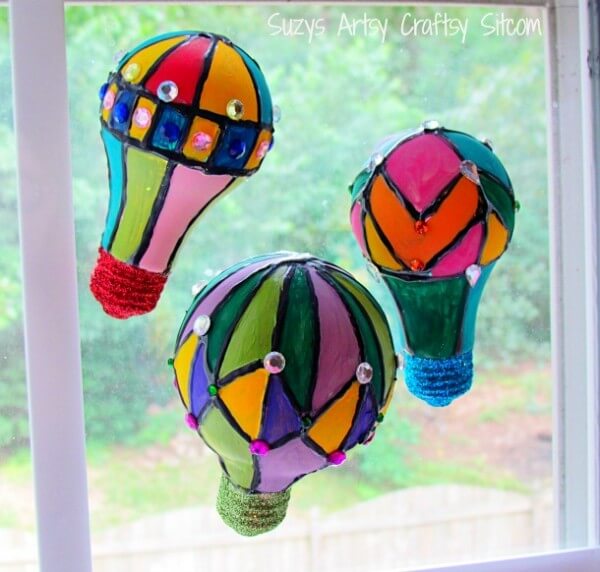 Suncatchers are such a pretty way to let in some light. Did you know how easy it is to upcycle those old light bulbs and transform them into these great suncatchers? Among other handmade bulb craft ideas, this project is fun to do with the family like with older children. It can let everyone push their creativity and show off their personality, especially considering the multi-color approach this project takes. This can be an even cooler project if you consider using light bulbs of different shapes and sizes. By doing so, you can build on some lovely contrast when you hang them all together near a window.
9. DIY Light Bulb Ornament Design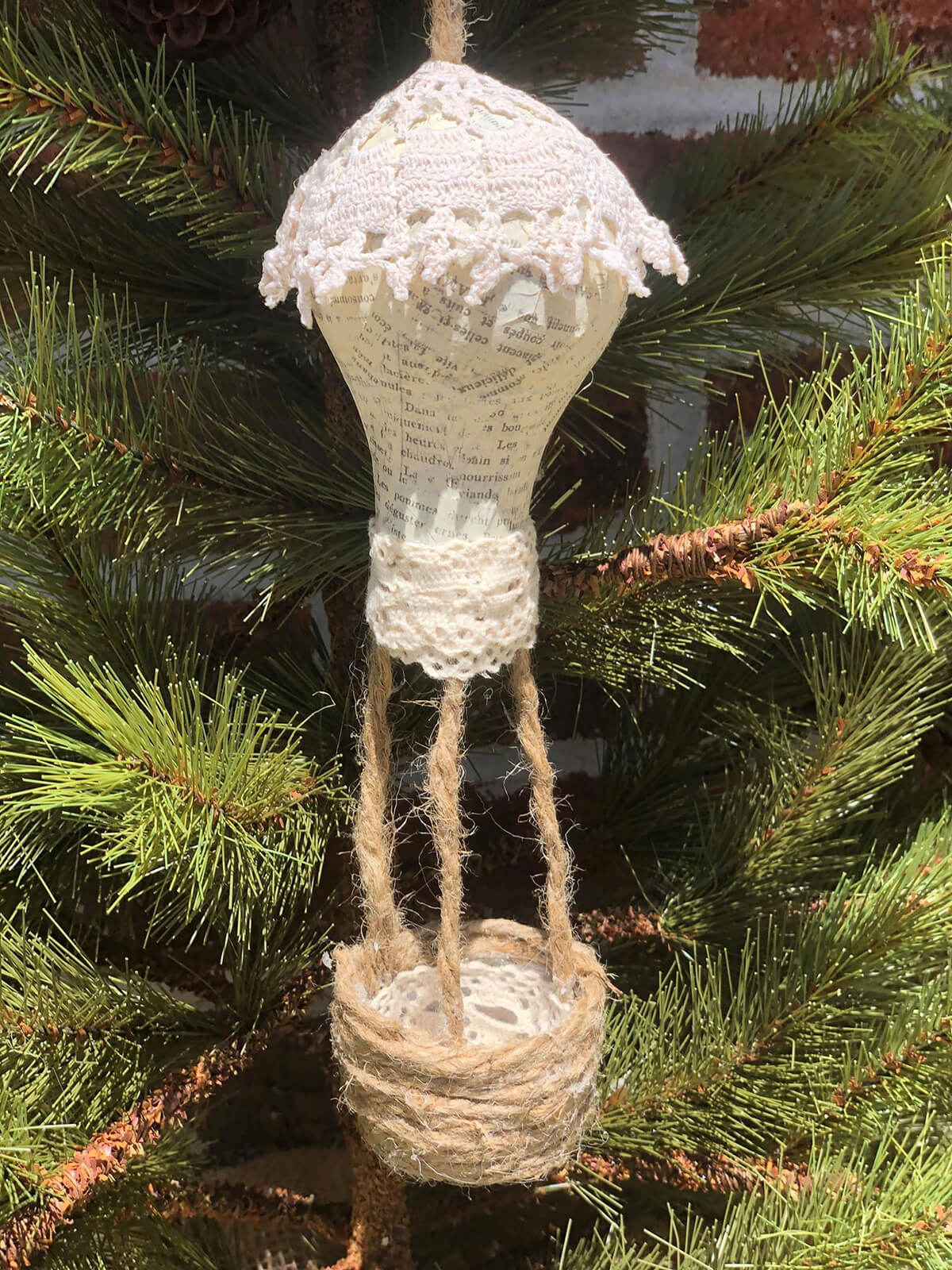 Ornaments are not just meant for the holidays. Rather, you can make a compelling homemade bulb ornament that can go on your trees inside or outside your home all year long. This bulb design takes full advantage of the entire bulb so that you focus more on the shape of it, using the outline to create a lovely and distinctive decorative piece. In particular, this design works exceptionally well alongside a farmhouse-styled home. The jute especially does a good job at rounding out that style, and it works out beautifully with the decoupage all around the bulb.
10. Fun Light Bulb Snowman Ornament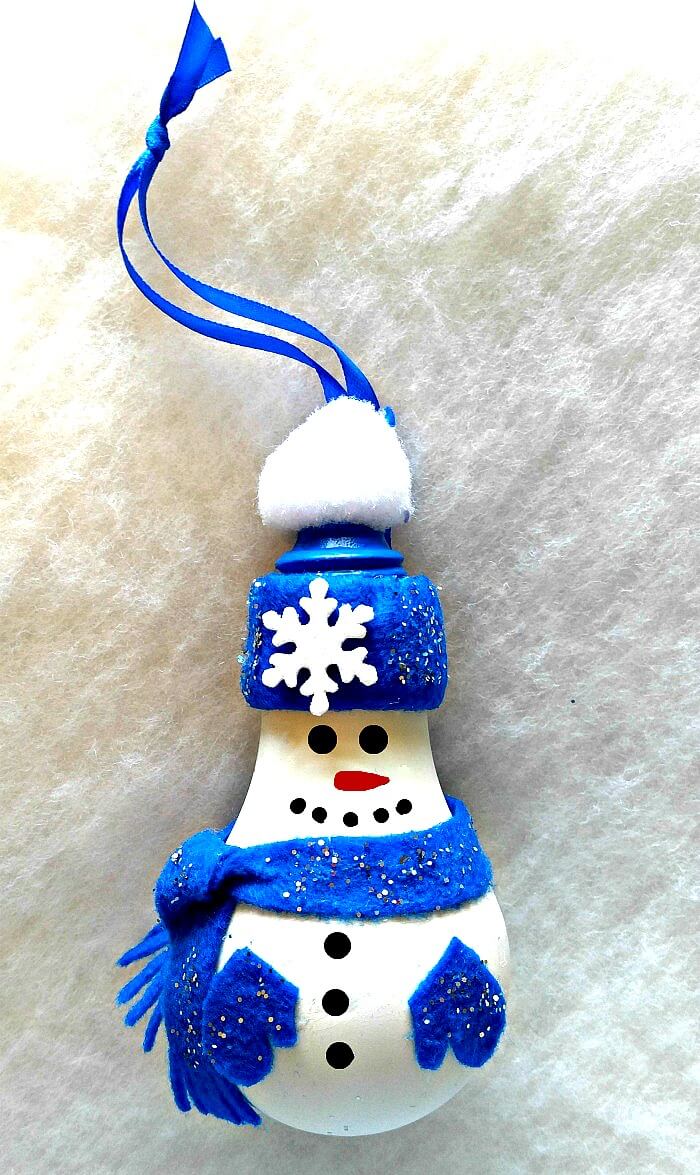 Nothing brings in the holidays like ornaments, and you can stylize your decorations with something more personal that the kids will love. The light bulb is an excellent shape to support a unique snowman design. Just add in some gloves and a scarf while the light bulb pieces help to form the hat already. This is a fun activity to do with the family, and it's something incredible kids can look at and admire on the tree. More so, this is an ornament that can remain in the family for years to come, giving you something to pass on.
11. Beautiful Fairy Lights Themed Light Bulb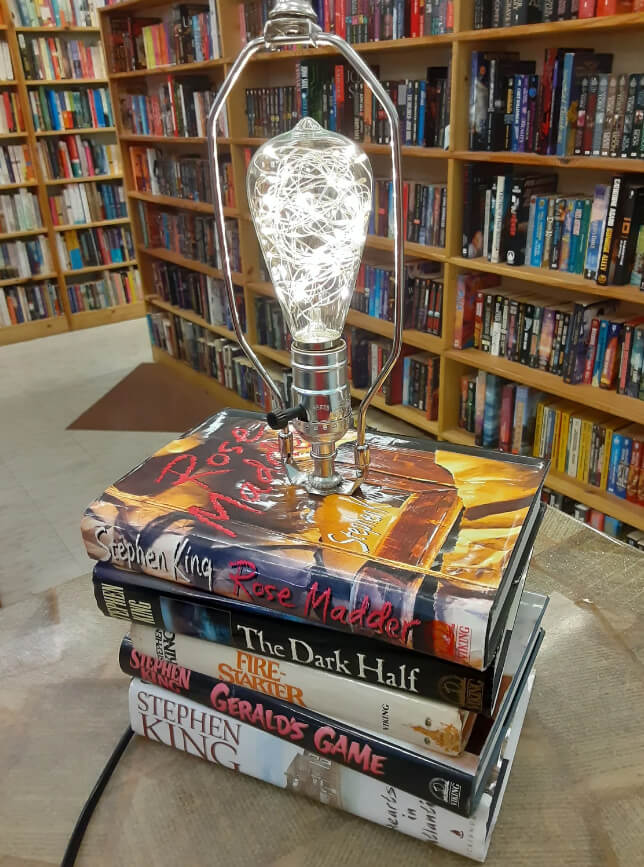 Who said a "dead" light bulb couldn't light up? Well, this fairy light bulb begs to differ. The transparent bulb is stunning with the warm fairy lights inside. This is an incredible handmade light bulb design that will elevate any room, transforming it into a lovely whimsical dream. It is perfectly fitting for a child's room or playroom too, offering just enough lighting to create such a gorgeous fairy tale mood all around. The shape of this bulb helps with the look of it all too.
12. Cascading Light Bulb Hanging Planter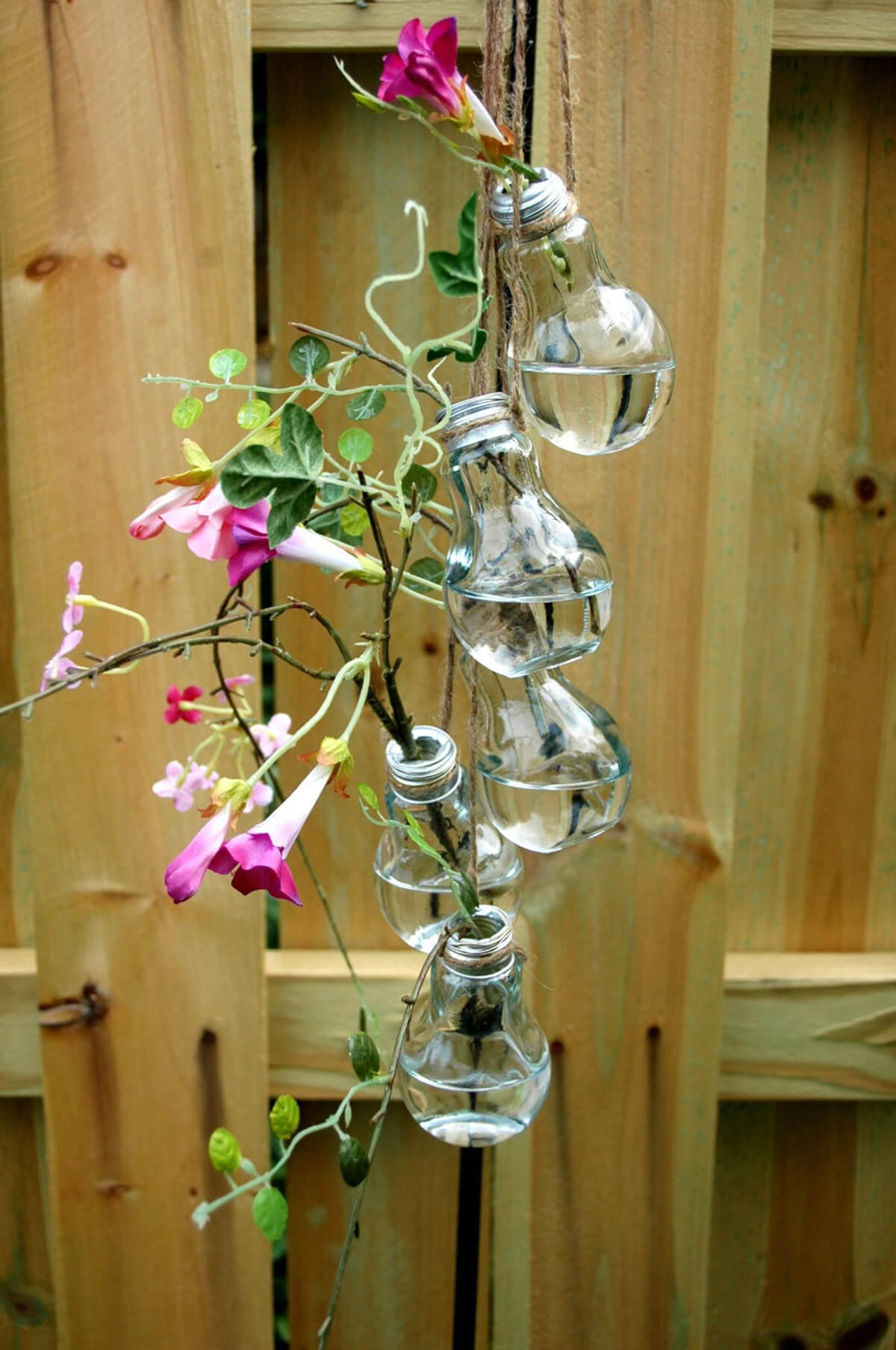 This handmade light bulb design features a cluster of five bulbs. It provides you with a distinctive way for you to show off your favorite flowers. The well-made bulbs are designed reliable too so that you can feel safe knowing that this planter will last season after season. This is such a compelling piece of artwork, enough so that you can hang it inside or outside the home. It can elevate your front or backyard. Alternatively, it can also look wonderfully hung inside the kitchen near a window. You can even personalize this if you'd like by requesting a different size to best fit your décor.
13. LED Floral Decorative Light Bulb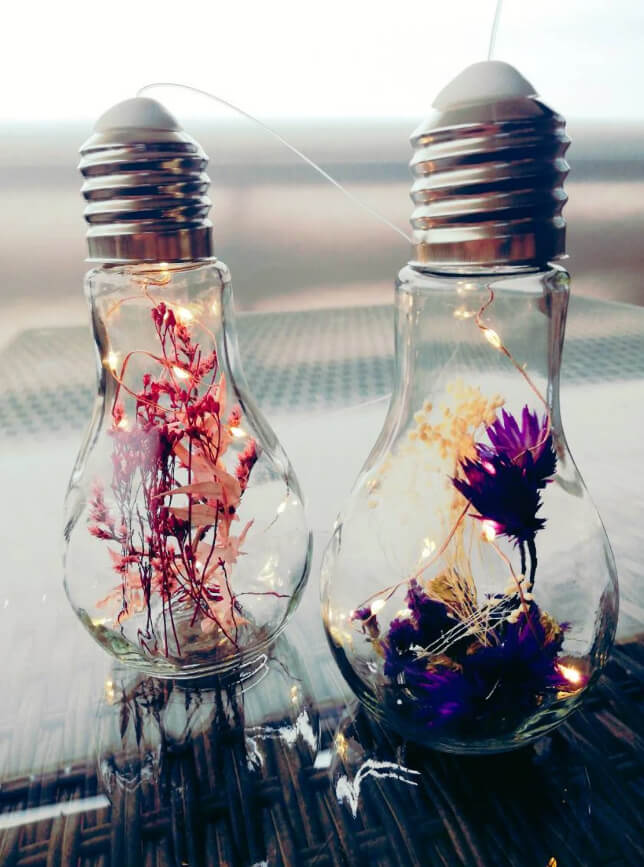 An interesting way to reign in spring is with one of these stunning LED floral light bulb designs. As they are battery-operated with an on/off switch, it's easy to adapt these to your personal decorative needs. You can choose one color or specific flower or opt for all three of them. No matter what you choose, all of the flowers stand out easily within the light bulbs with the LED lighting effect emphasizing the look even more. These can serve as some pretty nightlight options too since the lighting is nice and warm rather than overbearing.
14. Light Bulb Hanging Flower Vase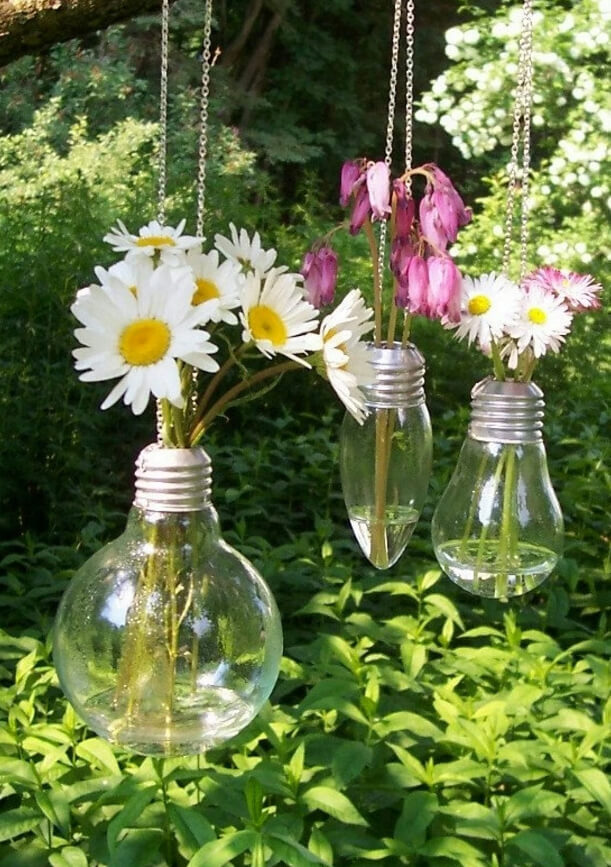 Light bulbs make for such gorgeous flower vases. With these ones, you get a set of three, and they are all hanging on silver or gold metal chains. The metal look alone gives it an almost fashionable and contemporary look. Also, the bulbs come in either silver or gold too. This lets you adapt them to best suit your decorative style. From there, simply add in whatever flowers you wish and hang them in various areas in or outside your home. These light bulb vases can easily become the talk of anyone who visits your home.
15. Air Plant "Home" Light Bulb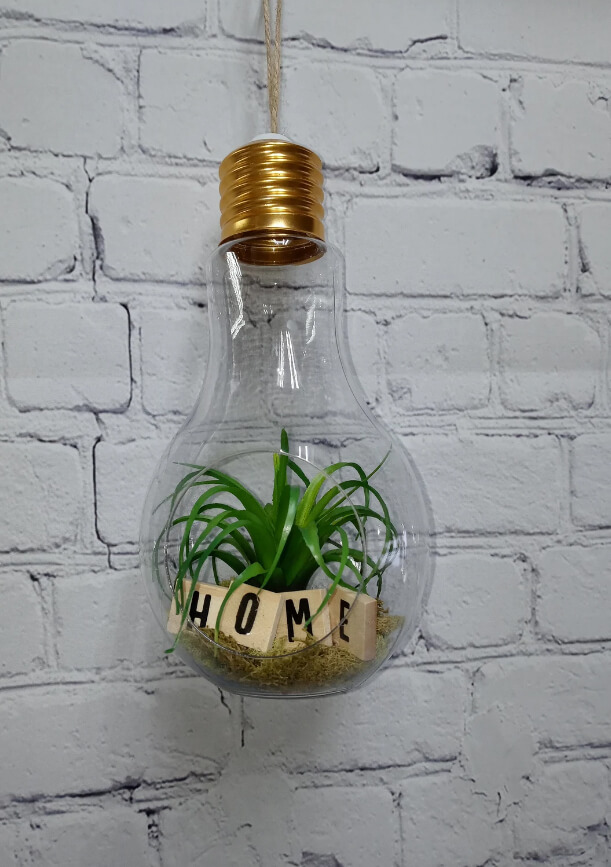 A spin on the air plant jar, this one utilizes a light bulb in the best of ways. It's a plastic light bulb, and it features a flat bottom so that you can stand it up. Otherwise, you can use the cord and hang it up instead. There are some adorable wooden pieces inside that spell out "home", and the faux plants inside serve to accent it. With everything hand placed, there may be some uniqueness found in each of these. Furthermore, it's low maintenance so you can focus on admiring this decorative piece.
16. Terrarium Vase LED Light Bulb Design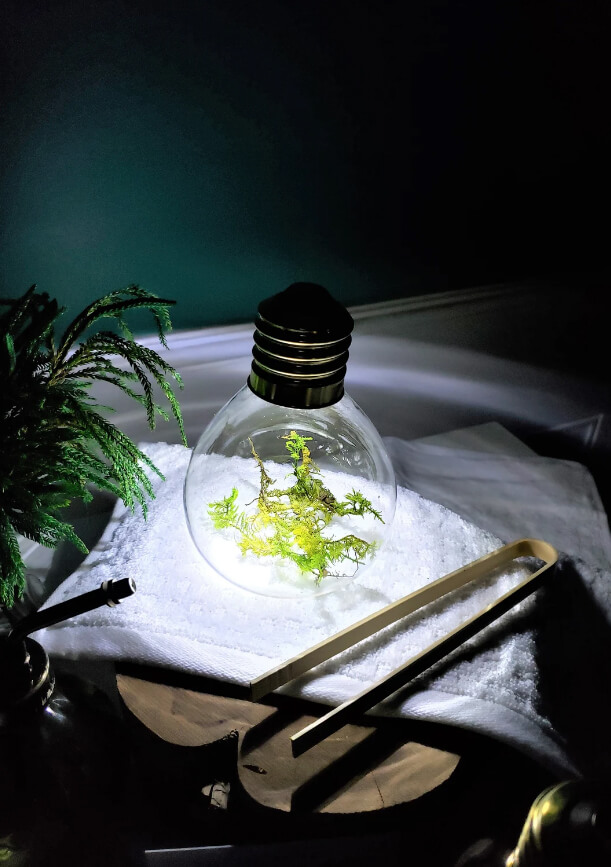 A terrarium remains among the best DIY light bulb craft ideas, and this further proves that. These light bulbs feature a cool LED design so that you can highlight your terrarium, more so in low light conditions. This gives the terrarium an even cooler look and vibe, seamlessly elevating your style and home décor to new levels. There are various options to choose from too. You can select different sizes, and alternatively, you can also get these with or without the LED if you wish. No matter which way you go, you can receive a compelling setting to house the terrarium of your dreams.
17. Retro Red Rose Bulb Lamp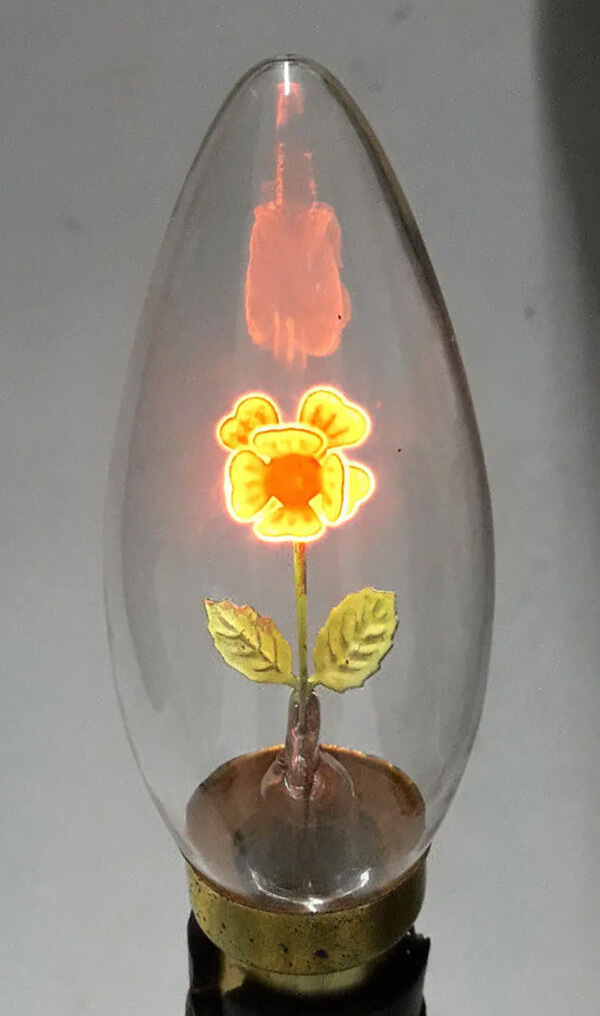 If you need a retro addition to your décor, this handmade red rose bulb lamp is such an interesting and creative option. The flower is absolutely stunning once it is lit, letting off a lovely hue. This helps it come across well as a nightlight. It can fit into any bedroom such as a child's bedroom or even yours if you are aiming to create a specific atmosphere and mood. There is also a simplicity found in this so that the lamp fits in well with a minimalistic styled home too.
18. Light Bulb Bugs Suncatcher Art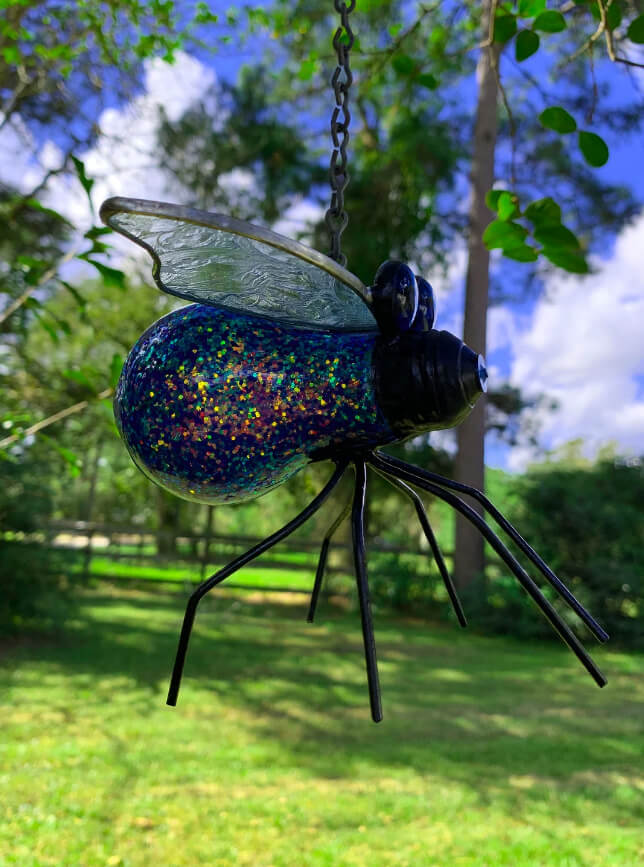 Do you have an interest or love of insects? Then these faux bug light bulbs make for some excellent handmade DIY bulb craft ideas to decorate your home with. Colored using blues and greens, this bug is absolutely adorable as it gives off more of a whimsical vibe. With it also being glittered, it will truly gleam in the sunlight, allowing this to serve as beautiful outdoor décor. Not only does the body shine, but this also has glass eyes and glass wings. When it's hung, it even has the appearance of actually flying. Otherwise, you can stand it up and it looks just as good.
Unique Homemade Bulb Ornament Ideas to Add an Artistic Flair to Your Home
There are numerous things you can do to transform a light bulb. You can create some amazing works of art that serve to accent your home. Light bulb crafts can focus on completely changing the look of the bulb via paint or even a decoupage look. Other times, the bulb is kept in piece besides being transformed to be used as a flower vase, faux or otherwise. With how much you can adapt and change the bulb, it's no wonder it's increasingly becoming a fun fad.
Also, you can even transform the bulb back into a light in a more distinctive fashion instead, using LED lighting like fairy lights inside instead. So, if you would like to have some fun with your decorative style around your home, consider some light bulb crafts. They work in any type of style too from rustic to modern. We hope that our list of the best DIY light bulb craft ideas will help inspire you to save some of those unlit bulbs.