If you're tired of looking at the same mailbox that resembles everyone else's, then you're in need of some of the best DIY mailbox ideas to get started on creating something that's a bit more personal.
19 DIY Mailbox Post Ideas to Brighten Your Home

Mailboxes don't have to look so uniform anymore, not when you have the ideas and the tools to fix them up. Creating a new mailbox is a wonderful way to stretch those creative muscles as you are giving people a first look into your home with how you design your mailbox. Easily allow it to match your décor based on how you paint it and what type of decorations you may layout around it such as planting some flowers. You can also mimic the more expensive mailbox posts sold on the market, giving your old mailbox such a makeover that anyone will think you bought it instead of building it.
If you don't feel the need to decorate your own mailbox, then for those of you with children, you can opt for building something just for them to play with. Customized mailboxes are a wonderful way for kids to roleplay and further understand everyday adult things, making them feel like they're just like their parents. This can even be a fun way to build them something that actually matches the mailbox you have outside, adding it to their own playhouse.
Or perhaps you are simply in the market for some decorative items to have around your home. There are ideas for that too. So, we discovered more than a dozen different DIY post box projects that can keep you busy for a weekend. Also, we found a versatile mix of projects from functional mailboxes outdoors, to playful ones inside. This way, everyone can find the best project for their needs.
1. Renovated Old Mailbox and Post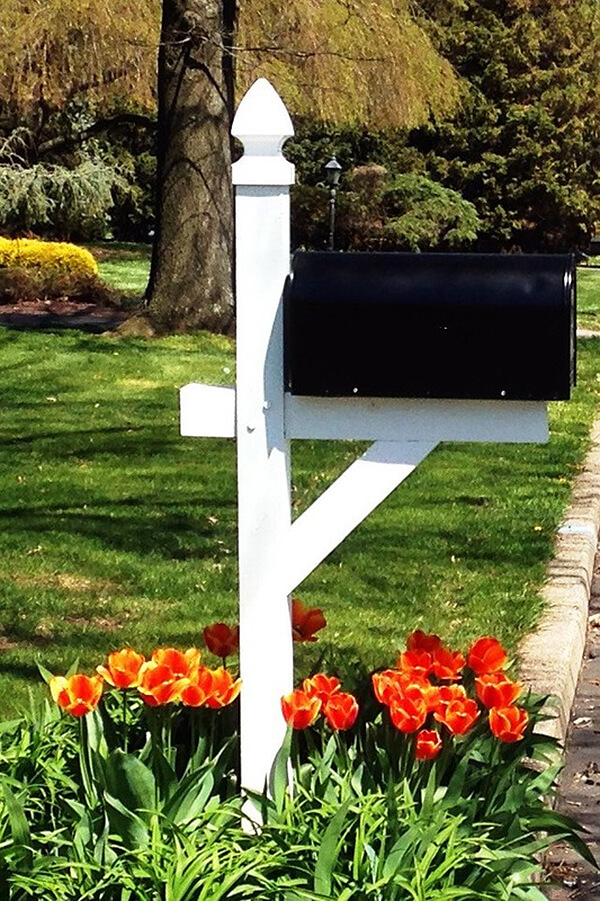 If you want a nicer mailbox outside, oftentimes, it only requires renovating something that you already have. A new DIY mailbox post works well at completely transforming the structure, and you don't even have to get too outlandish with the decorating. You can easily keep things simple with a standard paint job that matches your outside décor best. The same thing goes for the mailbox itself, and contrasting the colors helps the entire piece stand out more. You can always decorate the ground surrounding the mailbox post too, adding in some vibrant flowers as they can give you that extra pop of color.
2. DIY Low-Cost Mailbox Makeover Planter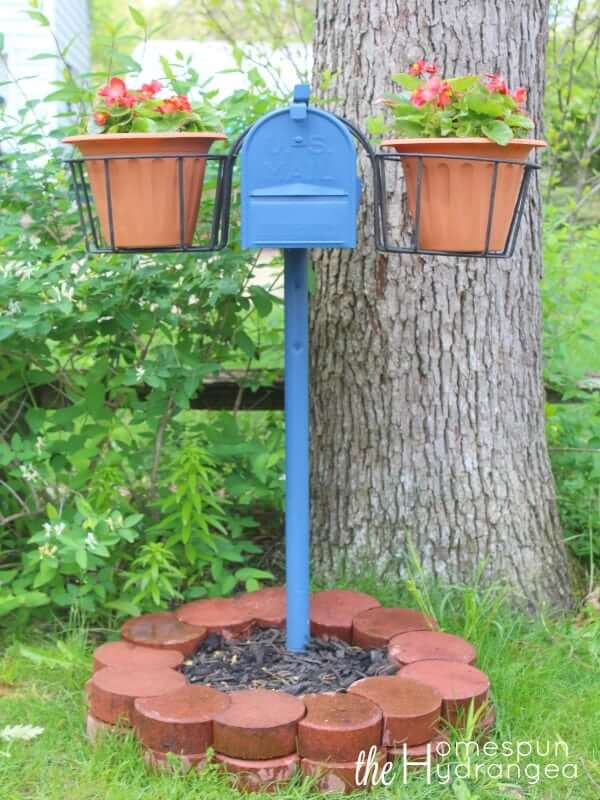 For those of you eager to save on costs, but still want a mailbox post that is unique, then this low-cost makeover is perfect for you. Best of all, it doesn't even take long to do, so you can hit this project out in a day once you have all of the supplies. Feel free to use any exterior paint you'd like on the mailbox, and you can even paint the entire thing from box to post in a solid color. What helps everything stand out is the surrounding decorations such as the pavers that encase the post. Adding on a planter is what further helps give this custom post a personalized look.
3. Easy and Affordable Wall Mailbox Makeover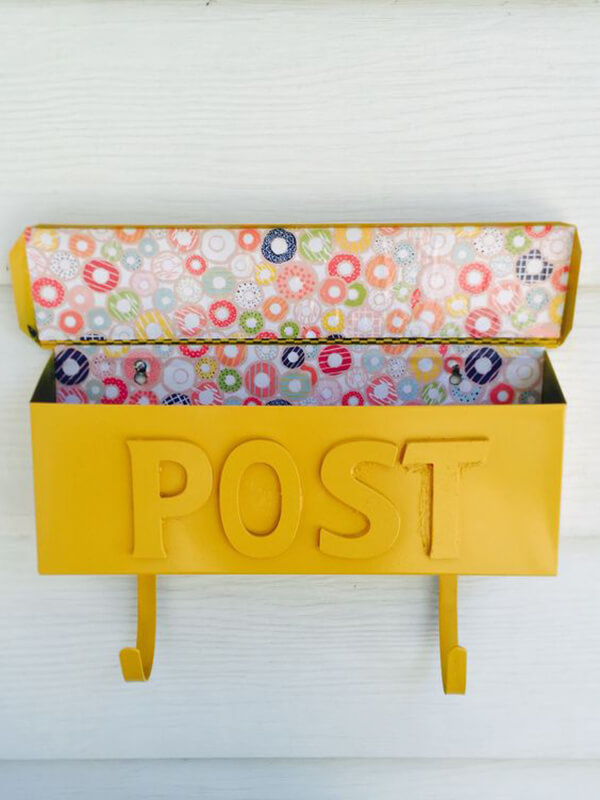 For a more small-scale mailbox makeover project, this design involves transforming an otherwise standard wall hanging mailbox. Quickly do away with the usual bland metal style and paint over the mailbox in any vibrant color you wish. You can even add some life to the inside of the mailbox too so that your decorative skills are noticeable anytime you open the box too. Gluing on the "Post" letters is fun too as it further emphasizes the more laidback, almost innocent-like nature of this design. It's one of the best DIY mailbox post ideas that are simply adorable.
4. Elegant and Modern Copper Mailbox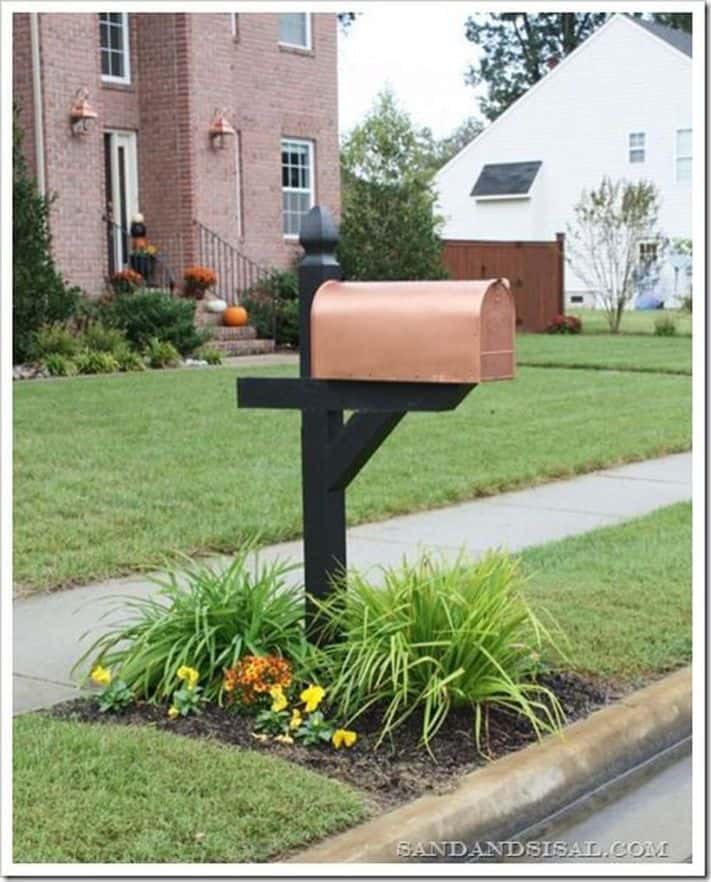 As long as you have the right tools, you can make a mailbox look posh without it costing you a fortune. Some metallic and copper paint goes a long way into helping you create décor outside that looks expensive and eye-catching. It is also a lovely use of autumn colors if you are trying to stick to seasonal decorations. You can also consider sprucing up the area around the post as well such as planting some greenery as that can make the mailbox even more luxurious. Furthermore, it simply makes the area more attractive and attention-grabbing for anyone that comes by.
5. Authentic DIY Cardboard Mailbox Project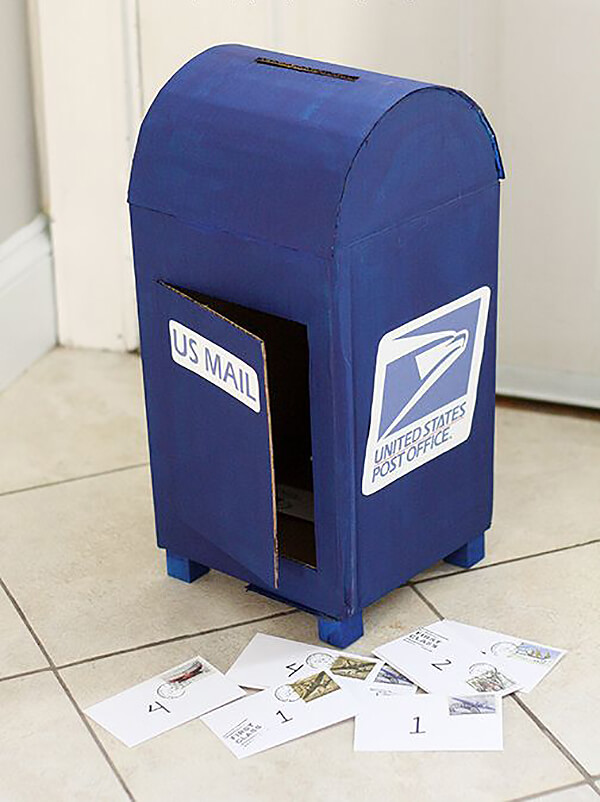 Do you have a tiny mailbox carrier who is in need of a place to take all those letters? Then consider building this authentic public mailbox for them to use right in your home. You may not have to even buy anything extra since this project can be done using crafting supplies you might already have laying around somewhere. This is a perfect way to get kids to stretch their imagination while they play as there is enough room for them to easily drop letters inside. However, this doesn't have to just be for kids as it can work out as a fun decoration too.
6. Farmhouse Themed Mailbox Post Transformation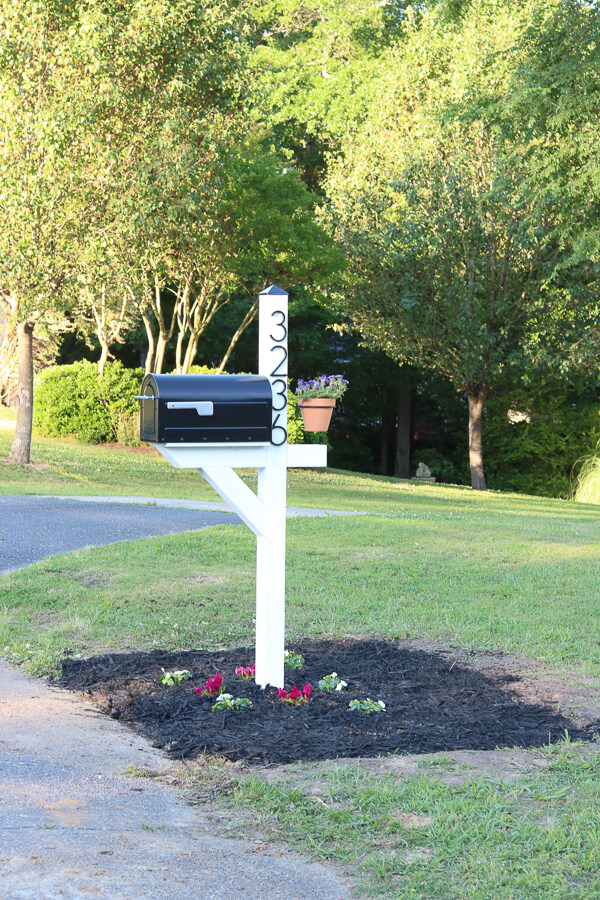 Some of the best DIY mailbox post ideas are ones that look simple at first glance. Upon further inspection, however, you will notice just how much this particular project stands out. It stems from an incredibly versatile farmhouse-style theme so that the mailbox may better fit with the rest of the décor around your home. For the sake of functionality, there is enough room with this design to readily highlight your address so it can't be missed. Meanwhile, the rest of the post has a nice modern touch that blends in well with the overall rural feel of everything else.
7. Cute Valentine's Day Tiny Mailboxes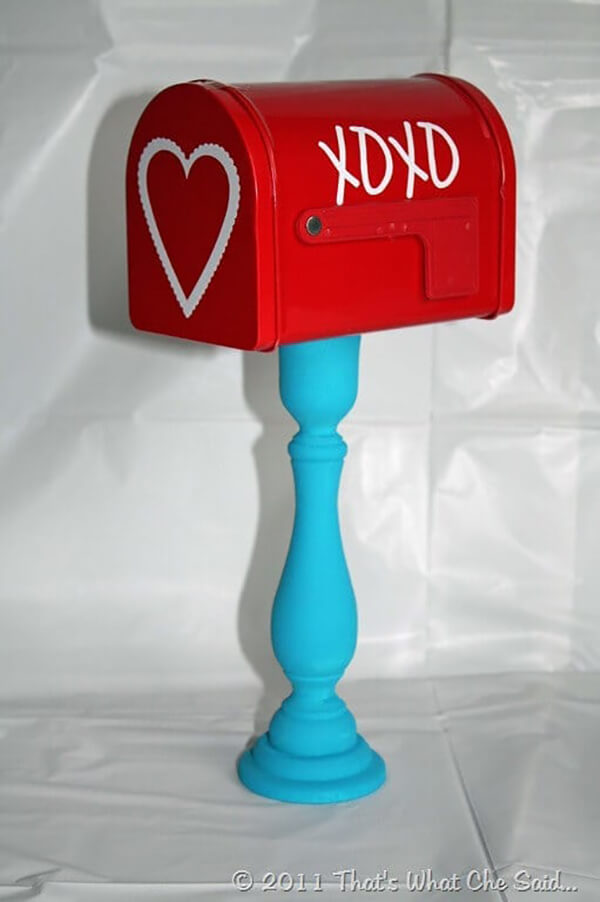 It's a fun pastime for kids and adults alike to give and receive Valentine's Day cards, but you can make the holiday even more special by having a specific place to put all those goodies. This way, everything is easier to find when that day rolls around. With their compact size, they can fit just about anywhere you need them too, not taking up too much space and being simpler for kids to reach. Besides being useful, these are also good DIY mailbox post ideas for when you want to make your holiday decorations that much more distinctive and eye-catching.
8. Shiny Copper DIY Mailbox Remodeling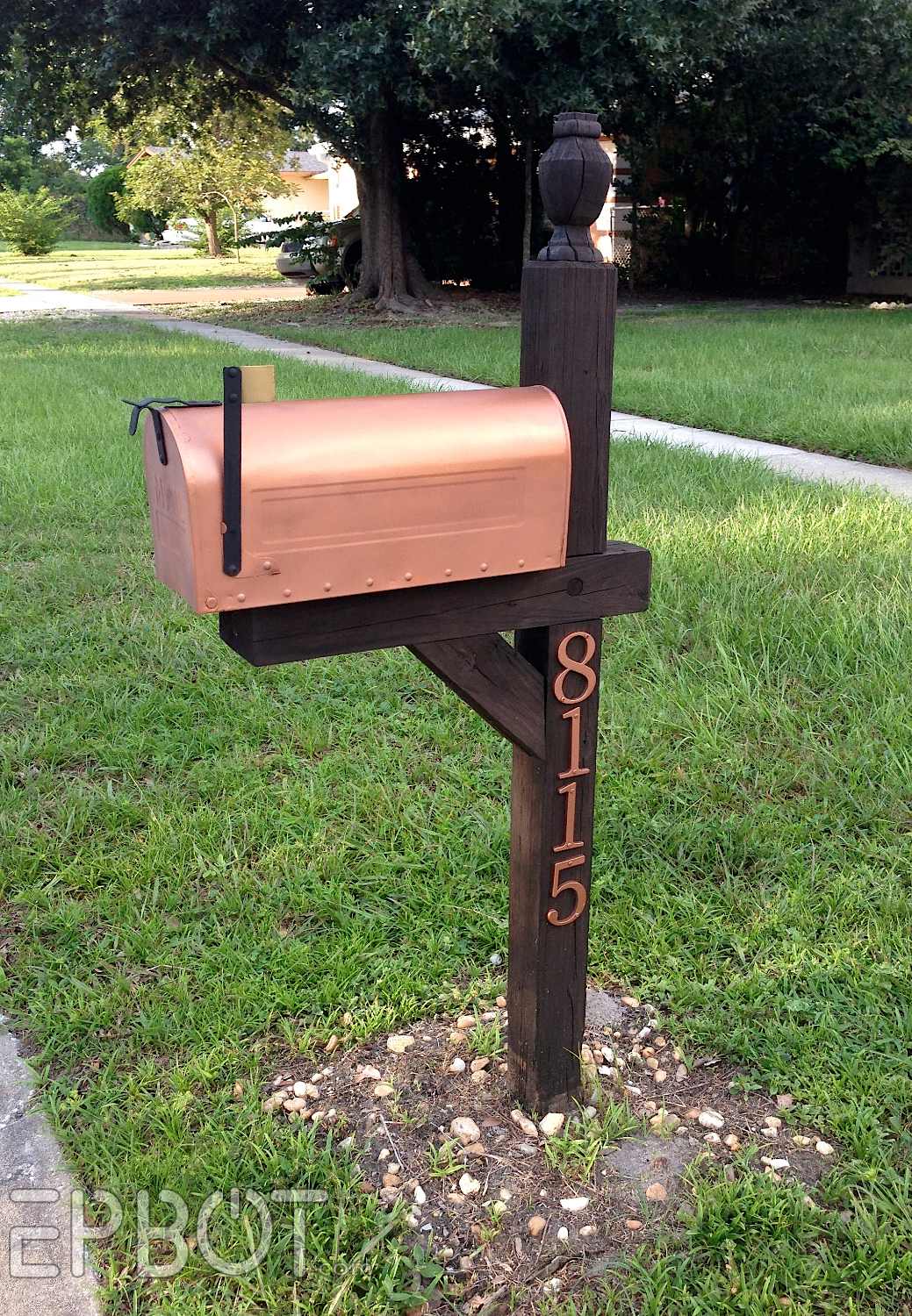 If you are unable or uninterested in completely rebuilding your mailbox, then you can invest in some spray paints and stains to bring your aged mailbox post back to life. With this DIY post box project, a little bit of cleaning, scrubbing, and paint is more than enough to make the box look as though you just bought it new from the store. Copper is a lovely choice too since it can help everything look far more professional as well as more contemporary if you are aiming for that modern, elevated decorative style. It also helps to match the numbers to the color of the box to better draw the eye to your address.
9. Cute Custom Painted Mailbox Post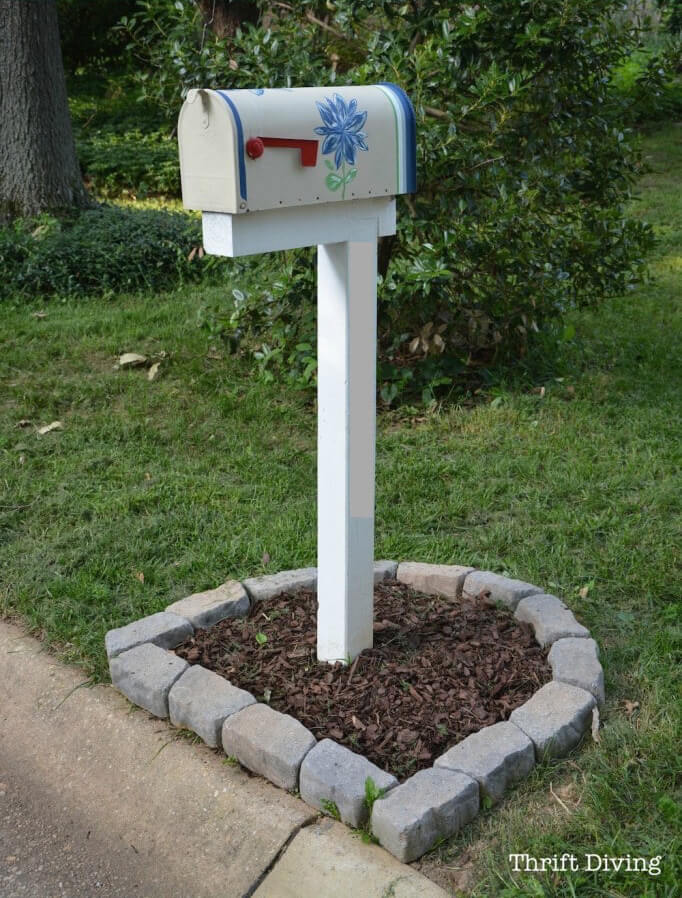 Sometimes, simple can be the best route to go down when designing an attractive mailbox post. Although there are many colors you can use, painting the post and the box white or off-white is a good place to start. For one thing, that color is instantly noticeable from a distance. Furthermore, it will give you plenty of space to create cool and interesting designs using any other color you'd like. It can work well for a coastal theme or flower-centered design since any tone you use to paint with will pop. Also, you can even use the mailbox post to match with any other outdoor décor you have.
10. Adorable Personalized Indoor Hanging Mailboxes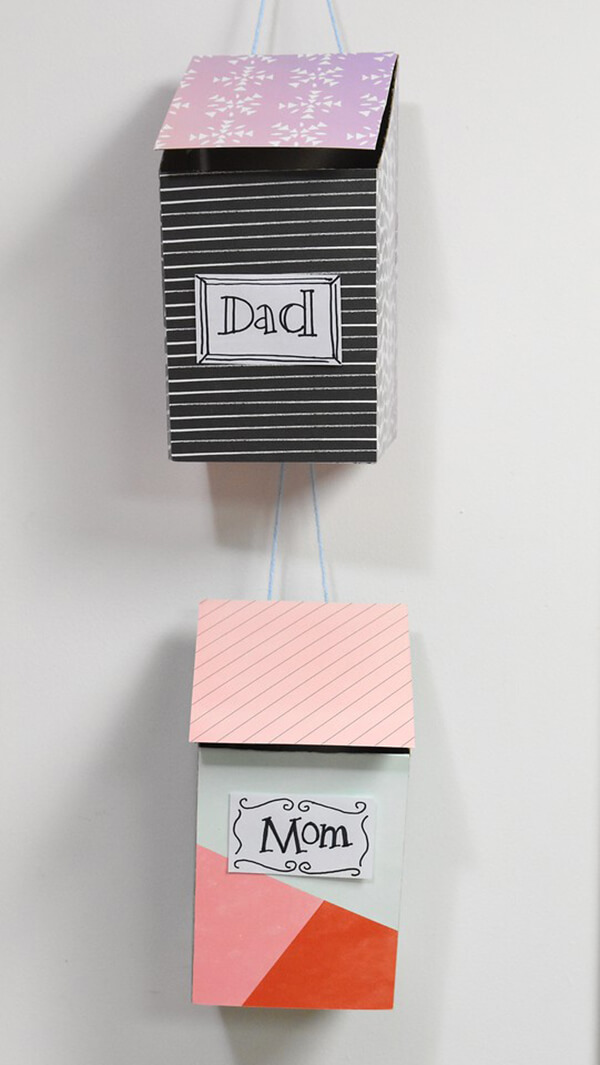 Who said that a DIY post box only had to be used outdoors? With these handmade mailboxes, you can add a little levity into your home décor with items that are not just nice to look at, but completely functional. Mail can quickly pile up, especially with multiple people in the home, so having a space for each individual is more than a little helpful. If not used for actual mail, kids can always find joy leaving their own personal letters behind for parents and siblings. This is also a nice upcycling craft project to do with the whole family, and it leaves room to decorate as you see fit.
11. Built-In Playroom Wall Mailbox Design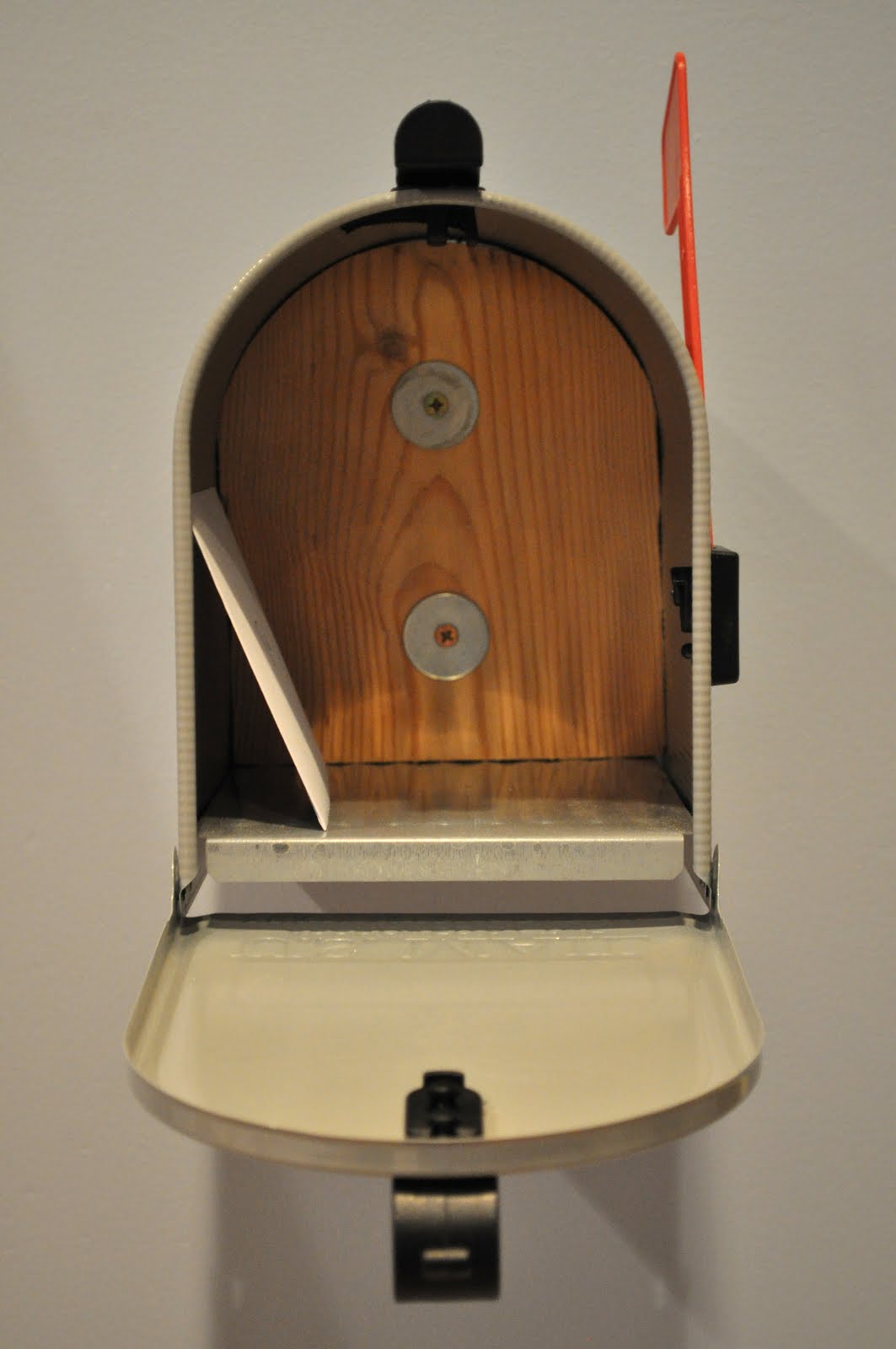 If you are in need of some of the best DIY mailbox ideas for a child, then check out this interesting project that gives kids a more long-lasting post box. With how excited they can get about mail, why not have something that is basically permanent by building a custom mailbox right into the wall? It can be low enough that they won't even need assistance getting their "mail" out of the box. Also, this is a fun way to add something that is more unique to their playroom or even their bedroom. If you want, it can even go along perfectly with a playhouse.
12. Homemade Child Sized Toy Mailbox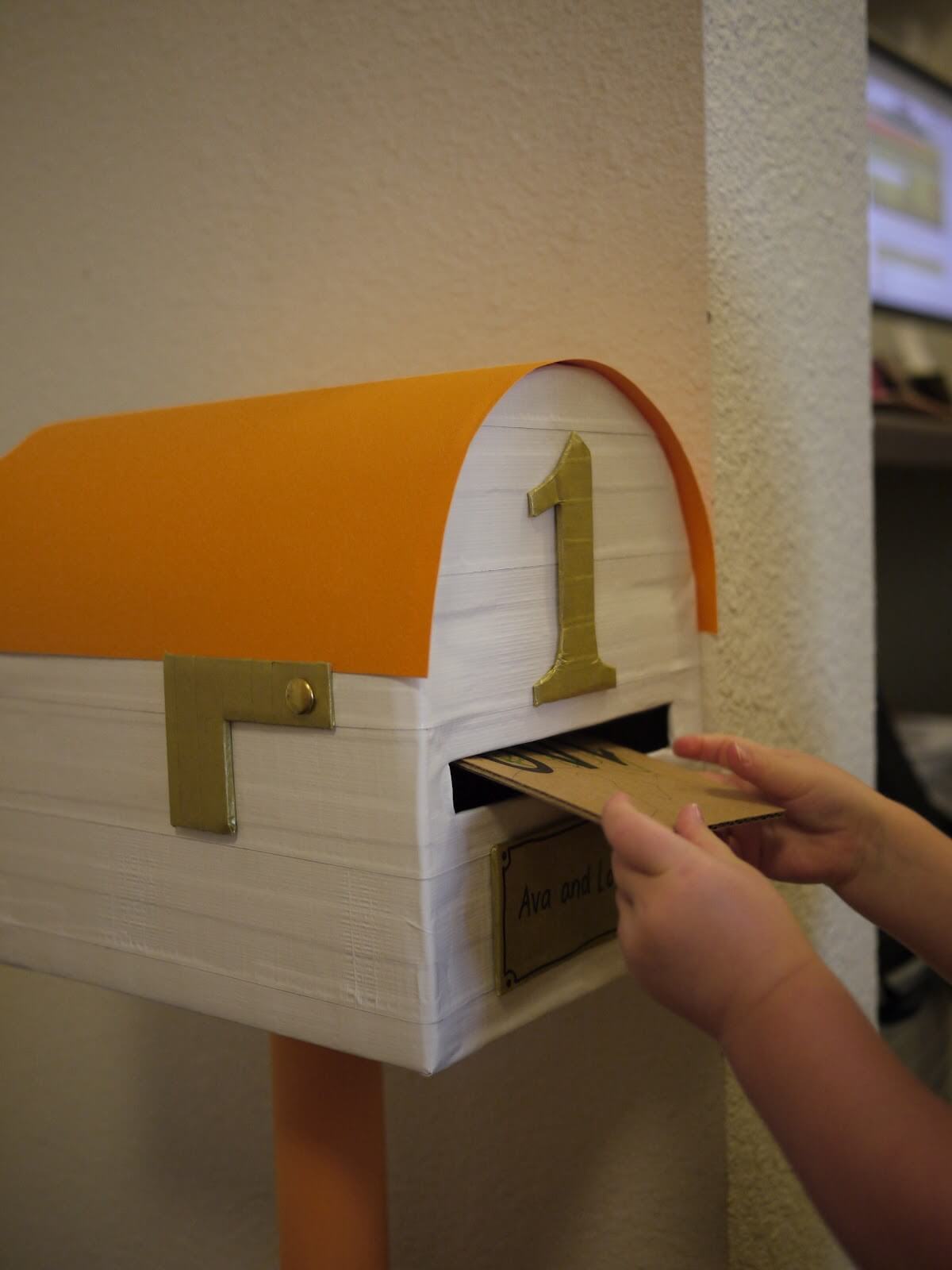 If there is one thing that excites kids it's roleplaying, especially if they can mimic what adults are doing, and a toy mailbox allows them to do that with ease. You can design this any way they like too, customizing it with their name and favorite colors. It's certainly unique as far as DIY mailboxes go, and it is a project you can invite the kids to help with if they are capable of it. This is not only a great way to let their imagination run wild, but it can also serve as a wonderful teaching tool that will help introduce them to more real-world activities.
13. Painted Vinyl Mailbox Post Makeover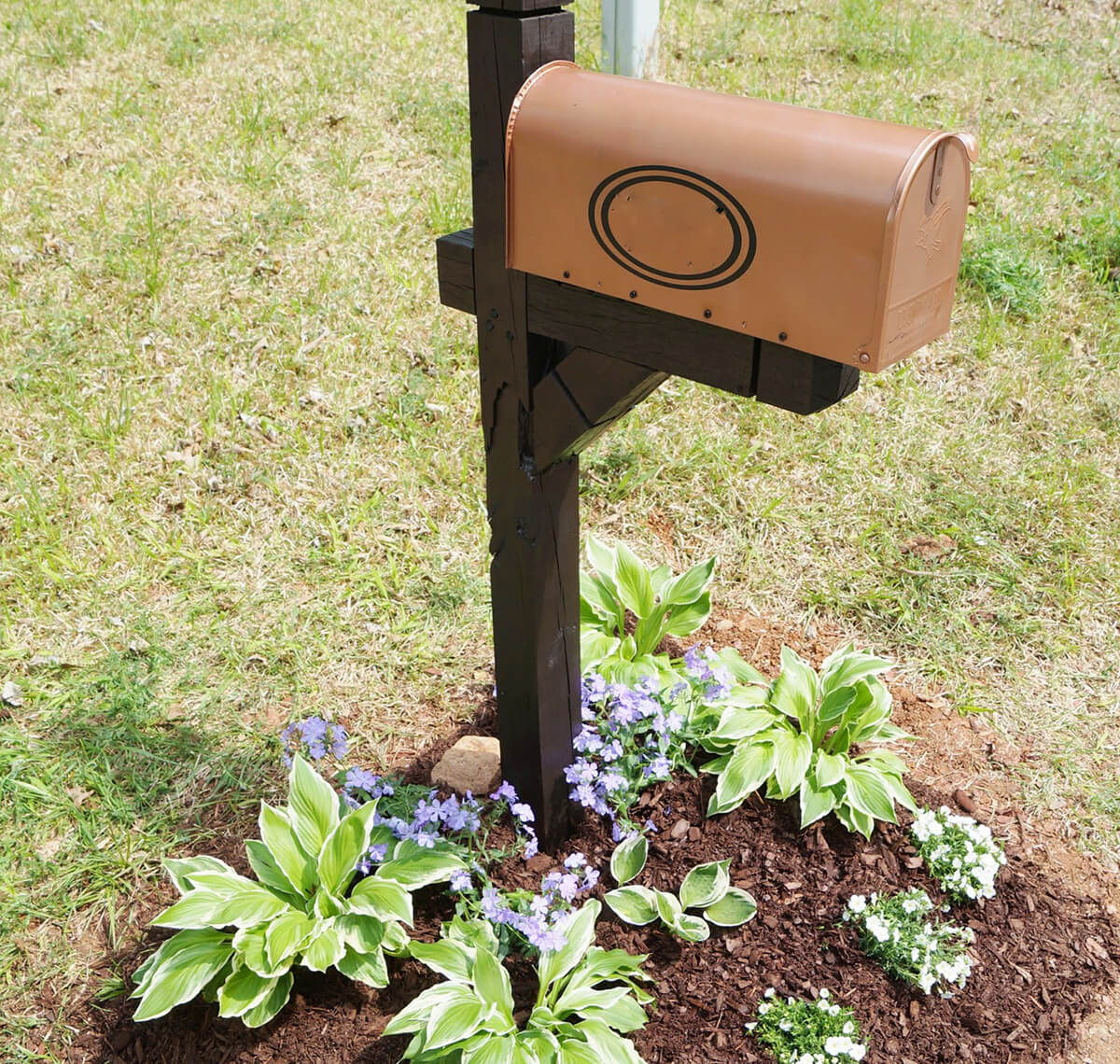 Throw some paint onto an older mailbox post to make it look shiny and brand new again. This project gravitates toward a bold color scheme using black and copper. The black stands out in its own right, especially when used alongside the copper mailbox. It winds up looking more contemporary in terms of style, and you can always embellish things a bit more by adding some vinyl decals on the mailbox. This is where you can get completely creative, adding any type of vinyl you wish to represent you and your style. Also, to focus on the post, feel free to plant a few flowers around to make it livelier.
14. Stunning Rainbow Paint Pour Mailbox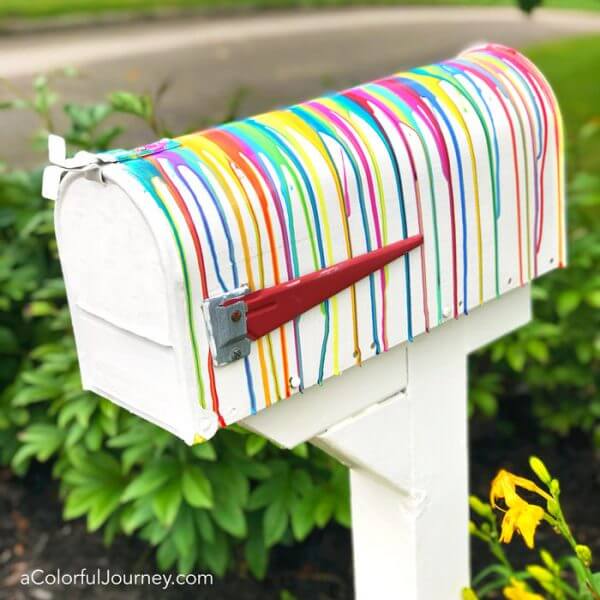 When you're looking for the best DIY mailbox ideas, consider finding some projects that feature a different way of painting. Paint pour is a creative route to go down as it gives any piece a more artistic appearance, and a mailbox works perfectly in this case as it gives you a good surface to use to spread out the paint. You can't go wrong with opting for a rainbow design either as the result is a mailbox that is so pretty that anyone will stop to admire it. It is filled with life and joy, allowing you to leave a bit of your personality in it.
15. Easy Upcycled DIY Mail Holder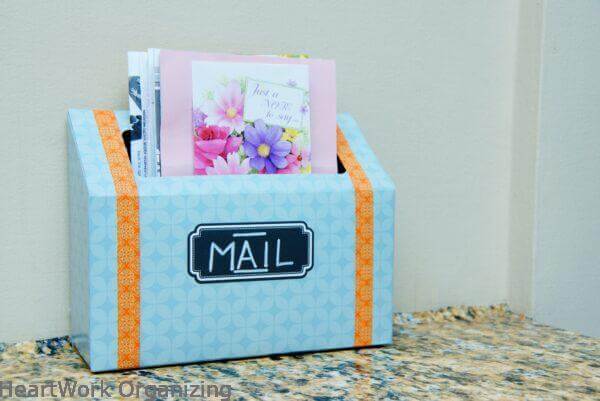 Any surface in your home can fall victim to mail clutter, so why not reduce that chance by creating a cute mail holder instead? You don't even need anything elaborate for this project either as an empty hand towel box can handle the job. Feel free to add some extra embellishments to the box as some patterned and colorful tape can completely work to transform it into a lovely and functional decorative piece. It can be a cute addition to any counter or table, and it works extremely well if you need something that has a smaller footprint as to not take up too much room.
16. Simple DIY Wall Mail Organizer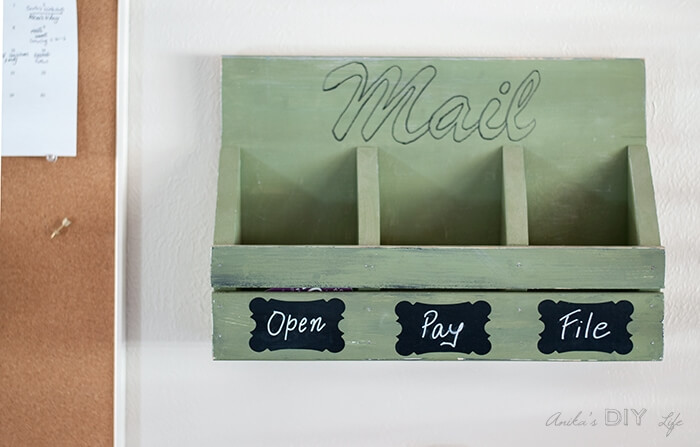 Sometimes the mail can get chaotic if you, or others in your household, receive a lot by the day. If you don't want to miss something important like a bill, then you need a proper place to organize everything. Creating a custom mail organizer to place on the wall is perhaps the best way to do that. Simply make as many sections as you need, giving them your own labels so that everything will have a spot. This ensures that you won't miss anything important and remember to check your mail in a timely manner. It is also a good way to declutter your home.
17. Rustic Wooden DIY Mailbox Post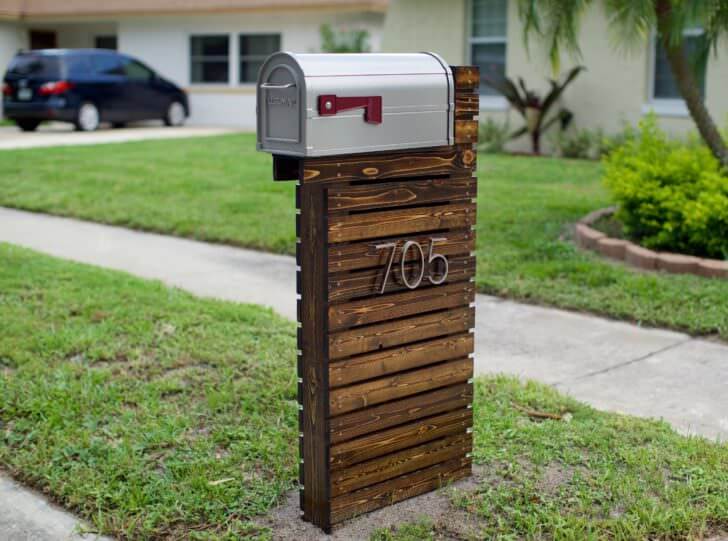 This wooden mailbox post is a great choice when you want a design that reflects a more rural style. It will certainly allow your home to stand out in the neighborhood compared to everyone else. This is a straightforward project too that doesn't require too much experience to handle. With some staining, the wooden post can come across as more rustic as well, which can fit perfectly if the rest of the décor around your home also sports a more countryside-like style. Simply add on a new mailbox to complete the new look, preferably one that has a slight vintage vibe to it so that it better suits the wooden post.
18. Brightly Colored Painted Mailbox Makeover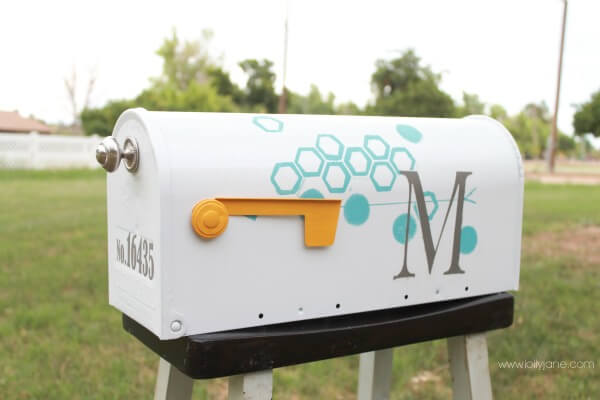 An appealing DIY mailbox post is one that is instantly noticeable, and a white base is as good a place as any to start. Using such a light color gives you far more freedom to add in different accent coloring along the way to best suit whatever particular decorative theme you're aiming for. Also, consider painting on some shapes too by getting more creative with painter's tape. It's a fun and exciting way to better personalize the mailbox and have it stand out to anyone who comes by. Yet another cool feature would be to add the initial for your last name as that adds an extra layer of personalization and flair.
19. Cool Theft-Proof Package Mailbox Design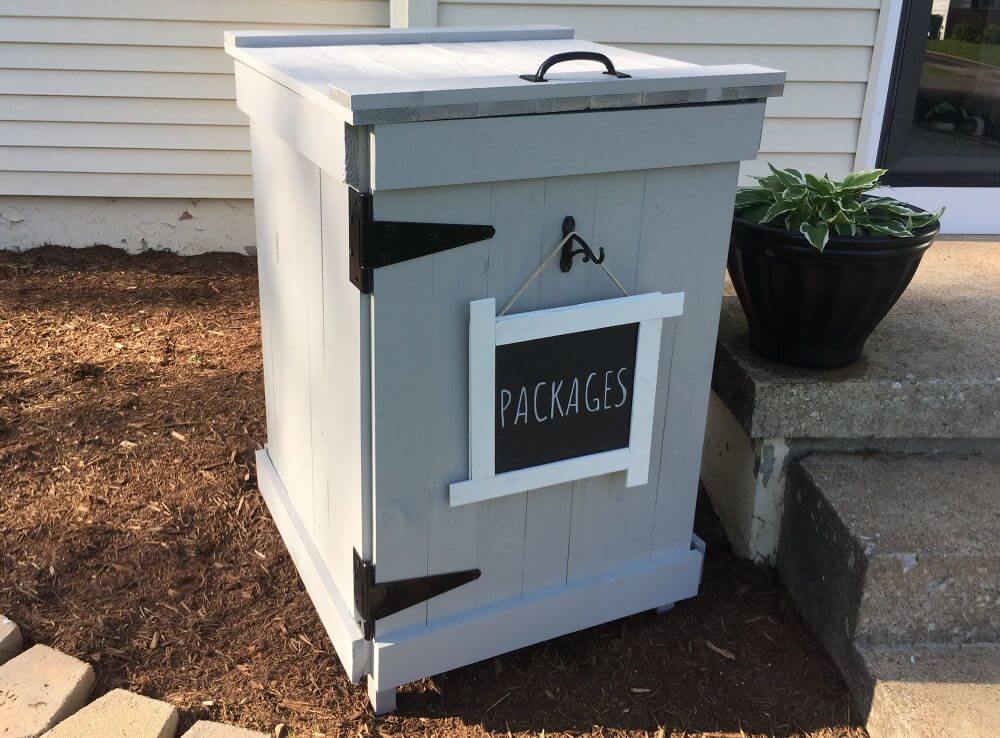 Theft is an unfortunate occurrence, but it is also a common one when it comes to packages. So, why not build something that is immune to it? Such is the case with this awesome theft-proof mailbox design. For one thing, it simply looks good. It is stylish with a pleasant farmhouse-like style to it that will fit alongside just about any other type of décor. By adding on the lock, you can also ensure that you will be the only way capable of getting inside to retrieve any packages too, ensuring that nothing will fall into the wrong hands again.
19 DIY Mailbox Ideas to Make your Home Décor More Exiting
With how many creative tools are at your disposal these days, there is little reason why you can't create a personalized post, especially when you have some of the best DIY mailbox ideas in front of you. You can embark on a small renovation project by breathing new life into a post you already have, or you can completely start from fresh, building something from the ground up so that you are left with a mailbox post that is completely unrecognizable from what originally stood in front of your house.
There are several routes you can take when designing something personal. You can opt for a simple paint job, or go for something that is far more vibrant and elaborate to instantly catch the eye of anyone venturing by your home. Best of all, coming up with a personalized mailbox does not just stop outdoors. We ensured to include several ideas for mail organization inside the house as well for those of you who are interested in making a far less cluttered home.
So, whichever way you need to go with your DIY mailbox projects, we hope that we have provided you with enough ideas to get started.