When it comes to craftiness, it's hard to beat the utility of a mason jar. These simple little containers can be used as everything from piggy banks to candle holders, and the more elaborate crafters out there have even built things like mason jar chandeliers.
50+ Ways to Re-Purpose Your Old Mason Jars

You don't need advanced carpentry skills to get started with DIY mason jar craft projects, however. The simplest creations need nothing but a few supplies and a little imagination. Here are some common tools that you might gather as you prepare your work station:
Glue
Scissors
Fabric scraps
Decorative baubles, bells and ribbons
Lights and cords for electrical projects
Glitter and sparkles
Flexible wires
Paint
Whatever candles or flowers you want to put in your jars
When bringing your crafts to life, it's also important to consider the mason jar itself. How big do you need it to be? How much wax or water will it hold? If you're hanging it up or integrating it with a larger piece, where will you put its hooks?
Here are a few things to measure and record about your jar:
Size
Shape
Volume
Material type
Weight capacity
Lid tightness
As you can see, there's a lot to consider as you start creating DIY mason jar crafts. Keep everything in mind as you're inspired by these 50+ craft ideas!
1. Rustic Hanging Mason Jar with Painted Backboard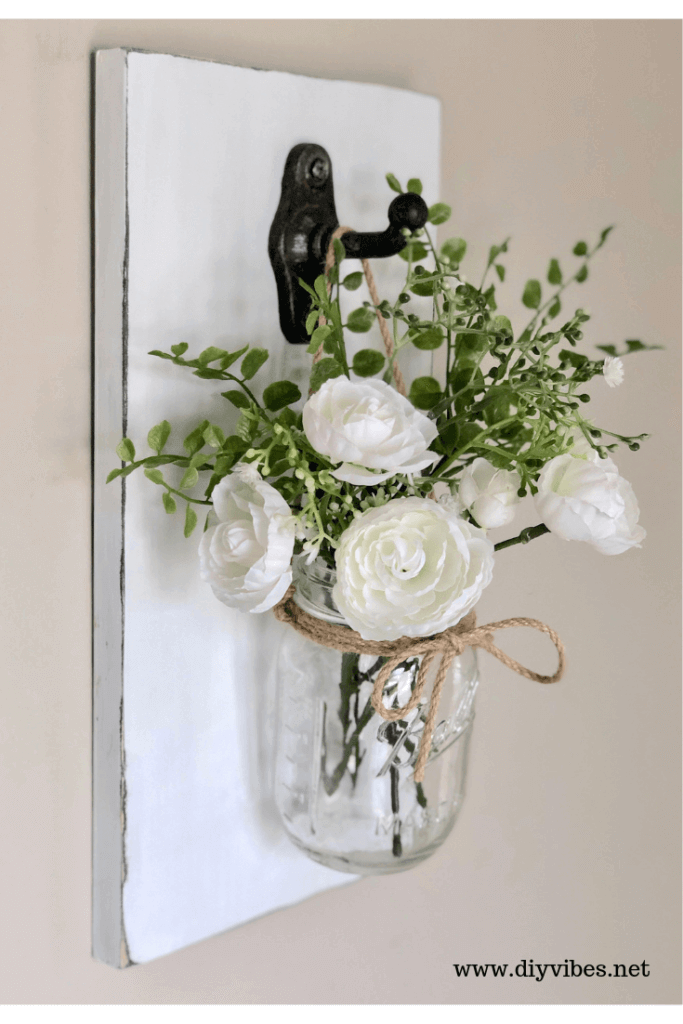 A simple painted backboard is a perfect complement to the hanging Mason jar that hangs from a decorative hook. Ideal for rotating out arrangements depending on the season!
2. Suspended Bohemian Fishnet Mason Jar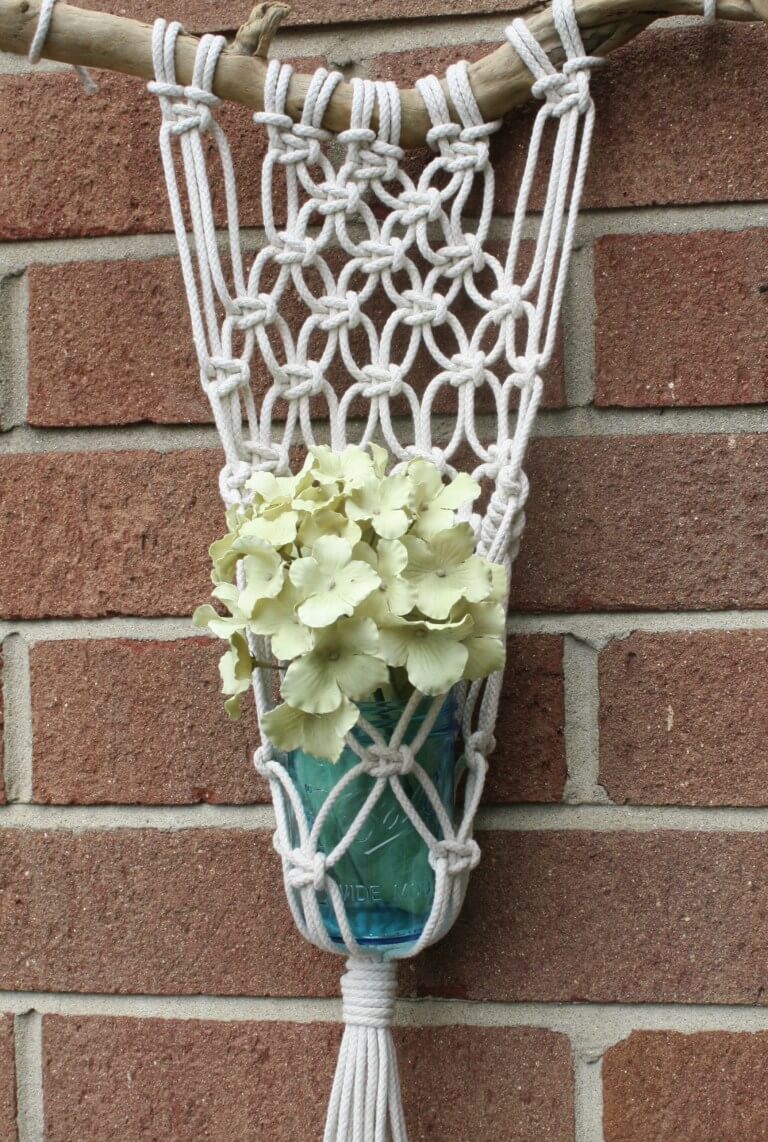 Embrace your inner gypsy mermaid with this intricate woven-rope hanger. This large knotted design is sure to catch the eye of guests and it comes down to a cradle-type holder for your jar. Ideal for outdoor areas and larger jars that you may have.
3. Mason Jar Wind Chimes for a Garden Paradise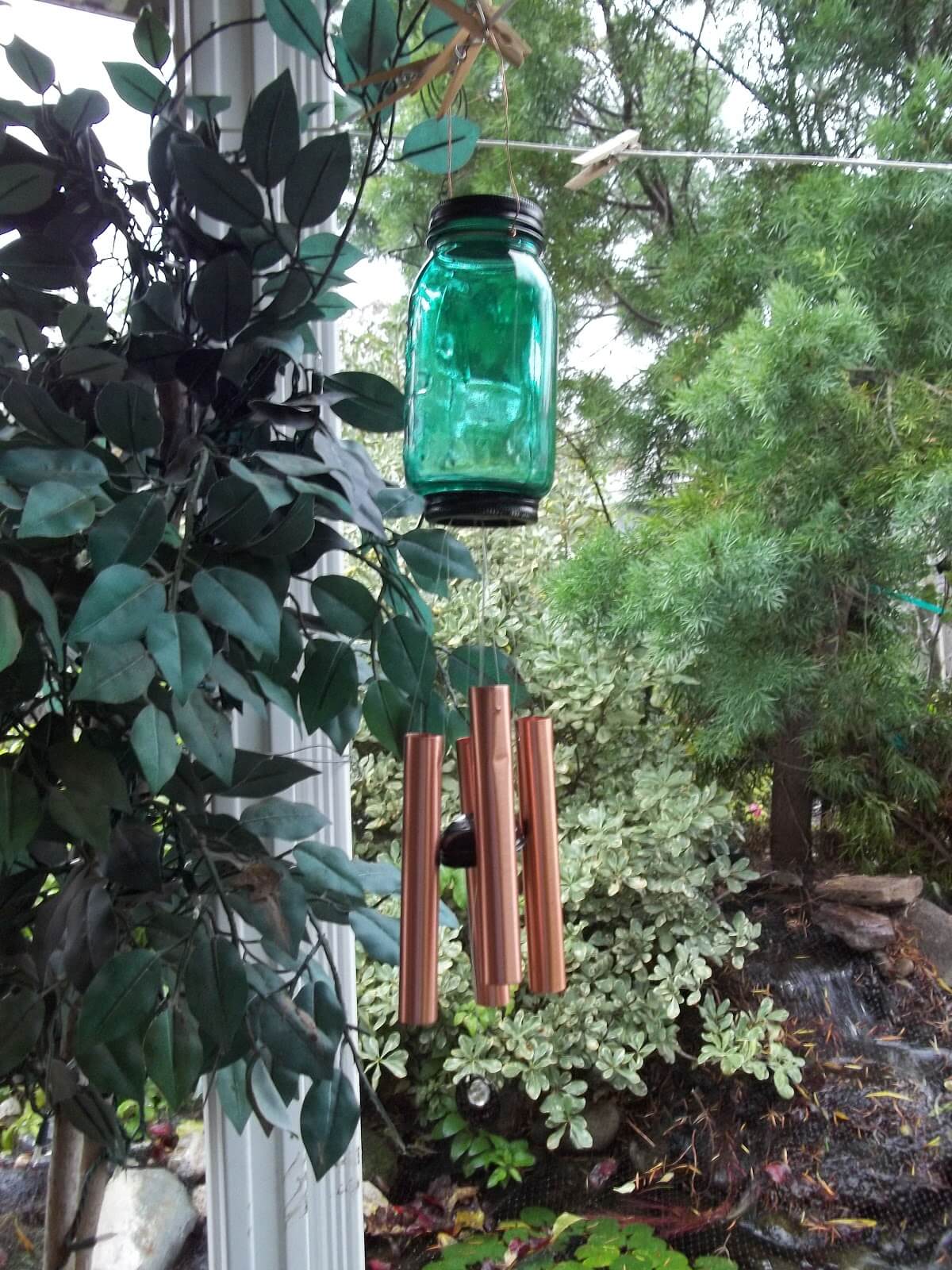 Turn your jar into a melodious yard decoration by upcycling it into a wind chime. You will just need to attach a base to the jar that can hold the chimes and voila! An intermediate DIY option that makes a great weekend project.
4. Mason Jar Bird Feeder for Feathered Friends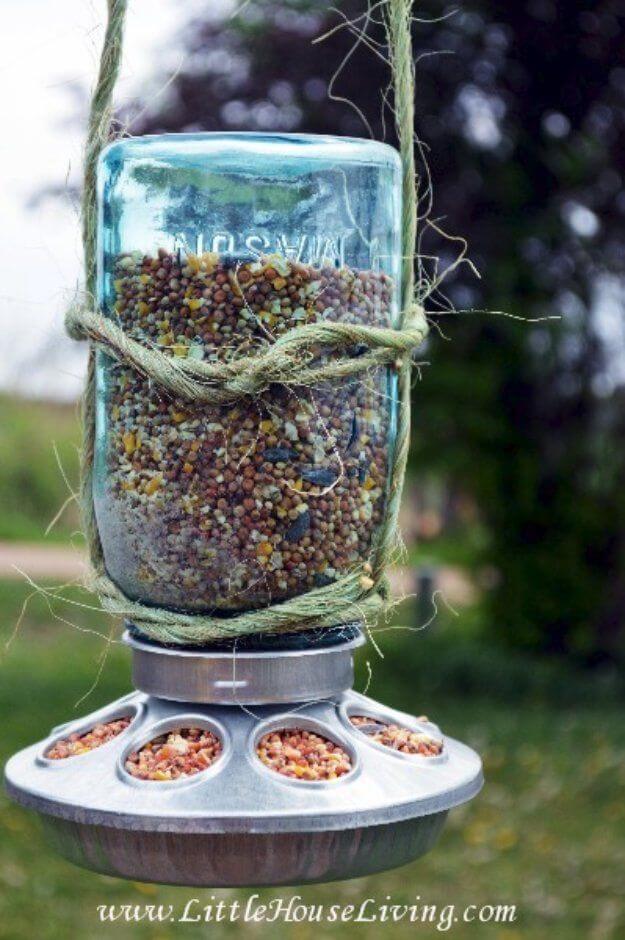 Add a touch of rustic charm to your yard by transforming your mason jar into a birdfeeder. All you'll need is the base, some hemp rope, and the birdseed. This project is sure to satisfy you (and the birds) all year round.
5. Sealable Drinking Glasses for Friends and Family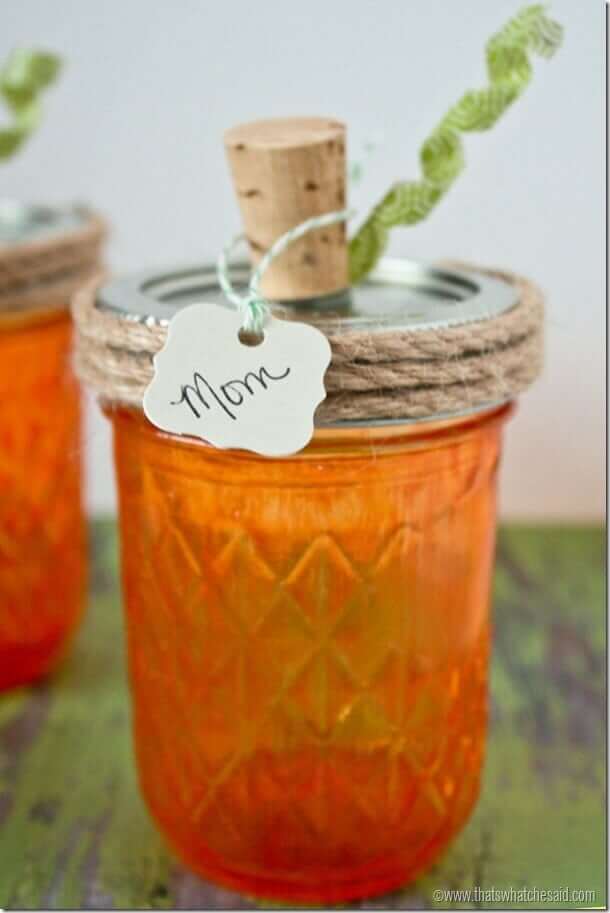 Use the smaller Mason jars and customize them by decorating around the rim of the lids. Punching a hole in the top and placing a straw or cork inside transforms these into perfect summer beverage glasses.
6. Patriotic Table Vases for any Summer Party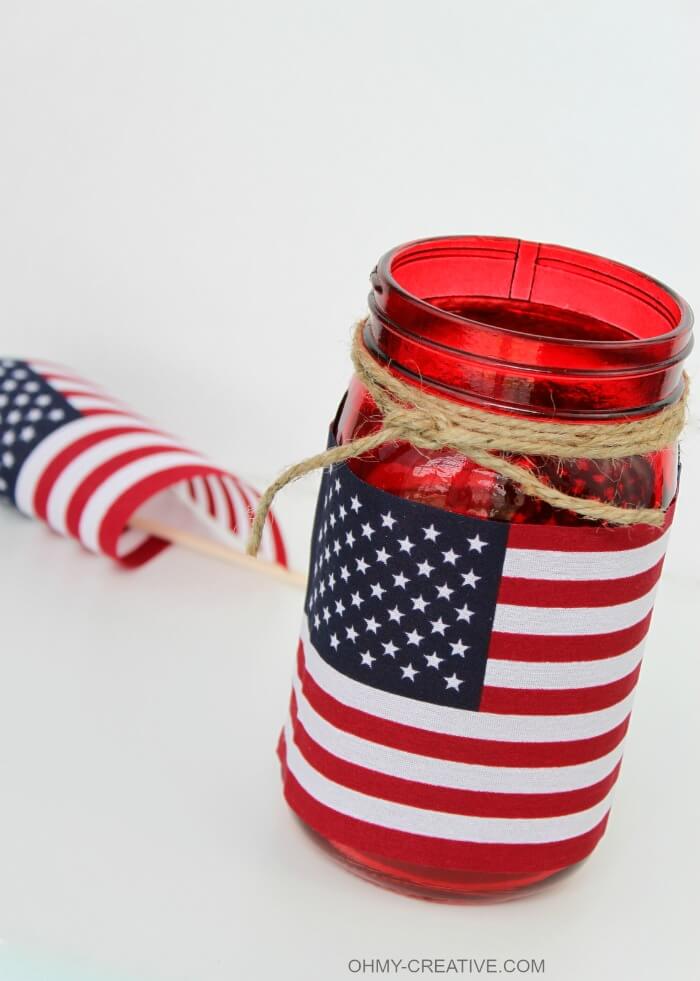 You just need just 3 things to pull this DIY project together: Mason Jars, some ribbon and small American Flags. Encircle the jar with the flag, tie off with the ribbon, and you've got yourself a glass, candy jar, candle holder, and more! Perfect project for a summer party.
7. DIY Mason Jar Table Lamp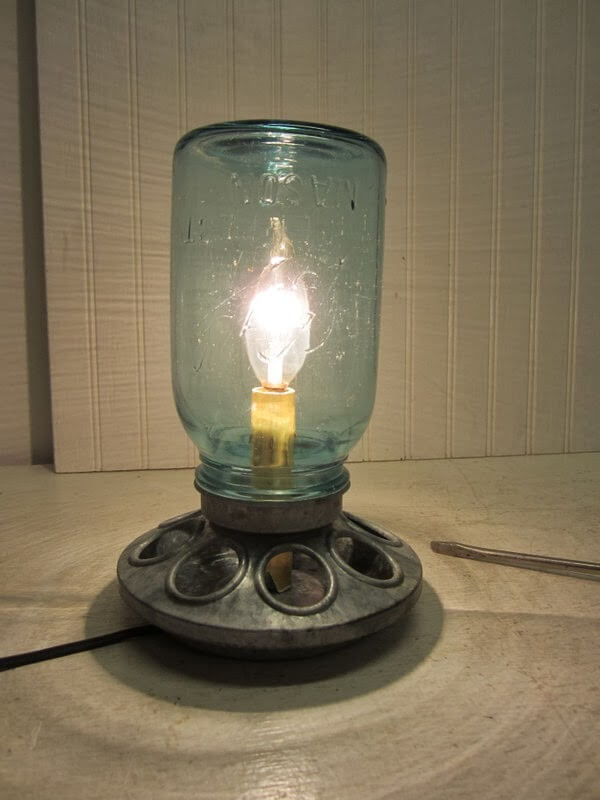 Up your Mason Jar game by converting it into a table lamp. No need to be an electrician – all you'll need is a lamp kit readily available at your local craft store and a base to hold the lightbulb. Invert the jar over the lamp base and enjoy it.
8. Distressed or De-Stress? Your Jar, Your Call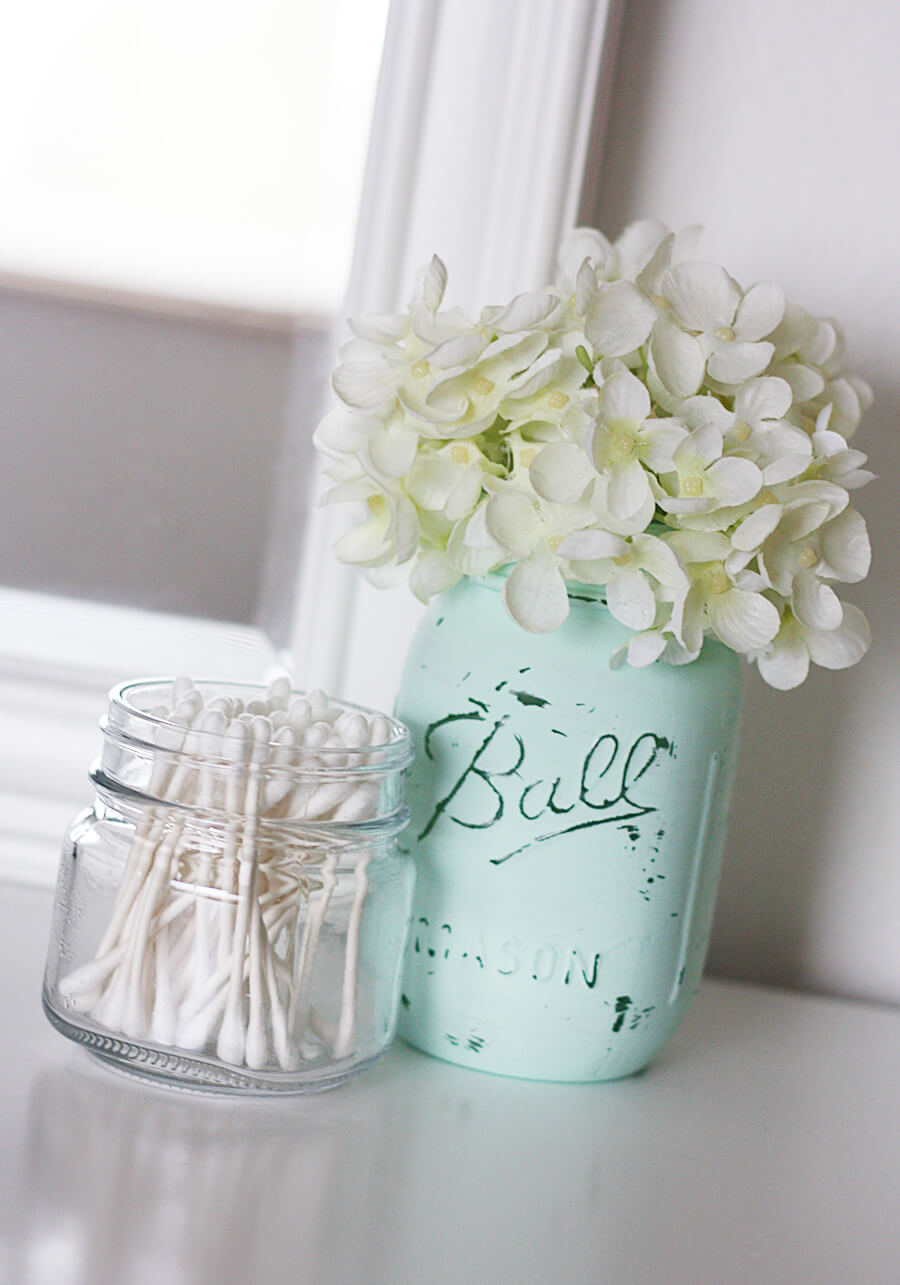 Using a jar with a raised logo, paint the outside, avoiding the elevated parts. The result is a professional-looking distressed jar you can use as a vase, storage, and more.
9. Mason Jar Lanterns for Outdoors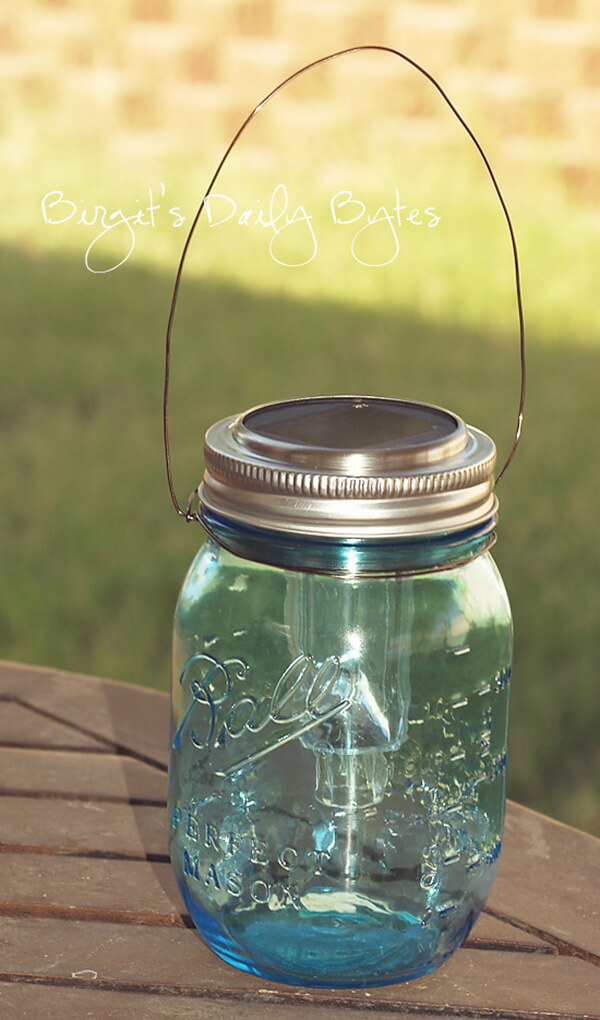 To pull these together all you will need is some wire for the handles and the light inserts most often sold at nearby craft stores. You can also swap out the battery-powered light for a candle for even more charm.
10. Chicken wired Utensil Holders for Your Kitchen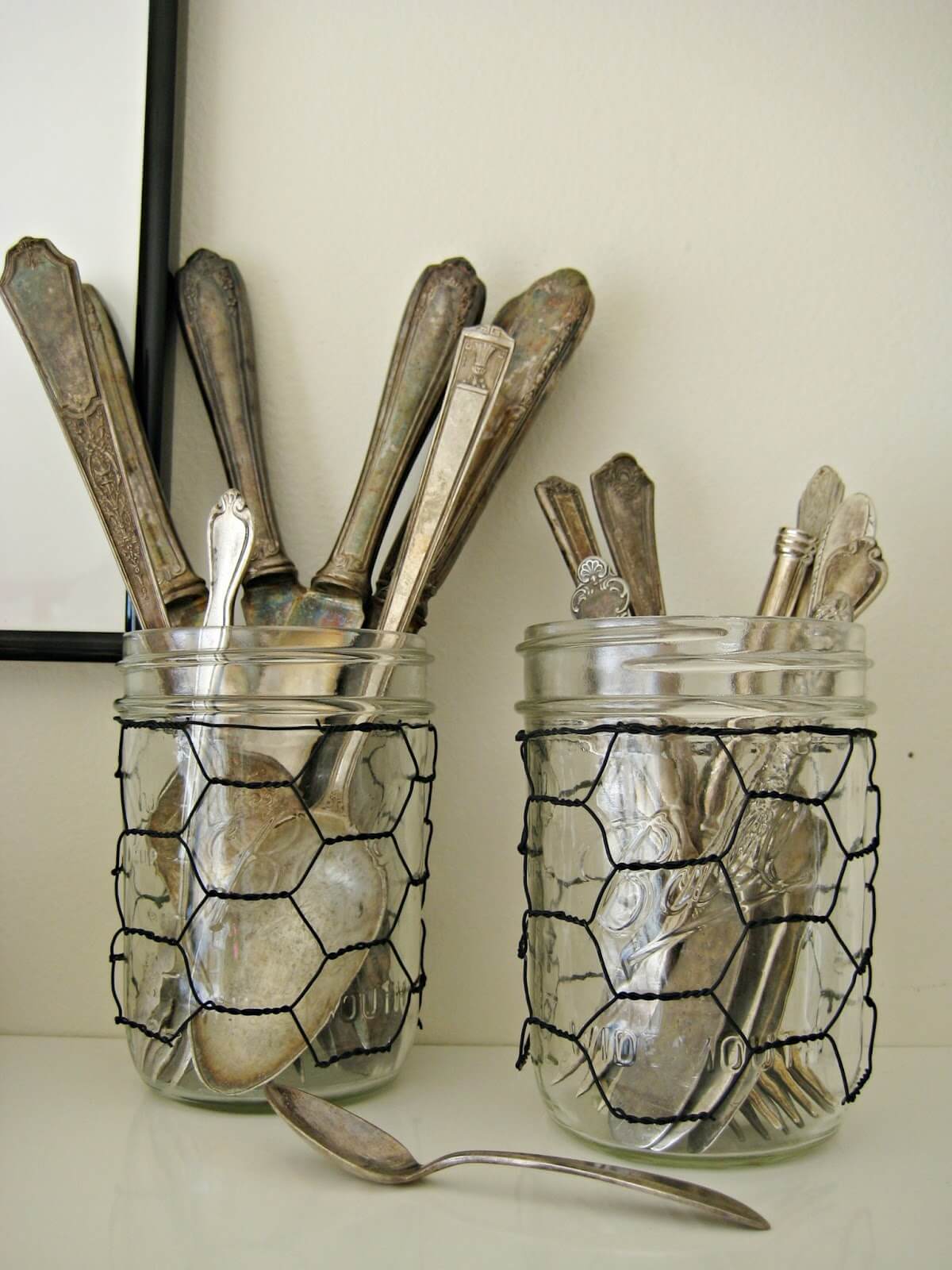 Looking for a unique way to display silverware (or anything really)? Wrap your Mason Jars in chicken wire. A surprisingly easy way to achieve a high-end, minimalist finish. For extra customization, paint the wire to complement the room in which you will display the jars.
11. Craft Room Companions for the Win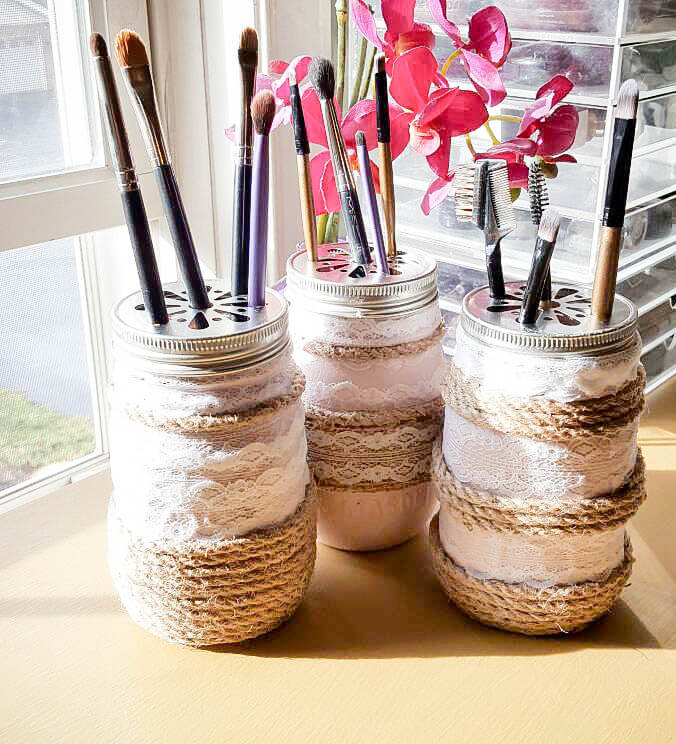 Gather your jars with lids and get ready to make the best paintbrush/pencil holder ever. Decorate the outside of the jars as desired and then punch a creative design in the lid(s); this will keep your brushes/pencils/etc upright and easy to grab.
12. DIY Frosted Stencil Jar Art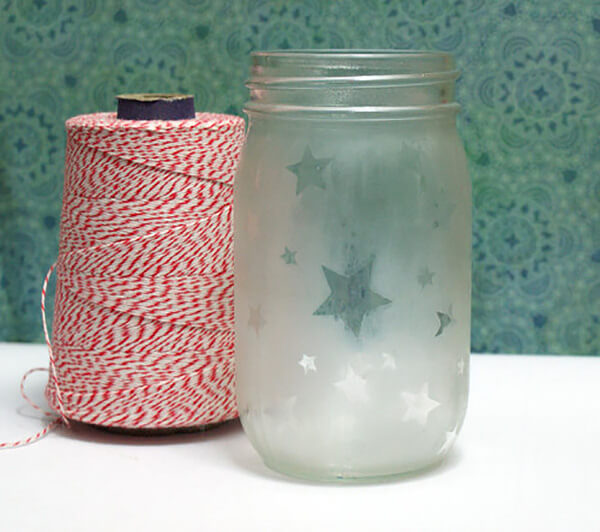 Using stickers, block off portions of your smooth Mason Jar (logos/raised letters, etc are not recommended). Frost over the stickers and remove once partially dry to create a beautifully patterned jar.
13. Mason Jars with Cute Chalkboard Label Spaces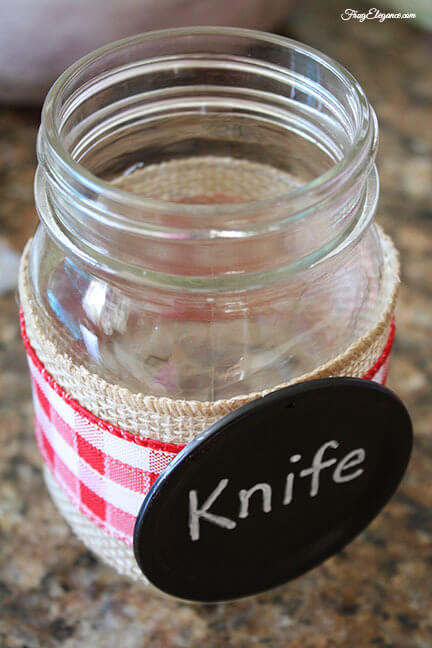 Sometimes the best DIY projects are the simplest. Encircle your jar with the ribbon/pattern of your choice and attach a chalkboard-paint 'label' to your jar. In just a few minutes you will have made yourself a beautiful, labeled Mason Jar that's ready for your pantry, kitchen counter, and more.
14. DIY Giant Mason Candy Jars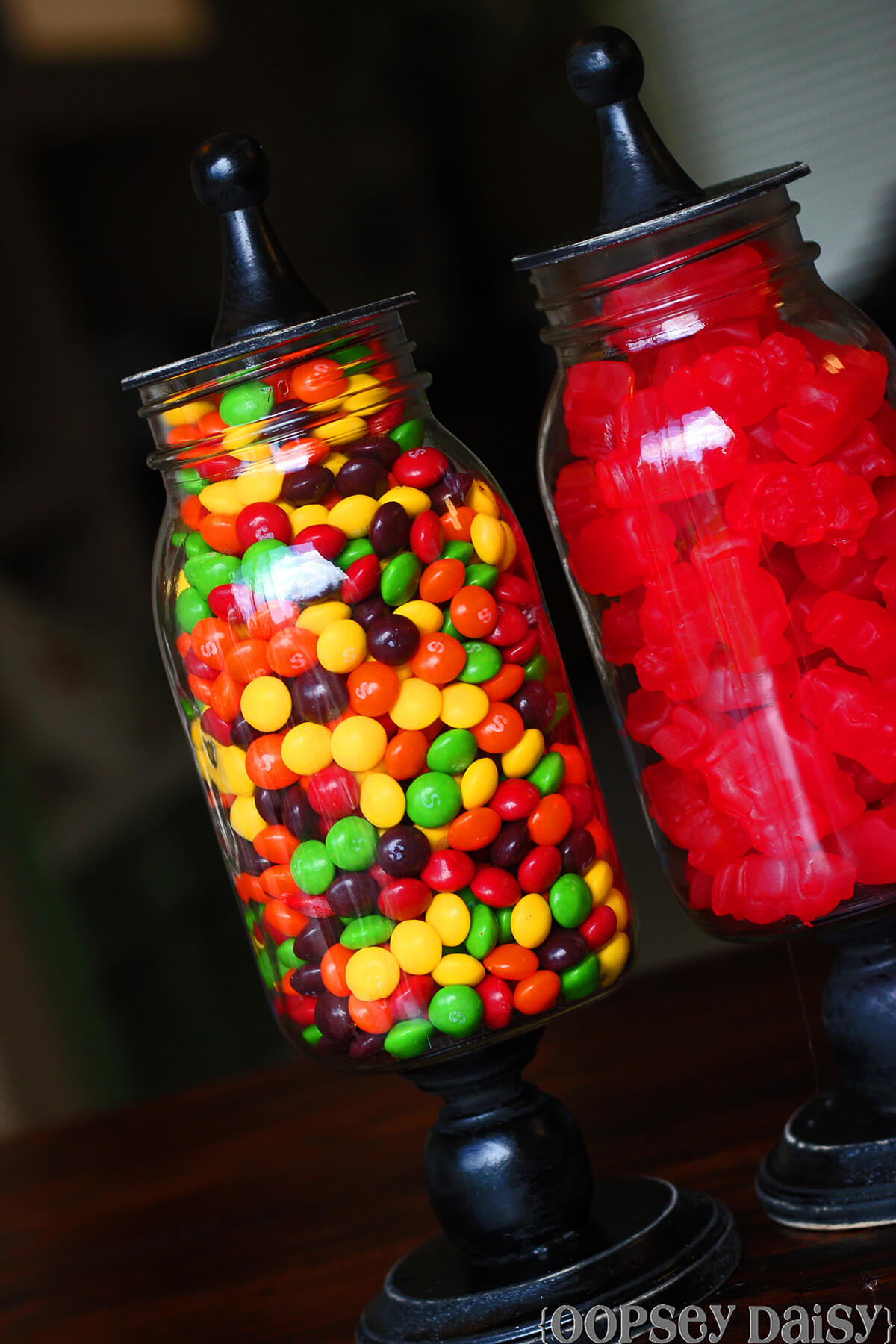 Beautifully display your jars using wooden stands or candle holders for the base and top the jars off with matching lids. Ideal for kitchen/pantry displays, but also useful for anything you want to display in a clear container. Simply attach the jars to the base and add the lid embellishment – no heavy-duty hardware necessary!
15. Luck o' the Irish Leprechaun Table Pieces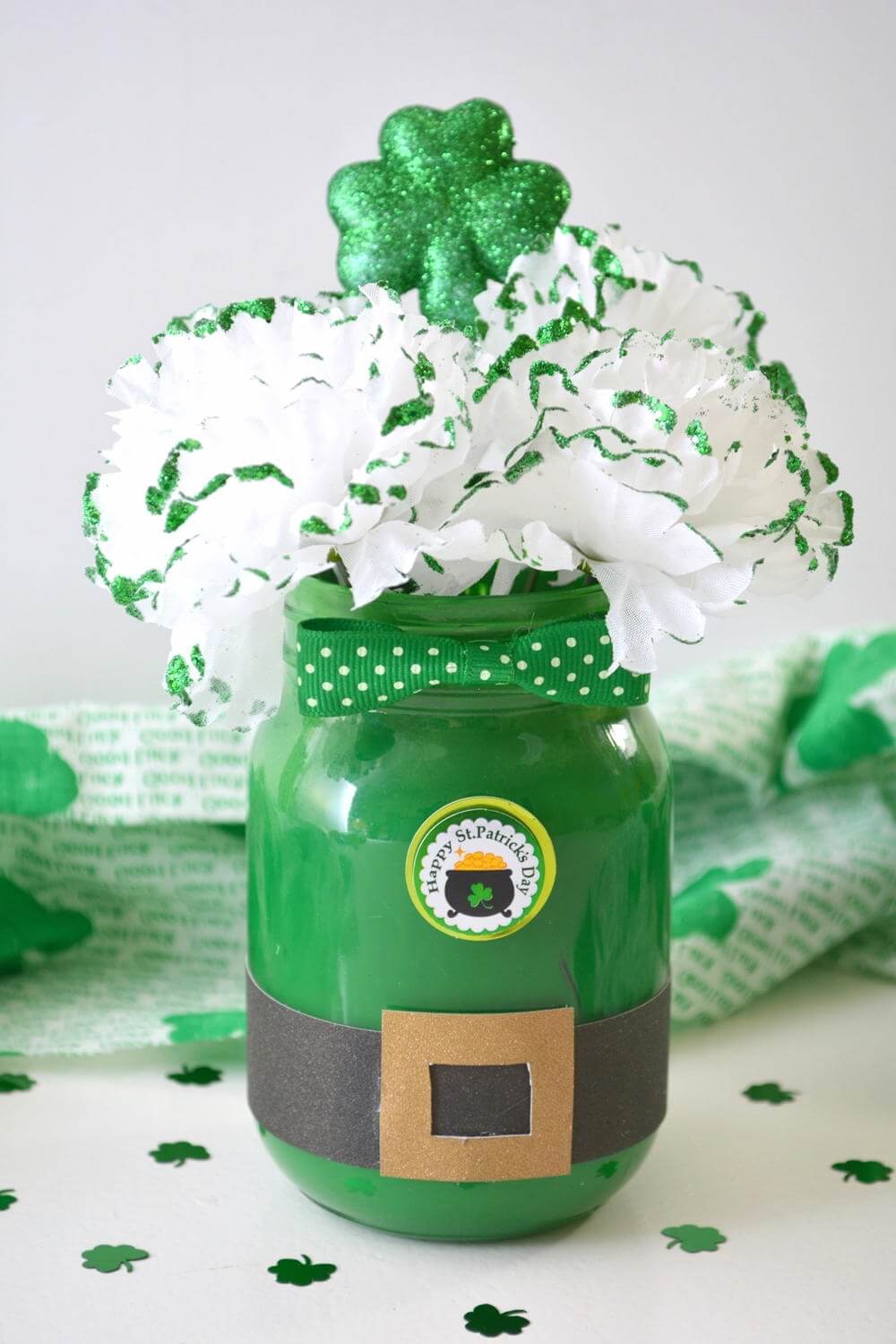 Transform your jars into party-stopping table decorations. Fill a jar with green paper and encircle the base with a Leprechaun 'belt'. Some Irish-themed stickers and a corresponding green ribbon on the neck are the last touches to make this stand out for any St. Patrick's Day party.
16. Magical Fairy Garden Mason Jars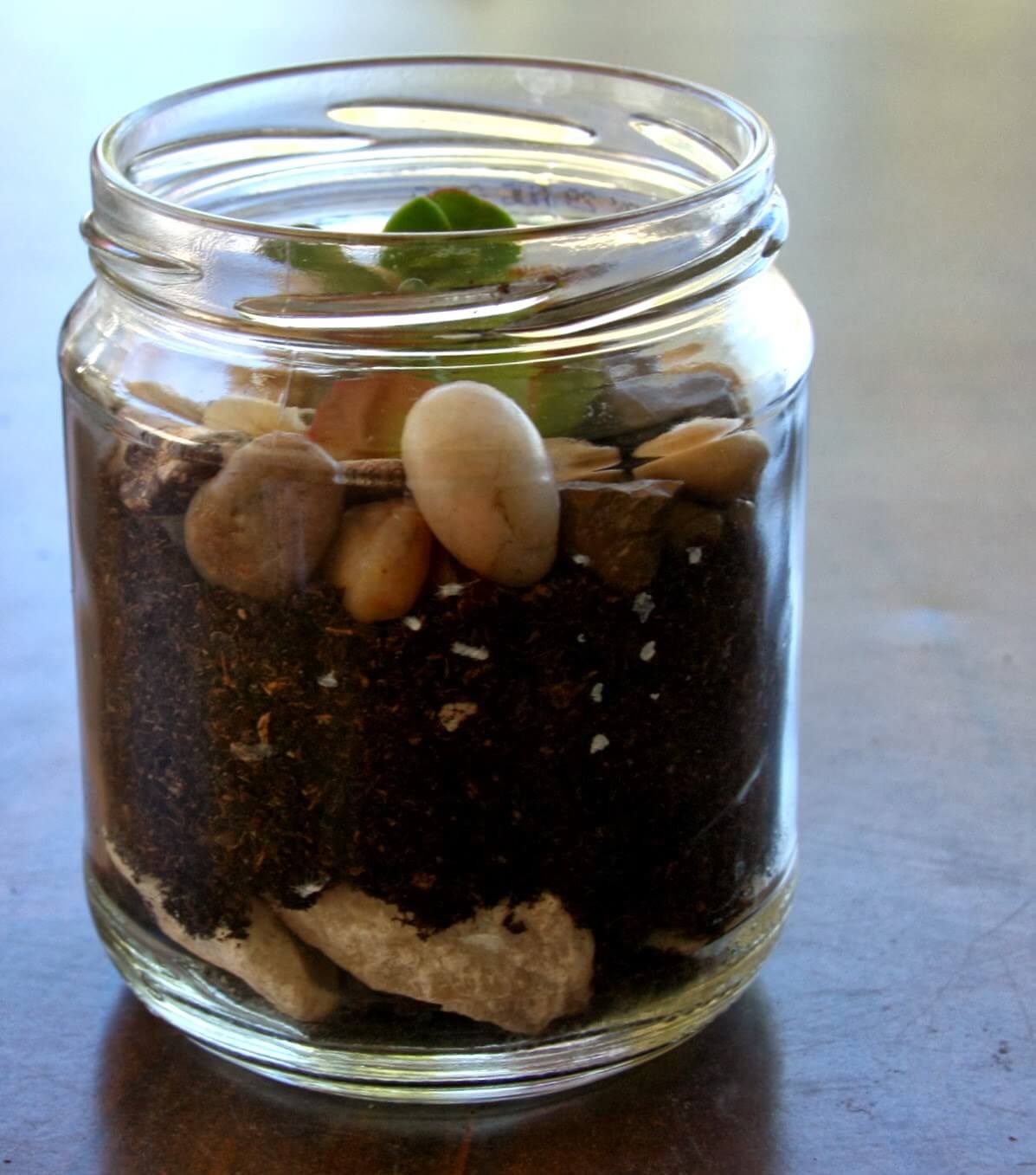 Use your smaller, smooth jars, layer in natural forest-inspired fillers for a perfect little fairy garden. You can start with stones, followed by moss, topped off with smaller, rounder pebbles, and lastly topped with greenery.
17. Bathroom Organizer and Towel Rack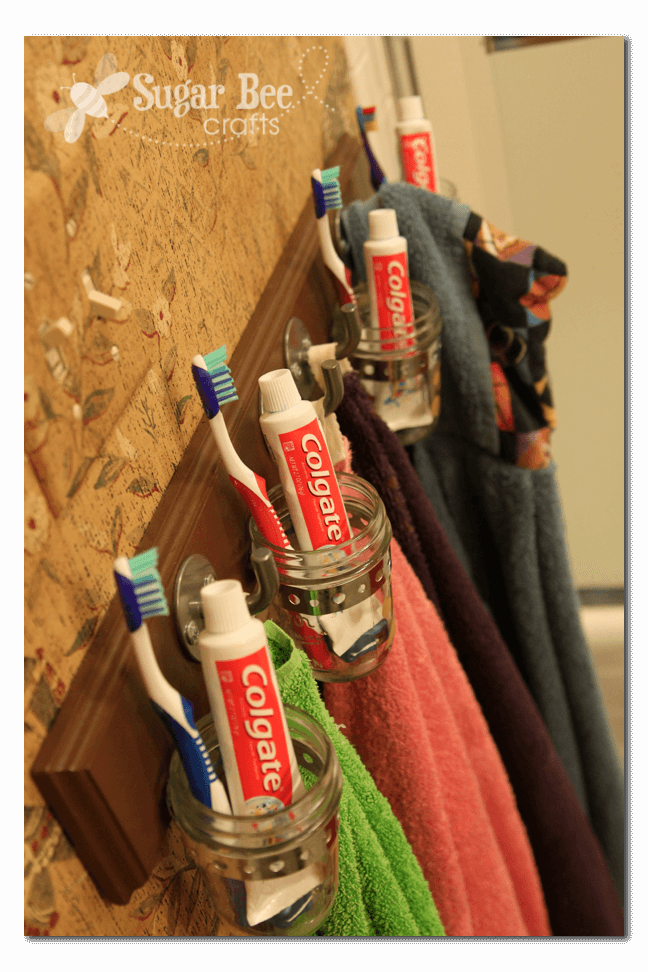 Upgrade your bathroom organization with this completely custom towel rack. Add 'cupholders' using metal rings between the hooks that will hold the mason jars. Perfect for toothbrushes, hairbrushes, and more!
18. Frosted Mason Jar Vase Lineup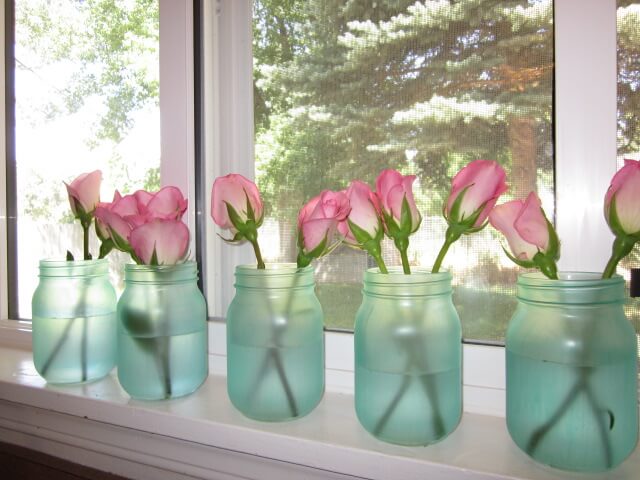 Give off an elegant vibe in any room by setting out a collection of these DIY frosted jar vases. All you'll need is a frosted effect paint and smooth jars. Paint over the jars and you'll have a beautiful set of frosted vases ready to use.
19. Bedazzled Glowing Jar Lights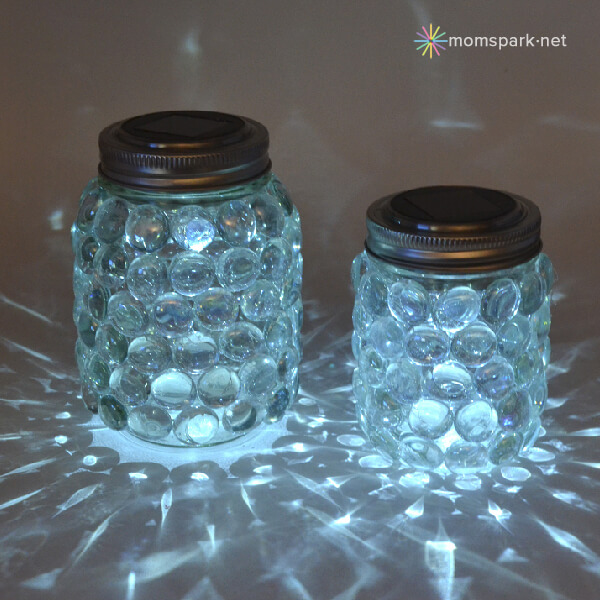 Looking for some glam? Cover the outside of your mason jars with glass river stones – preferably the translucent ones. Insert a battery-powered light into the jars and top off with a lid painted to contrast.
20. DIY Weathered Farmhouse Flower Vases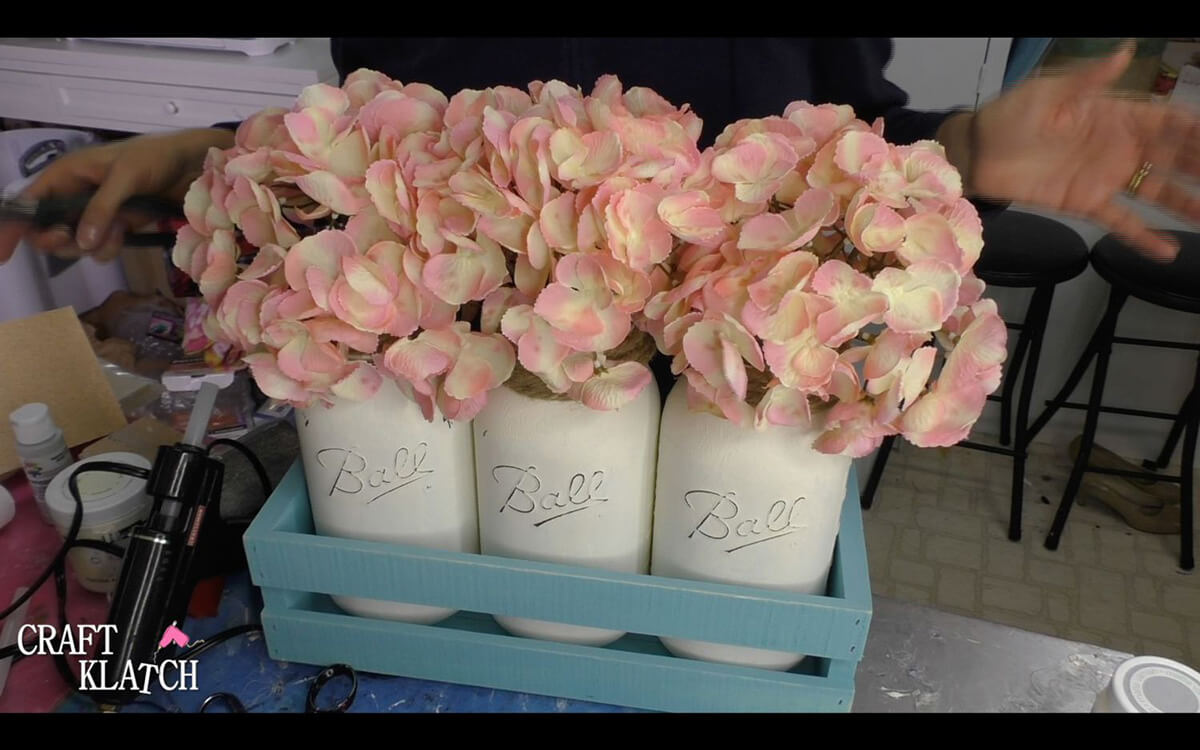 Tall mason jars are the perfect size to use as floral vases. Painting the outside with a rustic white will add a 'farmhouse' element to the jars which can be tied off with a bit of natural hemp and paired with your flowers of choice.
21. Candles for Any and All Occasions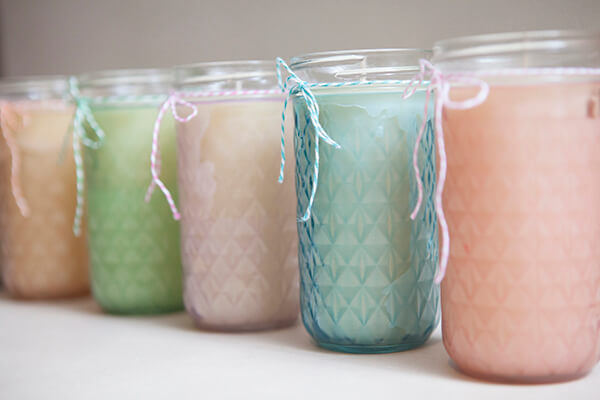 For this, you will just need some candle wax, wicks, your scent of choice, and some colorful, textured jars. With very little effort you will have a lineup of candles that are both cute and practical; easy to make, inexpensive to do in bulk, and perfect for party favors or craft nights.
22. Creative and Customizable Jar Covers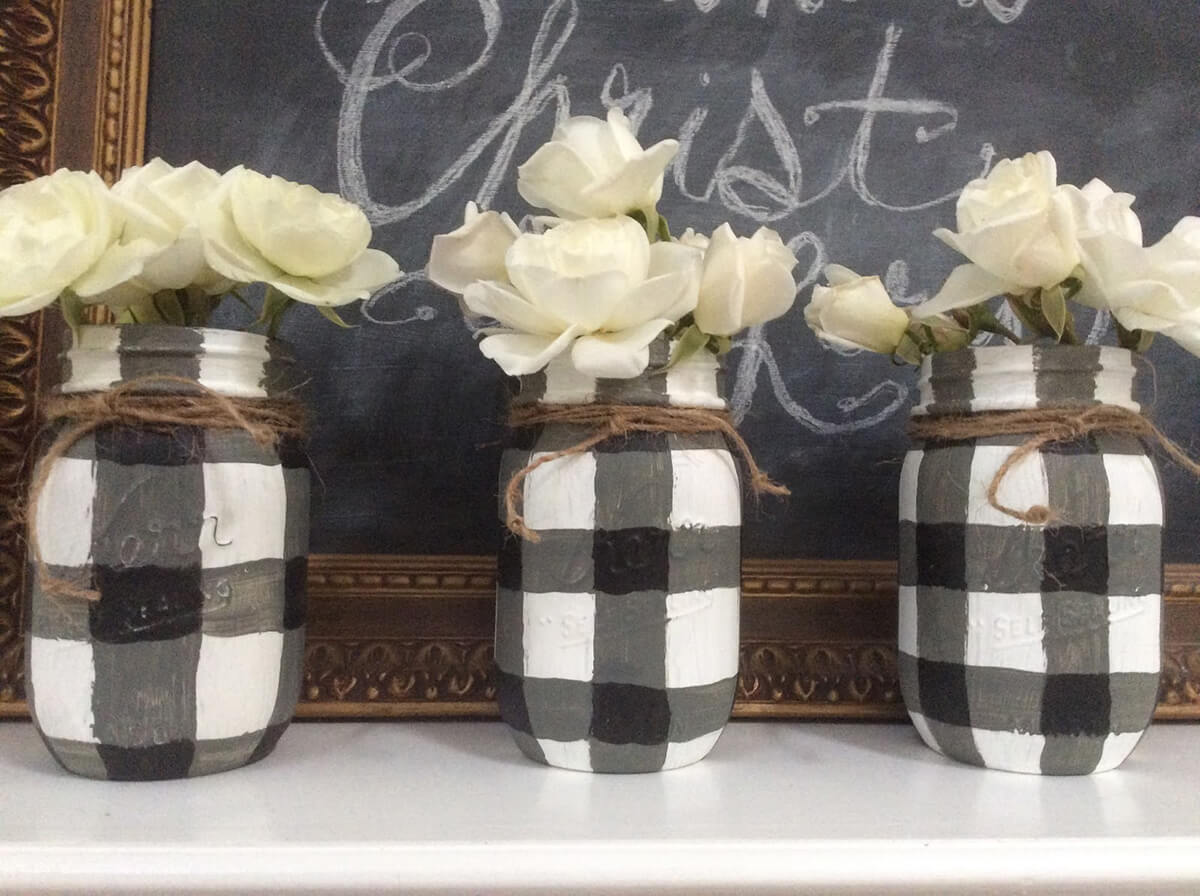 Painting your jars is permanent, but crafting these Mason Jar covers allows you to rotate out patterns and colors depending on your mood. Wrap up the jars with your material of choice and tie off with a corresponding ribbon and you've got yourself some classy (easily rotated) vases.
23. DIY Diamond Topped Sealed Containers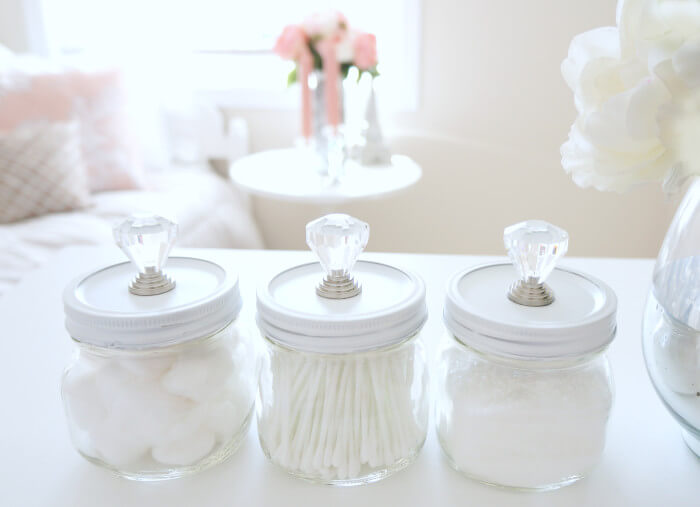 For this project, select the smaller, smooth jars with screw-on lids. Select some glass-studded cabinet handles and screw them into the lids for an instant upgrade. For an extra pop of color, paint the lids to complement the handles.
24. All That Glitters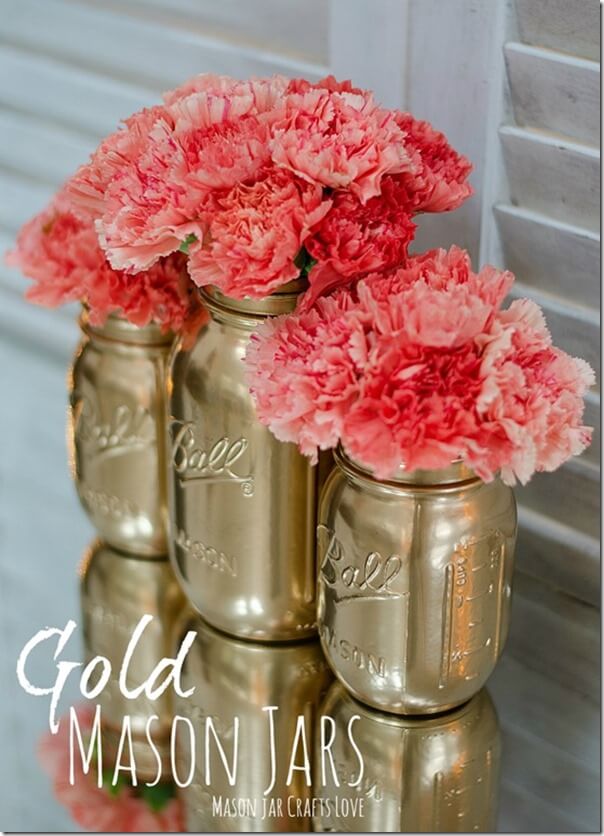 Glitz up your flower pots by transforming ordinary mason jars into gorgeous gold fit for royalty. You don't need King Midas to create gorgeous accent pieces that'll glam up your home and make you feel like you're walking the red carpet to your throne each time you pass them.
25. A Rustic Light on the Western Front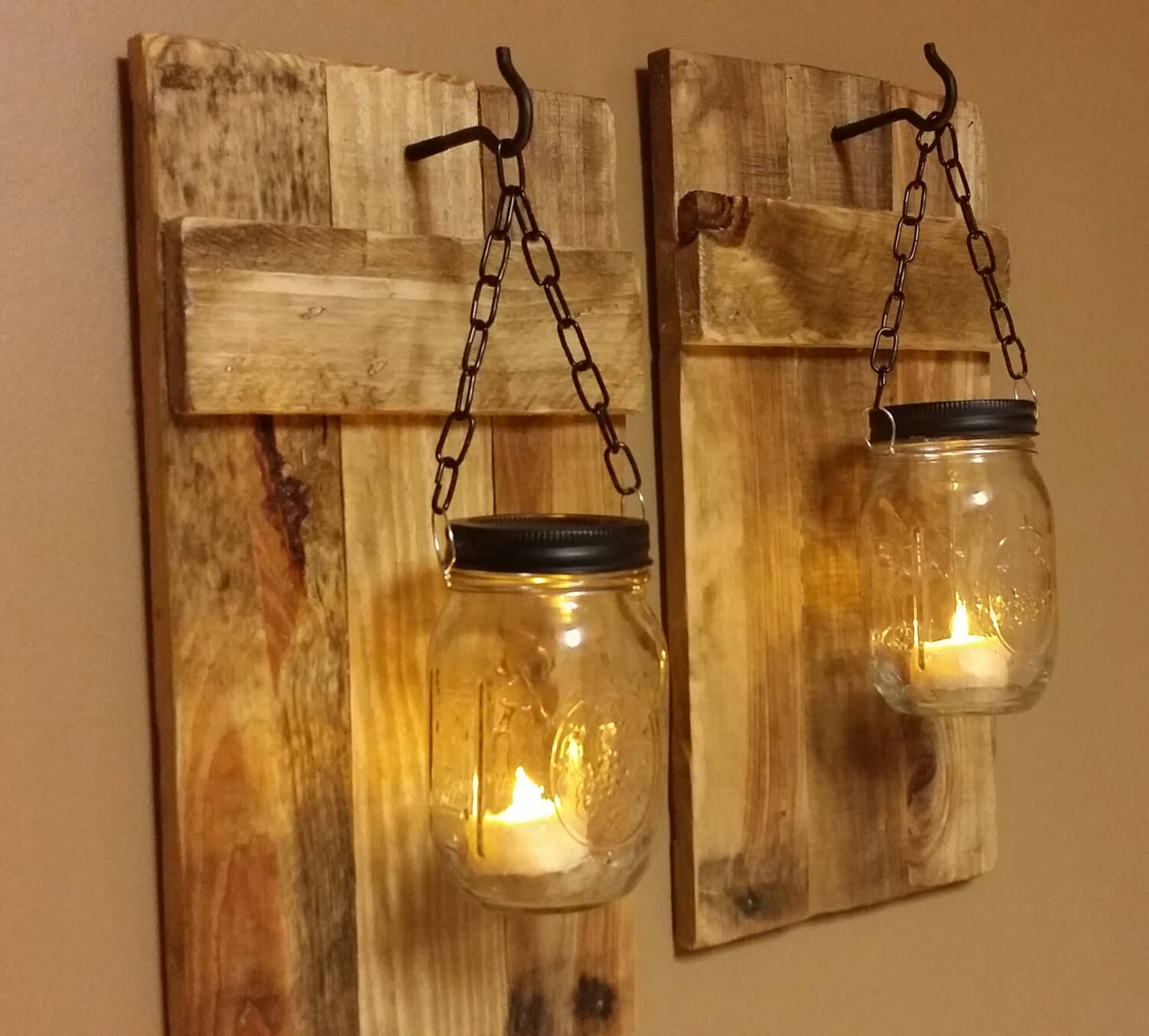 For a more rustic inspired style, trying adorning your jars to bold, metal chains and hanging them off refurbished wood for a unique twist on wall lanterns. You'll give your home that old-time glow while igniting the feeling of a simpler era, before the popularity of modern lighting fixtures.
26. A Tiny Garden for Tiny Creatures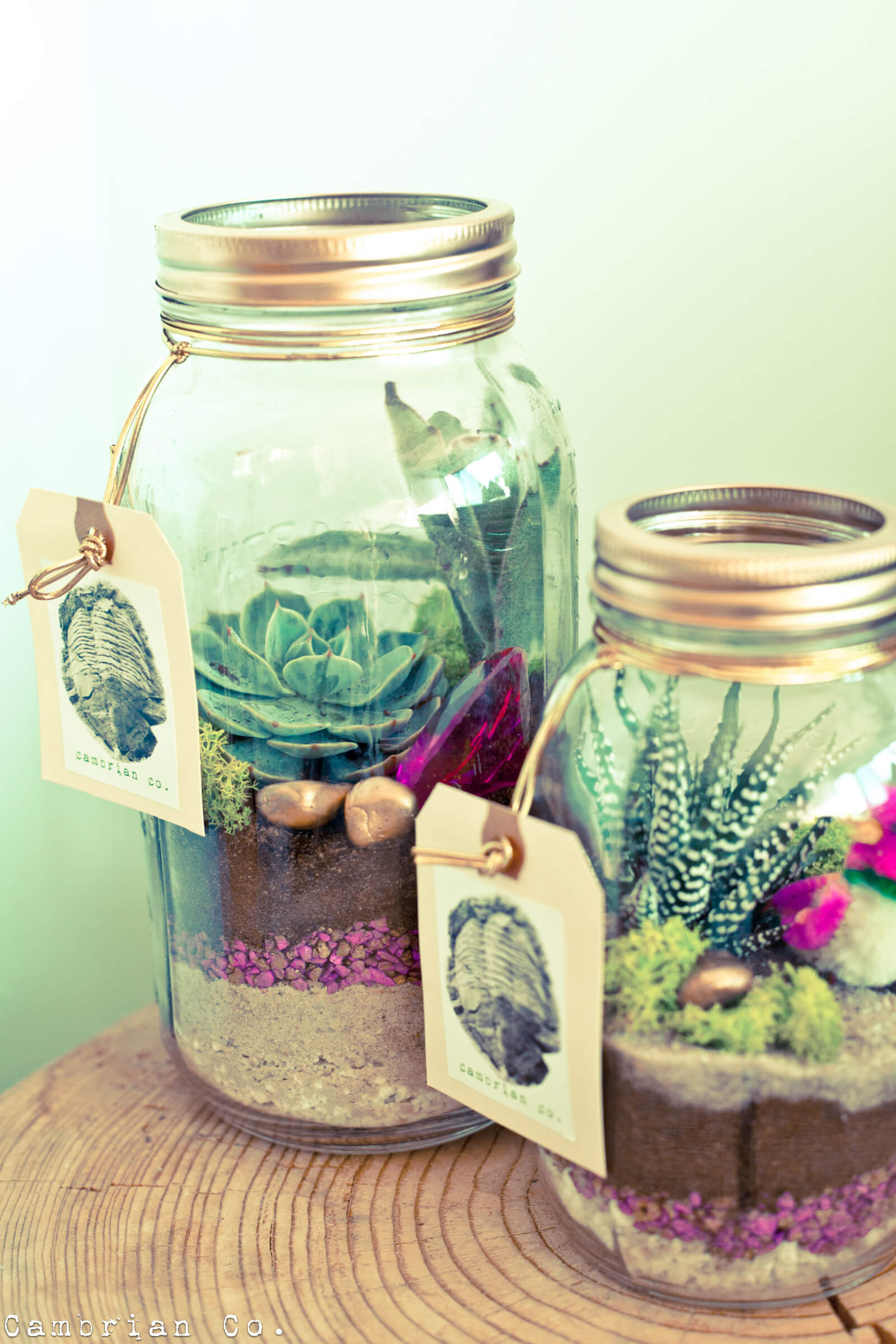 Bring the garden inside and put your green thumb to work by turning traditional mason jars into adorable mini-ecosystems that will bring your living room to life while adding a splash of color to your space.
27. Lightly Luminescent Illumination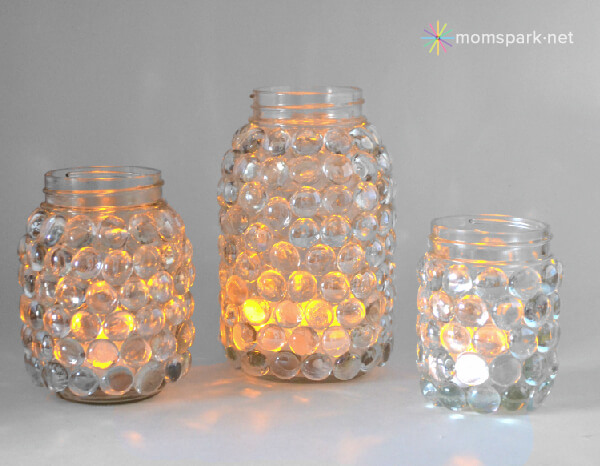 Brighten up your home with mason jar luminaries that can be retrofitted with any color of your choosing to create a unique vibe that coordinates beautifully with your existing decor. For the full effect, turn off all your other lights and let your luminaries shine!
28. Already Wrapped for Holiday Cheer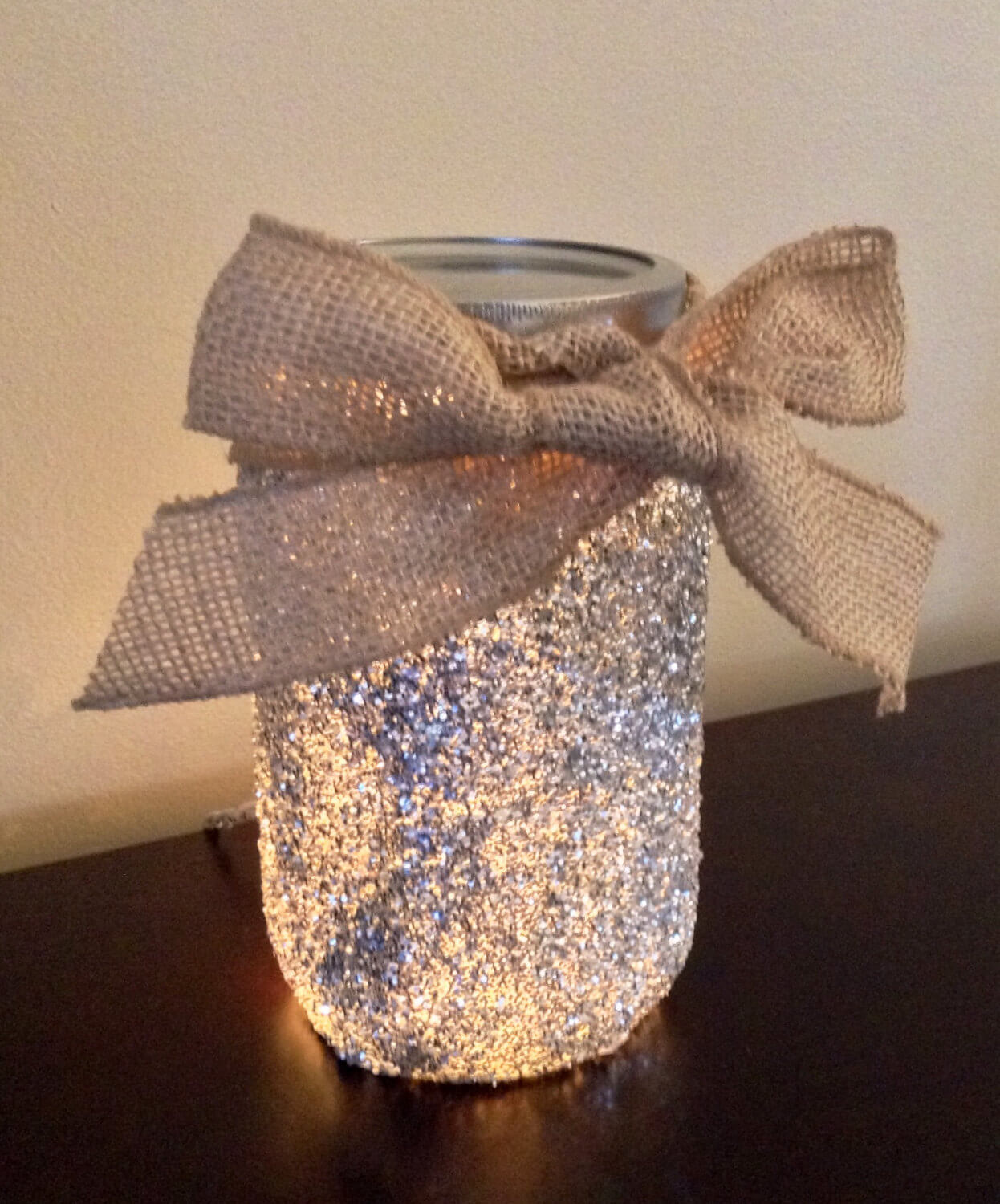 Your holiday tree isn't the only thing that can add some sparkle to your home. Dazzle the guests at your next holiday party by morphing your mason jars into shimmery accent pieces that'll be right at home alongside your presents with its burlap bow.
29. The DIY Way to Organize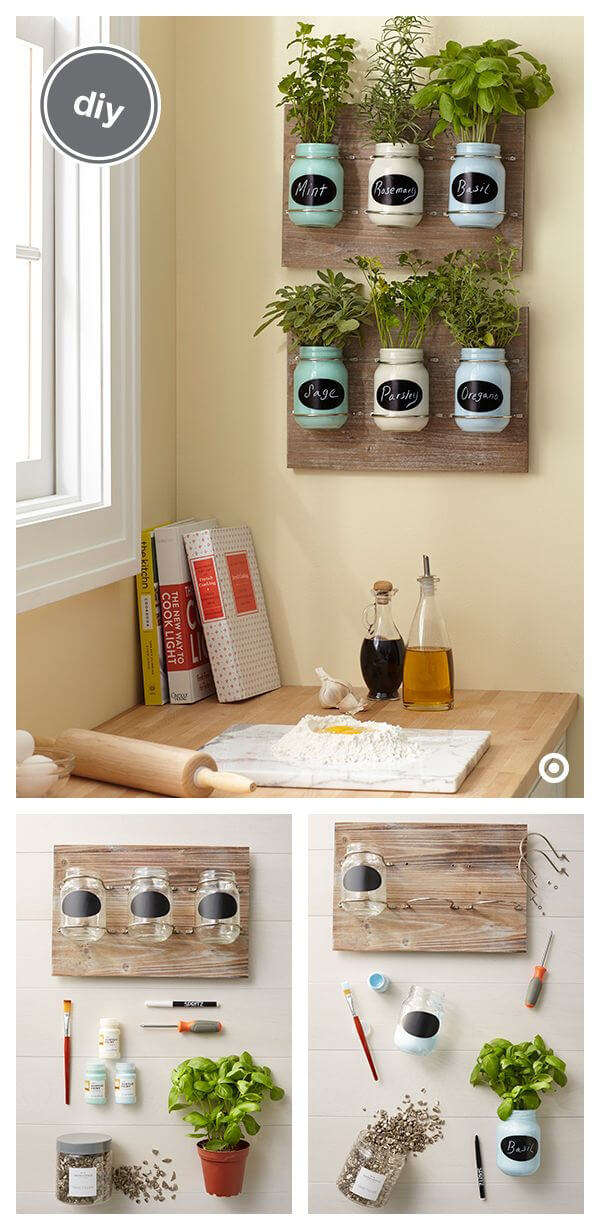 For a creative way to display your herbs and keep them within arms reach while you're cooking, fit your jars with chalkboard stickers that make it easy to locate and organize your collection.
30. Sally Sells Seashells by the Seashore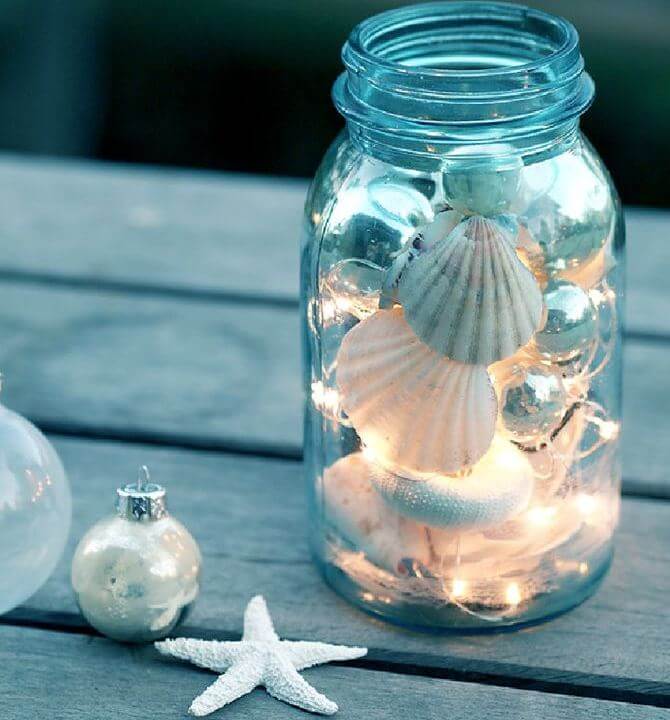 Nothing beats the feeling of a fresh ocean breeze and the sand between your toes, so why not bring a little bit of the beach home with you by decorating your mason jars with seashells? Every time you look at your DIY creation you'll be transported back to your favorite beach-side resort.
31. Unique Candle Holders for DIY Home Decor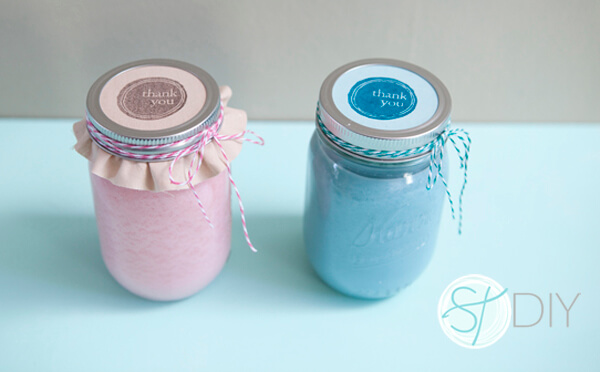 Instead of buying generic candle holders from the store, why not let your inner creative-genius create unique-to-you variations that suit your bold style? Melt your own wax and color it however you choose; the possibilities are endless when you DIY!
32. Perfect for Mantlepieces and Centerpieces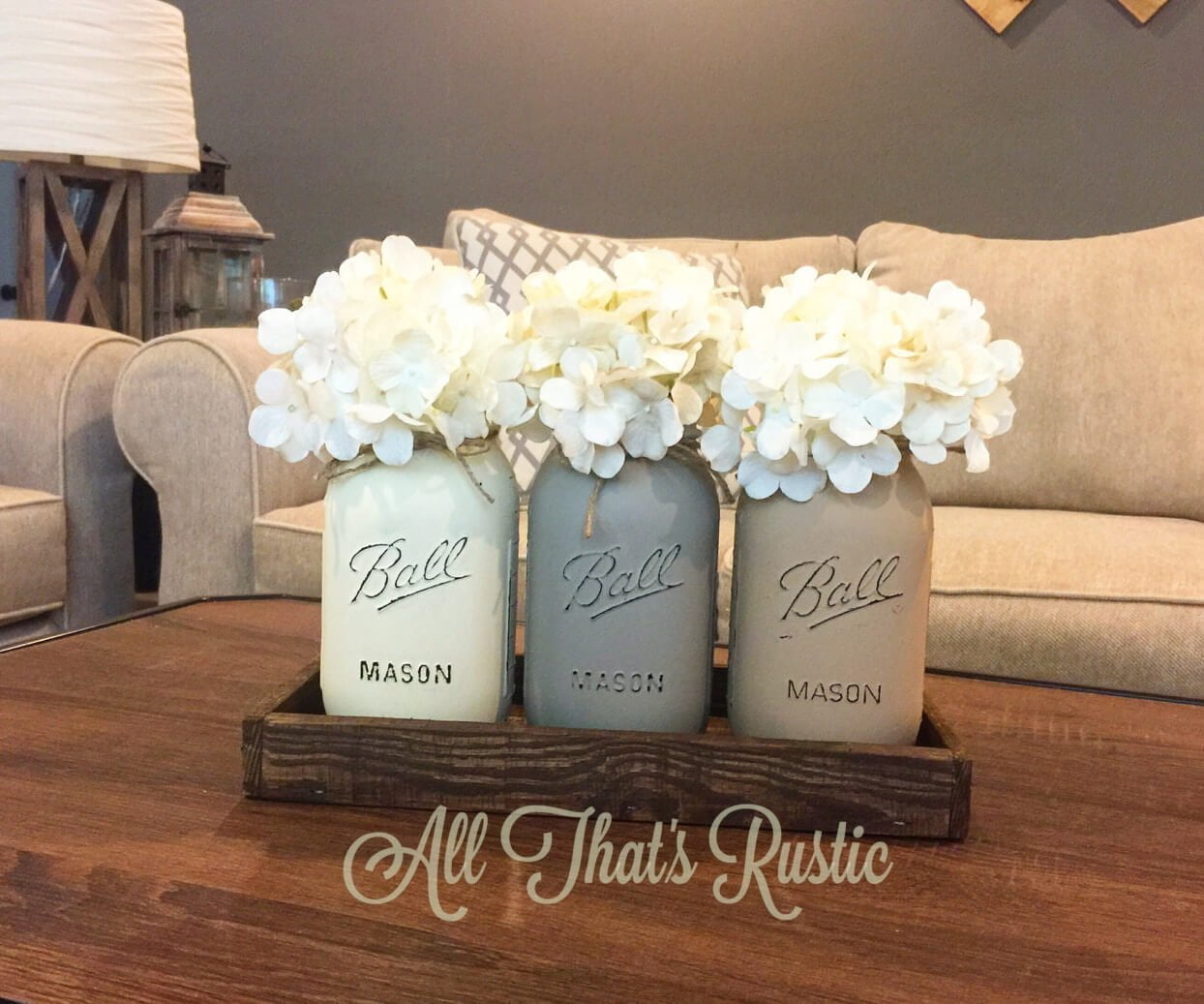 Spice up your centerpieces by with cool painted mason jars set on a reclaimed wood pallet. Fix them with your favorite flowers for a new take on a classic look.
33. Next Step: The Lampshade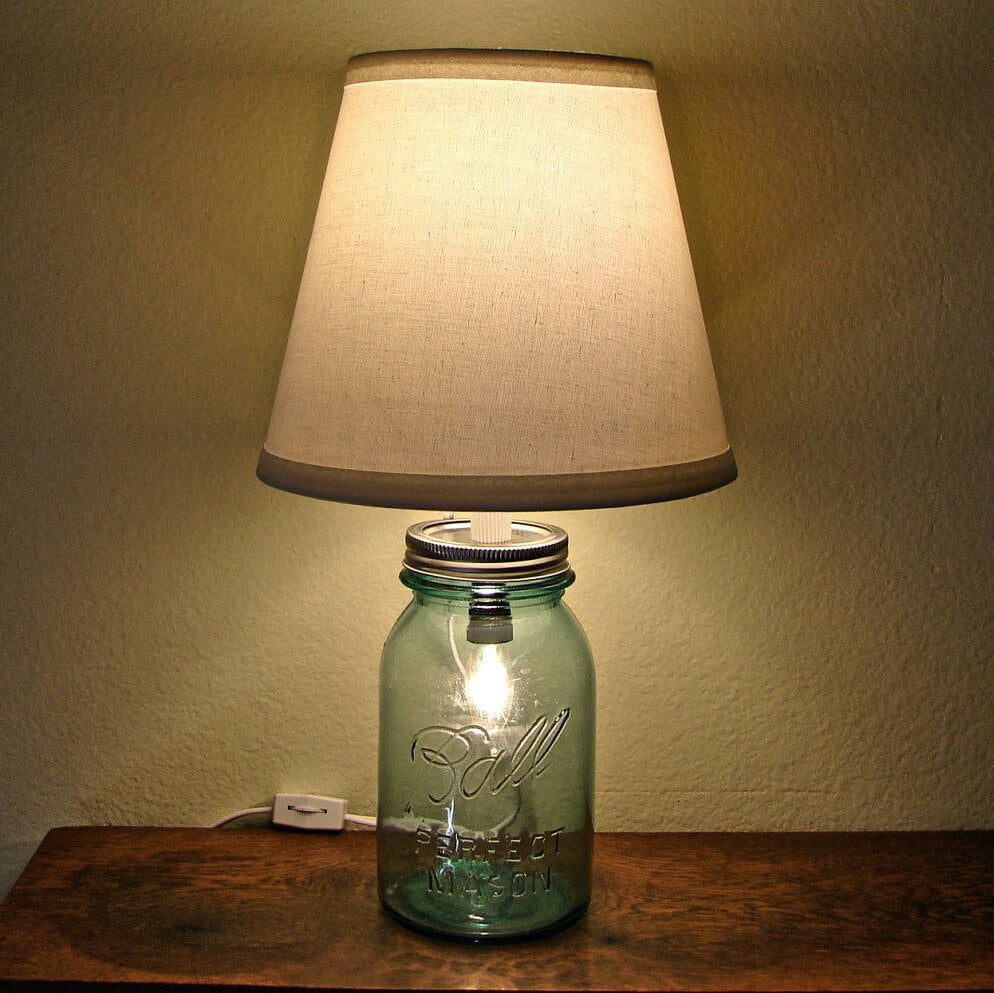 There are many ways to use mason jars to light up your living space, including replacing your otherwise tired, boring, lamp bases with clear jars for a vintage appeal! Fit it with your bulb of choice to create suave mood lighting or flame-like brilliance.
34. Fish Not Included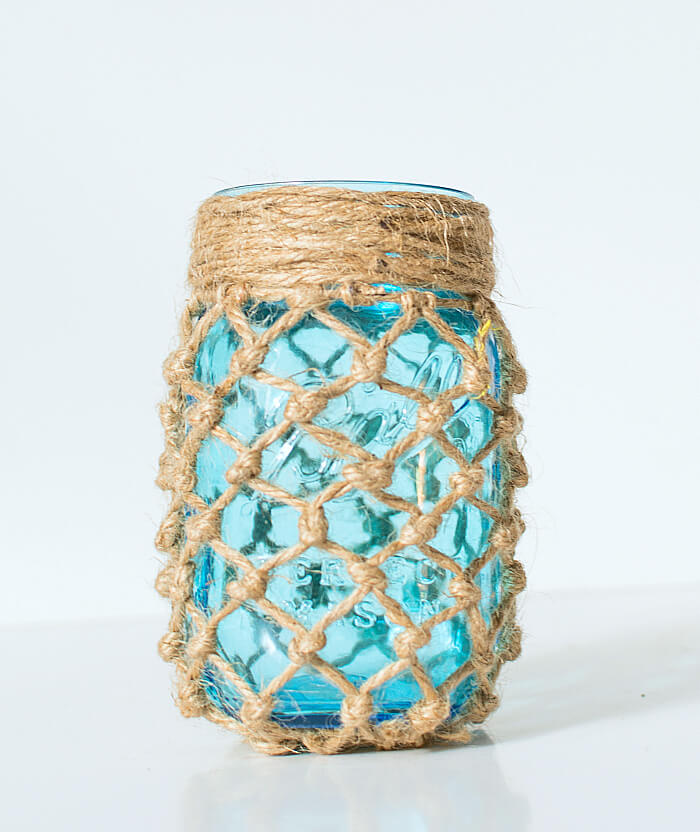 For your inner sea captain, bring the open water to your home without the need to ever sail away by incorporating twine and blue mason jars for a fishnet styled piece of decor that'll have you dreaming of kicking back on island paradises.
35. A Different Kind of Photo Album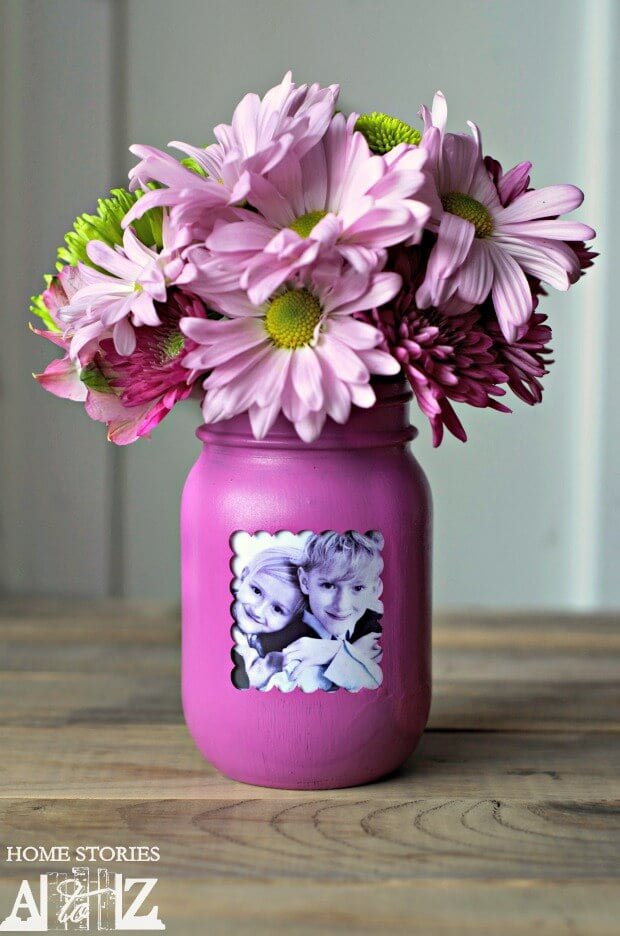 Put away those boring old 4×6 frames and put your love for your family and friends on display with a one-of-a-kind picture frame mason jar display piece; jazz it up with some seasonal flowers and you have a vibrant new place to store your precious memories.
36. Fairy Lights to Guide You Home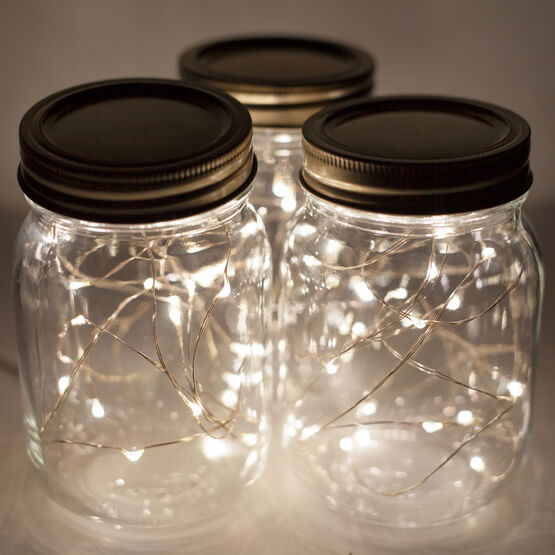 Revolutionize your home into a fantasy world with mason jar light decor inspired by mystical fairies. With their warm glow, you'll create a dream-like atmosphere that you've always imagined.
37. For Runny Roses and Weepy Eyes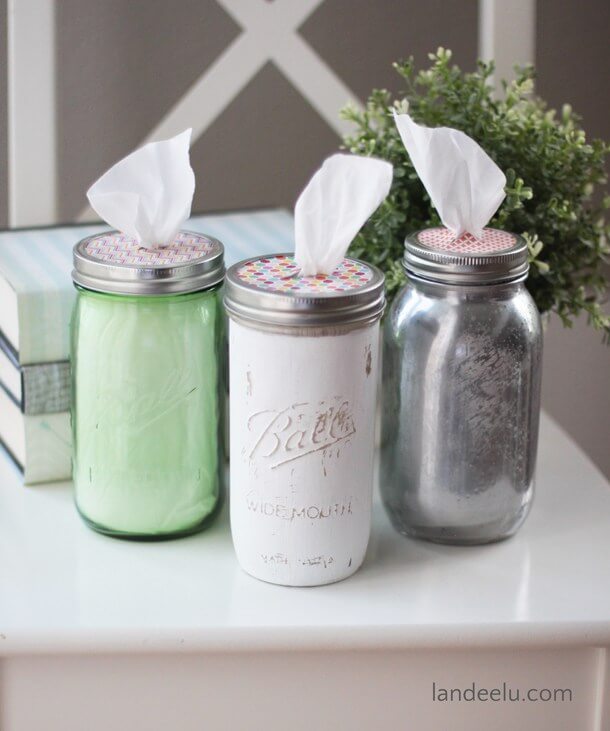 Throw away your old cardboard kleenex boxes, their mason jar equivalent will be a fully functional welcomed change to the classic fare and will have everyone who enters your home marveling at how adorable they look.
38. The Most Glamorous of DIY Mason Jar Crafts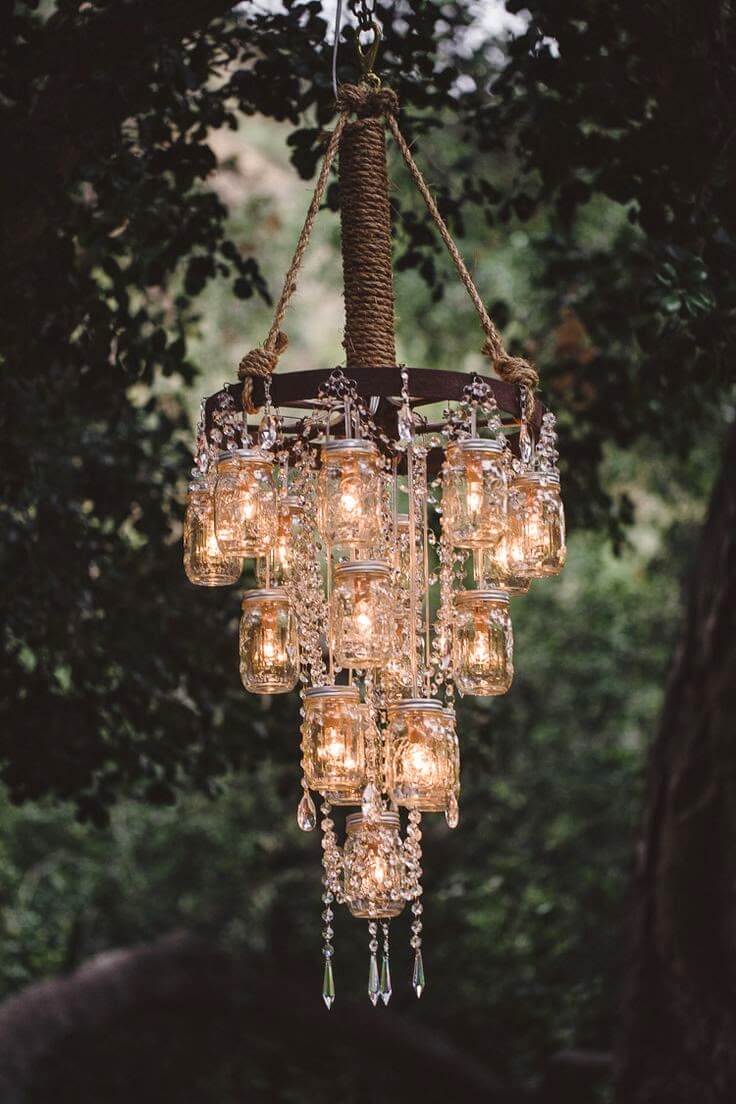 If you've ever wanted a stunning chandelier draped from your ceiling but never could find one that suits your laid-back southern style, you haven't yet seen what a few mason jars and some light bulbs can do!
39. For Your Odds and Ends and Eccentricities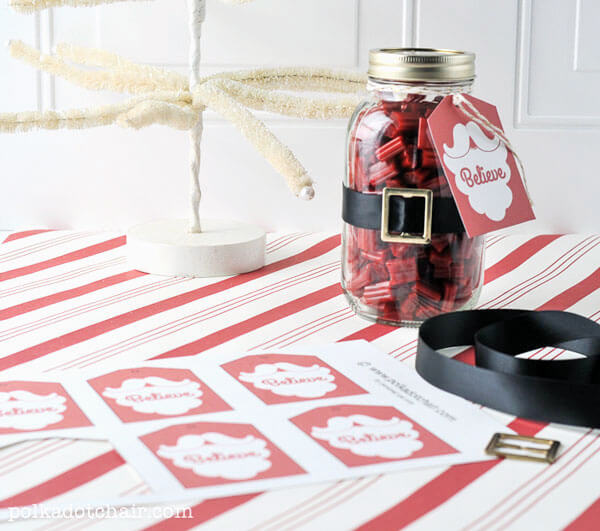 With the holidays around the corner, your house is sure to be chock full of extra candies, cookies, and other sweet treats, and instead of putting them in a boring old cookie box, why not craft yourself a stylish little mason jar to house them in?
40. Never Lose the Salt Again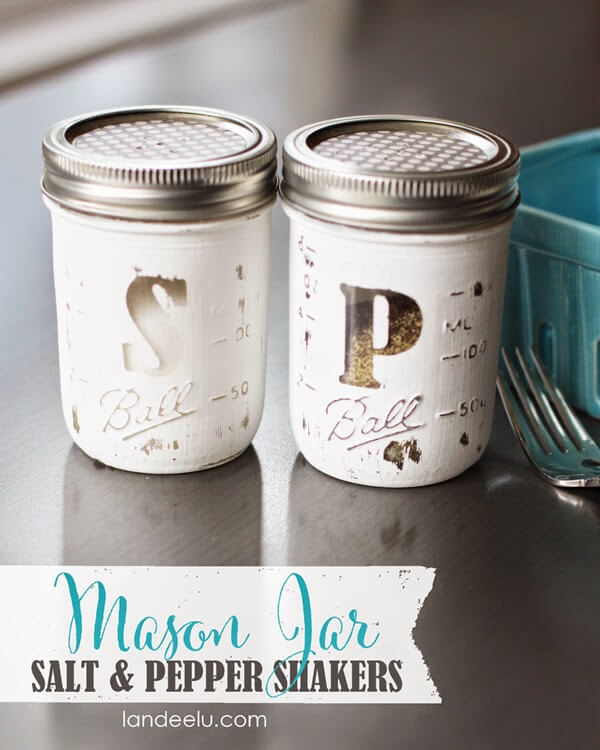 Salt and pepper shakers are a household staple, but they can be a little basic, so jazzing them up and placing them in easily accessible mason jars is a great way to keep your house tidy by ensuring all those tiny specks have a place to call home.
41. Send a Message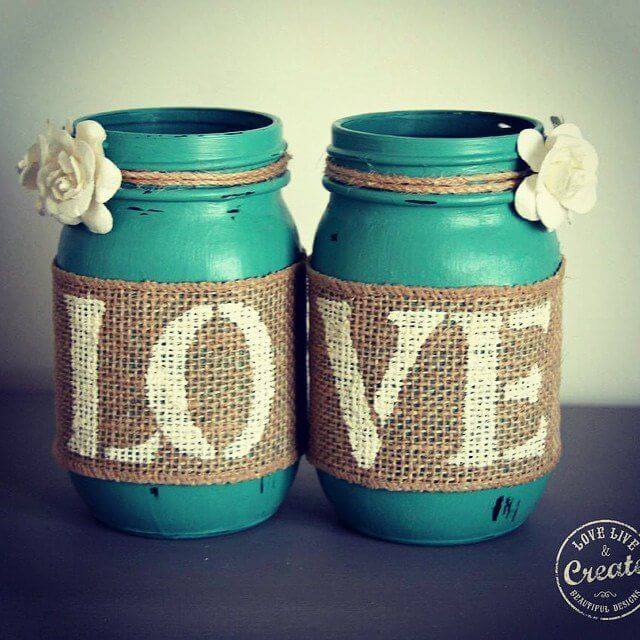 While we love our mason jars to be functional, they can serve other purposes too, like spreading some extra love in your home for all your guests to enjoy!
42. Cultivating an Indoor Garden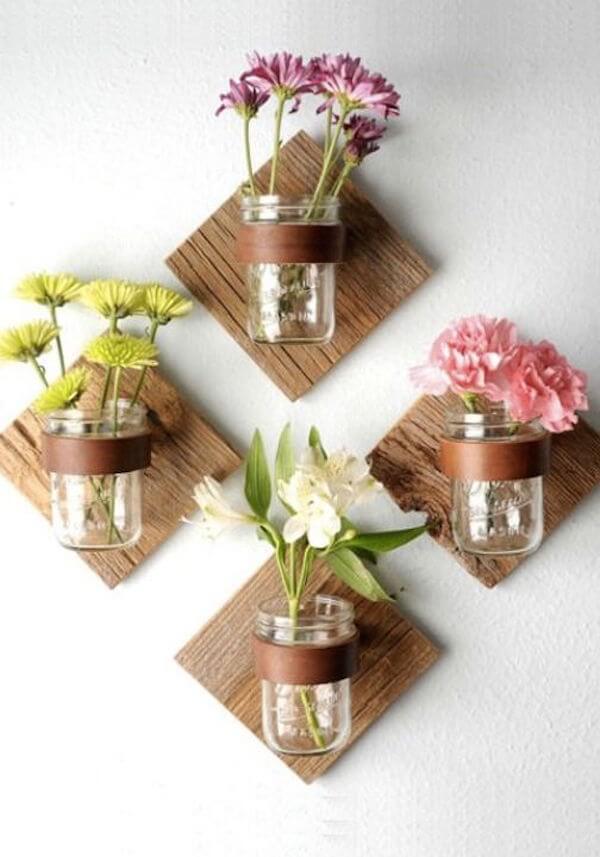 If you fancy yourself a bit of a botanist but feel held back by the cooler seasons, creating a smaller version of your outdoor garden will keep your green thumb busy while brightening up the decor in any room you'd like.
43. A Touch of Elegance In Your Bathroom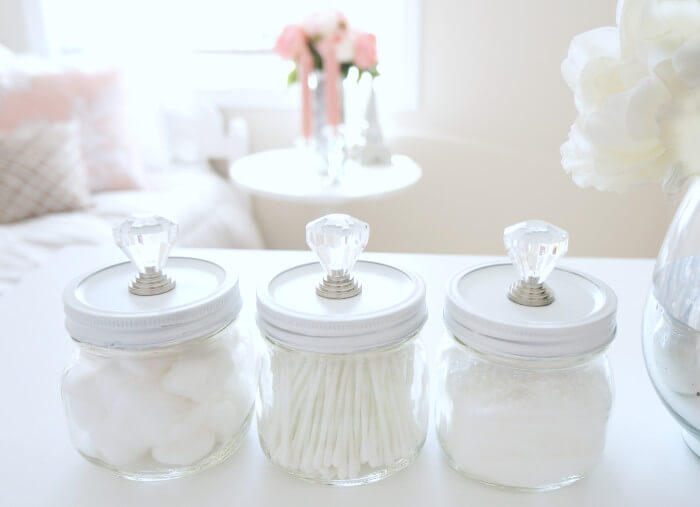 Cotton swabs, soaps, and other bathroom essentials don't have to be an eyesore, and if you fancy putting them on a display for ease-of-use nothing will make them pop out more than placing them in clean, see-through mason jars.
44. Straight Out of a Western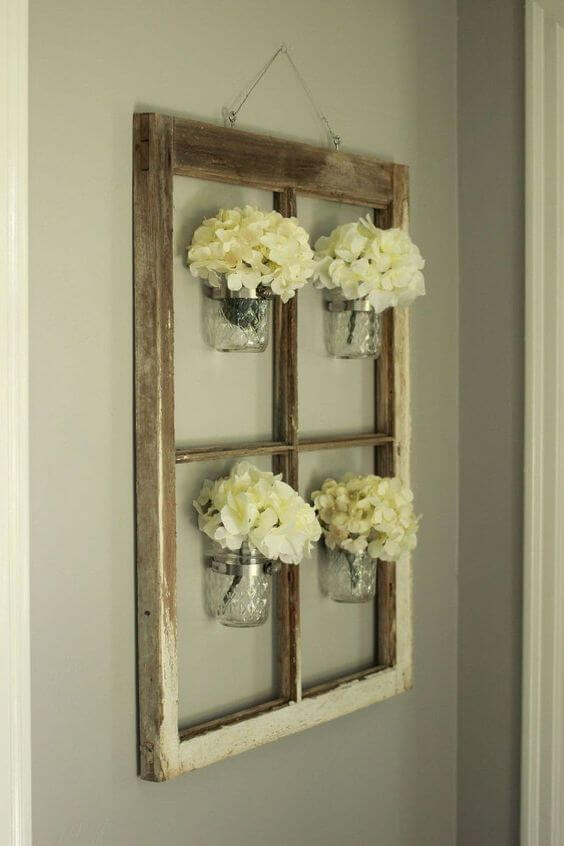 If you have any rooms in your home that are lacking windows and natural light, you can sweeten up any space with an eye-pleasing mason jar filled display that mimics the look of your windowsill flowers.
45. Hypnotize All of Your Guests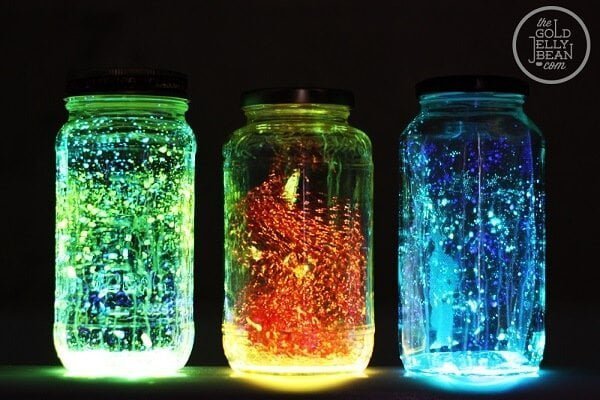 For a more colorful twist on fantasy inspired fairy jars, use glow sticks to create an air of mystery – they are sure to mesmerize anyone who comes near!
More DIY mason jar crafts on the next page…