15. Castle In The Sky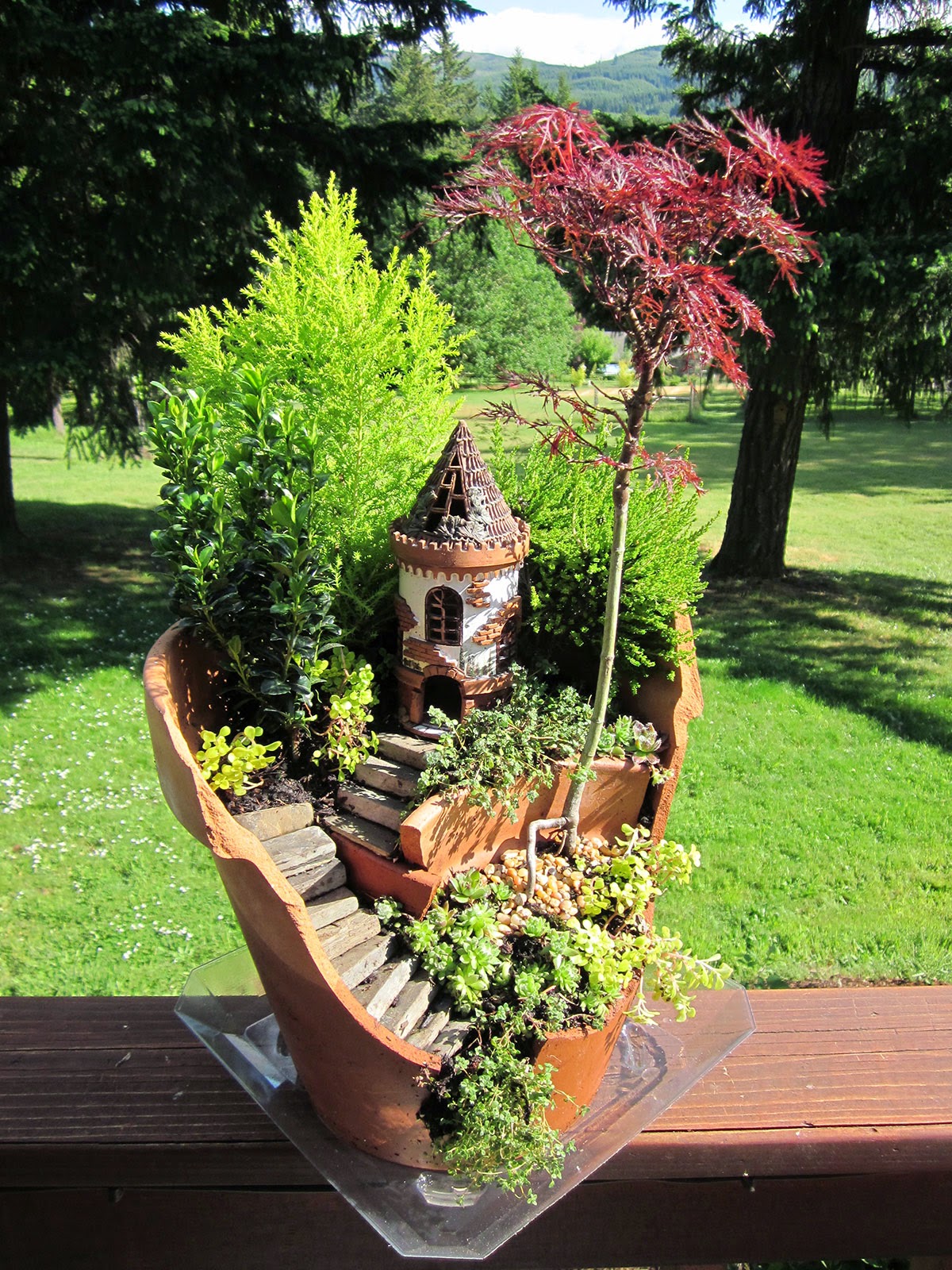 Whether it's a castle in Spain or on the Rhine, this design is another wonderful way to put broken pottery or broken planters to good use in a tiny garden. While it's not too demanding of accessories, with the exception of the castle itself, it does use bits of greenery and plant life to help accent the stone walkways and stone steps. Almost minimalist in design, other accessories used might be pieces of blue marbles for the illusion of waters surrounding the castle and a small draw bridge expanding over a moat. You may use this tiny garden design anywhere.
16. It's Almost Easter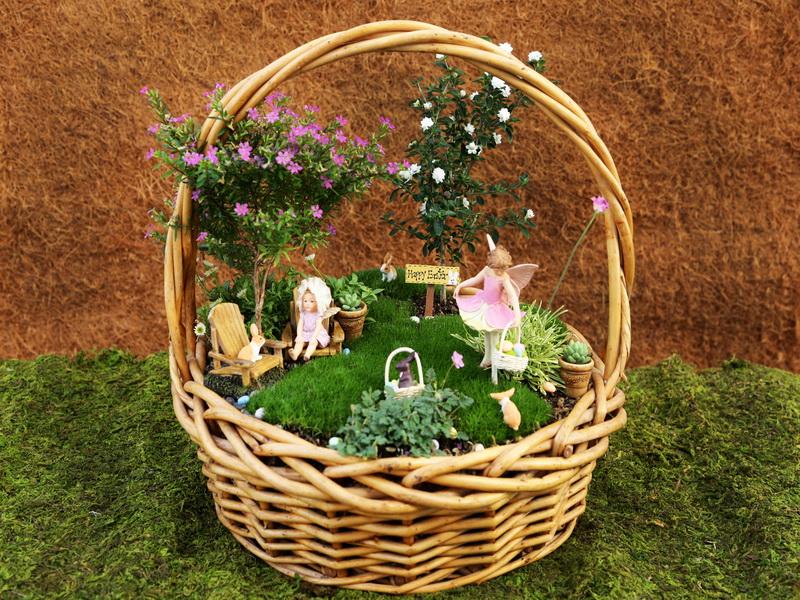 Basically looking like an upscale and polished Easter basket, this styled design is best seen against a background of contrasting colors. Plain, yet charmingly striking, this miniature garden makes a simple statement about not only the Easter season, but springtime in general. Setting the stage for the Easter bunny using tiny, polymer bunny figurines throughout the fairy garden display, you can easily add a child, a fairy or two and landscape details from your very own garden. Nothing has to be fancy by any means, and it's a delightful home accessory item that can be used over and over again each year.
17. Spring Time Blossoms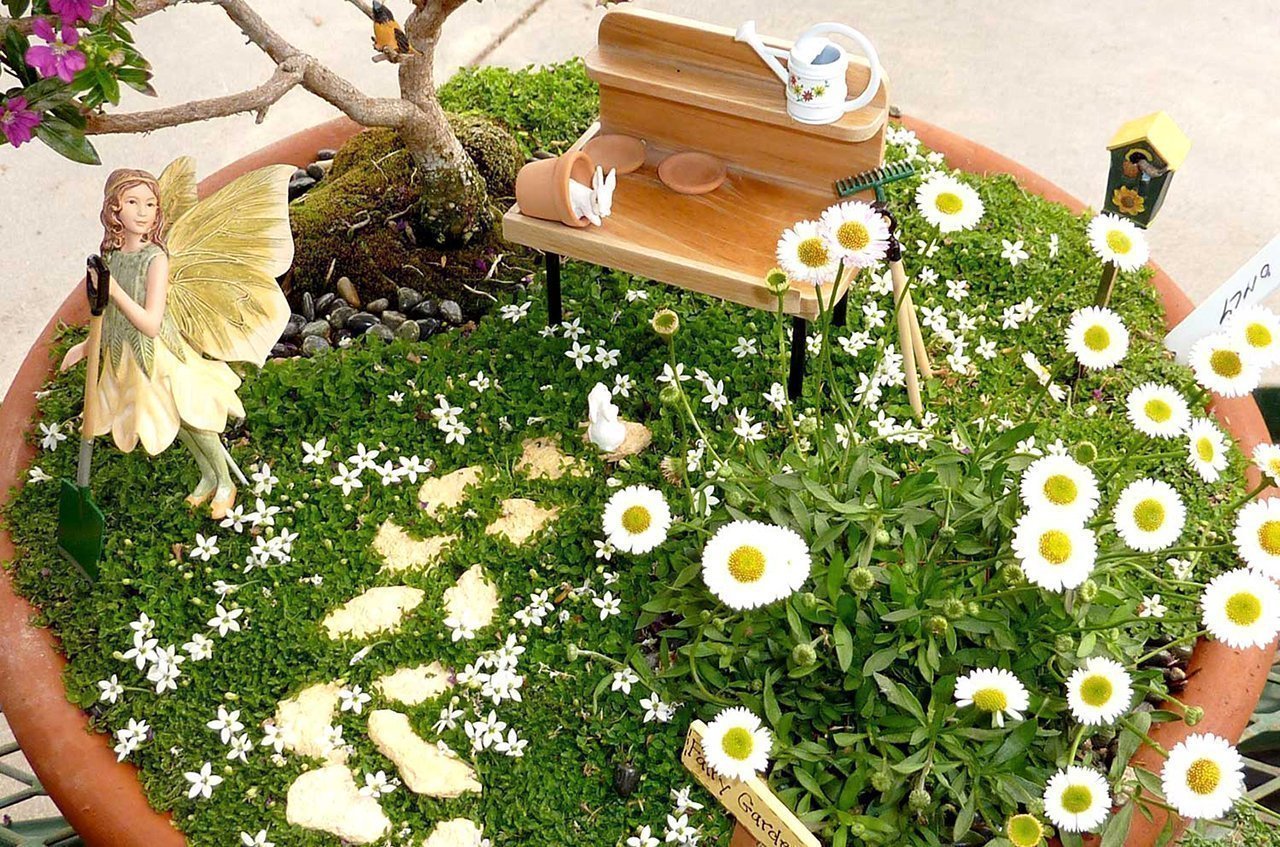 Using collections of tiny daisy flowers, this design, like illustration number 16 above, is most appropriate once winter fades and spring time begins to bloom. A miniature bird house gaily painted and a simple plant or tree branch strategically placed will make visitors stop and look more closely at your beautiful home decor. Always remembering to insert a little fairy figure in the scene, be sure to blanket the ground with covering such as daisies, perennials and other natural items. The additional of little pebbles leading to the house is your focal point in your creative design.
18. The Magic Mushroom Garden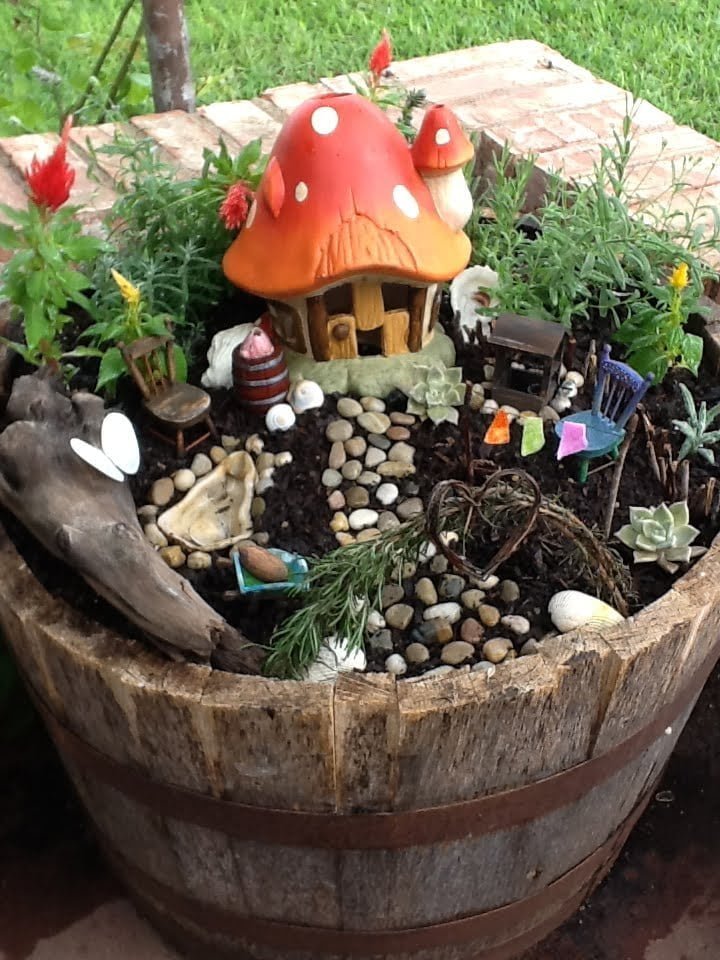 What garden would be complete without at least one giant mushroom popping out of the ground? In a magic DIY fairy garden it becomes a must. Here's one that not only Mom will enjoy making, but the little munchkins in your family can also have fun decorating with their beautiful, over-the-top imaginations. "Mom! Has anyone seen my Darth Vader lately?" A simple wooden barrel or wooden bucket would serve well in this design. Your local hobby shop is sure to stock little wishing wells as we've already seen in illustration number 10 above. Extra furniture pieces, such as chairs and tiny birdhouses, help make your tiny garden complete.
19. Follow Your Dream!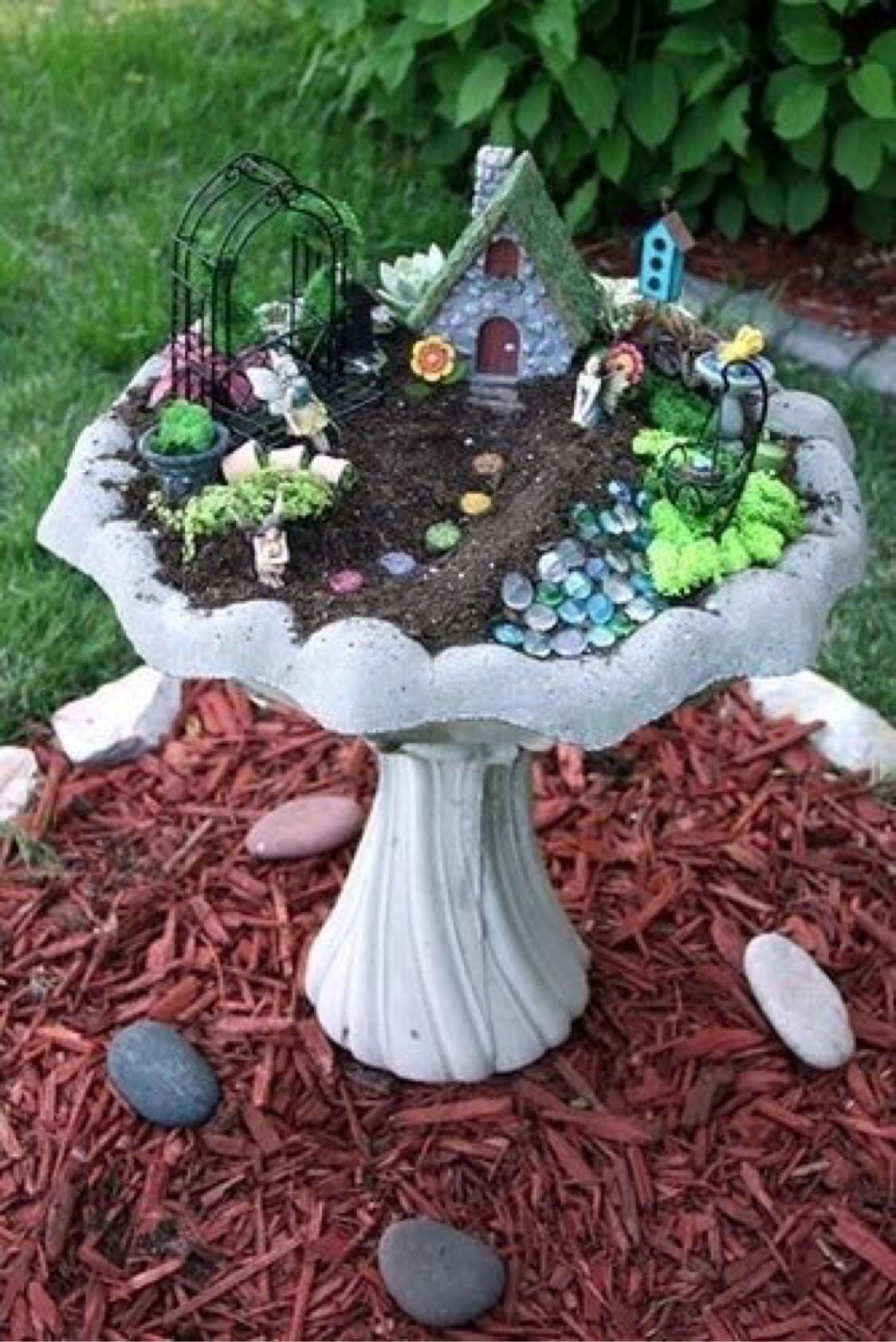 Whether it's an enchanted cottage of your own, a tropical vacation or a houseful of little ones, let your fairies lead the way to your destination in your fairy garden spot on earth. Simply made, an arbor or trellis adds much to the setting of your cherished dream. Perfect for a circular garden section in itself, this circular fountain-like structure is an easy one to put together. Multi-pastel color pebbles lead your pathway right up to the little house with an accompanying bird house for your feathery friends. Naturally, a thoughtful fairy kneels in the presentation as it waits to see your next step.
20. Popsicle Stick Roof Cottage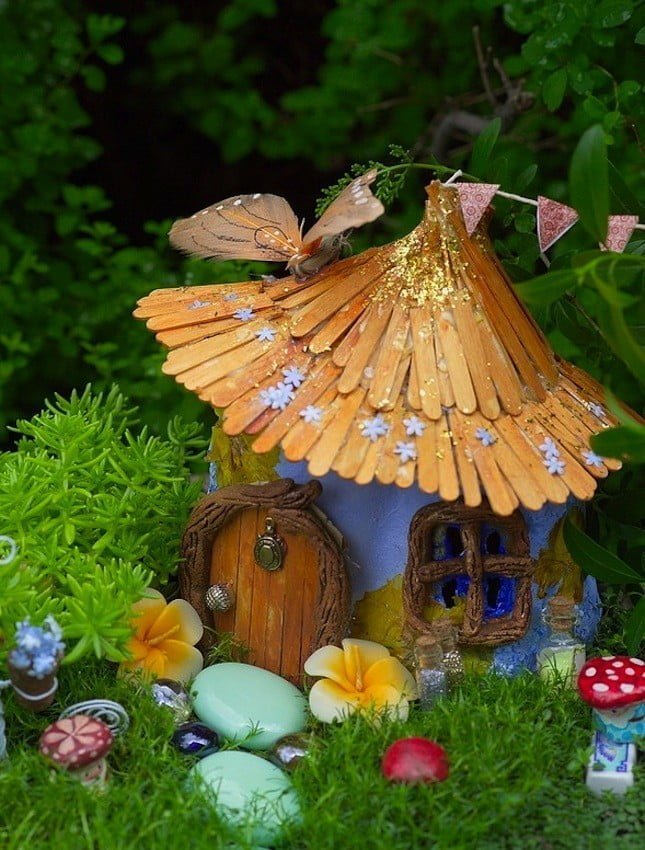 If this darling DIY fairy garden doesn't win you a blue ribbon, then nothing else will. Whatever you need in this garden setting you can get by eating plenty of fudge Popsicles and then setting aside the wooden sticks. Just kidding. You can, however, get a pack of wooden sticks in your local hobby craft store. Door entrance ways, broadwalks and the roof itself are all made from those little sticks. Sprinkling glitter on the roof or pasting on neon-colored stars add a magical touch you'll soon not forget. A larger than life faux butterfly will finish things off just right.
21. Meditation Walk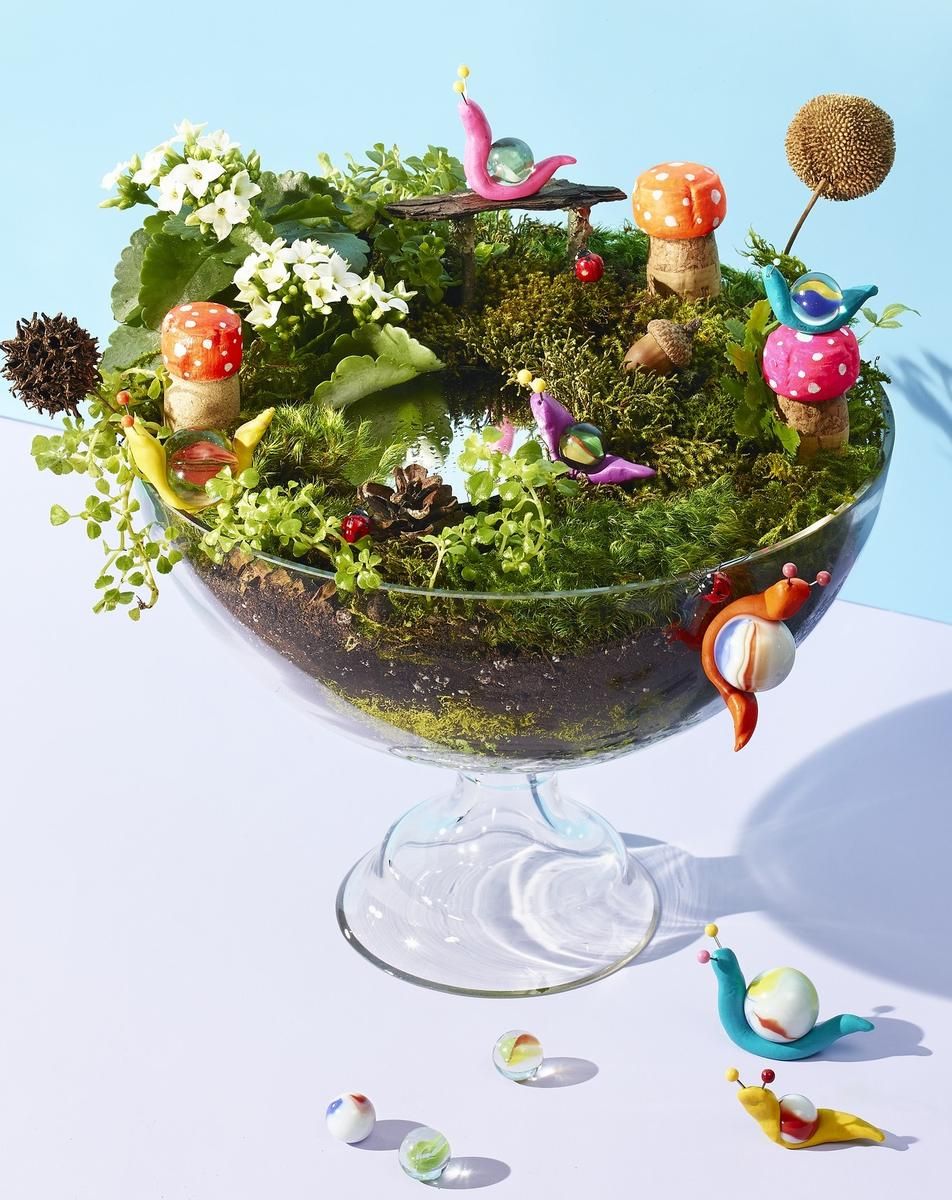 Very simple to put together, this garden of meditation is an ideal place for you to think things over or for fairies to come gather for a little social chat. Using a clear glass, pedestal bowl, terrarium, simply fill with gravel on the first level and then top off with moss. If you place a 3-inch rounded mirror, then you'll have a beautiful pool reflecting the fairy's image or even an ice skating ring. Fairies love some R & R in this DIY fairy garden! Long, hanging, leafy foliage and a small contingent of baby snails complete the effect of the garden used by fairy beings for relaxing and thinking of their next adventure. Be sure to put out cork toadstools and a little bark bench as an added home accessory.
22. "Follow Me!"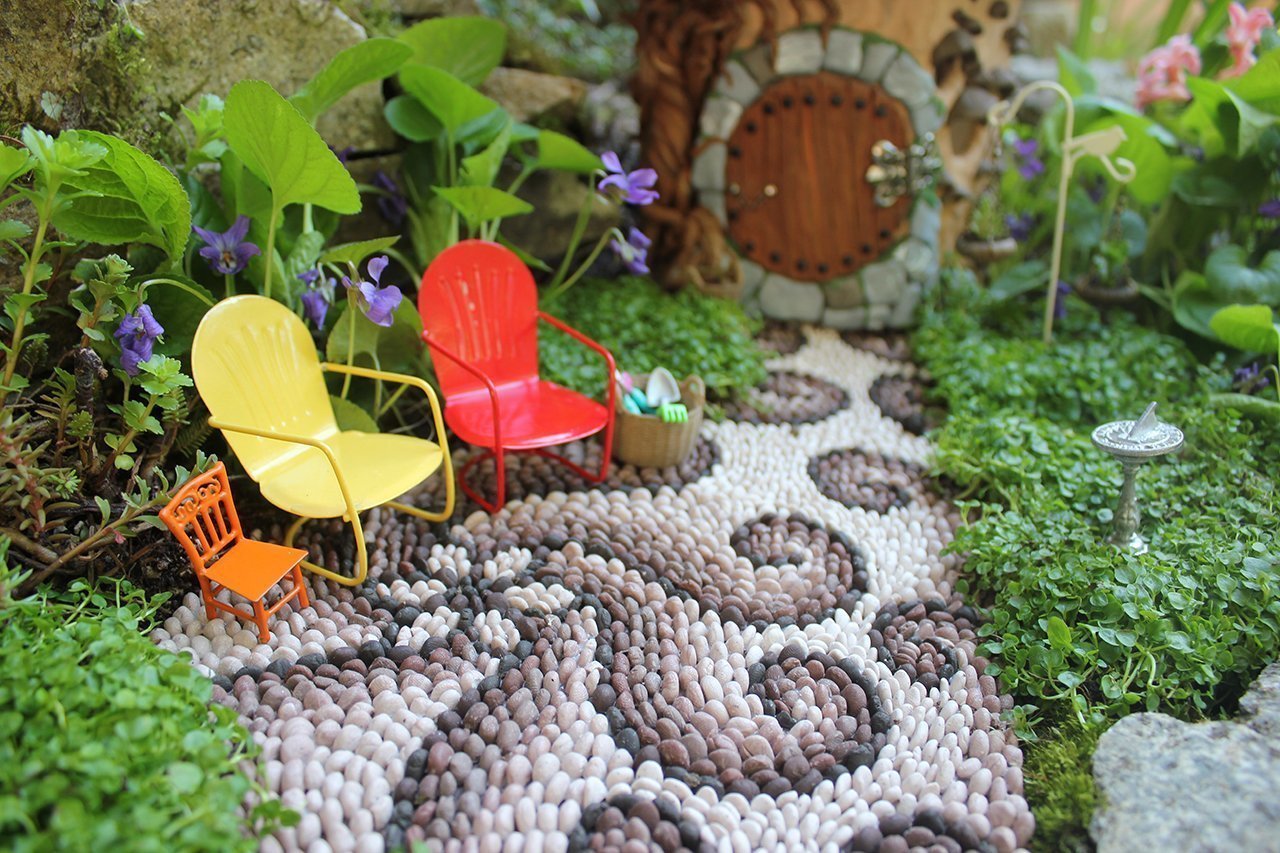 Add an inviting tiny door hidden by foliage of various little plants and a walkway made of little beads, and you've set the stage for a fantasy world experience of a lifetime. Make the pathway even more interesting by selecting various shades or colored beads, and outlining them with swirling swashes of contrasting shades. A couple of comfortable, miniature chairs by the side of your tiny garden path serve as rest stops for your little fairy visitors. Be sure to put a sundial on your opposite side of the path so that visitors will always know what time it is. Plain, easy to make and visually pleasing, welcome into my miniature fairy garden.
23. "Have A Good One, Mommy!"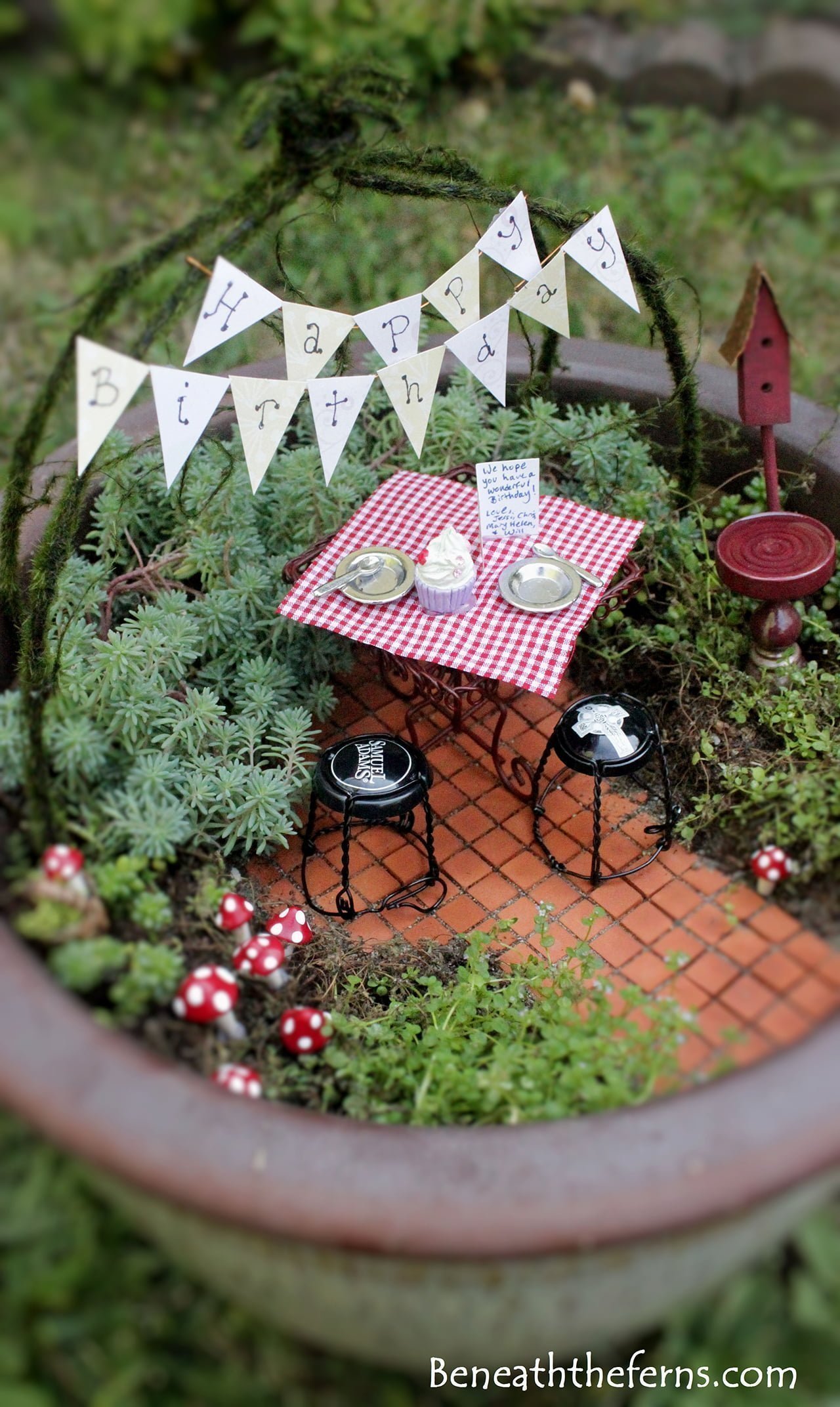 Even if Mom's adding one more year to her life experiences, she'll be happy to receive this birthday gift from her brood: a simple to make and to maintain miniature fairy garden. A terra-cotta piece of walkway or red brick path adds to the charm. With the addition of little bistro chairs and a piece of gingham cloth for a picnic table covering, the afternoon is set for your Mom's special day. Oh, don't forget the little cupcake and a candle set on top. Next surround your garden design with various natural pieces such as small pieces of woody twigs and green leaves. Tiny polka dot mushrooms and a bird house with an accompanying fountain make it all complete.
More mini-fairy garden decoration ideas on the next page…