24. Swing High, Swing Low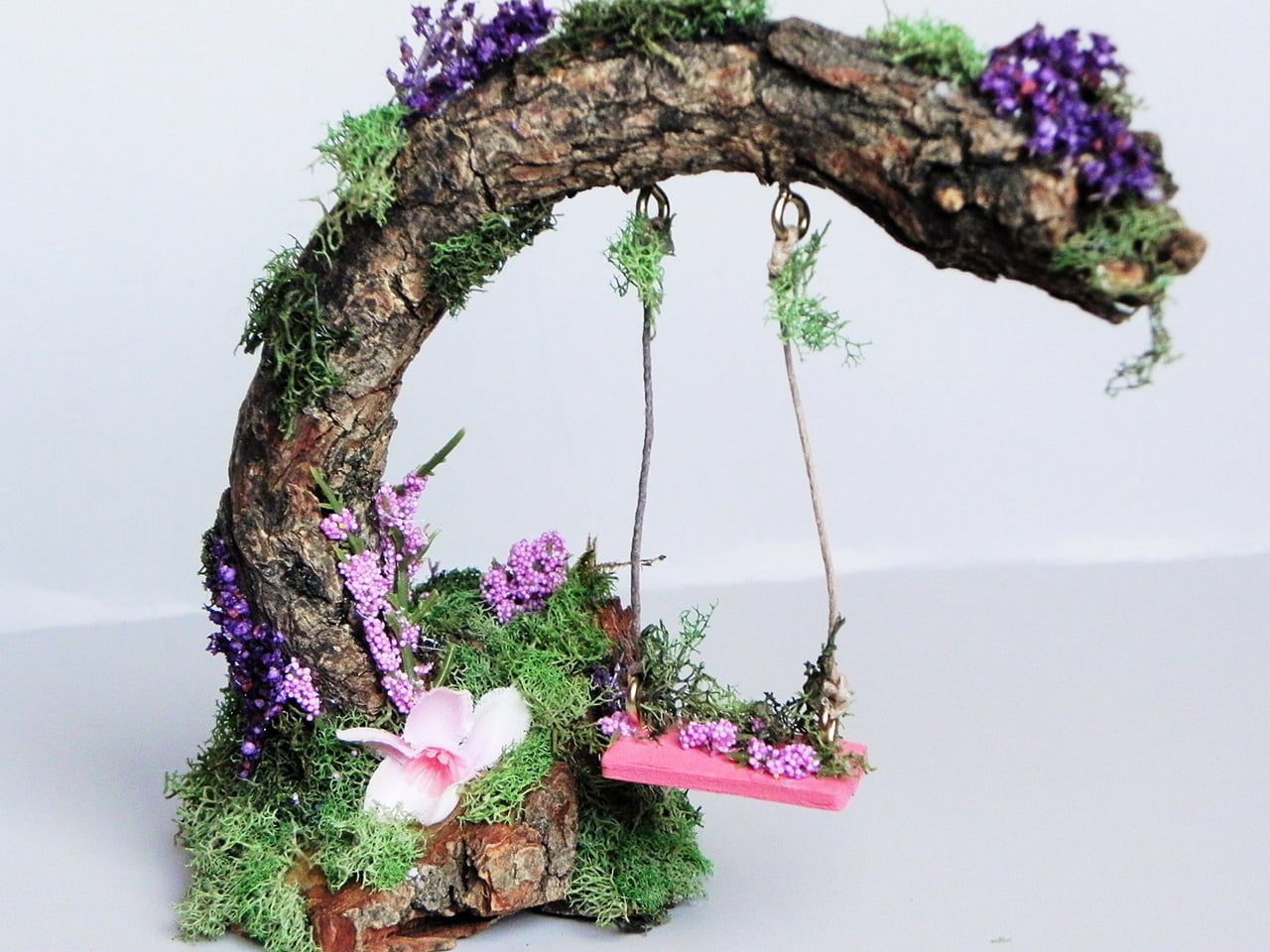 If there's one thing that fairies love to do, it's to swing underneath a mystical branch during the cool of summer evenings. Plain, simple to do, all you need is a bent over piece of woody branch, some twine and a couple of screws to secure the twine to the leaning branch in your mini-fairy garden. Now decorate to your heart's content with greenery and tiny flowers, and don't forget to mount everything on a platform covered in peat moss. Hey! If you save the green, plastic grass from your Easter baskets, that can do the trick too!
25. Getting Back To Nature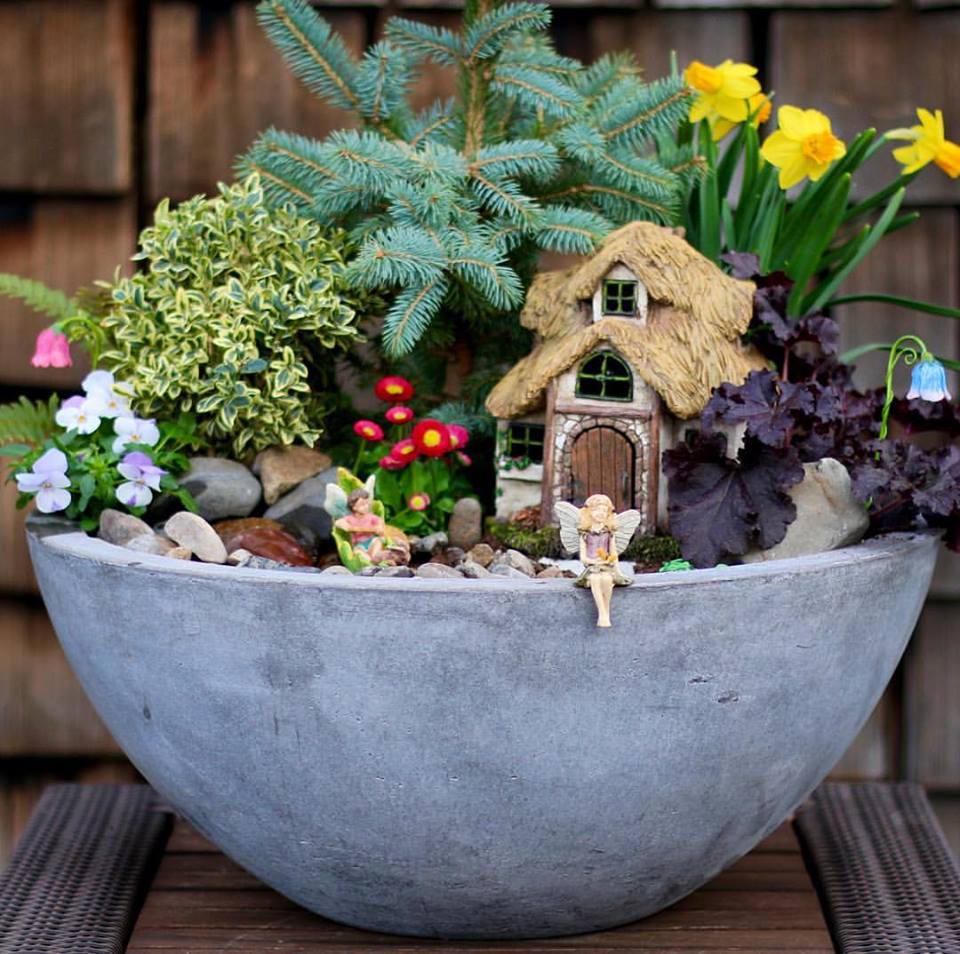 With so many resin or plastic accessories for your DIY fairy garden, it's a real refreshing change to make a fairy garden with only natural materials. Be sure your container pot has a drain hole before filling it with your pot soil. A word of warning: don't expect this miniature fairy garden arrangement to last for reuse in another season. After the season is gone, they'll start to deteriorate. Now, start with your largest plant first as your focal point. You're free to use whatever natural plant you want, but be prepared to throw them all out. However, if you prefer, once they start to grow, plant them in your backyard.
26. Stairway To Heaven Tree House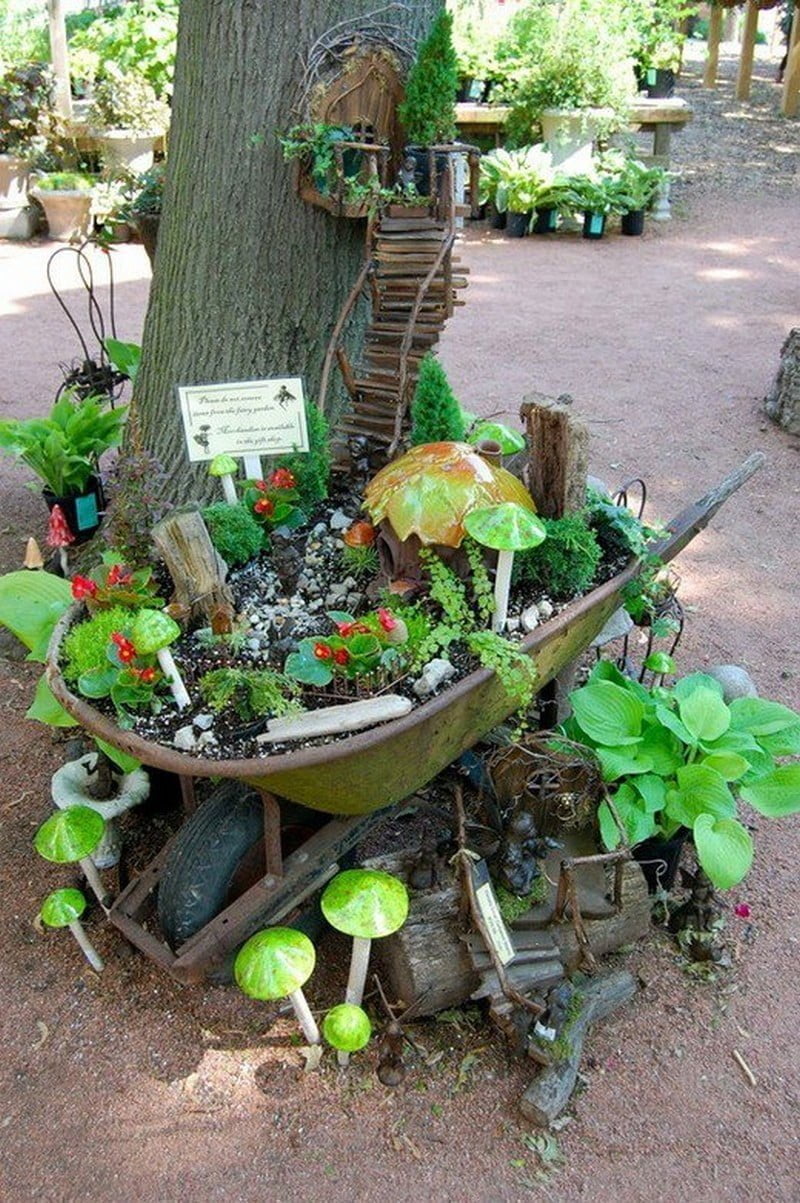 If you've got a tree in your front or backyard, then you have most of what you will need to start your "stairway to Heaven." An old wheel barrel, some wire fencing around the perimeter of the tree, a fairy doorway and a flexible wooden ladder make up the rest of your fairy accessory line. Since this is a DIY fairy garden design, don't leave out the twigs, branches and green cuttings that you've salvaged from your yard. This garden doesn't necessarily have to be miniature in size; however, medium-size accessories are more appropriate when used along side or in front of a large tree.
27. Around My Twiggy Orb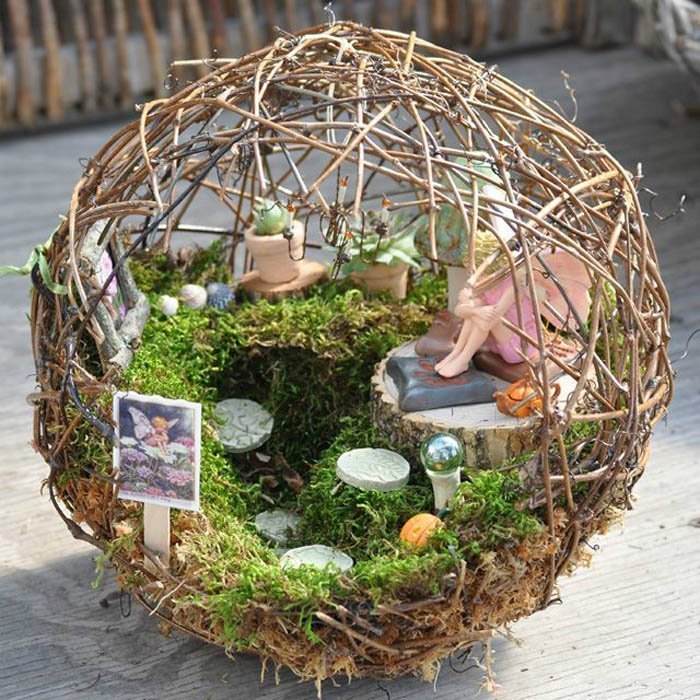 One not too common mini-fairy garden design is the twiggy orb. Found in many hobby craft stores, this rounded structure will give your design a bird-cage sphere-like illusion when you accent it will tiny figurines of fairies and terra-cotta pottery pieces. Fill the design with peat moss, and the scene shifts into a charming atmosphere perfect for willowy fairy spirits. This design can easily be exhibited on a flat surface such as a corner table or even hung from a backyard tree. White lighting on it would make it look even better for that evening cup of hot tea.
28. Serenity's Place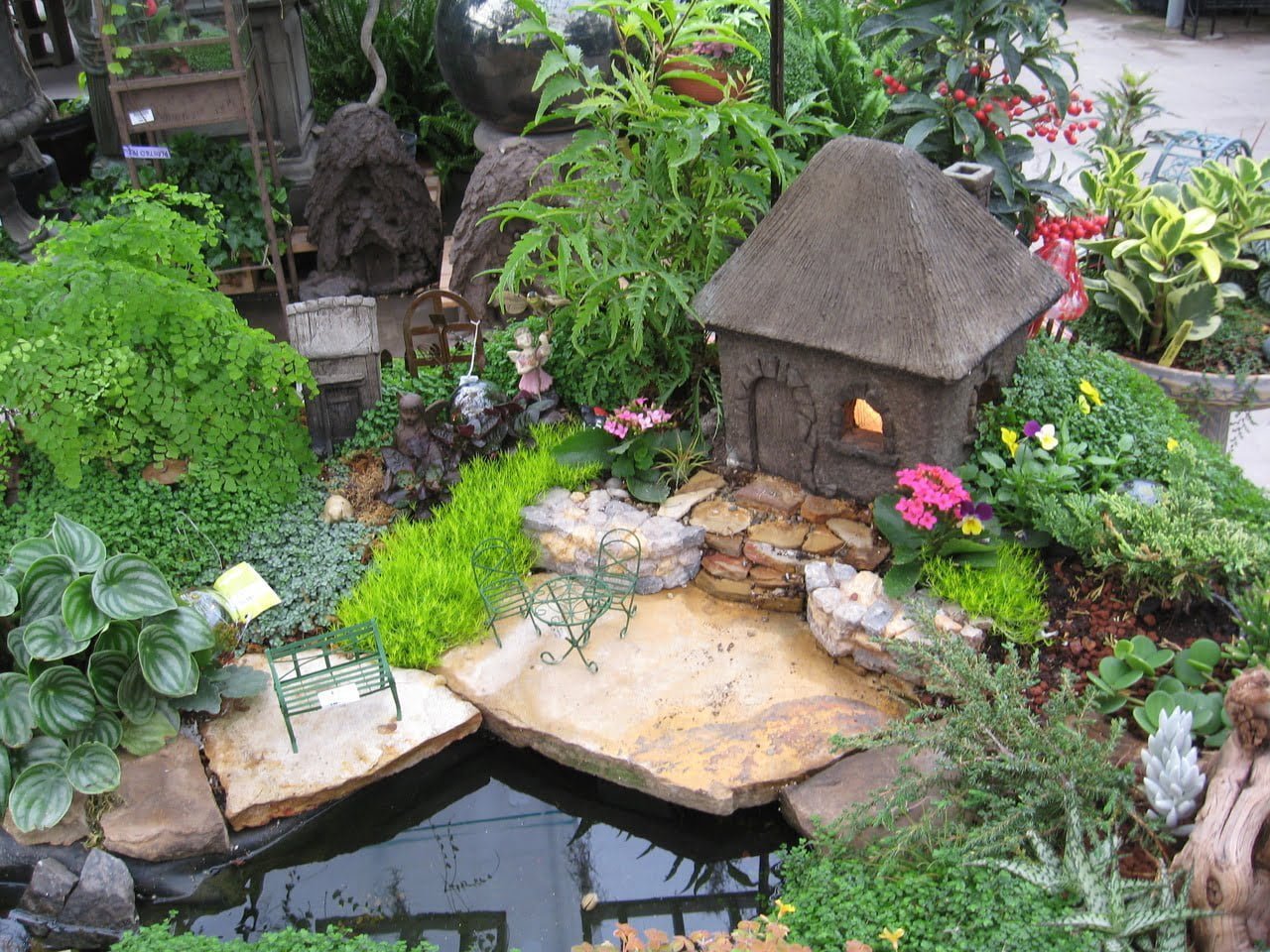 Although typically viewed best in a rustic backdrop, this design goes well in almost any setting it's displayed in. Making it more outstanding is the fact that whatever surrounding foliage you've chosen, elements such as flat stones, rocks and one single cottage are all that you really need to make this charming presentation jump up at you. Sparingly using tiny furniture pieces and limited flower colorings, this unique, beautiful display blends well outdoors, in the corner of an inside porch or even at an entrance hallway. Letting your imagination and creative talents flow freely will surprise you with what you're capable of doing.
29. Stream of Dreams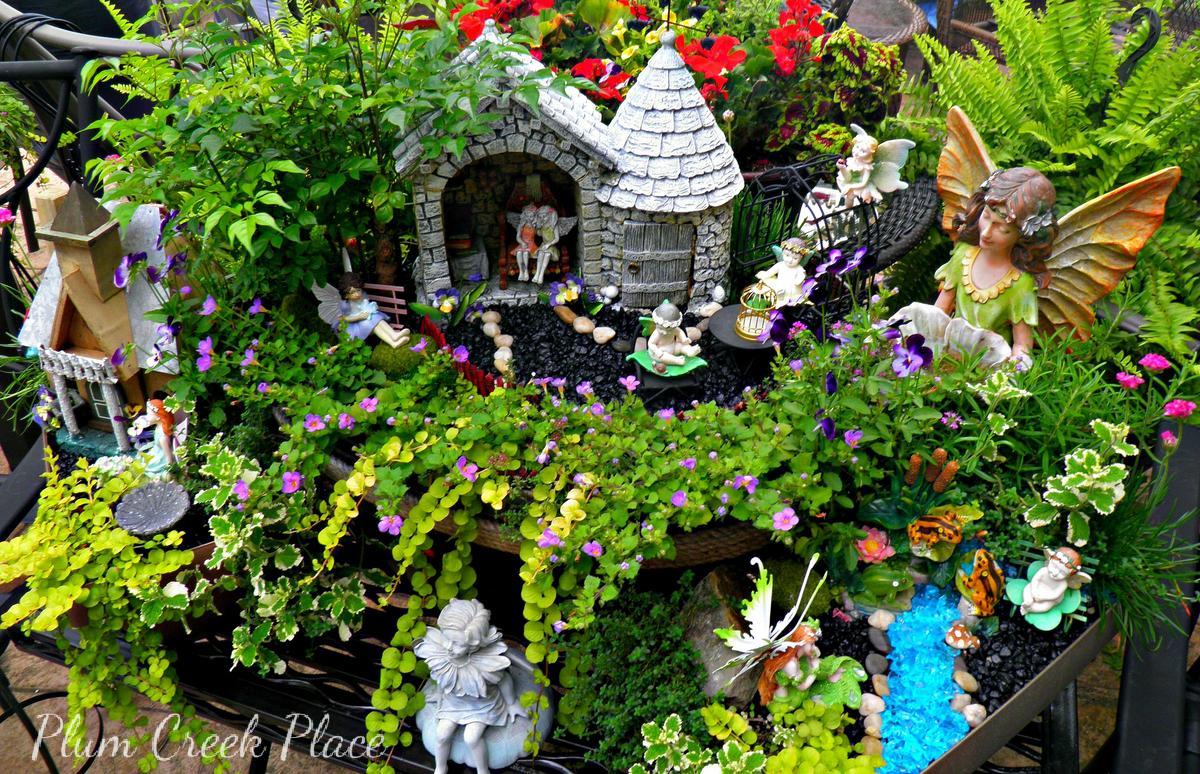 Surely at some time you've had a dream like this one. Serene, tranquil and everything flowing harmoniously. An enchanted cottage to give you and your little friends a respite from whatever storms you encounter, this is one creative display that truly lets your imagination flow alongside the little pictured stream of dreams. You'll only be limited by what you want to put in this little exhibit. Perhaps a little gnome would look appropriate with little fairy friend companions. Whatever you choose, enjoy the journey into a world of fantasy.
30. Gillian's Fun Island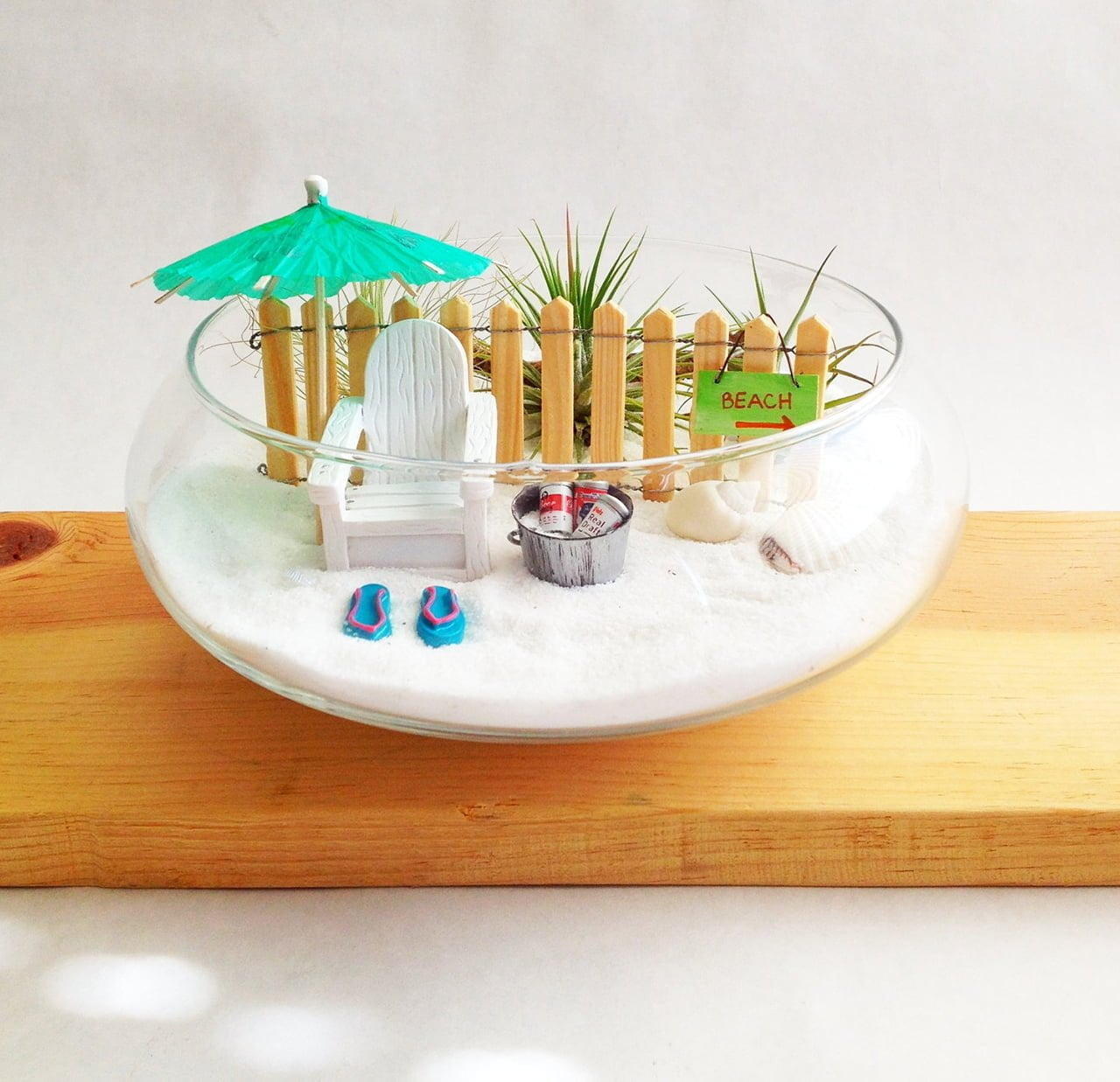 You've seen them around, now make one yourself! A large, glass bowl half filled with white sand or even table salt, miniature flip-flops and a tiny beach chair will make this day at the beach complete. That said, a miniature garden doesn't always have to be situated in a dreamy, forest-like setting, this is one that you can use to imagine that dream vacation in Hawaii you've always wanted. You can limit the amount of greenery here. A tiny palm tree or beach-like shrubbery will do. Don't forget the ice cooler filled with tiny beer cans and your hand-painted picket fence to ward off intruders.
31. My Blue Heaven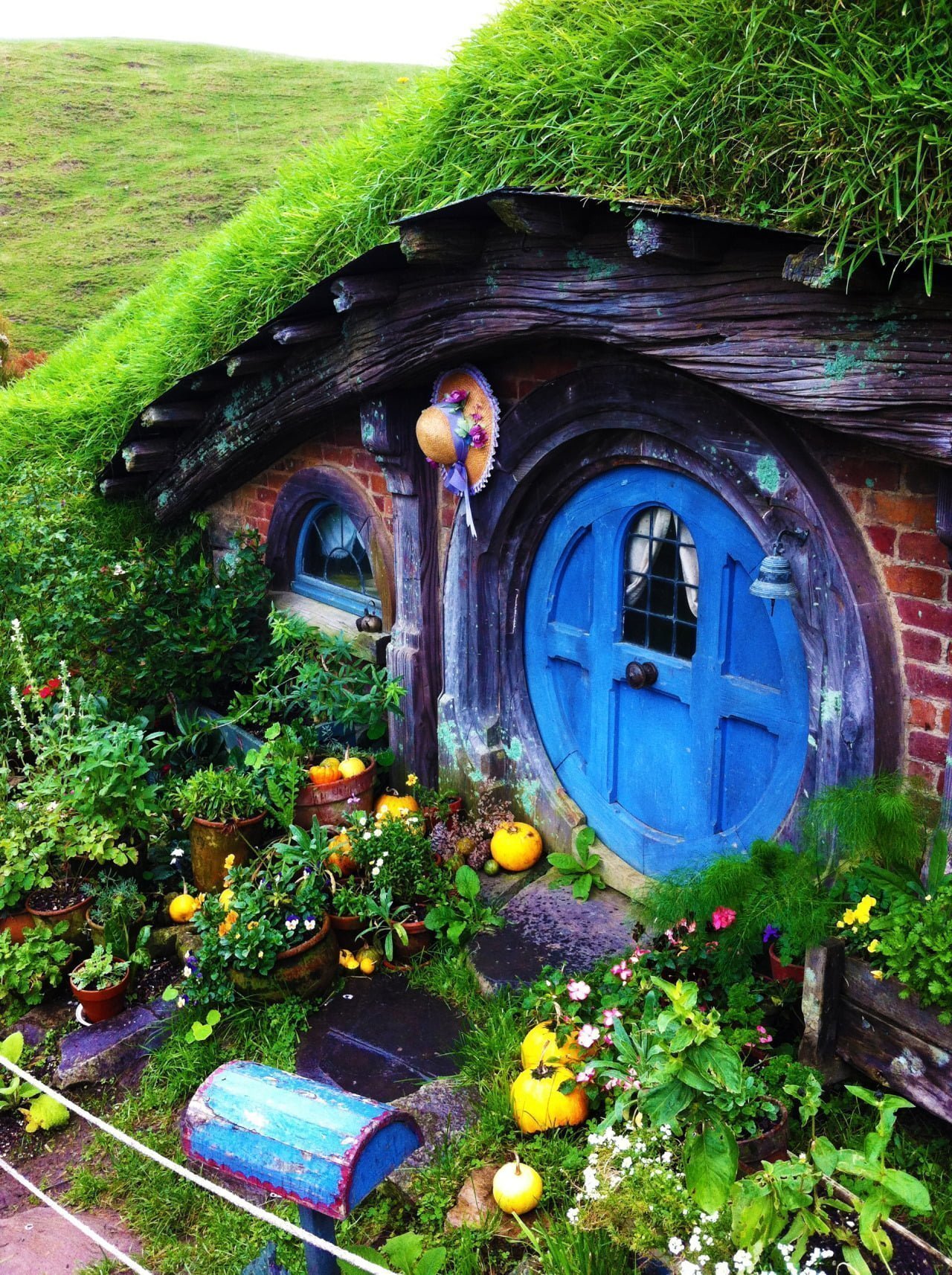 There's not much to build with this delightful presentation. Charming and tranquil in nature, it's the perfect place for your little fairies to gather and chat. All that's really needed is a lot of bright, green-colored moss, a tiny rounded door painted in blue and little accessories. Some accessories can be a garden sun hat, a small blue treasure chest with surprises that only a fairy would know and a small fairy front window that's also painted blue. All of them add to the charm of this DIY fairy garden design for years to come.
32. My Favorite Cup Of Tea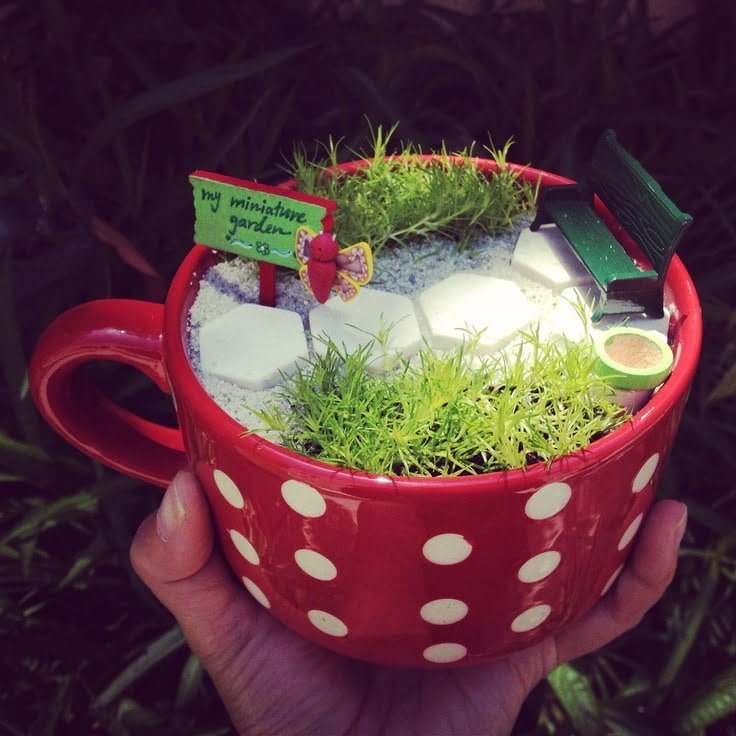 An amazing cup of tea or java, you'll need an extra large tea cup or small size soup bowl for this one. But, considering that fairies drink tea too, it's well worth the search for the right size cup. Fill your cup of whatever with soil on the bottom, making sure there is some drainage provided either by a hole or by layers of pebbles on the bottom. Then fill the rest of the way with clean, white pebbles. Three or four tiny green plants, a miniature park bench, some stepping stones and a string of lights will help the fairies come to your park setting in this miniature garden setting.
More mini-fairy garden decorations on the next page…