42. Enchanted Door To Nowhere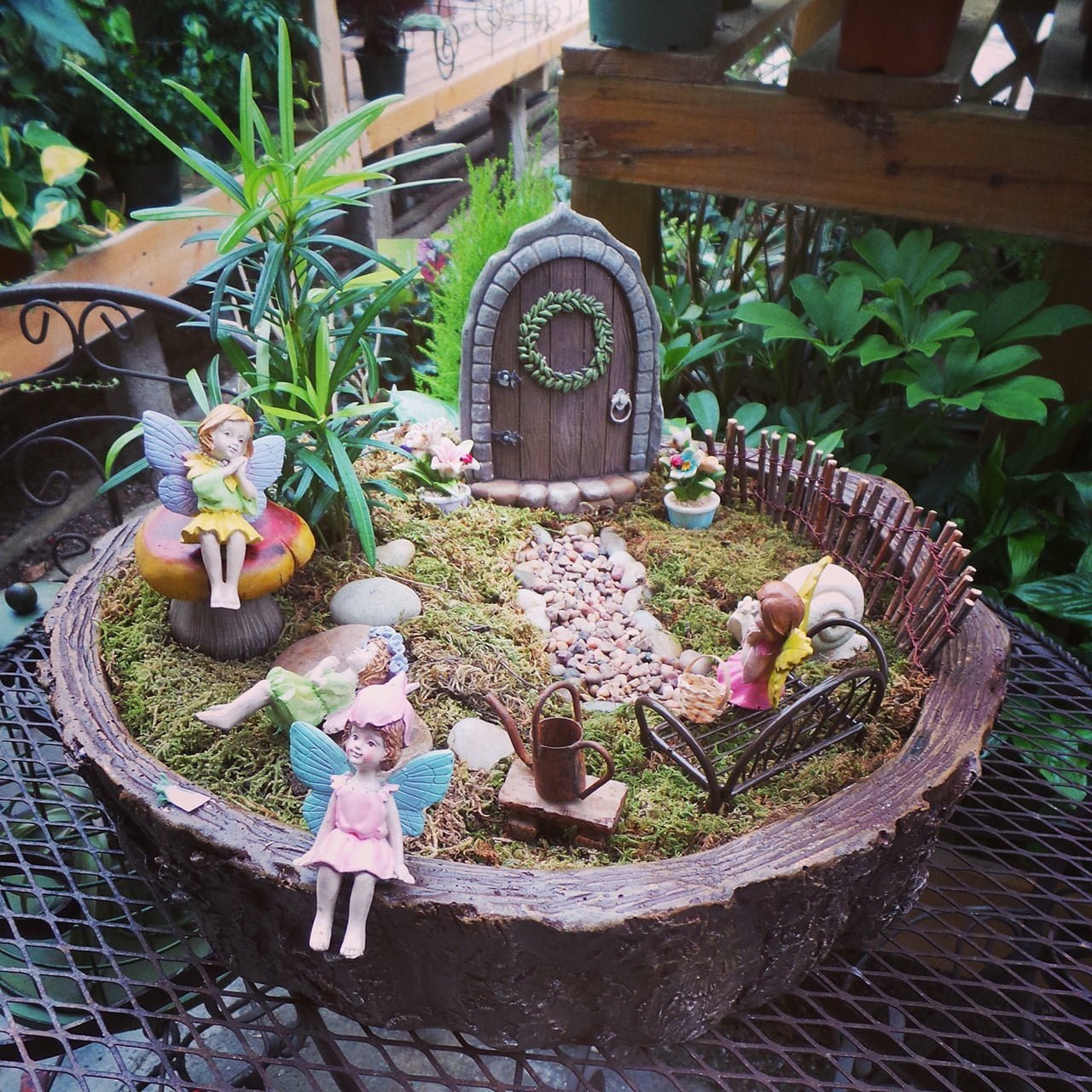 Using a circular base as a container, this mini-garden design calls out to the inner child in all of us. Not even the fairies know where the door leads to as there's no house on the other side; however, it does open. Be it as it is, that doesn't keep four little fairy creatures from waiting outside for visitors. There is just one furniture piece here: a wire fence bench. You could also add other pieces such as a garden can and perhaps a surrounding picket fence made up of painted Popsicle sticks. Enhance your tiny garden now with plant cuttings and peat moss.
43. In The Cool Of The Day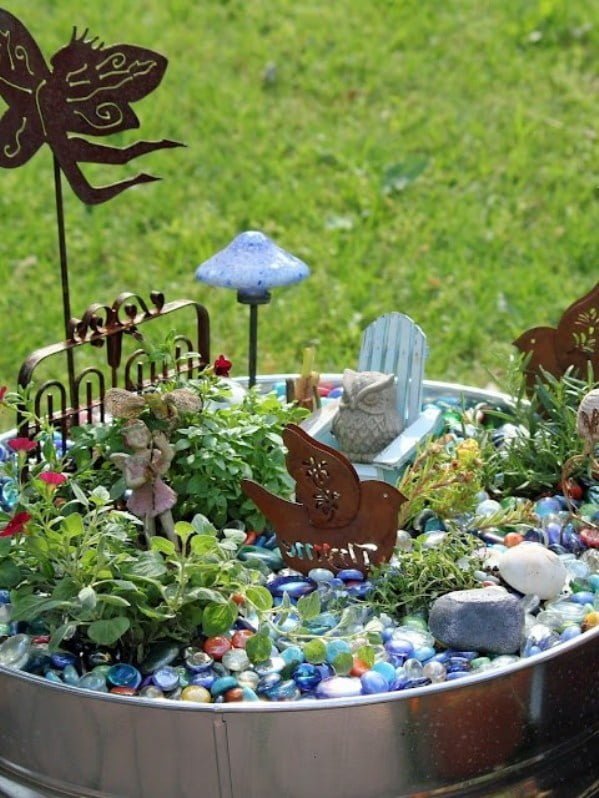 You'll want plenty of ice tea on hand to quench the thirst of your little spirit beings in this fantasy garden setting. A blue-tinged focus will make it all the more refreshing for visitors as they sit under a miniature umbrella. A metal fence for a sense of privacy and a tiny Adirondack chair make this spot all the more inviting. Further decorate with a fairy statue, a resin butterfly and a wise old hoot owl observing the garden as it sits on top of the chair. Naturally, you can paint the little items to add even more colorful charm to this display.
44. Pondering Precious Moments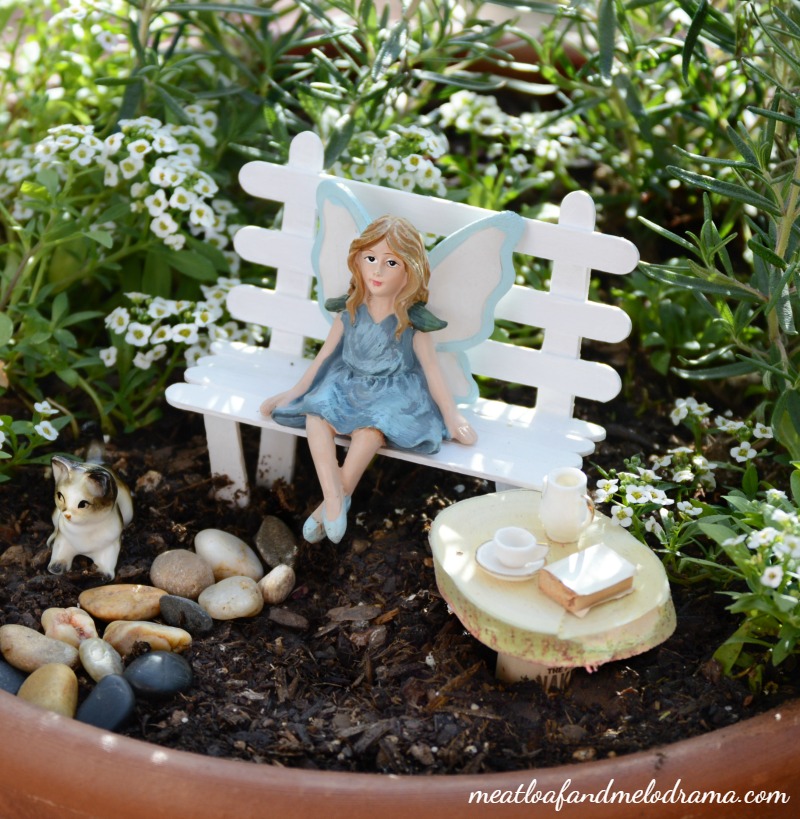 This beautiful mini-design does not take much to assemble and can be created with any size container. A simply painted white park bench, a little side table for one coffee cup and a morning devotional book is all it takes for a lasting fantasy moment in the garden. On a breakfast nook table or in a sun room, you'll want a fairy being to enjoy this special spot with you. Dried mulched leaves and larger size pebbles add to the whimsical appeal as white daisy flowers compliment the white park bench.
45. Hunnicutt Lane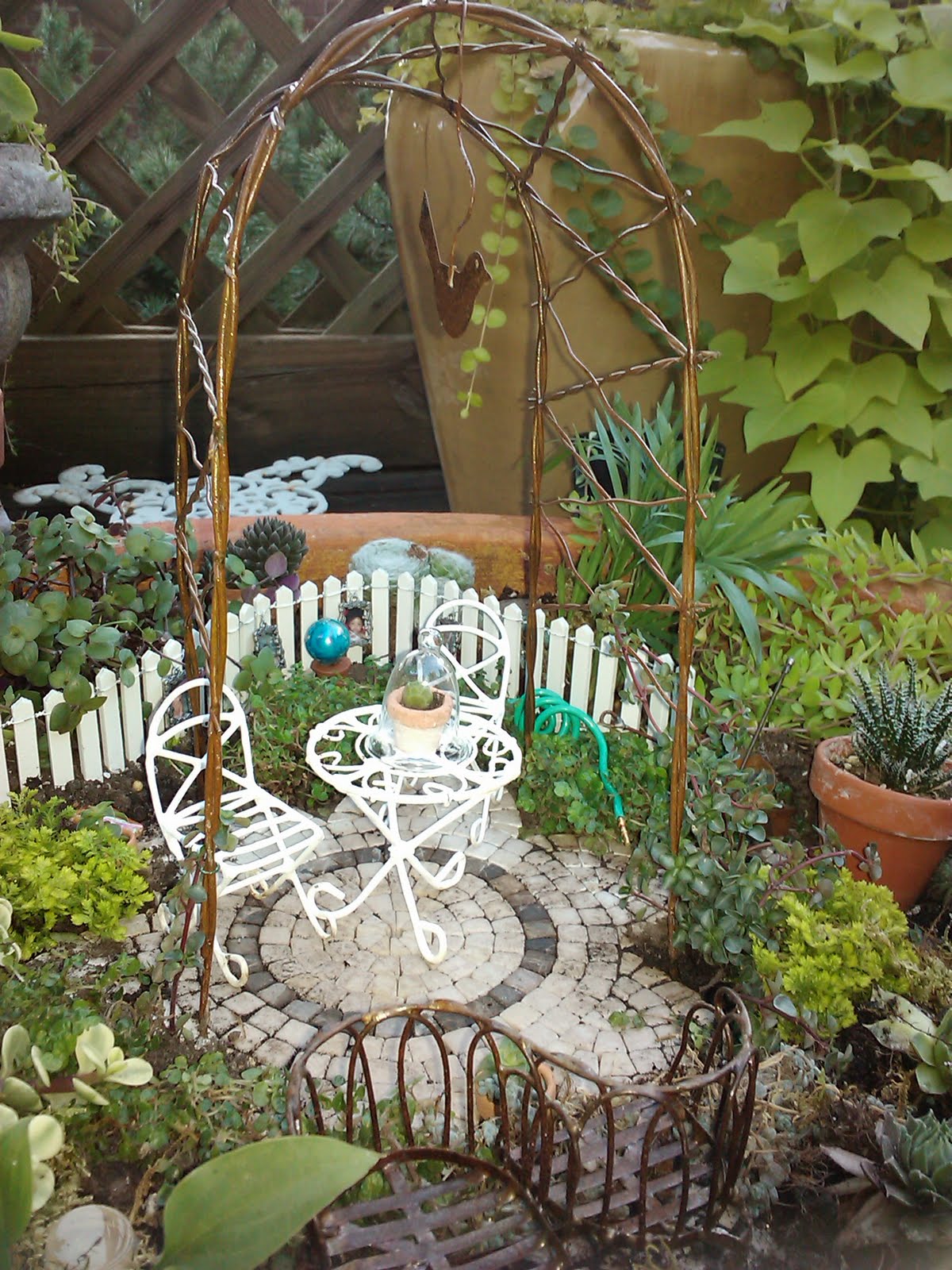 One secluded spot in a garden is all that many fairies need. This spot is especially alluring and so easy to assemble. A real twig arbor, a hand-painted, white, picket fence made with match-sticks, and a tiny patio chair and table set are all you'll need. That said, be sure to have a good assortment of tiny plant cuttings, succulent plants and a miniature terra-cotta pot standing in the corner of your beautiful mini-garden.
46. Simplicity Place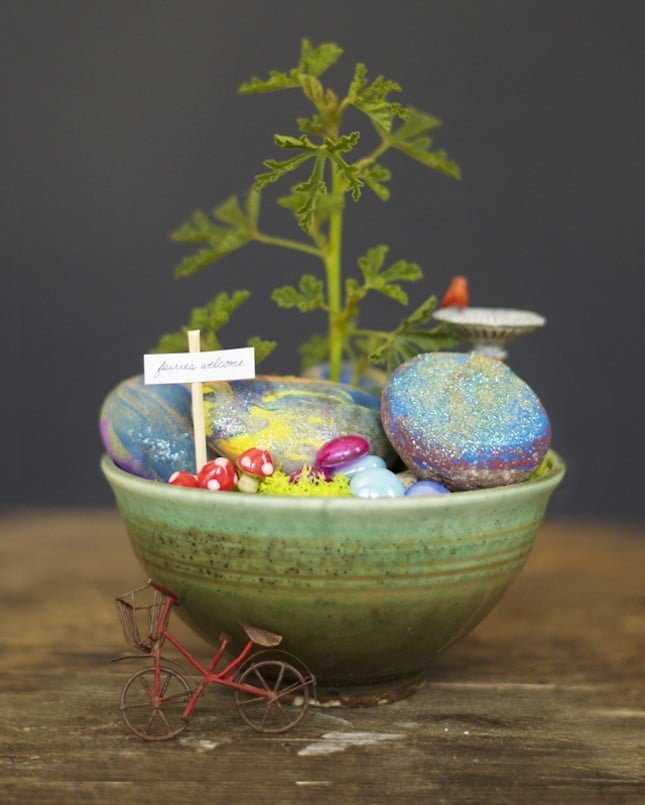 You can't get it simpler than this fairy design. One good size soup bowl, a centered tree focus, bright lights, green, peat moss and several colorful glazed, glittered stones make this one charming home accessory. If you further fill in with miniature mushrooms, a bird fountain and an accompanying singing bird, your design is now complete. A little "welcome" sign and courtesy bicycle will do wonders to encourage little fairy beings to stay for a nice visit. This design goes especially well in an area that has little space or room for expansion.
47. Way Down Memory Lane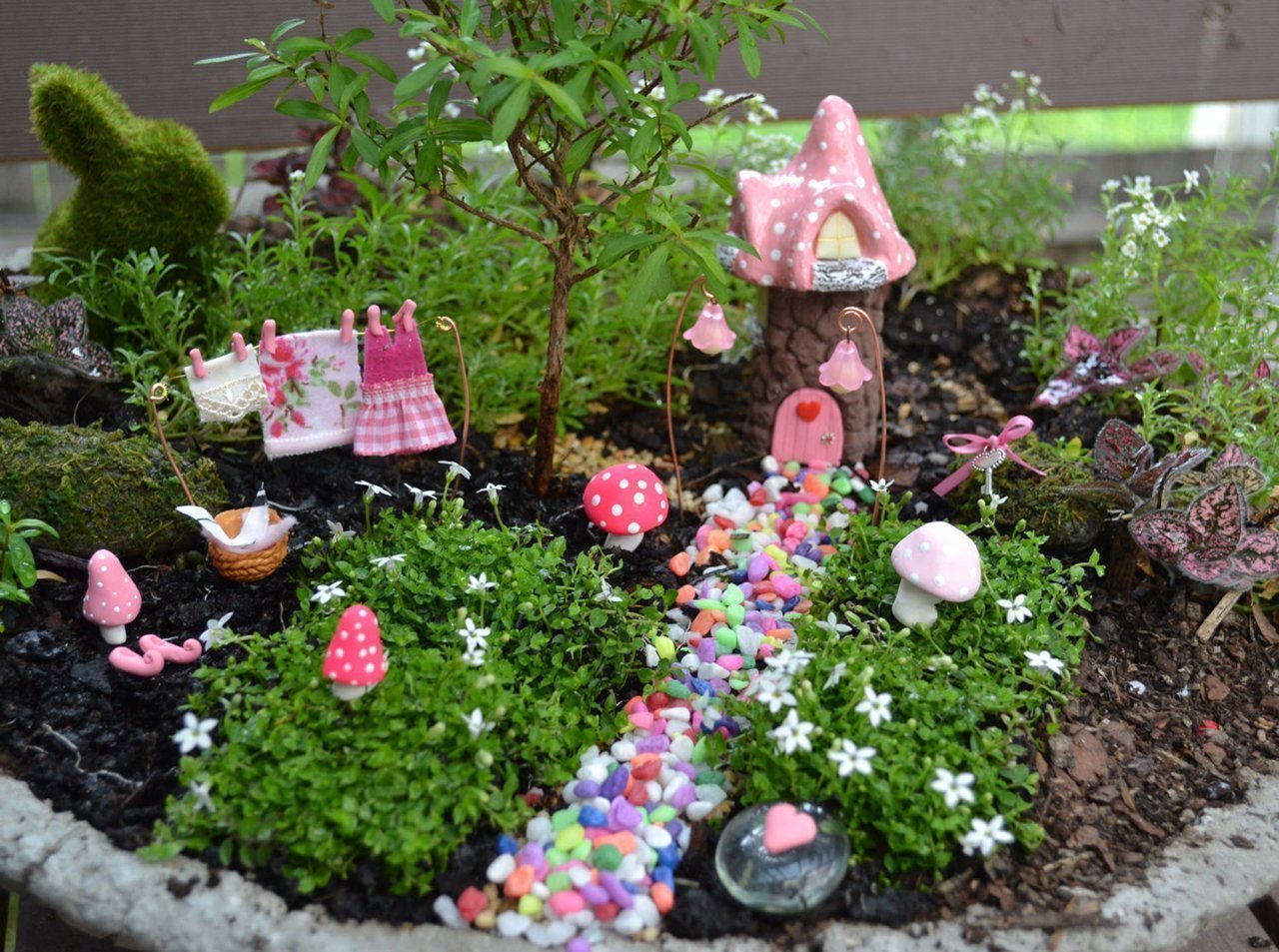 This fairy's house may not have room for a lot of fairies, but it sure lends itself to memories of times past. With tiny clothes hanging down from a clothesline and a tiny clothes basket underneath, you'll think you've stepped into your Mom's own backyard. A confetti colored walkway with little mushrooms to the side create an even more fantasy-like atmosphere for your little spirit beings. A candy-like, pastel-colored roof adds the finishing touches to this brief walk down memory lane. Be sure to place a couple of lamp stands on both sides of your candy-like walkway in your miniature fairy garden.
48. A Real Mini, Mini-Garden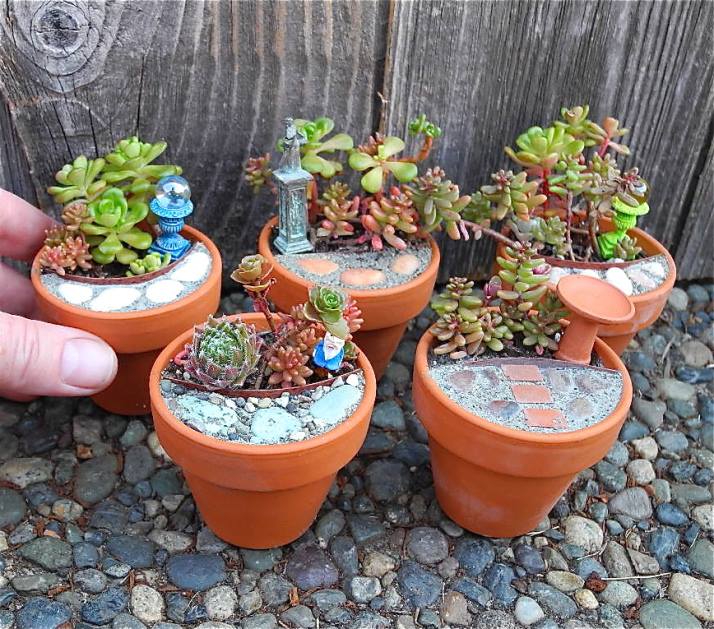 Five terra-cotta planters are all that you'll basically need with this display. You can also add to this arrangement several succulent plants, faux gravel paths made with bits of tiny pebbles and pieces of broken terra-cotta laid about as stepping-stones. Small figurines of little polymer gnomes or sundials add to the design as do additional pieces of whatever your imagination conjures up. Your miniature garden consisting of five planter pots can be placed on a shelf, a table top or just about anywhere.
49. A Lakeside Cottage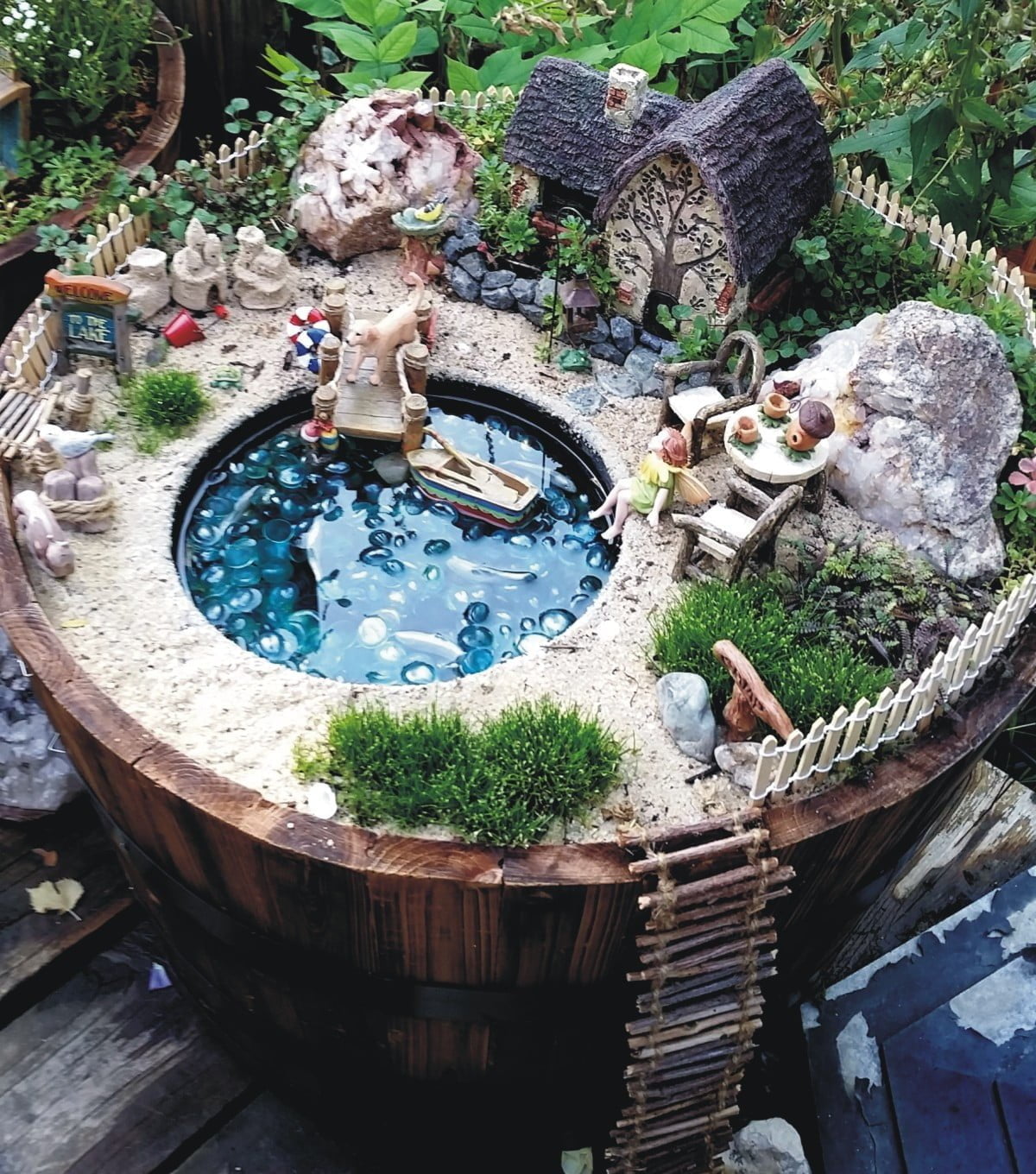 Your fairies will really enjoy this piece of real estate! An old rickety bridge leads right over the blue glass gems that give an illusion of shimmering water. Naturally, this fairy garden design does need a tiny dock and boat to go fishing from while a fairy sits dipping her little toes in the lake. A small barking dog, a seagull, a slow-moving snail, tiny tea set and sand castle are all made from polymer clay. A picket fence surrounds the cottage in the back, and two big rocks on either side of the cottage add to the charm.
50. Old Victoria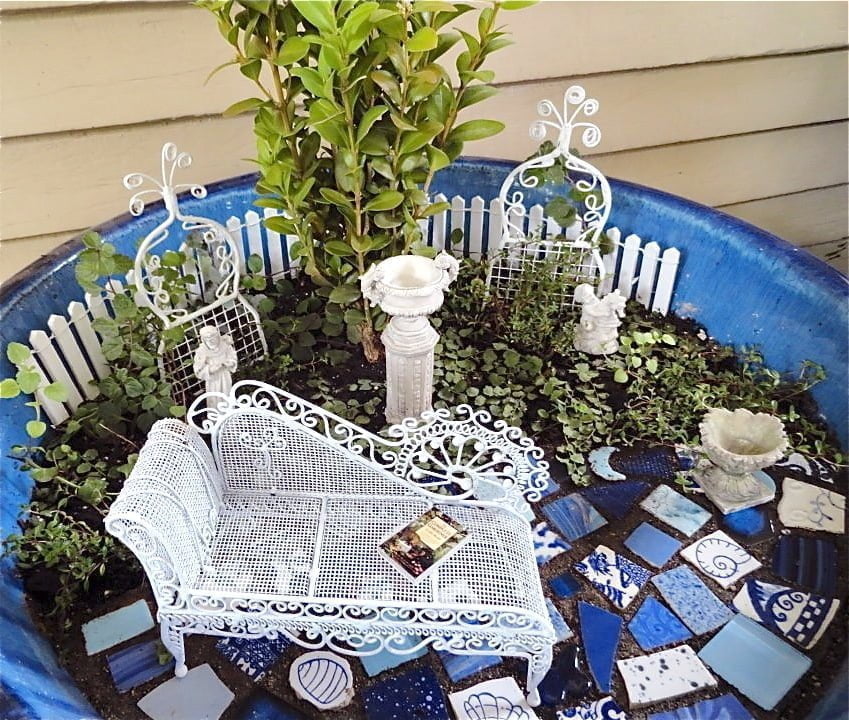 You'll think you've stepped into another era with this miniature fairy garden design. Using a blue-stressed container background, contrasting white picket fence, lawn furniture, bird bath, a miniature trellis and a delightful little statue of St. Francis of Assisi will have people and fairies alike marveling at this center of Victorian charm. Always using an upright tree crafted from a small branch or plant cutting, visitors will focus on its surrounding area with the garden accessories and blue stepping stones combinations. This is an award winner, so let your creative fairy guide you.
50 Top DIY Mini-Fairy Designs For Your Garden
Growing increasingly popular, a fairy garden goes a long way in providing an enhancement to almost any area in your home. Whether it's in a master bathroom, living room or even sun-room, these enchanting, beautiful models present the finishing touch when charm is wanted. With today's increase of hobby and craft retail stores, both online and brick and mortar, women have no difficulty in selecting what best describes their state of imaginative creativity.
Miniature furniture pieces, from tiny tea kettles to entire ocean cottage Wicker piece, are just some of the most popular selections offered buyers of a DIY miniature garden. The really neat thing is that a mini-garden can be as small or even as large as fits the place that it'll be put in. Another appealing aspect of a fairy garden is that the whole family can join in as well in their community creation.
Even Dad can fashion a golf course and invite little spirit beings to help him putt a hole in one. Whatever your mind can imagine, that's what you can put into your own little garden space. All the world is a stage when your little winged friends drop by for an afternoon in your enchanted miniature garden.