The best DIY moon wreath ideas can help you come up with a creative solution to add a whimsical touch to your home décor. There is something that is simply magical about the moon. It is radiant, dream-like, and breathtaking. You can decorate with a moon and other space-like themes easily enough when it comes to finding furnishing, paint, or wallpaper. However, you can also go the wreath route when you need something that is eye-catching anytime you come home. A wreath is a good indicator of a style, and it is also a wonderful way to decorate for the season. When it comes to a moon theme, you can use it seasonally if you wish without issue as the moon itself is a diverse decorative style.
Cool Homemade Wreath Projects with a Fun Moon Theme

Best of all, you can create a homemade wreath in the shape of a moon easily enough. As there are several moon shapes, you have your pick on what will best suit the specific theme you're aiming for. A moon is also the perfect way to give your home a flair of something that is equal parts sophisticated as it is playful. A DIY wreath is also unique as it can align better with your home's décor and personal style than something you buy from the store.
So, where do you start? Well, you can start wherever you please. There are several avenues to go down when it comes to this project. You can go for a moon wreath that is more rustic in style, leaning to something traditional like a grapevine wreath. Or maybe you want something that is more distinctive? In this case, you can combine the wreath with something else like a dreamcatcher. Or perhaps you just add more to the wreath itself like flowers. Different types of flowers can completely overhaul the look of the moon wreath to match a more specific style or season. If you're still overwhelmed with everything, our list of the best DIY moon wreath ideas will spark some creativity to get you moving.
1. Fun Dried Orange Moon Wreath Design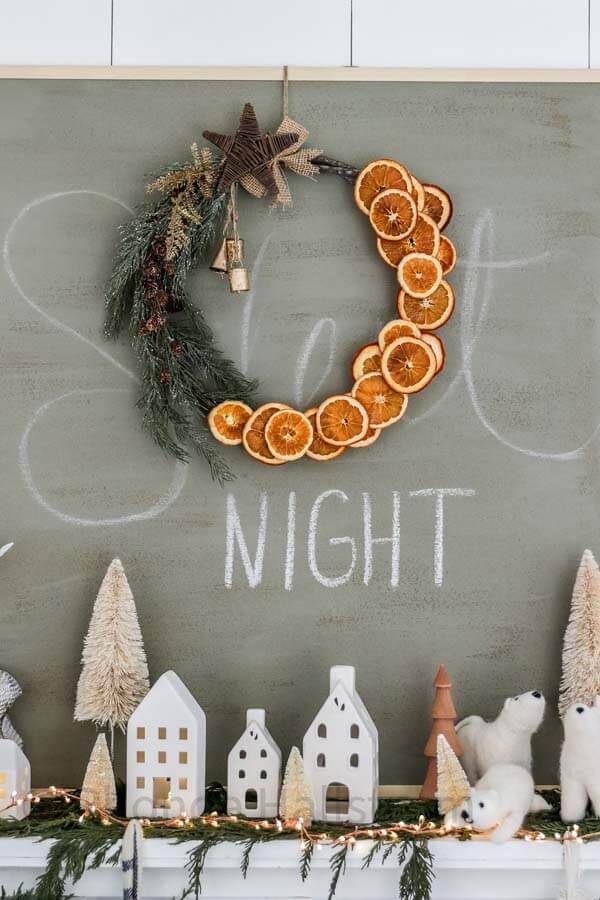 Looking to add some uniqueness to your décor? Then try out this full moon wreath design that utilizes dried oranges. Not only does this give your décor a pop of color, but it also adds on some gorgeous texturing to keep it interesting.
2. DIY Twine Crescent Moon Wreath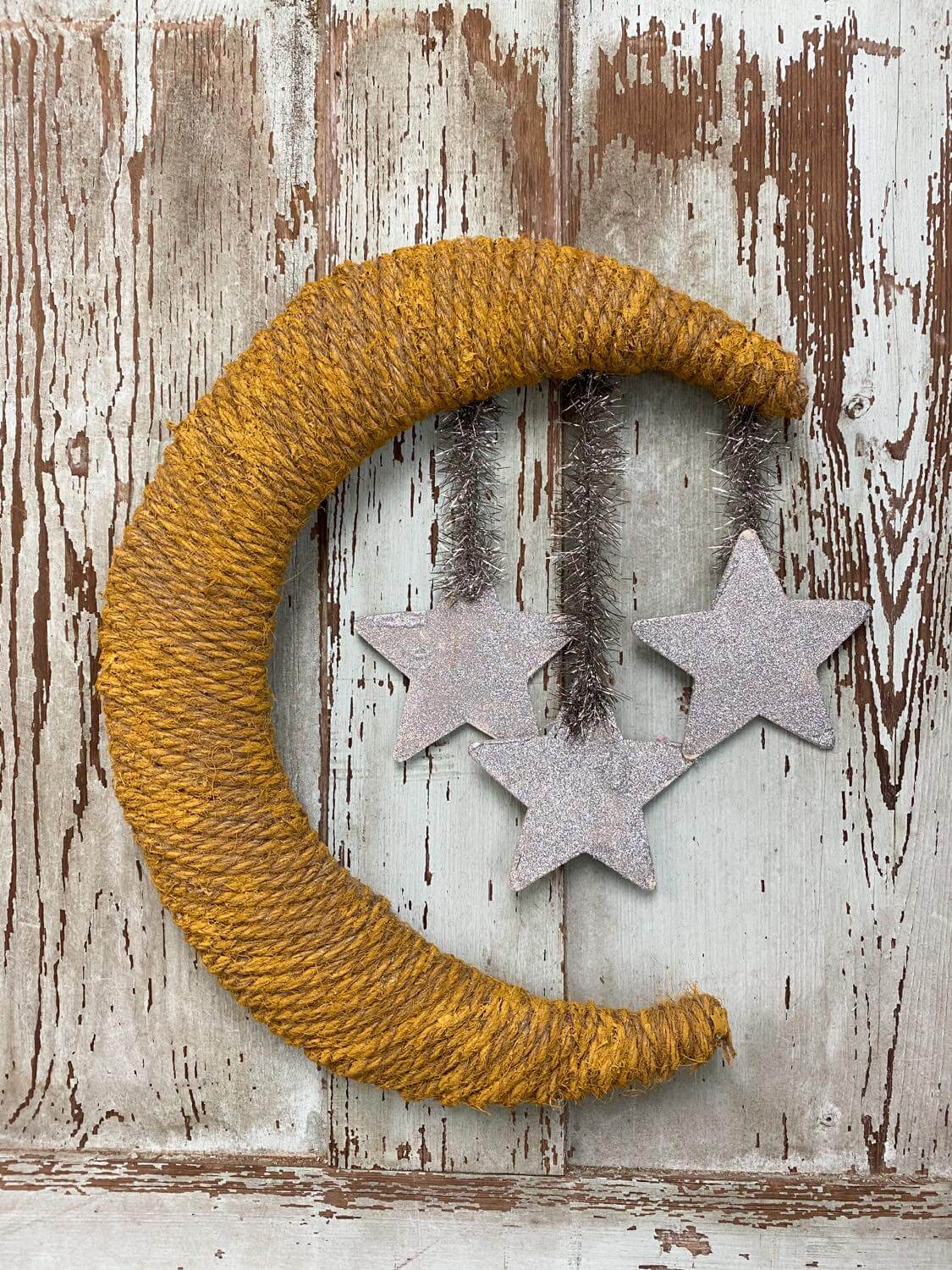 Twine is a nice material to use for something that has a farmhouse feel. It perfectly fits the crescent moon design too as you can pair it with other décor with ease. In this case, feel free to add some hanging decorations to the moon such as stars. It will make this feel as though it's truly up in the sky.
3. Breathtaking Crescent Floral Moon Wreath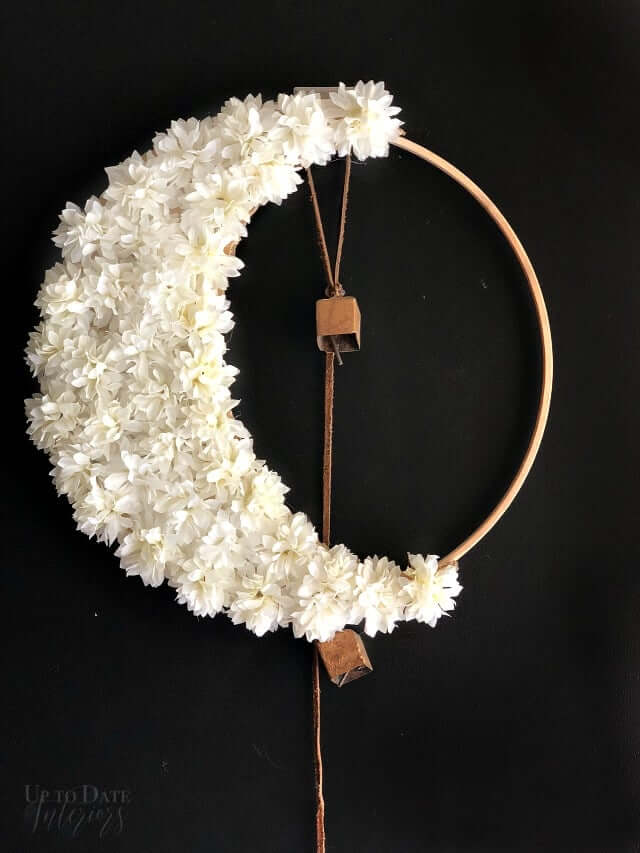 Sometimes, a minimalistic approach can leave the biggest impact. When you want a floral wreath, you can use the crescent moon shape to give it a bit more personality. Plus, the white or even off-white flowers sell the piece even more as something that's full of magic and serenity.
4. DIY Beautiful Half-Moon Dreamcatcher Wreath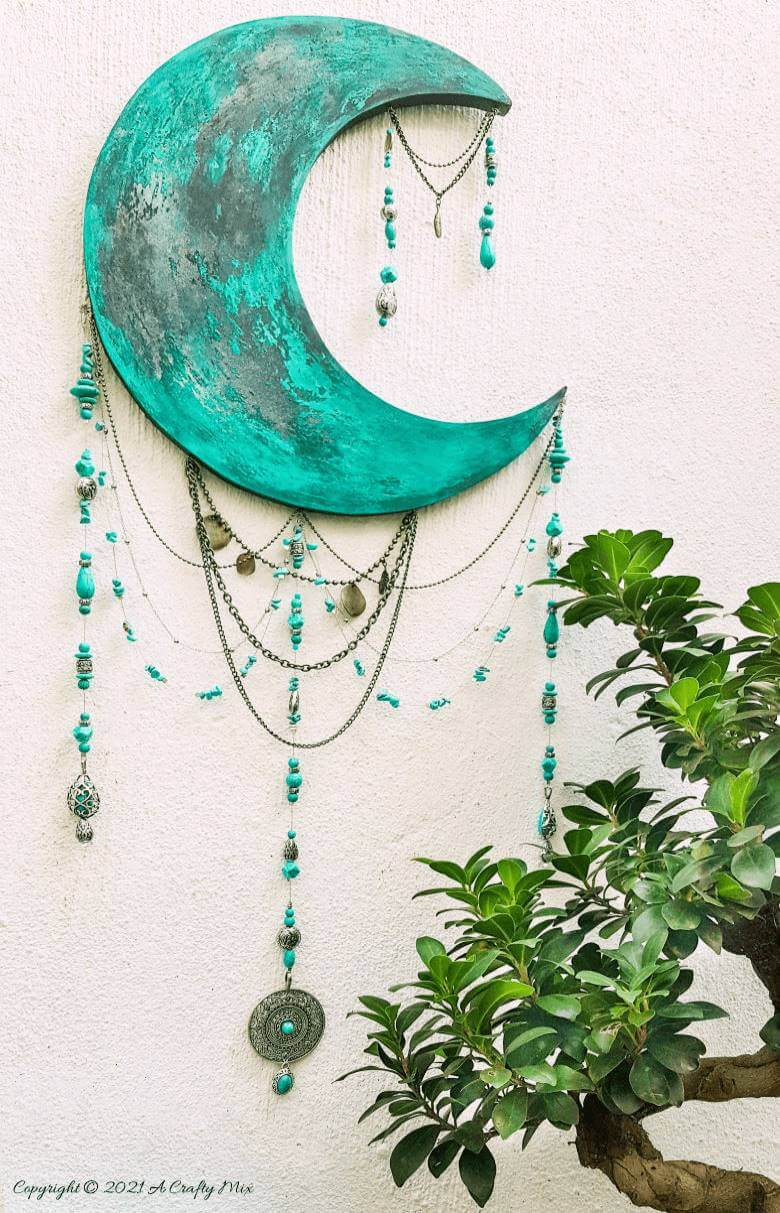 Why not combine two gorgeous things into one? You can do so with this half-moon dreamcatcher wreath. The color alone helps it stand out. Meanwhile, the dreamcatcher aspect is attention-grabbing thanks to everything that hangs from the wreath. This is a perfect addition to a door, but it can look just as well hung on your wall.
5. Plant Theme Crescent Moon Wreath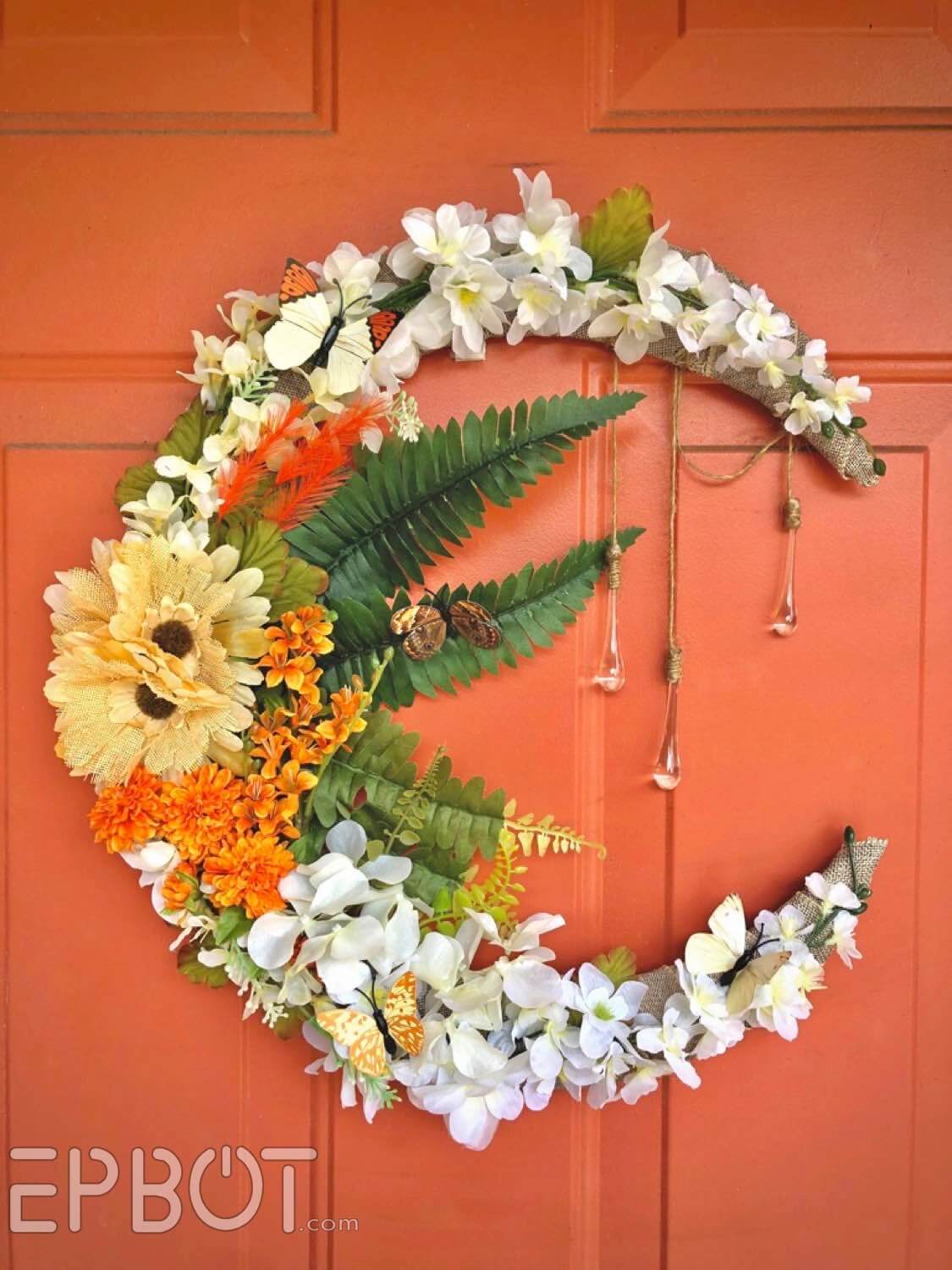 An affordable way to create a homemade wreath design is with some faux flowers and greenery. You can pull together something that is bright and colorful, instantly giving off a more spring-like or summertime vibe. Using a variety of flower types helps give this contrast too.
6. Chic Botanical Crescent Moon Wreath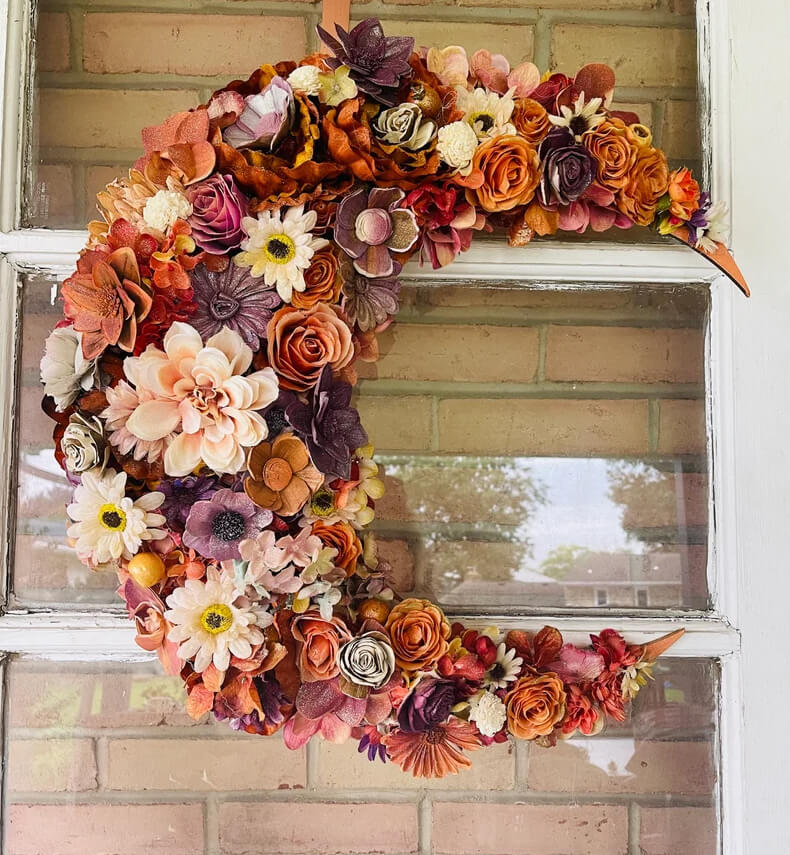 Perfect for fall, this crescent moon wreath features beautiful and warm coloring. Not only are the colors vibrant, but they are also gilded and feature a gorgeous glittery floral spray that makes them sparkle and shine. This can make them gleam when hung out near natural sunlight or even lit up by lighting in a room.
7. Wooden Botanical Crescent Moon Wreath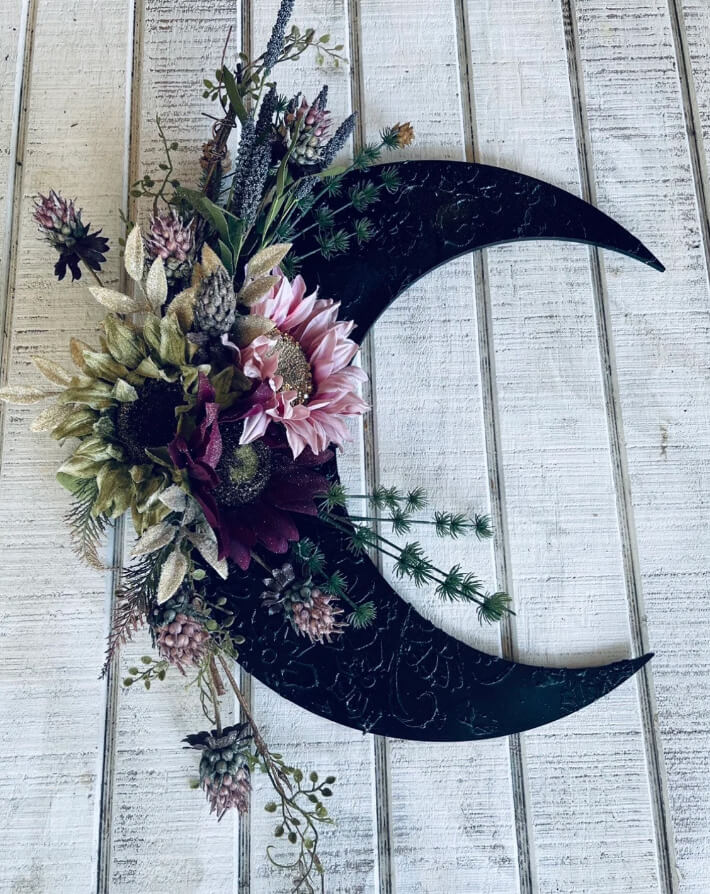 With this wreath, you can have something that is unique to hang in your home. The darkness of the moon contrasts well with the botanical decorations. Also, the floral isn't too bright or loud that it overwhelms the moon. Rather, they work hand-in-hand.
8. Half-Moon Moss-Based Dried Wreath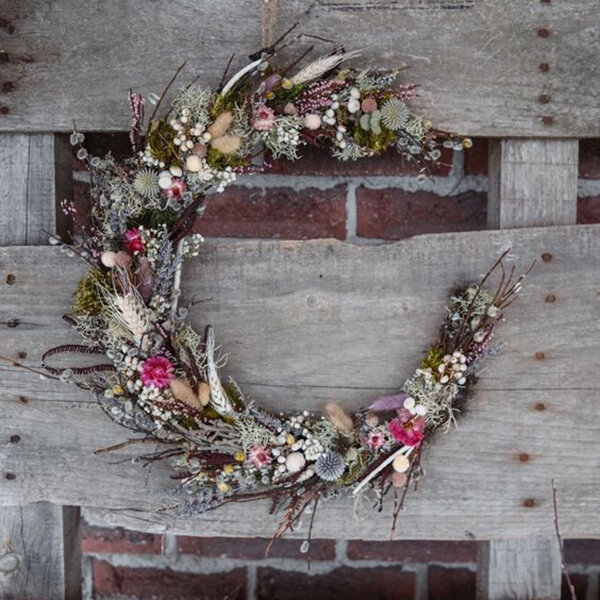 A dried wreath is a gorgeous way to spruce up your home's décor. This has a pleasing rustic look to it, and it is certainly a distinctive choice. The colors are not loud, but there are enough to diversify the wreath overall to keep it looking lively rather than flat.
9. Moon Shaped Chicken Wire Floral Wreath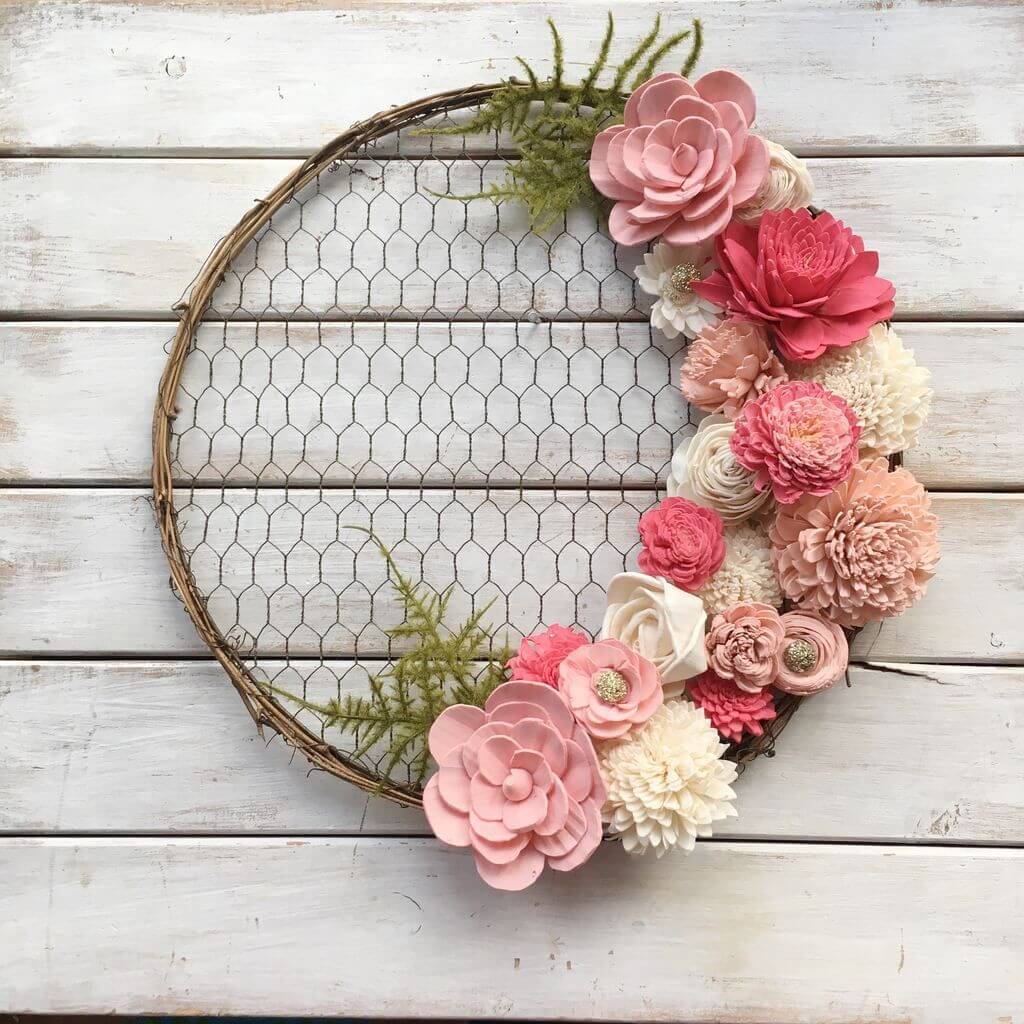 Making a traditional-like wreath is one thing. You can spice it up a bit by adding some chicken wire for the background. This provides it with something that helps it instantly stand out. The floral on the side serves as the icing on top.
10. Custom Crescent Moon Floral Grapevine Wreath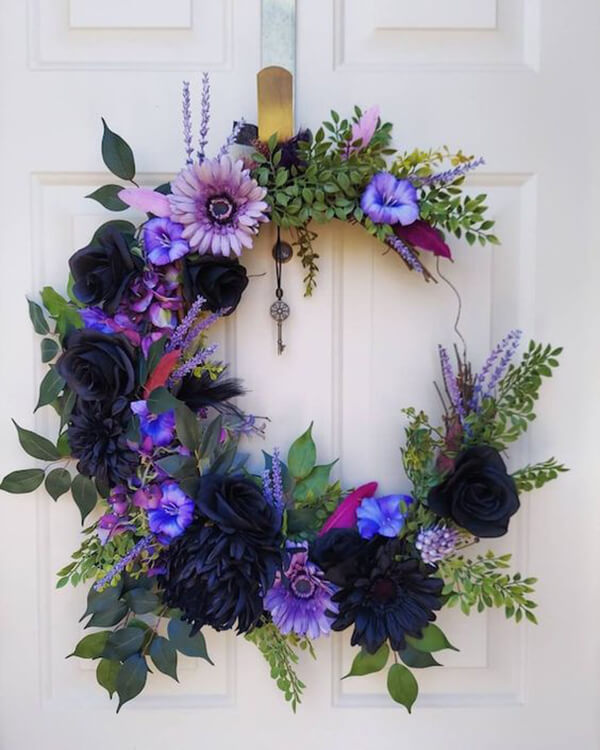 This crescent moon wreath is such an enjoyable handmade wreath because of how you can customize it. You can order it using any faux flowers, charms, and ribbons that you wish. As such, you can readily design this wreath to fit in with your personal décor or even with a specific season in mind.
11. Fall Theme Crescent Moon Wreath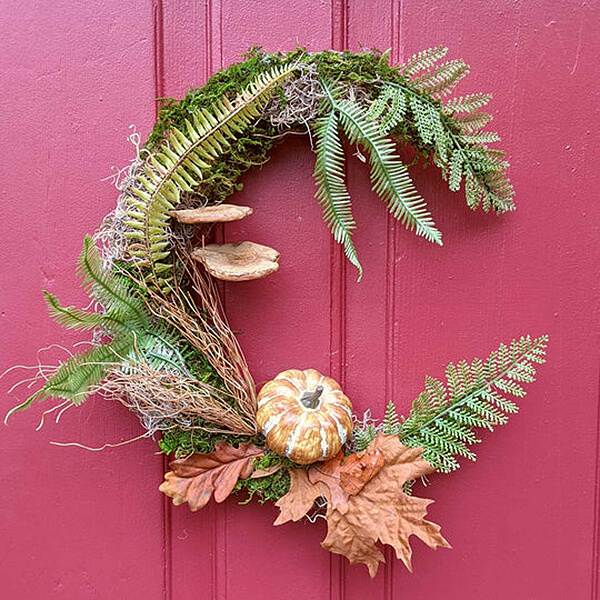 Perhaps you do want a moon-themed wreath that leans more to one season than another? If so, then it's easy to incorporate things that remind you of autumn from pumpkins to leaves. This is a great addition to your front door to ring in the season.
12. Lit Crescent Moon Succulent Wreath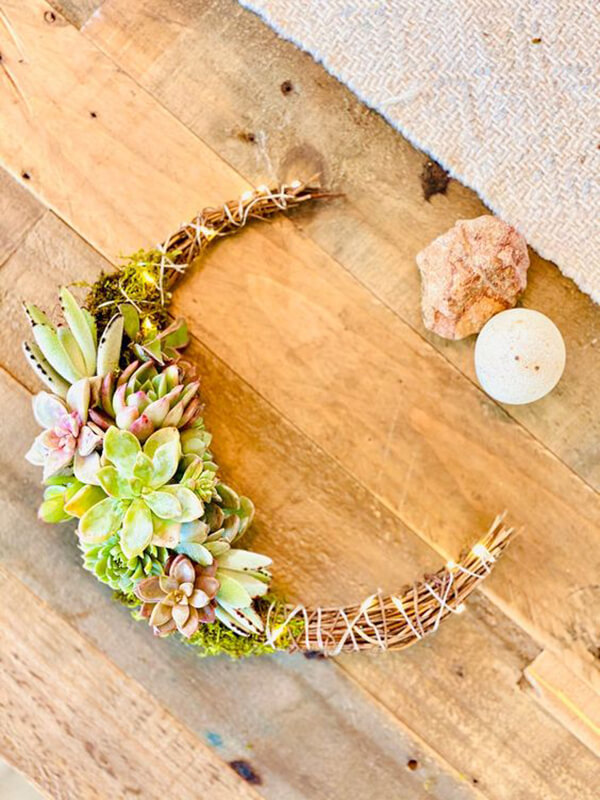 Keep it rustic with this charming succulent crescent moon wreath. This features real succulents too, and you'll always receive something distinctive thanks to it being made with seasonal succulents. Alongside that, the wreath also comes with some fairy lights to add an even more whimsical look to it.
13. Springtime Foam Wrapped Moon Wreath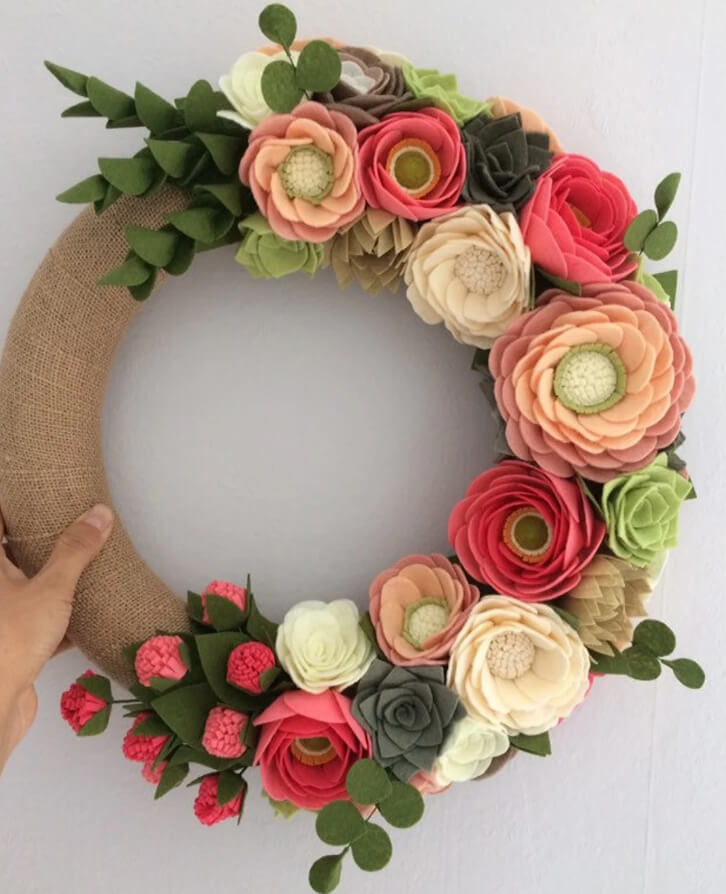 Available in three colors, this foam-wrapped moon wreath is a lovely choice when you want the decorations on the wreath to speak louder than the shape. With this, the floral used is large, bold, and colorful. There's a healthy mixture of flowers too to give this wreath a sense of movement.
14. Horse Jumping Crescent Moon Wreath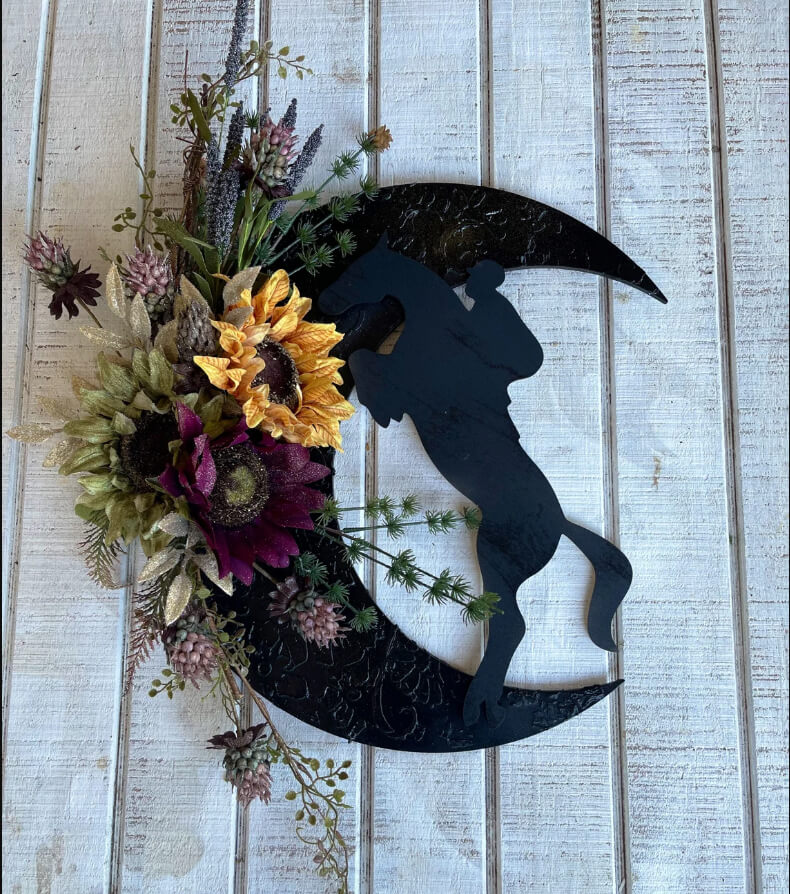 It's always fun to add a bit of extra décor to your wreath. Plus, the crescent moon design makes it even easier to apply something without it overtaking the wreath completely. In this case, the horse silhouette is great as it instantly catches attention.
15. Gothic Style Crescent Moon Wreath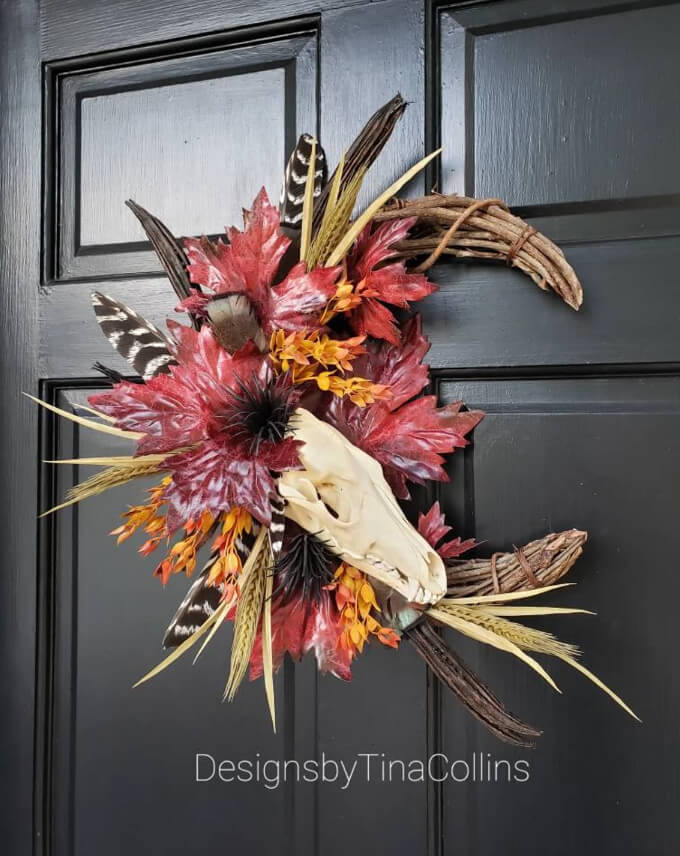 Want to show off your spooky side? Then this gothic-themed wreath is perfect for you. The blood-red maple leaves snatch attention, while the skull works as a wonderfully haunting centerpiece. Meanwhile, the grapevine crescent moon pulls it all together.
16. Oversized Crescent Moon Wreath Design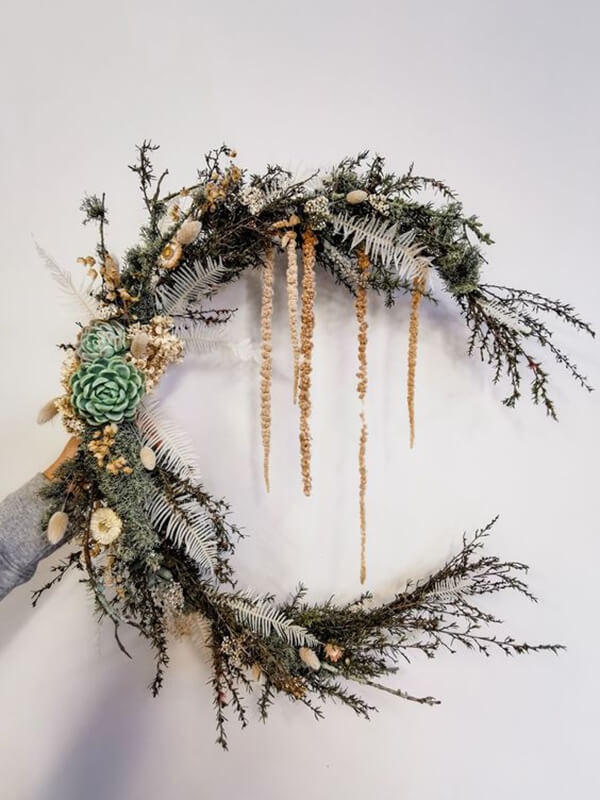 You can use a crescent moon shape to create a beautiful wreath that has a classy, yet rustic look to it. This is all due to the use of succulents and dried floral throughout. It is a cool way to get that rural look as well as to add some texture to the wreath.
17. Wild Flower Crescent Moon Wreath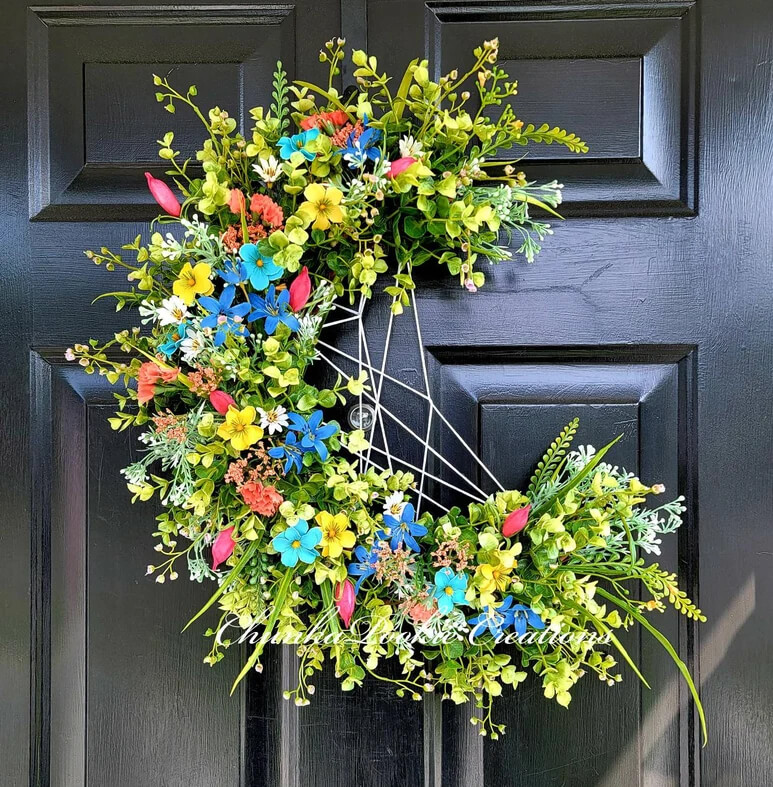 Style up any door in the house with this bold and vibrant crescent moon wreath. The wild flowers serve as a great way to add those pops of color throughout. Also, this artificial greenery is excellent for use all year long no matter what season you're in or holiday you're celebrating.
18. Crescent Moon Wreath with Hanging Crystal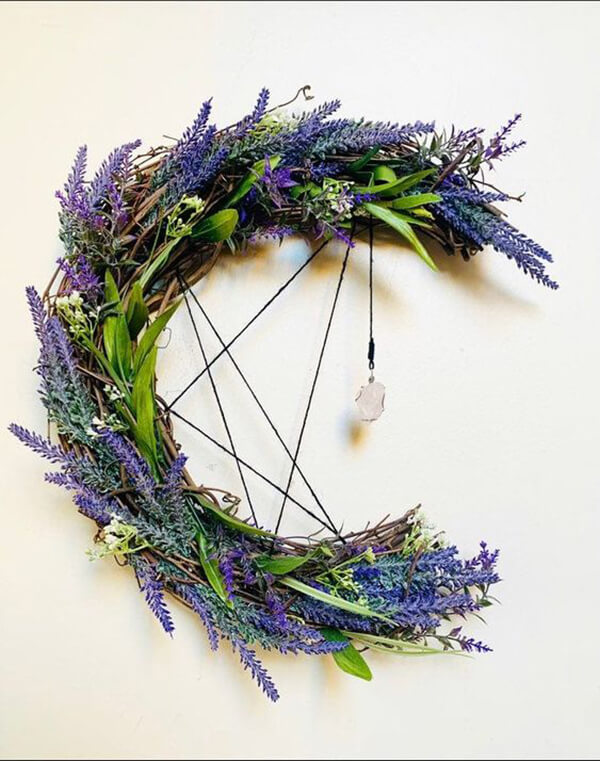 With this crescent moon wreath, you get the chance to add a splash of color to your home in a way that isn't too bright. There is still a rural look about this wreath. It is offset well thanks to the hanging rose quartz crystal in the center that provides the wreath with a different layer of style.
19. Natural Crescent Moon Wreath Design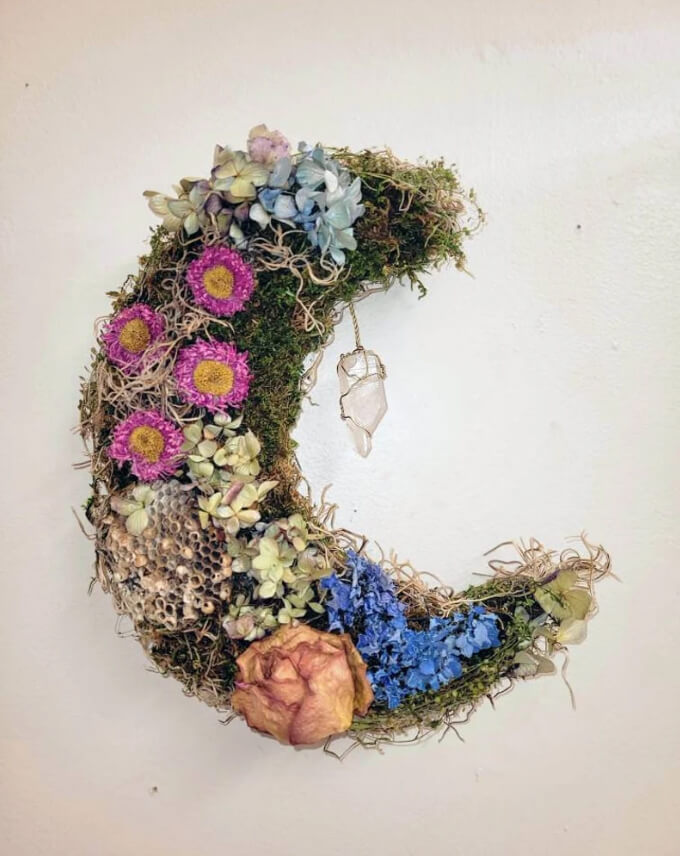 When you want something more authentic, then this crescent moon wreath will do the job. It features all-natural decorations such as dried flowers and moss. This gives it a nice outdoorsy like feel to it that is fitting for a rural or rustic home.
20. Grapevine Moss Crescent Moon Wreath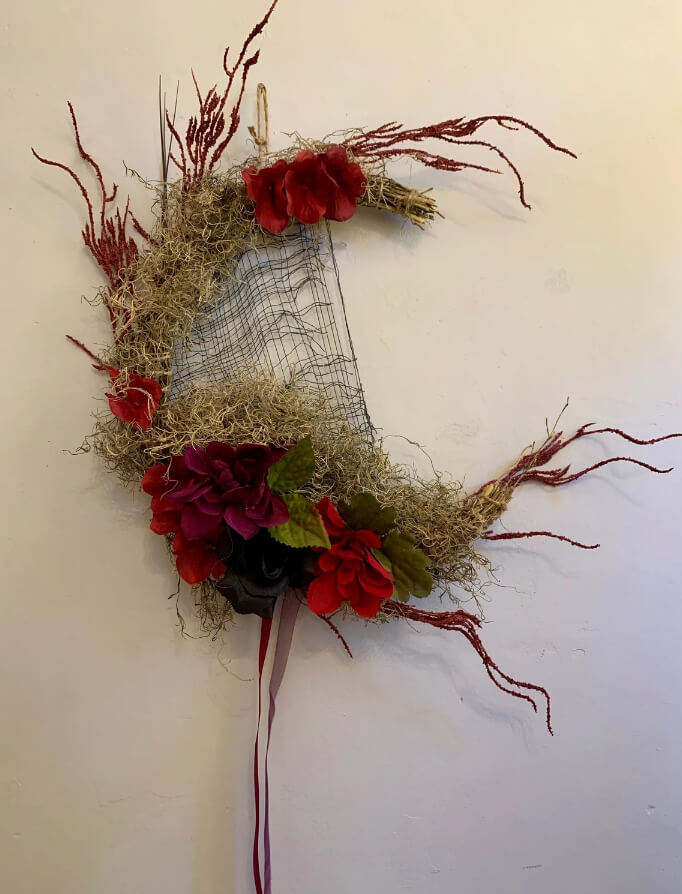 This wreath, although fitting at multiple seasons, simply looks compelling when used around fall or Halloween. There is a witch-like feel about this wreath perhaps thanks to the moss as well as the red wine floral. It is further aided by the use of grapevine material.
21. Dried Flower Woodland Moon Wreath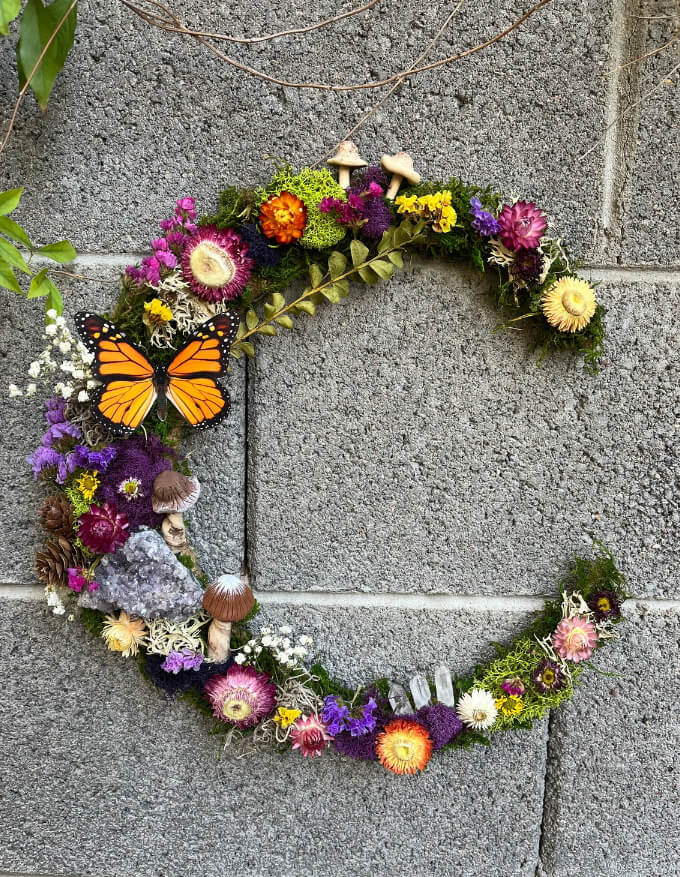 This crescent moon design features an amazing woodland theme to it. The dried flowers are stunning, while the jute-wrapped wreath further feeds into the theme. There are even beautiful amethyst and quartz crystals used throughout the wreath.
22. Gold Hoop Floral Moon Wreath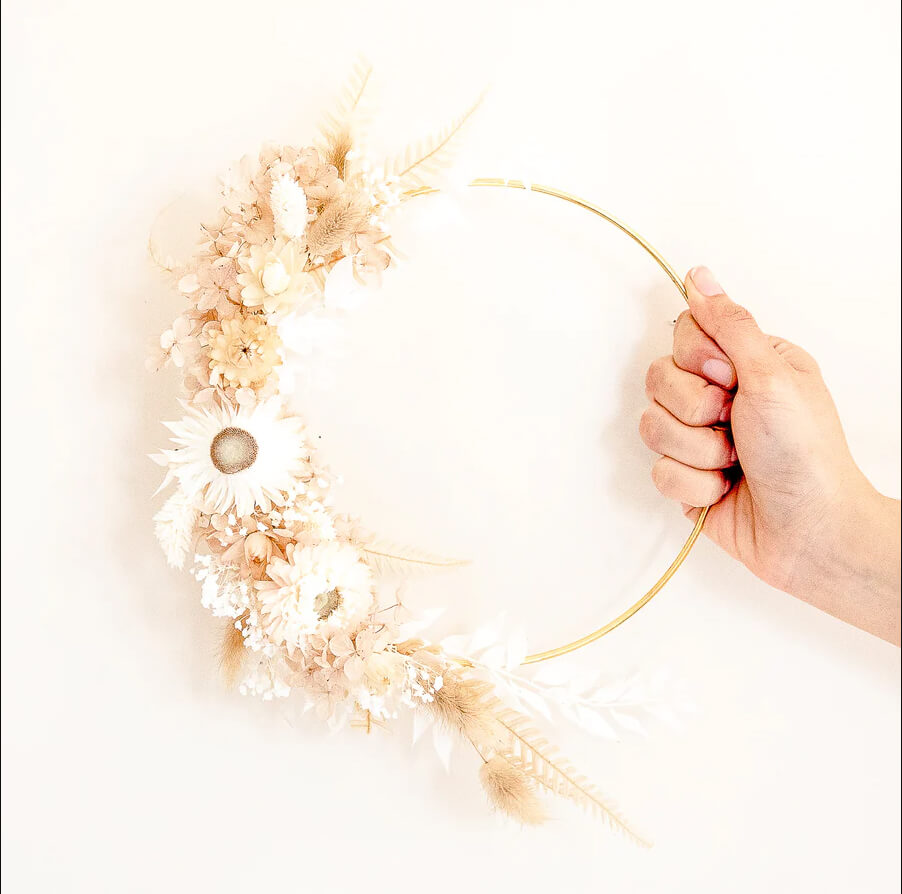 Go for the full moon approach and top it all off with a golden flair to create that is chic and sophisticated. When you decorate only one side of this wreath, it gives it even more style and helps it stand out better than ever. The golden approach is ideal too when you want to ensure this will look good with any type of décor.
23. Felt Flower Crescent Moon Wreath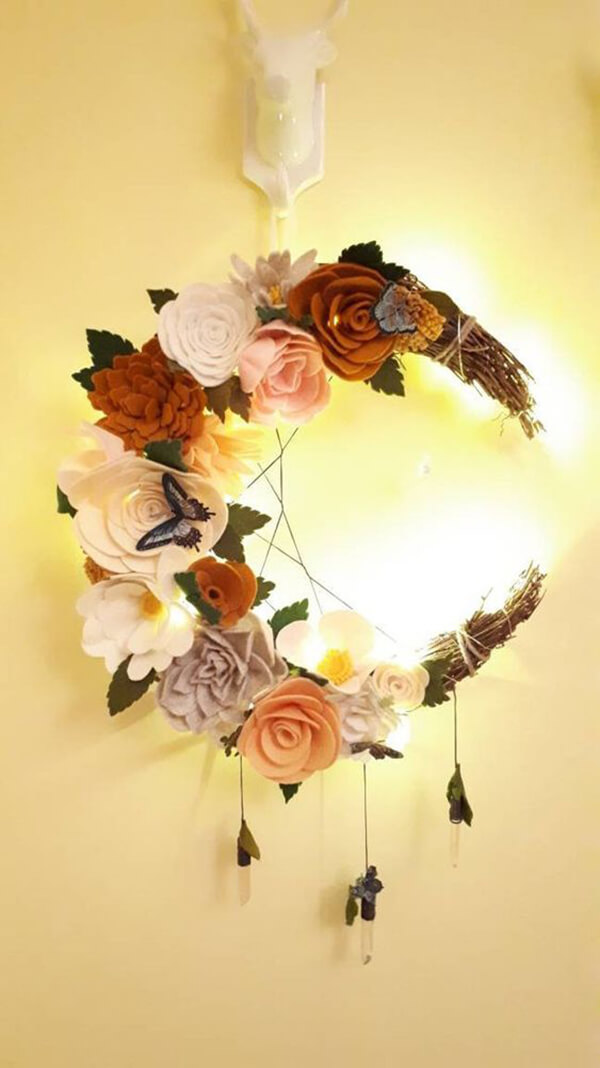 These large felt flowers make for a lovely decorative choice against the crescent moon-shaped wreath. The rose quartz and Swarovski crystals hanging from the bottom give this an extra touch of beauty too. It's all rounded off with gorgeous fairy lights.
Best Moon Wreath Ideas for Creative and Whimsical Décor
Moon wreaths can be a gorgeous addition to any home. They offer a lovely and whimsical look to your décor, livening up a space whether you hang them on your front door or somewhere else inside the house. You can decorate with a moon theme at any point during the year too without it looking out of place. This allows you to create versatile décor that you can use all season long and even keep in the family for years to come.
Another lovely thing about working with handmade moon wreaths is that it is so much you can do with them. The crescent shape is a go-to one, but you can use any moon shape for your project. Create a traditional grapevine wreath or opt for something more colorful with numerous bright flowers. Add some extra decorative touches to the wreath such as stars to lean more into the theme. Whatever you decide, our list of the best DIY moon wreath ideas should help move you along the path.