Decorating your waterside retreat is fun with the best DIY nautical wreath ideas to spruce up your front door! From the moment you walk in, you'll be taken to your favorite relaxation station with the gentle breeze and laid-back lifestyle this vacation getaway offers.
19 DIY Wreath Ideas with Nautical Charm

If you're channeling the sun and sand, maybe a more beach-specific display is what you need. Think lots of shells and plenty of driftwood to add an earthy and natural feel while keeping it low-key. Pops of blue bring to mind the breathtaking ocean water that calls you back every summer so slip a little of those tones into your masterpiece.
For a coastal cottage, you'll be happy to discover the wide assortment of nautical-inspired wreaths that feature the best the sand offers from seashells to starfish and a sprinkling of accessories of the coveted boating life. With the inclusion of netting and lighthouses, you'll love the combination of shoreline goodies.
Lots of blue hues paired with crisp white or warm brown tones create the quintessential vibe that echoes the spirit of the cascading waves. As you stroll along the seashore, you'll be certain to find all the embellishing materials your heart desires to craft these amazing coastal creations.
From grapevine to driftwood, there is a natural simplicity to the basic wreath that provides plenty of space to adorn with lavish trinkets and treasures from a day at the beach.
Make a splash with the easiest essential home decoration in the design world by featuring one of these cool DIY wreath ideas. They are not only easy to assemble, but they make wonderful gifts for all of your friends. Their simplicity makes them the perfect project to tackle with the girls while the guys go fishing. Even the kids can join in and will enjoy being included in this fun sea-loving craft.
You can choose stylish wreaths that encompass all water-loving types from lakes to beaches when you create your very own one-of-a-kind nautical wreath. Hanging on your porch or inside your house, whatever version you choose will feel right at home!
1. Rugged and Rustic Nautical Driftwood Wreath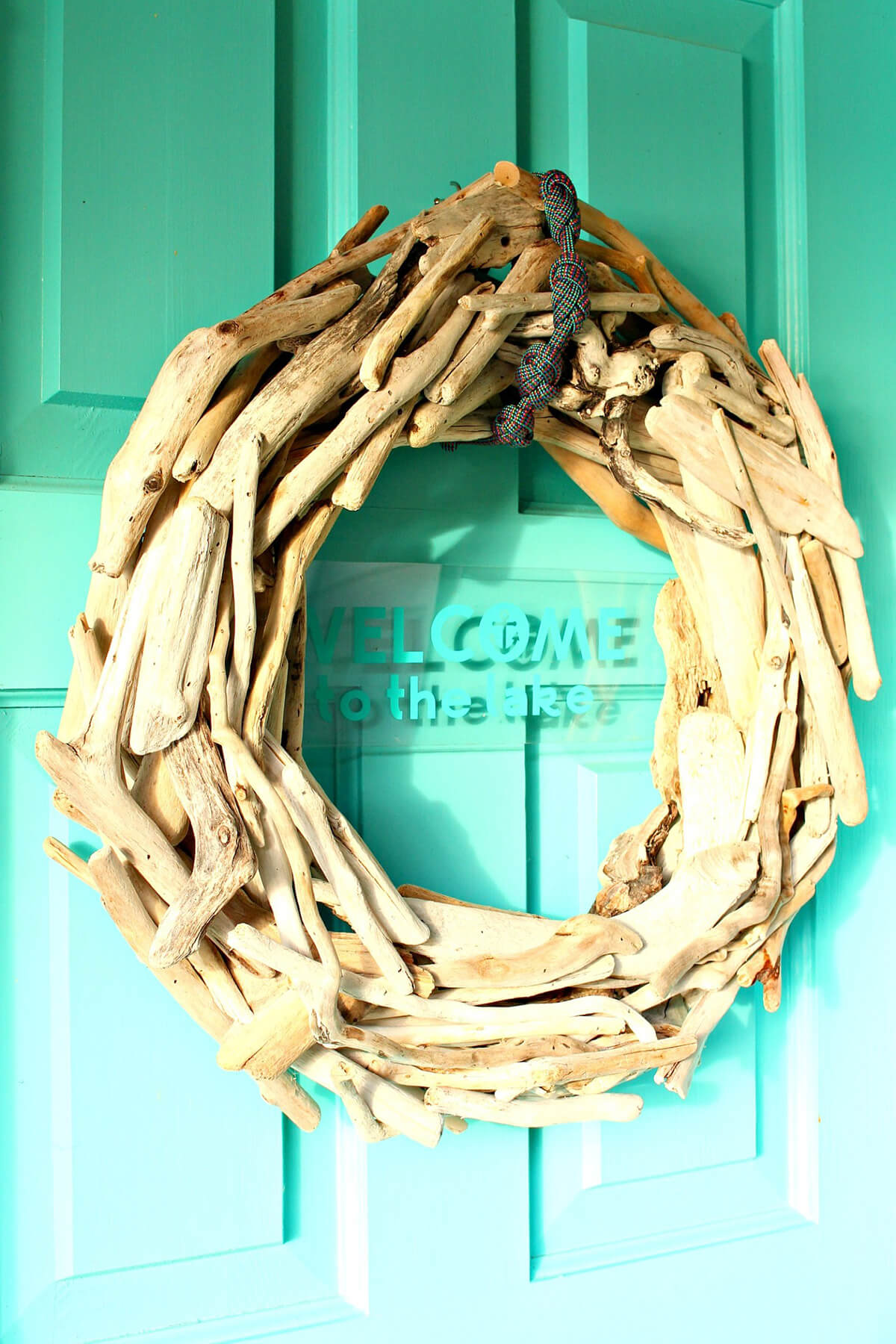 Sometimes the star of the show emerges in simplicity. This under-stated driftwood wreath is a prime example of less is more. A collection of several pieces of this harvest of the sea's forest has been meticulously arranged to form this masterful one-of-a-kind DIY coastal design idea. It's a cool way to give a nautical nod without going overboard with all things beachy. What's not to love about the natural beauty of the blonde wood and the perfect texture of this great addition to the lake house or everyday home to infuse the salty life?
2. Ahoy Matey Nautical DIY Clothespin Wreath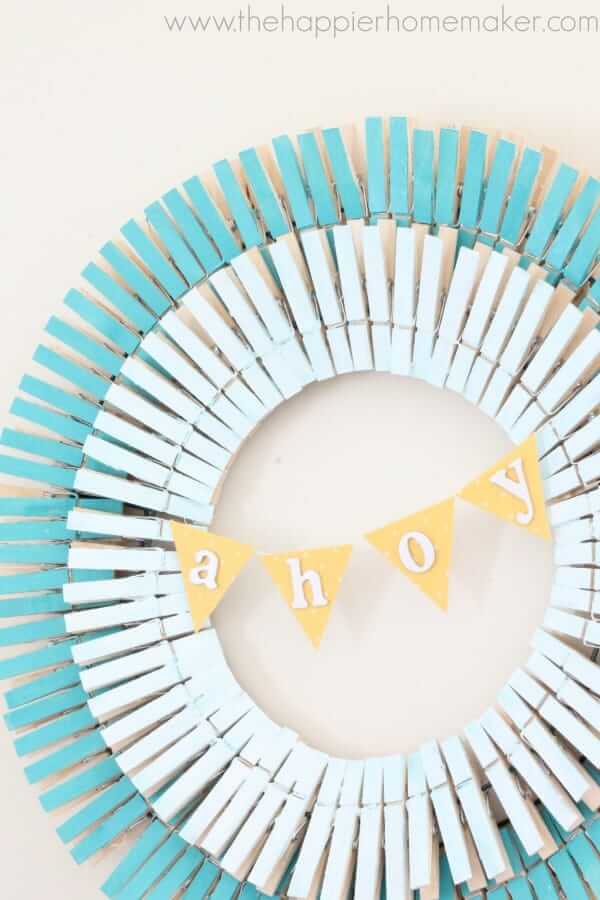 If you're on a tight budget and don't wish to walk the plank for going over, check out this cheap and charming DIY clothespin wreath. The cute "ahoy" pennant banner in the center adds some beach vibes to this unique and budget-friendly creation. Choose your choice of colors for painting the clothespins as you put your personal touch on this simple DIY wreath. Grab your family and friends for a fun weekend on the lake and be sure to include this amazing craft for everyone to enjoy and take home as a special souvenir to remember their weekend on the lake.
3. Rustic Burlap and Rigid Driftwood Nautical Wreath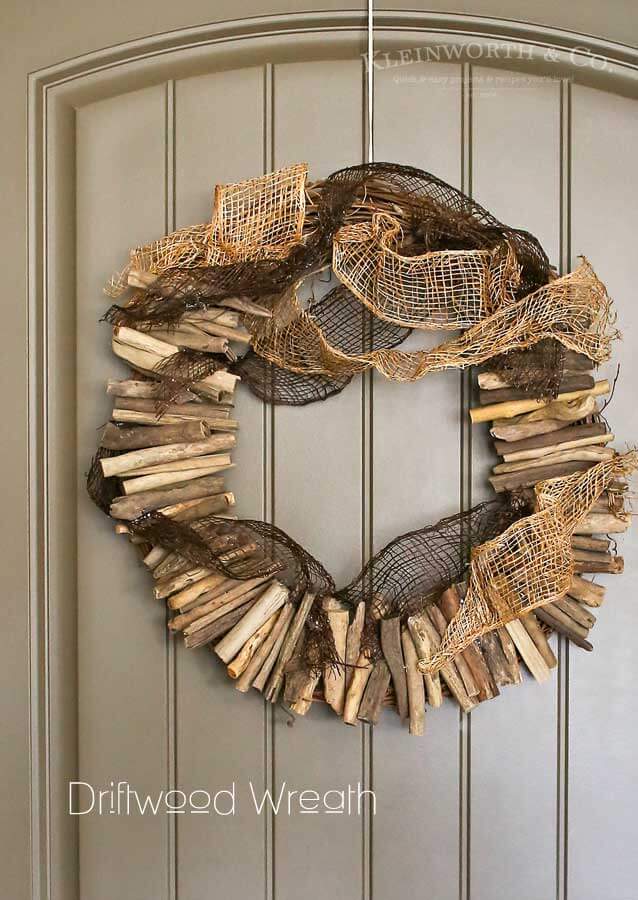 Allow an explosion of brown burlap and blonde driftwood to ignite some spark into your nautical decor this season. The rich beiges and blondes of the driftwood are a perfect contrast to the deep brown of the burlap ribbons. Poised to perfection for bringing the coastal elements into your home, this DIY coastal design idea shows how simplistic, everyday items can unite to create a masterpiece decoration. So much masculinity is exuded from this nautical wreath that has no frills nor fuss. It uses simple supplies for the finishing touches resulting in a polished product.
4. Red and Blue Anchors Away Nautical Wreath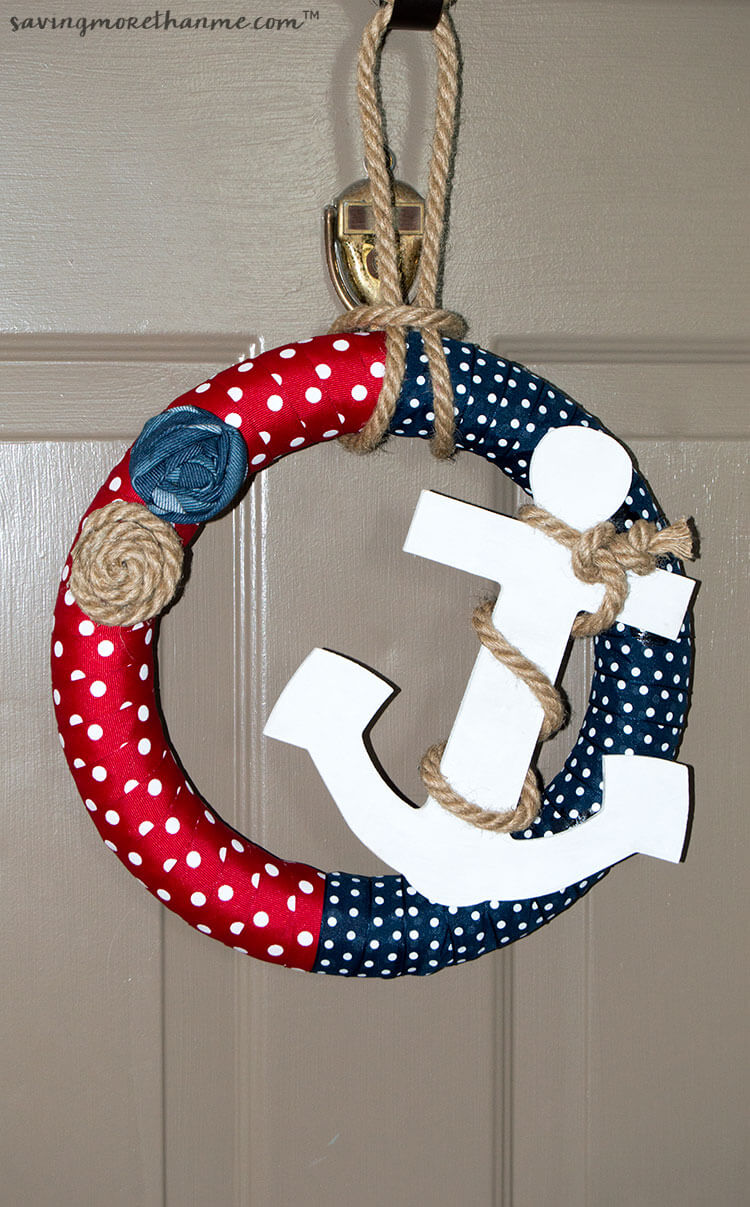 Using the quintessential color combination for all things nautical and boat-friendly, this red, white, and blue wreath is one of the best DIY nautical wreath ideas to conquer in an afternoon. With a ribbon-wrapped ring, this cool wreath shows off unique bows crafted from knots that tie in perfectly with the hanger and anchor embellishment. Loads of texture and pops of color make this handmade coastal wreath stand out from the crowd.
5. Grapevine Sea Shells and Stars Nautical Wreath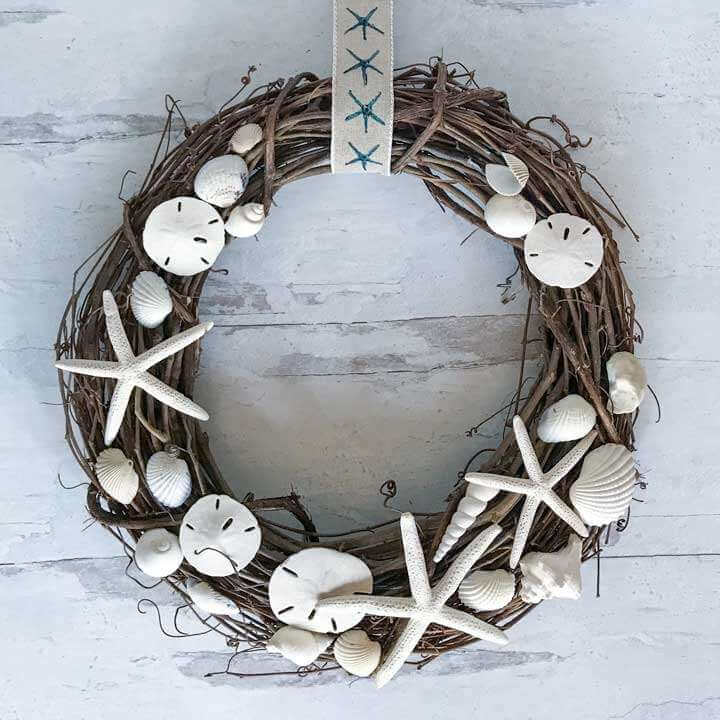 Perhaps one of the most visually appealing elements of this nautical wreath is the contrast in colors of the base and accessories. Situated on a brown grapevine wreath, the white-washed collection of seashells, stars, and sand dollars really pops and makes you take notice. Hanging is easy with the attached creamy colored ribbon featuring a sea blue colored starfish pattern. After a stroll along the water's edge delivers a bucket full of shells, you'll delight in giving your old, boring grapevine wreath a coastal update courtesy of your bucket of goodies. You could arrange a group of these grapevine wreaths together in various sizes for a bold look or even include the idea on a picture frame to tie the look together.
6. Smorgasboard of the Sea Nautical Christmas Wreath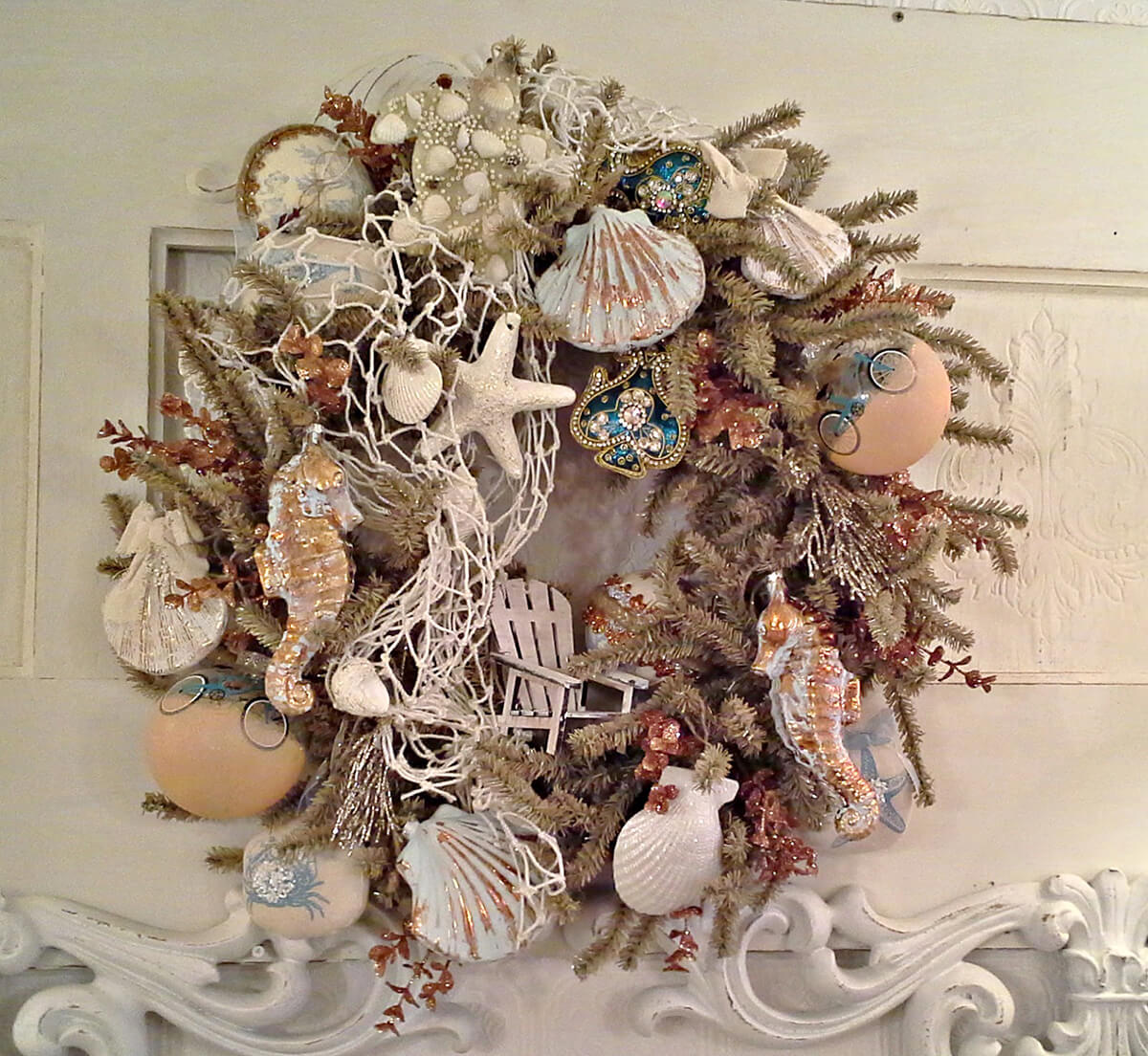 Wish your family and friends a Merry Christmas with this oceanic beauty. Created off a plain and simple basic greenery wreath, vintage and sea-inspired ornaments have been added for a nautical touch. From crabs and bicycles to an Adirondack chair, there are plenty of sea-friendly touches coming together to form this interesting and unique wreath. For added texture and fun, a net resembling a fisherman's has been cast as part of the decorative elements completing the look. This handmade coastal wreath is a great choice for a lake or beach house and anyone with beach-themed Christmas decor.
7. Nautical by Nature Oyster Shell Wreath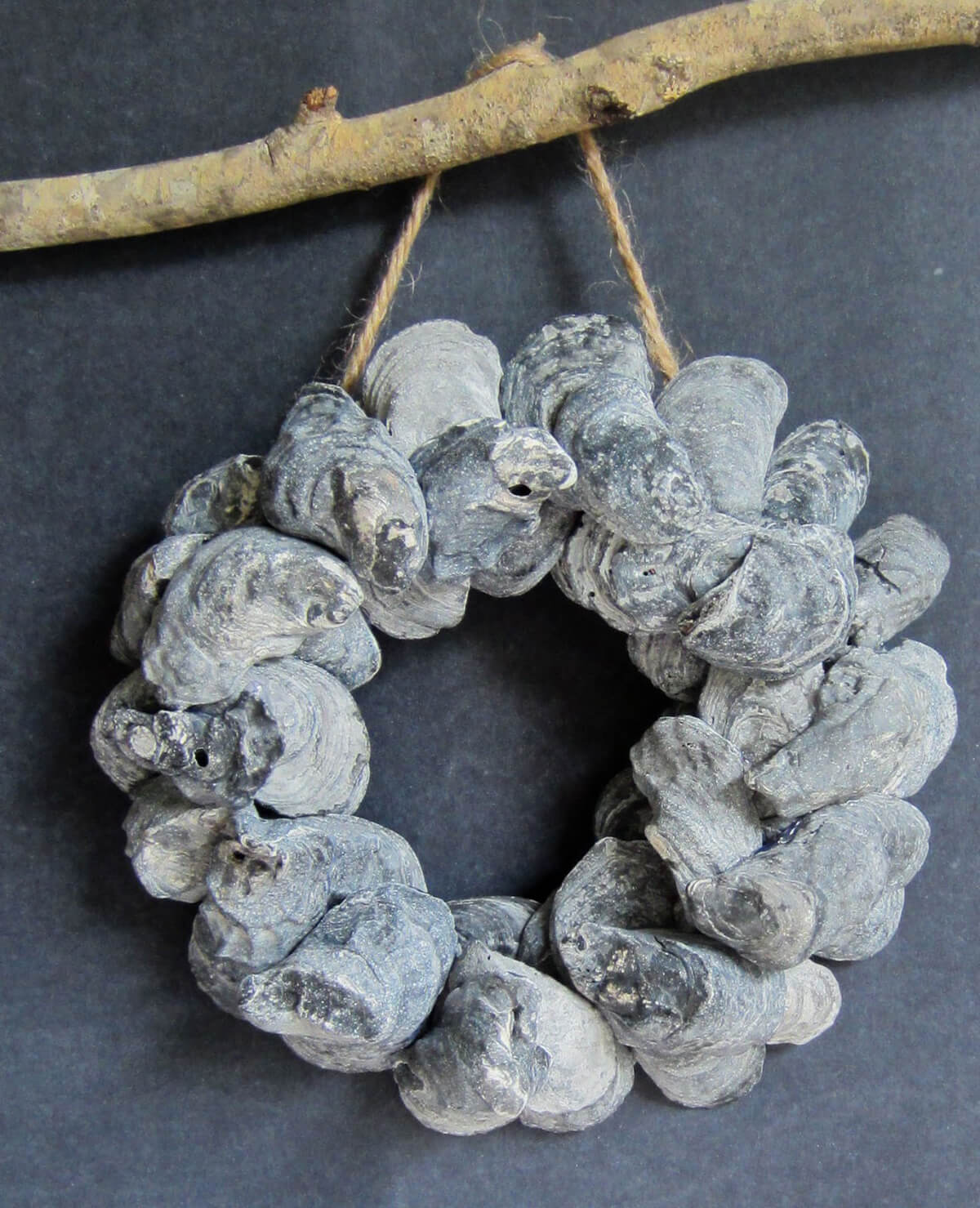 Everyone loves the ocean and what better way to decorate with this in mind than with a nautically inspired wreath? A boat-friendly rope makes the perfect hanger that further adds to the theme of the decoration. To create this gorgeous look, a vast collection of oyster shells come together to show off their ocean blue and gray hues that are part of the intrigue of the beautiful beach. This is definitely not your grandmother's beach wreath as it is a simple, yet modern spin on a classic construction. Use this in any room or on your front door to bring a part of your favorite beach memories into your home this summer.
8. Just Married Nautical Rope Wrapped Wreath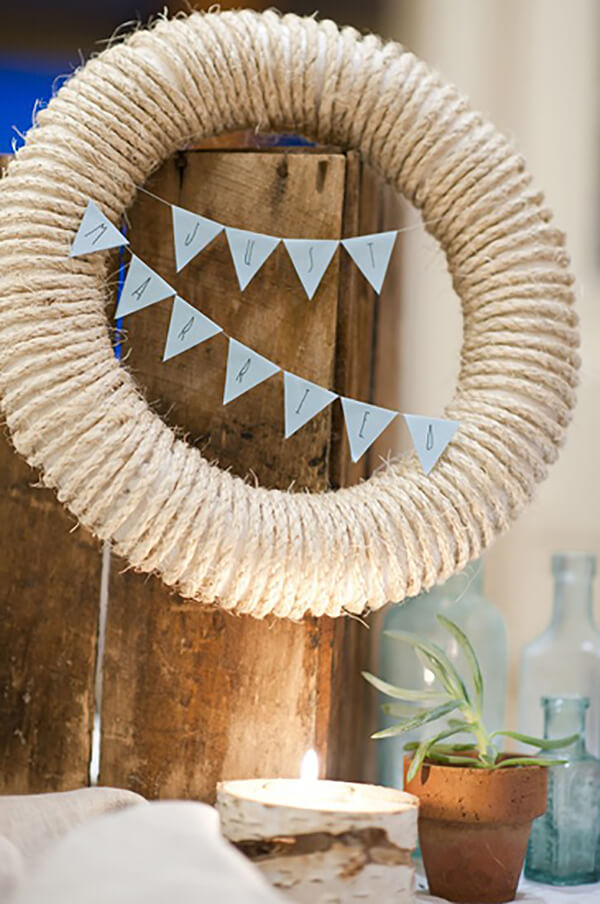 For the lovely couple who love sea life, consider this nautical knot-wrapped wreath as part of the reception decor. Celebrate the big day in a big way by tying this simply stated and pretty wreath into the decorating scene. This would be a perfect addition to the gift table or the entrance to the reception area. After the nuptials, the newlyweds can use this in their own home for their inaugural year as husband and wife. Then, the pennant sign can easily be changed to their last name as a timeless decoration to keep in their favorite living space.
9. Still on Vacation Burlap Beach Wreath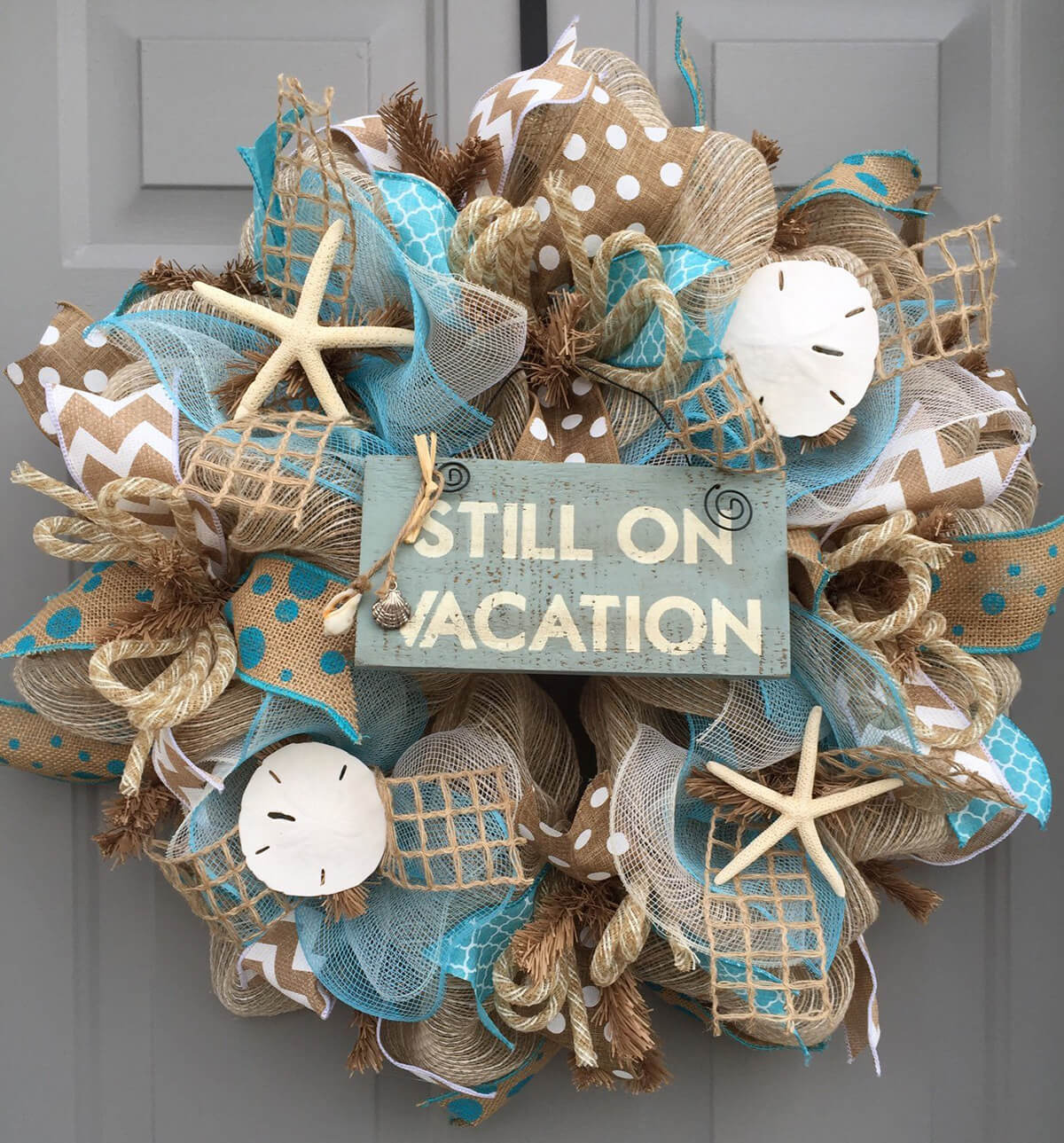 Strips of burlap in beige and blue fill up the circle that creates this dynamic "Still on Vacation" wreath idea. Starfish, sand dollars, chevron, and polka dots add plenty of pizazz to this over-stuffed wreath creation. Centered in the middle, the small wooden sign is even accented with a silver clamshell for extra sea-loving style. The gentle sea breeze nearly takes your breath as the sea blue colors emerge from the brown and beige burlap pieces. Hang this on your back door or near your pool patio for the ideal summer season decoration for either the inside or outside of your home.
10. Splendid Seashell, Plumes, and Greenery DIY Wreath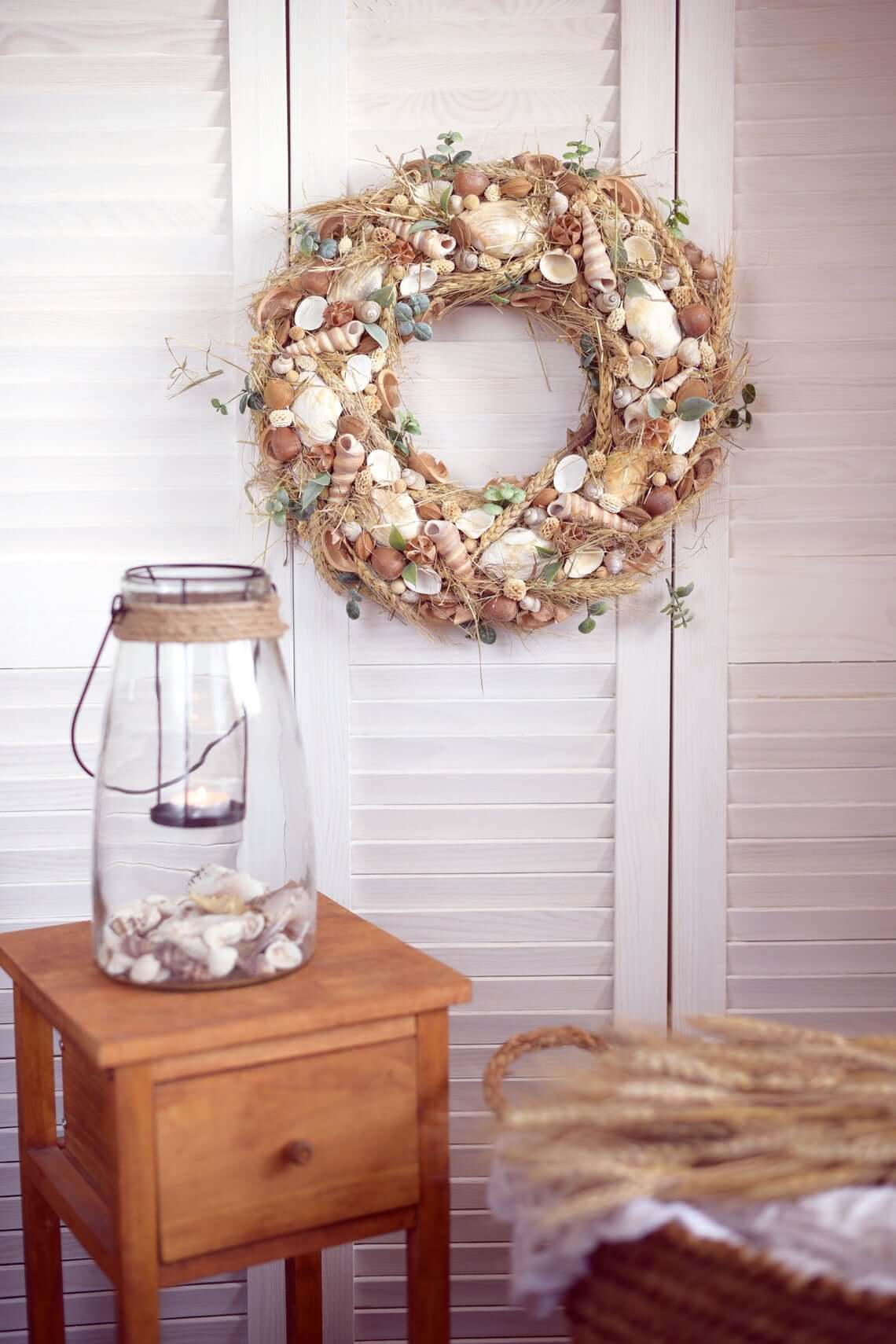 Have your cake and eat it too as you mesh the best of land and sea in this gorgeous DIY wreath that's packed with a powerful punch of Mother Nature's goodness. From the airy and hearty grain plumes and sprigs of greenery to the vast assortment of seashells, this large and hefty wreath is a fun and pretty DIY project to undertake. While it beckons a summer cottage vacation, you'll enjoy the cozy and comfortable atmosphere it brings into the room. Its dense size and construction make it ideal for hanging in the main living space of your home and it will certainly unite all nautical elements throughout the space in no time at all.
11. Sand and Sea Beach Themed Clothespin Wreath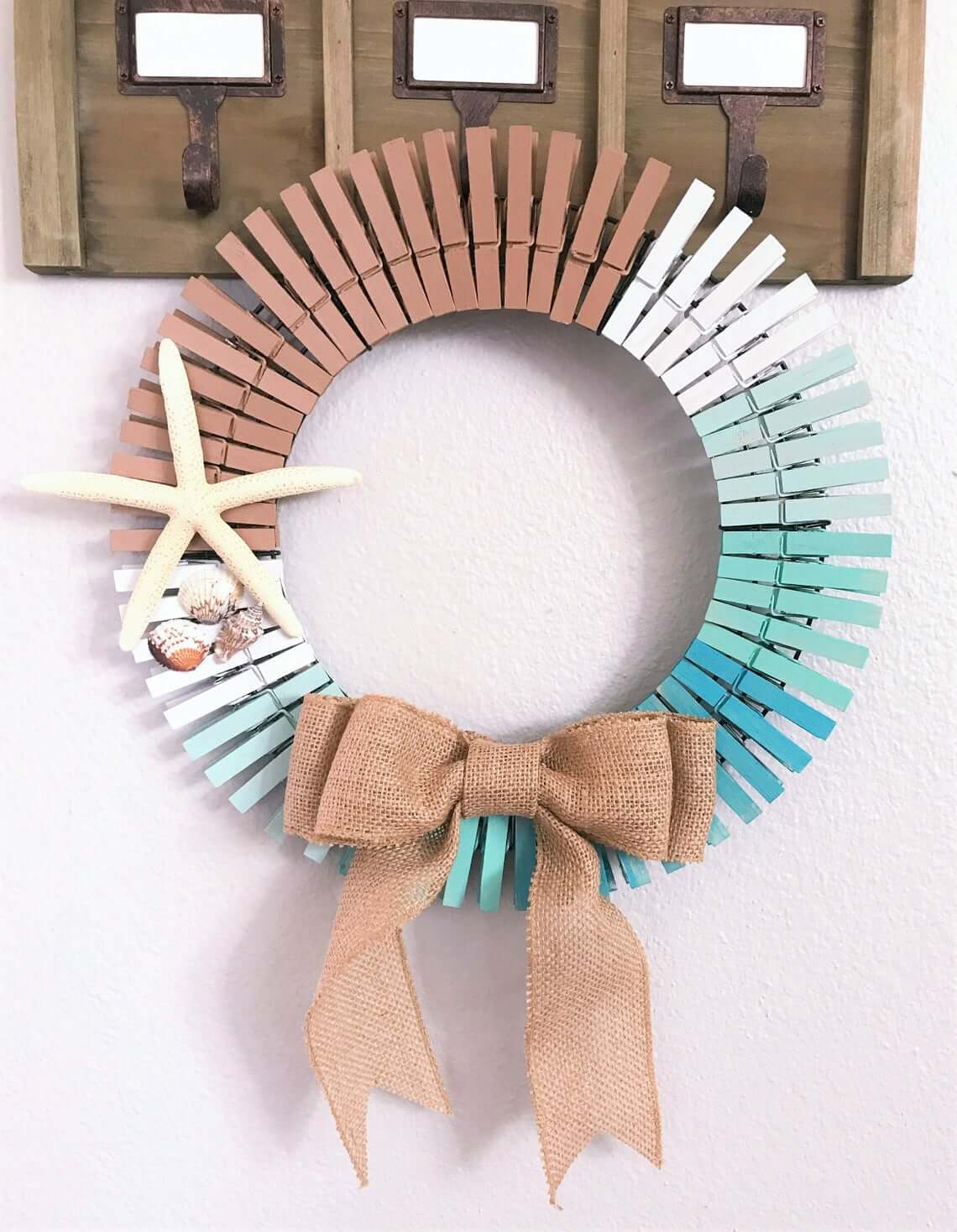 Channel all the colors of the seaside in this great clothespin creation. From the brown tans of the sand to the ombre blue hues of the sea, this DIY coastal design idea shows them off quite nicely. Included in the embellishments are a trio of shells situated below a hearty and delicate sea star. At the bottom, a burlap bow adds a traditional element to this wreath that's so much more. This handmade coastal wreath works wonderfully hanging in the nautically themed bathroom as well as on the back door as part of your summer decor.
12. Nautical Net and Sea Critters DIY Wreath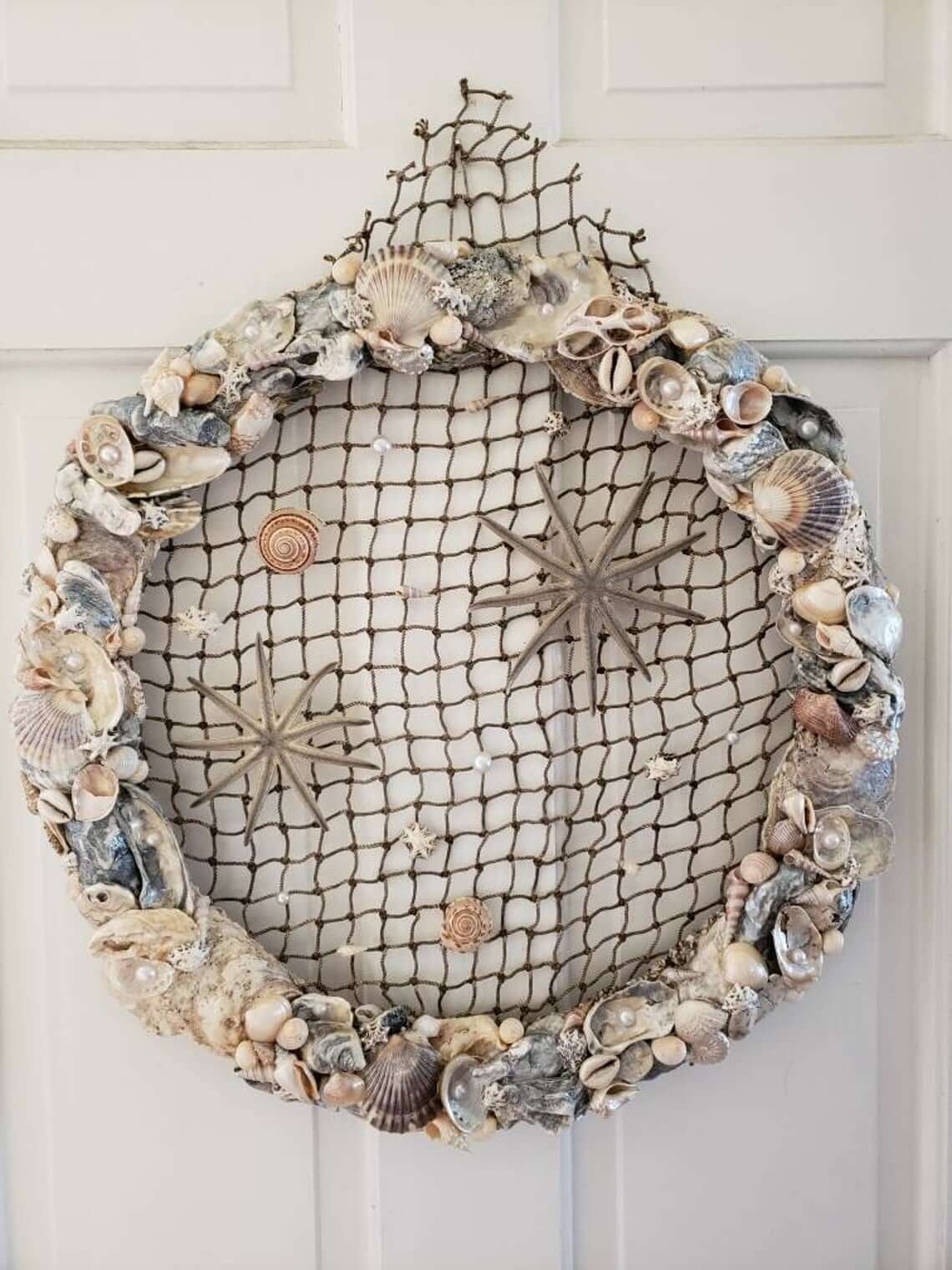 Don't let those gorgeous seashells disappear and leave with the tide, cast your net and catch all of them to create a magical DIY wreath. The netting provides an easy way to mount this beauty and creates an interesting detail for a background. Discover all the variety in shell sizes and colors as they fuse together and bind into a seamless, circular wreath creation. Anyone who adores coastal living or boating life would enjoy this nautical net wreath that's been filled to the brim with sea critters. Hang it outdoors over your bar space to add to the galley grub atmosphere of your nautical backyard barbecue.
13. Nautical Lighthouse, Driftwood, and Seashell Wreath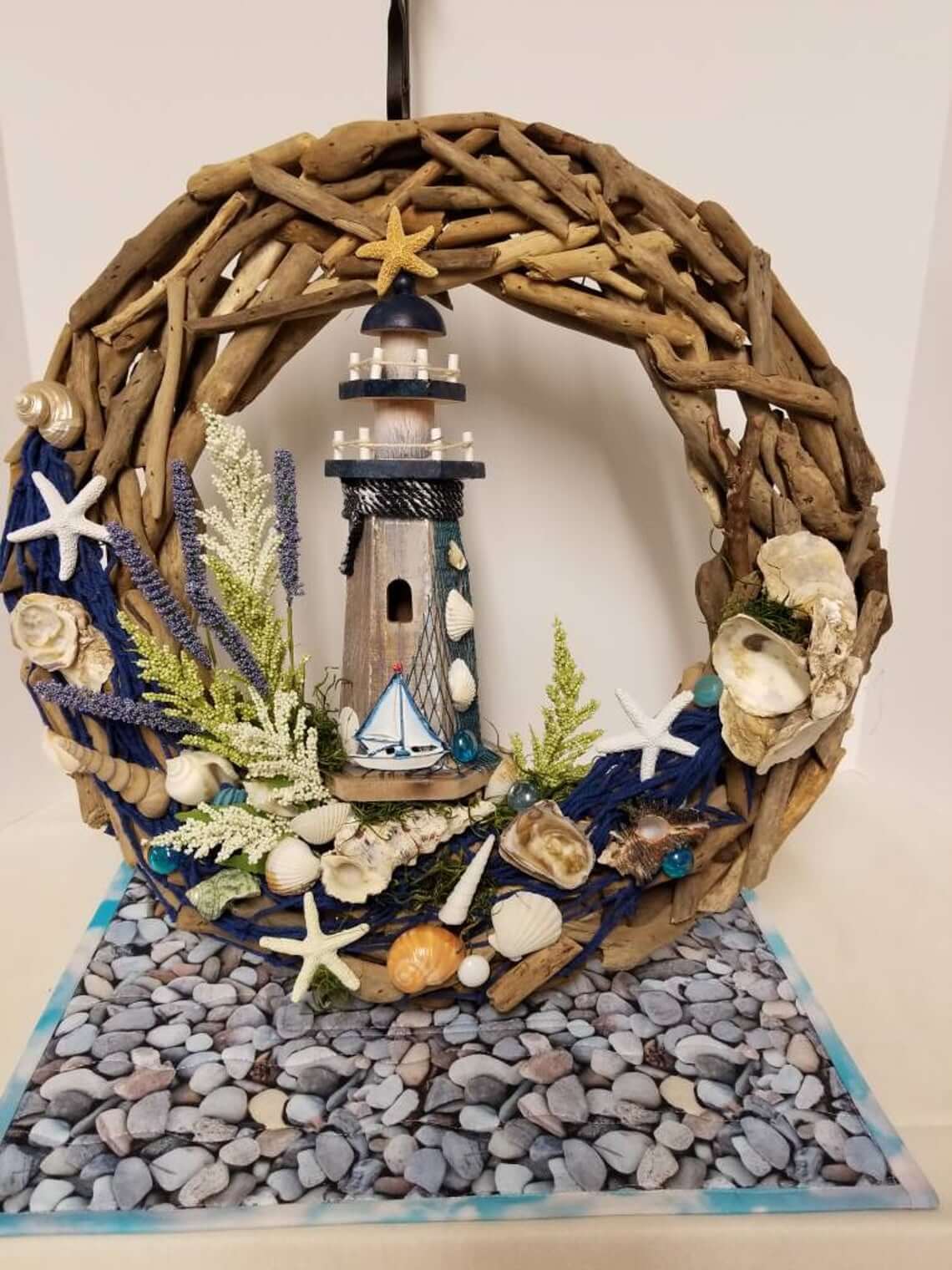 Let the sea come alive in your home with this amazing nautical wreath that features all the essentials of coastal life. Nestled inside the middle of the wreath, the wooden lighthouse is full of charm with its embellished shells and nets adding to its beauty. It even has a dainty sailboat resting by its shoreline for more fun. Around the wreath, you'll discover a bountiful arrangement of seashells that have been set off by rich blue accents that perfectly tie into the hues of the lighthouse. The foundation of this entire work of art is a gorgeous collection of driftwood pieces in all shades of brown that form the ideal base for such a perfect nautical wreath. Hang it in your home any time of year for some coastal inspiration.
14. Driftwood and Star of the Sea Wreath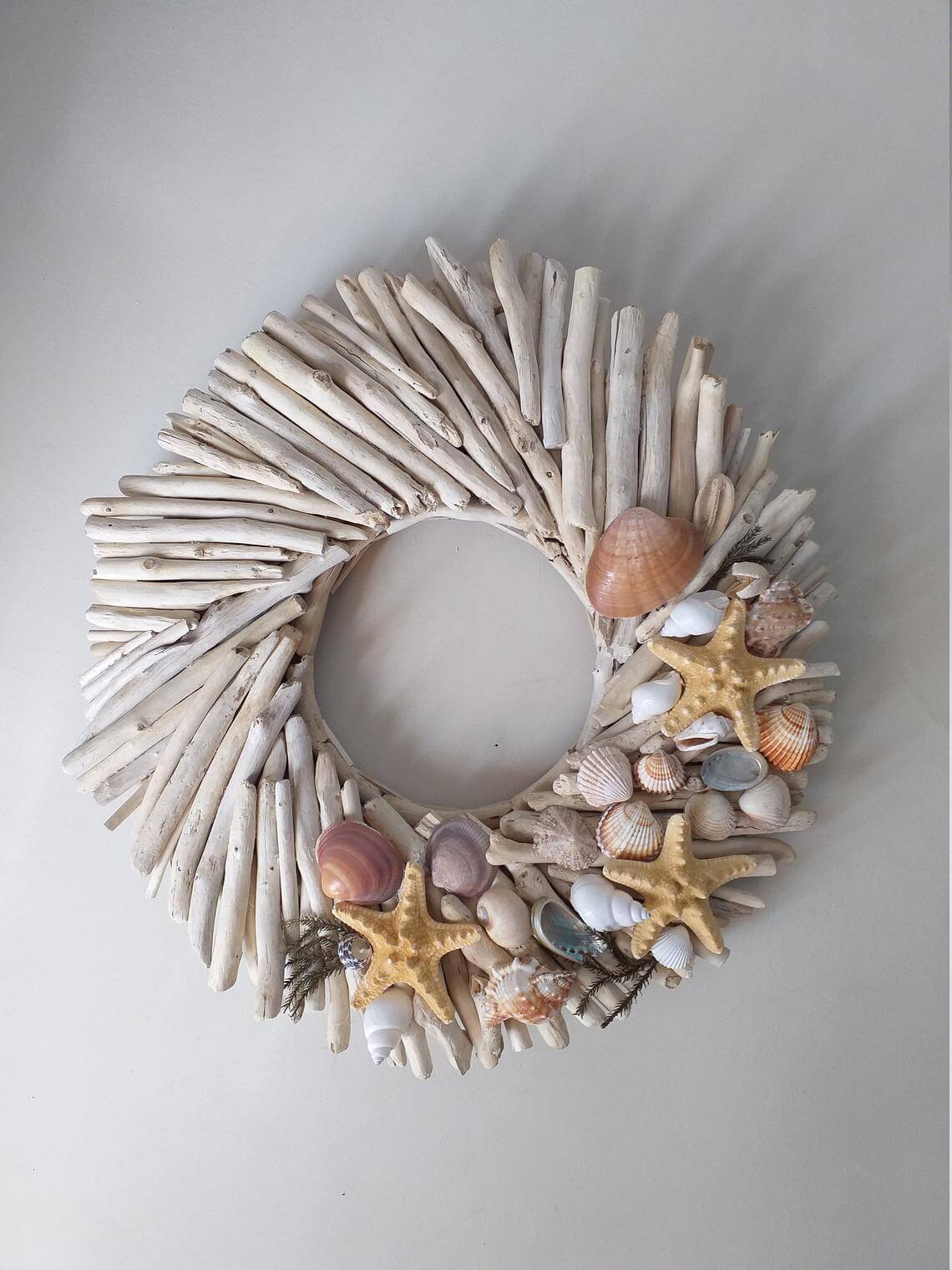 Everything you can collect on a simple stroll along the beach becomes the muse for this gorgeous and elegant nautical sea wreath. Tender and lean pieces of driftwood wrap around in a slanted circle formation to create the unique base for this DIY wreath. Instead of a customary ribbon bow, one of the best DIY nautical wreath ideas uses a nice assortment of polished sea shells, further adding to the beauty and splendor of this pretty wreath. With the lovely texture and attention to detail, this captivating creation deserves to hang on an interior wall to be seen all year long!
15. Blue and Brown Beach Scripted Rope Wreath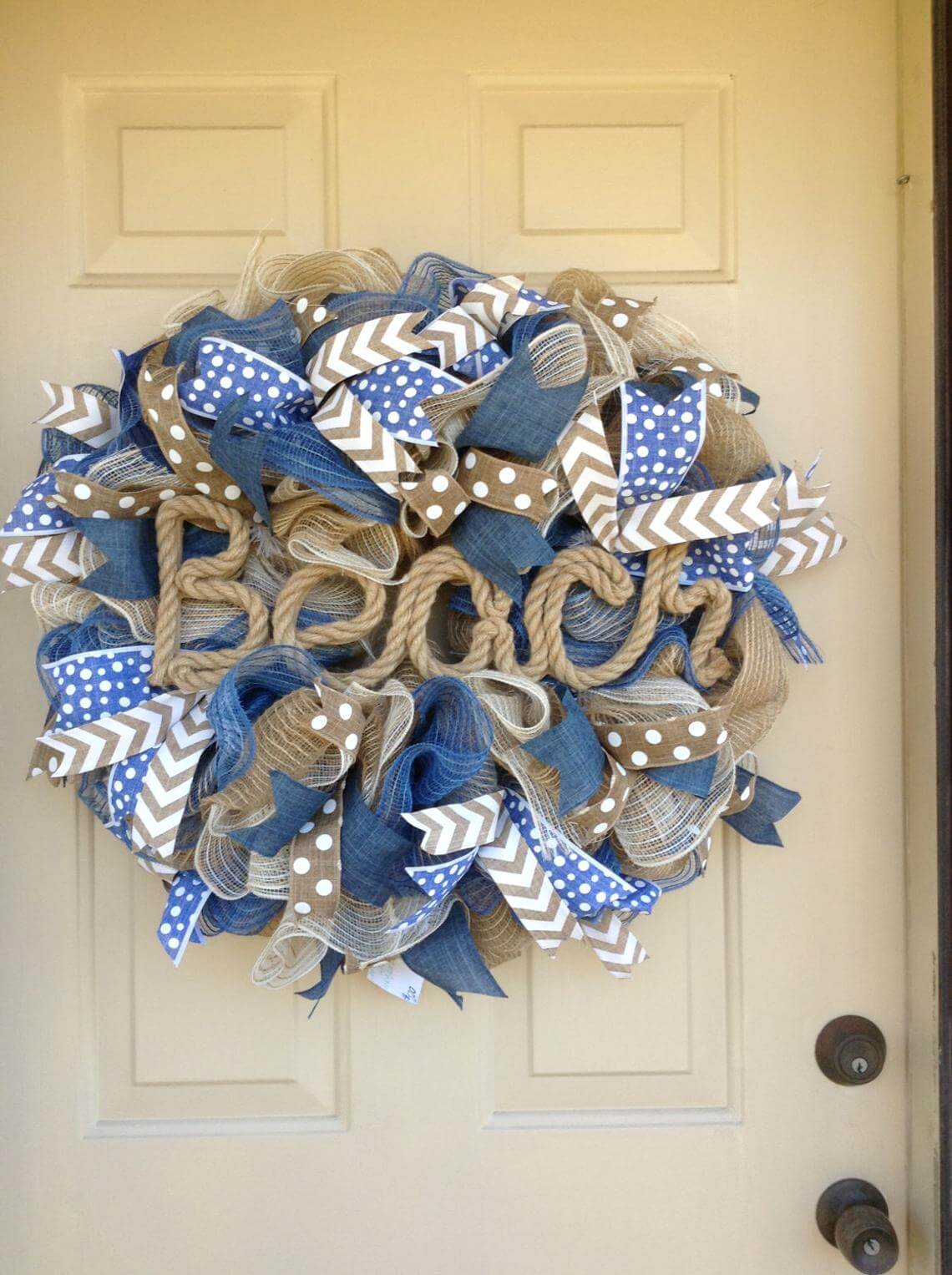 Here's a beachy wreath that's filled with fun! Check out the variety in the burlap ribbons in shades of blues and browns that work together to create this interesting nautical wreath. Nearly bursting to life with all the ribbons exploding on the scene, this lovely wreath is finished off with the nautical rope that's been carefully crafted into the script "beach" and placed front and center in the middle. Wouldn't this make a perfect display for the front door of your beach home? Or you may have that friend who dreams of living the beach life and would adore this hanging anywhere in her home.
16. Sea Glass Sunburst DIY Driftwood Wreath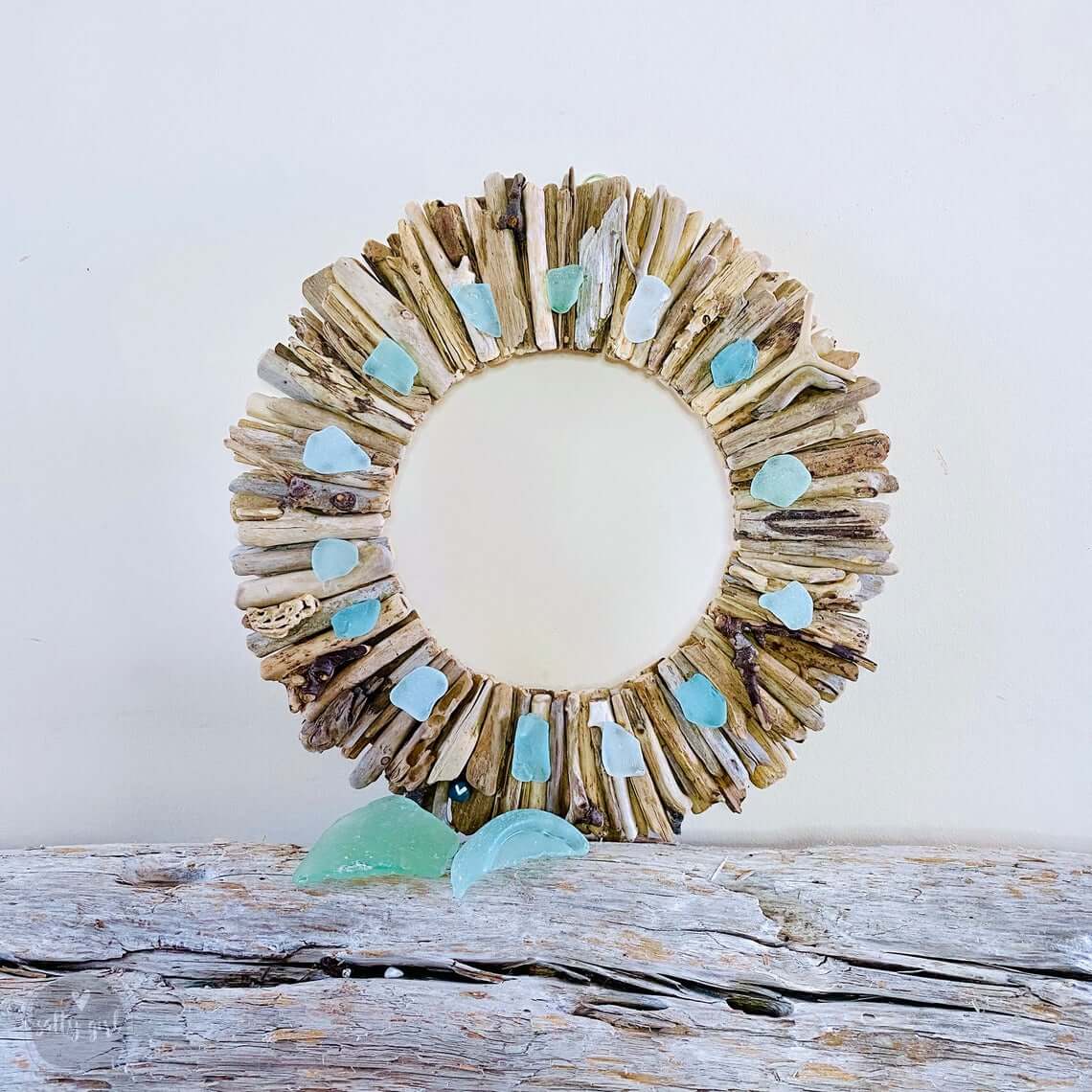 Big and small, no two are alike in terms of this DIY driftwood creation. Spanning a nice circular pattern, these multi-colored and various-sized pieces of driftwood add loads of character and charm to make this one of the best DIY nautical wreath ideas for your home decorating scene. Formed in a near sunburst pattern, the different pieces secure a solid foundation for displaying the sea glass stone accents. With this coastal creation, you get an interesting and natural home decoration that fits into any nature-lover's home with its earthy and sea-loving personality.
17. Blue and White Boat and Anchor Wreath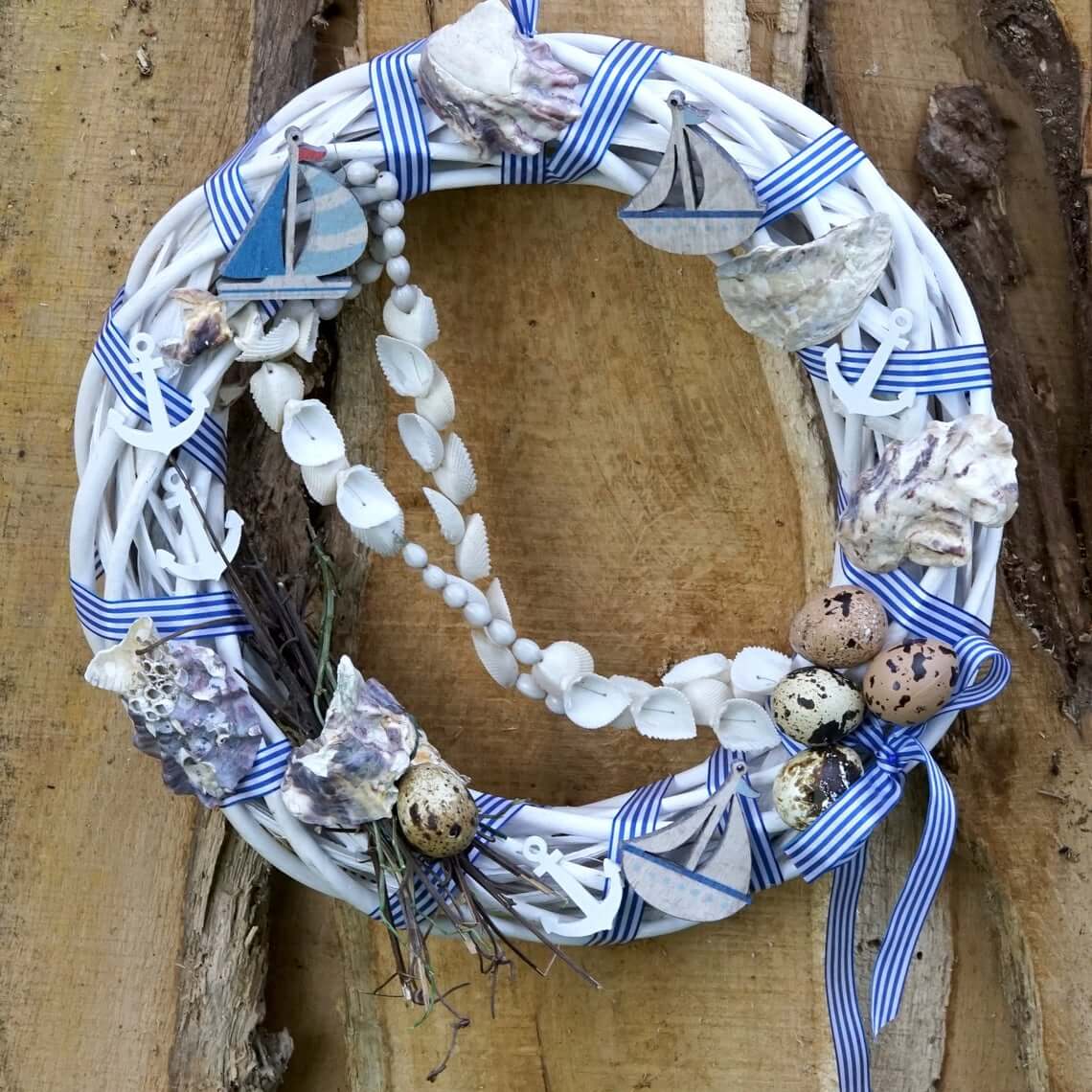 Perhaps the two colors that come to mind when thinking of nautical or coastal decor are blue and white. That's exactly what the muse is behind this cute wreath that has simple accessories spaced around its ring. Capitalizing on the crisp, white foundation, this wreath comes to life with the tiny sailboats, shells, and striped ribbon that winds around the full circle. A string of white beads and shells carefully extends along a diagonal from top to bottom giving even more charm to this fun little wreath. Let the kids join in as they can string shells and glue ships to this perfect and quick DIY nautical wreath project.
18. Rustic Lake House Burlap Bow Wreath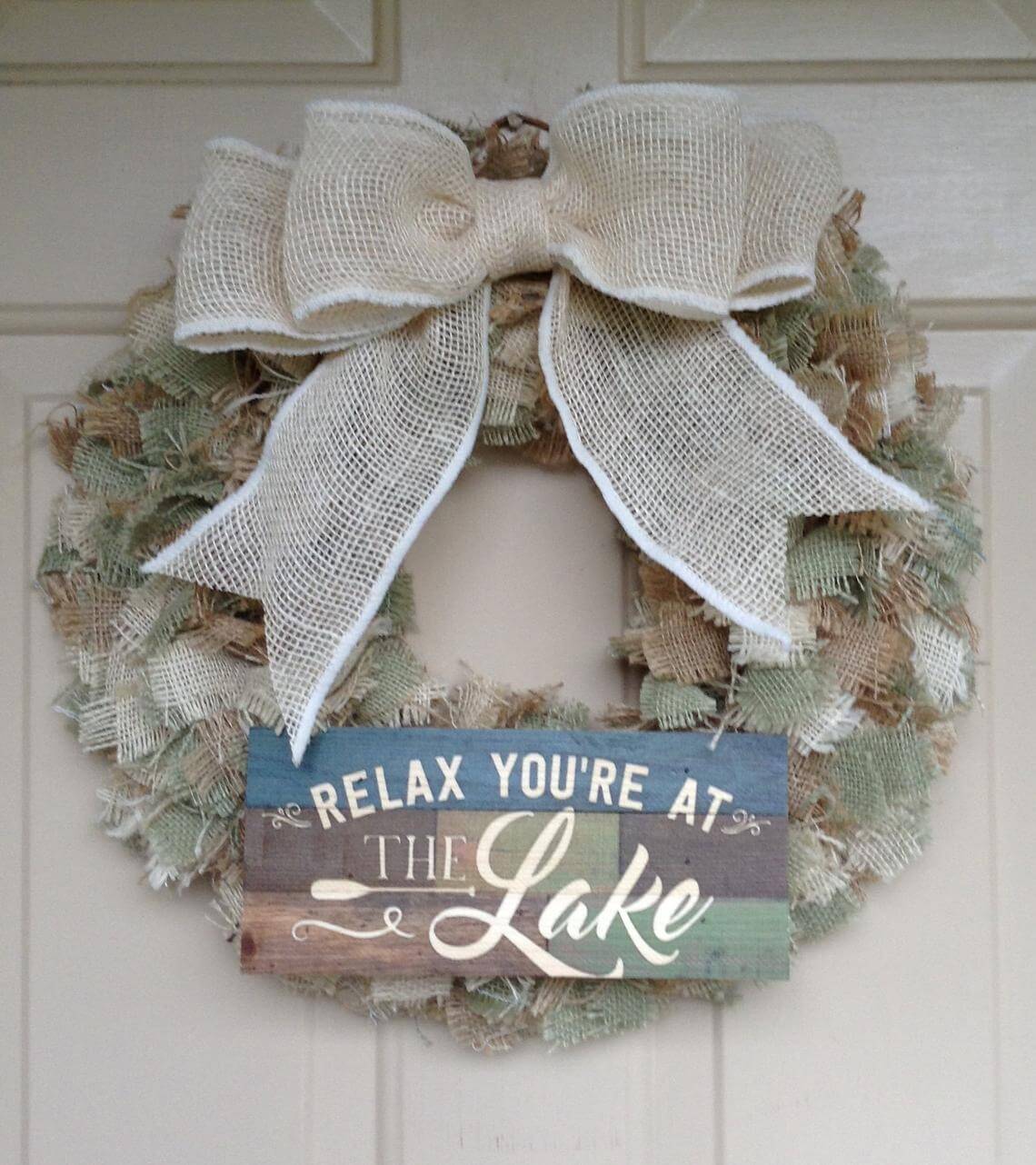 You'll be politely inclined to relax at the lake with this cute burlap bow wreath. Created in a simple design, this wreath echoes the sentiment of its small wooden sign in keeping things light and easy in order to relax. Delicate and soft tones of green work nicely with the traditional brown burlap to make this a rustic, yet pretty lake house wreath. It's a great update to your lakeside retreat as you hang it on the door to welcome all the weekend guests to your place. Hang it as the backdrop for a cozy conversation corner on the deck with two Adirondack chairs and plush pillows that make room for relaxation to begin!
19. Anchors and Helm Nautical Blue Wreath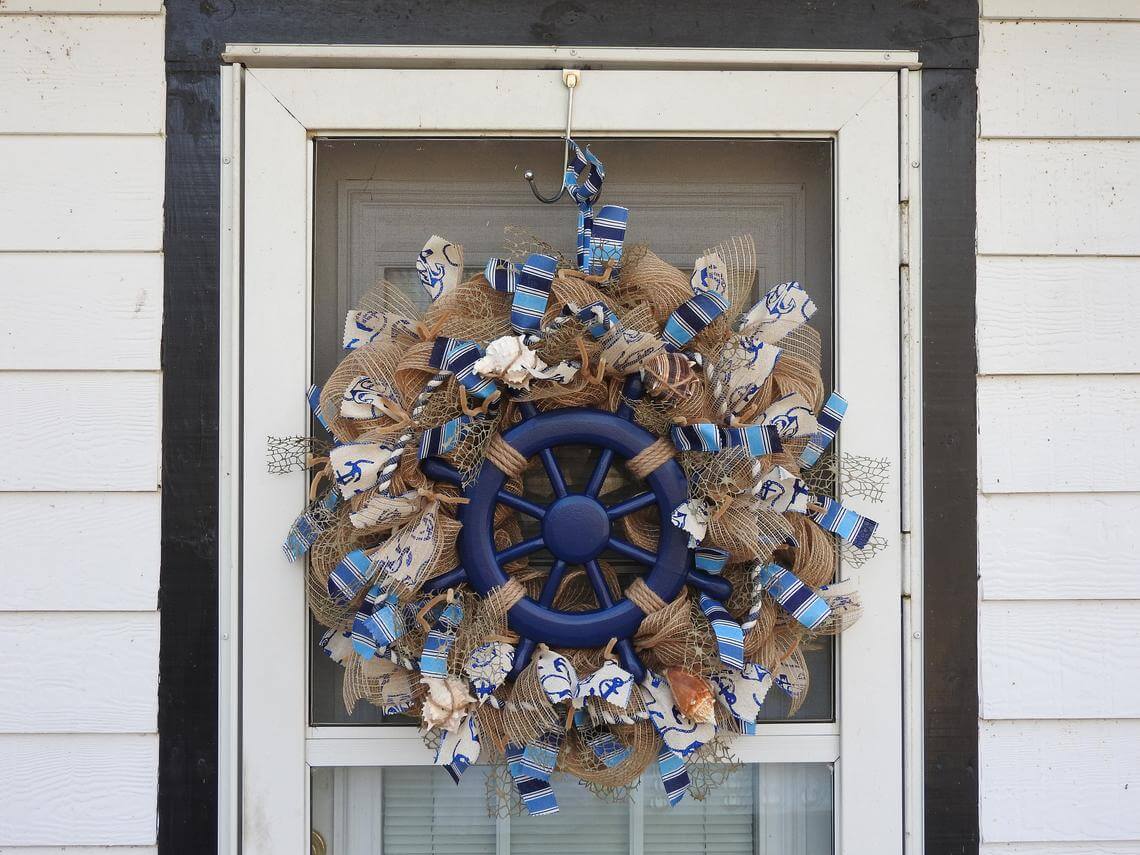 What's not to love about this spectacular blue-hued wreath? All of the vibrant blue-toned ribbons burst out and around the star of the show as a dark blue painted helm draws in your eye. With such an amazing sea-lovers centerpiece, this wreath has just the right amount of style and texture interwoven throughout. You'll even notice the pieces of rope and netting mixed into the pretty ribbon pieces. The use of three blue hues further adds to the contrasting appeal alongside the tan burlap strips. Hang this above your fireplace where it can get the attention it deserves as you steer the design of your living space up the coastline.
19 Nautical-style Wreath Ideas You Can Make Yourself
Prepare to set sail on your summer voyage by working your magic in creating some new and exciting nautical stylings into your vacation home. This collection of some of the best DIY nautical wreath ideas offers something for everyone from coastal cottages to the beachy bungalows.
Maybe scavenging the house is your go-to when contemplating easy and cheap DIY ideas so dive right into the amazing clothespin wreaths. Or if you have an old grapevine wreath prepped for the trash, give it a second chance with some hot glue and several seashells to make it a newfound treasure.
That never-ending supply of seashells, starfish, and sand dollars you've accumulated over the years will finally have a place to call home as you design and build these interesting and beautiful nautical designs. Drop your anchor and rest assured that whichever DIY nautical wreaths you choose to create, you'll be happy with the sea life you've selected!