Great for completing a room, the best DIY old door headboard ideas are full of engaging character and unique charm. Like any project, you can decide how you want the finished product to look. Is the right finish for your space natural wood, pristine paint, or some distressed grunge? How your headboard interacts with your bedroom depends on a few factors including door design, finish, accessories, and safety.
14 Energizing Ways to Make the Best DIY Old Door Headboard Ideas Work for Your Space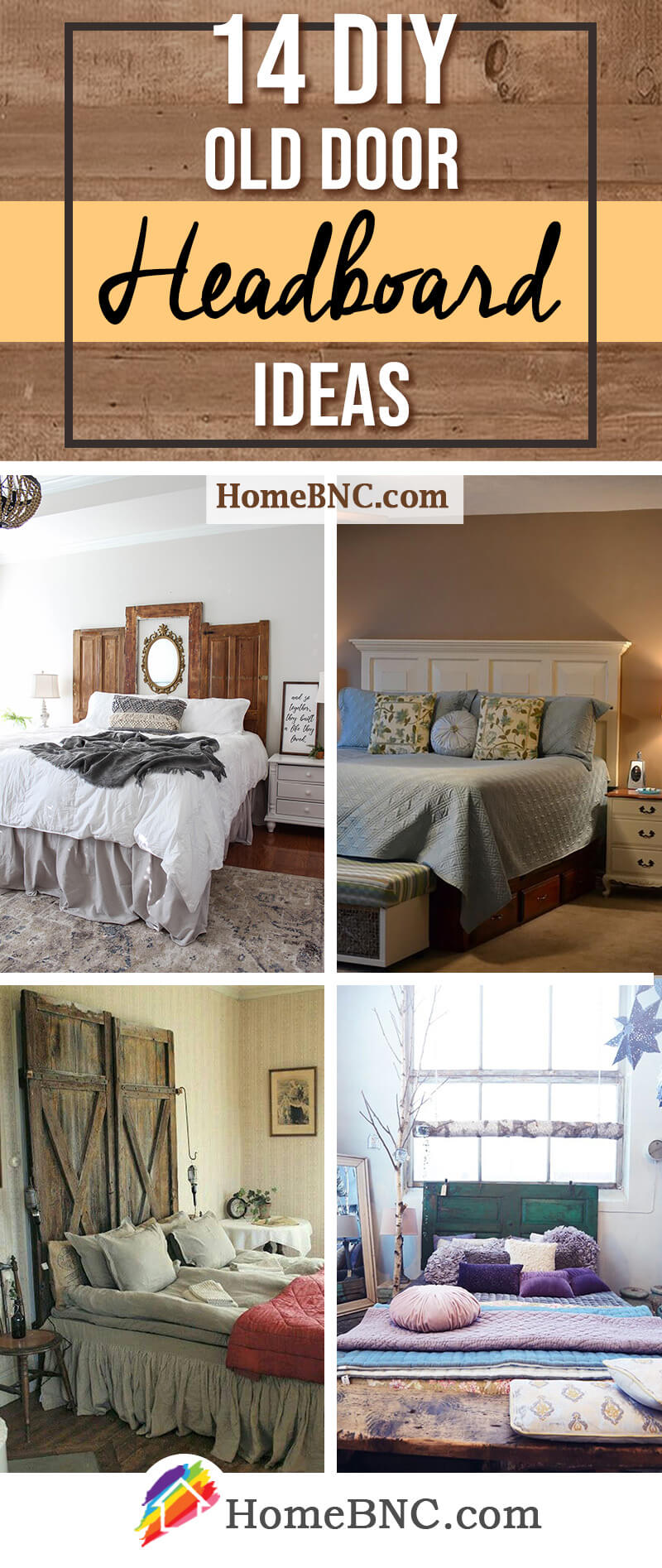 A bed without a headboard is like a cake without icing — functional as is, but without a level of delicious satisfaction. Depending on your bedroom, the right headboard can exude imaginative personality or calmly add to the ambiance. It provides a picture frame for your bed and can set the mood for your room.
Because a headboard is a functional piece of furniture, it is important to secure the headboard safely. Beyond the aesthetics, headboards also keep damaging oils from hair away from your wall. Although it may not be immediately visible, how your door headboard is hung changes how functional it is. If you choose to hang your door headboard directly to the wall, repositioning your bed can become very time-consuming. Another option is to mount it directly to your bed frame. However, this is not possible on all bed frames.
From decrepit doors with missing panels to barely-used doors, there is a way to create a beautiful DIY headboard from a door no matter how it looks. Using doors with symmetrical panels to make your headboard will achieve a balanced, calming effect. If your reclaimed doors feature asymmetrical panels, your headboard will feel closer to nature. Making a headboard from a door is not only an exciting way to express yourself but also makes your bedroom the perfect place to recharge.
1. Stunning Wood Headboard Featuring an Antique Mirror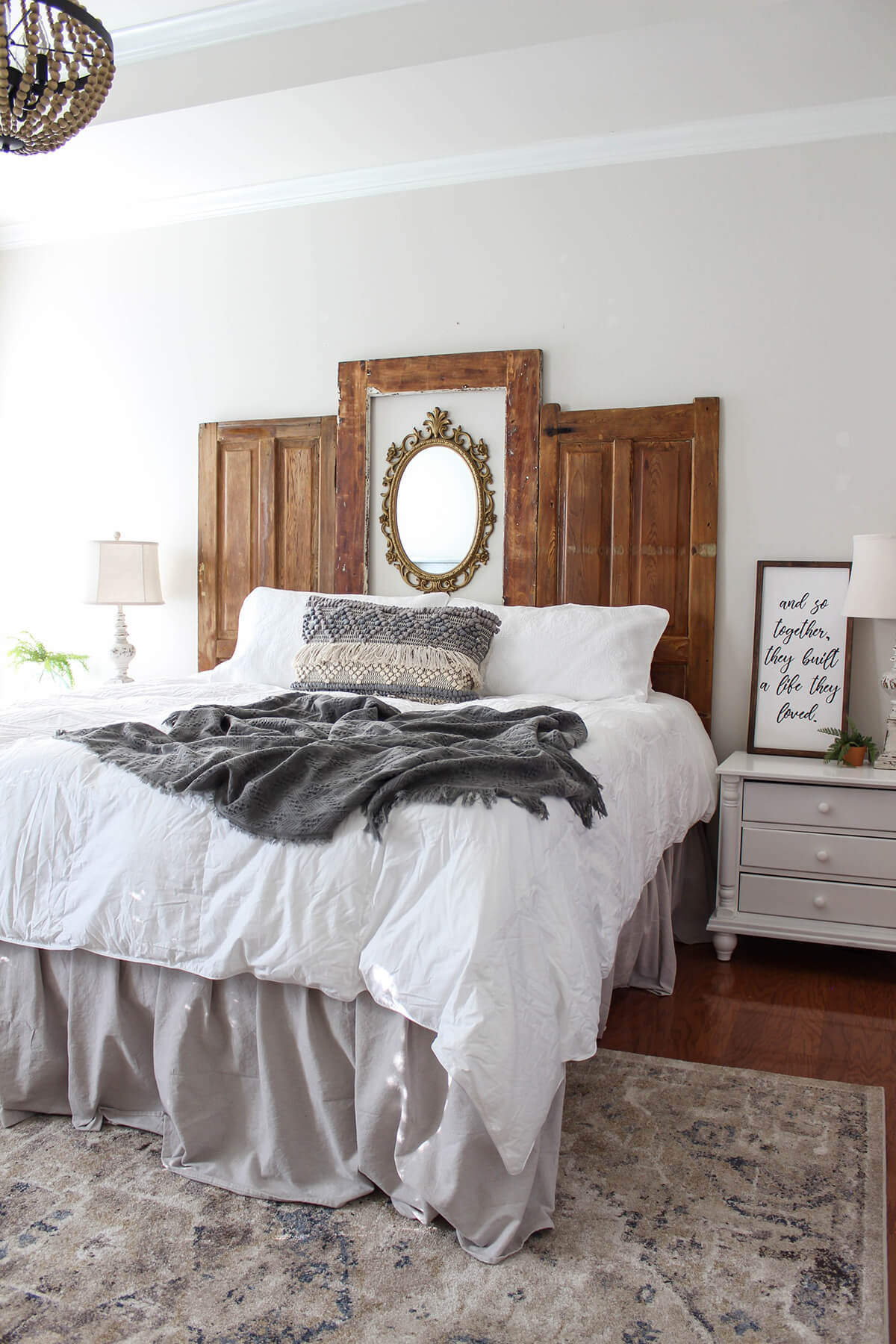 Why not showcase a missing door panel instead of hiding it? Besides being unique, this old door headboard is a reminder that broken things can be beautiful too. While this headboard project features an antique mirror, you could hang a photograph, antique map, or even a Monet painting in the gap. For a touch of hygge, try adding a panel of knitted cloth (perhaps an old blanket) in the missing panel. While creating an incredibly inviting ambiance, the unpainted wood also connects the indoors to the outdoors. Of course, depending on the look you are going for, you may want to paint them.
2. Lightly-Distressed Door Headboard Finished with Crown Molding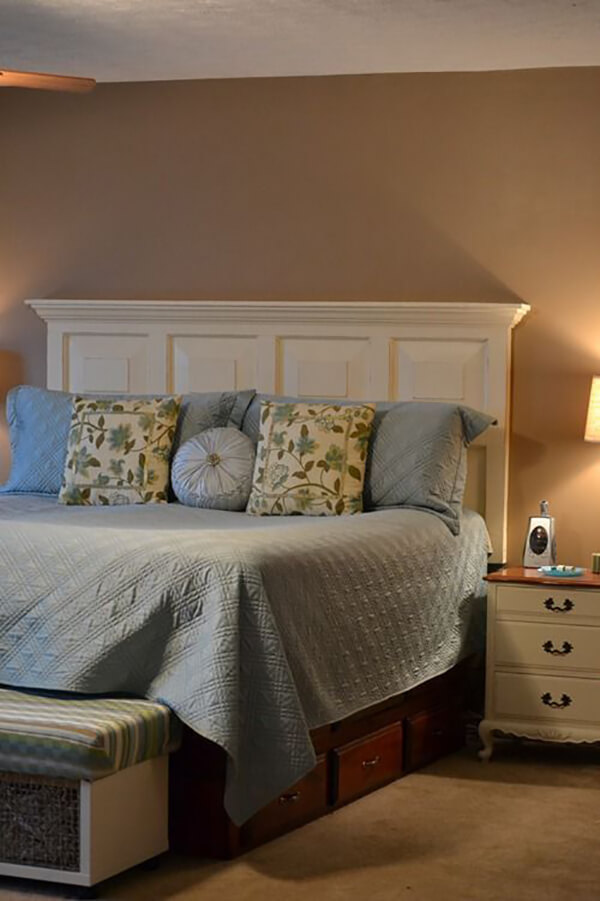 If your old door features symmetrical panels, this is one of the best DIY old door headboard ideas to spruce up your space. Because each square panel is mirrored, this headboard helps balance the room. Crown molding completes the look and gives this piece an elegant aura. For a more rustic effect, leave the crown molding off. This design would look spectacular with natural wood, or, as shown here, painted. To make the headboard a focal point, imagine adding tin backsplash tiles in your favorite finish to the raised squares in the panel centers. You could also experiment with wallpaper.
3. Distressed DIY Headboard with Lamps from Door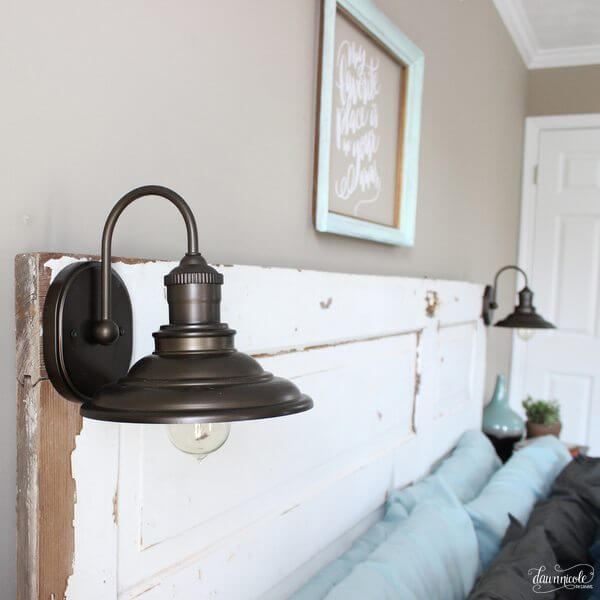 Perfect for a bedroom decorated with shabby chic or farmhouse vibes, this recycled door headboard is brimming with character. While this door came with a coat of white paint, you can repaint your old door to make sure it will flawlessly fit your style. If you prefer a more distressed effect, you can always sand away more streaks of paint to expose the door beneath. Crafters with an artistic ability can paint or use stencils to apply a pattern for a completely personalized door headboard. To change up how your old door headboard feels, experiment with different styles of light fixtures.
4. Three-Door Headboard Featuring Anniversary Date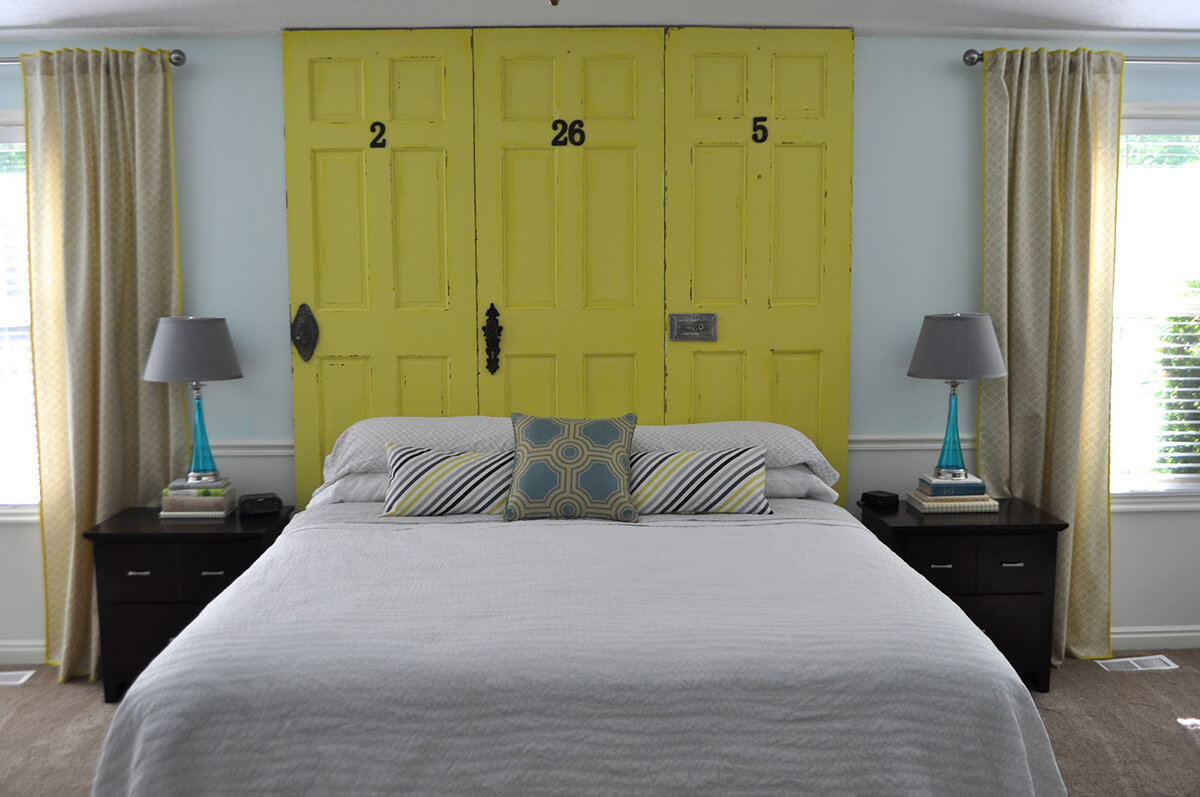 An energizing bright color unifies these three doors while mismatched hardware gives each a distinct personality. Because these doors are hung from the ceiling, you can still use whatever funky hardware you can find without fear of damaging the wall. However, it also means you will not be able to reposition your bed without some time and effort. For a more tranquil bedroom, you can switch out the bright yellow for a soothing neutral or a soft pastel color. Pair a pristine paint job with hardware and numbers that sparkle, and you will have a glamorous retreat.
5. Shabby-Chic Door Headboard with Mismatched Doorknobs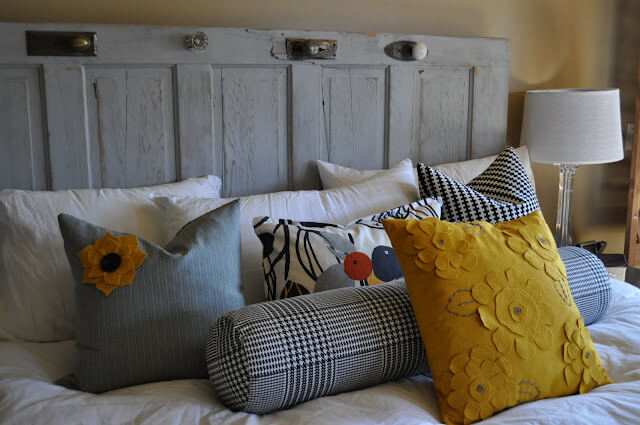 A conspicuous crack in this door headboard really makes it exciting and unique. Matte-finished paint and some funky hardware make it perfect for anyone who loves the whimsical aspects of life. While the gray color imbues the bedroom with a cool, sophisticated atmosphere, you could choose a different color for a more inviting feeling. However, the eclectic collection of doorknobs is what makes this project one of the best DIY old door headboard ideas. Of course, to cultivate a uniform look, you could use four identical doorknobs. The hardware you choose will determine the overall feel of this old door headboard.
6. Bold Antique Door Bed Frame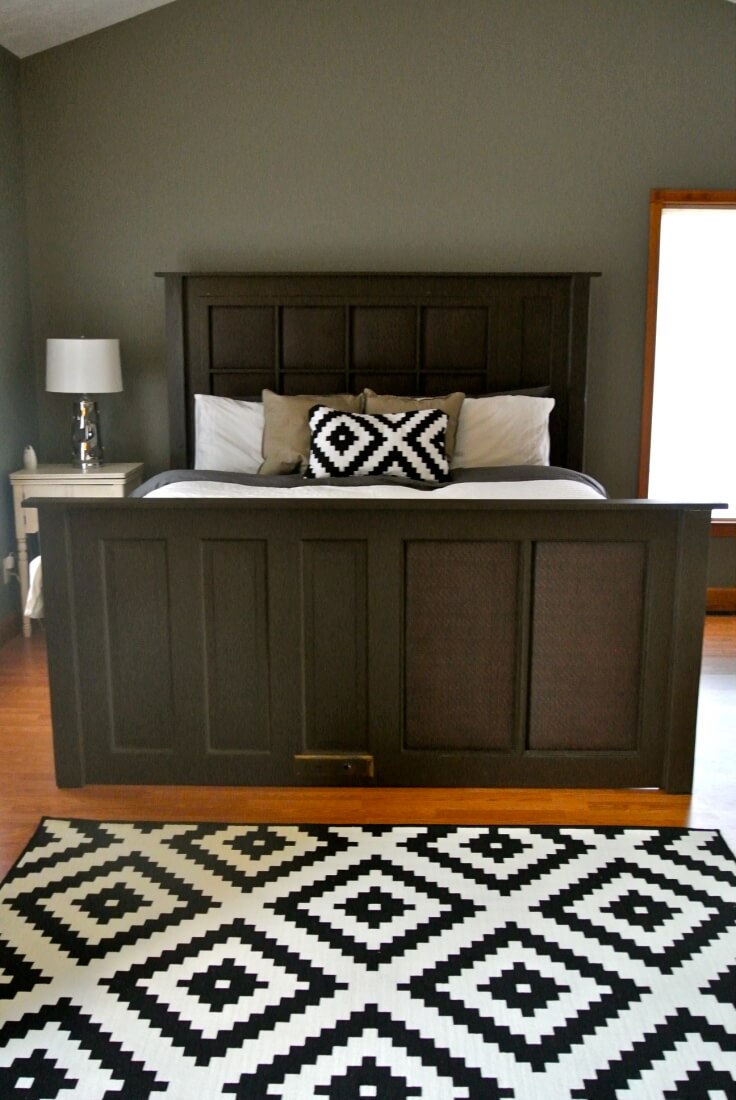 When you need a frame for your bed, this antique door can make things look as though your bed always had this appearance. The thickness of the antique door gives the frame a reliable feel and look. There is a simple pattern along with the wood too that isn't over the top. It merely helps cement the overall vintage appearance that now adorns your bed. The keyhole near the bottom is the perfect accent touch to the frame as it has a weathered look that sticks with the antique theme.
7. Decorative Vintage Glass Door Bed Frame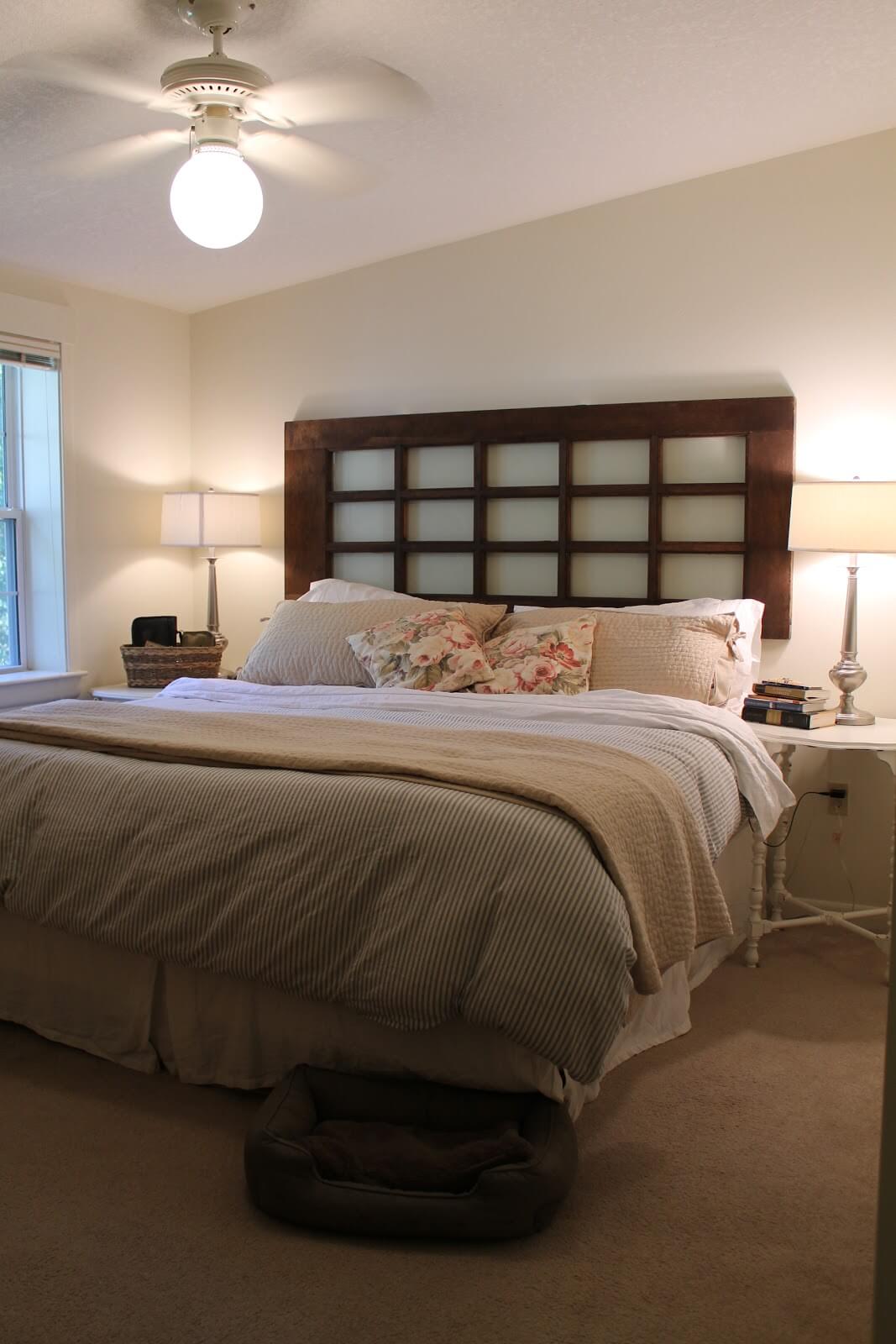 An old glass door is a wonderful option when looking to transform the frame of a bed. There's a simplicity to this door with a touch of a weathered look that gives it that vintage appearance. What does set this apart is the glass design. It is just the right size, and when it is placed up by the bed, it can quickly bring more life and light into the room. This looks good with beds of various sizes too as it can simply hang on the wall behind the bed rather than the bed itself. Such a look lets this come across as both decorative and functional.
8. Unique Handmade Barn Door Replica Headboard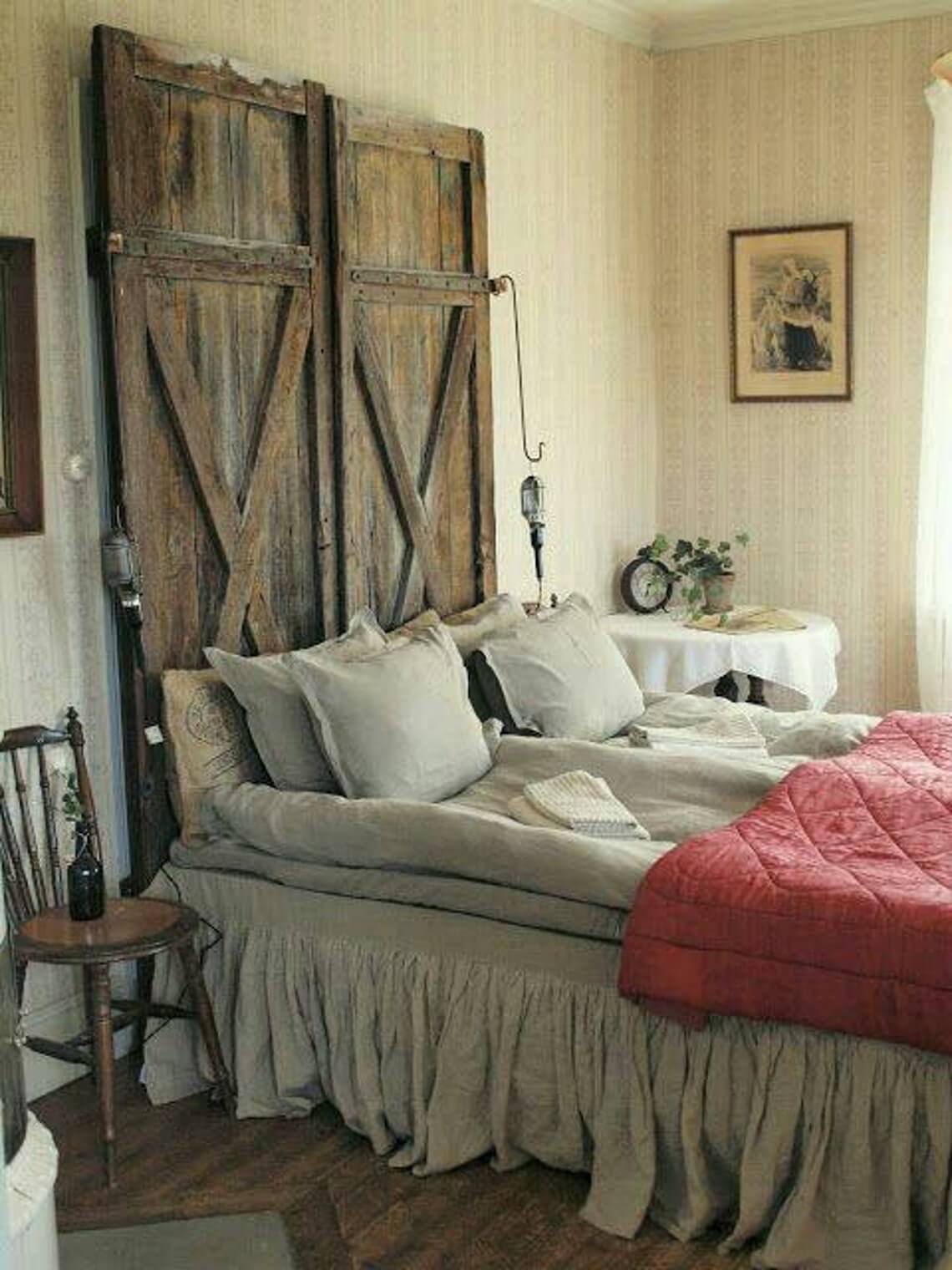 Infuse your bedroom with some gorgeous rustic appeal. Although paint is an option, the beautifully stained wood finishes create dimension and allow the pine's natural elegance to shine through. With several stain options, you are able to pick exactly what kind of countryside energy your bedroom will channel. What makes this difficult decision a little easier is that there are no incorrect answers. No matter which stain or paint color you choose, this headboard is an heirloom-quality piece of furniture. Whether you are decorating a farmhouse-themed master bedroom or a farm-themed nursery, these barn door headboards will last a lifetime.
9. Hand-Carved Moroccan Cedar Door Headboard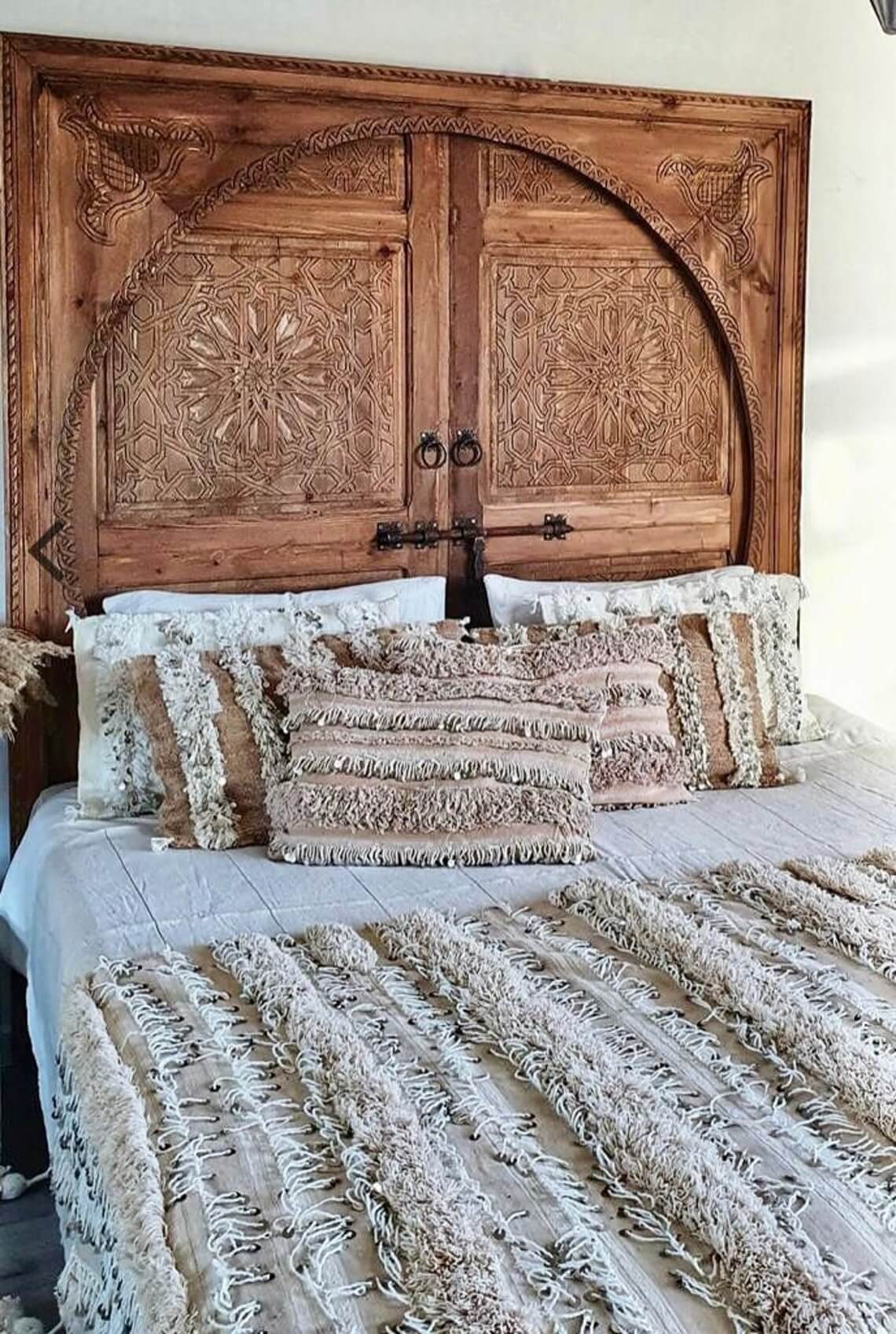 This exquisitely carved door headboard transcends furniture and is art in its own right. A traditional Berber pattern radiates old-world charm, classical elegance, and true craftsmanship. Unpainted wood is a graceful way to include nature in your sanctuary. Pair it with jewel tones to evoke a medieval palace. Alternatively, using a simple white comforter will allow this headboard to shine as a focal point. The black hardware even makes it easy to tie into the rest of the room. Use a few black accents like pillows or blankets, and you will have a cohesive and enchanting space.
10. Extra-Large Abundantly Distressed Reclaimed Door Headboard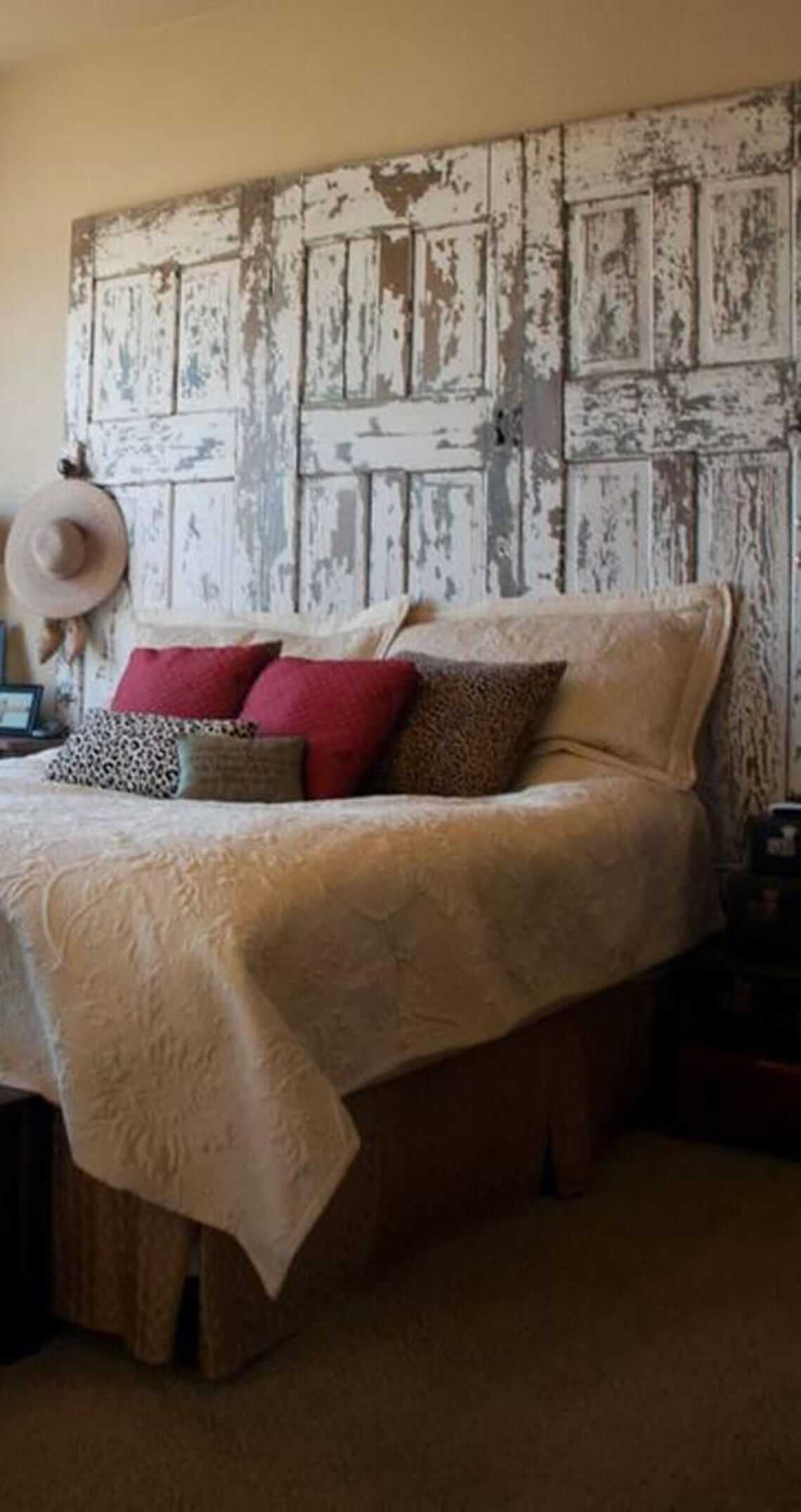 Although you can order it in any size from twin to California king, this reclaimed door headboard is perfect for creating a larger-than-life effect. Because these doors are heavily distressed, each is a visual feast. To fully customize your headboard, you can pick both paint and stain colors. The beauty in such a distressed piece is that it pairs cohesively with a variety of spaces. Add some rope decor and a blue palette for a coastal-themed dream. Decorate the rest of your bedroom with classical pieces, and your space will look like a relaxingly refined French country cottage.
11. Repurposed Door Headboard to Fit Any Bed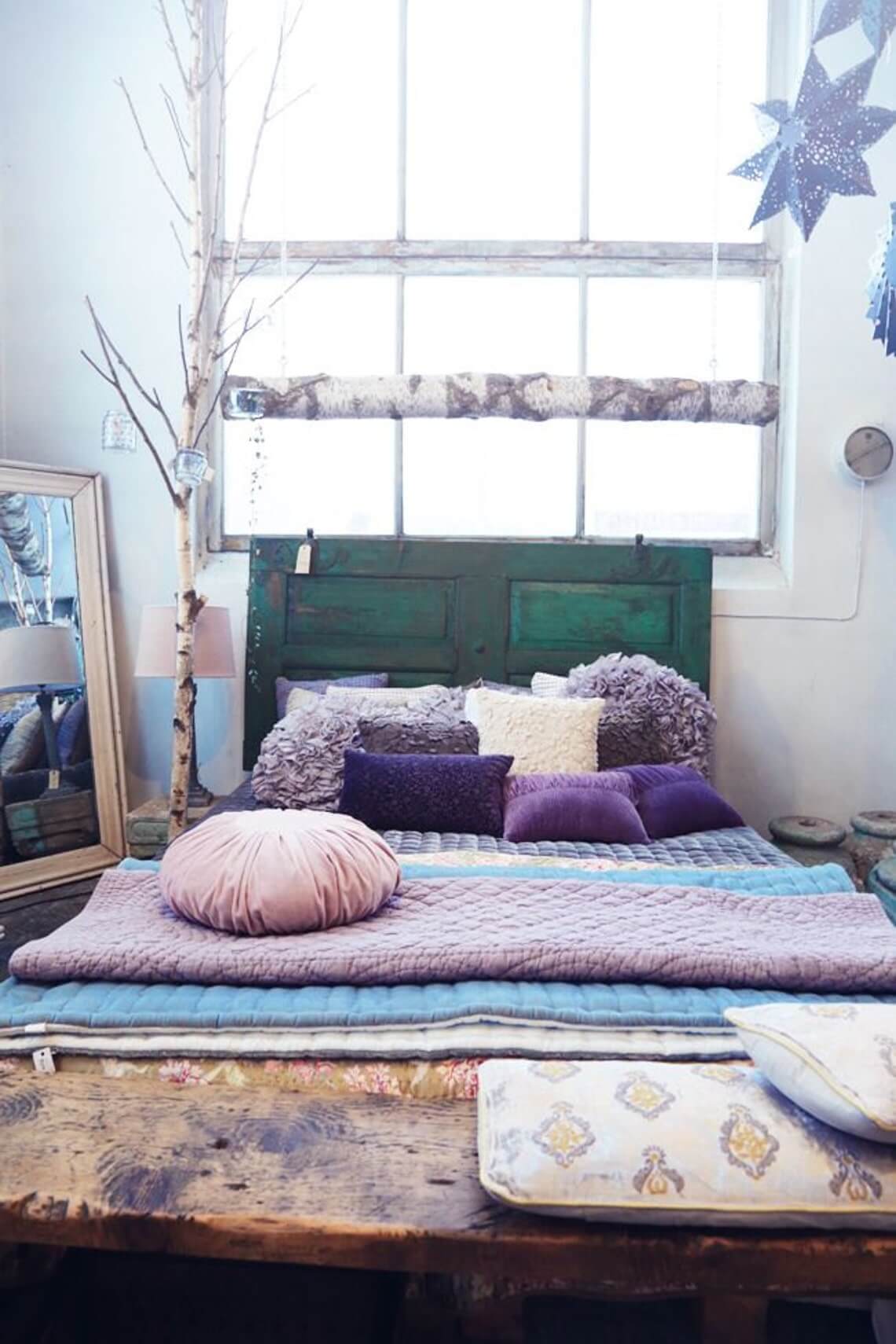 Just as no two doors are alike, each headboard from this Etsy shop is unique. To get the right vibe for your space, you can choose among 13 colors or request one of your own. After being painted, each door headboard is distressed to imbue authentic character. If a 60-inch tall headboard will not work for your bedroom setup, you can commission a custom headboard. For ultimate repurposed splendor, this Etsy shop includes a listing to add on a vintage doorknob. Although it will take some time before you receive your headboard, these are high quality and well worth the wait.
12. Timeless and Perfect Door Replica Headboard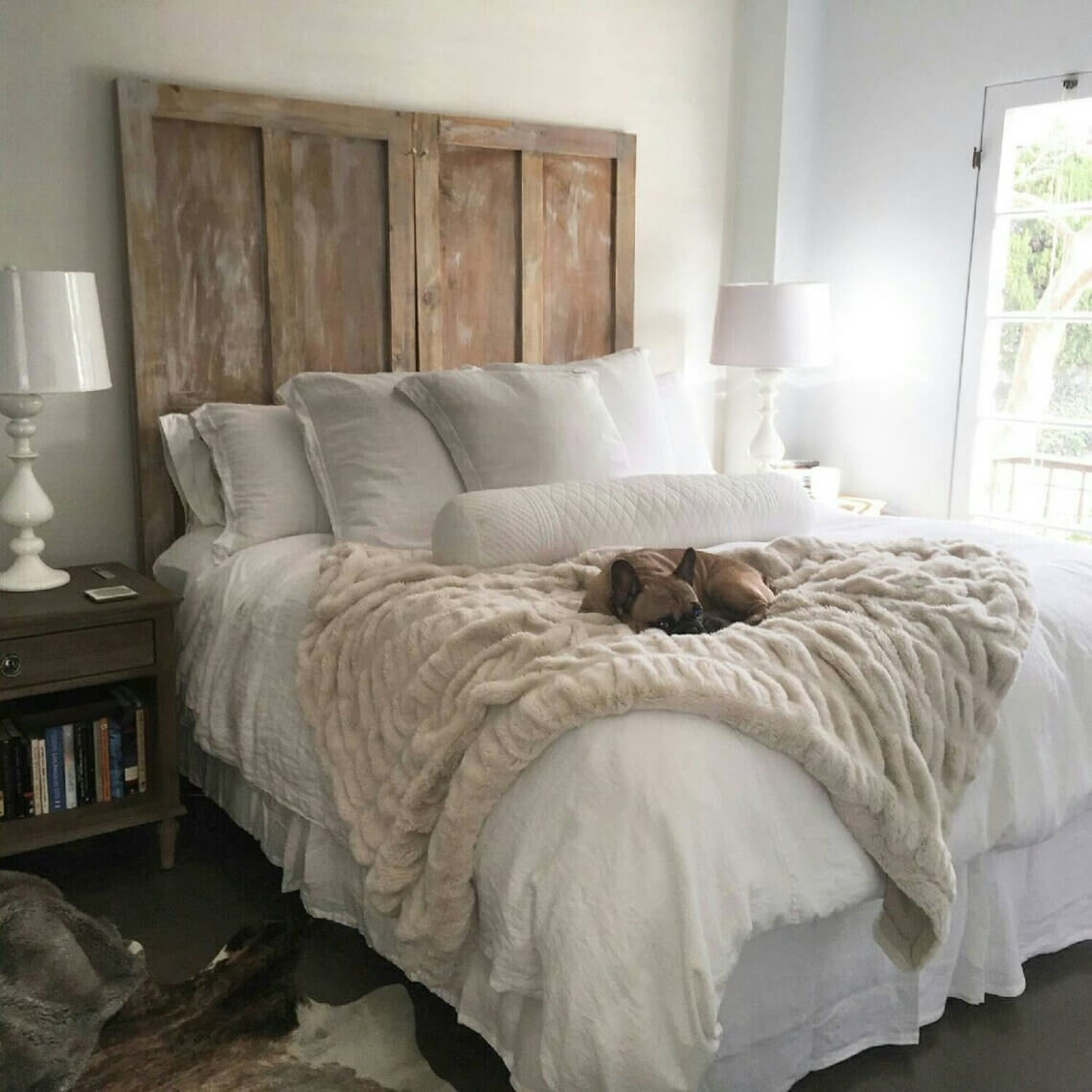 No matter what your bedroom decor is, this vintage door replica headboard will make a splash. Made in South Carolina, each door replica headboard exudes Southern charm and nostalgia for times past. With a height of 80 inches, there is plenty of space to admire the captivating variation achieved by the distressed wood. Of course, if natural wood is not your style, you can select nearly any paint color for your replica door headboard. Cool white covers create a crisply clean effect. However, if opulence is your thing, try a velvet brocade comforter and lots of glamorous gold accents.
13. Aqua Reclaimed Spanish Pine Door Headboard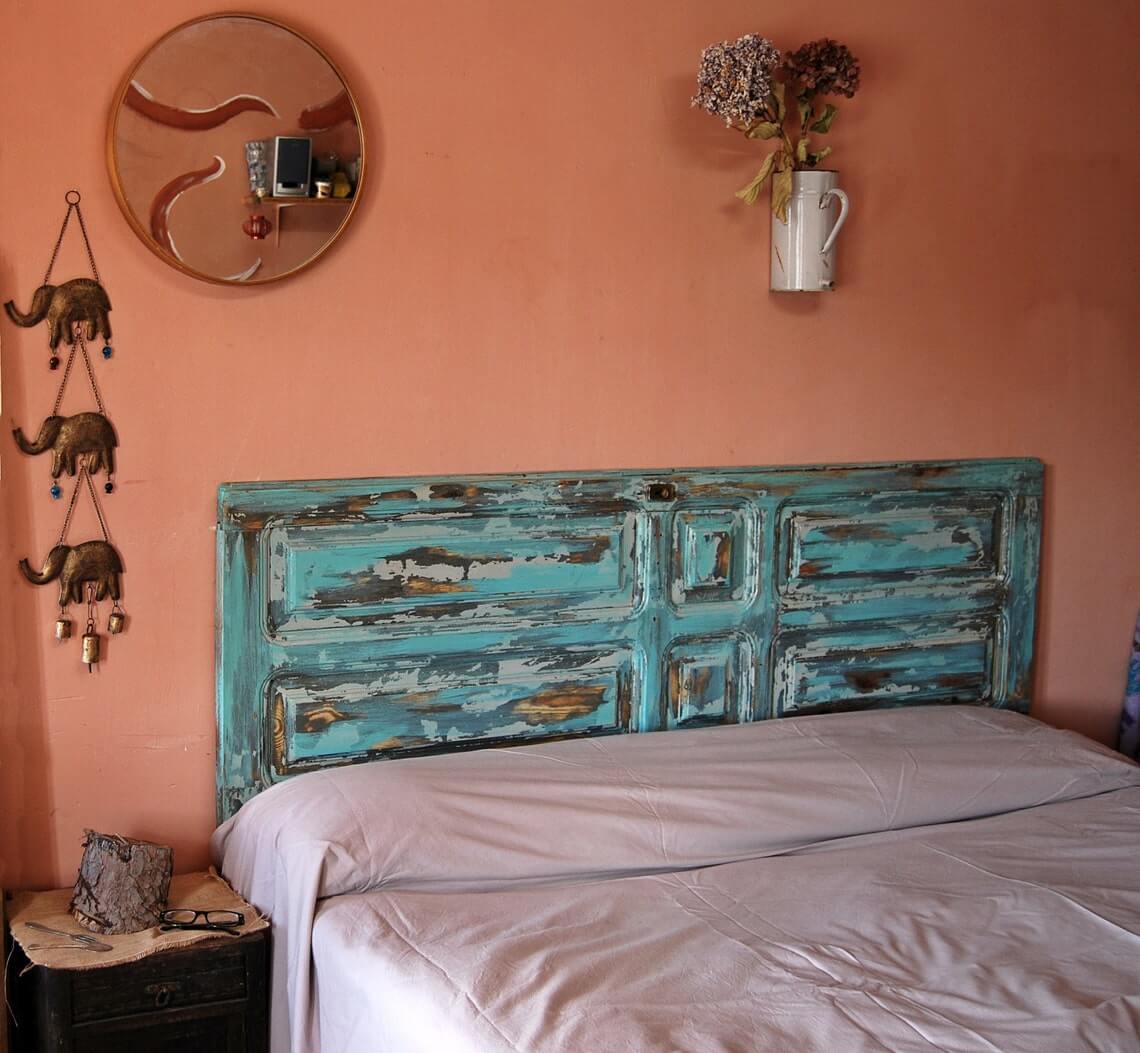 An explosion of color gives this reclaimed door headboard a unique artistic quality that will energize your inner sanctum. A variety of shades ensure that you will be able to tie this charismatic headboard into your space with nearly any aqua-tinted decor. To give your bedroom some Bohemian jazz, pair it with some bright colors along with warm metallics. For some farmhouse flair, try cool whites with warm browns. Because aqua is known to rejuvenate, this headboard is the perfect piece to help you prepare for challenges. However, because brackets are included, installing this headboard will not be a challenge.
14. King-Sized Reclaimed Wood Bed Frame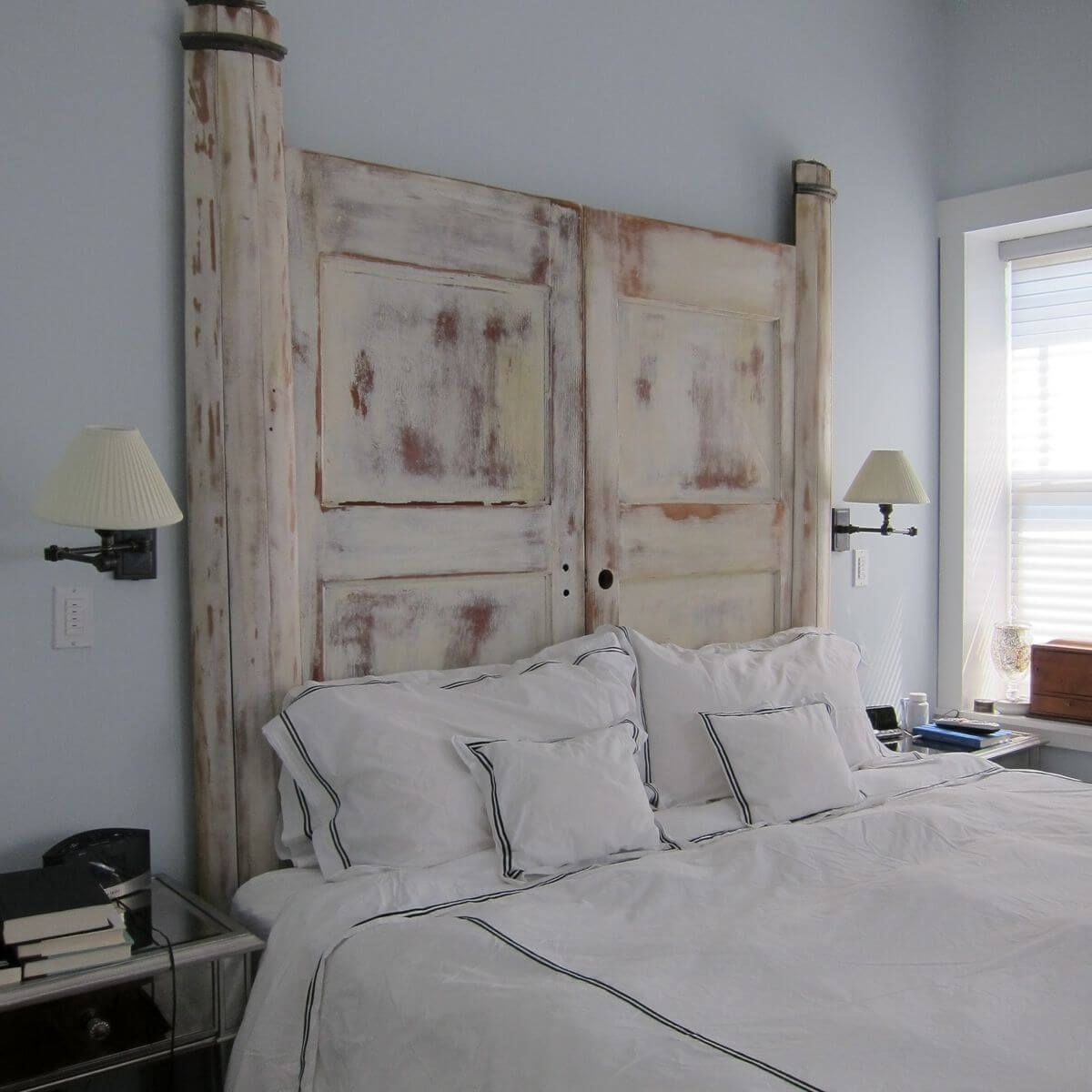 This bed frame features an incredible reclaimed barn door. It's 200-years-old, and the age is quickly apparent at first glance. The antique design is perfect as it looks well-worn without looking as though it's falling apart. There's a healthy balance here that makes it more decorative. This looks great when used with a farmhouse-style bedroom too as the wood is still bright and vivid even with all the weathering on it.
14 of the Best DIY Old Door Headboard Ideas to Bring Your Bedroom Together
While it can seem like the best DIY old door headboards are only right for only rustic or eclectic rooms, they are actually a fantastic choice for any bedroom that could use some extra vim. As you begin exploring the possibilities, try to decide whether you would like your DIY headboard from a door to be the focal point or to simply add to the atmosphere.
Finish is whether you choose to paint the door or leave the wood exposed. Paint can do a lot to help bring a room together while wood adds natural sophistication. Which is right for your space is a decision only you can make. A further decision when making a headboard is how much distress it should show. Heavily distressed doors are a balance between visually stimulating and visually overwhelming. When it comes to making a headboard from a door, you have some hardware options. From doorknobs to reading lamps, which hardware you use for your DIY headboard from a door really defines how your space will feel. Whether shiny or subdued, a little hardware adds the finishing touch to your bedroom's finishing touch.