We have heard these three words: reduce, reuse, and recycle over and over again, and with best DIY old tire crafts you can easily achieve all of these goals. Tires are very common in our homes, especially as we buy new ones as old ones wear off. Have you ever wondered what to do with these old and worn tires that you have been holding onto? Well, it is still easy to toss and forget about them altogether. The problem is that rubber takes over 50 years to decompose. This means that these items will be sitting in your compost for at least that long.
15 Incredibly Creative DIY Old Tire Projects for Every Area in Your Home

However, I don't think you will be considering throwing your old tires after reading this article. Other than doing your part and minimizing trash to protect mother earth, reusing old tires can significantly improve your indoor and outdoor spaces. Converting reusable waste like tires into functional items encourages creativity. This can help you save some extra cash that you would spend on buying some household items.
Whether you have one or many old tires just lying in your garage, there is an idea for you to not only recycle them but also to give you a distinctive interior and exterior décor. These best DIY old tire crafts will prevent old tires from just sitting in the garage, accumulating dust, and making your yard look tattered and disorganized. You can turn these old useless, and dirty tires into many things ranging from furniture, flower pots and planters, items for kids playing, and décor items.
Since rubber is soft and elastic, it is easy to work with and create some of the most beautiful and distinctive items. The next time you change your tires, ask to be given the old and then look at the best DIY old tire crafts to transform them into amazing ideas.
1. Tire Rope Ottoman for a Vintage Look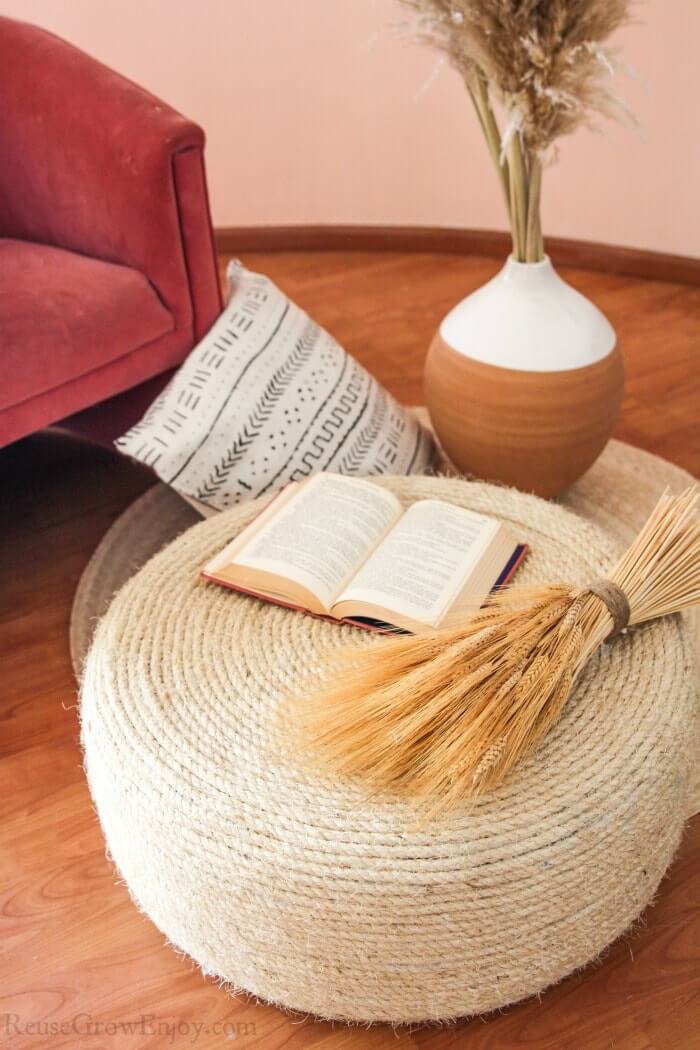 Are you considering making this outdoor or indoor furniture from a used tire? The craft is easy; you only need one used tire and a rope. This is a superb addition to a room or an outdoor space that is comfy and unique. This rope Ottoman is a great weekend project if you want something new and exciting inside the house. Craft this beautiful Ottoman to complete your look more stylishly.
First, you require a piece of wood to form the top and go round the entire tire with a rope to cover. In the end, you will have a beautiful Ottoman that is a great addition to your indoor decor and you can also add it to your outdoor décor if you please. This DIY project is pretty straightforward with just a few tools.
2. Cool Outdoor Tire Table from Used Tire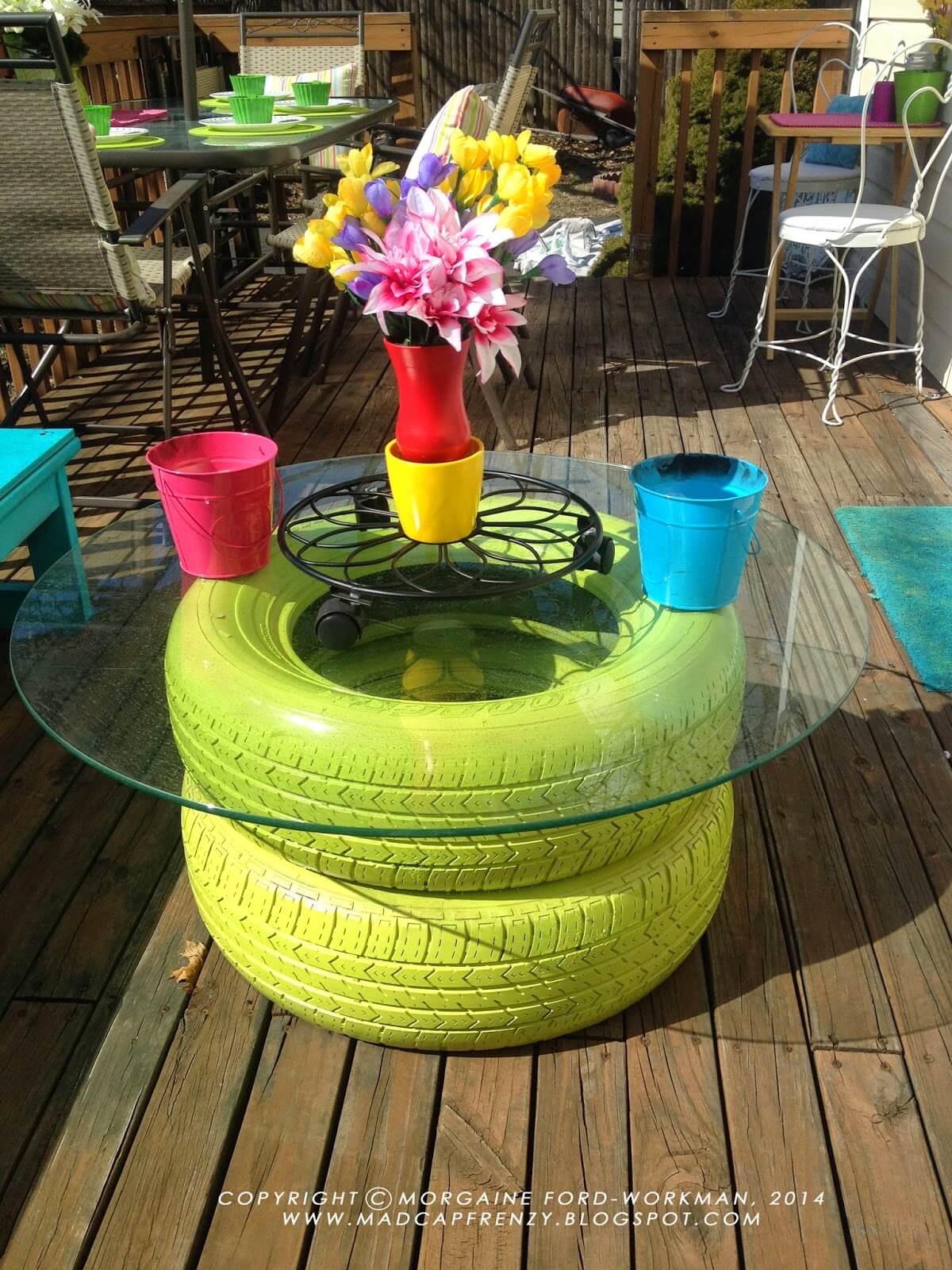 Tires are an excellent material for revamping your outdoor look. What do you get from stacking two tires and putting a round glass piece on top? A perfect outdoor table. Tires are incredibly easy to work with and also easy to find. If you want to boost your outdoor décor, consider repurposing your old tires into a funky upcycled tire table.
Getting this unique table is easy and requires only a few tools. Clean the tires and then stack them before spraying some bright paint on them. Make sure the color of the paint matches your outdoor furniture, and watch your neighbors admire your creativity. Add a glass top to complete your project. This creative tire craft offers you quality and fun outdoor time with your kids.
3. Turn an Old Tire into Toy Shelves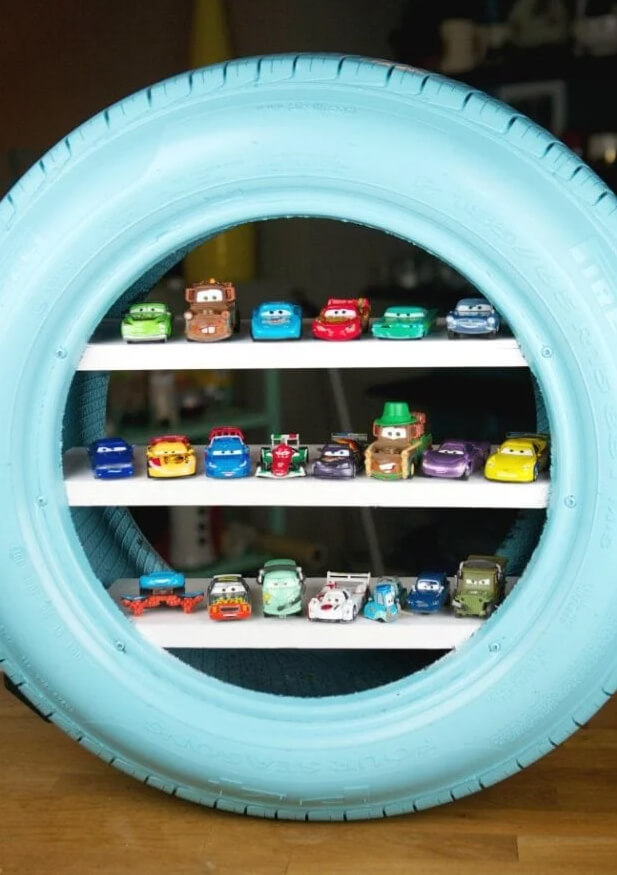 Do you have an extra old tire in your garage? Us it to teach your kids to be well disciplined and more organized even in their play areas by adding this fantastic and wonderful tire shelf for toys. Once you add this rack in their room or playgrounds, kids will automatically be motivated to reasonably put all their toys on this beautiful tire shelf.
It is one of the handmade tire projects that is super easy with a few plywood sheet boards. You will also need an exterior paint of your choice, nuts, bolts, wood screws, and a screwdriver to make this excellent toy shelf. It does not cost much to put together and make this cool and unique storage solution.
4. DIY Dog Bed from Recycled Tire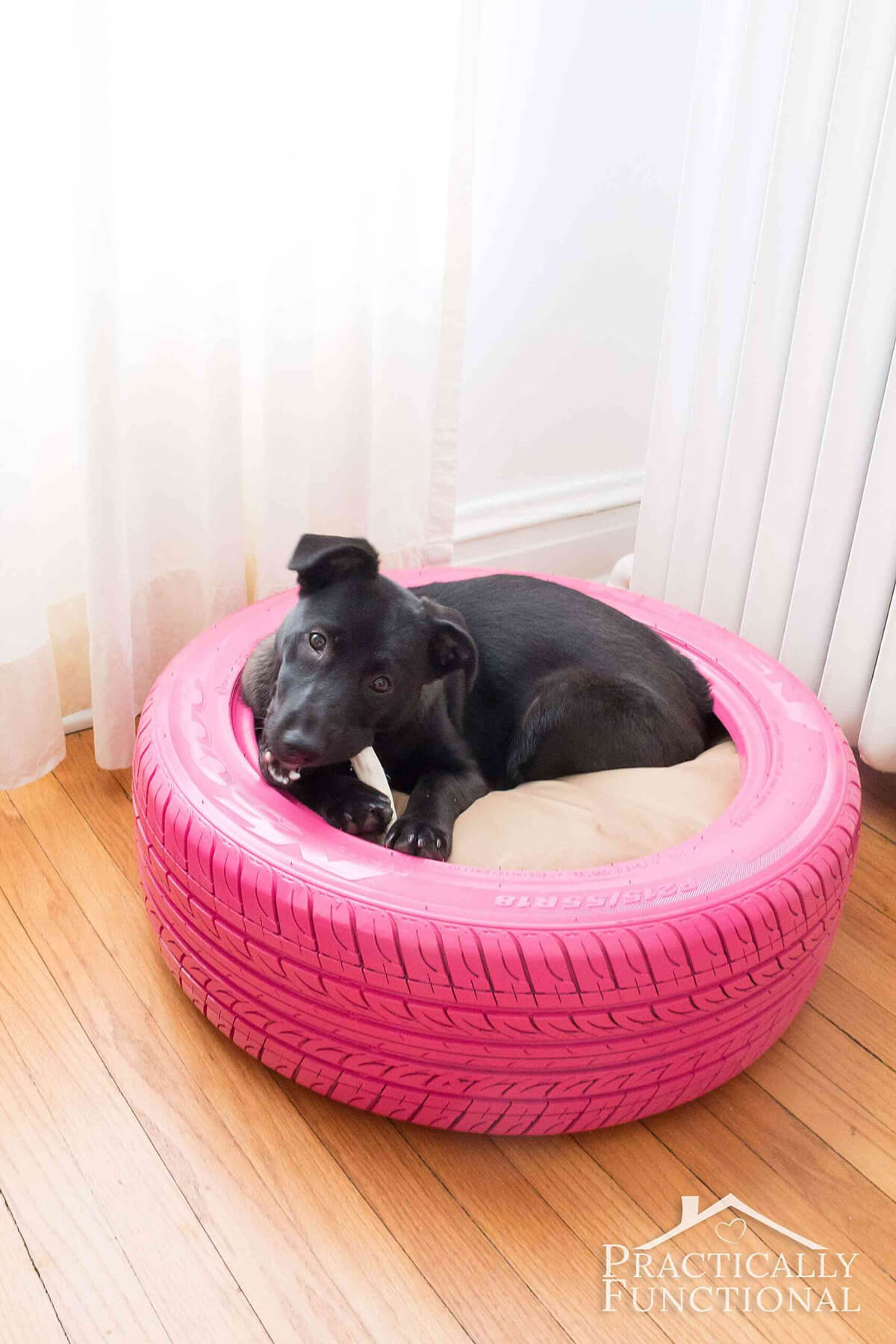 Used an old tire to build this comfortable and affordable dog bed for your pet puppy at home. Fortunately, this project is super easy and requires little time and a few craft supplies. It is amazingly durable for your furry friends, and you will be amused at how they are comfy and super cute.
With this simple DIY craft, you will avoid wasting money on traditional-style dog beds. All you need is an old tire, some paint in the color you prefer, and a comfy fabric cushion. Scrub the tire to clean it, decorate it with colorful paint, and then fit it in the fabric cushion. In the end, you have a comfy-cozy adorable dog bed.
5. Blooming Tire Planter Mounted on the Wall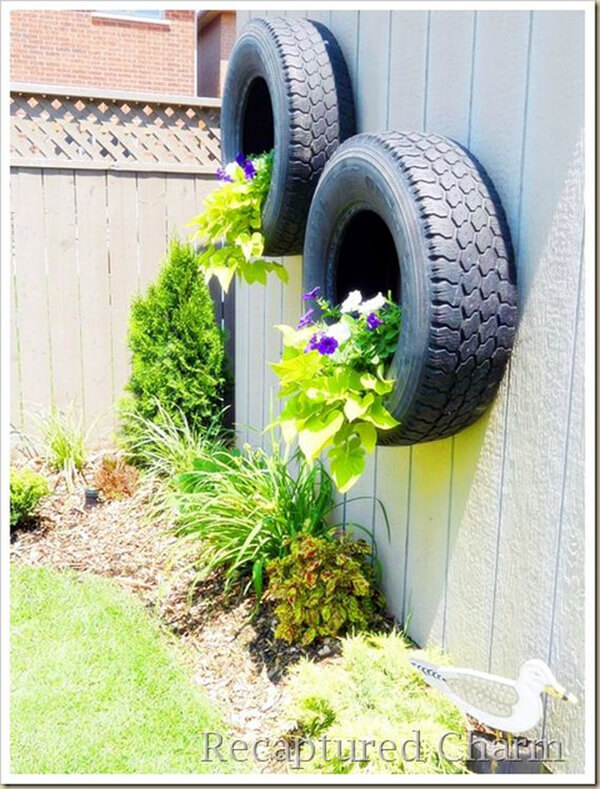 Another common but superb way to reuse old tires is in your garden as planters. This is among the best DIY old tire crafts with incredible ideas to take advantage of. The hanging tire planter is the most straightforward project that requires little time. This weekend project adds fun to your garden in just a few steps.
The project is as simple as scrubbing the tires, painting them with your favorite color, and then drilling holes at the bottom for water drainage. Plant whatever flowers you want at the bottom, then mount them on a wall to display the lovely floral arrangements. Depending on the size of the tire, you can plant different types of flowers for a more appealing look. This is a cool way to add fun and color to your summer garden.
6. DIY Tire Rope Ottoman Seat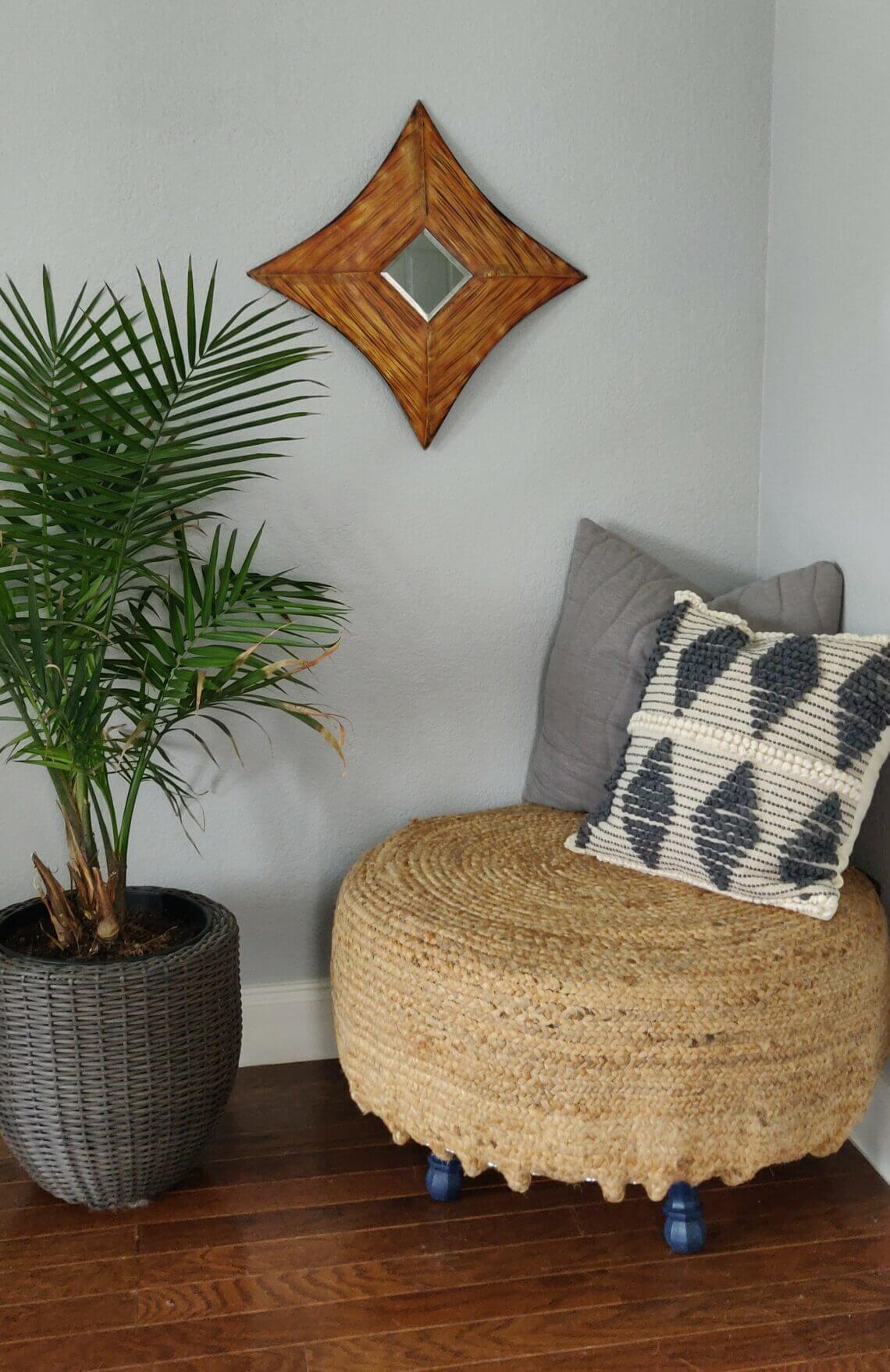 This rope-wrapped Ottoman looks like it was bought in an expensive fancy store. No one can believe that it was handmade using an old dirty tire. Craft this ottoman seat for a more indoor stylish look in just a few hours.
You only need a few supplies to make this perfect and stylish addition to your home. You can make this creative and comfortable seat with an old tire, a rope, some glue, a board, and wooden stands. Clean the tire and then fit a round panel on the top.
Go round the entire tire with the rope using glue and then finish off by fixing the stands. Add a few pillows to make it cozy.
7. Ninja Warrior Inspired Tire Obstacle Course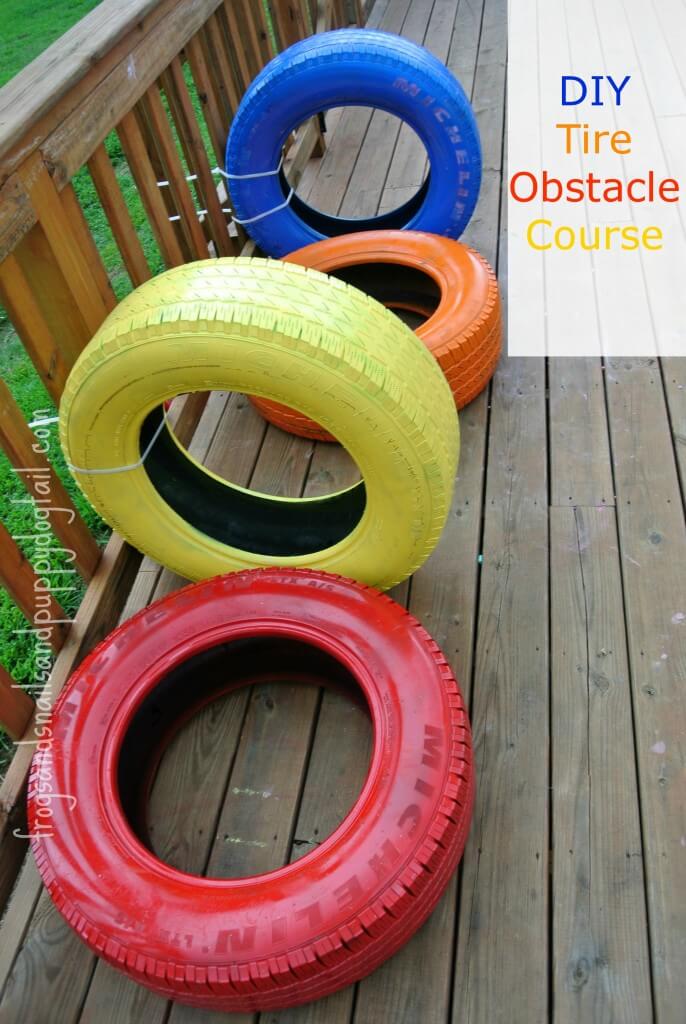 Embrace your inner ninja and build this lovely tire obstacle course in your yard for the kids. You can give your kids a great and fun-filled play area and also create an obstacle course at the same time by simply repurposing your old tires.
Using used tires, you will have this beautiful and unique obstacle course in a few hours. You may choose as many tires as you want, depending on the size of the obstacle course you want. To determine the number of tires to use, determine the size of the obstacle course beforehand.
First, clean the tires and then paint them with different colors to make them more colorful. Once the paint dries, affix the tires on the porch or deck so that it is safe when the children run through. You can arrange the colored tires so your kids can crawl through, jump over or climb the tires.
8. Easy Tire Backyard Tetherball Set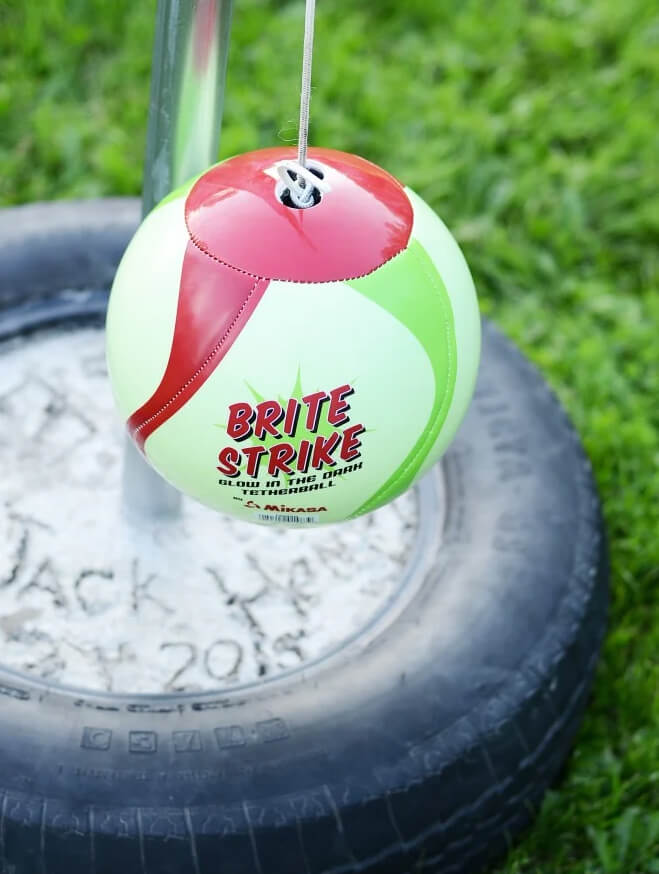 One of the best schoolyard games has always been Tetherball. Are you thinking of bringing these fun games home with spending some more cash? Consider this DIY budget-friendly project. You can creatively convert old and used tires into this fun family project.
This distinctive Tetherball set only takes about an hour to assemble everything and roughly a day for drying, and then you are done with your project. Besides providing fun for your kids, this DIY idea is also a perfect addition to your outdoor space.
9. DIY Tire Swing Set Ladder for Kids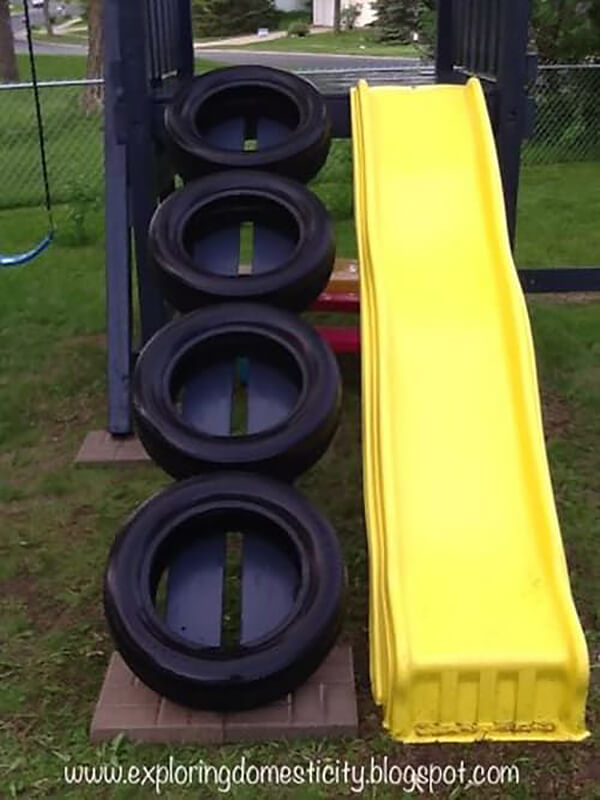 You can give your kids a fun-filled swing experience with this tire swing set ladder, especially if they do not appreciate the traditional slide. Using a few old tires in your garage, you can create a super cute and great ladder that your little ones enjoy climbing. Tires are ideal for playgrounds because they are durable and hold up great outside.
You only have to choose a few tires, and you can either paint them or leave them plain. This is among the best DIY old tire crafts that only take a couple of hours and a few supplies. Make a wooden platform and then drill a few holes for water drainage. Fix the tires on the platform, and you will have a safe and unique swing set tire ladder.
10. Distinctive Handmade Wishing Well For Your Garden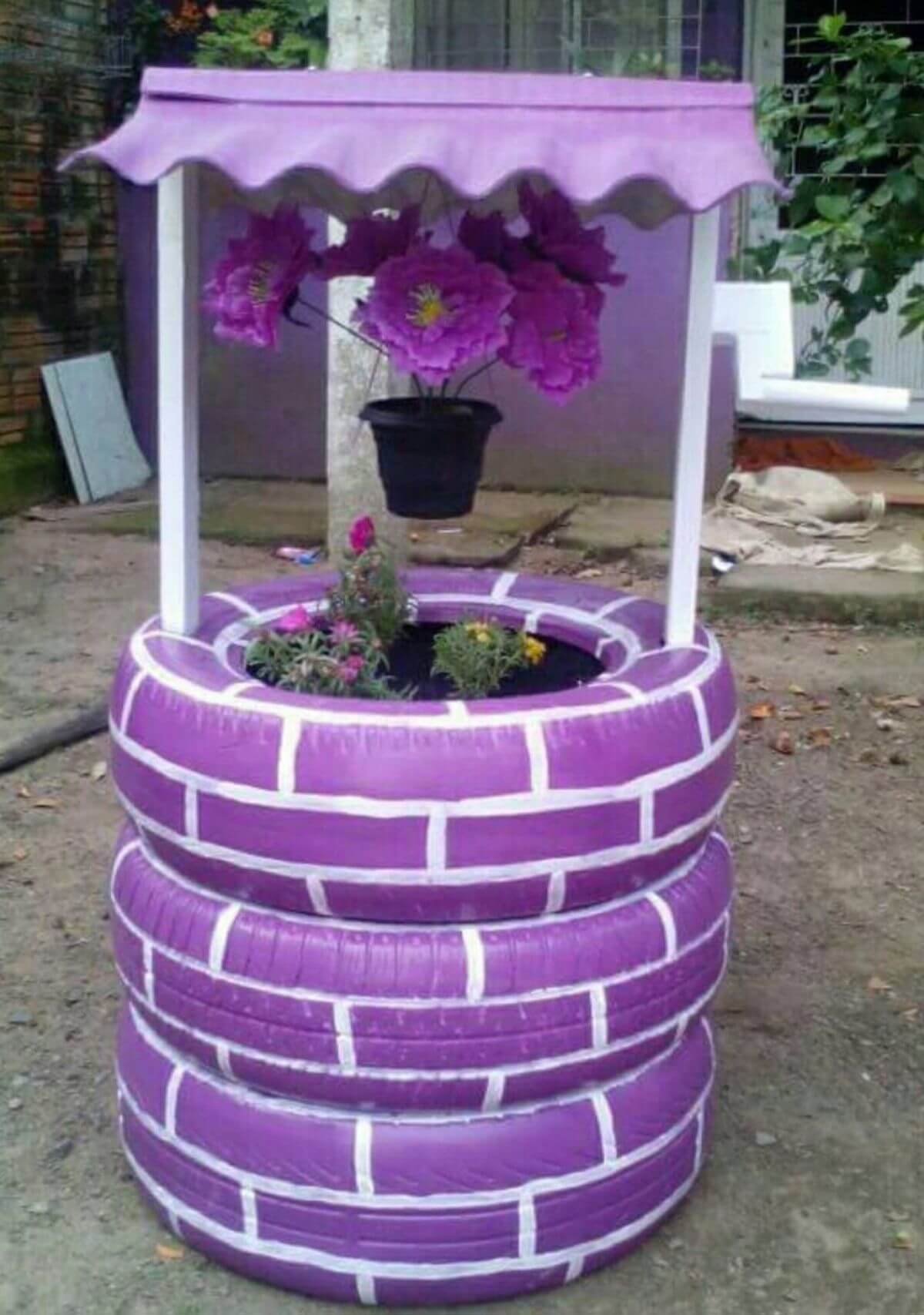 Another creative way to convert old tires into distinctive ideas is this wishing well planter. It is a perfect way to add color and fun to your backyard or garden.
It is as easy as stacking three old tires and spraying some white and purple paint or whichever color you want. Drill two holes on the sides, then fix some stands to support the roof. Plant some flowers in the tires and hang some on the top. Voila! You have a beautiful wishing well planter that adds some life to your outdoor space.
The bright flowers hanging from the roof make this project extra cute.
11. Beautiful Tire and Yarn Planter for Your Garden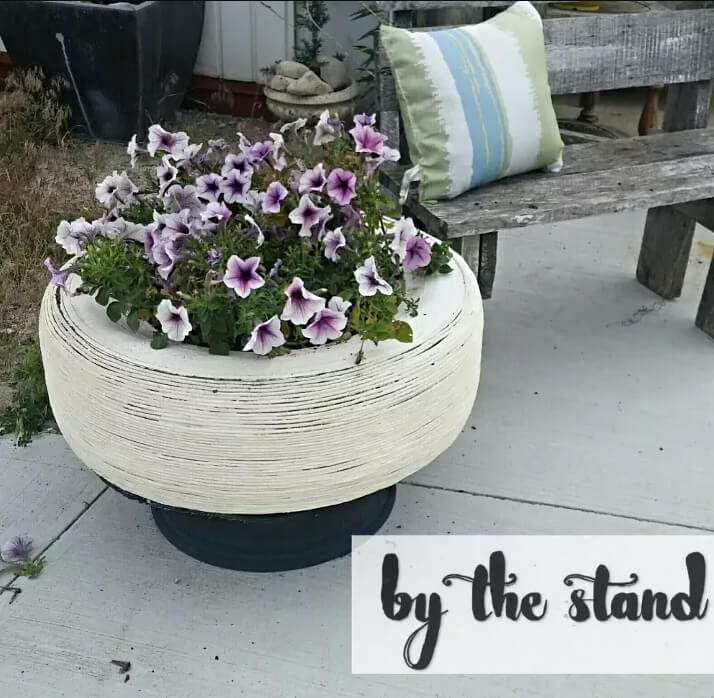 If you love planting flowers in your garden or having flowers in your outdoor space, this is one of the best DIY tire crafts you should consider. If you love this tire and yarn garden planter, all you need is one old tire, some rope or yarn, a hot glue gun, and some paint you choose. This is an excellent idea if you have a small outdoor space for gardening.
Making this beautiful planter is very simple. Start by cleaning the used tire and then tire some rope or yarn to cover the entire thing and the paint in with the color preferred. Add some soil, and then plant your flowers.
12. Great Storage Location from Old Repurposed Tires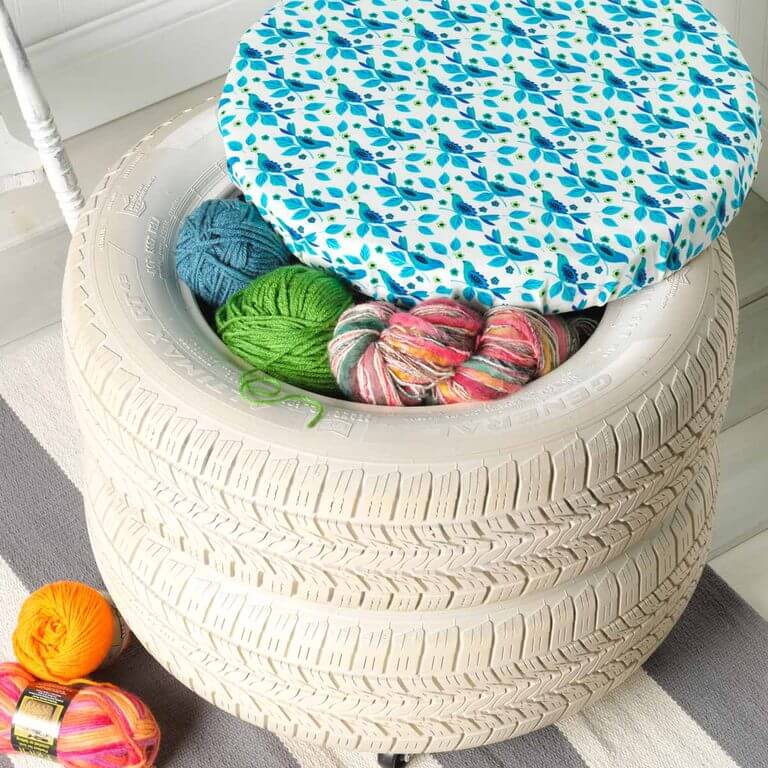 Do not throw away your old tires! They are durable, and they make good storage places for indoor use. You can make your house more organized and spacious by storing some tires in old tires. Apart from keeping things, they can also be used as seats.
This is a perfect idea among the many homemade used tire ideas project if you are considering multiple uses. It is simple, requires a few supplies, and only takes a couple of hours. To make this creative storage space, you only need two old tires, some paint of your choice, and a cushion. Clean the tires, spray some color and then stack them. Place everything you want in, and then cover the top. As long as the cover is on top, you can sit on it or place your legs for comfort.
13. Awesome Minion Tire Planter Ideas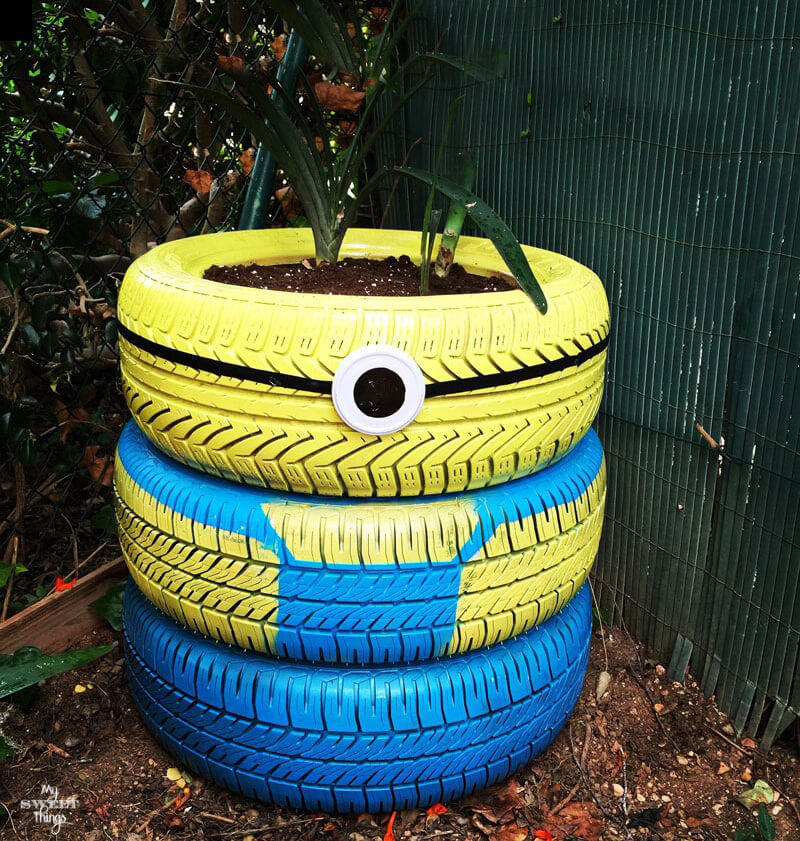 Do you think about handmade tire projects that will entice your kids? Consider making your children's favorite cartoon fictional characters like minions. You can recreate your kids' delight by stacking a few tires and custom painting them to add more fun.
This among the most straightforward homemade used tire ideas that will only take a few hours. Making this perfect minion that will add more life to your children's playground only requires three tires and blue and yellow paint. You will have to clean the tires, stack them, and spray paint to create such a unique minion. Cleverly display a few plants in this fascinating craft.
14. Cool Stool Seat from Old Tires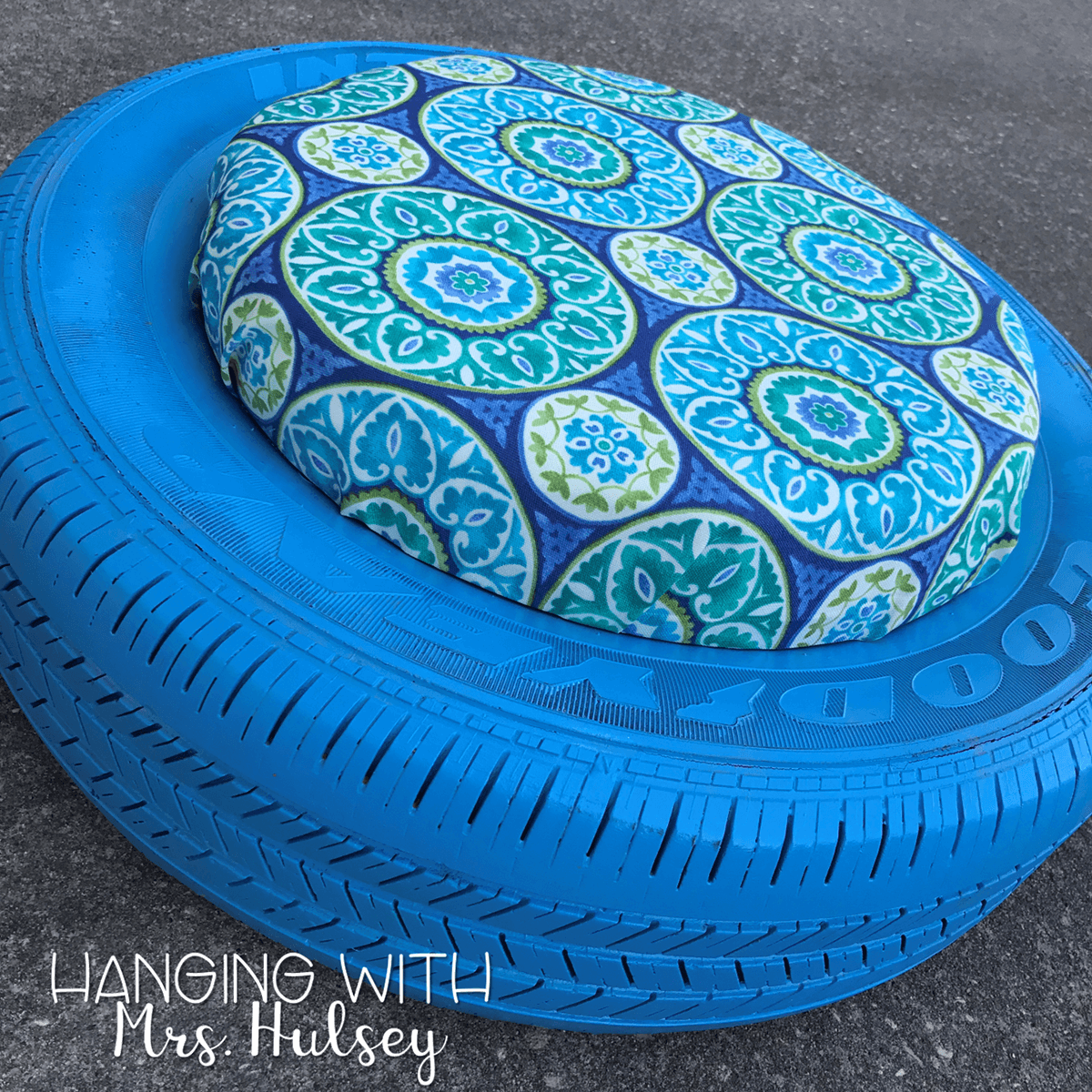 This is the perfect project for you if you want comfortable and unique seats for sitting in your outdoor space. This tire sofa will cost you nothing if you have a used tire in your workshop or garage.
All you need to do is clean the tire and then paint it with the bright and beautiful color you want. Once the paint dries, put a round board like a piece of plywood, and then put an upholstery cushion on top.
15. Colorful DIY Tee Totter for Kids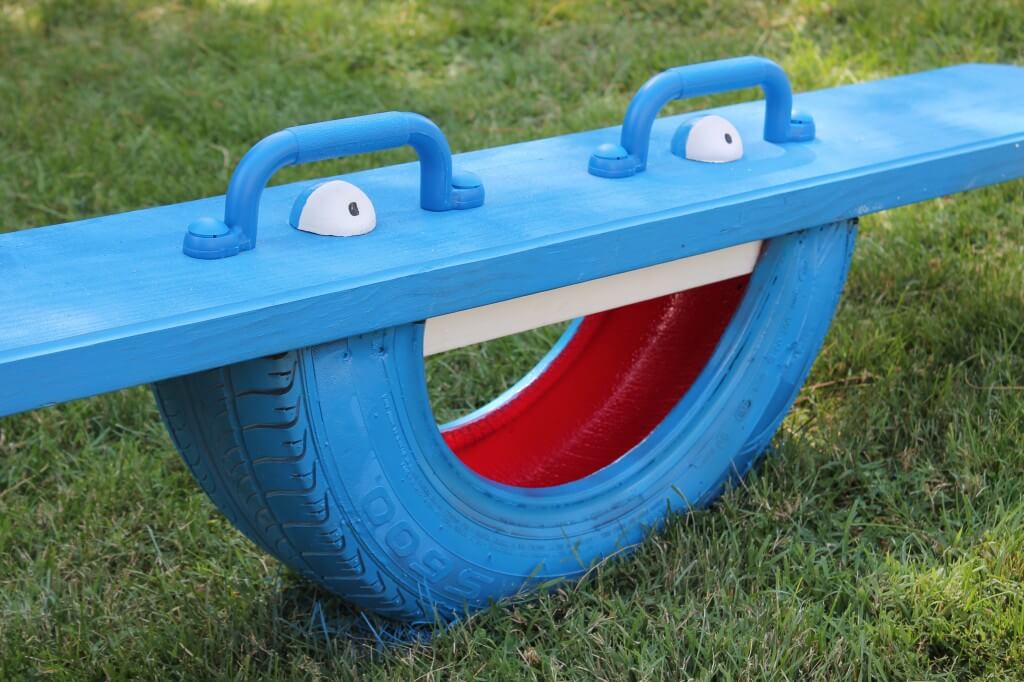 How about combining your old tire, colorful paint, a smiley face, and a cedar? You have a unique sea-saw for your kids. Besides providing lots of fun for your kids, a tee totter is a cool backyard project with which the whole family can help.
This is one of the best DIY old tire crafts that is easy with a few simple tools. You only need half of the tire and a piece of timber. Use your favorite color to transform the dull-looking tire and watch it turn into a new ride. Make a few pieces with different colors depending on the size of your garden, and change your outdoor space with this super cute and fun totter that your kids will love playing with.
Get Creative with these DIY Tire Projects
DIY projects are always easy and cheap. It only requires creativity and a few supplies and tools, and many such projects often use old and recycled items. Tires are very durable items that can never miss in our garages. If you have been doing nothing with your dirty old tires and bicycle wheels, I am sure now you have a lot to do with them. From kids' play areas to outdoor and indoor spaces, old tires can be repurposed into some creative, unique, and perfect projects. In most of these projects, no one will even believe you used an old tire.
With a few DIY instructions and steps, you can achieve gorgeous items ranging from playing, lighting, gardening, seating, and storage items, among many more. These are some of the best homemade used tire ideas projects that will help you save money by simply making what you need. There are many variations of homemade tire projects and an endless supply of different things you can make with old tires. We hope you have enjoyed this article and that it has been really helpful and eye-opening.