Some of the today's most on-trend design schemes favor personal touches over commercial; after all, one's personal space leaves a lasting impression, so why not make it worth remembering? DIY projects aren't just for the crafty or budget-conscious, they allow a refreshing degree of originality, highlighted by one-of-a-kind pieces.
45+ Repurposed Outdoor Furniture Projects To Spruce Up Your Space

Cherished finds and found objects alike, as well as recycled goods such as wood and textiles, can all be reworked into high-style furnishing implements. And now that summer is in full bloom, where better to show off your DIY panache than outdoors?
From repurposed tables to deliciously comfortable lounge chairs, these 29 DIY outdoor furniture projects feature a fantastic array of materials and uses designed to suit all manner of outside environments. Best of all? They're as breezy to assemble as they are eye-catching.
1. Hanging Bench Swing for Your Patio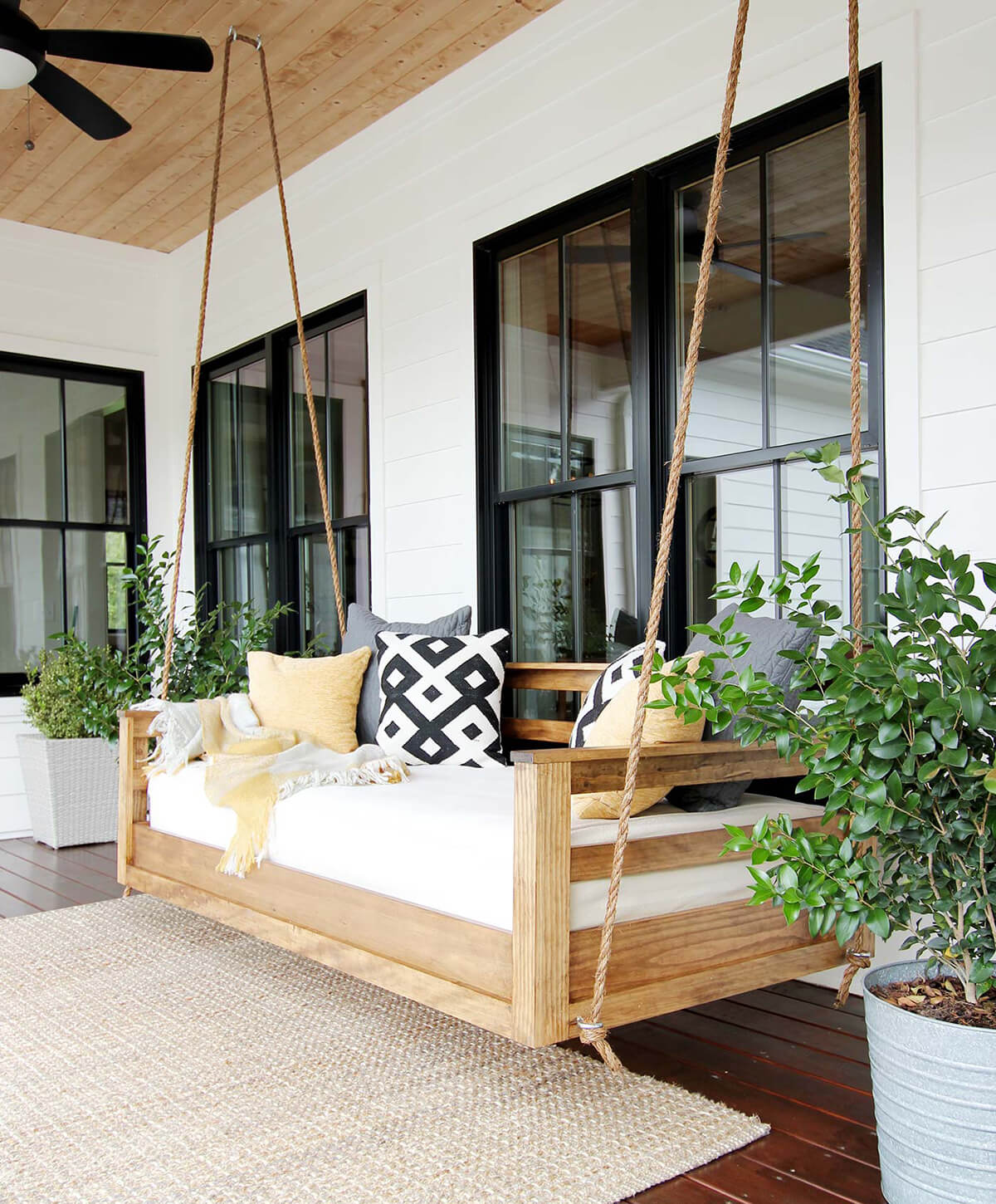 Relax on your porch in style with this upcycled patio swing. It's as large as a standard-sized couch – and as comfortable as one! Snuggle up with a book, or simply gaze at the sunset while softly swaying in the breeze. Customize this swing however you'd like with stylish and comfy cushions and throw pillows.
2. Creative Ladder Shelving Unit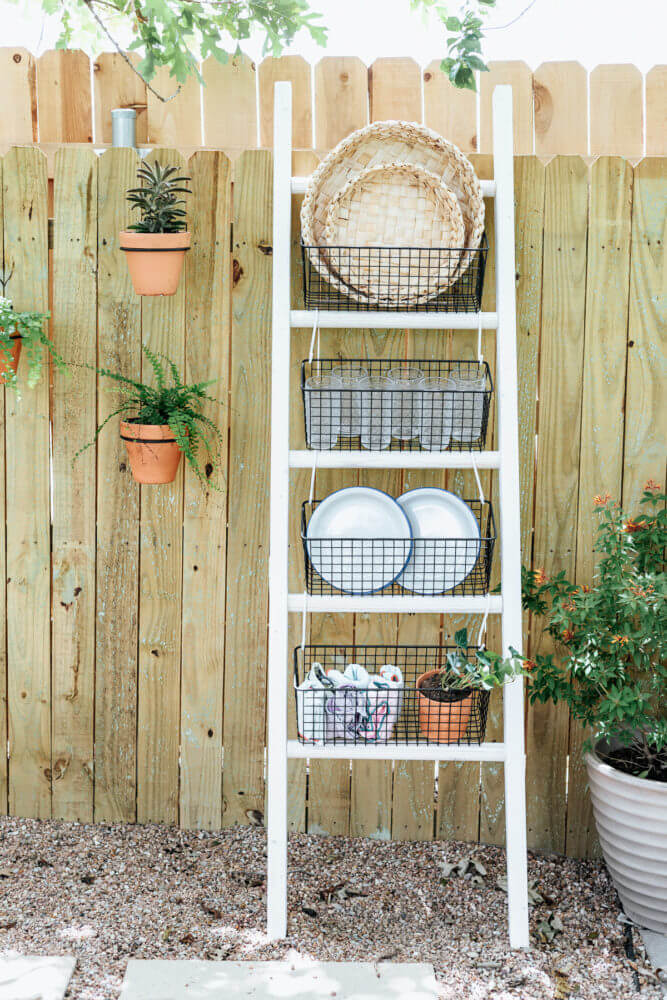 This is one of those cool pieces of functional furniture that will have everybody who sees it commenting on how neat it is. At first, you can't really tell what is going on, but then it becomes clear. Essentially you are re-purposing a ladder and adding some paint and basketry to make a full shelf. This doesn't just need to be for the outdoor dining area, it could also be a cute way to set up your gardening station.
3. Creating a Real Living Room on Your Porch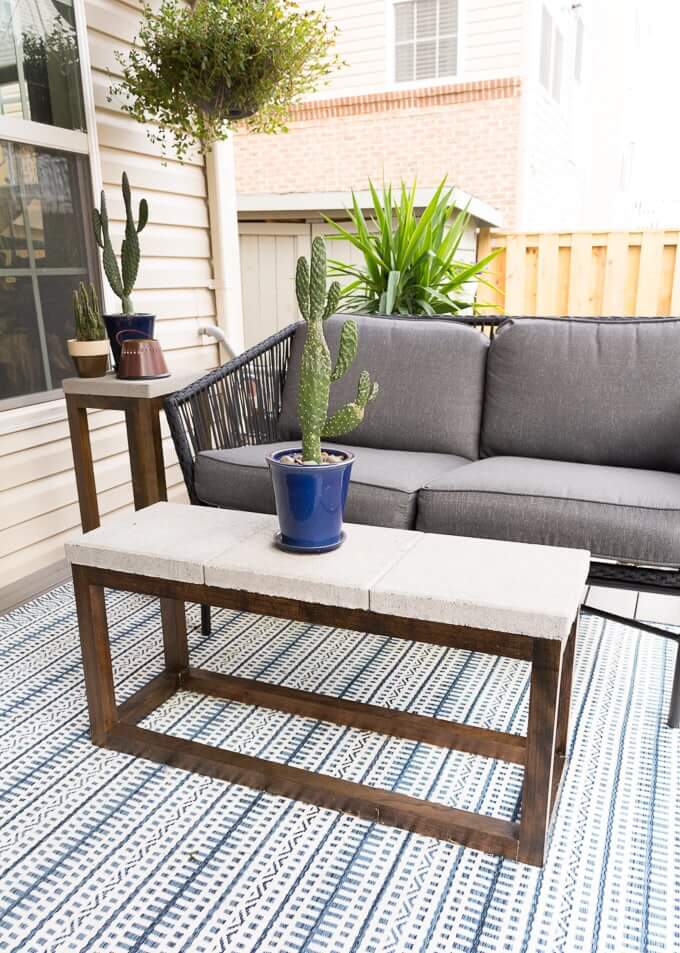 These folks have taken the simple DIY construct and pumped it way up! There is an awesome and inspiring continuity to this patio that makes it an ideal place to chill out. Repurposing the tables can be just the start… Don't forget to add a rug and some plants for the maximum experience because it will make it more likely that you actually use the space for your enjoyment.
4. Romantic Swinging Pallet Loveseat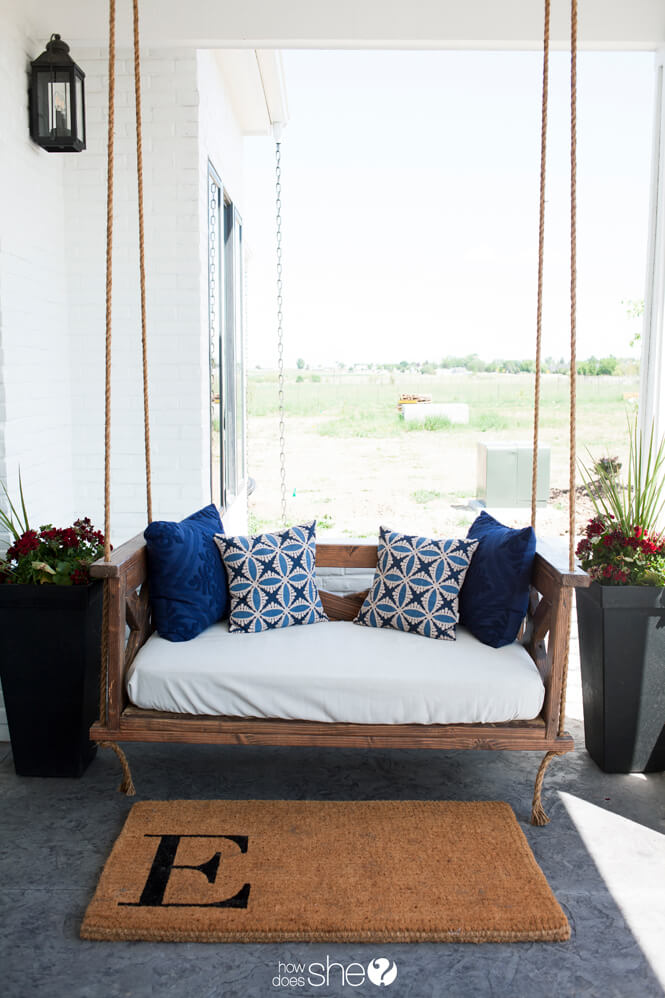 This little guy is not only adorable to sit upon, but it's also got very straightforward construction steps and could be the perfect addition to your home or garden space. Once you've got the pallet refurbished and hung as a loveseat, you can add decorative pillows and padding to make it ultra-inviting.
5. Front Porch Rocking Chairs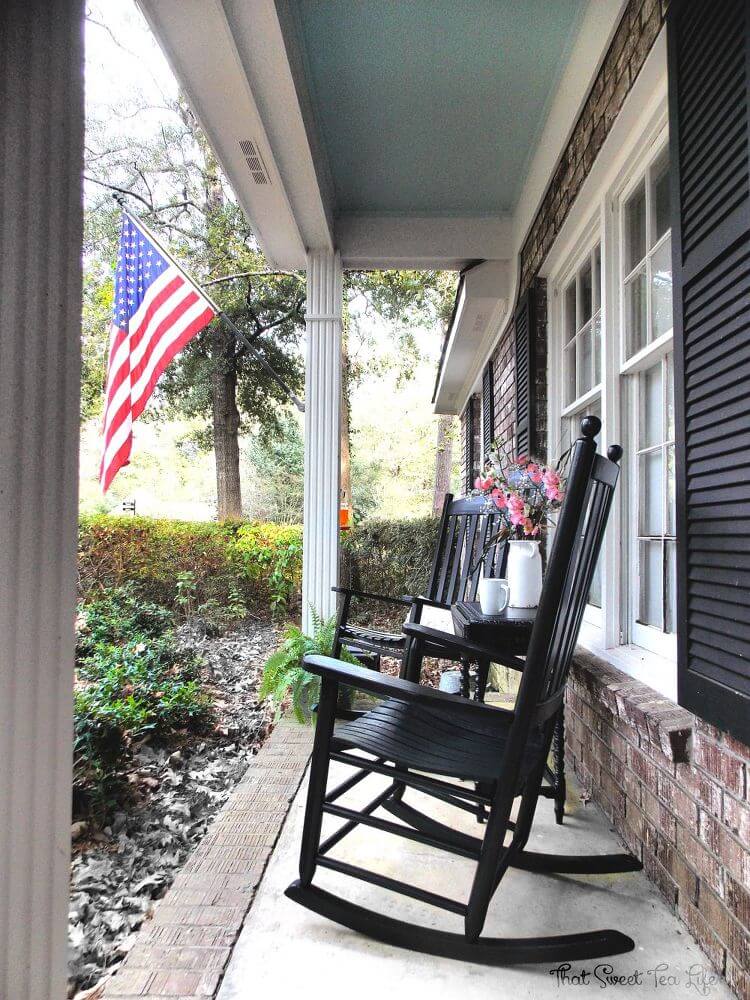 For many, this is the epitome of relaxation. The ability to just rock away on your porch while waving at your neighbors, reading the paper, or sipping lemonade is just living the dream. In these comfy chairs, you could do all three at once. Be sure to pop a little table next to your chair so you will be able to conveniently set things down. You will not regret having it there.
6. Creating a Comfortable Zone for Yourself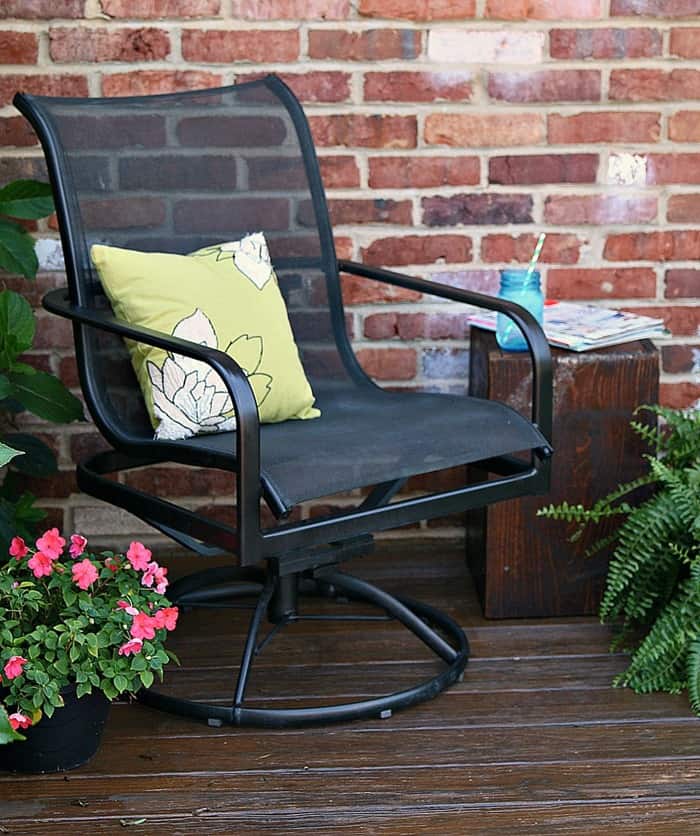 You don't need to get your full toolbelt out in order to design a new space that is your very own. Sometimes it's possible to accomplish a brand new look and feel with a few simple pieces of re-purposed furniture and some fun foliage. This is an opportunity to get creative with your project and make a space that really speaks to you.
7. Outdoor Patio Refreshment Table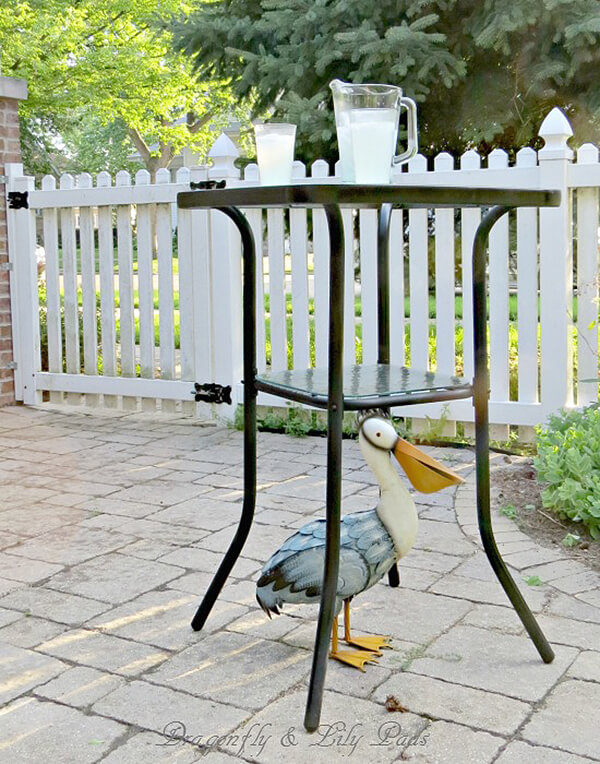 A common conundrum when entertaining is having your guests stand around holding their drinks and plates and having nowhere for them to set them down. Luckily, you can take high-top tables like this and strategically place them on your patio for everybody's convenience. This could be something you have in another place in your home, or that you could buy for cheap at a thrift store or yard sale. A fresh coat of paint or a friendly pelican ornament makes it even more adorable!
8. DIY Woven Lawn Chair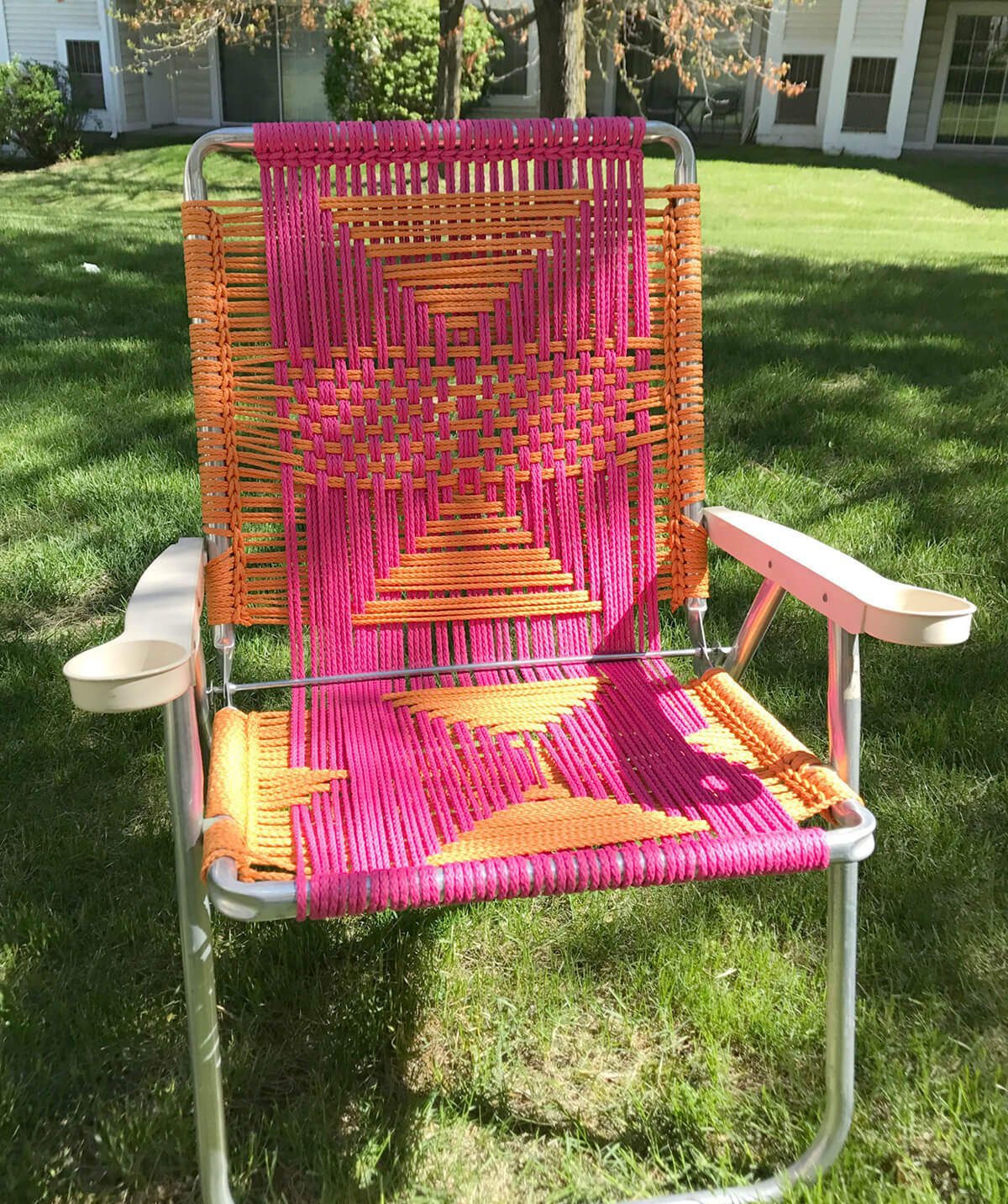 A lot of us are guilty of hanging onto the frames of chairs when the seats of them have long since broken. In this case, the chair frame gets a brand new lease on life with this DIY weaving creativity. Check online for some unique weaving techniques! There are a number of ways to reuse what you already have in ways like this.
9. End Table with Built-in Cooler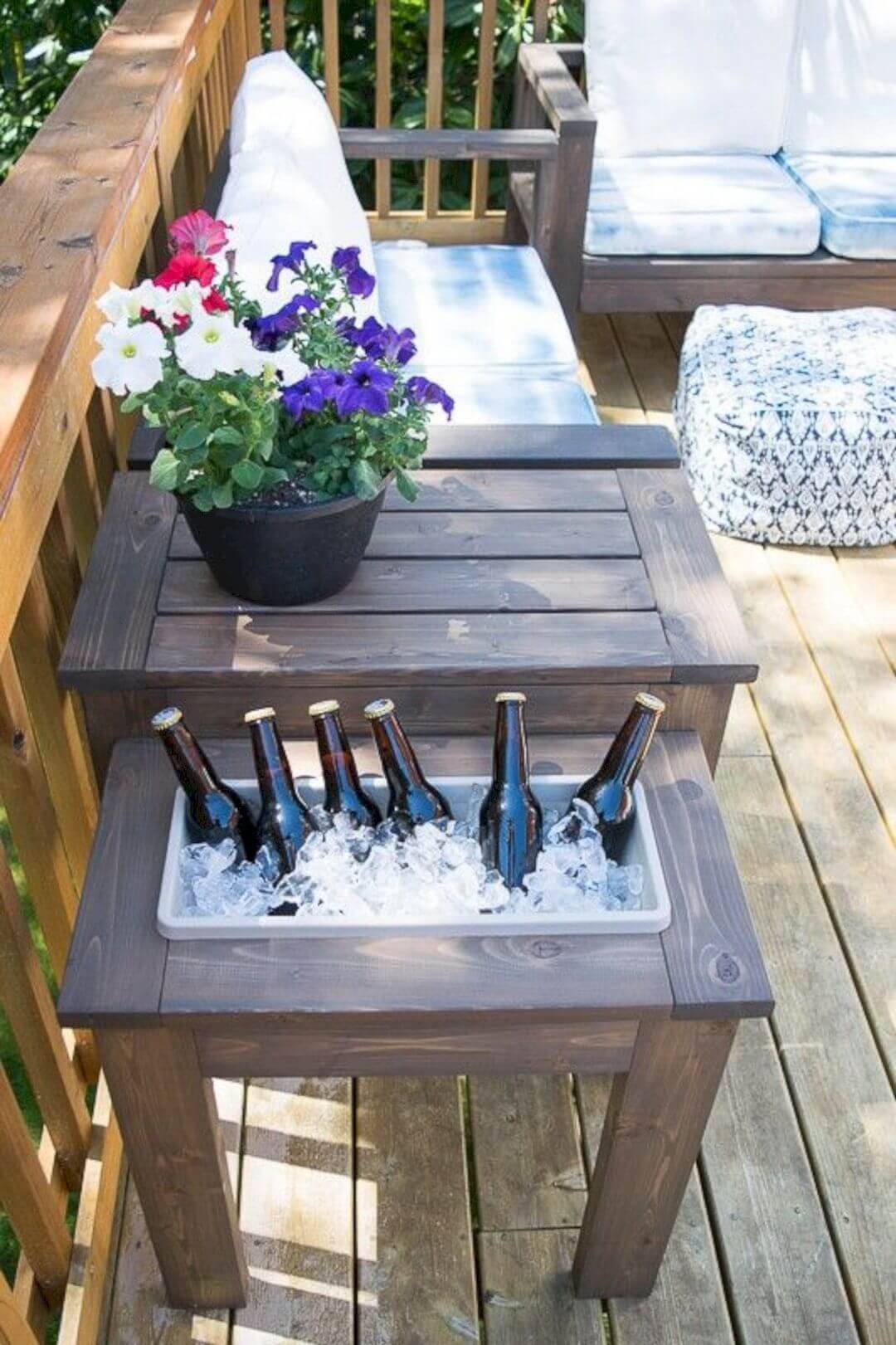 Could this be any cooler? This is the perfect end table for entertaining, or even just having a little family barbecue. Use an old pallet and repurpose it to create this functional and FUN end table, complete with a working cooler zone. Fill the tub with ice and your favorite beverages, and none of your neighbors will believe that you built it yourself.
10. Gorgeous Kitchen Table with Benches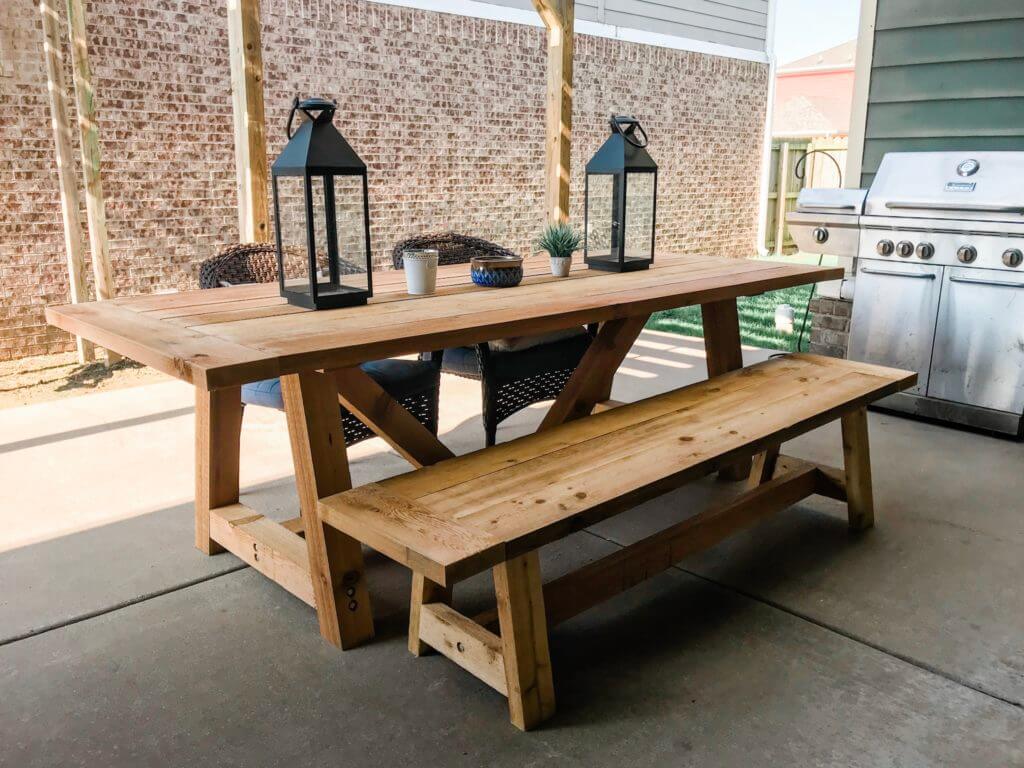 This looks so professional, you'll swear that it was store-bought even though you made it. This table and bench are perfectly suitable for indoor or outdoor use. Using repurposed and refinished pallet planks, you can construct this sturdy and useful piece of furniture and gather the whole family around it with comfort and ease.
11. Upcycled Pallet Hammock Frame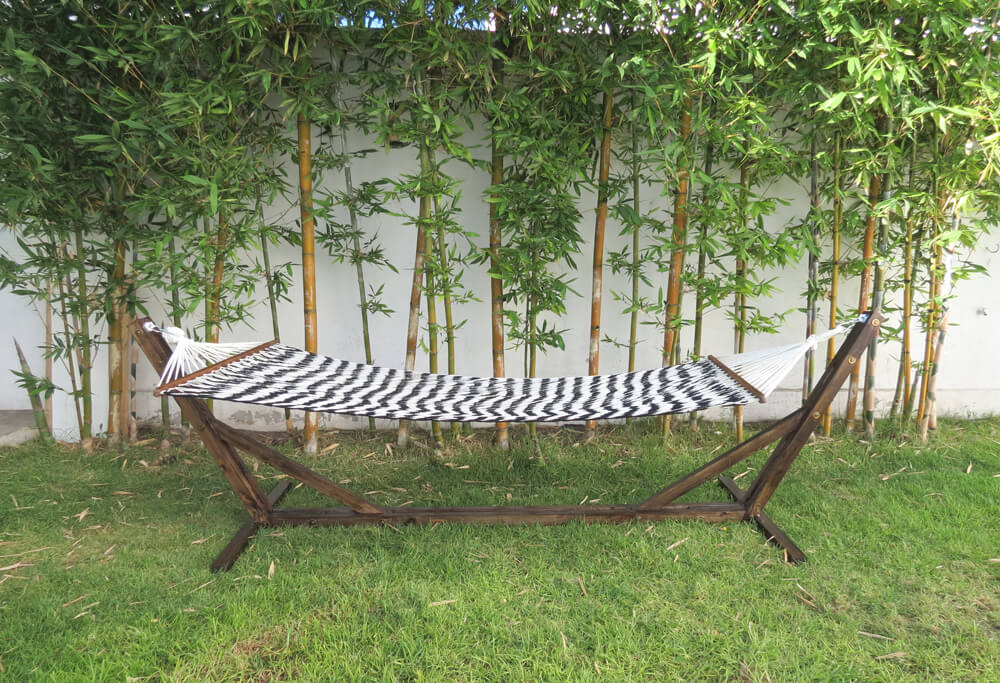 There is truly nothing better than relaxing in your own hammock on a warm, sunny day. Unfortunately, those hammock frames can be expensive to buy while still being made with pretty cheap materials. This version is made quite easily from an upcycled pallet and will fit a standard-sized hammock quite nicely!
12. Bleached Wooden Outside Couch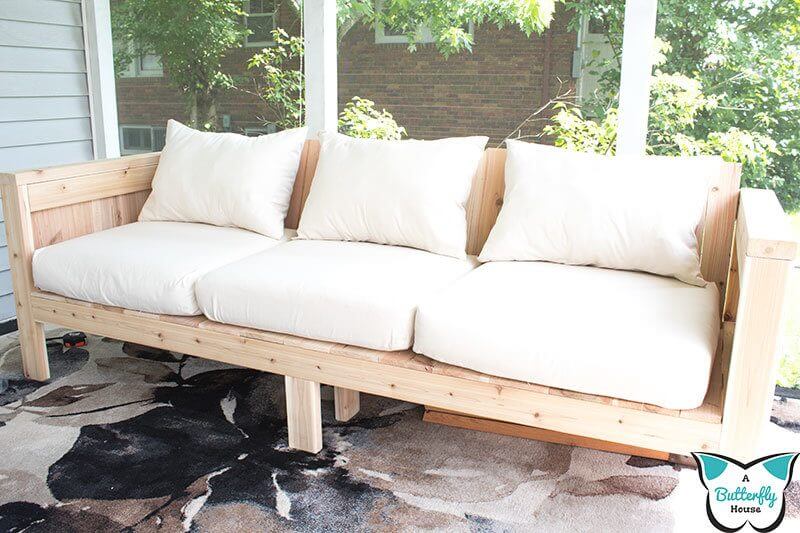 By using either pallets or simple, affordable lumber, you can recreate this bright cozy patio couch in no time at all. You build the frame, and then you are able to customize it any way you want with colorful cushioning. You can also switch it up between seasons, or re-paint or re-stain every few years as you see fit. If it is going outside, you might want to consider using weatherproof or outdoors paint so that it will also longer.
13. Simple, Sturdy Outdoor Bar or Countertop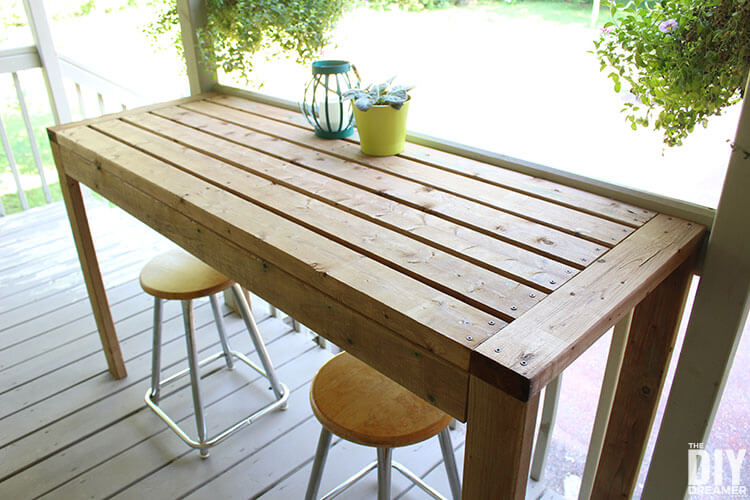 You would never have guessed that this classy bar table was made from pallet materials! It looks so nice and professional and will be a lovely touch for your outside seating zone. Use it as a bar or countertop by adding barstools to it, or let it be a companion prep table for your grill.
14. Ornate Front Porch Bench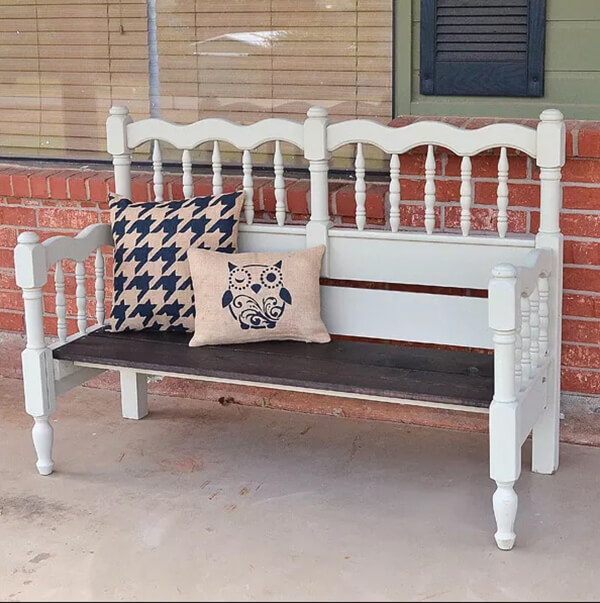 If you're looking for a bit more ostentatious design, you could repurpose an old headboard or bed frame when creating your next bench. Using the posts from this frame could give that wood some extra life to live out in bench form. Add your own personal touches in the form of colorful throw pillows or coats of paint.
15. A Pair of Adirondack Chairs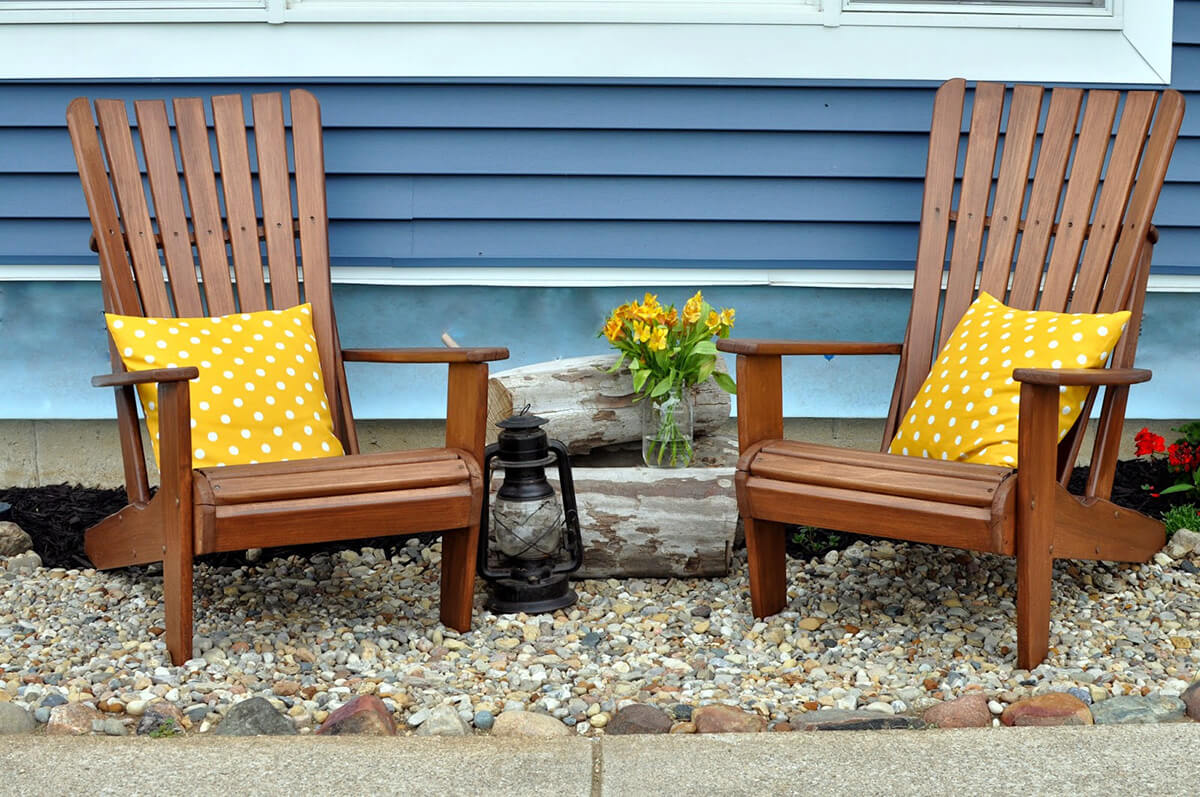 This type of chair is always all the rage, and it will never go out of style because it is as comfortable as can be! By reusing the wood planks in a few pallets – and sprucing them up a bit with sanding and staining techniques – you could soon have a pair of these little beauties in your own backyard to while away the summer nights.
16. Color Outdoor Patio Options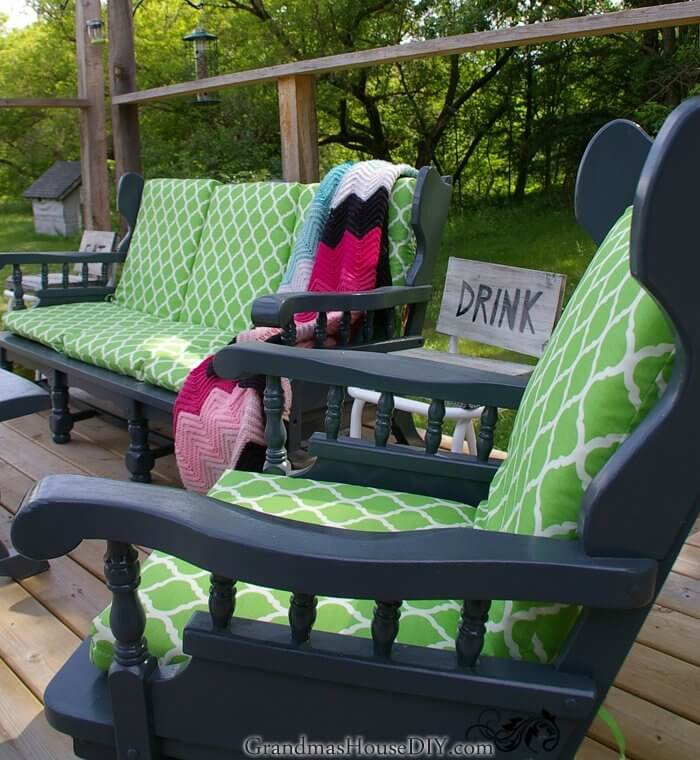 Just a friendly reminder that a little color and some new cushions can go a long way when sprucing something up! Don't be afraid to take some chances with color and texture when you're DIYing. It's the perfect time to experiment with things you've never tried before. Remember, you can always switch it up by getting a new can of paint if it doesn't work out.
17. Kids' Outdoor Picnic Table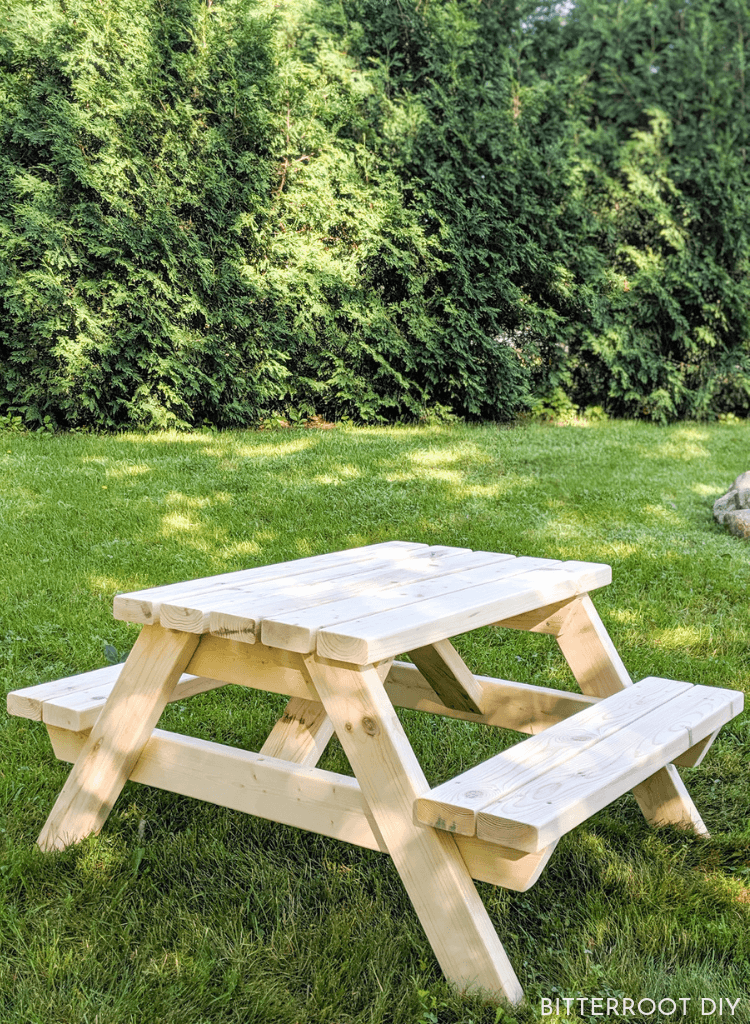 Of course the adults are welcome too, but sometimes it's nice to have a space that is solely for kid use. This fun little picnic table is perfect for coloring and craft projects, as well as for eating s'mores and hot dogs on BBQ night. The best part is, it's really not that tricky to make! Consider getting the kids involved in the simpler aspects of the construction.
18. Wide-Bottomed Patio Chair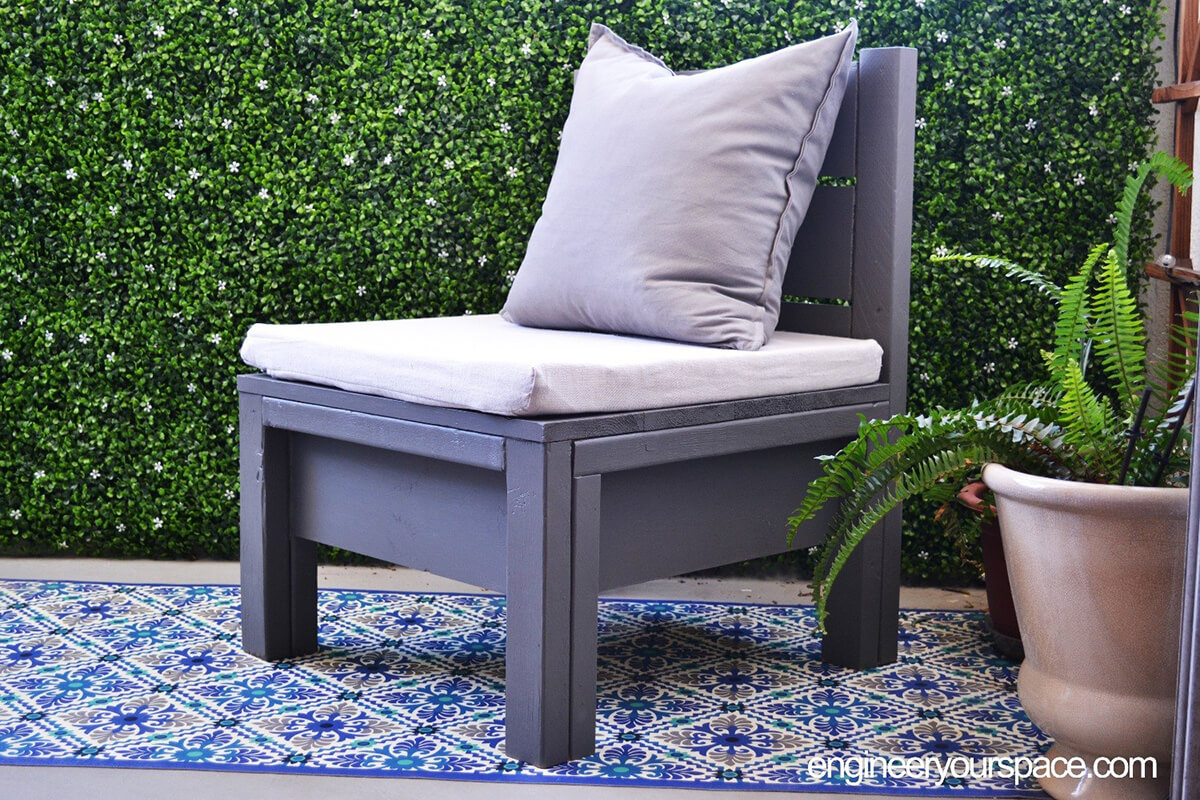 This chair has a fun and funky feel to it and is very easy to recreate for your own home. It's nice to have pieces of furniture that you can sprawl upon, sip a drink on, or read a book on all without skipping a beat. This is one of those multifunctional chairs! In this case, it's been made a bit cozier by adding a light gray color to the wood and some cushions for comfort.
19. Simple Patio Coffee Table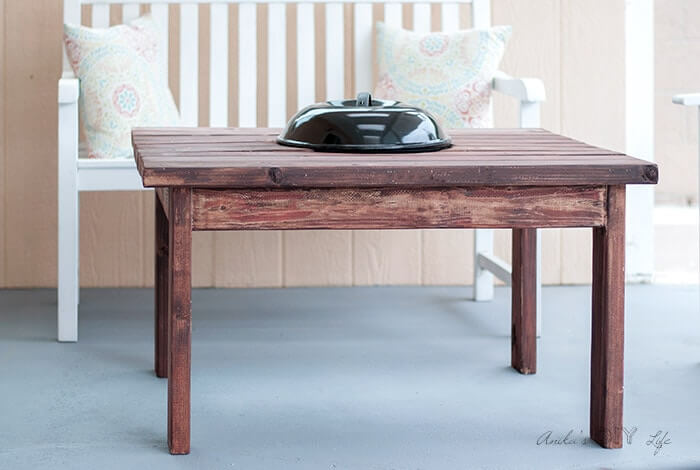 This easy and classic coffee table can be used for a bunch of different things outdoors, such as a grilling companion or a place to set plates while snacking. Since the design is so simple, you could use wood from a number of sources, not only a pallet. See what you have currently that is not fully functional, and maybe something is ready to be upcycled!
20. High-Backed Decorative Bench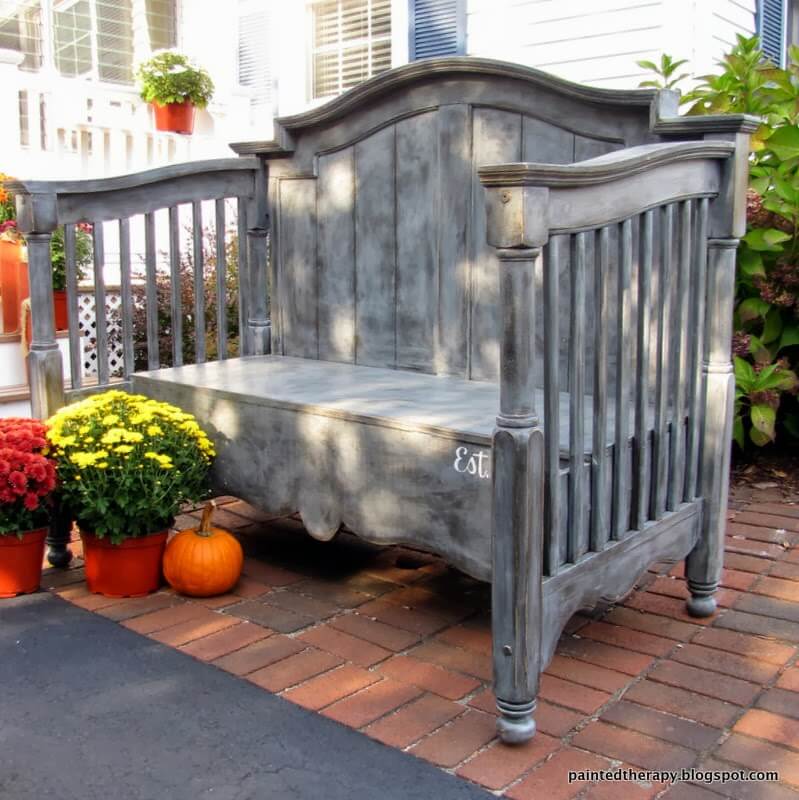 This bench is a very unique design and almost has a gothic feel to it which can be very cool. Suitable for your outdoor garden or front porch, it can be an ideal place to perch with or without seating cushions. This model also has a few overall coats of gray wood stain on it for an extra special touch.
21. Curve-Backed Adirondack Chairs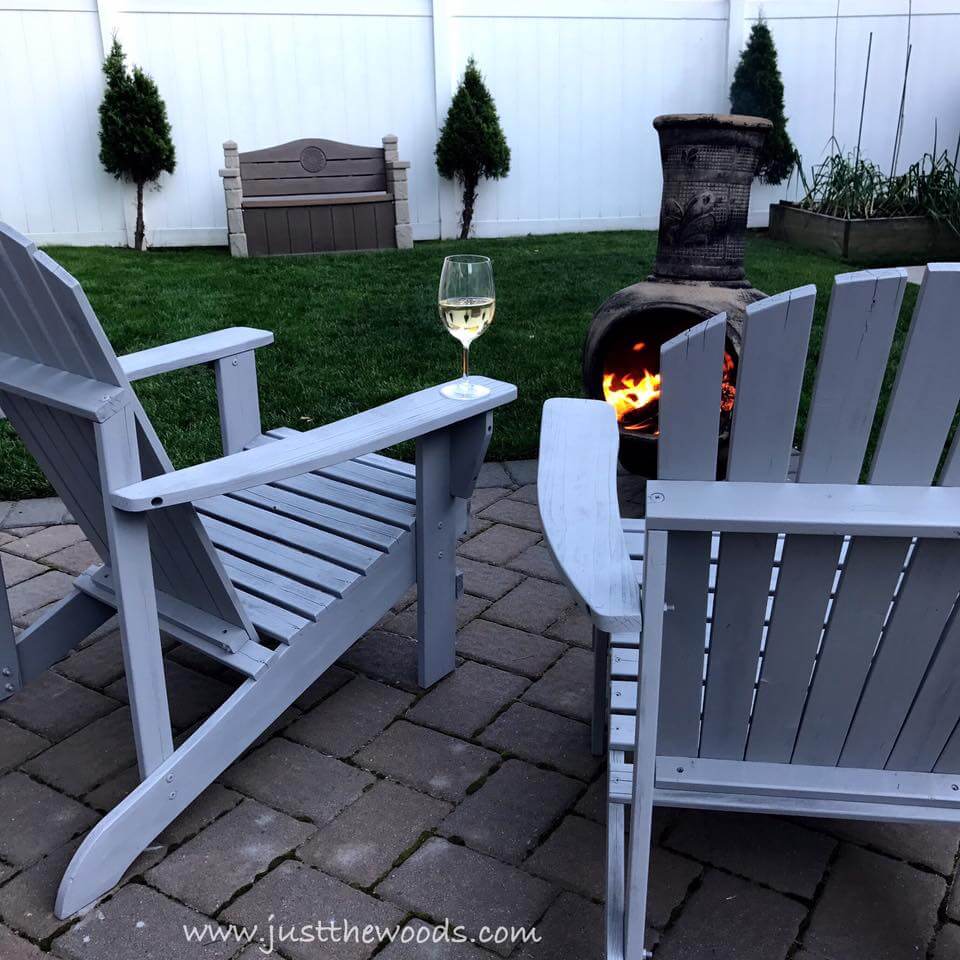 This pair of chairs is a bit different than the other version we are sharing because it has a rounded back area. Still achieved by upcycling a previously loved pallet or two, these chairs are a good reminder to add a little pop of color to your project for some extra fun!
22. Steel and Wood Repurposed Rolling Console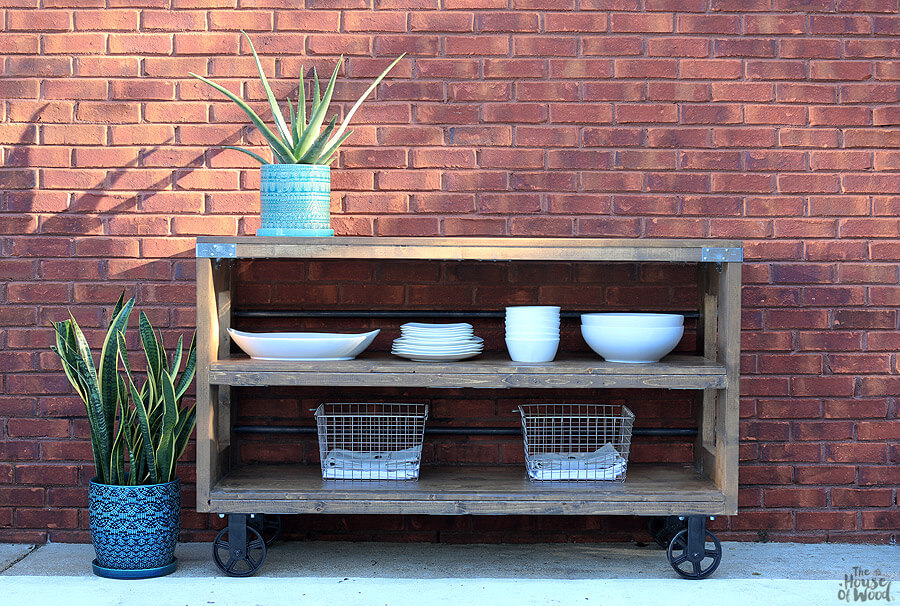 This rolling console table is inspired by a piece from Restoration Hardware. It is built of wood and Strong-Tie metal connectors for extra sturdy construction. The wheels on the console are practical and enable the table to be moved easily. This would be a great piece for an outdoor kitchen.
23. DIY Lincoln Lawn Table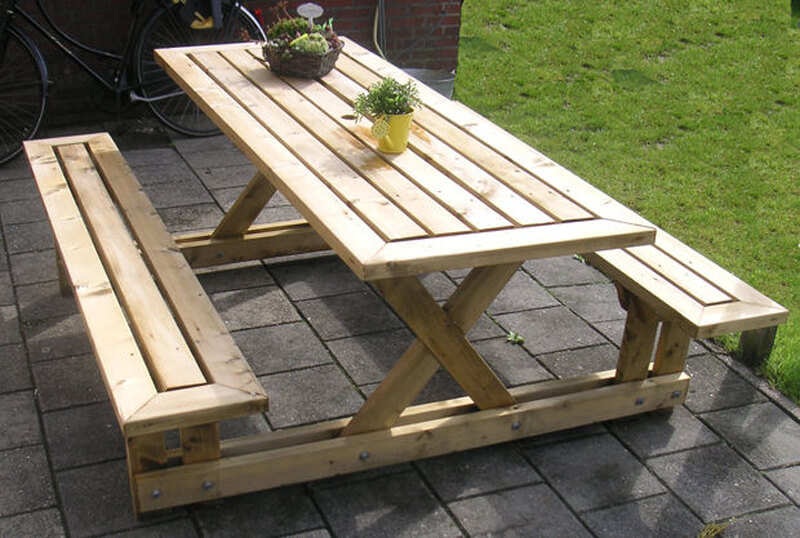 Picnic tables are a great way to get the family together. This stylish table makes a practical accent to any patio. It is simple to put together with 2 X 4 lumber. The table is put together in a trestle style with attached benches. This would not be a difficult project for an experienced woodworker.
24. Summer Splendor Basket Swing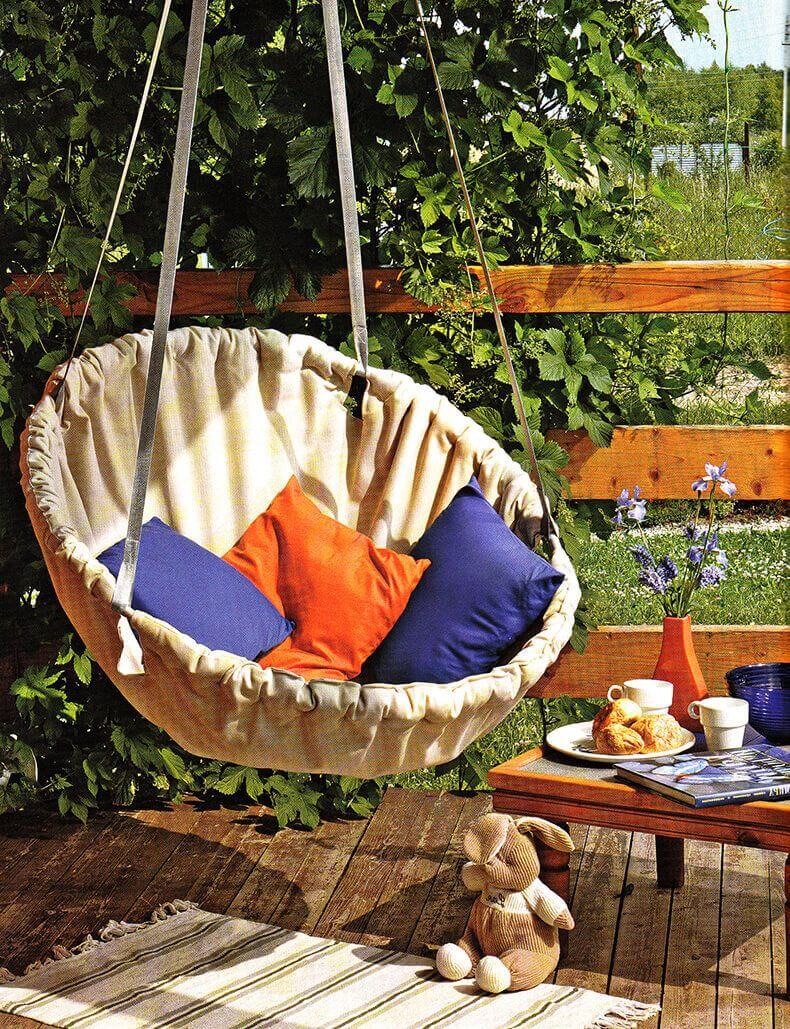 Make this hanging basket chair for a comfortable spot to while away the afternoon with a good book. This is a simple sewing project that starts with a large metal ring. The cover for the chair is made with canvas fabric. The chair is hung from sturdy straps for safety.
25. Painted and Stripped Lattice-Hatch Bench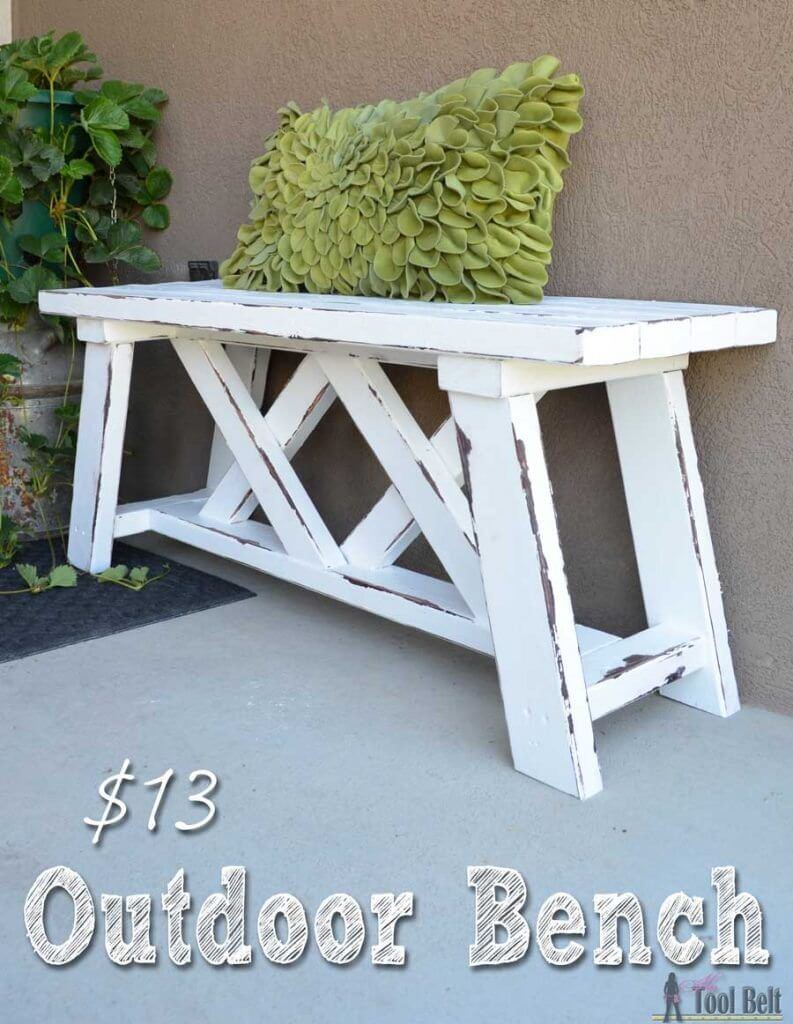 This outdoor bench will add rustic style to your porch. For the experienced woodworker, this is a simple project that builds quickly. The bench is painted white and distressed for a vintage appearance. This bench would also make a great accent in the entryway of your home.
26. Hand Assembled Picket-Fence Bench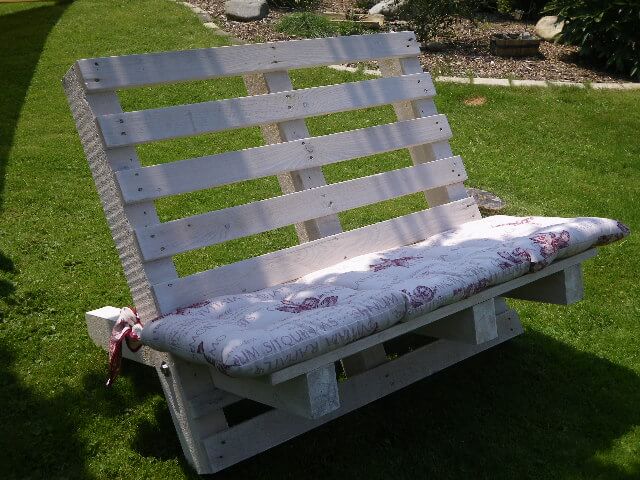 This charming bench is built in a pallet style. The bench calls a picket fence to mind with its construction. The two pieces are crossed to make the seating area and the back of the bench. Try it in the garden with a soft cushion for a shady place to sit.
27. Chic Cantina DIY Outdoor Furniture Ideas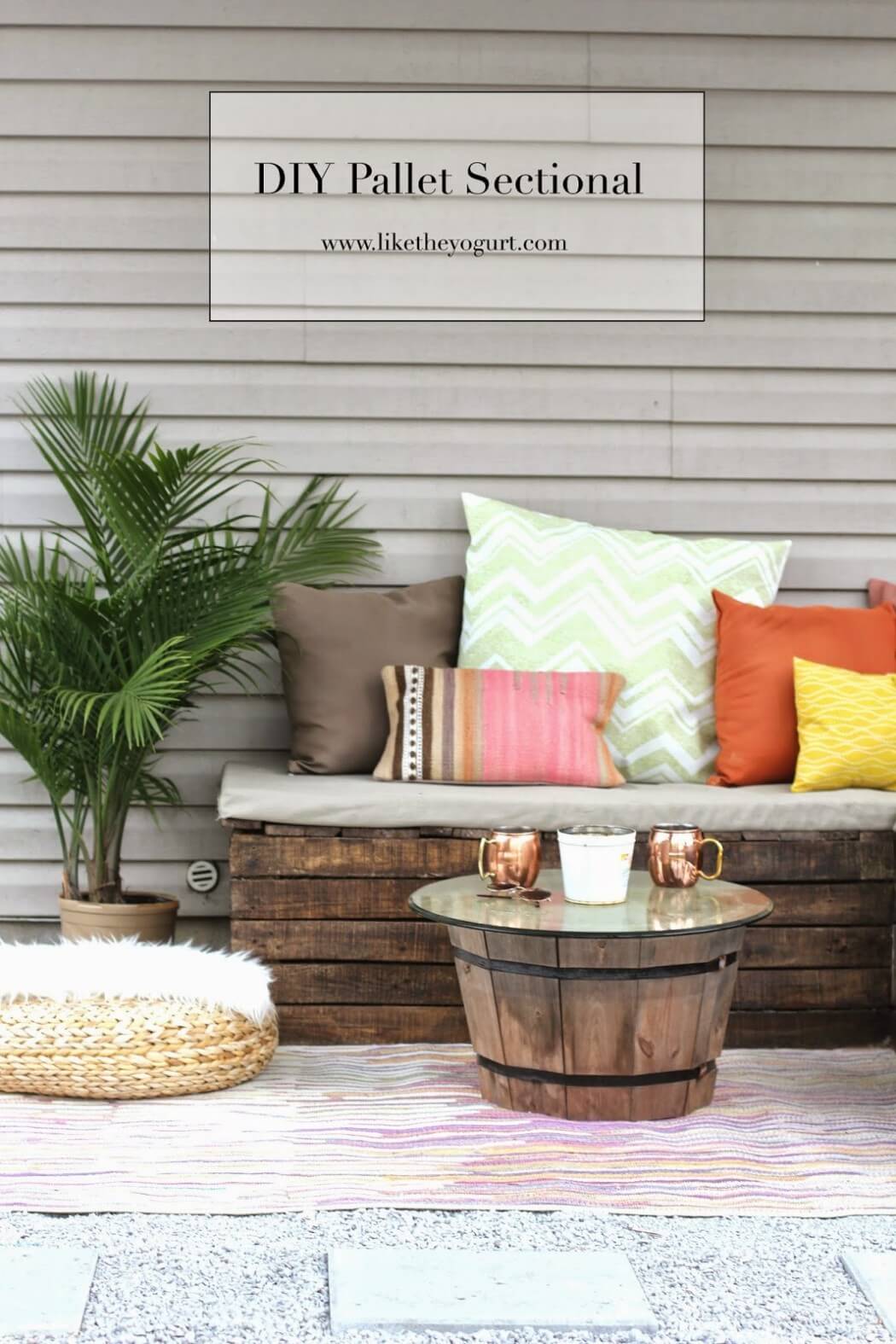 This awesome DIY sectional is built with wood pallets. This project requires a lot of pallet wood. The pallets are taken apart with a pry bar to find the best pieces of wood and then reassembled into the bench. Storage can be added at the ends by making the top section hinged.
28. Reclaimed Wooden X-Stool and Side Table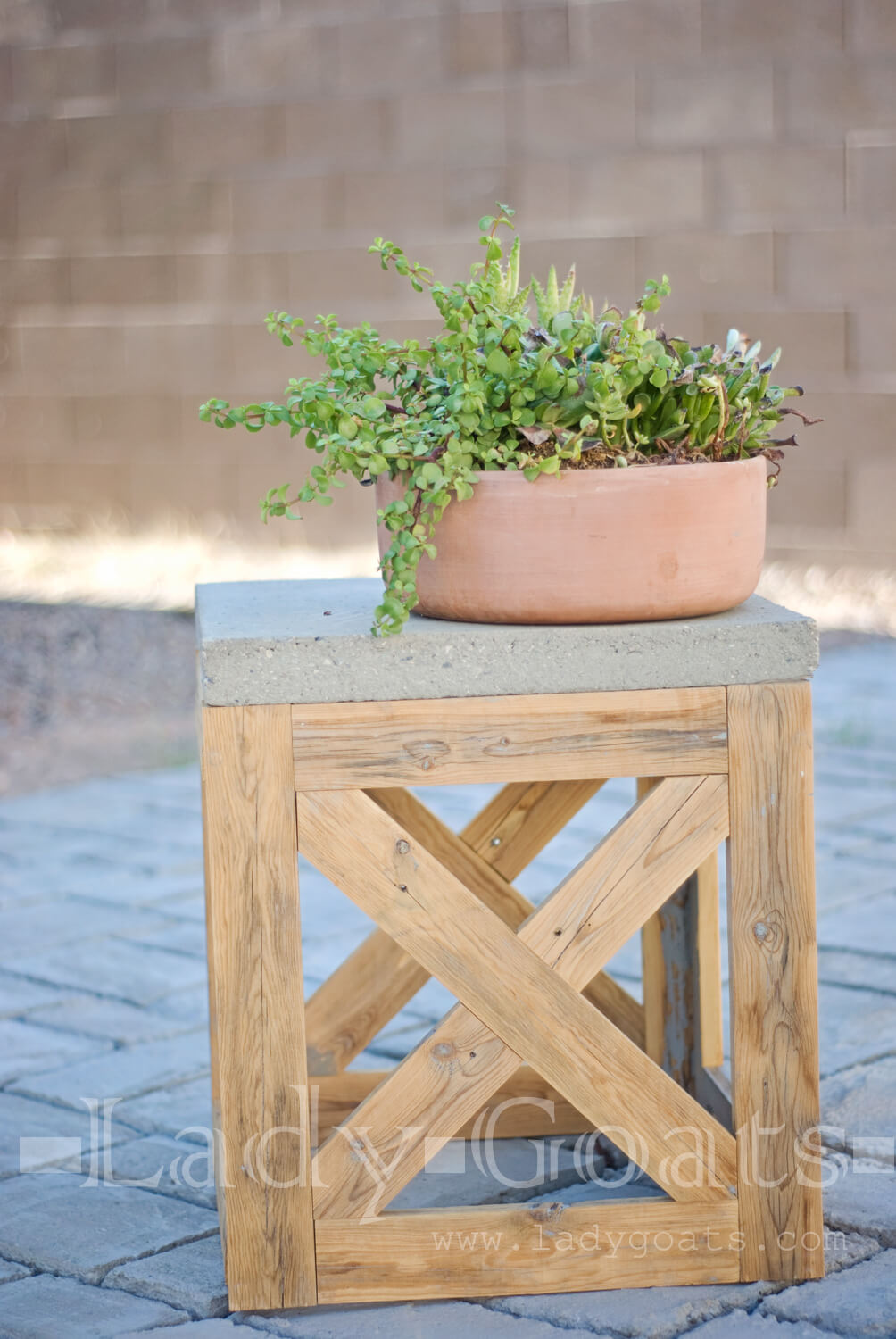 This easy stool is made with reclaimed wood. The pieces are crossed in an X shape for distinctive style and more stability. You can use this stool as a side table or end table outside. The top of the table is made of a concrete slab, but you can adapt the top to your tastes.
29. Pacific Poolside Patio Table With Built-In Icebox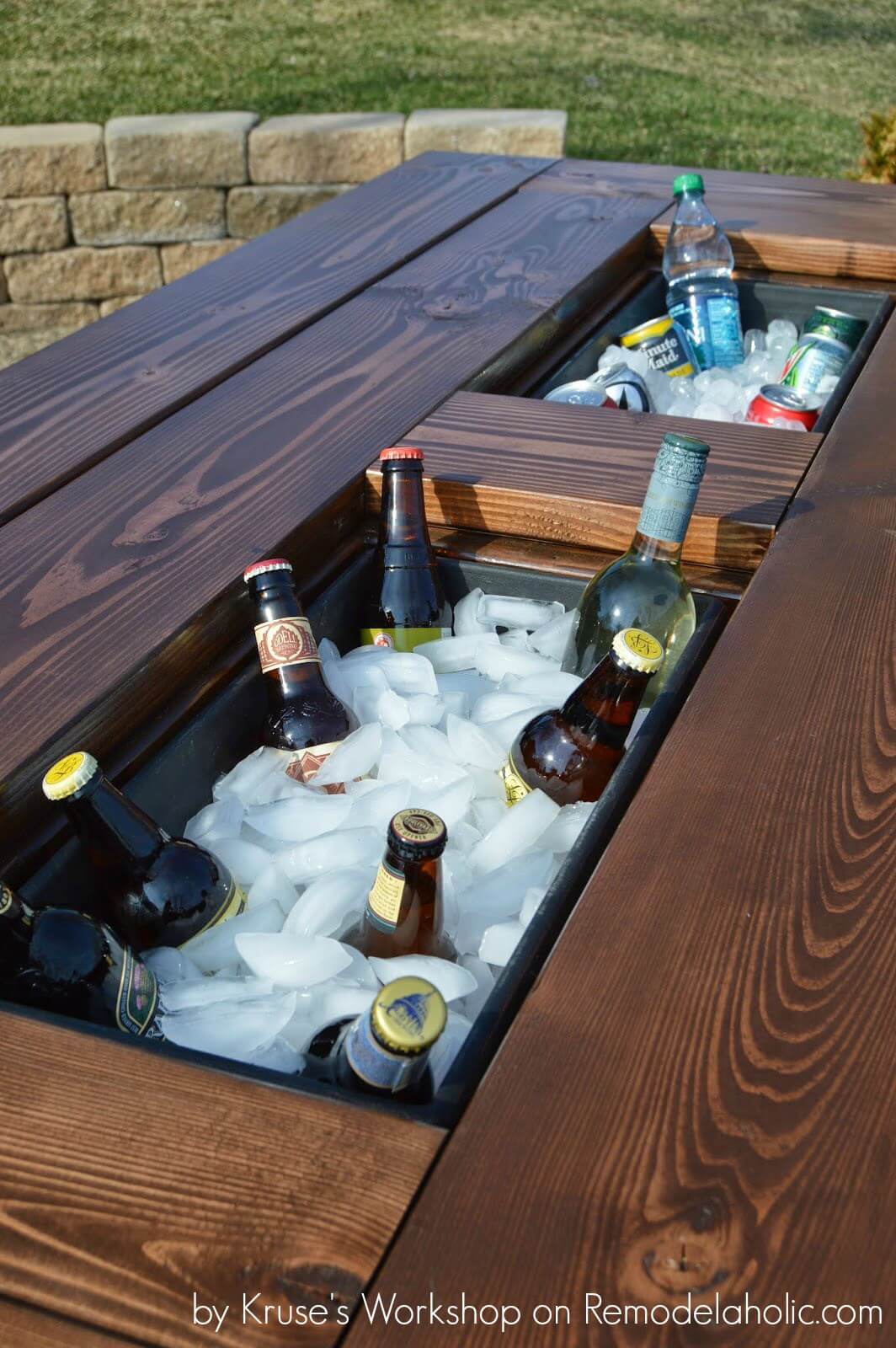 This patio table has an extra handy feature: built-in ice boxes. The ice boxes make your table an inviting place to sit on a hot summer day. The ice boxes can also be covered when they are not in use. This table makes a great place for the family to gather.
30. Hip Hand Painted Wire Basket Table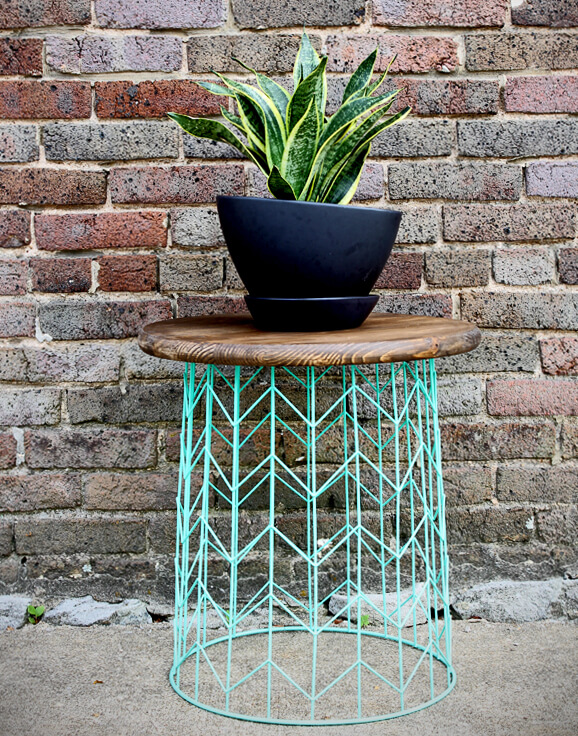 This easy project upcycles a metal basket into a pretty side table. No power tools are necessary to build this table. Paint the basket in any color you choose. Stain the wooden top. Attach the top to the basket using cable staples. This project should take about half an hour of active construction time to complete.
31. Rocky Mountain Fireside Bench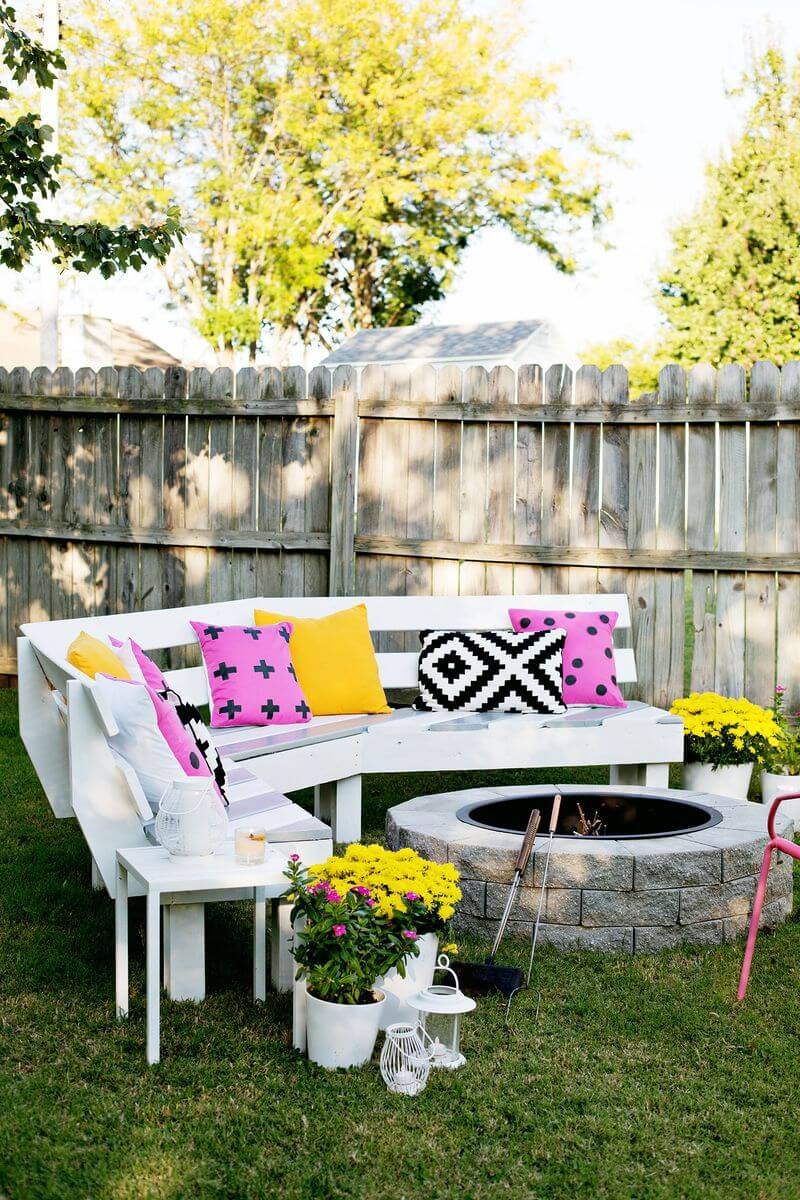 Enhance your enjoyment of your fire pit by building a comfortable custom fit bench. The boards are placed on the bench on the diagonal for a touch of unique style. Making this bench yourself can save you a great deal of money. The materials for this project only cost $125.
32. Dreamy DIY Outdoor Cabana Lounge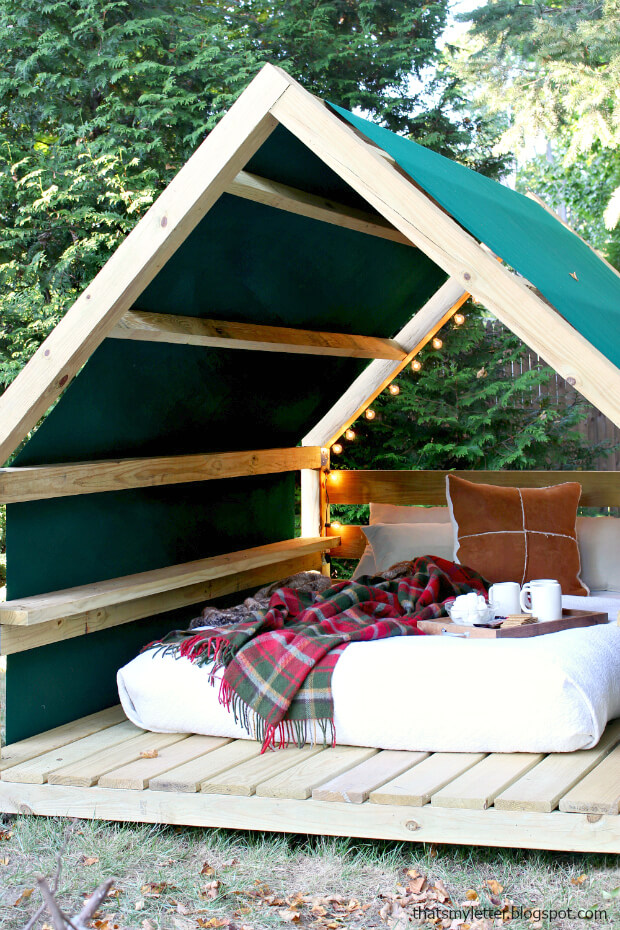 Your back yard will truly stand out when you build one of these outdoor cabana lounges. Your guests will feel like they are staying at a tropical resort. The cabana is simple to build for an experienced woodworker. Add an air mattress, some soft cushions and throws, and you'll be ready to experience true relaxation.
33. Tahitian Style Reclining Chaise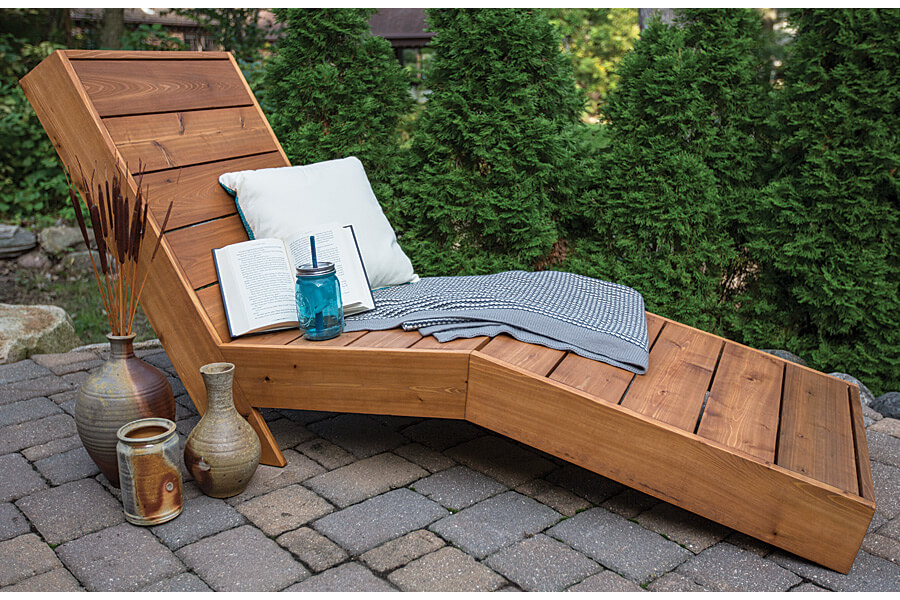 This reclining chaise is another great way to bring resort style to your back yard. The angled shape is simple to achieve using a miter saw. Use cedar boards in your project for a durable and attractive chaise that will last for many seasons of outdoor enjoyment.
34. Garden Cubicle Wooden Block Chair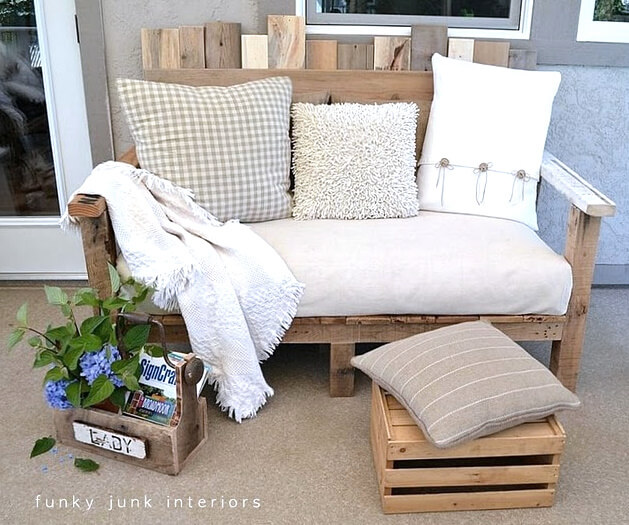 This rustic DIY outdoor chair is a simple build in a modern style. The design is inspired by pieces from Restoration Hardware. This chair is built using a variety of techniques, from gluing the wood to screwing it together. Add a bright cushion, and this chair makes a great accent piece.
35. Crate and Pallet DIY Pallet Sofa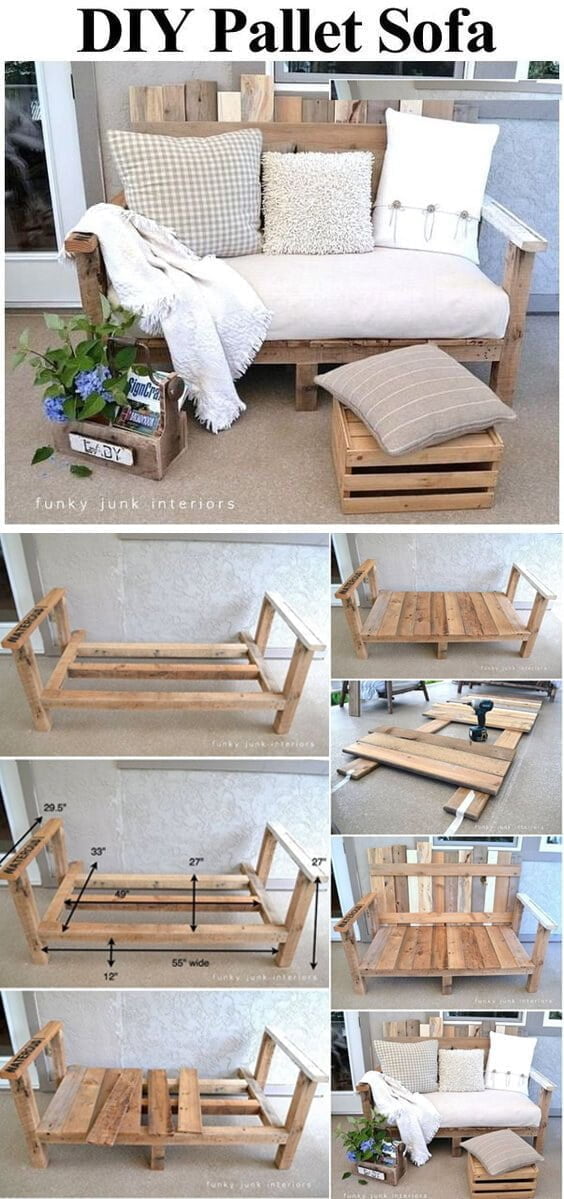 Pallet wood is an ideal material to use for outdoor furniture. It is inexpensive, wears well, and has a rustic style that is attractive to many homeowners today. The back of the sofa has uneven board lengths for a unique profile. Add cushions and relax on this sofa.
36. Rope Ladder Suspended Sailor Swing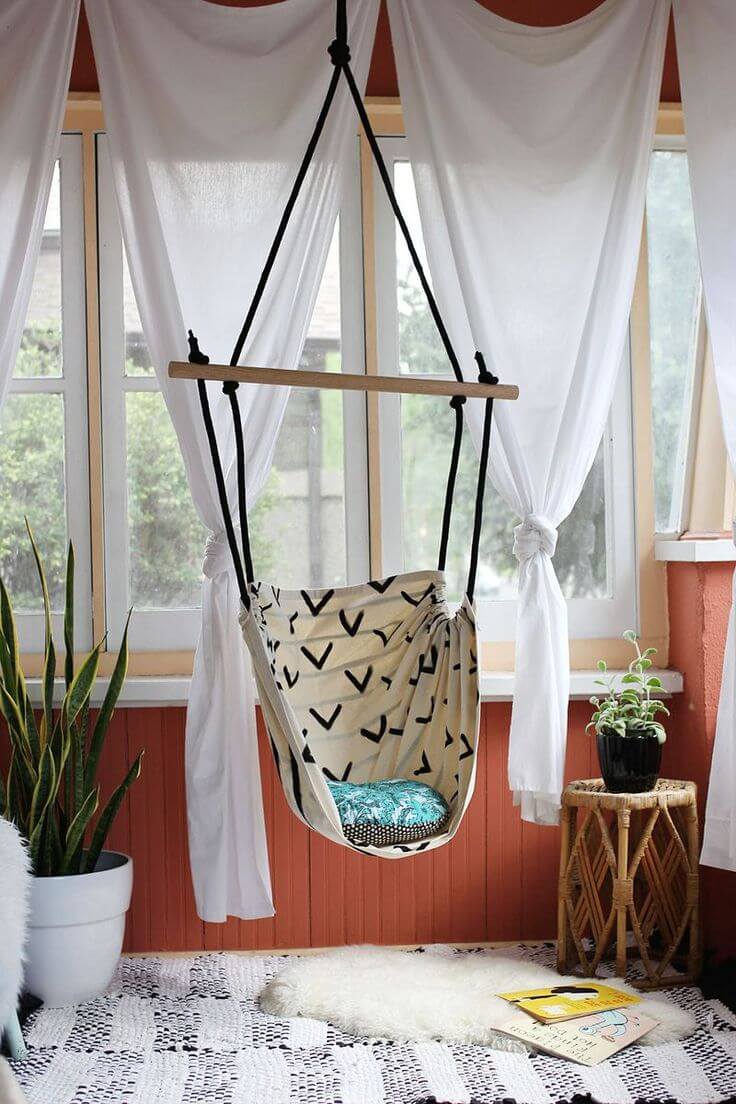 Hanging hammock chairs make a cozy reading spot for kids and adults alike. This swing is made to last with sturdy upholstery weight canvas. It hangs from a ceiling beam or from a sturdy tree branch. This chair has a hand painted pattern for a unique look. Add a cushion to the bottom for extra comfort.
37. Deck-To-Dining Room Wooden Table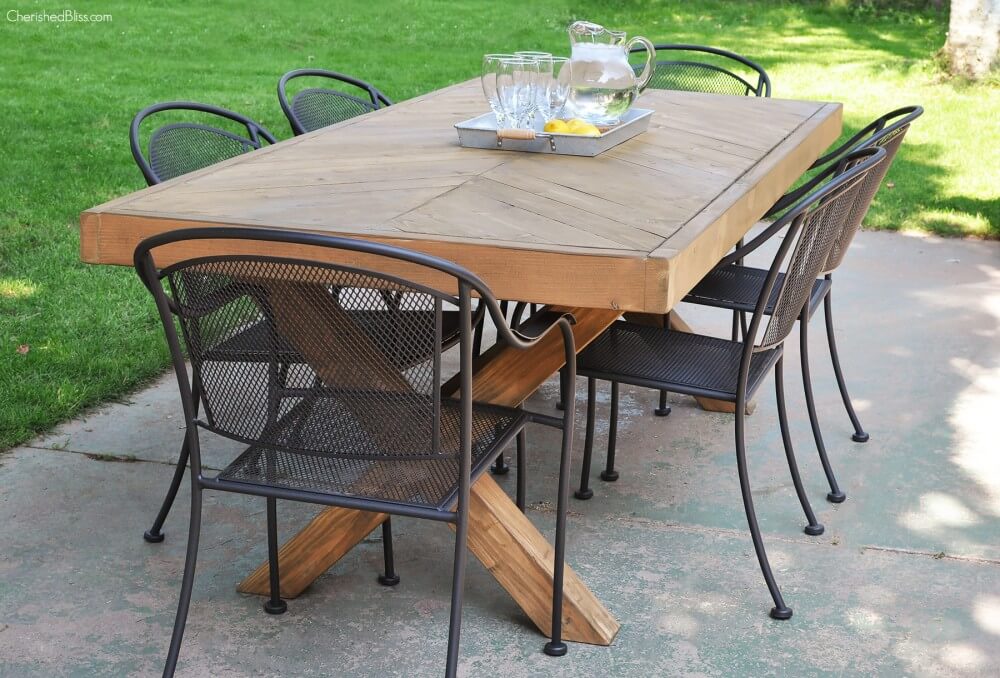 This DIY outdoor dining table is so attractive, it would make a great addition for your indoor dining room as well. This project is easier than it looks to complete. The X shaped legs are attached using lap joints. The top of the table has a hand cut herringbone pattern.
38. Bohemian Bliss in the Garden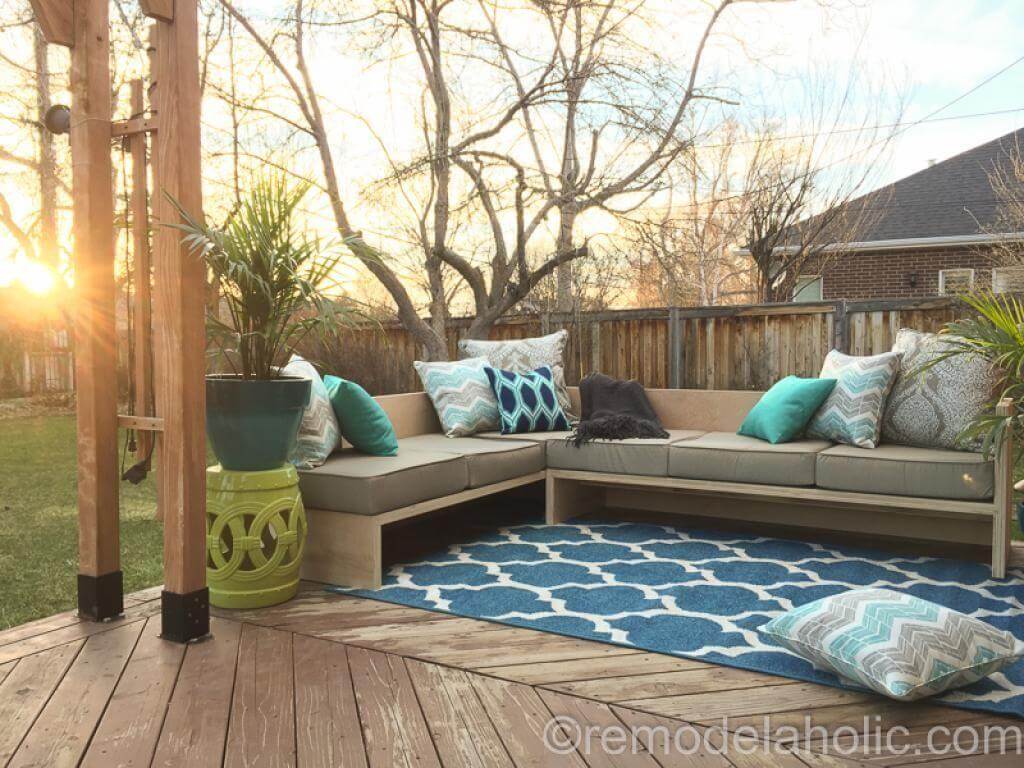 Birch plywood makes this attractive outdoor sectional sofa. Experienced woodworkers will be able to build this sofa easily. The sofa is built on a sturdy redwood beam and is covered in sheets of plywood. It has a low back for a modern style element. This sofa will provide a relaxing place to spend a sunny afternoon.
39. Sundance Inspired DIY Outdoor Furniture Projects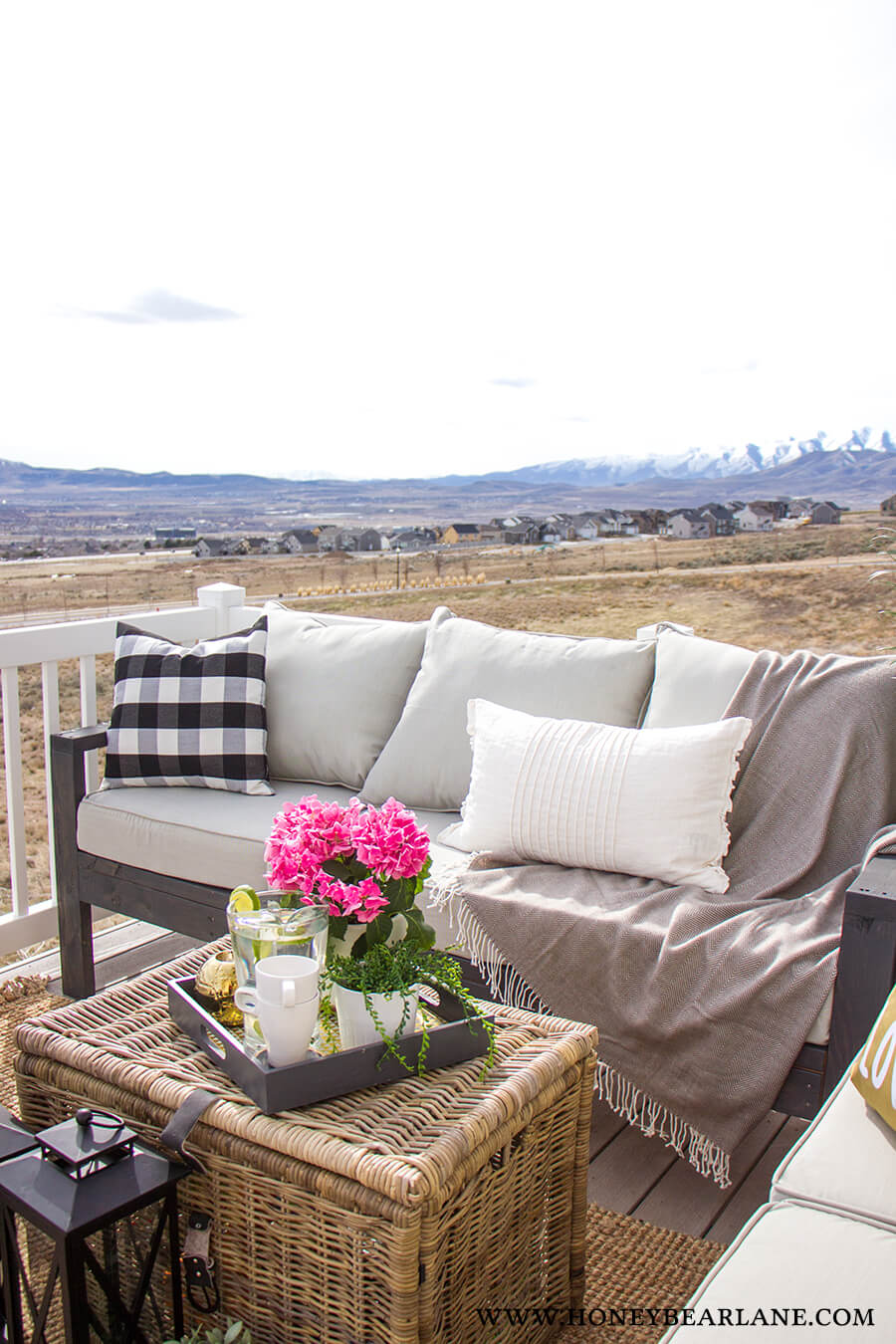 This easy DIY sofa project would be a good way for a newer woodworker to branch into making larger furniture. It comes together quickly using 2 X 4 lumber. The wood is stained in a soft gray color. This sofa will provide extra seating space for your guests and make an attractive accent to your backyard deck.
40. Outdoor Abode Buildable Rustic Sofa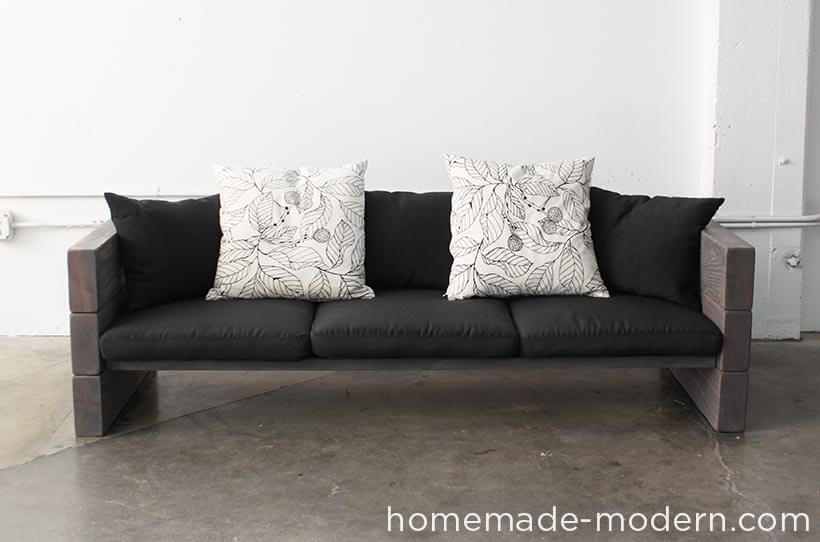 Combining artful style with easy construction, this DIY rustic outdoor sofa is the perfect project to add a modern look to your patio. This sofa is built using 2 X 8 and 4 X 8 lumber. This sofa can be customized in length to match the cushions you have chosen.
41. Sweet Splendor DIY Summer Hammock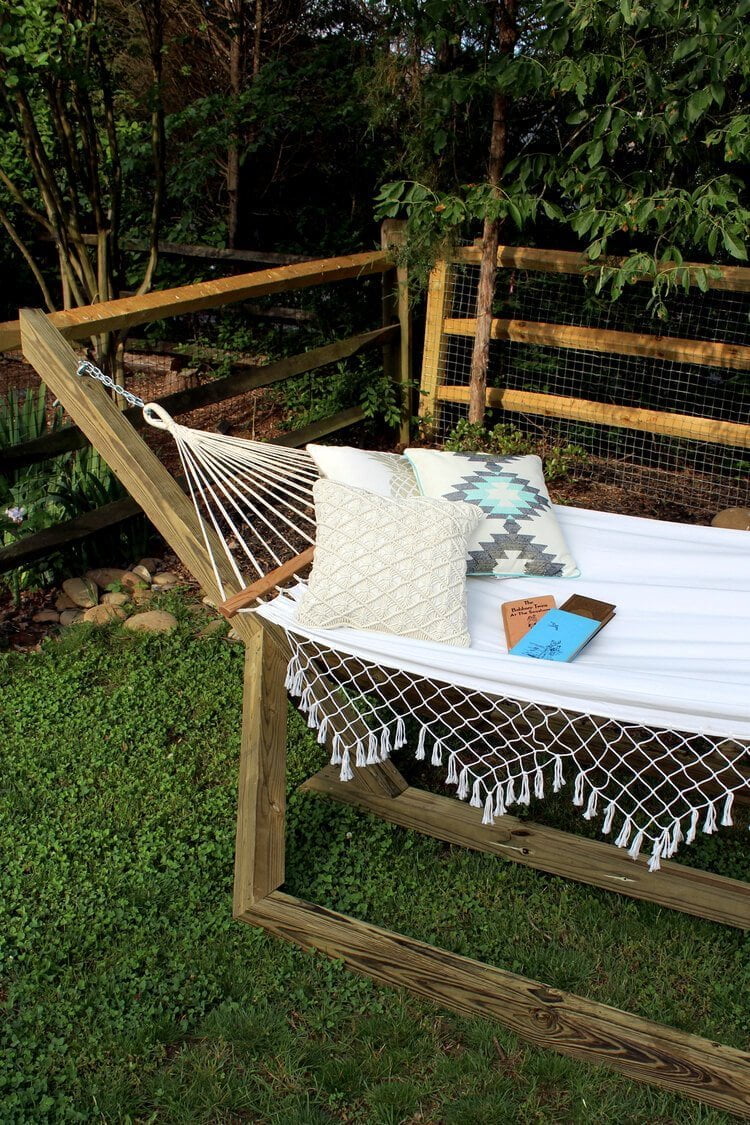 A hammock adds a wonderful touch to any back yard. This DIY hammock stand is built using pressure treated lumber posts. This hammock stand is sturdier than store bought varieties and will provide years of lasting enjoyment. Add your favorite style of hammock and swing the day away.
42. Re-Stacked-And-Refinished Crate Lawn Table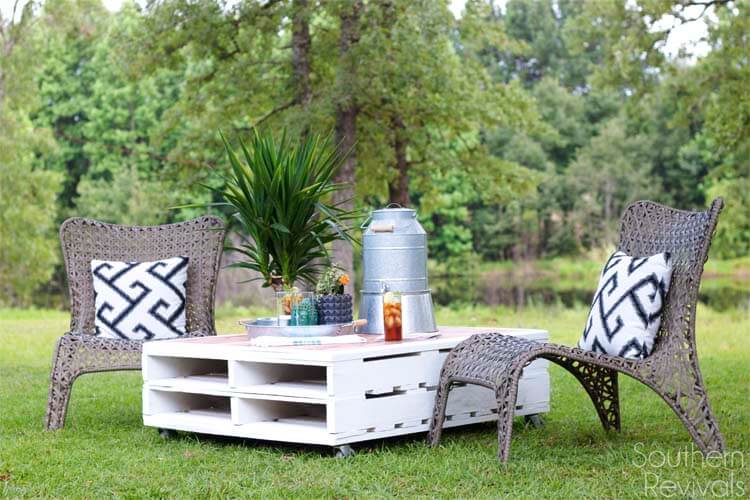 Pallets make this DIY coffee table easy to construct. What sets this table apart from the basic pallet design is the stained top. This gives the table an individual style. The table is on wheels so it can easily be moved between seating areas on your patio.
43. Pacific Northwest Coastline Design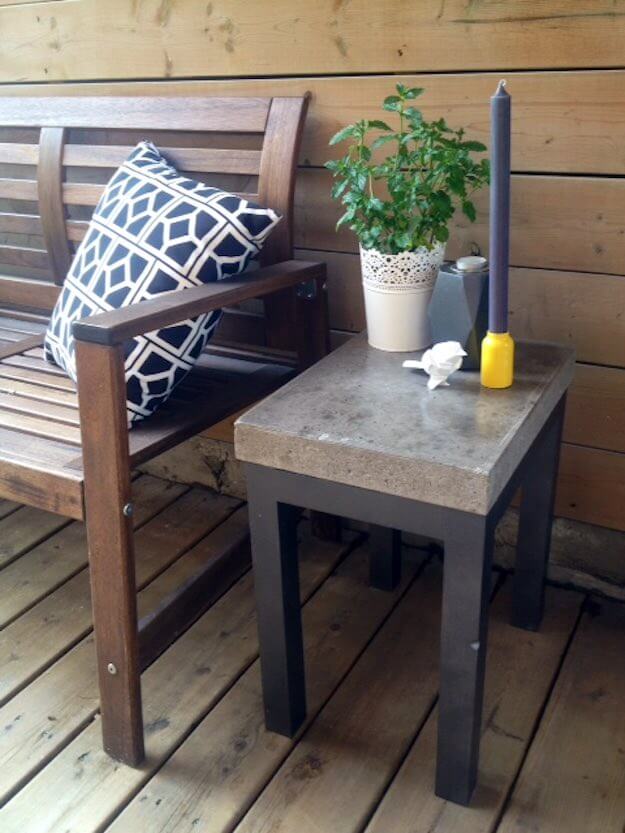 A DIY concrete slab makes this side table sturdy and attractive. The concrete is sealed for a polished look. The base of the table is very easy to construct. In place of a concrete slab, you could use a premade patio stone from the home improvement store.
44. "Green Screen" DIY Outdoor Pallet Divide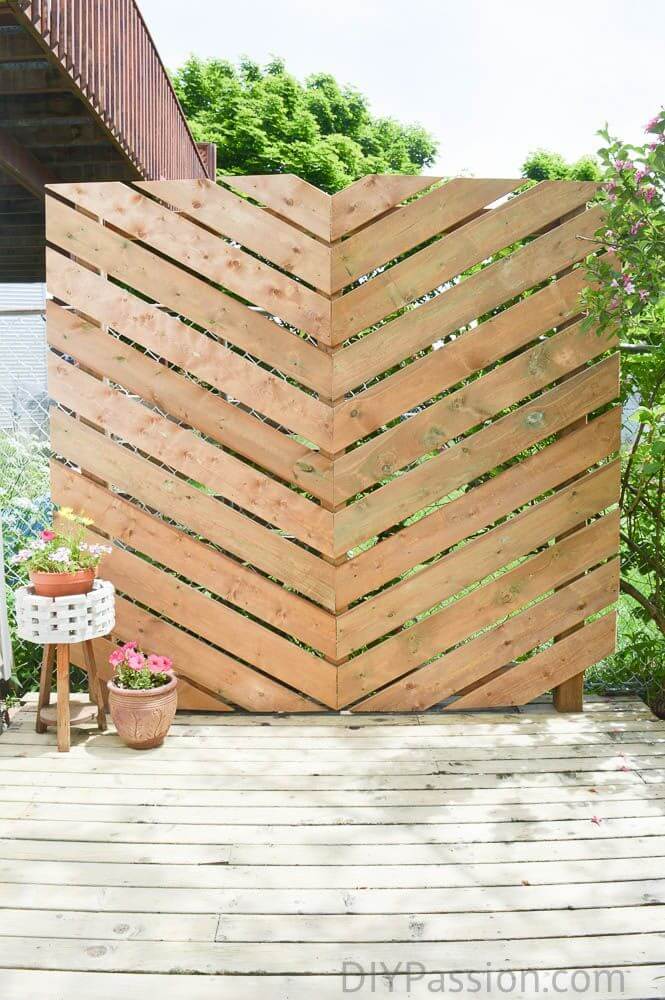 A privacy wall is a helpful addition to your patio, especially if you live close to a neighbor. This chevron patterned privacy wall is stylish as well as practical. It also hides unattractive parts of your yard from view. This project is easiest to accomplish if you use a miter saw.
45. Savannah Manse DIY Outdoor Furniture Projects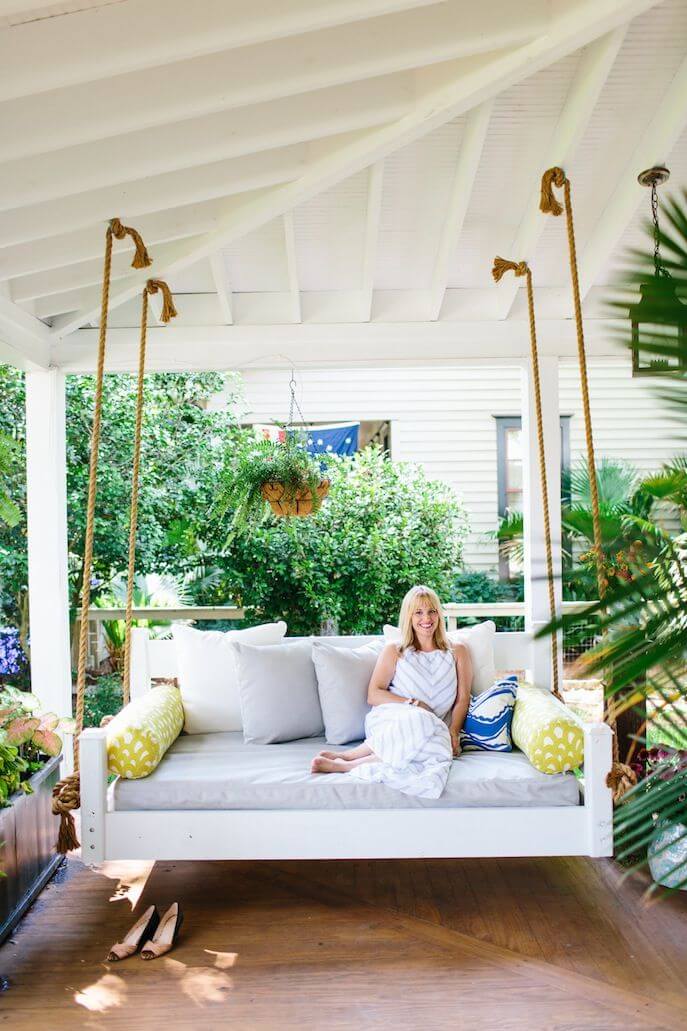 This hanging daybed sofa is made to fit a twin-sized mattress. The back of the sofa supports an array of soft and cozy cushions. With sturdy marine rope hangers, this sofa makes a charming Southern-style accent to your front porch. Kids will especially love to relax on it. They may even take an outdoor nap.
46. The Family's Tree DIY Circular Bench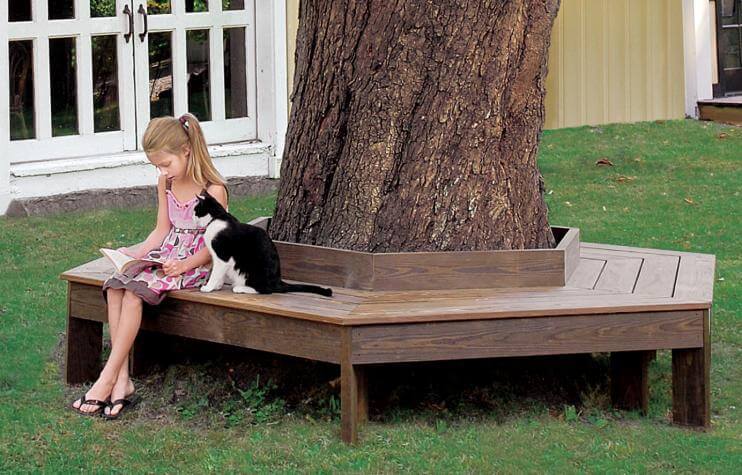 Make a custom bench to fit around a large tree in your back yard. Construct the parts separately and then use them to encircle your tree. This project is good for an experienced woodworker, and takes one weekend to put together. This bench would make a charming accent for any back yard.
47. Summer Waves Wooden Chaise Recliner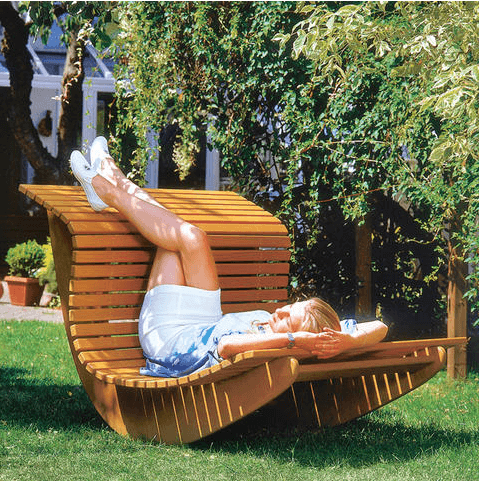 This exciting recliner is built in the shape of a wave. The chair also rocks for a comfortable and dreamy afternoon outdoors. The chair is wide enough for two people. It makes a standout style accent to your back yard. Try placing two of them for a relaxing seating area.
48. Bed Of Grass Outdoor Billet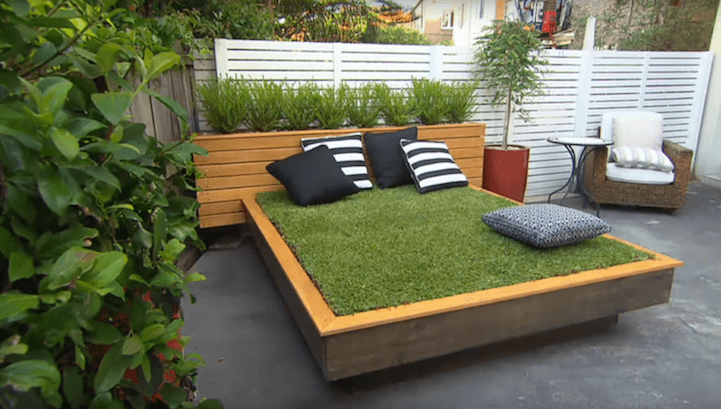 This grass lounger makes a fun conversation piece for your back yard or patio. It is constructed like a simple platform bed frame, and soil and sod are added. This is a fun accent to a yard that doesn't have any natural grass. Relaxing on the "lawn" is fun and comfortable. Your guests will definitely talk about this lounger.
49. Ibiza Terrace Outdoor Dining Set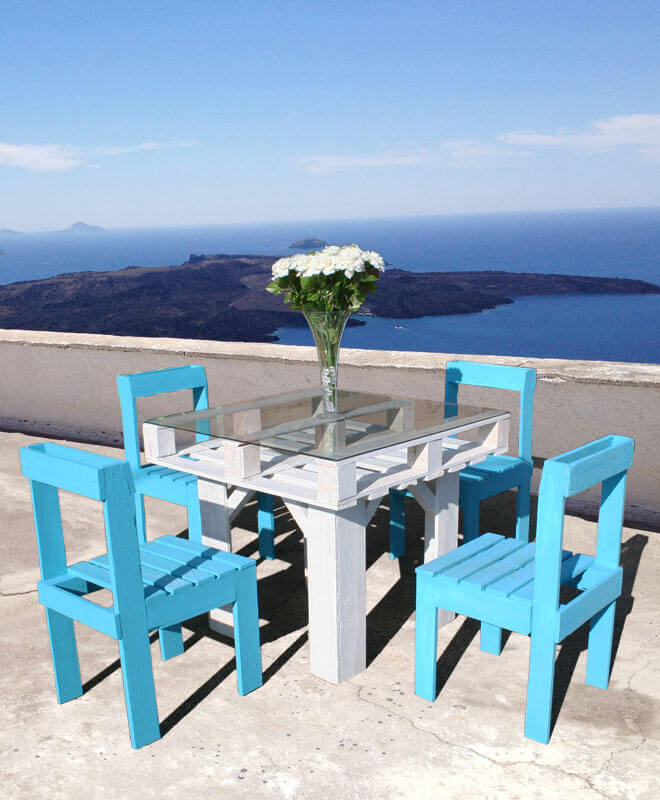 This resort inspired table is built from pallet wood. The table is built on a sturdy base, and the pallet wood is used as an accent to the structure. The pallet wood is taken apart and sanded for the legs. A plain pallet is used for the top, with a tempered glass surface. Paint or stain your table however you wish.
50. Newport Nuance DIY Corner Bench With Table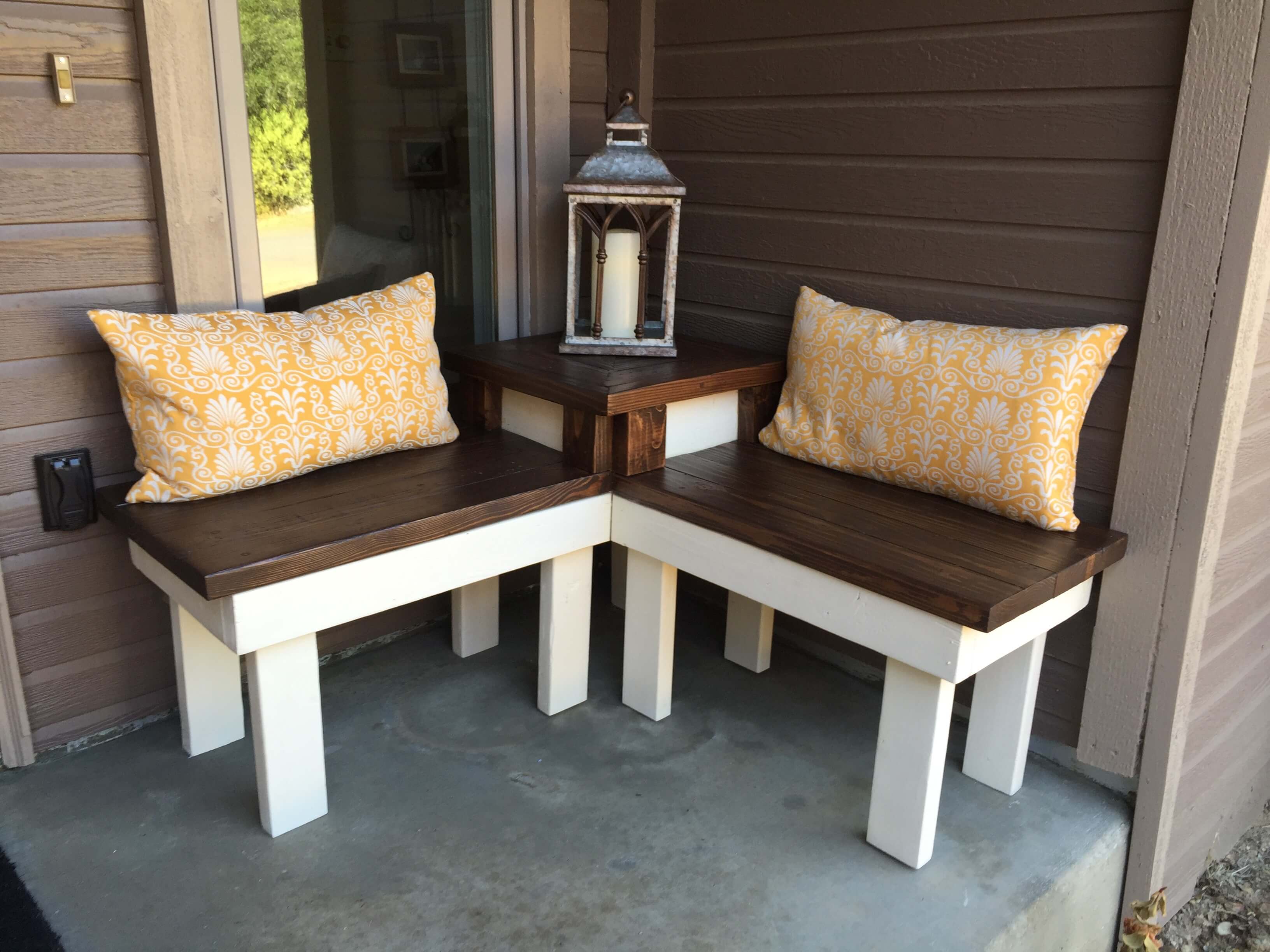 This charming corner seat has a built in end table. This is a simple project for an experienced woodworker. It would only take a few days to put together. This bench will give your corner a comfortable place to sit or a place to add plants or decorations to your porch.
Our Favorite Farmhouse Furnitures to buy on Amazon