With the best DIY outdoor mushroom ideas, you can create compelling and unique art to spruce up your garden. Many people enjoy the sight of mushrooms, but if none are growing where you want them to, you can always make some decorative ones instead. These can add more of your personality to your garden or anywhere else outdoors you wish to use them. There is something that is almost magical about mushrooms that makes them such a popular theme to decorate the outdoors with. They have a whimsical and fantastical quality to them that can brighten up any space whether you use color or not. There is even a nice rustic quality that mushrooms can have to suit that specific style too. So, they're a rather versatile theme to use.
23 Unique and Magical DIY Outdoor Mushroom Ideas that will Transform your Garden

Because of their versatility, there are many ways you can approach mushroom garden decor. You can aim for the more traditional route, creating mushroom art with the bright coloring and white dots found in a lot of different fantasy-like decor. This is always a nice sight to witness in an outdoor setting, more so if it helps add that helpful bit of color to the area. You can lean more toward a realistic setup too, finding homemade mushrooms that can easily be mistaken for those you find out in the wild. These can be more fitting for that farmhouse or rustic look if that's what you want to achieve.
Alternatively, you can go down a completely different route and make more distinctive and imaginative mushrooms like those made from glass. These allow the decor to look different under certain lighting, making you appreciate them even more under the sunlight.
With so many options, you may be at a loss on where to start decorating your outdoor environment. So, we came up with our favorite best DIY outdoor mushroom ideas to help you get started on your next home project.
1. Cool DIY Fabric Mushroom Ornaments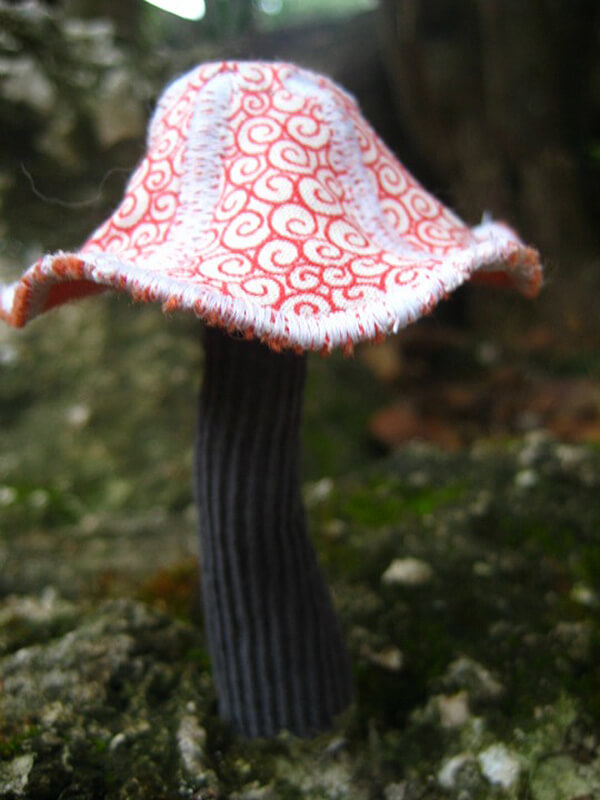 With the right material, you can create some incredibly unique fabric mushrooms to hang up. Your choice of fabric goes a long way in setting the mood here. So, if you opt for some with varied patterns and colors, you can build something that stands out with ease. Of course, you can always set these up in a way so that they stand up instead rather than hang. This gives you more options in how you want to show off your fairytale-like decorations, leaving you with something that is both natural and whimsical. These can work alongside different seasons too, so feel free to pull them out all year long.
2. Magical Painted Flower Pot Toadstool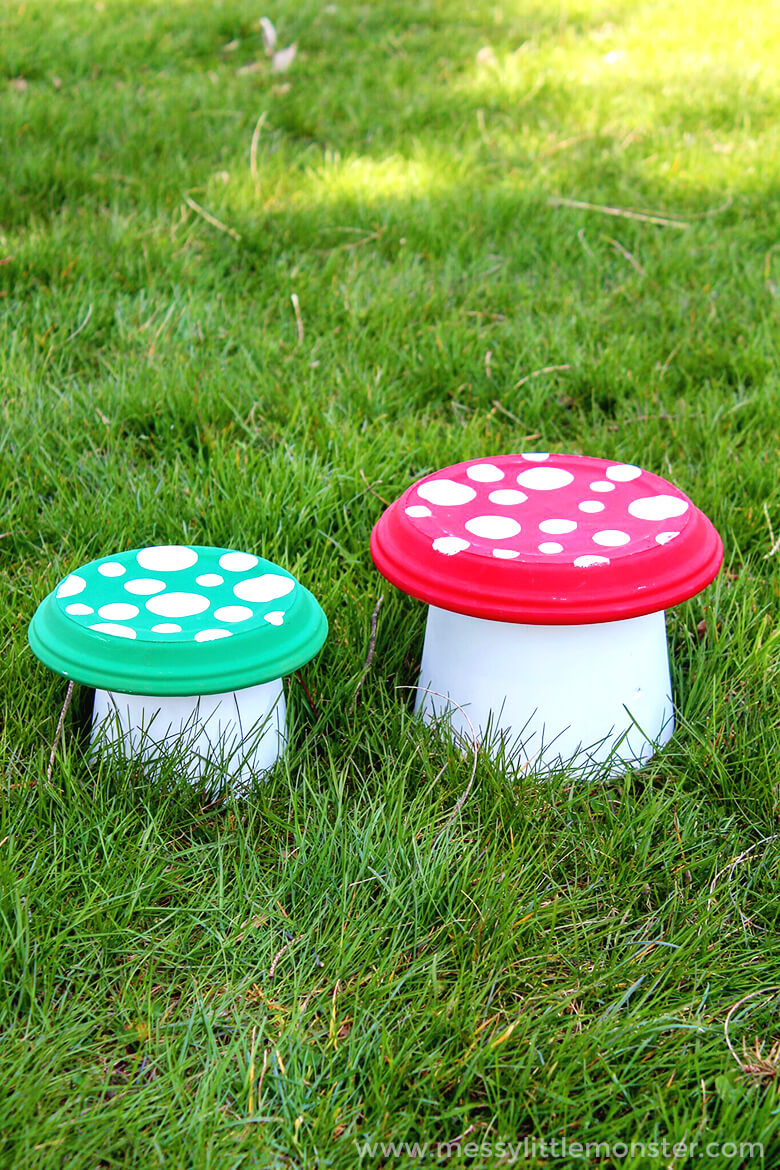 Are you looking for a project that's easy to do with the whole family? These transformed flower pots will work out well as the project is simple and fun for kids. When the flower pots and the terra cotta bases are painted, they quickly take on a magical appearance. It is a fun way to transform your outdoor area into a fairy garden that children will love to visit. A wonderful thing about this project is that by using the terra cotta pots and base, these lovely creations will last you a long time. They can hold well outdoors in various conditions too so that the kids can appreciate their hard work for years to come.
3. Creative Branch and Painted Bowl Mushrooms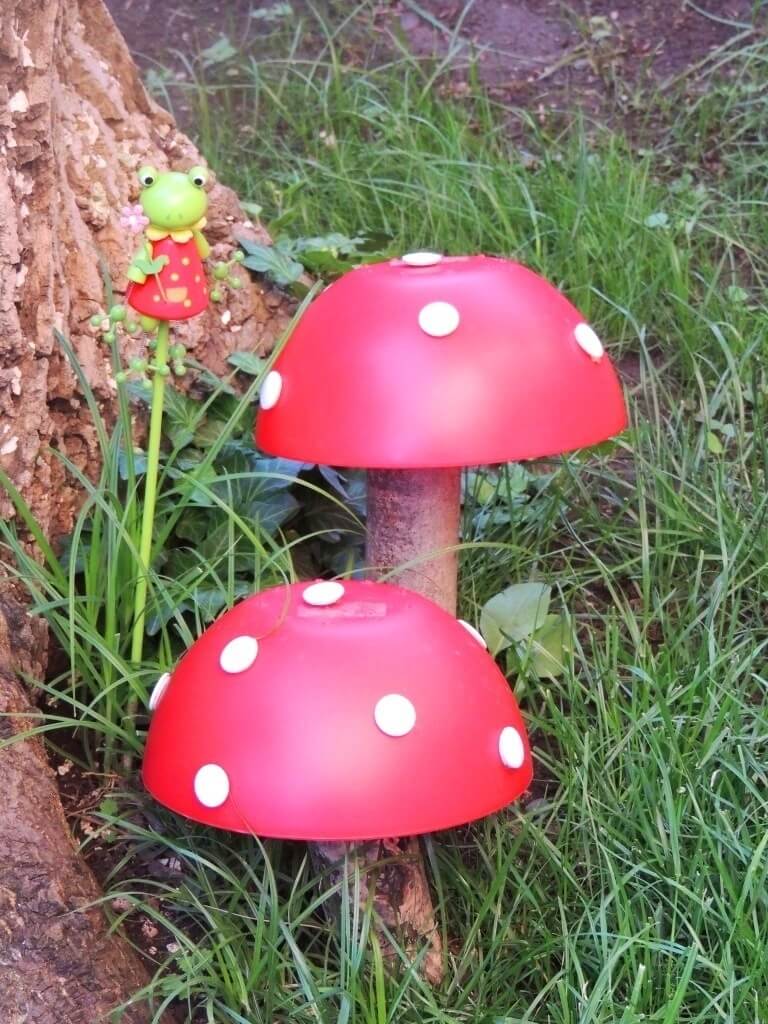 With a small tree stump, you can use it as a solid base for your mushroom creation. The branch works best when dug into the ground, freeing you up to completely add this to your garden or any other setting outside since you can dig it deep into the dirt for stability and appearance. All you need is a bowl, paint, and some self-adhesive white polka dots to create the mushroom hats. There is a nice natural look considering the supportive stump, while the hats look vibrant and majestic without being over the top. It is an ideal balance that breathes life into your outdoor setting.
4. Cool Baked Cotton Mushroom Designs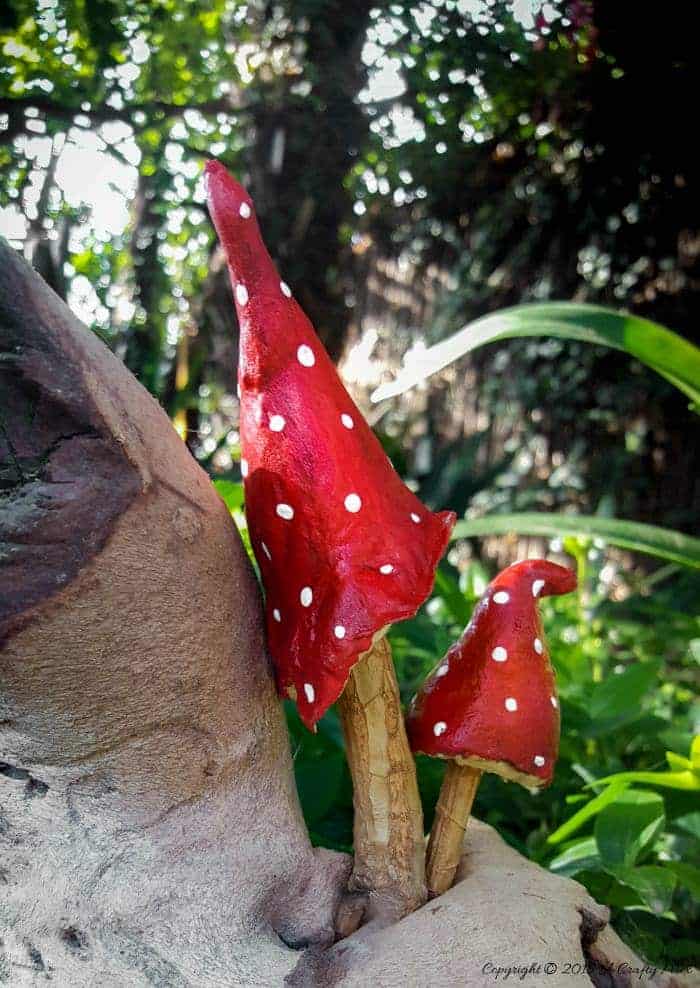 If you've never baked cotton before, this project can be a pleasant surprise. The use of cotton is such a unique way to create these mushrooms as it gives them different shapes rather than the usual overturned bowl-like shape mushrooms have. These look closer to some wild mushroom species. Even with the vibrant red coloring and polka dot design, the mushrooms have a more natural appearance that makes them wonderful decor for your blended rustic and whimsical setup. These look incredible out in the garden or placed in different spots around your home whether in the front yard or the backyard.
5. Beautiful DIY Glass Garden Mushrooms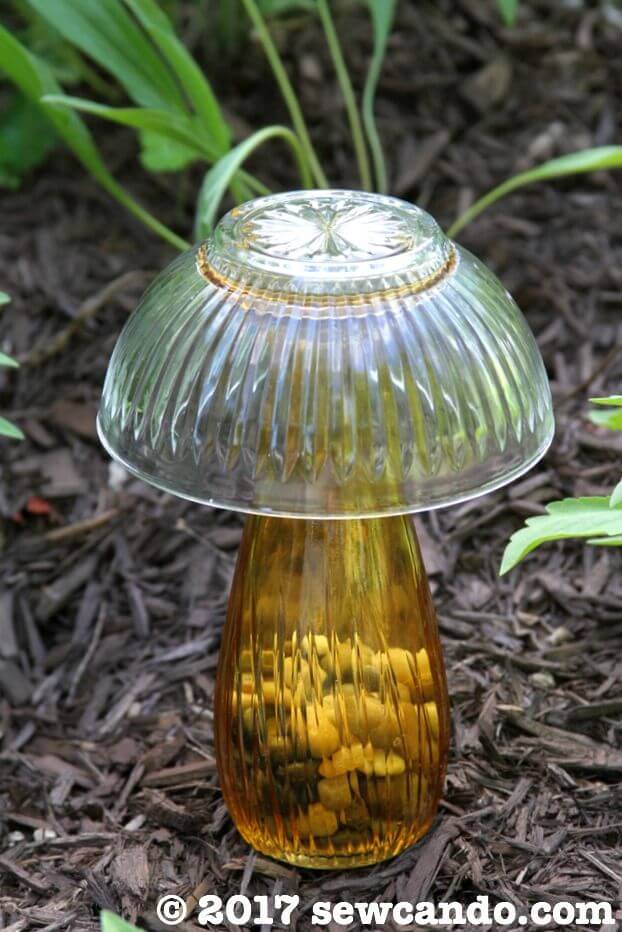 Even on a budget, you can add some stunning mushroom decor to your garden all made from glass. The inverted glass bowls on top of the vases easily transform them into mushrooms. It is such a unique approach since you can leave the bowls as-is and rely on the vases themselves to add that lovely pop of color. The use of river rocks inside the vase not only gives some good stability when you set them up, but it adds more texture to the pieces, making them even more appealing and eye-catching. You can set these strategically around your garden too to align to anything else you may have planted.
6. Affordable and Simple Garden Art Mushrooms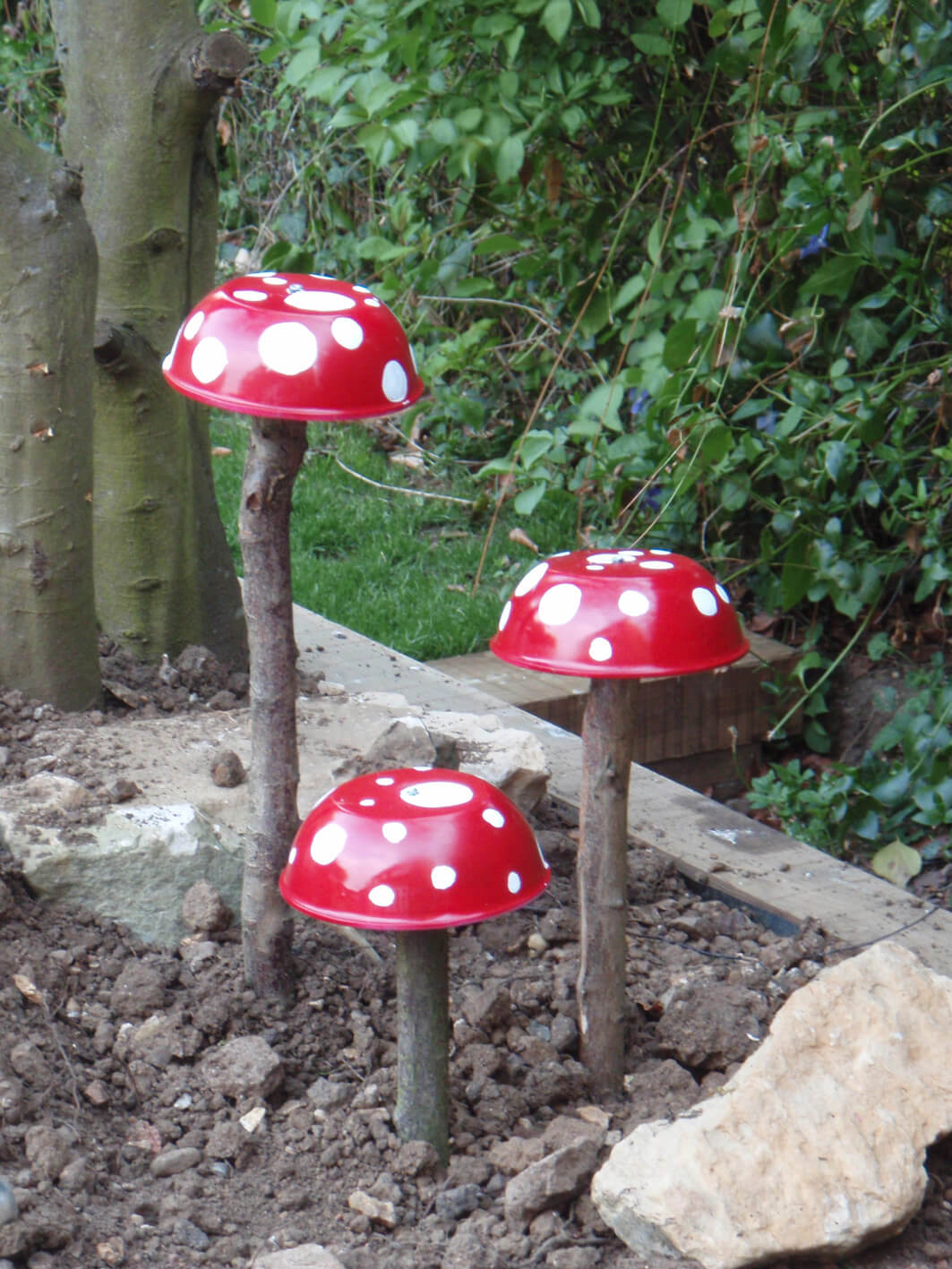 An affordable and easy way to create cool mushroom decor for the outside is by using some natural materials like tree branches. Gather up what you can from your own yard to help build a base for this charming mushroom decor. Using the overturned bowls as the caps work effortlessly as well as keeping this home project more affordable. It is even a fun one to involve the kids with if you have children. Otherwise, this is a straightforward project fitting for that lazy weekend. Also, since you're using branches for the stems, this makes the mushrooms appear both magical and rustic, offering a pleasant rustic touch. You can take a look at the blogger's new site too.
7. DIY Solar Glass Mushroom Decor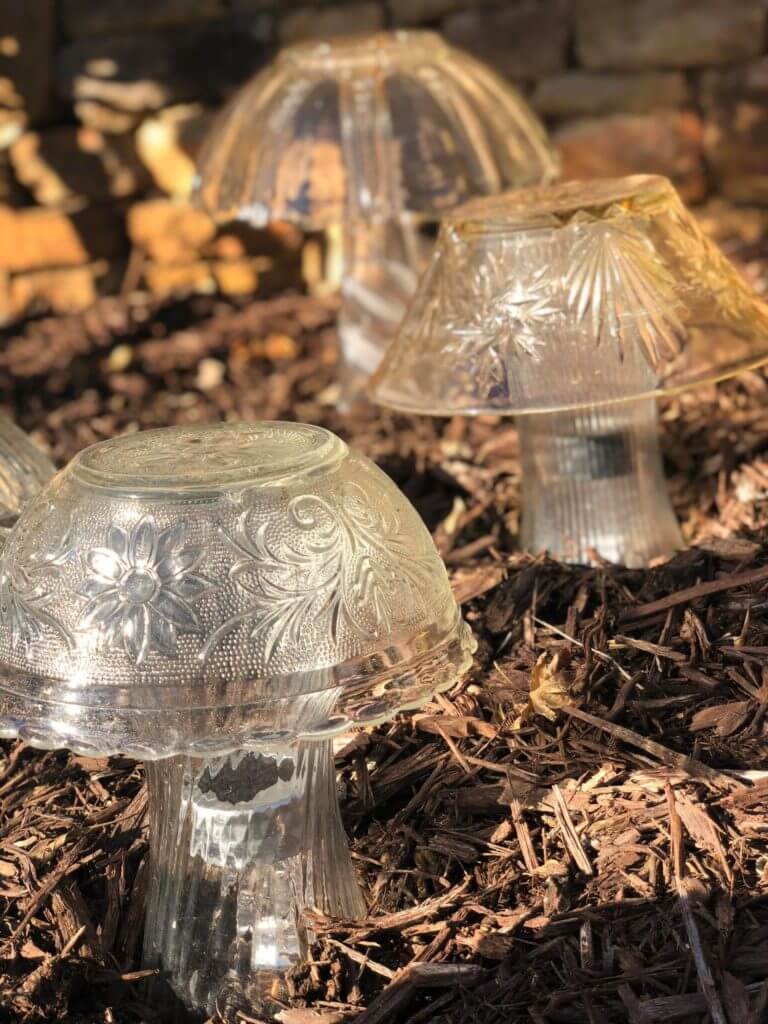 Decorating your garden using glass creations is always a nice idea as the glass alone can cause some pretty reflections during the daytime. However, you can take all that a step further by using solar lights. The solar lights add a different element to the mushroom design, one that makes them just as appealing to look at during the nighttime as they are under daylight. Using glass doesn't just allow for the solar lights to work, but the design on the glass illuminates the mushroom decorations in a more interesting pattern, providing some cool texture effects as the light shines through.
8. Jute Covered Paper Mache Mushrooms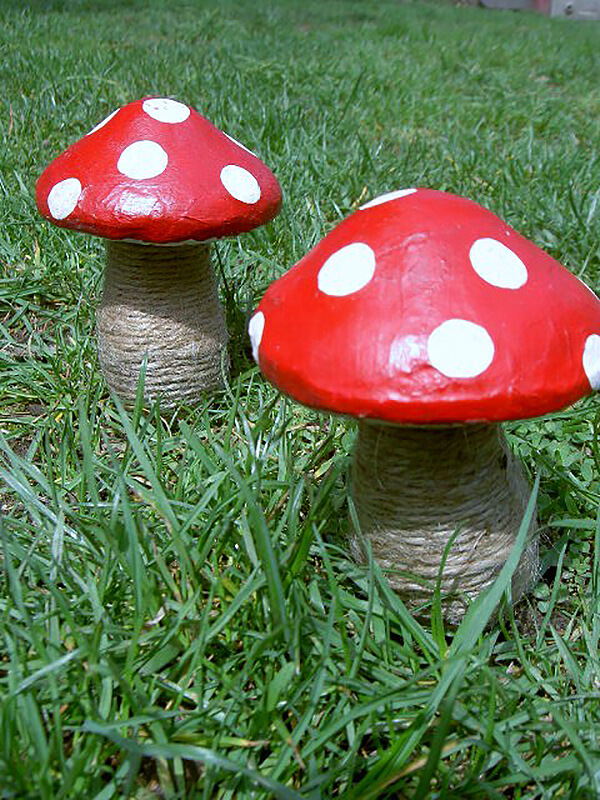 Jute material has a way of making things look more natural and even farmhouse-like, and using them to create your homemade mushroom decor is a great way to design something that has some realism to it. The paper Mache mushrooms are reliable on their own. They provide all you need to build off so that you can make these fun and interesting mushrooms to decorate the outside of your home. The jute stems work well to help these mushrooms blend in with any other setting you have in your garden too or if you just decide to place them in the grass. There's even a nice surprise under the mushroom hats if you take a peek underneath.
9. Waterproof Paper Mache Mushroom Art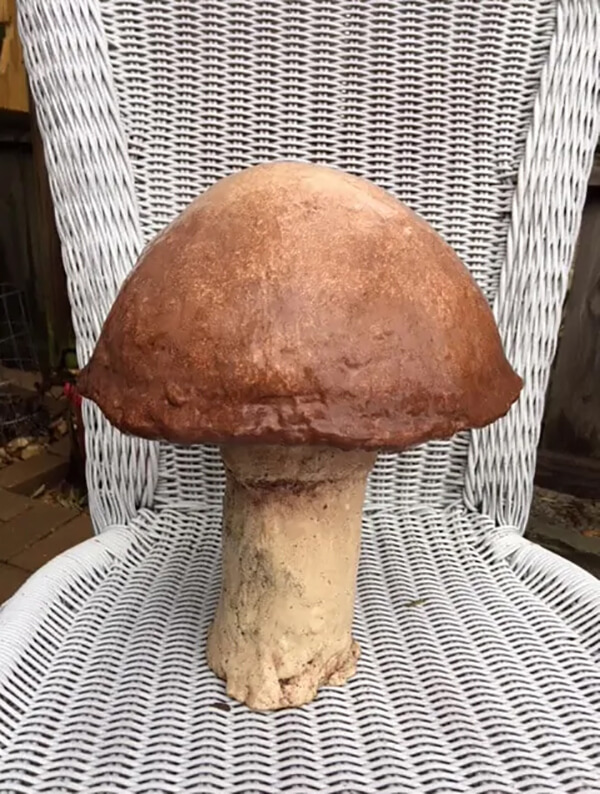 There is such fun in paper Mache since you can readily mold it to suit your needs. It works well in creating a mushroom design. The color scheme certainly helps to sell the more natural, outdoor look even if the mushroom is rather oversized. Such a scale makes it snatch attention right away, and as it is waterproof, you don't have to worry about taking it in whenever the weather changes. Also, the paper Mache design leaves some interesting impressions alongside the cap and stem so that it appears even more realistic thanks to the unique texture.
10. Fantastical Hypertufa Toadstools Mushroom Decor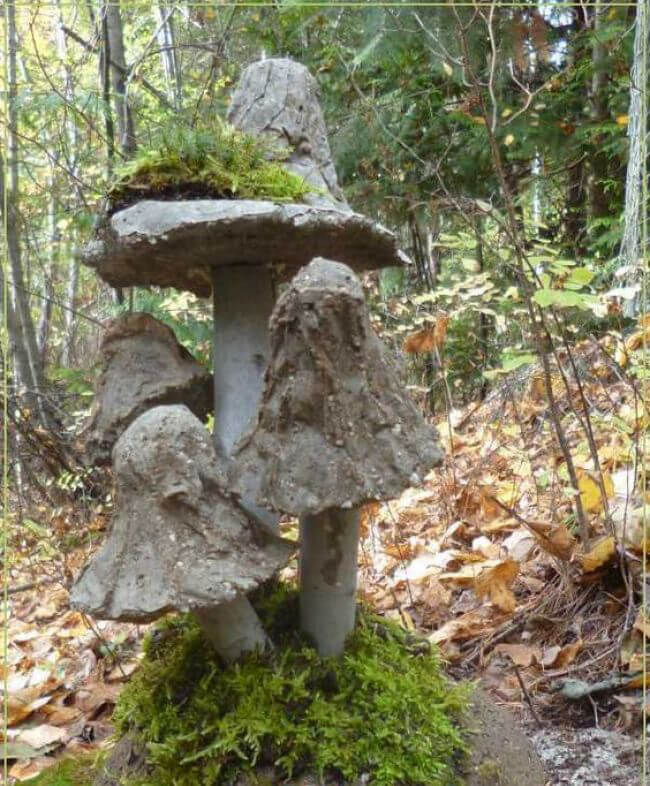 Are you looking to add some fantasy to your garden? Then you should try out creating these incredible hypertufa toadstools. These have a shocking amount of realism to them that can fool anyone, allowing you to create a stunning decorative mushroom garden that transports you into a fairytale. It can be a great addition to any other decor items you have to create a specific scene, leaving you with a distinctive garden. There's even a nice rustic quality to this creation that further emphasizes its outdoor feel to appear more realistic than ever.
11. Vintage Tin Mushroom Garden Craft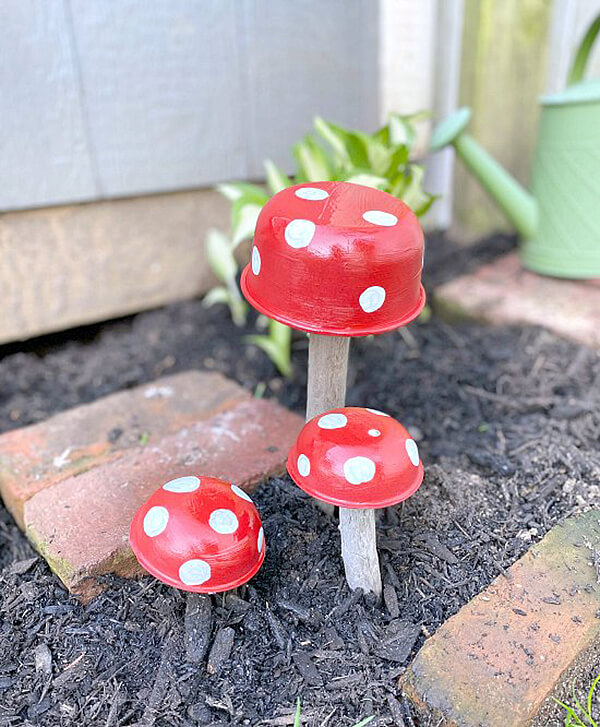 With tin material, you can create decorations that are wonderfully vintage and rustic. The tins are easy to paint, and using white chalk for the polka dots is the best way to make some mushroom caps that are vivid and attention-grabbing. Meanwhile, the driftwood serves well as the stems to the mushrooms. This allows you to keep things aged while also having a natural look so they won't appear out of place outside. Plus, no single piece of driftwood is made the same, so all of your mushroom designs will have a distinctive look to them from head to toe.
12. Creative Rustic Concrete Mushroom Design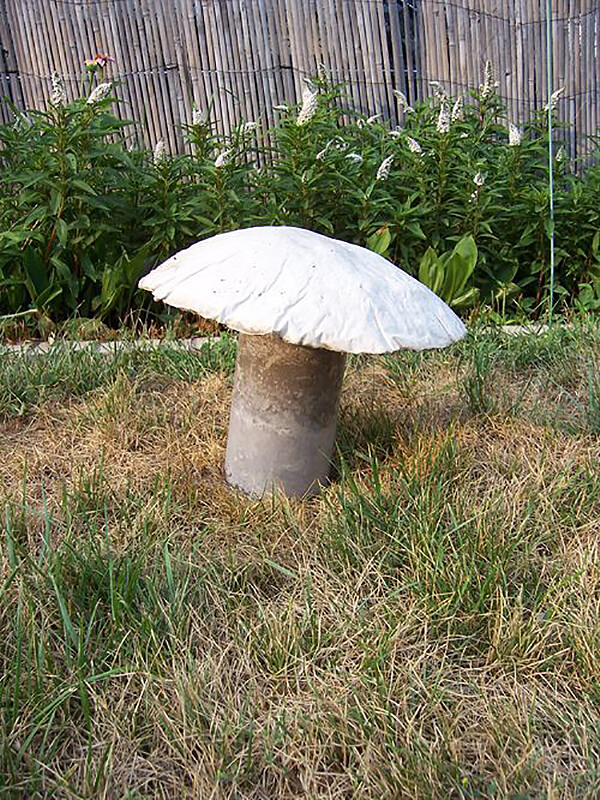 If you want natural mushrooms without actually having mushrooms, then consider this DIY concrete design. This gives the mushrooms a realistic appearance that fits effortlessly with an outdoor setting. With this project, you can make the mushroom as large or as small as you'd like since you have total control over the size of the whole and the stem you decide to use. No matter which way you go, you are left with something that is distinct and filled with your own personality and style. Of course, you can always paint it if you'd like or simply leave it as-is to fully embrace the natural look.
13. Giant Sparkly Party Mushroom Decor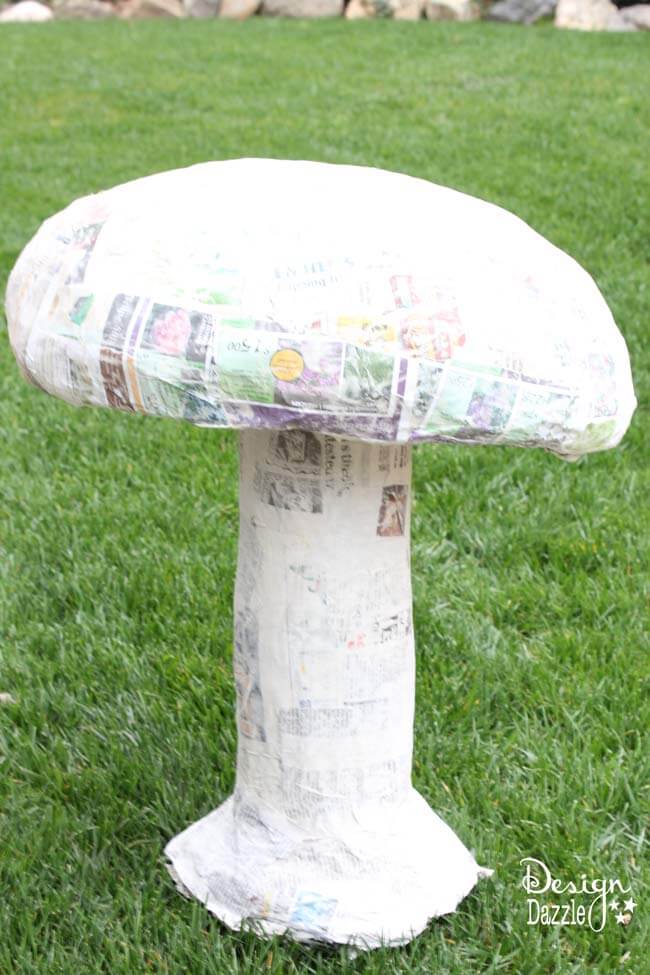 Have an outdoor party fitting for a magical prince or princess? Then you should try out this fun mushroom garden decor project. Shape-wise, this does well at resembling an overgrown mushroom. You only need to use some items you may already have in your home too, so this is a good craft to tackle if you're new to DIY projects. It's the painting that transforms this mushroom into something far more fantastical. You can easily use a color theme that works best with your party such as pink. The glitter is what takes this to another level, granting the mushroom a sparkly look that makes it look like something out of a fairytale.
14. Oversized DIY Colorful Toadstool Decorations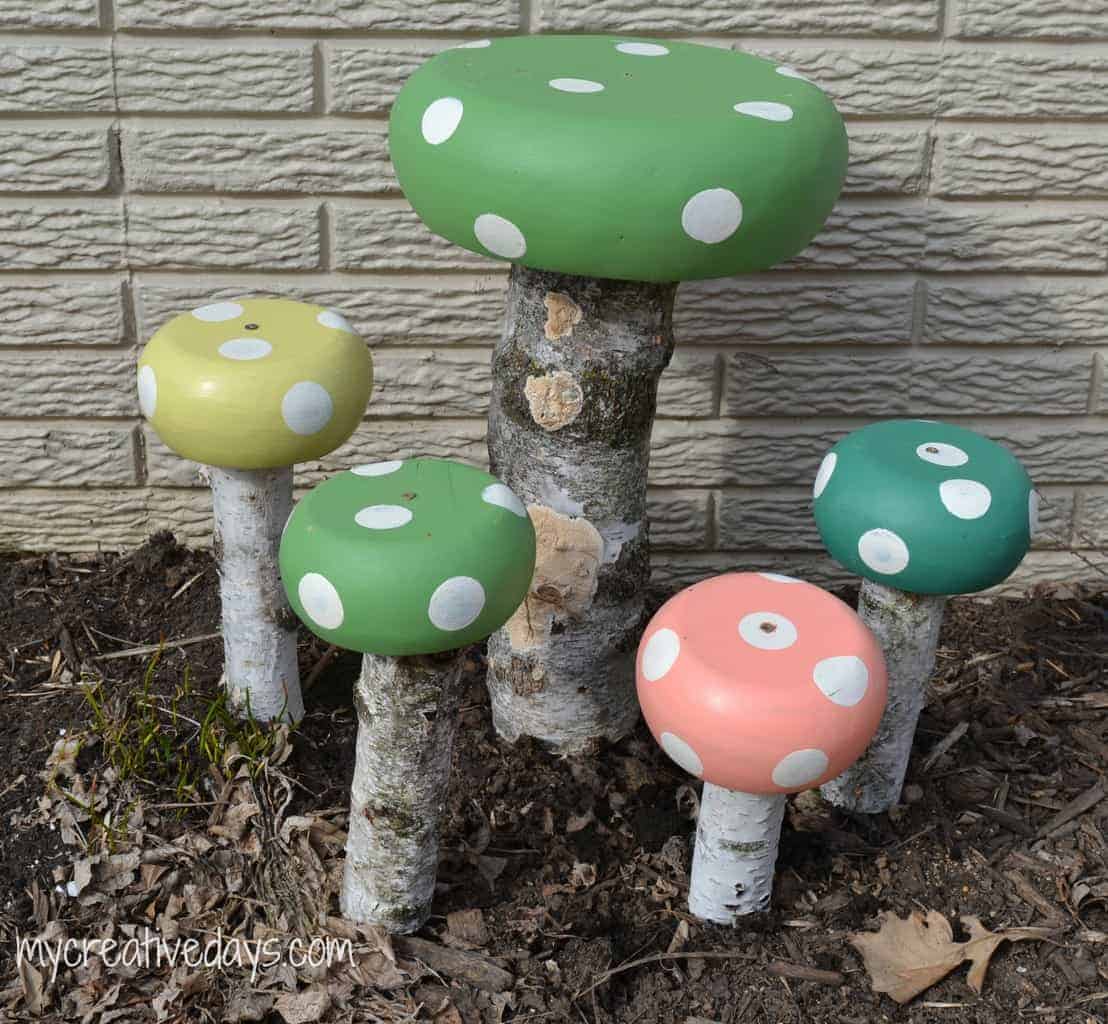 Nothing is more traditional than a mushroom with a colorful cap, and these toadstools don't disappoint. With the amount of detail applied with the coloring and the white dots, no one would ever suspect that the tops are made from overturned bowls. The use of the bowls provides such a wonderful dimension to the mushrooms to help them appear more alive. From there, using logs as the stems cements that touch of nature the piece needs so that the design also has a taste of realism. You can make these in a variety of sizes too considering the length of the log and the size of the bowl. These are mushroom designs that will last you all season long too, so they look perfect no matter where you set them up outside.
15. Painted Glass Mushroom Garden Ornament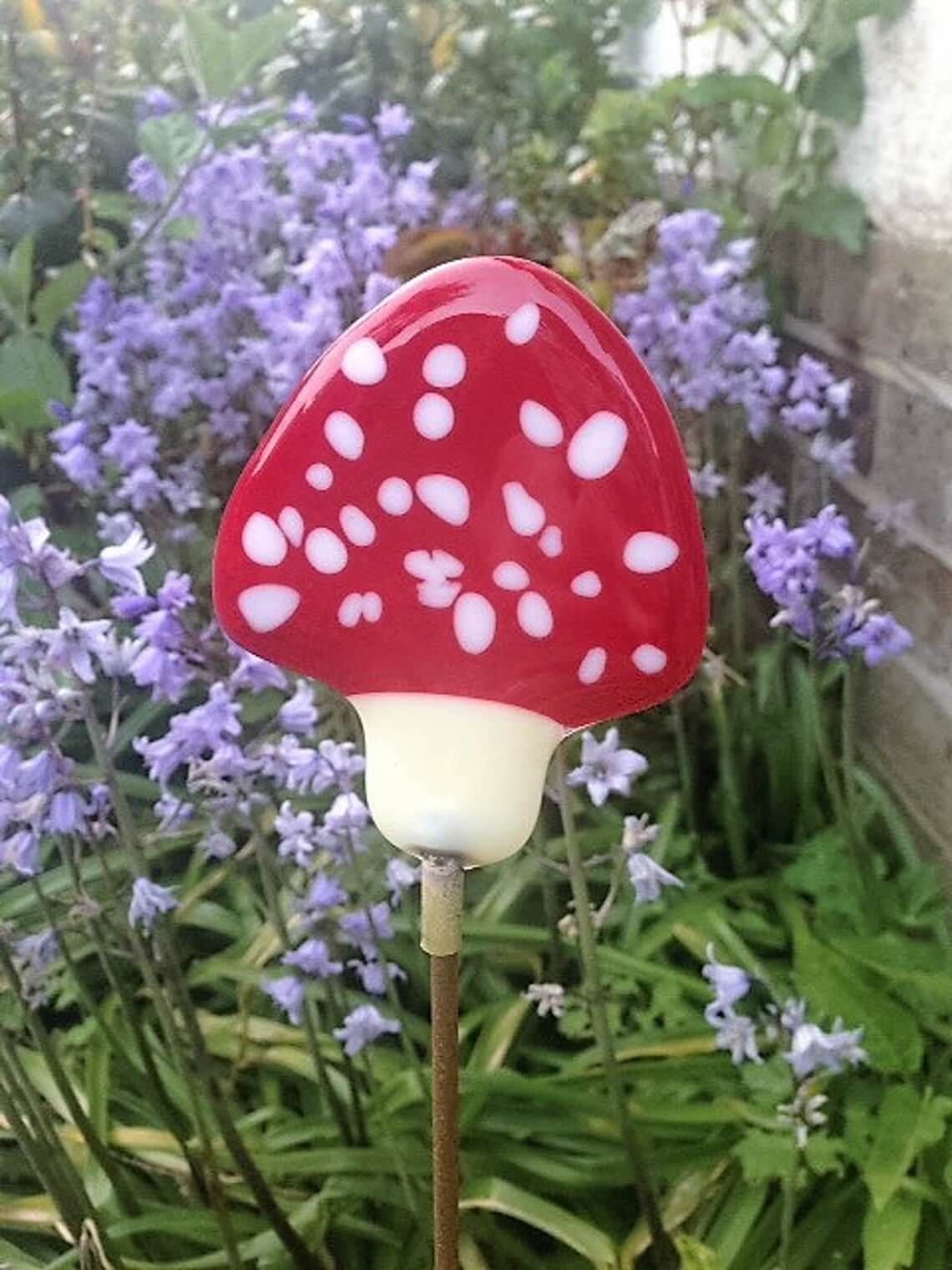 Garden ornaments are a freeing way to decorate outdoors. They have an eccentric and fun appearance, especially in the case with these mushrooms. The color alone fits in with the traditional fairy-like design of mushrooms, while the use of glass material allows for these ornaments to shine under the sunlight. They come in two different sizes as well so it's easy to get what works with your decorations. Another fun feature about these garden decorations is that they are light enough to spin if there is a breeze. This can make your garden look even more fantastical and imaginative. These look even better if you use them alongside your flowers.
16. Colorful Ceramic Mushroom Garden Stakes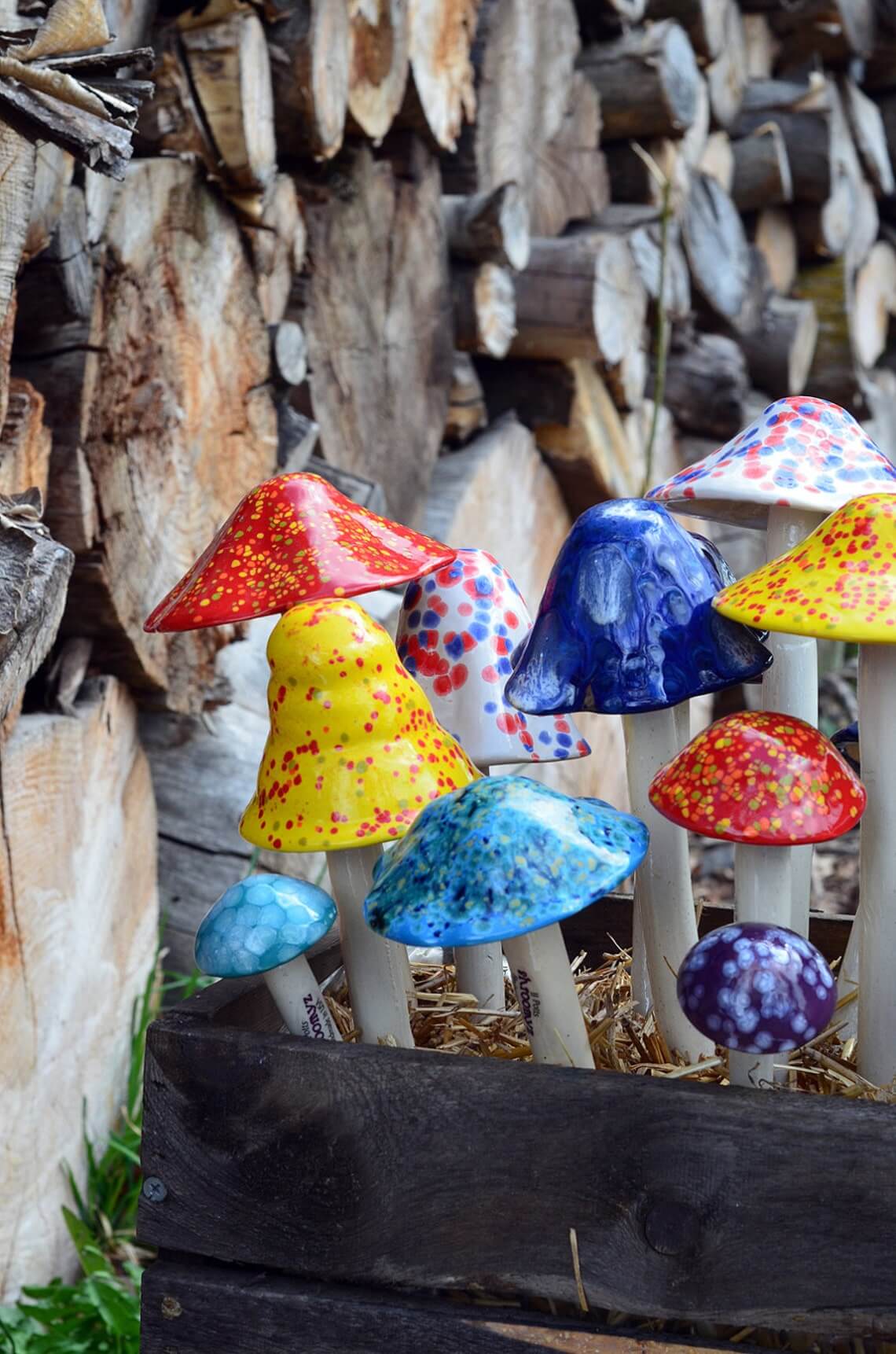 This set includes the best DIY outdoor mushroom ideas to create an eye-popping and vivid outdoor setting. These are perfect for those of you who have a garden that may not have that many colorful fruits, veggies, or flowers. Not a single mushroom is a solid color either as they all have some distinctive designs on them to give them more depth and wonderful contrast. The mushrooms even have different shaped caps to them, giving them more personality that you'll love showing off in your garden. Additionally, some stand taller than the rest so that there is no uniform pattern, letting you set these up any way you wish to best fit your outdoor decor.
17. Beautiful Handcrafted Ceramic Fairy Mushrooms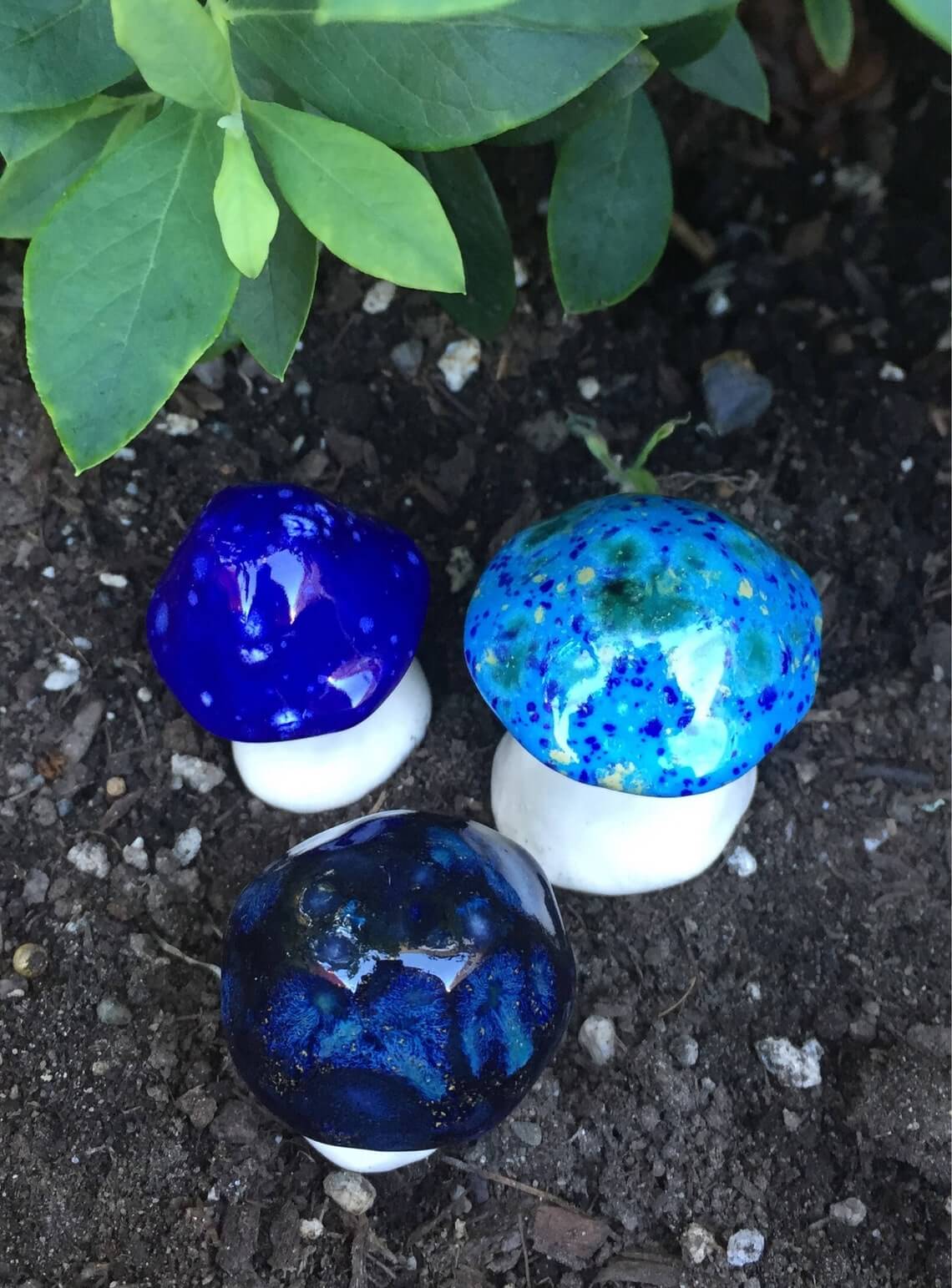 Are you interested in some mushroom decor that's on the smaller side? Then you might fall in love with these adorable, mini-crafted ceramic mushrooms. These have stunning color applied that seems to sparkle under the light thanks to how they're made. The mushroom caps have distinctive shapes too, and since they are all handcrafted, they will always have layers of uniqueness. By their design, you can easily use your own stakes in them if you want to set them up in your garden. Otherwise, you can just place these tiny mushrooms anywhere you'd like that might be in need of a nice splash of color.
18. Purple and Red Ceramic Mushroom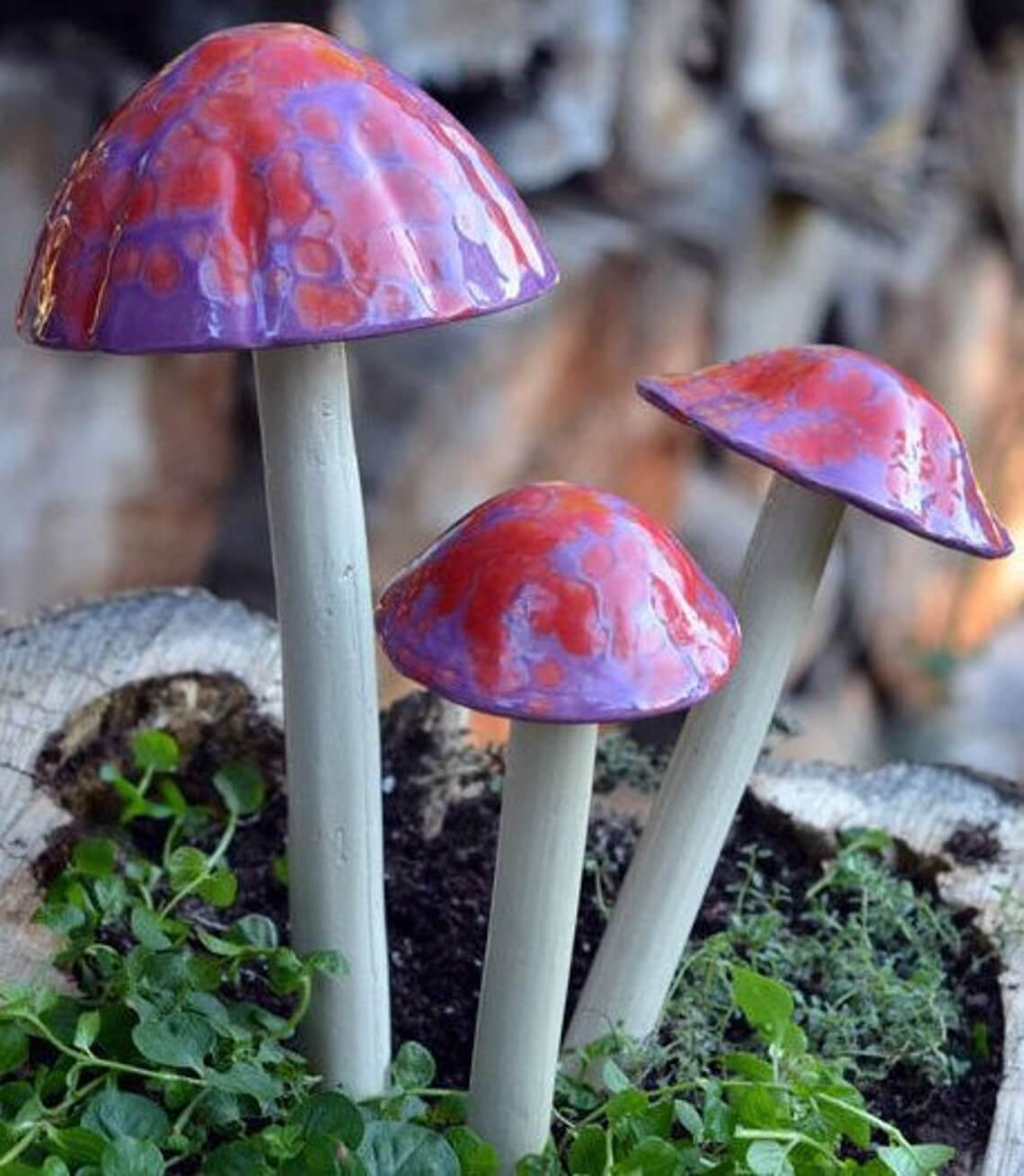 Anytime you want to liven up your garden, you can easily do so with these ceramic mushroom garden stakes. They have a fun purple and red paint design on the mushroom caps that have a psychedelic-like charm to them. It encourages anyone to take a closer look. These can work well on their own or if you decide to set them alongside the rest of your outdoor decorations. Also, the mushrooms come in five different sizes so you can get what works best for your needs. These fairy mushrooms are made fade-proof too so that they can survive out in the sun. You can even set these up for all-season decoration thanks to the fact that they are also frost-proof.
19. Set of 2 Metal Mushrooms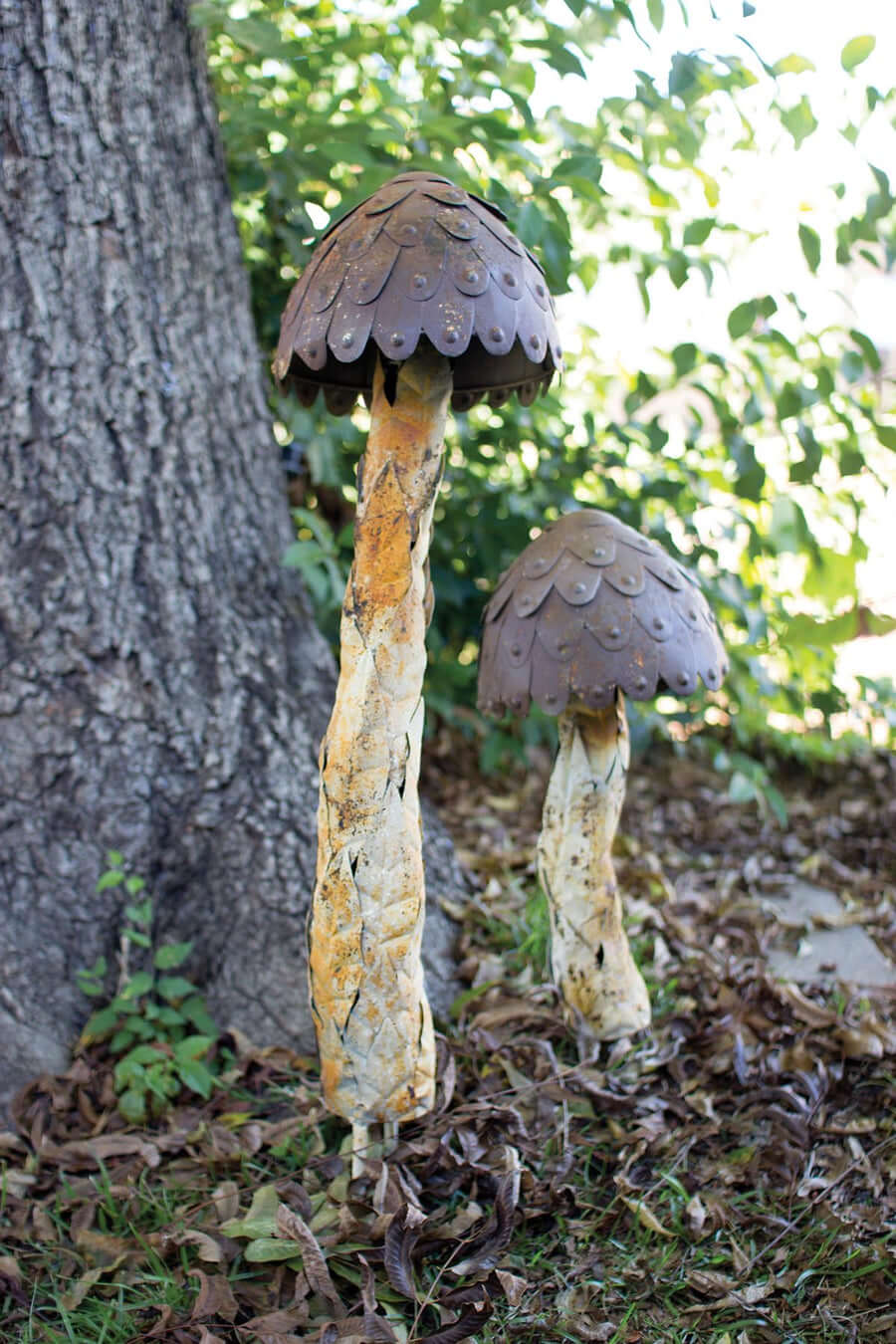 These metal mushrooms are the perfect way to add a vintage touch to your yard or garden. They're made from painted and rusted metal, and the appearance has a pleasant, aged look to it. You can even use these if you want an industrial theme added to your outdoor decorations. There is some incredible texture on the mushrooms that make them even more stunning to admire no matter what theme you decide to use them with. They will always capture attention, and there is some good flow if you set them up next to each other as there is a clear and nice size difference.
20. Hand Painted Grande Natural Ceramic Mushroom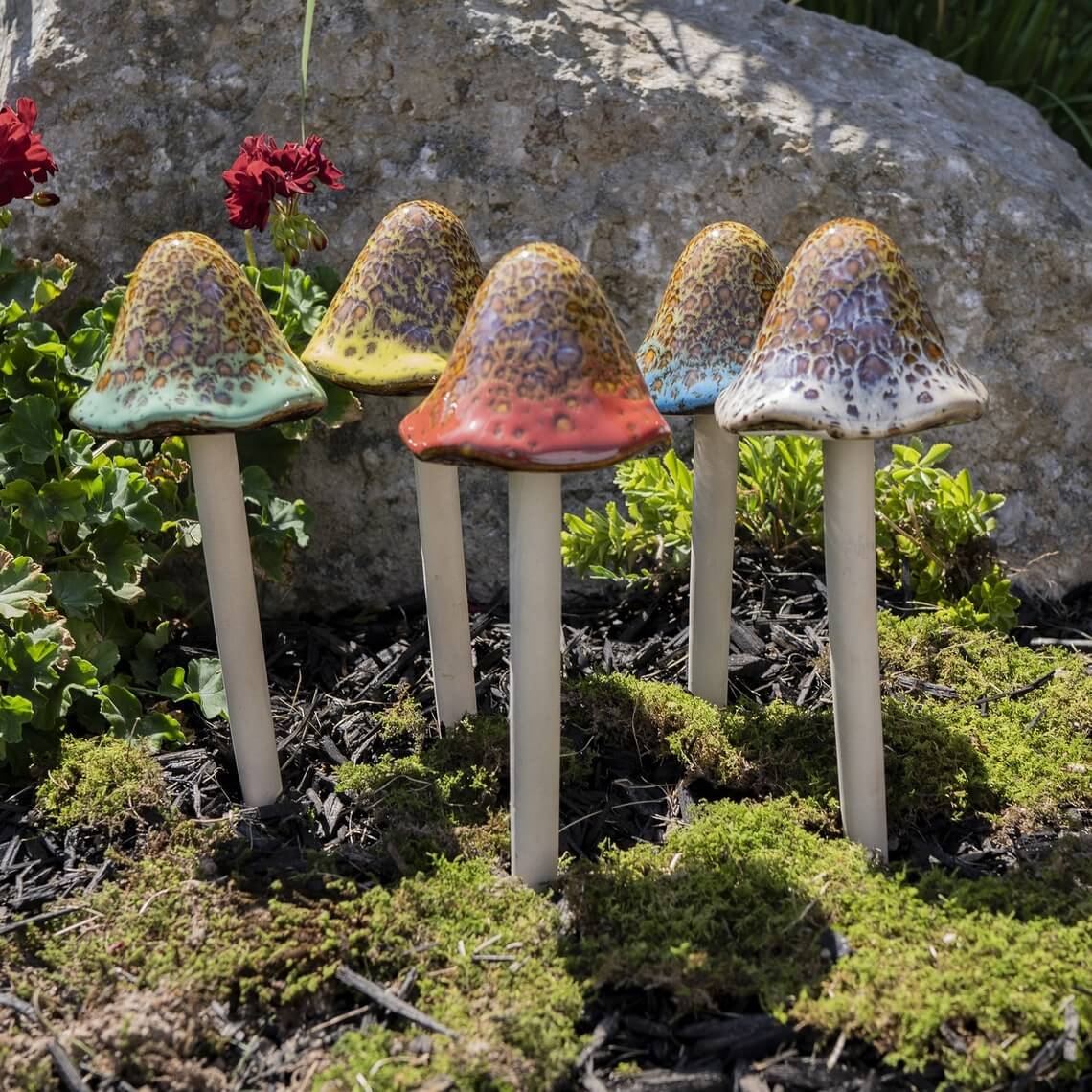 These ceramic mushrooms can make your decorative mushroom garden more attractive. They are a lovely size, standing at 14in. tall. This way, there's no way they can't catch attention no matter where you use them outside. As they are handmade, no one will look exactly the same. There are six different primary colors to choose from too, allowing you to find one that is most suitable for your outdoor theme. Besides the coloring options, the overall texture and pattern on the mushroom caps give them some incredible style that has a slightly modern touch. The stakes are simple enough so that the caps stand out the most.
21. Stone Design Outdoor Mushroom Statue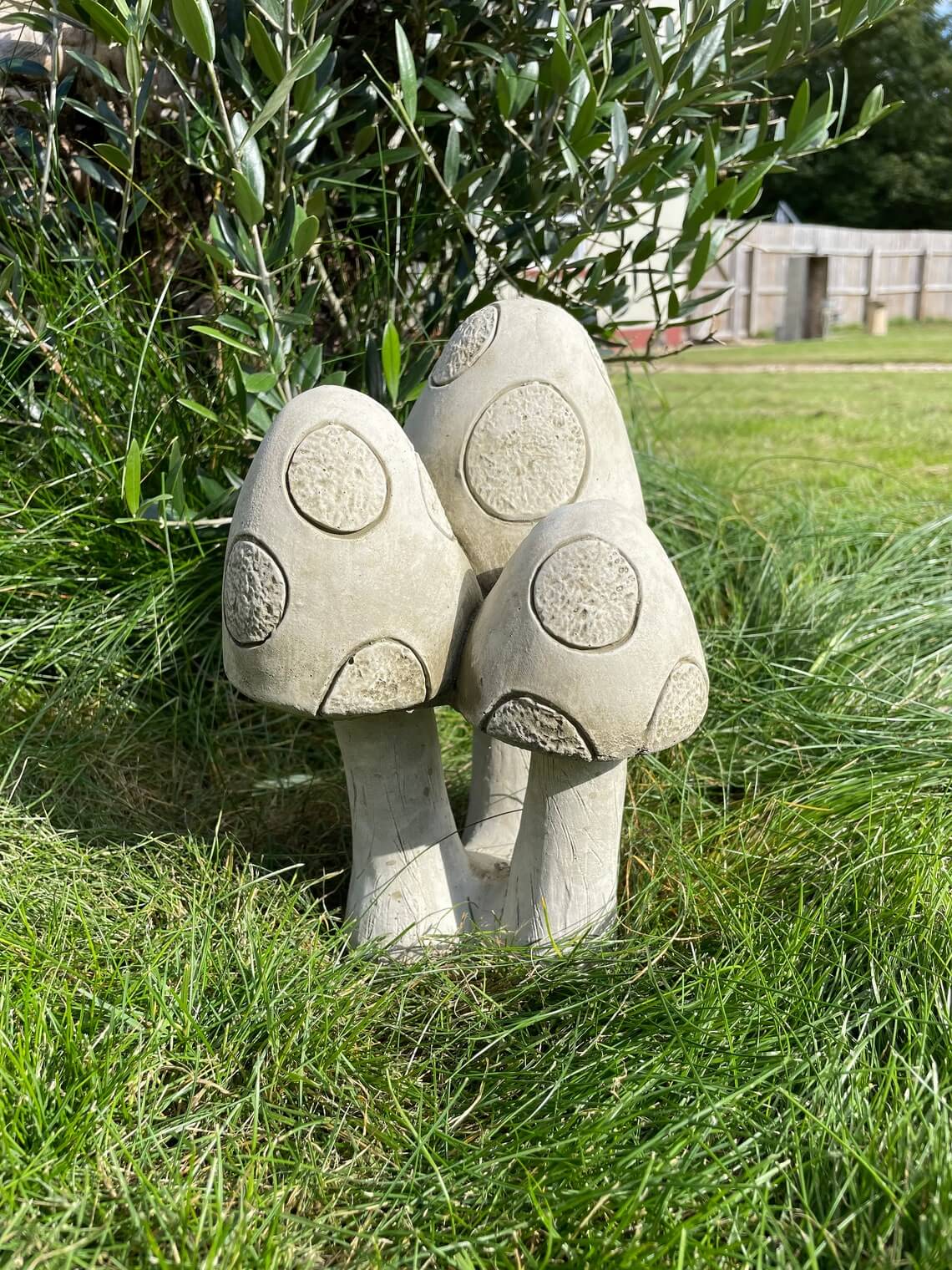 Toadstools don't need color to leave a lasting impression as this mushroom statue indicates. Made from reconstituted stone, the mushroom statues are made to hold up against weather conditions so that you can freely leave it outdoors no matter the season. This way, you can always have some magical mushroom art in your garden. There is an incredible amount of detail provided to the mushrooms, thanks to the intricate design pattern on them. Because of that, there is no need for any color to help them stand out as the design does this well enough. These are made to age well, so the longer you use them, the more vintage and rustic they'll look to suit that outdoorsy theme best.
22. Ceramic Garden Red Mushroom Statue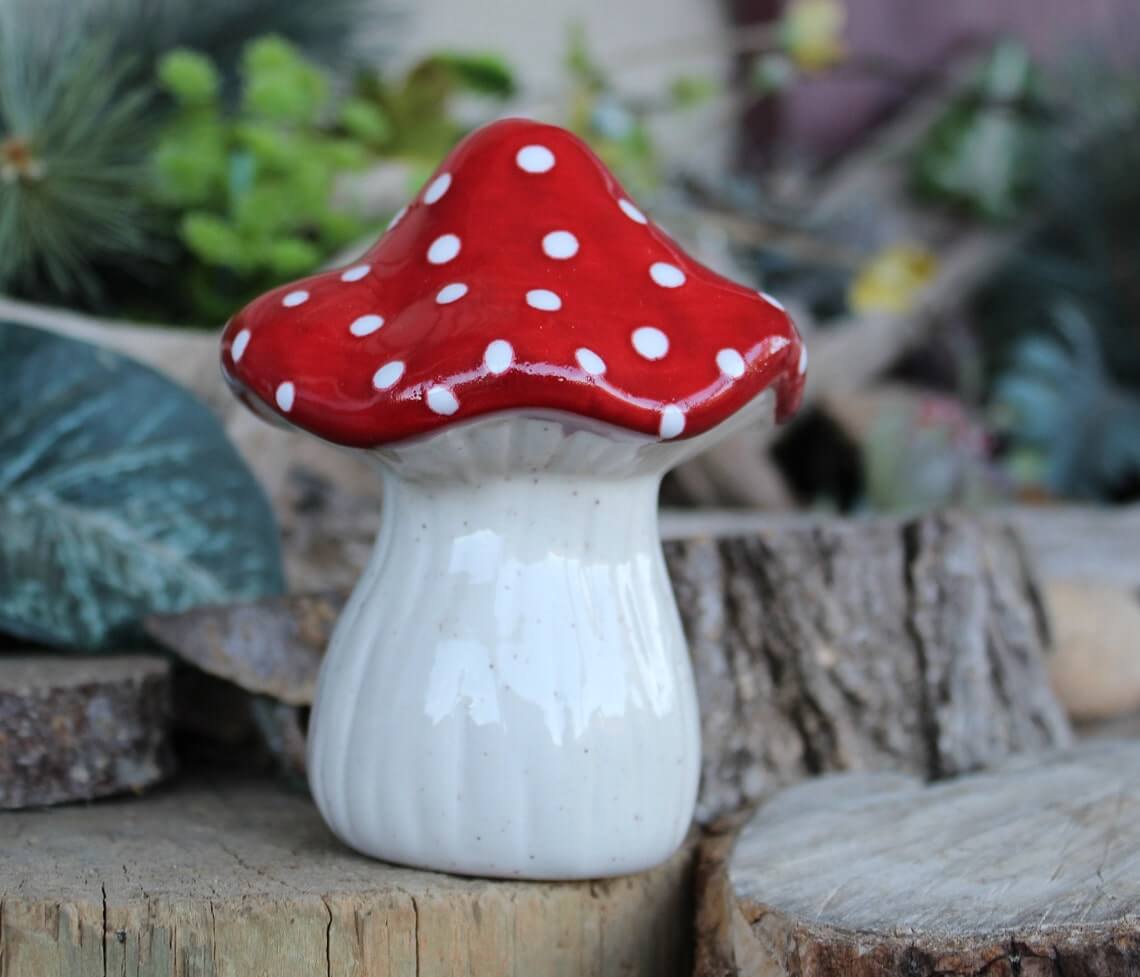 You can't go wrong with the traditional fairy-like red mushroom, and this ceramic statue proves that. The bright red glaze used for the cap simply glistens, more so under different lighting so that the mushroom decor will catch the eye when used outside. The use of a white stem allows for the red to pop even more. Also, the glaze is designed so that it won't fade, allowing you to enjoy the vibrant coloring season after season. In fact, since it is washable, it can become a family heirloom of sorts, passed on through generations to anyone who adores fantastical mushroom art. There is an appealing design to the mushroom cap too to give this little gem some personality.
23. Quirky Handmade Terracotta Mushroom Characters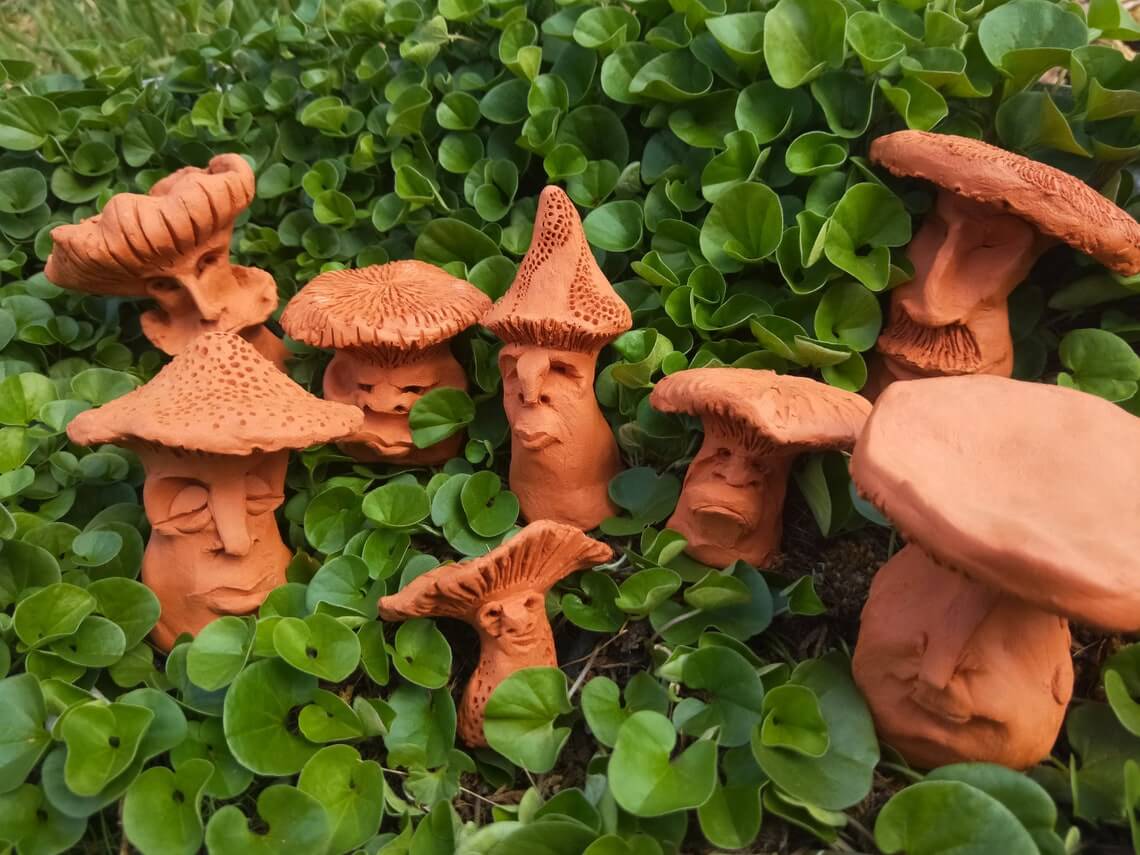 Maybe it isn't color that your garden is lacking, but character. If this is the case, then you will rejoice with these terracotta mushroom faces. The artwork is stunning as these characters all have a distinct faces filled to the brim with personality. They can make anyone venturing out to view your outdoor decorations stop and take a second (and third) look. The faces aren't the only things that stand out though. These mushrooms also have distinctive caps, making each one a miniature person in a sense. There is some great texture added to them as well to further help them stand out. If you want to spruce up your outdoor setting, then these expression-filled characters will do the job.
23 Incredible Best DIY Outdoor Mushroom Ideas to Bring Fantasy to Life
Decorating with mushrooms is a surefire way to create something that is either magical or quirky. As such, a decorative mushroom garden is such a cool way to leave that lasting impression on anyone who comes to your home. There are numerous ways to decorate with them too so you aren't stuck using one particular theme. Instead, you can create something that is whimsical or rustic, fantastical or farmhouse in style. There is no limit to what you can do with homemade mushroom decor, and best of all, they even work alongside other decorations you have outside so you don't have to change things up.
Also, thanks to the many ways you can decorate, these projects are useful even if you have never done DIY work before. If you are in need of the perfect way to express yourself and your free-spirited personality that is rooted in all-things nature, you can't go wrong with mushrooms. Aim for something colorful and vibrant if your outdoor setting needs it or go for something more low-key in terms of color while lively when it comes to design. We hope that our list of some of our favorite mushroom garden decor gives you a spark of inspiration to get started on your project.