Making the most of summer is easy when using the best DIY outdoor table ideas to create a place for enjoying most of your meals outdoors. Since what's on the plate features fresh produce, complement that with some fresh air as you feast in the beauty of your backyard garden oasis. Turning your outdoor space into a lived-in and loved area encourages you to spend more time there. Achieve this with an easy handmade outdoor table that serves as your focal point. This table takes you from day to night as it offers so much versatility.
24 DIY Outdoor Table Ideas to Welcome Guests this Summer

During the day, this table obviously works as a breakfast nook or picnic lunch platform. It also gives kids an adequate space to craft and play outdoors. Gardening projects have all the space they need to be completed on the generous tabletop space provided here too. As the evening rolls around, the outdoor table looks forward to barbecues, family dinners, and nighttime entertainment with friends. Celebrations for holidays and birthdays are always more fun when enjoyed outside in the fresh air.
Regardless of the amount of space available in your personal backyard, there is a table that fits the bill. From accent and side options to cozy bistros and full farmhouse dining ones, your backyard will find its soulmate in table form with a quick perusing of this incredible listing of 24 of the best DIY outdoor table ideas to make your summer more fun!
1. Inviting Farmhouse Style Outdoor Table with Benches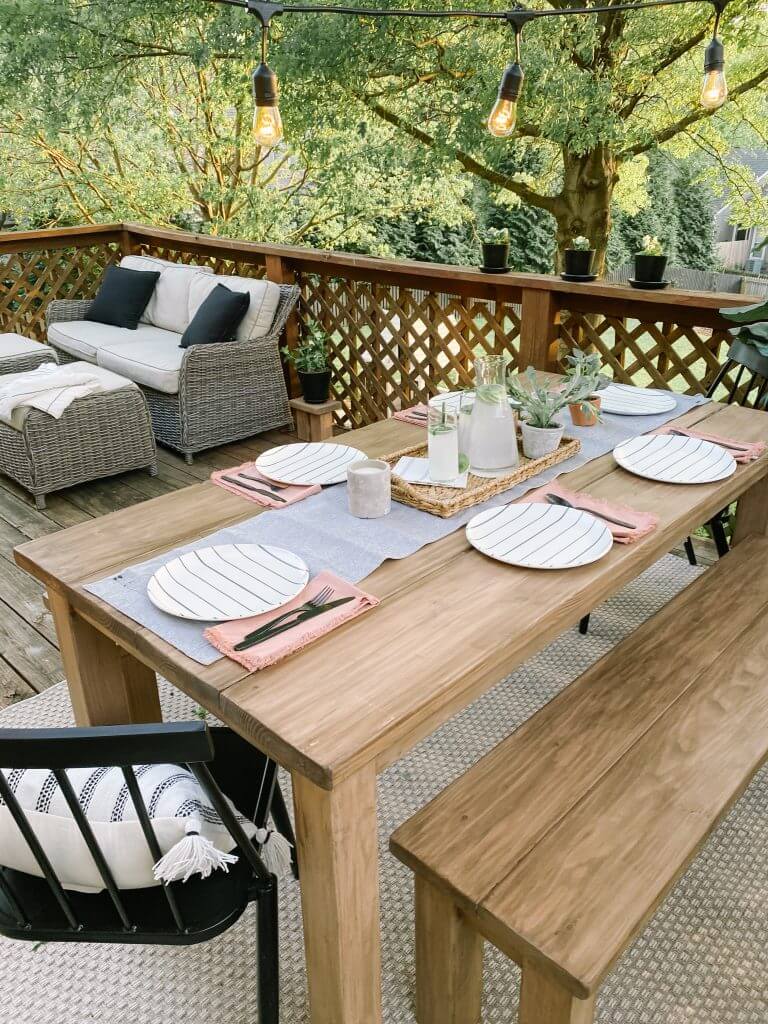 Welcome guests with arms wide open as they enjoy a hearty meal with you in the warmth of your backyard deck with this farmhouse table. Keeping it classic in styling and seating, this farmhouse table is a perfect fit for nearly any decorating taste. Finish it with your favorite stain to give it a personalized touch. Not only does it offer enough space for everyone to gather around, but it provides a touch of style too. Enjoy your next meal outdoors with this fantastic farmhouse-style dining table.
2. Six Plank Outdoor Farmhouse Patio Table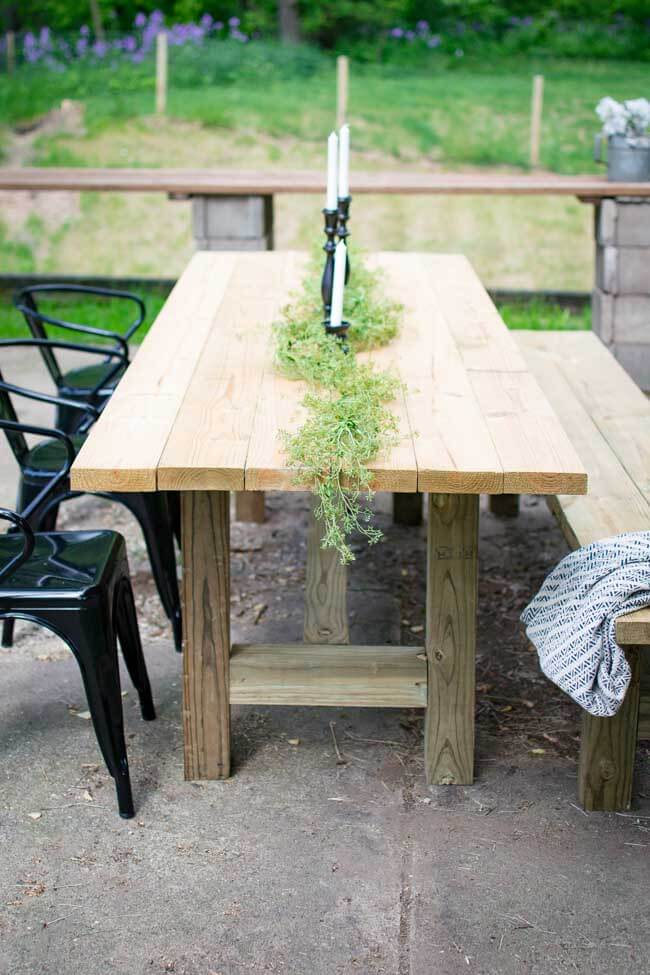 Take your family meals outside this summer and enjoy the tastes of the season with this outdoor farmhouse table. You won't miss a beat as you transition from your family gathered around the table in the dining room to surrounding the space around your new outdoor patio table. With all the farmhouse style you love, this six plank easy handmade outdoor table has all the space you need for serving up your family's favorite dishes. No matter if it's a birthday party or a weeknight dinner, this outdoor patio table is your new go-to place for your family to gather around the table.
3. Unique Repurposed Old Door and Glass Table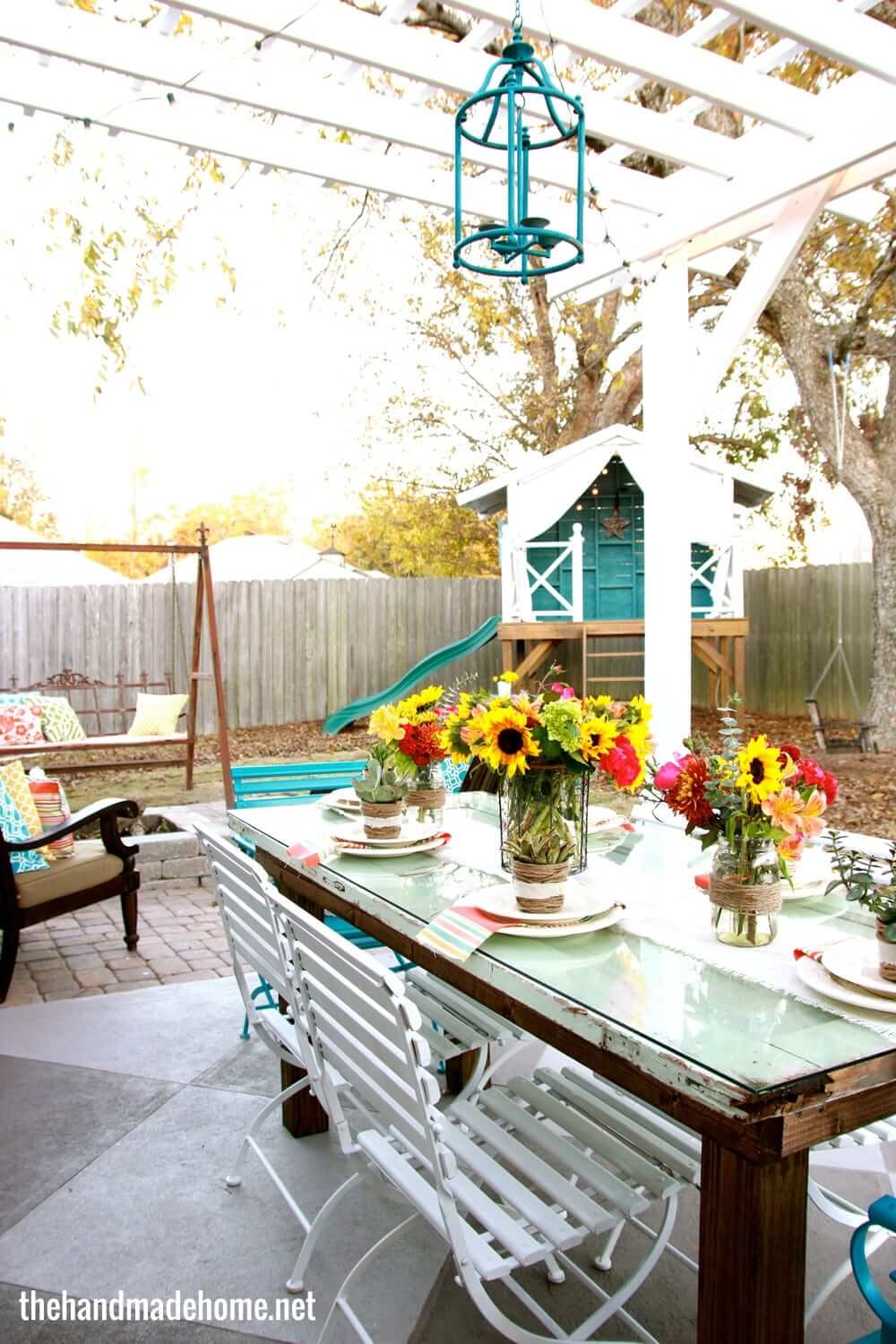 One man's trash is another man's treasure and this is brought to life in this interesting and repurposed old door table. Instead of tossing this worn-out door into the burn pile, consider finding another use for it as your new outdoor DIY dining table. Adding a glass slab on top gives it a finished look and feel while making it much easier to use with its uniformly smooth surface. This resourceful table will spark the conversation all on its own. Add it to your back porch for more enjoyable evenings dining with family and friends this summer.
4. DIY Plank and Pipe Patio Table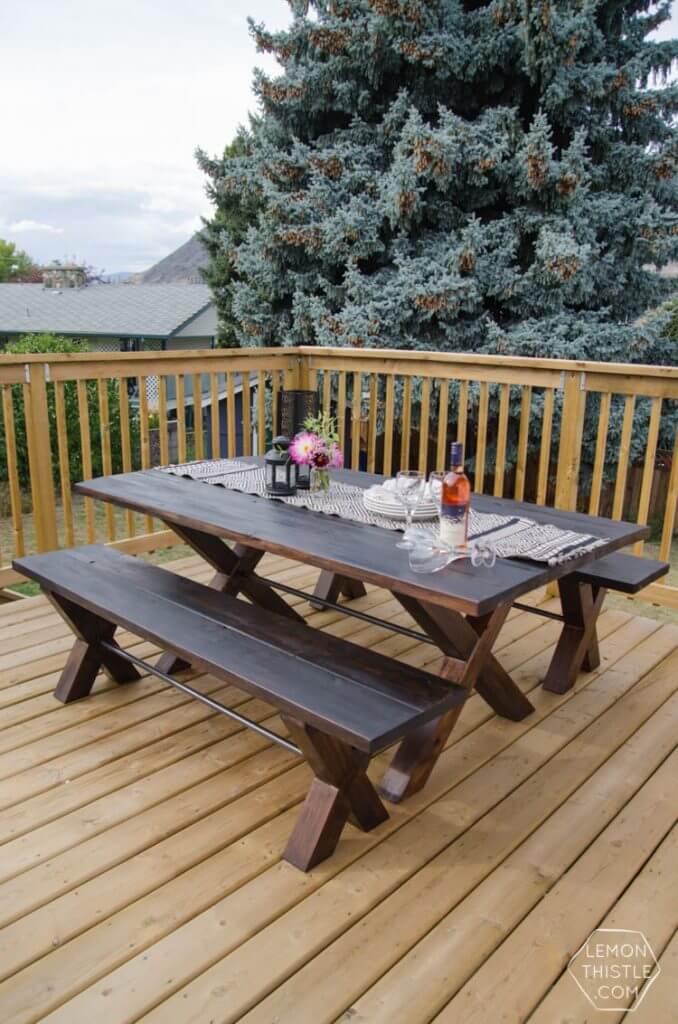 In classic picnic fashion, this plank and pipe patio table boasts an "x" leg design that coordinates well with the matching bench seating. This style is great for backyard barbecues, outdoor family dinners, and carving pumpkins in the fall. The benches slide in and nestle underneath the table for a great storage solution. Enjoying a refreshing picnic for lunch with your own family is more fun when you have a nice table to support your basket of goodies.
5. Modern Rustic Wood and Black Outdoor Table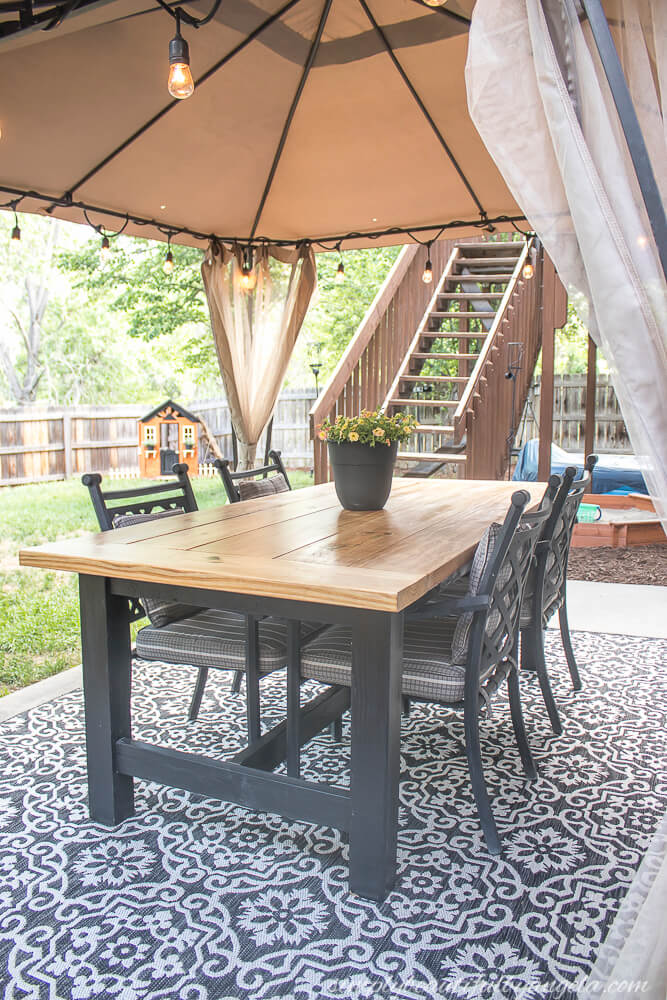 When the table you covet doesn't align with your budget, don't sweat it! Here's a fantastic option for a DIY project that will work for you. Not only will you build a table that's everything you need, but you'll also save some money and feel proud about the payoff of all your hard work. This classic wooden table is a rectangular dining delight with enough room for four chairs to comfortably fit. Painting the legs in black makes this project more stylish giving it a modern charm.
6. Simply Sanded and Restored Outdoor Table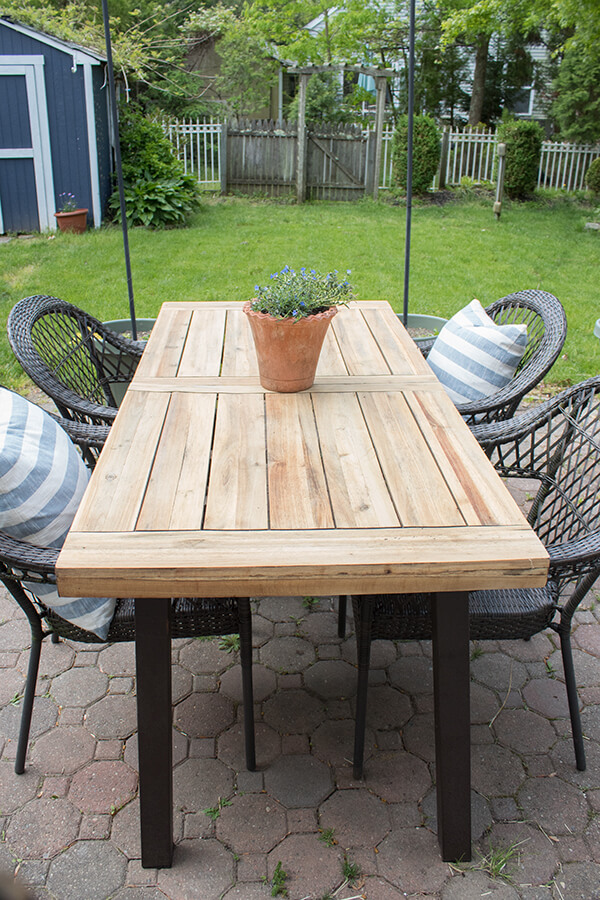 Buying new isn't always necessary. Prolong the life of your personal pieces with a little TLC and elbow grease. This wooden outdoor table gets a new and loved face-lift with some gentle sanding and sealing. Although the elements of Mother Nature are destined to take their toll on all outdoor furniture pieces, rest a little easier knowing a bit of minor adjusting brings them back to their original glory. This teak table is a good example of the harsh weather aging a table prematurely. A bit of sanding on the top brings the wood back to its resilient self and a coating of sealant restores it for continued enjoyment.
7. Savvy DIY End Table and Beverage Cooler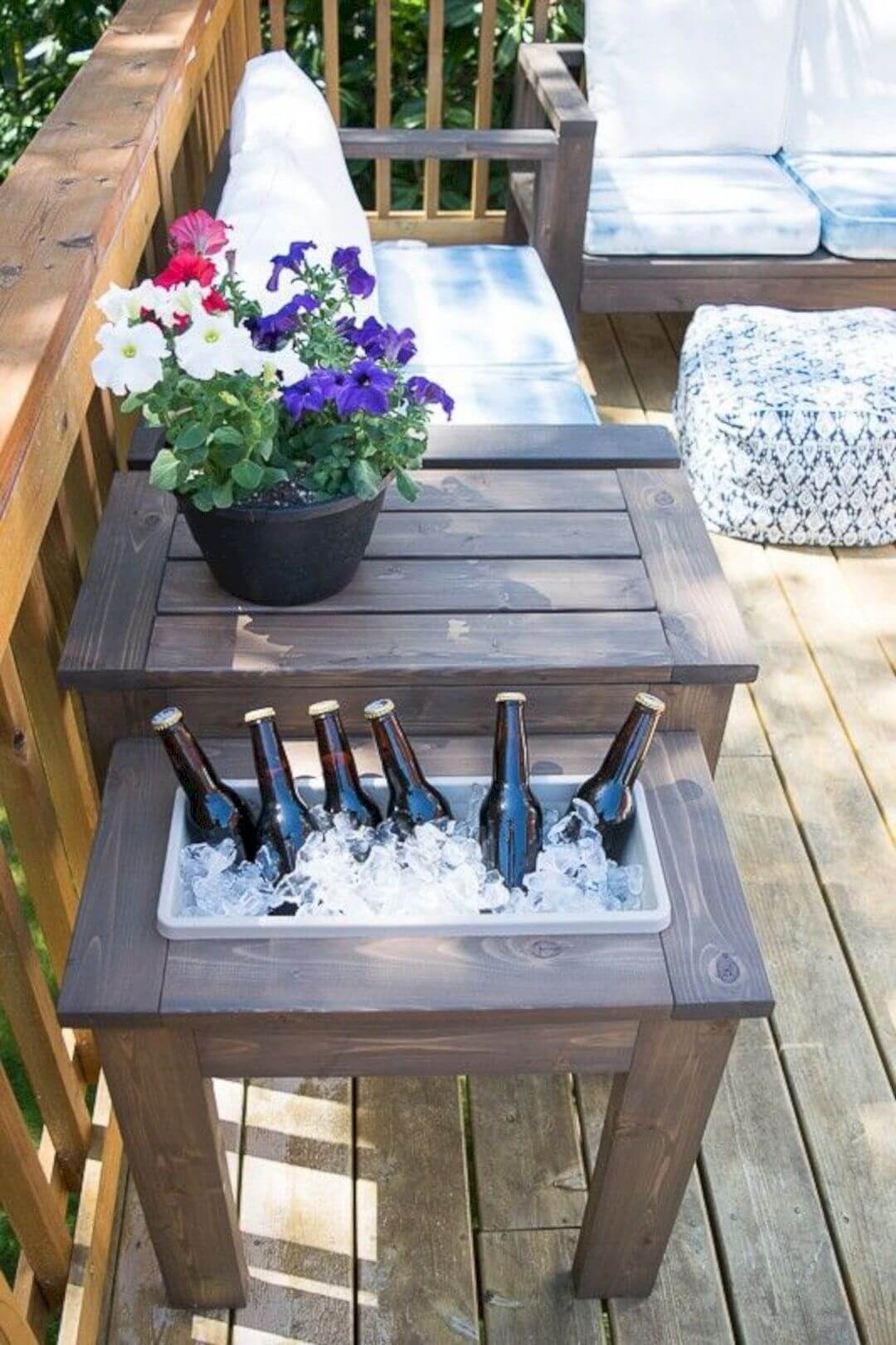 Hosting your next backyard celebration is a little easier when some of your necessary hosting pieces are built-in with your everyday furniture. This savvy end table works well beside your outdoor loveseat and offers a built-in cooler space for keeping your favorite beverages cold. Grabbing a cold one is easy and right at your fingertips. This cooler space would double as a ready-to-use planter as well. Just fill with dirt and your favorite flower, voila!
8. Long Family Style Outdoor Wooden Dining Table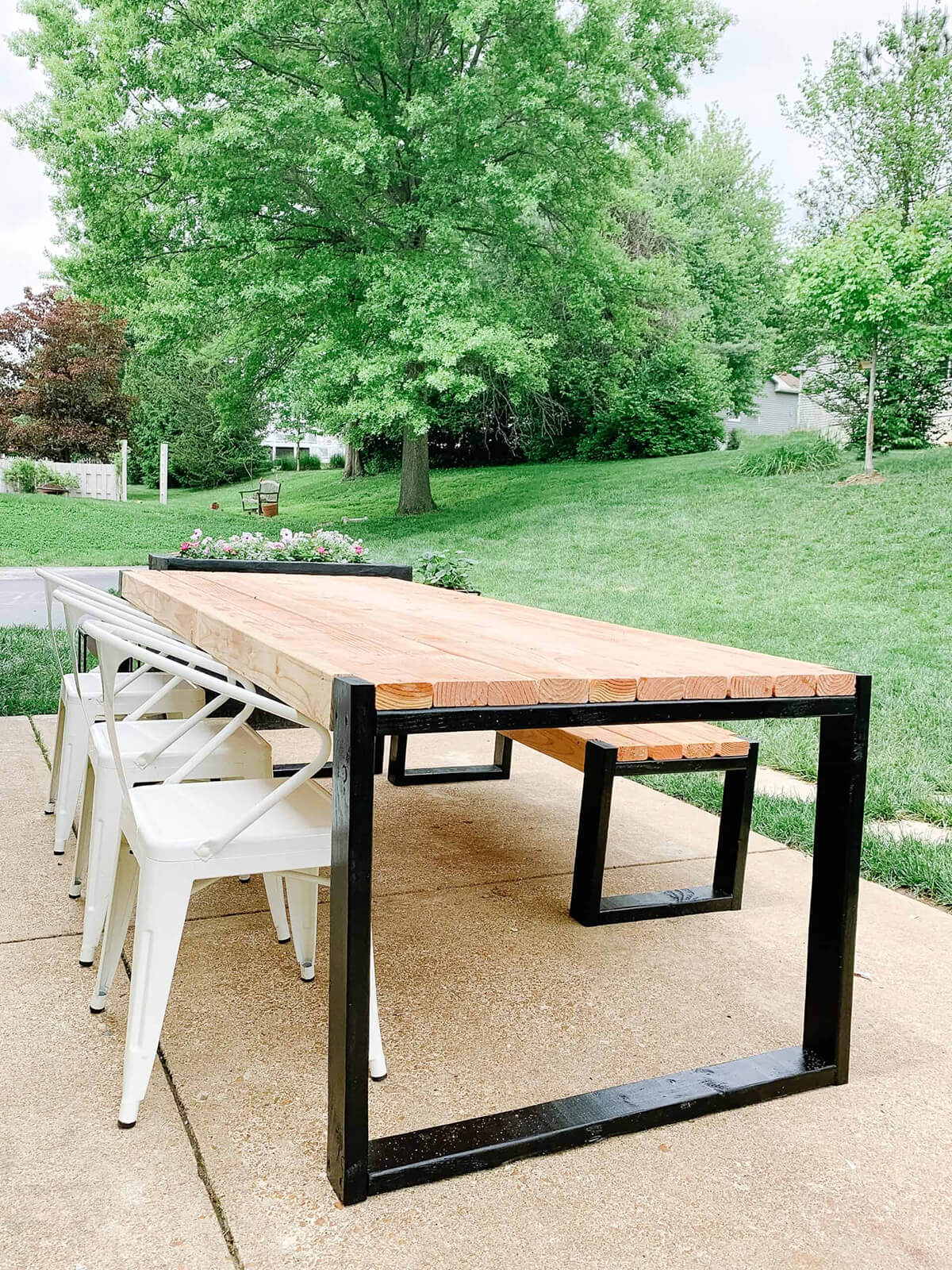 Eating with the family is always more fun when you can take your meal outdoors. The list goes on and on about why outdoor dining is such a terrific idea for families with kids, but let's be honest in saying that easy clean-up is the number one benefit! With this being said, one important aspect of consideration is table size. Obviously, eating as a family requires enough table and seating space for all members of the house. And since you want everyone to be comfortable to make the most of the outdoor dining experience, be sure to go big (or stay inside). The long and large size of this DIY dining table is a wonderful option for gathering the gang and even inviting some friends over to enjoy a meal together al fresco style.
9. Perfect Size Glass-Topped Outdoor Table for Four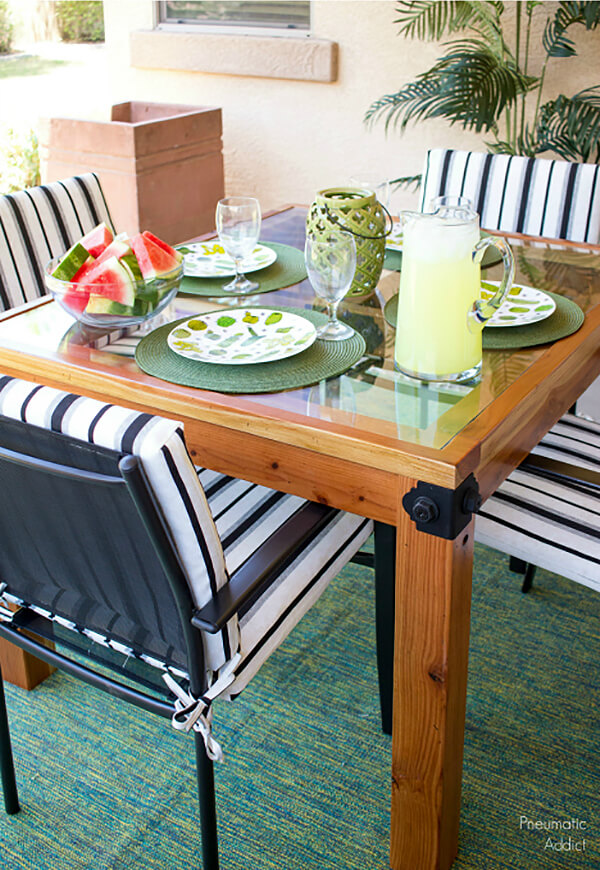 Waking up in the summer is always a little easier, so why not capitalize on this with a wonderful wake-up breakfast spot to enjoy that first cup of coffee? This wooden dining table is just the right size for seating four in a cozy morning setting. Including the glass topper simply adds elegance to your outdoor eating experience. It almost feels like you're at a hotel or rental home with its vacation vibe. Summer morning breakfasts and light lunches will feel a little more special while enjoyed at the side of this gorgeous glass-topped table.
10. Box Top DIY Outdoor Wooden Side Table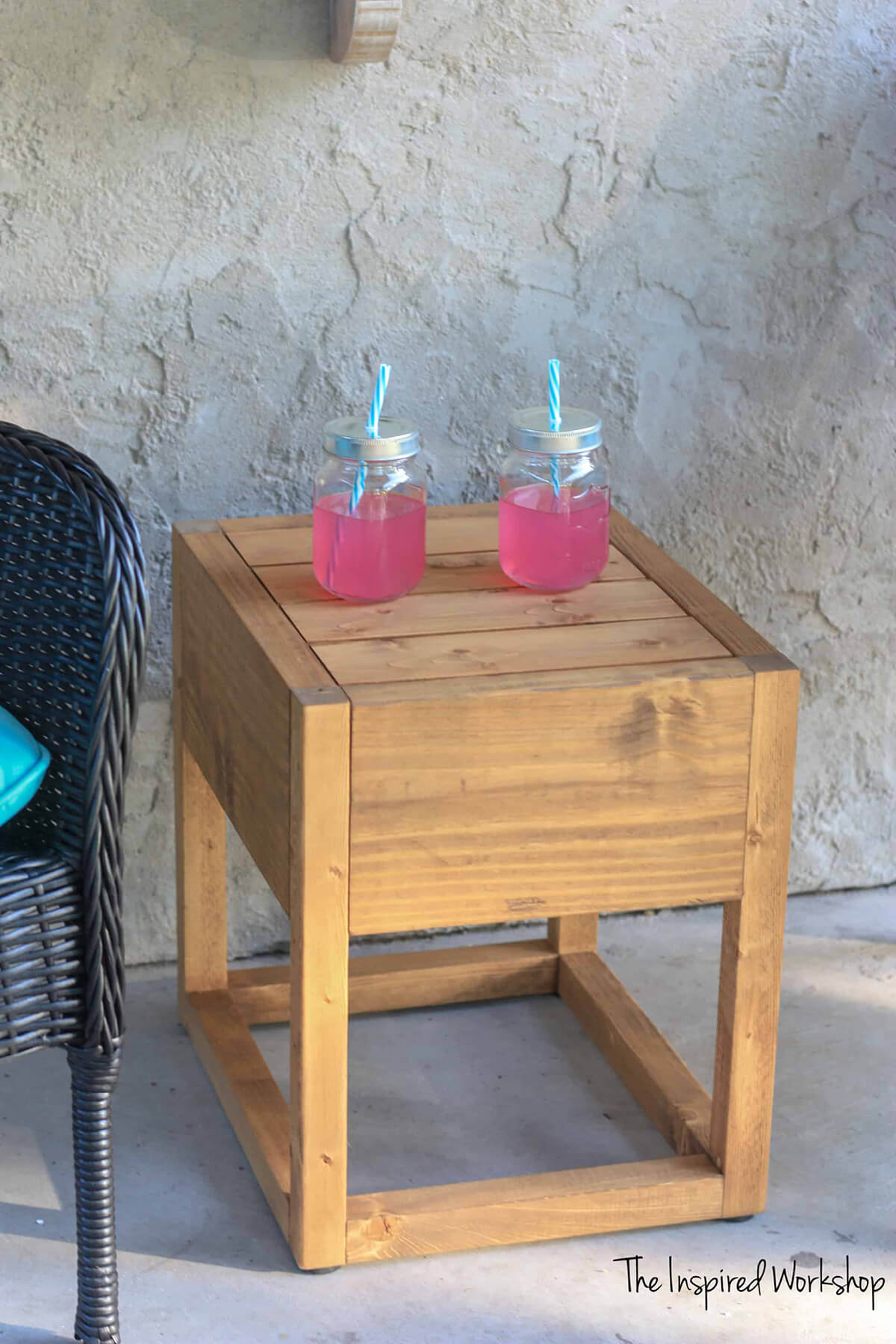 Measuring in at just the right size for positioning next to your outdoor couch or in the corner, the box top DIY outdoor wooden side table delivers all the drink-resting capabilities you need. Tie the entire seating arrangement together with a matching coffee table for a designer-inspired look. Leave the natural finish for rustic charm or stain/paint it to your preference for a custom creation.
11. Repurposed Old Shed Outdoor Garden Table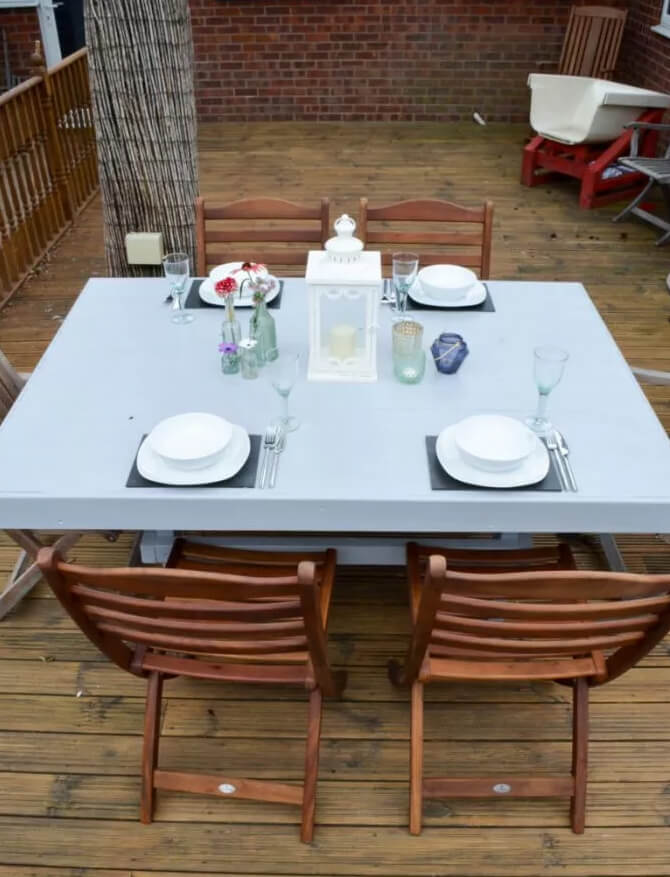 Upcycling is becoming as well-known as recycling and the final product provides a faster reward. An old shed or barn becomes a much-needed homemade garden table with some sweat and creativity. Instead of trashing all the pieces of an old outdoor building, finding ways to reimagine its components proves practical, economical, and earth-friendly. This upcycled shed utilizes the best pieces remaining and transforms them into a lovely garden table. With enough seating for your family or friends, this table is a cozy center for hosting your next get-together.
12. DIY Marble Insert Outdoor Accent Table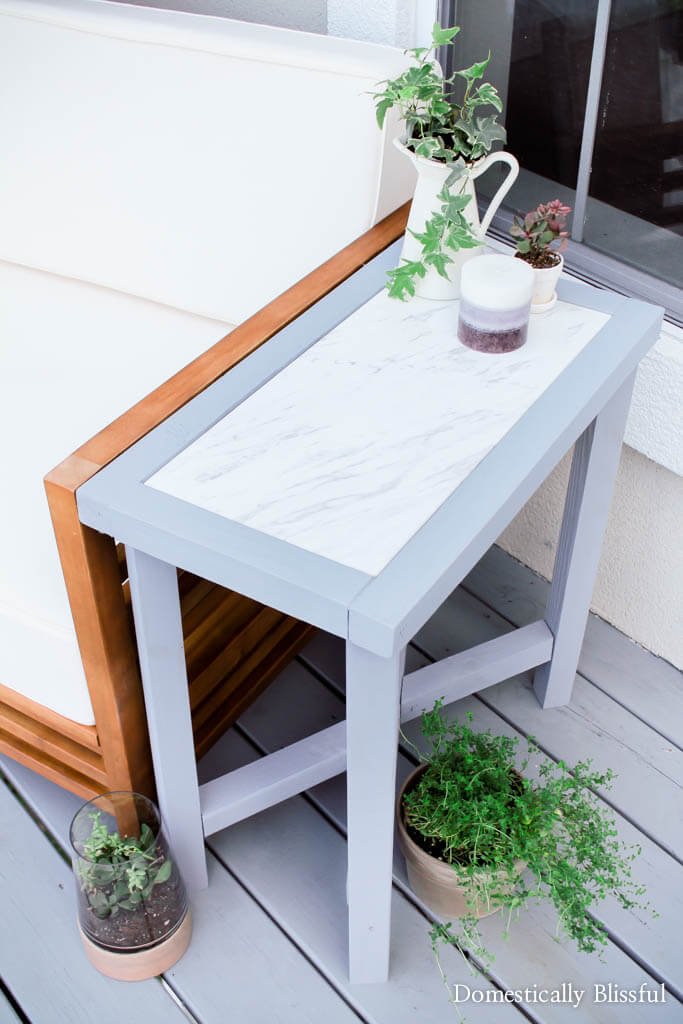 Add a designer-inspired accent piece to your outdoor space with this marble insert side table. Featuring painted wooden legs, the tabletop is complete with a modern marble insert to give it an elegant look and feel. Position this side table in the conversation space for guests to rest their drinks. It feels right at home placed beside a comfy couch or chair. It could even be used as an accent table near the door to rest belongings or show off a featured favorite plant.
13. Easy 2X4 DIY Outdoor Bar Table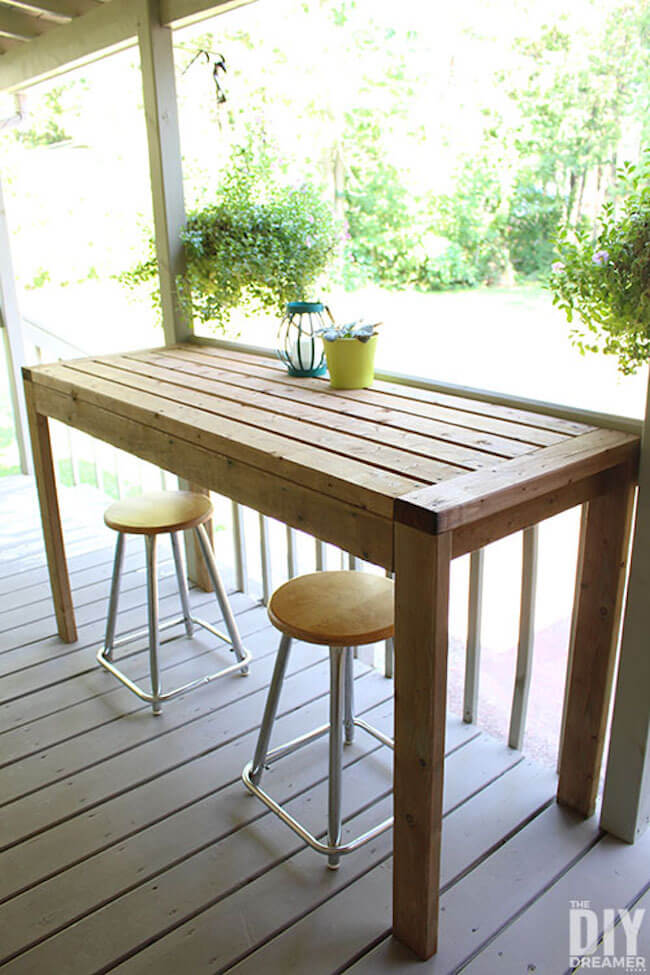 Make sure you have plenty of room for mixing drinks and serving up a refreshing summer treat with this simple DIY outdoor bar table. Using 2X4s makes it practical with a purpose. The size is ideal for almost any sized space as it provides enough table space to meet your needs without overcrowding your patio or porch. Its height enables two bar stools to easily slide underneath making storage simple and further enhancing its practical space-saving goodness. If drinks aren't your thing, it shows loads of versatility as an outdoor breakfast nook, kid-crafting space, or small gardening center.
14. DIY Carved Leg Outdoor Wooden Coffee Table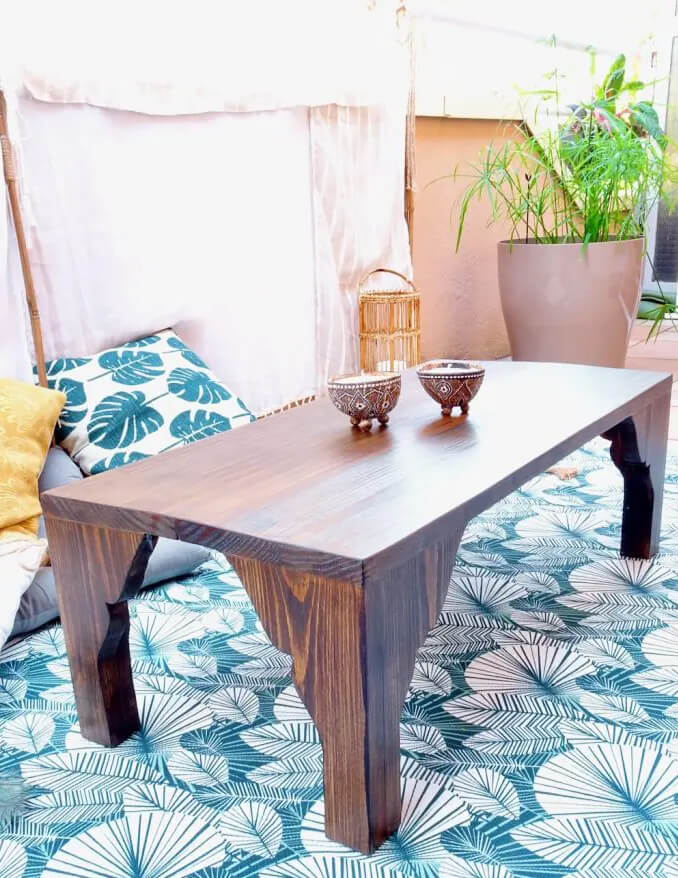 Cozy up the seating in your outdoor conversation space with this cute carved leg coffee table. Finished in your favorite stain, this coffee table serves as a nice central decorating platform, as well as a place to hold your drink. Featuring a coffee table in your furniture grouping creates a grounded space that's well-defined. The overall look feels purposeful and amazing. Consider an accent or side table finished in the same stain to tie the entire look together. Consider adding a few large floor cushions so you can sit on the floor and use this table for a meal or family game time.
15. Reimagined Planter Into Patio End Table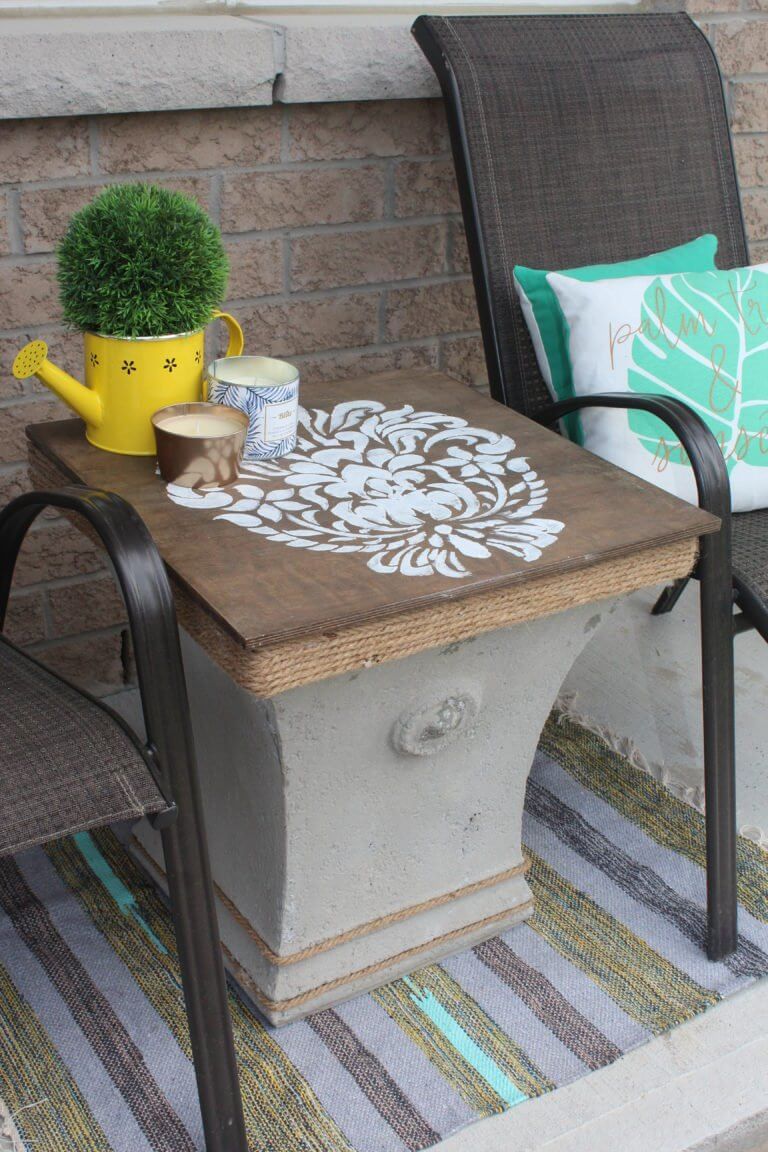 Give new life to an old planter by turning it into a useful end table for your patio. The hollow planter base doubles as the tabletop holder and extra storage. Be sure to create a tabletop that's easy to remove so you can easily access this extra storage bin. It's honestly a great place to stash pillows, blankets, and bug spray. Wrap some twine around the edges for a decorative design that adds a little more personal touch to the piece.
16. DIY Replacement Outdoor Tabletop Dining Table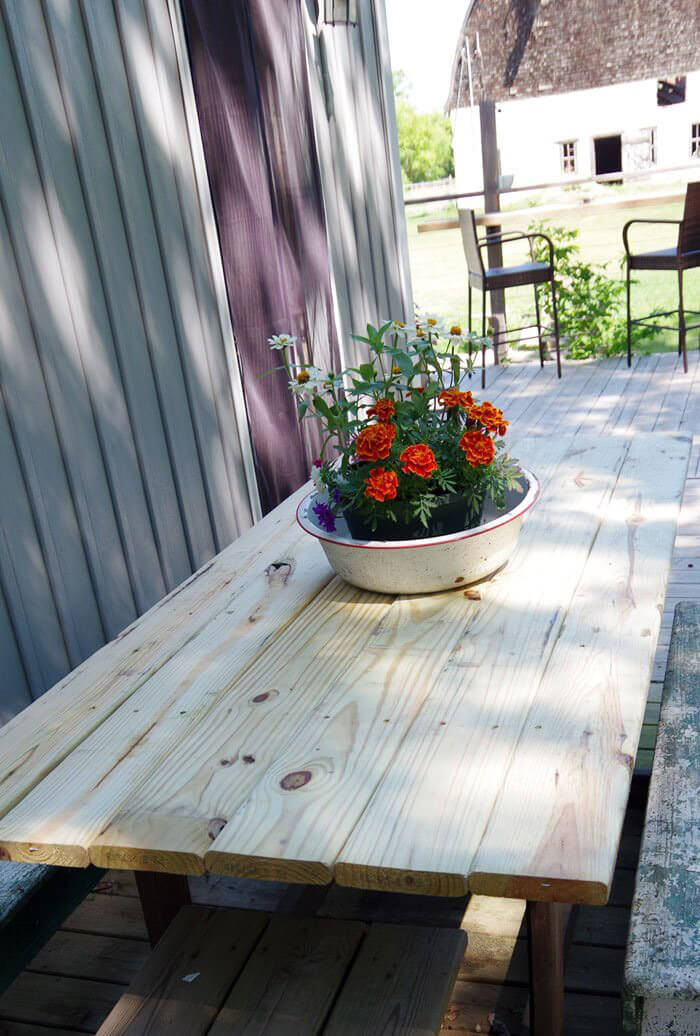 Sometimes you don't need an entirely new table to enjoy a nice meal outdoors: you just need to fix up your existing one. Harsh winter weather can begin to take a toll on outdoor furniture rather quickly, so when those elements leave your tabletop warped just know that a replacement is within reach. After removing the pieces of the old top, the new boards create a fresh place to enjoy your next picnic lunch. The boards are lined up side-by-side and will naturally provide draining space as the rains begin to come. Use an outdoor tablecloth when gathering for mealtime to make clean-up a breeze.
17. DIY Swirl LED Mosaic Bistro Table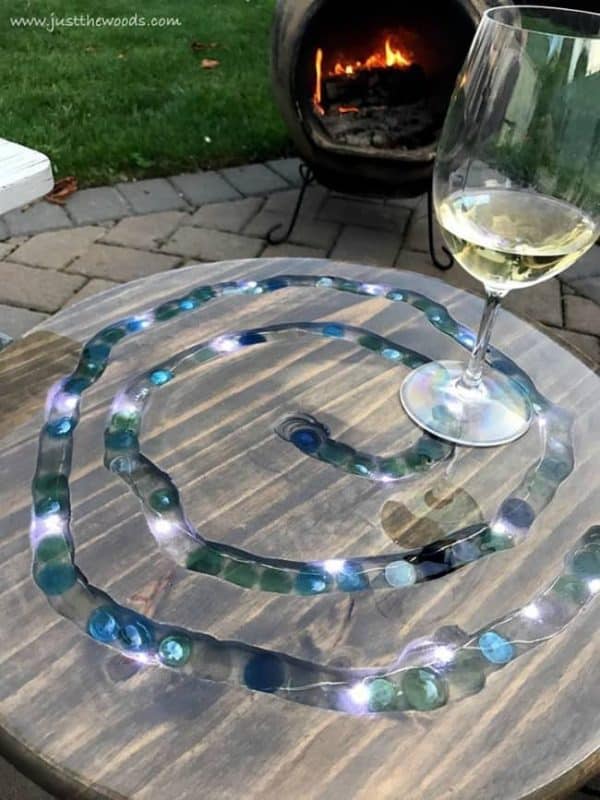 Adding a table to your backyard garden party doesn't have to be boring. Create this unique homemade garden table that is both pretty and practical. Featuring an awesome swirl design on the top, the LED lights brighten the night as you enjoy some fun in your backyard. Polishing the project off with a coating of sealant reinforces your gorgeous artwork, yet also leaves a glass-like finish. Using glass pebbles in colors of the sea adds so much summertime feeling to this mosaic bistro table.
18. Outdoor Dining Table for the Whole Family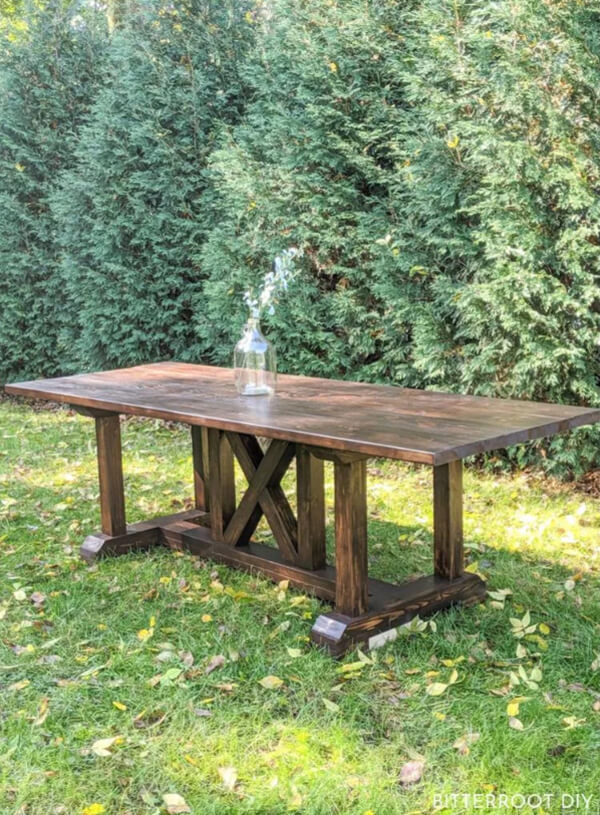 Seat the entire family around the table at your next backyard barbecue with this DIY outdoor dining table project. The large size of this dining table provides all the room for you and your kids to enjoy a nice supper in the fresh air of your backyard. And even though it's made for outdoor use, it shows off some beautiful construction with its "x" detailed base. Wooden benches would be the ideal complement for seating as they offer enough seats and easily slide underneath for storage.
19. Summertime Dream Pretty Patio Fire Pit Table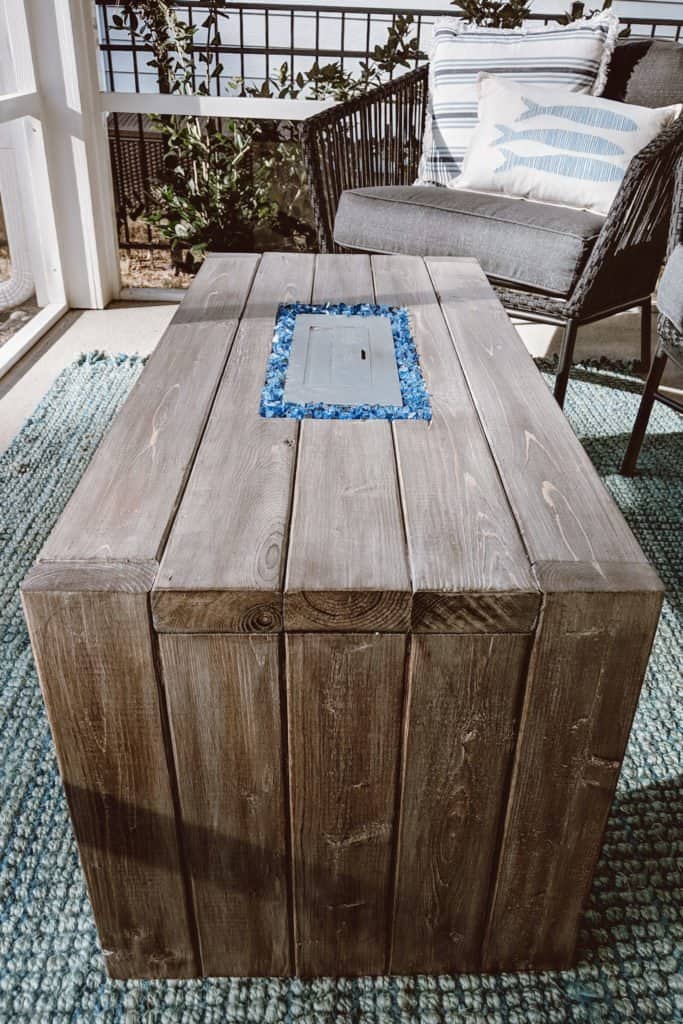 Hosting an evening with friends under the stars is more fun when you include a soft glow from a fire. And one of the easiest ways to do this is with a fire feature in your backyard. With so many from which to choose, the task may seem overwhelming, but rest assured that help is on the way! This crafty DIY patio fire pit table makes the choice easy. This is one sure-fire way to light up the night at your next after-dark entertaining event.
20. Tropical Themed Mod Podge Accent Table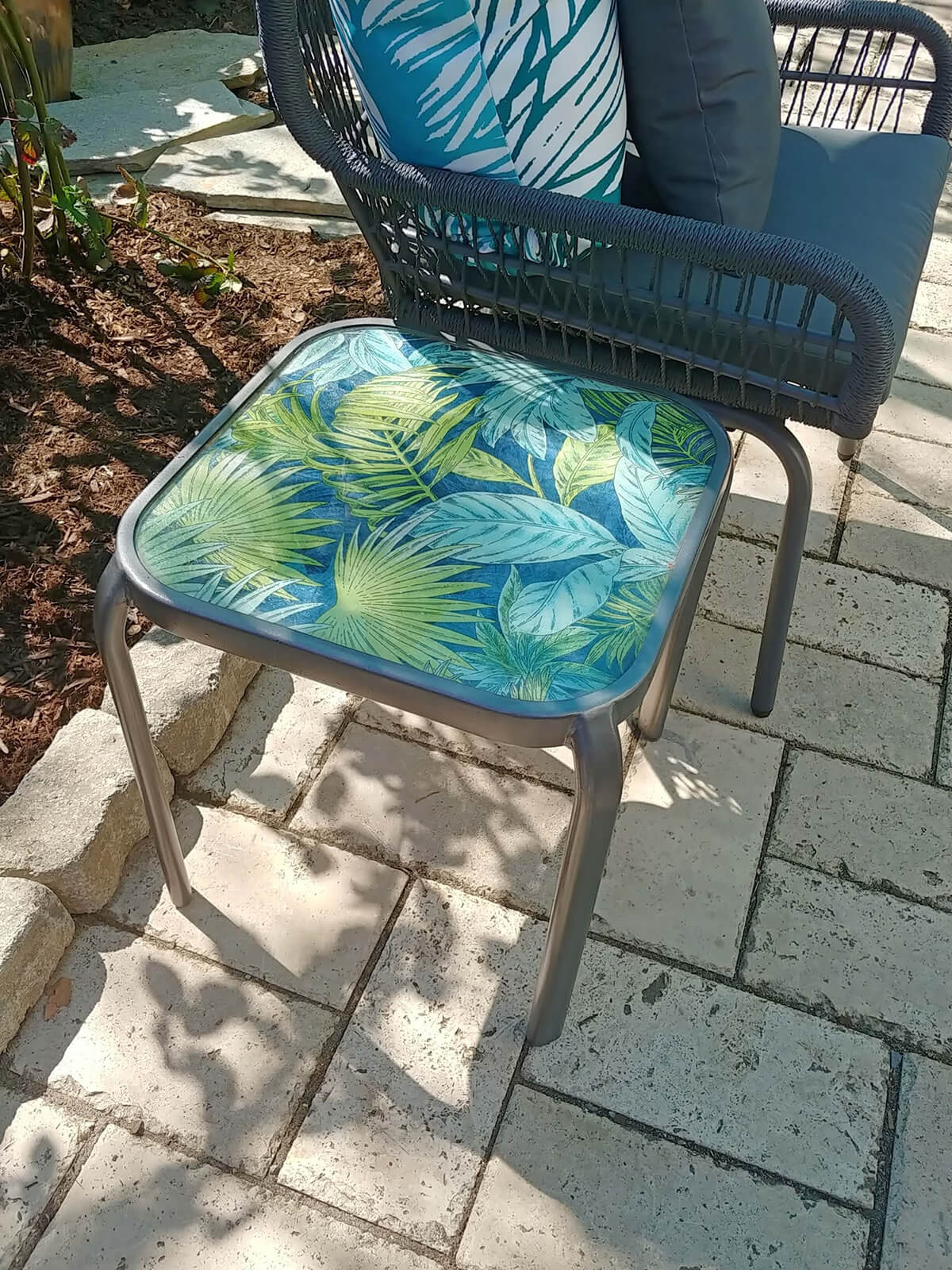 Give a new life to some existing glass-topped accent tables with some Mod Podge and tropical leaf material. Your favorite fabric or paper pattern works well adhered to the underside of the glass tabletop. Using a tropical theme terrifically ties into a garden oasis and adds a nice seasonal decoration to your outdoor furniture pieces. By using Mod Podge, you can even swap out the fabric choice if you get tired of it and choose a fresh new color or pattern for your patio. Place this accent table by a chair or loveseat and display a lush plant or vase of flowers to help decorate your special outdoor space.
21. Rustic Farmhouse Distressed Leg Outdoor Dining Table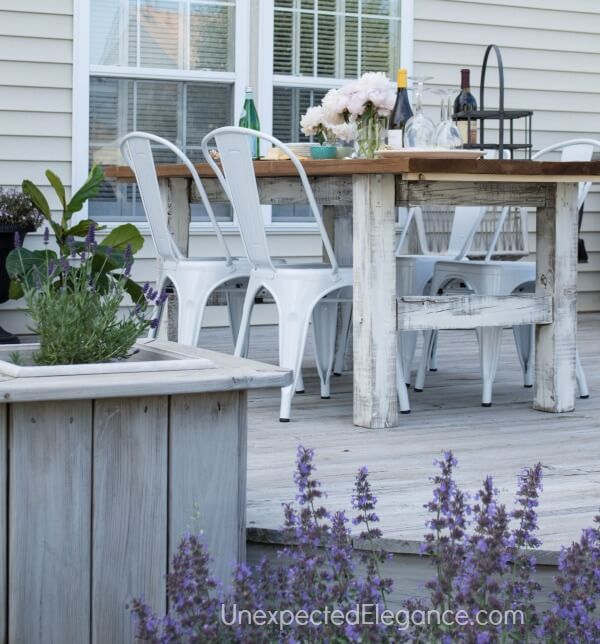 Go ahead and put as much thought into your outdoor dining space as you do your interior dining room. When the temperature rises and we mingle more outdoors, your outdoor dining space will thank you. Choose a durable table that'll withstand the elements while meeting your designer's expectations. This farmhouse table does just that. With a sturdy base of thick, squared legs, there's never-ending character and charm incorporated with its white paint distressed finish. On top, the natural wood plank top adds a welcomed contrast to these charming legs. Add some roughed-up white metal chairs for a complete and useful look.
22. Modern Urban DIY Outdoor Concrete Coffee Table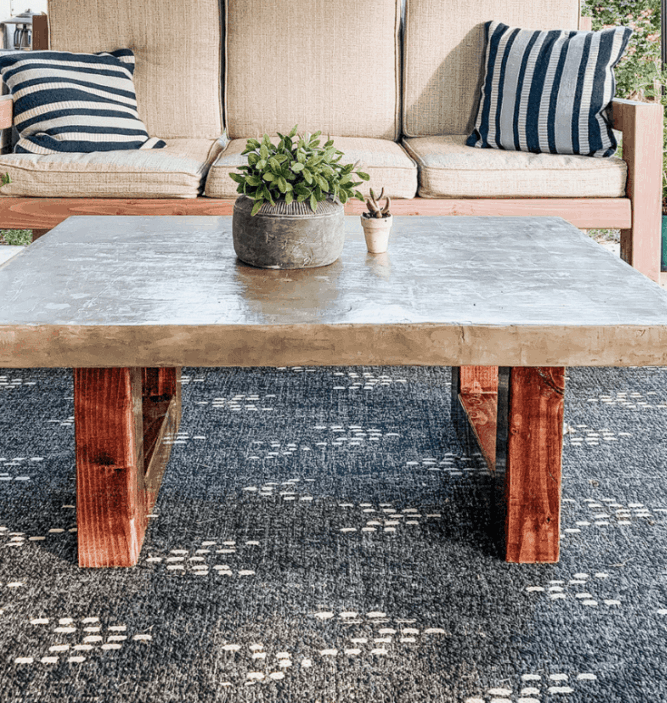 Turn heads with this easy handmade outdoor table that exudes a cool and modern simplicity in its use of concrete and wood. Bringing two of the best elements together in this DIY coffee table makes for a unique design that creates a cozy and stylish outdoor living space. Take the comfort of your family room outside as you put together a well-thought-out designated space for gathering. Everyone will enjoy relaxing while enjoying the fresh air under the shade of your back porch. The tabletop of this table is a perfect size and offers plenty of space for hosting a family game night or holding your beverages.
23. Modern Farmhouse Magnolia Style Outdoor Table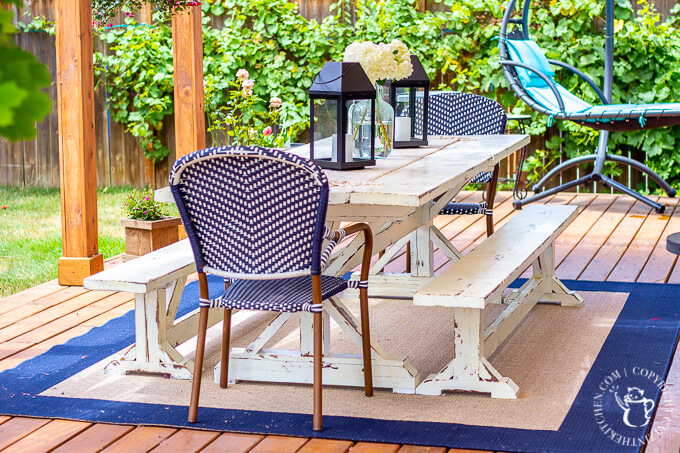 Inspired by Magnolia fame, this gorgeous outdoor table is pretty enough to belong inside your house. With matching bench seating, this DIY outdoor dining table is full of character, charm, and style. Your entire family will have a seat at this table with its large shape and size. Finished with a distressed white paint application, the final product is a fixer-upper's dream. Creating a well-planned and lived-in outdoor dining space makes enjoying more meals outdoors a reality.
24. DIY Outdoor Fire Pit Coffee Table Combination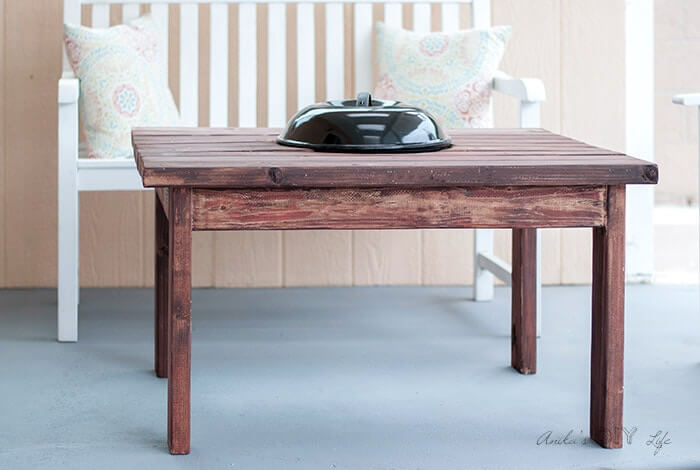 Smaller backyard spaces will cheer for this winning combination of coffee table and firepit! Two of the most useful necessities for outdoor entertaining and relaxing unite in this homemade garden table. Your backyard space becomes your favorite hangout spot since roasting marshmallows and enjoying the flicker of the fire are closer than ever! When not in use, the fire feature has a lid to cover it while maintaining the usefulness of the remaining coffee table. Rest food and drink on its spacious tabletop as you enjoy your big (or small) backyard. If you ever decide you don't need the firepit feature, it can easily convert into a nice herb garden, seasonal flower pot, or tabletop fairy garden.
Eat and Have Fun Outside with the these 24 DIY Outdoor Table Ideas
From scanning the pages of your favorite catalog to choosing to upcycle instead of heading to the dump, your next outdoor table becomes attainable when you choose one of these DIY projects. Maybe you have a designated space that simply needs a bit of an update. Consider a Mod Podge accent table to jazz up part of your outdoor living space. Or if you want a more elegant feel, consider a marble insert side table. Of course, a modern choice is always popular, and featuring a concrete top makes that happen.
Then again, you might be starting from scratch and need a solid table so you and your family can enjoy some family dinners outside. Think about what style you desire and get to work. There is a tremendous selection of farmhouse styles that speak to your Magnolia-loving hearts. Choose to leave them natural or give them a generous coating of distressed white paint for a charming look filled with character. Many of these tables work great paired with matching bench seating that provides the most spacious seating options for all of your events.
Whatever your outdoor space requires, finding the right outdoor table is easy when you know what you need. Decide first if you require an accent table, dining table, or coffee table. Then, choose the style you want from farmhouse to modern. Finally, creating your DIY easy handmade outdoor table welcomes new memories for you to collect this summer as you spend more time in your own version of the great outdoors.