Inviting outdoor living space is the dream of many homeowners. Besides improving your property's value and aesthetic appeal, a conducive outdoor environment is therapeutic for the general well-being of the entire household. Enjoying quality time on the lawn boosts creativity and reduces stress to uplift mood. You'll find your patio more productive for weekend work than the office space. Most importantly, you'll likely have a family that will be healthier and happier throughout their lives. Whichever purpose you have for a unique outdoor living space, creating one with the best DIY wood projects sounds better.
Most Trendy DIY Wood Projects You Can Create in Your Outdoor Patio

The best outdoor living space designs lean more on personal touches and ideas than commercial. After all, every homeowner prefers a space that reflects their imagination and preferences. Moreover, many reasons could prompt you to opt for handmade outdoor wood projects, including affordability. Most of the materials needed to create the best DIY outdoor wood projects are readily available at home. It can be pieces of old furniture or pellets lying idle at the garage. You'll likely incur the only expense towards finishing materials such as paint and coating, or even a frame if you prefer sturdy chairs and benches.
What options do you have for the best DIY outdoor wood projects? What are some of the perfect ideas that are easy to implement? Remember, you need to have several factors in mind. If you have limited material, you would want to create smaller, unique pieces. You can also buy new materials if you're up to handmade outdoor wood projects built from scratch. Another essential factor to consider is the number of users. If you have a big family of about eight people, you would want a sturdy outdoor dining table with a steel frame. Consider these best DIY outdoor wood projects for 2021 and beyond.
1. Romantic Bench Swing for Your Patio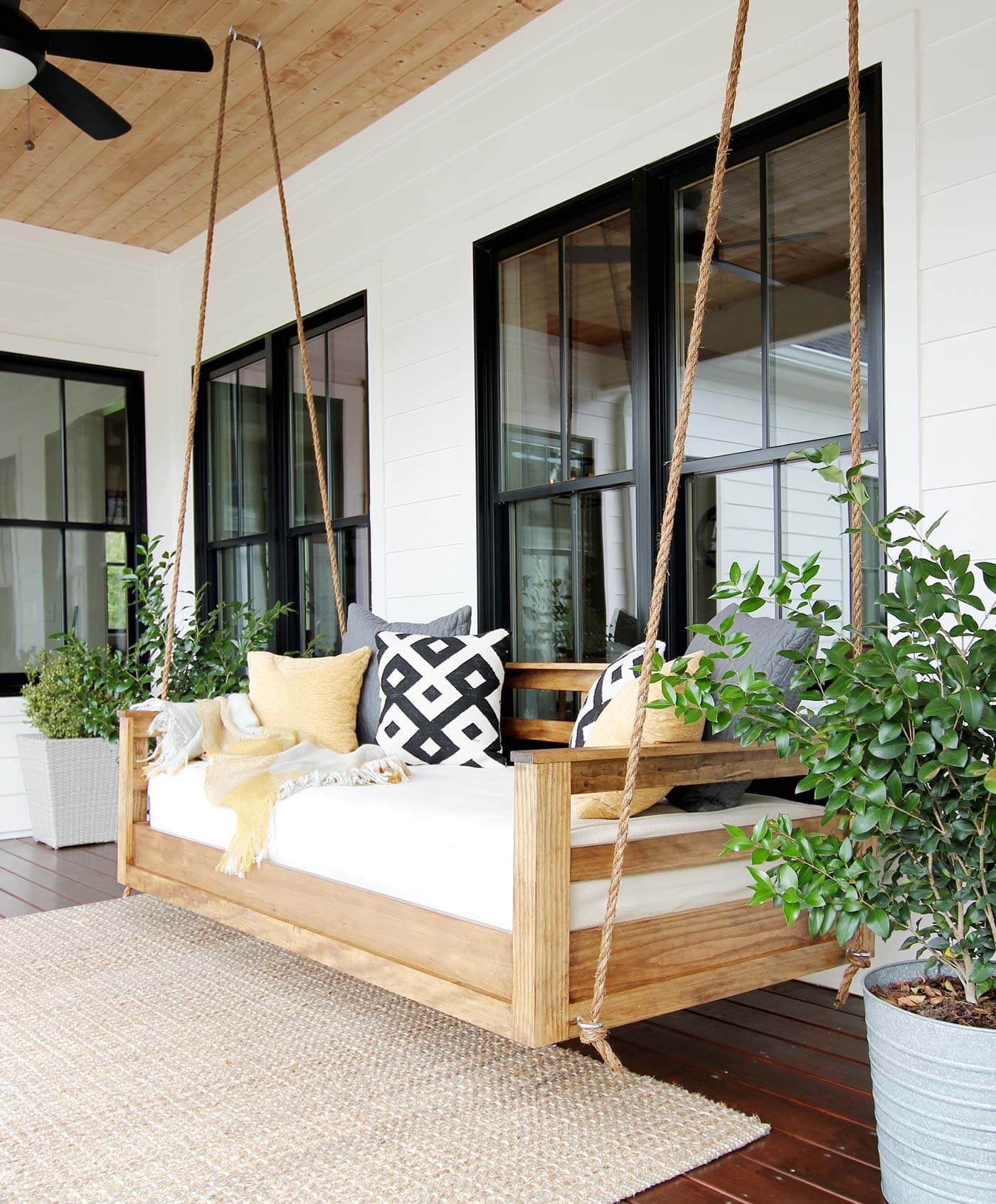 You're looking at a simple patio that leverages its space to make a small, bright shilling spot for you and your spouse. Add a few throw pillows to make yourself as comfortable as possible. Suppose you don't feel like swinging with your feet hanging; the carpet keeps them warm. You can also add two potted plants by the sides to enhance fresh air circulation. Greeneries plus fans will always give you clean air.
Some people may also prefer to have this romantic bench swing in the garden or lawn. Either way, ensure that the bench hangs about 17 to 19 inches above the surface.
2. Creative Outdoor Lighting Elements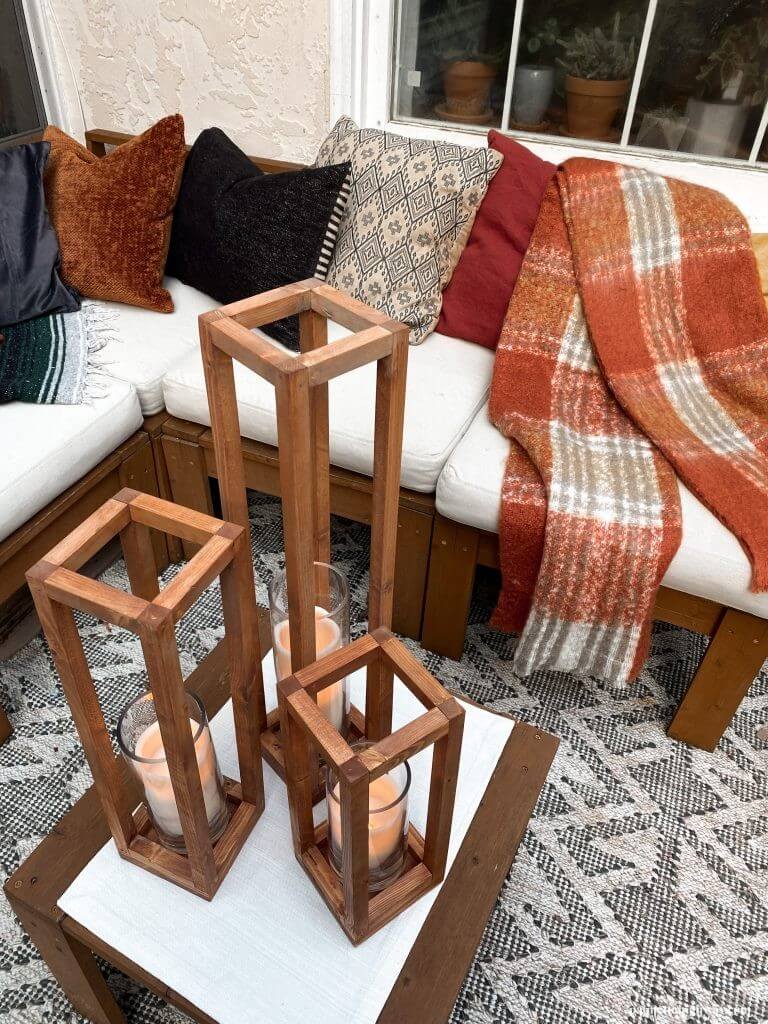 Whether you prefer large or small candles for outdoor lighting, they still pose the same risk when carelessly handled. You would want to separate the candles at least two inches apart. You would also want a sturdy element to hold the wax base. You can use these DIY elements for candle lighting. These folks created three, but you can create as many as you need. These lighting elements are multifunctional, and you can also use them for your interior space. You can even use them for potted plant displays during the day or when you have no function that requires candle lighting.
3. Creating a DIY Outdoor Vacation Setting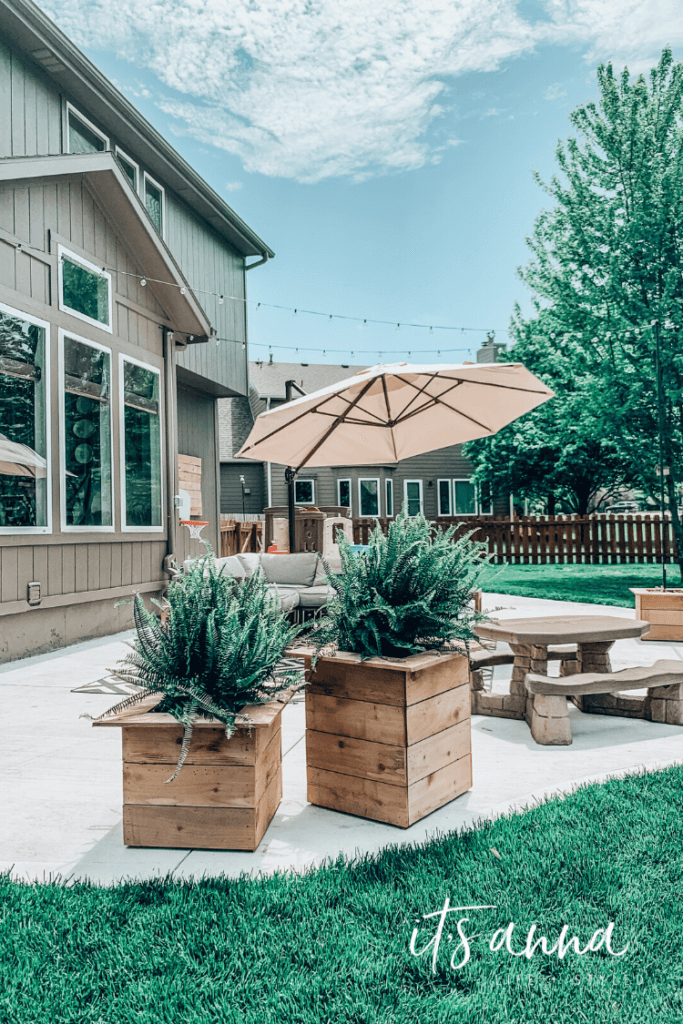 Nothing beats a simple patio with a creative chilling spot that makes the deck look more attractive. Even though the items' choice is purely aesthetic and varies with different homeowners, these folks created a benchmark for a vacation setting. The open sitting area has a wood table attached to the side benches. This maximizes space. There is also a sitting spot under an umbrella if you don't want to bask in the sun. The repurposed stack crates used as plant pots make the entire space epic. You might also want to install a grass lawn by the side to create a playing area for the kids.
4. Repurposed Wooden Stool or Side Table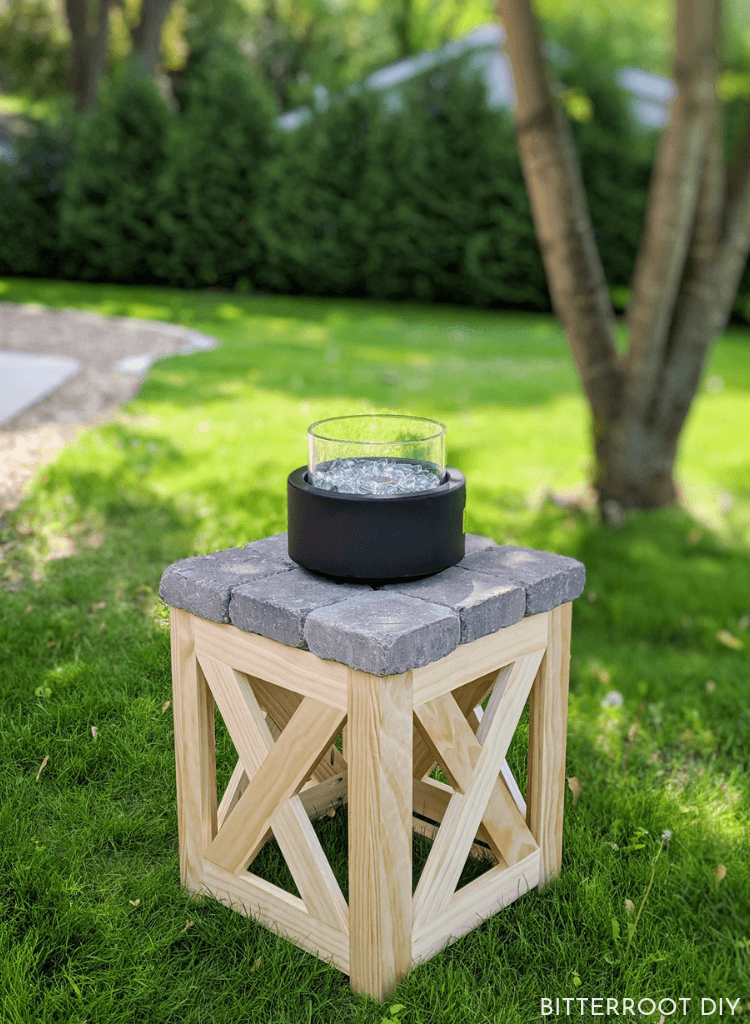 Lastly, you might also try this repurposed wood stool or side table for multiple outdoor applications. The top of the stool features concrete slab construction, which protects the wood structure from spillages and heat. Thus, this stool is ideal for side drinks or lighting purposes, say you're having a candle-lit, romantic dinner. Even so, you can still repurpose the top to your aesthetic preferences. Whichever finishing material you opt for, ensure it is resistant to heat and corrosion to guarantee longevity. The sides of the stool feature an X (wooden) design to offer maximum stability, especially when you use the stool for sitting or holding heavy items such as outdoor coolers.
5. DIY Dining Table on the Patio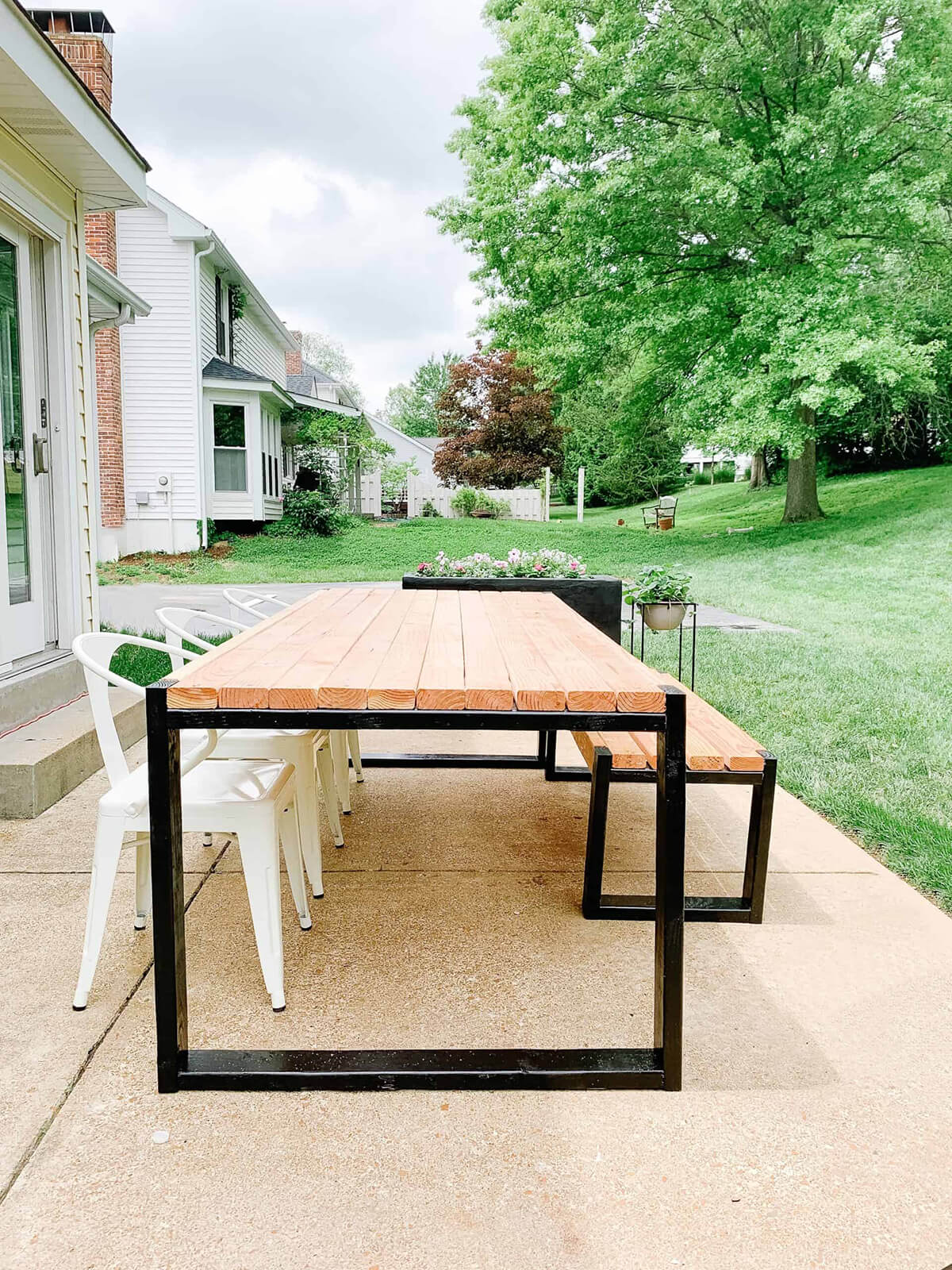 This table makes one of the best DIY outdoor wood projects for a family. It sets a cool zone in the patio for outdoor activities and family parties. This will be your ideal chilling spot with visitors if you want them to extend their stay. Moreover, it is comfortable for all age groups. The older adults can sit on the plastic chairs while children sit on the side bench. The steel frames on the table and the side bench enhance this dining set's longevity and durability. However, you might need help in making the steel frame, especially with the welding. Also, you'll fasten the wood to the frame using screws instead of traditional nails for DIY projects.
6. DIY Wooden Stand for Outdoor Display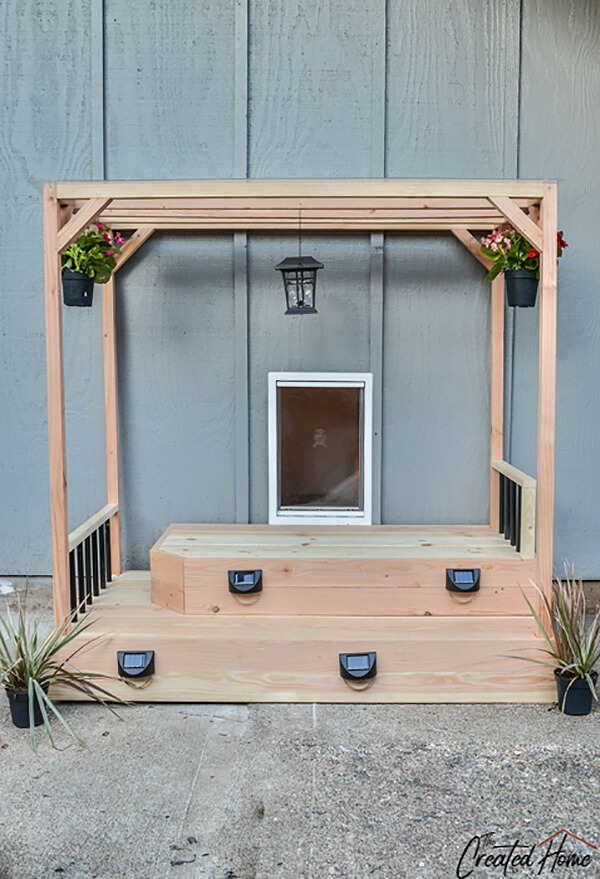 You can create this DIY wood project from scratch with new materials or repurpose an old infant cot. You may need to remove the side wood grills and lower the base a few inches to the ground. The entire space is ideal for permanent and occasional displays, especially during outdoor activities. This display is ideal for outdoor artifacts, paints, or plants. These folks chose to have potted plants at the corners of the ages. You can add a bulb at the top to illuminate the display at night. You can also have one or two draws at the bottom for an extra storage area.
7. Painted and Stripped Picket Fence Bench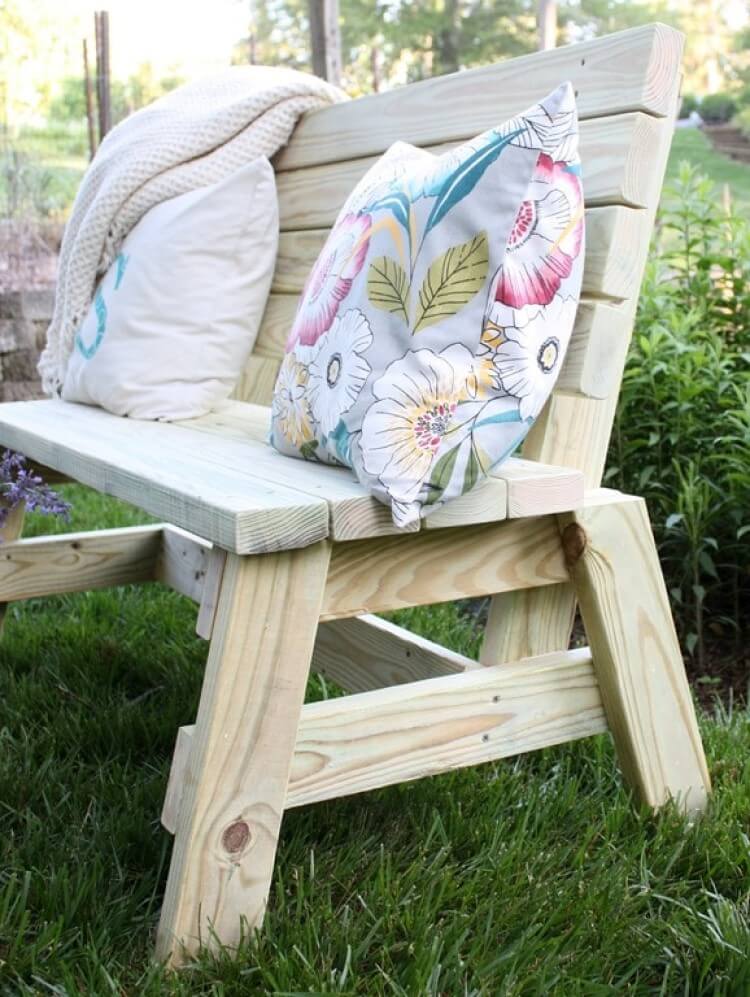 These folks used repurposed cedar with a white coat finishing to create a sturdy picket fence bench. You can also use repurposed wood or new materials if you prefer. The coating can be brown, grey, blue, or even red, depending on your preferred them. On a cool evening, you'd want to sit beside the picket fence for long hours. You can add two pillows to make yourself comfortable. However, you'll need to remove the pillows during winters or rainy seasons. Besides using this bench as a favorite chilling spot, it can be a playing area for the kids. Remember, it is also portable for switching spots.
8. Creative Patio Table with Inbuilt Cooler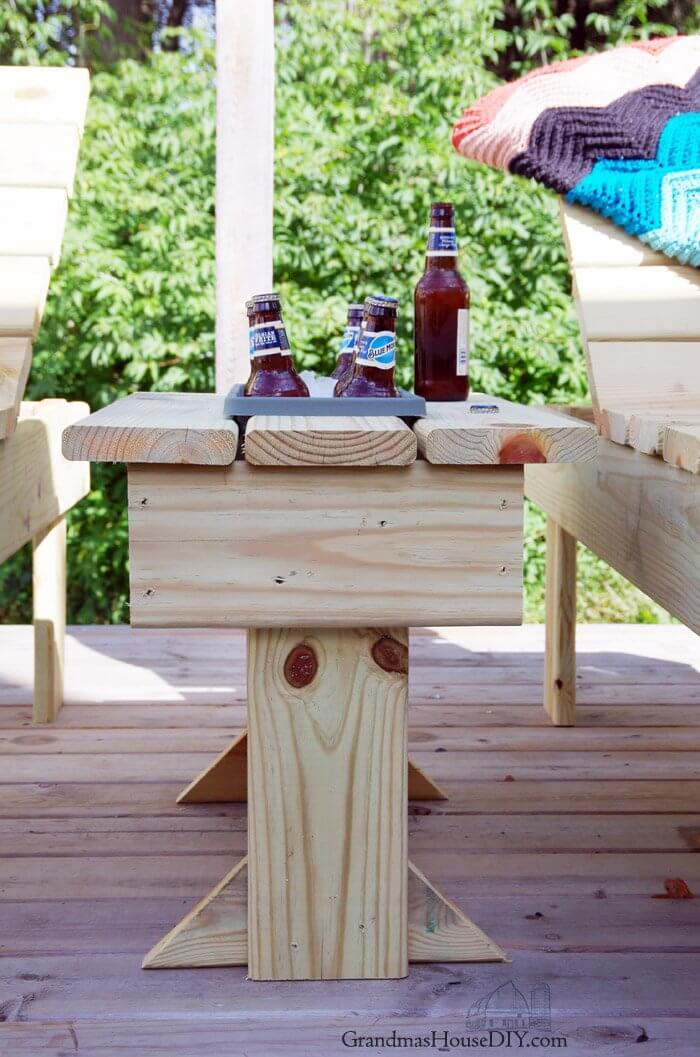 If you're a die-hard enthusiast of outdoor activities, you'll find this creative patio table with an inbuilt cooler useful in your arena. The best thing is that you can make it at home with repurposed wood. Moreover, it doesn't use electricity or battery cells, meaning you'll enjoy hassle-free maintenance. It can be great if you create a large cooling compartment to hold as many bottles as possible, but the standard size is about six beer bottles. This cooling table is portable, and you carry it in your trunk for long-distant, outdoor adventures. This cooler is as efficient as a fridge freezer, especially if you use a finishing material that retains ice for longer periods.
9. DIY Modern Bench with Back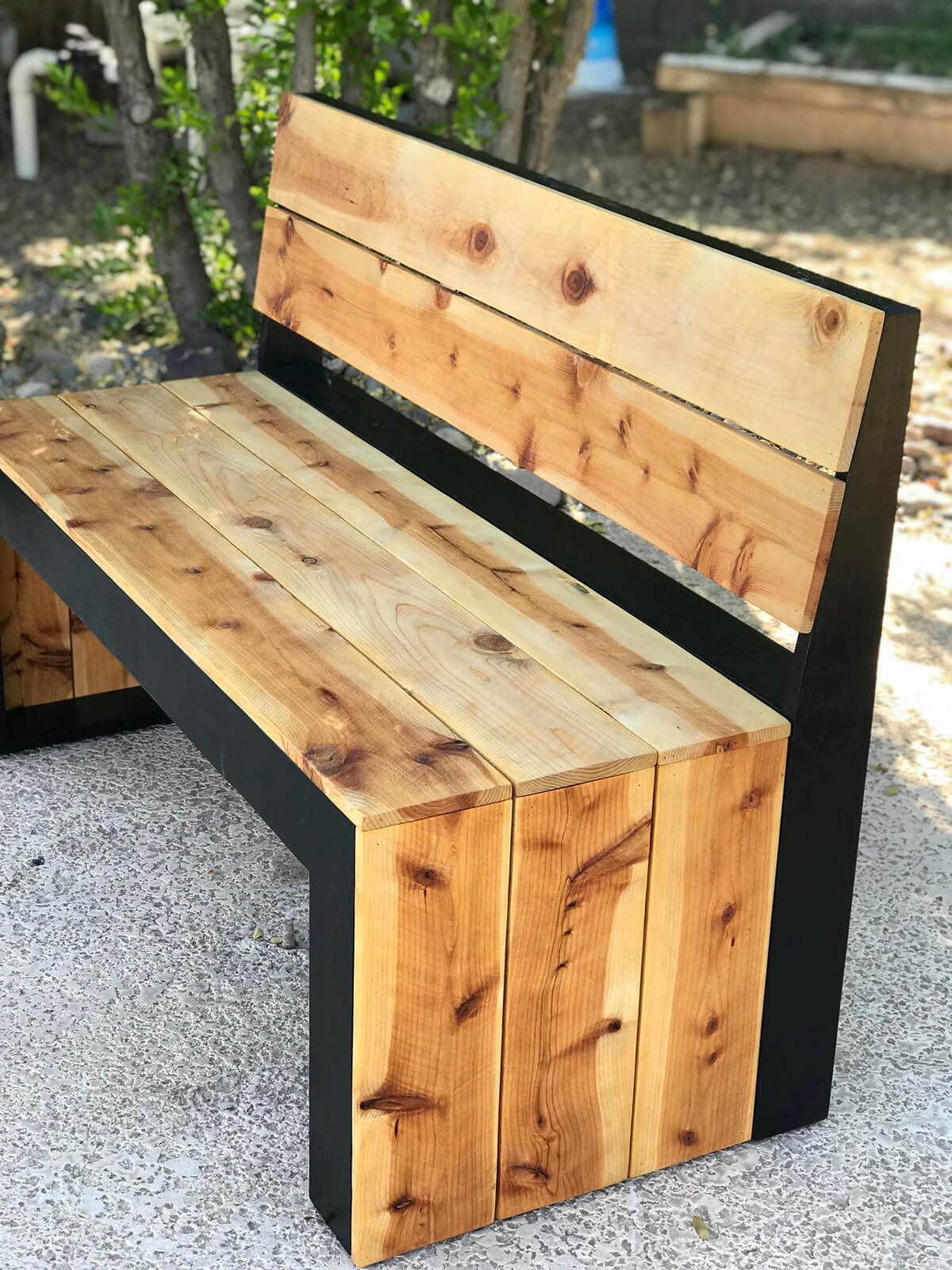 It helps if you create multiple sitting areas in your outdoor space. Besides giving you endless chilling spots, you can also invite more people to functions. This DIY modern bench gives you ample sitting space for up to three people. It is portable, but you can choose to keep it in the same spot, especially if you make a couple of them. You can extend the longevity of the bench with a protective wood coating against UV rays and rain. You can use a solid-color protective coating or a clear finishing if you prefer raw wooden accents.
10. Plenty of Pallets Pretty Outdoor Furniture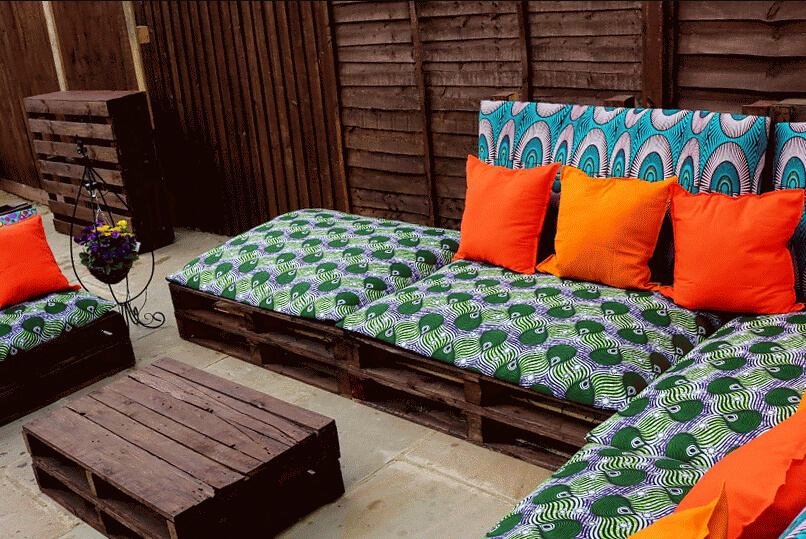 While it seems there are plenty of pallets readily available, why not take a moment to utilize this crafty resource that's in full supply to create some useful and unique outdoor furniture? Stain the wood your choice of light or dark to create the look you love. Some bright and fun cushions tie the look together and make your basement or back patio the favorite local hangout for family and friends. You can further enjoy the possibilities of pallets with a coffee table that perfectly coordinates with your sectional creation. Add a chair or two for even more seating and you'll be sure to have plenty of room to invite the whole neighborhood to your favorite space!
11. Wooden Stage for Outdoor Functions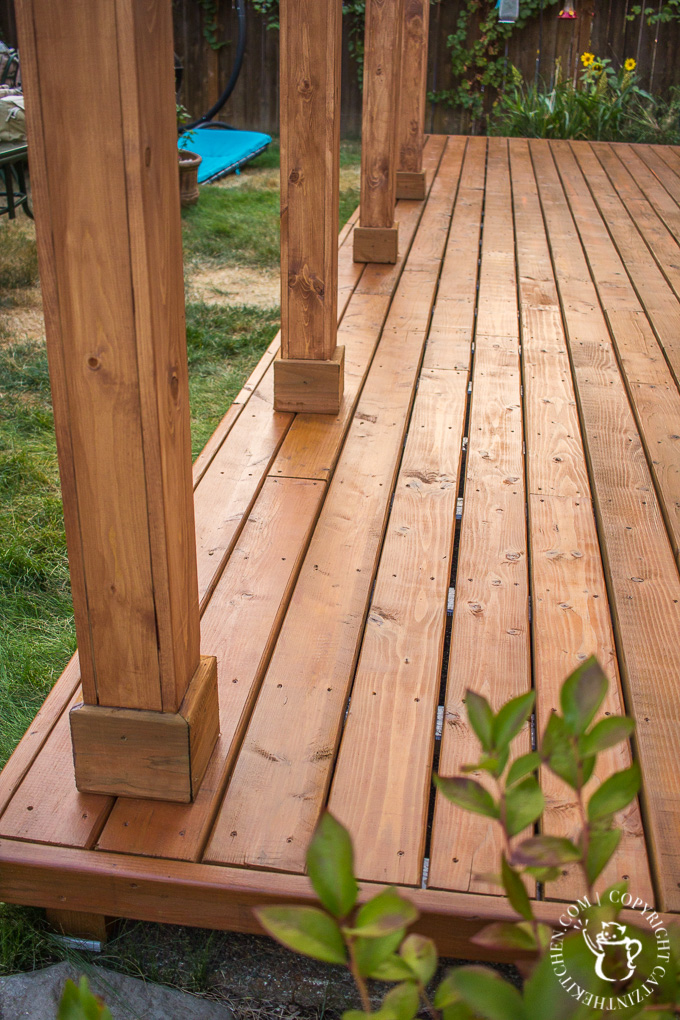 Holding outdoor functions can't be merrier than when you have a generous space for all the day's activities. This wooden stage is large enough and can accommodate up to six people at a go. The stage raises a few inches from the ground to make it stable. Remember, the lower the setting, the higher the stability. You also have about four wooden stands supporting it to the roof. When having musical instruments, you might want to protect them from sun or rain. You can also add a few seats if you're hosting a corporate function. As for the front space, you can customize it in whichever style you prefer.
12. Outdoor Romantic Dinner Setting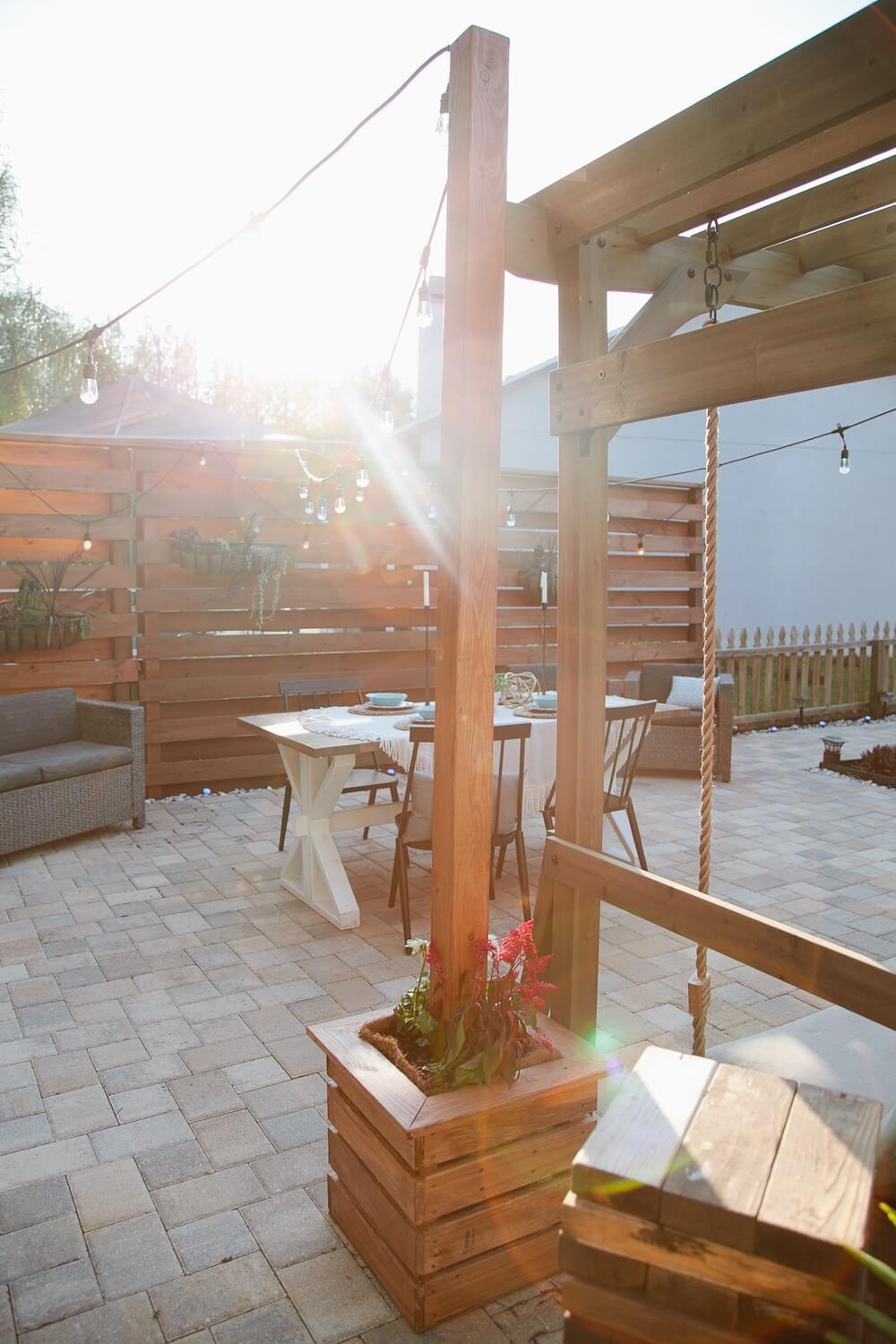 This outdoor living space is perfect for a romantic dinner setting. The entire setting sits on a paved area, guaranteeing you hassle-free maintenance. You don't have to worry about mowing or dealing with damp ground, which can make the seats and the table unstable. The wood pellet fence enhances privacy, especially if you live by the roadside. Even so, there are still small spaces to allow natural light during sunsets. You can hang a few potted plants on the wood pallet fence to create a green ambiance. You can also forgo the greenery for lighting; the choice is yours.
13. Creative Three-Stand Storage Unit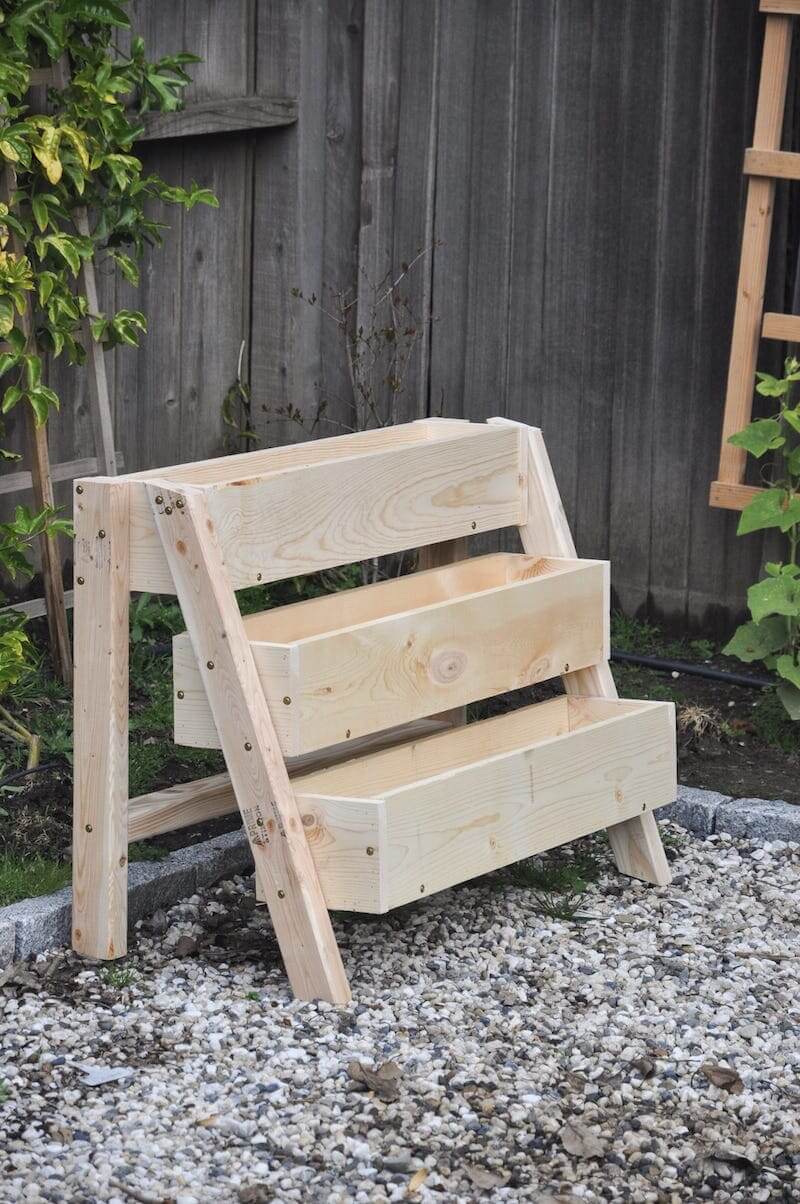 This creative, three-stand storage unit looks simple but will bring a different aesthetic vibe to your outdoor space. These folks decided to leave it in natural wood color, but you can add a different paint or coating to match different aesthetic preferences. If you use it to display shrubs and flowers, you can add spiraling plants by the sides for green finishing. You can note that this unit is highly portable so that you can move it around, depending on function and purpose. Some people may prefer using it as a storage unit for books, magazines, or even garden tools. The best part? You can make it at home with repurposed furniture.
14. Self-Made Outdoor Service Table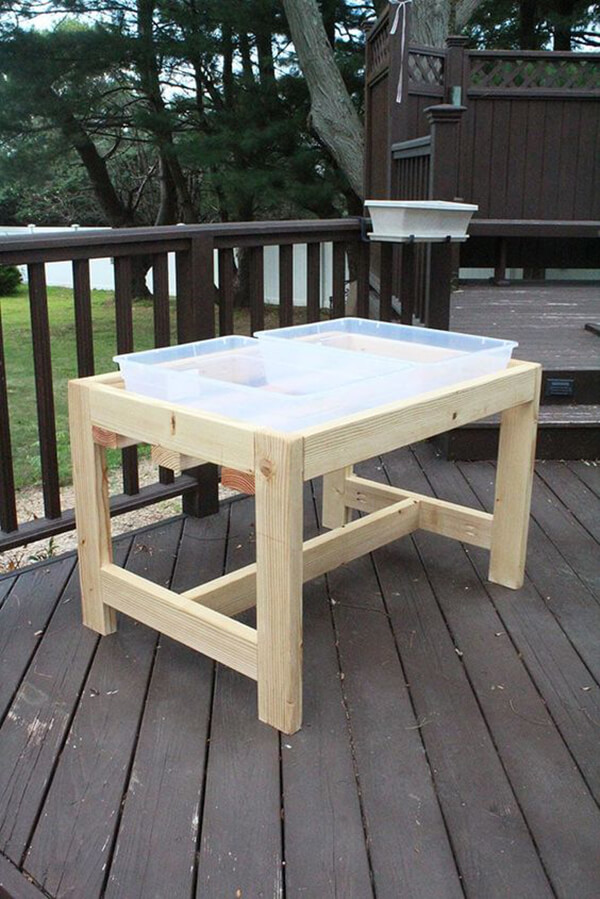 This service table makes one of the best handmade outdoor wood projects for turning your home into a picnic site during the weekends. The entire wooden construction is an accent, complementing your other exterior décor. You can spray a new coat of paint if you want to blend it into a preferred theme. Some homeowners may also prefer cabana stripes for a flair. It has a sizeable space that holds two large trays. The top surface has a sink style to hold your trays in position. That means you can add wheels if you prefer moving around. Also, you can add plywood at the bottom to create a storage space for snacks and fruits.
15. Repurposed Wooden Crates for Outdoor Plants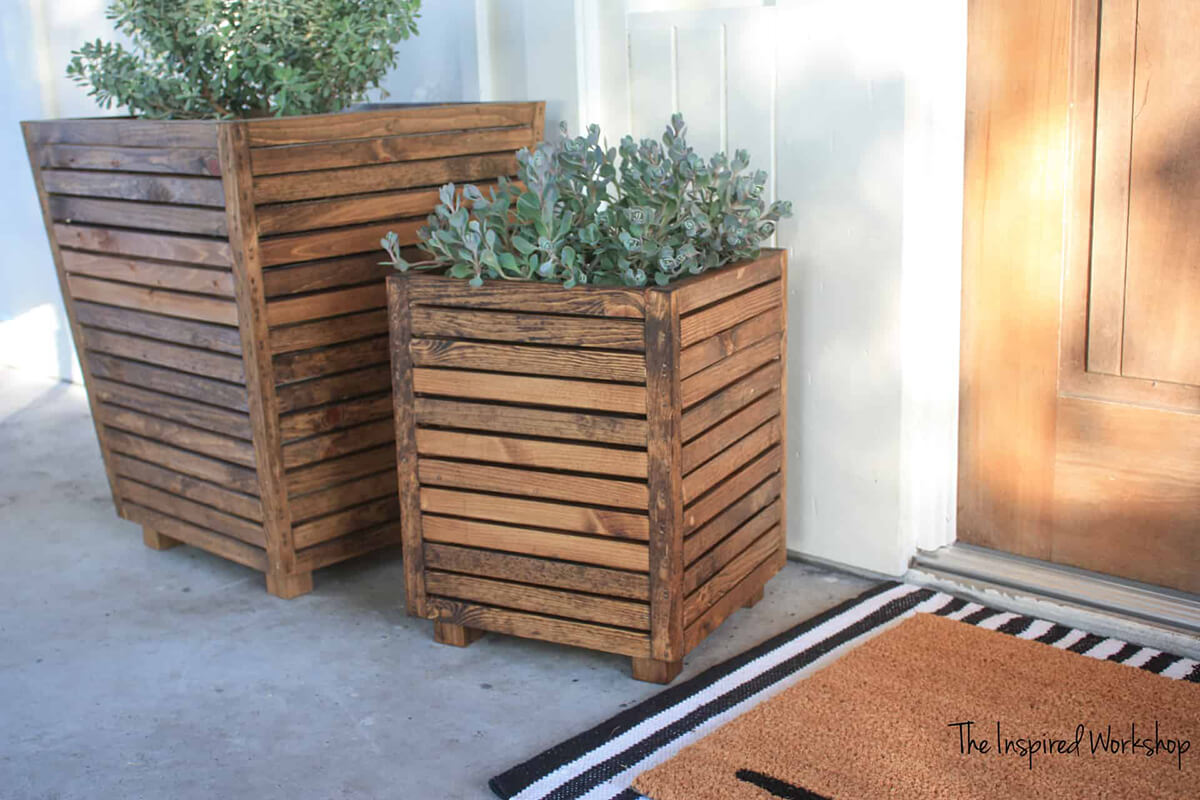 Grooming large outdoor plants and flowers means an aesthetic beauty that lasts for longer. It also means a bigger crate to accommodate the plants until maturity. You can repurpose your wooden crates or pellets by stacking two or three together to make a big flower pot. Depending on your aesthetic preferences, your final crate can assume a cubical or pyramid shape. You would want to use a protective coating on the wood to shield it against moisture when watering the plants. You will also prefer spaces by the side for aeration. You can have these wooden crates for outdoor plants at the entryway or in the backyard; the choice is yours.
16. Three-Dimensional Statement Piece for Outdoor Plants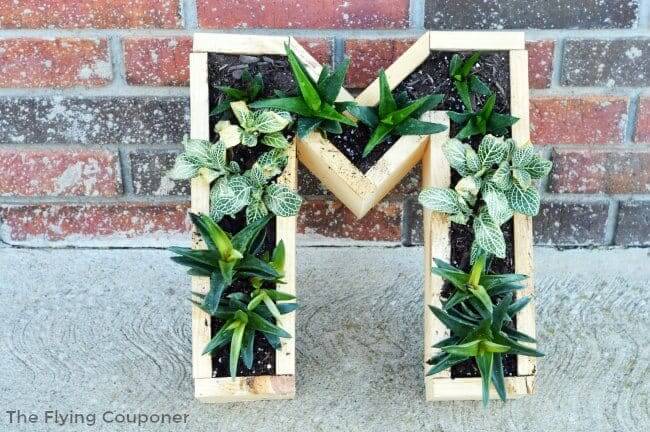 Who said outdoor plant displays must always be racks or pots? Depending on the size of the shrubs, you can take your display creativity to another level. These folks decided to create a custom M display box. You'll need to create this display in a three-dimension shape to get space for the soil. However, you would want to use a stainless steel mesh at the bottom to enhance watering and aeration. You can also use the plain wood color or add a different coating for great aesthetic preferences. Most importantly, you can customize the box to any letter you want; it doesn't have to be M.
17. Colored Picnic Setting for the Whole Family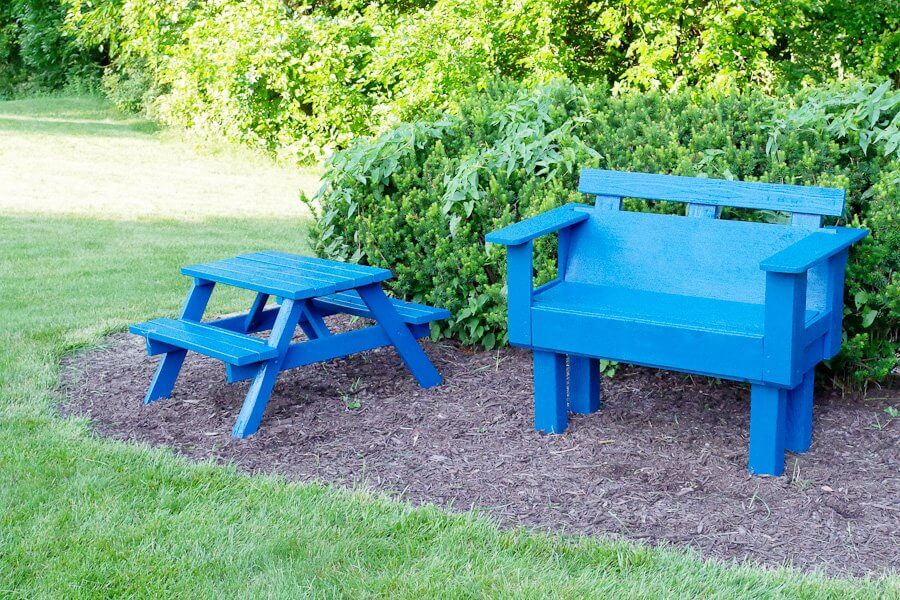 Weekends can never be more fun until you create time out of your busy schedule to spend time with the family and play with the kids. Also, weekends are better at home than driving to the park. This DIY-colored picnic setting is ideal for a perfect family outing. You and your spouse can occupy the two-seater bench as the kids take the other table attached to the side benches. This table is ideal for meals or playing card games. When the sun sets, you can sit or play on the lawn with the kids. As for the color finishing, you can choose a different coating from blue to match your aesthetic preferences.
18. Repurposed Outdoor Hanging Displays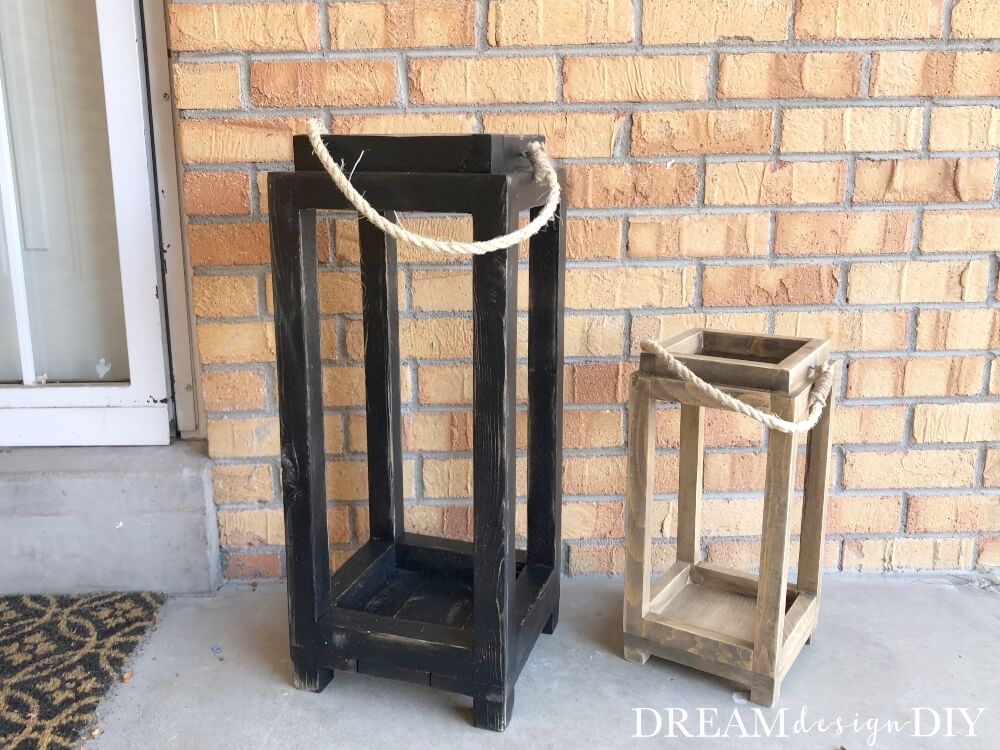 It's good to have potted plants around your outdoor living space, but it's epic to hang them at the entryway or around the porch. You can repurpose your wooden crates into long-lasting hanging displays for flowers and potted shrubs. You'll need to create a height that complements the size of a mature shrub. You can use ropes to hang the plant on the upper deck. When installing the displays, don't forget that you might need to bring them down once in a while to trim or add fertilizer to the plants. Some homeowners may also prefer artificial shrubs if they want to install the displays on high decks.
18 DIY Outdoor Wood Projects that will Make Your Exterior Stand Out
As the summer approaches, it's time to welcome the warm weather and make the best out of it with the best DIY outdoor wood projects. If you're itching to give that garden a facelift, the above ideas are your go-to options. You can create a cool DIY wood project with these ideas, just like the folks did in the pictures. Wood pellets, crates, and old pieces of furniture are the quickest way of getting started, but you can also buy new materials if you're willing to spend more. Some homeowners may also prefer to upgrade existing tables and benches with steel frames or even concrete slabs at the top.
Whichever option you choose, ensure it is budget-friendly and lasts long with hassle-free maintenance. After all, you're creating a cool spot to chill, not to interrupt your weekends with endless repairs. Most importantly, don't create a DIY wood project unless you want to use it; crowding the space is the last thing you want.