When it's time to decorate for Halloween, the best DIY painted pumpkins will leave a lasting impression on anyone who visits your home. Pumpkin carving is a staple with Halloween, but pumpkin painting is steadily becoming more and more popular. Beyond keeping things a bit cleaner, painting your pumpkins gives you far more freedom whether you have artistic skills or just like to dabble in the arts. You can play around with various styles, covering the entire pumpkin in unique and festive paints. Otherwise, you can create some fun patterns or specific drawings on the pumpkins.
20 DIY Pumpkin Painting Ideas that are Super Adorable

With homemade pumpkin paint decor, you are able to design pumpkins that blend perfectly with the rest of your home's style if you wish. This way, nothing will look out of place or awkward. Adorn your pumpkin with distinctive colors that give it a more contemporary or modern look. Alternatively, focus on the seasonal colors, enhancing the pumpkin from what it already is.
Painting pumpkins is fun too considering you can work with pumpkins of various sizes. Aim for the larger ones to create artwork that can't be missed. Or go for tinier pumpkins, painting several of them to set the scene. Plus, you don't even have to use real pumpkins if you don't want to as faux pumpkins will work just the same.
So, where do you begin? Well, you can start with our favorite DIY pumpkin painting ideas to get going on your future project.
1. Cute Drip Painting Pumpkin Art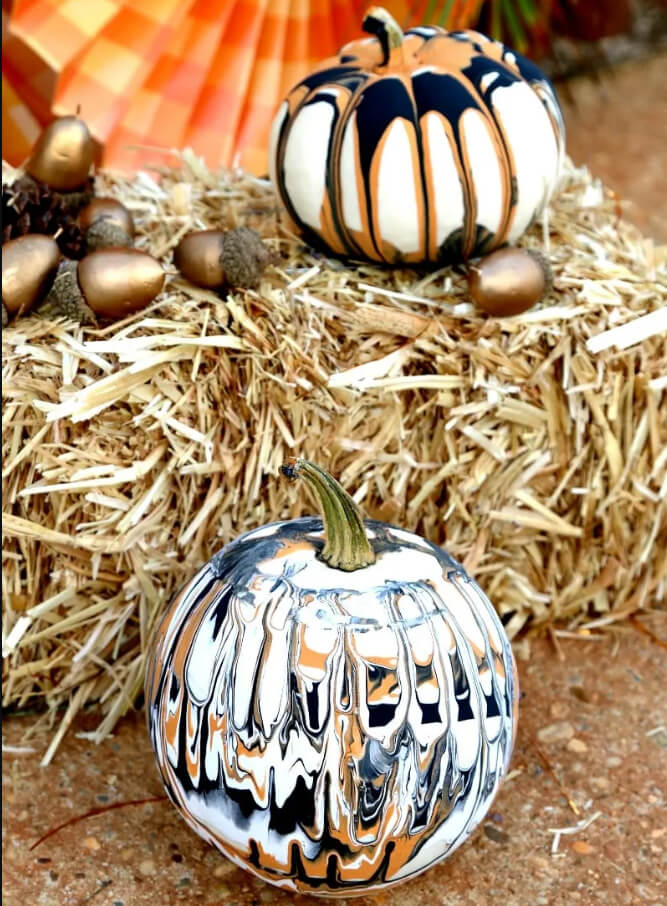 It may be a bit messy, but there is something that is simply whimsical and delightful about drip painting. This style of painting leaves behind something that is lovingly artistic and simply fun. There are so many ways you can do this too, blending different color styles to create the perfect painted pumpkin. Also, this is one of the best crafts to do with kids if you don't mind things getting messy. Kids will greatly enjoy dipping their pumpkins, creating personalized works of art that they can then show off wherever they like in the house.
2. Stylish Brushstroke Painted Pumpkin Designs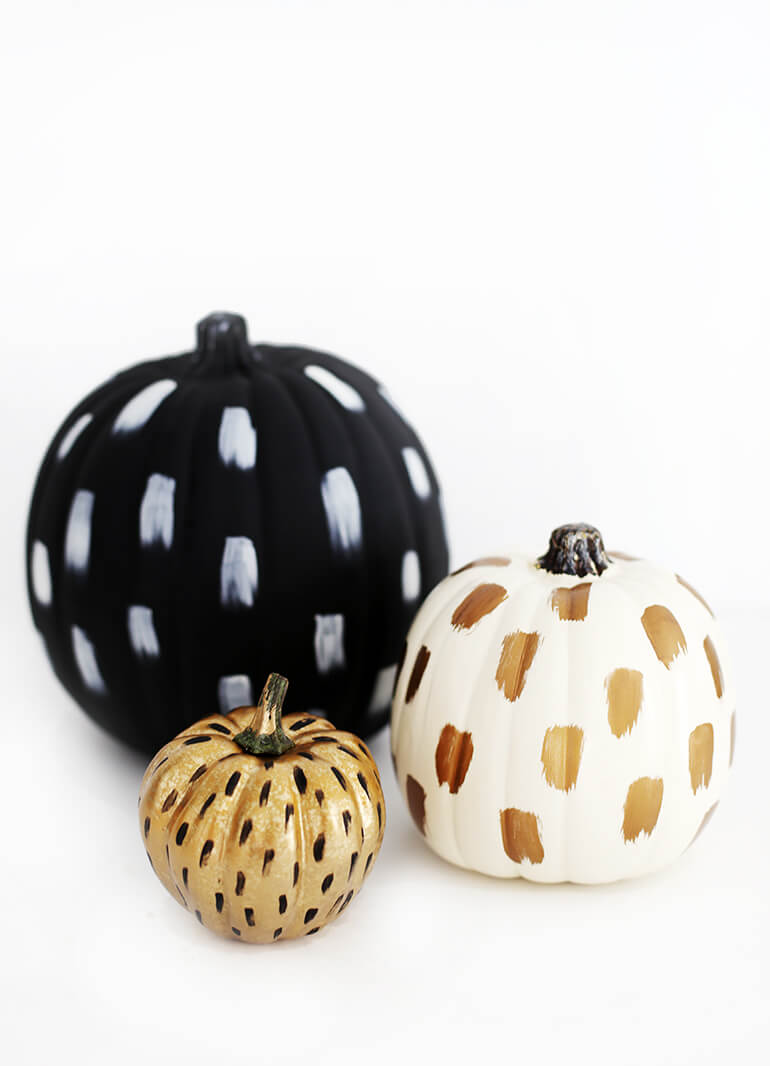 Elevate your pumpkins with this great brushstroke styled painting. You can get yourself some craft pumpkins if you'd like to set up pumpkins that will last throughout the season. This project is a wonderful way to give a more fashionable take on Halloween decorating. With the faux pumpkins, you can aim for different sizes and set them up in various places throughout the house. Aiming for versatile paint colors can further help these decorative pumpkins stand out while still blending well with the rest of your furnishings.
3. Charming Floral Painted Pumpkin Vases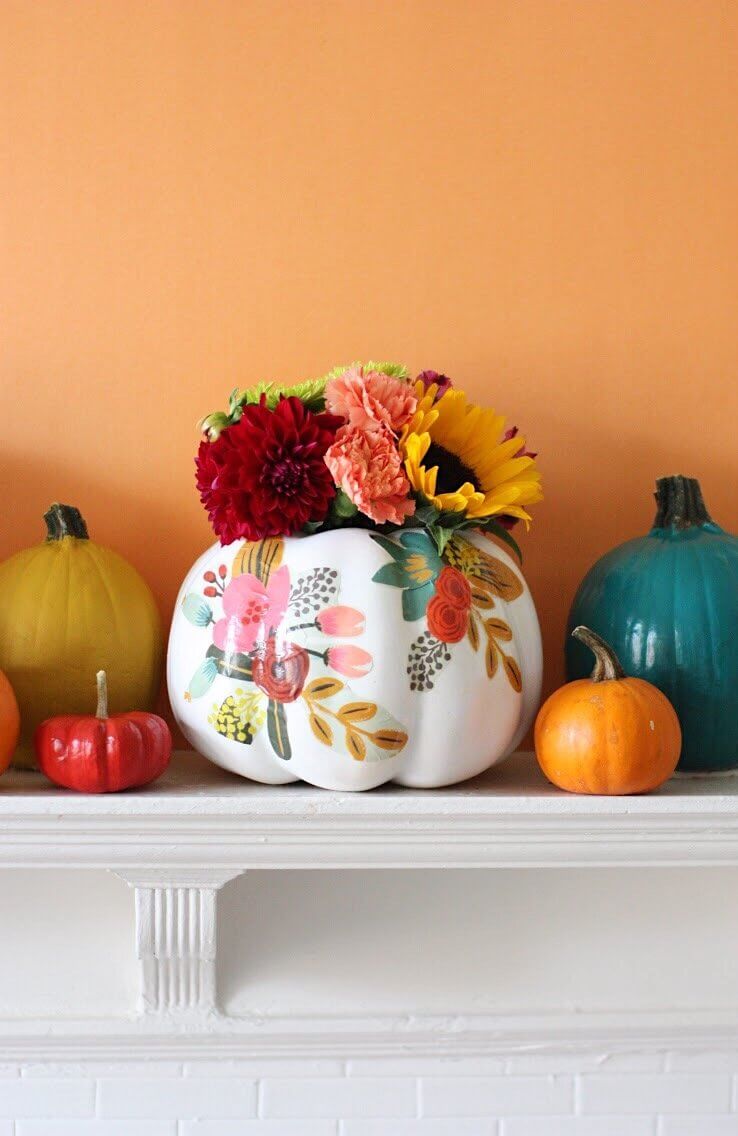 Some of the best DIY painted pumpkins are ones that serve as functional decor. In this case, you can create something artistic that is festive to look at, but you can also make something that you can use time and time again. For this project, you can make some beautiful vases. The floral artwork is lovely and attractive, and it is the perfect companion to your flowers whether they are real or faux. This also works when you want to bring some more color to your home's decor while still keeping in with the season.
4. Simple DIY Glitter Sparkling Pumpkins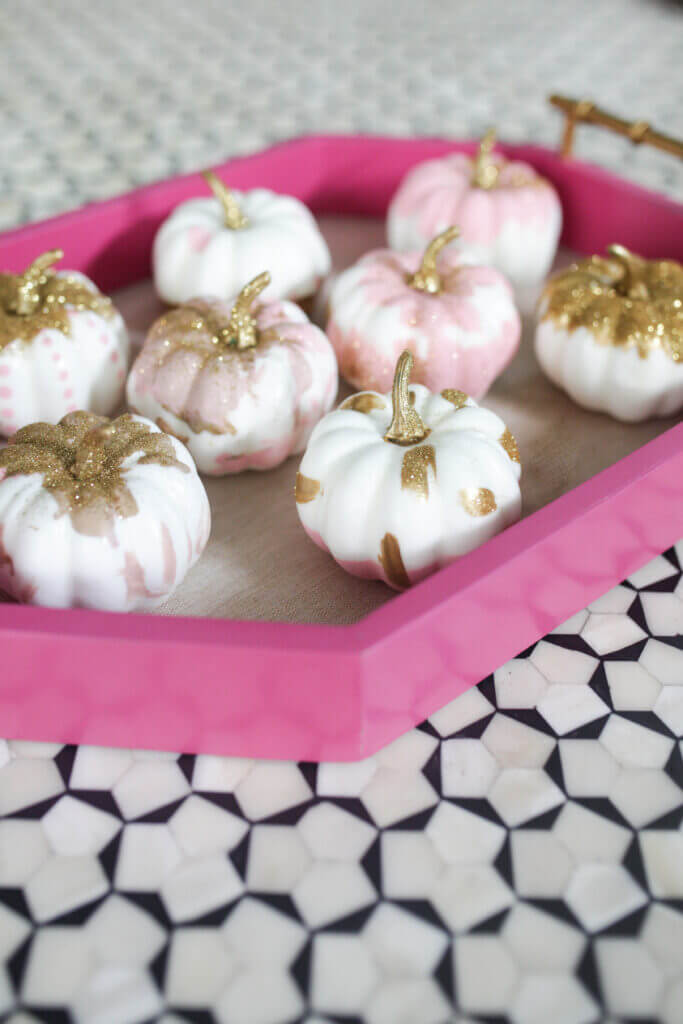 Going more small-scale in your pumpkin layout? Then you will adore these sparkling painted gems. The tiny pumpkins are eye-catching despite their size. This is all thanks to not just the paint applied, but the gold glitter added at the end. The paint already helps the pumpkins stand out, but the glitter truly makes them pop. This gold is bold and daring, and yet it still blends well with the fall season considering how dark it is. There are many ways you can set these pumpkins up too so that they work well with your home's decor throughout the entire season without fail. They're especially ideal for a contemporary-styled home.
5. Sweet Metallic Patterned Painted Pumpkins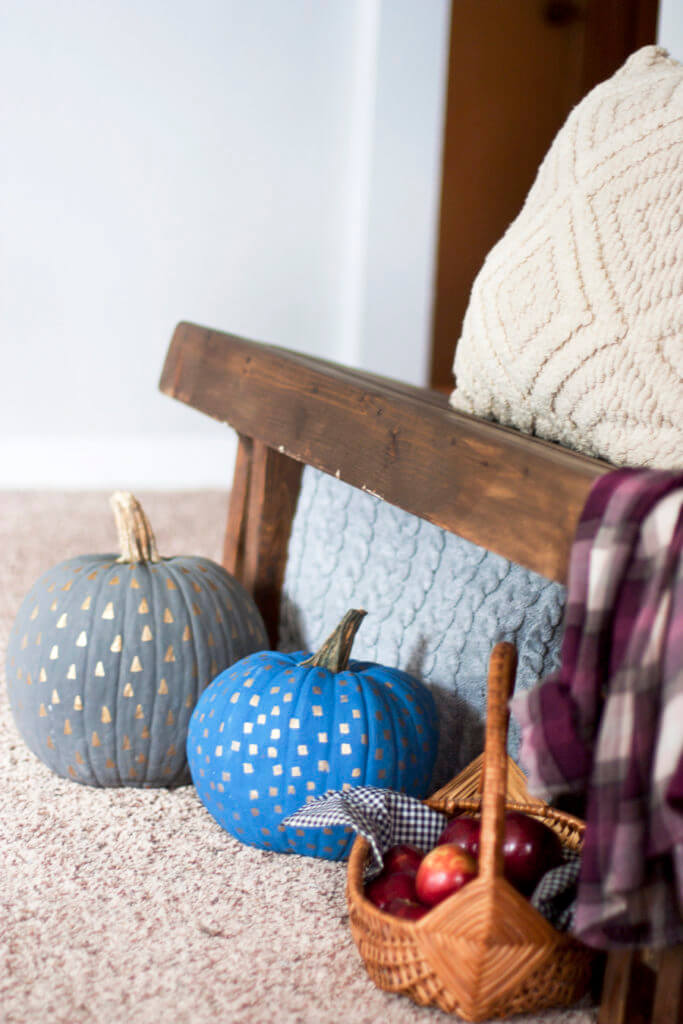 When you want to use pumpkins in your home decor, yet you don't want to use the bold orange coloring, a nice next step is to go a different shade and darker with your paint. Take this blue and gray-themed work, for instance. It is a nice way for you to still have color in your decorations, yet not have them be overwhelming if your home is more modern or low-key in terms of color style. The use of the metallic pattern serves to complement the paint itself, further helping to give the pumpkins a modern look.
6. Stunning Marbled Painted Pumpkin Design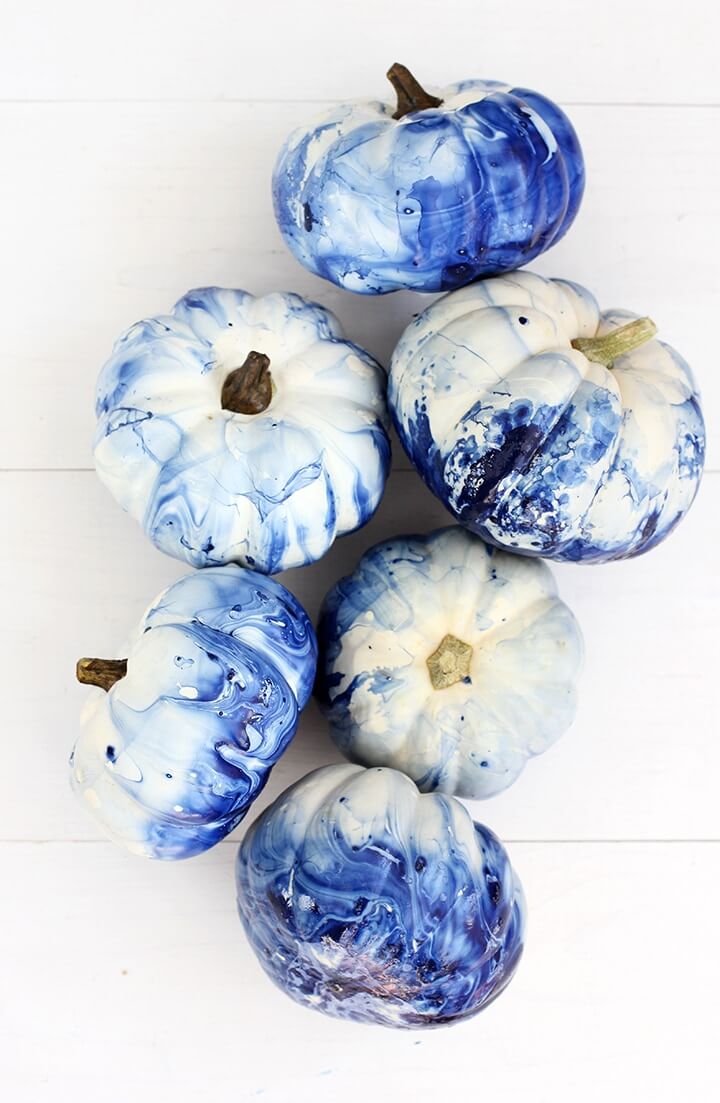 With the multitude of ways you can paint your pumpkins for the season, marbled remains an incredible choice. There is something that is simply awe-inspiring by marbled painting. It instantly stands out thanks to how compelling the paint is and how it looks as though it is moving. As a bonus, you don't even need paint alone to do this as nail polish can work. This is a grand idea if you want to work with specific colors you normally can't find easily.
7. DIY Sweet Painted Pun-Kins Artwork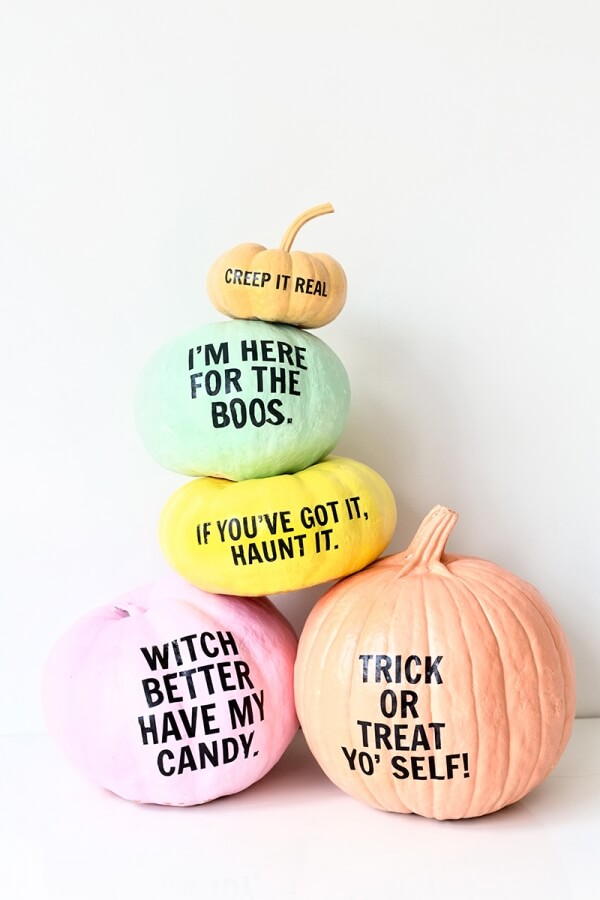 If you're ready to show your love for the holiday season, the best way is with these adorable pun-kins. These give the season a cute and charming vibe, a nice change of pace when you don't want something that is too scary or outrageous. Come up with as many puns as you can, celebrating the season in a way that can make you and your guests all laugh and enjoy. As for the backdrop, you can paint these pumpkins however you'd like.
8. Vibrant DIY Monster Leaf Pumpkins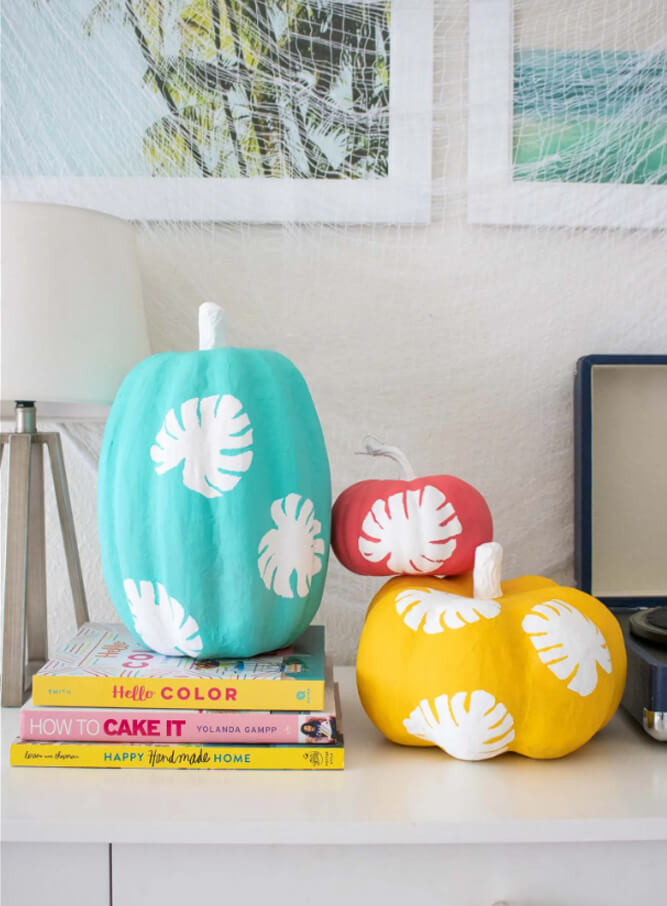 Sometimes, pumpkins need a little bit of color to stand out even more. With these, you can let your love or bright tones shine through this Halloween. The pumpkins even have a tropical look about them, more so thanks to the use of the outline of leaves all around the pumpkins. Opting for different-sized pumpkins helps this setup stand out even more too. You can set these up among various decorations around your home. Additionally, they blend well among kid decor, making this a wonderful project for the family.
9. Brightly Colored Painted Pumpkin Crafts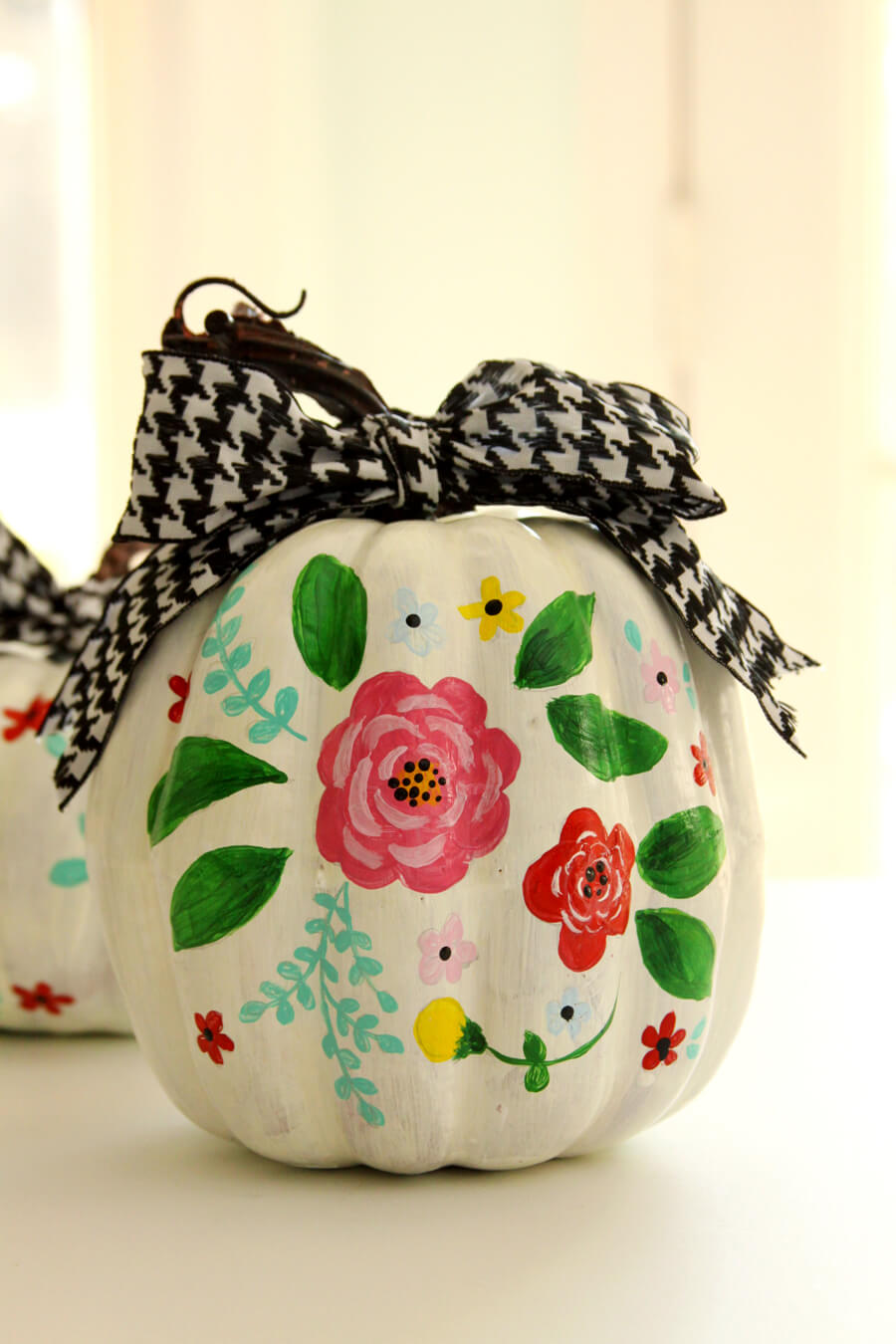 If you don't want to use any Halloween-themed coloring, or even fall-based coloring, you can go the more vibrant route with your pumpkin crafts. The white coloring provides you a solid base for you to paint other features on the pumpkins using other colors. This is a nice way for you to add a floral touch to the pumpkins. These are the best DIY painted pumpkins when you want something to fit inside a farmhouse-styled home. Even better, you can keep things for a while and they won't look out of place.
10. Incredible Neo Paint Dipped Pumpkins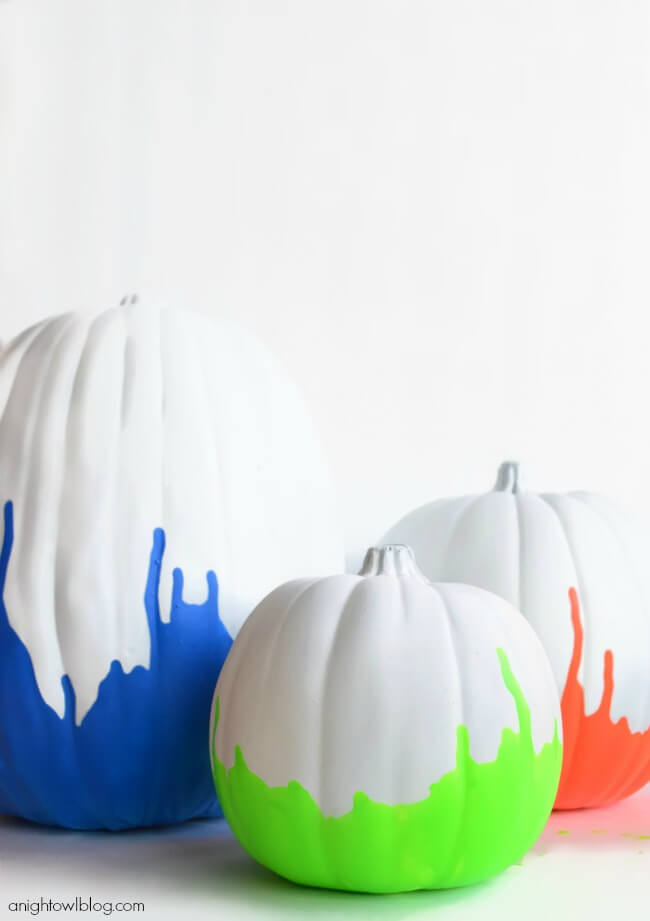 Besides choosing a color, how you paint your pumpkins play a large role in the vibe you will give off. So, why not try your hand at dip painting? It is an effective method to add a splash of color to your pumpkins. Consider doing it on an all-white painted pumpkin first to really sell the effect. The neon colors work well in this case too as they are bright and vivid, a lovely combination to allow your artwork to stand out no matter where you set these up around your home.
11. Chic Gold Splatter Painted Pumpkins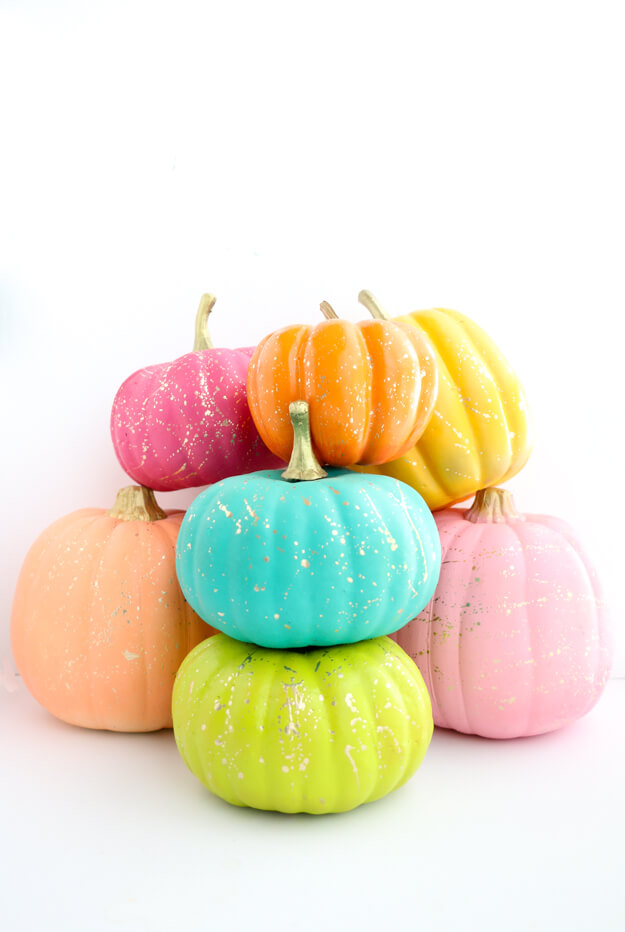 Keep things fancy with these remarkable painted pumpkins. With the right design, you can have pumpkins looking far more elegant and expensive than they actually are. The gold paint looks stunning and breathtaking, providing the pumpkins with a high-class appearance that looks great inside a contemporary home. Using the gold splatter painting technique is wonderful too as it gives it some more artistic flair that is captivating when compared to other Halloween decorations. This gold splatter looks incredible against any paint color too.
12. Cool Fingerprint Painting Pumpkin Project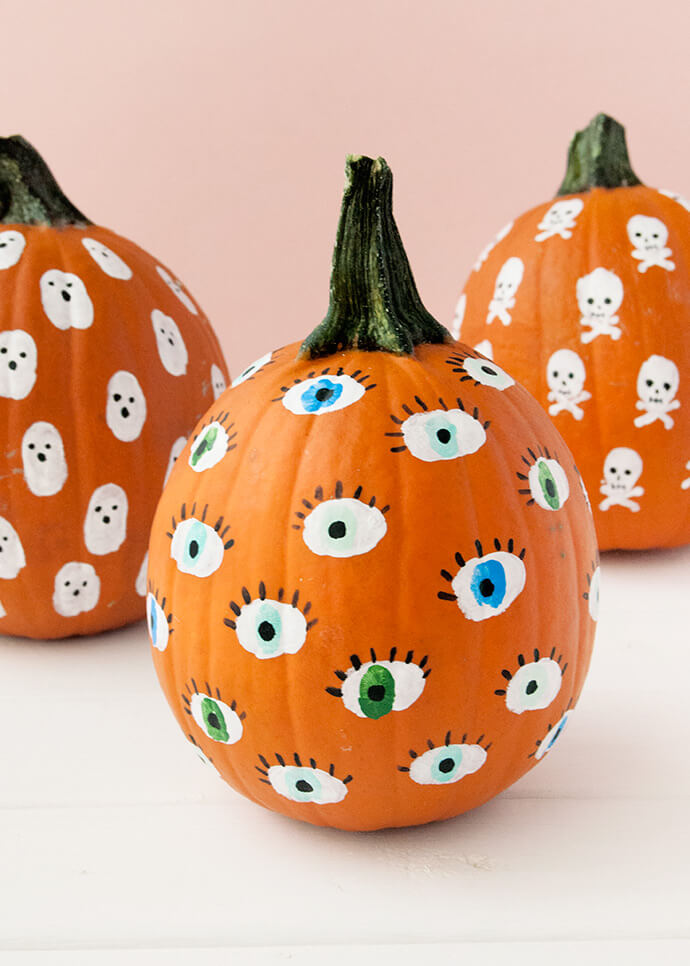 A fun thing to do with your pumpkins and the kids is fingerprint painting. This allows everyone to come out with some awesome little designs all with their fingers. It is certainly among the more creative cute pumpkin painting ideas that allow you to stretch your artistic skills and have some fun with it all. Plus, this can work well with real pumpkins. The lack of carving will help you keep these beyond Halloween if you'd like, pushing this through more of the fall season so that you can keep some fun decor around the house.
13. Artistic and Trendy Painted Pumpkins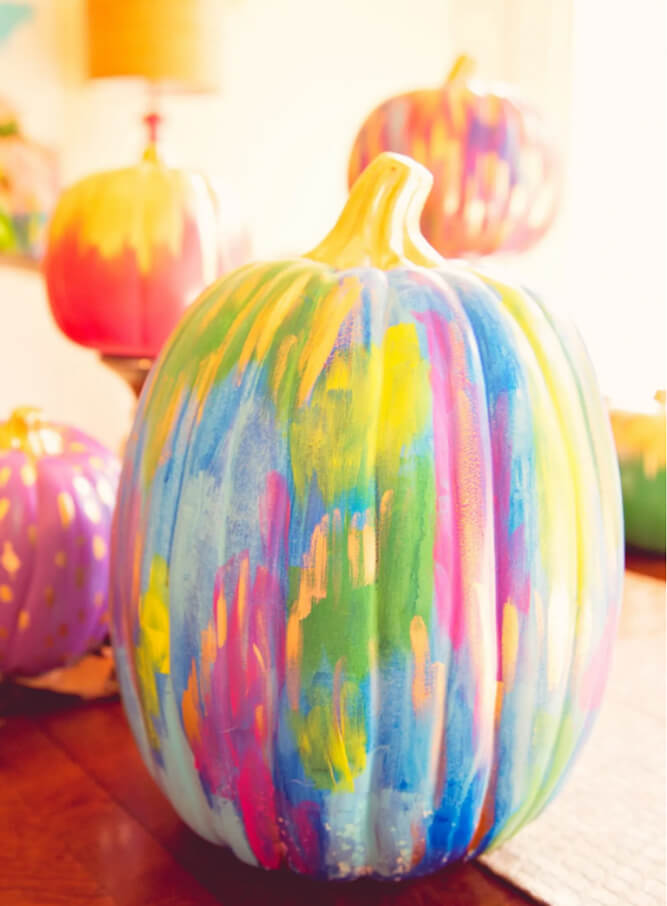 A joy you can get from painting pumpkins is that you can have fun with it and really push your artistic skills. With this homemade pumpkin paint decor, you are creating art that has a trendy vibe to it. There are multiple colors used that blend well together. In fact, the pumpkins wouldn't look off if you used the same paint design on canvas. The artwork is beautiful and in stark contrast to traditional Halloween decorations. There is nothing creepy about these pumpkins, which may work perfectly for those of you who simply enjoy the shape of pumpkins.
14. Adorable Painted Glitter Pumpkin Design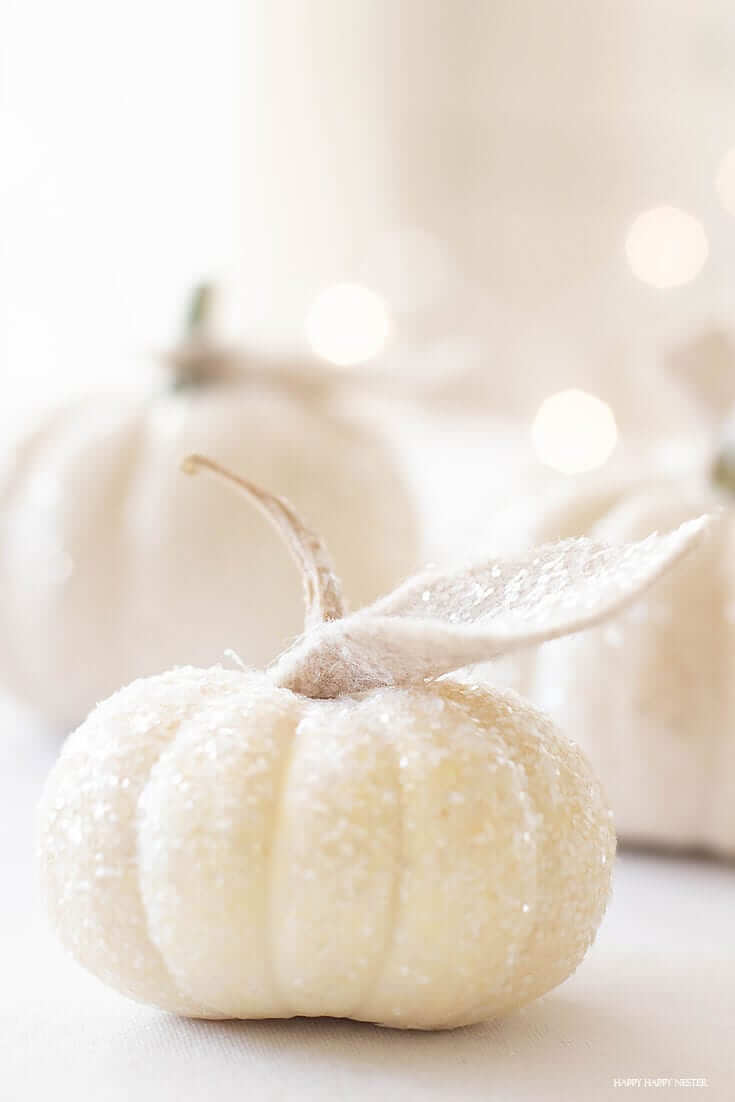 So, you are a fan of glitter? Or perhaps your kids are? In any event, you can take that love of glitter and pour it right on your pumpkins. You can transform faux pumpkins into elegant little showcases that will look splendid when set up throughout your home. The glitter allows the pumpkins to truly gleam, capturing light in such a way that you may be urged to always leave them lit. Also, the use of white ensures that these little glitter pumpkins can blend in with just about any style you have going on.
15. DIY Pop Art Painted Pumpkins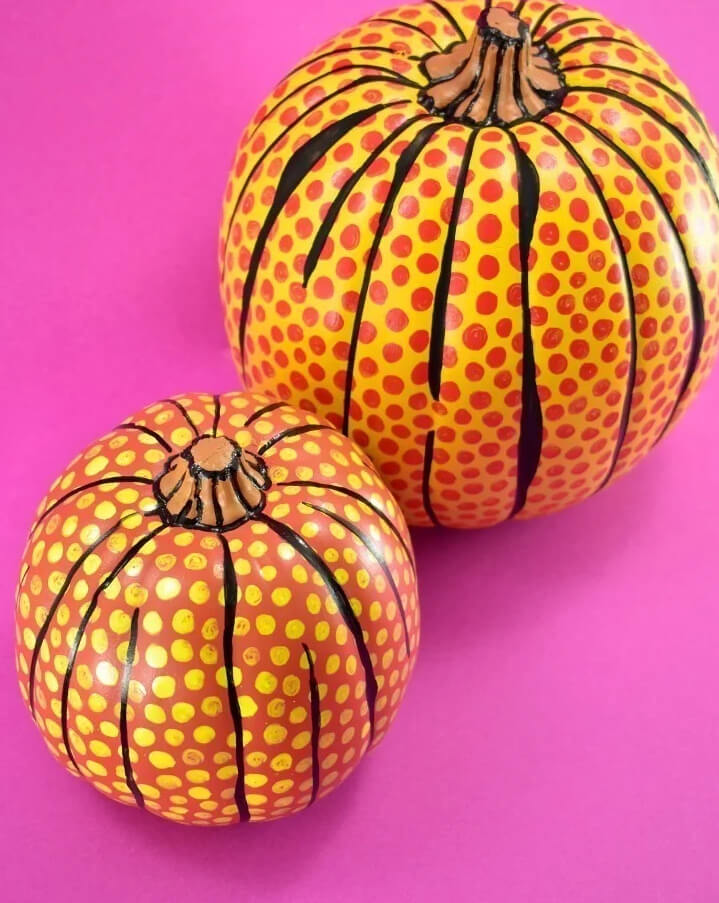 Bring some pop art into your home decorations with these incredible painted pumpkins. It is such a fun little project that allows you to play around with different variants depending on what colors you want to go with. The polka dots are gorgeous at allowing the pumpkins to stand out. Everything is further enhanced thanks to the bold black lines drawn, giving a nice movement to the pumpkins despite the same pattern repeated all around them. This is such a lovely way to show off your love of the fall season while also highlighting a beloved form of art.
16. Cool Chalkboard Style Painted Pumpkins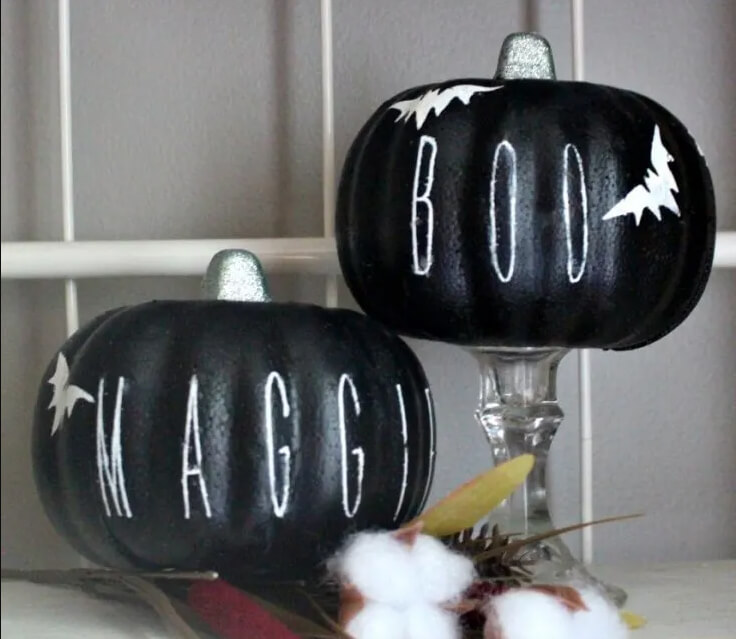 Get into the Halloween spirit with these black-painted pumpkins. Not only are they dark and perfectly fitting for the holiday in question, but the use of chalkboard paint makes these pumpkins even more crafty and attention-grabbing. You can create anything on the pumpkins afterward, erasing it and creating something different every day. It is a fun project for the kids to tackle, and it is even a cute way for you to leave messages for the family throughout the season, keeping things entertaining with this modern decor.
17. Fun Modern Styled Painted Pumpkins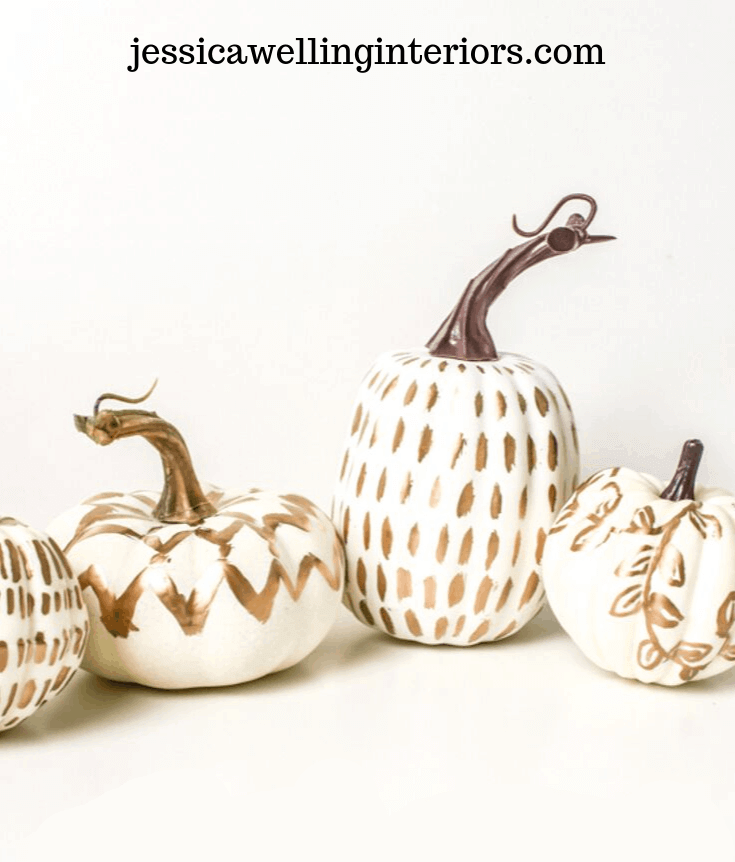 Give into the fall season while still keeping your modern flair with these charming pumpkins. The paint used here aligns closely with fall colors. At the same time, they have a more updated and modern look that the pumpkins don't appear out of place in your living room or dining room. There are unique designs used on the pumpkins too that help with their style even more. Feel free to let your imagination and artistic freedom run wild here as you come up with different designs from basic patterns to leaves as numerous designs can work with autumn in this case.
18. Charming Chalk Painted Faux Pumpkins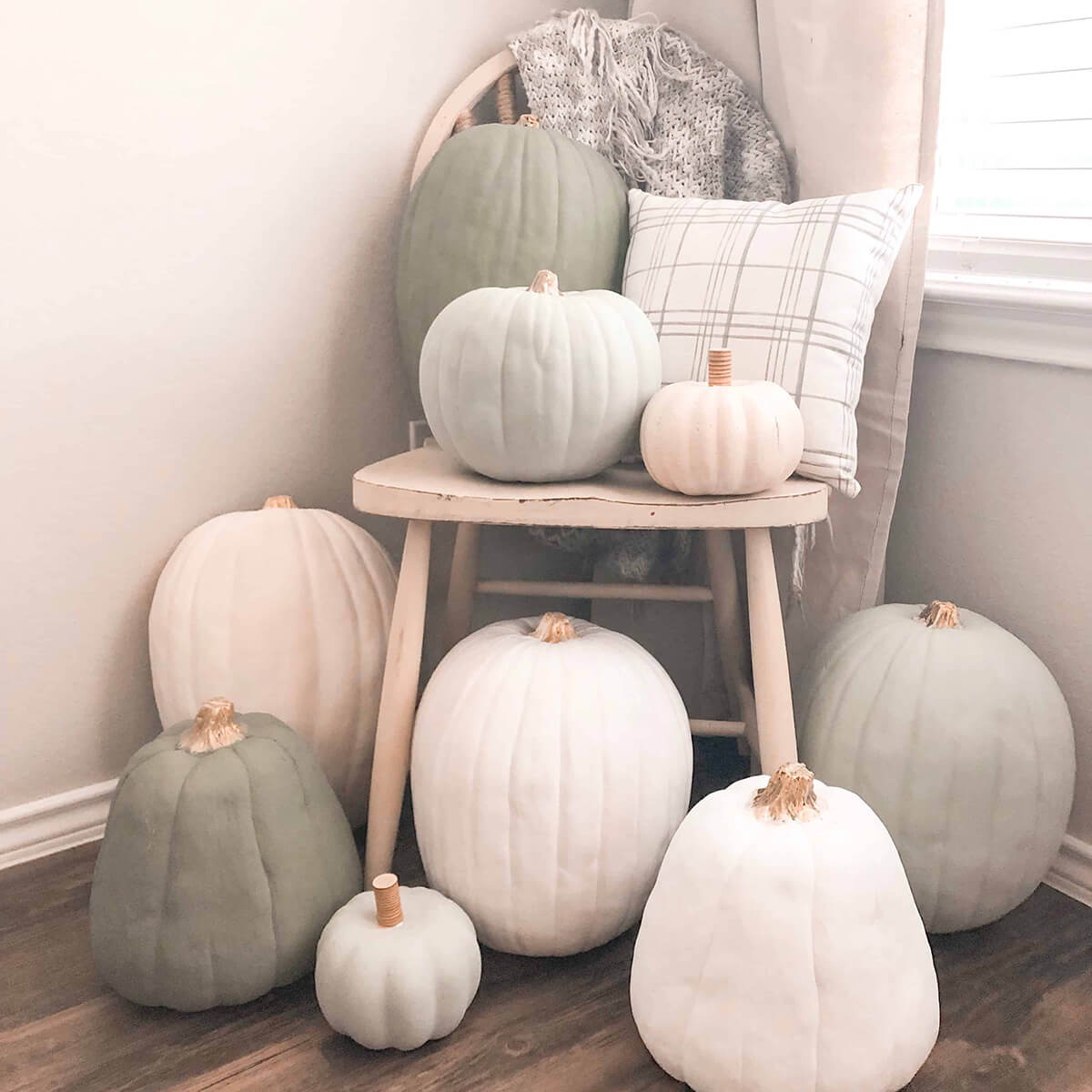 Gather up your faux pumpkins as they are just the right setup for this round of cute pumpkin painting ideas. The use of chalk paint will give the pumpkins a different sort of texture, spicing them up a bit to blend in better with your home's decor. You don't even have to go for bright colors here as using more earthy tones still allow the pumpkins to stand out with ease. Once you are completed, the pumpkins won't even look as though they are cheap. Your paint job will take them to new heights.
19. DIY Wood Painted Pumpkin Design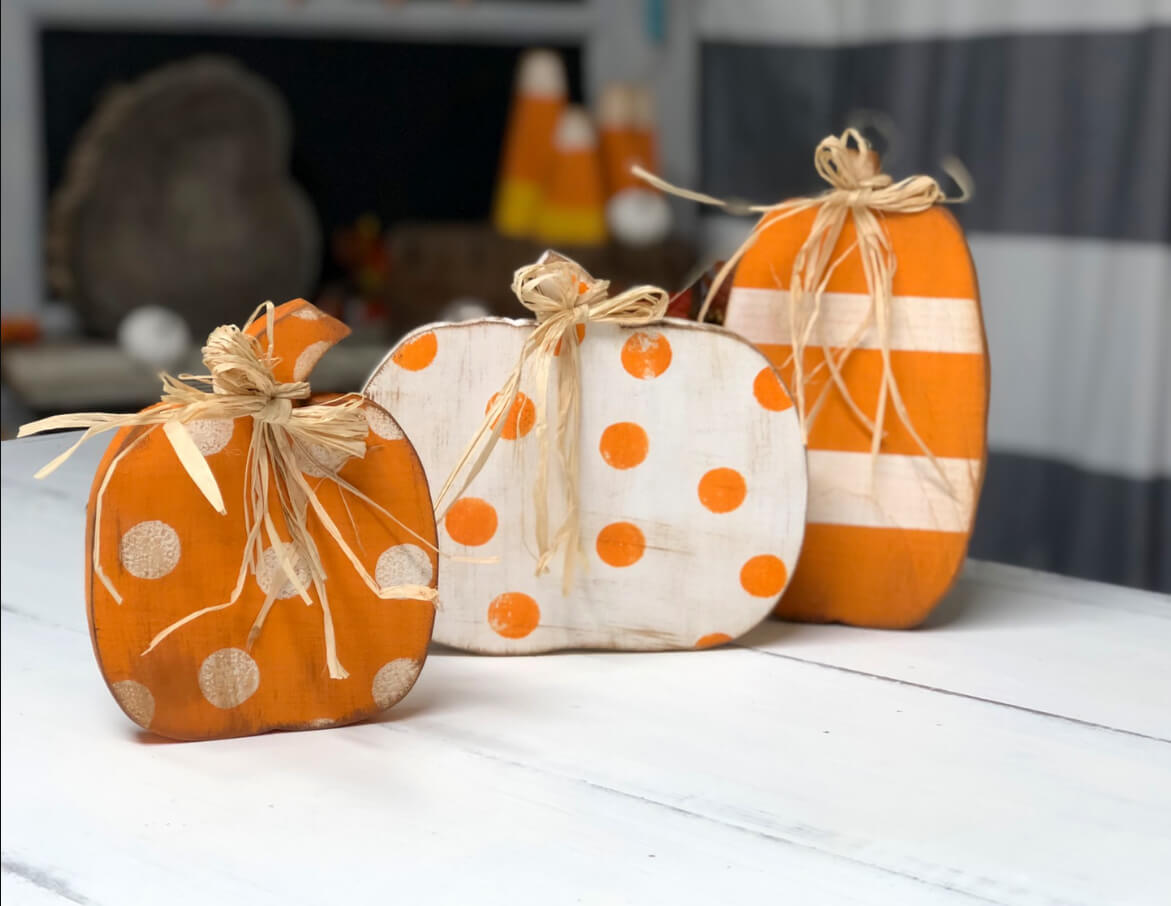 When the season rolls around, it isn't hard to find wood cutouts to resemble pumpkins. The wood gives you a clear canvas to work with, offering you all the freedom you need to create anything your heart desires. You can paint something that closely resembles the pumpkin using shades of orange and beige. However, you can add different patterns, allowing the pumpkins to stand out even more. If you want to make this look even more seasonal, the raffia around the stems works well in this case as it looks rustic and outdoorsy, fitting for fall.
20. Emoji Styled Painted Pumpkin Designs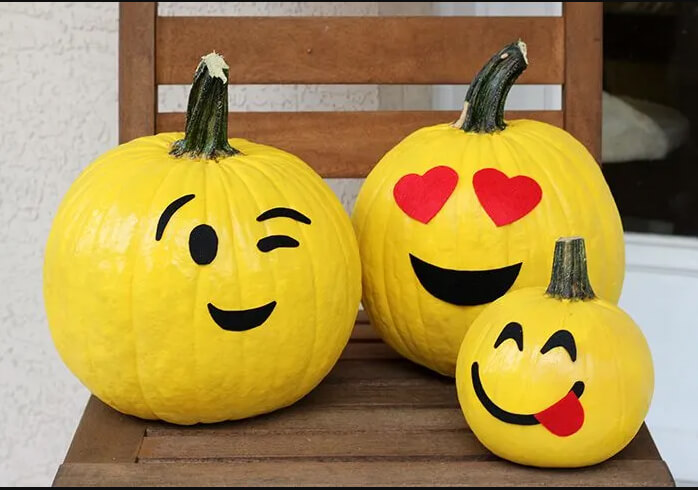 If you are one of the many people in the world who adore all-things emoji, then you'll love decorating your pumpkins with your favorite emoji faces. You don't even have to paint the entire pumpkin if you don't want to. Or go for it and cover the pumpkin with your favorite color before applying the face. Either way you go, the emojis are the stars here. Pumpkins offer plenty of space to play around with, especially the larger ones. With them, you can create any emoji your artistic skills can handle.
Unique Painted Pumpkins Ideas to Celebrate the Season with Style
As Halloween approaches and autumn kicks into gear, many people prepare to go all out with the pumpkin decorating both real and fake. But there is no need to pull out the knives and spoons when a good paintbrush and paint will do the trick. Painting pumpkins is such a cool way to decorate exactly how you want without all the mess or particular set of skills that come with carving specific designs. There are plenty of things you can do with paint too that may not always work out well with carving. Plus, you can make them as colorful or as dark as you like, which makes for an exciting family project.
But what do you paint? Well, you can cover the entire pumpkin in paint, completely changing it from the ground up. You can also paint some cute or spooky designs on the pumpkin instead. The possibilities are truly limitless when it comes to homemade pumpkin paint decor. So, if you find yourself stuck in any way, be sure to refer back to our list. With our DIY pumpkin painting ideas, you'll transform your home in time for Halloween in no time.