Serving up drinks is much more fun when you use one of the best DIY pallet bar ideas shown here. Not only does your personal space provide more comfort, but you can also customize your outdoor bar to the needs and specifications of your backyard space. From poolside hangouts to patio picnics, every outdoor space needs a beverage center to keep everyone hydrated and happy!
Entertain Your Guests with Style with these Budget-friendly DIY Pallet Bar Ideas

What makes a homemade bar from pallets the top choice in outdoor bars? First, pallets are one of the cheapest supplies you'll find. Some businesses even give them away for free due to their overwhelming abundance of them. In theory, a handmade pallet bar helps everyone since it's a wonderful way to upcycle an item that's generally left for trash. Choosing the homemade bar made from pallets that's right for you can be a little tricky. To begin, you'll need to decide how much room you have available. There are two basic options including a wall-mounted pull-down unit as well as a freestanding design. While each system is a great choice, it all depends on what your space needs most.
For tight spaces or areas near a pool, the built-in wall unit is the way to go. It maintains all of your floor space, yet it still provides all of the room for drink-making to take place. When you aren't using it, simply latch it and the unit is out of the way and patiently waiting for your next use. Once unlatched, a counter comes down so you can rest drinks and prepare your guests' favorites. Inside the unit, it's nice to see efficient use of storage in its organizational structure.
All in all, hosting outdoor events in your backyard deck is a lot better when you have a designated spot that works as your drink center or beverage station. Choosing one of the best DIY pallet bar ideas is a great way to make this happen!
1. Modern Concrete Counter Outdoor Deck Bar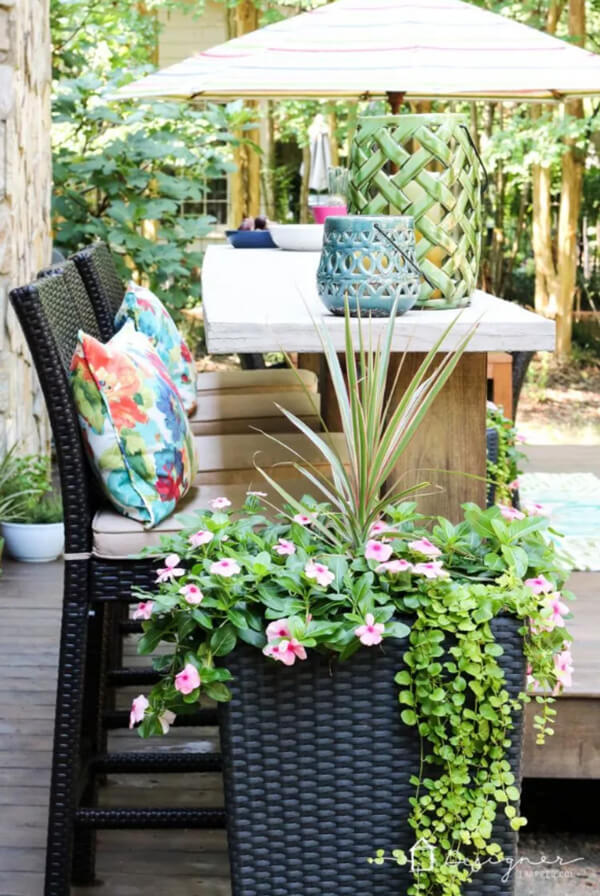 Take your plain and boring wood deck to the next level by adding some railing that turns it into an incredible outdoor bar space. With thick wooden posts, your new railing begins to take shape and become a focal point of your outdoor space. For added interest, the countertop is crafted from concrete providing a clean and weather-resistant solid surface for eating and dining outside. Shop around for a few chairs that provide comfort and style and consider a fun sign and some outdoor shelving to hold some of your drink-making essentials.
2. Crazy for Crates DIY Outdoor Bar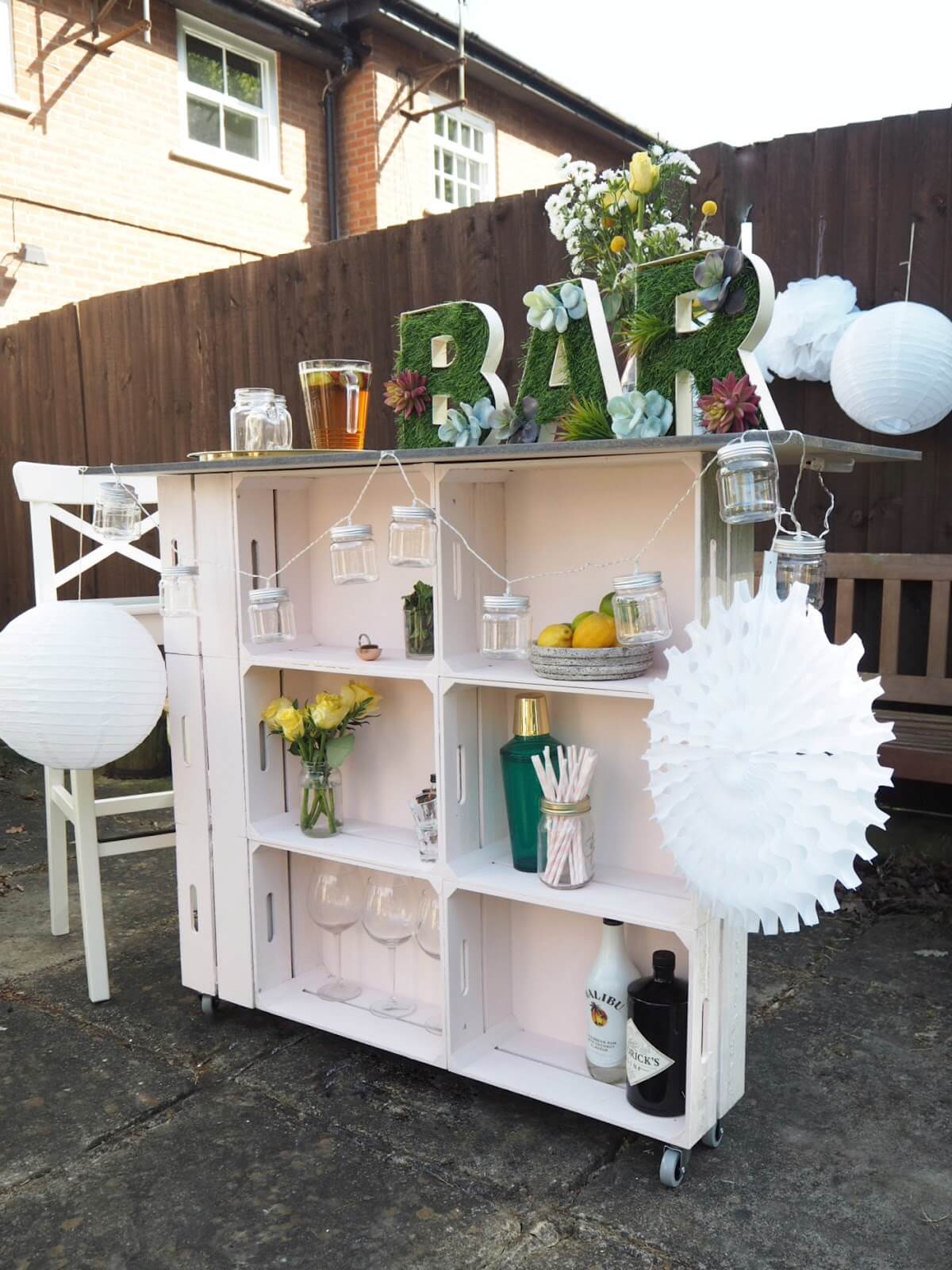 Storage solutions are always important so why not take them outdoors? This rolling outdoor bar is composed of several wooden crates to create a functional and complete bar that's full of storage and organization. Each and every side features compartments ready to be filled with all of your drinking necessities. From tumblers to stirrers and everything in between, mixing up your next cocktail or mocktail is more fun when you're breathing the fresh air in the comfort of your own backyard deck.
3. Rolling Outdoor Bar Cart with Built-in Cooler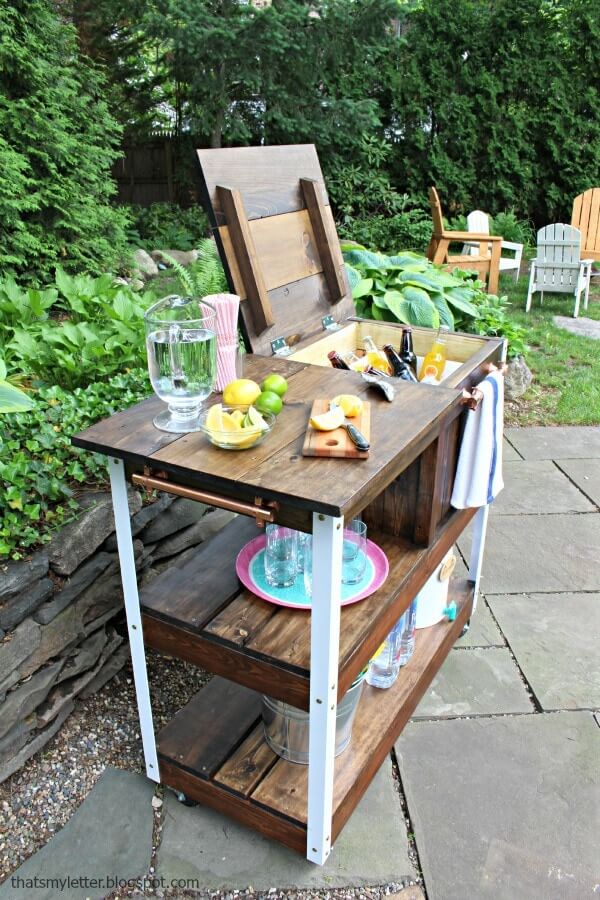 Take your beverage station on the road! No matter where your backyard party meanders, this rolling outdoor bar car can tag along. Begin on the patio and end under the lighted pergola. Everything you need for your favorite drink can be housed on this handy cart. It even features a built-in cooler to keep everything at the perfect temperature. And there are plenty of shelves to hold all of the stemware, cups, mixers, and extras you'll need to please every guest at the party. If you prefer grilling, this makes a great grilling cart too. Store your meat in the cooler and keep all of your rubs and marinades at your fingertips and you'll be the grillmaster guru of the neighborhood.
4. How to Style Your Outdoor Pallet Bar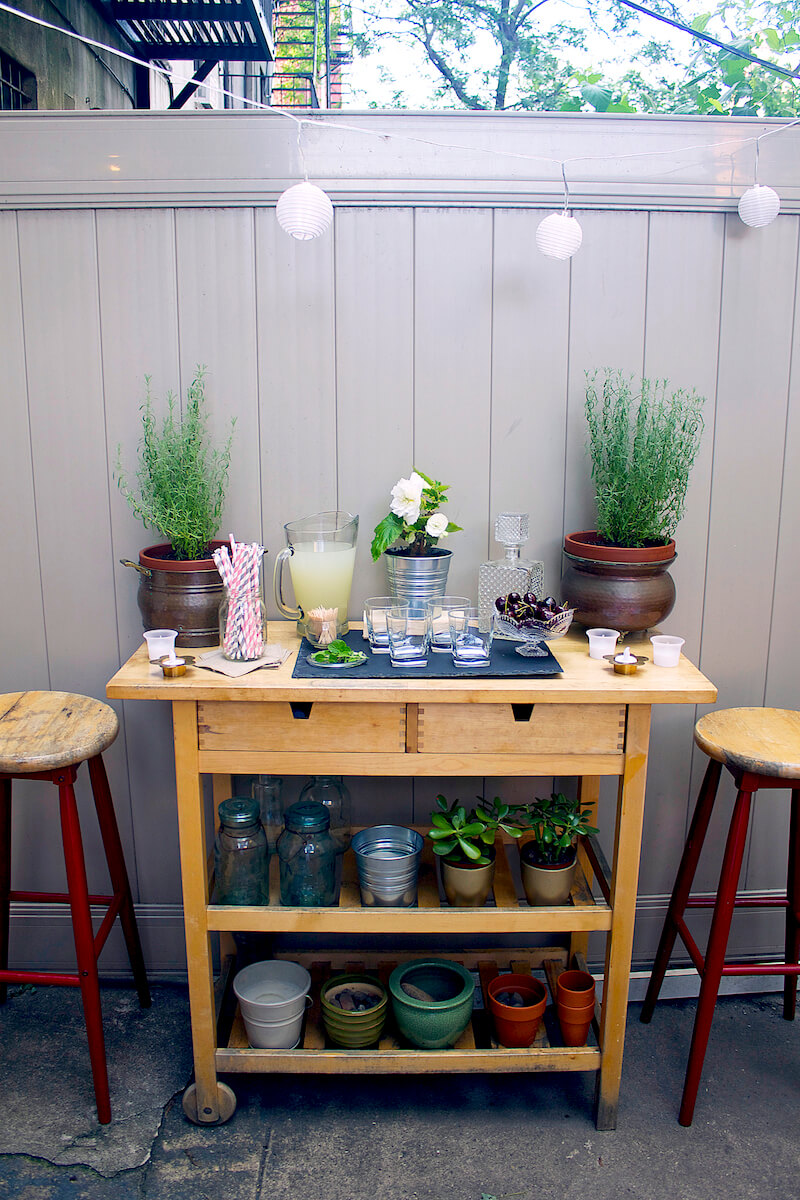 Once you have your pallet bar constructed, do not forget to skimp on all the fixings. Including details like striped straws and greenery can really bring this piece of furniture to life. Classy additions like candles, a decanter, and a glass pitcher really take this bar cart to the next level. To bring life to the party, colorful garnishes like mint leaves and cherries are a must. Of course, if you plan to keep your pallet bar outside, you will need to seal it with an exterior-rated finish. As a beverage cart, a waterproof finish might prove practical in the long run.
5. Drop Leaf Outdoor Murphy Bar Drink Station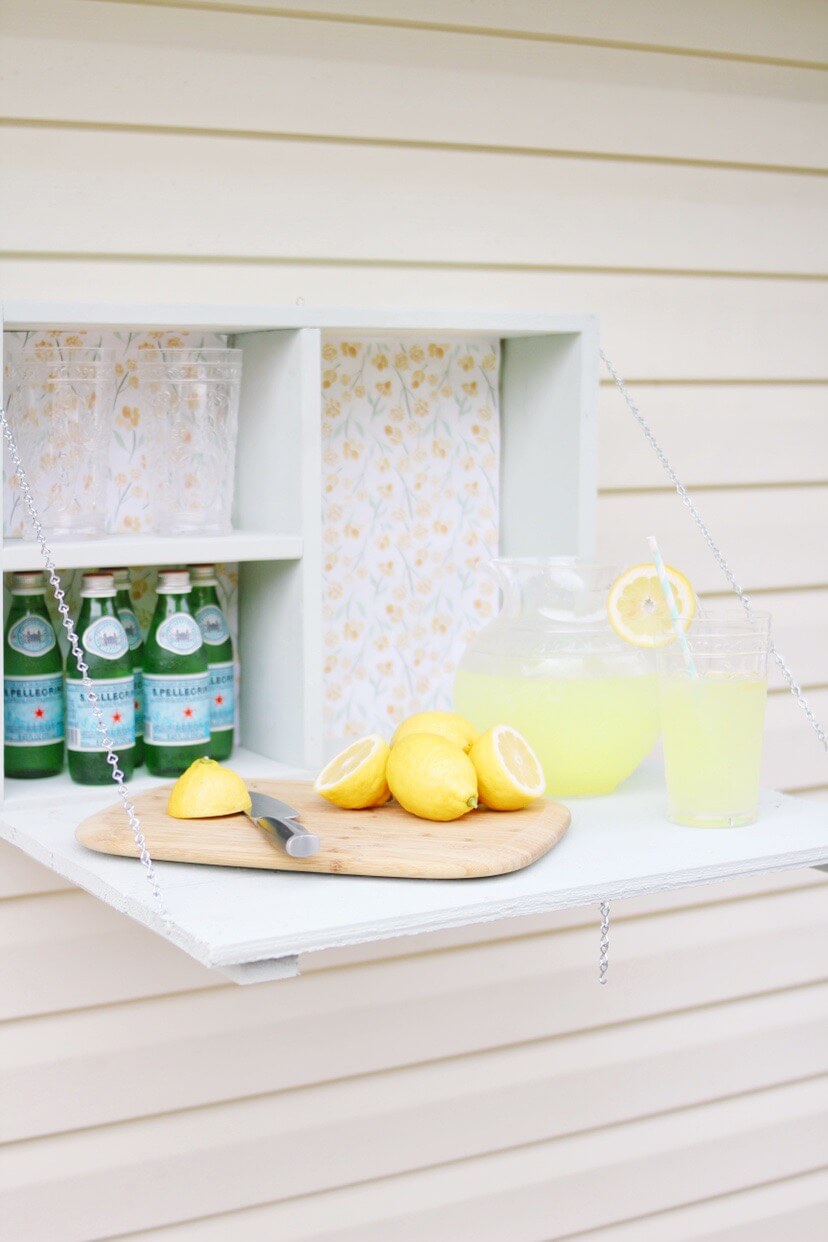 Get the conversation started as guests gather around your latest and greatest DIY adventure. This outdoor drink station saves so much floor space while not skimping on style. When you're ready, simply unlatch this murphy bar system and watch the magic unfold. Storage space for bottles and glasses is nestled in the back behind the perfectly-sized serving space. No matter if you're mixing up a lemon shake-up or an adult beverage, this drink station drops down to get the job done!
6. Spanish Beach Built-in Outdoor Wall Bar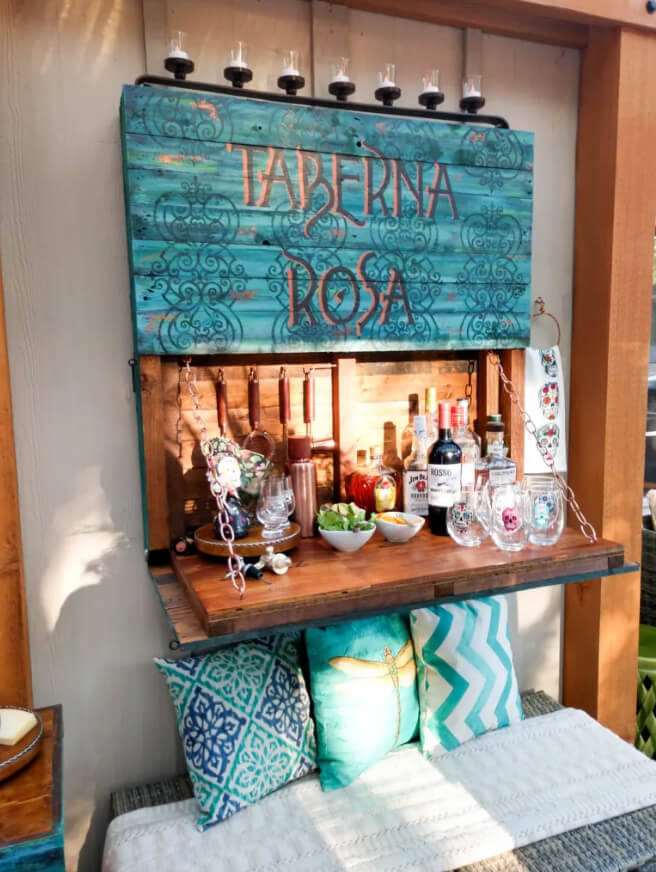 Sit back and relax in the splendor of your Spanish-influenced outdoor bar. Summer sipping just got a little easier and a whole lot better when your cocktail center is as easy to access as this built-in unit. Crafted from pallet pieces, this wall unit opens to expose a quaint and practical tabletop roomy enough for mixing and making your favorite drinks. Inside the unit, hooks are included to hold your utensils keeping them stored and ready at a moment's notice. When friends drop by, it's easy to drop down this outdoor bar and let the party begin!
7. Picket Fence Outdoor Rolling Bar Cart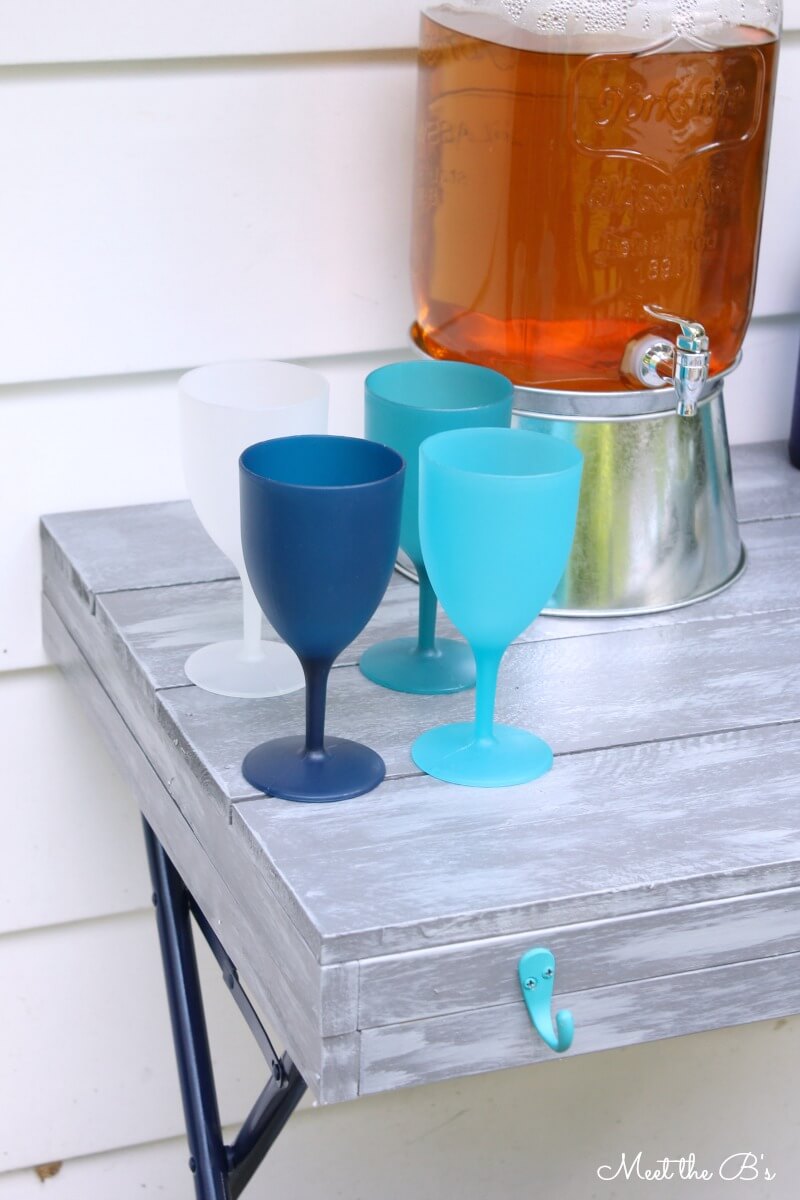 Portable and versatile, this outdoor rolling bar cart will be a welcomed addition to your next outdoor gathering. As a small space to serve up drinks for an any-sized crowd, defining your outdoor space gives it more purpose and makes the best use of whatever sized space you have. From refreshing lemonade on a hot, sunny day to a drink on the rocks after the sun sets, this rolling cart is your partner for making sure no one feels parched on the patio.
8. DIY Pallets and Pavers Outdoor Bar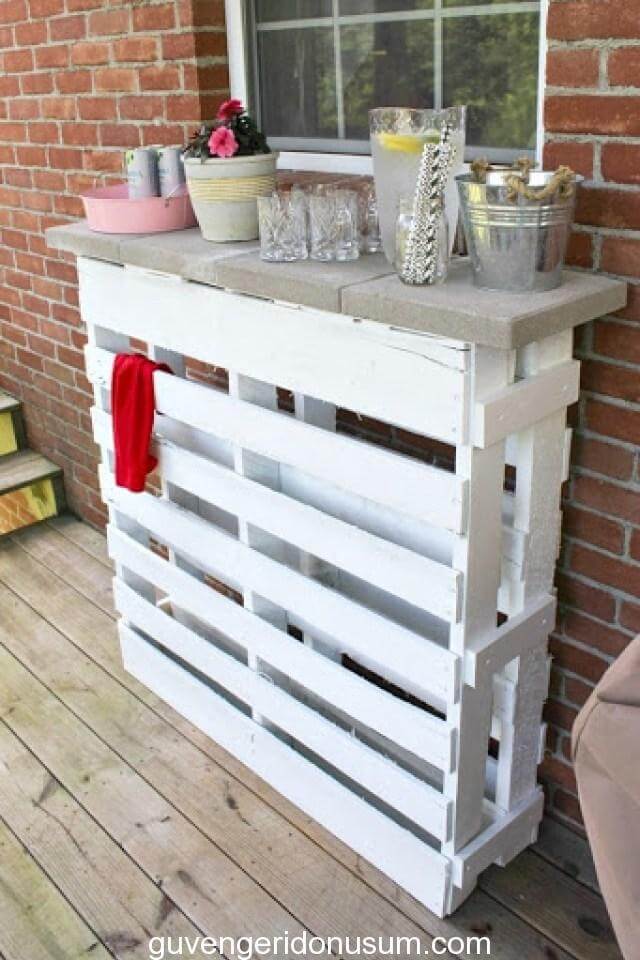 What do you get when you combine two pallets and four pavers? Well, one answer is a creative and easy DIY outdoor bar! After thoroughly cleaning and painting the pallets to your desired color, you're ready to begin assembling this unique outdoor furniture essential for all of your entertaining needs. With four pavers on top, you'll have the proper drink-bearing space your guests need. The slim design makes this a good choice for smaller outdoor spaces, yet offers enough room to meet your needs.
9. DIY Chalkboard Top Outdoor Pallet Bar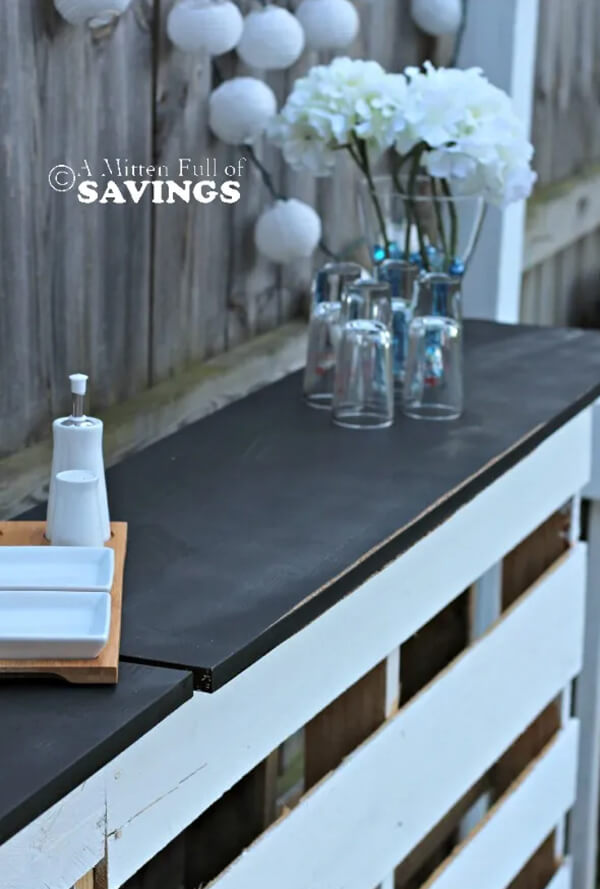 Remember that pallet you've been saving for a rainy day? Here's a great way to feature it in your outdoor space in a meaningful way. Two pallets painted white transform into the base for this lean and wall-hugging outdoor bar. To complement the white paint, a black chalkboard counter is used adding plenty of tablespace for drinks, as well as a fun message or two. Line up this beverage station next to your garden shed or on a side of your patio. It even works well in a more narrow space like a breezeway or small space at the back of your garage.
10. Unique DIY Old Door Turned Outdoor Bar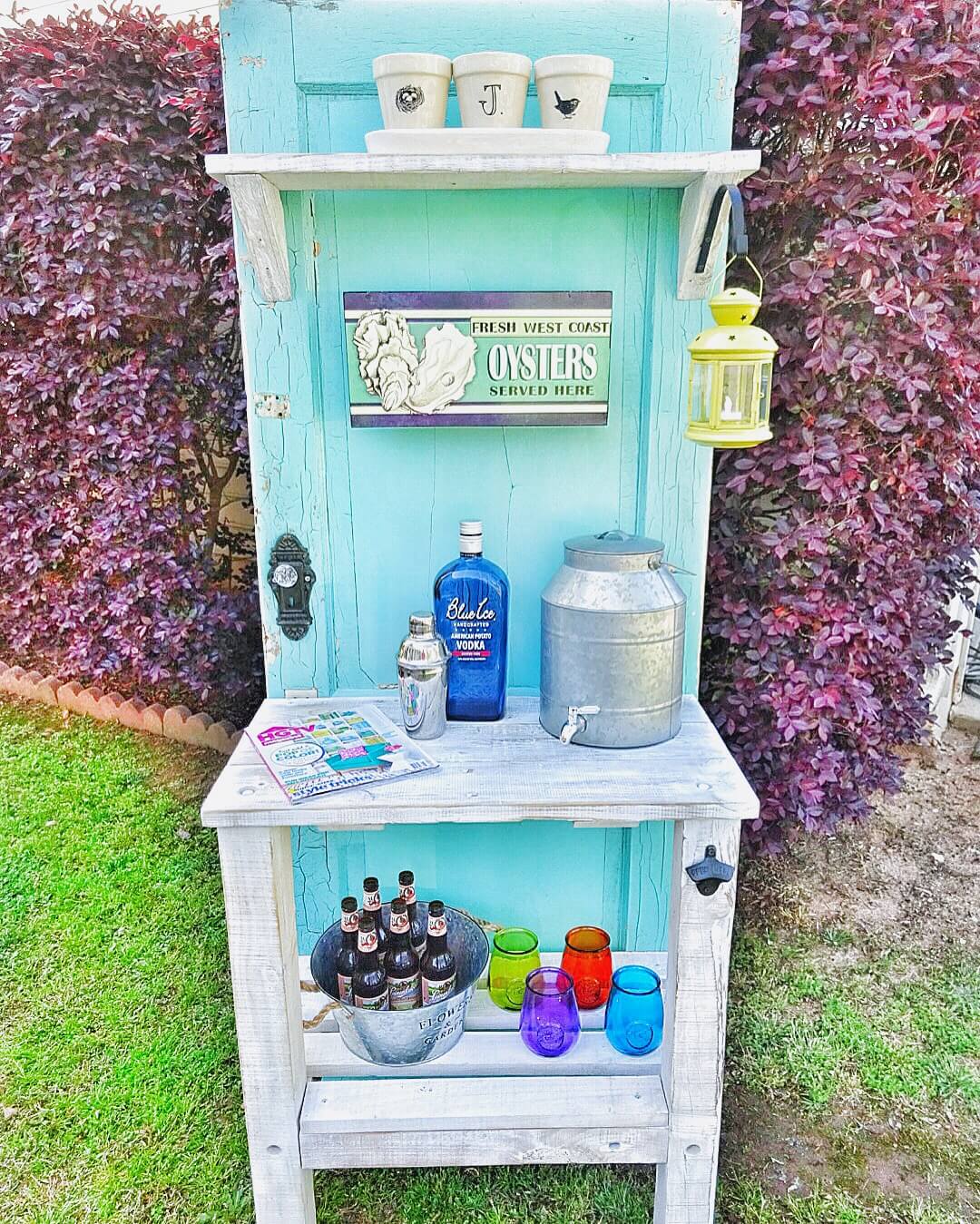 Thinking outside the box often results in some of the most interesting and useful pieces you can add to your home. An old door instantly becomes useful again when it's reimagined as the perfectly-sized outdoor bar. Place this on your patio or in your garden so everyone can enjoy a refreshing drink when the temperature begins to rise. Whether you're hosting a quaint party or simply enjoying the afternoon with your family, this beverage station comes in handy. Add a chalkboard sign for more character and a fun place to share messages and decorative drawings with everyone in your family.
11. Outdoor Wooden Bar Top with Hairpin Legs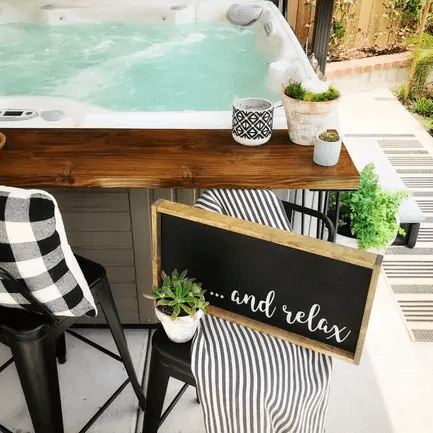 Knock your next project out of the park by finding a modern design that meets your DIY needs. This sleek and slim outdoor table is constructed with a thin board top that rests upon a set of hairpin legs that add loads of modern style. Not only does this bar table take up minimal space, but it also works for nearly any need. Slide it next to the hot tub and you'll be able to enjoy a drink or snack after a relaxing and pulsating spa visit. Cozy it up on your back deck to provide an outdoor breakfast nook the whole family will enjoy. You can also use it as a tablespace in your gardening center to maximize space.
12. Skinny Fold-up Outdoor Wooden Bar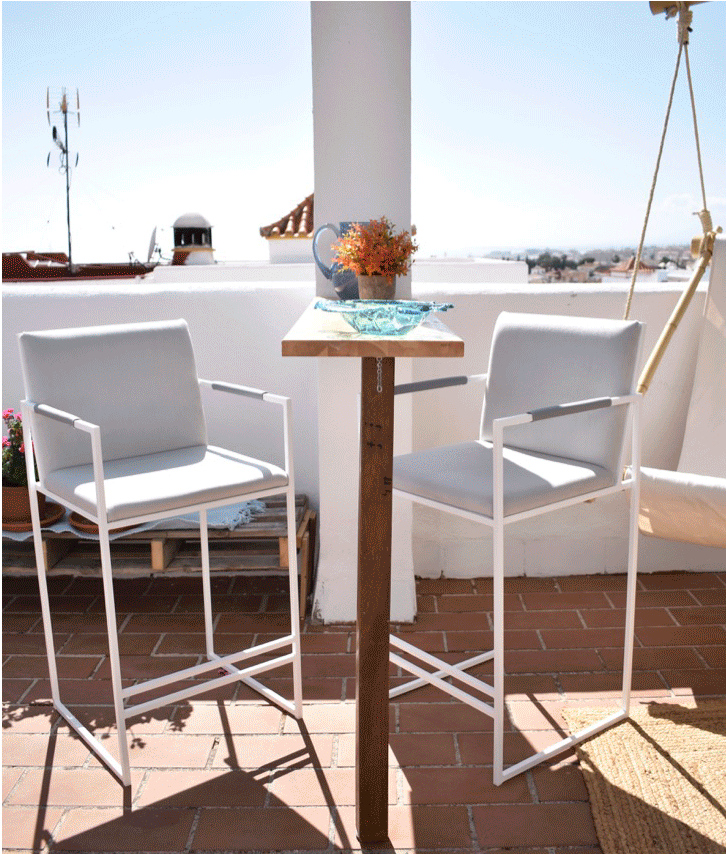 Being short on space is no longer an issue when you think vertically. This savvy space-saving fold-up bar only appears when you need it. The rest of the time it is carefully tucked away as it folds up and into the wall space leaving you with all of the floor space in which you began. Once it's down, the skinny design keeps your conversation cozy as you enjoy a drink and small treat with your closest friend or sweetheart. Pull it down and you'll love enjoying your morning coffee every summer morning.
13. Rustic Coastal Outdoor Pallet Bar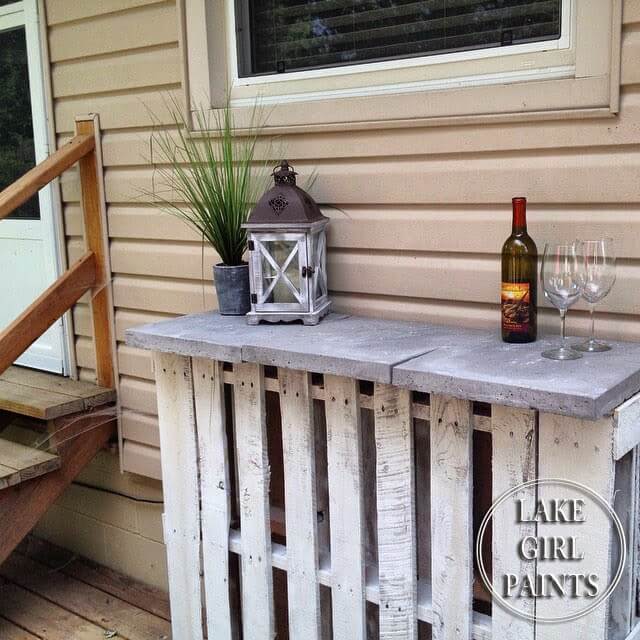 Focus some time this weekend on the simple task of creating a homemade bar made from pallets. It's an easy DIY project and requires only a handful of supplies. For this rustic coastal design, two pallets have been joined together. After the top portion has been leveled, concrete pavers serve as the weather-proof countertop. Not only will this pallet bar hold up to the weather, but its space-saving design also allows you to enjoy your entire backyard. Including an outdoor bar at your home provides a designated area for a drink station making your outdoor space feel more refined and pulled together.
14. DIY Deck Rail Outdoor Bar Seating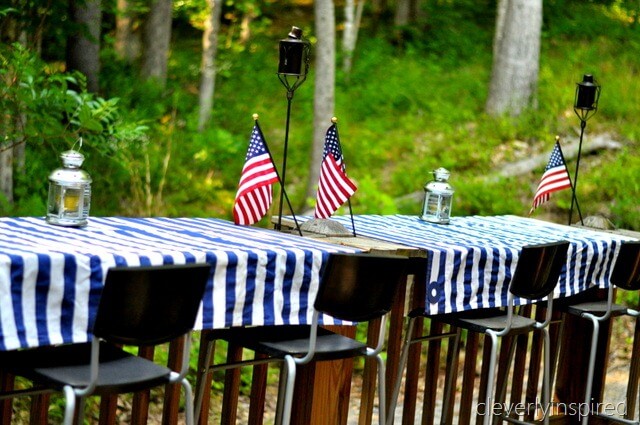 With this DIY deck rail outdoor bar, you can bring home the ease of pulling a chair up to the bar of your favorite hangout. Your existing back deck quickly transforms into a unique bar space extending your outdoor seating capacity with this hip and cool project. Long and lean counter space is all it takes to get the buzz going about this awesome addition to your deck. Line up your barstools to finish off this new and improved backyard drinking center.
15. Plenty of Pallets Outdoor Tiki Bar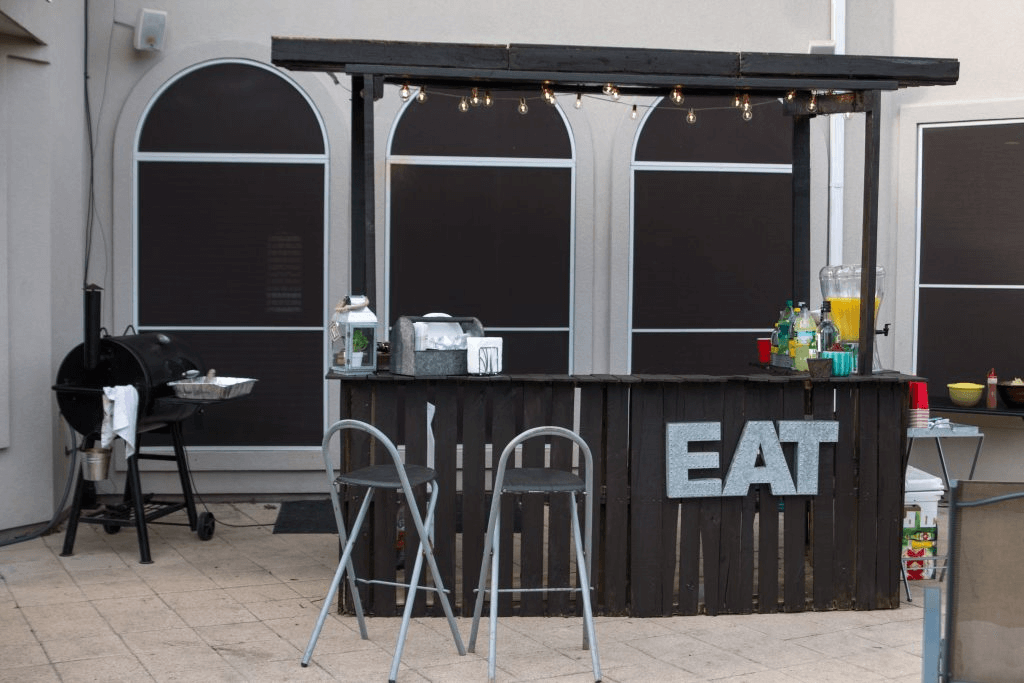 If you've ever considered creating a homemade bar made from pallets, now's the time to make it happen! Enjoying your outdoor space is better with a nice tiki bar as part of the scene. Its large size offers the counter space you need to serve up mixed drinks and even layout a hearty spread of snacks. Backyard family movie night just went to the next level! Your backyard will now be the new "it" place for your kids and their friends to hang out. The pergola-style tiki bar top is the perfect place to string some lights creating a more cozy ambiance without distracting from the projected feature film.
16. Pallet Bar in Cherry Stain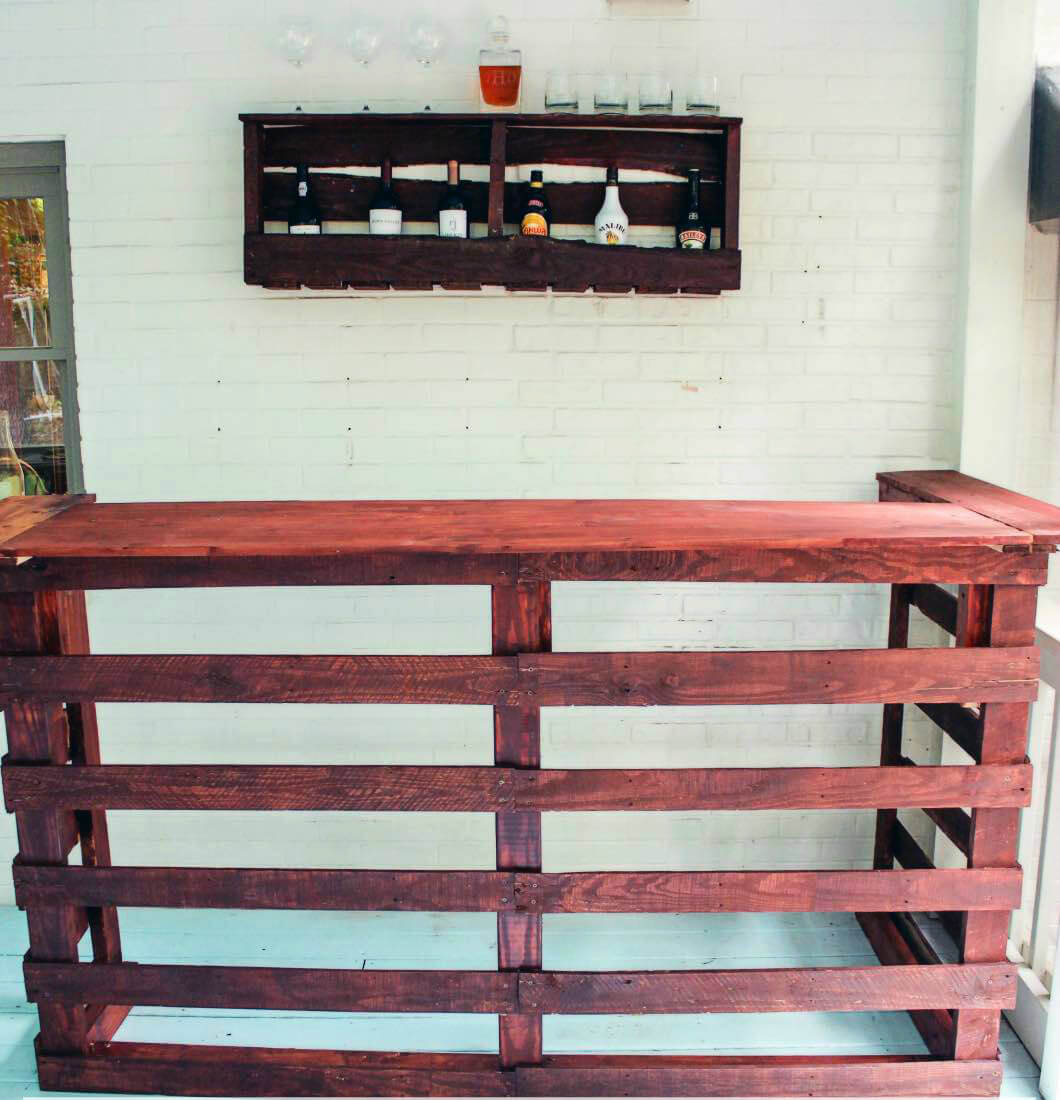 In this tutorial, three pallets and some plywood come together to create an approachable bar. Because you are constructing your own pallet bar, you can pick a stain personalized for your space. While the warm finish shown here exudes friendly hospitality, a calming cool-hued stain might fit your style better. If you love all things farmhouse, imagine what this pallet bar would look like with a whitewashed finish. Of course, another option is to skip the stain altogether and give your pallets a coat of paint. Because you can always repaint it, this is a fun project to experiment with fresh ideas.
17. Pallet Bar Topped with Ceramic Tile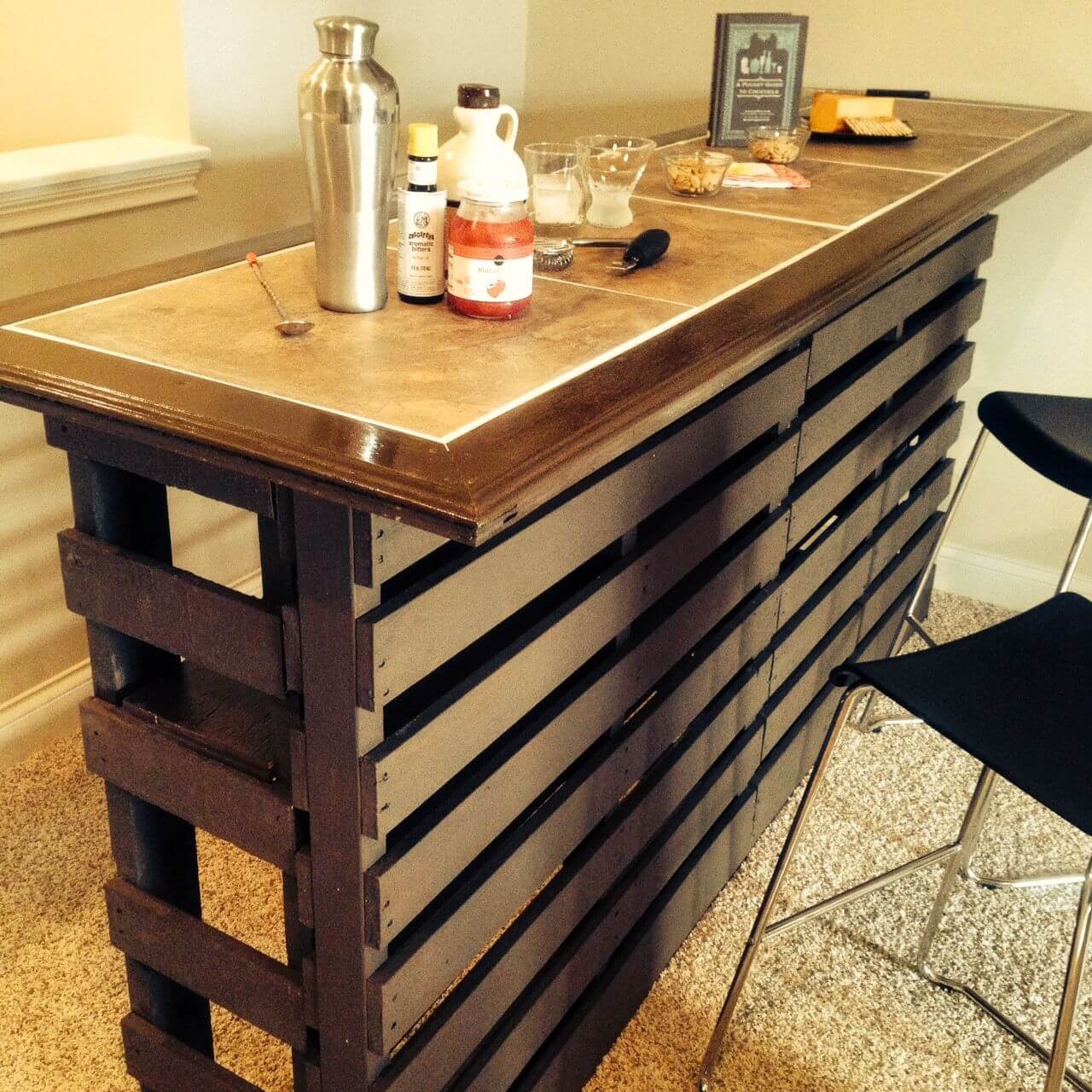 Because it is easy to tweak, this pallet bar tutorial is great for rooms that have an established look and feel. Using dark stain on the pallets elevates them and gives this bar an aura of sophisticated refinement. To switch up the look significantly from this example, all you need to do is choose different ceramic tiles and wood trim. Ceramic tiles are available in a wide variety of colors, patterns, and textures which means you can cultivate dozens of different effects. From a practical perspective, ceramic tile is durable, easy to clean, and holds up well to beverage-inspired misadventures.
18. Sturdy and Rustic Wooden Man Cave Bar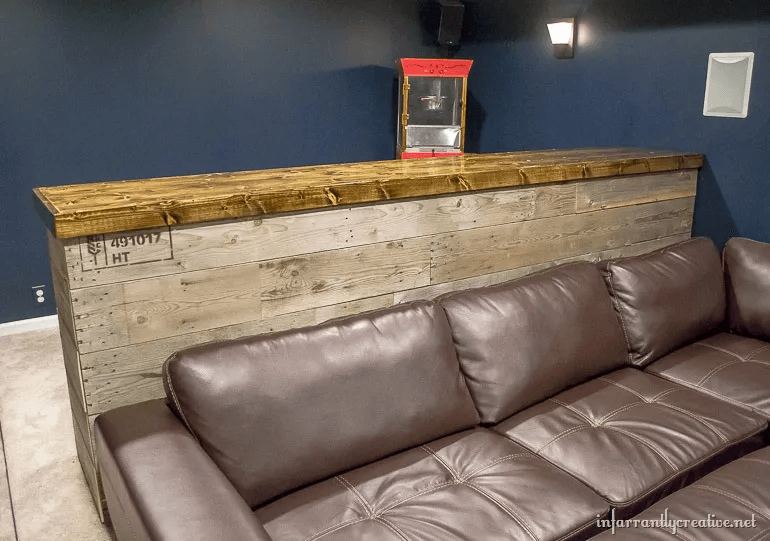 No man cave is complete without a big screen TV and a bar. So while everyone enjoys the game be sure there's a space for spreading out snacks and breaking out the beer. Featuring masculine and rustic wood as the base, this large bar becomes a focal furniture piece in your man's most-loved room of the home. Sturdy enough for the guys to lean on, this thick rustic bar has plenty of space for a Super Bowl feast, but can quickly work as a popcorn bar for family movie night. Make the entire family happy with this versatile and stylish wooden bar to complete the hip hangout of your home.
19. Wine and Spirit Wall Rack with Dispensers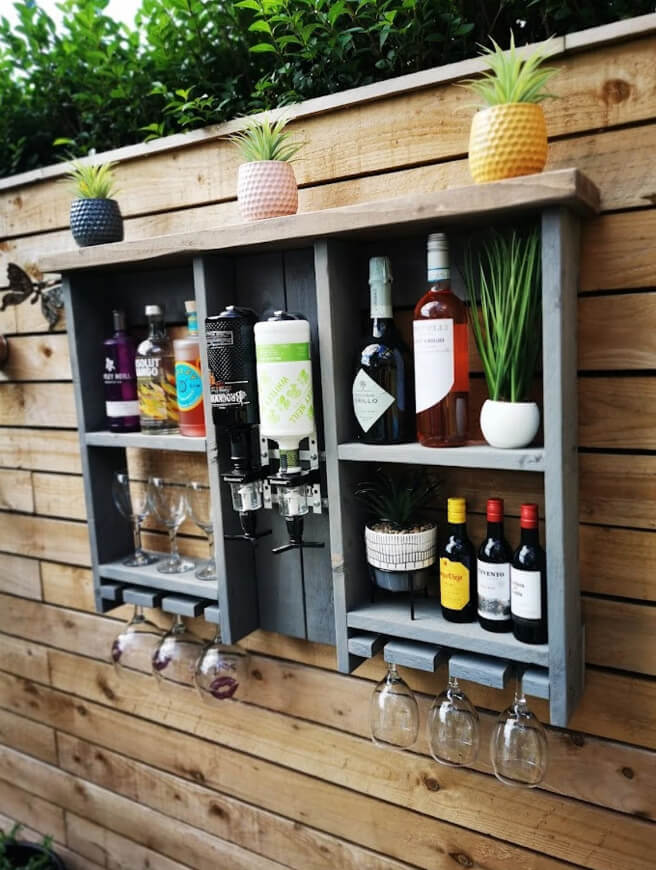 Hang this hearty wine and spirit rack near your back patio for easy access to your favorite after-dinner beverages. Whether you are hosting a small social gathering or just enjoying an evening after work, this built-in unit makes the most of a small space providing all you need for some much-deserved refreshment. In the center of the piece, you'll enjoy two dispensers that conveniently hold two bottles for quick dispensing. You'll love having all of your stemware handy. Fill your glass like a master with this amazing handcrafted built-in wall bar.
20. Wood and Copper Outdoor Wall Bar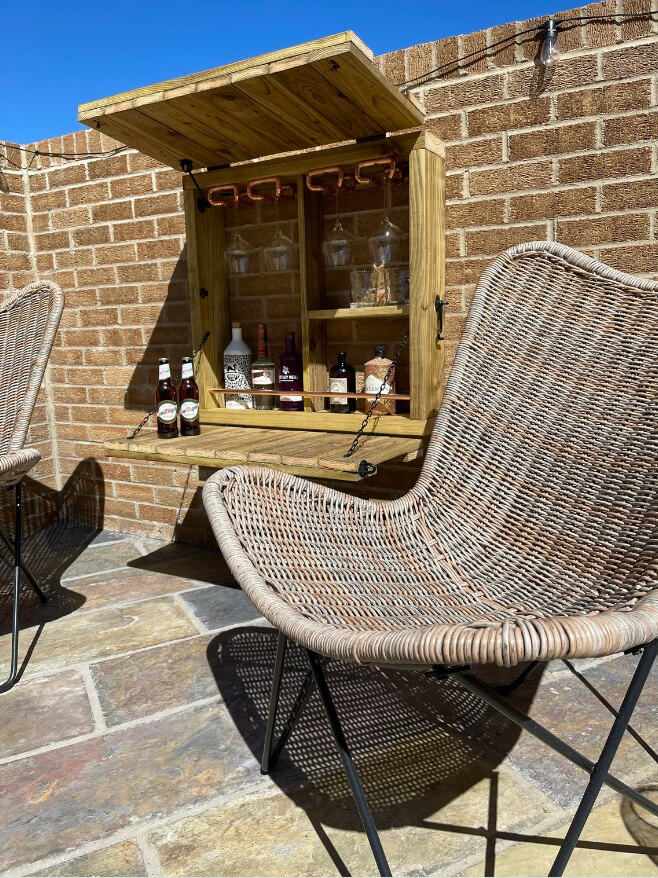 Including some copper in your outdoor wall bar adds the magic of metal to your design. Not only does this bring a little sparkle, but it also provides natural durability that's going to last. Unlock the hinges and you'll discover a whole new world. You'll love the way copper pieces safely nestle your delicate glasses and how a copper bar precisely houses bottles of your favorite drinks. You'll have all the space you need to serve up your friends and family as you relax under the sun by the pool or on the patio under the stars.
21. Pallet-look Grill Table on Wheels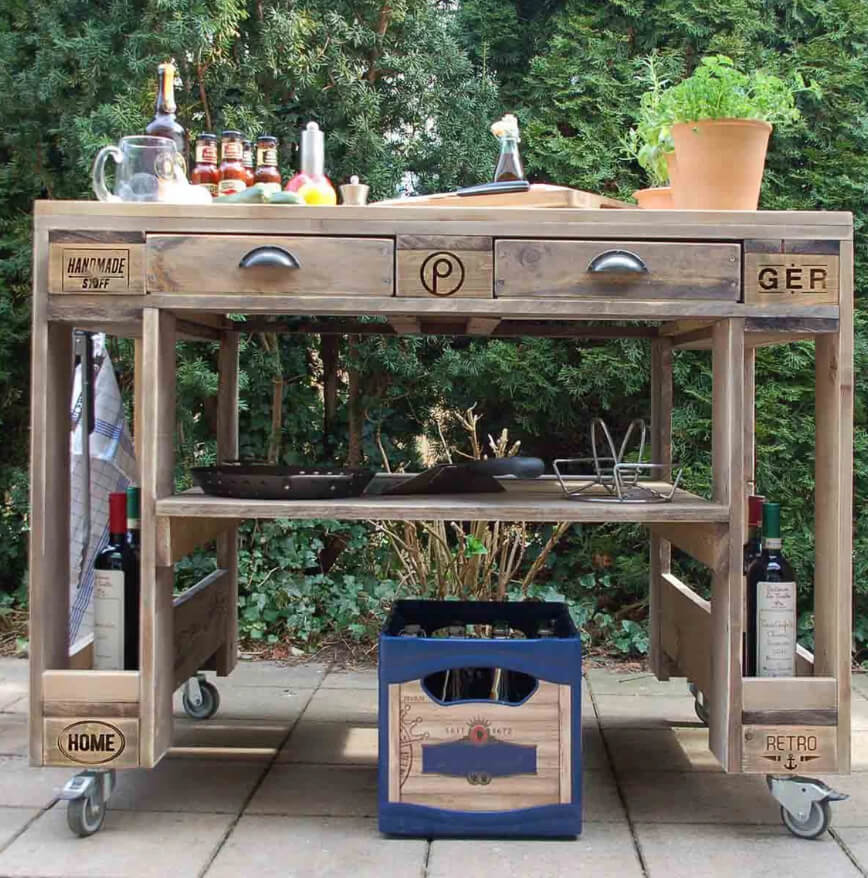 Fire up the grill and enjoy some delicious meats and vegetables charred to perfection! All of the spatulas and skewers you could ever need will love their newfound home in this outdoor organizational masterpiece. It's the accessory every grill needs. Make mealtime more fun and less of a hassle by keeping all of your barbecue tools in one convenient location along with the counter space you need for prepping all of your mouth-watering dishes.
21 Outdoor Drink Station Creations Featuring the Best DIY Pallet Bar Ideas
Eating and entertaining are always better when served with a side of fresh air! Make the most of your outdoor space with an outdoor pallet bar. Nestle a slim pallet with a paver top on your back patio or porch for a cozy, self-serving drink bar.
If catering to your guests is more your style, opt for a larger bar where you can work your magic. Behind the bar is where you can mix up a traditional cocktail or create a custom concoction that quickly becomes your signature drink. Even when using pallets, your style can still shine through. They work well in rustic, modern, traditional, shabby chic, and coastal concepts. And even if camping is more your style, you can always take the freestanding outdoor bar on the road and use it as you set up your campsite.
The most important part of choosing the right outdoor bar is to make sure it works in your space. Pay attention to the size of your space and you'll easily find the handmade pallet bar that's perfect for you!