Ah, the elusive DIY pallet bed frame idea, it is minimalist and rustic with just a hint of farmhouse chic. A handmade pallet bed frame is just about as easy to make look bad as it is to make it look good. What's a weekend warrior to do? Fortunately, when it comes to pallet design ideas, the difference between an epic fail and a DIY bedroom paradise is a little vision and guidance. That's why we've pulled together 20 fabulous looks to help you achieve the perfect DIY pallet home decoration look in your bedroom.
20 Super-Cute DIY Pallet Bed Frame Ideas to Update Your Bedroom on a Budget

One thing you should know before jumping into a pallet project is that you'll need some basic tools to pull it off. At an absolute minimum you should have a power drill and wood screws and sanding paper to smooth the wood. Some other stuff you may need (depending on the look you're going for) is paint or wood stain, a hammer, and metal brackets to screw into the wood and hold certain angles in place (like for a headboard).
The most important thing to know before diving into a homemade pallet bed frame project is that you've totally got this! Pallets come with some structure on their own, so it's more or less a simple game of Tetris to put the pieces together in a way that looks great with your home decor.
If you love farmhouse, then consider painting your pallet white for a cute look. If you have a more organic, minimalist style, then consider leaving the wood in its raw state or adding a little stain so the grain shows through. If you love traditional decor, then staining or painting your pallet a darker color will make it look extra elegant. Now, grab your power drill and let's get to decorating! Here are 20 gorgeous and versatile DIY pallet bed frame ideas to inspire you.
1. Outdoor Inspired Painted White Pallet Platform Bed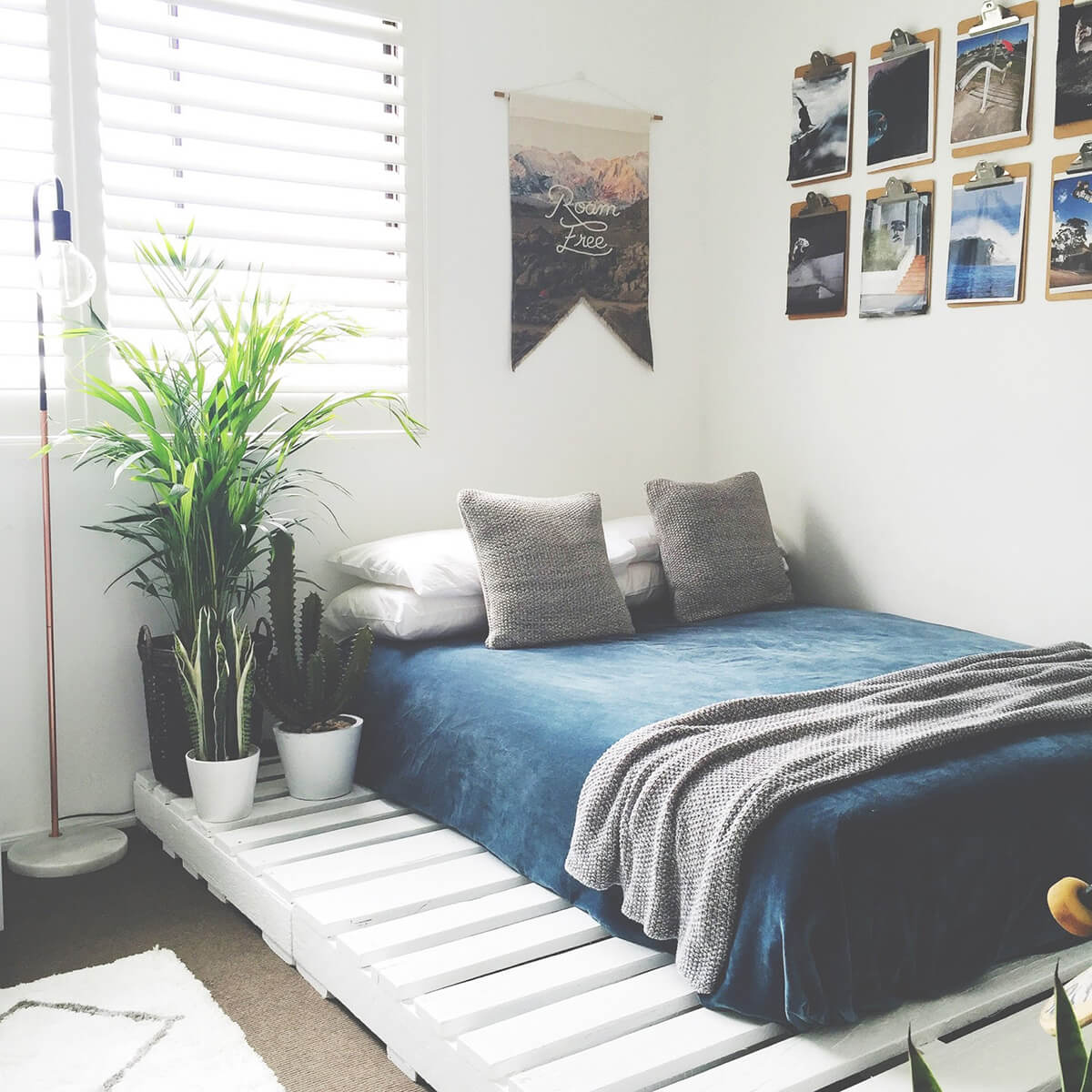 What a dazzling combination of textures this is! Using a combination of very simple pieces, this bedroom is transformed into an oasis and the pallet platform bed is the foundation. Just a couple of wooden pallets painted white is all you need to create an amazing platform bed! Combined with that cozy navy blue blanket, some potted plants and a collection of outdoor inspired artwork, this is a unique space that invites you to get cozy. Even though there's lots of "white space" in this room, it doesn't look sparse. The trick is to balance the elements and make every little piece count.
2. Chic and Eclectic Whitewashed Wood Pallet Bed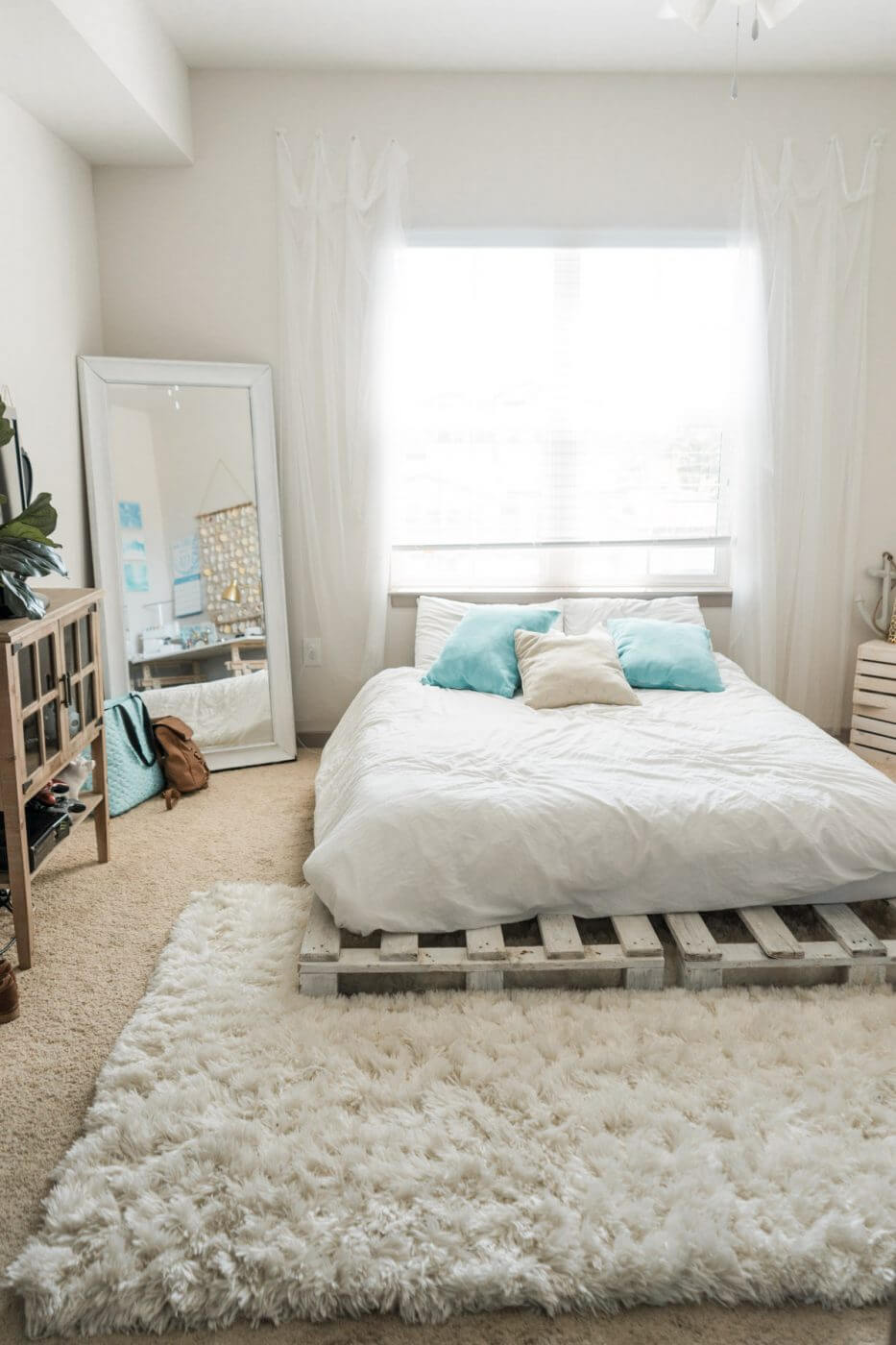 Sleeping in this bedroom must be like sleeping in a cloud. It's so light and airy with its gauzy drapes and fluffy rug. The whitewashed pallet bed platform is a perfect layer between the shag rug and the cushy bedding. Painting a wooden pallet white is a great way to soften the look. Use a semi-sheer formula or apply with a damp rag instead of a paintbrush to get that whitewashed look. This is also a great example of how to decorate a cute bedroom on a budget. Nothing fancy, but it all comes together so well that it looks like it came right out of a magazine.
3. Raised Wooden Platform Bed with Pallet Headboard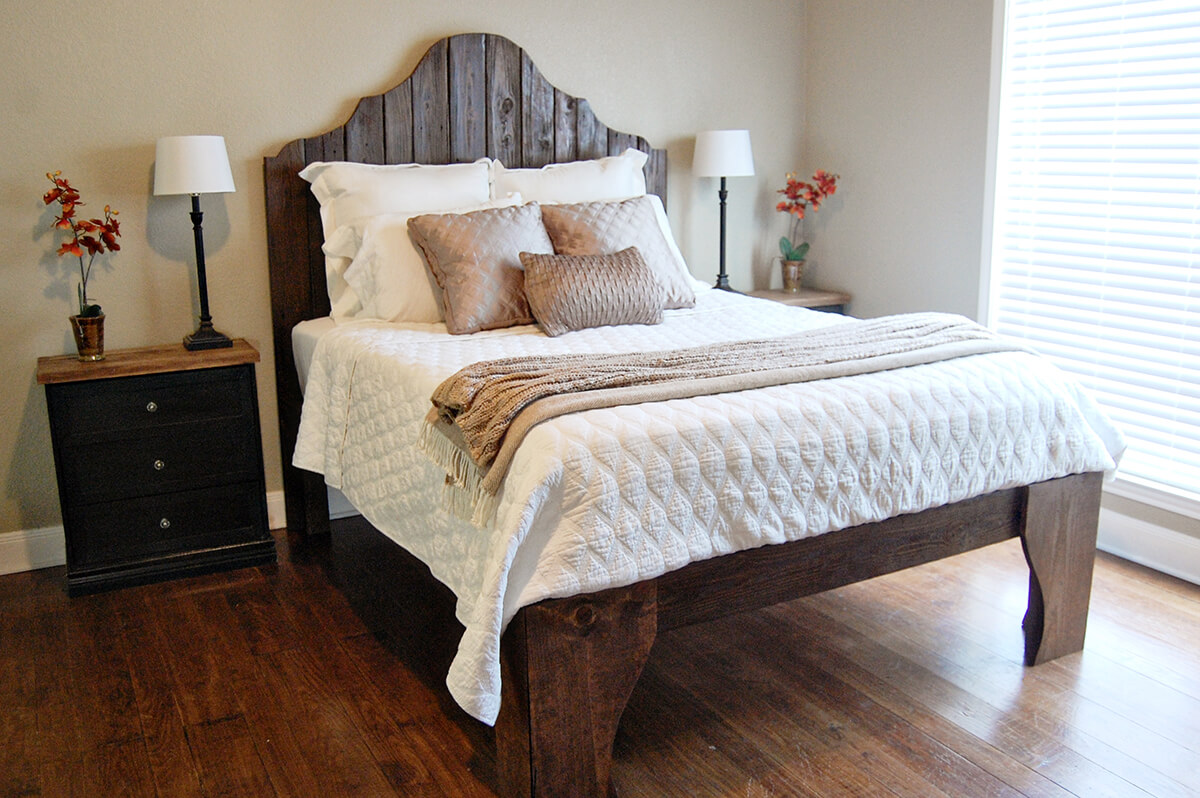 Pallet beds aren't just about creating a platform. Sometimes you've got to deconstruct that wood and transform it into something else, like this gorgeous headboard. After all, pallets are just lumber that's been aligned and structured for you in advance! You can pull them apart, rearrange the pieces, and turn them into whatever your heart desires. This is a project that's probably best for intermediate or advanced DIY enthusiasts because it involves a few extra power tools and following a blueprint for the bed. If you're a beginner who wants to try your hand at something a little more advanced, then try starting with the headboard only.
4. Recovered Pallet Wood Headboard with Nautical Theme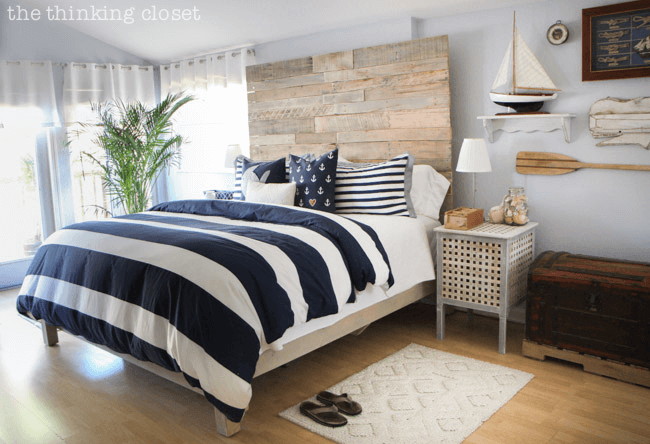 How cute is this home decoration idea? Pallet wood is often pretty beat up. You can use that texture to your advantage! It lends itself to creating absolutely stunning rustic wooden bedroom features like this dramatic headboard. This looks so fancy – especially with the adorable nautical themed decor – but it's actually incredibly simple! You can achieve this look with pretty basic tools and know how. Notice how the uneven boards give it some extra character. It's not about looking perfect. You'll want to arrange the boards of this DIY pallet bed frame idea almost like bricks where the seams don't line right up with each other. Gorgeous!
5. Awesome Idea for an Outdoor Sun Lounge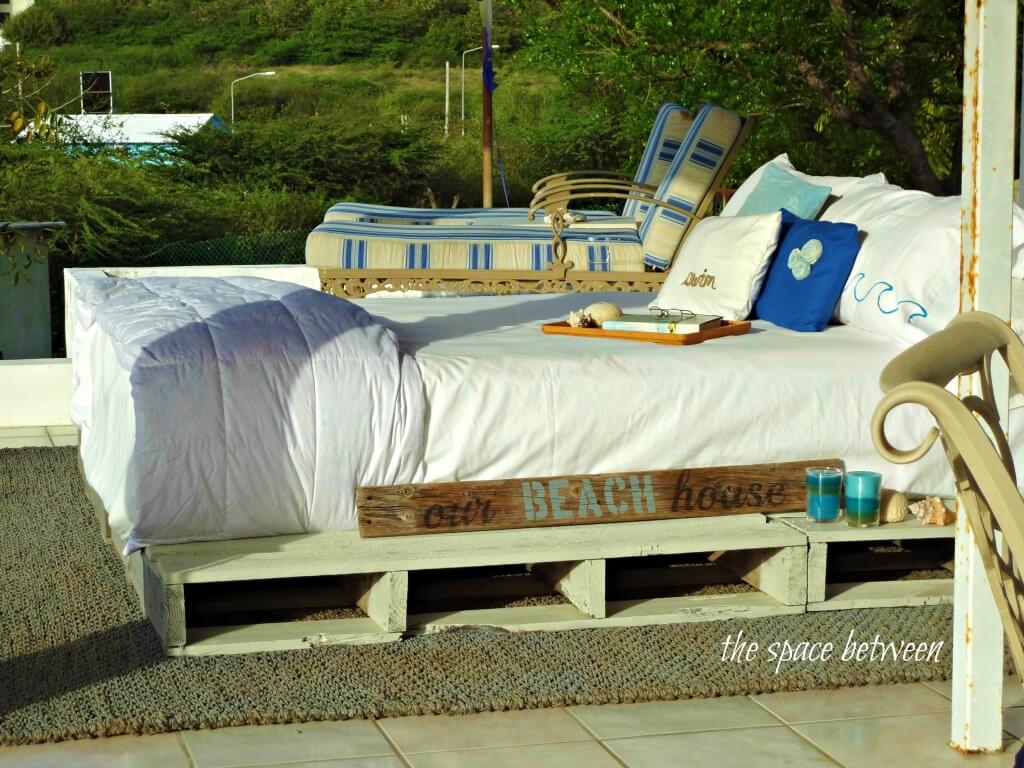 If you're fortunate enough to live somewhere that's sunny and scenic, then you owe it to yourself to create an epic outdoor living room that you can enjoy to the fullest! While you're at it, why not add a homemade pallet bed frame to your outdoor space so you can sleep under the stars? OMG, we're jealous already. Painted pallets with a jute rug and billowy down comforter are just right for this outdoor paradise. This style would also look incredible indoors with azure walls and ocean-inspired decor to bring a beachy feel to those of us who are land-locked.
6. Adorable Minimalist Pallet and Pipe Day Bed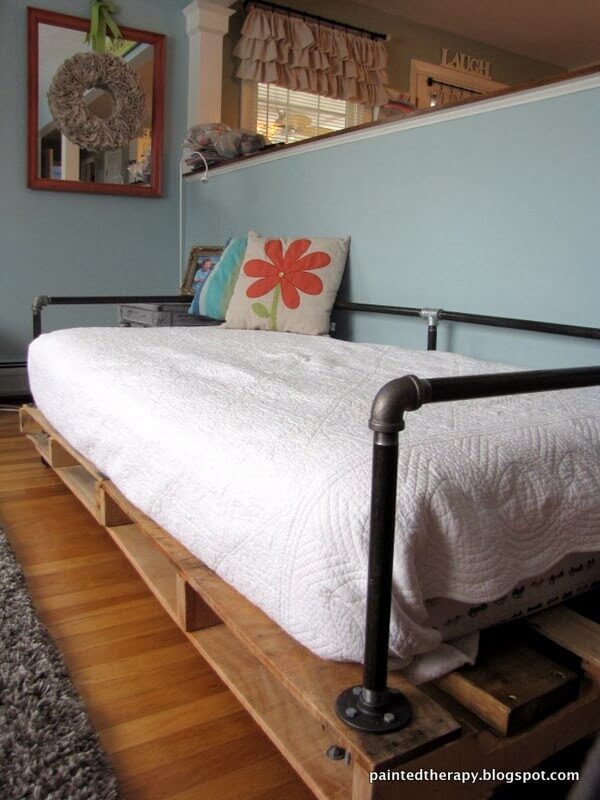 A day bed is a cool solution to combine a couch and a guest bed in one. Instead of an air mattress or a pullout couch, opt for a cute day bed that can be used as seating in day-to-day life and as a cute guest bed when you have visitors. This design looks perfect and could not be easier. Two pallets, a few pipes, and some screws are all you need. Seriously! If you're not sure about the configuration just take this photo to your local home improvement store. Any hardware employee worth their salt will tell you what you need to know in a jiffy!
7. Twinkly Illuminated Palette Platform and Headboard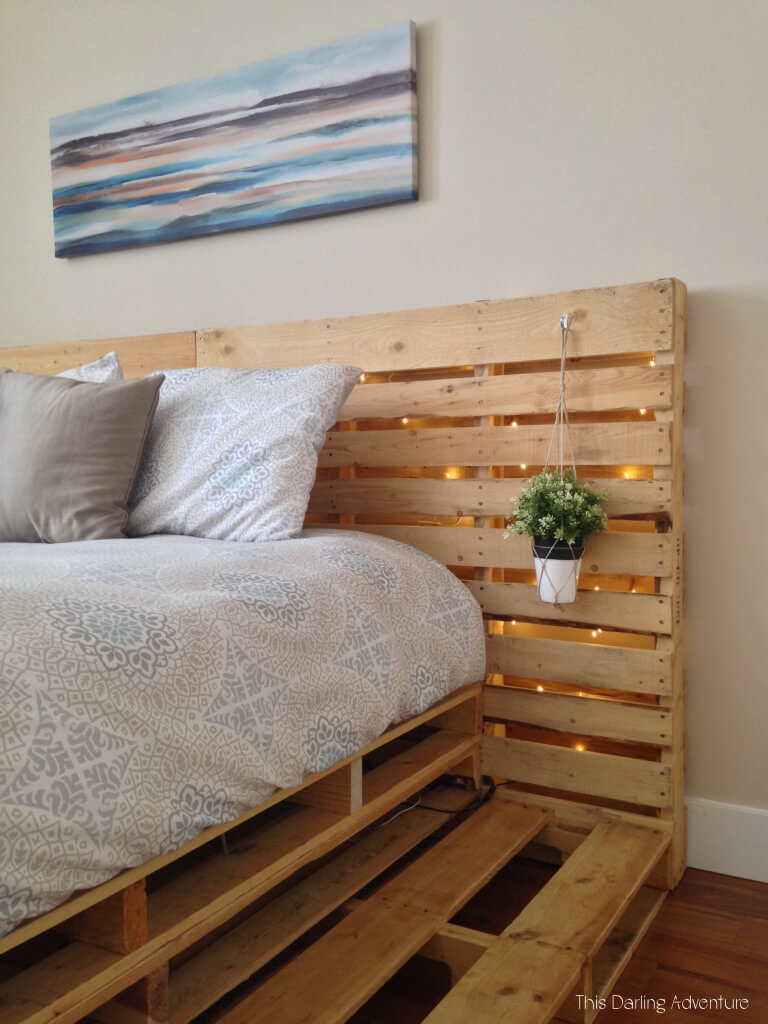 Honestly, how cute is this DIY pallet bed frame idea? Wood is such a versatile medium and when you add the texture and structure of a pallet it makes it even better. Keeping the pallets in their raw, unfinished state gives a zen sort of look similar to a luxurious sauna. Love it! This pile of pallets is arranged just so in order to create an elevated platform for the bed with a step (genius) and a headboard. Small twinkle lights have been lowered down the middle part of the headboard pallets to create a soft luminescence that's perfect for bedtime. And we can't forget that adorable hanging planter! Just screw in a hook and hang a nice vase or potted plant.
8. Tall, Dark and Handsome Elevated Pallet Platform Bed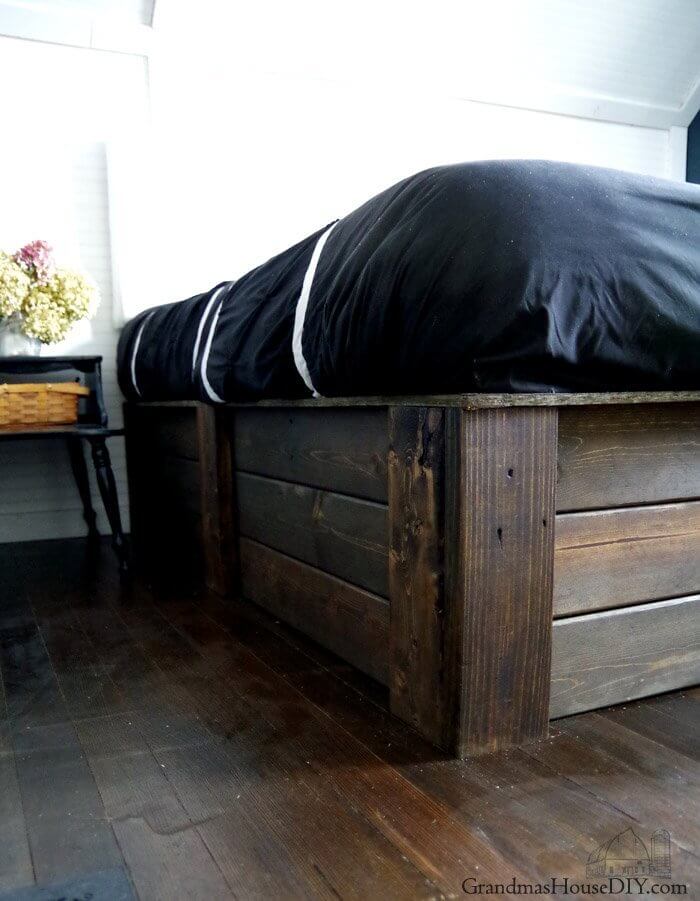 That is one good looking wood pallet bed frame. This is another fantastic example of just how creative you can get with deconstructed pallets. This is a nice, tall platform bed with the wooden planks re-arranged to fit together tightly and to reinforce the corners and center of the bed. Don't like the raw wood look but don't want painted wood either? No problem! May we introduce you to wood stain. Wood stain is like a tint on the wood that darkens it while still letting you see all if its natural grain. Just pick up a wood stain and a paintbrush, open the windows, and get to staining!
9. Elegant Painted Black Wood Pallet Bed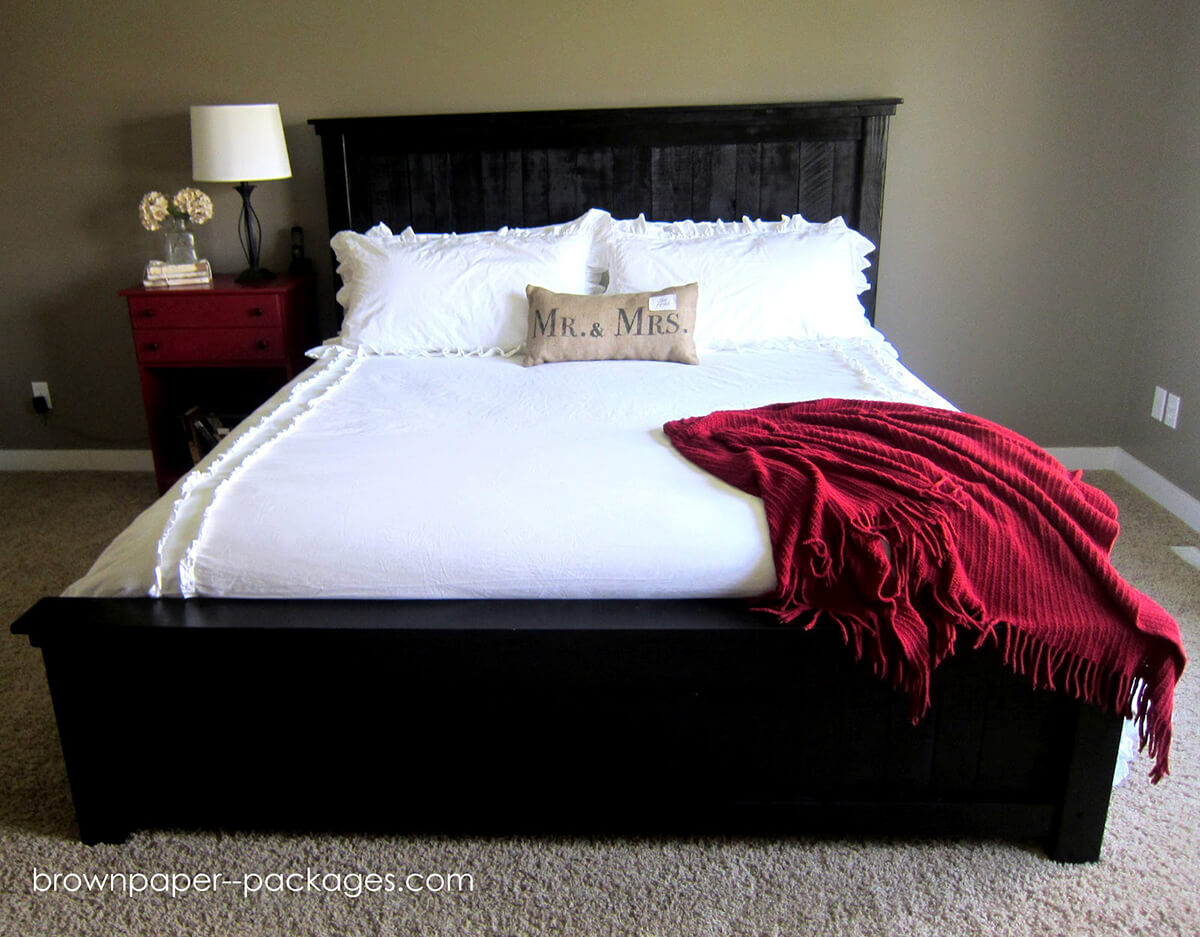 Painted black wood is really a gorgeous thing to behold. Unlike other surfaces, the wood has a grain and texture that gives the black more dimension. The end result is nothing but cool and so chic in a modern take on a traditional decor scheme. Yet again, we see the humble pallet take a new shape with a wood pallet bed frame. Who would guess looking at this bed that it was made from pallet wood? This just goes to show that with a little DIY spirit and creativity you can achieve incredible results that rival even the fanciest home decor shops.
10. Cute Pallet Headboard with Birds-on-a-Wire Silouhette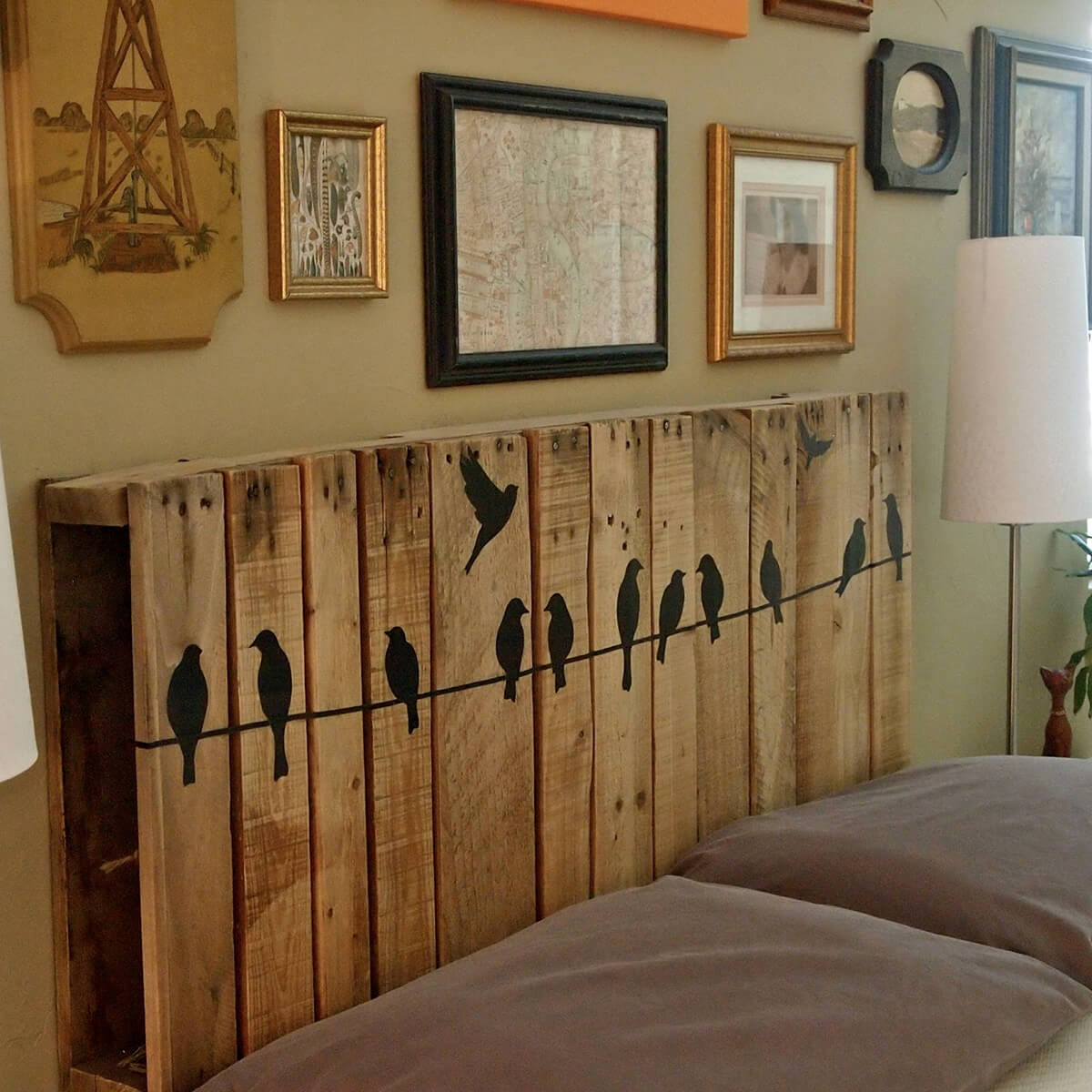 Do you have an artsy streak? Is your home unique and eclectic? Then this may just be the headboard for you. This design idea makes full use of the rustic wear of the pallet. Embrace the darkened wood and uneven edges to create a headboard that's full of texture and character. The addition of a simple silhouette of birds on a wire painted onto the palette is just beyond. This is so unique and so easy to do. It looks adorable with this gallery wall of mismatched frames and will look just as great in your bedroom!
11. Blissful Bedroom Decor with White Pallet Platform Bed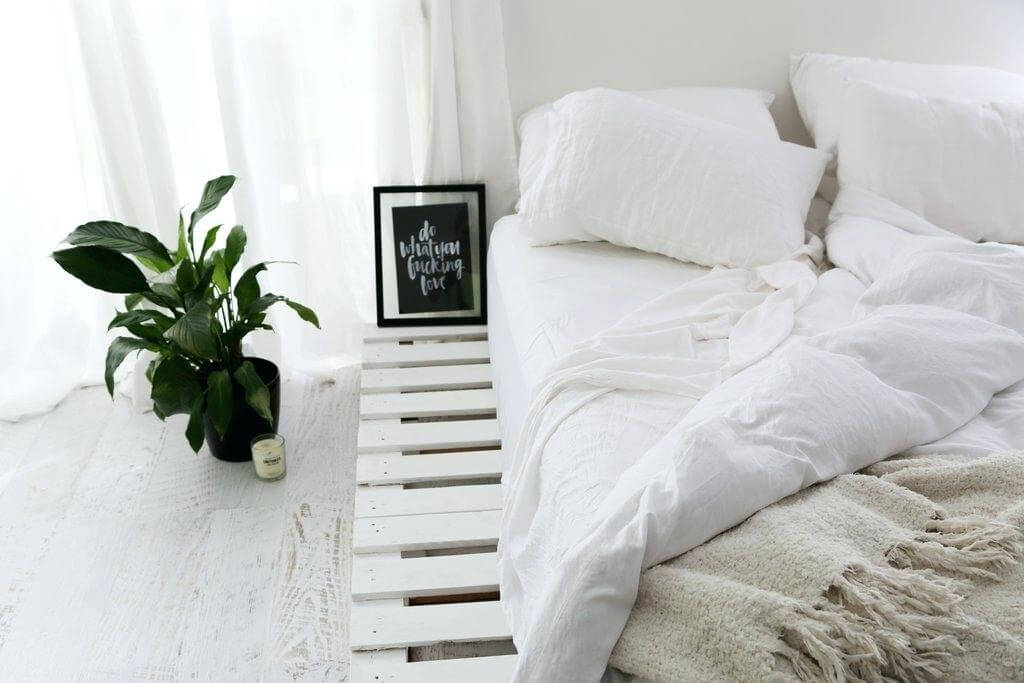 Elevate your bedroom to heavenly heights with this dreamy white decor! The combination of a painted white homemade pallet bed frame, an extra fluffy duvet, some super soft chenille throw blankets and sheer white curtains make this bedroom an absolute dream. This is proof positive than, when done right, white walls and decor can be far from boring. The addition of some simple potted plants and candles really round out the peaceful vibes of the bedroom space here. Even though the pallets are painted white to go with the rest of the room, their structure and texture add depth.
12. Modern Minimalist Raw Pallet and Crate Bed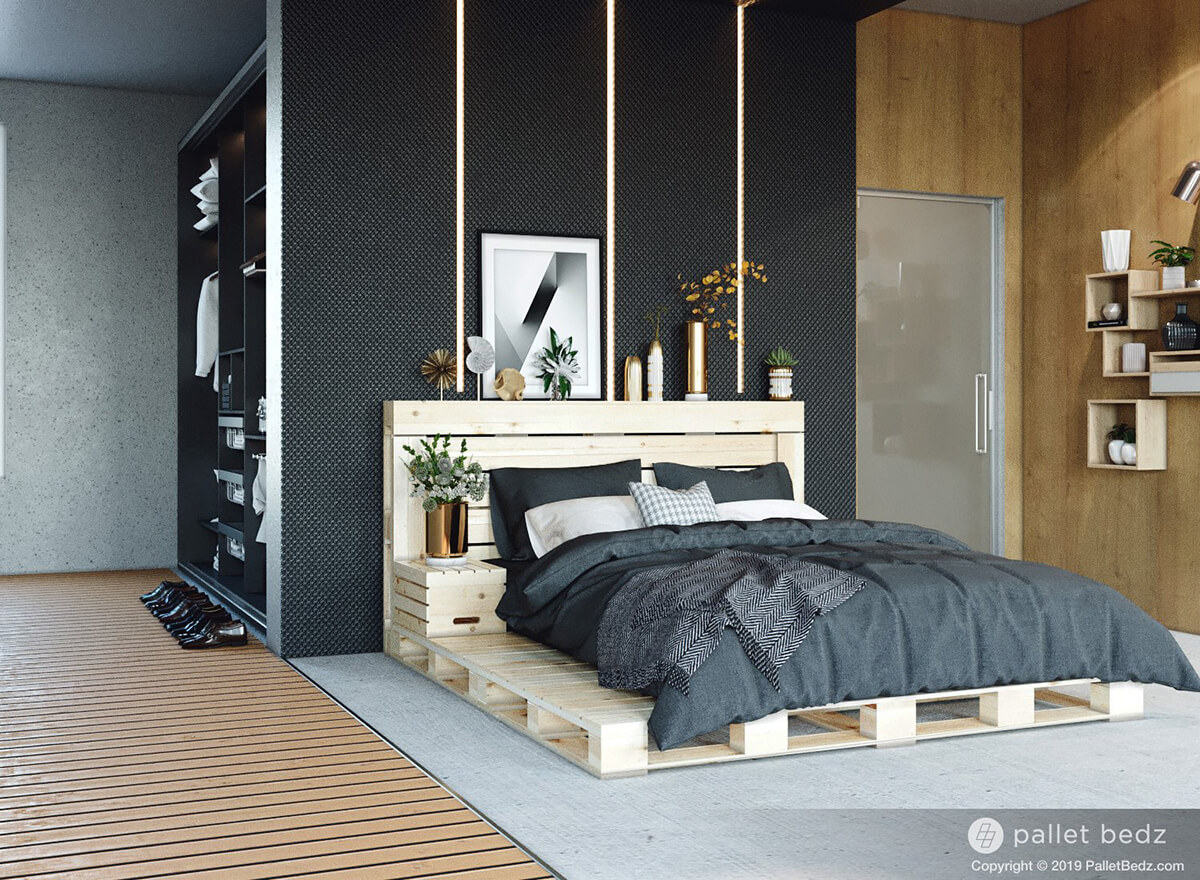 Just, wow. Check out this living space! Wood pallet bed frames go perfectly with minimalist decor and warm industrial decor. To pull of this design you'll need palettes that are fresh (read: unused) and clean. The simple, crisp lines of the pallets are what make this work so well with the rest of this interior design. We also love the addition of a small wooden crate as a little bedside shelf. Since its the same shade of raw wood as the pallets it blends right in! We recommend some sanding paper to smooth the edges of this design, then kick back and enjoy.
13. Boho Chic Pallet Bed and Headboard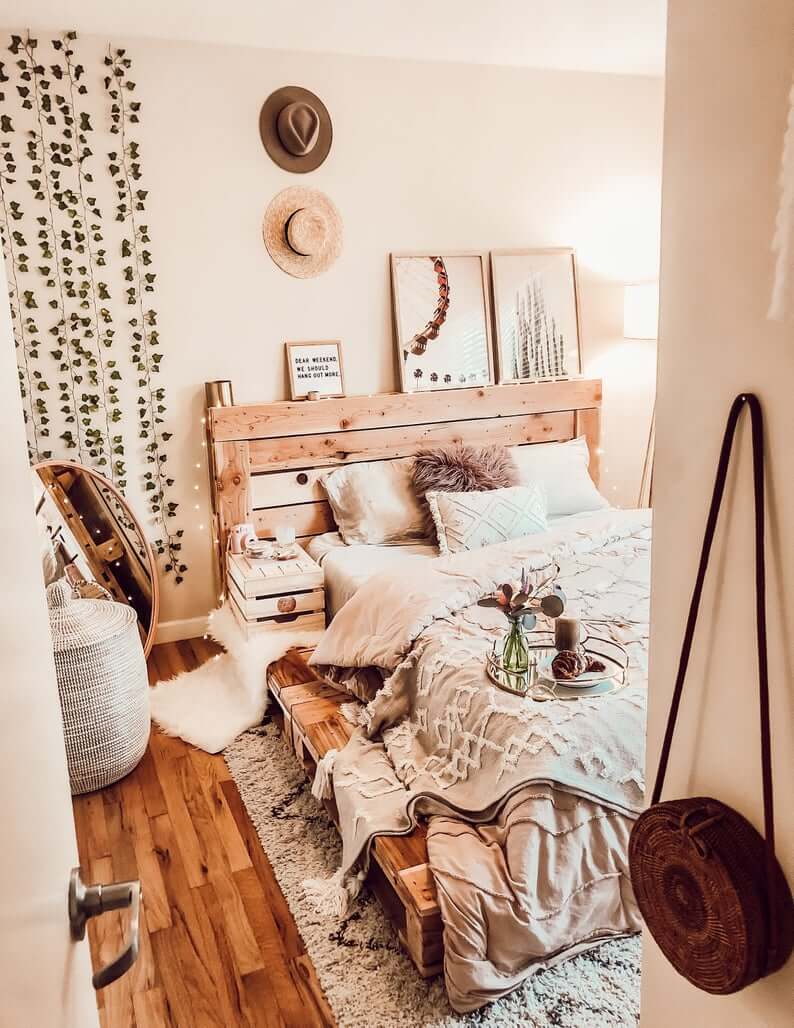 Eclectic design like boho chic can sustain a multitude of styles, but the DIY pallet bed frame idea works particularly well with this theme. Applying a lighter wood stain onto your pallets can help you achieve this warm tone. Framing the pallet bed with a nice textured rug is a gorgeous look that will also protect your floors. Win-win! There are so many delicious patterns and textures in this bedroom, but what keeps it from looking "busy" is that they're all in the same light tan color wheel. Don't forget the twinkle lights! A single strand gently draped along the headboard is all you need.
14. Amazing Naturalist Pallet Bed with Mural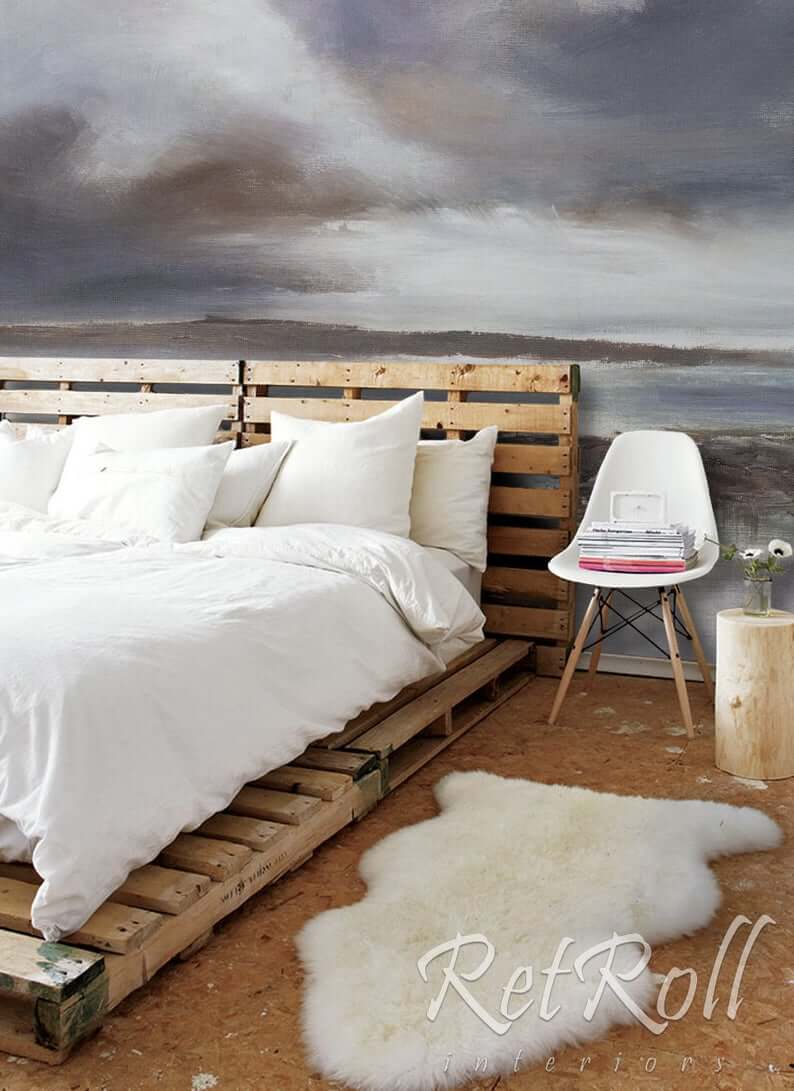 If you are fortunate enough to have an entire wall painted as a mural, you owe it to yourself to keep the rest of the room simple and showcase the heck out of that beauty! A pallet bed is the perfect way to do just that. Combined with simple white bedding and a mid-century chair, the palette bed provides just enough texture and depth to keep the decor interesting while not interrupting the flow of that marvelous mural. See how all the colors flow together organically? A simple theme with just 3 to 5 colors is all you need for an amazing home decor result.
15. Inspired Pallet Bed Idea for Kids Rooms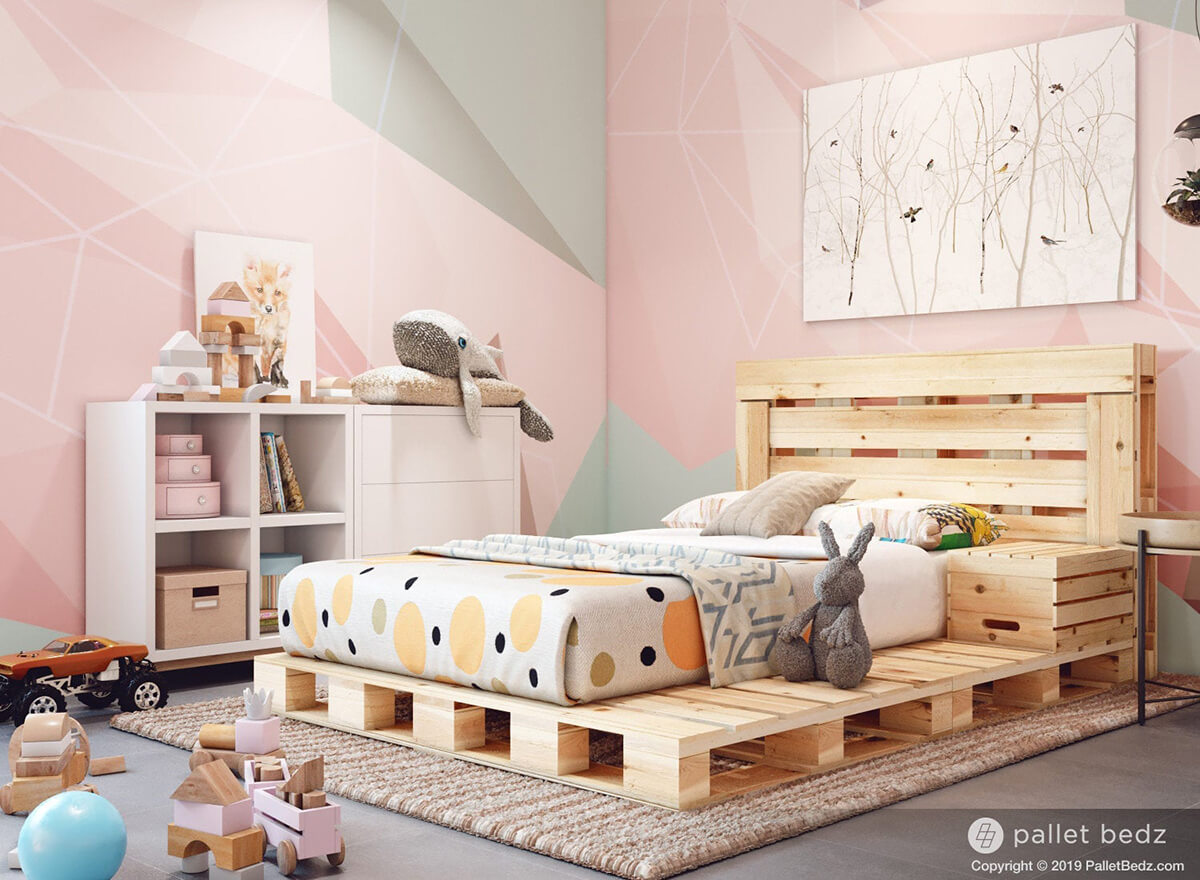 Kids decor is so fun, but it also changes as quickly as they grow up. A handmade pallet bed frame is the perfect solution. It's budget friendly and can go with just about every style of decor so it will age well…even when your kids move on from their current faves and raves. This design features a platform base, headboard, and a bedside shelf. This twin bed idea can easily grow up with your little ones and transform into a teen room and beyond.
16. Rustic Platform Pallet Bed with Headboard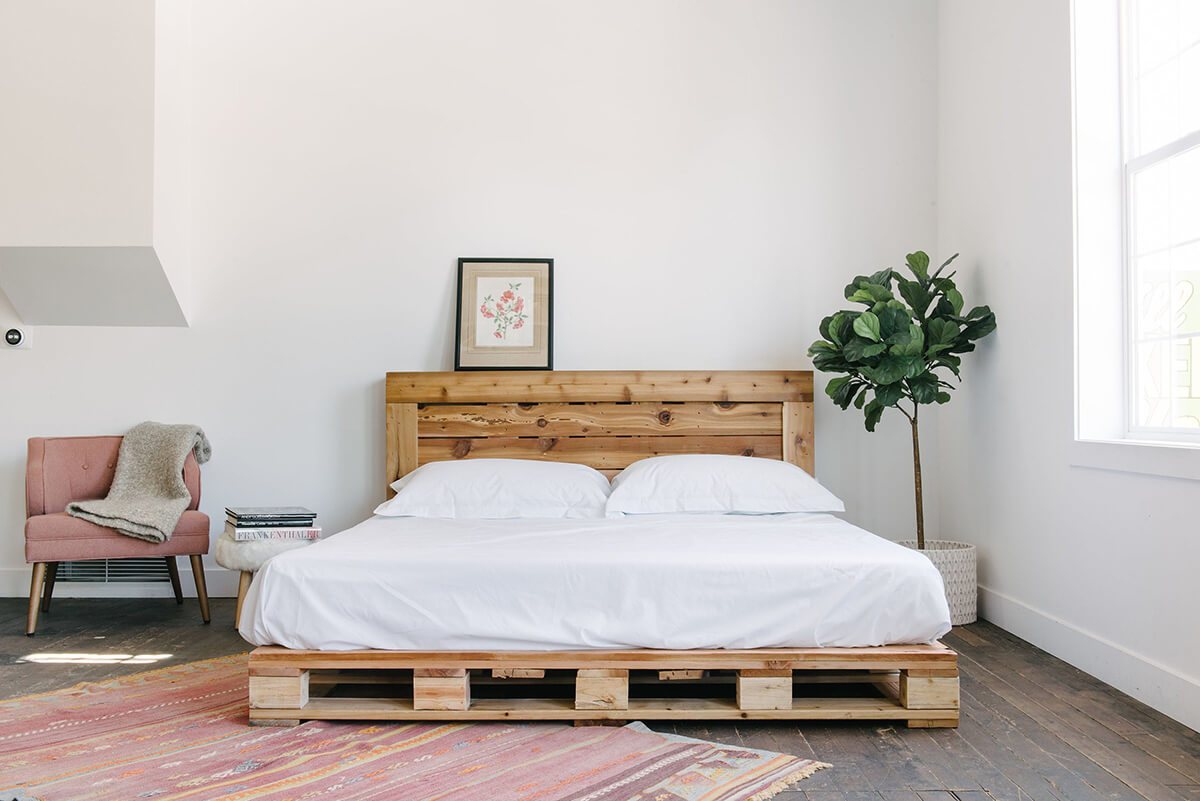 A platform bed like this is a real statement piece for your bedroom. This gorgeous handmade pallet bed frame is made from repurposed cedar wood. Design like this with a light wood finish is beautiful with eclectic, minimalist, rustic or outdoorsy interior design. When you have a bed like this you don't need a box spring. Just place your mattress right onto the platform and catch some zzz's! We also love the headboard on this design. It's bold and has a ton of presence. You can easily use it as a small shelf for a few delicate items above the bed.
17. Reclaimed Pallet Wood Headboard with Reading Lamp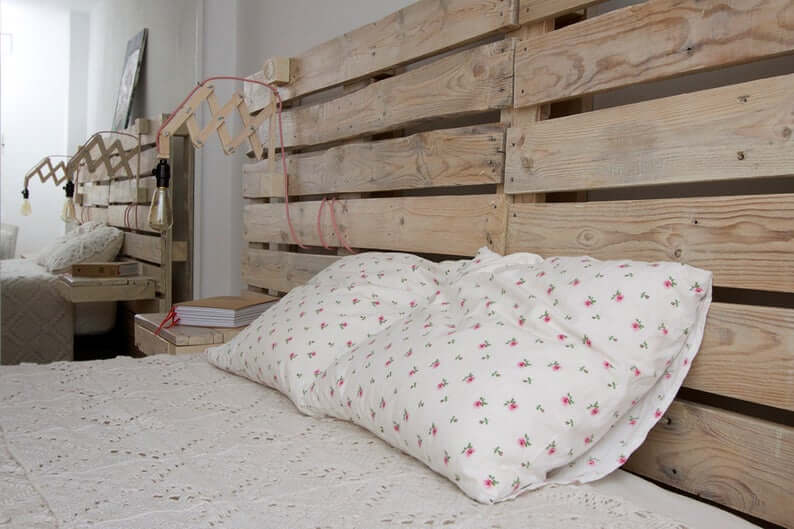 OMG this is so cute! The reclaimed pallet wood makes a perfect headboard design. It's wide enough for any sized bed and even stretches beyond – perfect for bedrooms with sparse decor. What we just cannot get over are these adorable in-built reading lamps and night stands! The lamps are attached to the pallets with a retractable wooden hinge and outfitted with an old-fashioned looking bulb. The night stands are small floating shelves so your bedtime book, alarm clock, etc are right where you need them.
18. Timeless Whitewashed Pallet Wood Headboard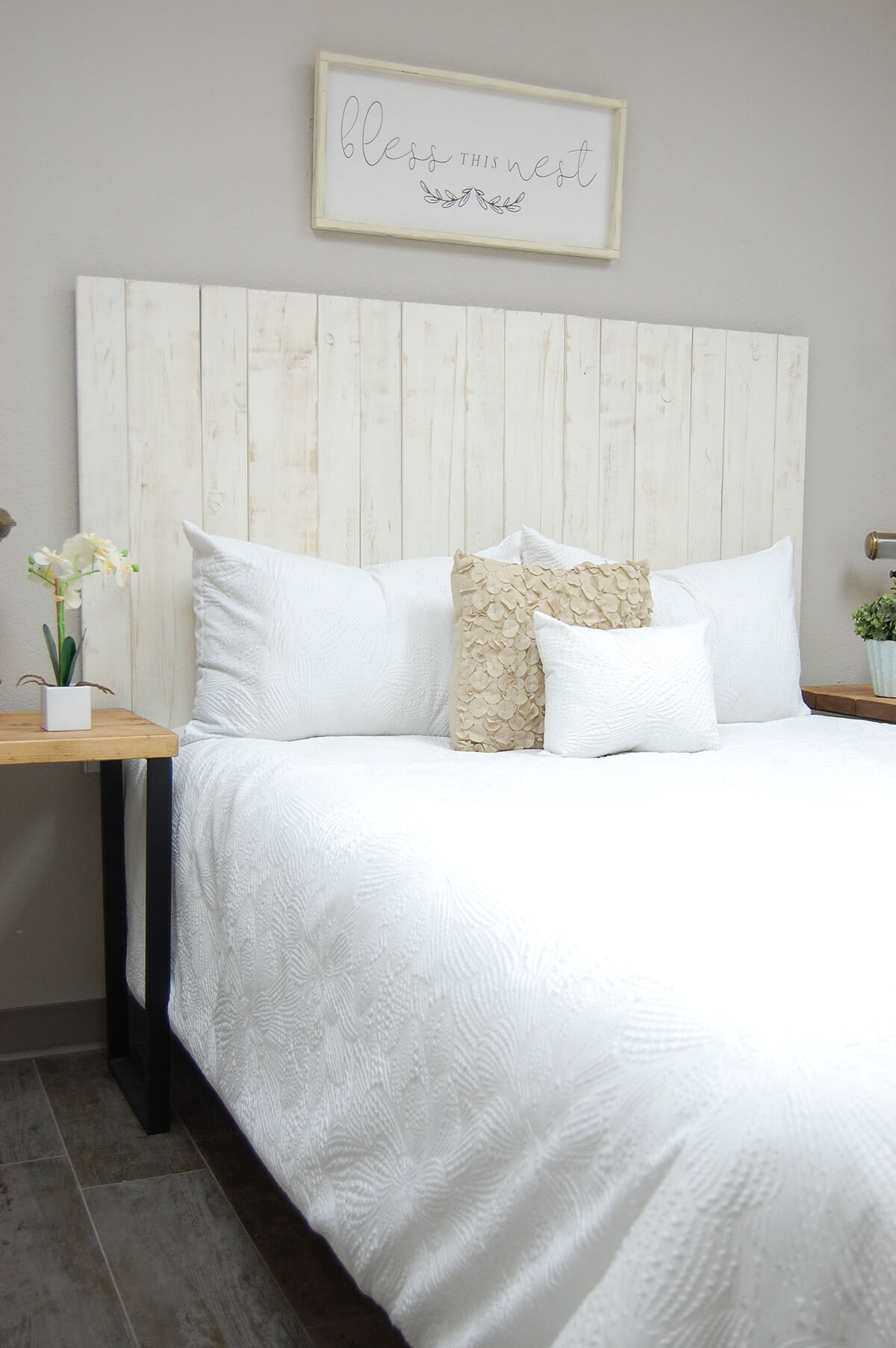 Hello again, farmhouse chic. We heart you so darn much. If your bed needs a little more look, then this weathered pallet wood headboard painted a nice shade of white may just do the trick. It's simple, elegant, and neutral so it will fit right in with your decor. The structure and grain of the wood give you all the texture you need in a simple white headboard. Paired up with crisp white linens and some warm tones to compliment, this is a home decor home run!
19. Handmade Wooden Pallet Headboard with Uplighting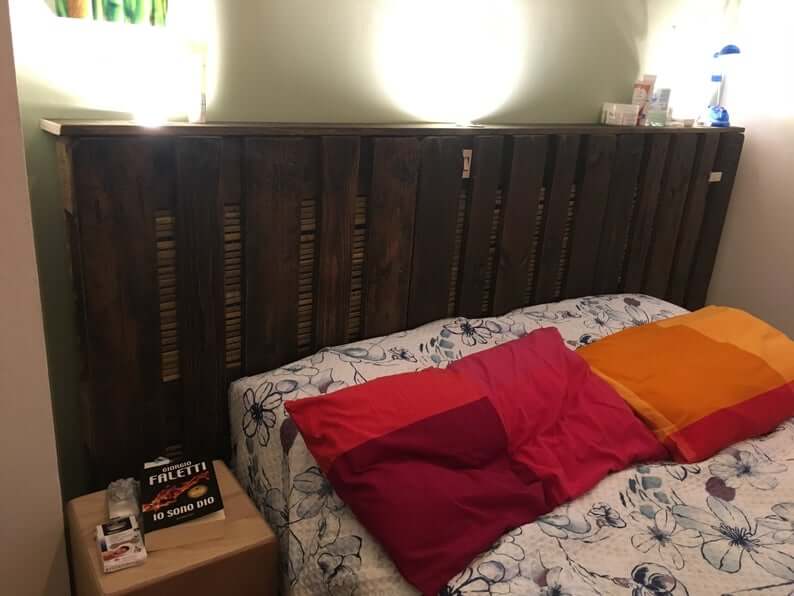 Who doesn't love a multipurpose piece of furniture? This beautiful headboard is handmade from pallet wood and stained a warm, dark shade of brown. What you don't see are three lights that are built into the headboard. When illuminated, they shine light up toward the ceiling to create a soft glow in the entire room. This is a great way to get light without the harshness of a direct lamp or overhead lighting. Nighty night!
20. Simply Rustic Pallet Style Headboard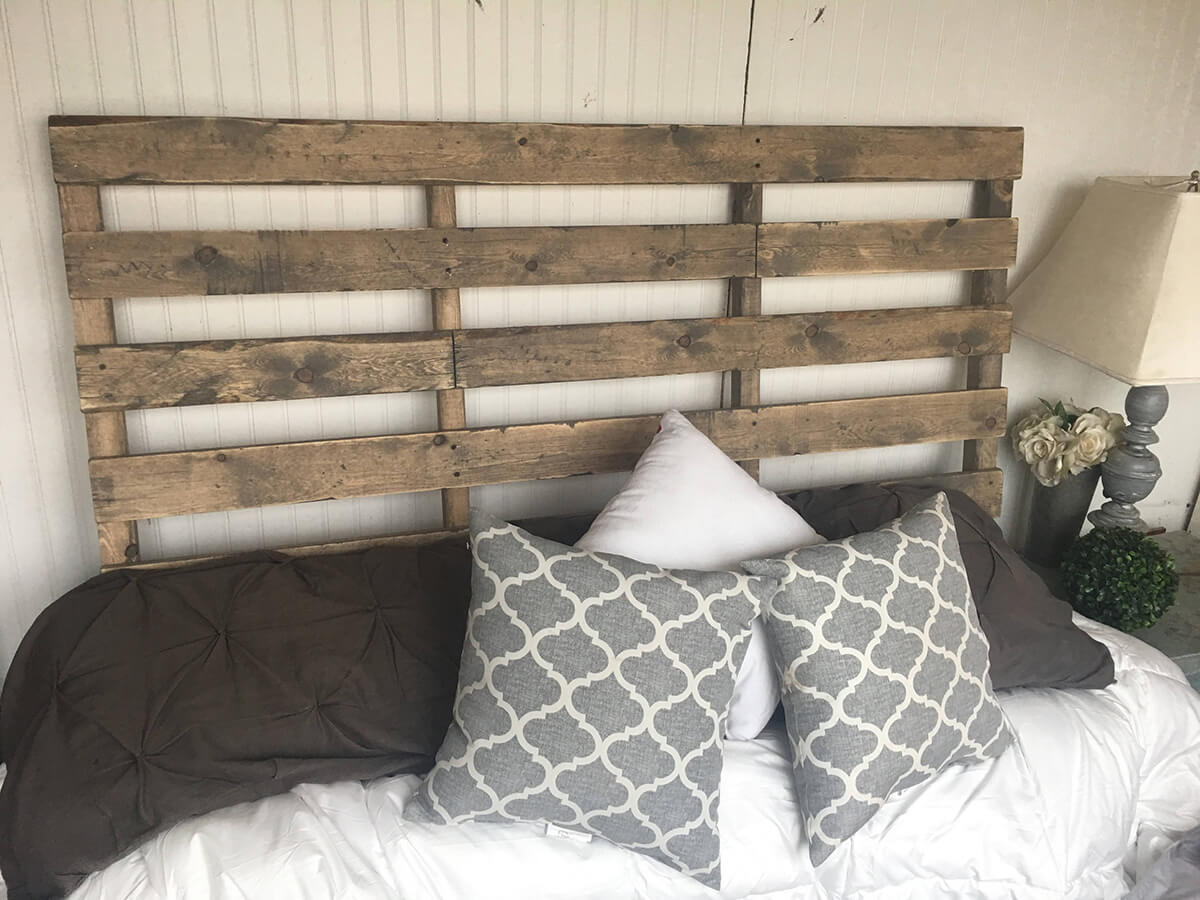 This charming headboard is designed to give you the look of a pallet. It is handmade from weathered pine in a loose pallet design. This would look wonderful in a farmhouse decorated bedroom, a rustic, outdoorsy snooze space, or a simple, eclectic boudoir. The weathered look of the wood is enhanced with a touch of stain and sealant. It's the perfect contrast to cozy bedding for your dream destination.
20 Great Looking DIY Pallet Bed Frame Ideas that are Easy to Make
It's hard to choose just one DIY pallet bed frame idea from all these awesome options! These wood pallet bed designs are incredibly stylish, versatile, and simple! You don't need a whole lot of experience to pull off a flawless DIY pallet bed frame idea. As you can see, many of these ideas simply take a little forward planning and elbow grease. If you're not sure where to start or how to build a handmade pallet bed frame on your own, you an always call on experience crafters who make these beautifully, and/or consult a local woodworking expert at the home improvement store.
Our Favorite Farmhouse Furnitures to buy on Amazon