Making your own art is the easiest way to add a touch of your unique personality to your home. If you want to give your living space a rustic or vintage feel, try one of these 30 awesome DIY pallet signs. This list has DIY pallet sign ideas for every room in the house from the laundry room to the kitchen to the bedroom. There are even projects for your outdoor spaces, too!
50 Make-Your-Own Pallet Sign Ideas

Greet family and friends with a warm "Welcome" sign or spruce up your back yard with one of the outdoor garden pallet signs. Show guests what your family is all about by adding a quote to your DIY art. You can use one of the ideas on this list or use one of your own favorite sayings. All of these DIY wood pallet sign projects are super easy to make and can be done in just one afternoon.
Grab a pallet, some paint and stain, and a brush and get started! Not only are these projects pretty, many of them are also functional. With shelves, bulletin boards, hanging racks, and coffee cup hooks, you can be organized and stylish. Check out all 50 DIY pallet signs and find your favorite!
1. Adding a 3D Element to Your Art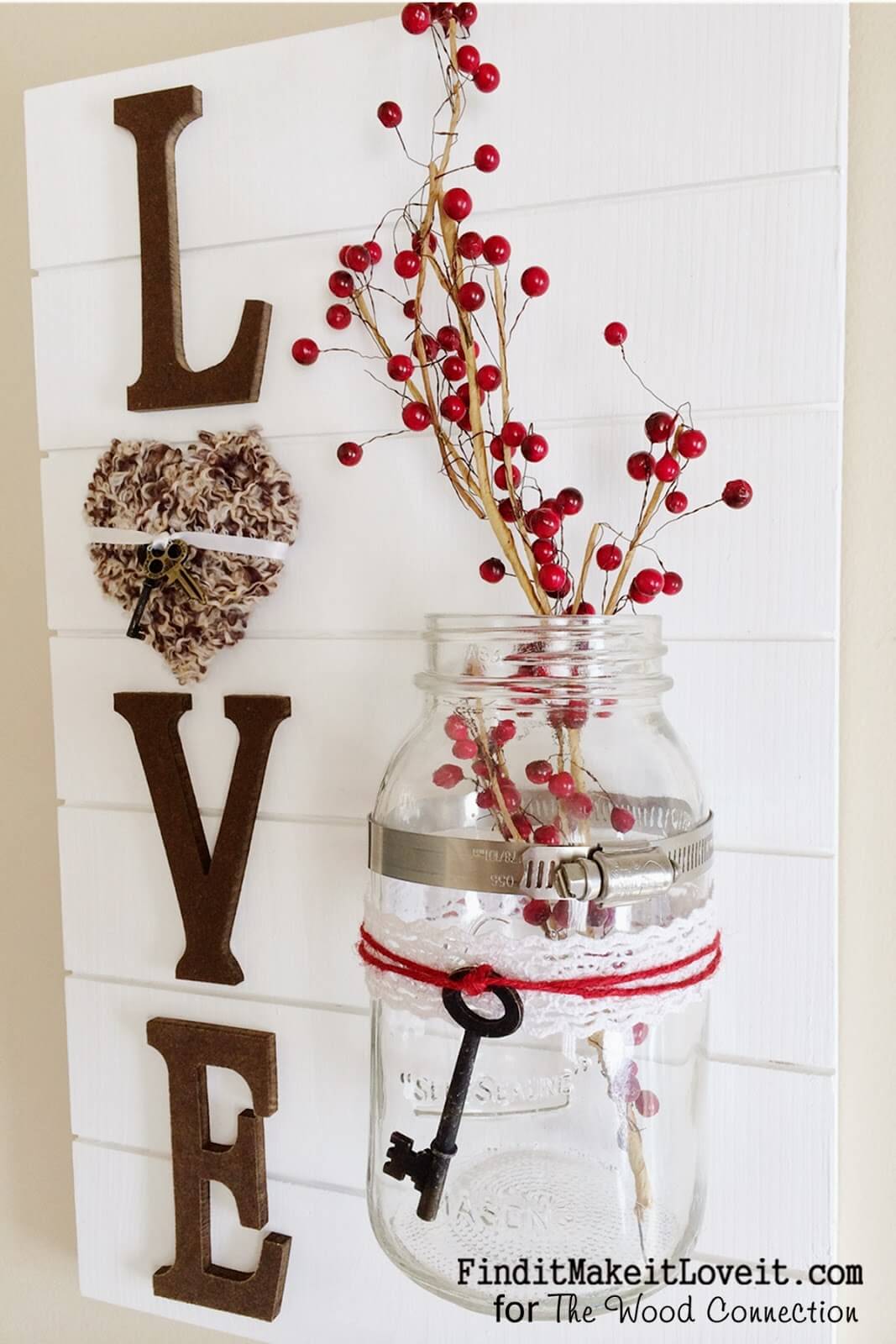 There were a lot of steps involved to create this project, but they are all completely do-able by any level of home crafter! The pallet pieces were joined together and painted a single color, and a statement word was selected. The final touch is the coolest though: Simply attach a tightening metal jar ring onto the wood with a power drill and a couple screws, and hand tighten it around your favorite jar. You can rotate the flowers or plants inside the jar depending on the season.
2. A Double Meaning of Love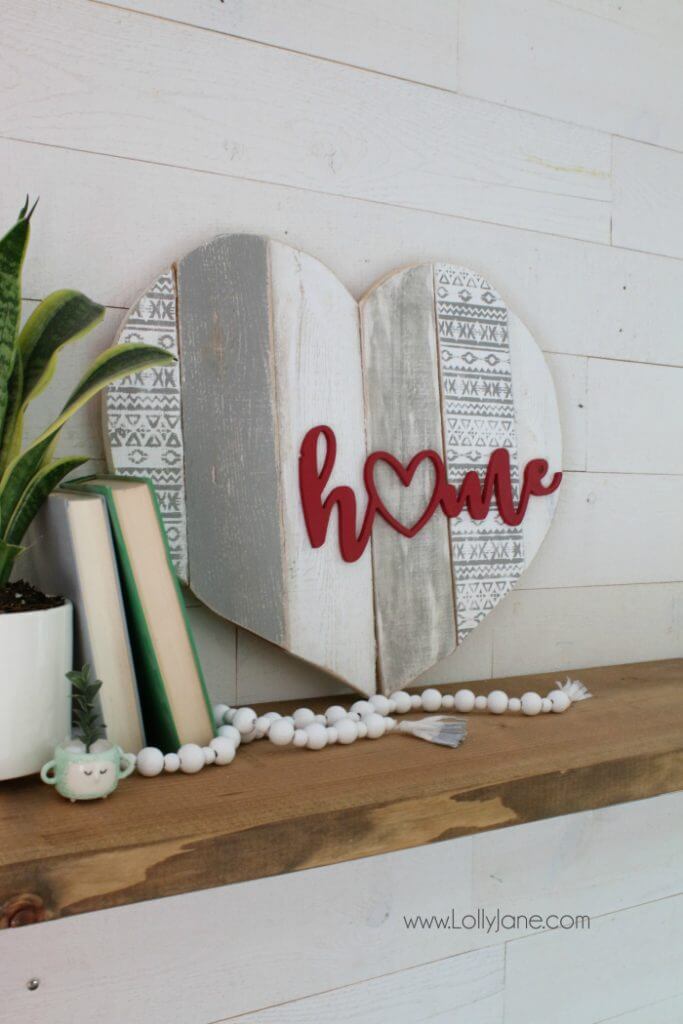 This piece has a bit more depth to it since the creator made the joined planks into a heart shape at the end. This can be accomplished with a jigsaw and router for the softened edges. What's special about this is that you see the heart and the word "home," and you naturally might be reminded of the entire quote of "Home is Where the Heart Is" – but in a creative manner.
3. Things That Spark Joy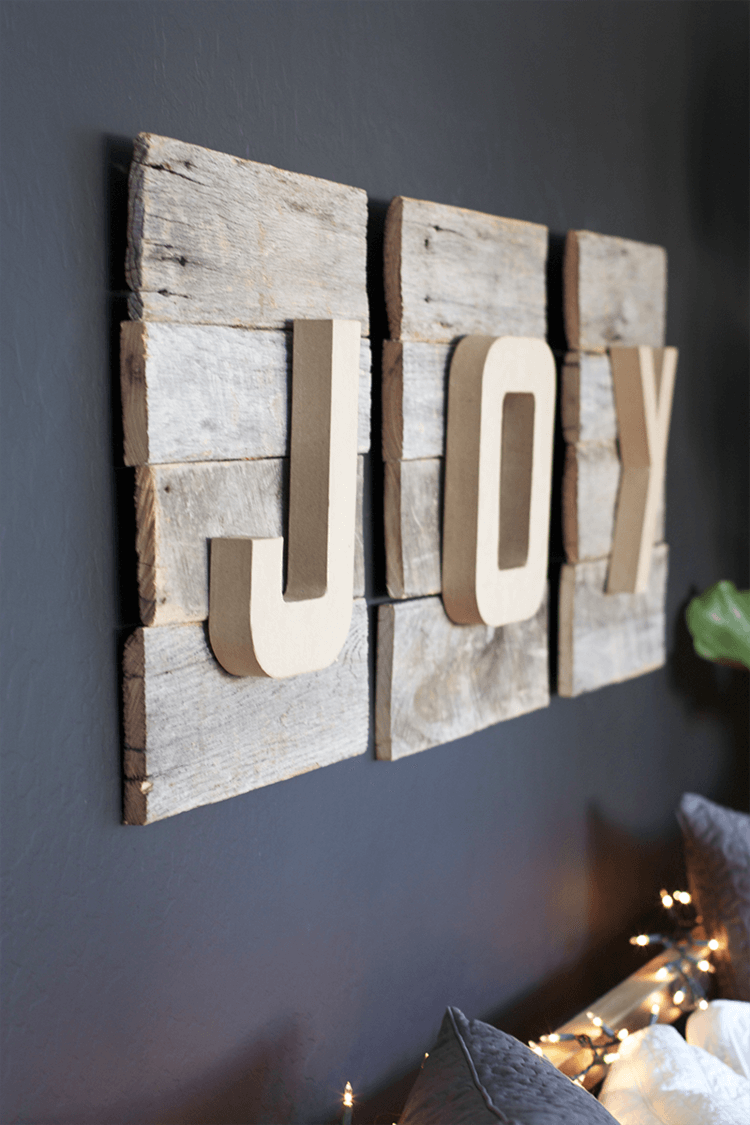 This DIY pallet project may have a simple final theme of "Joy," but the process was a bit more complex. Each letter has a lovely pallet backdrop made out of three planks of wood, and a jigsaw was likely used for the letters. You can also buy affordable pre-made letters at many of the big chain craft centers. Don't forget that a little paint or stain might be a good option for contrast.
4. Multifunctional Art Pieces For the Win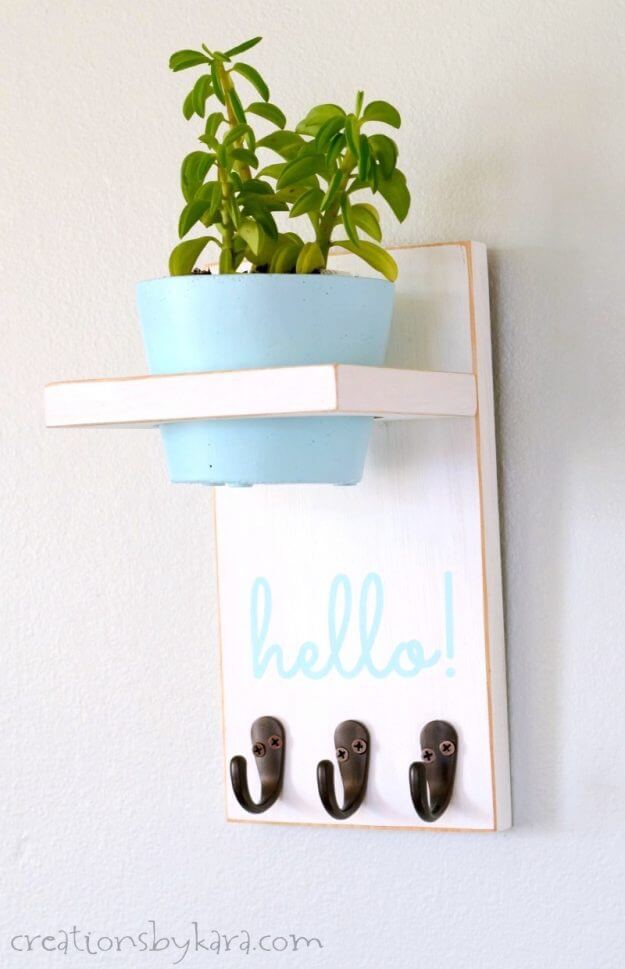 What could be more fun than an adorable and functional piece of art that you made with your own two hands? Step up your DIY project by adding hooks so you can hang things off of it. Make it a three-fer by placing a succulent pot the hole-y shelf you made. Voila!
5. Chevrons Can Fit in Many Spaces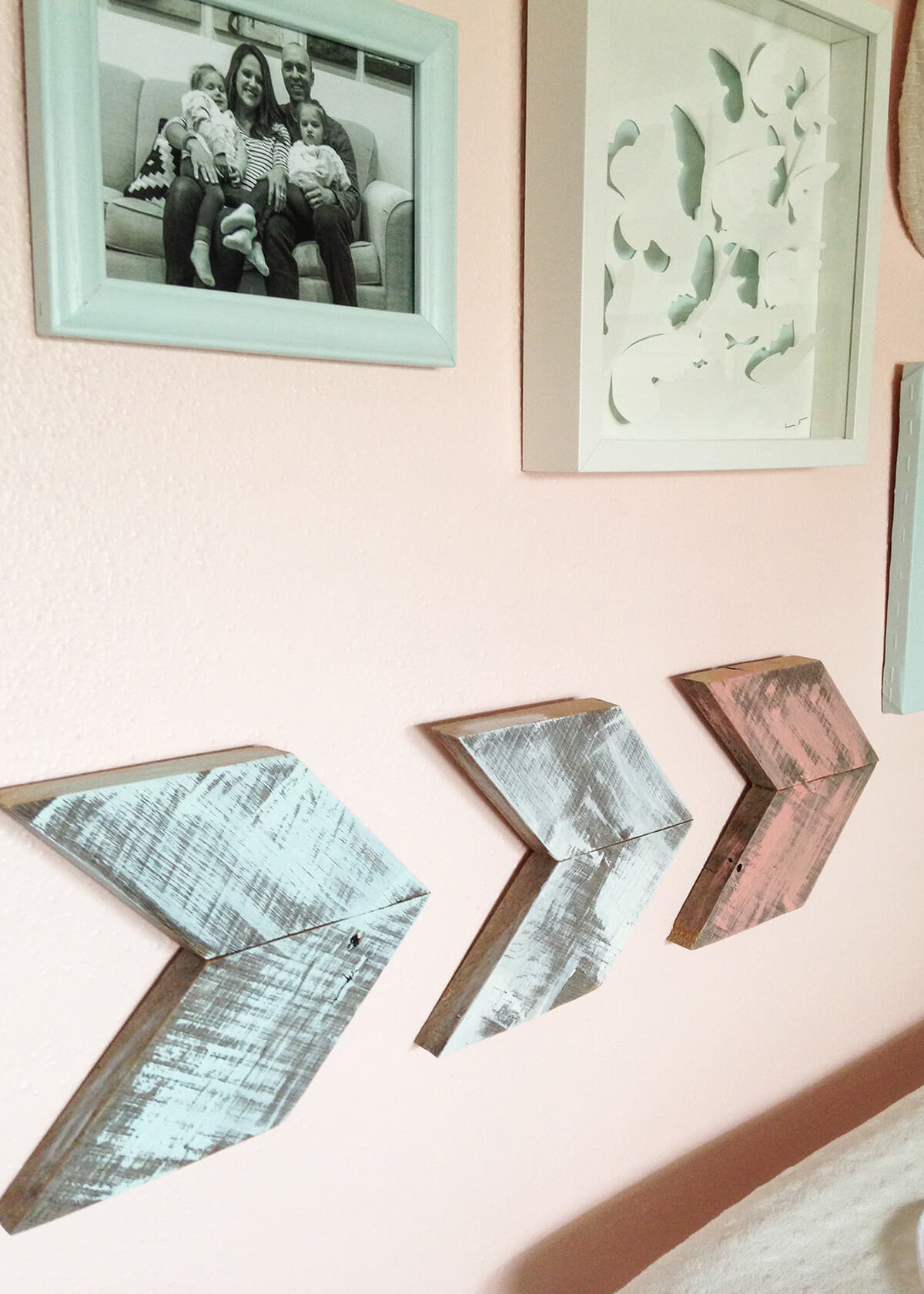 Lots of homes feature one or two photo walls, which is a zone for a hodgepodge of framed photos of the family's memories or vacations. It's a way to have a random look, but also since it's in a contained zone, it doesn't feel as random or chaotic. Decorative wooden additions to these areas like these chevrons fashioned out of repurposed wooden planks are a funky and whimsical addition.
6. Large Statement Pieces Are Bold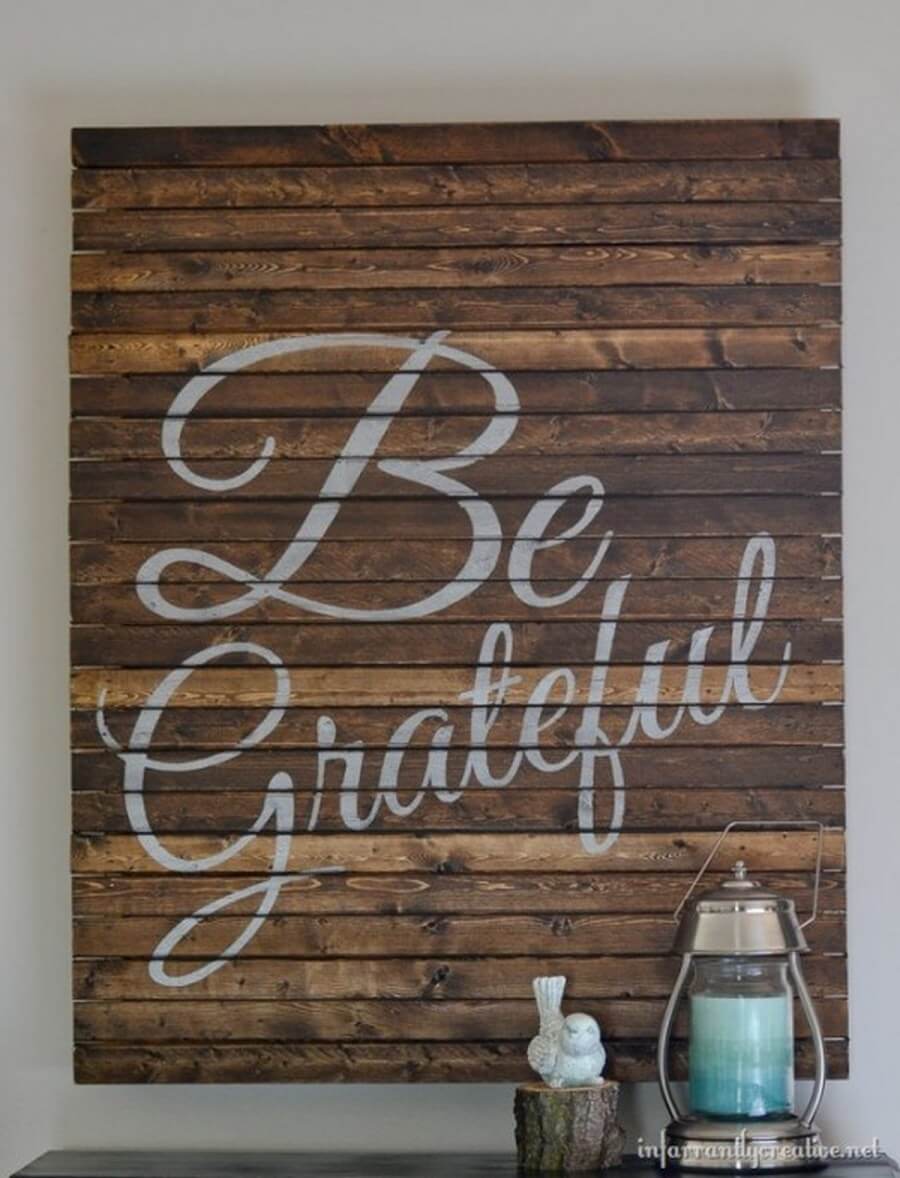 When you see something like this pallet project, it is really inspiring! There were probably a few pallets used to source enough wood for this large installation. Create uniformity by staining the entire base one single shade, and although there will be knots and wood grain variations, it is a lovely touch. For your final step, select one simple message to paint on the entire field.
7. All You Need is Love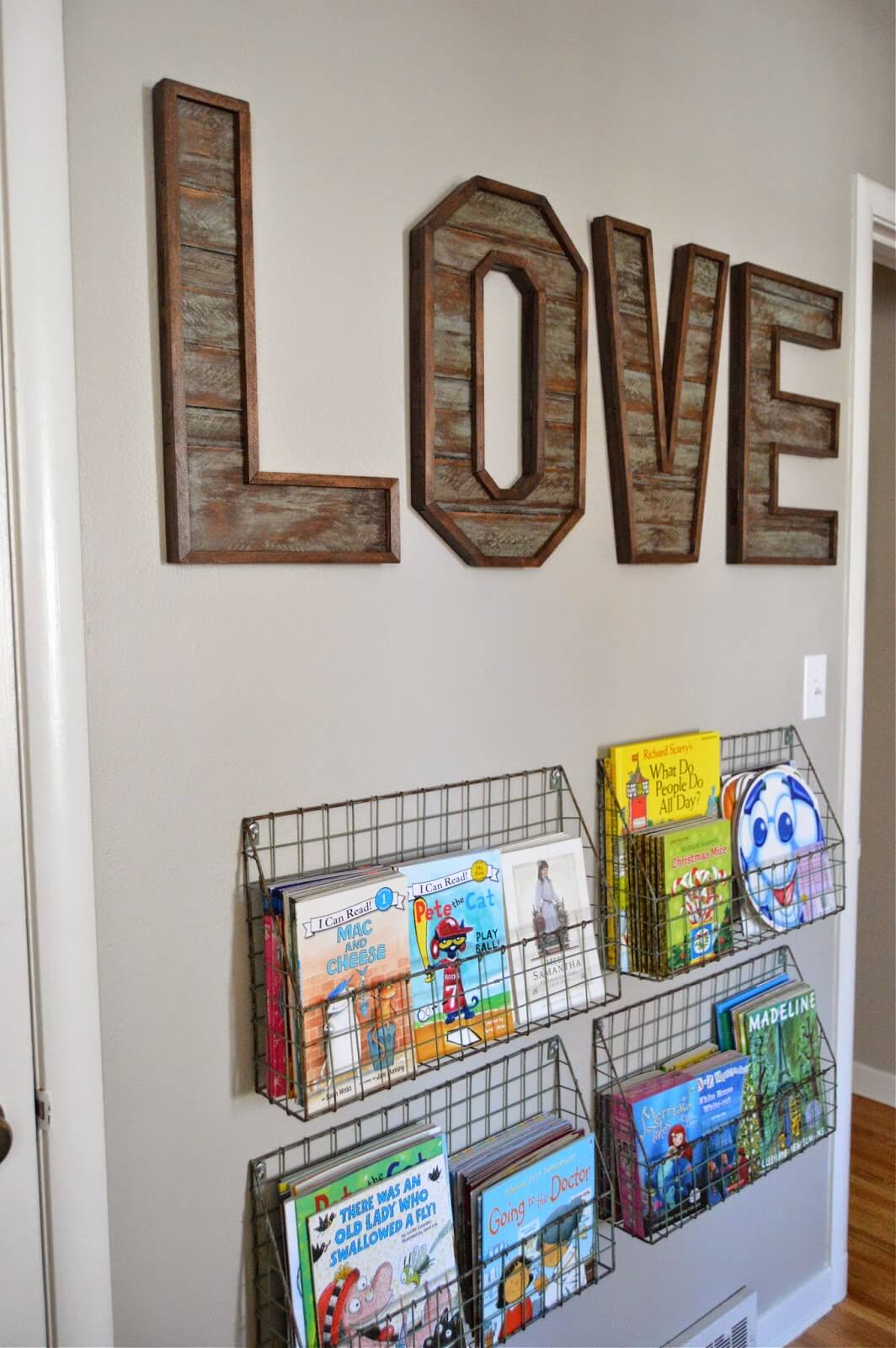 The letters of this spectacular wall hanging are fairly simple and made out of repurposed wooden planks. The extra touch you see is created by adding trim carefully around the borders of each letter. You get a bit more depth to the overall look! This is also a good reminder to save your trim ends when upgrading a room in your house, because they are perfect for projects like this.
8. Eat, Drink and Be Merry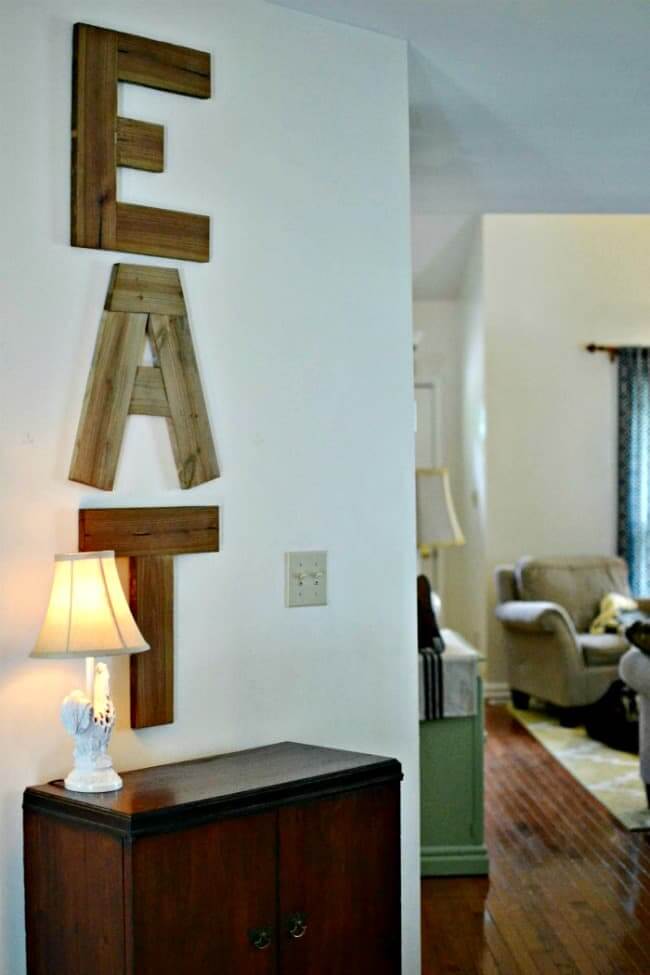 Once you break the pallet down into usable pieces, see if there are any letters or words you could potentially create. It is helpful if the letters have straight edges if you are a beginner DIYer, because curves can be tricky. You could also paint them after you're finished.
9. Simple Statement Pieces Strung Together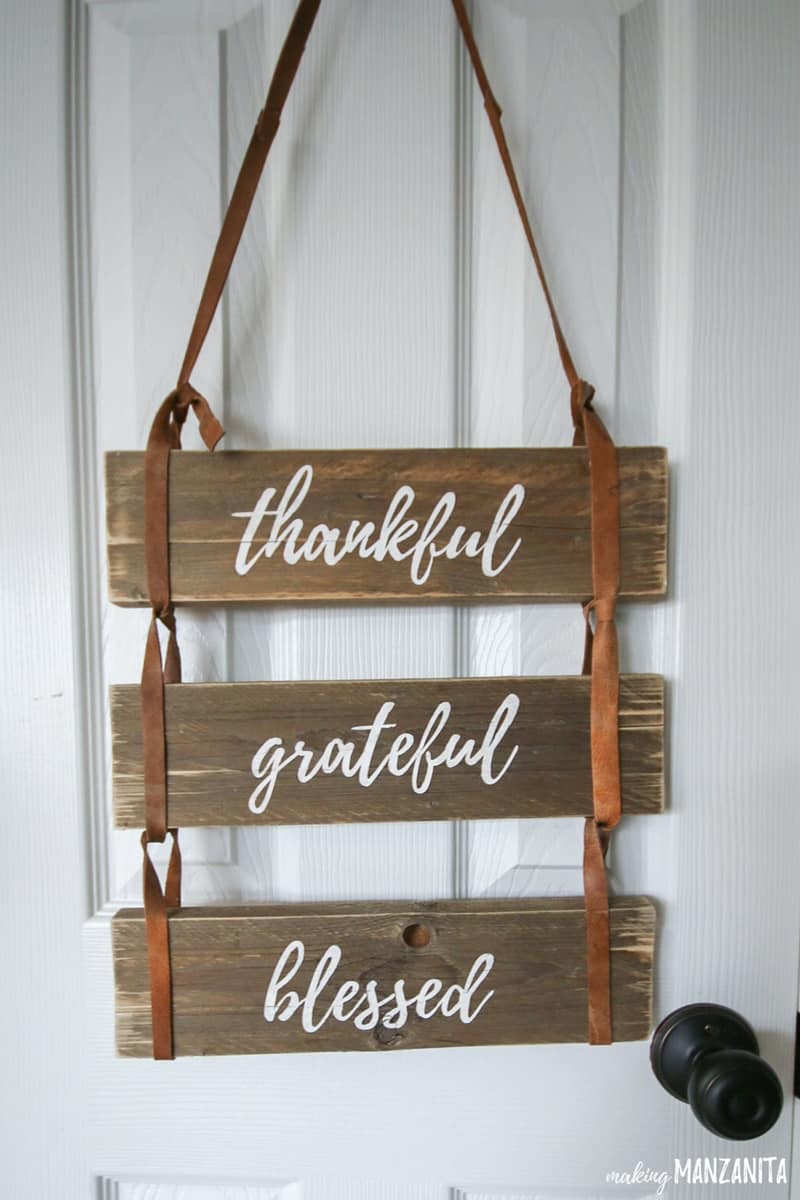 Sometimes you don't need to use an entire sentence or quotation to make a decent art piece for your home. Take a few moments to think about your personal or family values, or perhaps some single words that inspire or motivate you. Consider using those for your next project. They can be joined together by simple twine or ribbon for a little extra flair.
10. Creative Lighting Elements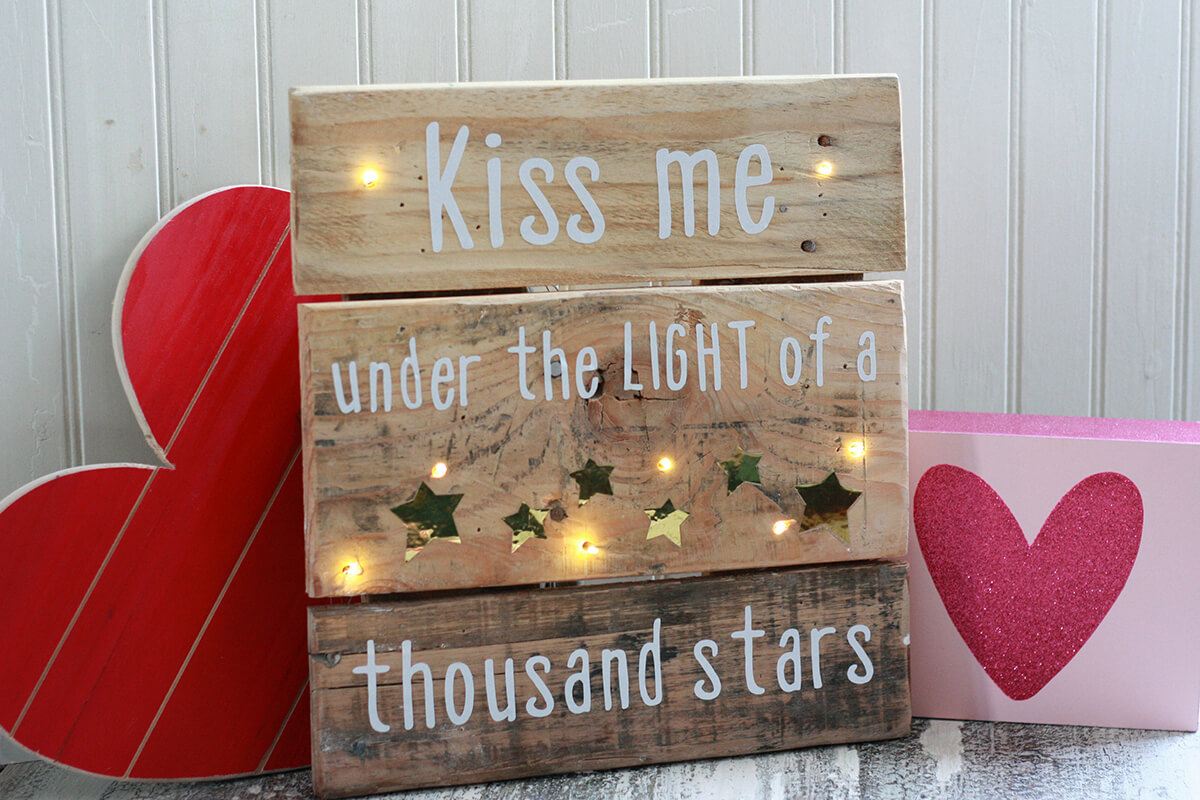 If you want to take your DIY Pallet sign project up a few notches, you could always incorporate a lighting element to the whole deal! Since this particular quote is about the starlight, it's a perfect addition to add some twinkly lights to the situation for a little extra pizazz.
11. Home is Where the Heart Is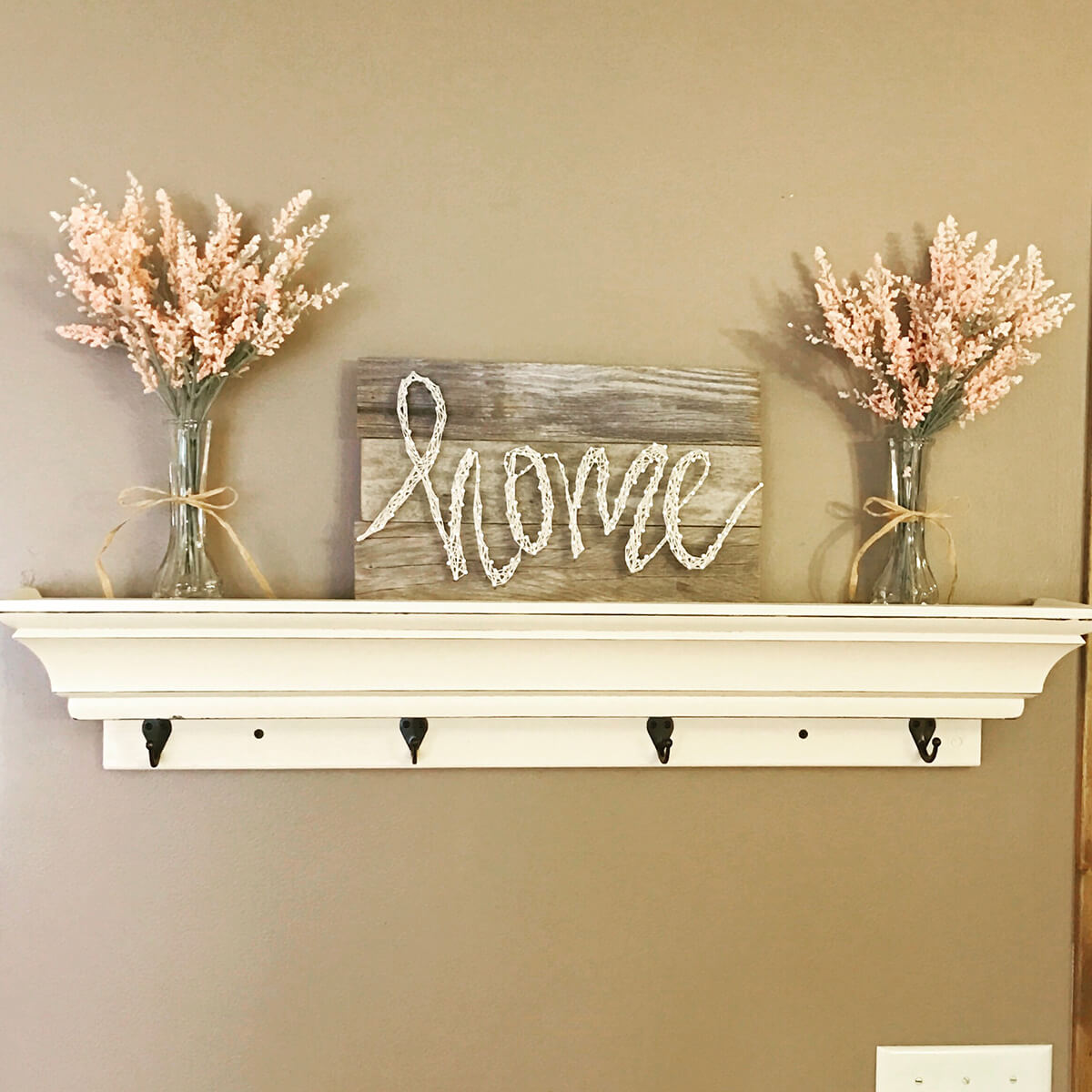 This beautiful pallet sign looks and feels simple, and there is also an elegance to the piece. It starts with three boards pieced together, but the lettering is really something special. It is made of nailed outlines of the letters with string wrapped around them for the color. You can experiment with the density of the string to determine how bright of color the letters will be!
12. A Bushel and a Peck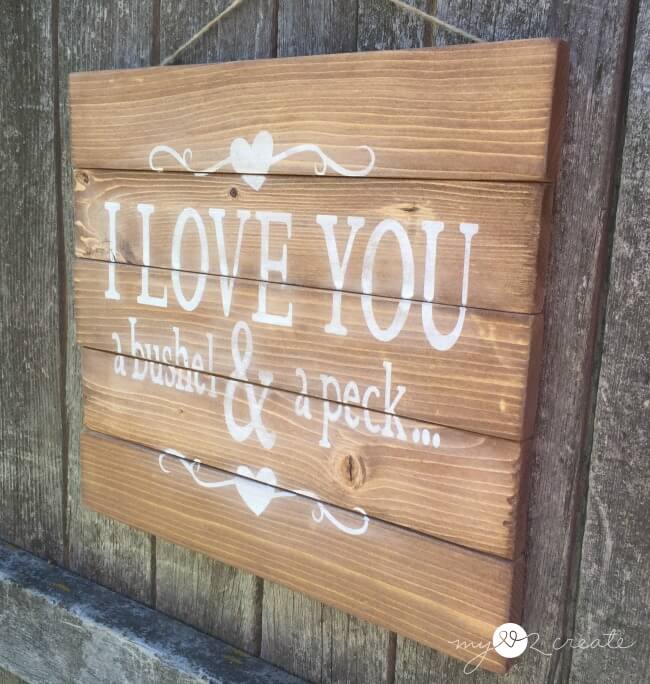 After nailing together a five-board canvas, this signmaker chose to use more of a stenciled look and feel to the sign. It's made up of a fun quote from an old time-y song, and it has an overall nostalgic, classic vibe. The heart decorations at the top and bottom make it extra adorable.
13. Three Dimensional Greetings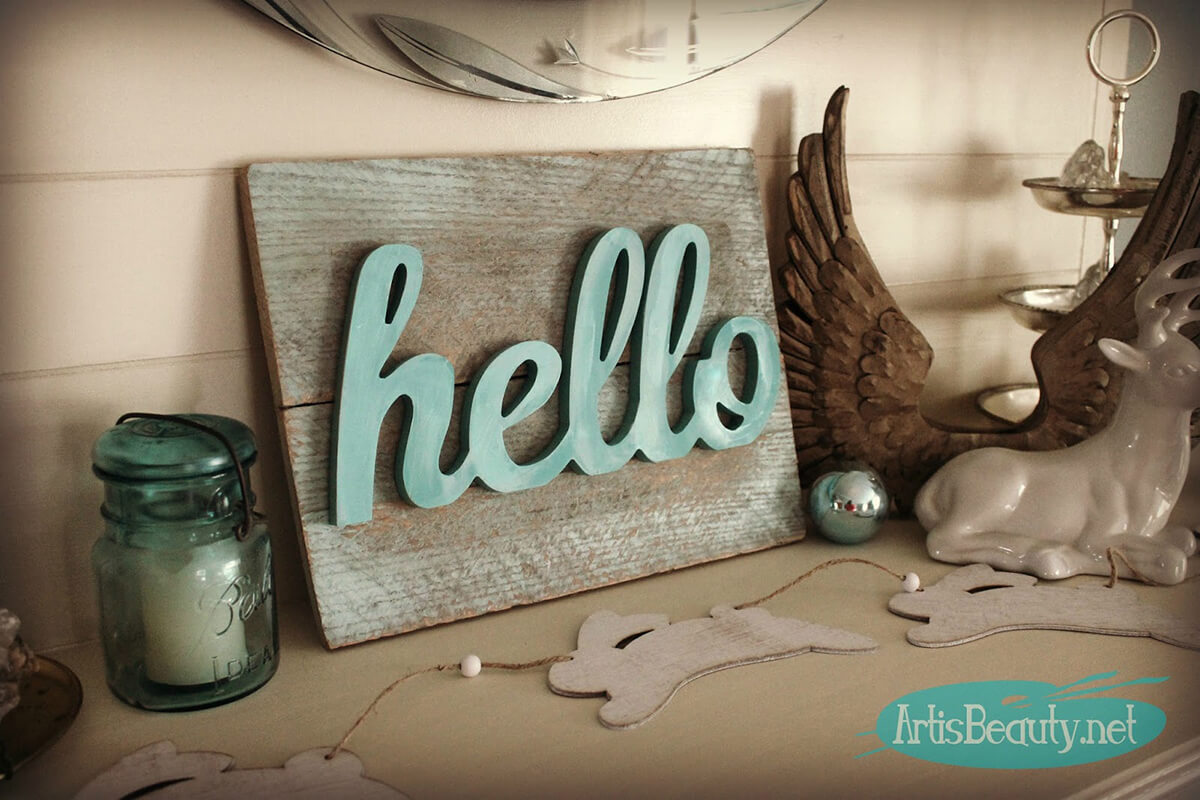 If you have a jigsaw, you can create something a bit more complex and multi-dimensional. The base of this piece is made out of two simple pallet planks, but the extra color and pop of the Hello wood piece is what makes it unique.
14. Create a Vertical Welcome Mat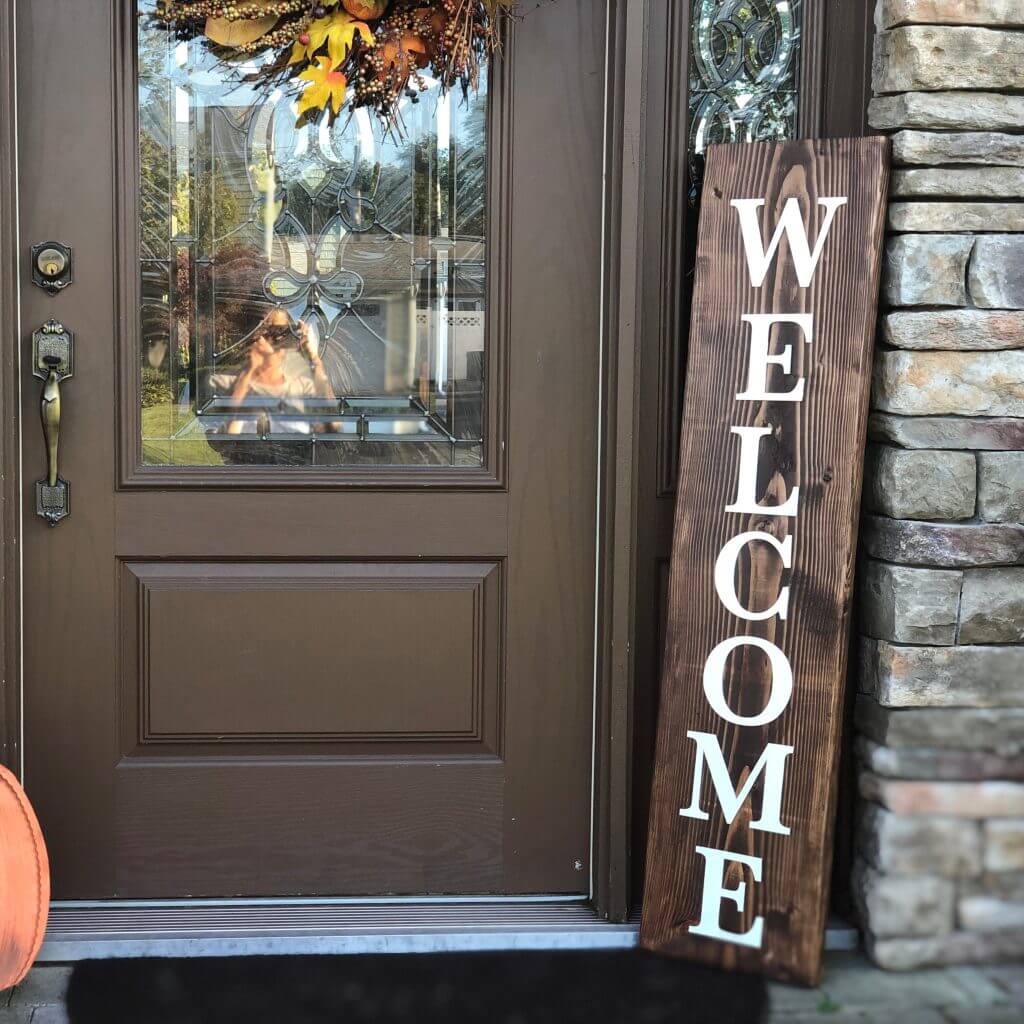 Some houses are just meant for entertaining, and the Inhabitants want to project a welcoming atmosphere before you even cross the threshold. This Welcome sign could be the perfect option. This version is made out of a single plank and stenciled letters, but it could easily be accomplished with several planks and/or a freehand at painting, depending on what you have on-hand.
15. Inside Out Patterned Sign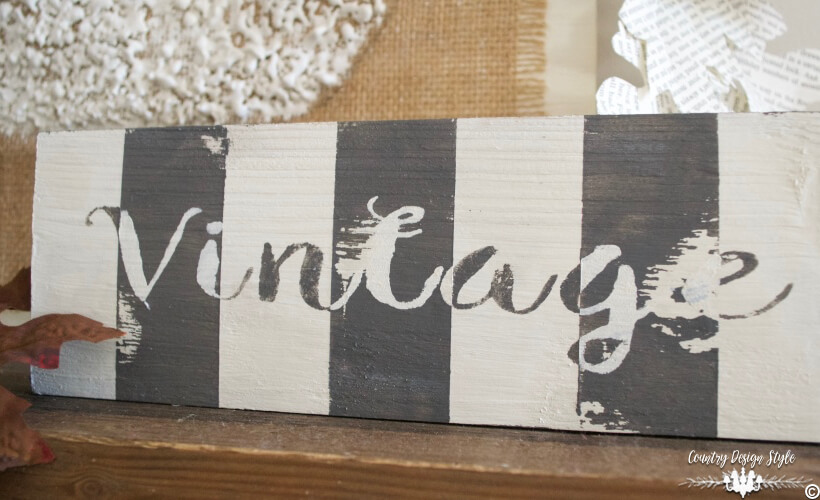 This Vintage-inspired signage has a lot of moving parts for such a simple outcome! What's intriguing about this style is the "inside out" look and feel it creates with two complementary colors and some creative stenciling. This could be achieved with brushes and custom stencils (it depends on the size of your initial piece of wood), or you could also use spray paint and painter's tape for this project.
16. Musical Quotations For Extra Meaning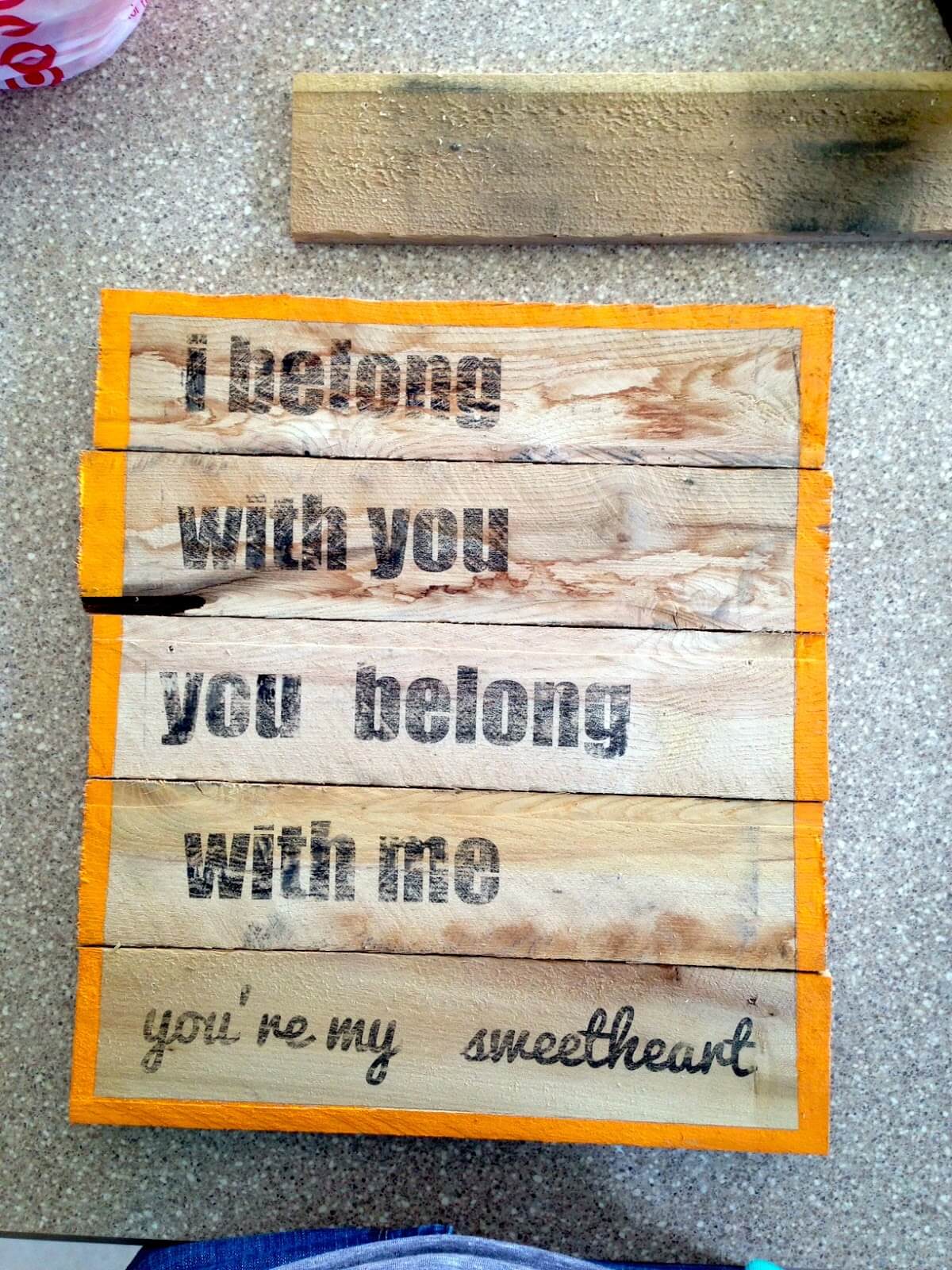 So many of us have special songs that are from a cherished time, vacation or memory in life. What better way to honor this than by commemorating it on a piece of indoor or outdoor art? You can customize it anyway you'd like with different types of fonts or even a funky painted border. It's especially fun when you leave a bit of the natural grain on the wood so that it gives the piece a more textured look.
17. Every Man Deserves a Man Cave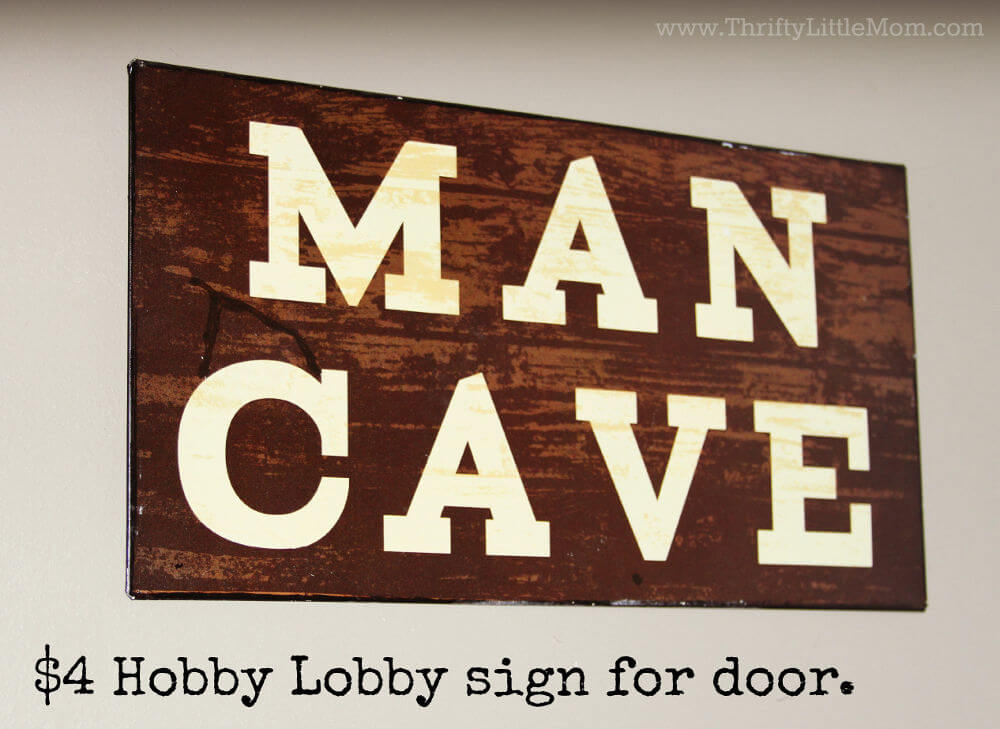 Although this version is a store-bought product, this sign is completely creatable in your home workshop. Create a wooden base out of the wood you have around the house or from your pallets, and add the lettering to read "Man Cave." This could be the perfect final element to hubby's little den zone in the home. Add a little class to his cave!
18. Southwest Styles with Simple Wood Pieces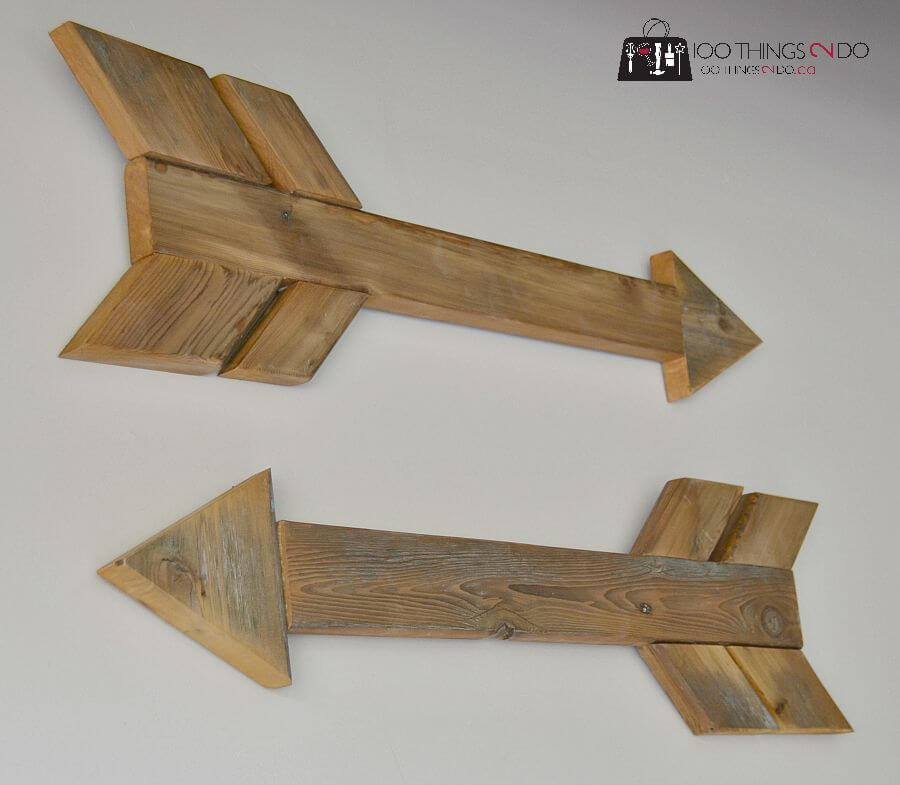 Using simple planks of wood, whether they be from pallets, repurposed elsewhere, or purchased inexpensively, you can easily construct simple and fun geometric shapes. Do a little research or play around with the wood pieces you have and see what you can come up with!
19. A Picture is Worth More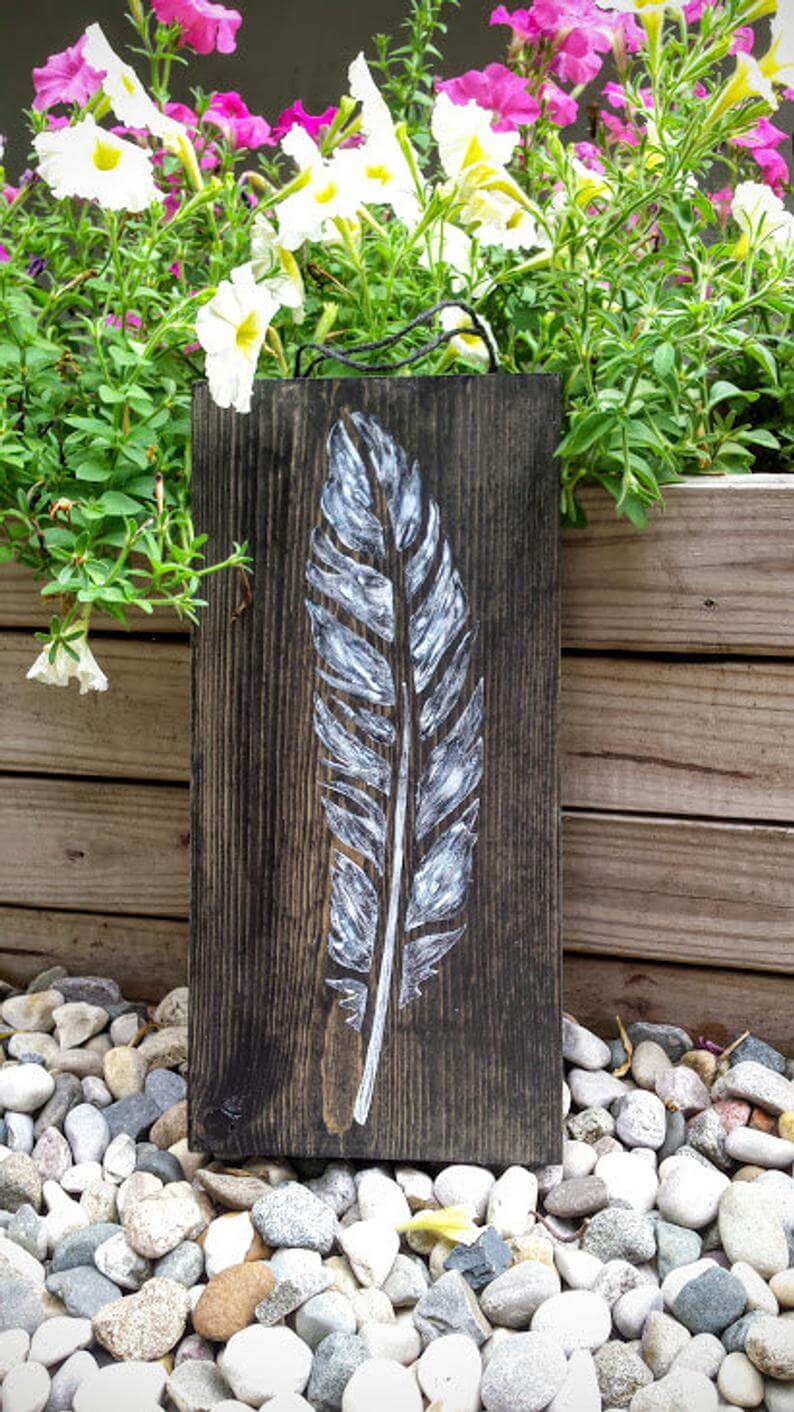 Than a thousand words, right? This is an ideal piece inside or outside because it brings a welcomed sense of nature to the space. You could either purchase or make a stencil for something like this, or you could freehand it with a brush – take your pick! Luckily if you are working with a pallet, if you make a mistake, you will have many more planks to try again on!
20. Simple Vintage Graphics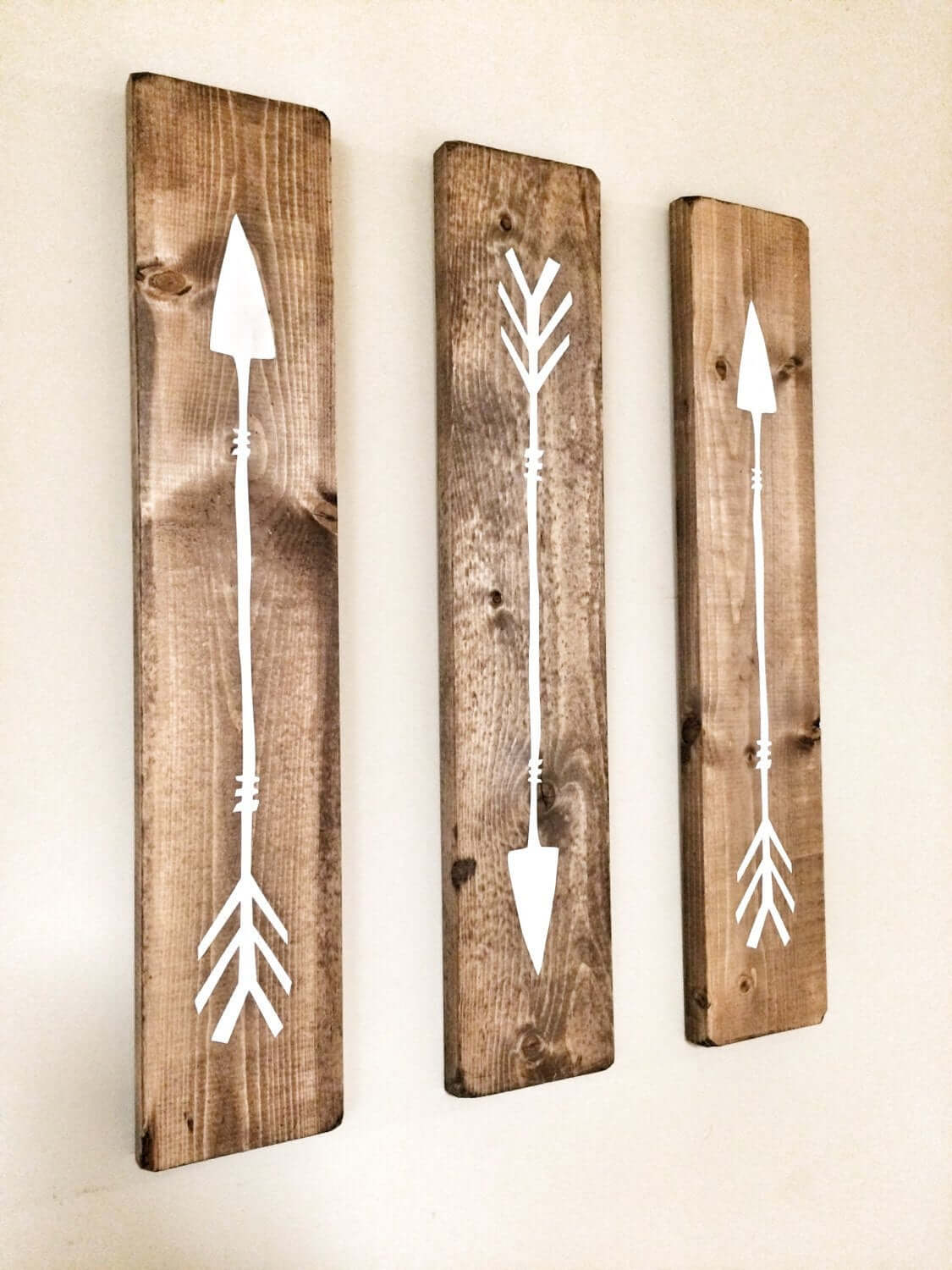 The arrow graphic is a super popular and fun decorative statement you can add to nearly any room in the house. Using three single planks, this option juxtaposes three arrows facing different ways to add a little more whimsy to the look. You can also experiment with the arrow and background colors.
21. Your Namesake's New Signage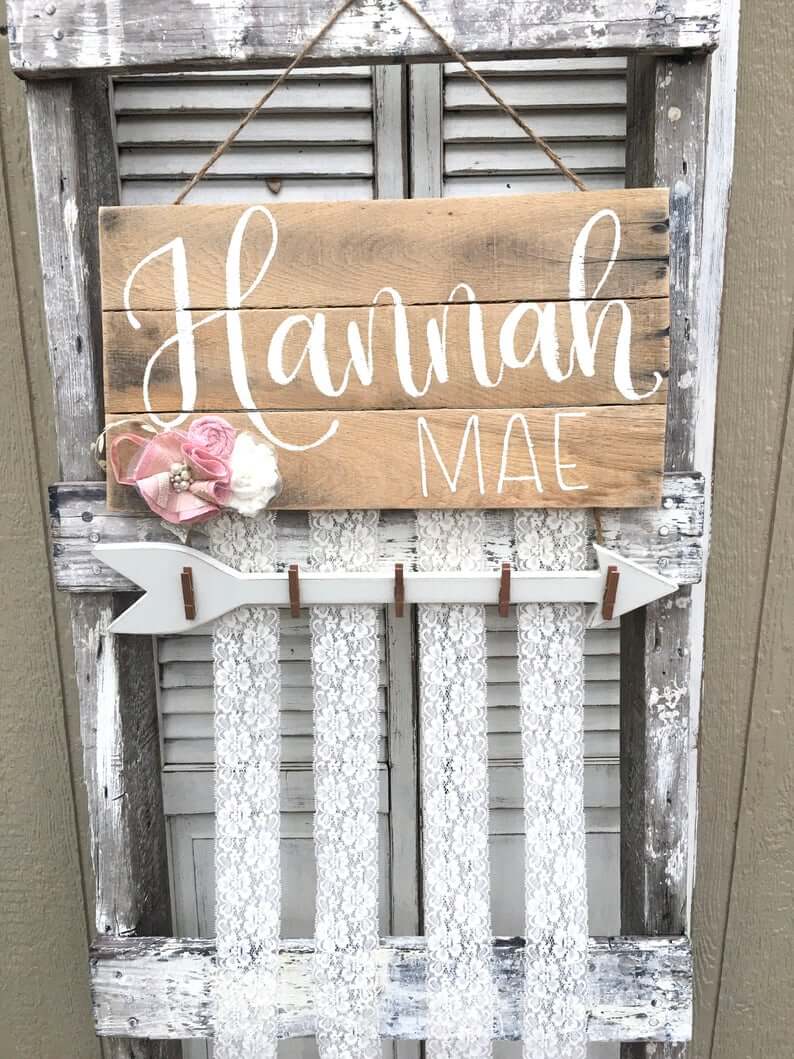 When a new little bundle of joy is on the way, moms and dads spend a lot of time preparing the baby's new space. A personalized nameplate as a statement piece could be the perfect addition for the nursery. If you add hooks to the bottom, you can also bring functionality to the piece while still being able to read your child's name.
22. Love Is All You Need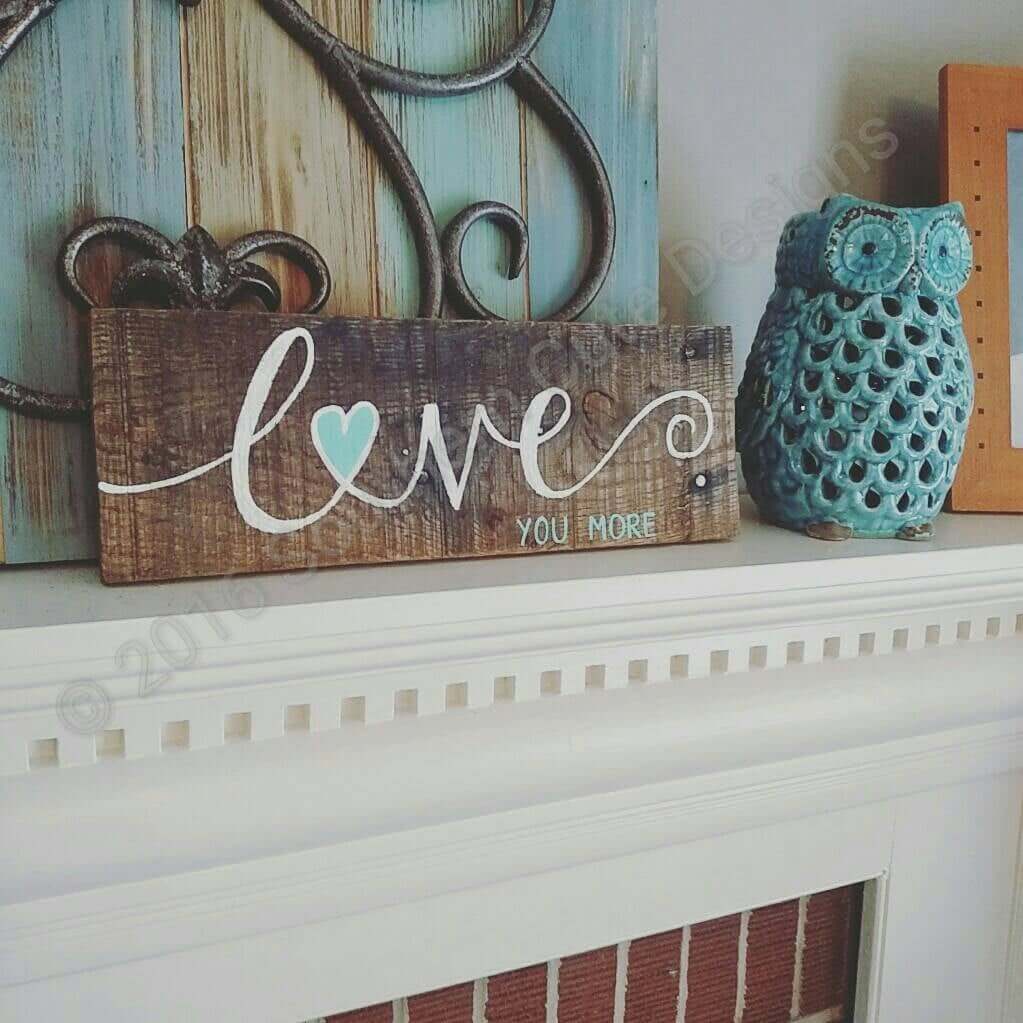 A single, yet wide, plank of wood could be all you need to make something truly special for your home or as a gift. Adding a loopy script is all the rage now, so don't be afraid to use some don't changes. Finally, a little pop of color in the heart tops off a perfect little house addition.
23. Special Quotations Immortalized Forever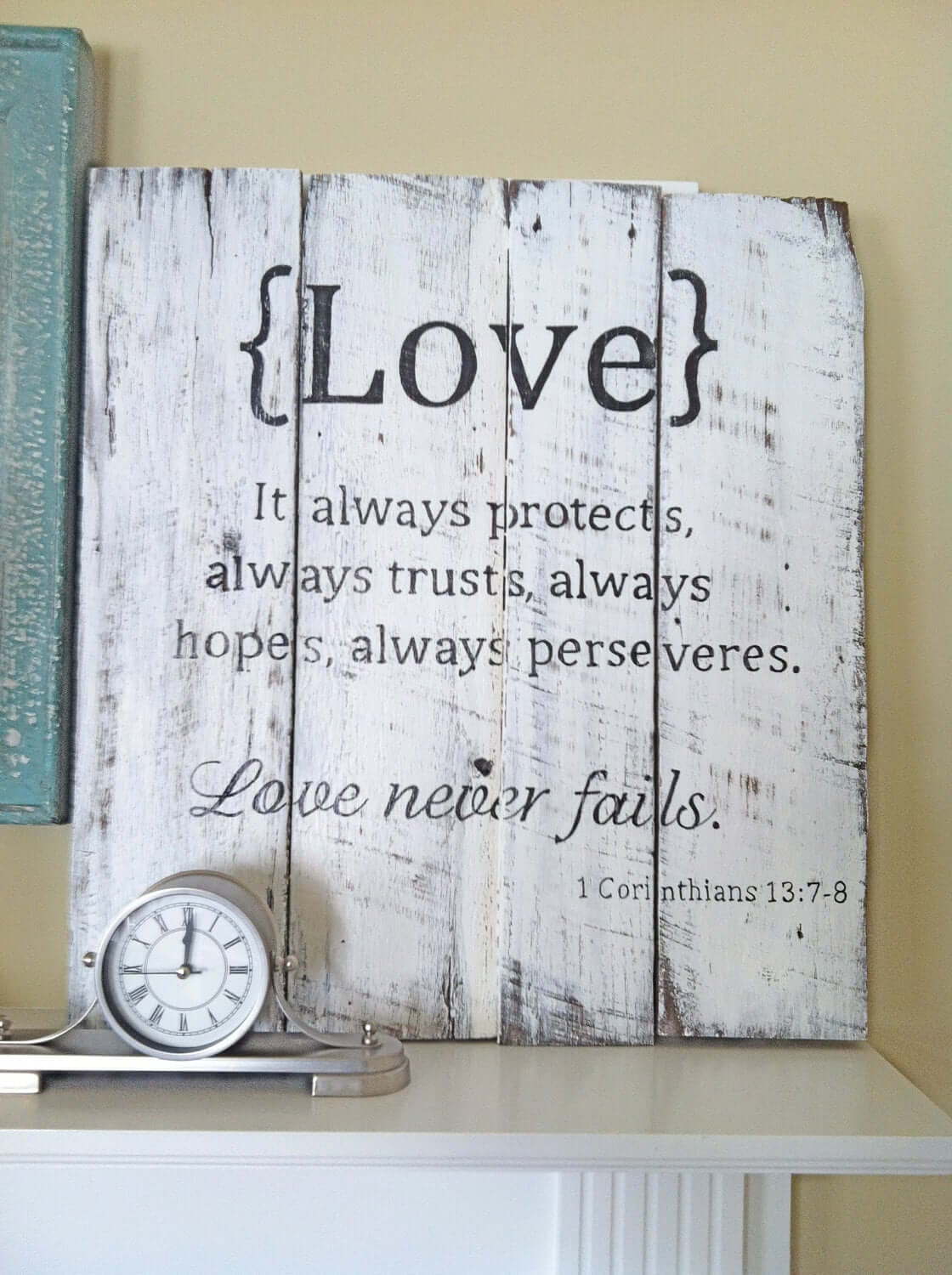 You are also at liberty to use as many words as you want to in order to create the perfect addition to your living room. This quotation is a favorite for families and wedding vows alike and strikes a chord with many people. You are also able to "weather" your sign a bit by sanding down the corners to create a worn look.
24. Rustic Wood Sign Project Tutorial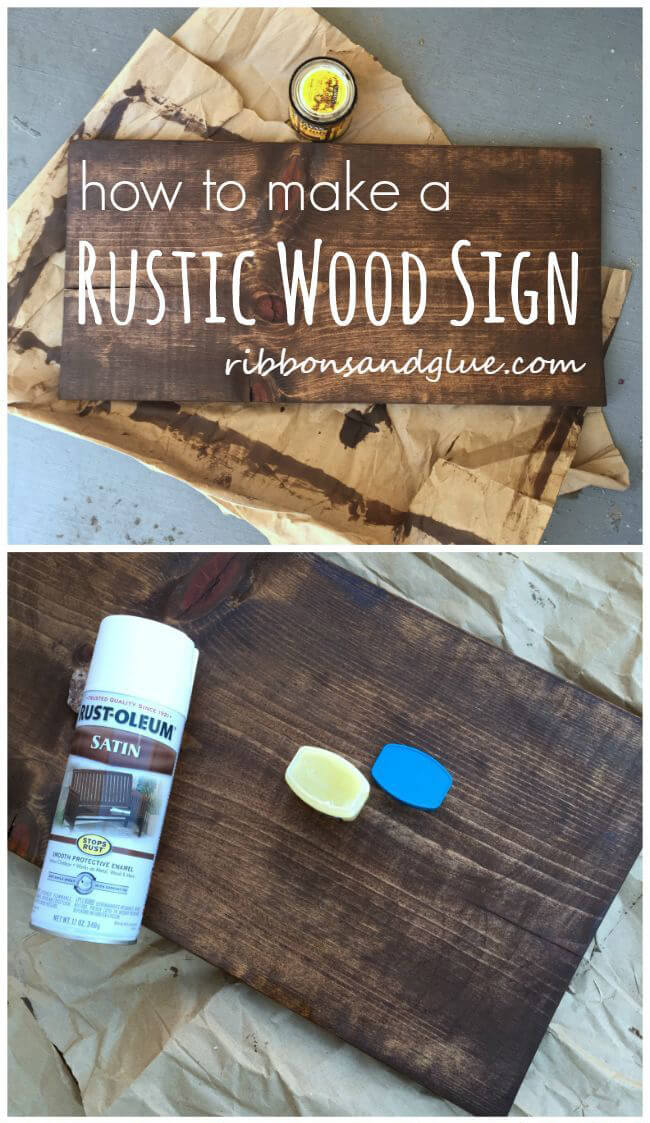 Want to show others how easy DIY pallet crafting can be? Use this 'tell-all' display to point out the different ways to achieve your own creative look. Use on your website, take to shows or hang on your front door before a class in pallet crafting. It will add interest and intrigue to what lies ahead.
25. Pretty Let It Snow DIY Art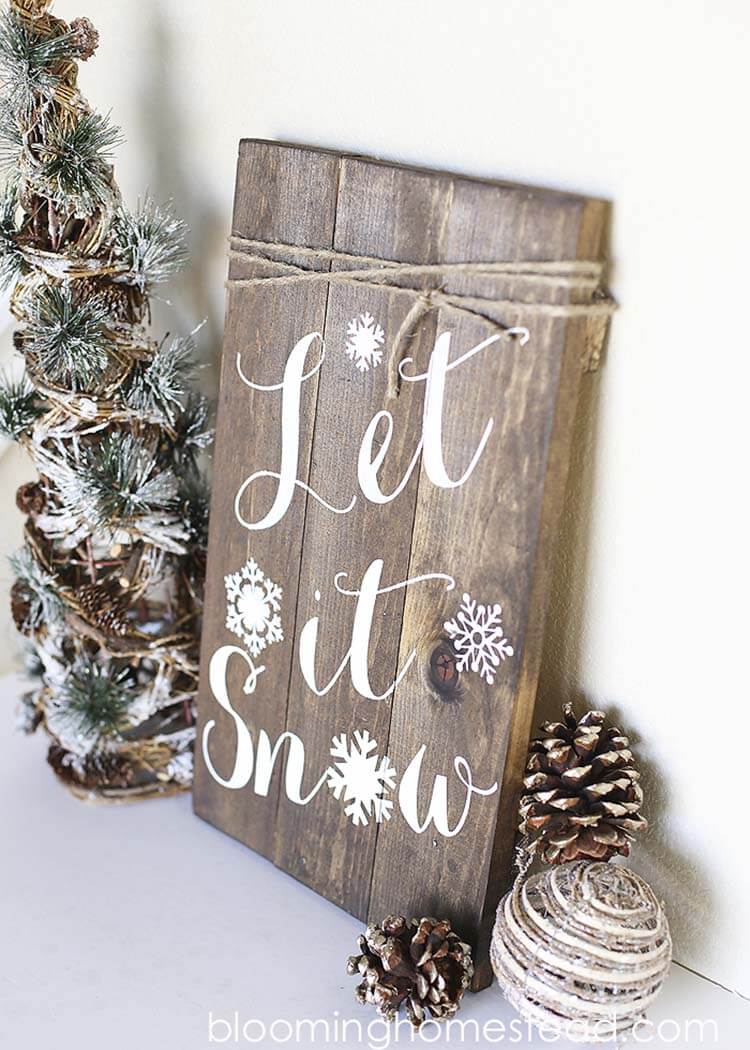 Seasons are the perfect way to show off your DIY skills with pallets. Winter time blues will fade with this twist of snowflakes and twine. The crisp clean magic of the snowy days will make you look forward to the refreshing winter season. Use white or light blue lettering or highlight with sparkles.
26. Painted Pallet Love Never Fails Sign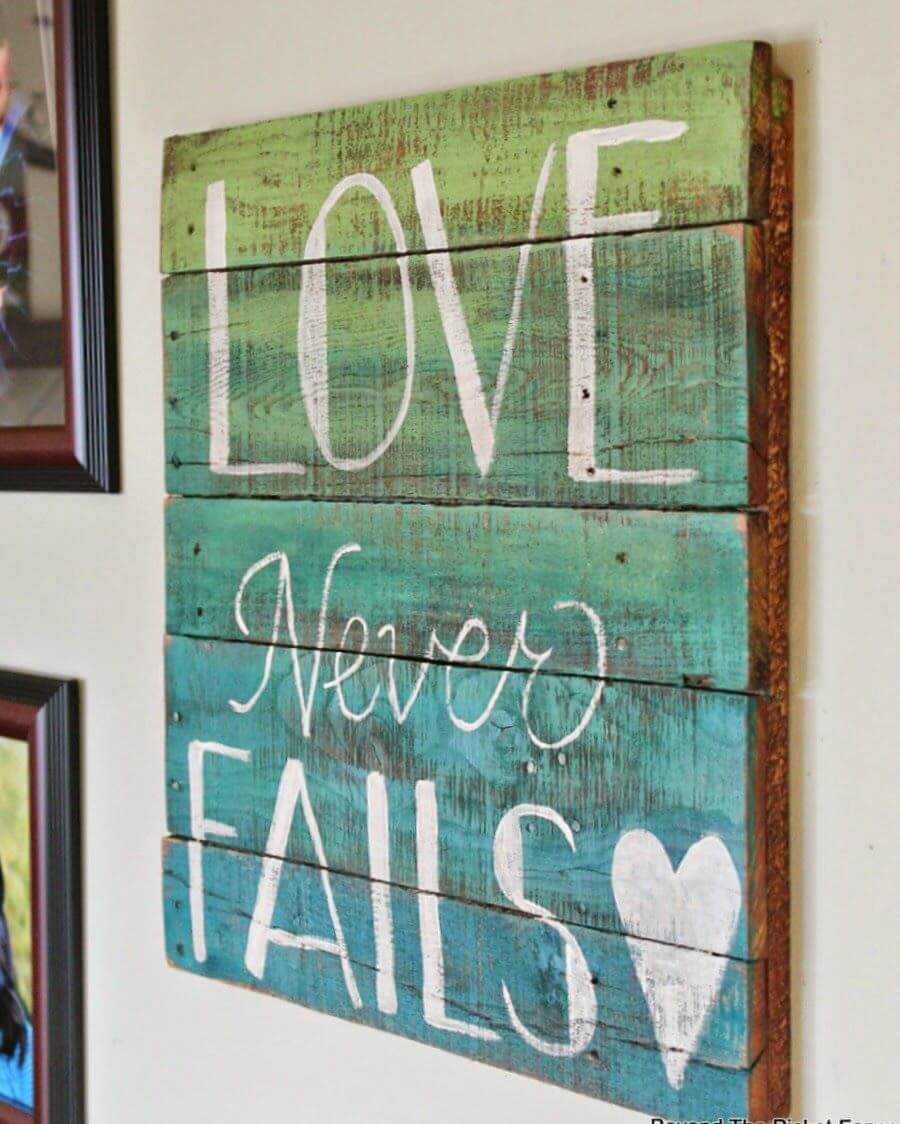 Make your message stand out by using 2 signs nailed together. It will give depth and added texture. Use multiple shades of color to enhance the style of your room. Bold letters will deliver your personal feelings of what is felt in your home. Perfect for a bedroom or family room.
27. DIY Painted Wood Pallet Design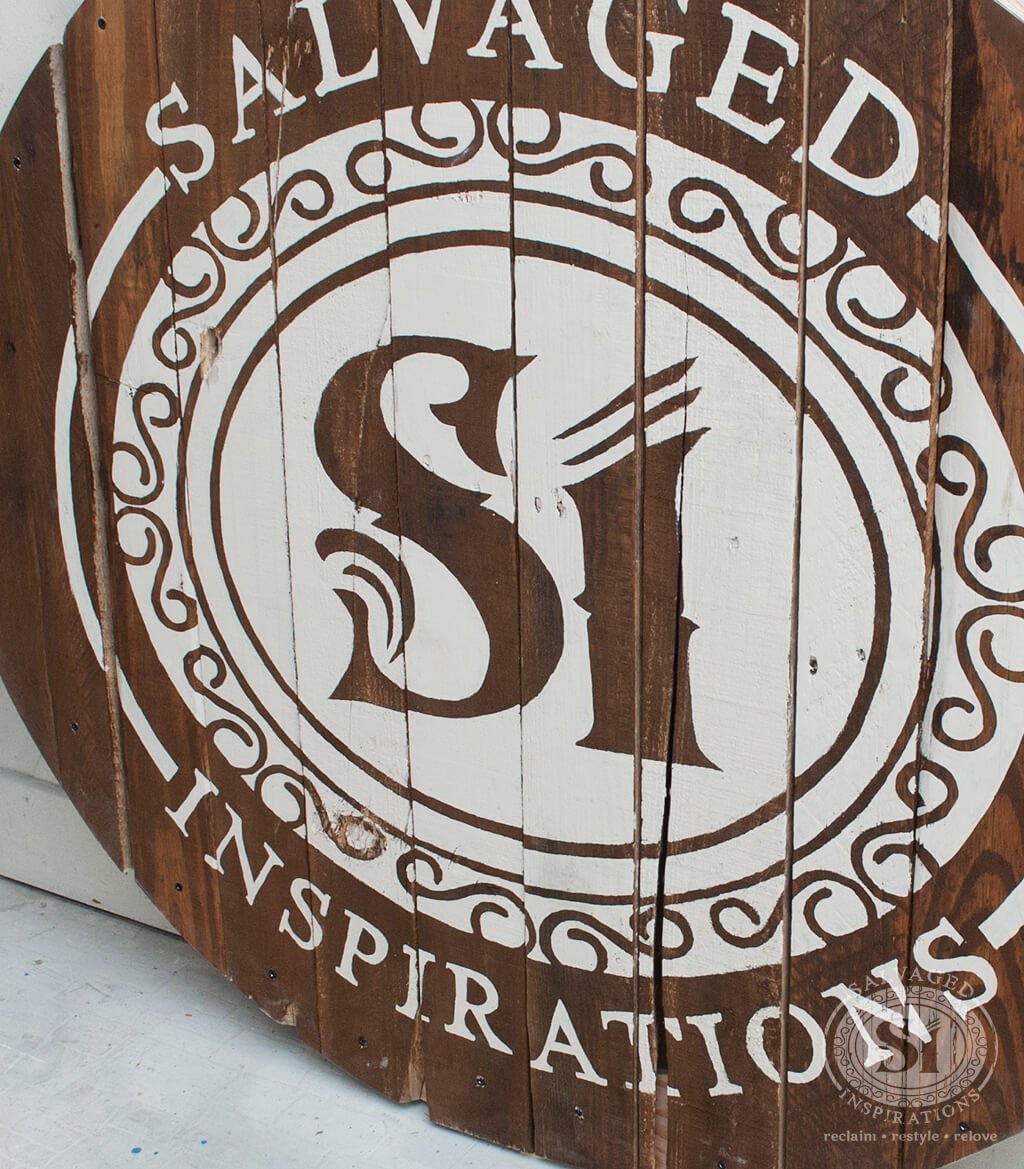 Any handmade design or crest is possible when you have a pallet at your disposal. Choose your shape and make it happen. The beauty of the rustic look is that edges never need to be perfect. In fact, the rougher, the better. Use a pattern and paint your desired theme for an original and fantastic work of art.
28. Rustic DIY Street Pallet Art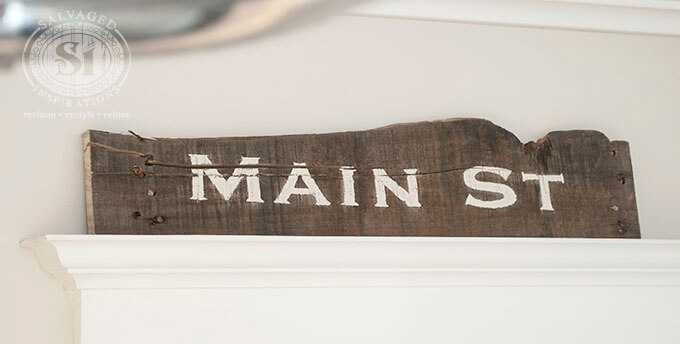 Not all art is nestled neatly in a frame and perfect in form. Use street art to define who you are and boost your room with character. Perfect for adding a touch playfulness to bare white walls, over doors or kid's rooms. These little signs will remind us that we all need a little fun in our lives.
29. Love at Home Pallet Art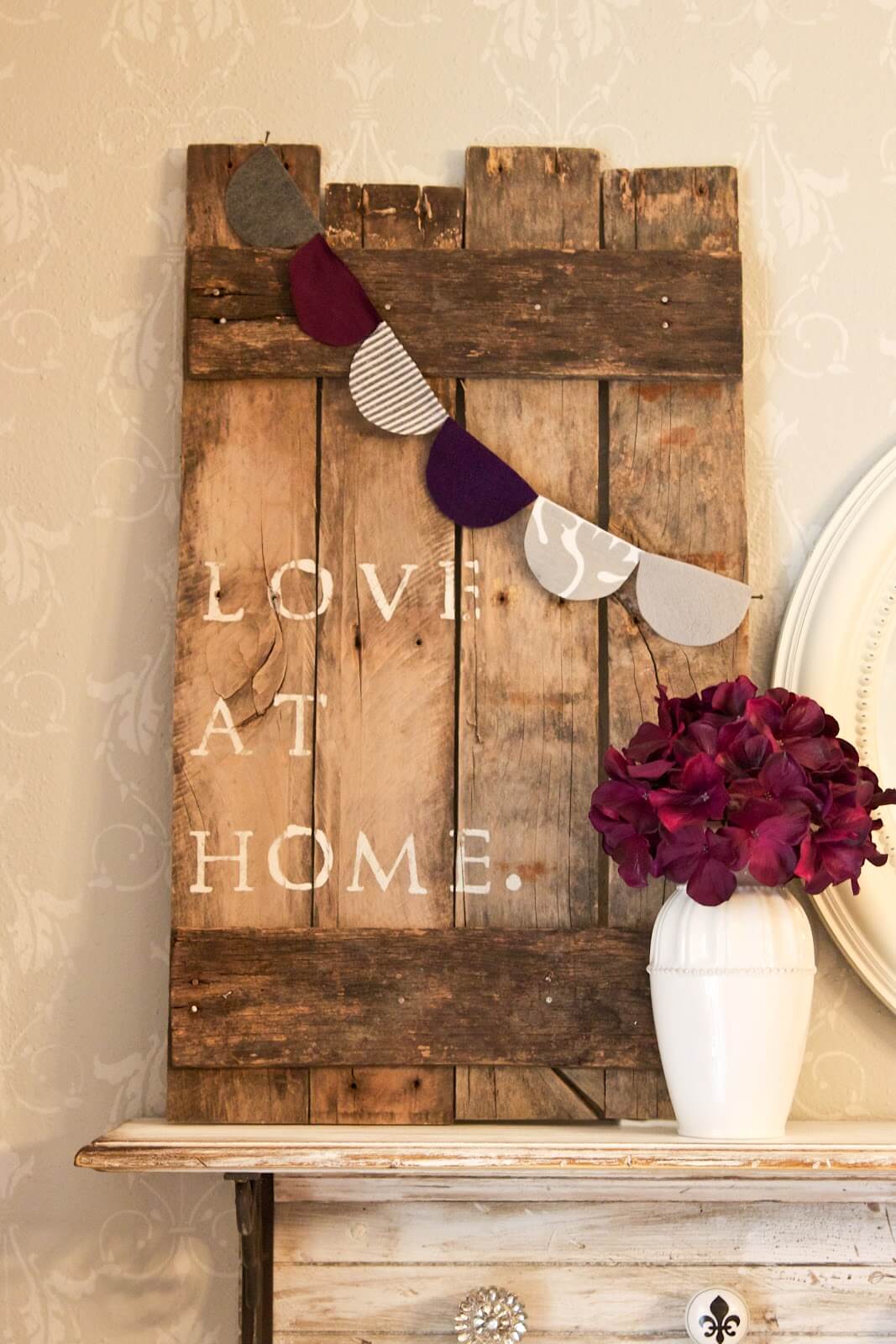 Here are imperfection and perfection at its finest. A tattered and worn sign with a spray of delicate fabrics let you know that life is not always easy, but the love at home makes it all worthwhile. Set on a mantle, dresser or bookcase to always remember its important significance.
30. Welcome Home Pineapple Pallet Art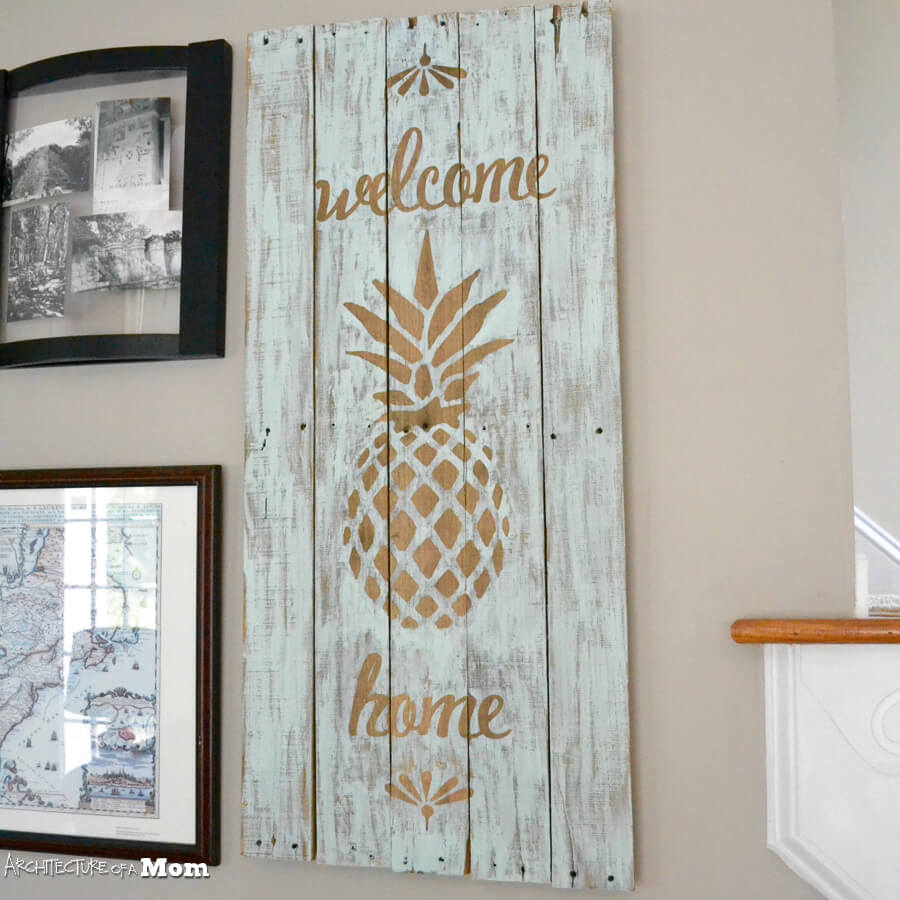 Warm and charming, this pineapple is a perfect way to add a little spice to an empty wall. A slightly brushed background sets the scene for a natural and sweet display of goodness. Gold metallic paint gives a classy look that blends with all types of decor. Its presence will be welcome anywhere.
31. Inspirational Quote Wood Pallet Art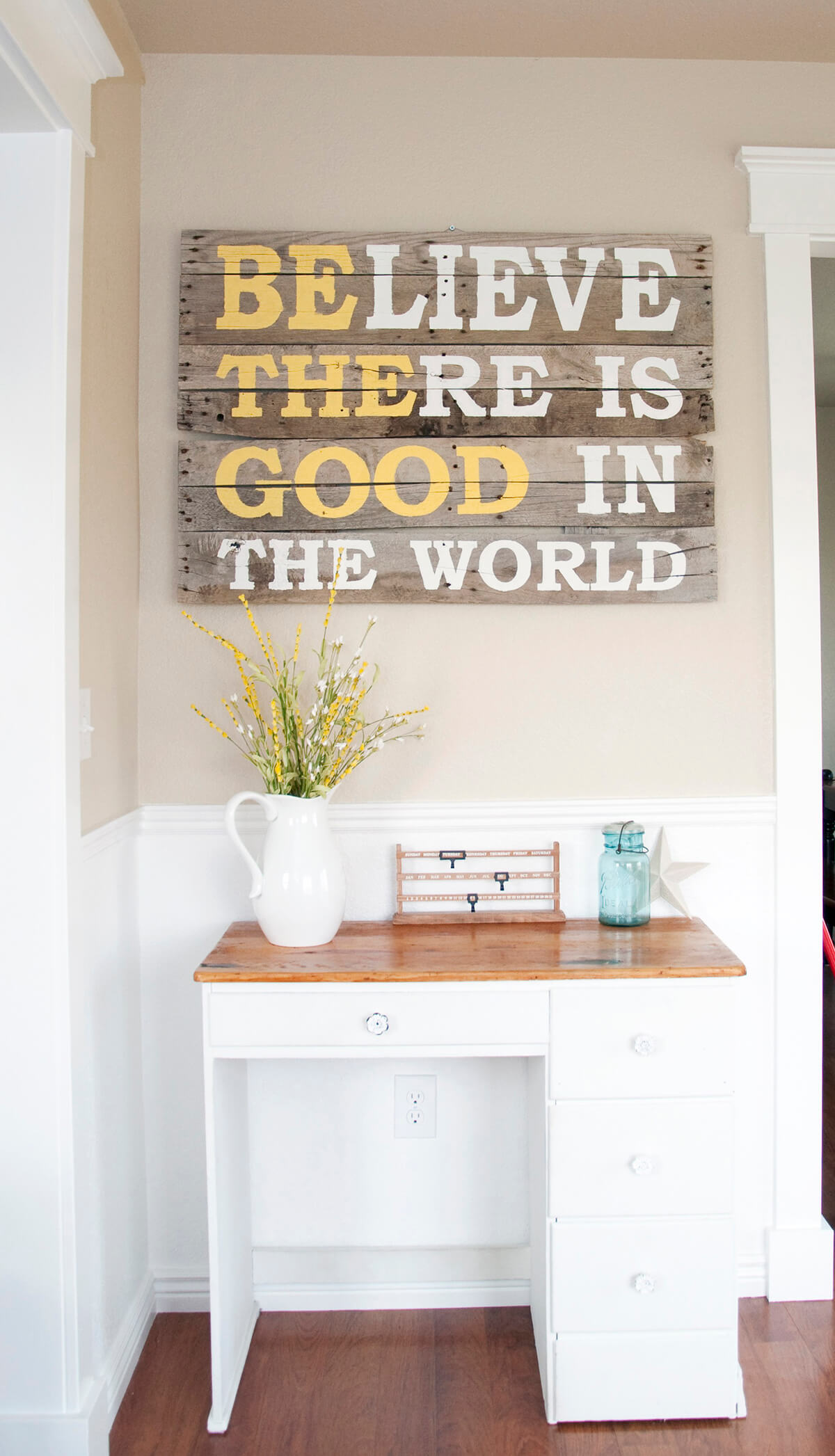 Inspirational quotes are uplifting and personal on so many levels. Sometimes we all need a reminder to focus on the good in the world and this attractive artful plaque does just that. Humbling tones of white and gold create an essence of purity that will keep these words close to your heart.
32. Wedding Anniversary Date Wooden Pallet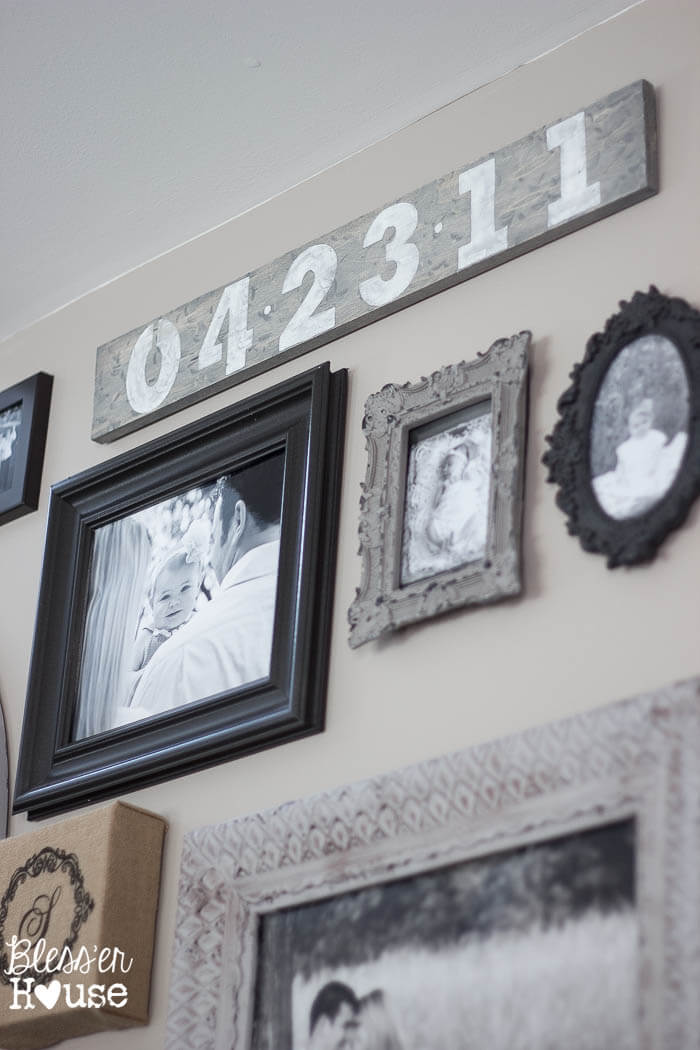 These numbers add up to a memory far greater than any picture ever could. The date of your wedding is displayed in bold block numbers on a comforting rustic wood background. Place prominently on a wall where it will always be a constant reminder of your special day and the one that you love forever.
33. Rustic Wood and Twine Love Sign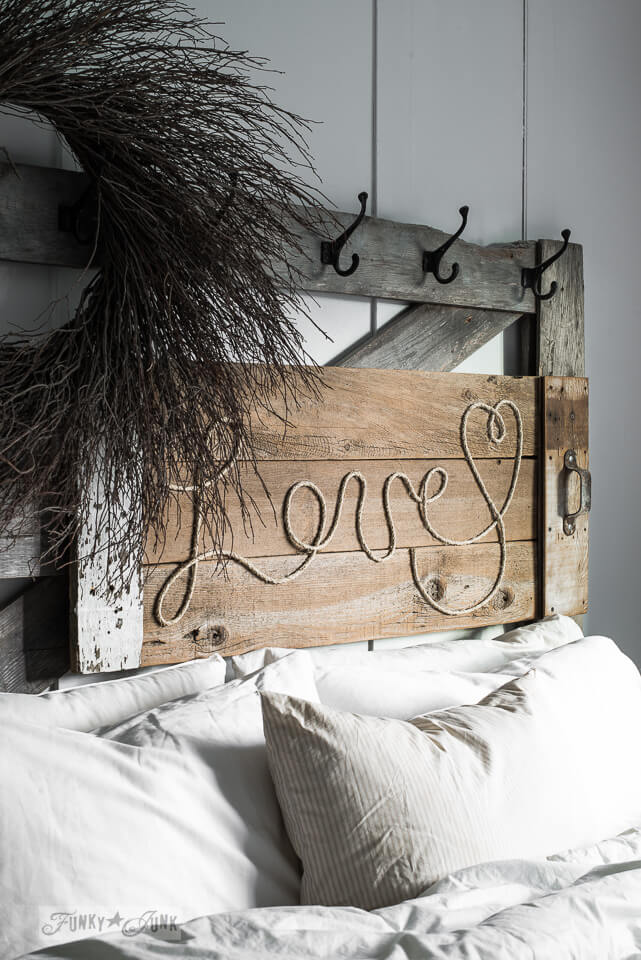 Love says it all with this creative piece that will aid in erasing your daily stress. Simple and rustic, a handle holds one end, symbolizing how doors can always be opened. Love is written in cursive with twine that adds depth. Use as a headboard as a reminder of the simple and meaningful treasures of life.
34. Distressed Painted Wood Word Sign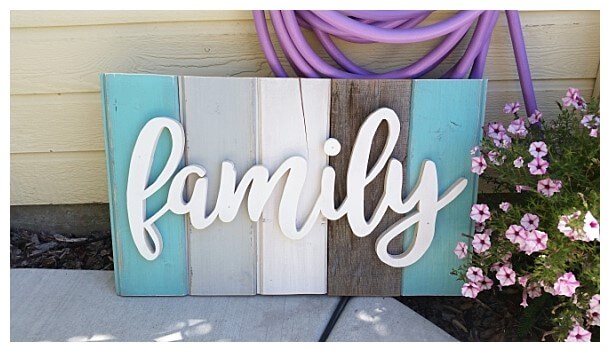 Show your family and friends what makes life important to you. This loving distressed sign will announce your feelings about your home. Presented in warm blues and greys, this wooden sign is adaptable to be used in any room. The whimsical cursive white letters will bring a smile to your face each time you see this sign.
35. DIY Love Story Pallet Art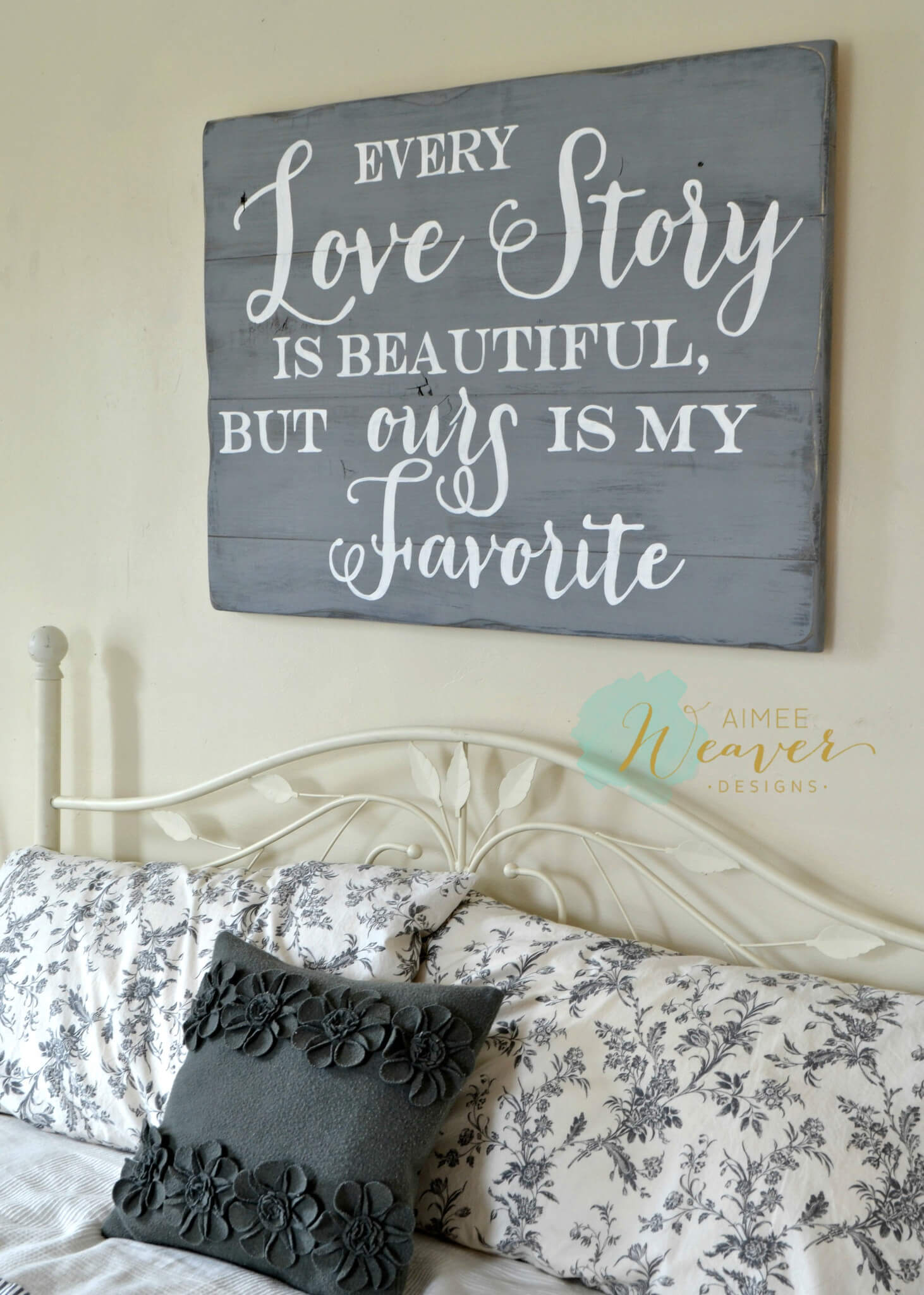 The sign that says it all. This beautiful large wall hanging announces your own personal version of how love should always be remembered. It will fit perfectly above your bed and the different stylish letters will catch your attention often and deliver those joyous and precious memories. Your mate will find it refreshing, as well.
36. Wood Home Sign with Wreath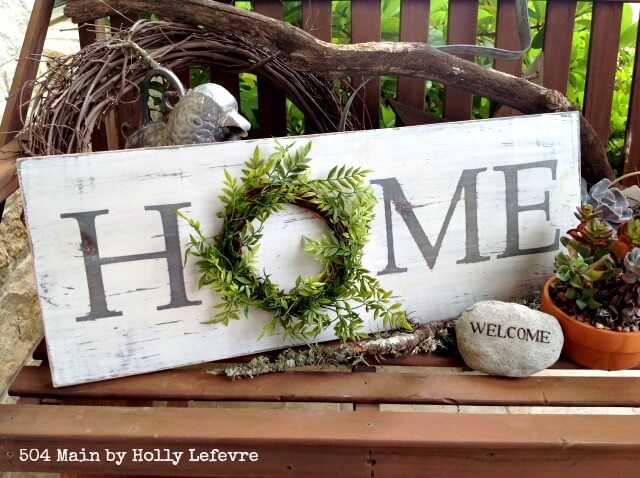 Add a little nature to your welcome sign that can be used wherever friends and family gather. Perfect for entrances, gardens or patio areas, eyes will be drawn to its playful beauty. If you are looking for that special handmade sign to brighten up your area, use a touch of nature.
37. DIY "Spooning" Anniversary Wood Sign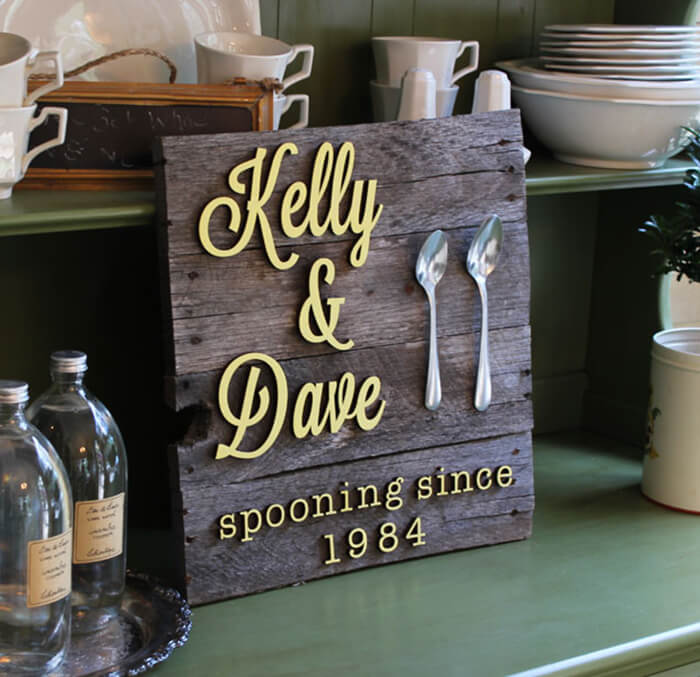 If you are looking to make a creative gift for a wedding or an anniversary, search no further. This rustic remembrance of old-fashioned enduring love is witty and charming. The mixture of wood and silver add an instant spark to any counter or dresser with instant blissful memories.
38. Coffee Roasters Wood Kitchen Art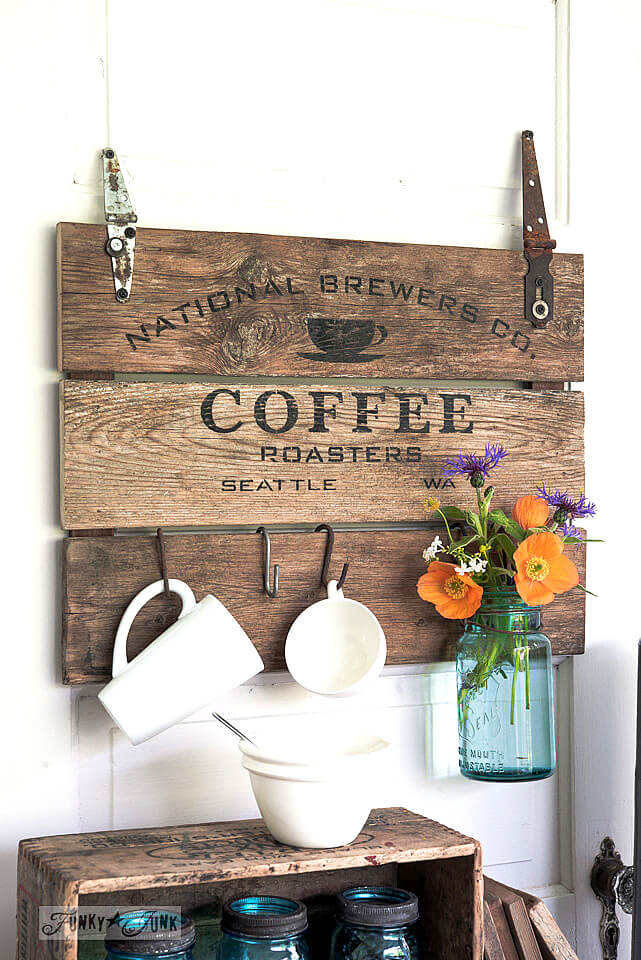 Never let a stamped pallet go to waste. Finding an antique wood piece can provide just the feeling that you need in creating a rustic presence in your home. Highlight your sign with old hooks, handles or hinges to add depth and intrigue to your awesome find. Further, decorate with colored ceramics or blooming plants.
39. DIY Stained and Painted Wood Idea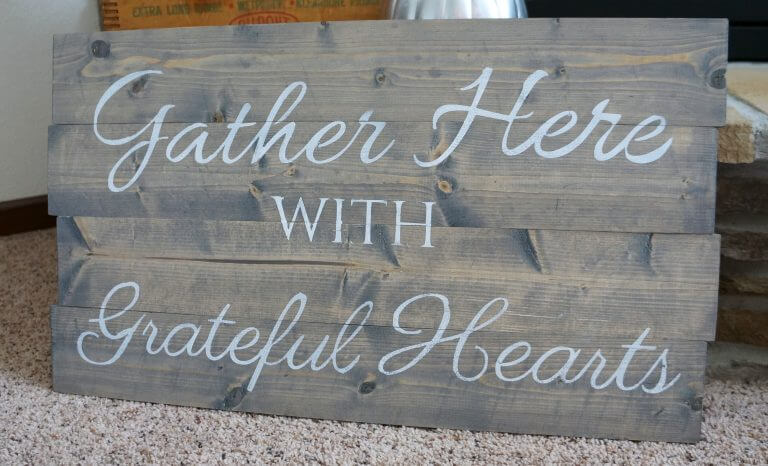 A wood pallet can be as unique and attractive as your mind imagines. Learn the basics for preparing your masterpiece by securing the planks. Next, decide if you want to paint or stain the background. Choose stencils or letters that are proportionate to your board and add your favorite saying or message.
40. Wood Pallet "Eat" Kitchen Art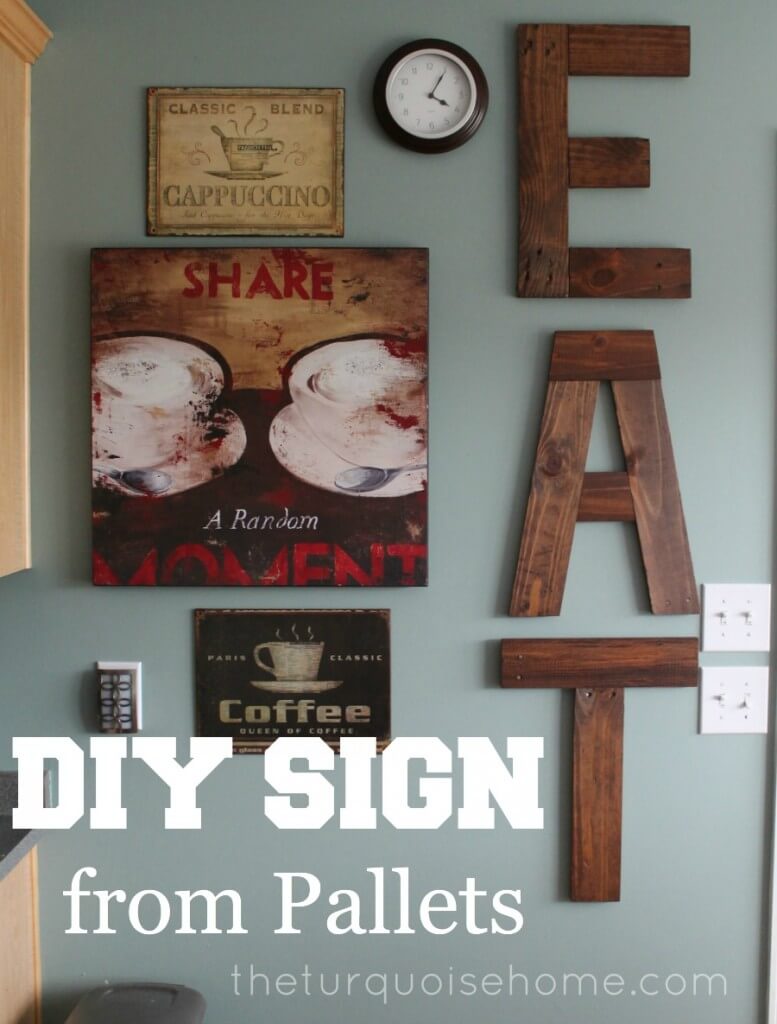 Large letters that spell out a message will grab everyone's attention. Make a paper pattern, cut the pieces to size and bind together with brackets and small nails. Stain or paint your letters to match your decor and surround with wall hangings. Save your patterns for other artful letters to display.
41. Rope and Wood Love Pallet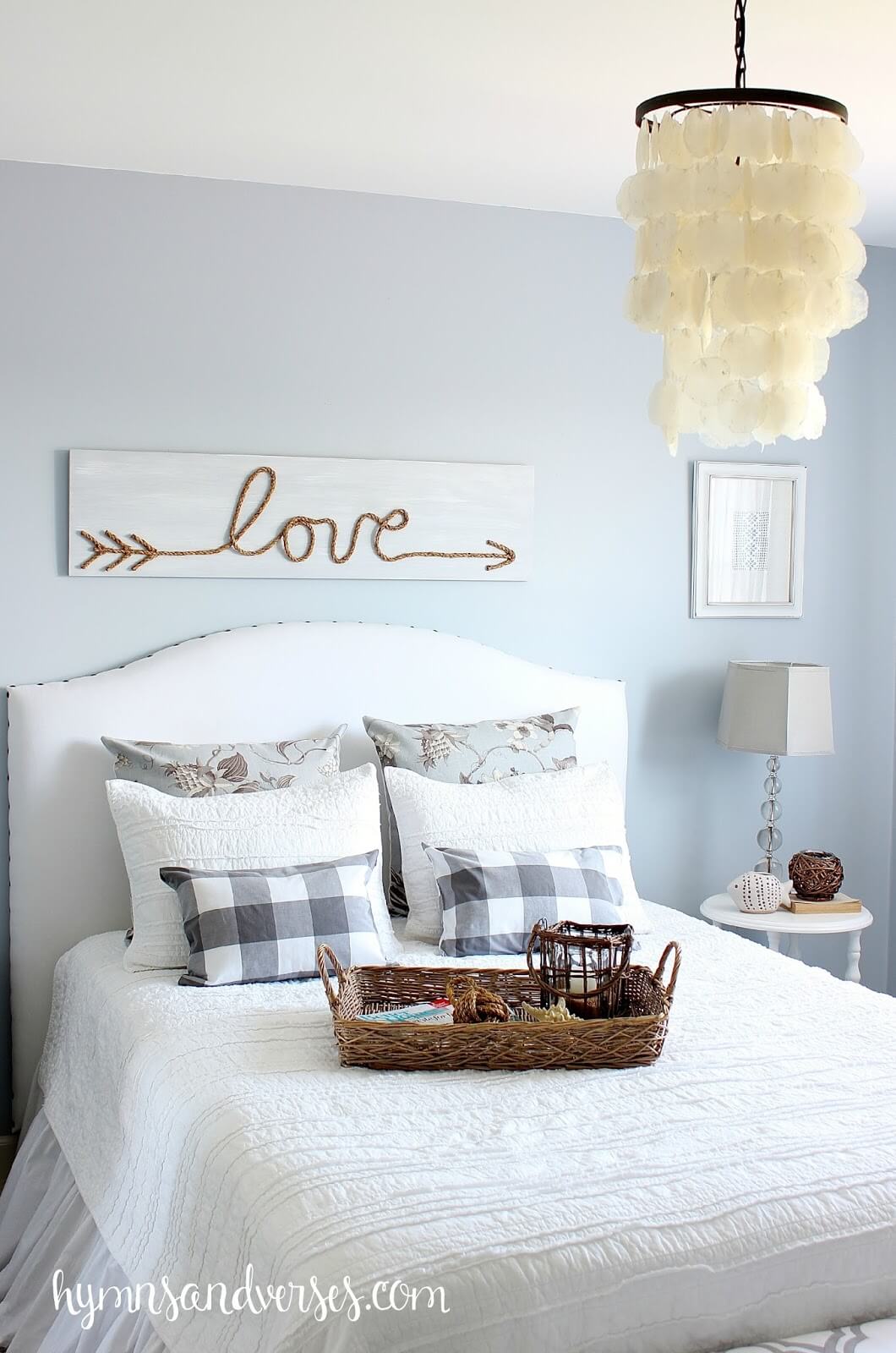 Write a popular message with natural twine or rope and add a creative twist to your sign. The letters will rise from the platform and stand out in an artful display. Use your imagination to add character, such as an arrow as shown here. Practice on the loops before securing with glue.
42. Wood Laundry Sign with Hanger Rack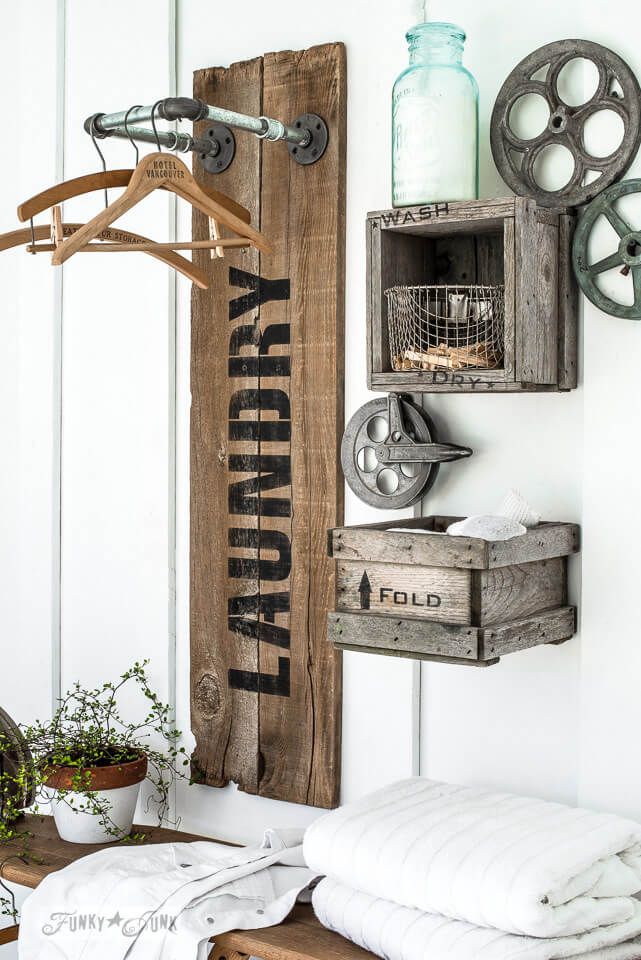 The industrial look is becoming more and more common in homes. Use your laundry room to demonstrate how this presence can be both attractive and useful. Old pipes mounted on tired-looking pallet pieces is the perfect way to show off a new look to a boring area. Add a message to make your hanger complete.
43. "Hello" Sunshine Painted Wood Sign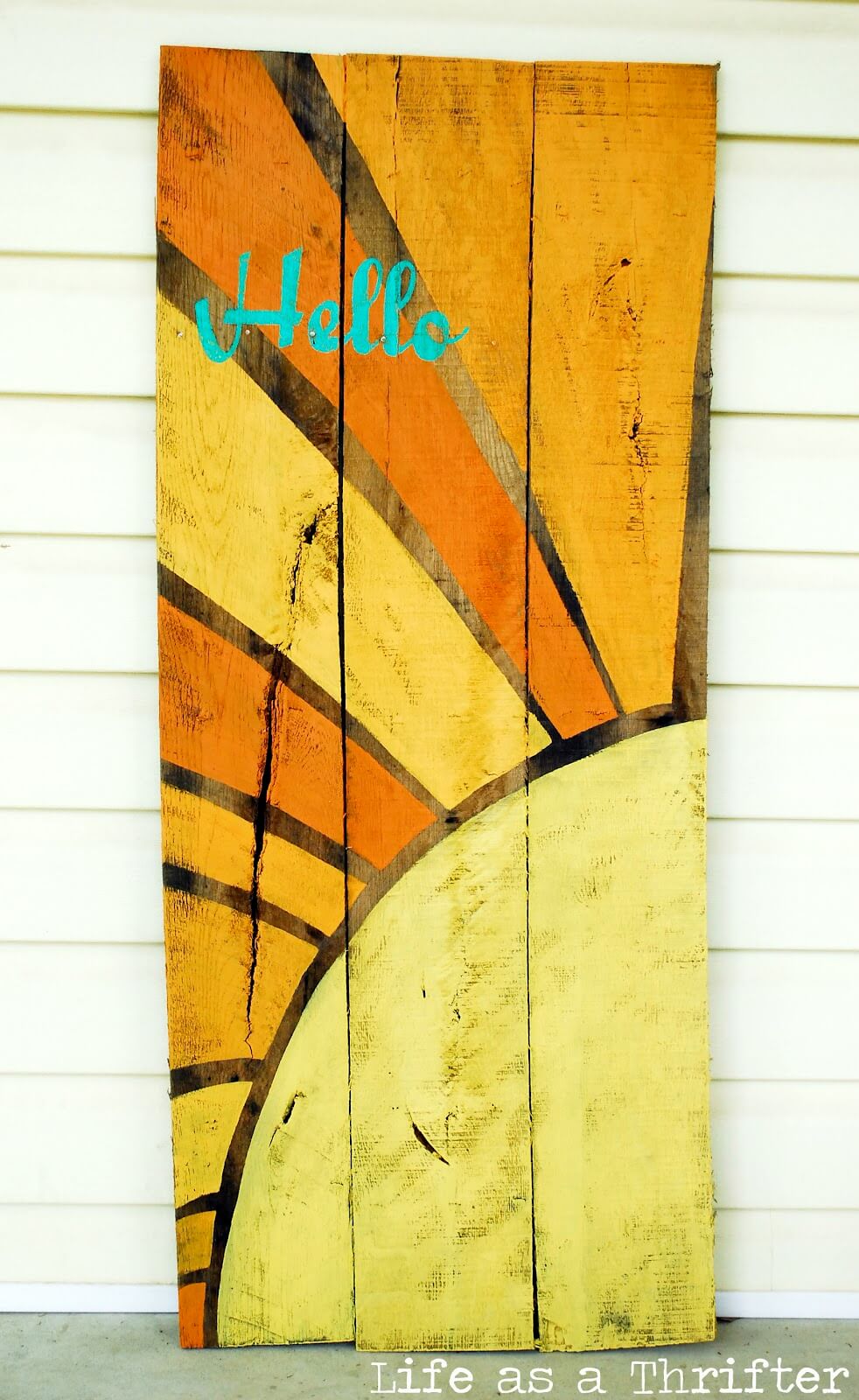 Think outside of the box and create a fresh new look. This sunny piece is attractive and unusual enough to add art to any area. The curves and lines are simple but intriguing and the message is clear. Pick out your favorite sunny colors and make your sign really unique.
44. Heart of the Home DIY Sign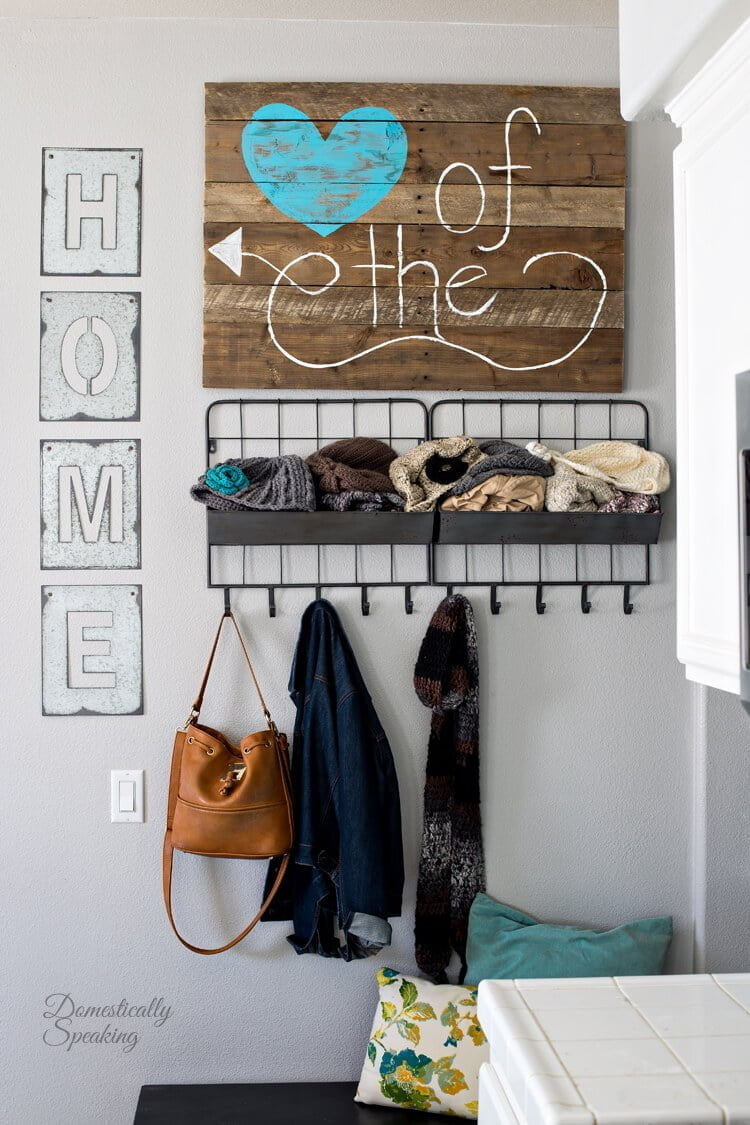 This clever display of family life places a feeling of serenity for those arriving home after a rough day. It will remind family members how to complete their lives are and how comforting home is when they walk through that door and shed the day's worries. A simple and creative message.
45. DIY Rustic Fall Wood Sign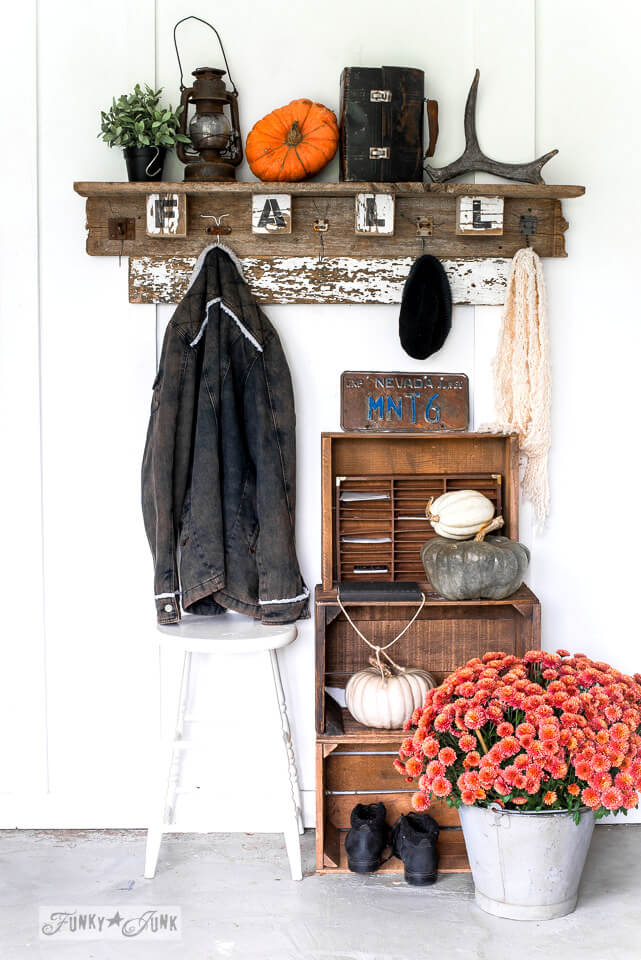 Bring that special feeling of fall to your home with this coat rack that says it all. Just as the jackets are coming out, your family will feel the joy of a new and refreshing season each time they journey outside. Dress it up with items and colors of the upcoming months.
46. DIY Friends Quote Wood Pallet Project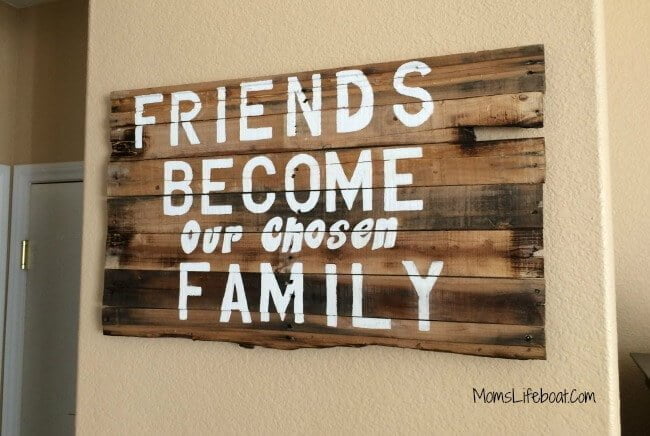 Here is a message that is appreciated by those who you want to feel welcomed in your home. Easy to make by staining boards and adding block letters, the implication will be ingrained in those you have come to love. Place where it will be easily seen by all.
47. Super Market Shopping List Sign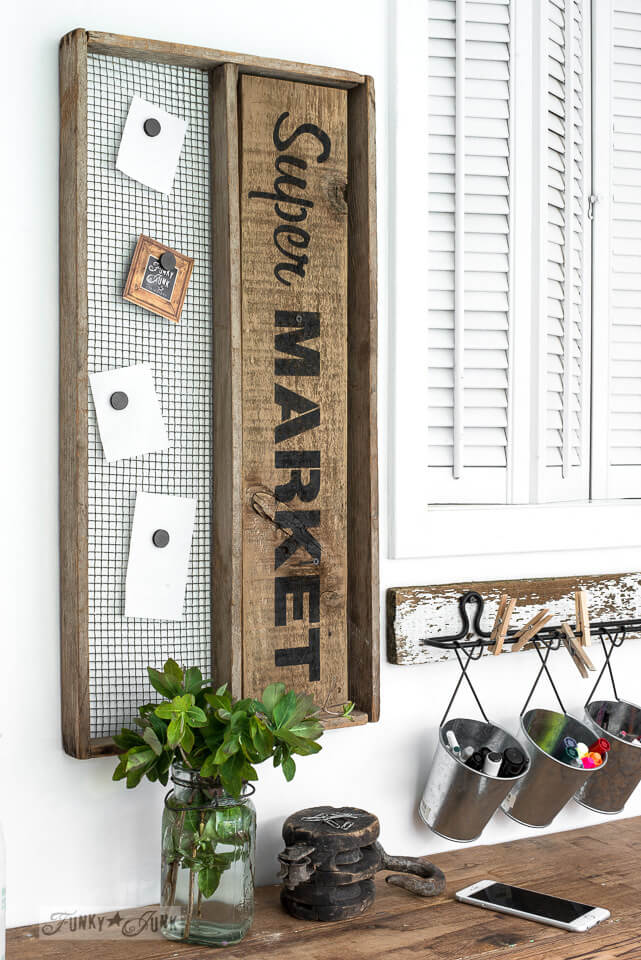 How many times do you make a trip to the market only to return home without an item? This creative box will allow everyone in the family to post needed supplies. A magnet against wire mesh will hold notes in place. This will soon turn into the go-to place for messages of all kinds.
48. Wood Pantry Sign with Shelf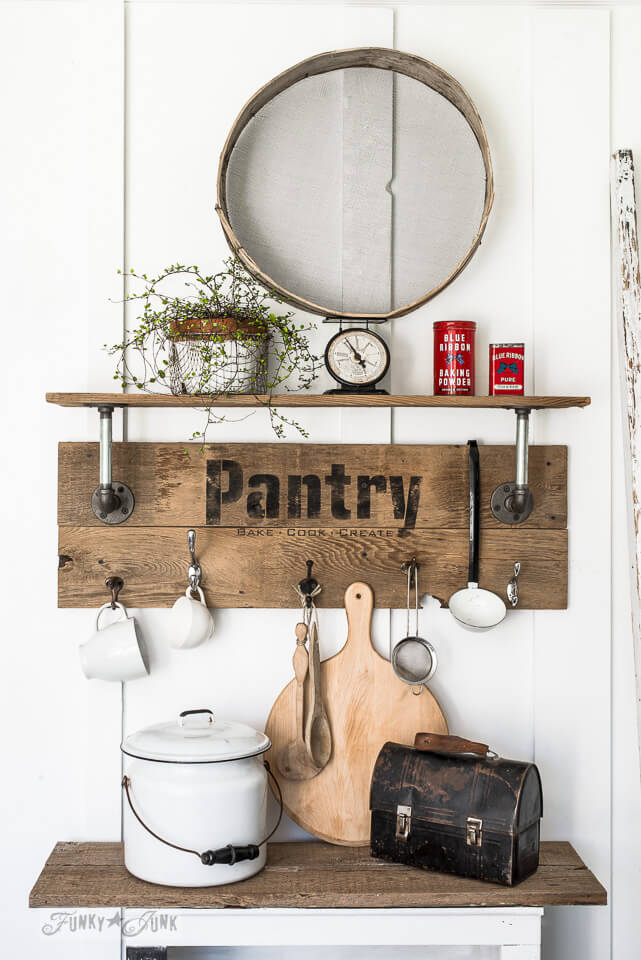 An industrial style catch-all for pantry items is always welcome for those odds and ends that seem to end up on the counter. Piping and metal hooks let you create your own version of how much space you need. Add more hooks or more shelves depending on your need and taste.
49. DIY Potting Shed Garden Sign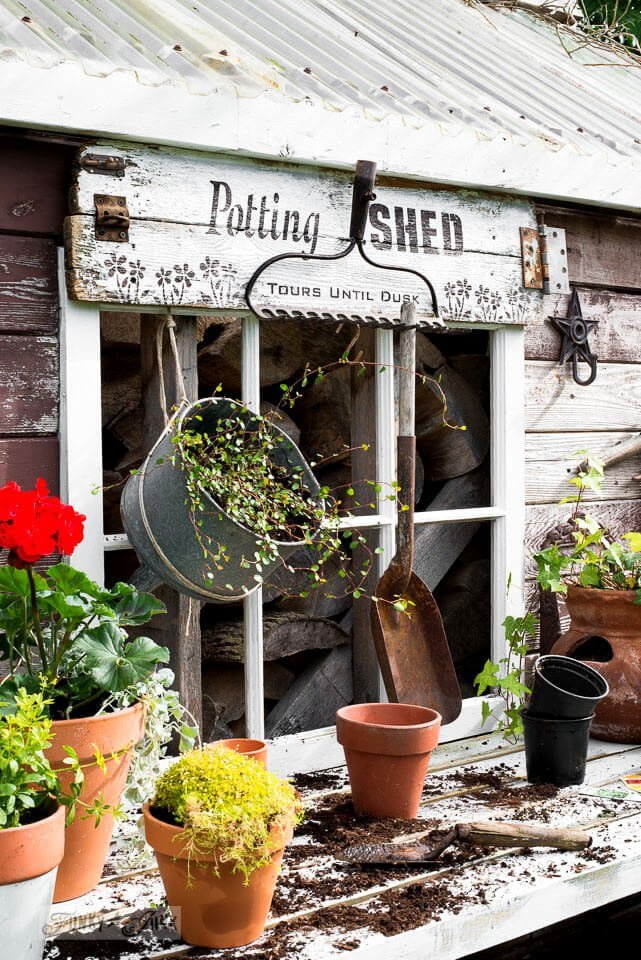 Your potting shed is your second home. Proudly let people know where you will be during the growing season with this unique sign. Make it as plain or as fancy as you like to announce your whereabouts. It will also give you a sense of pride as you work your plants.
50. Wood Pallet Love Quote Art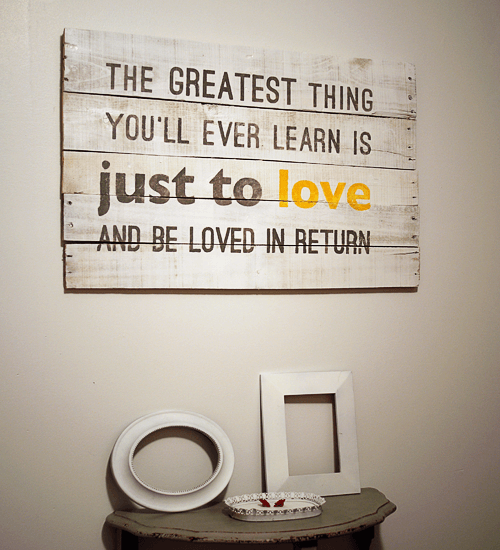 Learn the step-by-step procedures that are suggested in making your own inspirational or love quote sign. What you will need, measurements, methods, and steps will guide you through the proper way to create your own DIY project that is stunning and lasting. You will be a pro in no time at all.